People like greige colors because they are typically rather versatile, and also they look elegant and calming on the walls. This is why it's easy to pair them with other colors and use them in almost any room, adjusting to various interior styles.
Today, we will introduce you to one of the beautiful greiges called Natural Cream. This is the color by Benjamin Moore and one of its most popular greiges!
You will discover this paint's undertones and LRV, learn how this color works in different rooms and lighting, and figure out what colors will work best with it.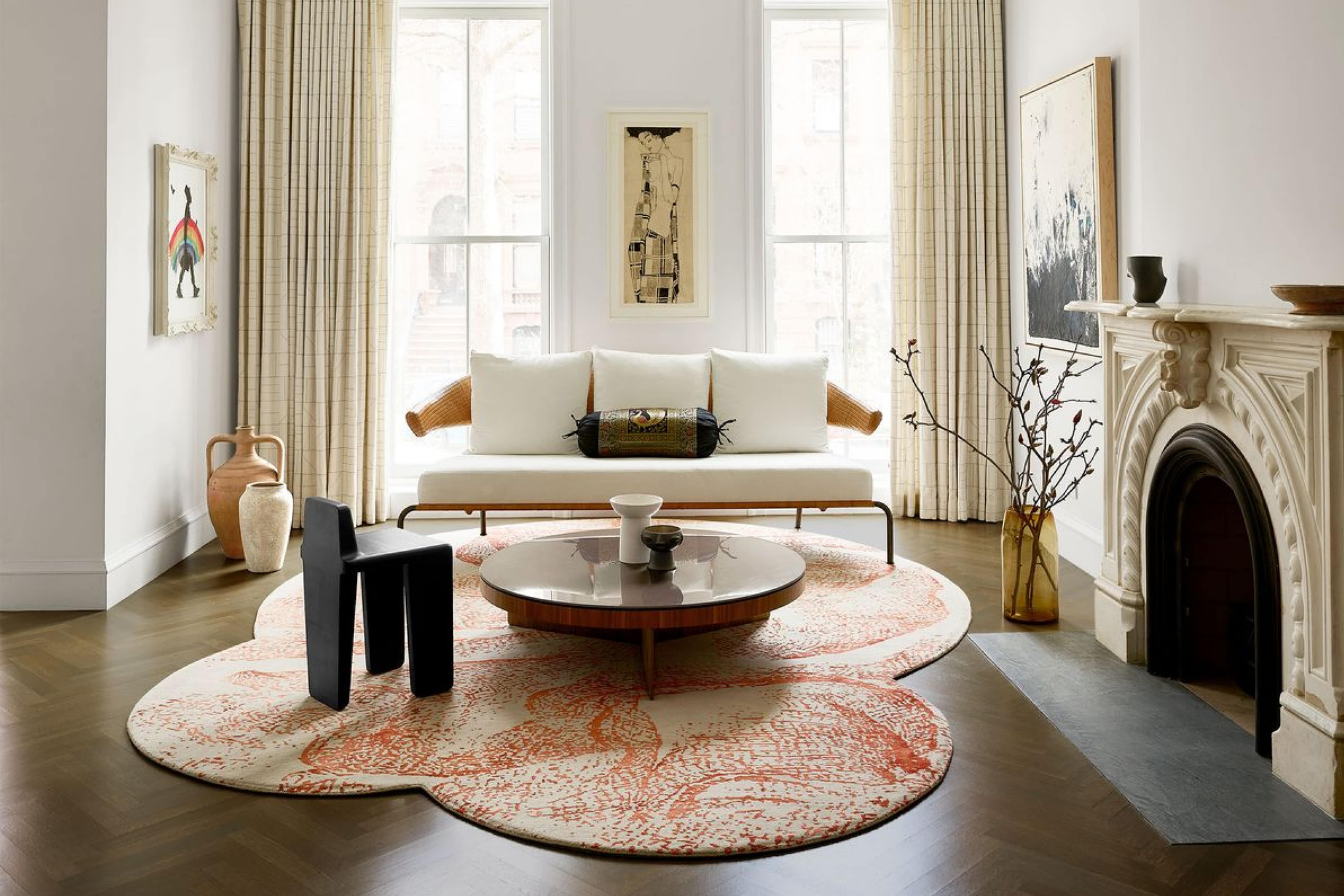 What Kind of Color Is Natural Cream OC-14?
The Natural Cream paint color by Benjamin Moore  is a light greige. As Encycolorpedia says, the great feature of this color is that it can suit both warm and cool color schemes! This specific feature makes Natural Cream OC-14 a versatile paint color for almost any home.
This greige looks sophisticated and serene in the space, making any room feel larger and airier. Besides, the pleasant warm touch this paint color has gives the space a cozy and tranquil vibe.
This is why OC-14 Natural Cream is specifically welcomed in bedrooms and nursery rooms!
Speaking of the interior style, this greige is pretty versatile and flexible. You can use it with equal success in classic and modern interiors, as well as in countryside-style homes or coastal-style interiors.
It will work well on the walls (interior and exterior), trim, and for creating lighter color accents.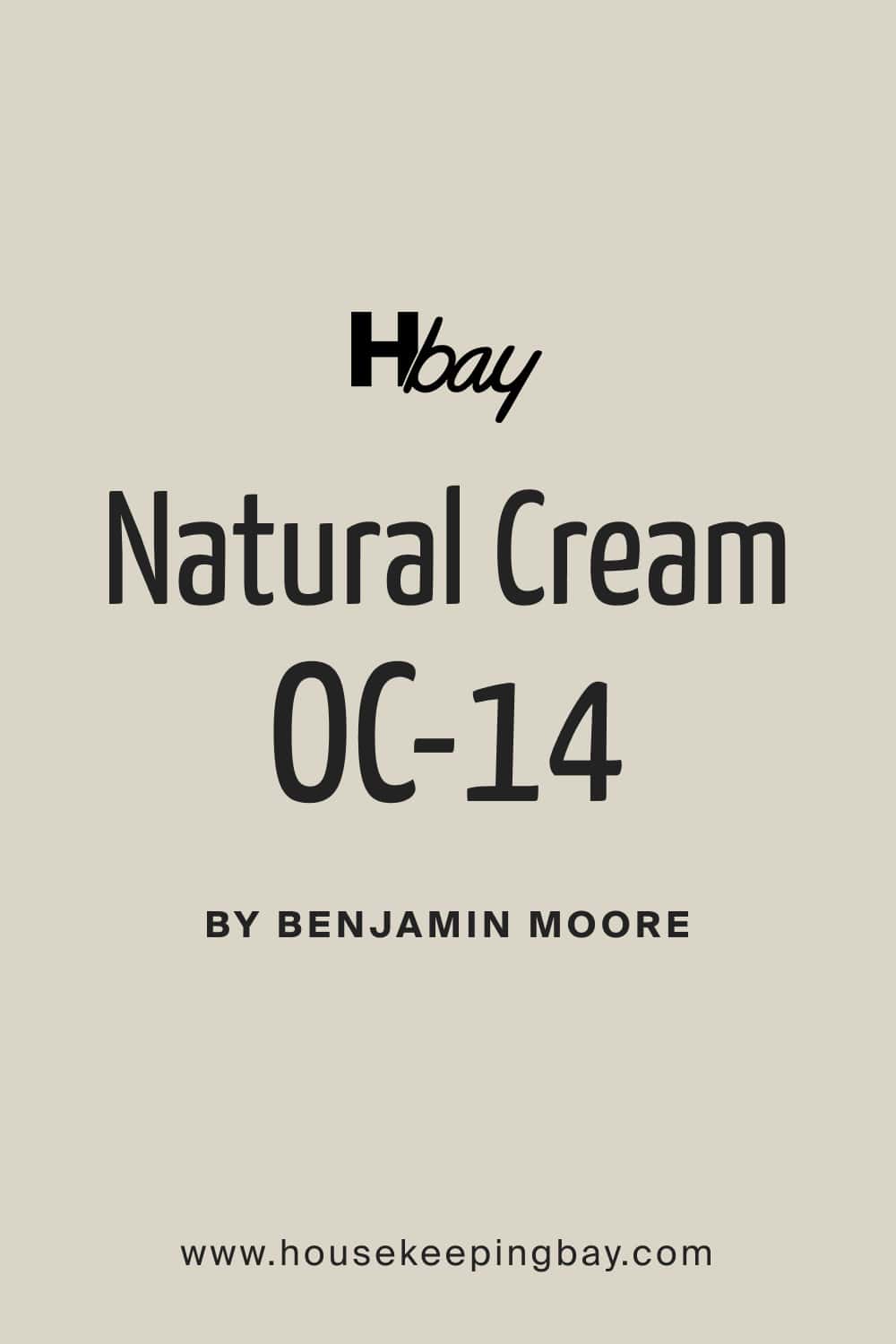 Undertone of the Natural Cream Color by Benjamin Moore
Since this color is greige, it means it is a blend of gray and beige colors. But this particular greige has quite noticeably grayish undertones, which can show up more prominently in specific lighting conditions!
This is why it is essential to know what undertones each color has! This way, you will be able to tell in advance how the color may read in the space.
See, paints with complex undertones may often look quite distinct on a color swatch and on the wall. With OC-14 Natural Cream, you should be ready for a pronounced gray hue!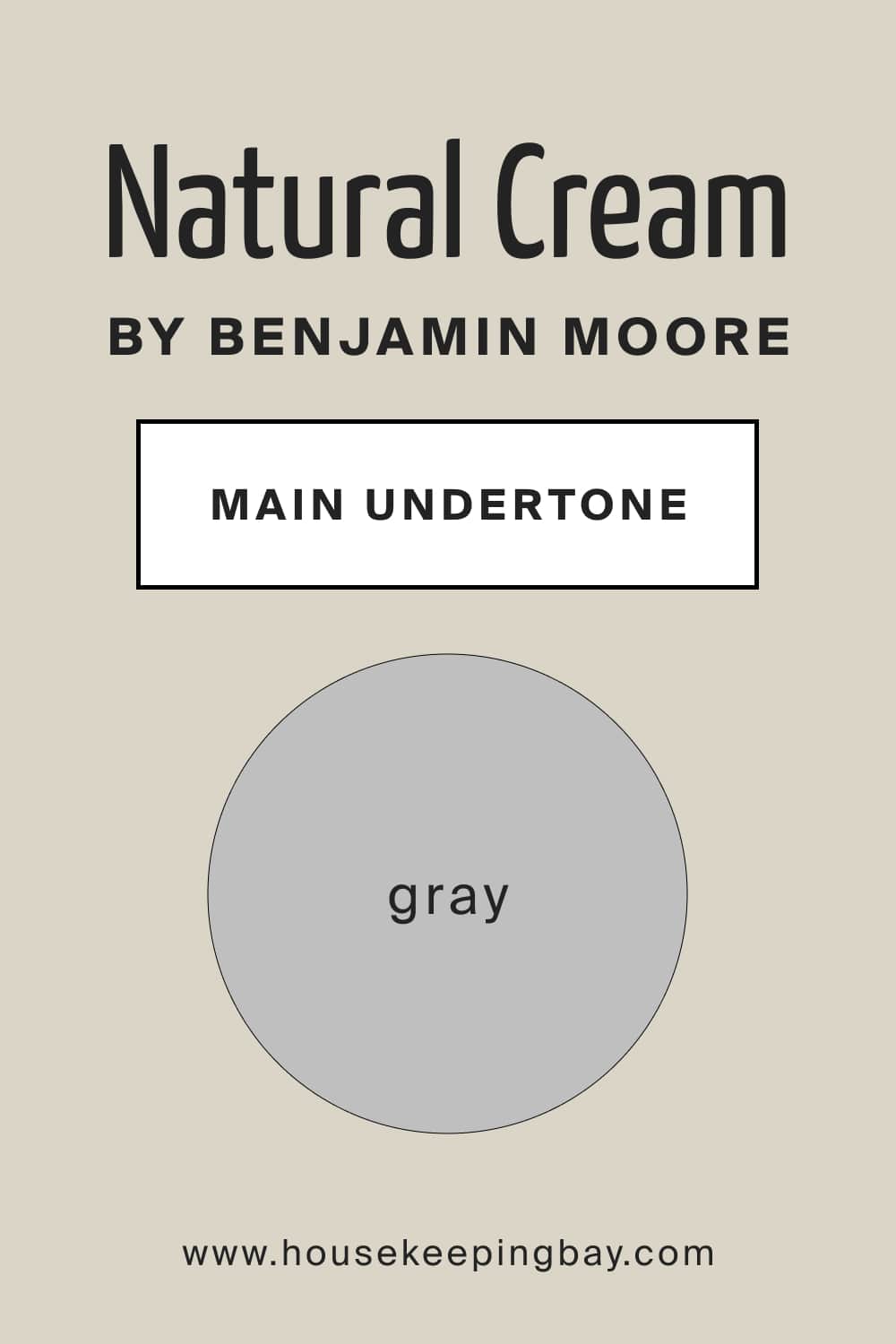 LRV of Natural Cream OC-14
The LRV means light reflectance value and this measurement shows the amount of light the color can reflect from the wall. The LRV rate is shown in percent and ranges from zero to 100. On the LRV scale, zero stands for black and 100 is pure white.
With an LRV of 64.78, Natural Cream by Benjamin Moore is somewhere in the middle of the scale. It makes this greige color neither dark nor light. Simply speaking, this greige can reflect enough light not to darken the space it's used in.
But at the same time, it is not a suitable color for making a room look crisp and bright!
What is LRV? Read It Before You Choose Your Ideal Paint Color
Is Natural Cream OC-14 a Warm Or a Cool Color?
The great thing about this shade of greige is that it is neither warm nor prominently cool-toned. It keeps an almost ideal balance between these two sides of the warm-cool tone scale! Also, this is the reason why this color can work with equal success in both cool-toned and warm-toned interiors.
In a room, Natural Cream OC-14 paint color will read soft enough, but without a hint of an excessive warmth. It's definitely not the greige that may read "muddy" or show yellowish undertones.
Coordinating Colors to Use With Natural Cream OC-14
To achieve a harmoniously looking and balanced palette in your home, you should be able to coordinate colors correctly. This will help you highlight the natural beauty of the wall color and make the whole space read properly balanced in color.
However, it is often a complicated task for homeowners due to the lack of knowledge of paint color theory. To help you avoid some common mistakes, as well as avoid wasting time, money, and paint, grab a helpful hint!
If you want to coordinate Natural Cream OC-14 correctly, opt for the following colors:
BM Cloud Cover
BM Thunder
BM Boothbay Gray
BM Granite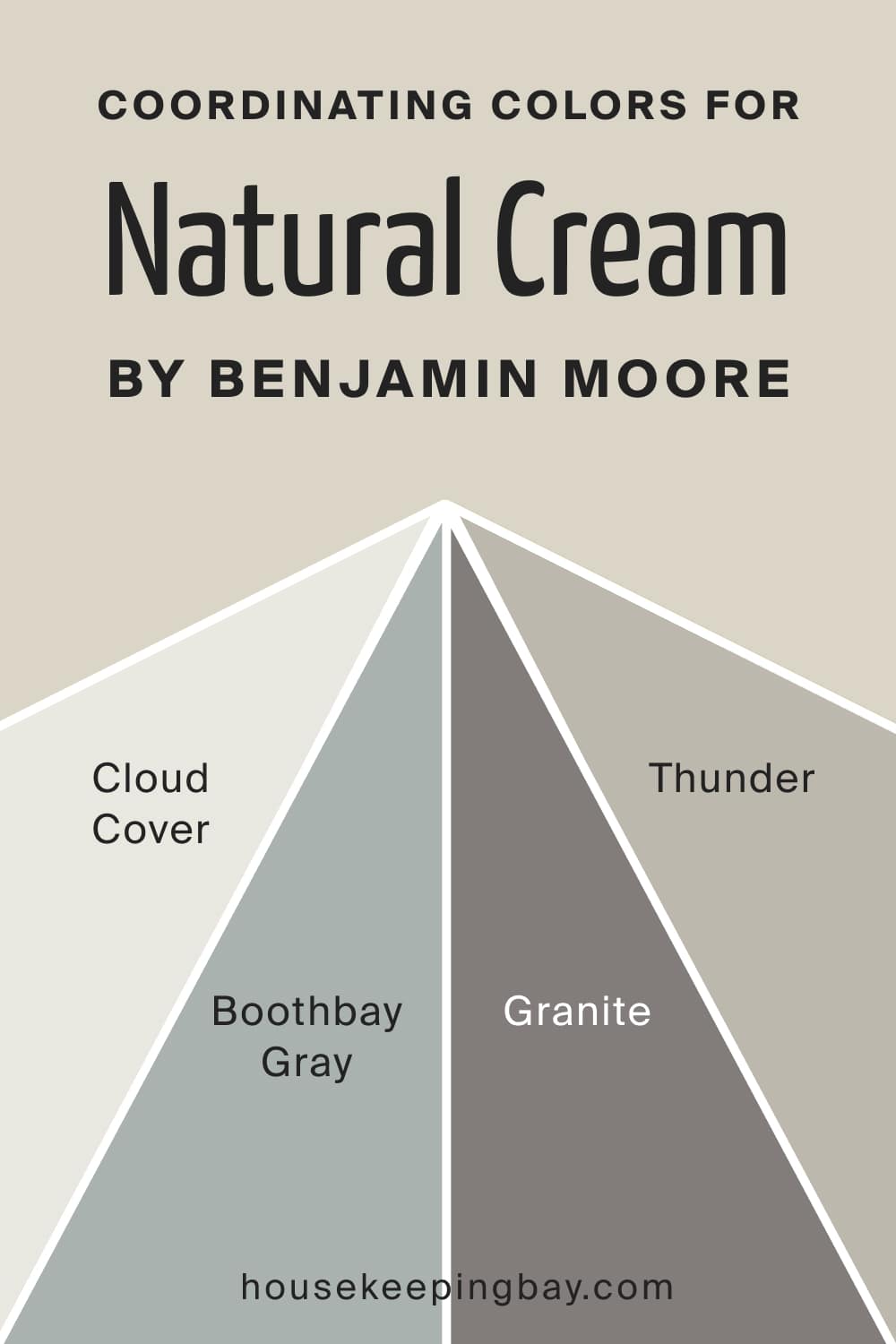 What Is the Best Trim Color to Use With Natural Cream OC-14?
When it comes to selecting the best trim color, white is a traditional choice due to its versatility. However, it is essential to consider the undertones of the white paint color you choose to ensure they correspond with the undertones of the wall color.
If you have Natural Cream OC-14 on the walls, opt for brighter and clearer whites without any yellow or creamy undertones. For example, you might benefit from using the following whites:
BM Chantilly Lace
BM Super White
Both are bright enough, but not too start and crisp at the same time. It means each of them will create a nice contrast with the Natural Cream OC-14 on the walls and won't pick up its greige hue.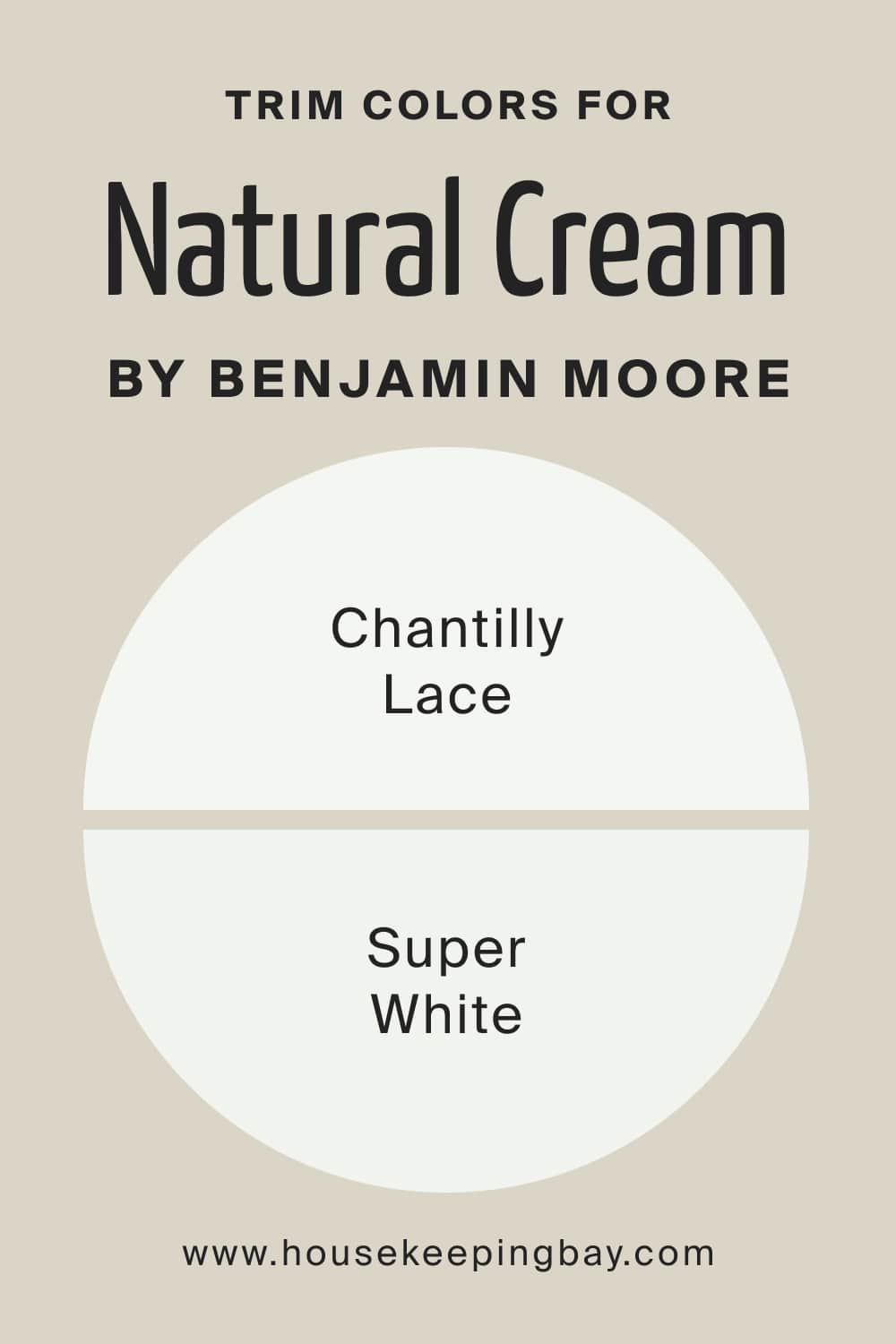 Paint Colors Similar to the Natural Cream Color by Benjamin Moore
You probably wonder why anyone would need to know what similar colors there are for the paint color they choose for the walls. However, it can be very helpful sometimes! For example, if you decide to use the color with slightly different undertones.
But since it's pretty difficult to pick up the colors that would look almost the same, we have prepared a list of alternative paint colors that can be used as Natural Cream OC-14 substitutes.
However, note that there won't be a 100% match anyway! Each similar color reads slightly distinctly due to unique LRV and differences in tone.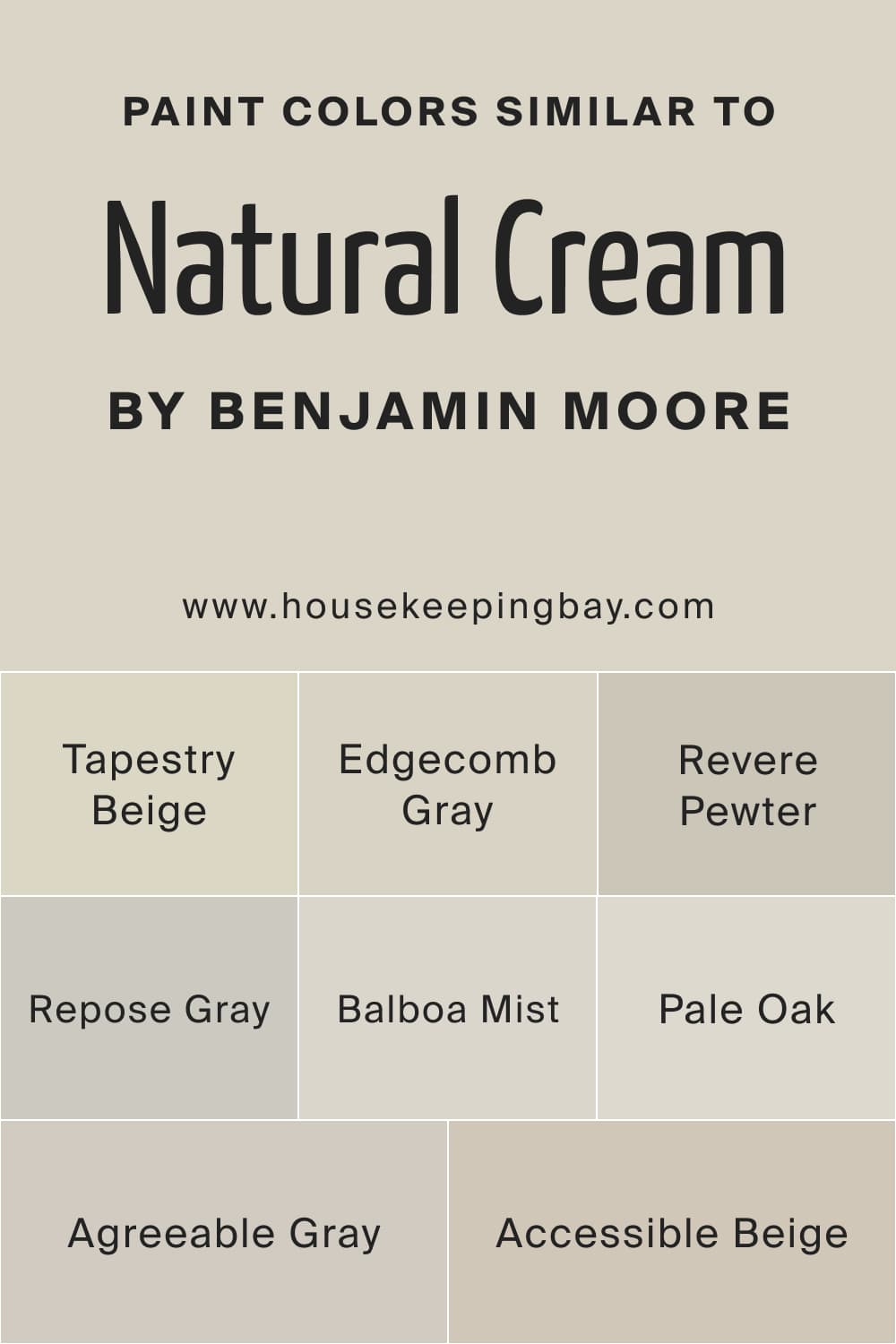 Colors That Go With Natural Cream OC-14
When you know what colors work well with the paint used on the walls, you can make any room look welcoming and cozy. However, to do this, you should understand what colors can be used and what colors are best to be avoided.
Speaking of the Natural Cream OC-14 paint color, it will work best with grays, browns, black, whites and off-whites, as well as darker greiges.
Also, this color might look good with light bluish-greys like BM Woodlawn Blue or darker grey with indigo undertones like BM Charcoal Slate. Autumnal browns like BM Algonquin Trail might also look nice!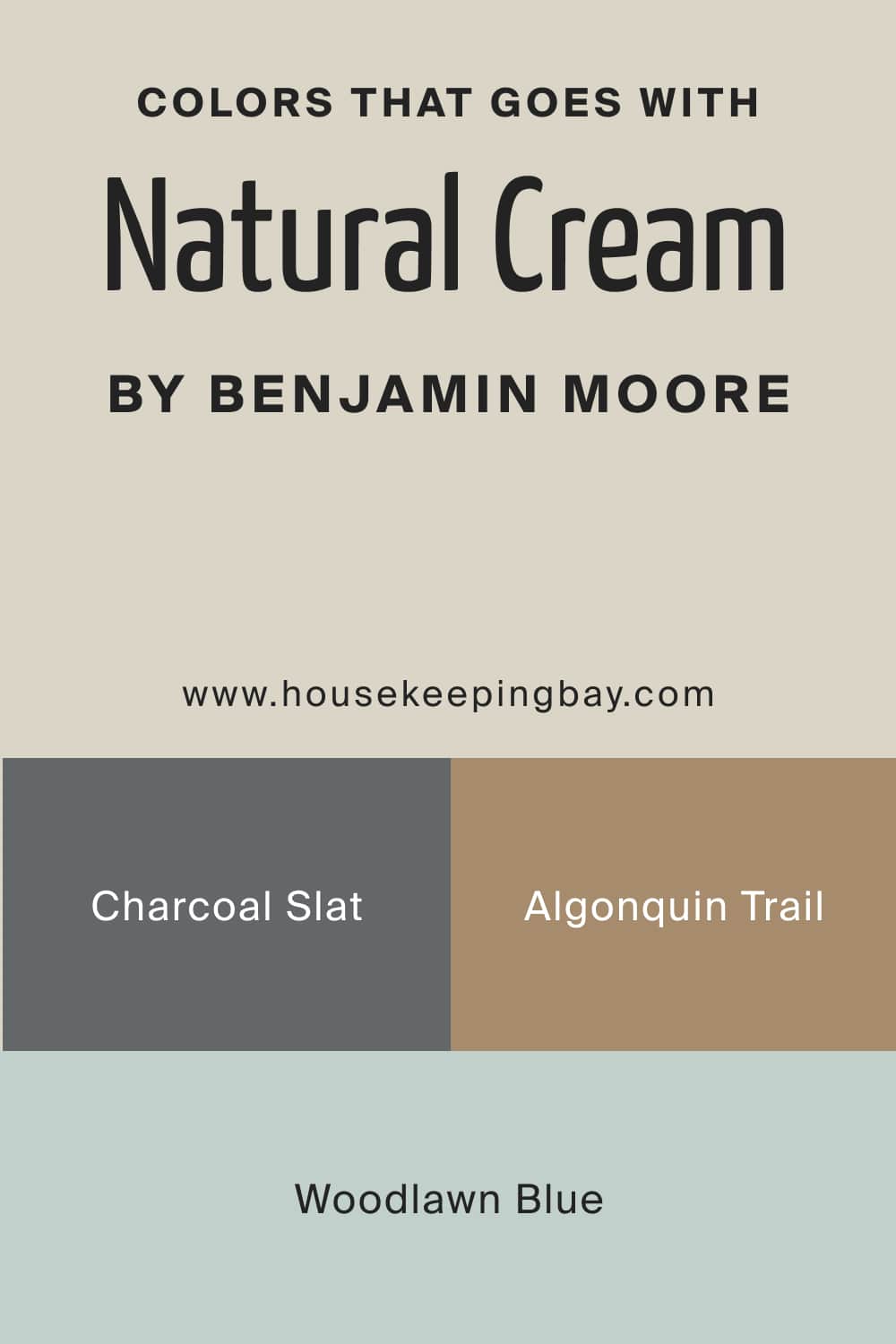 Comparing Natural Cream OC-14 With Other Colors
To help you better understand the specifics of this greige color, we recommend you read how Natural Cream OC-14 compares with other colors of the same type. It will allow you to see their distinctions more clearly.
Natural Cream vs Pale Oak
If you take a closer look at these colors, you will see that Natural Cream reads slightly warmer than Pale Oak. But there is another, more significant difference. These colors have distinct undertones. Natural Cream OC-14 has gray undertones, whilst the Pale Oak color has violet-pink undertones that can be quite noticeable.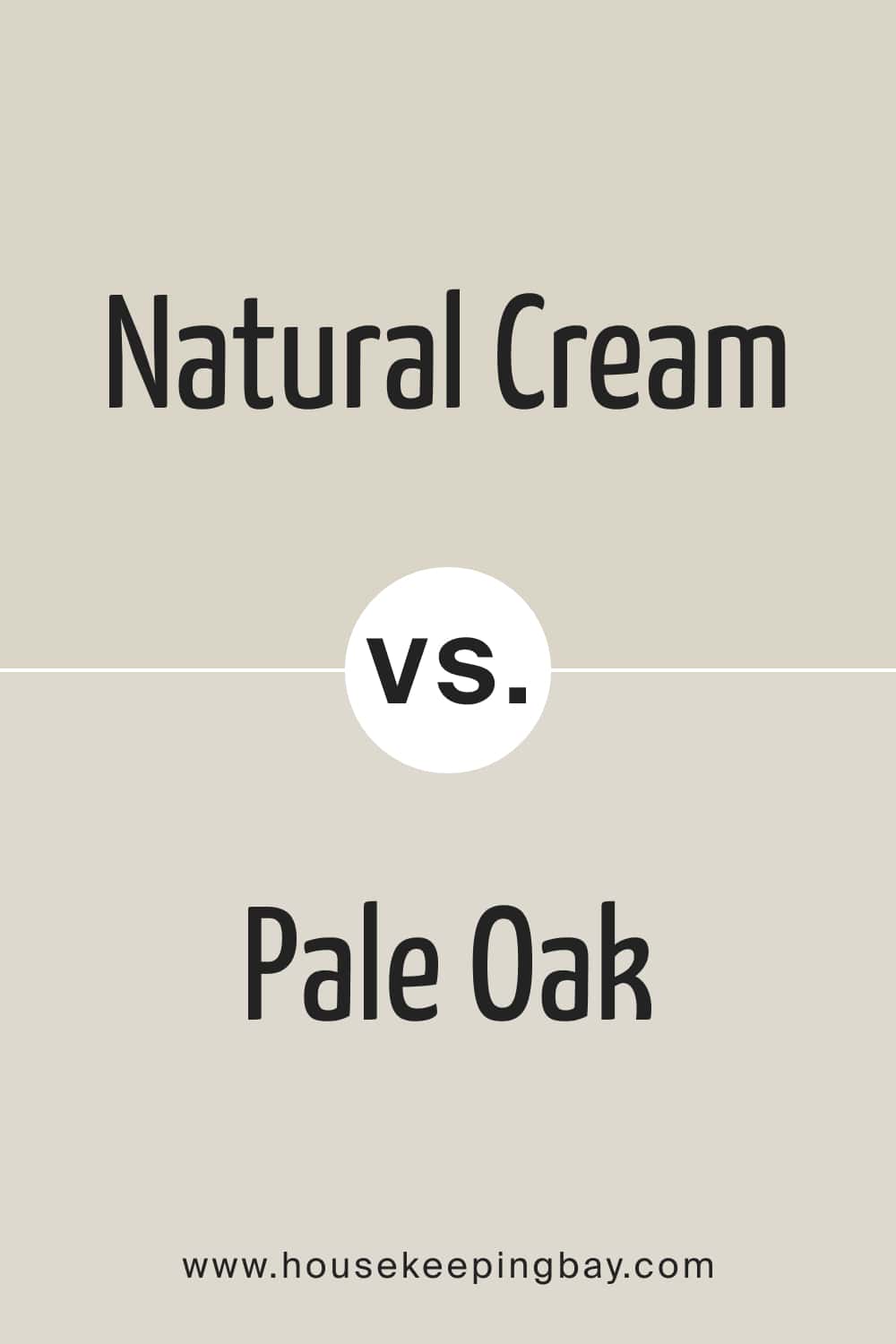 Natural Cream vs Creamy White
Compared to the Pale Oak color, BM Creamy White has yellowish undertones that make this cream color significantly warmer than its counterpart. Also, BM Creamy White may sometimes drop a slight hint of greenish hue depending on the lighting and surrounding colors.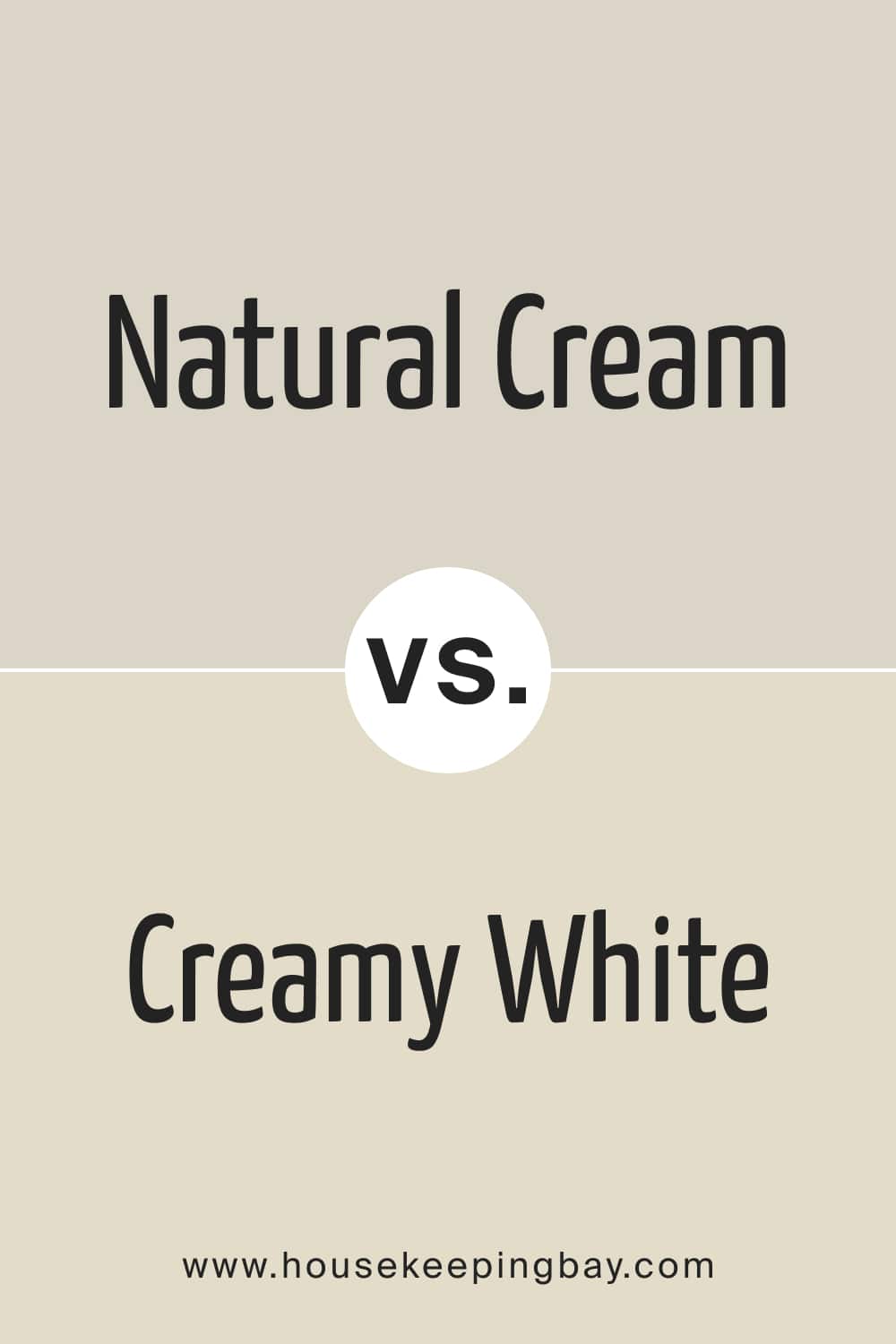 Natural Cream vs Revere Pewter
BM Revere Pewter reads grayer and more pronounced compared to the natural Cream color. That's because BM Revere Pewter is considered a warm gray color.
Besides, it has undertones different from those of Natural Cream (it's yellow-beige and very slight blue undertones of BM Revere Pewter vs gray undertones of Natural Cream).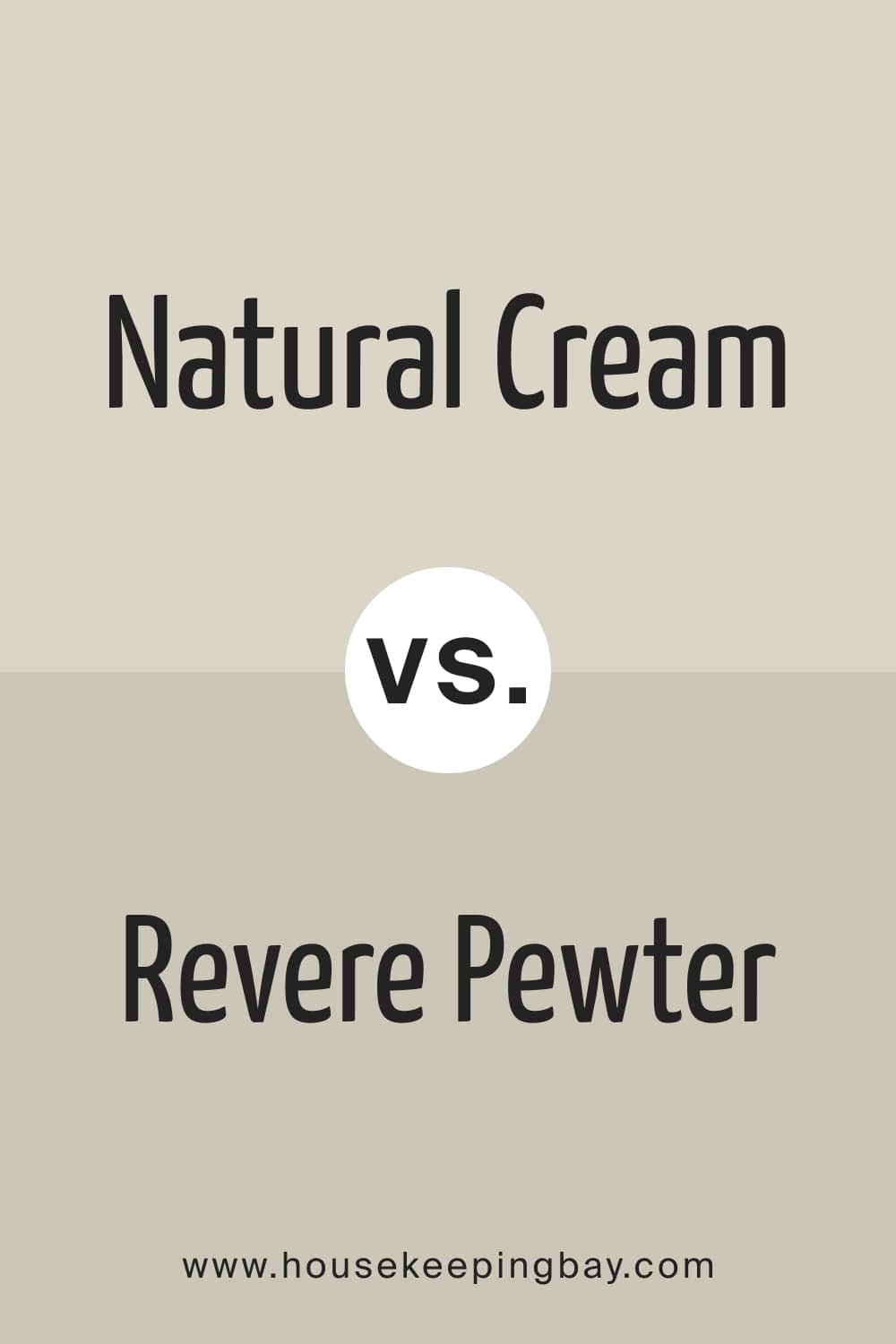 Natural Cream vs Swiss Coffee
These colors are different because of their undertones. BM Swiss Coffee has prominent yellowish undertones, whilst Natural Cream has gray. Also, their LRVs are distinct. The LRV of BM Swiss Coffee is 83, and the LRV of Natural Cream is 64, which means that the Swiss Coffee color is lighter.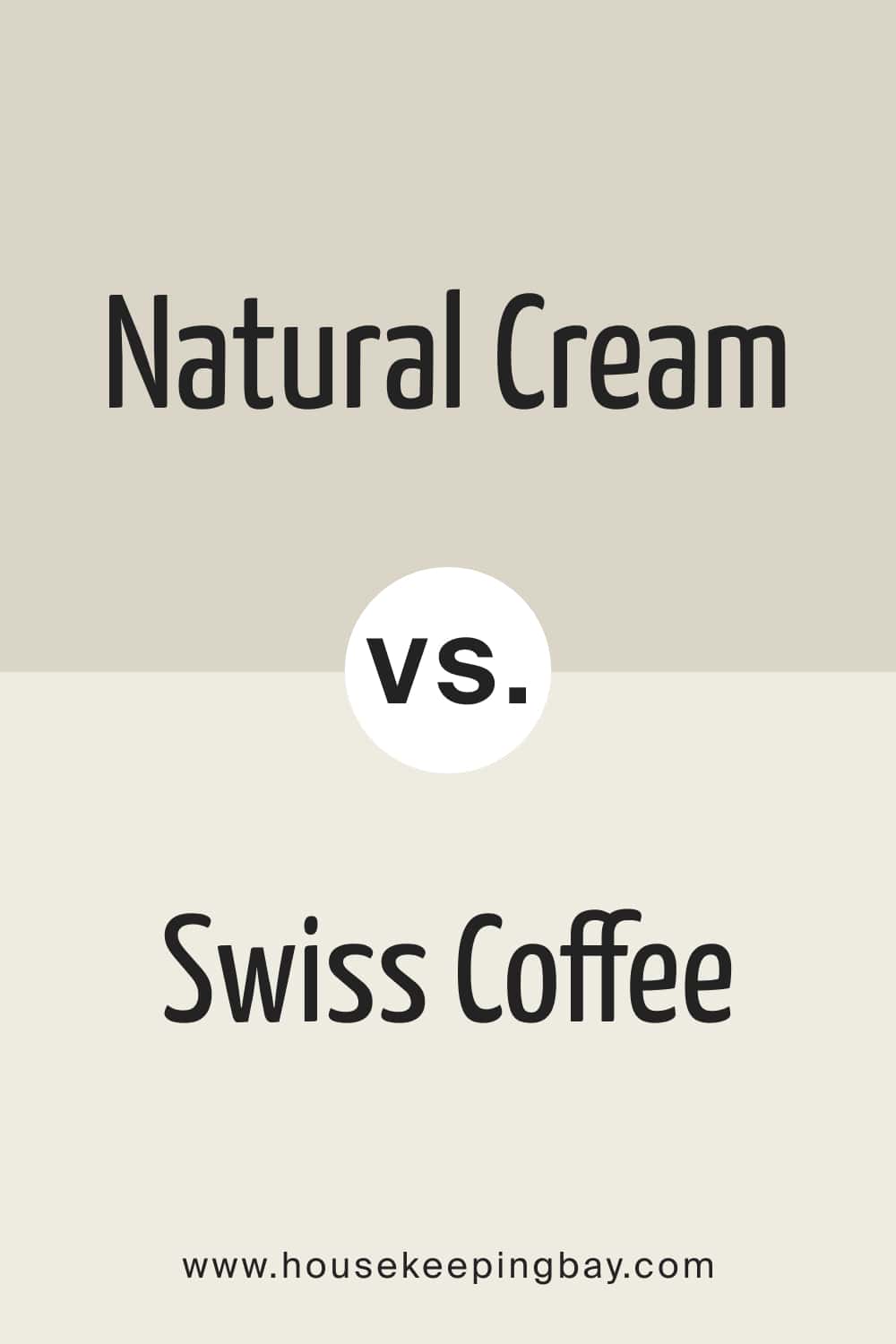 Natural Cream vs Edgecomb Gray
BM Edgecomb Gray has green-gray undertones with a barely seen note of pink. The Natural Cream color has gray undertones instead. However, their LRVs are almost the same being 63 for BM Edgecomb Gray and 64 for Natural Cream. This is why these colors read slightly different in tone, but almost the same in terms of brightness.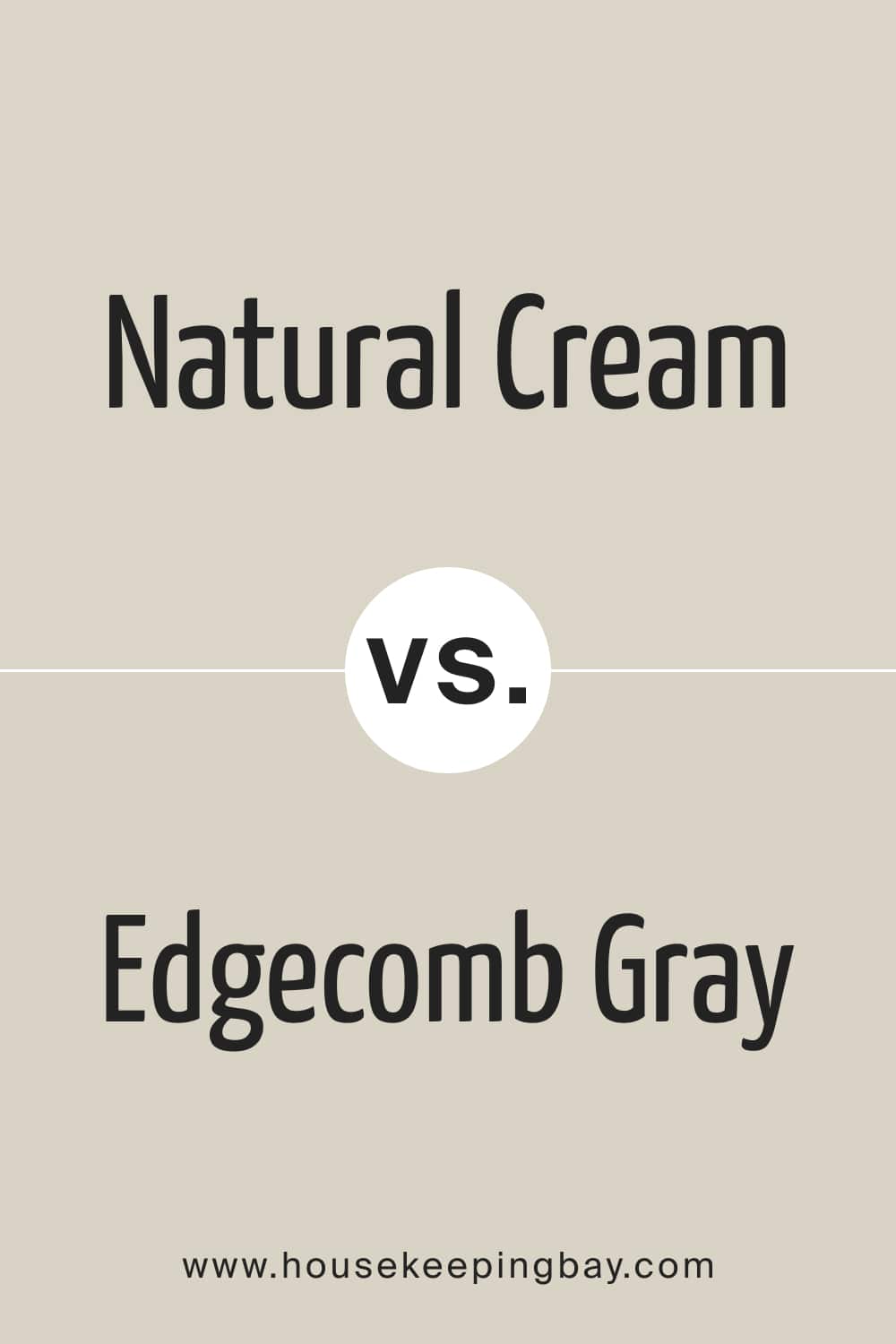 Where to Use This Color In Your Home
Since Natural Cream OC-14 is greige that is neither warm nor cool, it's a versatile color that can be used around your home successfully. Below, we have described how it might read in different rooms and on various surfaces so that you could have a better impression of it.
Natural Cream OC-14 in the Living Room
In your living room, this color will read pleasantly warm and soft in any lighting. However, in the bulb lights, you should expect it to look slightly warmer, of course. Also, in a room with light-colored wooden floors and a lot of warm-toned light greiges, this paint might read somewhat softer and creamier.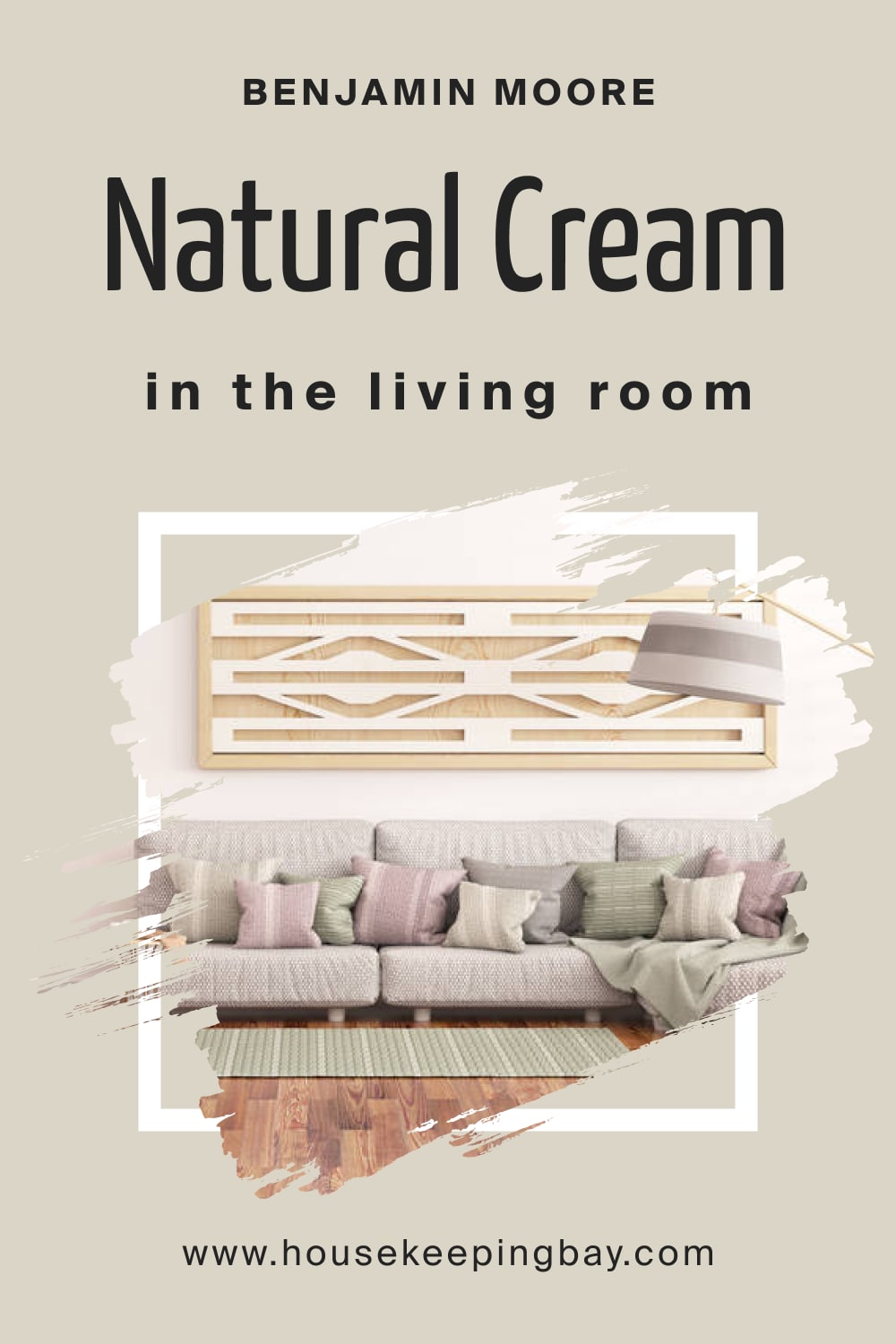 Natural Cream OC-14 in a Bedroom
This greige is perfect for bedrooms thanks to the soft and relaxed feeling it gives to the space! Pair it with a white ceiling and trim, add natural fabrics like linen, and accent the room with a few golden decor elements, and you will get a welcoming, calming, and homey room that feels like a cradle!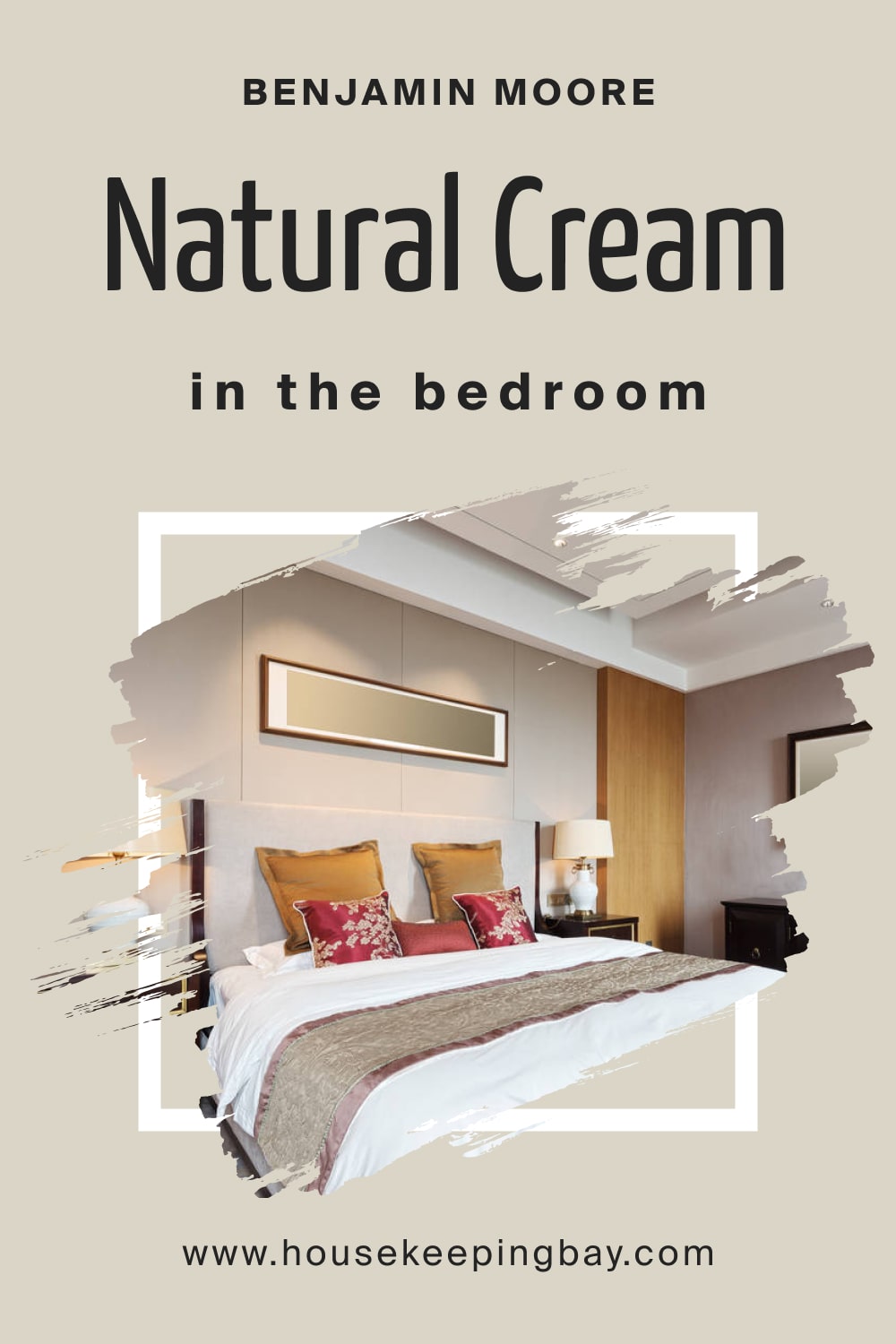 Natural Cream OC-14 and Kitchen/Kitchen Cabinets
This color is so versatile that it will work great even in your kitchen. You can use it on the walls or only paint the cabinets, it's up to you. In any case, this greige will soften the space, adding a great deal of balance.
By the way, don't hesitate to pair it with tiles and wooden furniture. Marble white countertops and brass hardware will also work nicely with this greige.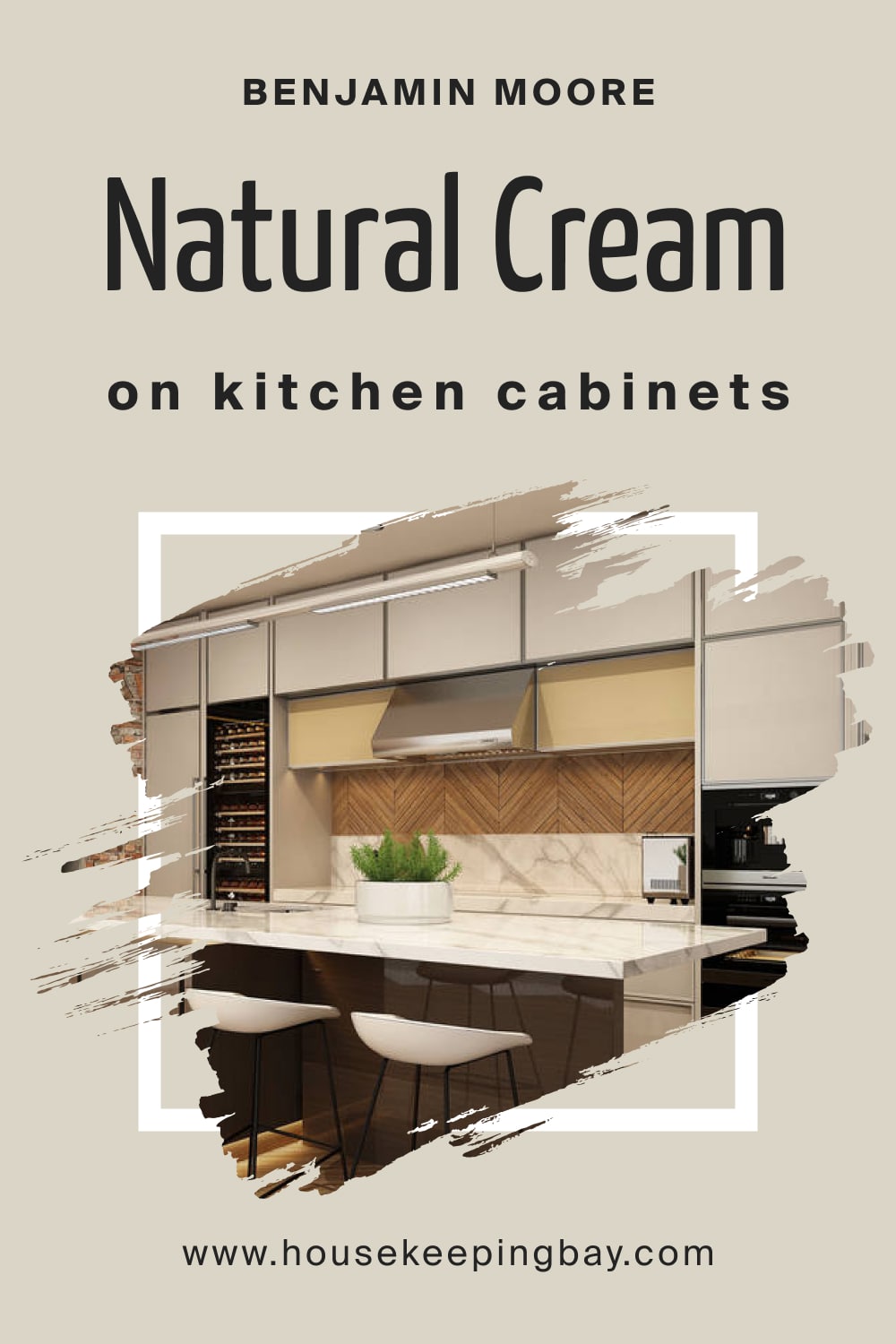 Natural Cream OC-14 for the Exterior Use
On exterior walls, this greige will look fabulous! Since it is well-balanced in tone and doesn't read warm or cool, it will work equally well in warmer and cooler lighting.
Simply saying, you can use this color to paint your exterior walls if you live in a sunny area with warm daylight, as well as if your house is located in a palace with mostly cloudy weather.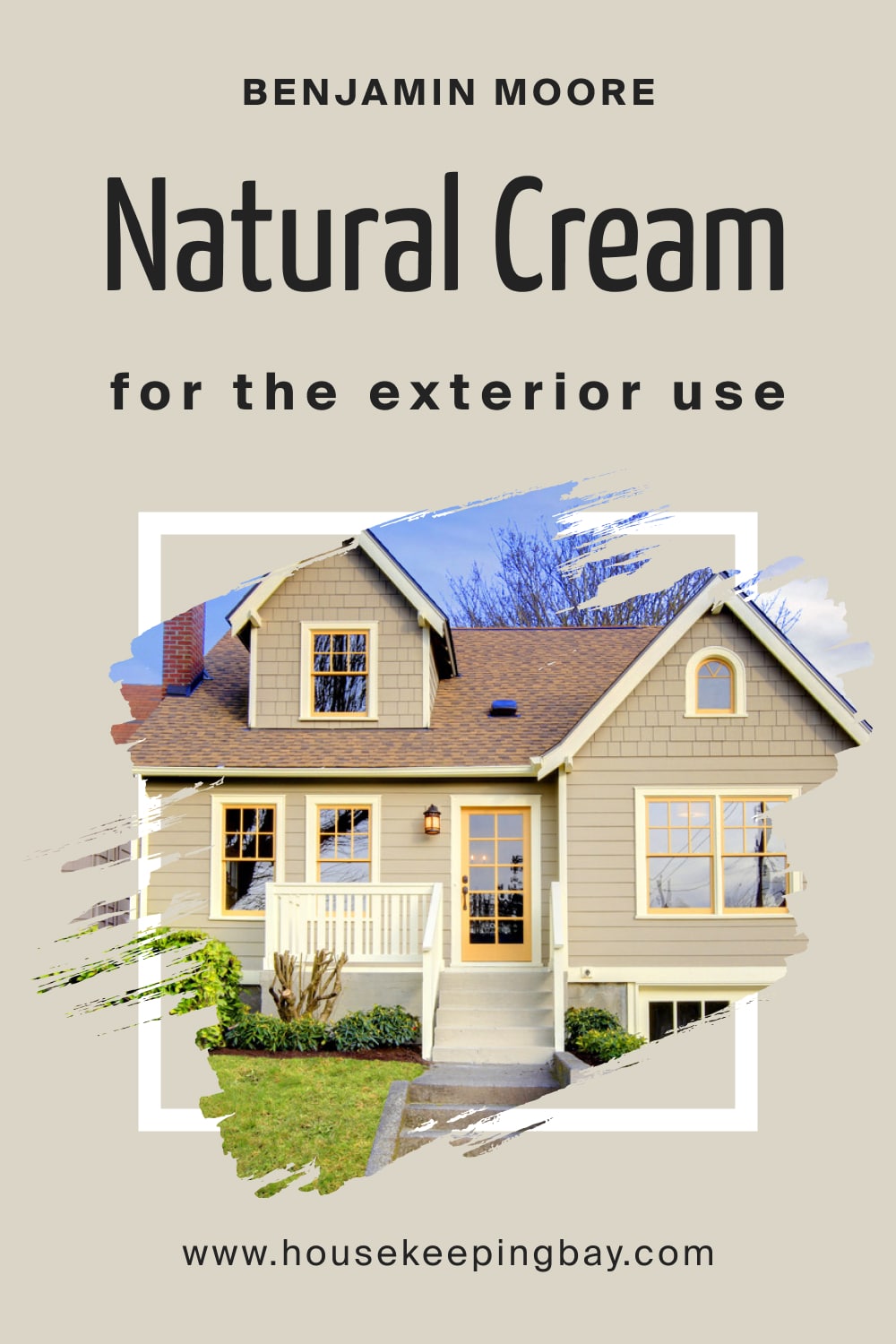 Well, now you have a better understanding of the paint color called Natural Cream by the Benjamin Moore brand. You learned this color's LRV and undertones, as well as its trim and coordinating colors.
You also know in what rooms it will work best and what color will work better with this greige. Thanks to this information, you will incorporate it into your home interiors easily!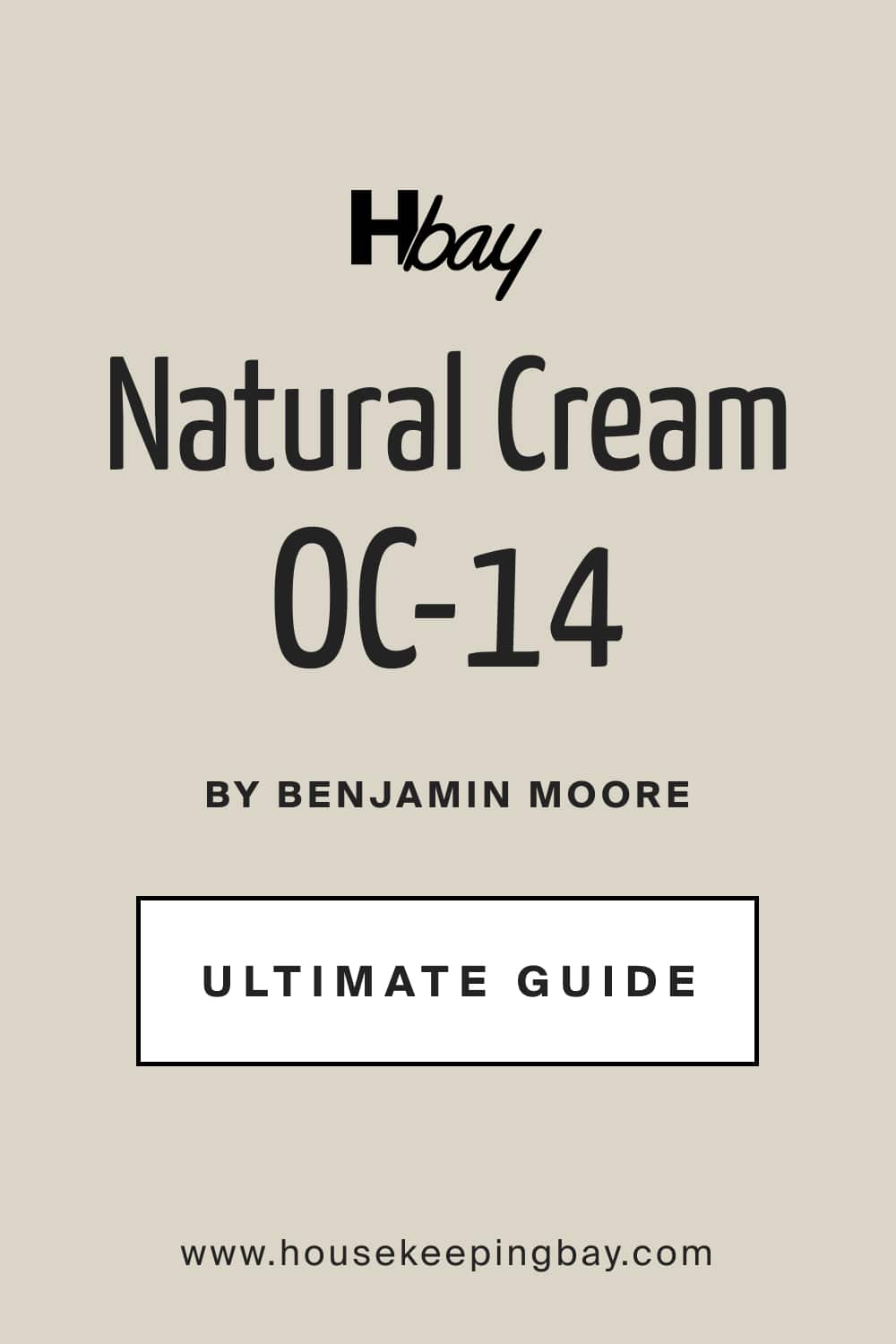 Frequently Asked Questions
⭐What color collections does OC-14 Natural Cream belong to?
This greige is part of the Off White Collection.
⭐I can't find this color by its code. Is there another one?
Yes. OC-14 Natural Cream is also known as 1521.
⭐Does this color read cool-toned on the walls?
No, Natural Cream color reads fairly light.