When you think of green color, you typically imagine a bright and juicy leafy shade of green that reminds you of grass and leaves of trees. Or, perhaps, your imagination draws a zesty green hue of limes and green apples.
However, this color is way more varied and complex with many beautiful shades!
Today, you will discover one of them called Oil Cloth. We will tell you what kind of green it is, how it reads in space, and in what rooms it's best to use this paint color with the most success.
Also, you will learn what undertones it has, how it reacts to light, and with what colors you'd better pair it.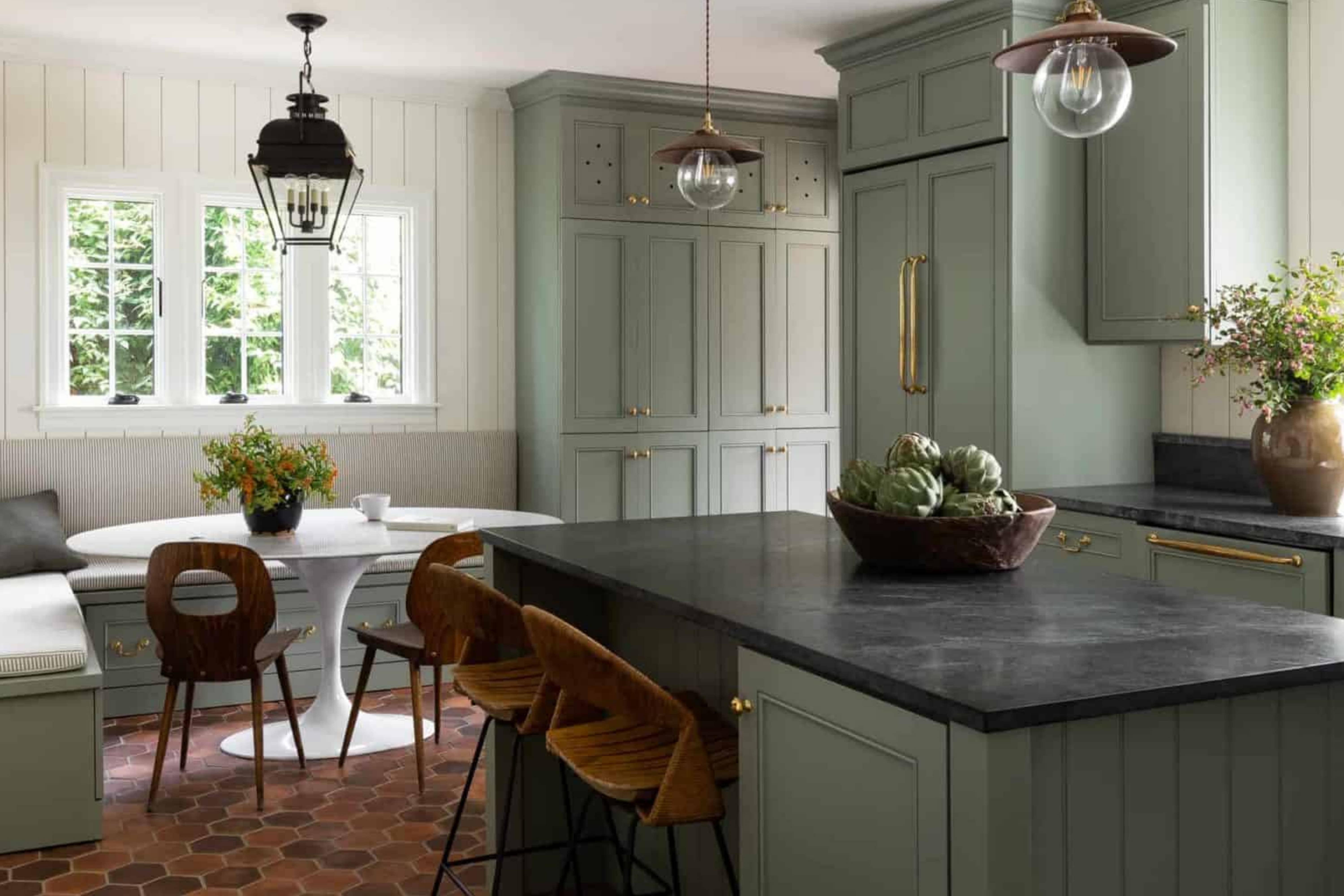 What Kind of Color Is Oil Cloth CSP-760?
The Oil Cloth paint color by Benjamin Moore is a lovely and soothing, relaxing, and sophisticated shade of green. Thanks to its muted and calm tone, it reads very pleasant in space, adding a note of tranquility to any room.
As Encycolorpedia says, this shade of green is very calm and well-balanced, it will fit many rooms of your home. Also, you can successfully use it on various surfaces like cabinets, kitchen islands, or vanity sinks. Moreover, this color is suitable for painting the exterior walls too!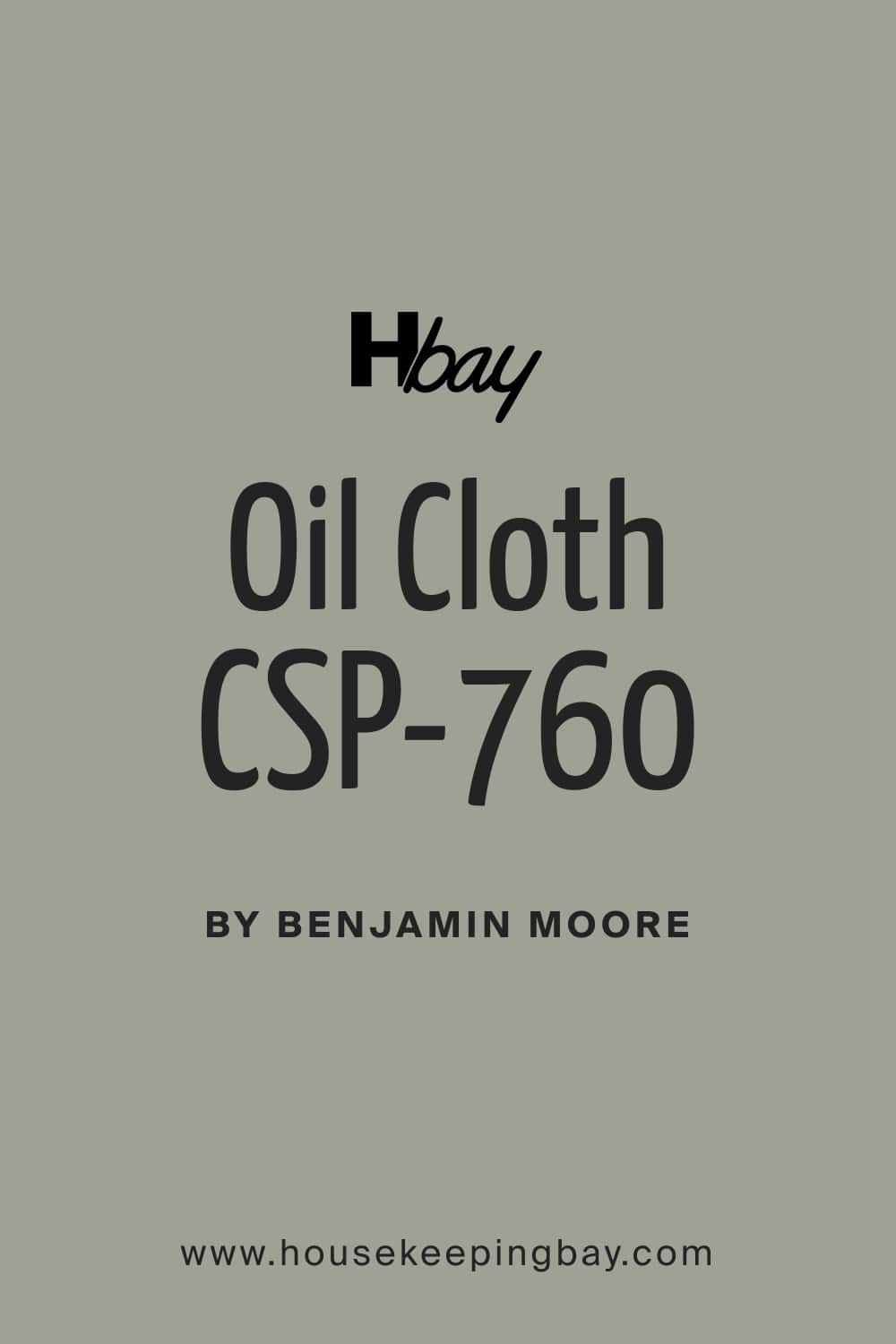 What Undertones Does Oil Cloth CSP-760 Have?
The Oil Cloth paint color has green-gray undertones. If you take a closer look at it, you will notice that this shade of green has a touch of gray that slightly mutes the green hue.
However, due to several undertones that this color has, it may read differently in distinct lighting conditions!
For example, if you use this calm and muted green in north-facing rooms, Oil Cloth will most likely lean more towards its green side. On the other hand, in south-facing rooms, you may see it shows more of gray on the walls.
Nevertheless, in any type of light, you can be sure that this paint color will still read green.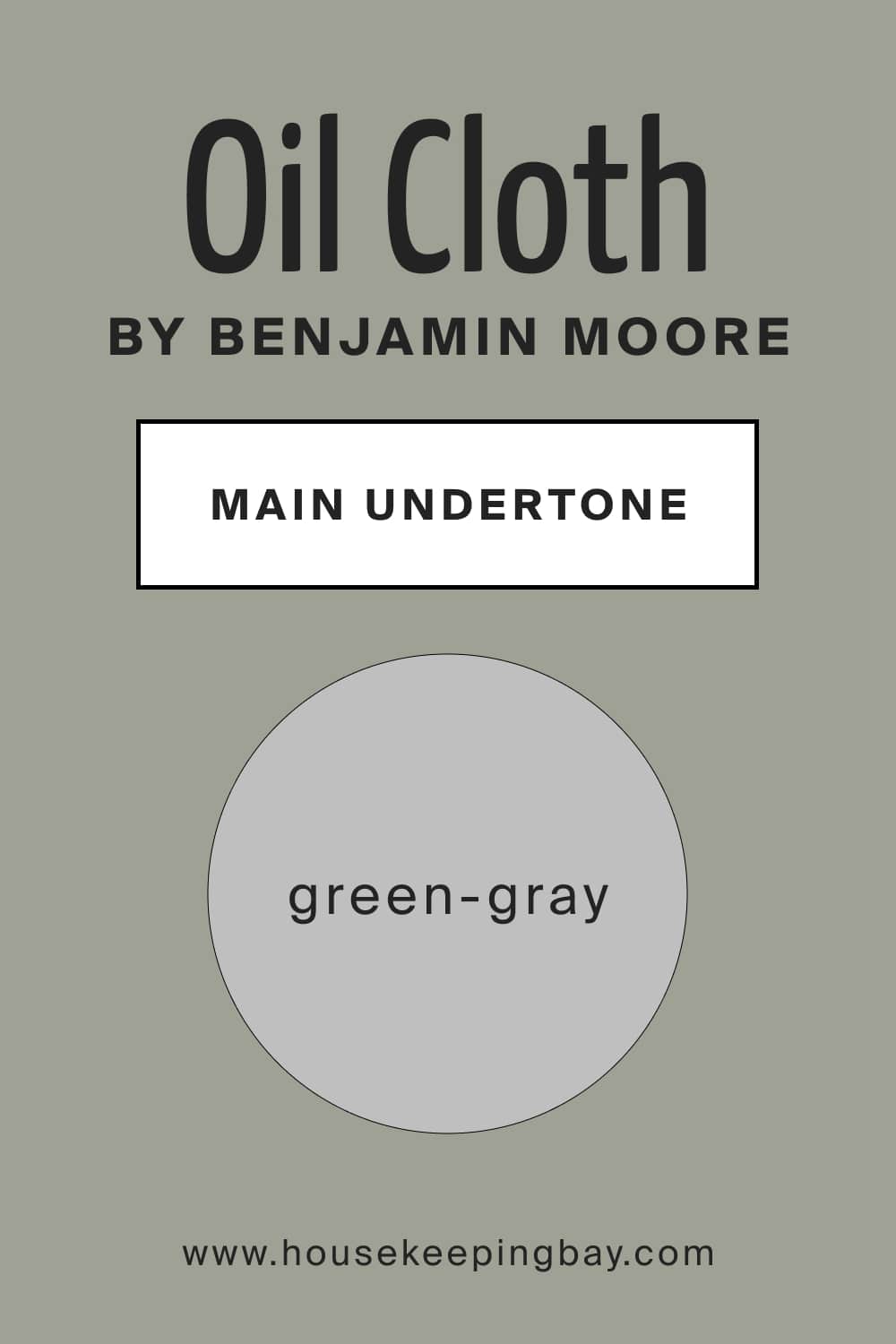 LRV Oil Cloth CSP-760 Paint Color
The LRV (light reflectance value) of the Oil Cloth color is 35, which means it doesn't reflect much light. At the same time, you can't call this color dark and deep.
It does read muted on the walls, enclosing the space a bit, which is why the Oil Cloth paint color might not be the best option for very small and poorly-lit rooms.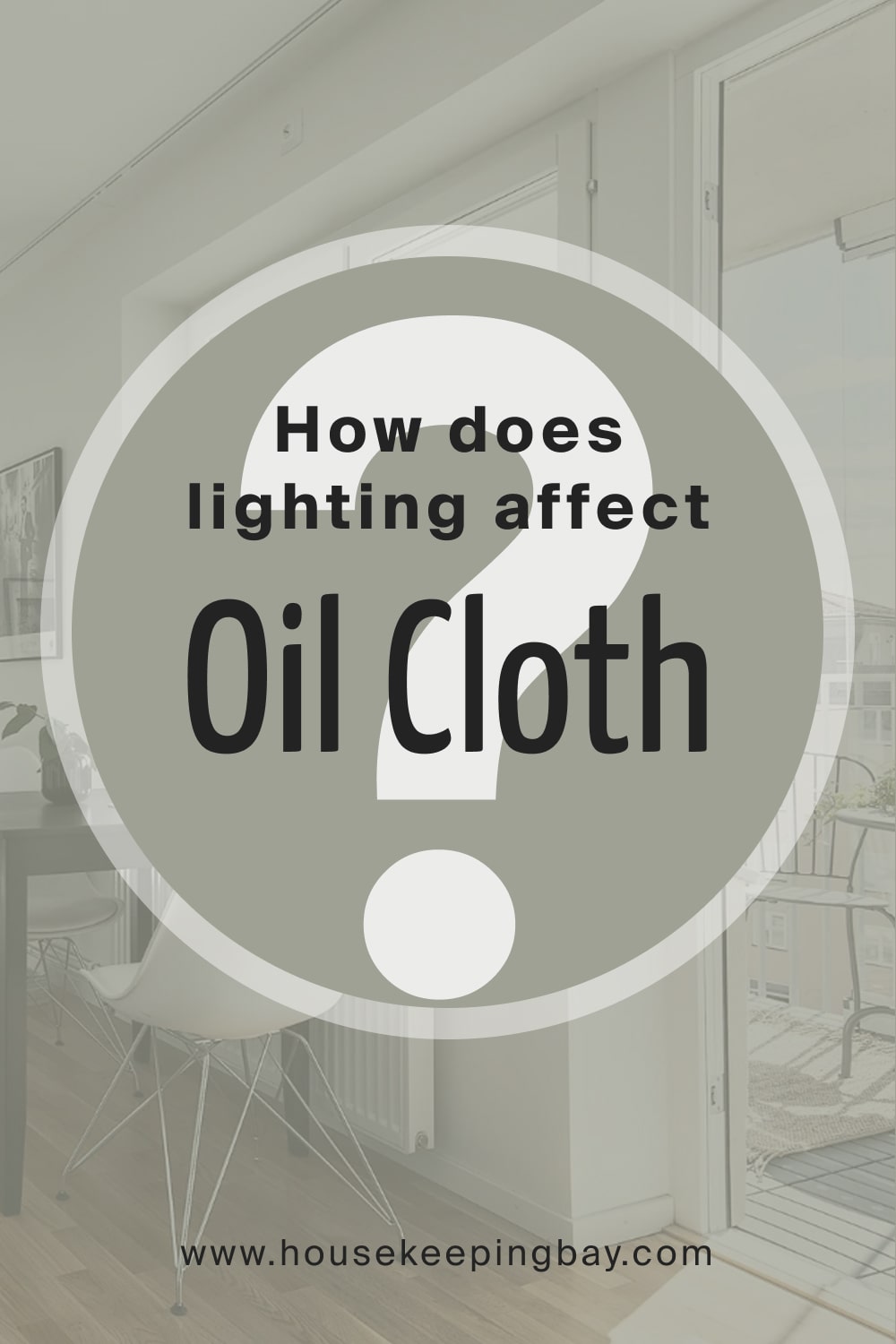 However, in spacious and well-lit spaces with plenty of natural light, this "foggy" green will read beautifully calm and reserved!
By the way, just to remind you, LRV is the measurement that shows how much light the color can reflect from the wall. The LRV scale ranges from zero to 100, where zero stands for black and 100 is pure white.
So, the higher the LRV rate, the lighter the color, bouncing off more light from the surface. And vice versa.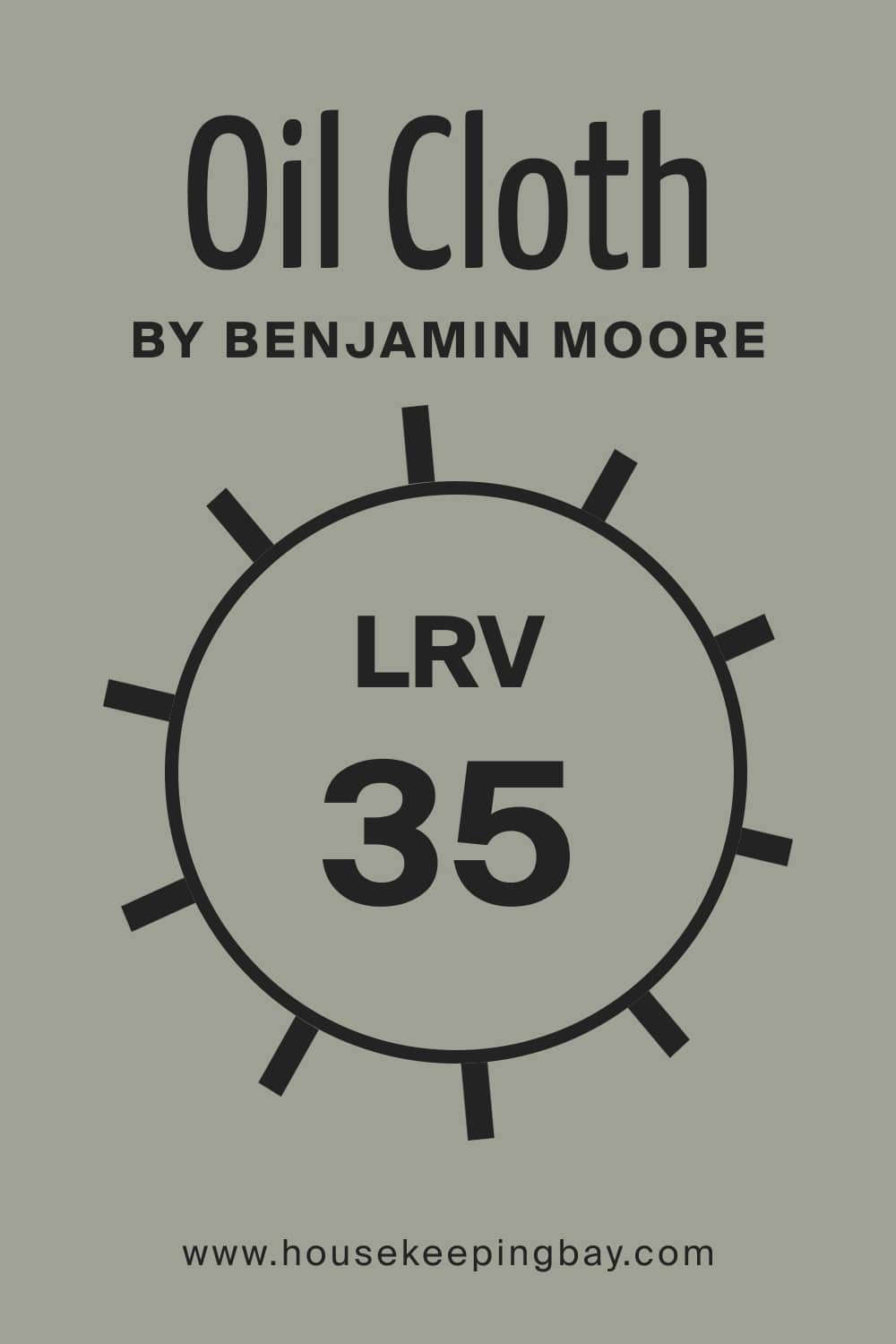 What is LRV? Read It Before You Choose Your Ideal Paint Color
What Is the Best Trim Color For Oil Cloth CSP-760?
When it comes to trim, white is an ideal color option to pair with any color on the walls. In the case of the Oil Cloth paint, it will pair very well with warm off-whites. For instance, BM White Dove is an excellent trim option for Oil Cloth thanks to its warm and creamy tone.
If you want more greige to pair with Oil Cloth, the Ballet White color would be an excellent option. The Ballet White color is warm and creamy, with a touch of beige and gray. This is why it will go nicely with Oil Cloth.
Also, you might want to use the Simply White color to pair it with the Oil Cloth on the walls. This shade of white will work very well with Oil Cloth, adding brightness to this muted green and, at the same time, bringing in a touch of warmth.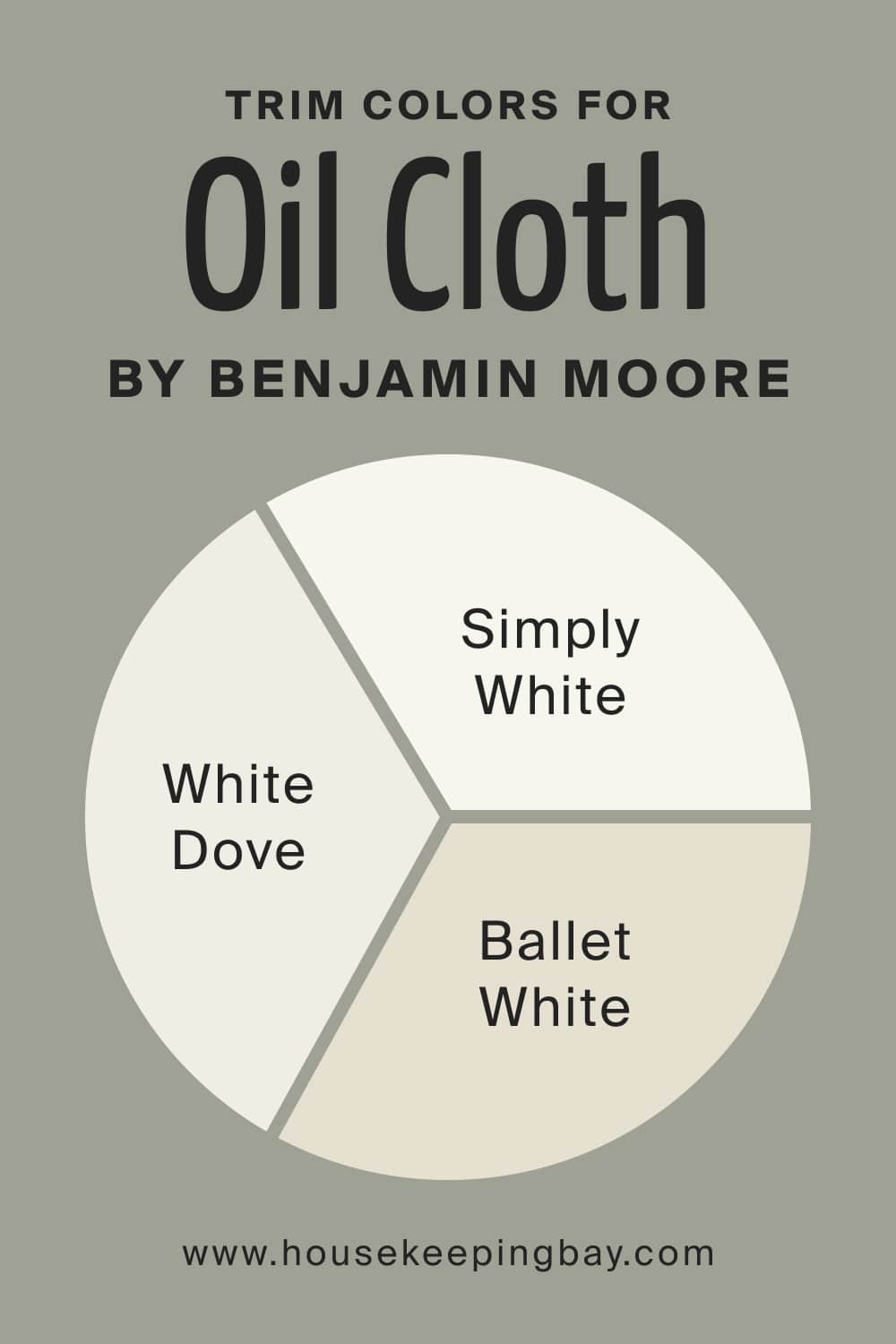 Paint Colors Similar to Oil Cloth CSP-760
In case you decide to use a slightly different paint color on your walls, it is good to know what alternative shades of green might work best. Below, you can find a list of green paint colors that read nearly the same as the Oil Cloth paint.
BM Heather Gray
BM Sabre Gray
Farrow&Ball Pigeon
BM Flora
SW Clary Sage
BM Baltic Gray
SW Ellie Gray
BM Storm
BM Grayhound
However, we want you to realize that none of these colors will look 100% the same as the Oil Cloth green! Each of these substitute colors will have unique undertones and vary in brightness and LRV.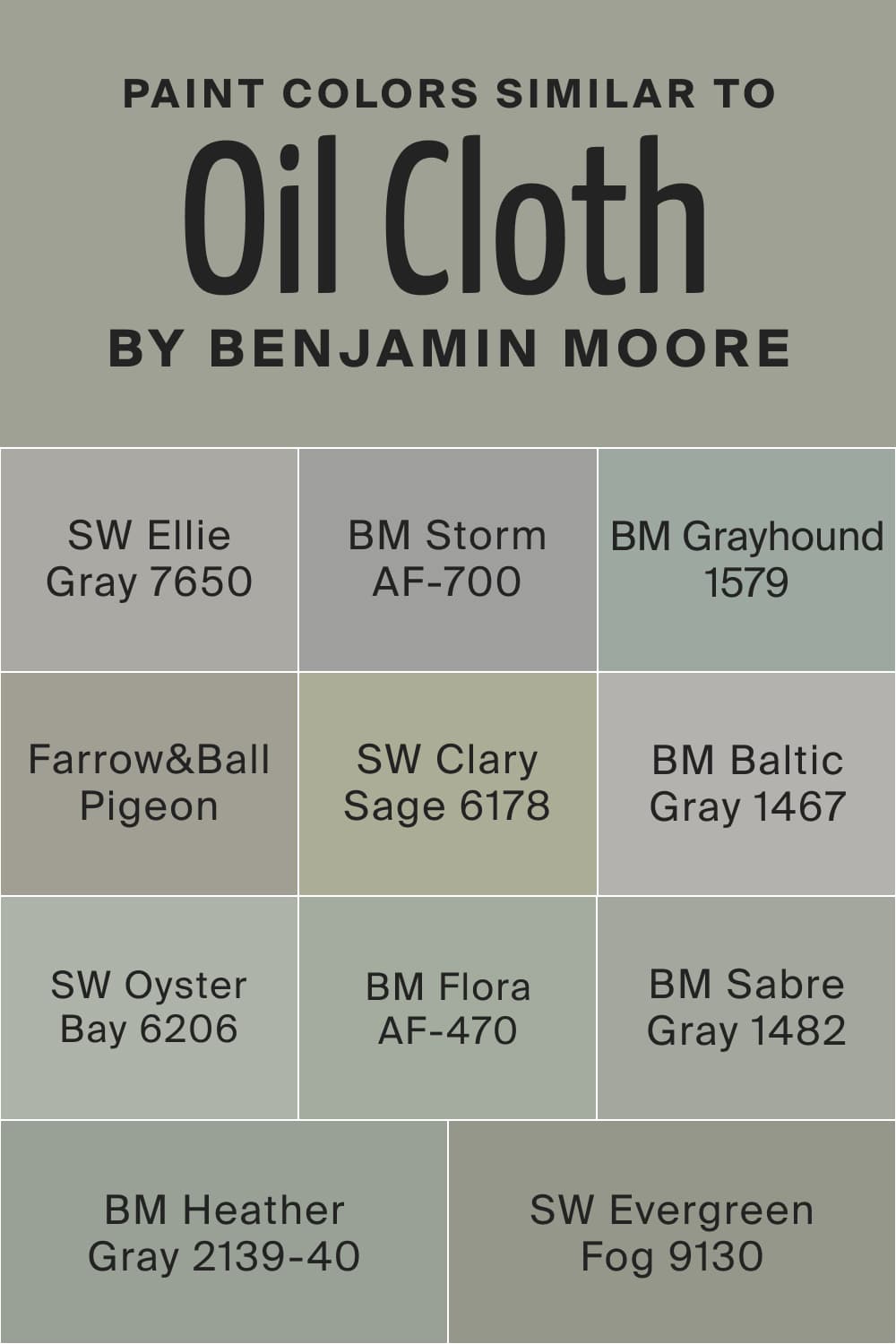 Colors That Go With the Oil Cloth by Benjamin Moore
For creating a properly working color palette in your home, you should know what colors might go well with the paint you use on the walls.
Speaking of the Oil Cloth as a wall color, it is crucially important to pick the right matching colors that will work with the undertones of this muted greenish-gray perfectly well!
The following colors fit best of all for this purpose:
CSP-485 Paper Doll
CSP-85 Tweed Coat
OC-25 Cloud Cover
2138-60 Gray Cashmere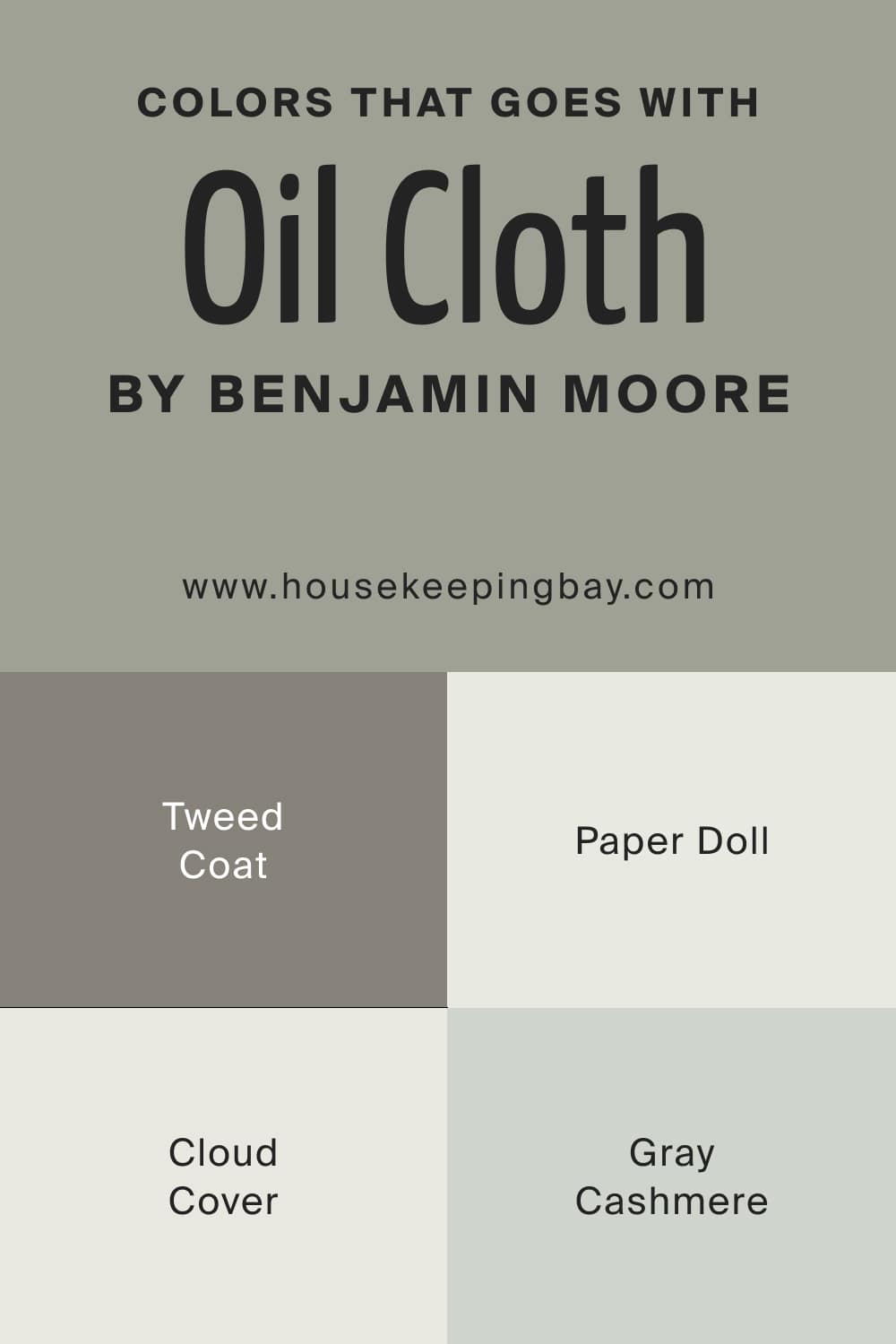 Comparing Oil Cloth by Benjamin Moore With Other Colors
You will better understand what makes different shades of the same color unique if you read the description of their differences. This way, you will see how even the slightest distinction in LRVs or different undertones can make two colors read unique.
Oil Cloth vs Evergreen Fog
Sherwin- Williams Evergreen Fog is very similar to Oil Cloth, in fact. SW Evergreen Fog has an LRV of 30, which makes it a little bit more reflective than Oil Cloth. This is also the reason why SW Evergreen Fog reads slightly lighter on the walls.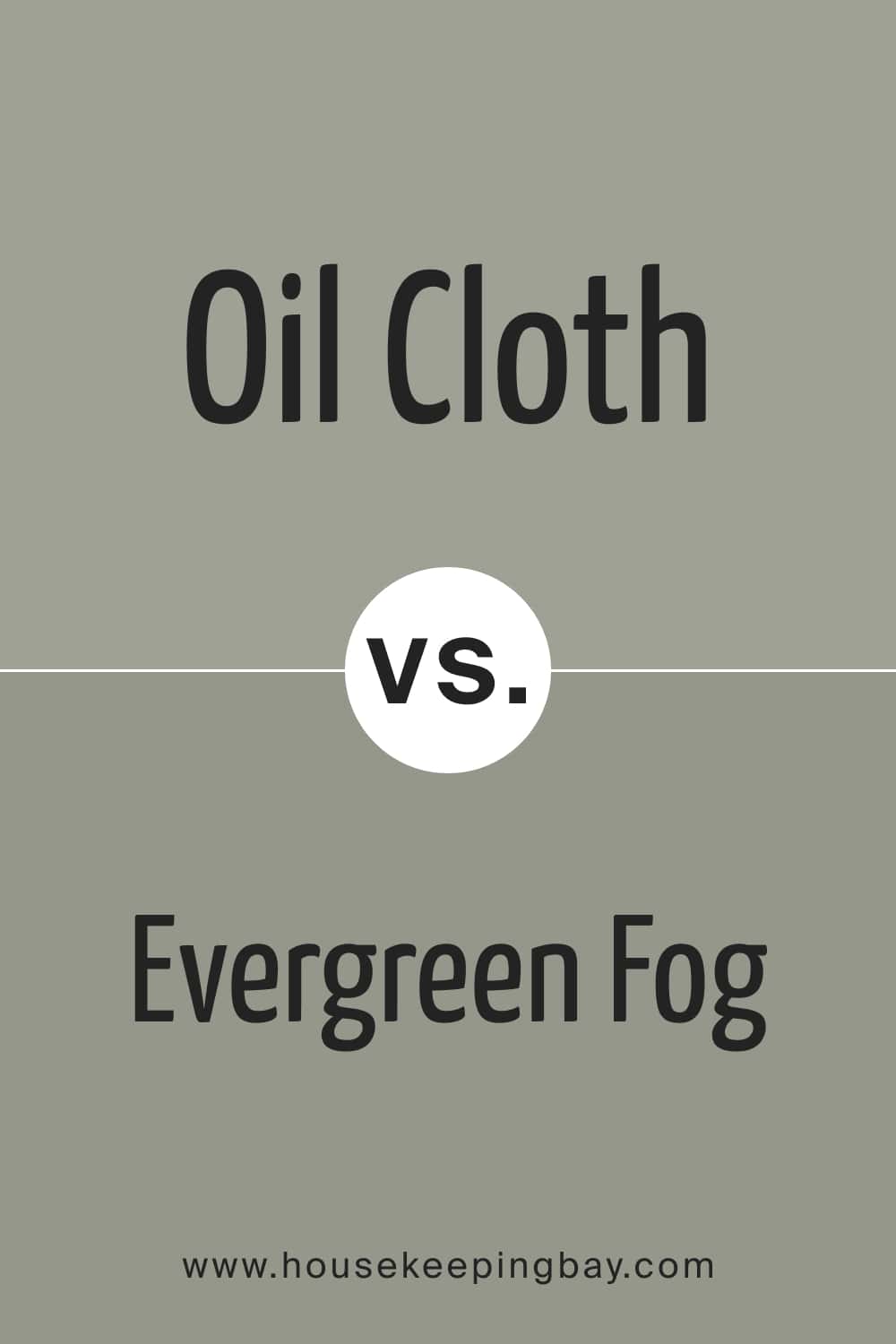 Oil Cloth vs October Mist
BM October Mist is a gentle and shaded sage green color. When you place it beside the Oil Cloth paint, you can see this shaded tone perfectly well.
BM October Mist is a great choice if you are looking for a lighter sage green for your interior walls.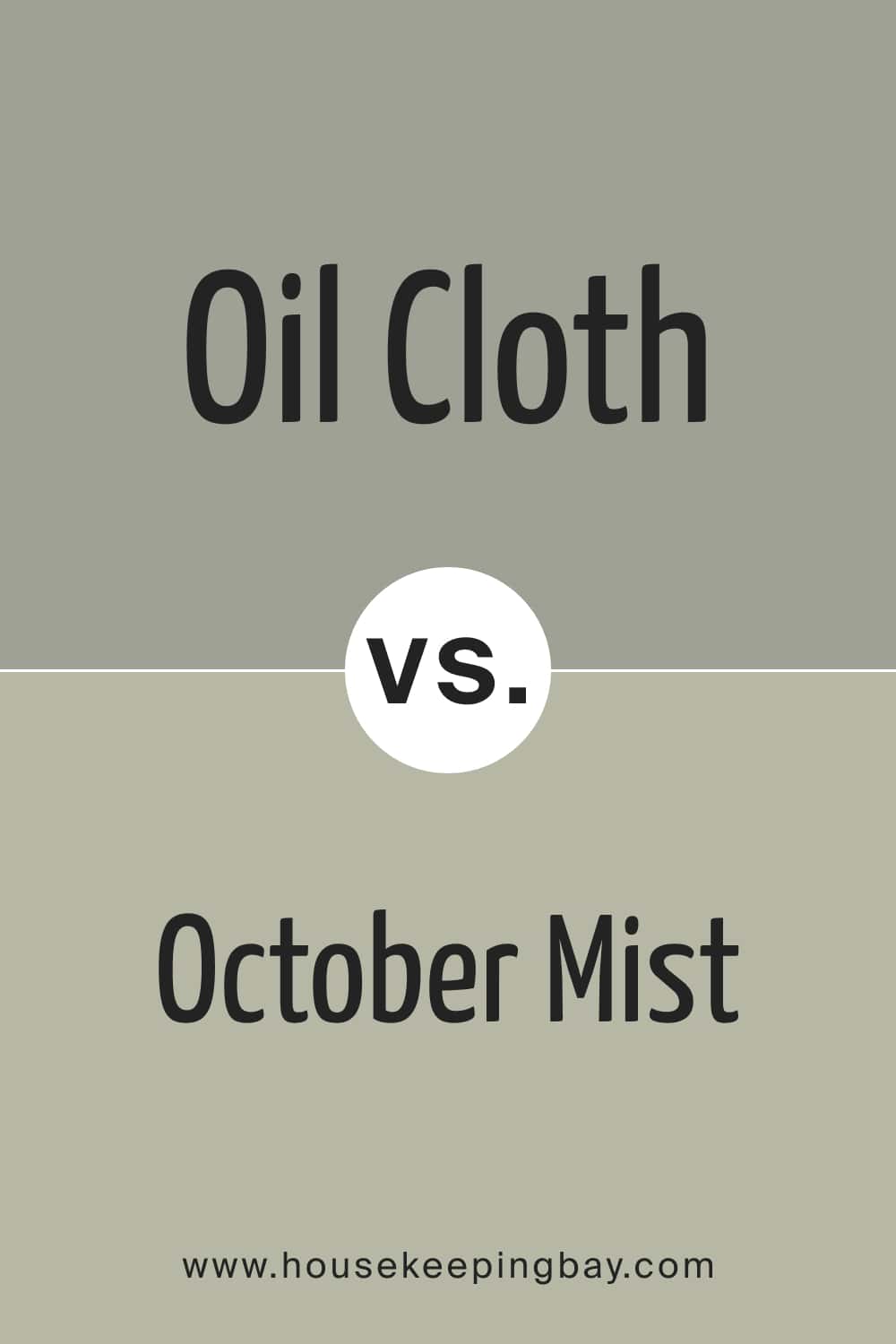 Oil Cloth vs Dorian Gray
SW Dorian Gray reveals a slight and barely noticed brownish hue compared to Oil Cloth with its muted green tone. Also, these paints have different undertones. BM Oil Cloth has green-gray undertones, whilst SW Dorian Gray has warm brown undertones.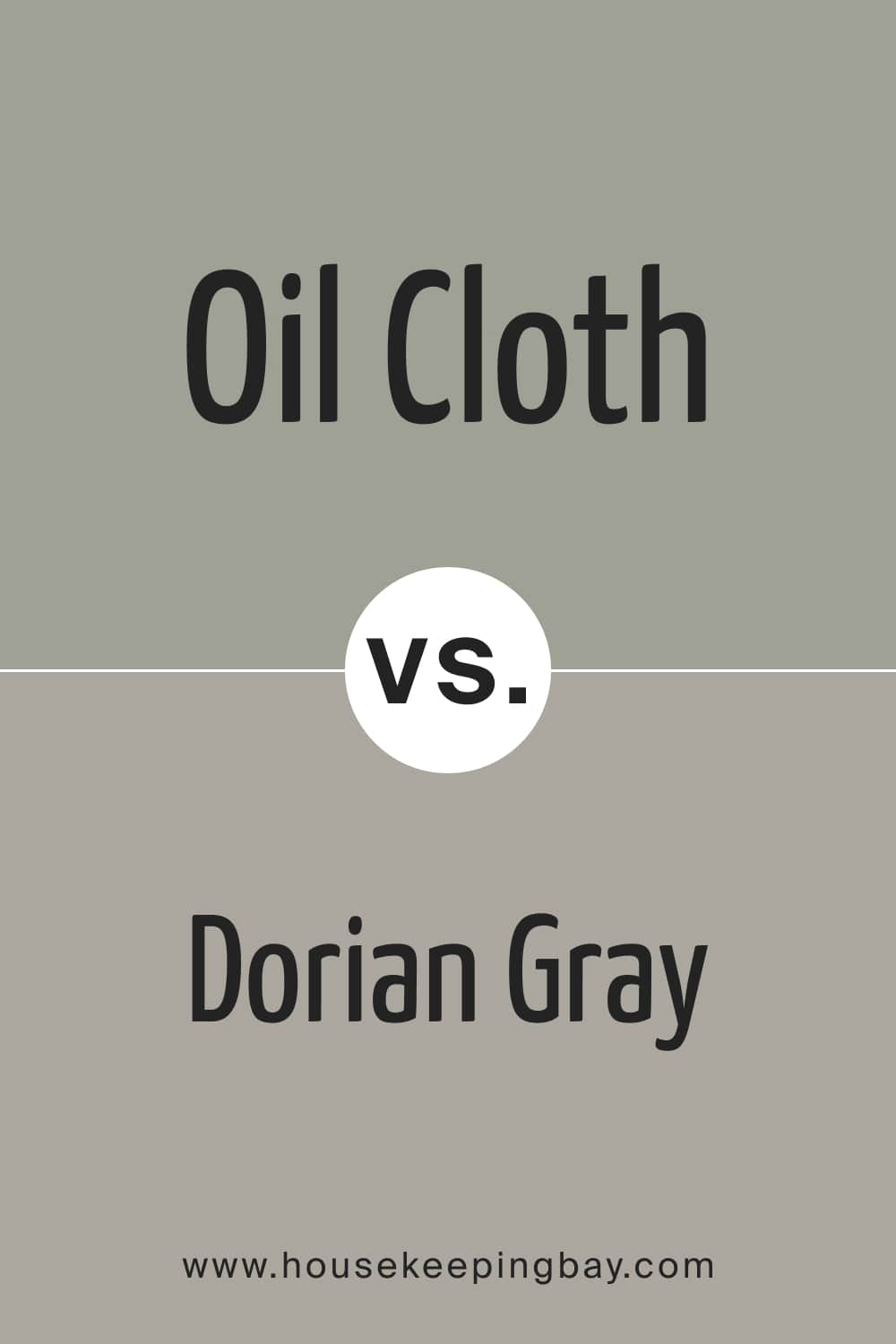 Oil Cloth vs Pigeon
Farrow&Ball's Pigeon paint color has green, blue, and gray undertones, which makes it quite a complex color!
Compared to Oil Cloth, the Pigeon paint reads slightly grayer with a barely noticeable hint of blue.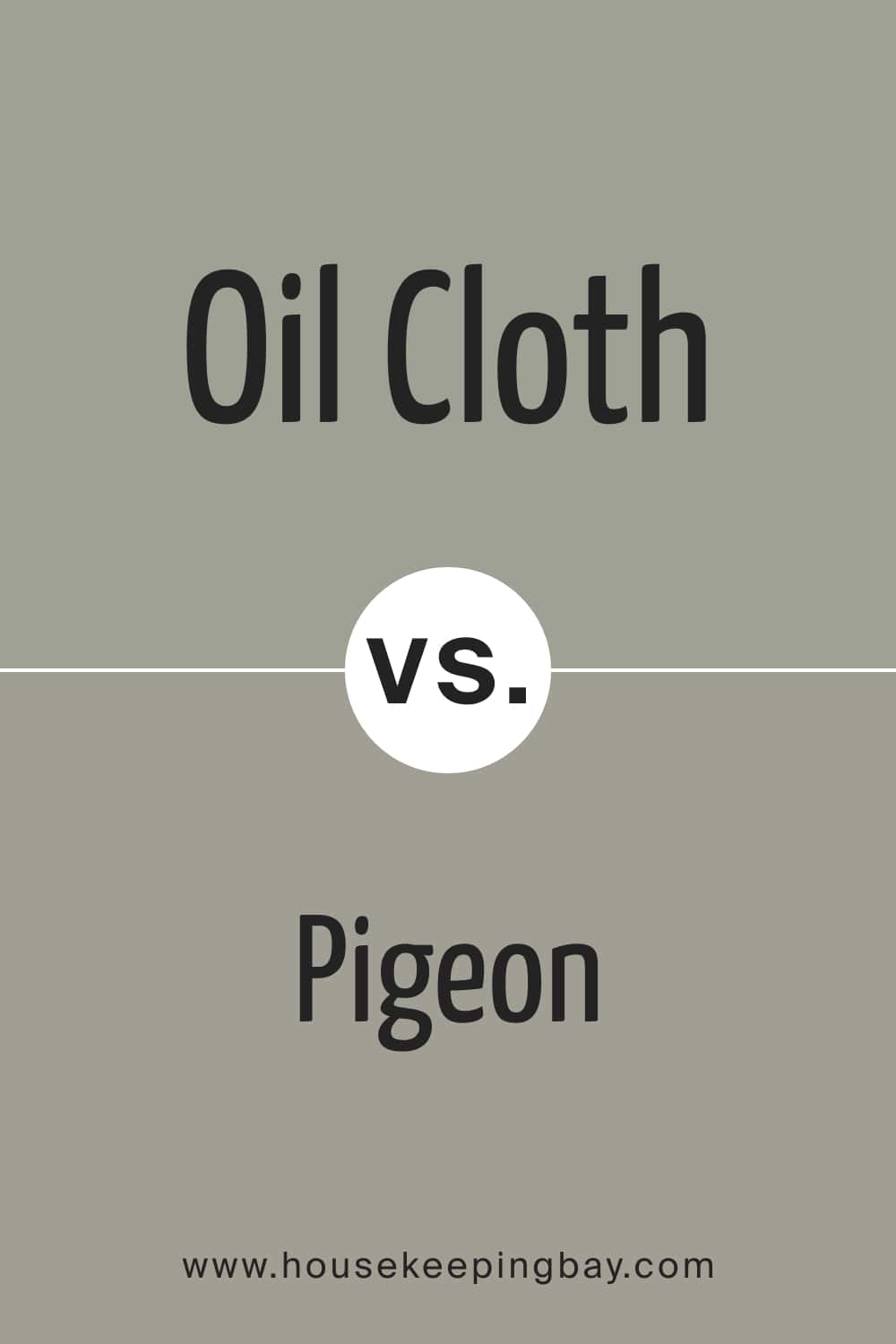 Oil Cloth vs Chelsey Gray
SW Chelsey Gray has brownish-violet undertones that are quite clearly seen if you place this color side by side with the Oil Cloth color. Their LRVs also differ, with SW Chelsey Gray having an LRV of 48 and Oil Cloth having an LRV of 35, which makes it a less bright color.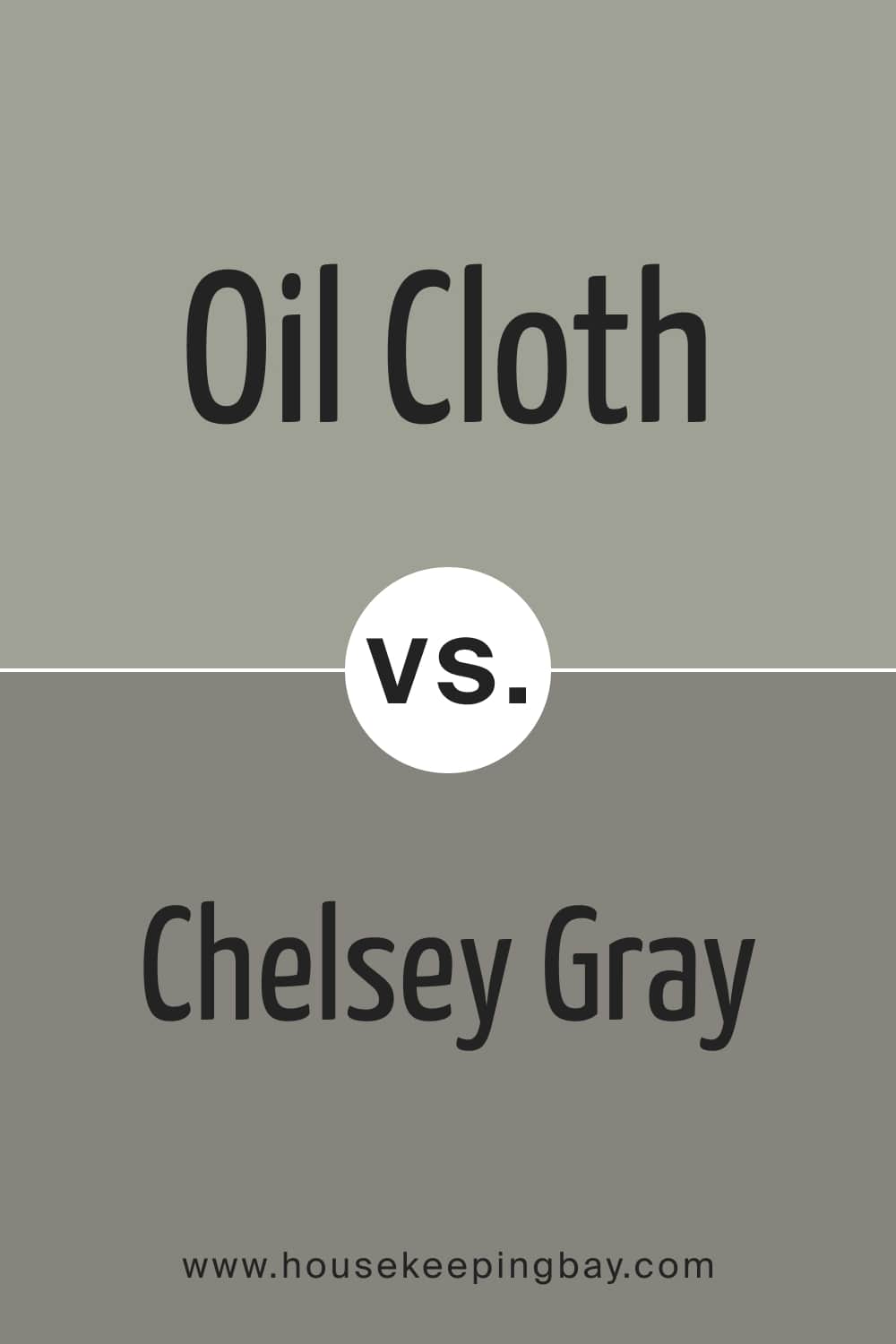 Where to Use Oil Cloth CSP-760 Color In Your Home?
Despite being able to change its appearance a bit depending on the lighting conditions, BM Oil Cloth is still a versatile paint color that can be used successfully in different rooms of your home. Below, you can see in what rooms this green will work best of all exactly.
Oil Cloth CSP-760 in the Living Room
In a living room, BM Oil Cloth looks calming and balanced, which makes it an ideal color for those who need to create a relaxed vibe in this room. This muted green pairs nicely with wooden elements and furniture, as well as with off-whites on the ceiling and trim.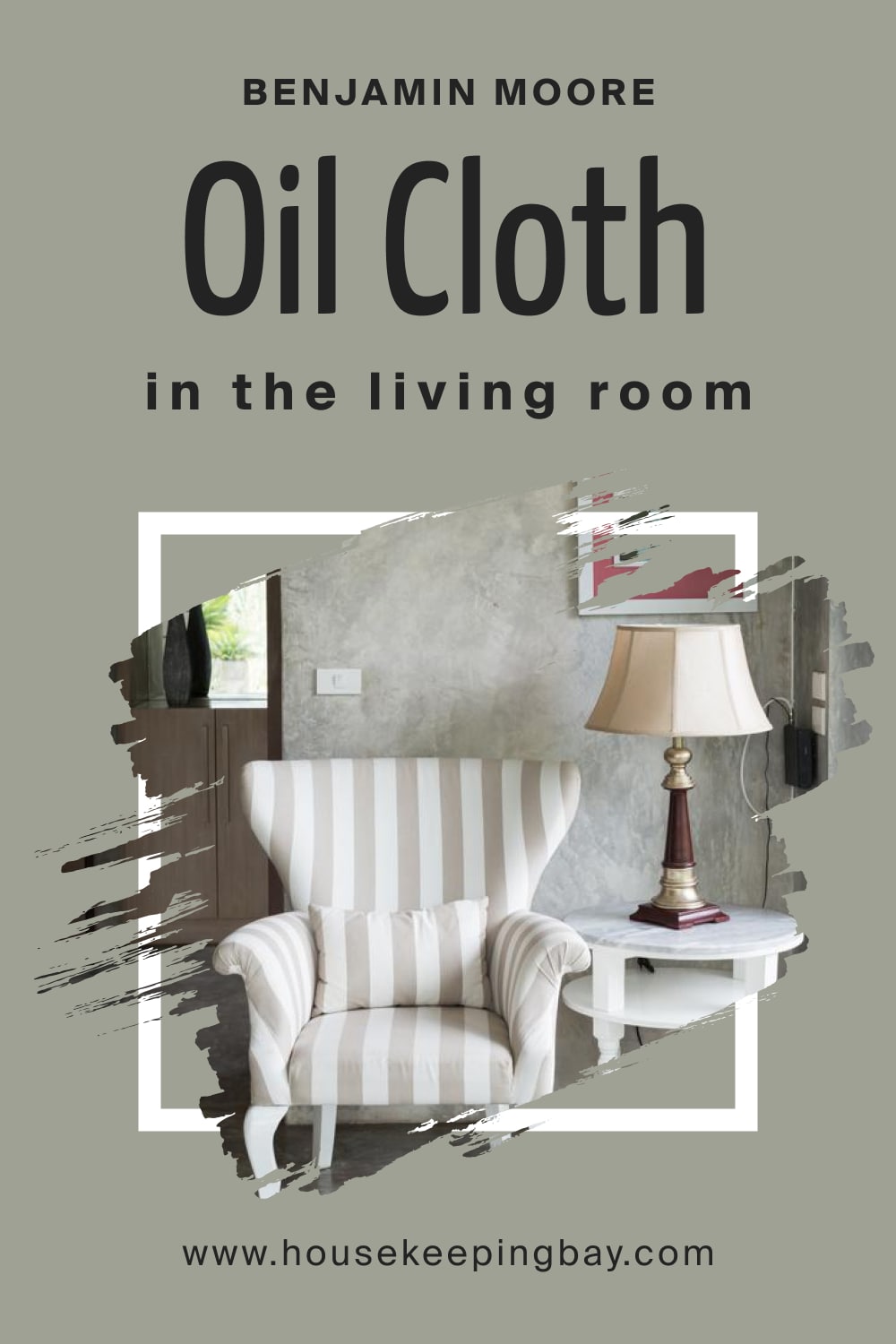 Oil Cloth CSP-760 in a Bedroom
Do you want a soothing and calming vibe in your bedroom that will help you relax after a busy day? Then opt for Oil Cloth as a wall color! This "foggy" green will add a feeling of tranquility and make your bedroom read calm.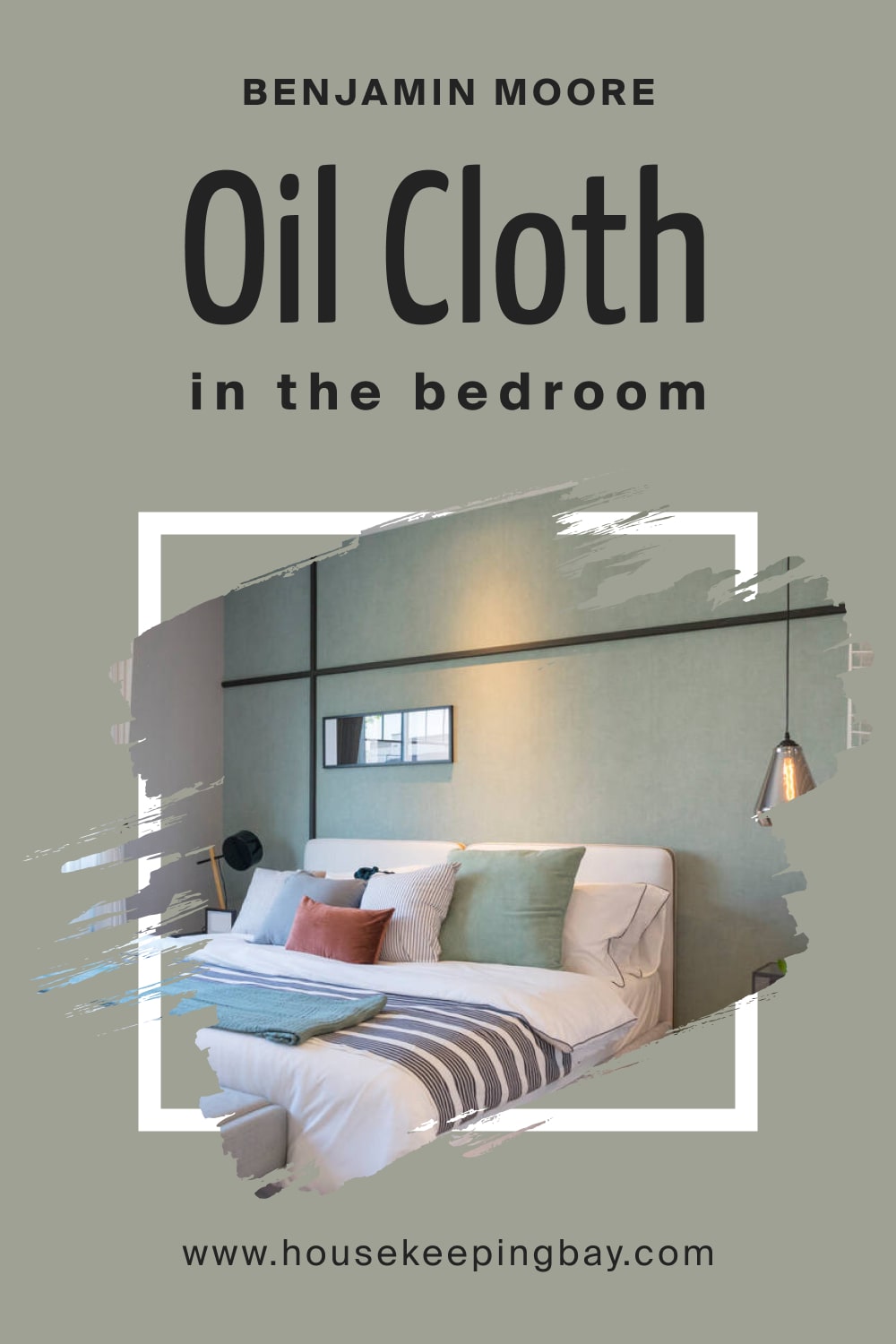 Oil Cloth CSP-760 and Kitchen/Kitchen Cabinets
Oil Cloth is an excellent color choice for kitchens. Whether you use it on the walls or cabinets, this green will bring a warm note to the space. Oil Cloth also pairs well with other neutral colors from terra cotta to creamy colors.
Also, BM Oil Cloth is a beautiful and timeless green color to use on your kitchen cabinetry. It's a great shade of green if you want to add a pinch of personality and depth to your cabinetry without making them read too bold.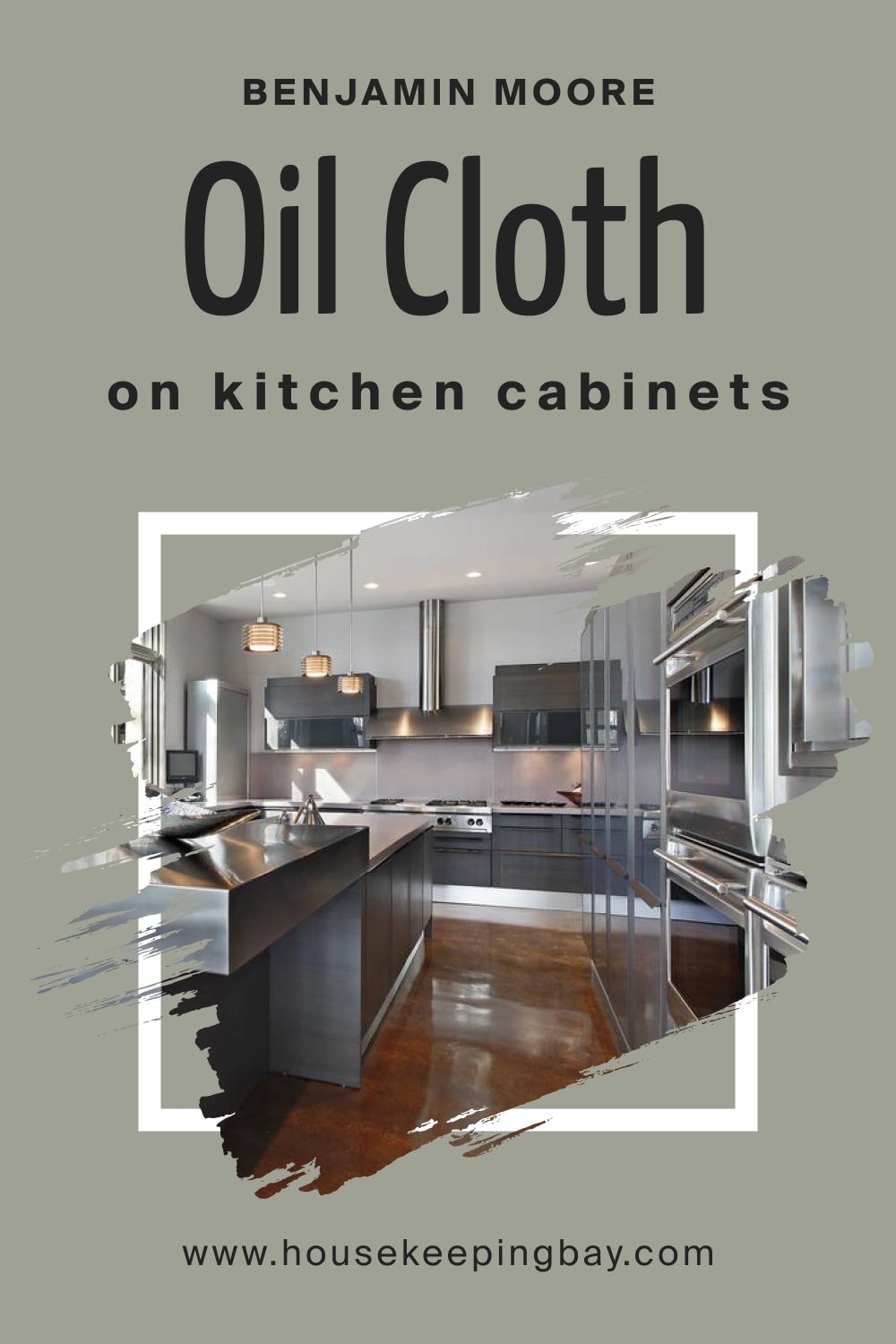 Oil Cloth CSP-760 for the Exterior Use
Not sure whether Oil Cloth is the right color for exterior use? No worries, it's the shade of green that will work equally well indoors and outdoors! If you use it on exterior walls, we suggest you add off-white trim to brighten the wall color a bit.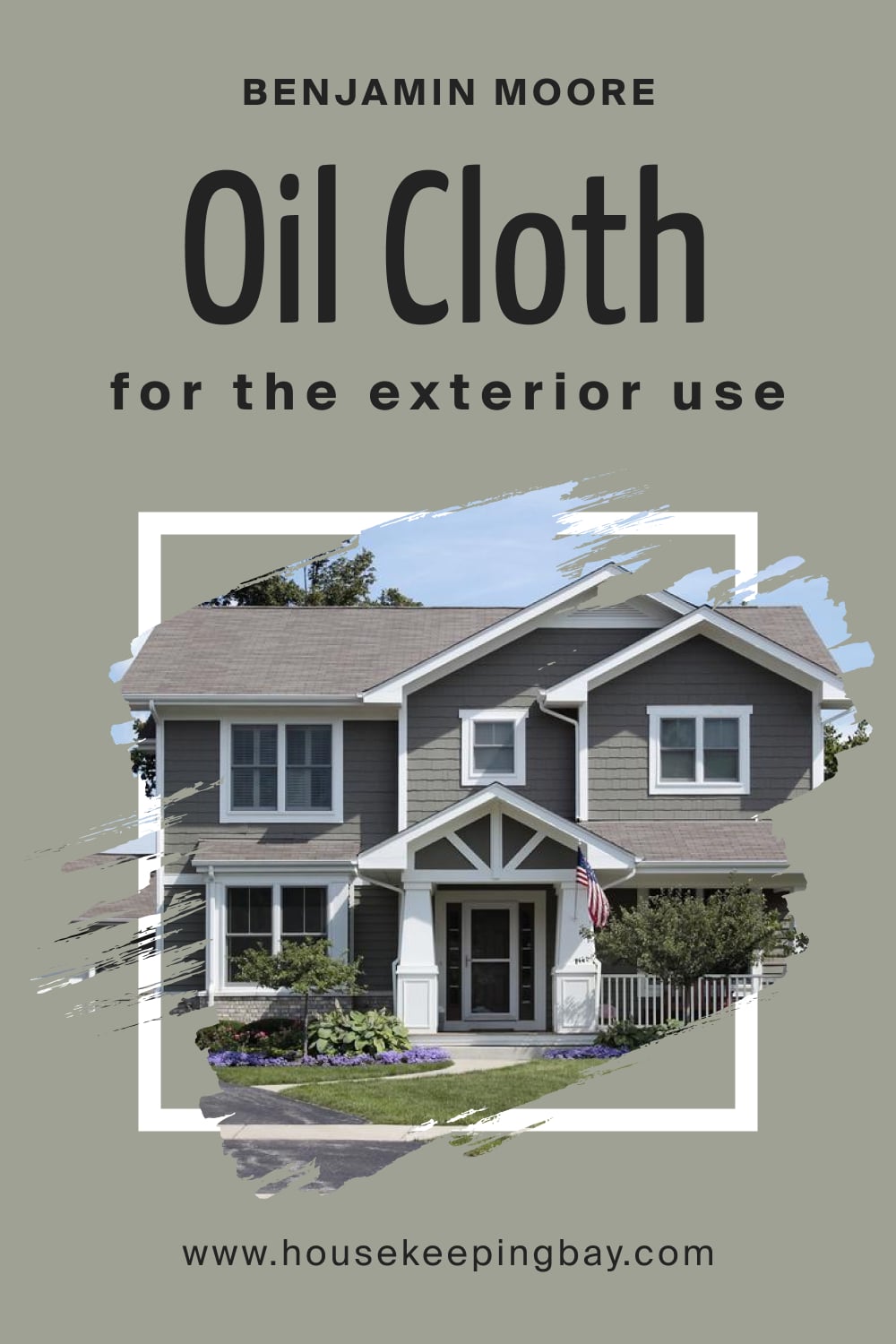 This way, you have learned all the helpful information about the green color called Oil CLoth by Benjamin Moore. Now you know how to use it and in what rooms it will work best.
And since you know its LRV and undertones, you won't have problems with using this color in nay space of your home.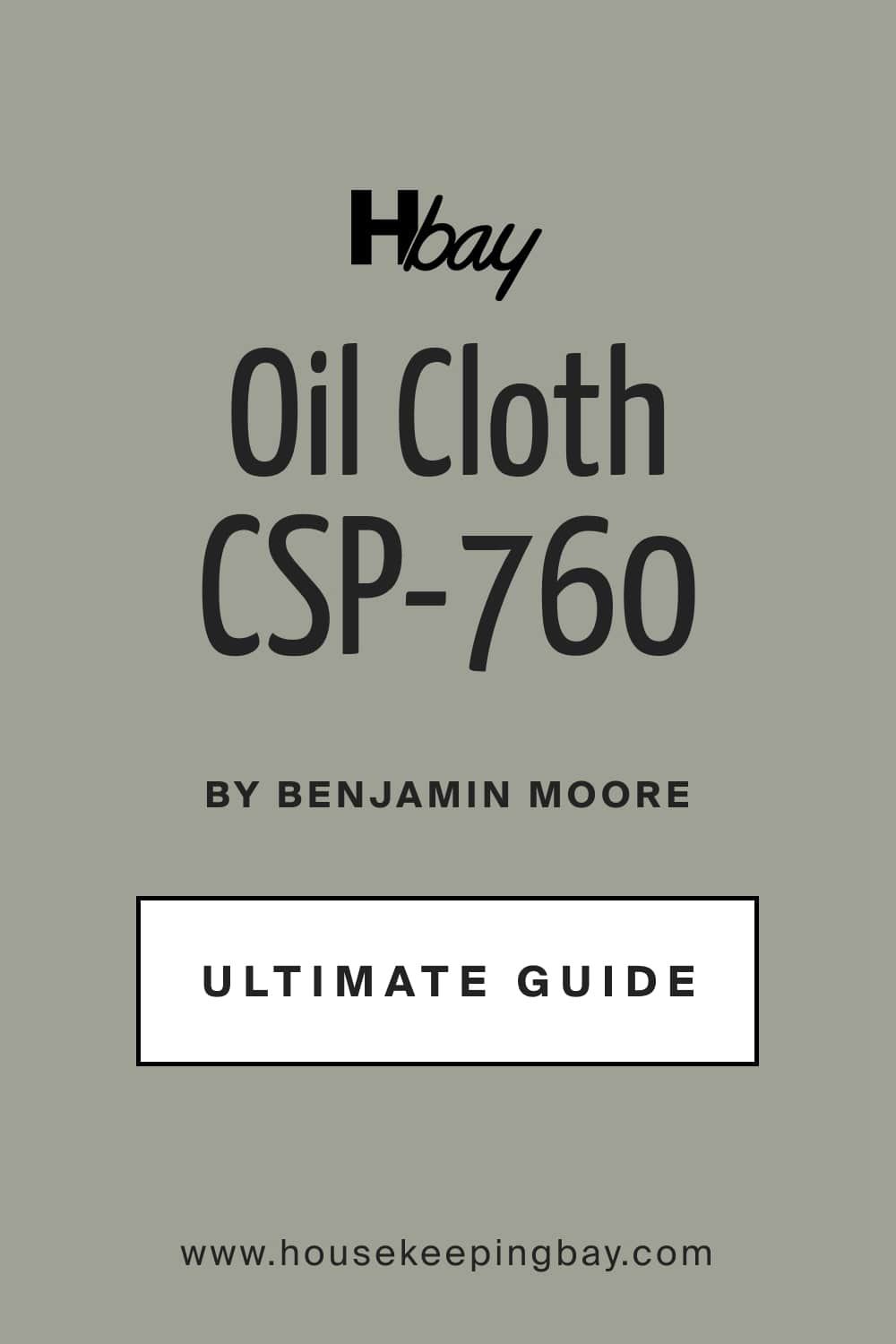 Frequently Asked Questions
⭐Which color collection of Benjamin Moore does Oil Cloth color belong to?
This color is part of the Aura and the Color Stories collections.
⭐Is Oil Cloth a dark color?
No, it's not dark. But this shade of green is indeed pretty muted.
⭐Is BM Oil Cloth a trendy color?
Yes, you can call it trendy due to its timeless nature and versatility!