Yellow is a warm and bright color that adds vividness to a room where it is used. However, people tend to think that yellow is not the go-for color for their homes. Some find it way too difficult to coordinate, others think that yellow will not work in their rooms and the wall color. This is why yellow is mostly used as an accent color to highlight certain areas or spots in a room like drawers or cabinets, accent walls, pieces of furniture, etc.
But today we would like to introduce several magnificent yellow color palettes to you so that you could see how versatile this juicy and bright color can be!
We will give a description for each color palette and tell you what colors it contains, as well as how well they work together and what they could be used for. With the help of this information, you will feel more confident in experimenting with yellow in your home!
14 Ideas of Yellow Color Palette to Use In Your Home
Although yellow is a very warm and cozy color by its nature, without proper knowledge of color theory and without knowing how colors work together, you can easily mess up with it and end up with a look in your home that won't please you at all! When using it wrong, we can easily turn this sunny and vivid color into an unsightly muddy or dusty shade that won't be able to express all of its beauty.
Choosing a Perfect Color Palette For Your Home Like a PRO! Interior Design Tips to Combine Colors
Choosing a color palette for your home can really be a nasty pain and not only because you are not a professional painter. If you are not familiar with the color theory, you will find it rather difficult to pair colors harmoniously.
This is why we recommend you check out the following yellow palette suggestions to be able to quickly decide what colors would look best in your home, and how well they would cooperate with each other and with the upholstery on your furniture and other surfaces in the room.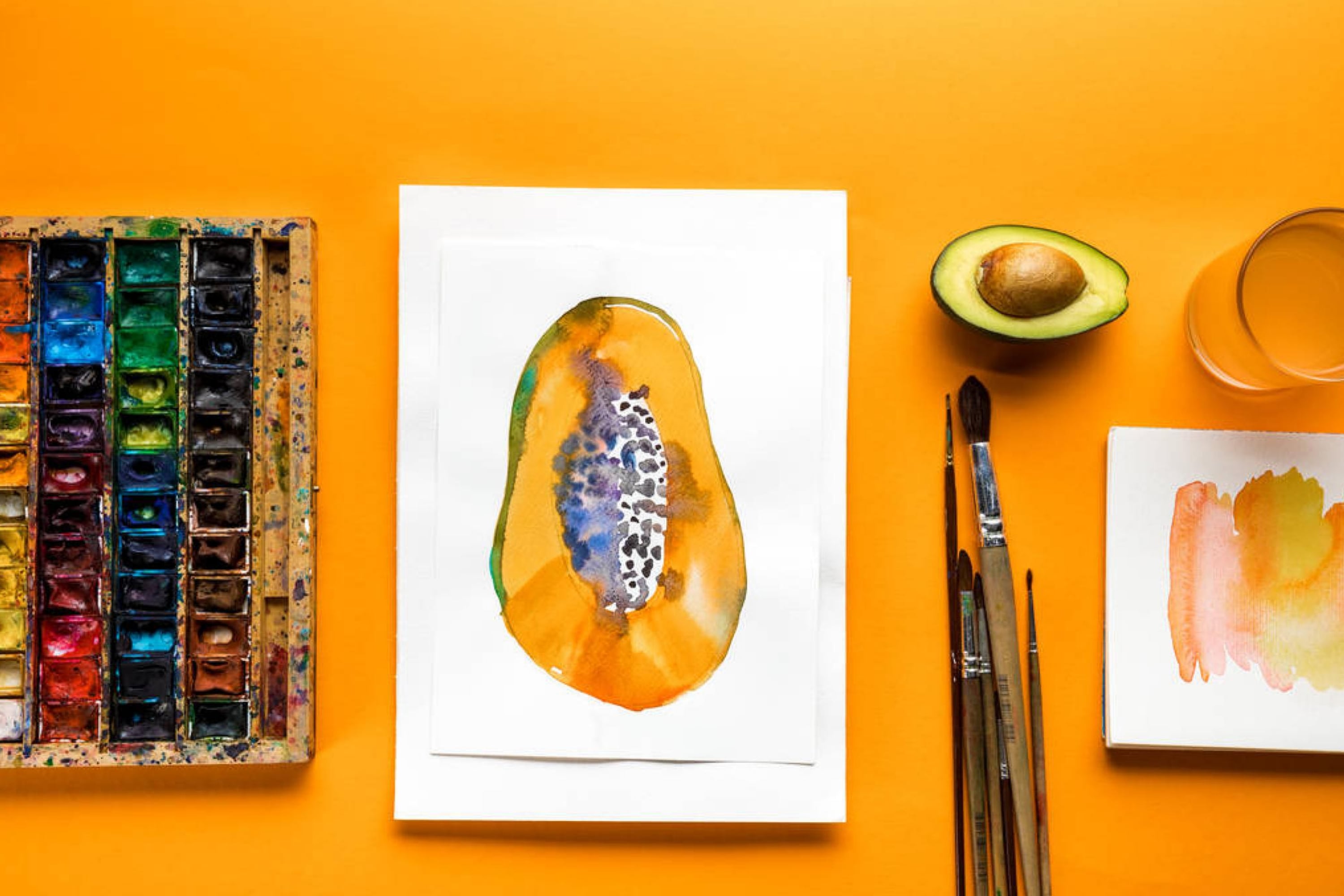 Office Mood Color Palette
The overall vibe of this color palette is rather cool-toned due to the presence of blue and blue-gray colors in it. However, they are muted and soft, and besides, there are two yellow colors in it as well, so the colors are balanced perfectly well. You can use this palette for your study or home office.
Thanks to the reserved and focused feeling it gives, working in a space painted these colors will be very productive.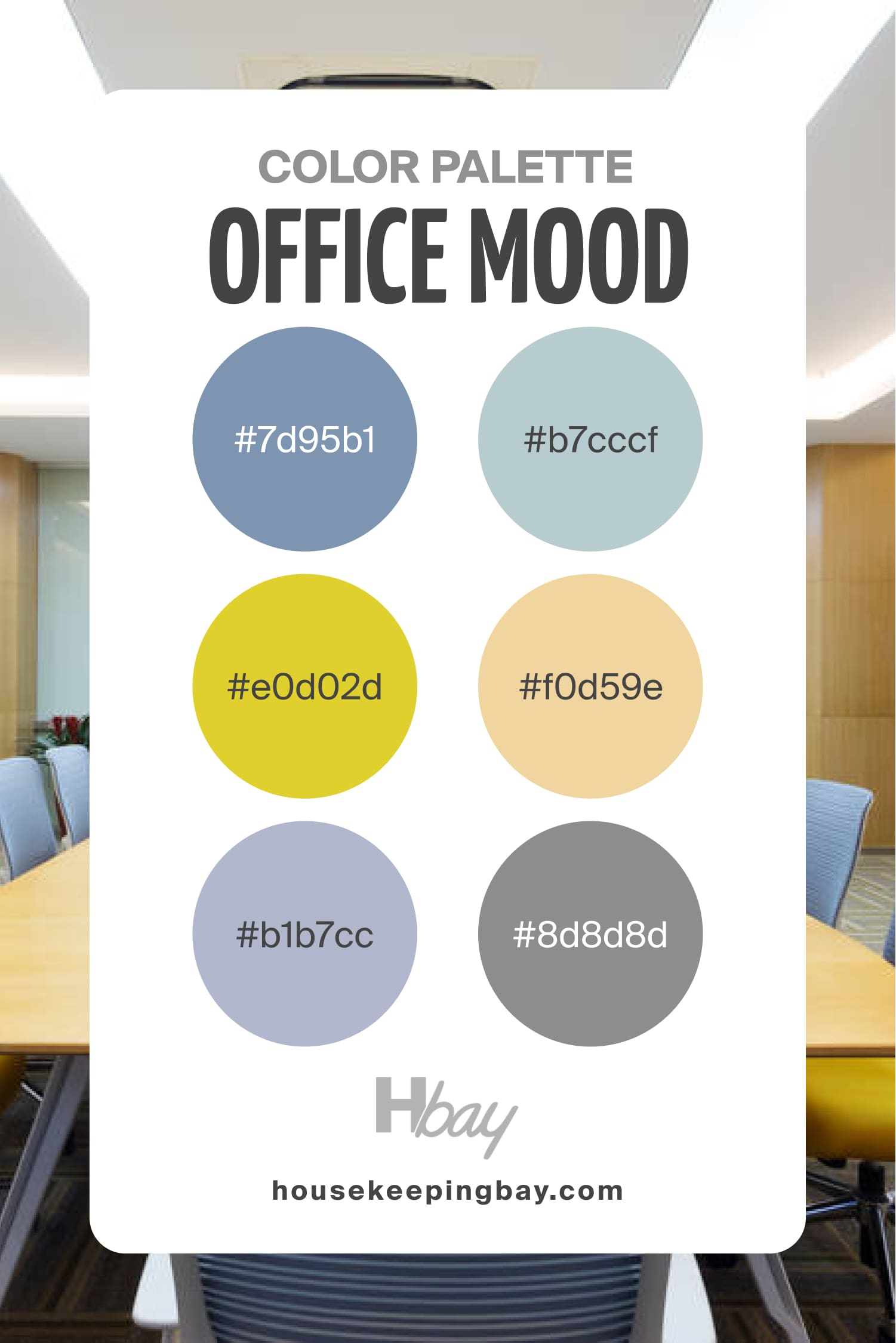 Summer Vibes Color Palette
If you like bright colors but you still feel uncertain whether you are ready to use really bold and vivid shades in your home, you can start with this color palette.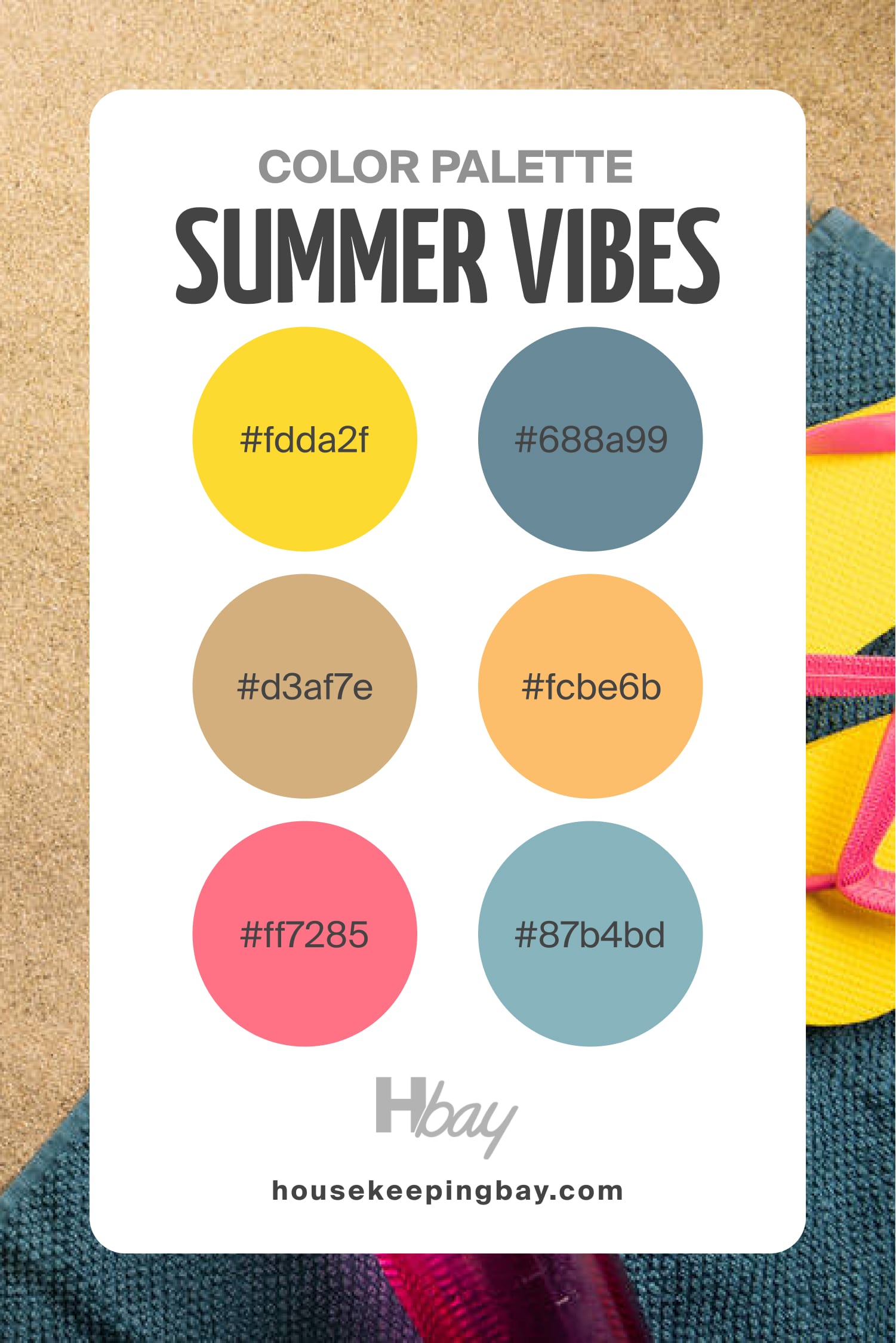 There is pink, yellow, blue, and earthy beige in it, all perfectly balanced and quite muted, so you won't have the eye-tearing effect of color on your walls.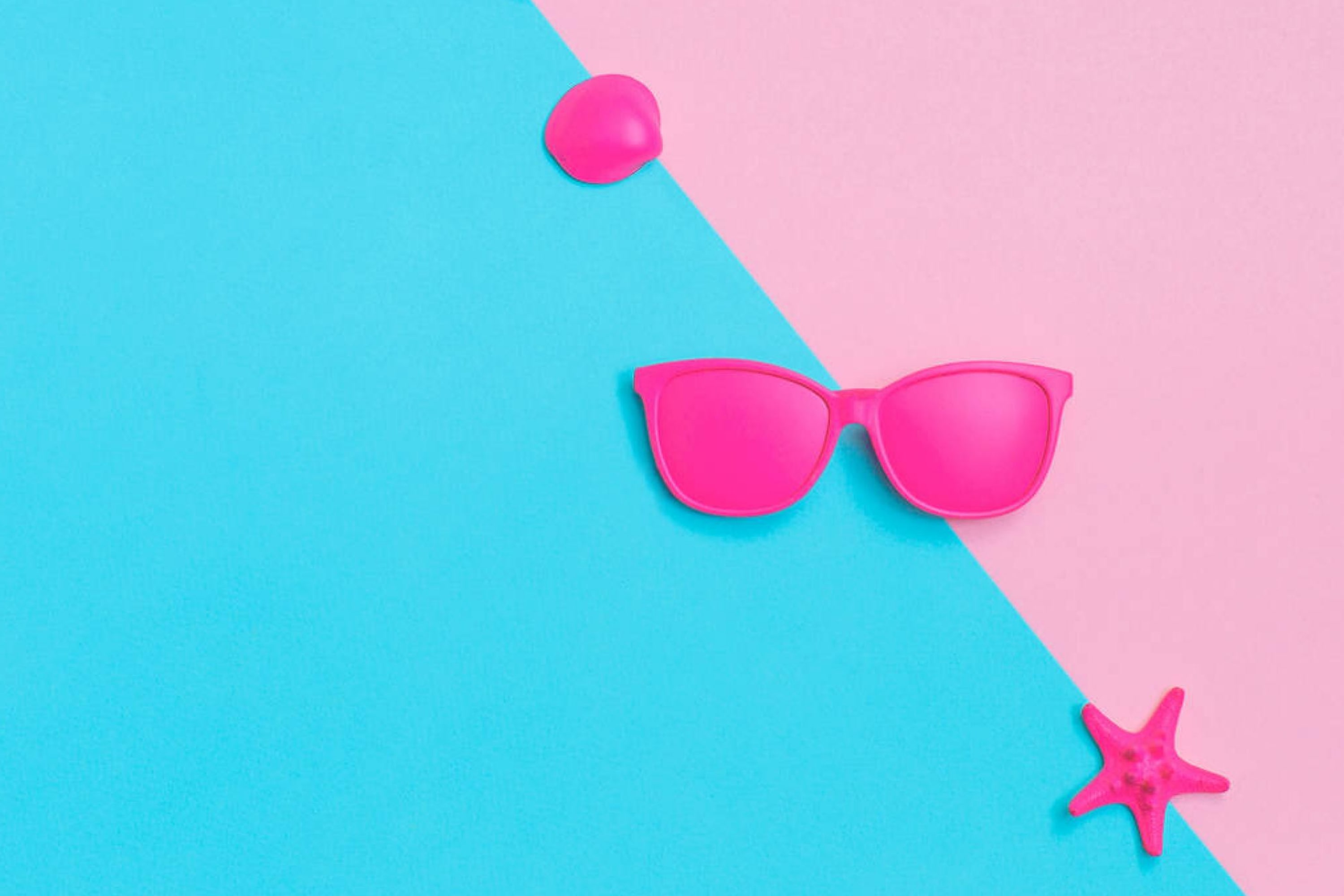 Blue Yellow Chill Palette
This color palette is a perfect pick for those who prefer light yet vivid and joyful colors. It consists of yellow, blue, green, and violet colors which may seem quite an unusual color combination at the first sight. But altogether, these colors create a harmoniously refreshing and reviving atmosphere.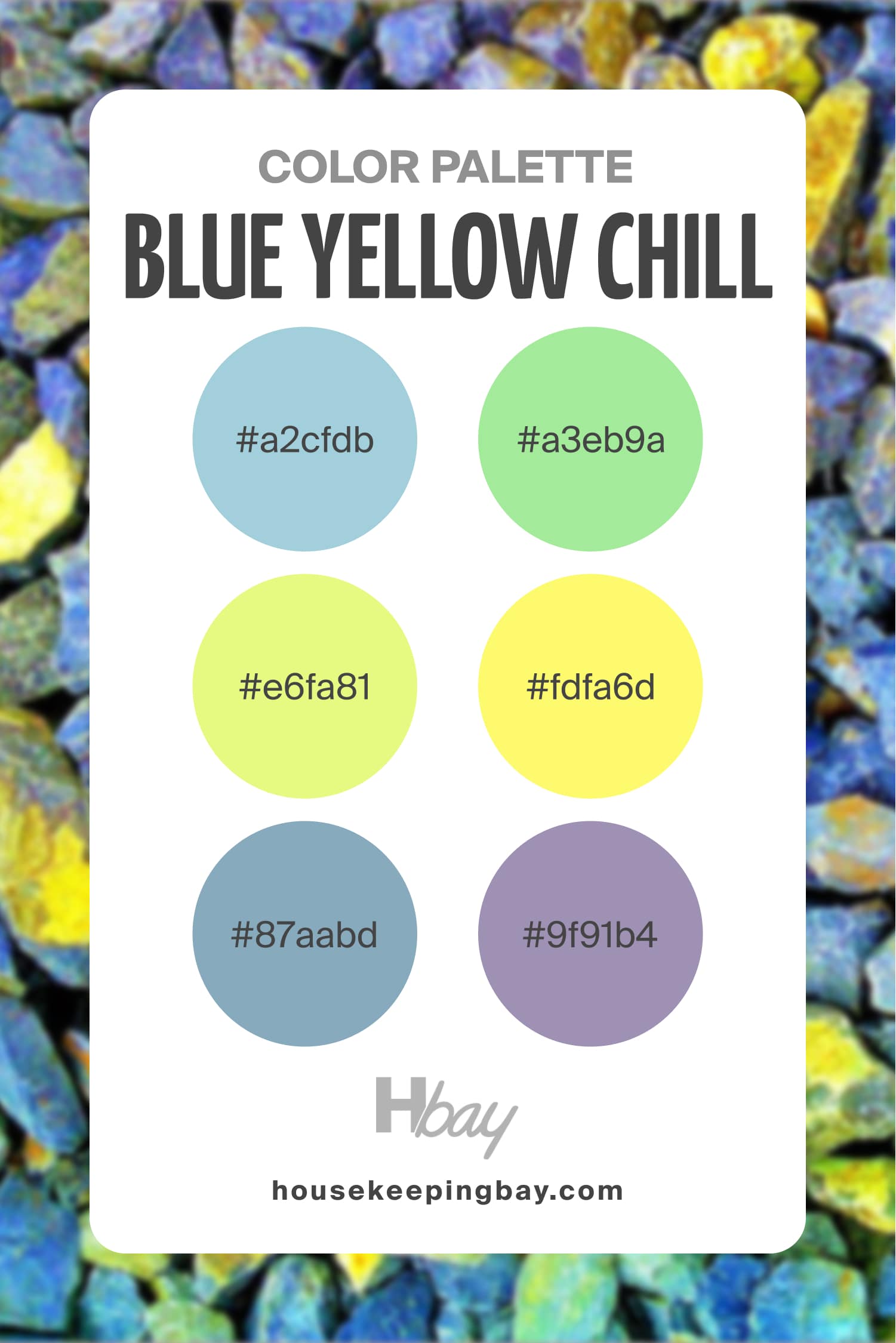 Vibrant Yellow Color Palette
This color palette will be suitable for true lovers and admirers of yellow! Why you may be asking? Well, because it is all yellow!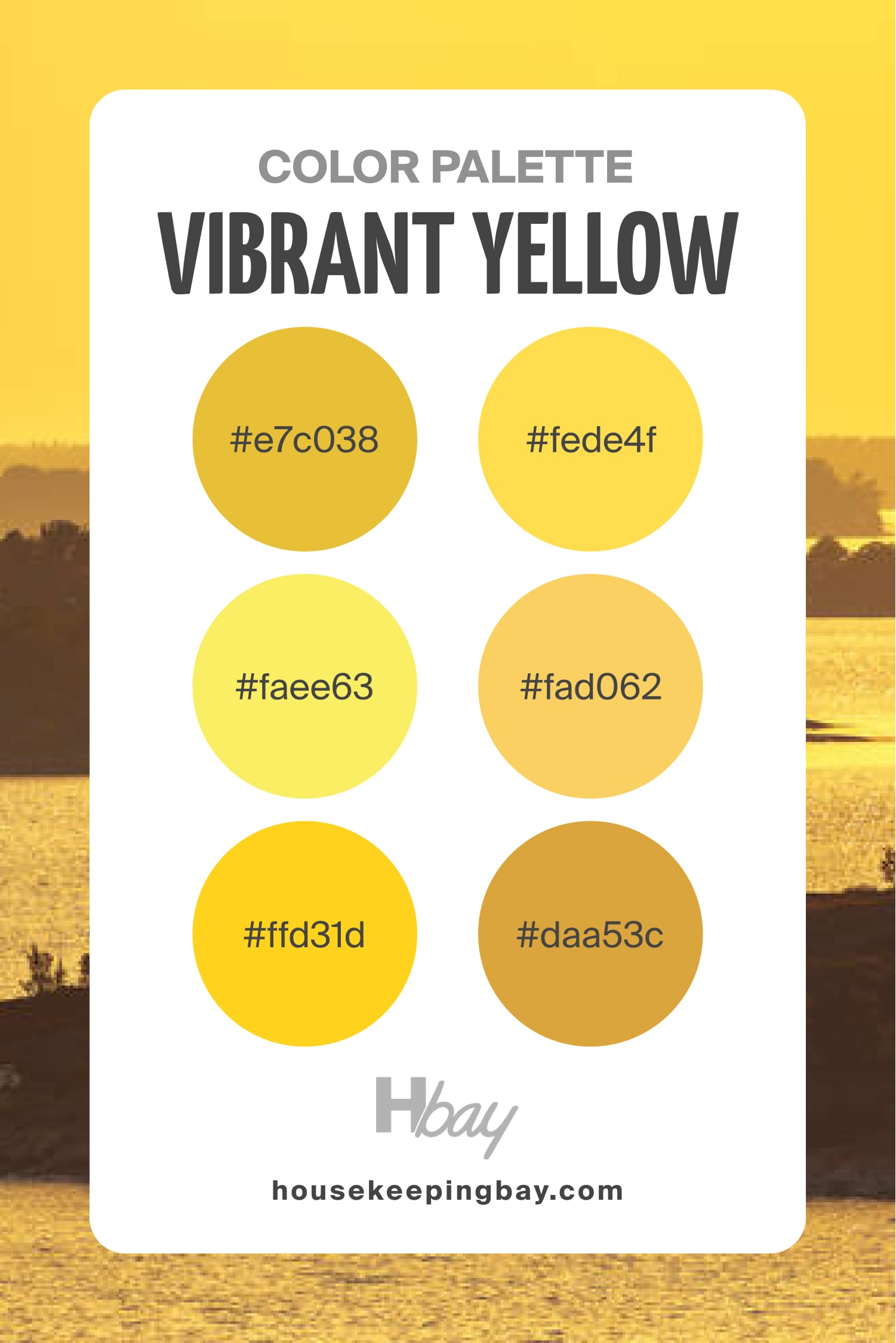 Yes, all six colors are different shades of yellow from lighter to bolder and deeper colors. Since all of them create a perfectly balanced contrast, highlighting each other, you should not be afraid to use this palette in your home.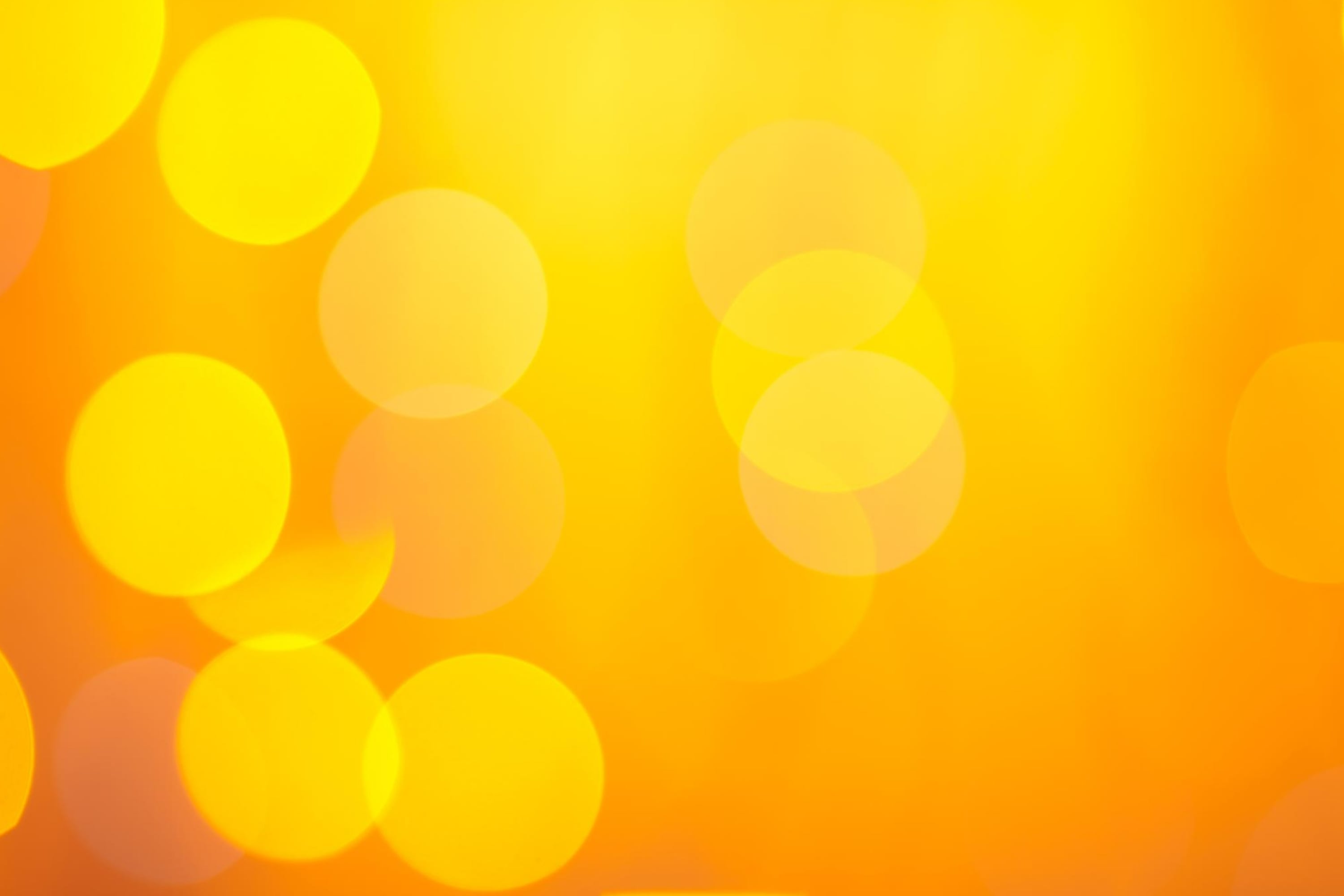 Earthy Yellow Color Palette
As it becomes clear from the palette's name, it consists of beautifully earthy yellow colors with a pronounced orange undertone in each. Some of these colors are lighter whilst others are deeper and bolder, but they work exceptionally well together. You can pair any of them with other colors from this color combination, in any case, you will be satisfied with the result.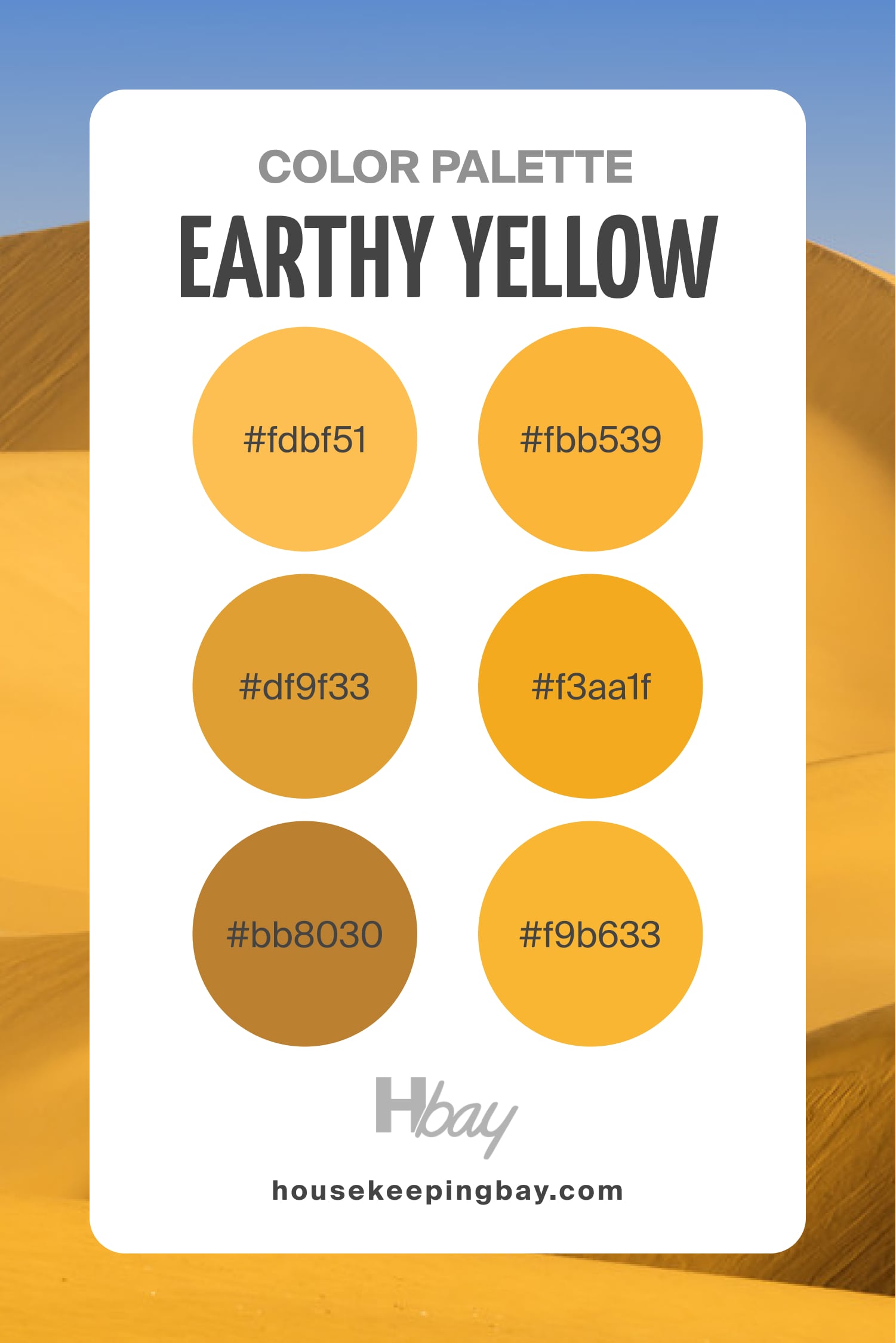 Retro Mood Color Palette
For those who adore deep and warm brownish shades, this color palette might be a true treasure!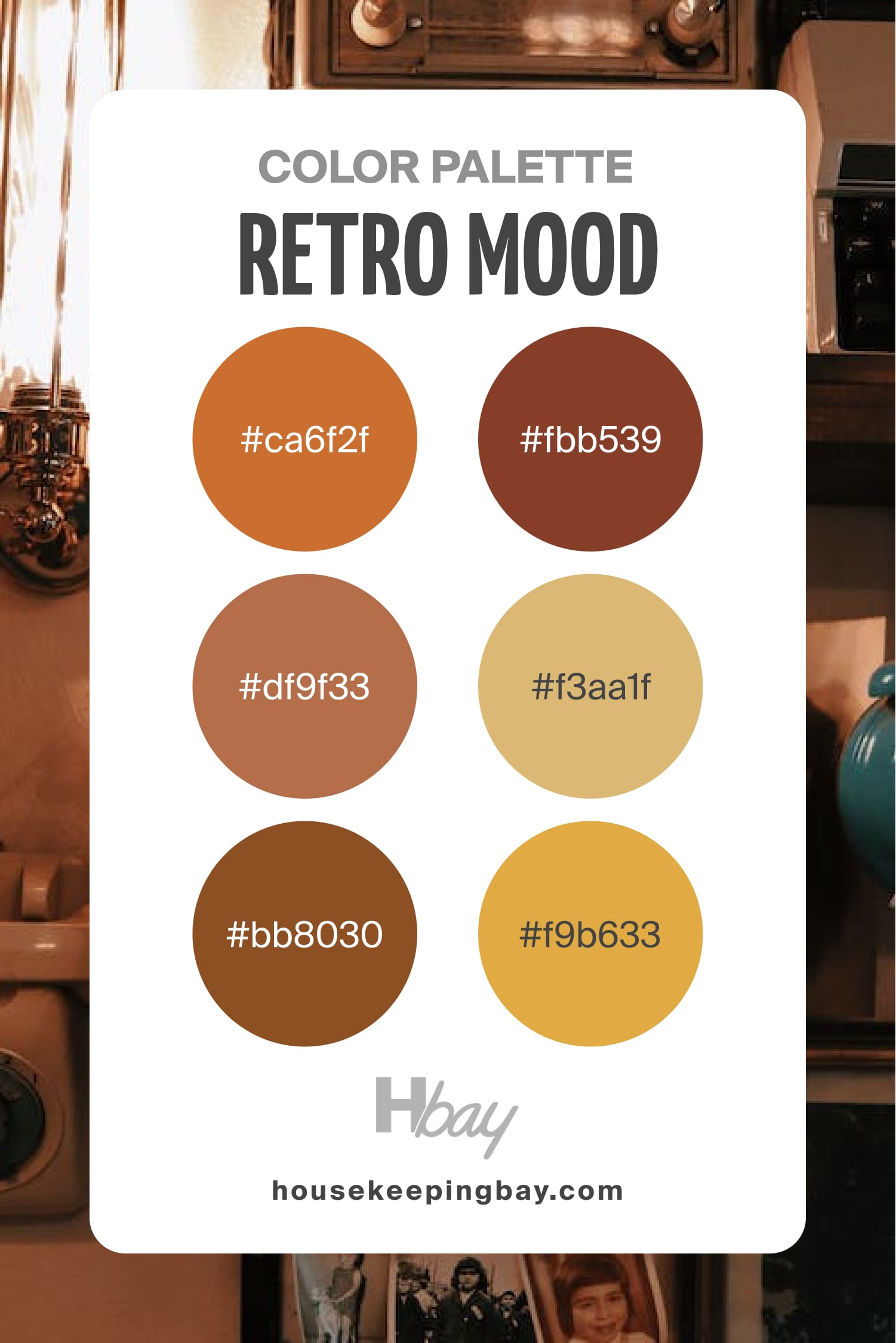 Some of its colors have pronounced and clear yellow tones whilst others contain yellow in form of undertones only. Nevertheless, the overall impression of the palette is cozy, warm, and very warming.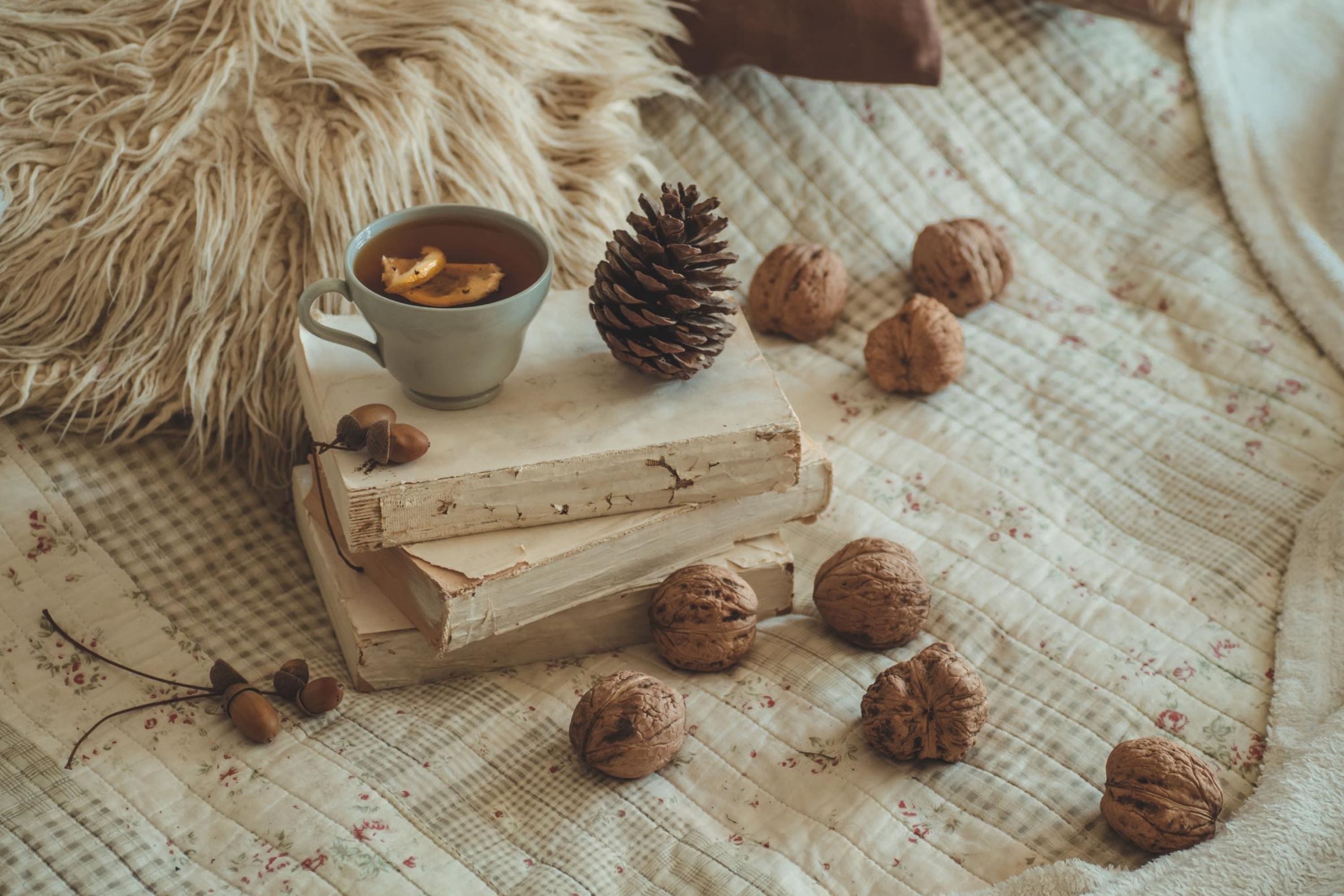 Dark Stories Color Palette
For those who don't mind getting a bit dark, this color palette may appear to be quite an interesting pick. Rather dark, it is nevertheless perfectly balanced in terms of colors used in it and their tone. Earthy reddish-brown colors with a muted mustard-yellow and a deep green create a sophisticated vibe of old times.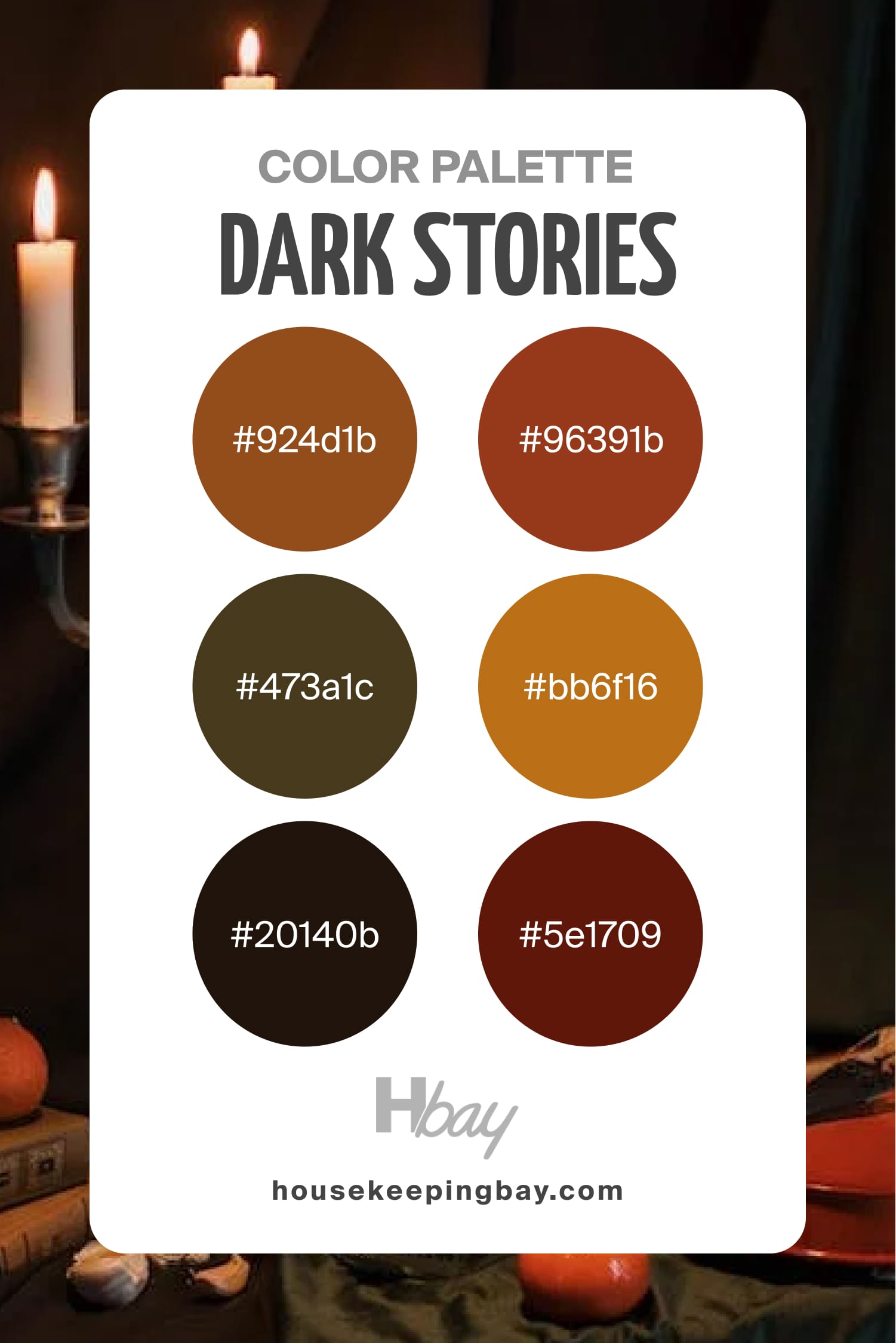 Jade Mist Color Palette Color Palette
There are no obvious yellows in this color palette but they are hidden deep in the colors' undertones. At the first sight, this color palette looks like six shades of green-gray colors, but if you take a really closer and deeper look at them, you will notice a hint of yellowness in each.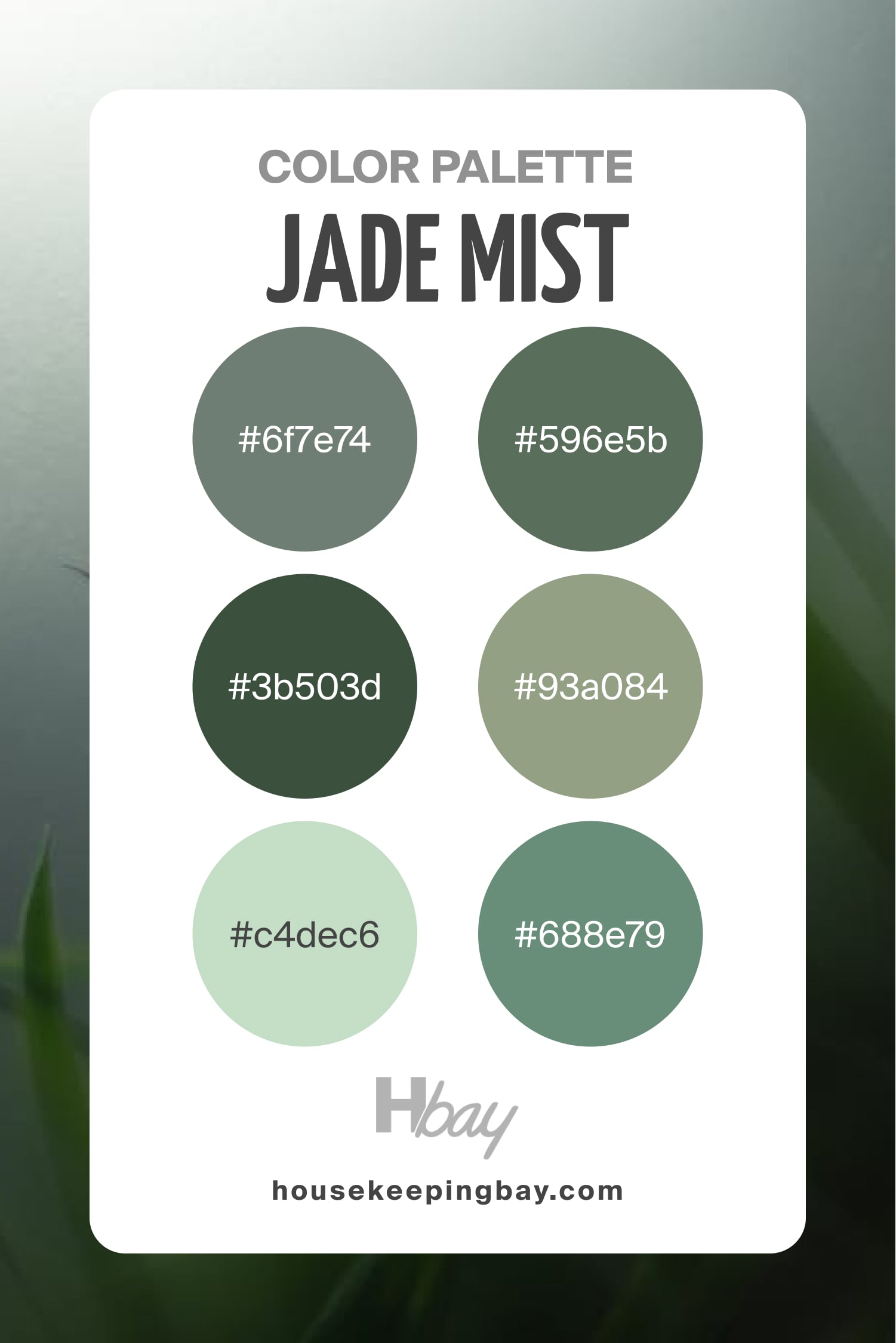 Some of the colors have a more pronounced gray hue whilst others lean more toward the green side, and they are all of different ranges of lightness. But if you truly love the misty atmosphere that reminds you of mountain forests, this palette is your choice to try!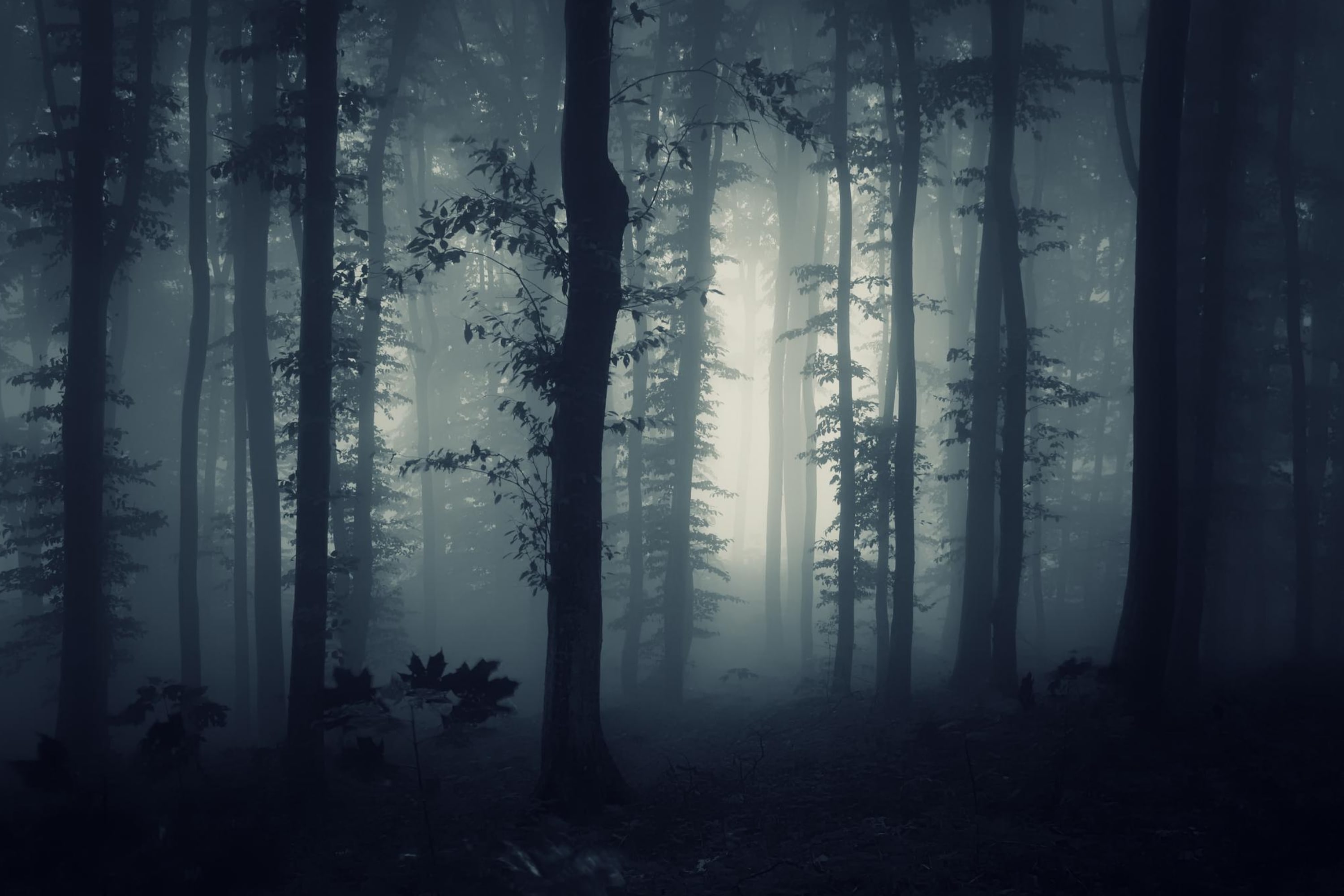 1970 Retro Color Palette
This color palette will find its fans among those who enjoy vivid and juicy colors! Yellow, orange, turquoise, red – all these colors can be found in this palette. So if you are not afraid of turning your home into a splash of vivid and joyful colors, grab it to experiment and release your creativity!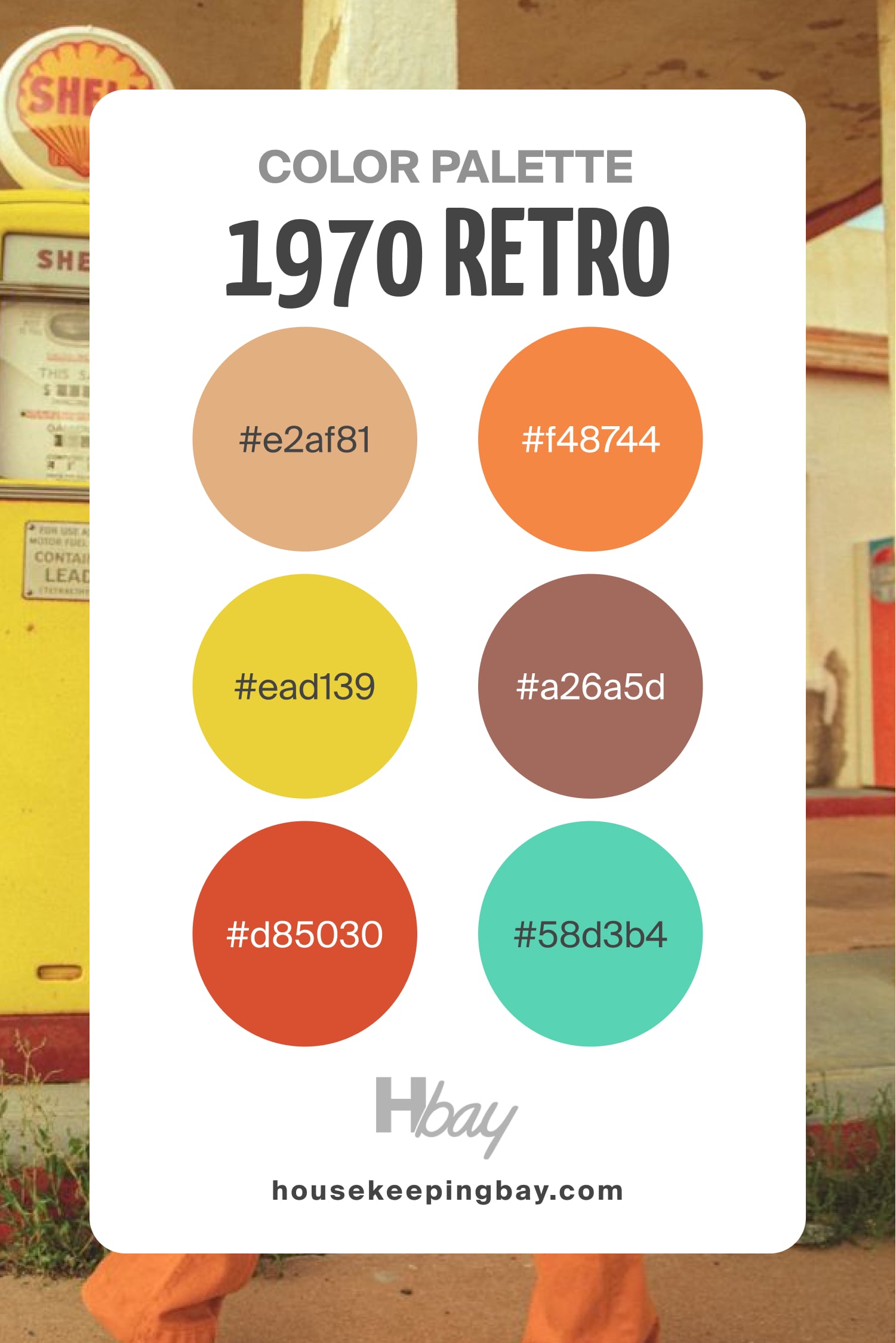 Vintage Vibes Color Palette
This is a rather reserved yet very warm and cozy palette that will add color to your home interior without turning it into a chaotic splash of paint.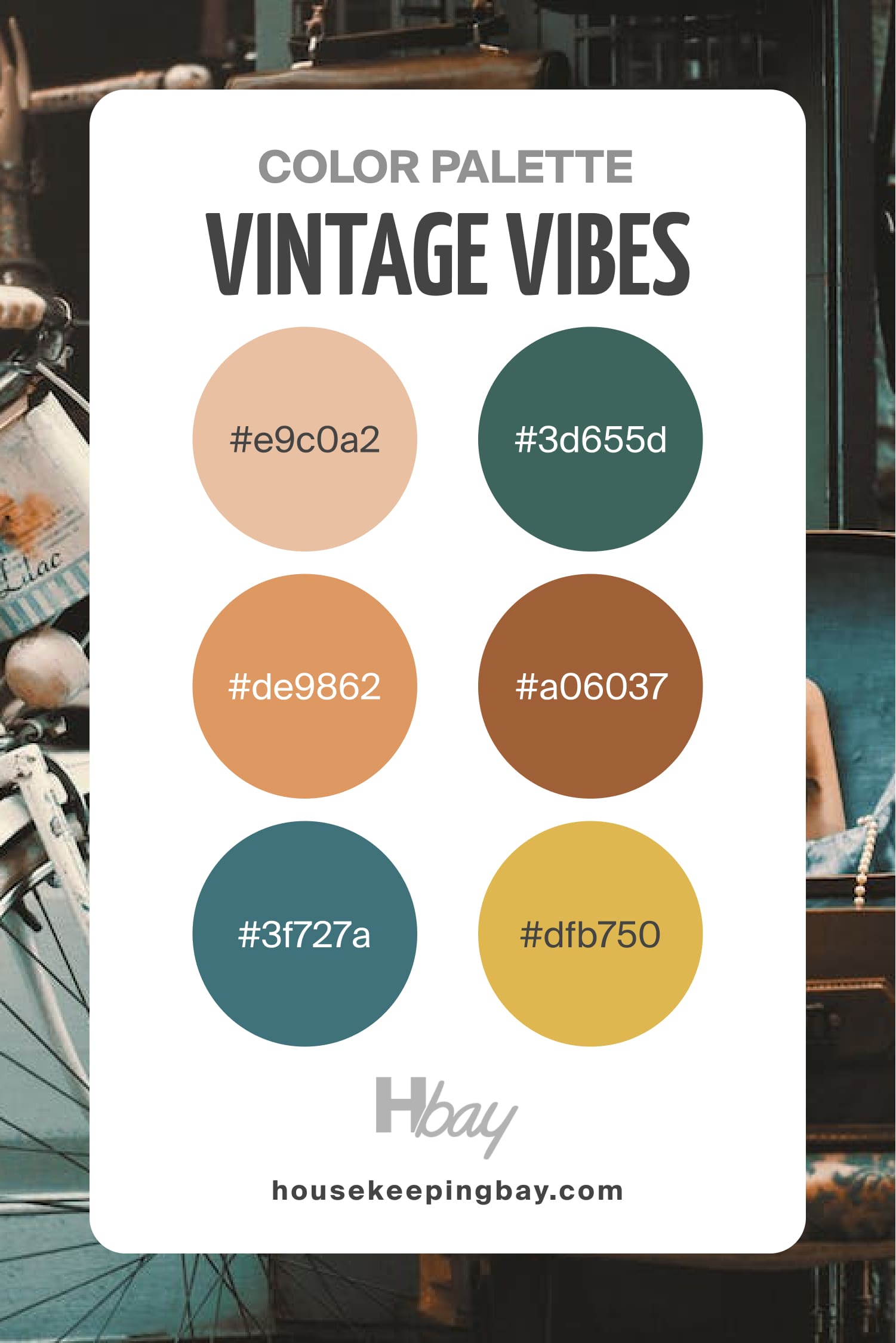 Muted green, powder pink, muted and light-mustard yellow, and a deep blue-green shade or turquoise make this palette of paint colors ideal for homeowners who enjoy calming and natural colors.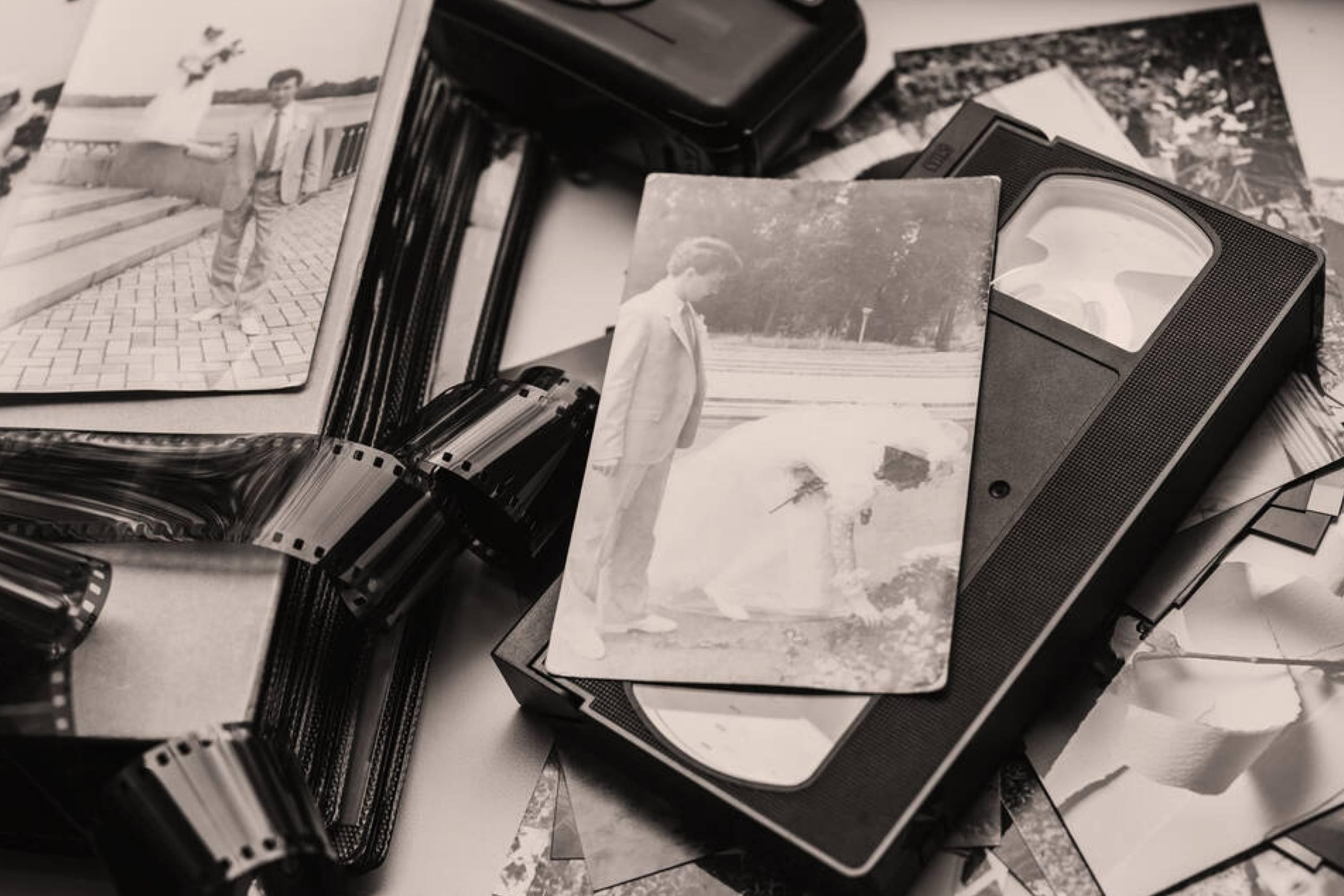 Turquoise Yellow Color Palette
Although both the shades of turquoise and yellow colors in this palette are rather vivid, they don't read way too bright. All are perfectly balanced and quite muted, creating a calm yet the joyful atmosphere in the space where they are used.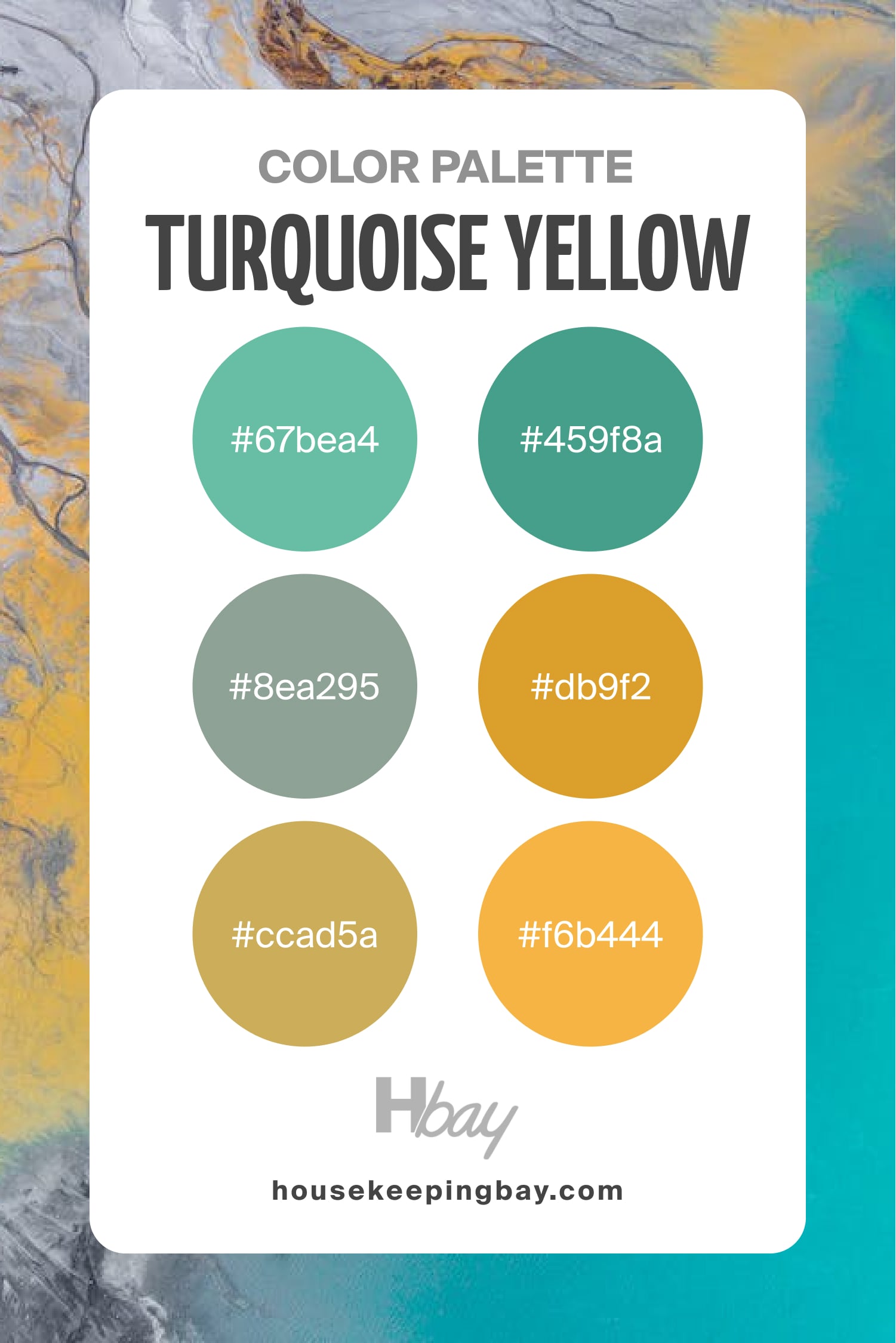 Gray Accent Color Palette
In this palette, you will find beautiful bluish-gray colors along with muted yellow hues. Yellows stand in the middle of the palette in terms of their lightness whilst blues range from deeper to lighter shades, surrounding the yellow colors.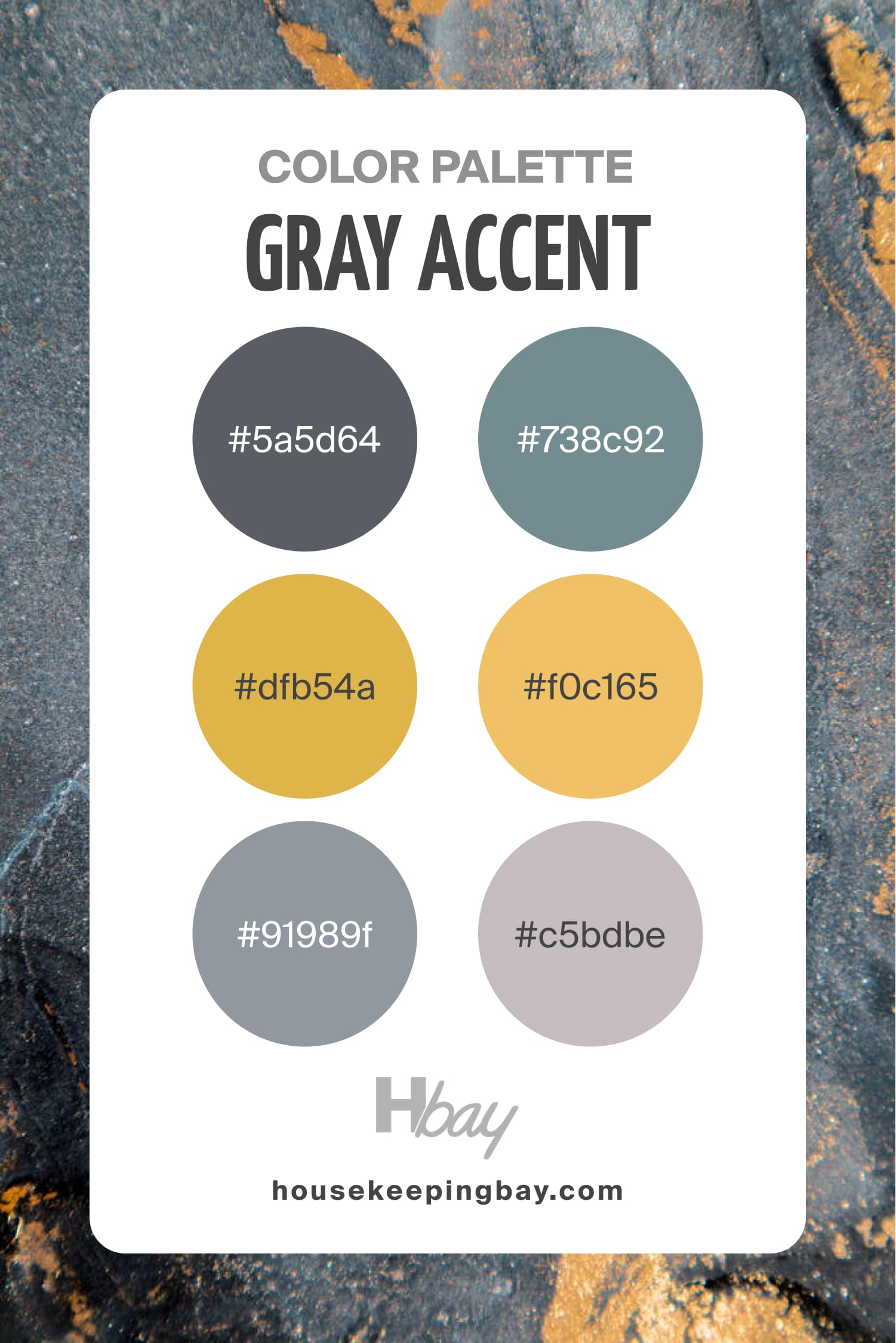 Feel free to combine these colors as you wish, they will work their magic anyway.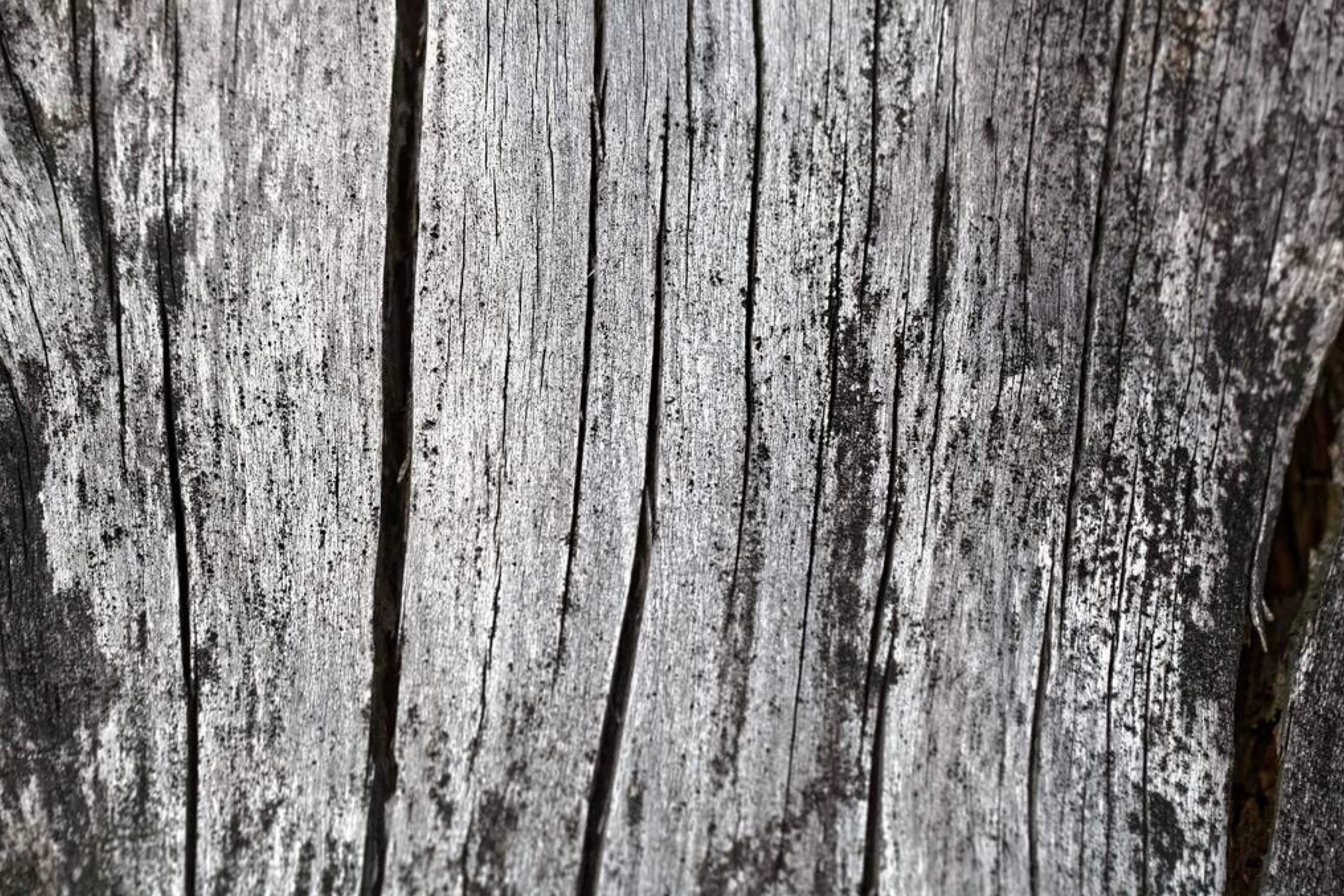 Movie Night Color Palette
For a crazy splash of color in your home, this palette is the best one ever to choose! Bright pink, aubergine-purple, juicy red, as well as yellow, blue, and green create an absolutely wonderful and cheerful vibe!
For sure, this is not the color choice for everyone since using such bright and pronounced colors requires certain courage. Besides, since all the colors in this palette are pretty bright and saturated, it might be difficult to pick proper trim and coordinating colors for them.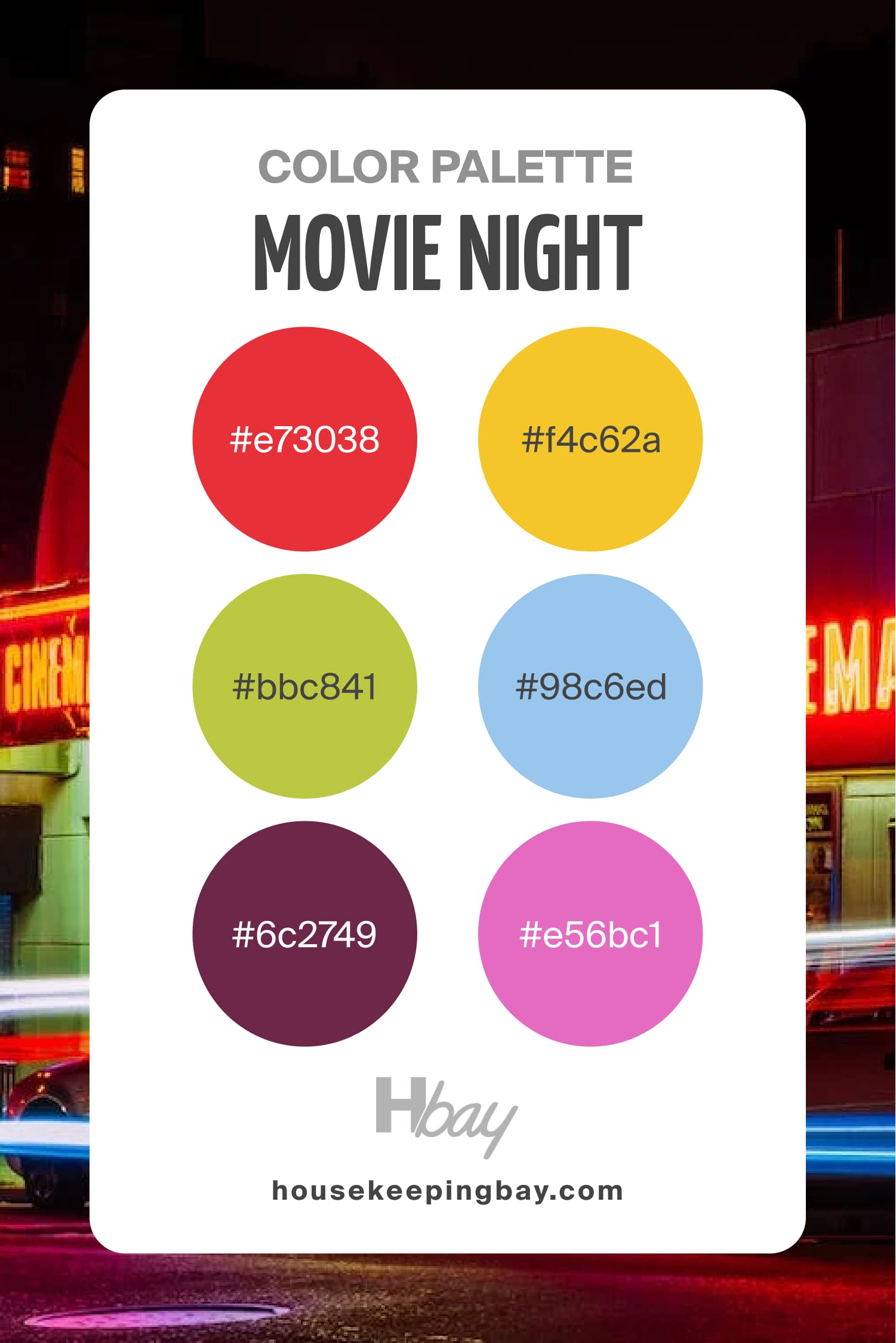 Earth Tone Color Palette
To create a tranquil and natural vibe in your home. The colors it consists of will work especially well with warmer whites and wooden textures in a room.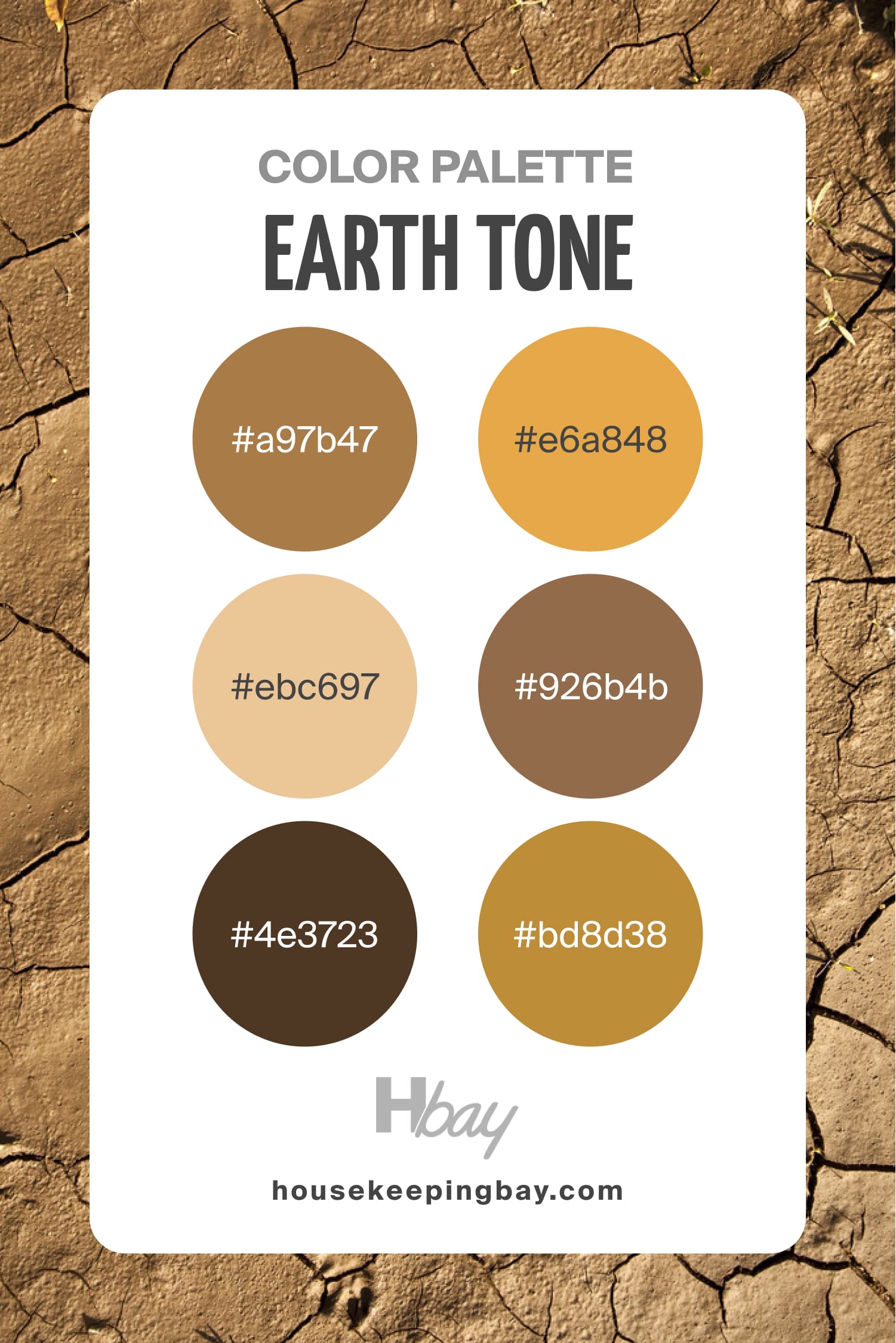 How You Can Add Yellow to Your Interior. Tips And Ideas?
As we have already mentioned above, yellow is not the color that everyone would think of when choosing what color to paint their interior walls. People tend to think of this sunny and cheerful color as rather complex and hard to work with unlike more universal colors like neutrals or greiges.
6 design rules to find the perfect shade of yellow for your space
As a result, they prefer to either avoid it at all or use it very carefully on limited surfaces like cabinets, accent walls, etc.
So we want to restore your trust in yellow and show you how you can make this beautiful and vivid color work in your living space! Below, you can check out a few handy ideas of using yellow in your home.
Make It Shine!
No, we don't mean you have to use golden yellow in your home! But if your interior is painted muted and neutral colors like whites, beiges, or light greiges, you might want to add a splash of brightness with a couple of yellow accents!
For example, a yellow coffee table will be a focal point of a living room painted white. Or perhaps you would like to add yellow armchairs to your living room. By the way, if your home interior follows Scandinavian style, yellow will absolutely work great in it! Also, you can use yellow color accents in your kitchen.
Make It a Centerpiece
If you don't want too much yellow in your space but you'd still want to add a bit of warmth to your home, use it as a standalone feature of a room. It can be a yellow accent wall, for example. Or you may not paint it all yellow but mask out the shape you want to paint, making the rest of the wall charcoal gray, for instance.
Paint Your Front Door Yellow
Yes, this is not a traditional color choice for the door, but this item is often overlooked when it comes to painting things. With a yellow front door, you will add brightness and joy to your home each time you are opening it.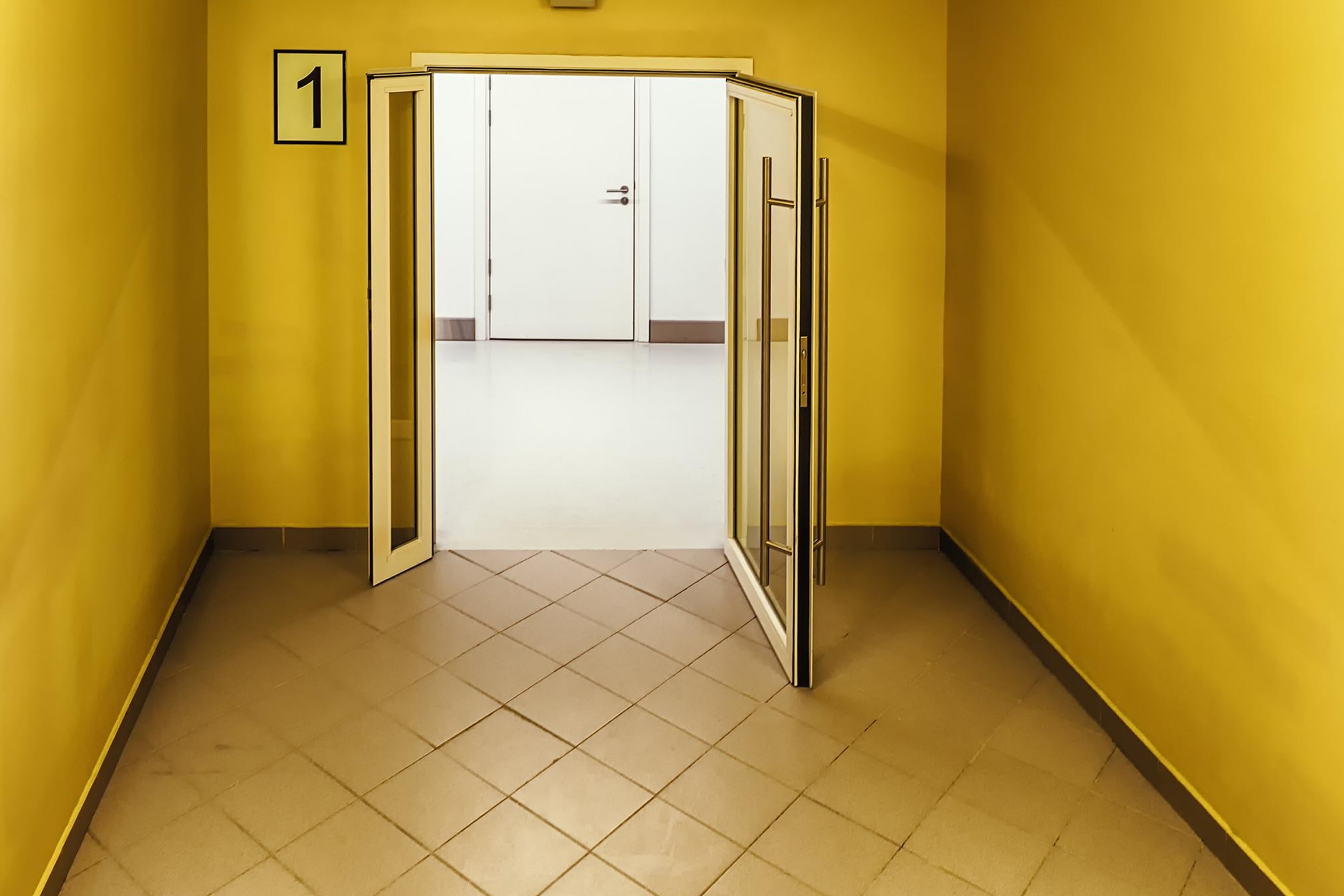 Spread It Around Your Space
Yellow is great because it works both in clusters and when it is spread all over the area. So you can add a bit of sunshine and joy to your home by using yellow elements here and there. It can be cushions, vases, lampshades, throw blankets, rugs, and even flowers! The idea is to place these small yellow accents around the room more or less evenly.
Add Color to Your Bathroom
Our bathrooms are often way too filled with neutrals (on the walls, on our vanity, everywhere!) and lack of vibrant colors. So to rejuvenate the space a bit, add a dab of this bright zesty color! For example, you can use yellow borders on your mirrored cabinets, making them a striking feature of the space.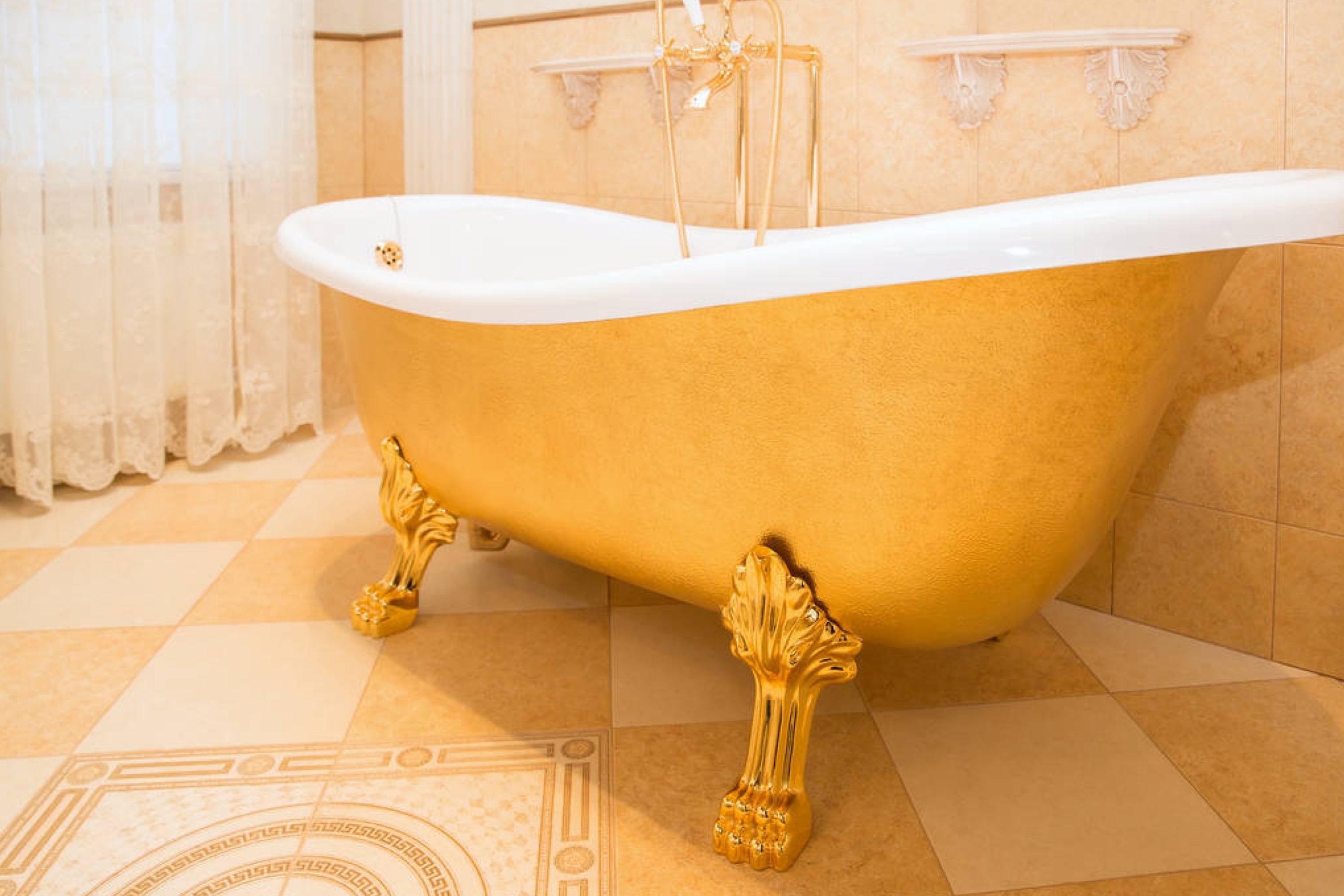 Feel Free to Use Anything You Have
See, you don't even have to shop for yellow paint or buy yellow decor elements in most cases. If you look through your belongings, you will most likely find some yellow stuff like old plates or vases, teapots, glasses – anything! Even such small pieces of yellow can help you brighten the space of your home, adding light and joy to it!
As you can see, yellow is a pretty versatile color! Just remember to sample it before you use it, and make sure the rest of the colors in a room work well with it. It will ensure that the effect you get will satisfy you.
Now you have several alternative color palettes to use in your home, each of which contains yellow colors. As you can see, some of these palettes contain more yellow whilst others contain less. There is even one color combination pick that is all yellow!
And also, there is another one that has no literally yellow colors, containing yellowness in undertones only. In addition, we shared a few ideas of using yellow in your home. With their help, you will be able to find suitable places for this color to work in almost any room.
All this will allow you to use almost any of these colors in your home successfully either within their color palette or with other colors in tandem.
Frequently Asked Questions
⭐Can yellow be cold-toned?
Yes, yellow can be either warm or cool-toned like any other colors.
⭐Does yellow work well with brown colors?
Yes, it can work really nicely with them, especially if the shade of brown you use has yellow undertones.
⭐ In what lighting does yellow read the best?
In any. It depends on the shade of it you use. Warmer yellows will read nicely in both cool . and warm lighting. But cool-toned shades of yellow may not incorporate well into a room filled with warm colors.