It's good to repaint your interior home walls from time to time just to refresh the appearance of your rooms a bit. Typically, we don't do this kind of home renovation often enough because painting all the walls (even if you live in a small apartment) is a messy and tedious task.
However, before summer arrives, it's a good idea to give your home a new look by repainting the interior walls using brighter and more vivid colors!
At this point, you might want to know what paint colors will be trendy in summer and how to combine them to get harmoniously looking palettes for different rooms.
In this article, you will find twenty summer color palettes that will fit into any room of your home, no matter its style and design. We will also explain how to use these colors correctly and answer the most common questions.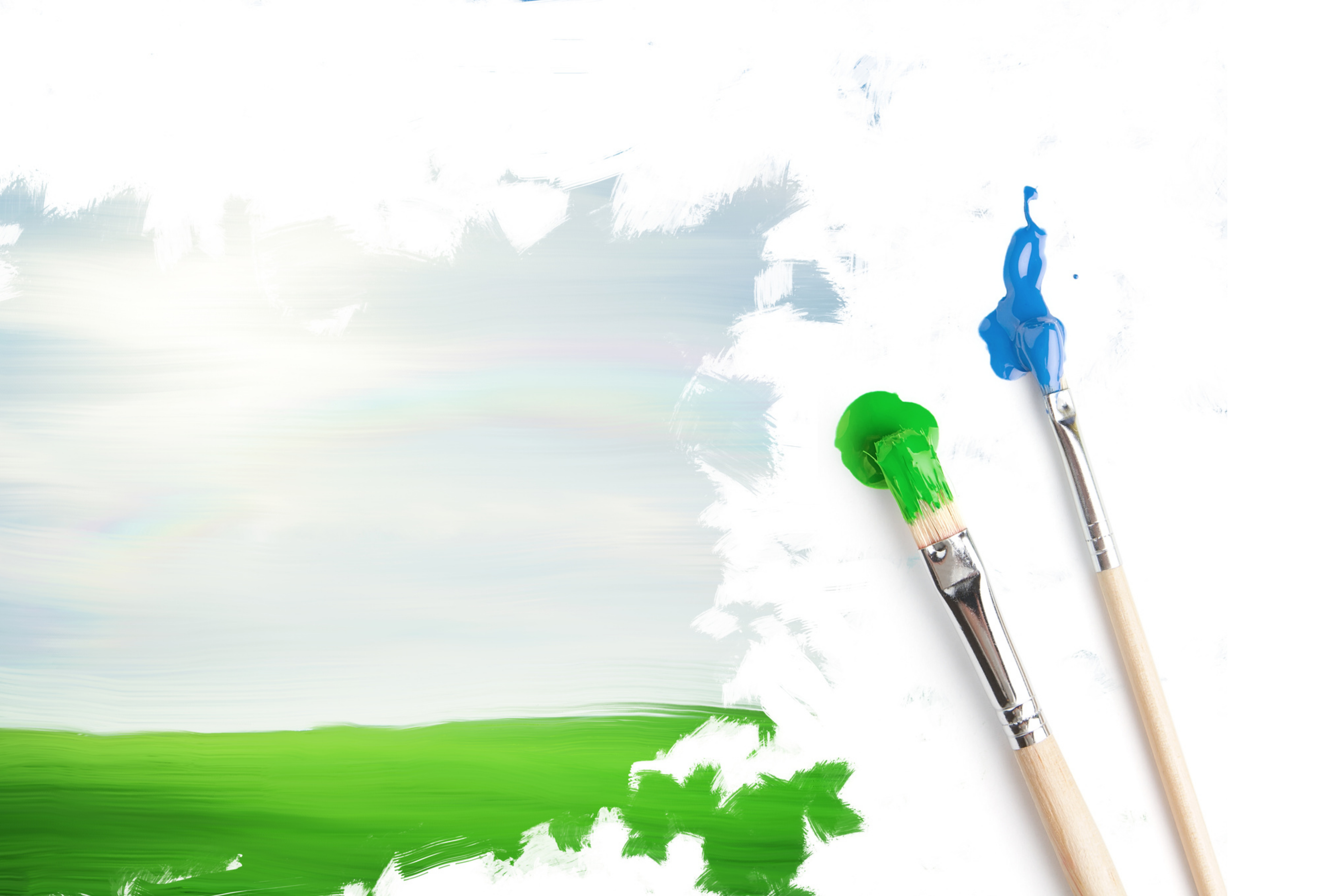 20 Summer Color Ideas for Great Home Design
What colors come to your mind when you think about summer paint color palettes for your home? Most of you will say that you imagine bright and vivid colors, juicy and saturated — something like yellow, red, orange, green, etc. And to a certain point, you are right. However, summer palettes are way more varied, and below, we will prove this to you.
Below, you can find twenty fantastic and colorful palettes carefully selected to fit different home interiors and styles, from modern to classic. Each palette is combined so that all the colors in it work together exceptionally well whether you use all of them or not.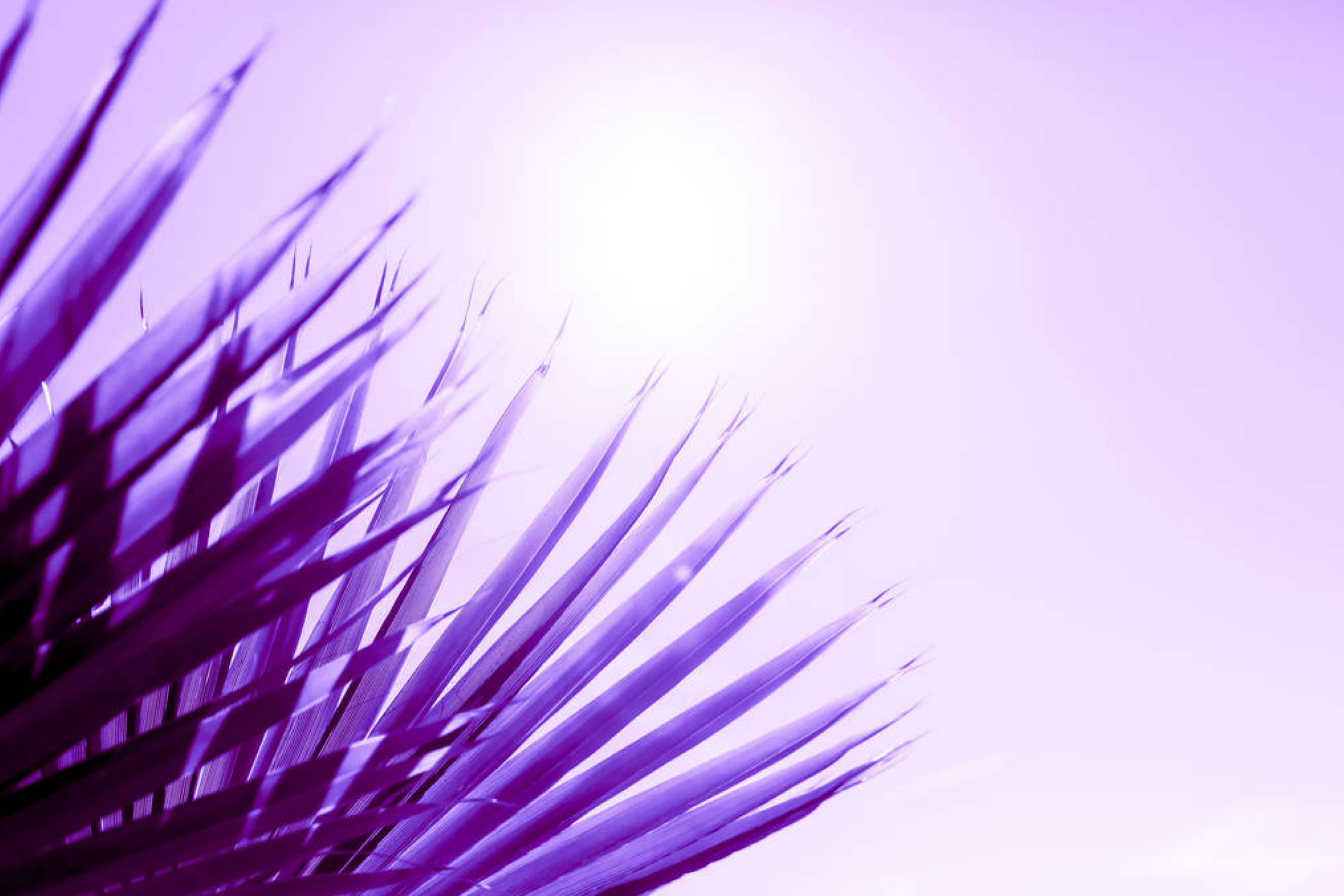 Summer Color Palette Pastel 90s
This color palette will be a fantastic choice for those who love vivid colors but still prefer muted and calmer tones. It consists of yellow, red, blue, brown, and gray colors, but all of them are so perfectly balanced and muted that the overall impression remains positive and cheerful!
And since all the colors are warm-toned, the palette creates a cozy and relaxing feeling. For sure, your home won't be overloaded with color if you use this palette!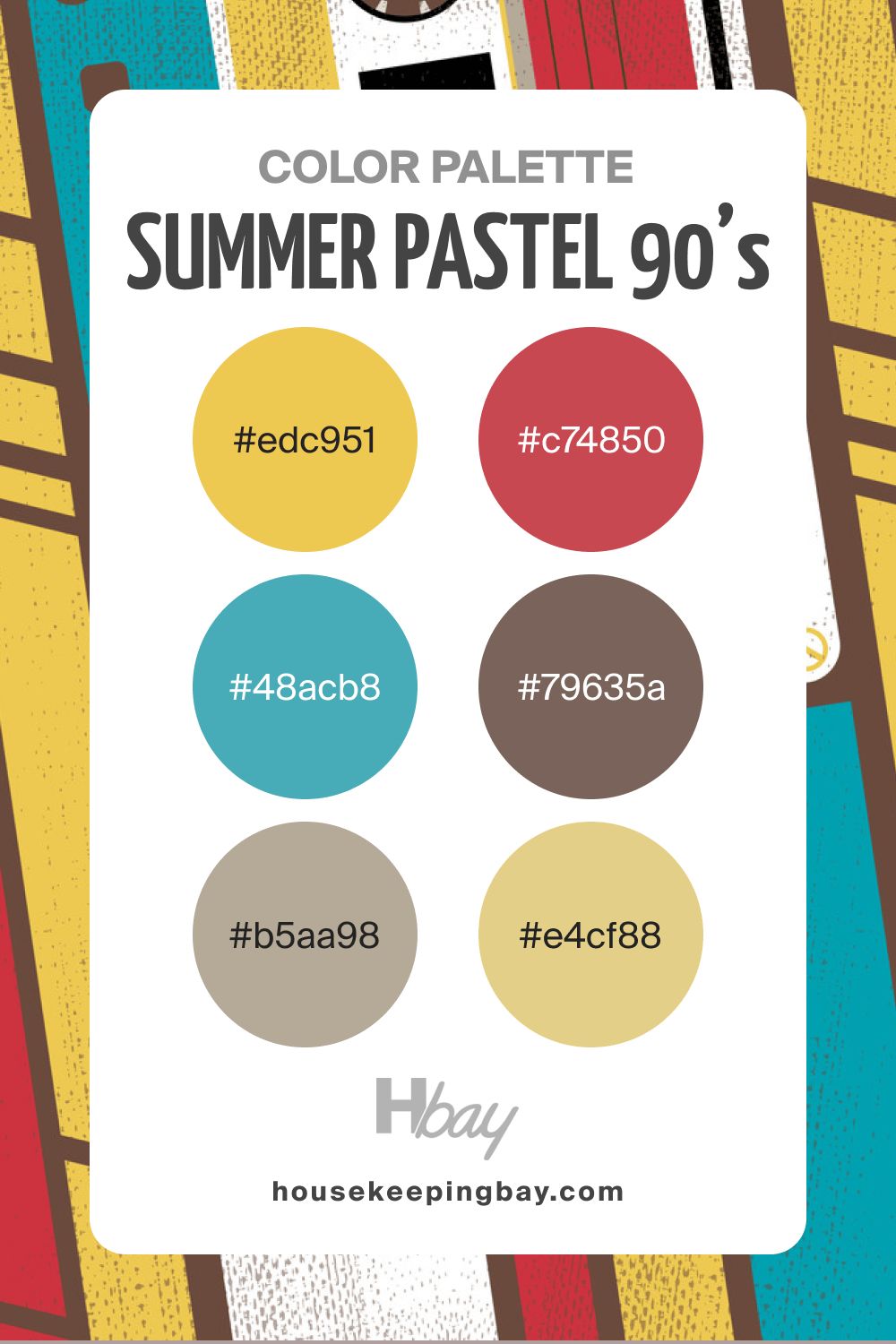 Summer Color Palette Orange
If you are fond of passionate and fiery shades, this color palette will definitely win your admiration! Warm, saturated shades of orange make it feel sunny and warm, just like summer sunshine. Orange, red, tan and brownish tones will fill any space with heat and energy!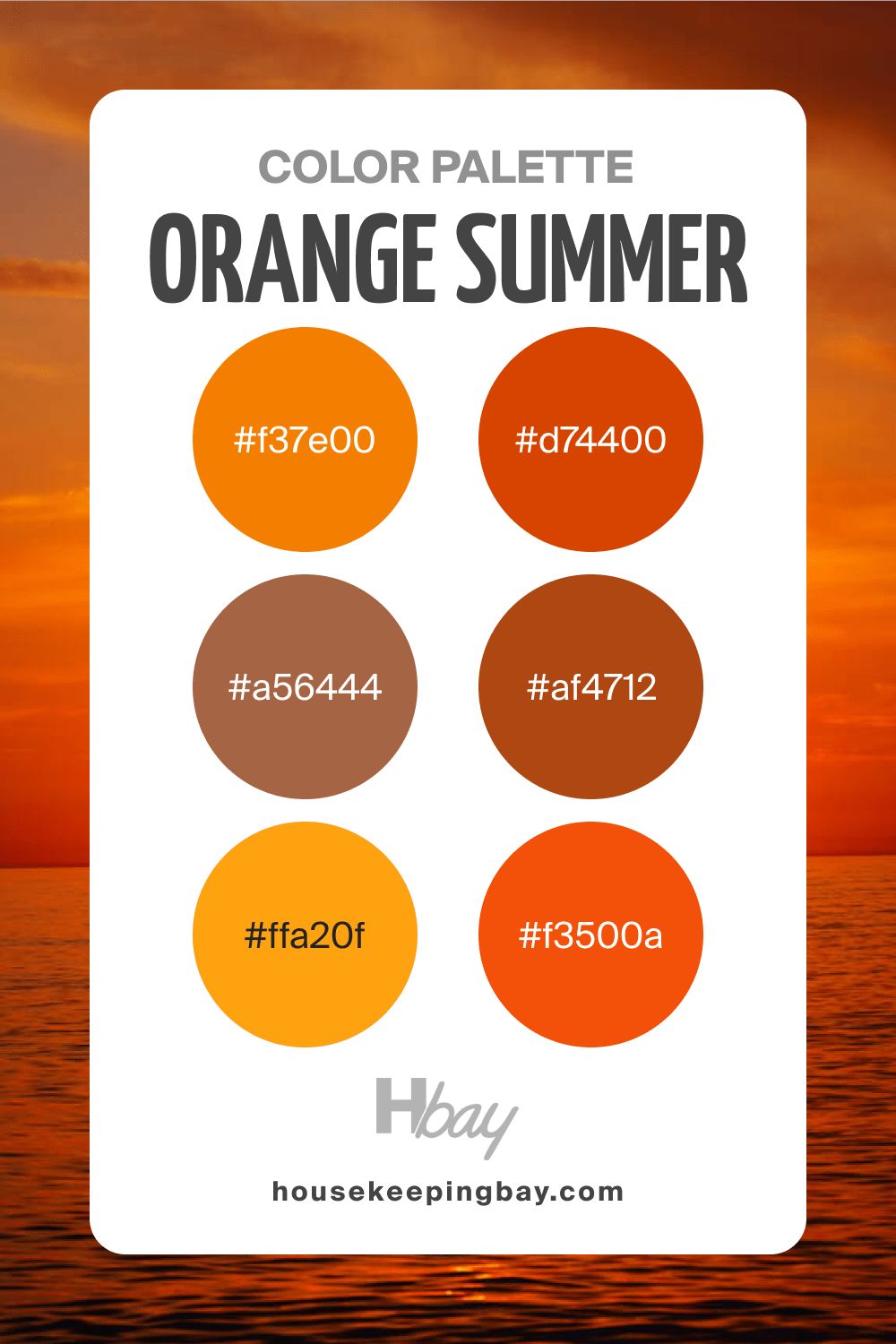 Summer Color Palette Neutrals
For those who prefer "sandy" and calmer colors in their homes, this neutral summer palette might be a good choice. For sure, admirers of brighter colors will consider this color combination somewhat boring and monotonous. However, if you want to add a note of calmness and tranquility to your living space, these sand-like shades will make it feel like a sunny beach at sea.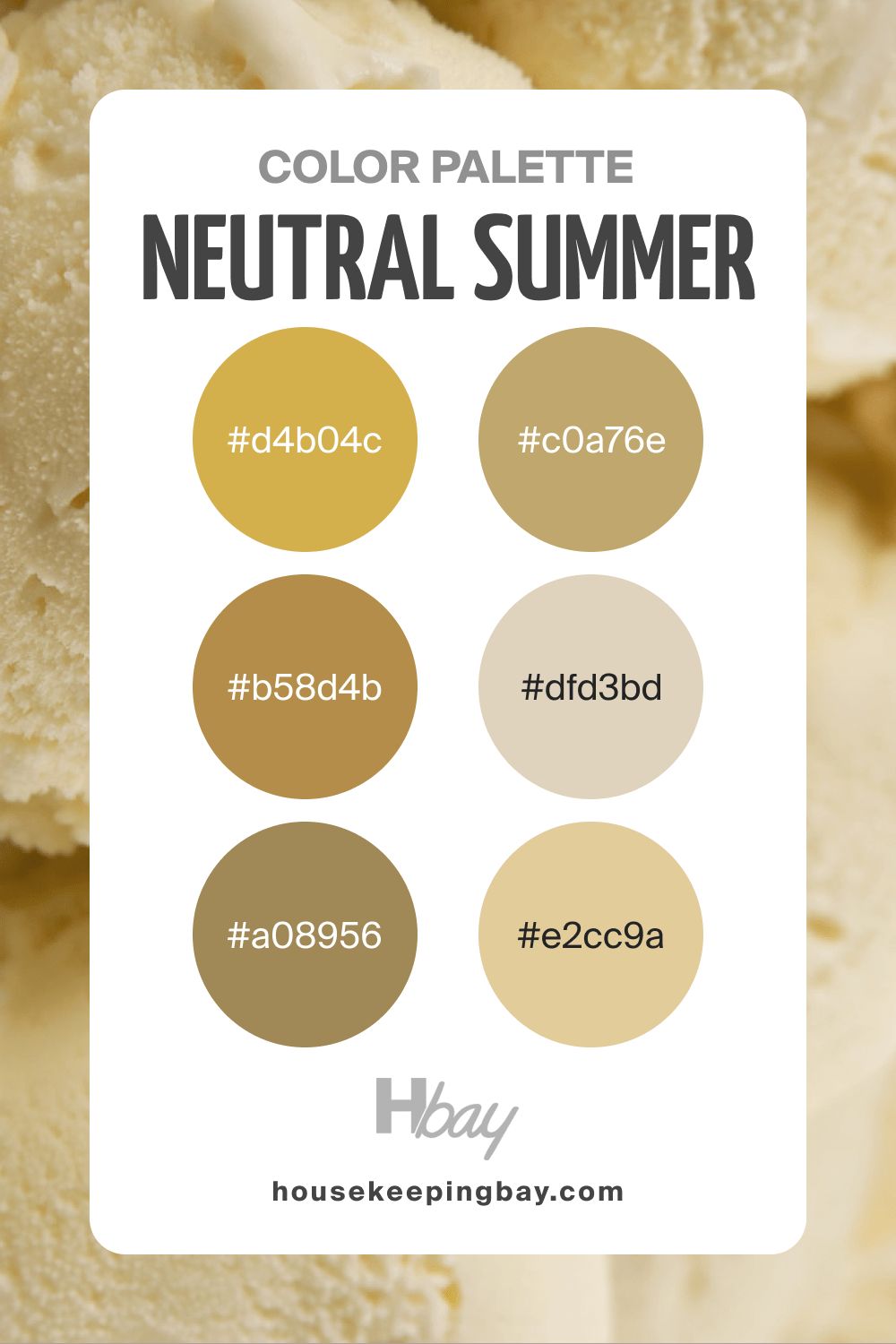 Summer Color Palette Yellow
Yellow is a tricky color! When you use too much of it, the space may drive you crazy! But if moderately used, this sunny and warm color can bring joy and vividness to any space in your home!
This palette contains only shades of yellow, as you might guess. Some of them are lighter, others are a bit deeper. But since all the colors are balanced and mid-toned, they won't read sharp and unpleasant on your walls.
They are more like dandelion flowers than the zesty yellowness of lemons!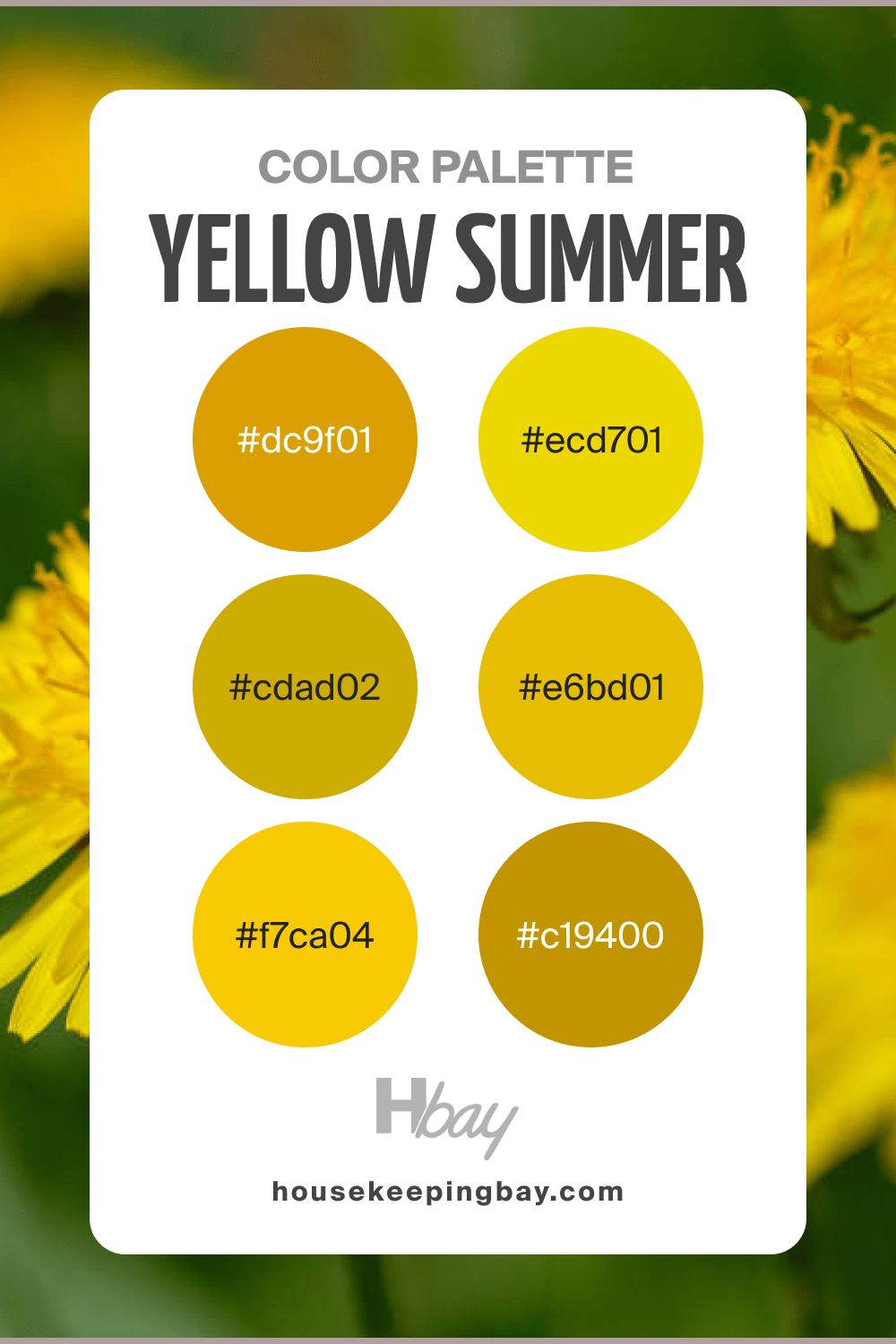 Summer Color Palette Soft
Are you in love with bright and juicy yet soft colors like lilac, blue and yellow? Then this color palette is exactly what you need for your summer interior renovation! Thanks to the balance of warmer and cooler tones, the colors in this palette work harmoniously well together. Besides, they are selected so you can use any of them in any combination or use them all!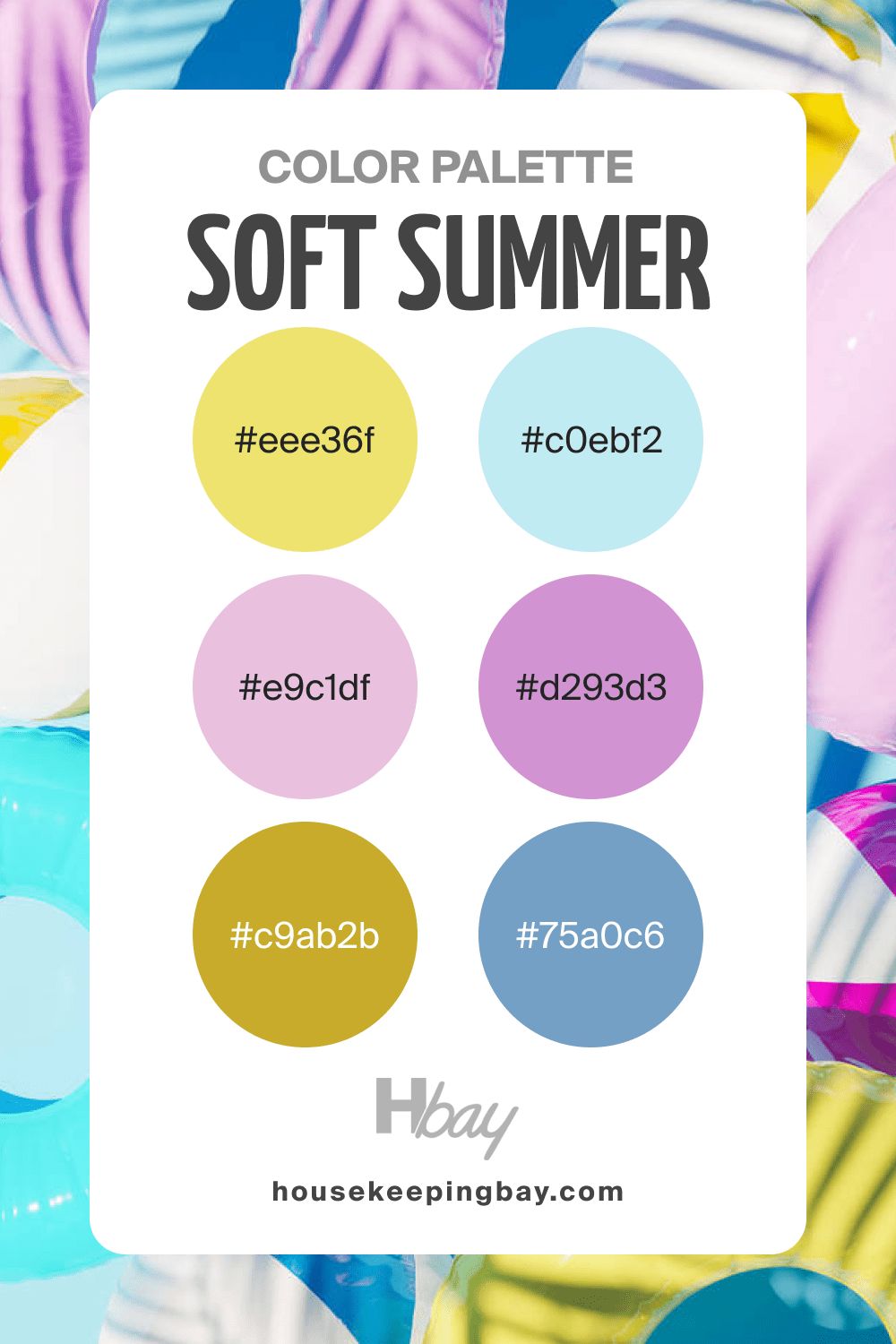 Summer Color Palette Aesthetic
With this saturated color palette, you will immerse in a colorful whirlpool of summer berries and fruit! Green, pink, orange, red, and medium-dark magenta, these colors look as if they were raspberries, cherries, strawberries, and blackberries!
However, despite you may think this palette is way too bright, it still looks very balanced. The colors are perfectly selected in terms of their tone, combining brighter and deeper shades, which results in a juicy yet eye-pleasing color combination.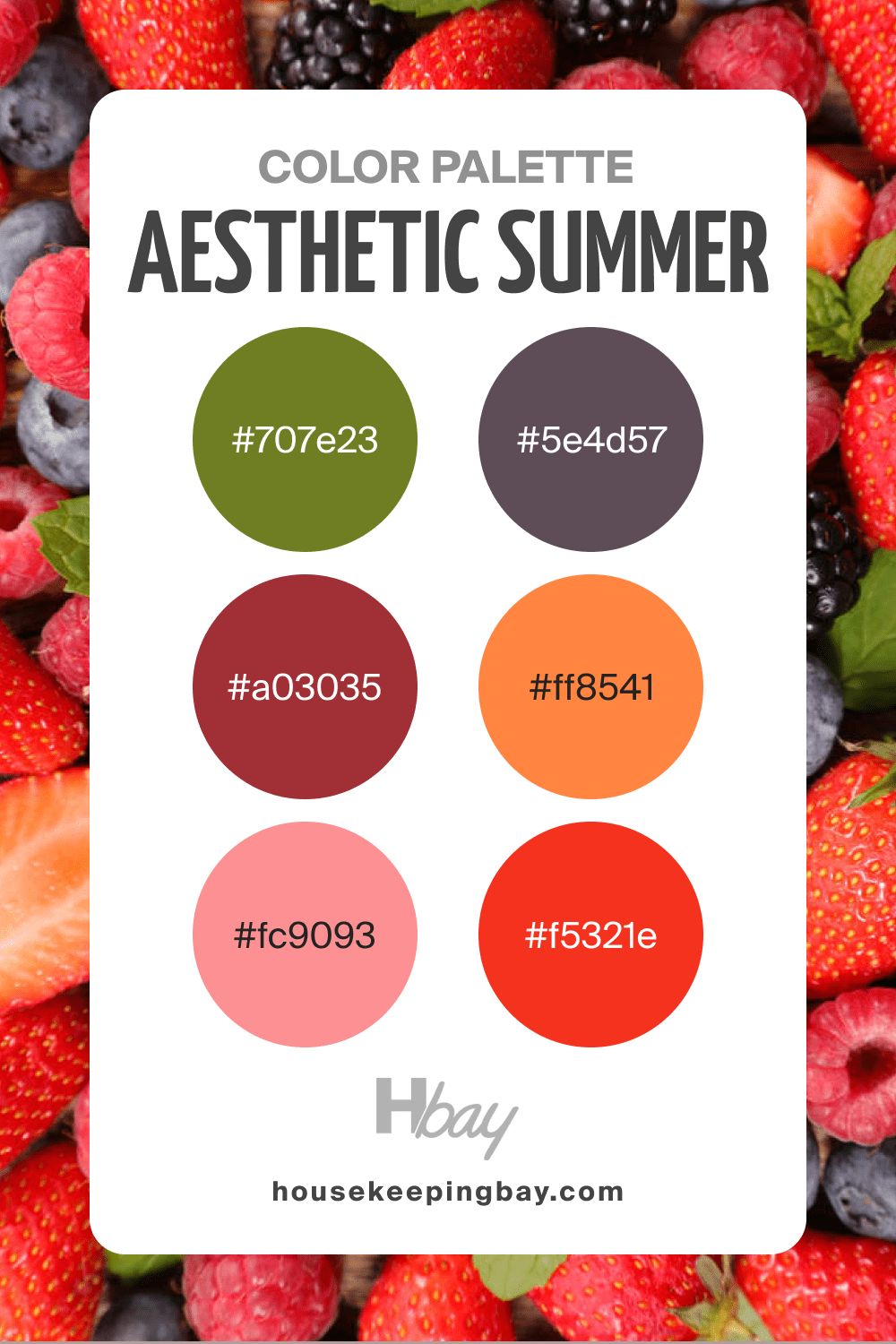 Summer Color Palette Vibrant
This is another juicy color palette that reminds you of summer joy, funny parties, and tasty lollipop candy! Vibrant red, blue, and green, along with calmer and more muted lilac and magenta, create a catchy and cheerful color combination.
However, you should "dilute" these colors with something neutral and light (e.g., white) or add darker colors. Otherwise, your home will be overfilled with color.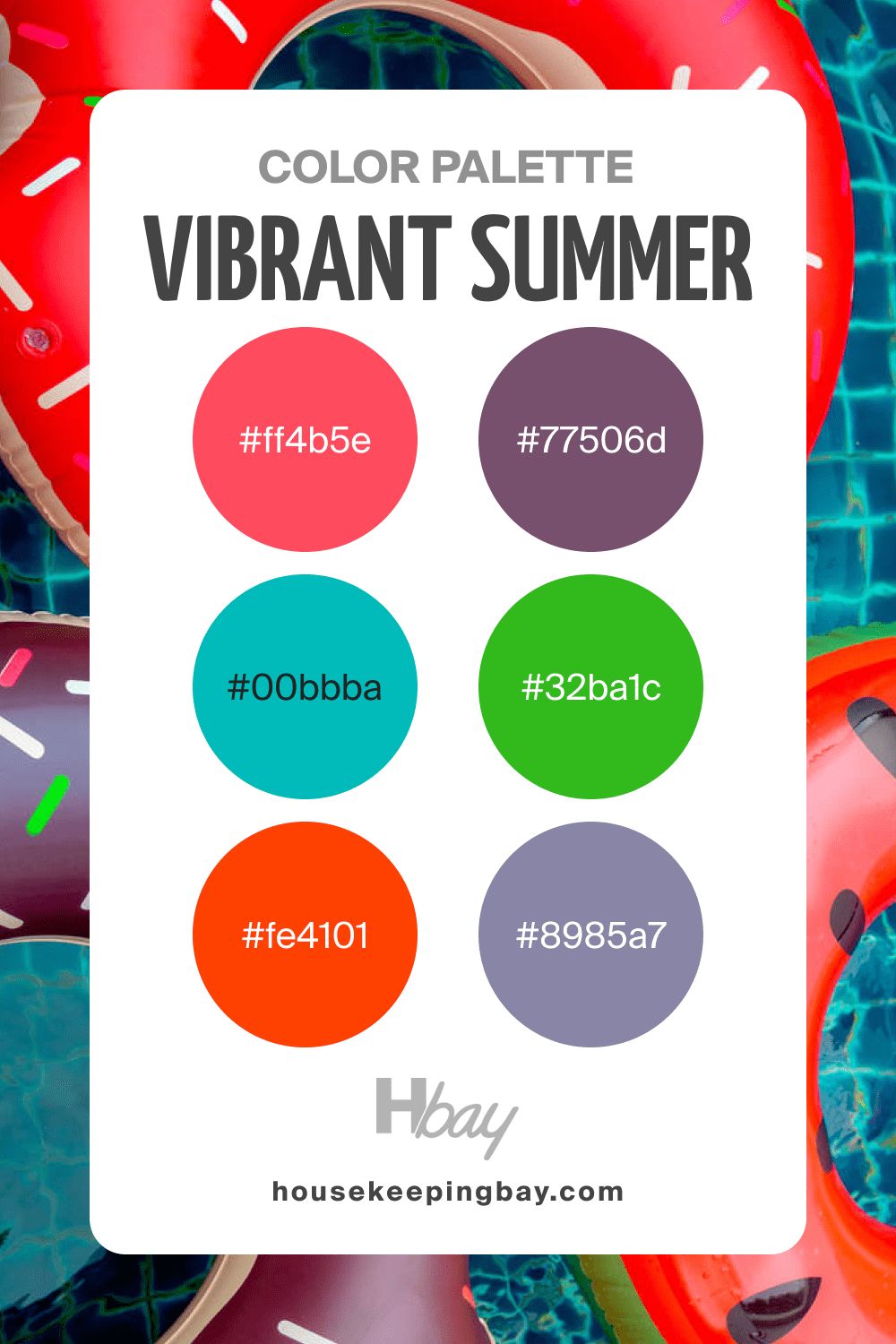 Summer Color Palette Vintage
If you are fond of calmer and more reserved color palettes to use indoors, you should consider this one. Different shades of brown paired with muted "dusty" blue-gray and soft medium-light blue magenta unite harmoniously to create a relaxed and elegant space filled with calming colors.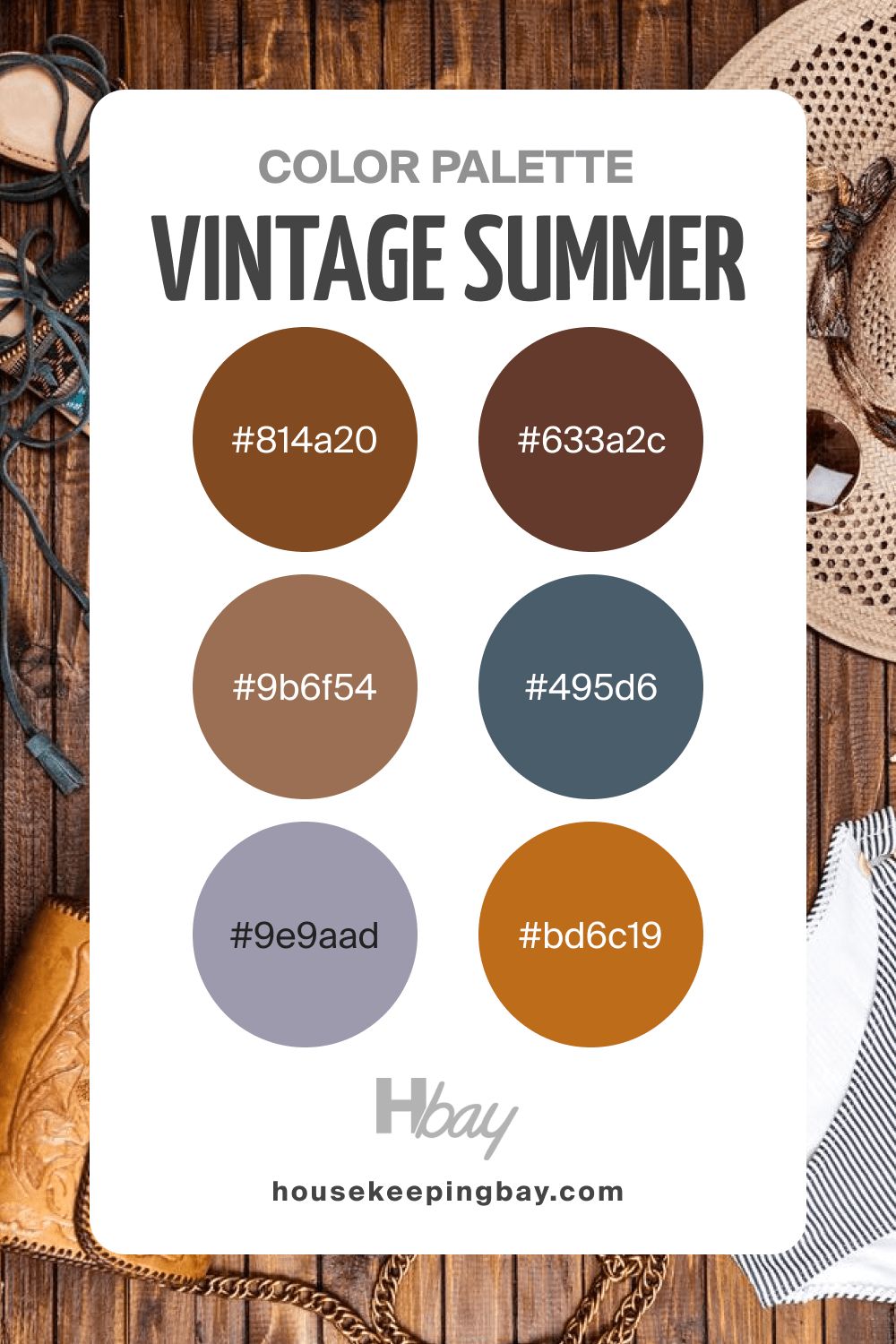 Summer Color Palette Earth Tones
This color palette consists of sandy brown shades, as well as green and chestnut-brown colors. The overall impression is warm and earthy yet fresh thanks to the green color in it.
This palette will work perfectly in homes with countryside interior design, as well as in coastal-style homes, since all the colors in this palette will pair nicely with whites and some shades of blue.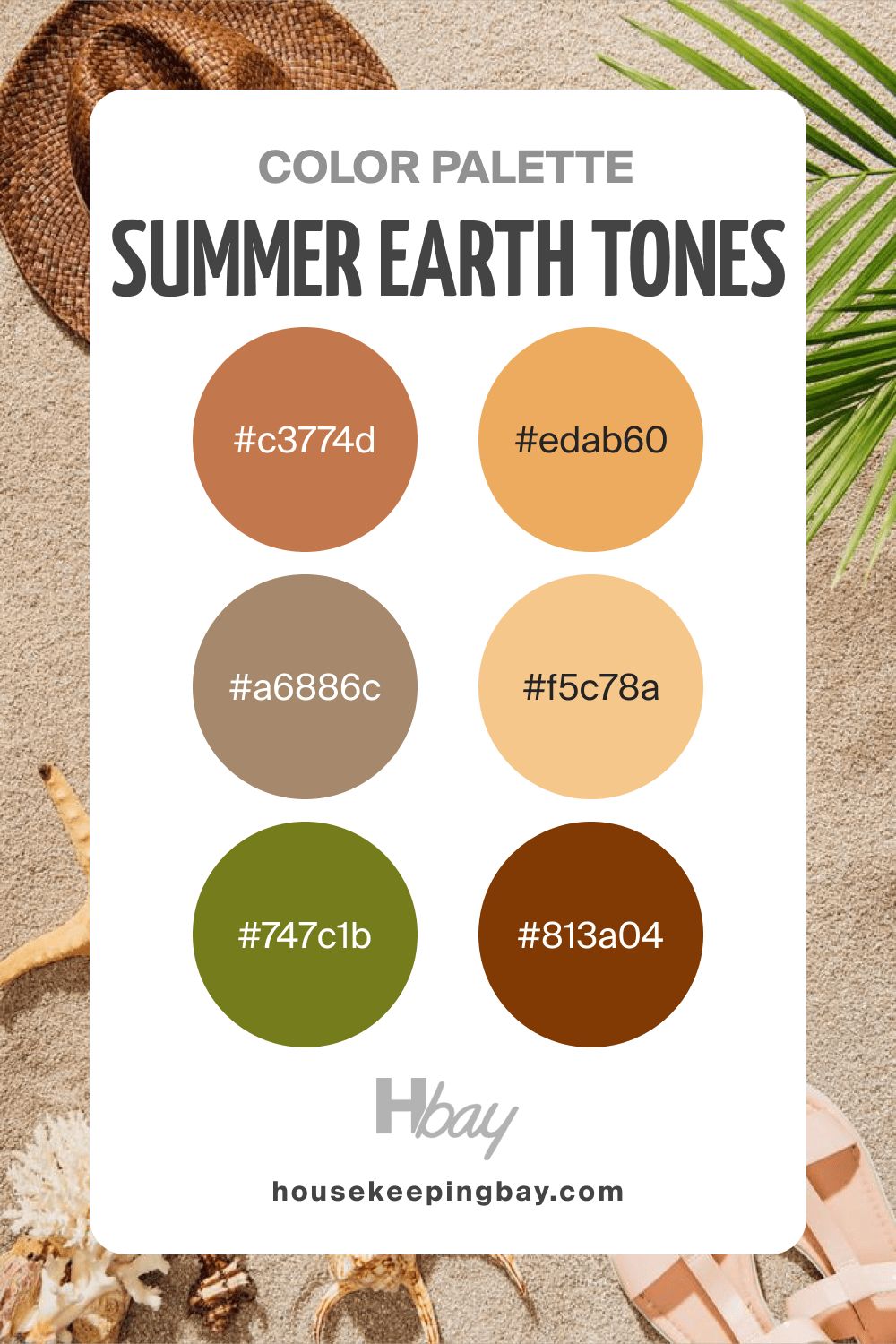 Summer Color Palette Neon 80s
Are you in love with the neon fashion of the 80s? Then you should try this color palette in your home for sure! Bright and vivid colors will catch an eye at the very first sight! Juicy pink, blue, and purple paired with warm and sunny yellow rest on the darker base of a very dark magenta. The overall impression is perfectly retro and, at the same time, so modern and appealing!
Summer Color Palette Green
This color palette is a truly peaceful haven for tired eyes. After all the excessively saturated colors of summer, lean to the calmness of green to immerse into the natural and peaceful vibe of forests.
This palette contains only greens, from lighter and brighter to deeper and more profound shades, so it's perfect for creating a forest-like atmosphere in any space.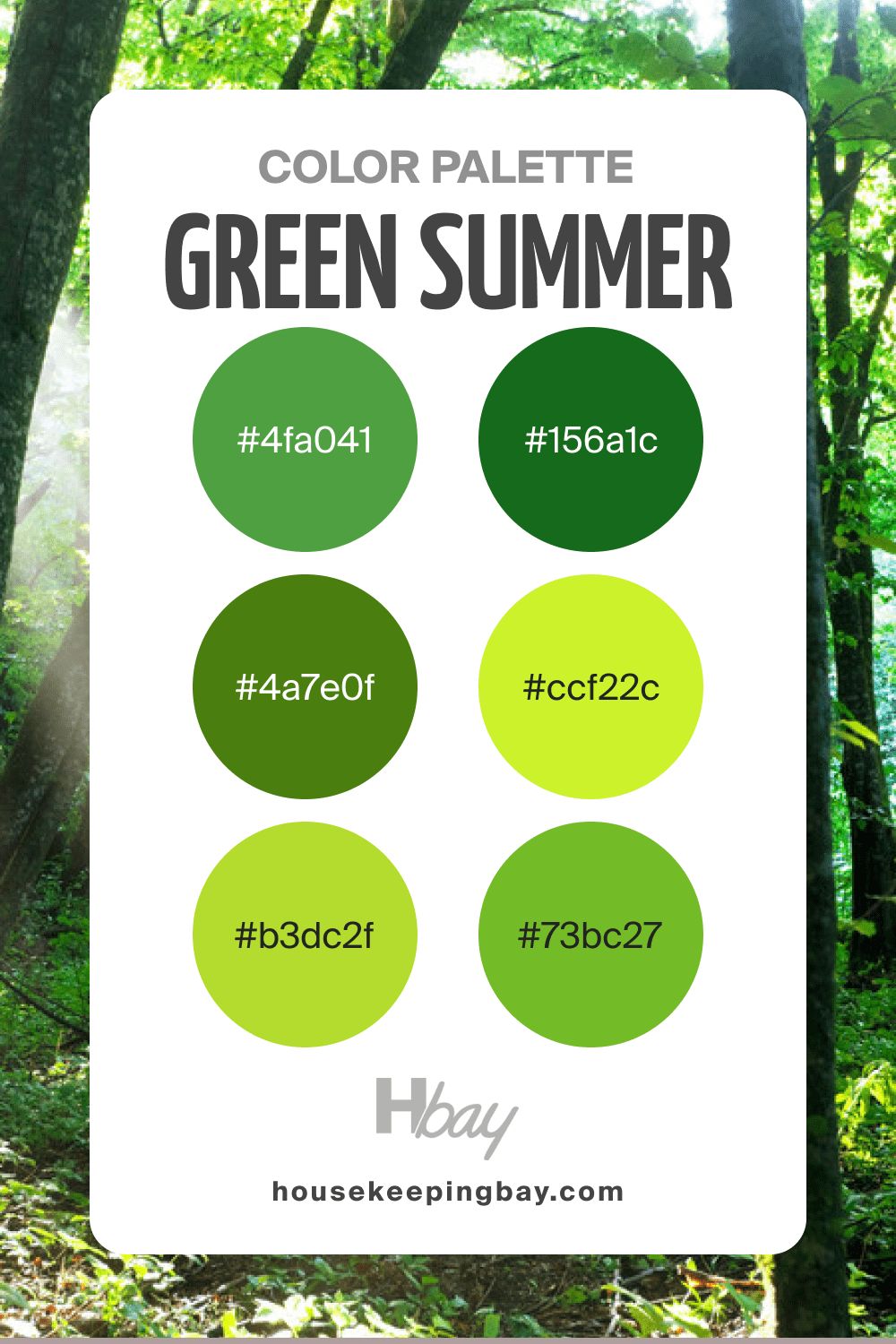 Summer Color Palette Muted
To bring a note of freshness and calmness to your home, try this color palette with its relaxed and somewhat nostalgic colors. Muted greens and medium light shades of blue-magenta pair harmoniously with earthy green-yellow to create a feeling of a rainy summer day, peaceful and relaxed.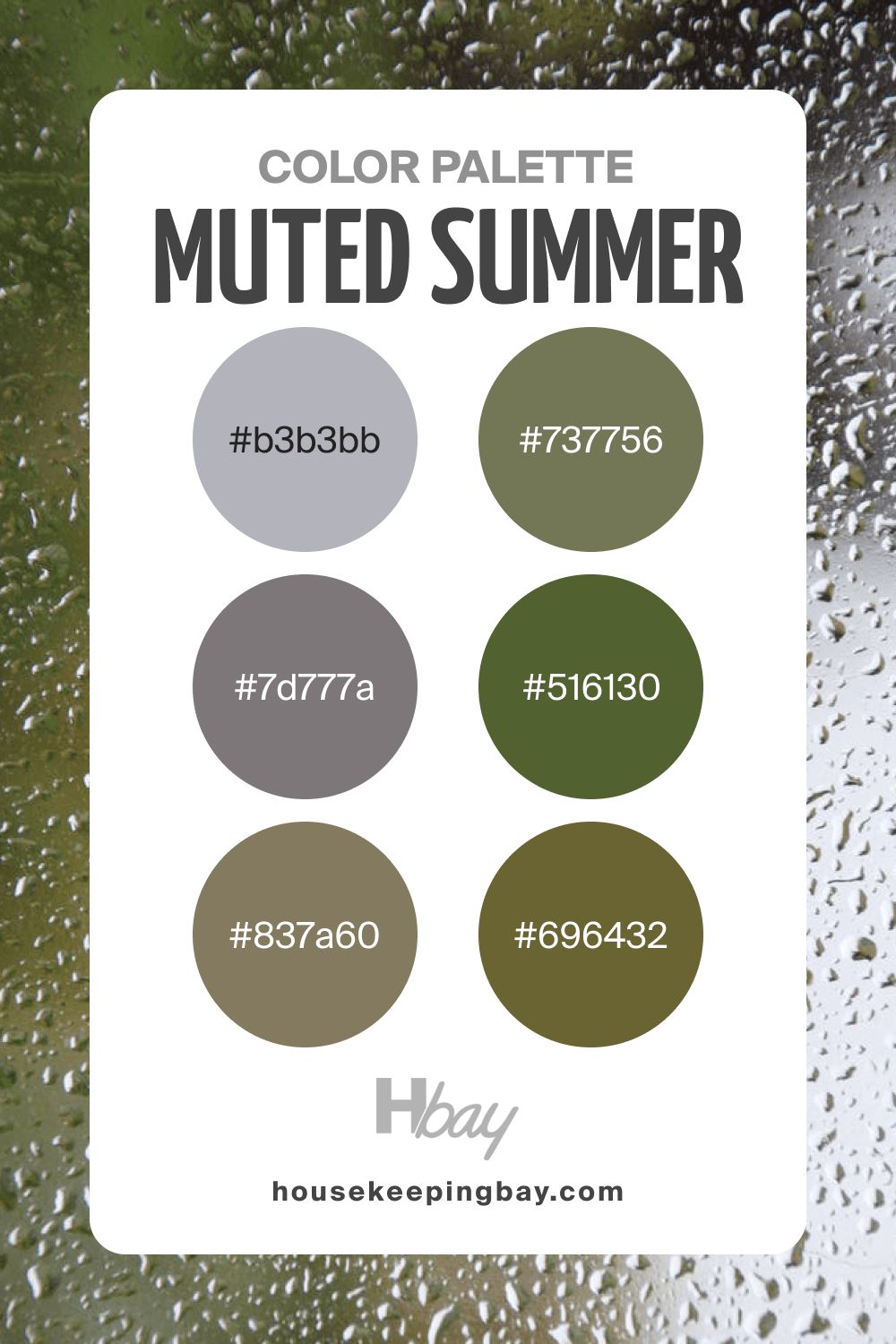 Summer Vibes Color Palette
Craving a bit of a tropical vibe? Then this palette is worth trying! The freshness of azure blue pairs with the calmness of natural greens and chestnut brown. And all this beauty is highlighted with perfectly deep blue-green that reminds you of ocean depth. An ideal color palette for a coastal-style home!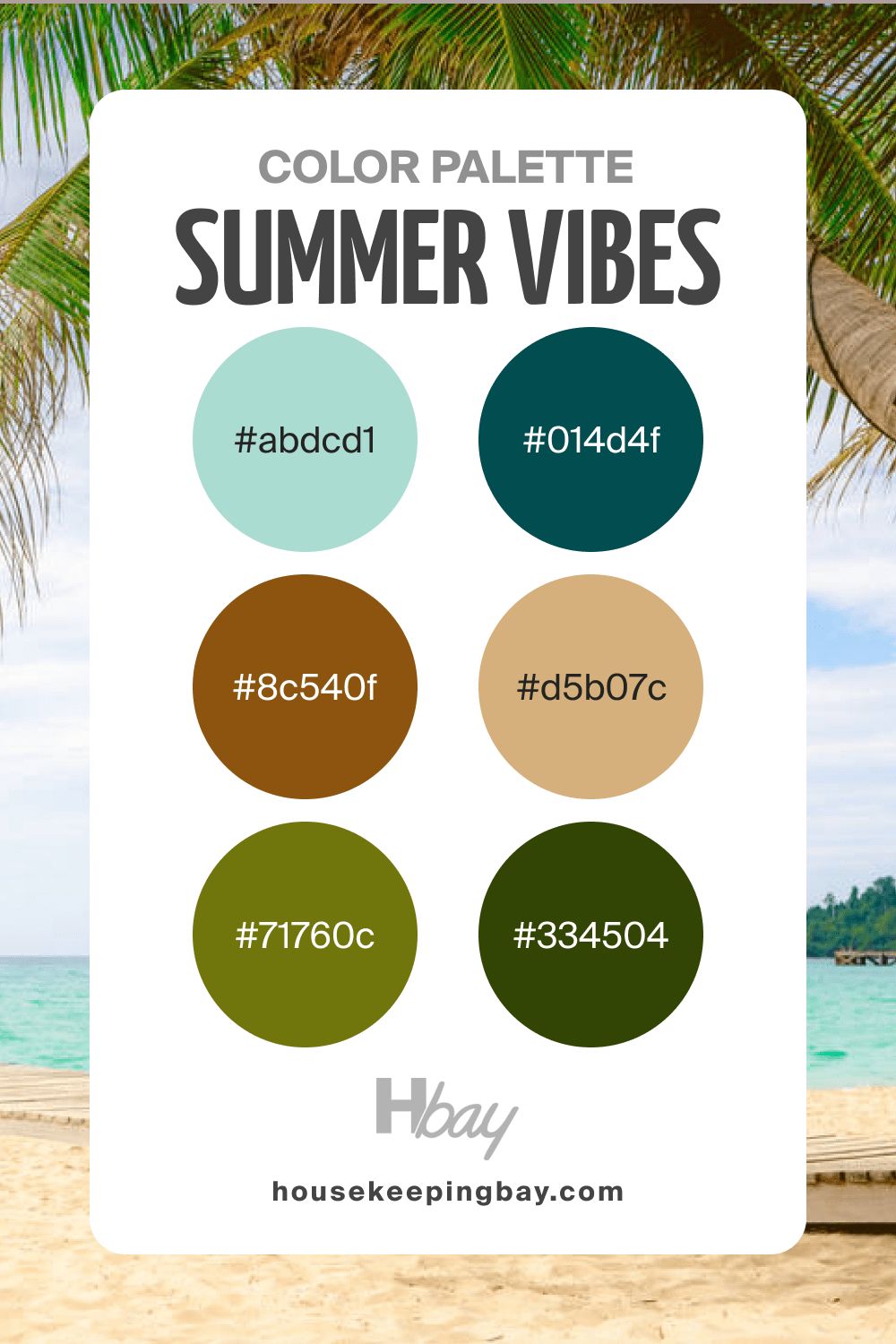 Summer Color Palette Nature
Earthy orange tones pair with the sandy softness of yellow and deep leafy greens in this color palette. The overall impression is relaxed, calm, and so summery!
Use these colors if you want to create a beach-style vibe in your home, and remember to add some brighter whites as well! The white accents will make the space feel airier and lighter!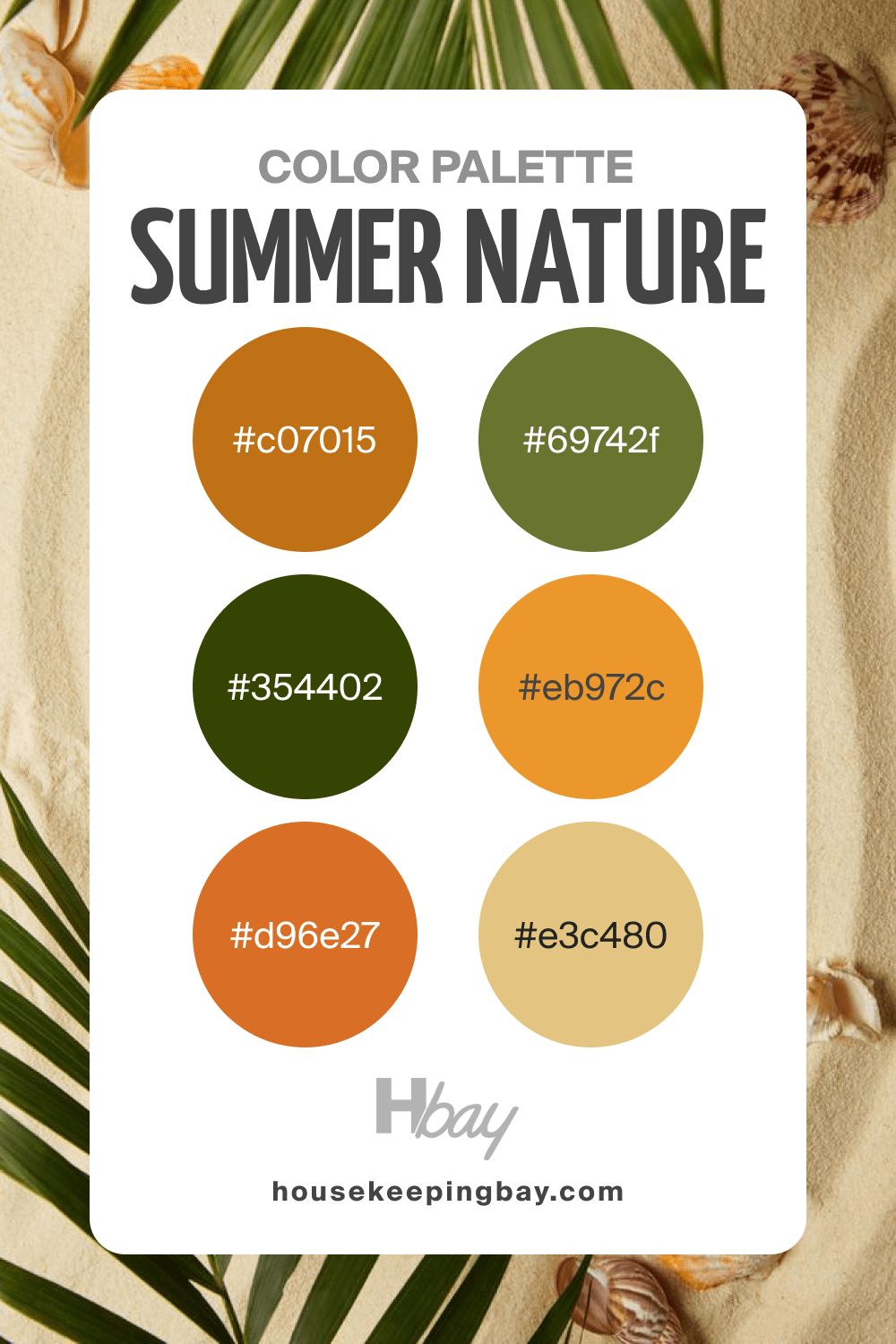 Summer Color Palette Dark
In case you somehow get tired of bright and juicy summer colors and feel like adding a bit of drama to your home interiors, opt for this color palette.
Note that its colors are indeed pretty dark and have significant depth, so we'd recommend you also use lighter paints to make the space read less gloomy.
But generally, deep greens and red with a medium-dark shade of yellow will create a thoughtful and reserved atmosphere in your home.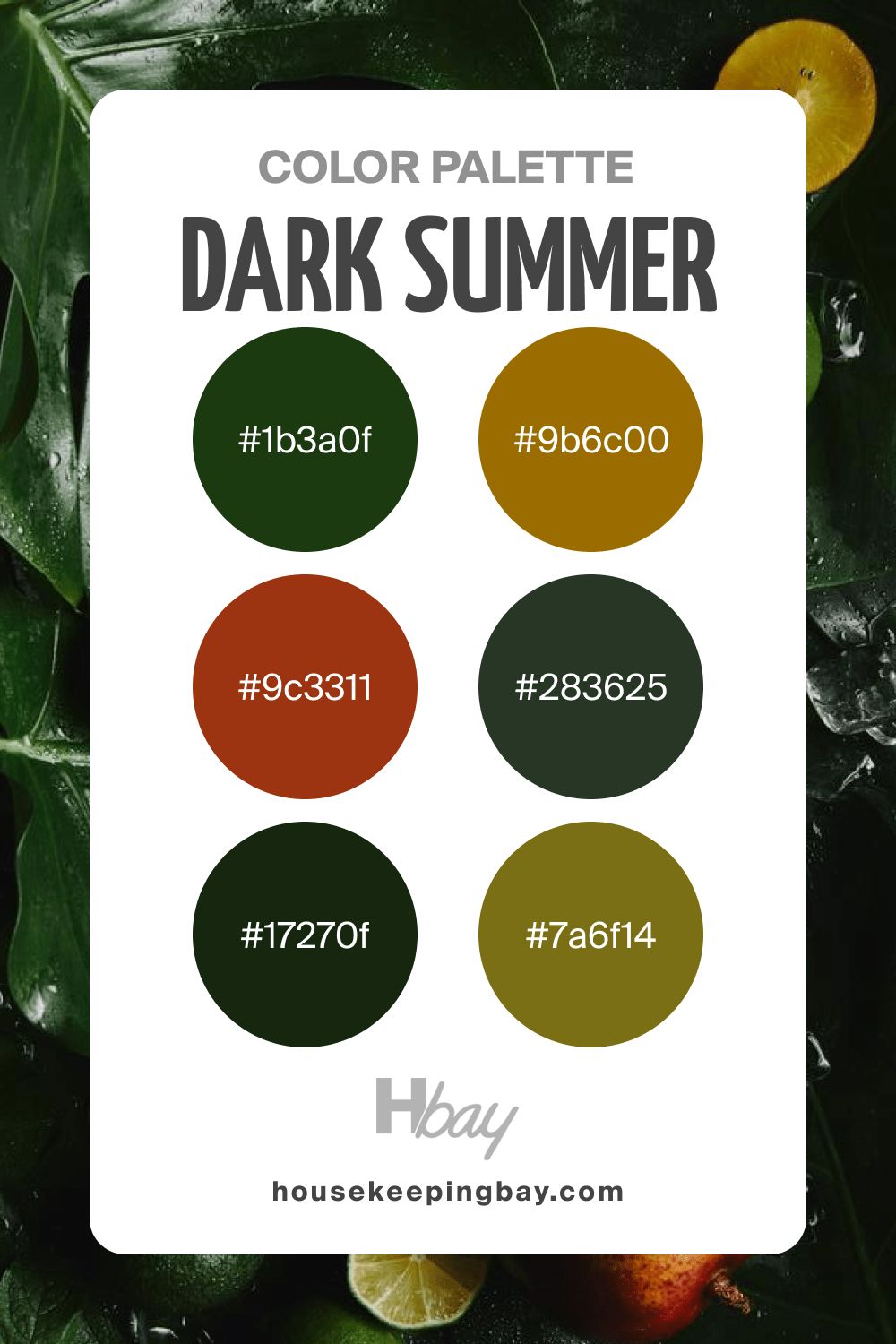 Summer Color Palette Light
The colors used in this palette create a feeling of a summer meadow filled with blooming flowers and humming bees under the warm sun! Calm and yellow-green colors pair nicely with a light greenish-blue, highlighted with a deeper green that resembles the color of grass.
The overall impression this palette gives is tranquil and cheerful, and thanks to muted and calm colors, it will incorporate well in many interior designs.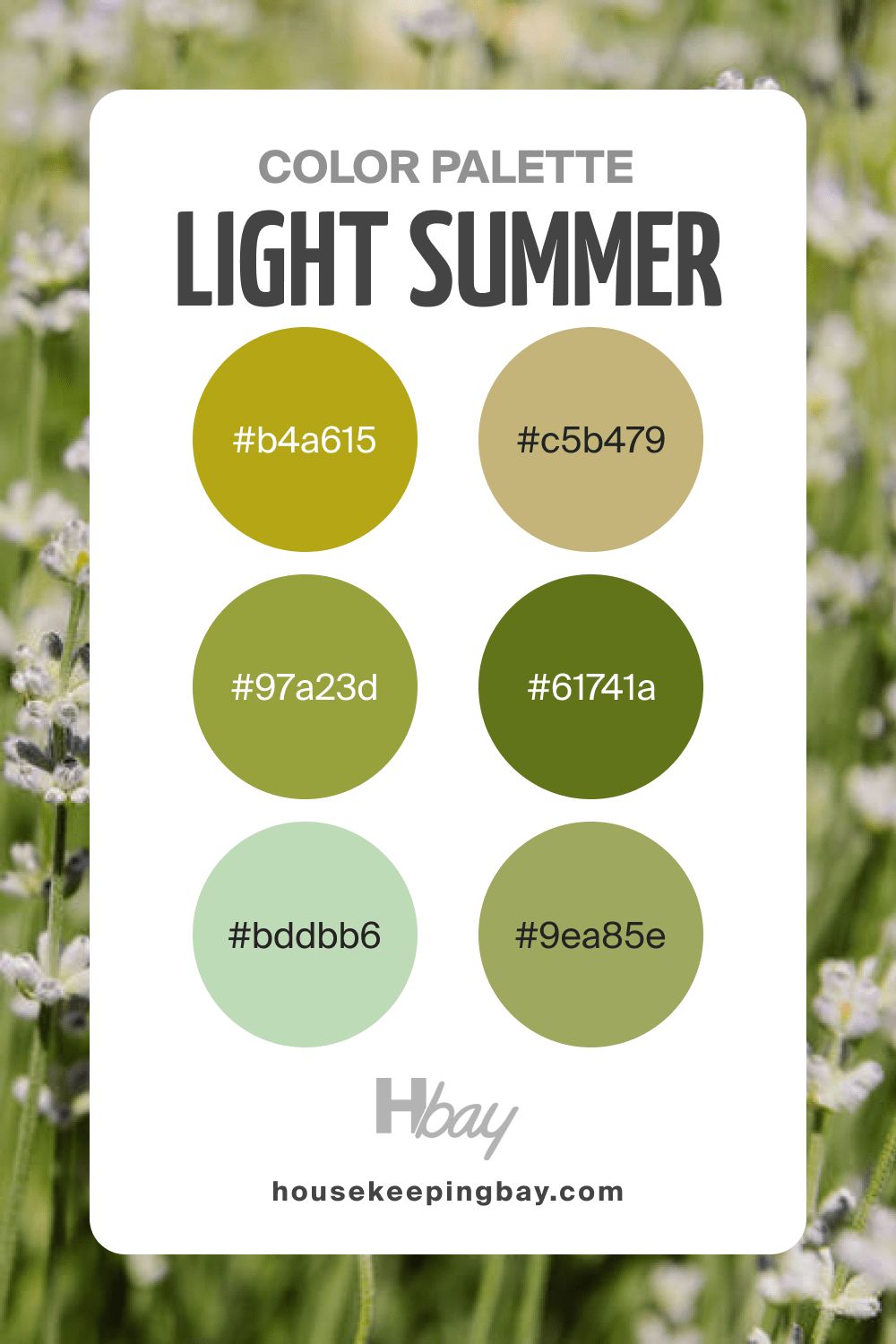 Summer Color Palette Tropical
Well, here's another super vibey palette that will make your eyes shine! Intense and glowing red, muted oranges, yellow and green combine with a chocolate-brown shade here. To some of you, this color palette may seem way too bright, but if you use these colors moderately, it can bring a fresh breeze into any neutral or light interior.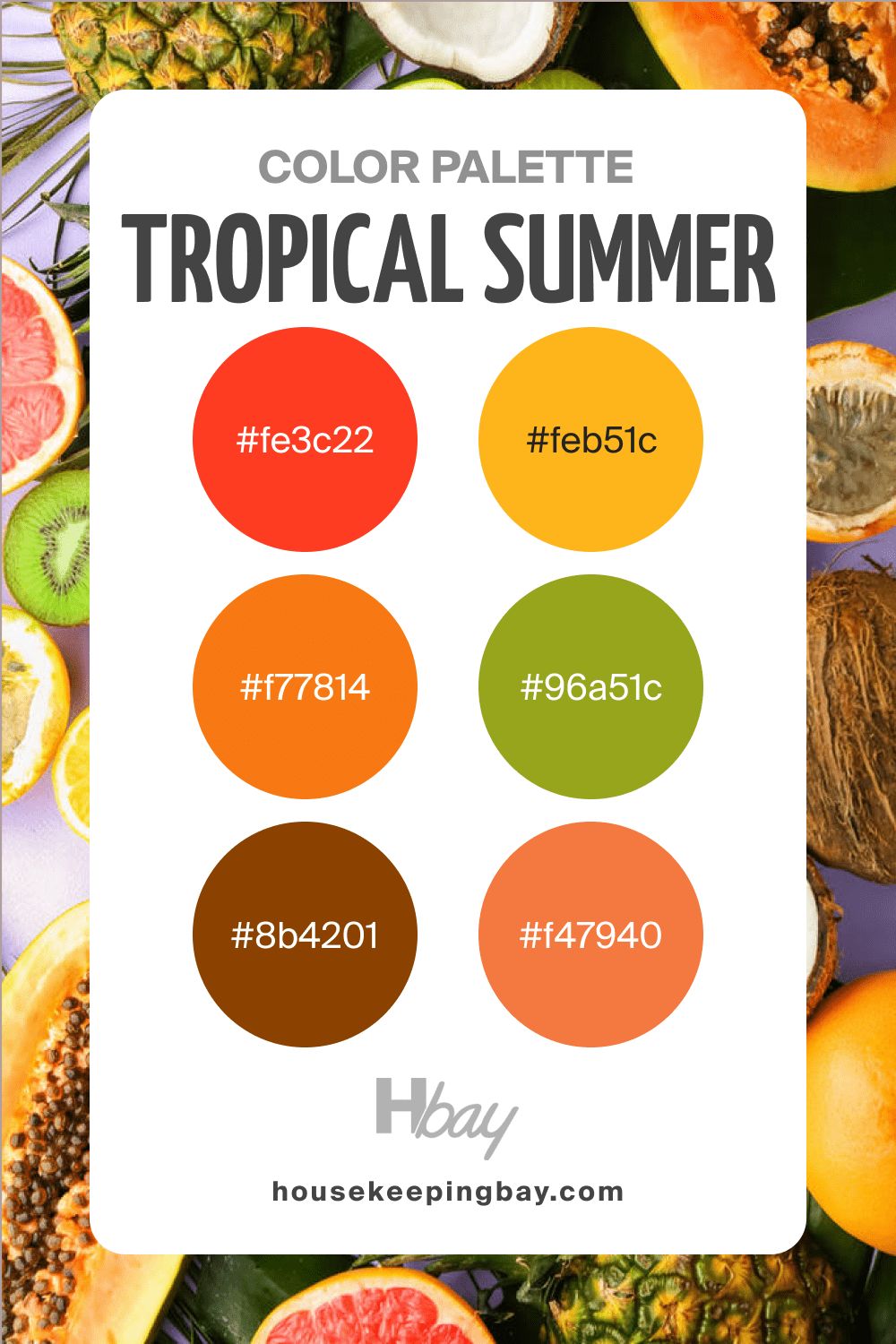 Summer Color Palette Blue
This palette is a top choice for those crazy about marine-style and coastal-style homes! It contains only blue colors, but since they are perfectly balanced in tone and brightness, the overall impression is varied and refreshing.
Deeper blues pair with lighter and brighter shades of this watery color, resulting in a perfectly laid-back vibe. Pair these colors with a lot of white and use some bronze hardware, and your interior will get an ideal seaside summer vibe!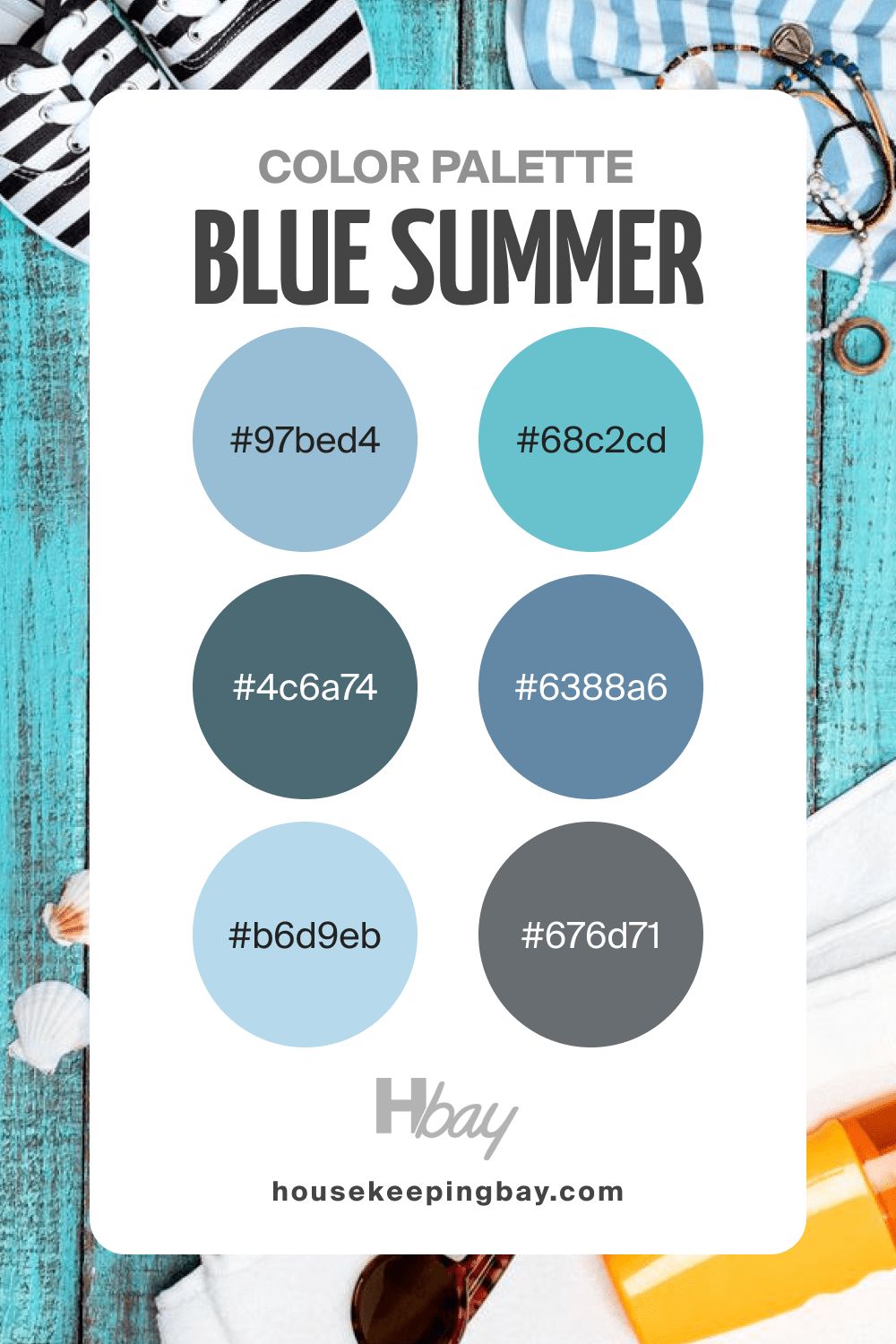 Summer Color Palette Gold
This palette will be great for those who adore warm shades of orange and yellow since these are the colors it consists of. If you use them carefully and pair them with darker colors like black moderately, you will avoid the space reading too monotonous. Also, adding deeper greens might be a good idea to accent specific areas/spots in a room.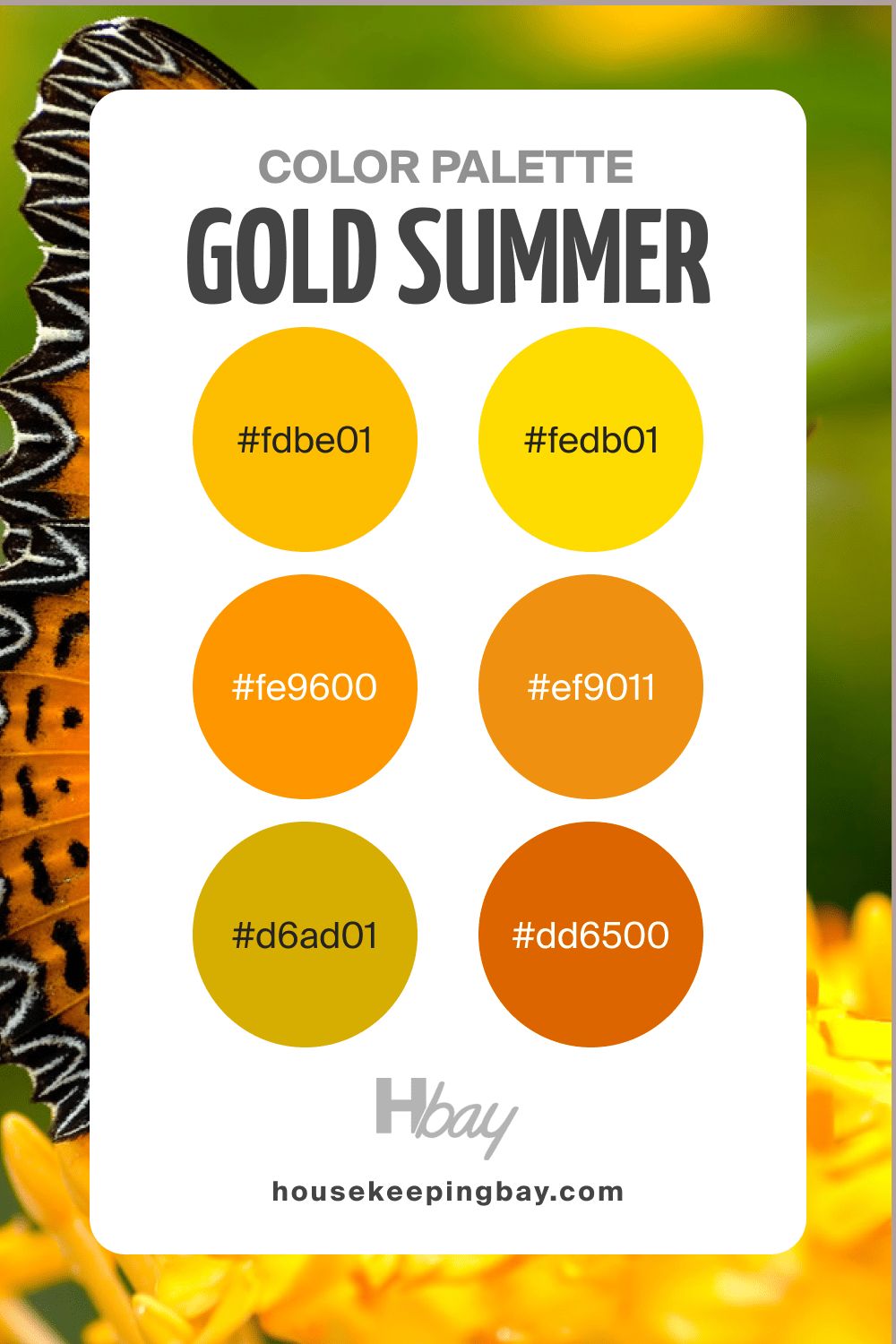 Summer Color Palette Lilac
Very mystical and, at the same time, a fairy-tale dreamy color combination, this Lilac color palette will create an enchanted atmosphere in any space it's used.
Deeper and lighter shades of lilac with pink and purple undertones play like amethysts, adding calmness and serenity to a space. Ensure you also use soft or neutral white and some lighter pinks, and you get an ideal dream interior!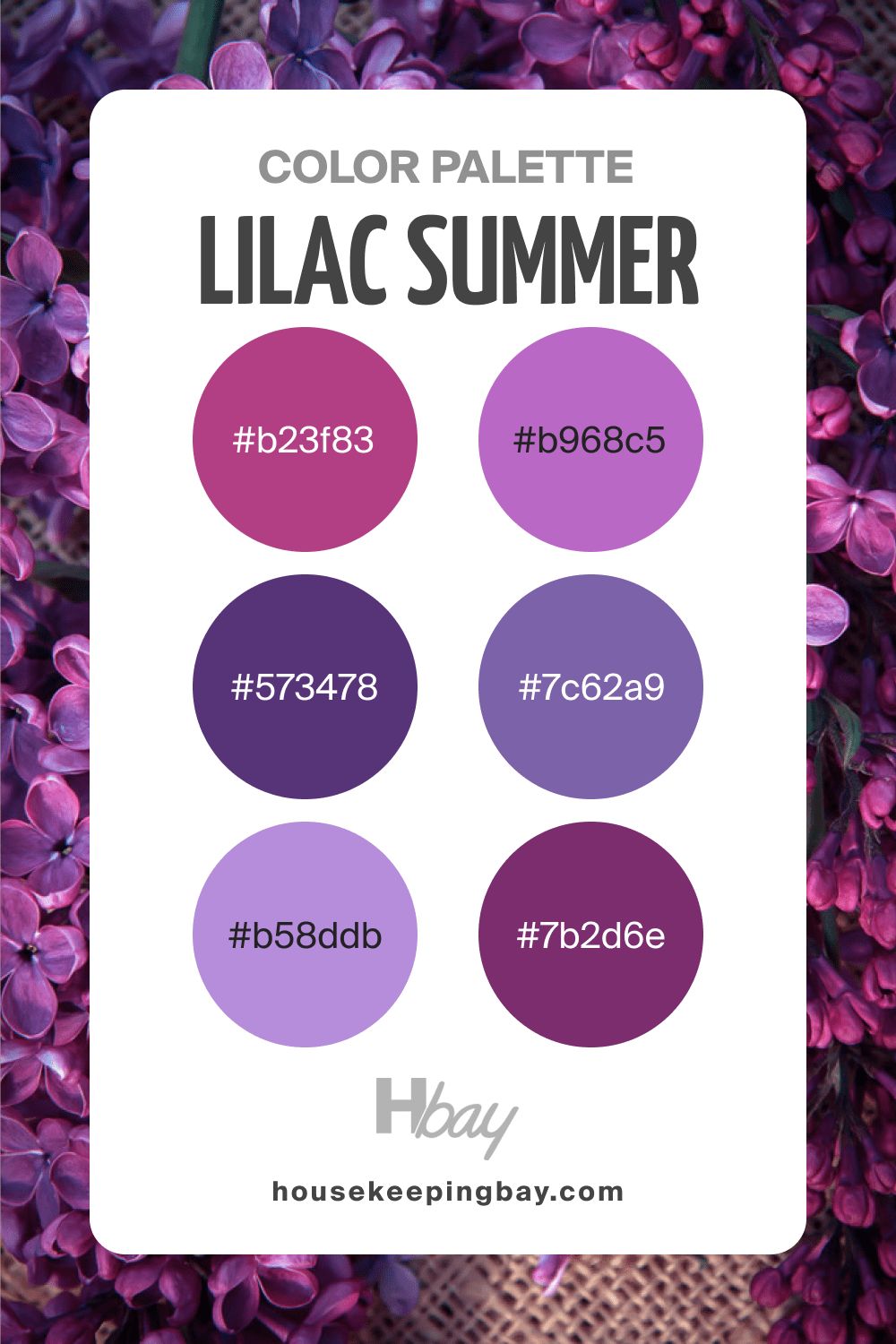 How to Use These Color Palettes In Summer?
It may seem very easy to turn your home interior into a splash of summer colors, but it's not enough to select a fitting color palette. You should also know a few tips and tricks that will allow you to use these colors correctly. Below, we have explained some of these helpful hints.
What Colors Categorically Do Not Combine With Summer Colors?
Since summer is associated with light and bright colors, as well as with juicy tones and bright shades, we recommend you avoid too dark or too harsh colors in your interiors. For example, you'd better avoid blacks, deep blues, or very dark purples in your home.
How to Find Your Color Season: True, Soft & Light SUMMER Color Analysis
Also, too warm and "muddy" colors should be avoided since they make the space read "suffocating" instead of adding a refreshing vibe.
The Most Popular Shade of Summer For Sherwin Williams
Any paint color brand has its seasonal palette for each time of the year, and Sherwin-Williams is no exception. These guys have selected several refreshing and bright summer-vibe colors that will add a vivid note to your home:
SW Cosmos
SW Starry Night
SW Piedmont
SW Faint Coral
SW Blackberry
SW Harvester
These colors will add a juicy splash of summer feeling to your home, and besides, you can incorporate them in many interior designs and styles.
Choosing Summer Color Shades for the Bedroom. What Is Important to Know?
When you choose paint colors for your bedroom, it's important to consider your color taste and preferences, of course. However, since we are talking about summer color palettes, you should also pay attention to the vibe the colors create in the space.
COLOR ANALYSIS Simply Explained | How to Find Your Personal Color Palette
For example, for summer color palettes, a relaxing and refreshing atmosphere is key. It will add a breeze of air and chill into a hot summer night. This is why you should prefer lighter and cool-toned colors over warm-toned and/or deep ones.
But note that too cold and crisp colors are also not welcome unless you like them! Otherwise, your bedroom will feel "frosty"!
How to Combine Summer Color Shades With Black?
Since many summer color palettes contain bright and juicy colors, people often find them too bright and want to weigh that brightness down a bit. For this purpose, they often use darker colors like black. But even though this trick may work, you should use black carefully!
Depending on the palette you choose for your home interior, incorporate black accents moderately. For example, in a brightly colored living room, you can use cushions with a black pattern or black lampshades.
Black picture/photo frames on the walls will also help to balance visual accents in the room.
Also, note that darker color palettes will hardly work well with black! If you have deep and dark enough colors on the walls and furniture in your rooms, adding black (even in smaller portions) can make the room read gloomy.
Conclusion
Now you know what color palettes will be popular this summer! You have twenty different color palettes that range from juicy and bright to modest and calm. There are also darker options in case you prefer more grounded colors in your living space or if you are tired of bright and too-saturated colors.
With this guide, as well as with tips on the proper use of these color selections, you will successfully create a relaxing summer vibe in your home, no matter its style and interior design!
Frequently Asked Questions
⭐Can I use these color palettes for any room?
Yes, of course! They are suitable for any room in your house or apartment.
⭐Which summer color palette would you recommend for a nursery?
For a nursery, we'd recommend using a Neutral palette or choose between the Blue palette and the Light palette.
⭐Can I use the Blue color palette for exterior walls?
Why not? It will look fantastic on a seaside cabin exterior walls!