With all the variety of interior paint colors available on the market these days, we often find it complicated to choose the best and the most suitable color to match our home interior and walls. This is why it is important for every homeowner to understand at least the basics of how different paint colors can work on the walls.
Being informed about such nuances is especially important if you are going to use any complicated shades of paint for your interior design projects. For example, such paint color as Austere Gray SW-6148 by Sherwin Williams brand. This color may seem simple but in fact, it has certain nuances that one should be aware of in advance before using it.
Wirth the help of this article, you will find out what type of color the Austere Gray is, what its undertones and coordinating colors are, how this color reacts to different types of lighting, and what trim color would be the best to match with it.
In addition, we will tell you what rooms it is best to be used in, and what similar paint colors can be taken into consideration instead of this particular one.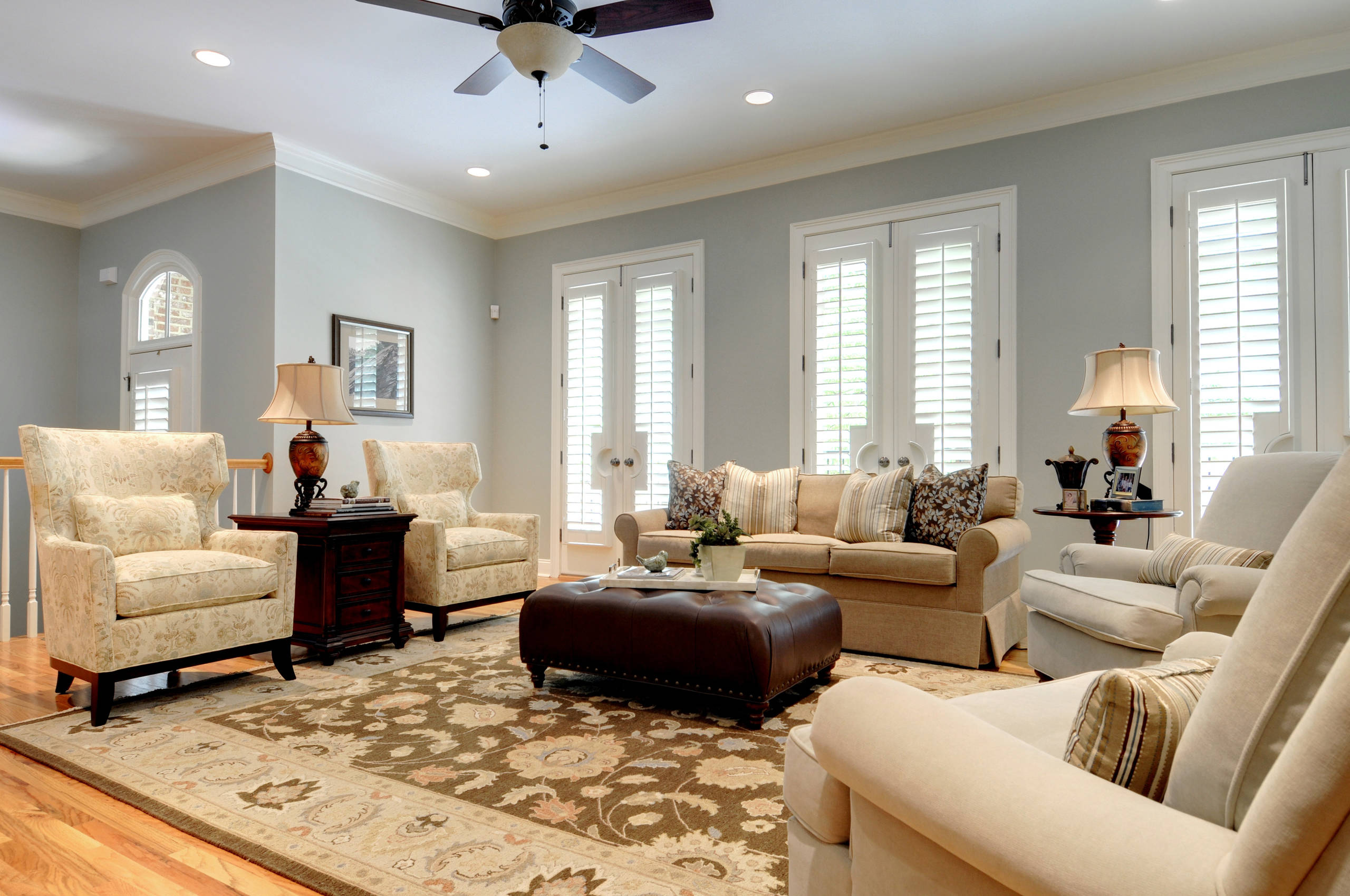 What Kind Of Color Is SW Austere Gray?
Nowadays, it is trendy to paint your home's interior walls with all sorts of subtle and light colors. Whites, grays, greiges, and light beiges are among the favorite shades on the market now! And most people think that using them is very simple since these colors tend to be presented as those that are universal, being able to match any color palette and any design.
However, when you decide to use a light paint color on your interior walls, you should be aware of a few factors that will influence the way the color reads on the walls and in the room:
Its undertones
The way it reacts to light (e.g. daylight, bulb light, etc)
Whether this color is warm or cool
If you take a closer look at the Sherwin Williams Austere Gray color, you will easily notice that it is a beautiful and calm hue. However, most of you would believe it is gray due to the name of the paint, whilst in fact, this color is…a very light green! And if you are attentive enough, you will easily see that.
As Encycolorpedia says, this particular paint color is rather complex. See, despite of its name, it is basically a very light shade of green, but at the same time, it shows a bit of gray in it as well.
This is why this paint color should be used with care since you need to pick all the other colors and coordinate them with it properly.
But still, with its help, you can easily transform your living area into an elegant and cozy space with a touch of individual character.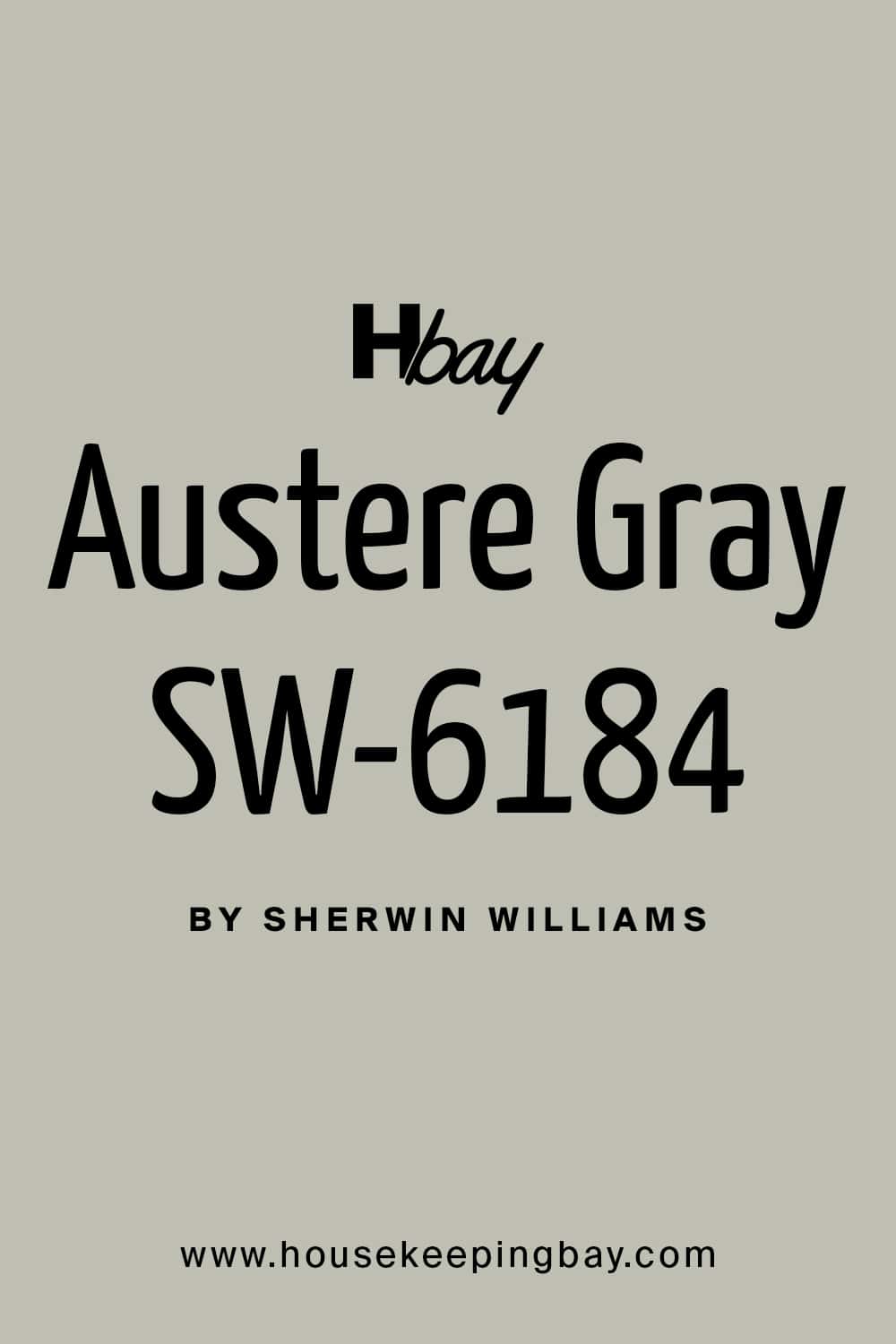 Is Austere Gray a Warm Or a Cool Color?
Austere Gray by Sherwin Williams is a warm-toned shade of green color. This is why, if you are looking for a paint color that will add a crispy note to your interior, this shade will hardly be suitable.
But if you are into warm-toned yet not too "stiffy" colors that both make a room cozy and elegant and don't have a "dirty" look on the walls, this delicate and soft green might be your option.
What Are the Undertones Of SW Austere Gray Color?
Even before you buy the paint, you need to become fully aware of its undertones. Undertones are one of the trickiest parts of any paint and if you make a mistake with them, chances are you will have to either repaint your walls or buy another paint!
But when you know what undertone (or undertones) your paint has, you will be able to tell in advance how exactly the particular color will read and look on your walls after you apply it. Let's agree that having an easily predicted result is better than playing a guessing game.
As for the Sherwin Williams Austere Gray paint color, this color has gray undertones. This is why you should note that this warm green shade will not look the same in any type of light. In fact, in low light, it will read more gray, but in brighter light, this paint will look like a shade of a beautiful soft green.
So we recommend you double-check what types of lighting the room has in which you want to apply it.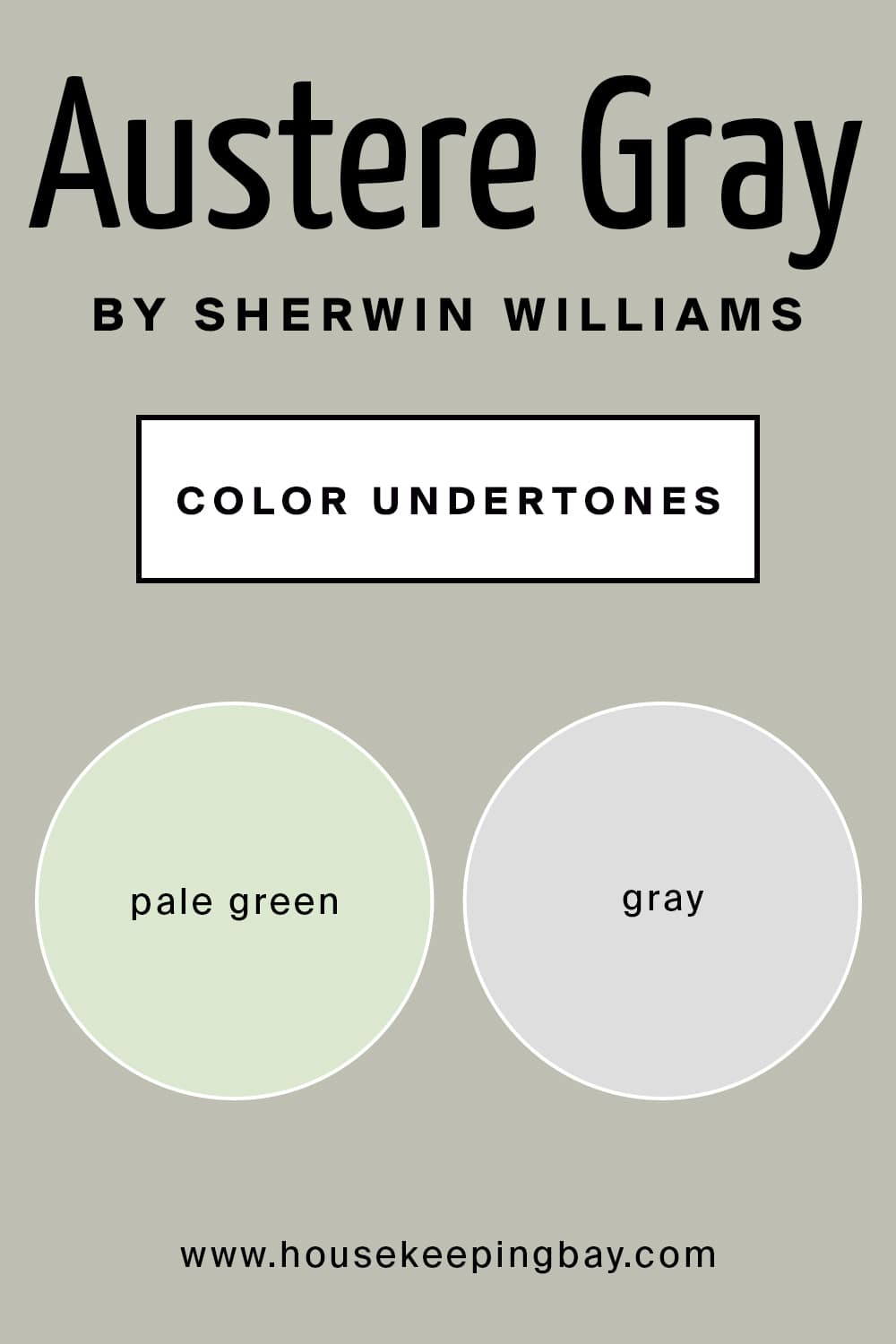 How Does Lighting Affect Austere Gray Paint Color?
Before you apply the paint to your walls, you should check how it will react to different types of light first. See, some colors remain almost with no changes no matter how well or how poorly they are lit. Others may react to light quite dramatically. There are even colors that are able to transform and reveal the most unexpected shades and undertones!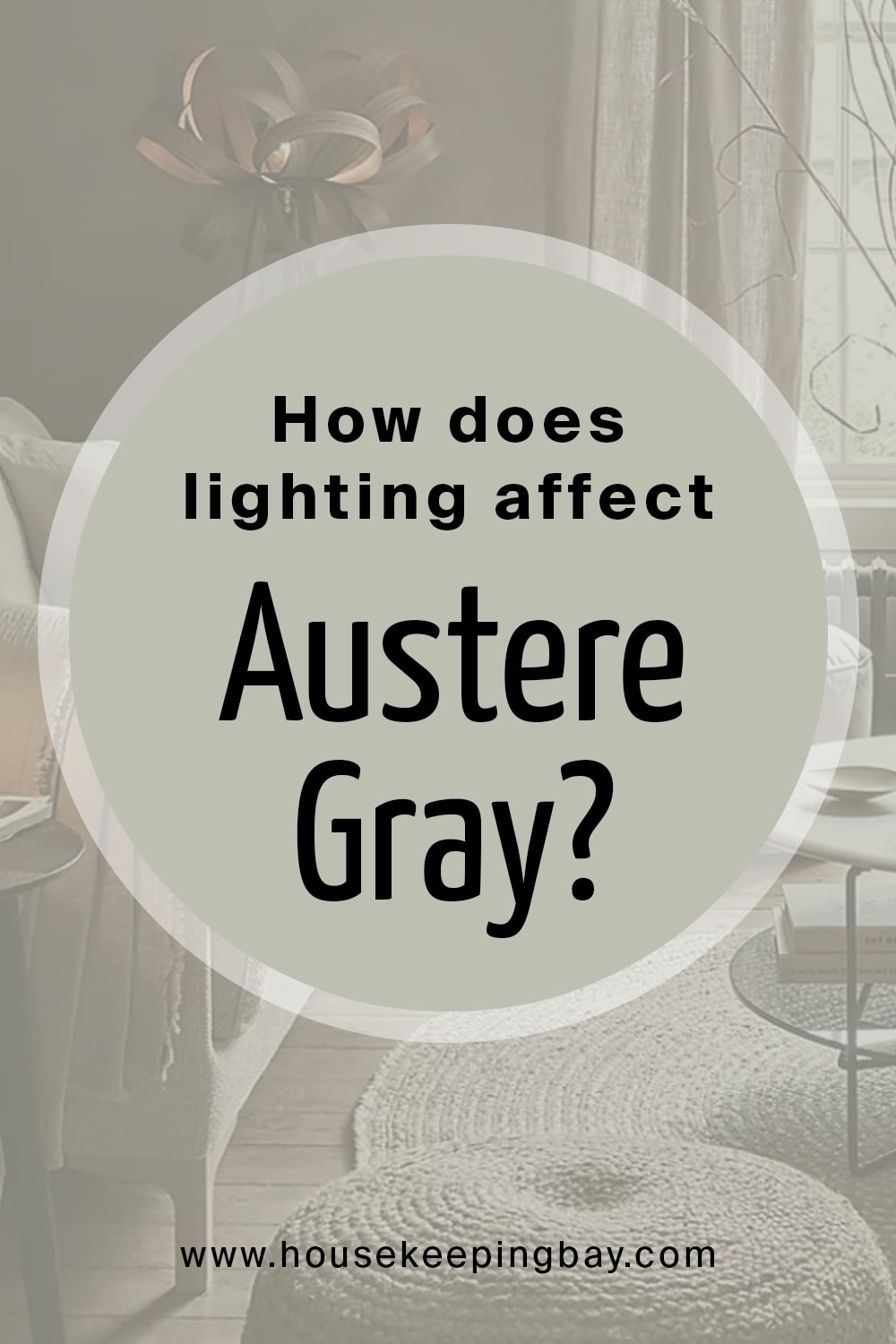 So if you don't want to find a completely different shade on your walls, make sure this nuance is checked in advance. Speaking of SW Austere Gray, this soft green paint color will hardly make your room look smaller. However, it can hardly be called a good choice for those who want to make their room visually more spacious and/or add the space a crispy look.
This shade of green tends to read somewhat close to gray in low light and in a better-lit room, it will reveal itself as a soft green instead. Quite a shapeshifter, right? In general, you need to keep in mind that the more natural light you have in your room, the brighter this color will be on the walls. And vice versa.
But in any case, no matter what light there is, walls pained with Austere Gray will look very elegant and very cozy, giving your space a timeless vibe!
Now that you know more about this complicated paint color, you will be able to figure out whether it could be a suitable choice for your home. And if you decide that it is exactly what you need, we suggest you read on to find out how it might work with other colors.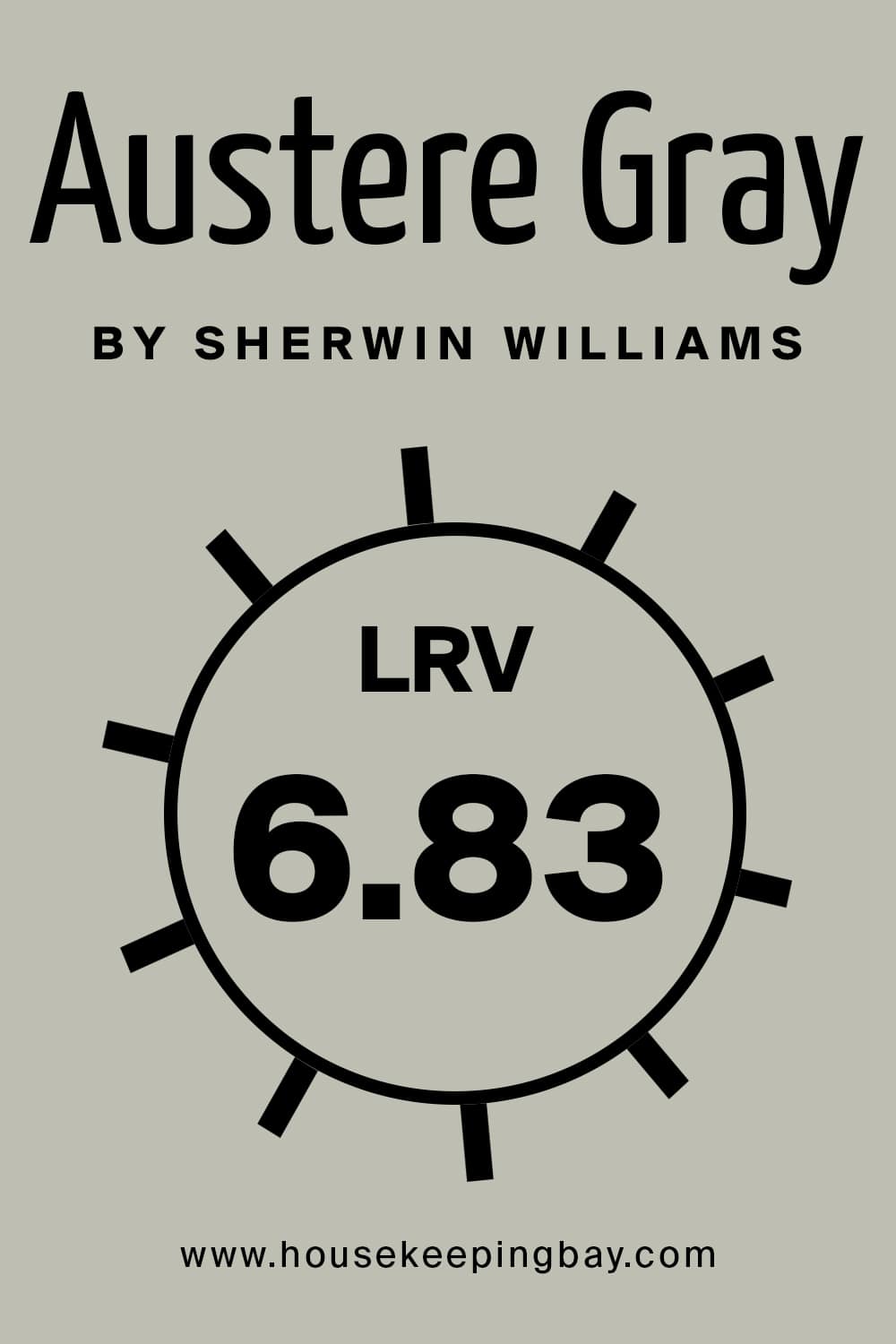 What's the Best Trim Color For This Paint?
It is a well-known fact that the best and the most universal trim color is white. White can match almost any other paint color, which makes it an effortless solution when you need to find a good trim color option. And luckily, SW Austere Gray paint is not an exception.
You can pair this warm green with certain whites and be sure that they work great together. In general, Austere Gray can be considered quite a flexible color when it comes to combining it with white paint colors, but we would suggest you the following options to get the best combination:
Benjamin Moore Oxford White
Benjamin Moore Simply White
When using Austere Gray paint color with whites, remember that the more yellow tones your white has in it, the more likely it is to make the warm green undertones in Austere Gray pop out! This is why you should stick to cooler tones of white instead.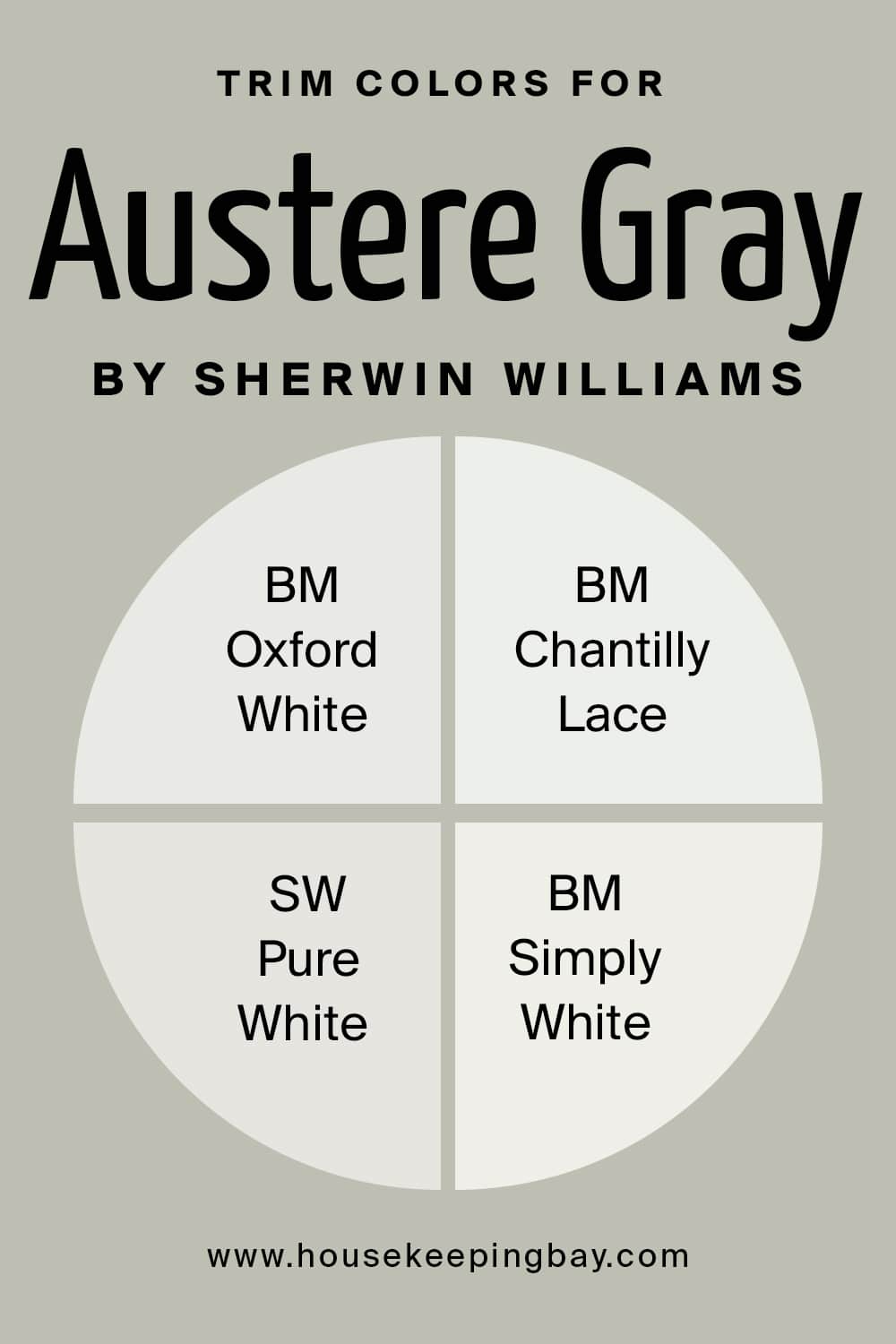 SW Austere Gray SW-6184 Similar Paint Colors
Sometimes you might want to consider other paint colors instead of the one that you initially wanted to use on your walls. It can happen because of different reasons, but should this happen to you, you should be aware of at least a couple of alternative paint colors.
Speaking of Sherwin Williams Austere Gray color, it also has several alternative options from other brands as well:
SW Sensible Hue
SW Contented
But before you choose one of these colors, make sure you sample them to see which one exactly suits your interior color sceme since each color differs slightly from others!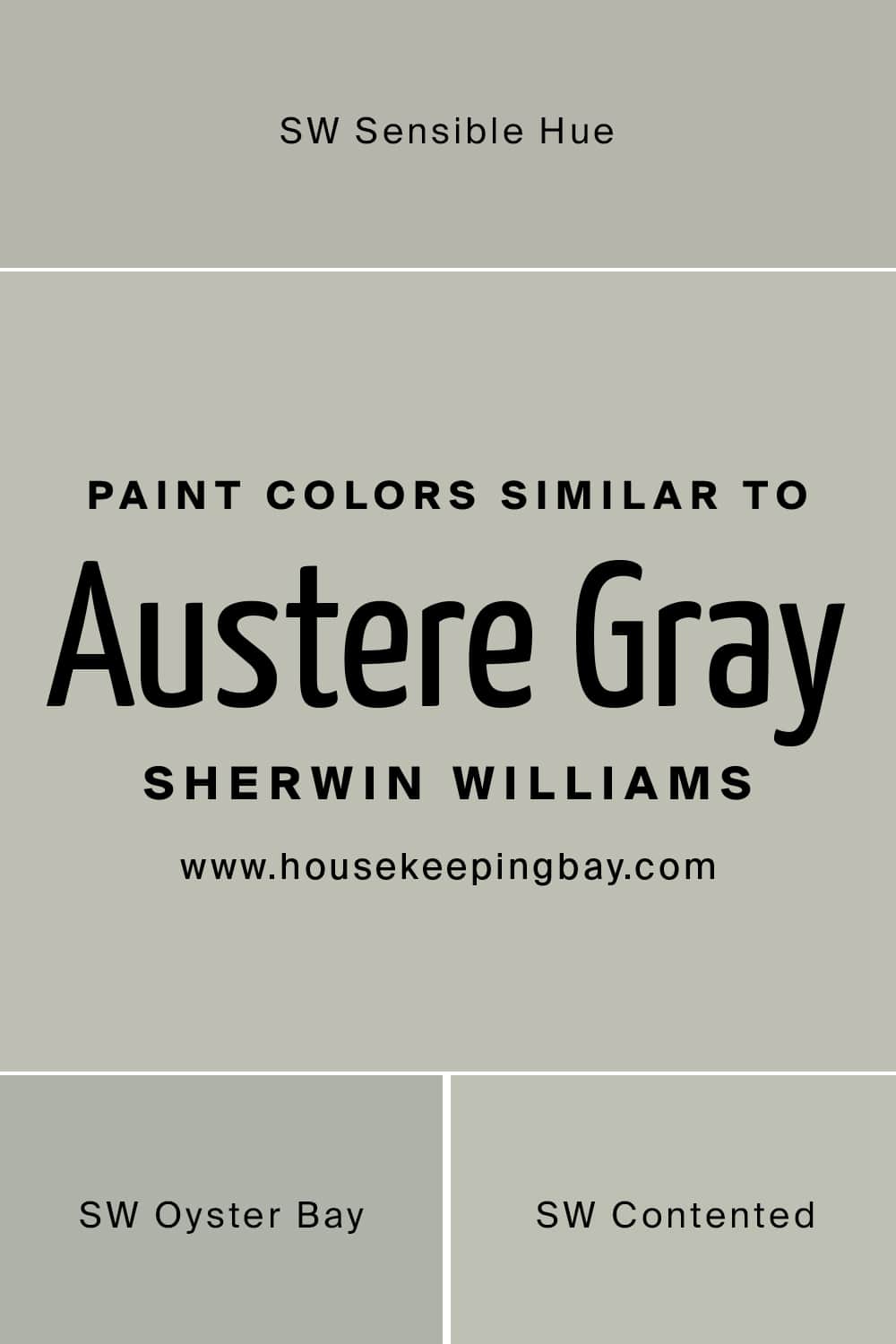 SW Austere Gray Coordinating Paint Colors
When you are choosing the future color palette for your home's interior, it is essential to pick the colors that go with the major color as well as possible. But when the major color is as tricky as SW Austere Gray with its tendency to get greener in certain types of light and gray undertones, you might find it hard to select the colors that will go well with it.
So in order to make it easier for you, you can grab a few recommendations on what colors will go well with SW Austere Gray gray paint.:
SW-6119 Antique White
SW-9123 Barro Verde
SW-6182 Ethereal White
With these colors in mind, you will be able to decide easier what paints you might want to use on your walls along with SW Austere Gray to match this delicate and timeless green.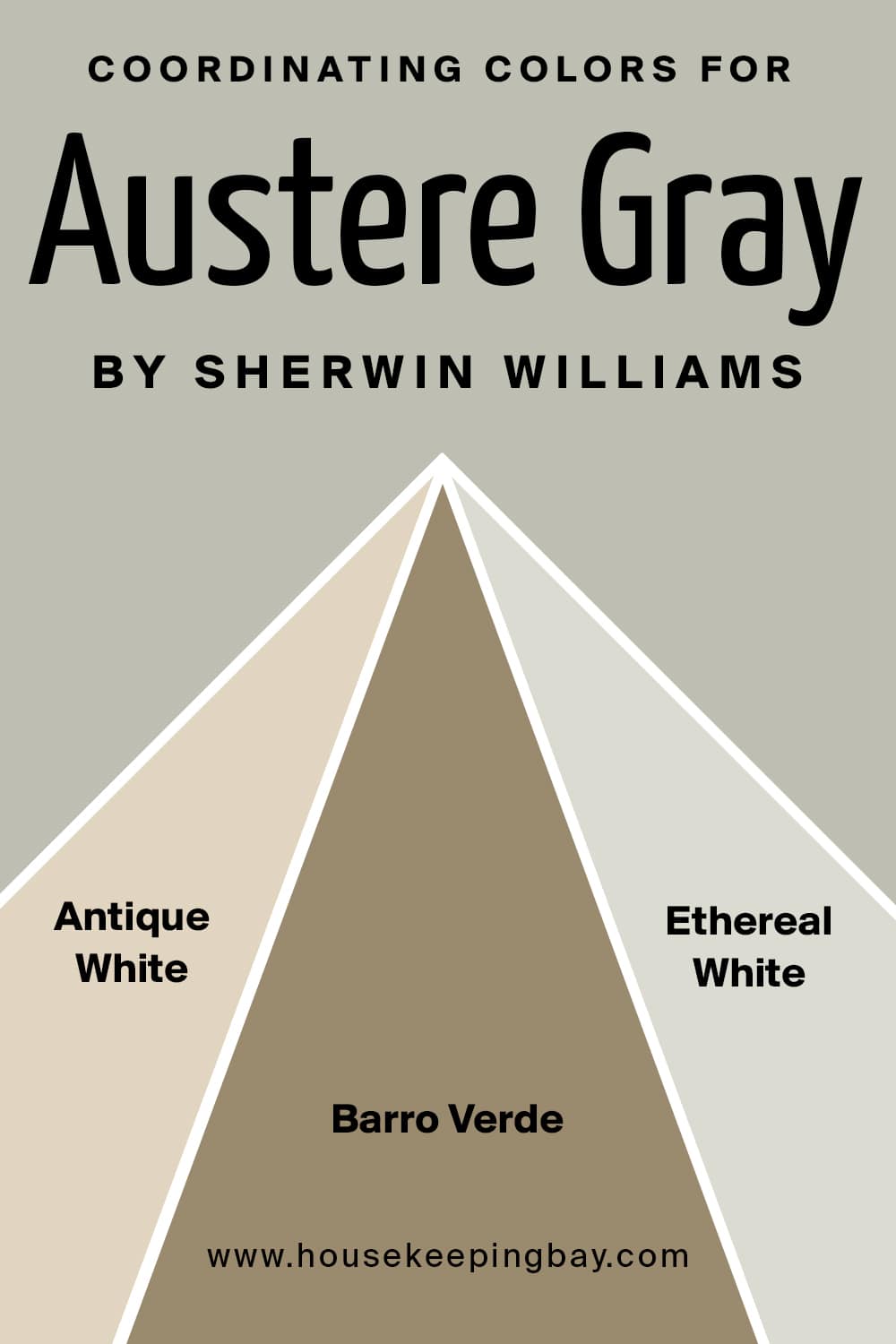 Where to Use SW Austere Gray In Your Home?
Now you might be wondering in what rooms it is possible to use this tricky color if it needs so caution! However, you will be surprised to learn that SW Austere Gray is rather versatile and can be used in quite many rooms. However, you should keep in mind that you can't still apply it in any room you want. Below, we will explain how it might work in different areas in your home.
SW Austere Gray in the Living Room
If you want to apply this soft green to the walls of your living room, consider first what type of light you have there. If the living room is mostly lit with warm daylight, for instance, southern or western, the Austere Gray paint color will read more green than gray.
But if the light in your living room is coming from North, then this paint will reveal much more of its gray side, reading less warm. However, it will still have that greenish hue so take that into consideration!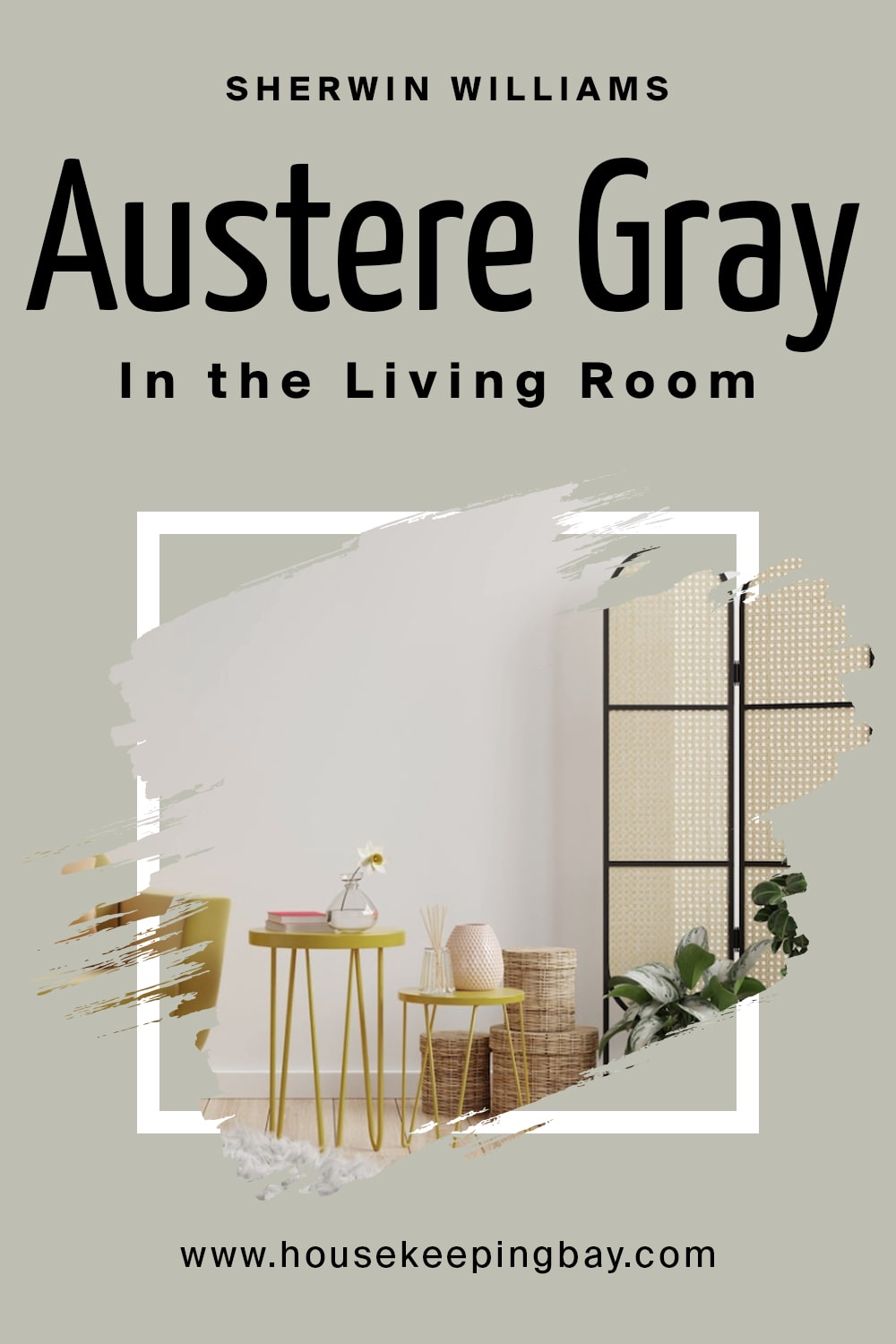 SW Austere Gray in the Kitchen Cabinets
For the kitchen cabinets, this color should be used with a certain caution. Even though it is not too warm, it is still rather peculiar. This is why, for the ideal effect, you can paint your cabinets with this color if the kitchen is well-lit during the day.
Plus, if you have plenty of white colors there (e.g. on the walls), it can help this soft green read lighter. Anyway, you need to keep in mind that, in a warm bulb light, this color will read much greener and warmer.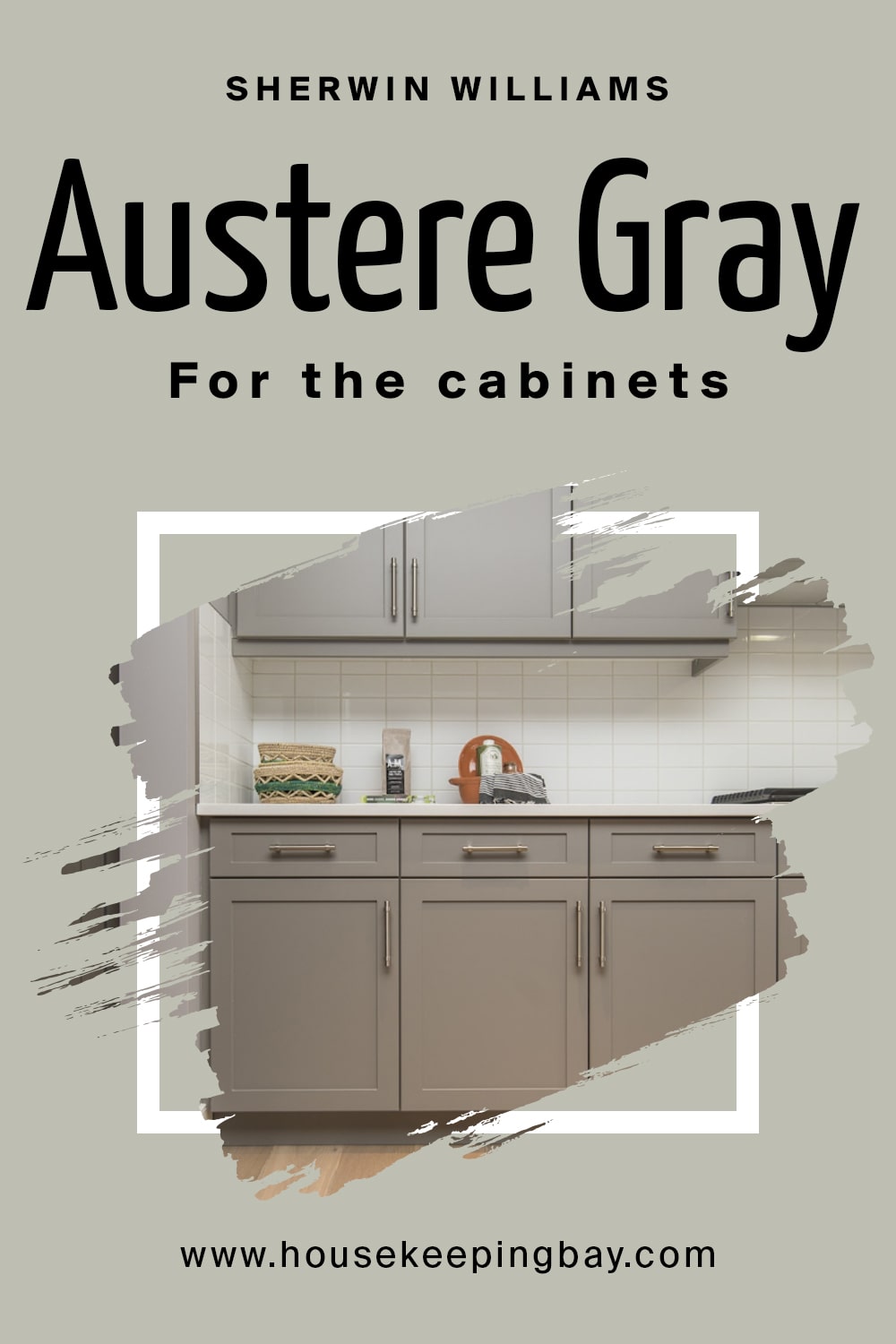 SW Austere Gray in the Bathroom
In a bathroom, this soft green must be used exceptionally cautiously! It will only look suitable if the bathroom is large enough and if it is very well lit. Plus, the room should have plenty of white color in it as well, otherwise, Austere Gray will make it look smaller.
If you don't have respective conditions, expect this color to read way too warm and stiffy on the bathroom walls, thus making the space visually smaller. In addition, in warm bulb light, it will reveal its green tones more prominently, which can make your bathroom look like an aquarium!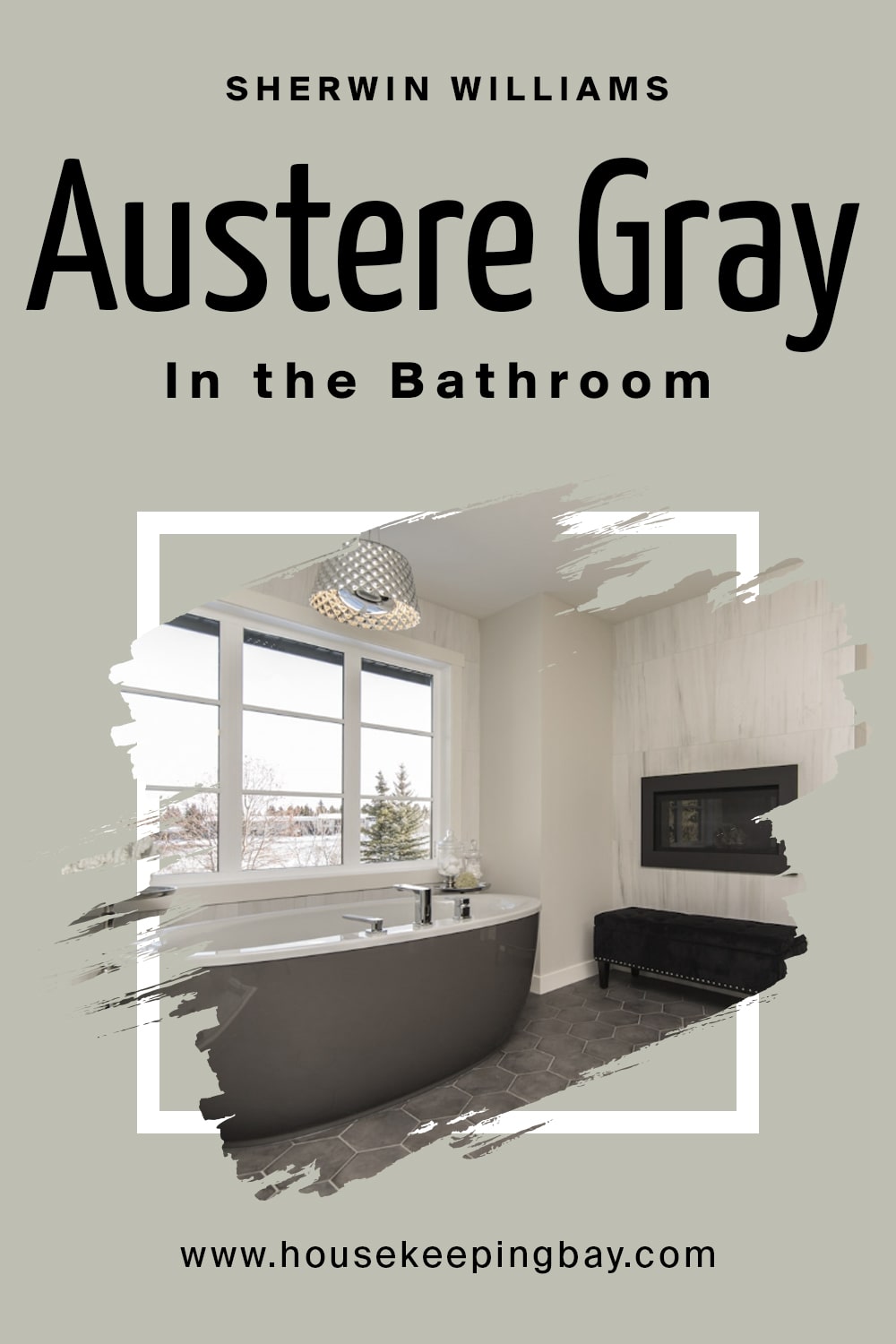 SW Austere Gray in the Bedroom
Surprisingly, this color will fit your bedroom pretty well! Of course, you still need to take light into consideration, and also, we would not recommend you paint all the walls in this room using this color. However, an accent wall painted with SW Austere Gray (with other walls being white, for example) will add a tranquil note to the space.
By the way, you can make your bedroom look lighter by using white trims and elements, such as throw blankets, curtains, carpets, etc. These white spots will make the room look airier and thus spacious.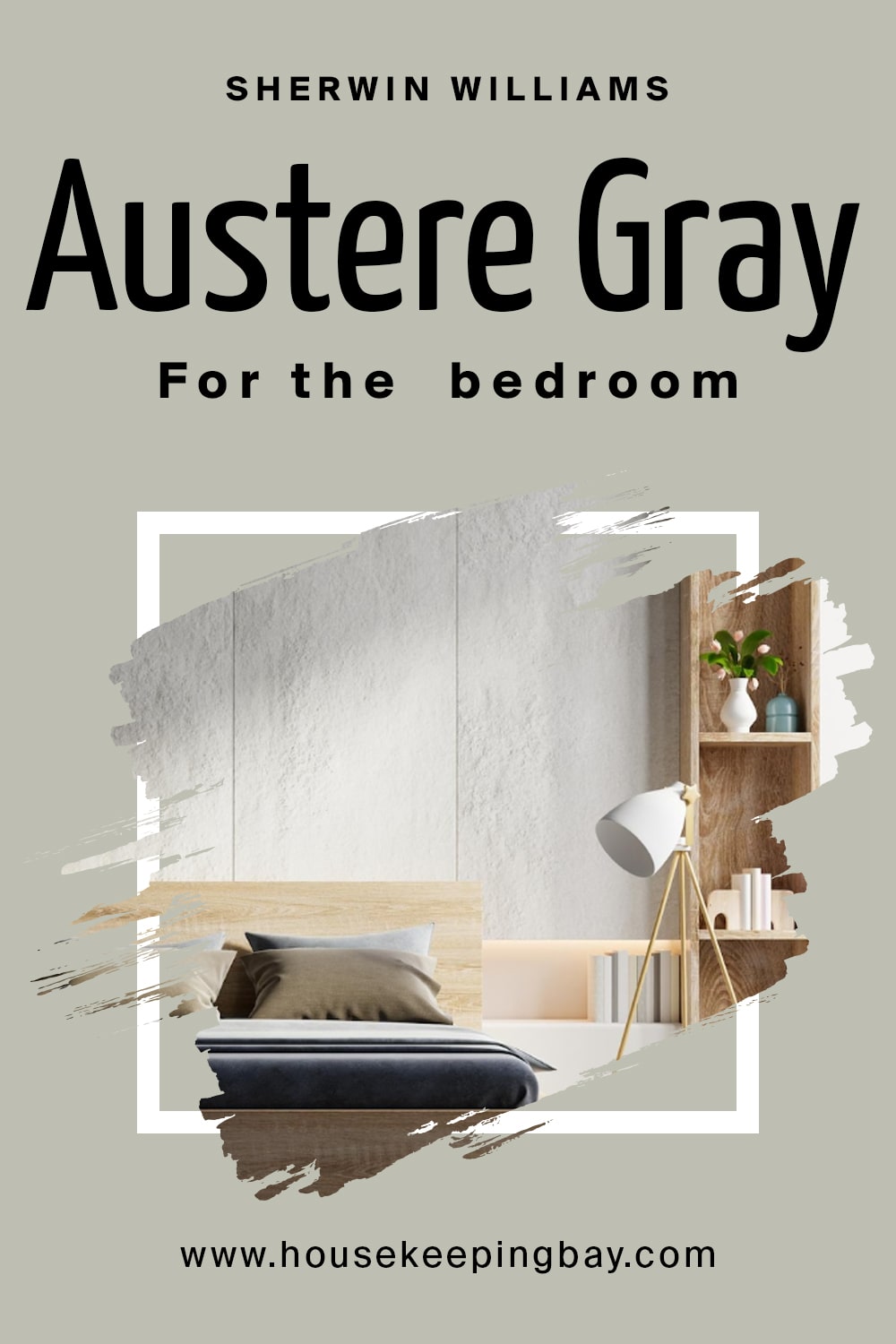 SW Austere Gray for the Exterior Use
Sherwin Williams Austere Gray can be used as exterior paint, but you have to consider the lighting during the day in your area. See, if you live in an area with cloudy weather, this green will read dull on the walls of your home. On the contrary, if you live in an area with sunny weather, this color will look lighter, looking freshly green.
Like that, you are now able to tell in advance how this uneasy paint color might work on your walls, both interior, and exterior.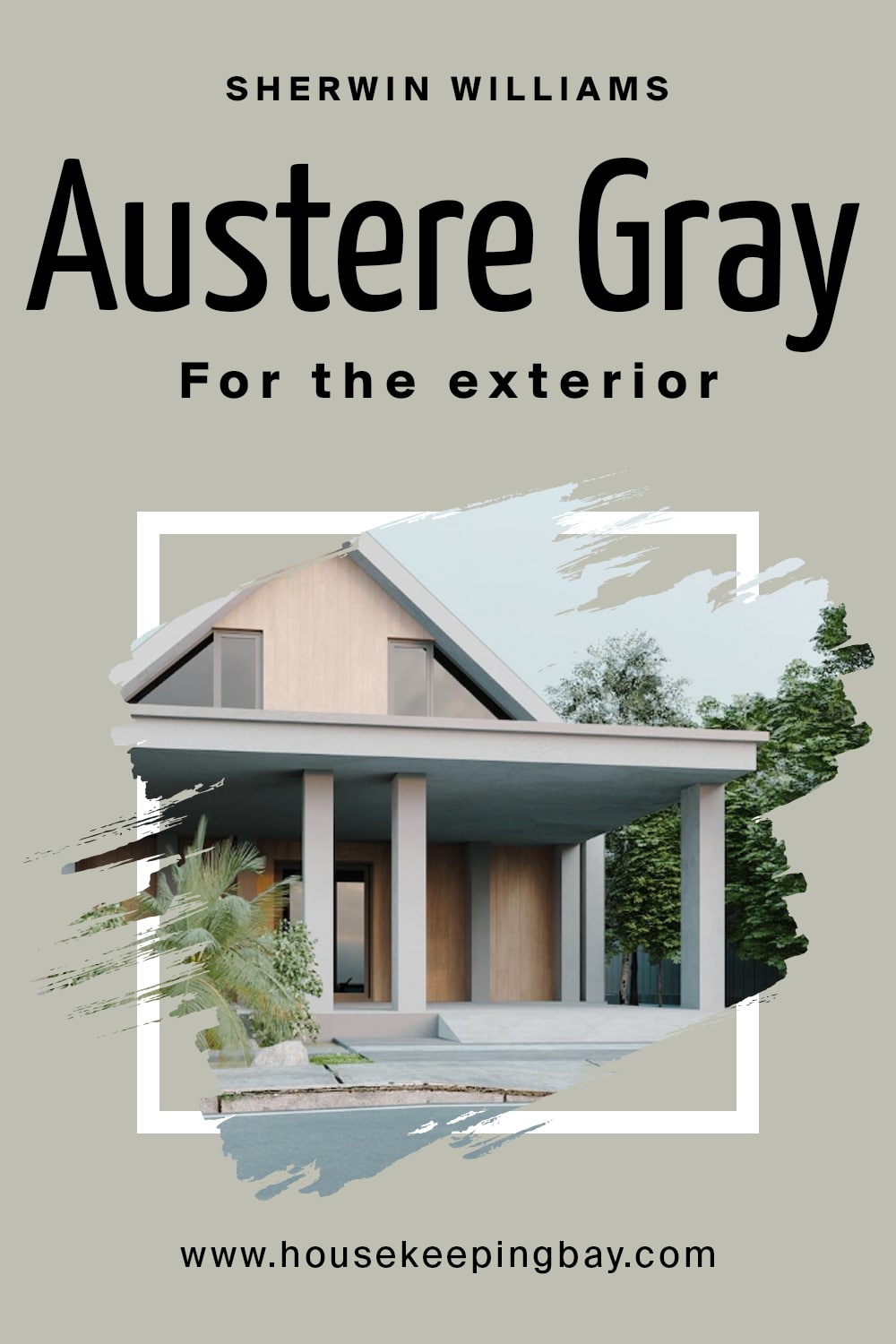 Comparing SW Austere Gray to Other Colors
To help you better understand and see the peculiarities and nuances of this wonderful and versatile soft green by Sherwin Williams, check out the comparison of it to a few other colors. Like this, you will be able to see the distinctions clearly. And of course, the best way to do it is by comparing the samples in a store!
Austere Gray vs. Agreeable Gray
Agreeable Gray has nearly the same level of brightness as Agreeable Gray, but Austere Gray reads much greener of course. In comparison to it, Agreeable Gray reveals more of its beige undertones. But since both colors have rather similar light reflectance, they should not be used together. Otherwise, this combination will make the room look way too dull and dark!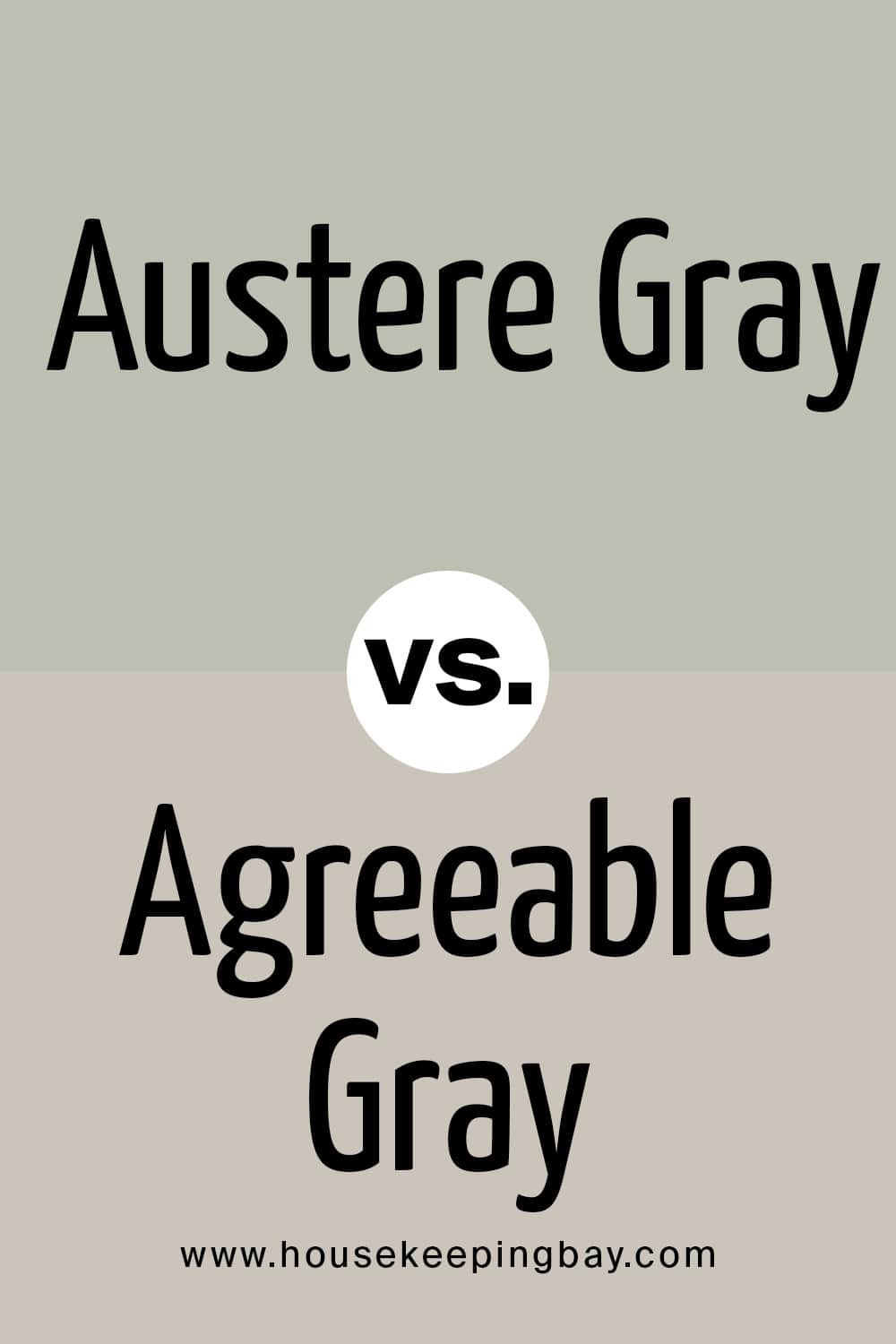 Austere Gray vs. Revere Pewter
These colors can't be called a harmonious combo, all because of their similar level of lightness. If we compare them, we will see that Austere Gray reads rather green whilst Revere Pewter reveals quite noticeable gray tones (some might say they are greige). Anyway, this pair of colors look too dark.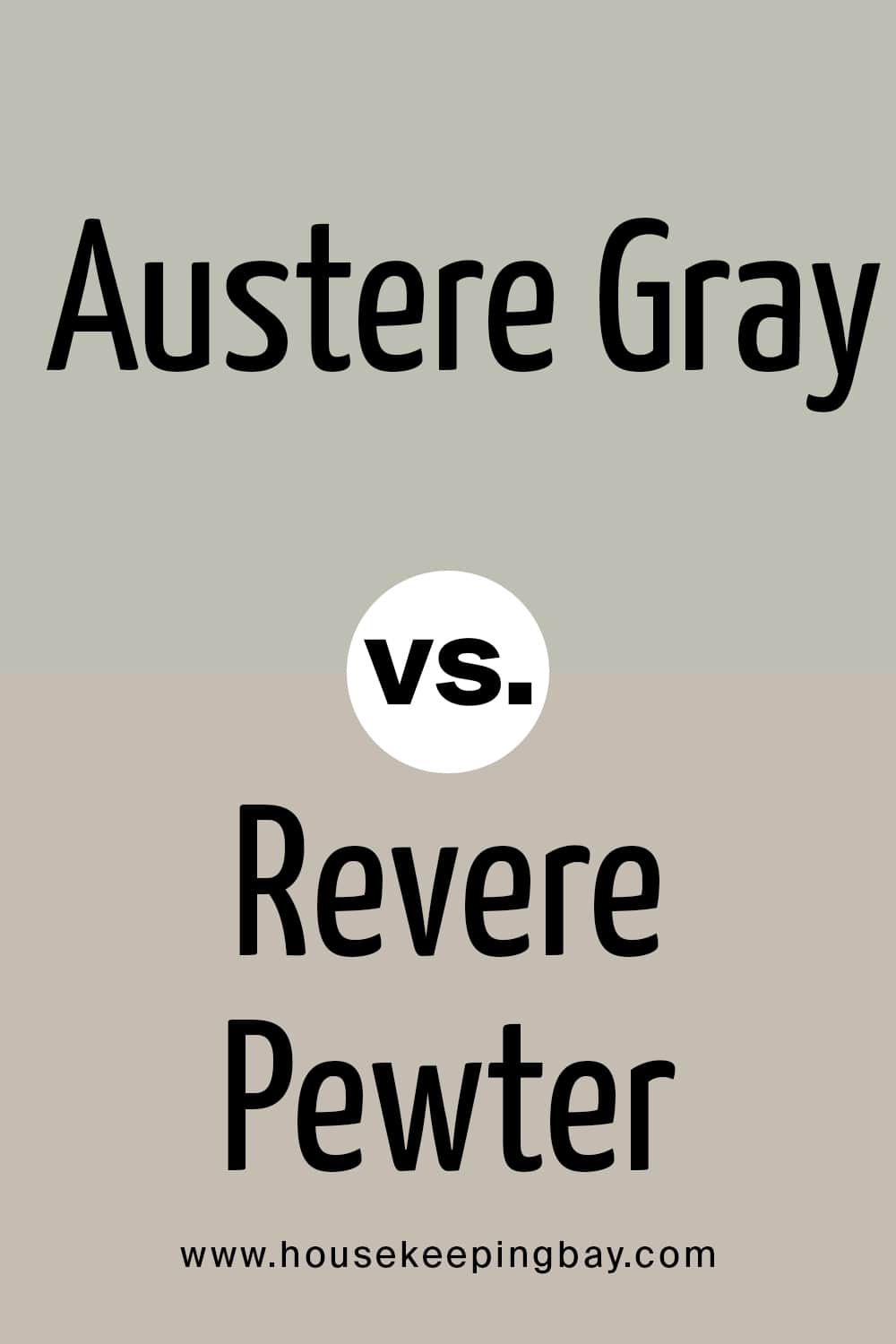 Austere Gray vs Edgecomb Gray
If we compare Edgecomb Gray to Austere Gray, we will see that it reads a very soft beige in comparison to a green-toned Austere Gray. These two don't look good together, even though they are both similarly warm-toned.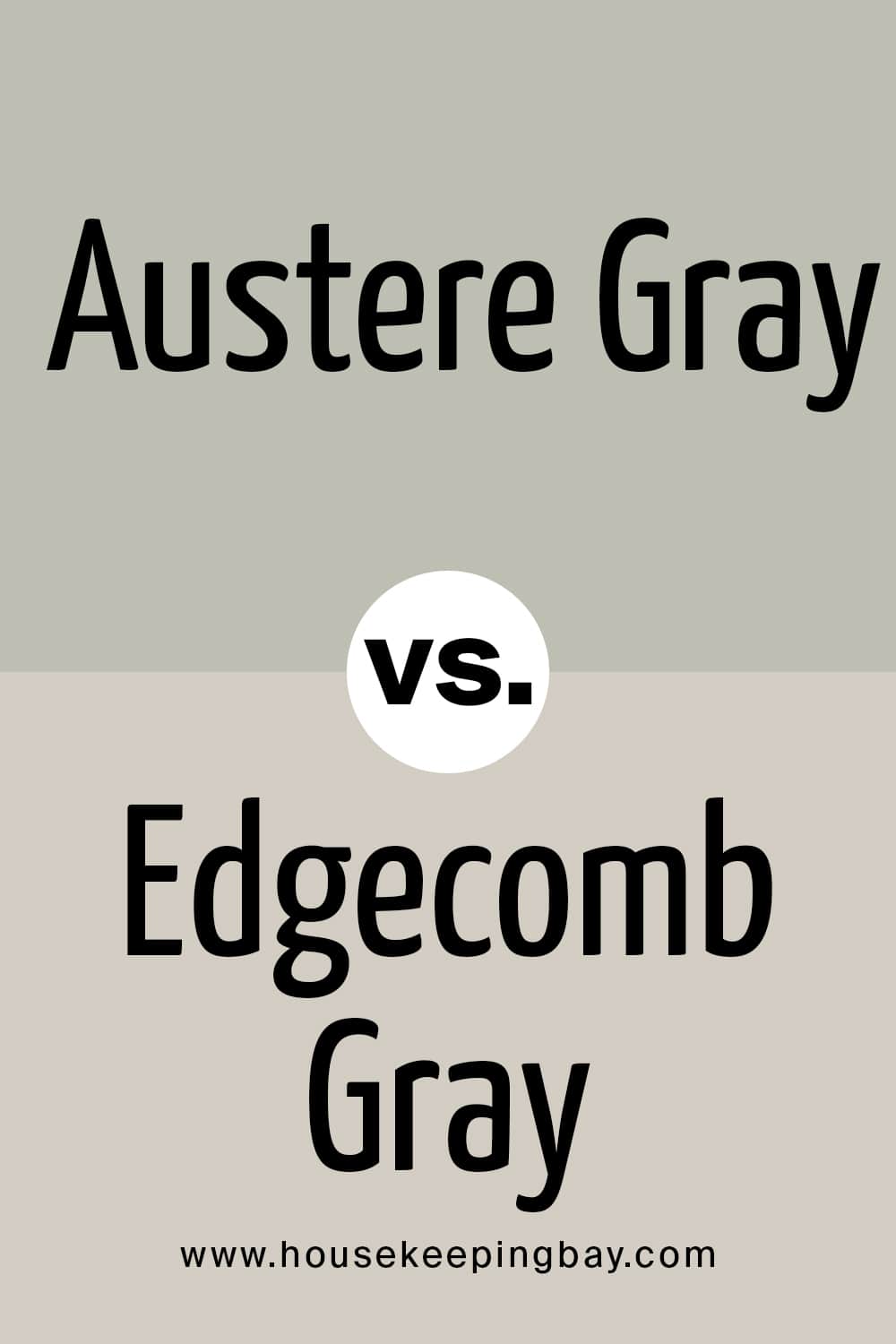 Austere Gray vs. Wish
Wish is a warm-toned neutral gray that has yellow and gray tones in it. In comparison to Austere Gray with its green and gray undertones, Wish reads almost the same warm but it reveals more gray tones. The two won't look nice together though because they don't create a harmonious contrast.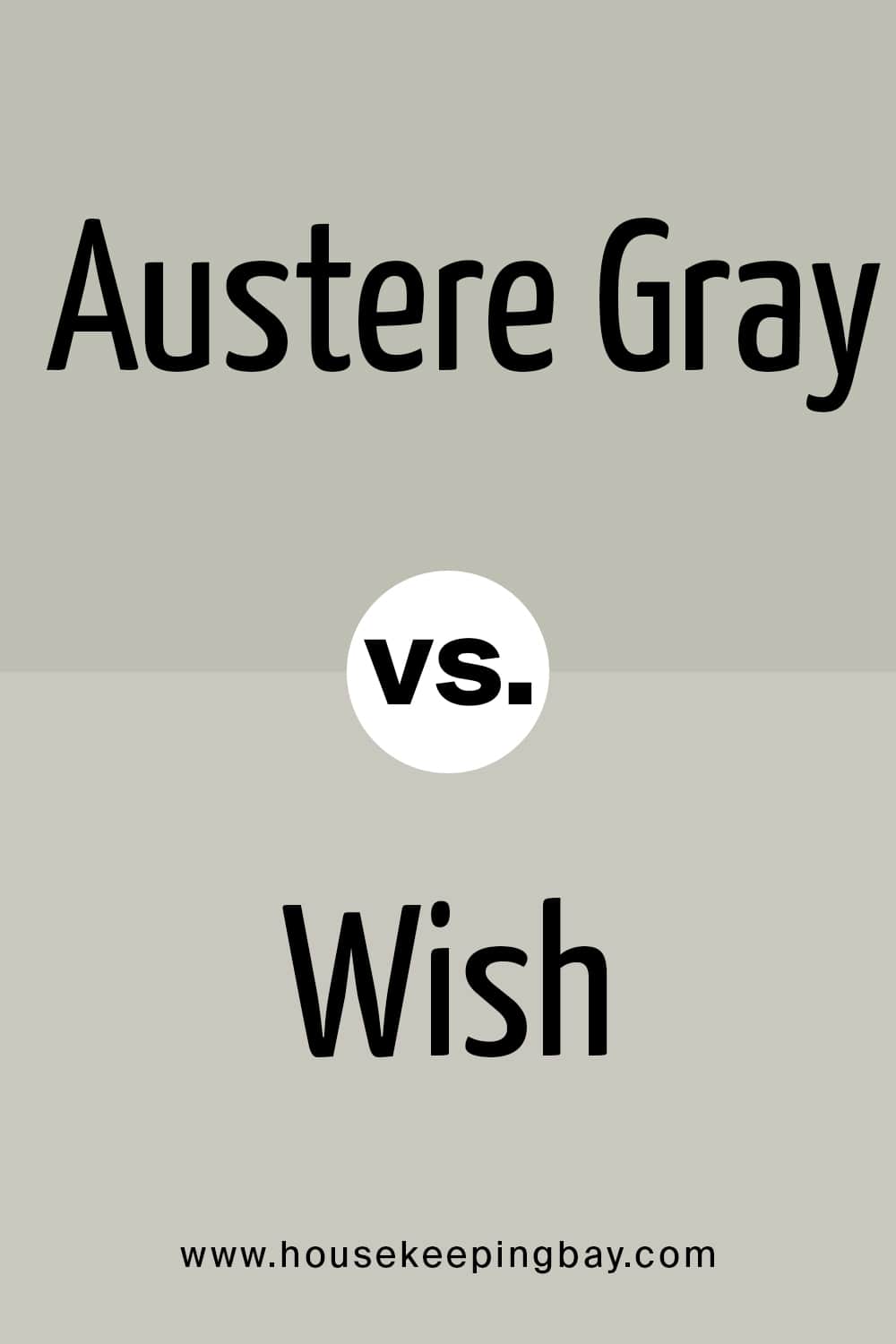 So, now you know almost everything about the Austere Gray paint color by Sherwin Williams.
And since you are aware of its undertones, trim colors, colors that go well with it, as well as the way this paint reacts to light, it will be easier for you now to figure out whether this is the color you need for your home, and what colors you could combine it with to make your living space look even better.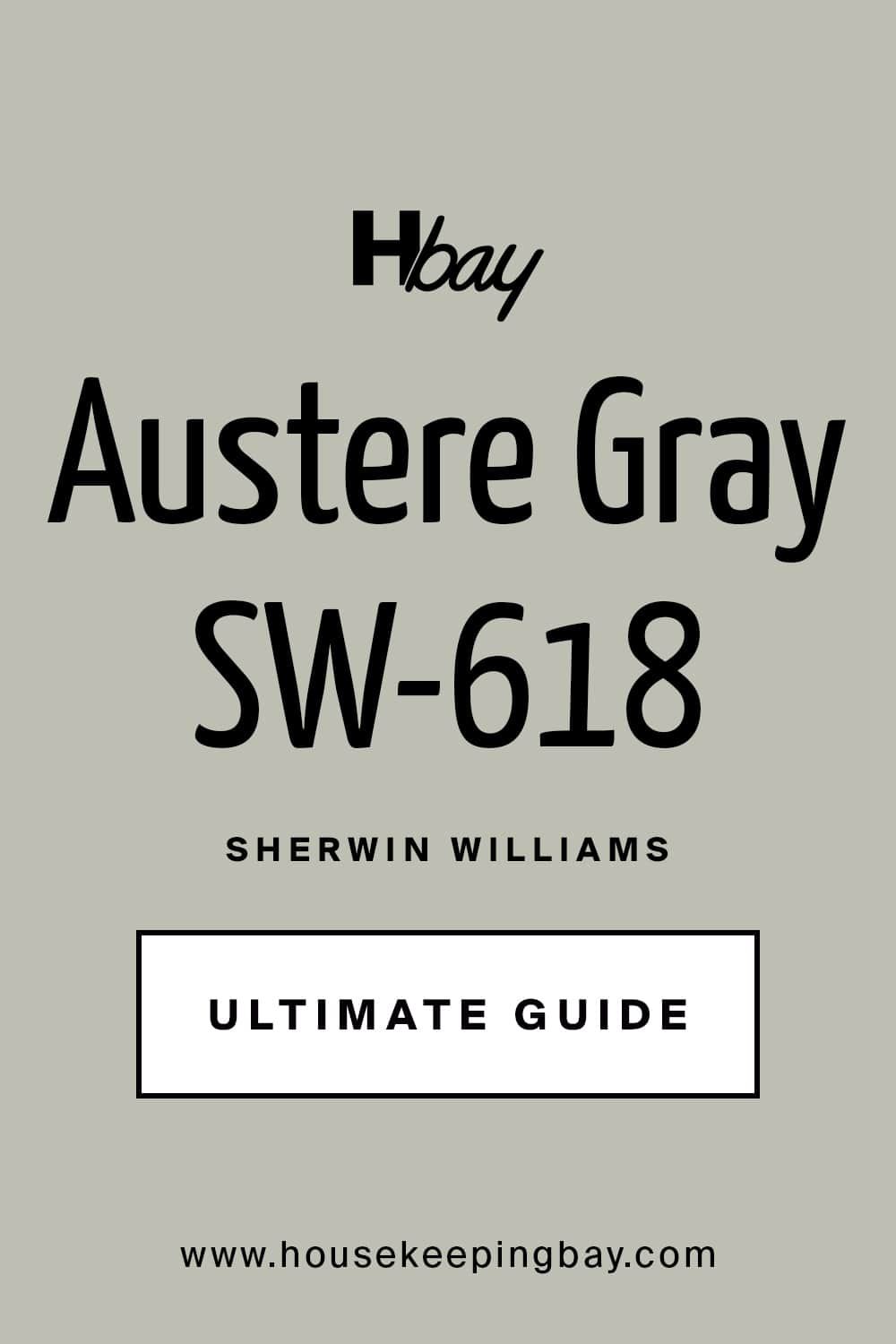 Frequently Asked Questions
⭐What colors are good for analogous color scheme with the Austere gray?
For analogous color scheme, you can use SW Sensible Hue, SW Contented, SW Softened Green, and SW Techno Gray.
⭐What are the complementary colors for SW Austere Gray?
The complementary colors for SW Austere Gray are SW Coastal Plain, SW Filmy Green, SW Special Gray, and SW Fashionable Gray.
⭐What dark greens will match Austere Gray?
You can get the best combo if you try either SW Dried Thyme or SW Rosemary.