Why do people love beiges so much? These colors give that atmosphere of coziness, and a homey vibe everyone appreciates. Besides, beige is a pretty versatile paint color, which means you can incorporate it into many interior styles and color palettes.
Today, we will tell you more about one of the members of the beige family. This color is called Shiitake, like a mushroom, and after you read this article, you will figure out why.
You will learn what undertones and LRV it has, how to coordinate it, and in what rooms this beige will work best.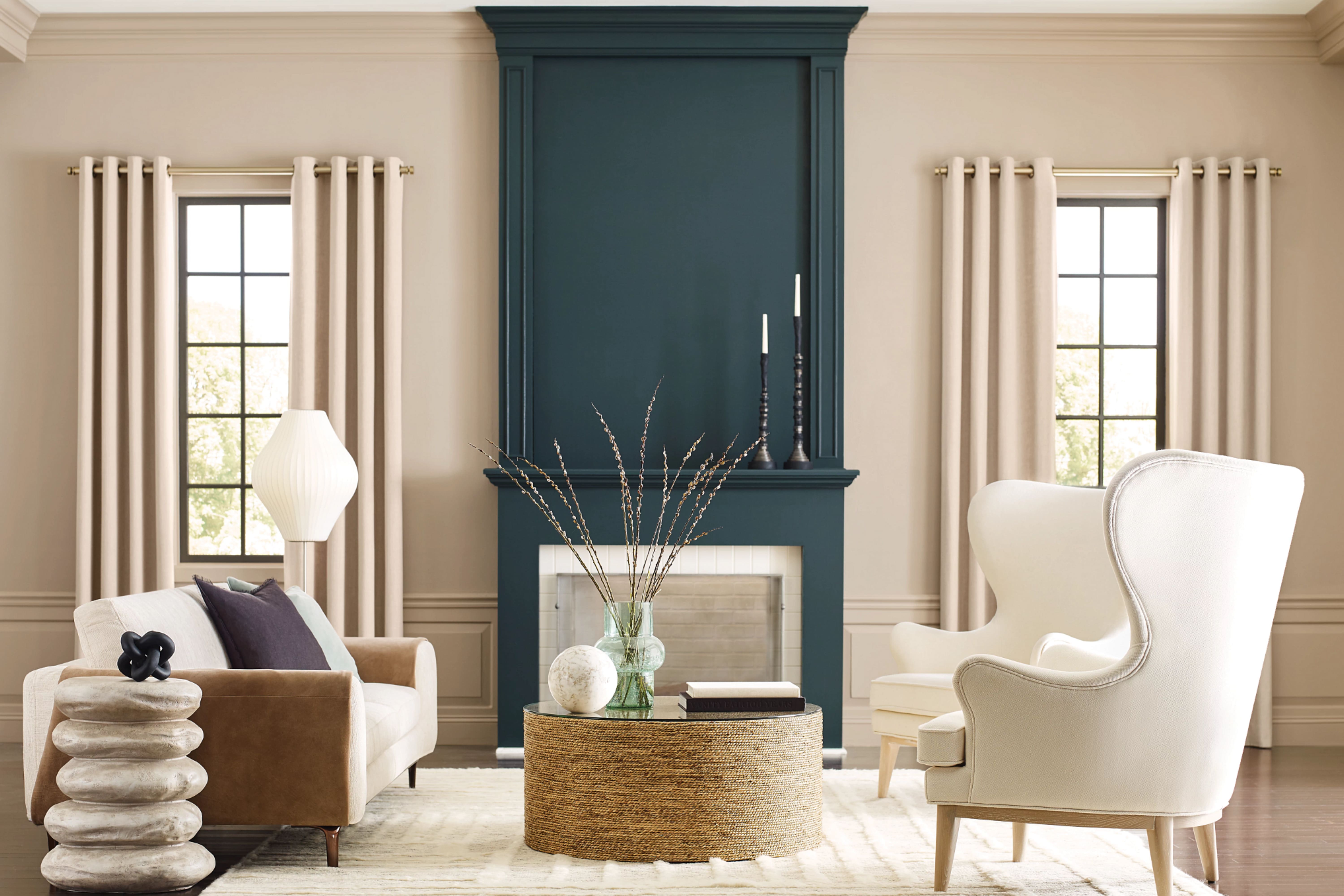 What Kind of Color Is Shiitake SW-9173 by Sherwin-Williams?
As we have already mentioned in the introduction section, SW Shiitake is a beige paint color (soft beige, to be precise). However, you can also see it's referred to as tan, which is correct as well.
Being tan/beige paint color, SW Shiitake reads warm, but not in a traditional sense of warmth. As Encycolorpedia says, this color is often not warm/orange enough compared to many other beiges.
With its balanced tone, SW Shiitake gives that minimalist vibe to a space, adding creaminess, softness, and a fragile appearance to any room. If you want to make your living space look more symmetrical, this color should definitely be considered!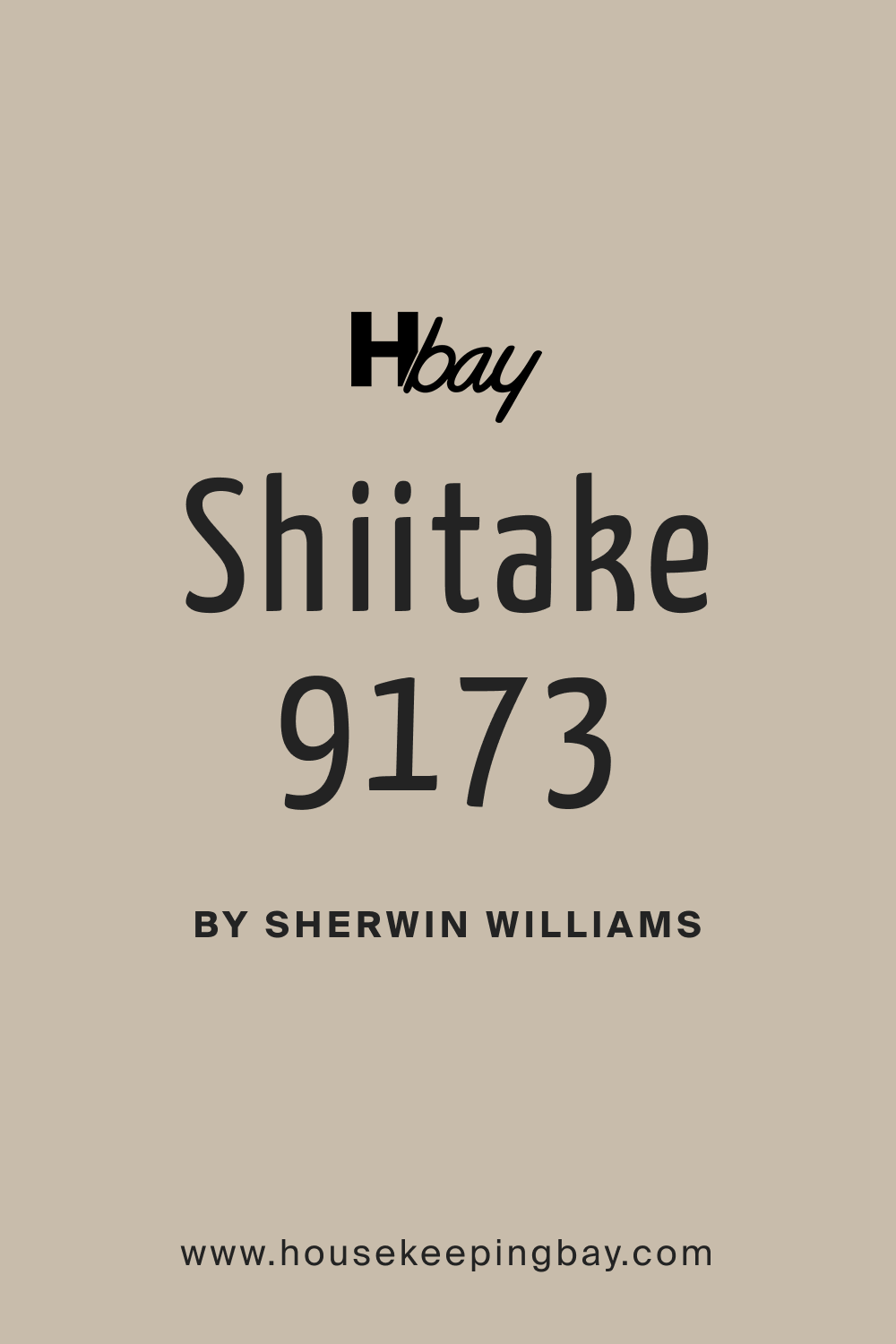 Is SW Shiitake a Warm or a Cool Color?
The outstanding feature of SW Shiitake paint color is that this beige feels equally warm and cool. It neither feels too warm (e.g., like taupe colors) nor too cool (e.g., like gray colors). This is the most significant surprise people get when they use this beige on their walls since it is typically considered a warm color.
Thanks to its balanced nature, this beige paint color will make any room and space in your home feel more relaxed, calm, and refined. It also has a subtle touch that can bring a sense of safety and warmth to your living space.
What Undertones Does SW Shiitake Color Have?
Before you use any color on your walls, you must check out its undertones! Depending on them, the color may often read quite differently. However, when it comes to SW Shiitake, it doesn't lean into an orange undertone, unlike traditional beige paint colors.
Instead, this warm beige color shows a very subtle yellow undertone that is barely seen. Homeowners often wonder whether this color could pick up a wink of green. Well, yes, there is such a possibility.
But usually, SW SHiitake may reveal a slightly greenish hue only if you pair this beige with finishes that have orange-pink undertones.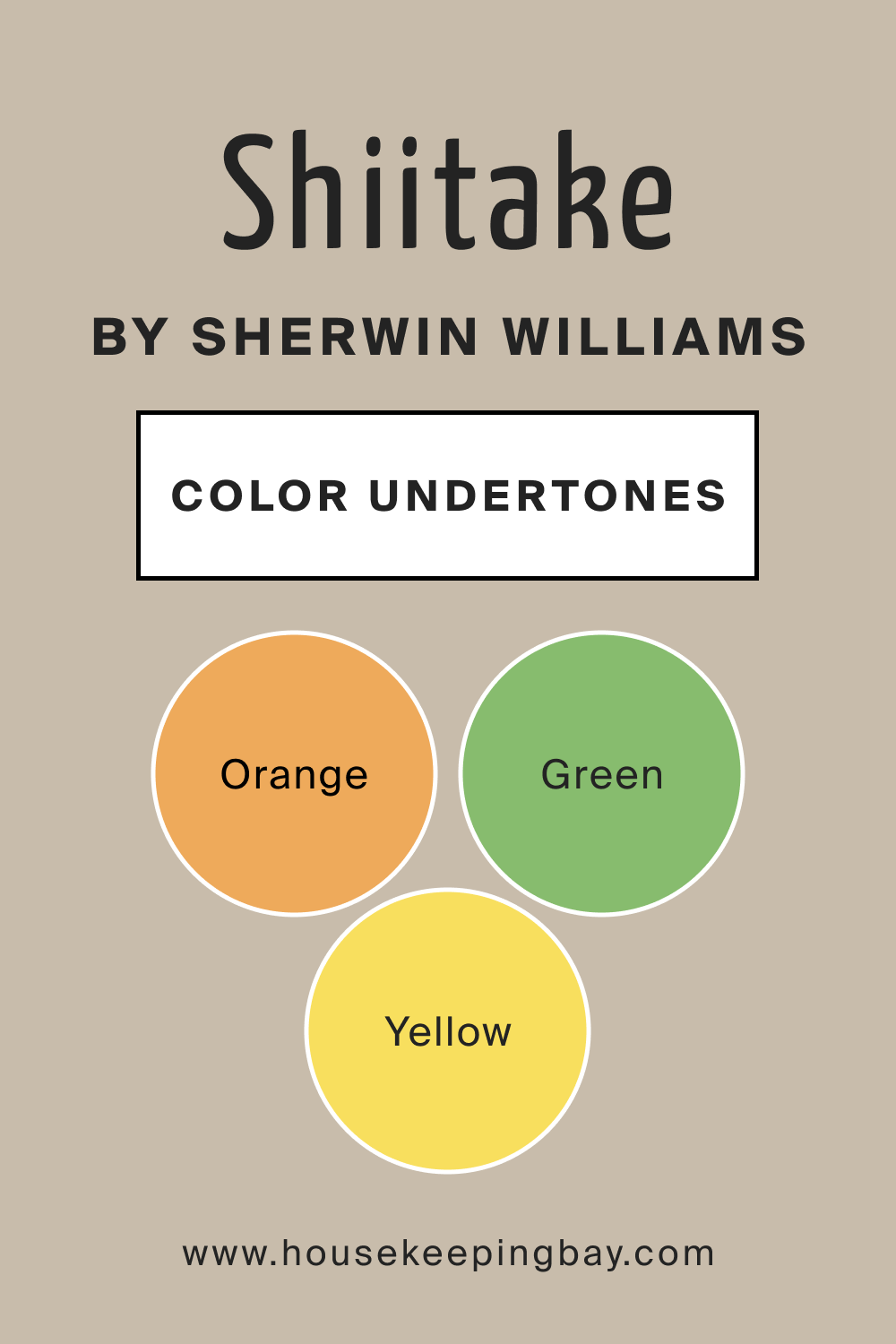 Coordinating Colors For SW Shiitake
Since it is a beige paint color, SW Shiitake will look fabulous with blue, bronze, brown, green, and creamy white, as well as darker mauve and crisp white colors. If you need to know the specific color names, you should check out the following options:
SW Urban Jungle
SW Dark Clove
SW 6276 Mystical Shade
SW 7713 Tawny Tan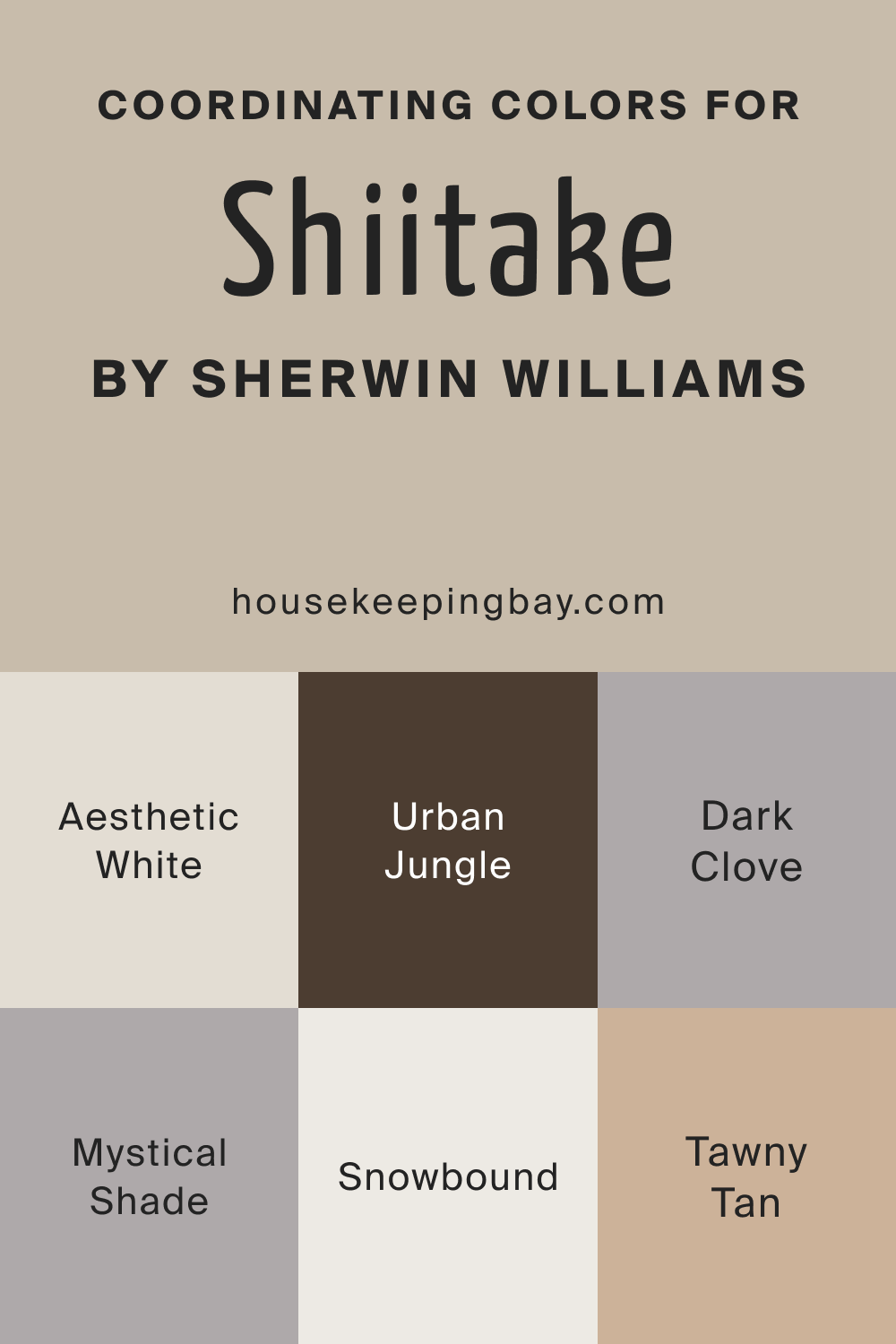 What Is the LRV of SW Shiitake Paint Color?
The LRV stands for Light Reflectance Value and shows the percentage of light the paint color can reflect from the surface it's applied to. The LRV range goes from zero to 100, where zero is black, and 100 is pure white.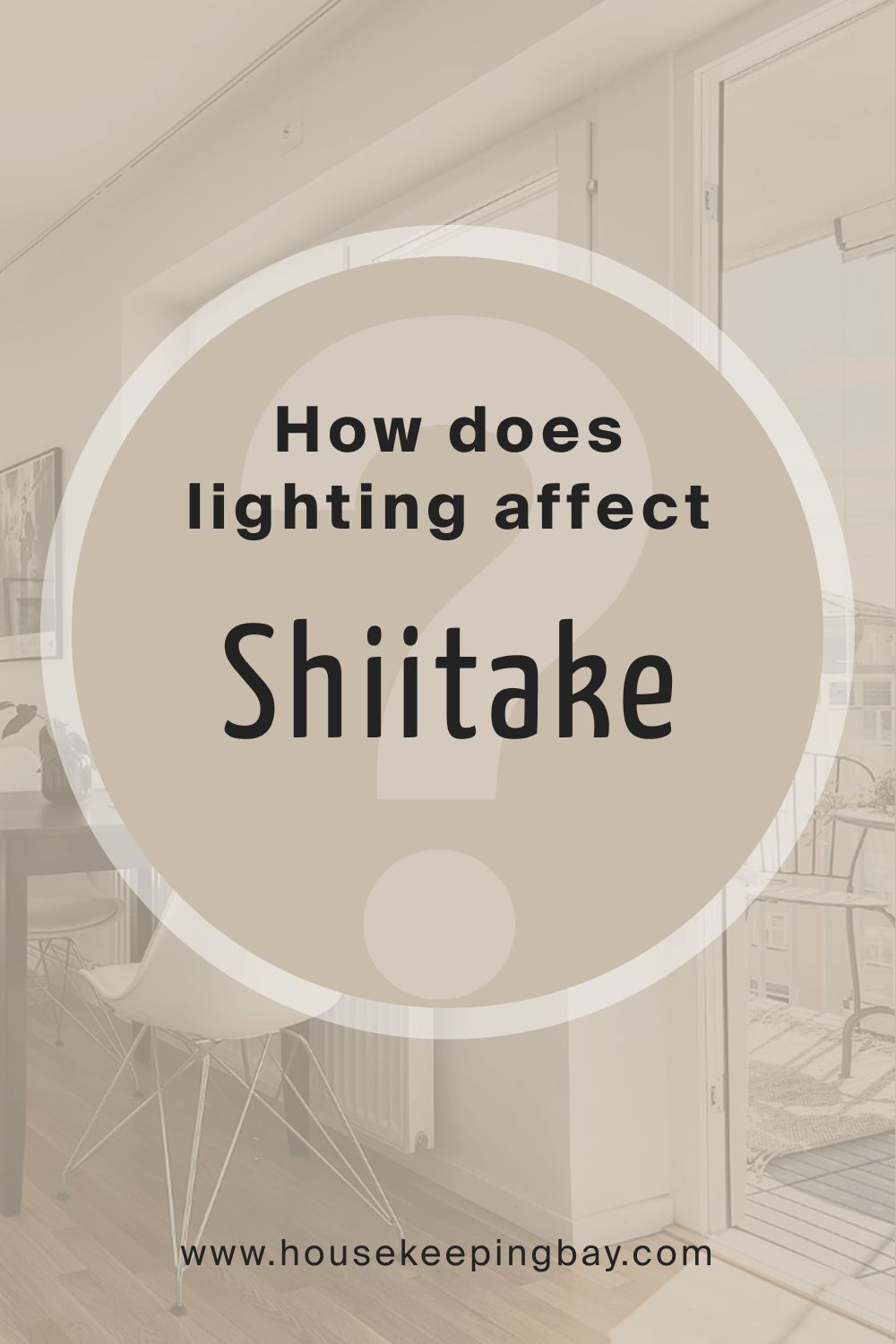 The LRV of SW Shiitake is 51, which means it is a light-medium depth paint color. If you use this beige in a south-facing room or a room with afternoon western sunshine, SW Shiitake may lean into its warmth. It can even show more yellow!
However, in north-facing or east-facing light, the Shiitake paint color can add pleasant and balanced warmth to your room. Just make sure the room has plenty of light! Otherwise, the color will look a bit flat.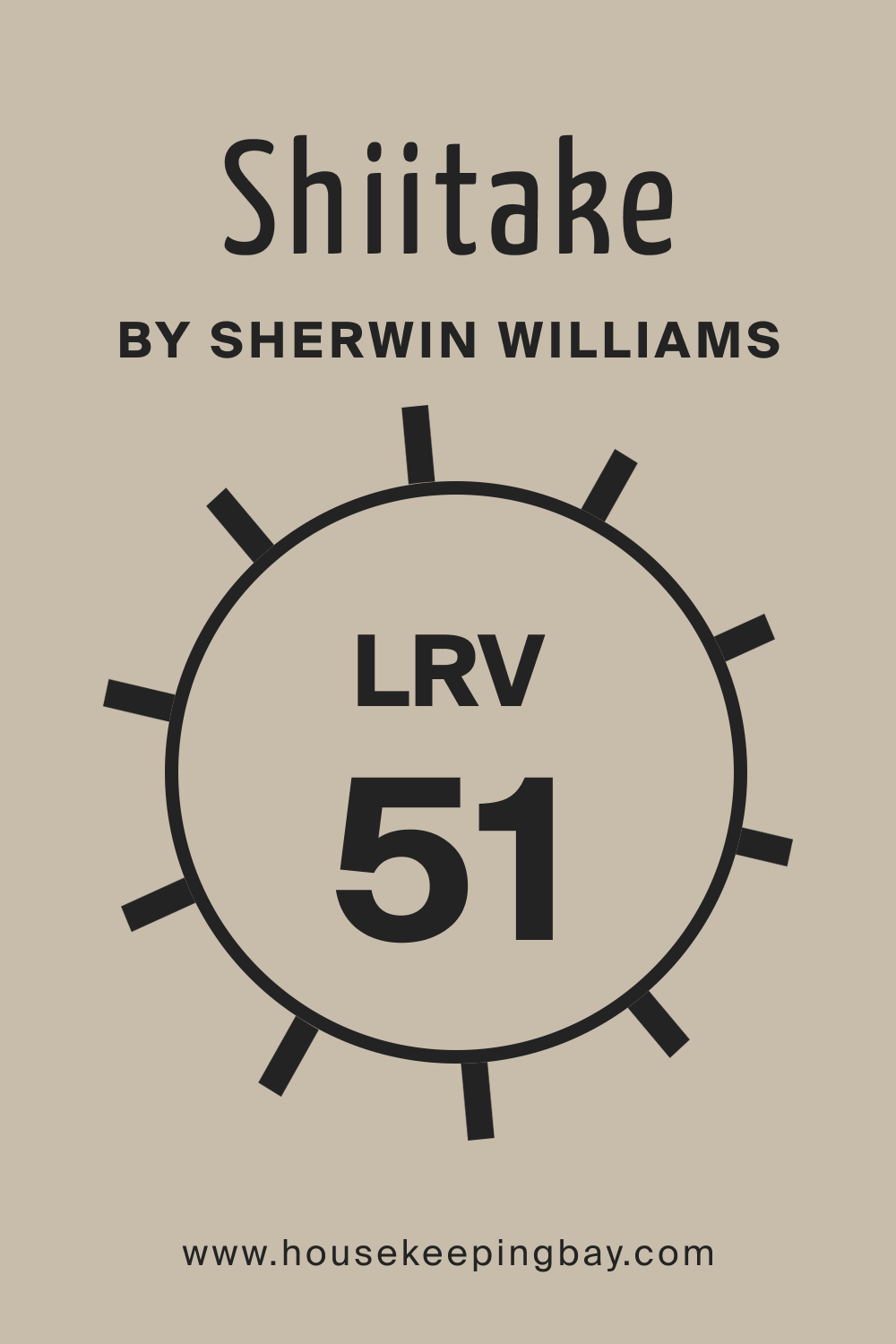 What is LRV? Read It Before You Choose Your Ideal Paint Color
Trim Colors to Use With SW Shiitake
If you can pick up the correct trim color, you can successfully highlight the tone of the paint color used on the walls, making it work better. For SW Shiitake as a wall color, the following paint colors will help you release and highlight its true hue: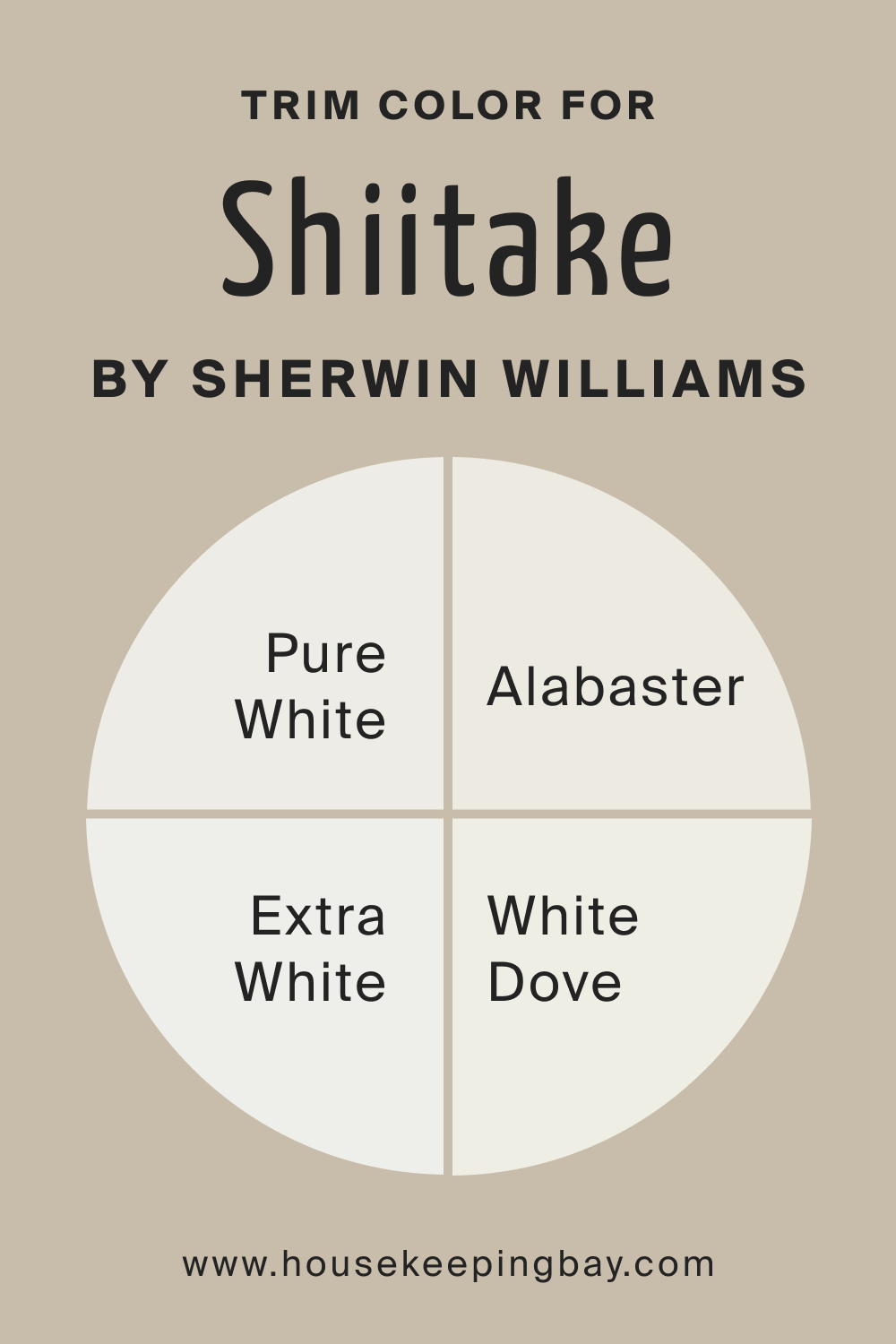 Colors Similar to SW Shiitake
You must realize there is usually no 100% color match when choosing similar colors. You will anyway see shifts in undertones, temperature, hue, and depths. With SW Shiitake, this rule works as well. Luckily, you could check out the following color options that read the closest to this soft beige:
Sherwin-Williams Balanced Beige
Benjamin Moore Bleeker Beige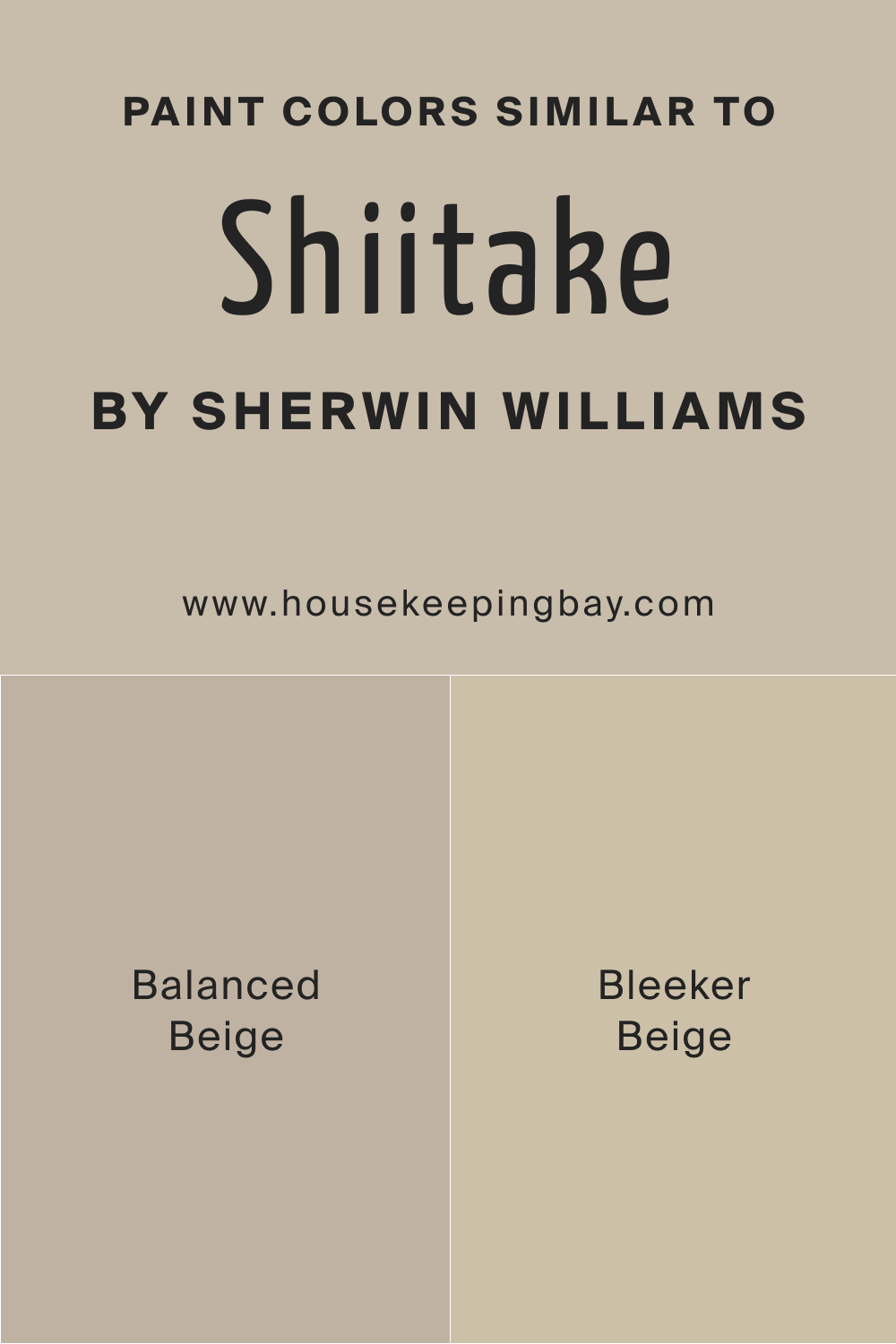 Colors That Go With SW Shiitake
To create a balanced color palette in your home, it is essential to be able to select colors that work well together. With such warm beiges as SW Shiitake, you should consider using warm neutrals with similar undertone profiles. Also, you may want to try using grays with blue-green undertones that have a similar depth or are darker. At the same time, try to avoid colors that are cooler and lighter than SW Shiitake.
For example, you could use the following paint colors with SW Shiitake to reach a harmonious look:
SW Moody Blue
SW Refuge
SW Silvermist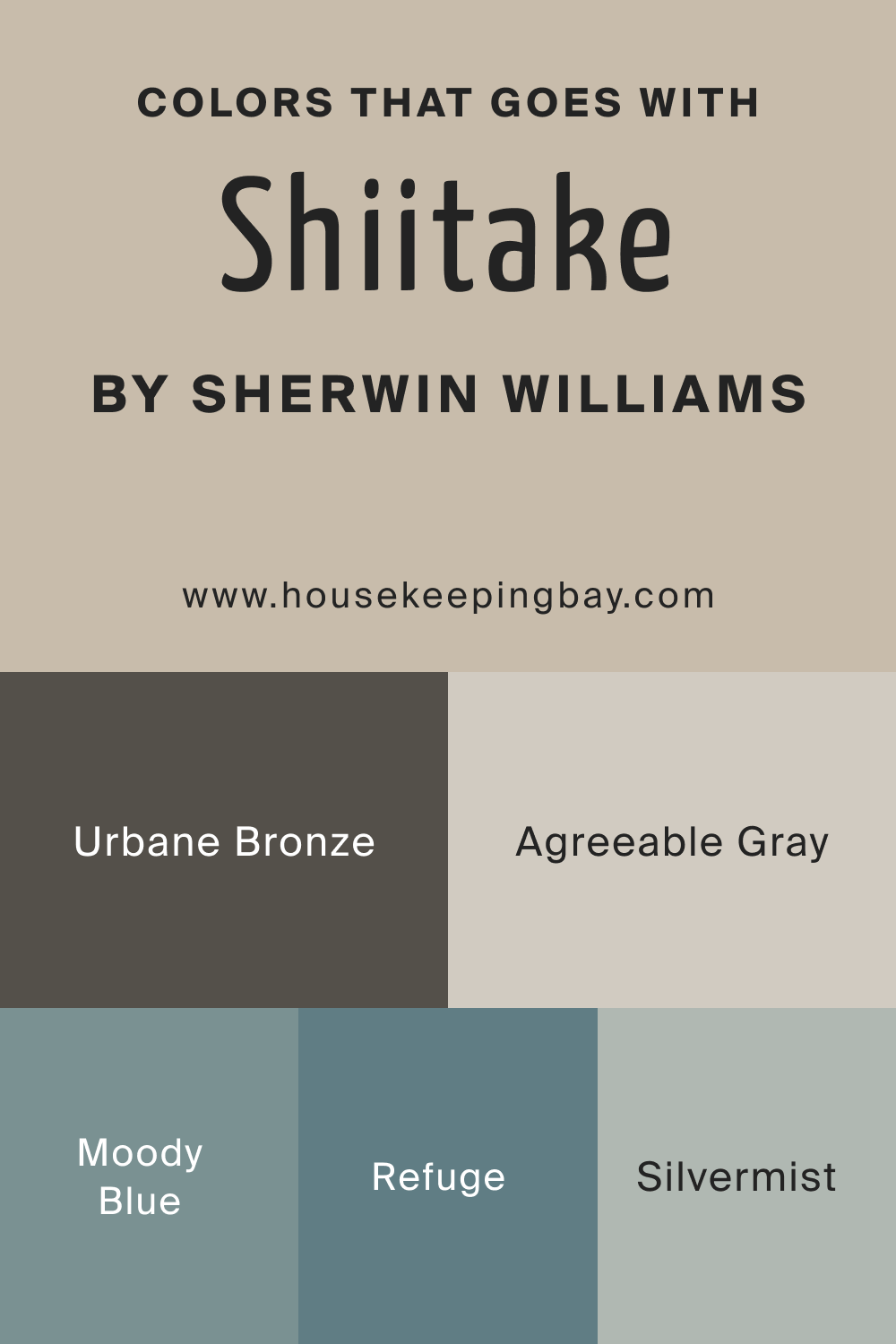 Comparing SW Shiitake With Other Colors
Shiitake vs. Tony Taupe
SW Tony Taupe reads warmer and more pronounced than SW Shiitake. Also, if you compare these colors, you will see that the Tony Taupe color has deep red undertones, unlike its counterpart. On the other hand, both colors may show the slightest wink of green sometimes.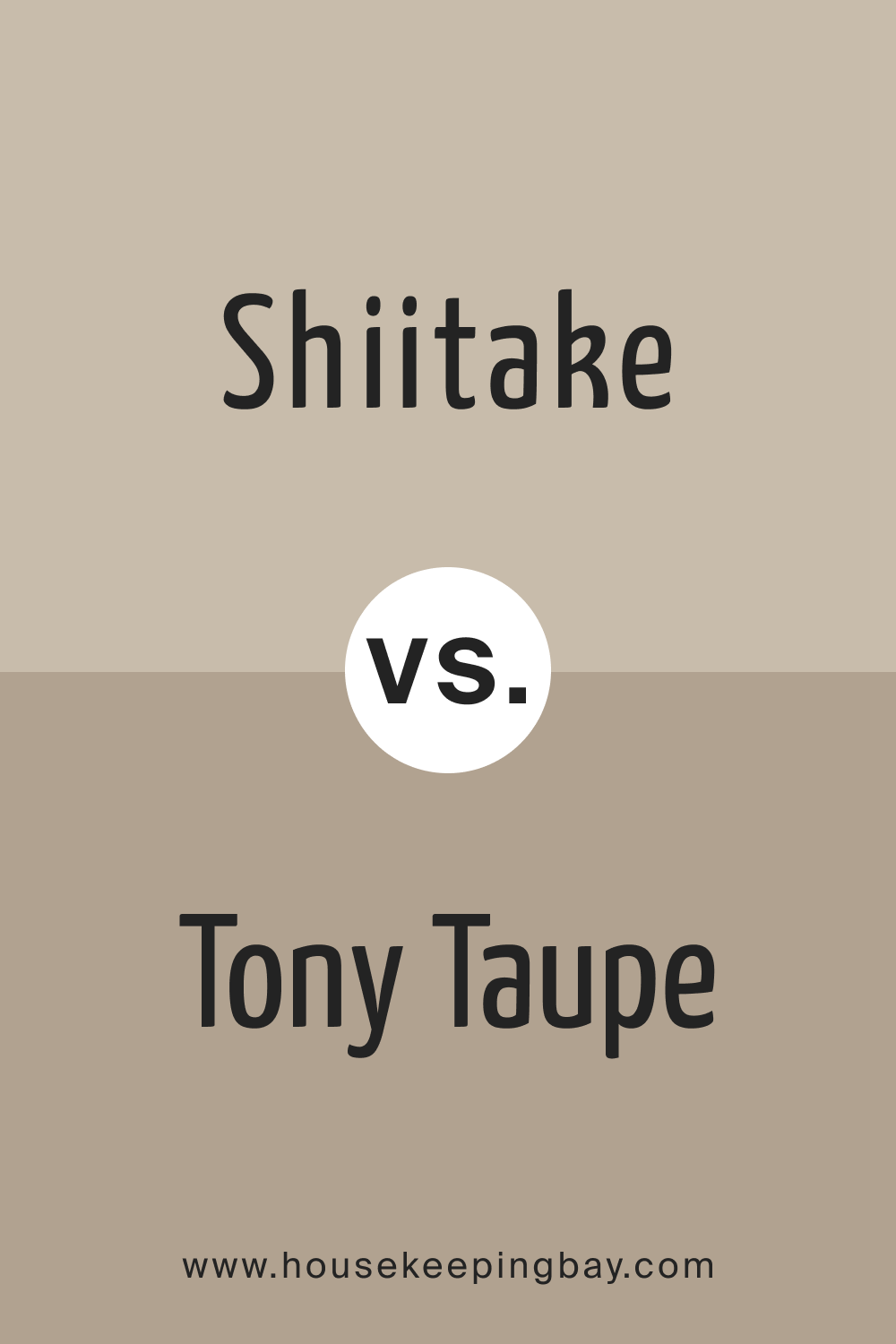 Shiitake vs. Taupe Tone
SW Taupe Tone color has stone gray undertones, which makes it different from SW Shiitake. Also, the Taupe Tone reads deeper and darker. These colors look significantly contrasting, but you'd better not use them together.
However, the Taupe Tone may work well as a darker alternative for SW Shiitake.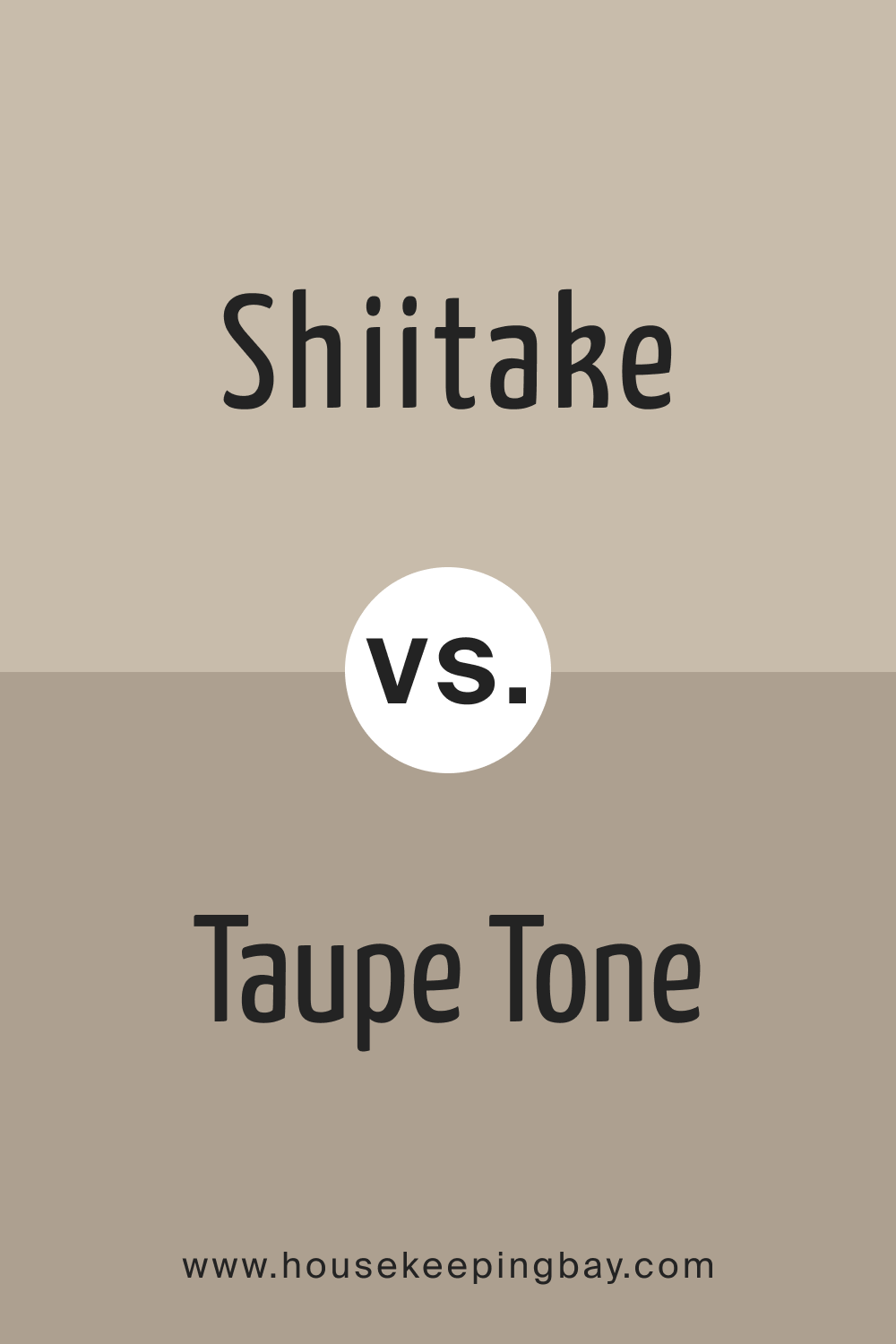 Shiitake vs. Balanced Beige
Balanced Beige has passive undertones. And since it leans a bit into gray, it can pick up a faint green undertone as well. This greenish hue is what unites these colors. Compared to the Balanced Beige, SW Shiitake is a bit lighter, but this distinction is pretty faint too.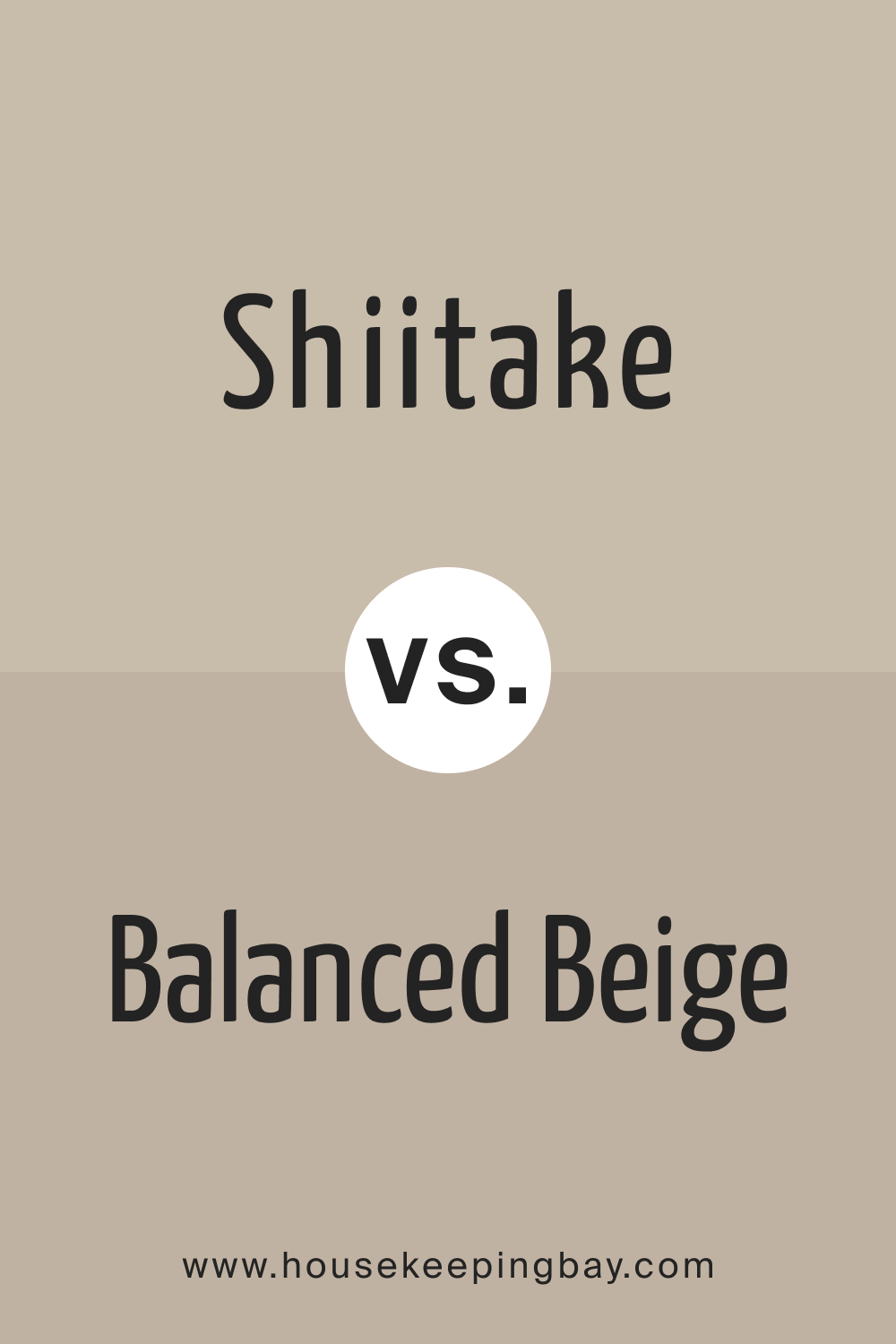 Shiitake vs. Moth Wing
This is another contrasting pair of colors where the Moth Wing color is darker and deeper than SW Shiitake. Also, their undertones differ. SW Moth Wing is a warm medium beige with gray undertones, while SW Shiitake has faint yellow undertones.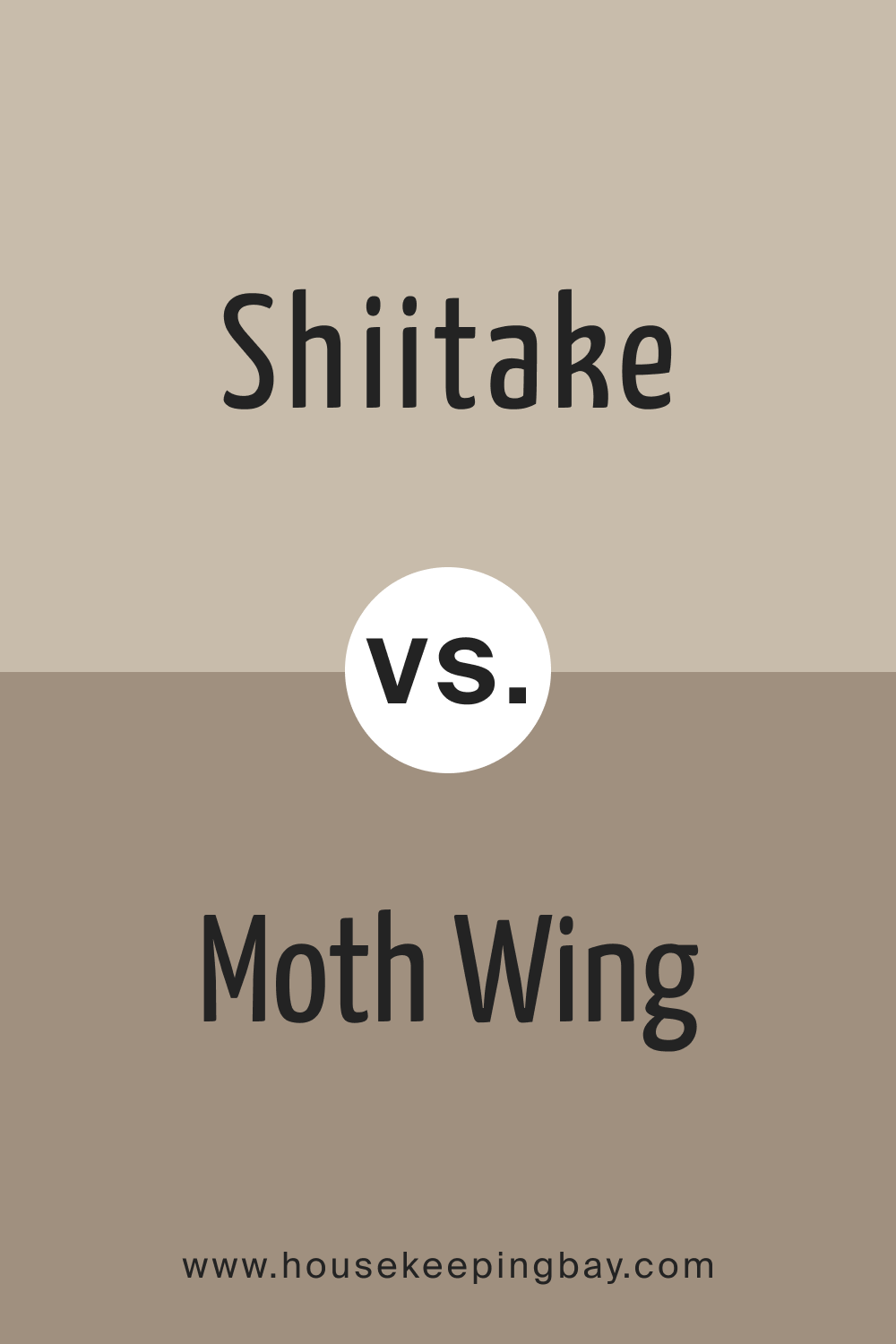 Shiitake vs. Dhurrie Beige
These two are so much alike that you can hardly see the difference! That's because they have the same LRV of 51, but their undertones are slightly different.
Upon closer examination, it can be seen that SW Dhurrie Beige has reddish undertones, while SW Shiitake reveals its faint greenish hue more.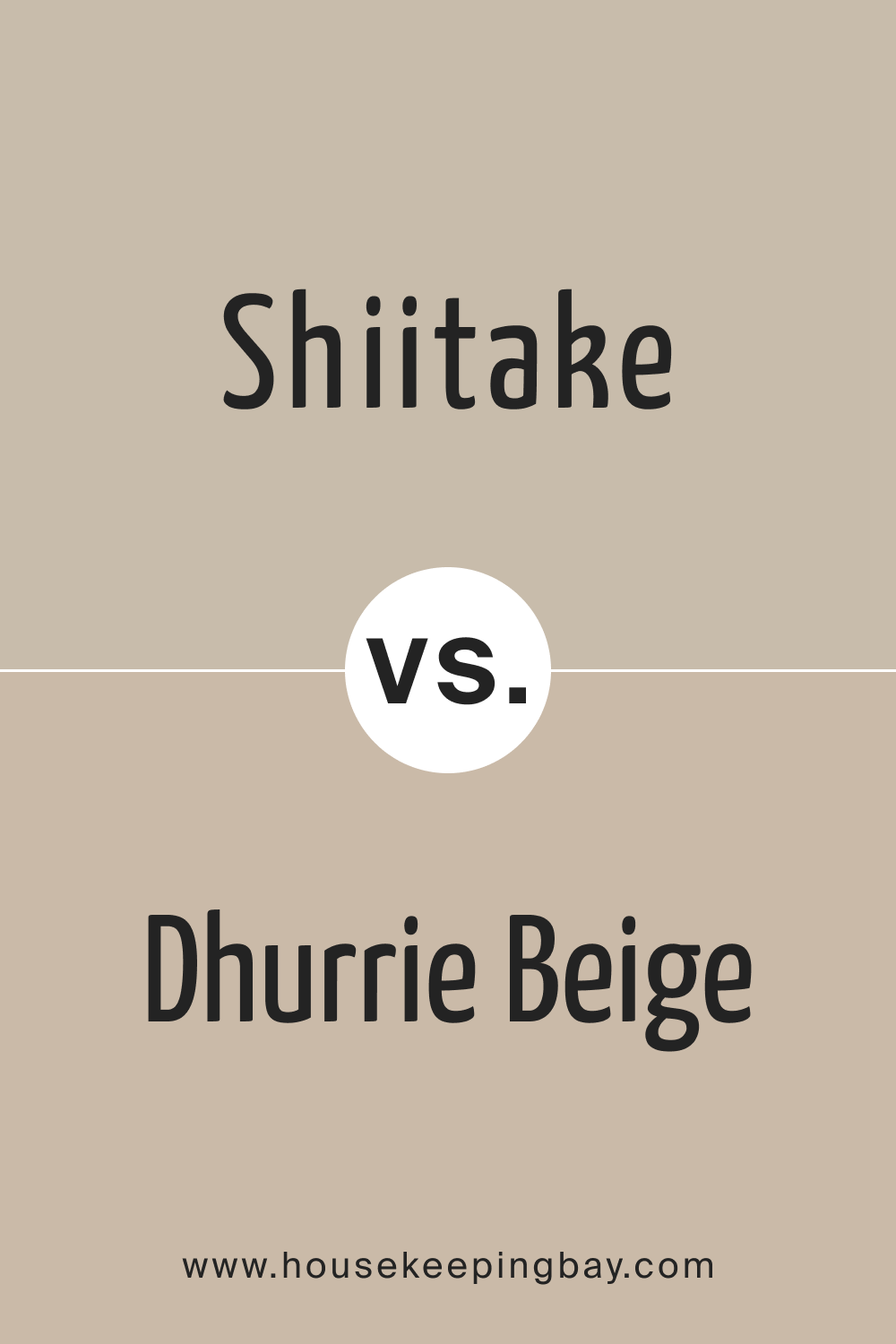 Where In Your Home to Use SW Shiitake Paint Color
Beige is considered a versatile color that can be used in different rooms and on different surfaces, fitting right in various interior styles. Below, we want to show you how SW SHiitake may work in different rooms of your home to help you imagine how this beige might read indoors and outdoors as well!
Shiitake SW-9173 in the Living Room
In a living room, this color will feel pleasantly warm and welcoming. It will undoubtedly complement the contemporary, modern, and modern farmhouse living rooms, pairing with the shades of off-white or white on the furniture upholstery.
If you want to add visual interest, add blues, greens, or mauves to the throw pillows and accessories. Metallic accents will also work nicely. For this purpose, we recommend you use matte black, brushed brass, or copper.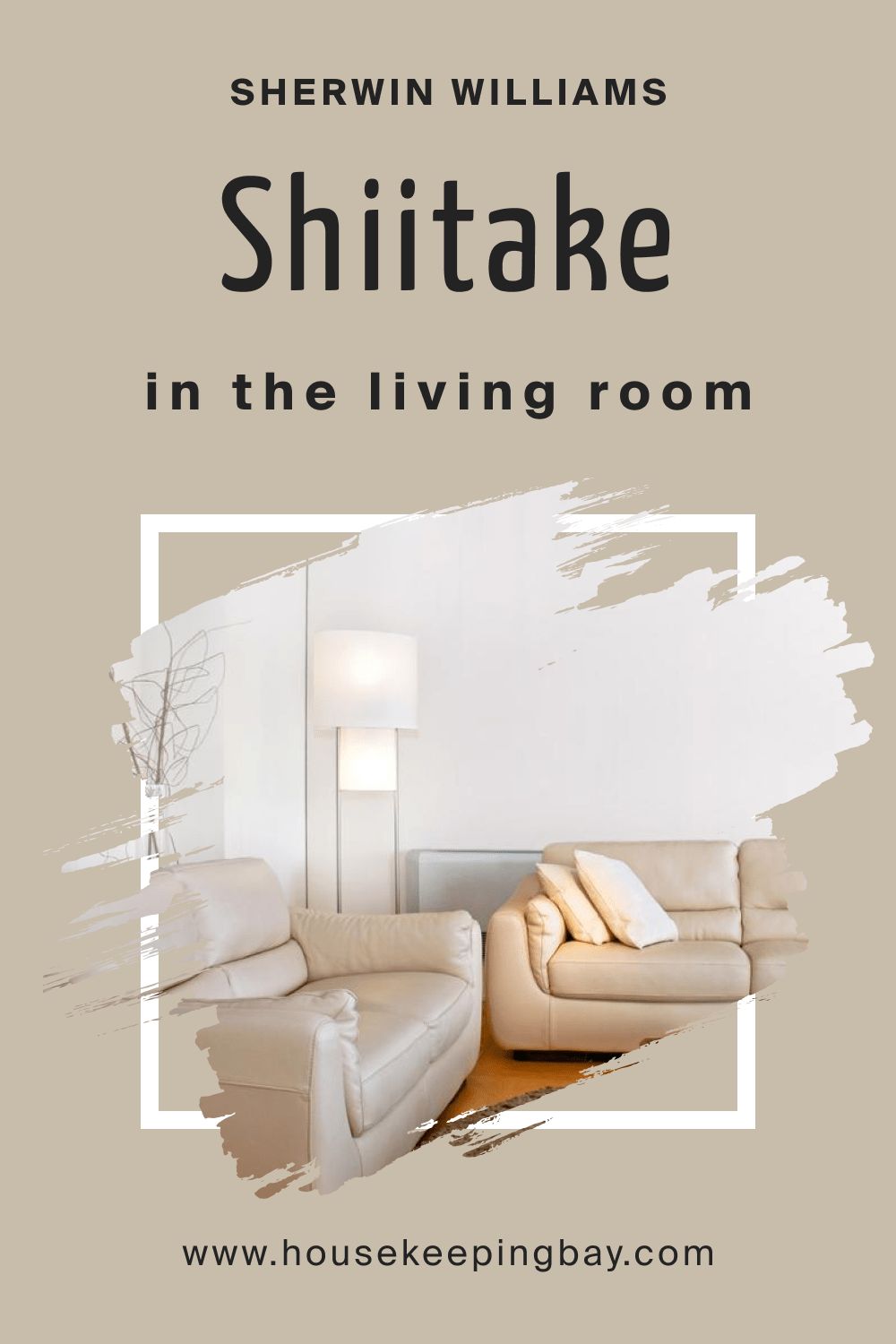 Shiitake SW-9173 in a Bedroom
In your bedroom, this beige will create a calming atmosphere. You can paint all the walls to enhance a calming effect, or you can paint an accent wall only.
Also, consider using wooden textures on the furniture frame, shelves, and window frames.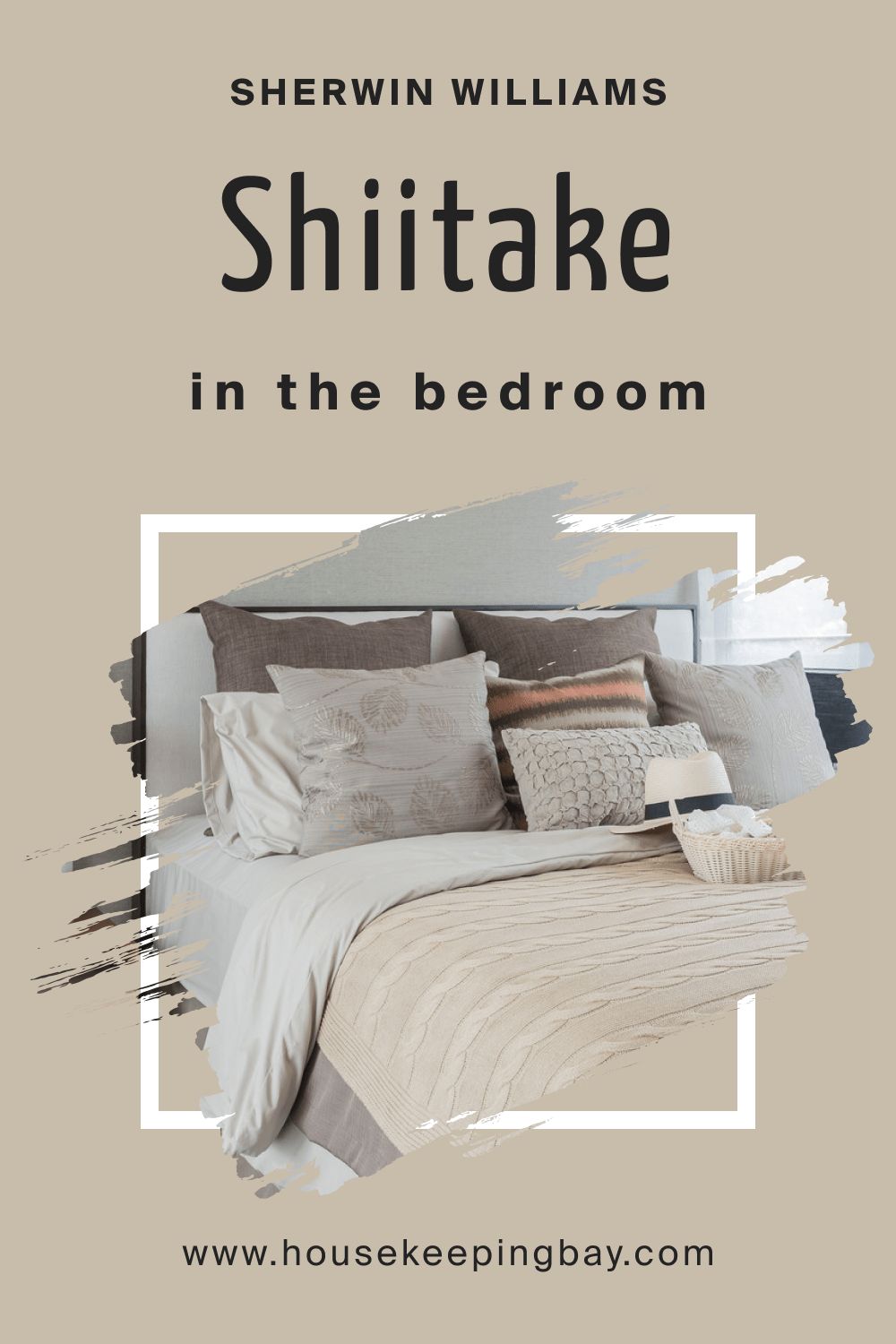 Shiitake SW-9173 and Kitchen
Painting the kitchen walls in SW Shiitake will give a seamless and spacious look. You can also add shades of blue or green on the lower cabinets. Furthermore, you can use brass or chrome-finished handles with white marble countertops and glossy backsplash tiles.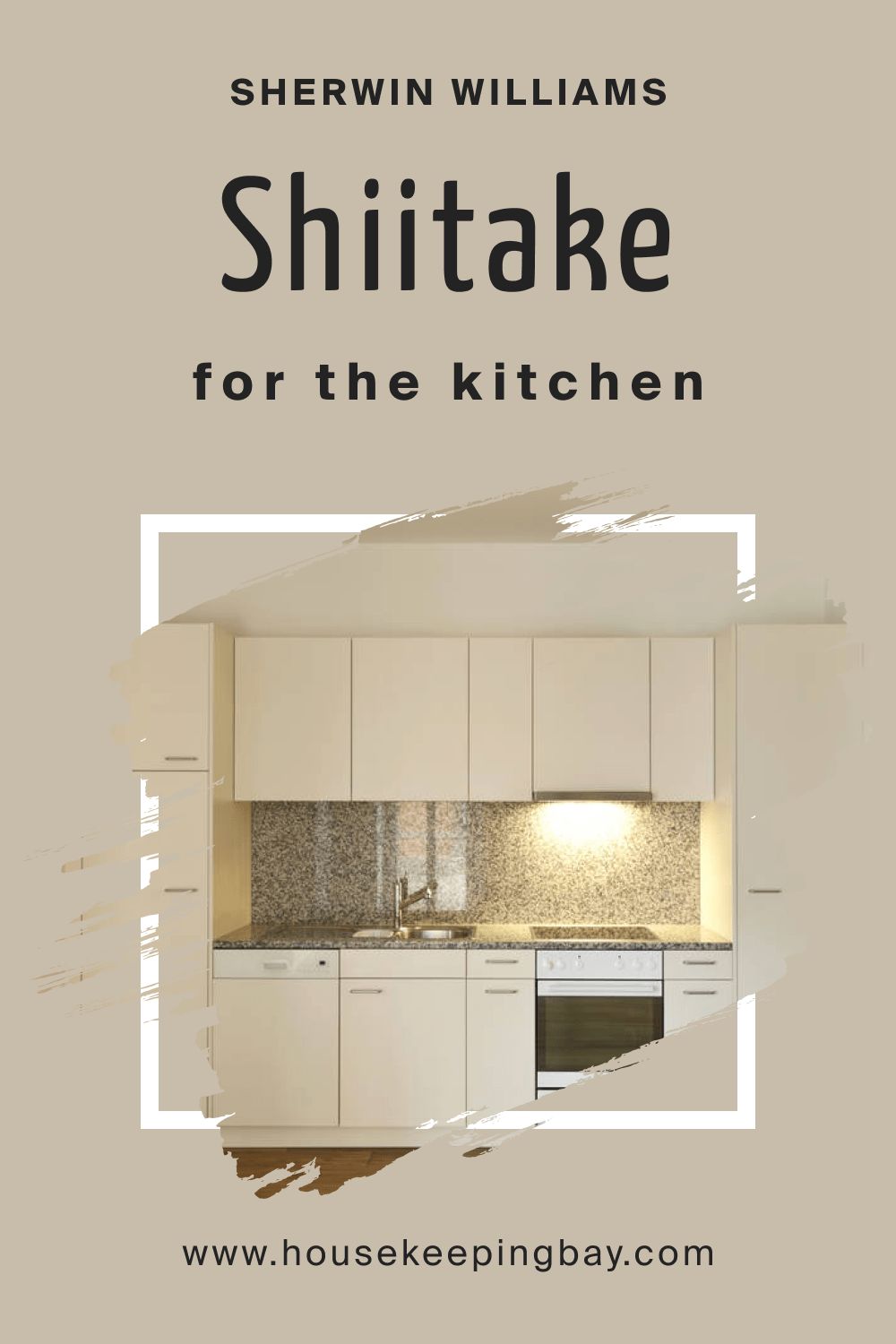 Shiitake SW-9173 on the Cabinets/Kitchen Cabinets
This color can read lovely on kitchen cabinets and other cabinets in your home. Its depth gives you more flexibility and space for choosing coordinating wall paint colors, which means more options for creativity.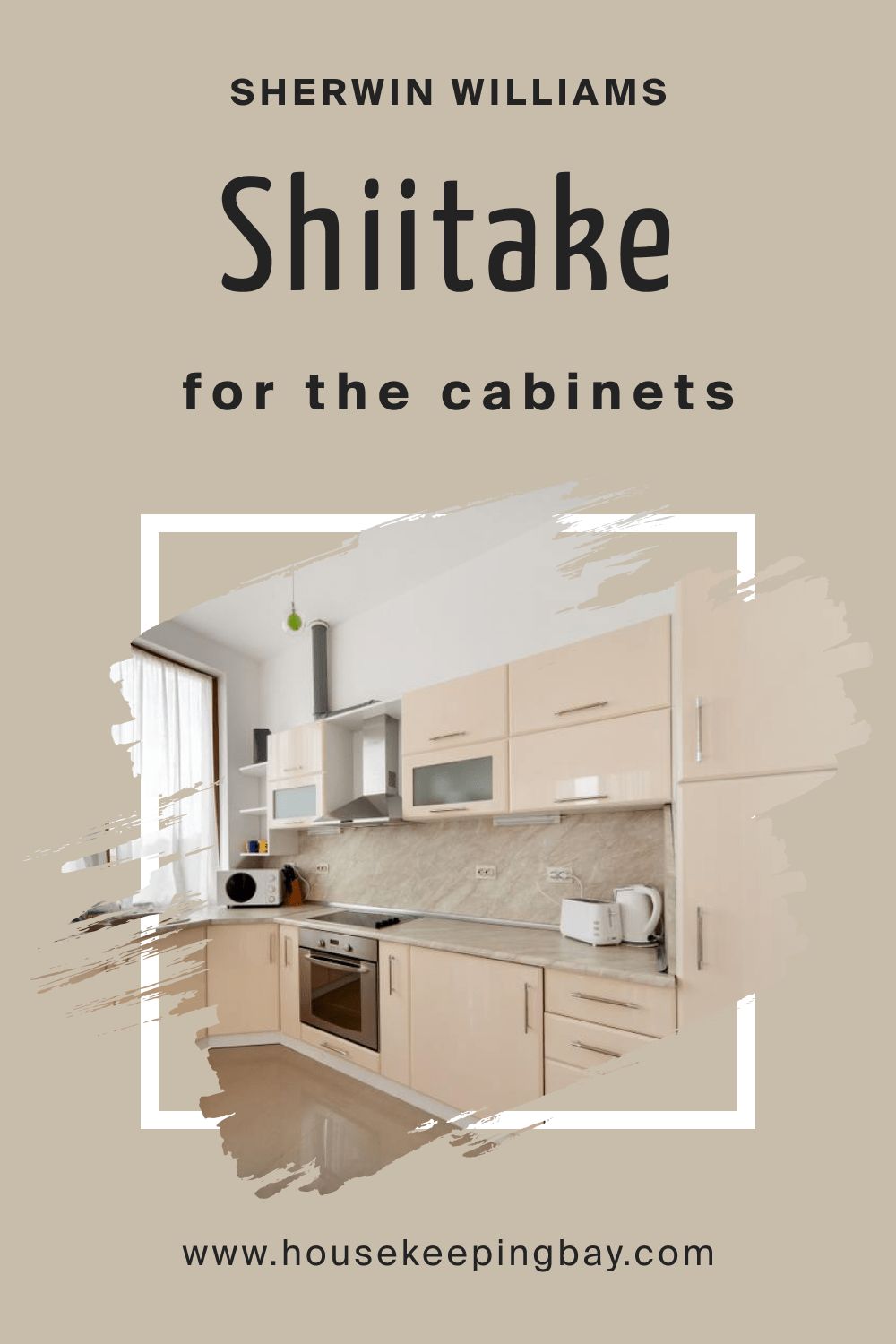 Shiitake SW-9173 for the Exterior use
SW Shiitake is a good color for exterior walls since it suits almost any roofing, stone, and brickwork. Especially for the Craftsman, Ranch-style, Mid-Century Modern, and Mediterranean homes!
This paint on the exterior will add a vibe of perfection to your house. However, note that it often looks a bit warmer and lighter than expected on the exteriors.
Also, if you have a porch and columns, either use greige, gray, or beige paint on them. Finally, to make your entryway door stand out, you can paint it blue, green, or mauve.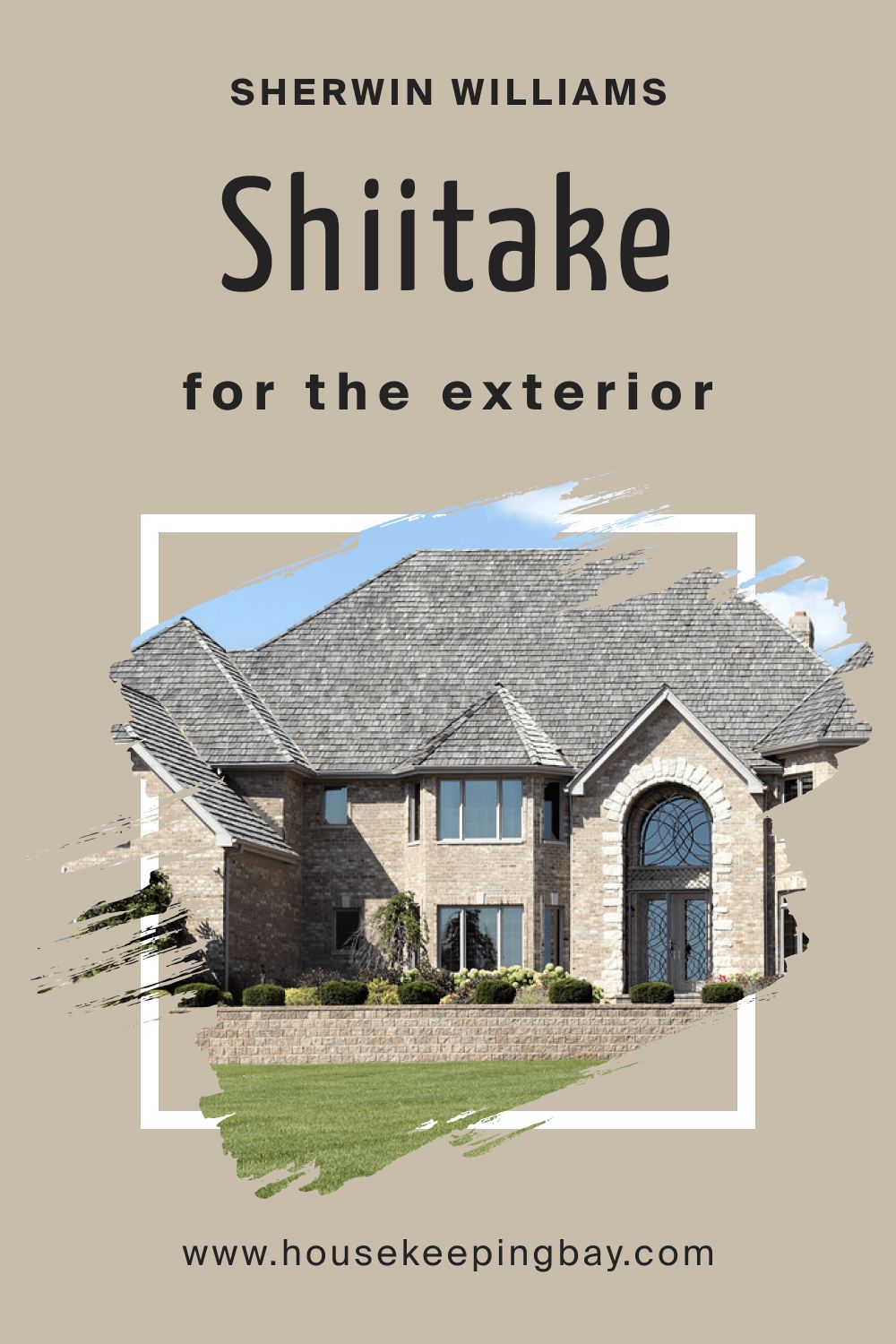 Conclusion
Now you know what color SW Shiitake is. You know its LRV and undertones, as well as coordinating colors and trim colors. You also know in what rooms it will work best of all.
With all these tips and recommendations regarding its use in your home, you can make this warm beige work wonders on interior and exterior walls!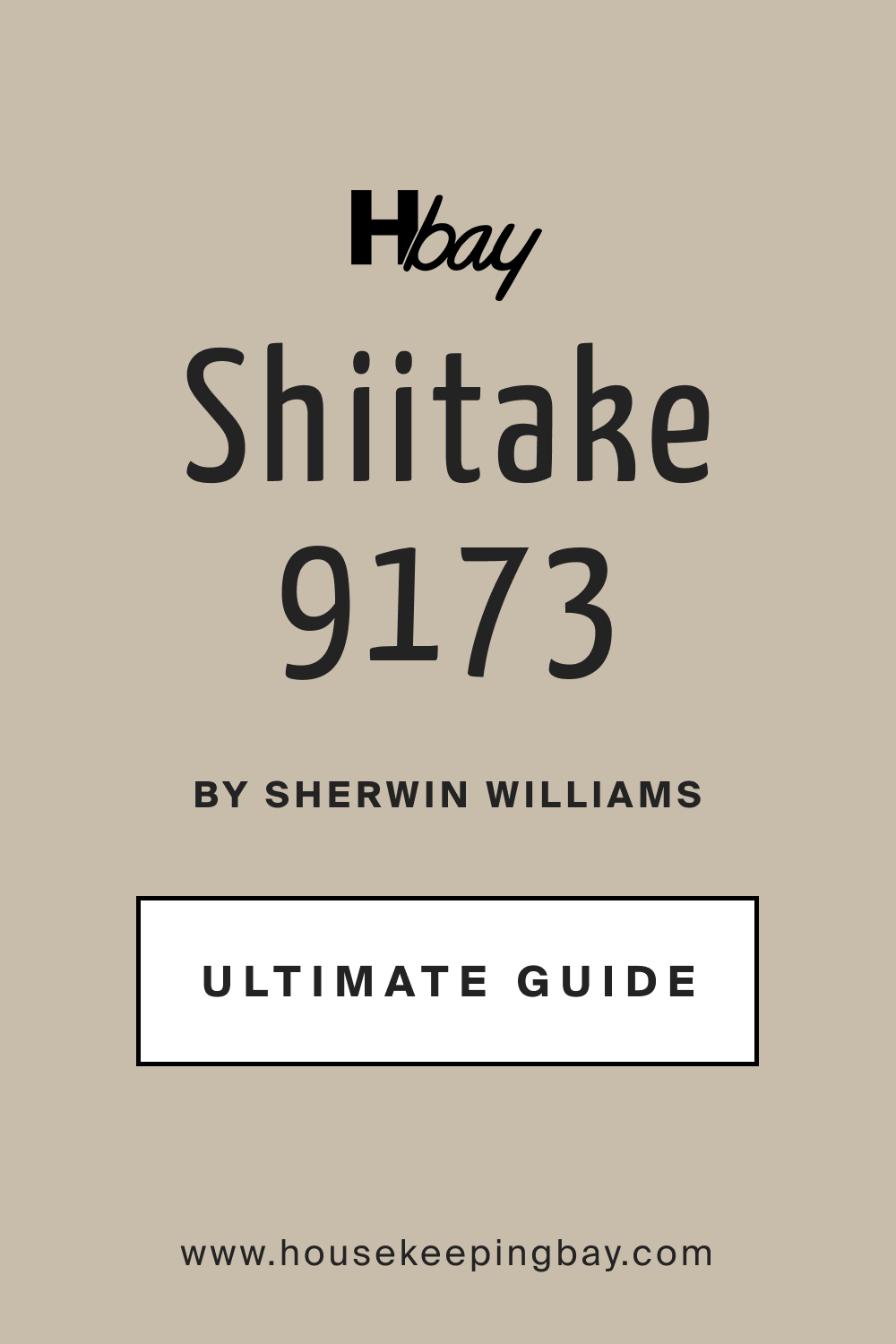 Frequently Asked Questions
⭐Does Shiitake color read too warm?
It depends on your color perception, but typically, this beige reads well-balanced.
⭐Does SW Shiitake work with green colors?
Basically, yes, it does. But it depends on the shade of green you want to use. Stick to muted and neutral greens.
⭐Will any white work with this beige?
You'd better opt for neutral whites and whites that read muted. Too crisp or too cold whites won't look nice with this warm color.