Sherwin-Williams SW 7547 Sandbar is a remarkable color that offers subtlety and flexibility in various interior design settings. Its neutral tone has a timeless appeal that has found its place in numerous homes and commercial spaces.
This article will explore the depth and variety of this color, uncovering its undertones, coordinating colors, effects in different lighting, and more.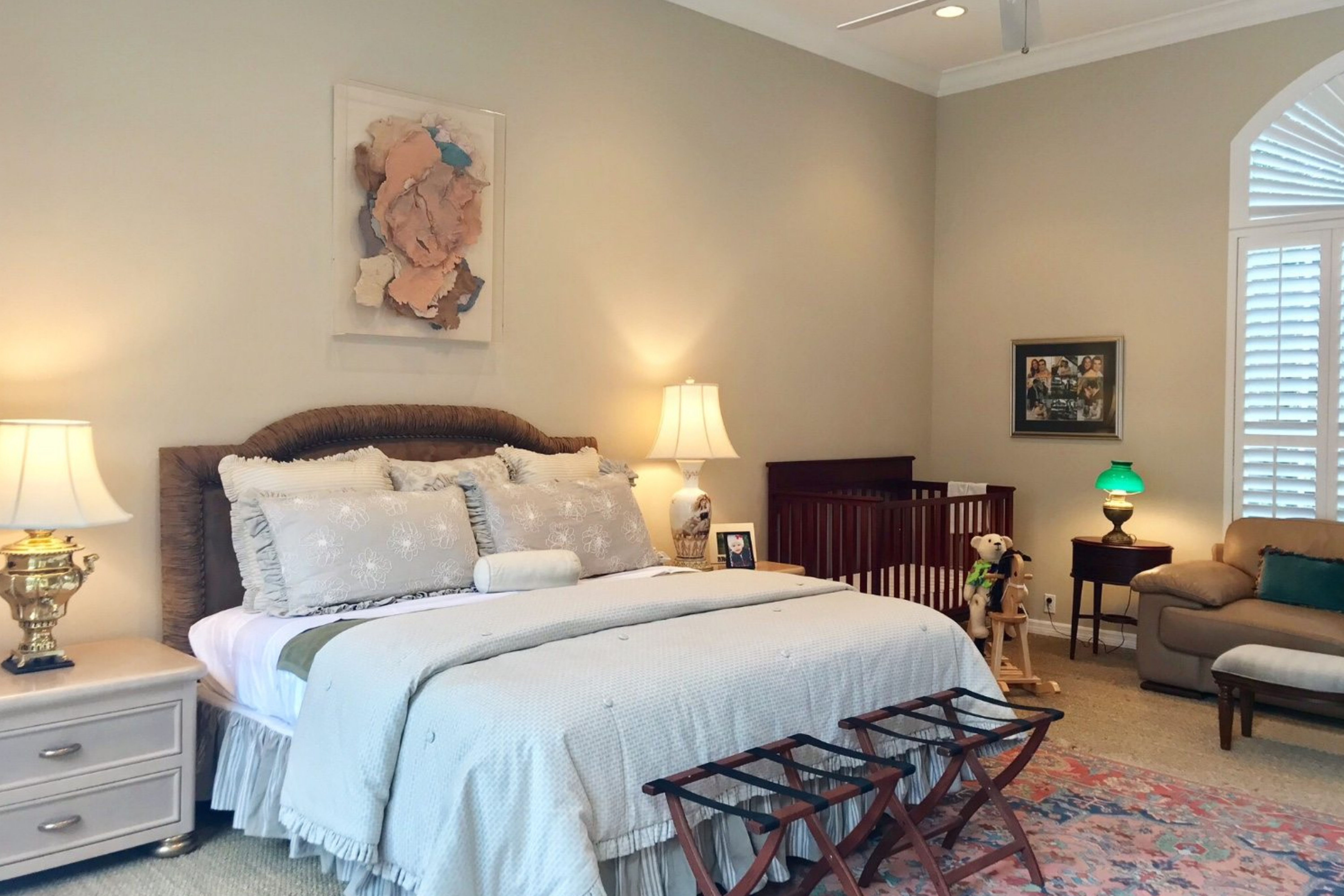 What Color Is SW 7547 Sandbar?
SW 7547 Sandbar is a neutral beige color with a gentle touch of warmth. It evokes a sense of calm and simplicity and works best in contemporary and transitional interior styles. Paired with natural materials like wood, stone, or linen, this color complements the textures, adding a soothing backdrop to the design.
Its versatile nature makes it an ideal choice for living rooms, bedrooms, and kitchens.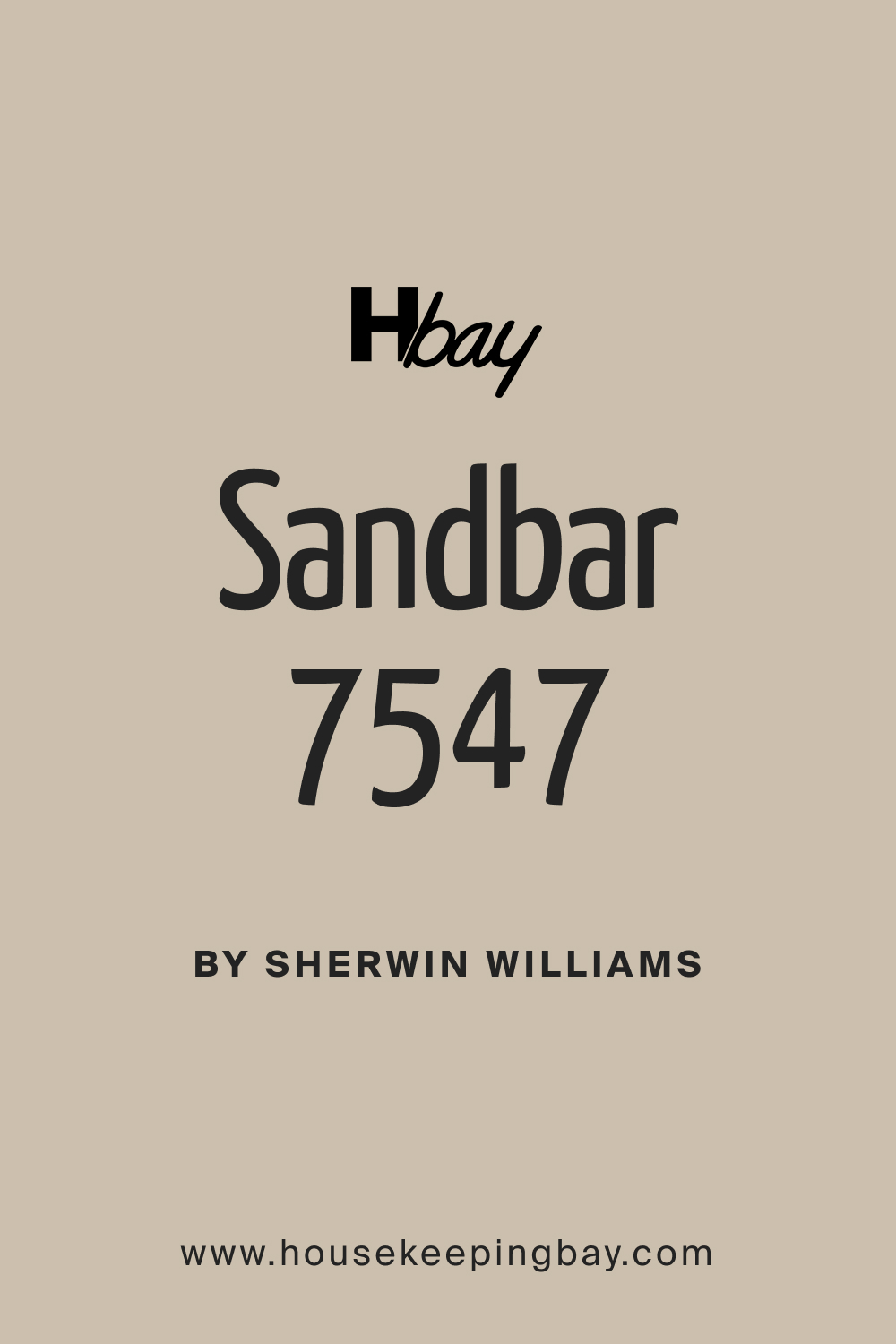 Is It a Warm Or Cool Color?
SW 7547 Sandbar leans towards the warm spectrum, but its soft hue allows it to blend well with both warm and cool color schemes. The warm essence of this color brings an inviting feel to a home, creating an environment that encourages relaxation and comfort.
Undertones of SW 7547 Sandbar
The undertones of color play a significant role in how it is perceived. SW 7547 Sandbar has cool green-gray undertones that provide a harmonious balance with its overall warmth. These undertones add complexity to the color and allow it to adapt effortlessly to various design elements and color combinations.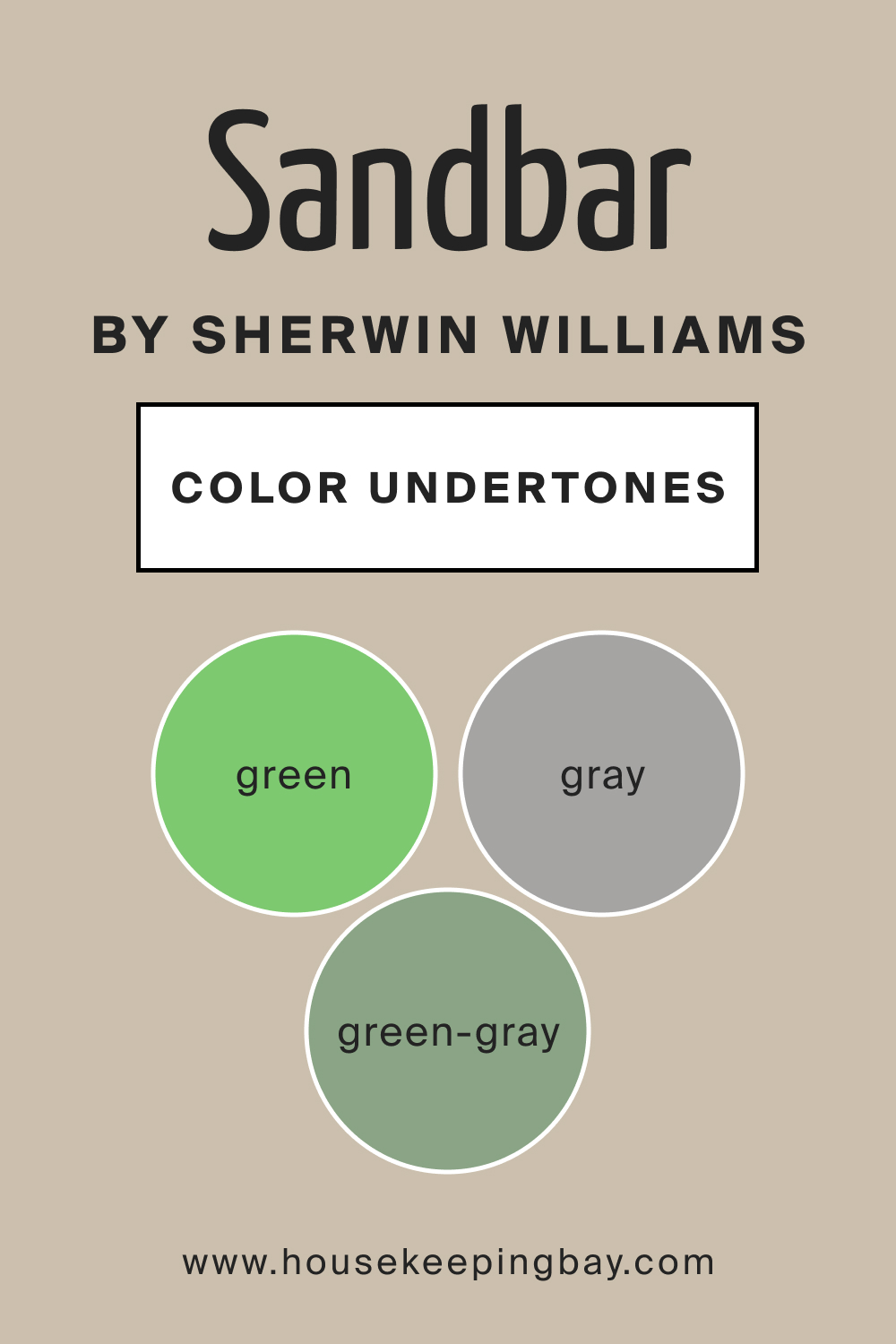 Coordinating Colors of SW 7547 Sandbar
Coordinating colors are those that work well together to create a cohesive and appealing color scheme. For SW 7547 Sandbar, coordinating colors include:
SW 7011 Natural Choice: A pure and soft white.
SW 9174 Moth Wing: A muted taupe with hints of brown.
SW 7060 Attitude Gray: A balanced and sophisticated gray.
Additional coordinating colors from Sherwin-Williams include:
SW 6106 Kilim Beige: A warm beige with red undertones.
SW 6044 Doeskin: A rich and warm brownish-gray.
SW 6108 Latte: A creamy and inviting light brown.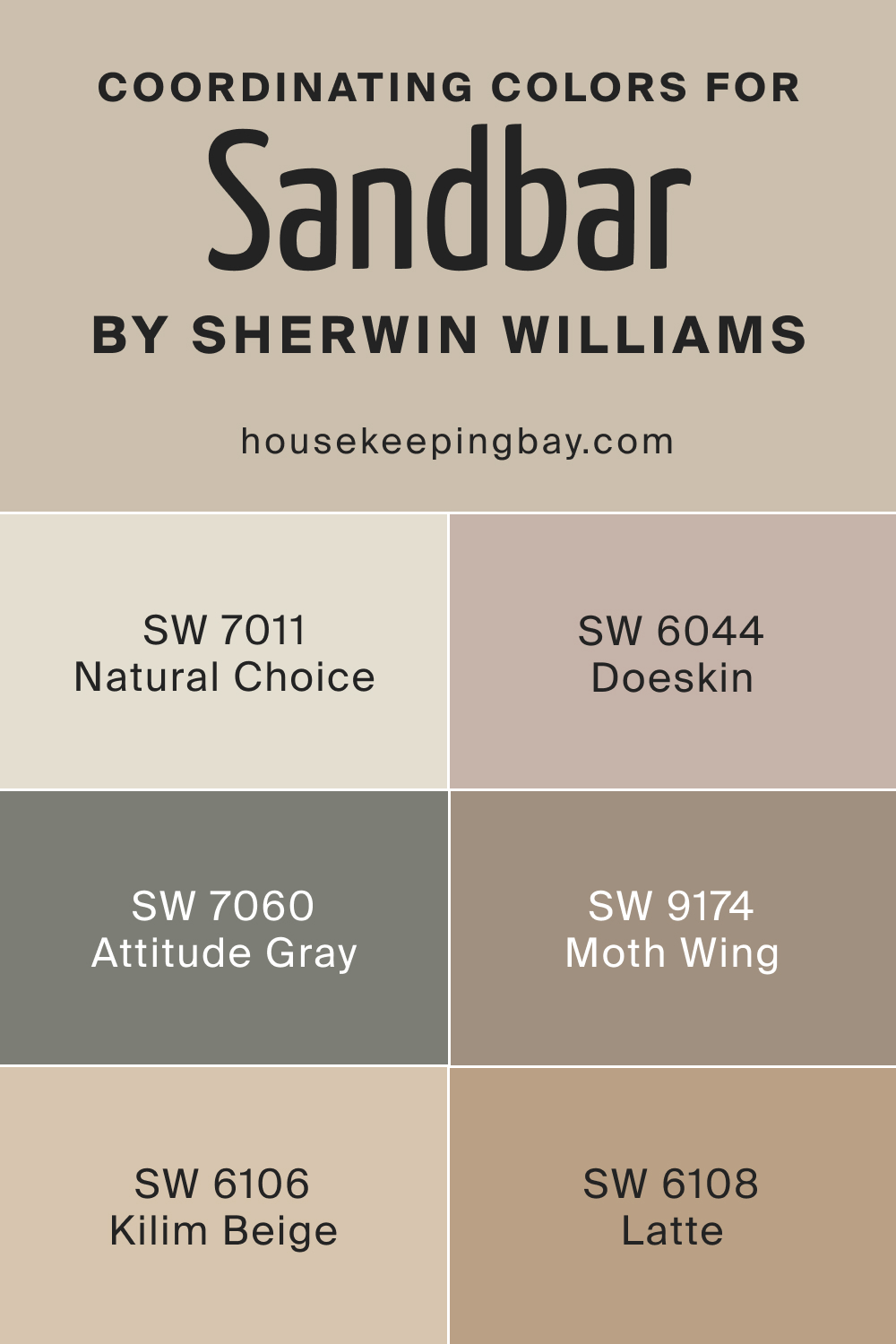 How Does Lighting Affect SW 7547 Sandbar?
Lighting has a significant impact on how colors are perceived. SW 7547 Sandbar, being a neutral tone, can appear differently under various lighting conditions. In natural light, the color looks fresher and reveals its green-gray undertones. Under artificial light, it may appear warmer and softer. The way this color is perceived in different rooms depends on their orientation:
North-faced rooms: Cooler and more subdued.
South-faced rooms: Warm and vibrant.
East-faced rooms: Bright and cheerful in the morning.
West-faced rooms: Warm and inviting in the afternoon.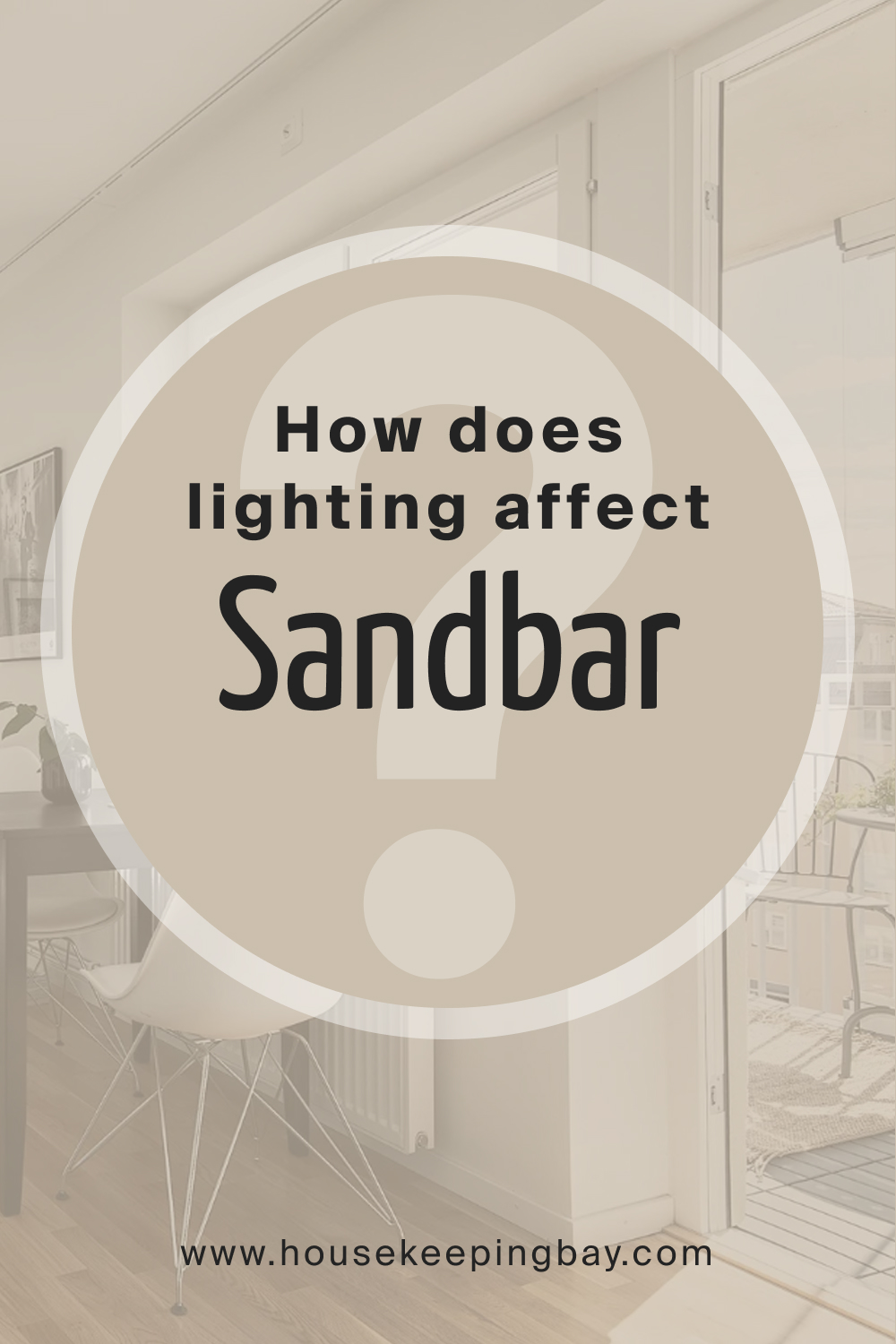 LRV of SW 7547 Sandbar
Light Reflectance Value (LRV) is a measure of how much light a color reflects. SW 7547 Sandbar has an LRV of 53, meaning it reflects more than half of the light that hits it. This mid-range value allows the color to retain its character without being overly bright or too dull.
It adds depth to spaces without overwhelming them, making it a versatile choice for various rooms and styles.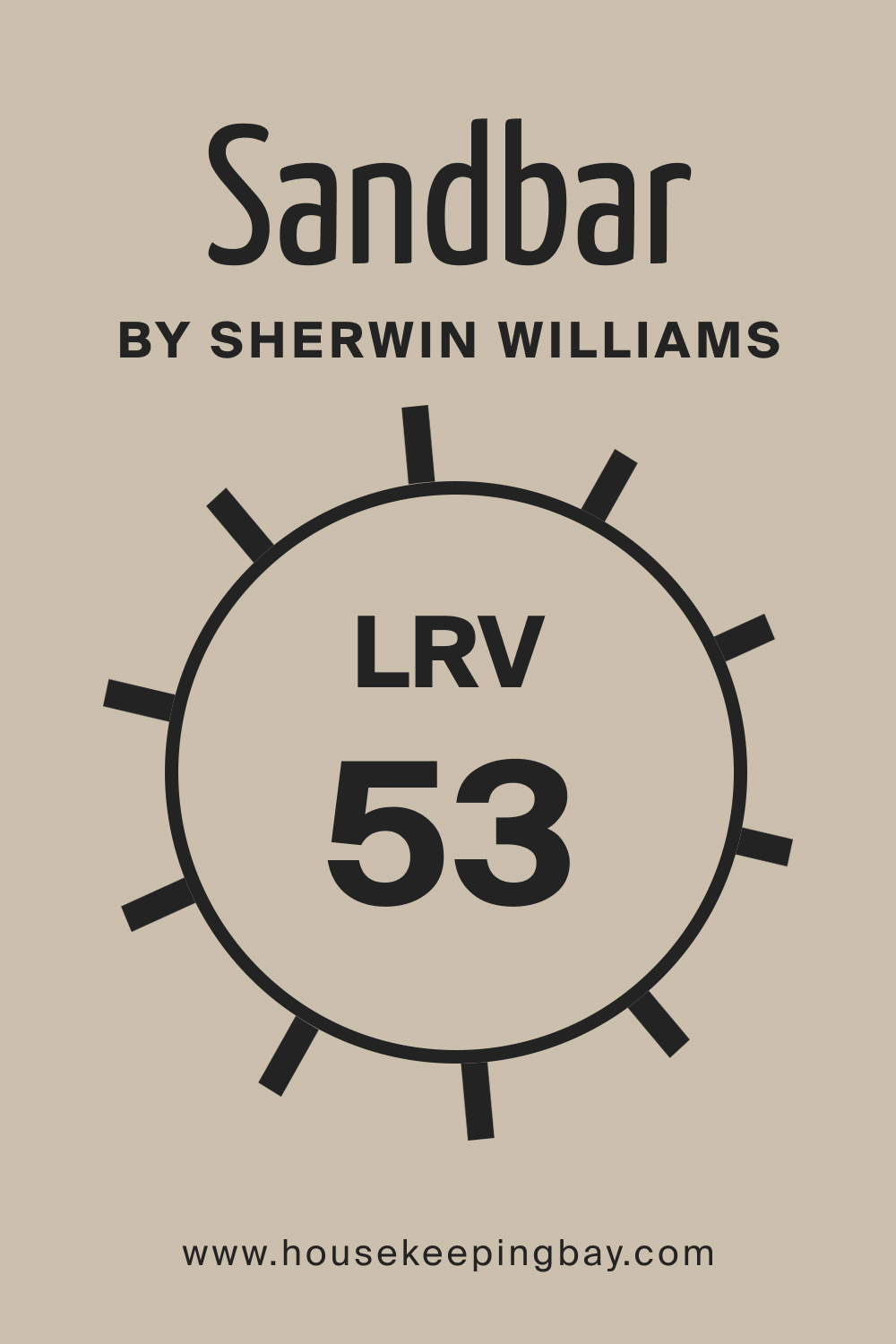 What is LRV? Read it Before You Choose Your Ideal Paint Color
Trim Colors of SW 7547 Sandbar
Trim colors highlight the architectural features of a room. For SW 7547 Sandbar, shades of white work best. Colors such as SW 7005 Pure White, SW 7008 Alabaster, and SW 7011 Natural Choice offer a crisp and refined look, accentuating the neutral tone of Sandbar and creating an elegant contrast.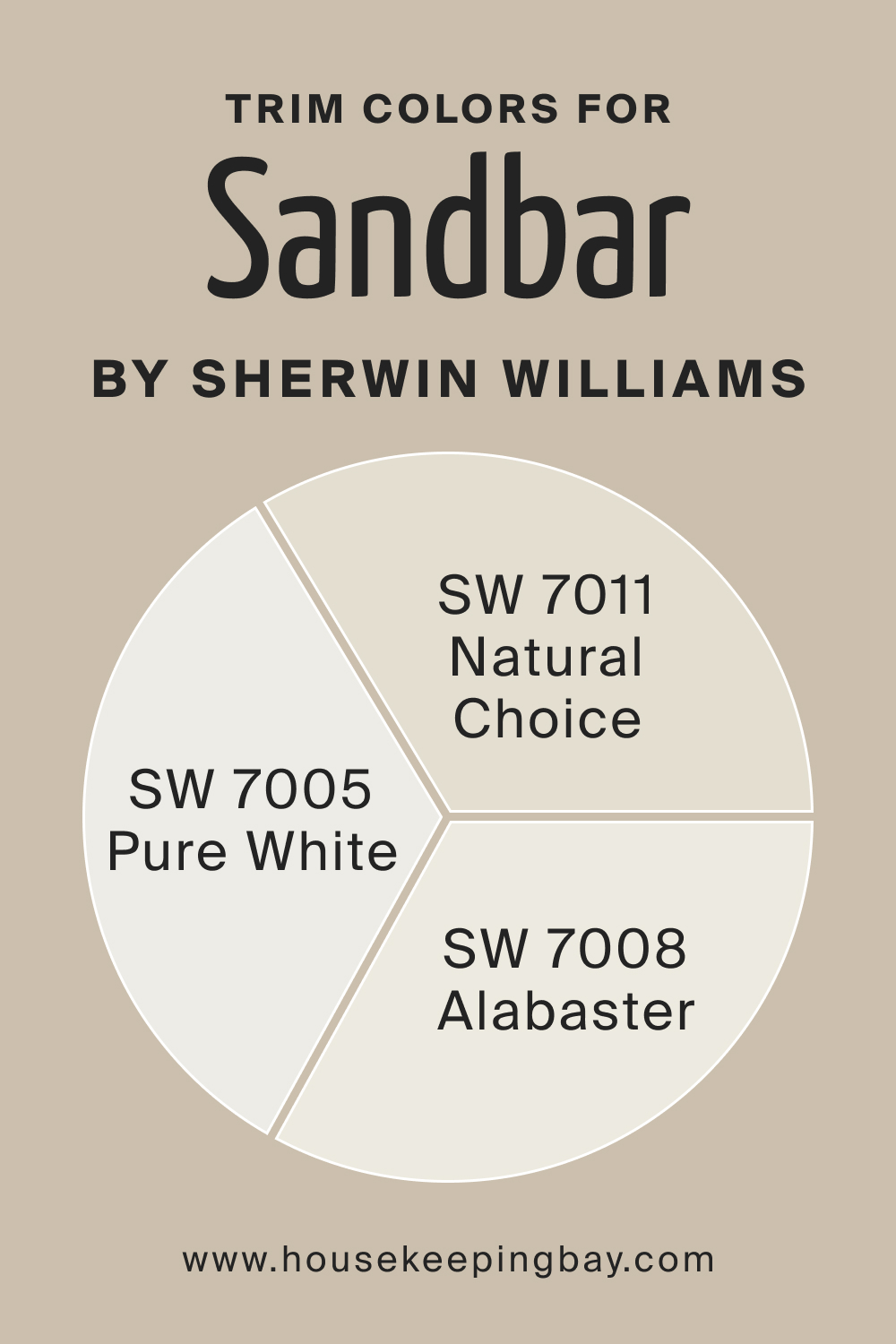 Colors Similar to SW 7547 Sandbar
Knowing similar colors is vital for exploring design options. Colors similar to SW 7547 Sandbar include:
SW 7542 Naturel: A soft beige with warm undertones.
SW 9173 Shiitake: A muted and earthy beige.
SW 7511 Bungalow Beige: A classic and neutral beige.
Each of these colors provides a different take on the neutral palette, allowing for nuanced design choices.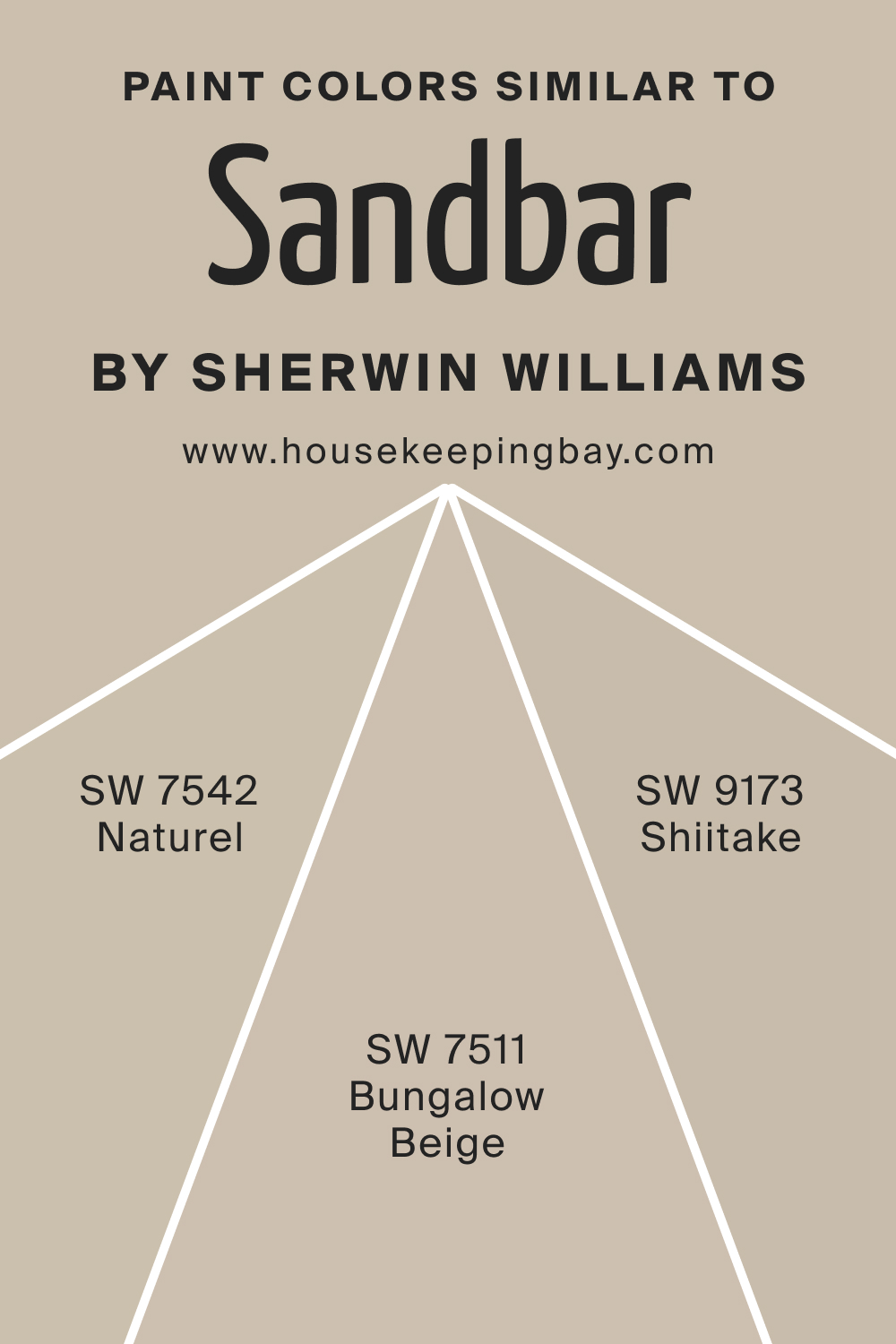 Colors That Go With SW 7547 Sandbar
Complementary colors can create a harmonious and visually appealing space. Colors that go well with SW 7547 Sandbar include:
SW 9177 Salty Dog: A bold and vibrant blue.
SW 7060 Attitude Gray: As mentioned, a balanced gray.
SW 6258 Tricorn Black: A deep and intense black.
SW 7674 Peppercorn: A strong and grounding dark gray.
Additional colors include SW 7036 Accessible Beige, SW 6126 Navajo White, and SW 7043 Worldly Gray. Each of these offers unique contrasts or harmonies, enabling diverse design possibilities that can suit various tastes and needs.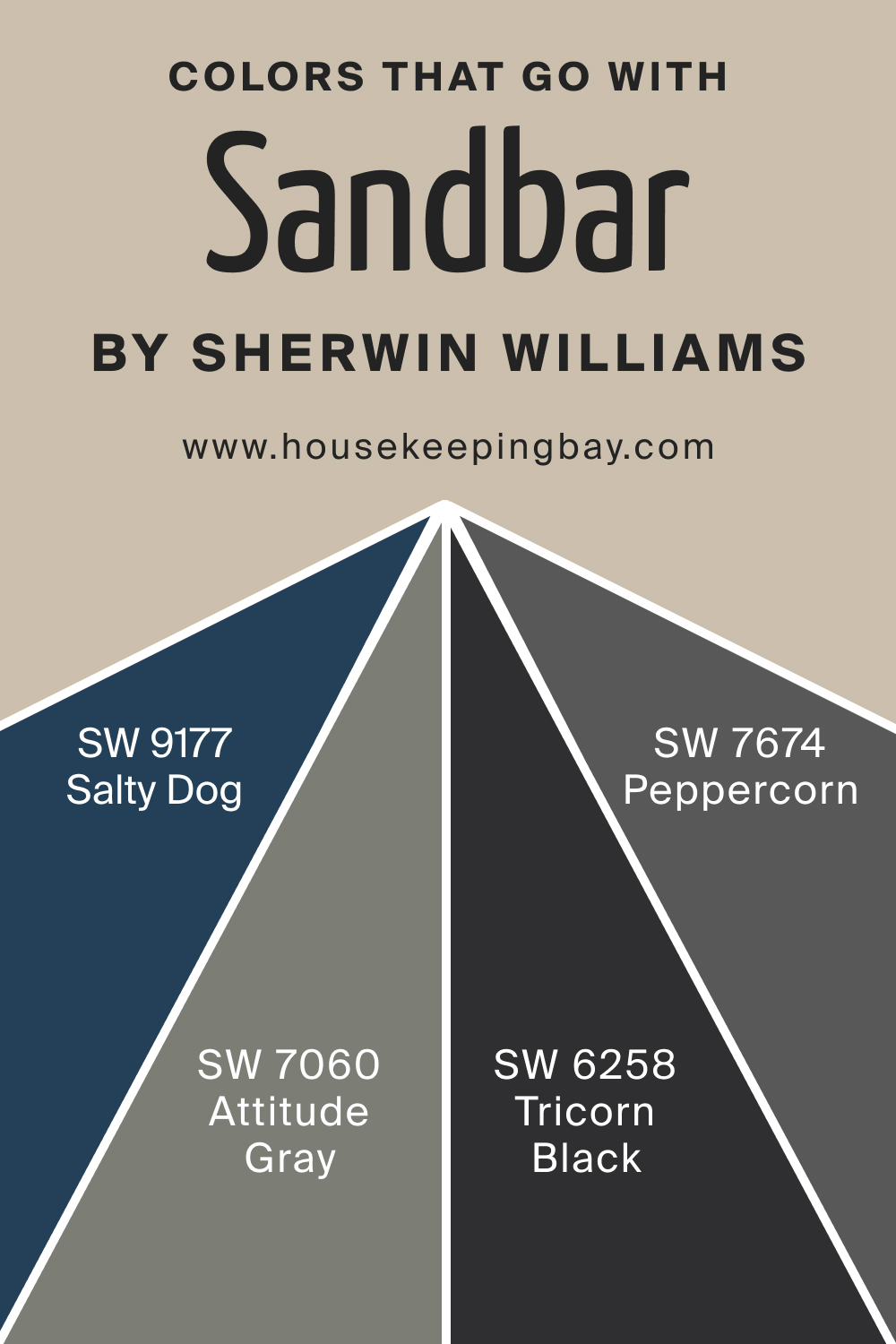 How to Use SW 7547 Sandbar In Your Home?
SW 7547 Sandbar can be a universal choice in various rooms, from living areas to bedrooms. Its neutral tone is suited to modern, minimalist, traditional, and transitional styles. In rooms where tranquility is desired, like a bedroom or study, it's perfect. For more energetic spaces like kitchens or living areas, it serves as a calming background.
How to Use SW 7547 Sandbar in the Bedroom?
In the bedroom, SW 7547 Sandbar creates a serene and calming environment. Its warm undertones promote relaxation, while its versatility allows it to complement various furnishings and fabrics. Paired with crisp white linens and soft textures, it enhances the peaceful ambiance of the bedroom.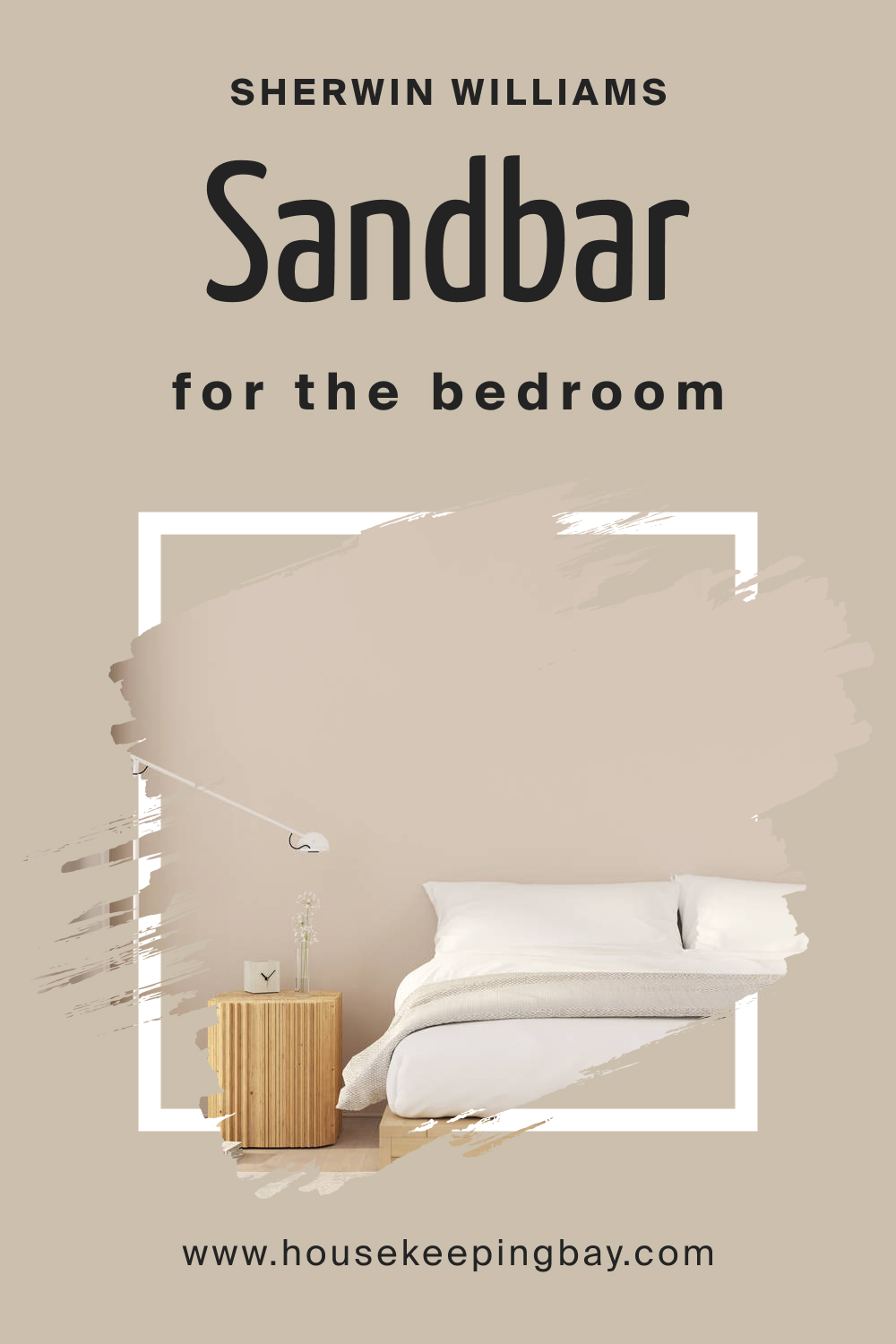 How to Use SW 7547 Sandbar in the Bathroom?
For bathrooms, SW 7547 Sandbar brings a spa-like quality. Its neutral tone works with natural materials like stone or wood, and the cool green-gray undertones can complement metal finishes. By creating a soothing backdrop, it sets the stage for a luxurious and restful bathroom experience.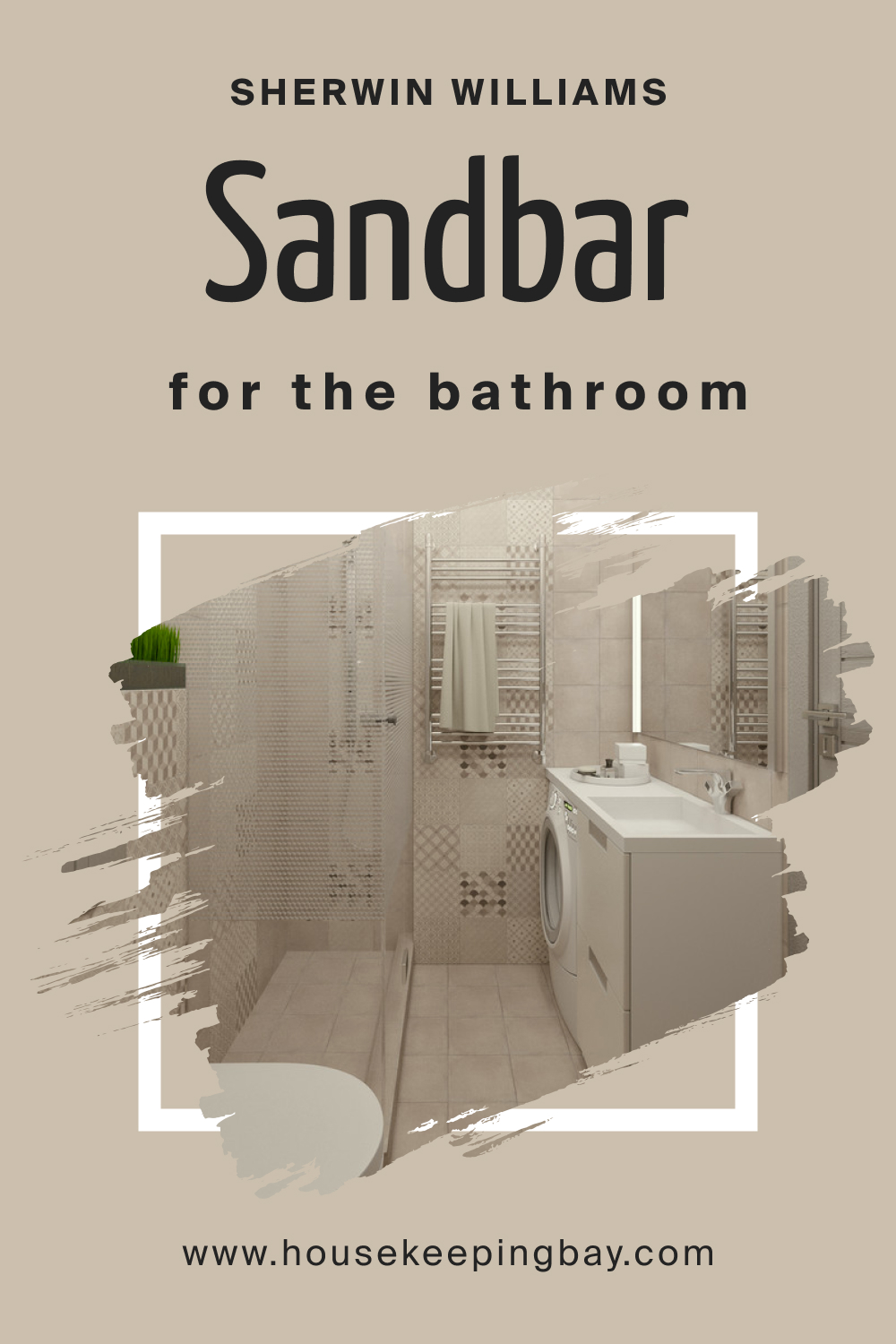 How to Use SW 7547 Sandbar in the Living Room?
The living room is a gathering place, and SW 7547 Sandbar adds warmth without overpowering the space. It works beautifully with both bright accent colors and muted tones, giving flexibility in decor choices. Its balanced nature makes it an ideal canvas for various art pieces and furniture styles.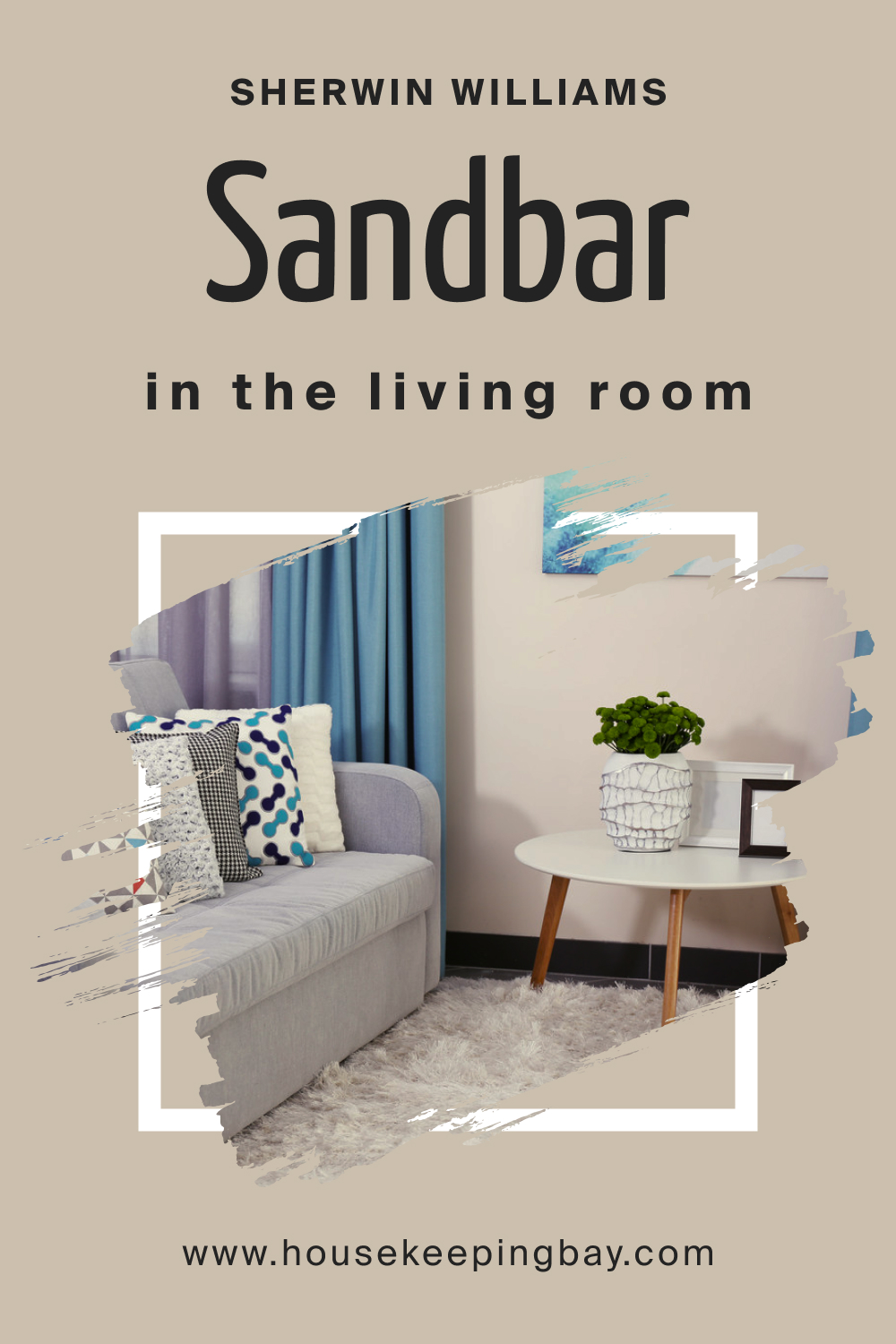 How to Use SW 7547 Sandbar for an Exterior?
Exterior applications of SW 7547 Sandbar offer an inviting and timeless look. Its subtle warmth creates a welcoming facade, and it pairs wonderfully with natural exterior elements like stone and wood. Whether in a suburban home or an urban townhouse, it brings elegance and character to the building's appearance.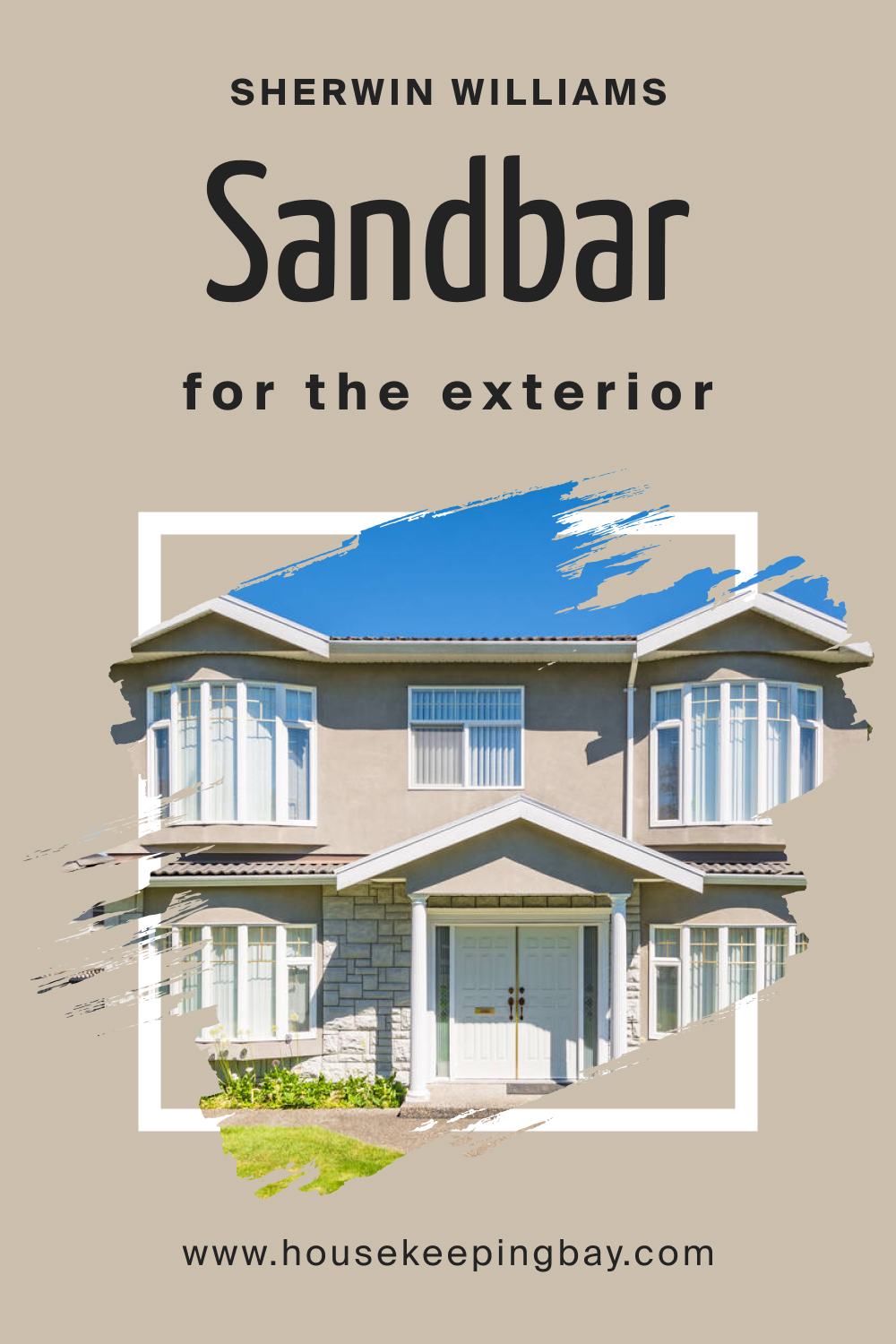 How to Use SW 7547 Sandbar in the Kitchen?
In the kitchen, SW 7547 Sandbar works to create a clean and airy space. Its neutral character allows for bold choices in appliances and countertops. The soft warmth of SW Sandbar enhances natural light, making the kitchen feel open and inviting, while its understated elegance complements various design styles.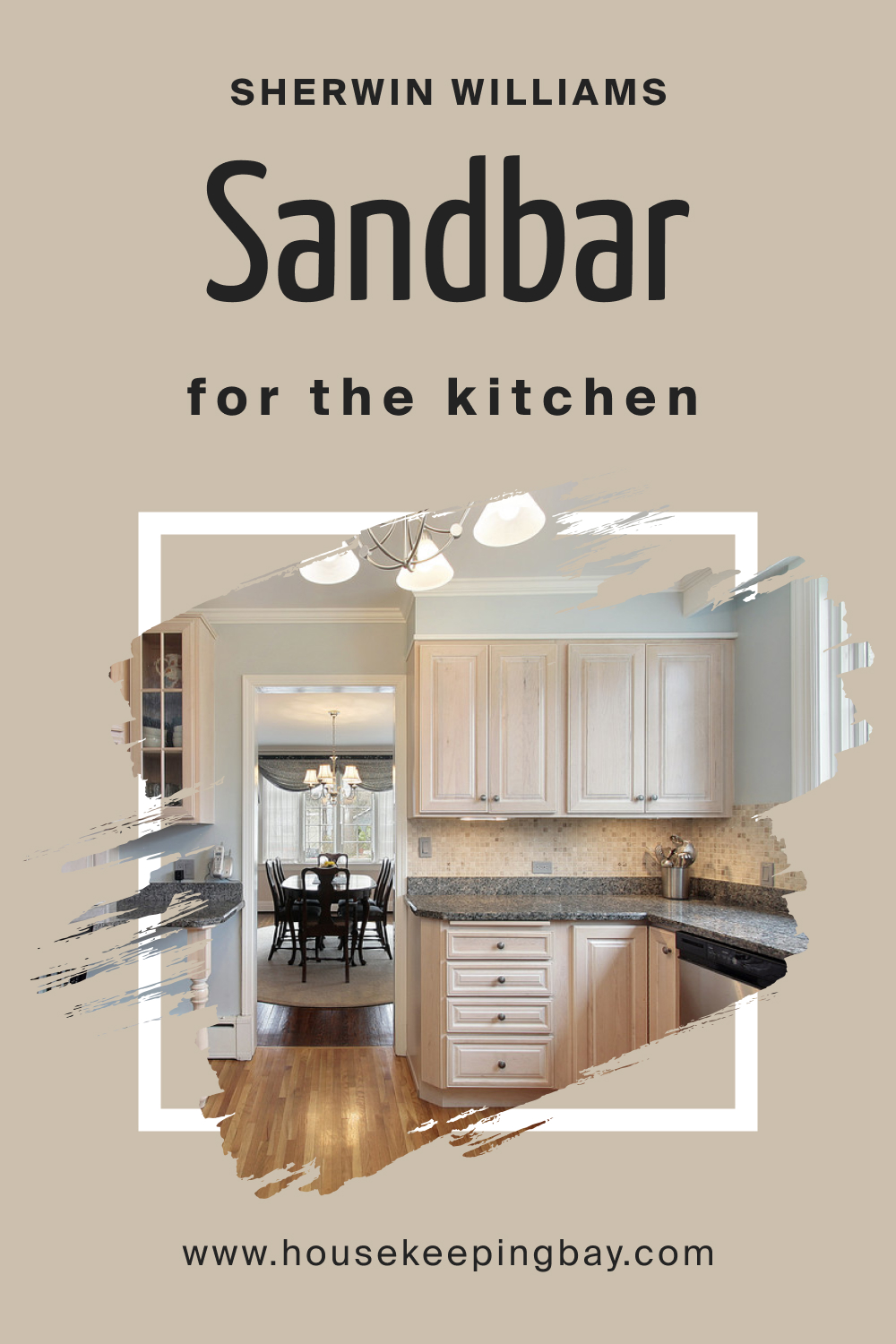 How to Use SW 7547 Sandbar for the Kitchen Cabinets?
Using SW 7547 Sandbar on kitchen cabinets brings a sophisticated yet approachable look. It provides a timeless appeal that matches various countertop materials, from granite to wood.
Whether in a modern kitchen or a more traditional setting, Sandbar cabinets offer a fresh and adaptable aesthetic that can enhance the overall design of the space.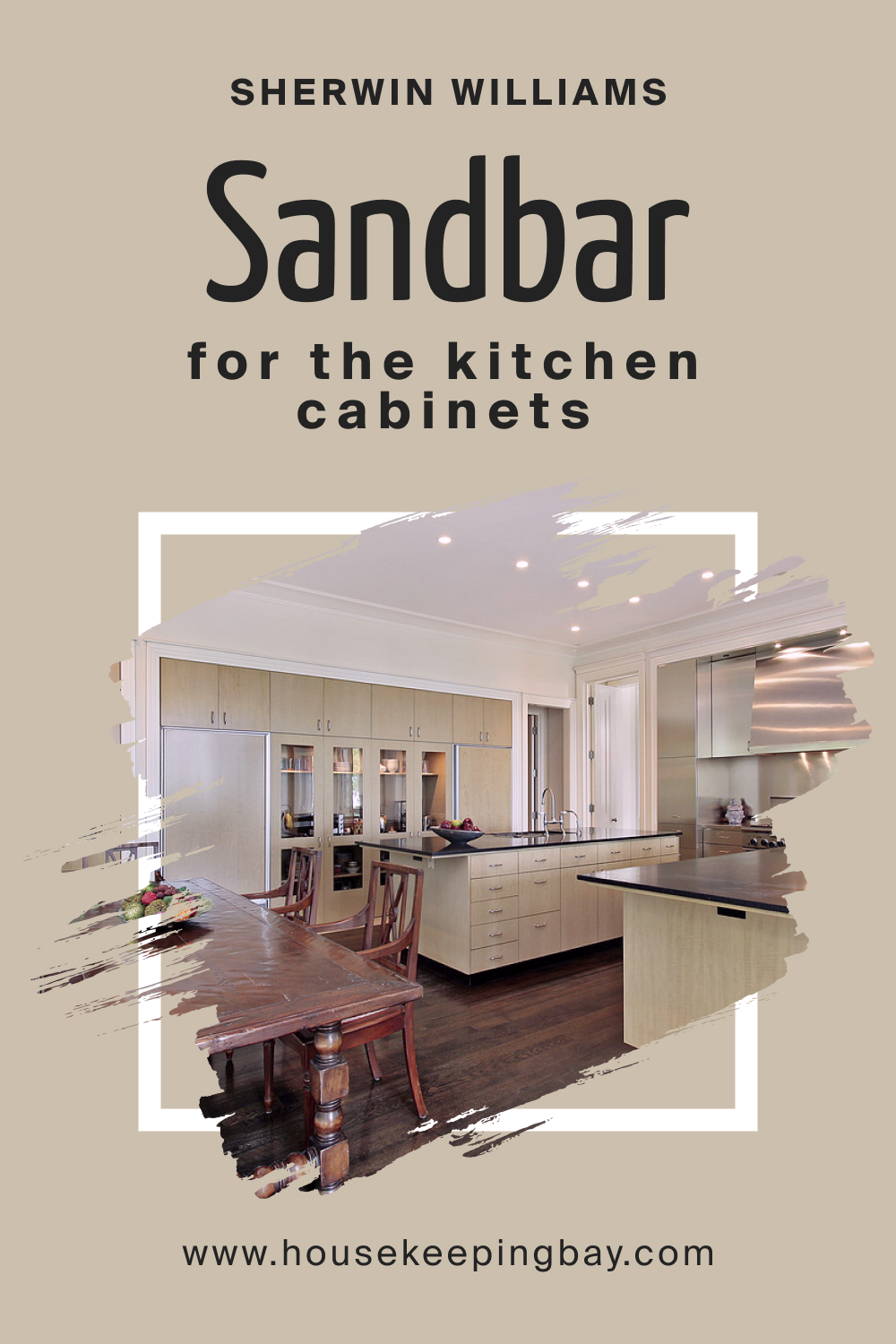 Comparing SW 7547 Sandbar With Other Colors
Comparing different colors is a vital step in interior design and color selection. It allows for understanding subtle differences and similarities that can impact the overall look and feel of a space. By comparing SW 7547 Sandbar with other colors, designers and homeowners can make more informed decisions that align with their design vision and aesthetic preferences. Analyzing how Sandbar interacts with other colors can help create cohesive, harmonious, and visually appealing spaces.
SW 7547 Sandbar vs. SW 7548 Portico
SW Sandbar's neutral beige is a softer shade compared to the slightly bolder SW 7548 Portico. While Sandbar offers a calm and serene feel, Portico brings more intensity and can add depth to a room. Both colors share warm undertones but differ in strength and impression, with Portico being more prominent.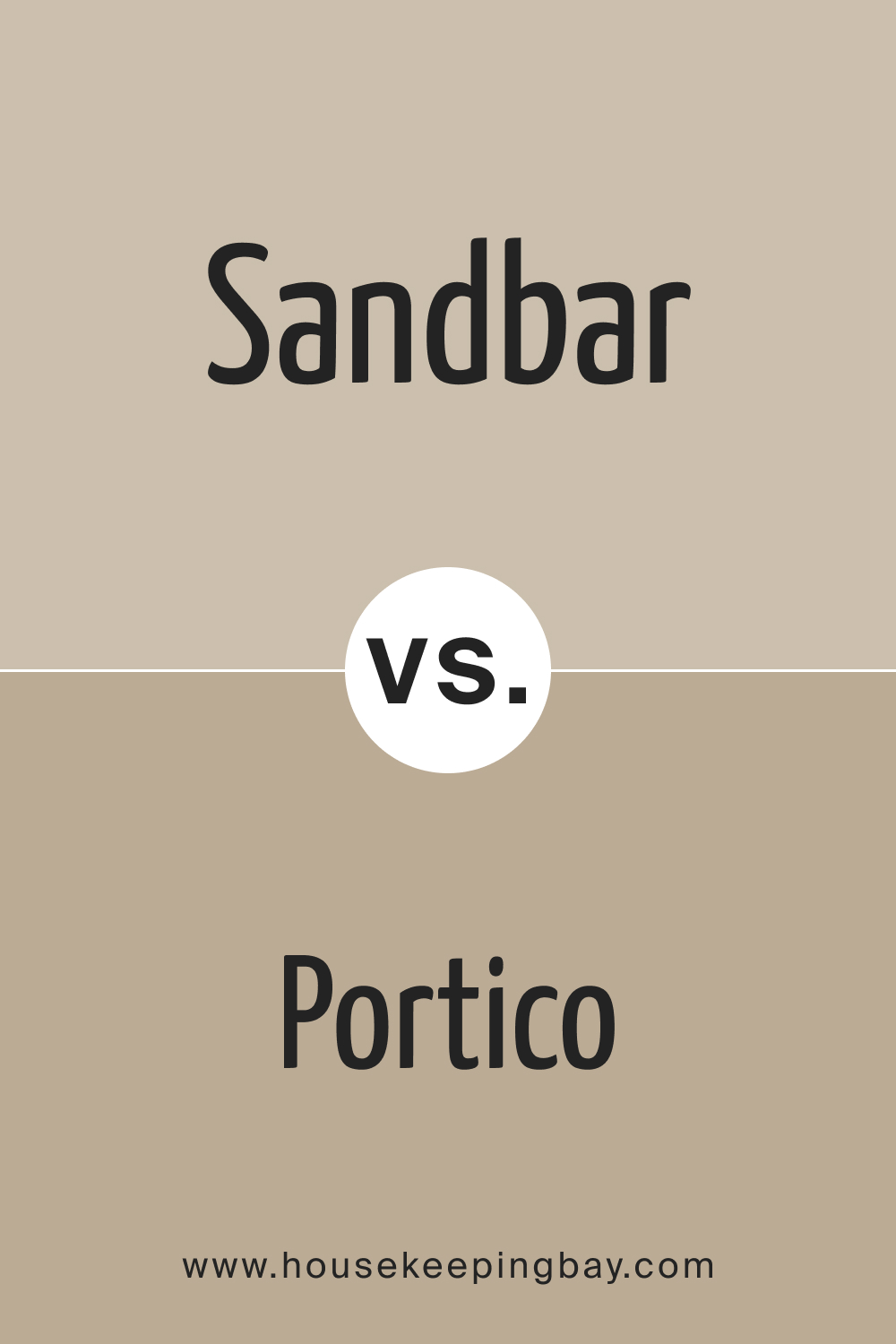 SW 7547 Sandbar vs. SW 7567 Natural Tan
SW Natural Tan is a warmer and more pronounced beige compared to the subdued SW 7547 Sandbar. While Sandbar is versatile and can blend with various design styles, Natural Tan might lean more towards traditional settings. Sandbar's cool undertones provide a unique touch that sets it apart from the more earthy Natural Tan.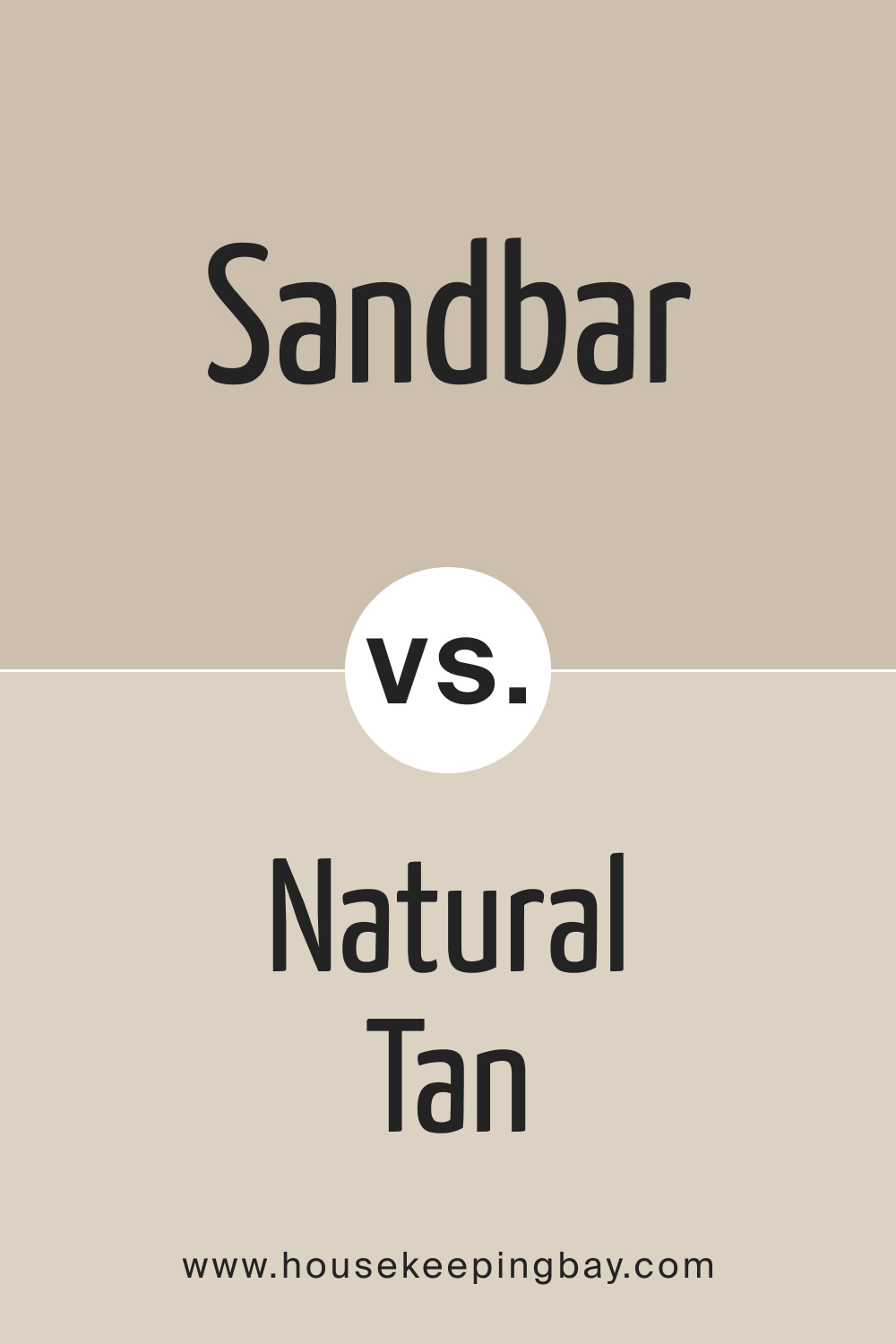 SW 7547 Sandbar vs. SW 7738 Cargo Pants
SW 7738 Cargo Pants is an olive green color, providing a stark contrast to the neutral beige of Sandbar. While Sandbar emphasizes subtlety and versatility, Cargo Pants adds a touch of nature and outdoor essence. Combining these colors might bring a balanced indoor-outdoor connection, yet they cater to different aesthetic desires.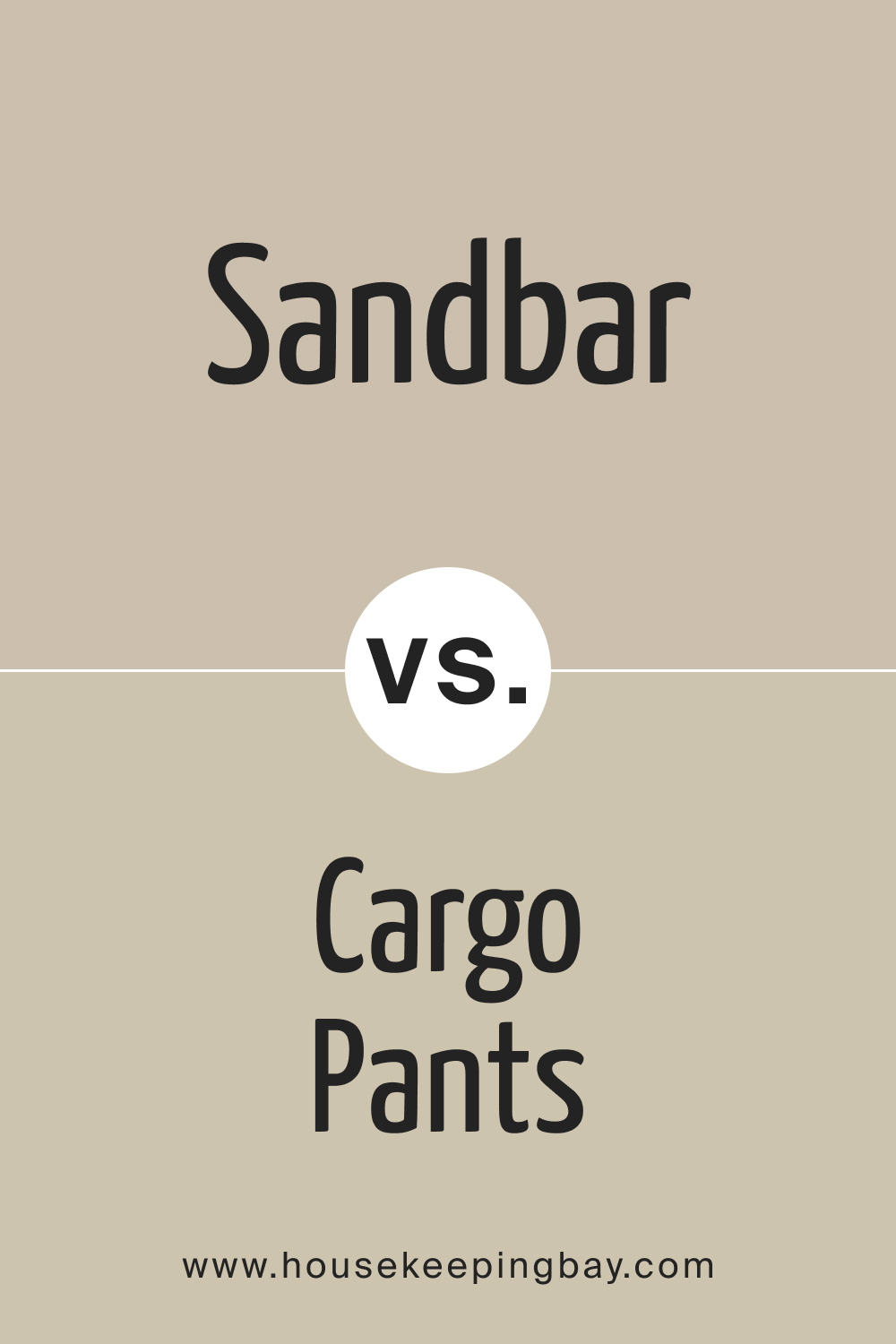 SW 7547 Sandbar vs. SW 0002 Chelsea Mauve
SW 0002 Chelsea Mauve is a soft, muted pink. Compared to Sandbar, it adds a gentle touch of color. While Sandbar provides a neutral base, Chelsea Mauve introduces a romantic and feminine quality. Both colors are soft and understated but evoke different emotions and atmospheres.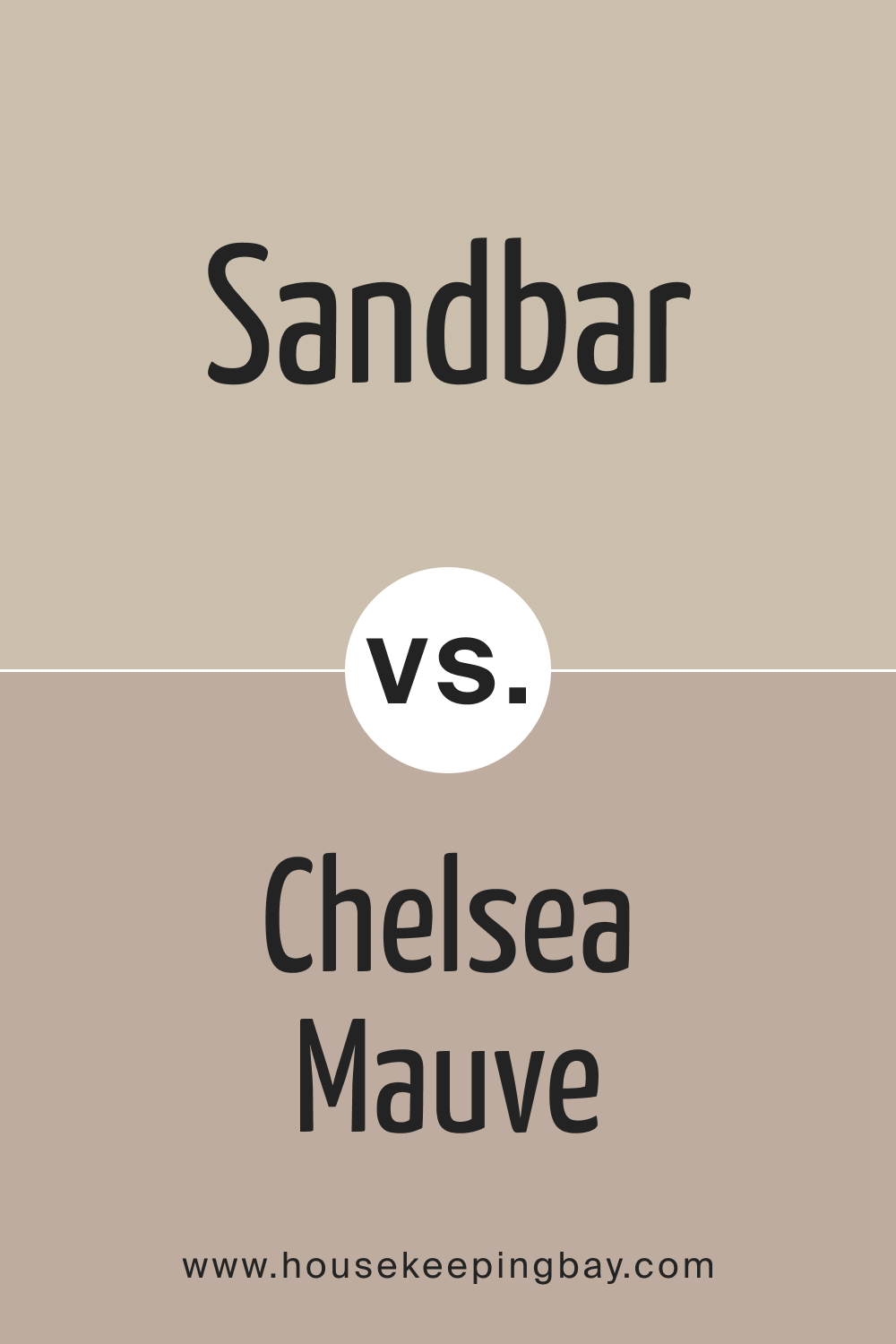 SW 7547 Sandbar vs. SW 7524 Dhurrie Beige
SW 7524 Dhurrie Beige shares similarities with Sandbar in its neutral and warm spectrum. The difference lies in Dhurrie Beige's more pronounced earthiness, making it a bolder choice. While both colors can be used in similar settings, Dhurrie Beige might add more richness and depth compared to the softer Sandbar.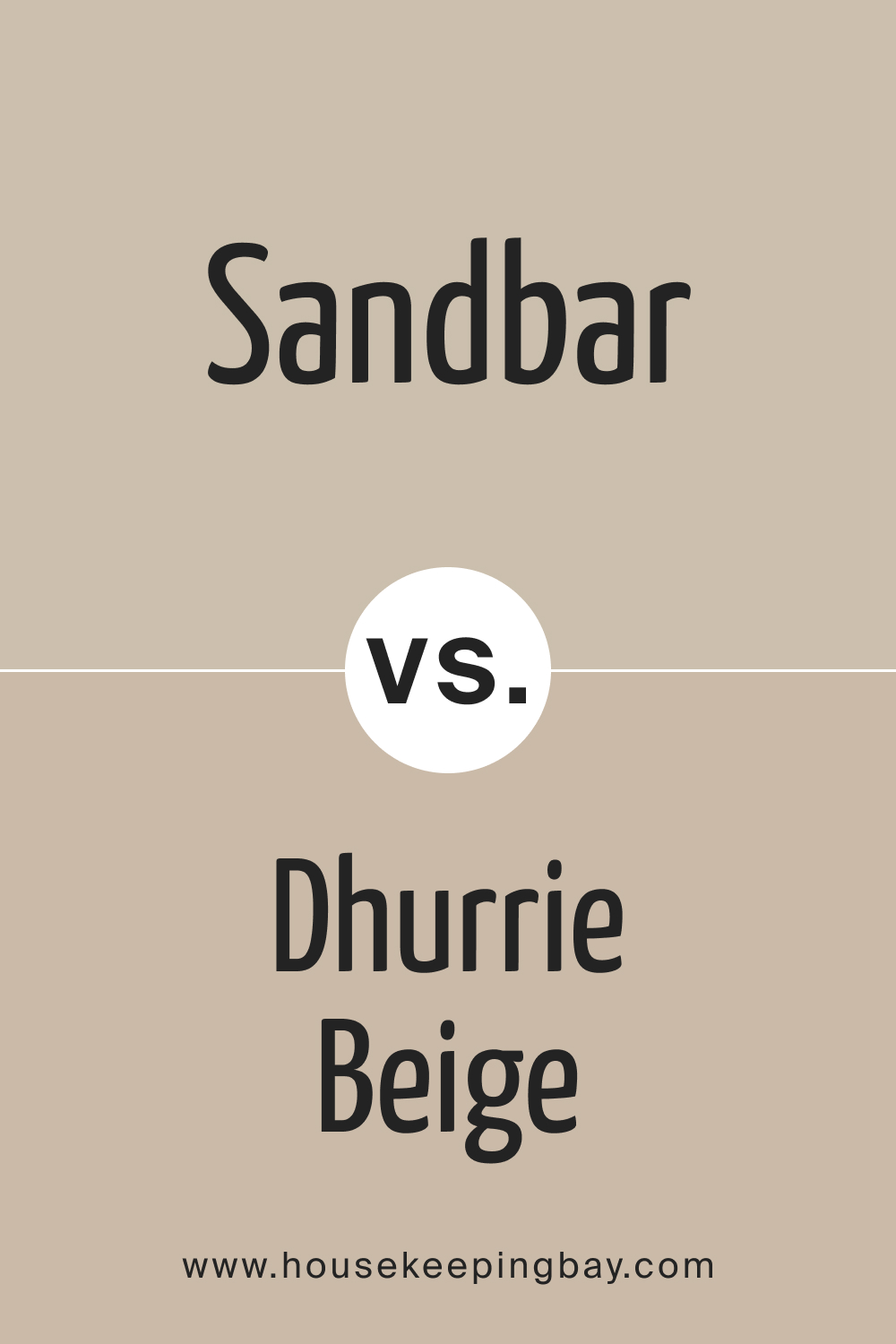 SW 7547 Sandbar vs. SW 6036 Angora
SW 6036 Angora is a light, slightly rosier beige compared to Sandbar. While Sandbar brings calmness with its green-gray undertones, Angora offers a hint of warmth and coziness. Both colors are ideal for creating relaxing environments, yet Angora might introduce a touch more warmth and soft elegance.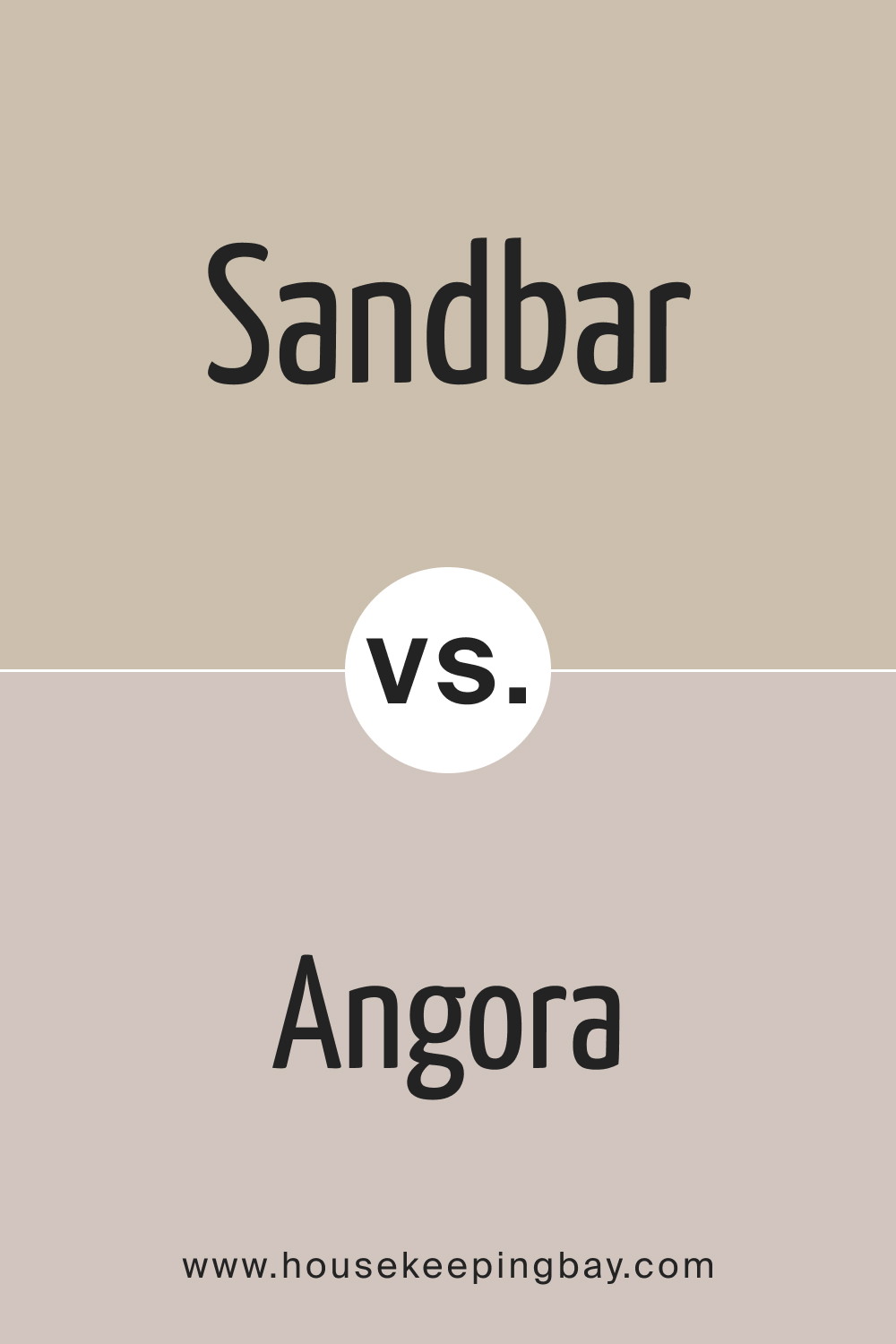 Conclusion
SW 7547 Sandbar is more than just a neutral color. Its warm essence, cool undertones, and adaptability make it a versatile choice for various design endeavors.
By understanding its characteristics and how it interacts with different elements such as lighting, coordinating colors, and trim colors, one can unlock the full potential of this color in creating beautiful and comfortable living spaces.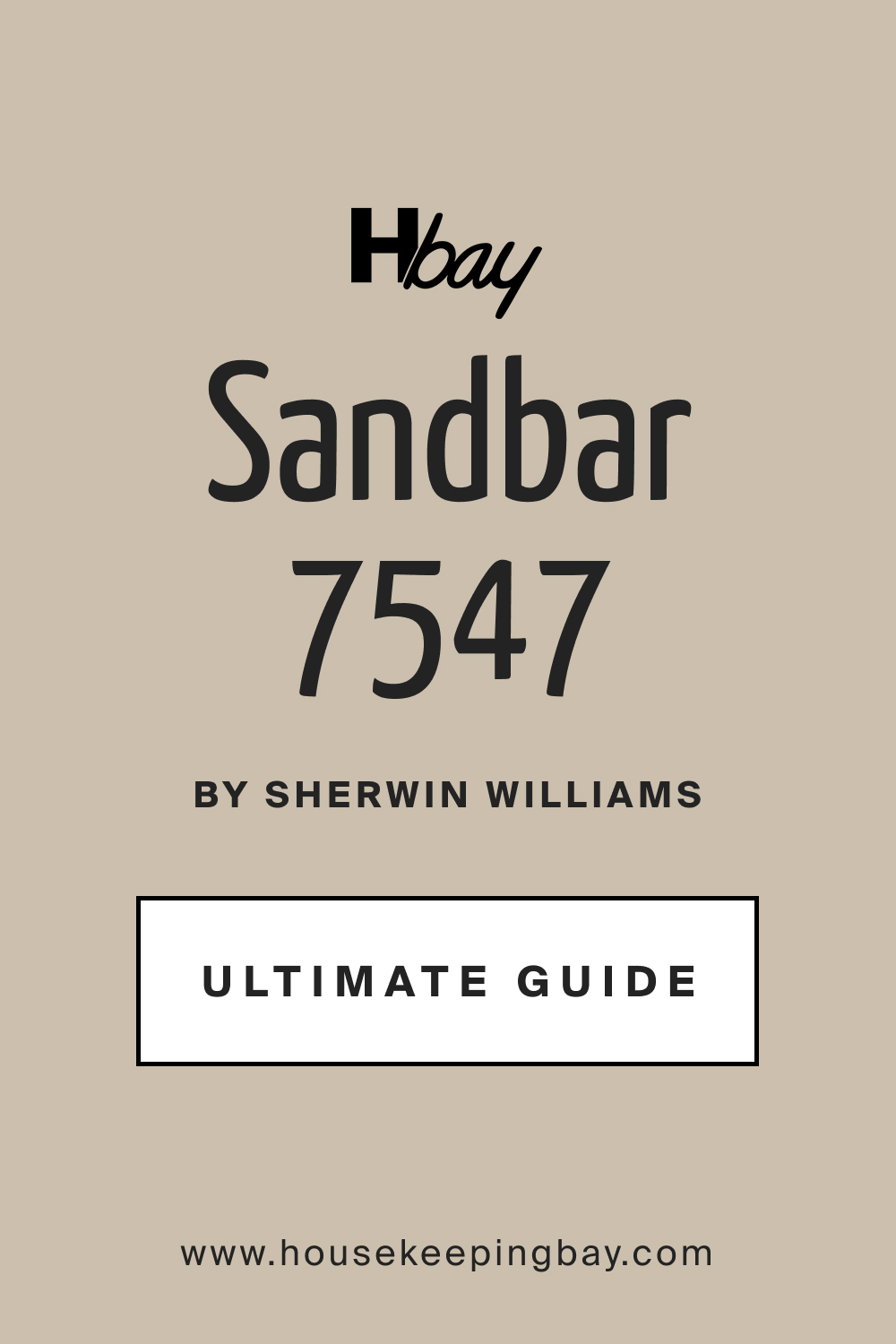 Frequently Asked Questions
⭐What styles does SW 7547 Sandbar best fit in?
SW 7547 Sandbar is versatile and can fit in modern, minimalist, traditional, and transitional styles. Its neutral beige tone allows it to blend effortlessly with various materials and textures.
⭐Is SW 7547 Sandbar considered a warm or cool color?
SW 7547 Sandbar has warm beige tones with cool green-gray undertones, offering a balanced color that can work well in various lighting conditions and room orientations.
⭐What are the coordinating colors for SW 7547 Sandbar?
Some coordinating colors include SW 7011 Natural Choice, SW 9174 Moth Wing, and SW 7060 Attitude Gray. Its versatility allows it to pair well with a wide range of colors.
⭐How does lighting affect the appearance of SW 7547 Sandbar?
Lighting plays a significant role in how SW 7547 Sandbar appears. Natural light may emphasize its warm qualities, while artificial light can bring out its cooler undertones. It can also vary in appearance in rooms facing different directions.
⭐Can I use SW 7547 Sandbar for exteriors?
Yes, SW 7547 Sandbar is suitable for exterior applications. Its subtle warmth and timeless appeal create a welcoming facade and pair beautifully with natural exterior elements like stone and wood.