Gray color is one of the most popular interior colors due to its versatility and ability to work with many other colors. Also, grays come in many shades, which makes it possible for a homeowner to choose the color that suits the interior best of all.
Today, we want to introduce you to one of the most beautiful gray colors by Sherwin-Williams called SW Pussywillow. You will learn what kind of color it is, how it works on the walls, and how to coordinate it.
Also, we will tell you what LRV and undertones it has so that you can use it correctly.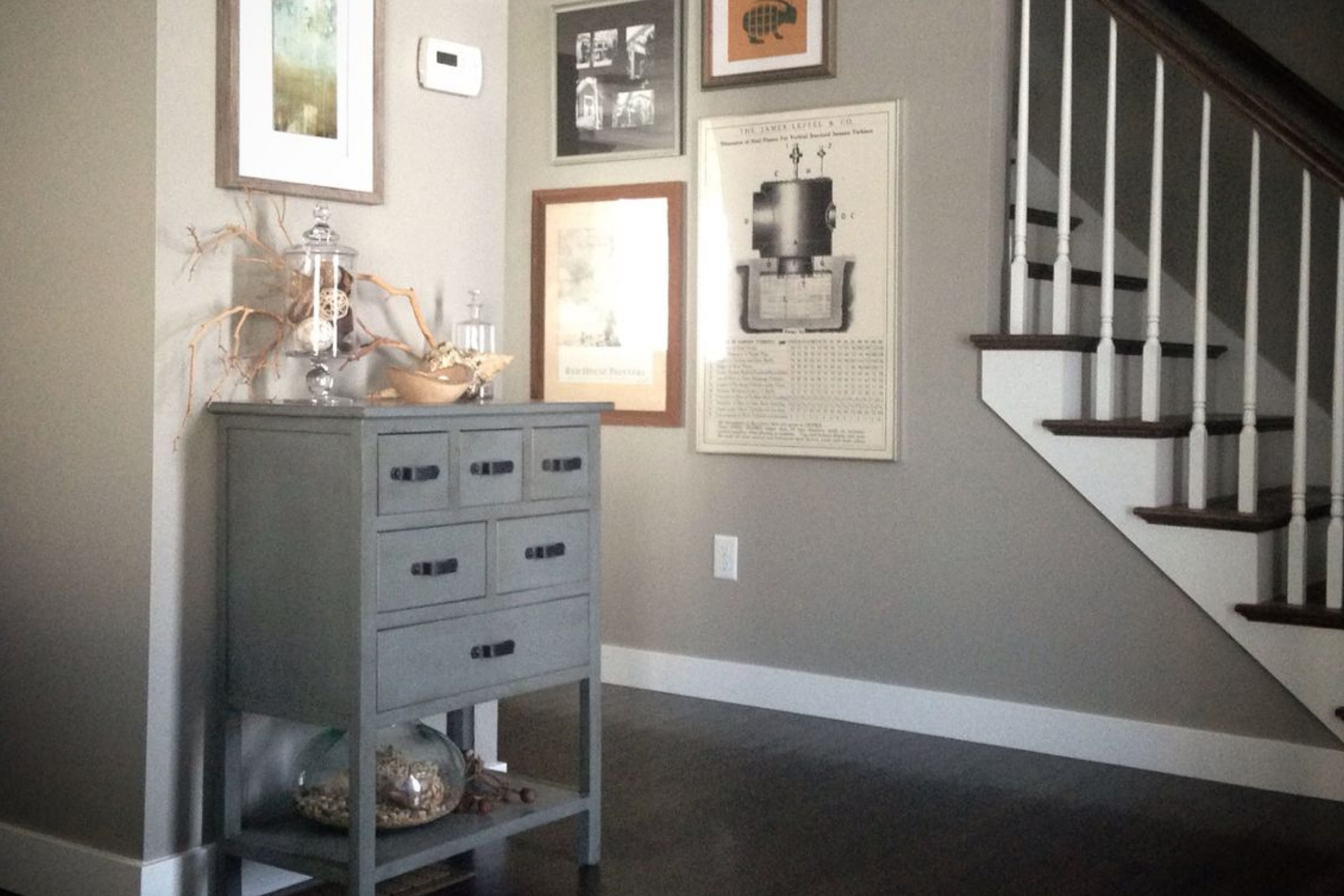 What Kind of Color Is SW 7643 Pussywillow?
There are many gray colors that look lovely on interior walls. However, grays often come with pretty cool undertones that make the space feel chilly. But SW Pussywillow  is not like that.
As Encycolorpedia says, it is one of those grays that still remains pleasantly warm while having a cooler and slight blue undertone. This color has a moderate softness that makes it read exceptionally welcoming in gathering spaces like a living room in your home.
You can use this color in rooms where you want to add some color but don't want the space to look washed out or too saturated. SW Pussywillow will work well in spaces that have warmer wood tones.
In such spaces, this cool-toned shade of gray will help complement and tone down the warmth. Generally, SW Pussywillow helps balance the warm and cool tones in a space to make it feel well-balanced and pleasing to the eye.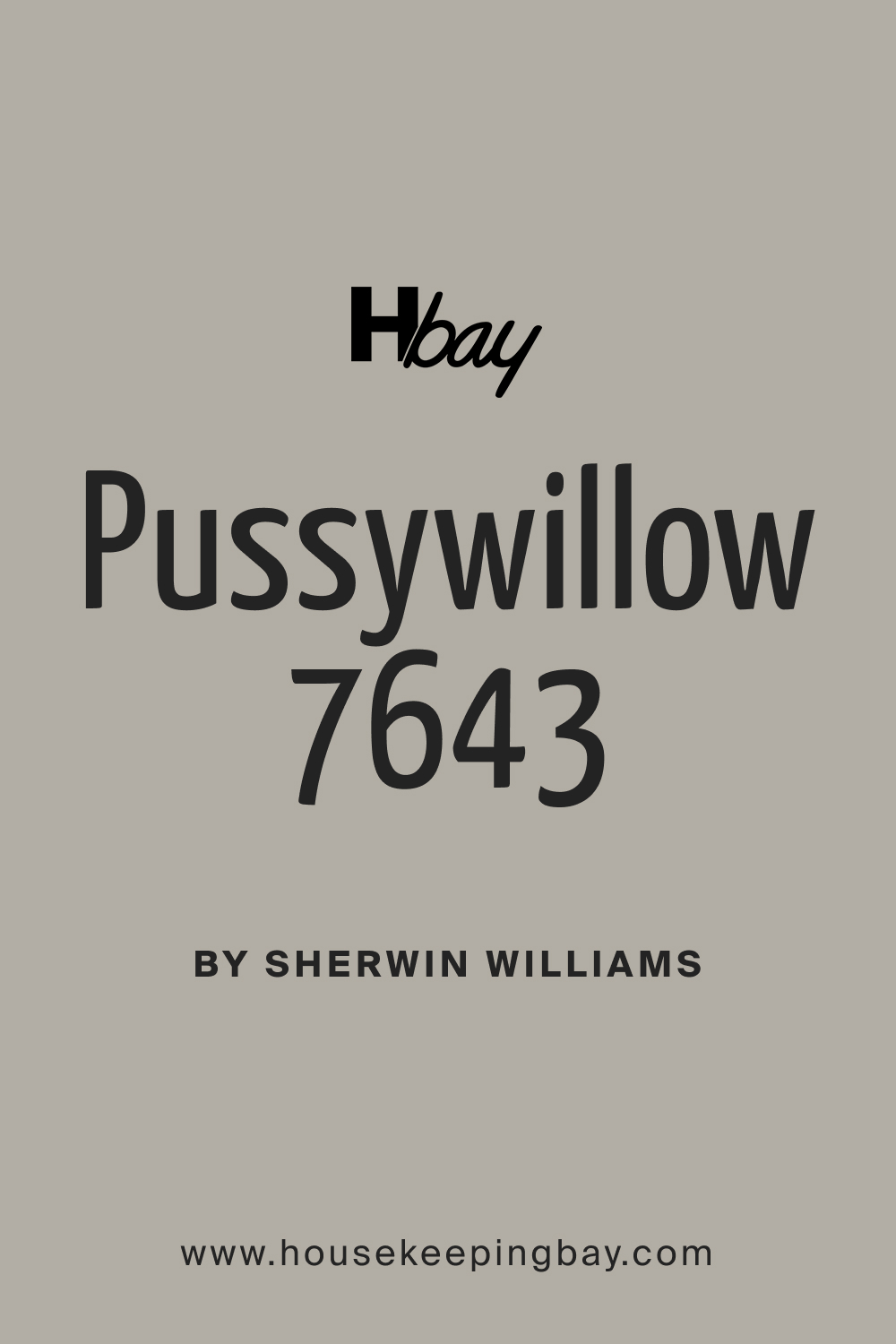 What Undertones Does SW 7643 Pussywillow Have?
Knowing undertones is a must if you want to make the color work in your home correctly. With SW Pussywillow, undertones play a key role in how this delicate shade of gray reads in your space! This paint color looks smooth and warm, but in fact, this gray tends to change its appearance based on its surrounding natural light very frequently!
As we have already said, SW Pussywillow has blue undertones. This blue nase tends to show up quite often, making the color seem nearly blue! Also, sometimes this color may also give off a slight beige-like hue, depending on the lighting conditions in a room.
This is why you must always sample SW Pussywillow in advance to ensure it works exactly as you want.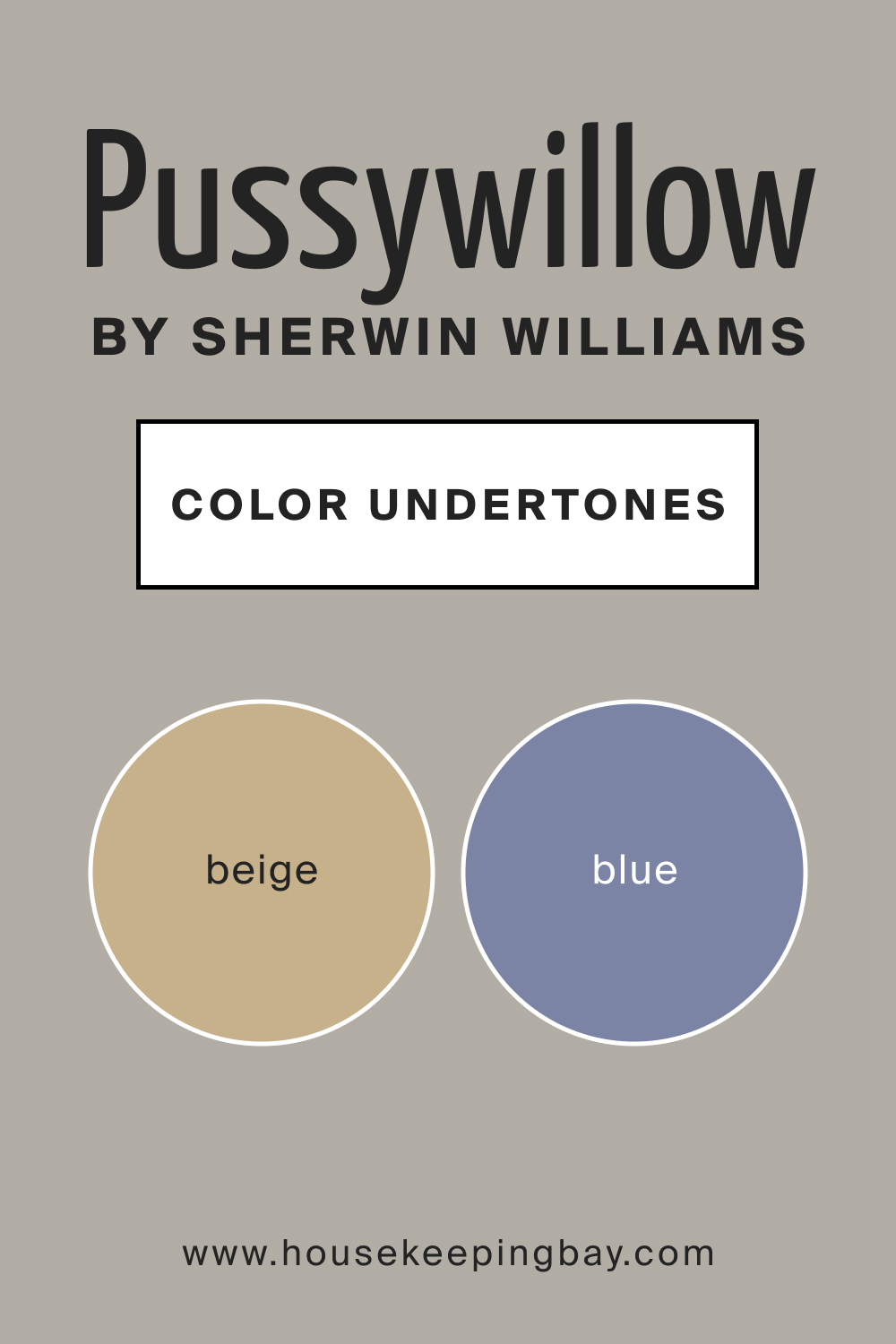 What Is the LRV of SW 7643 Pussywillow?
LRV (light reflectance value) shows how much light color can reflect from the wall. This measurement ranges from zero (which is black) to 100 (which is white), and the higher the LRV value, the lighter the color. And vice versa. The LRV of SW Pussywillow is 42, which makes it a darker paint color.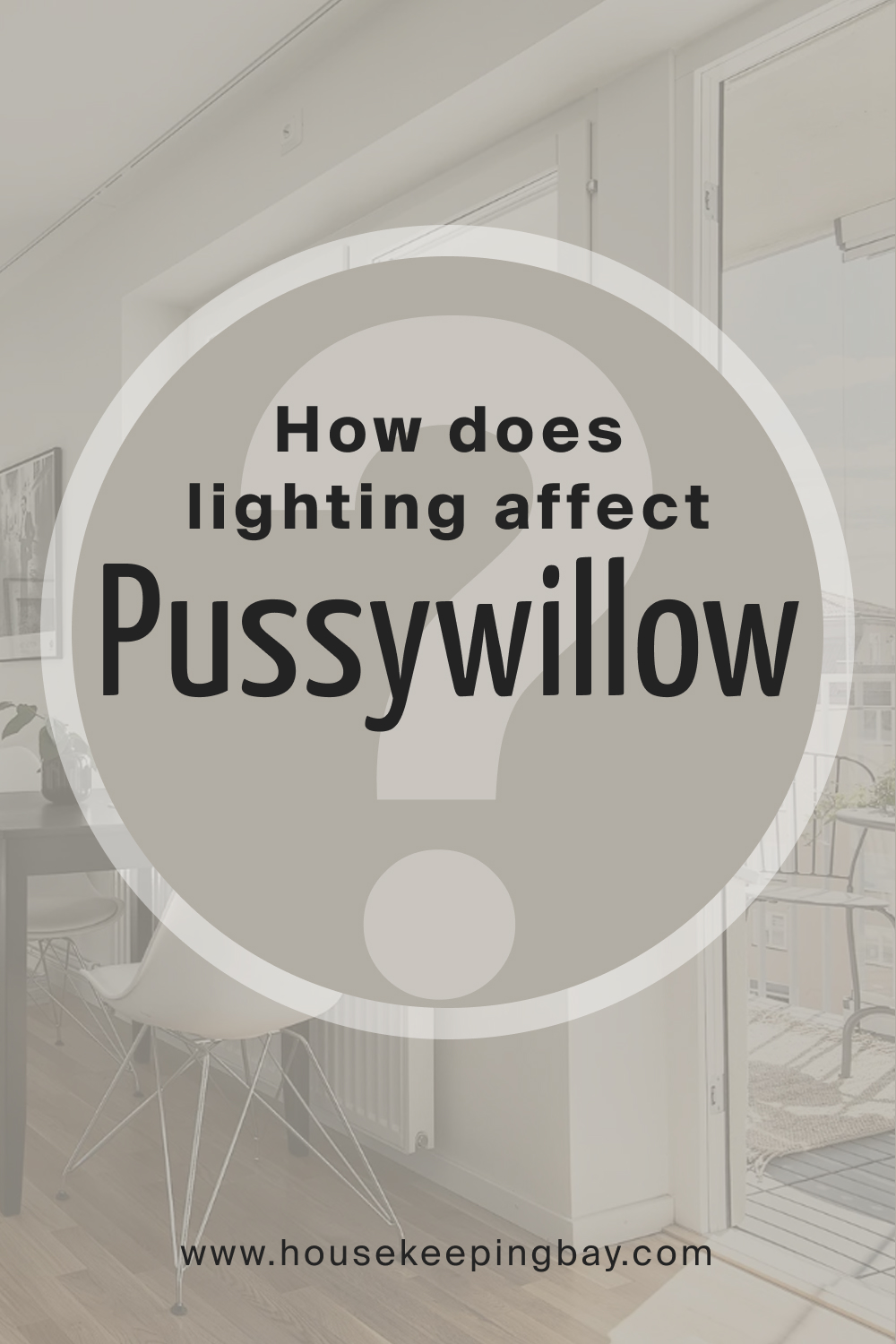 This gray paint can get a bit darker in rooms and other spaces that have less natural light, so make sure you test it carefully first to see how this tricky gray looks in your lighting!
And remember that, even though it is gray paint, it may sometimes appear lighter beige or even deeper blue, depending on certain lighting conditions.
Finally, if you want to create a particularly dramatic effect, you can add warm white and cool yellow lighting.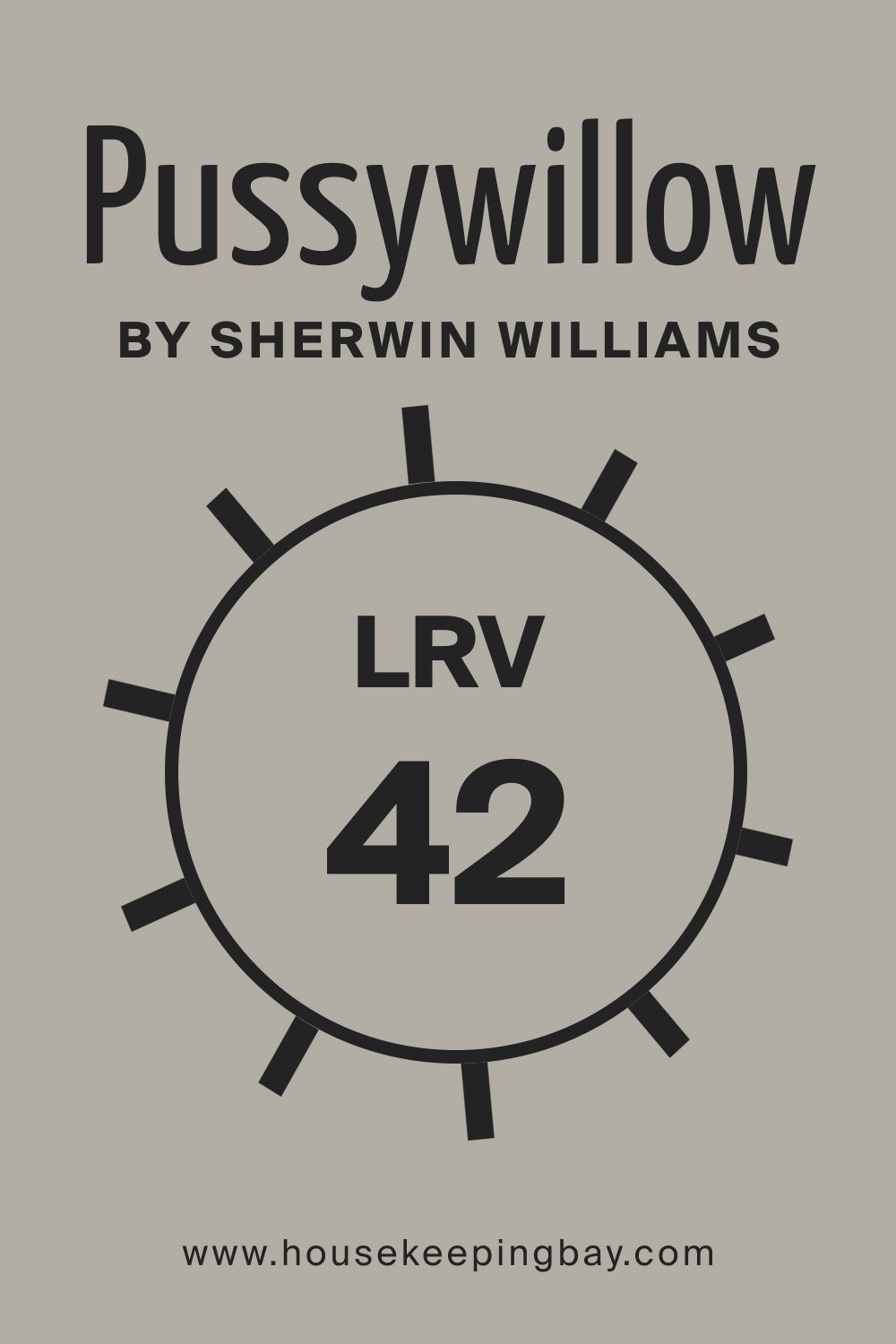 What is LRV? Read It Before You Choose Your Ideal Paint Color
Coordinating Colors For SW Pussywillow Paint Color
SW Pussywillow is the color that will make your home feel relaxed and look bold and confident! However, to make it work this way, you must know how to coordinate it to make its natural beauty come out and show itself. We recommend you the following coordinating colors to use with SW Pussywillow for the best results:
SW Origami White
SW Gauntlet Gray
SW Vintage Vessel
For a monochromatic palette, use the following colors:
SW 7017 Dorian Gray
SW 7018 Dovetail
SW 7020 Black Fox
Should you strive for a contrasting palette, we recommend the following paint colors that you could use successfully:
SW 9156 Gris Morado
SW 6993 Black of Night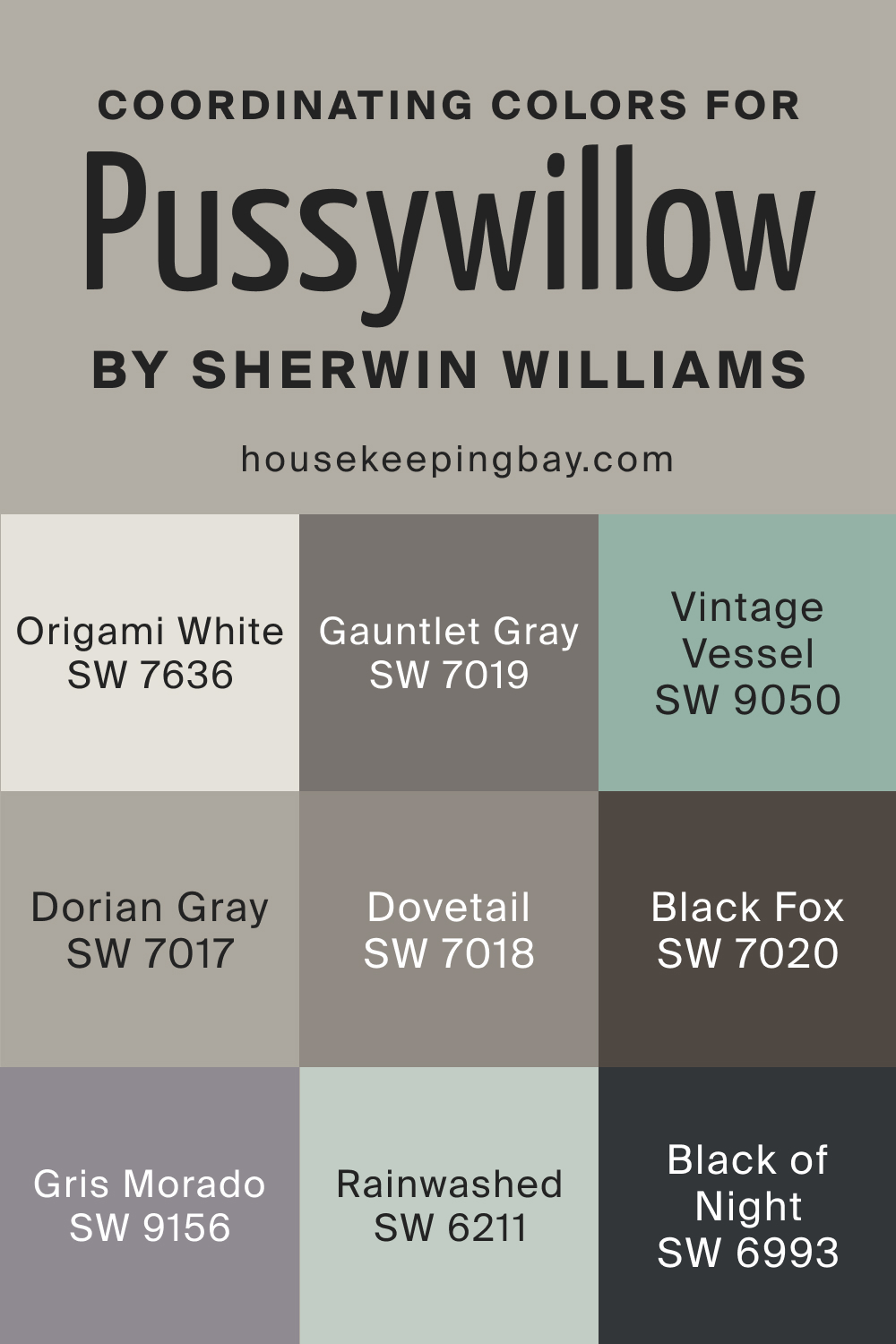 Colors That Go With SW Pussywillow
Because of its tricky undertones that make this color highly dependable on lighting, you should be careful when pairing it with other colors. For best results, consider using it with shades of blue and gray since these colors will pair with SW Pussywillow's blue undertones best of all. For example, you can pair it with darker grays (e.g. SW Thunder Gray) or darker blues (e.g. SW Naval).
Below, you can find a list of several colors that will work well with SW Pussywillow:
SW Riverway
SW Rain
SW Toasted Pine Nut
SW Reserved White
SW Software
SW Jalapeno
SW Sheraton Sage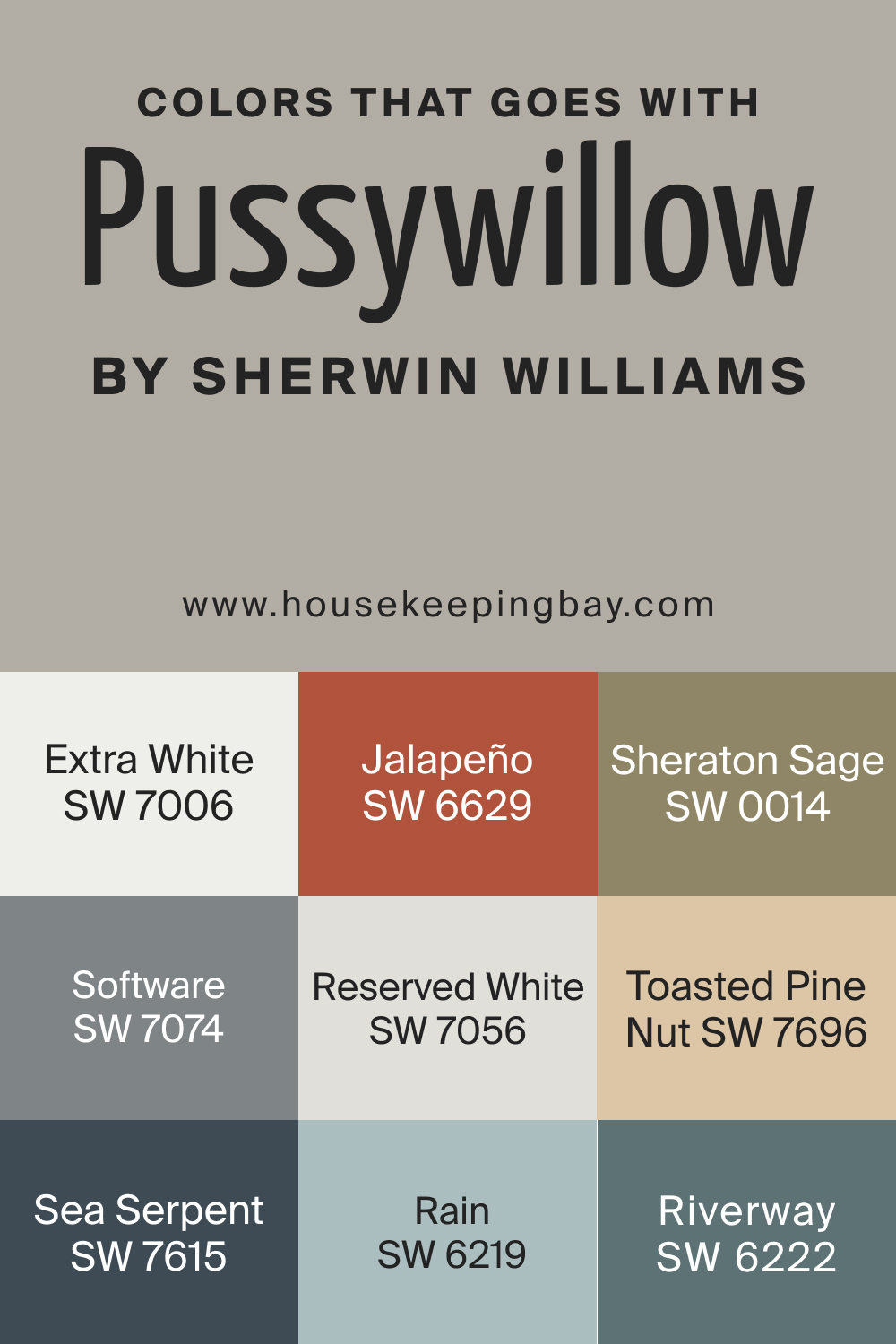 What Is the Best Trim Color For SW Pussywillow?
White is traditionally a universal trim color to use in our homes due to its ability to work well with most other colors. For SW Pussywillow as a wall color, we also recommend whites to use on your trim and moldings. In particular, consider these ones:
SW High Reflectance White
SW Pure White will help you to achieve a creamier look, and SW High Reflective White will give your home a crisp look.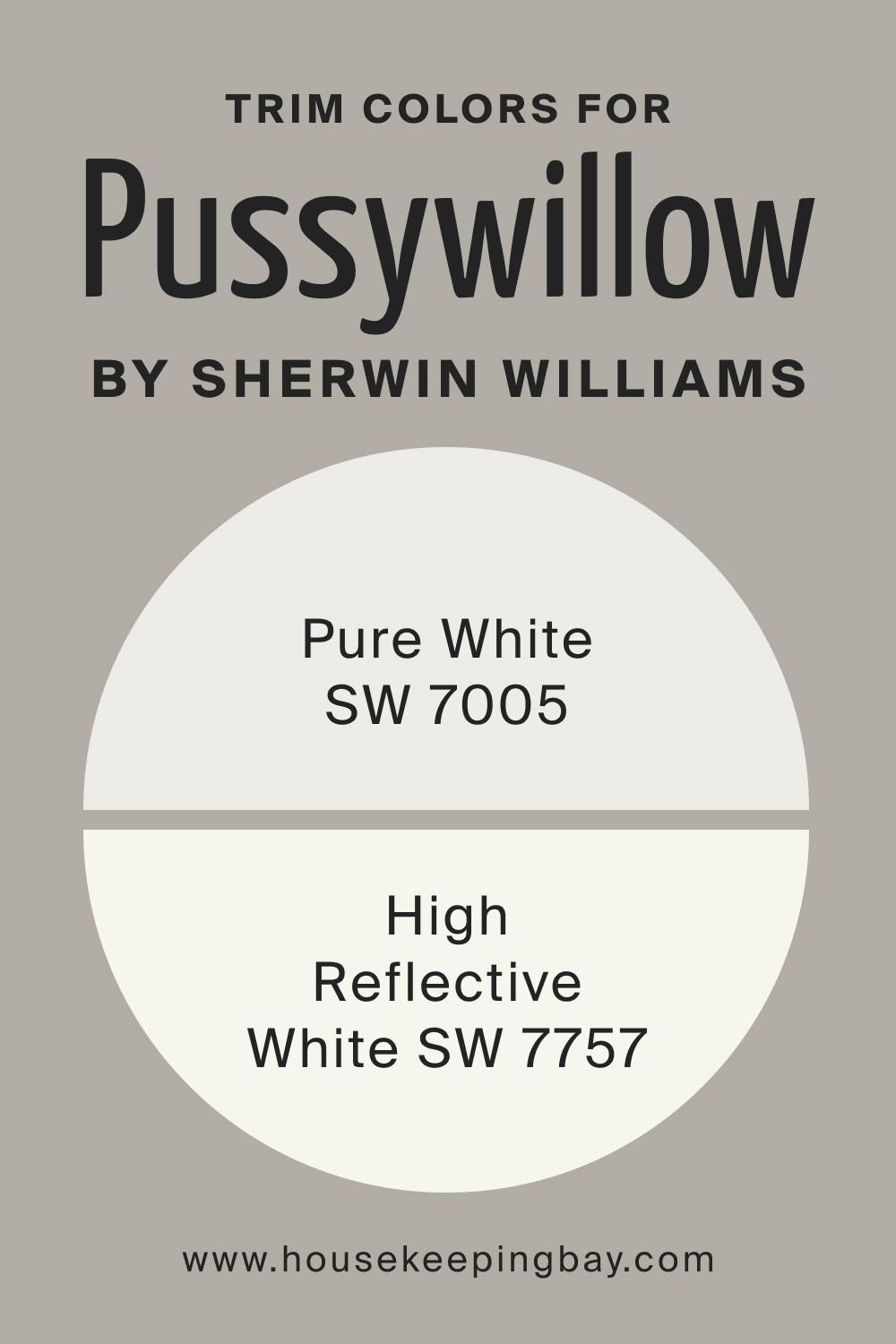 SW Pussywillow Similar Colors
If you need to substitute SW Pussywillow with another similar gray, there are quite a few warm gray color alternatives to choose from. However, although they are similar, note that these colors will still differ in undertones or reflectivity!
If you are looking for the closest color match, opt for one of the following colors:
Also, you might want to consider SW Fawn Brindle. It is another neutral warm paint that is closely related to SW Pussywillow. Also, SW Fawn Brindle is darker since its LRV is 36.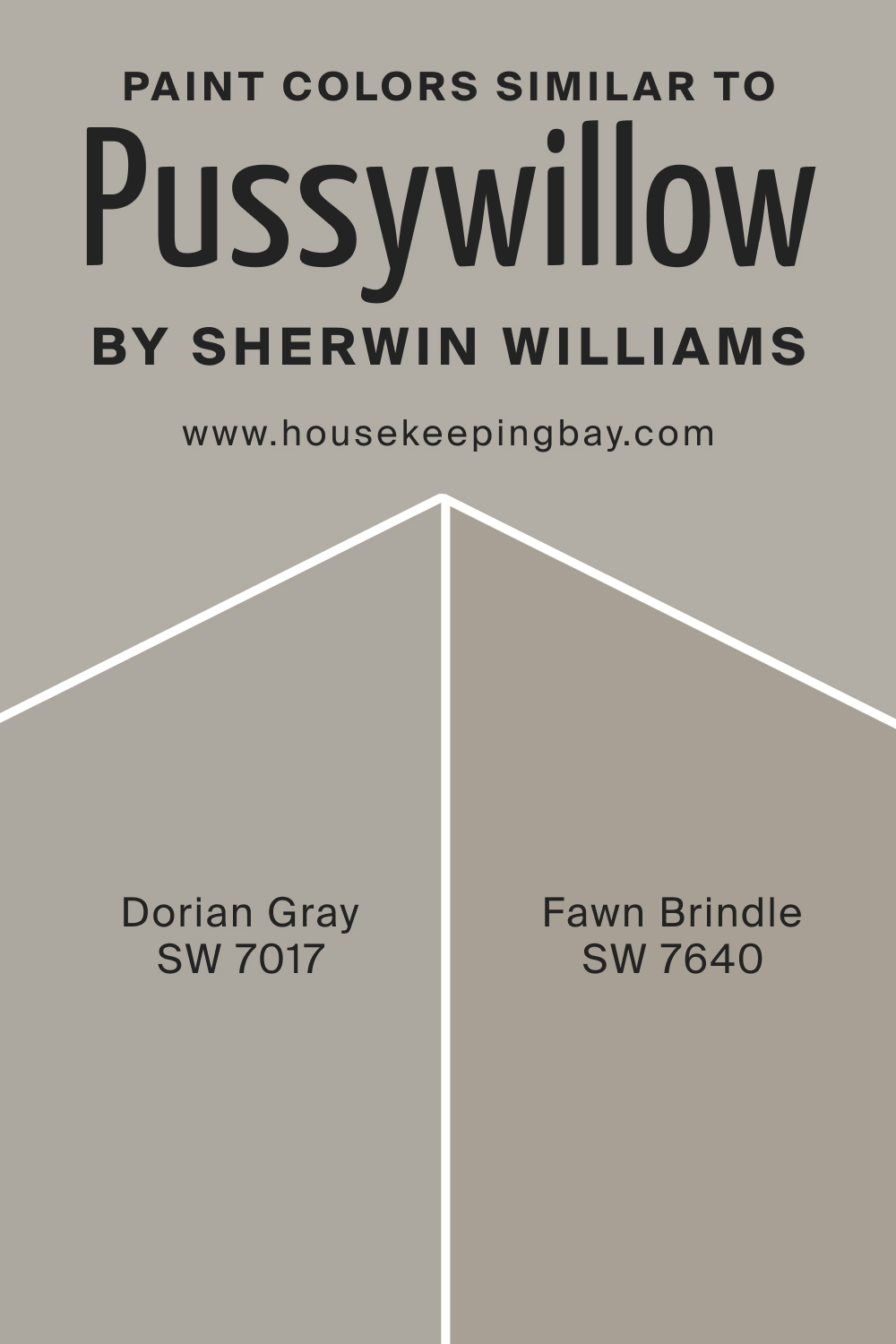 Comparing SW Pussywillow With Other Colors
To help you better see the differences between this color and other grays that look like it, we suggest you read how SW Pussywillow compares to other colors. You will see how its undertones and LRV can make this color unique.
Pussywillow vs Agreeable Gray
SW Agreeable Gray is lighter than SW Pussywillow. That's because SW Agreeable Gray is a warm gray color with the LRV of 60. Except for LRV, there is another difference. SW Agreeable Gray has barely noticed green undertones, whilst SW Pussywillow has blue undertones.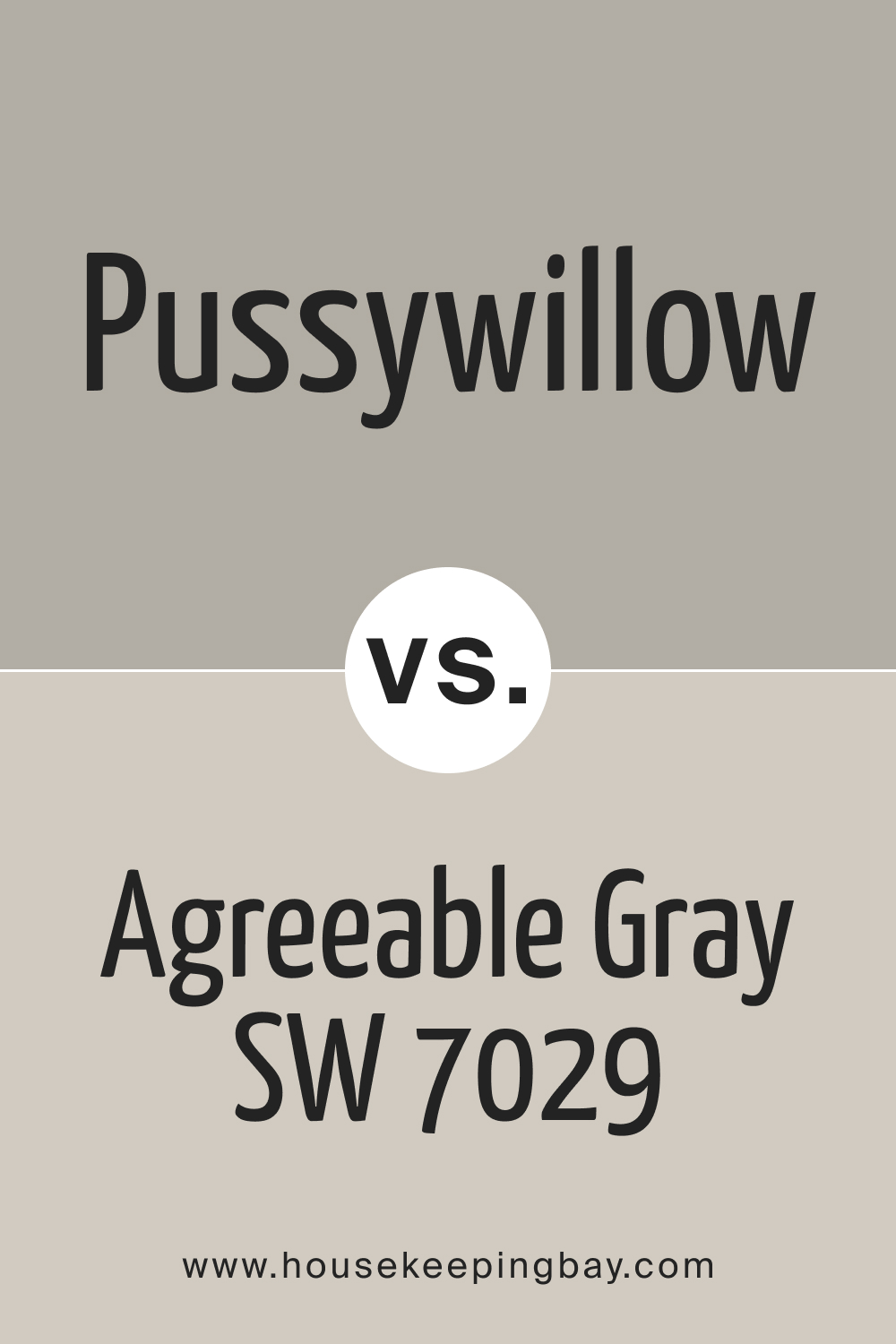 Pussywillow vs Dorian Gray
Sherwin-Williams Dorian Gray is a warm gray paint color that reads gray in the evening light and looks beige during the daytime. With an LRV of 39, it is comparatively darker than SW Pussywillow.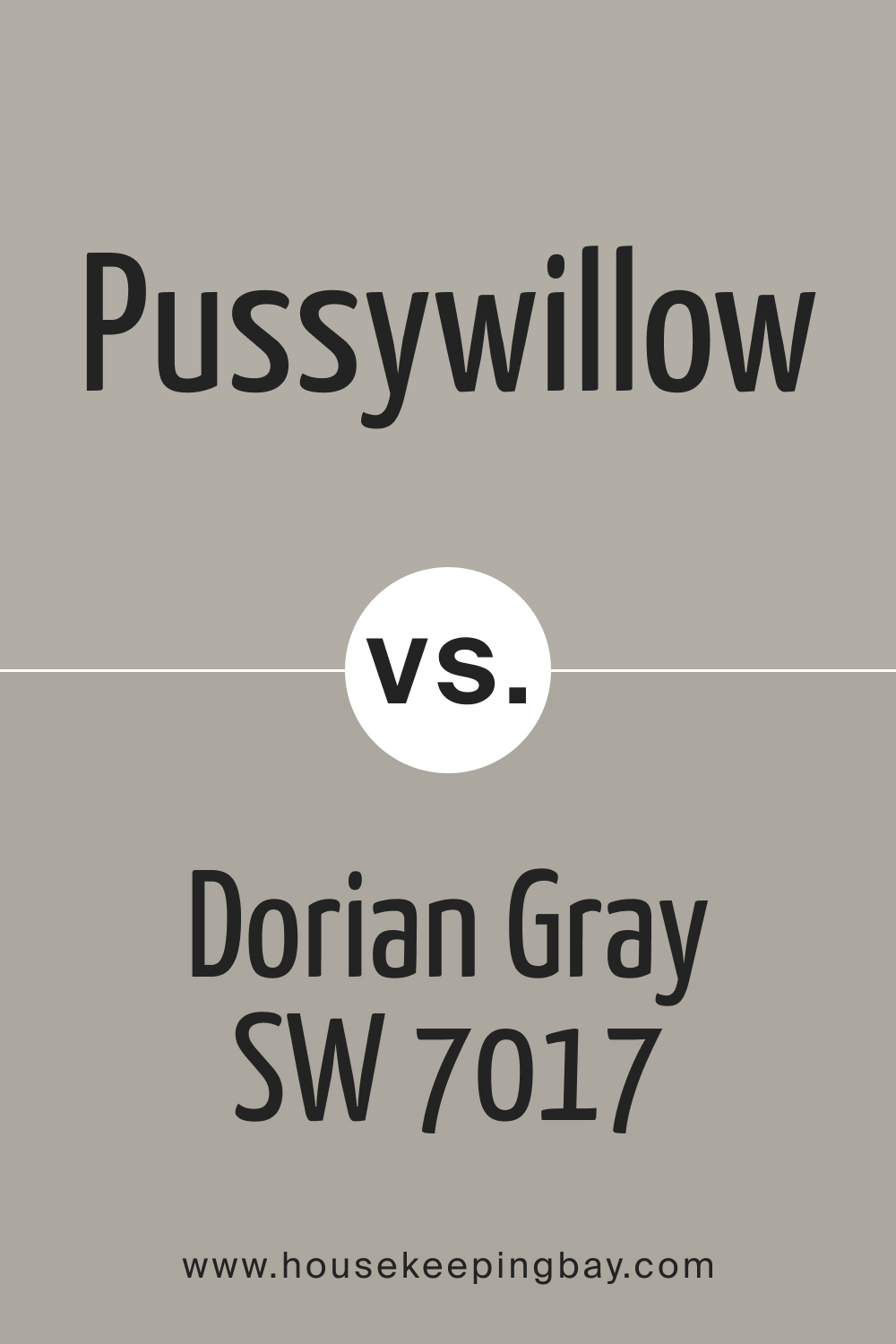 Pussywillow vs Mindful Gray
SW Mindful Gray has gray and greige undertones. Also, it has some bluish/green undertones that are very subtle and can be barely noticed. Its LRV is 48, which makes SW Mindful Gray a light-medium depth paint.
Compared to SW Pussywillow, SW Mindful Gray looks the same soft. However, it reads a bit lighter (because of the higher LRV value) and gives off a greige hue that is hard not to notice.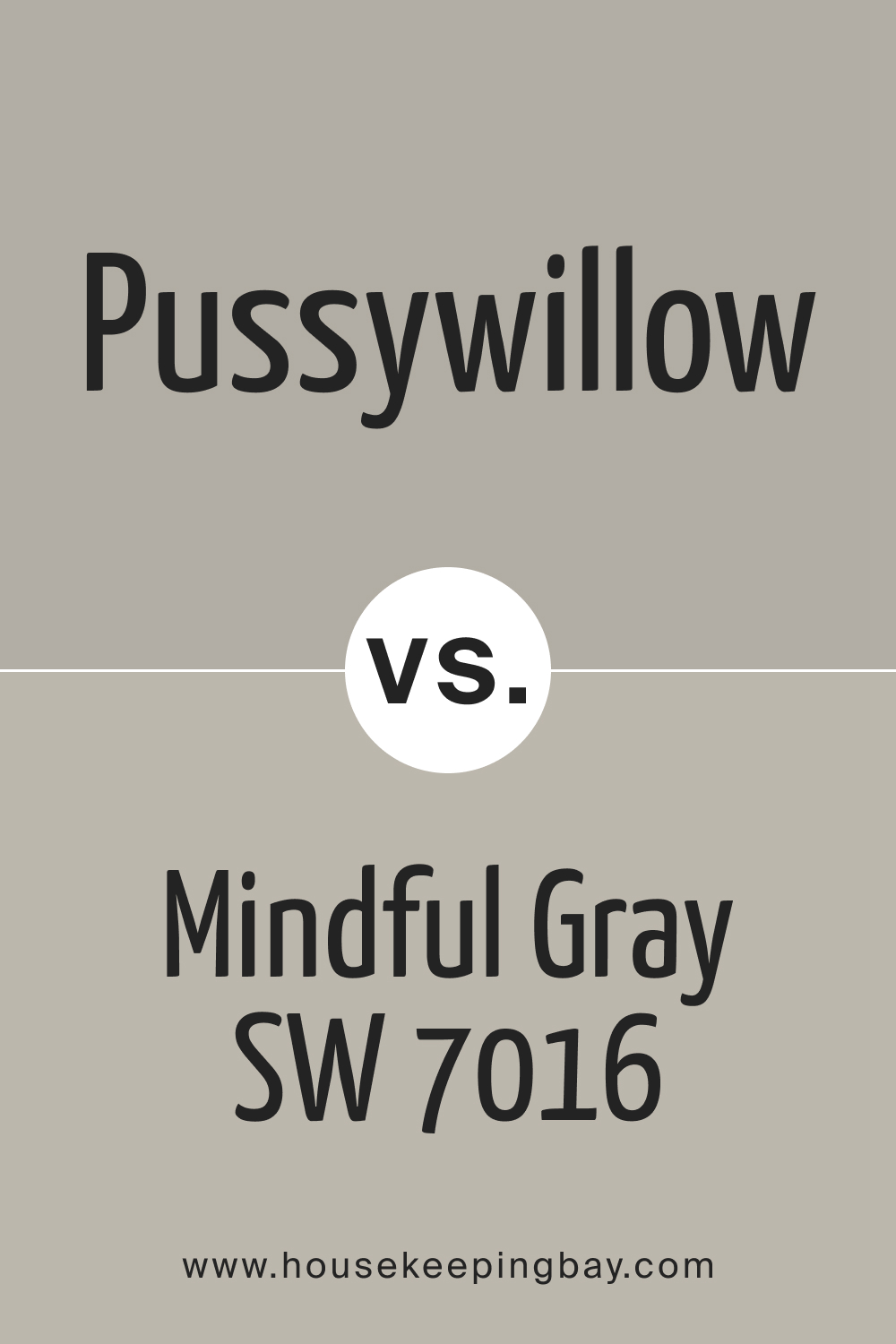 Pussywillow vs Revere Pewter
The LRV of SW Revere Pewter is 55, and this color is greige with warm undertones. It has a neutral, earthy tone to it as well, but usually, it does not read yellowish in the space. Compared to SW Revere Pewter, SW Pussywillow looks darker and much grayer.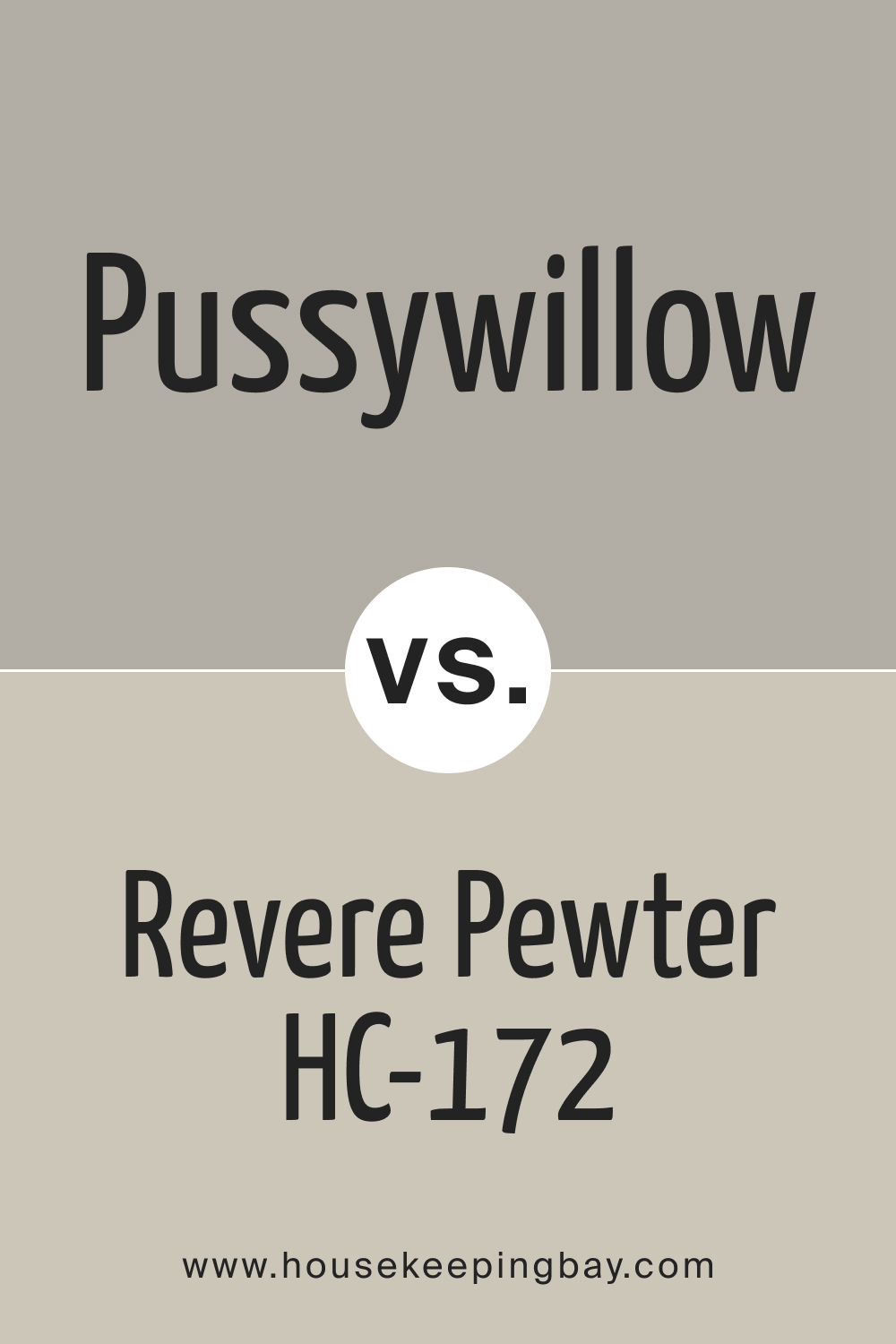 Pussywillow vs Light French Gray
SW Light French Gray is a tricky color that has a vague purple undertone. This purple can lean purple-blue in cool light and get softer in warmer light. However, this paint won't go purple-pink. Compared with SW Pussywillow, SW Light French Gray reads prominently purplish with a barely noticed blue hue.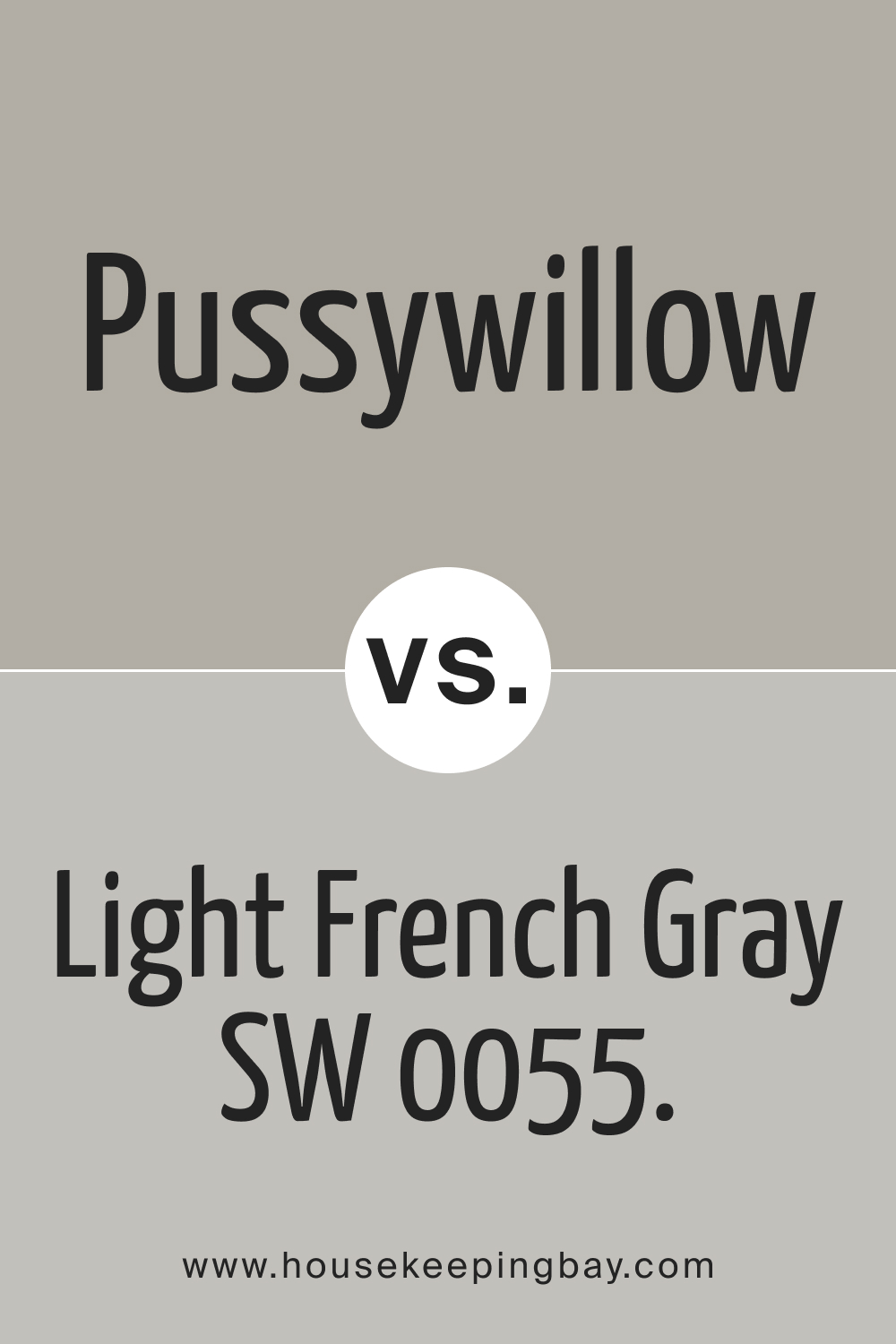 Where In Your Home SW Pussywillow Can Be Used?
To begin with, SW Pussywillow is not the color that will work in any home and any region! This gray is highly dependable on lighting, which is why we recommend using it in homes that are located in colder as well as warmer regions.
Avoid using SW Pussywillow in the warm and tropical regions, though, especially in Florida! There, this gray can make your home feel overwhelmed with this paint. Furthermore, you should only use this paint in medium to larger-sized spaces. Only they can accommodate the depth of the paint.
Except for the listed nuances, SW Pussywillow can be used in most rooms of your home, from bedrooms to dining rooms. It will read especially lovely in interior design styles such as traditional, Modern, Minimalist, transitional, and Farmhouse Below, you can read how this paint will work in different rooms.
Pussywillow SW 7643 in the Living Room
In a living room, SW Pussywillow will basically work great on all the walls, but only if your living room is large enough to accommodate the depth of the color. If not – better use this neutral gray on an accent wall. You can pair it with white and light beige linen upholstery, sheer cotton curtains, and brown suede and/or velvet pillows to add more warmth to the space.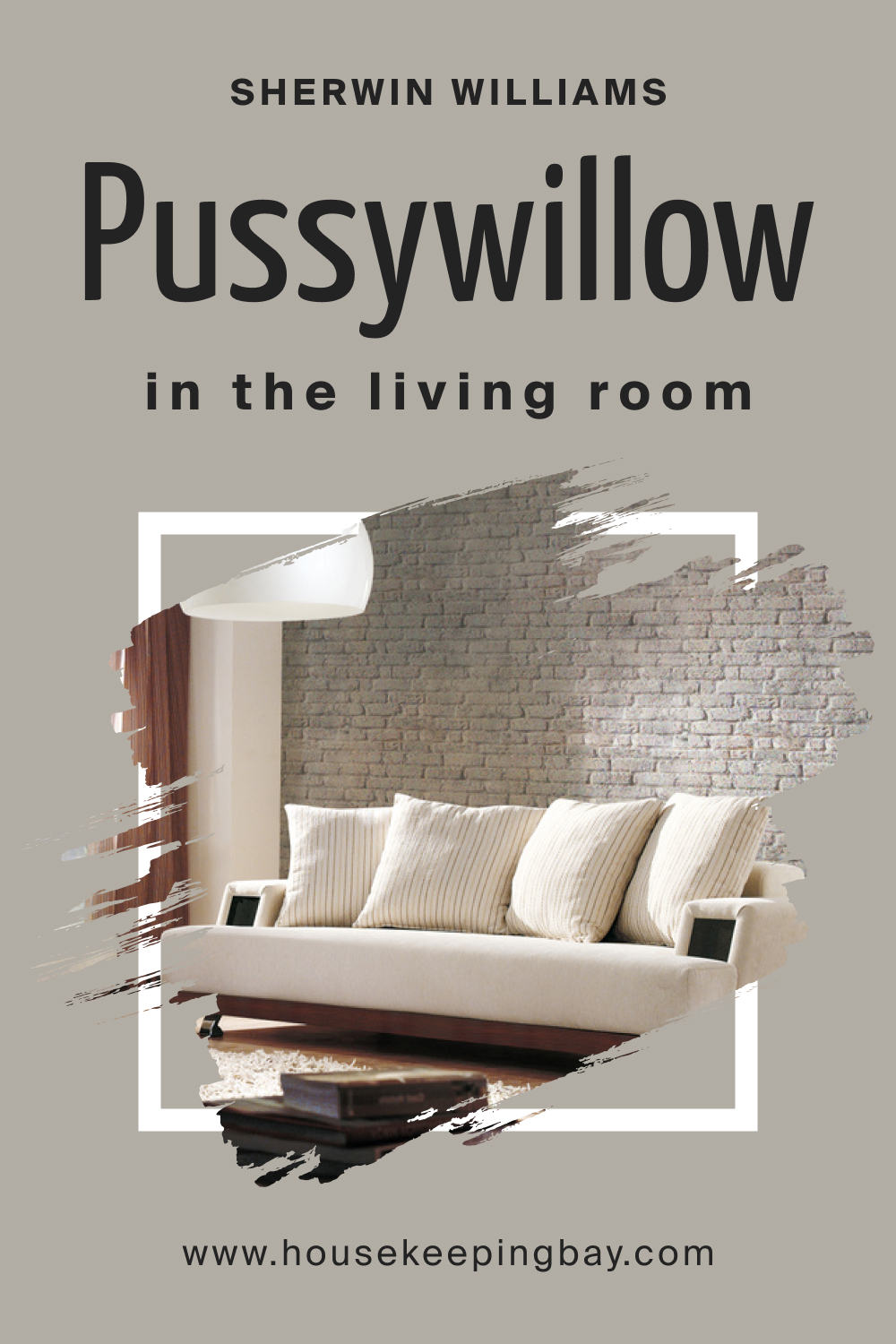 Pussywillow SW 7643 in a Bedroom
In bedrooms, this gray creates a calming and serene atmosphere that acts very relaxing. If paint all the walls in this color, consider using large clean white rugs to introduce a touch of a cooler vibe in your bedroom. Also, this shade of gray will pair lovely with matte-black or brass accents through the pendant lights, bed frame, and rug pieces.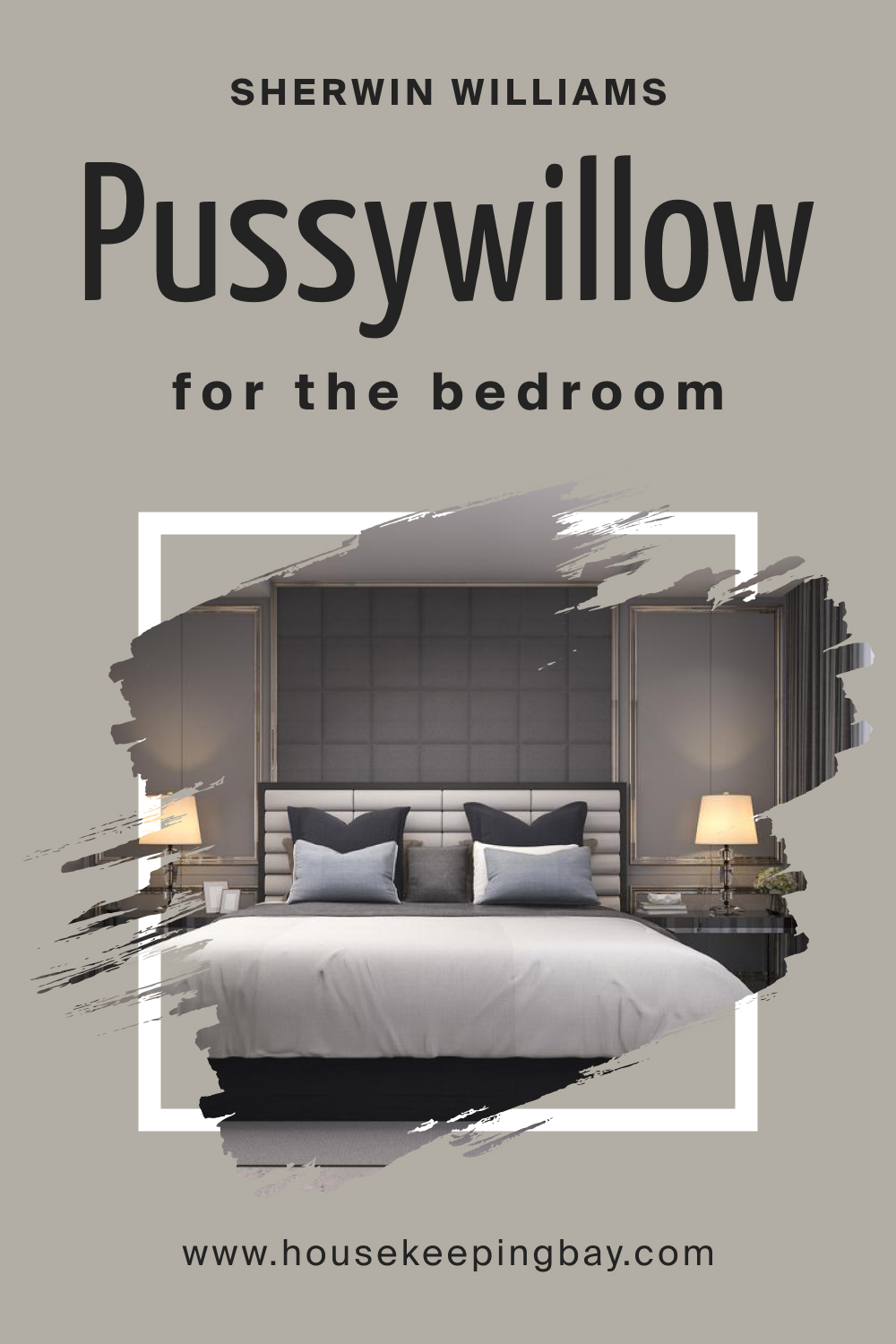 Pussywillow SW 7643 and Kitchen
SW Pussywillow suits modern and transitional kitchens very well. You can paint the cabinets in this paint and pair it with off-white on the walls and ceilings. If you have a darker-toned beige marble countertop and white backsplash tiles, those accents will add depth to the space!
Finally, if you are looking for an accent color for your island, we highly recommend SW Pussywillow too.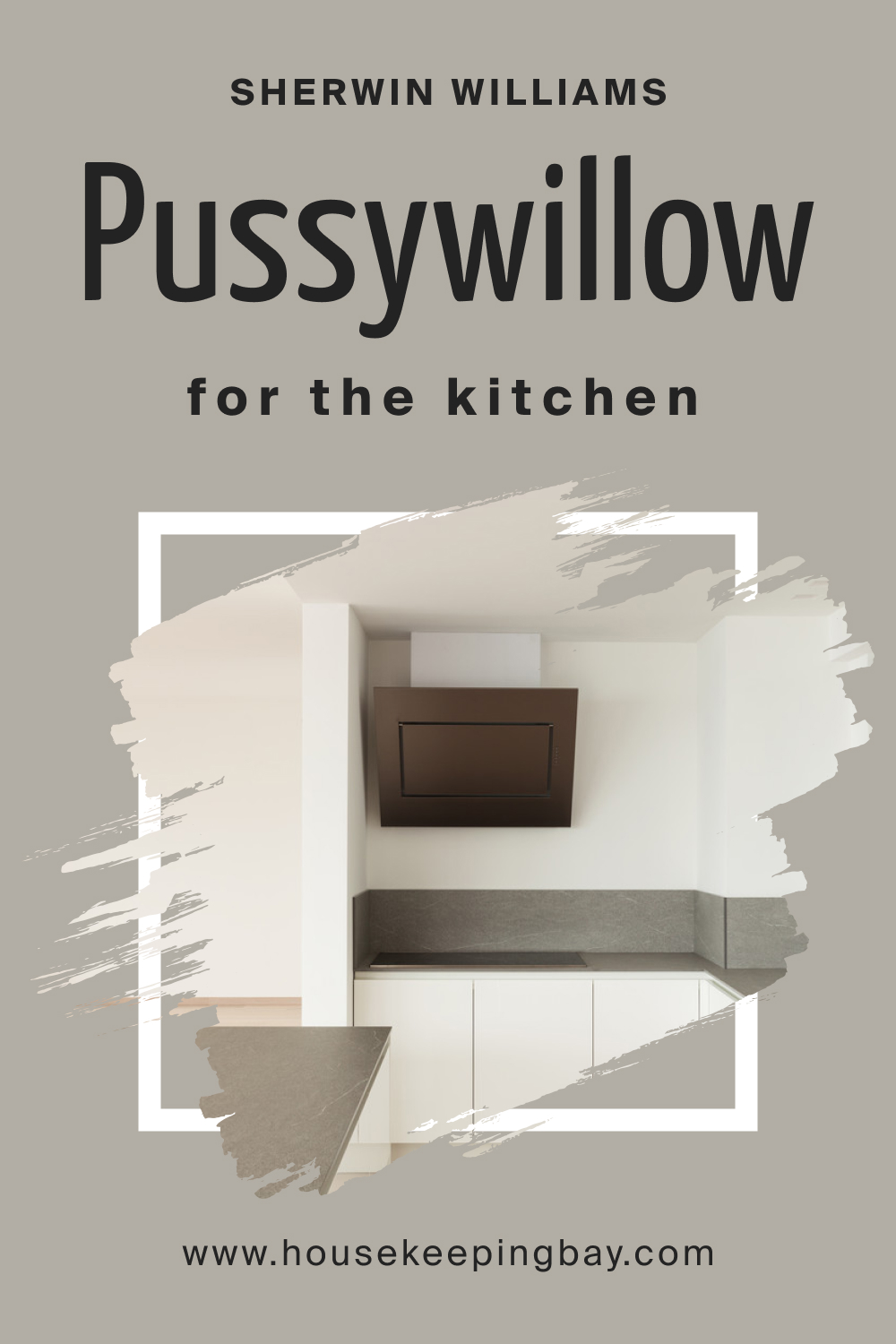 Pussywillow SW 7643 for the Bathroom
In your bathroom, use SW Pussywillow carefully. If there is less natural light in your bathroom, it will get more shadowed with this color on the walls. However, you can still make it work if you have white tile to keep the room from feeling too cave-like.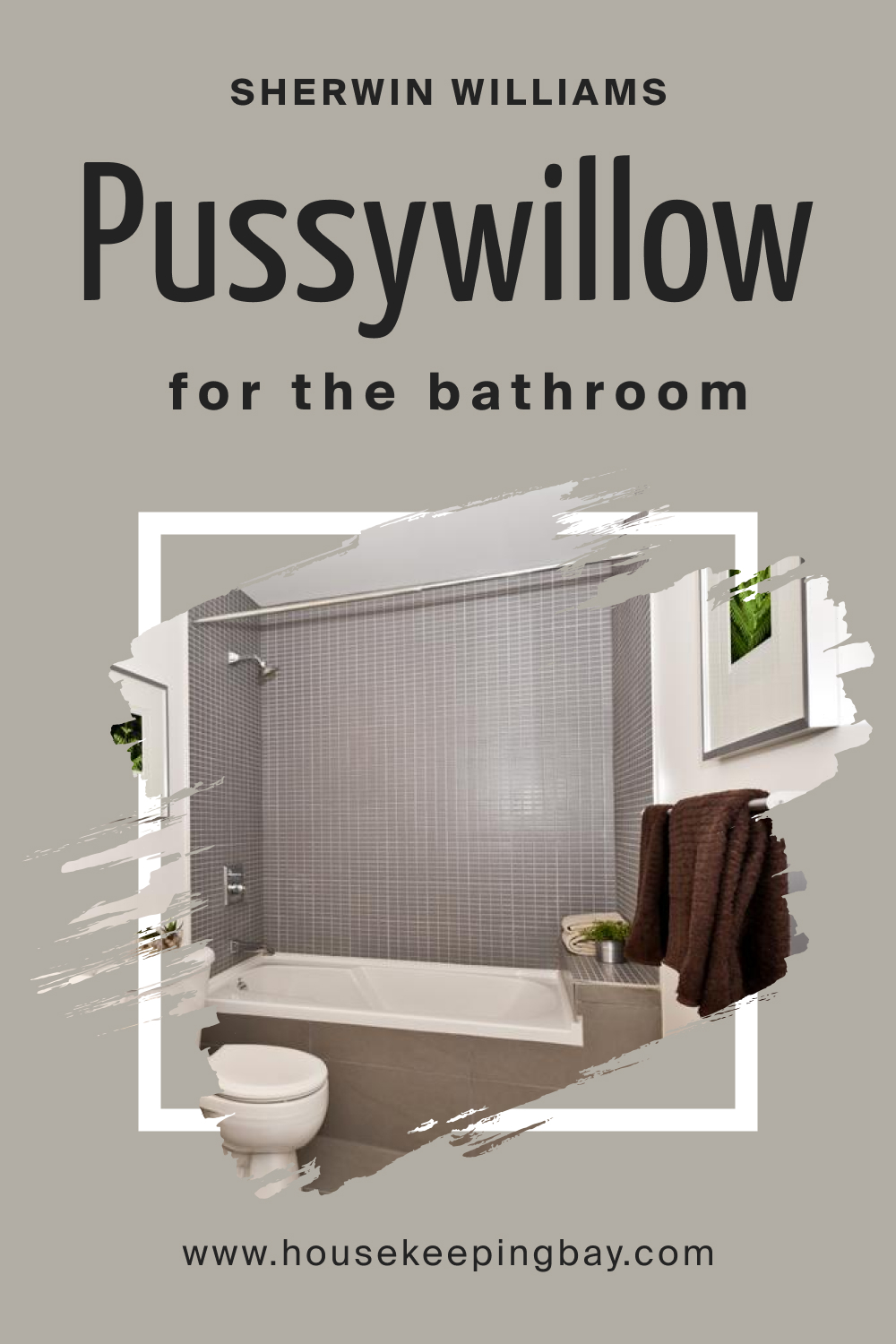 Pussywillow SW 7643 for the Exterior Use
This warm gray color with a touch of cool blue undertones will look perfect on exterior walls, especially if you pair it with white trim and an aquatic front door! SW Pussywillow would also work as an exterior trim color paired with a brighter white main body for a light farmhouse look.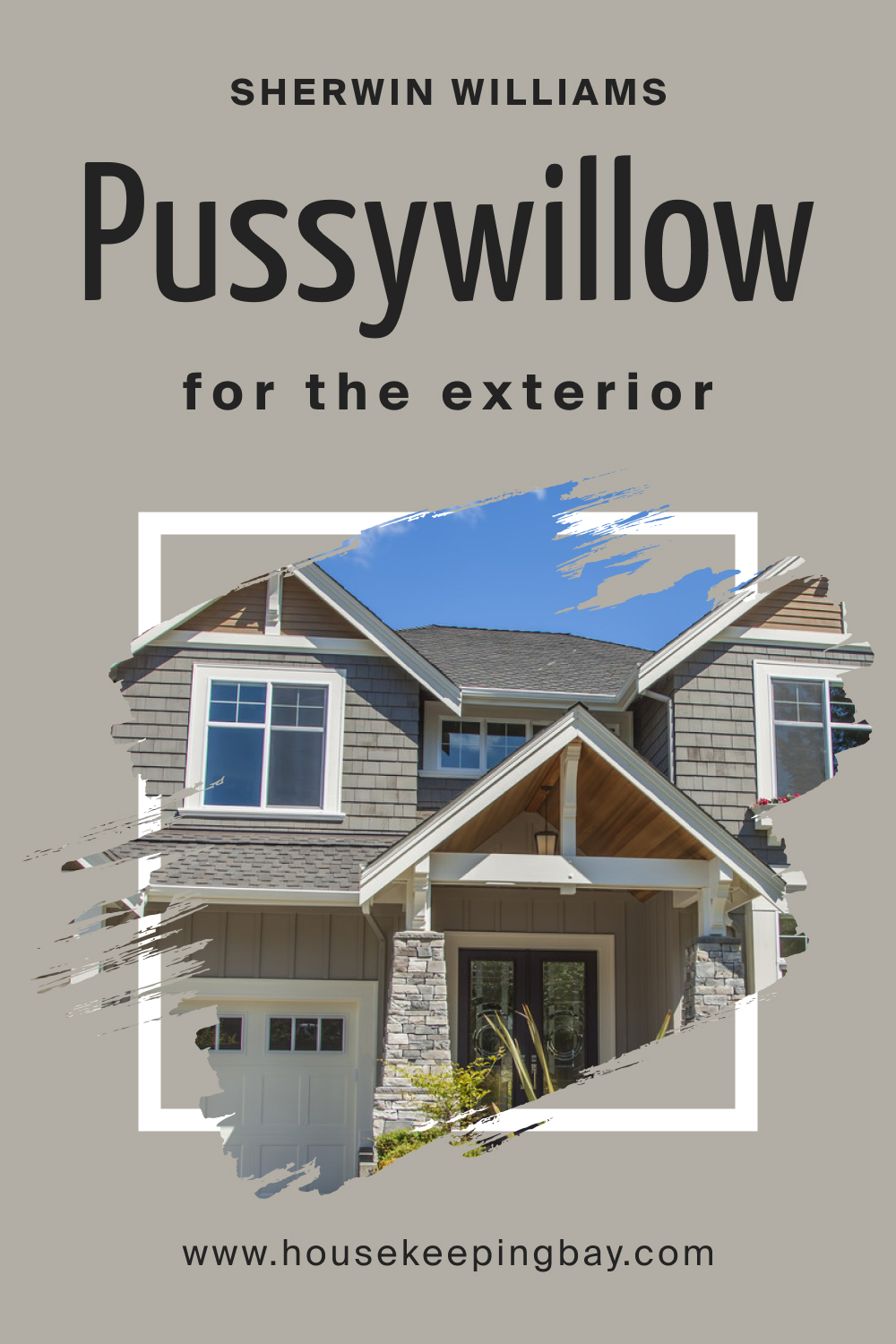 Now you know what kind of color SW Pussywillow is. This is a lovely and cozy gray color that is perfectly neutral.
However, you must use it carefully due to the tricky undertones that often make this paint seem bluer or give off a noticeable beige-like hue.
But since now you have the complete guide on this paint, you know how to make it work in any room of your home!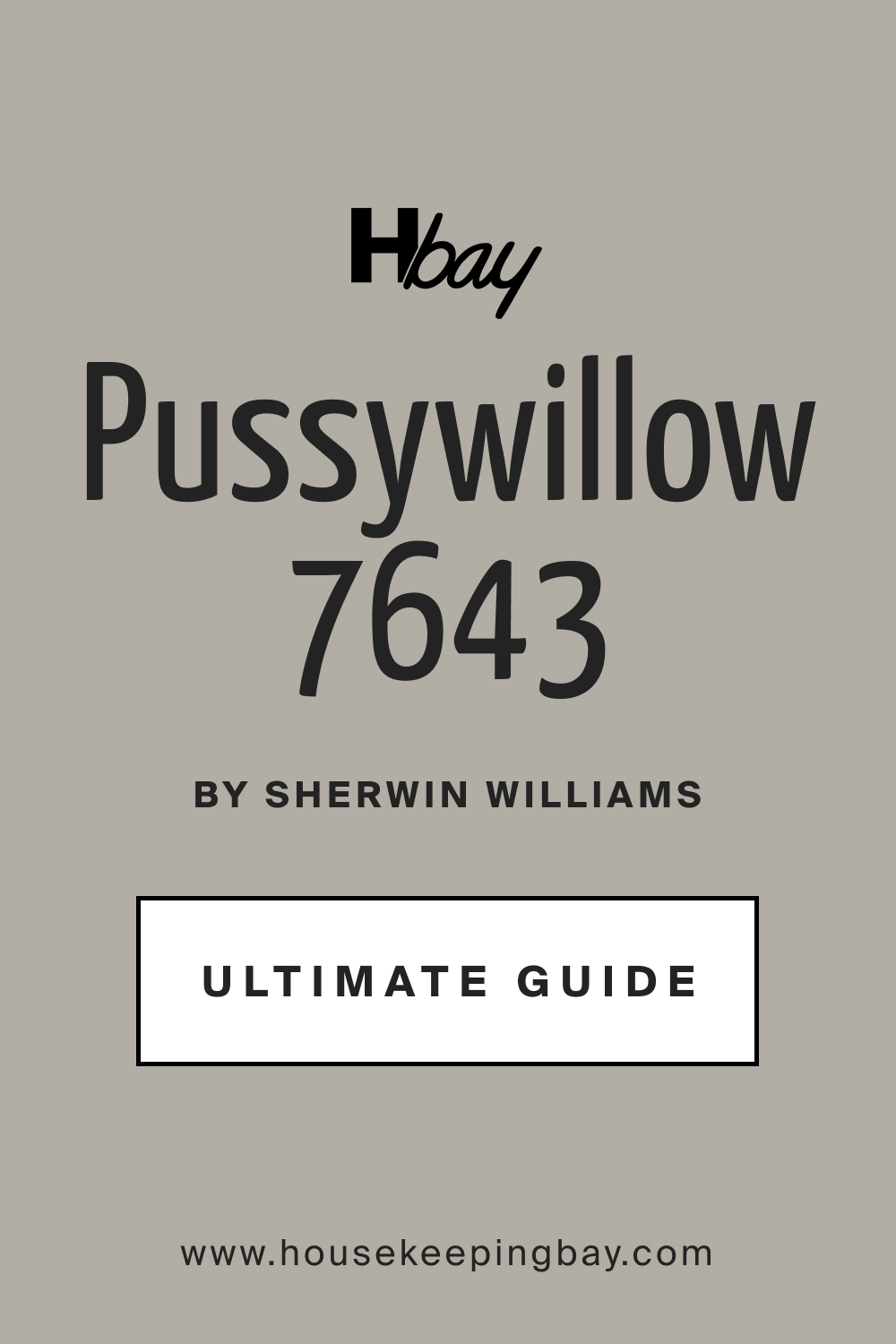 Frequently Asked Questions
⭐Does SW Pussywillow work with dark brown colors?
Yes, it can work pretty well with darker browns like SW Black Fox.
⭐Can I use SW Pussywillow as a house's main body color along with a darker gray on the trim?
Yes, SW Pussywillow works well with darker grays of trim and molding.
⭐In a room painted with SW Pussywillow, can I use curtains of a bluish-green (very light turquise) hue?
This combination of colors can read pretty nicely if the color of the curtains is light enough.