Gray is typically a go-to color to use in your home. It is versatile and good-looking, and it can fit most home interiors. However, people often don't know what shade of gray to choose. In this article, you will find more information that will help you figure things out.
Today, we are going to talk about the gray paint color called Gray Matters by Sherwin-Williams.
You will learn what kind of color it is and how it works. Also, we will explain how it reacts to light and how to coordinate it correctly.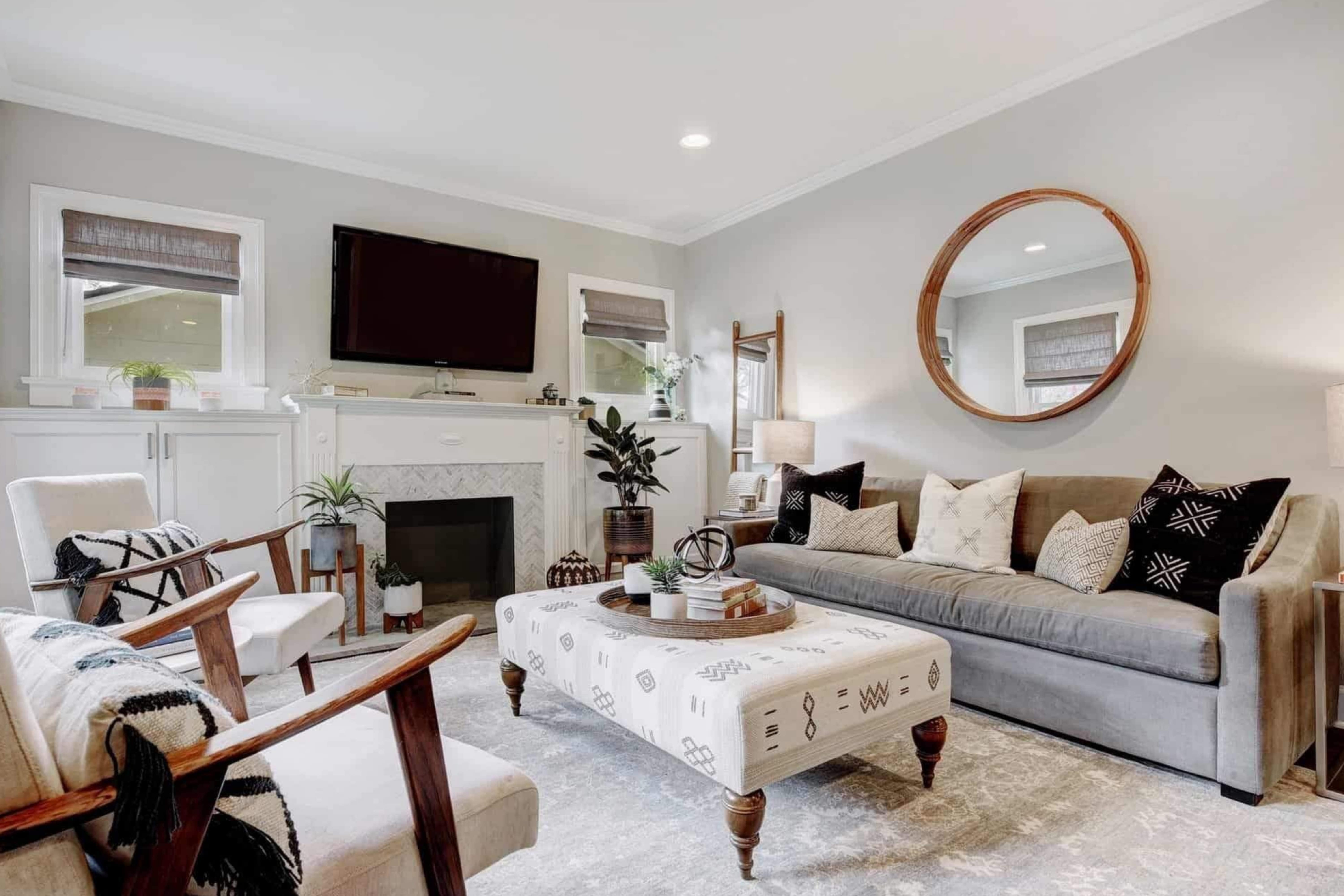 What Kind of Color Is Gray Matters SW 7066?
SW Gray Matters  can be classified as a cool-toned, neutral gray. As Encycolorpedia says, this color reads neither too light nor too dark. Instead, it adds balance to the space, making a room feel calm and peaceful.
However, if you prefer lighter shades of gray that give a sense of airiness to the room, being hardly noticed on the wall, this particular paint color will hardly satisfy you. SW Gray Matters does matter in the space, as it comes from its name!
If you paint interior walls with it, this gray will definitely be seen!
For very small spaces, use this paint color only as an accent since there is a chance that it can make a room seem smaller.
Secondly, this gray paint will always feel cool-toned and elegant (not too icy but also not too warm).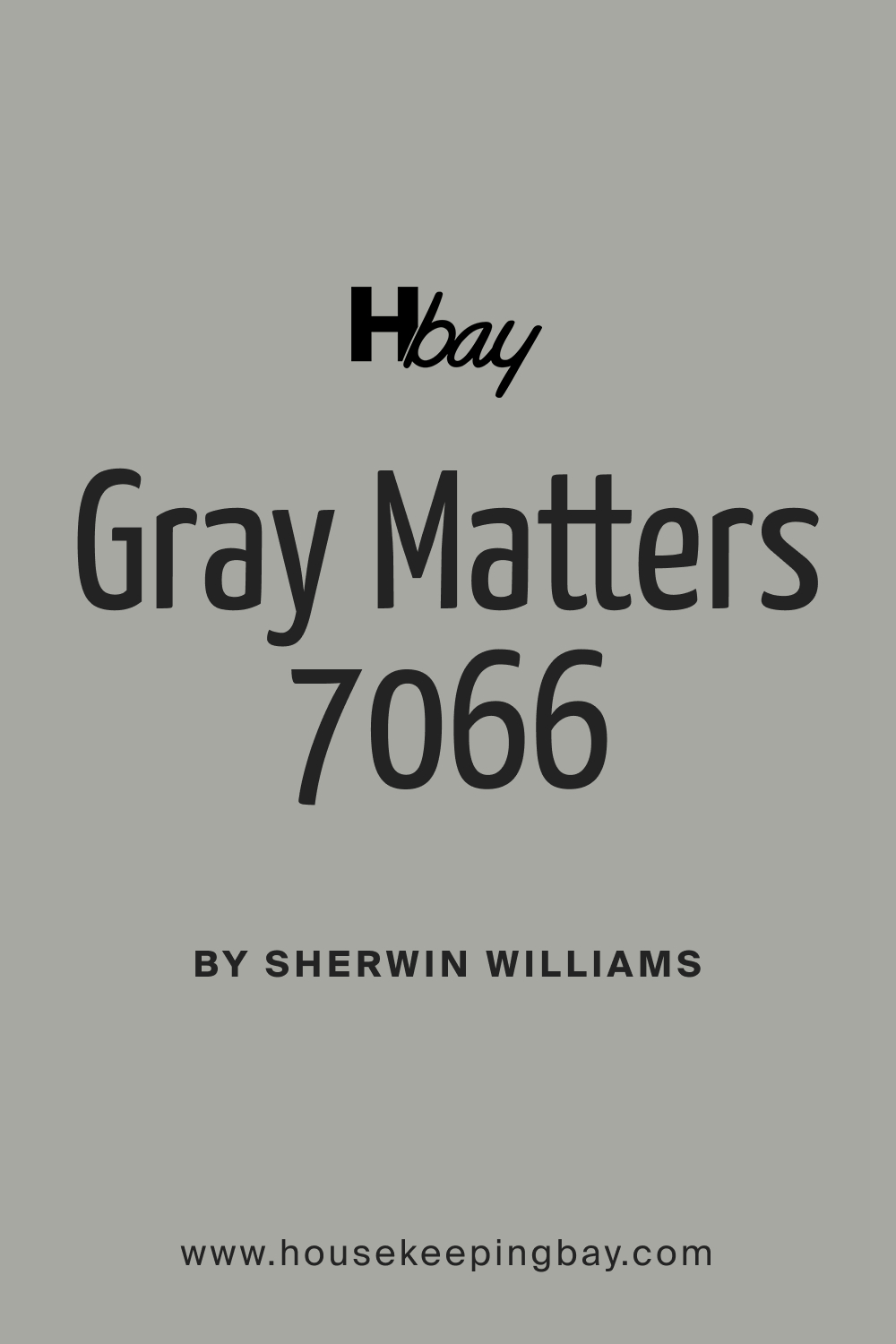 What Undertones Does Gray Matters SW 7066 Have?
This solid gray paint color is a medium to darker-toned gray with deep green undertones. However, this green hue is not very dominant, which means that SW Gray Matters won't read greenish on your walls.
Since this color has such tricky undertones, you can understand now why it is so essential to check what undertones the color has in advance!
This way, you can tell beforehand how the color will work in the space and how well it will pair with other colors used in the same room.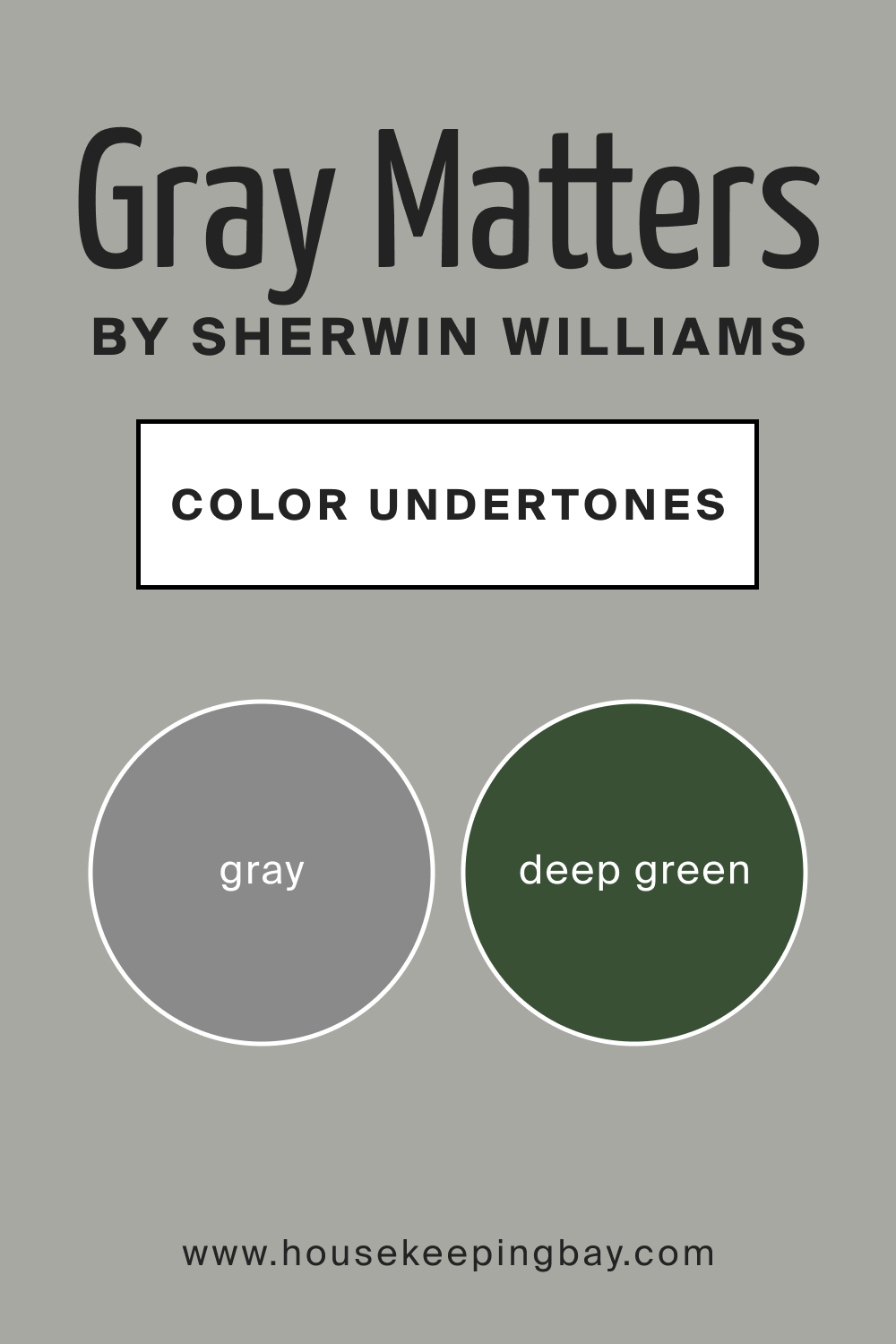 What LRV SW Gray Matters Paint Color Has?
The LRV (light reflectance value) of this color is 39, which places it on the darker to the medium end of the scale, as well as somehow aligns on the bolder end. As you probably remember, the LRV measurement ranges from zero to 100, where zero stands for black and 100 stands for pure white. This means that the higher the LRV rate, the lighter the color, and vice versa.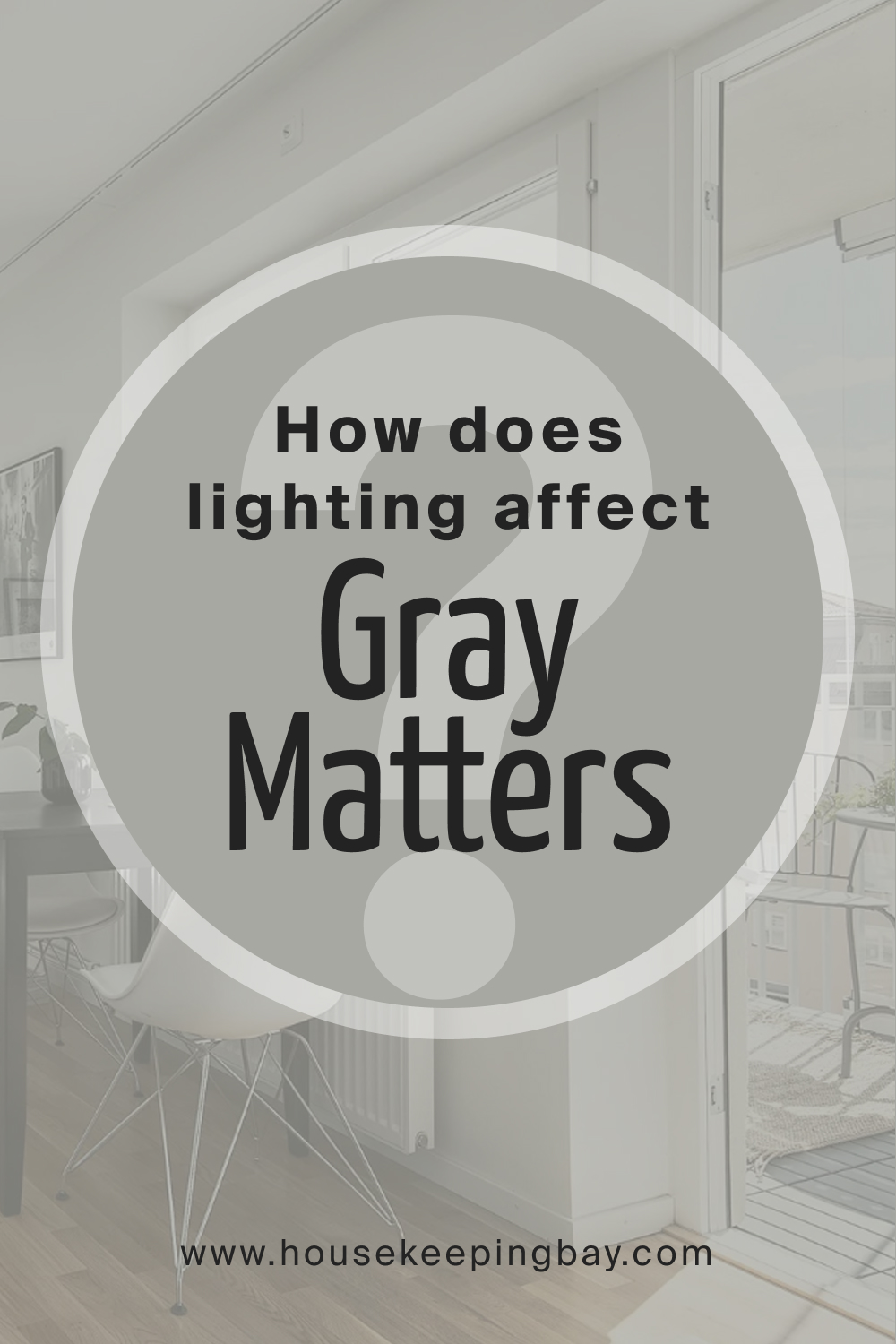 With this LRV, SW Gray Matters reads pretty balanced, being neither dark nor light. For sure, it does have a certain depth, but this depth gives a feeling of coziness and warmth rather than darkness and gloom.
In the north-facing rooms, SW Gray Matters will look crisper and reveal a more gray hue. But if you use it in the south-facing rooms, this gray will appear more neutral and may also seem greenish.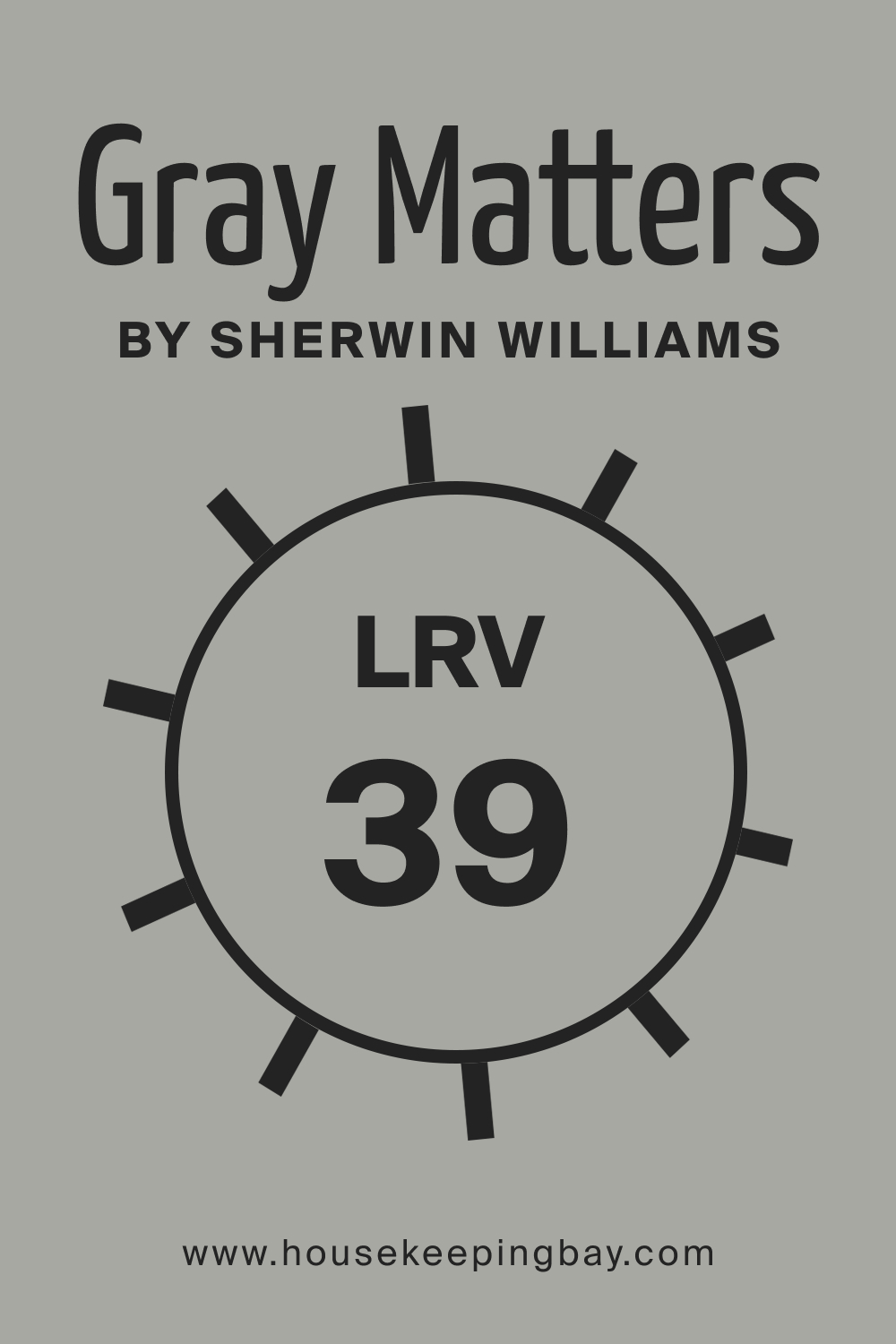 What is LRV? Detailed Guide
Coordinating Colors to Use With Gray Matters SW 7066
Coordinating colors allow you to highlight the natural beauty of the color used on the walls and make it reveal its true nature more completely. If you want to use SW Gray Matters on your interior walls, consider choosing one of the following colors to coordinate it properly:
SW Nebulous White
SW Peacock Plume
SW Crabby Apple
For the monochromatic palette, we recommend you opt for the following paint colors:
SW Passive
SW Tin Lizzie
SW Argos
SW Gauntlet Gray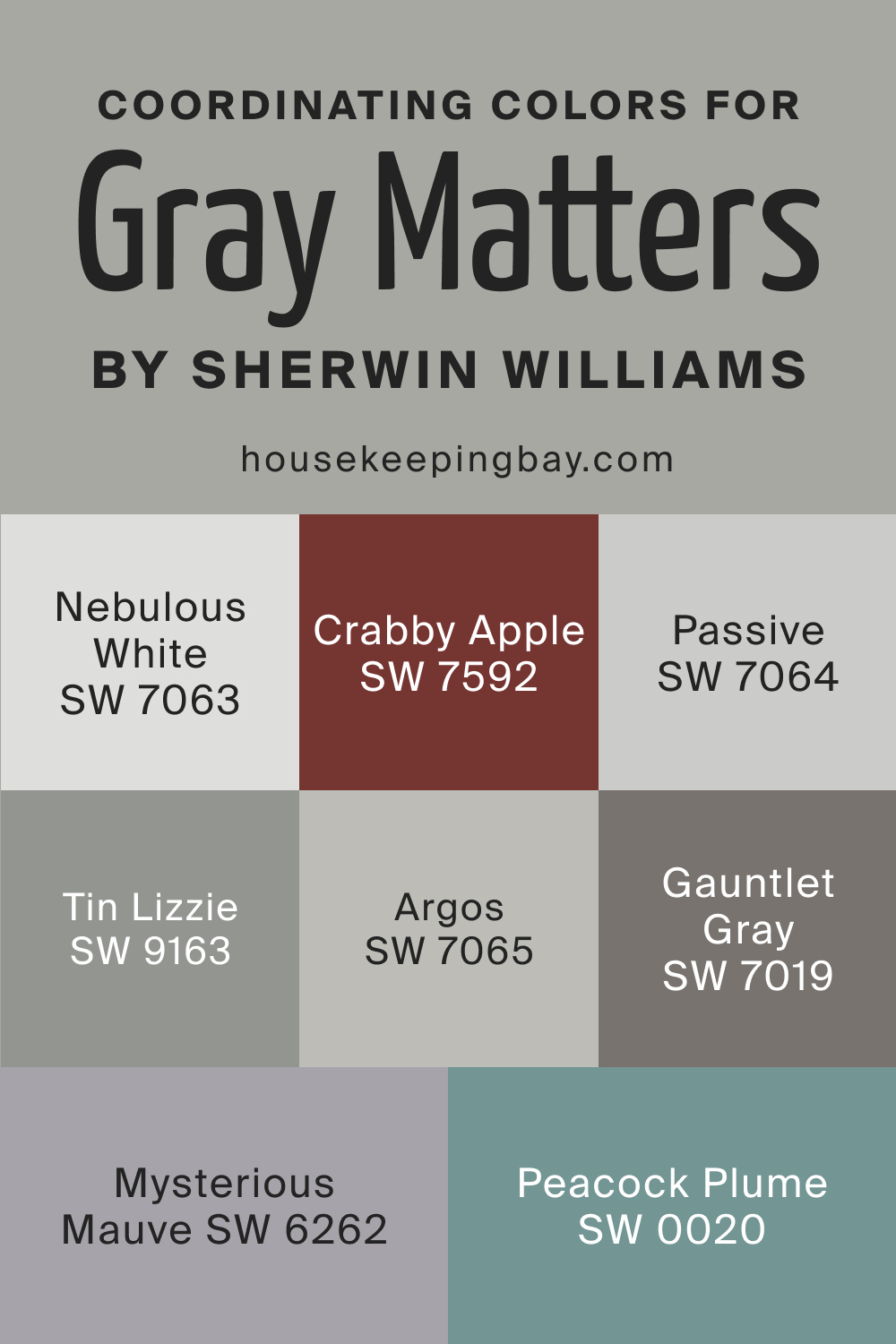 Should you prefer more varied color combinations in your home, you might want to try this complementary color palette instead:
SW Gris
SW Gossamer Veil
SW Quixotic Plum
SW Mysterious Mauve
A contrasting color palette will add more color and vividness to your home interior:
SW Tame Teal
SW Spare White
SW Banana Cream
As an option, a triad palette might also be helpful:
SW Solitude
SW Song Thrush
SW Natural Linen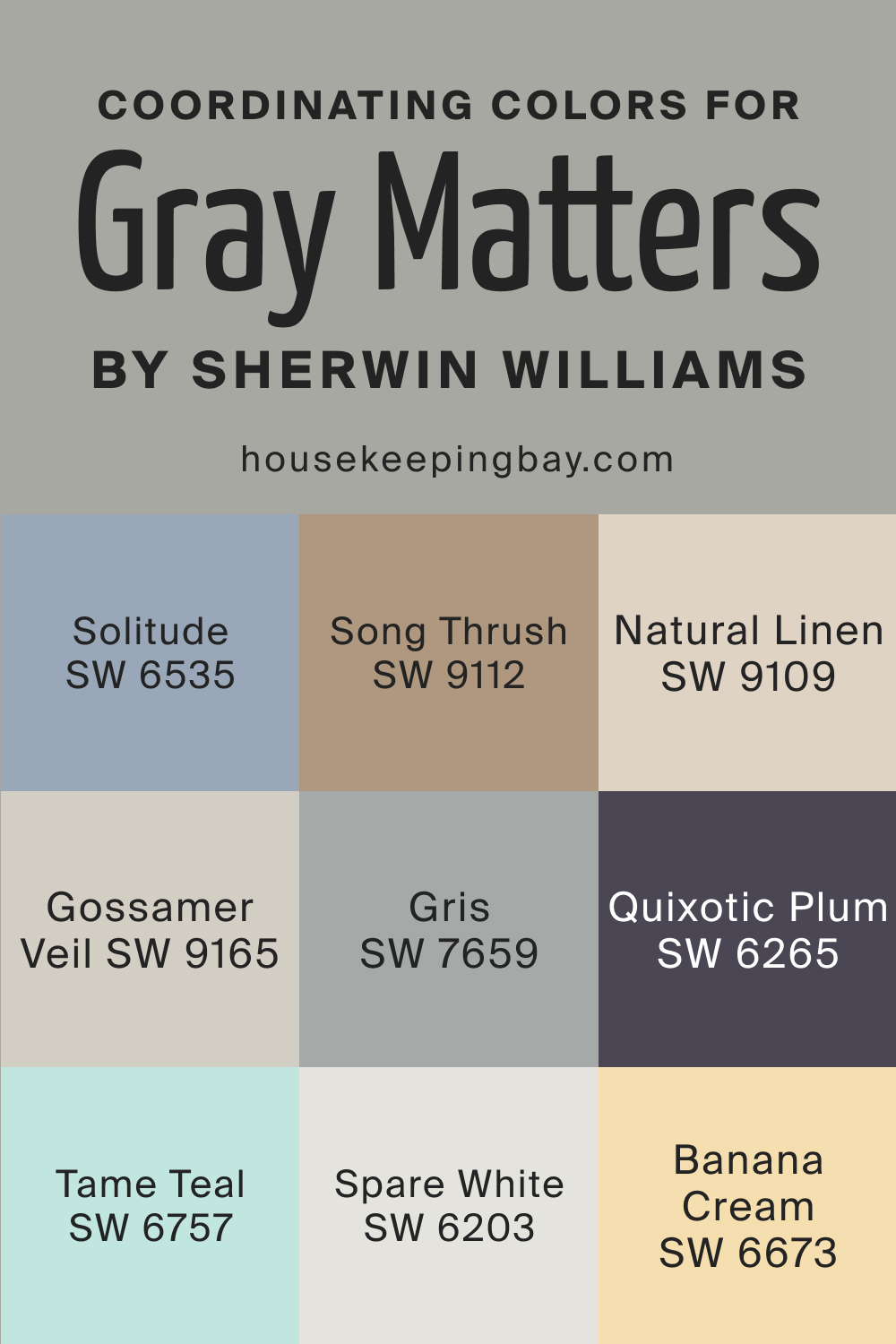 What Is the Best Trim Color That Works With SW Gray Matters?
White is traditionally an optimal trim color since it works well with most other colors and can fit any interior style and design. However, it's essential to choose the correct shade of white to make it highlight the wall color and make it work better.
If you have SW Gray Matters on interior walls, we recommend you use SW Pure White as a trim color. This white will help you protrude the beauty of this gray, making it reveal its true hue.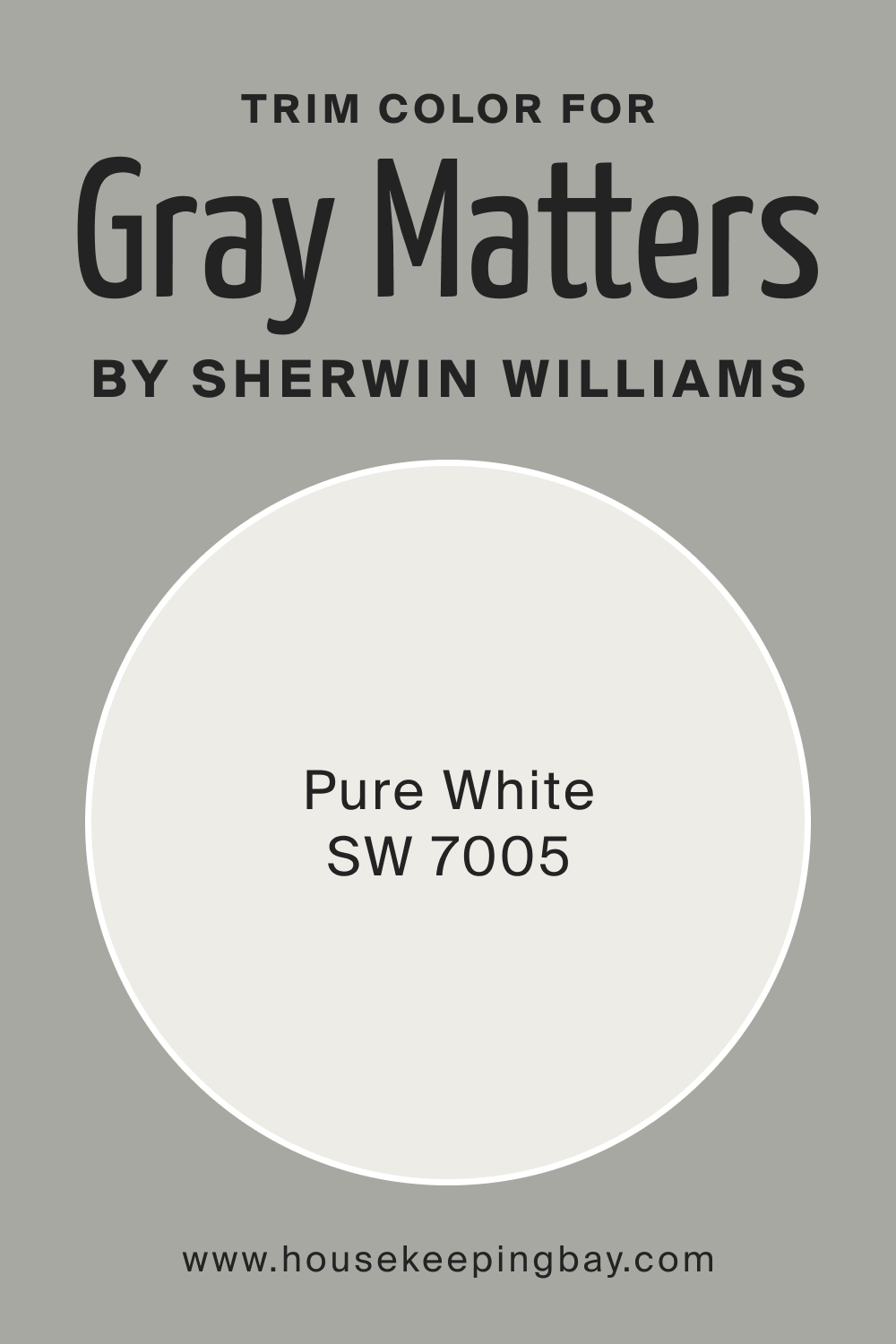 Colors That Go With SW Gray Matters
To make your home's interiors balanced and good-looking, you should pair the wall color correctly with the rest of the palette in your space. But with paint like SW Gray Matters, with its complex undertones, it might be challenging for you.
This is why we have prepared a few color suggestions that you might want to sue with this delicate and balanced gray in your home:
SW Black Caviar
Farrow&Ball Wimborne White
Behr Blue Moon Bay
BM Bermuda Blue
SW Underseas
SW Butter Up
SW Red Bay
SW Romance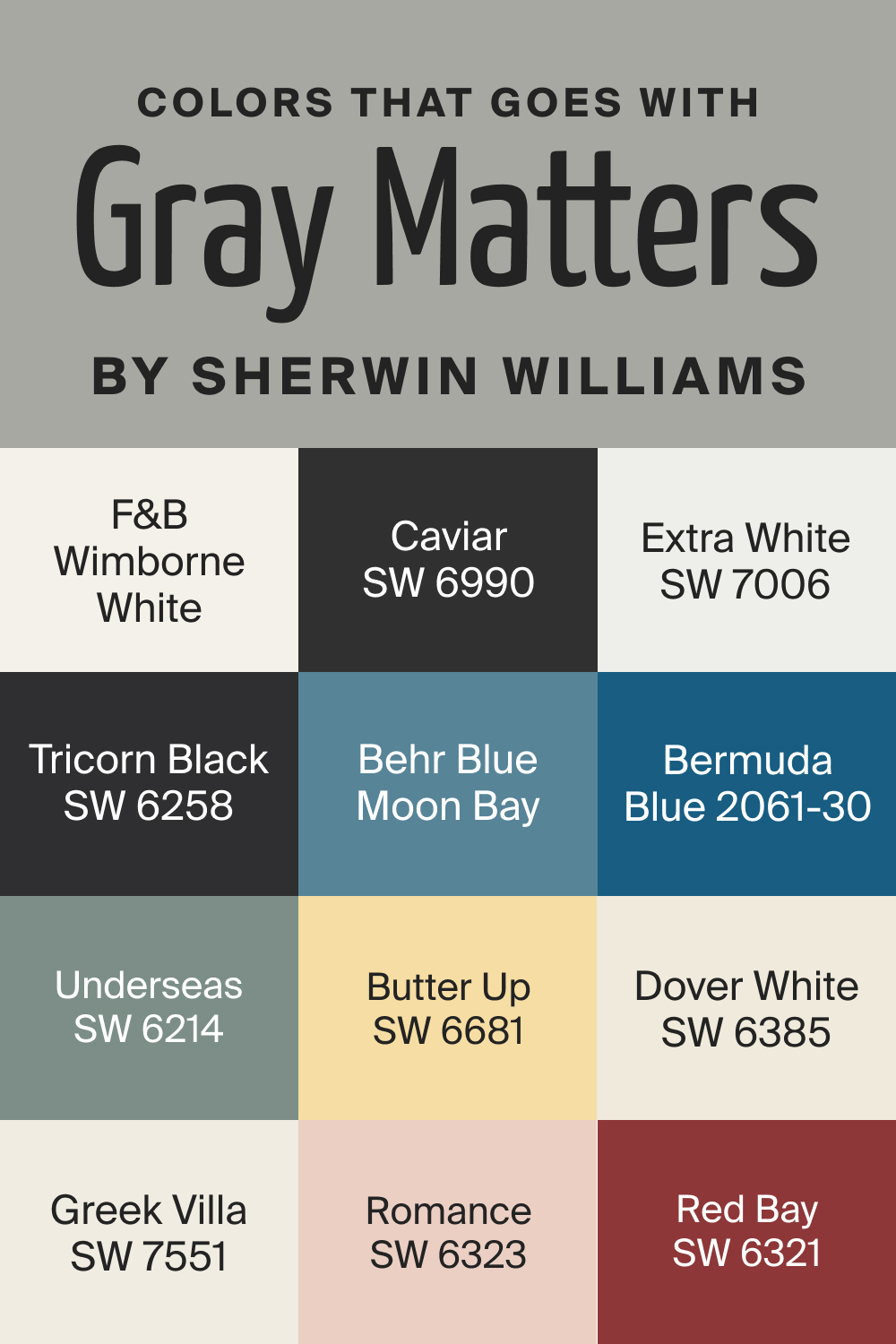 Similar Colors to Use Instead of SW Gray Matters
It's a good idea to have at least a couple of alternative paint colors at hand when you start any home painting projects. This way, you can always shift for the most suitable shade or tone that won't make a big difference in the space.
However, with such a complex color as SW Gray Matters, it might be challenging to select the most suitable color alternatives. This is why we recommend the following paint colors as similar ones:
Benjamin Moore Coventry Gray
Benjamin Moore Metropolitan
Benjamin Moore Baltic Gray
Benjamin Moore Smoke Embers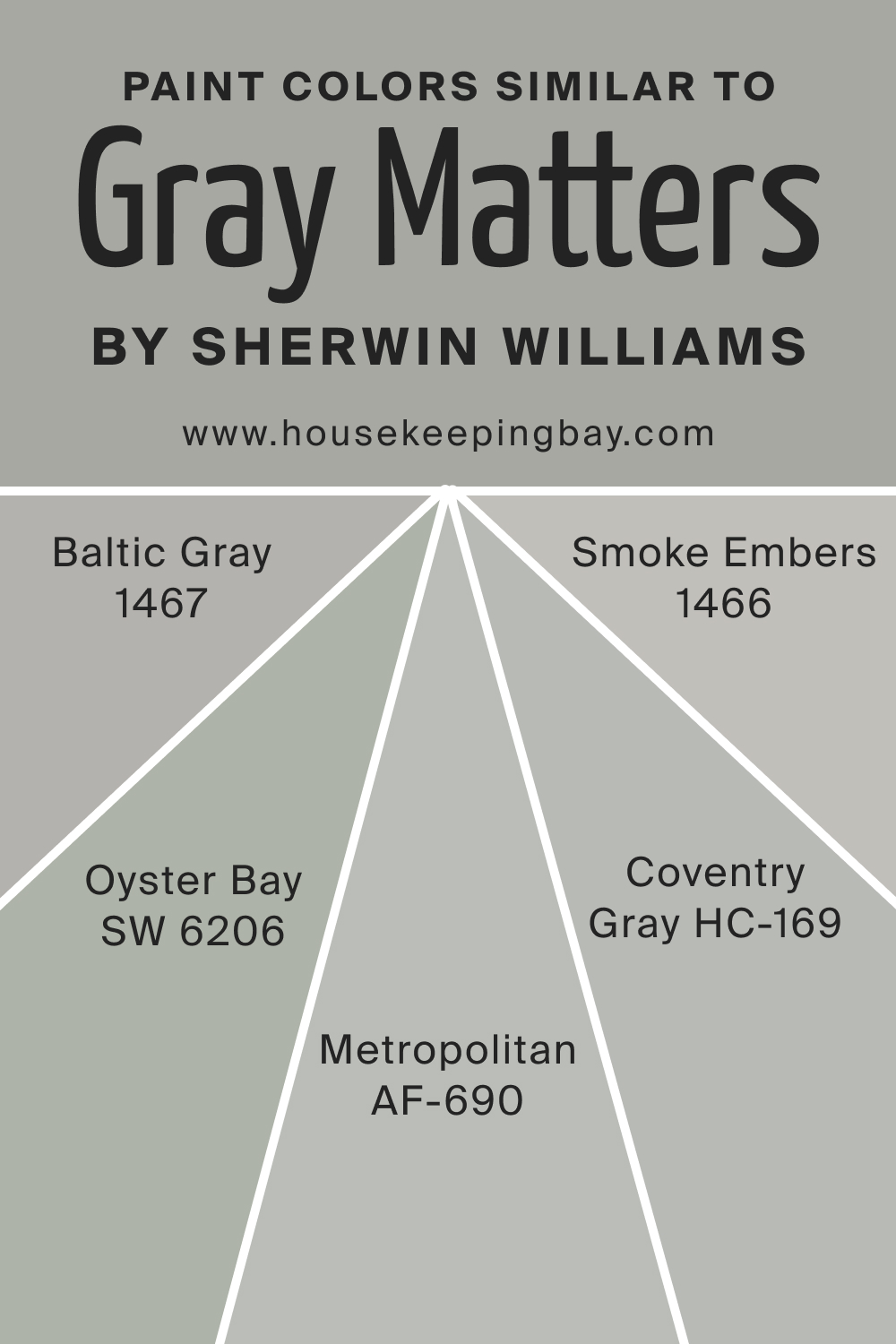 Comparing Gray Matters SW 7066 With Other Colors
To help you better see the difference between the Gray Matters paint color and other alternative colors, we prepared a brief comparative guide. Read on to find out what specific features make each pair of colors distinct.
Gray Matters vs Dorian Gray
Compared to SW Dorian Gray, its counterpart reads greener and more cool-toned. SW Dorian Gray, in its turn, looks warmer, with a more noticeable brownish undertone (although it's still very subtle).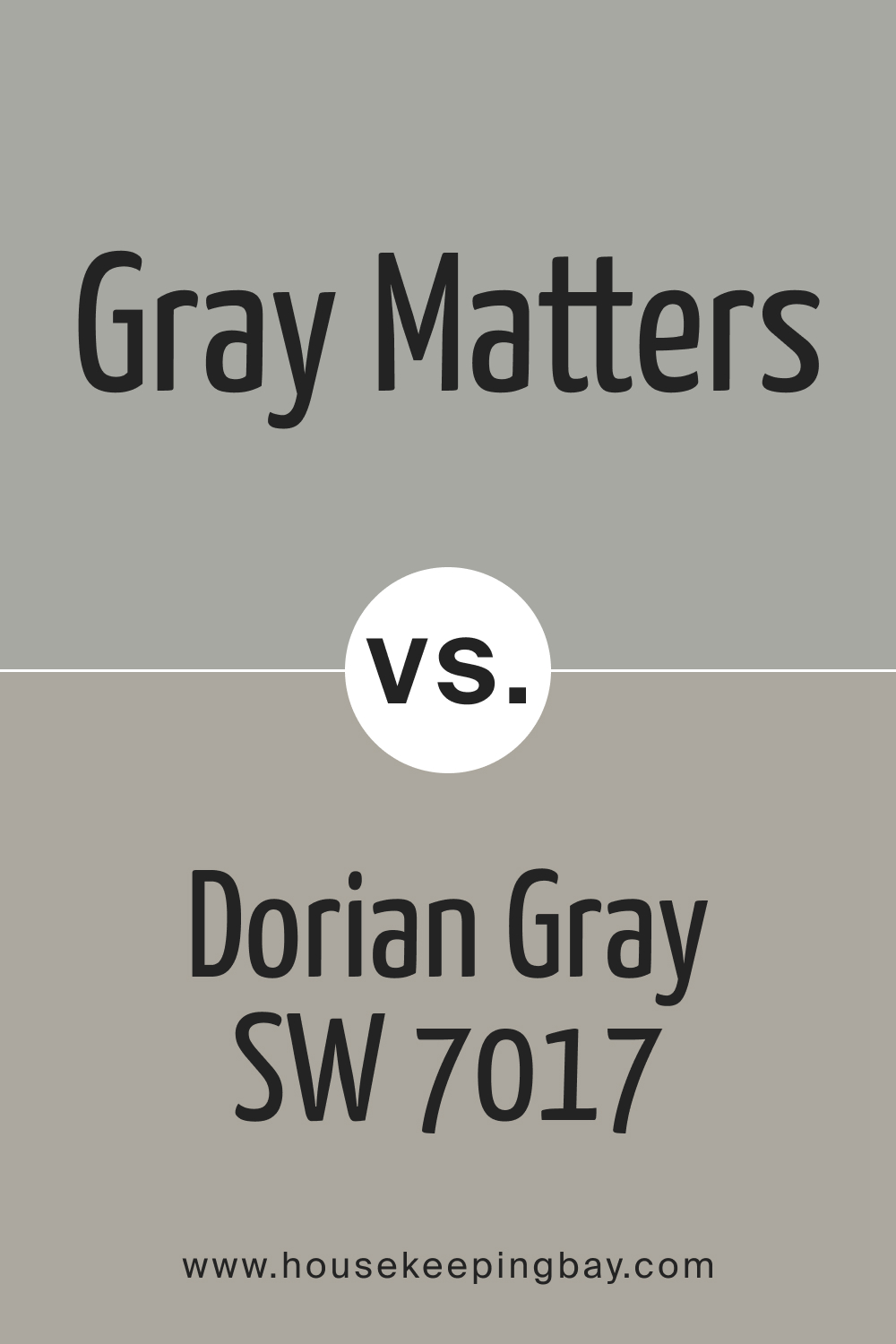 Gray Matters vs Repose Gray
This pair of colors is very contrasting, but nevertheless, it doesn't look very harmonious. Compared to SW Repose Gray, with its blue and violet undertones, its counterpart reveals a more prominent greenish hue.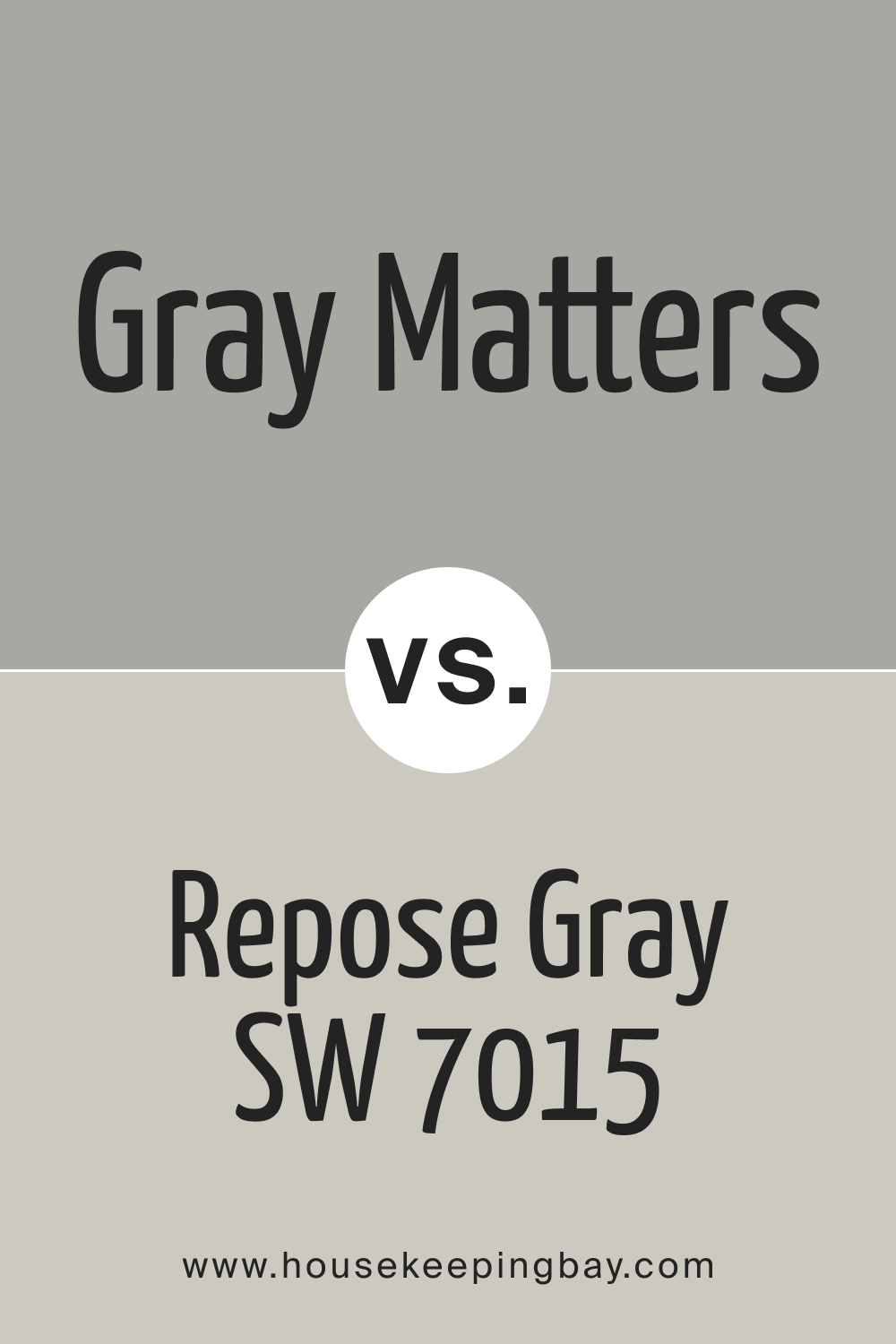 Gray Matters vs Passive
Although SW Passive does have green and violet undertones, its predominant hue is blue. This blueness is very well seen if you compare SW Passive to SW Gray Matters. In fact, due to the greenish undertones, SW Gray Matters reads deeper and warmer than SW Passive.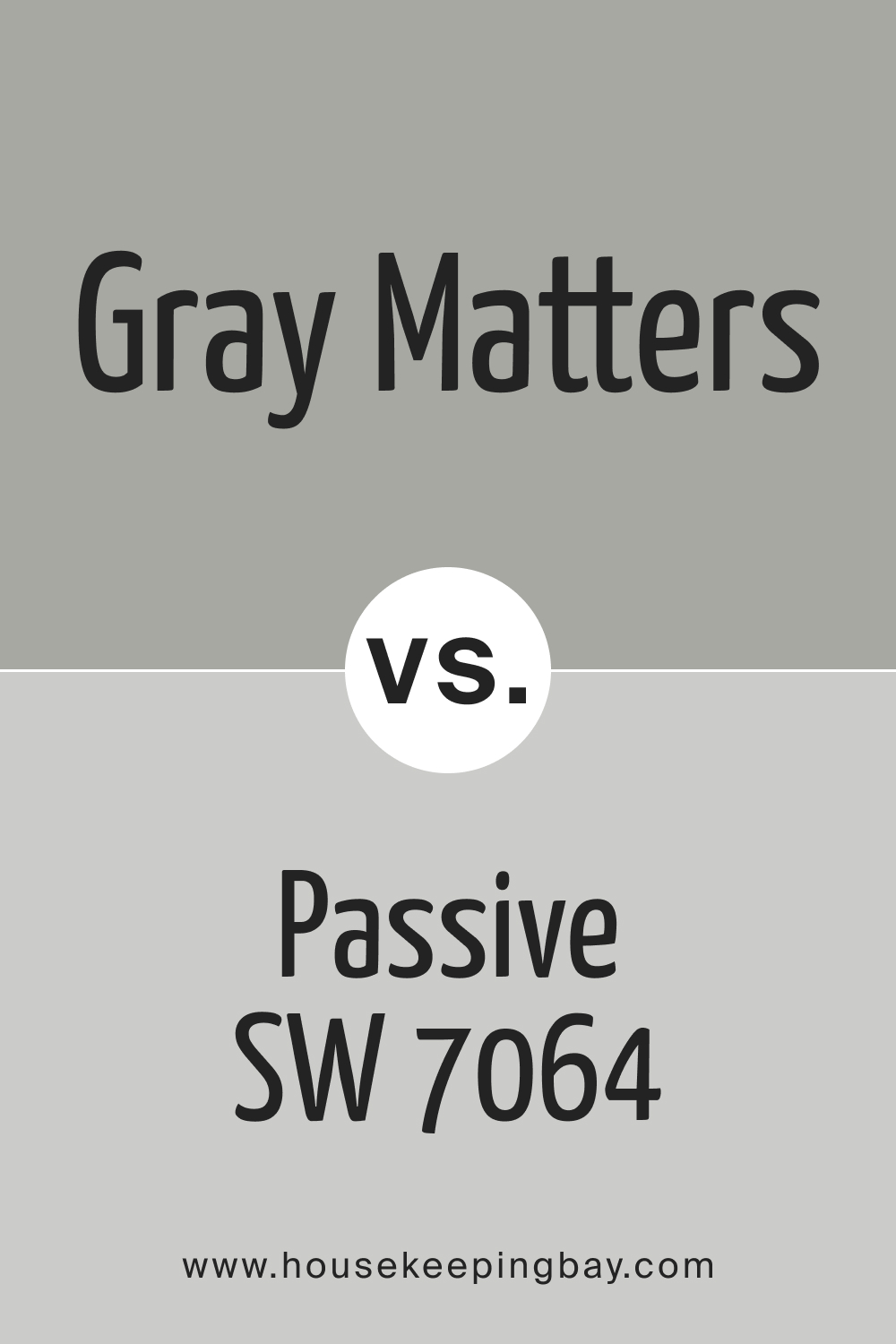 Gray Matters vs Cityscape
Although both colors have green undertones, SW Cityscape has a way more pronounced greenish hue. Also, an LRV of SW Cityscape is 23, which makes it a darker color of the two. However, these grays look pretty nice together!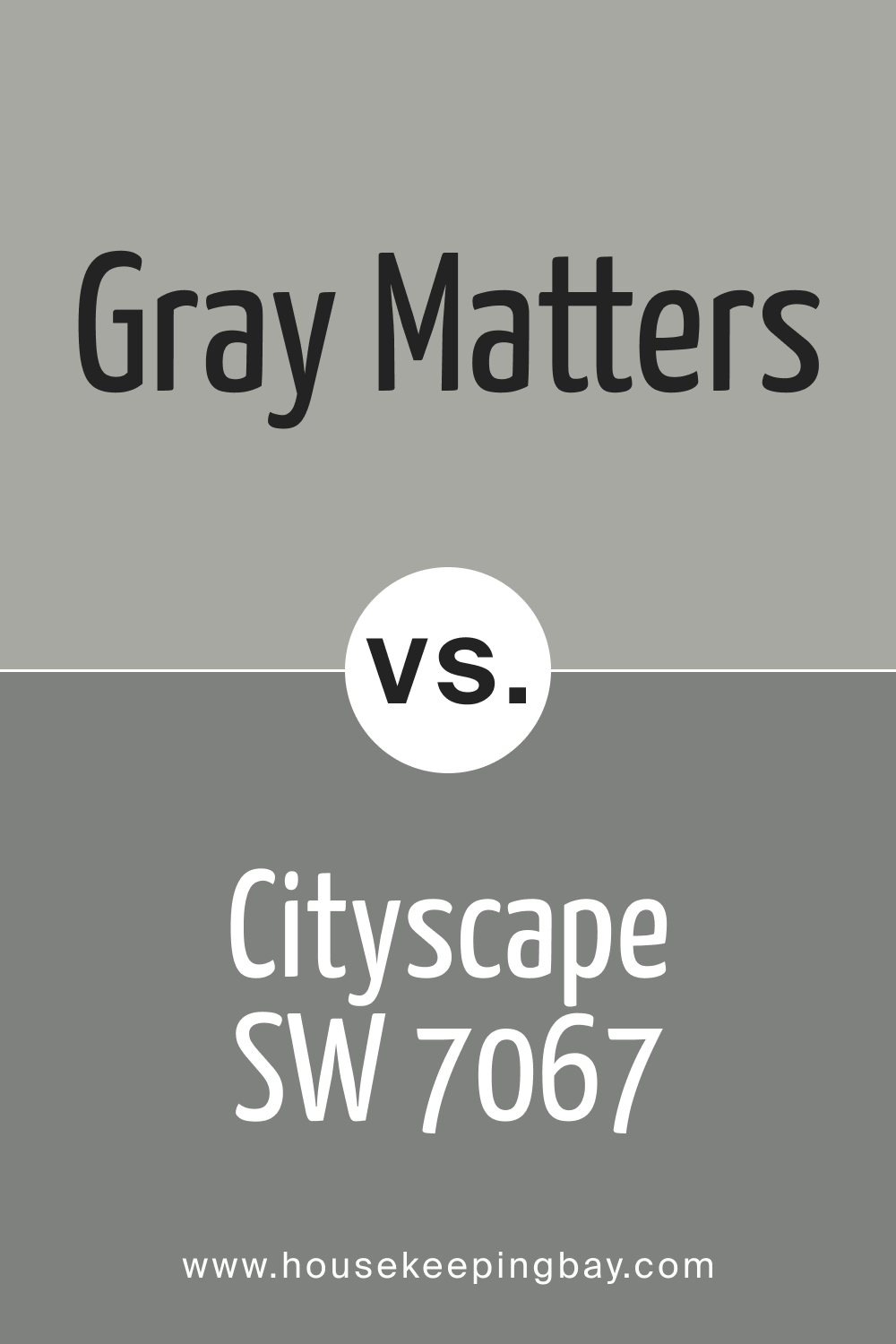 Gray Matters vs Grizzle Gray
SW Grizzle Gray has green undertones, but these green undertones lean more into a blue-green hue. As a result, you won't see any warm olive undertones in this color. The LRV of SW Grizzle Gray is 13. All this makes this color much darker than SW Gray Matters. Besides, SW Grizzle Gray does read greener.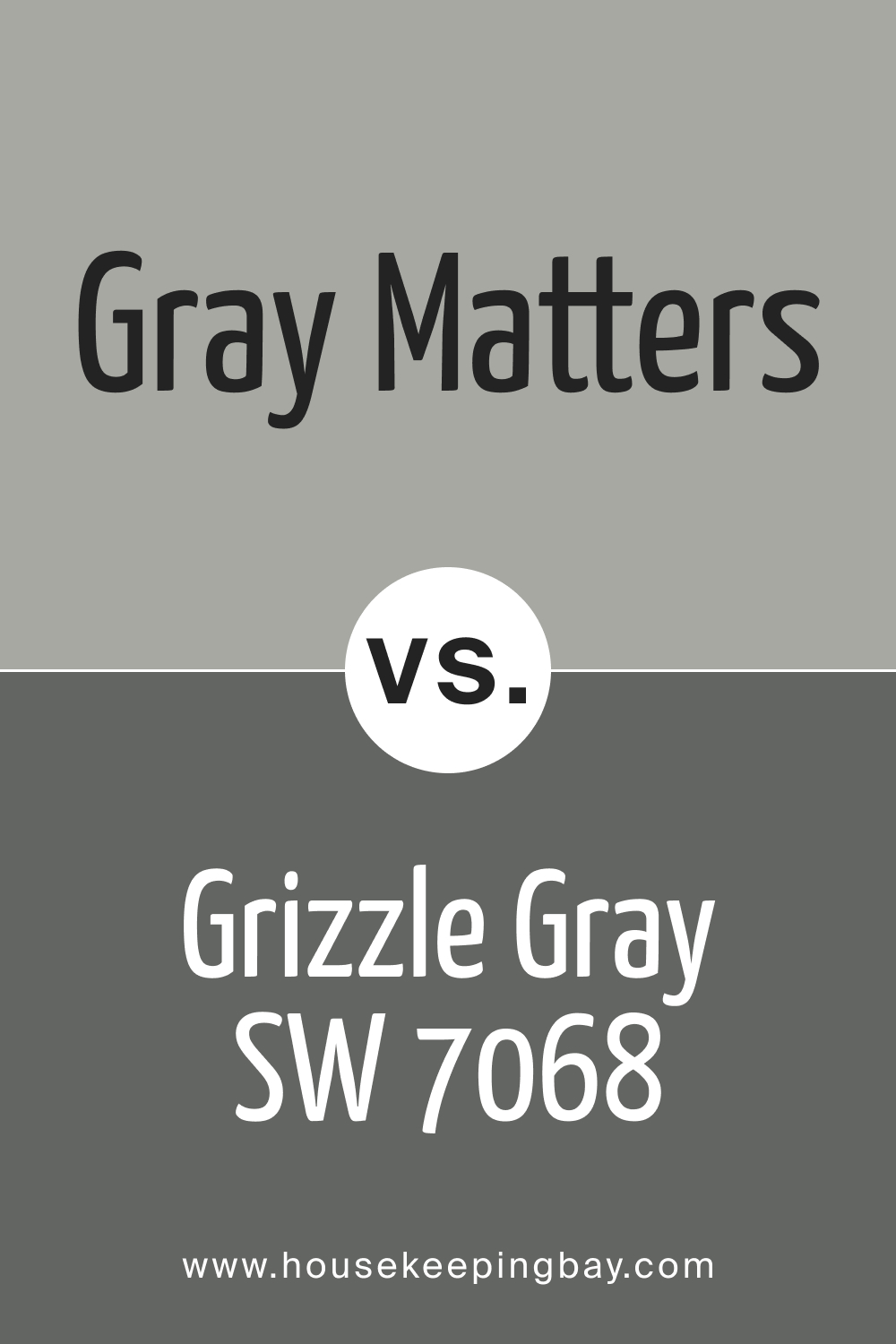 Where In Your Home SW Gray Matters Color Can Be Used?
SW Gray Matters is definitely a color with its own character! In a living space, this gray paint will add boldness, a doze of drama, and a strong character. Also, note that if you want to create an illusion of a smaller space, this paint color will do it very well.
It will help you "pull" the walls visually closer, thus creating a balanced environment. With all these nuances, it will be helpful to know how this gray might read in different rooms in advance!
Gray Matters SW 7066 in the Living Room
If your living room has an appropriate size, consider painting this color on all the walls with clean white paint on the moldings. But if the size of the room is small, it's enough to paint just an accent wall. It wouldn't be a bad idea either! If you want to create more contrast, try out teal blue, red, or yellow in the same space.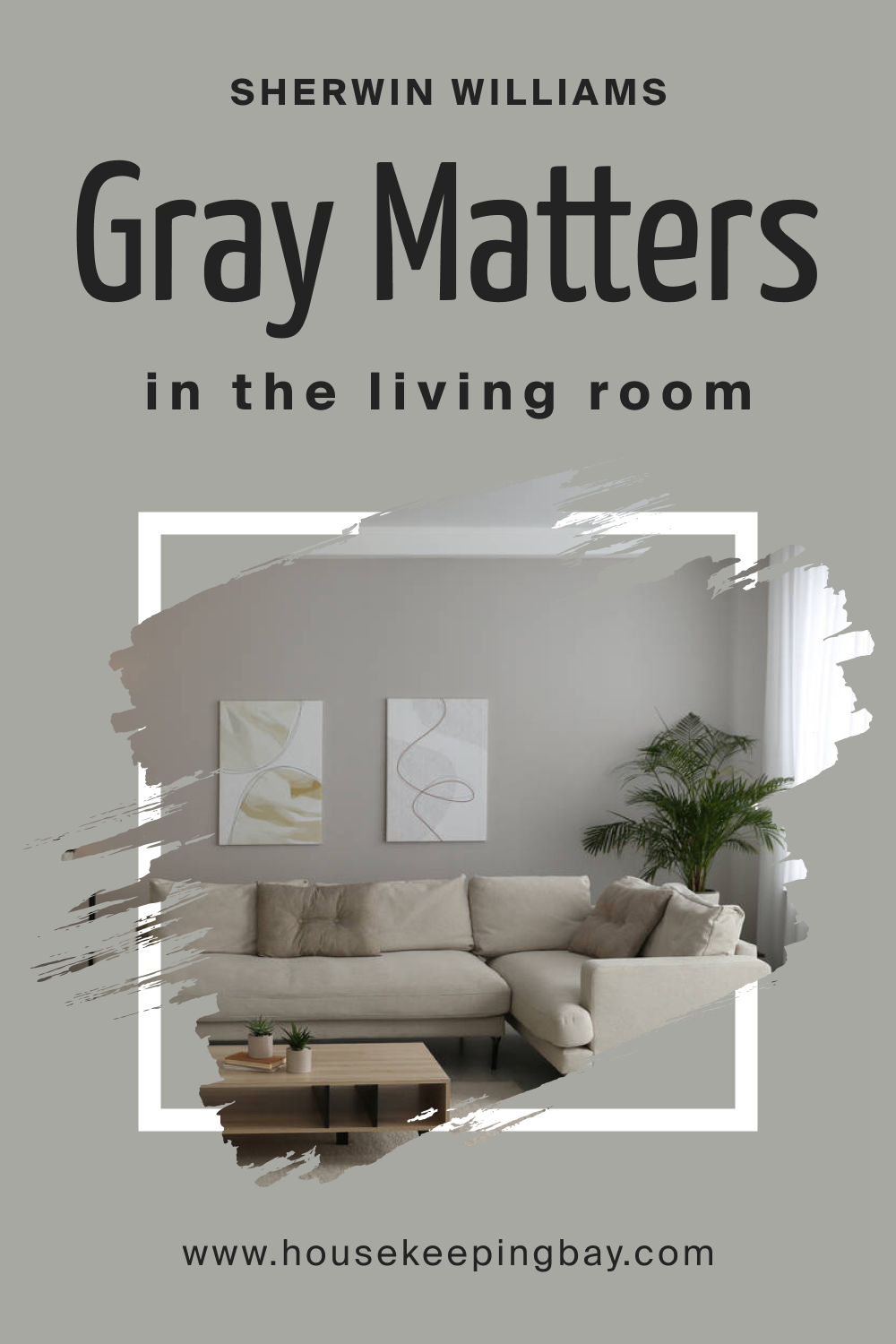 Gray Matters SW 7066 in a Bedroom
This color will work wonderfully in modern and contemporary-styled bedrooms. To make the room read brighter, you can paint the walls in SW Gray Matters and pair it with a clean white color on the trims, ceiling, and moldings.
To create a visual contrast, we recommend you add throw pillows and/or decor elements that play a contrast. Also, this color will pair nicely with metallic accents of matte black or brushed or satin brass.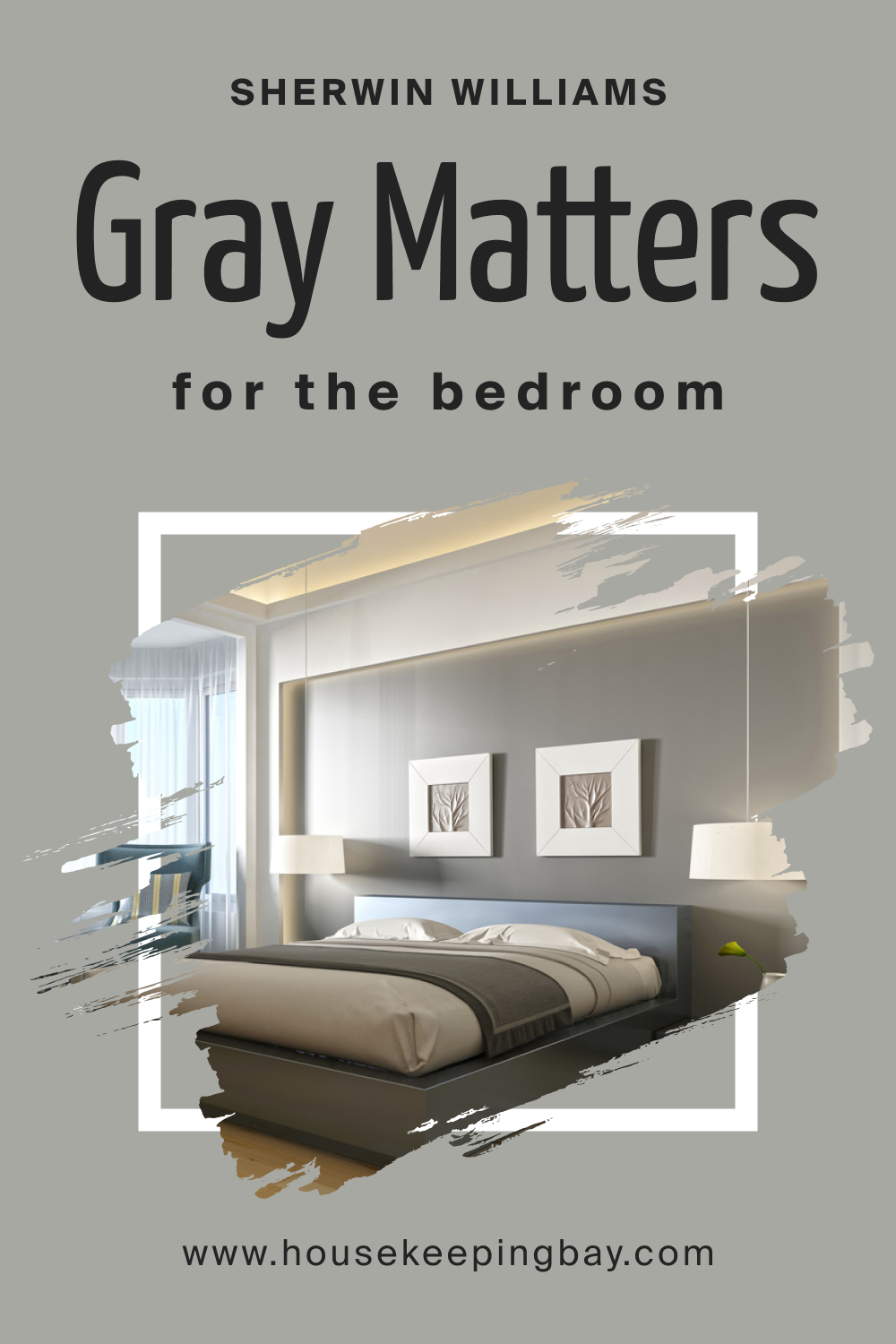 Gray Matters SW 7066 and Kitchen
As a kitchen wall color, SW Gray Matters will never be boring or old-fashioned. Besides, it can easily complement any interior design style of your kitchen. You can create a unique and lovely effect with the help of satin brass on the lighting fixtures and pull handles if you want to add a note of style to the space as well.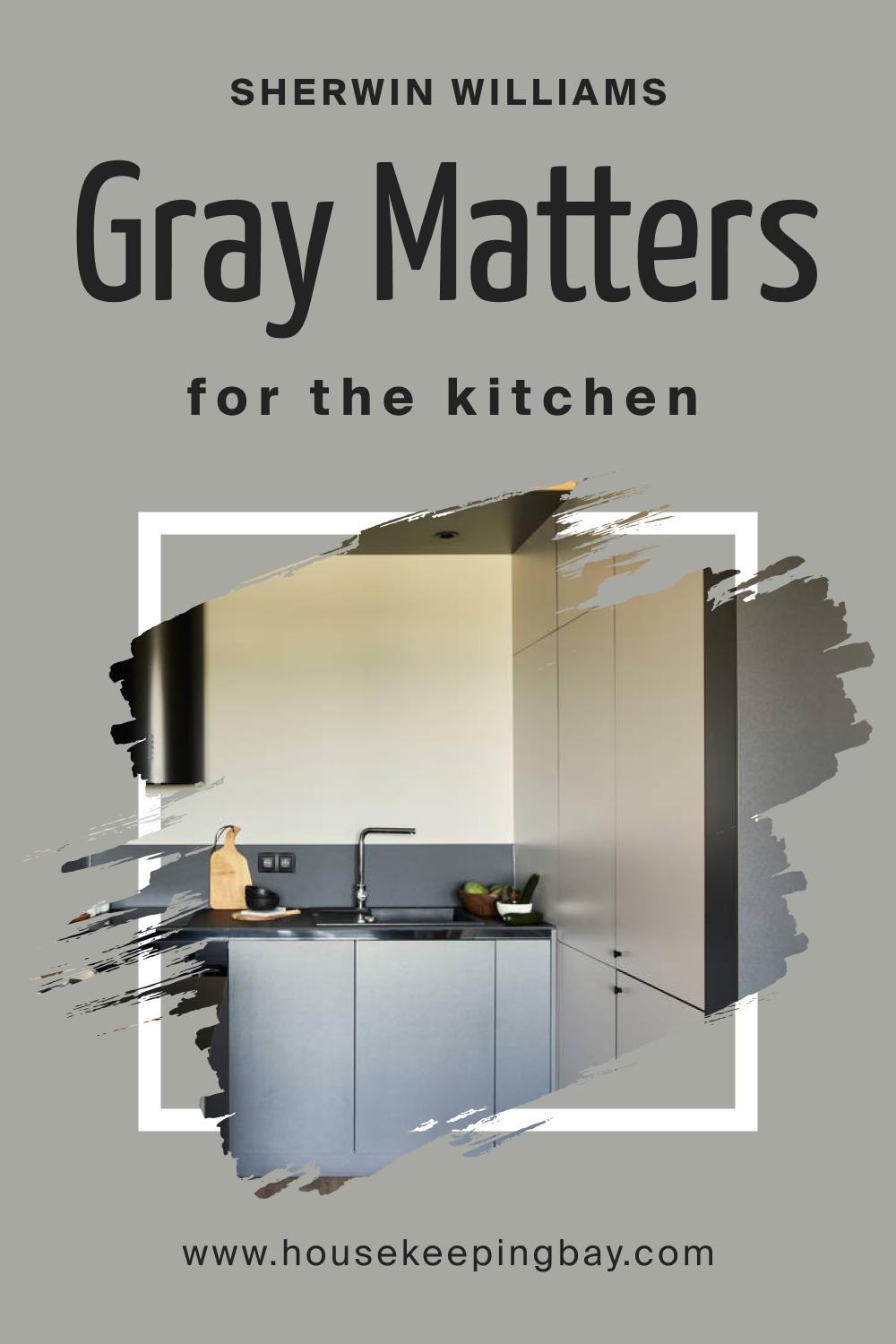 Gray Matters SW 7066 on the Bathroom
Since bathrooms mostly have no windows and thus lack light, we recommend you limit the use of this color there. Either use it on the accent wall or paint some minor surfaces with it (e.g. your vanity sink).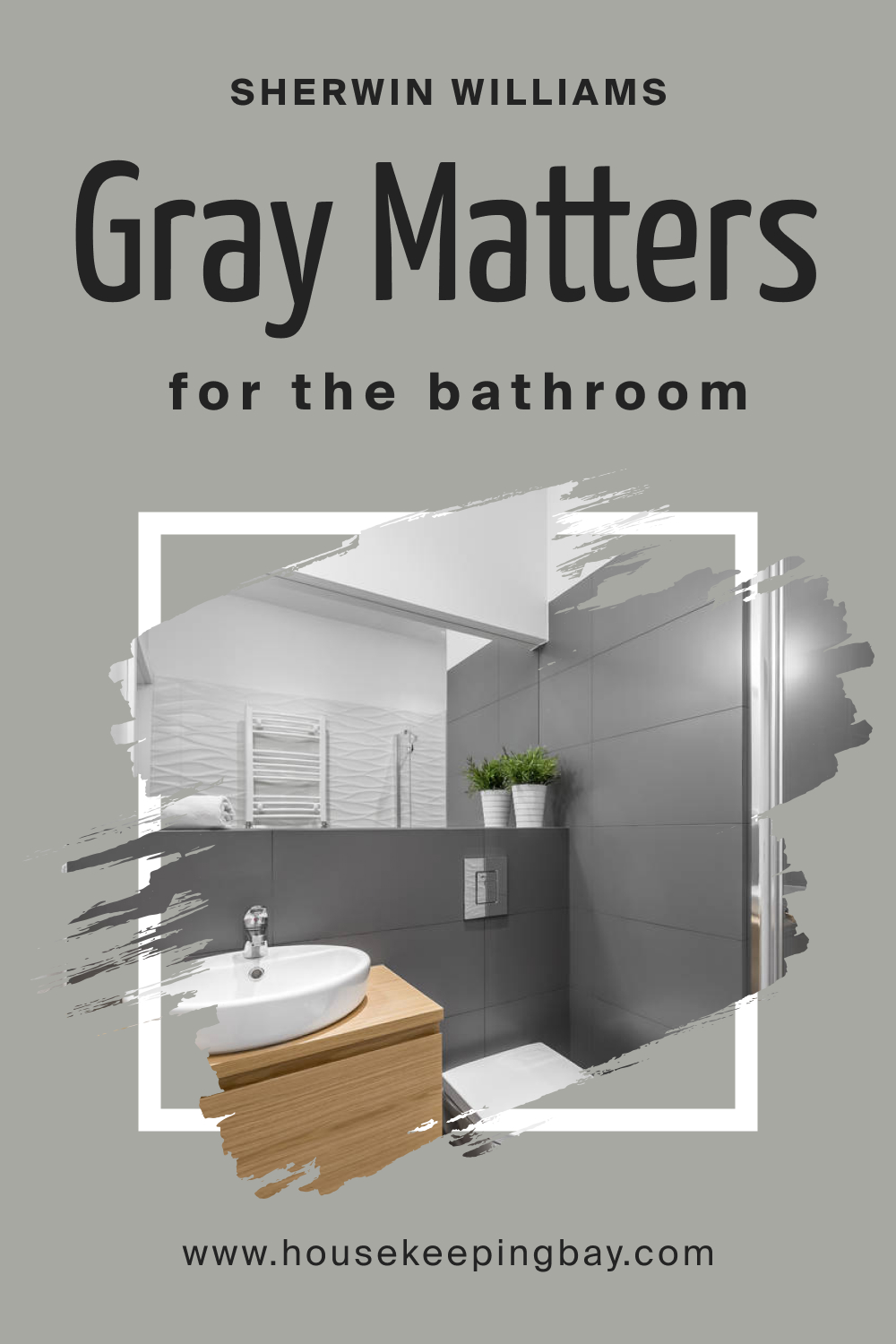 Gray Matters SW 7066 for the Exterior Use
As an exterior wall color, SW Gray Matters will be especially suitable for the Craftsman, Ranch-style, Mid-Century Modern, Industrial, and transitional homes, adding a timeless vibe.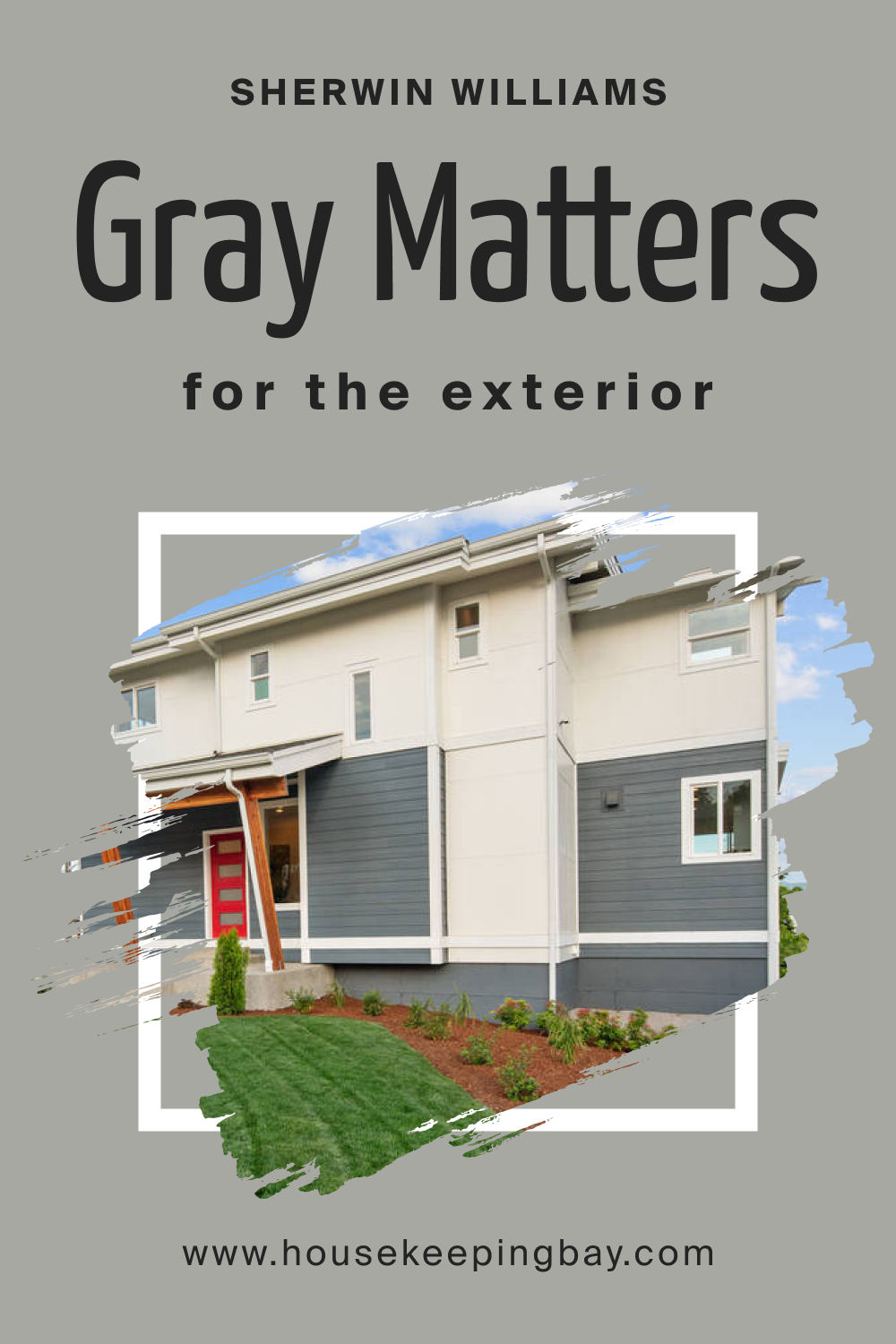 You can pair it with Spanish tiles along with crisp white on the moldings and trims. If you have porches and columns, consider picking burgundy reds, light blues, coral orange, teal, or medium-toned sage greens to add character to your home exterior.
Now you know what kind of gray SW Gray Matters is. It does matter how and where in your home this color is used since it has its own style and character!
But since now you know its undertones, LRV, as well as trim colors and more, using it won't be challenging for you.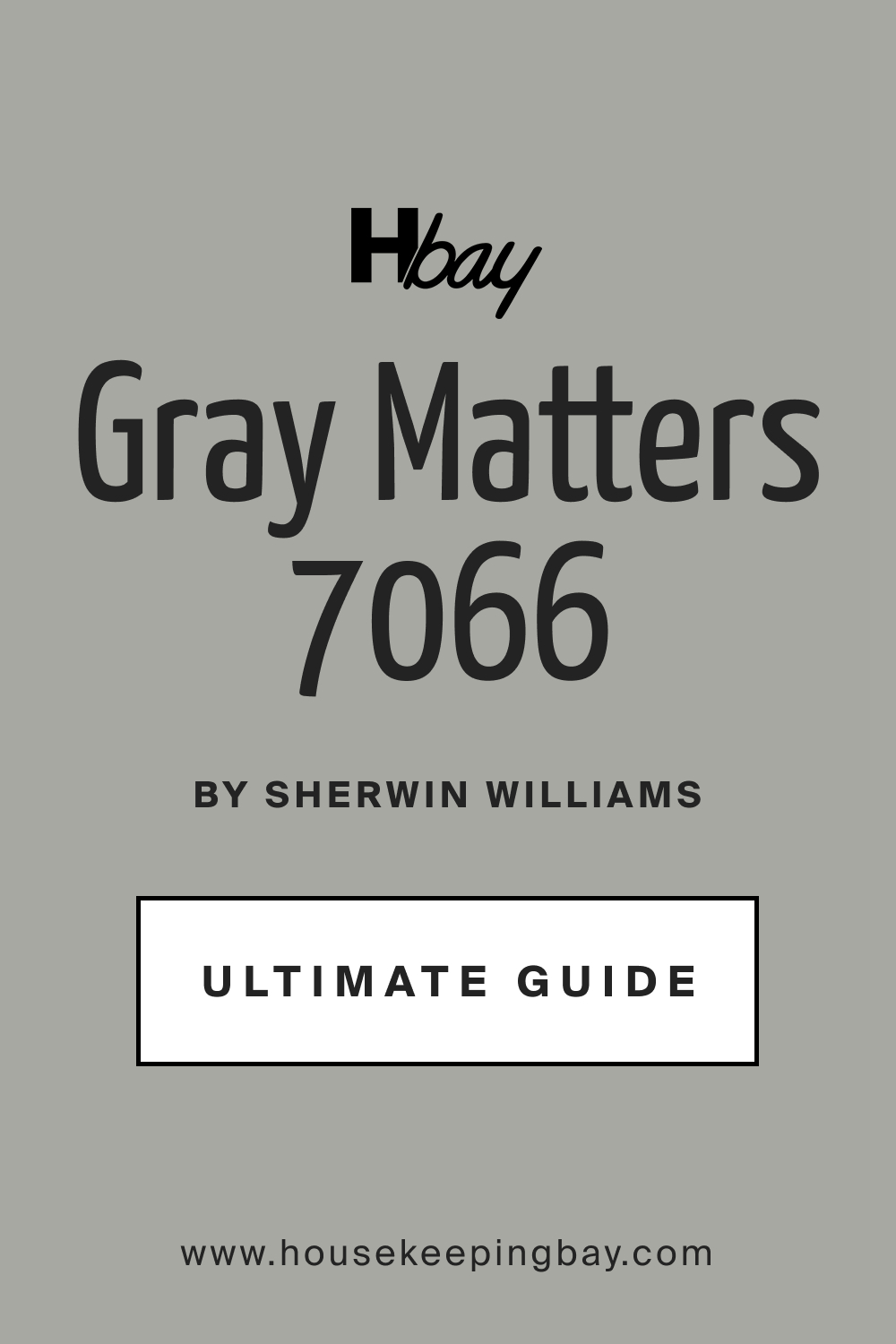 Frequently Asked Questions
⭐Does SW Gray Matters read blue?
No, it doesn't. This color has no blue undertones.
⭐Will this gray color pair with black?
Yes, it will. But you should sue black very moderately, mostly for color accents.
⭐How will this color read in a cold light?
In cold light, SW Gray Matters may read cooler.