When we are up to any home renovation projects, and especially those ones that require painting the interior or even the exterior walls, being aware of the paint we are going to use is a must.
It may only seem that choosing and using paint is simple! However, you need to know how it will look on the walls, as well as how well it will match other colors in the space.
So when people think of using Cloudy Sky paint color by Benjamin Moore brand, many of them start wondering what kind of color it is and where exactly in their homes it would be best to apply it.
So today we are going to introduce this wonderful color to you all! From this article, you will learn what type of paint colors BM Cloudy Sky is, in what rooms of your house or apartment it will look the best, and what you should take into consideration when choosing this color for your home renovations.
In addition, we will explain what undertones this color has and how the paint will react to different types of lighting.
Finally, you will find out whether or not Cloudy Sky paint color could be called suitable for the exterior use.
What Type Of Paint Color Is Cloudy Sky By Benjamin Moore?
When we are looking for a suitable paint color to use in our home, we want to know what type of color it is to be sure that it will look harmoniously with other colors in the living space.
And since today the majority of paint colors used for interior paint works are rather complicated, it is good to know exactly what you should expect from them!
As for the paint called Cloudy Sky by Benjamin Moore brand, we would say that it can be considered a dark blue-gray paint, as Encycolorpedia says . However, there are some circumstances in which BM Cloudy Sky paint color may become more of a blue paint color.
For example, in spaces with a lot of natural light, it may become much closer to blue rather than gray.
So if your room has a lot of natural daylight during the day, and you are planning to paint its walls with BM Cloudy Sky, you should expect the walls to show way more of blue undertones in this case.
On the other hand, this color will be much more true dark blue-gray in a space that has less natural light.
As for the light reflectance value (LRV) of this paint color, it's 32.34 which is not very much to be honest.
It means that Cloudy Sky paint color by Benjamin Moore belongs to pretty dark colors on the scale.
Now that you have the basic understanding of this color and its nature, let's dive deeper and learn more about its "anatomy" including undertones and other useful stuff every home painter should be aware of!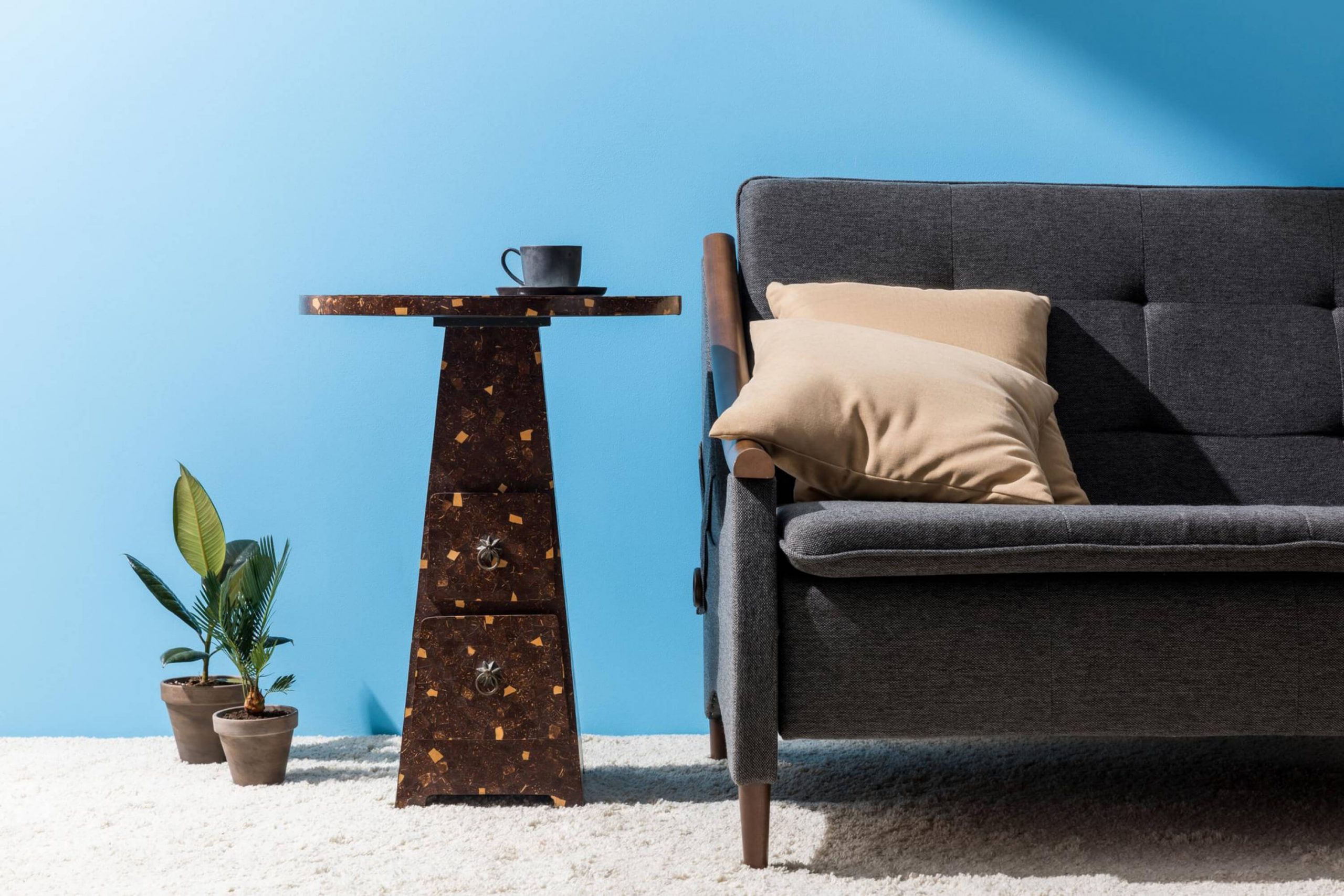 Is Cloudy Sky 2122-30 by Benjamin Moore a Warm Or a Cool Color?
If we try to classify Cloudy Sky paint color by the level of its warmth, we will see that this color rather belongs to cool-toned colors than vice versa. It has rather strongly expressed and visible blue undertones, and that blueish tint is pretty cool.
But even the grayness of this color possesses more of the cool tones than warm.
See, this is a dark shade of blue in fact, which consists of gray undertones. This would be enough to state that it is a cold-toned color, but let's not forget about the fact that it belongs to pastels!
That means pastels make it seem a little bit softer. So in general, we would say it is a cool shaded blue color that still has noticeable scents of freshness.
Of course, the way this color shows itself also depends greatly on the type of lighting the room painted with Cloudy Sky.
See, if the room has plenty of warm daylight, the color will show out more of its warmer tones, but still, it will not make it look literally warm-toned (which you should always keep in mind!).
This is why, if you are more into cozy and warm-toned colors on your home walls, we would recommend you search for another, warmer color instead of this one.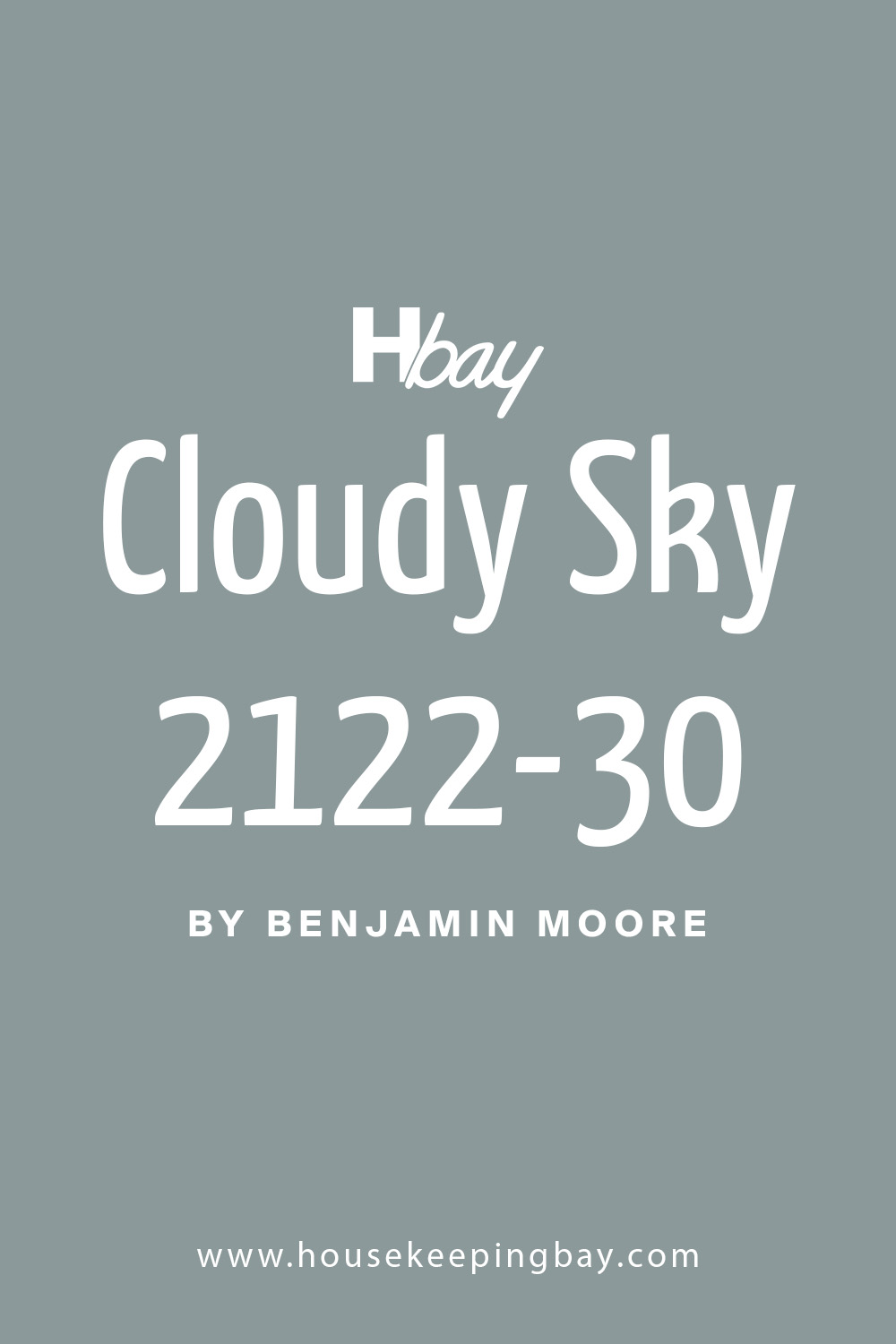 Benjamin Moore Cloudy Sky Undertones
Undertones of a paint are often considered one of the most tricky things about paint colors when it comes to choosing what shade exactly you would like to see on your walls!
You definitely know that the color of paint we see on a sample or the color that we see when we open a can is not the color we get when applying that paint on the wall. This is where undertones come up to the stage!
And often, they are exactly what ruin the entire look of the room.
So what are the undertones of Benjamin Moore Cloudy Sky paint color, you may be wondering now? The fact is that this shade has significant gray undertones, which explains its relationship with lighting that can hardly be called a simple one.
See, the larger the amount of light this color gets, the brighter it will appear and thus reveal its blue basis.
If you reduce this amount of light slightly, you will notice how the gray notes are coming out to the surface.
You should note that such colors are not that simple to play with when light plays an essential role.
You need to take artificial light into consideration as well! A warmer light source will simply be a new reason for the gray scents to reveal themselves to the fullest.
Now that we have figured out how it's going with this color's undertones, let's also find out how BM Cloudy Sky will react to different types of lighting since light is what matters most when speaking of undertones of a paint color.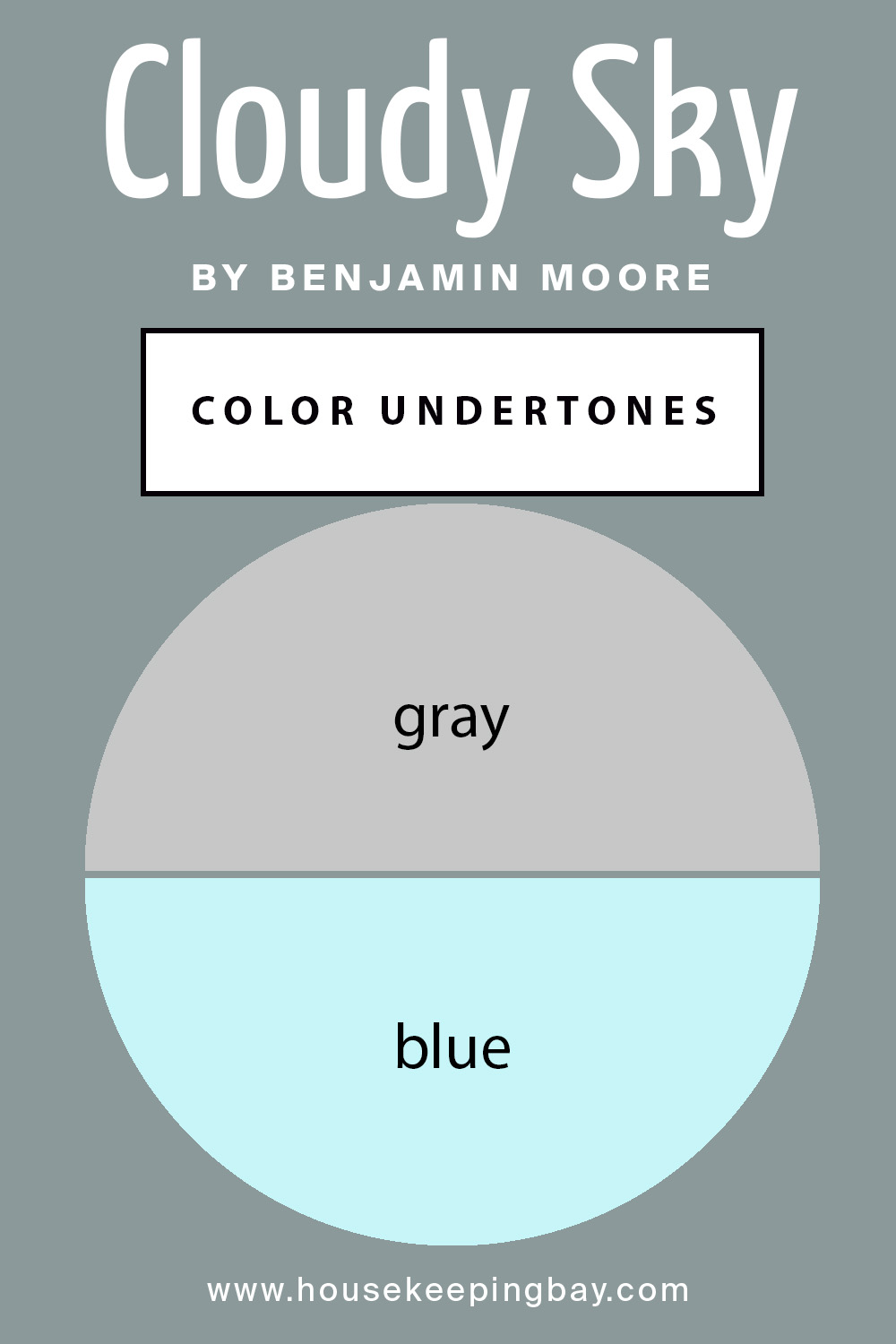 How Does Lighting Affect BM Cloudy Sky?
As you already know, the LRV of BM Cloudy Sky is 32.34 which makes it quite a dark paint color. In addition, this color has gray undertones. Altogether, it does not make this paint color simple in terms of its reaction to light.
The basic rule of thumb you need to keep in mind when dealing with Cloudy Sky color is that the more light it gets, the lighter the paint will seem on the wall or another surface.
Also, under the more light, it will reveal its blue undertones instead of grayness.
But the second you reduce the amount of light, the color, just like a chameleon, will turn into a darker grayish one!
Of course, its gray notes will come up more prominently as well. As for the artificial lighting, the warmer it is, the more fully the paint will reveal its gray side.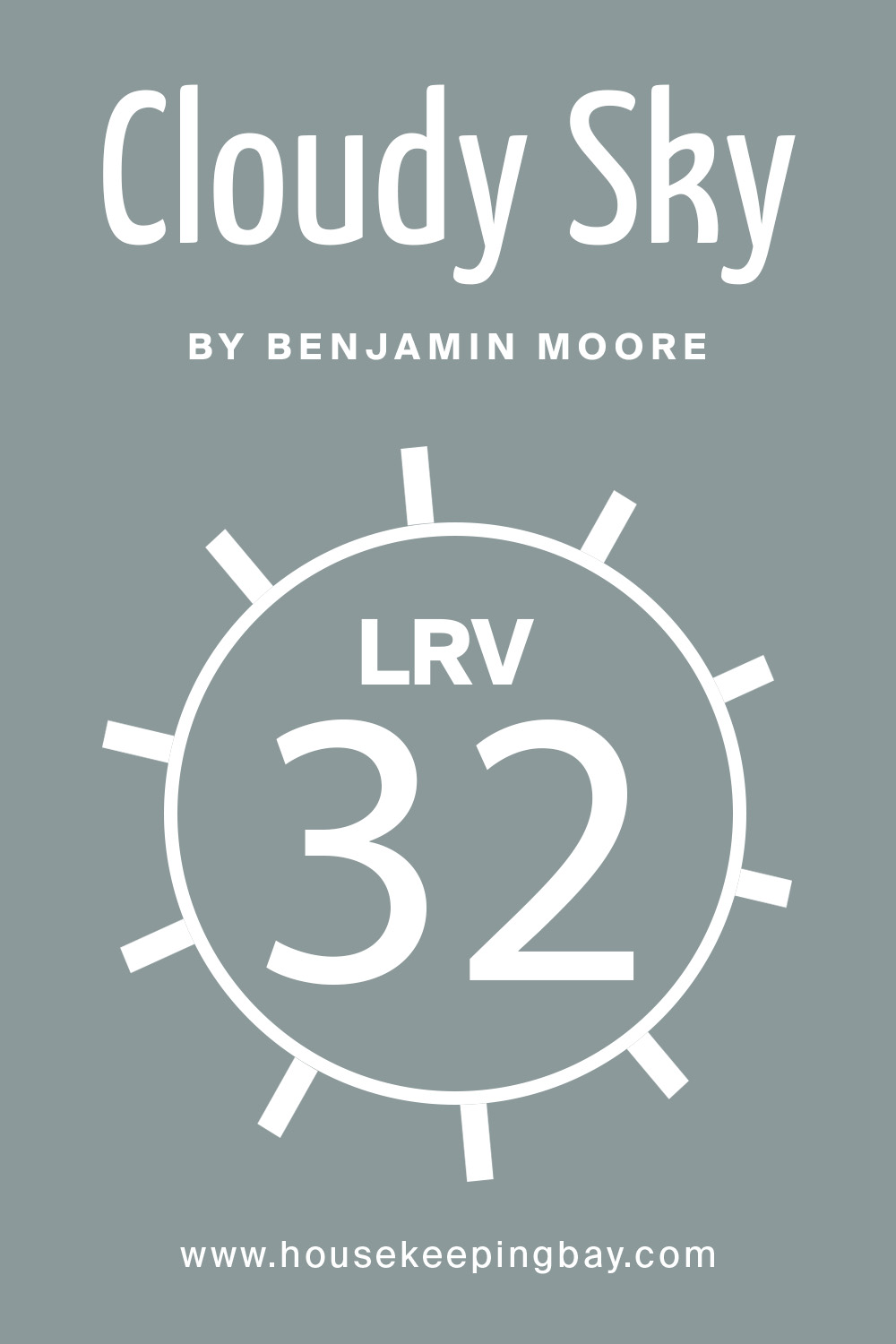 What is LRV? Read How To Choose The Proper Color
Coordinating Colors For Benjamin Moore Cloudy Sky
As a matter of fact, such soothing and calm colors as blue and gray are both perfect to be paired with various shades.
Nevertheless, the complex combination of these two colors that can be found at Cloudy Sky by Benjamin Moore requires a particular approach!
For example, if you are looking for coordinating colors for this paint, we suggest you adhere to the color experts from Benjamin Moore who suggest pairing Cloudy Sky with other pastels or cool and even dark colors.
For example, you could consider using one of the following paints:
Spring Meadow 486, a soothing shade of cool green with a haze cover
Cotton Tail 2155-70, a very light shade of beige with slightly noticeable soft pinkish notes
Meadow Mist 936 – crispy white with noticeable gray undertones
Mink 2112-10 – a dark shade of brown with a subtle scent of gray
Like that, you will be able to find the most matching color combination for your home and any interior.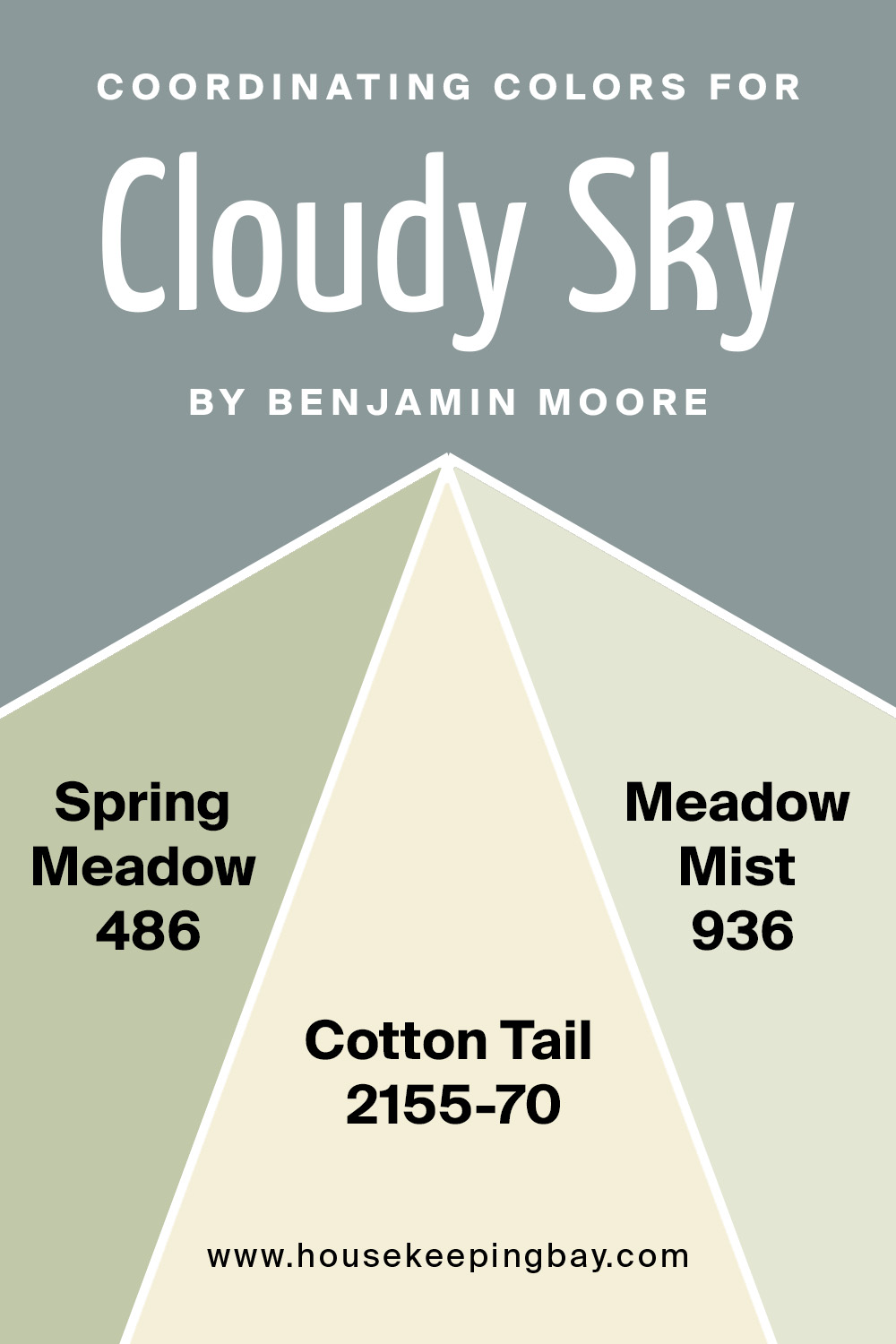 What's the Best Trim Color For BM Cloudy Sky?
Choosing a proper and well-matching trim color is almost as important as figuring out what undertones the paint color has and how it will work with other colors in a room!
And here we can give you a handy hint: you will never go wrong with pairing white trim to any paint color!
A nice and bright white paint color looks great with Cloudy Sky!
So we would suggest you opt for Benjamin Moore Chantilly Lace on trim. Another paint color that is a bright true white that pairs nicely with cooler paint colors is Benjamin Moore Decorator's White.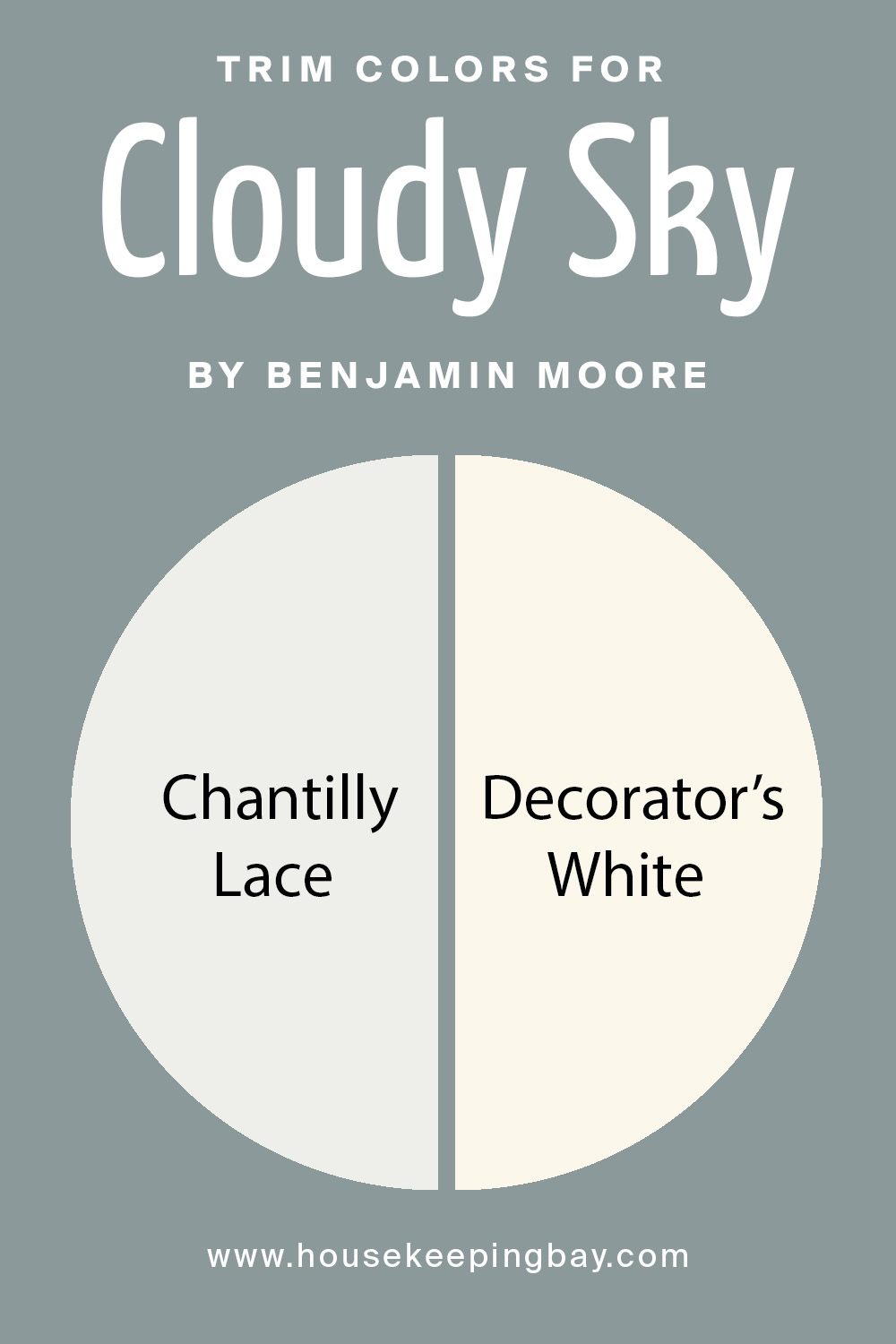 Related: Sherwin Williams White Paint Colors | Detailed Guide
Paint Color Similar to BM Cloudy Sky
Sometimes, we might need to use another color, not exactly the one that we have previously chosen.
The reasons for doing that might be different, but the fact remains: it is always good to know what other similar colors exist that look the same or nearly the same as the color that you picked.
And this is why you will probably not be surprised to find out that the combination of blue and gray colors can be found in quite a lot of variations!
And even if we limit it to only the colors similar to Cloudy Sky, the list will still be pretty long.
Moreover, the difference is often so hard to notice that you would be surprised!
Below, we have prepared a list of such color alternatives you could opt for.
Gibraltar Cliffs 1587, a shade that's slightly darker than Cloudy Sky
Brewster Gray HC-162, also slightly darker, but a haze effect should also be considered!
Van Courtland Blue HC-145, a deep shade of a lighter blue with gray undertones
After The Storm PPG 1036-4 by PPG Paints, a balanced combination of dark blue and gray with slightly noticeable hints of light
Aqua Smoke PPG 1034-5 by PPG Paints, a mix of blue and gray where blue slightly prevails
Delft SW 9134 by Sherwin Williams, a nice and soothing blue with light gray notes
Debonair SW 9139 by Sherwin Williams, a soft blue with gray undertones and a subtle lavender hint
You can safely use any of these if for any reason applying BM Cloudy Sky is not an option for you.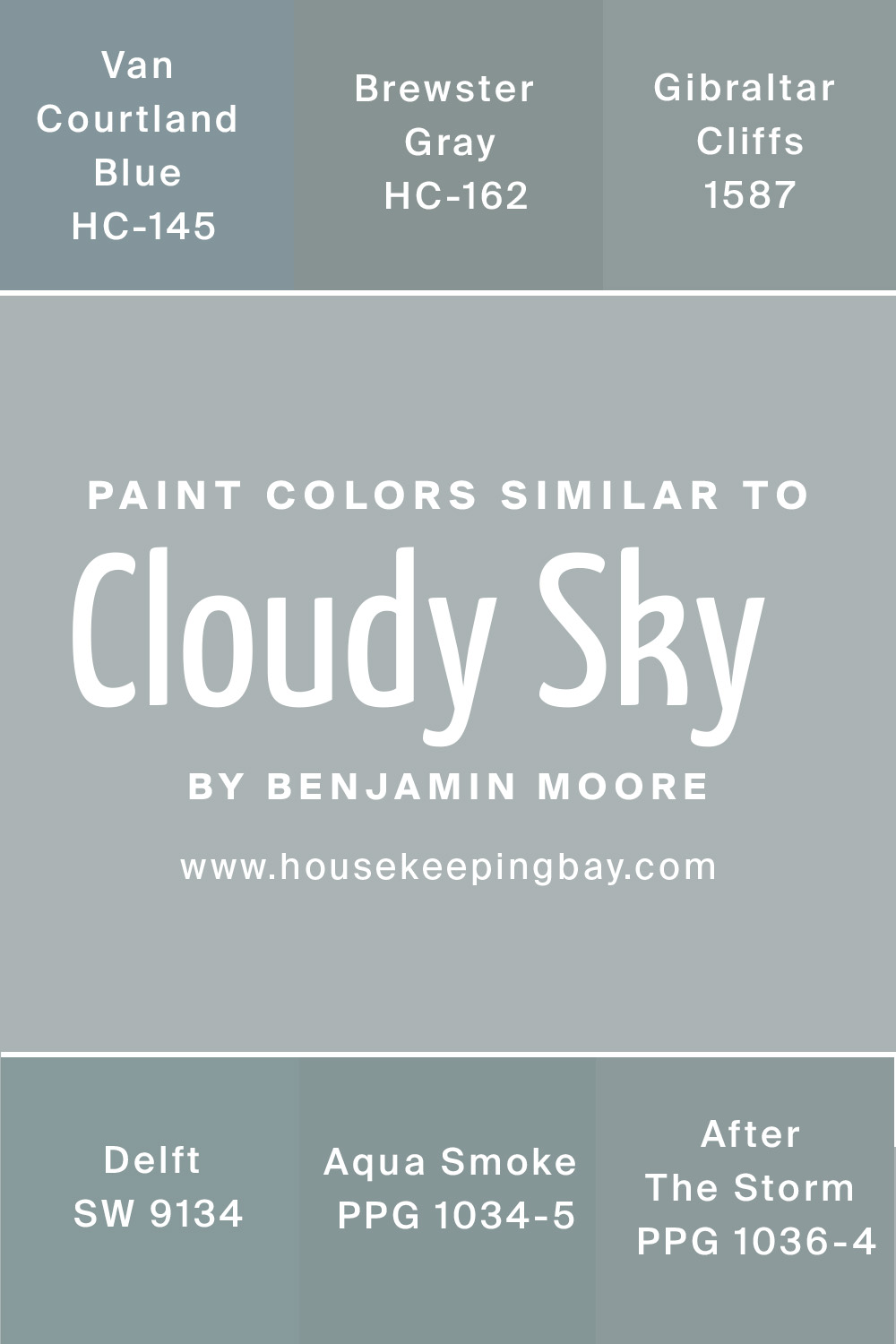 Where In Your Home is Cloudy Sky 2122-30 Color Can Be Used?
You need to know that Cloudy Sky paint color is not so easy to use in your home unlike many other similar shades that also have blue and/or gray tones.
This particular color can be perfect for certain interiors and styles and be less friendly to others at the same time.
However, BM Cloudy Sky is still an impressive choice! And below, you can find a proof.
Cloudy Sky 2122-30 by Benjamin Moore in the Living Room
What about using Benjamin Moore Cloudy Sky in your living room?
If you are looking for quite a neutral background that will add individuality to your living room, Cloudy Sky is your choice.
Consider painting the walls in this shade and combining them with pastels for a soft environment or darker colors for a formal setting.
But in general, this paint color will be suitable for different styles, from functional Scandinavian to the exquisite antique effect of Vintage.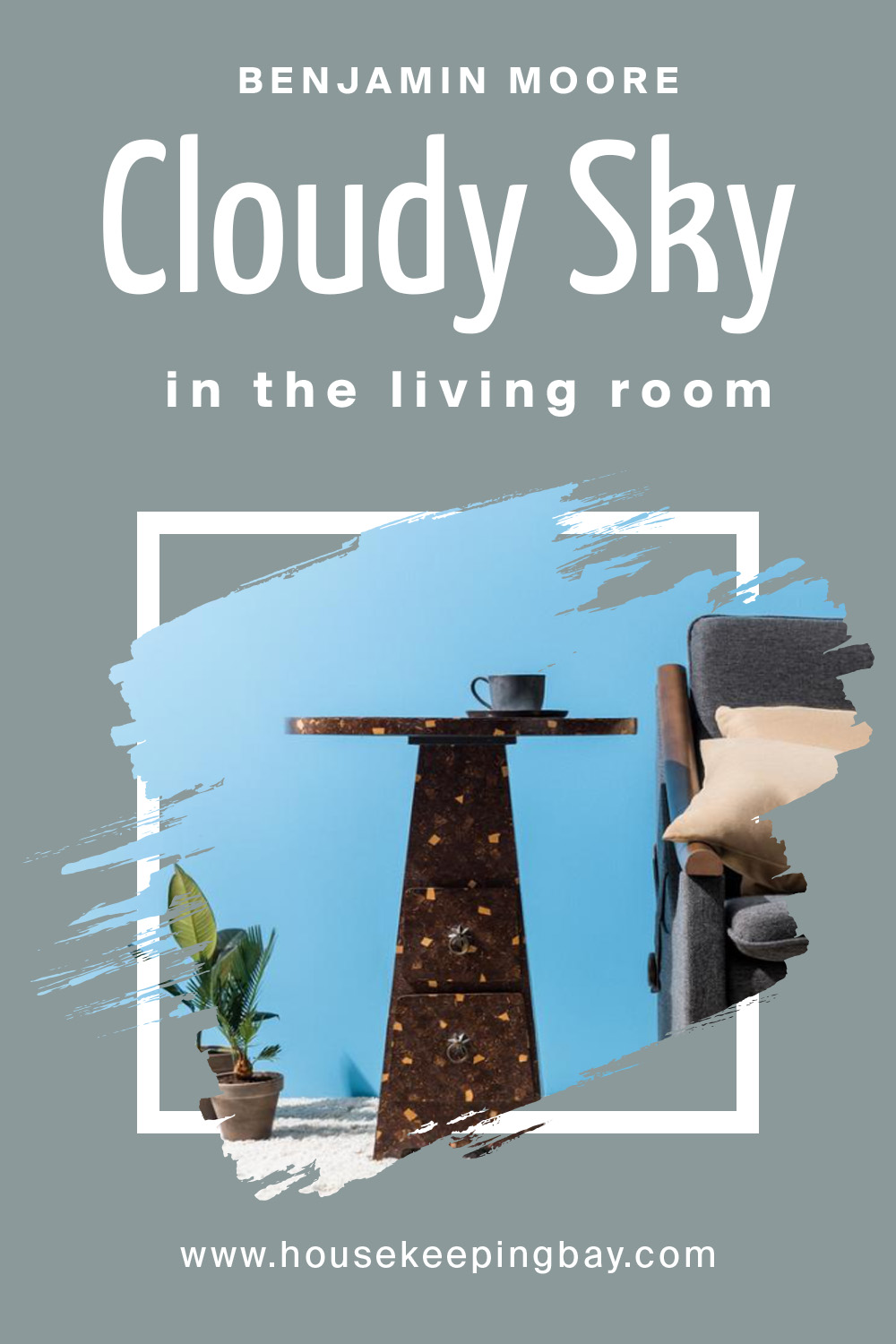 Cloudy Sky 2122-30 by Benjamin Moore in the Kitchen
Gray-blue kitchens have become popular a long time ago, and they still keep on impressing us.
This particular shade of blue is definitely suitable for the kitchen since it is not too bold nor too neutral.
Cloudy Sky will perfectly underline the borders, offering a relaxing environment.
We would also like you to note that kitchen cabinets painted with this color will work perfectly with white countertops and backsplashes.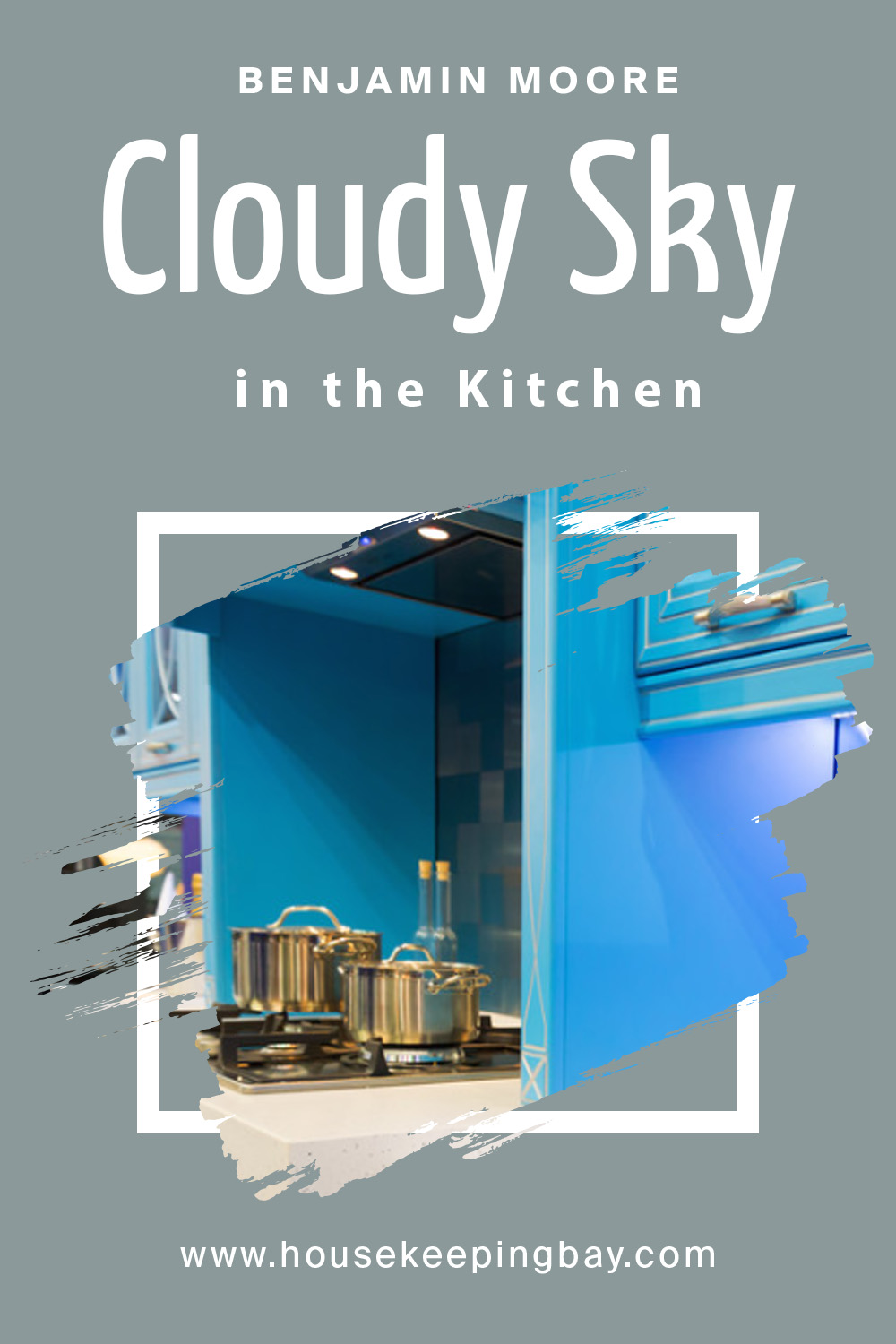 Cloudy Sky 2122-30 by Benjamin Moore in the Bedroom
This room is so personal that it requires a feeling of safety, escape, and coziness.
And Cloudy Sky can be very handy! It is enough to paint an accent wall with this color, particularly wood paneling.
But if you want to enhance the effect, consider painting all the walls in this shade of blue. A bit of soft colors and light or dark wood will be perfect complements as well.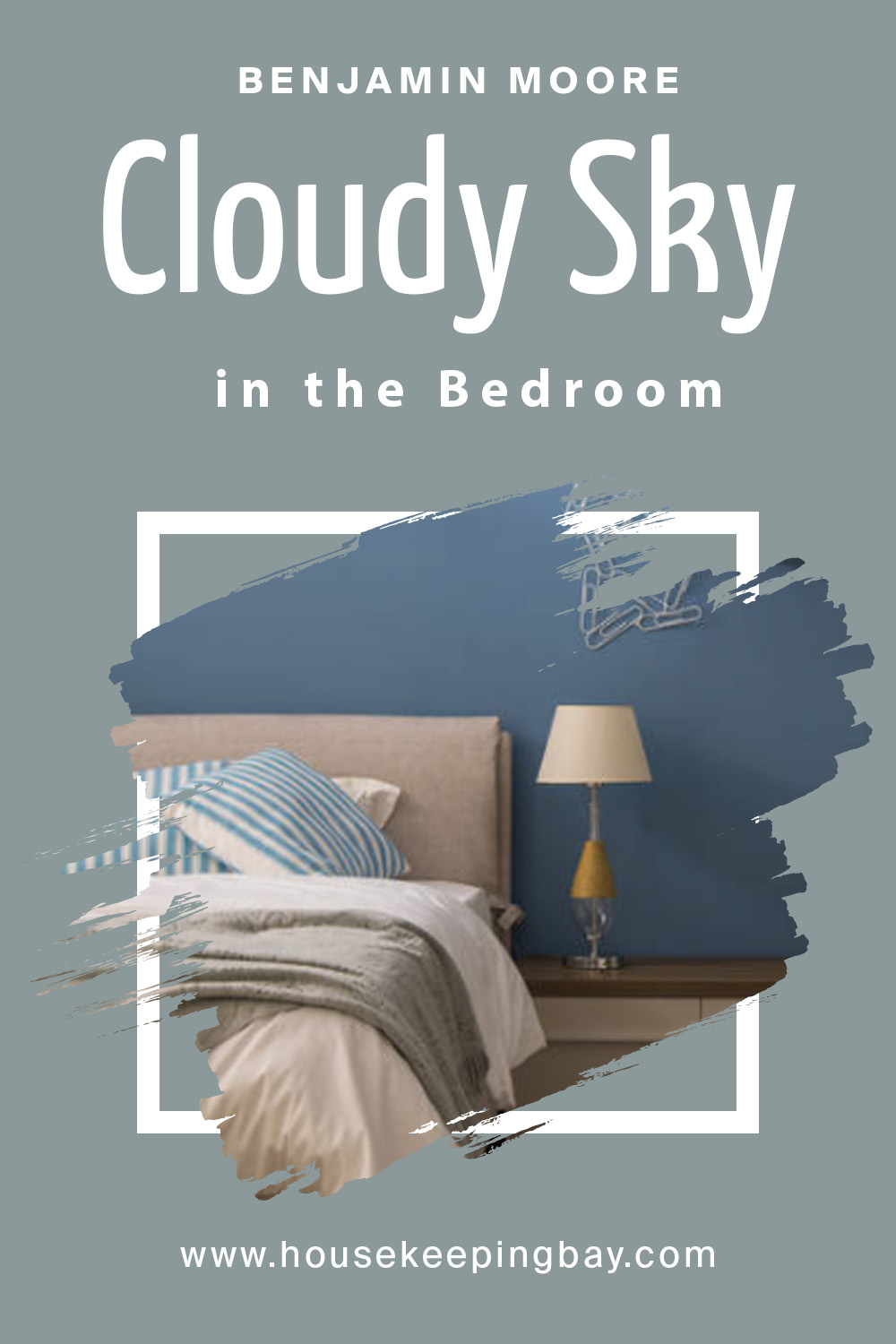 Cloudy Sky 2122-30 by Benjamin Moore in the Cabinets
On cabinets, this color will also look great and pretty much reserved being at the same time relaxing enough.
Since this paint is not too dark, you should not be afraid of making the space look way too gloomy or overloaded with this shade.
However, we would still recommend you combine Cloudy Sky with other colors to make the entire room look better balanced.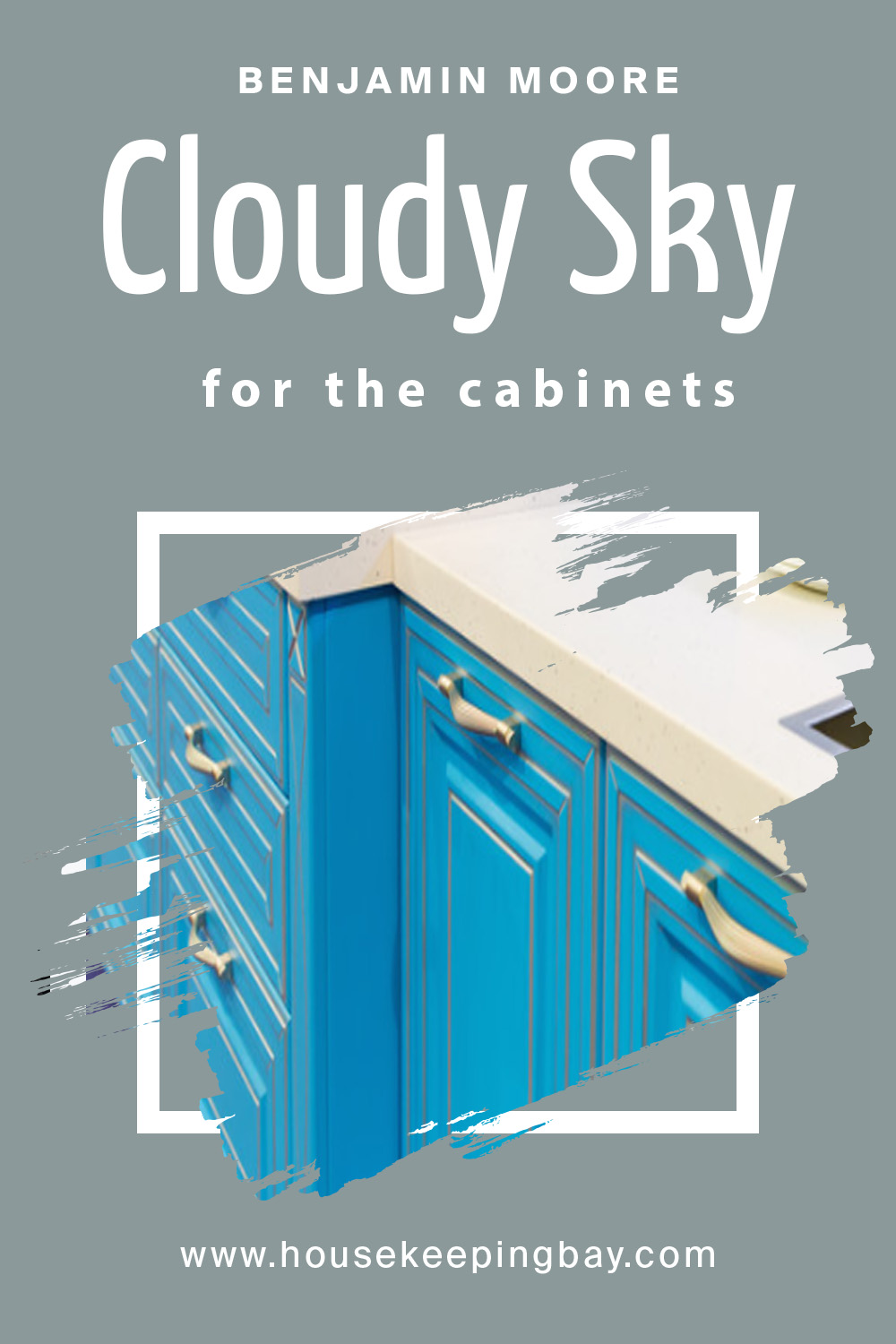 Cloudy Sky 2122-30 by Benjamin Moore for the Exterior 
This paint color can be used both indoors and outdoors, especially on wood and dark wood.
If you use it along with white window frames and dark wooden doors, you will get a stylish look of your house that looks rather calm and reserved but not too dark at the same time.
Also, this color can be used for painting your front door, especially if the entire house is painted with a light color, for example, white.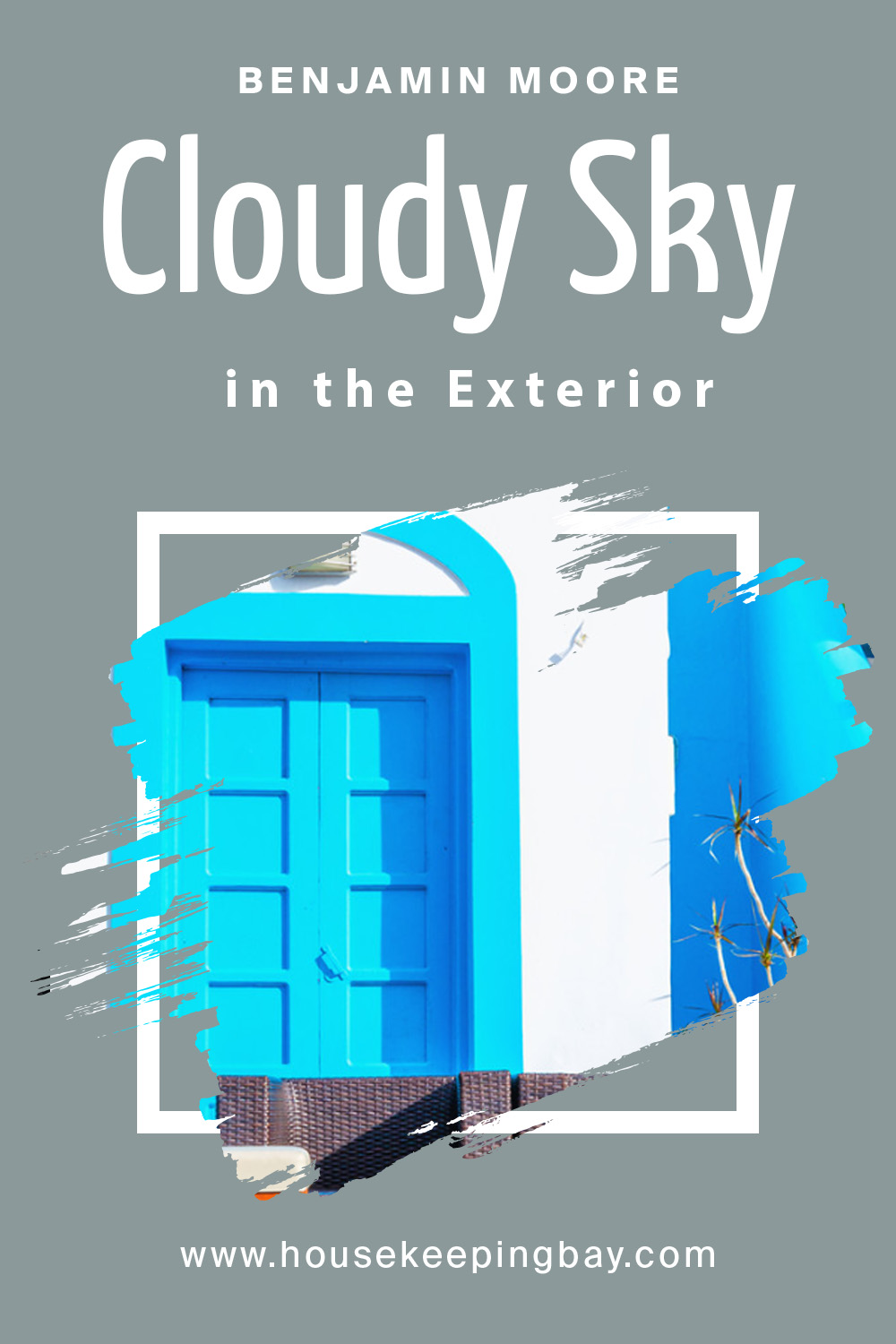 Colors That BM Cloudy Sky Goes With
Many of us are often concerned about what colors to use the chosen paint with to get a good-looking combination. As for the Cloudy Sky, you might be even more worried since this color is pretty complicated and tricky when combining it with others.
But since Cloudy Sky can almost be considered a neutral, just like the majority of grays and blues today, you can basically pair it with a wide variety of other colors.
Only consider whether you want to stay in a cool-toned area or move out of it.
If you are looking for another cool shade, try out Paletest Pistachio and Snow White since they go well with Cloudy Sky.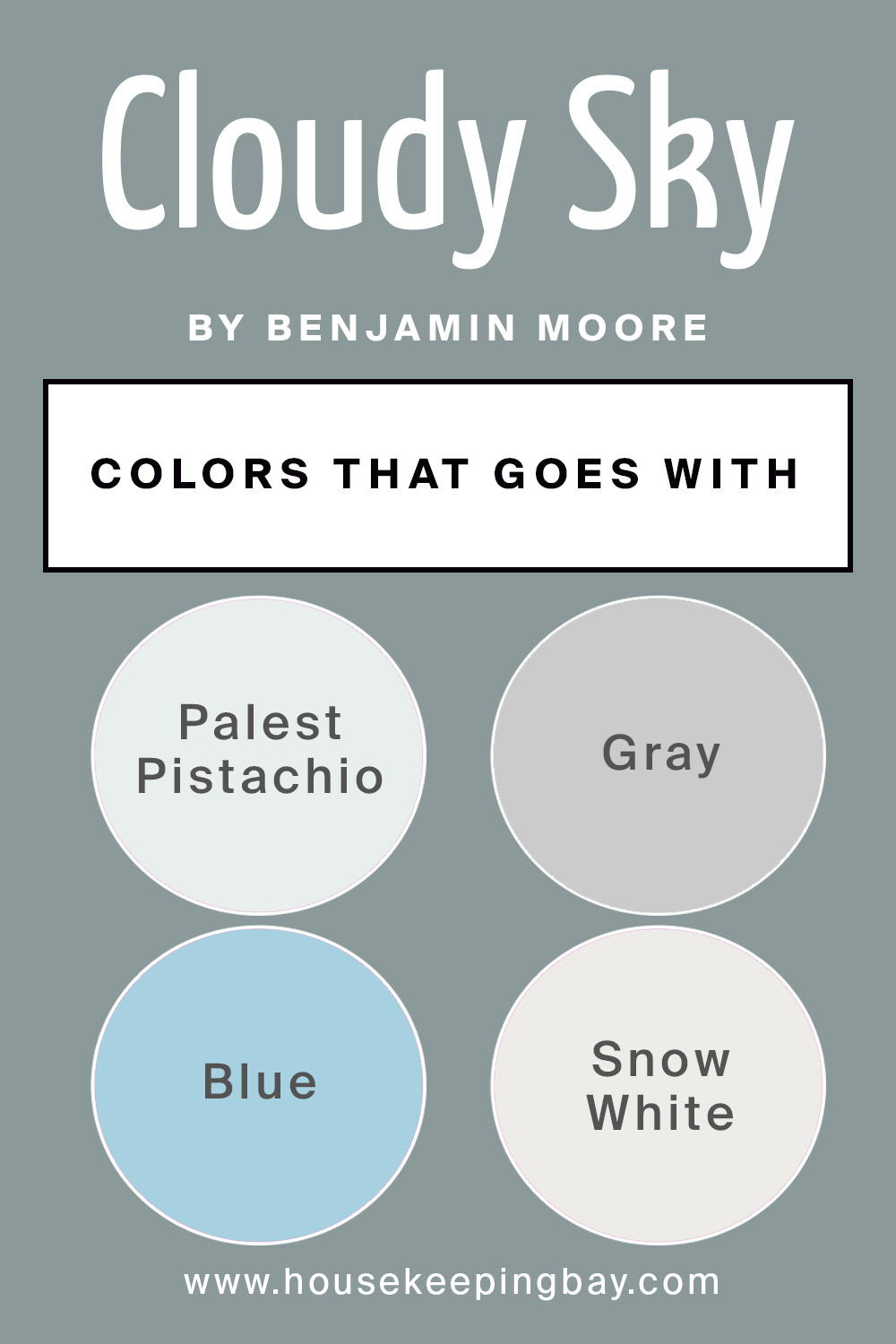 Well, now you know almost everything about this Benjamin Moore paint color.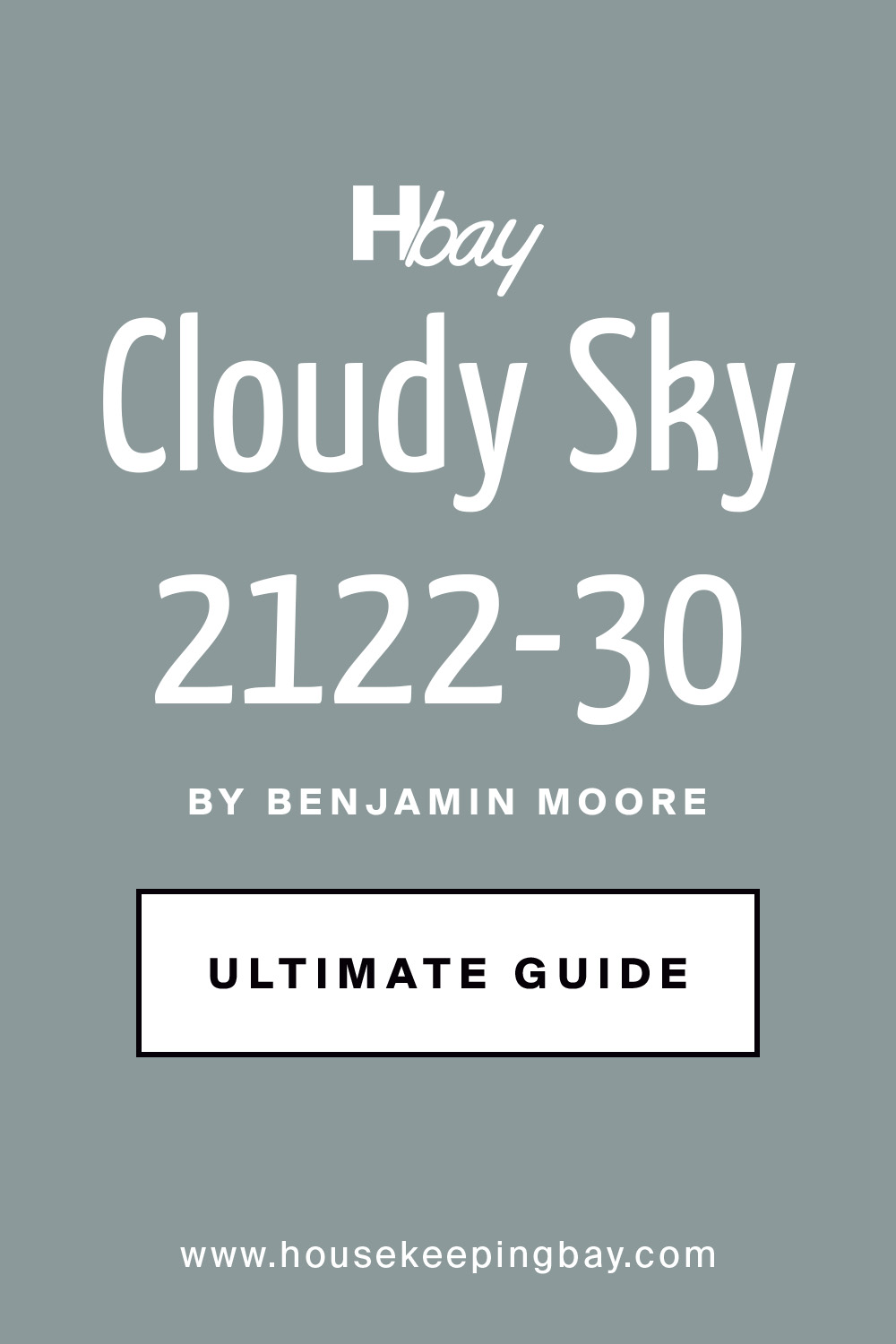 We told you how and where it is best to be used, and what you should expect from it when applying this paint under different lighting.
We are sure that with all this in mind, you will complete your painting project successfully!
Frequently Asked Questions
⭐ What paint sheen should I go with when using BM Cloudy Sky?
Eggshell sheen is better but for the places that need frequent cleaning, use satin sheen.
⭐ What white trim color would you recommend for Cloudy Sky?
Try BM Chantilly Lace or Decorator's White.