Pink is the color that many of us love and adore! It comes in plenty of shades, from cool-toned and bold to soft and powdery soft. Thanks to such a wide variety of color options, pink can easily create a different atmosphere in a living space.
You can use it to make your home feel posh and stylish, or you can use this color to add tenderness and delicacy to your rooms.
Today we will share a few pink color palette ideas with you. They will help you see how varied this color can be, and besides, with the help of this guide, you will be able to incorporate pink into your interior successfully without making the space look like a lollypop!
Ideas for Pink Color Palette to Use In Your Home Design
When it comes to using pink in interior design, people quite often refuse to use this color despite loving it. Why is that? Well, one reason is that pink is traditionally considered to be a "girlish" color that represents naivety and youth.
This is why it is often associated with young teenage girls, candy, and childhood, making this color less popular among the adult audience that prefers calm and mature colors instead (e.g., beiges, neutrals, etc.).
Another reason is that people often don't know how to pair pink with other colors correctly. This is mostly because pink is a complex color that consists of white and red. Depending on the amount of white used, the final shade of pink may vary from more pronounced (e.g., a rose pink) to lighter colors like baby pink.
Finally, folks often don't realize how varied pink is! This color comes in so many shades that you can easily pick the one (or more than one!) to use in your home. Below, we have prepared several pink color palettes to check out. With their help, you will get inspired and surely find the shade of pink you like!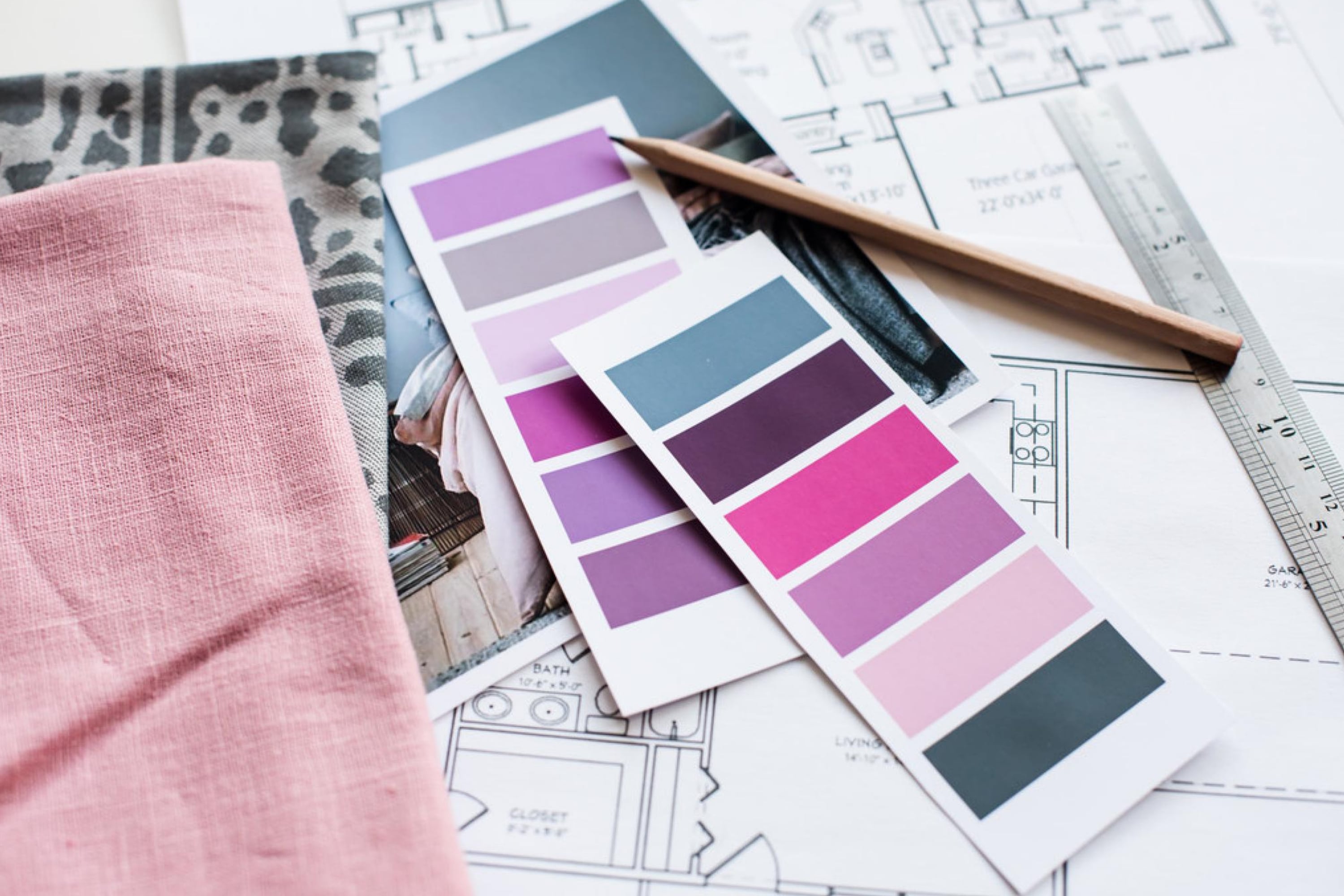 Light Pink Color Palette
The light pink color palette consists of soft and powdery shades of pink that read very delicate and subtle. These colors will read well in a bedroom of a little girl as a wall color or as an accent color in your bedroom (e.g., this pink will look nice on pillowcases or throw blankets).
However, you can even use these shades of pink in your living room if the overall palette of the room allows this color! Each of these light shades of pink will create a calming atmosphere and add tenderness to the space.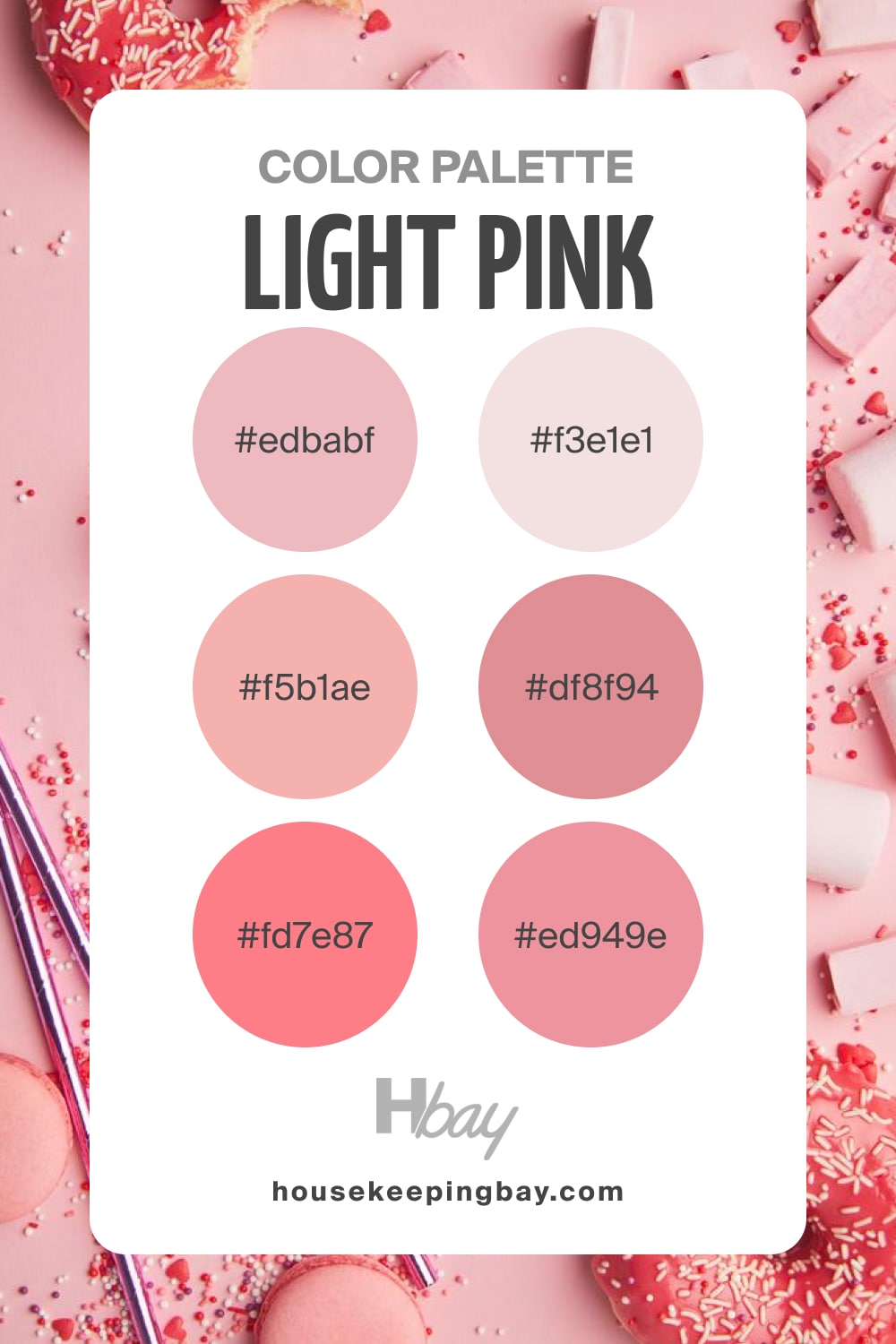 Pink And Green Color Palette
This color palette includes both pronounced pink and green colors, as well as colors that have pink undertones. In particular, you can find such colors as dark green, pink, deep purple, and even a light brown with very slight pinkish undertones here.
This palette will be super suitable for a home where different colors are combined harmoniously! Although, we would not recommend using these colors in a space with too vivid or bright colors since this palette consists of relatively muted paints.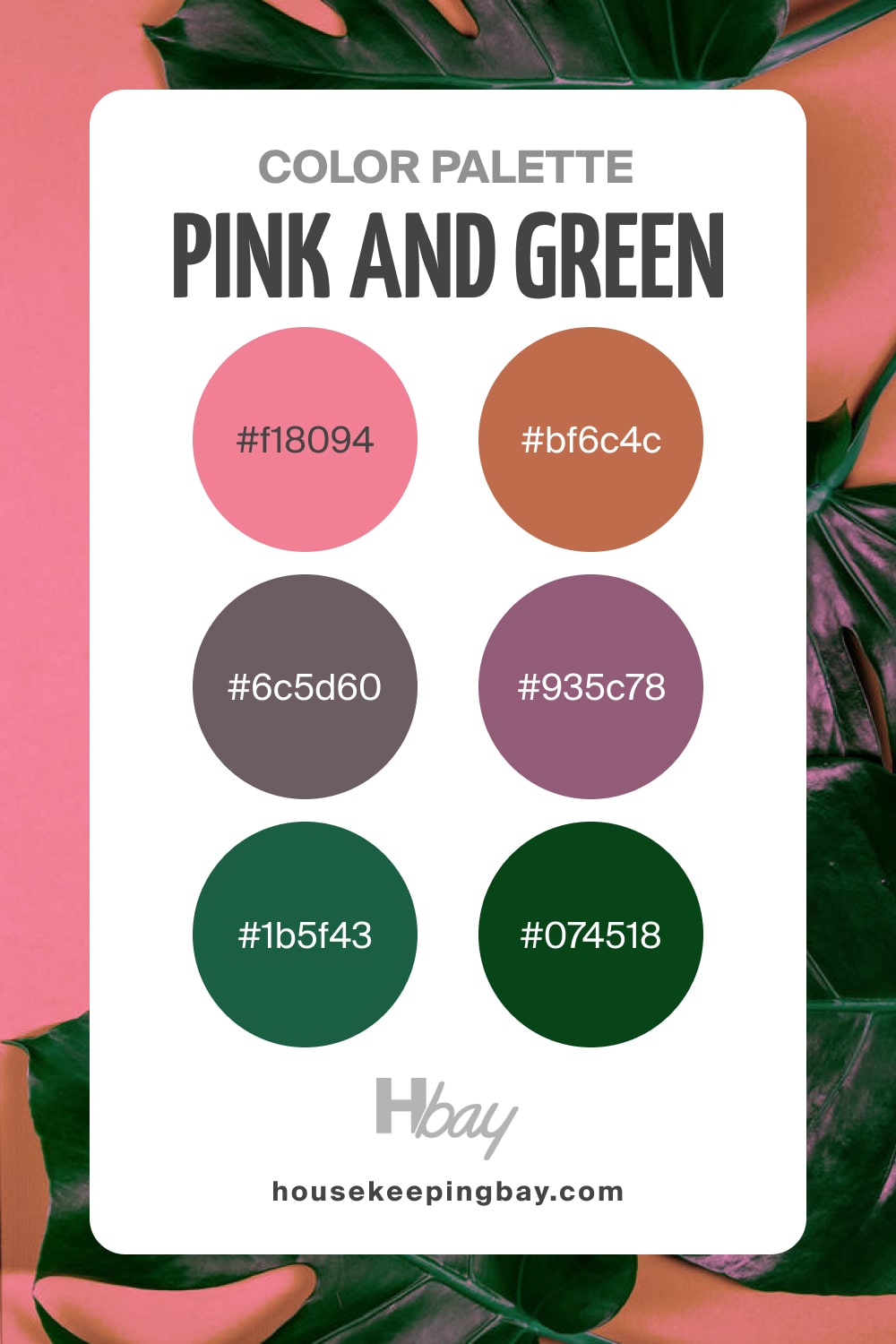 Brown And Pink Color Palette
This color palette consists of perfectly balanced muted nude shades of pink and brown with a slightly powdery look. The colors are not too light, which allows you to create contrasting color pairs that will highlight each other's beauty.
This color palette will be suitable for bedrooms and children's rooms in particular. Also, each color it contains will pair well with soft shades of white.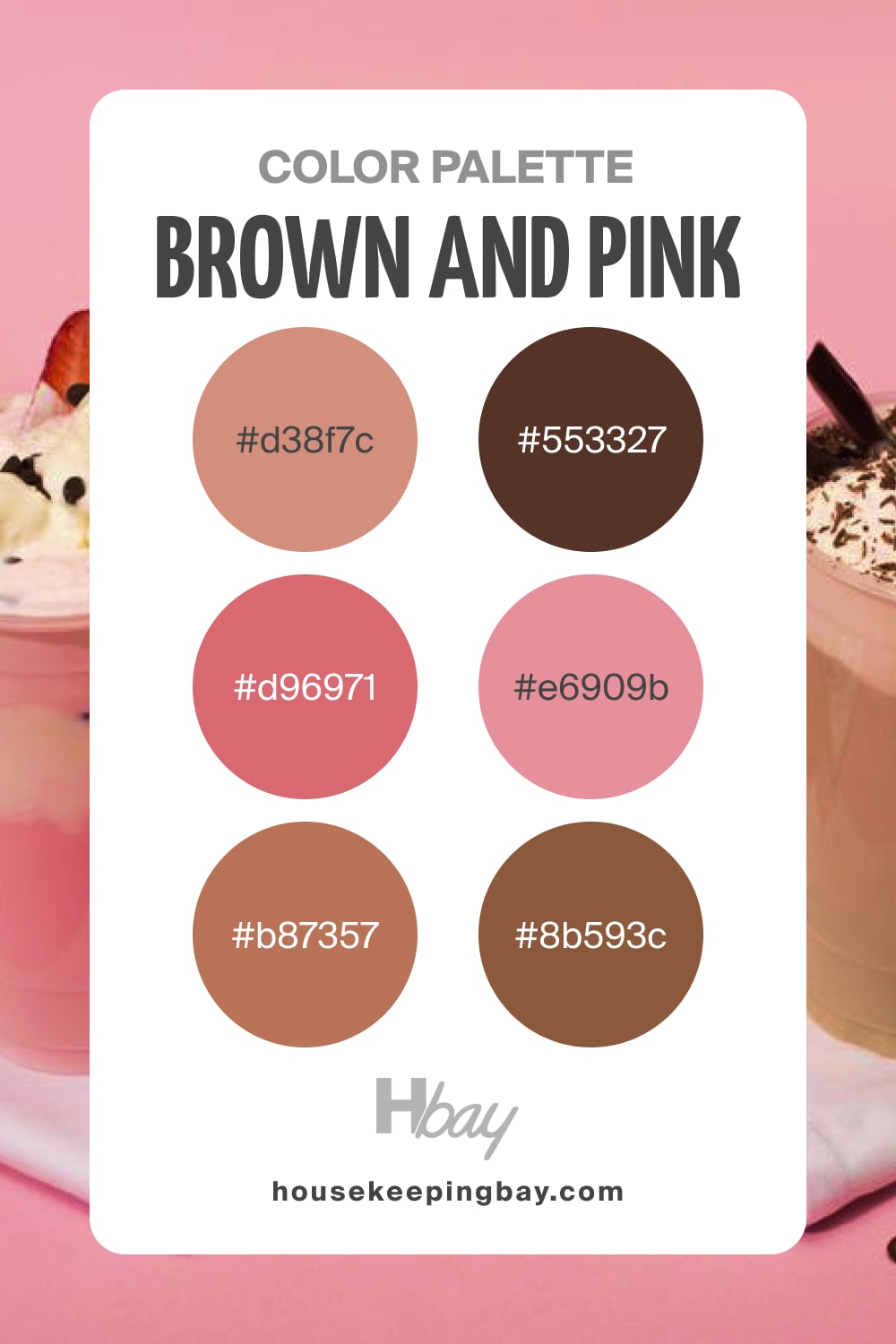 Aesthetic Pink Color Palette
The colors used in this palette are pretty cool-toned, so if you are fond of warm and cozy interiors, this color selection might not be the best option for you. It contains light purple colors with pink undertones, as well as deeper pinks with reddish undertones too.
The overall impression of this color palette is elegant and sophisticated, reminding of the color of the sky at sunrise.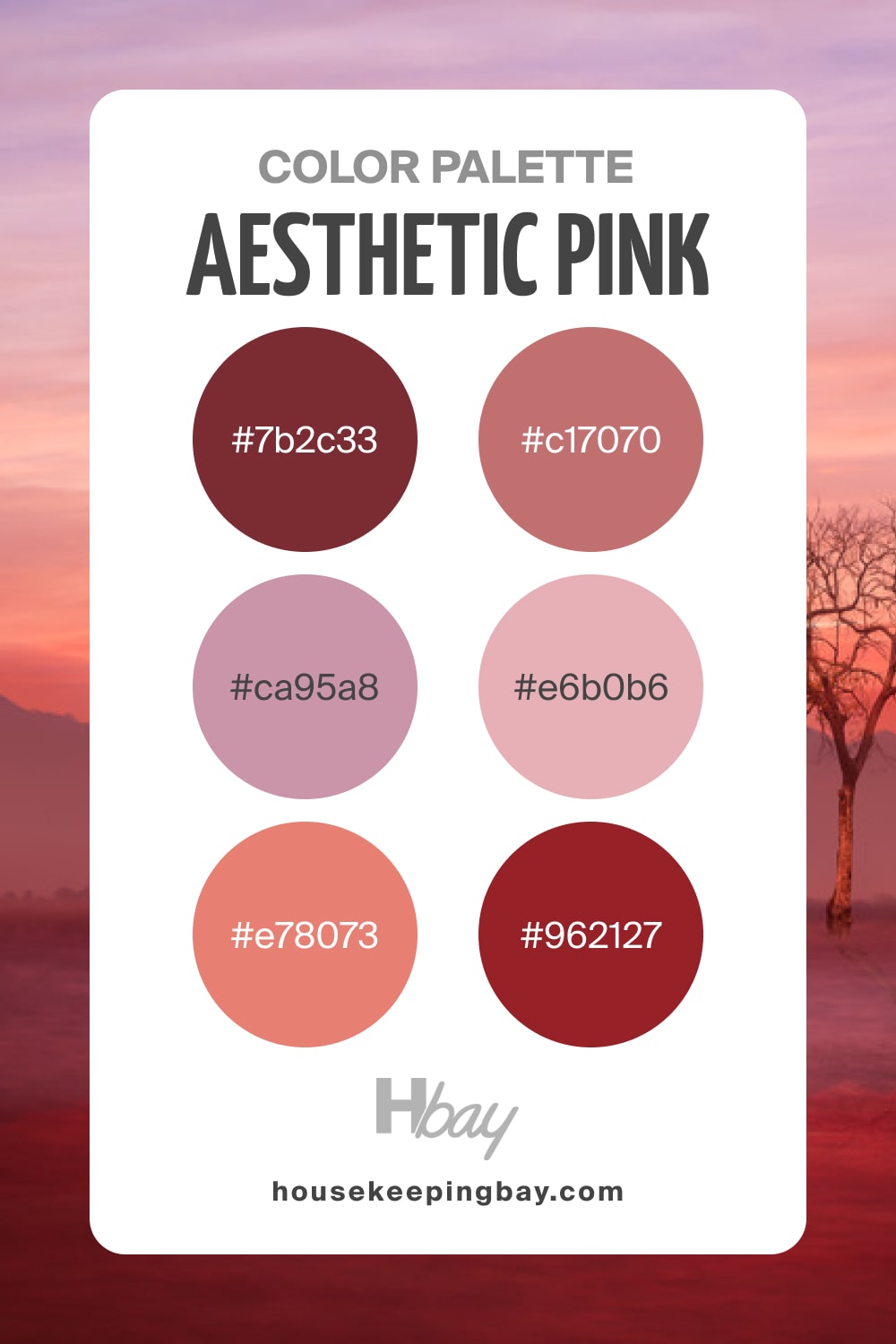 Purple Pink Color Palette
This palette consists of colors that will hardly be suitable as wall colors due to their excess vividness and intensity! However, to create eye-catching color accents in your home, each of them will work perfectly well!
This palette includes a very bright (almost neon) pink, a couple of deep purple colors, and a saturated purple-blue color. They can be used on different decor elements like pillowcases, cushions, lampshades, vases, etc. But be careful when using these shades of pink!
They are so saturated and intense that you can easily overload the space with them if you use too much!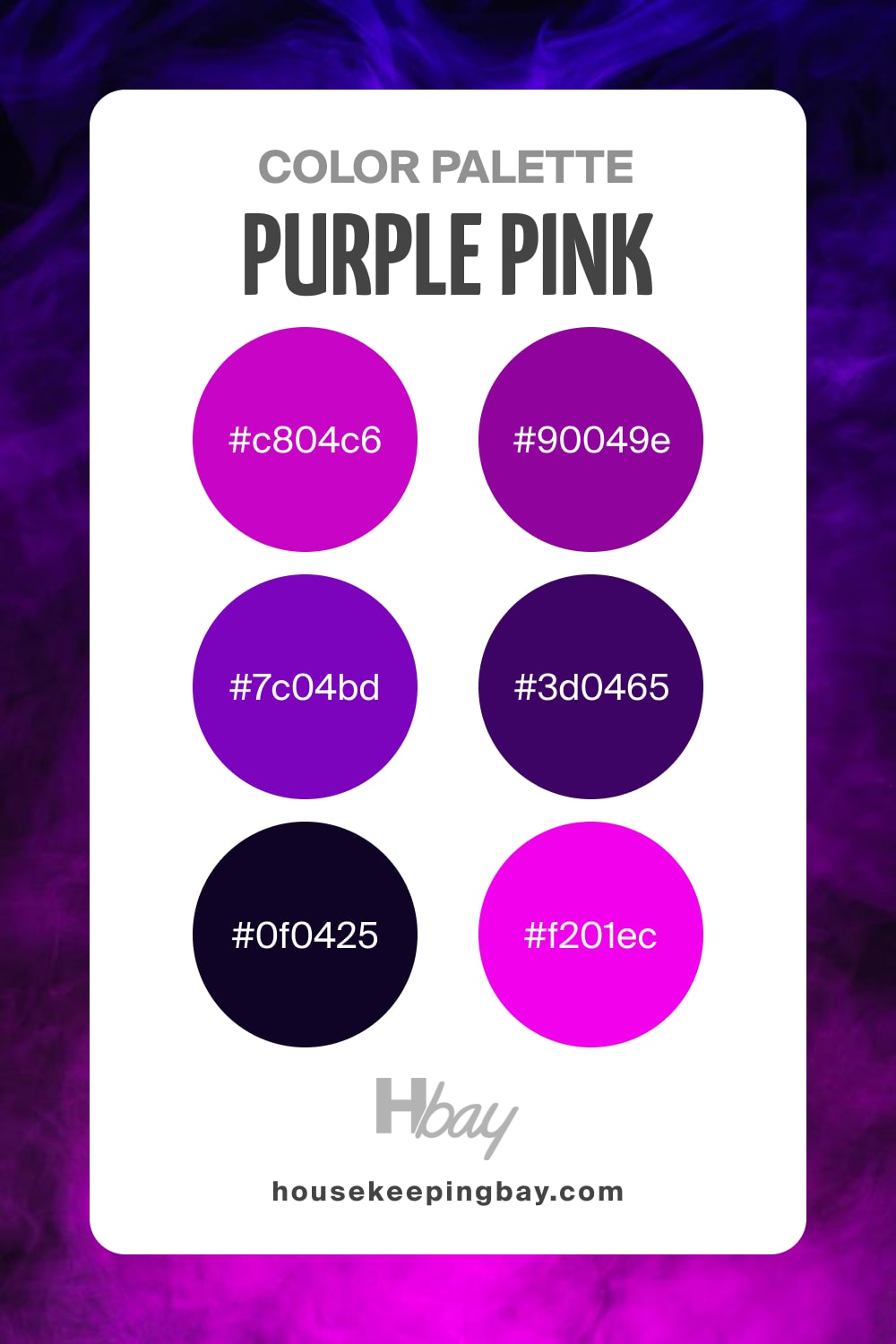 Dusty Pink Color Palette
This pink color palette is an ideal solution for those who adore soft and muted powder-like shades of colors. These shades of pink are delicately nude and balanced in terms of undertones. The palette includes both darker and lighter shades of this color, which allows you to combine these colors according to your wish to create a harmonious and balanced color combination.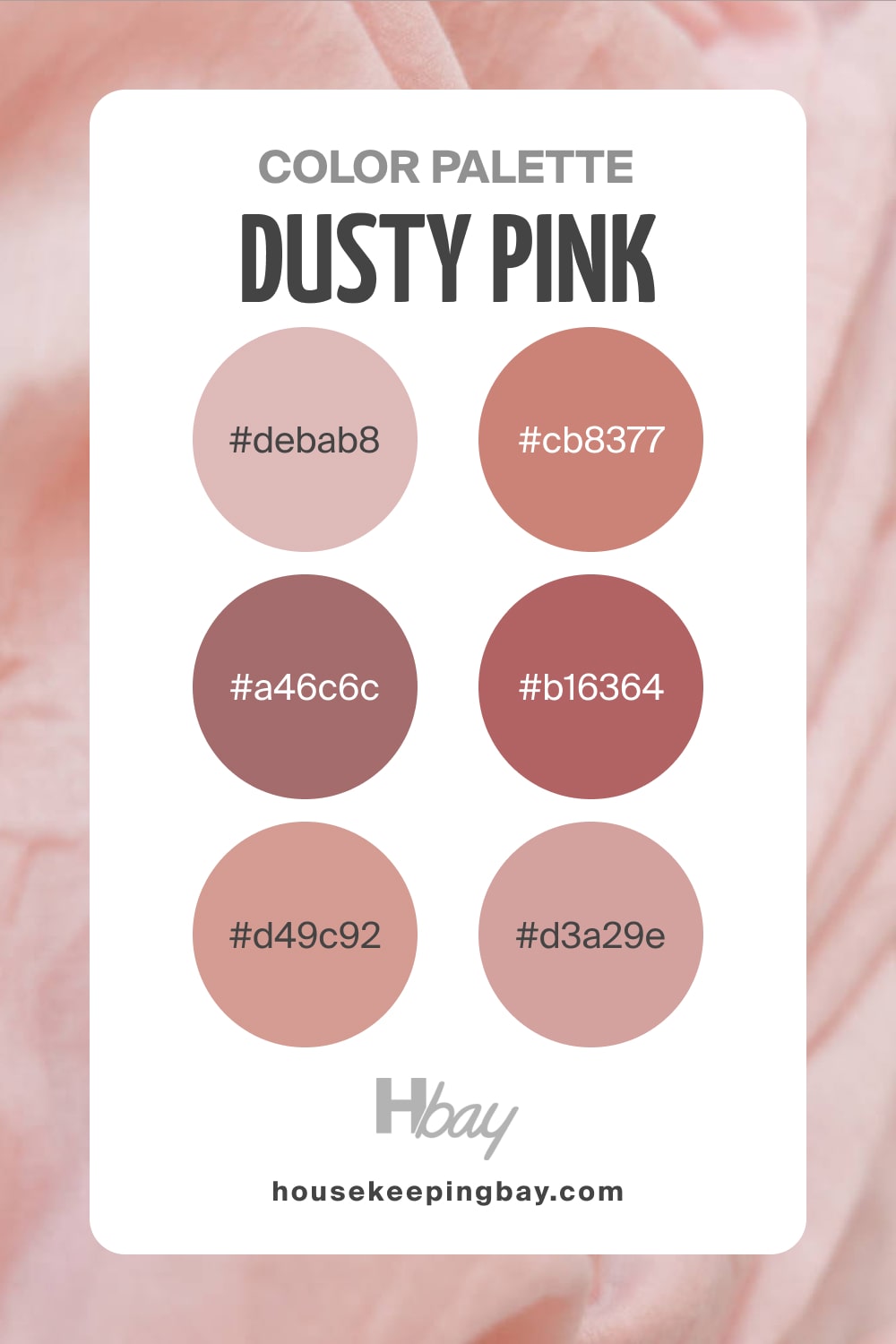 Bright Pink Color Palette
Just like the Purple Pink color palette, this one should also be treated with caution! See, all shades of pink it contains are very pronounced and saturated! Fuxia-pink with pronounced pink undertones and deeper pink with a wine-red undertone create the base of this color palette.
There is also a gray color with a very slight pinkish undertone in it. Since the colors are very eye-catching and pretty bold, they will look better on single decor elements in a room rather than on the walls!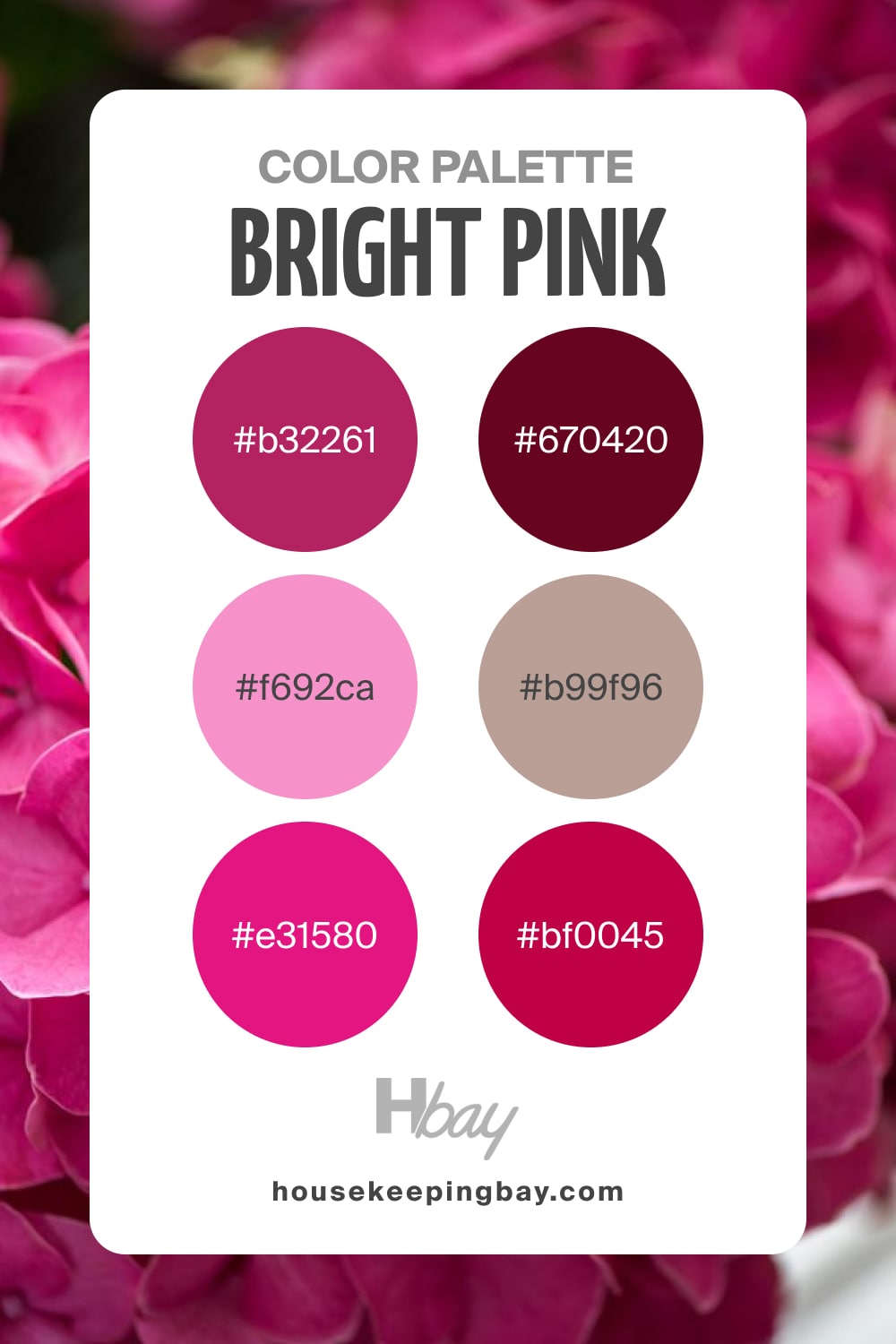 Wedding Pink Color Palette
This color palette consists of very delicate shades of pink, and there is one light blue color that has slight pinkish undertones. Each of these colors has either lilac or purple/pink undertones, thanks to which all of them work together astonishingly well!
If you really love pink and lilac shades, you can use this palette in your home completely. However, we would recommend you dilute it with soft whites and other coordinating colors to make the space look vivid and lively.
Neutral Pink
This color palette consists of powder and subtle pink colors with prominent purplish undertones. All colors are relatively muted, creating a calm and relaxed atmosphere in a space where you might want to use them.
Such shades of pink will be suitable in bedrooms for both children and adults. Paired with whites, they will read even sifter. Besides, to make a room read more varied, you can use other colors that pink goes well with! For example, don't hesitate to add some brown or green accents to highlight the tender beauty of this color.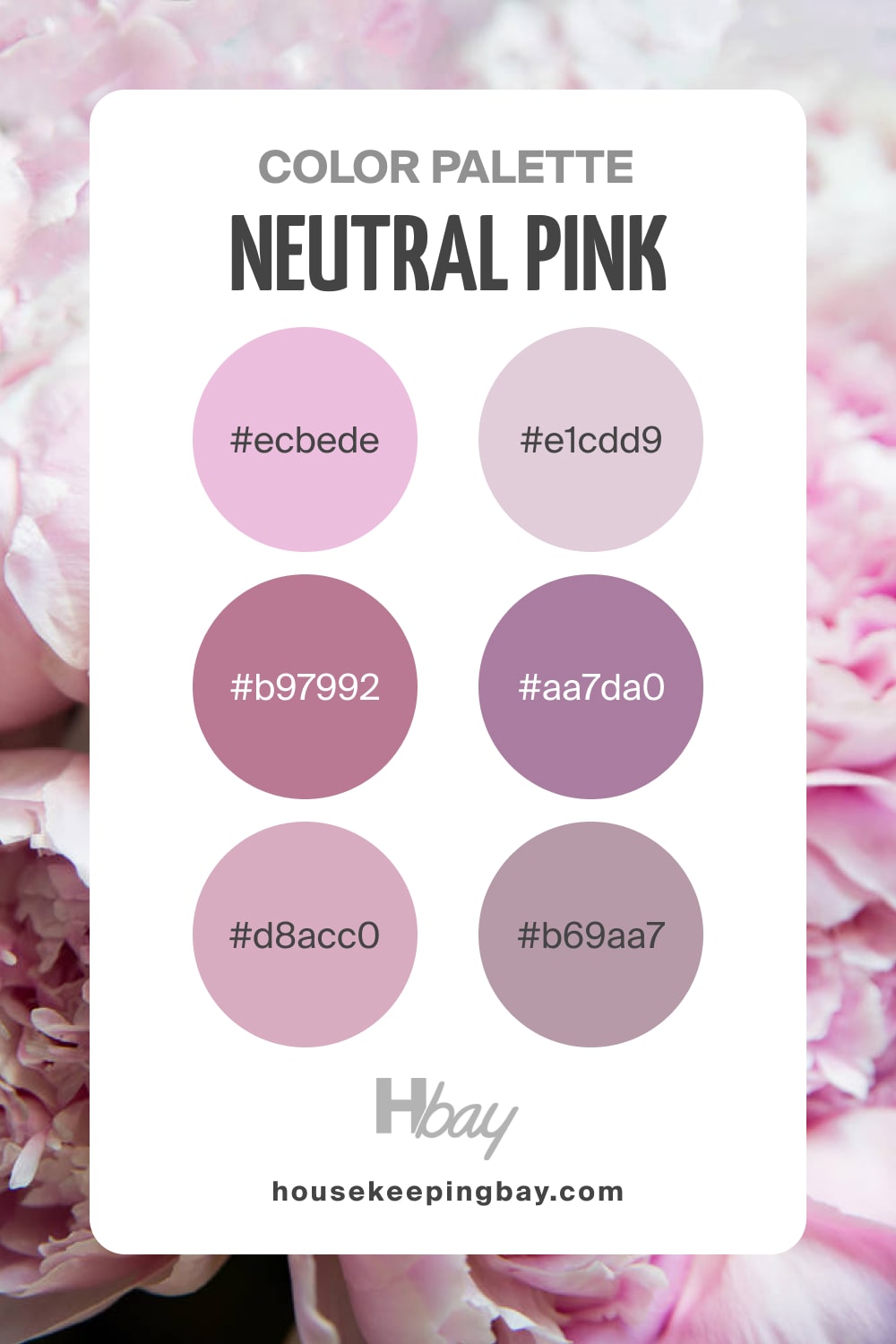 Pink Red Color Palette
If you love saturated and intense colors, this pink color palette will be your choice! It consists of bright and vivid shades of pink that resemble red berries like strawberries and raspberry. Such a juicy color will make any room look energetic and lively!
For sure, you'd better use such shades of pink with calmer colors, for instance, soft whites and grays. Those colors will make these bright pinks read less piercing.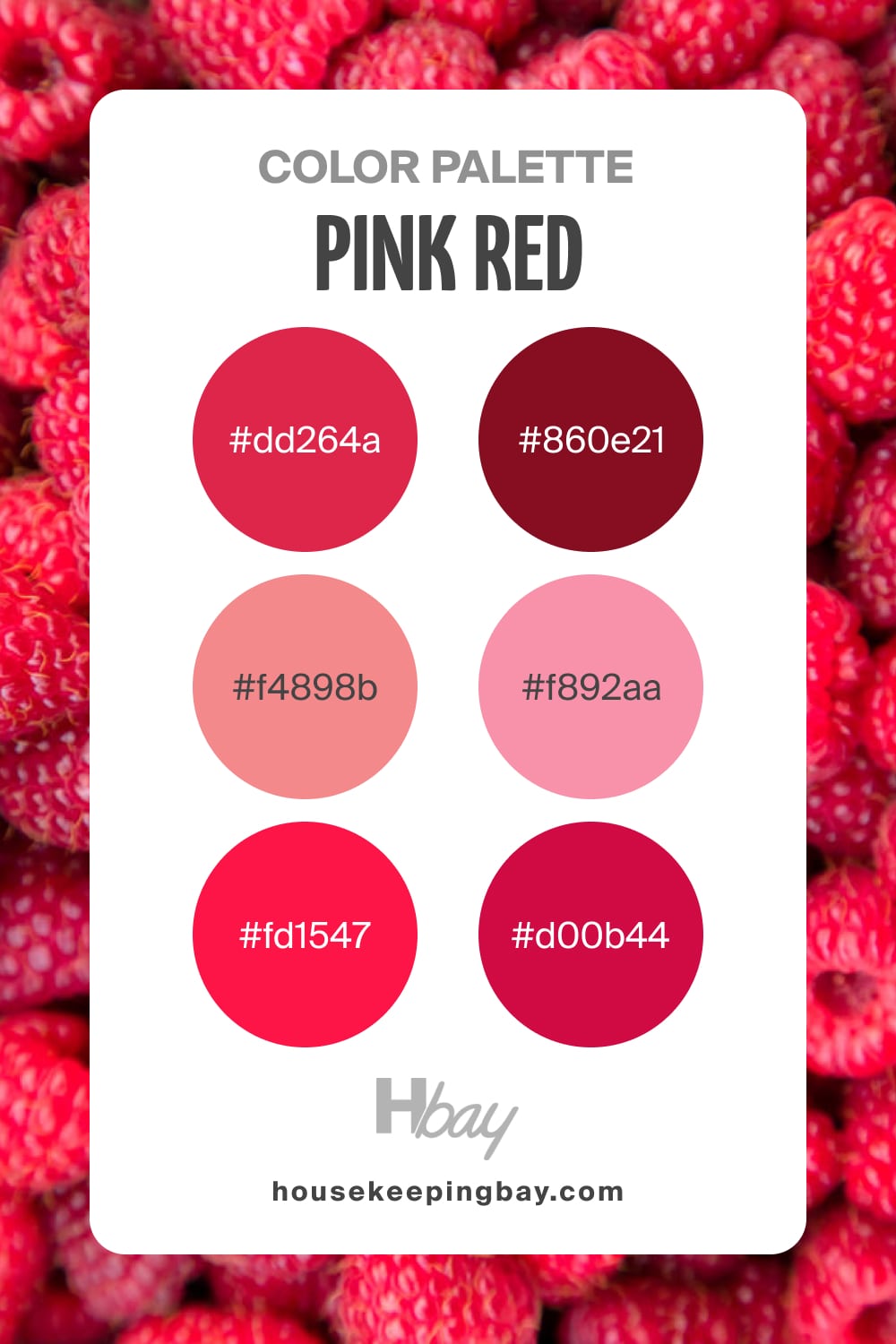 Dark Pink Color Palette
This pink color palette will be more suitable for those who admire calm yet saturated enough colors. The shades of pink it contains are quite pronounced, although you can't call them bold or bright. Also, this color palette includes a green color that will help you to highlight the reserved beauty of pink perfectly well.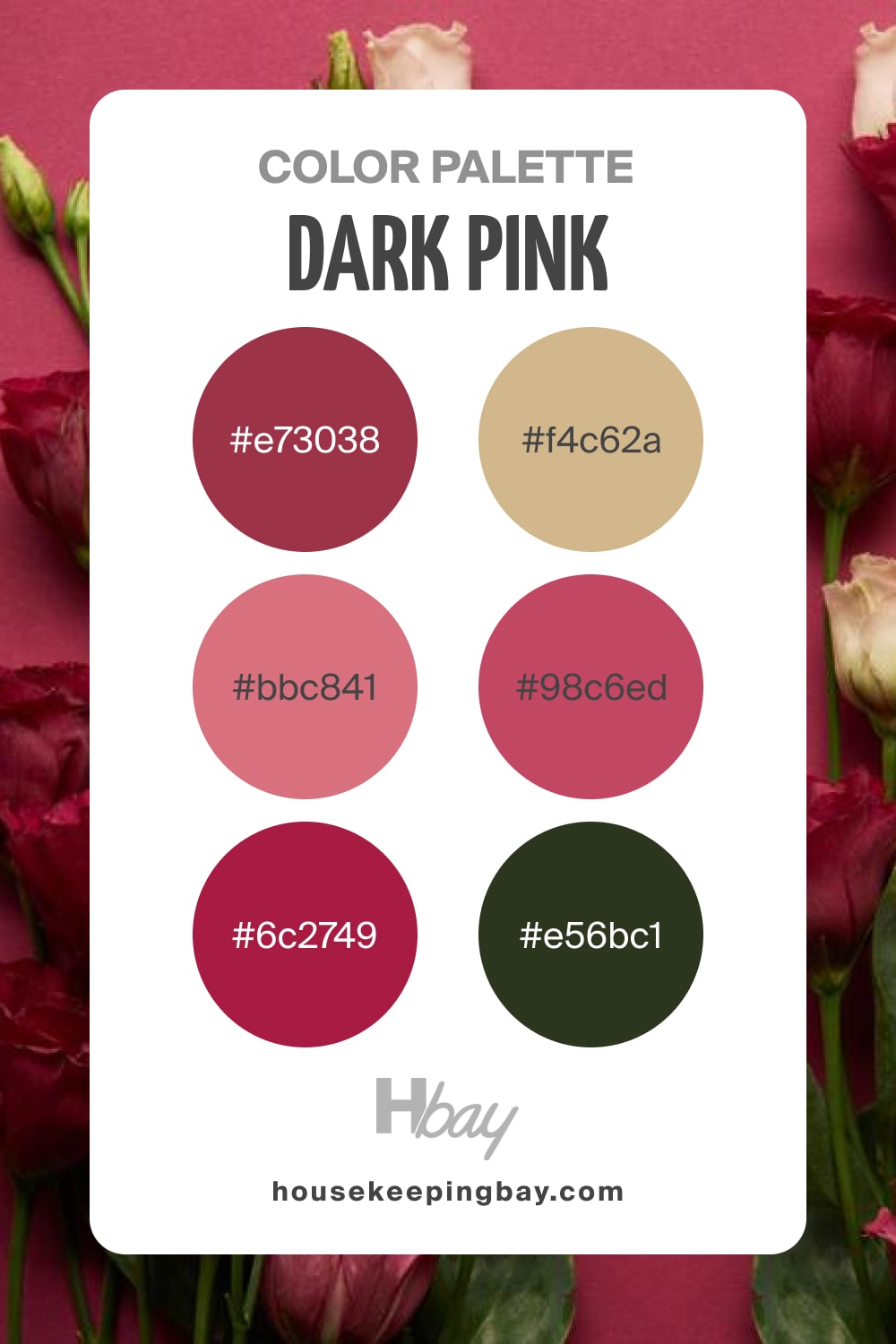 Pink and Blue Color Palette
Blue is one of the best contrast colors for pink, although it may seem that these two don't go well enough together. Blue-and-pink color combination harmoniously unites an overly feminine pink with a more reserved masculine blue and vice versa.
However, if you want to combine these two colors together, note that the shades you use are very important! You should try to avoid using the same tones of both colors. For example, if you use hot pink, stay away from a rich royal blue. Nevertheless, these two particular colors will work well when used minimally over neutral backgrounds.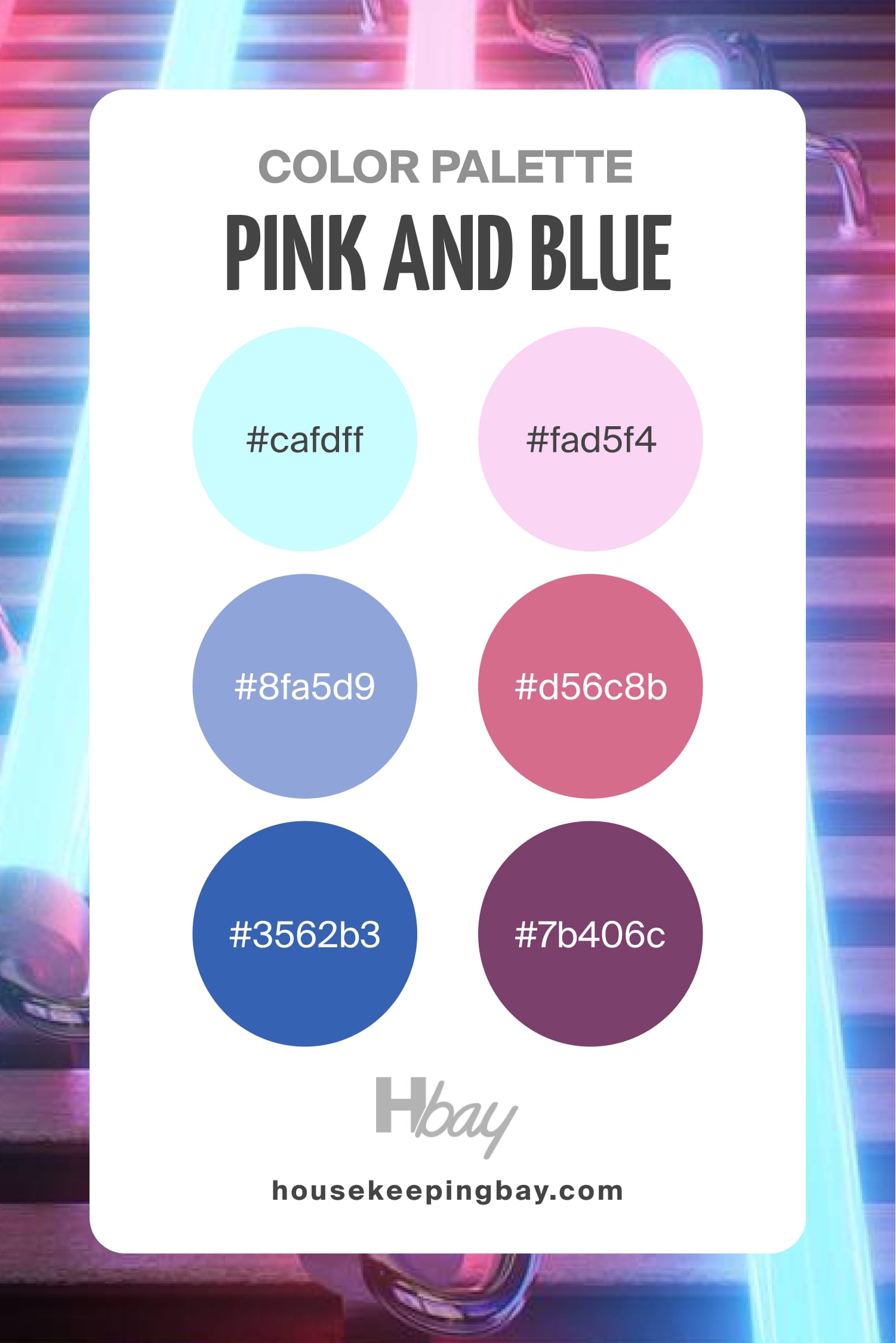 Pink and Orange Color Palette 
This color combination should be used with great care and caution! The combination of pink and orange is very controversial, making people either love it or hate it. It is contemporary, edgy, modern, and fun, especially if you combine hot pink with tangerine orange.
Hot shades of pink walls with bright orange on your furniture upholstery and décor items, needing no neutral color pallet in between to dilute them. This provoking pair of colors is a great option if you want to be loud and make a statement in your home, but you might get tired of this way too-vibrant combination quickly!
Now you know what color palettes with pink will be the most suitable to use i your home. Some of them are quite reserved and classic whilst others are brave, provoking, and eye-catching! This means you will be able to choose the one that suits your taste and your home interior best of all.
What Colors Go Best of All With Pink?
Pink is considered a versatile color that will work well with quite many other colors. Despite being associated with femininity and everything that goes along with it (e.g., softness, sweetness, politeness, sensitivity, and romance), this color also has completely different characteristics! Pink can be provoking, brave, vivid, and saturated!
What color combos go with pink?
Besides, pink is a very interesting color! See, depending on the color you combine it with, pink can completely change the meaning and feel of the color it is paired with. This is why we find it necessary to share a few tips with you regarding the best colors that will work with pink and reveal its beauty and depth.
Dirty Pink and Warm Brown Color Palette
Brown is one of the colors that go surprisingly well with pink. Because brown is a natural, earthy color, it compliments pink nicely, especially its warmer dusty shades. Together, these two colors will be a representative of warmth and comfort in your home. By the way, this color combination is very popular in bohemian and rustic-themed homes!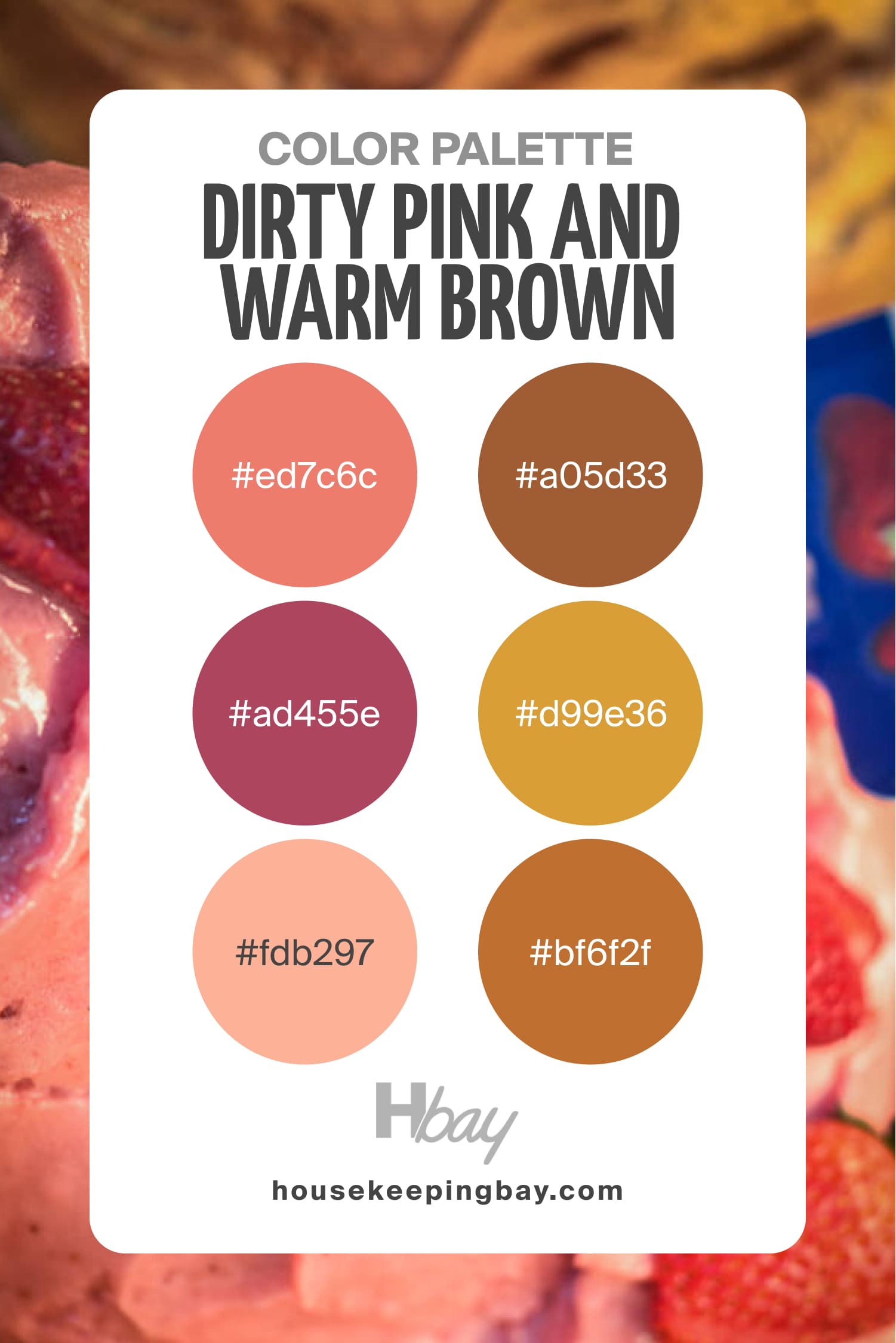 Pink and Green Color Palette
The combination of pink and green is a go-for option because green is a contrast color to pink. In particular, your home will win from pairing light, dusty pink walls and accessories with emerald green furniture placed in front of it. As an option, green plants against light pink walls will also create a contemporary duo!
You might also want to try out other shades in this color combination. For example, why not combine light olive green and dirty pink? These colors have a very neutral quality to them, and they can create a very calming vibe when they are matched with pink.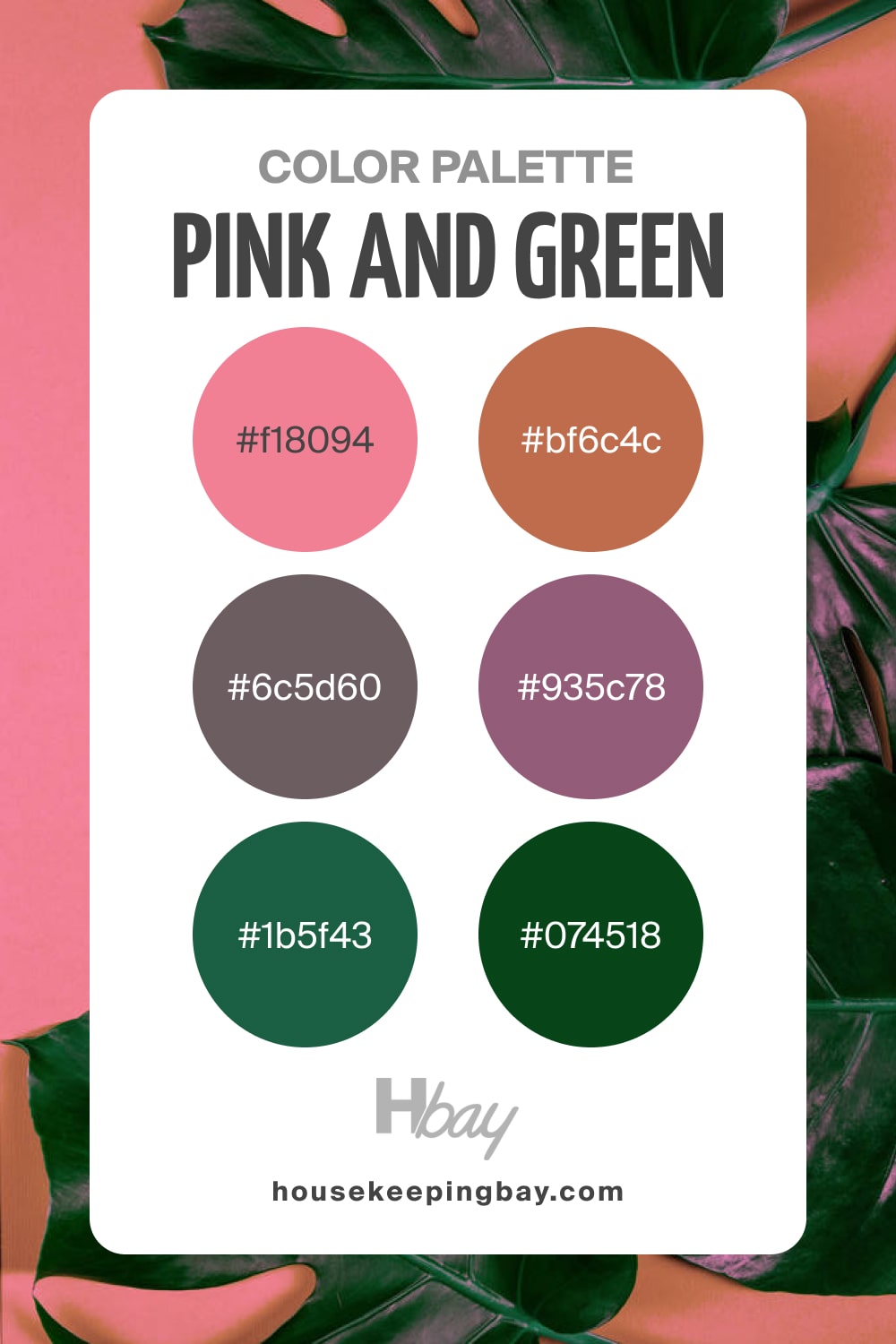 Pink and Orange Color Palette
As we already mentioned, this pair of colors is very tricky and provoking! This is why you should use it with caution, especially if you want to combine bold and juicy shades of each color.
We would not recommend using this palette excessively since it may tire your eyes, but for making color accents in a room, these two will work perfectly well!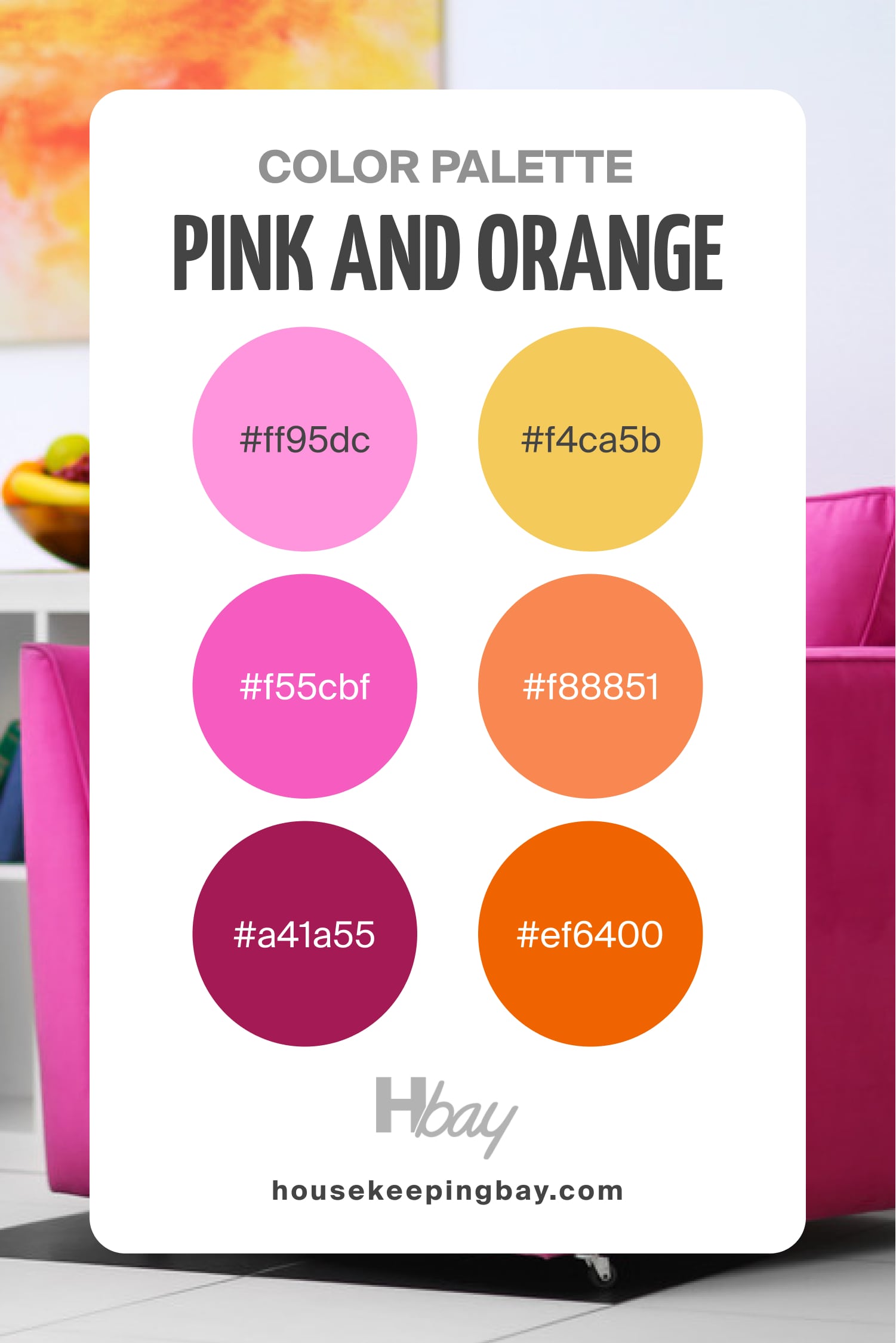 Hot Pink Color Palette
The hot pink palette is a dream color combination for those who adore vivid and juicy colors! It consists of a few shades of pink, from lighter to darker ones, plus a yellow and a light blue color.
If you want to achieve a tropical vibe in your home, you should definitely stick to the colors from this group! Although there is a quite saturated and deep shade of pink in this palette, it won't weigh it down thanks to the bright and airy colors like blue and yellow.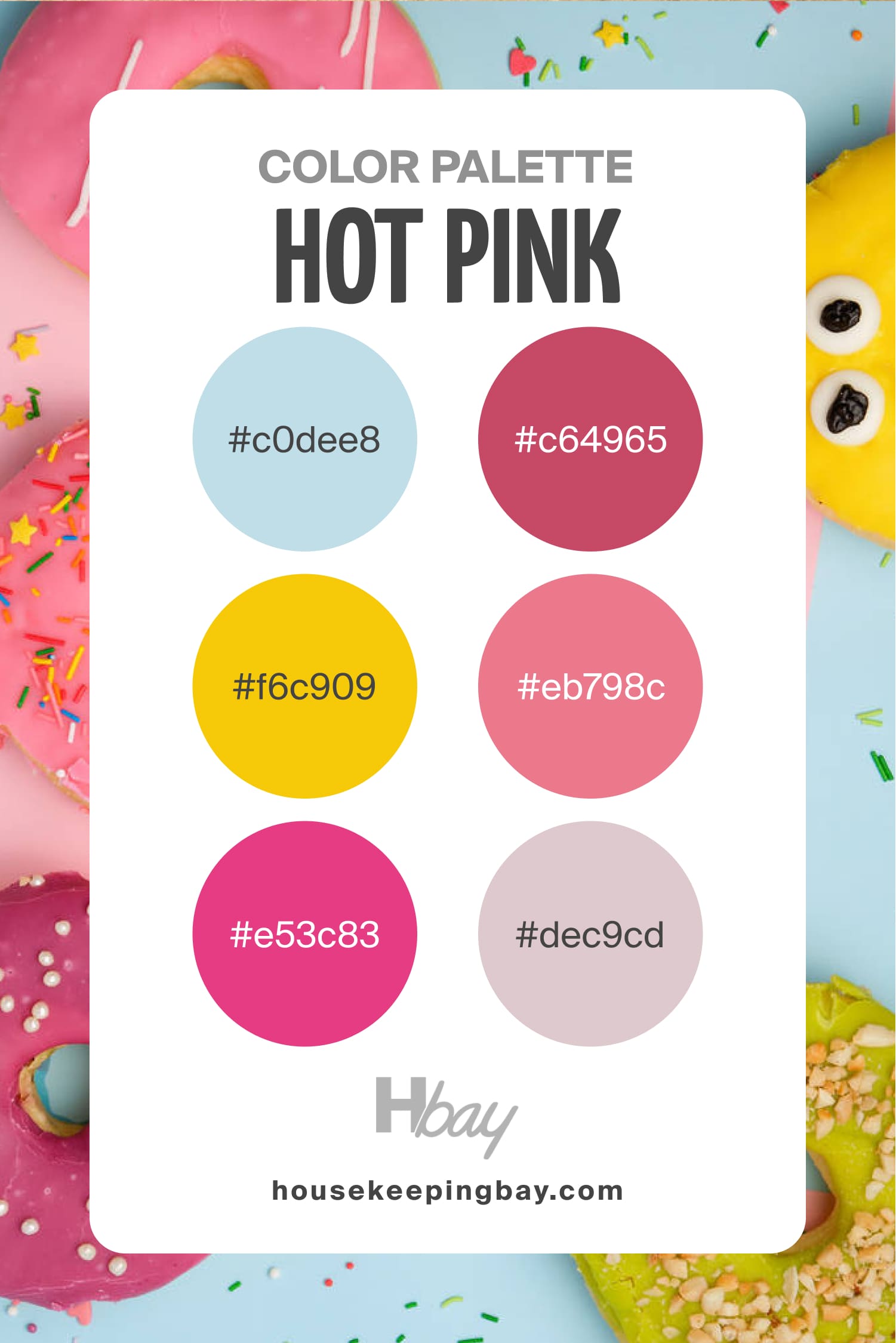 Pastel Pink Color Palette
To some of you, this selection of pink colors might seem too sweet and girlish, but on the other hand, it is an ideal combination of powdery, soft, and gentle shades of this delicate color. Since all shades of pink that you can find in this palette are subtle and muted, they altogether create a feeling of coziness and relaxation.
This is why you can use each of them to add a romantic or laid-back atmosphere to a room. These colors will pair nicely with soft whites, as well as light blues and yellows. This way, you can dilute the all-pink space and make it look more interesting.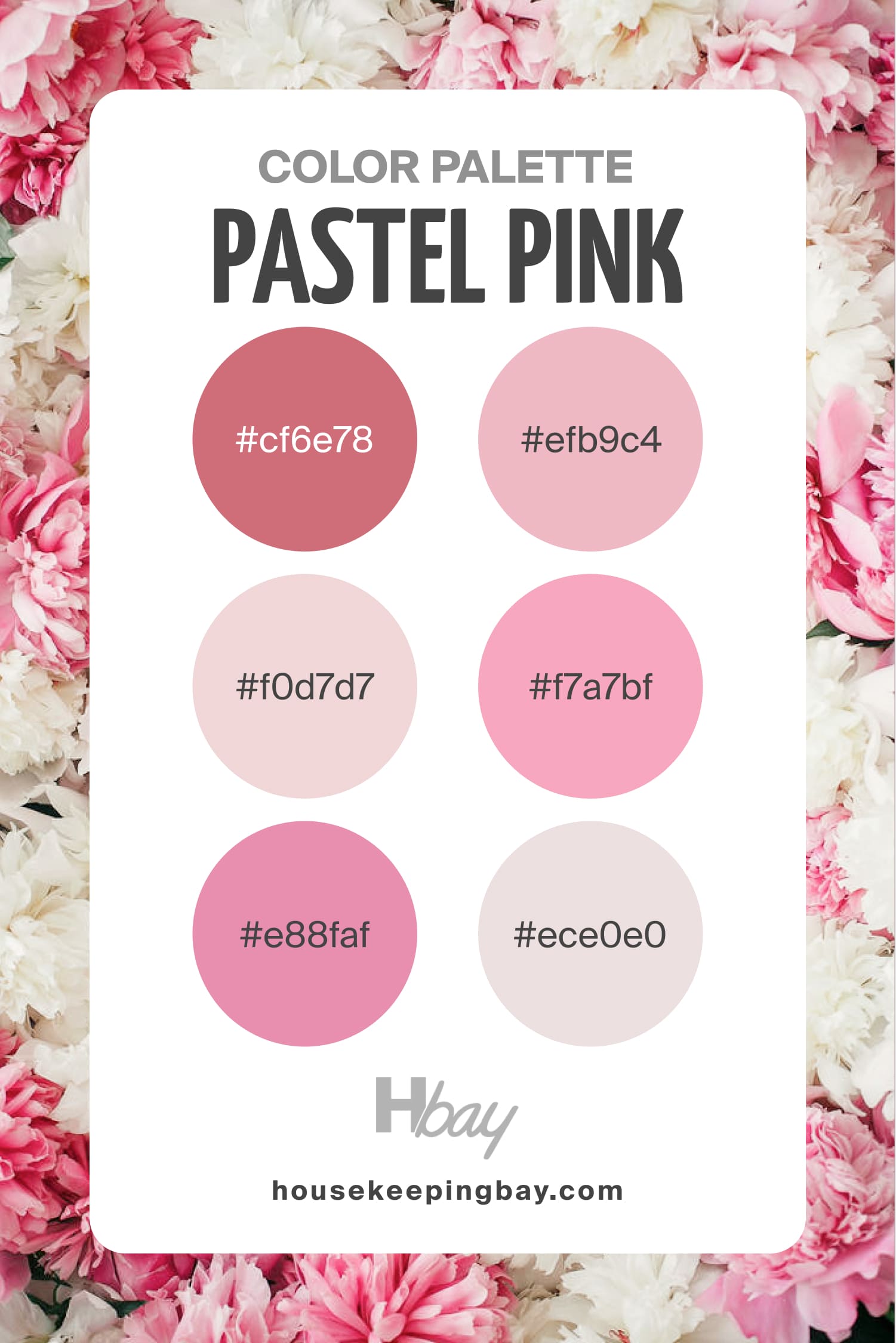 Pink and White Color Palette
This color combination creates a crisp and bold look. The white adds simplicity, allowing the boldness of the pink to pop up. It's a versatile combination, by the way! You can use pale pink and white all the way up to a bold fuchsia in your interior.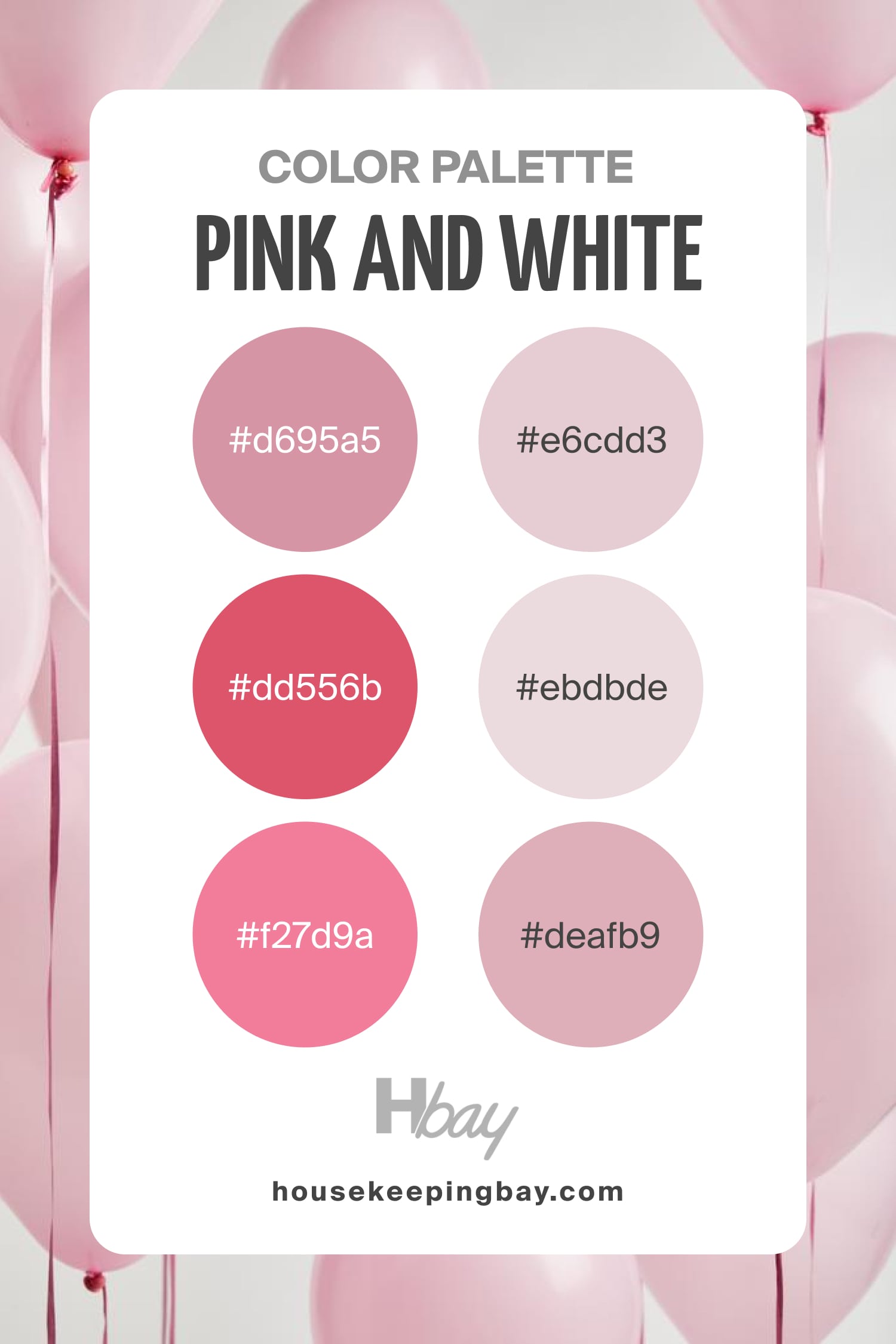 Pink and Gray Color Palette
Pink and grey are a classy color combination. Grey has a lot of coolness, so the warmth of pink helps it feel warmer and more welcoming. Whether you use a pale blush pink or a bright bold fuschia, it will work beautifully with a grey.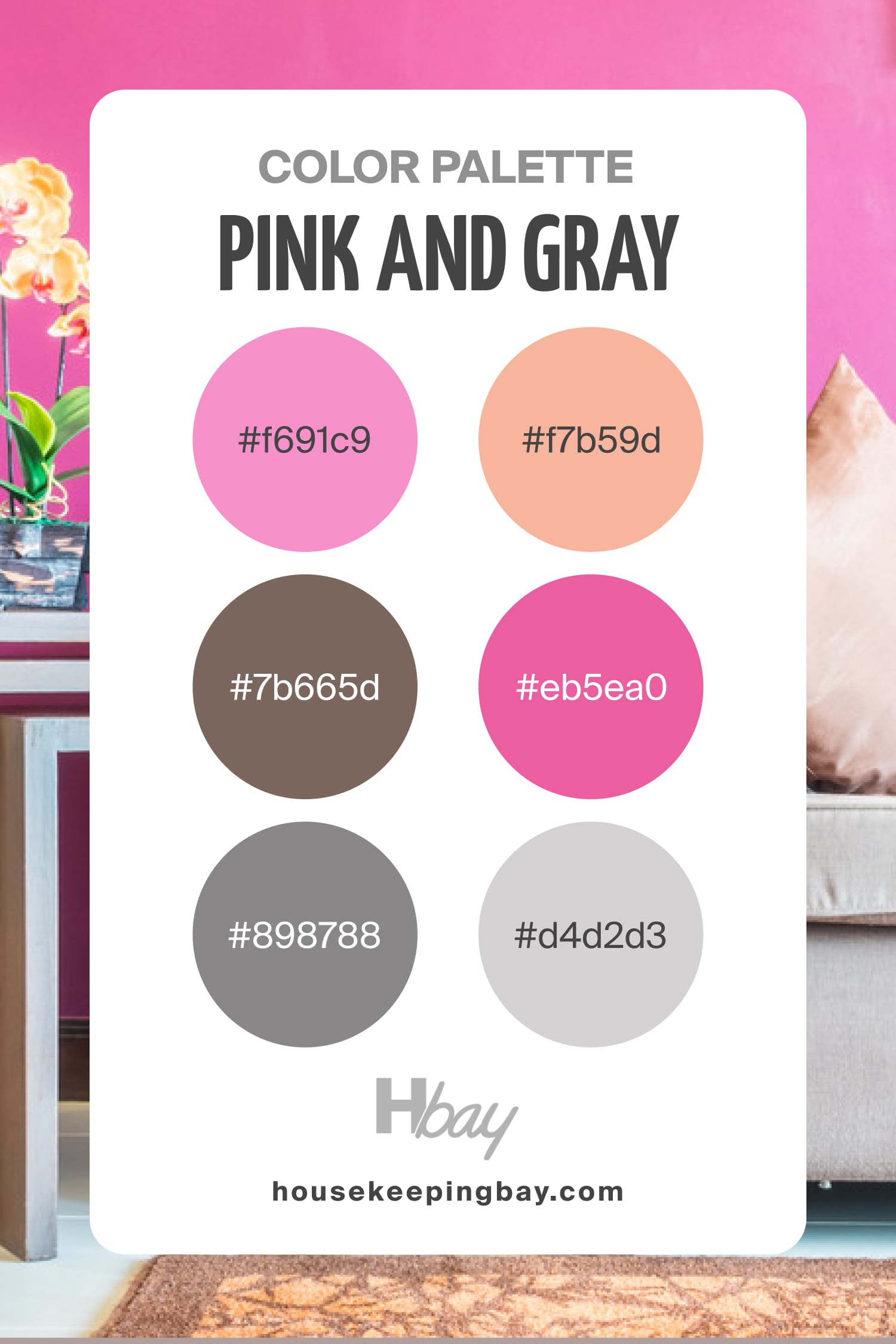 Pink and Black Color Palette
Pairing any pink with black banishes any sweetness and creates a sophisticated space. Even a touch of black will add some depth and drama in a totally pink room! Black works well with pink because it balances the vibrant and playful nature of pink.
And vice versa, pink can add some color and fun to an all-black room and prevent the space from looking too gloomy!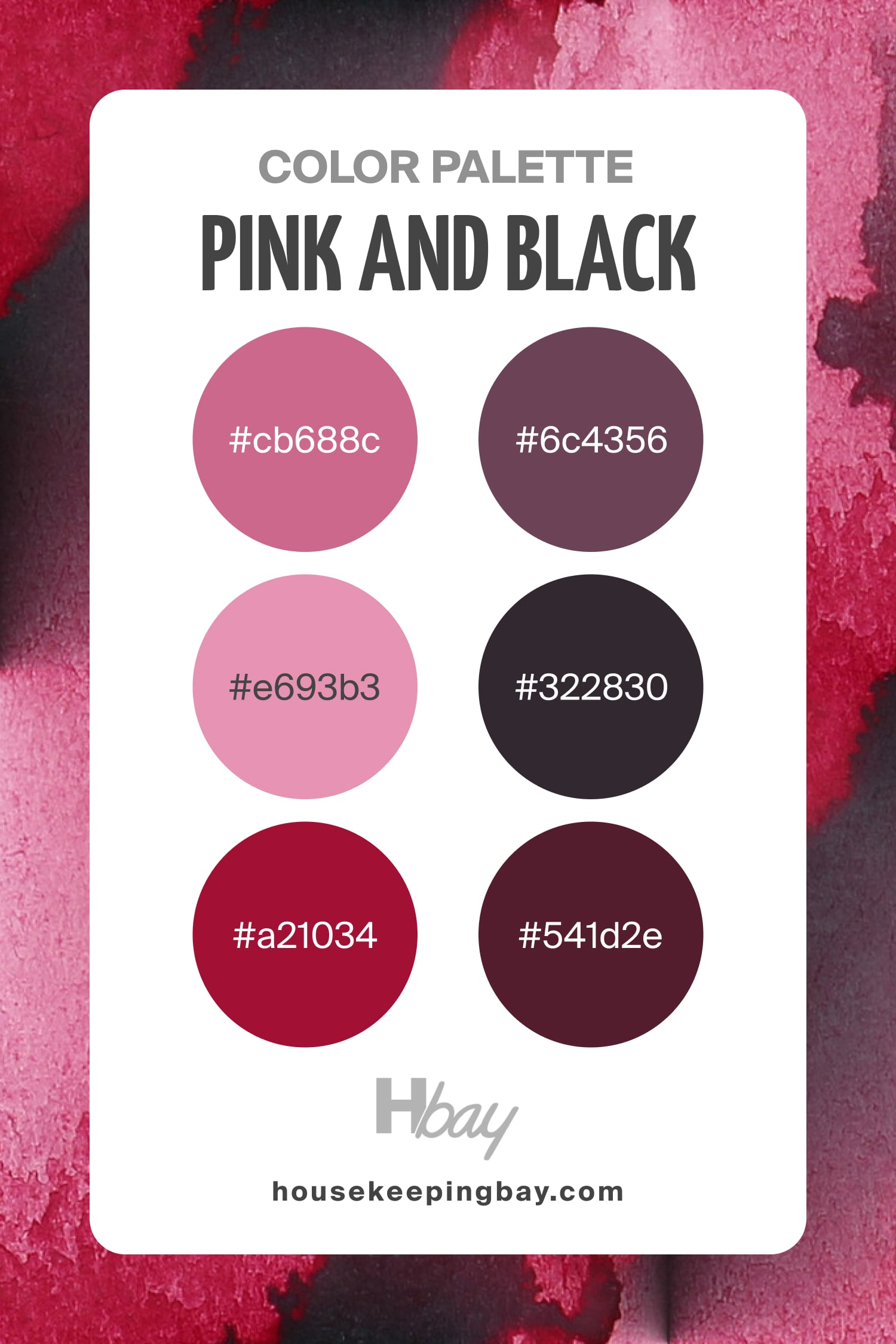 Pink and Gold Color Palette
This color combination is timeless and iconic, but only if you manage to pick the right tones of both. And the rule of thumb is the deeper the better. Avoid using too light and too bright colors. Instead, if you prefer lighter pinks, add some darker, aged brass tones of gold. And if you want to use bright and shiny gold in your rooms, pair it with a more muted blush pink shade.
Now you know what pink color palettes look the most harmonious and balanced. We shared a few color palette options with you that can be used to create an interior to your liking. Also, you know with what colors pink will work best of all. These tips will allow you to use this beautiful color more successfully.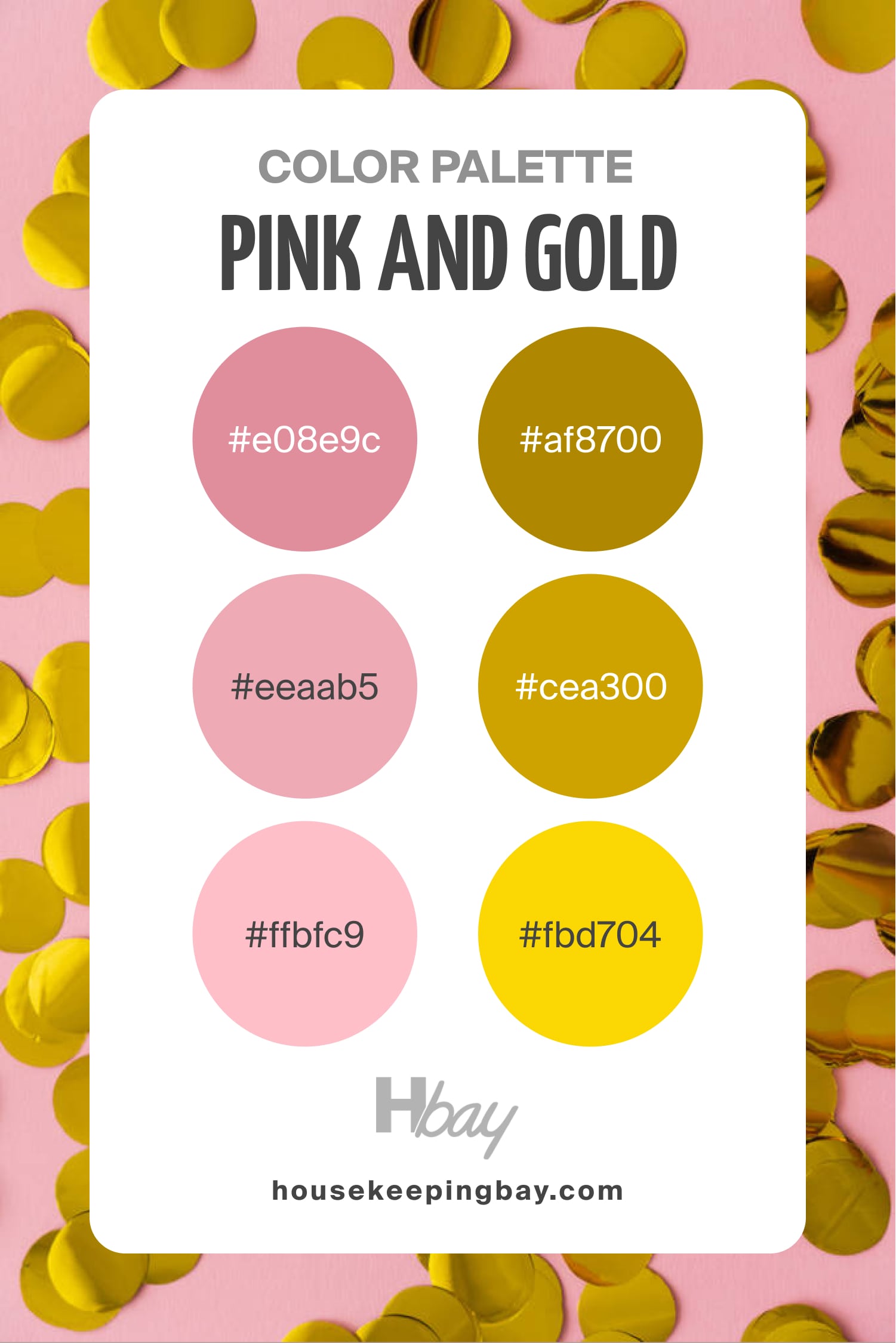 Frequently Asked Questions
⭐What colors complement light pink?
It depends on what mood you want to achieve. Light pink and gray is a soothing combination. Rose pink and bright orange is fun and fresh, and blush pink with black is confident and happy.
⭐What color goes with pink and gray?
For this pair of colors, you might want to add green since it is the complementary and contrasting color for pink. All shades of green will match with pink.
⭐What color of curtains will go with the pink walls?
It depends on the shade of pink, but gray curtains are more likely to be an excellent pair for your pink walls.