Unquestionably, colors are the silent yet persuasive language of any interior design. The art of choosing the right color for your space is like creating a symphony – harmonizing every element to create a beautiful and captivating interior that speaks volumes about you.
One such color that sets a soft, timeless mood and resonates deeply with class is Sherwin-Williams' SW 9180 Aged White.
This article explores the intricacies of this color, offering insight into why and how you might want to consider it for your next painting project.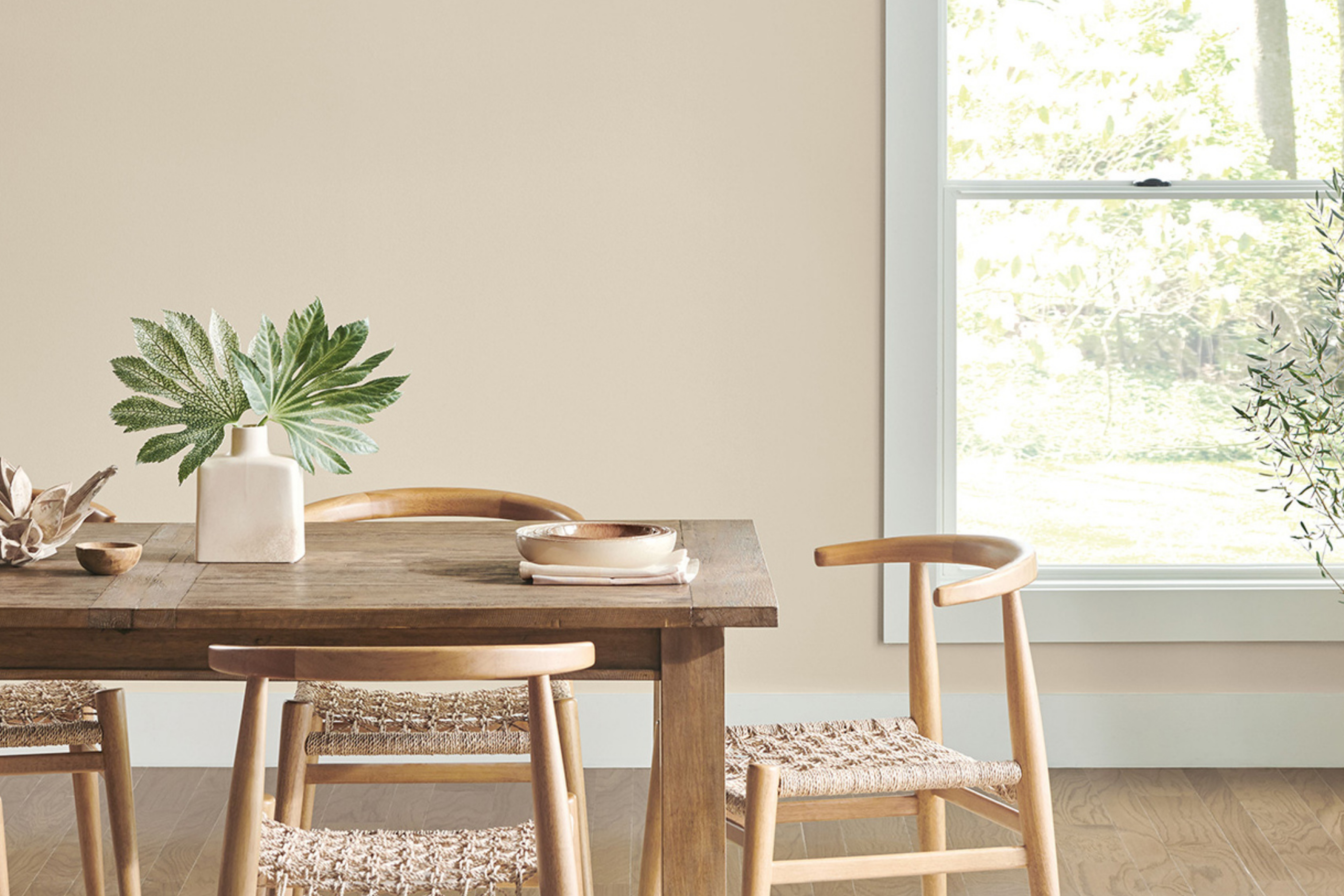 What Color Is SW 9180 Aged White?
As Hextoral says, SW 9180 Aged White is an exquisite hue that veers away from the stark, clean whites typically associated with minimalist designs. Rather, it embodies a sense of history, warmth, and elegance.
It's a muted, soft beige white, reminiscent of antique lace or parchment, creating an inviting, serene atmosphere.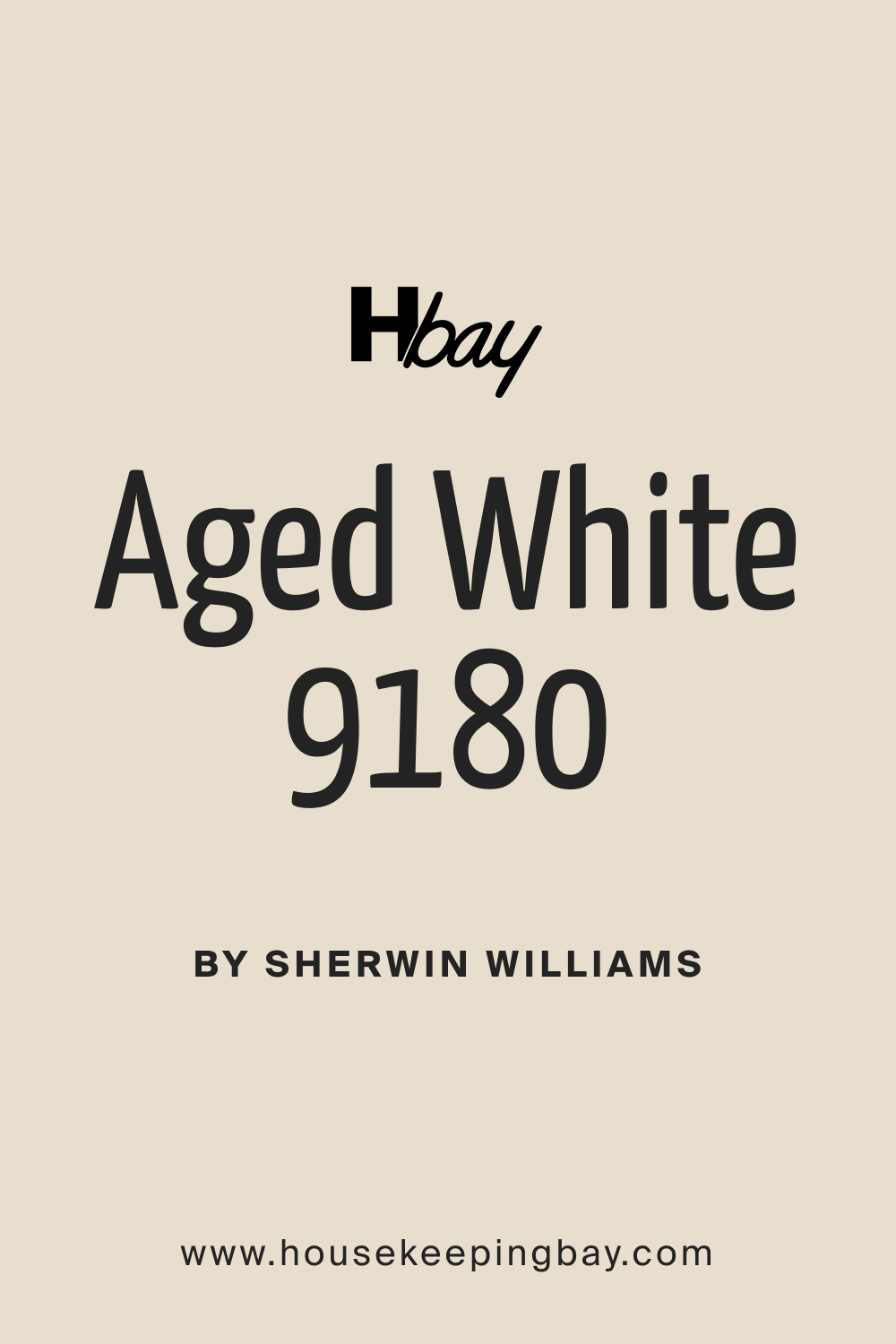 Is SW 9180 Aged White a Warm Or Cool Color?
SW 9180 Aged White falls within the spectrum of warm colors. Warm colors generally lean towards yellow, red, and orange undertones, which add a sense of comfort, coziness, and familiarity to a space.
Unlike stark white colors that can sometimes feel sterile, SW Aged White's warm undertones provide a much more inviting and comforting ambiance.
Undertones of SW 9180 Aged White Paint Color
The subtlety of undertones can have a significant impact on the color's overall appearance. For SW 9180 Aged White, there are three key undertones:
Yellow: The gentlest whisper of yellow is present, creating a softly sunlit effect.
Beige: This is the primary undertone that lends Aged White its characteristic warm, antique appearance.
Gray: A minor undertone that tempers the warmth, preventing the color from becoming overly yellow or creamy.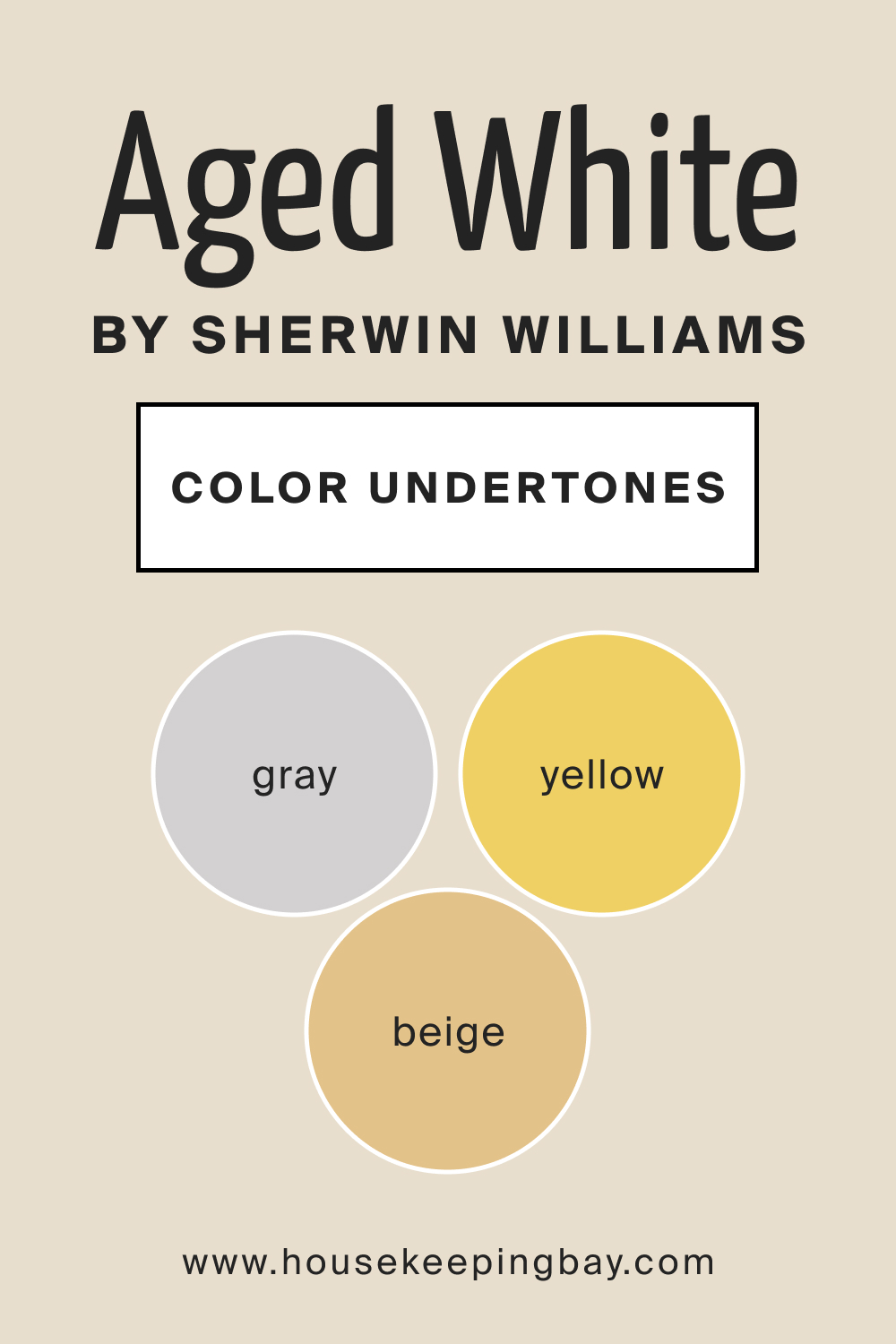 Coordinating Colors of SW 9180 Aged White
SW Aged White is versatile and pairs beautifully with a variety of colors. Here are a couple of go-to coordinating colors you might want to consider:
For a monochromatic palette, you might want to consider the following colors:
SW 7047 Porpoise
SW 7045 Intellectual Gray
For a more vivid and contrasting look, check out the following coordinating colors:
SW 2855 Sycamore Tan
SW 6750 Waterfall
SW 9074 Gentle Gray
SW 6536 Searching Blue
SW 6806 Rhythmic Blue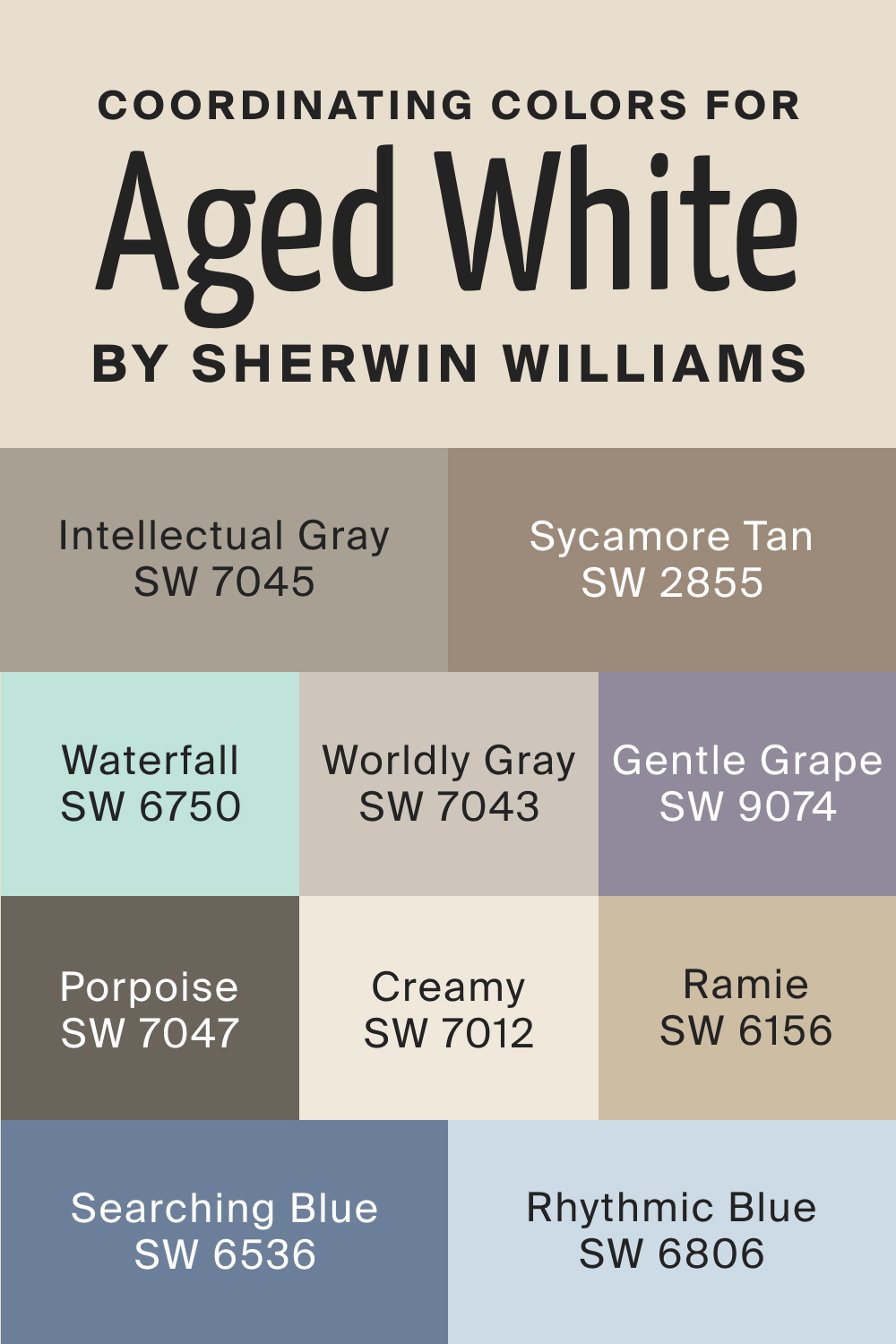 How Does Lighting Affect SW Aged White Paint Color?
Lighting plays a critical role in how any color appears, and SW Aged White is no exception. Natural daylight enhances the yellow undertones, making it appear brighter and more beige.
Artificial light, particularly warm light, tends to emphasize the beige and gray undertones, giving it a more muted, cozy appearance.
The color may appear slightly different at different times of the day due to changes in light quality and direction.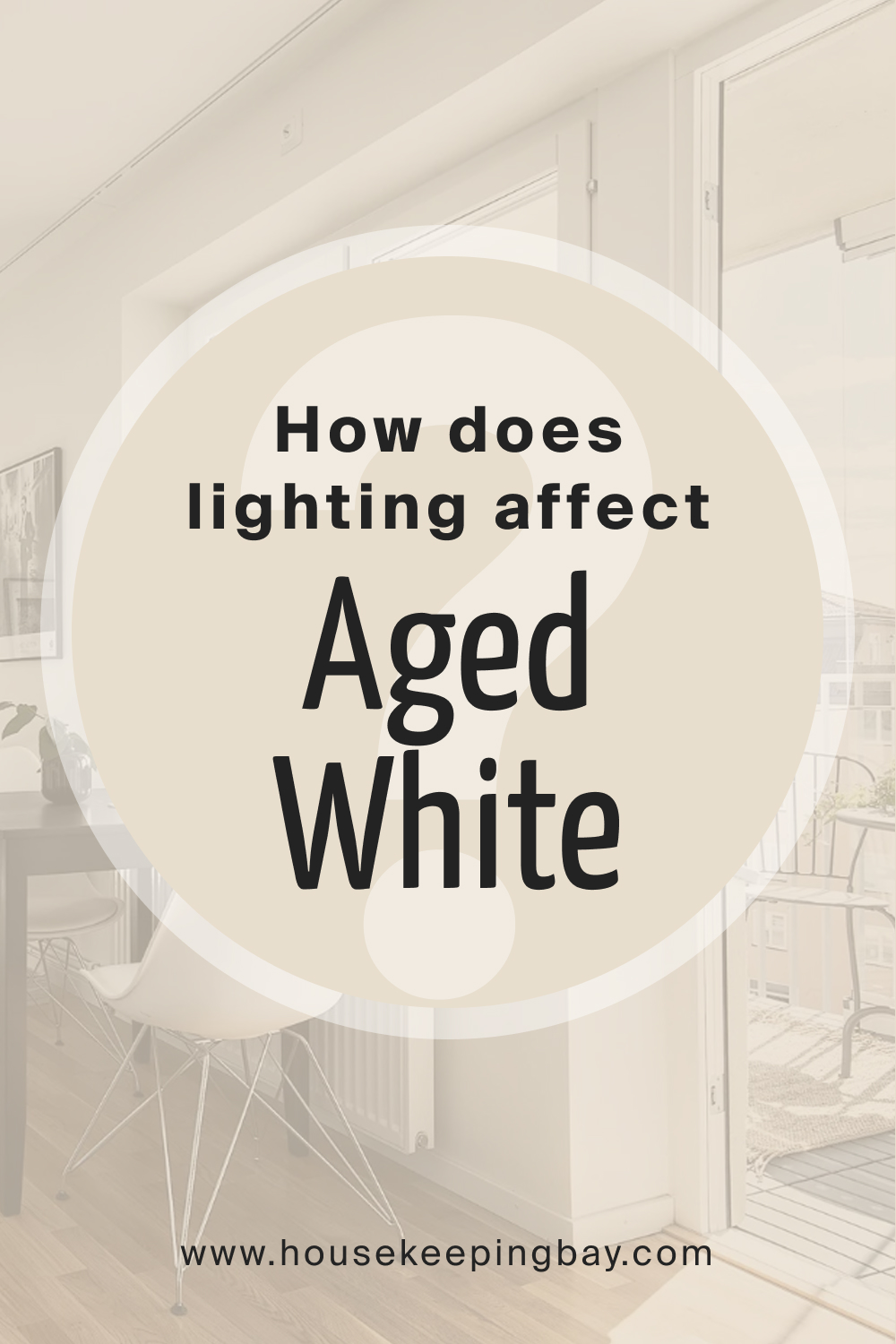 LRV of SW 9180 Aged White Paint Color
Light Reflectance Value (LRV) measures the percentage of light a paint color reflects. The LRV scale ranges from zero (black) to 100 (white). As you can guess, the closer the LRV value is to 100, the lighter the color. The closer the LRV value is to zero, the darker the color.
SW 9180 Aged White has an LRV value of around 74, which means it reflects a good amount of light. This makes it a great choice for spaces you want to make feel larger and brighter. However, note that this hue won't be a good color choice if you need to make a room seem airier and brighter!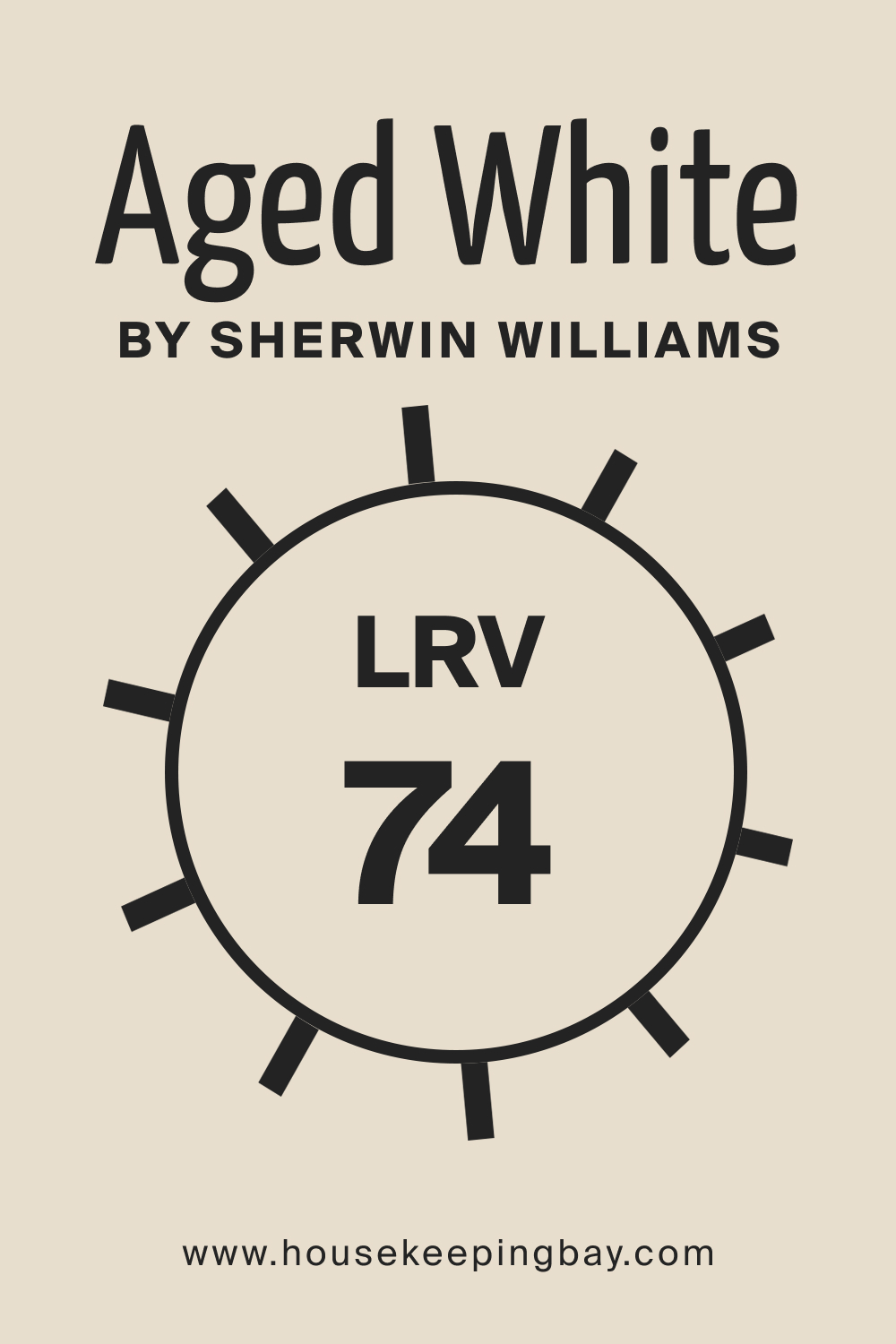 What is LRV? Read It Before You Choose Your Ideal Paint Color
Trim Colors for SW 9180 Aged White
Choosing the right trim color can enhance Aged White's charm. Here are three suggestions:
SW 7006 Extra White: For a crisp, traditional look.
SW 7029 Agreeable Gray: For a seamless blend with a touch of contrast.
SW 6085 Simplify Beige: For a monochromatic scheme with depth.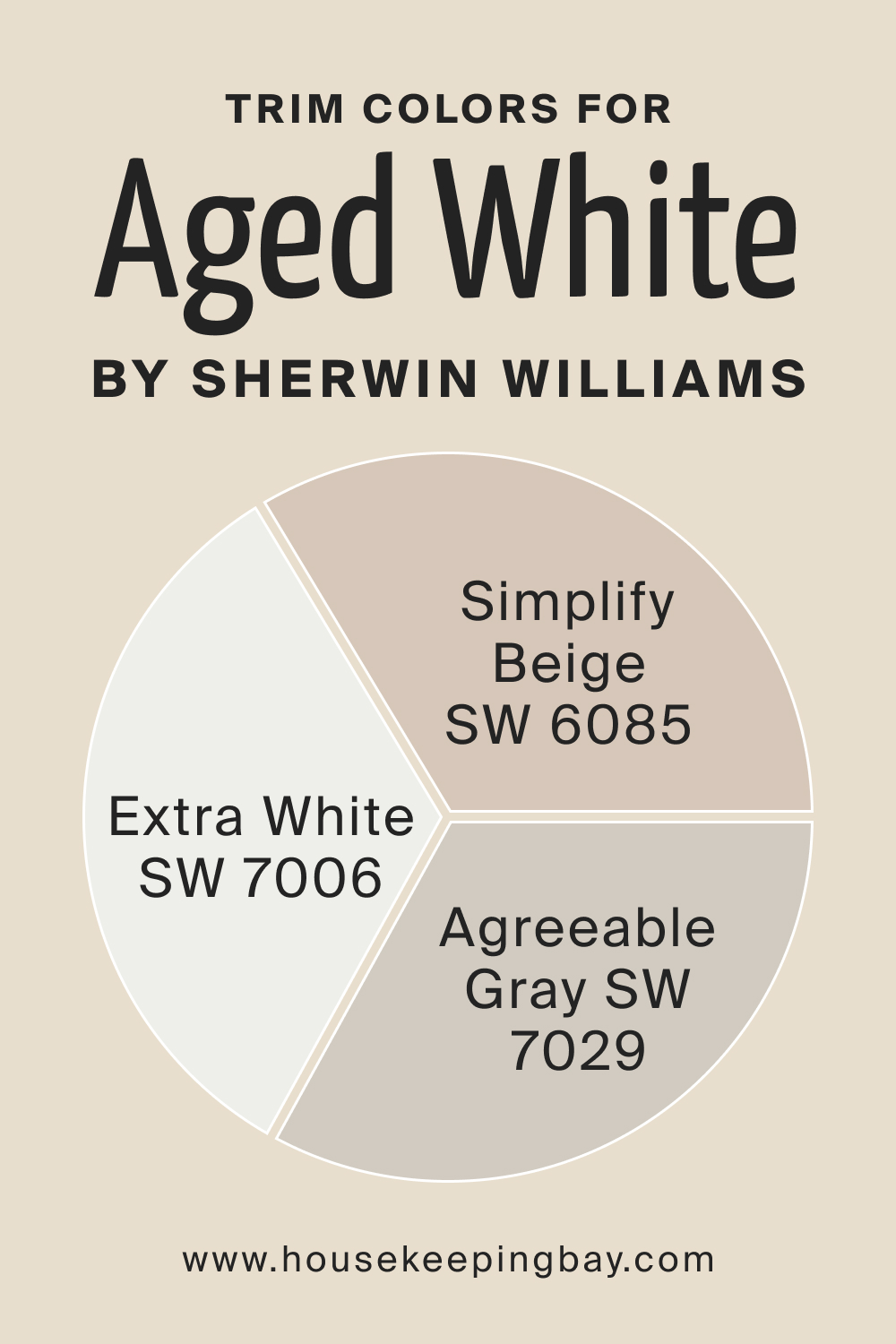 Colors Similar to SW 9180 Aged White
Several colors resemble SW 9180 Aged White. Check them out if you decide to opt for another hue on your interior walls.
BM First Crush
Behr Cotton Knit (PPU7-11)
Behr Cinnamon Cake
Farrow & Ball Slipper Satin (No. 2004)
Farrow & Ball Lime White
Valspar Cream In My Coffee
PPG Vanilla Love
Note that each of these colors will anyway vary a bit in tone since they have distinct LRVs, and their undertones also differ a bit!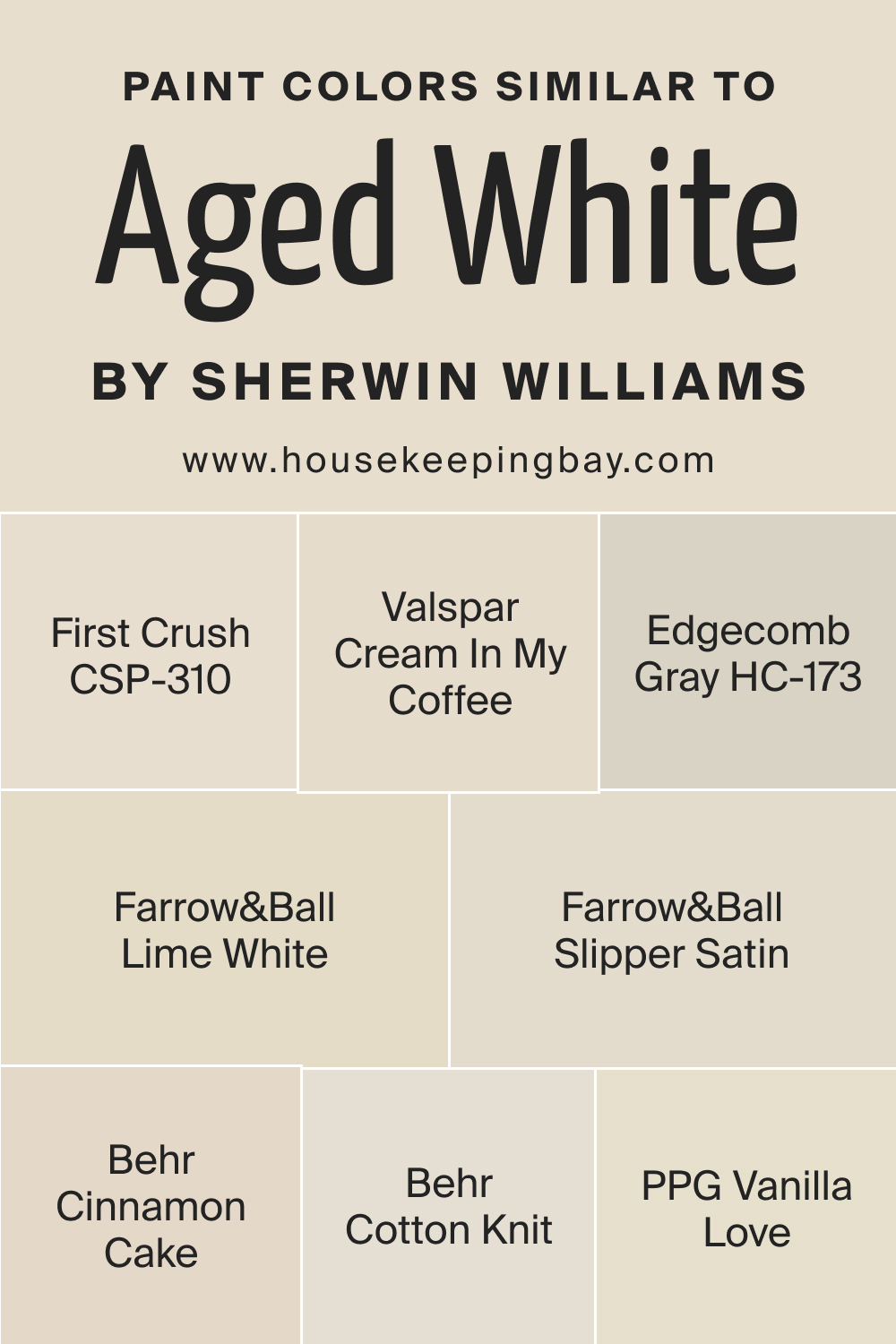 Colors That Go With SW 9180 Aged White
SW Aged White pairs beautifully with many colors despite its warmth. Below, you can check out several color suggestions you might enjoy:
SW 7016 Mindful Gray: A versatile, modern gray.
SW 7036 Accessible Beige: A beige that complements Aged White's warmth.
SW 6052 Sandbank: A deeper, warm sandy color.
SW 9138 Stardew: A muted blue for a subtle contrast.
SW 6186 Dried Thyme: A muted green, evoking a natural, organic vibe.
SW 7587 Antique Red: A bold choice, providing a striking contrast.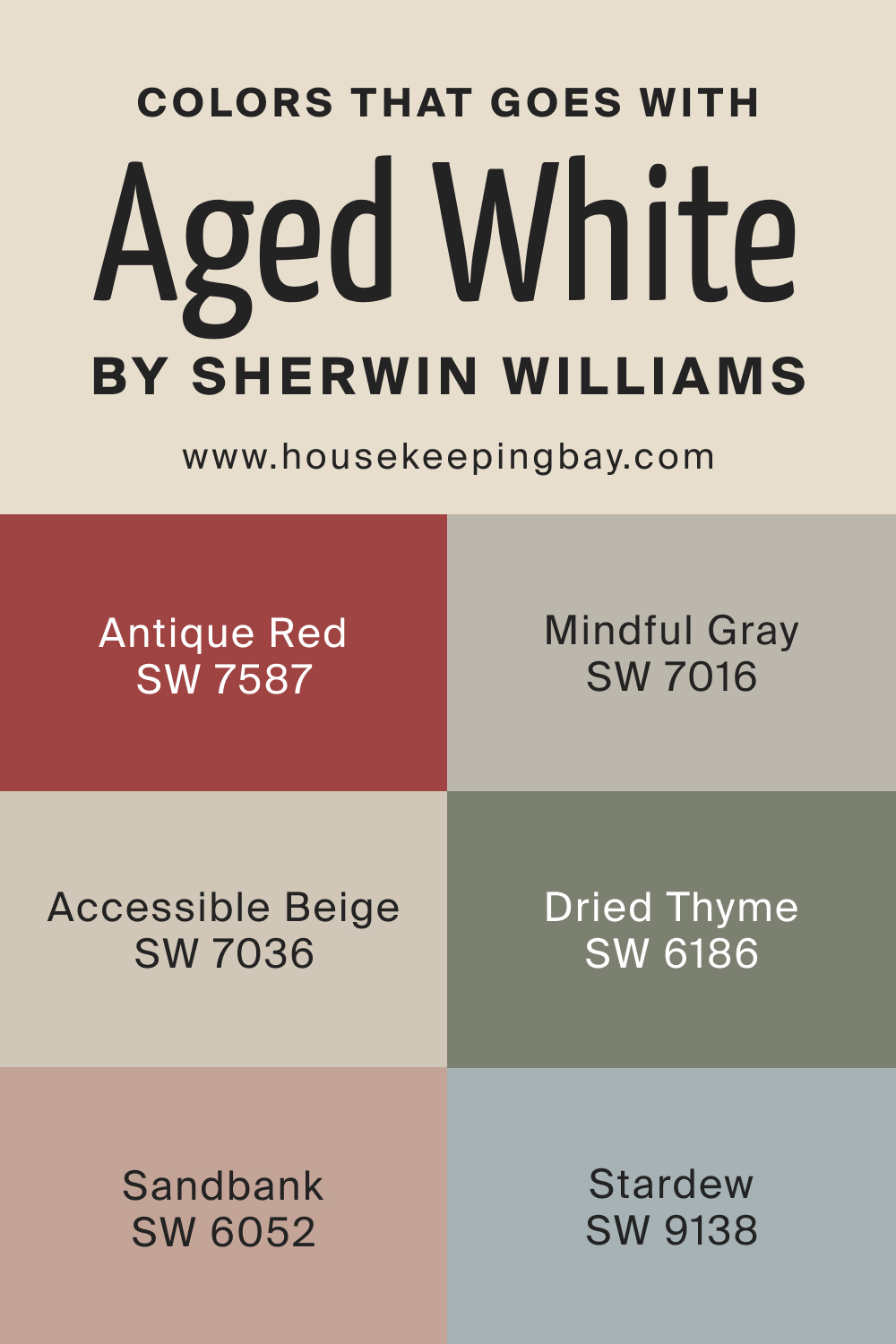 How to Use SW 9180 Aged White in Different Rooms?
Below, you can read how this color works in different rooms of your home. This will help you figure out where in the house/apartment SW Aged White may work best.
SW 9180 Aged White in the Bedroom
SW 9180 Aged White in a bedroom creates a serene, peaceful ambiance. The warm undertones encourage relaxation, while its brightness makes the space feel clean and fresh. Paired with soft, neutral furnishings and accents, SW Aged White can turn your bedroom into a tranquil haven.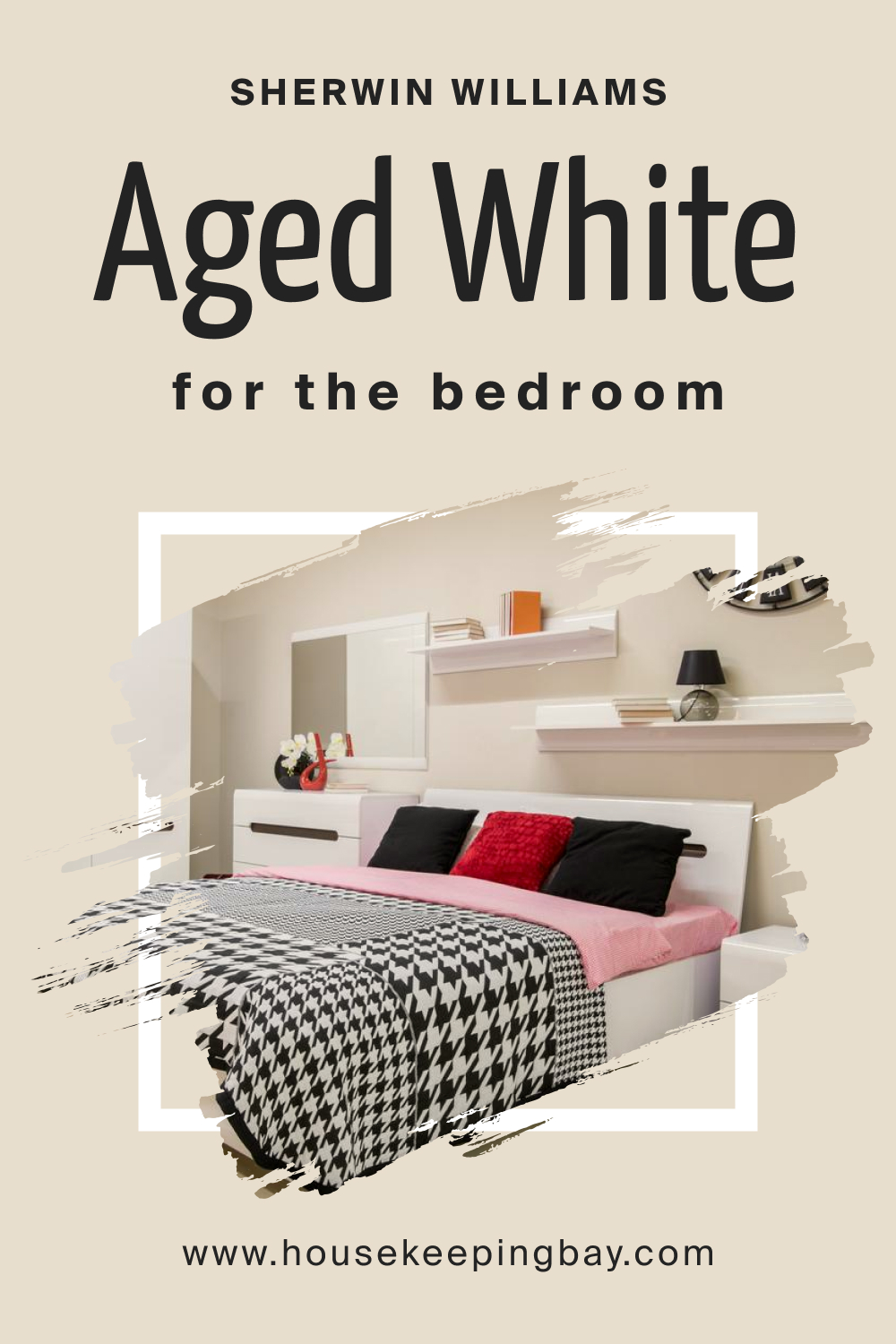 SW 9180 Aged White in the Bathroom
In the bathroom, Aged White brings a sense of cleanliness and warmth. Pair it with gleaming white fixtures for a classic look, or use it with brushed brass or copper finishes for a more contemporary feel.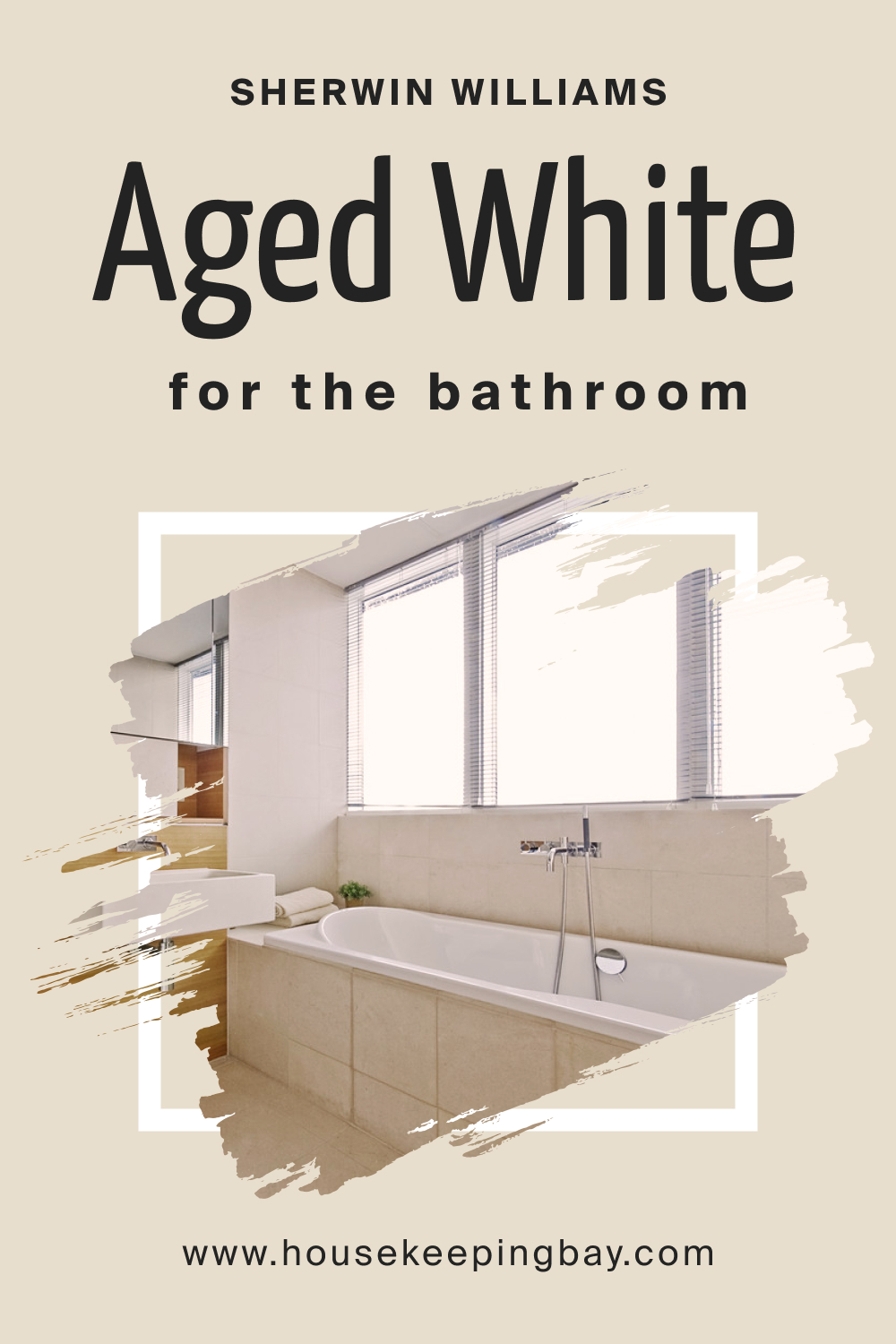 SW 9180 Aged White in the Living Room
In the living room, Aged White provides a neutral backdrop for furniture and décor. Its warm undertones complement both modern and traditional styles. Pair it with richly colored accents to add depth and interest to the room.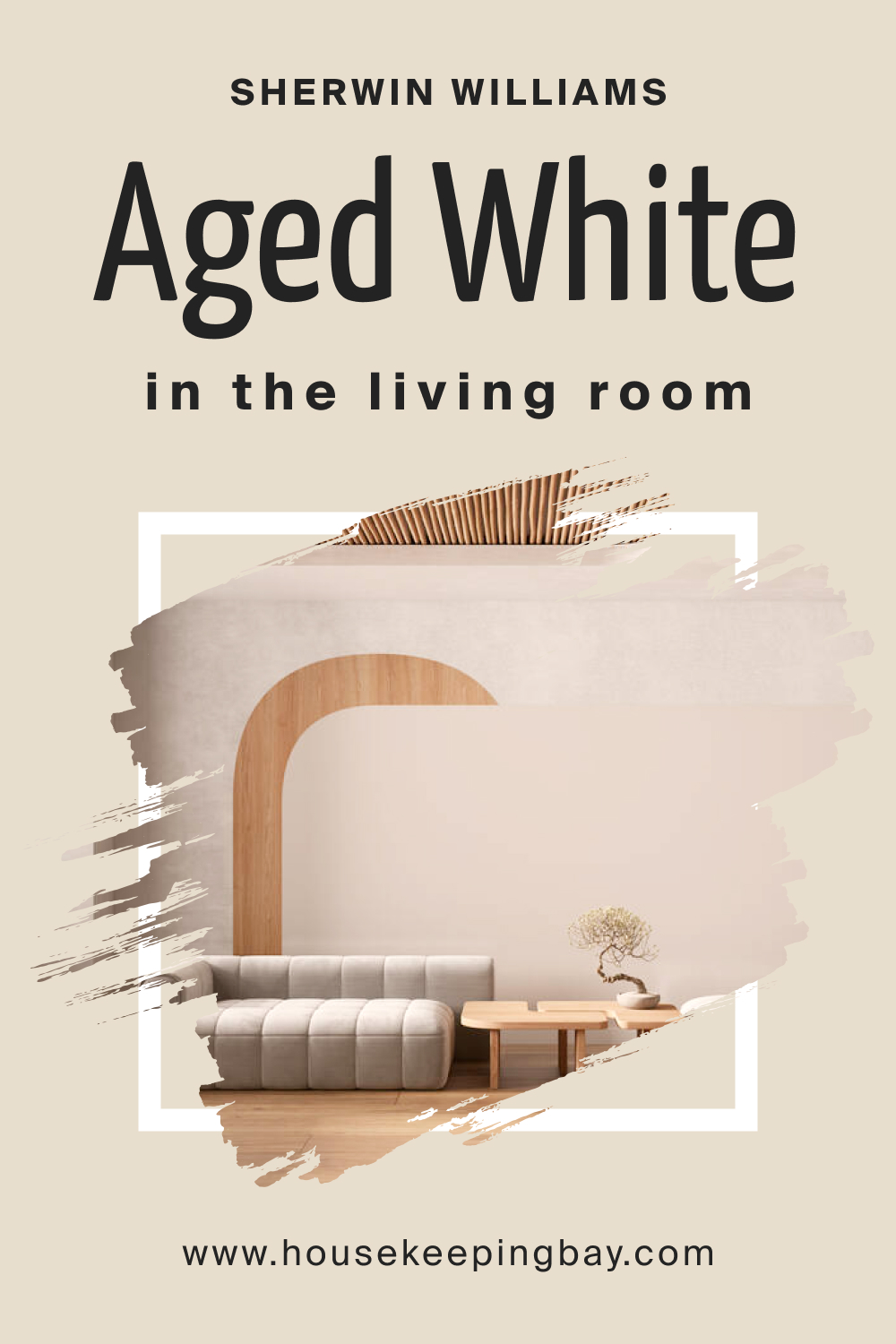 SW 9180 Aged White for the Exterior Use
Aged White can give your home a classic, timeless curb appeal. It pairs well with a wide range of exterior colors and materials. Use it for your siding or trim for a warm, welcoming look.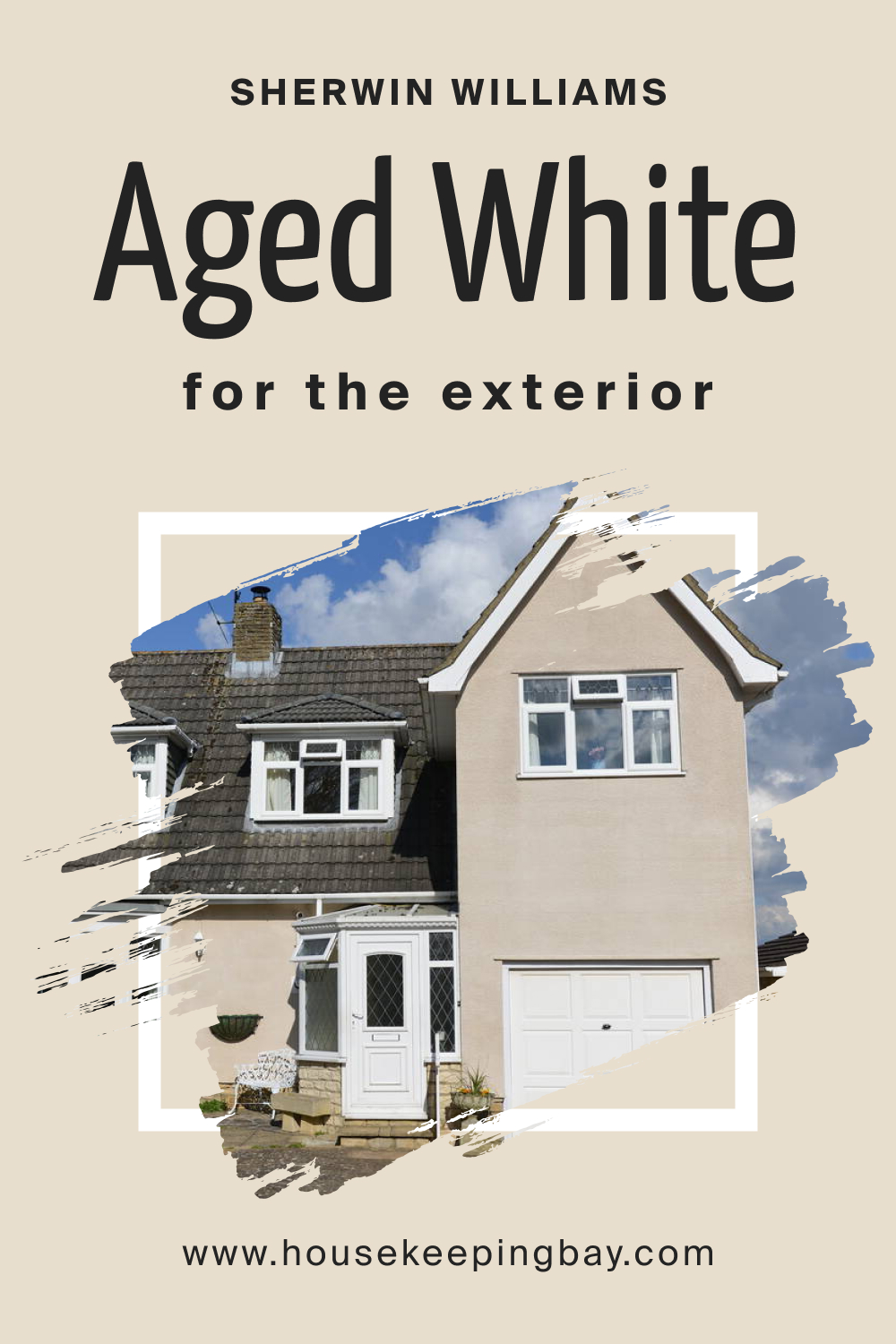 SW 9180 Aged White in the Kitchen
In the kitchen, Aged White pairs beautifully with wood tones, making it an excellent choice for walls or cabinets. Its warm undertones offset stainless steel appliances and add coziness.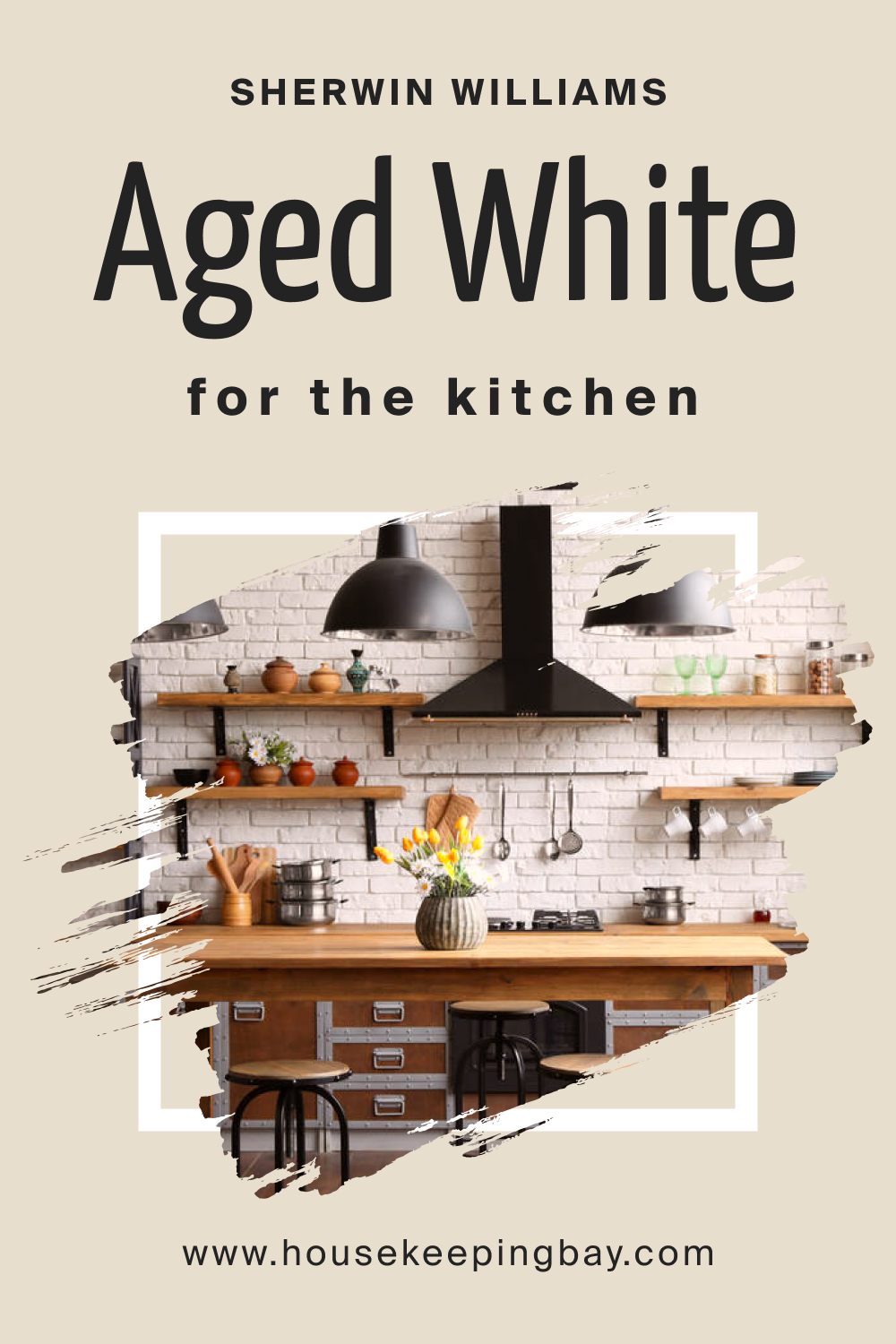 Comparing SW Aged White With Other Colors
To better see the difference between SW Aged White and other colors, we have compared this soft and warm hue with several paint colors that have somewhat identical appearances.
SW 9180 Aged White vs BM HC-173 Edgecomb Gray
Edgecomb Gray is a soft, muted gray with warm undertones, making it a close match to Aged White. However, Aged White is lighter and warmer with more beige undertones, while Edgecomb Gray leans more toward gray.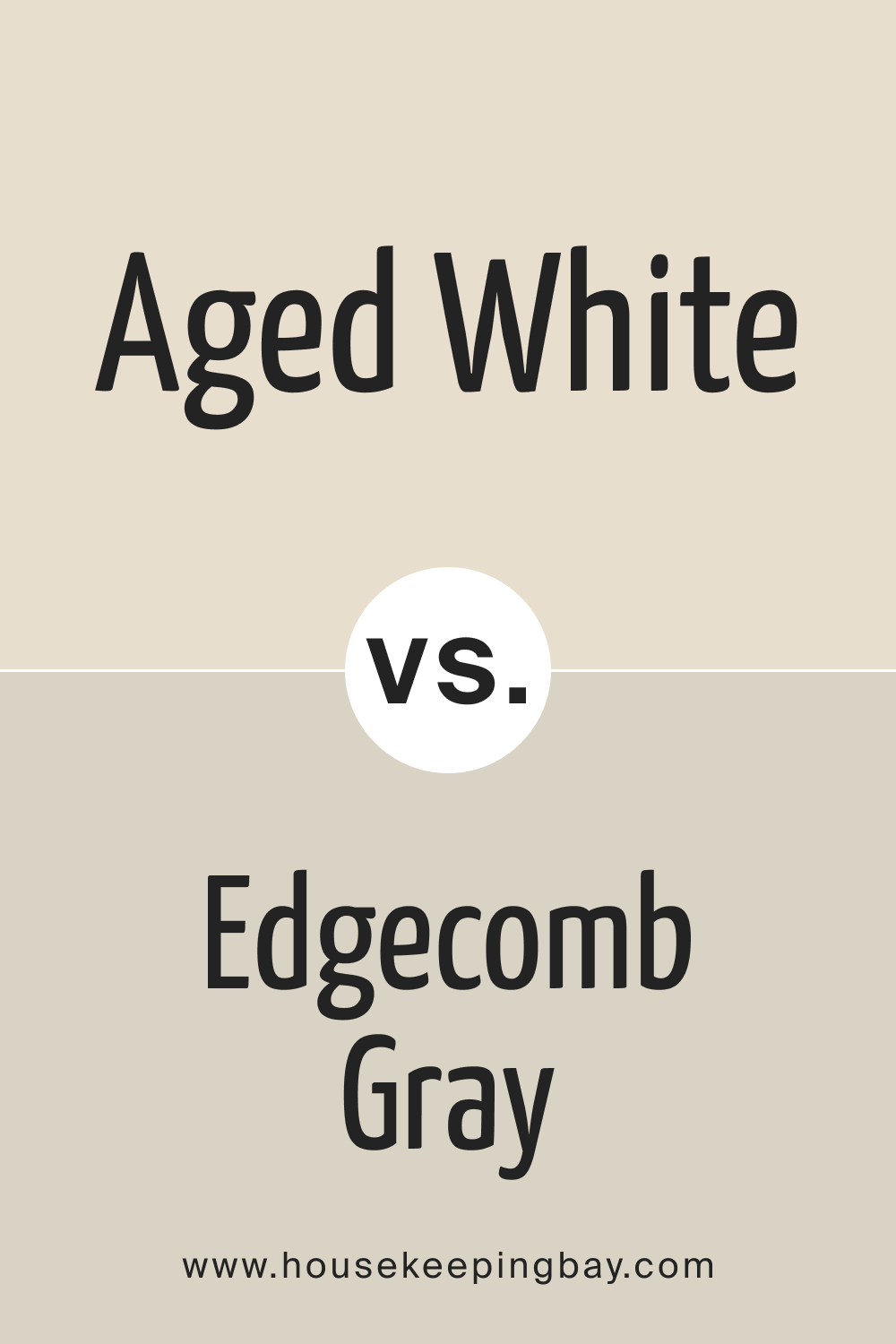 SW 9180 Aged White vs SW 7012 Creamy 
Creamy is a light, creamy white with a slight hint of yellow, making it warmer than Aged White. While both have warm undertones, Aged White has more of a muted, antique vibe compared to the fresh and creamy appearance of Creamy.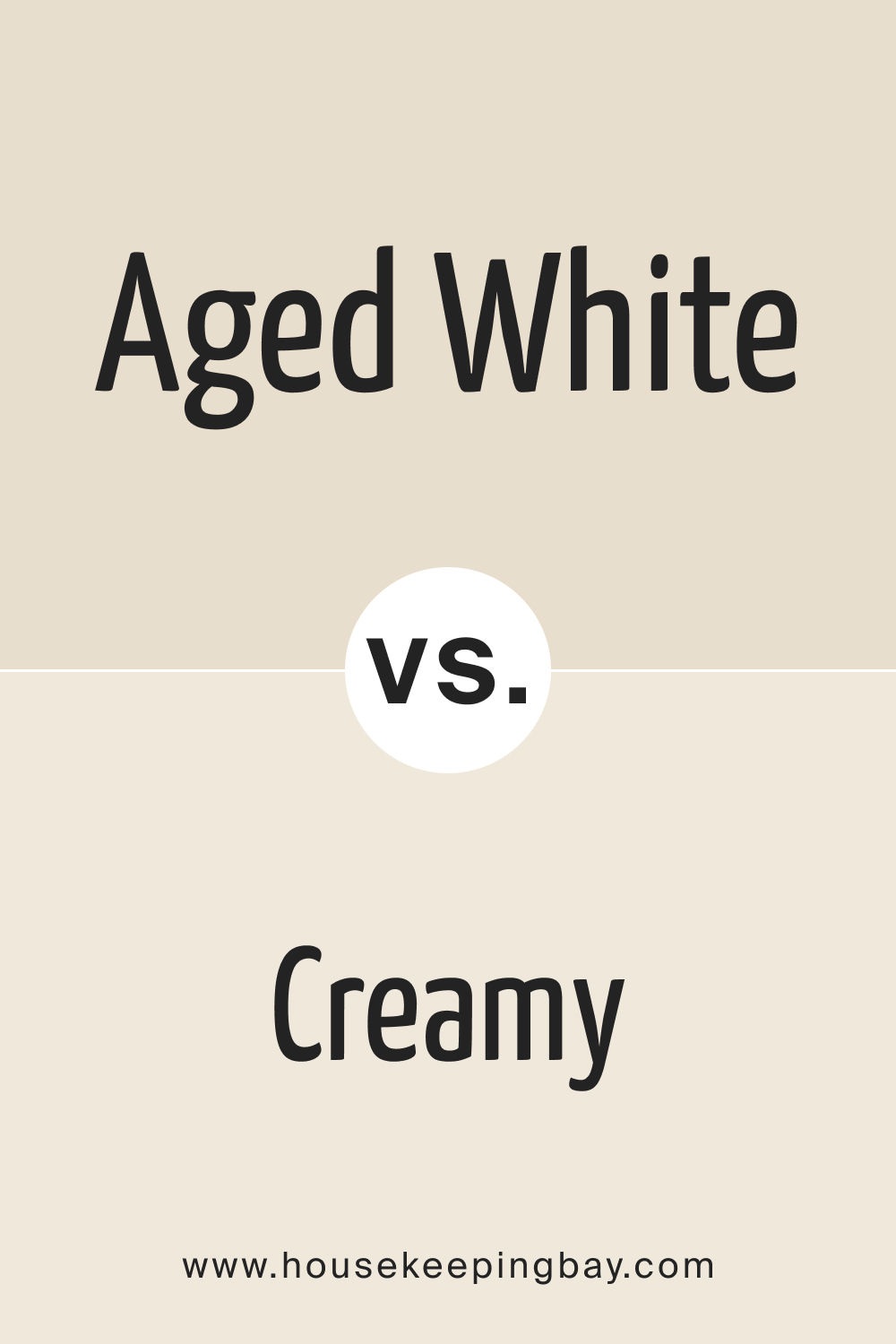 Conclusion
Colors transform, define, and complete a space. Sherwin-Williams' SW 9180 Aged White, with its warm, soft, and timeless appeal, offers endless possibilities. It pairs beautifully with a wide array of colors, fits effortlessly into different rooms and styles, and creates a welcoming, comforting ambiance.
SW Aged White isn't just a color – it's an experience that turns your space into a cozy, inviting, and stylish haven.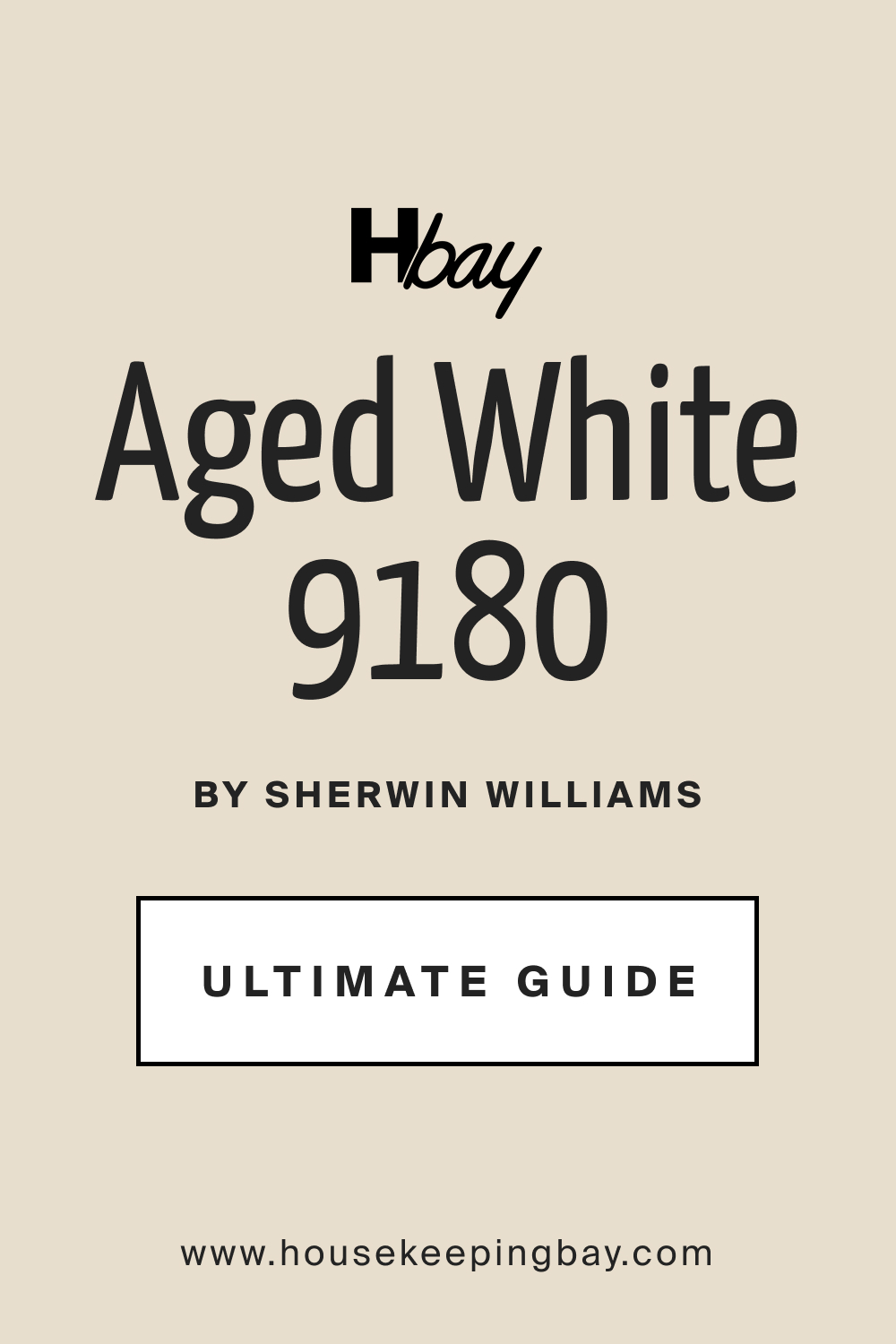 Frequently Asked Questions
⭐I'm considering SW 9180 Aged White for my living room, but I have a lot of natural light. How does this color perform in bright spaces?
SW 9180 Aged White performs beautifully in spaces with lots of natural light. It has a warm undertone that can be highlighted by sunlight, creating an inviting and cozy atmosphere. The depth of this color prevents it from appearing too stark in bright lighting, maintaining a soft and elegant aesthetic that can make your living room feel more open and spacious.
⭐What are the undertones in SW 9180 Aged White? I'm looking for a white with a subtle hint of color.
SW 9180 Aged White has subtle, warm undertones that give it a hint of beige, providing it with a charming vintage or rustic feel. It's a softer and warmer alternative to stark white, making it a versatile and appealing color choice for various settings and styles.
⭐Can SW 9180 Aged White work well in a bedroom? I want something soothing and calming.
Yes, SW 9180 Aged White is an excellent choice for a bedroom. Its soft, warm undertones can create a relaxing and serene atmosphere that is perfect for a restful space. Pair it with calming blues or greens for a truly tranquil bedroom palette.
⭐How well does SW 9180 Aged White pair with dark wood furniture?
SW 9180 Aged White pairs beautifully with dark wood furniture. The warm undertones in the paint complement the rich tones of the wood, while the contrast between the light paint and dark furniture adds depth and interest to the space. This combination can create a balanced and harmonious look.
⭐Is this color suitable for a small bathroom with artificial light?
Yes, SW 9180 Aged White can be an excellent choice for a small bathroom with artificial light. It's a warm and light color that can help make a small space appear larger and brighter. Its warm undertones can offset the sometimes harsh feel of artificial light, creating a softer and more inviting ambiance.