Choosing a suitable paint color for your home painting projects is essential. If you pick up the wrong shade, you may end up with your interior walls looking completely different from what you initially expected to have.
However, since most of us are not familiar with paint colors very much, as well as with all the nuances that go with their application and color combinations, you may also feel a bit puzzled when seeing all those rows of paint cans in a store!
So in this article you see below, we will introduce you to the paint color from a famous brand Sherwin Williams.
This paint is called Rock Candy, but if you are already expecting something sweet and pinky, you are going to have a big surprise!
From this article, you will learn what this color is, what its undertones are, how it will look on the walls of different rooms in your home, and many more interesting facts about Rock Candy paint color.
And of course, we will see how exactly this paint will work for the exterior use and facades.
Sherwin Williams Rock Candy Paint Color
So what is this paint color known as Sherwin Williams Rock Candy?
Well, we can just say that this is a completely awesome and subtle color! Imagine an icy gray-white paint color that reminds you of snow banks and cold winter skies.
Already have that picture in mind? Then you know how Rock Candy looks.
This color is sometimes considered as an off-white or even a very light gray, however, such reading will mostly and strongly depend on the type of lighting in the room, as well as on the room's characteristics.
Anyway, if you are looking for a neutral paint color to use in order to make the space look more airy and light, Rock Candy would be the optimal choice.
As Encycolorpedia says, this color will be perfect for the homes with Scandinavian design since SW Rock Candy pairs exceptionally well with dark and contrasting colors, such as blacks, and contrasting darker neutrals. It will even look great along with fun pops of color!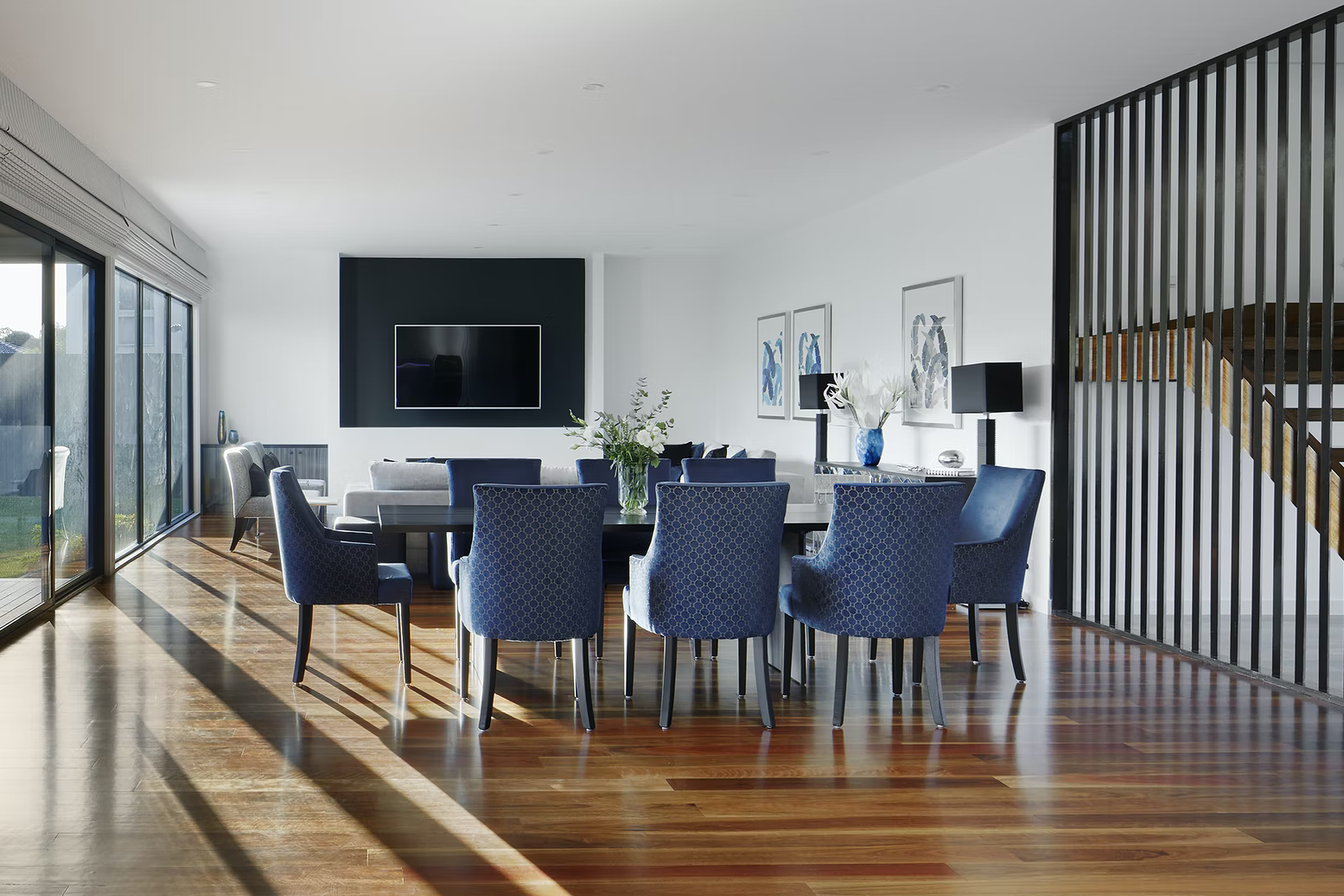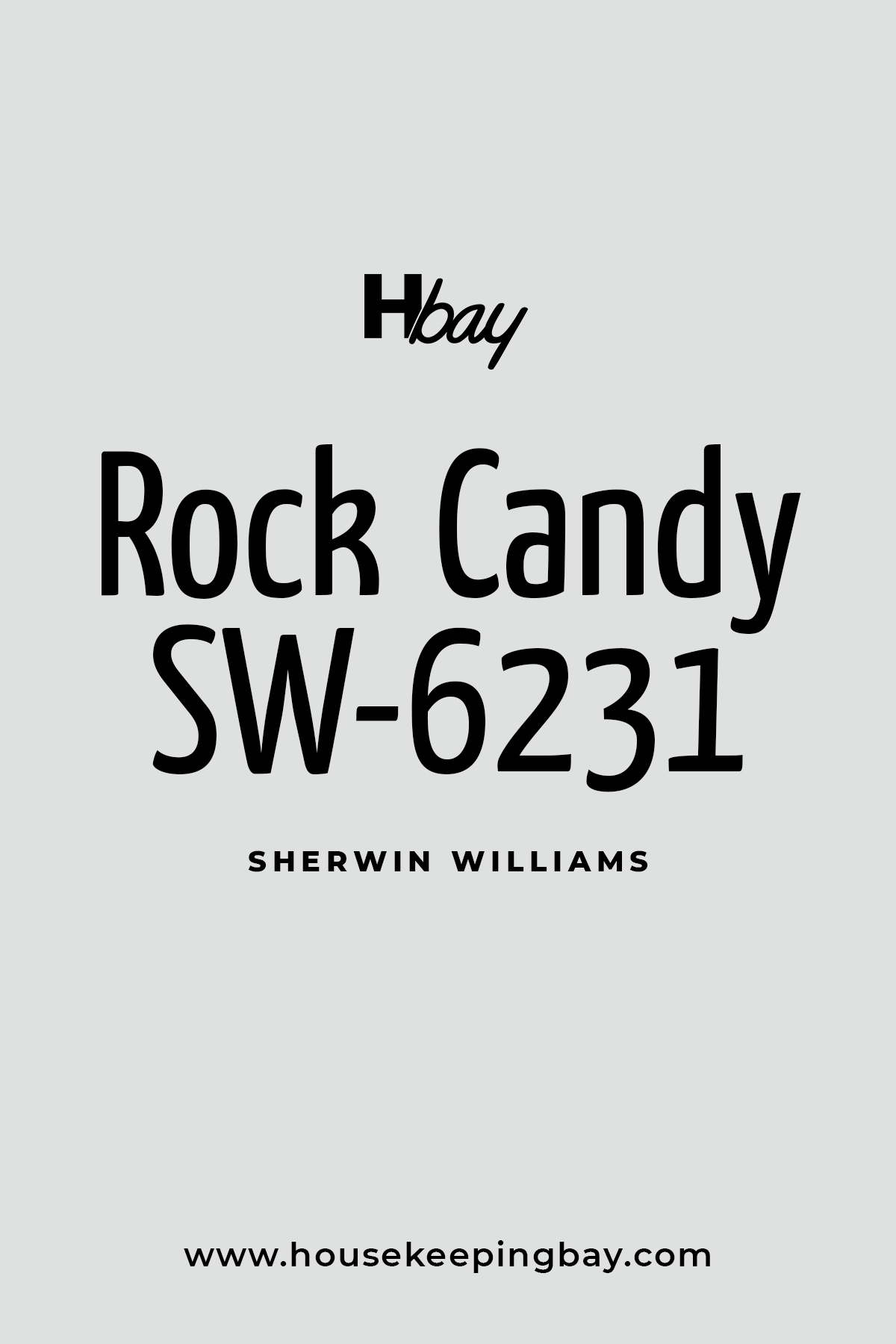 Light Reflectance Value of Rock Candy 
The LRV of this paint color is 75.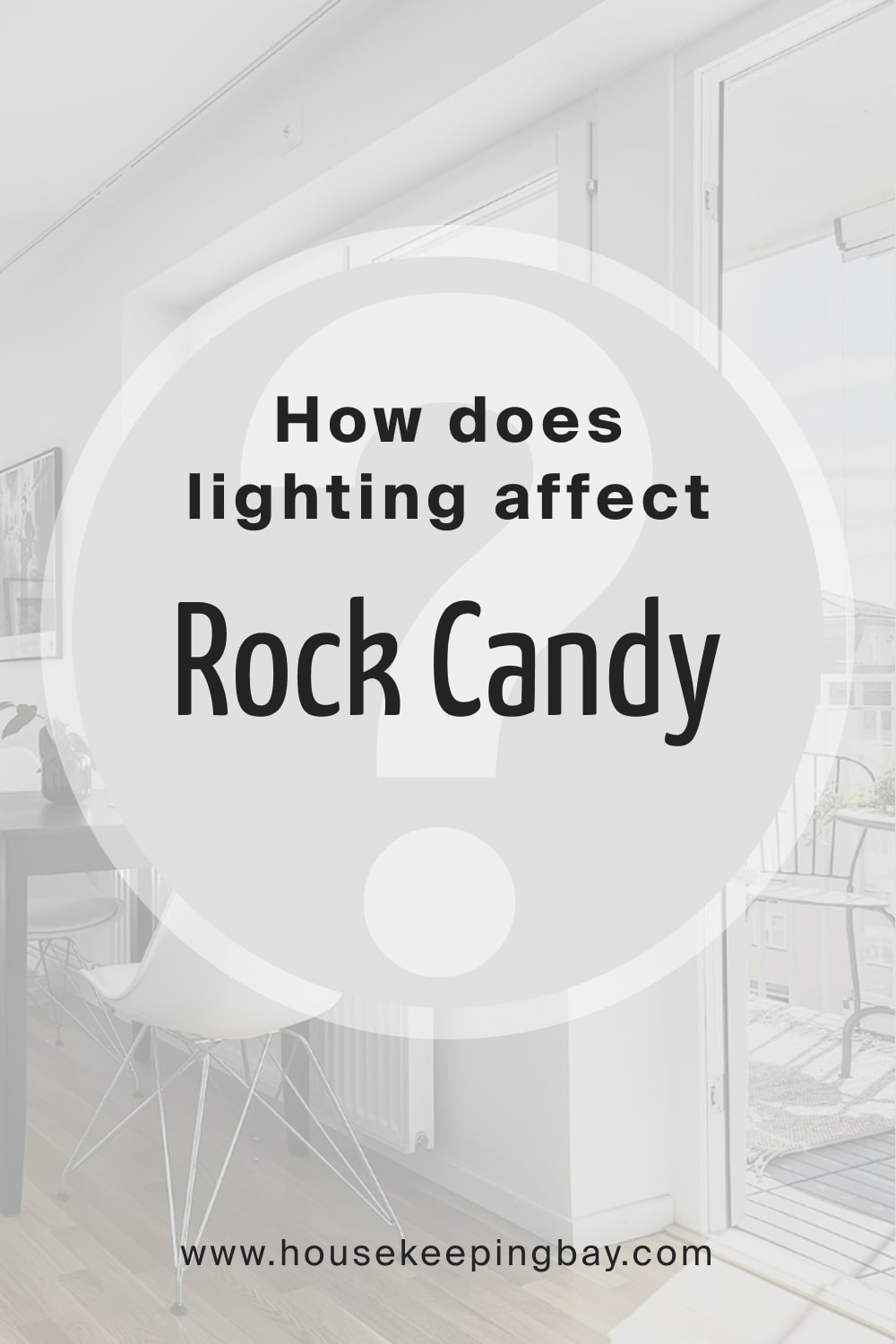 And since LRV defines how light or dark the color is, we can say that Rock Candy by Sherwin Willaims can be considered light for sure.
With that in mind, you can use it if you need to make your room look more spacious and bigger.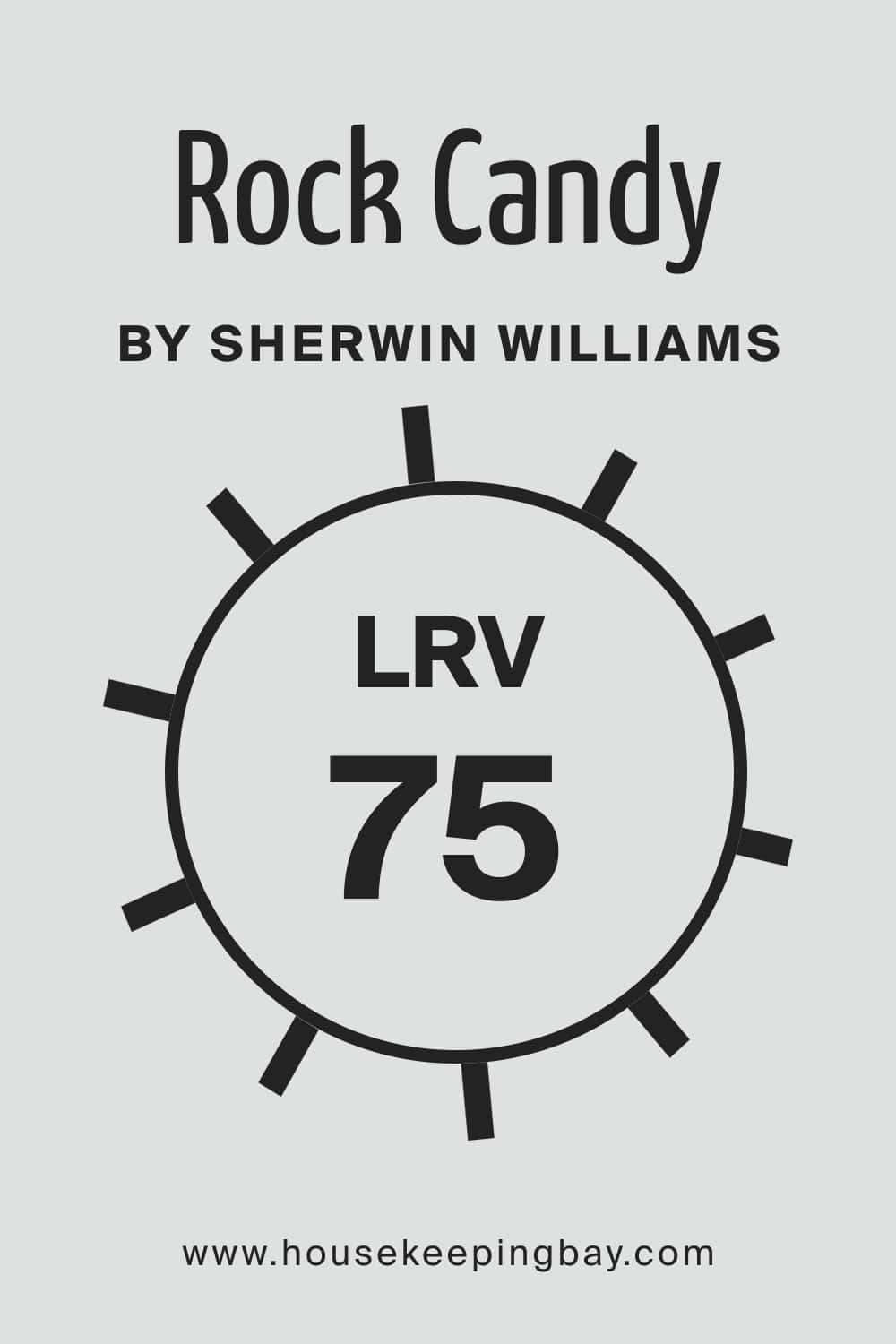 What is LRV? Read it Before You Choose Your Ideal Paint Color
SW Rock Candy Undertones
The paint color by Sherwin Williams that we know as Rock Candy has mostly very light-blue undertones. In addition to the fact that this color is very close to off-whites and very light grays, Rock Candy is considered light with its LRV being 75.
Because of these features, this paint color gives that subtleness to a space and yet, it still promises a bright, light, and airy look.
This is why Rock Candy by Sherwin Williams is one of the favorite color picks for the citizens – it simply allows them to make their city apartments look spacious and visually larger!
And this is also the reason why this color can be applied onto all the walls, not only on the accent wall!
And now, you would probably like to know how this soft, restful, tranquil and refreshing color will work in different rooms when being differently lit. And here is the very first thing you need to know: natural light affects this color greatly!
In certain cases, Rock Candy may even look almost like pure white!
However, this color is timeless and very flexible anyway. Still, the best way to check how this paint will look on your walls exactly is to get the actual little cans and apply some color in the area.
Only then you will be able to see how exactly this paint will work.
Also, do remember to check this color during the day and see how it reveals itself in different lighting types. It will take you some time of course, but it's worth it, believe it or not.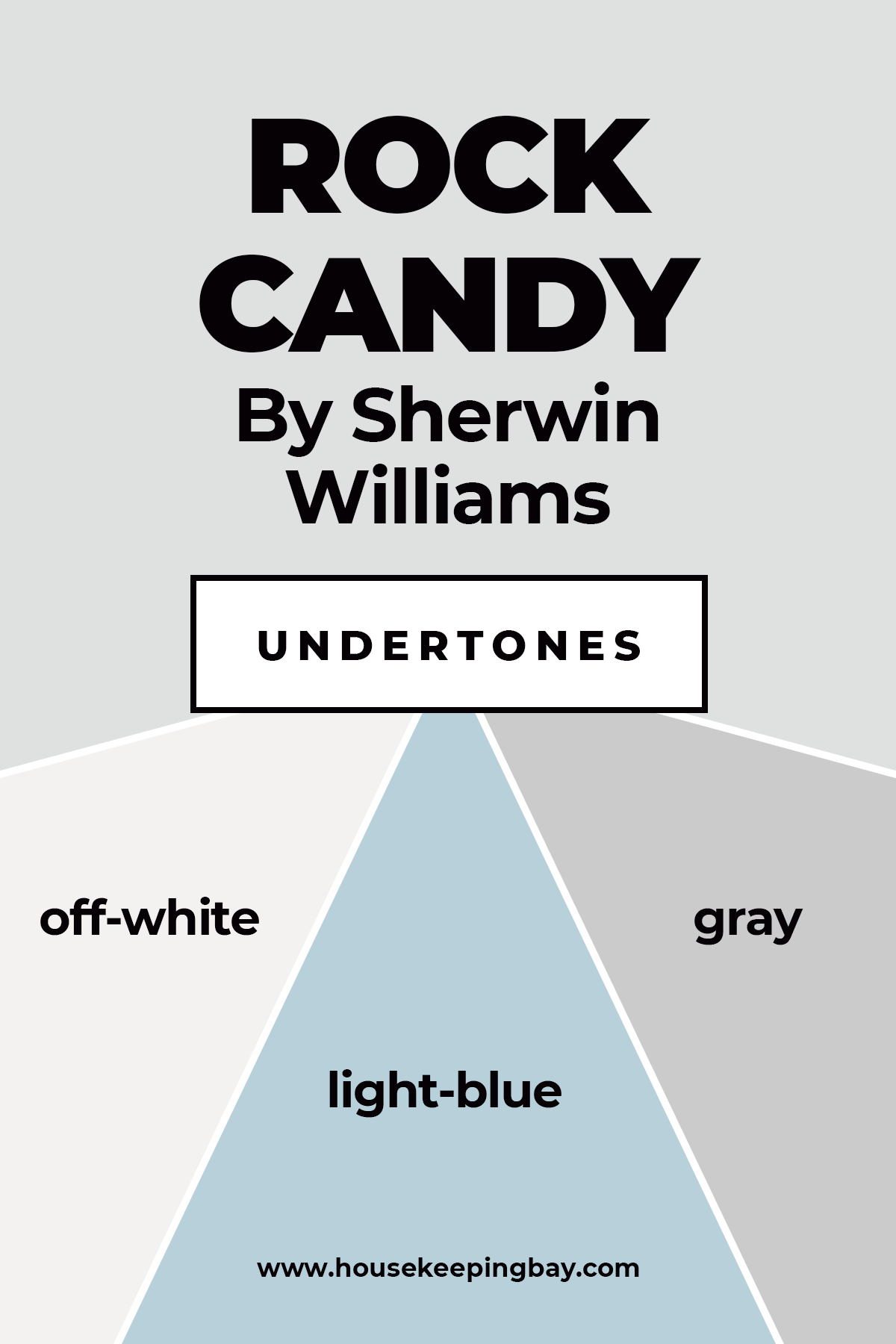 SW Rock Candy Coordinating Colors
It is always complicated to pick up the colors to pair them with the main one. Rock Candy color by Sherwin Williams is not an exception even despite its extreme versatility.
This neutral color with light-blue undertones will work particularly well with black colors, as well as darker shades of neutrals.
Nevertheless, you can still combine it with bright pops of color or use this paint for a monochromatic theme.
For example, if you are looking for the paint color to use it in a Scandinavian style home, we would recommend you the following colors for this palette:
Uncertain Gray SW 6234
Grays Harbor SW 6236
Still Water SW 6223
Dark Night SW 6237
Or, if you need a paint color to use it for a contrasting theme, with fun-loving interiors or pops of hues highlighting, select from any of these:
Dustblu SW 9161
In the Navy SW 9178
Other than these blue colors, you could also choose from subtle sage greens, charcoal paint colors, blacks, greiges and of course, whites.
Using subtle shades like terracotta would be great too! Especially if you use that as an accent color.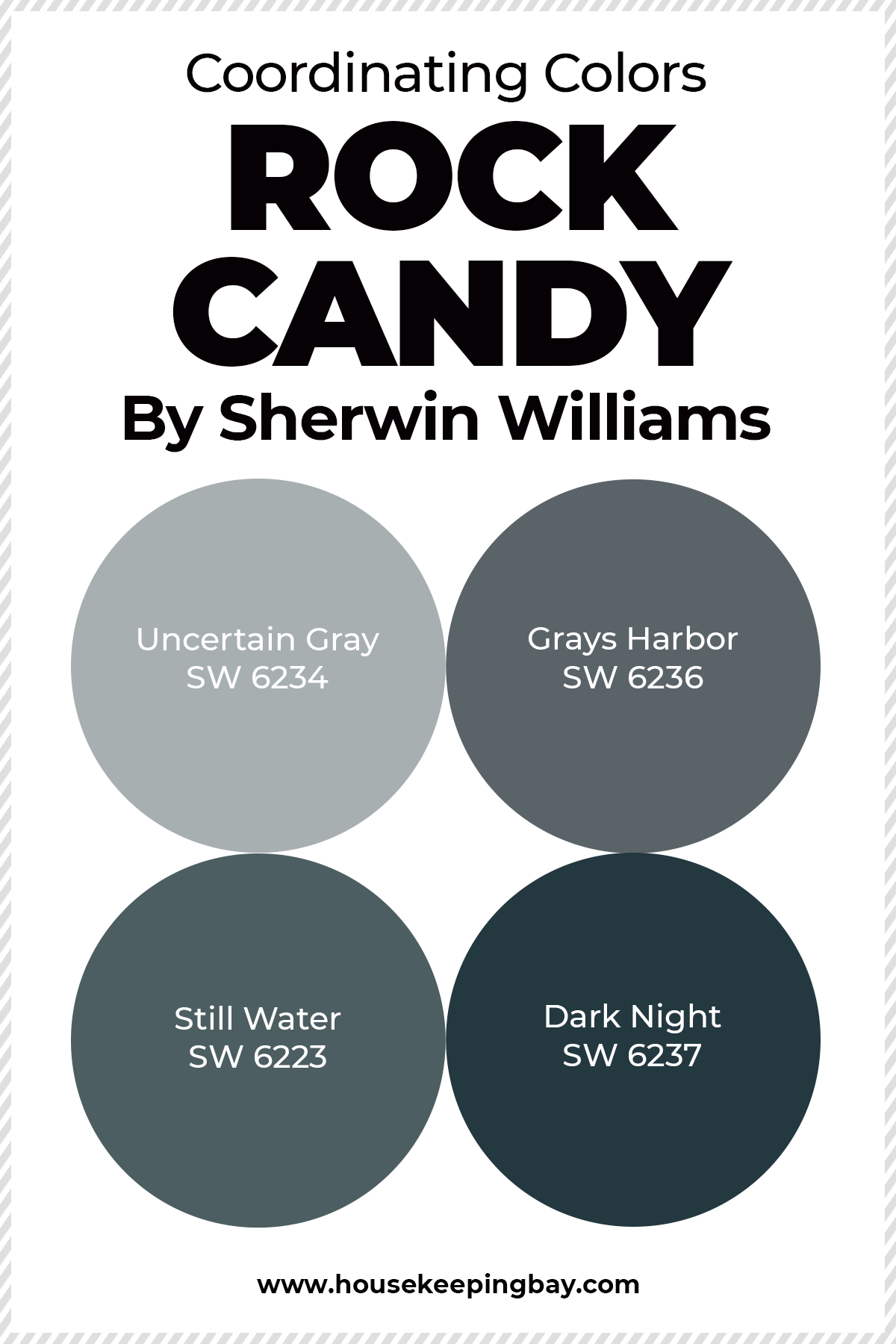 What Is the Best Trim Color?
It has almost become a rule of thumb that white is the only one universal trim color that will suit any others. But is it the same with Sherwin Williams Rock Candy?
Well, basically, it is. White colors look especially great when used as trim colors along with this neutral grayish one with very light blue undertones.
And since the color itself is closer to cool-toned, we would suggest you stick to warmer shades of white for trimming. If you use a cool-toned white instead, chances are that the entire room might look a bit too "cold".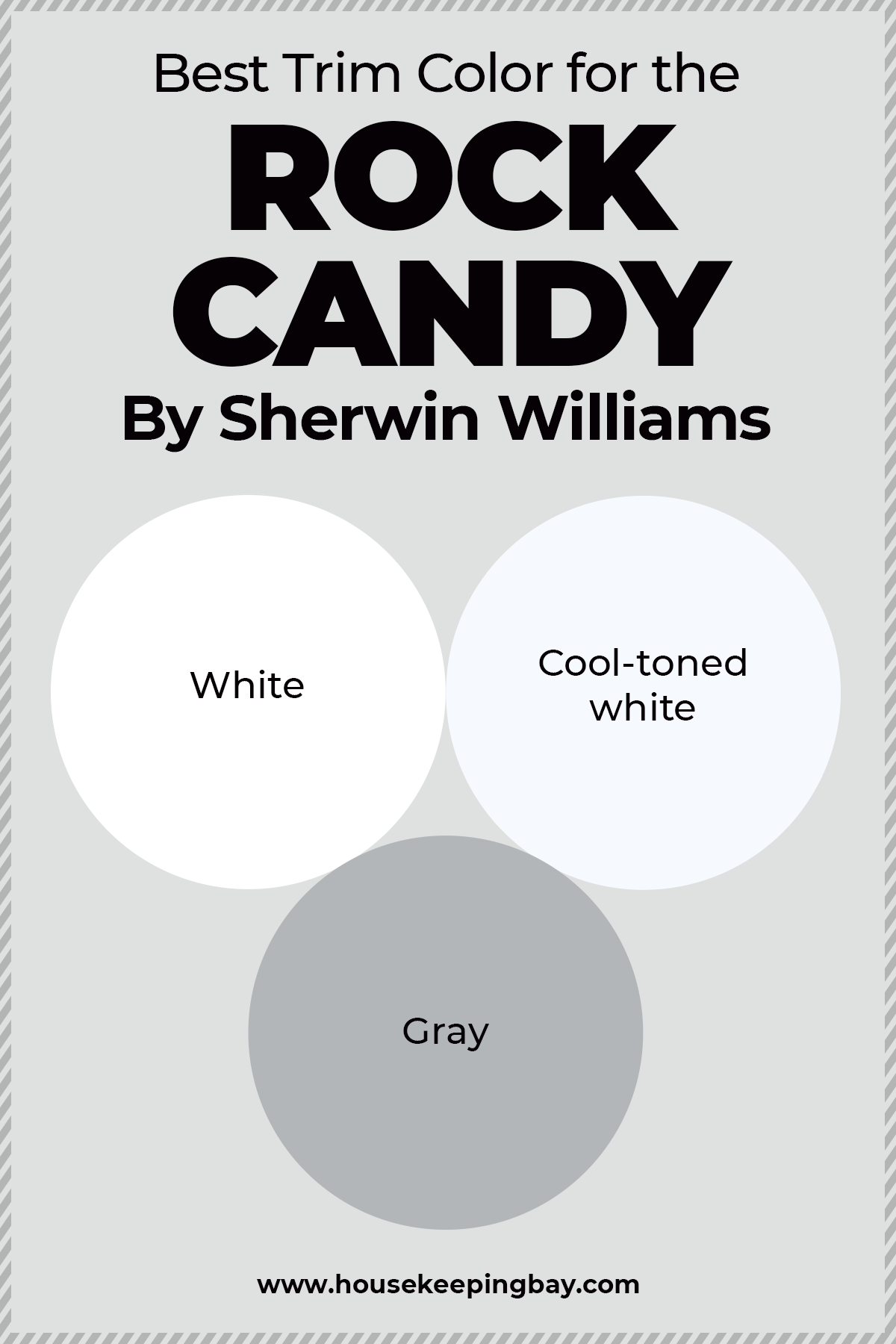 What Paint Colors Are Similar to Rock Candy?
Sometimes, you might want to look for an alternative paint color instead of Rock Candy, and it can happen for many reasons. Maybe, your interior color palette is not quite appropriate to welcome this neutral shade.
Or you just don't like the hue. No matter the reason, it is always good to keep a few alternatives in mind.
So if for any reason you don't want to use this paint color in your home, check out a few others:
Sherwin Williams Rhinestone SW-7656
Sherwin Williams Clean Slate SW-9621
These might look better and way more suitable in your interior! Anyway, both are extremely similar to the Rock Candy so that you might not even be able to tell the difference unless you really have an eye for shades and tones!
THE BEST NEUTRAL PAINT COLORS | SHERWIN WILLIAMS EDITION
Where to Use Rock Candy SW-6231 In Your Home?
We have already told you that SW Rock Candy is quite a versatile color. You can successfully use it in many rooms and on quite many surfaces in your home.
The one essential nuance that you always have to keep in mind is the way this color will show itself when you pair it with other colors in the room.
Of course, you should also not forget about the type of lighting!
Rock Candy SW-6231 By Sherwin Williams for the Bedroom
This color will look amazing in your bedroom especially if it has enough daylight.
And if you have dark wooden or black furniture there, it will pair with this paint color exceptionally well.
If your room is congested – pair this color with white decorative and sheer curtains.
And to add a bright, pop touch, add contrasting colors in the form of upholstery and loveseat fabric.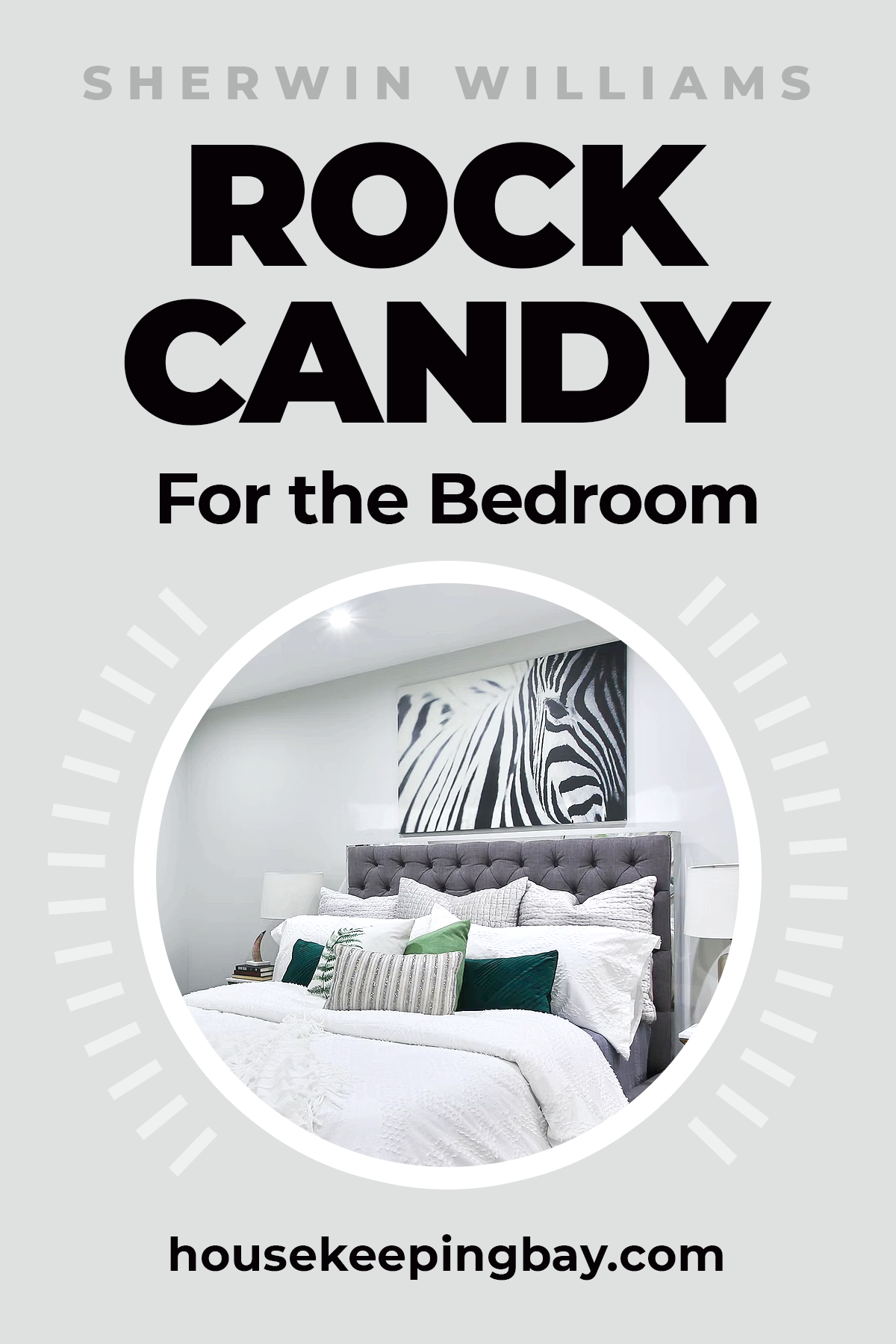 Rock Candy SW-6231 By Sherwin Williams for the Cabinets And Kitchen Cabinets
In fact, this color looks great on cabinets in your kitchen! So don't shy away from it. It will fit perfectly both for creating a rustic-style vibe or for a farmhouse touch.
However, be careful with lighting: if it is cool, the color may look colder thus adding more "chilly" vibes into the area!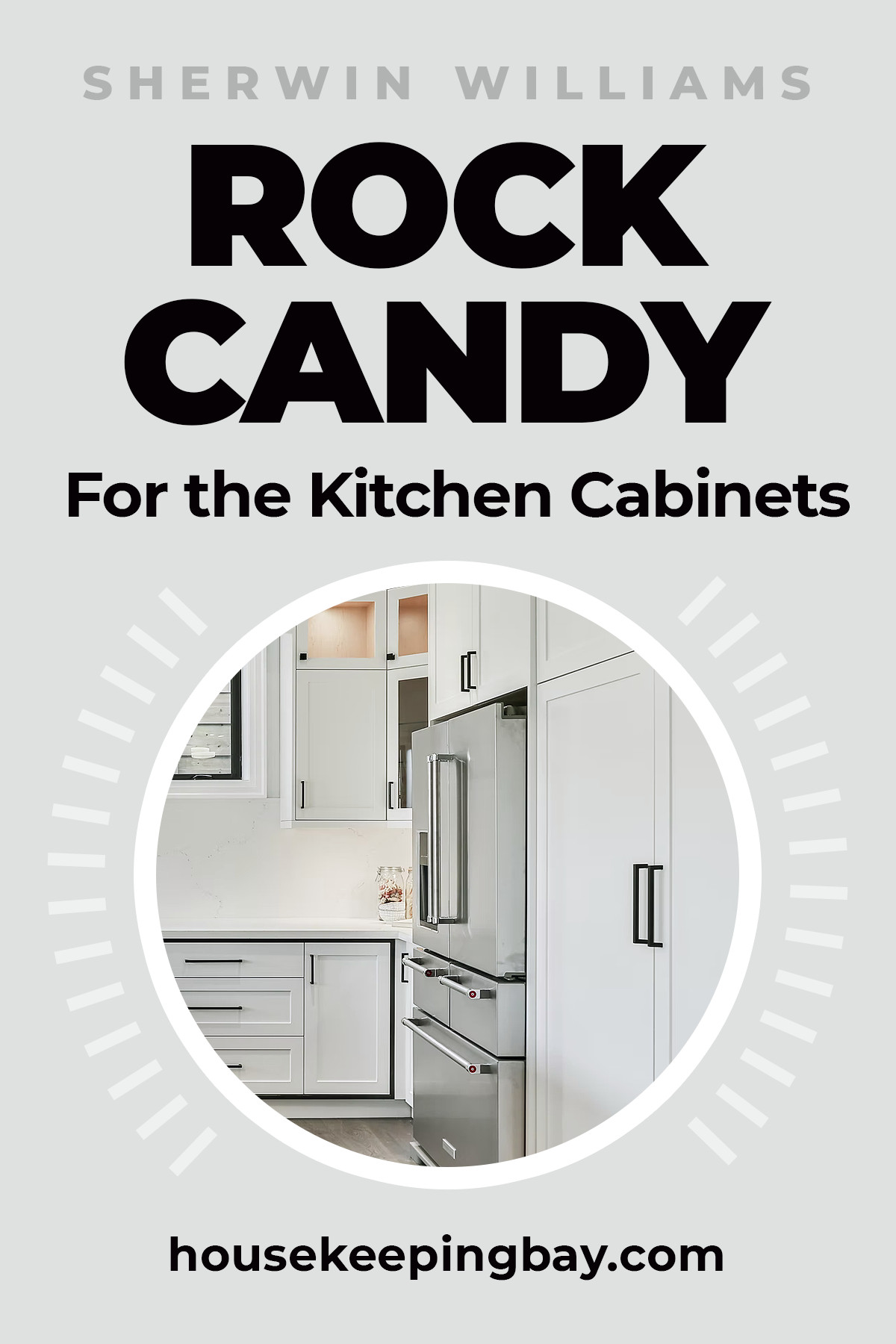 Rock Candy SW-6231 By Sherwin Williams for the Kitchens
For the kitchen walls, Rock Candy is also a cool option. Especially if you want to make the room look more spacious.
It will be more than welcomed if you have dark-colored or black items there as well, for example, a kitchen island or other furniture.
This neutral color will harmonize those dark "spots" in the area.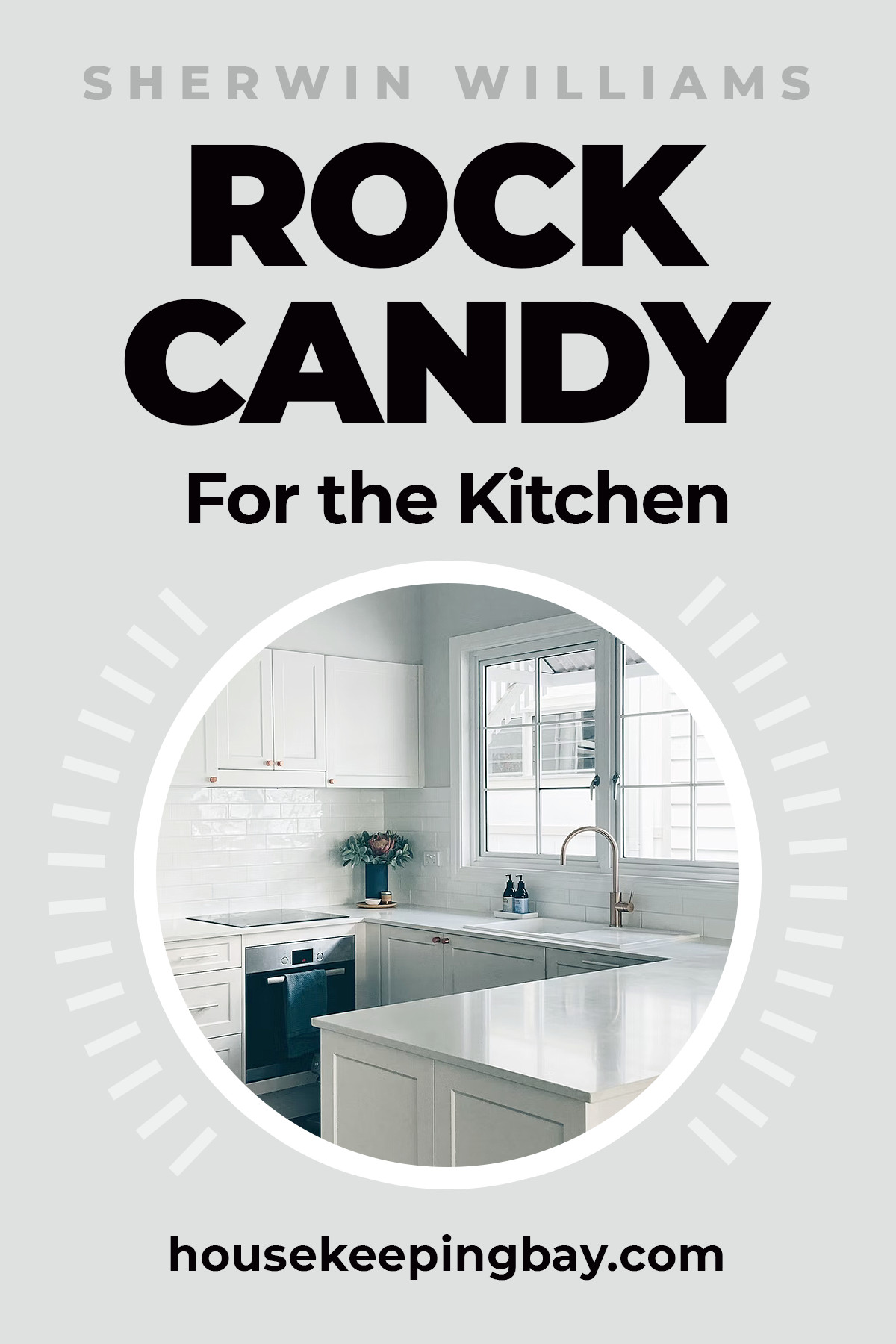 Is SW Rock Candy Suitable For Exterior Use?
Another great feature of this paint color is that it can be used for exterior paint works as well. Of course, if you decide to do it, you must consider the lighting in your area!
The lighter the surrounding the lighter this color is, remember that well.
So to not end up with a shining white exterior of the house, try to pair this color with wooden texture items e.d. with wooden textured frames. Gray slates on the roof might also help.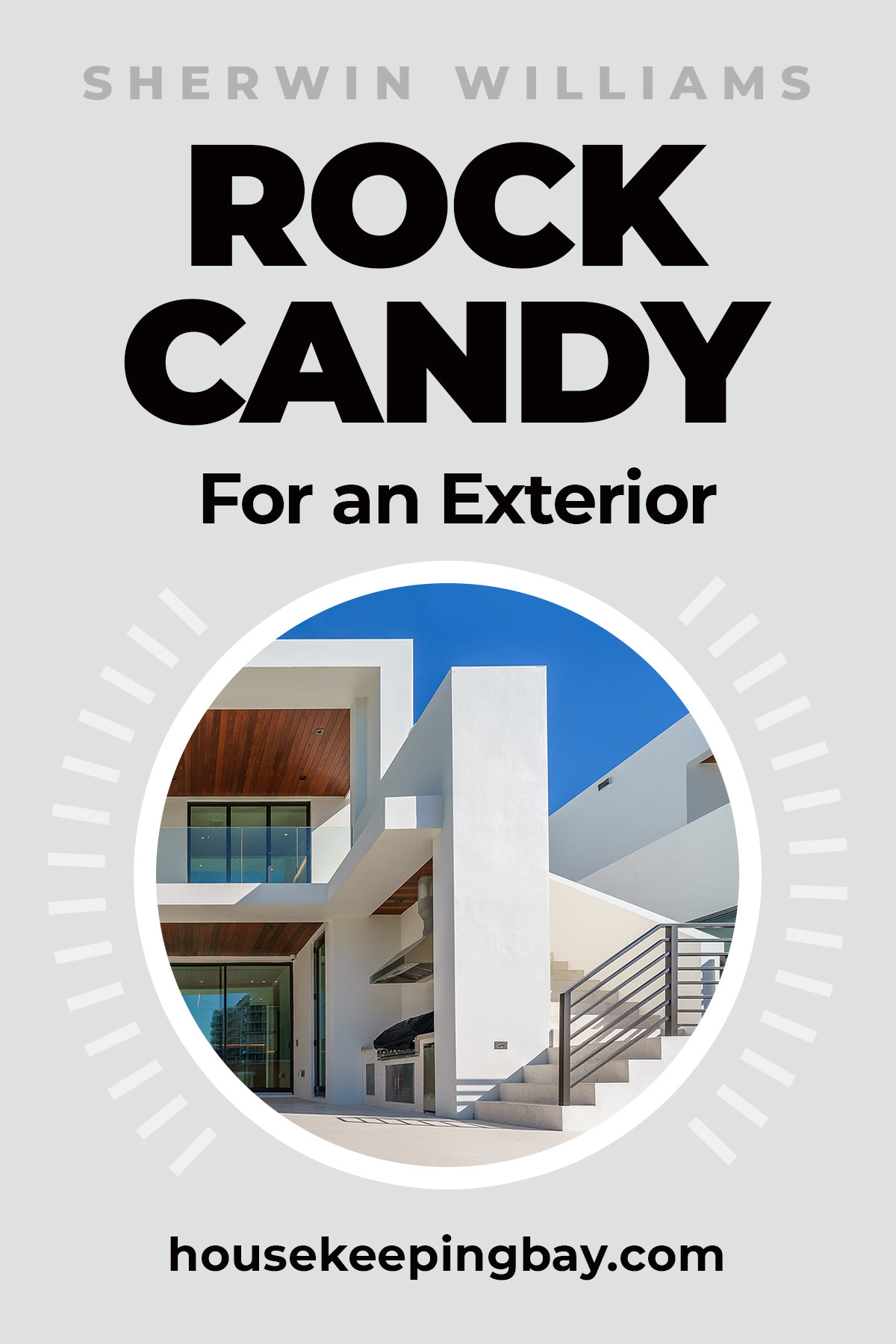 Colors That Rock Candy Goes With
When starting a painting project, you need to ensure that the color you choose will pair well with other colors.
This is why we suggest you check out what colors Rock Candy goes with. Like this, you will avoid a common mistake of combining the colors that can't go together.
Rock Candy vs. Rhinestone
Even though they share similar LRVs, Rhinestone definitely has cooler tones in it. It is more neutral and it's also absolutely timeless.
Just like Rock Candy, its counterpart can be used anywhere, but for trims, pair it against pure white.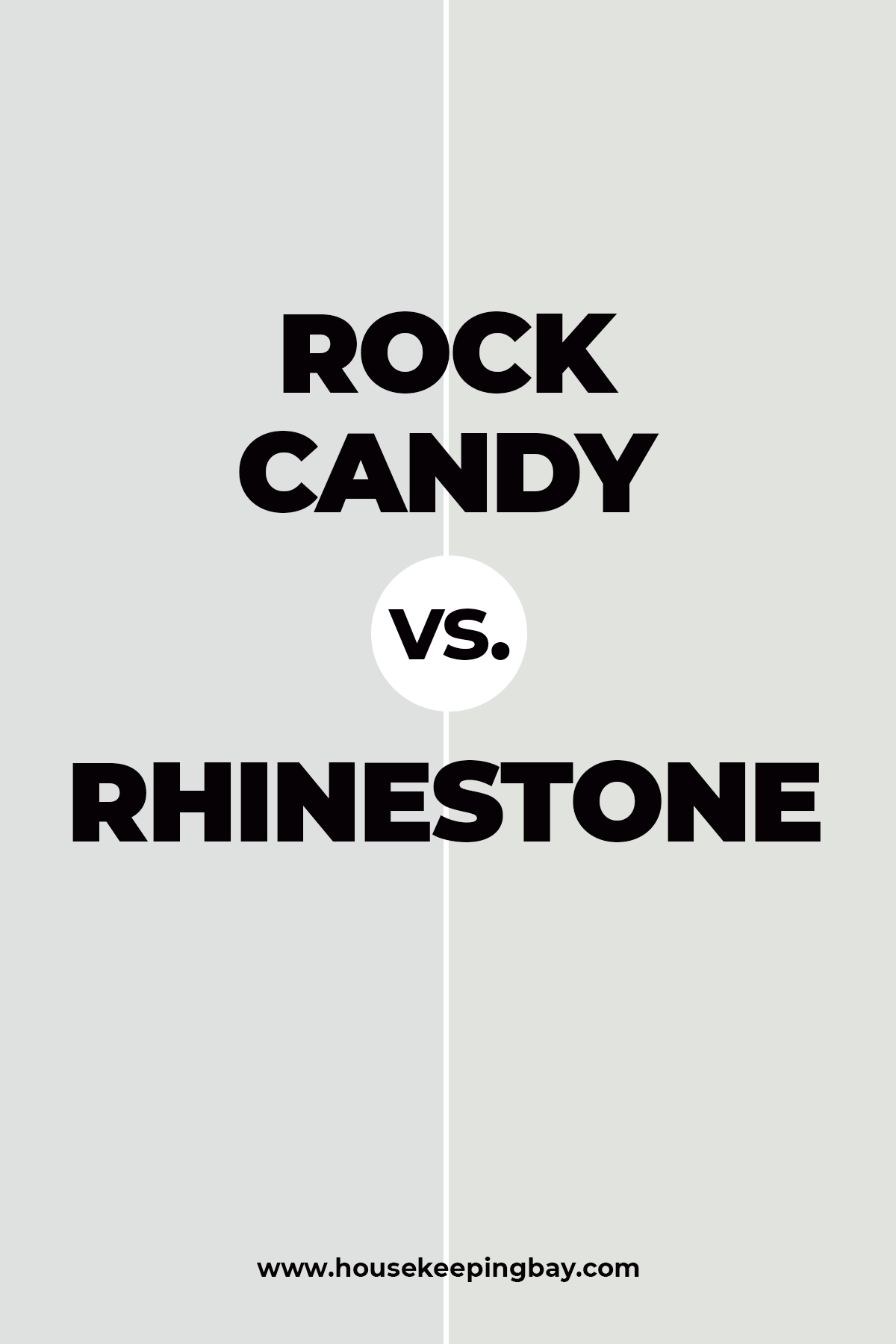 Rock Candy vs. Misty
Misty shows more gray-greenish undertones though still very light and delicate.
But in comparison with Rock Candy, Mist looks cooler and darker.
They look nice paired together, but for a more harmonious ensemble, you'd better add one more, darker shade as well.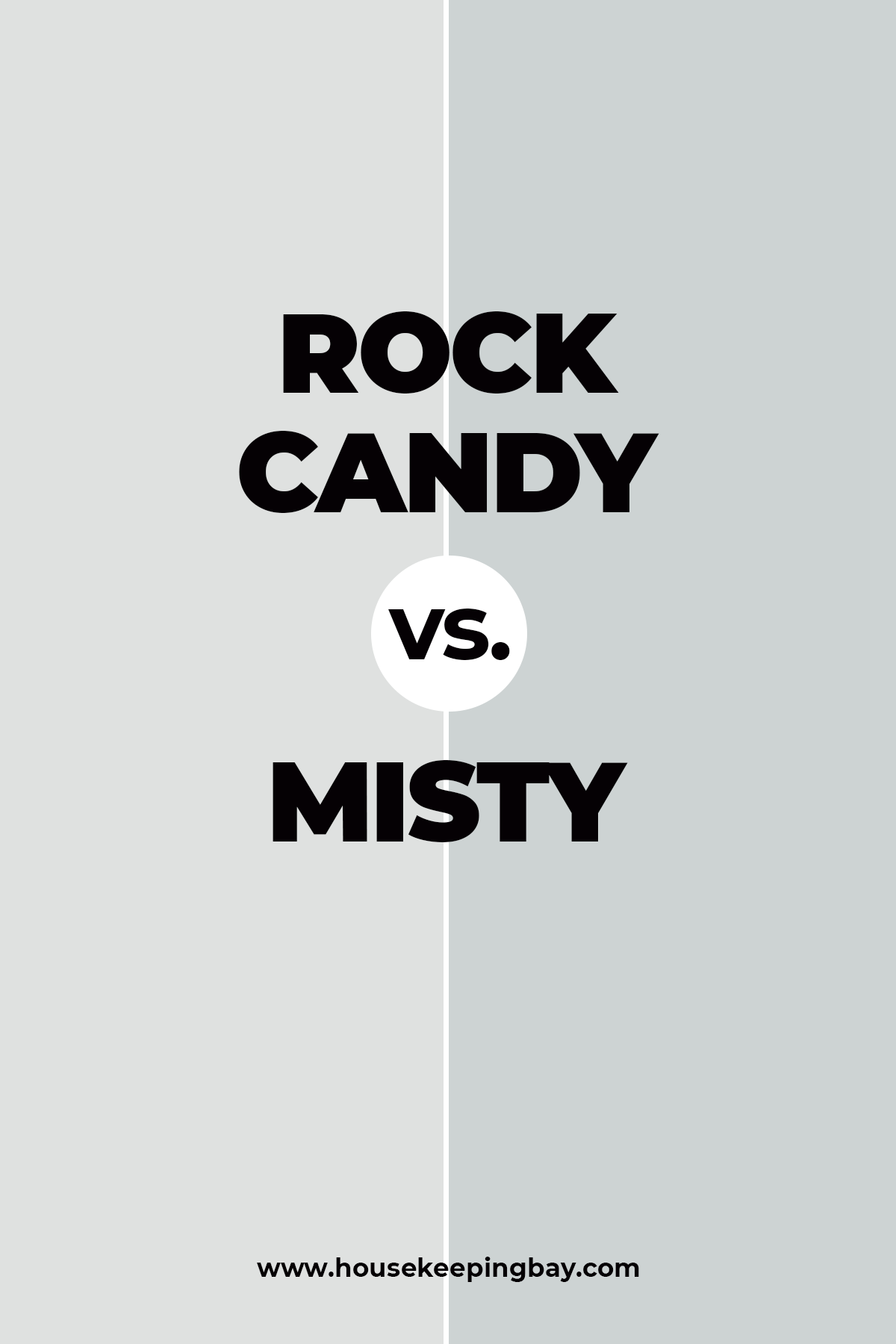 Rock Candy vs.Ice Cube
Ice Cube is a bit warmer than Rock Candy, and it also shows more gray undertones.
However, if placed side by side, these colors look pretty much alike, so we would not recommend you use them together in the same space.
Rock Candy vs Repose Gray
Compared to Rock Candy, Repose Gray is way darker with more prominent warm gray undertones.
You might even notice a slight greenish tint in it as well. And some people even consider Repose Gray being nearly greige if it's placed side by side with Rock Candy!
In comparison, Rock Candy reveals more of its blue undertones along with Repose Gray.
But as a combo, these two don't look nice.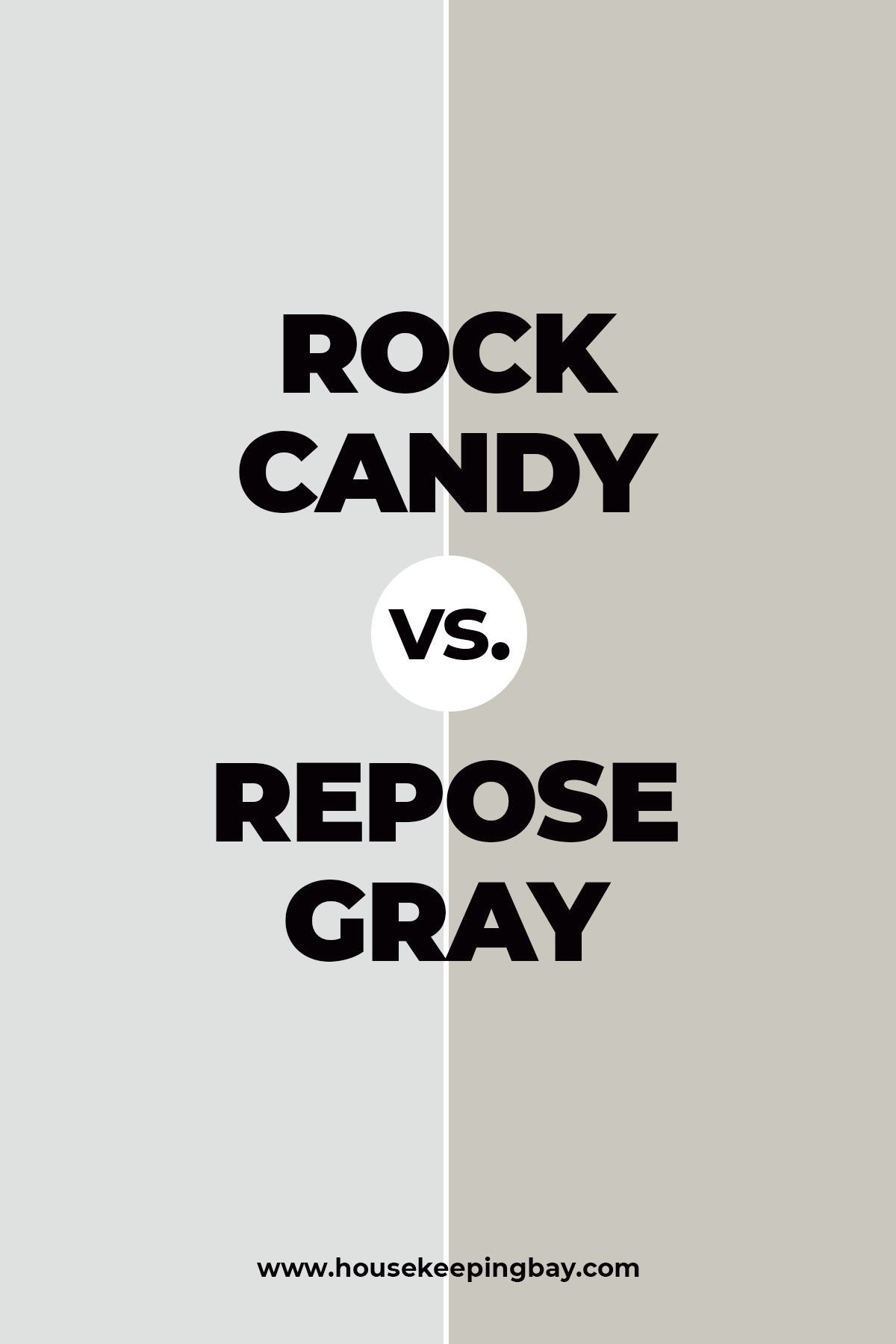 Related: Repose Gray SW 7015 by Sherwin-Williams
So, here you have all the information about RockCandy paint color by Sherwin Williams.
Now you know what this color is and where it's best to be used. So if you apply it correctly, it can bring that natural-looking and relaxing vibe to your home that so many people are looking for.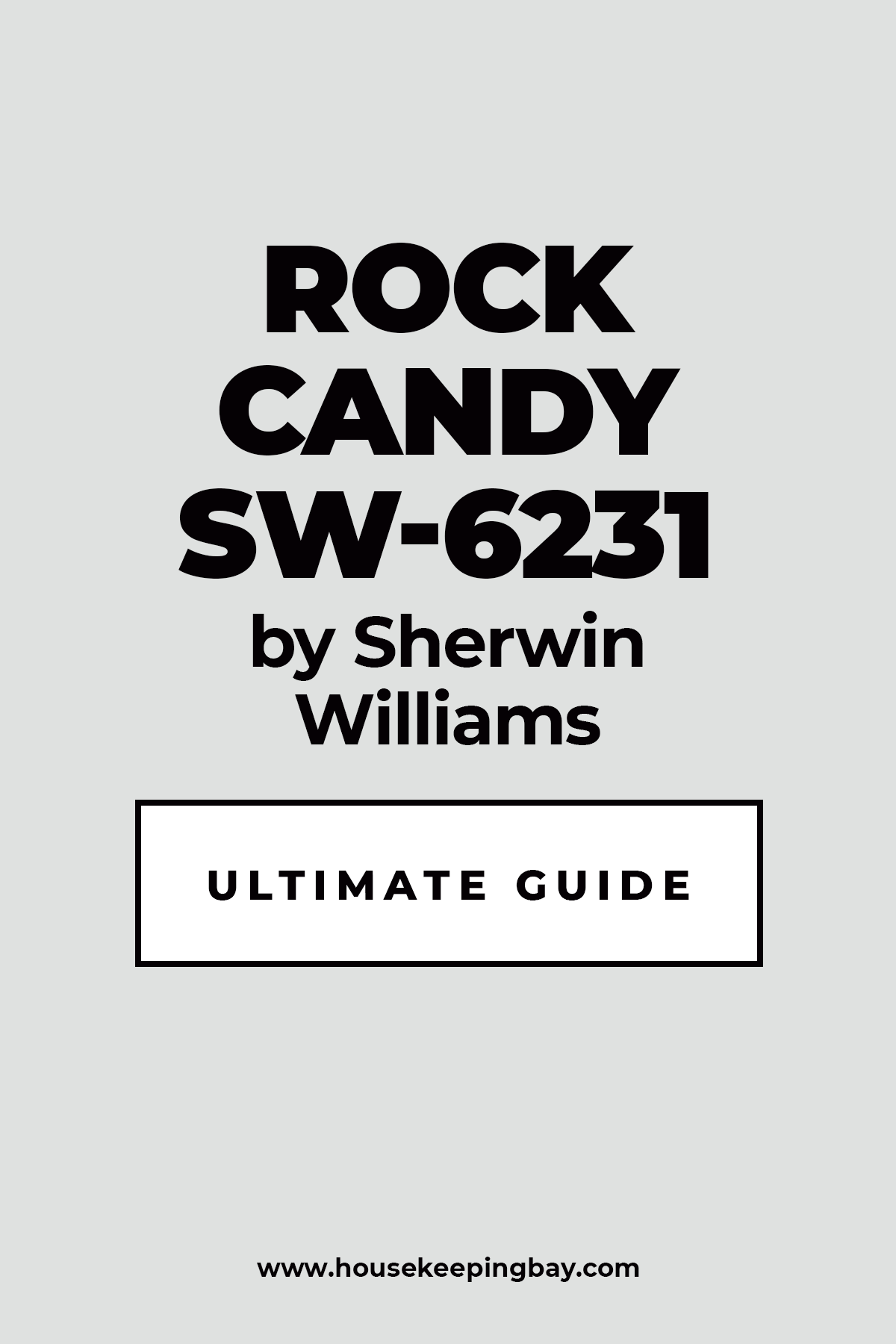 Frequently Asked Questions
⭐ Does Rock Candy look good with white trims and window frames?
⭐ What color should I use on my fireplace if the walls are painted with Rock Candy?
⭐ Is Rock Candy a warm color?
No, it's closer to cool toned ones.