White is a very popular color to use at home due to its versatility and multifunctional nature. White pairs with most other colors successfully and suits many interiors and home styles. However, there are shades of white that might require more knowledge regarding their use!
One of such white paint colors is called Pediment. It's a white color by Sherwin-Williams, and today we will tell you more about it.
You will learn what kind of white it is, how it works in different spaces, and how to coordinate it correctly.
With this and other helpful information we are going to share with you today, using this shade of white won't be a problem for you!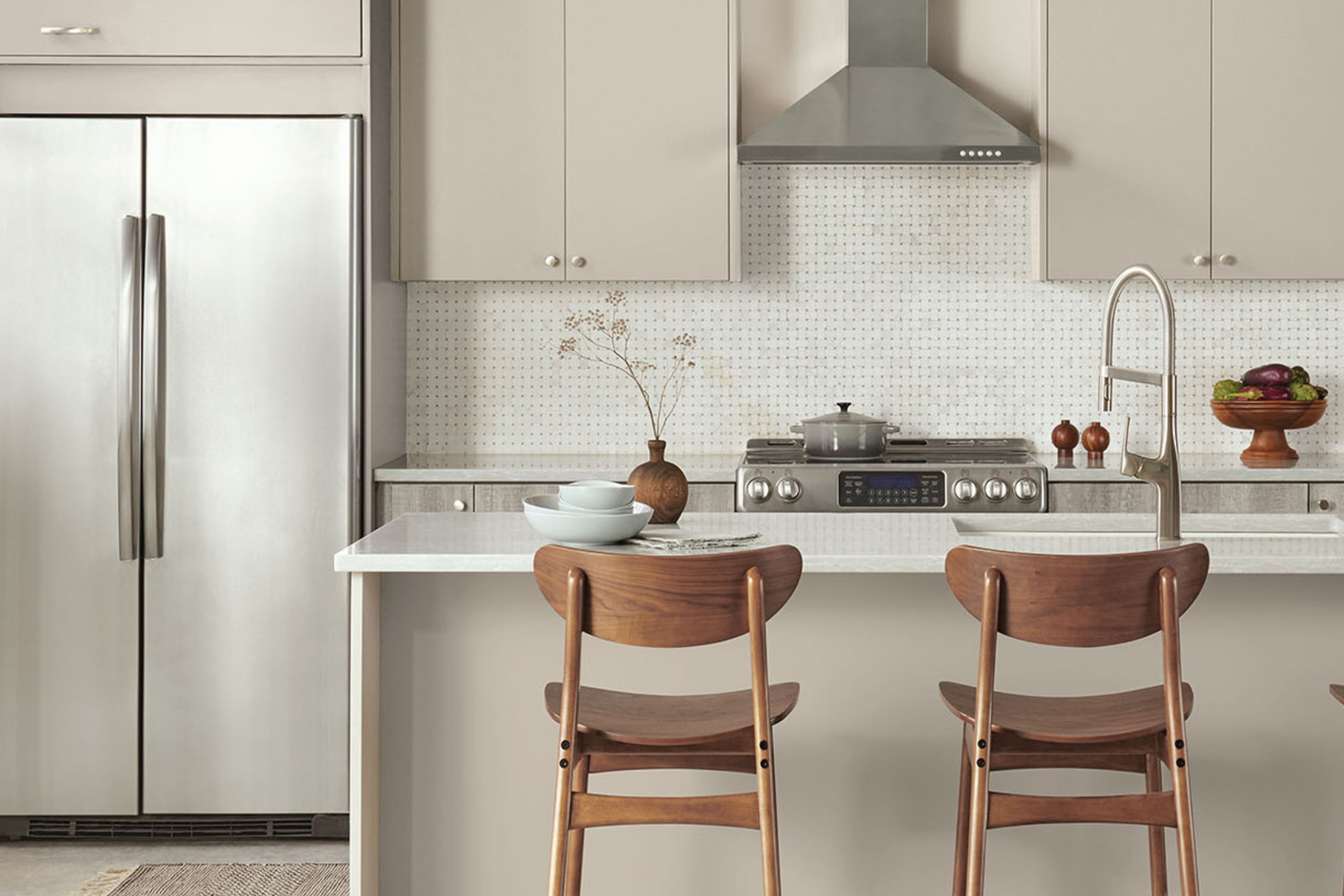 What Kind of Color Is Pediment SW 7634?
SW Pediment by Sherwin-Williams is officially considered a classic and bright white color, but if you take a look at it, you will hardly say it's a typical white.
As Encycolorpedia says, this color looks like a mix of purple and blue, which is why people often get puzzled when they learn it's actually white! But generally, this paint color is classified as neutral taupe. Also, SW Pediment is a warm-toned color, which is why it can hardly be called greige.
As you can see, this interior white paint is not very simple! This is why you should use this color very carefully in your home! Due to its tricky undertones (which we will discuss later), it may read differently and play tricks in your home.
Read on to find out how to use it correctly not to get an unwanted surprise.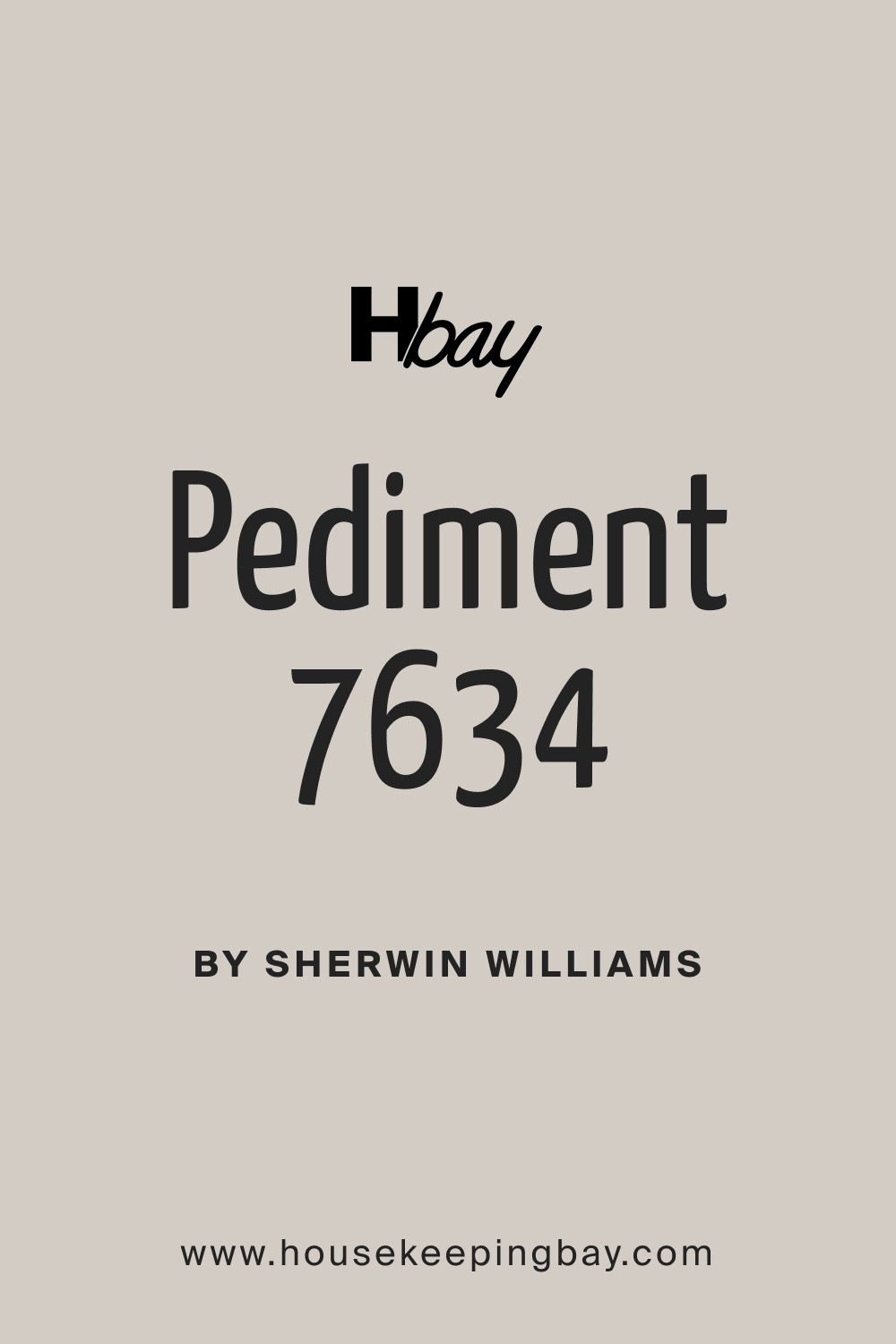 What Undertones Does Pediment SW 7634 Paint Color Have?
SW Pediment has noticeable purple and pink undertones, as well as a hint of blue, which is why this taupe and neutral color is pretty challenging to use and pair with other colors. Also, such complex undertones make it a bit difficult to find the most suitable place for this white paint in your home since SW Pediment may read differently in different types of light.
This is why we recommend you sample it before you start applying the paint to your walls. By using paint samples, you can see how the color works in a room and thus tell in advance how it may read there.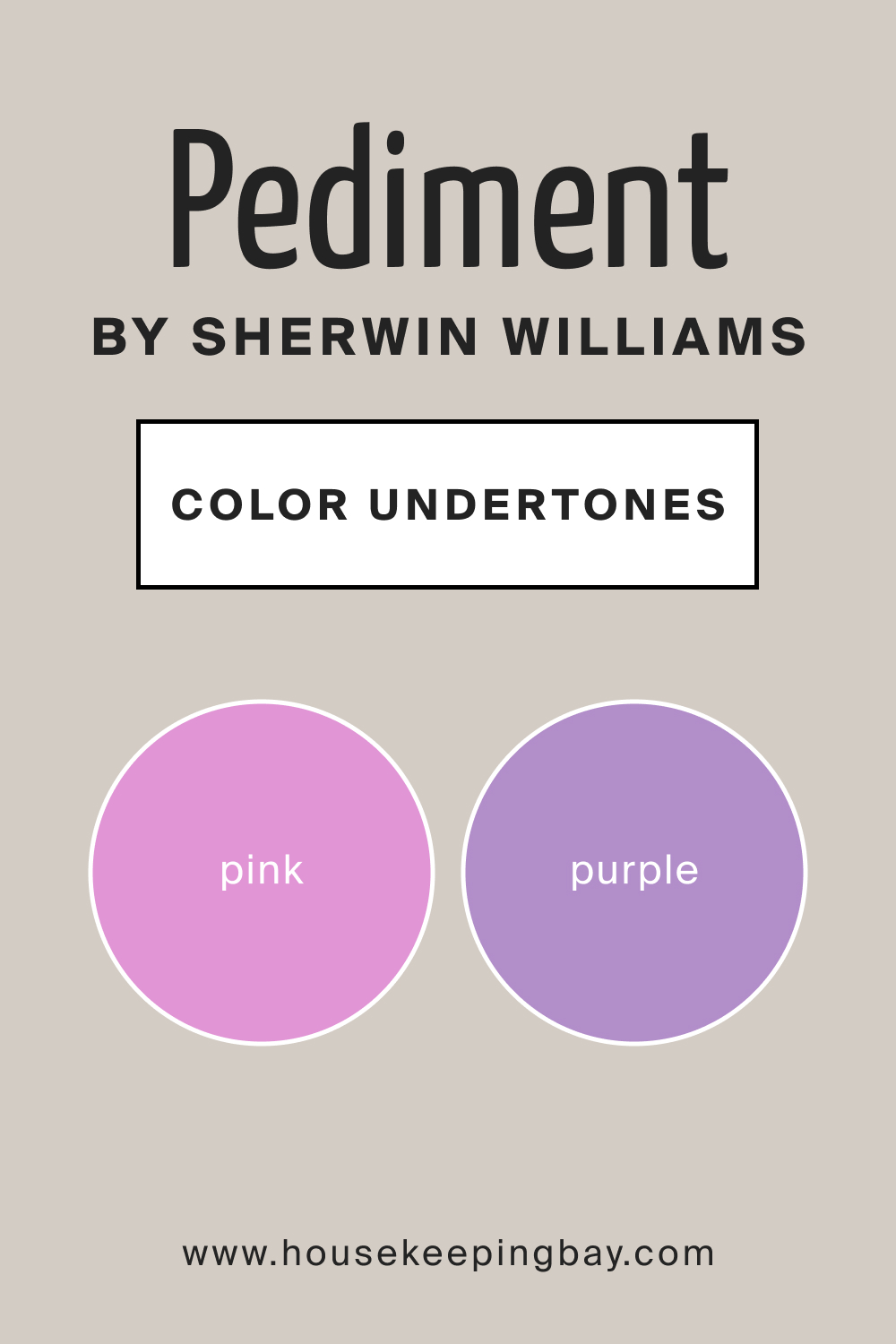 LRV of Pediment SW 7634 Paint Color
LRV stands for the light reflectance value. This measurement shows how much light the color can reflect from the wall. The LRV scale ranges from zero to 100, where zero is black, and 100 is white. Apparently, the higher the LRV value, the lighter the color, and vice versa.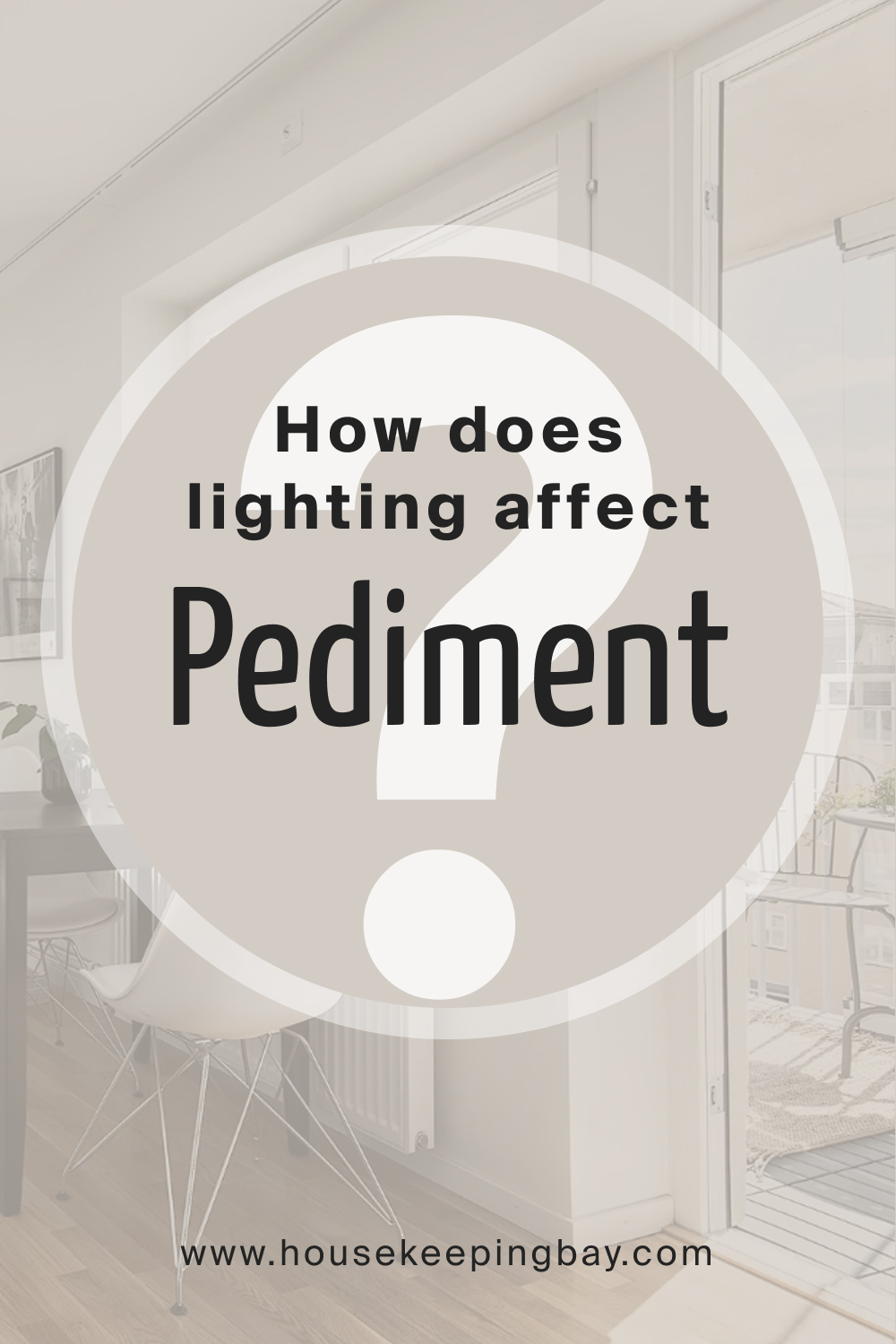 The LRV of SW Pediment is 61, which means this color is on the lighter side of the scale. It's pretty reflective, so it will hardly make the space look dark, and besides, it can react to light differently!
For example, in a north-facing room, you may see SW Pediment lean a bit greyer, but it will still keep its warm hue. If you have south-facing or afternoon western light, this color will look warmer. Moreover, the undertones may become a bit more noticeable.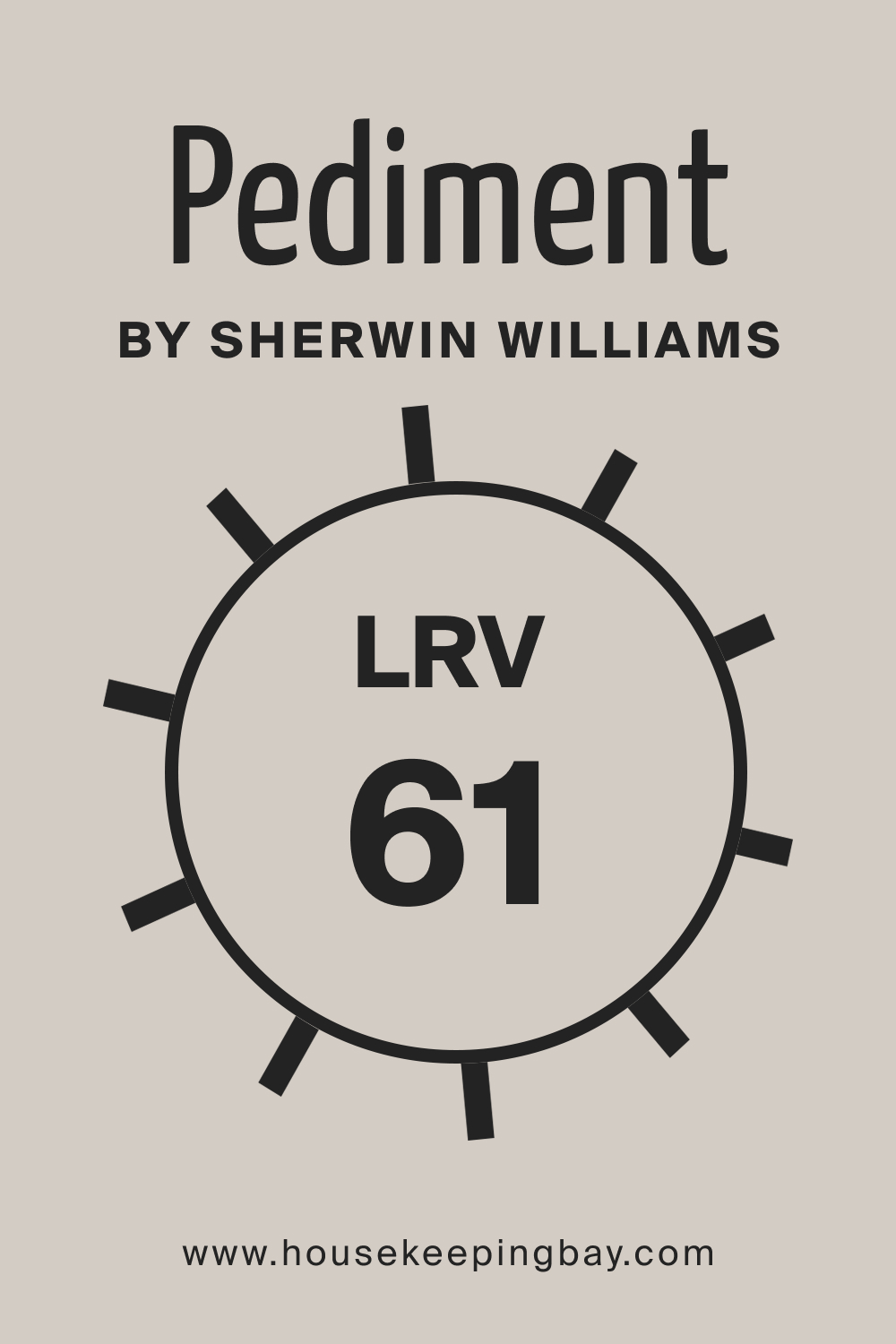 What is LRV? Read It Before You Choose Your Ideal Paint Color
Coordinating Colors to Use With Pediment SW 7634
When you know what color to use to coordinate the color on the walls, you can be sure your home interiors will look balanced and welcoming due to the correct use of colors. For SW Pediment with its tricky undertones, we recommend the following coordinating colors for the best effect:
SW Morris Room Grey
SW Broccoflower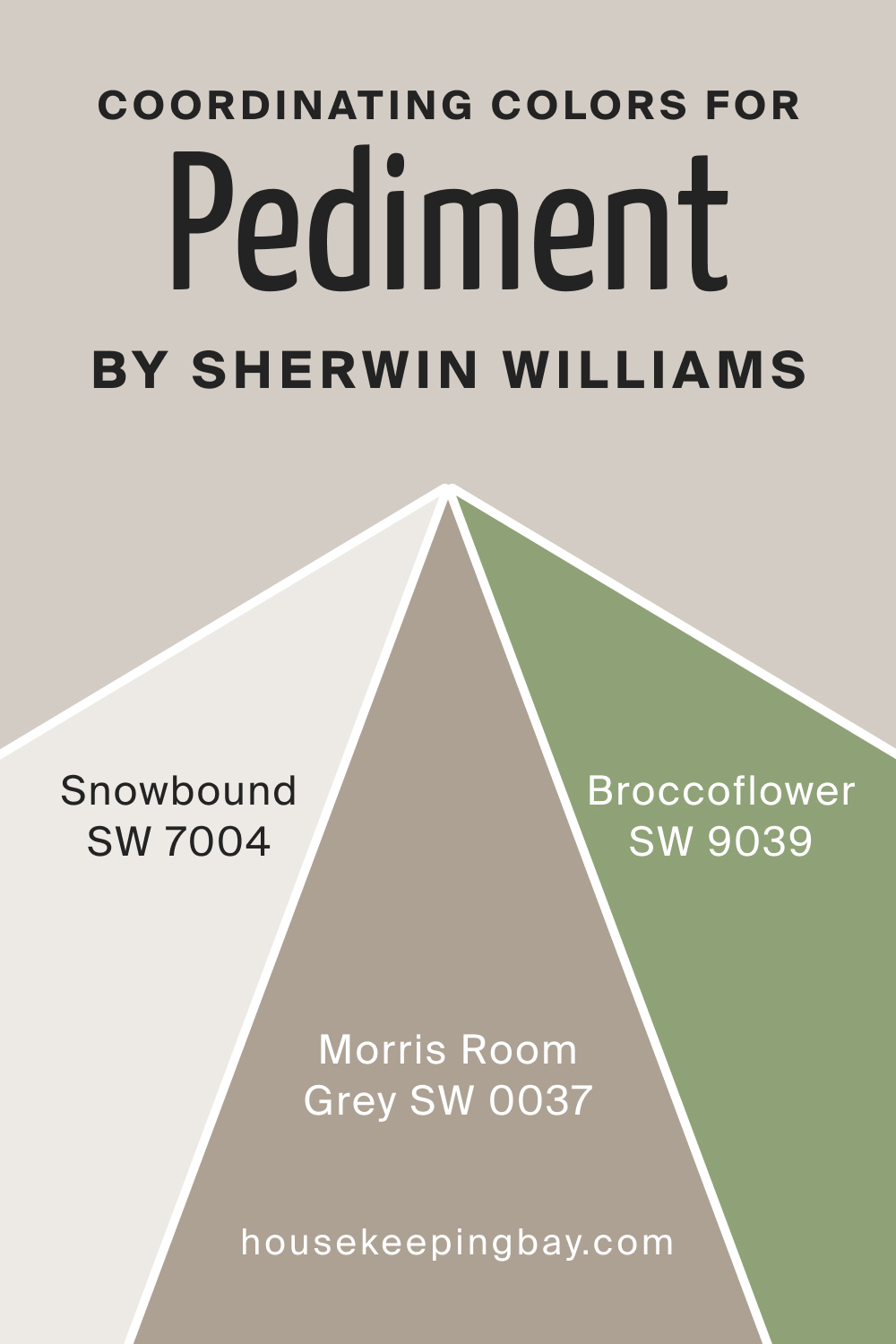 What Is the Best Trim Color For SW Pediment?
White is traditionally considered the optimal trim color due to its versatility. But what if you have SW Pediment on your walls? Which white will work best with it? Considering the tricky nature of SW Pediment and its complex undertones, we suggest you use one of the following whites on your trim and molding:
Sherwin-Williams Snowbound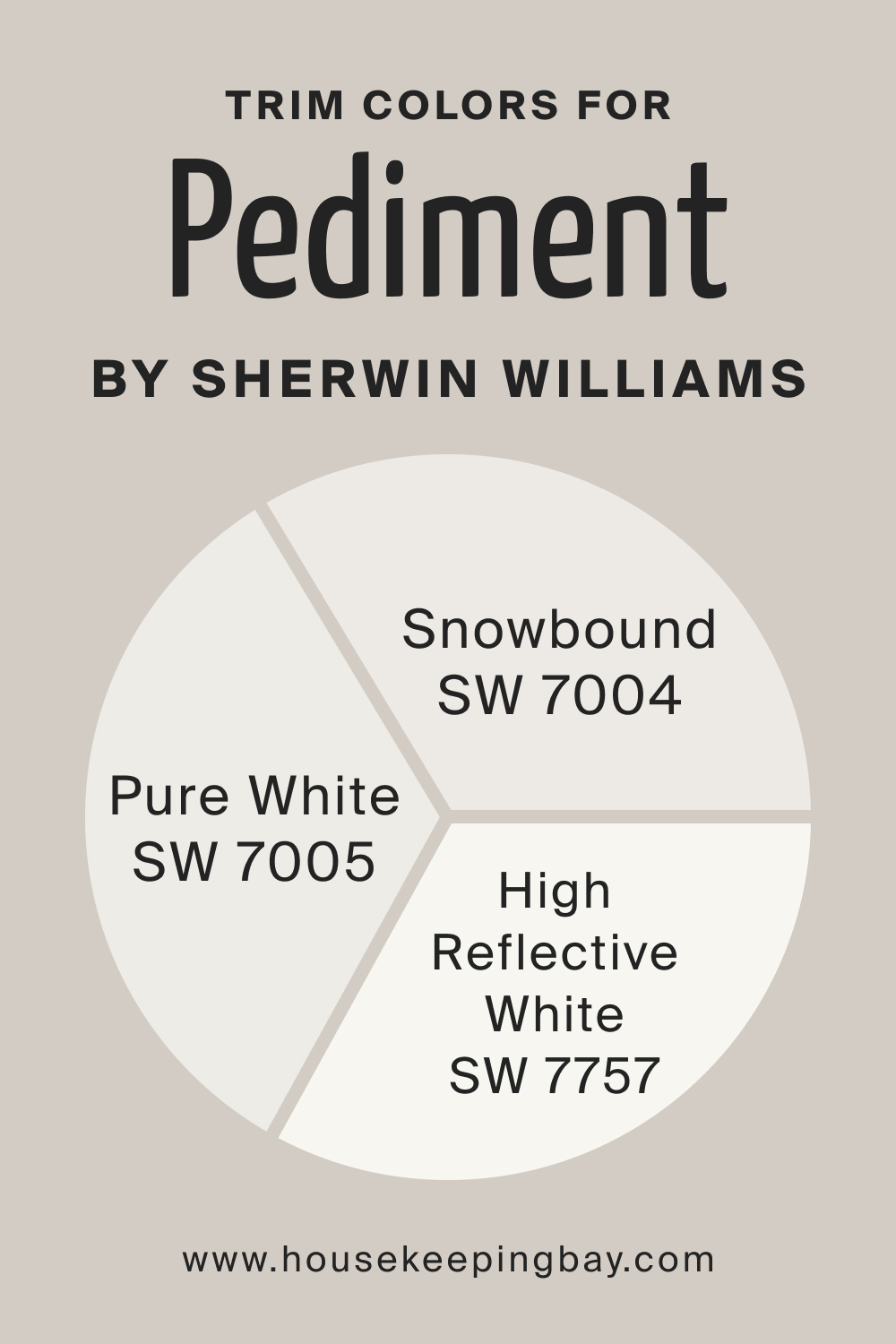 Colors That Go With Pediment SW 7634
Despite being rather challenging, SW Pediment pairs nicely with quite many colors! In particular, we recommend you pay closer attention to one of the following color options:
Smoky grey paint colors with a passive blue or blue-purple undertone
Some blue-green-gray blends
Some grey-blue blends
Some soft, muted, warm whites
But even though these colors will work best with SW Pediment, don't forget to sample them in advance! This way, you will ensure the palette looks balanced in tone.
Pediment SW 7634 Similar Colors
When you know a few colors that look the same or very close to the paint color you are going to use in your home, it is easier for you to adjust your interior palette should the chosen color appear not suitable. For SW Pediment, the following paint colors will work as substitutes:
Benjamin Moore Classic Gray
Sherwin-Williams Alpaca
Benjamin Moore Abalone
Benjamin Moore Calm
Some of them are a bit lighter, whilst others are a bit darker. But still, none of them reads dramatically distinct.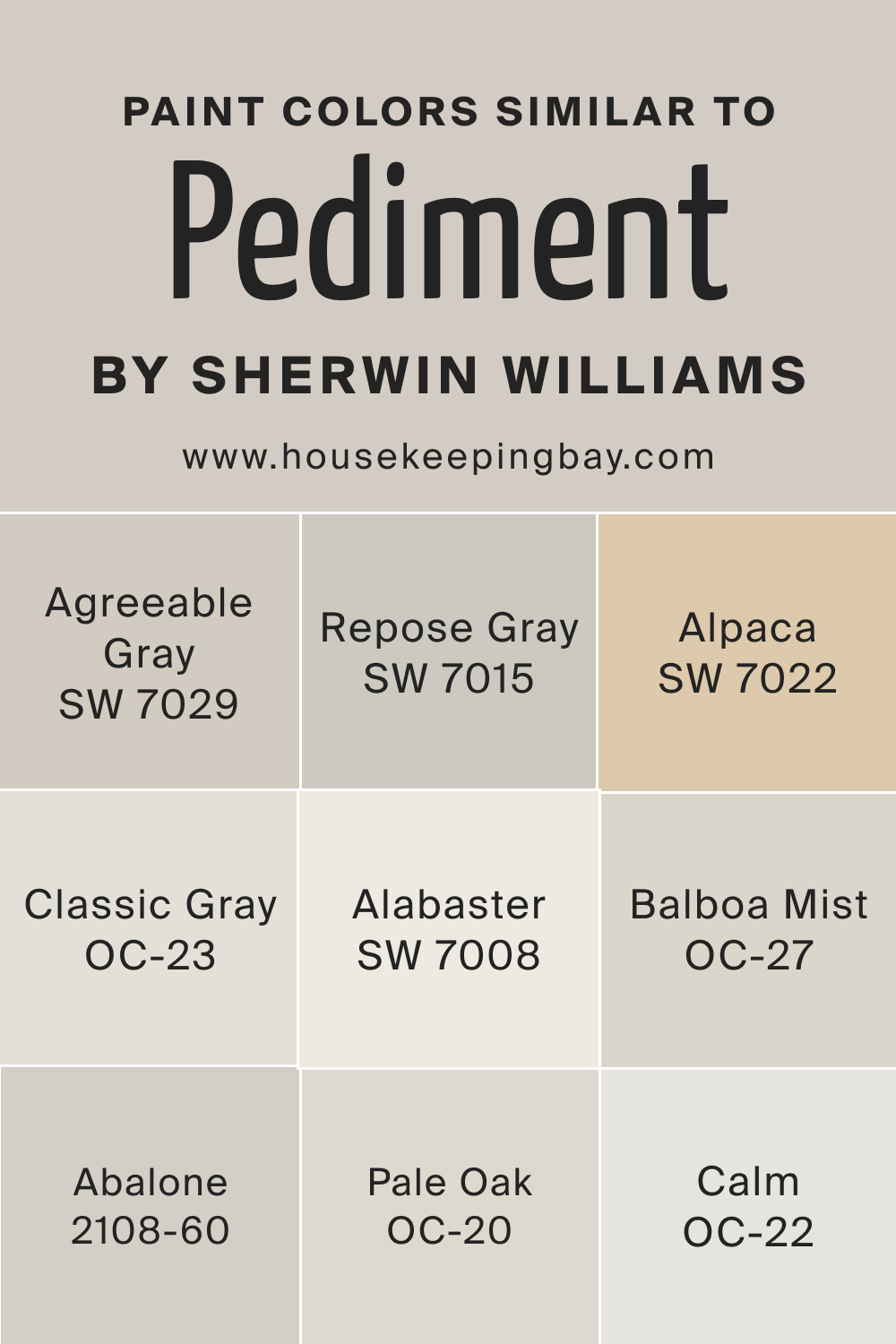 Comparing Pediment SW 7634 With Other Colors
If you are not very knowledgeable in color theory, it can be challenging for you to see the minor distinctions between very similar shades of the same color. Speaking about SW Pediment, defining what makes it distinct from other alternative colors can be pretty hard! This is why we have prepared a brief comparative guide for you. Below, you can read how SW Pediment looks compared to other similar paint colors.
Pediment vs Agreeable Gray
These two look very similar. However, there are some distinctions between them. First, SW Agreeable Gray has a warm beige undertone, which may lean more into its beige or grey side depending on the light. SW Pediment has purple, pink, and slight blue undertones.
If you look closer, you'll see that this purple hue is better seen in SW Pediment. However, since these colors have very close LRVs of 60 and 61, they read almost the same in terms of brightness.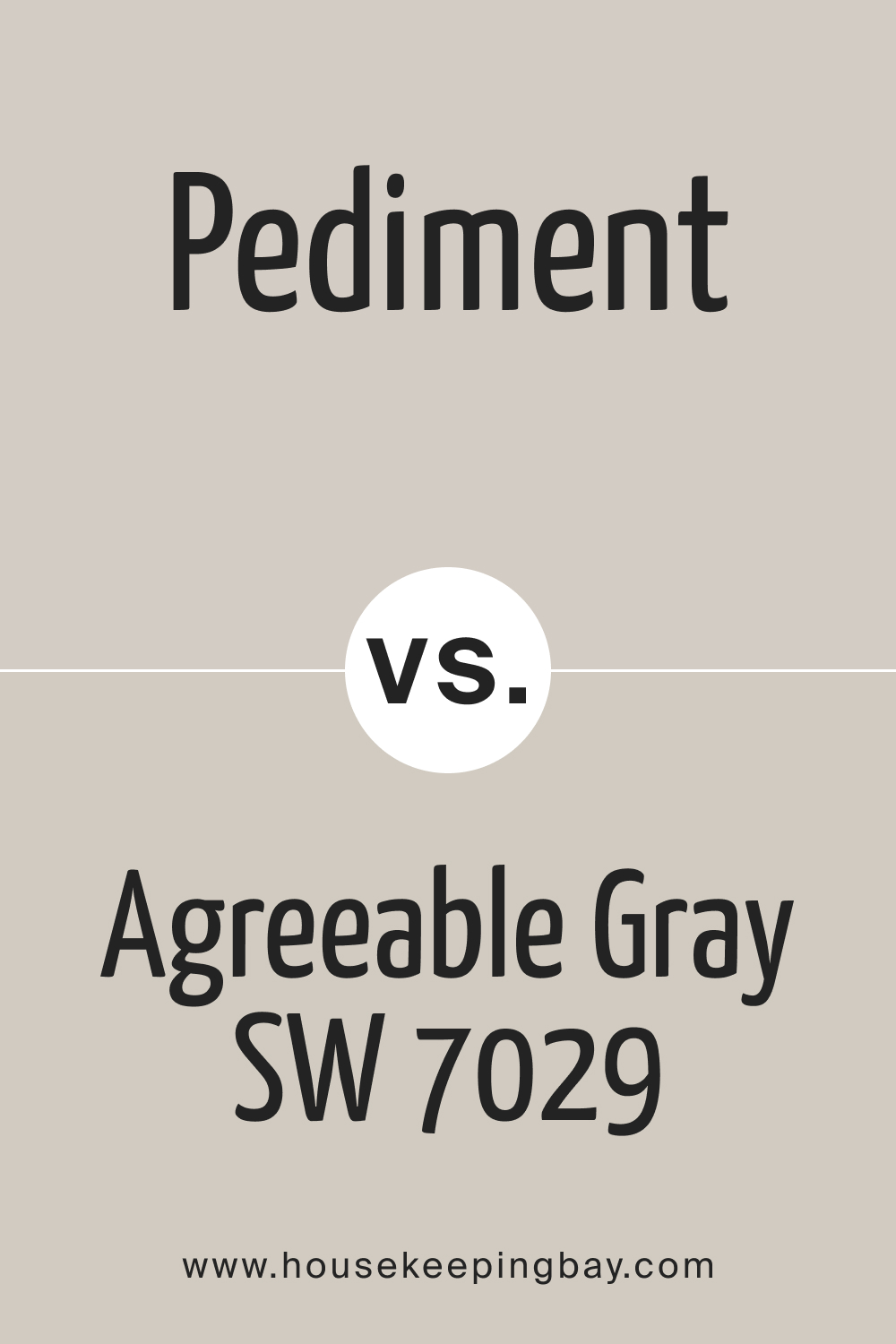 Pediment vs Repose Gray
SW Repose Gray has blue and slight violet/purple undertones, but they are very minimal. Its LRV is 60. All this makes SW repose Grey a very close match to SW Pediment. however, SW Pediment reads more purple.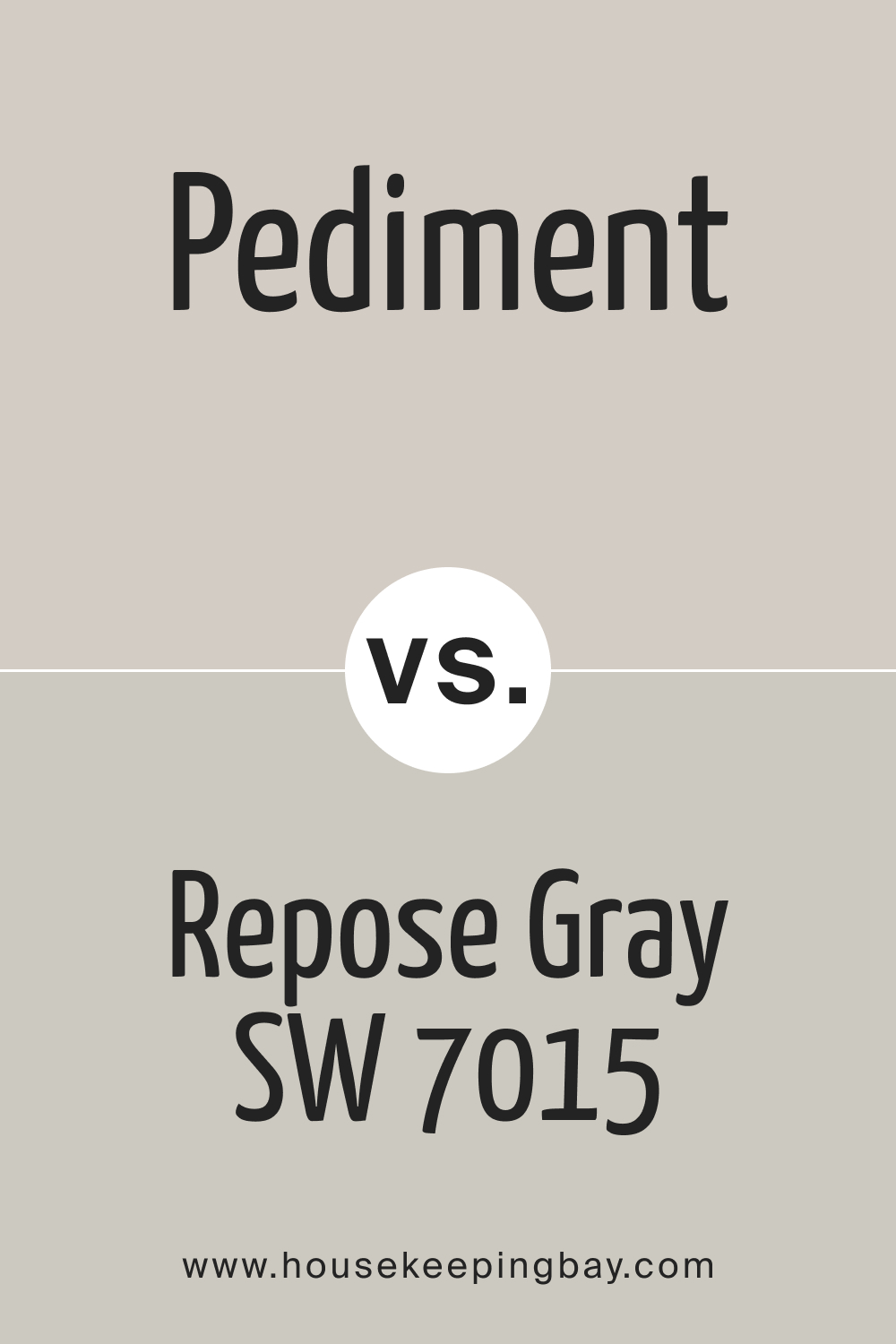 Pediment vs Drift of Mist
These two work pretty lovely together! SW Drift of Mist is a warm off-white with a slight green undertone and an LRV of 69. however, it pairs quite nicely with SW Pediment, which reads darker due to the LRV of 61. Also, SW Pediment looks slightly warmer thanks to its taupe hue.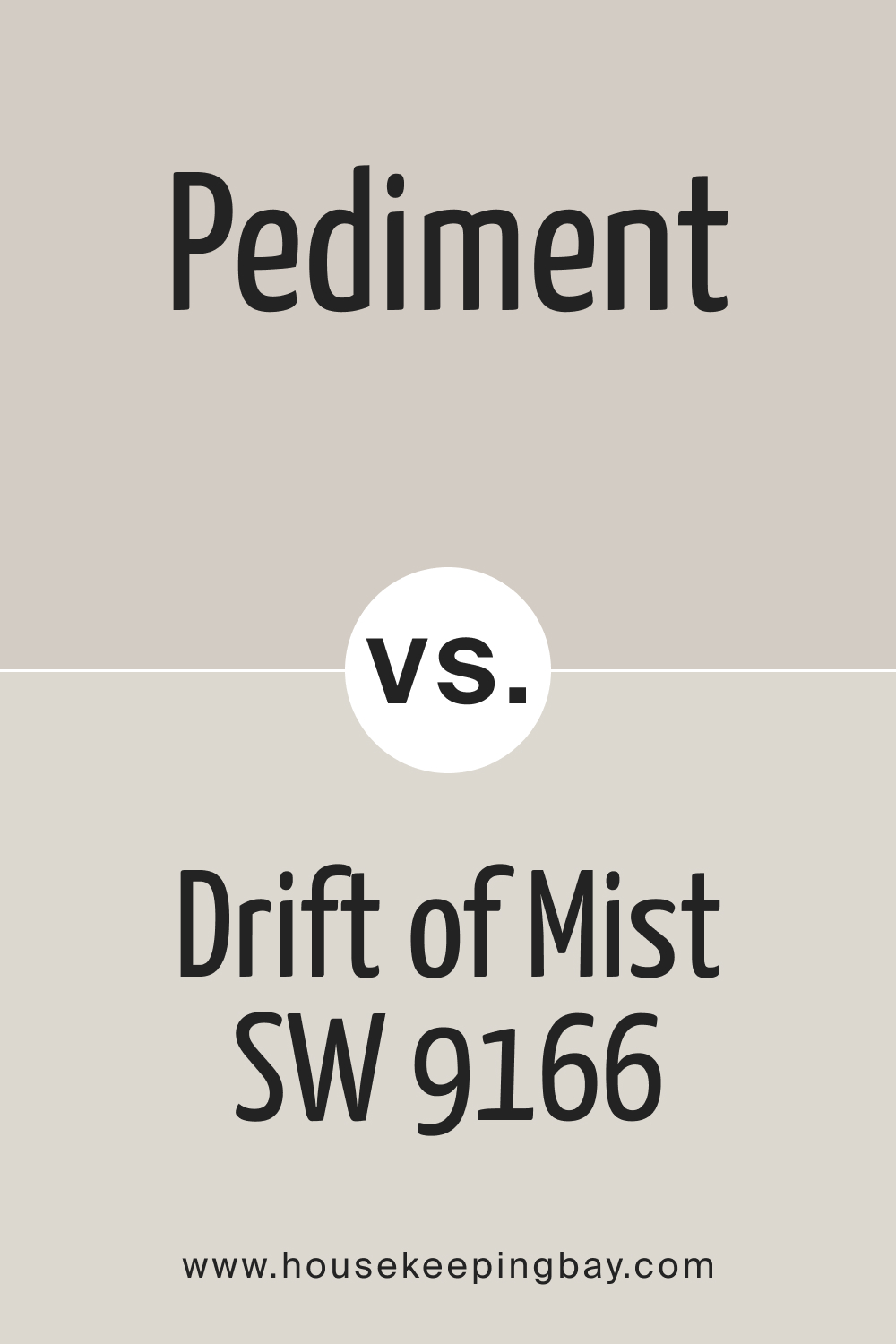 Pediment vs Snowbound
SW Snowbound has an LRV of 83 and a slightly taupe undertone. In general, this color reads lighter than SW Pediment, but thanks to the taupe tone, it can be used as a lighter version of the Pediment color.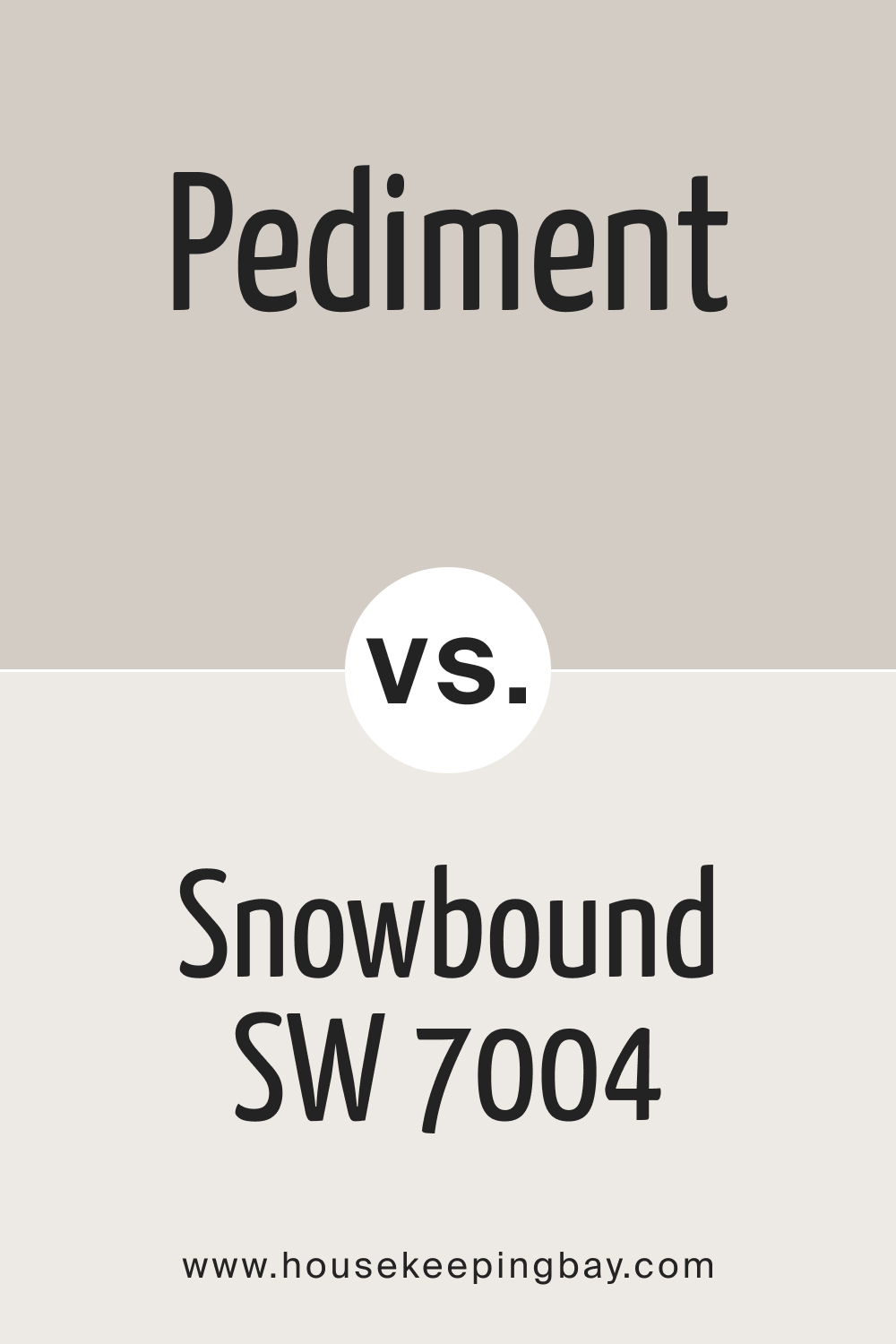 Pediment vs Edgecomb Gray
SW Edgecomb Gray is a neutral taupe-greige color with a very slight and barely seen violet/pink undertone. However, compared to SW Pediment, it reads much warmer and prominently beige. Also, SW Edgecomb Gray looks lighter due to its higher LRV of 63.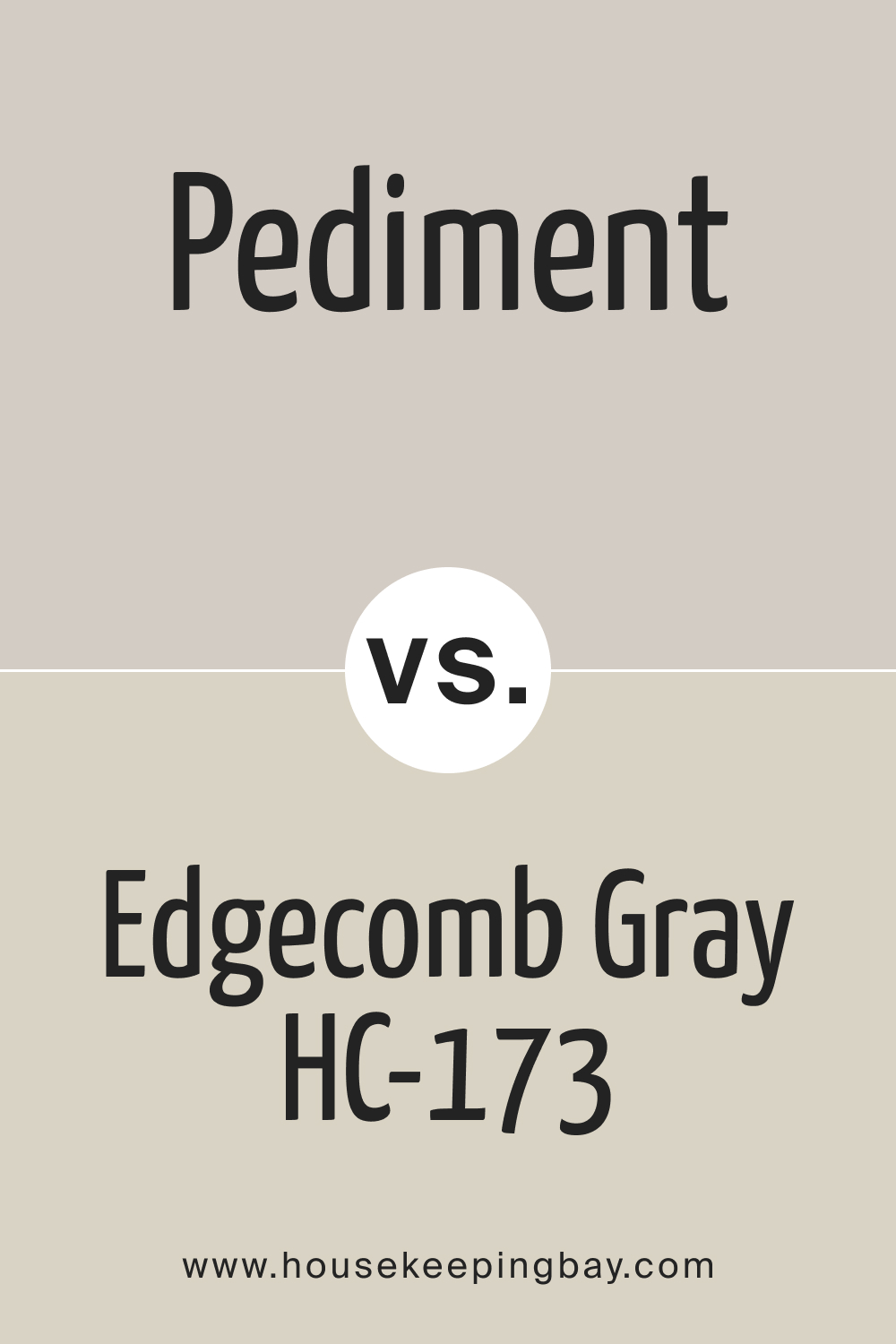 Pediment vs Popular Gray
SW Popular Gray is a grey color with clay undertones that tend to lean taupe and an LRV of 61. Due to very close LRVs, these colors look pretty similar, but still, SW Pediment shows its purple hue more.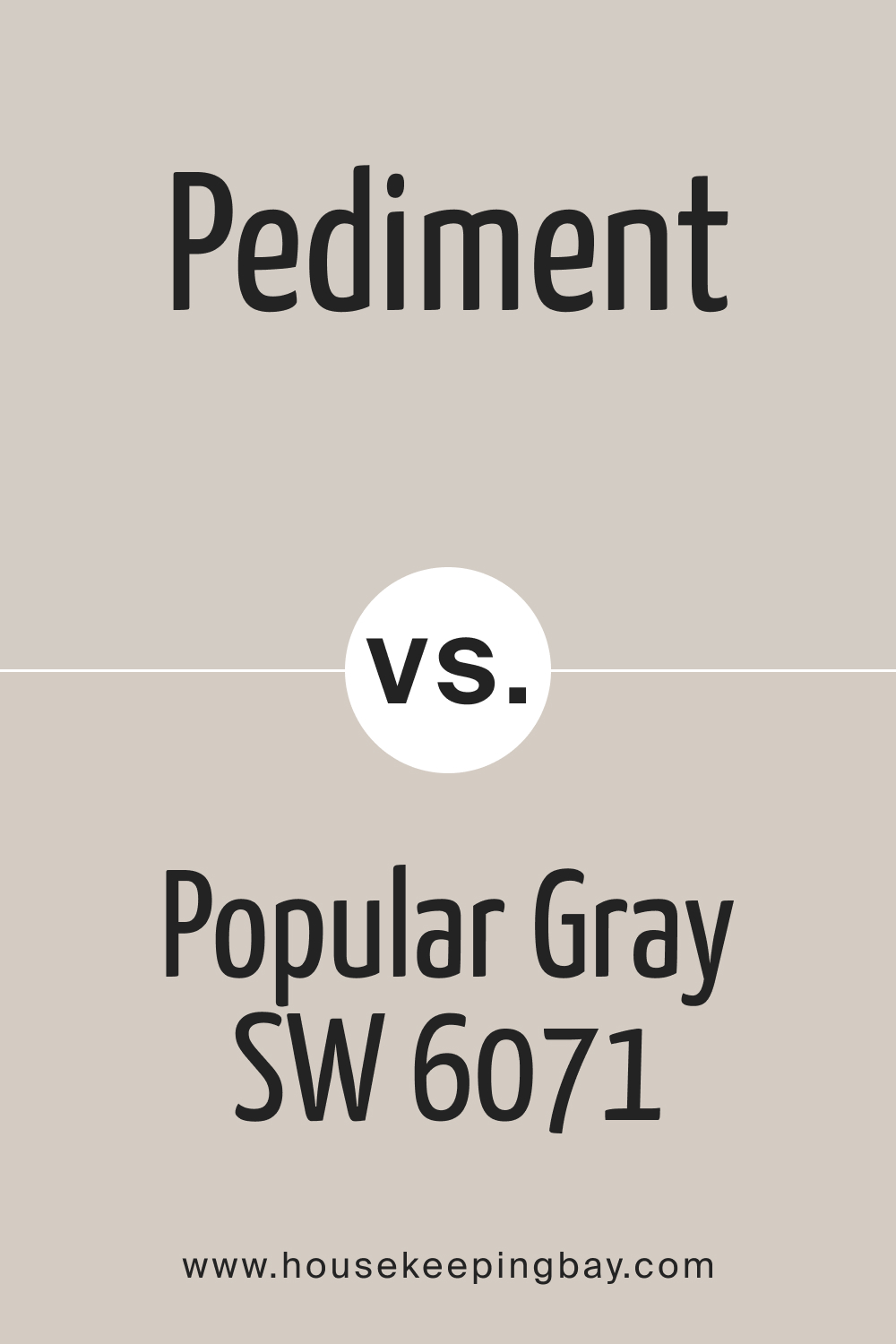 Where to Use Pediment SW 7634 Color In Your Home?
When it comes to using SW Pediment in your home, you should be very careful and consider its undertones and lighting! This is why always sample this paint prior to applying it. Also, read how it may work in different rooms to know what you should be ready for.
Pediment SW 7634 in the Living Room
This color may work perfectly well for your living room if it has plenty of natural light and space! SW Pediment will add a soft and cozy vibe to the space, making it look both elegant and relaxing. Besides, it works well with different textures and materials like wood or stone and goes nicely with whites on your ceiling and trim.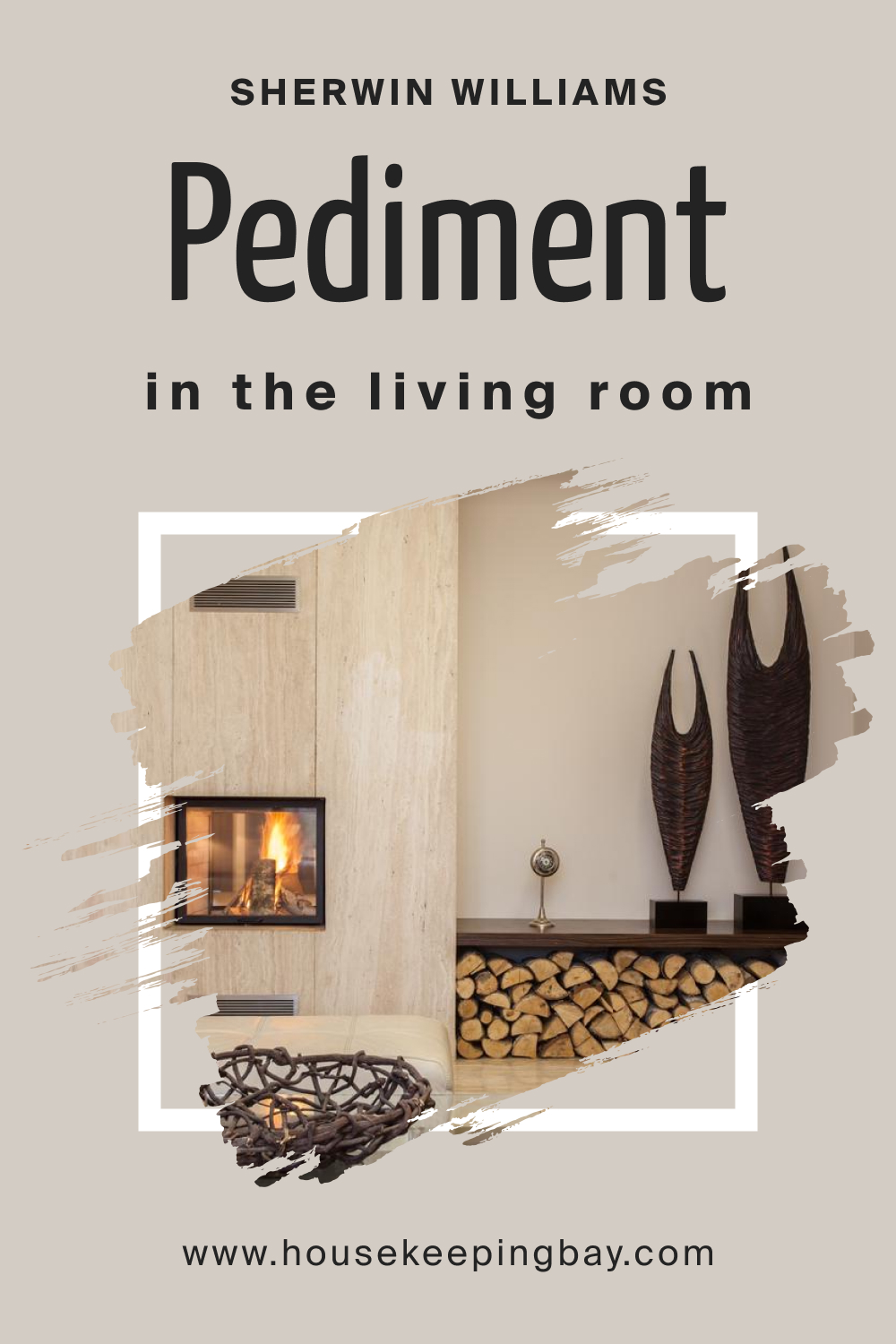 Pediment SW 7634 on Bedroom
Do you like warm-toned and cozy bedrooms that create a cuddly feeling? Then SW Pediment is your color! This neutral color will work well with wooden floors and furniture, as well as with lighter beige or white bedding. We would only recommend you use it in a well-lit bedroom since in a dark and poorly-lit space, it may read darker too.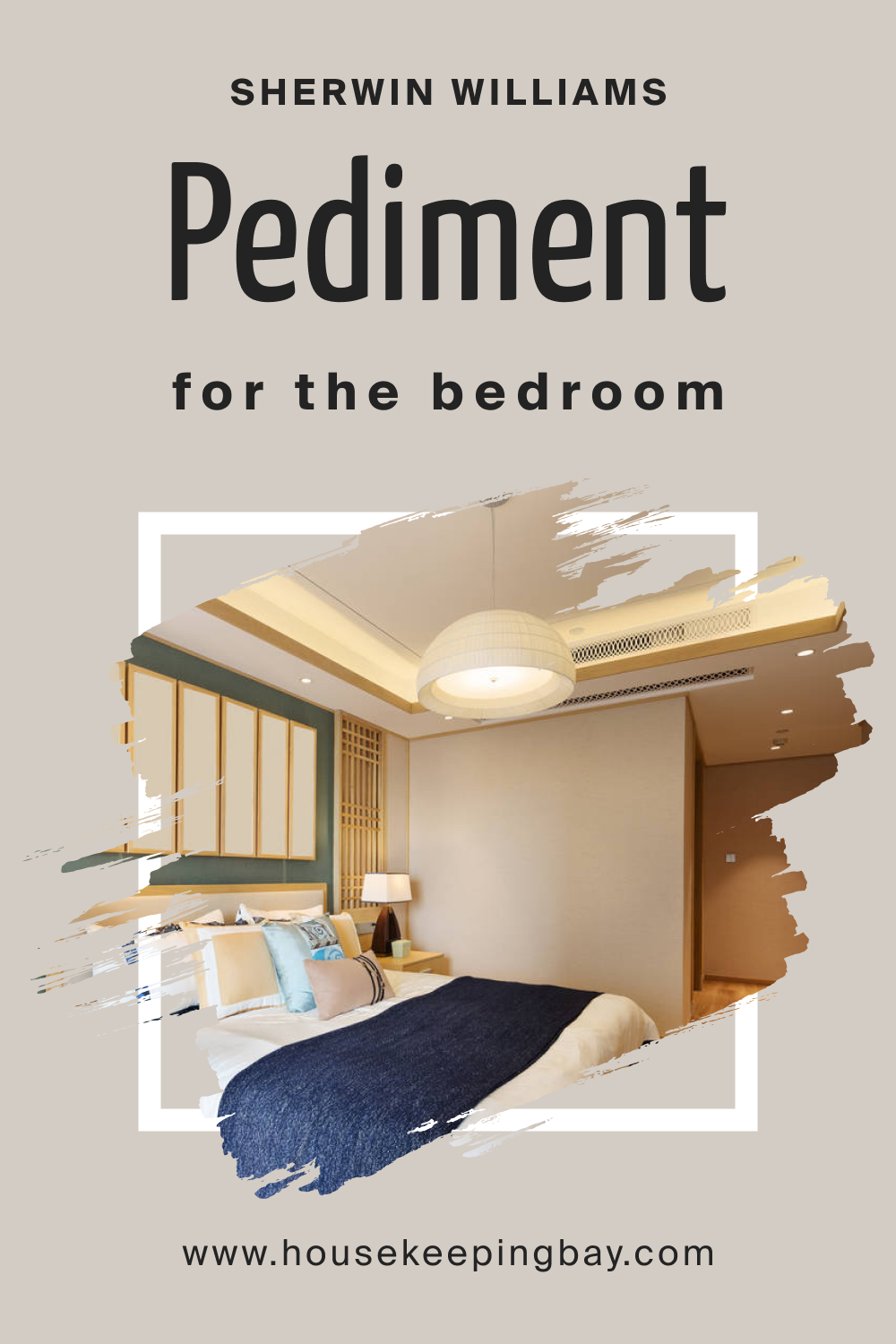 Pediment SW 7634 and Kitchen
In your kitchen, use SW Pediment on lower and/or upper cabinets, pairing this neutral with softer white or off-white walls. Creamy whites that don't read yellow will also work nicely with SW Pediment, by the way. This color works really well with marble countertops and tiles, so you'll easily incorporate it into your kitchen!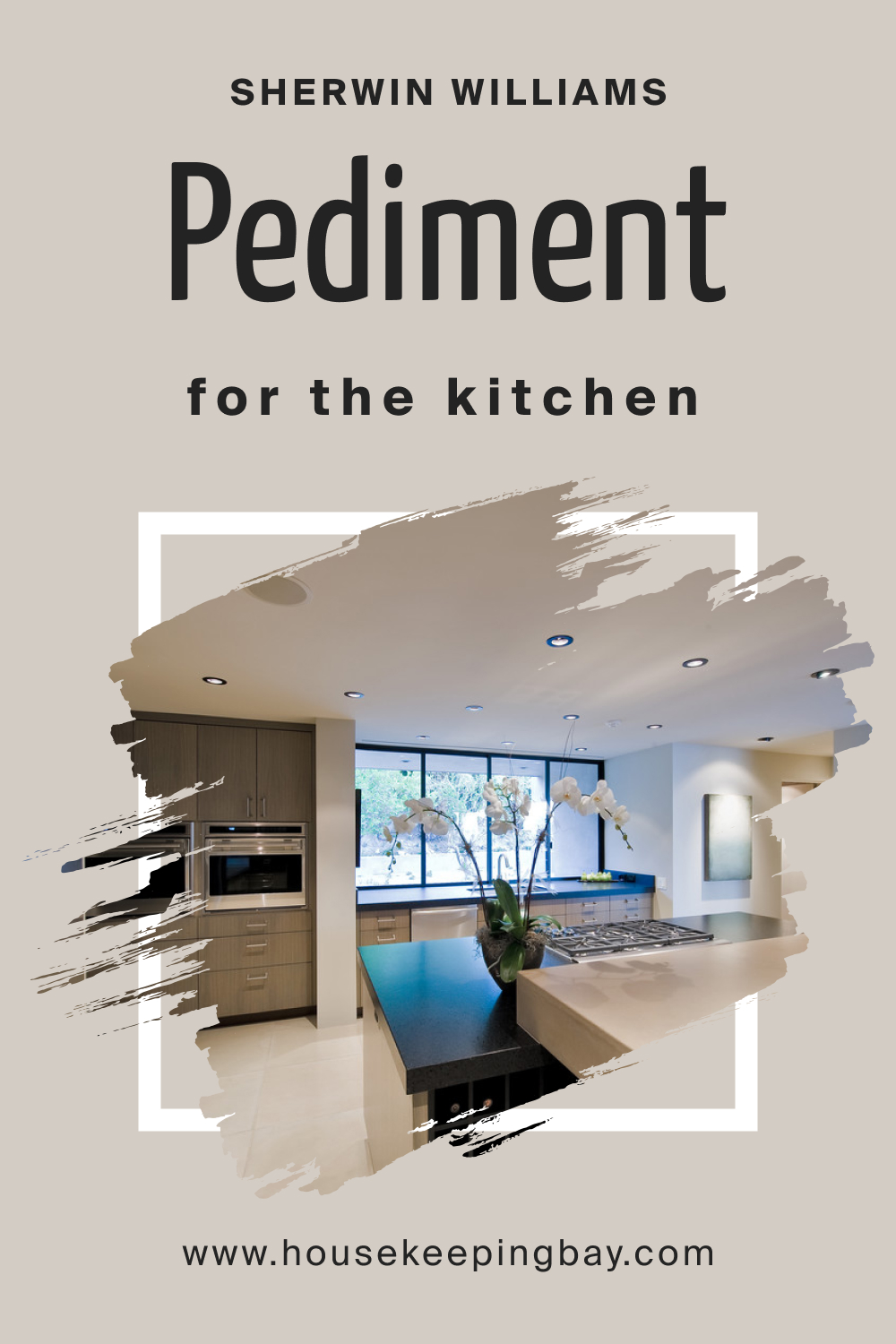 Pediment SW 7634 in Bathroom
In your bathroom, use SW Pediment, considering the size of the room and its lighting. In a large and well-lit bathroom, this soft color will work even on all the walls! But in a small bathroom with little light, you'd better limit its use to your vanity sink and drawers.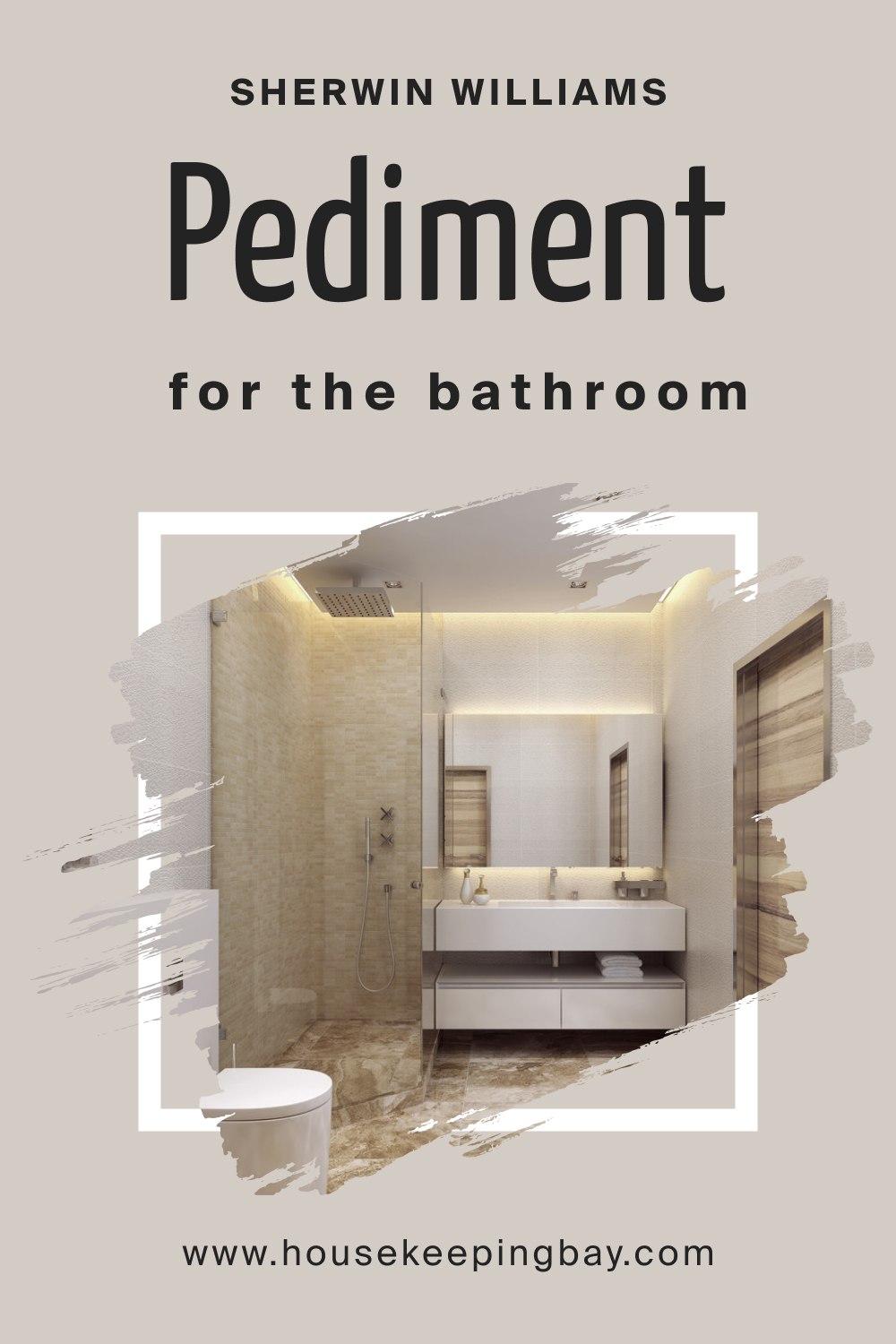 Pediment SW 7634 for the Exterior Use
Is SW Pediment a good exterior color? Honestly speaking, it's not. While it may compliment many facades and roofs, not many people want to embrace the purple-pink undertone of this color on the exterior of their homes.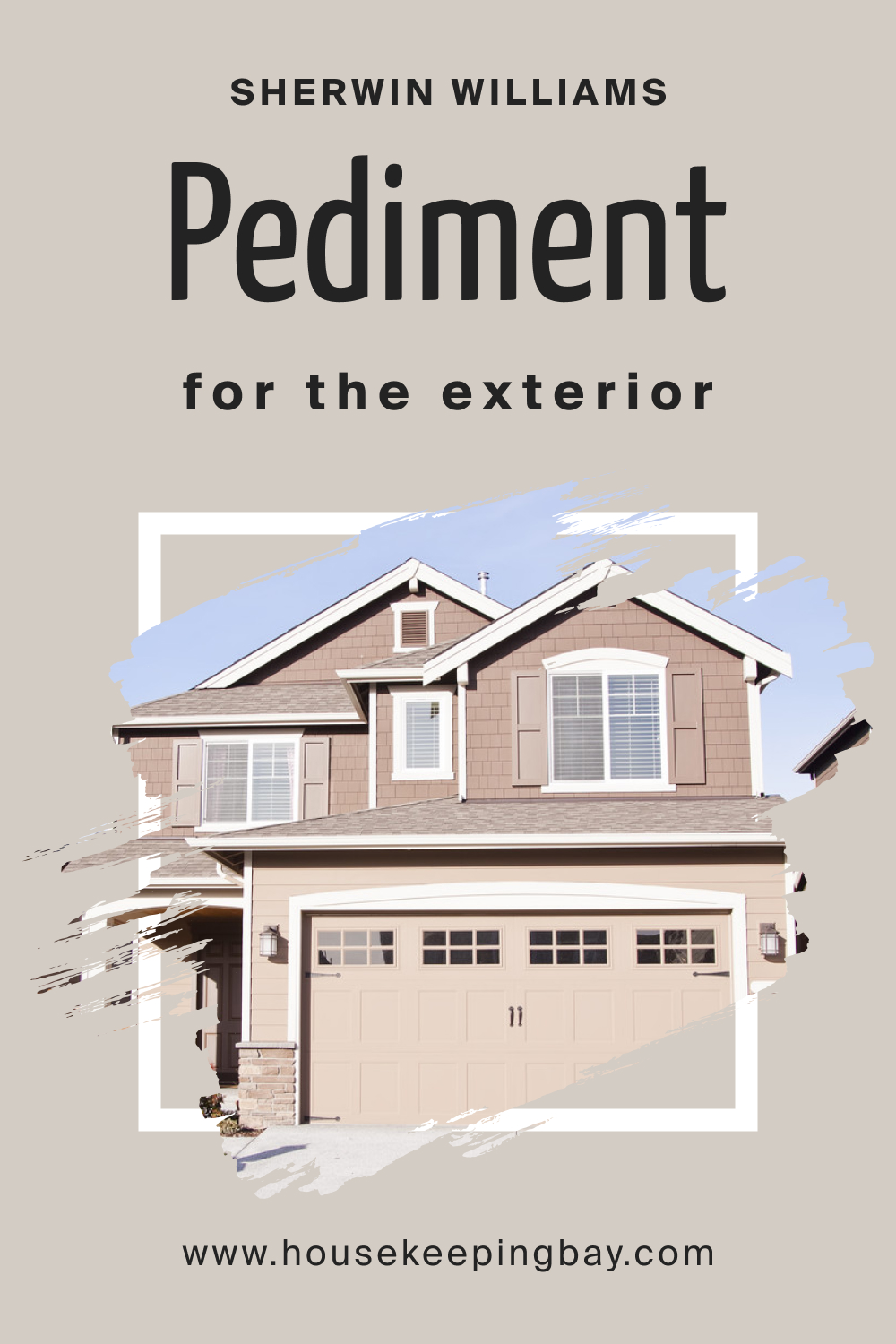 Now you know what kind of color SW Pediment is. This tricky white may read taupe and give off unexpected undertones, but now you are ready for this! You know its undertones and LRV, you know how it reacts to light and how it works in different spaces.
Thanks to this, you will easily use this color in your home successfully.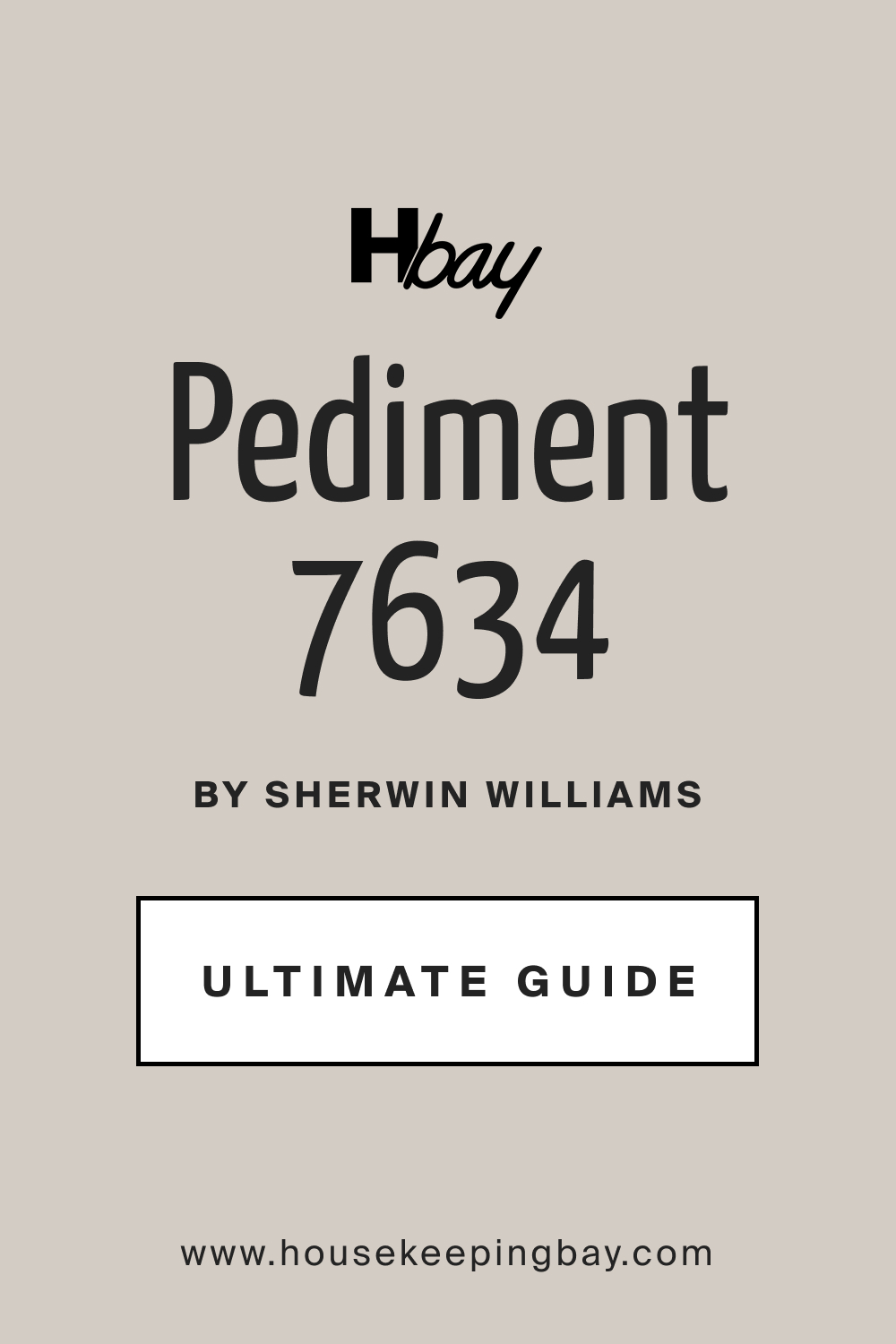 Frequently Asked Questions
⭐Is SW Pediment a popular paint color?
While greiges are considered popular, SW Pediment is not very welcomed in homes because of its stronger purple-pink undertones.
⭐Does SW Pediment read grey?
No, this color usually reads purple-pink due to its taupe undertones.
⭐Does SW Pediment work with browns?
Yes, it can pair with brown colors very well, especially with darker browns like SW Status Bronze.