Choosing paint colors for your home can be complicated because you have to know how colors work with each other and what effect you might get if you use specific paints with each other. And even if you are going to use such a simple color as white, you need to learn more about the particular shade you consider. It will help you to be aware of how it will work in your home.
Today, we will talk about an off-white color called Roman Column by Sherwin-Williams. We will tell you what kind of white color it is, what undertones and LRV it has, and what trim color will work best of all with it.
Also, you will learn how to use this paint color in your home. In particular, we will explain what colors it is best to be paired with and what rooms will host this white on their walls.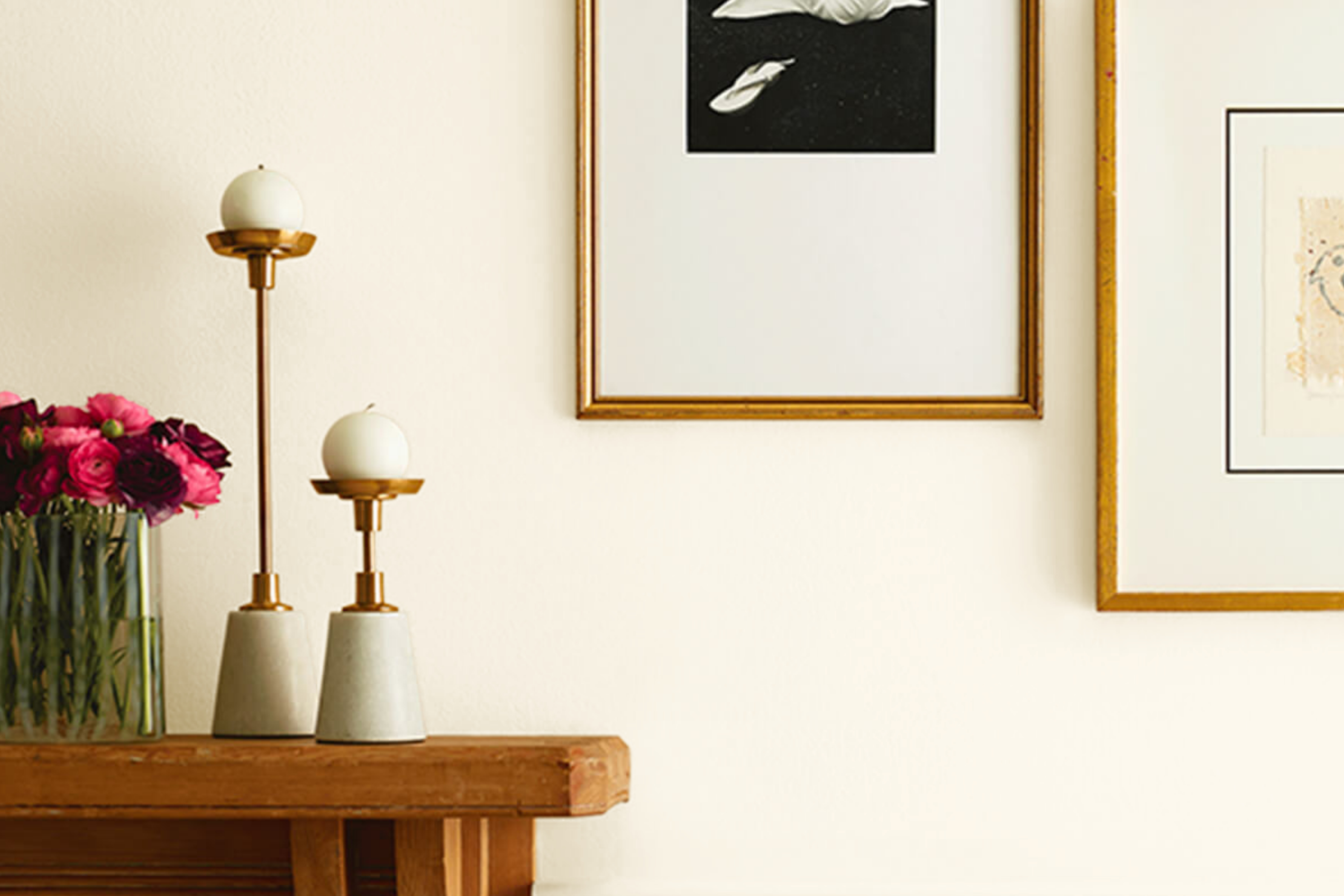 What Kind of Color Is SW 7562 Roman Column?
SW 7562 Roman Column  is a classic, bright white that looks soft and pleasantly warm on the walls. As Encycolorpedia says, this hue has enough endurance to stand up to dim light and bust through the hazy veil you often have in north-facing rooms, for example.
This off-white is a good choice if you want more color on the walls than just a barely-there whisper of hue. However, note that SW Roman Column does sit on the warmer side of the yellow hue family!
In fact, it's almost near the yellow-red hue family, so when you test it, this hue could flash peachy or even pink.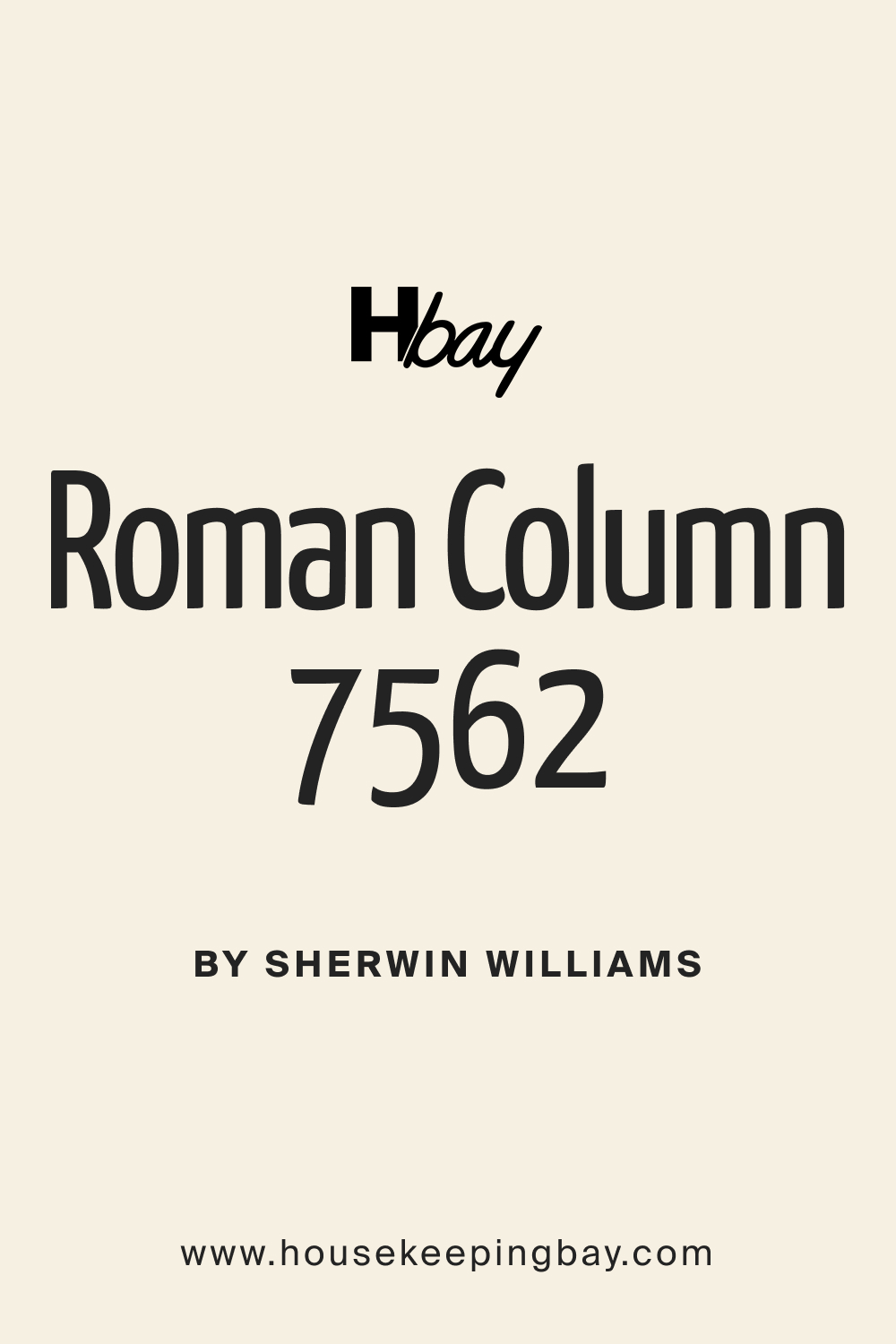 Is It a Warm or Cool Color?
SW Roman Column is a warm-toned white color thanks to its yellow undertones. However, this hue typically doesn't read yellow. Instead, it displays a lovely and balanced warmth with a very delicate creamy tint.
But in specific lighting conditions, SW Roman COlumn may read yellower and warmer! For example, if you use it in a room lit with warm artificial light.
What Undertones Does SW Roman Column Paint Color Have?
As you probably know, knowing paint colors' undertones plays an essential role in color selection for your home painting projects. When you know what undertones the color has, you can tell in advance how it will read on the walls and how it will work with other colors in the space.
SW Roman Column has yellow undertones, which is why this color is considered warm-toned. Generally, this hue reads balanced and pleasantly creamy, with no prominent yellowness.
But if you use it in a room with many warm-toned colors or pair this color with warm artificial light, be ready that SW Roman Column reveals its yellow hue much stronger!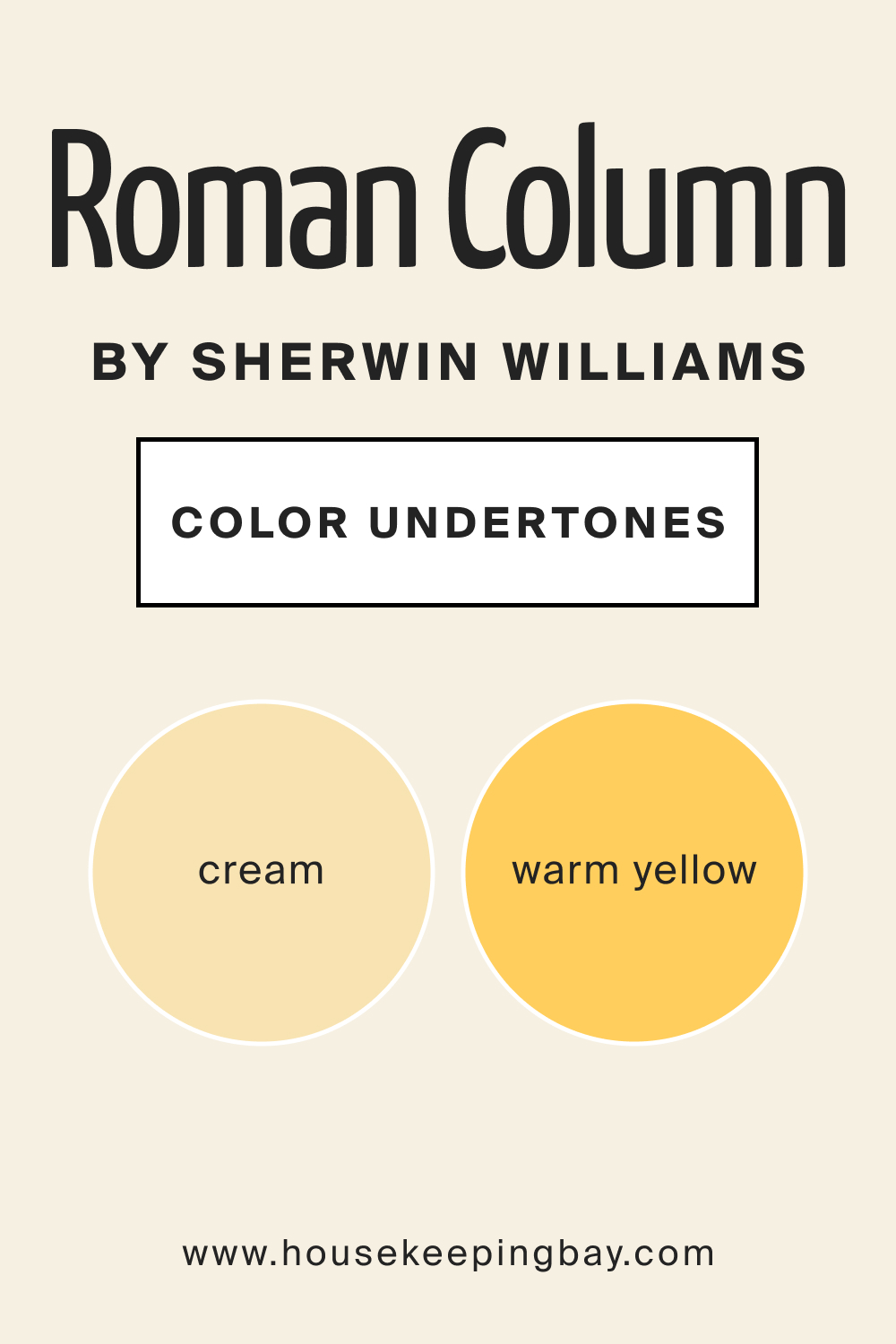 SW 7562 Roman Column Coordinating Colors
People often think white paint colors are easy to pick coordinating colors for. However, despite being rather flexible and universal in terms of use, white color can sometimes be quite confusing to create a coordinating color palette! That's why we would love to share a few color options with you that will work harmoniously and well with SW Roman Column: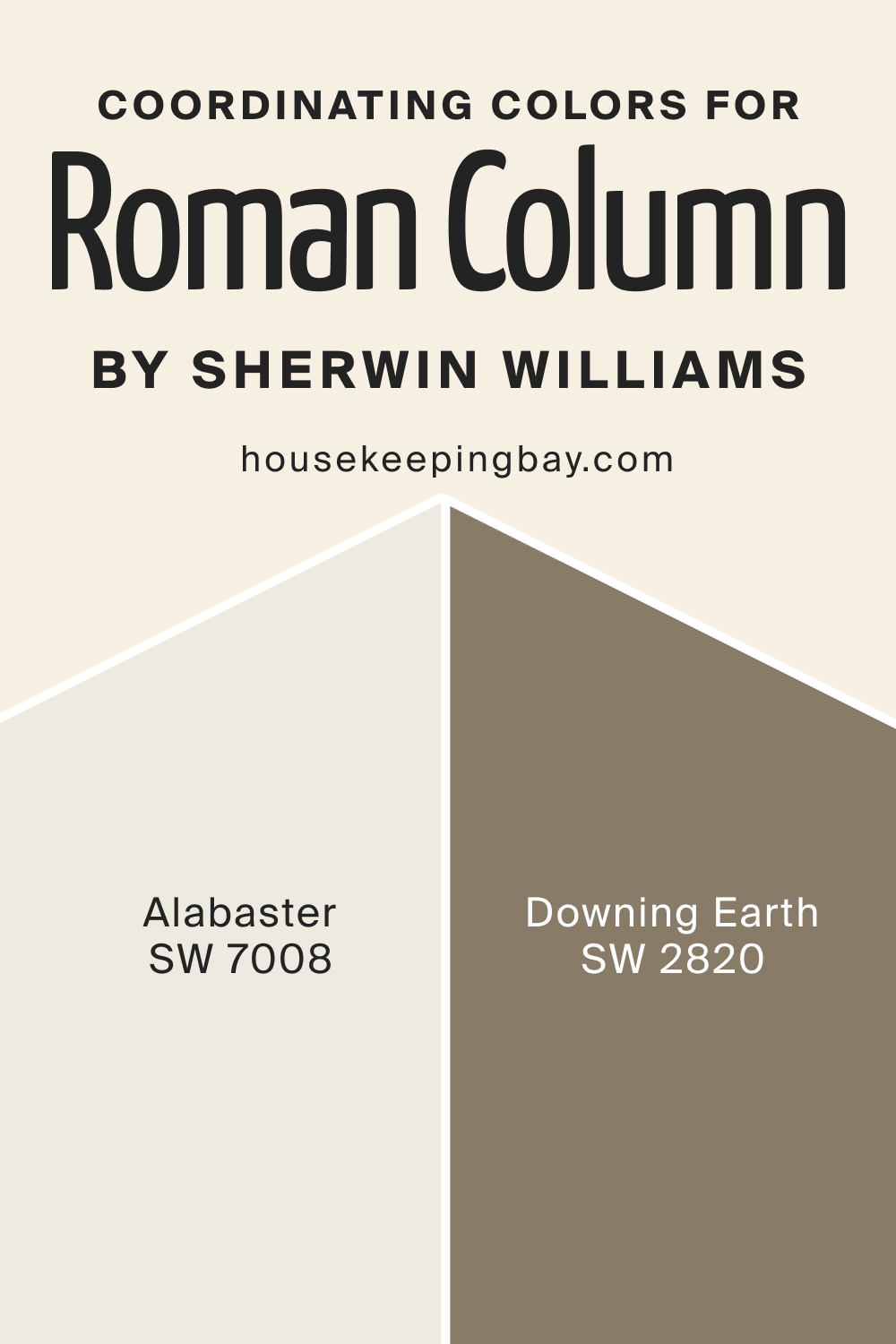 What LRV SW Roman Column Paint Color Has And How It Reacts to Light?
LRV, or Light Reflecting Value, is the number that indicates how light or dark a color is on a scale of 0-100. The LRV scale ranges from zero to 100, with white being the lightest and black being the darkest. The closer the LRV number is to 100, the lighter the color. The closer the LRV number is to 0, the darker the color.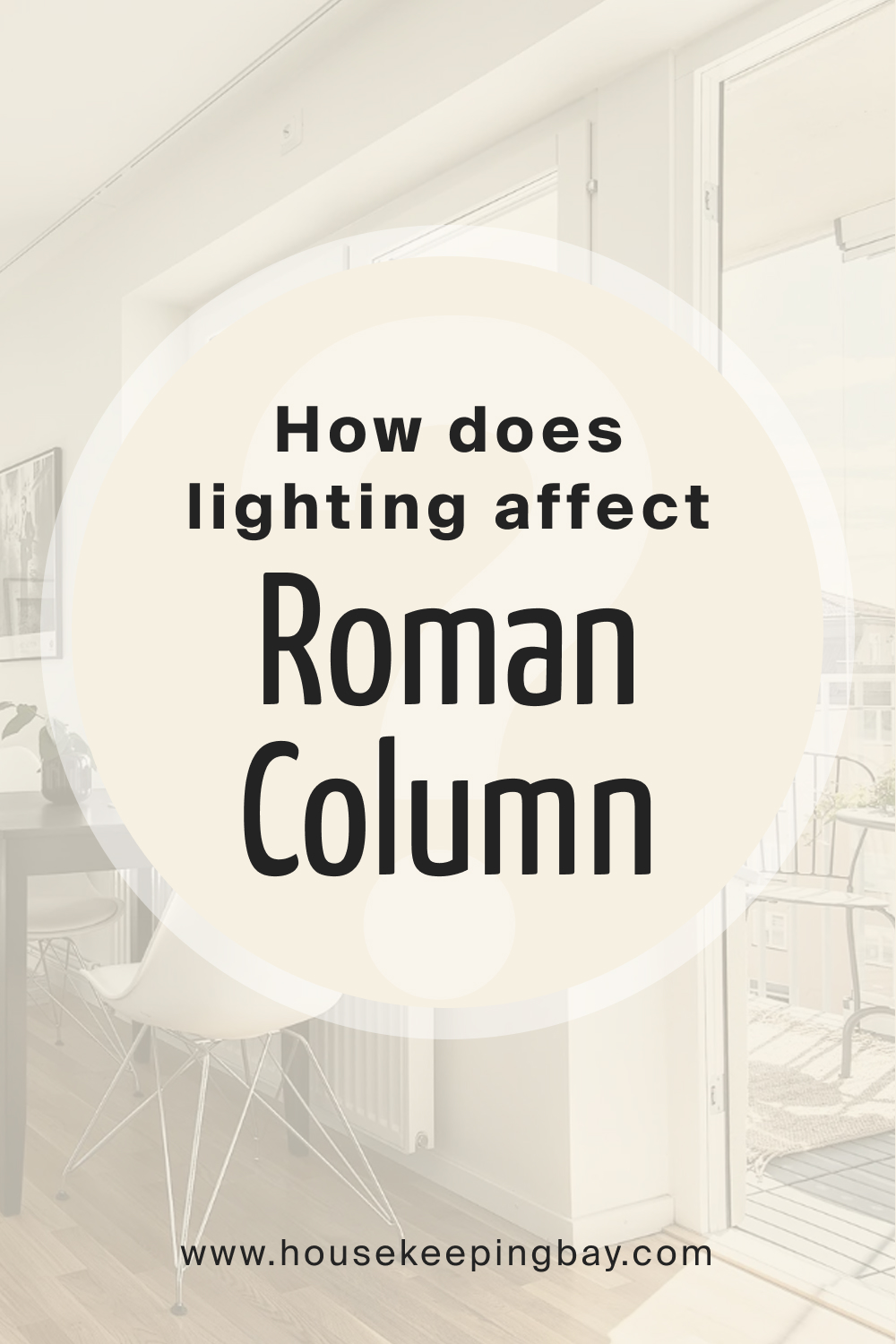 The LRV value of the SW Roman Column is 88, which places this off-white to the brighter end of the light reflectivity scale. This color can make a room feel lighter, brighter, and more welcoming. But, at the same time, it's unsuitable white for creating a crisp, fresh, and space-widening effect.
Also, you should note that the yellow tint in this color can show up in specific lighting conditions. For example, in a room with dim light, as well as in north-facing rooms, SW Roman Column will read warmer and much yellower. In spaces with ample natural light, this off-white will read more balanced in tone and pleasantly creamy.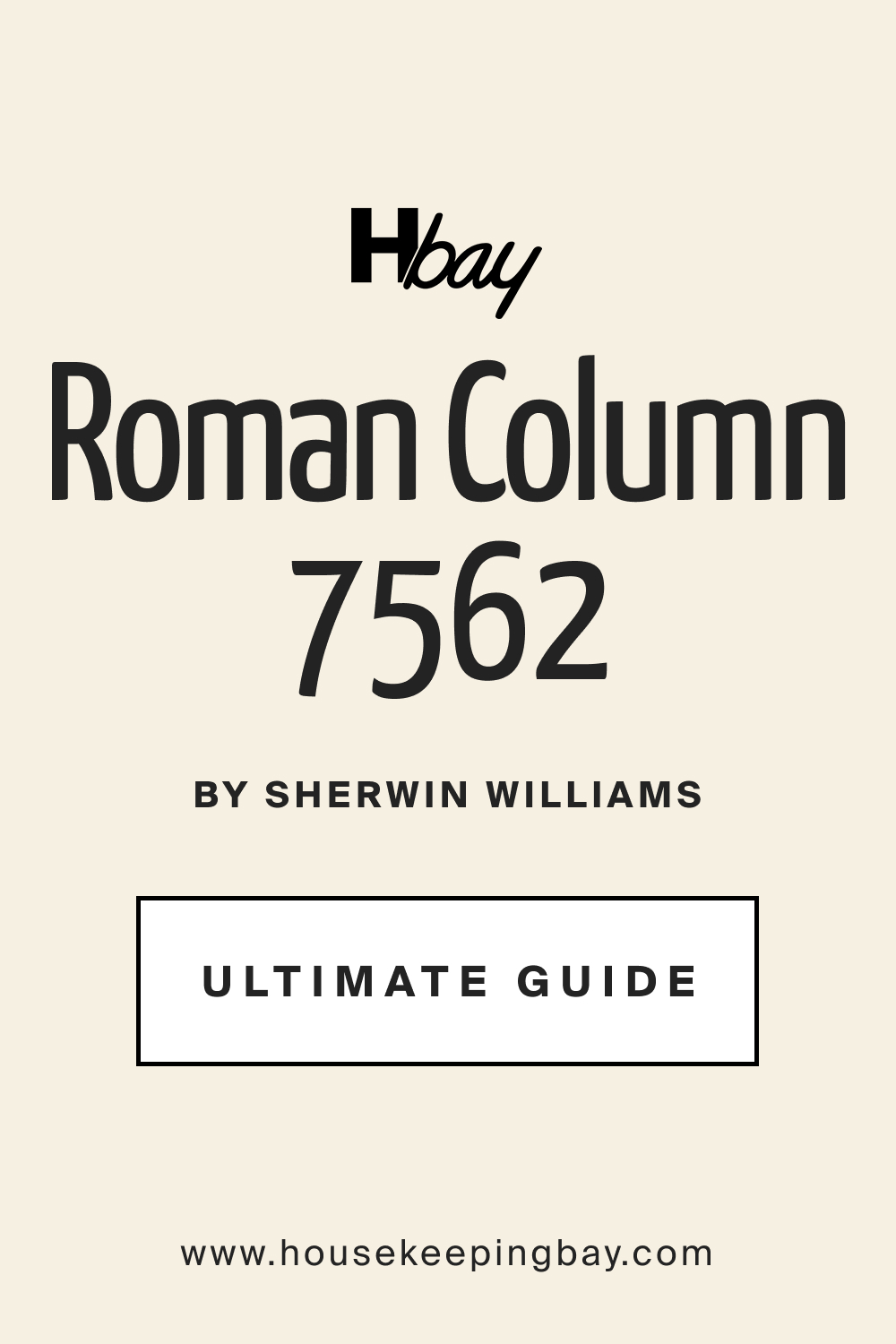 What is LRV? Read It Before You Choose Your Ideal Paint Color
What Is the Best Trim Color to Use With SW Mushroom Paint Color?
Choosing trim colors for such a tricky white as SW Roman Column can be a headache! So, if you are not a professional interior designer, here is a hint for you. For a pleasant pairing, consider warm neutral trim like Relaxed Khaki.
It will create a lovely contrast with SW Roman Column and even highlight the delicate warmth of this off-white!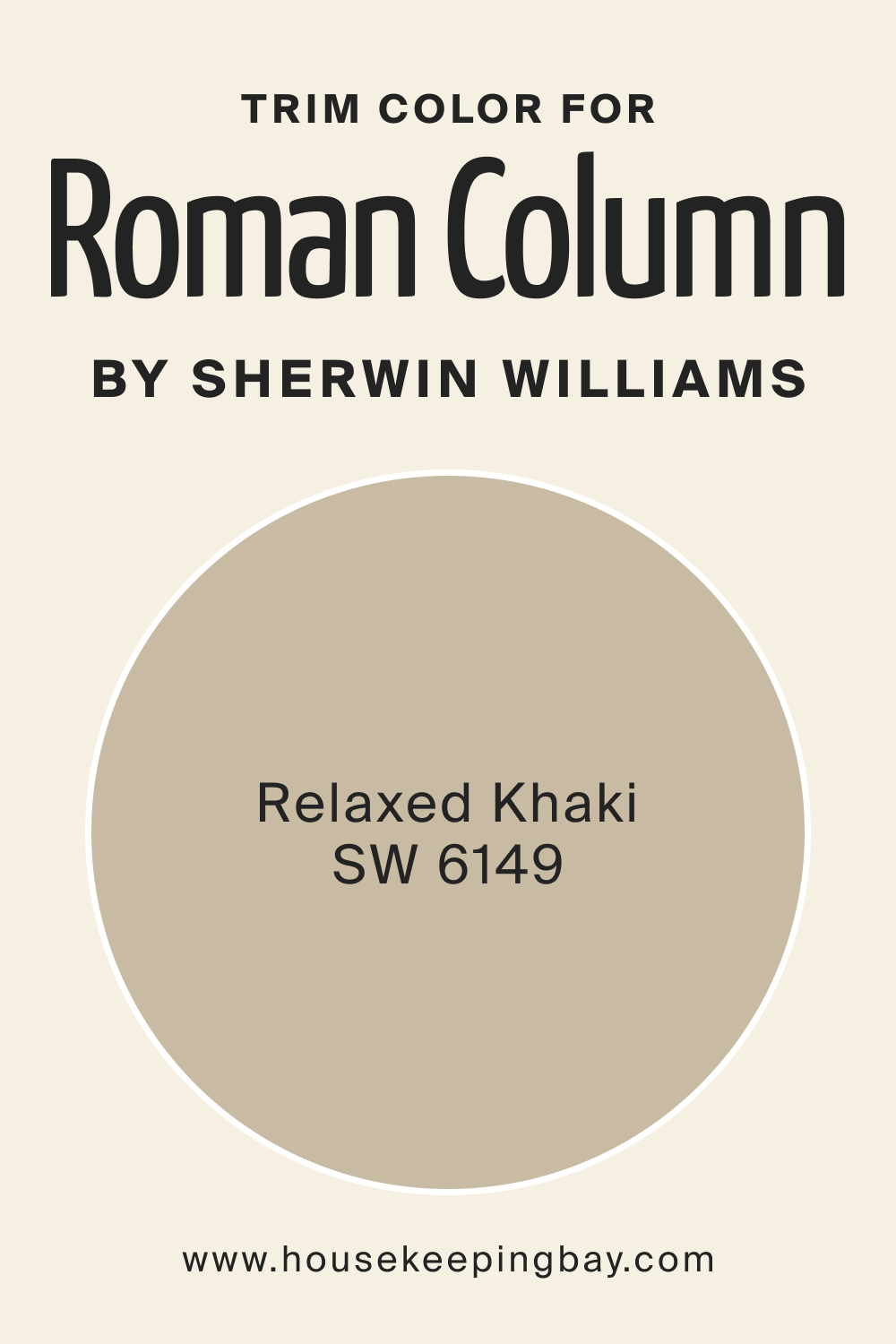 SW 7562 Roman Column Similar Colors
Knowing what similar paint colors your existing hue has is always a good idea. At some point, it can be helpful if you suddenly decide to use a bit different paint color than the one you were initially going to.
Also, similar colors can become handy if you suddenly realize that the color you initially chose does not work well with the overall palette in the room. Or you might want to go lighter or darker with the wall color.
But if you are planning to use white color on your interior walls, it can be tricky to choose colors that read the same or nearly the same. If this is the complication you have faced with SW Roman Column, don't worry. Below, you can check out a few similar whites that can work well instead of it:
BM 904 White Blush
Behr Rustic Cream
Farrow & Ball Pointing
PPG White Chip
Valspar Creme de la Creme
These colors read nearly the same as SW Roman Column, so you won't even have to adjust your interior palette to match them.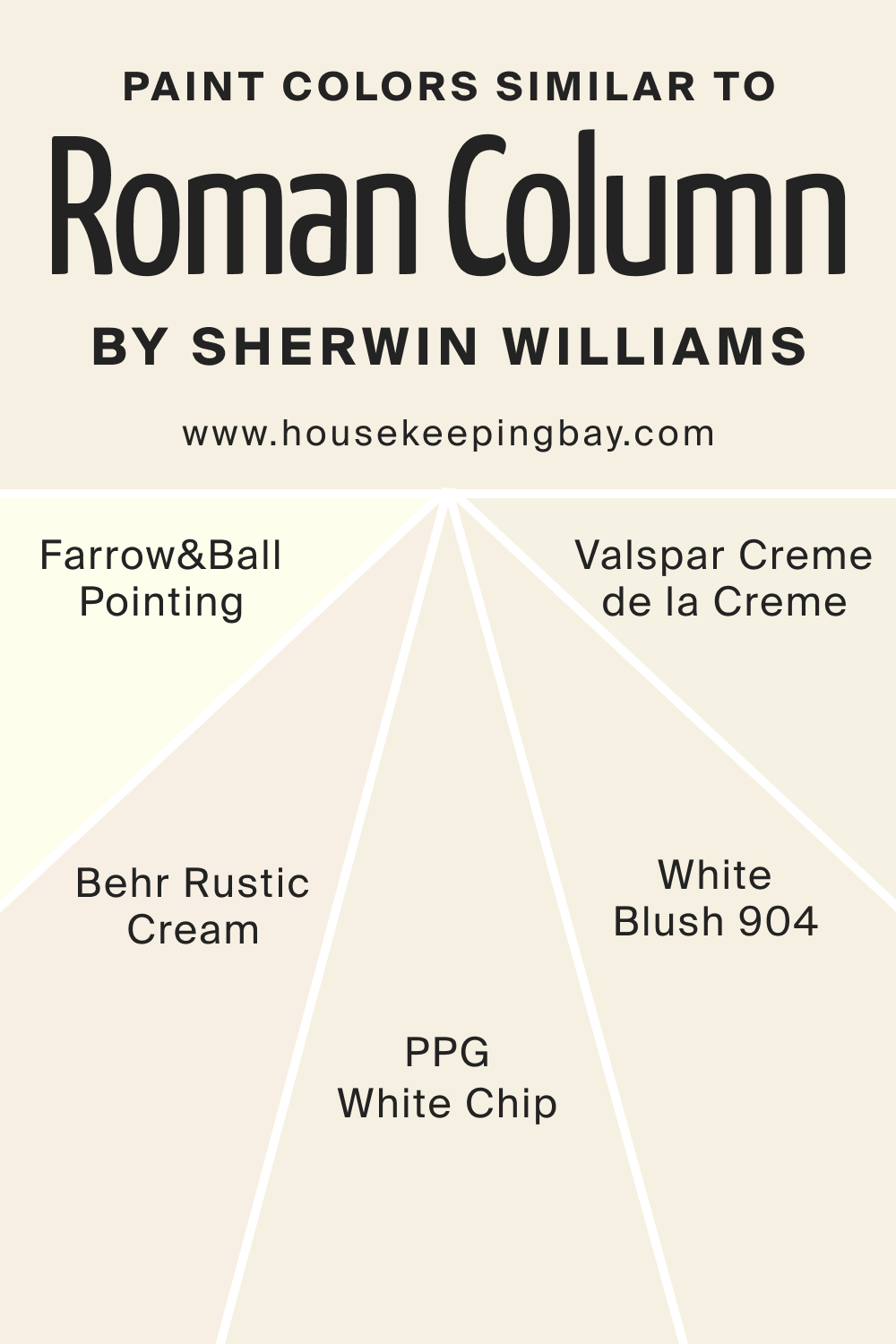 Colors That Go Well With SW Roman Column
To create a harmonious and well-balanced color palette in your home, one should know what colors can be used with the wall paint color to create good-looking combinations.
But with such a challenging white as SW Roman Column, it might be complicated to select the colors that work best with it. To help you out, we have prepared a few color ideas:
SW 6219 Rain
SW 7535 Sandy Ridge
SW 7055 Enduring Bronze
SW 0003 Cabbage Rose
SW 6085 Simply Beige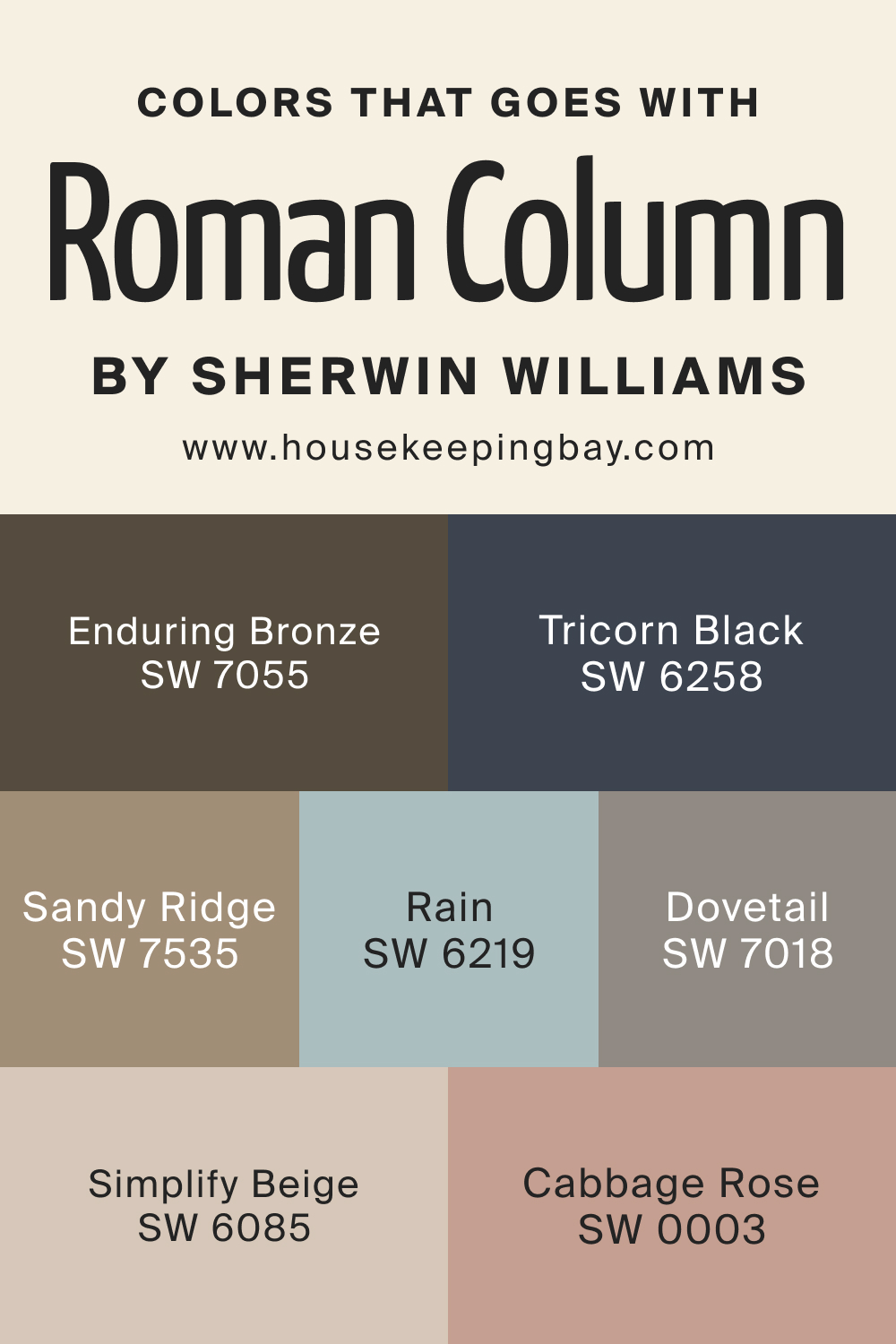 Where This Paint Color Can Be Used In Your Home?
Despite being warm-toned, SW Roman Column can work well in many spaces of your home. This off-white will add a homey and cozy touch to your living room, bedroom, and kitchen! Also, you can use it in your bathroom (but with reasonable caution!). finally, this hue will read lovely on exterior walls!
Roman Column SW 7562 in the Living Room
Do you want a cozy and soothing living room that looks welcoming and lovely? Then SW Roman Column might be your color! This warm off-white will pair nicely with wooden and stone surfaces, as well as with golden decor elements and most fabrics. This is why you will easily incorporate it into your space.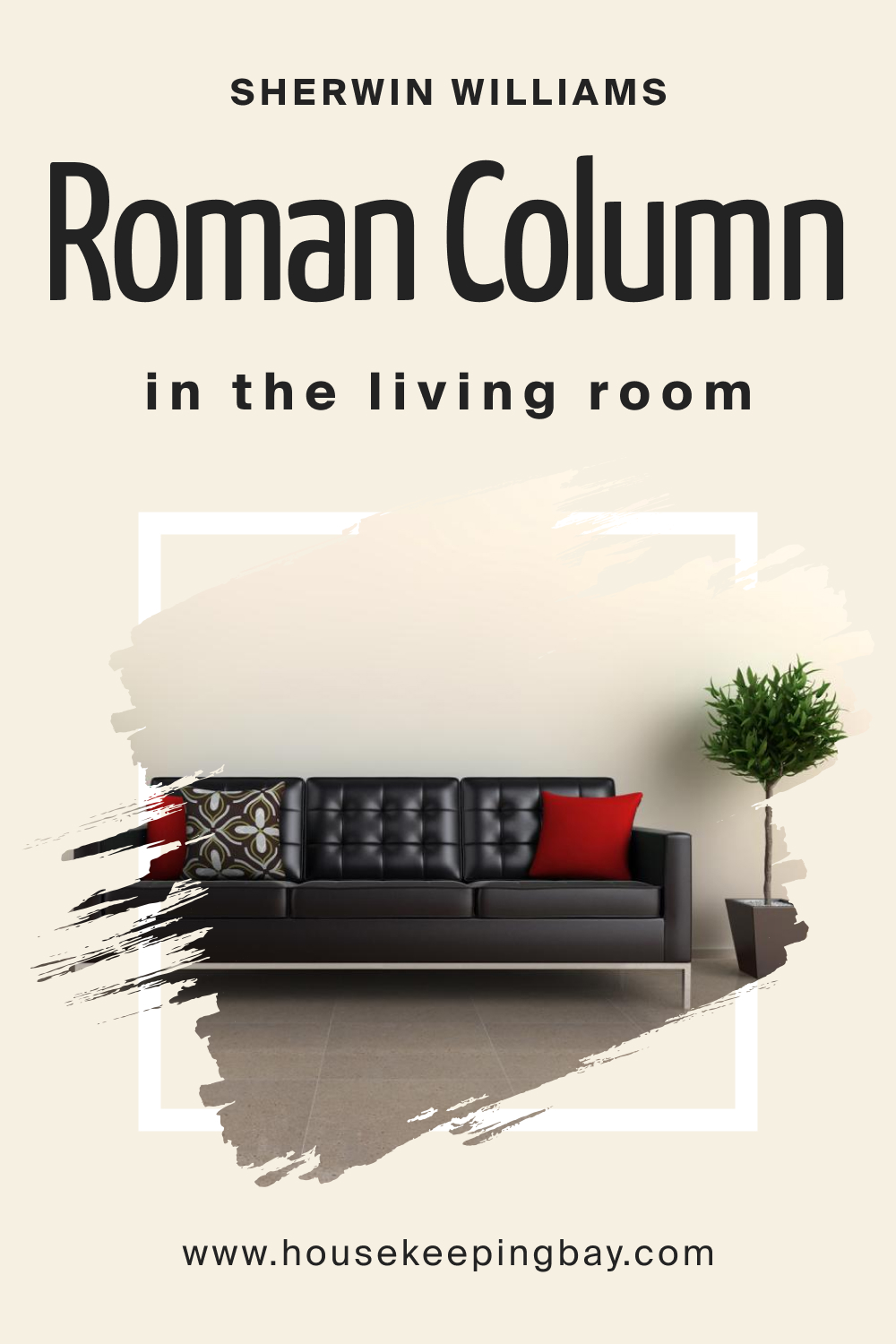 Roman Column SW 7562 in a Bedroom
In a bedroom, this white color will work great due to its soft appearance! Pair it with brighter and cleaner whites, and don't forget about wooden accents on your furniture and floors! Also, this hue will look awesome with the natural fabrics of your curtains and bedding (better stick with lighter greiges/beiges, neutrals, and whites).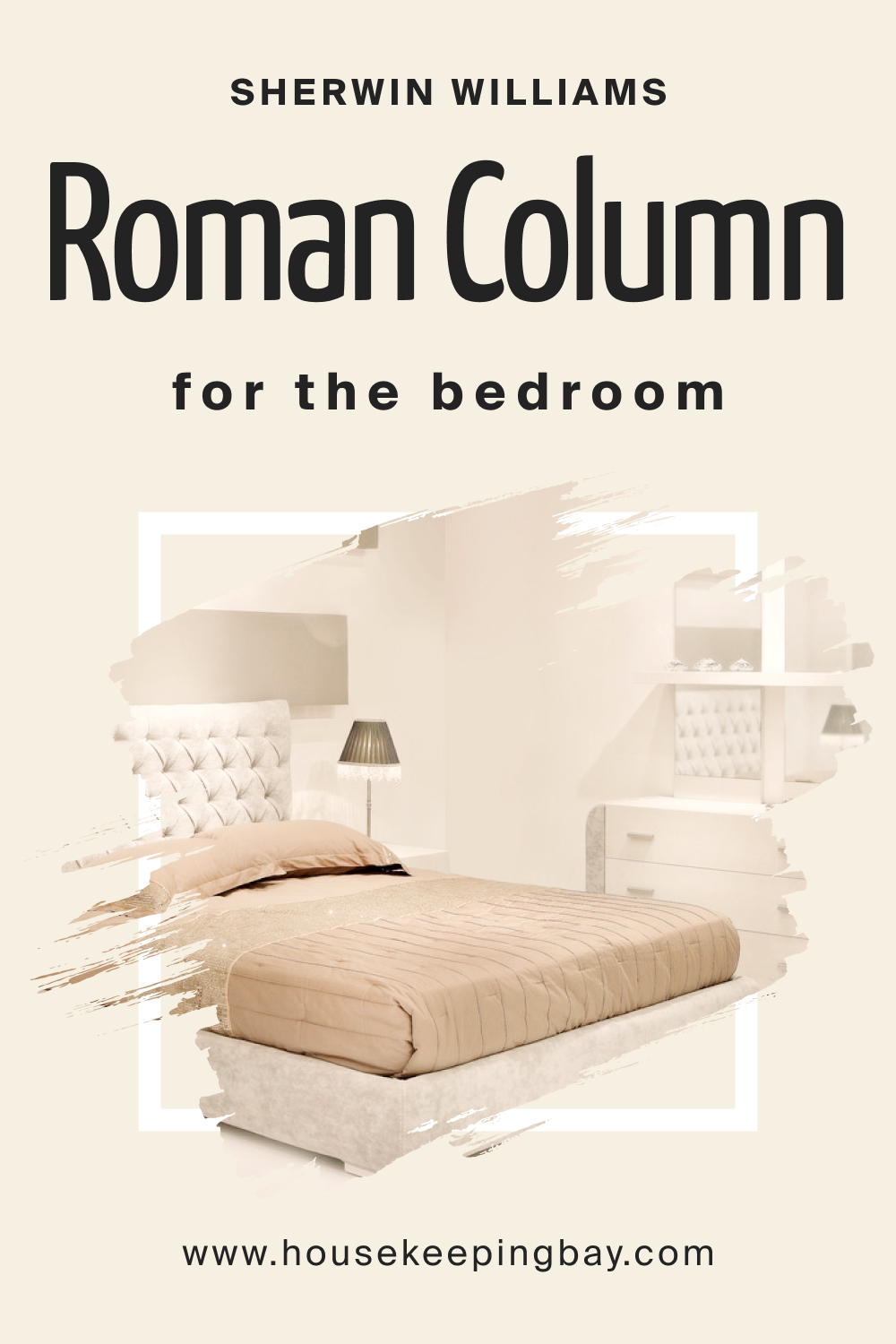 Roman Column SW 7562 and Bathroom
Speaking of bathrooms, we recommend using this off-white on the vanity sink, leaving the walls brighter white. Also, this white will work nicely with muted and light gray walls. See, due to its warmth, SW Roman Column may read yellower in your bathroom because of the lack of light! But this can be avoided if you use it moderately.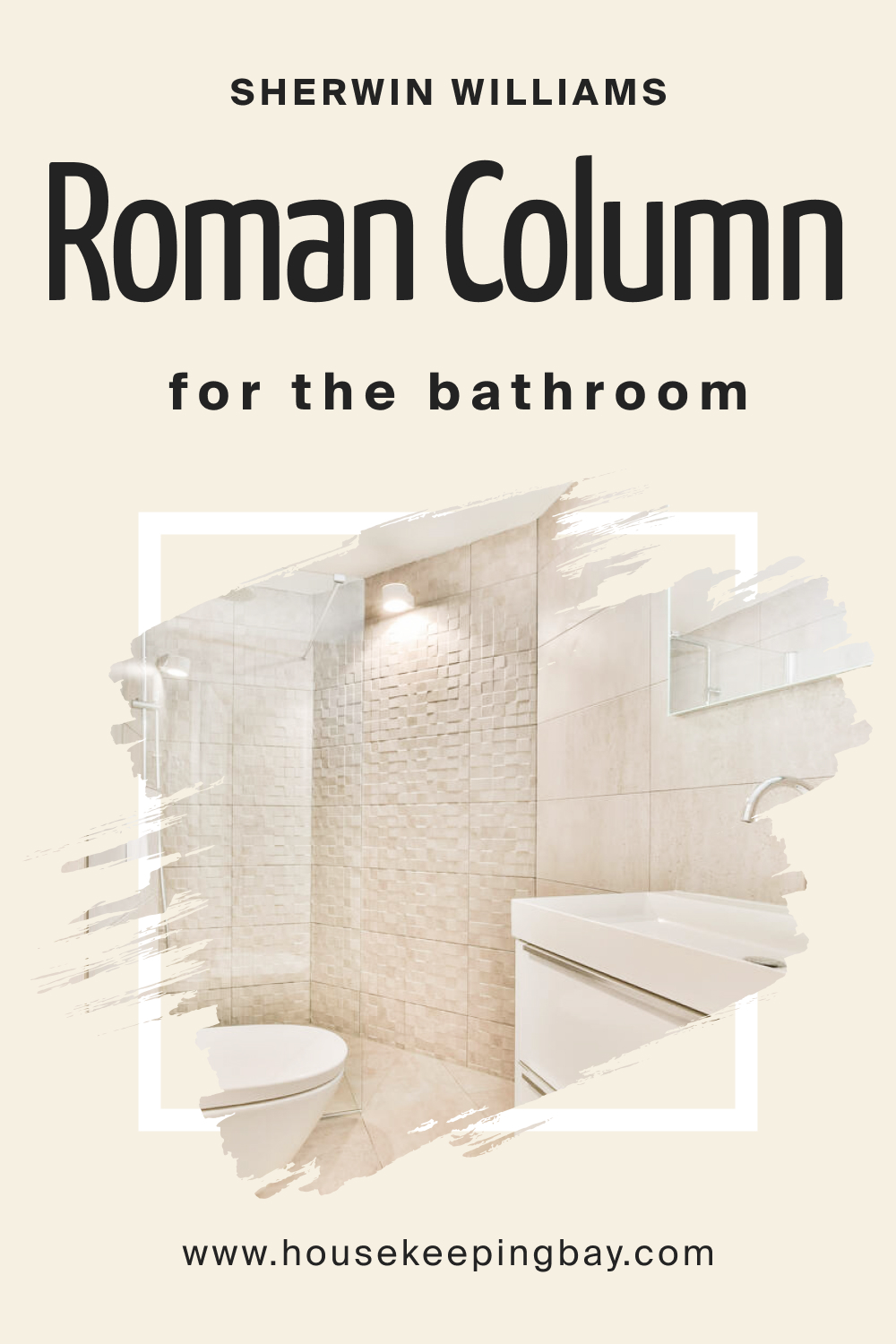 Roman Column SW 7562 in the Kitchen
It's one of the best whites for a farmhouse-style kitchen! But you can use it in other kitchen interiors too. SW Roman Column will work on lower and upper cabinets (as well as on the island) paired with the brighter white on the walls and tile backsplash.
As an option, you can use the colors vice versa. Also, this off-white works great with stone floors and brass/golden fixtures.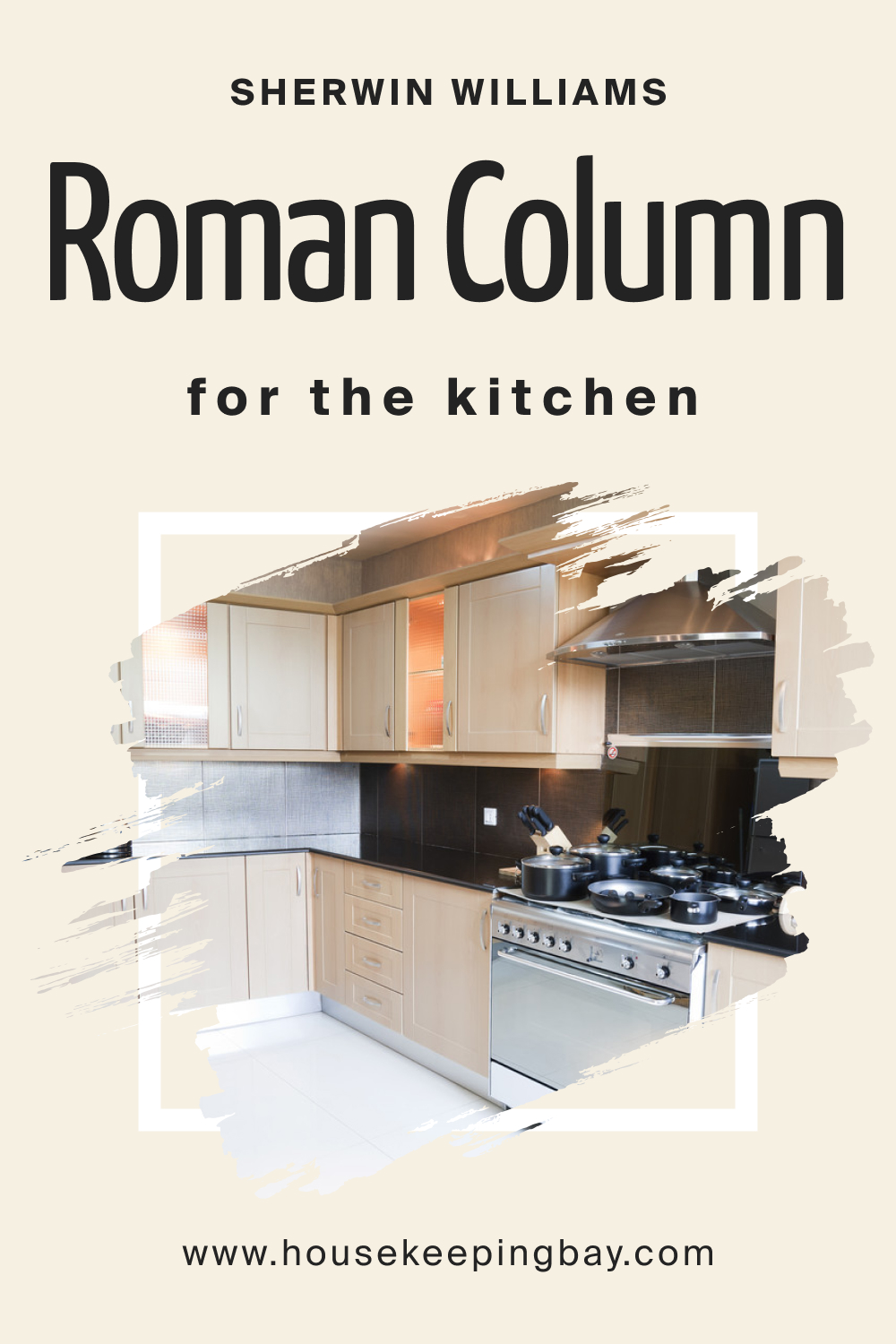 Roman Column SW 7562 for the Exterior Use
If you want this white on your exterior walls, be ready for its shapeshifting nature! On sunny days, SW Roman Column will read brighter and whiter, looking cleaner and almost losing its creamy yellow tint.
But once the sun hides behind the clouds, this hue will surprise you with its creamy warmth. But still, it's a lovely white hue for exterior walls!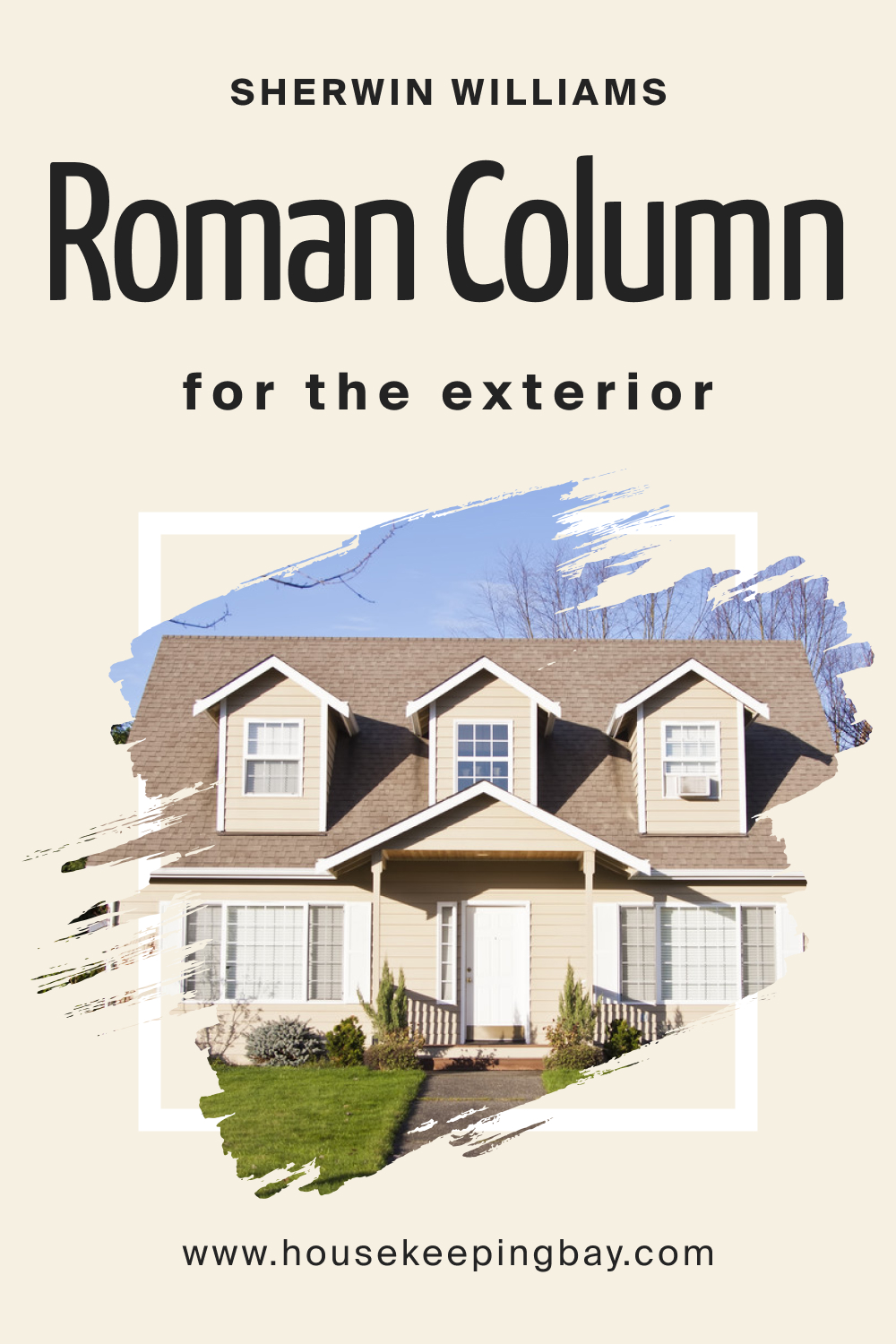 Comparing SW Roman Column With Other Colors
To better see the difference between the distinct shades of white, we suggest you read the comparison of SW Roman Column with a few other whites. This way, you will be able to see how varied the white color can be despite its seeming simplicity. Moreover, this color comparison will allow you to select the most suitable white for your home in the future.
Roman Column vs. SW 6385 Dover White
This color comparison involves two colors that come from the same color collection and share yellow undertones. However, they don't read the same. SW Roman Column looks yellower and creamier, whilst SW Dover White looks more muted with a very slight beige tint. That's because of the distinct LRVs. SW Roman Column has an LRV 88, and SW Dover White has an LRV 82, which makes it read darker.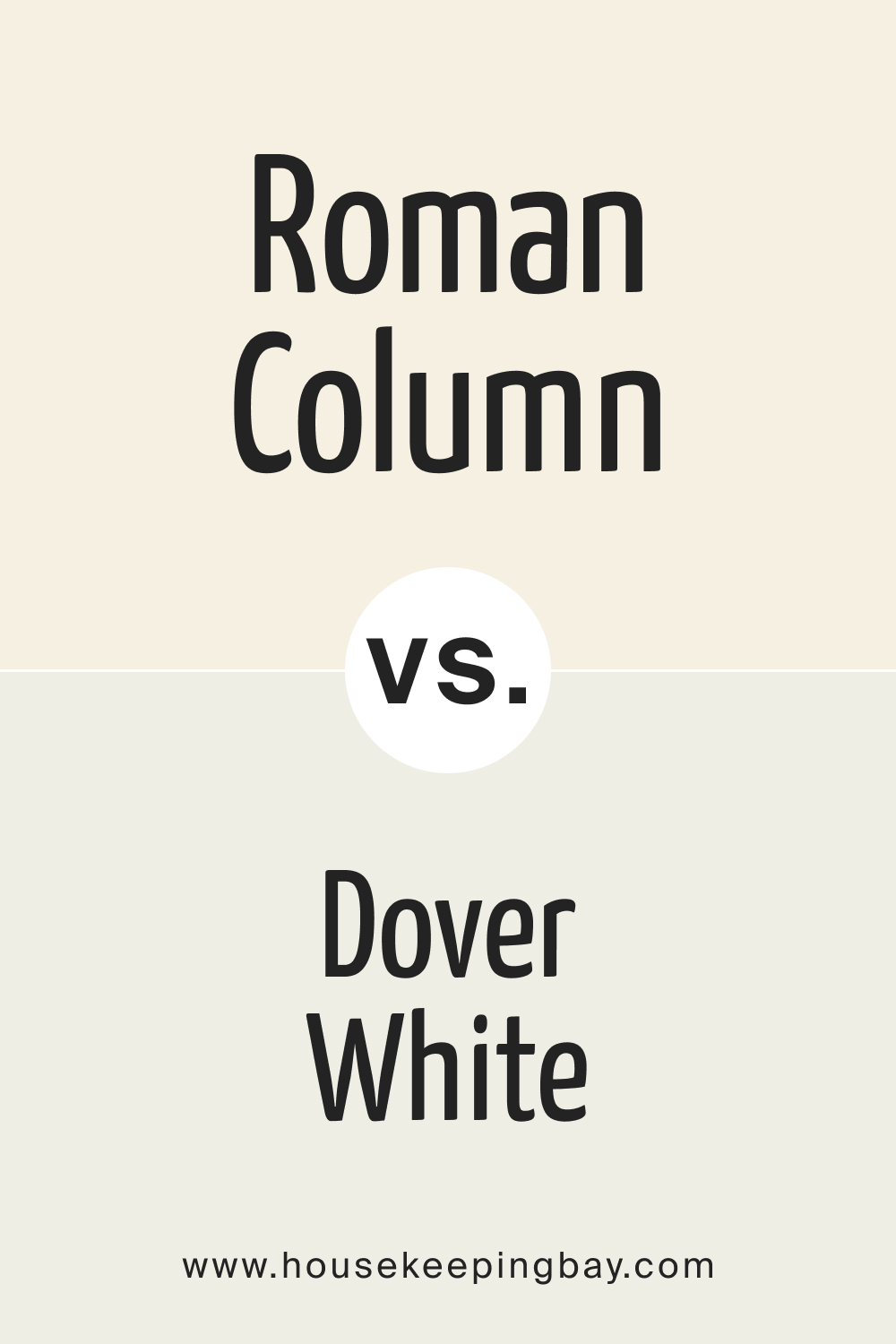 Roman Column vs. Westhighland White SW 7566 
SW Westhighland White has an LRV of 86, which is two points less than the LRV value of SW Roman Column, which is 88. So, in terms of light reflectivity, these whites are pretty close. However, SW Westhighland White reads slightly more muted and less creamy yellow.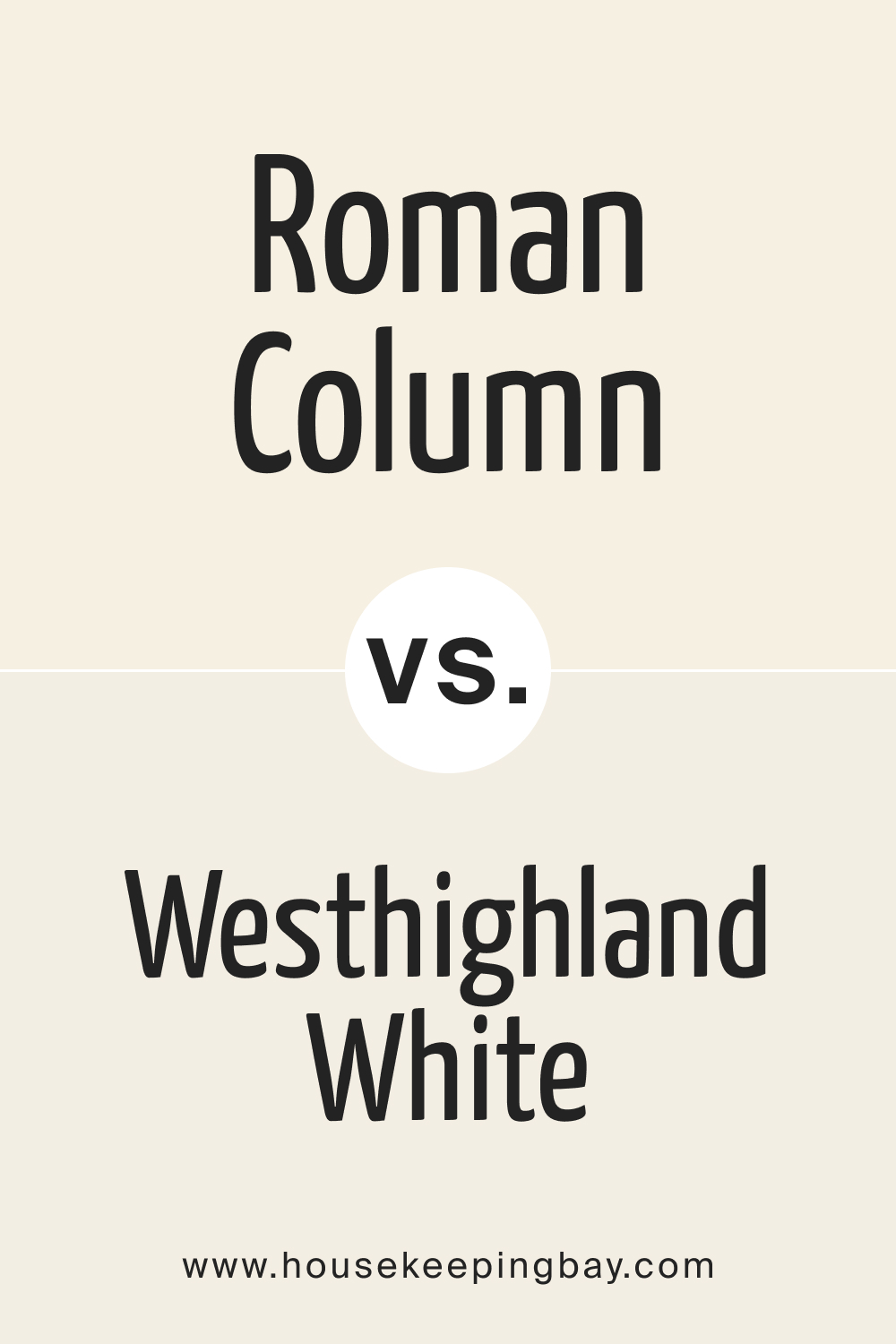 Roman Column vs.  SW 7104 Cotton White
Compared to SW Roman Column, SW Cotton White looks noticeably pinkish! This bright off-white also has a yellow undertone and an LRV of 88, which makes it very close to the SW Roman Column! But this pinkish hue is the only difference you can find among these whites.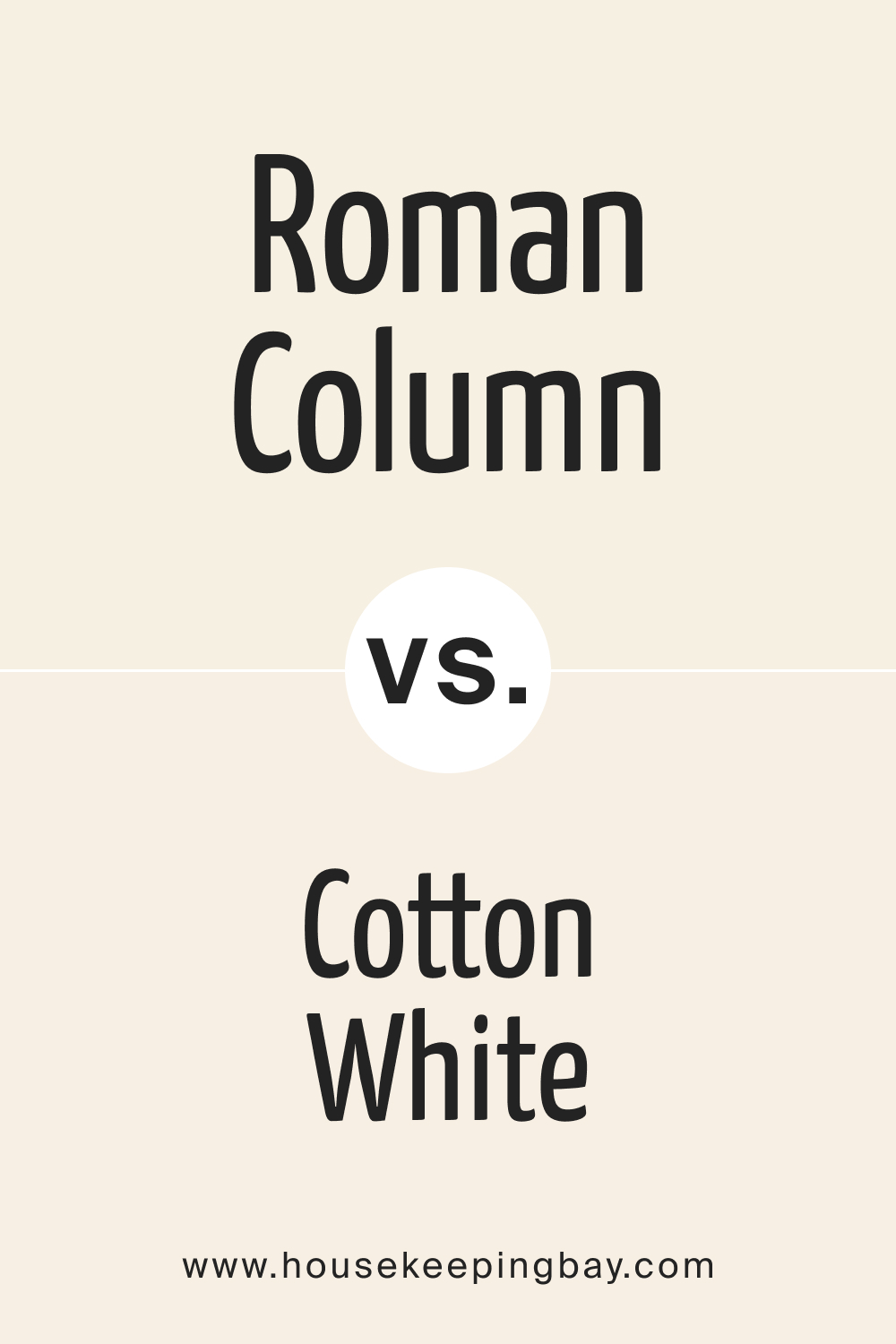 Roman Column vs. SW 7012 Creamy
Just like SW Roman Column, SW Creamy also has yellow undertones. But they are well-balanced, so the color doesn't read yellow at all. What makes it different from SW Roman Column is the LRV value, which is 81. It means SW Creamy reads more muted and somewhat darker than SW Roman Column, whose LRV is 88.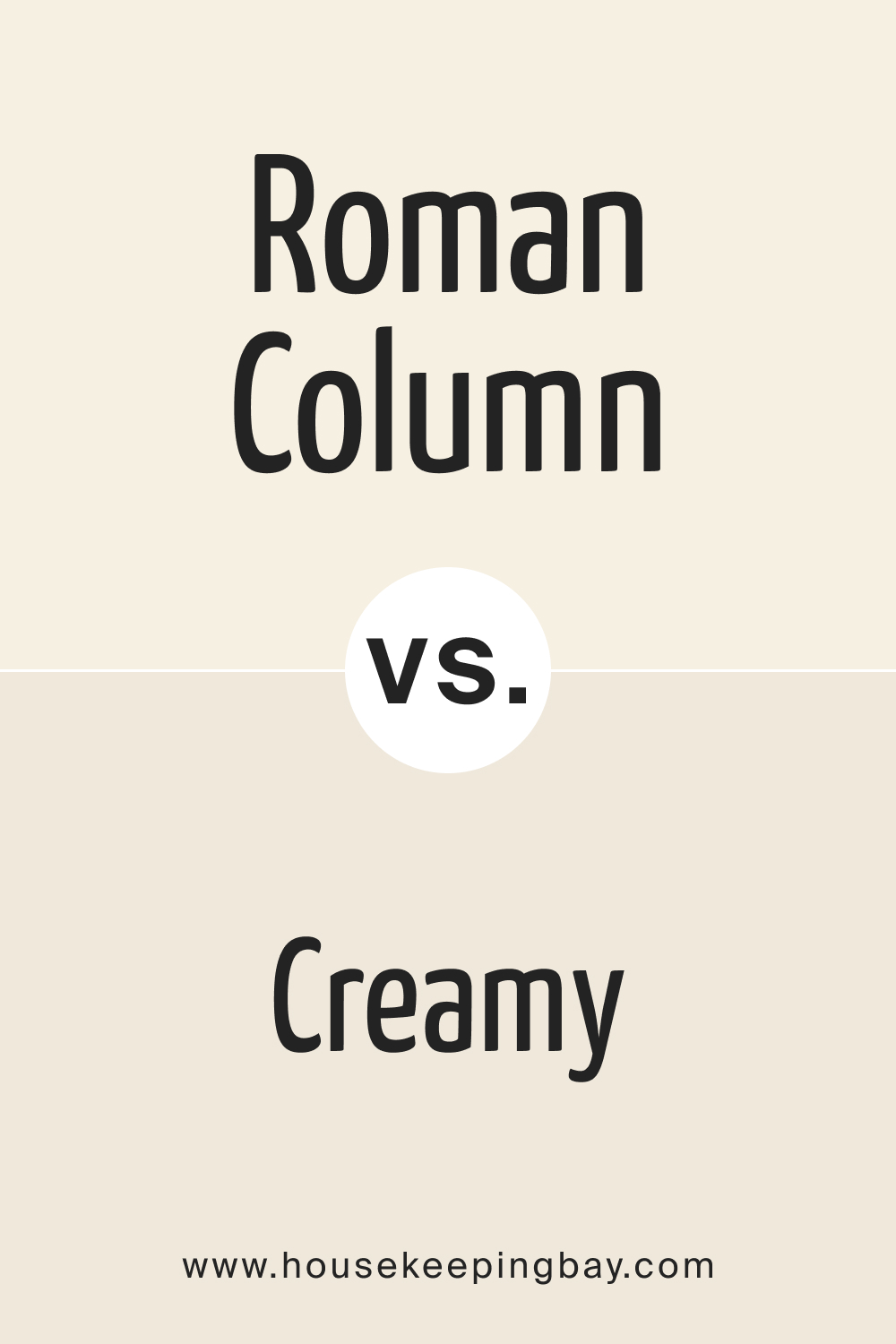 Roman Column vs. SW 7102 White Flour
SW White Flour is an orange-toned white, which is why it has a slight and soft beige undertone. With an LRV 87, it reads nearly as bright as SW Roman Column, whose LRV is 88. However, the beige hue of SW White Flour is what makes these whites distinct.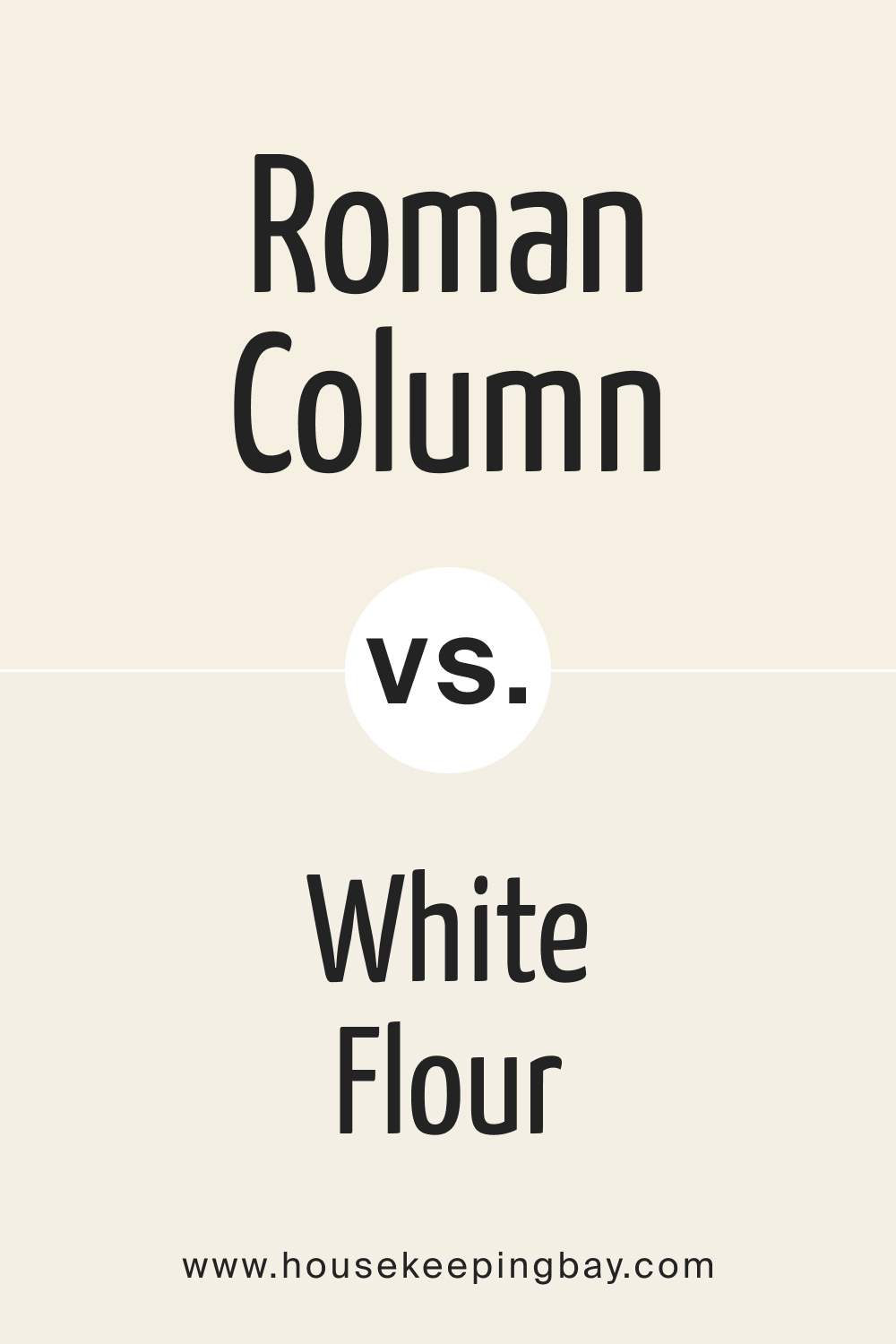 Roman Column vs. BM OC-20 Pale Oak 
BM Pale Oak is a warm greige with slight yellow undertones and an LRV of 69. It reads darker than SW Roman Column and also displays a pronounced beige hue. Sometimes, it may even seem grayish compared to its creamy counterpart! However, both colors look soft and share yellow undertones.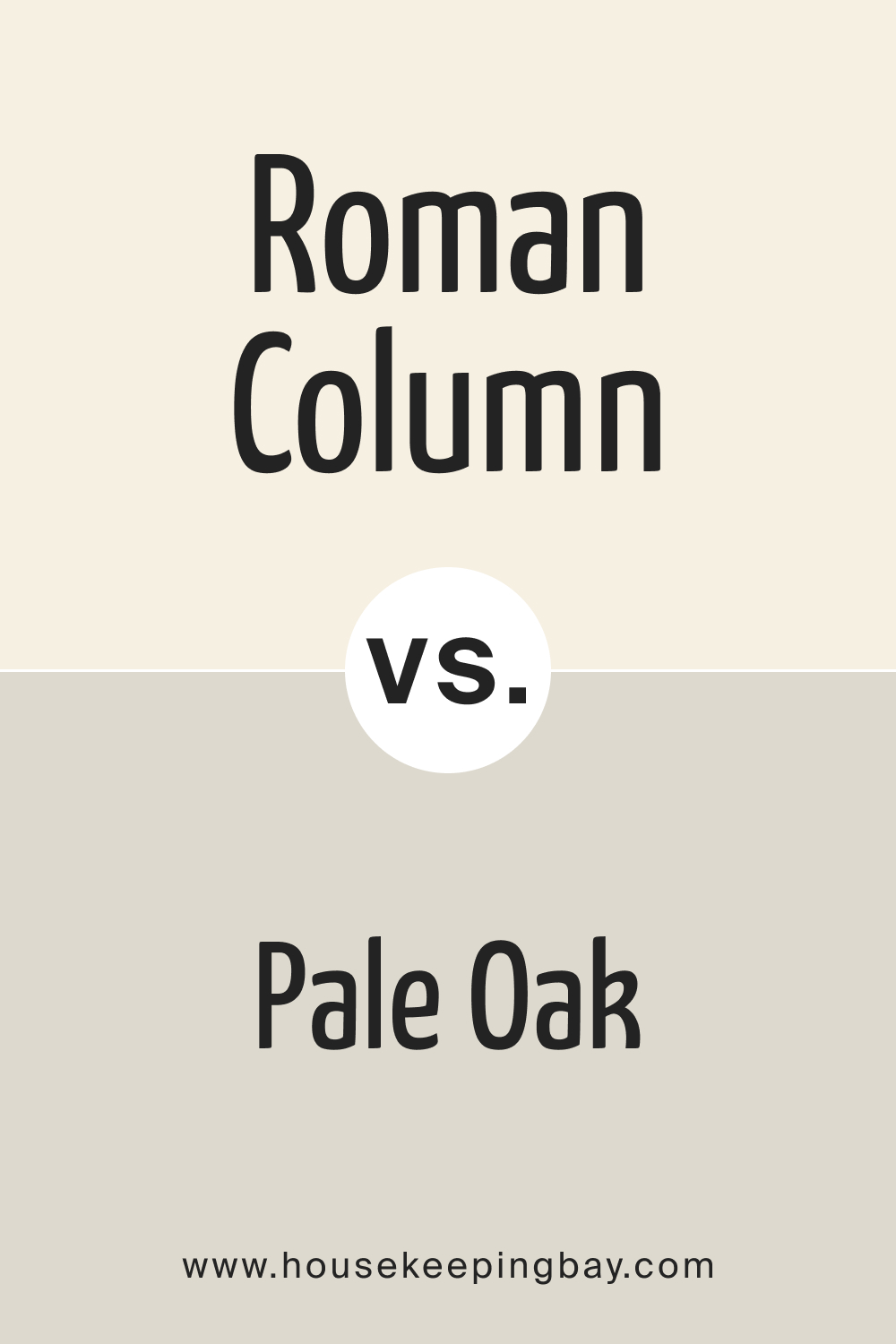 Now you know what kind of white SW Roman Column is. This creamy and soft off-white can make your home feel absolutely lovely and cozy, adding a welcoming vibe to any space where it is used!
But this can be achieved only when you know this color's specifics (and now you know them!).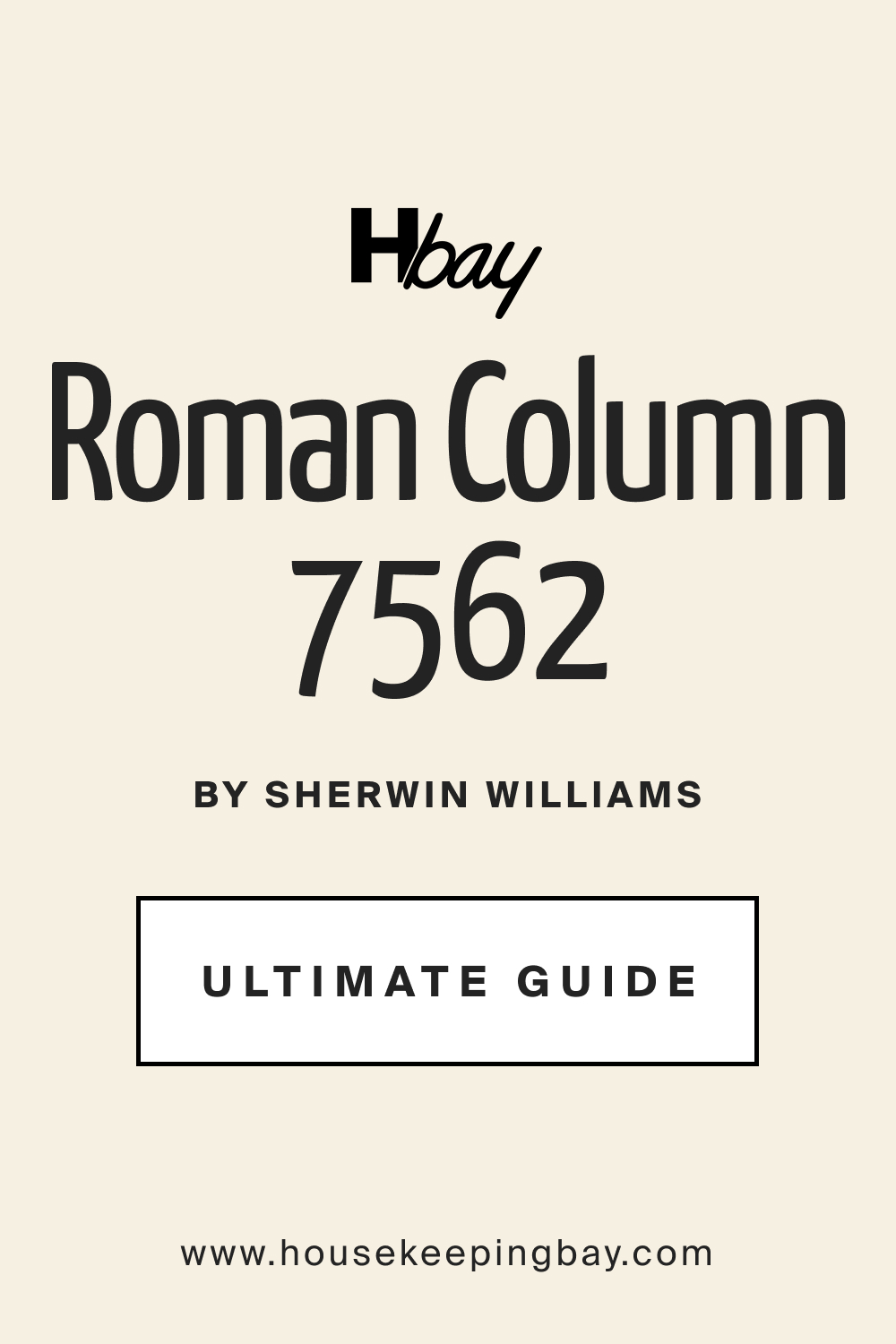 Frequently Asked Questions
⭐Can SW Roman Column be used as a base color?
Yes, this off-white can work as a base color in most cases.
⭐Does SW Roman Column pair with black?
Of course! For example, it works well with Tricorn Black.
⭐Is it a good color for the nursery?
Absolutely! Its soft and creamy hue will add a cozy and calming vibe to this room.