When it comes to choosing a paint color that embodies warmth, sophistication, and a sense of timelessness, Sherwin-Williams' Practical Beige (SW 6100) often comes to mind.
A well-loved neutral that's versatile and pleasing to the eye, SW Practical Beige has a unique depth and richness that sets it apart from other shades in its class.
This article will delve into the intricate details of this color, its undertones, coordinating colors, how it is influenced by lighting, and the rooms and exteriors where it can be best used.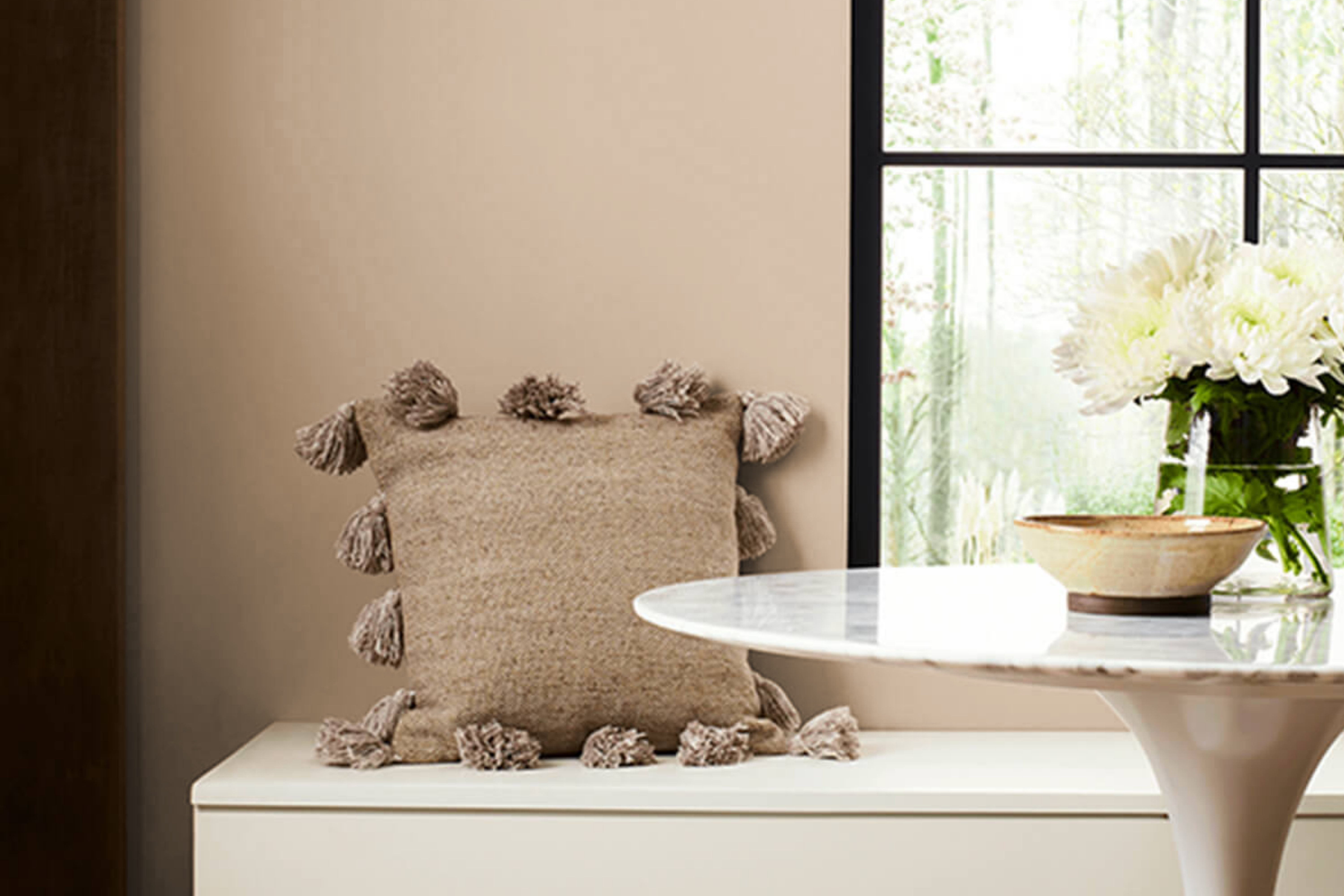 What Color Is SW 6100 Practical Beige?
As Hextoral says, SW 6100 Practical Beige is a soft, neutral beige that leans towards a warm tan. It's a subdued, complex color that exudes a comfortable and inviting ambiance.
The hue is perfect for creating a cozy atmosphere while remaining elegant and understated.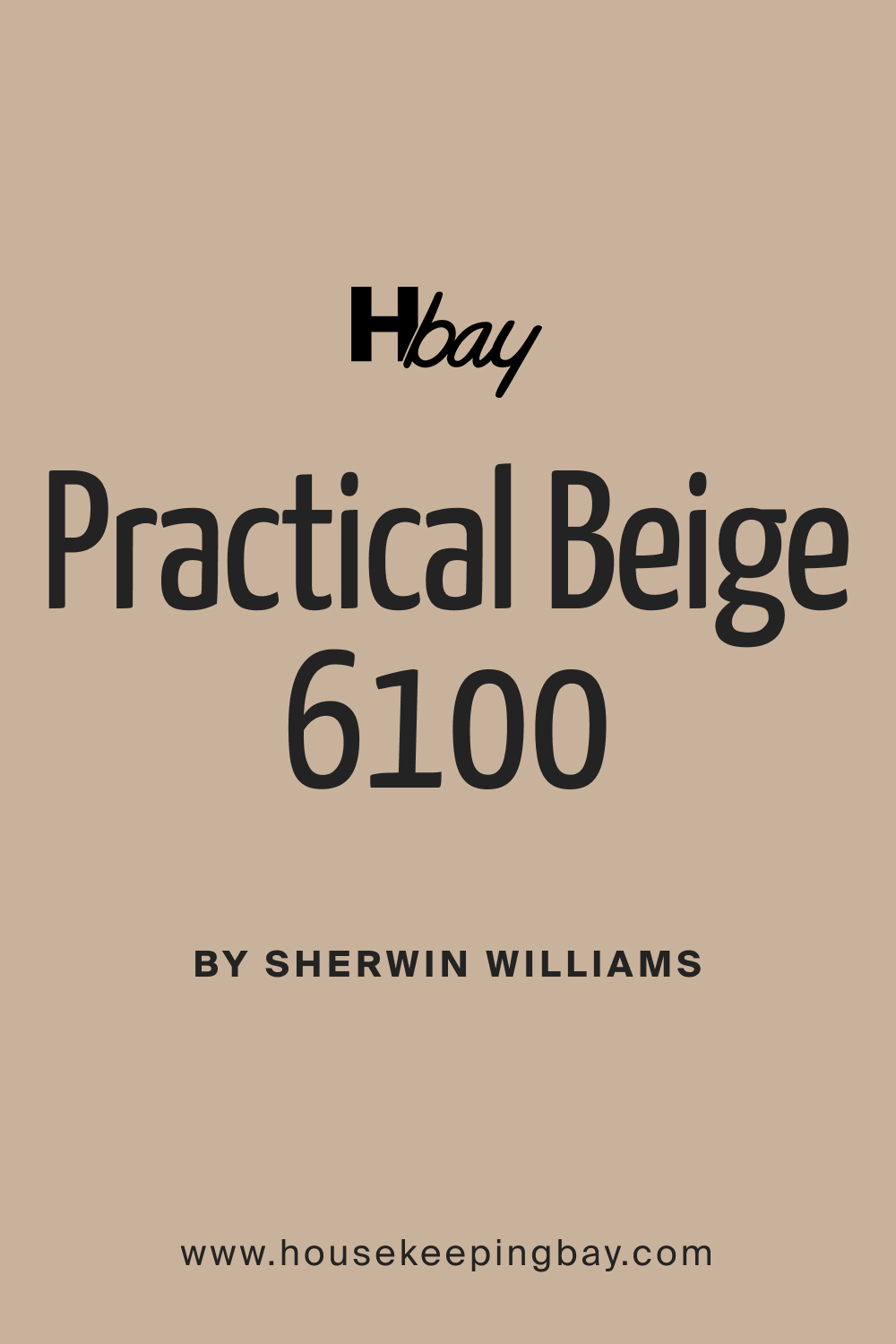 Is It a Warm or Cool Color?
SW Practical Beige is a warm-toned color. It emanates a gentle, inviting ambiance that's perfect for spaces meant for relaxation and comfort. The warm undertones create a cozy atmosphere, making it a popular choice for living spaces and bedrooms.
Undertones of SW 6100 Practical Beige
The specifics of SW Practical Beige become more apparent when you observe its undertones. This hue has mixed undertones, which means the color is pretty complicated.
Taupe: The first noticeable undertone in SW Practical Beige is taupe, a combination of brown and gray that adds depth to the color.
Yellow: A subtle yellow undertone is also present, providing the color with warm characteristics and contributing to its inviting feel.
Brown: There's a soft brown undertone that makes SW Practical Beige feel grounded and earthy, helping it pair well with other warm, natural colors.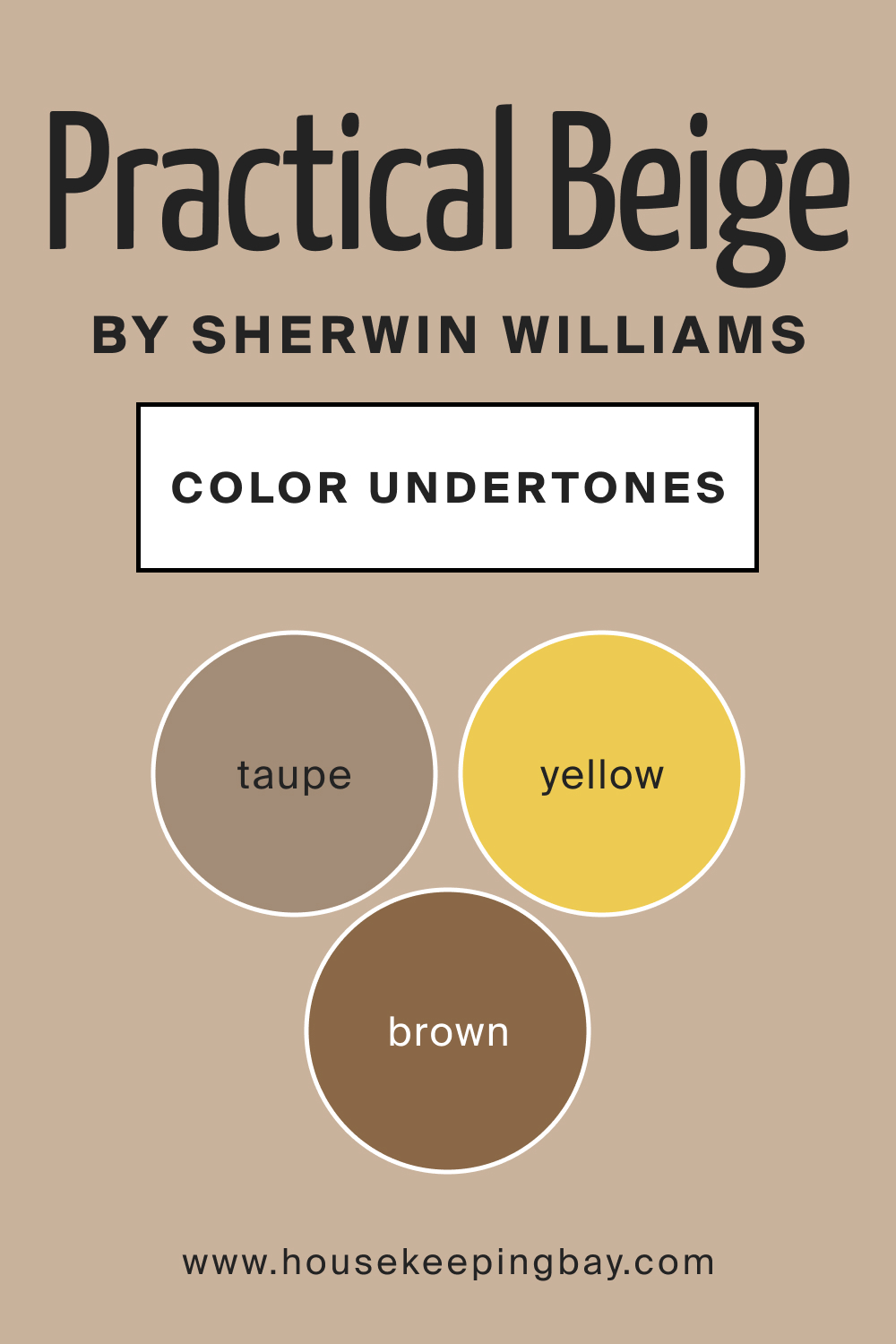 Coordinating Colors of SW 6100 Practical Beige
Choosing the right coordinating colors for SW Practical Beige can help create a harmonious design scheme. Here are several potential colors that can beautifully coordinate it:
SW 6098 Pacer White
SW 6099 Sand Dollar
SW 6082 Cobble Brown
For a monochromatic coordinating palette, try the following colors:
SW 6108 Latte
SW 6104 Kaffe
SW 9108 Double Latte
Should you strive for a more varied palette in your home, try to coordinate SW Practical Beige with these colors:
SW 9112 Song Thrush
SW 9162 African Gray
SW 9110 Malabar
SW 7059 Unusual Gray
SW 7057 Silver Strand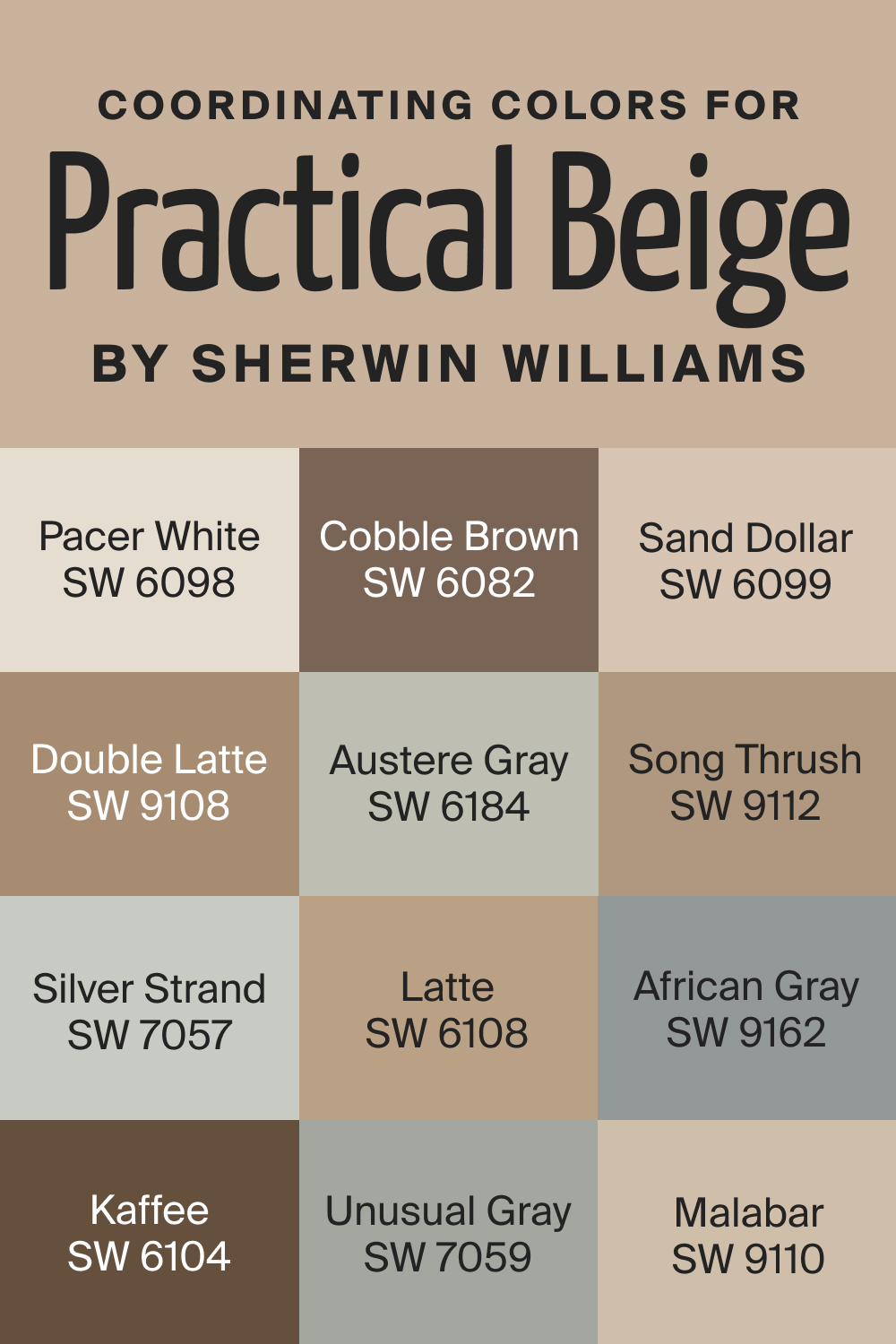 How Does Lighting Affect SW 6100 Practical Beige?
Like all colors, SW Practical Beige changes slightly under different lighting conditions. Under natural light, it takes on a warmer, earthier hue, particularly in the late afternoon when the light is golden.
Fluorescent light can draw out more of its grayish undertones, making it look a bit cooler, while incandescent lighting can emphasize the warm, yellow undertones. Understanding these shifts can help you decide where to apply this color.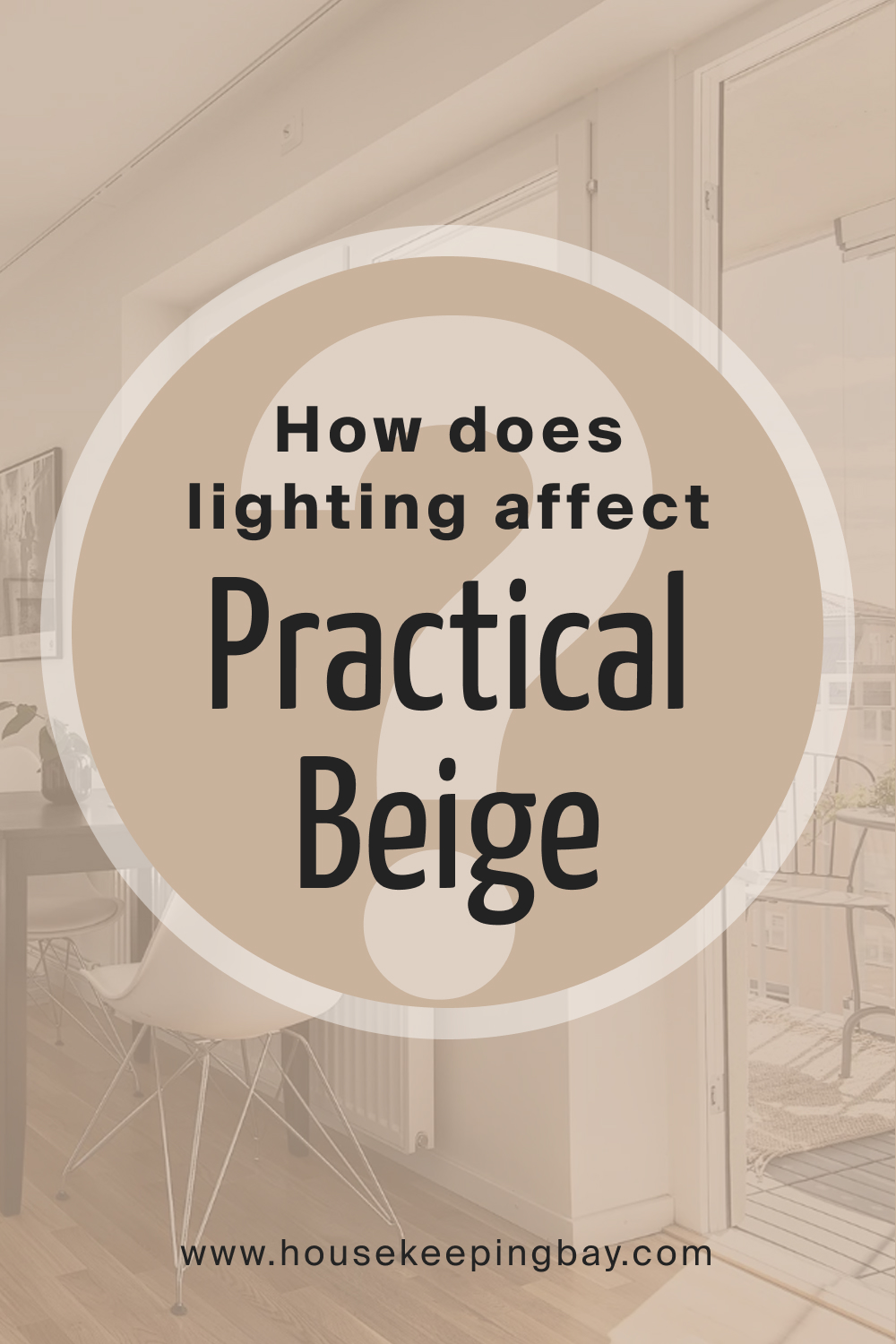 LRV of SW 6100 Practical Beige
The Light Reflectance Value (LRV) of paint color is a measure of how much light this color reflects. The LRV scale ranges from zero (black) to 100 (white).
Respectively, the higher the LRV value from zero, the lighter and more reflective the color. The lower the LRV value, the darker the color.
SW Practical Beige has an LRV value of 47, which means it falls into the light color category. This makes this color an excellent choice for spaces you'd like to keep open-feeling without creating an "icy" and unwelcoming atmosphere. However, SW Practical Beige won't make a room look crisp.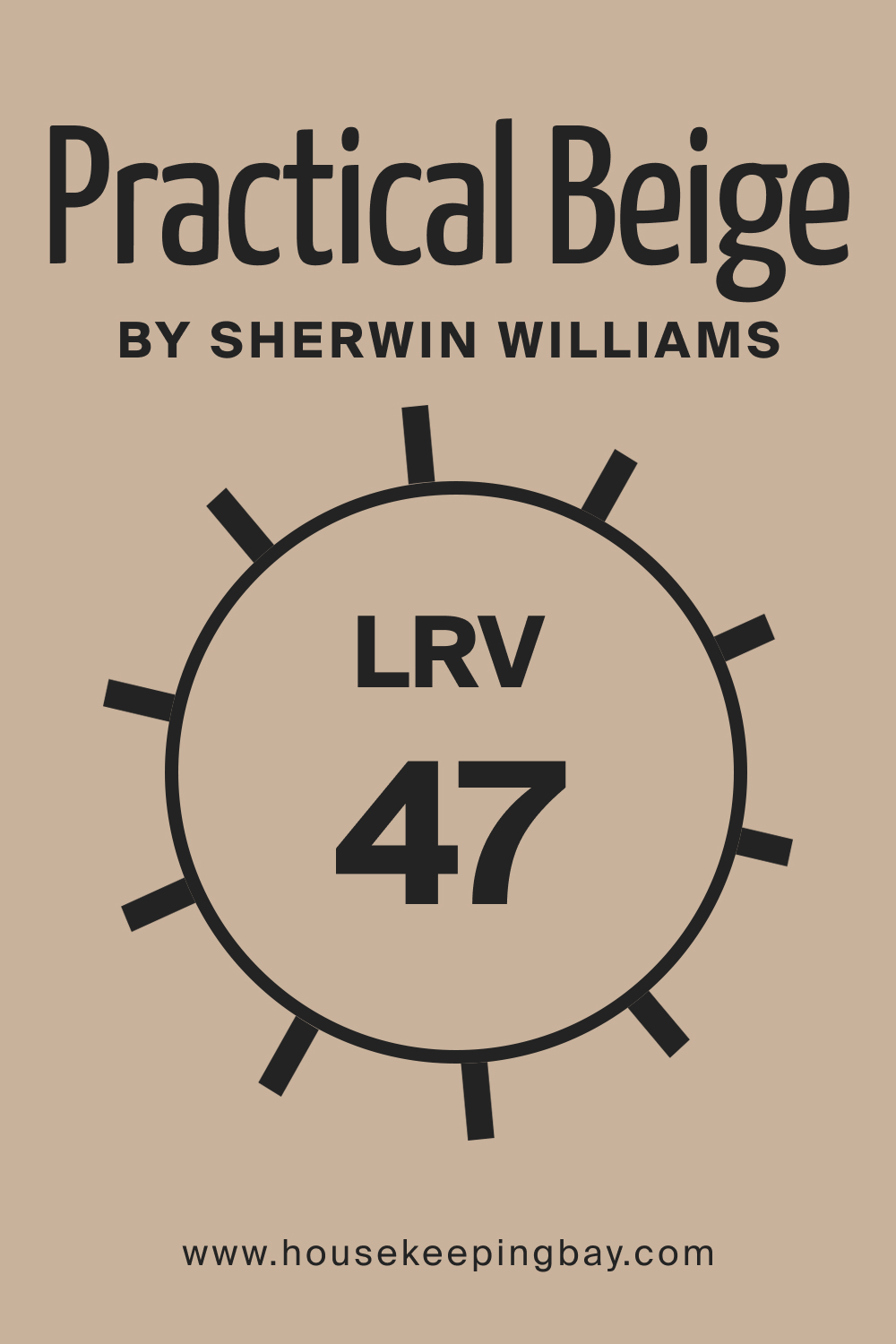 Trim Colors for SW 6100 Practical Beige
The right trim color can make Practical Beige pop. Here are three excellent choices: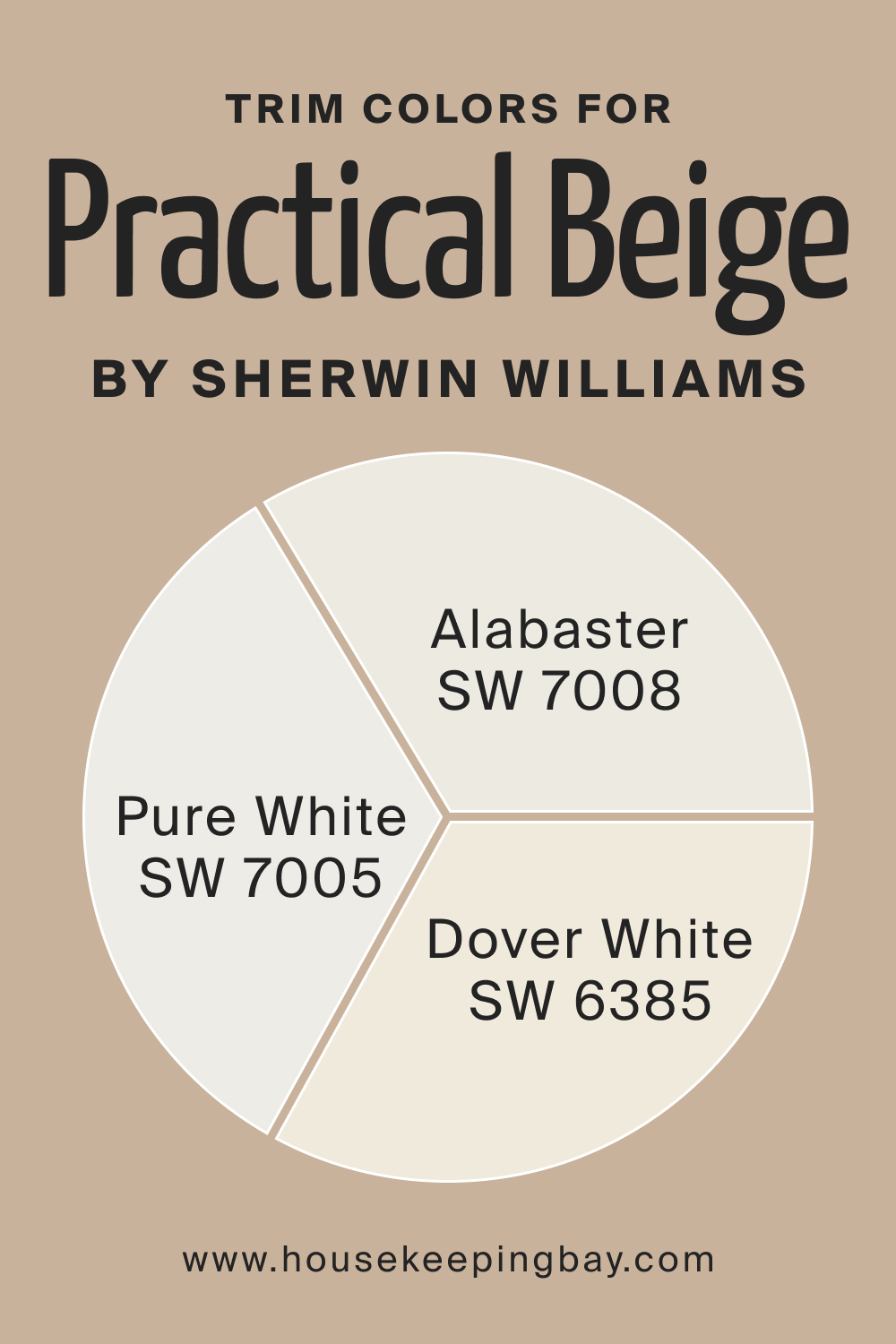 Colors Similar to SW 6100 Practical Beige
If you're looking for shades that are similar to SW Practical Beige, consider the following:
BM Muslin (OC-12)
BM Cream Soda 1082
SW 6107 Nomadic Desert
PPG Pittsburgh: Sienna Sand (PPG1085-3)
Persuasion (PPG1077-3)
Valspar Moose Mousse 3003-10A
Valspar My Piazza M133
Valspar Tan Suede PO12
French Pastry (MQ2-40)
Polo Tan (N260-3)
They can substitute this hue successfully if you are not satisfied with how it works in your space.
Colors That Go With SW 6100 Practical Beige
To create a harmonious color scheme, consider the following colors that pair well with SW Practical Beige:
SW 6244 Naval: A deep, rich navy that offers a strong contrast.
SW 6606 Coral Reef: A vibrant, playful coral that adds a pop of color.
SW 7701 Cavern Clay: An earthy, warm terracotta that complements the undertones of Practical Beige.
SW 6187 Rosemary: A muted, sophisticated green that harmonizes with the earthiness of Practical Beige.
SW 7702 Spiced Cider: A warm, spicy red that provides contrast and interest.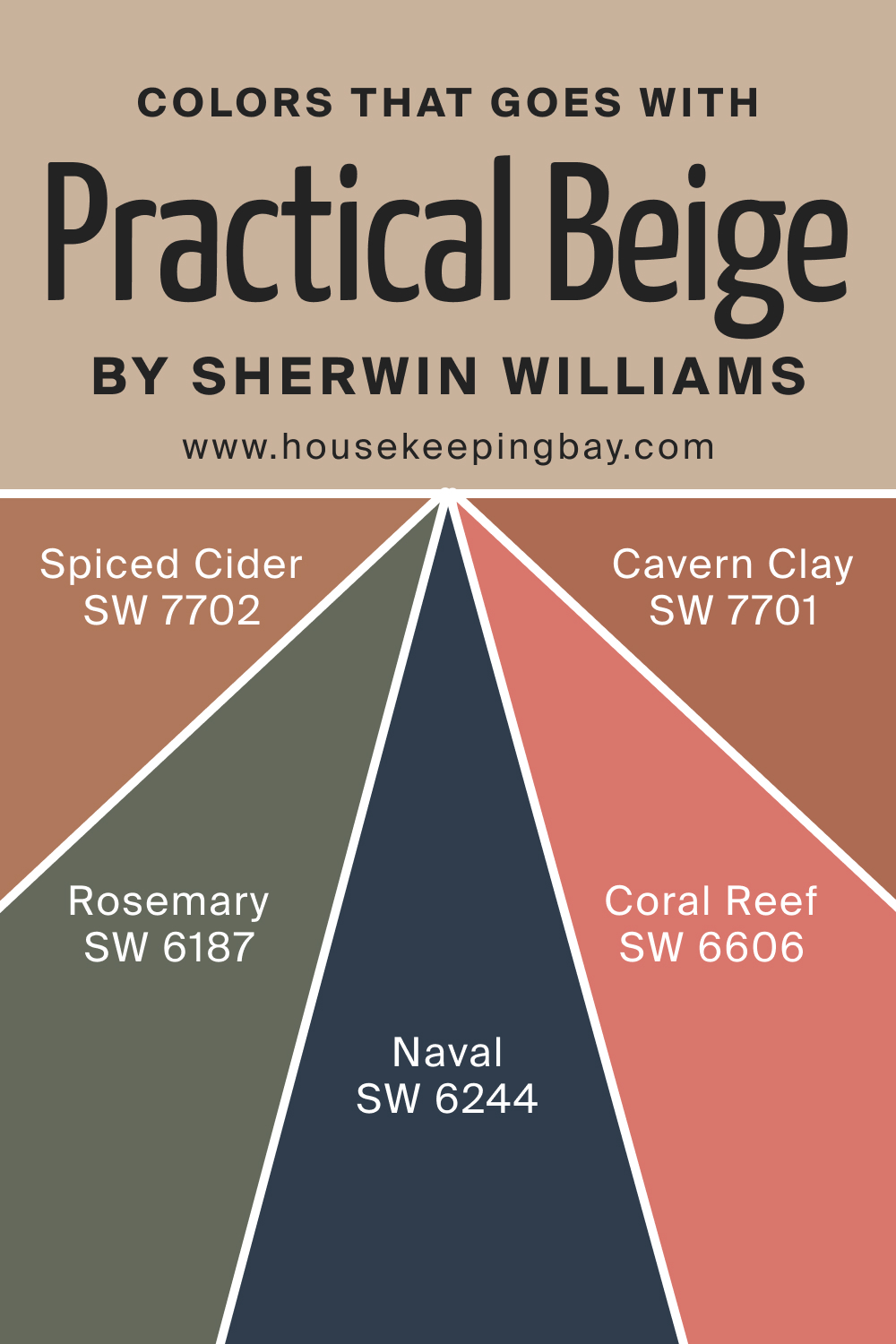 How to Use SW 6100 Practical Beige In Your Home?
This color is pretty versatile and can work in many rooms of your home. Below, we describe how exactly SW Practical Beige may read in different spaces and what effect it will create there.
How to Use SW 6100 Practical Beige in the Bedroom?
SW Practical Beige is an excellent choice for a bedroom due to its warmth and tranquility. In this space, it can create a calming, restful atmosphere that promotes relaxation and sleep.
Pair it with soft, creamy whites for the bedding and curtains to keep the room light and airy. Wooden furniture and accents can further enhance the warm, cozy feeling.
When used in a master suite, SW Practical Beige can serve as a beautiful backdrop for more luxurious elements. Consider pairing it with rich fabrics like velvet or silk in deep jewel tones for a touch of sophistication and glamour.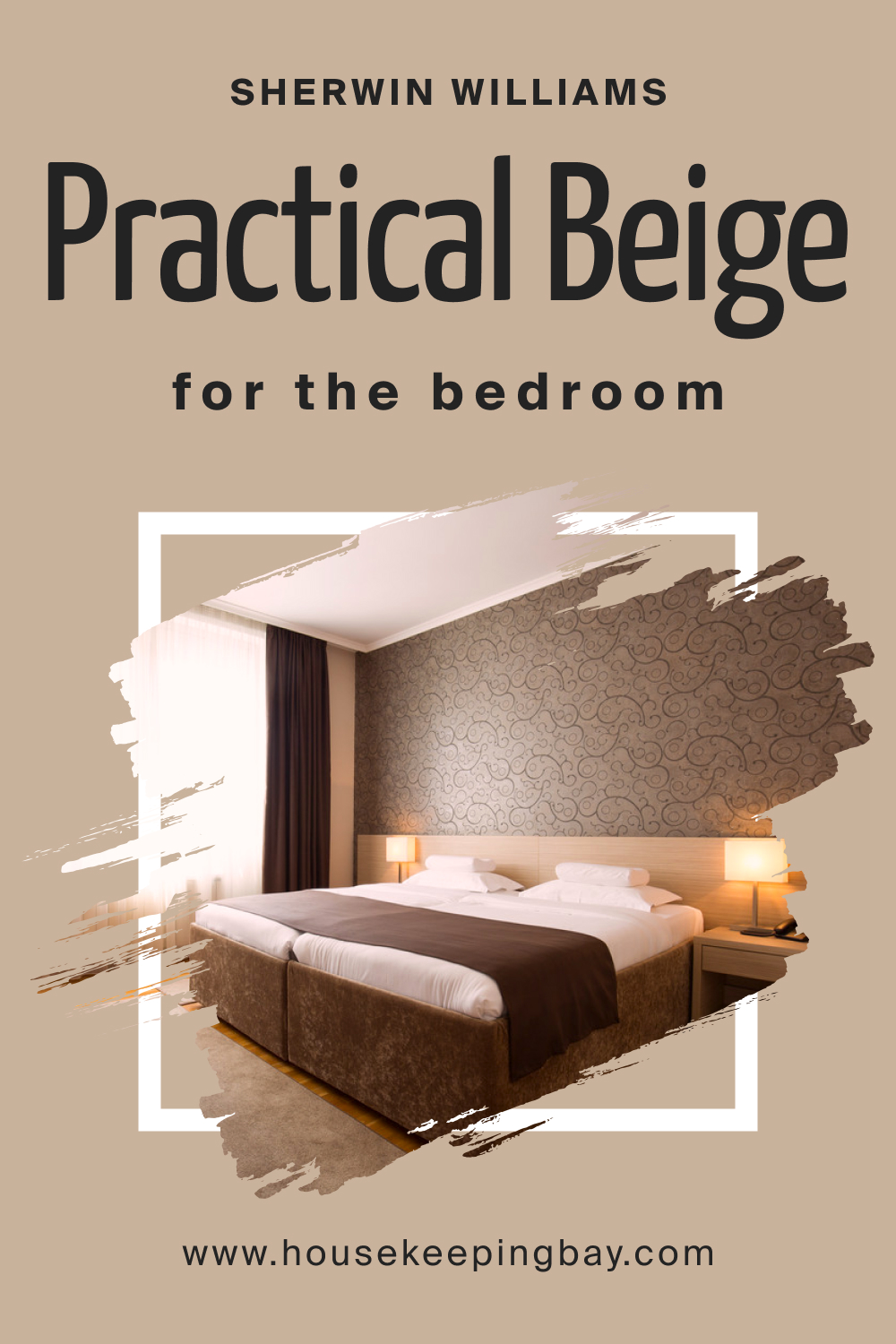 How to Use SW 6100 Practical Beige in the Bathroom?
SW Practical Beige can bring warmth and elegance to a bathroom. It pairs beautifully with white fixtures and fittings, creating a clean, fresh look that's also welcoming.
Consider using tiles or accents in coordinating colors, such as Warm Stone or Coral Rose, to add interest and depth.
In a larger bathroom or en-suite, SW Practical Beige can serve to unify the space. It's the perfect backdrop for a freestanding bathtub or a luxurious shower. Pair it with gold or brass fittings for a touch of opulence, or keep things understated with brushed chrome or nickel.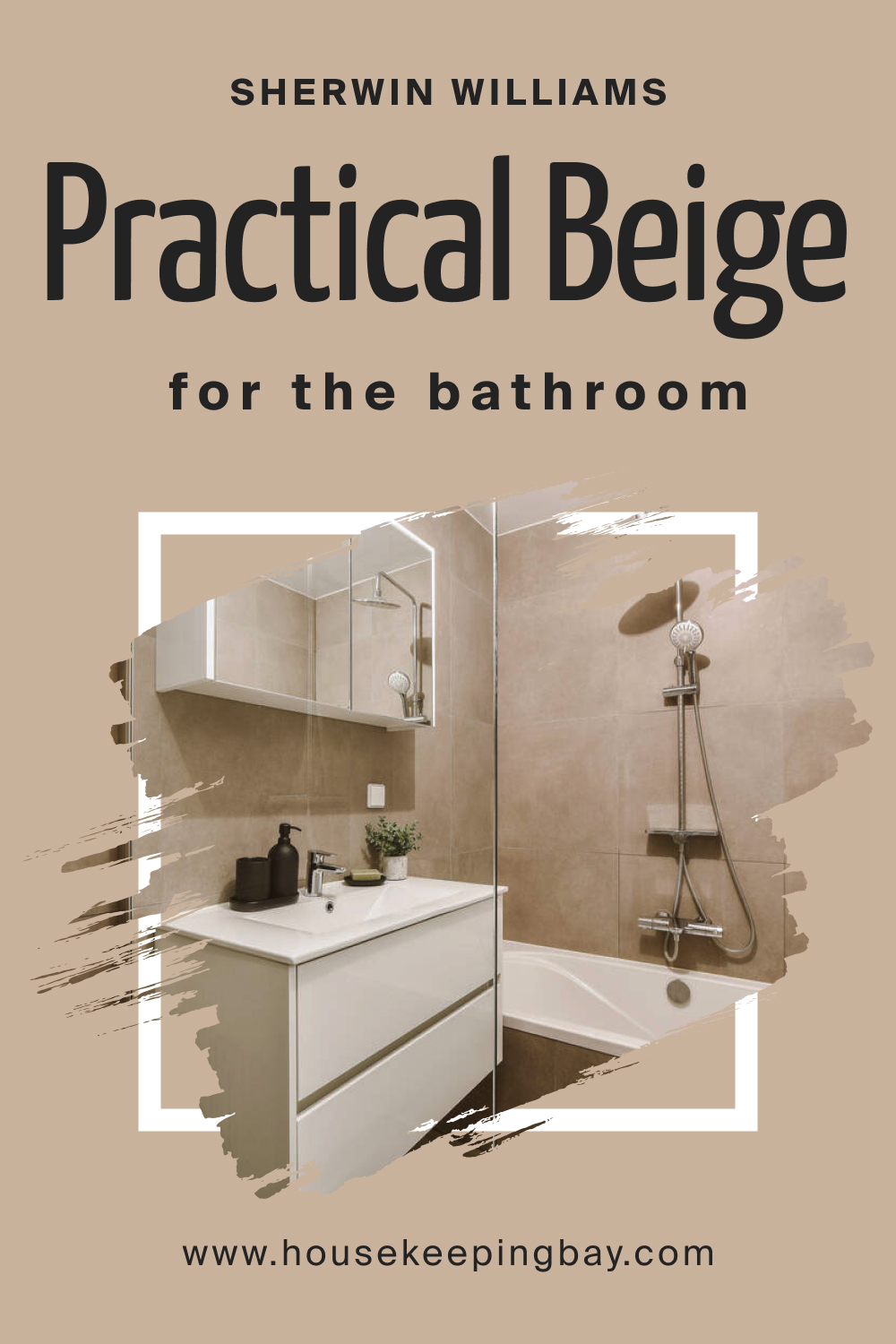 How to Use SW 6100 Practical Beige in the Living Room?
The living room is another area where SW Practical Beige shines. The warm undertones create a welcoming, comfortable ambiance that's perfect for entertaining or relaxing.
Pair it with furniture in a mix of textures – think soft leather, plush upholstery, and sleek wood – to add visual interest and depth. Accents in colors like Coral Rose or Rookwood Dark Green can provide a pop of color.
For a modern look, consider pairing SW Practical Beige with minimalist, contemporary furniture in cooler shades. The contrast will make the warmth of the wall color stand out, creating a stylish, balanced space.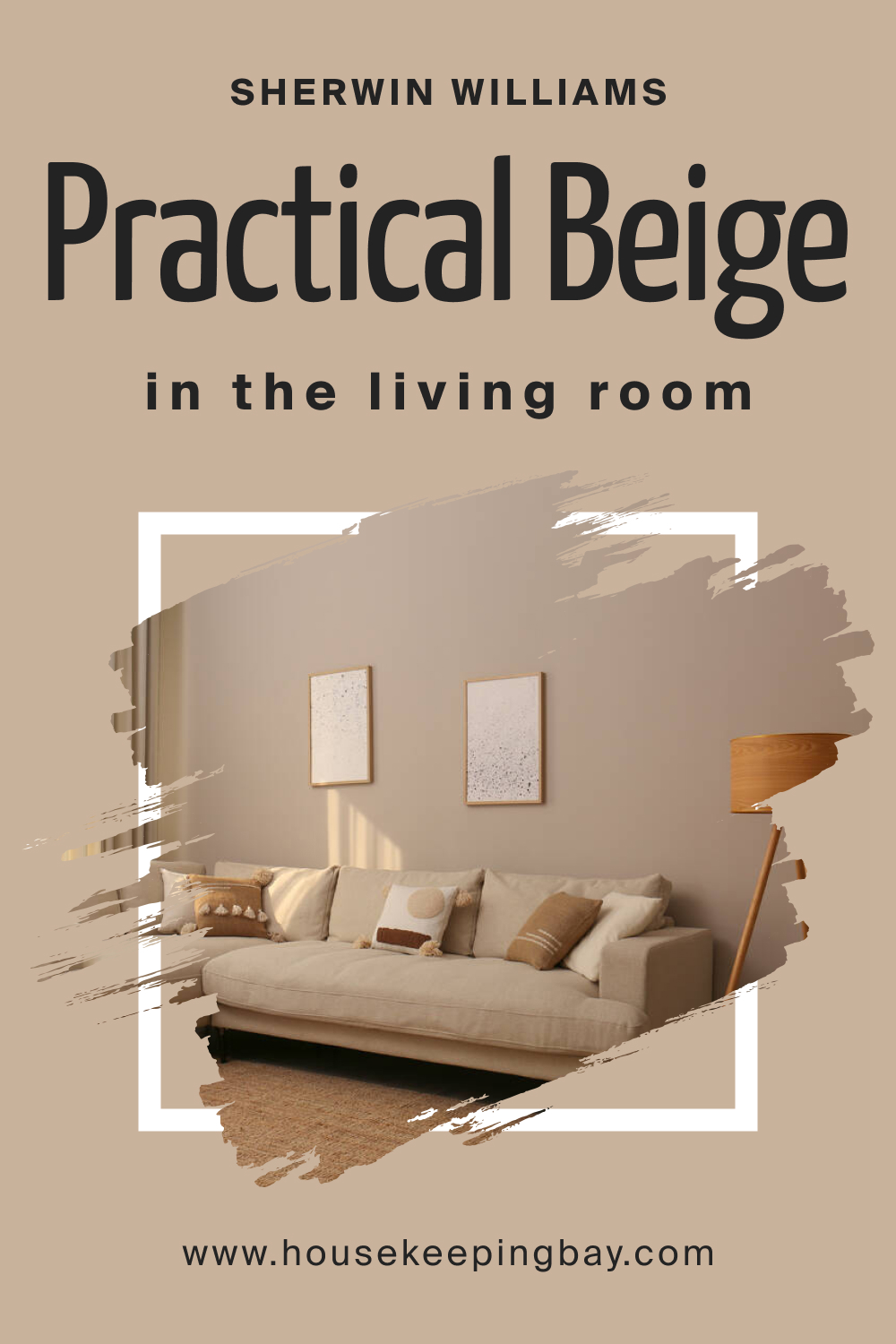 How to Use SW 6100 Practical Beige in the Kitchen?
In a kitchen, SW Practical Beige can contribute to a warm, welcoming environment. It pairs well with a variety of cabinet colors, from rich, dark woods to sleek, modern whites. Consider using it as a backdrop to a beautiful marble or quartz countertop.
Alternatively, pair Practical Beige with a backsplash in a coordinating color like Warm Stone or Wool Skein. This can create a cohesive, harmonious look. Accents in vibrant colors like the Coral Reef color can add a fun, playful touch.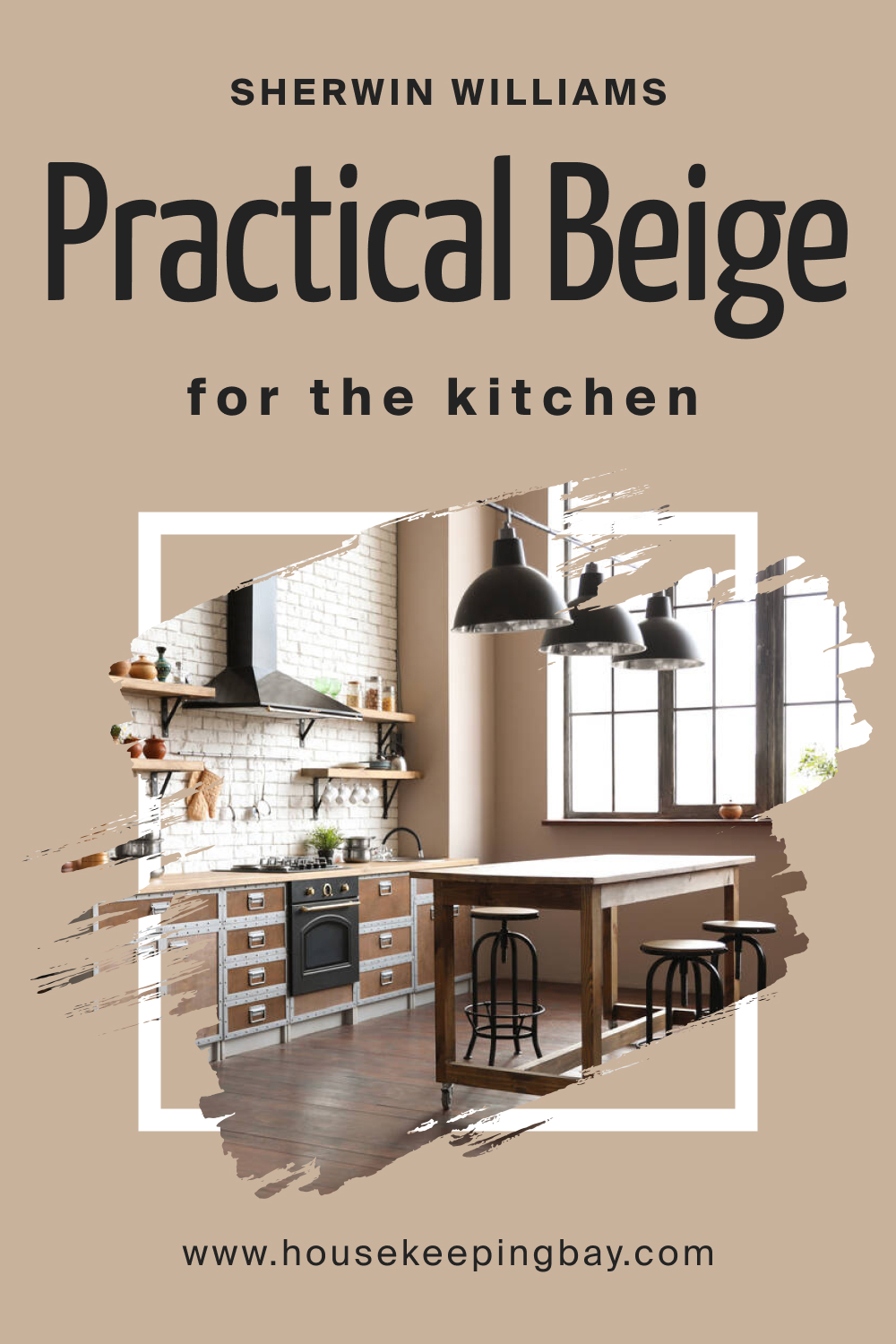 How to Use SW 6100 Practical Beige for an Exterior?
SW Practical Beige is a versatile exterior color as well. It's warm, inviting, and pairs beautifully with a variety of trim colors. Use it on a siding to create a welcoming first impression.
Pair it with trim in Alabaster or Pure White for a classic, timeless look. For something bold, consider Rookwood Dark Green or Naval on the front door. Don't forget about the landscaping – Practical Beige harmonizes well with a variety of natural greens, making it a great backdrop for your garden or yard.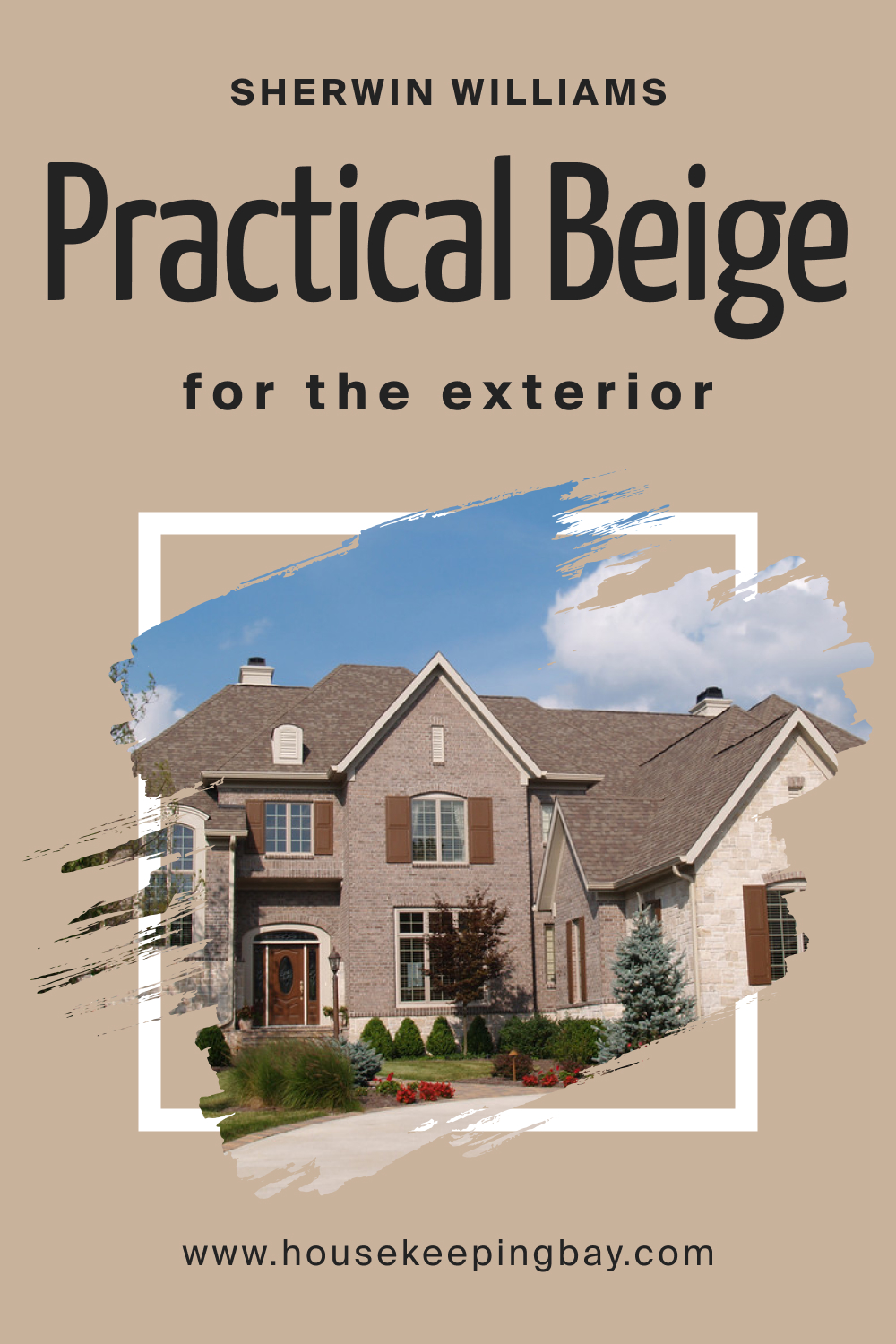 Comparing SW Practical Beige With Other Colors
Below, you can compare SW Practical Beige with several paint colors that have similar or somewhat varied appearances. This will help you better see the smallest distinctions and teach you what to pay attention to when you are choosing between two colors.
SW 6100 Practical Beige vs BM ОC-12 Muslin
Muslin is similar to Practical Beige, but it leans a bit more toward gray. While they're both warm, inviting neutrals, Muslin's gray undertones make it a bit cooler. If you're looking for something more subtle and subdued, Muslin might be the better choice. But if you want a warm, cozy ambiance, Practical Beige is the way to go.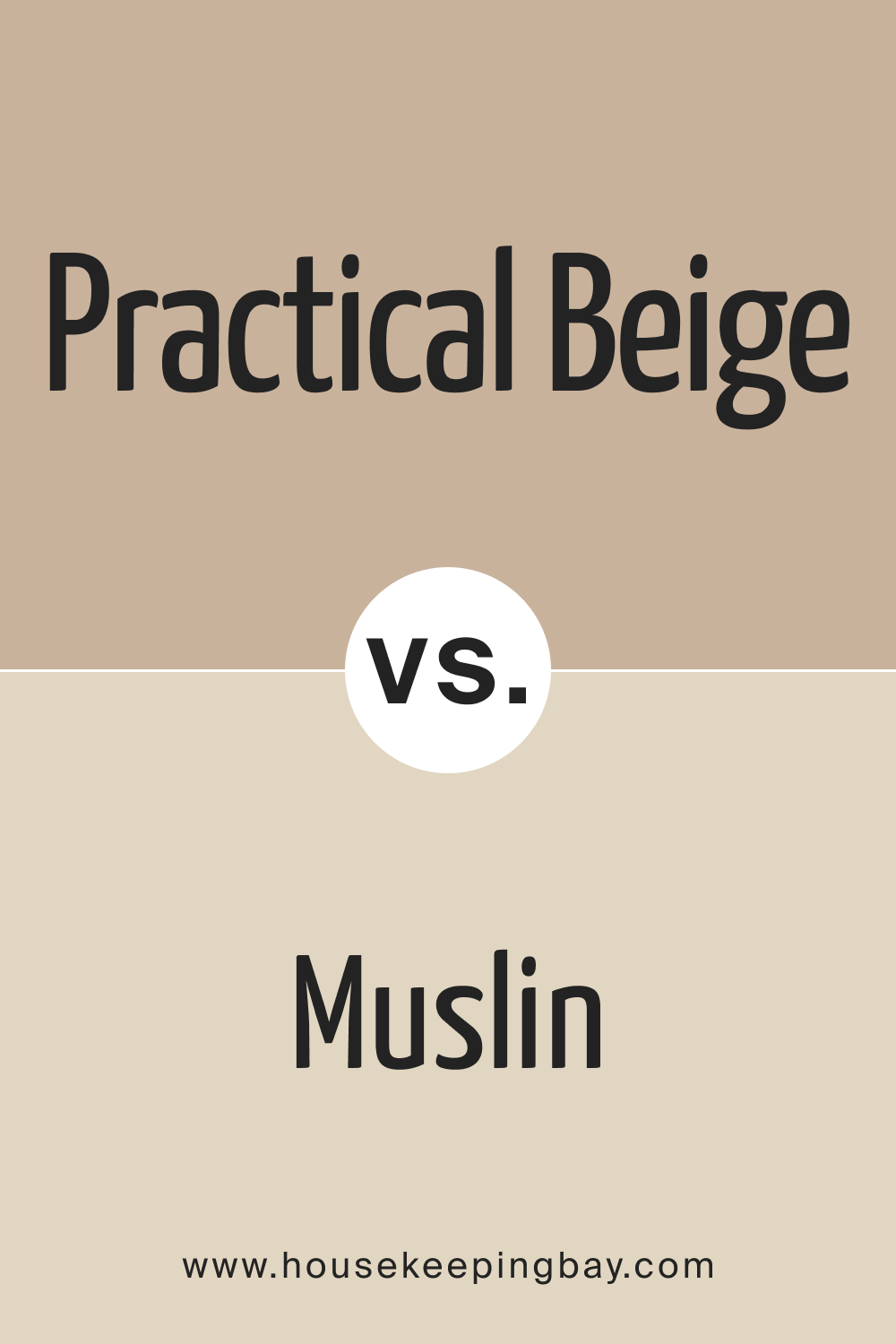 SW 6100 Practical Beige vs SW 7036 Accessible Beige 
Accessible Beige is a bit cooler and lighter than Practical Beige. It also leans more toward gray, making it a more neutral beige. If you're looking for a color that's slightly less warm, Accessible Beige might be a good option. But if you love the warmth and depth of Practical Beige, it's hard to beat.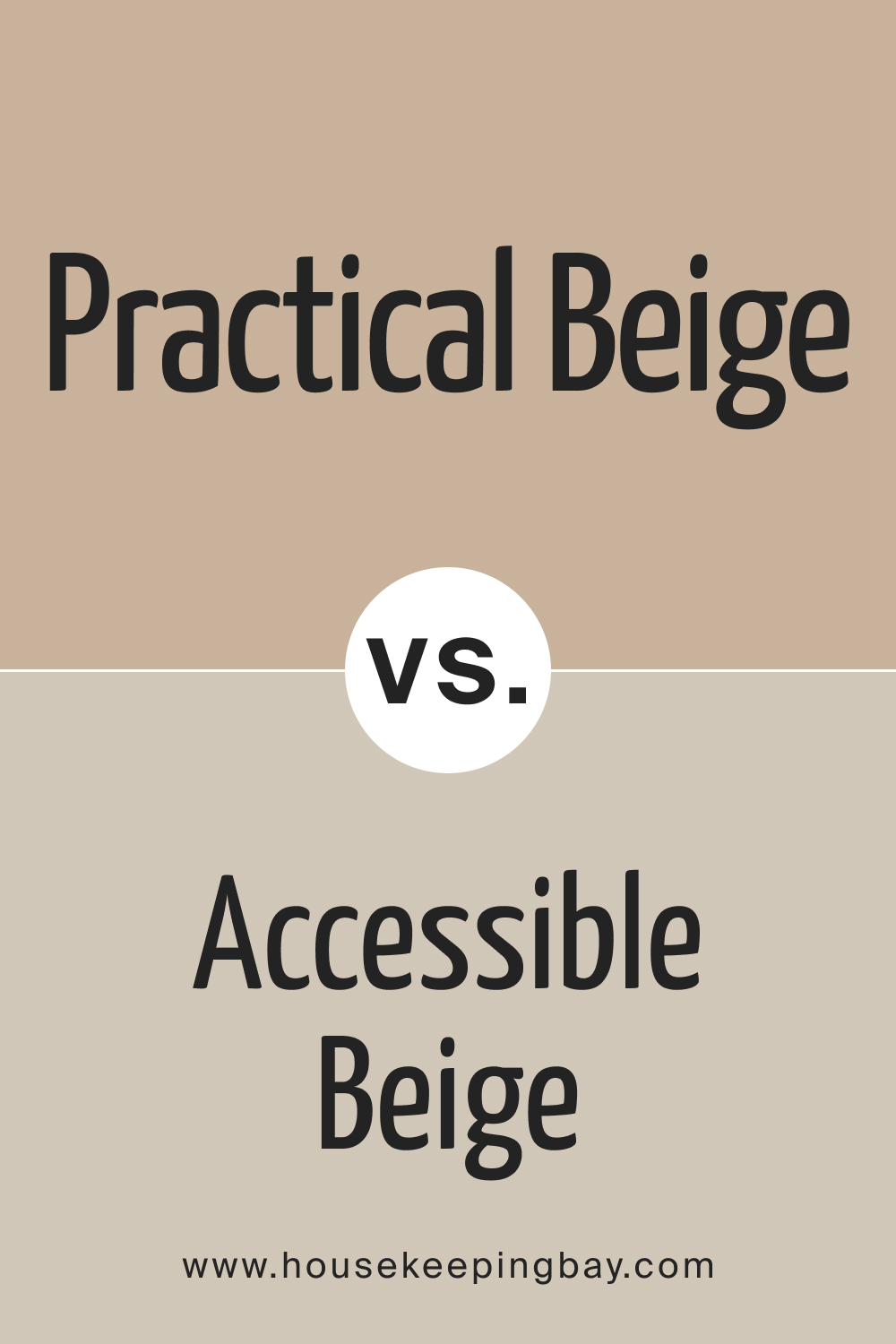 Conclusion
Sherwin-Williams' Practical Beige (SW 6100) is a versatile, warm beige that's perfect for creating a cozy, inviting ambiance. Its depth, richness, and subtle undertones make it a standout choice among neutrals.
Whether you're looking to paint a bedroom, a kitchen, a living room, or an exterior, SW Practical Beige offers a timeless, sophisticated option.
With the right coordinating colors and lighting, it can transform any space into a warm, inviting haven.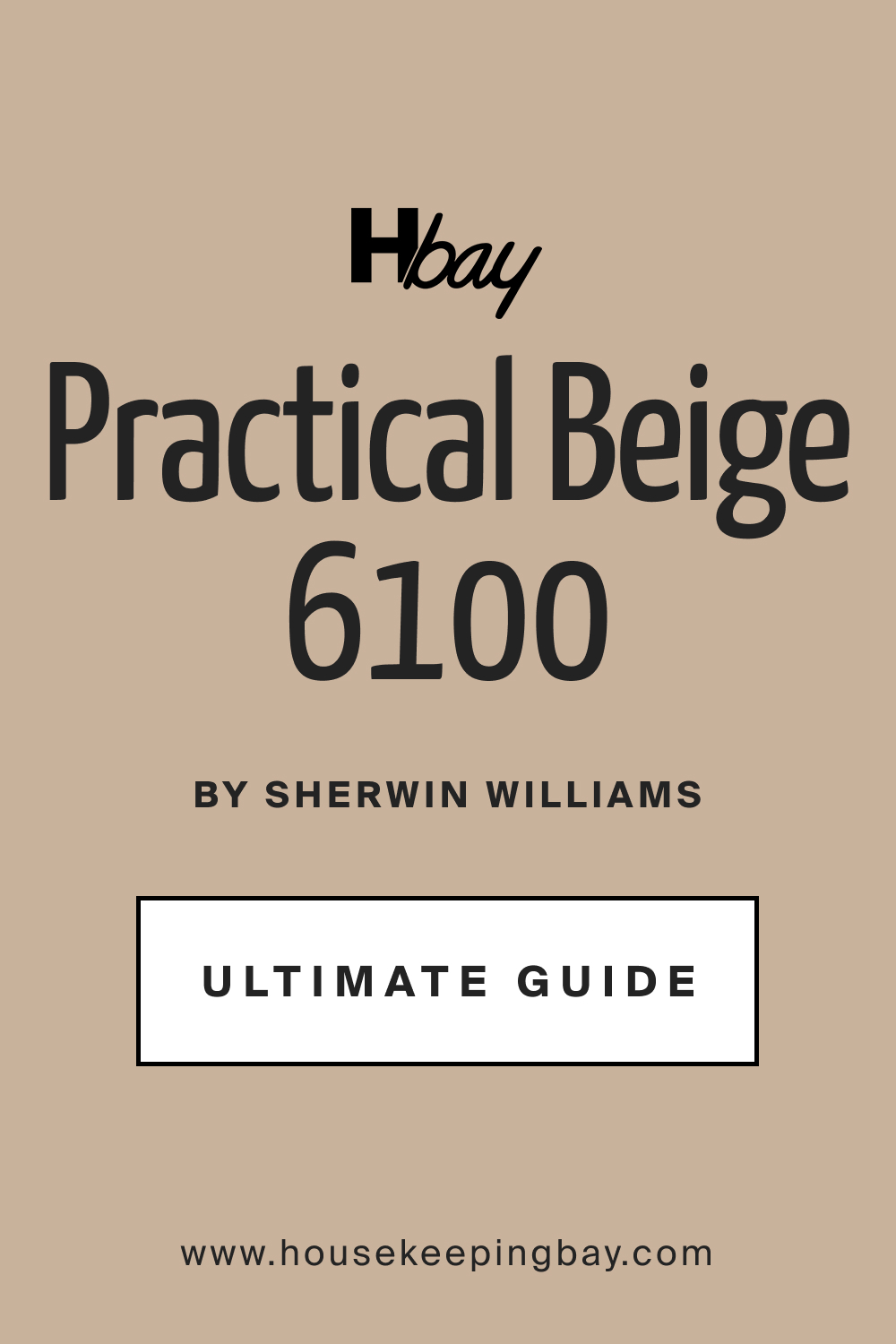 Frequently Asked Questions
⭐What are the undertones present in SW 6100 Practical Beige?
This color has mixed taupe-yellow-brown undertones.
⭐How does the SW 6100 Practical Beige paint color change under various lighting conditions?
SW Practical Beige might look lighter in broad daylight and seem darker in poor lighting conditions.
⭐What types of rooms or settings is SW 6100 Practical Beige best suited for?
This color can work in living rooms, bedrooms, and on exterior walls best of all.