A popular choice among homeowners and interior designers alike, Sherwin Williams' color offerings represent a wide spectrum of hues and shades designed to complement almost any style or mood you'd like to create.
Today we take an in-depth look at one of their unique offerings – SW 9561 Guild Grey, dissecting its undertones, coordinating and trim colors, how it's affected by lighting, its LRV value, and its compatibility with various home spaces and design styles.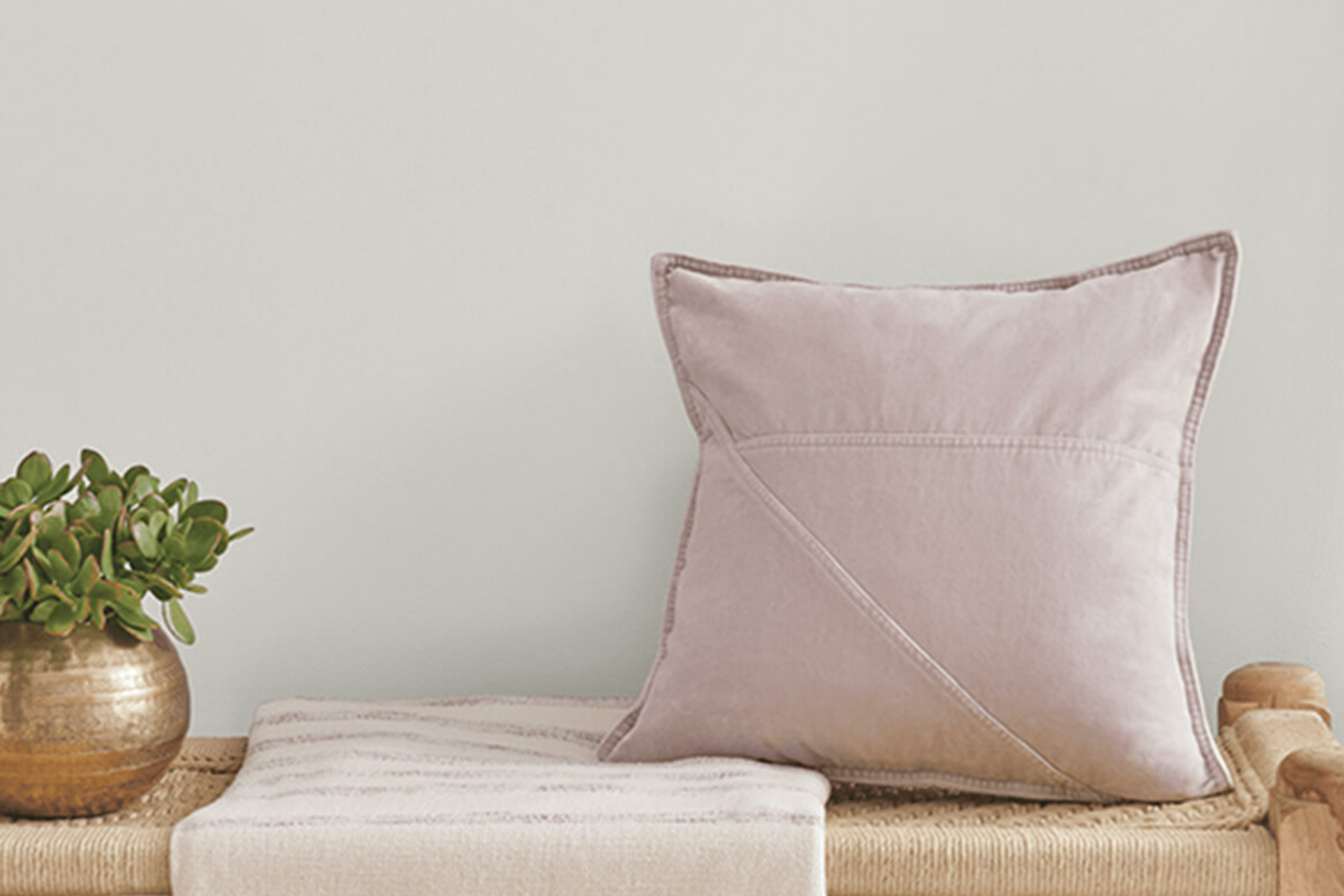 What Color Is SW 9561 Guild Grey?
SW 9561 Guild Grey is a sophisticated mid-tone grey color that commands attention while remaining elegantly subdued. With a richness reminiscent of a guild hall's darkened, antique wood, it brings an air of historic grandeur into modern spaces.
At first glance, this shade might appear purely grey, but with the right lighting and backdrop, subtle blue undertones can come into play, adding a captivating depth to its character.
A step away from traditional neutral greys, SW Guild Grey sets a stage of gravitas and style, a perfect backdrop for highlighting your home's architectural features or your curated collection of artworks.
With a mysterious allure, it invites exploration and promises an experience far from the mundane. Whether you're aiming for a modern minimalist look or a cozy, rustic feel, SW 9561 Guild Grey is a color choice you won't regret.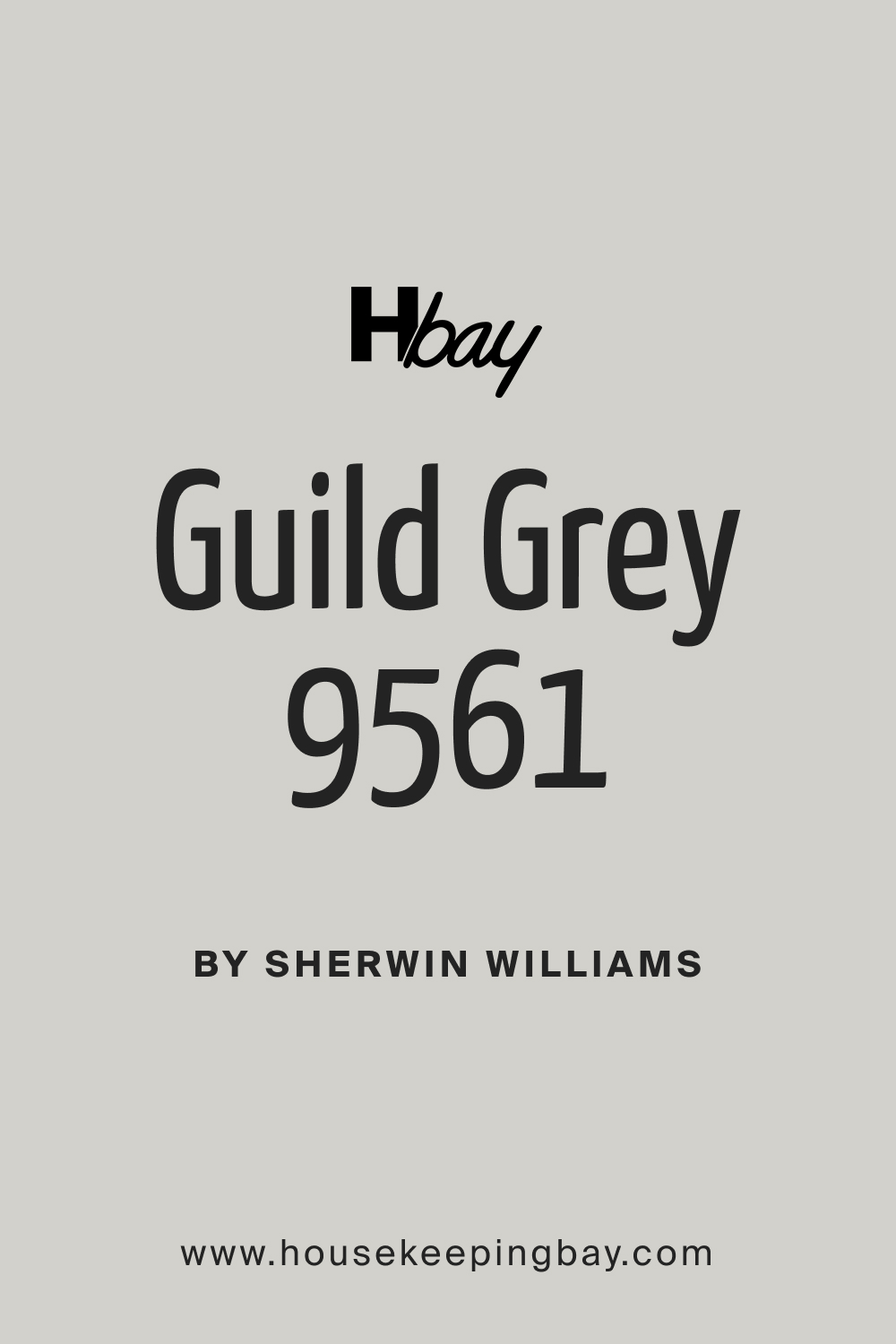 Is It a Warm Or Cool Color?
Given its blue undertones, SW 9561 Guild Grey is considered a cool color. It leans more toward a tranquil, calming mood rather than the vibrant energy that's associated with warm colors.
Undertones of SW 9561 Guild Grey
Guild Grey's undertones are primarily blue. In the realm of color theory, an undertone is a subtle color present underneath the main color that's visible to the eye. This underlying hue plays a significant role in how we perceive the main color, especially in relation to other colors and in varying lighting conditions.
While the blue undertone in Guild Grey may not be immediately noticeable, it adds a layer of depth and coolness that differentiates it from more neutral or warm greys.
The undertone can alter the perception of the color depending on the color palette of the room and the lighting. For example, when placed against warm-toned woods or in a room with plenty of warm, natural light, Guild Grey's cool blue undertones will be more noticeable as a contrasting color.
On the other hand, when paired with cool-toned metals or in a room with soft, cool lighting, Guild Grey may appear more neutral.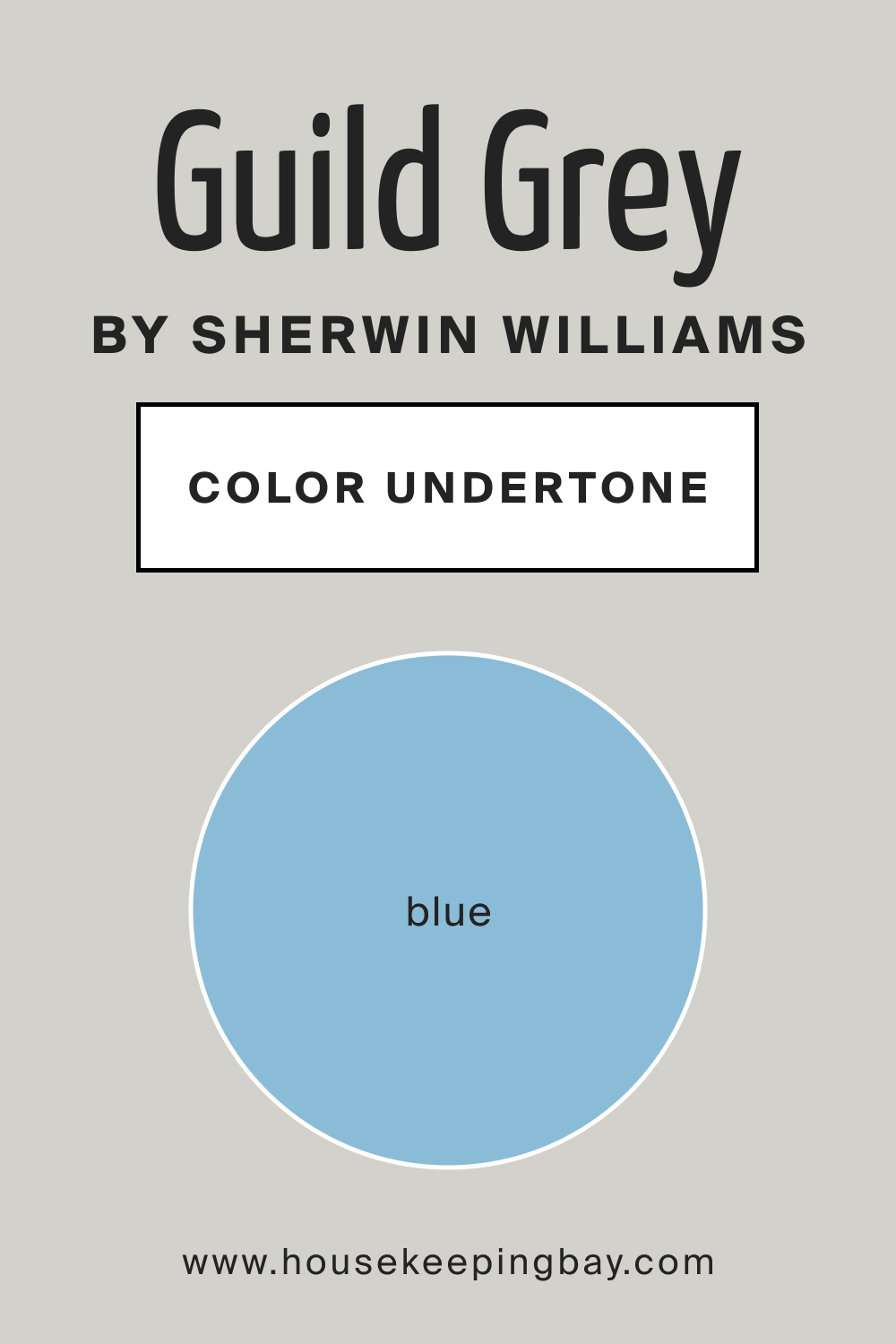 Coordinating Colors of SW 9561 Guild Grey
The process of selecting coordinating colors involves choosing hues that harmonize well with the primary color, complementing and enhancing its characteristics. Here are a few choices that coordinate beautifully with SW 9561 Guild Grey:
SW 7001 Marshmallow: A creamy, off-white shade that serves as a soft, warm contrast to Guild Grey's cool undertones, helping the grey to pop.
SW 6244 Naval: This deep navy blue shares Guild Grey's cool underbelly and adds a touch of drama and depth to the palette.
SW 9173 Shiitake: This warm, mushroom grey balances the coolness of Guild Grey, creating a harmonious, neutral color scheme.
SW 7701 Cavern Clay: This terracotta color brings a warm, earthy contrast to Guild Grey's coolness, perfect for a vibrant yet sophisticated look.
For additional colors, consider the following:
SW 6039 Poised Taupe: A timeless neutral that combines the coolness of grey with the warmth of brown, Poised Taupe can bridge the gap between Guild Grey and warmer tones in your palette.
SW 6258 Tricorn Black: For a dramatic contrast, Tricorn Black can create stunning, modern combinations with Guild Grey.
SW 7036 Accessible Beige: This neutral beige brings a warm, welcoming feel when paired with Guild Grey, perfect for cozy living spaces.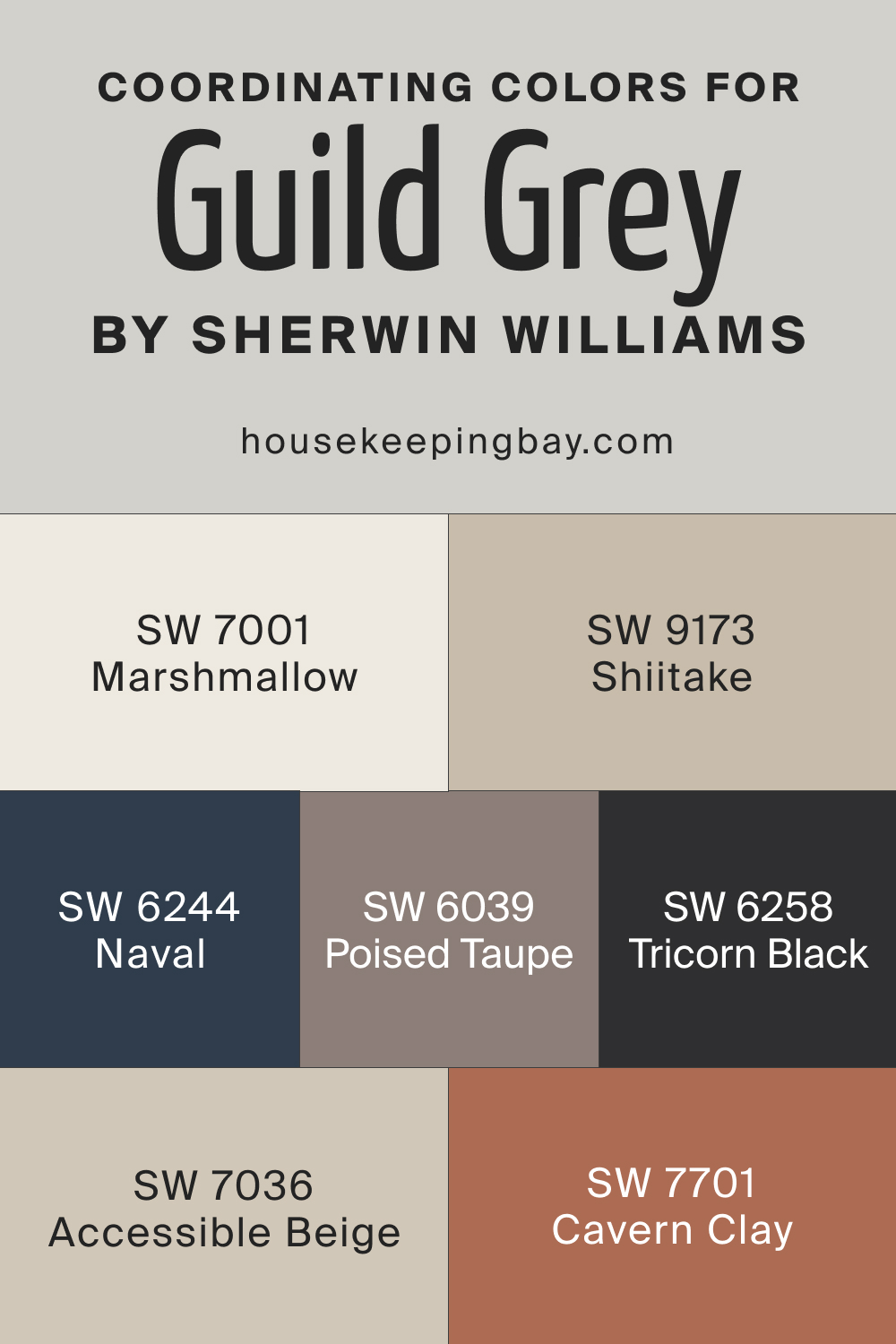 How Does Lighting Affect SW 9561 Guild Grey?
Just like any color, Guild Grey can appear differently under varying lighting conditions. Under bright, natural light, its blue undertones may become more pronounced, and the color could appear lighter than it actually is. In contrast, under soft, artificial light, Guild Grey might look darker and more neutral, as artificial light often subdues cool undertones.
It's always a good idea to observe the paint color at different times of the day and under different lighting situations before finalizing your choice.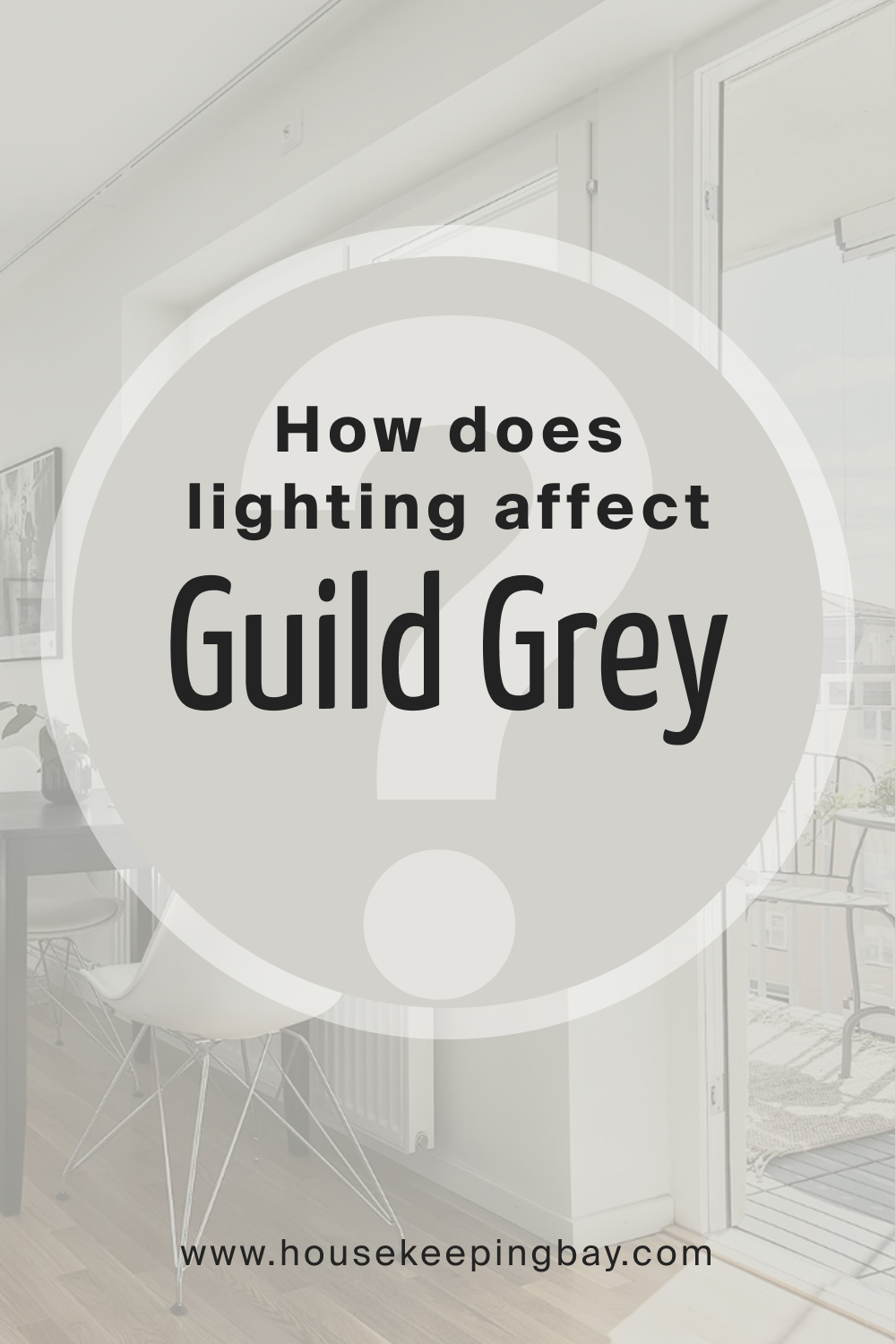 LRV of SW 9561 Guild Grey
The Light Reflectance Value (LRV) of a paint color indicates how much light the color reflects. On a scale of 0 (absolute black, absorbing all light) to 100 (pure white, reflecting all light), SW 9561 Guild Grey scores a 63. This places it firmly in the mid-tone range, meaning it has a good balance between absorption and reflection of light.
Guild Grey's LRV of 63 means it can bring an impressive depth to a room without making it feel too small or dark.
Because it reflects a considerable amount of light, it has a certain liveliness and adaptability to it, making it a great choice for spaces without ample natural light or rooms that need a touch of coziness without the potential oppressiveness of a darker shade.
Furthermore, the LRV of color plays an essential role in creating visual contrasts within a space. High LRV colors are great for highlighting architectural features or creating a sense of spaciousness, while lower LRV colors provide depth and intimacy.
Guild Grey's mid-range LRV offers a balance, making it versatile enough to serve either purpose depending on its application and the colors it's paired with.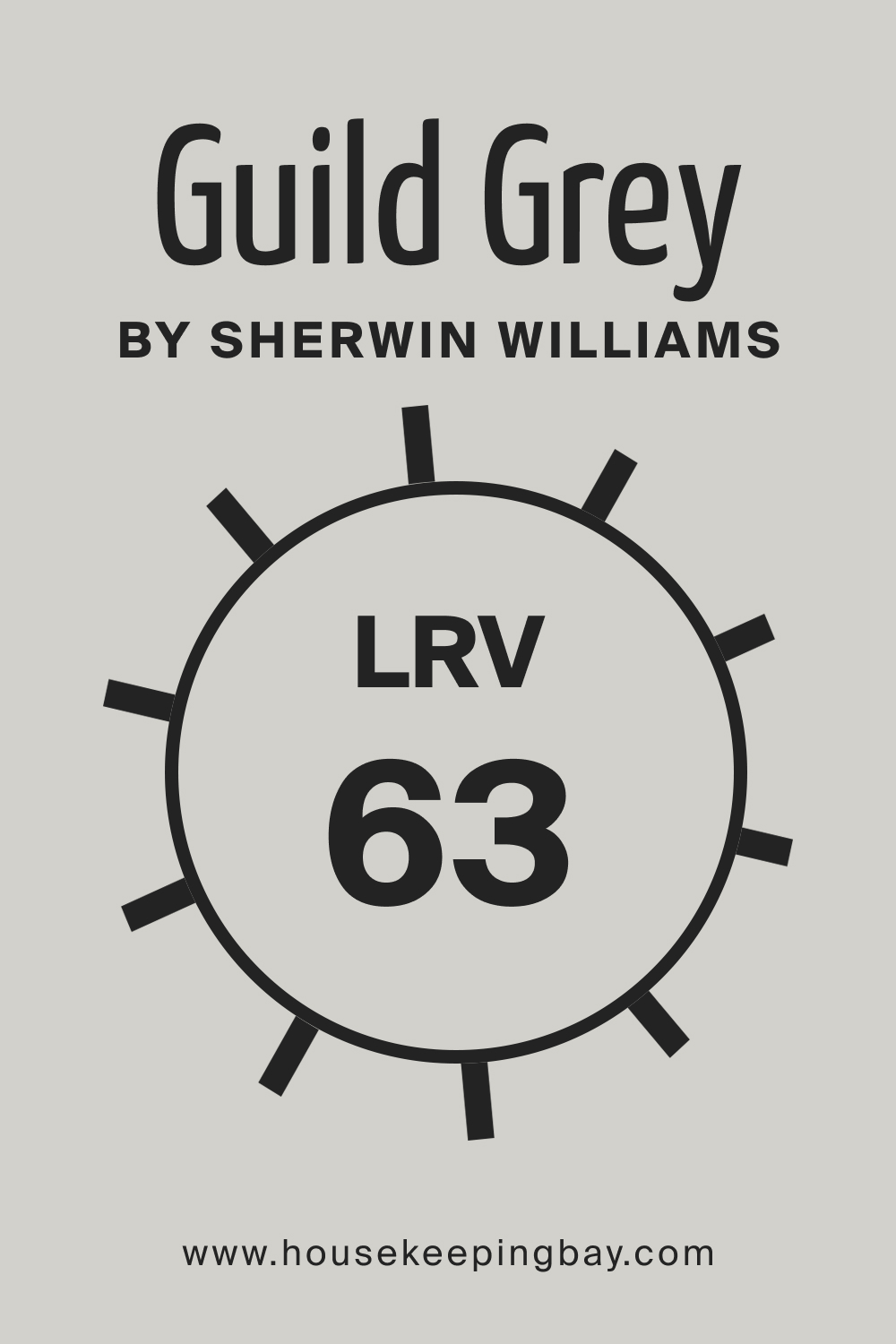 What is LRV? Read It Before You Choose Your Ideal Paint Color
Trim Colors for SW 9561 Guild Grey
When it comes to selecting trim colors, it's vital to choose hues that complement and highlight your wall color. For SW 9561 Guild Grey, consider these Sherwin Williams shades of white:
SW 7005 Pure White: This is a strong, neutral white that works well with any color. Against Guild Grey, it provides a clean, fresh contrast that accentuates the grey's depth.
SW 7011 Natural Choice: With a slightly warmer tone, Natural Choice can soften the coolness of Guild Grey, adding a touch of warmth to the overall palette.
SW 7008 Alabaster: As a popular choice for trim, Alabaster offers a subtle, creamy hue that complements Guild Grey's cool undertones while providing a soft, appealing contrast.
Trim colors create a neat, finished look in a room and frame your wall colors, affecting how they're perceived. A careful selection of trim colors can enhance the visual appeal and create harmony in your color scheme.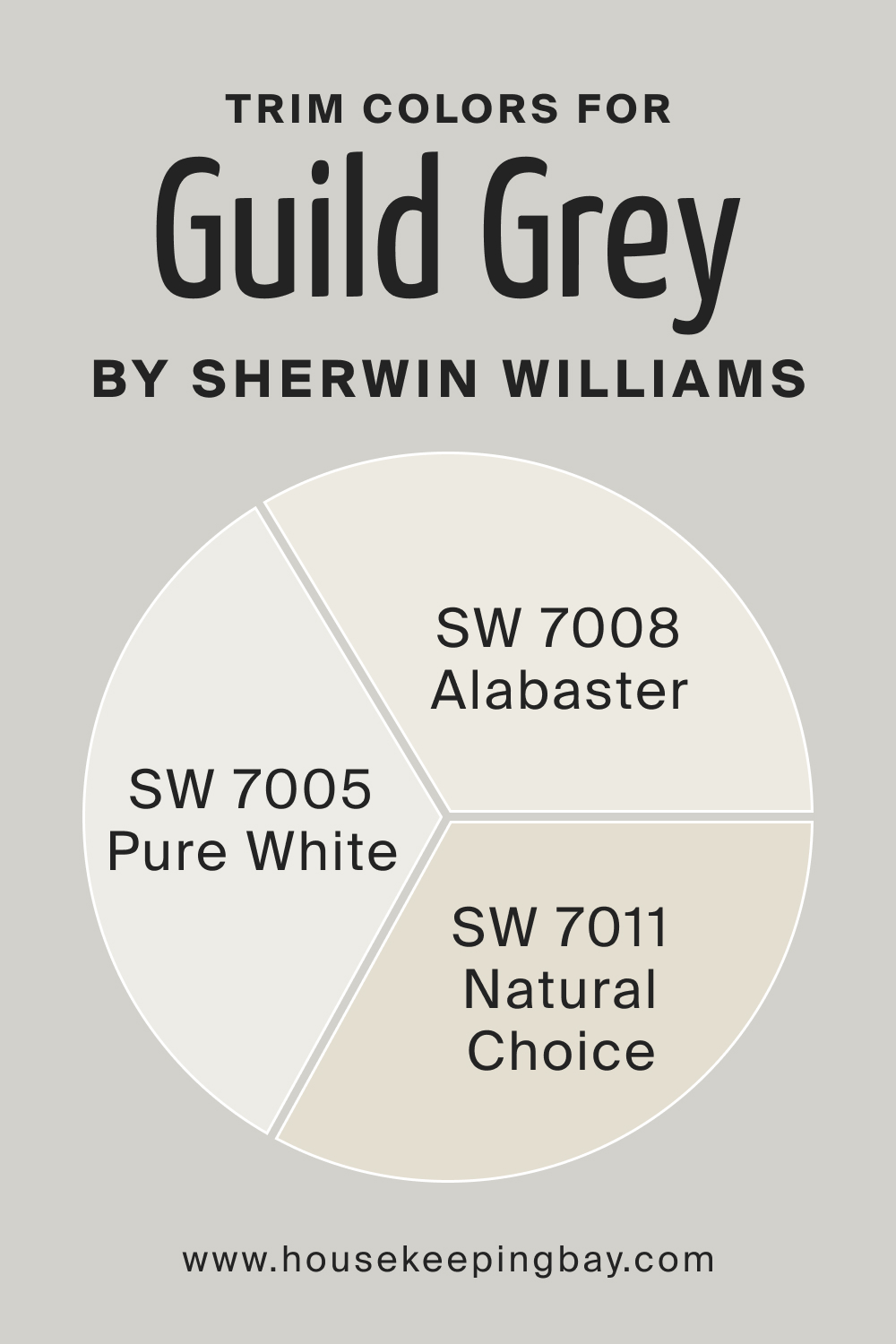 Colors Similar to SW 9561 Guild Grey
Understanding similar colors to your chosen shade can help in decision-making, especially if you're considering various options for different rooms or if your chosen color is out of stock. Here are some colors similar to SW 9561 Guild Grey:
SW 9157 Skipping Rocks: A touch lighter than Guild Grey, Skipping Rocks shares the same cool, blue undertones. It offers a softer look but maintains a sophisticated charm.
BM Barren Plain: This Benjamin Moore color is a subtle, warm grey that offers a more understated, delicate look compared to Guild Grey without sacrificing depth.
Behr Gazebo Gray: This shade is similar to Guild Grey but with slightly more pronounced blue undertones, offering a cool, calming effect.
PPG Ancient Cloud: A neutral grey from PPG, Ancient Cloud shares Guild Grey's adaptability but leans a bit more towards the cooler end of the spectrum.
Valspar Silver Thistle Down: This Valspar color is a lighter, softer grey that carries a hint of blue, offering a similar, though less dramatic, feel to Guild Grey.
However, note that each color from this list will still be more or less different from SW Guild Grey due to the distinctions in undertones and/or LRVs!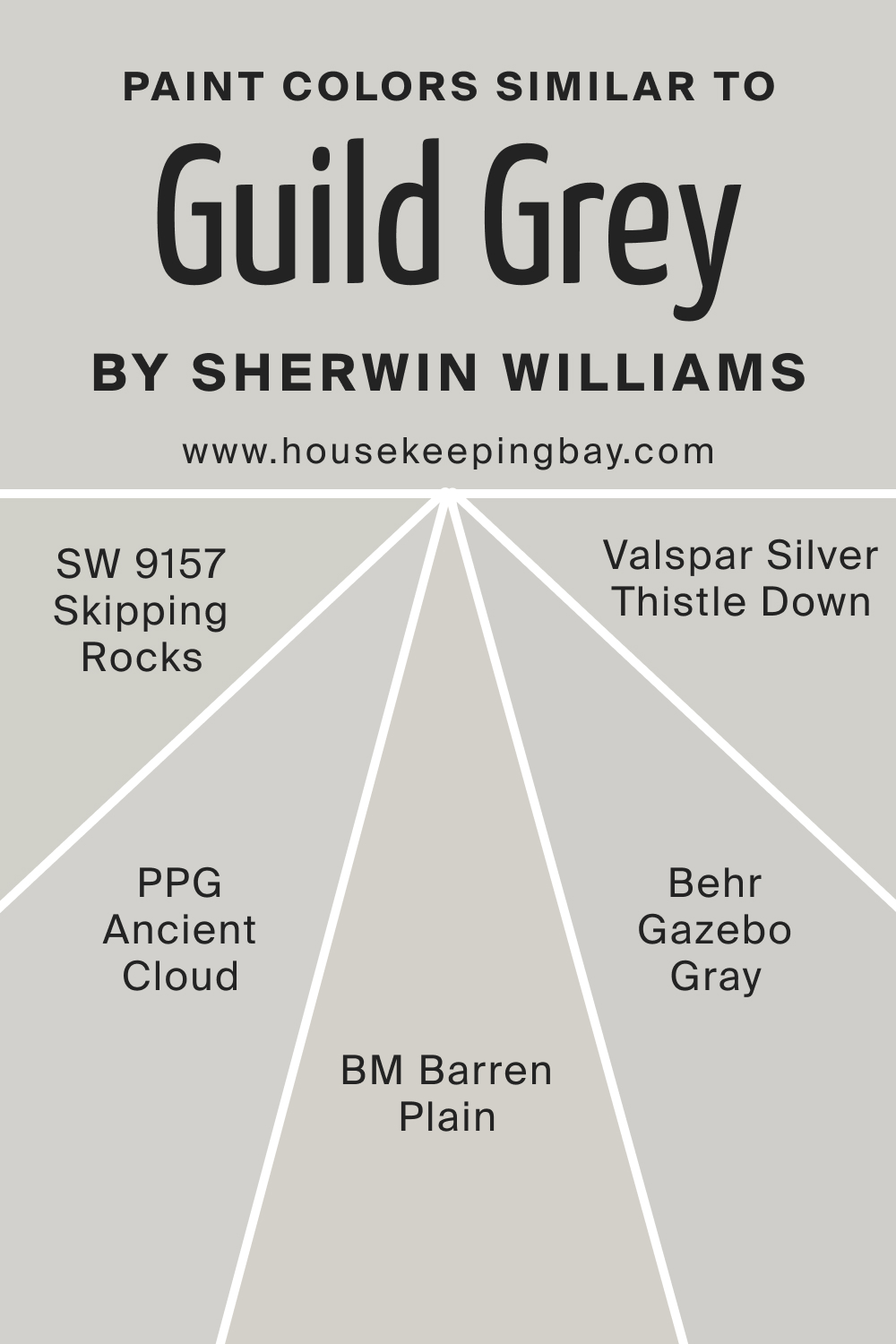 Colors That Go With SW 9561 Guild Grey
Color combinations play a crucial role in interior design, determining the overall mood and aesthetic of your space. Here are some Sherwin Williams colors that work well with SW 9561 Guild Grey:
SW 6172 Hardware: This rich grey-brown adds a rustic touch to Guild Grey's sophisticated coolness.
SW 6994 Greenblack: A deep, almost black green, this color adds an intriguing contrast and earthy depth when paired with Guild Grey.
SW 9174 Moth Wing: This neutral, warm taupe offers a soft balance to Guild Grey's cool tones.
SW 7015 Repose Gray: A light, neutral grey, Repose Gray lightens the mood when paired with Guild Grey, while maintaining the sophisticated, cool palette.
SW 7006 Extra White: For a crisp, clean contrast, Extra White enhances Guild Grey's depth and drama.
SW 6347 Chrysanthemum: This vibrant, warm orange brings an exciting contrast and energy to a room painted with Guild Grey.
Creating a color scheme that involves colors that look good together in the same room is vital in achieving a harmonious and balanced design. A well-planned color palette can enhance the aesthetic appeal of a room and make it feel more cohesive.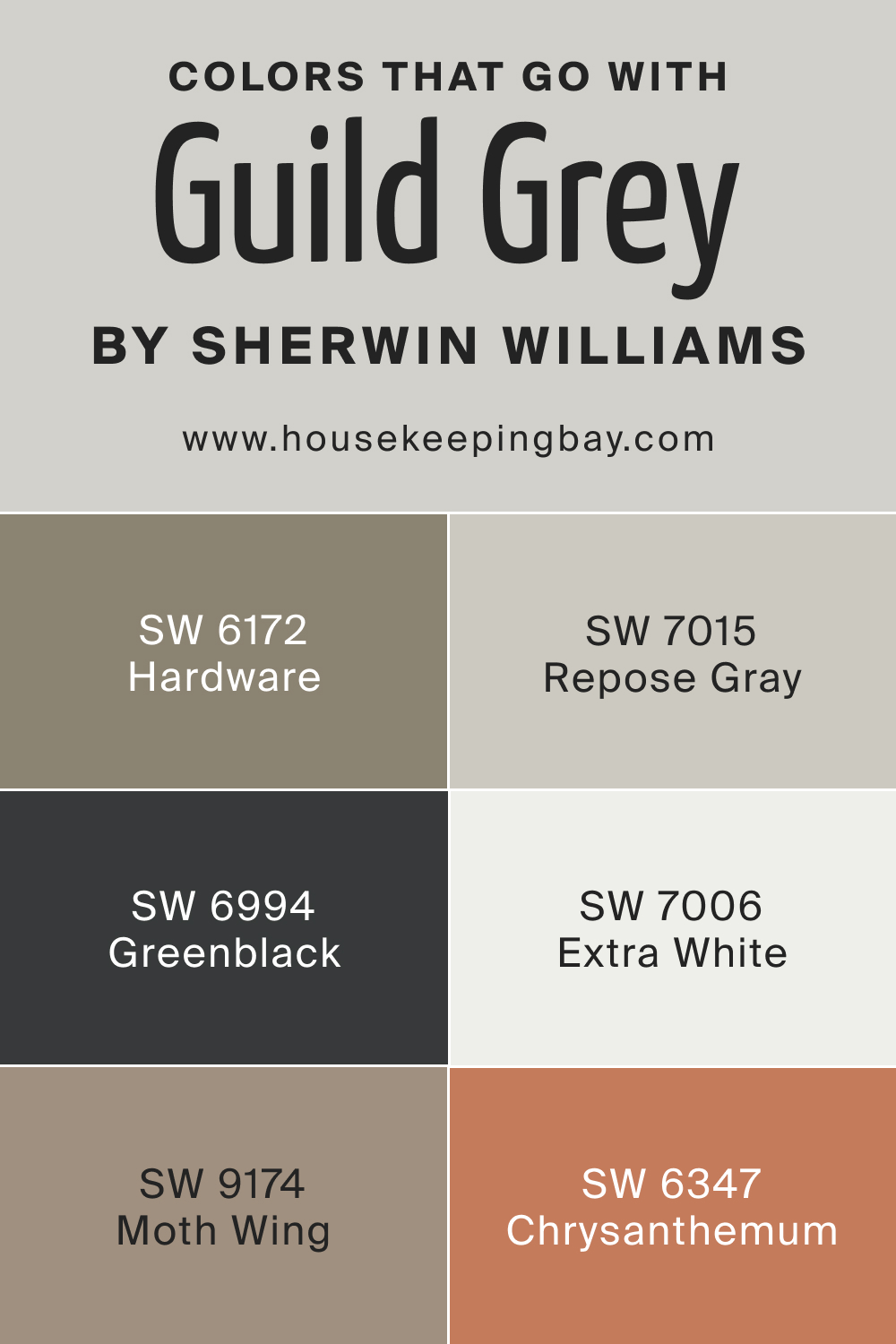 How to Use SW 9561 Guild Grey In Your Home?
The beauty of SW 9561 Guild Grey is its versatility, fitting into a variety of rooms and interior design styles. Whether your style leans towards modern minimalism, classic elegance, or cozy rustic, Guild Grey can adapt and bring in its unique charm.
SW 9561 Guild Grey In the Bedroom
The calming coolness of Guild Grey makes it a perfect choice for bedrooms. Its mid-tone depth creates an intimate atmosphere without being too overwhelming, offering a serene backdrop for relaxation and sleep. Pair it with crisp white trims and soft, neutral linens for a clean, modern look, or with darker, richer colors for a more dramatic, cozy feel.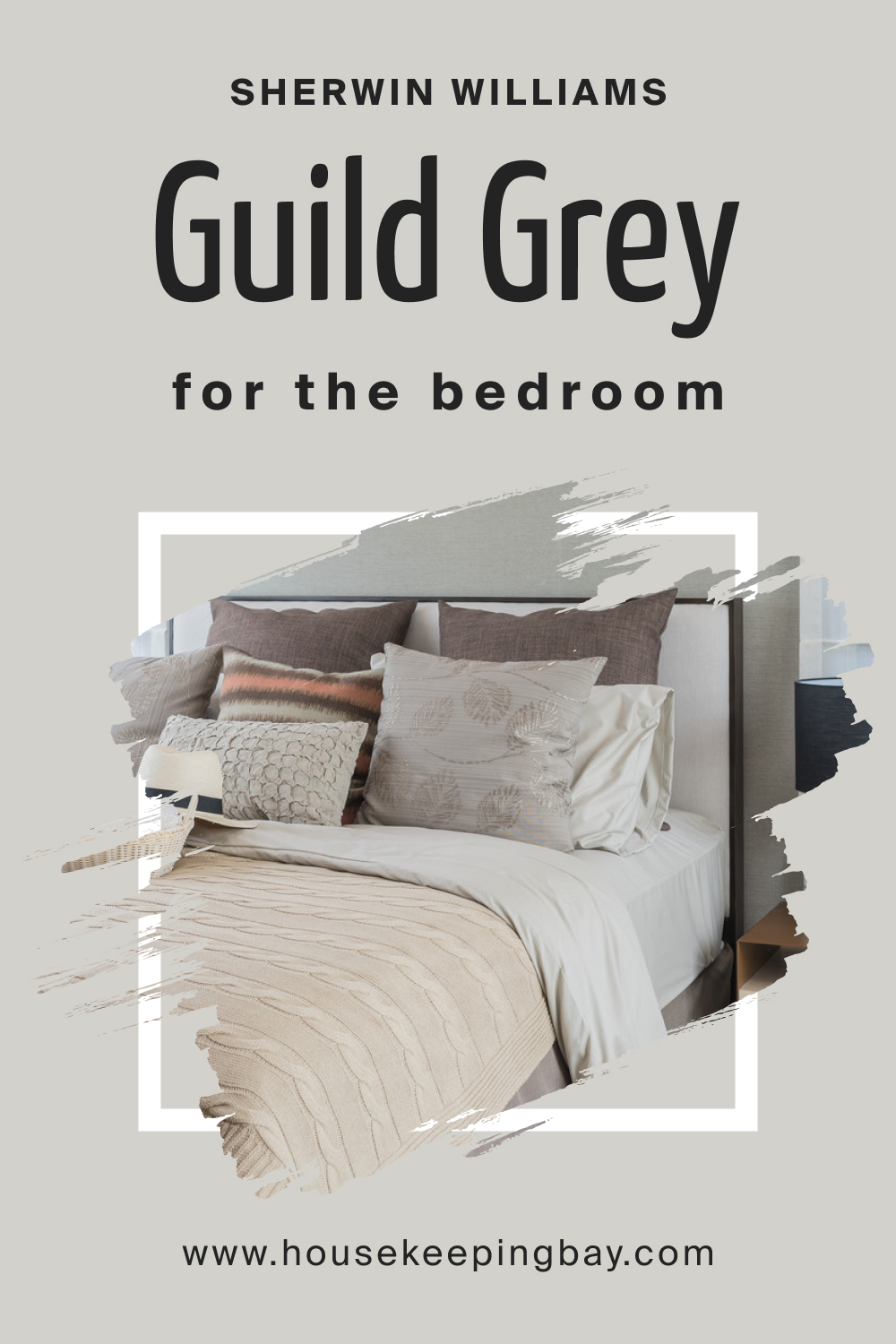 SW 9561 Guild Grey In the Bathroom
In the bathroom, Guild Grey can bring a touch of sophistication. It works well with white fixtures for a clean, fresh look, or you can pair it with brushed nickel or chrome finishes to highlight its cool undertones. Consider using it as a base color, and add pops of color through towels, bath mats, and decor.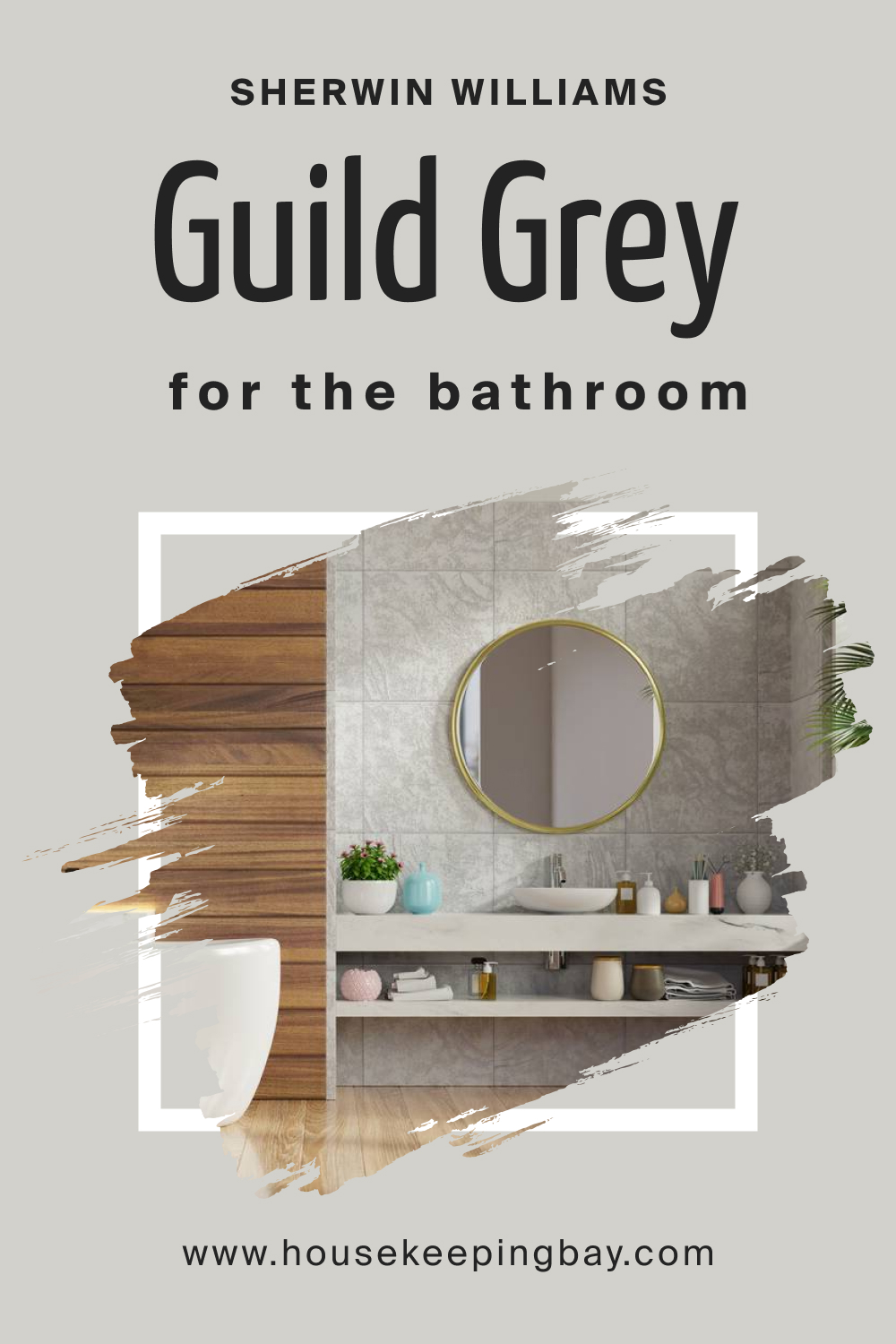 SW 9561 Guild Grey In the Living Room
For living rooms, Guild Grey sets a cool, serene mood that's perfect for lounging and entertaining. Its versatility allows it to pair well with both warm and cool accents, whether it's a warm, natural wood coffee table or cool-toned metal light fixtures. Accent walls in a deeper hue, like SW Naval, can add a touch of drama.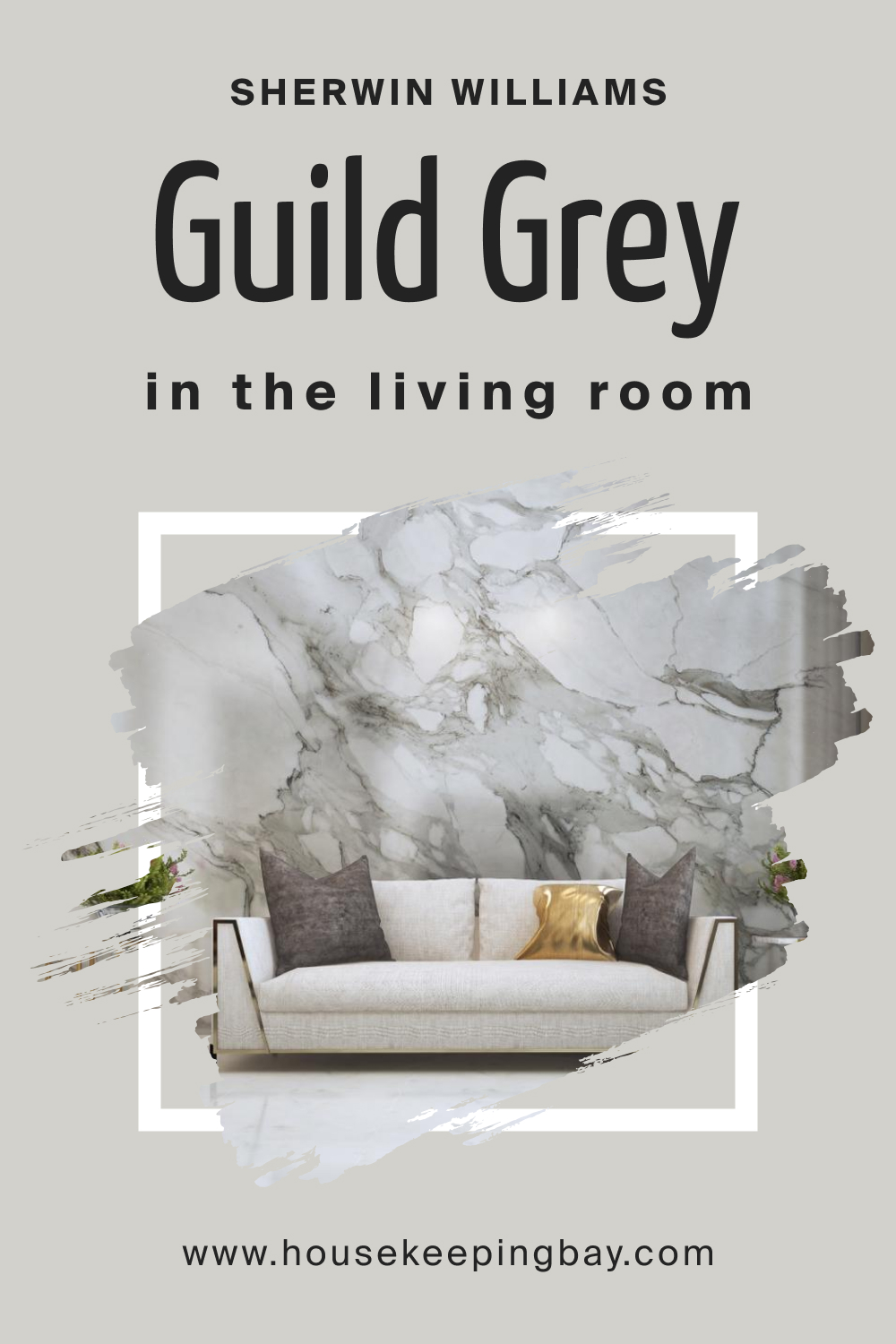 SW 9561 Guild Grey For the Exterior
On exteriors, Guild Grey creates a timeless, elegant facade. Pair it with crisp white trims for a classic look or with darker accents for a more modern feel. The color is adaptable to various architectural styles, from traditional to contemporary.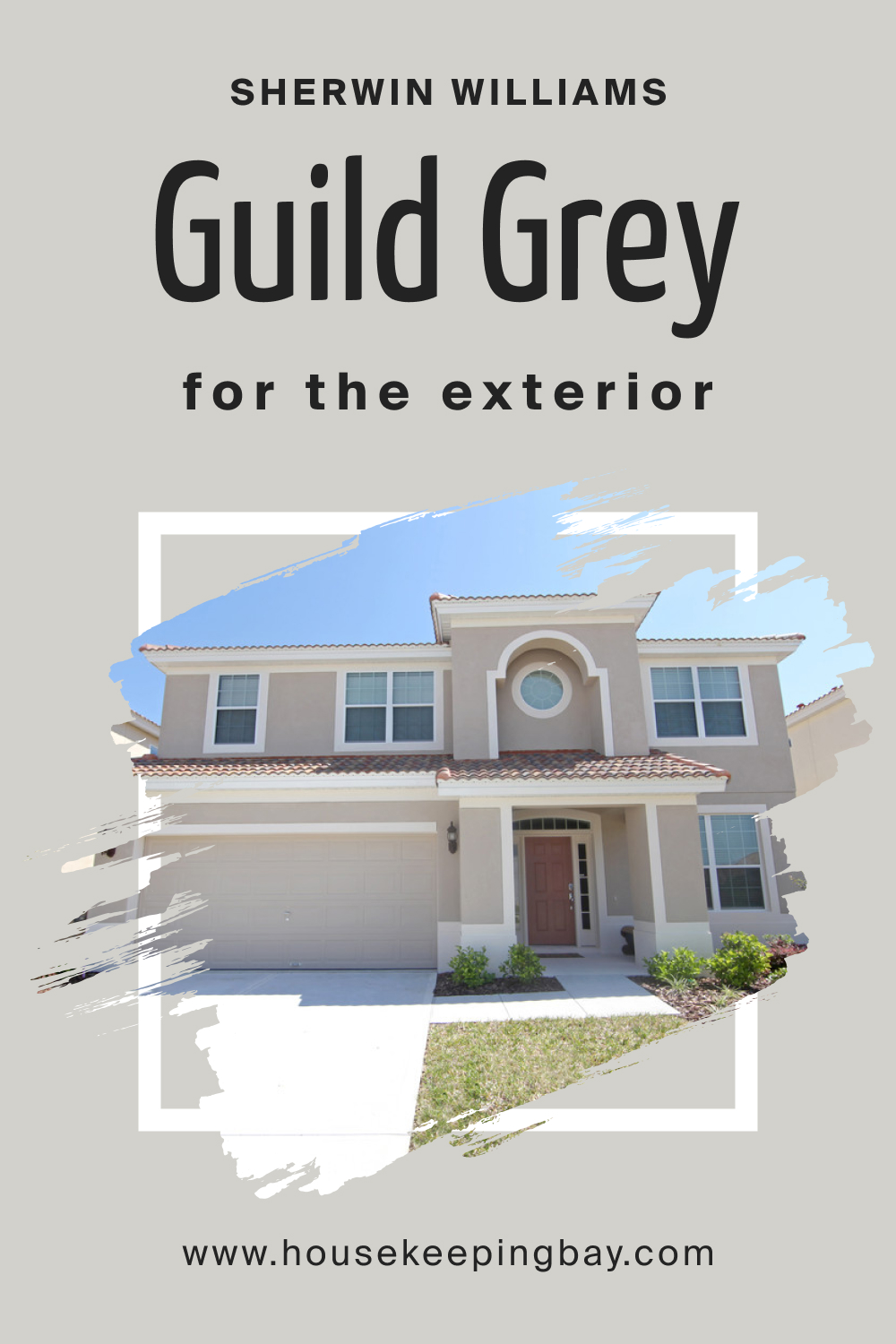 SW 9561 Guild Grey In the Kitchen
Guild Grey in the kitchen can create a sleek, modern vibe, especially when paired with stainless steel appliances. For a warmer look, consider wooden cabinets or countertops. This color also pairs well with a variety of backsplash colors and materials, from white subway tiles to marble.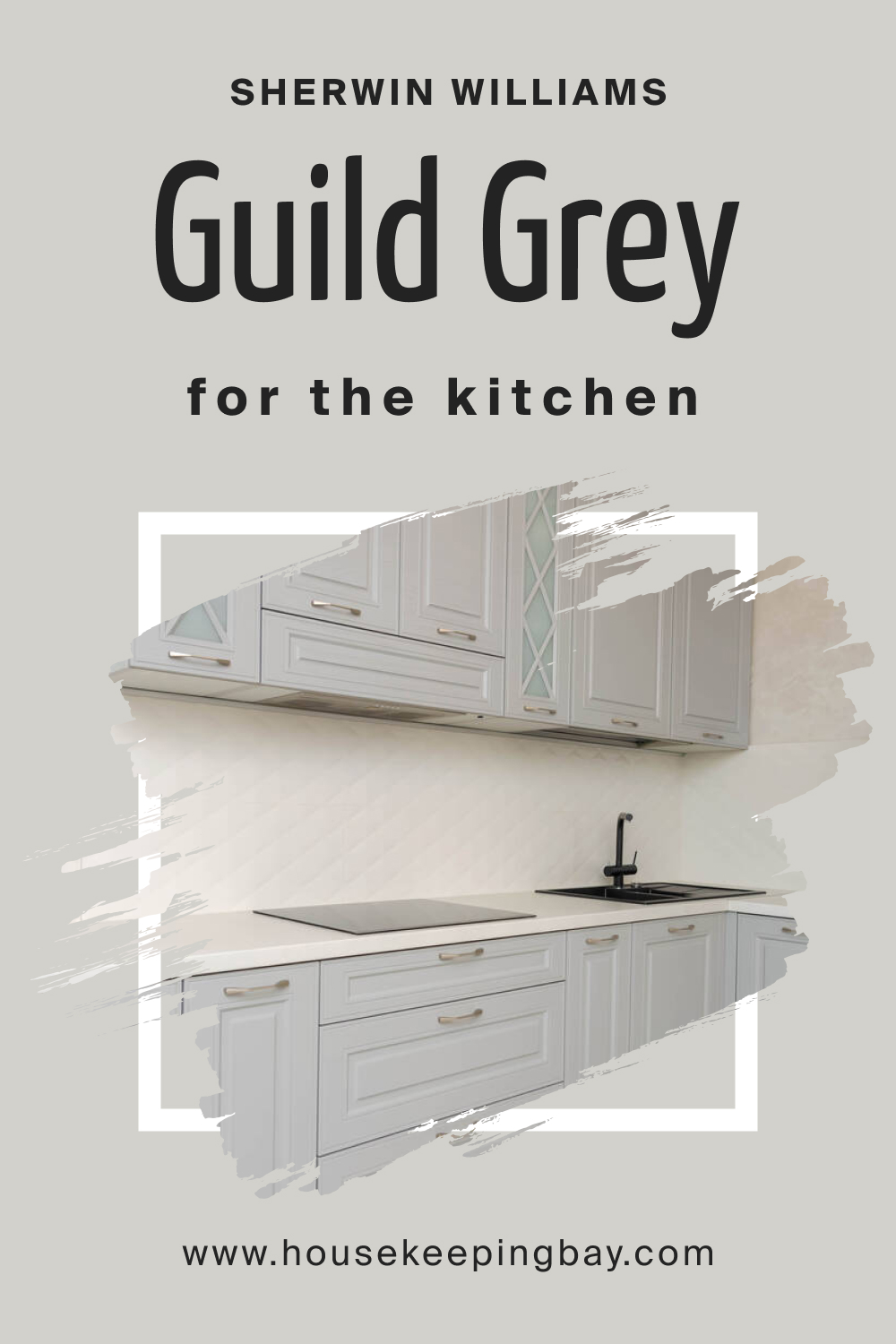 SW 9561 Guild Grey For Kitchen Cabinets
If you want to add a touch of elegance to your kitchen, consider Guild Grey for your kitchen cabinets. This color is a trendy choice for cabinets, adding depth and sophistication without overwhelming the space. It pairs beautifully with marble or butcher block countertops and can work with both brass and silver hardware.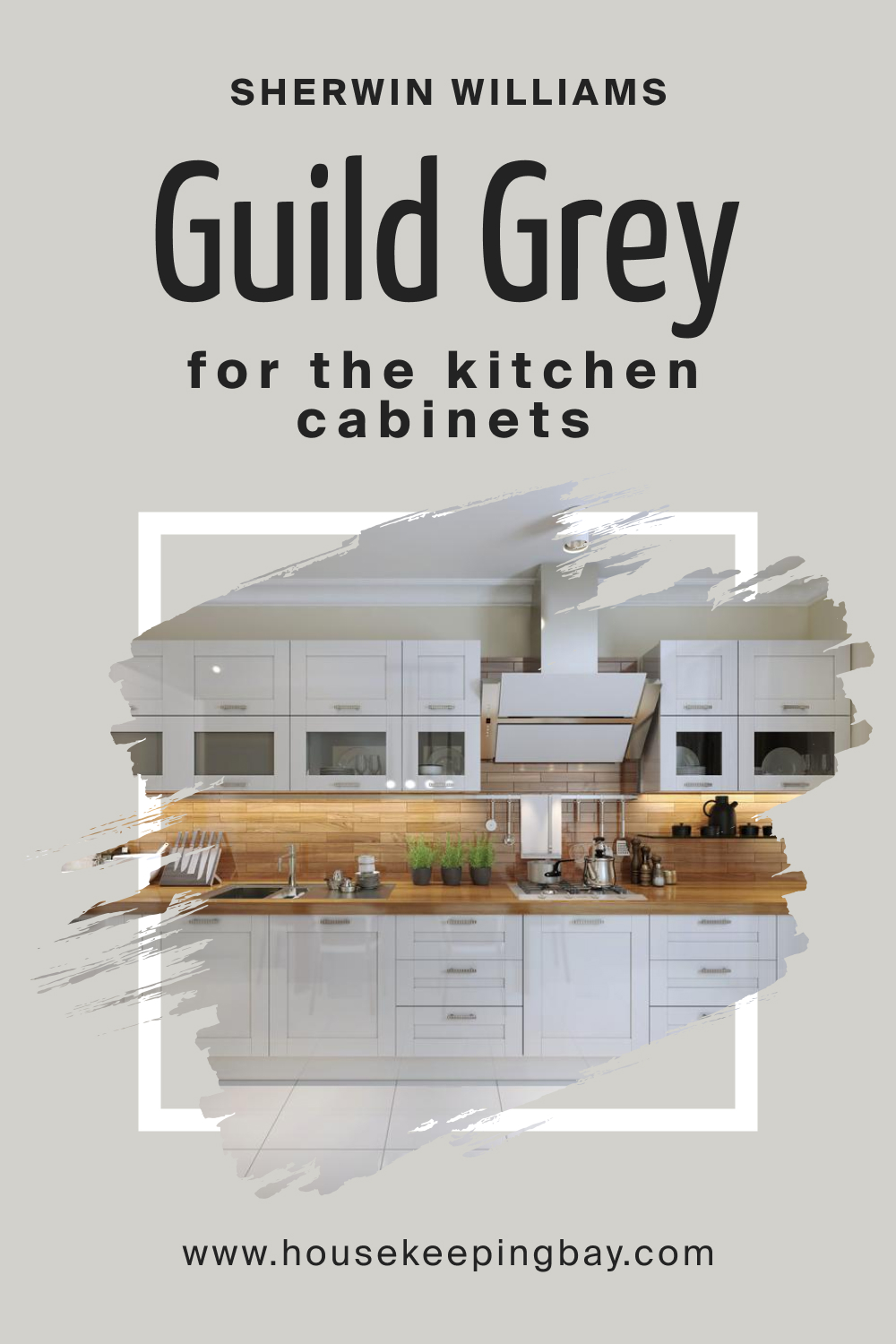 Comparing SW 9561 Guild Grey With Other Colors
Comparing Guild Grey with other colors can help you determine its compatibility with your existing decor, assess its suitability for your intended mood or style, and inspire new color palette ideas.
SW 9561 Guild Grey vs. SW Mercurial
SW Mercurial is a medium-dark grey with strong cool undertones. While both colors share a coolness, Mercurial is noticeably darker and cooler than Guild Grey. The latter's mid-tone depth offers more versatility and warmth, making it a more adaptable choice for various spaces and styles.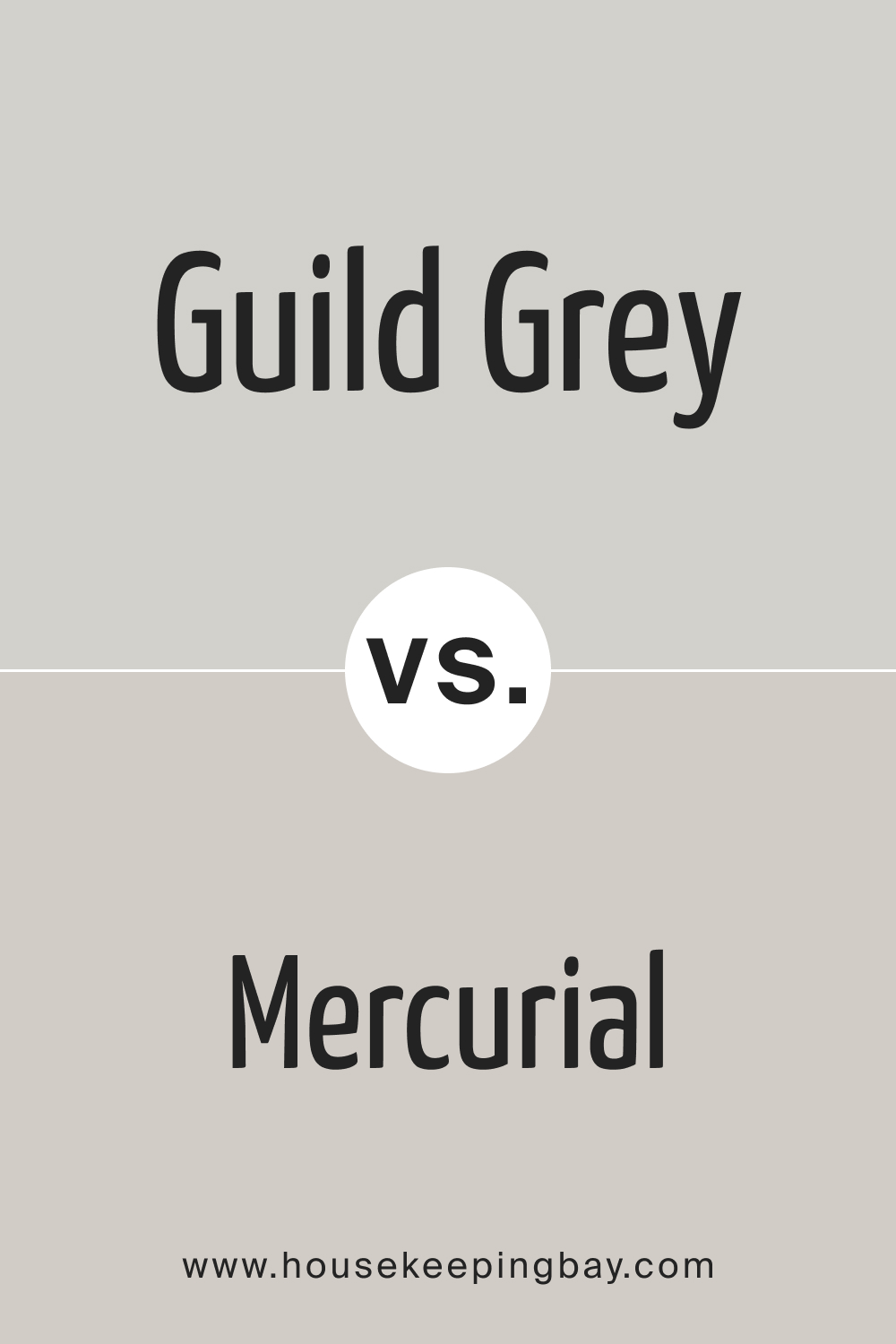 SW 9561 Guild Grey vs. SW Castlegate
SW Castlegate is a warm, deep greige that contrasts with Guild Grey's cool undertones. Where Castlegate can add a rustic, cozy feel to a room, Guild Grey brings in a modern, sophisticated air. Both colors can add depth to a room, but their different undertones can set distinct moods and styles.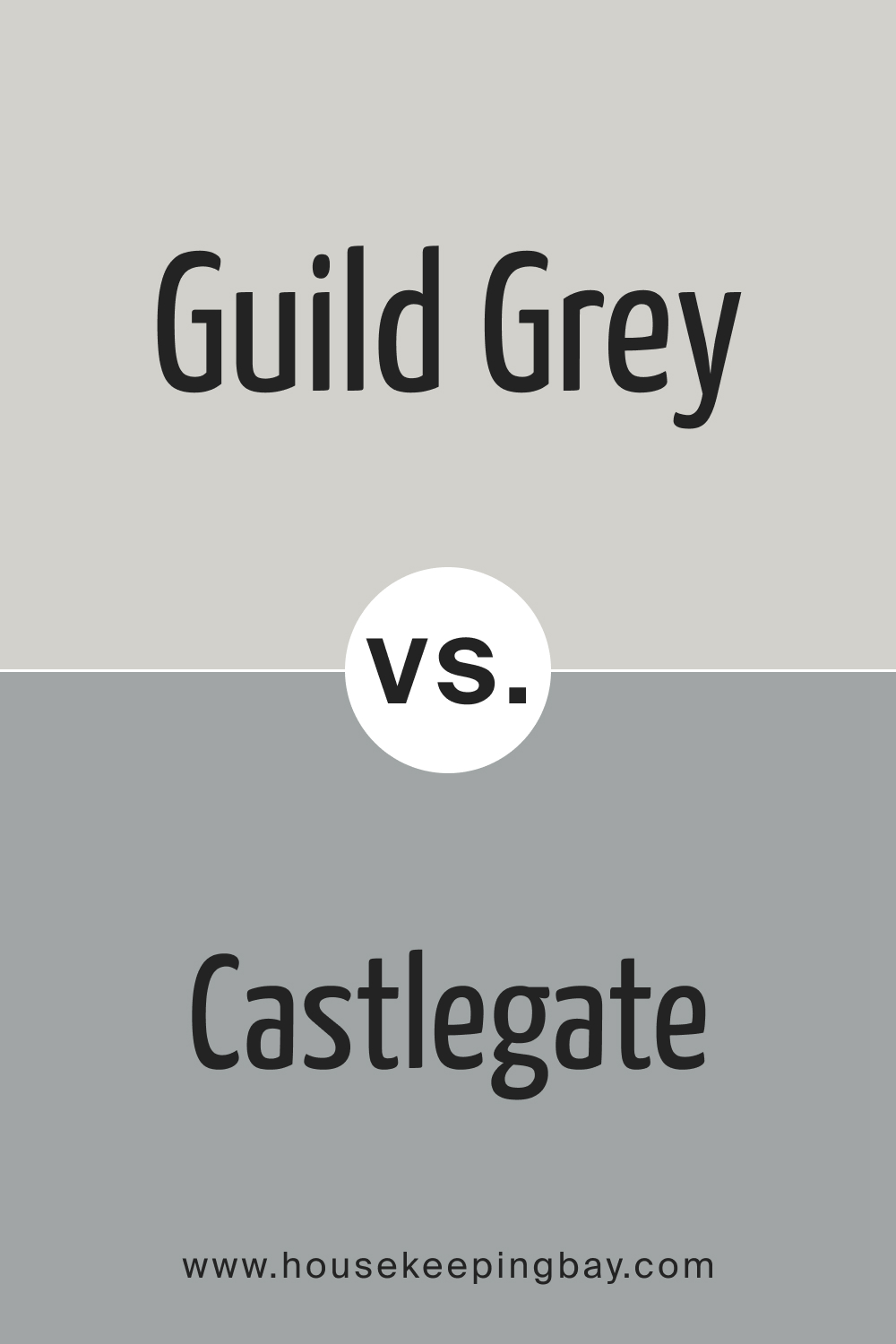 SW 9561 Guild Grey vs. SW Smooth Stone
SW Smooth Stone is a soft, light grey that leans more neutral than Guild Grey. Its lightness can create a more airy, open feel compared to Guild Grey's mid-tone depth. However, Guild Grey's subtle blue undertones and richness can bring more character and sophistication to a room.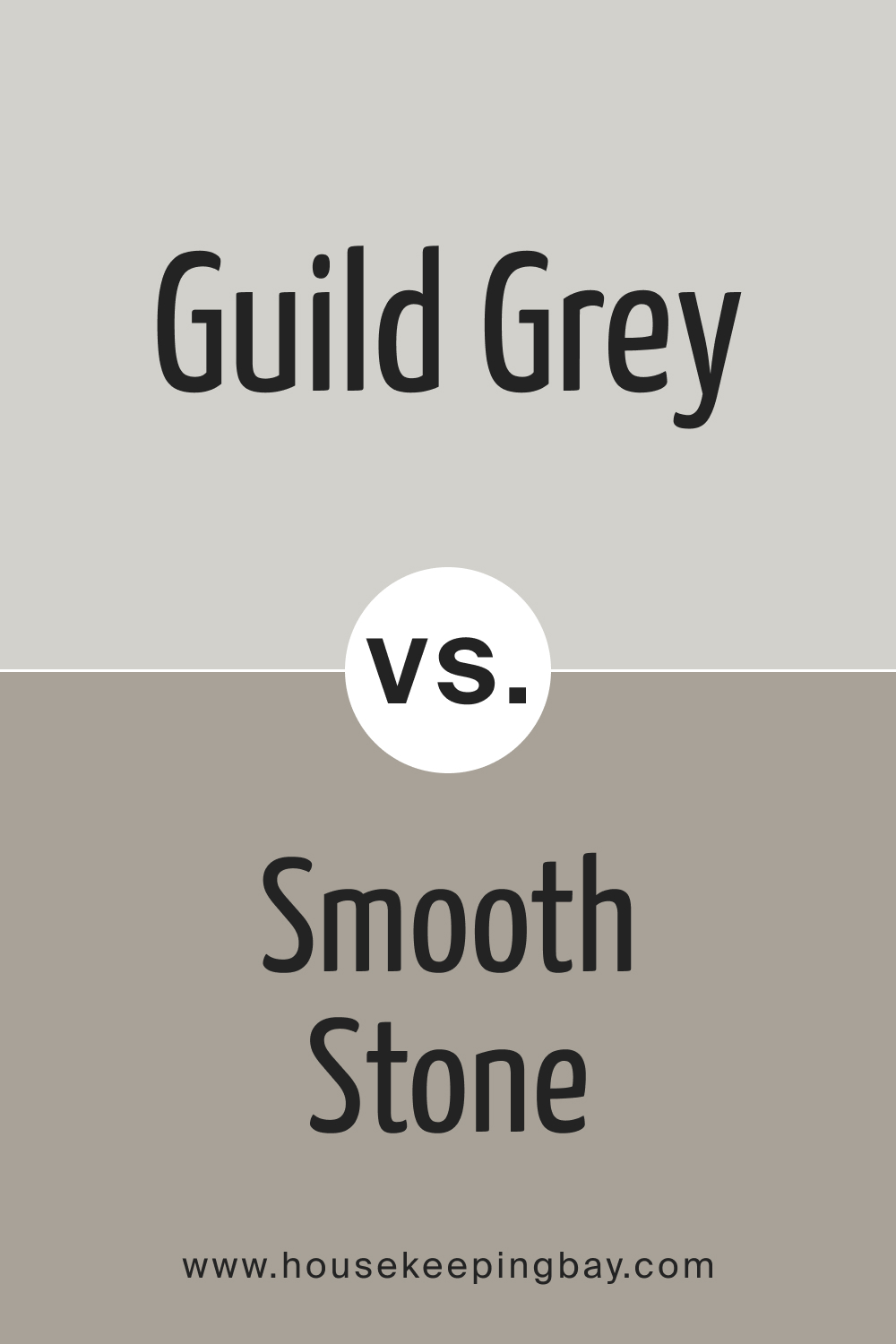 SW 9561 Guild Grey vs. SW Crushed Ice
SW Crushed Ice is a very light grey with subtle blue undertones. While both colors share cool undertones, Crushed Ice is significantly lighter and more subdued than Guild Grey. Guild Grey's depth and character make it a more compelling choice for creating a strong visual impact.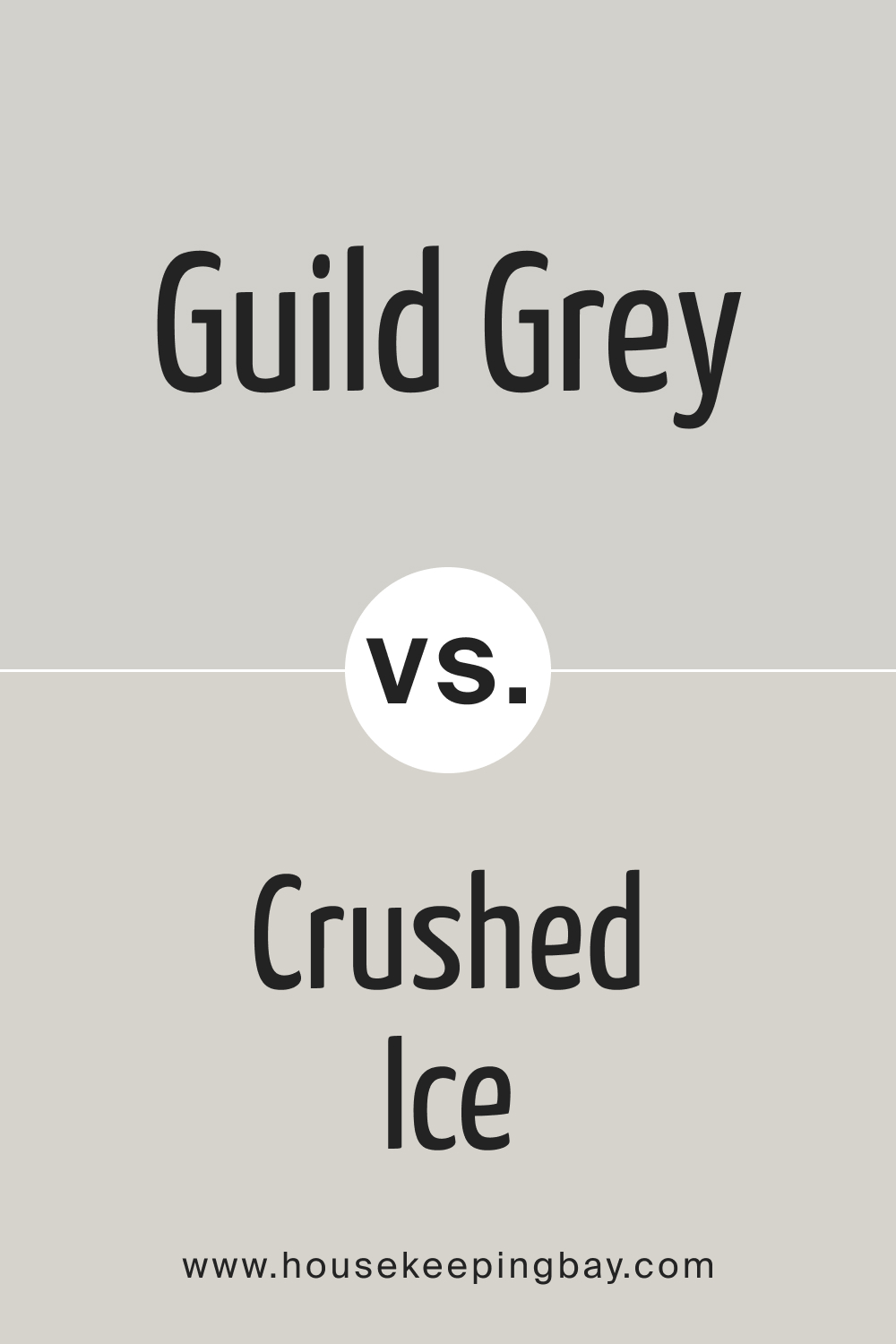 SW 9561 Guild Grey vs. SW Grizzle Gray
SW Grizzle Gray is a deep, cool grey that is significantly darker than Guild Grey. While both can bring a touch of drama and sophistication, Guild Grey offers a softer look, making it more suitable for spaces where a relaxing, serene mood is desired.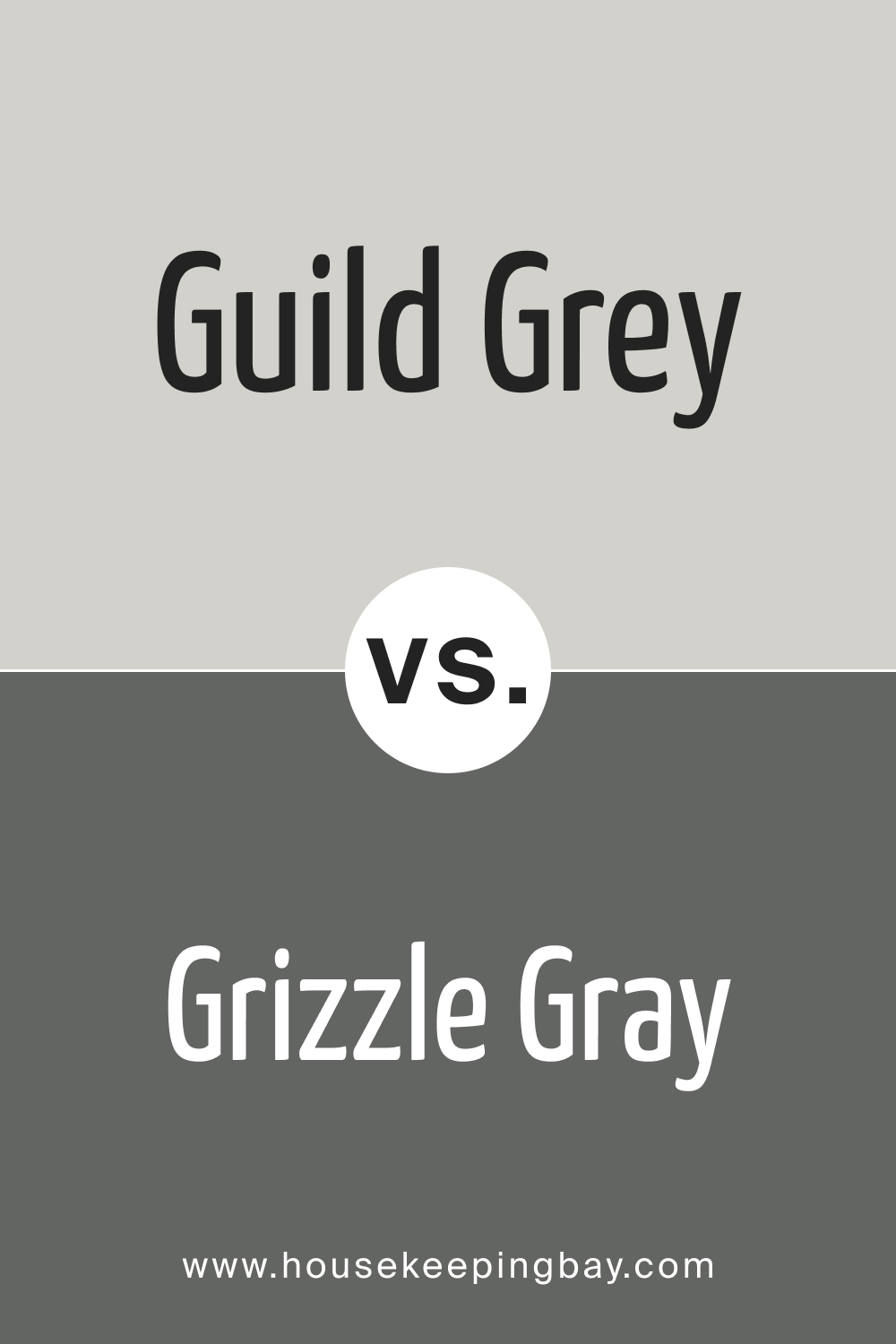 SW 9561 Guild Grey vs. SW Lazy Gray
SW Lazy Gray is a light to medium grey with prominent blue undertones. While it shares Guild Grey's coolness, its lighter tone and stronger blue undertones make it feel cooler and more airy. In contrast, Guild Grey's mid-tone depth provides a richer, more balanced look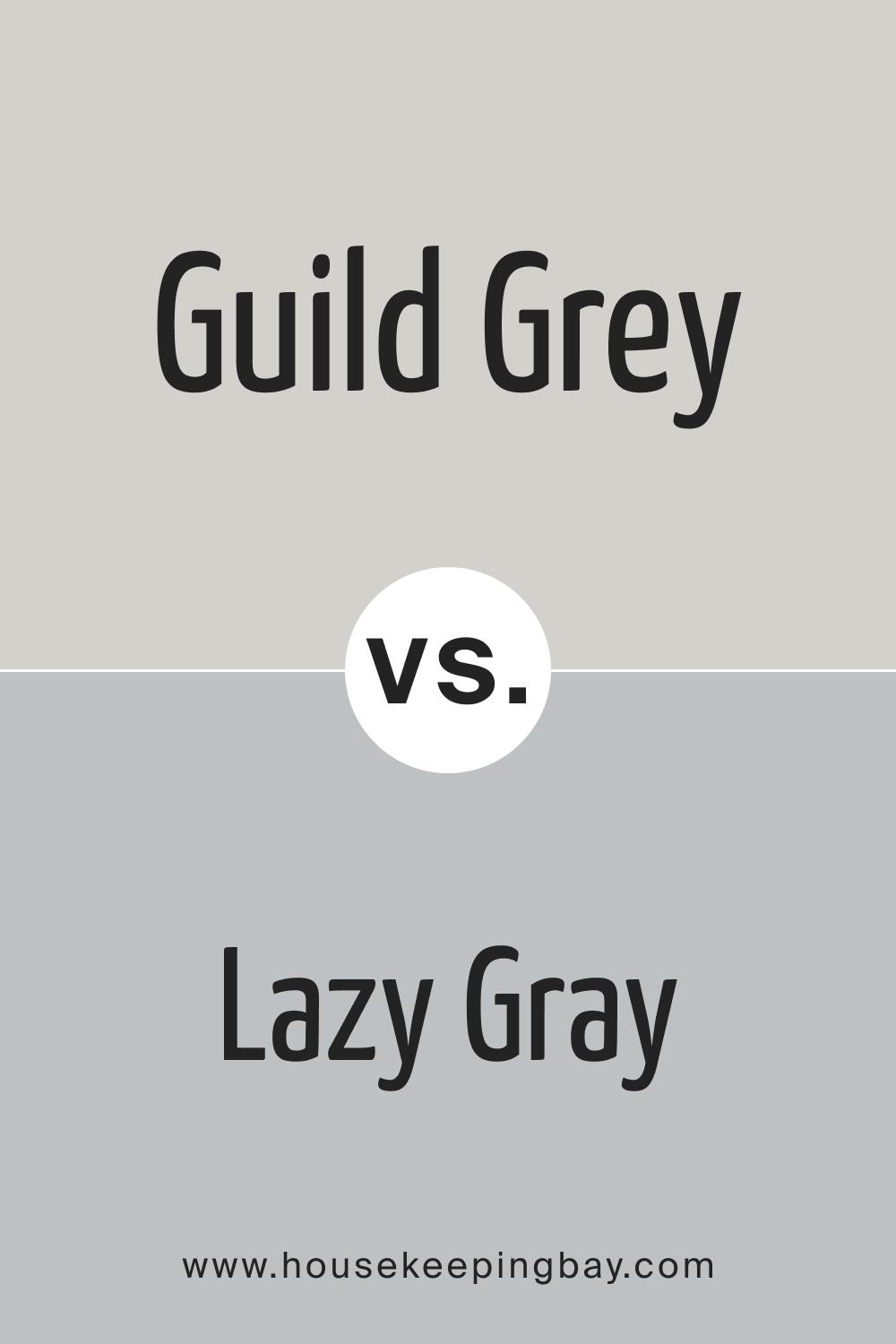 Conclusion
In conclusion, SW 9561 Guild Grey is a versatile, sophisticated color that can adapt to various spaces and styles. Its cool undertones, mid-tone depth, and subtle richness allow it to bring character and charm into any room.
Whether you're creating a modern, minimalistic look, a cozy, rustic feel, or a classic, timeless style, Guild Grey is a color choice that promises elegance and sophistication.
From its adaptability to lighting changes to its harmonious relationship with a wide range of coordinating colors, this color is an excellent choice for any homeowner or interior designer.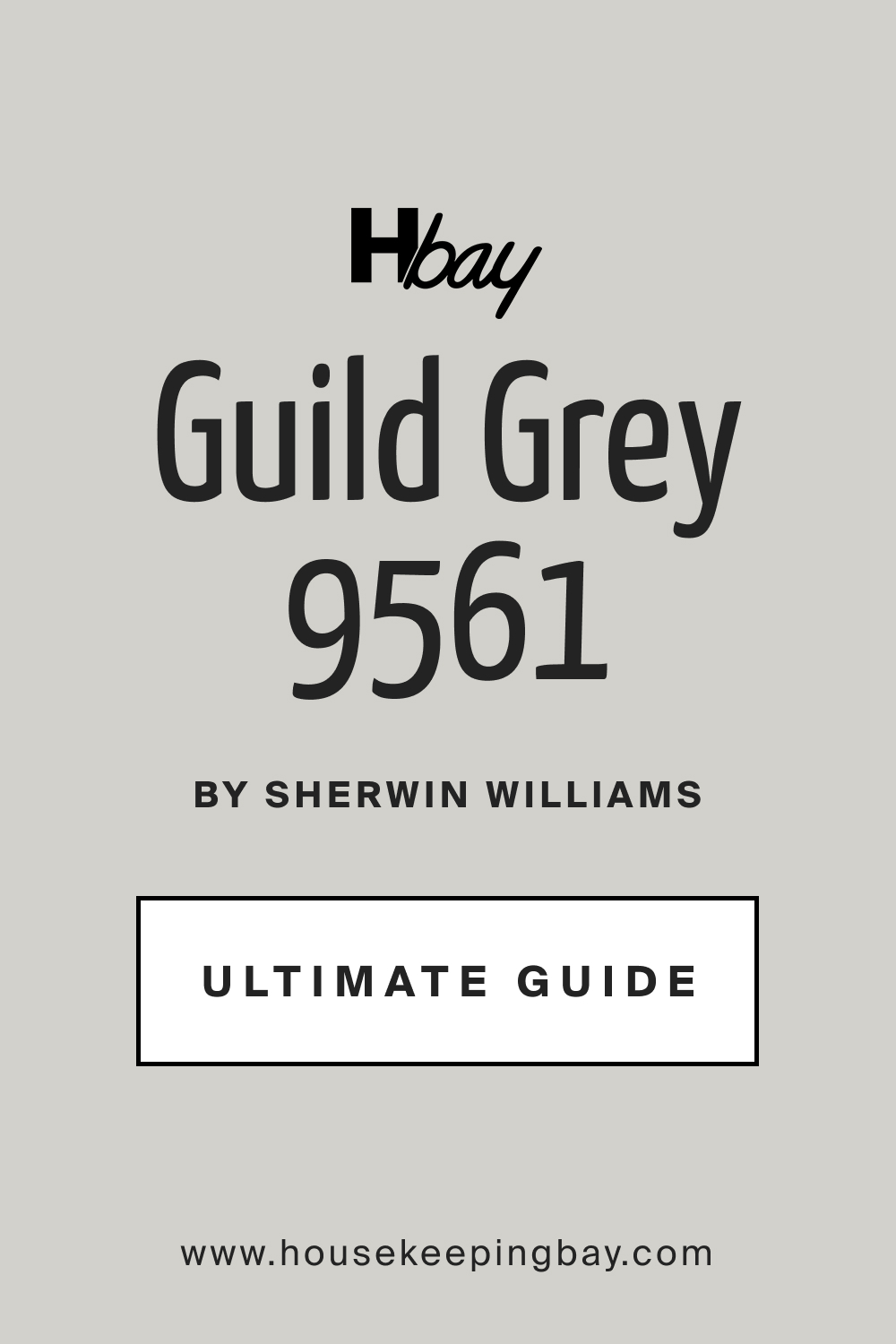 Frequently Asked Questions
⭐Does Guild Grey change significantly under different lighting conditions?
Like any paint color, Guild Grey can appear differently depending on the lighting. Under natural light, its cool undertones come forward, creating a serene atmosphere. Under artificial light, it may appear darker and more muted. Therefore, it's always recommended to observe the paint at different times of the day under varying light conditions.
⭐What color trim works best with Guild Grey?
Guild Grey pairs beautifully with crisp white trims like Sherwin Williams' Extra White. The contrast between the cool mid-tone grey and the bright white enhances the architectural details of your space, creating a clean, modern look.
⭐Is Guild Grey a good choice for a transitional style interior?
Absolutely! Guild Grey's versatility makes it an excellent choice for transitional style interiors, which blend traditional and contemporary elements. Its sophistication and subtlety can harmonize the different elements and unify the overall design.
⭐How can I accentuate the cool tones of Guild Grey?
To bring out the cool tones of Guild Grey, consider pairing it with other colors with cool undertones, such as blues, greens, or cool neutrals. Metallic finishes like chrome or silver can also accentuate its coolness.
⭐Can Guild Grey work as a kitchen cabinet color?
Yes, Guild Grey can make for a sophisticated and trendy kitchen cabinet color. It adds depth and character without being overwhelming and pairs well with a variety of countertop materials and finishes, from marble to butcher block. It can also accommodate both brass and silver hardware beautifully.