If you strive for a cozy, welcoming, and homey vibe in your place, you might want to consider using soft and creamy whites on your interior walls or other surfaces. This white hue adds a relaxing touch to any space where it is used.
Plus, its delicate warmth will help you to embrace the space with an atmosphere of relaxation and safety.
Today, we will tell you about the color called Whitetail by Sherwin-Williams. It's a soft and delicate white that reads absolutely lovely in homes! You will learn how this hue reacts to light and how to coordinate it correctly.
Also, we will explain what colors it is best to pair this white with. Finally, you will get a few color suggestions regarding the best trim and similar colors.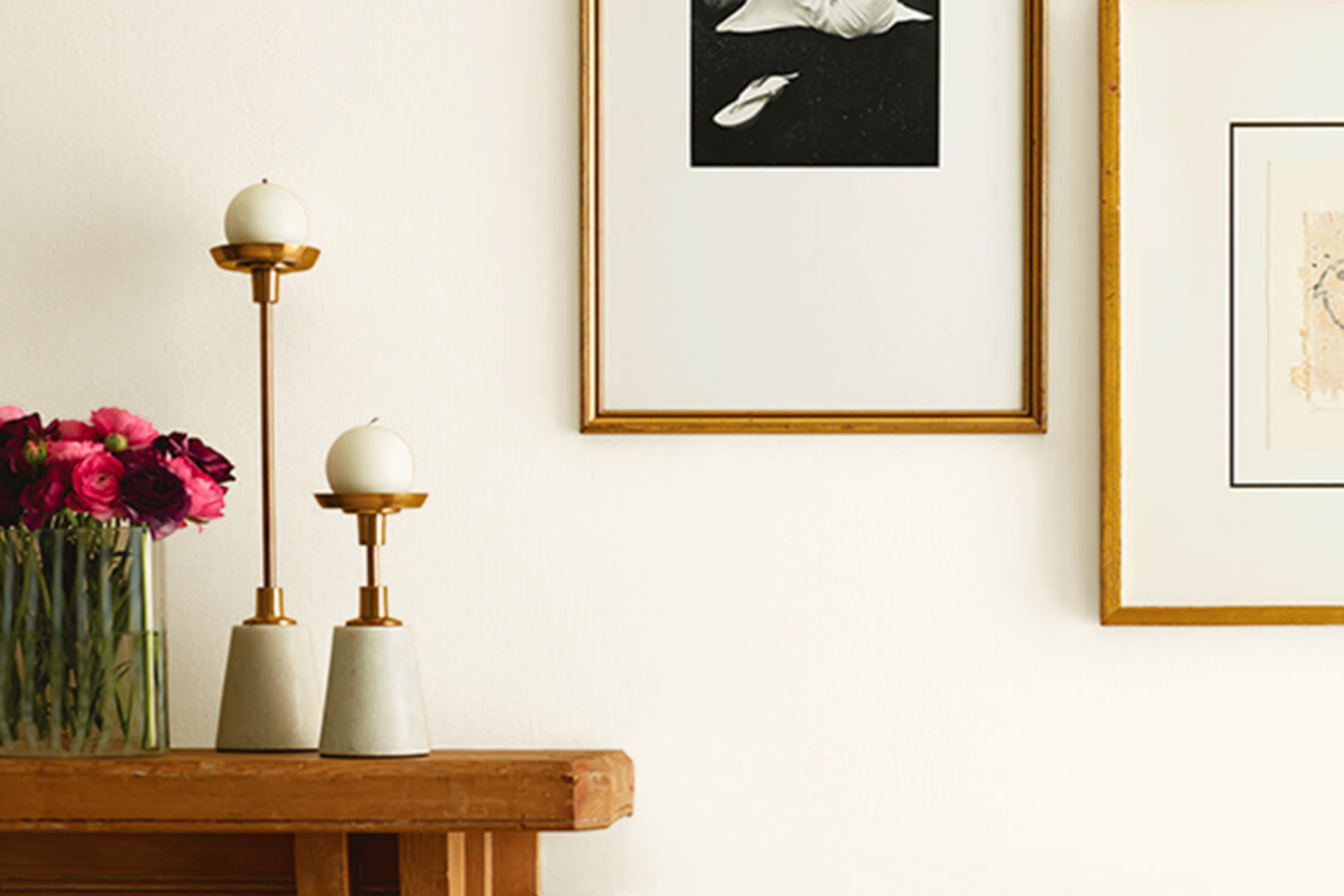 What Kind of Color Is SW 7103 Whitetail?
What do you see when you are looking at SW Whitetail  paint color? You see a fairly bright white with a pleasantly soft touch, which comes from this color's undertones.
As Encycolorpedia says, this white is also considered creamy, but you should not be afraid that it may read too warm or yellow on the walls! It does have a yellow tint, but this yellowness is hidden deep inside. Besides, it comes out in a very balanced way.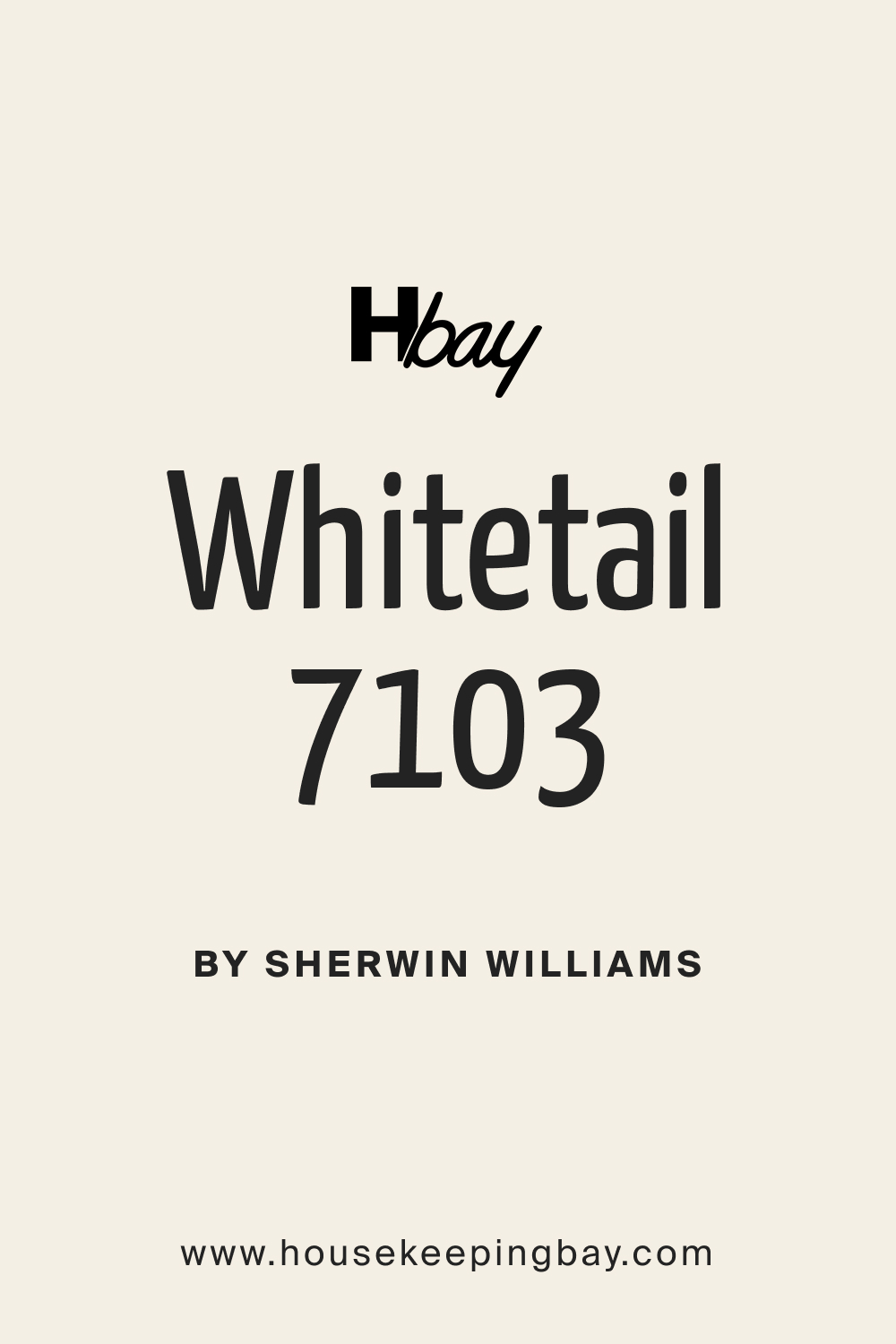 Is SW 7103 Whitetail a Warm or Cool Color?
SW Whitetail is definitely warm-toned! Just look at its soft and creamy appearance! But since its warmth is well-balanced, this hue can work well in many spaces of your home, bringing in a lovely touch of coziness.
Also, thanks to its warm tone, SW Whitetail can work well for making a room feel brighter and, at the same time, avoid creating a crisp and "icy" feel.
What Undertones Does SW Whitetail Paint Color Have?
Undertones often make paint colors tricky and complicated to use in your home. One of the most frequent issues homeowners face is when they buy paint that appears to read differently in a catalog/swatch and on their walls. All because they didn't sample it before buying, and undertones showed up unexpectedly.
Speaking of SW Whitetail, this color has mixed yellow-beige undertones. Because of this yellowish base, this white hue can sometimes look slightly yellow on your walls.
This yellow tint will be specifically noticeable if SW Whitetail is surrounded with warm-toned colors. So try to use it carefully in a room with yellow, orange, light brown, and other similar colors.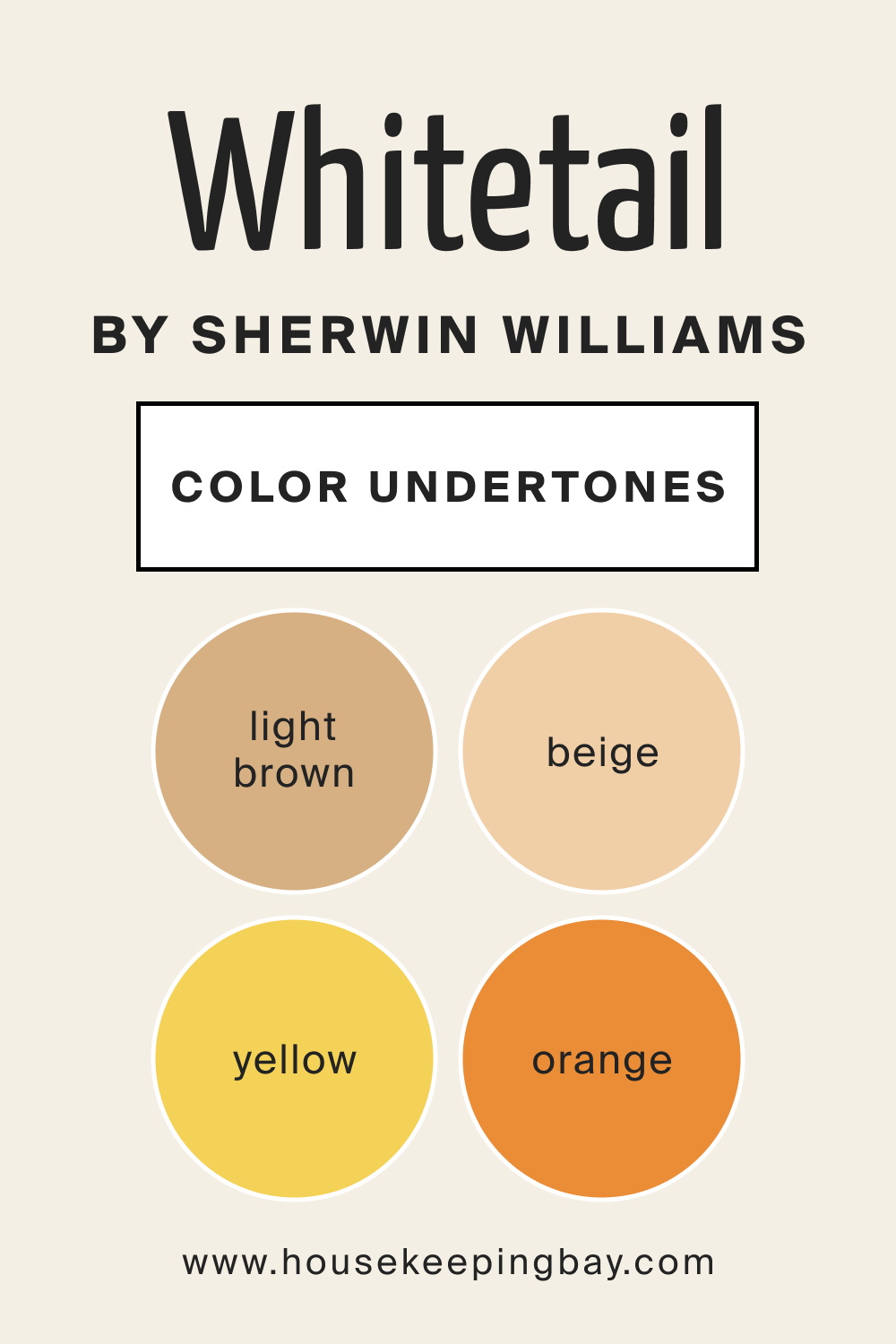 SW 7103 Whitetail Coordinating Colors
Picking up coordinating colors for your wall paint hue can be a fun and creative task as long as you are aware of the color theory, at least a little bit. But if you lack knowledge of colors and, moreover, you deal with a hue like SW Whitetail with its complex undertones, coordinating it can turn into a challenge!
Below, we recommend you a couple of paint colors that can coordinate this soft and creamy white perfectly well!
SW 9084 Cocoa Whip
SW 9085 Touch of Sand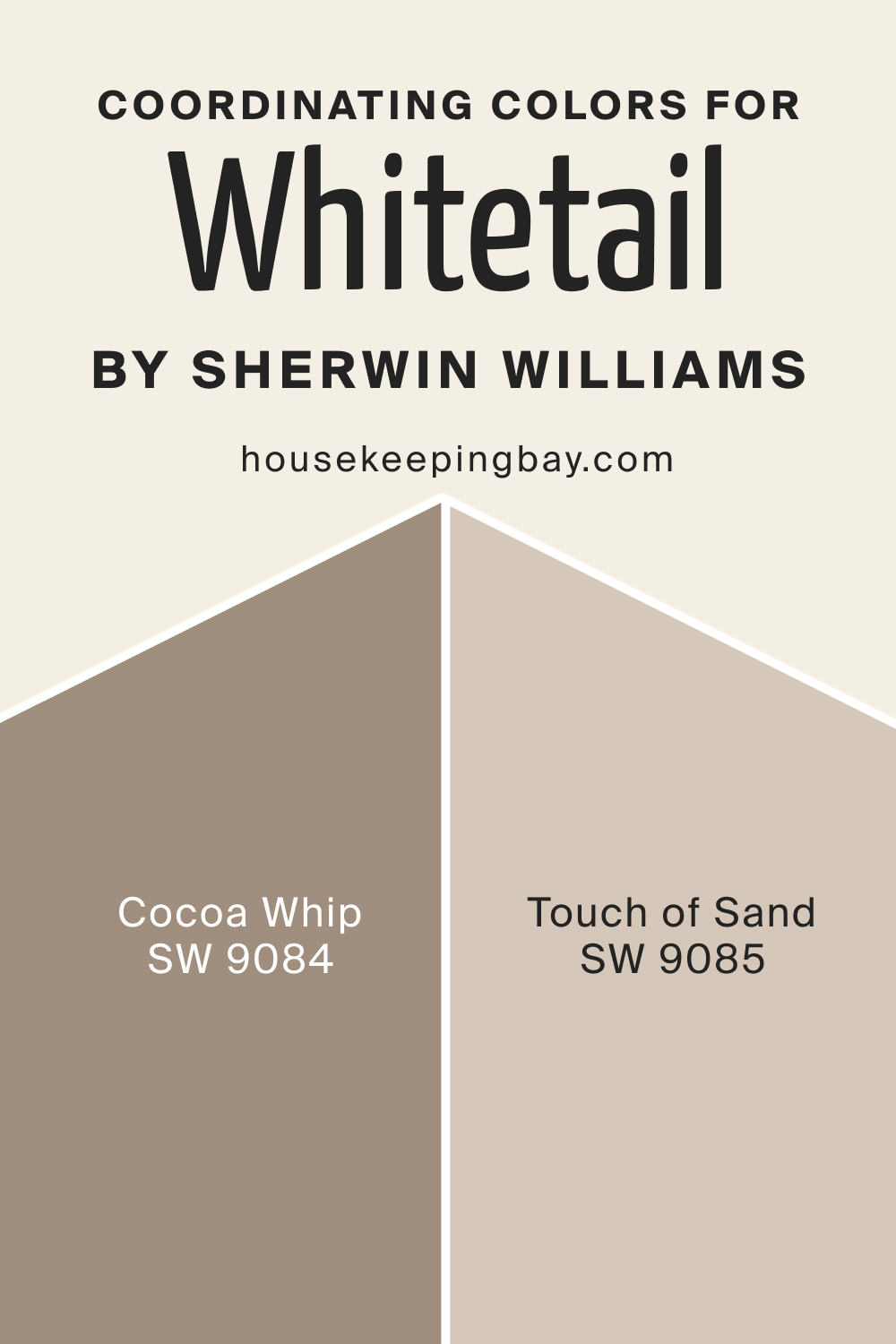 What LRV Does SW 7103 Whitetail Have, and How Does It React to Light?
LRV (Light Reflectance Value) is a measurement used by professional designers that shows the amount of light reflected from and absorbed by a surface. LRV values range from 0 to 100, with 100 being pure white and 0 being absolute black.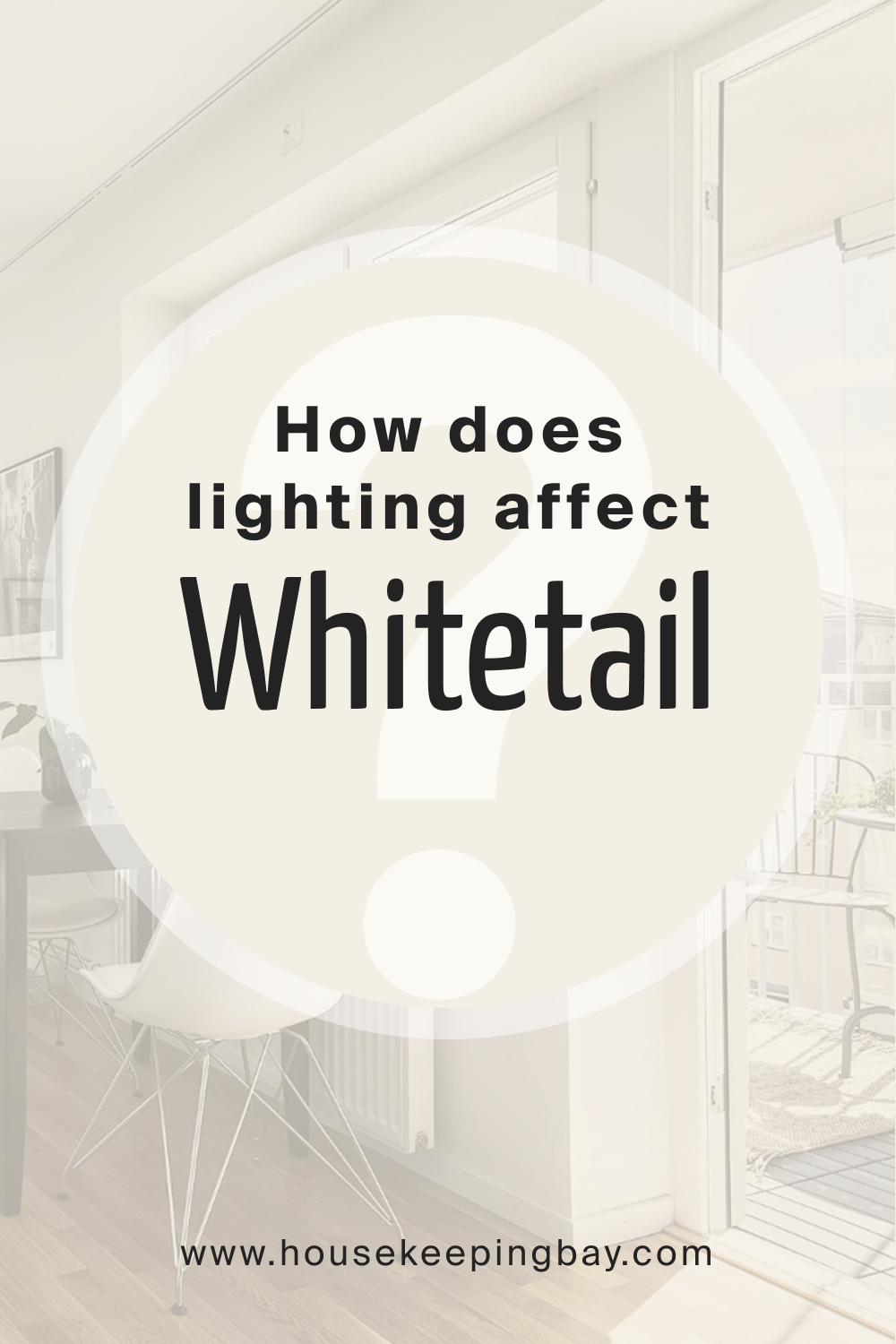 SW Whitetail has an LRV value of 86, which makes it a light and reflective paint color. Despite its warmth, this creamy white can make a room seem larger and brighter thanks to its high light reflectivity.
However, you should note that in different lighting conditions, this hue may read a bit differently.
For example, in a room with plenty of bright daylight, SW Whitetail will read much brighter and can even sem washed out!
Instead, in a room with dim or poor light, this white is more likely to display its warmth, reading yellower.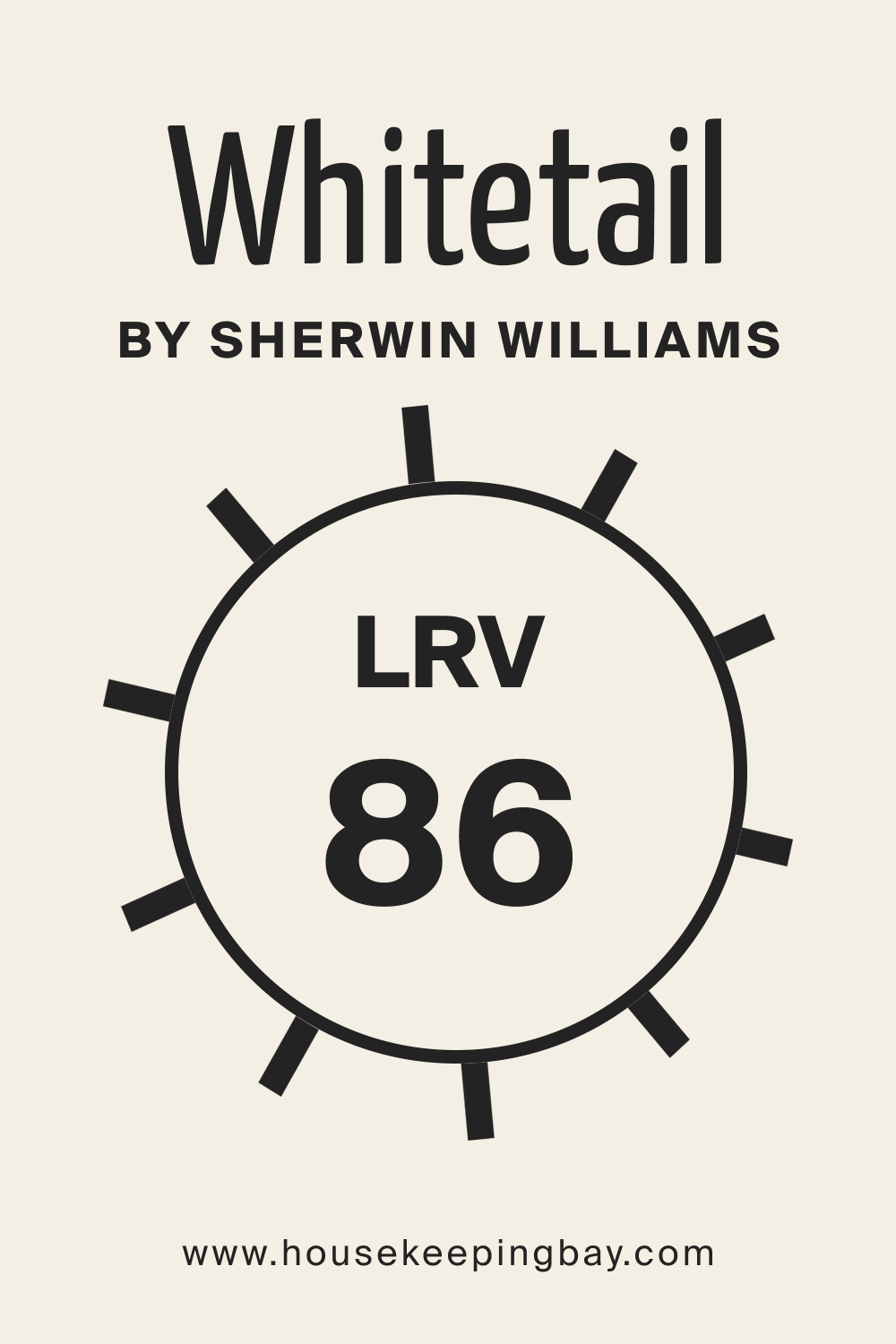 What is LRV? Detailed Guide
What Is the Best Trim Color to Use With SW Whitetail?
Selecting trim colors for white walls is uneasy. Usually, we recommend people stick with brighter whites if they have warmer/softer hues on their interior walls. This way, they can create a visible and enhanced balance that still looks pleasing to the eye.
For SW Whitetail on the walls, you might want to try lighter and brighter whites with no yellow/beige tint that also read softly. Crisp and cool-toned whites might not pair well enough with SW Whitetail due to its warm appearance.
But if you want a sharp contrast, try cooler whites like SW 9541 White Snow.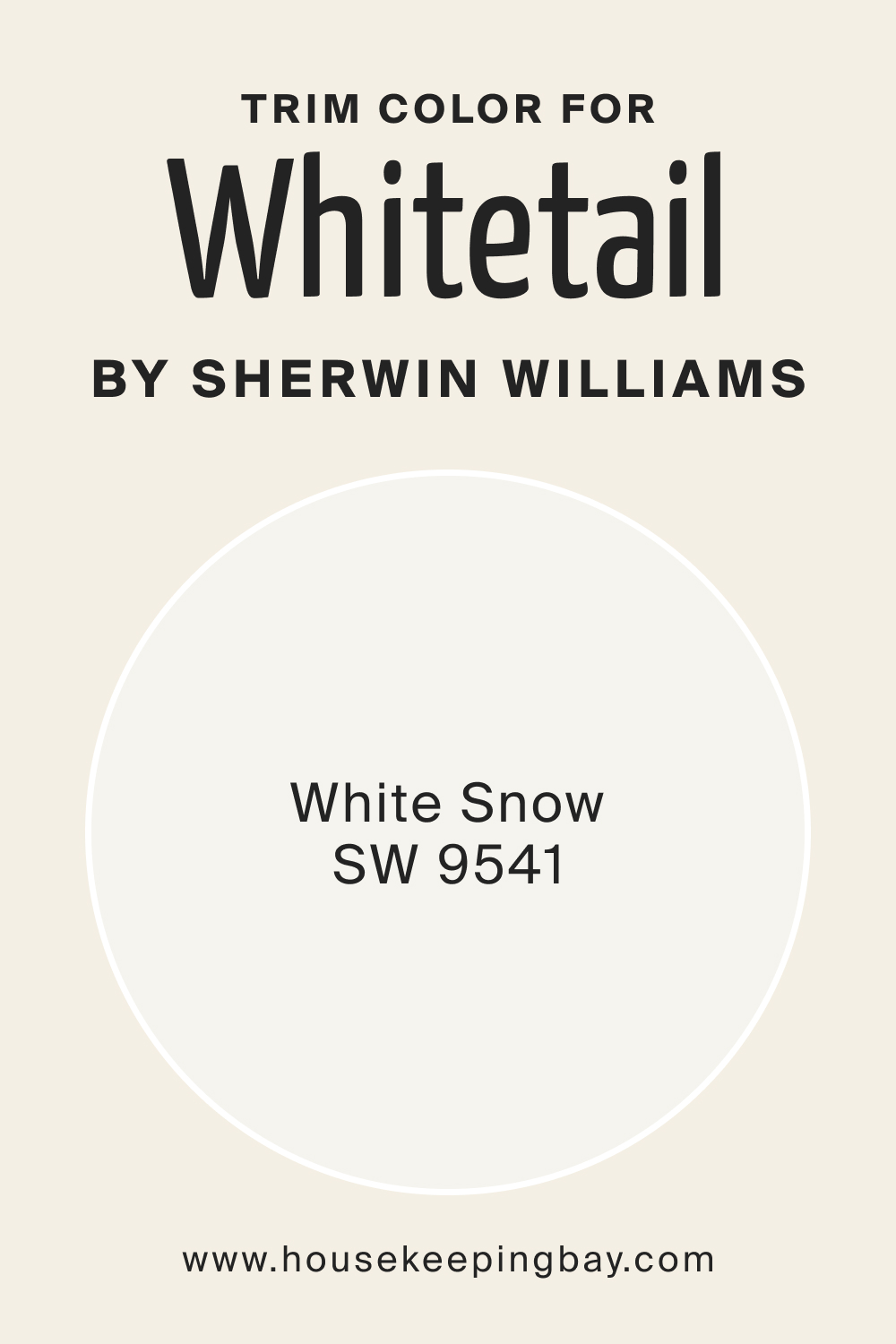 SW 7103 Whitetail Similar Colors
If you are not satisfied with how SW Whitetail reads in your space, try to change it and use another white that reads the same or very close to this hue. Below, we have prepared several alternative whites that can work well as substitute colors instead of SW Whitetail:
Of course, you should realize that none of them will be an ideal match! Each color will differ a bit due to the distinct LRV values and undertones.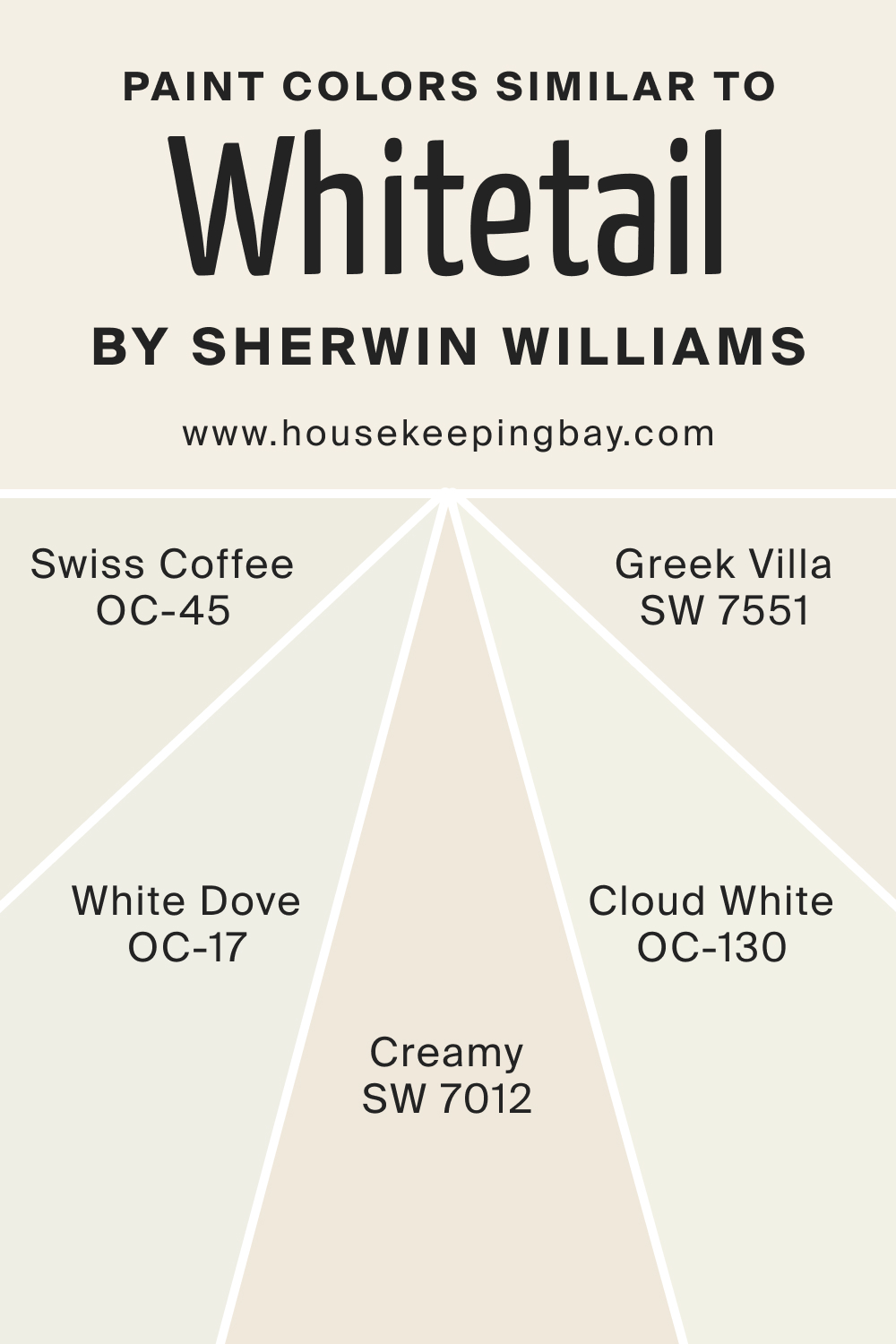 Colors That Go Well With SW 7103 Whitetail
To get a balanced and eye-pleasing palette in your home, you need to pair SW Whitetail with other colors correctly. Here is a hint for you: this creamy and soft white would look great in a black-and-cream color scheme! Besides, this color combination will read more soothing than the ever-popular black and white theme.
But also, you can pair SW Whitetail with other neutrals and pastels. Here we have made a palette of pastel colors that go with SW Whitetail:
SW 6813 Wishful Blue
BM Baby's Breath OC-62
SW 6511 Snowdrop
Also, this creamy white will pair nicely with black, beige, taupe, orange, muted greens, and warm grays.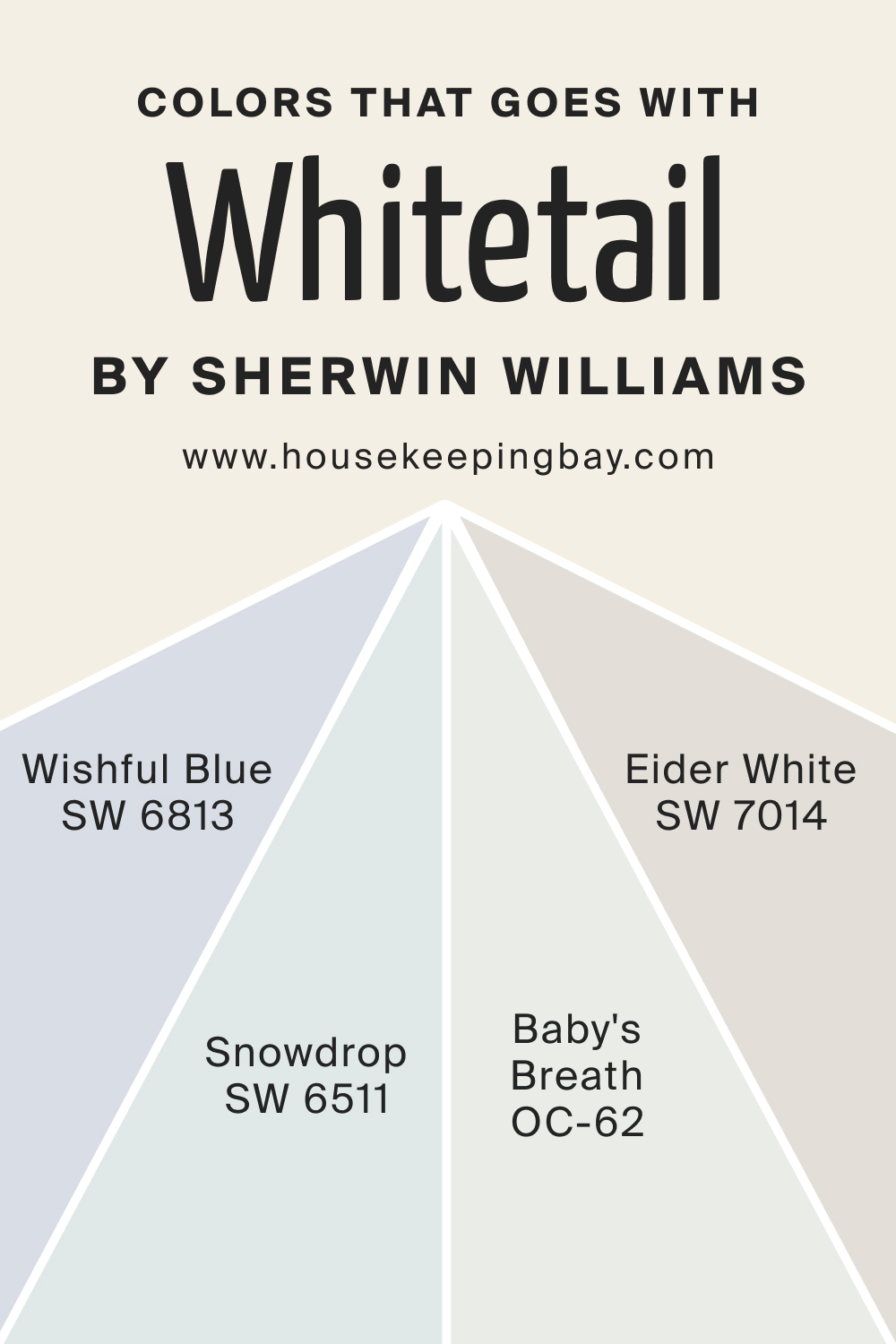 Where to Use This Paint Color In Your Home?
Despite its warmth, SW Whitetail can be used in almost any space of your home! This soft and delicate white with the creamy tint will work exceptionally well in places that crave for a homey and cozy vibe. Below, we describe how this paint color may read in different rooms and on specific surfaces.
Whitetail SW 7103 in the Living Room
It's a really nice white color for living rooms! SW Whitetail will give this room a welcoming vibe and embrace the space with a veil of coziness and relaxation. At the same time, thanks to its high reflectivity, it will create a feeling of space and airiness.
Pairs nicely with wooden textures, natural fabrics, and golden decor elements but may read yellower if the room lacks ample natural light.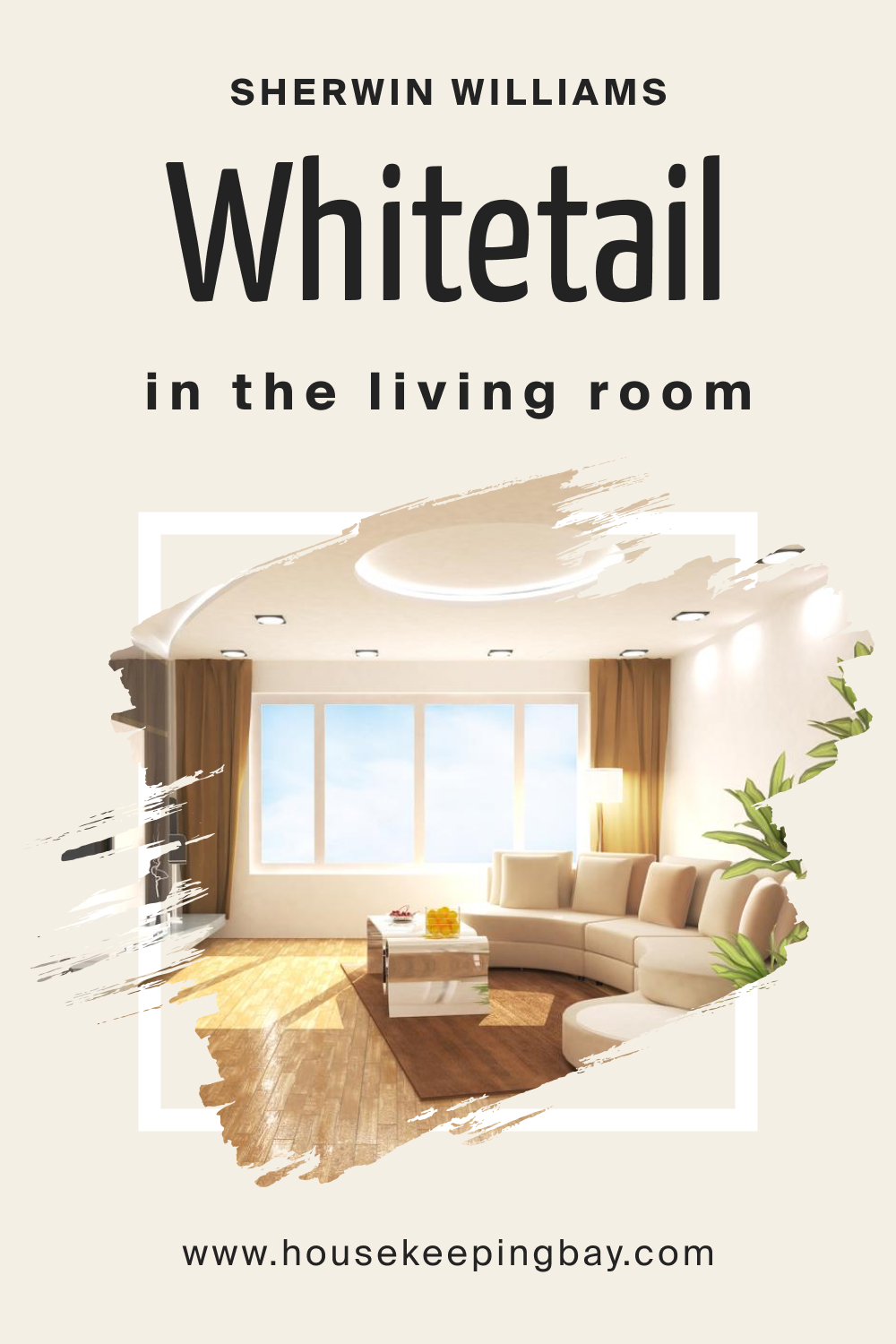 Whitetail SW 7103 in a Bedroom
Need to make your bedroom feel cuddly and sweet? Then try SW Whitetail on its walls! This soft white will make the space read much more delicate thanks to its creamy hue. Also, paired with brighter whites, SW Whitetail will make your bedroom feel airier and brighter!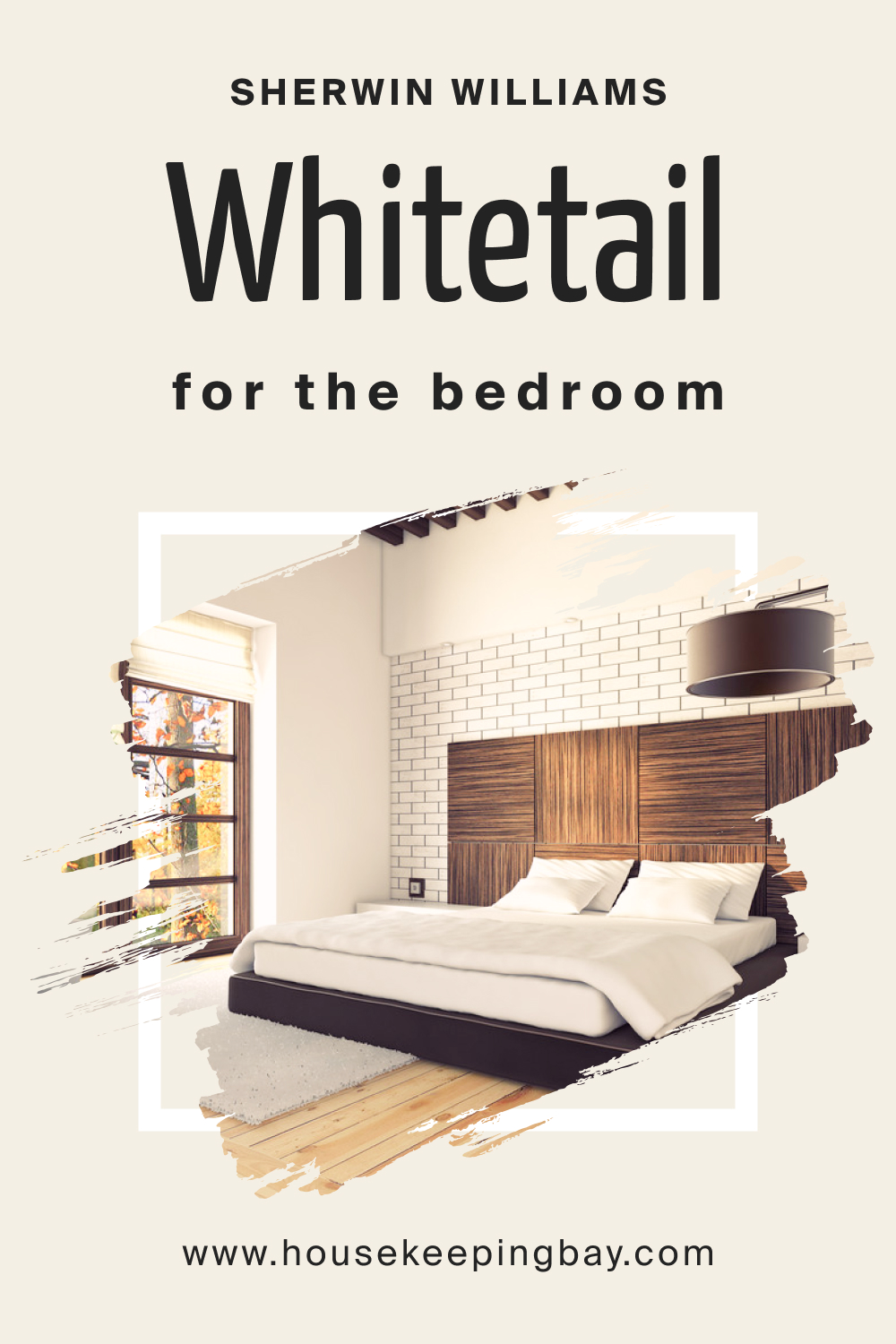 Whitetail SW 7103 on the Kitchen
On the kitchen walls, this white will do its best if the room has plenty of daylight. If your kitchen is poorly lit, try to avoid this hue on the walls. Instead, use it on cabinets and leave the walls brighter white to avoid excessive yellowness.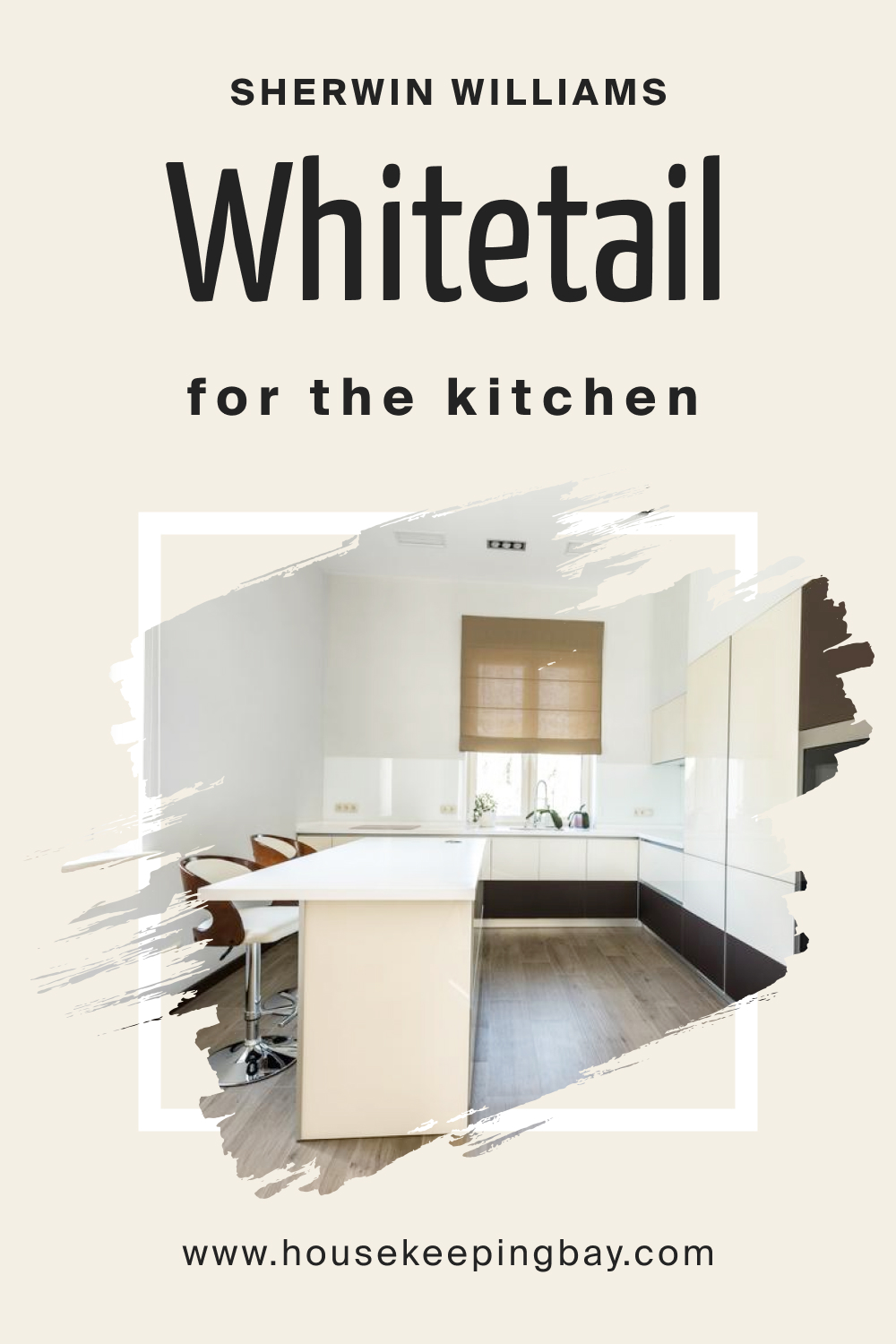 Whitetail SW 7103 for the Exterior Use
If you want this white on your exterior walls, consider the lighting in your area! If SW Whitetail is hit by direct sunlight, this color will read much brighter and whiter, losing its creaminess and yellowness. Sometimes, it may even seem washed out!
But if you dwell in an area with cloudy weather, be ready that SW Whitetail read yellower and warmer on your house's exterior. Of course, it won't look yellow, but the hue will definitely be warmer.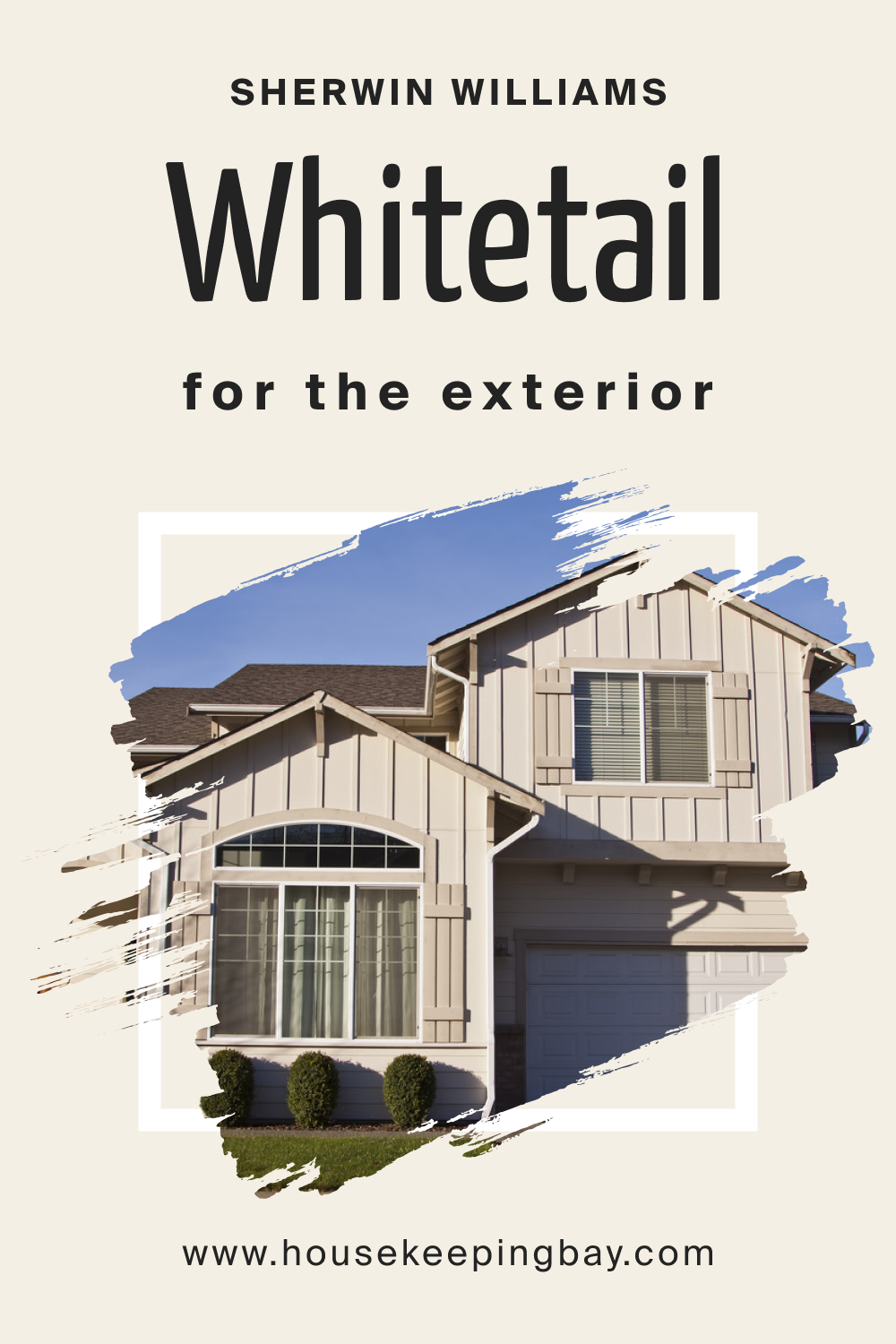 Comparing SW 7103 Whitetail With Other Colors
It can be difficult to see the difference between the hues that read nearly the same in the space. But if you want to use colors correctly, knowing how to define them is a must. Below, you can read how SW Whitetail differs from similar creamy and soft whites.
Whitetail vs. SW 7551 Greek Villa
SW Greek Villa also belongs to the orange-white hue family. However, it is darker and more muted than SW Whitetail, revealing a slight gray tint. The LRV of SW Greek Villa is 84, so it is close to the LRV of SW Whitetail. The difference between these two is that SW Greek Villa doesn't usually lean yellow, unlike SW Whitetail.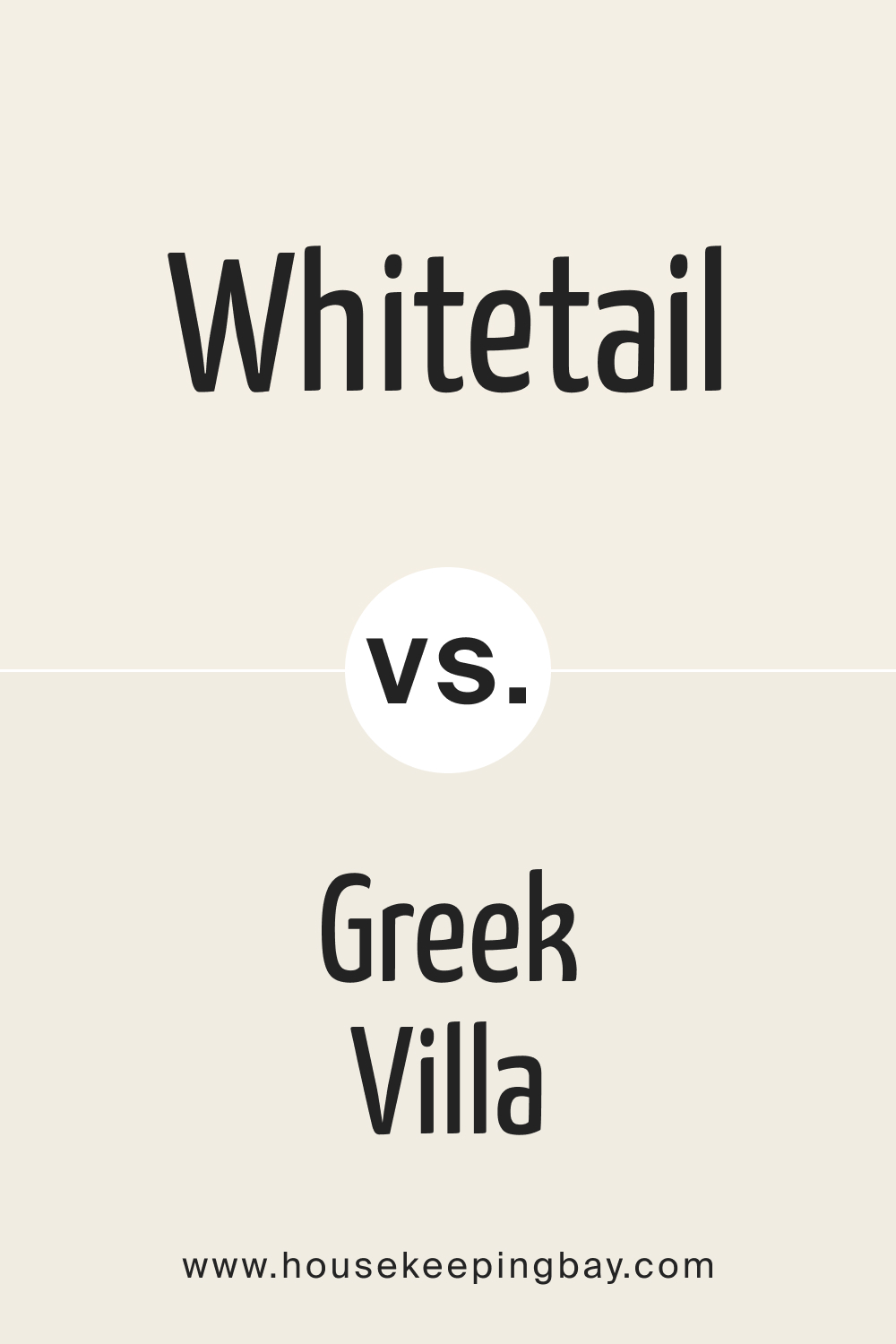 Whitetail vs. SW 7008 Alabaster
SW Alabaster is also an orange-white, and it can also read slightly yellow occasionally. But this is the only similarity these whites share. The LRV of SW Alabaster is 82, which makes it somewhat darker than SW Whitetail, whose LRV is 86.
If you compare these two colors side by side, you can see that SW Alabaster is a touch darker and a hint grayer than its counterpart.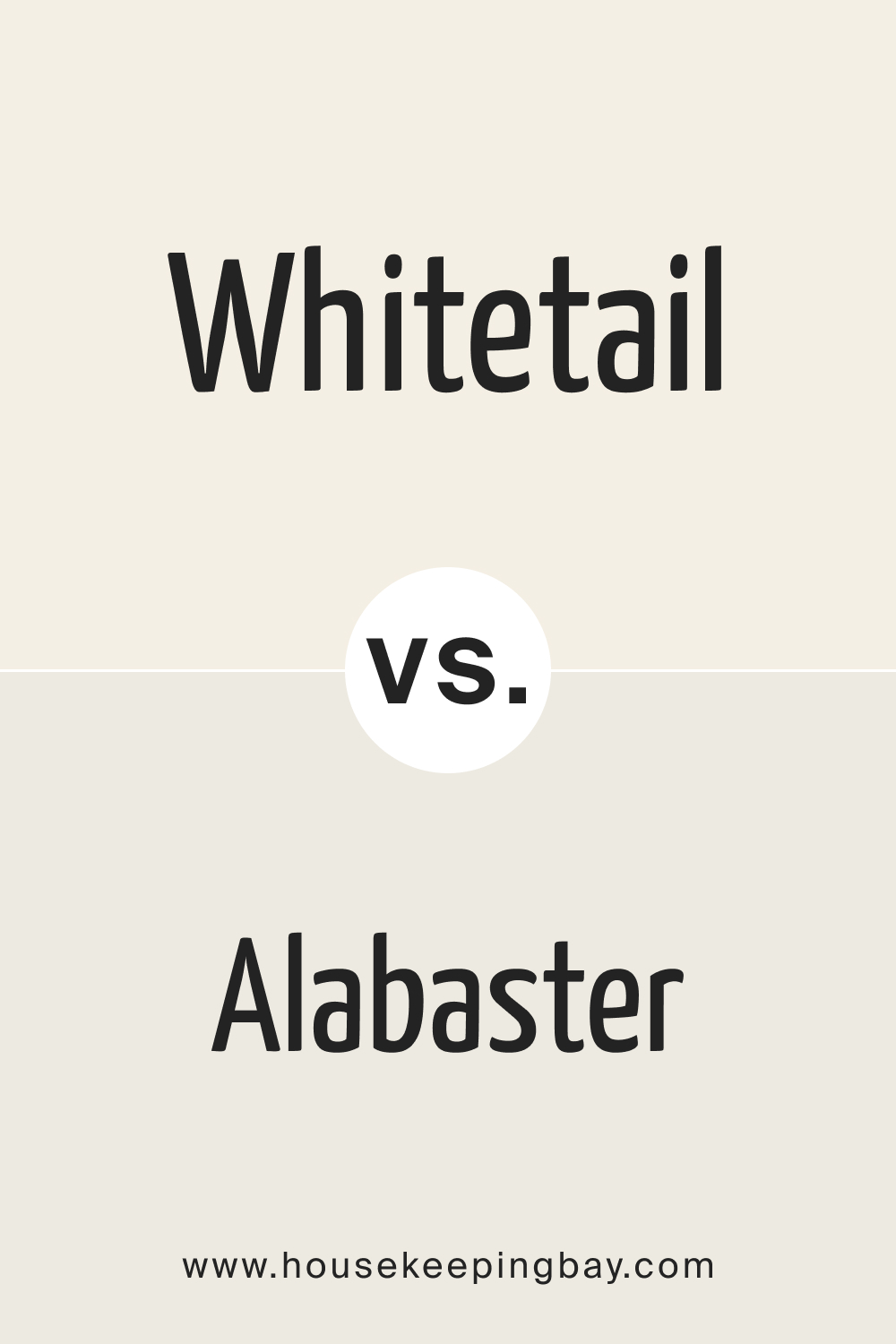 Whitetail vs. SW 7566 Westhighland White
SW Westhighland White and SW Whitetail have the same LRV value of 86. If you compare them, you will see they're basically the same color. The only difference is that SW Whitetail has a bit higher lightness.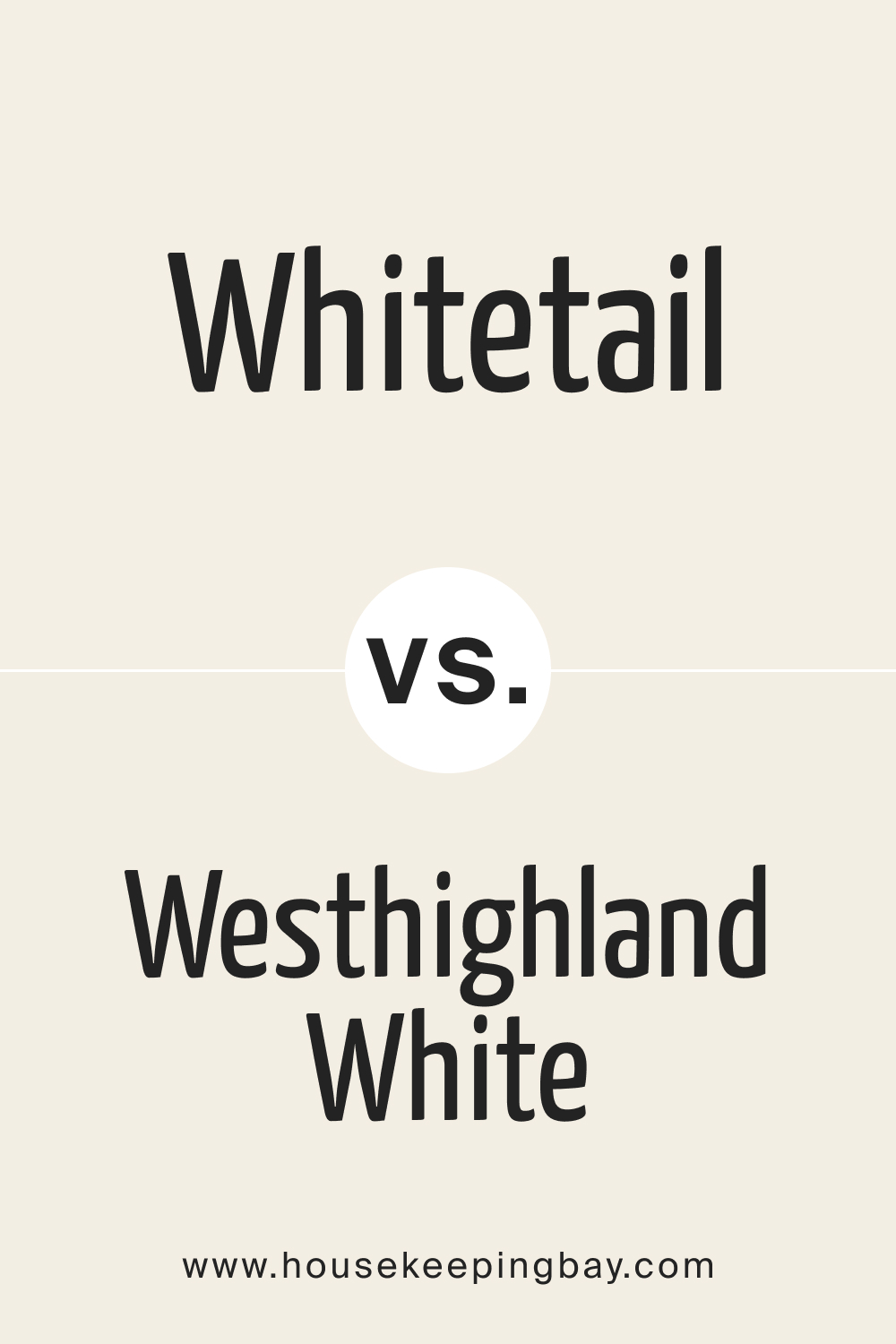 Whitetail vs. SW 7011 Natural Choice
SW Natural Choice reads darker and more saturated than SW WHitetail due to the lower LRV of 73. Since SW Natural Choice comes from the yellow hue family, it reads warm and soft, just like its counterpart. But, unlike SW Whitetail, its undertones are yellow-brown.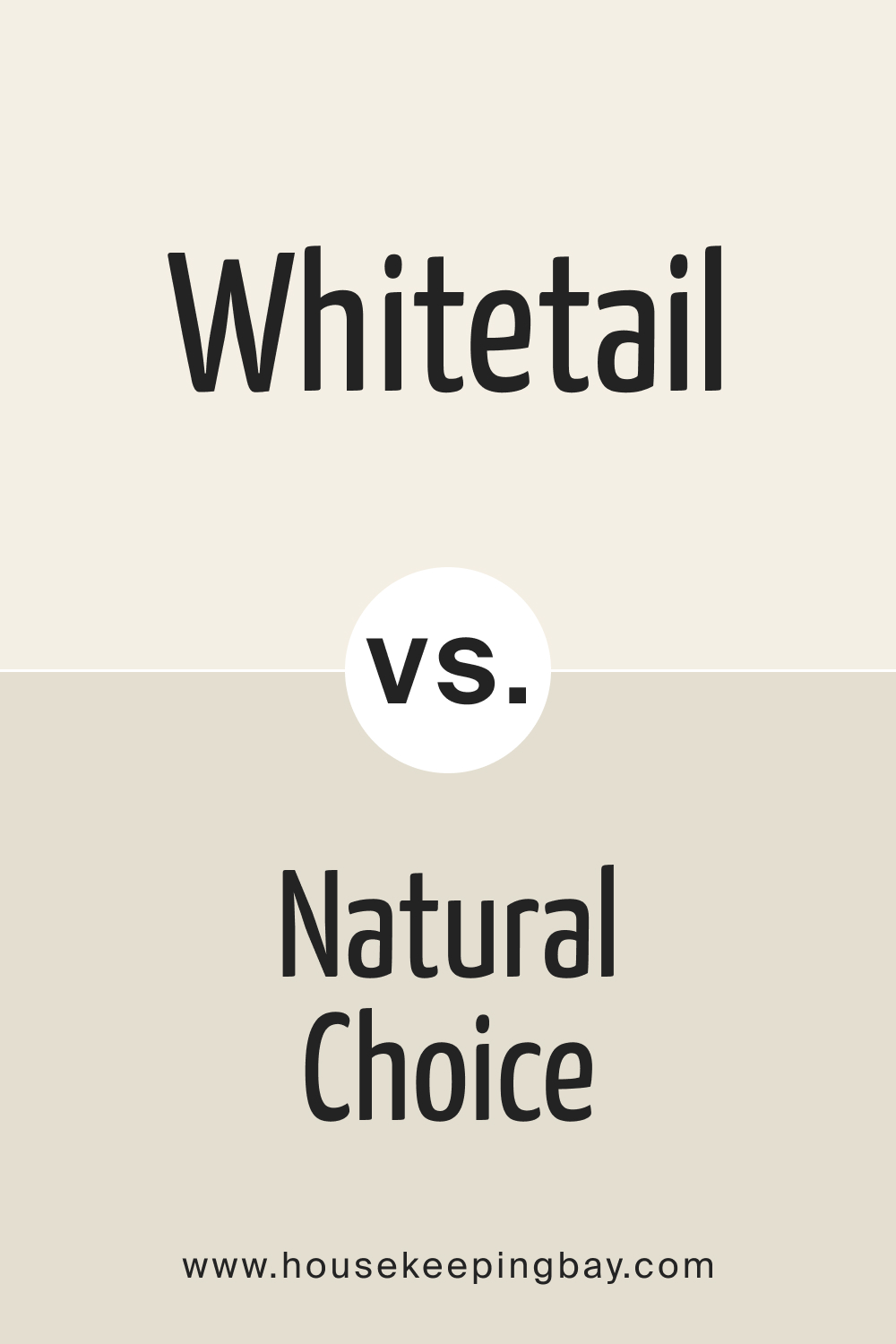 Whitetail vs. SW 7012 Creamy
With an LRV of 81, SW Creamy is a beige-white that leans close to the off-white territory. SW Whitetail and SW Creamy are in the same orange color/hue family, but they look quite different because SW Creamy is much darker.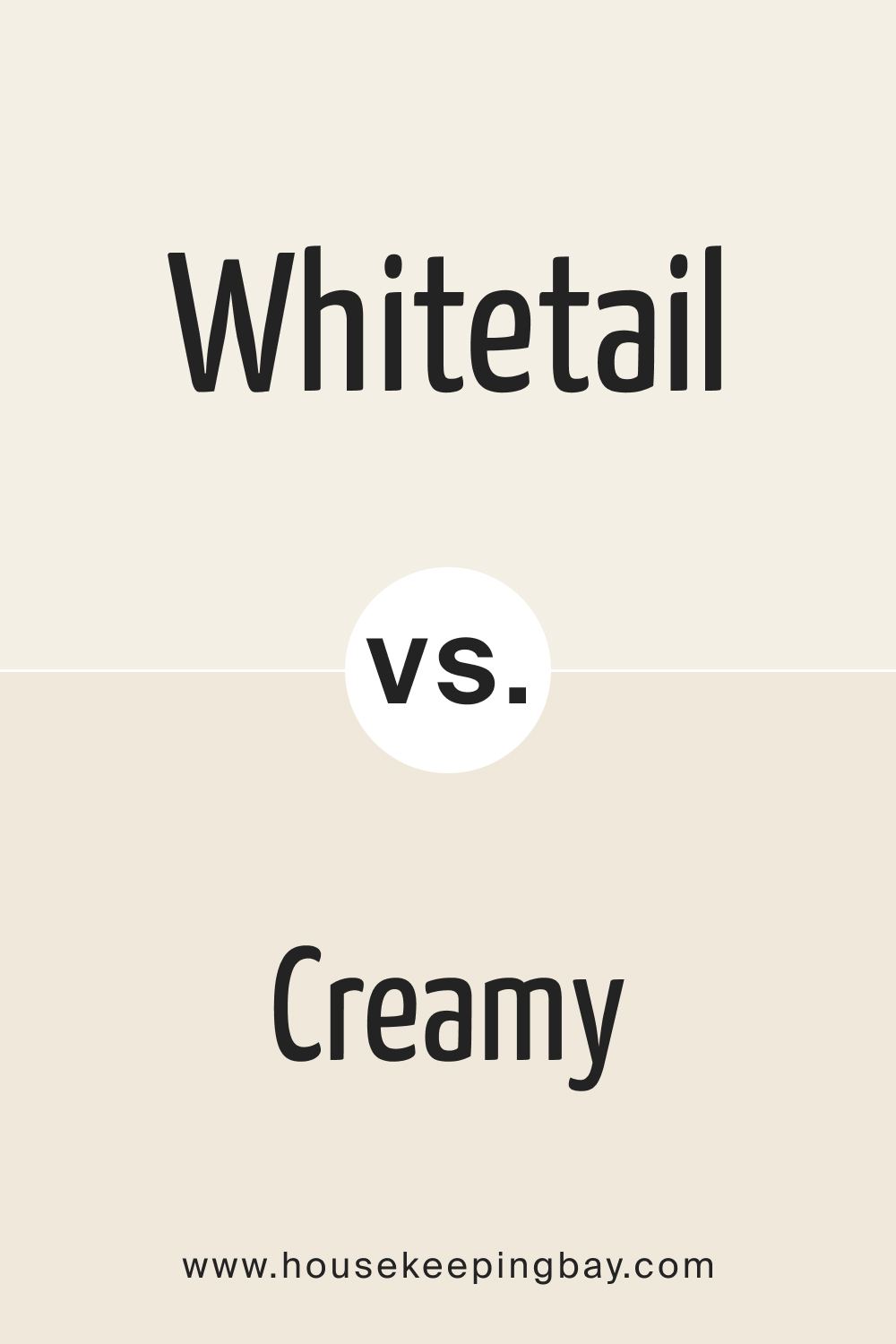 Whitetail vs. SW 6385 Dover White 
SW Dover White is another white from the orange hue family. Although it's a warm white, it always gives off just a hint of warmth. Also, it never looks creamy. SW Dover White is a bit darker than SW Whitetail at an LRV of 83, and that's a major difference. Also, just like its counterpart, SW Dover White never really looks yellow.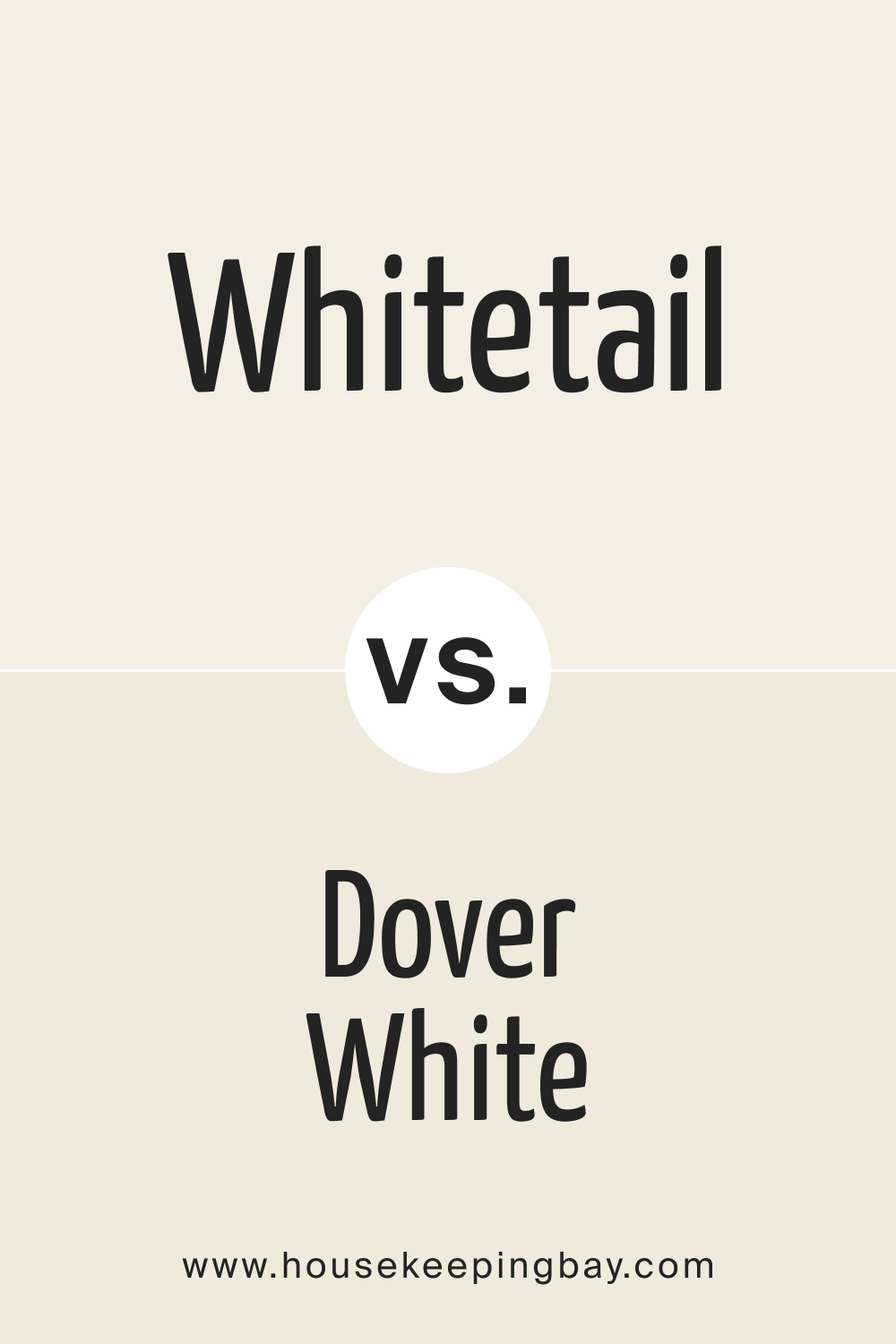 Now you know what kind of white SW Whitetail is. This soft and delicate hue has a balanced creamy tint, which makes it read welcoming and cozy in your home.
Also, due to the high reflectivity and balanced appearance, this color can make your rooms feel spacious and airy without turning them chilly and frosty.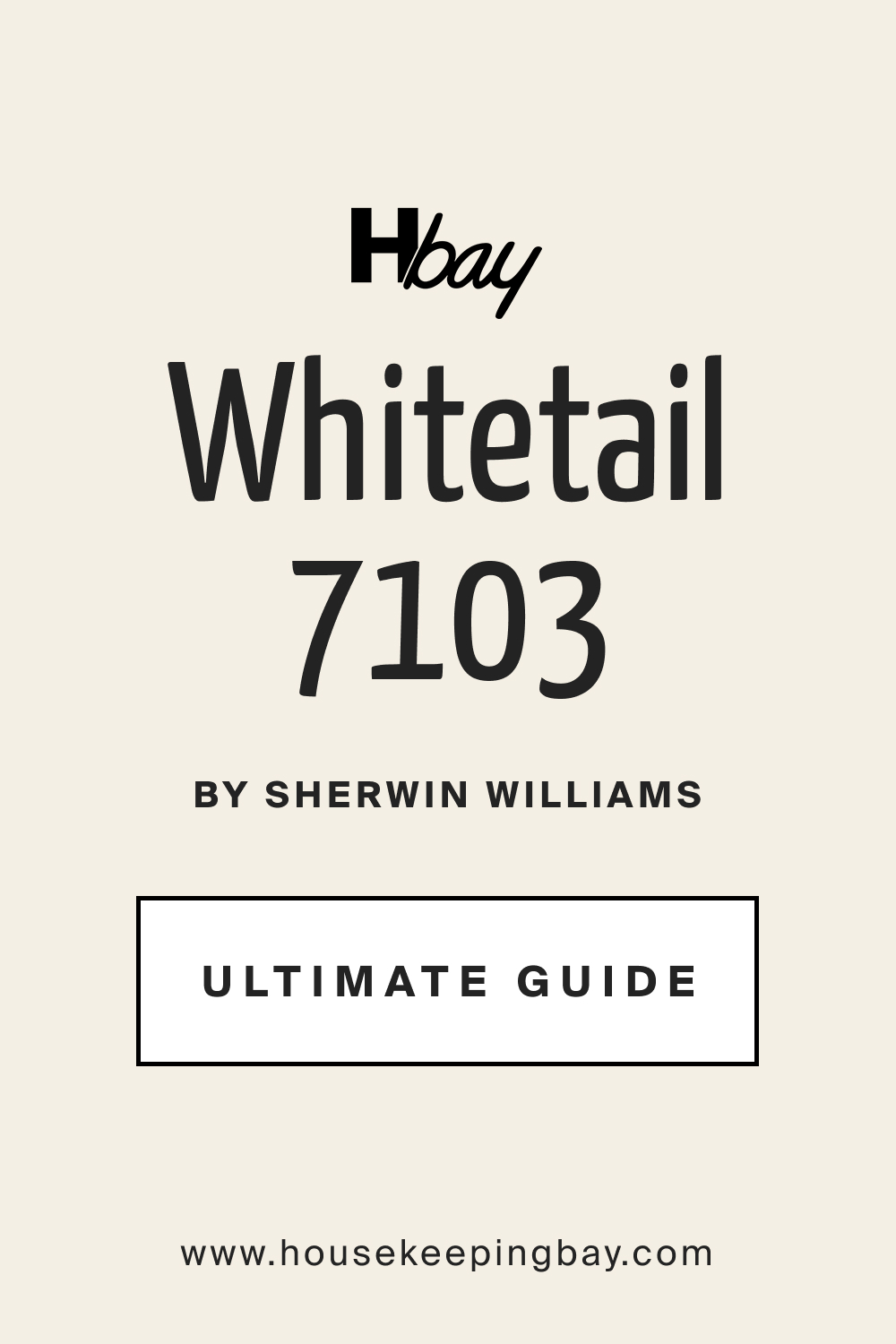 Frequently Asked Questions
⭐What hue family does SW Whitetail belong to?
This color belongs to the orange hue family.
⭐Does this white read orange?
No, it doesn't. But it can sometimes read a bit yellowish.
⭐Will SW Whitetail pair with black?
Yes, this white works well with black colors!