When it comes to designing our dream homes, color plays a significant role. It shapes our perceptions, creates moods, and even influences our thoughts. Among the myriad choices available, neutrals hold a special place. They are adaptable, inviting, and timeless.
Among these neutrals, one color that has won many hearts over the years is Sherwin-Williams's SW 6147 Panda White.
In this comprehensive guide, we will delve into the details of this versatile hue – exploring its undertones, coordinating colors, and the impact of lighting on its appearance. We will also compare it to similar colors and provide suggestions for incorporating it into different parts of your home.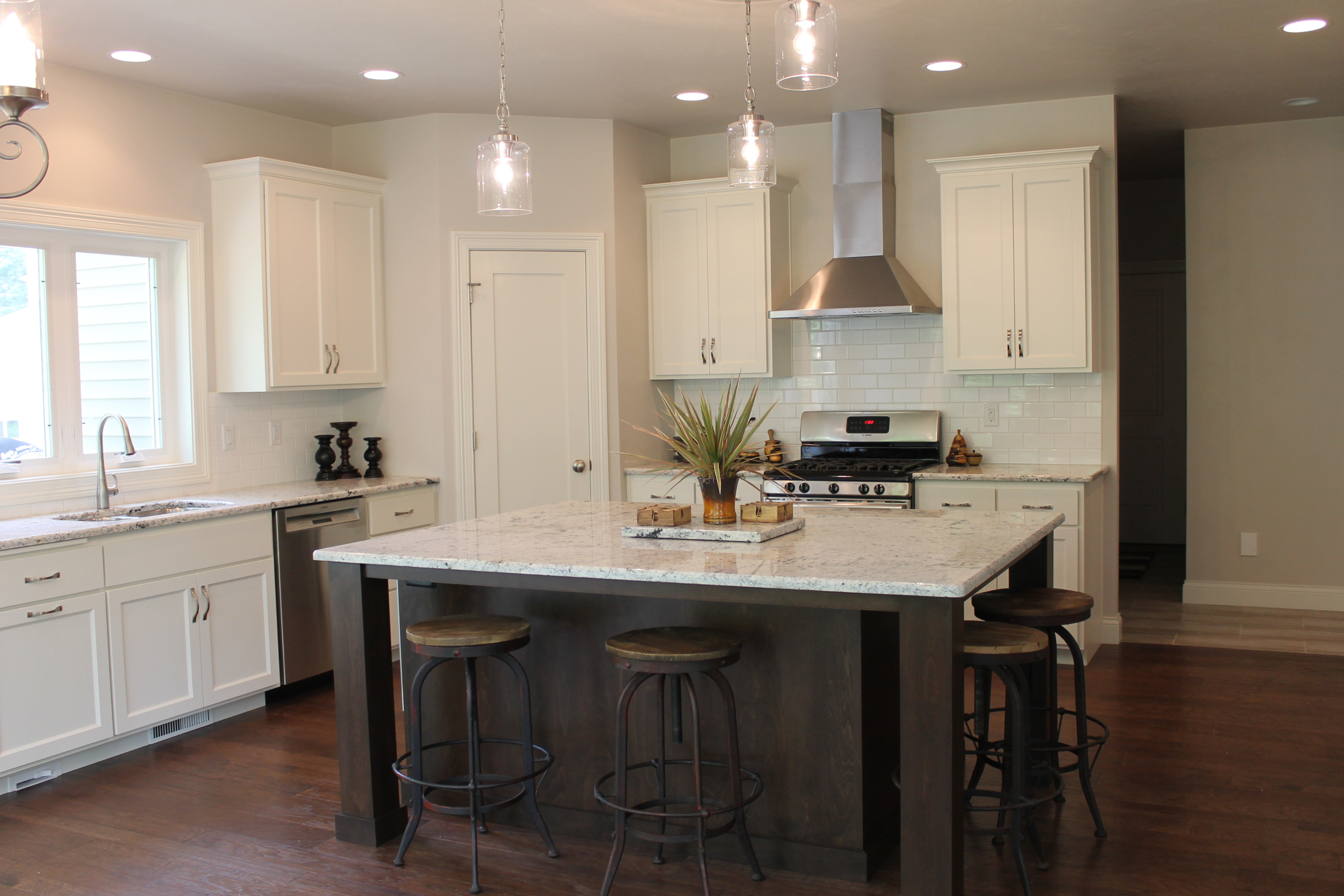 What Kind of Color Is SW 6147 Panda White?
As Hextoral says, SW Panda White is a beautiful, soft, and subtle shade of white. Despite its name, it isn't stark or pure white. It has a slight creamy quality, which gives it a warm and inviting feel. It's a neutral color that has a wonderful balance, not leaning too far into any single color spectrum.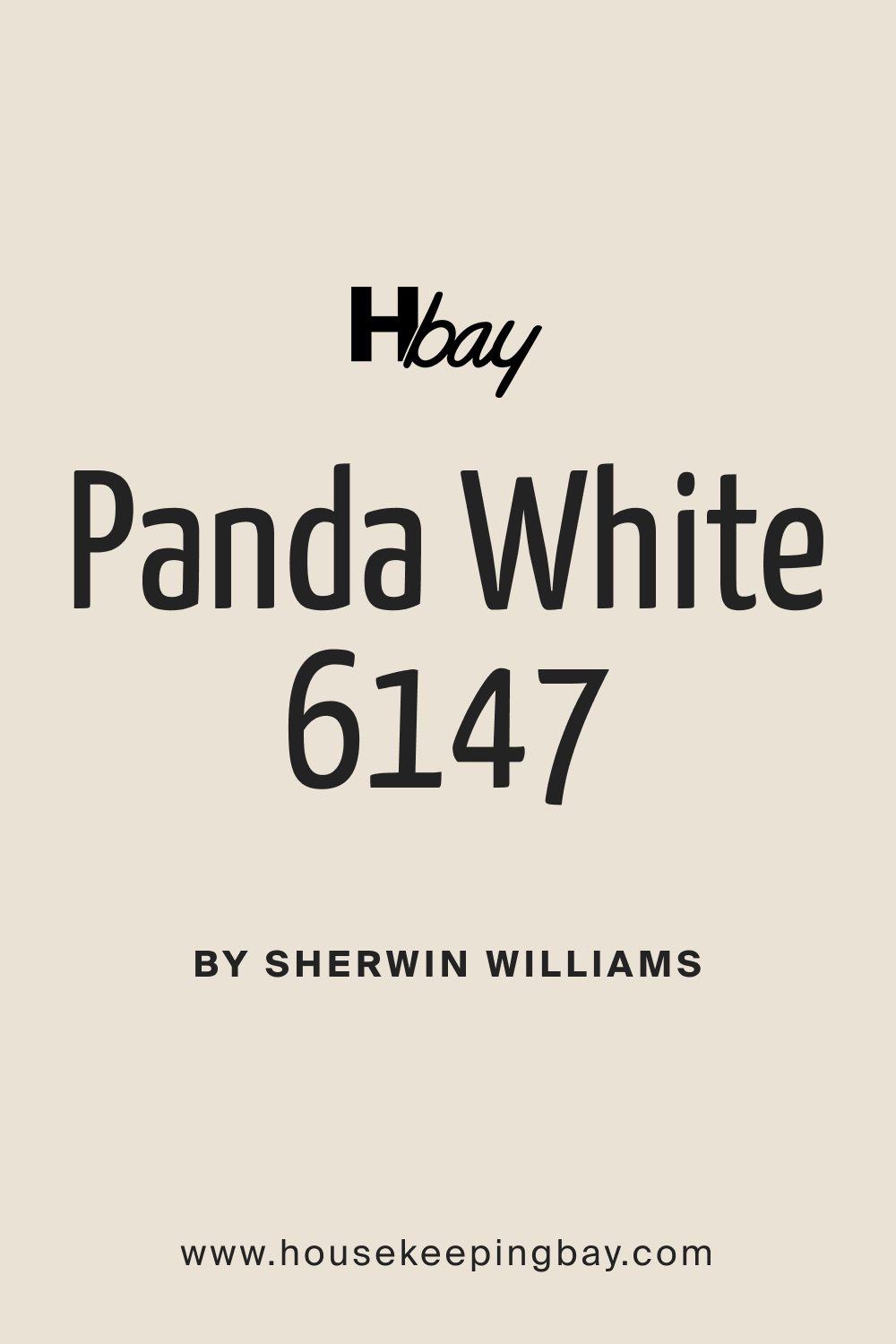 Is It a Warm Or Cool Color?
SW Panda White is a warm color, for sure. Although it is not overly yellow, its creamy undertone does lend a sense of warmth. This warmth makes SW Panda White a perfect choice for creating cozy and inviting spaces. It exudes a comforting aura, making rooms feel homely and welcoming.
What Undertones Does SW 6147 Panda White Have?
SW 6147 Panda White has rather complex undertones of beige, yellow, and gray. The beige undertone contributes to its warm and inviting vibe, making it a great choice for living areas. The slight hint of yellow adds a touch of sunshine, further enhancing its warmth. The gray undertone, though subtle, brings a sense of balance, preventing the color from becoming overly warm.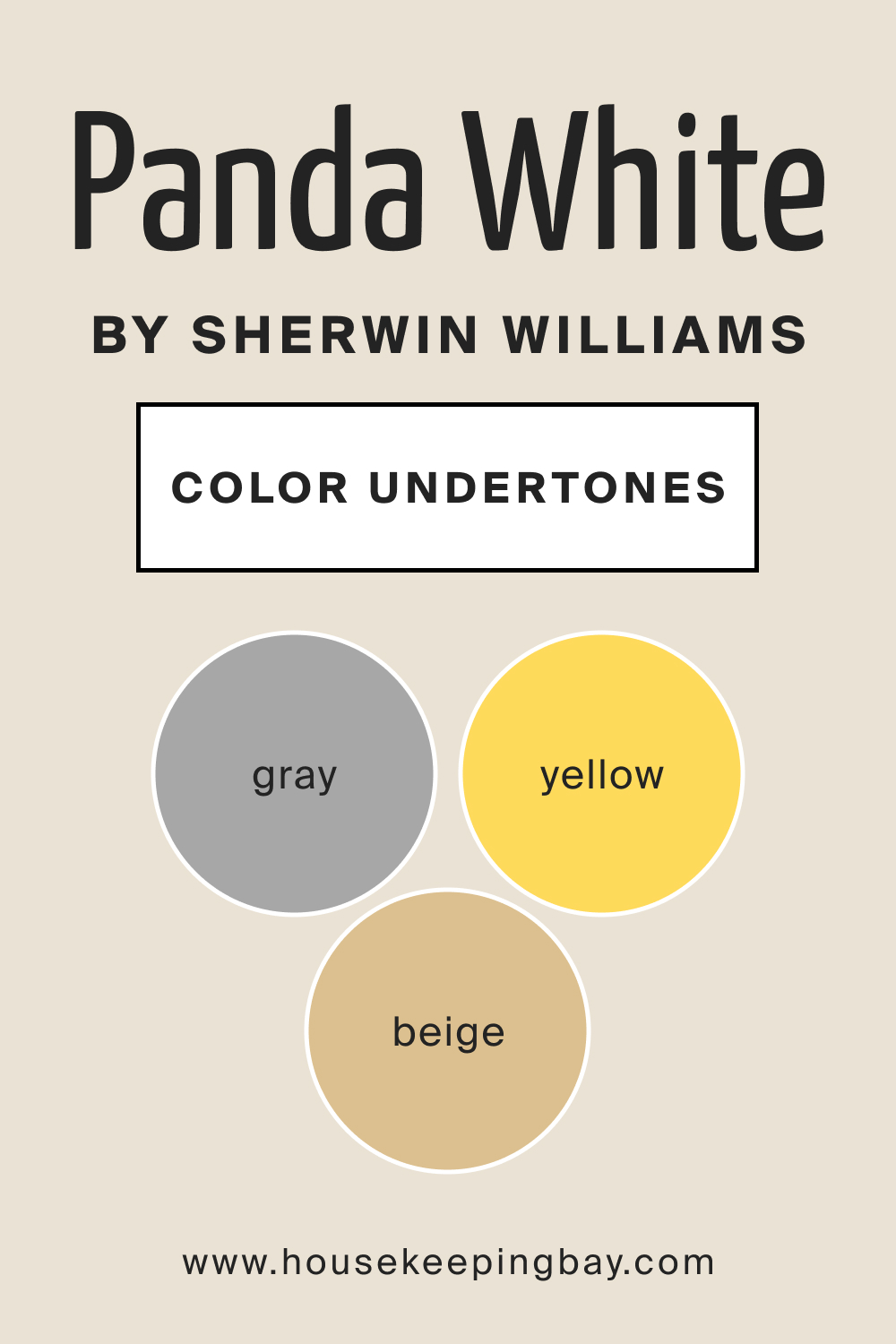 Coordinating Colors of SW 6147 Panda White
You may think that picking the correct coordinating colors for a hue that has such complex undertones as SW Panda White can be challenging. But SW Panda White is highly versatile and coordinates beautifully with a wide range of colors. Below, you can check out a few paint colors that typically work best:
SW 6337 Spun Sugar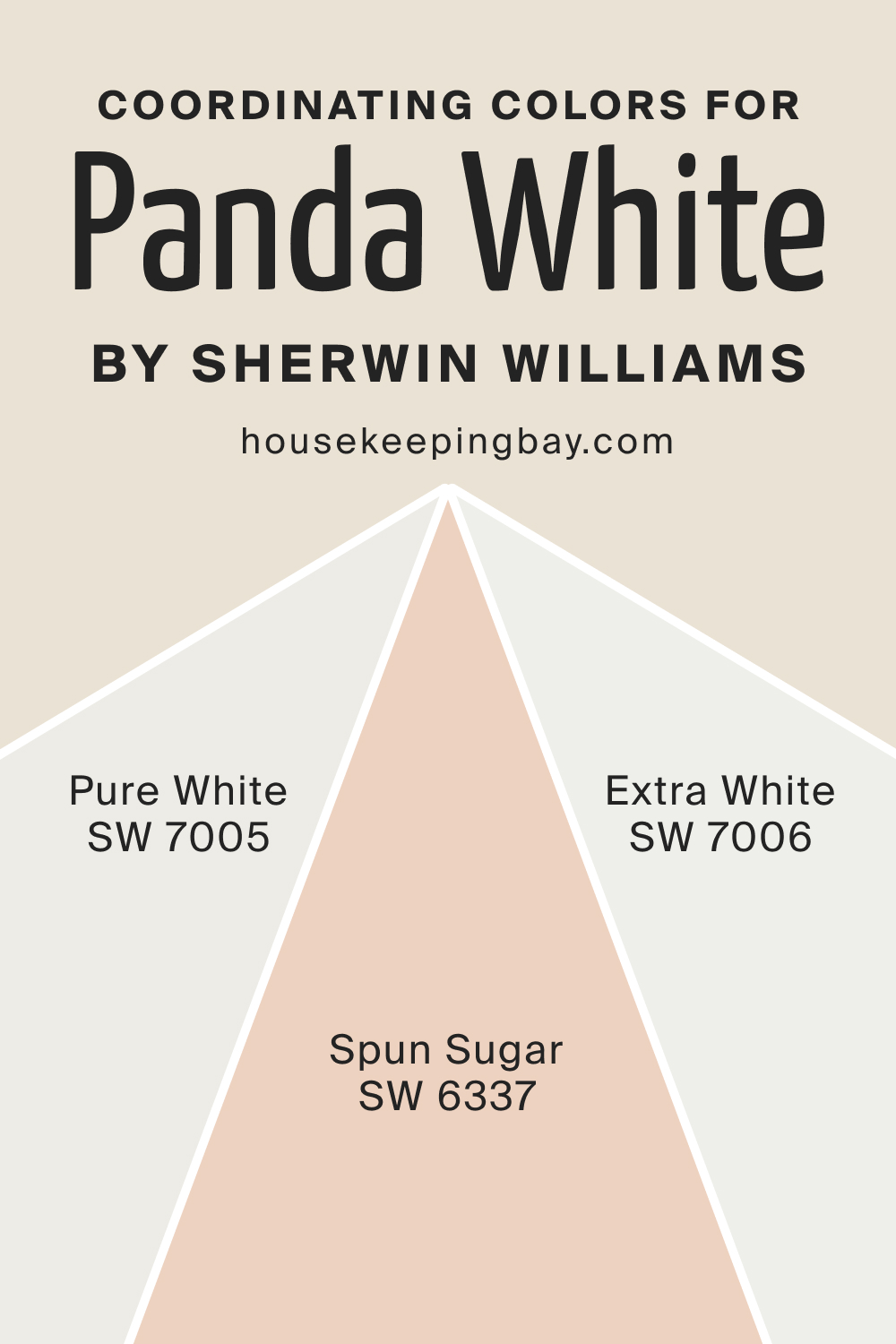 How Does Lighting Affect SW 6147 SW Panda White Paint Color?
Lighting significantly impacts how SW Panda White appears. In natural daylight, this color looks fresh and bright. However, its warm undertones become more noticeable in artificial light, especially in soft, warm lighting.
Its beige and gray undertones can also become more pronounced under different types of artificial light, like LED or fluorescent lighting. Therefore, it's always recommended to test this color in your specific lighting conditions before making a decision!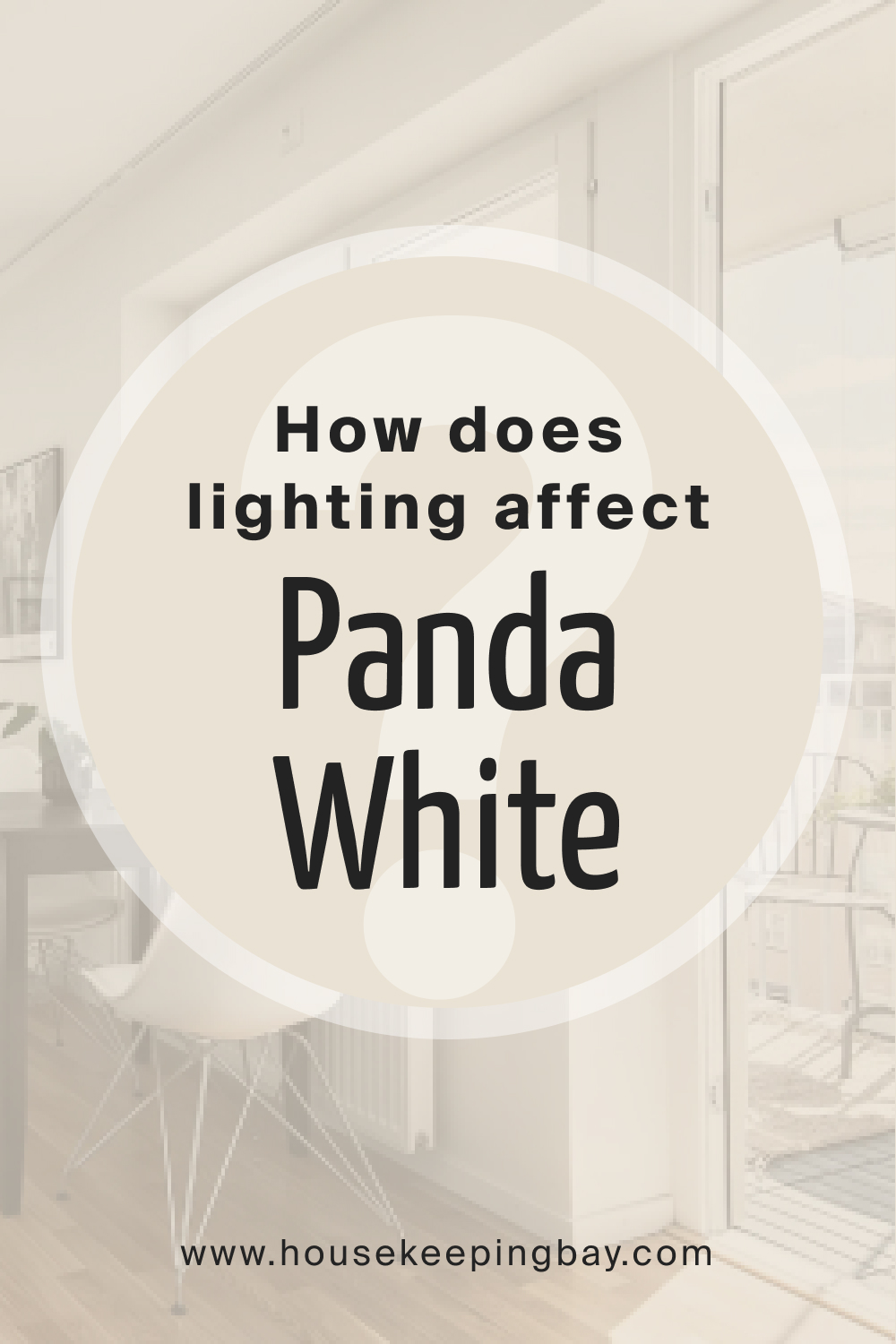 What LRV Does SW 6147 Panda White Have, and How Does It React to Light?
LRV, or Light Reflectance Value, is a measure of how much light a color reflects. SW Panda White has an LRV of 77, which is a relatively high value. This means SW Panda White can help to make a room feel larger and brighter, and it's less likely to absorb heat, making it a great choice for warm climates or small spaces that you want to make appear larger.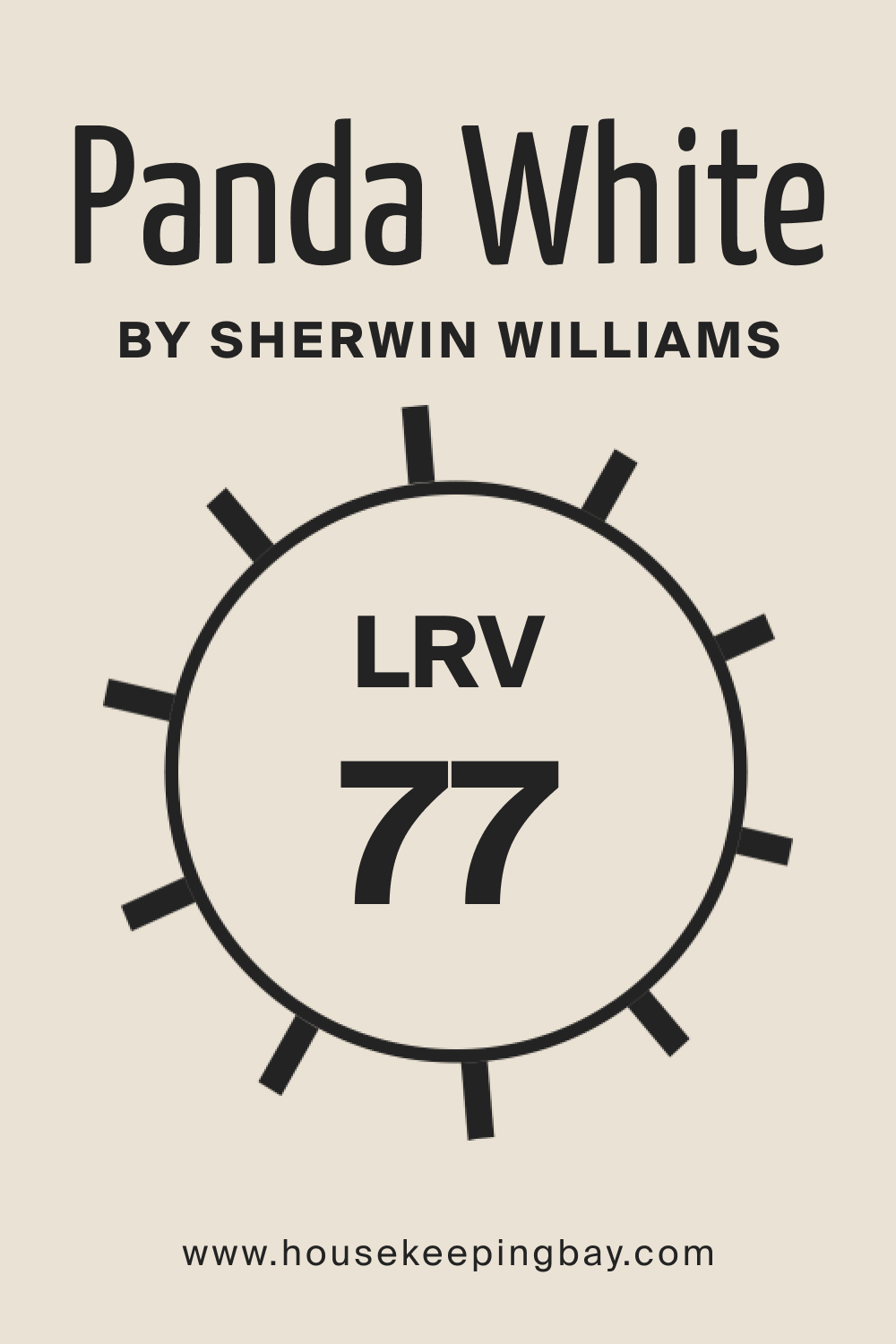 What is LRV? Read It Before You Choose Your Ideal Paint Color
Trim Colors for SW Panda White
Trim colors can complement or contrast your main wall color to add depth and interest. Here are three great trim color options for SW Panda White:
SW 7005 Pure White. This pure, clean white makes an excellent contrast to SW Panda White, helping to highlight its warm undertones.
SW 7008 Alabaster. Alabaster is slightly whiter than SW Panda White, providing a subtle contrast without clashing with SW Panda White's warmth.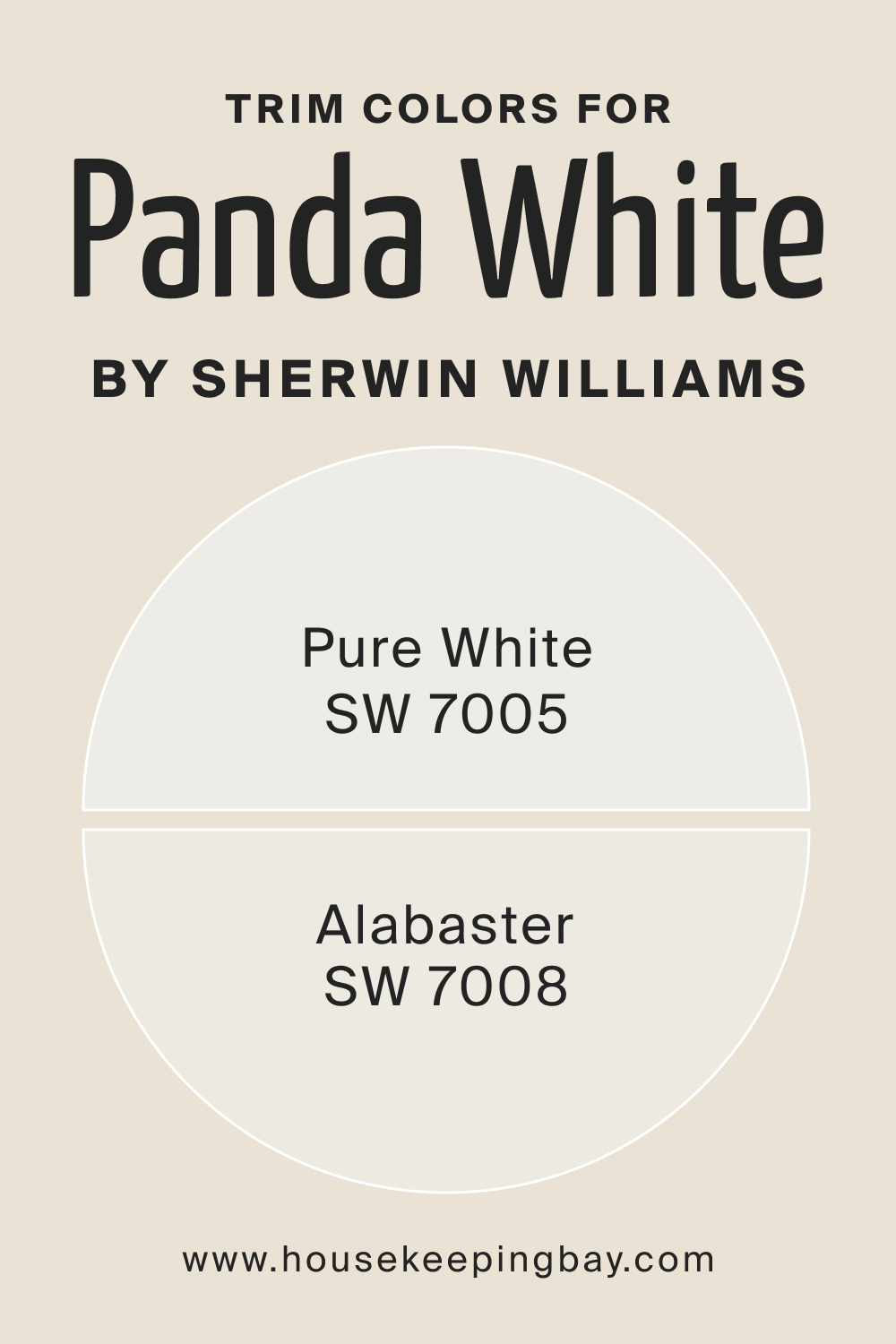 Colors Similar to SW Panda White
There are several colors similar to SW Panda White. Here are six of them you might want to consider for your home:
Behr Elk Horn
BM Lime White
Farrow & Ball Slipper Satin
PPG Moroccan Moonlight
Valspar Totten's Inlet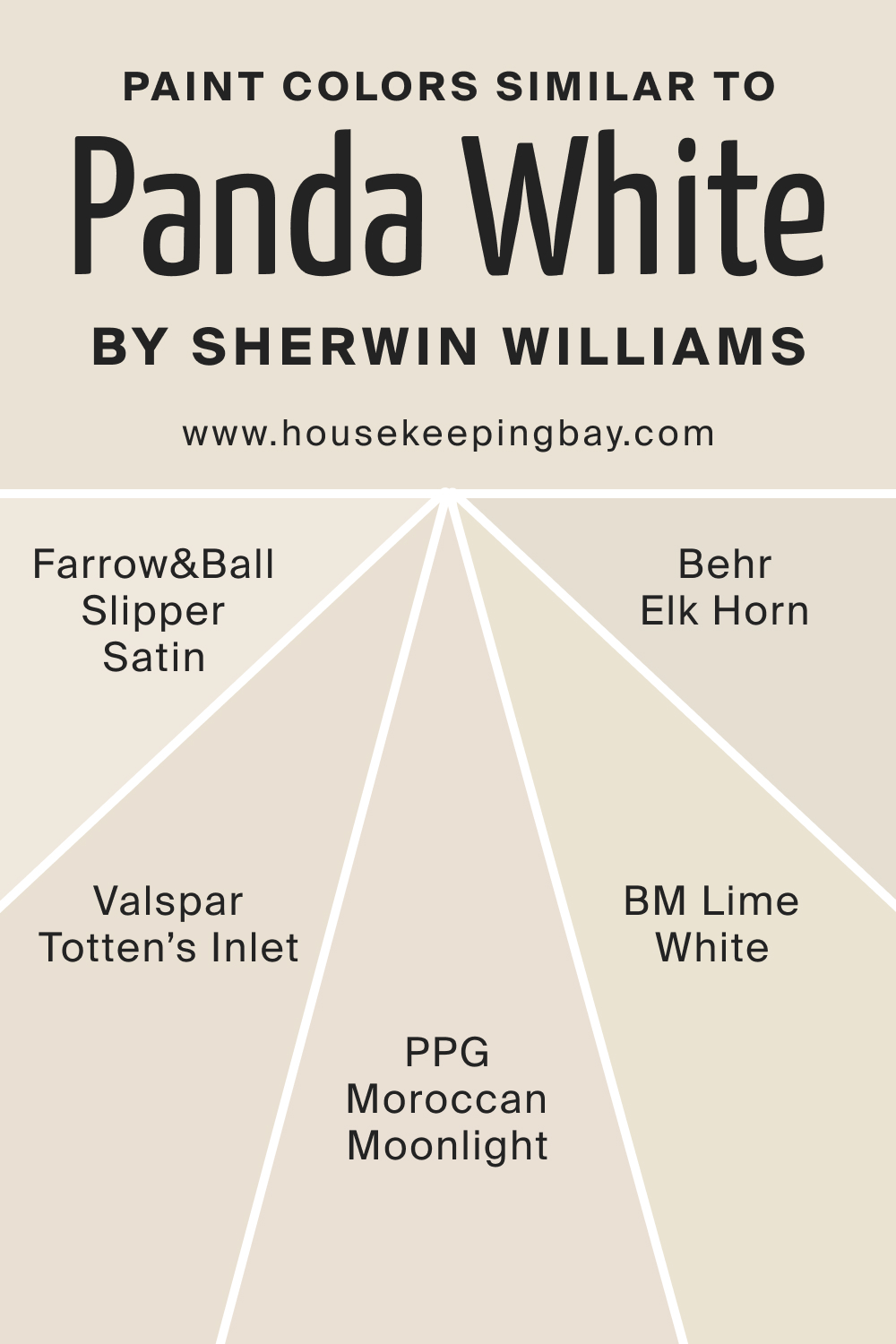 Colors That Go With SW Panda White
SW Panda White is a versatile white and can be paired with many different colors. Here are several color options you may find interesting:
SW 6204 Sea Salt. For a serene and calming vibe, this soft blue-green shade pairs beautifully with SW Panda White.
SW 6258 Tricorn Black. For a bold and dramatic contrast, Tricorn Black is a great option.
SW 6606 Coral Reef. A vibrant, joyful color that adds a fun pop of color to a room with SW Panda White.
SW 6219 Rain. This soft, muted blue is tranquil and peaceful, working well with SW Panda White.
SW 6004 Mink. This rich, warm gray offers a gentle contrast to SW Panda White.
SW 6194 Basil. This deep, earthy green adds warmth and richness to an SW Panda White room.
SW 7012 Creamy (This color complements SW Panda White by amplifying its warm, inviting vibe).
SW 7036 Accessible Beige. (Its balanced neutrality accentuates the warmth of SW Panda White without clashing with it).
SW 7018 Dovetail. (This deeper gray acts as a stunning contrast to Panda White, highlighting its softness).
SW 7674 Peppercorn. (This rich, almost-black shade provides a dramatic contrast, making SW Panda White stand out).
SW 7593 Rustic Red. (For a pop of color, this bold red pairs surprisingly well with SW Panda White, providing an energizing contrast).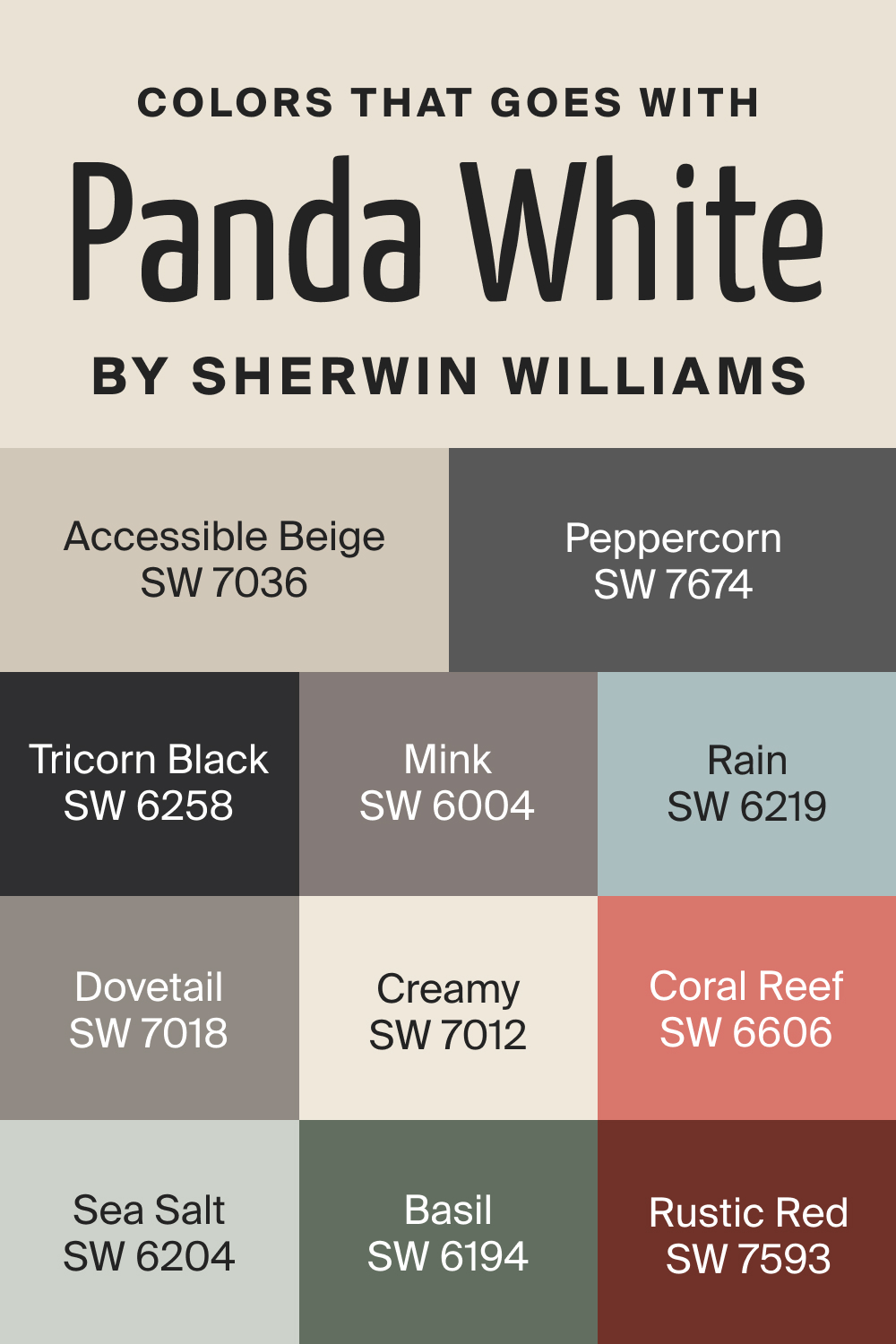 Where This Color Can Be Used In Your Home?
SW Panda White will fit in many home interiors and rooms despite its warmth. Below, we describe how it may read in different spaces to help you better imagine what it might look like.
How to Use SW Panda White In the Bedroom
SW Panda White is an ideal choice for bedrooms. Its warm undertones create a soothing, inviting atmosphere conducive to rest and relaxation. Using SW Panda White on the walls can make the room feel fresh, bright, and airy. Complementing this white with warm-colored textiles and natural wood furniture enhances its cozy vibe.
In a more minimalist bedroom, SW Panda White can act as the perfect canvas. Its neutrality allows for versatility in decor, from monochromatic white and beige palettes to bold pops of color. It also pairs well with metallic accents, such as gold or brass, for a touch of glamour.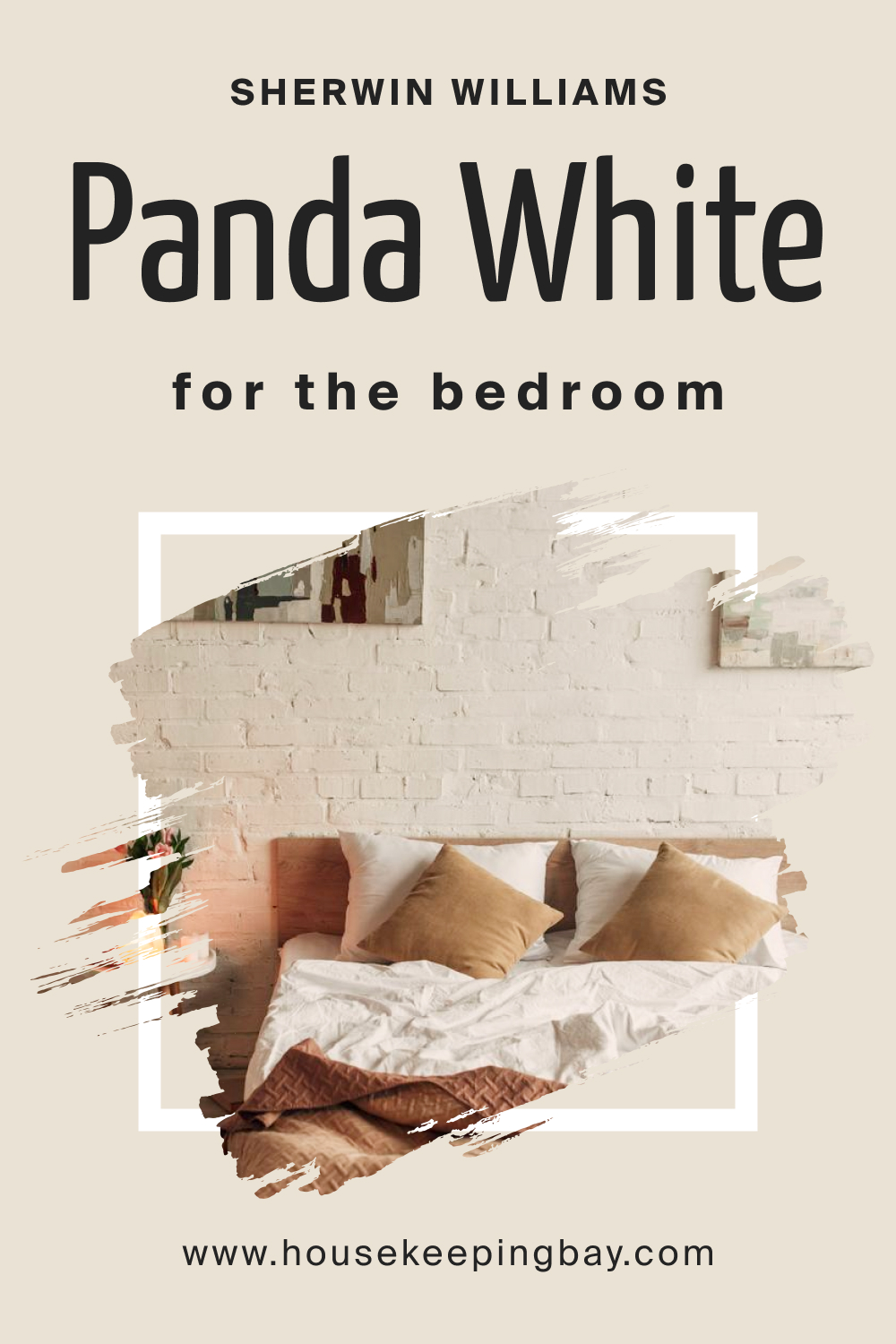 How to Use SW Panda White In the Bathroom?
In bathrooms, SW Panda White brings a spa-like serenity. Its soft, warm tones can make the space feel clean and inviting. Paired with white tiles and chrome fixtures, it creates a modern, chic aesthetic. For a more traditional look, combine SW Panda White with warm wood tones and vintage-inspired fixtures.
A smaller bathroom can benefit from SW Panda White's high LRV, making the space feel larger and more open. Accent it with vibrant, warm colors, such as coral or peach, for a more personal touch. Alternatively, a monochrome palette of the Panda White color and various grays can provide a sleek, modern look.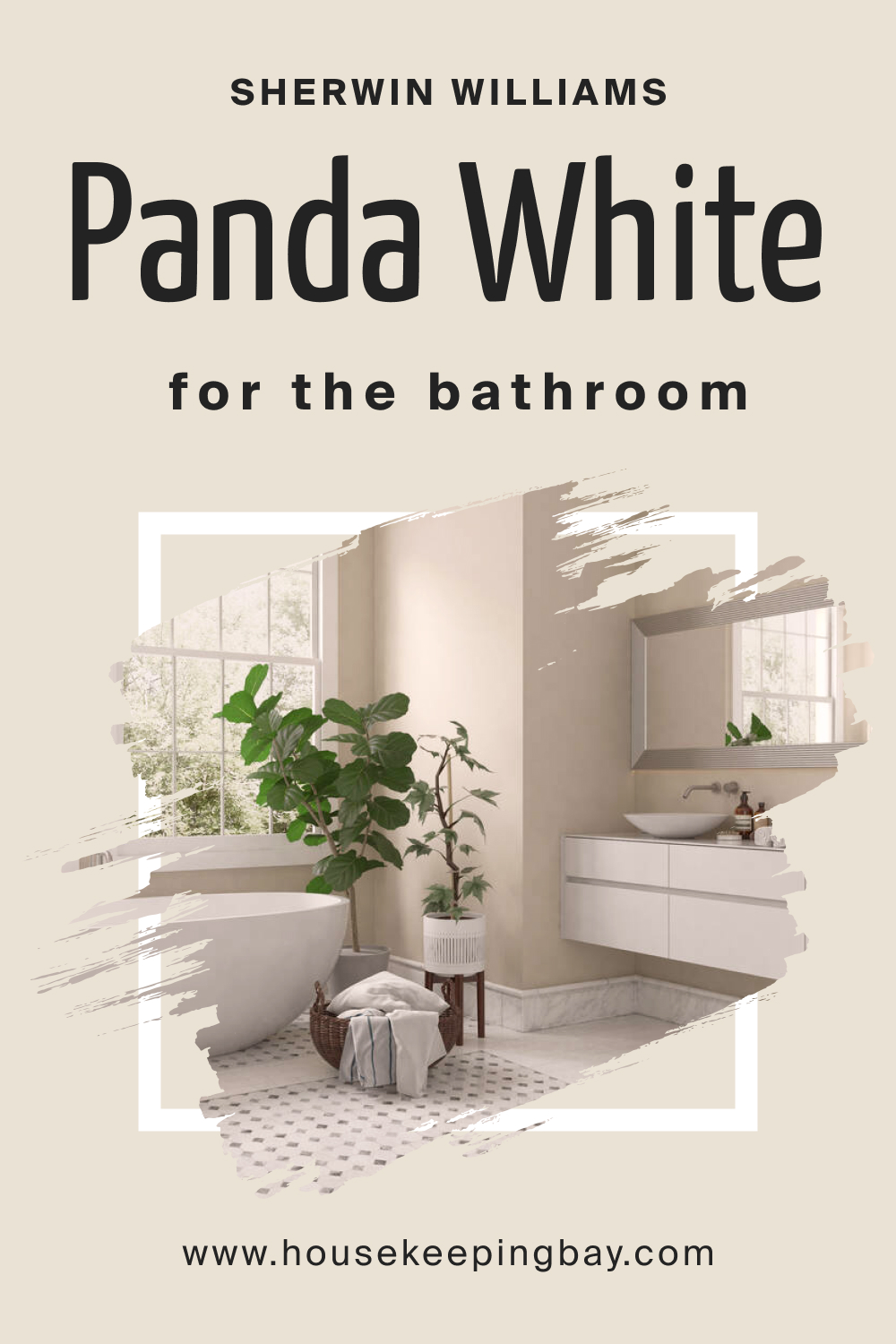 How to Use SW Panda White In the Living Room?
In living rooms, SW Panda White's warm undertones create a welcoming atmosphere. Whether you're going for a modern, minimalist look or a cozy, traditional vibe, SW Panda White is a versatile choice. It pairs beautifully with natural wood furniture and earth-toned textiles.
For a contemporary living room, combine SW Panda White with cooler neutrals and modern, metallic accents. For a more traditional or rustic look, pair it with warm, earthy colors and vintage or antique pieces. Regardless of the style, SW Panda White provides a bright, inviting backdrop that can accommodate any color scheme or decor style.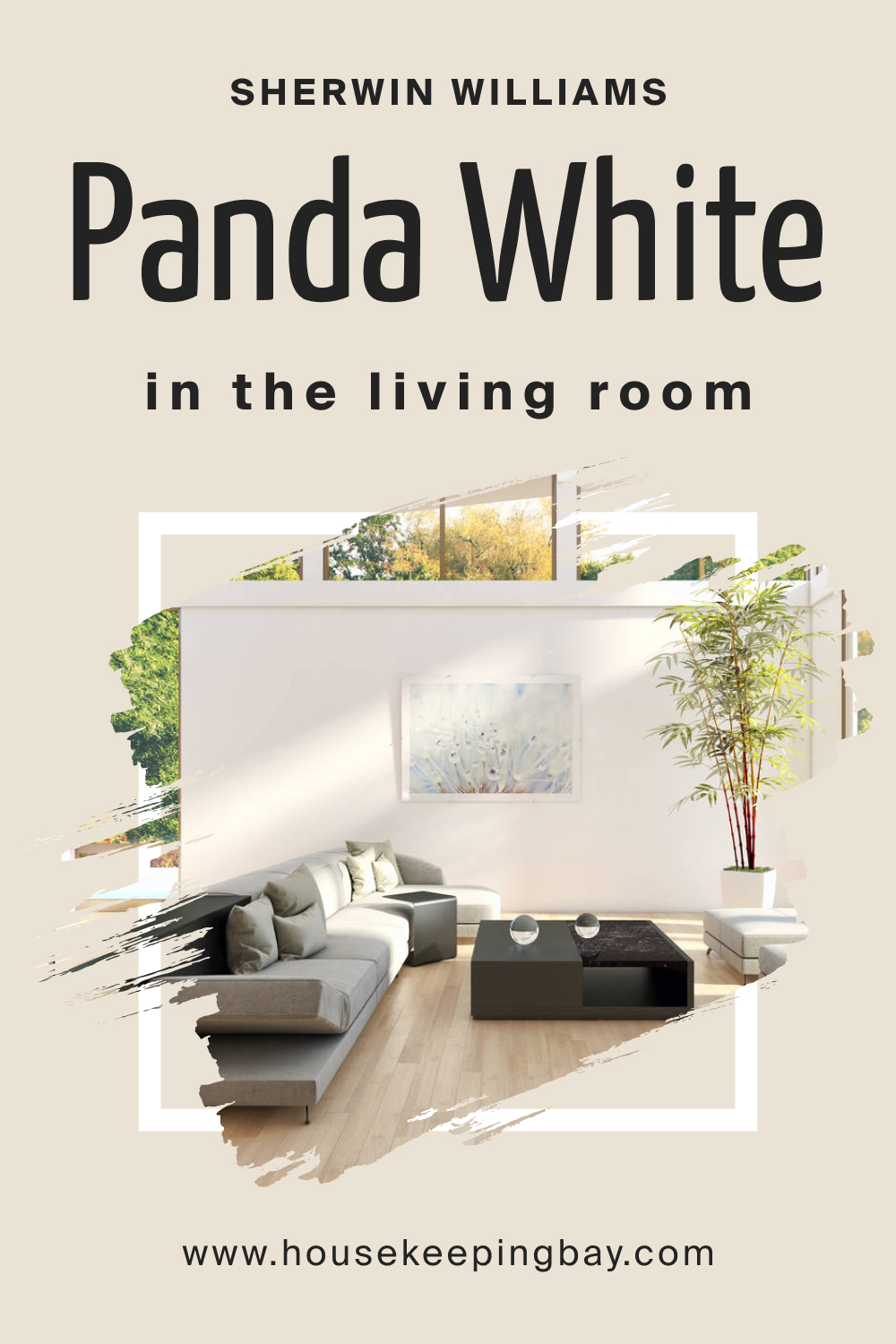 How to Use SW Panda White On Exterior Walls?
SW Panda White's high LRV makes it a popular choice for exteriors, reflecting sunlight and keeping the home cooler. Its warm undertones give a welcoming, homely feel, enhancing curb appeal. For a timeless exterior color scheme, pair the Panda White color with a darker trim color, such as a deep gray or brown.
SW Panda White also works well with natural elements like wood and stone. It complements their earthy tones and highlights their natural beauty. With darker roof colors, this white provides a striking contrast that makes the home stand out.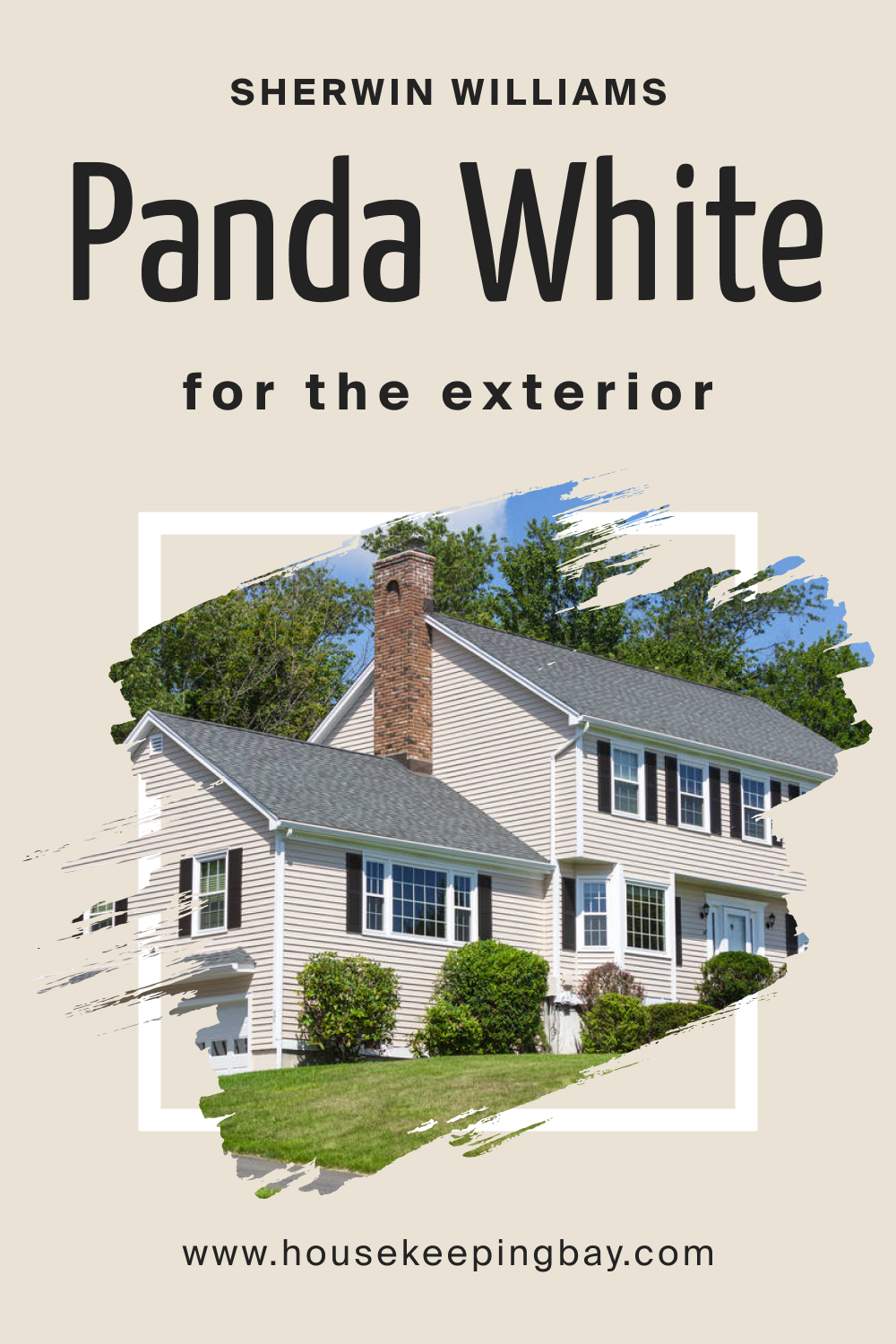 Comparing SW Panda White With Other Colors
To understand the unique features and characteristics of this color, we recommend you compare it with other soft and warm-toned whites that look the same or very close to SW Panda White. This way, you will learn to distinguish the smallest differences between the related hues.
Panda White vs SW 7566 Westhighland White
SW Westhighland White is a warmer white compared to SW Panda White. It has a more pronounced beige undertone, making it slightly darker. However, both colors share a similar level of versatility and adaptability, creating welcoming and comforting spaces.
Panda White vs SW 7012 Creamy
SW Creamy is a richer, more yellow-toned color compared to SW Panda White. While SW Panda White has a more neutral base, SW Creamy leans more into the warm spectrum. Both are great for creating a cozy atmosphere, but the Creamy paint color provides a more pronounced warmth.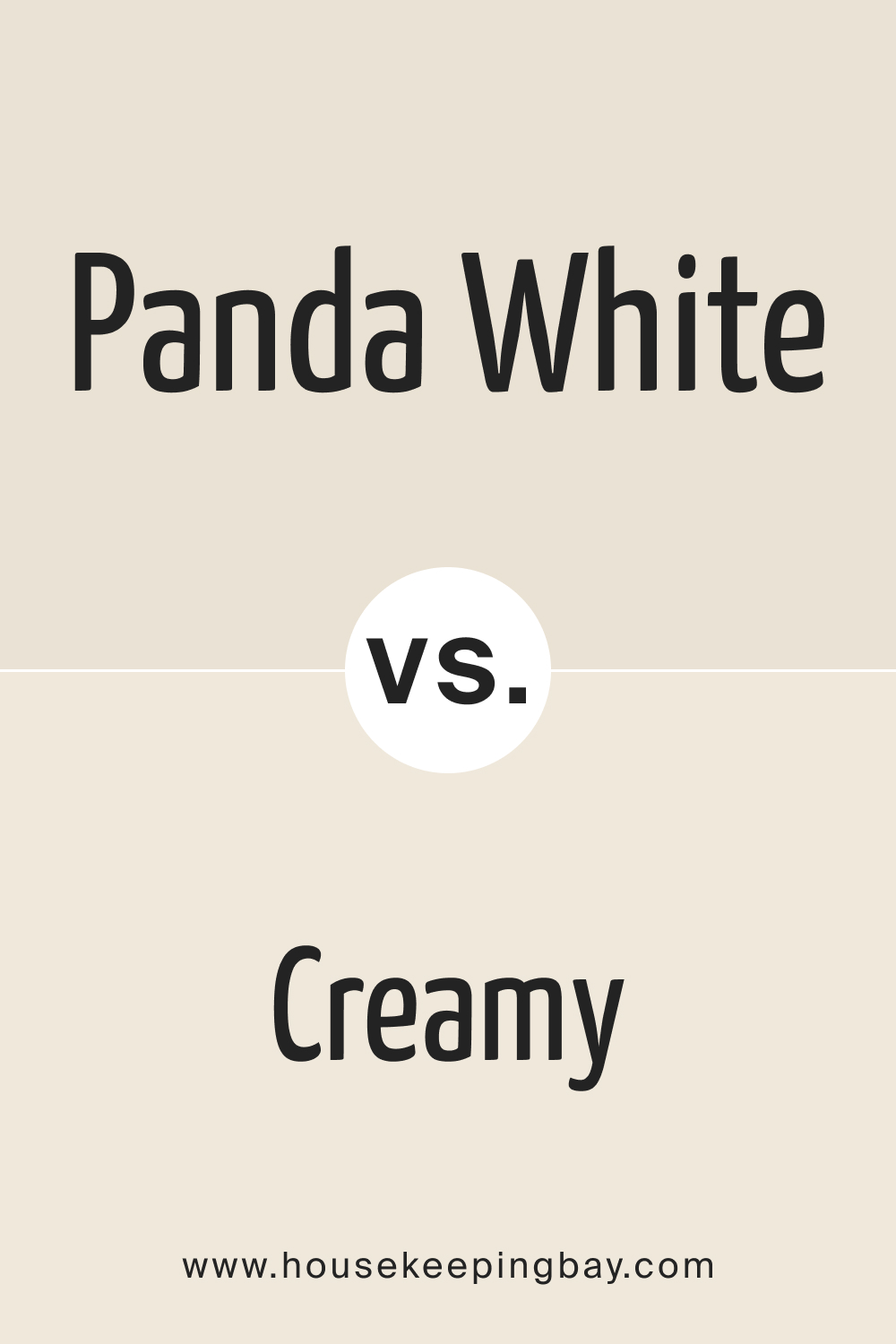 Panda White vs SW 7008 Alabaster
SW Alabaster is a bit whiter than SW Panda White but still has a warm undertone. While SW Panda White has a slight beige undertone, the Alabaster color leans more towards a subtle gray undertone, providing a cooler feel. Despite their differences, both can be used interchangeably, depending on the desired warmth of the room.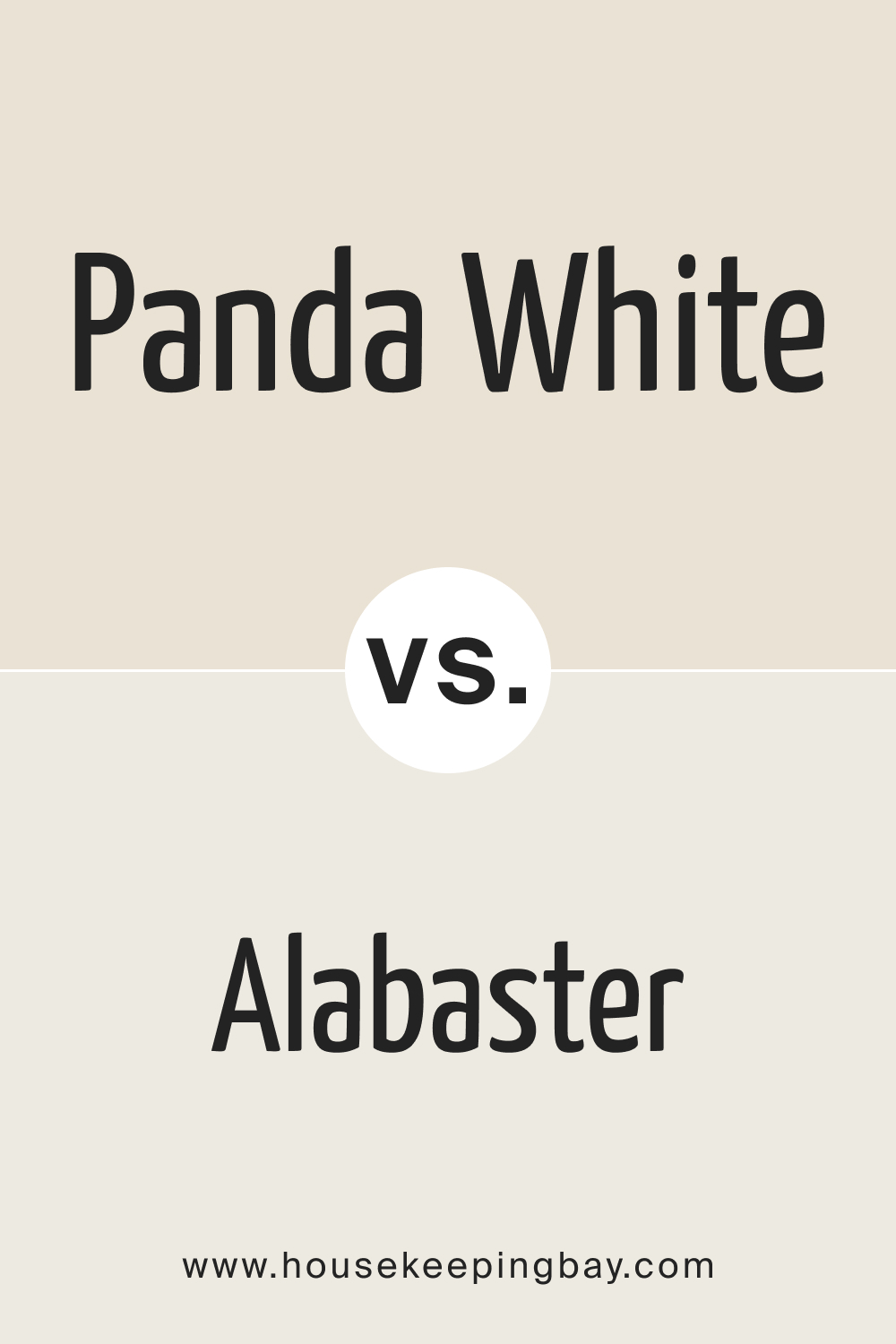 Panda White vs SW 7042 Shoji White
SW Shoji White is a greige color, darker than SW Panda White but similar in tone. SW Shoji White can be used as an accent color in a Panda White room, providing a subtle contrast without overwhelming the space. They share a similar neutral base, ensuring harmony and balance.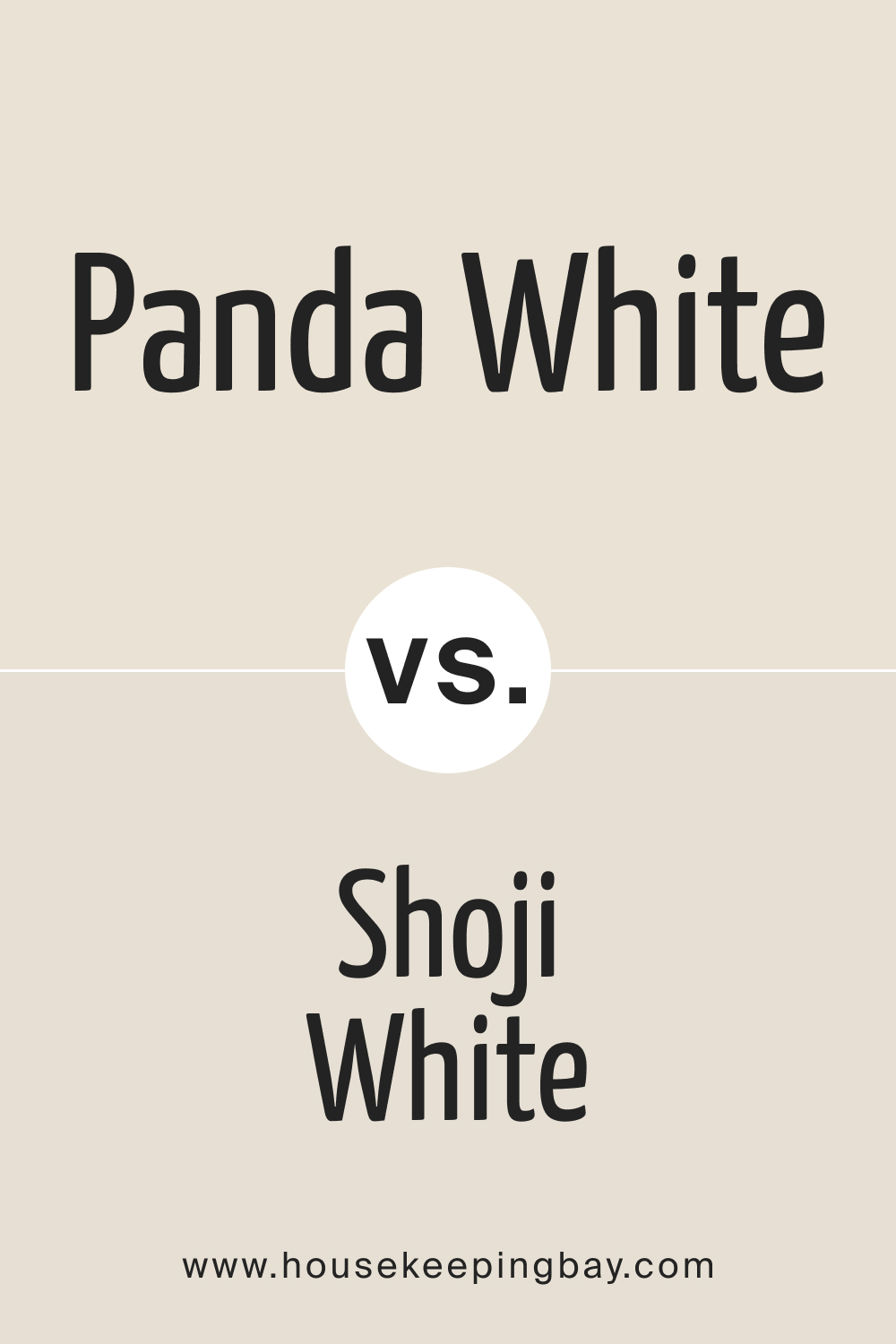 Panda White vs SW 7011 Natural Choice
SW Natural Choice is slightly darker than SW Panda White, but they share a similar beige undertone. SW Natural Choice provides a slightly deeper tone, which can be used to provide a subtle contrast in a Panda White room. However, both are equally versatile, providing a warm, inviting vibe.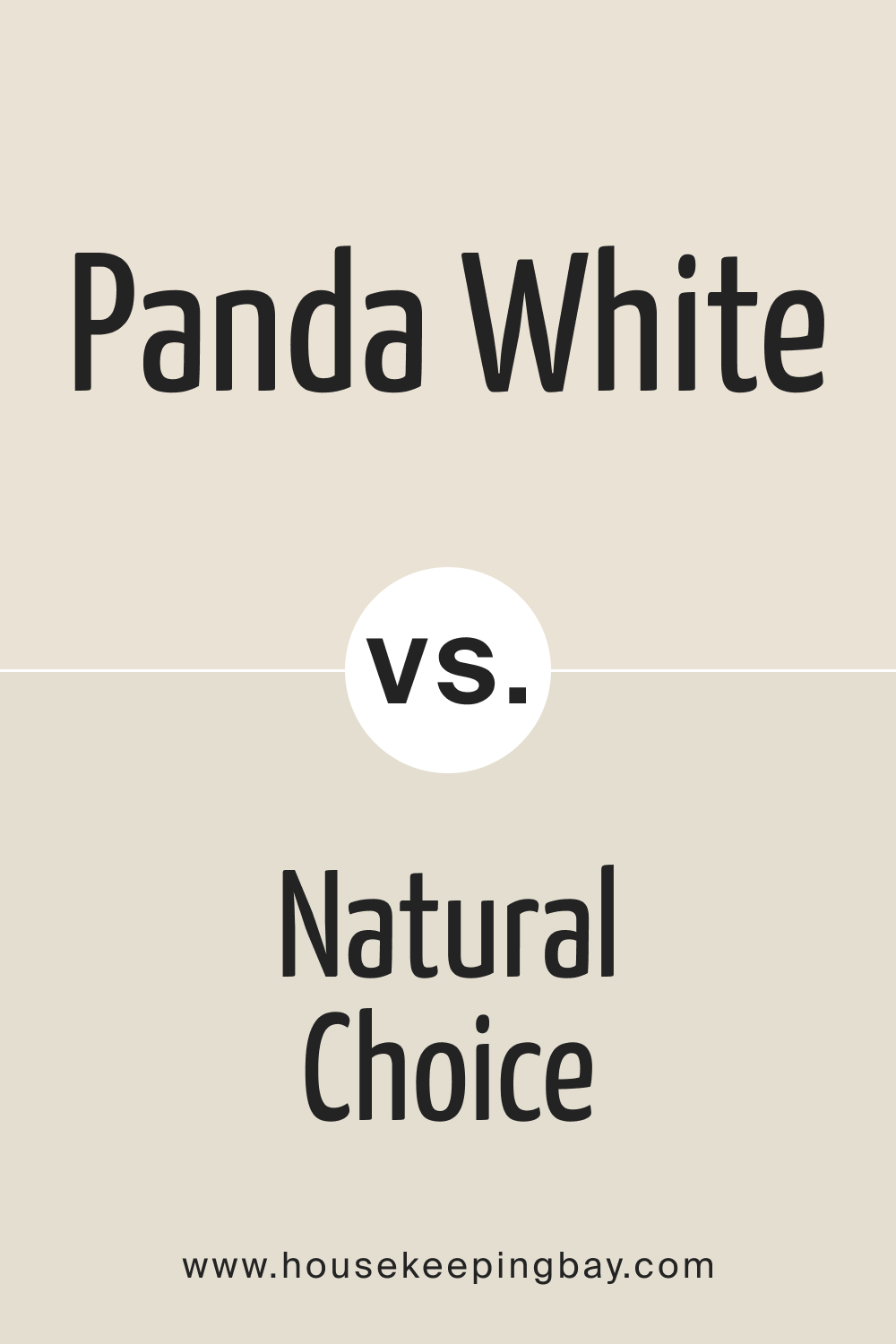 Panda White vs SW 7010 White Duck
SW White Duck has a more pronounced greige undertone compared to SW Panda White, making it slightly darker. SW White Duck's greige undertone gives it a more muted, earthy vibe compared to SW Panda White. But they both work well together, creating a harmonious, warm atmosphere.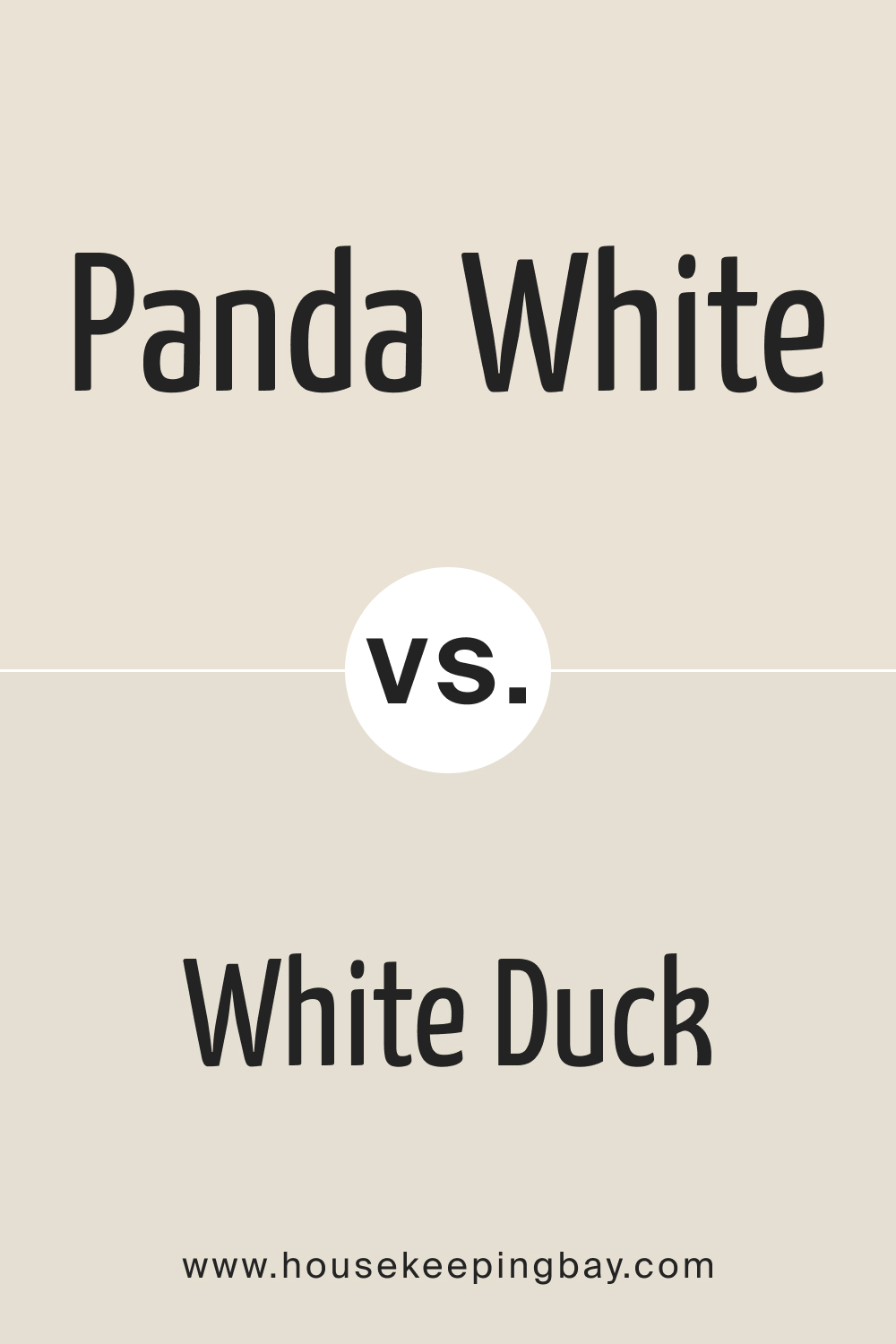 Conclusion
SW 6147 Panda White is a versatile, warm, and inviting color that can transform any space. Whether used in a bedroom, bathroom, living room, or on exterior walls, SW Panda White's soothing undertones create a welcoming and comforting vibe.
Paired with a wide array of colors, from rich, bold hues to other soft neutrals, SW Panda White can adapt to virtually any style or decor. Its comparison with other colors further showcases its adaptability and versatility.
If you're considering a neutral color for your next design project, SW Panda White is a wonderful choice that offers endless possibilities.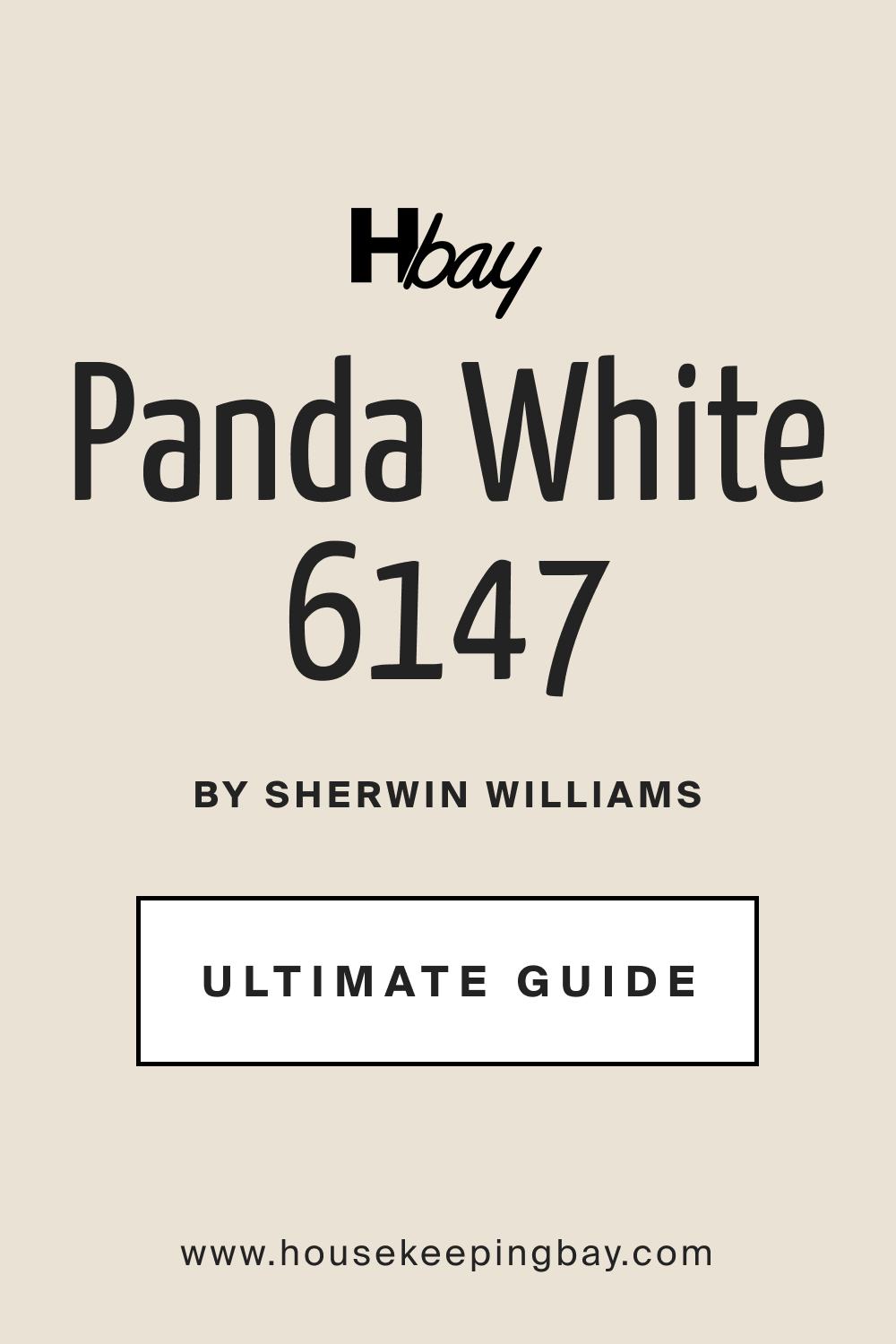 Frequently Asked Questions
⭐What undertones does Panda White SW 6147 possess?
This question would assist customers in understanding the nuanced undertones of the Panda White paint color, which would enable them to better pair it with other design elements.
⭐Which spaces or rooms are most suitable for Panda White SW 6147?
This would help potential customers visualize how this color might fit into different areas of their home, such as a living room, bedroom, kitchen, or bathroom.
⭐What finish is recommended for Panda White SW 6147 and how does it affect the look of the color?
The finish (matte, eggshell, satin, semi-gloss, high gloss) can have a significant impact on how a paint color appears once it's applied. It would be beneficial for customers to know what finish is best for this color and why.
⭐What colors complement Panda White SW 6147 well?
Customers might be interested in what colors coordinate well with Panda White for accent walls, furniture, trim, or other design elements.
⭐Is Panda White SW 6147 available across all Sherwin-Williams paint types?
This could provide information on whether this color is available in all the various types of paint that Sherwin-Williams offers, such as interior, exterior, primer, etc.