If you don't know what paint color to choose for your home interior palette, it's good to seek help from trustworthy sources. Especially if you need to figure out which color of the vast palette of neutrals or off-whites you should use. Luckily, you always have us!
Today, we will tell you about a beautiful paint color with a lovely french name Fleur de Sel (which can be translated into English as "the flower of salt"). You will learn what kind of color it is, what undertones it has, and how it reacts to light. We will explain what colors to use to coordinate it and in what rooms it will look best of all.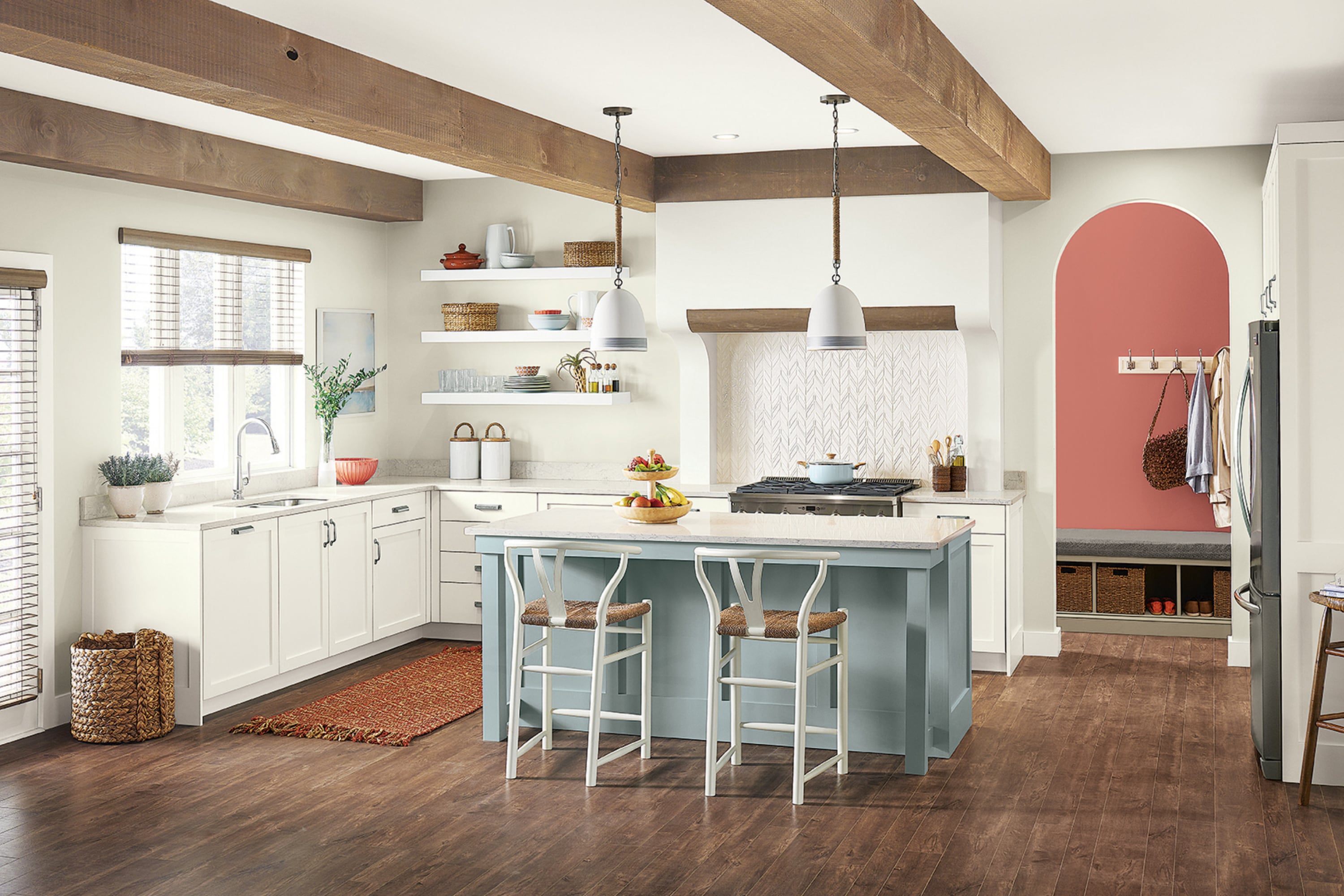 What Kind of Color Is SW-7666 Fleur de Sel?
The Fleur de Sel paint color by Sherwin-Williams  is a cool-toned gray that reads relaxed and balanced. As Encycolorpedia says, it can work as a great neutral and base color, but you should use it cautiously since SW Fleur de Sel may show some unexpected undertones!
This is an ideal paint color for those homeowners who crave an elegant and sophisticated look in their homes. You may see it as a somewhat boring and dull color, but believe us, this delicate gray can amaze you! This paint color feels absolutely cool and calm at the same time, making your space look much larger, spacious, and enhanced!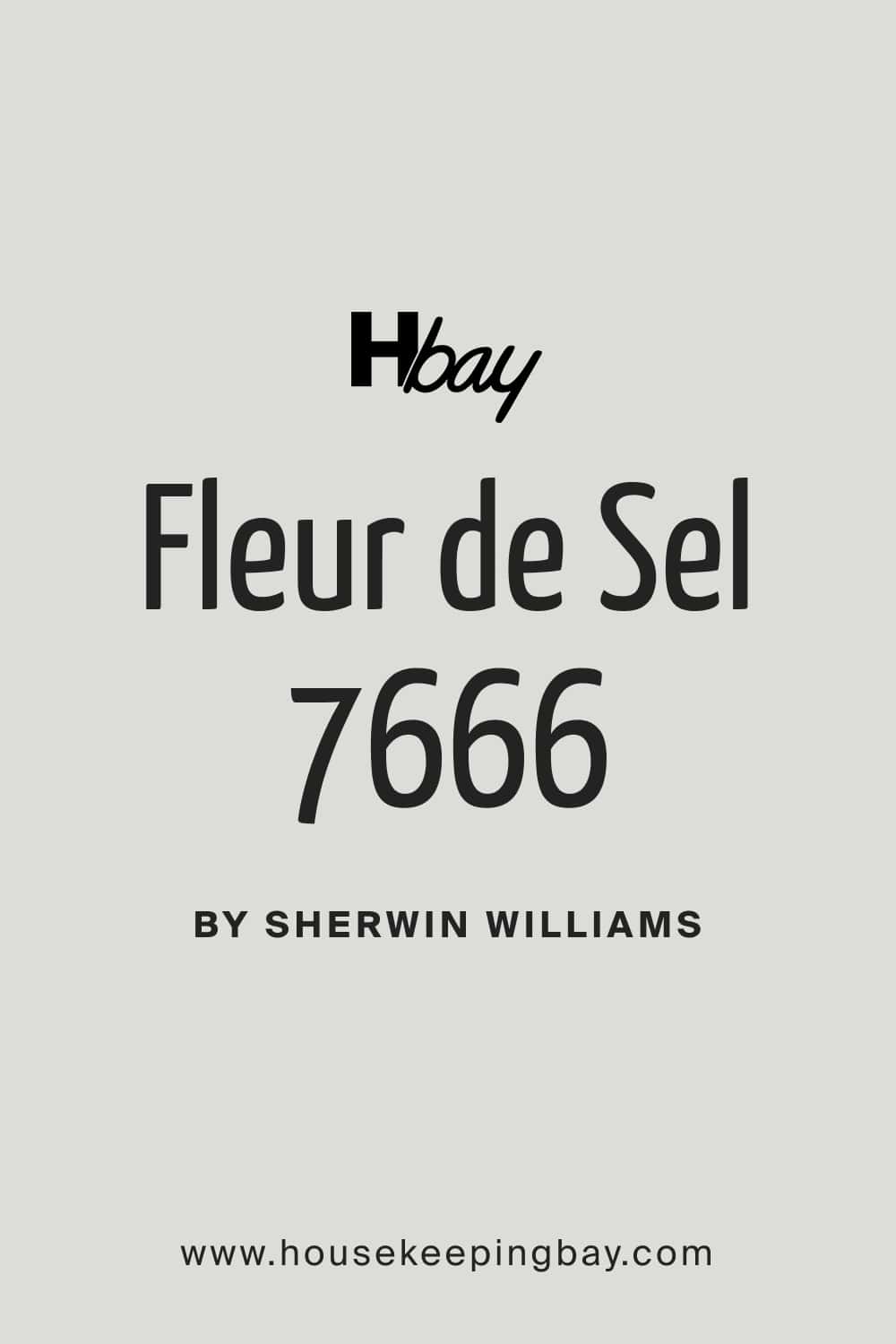 Undertones Of SW-7666 Fleur de Sel
Most of the time, this calm gray color looks what it is, which means gray with quite a cool tone. However, depending on the lighting in a room, it may sometimes reveal a hint of a slight greenish undertone! This is why we would insist on always sampling this paint color before you use it on your walls.
Whenever you use paint indoors on your walls or other surfaces, keep one thing in mind: undertones matter! They will affect the way the color reads in the space. But of course, you must not forget about the other colors as well.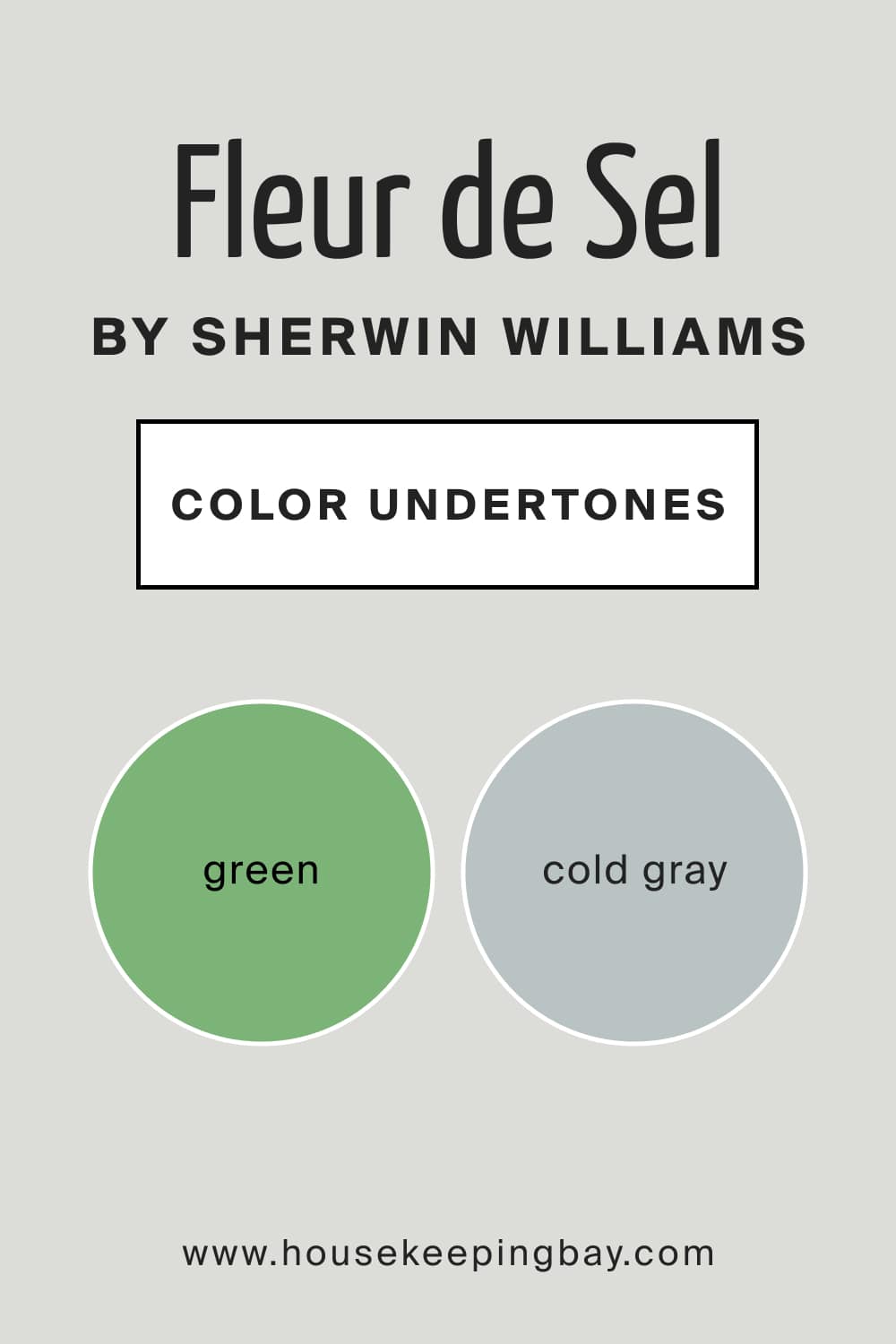 Coordinating Colors of Fleur de Sel SW-7666
It can be tricky to pick up proper coordinating colors for most of us since we are typically unaware of the specifics of color theory. However, this is not an excuse to skip this step in the process of paint color selection.
When you know what colors coordinate the color used on the walls, it is a guarantee of a successful and balanced overall color palette. For SW Fleur de Sel, the following color options will be ideal for color coordination:
SW Carley's Rose
SW March Wind
SW Lattice
SW Tinsmith
SW Ellie Gray
SW Wall Street
SW Malted Milk
SW Caviar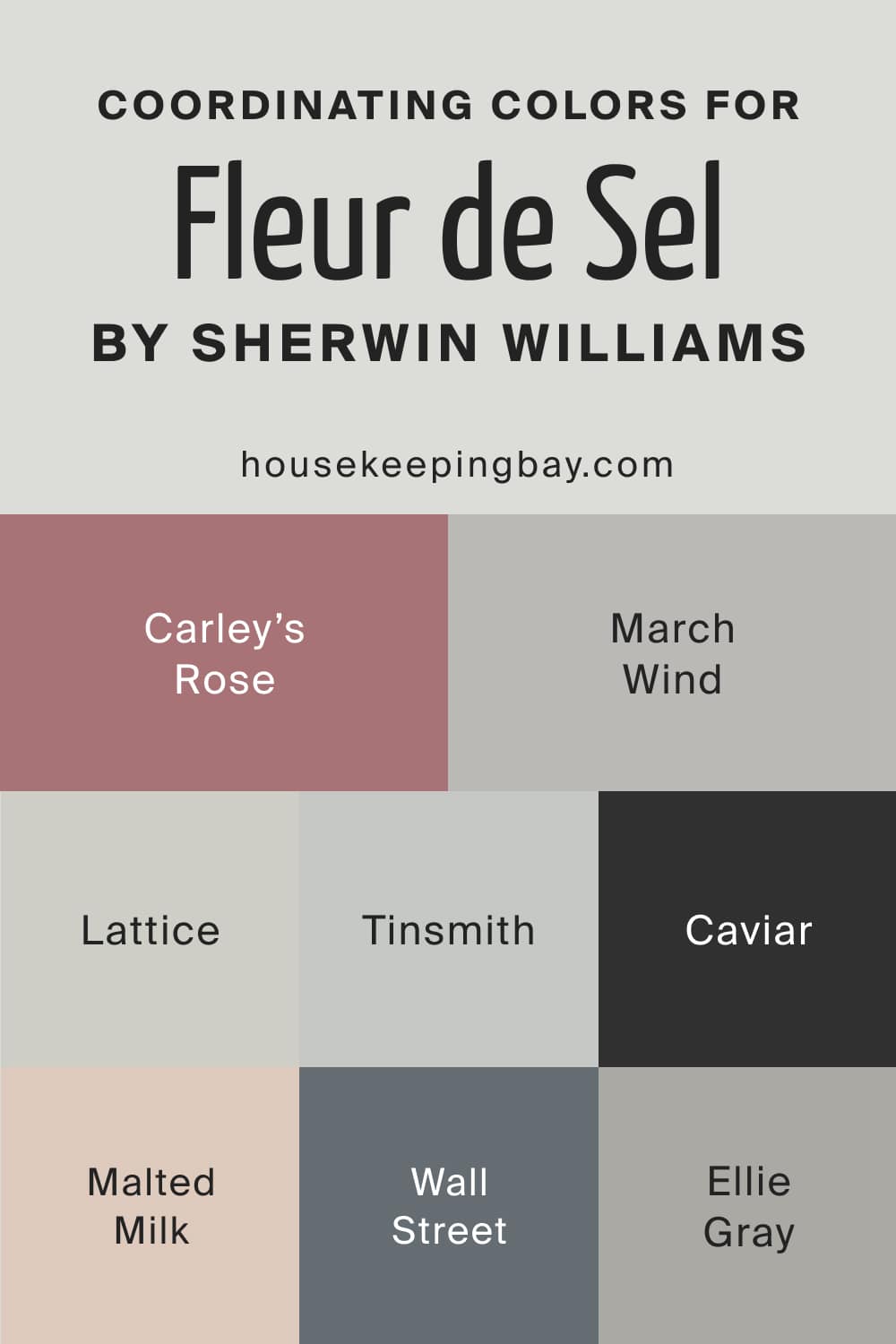 LRV Fleur de Sel SW-7666
The LRV of Sherwin Williams Fleur de Sel is 72. And that means it is pretty light-toned. Well, in fact, this gray color reads almost an off-white or pastel on the swatch! This is why this color is a good choice for smaller rooms. It will enlarge and expand them, making them feel more spacious and airy.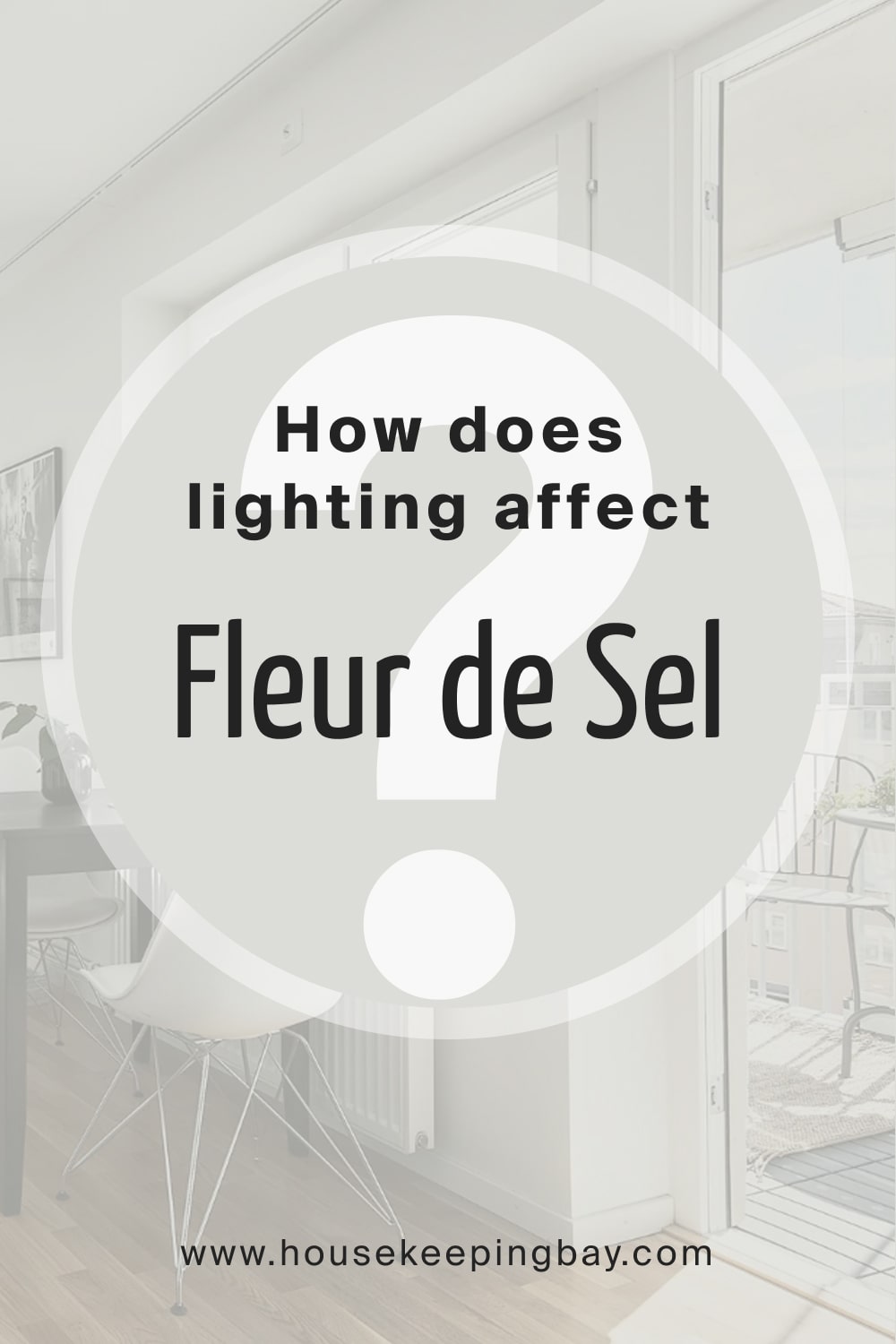 For those of you who don't know, LRV means Light Reflectance Value. This measurement shows how much light the color can reflect when you apply it to the surface.
The LRV scale ranges from zero to 100, where zero is black, and 100 is pure white. So the higher the LRV value, the brighter the color. Knowing what LRV your paint color has is a must since it will help you to foretell how it will read on the walls.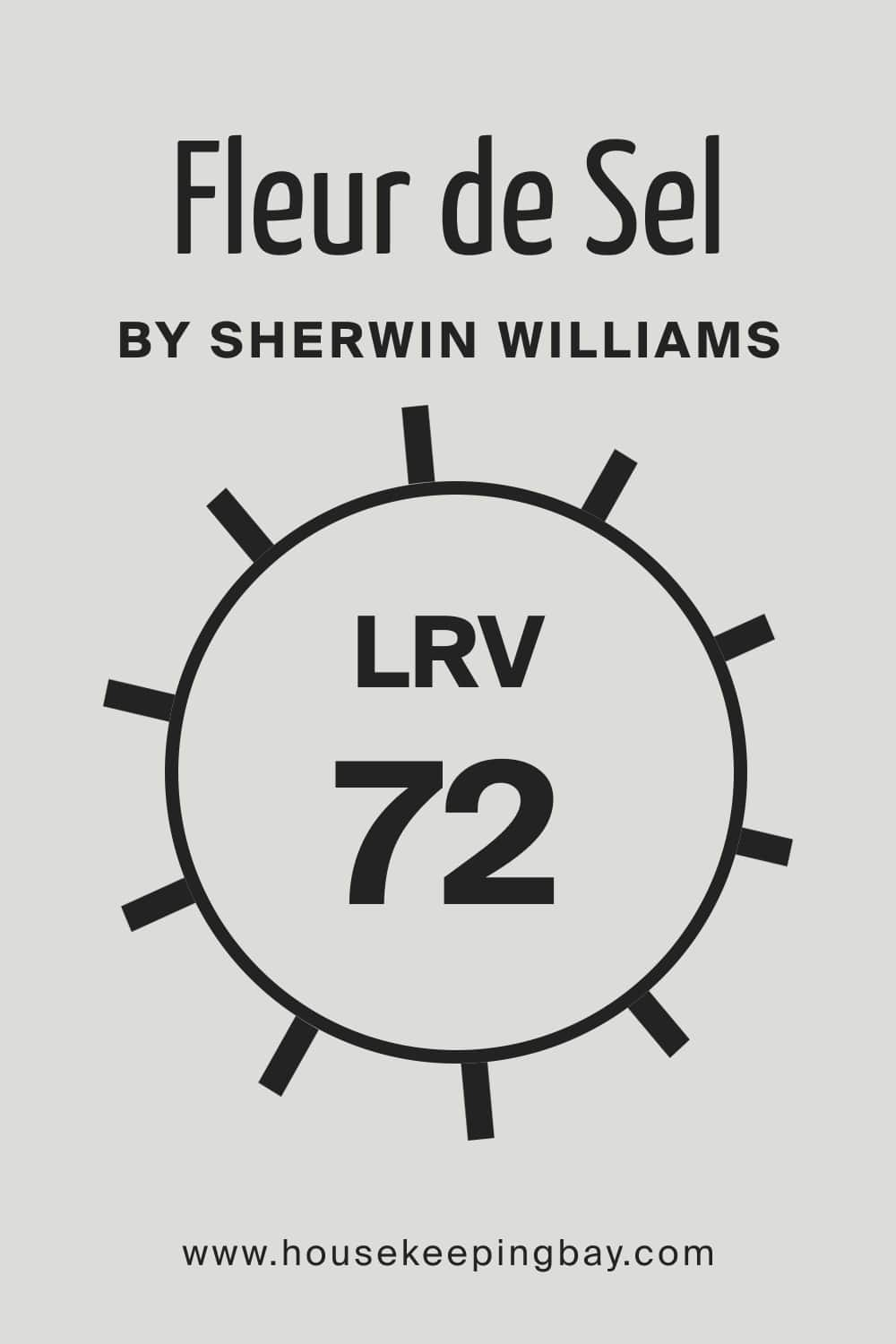 What is LRV? Read It Before You Choose Your Ideal Paint Color
Colors That Go With SW-7666 Fleur de Sel
It may seem to you that SW Fleur de Sel is a simple color that you can easily pair with other colors in your home, and basically, it's true. However, if you don't have an eye for color shades and tones, it might be tricky for you to figure out which colors exactly will work best with this delicate and reserved gray.
So we have prepared a few color palette ideas for you. They will suit anyone since they include colors for monochromatic, complementary, and triad color schemes.
Monochromatic Color Scheme:
SW Roycroft Pewter
SW Homburg Gray
For the triad color palette:
SW Monorail Silver
SW Flexible Gray
SW Chinchilla
For the complementary color palette:
SW Mythical
SW Starry Night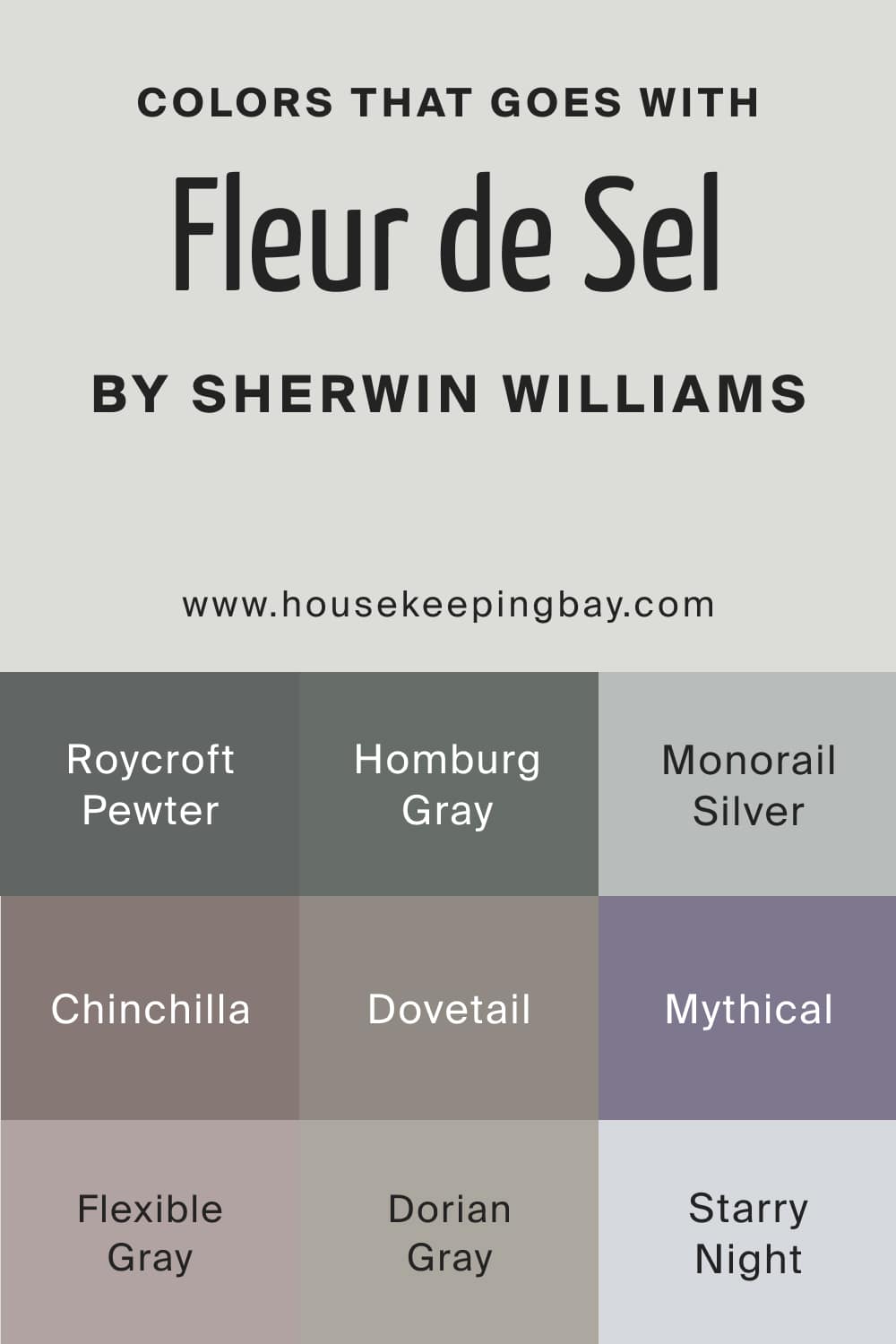 What Is the Best Trim Color for Fleur de Sel SW-7666?
White is a typical trim color that we use on trims since it is versatile and matches most colors successfully. For SW Fleur de Sel, there is no exception to this rule. The optimal white color to use with this gray to paint the trim is SW Extra White, but SW High Reflective White is also a good option.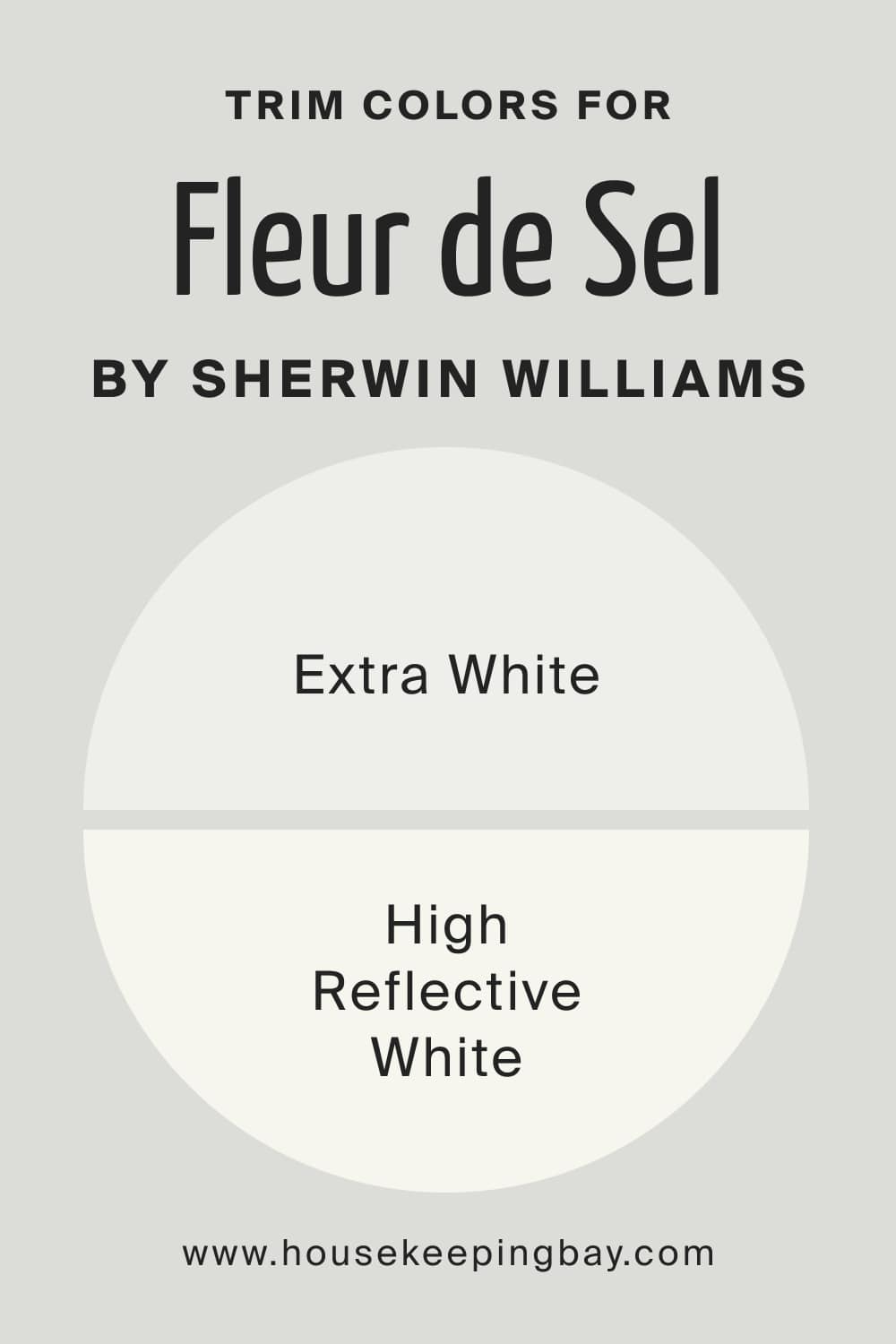 Paint Colors Similar to SW Fleur de Sel Color
Why would you need to know what colors read similarly in a room? Well, perhaps, you decide to shift to a bit lighter version of the current color. Or maybe you realize that the color you chose doesn't read the way you need. It can also happen that the color you initially chose doesn't fit with other colors in the space.
This is why having a couple of alternative colors is always a good idea. For SW Fleur de Sel, such colors would be:
SW Frosty White
They look nearly the same as the Fleur de Sel paint color, so you should not be afraid of having problems with incorporating them into the existing color palette.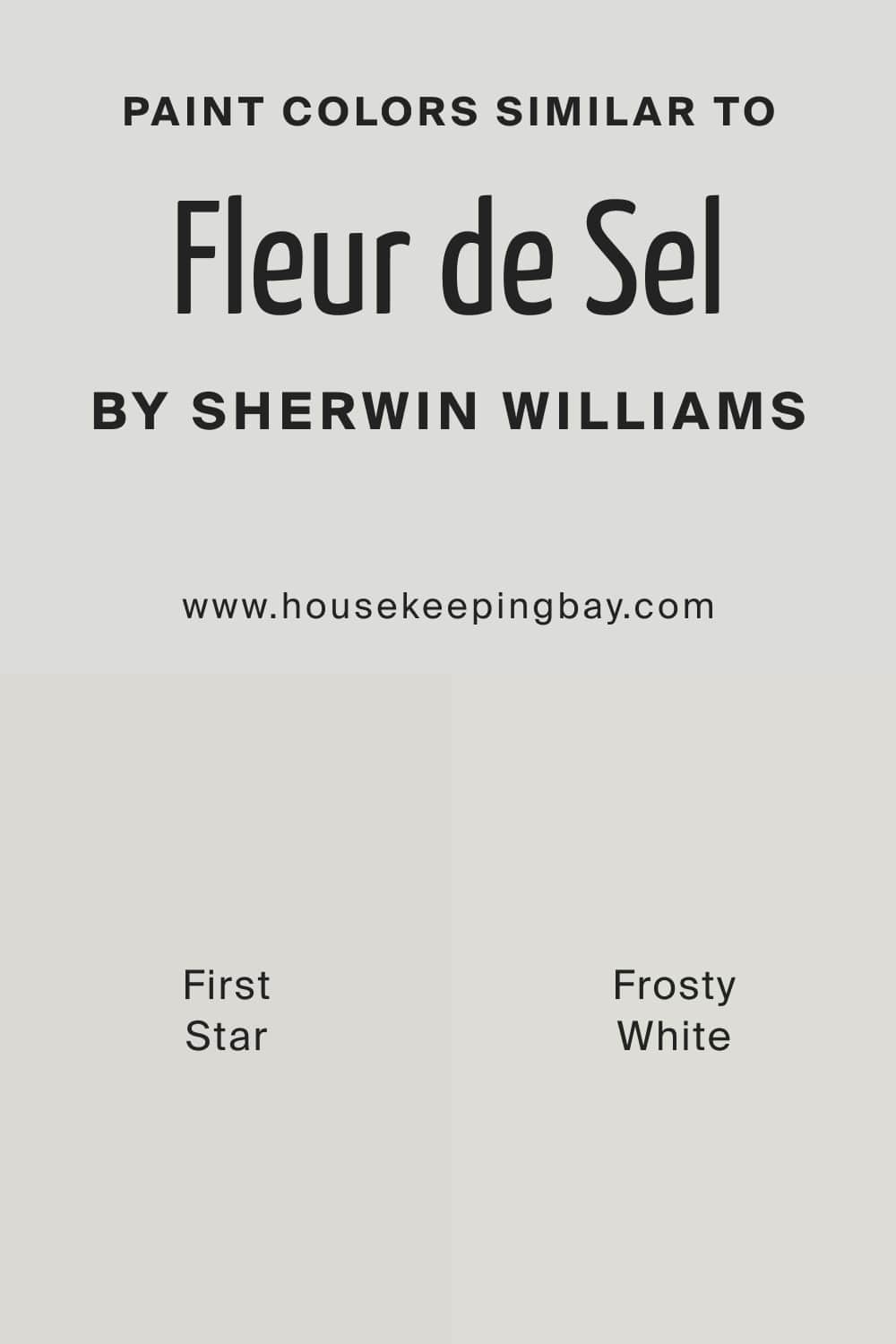 Comparing SW-7666 Fleur de Sel With Other Colors
Color comparison is an excellent way to train your perception and learn to see the slightest nuances and distinctions in color tones and shades. This skill will be especially helpful when you decide to use such a tricky gray as SW Fleur de Sel with its hidden greenish undertones!
Fleur de Sel vs. Sea Salt Paint
Although people often think that SW Sea Salt is a shade of blue, it is a light green-gray color. Compared to SW Fleur de Sel, SW Sea Salt looks much grayer with pronounced green undertones. SW Fleur de Sel, on the other hand, reads much lighter and airier.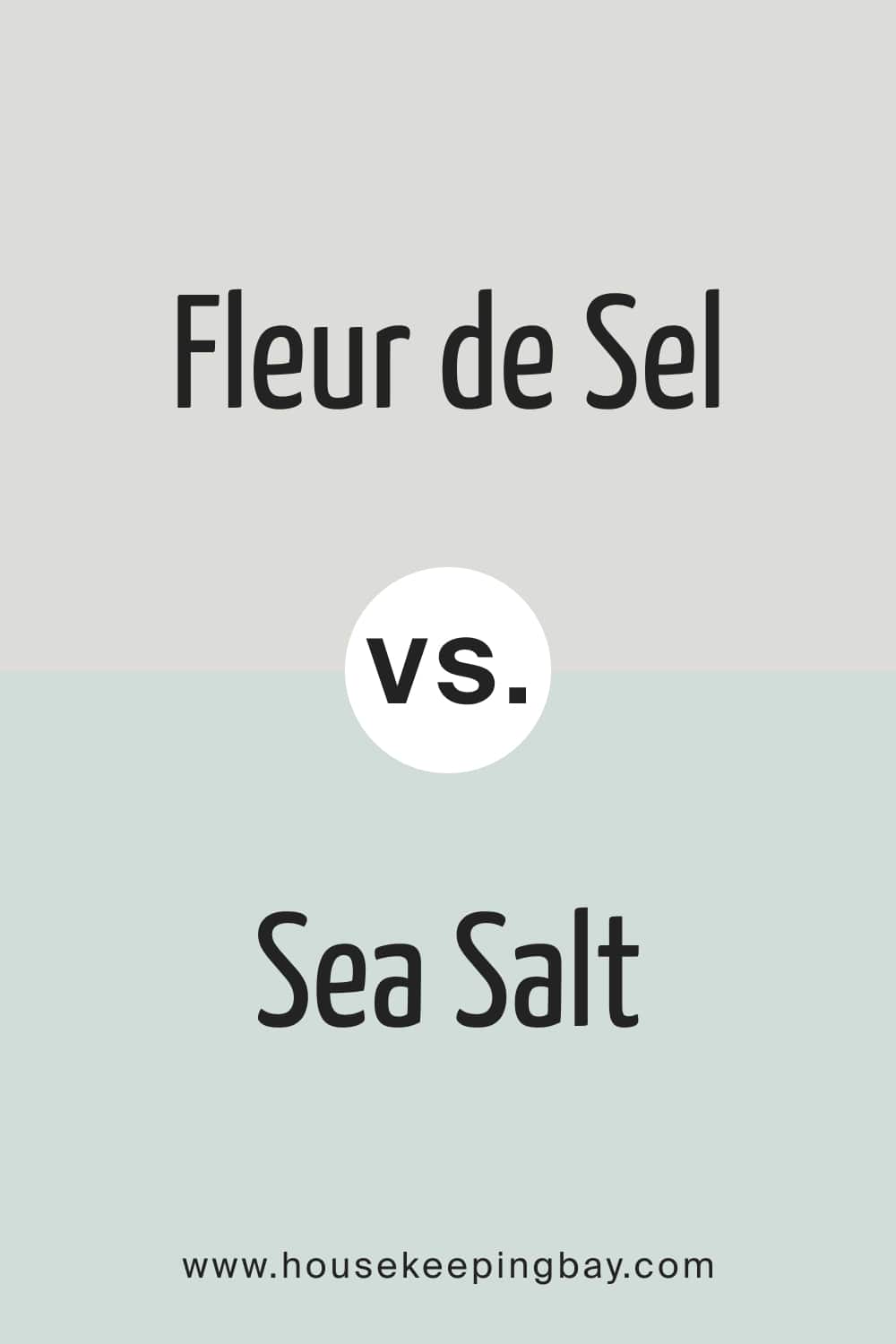 Fleur de Sel vs. Agreeable Gray
Agreeable Gray is a glorious warm greige paint color with green undertones, and this greige nature comes out very prominently when you compare it to SW Fleur de Sel. Unlike a warm and greige Agreeable Gray, its counterpart feels calmer, cooler, and grayer. But since these colors have different tones, they should not be used in the same room.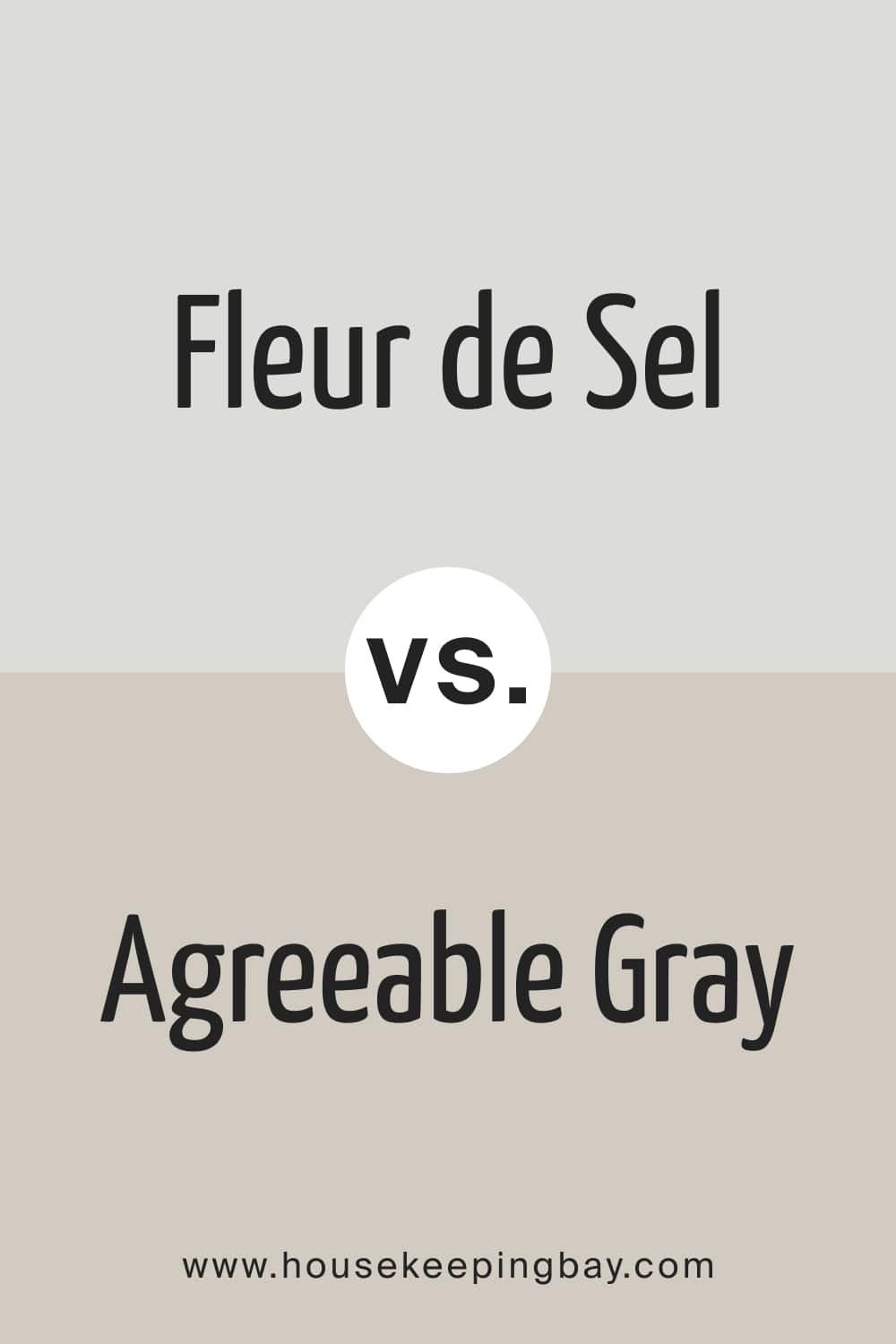 Fleur de Sel vs. Accessible Beige
SW Accessible Beige is a warm color with slight grayish undertones. However, it still looks very warm and pronounced beige compared to SW Fleur de Sel with its cool-toned gray hue. These colors don't create a nice combo, though.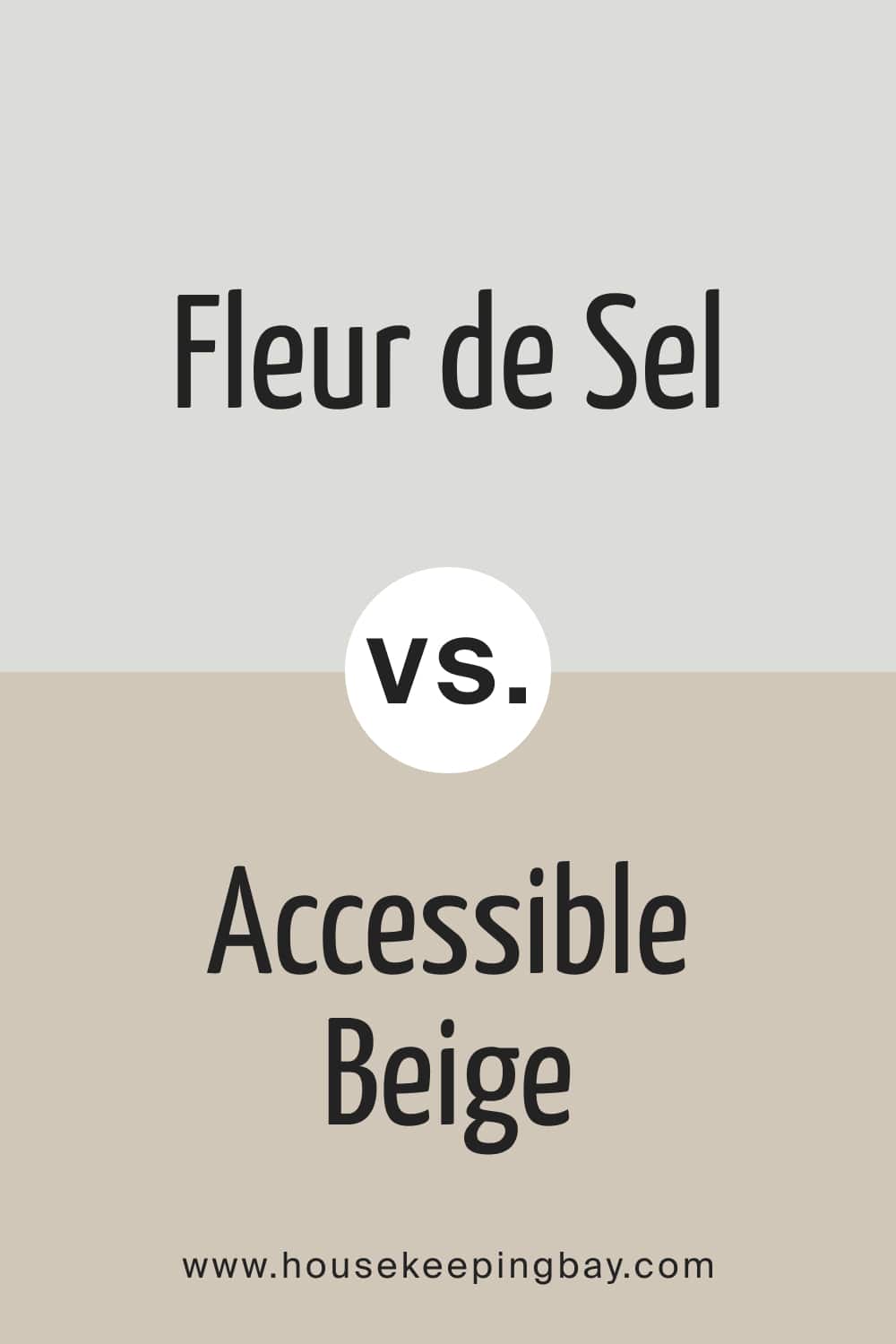 Fleur de Sel vs. Repose Gray
SW Repose Gray is a greige color that has blue undertones and also slight violet undertones, but they are very minimal. Compared to SW Fleur de Sel, it reads warmer and darker, if you may say so, about quite a light color. However, since SW Repose Gray is not too warm or yellowish, it reads nicely with the Fleur de Sel color.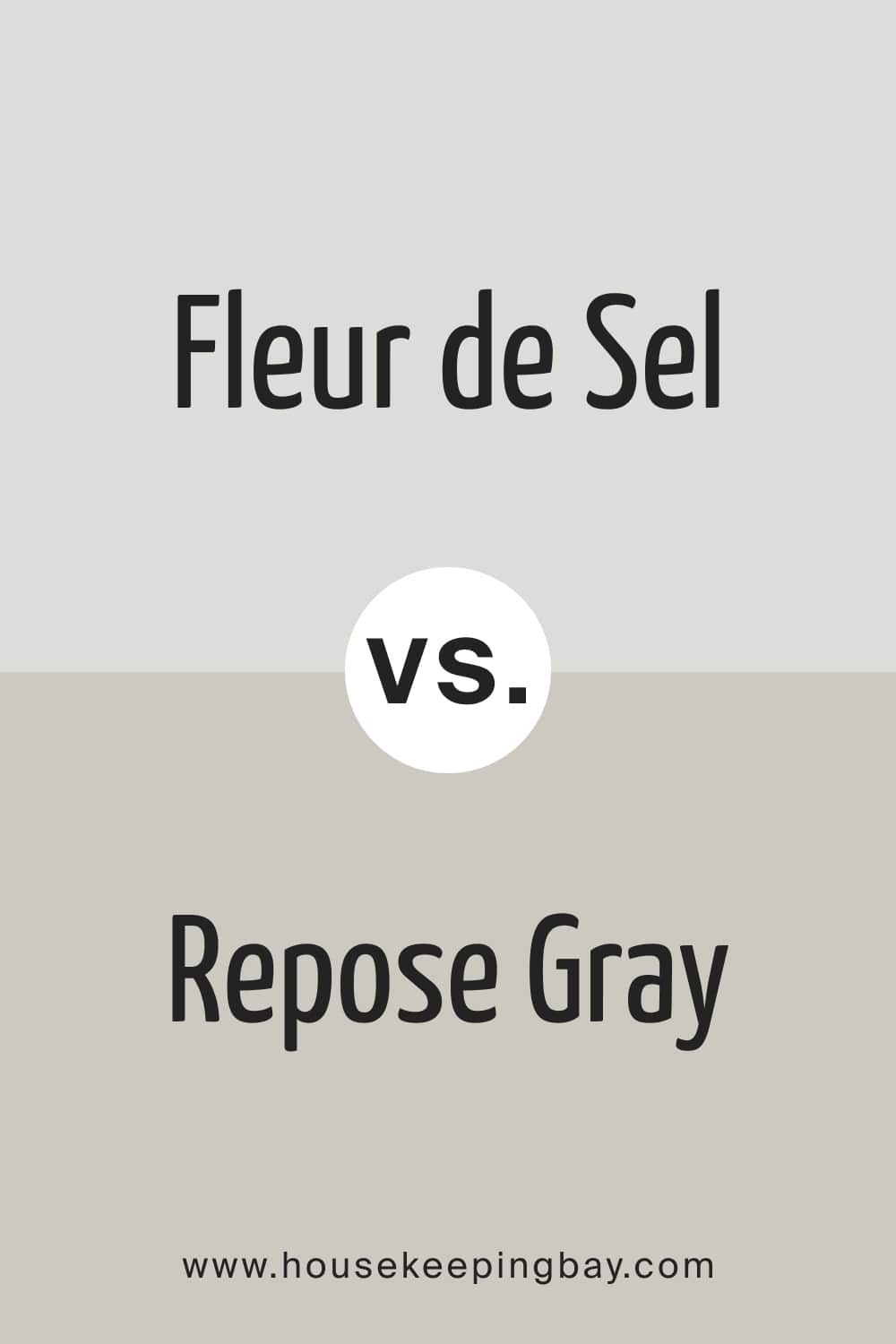 Fleur de Sel vs. Rhinestone
SW Rhinestone is also quite a tricky color, just like SW Fleur de Sel. SW Rhinestone is not a pure white; you'd say it's more of the softest gray. Also, this color has a very slight blue undertone, which makes it read clean and fresh.
Compared to SW Rhinestone, SW Fleur de Sel reads slightly warmer. However, both colors are so light that the difference is hardly seen. This is why they can't be used together. There is simply no proper contrast between them!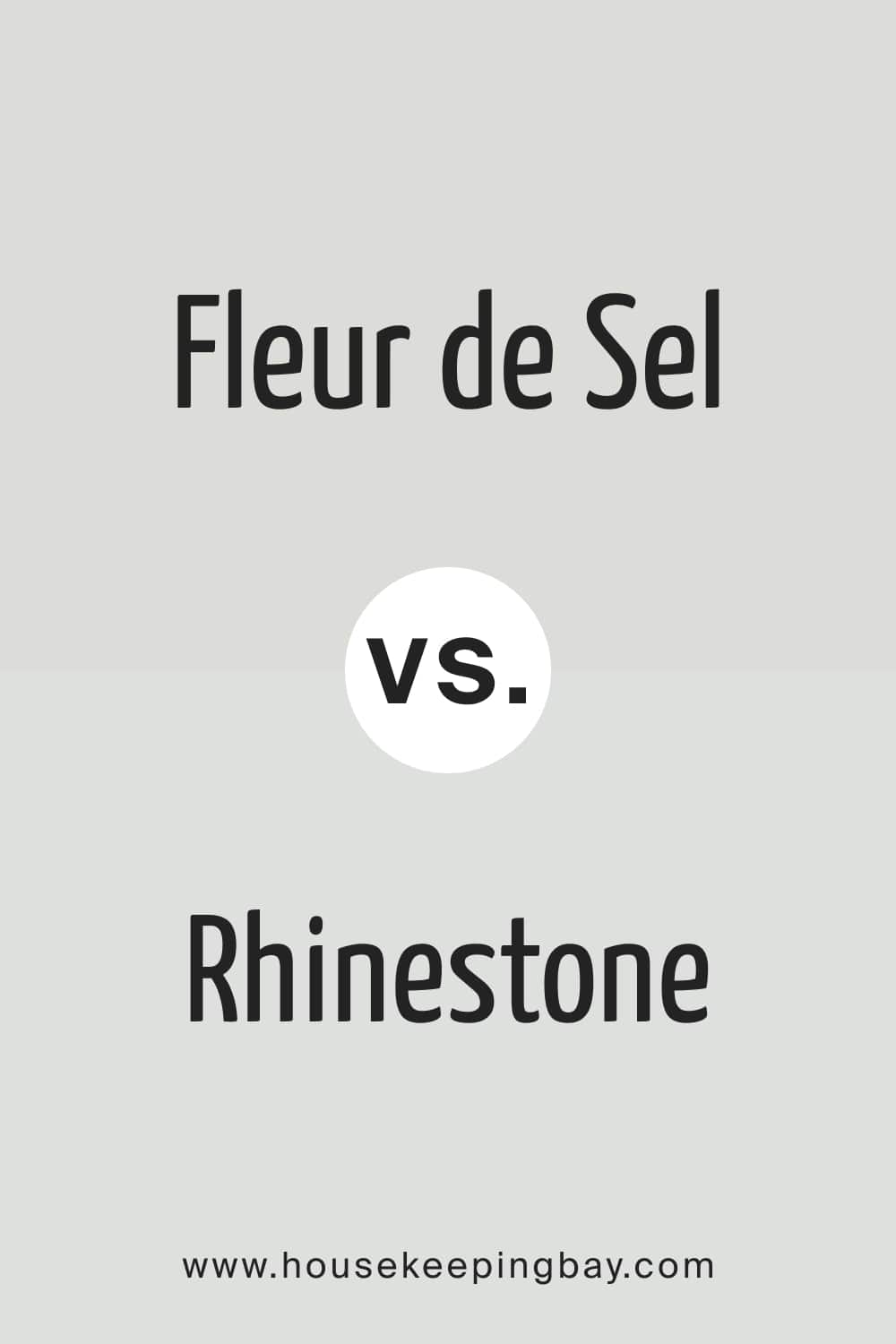 Where to Use This Color In Your Home
Although SW Fleur de Sel can be used in any space and room of your home, we still recommend you read about the most common areas where this gray will work wonderfully well!
Fleur de Sel SW-7666 in the Living Room
You can paint all the walls in this color or create an accent by adding a bold and dark shade like gray and dark blue. You can also pair it with lighter upholstery and wooden textures to complement the palette. This gray color will look astonishing with glass and metals, creating a fantastic backdrop!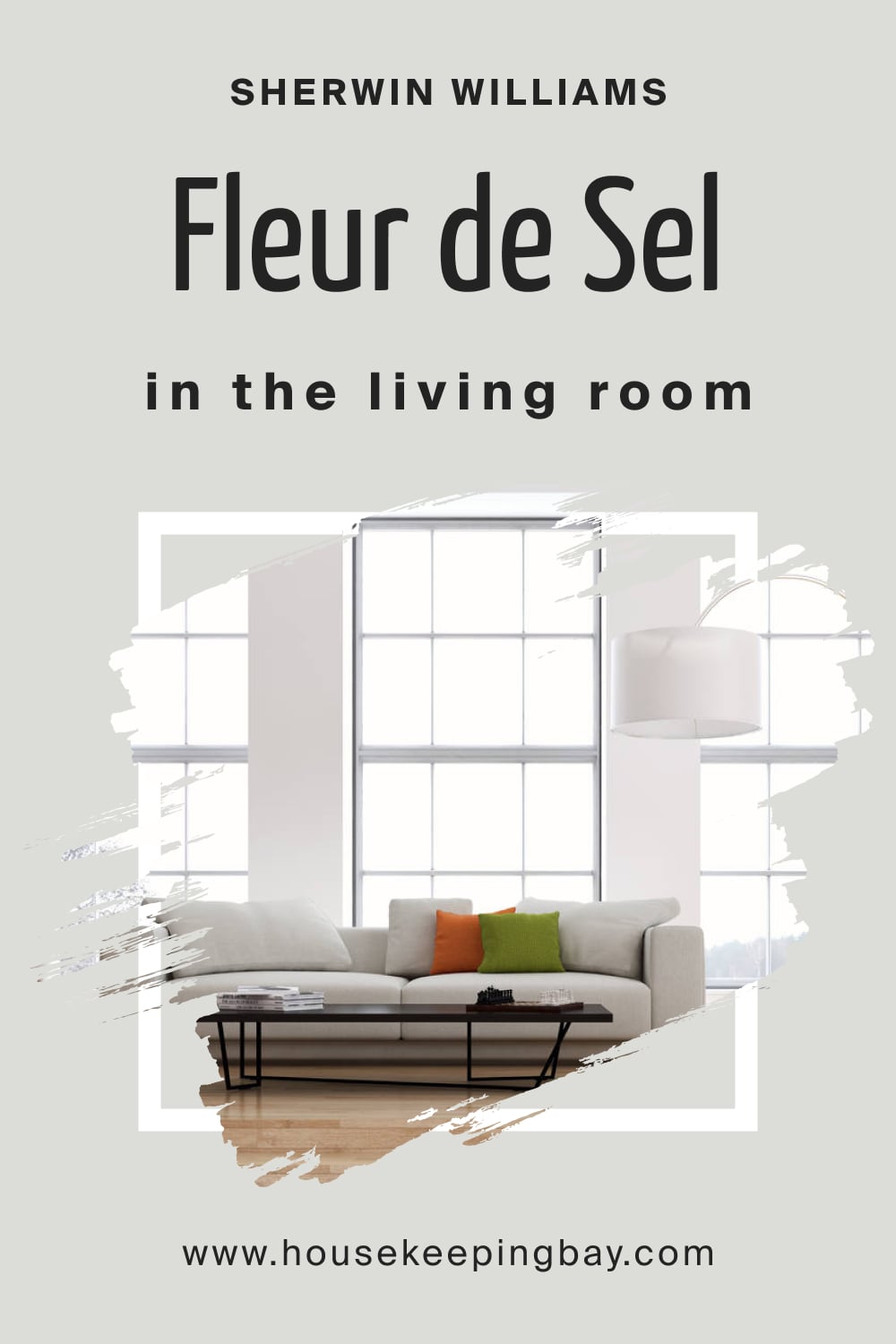 Fleur de Sel SW-7666 for Bedroom
In your bedroom, this color will create a cool and crisp feel. This is why it is very popular in homes that are located in hotter climates. To avoid making your bedroom look too pale and lifeless, add matte black lighting fixtures like table lamps and pendant lights. They will add an eye-catchy accent. For duvets and fabrics, try to choose more subtle hues with cotton and linens. These will brighten up your room!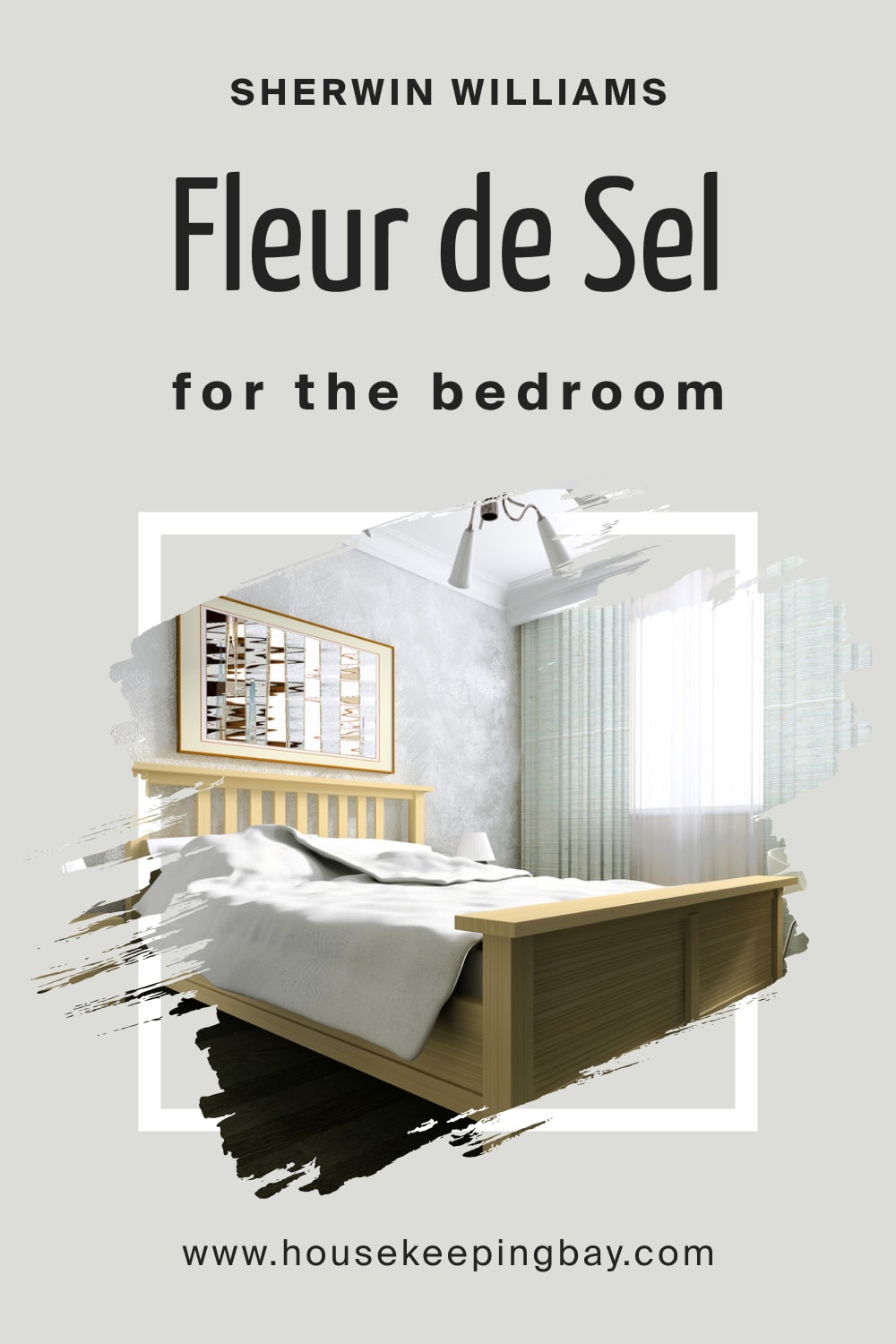 Fleur de Sel SW-7666 and Bathroom
This gray is an excellent color choice for your bathroom. It's airy and cool-toned, creating an ideal atmosphere for this room. Pair it with black accents if you want to add some eye-catching elements, or use it with whites or other grays if you prefer this calming and balanced vibe.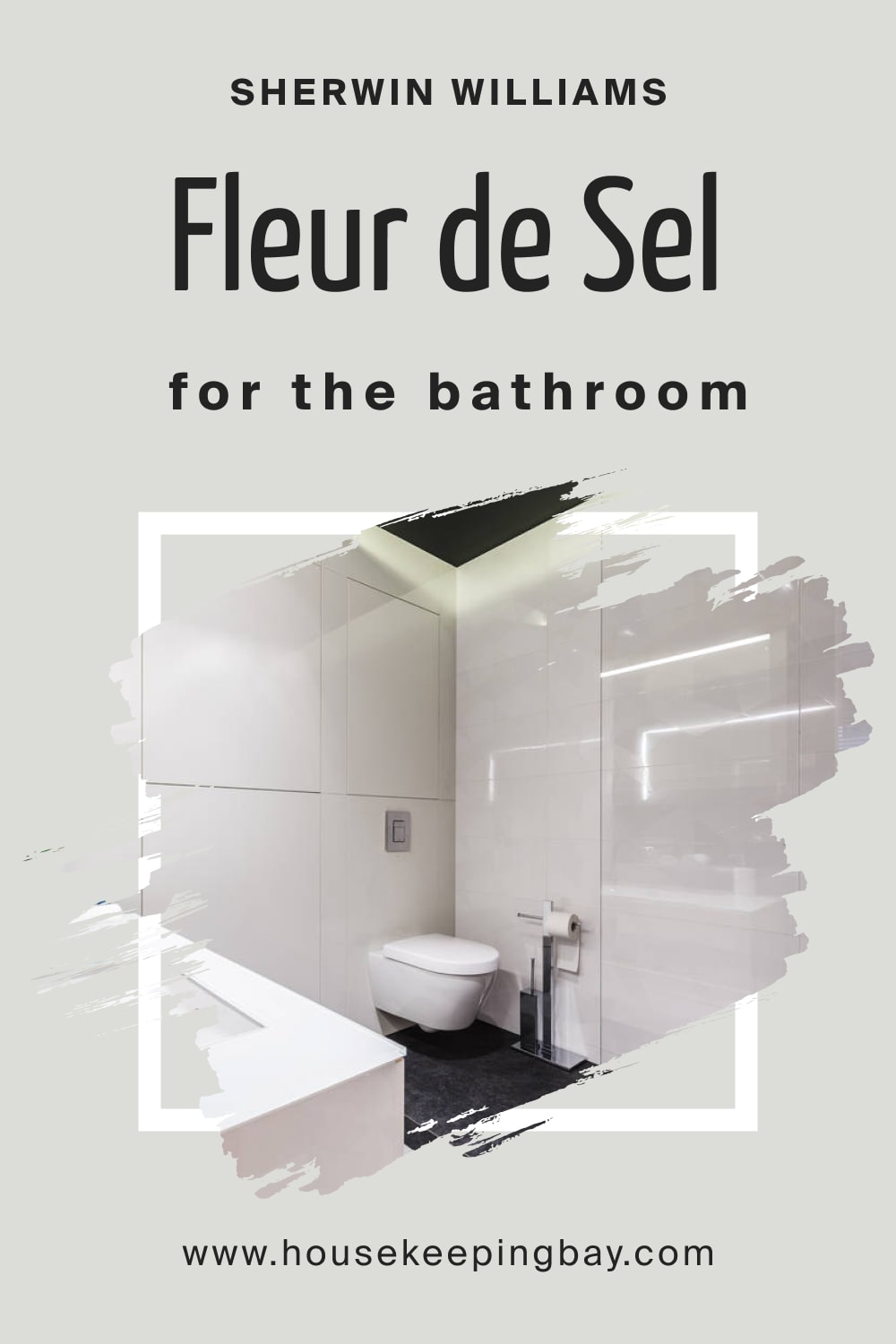 Fleur de Sel SW-7666 on the Kitchen
You can pair this color with grays and blues to add a touch of interest to your kitchen! It will also pair nicely with chrome or nickel-finished fixtures, oak or stark white cabinets, and hardwood floors. To create a stark contrast, we recommend using white-veined marble or black glossy granite countertops.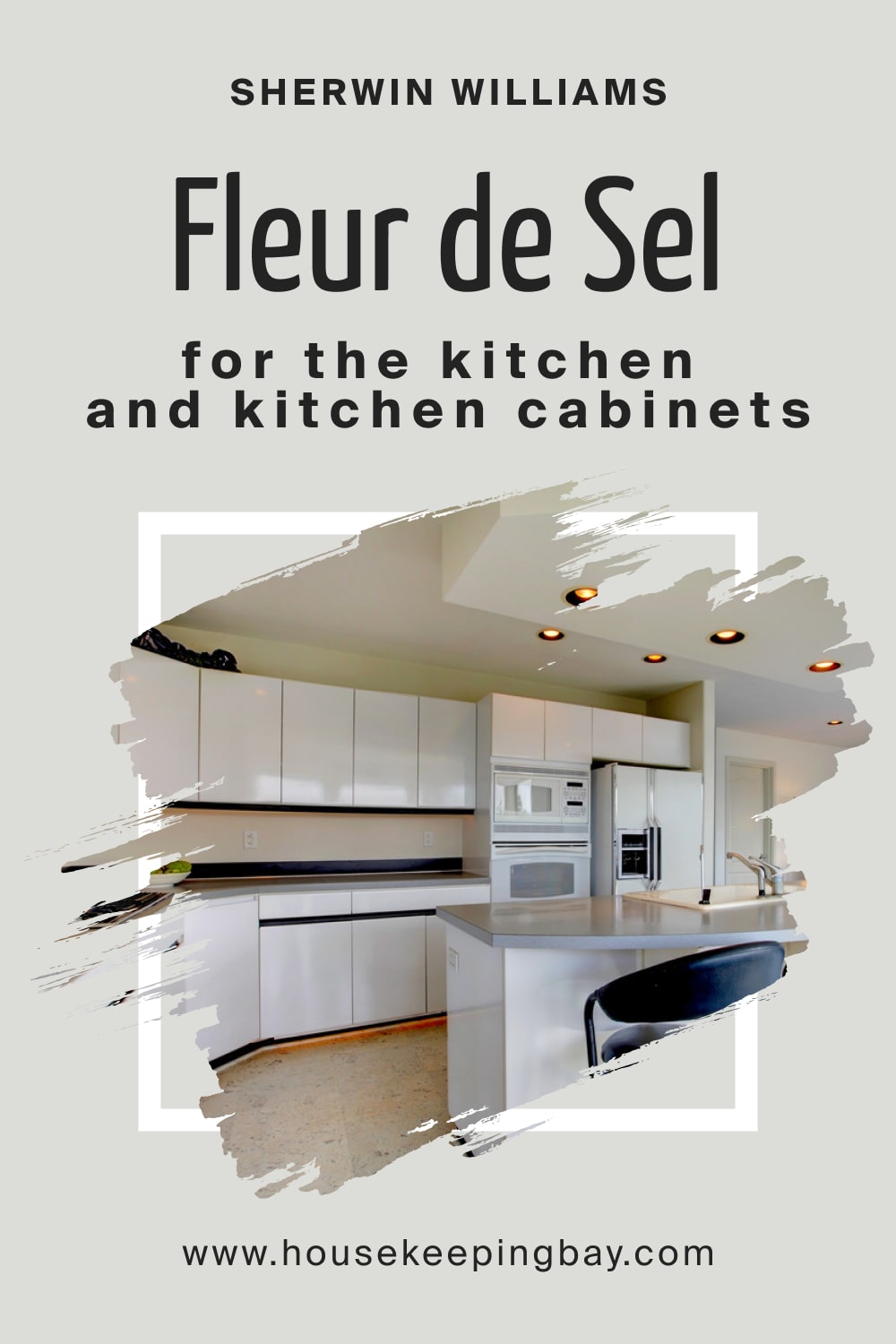 Fleur de Sel SW-7666 for the Exteriors Use
This paint color will be suitable for ranch-style, Mid-century modern, Spanish-style, Victorian, Modern, or Contemporary homes. In any case, it will add a stunning touch. You can add black and darker gray as an accent or vice versa for the trims, moldings, and door and window frames.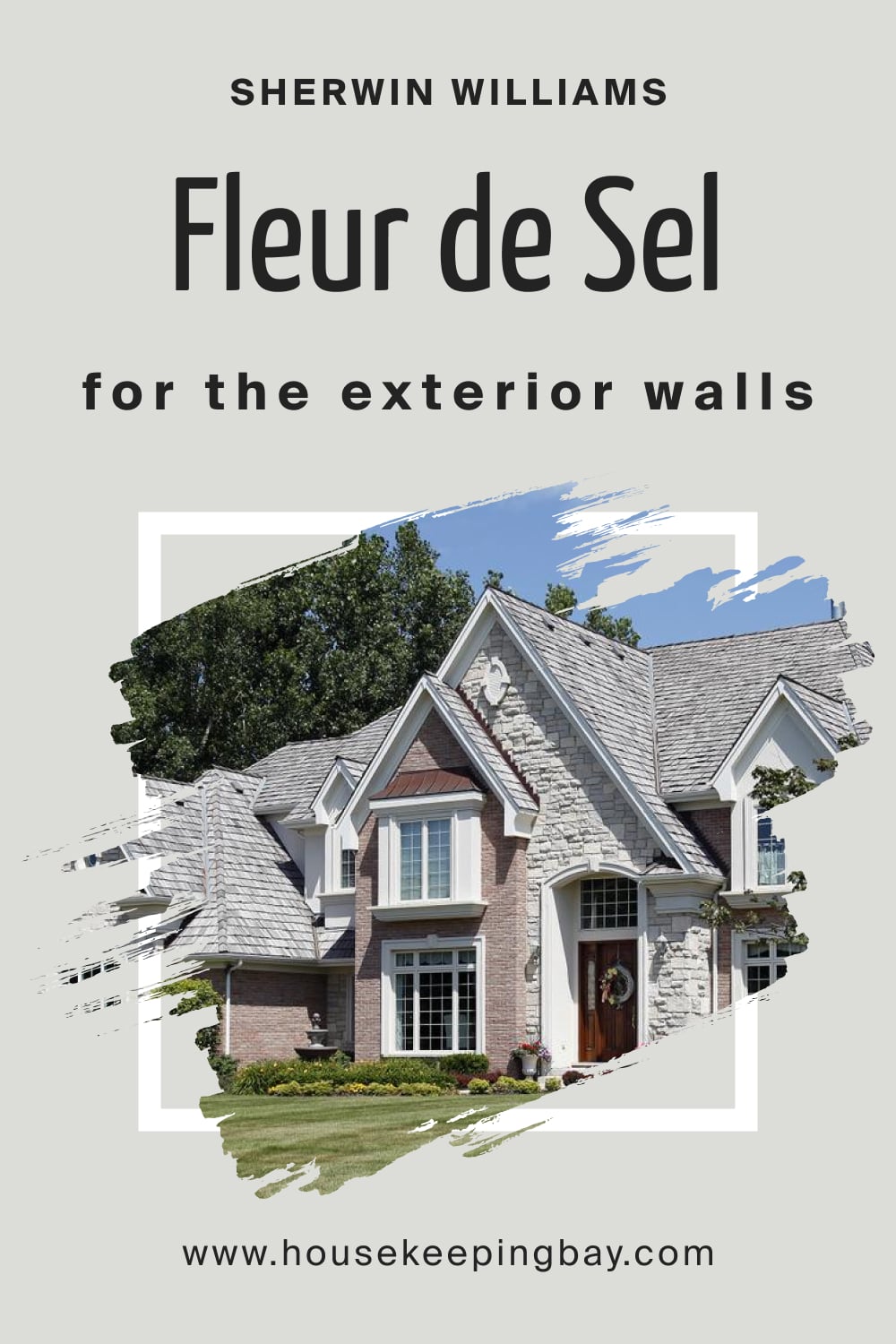 Now you know what kind of color SW Fleur de Sel is. This gray is so delicate and balanced that you can easily incorporate it into any room of your home. Besides, it will be an ideal paint choice for the exterior of your house. And since you have its trim colors, as well as coordinating colors, you should not face any issues.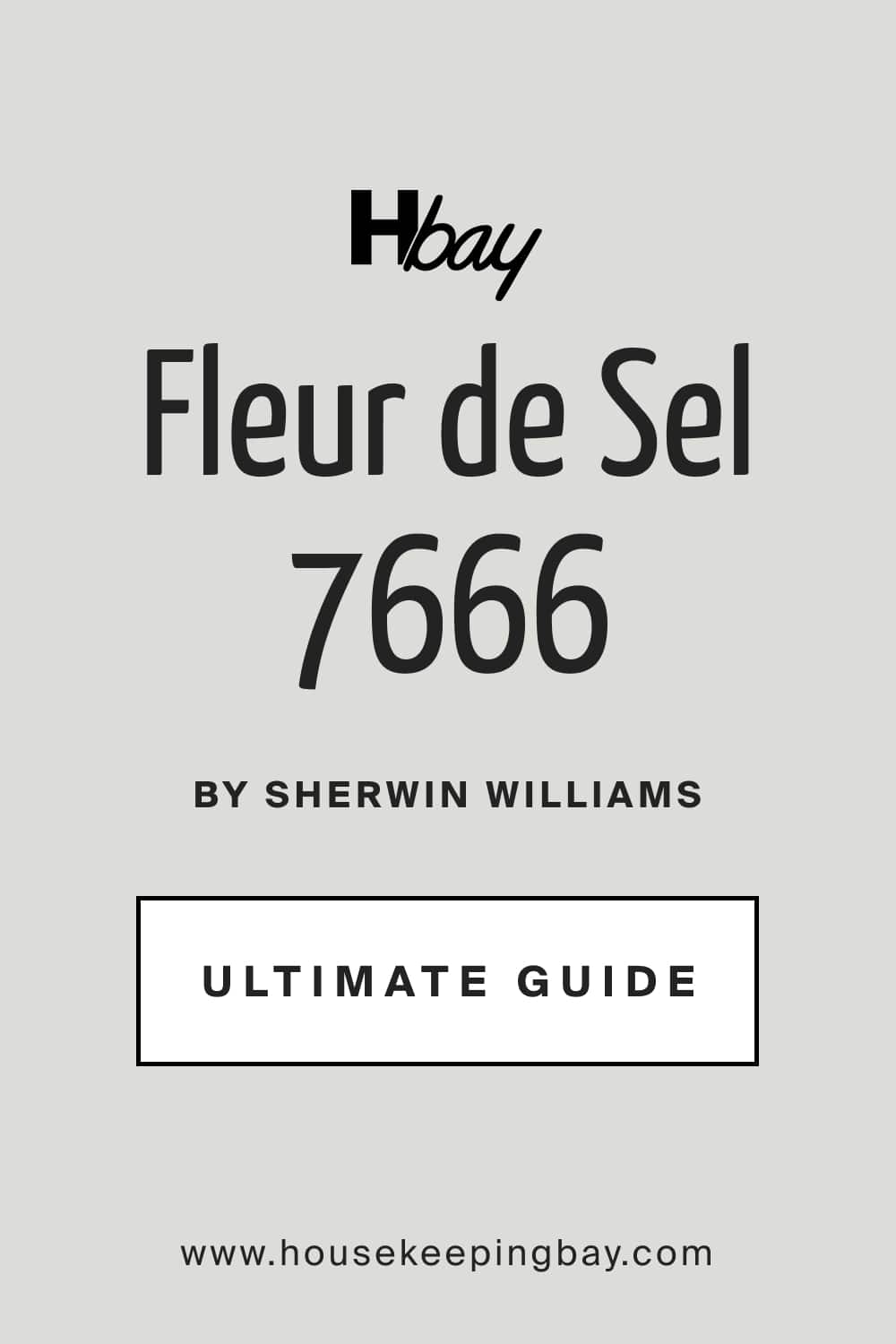 Frequently Asked Questions
⭐Is SW Fleur de Sel a white color?
No, this color is a very light gray.
⭐Can SW Fleur de Sel be considered neutral?
Yes. Sherwin-Williams Fleur de sel is a gray and bright neutral color.
⭐What is a good contrast color for SW Fleur de Sel?
You can either paint all the walls in this color or choose a bold and dark shade like gray and dark blue to create an accent!