Gray is one of the most popular paint colors we use in our homes. We love this color because of its versatility and wide range of shades that make gray suitable for most rooms and spaces, as well as for most interior styles and designs.
Besides, gray can work well with quite many other colors, which makes it easy to incorporate it into many color schemes! However, those who don't have a sharp eye for colors often wonder which shade of gray is best to use.
Today, you will discover the gray color by Sherwin-Williams, which is called Silverpointe. In particular, you will learn what kind of gray it is, what undertones it has, and how it reacts to light.
Also, we will explain how this color works with other hues and what paint colors are best to use on trim with this gray on the walls.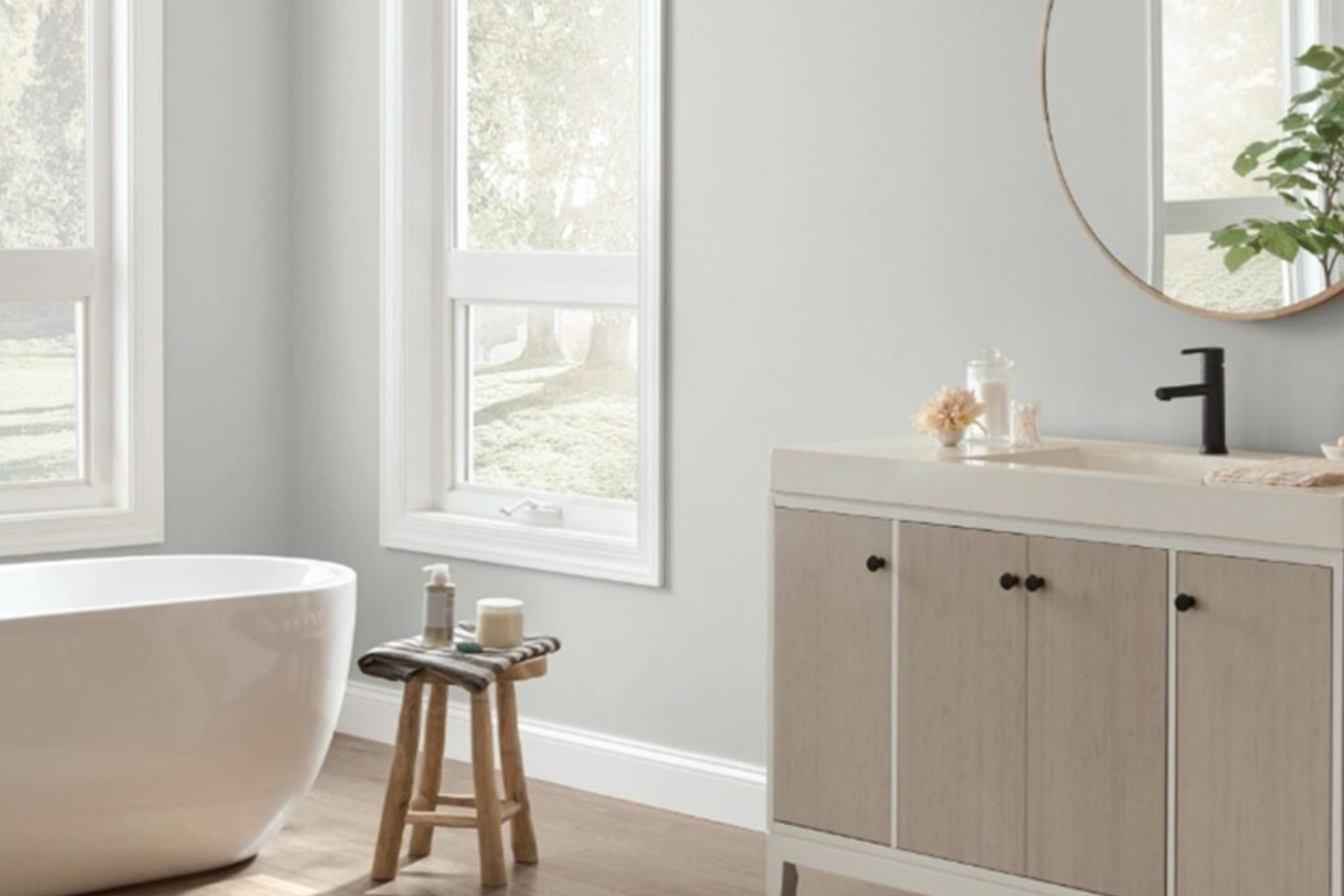 What Kind of Color Is SW 7653 Silverpointe?
When you look at SW Silverpointe , you see a calm and lovely misty gray that reads tranquil and refreshing. Thanks to this, SW Silverpointe is an ideal gray color to make any room feel spacious and serene. As Encycolorpedia says, this paint color looks elegant and reserved and works well within all decor styles.
With its cool tone, SW Silverpointe will add a calming presence to any space where it's used.
Also, this color is definitely light. This is why, if you are looking for a gray hue that looks clean and crisp in space, consider using SW Silverpointe. YOu won't regret it!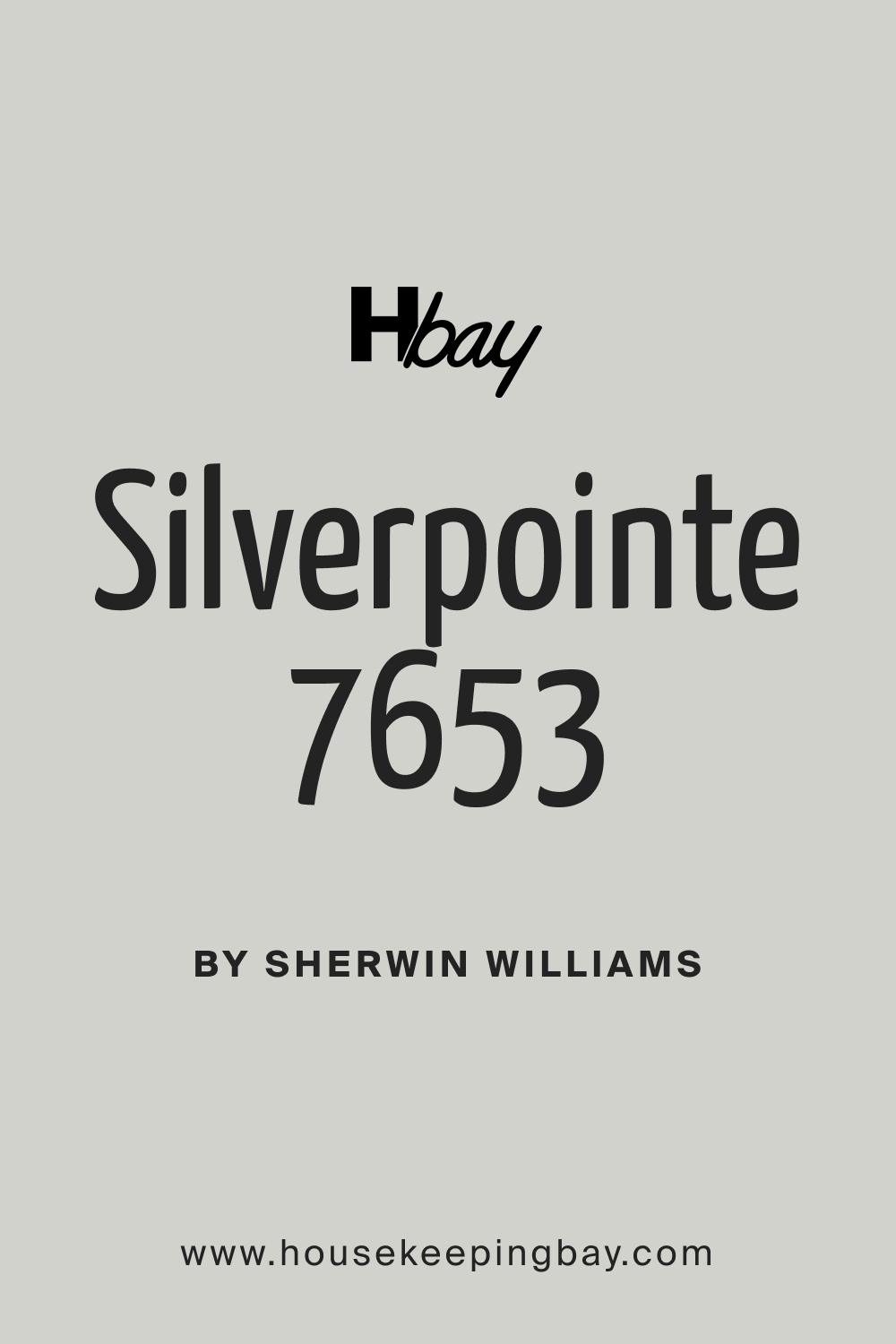 Is It a Warm or Cool Color?
This sophisticated and elegant gray is absolutely cool-toned! However, it will never read cold or icy on your walls. Its coolness is perfectly balanced, which makes this hue so versatile in terms of use in our homes. Also, with a good amount of depth, this gray paint color really shines when it's used on interior walls!
What Undertones SW 7653 Silverpointe Paint Color Has
Undertones often make paint colors tricky and complicated to use in your home. Homeowners often face the same issue when they buy paint that appears to read differently in a catalog and on their walls. All because they didn't sample it before buying, and undertones showed up unexpectedly.
Speaking of SW Silverpointe, this gray color has complex green-blue undertones. This is why you must always consider what colors are around this hue in your space to tell in advance how it may read.
Also, you should take lighting into account. Depending on the lighting conditions in a room, this gray may affect the space differently. In the presence of excessive light, it tends to make a space look lighter and brighter. Whereas on the other hand, the absence of natural light will make a room look comparatively darker.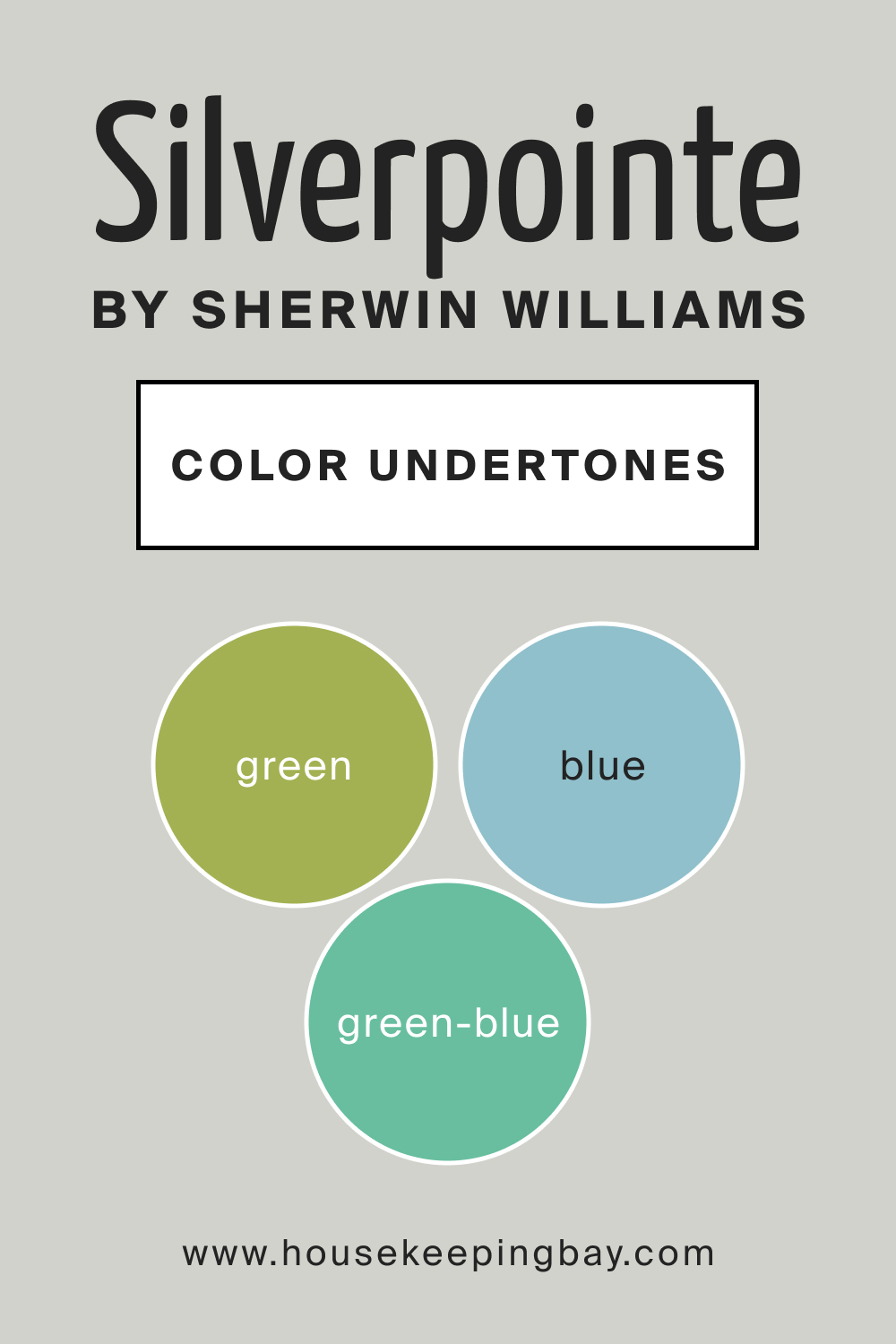 SW 7653 Silverpointe Coordinating Colors
Picking up coordinating colors can be a fun task to accomplish, but only until you face a color like SW Silverpointe! With its complex undertones, this cool gray can become a tough nut for most homeowners!
Luckily, you have us, and below, we have prepared a few coordinating colors that will work with this cool-toned gray:
For a monochromatic palette, consider the following color recommendations:
SW 7659 Gris
SW 7660 Earl Grey
SW 7622 Homburg Gray
But if you prefer contrasting palettes in your home, you might want to try these paint colors instead to coordinate them with SW Silverpointe:
SW 6276 Mystical Shade
SW 6283 Thistle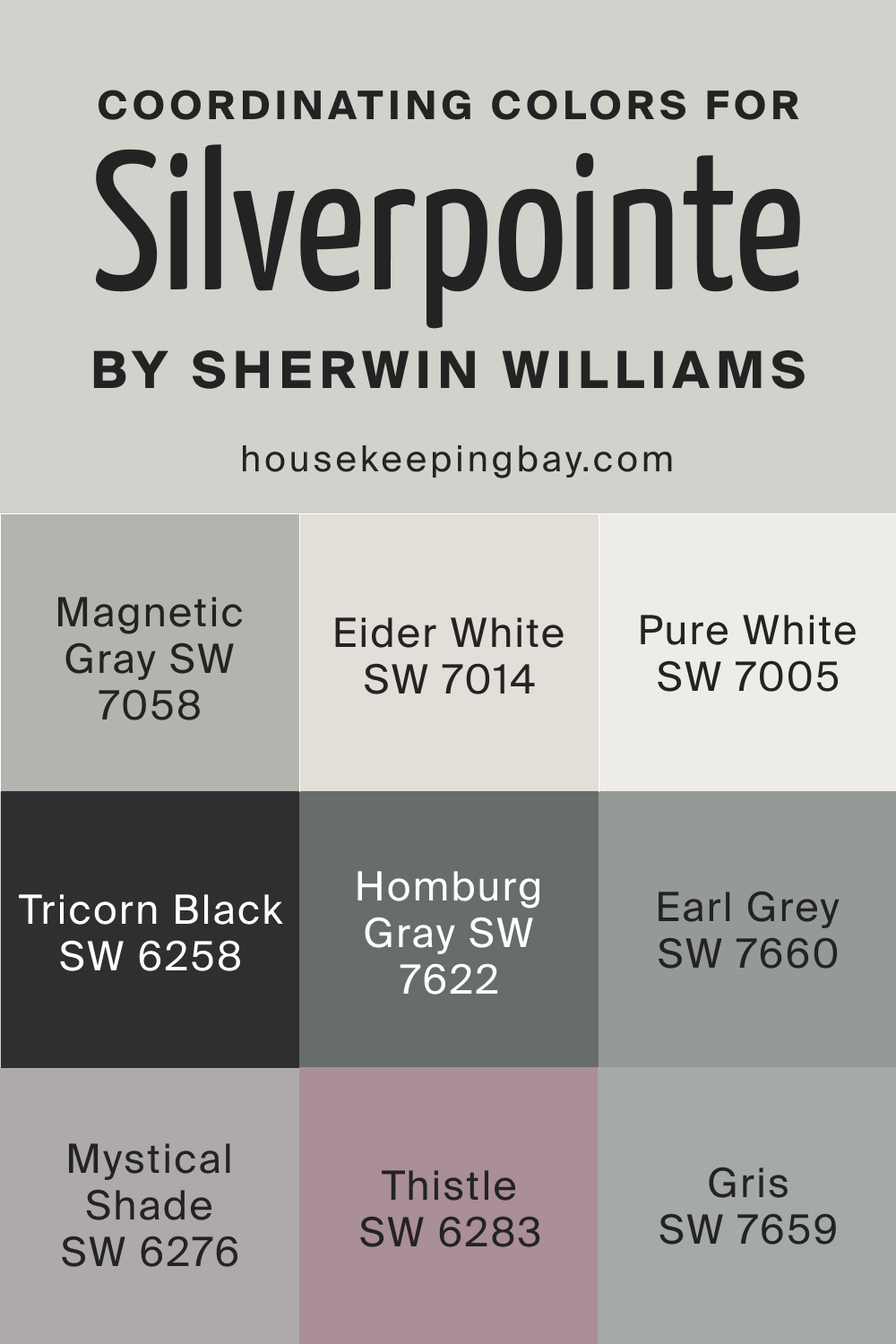 What LRV Does SW Silverpointe Paint Color Have?
LRV (Light Reflectance Value) is a measurement used by professional designers that shows the amount of light reflected from and absorbed by a surface. LRV values range from 0 to 100, with 100 being pure white and 0 being absolute black.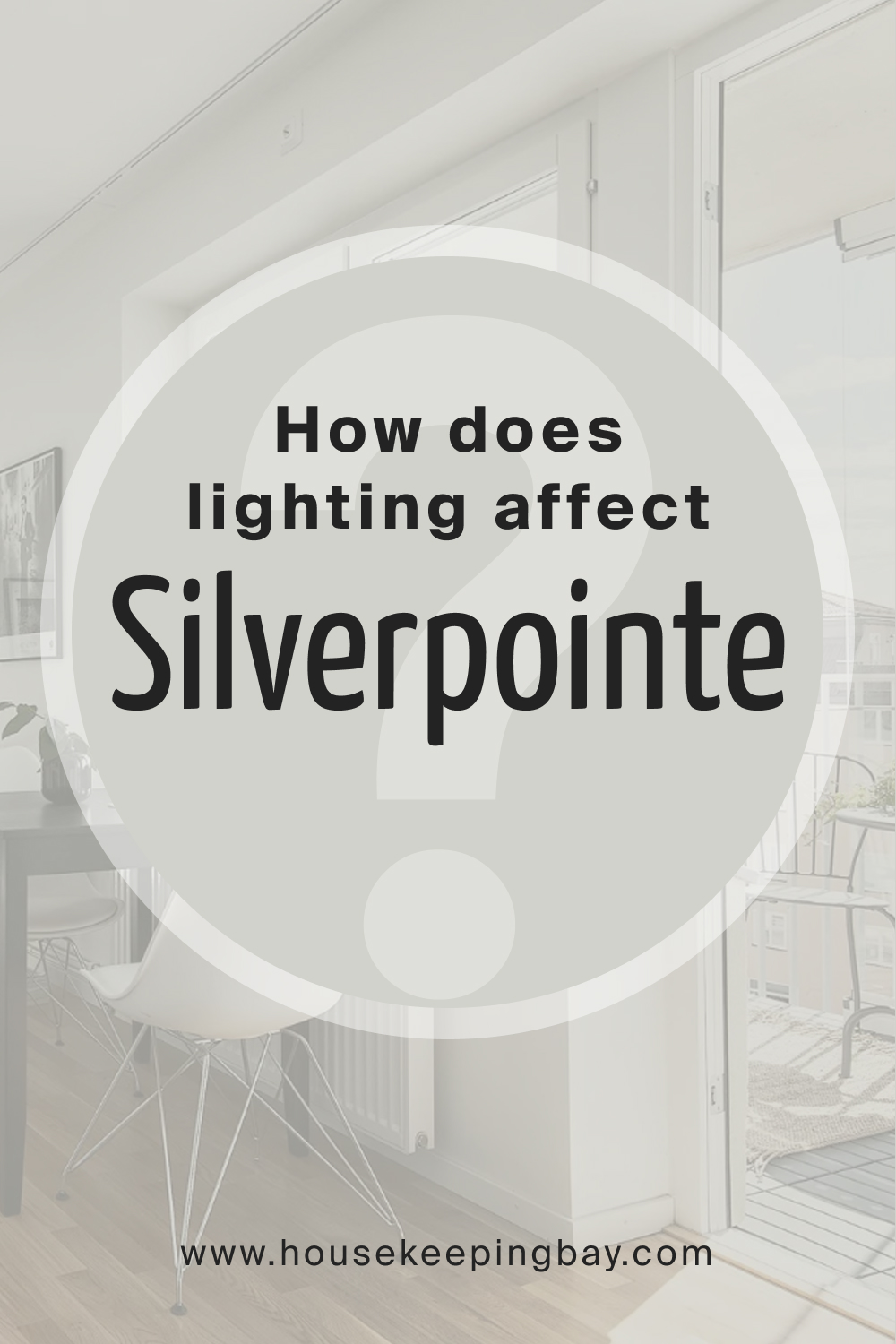 With an LRV 64, SW Silverpointe is definitely on the lighter end of the light reflectivity scale. It is light enough to be able to make the space feel larger and airier, adding a crisp and fresh vibe.
Also, this gray hue can be used to make a room seem more spacious due to its extremely light, airy, and cool appearance.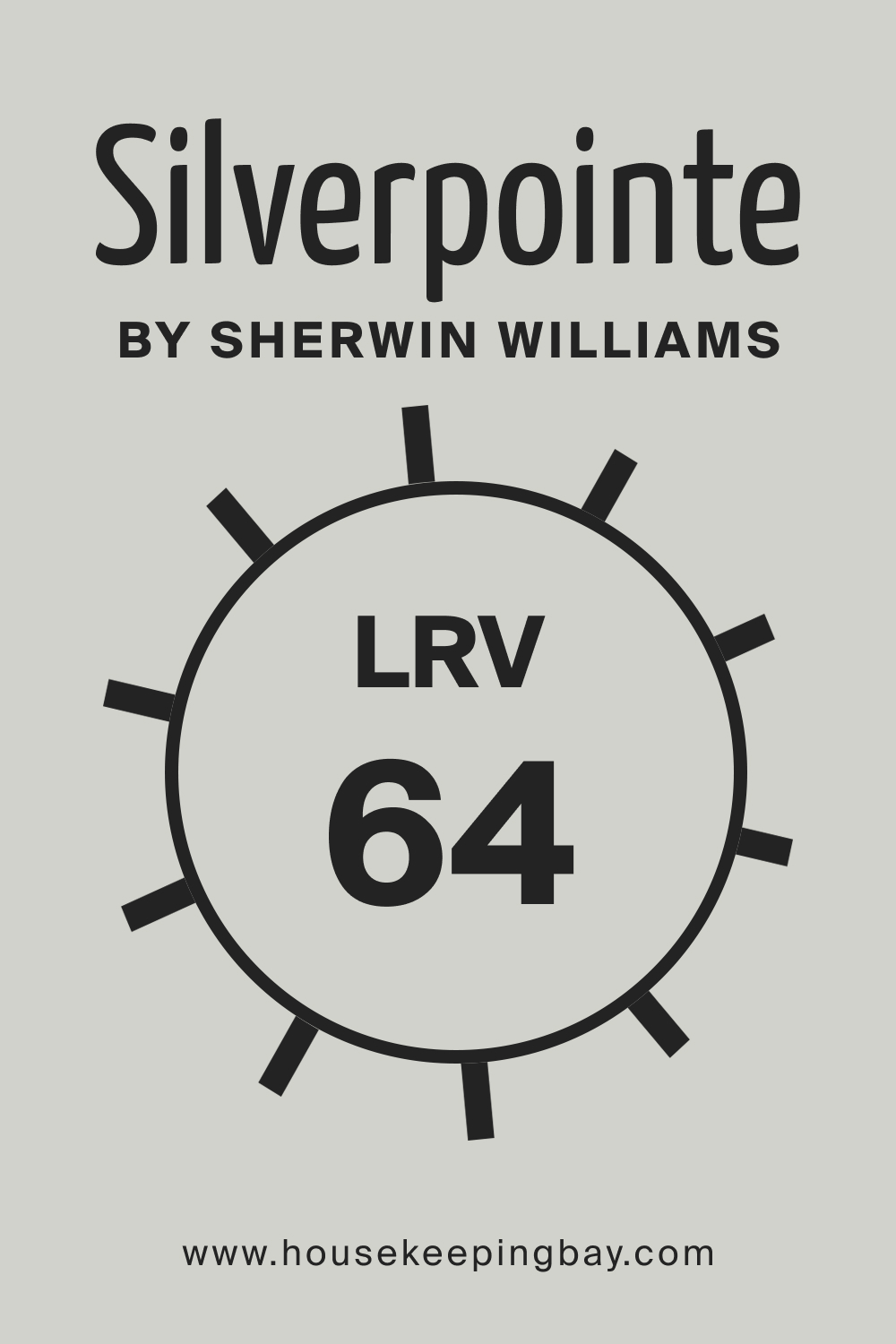 What is LRV? Read It Before You Choose Your Ideal Paint Color
What Is the Best Trim Color to Use With SW 7653 Silverpointe?
White is typically a go-to paint color we use on trims and moldings because it's versatile and pairs well with most colors in space. If you want SW Silverpointe as your interior wall color, we also recommend whites for your ceilings, trims, and moldings.
In particular, consider using SW Pure White to achieve a creamier look. But if you want a crisper look, you'd better choose SW High Reflectance White.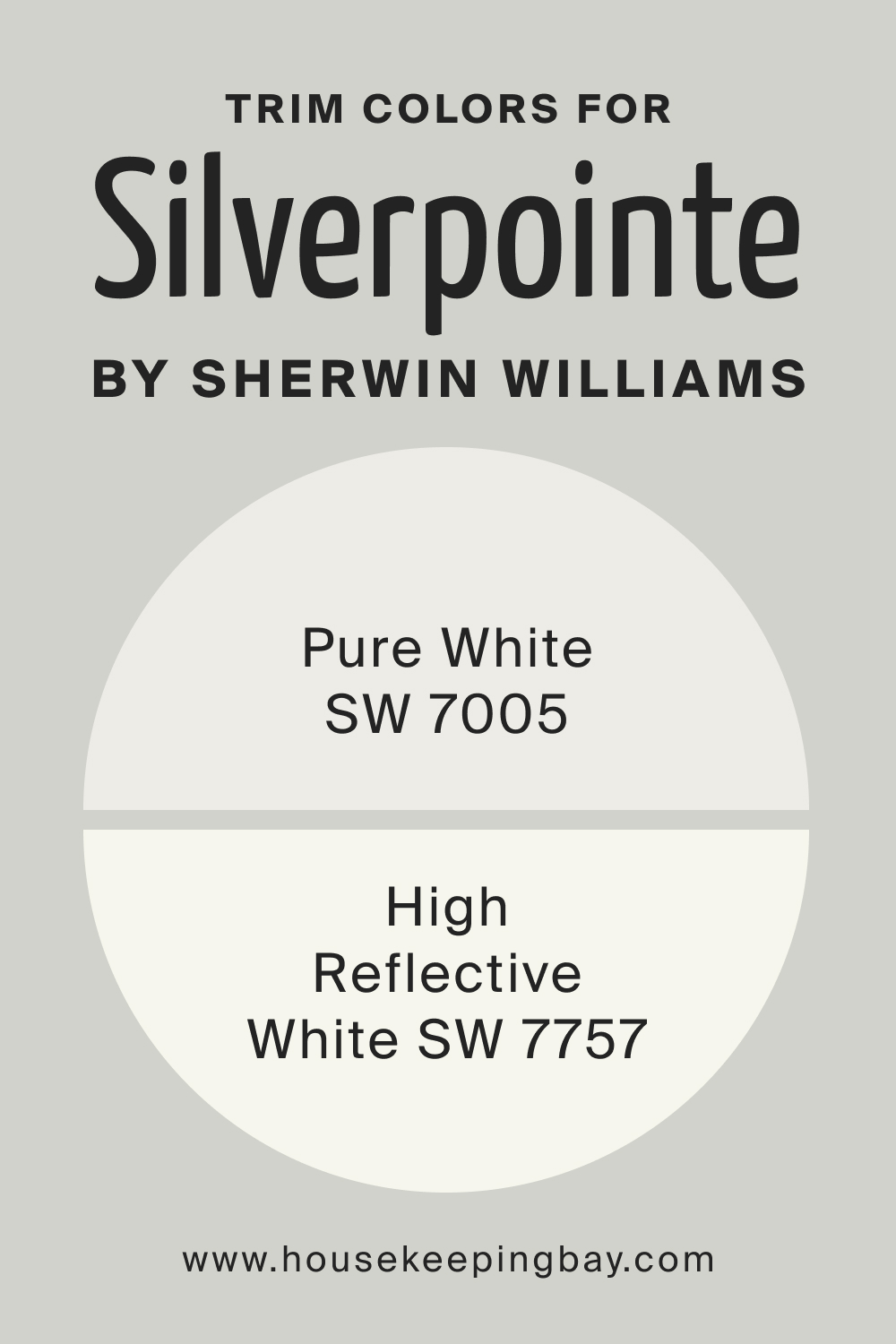 SW 7653 Silverpointe Similar Colors
If you are not satisfied with how SW Silverpointe works in your home, the only reasonable decision is to search for an alternative color. However, it's often challenging to pick up the closest color match! You must choose a color that has very similar LRV and undertones to look nearly the same as the hue you were going to use.
For SW Silverpointe, choosing the best similar colors can be even more difficult because of the color's undertones of green and gray.
This is why we have prepared a list of grays that will read very close to SW Silverpointe on the walls:
BM Stonington Gray
BM Graytint
BM Paper White
BM Wickham Gray
SW Silver Strand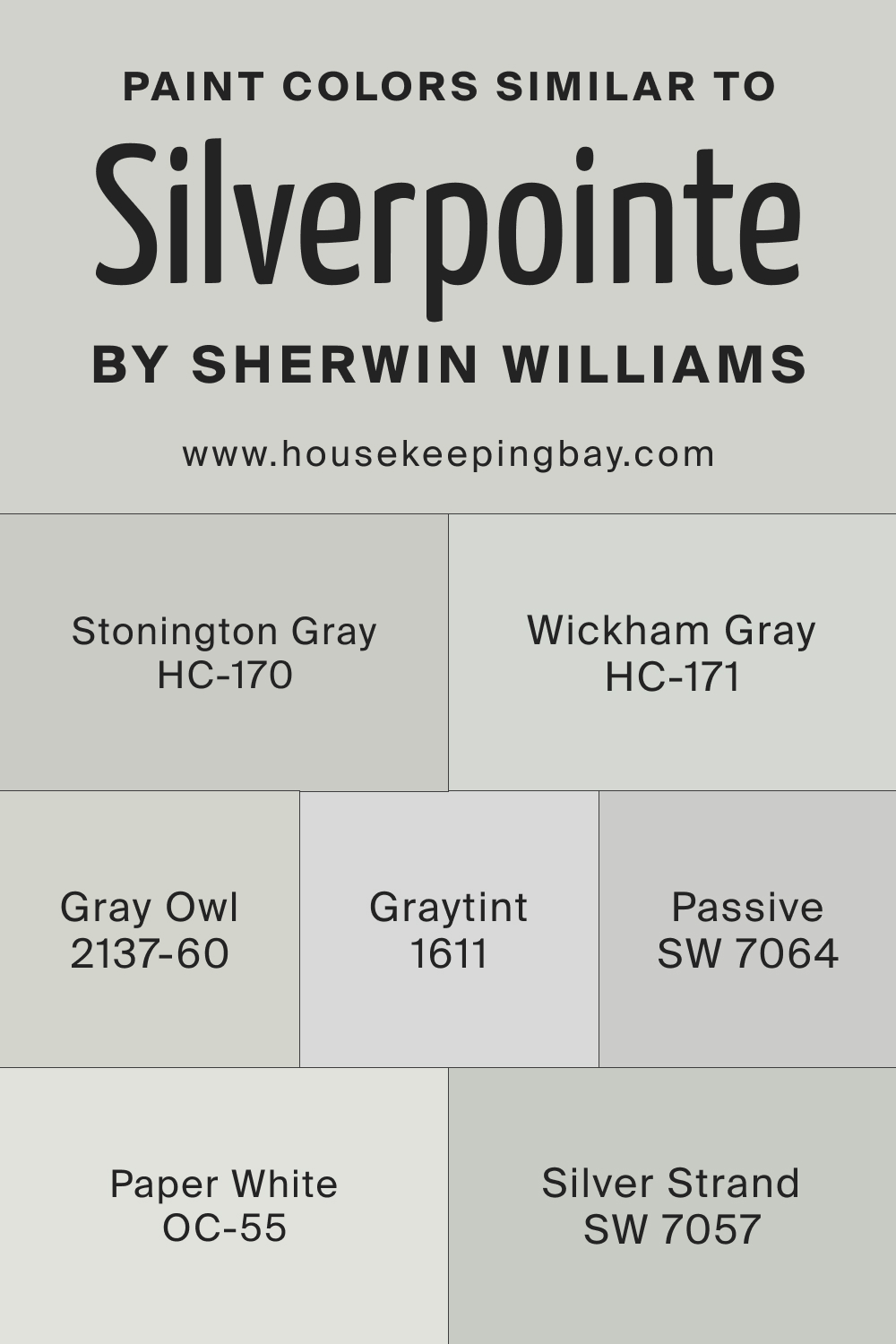 Colors That Go Well With SW 7653 Silverpointe Paint Color
When you pick up colors that will be used in the same room, your primary goal is to opt for hues that work well together, creating a balanced and harmonious palette. For SW Silverpointe, stick with darker blues, as well as brighter and airier blues.
They will help to protrude the fresh tone of this color better, highlighting its coolness. Also, it will work well with darker grays.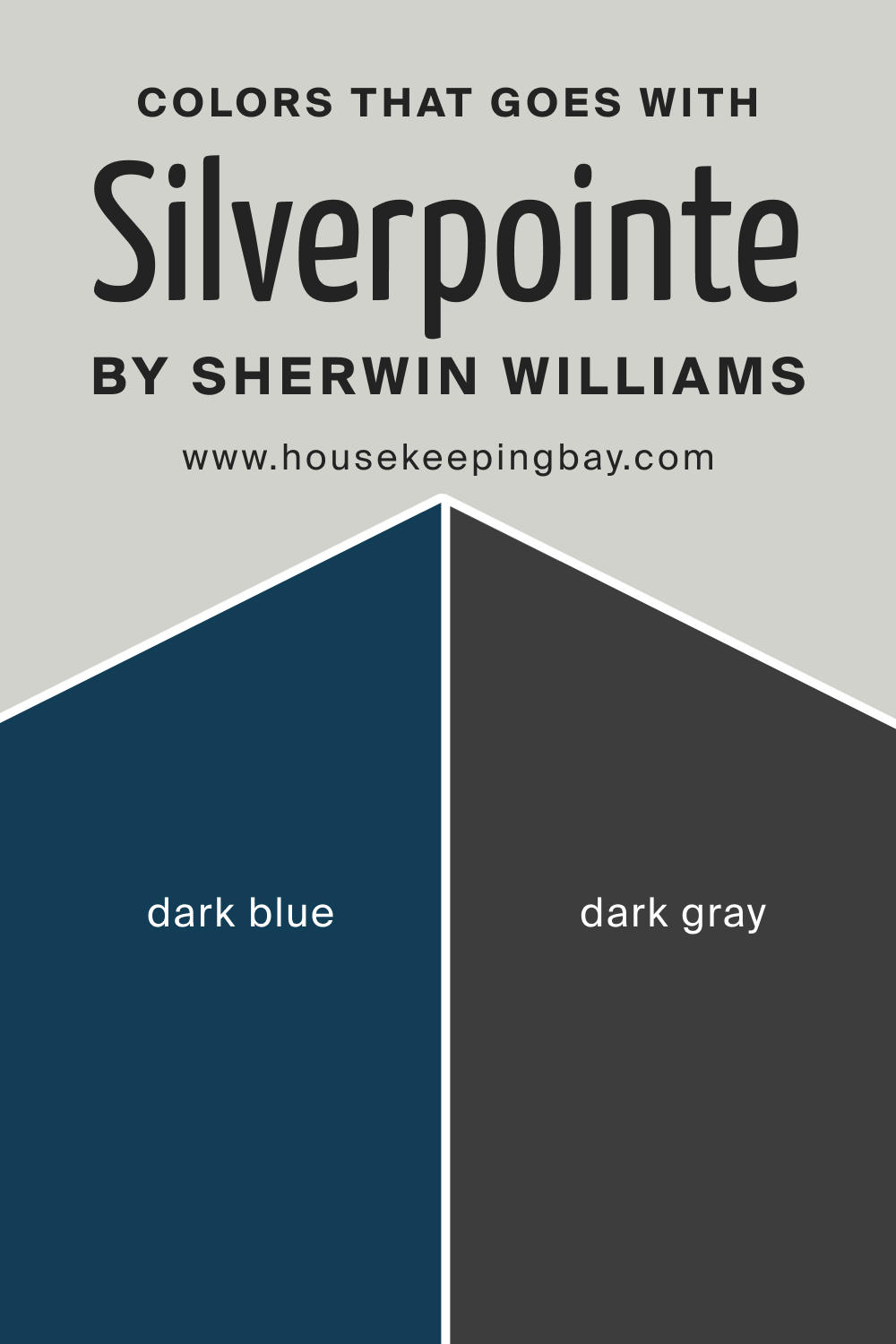 Where to Use This Color In Your Home?
This gray is so versatile that you can use it literally anywhere, Especially if you have an interior design style such as Scandinavian, Modern, Minimalist, or Farmhouse! Below, we describe how it may read in different rooms.
Silverpointe SW 7653 in the Living Room
It's an ideal color for living rooms if you strive for a crisp and elegant look. You can paint all the walls in this color with a few contrasting accents. Moreover, you can add heavy dark gray blackout curtains to add depth to your spaces.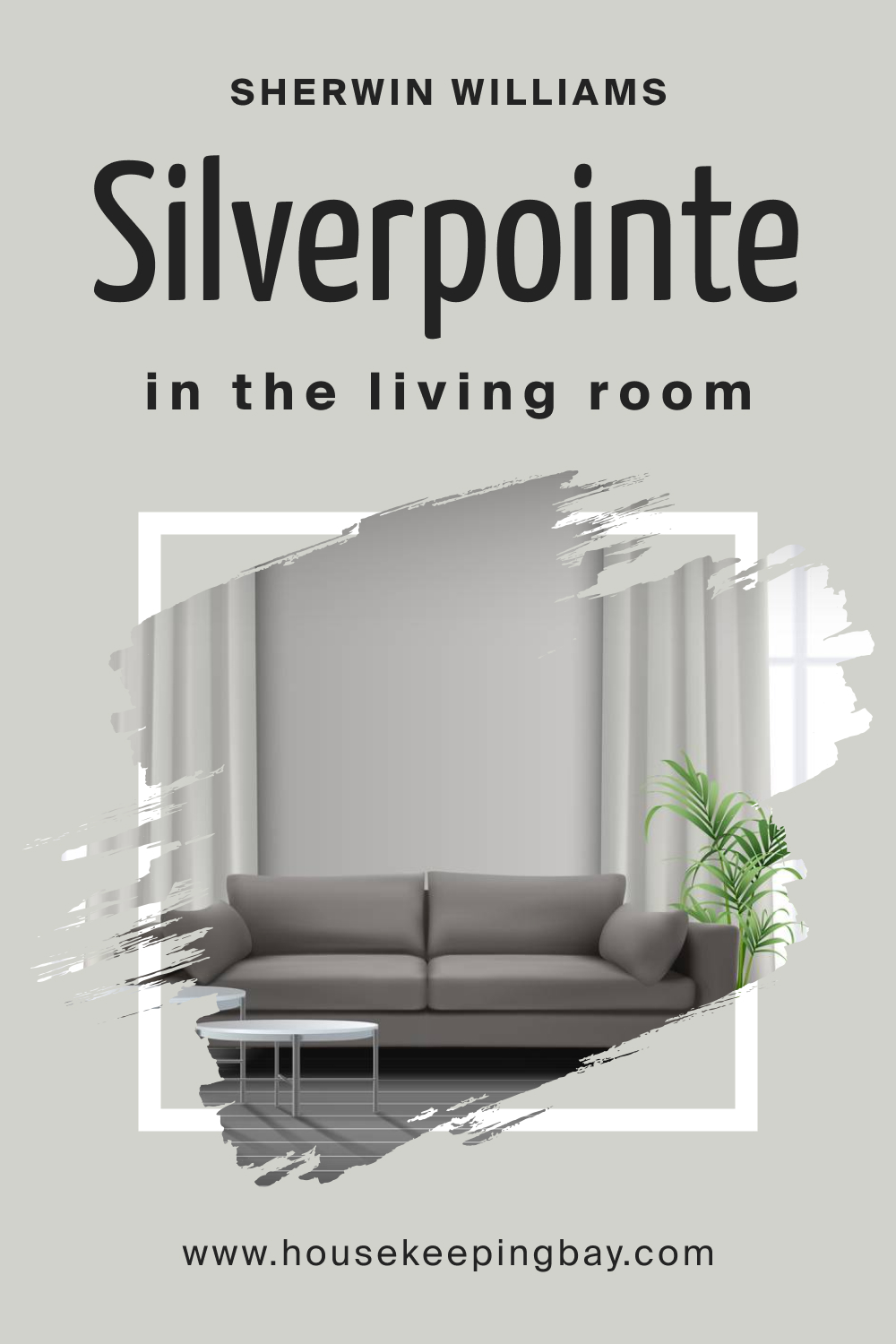 Silverpointe SW 7653 in a Bedroom
It's an ideal color for a quiet-looking and serene bedroom! This tranquil and fresh gray color can be used on all the walls, along with matte-black accents through the chandelier, bed frame, and rugs.
Should you want a touch of warmth and coziness, why not add sheepskin?! Blackout curtains will help you balance the overall appearance.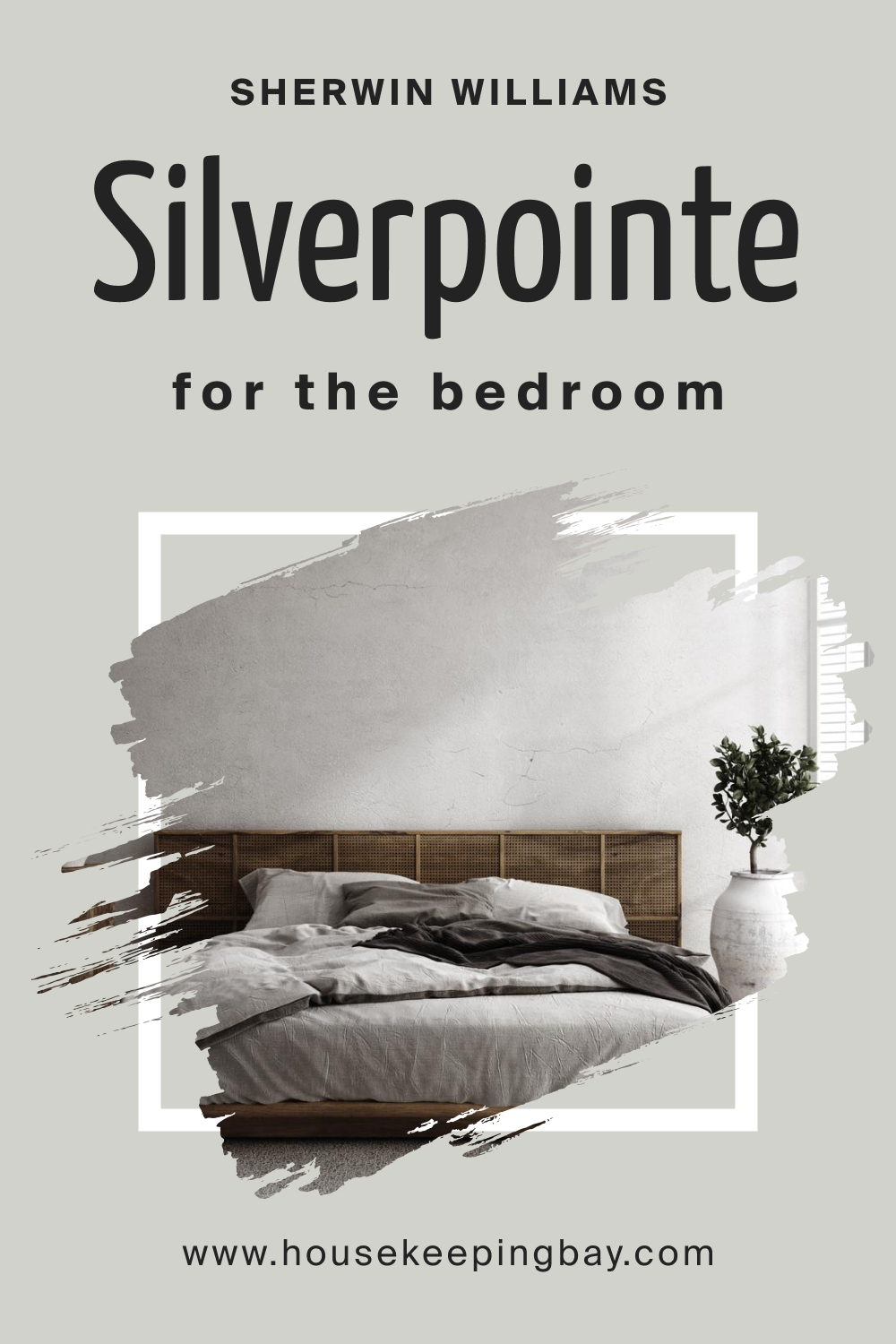 Silverpointe SW 7653 on the Kitchen
In the kitchen, you can pair this gray with a white marble countertop and golden-tinted pull handles and/or fixtures. Also, try to add a piece of an industrial-style chandelier to refine the looks! However, we recommend you avoid golden oak or pinewood cabinets with this paint color.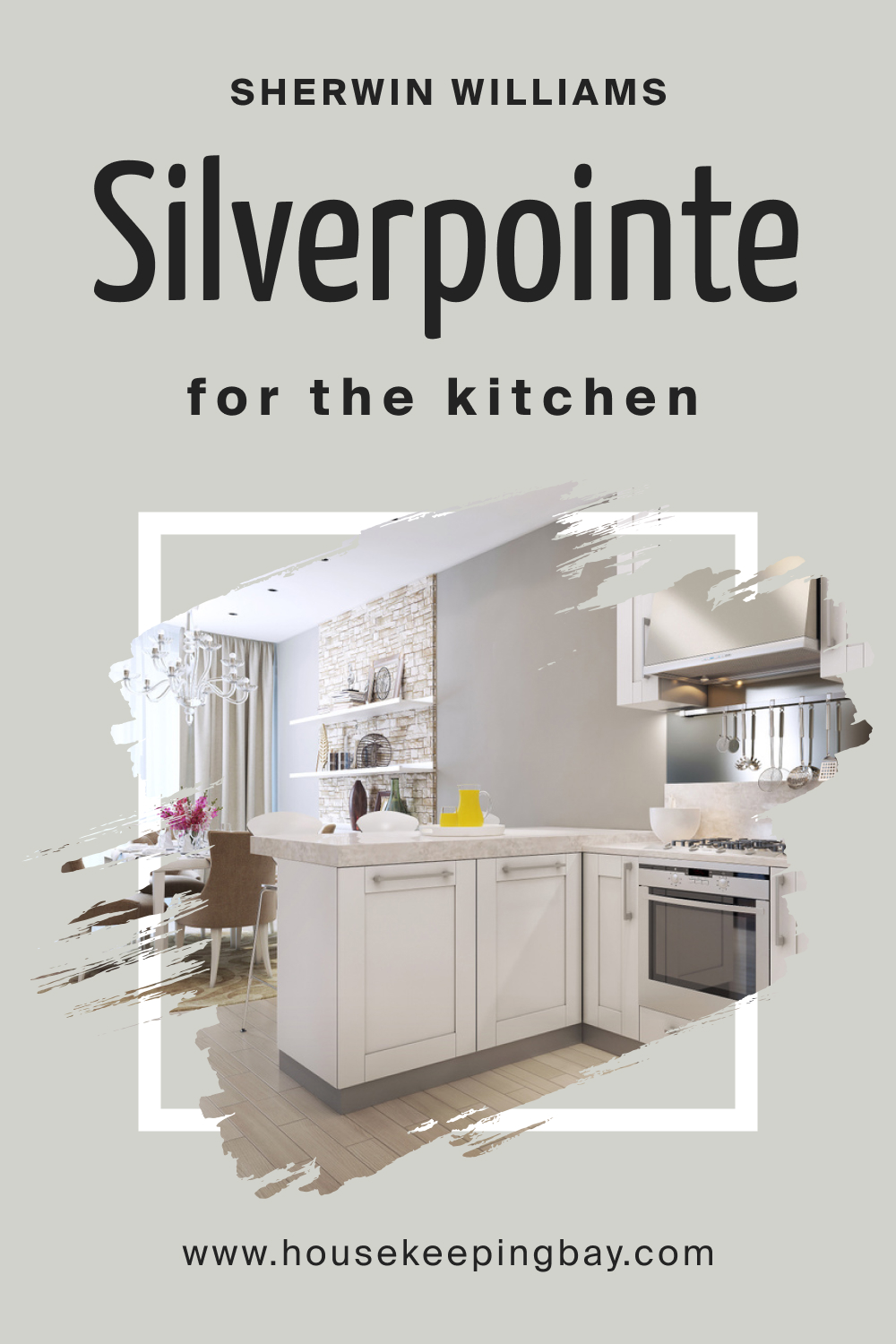 Silverpointe SW 7653 and Bathroom
SW Silverpointe is a nice color to use in bathrooms since it adds freshness to the space. Also, since it's pretty light, it can work well in spaces with a lack of natural light. However, note that in a windowless bathroom, this gray color will read darker!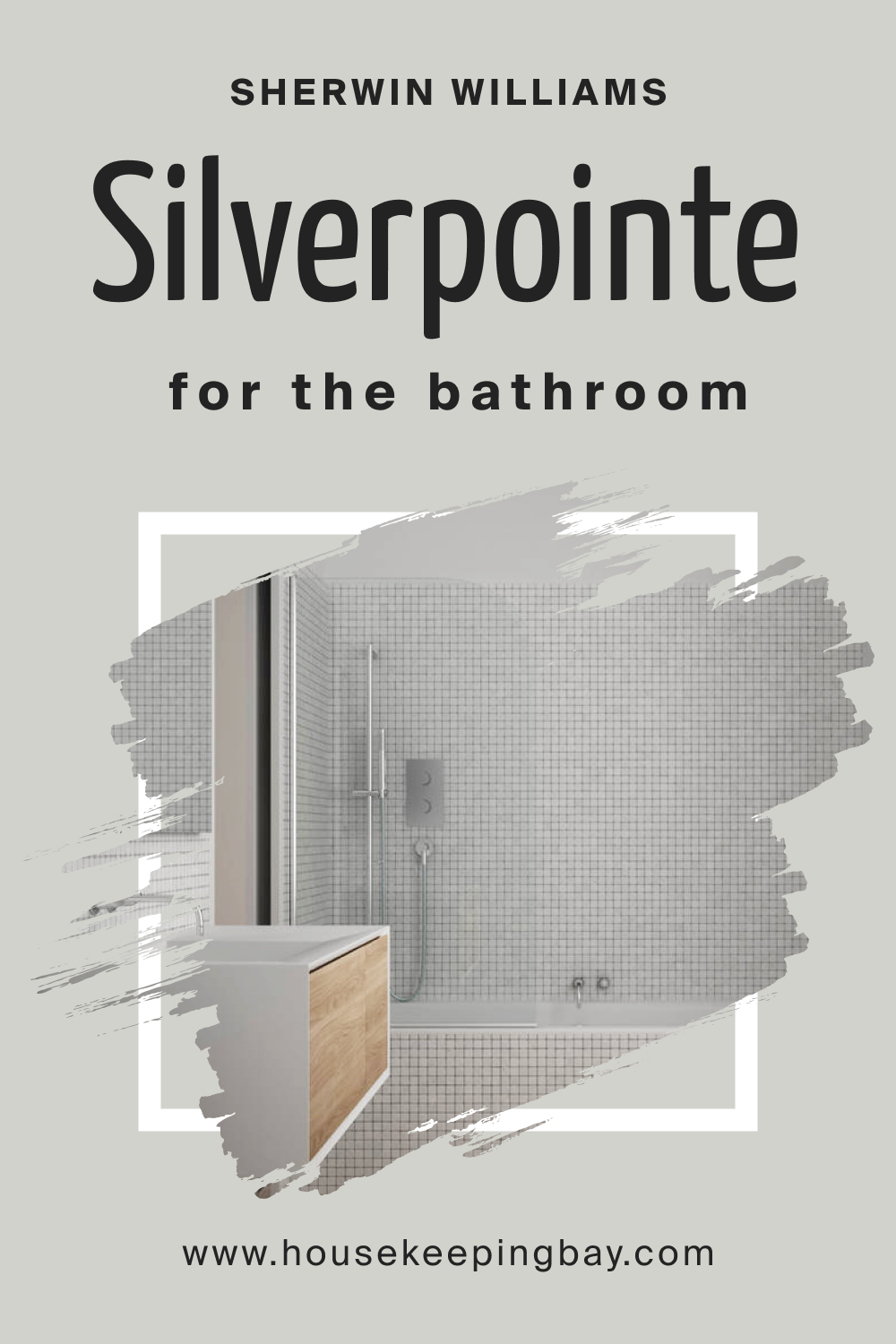 Silverpointe SW 7653 for the Exterior Use
This gray hue works surprisingly well on exteriors! You can pair it with super whites or even grays through moldings, door/window frames, and trims. This color will do its best, especially if you reside in one of the tropical and warmer states. Due to a high LRV, this color will reflect most of the incoming light, making your interiors cool and calm.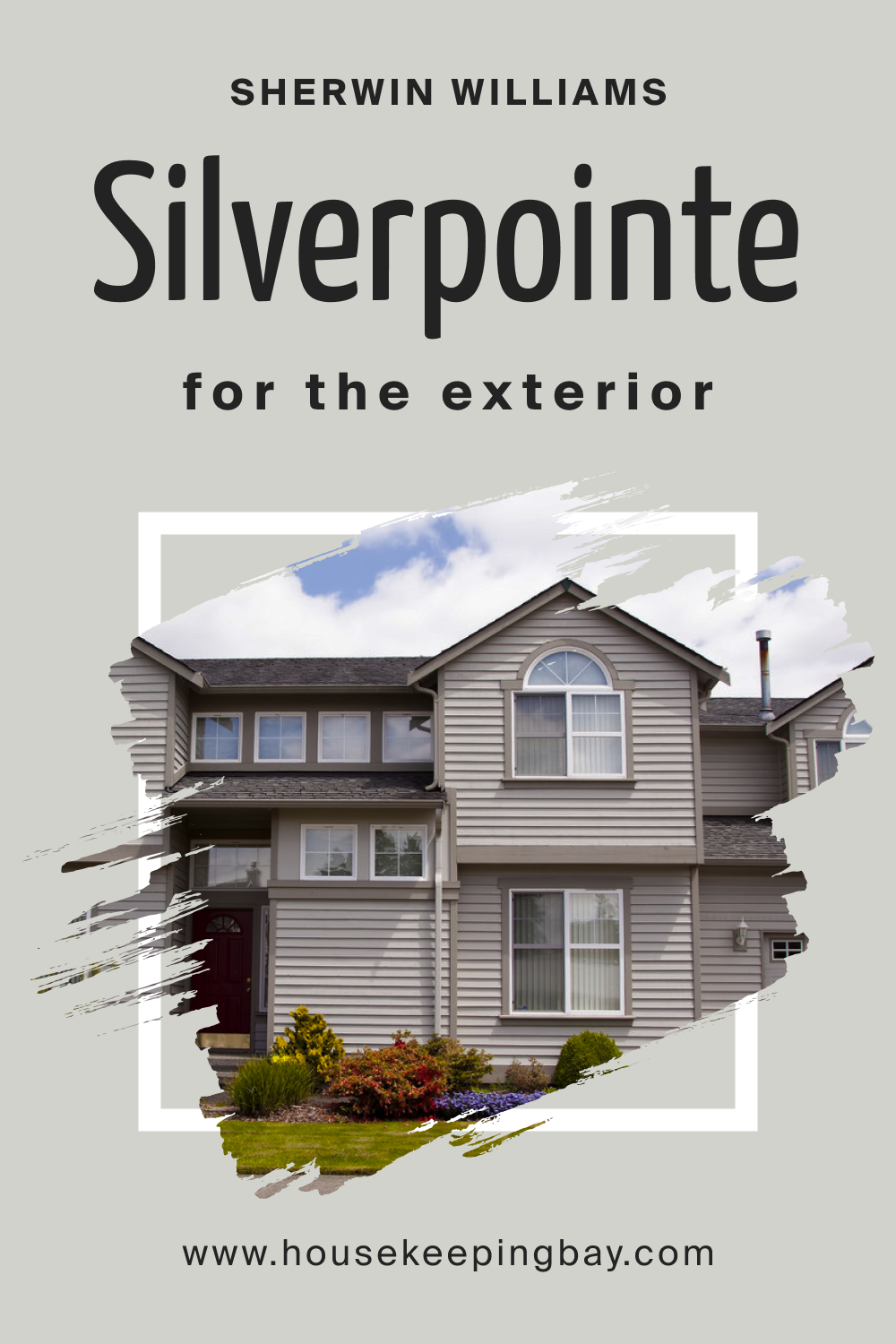 Comparing SW 7653 Silverpointe Paint Color With Other Colors
To help you better see the distinctions between similar colors and colors that belong to the same hue family, we compared SW Silverpointe with several grays here.
Silverpointe vs. SW 7015 Repose Gray
Compared to Silverpointe, Repose Gray reads warmer and reveals a slight beige-like hue. That's because this neutral has a delicate brown undertone. SW SIlverpointe, in its turn, typically looks gray with a cool tone.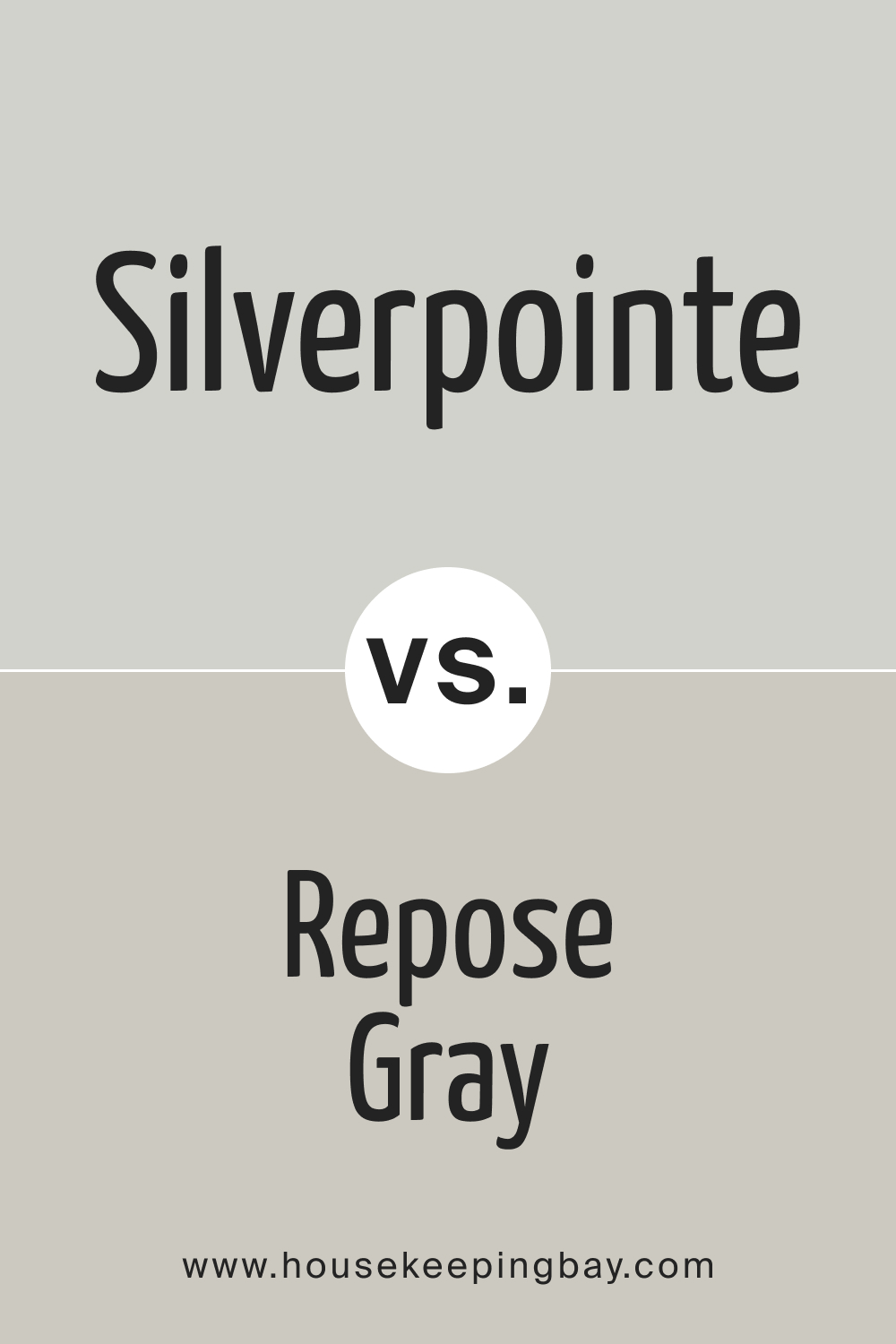 Silverpointe vs. SW 7057 Silver Strand
SW Silver Strand looks gray but somewhat deeper and darker than SW Silverpointe. Its depth comes from the lower LRV of 59 (compared to LRV 64 of Silverpointe). But these colors have a similar feature, which is a green undertone!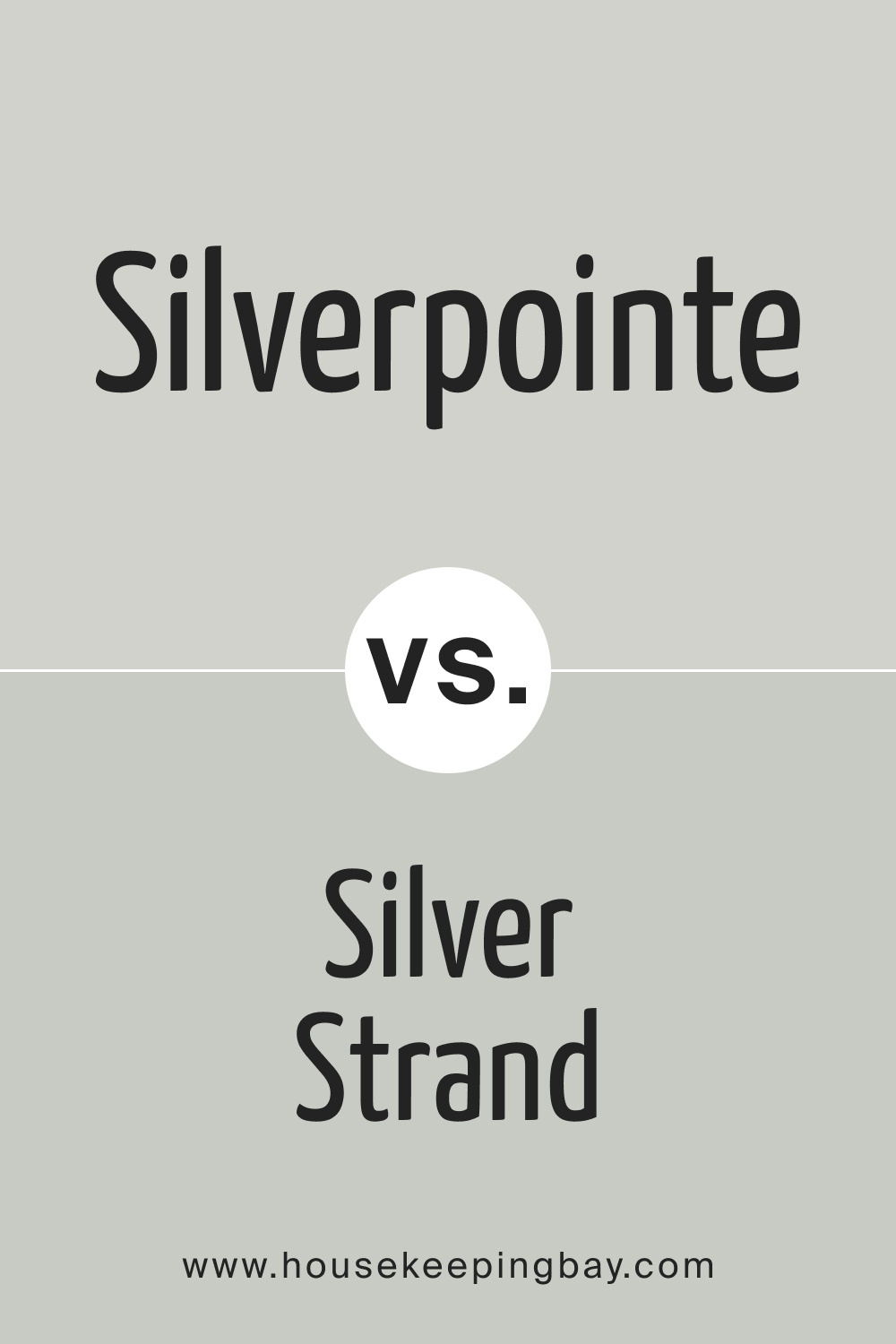 Silverpointe vs. SW 7029 Agreeable Gray
SW Agreeable Gray looks warmer and displays a prominent beige-like hue (which is no wonder since it's greige!), unlike SW SIlverpointe with its cool-toned gray appearance. However, these two share green undertones, although they don't play a big role in how these colors work.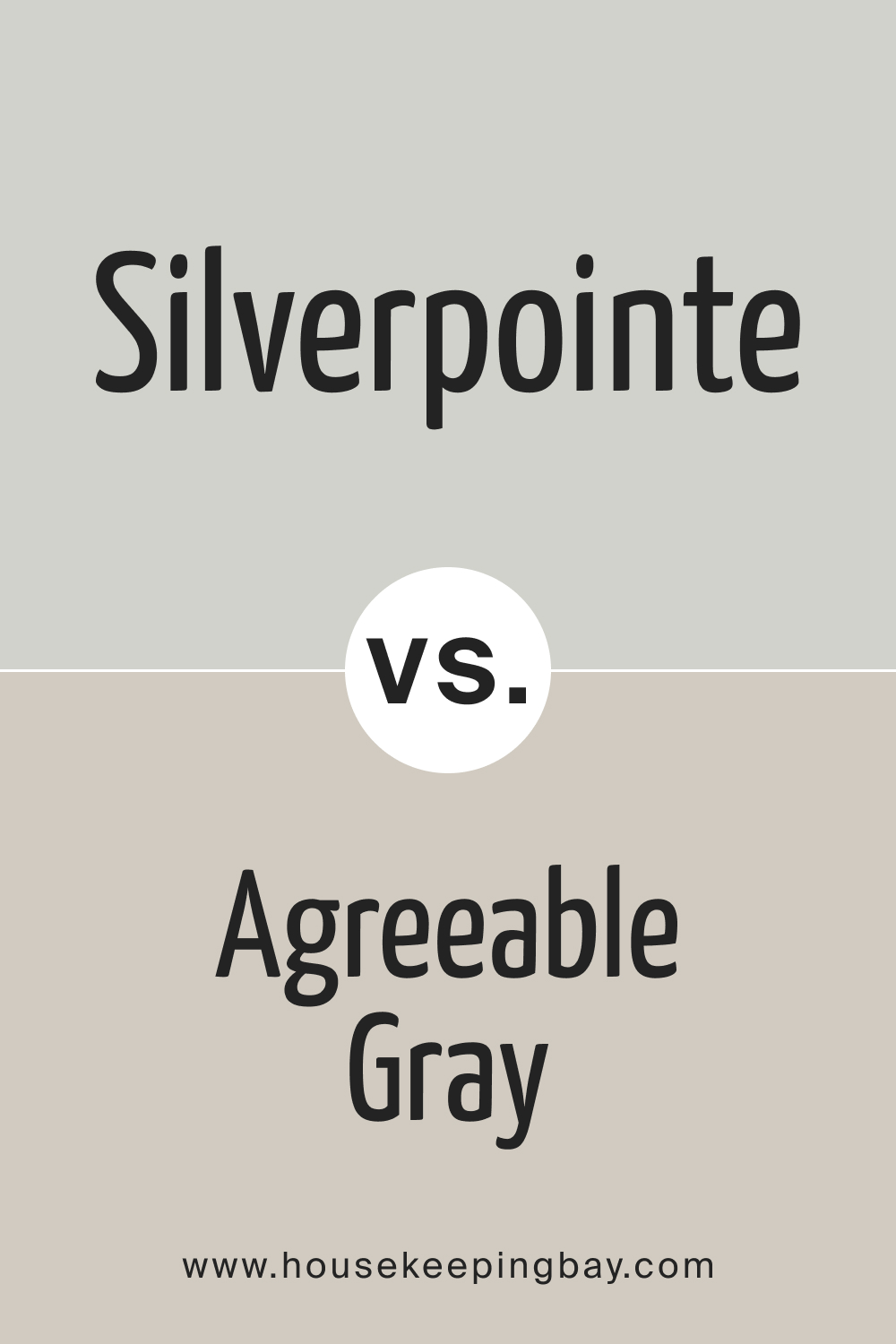 Silverpointe vs. SW 6534 Icy
SW Icy is a cool-toned blue with violet and heavy gray undertones that reads frosty and fresh. This color has an LRV value of 56, which means it reads less bright and is less reflective than SW Silverpointe, whose LRV is 64. Also, these two have different undertones (SW Silverpointe has green and blue).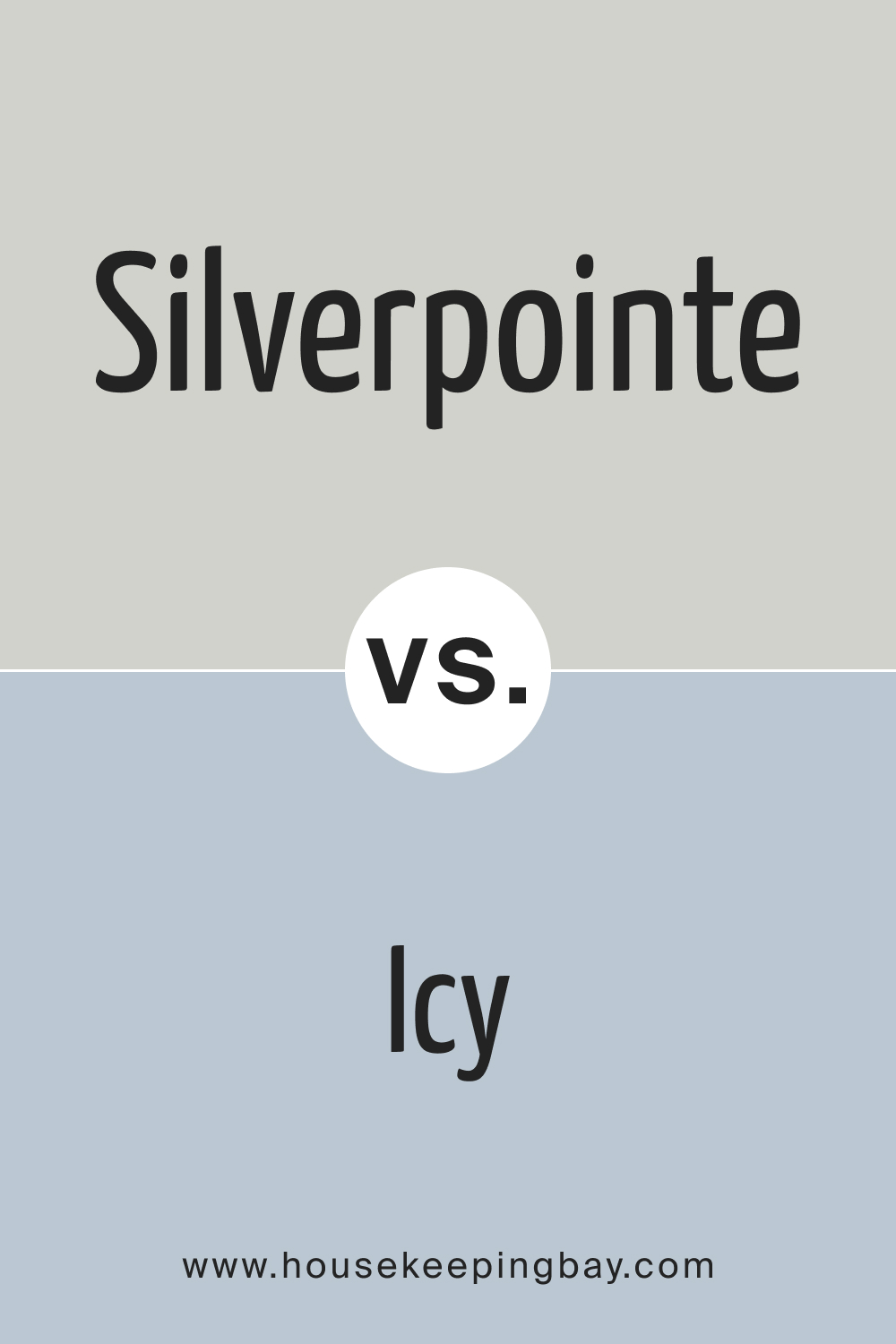 Silverpointe vs. SW 6204 Sea Salt
SW Sea Salt has blue and green undertones and an LRV value of 63. In terms of undertones, it's the same as SW SIlverpointe, but their LRVs differ a bit (LRV 63 vs LRV 64). But generally, you can use these two interchangeably due to their very similar appearance.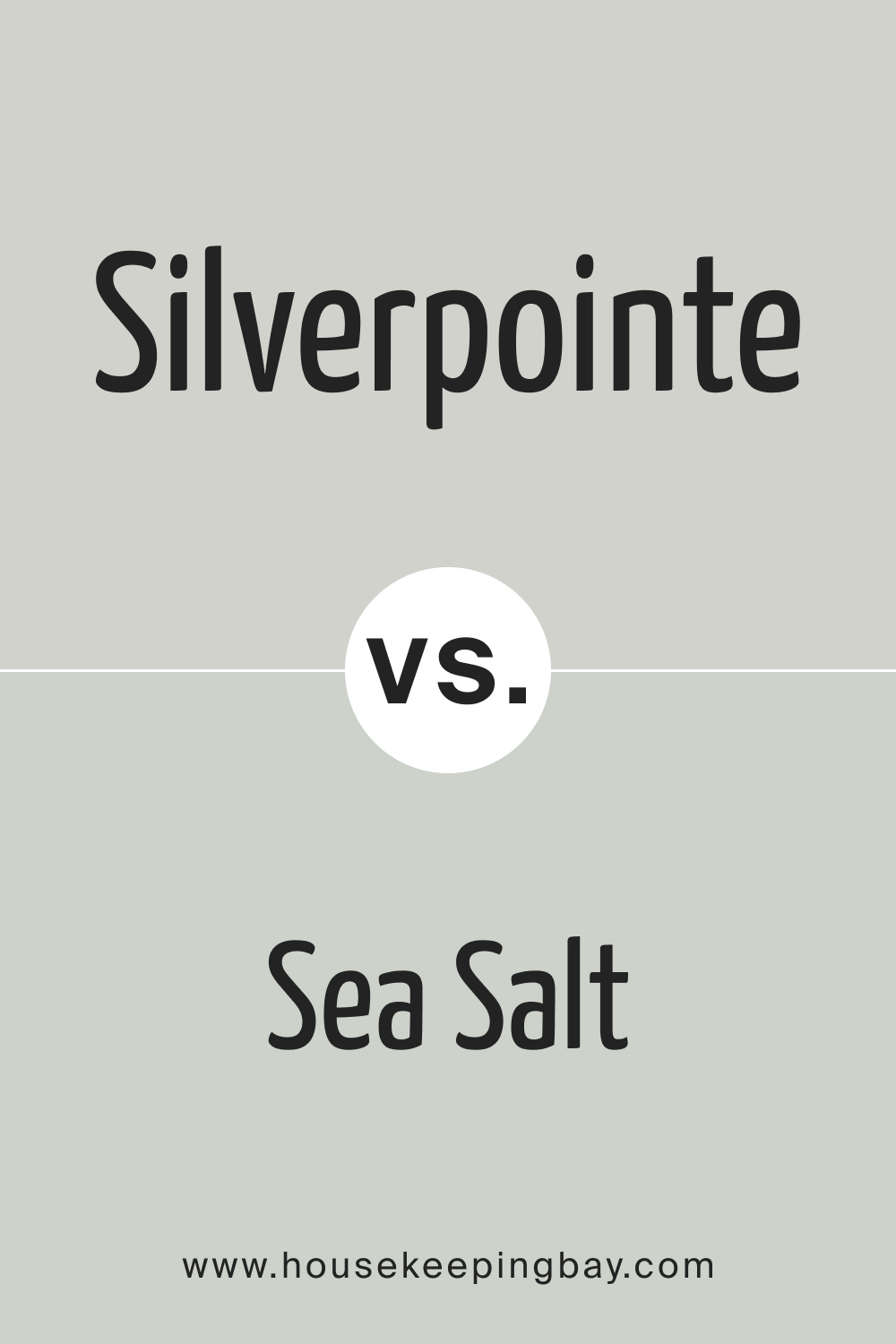 Silverpointe vs. SW 7661 Reflection
SW Reflection is a gray color with deep blue undertones. Just like SW Silverpointe, it's cool-toned. Also, it reads the same fresh and calm, with a crisp and cool tone. However, its LRV is different. SW Reflection has an LRV of 70 vs an LRV of 64 that SW Silverpointe has.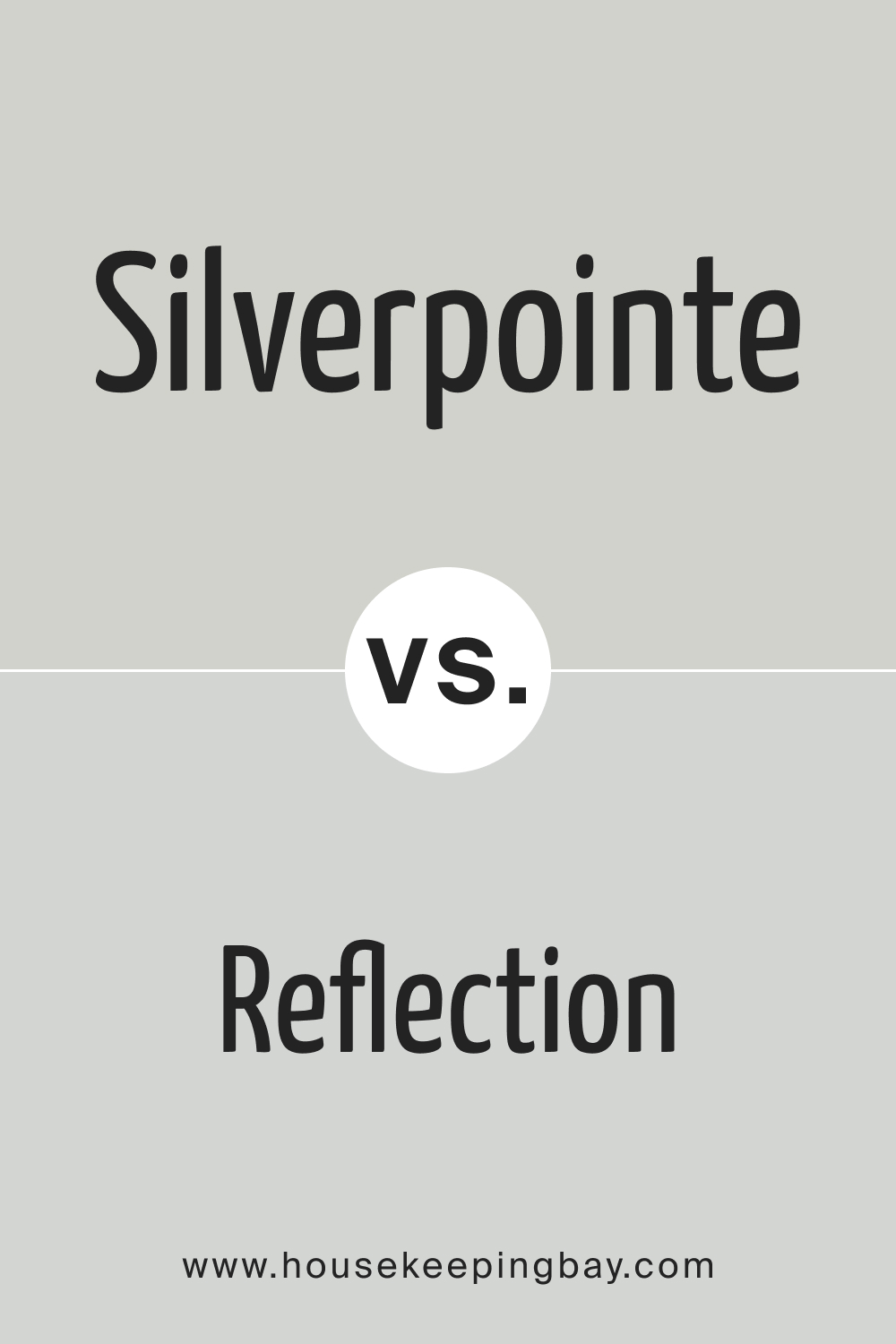 Now you know what makes SW Silverpointe so versatile and, at the same time, tricky. This cool gray hue can easily make your home feel airier, brighter, and crisper, adding space to smaller rooms.
But also, this color can make a poorly lit room feel smaller than it is. But with the information you have now, you'll easily make this beautiful gray work for you!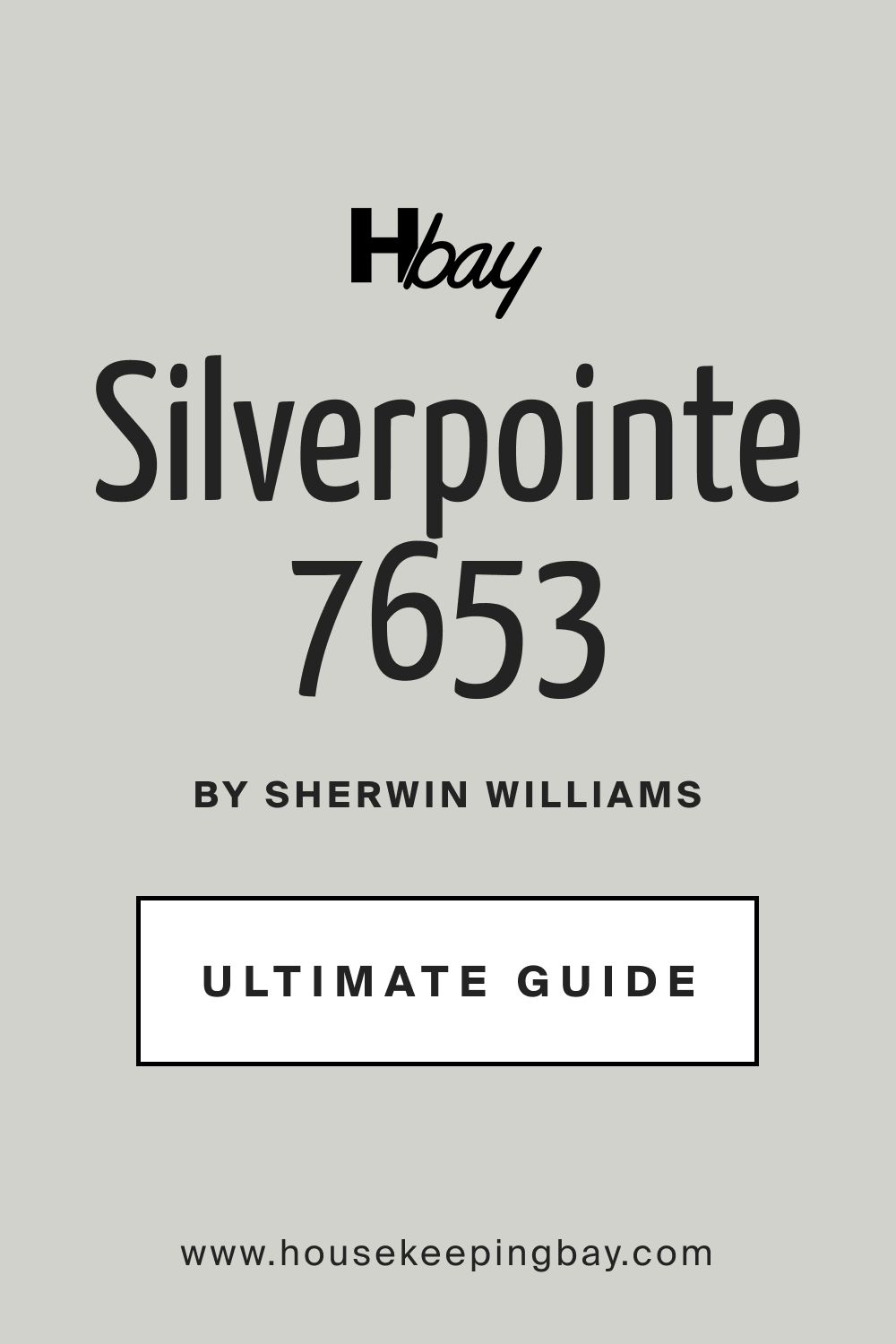 Frequently Asked Questions
⭐What color/hue family does this gray belong to?
This color belongs to the green-yellow color family.
⭐What color collection is it a part of?
SW Silverpointe is a part of the following collections: Minimalist, Living Well–Reflect, and Cool Neutrals.
⭐Does this gray color read yellowish?
No, it doesn't. It reads cool and fresh, displaying a soft gray hue.