Sherwin-Williams has always been at the forefront of creating splendid paint colors that define interiors. In our journey to delve deeper into the nuance of paint shades, today, we spotlight SW 9511 Warm Oats.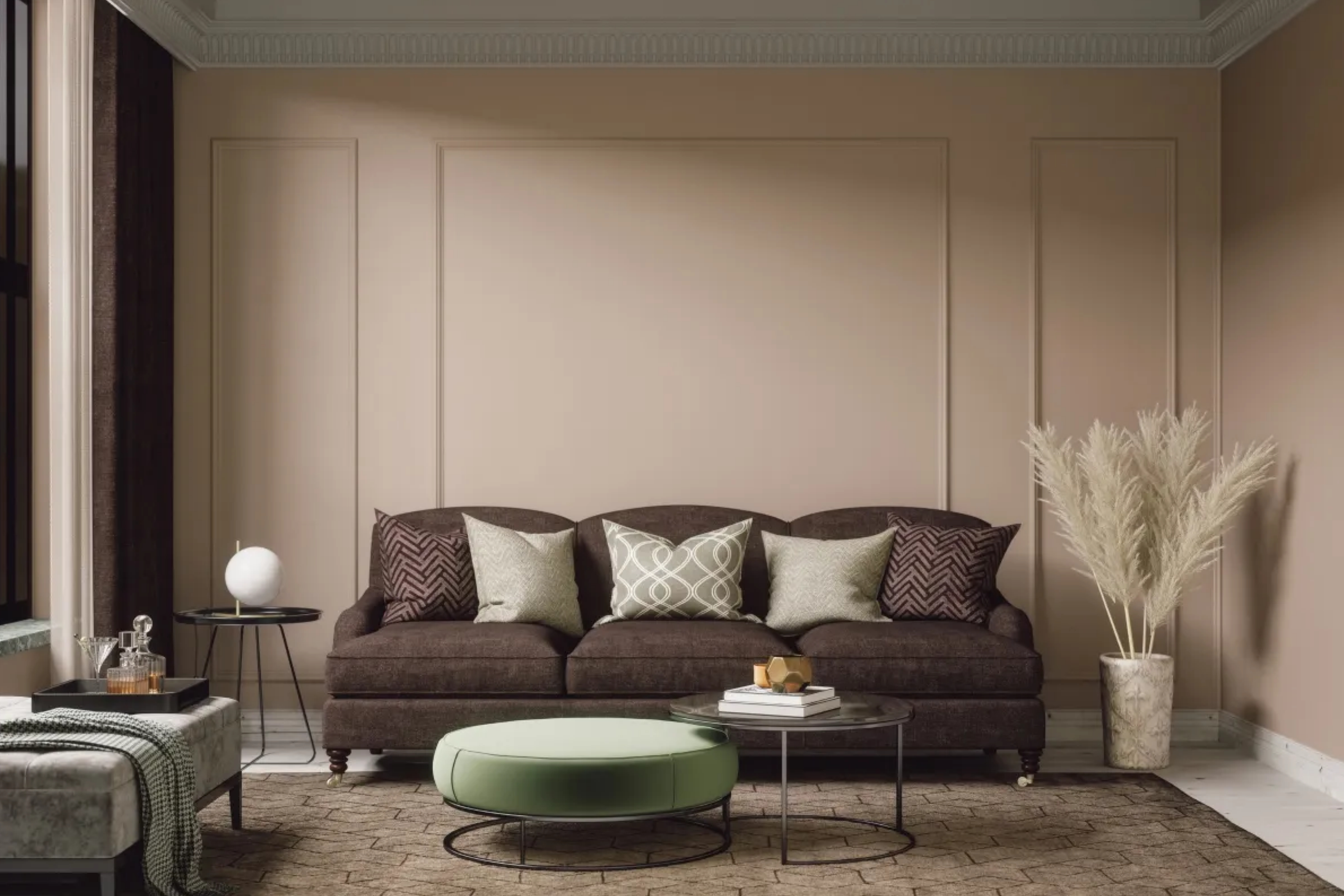 What Color Is SW 9511 Warm Oats?
A visual embrace, SW 9511 Warm Oats appears like a soft, muted beige, reminiscent of a calming oat field under the morning sunlight. This color exudes a soothing ambiance, versatile enough for both contemporary and classic interiors. It pairs wonderfully with natural wood textures, soft fabrics, and metallic accents.
Its understated elegance fits seamlessly into Scandinavian, coastal, and modern farmhouse styles, among others.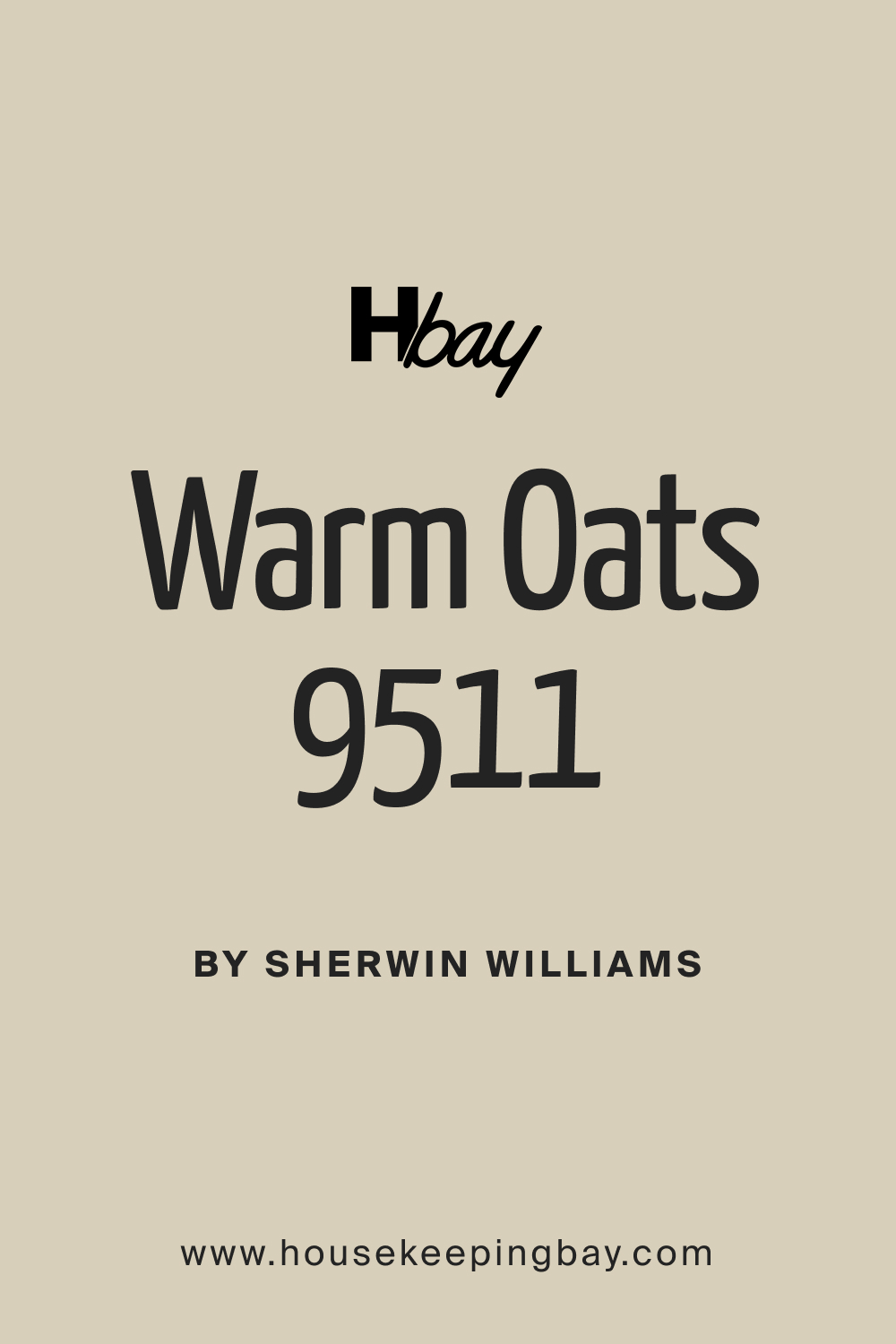 Is It a Warm Or Cool Color?
SW 9511 Warm Oats inherently carries a warmth in its hue. Its creamy beige undertones resonate with cozy, welcoming spaces. Being a warm color, it brings forth a sense of intimacy and comfort, making rooms feel cozier and more inviting.
Undertones of SW 9511 Warm Oats
While the primary appeal of SW Warm Oats is its rich beige character, the undertones play a pivotal role in shaping its presence. Subtle undertones of taupe and brown lend this shade its earthy depth. In interiors, these undertones can either be enhanced or subdued based on the surroundings.
On walls, depending on the room's lighting and adjacent colors, these undertones can appear more pronounced or can fade into the background, influencing the room's overall mood.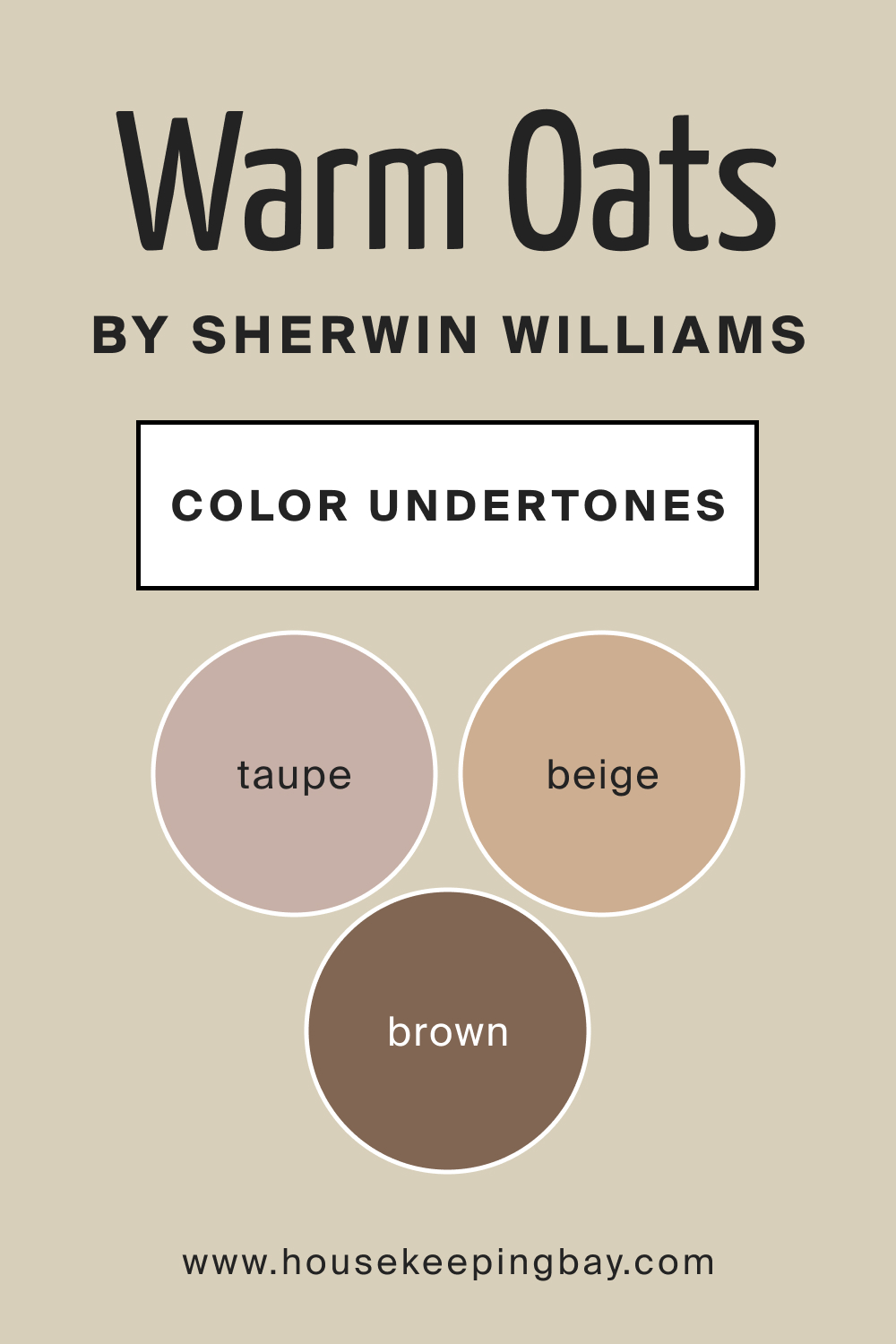 Coordinating Colors of SW 9511 Warm Oats
Coordinating colors act as a guide to building a harmonious palette around a primary shade. For SW Warm Oats, colors that complement its nature include soft greens, muted blues, and earthy browns. Some examples would be:
SW 9082 Chocolate Powder: A soft and warm-toned brown reminiscent of cocoa powder
SW 7702 Spiced Cider: A warm and muted reddish-brown color that resembles the color of bricks
SW 6211 Rainwashed: A serene shade of blue reminiscent of early morning skies.
SW 6425 Relentless Olive: An earthy green that grounds any space.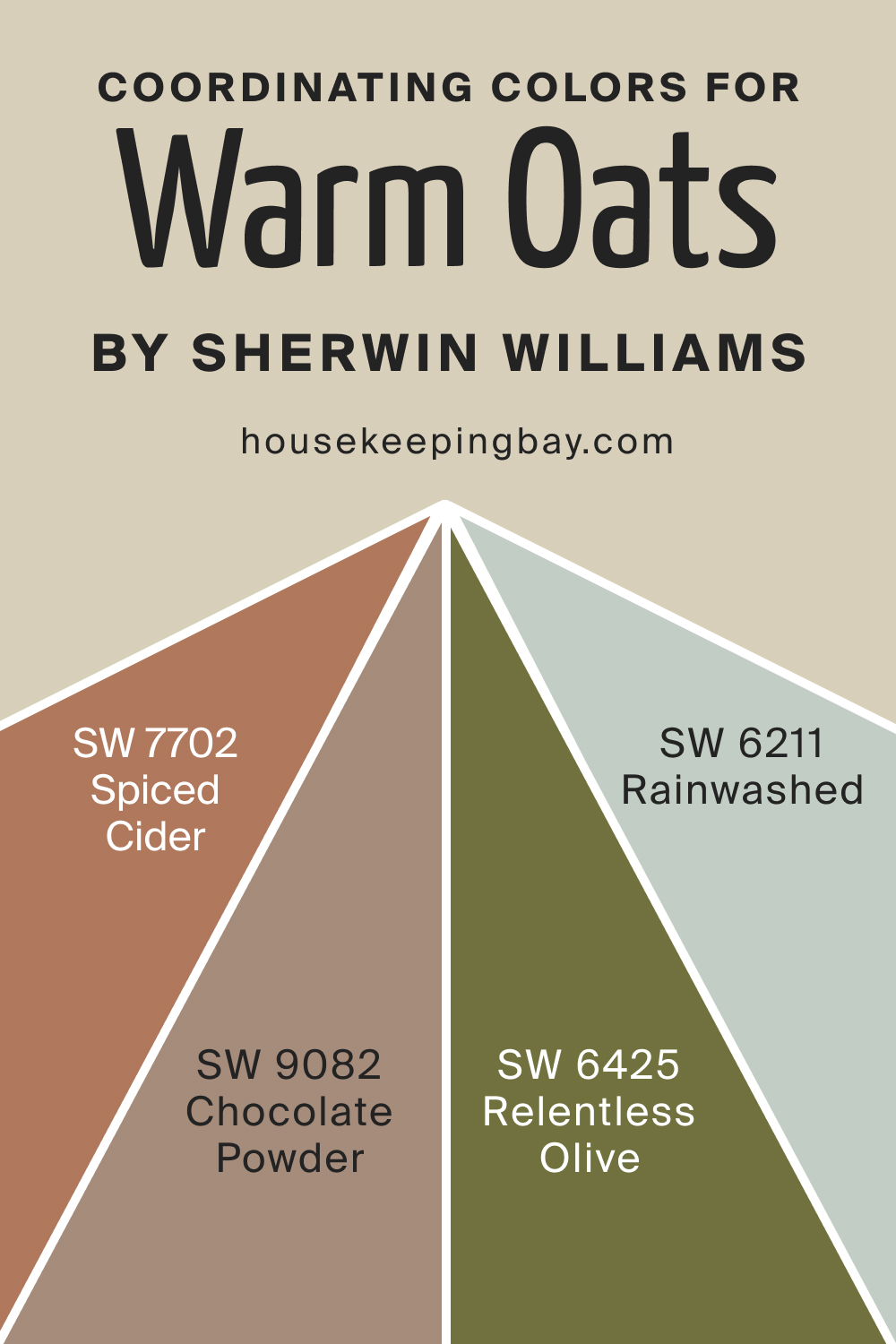 How Does Lighting Affect SW 9511 Warm Oats?
Lighting profoundly transforms the perception of colors. SW Warm Oats, under artificial light, appears richer and can bring out its taupe undertones more distinctly. In contrast, under natural light, the color seems brighter and airier. In north-facing rooms, it can appear slightly cooler and muted due to indirect sunlight. South-facing rooms, bathed in abundant sunlight, can highlight its warm, creamy nature.
In east-facing rooms, the morning sun provides a gentle, warm glow to the color, while west-facing rooms during the late afternoon can emphasize its depth and warmth.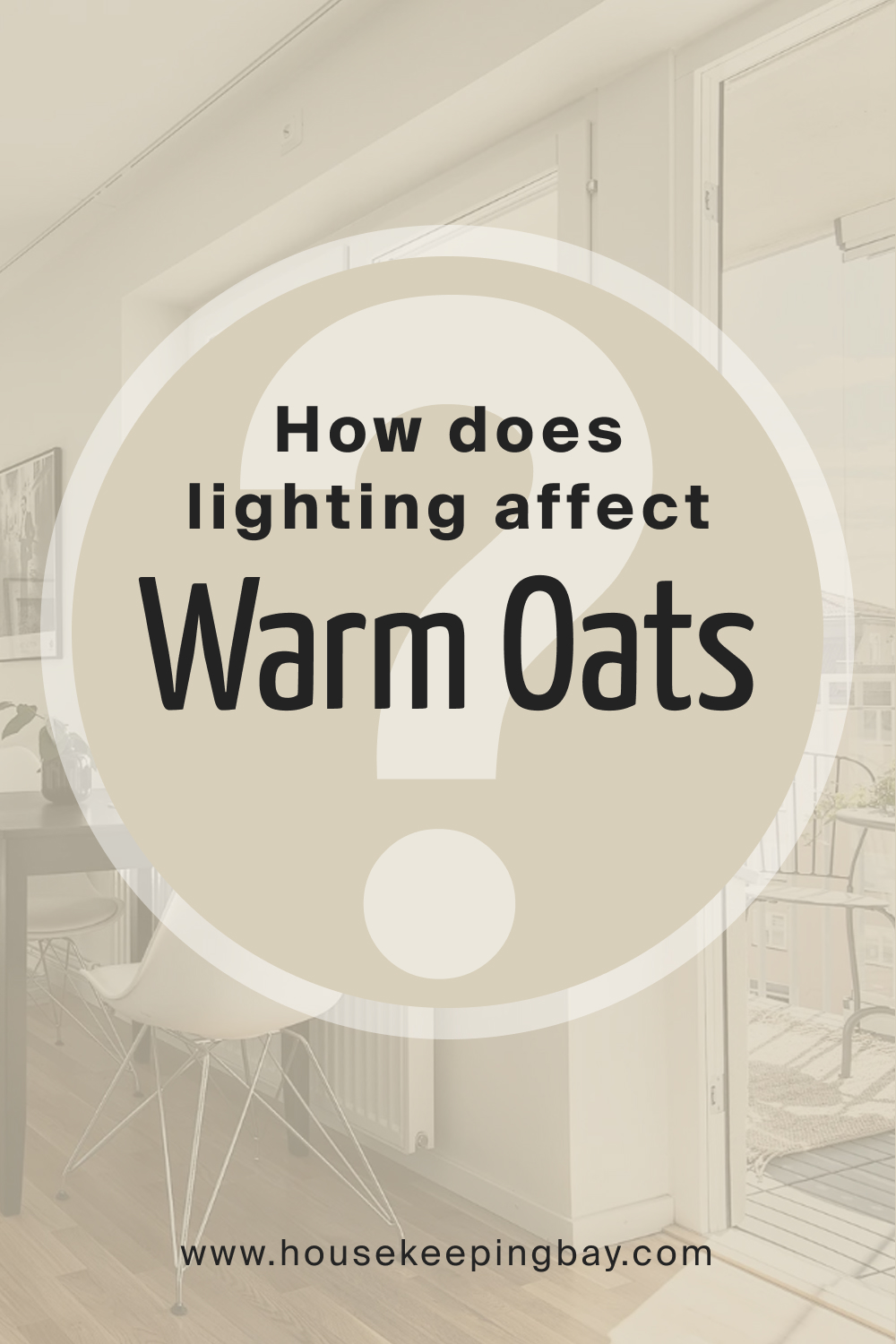 LRV of SW 9511 Warm Oats
The Light Reflectance Value (LRV) measures the percentage of light a color reflects. With an LRV of 63, Warm Oats strikes a balance between being luminous and having depth. This LRV allows it to be used in a variety of spaces without making rooms feel overwhelmingly bright or overly enclosed.
The shade's ability to reflect a good amount of light makes it suitable for both smaller and more expansive spaces.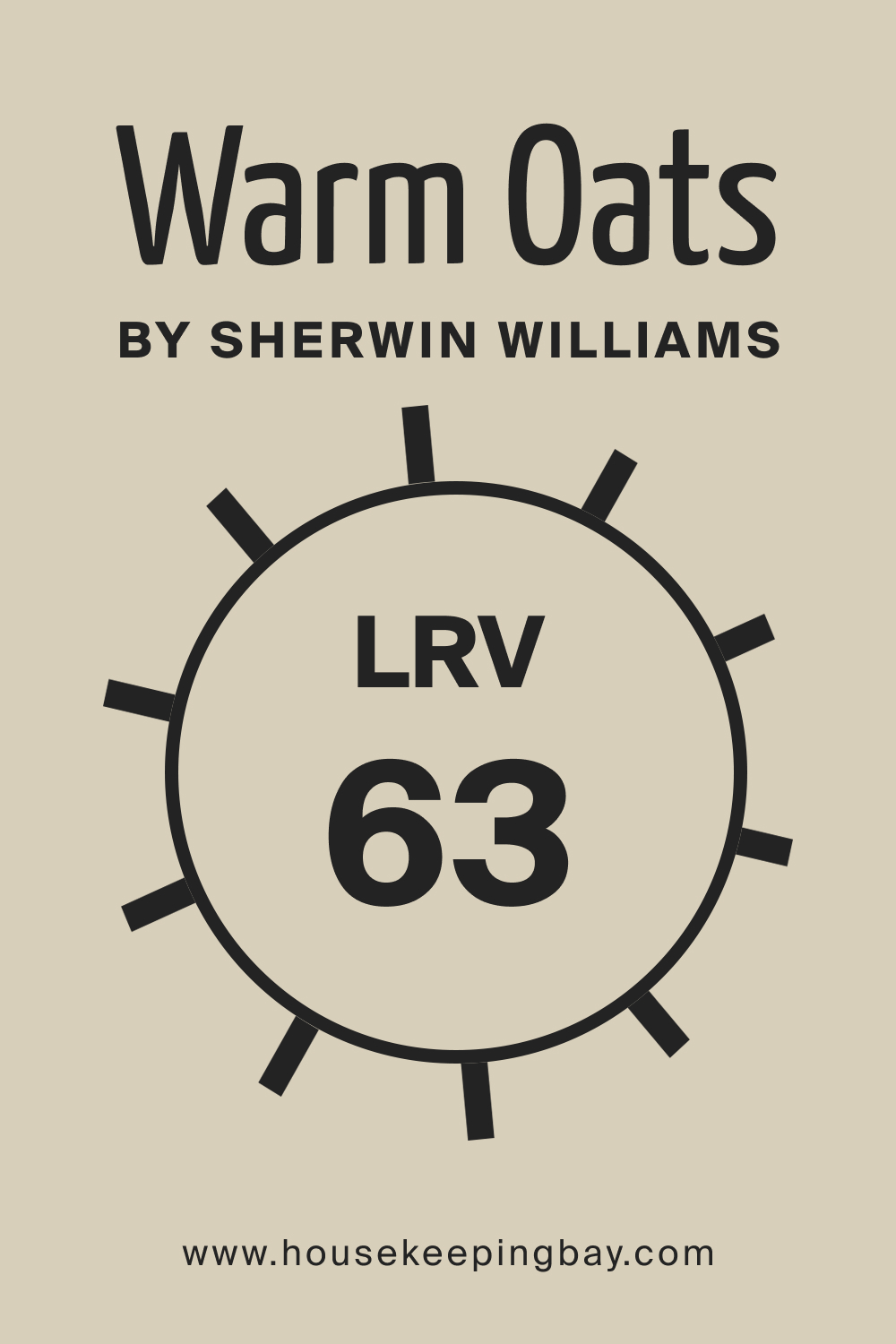 What is LRV? Read it Before You Choose Your Ideal Paint Color
Trim Colors of SW 9511 Warm Oats
Choosing the right trim color is vital in delineating spaces and adding contrast. For SW Warm Oats, shades of white work splendidly. Consider the following: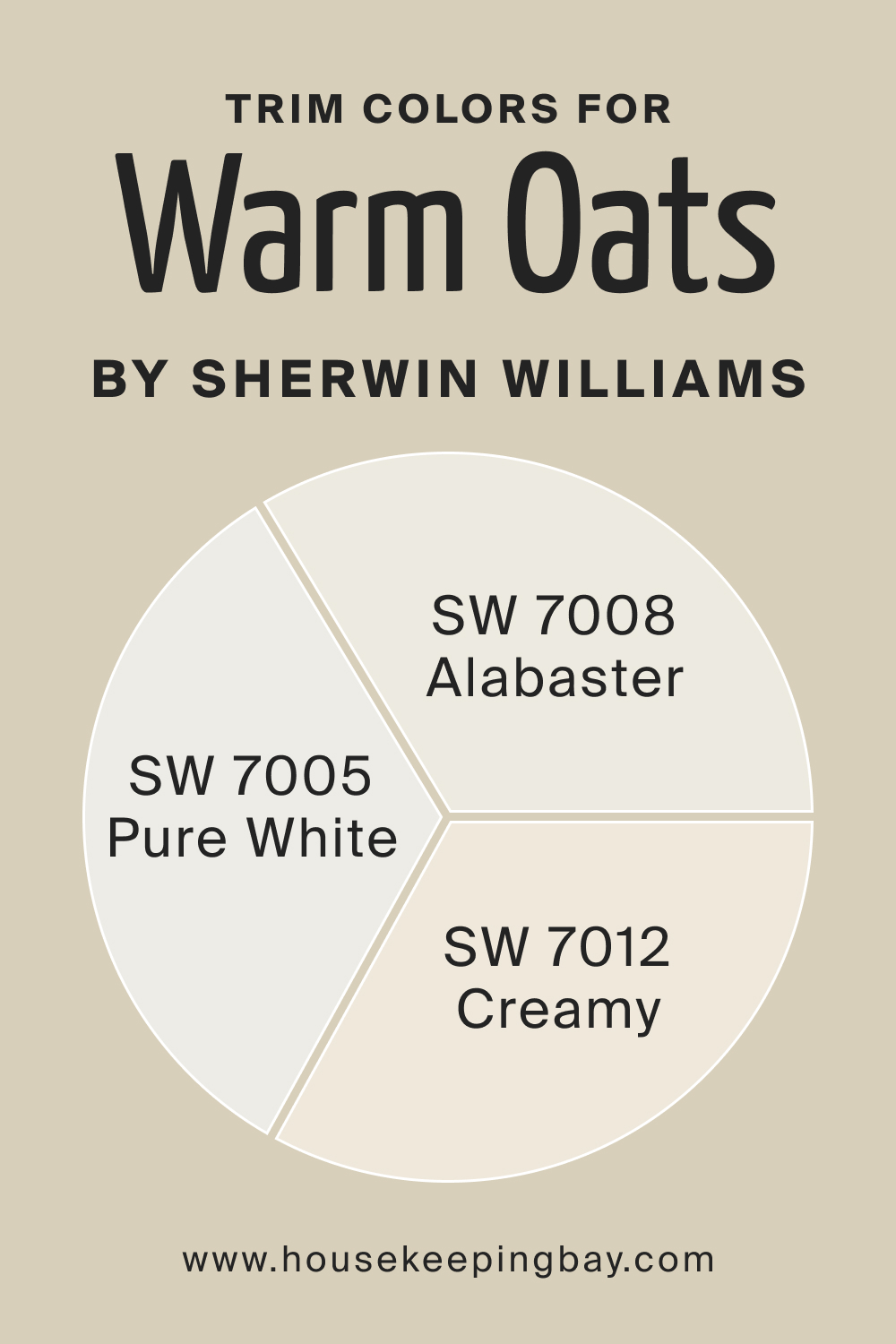 Colors Similar to SW 9511 Warm Oats
Knowing similar colors aids in comparing and contrasting while deciding on a palette. Instead of SW Warm Oats, you may want to try the following options: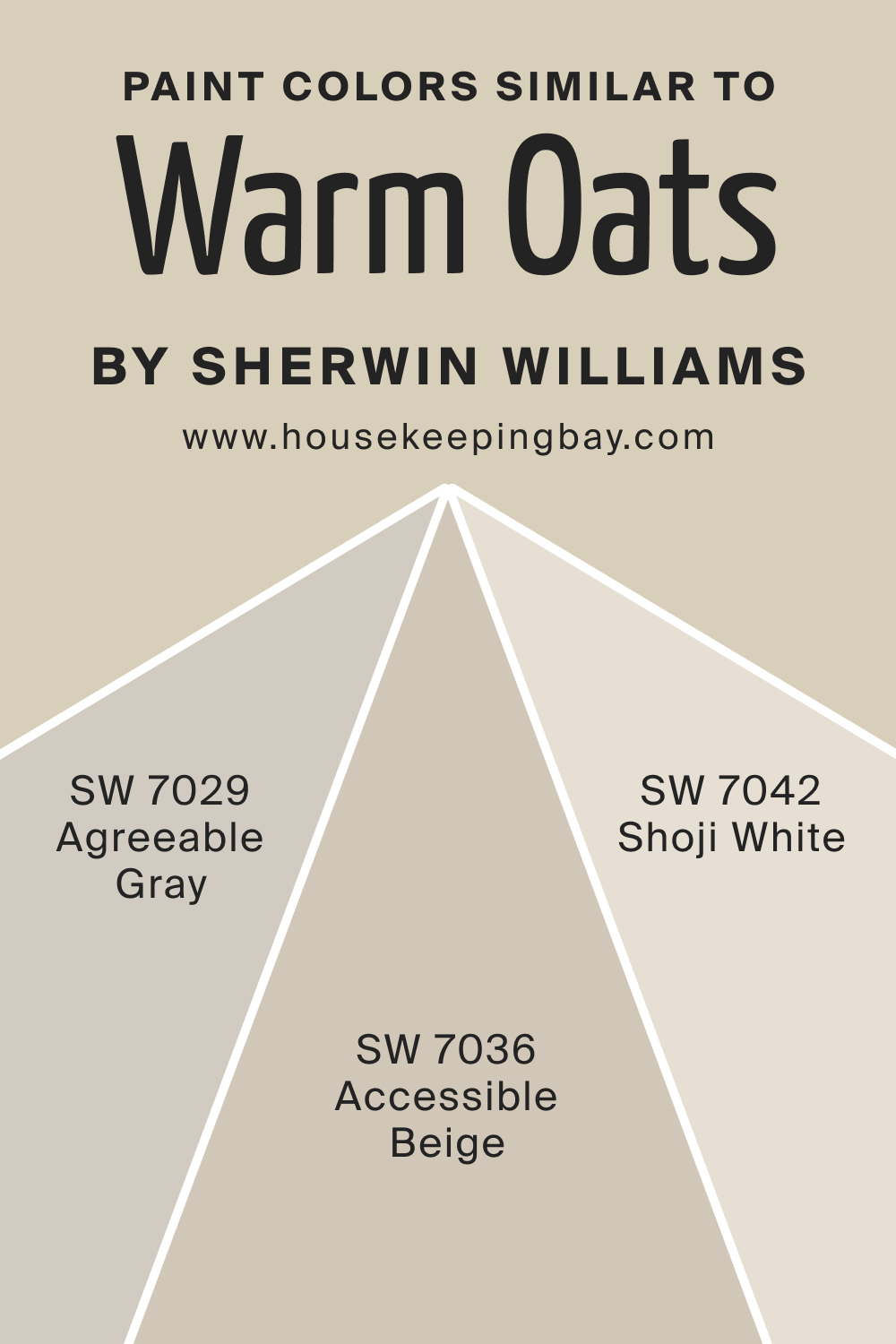 housekeepingbay.com
Colors That Go With SW 9511 Warm Oats
To create a harmonious interior, choosing colors that complement each other is essential. With SW Warm Oats, consider the following colors:
SW 6324 Mellow Coral
SW 6400 Lucent Yellow
SW 6219 Rain
SW 9542 Natural White
SW 0008 Cajun Red
SW 7593 Rustic Red
SW 2824 Renwick Golden Oak.
Additionally, SW 6134 Netsuke offers an ivory touch, SW 6222 Riverway brings depth with a teal undertone, and SW 6052 Sandbank provides a subdued, sandy hue. Each color, on its right, can beautifully juxtapose or enhance the warmth and depth of Warm Oats.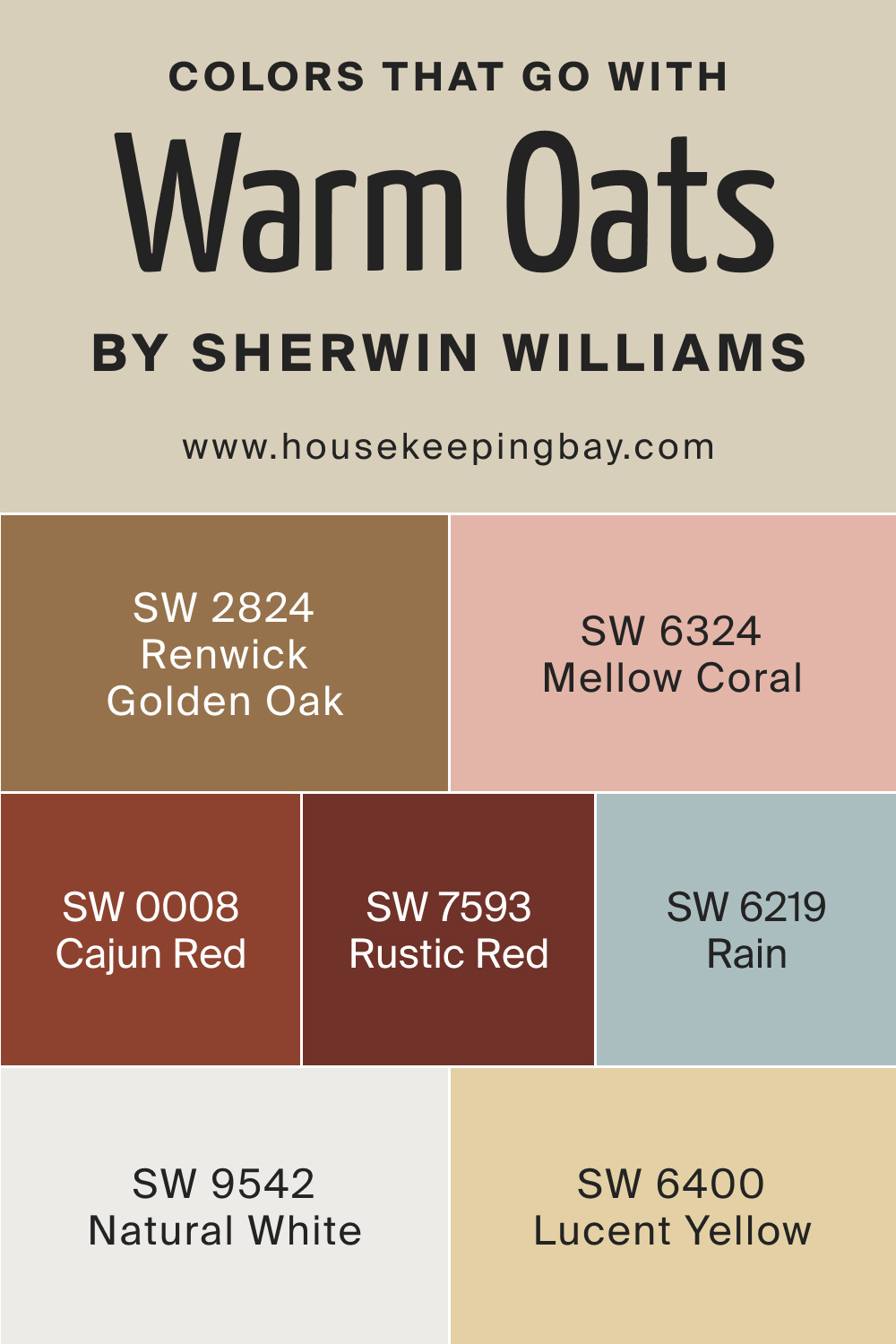 How to Use SW 9511 Warm Oats In Your Home?
SW 9511 Warm Oats is a versatile shade that can be elegantly incorporated throughout your home. Ideal for bedrooms and living areas, its calming nature encourages relaxation. Its warm beige undertones also make it a suitable choice for bathrooms and kitchens, offering a neutral backdrop.
This shade aligns effortlessly with various design styles, from the clean lines of Scandinavian, and the rustic charm of a farmhouse, to the understated elegance of modern minimalist designs.
How to Use SW 9511 Warm Oats in the Bedroom?
In bedrooms, SW Warm Oats creates a restful ambiance. Whether you have a modern or classic aesthetic, its earthy undertones form a perfect canvas for darker accents, textured fabrics, or wooden furniture.
Use it on all walls for a cocooning feel or as an accent wall behind your bed, paired with lighter neutrals or contrasting shades.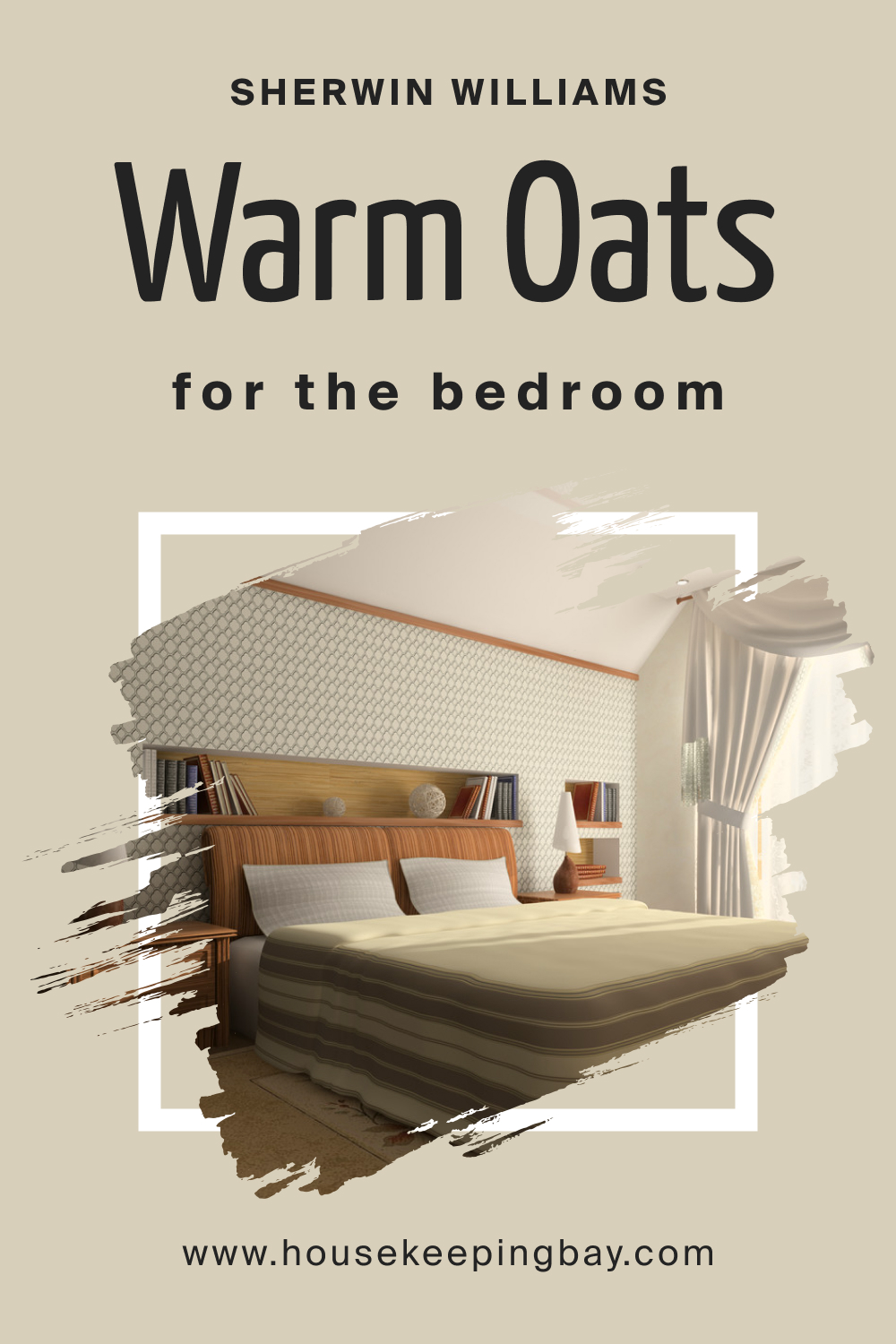 How to Use SW 9511 Warm Oats in the Bathroom?
Bathrooms adorned in Warm Oats exude spa-like tranquility. Its muted warmth pairs well with white sanitary fixtures, giving the space a fresh and open vibe. Consider using gold or brass fixtures and accessories to enhance its warmth. Natural textures like woven baskets or wooden accents can also be added for depth.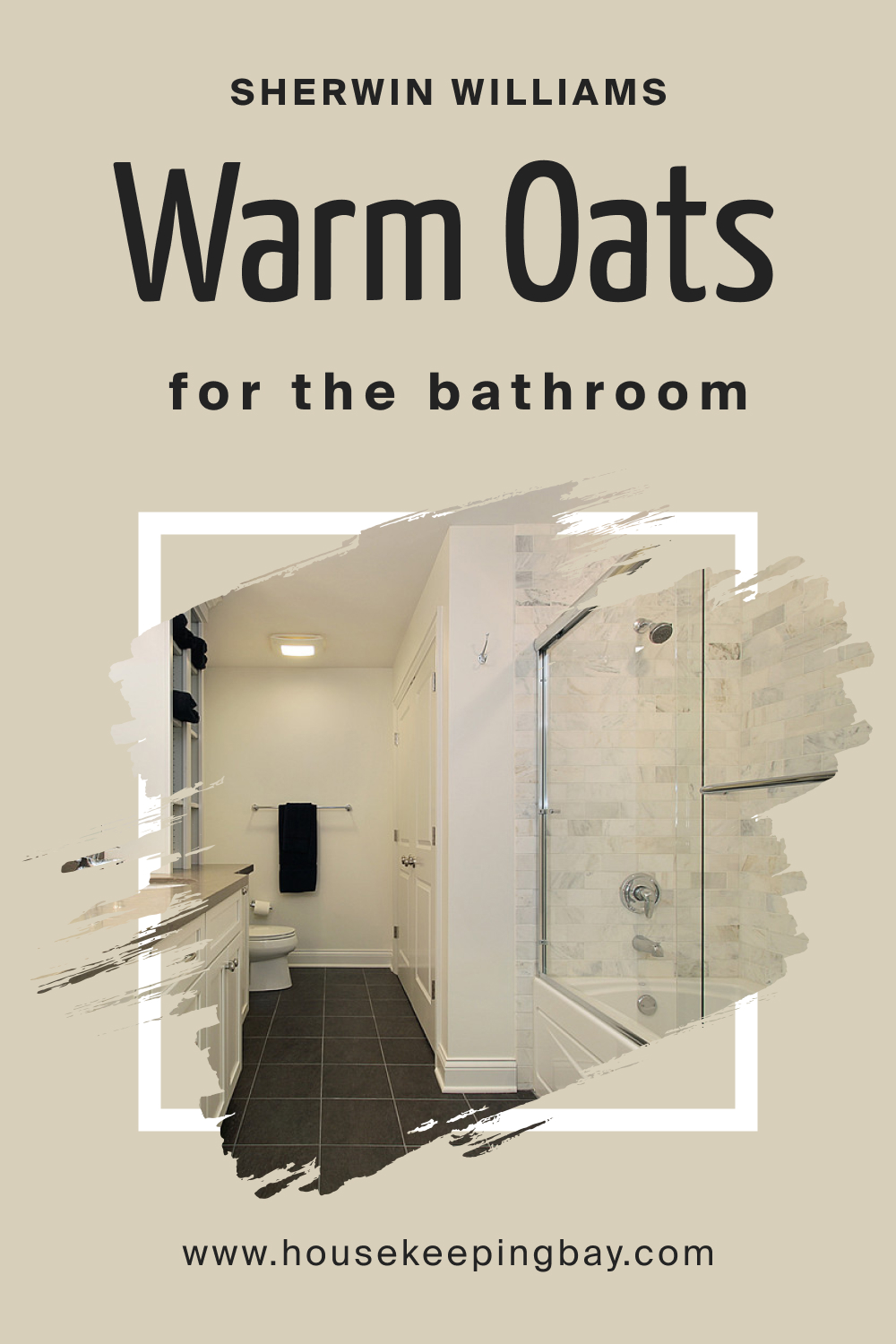 How to Use SW 9511 Warm Oats in the Living Room?
For living rooms, SW Warm Oats acts as a comforting backdrop. This neutral shade works harmoniously with soft furnishings in muted greens, blues, or earthy browns. It can also be an excellent background for showcasing art pieces, family photographs, or vibrant decor accents.
A mixture of soft lighting and natural wood elements will enrich its coziness.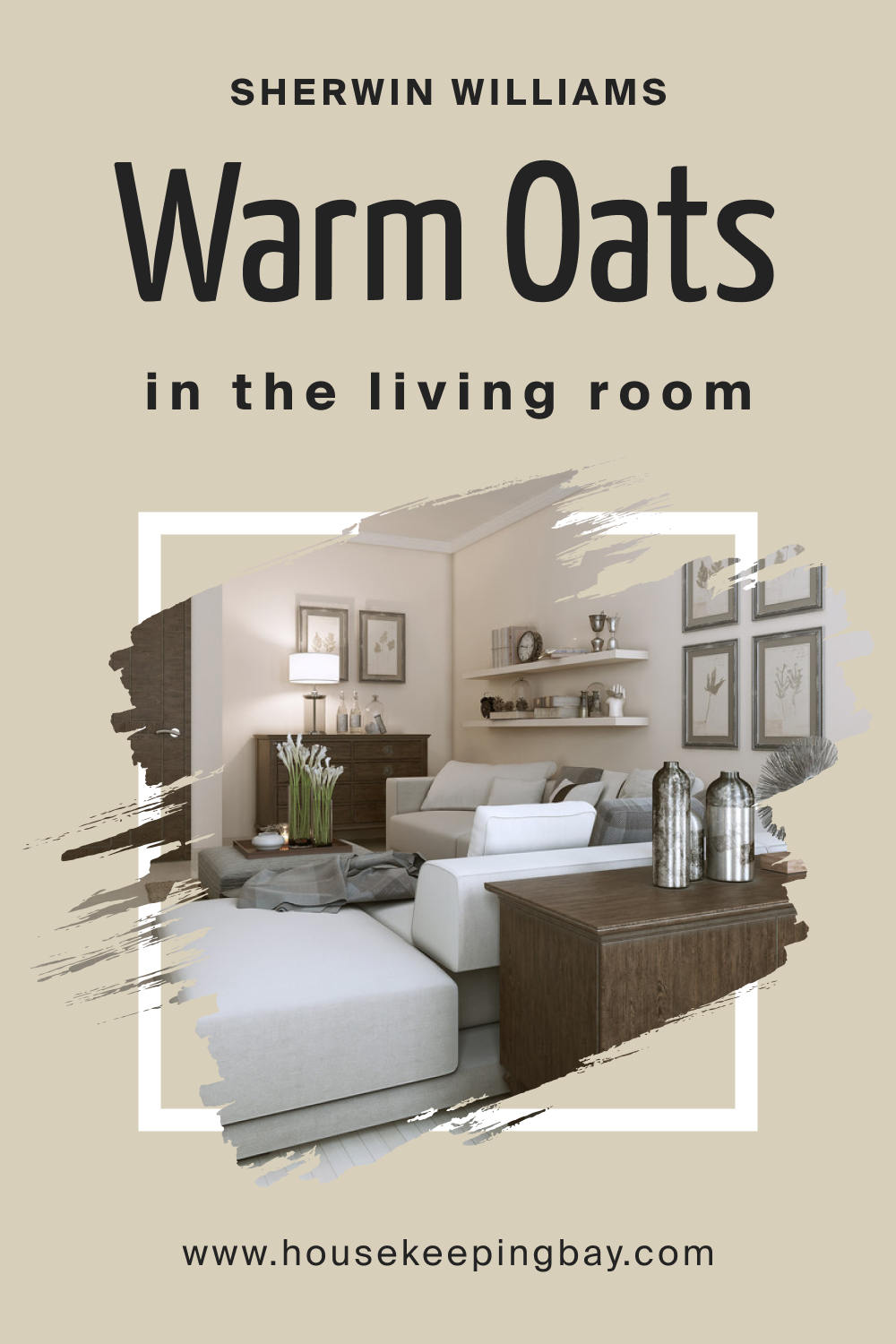 How to Use SW 9511 Warm Oats for an Exterior?
SW Warm Oats can be a subtle and elegant choice for home exteriors, blending seamlessly with natural surroundings. It works well with stone pathways, green landscaping, or darker trim. Using this shade can lend your home a timeless appearance, making it stand out in the neighborhood while retaining a humble charm.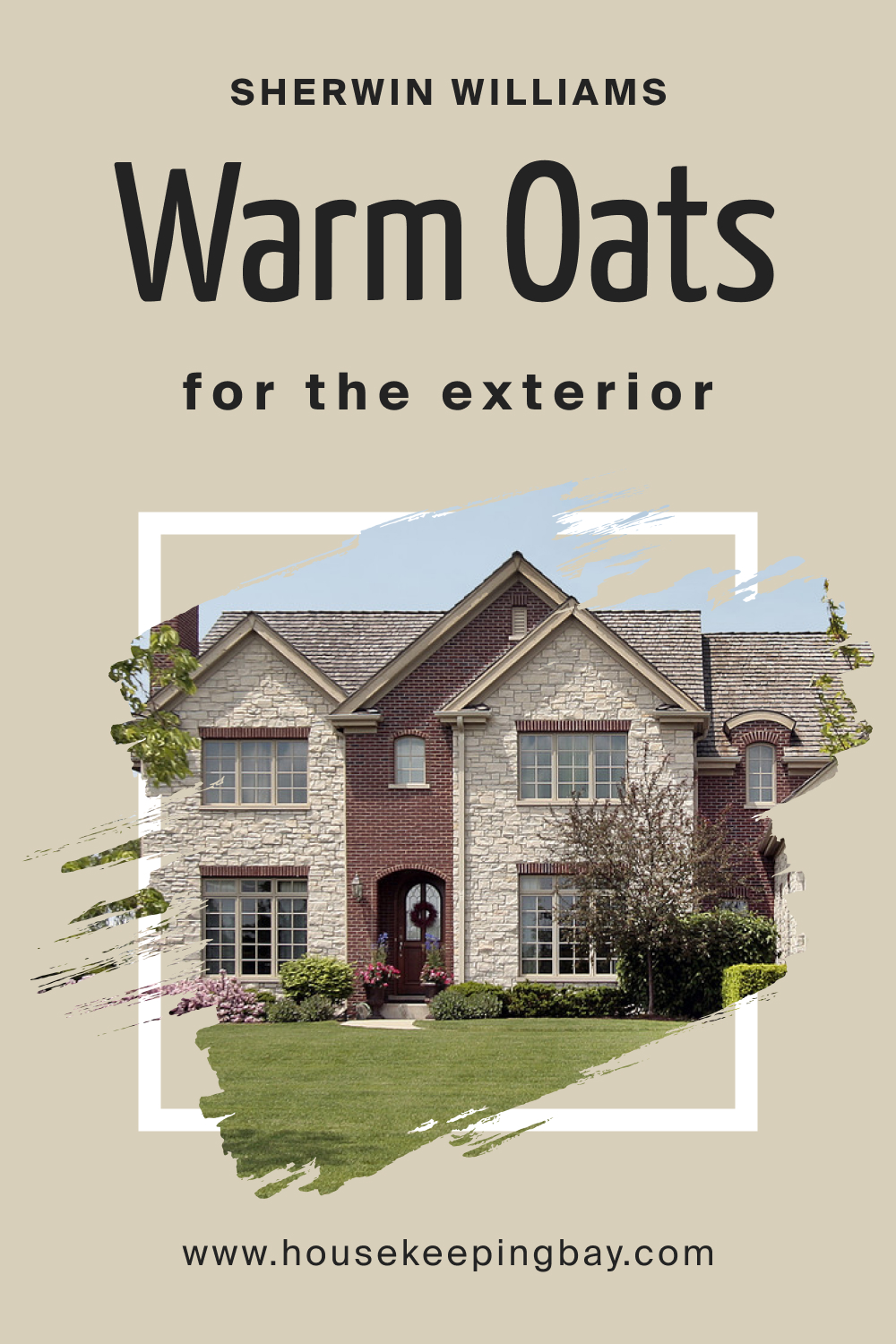 How to Use SW 9511 Warm Oats in the Kitchen?
In the kitchen, SW Warm Oats strikes a balance between contemporary and classic. Whether you're aiming for a modern kitchen with sleek finishes or a more traditional space with classic elements, this shade serves as a delightful backdrop. It works well with stainless steel appliances, wooden countertops, and patterned backsplashes.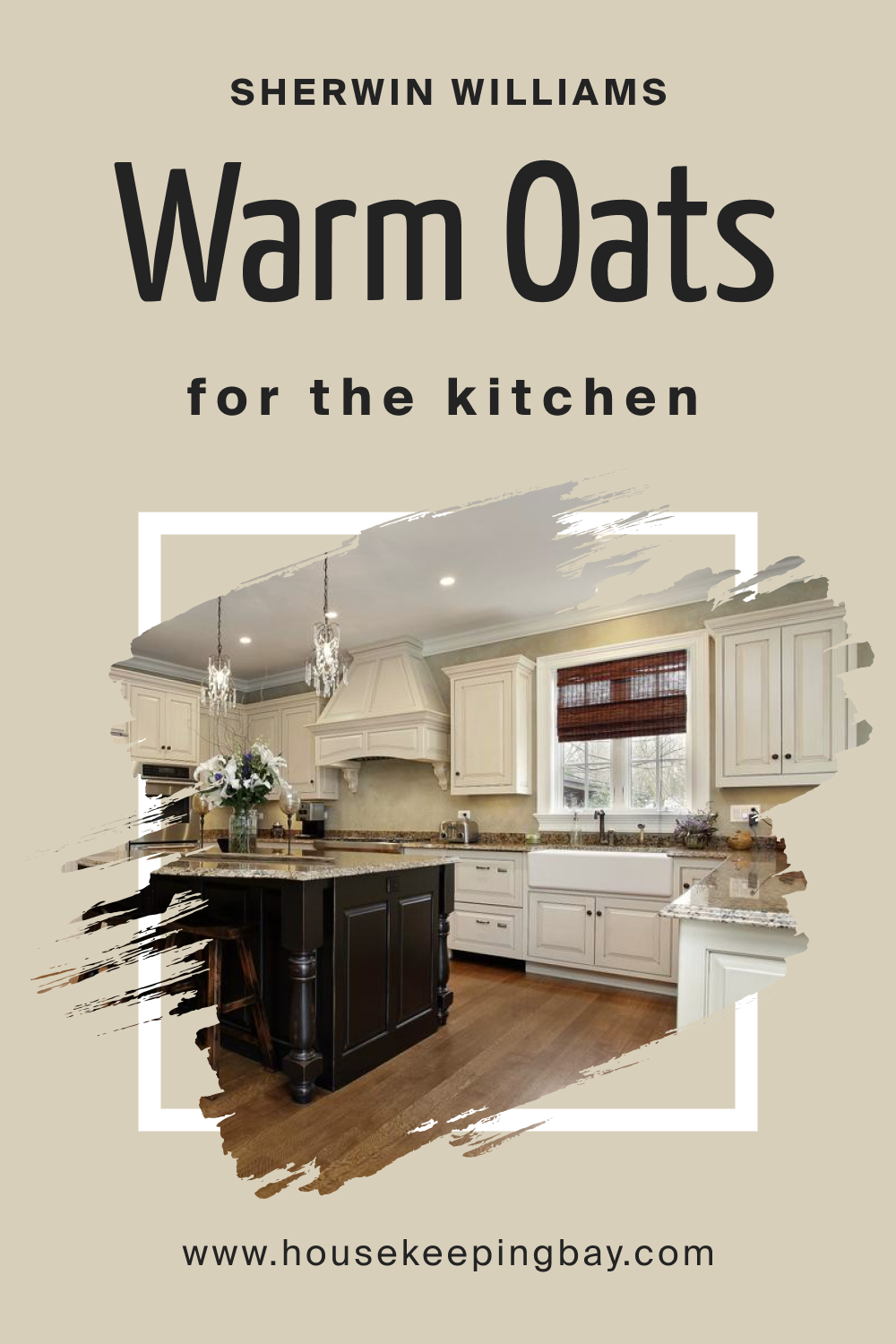 How to Use SW 9511 Warm Oats for the Kitchen Cabinets?
Using SW Warm Oats for kitchen cabinets presents a chic and modern take on neutrals. The cabinets, when painted in this shade, can either blend seamlessly with a similar wall color or stand out against contrasting walls. Pair these Warm Oats cabinets with marble countertops or brass handles for a touch of luxury.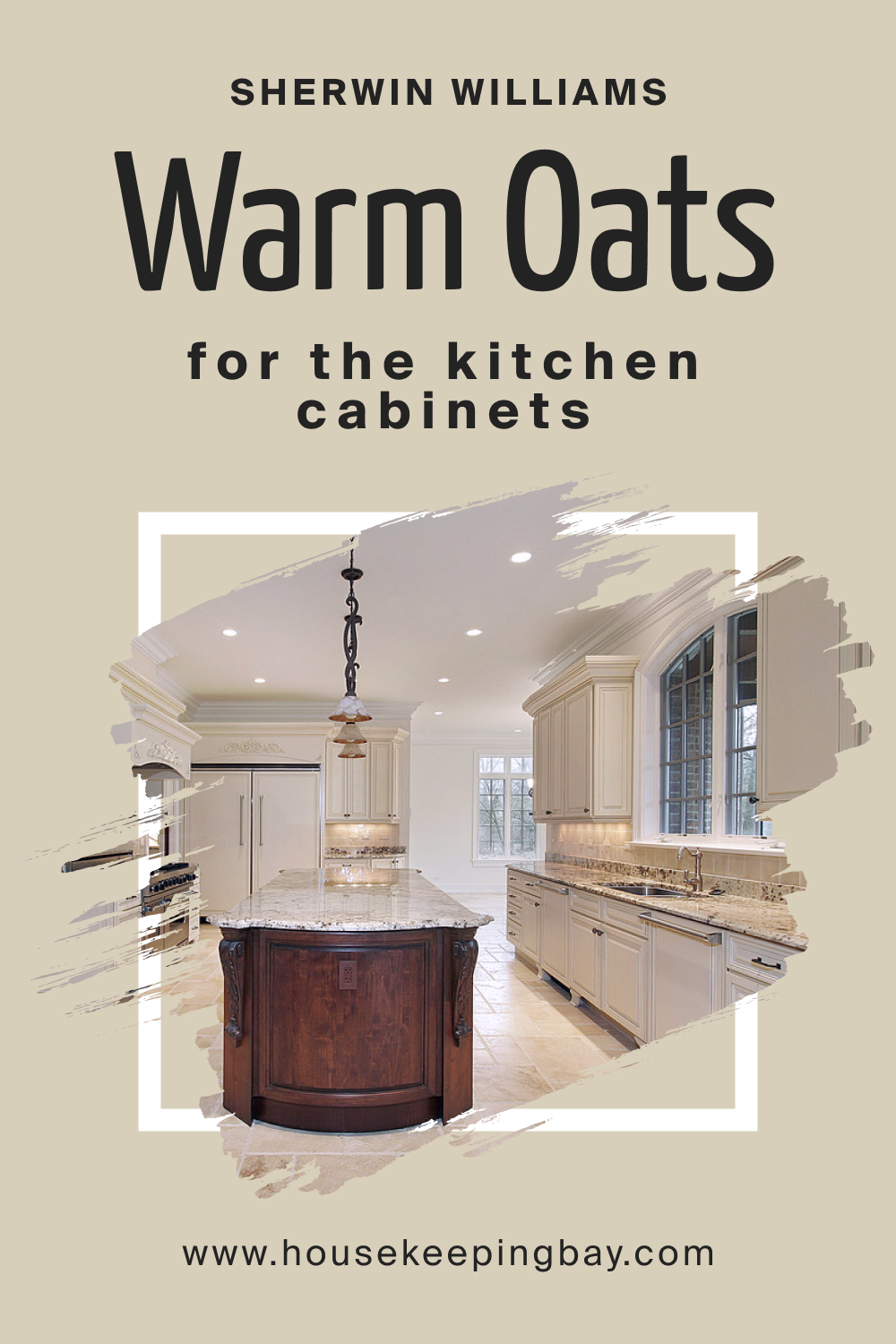 Comparing SW 9511 Warm Oats With Other Colors
Choosing the perfect paint color is an intricate dance of understanding undertones, intensity, and light reflection. It's vital to compare different shades to gauge their relative warmth, coolness, brightness, or darkness.
This not only ensures that the chosen color aligns with your design vision but also helps predict how the shade will interact with furniture, décor, and room lighting. The subtle differences between colors can significantly affect the ambiance and aesthetic of a space.
SW 9511 Warm Oats vs. SW 7537 Irish Cream
While both Warm Oats and Irish Cream lean towards the warmer spectrum, Irish Cream has a slightly creamier touch to it, reminiscent of the rich beverage it's named after. On the other hand, Warm Oats offers a more muted beige profile, grounding spaces with its earthy undertones.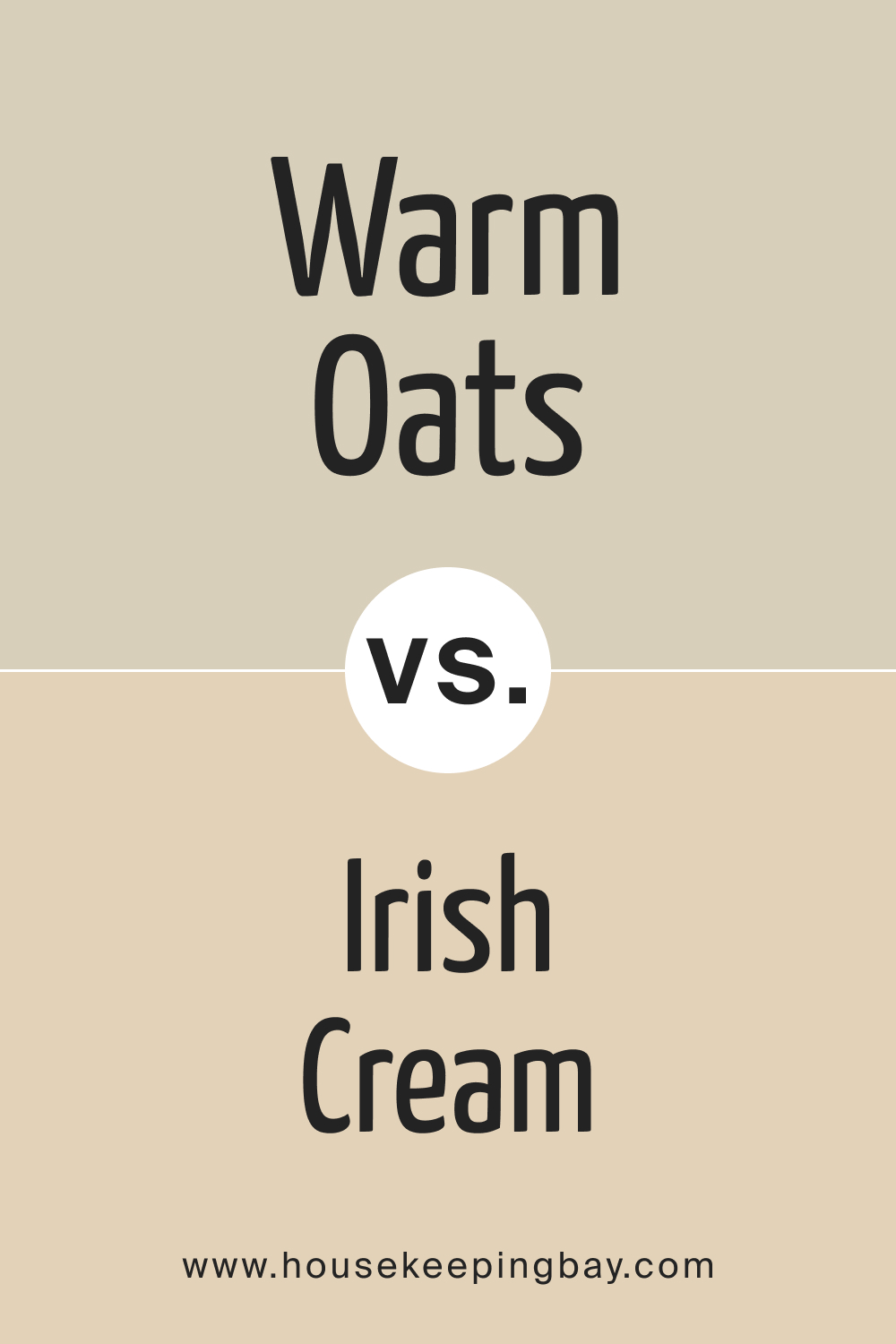 SW 9511 Warm Oats vs. SW 9522 Meander
SW Meander introduces a hint of gray, making it lean towards a cooler beige. In contrast, Warm Oats remains steadfast in its warm beige domain. When used in interiors, Meander can give a more modern feel, while Warm Oats leans towards a classic, cozy ambiance.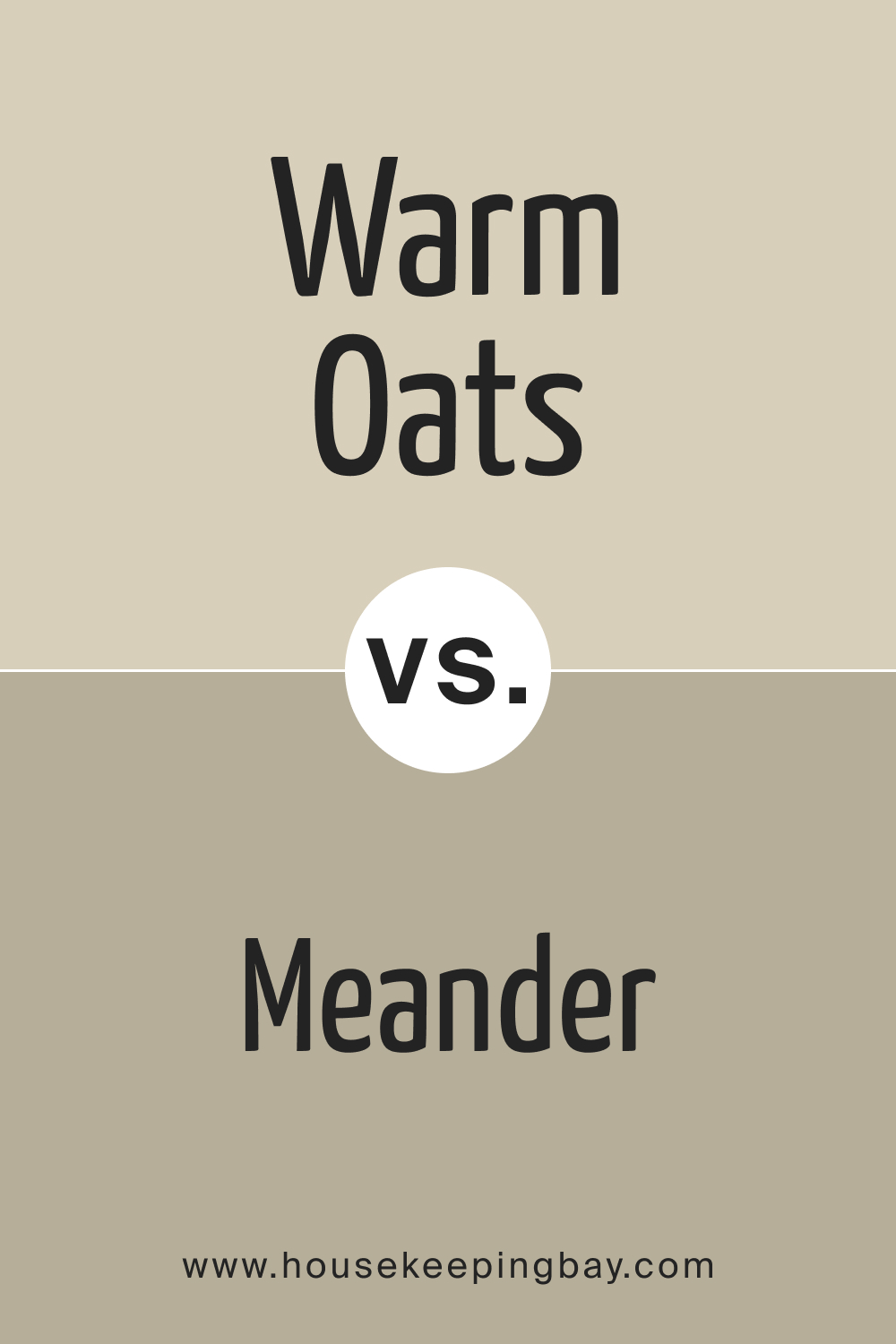 SW 9511 Warm Oats vs. SW 9521 Simple Stone
SW Simple Stone aptly embodies the coolness and muted character of a smooth stone. When compared with Warm Oats, it leans cooler and can bring forth a more contemporary flair. Warm Oats, in contrast, radiates a homely warmth, making spaces feel inviting.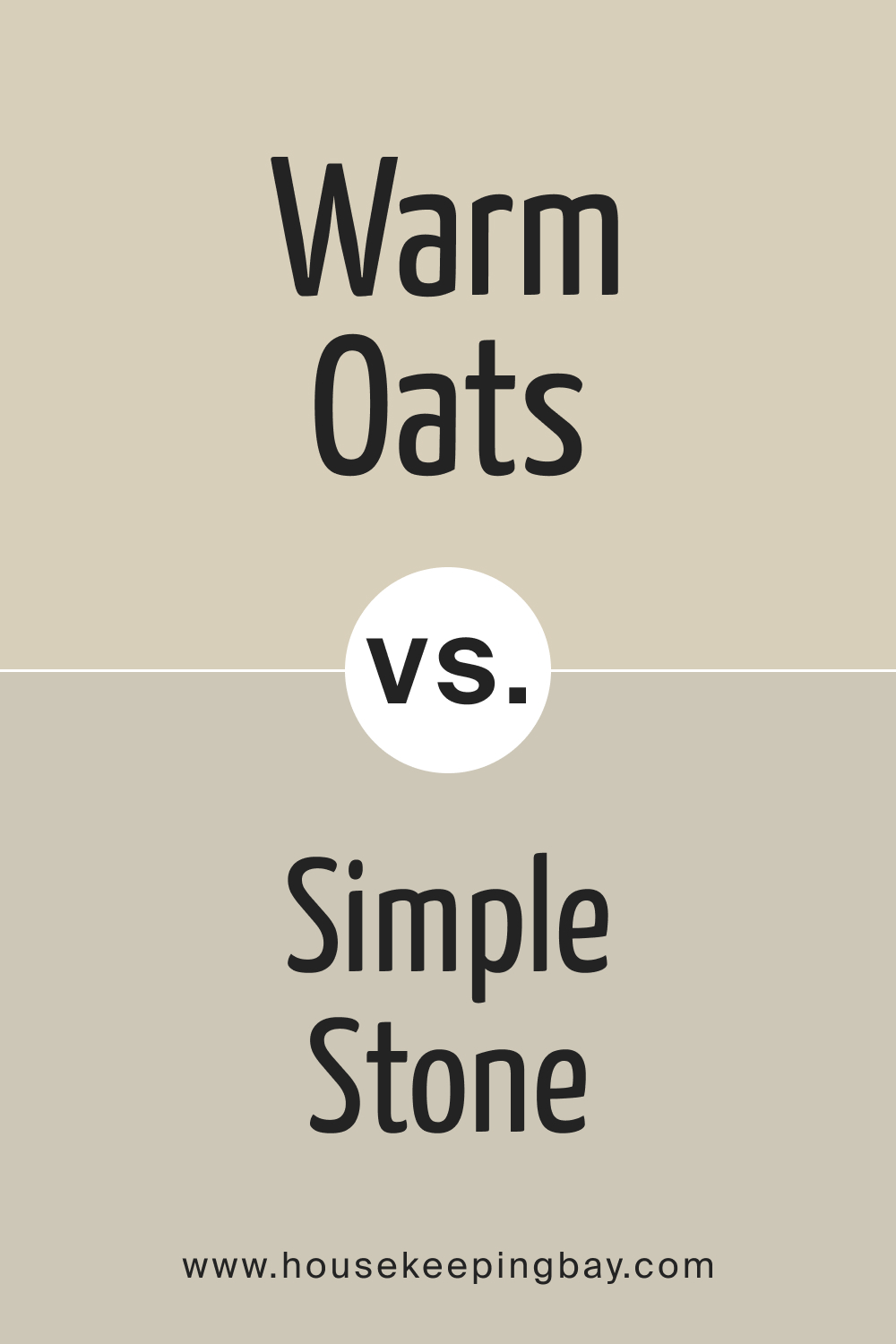 SW 9511 Warm Oats vs. SW 9506 Warm Winter
SW Warm Winter, despite its name, is a shade cooler than Warm Oats. It's like the softness of winter sunlight filtering through a window. Warm Oats, with its robust beige character, provides a more substantial warmth, evoking feelings of snug comfort.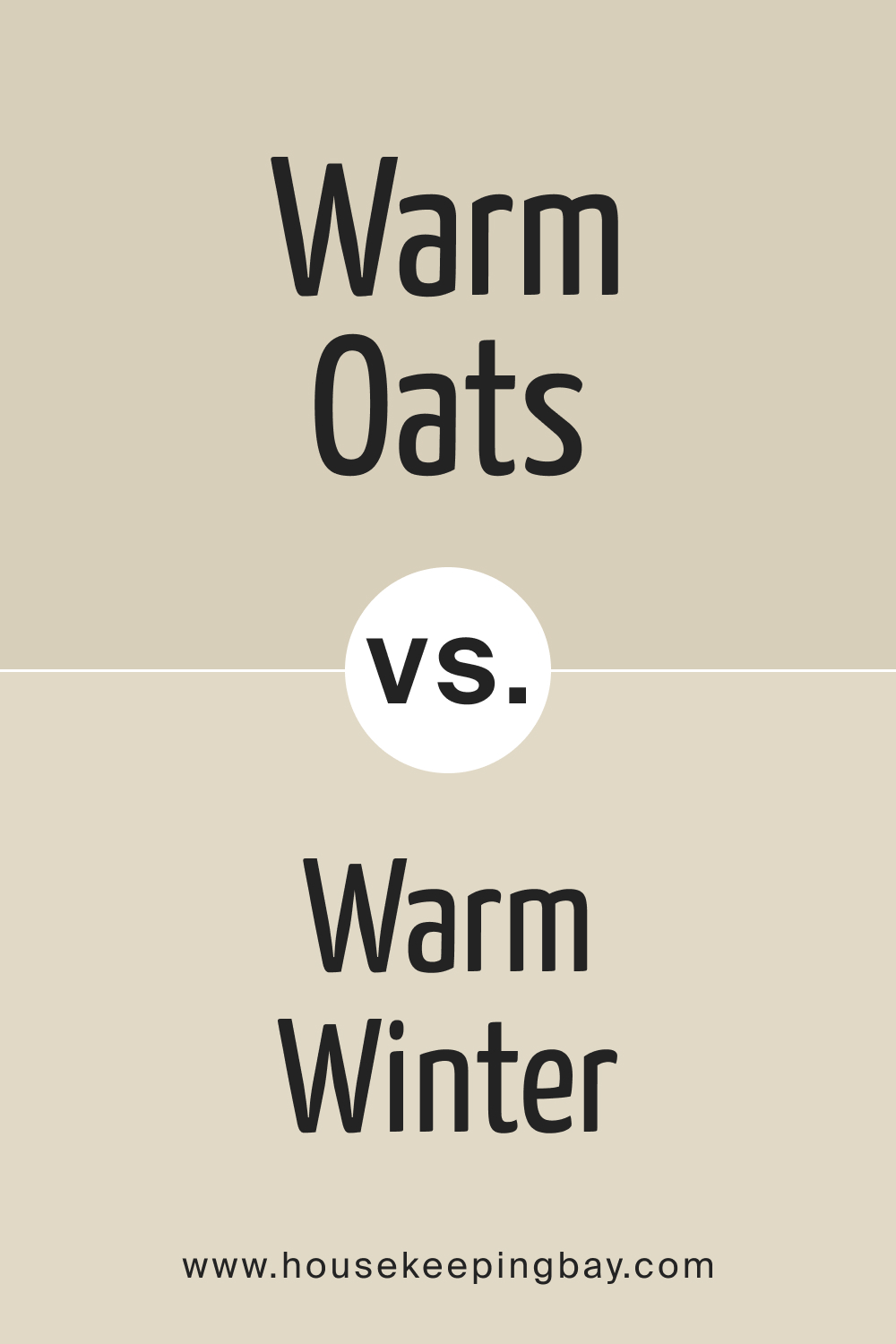 SW 9511 Warm Oats vs. SW 9502 Arrowroote
SW Arrowroote presents a unique blend of beige with subtle yellow undertones. This sunny character sets it apart from the grounded warmth of Warm Oats. SW Arrowroote works wonders in spaces that need a burst of muted brightness, while Warm Oats soothes with its consistency.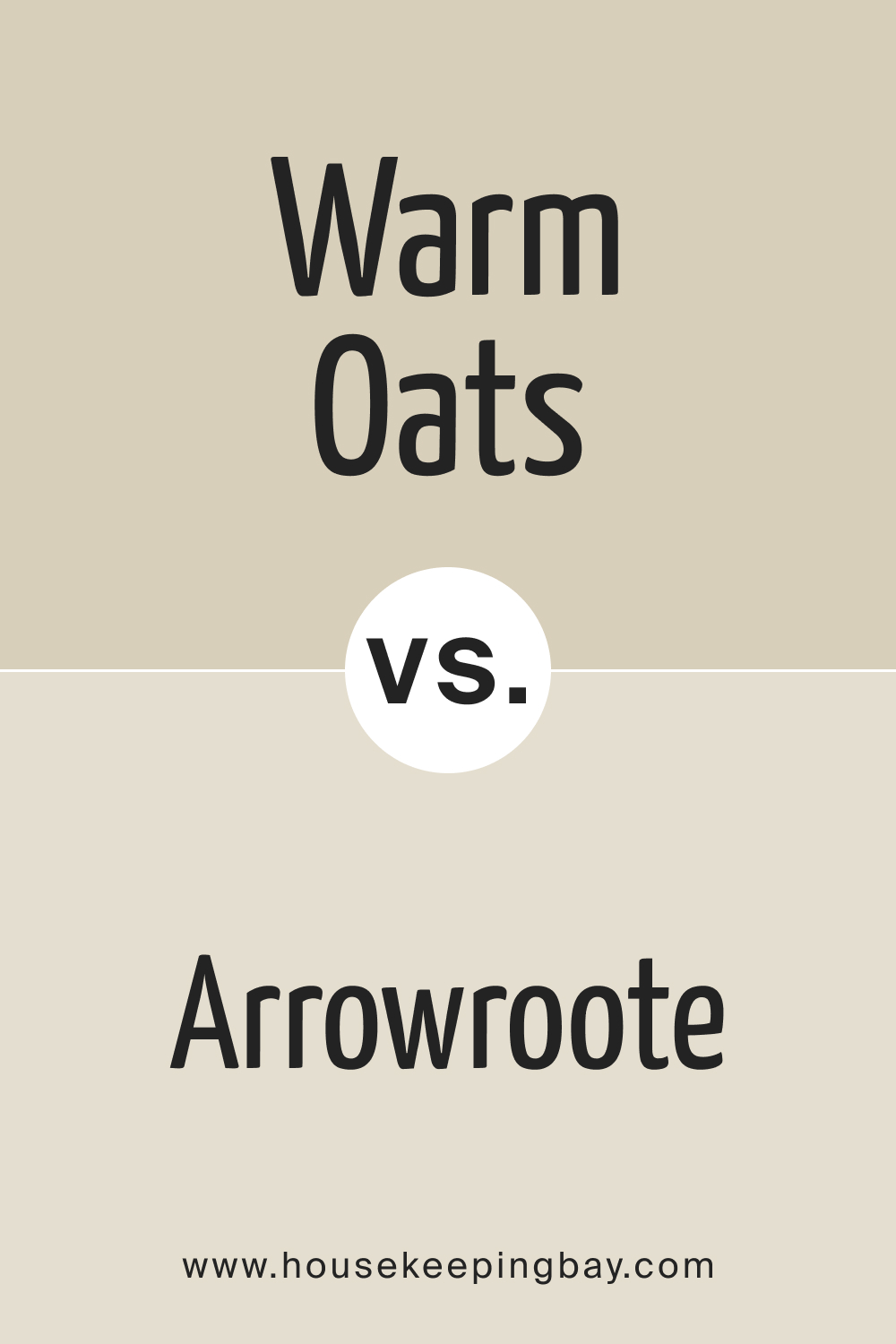 SW 9511 Warm Oats vs. SW 7001 Marshmallow
SW Marshmallow offers a delightful off-white that's airy and light. Compared to Warm Oats, it's brighter and can open up spaces with its luminosity. Warm Oats, being deeper, brings depth and character, making interiors feel grounded and cohesive.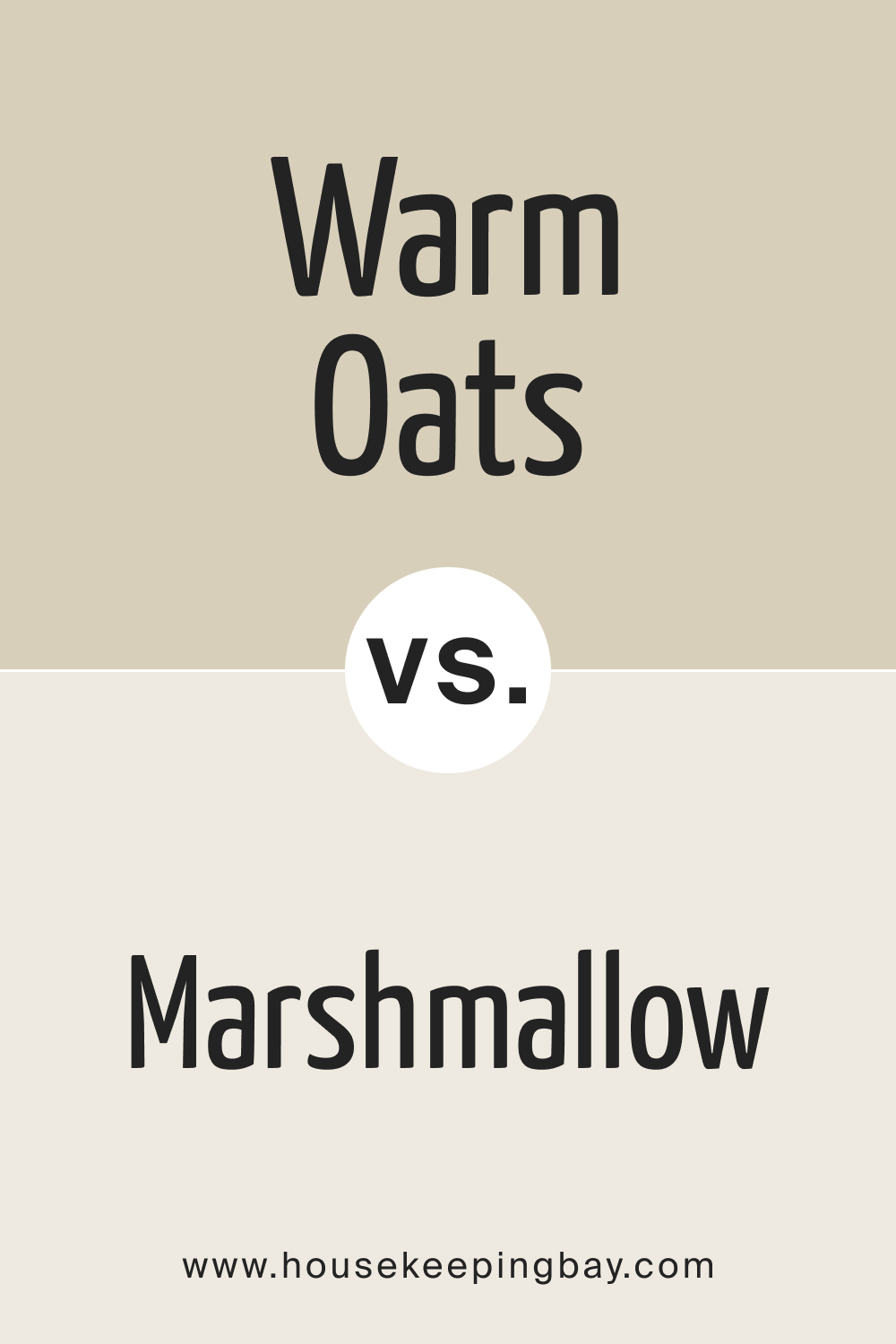 Conclusion
Each shade, while sharing some similarities, brings its own narrative to the table. Warm Oats, with its balance and grounding nature, offers a versatile choice for various interiors.
However, understanding its relationship with other colors ensures that you're making an informed decision, tailoring your space to exude the exact mood and character you desire.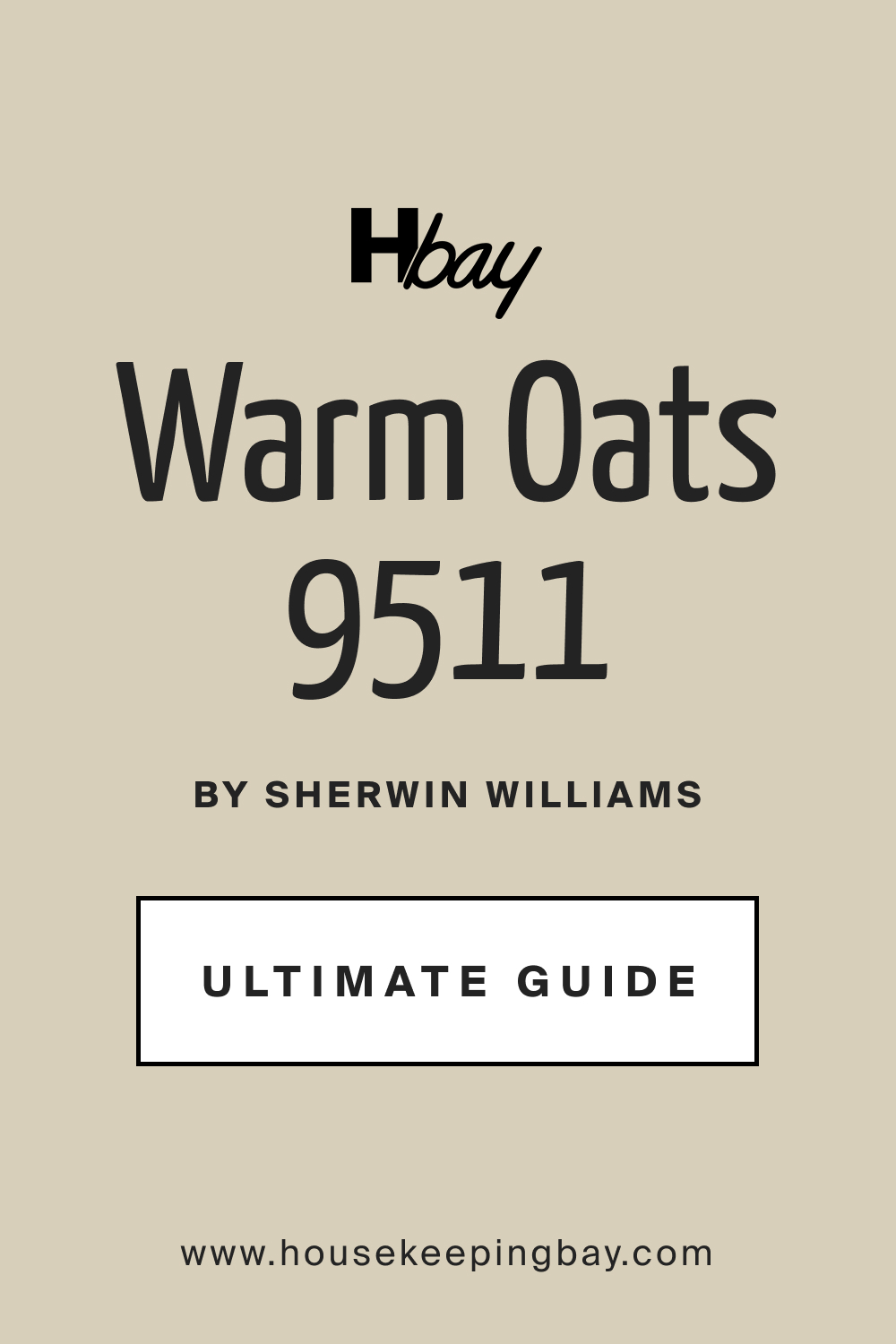 Frequently Asked Questions
⭐What is the primary undertone of SW 9511 Warm Oats?
SW 9511 Warm Oats primarily exhibits warm beige undertones, making it a cozy and neutral choice for a variety of settings.
⭐Is SW 9511 Warm Oats suitable for both interiors and exteriors?
Yes, Warm Oats is versatile and can be elegantly applied both indoors and on exteriors, blending seamlessly with natural surroundings and interior decor.
⭐Which styles of interior design does SW 9511 Warm Oats complement best?
Warm Oats is adaptable and fits well within several design aesthetics, from Scandinavian and modern minimalist to farmhouse and traditional.
⭐How does SW 9511 Warm Oats look under different lighting conditions?
Warm Oats interacts gracefully with varying lighting. In natural light, its warmth is accentuated, while artificial lighting brings out its neutral characteristics. The color's appearance can also vary in rooms with different orientations, such as north or south-facing.
⭐What are some coordinating colors to pair with SW 9511 Warm Oats?
Warm Oats pairs harmoniously with a spectrum of shades, from soft blues, and muted greens to earthy browns. Popular coordinating colors include SW 6324 Mellow Coral, SW 6400 Lucent Yellow, and SW 6219 Rain.