In the realm of interior design, selecting the right color palette is akin to composing a symphony of emotions within a space. One color that has proven to be a steadfast choice is SW 7059 Unusual Gray. This enigmatic shade offers a bridge between modern minimalism and classic elegance, making it an ideal choice for a wide range of interior styles.
In this article, we'll delve into the specifics of SW 7059 Unusual Gray, exploring its unique characteristics, undertones, coordinating colors, lighting effects, and much more. Let's embark on a journey to understand the nuances of this intriguing hue.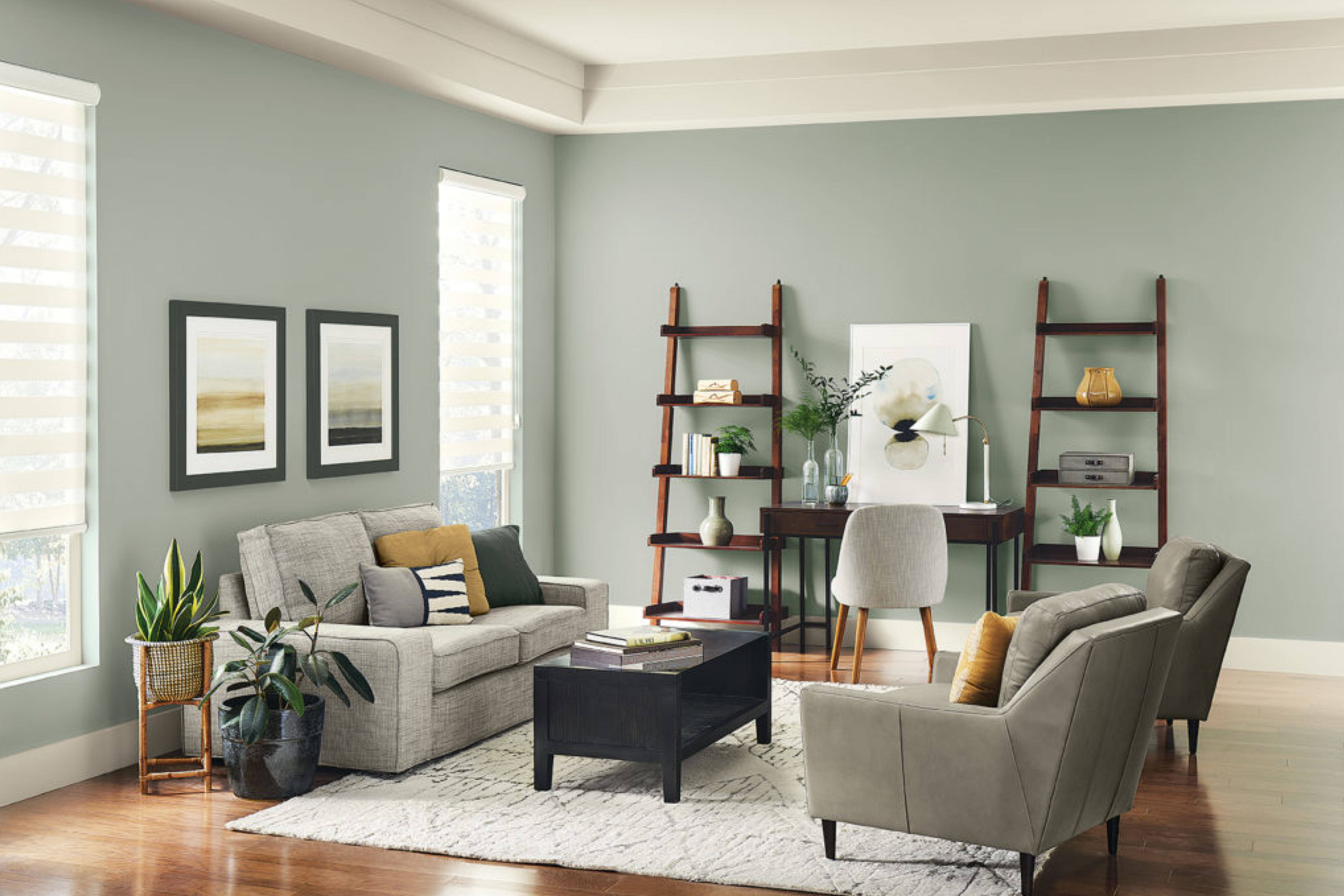 What Color Is SW 7059 Unusual Gray?
SW 7059 Unusual Gray, as the name suggests, is a distinctive neutral hue that defies traditional notions of gray. It possesses a complex mixture of warm and cool undertones, resulting in a balanced and adaptable shade. With a gentle whisper of warmth, it radiates coziness, making it an inviting choice for various interior styles.
This color seamlessly merges with both contemporary and traditional elements, creating an atmosphere of timelessness. Unusual Gray pairs effortlessly with materials like natural wood, sleek metals, and textured fabrics, enhancing the tactile appeal of the space.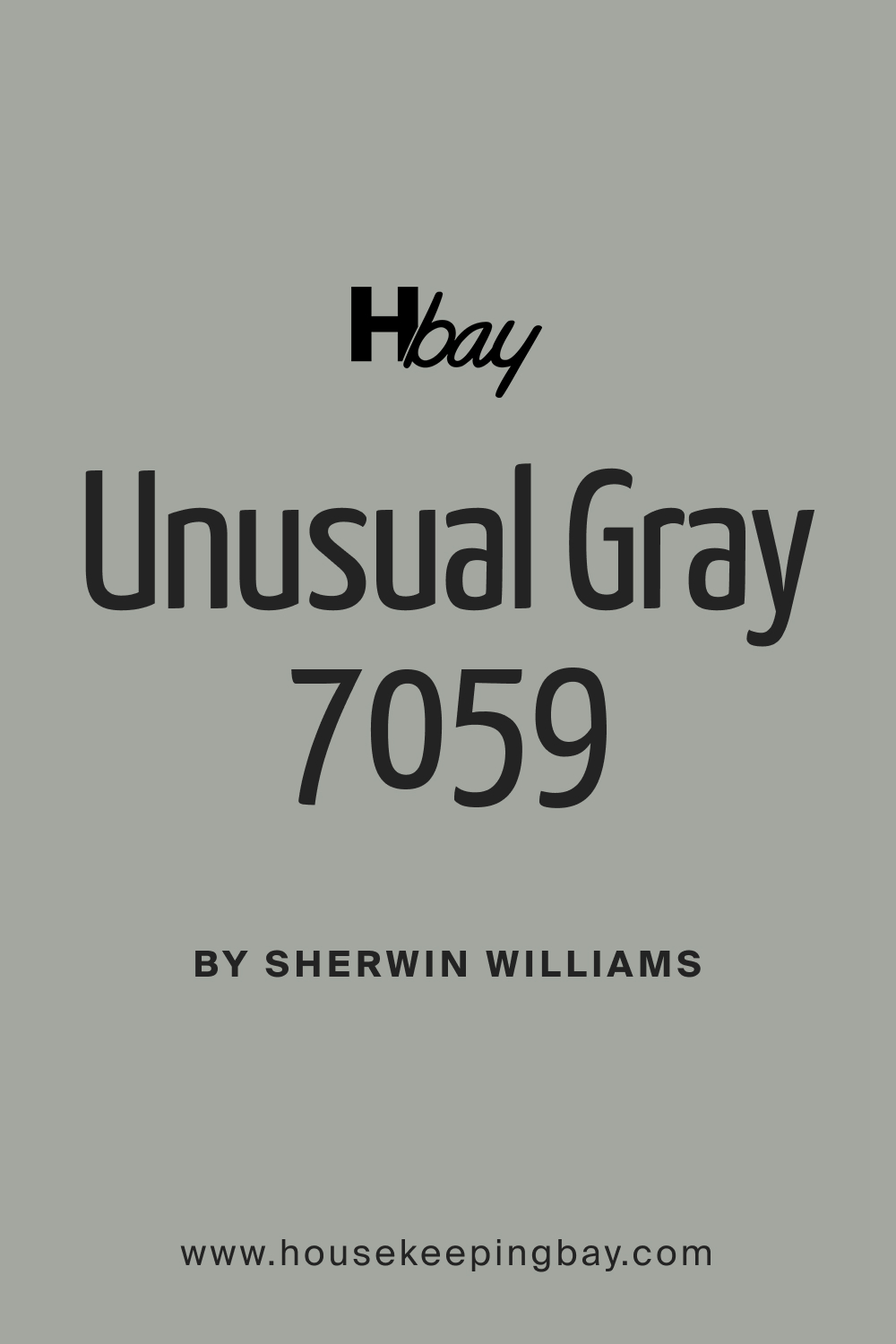 Is It a Warm Or Cool Color?
SW 7059 Unusual Gray walks the delicate line between warmth and coolness. Its inherent versatility lies in its ability to adapt to surrounding colors and lighting conditions. In rooms with ample natural light, the color leans slightly cooler, imbuing the space with a crisp and airy ambiance.
Conversely, under artificial lighting, its warm undertones become more pronounced, cocooning the room in a snug embrace. This dynamic quality allows homeowners to manipulate the atmosphere according to their preferences.
Undertones of SW 7059 Unusual Gray
Undertones play a pivotal role in how we perceive color. SW 7059 Unusual Gray boasts subtle green and cyan undertones. These undertones infuse the neutral gray with a hint of personality, steering it away from mundane territory. The green undertone introduces a touch of earthiness, while the cyan undertone bestows a fresh and contemporary edge.
These undertones work harmoniously to create a well-balanced hue that can enliven interior walls without overpowering the space.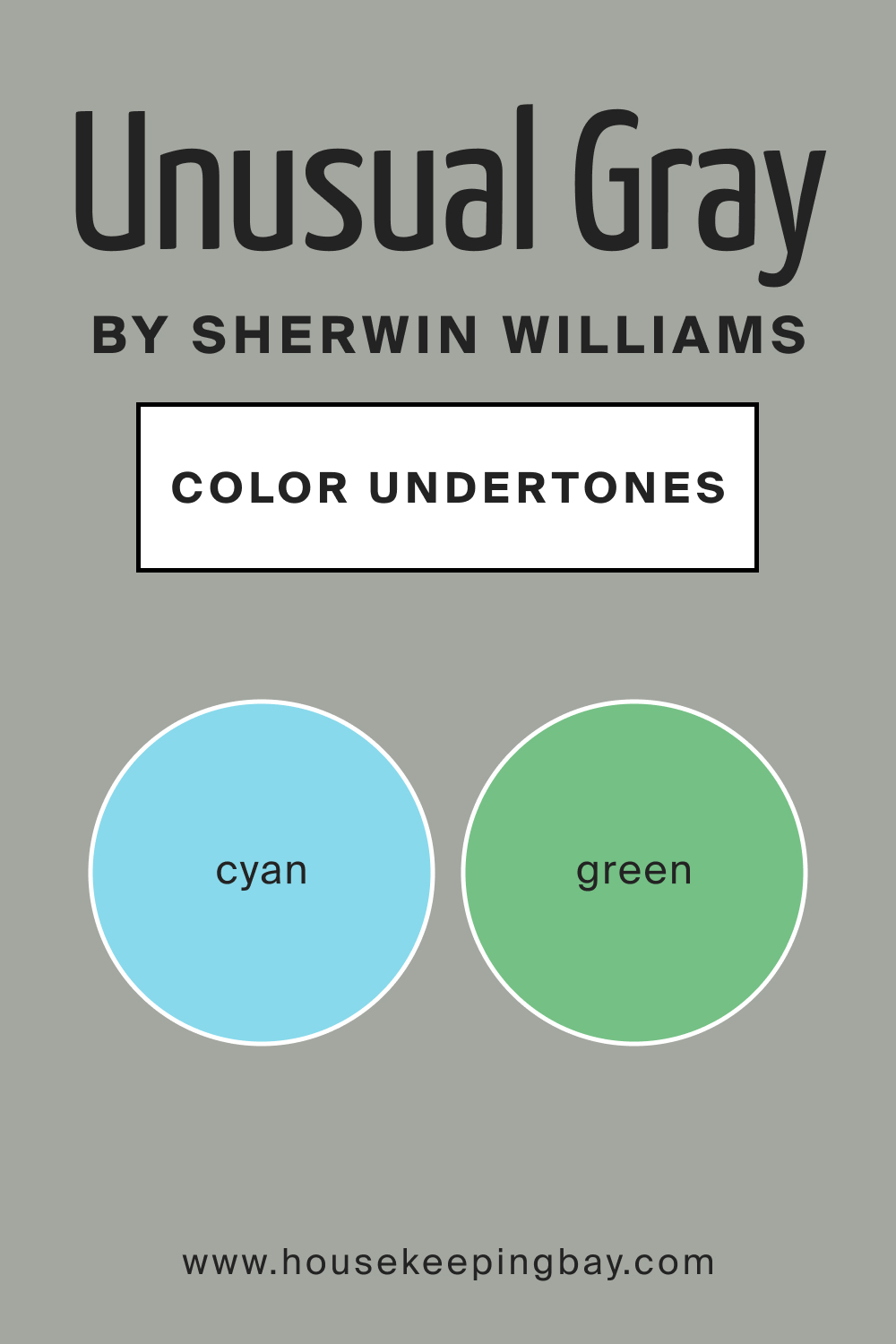 Coordinating Colors of SW 7059 Unusual Gray
Coordinating colors are the supporting cast that elevates the main hue. SW 7059 Unusual Gray finds its companions like:
SW 7056 Reserved White
SW 7057 Silver Strand
SW 9141 Waterloo
SW Reserved White serves as a crisp contrast, while SW Silver Strand introduces a delicate blue-gray hint. SW Waterloo, with its soothing gray-blue tones, complements SW Unusual Gray's versatility. Adding to the Sherwin-Williams palette, consider the following hues as additional coordinating options: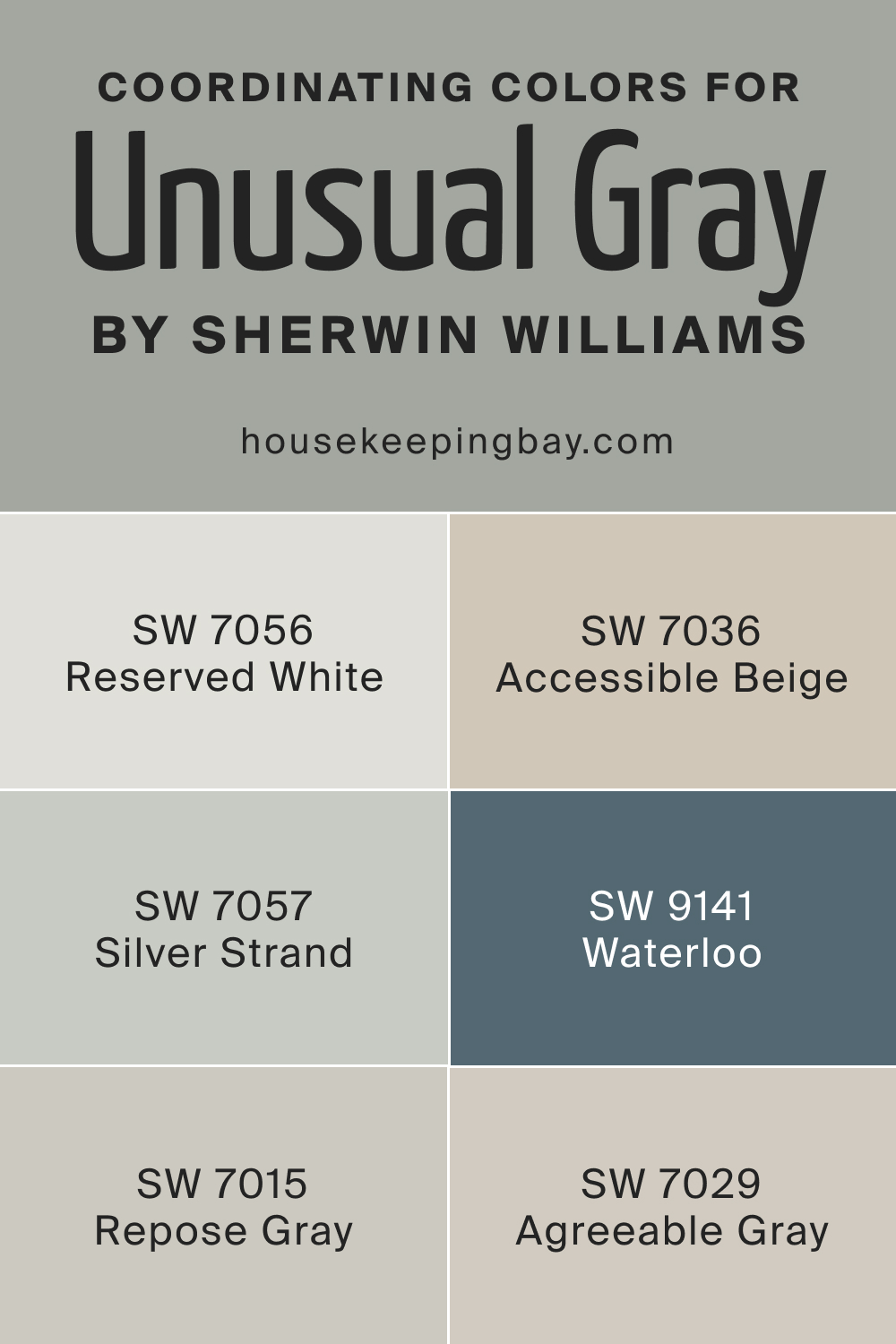 How Does Lighting Affect SW 7059 Unusual Gray?
Lighting wields transformative power over color perception. Unusual Gray's adaptability shines under different lighting conditions. In north-facing rooms, it takes on a slightly warmer appearance, counteracting potential coolness. In south-facing spaces, the color remains consistent, embracing the incoming light.
In east-facing rooms, morning sunlight enhances its warmth, while west-facing rooms enjoy its coolness during sunset. Unusual Gray's chameleon-like nature ensures a harmonious coexistence with any lighting scenario.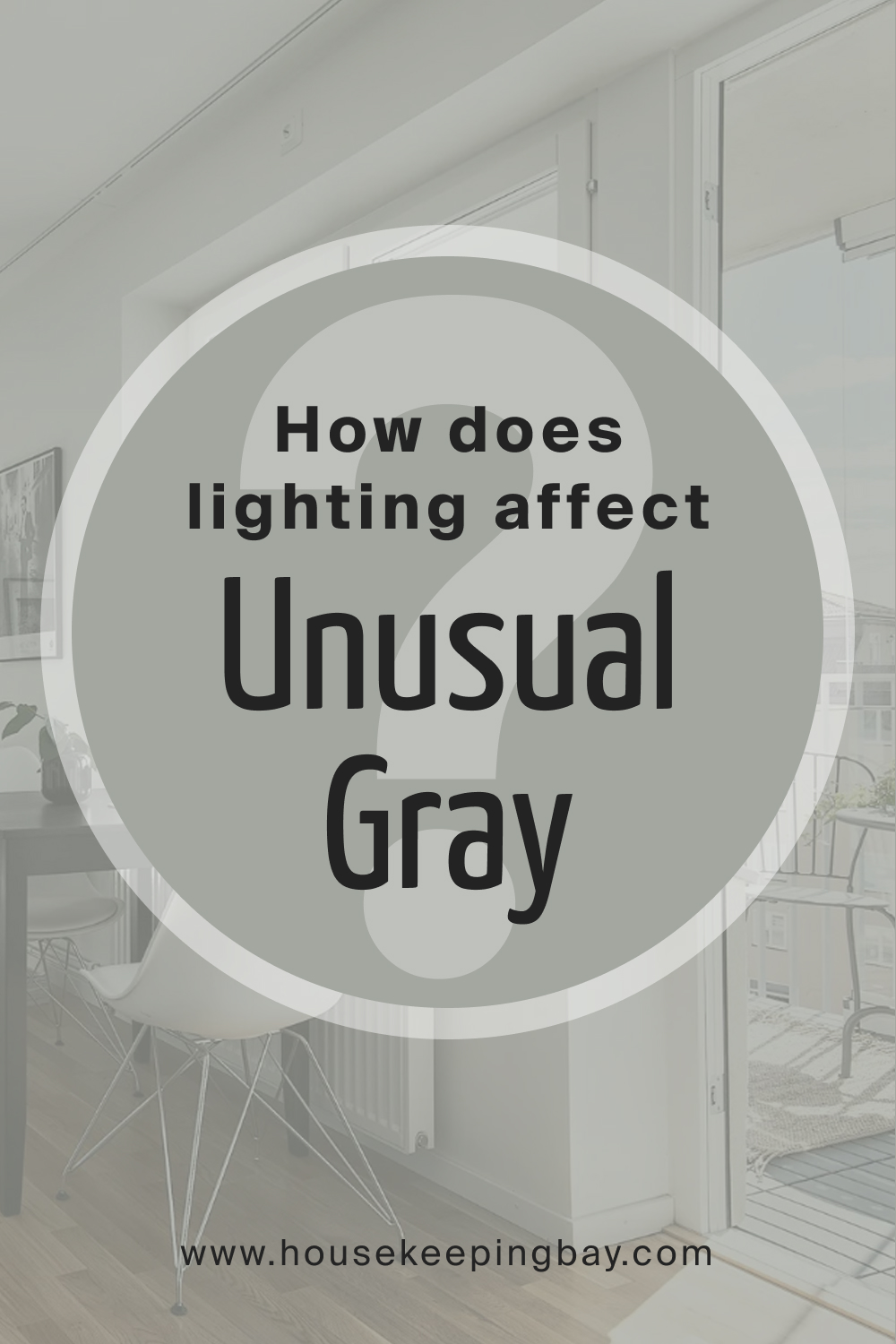 LRV of SW 7059 Unusual Gray
Light Reflectance Value (LRV) measures how much light a color reflects or absorbs. With an LRV of 38, SW 7059 Unusual Gray falls in the mid-range, offering a balanced level of light reflection. This makes it an excellent choice for both well-lit and slightly dimmer spaces. The moderate LRV allows the color to showcase its intricate undertones without appearing overwhelming.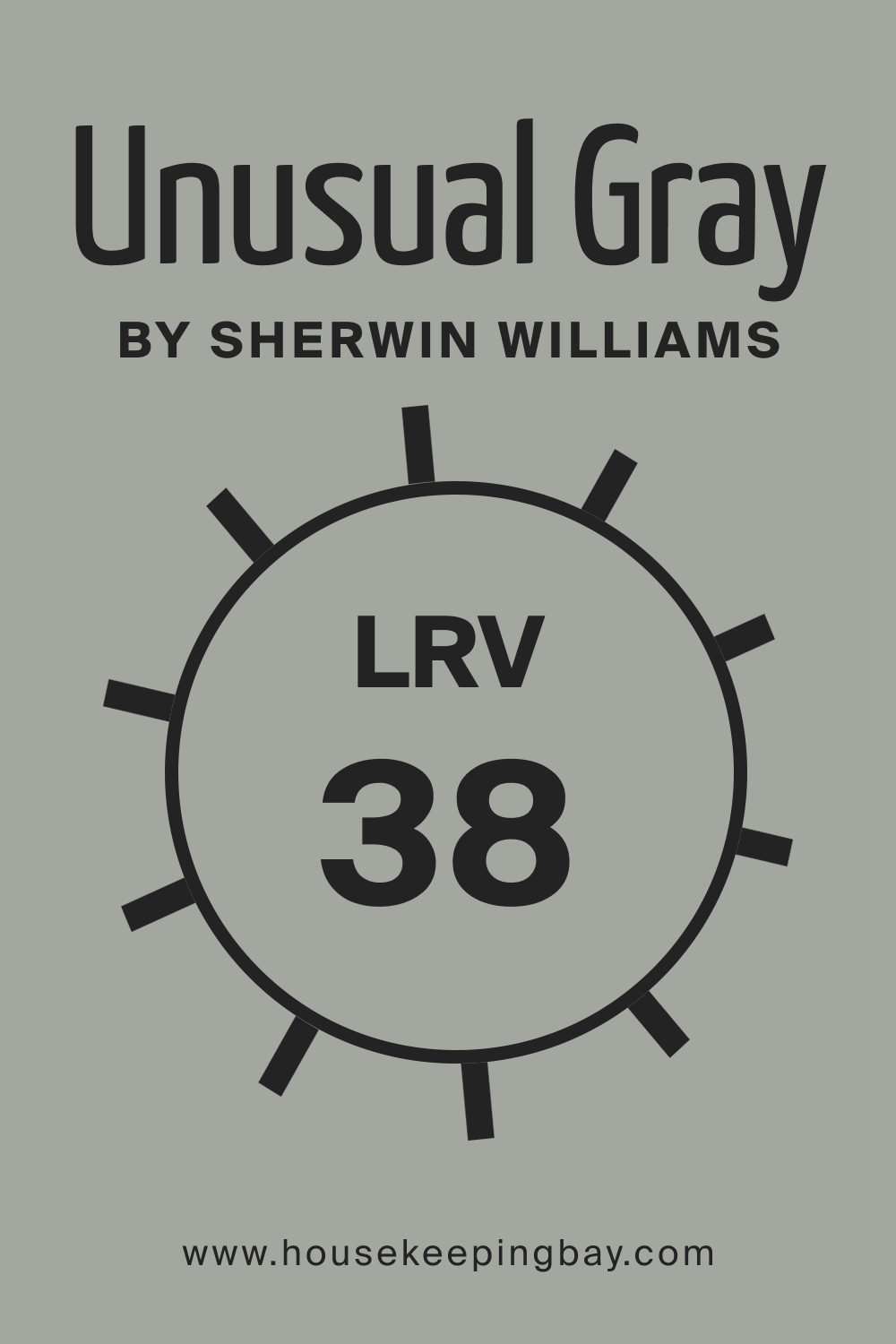 What is LRV? Read It Before You Choose Your Ideal Paint Color
Trim Colors of SW 7059 Unusual Gray
Trim colors provide a subtle framing for the main color, enhancing visual contrast and cohesion. To complement SW Unusual Gray, opt for shades of white like these:
These whites maintain a consistent color family while allowing Unusual Gray to take center stage.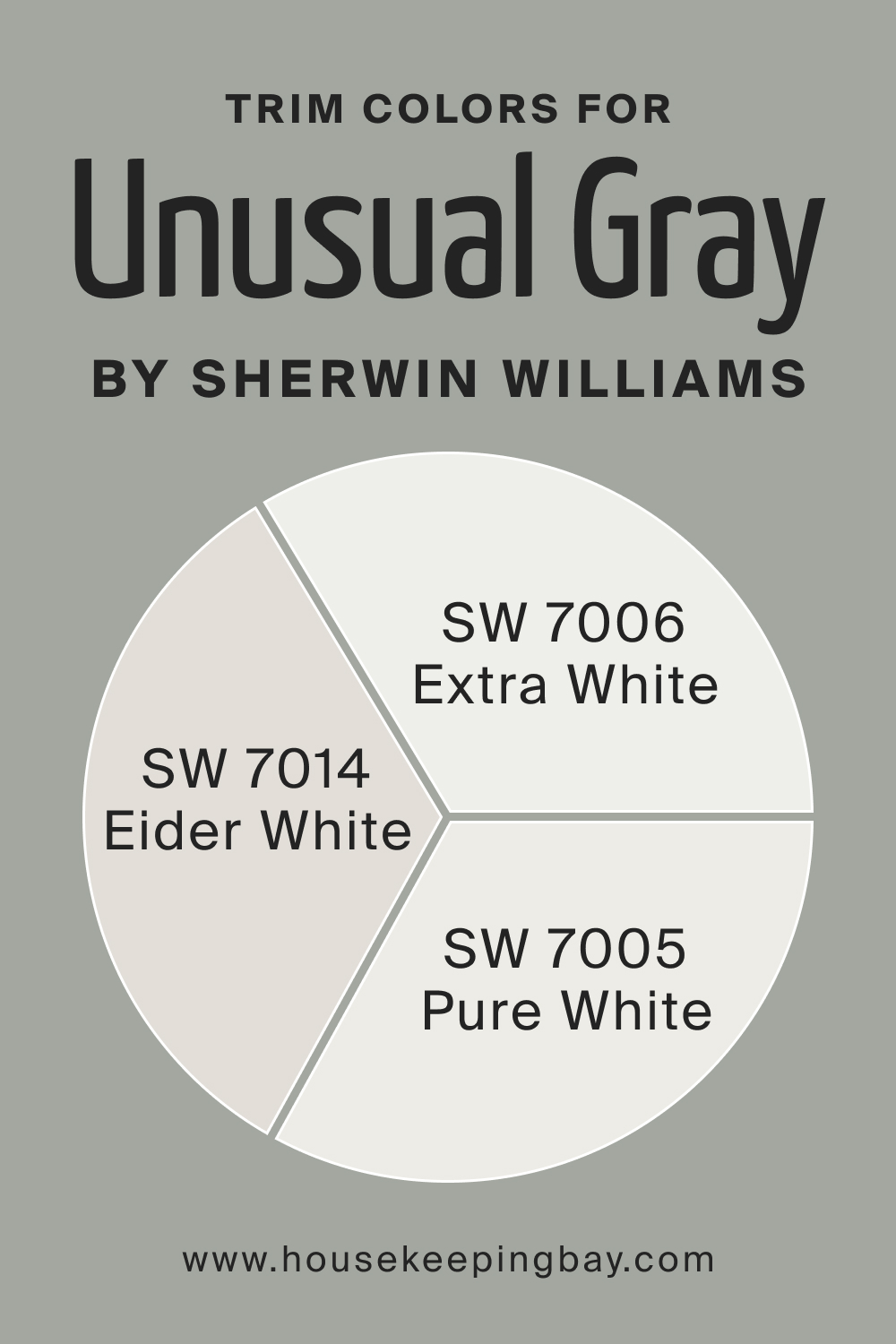 Colors Similar to SW 7059 Unusual Gray
Knowing similar colors expands your design palette. Instead of SW Unusual Gray, try one of these colors:
SW 7066 Gray Matters offers a sophisticated alternative with a touch more depth
SW 7655 Stamped Concrete introduces a grounded and earthy undertone
SW 7650 Ellie Gray provides a delicate and soft alternative
SW 7659 Gris contributes a warm gray option that resonates well with Unusual Gray's warmth.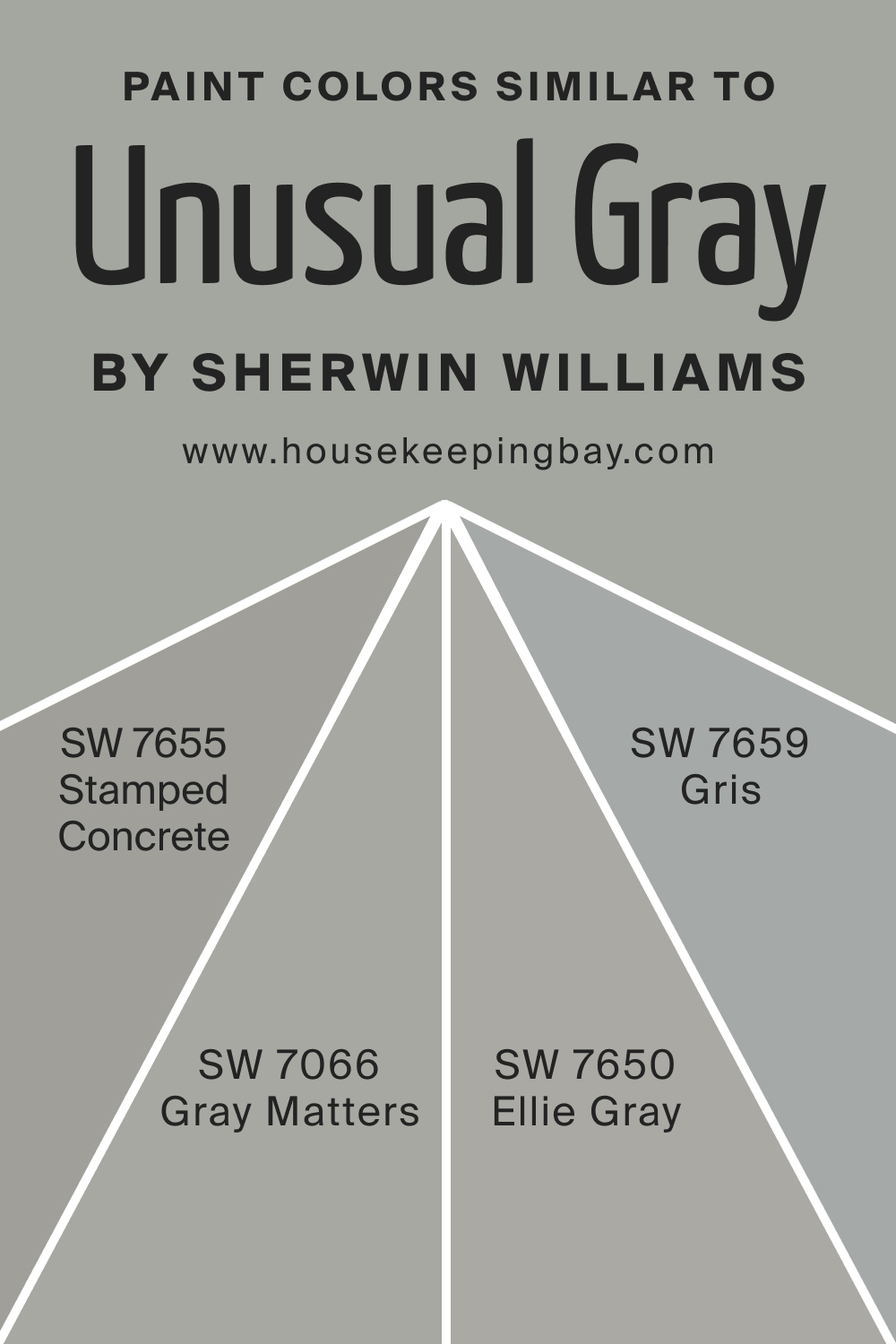 Colors That Go With SW 7059 Unusual Gray
Creating a harmonious color scheme involves pairing SW Unusual Gray with compatible hues. For example, check out these options:
For a cozy twist, consider SW 7702 Cider Spice, and for a serene vibe, SW 7739 Herbal Wash fits the bill. Additionally, SW 6217 Topsail, SW 7647 Crushed Ice, and SW 6180 Oakmoss complete the spectrum of possibilities.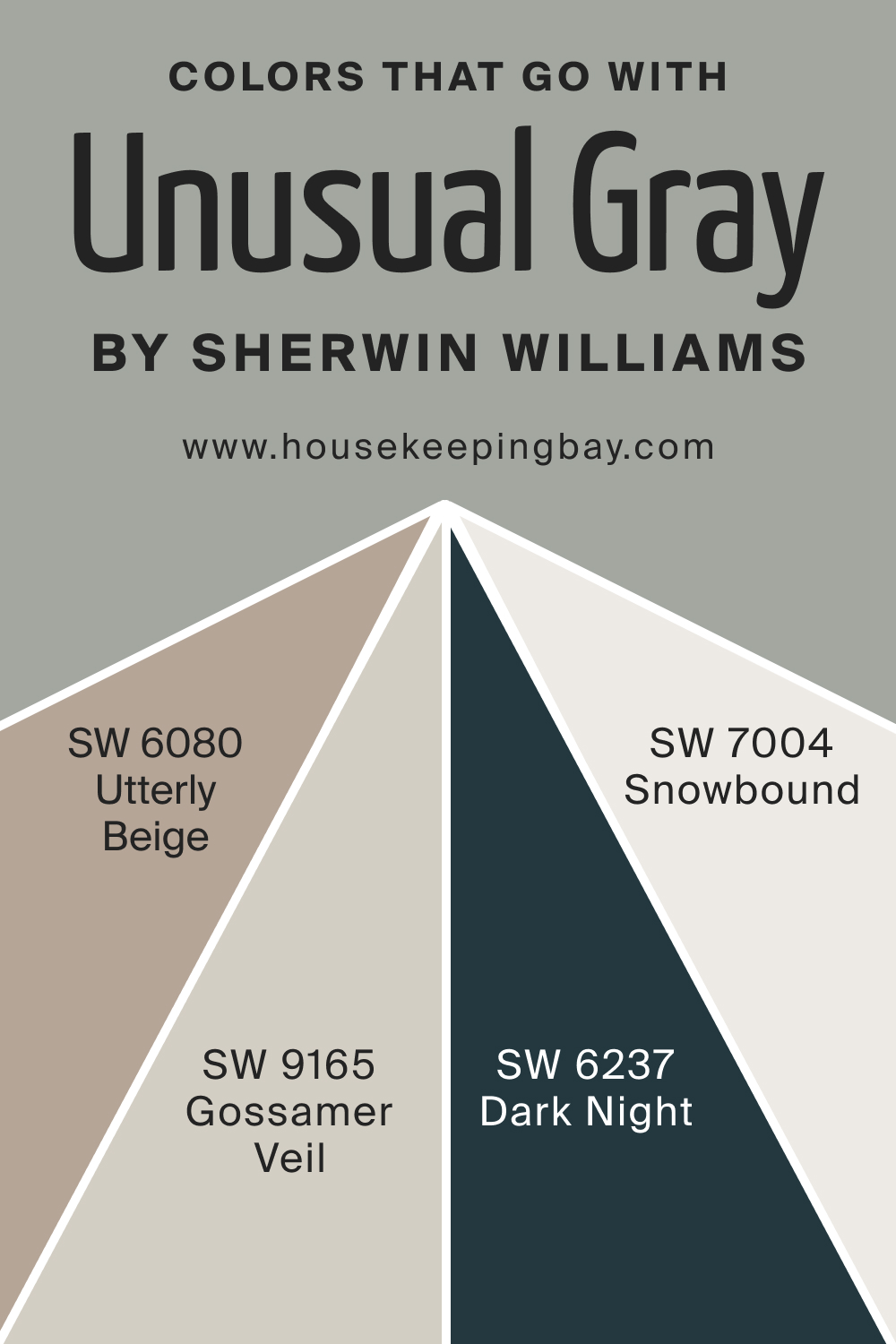 Using SW 7059 Unusual Gray in Your Home
SW 7059 Unusual Gray finds its place in a variety of rooms and design styles. Its adaptable nature makes it an excellent choice for both traditional and modern interiors. In living rooms and bedrooms, it brings a cozy and inviting atmosphere. In bathrooms, it pairs well with white fixtures for a clean and serene ambiance.
The kitchen benefits from its neutrality, working seamlessly with different countertop materials. As an exterior color, it exudes sophistication while harmonizing with natural surroundings. Its use for kitchen cabinets adds an elegant touch, creating a versatile backdrop for various color schemes.
Using SW 7059 Unusual Gray in the Bedroom
In the bedroom, SW 7059 Unusual Gray envelops the space in a calming embrace. It serves as a neutral canvas, allowing bedding and decor to shine. Pair it with soft textiles in muted colors for a tranquil atmosphere. Incorporate touches of warm wood to balance its cool undertones and create a serene haven.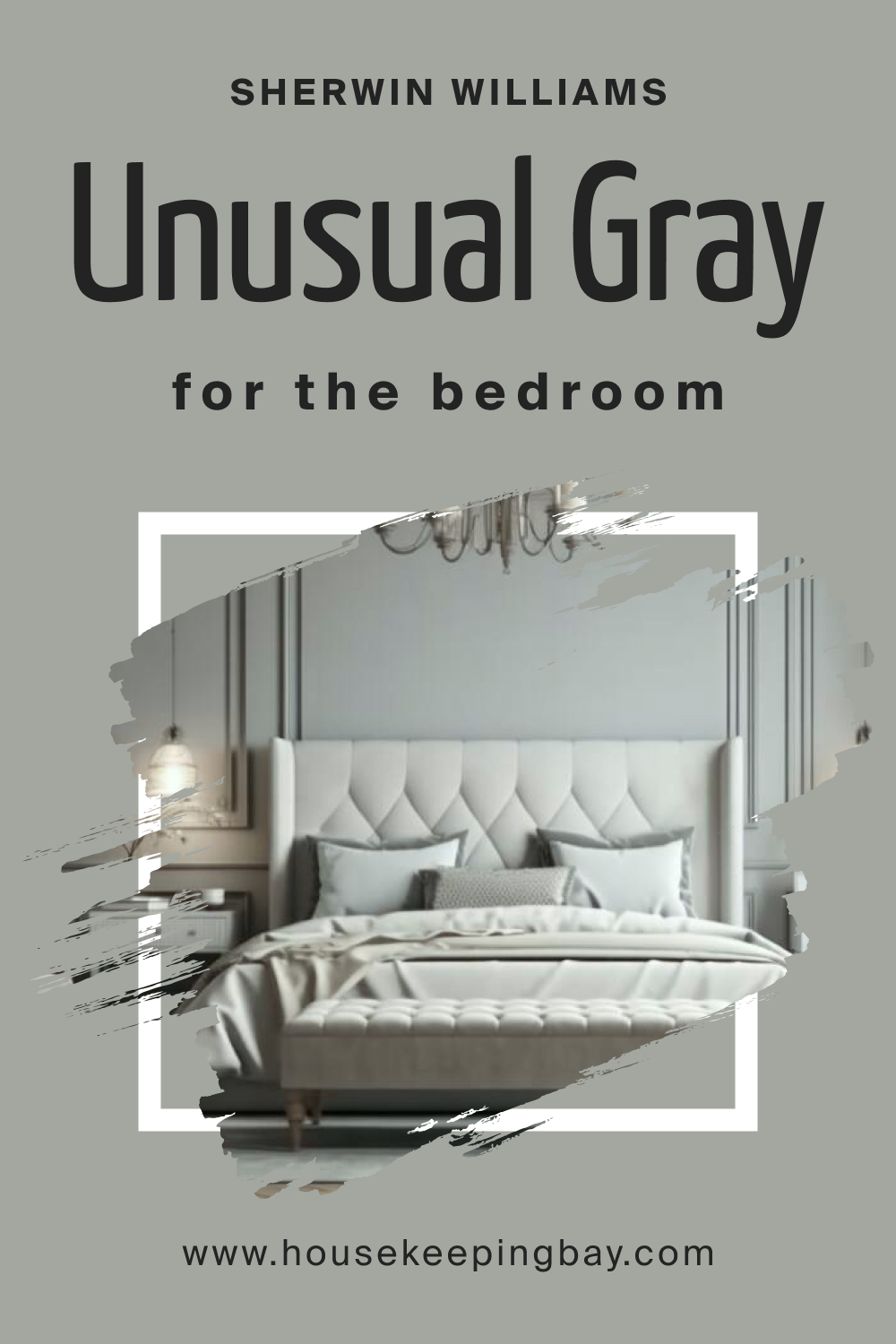 Using SW 7059 Unusual Gray in the Bathroom
In the bathroom, SW 7059 Unusual Gray promotes a spa-like ambiance. Combine it with white tiles for a clean look, or introduce soft blues for a coastal feel. The color's neutral elegance complements sleek fixtures, infusing the space with sophistication and tranquility.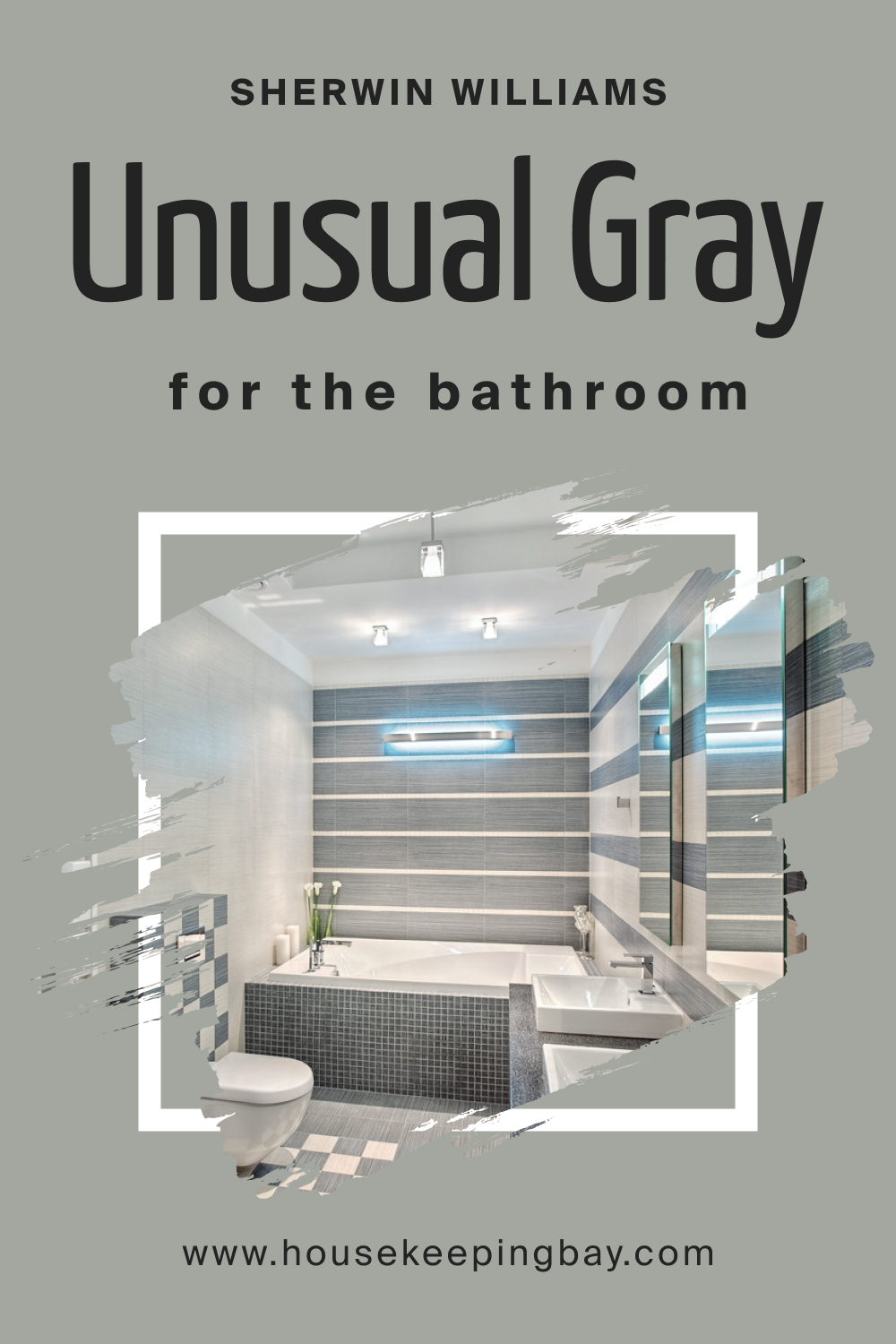 Using SW 7059 Unusual Gray in the Living Room
The living room becomes a cozy gathering space with SW 7059 Unusual Gray. Combine it with plush sofas in earthy tones for a welcoming aura. Add pops of color through accessories and artwork. Its versatility ensures it accommodates both minimalist and eclectic design approaches.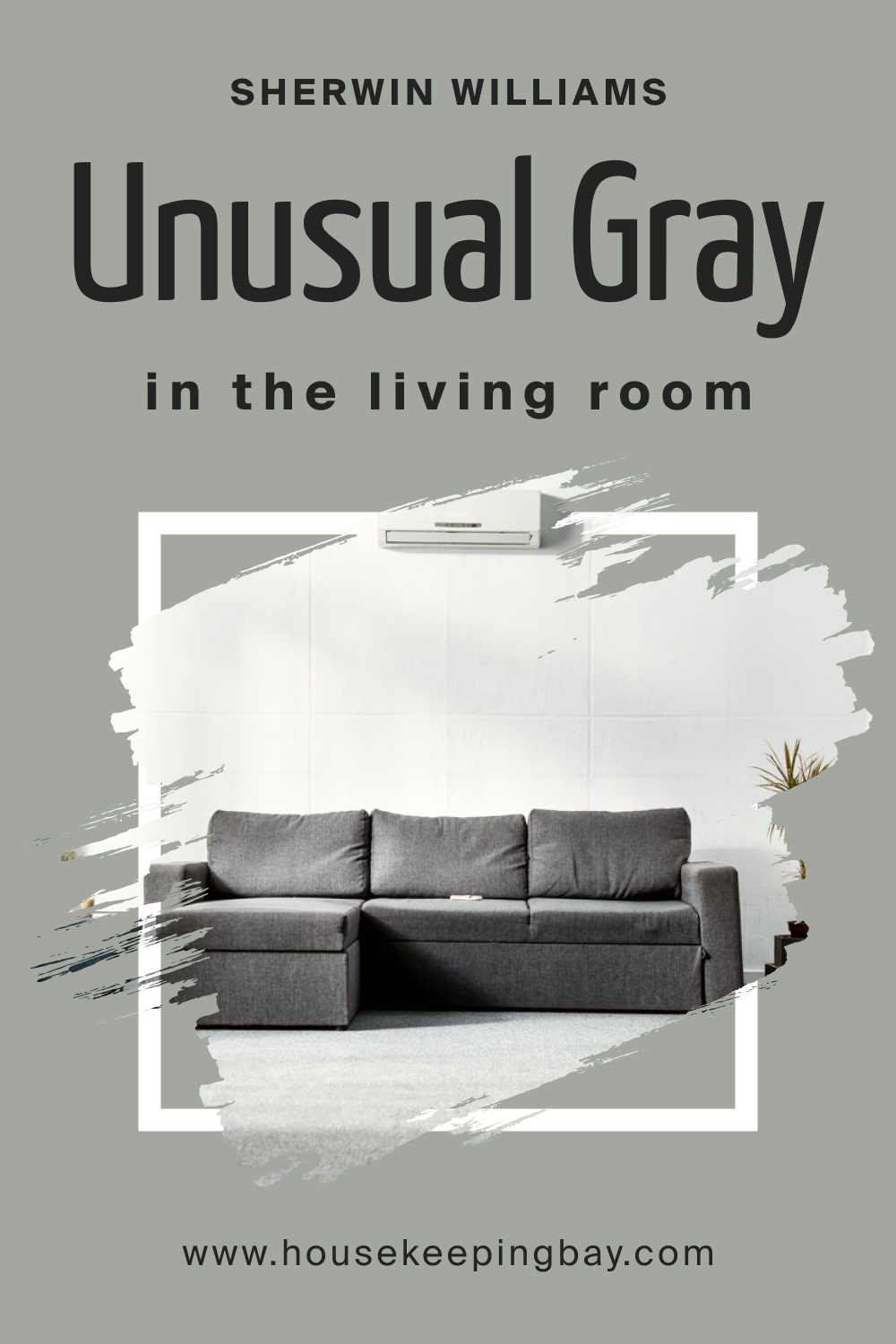 Using SW 7059 Unusual Gray for an Exterior
On the exterior, SW 7059 Unusual Gray exudes modern elegance. It can be paired with white trim and lush greenery for a classic look or contrasted with darker accents for a contemporary edge. Its balanced undertones ensure a sophisticated and timeless façade.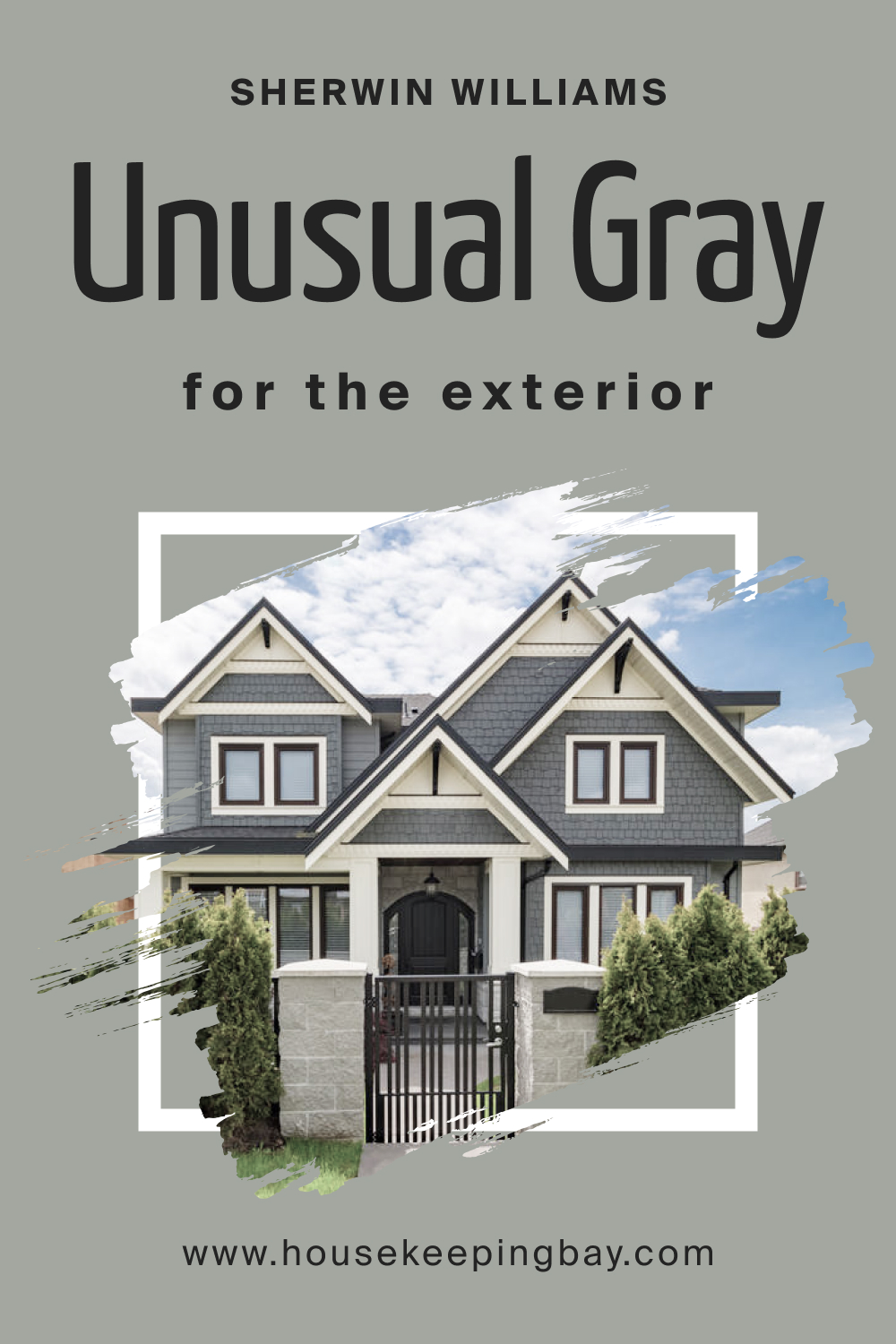 Using SW 7059 Unusual Gray in the Kitchen
In the kitchen, SW 7059 Unusual Gray offers a neutral backdrop for culinary creativity. Pair it with natural wood accents for warmth or stainless steel appliances for a modern twist. It complements a range of countertop materials, making it a versatile choice for any kitchen style.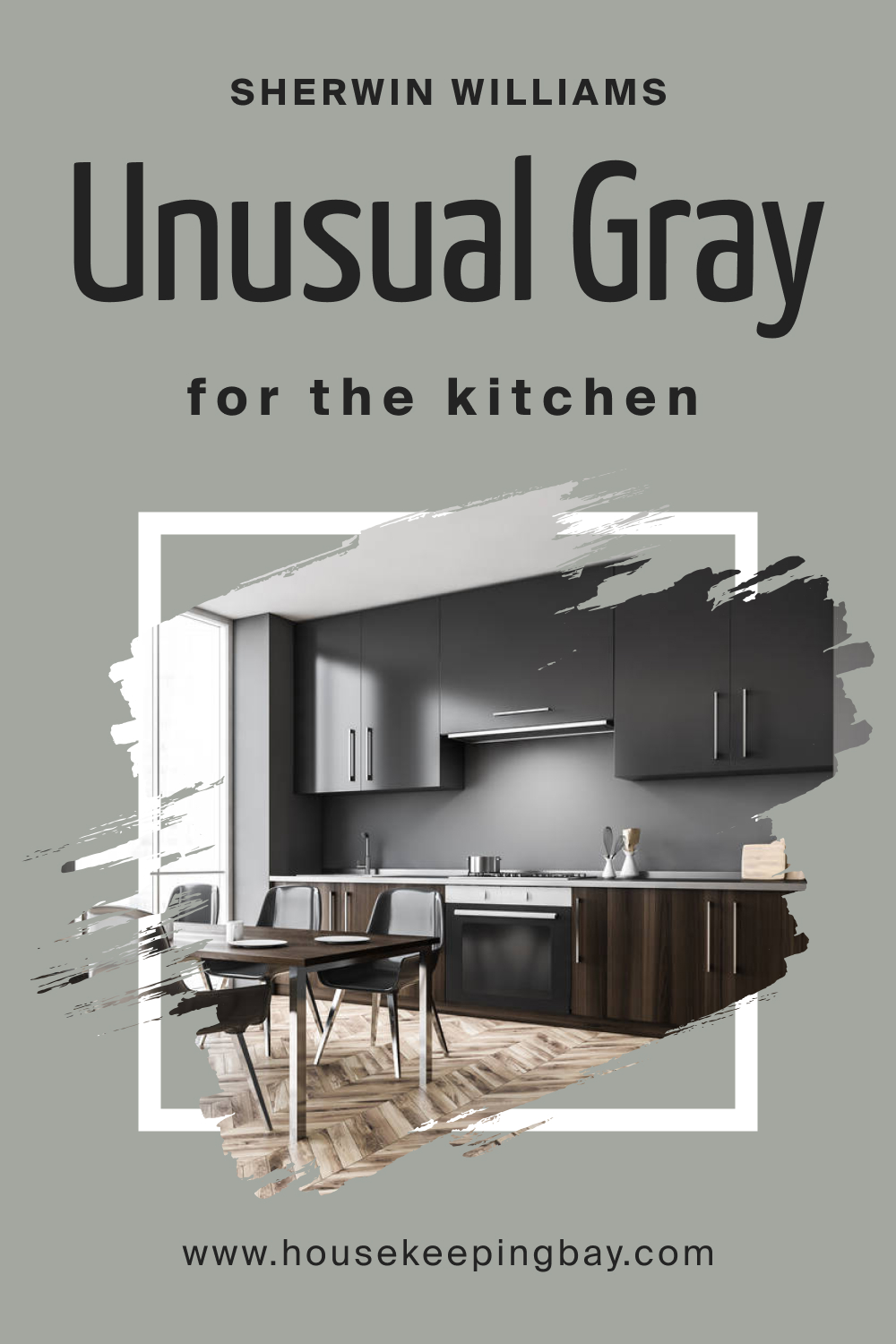 Using SW 7059 Unusual Gray for Kitchen Cabinets
Applying SW 7059 Unusual Gray to kitchen cabinets elevates the space with a touch of refinement. It creates a neutral foundation that allows you to play with bold backsplashes or colorful accents. Balancing its undertones with the right lighting ensures a cohesive and inviting kitchen atmosphere.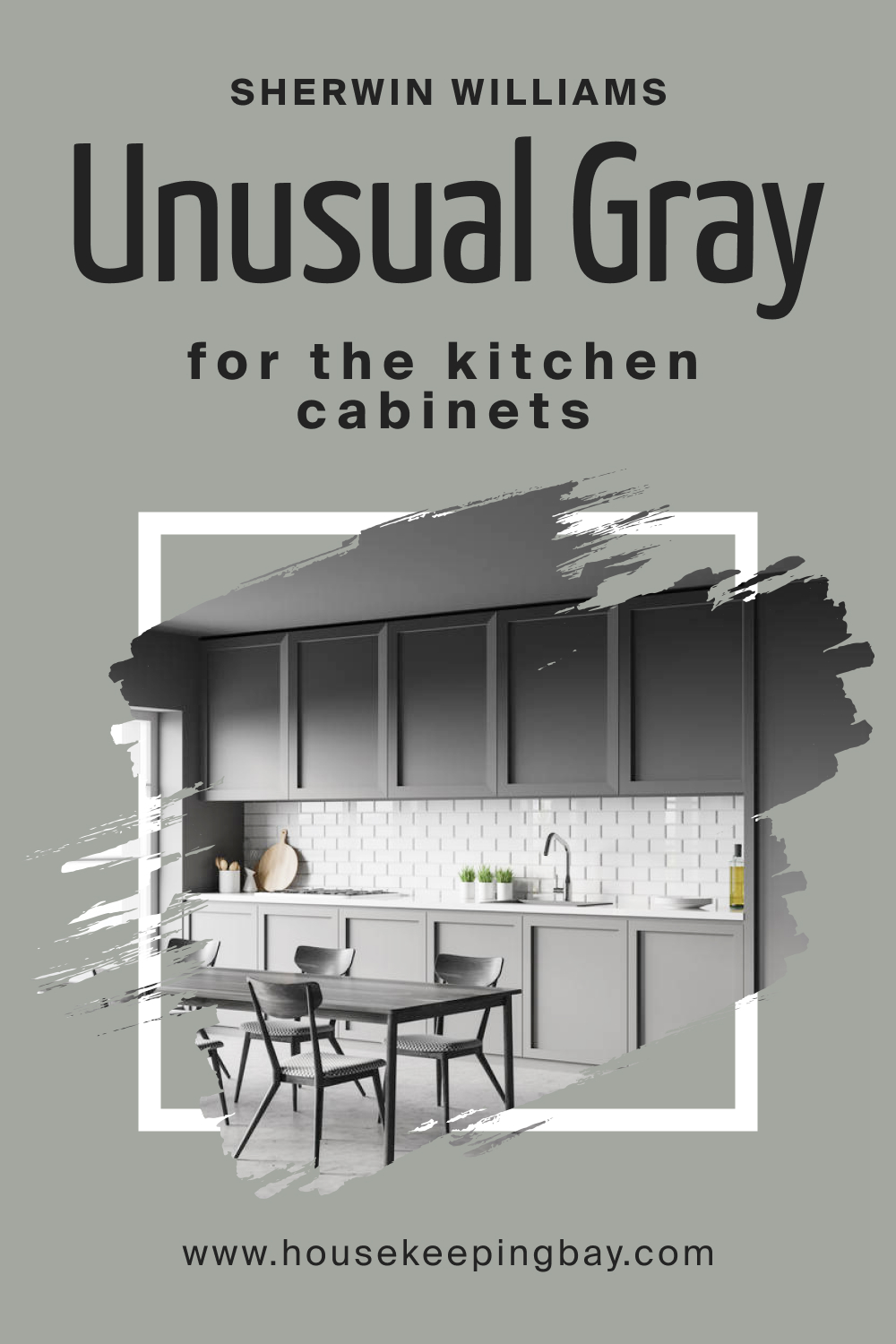 Comparing SW 7059 Unusual Gray With Different Colors
Comparing different colors is a crucial step in the design process, as it helps us understand the nuances and interactions of each shade. This practice allows us to make informed decisions about color combinations, ensuring harmonious and visually appealing spaces.
By examining how colors relate to one another, we can create balanced compositions that evoke specific emotions and set the desired ambiance.
SW 7059 Unusual Gray vs. SW 7057 Silver Strand
SW 7059 Unusual Gray and SW 7057 Silver Strand share a common base of gray, but they diverge in undertones. Unusual Gray leans towards green and cyan, lending it an intriguing warmth, while Silver Strand boasts blue undertones for a cooler appearance. Unusual Gray exudes cozy versatility, fitting traditional and modern settings, whereas Silver Strand's cooler tones lend a serene and coastal feel, making it ideal for beach-inspired interiors.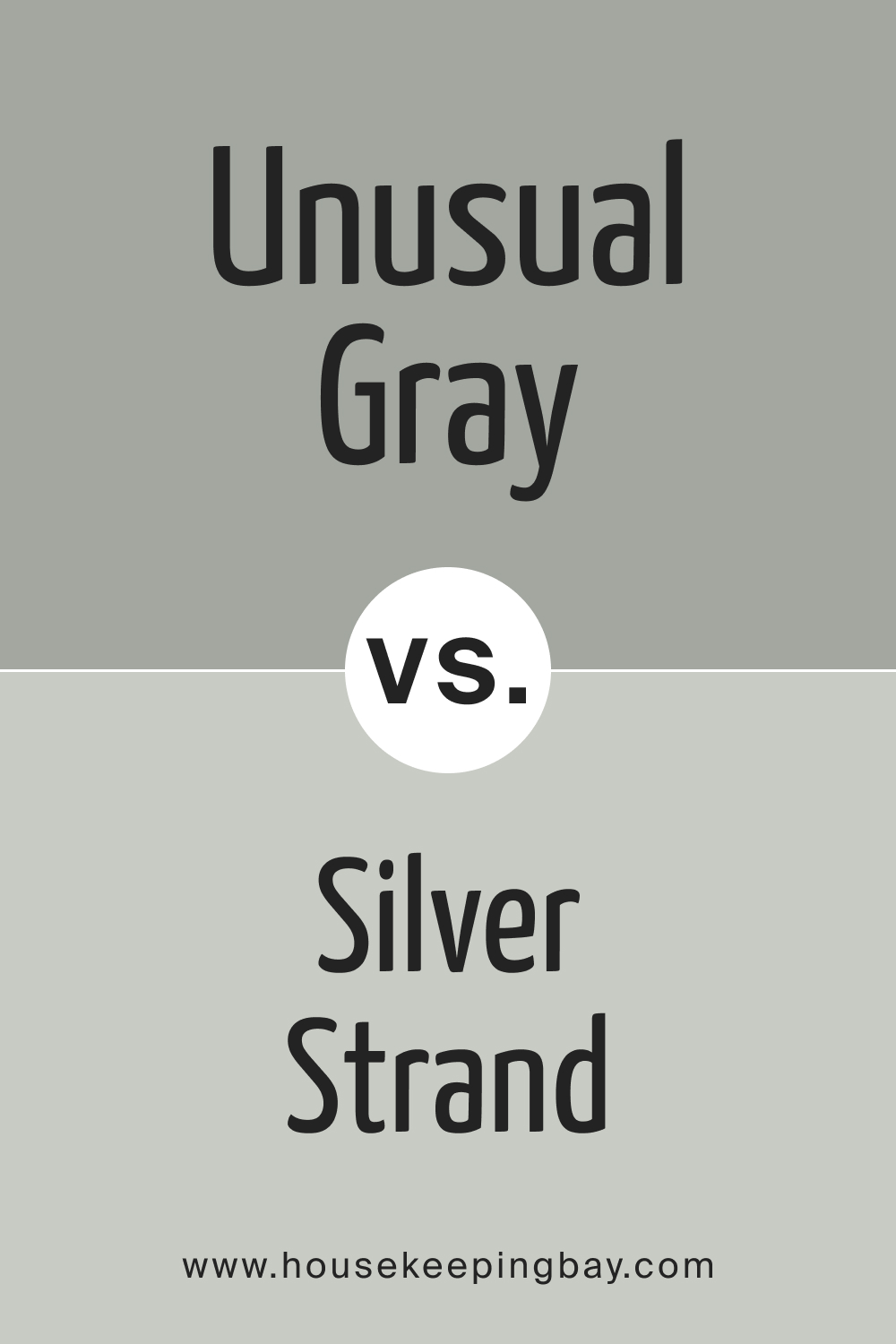 SW 7059 Unusual Gray vs. SW 7603 Poolhouse
Contrasting with the subdued nature of Unusual Gray, SW 7603 Poolhouse bursts with blue-green vibrancy. While Unusual Gray creates an elegant neutral backdrop, Poolhouse injects vitality and energy. Unusual Gray's balance suits various styles, whereas Poolhouse thrives in lively and contemporary spaces, embodying aquatic charm reminiscent of tropical getaways.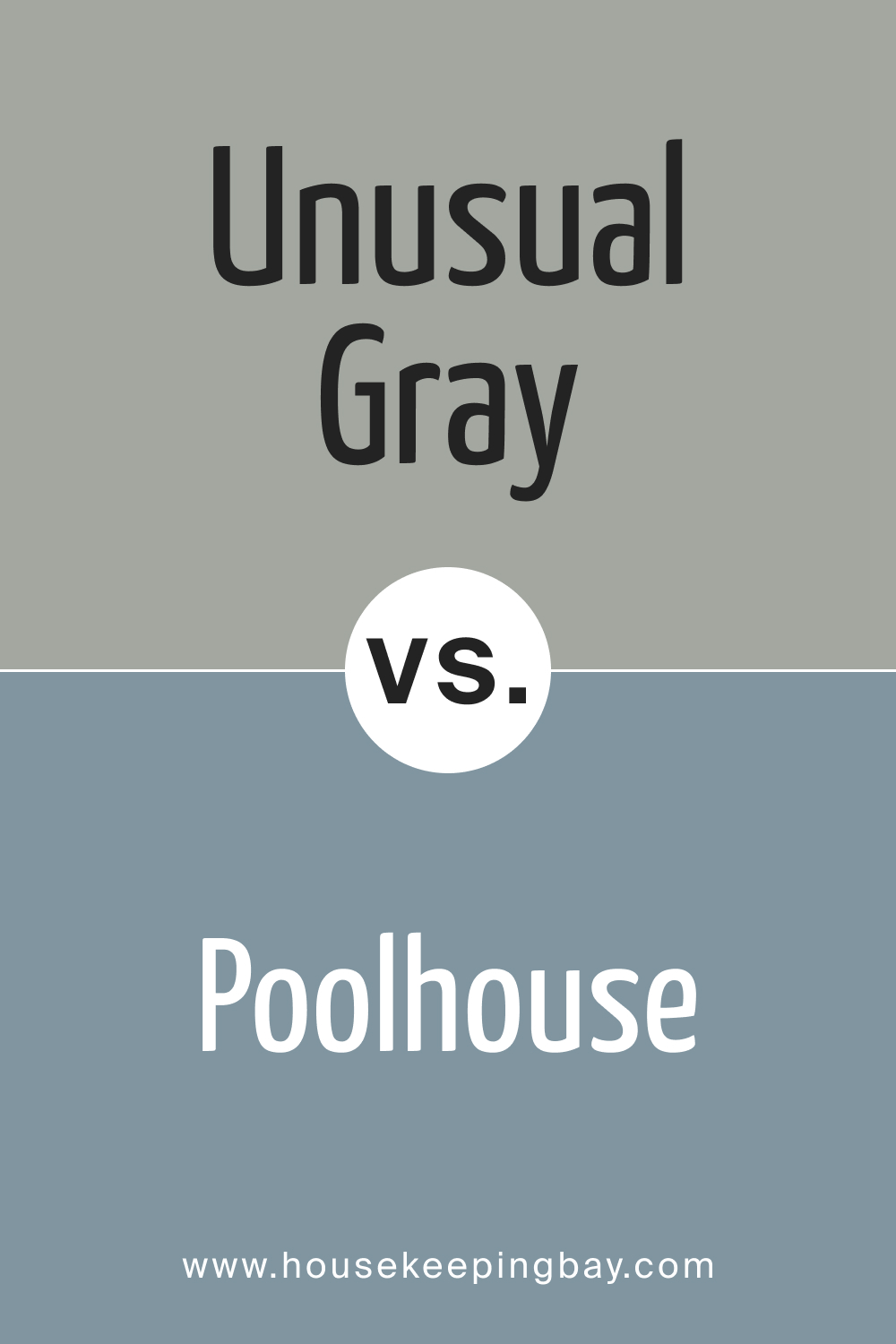 SW 7059 Unusual Gray vs. SW 0049 Silver Gray
SW 7059 Unusual Gray and SW 0049 Silver Gray both embrace gray tones, yet they deviate in undertones. Unusual Gray carries green and cyan undertones, instilling warmth and character. In contrast, Silver Gray leans towards cool blue undertones, presenting a crisper appearance.
Unusual Gray's versatility accommodates diverse palettes, while Silver Gray delivers a classic coolness suited for modern interiors.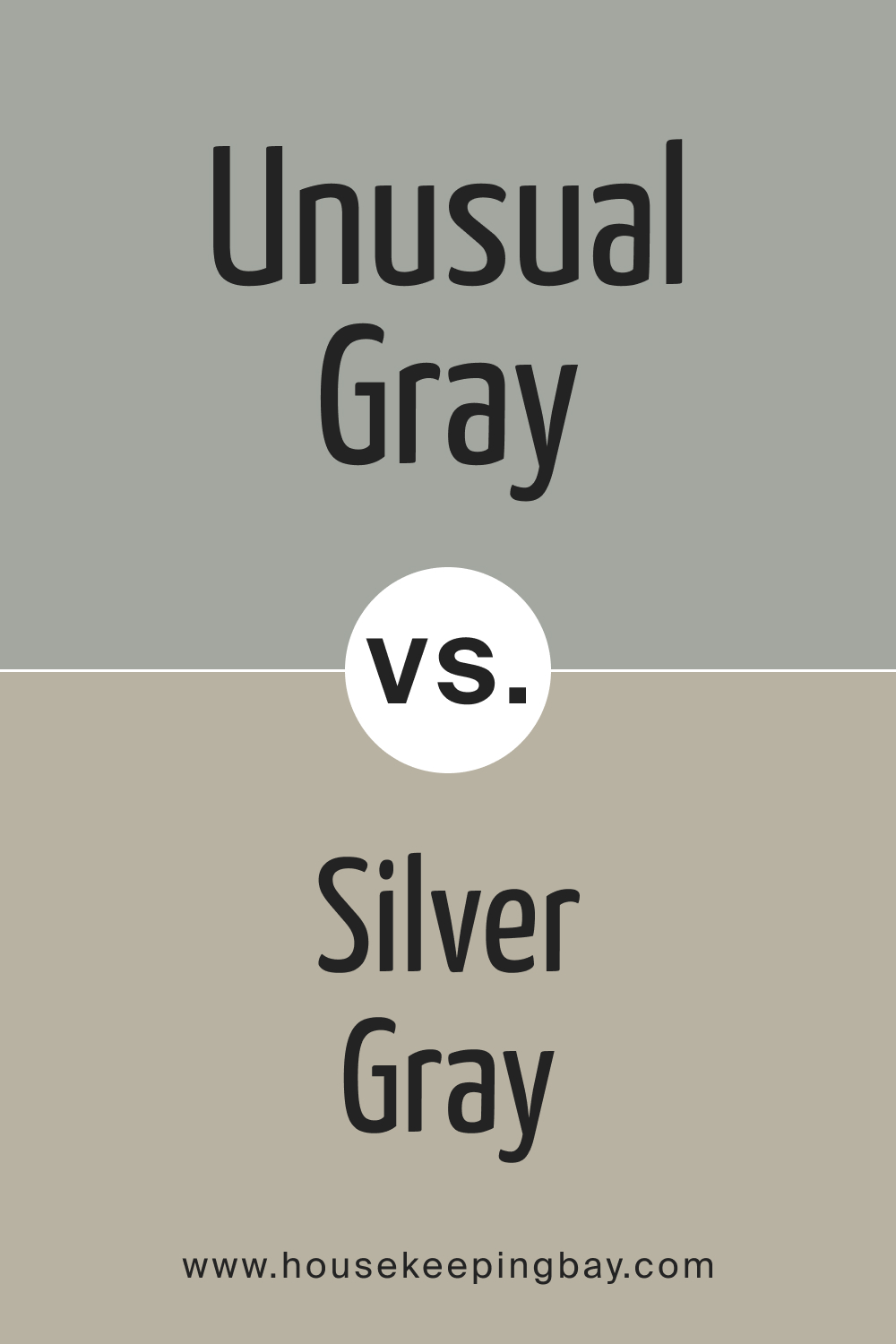 SW 7059 Unusual Gray vs. SW 7060 Attitude Gray
While both Unusual Gray and SW 7060 Attitude Gray reside within the gray spectrum, they diverge significantly in character. Unusual Gray's green and cyan undertones impart warmth and depth, adapting to various styles.
In contrast, Attitude Gray exhibits cooler, slightly purplish undertones that evoke modern sophistication and pair well with metallic accents. Attitude Gray's distinctiveness lends itself to sleek contemporary spaces.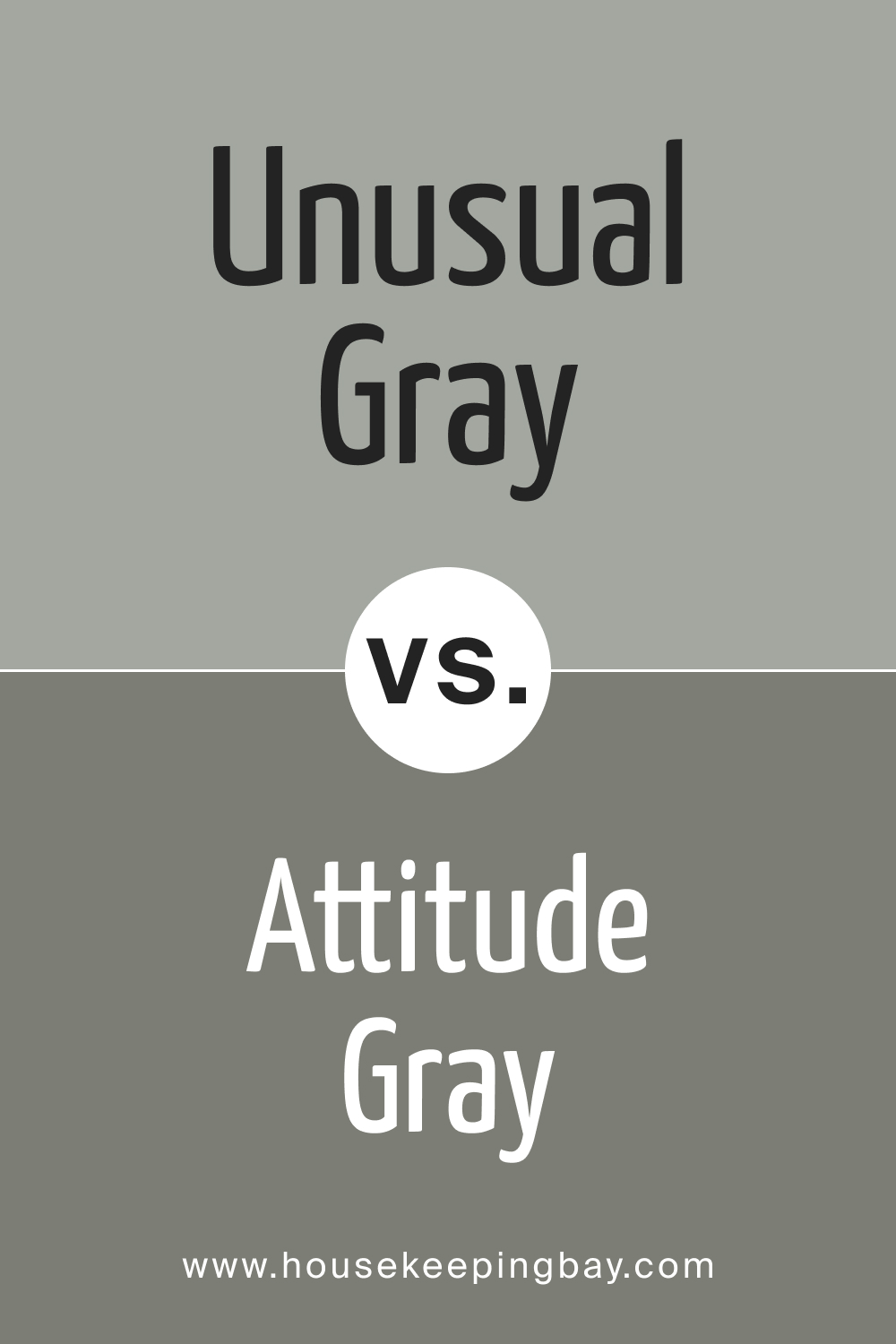 SW 7059 Unusual Gray vs. SW 7061 Night Owl
Unusual Gray and SW 7061 Night Owl both possess neutral qualities, yet they evoke different moods. Unusual Gray's green and cyan undertones offer a soft warmth, whereas Night Owl's deeper, brownish-gray hue exudes a sense of mystery and depth.
Unusual Gray accommodates diverse design styles, while Night Owl infuses dramatic allure, making it suitable for cozy, intimate spaces.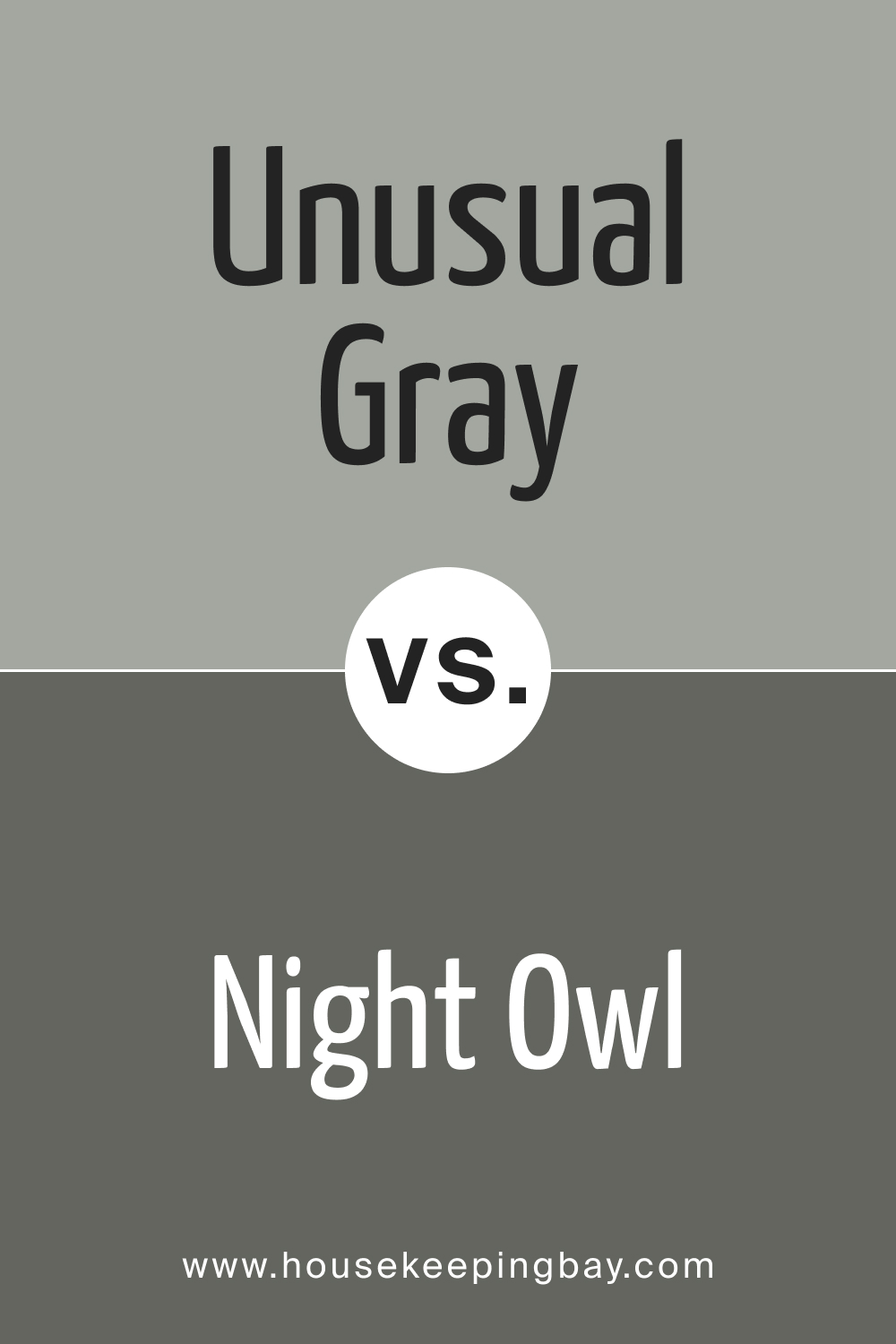 SW 7059 Unusual Gray vs. SW 9164 Illusive Green
In a departure from Unusual Gray's neutral base, SW 9164 Illusive Green introduces a distinctive green tint. While Unusual Gray works as a versatile backdrop, Illusive Green commands attention with its botanical-inspired charm. Unusual Gray's adaptability makes it a staple in various styles, while Illusive Green imparts a refreshing energy perfect for nature-themed interiors.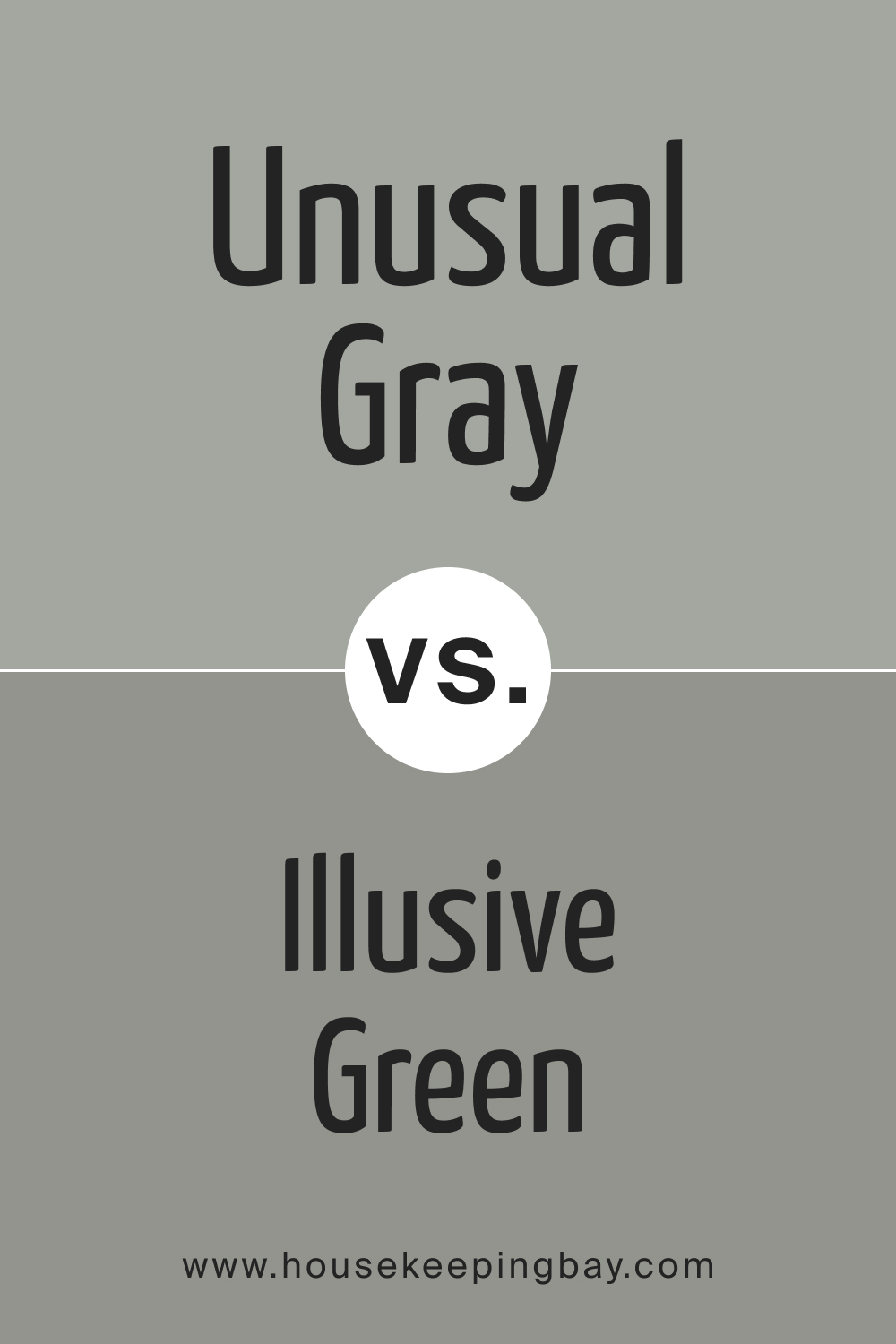 Conclusion
SW 7059 Unusual Gray's unique blend of warm and cool undertones positions it as a versatile and timeless choice for interior design. Its adaptability to various lighting conditions, complementing coordinating colors, and harmonious companions make it an asset in the palette of any designer.
Understanding the intricacies of this nuanced hue empowers homeowners and designers alike to create captivating spaces that stand the test of time.
Whether used as the main attraction or as a supporting player, SW 7059 Unusual Gray brings a touch of sophistication and warmth to every corner it graces.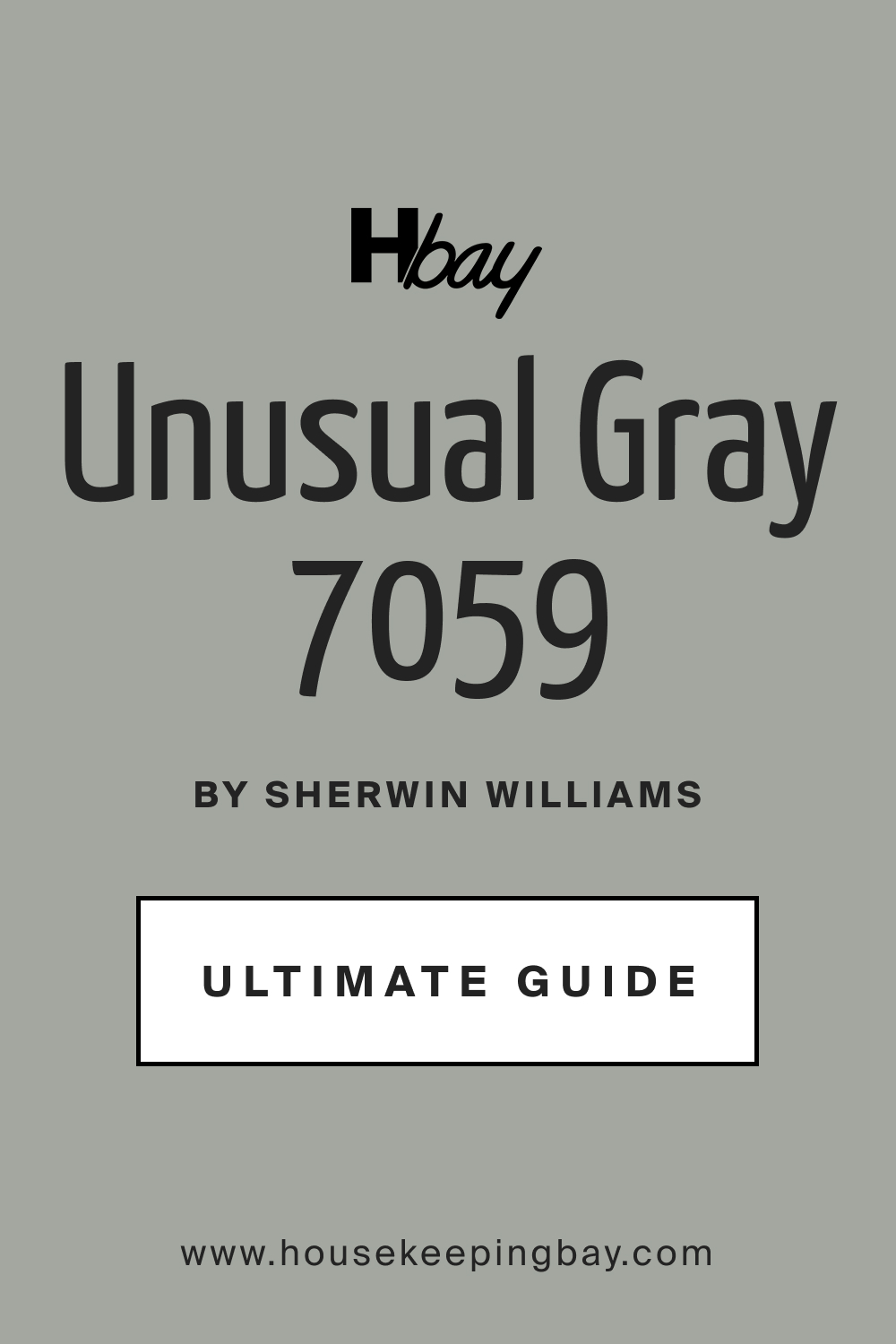 Frequently Asked Questions
⭐Is SW 7059 Unusual Gray a warm or cool color?
Unusual Gray strikes a balance between warm and cool, making it versatile for various lighting conditions and design preferences.
⭐Can I use SW 7059 Unusual Gray in a small room?
Absolutely! Unusual Gray's neutral nature can visually expand a small room, creating an airy and open feel.
⭐How does Unusual Gray look under different lighting?
Unusual Gray adapts remarkably to lighting. It appears warmer under incandescent light and cooler under daylight, offering a chameleon-like quality.
⭐Does SW 7059 Unusual Gray work with bold accent colors?
Yes, Unusual Gray's neutrality allows it to play well with a range of accent colors, enabling you to create striking and dynamic color combinations.
⭐Can I use Unusual Gray for exterior siding?
Certainly! Unusual Gray can impart a sophisticated look to your home's exterior, blending seamlessly with natural surroundings and architectural details.