Every color tells a story and creates an ambiance. In the world of interior design, the choice of paint is pivotal in setting the mood of a room. SW 9513 Sleepy Owlet by Sherwin-Williams is one such color that has captured the hearts of homeowners and designers alike.
This article delves deep into understanding the nuances, undertones, and versatility of this paint, enabling you to make an informed choice for your spaces.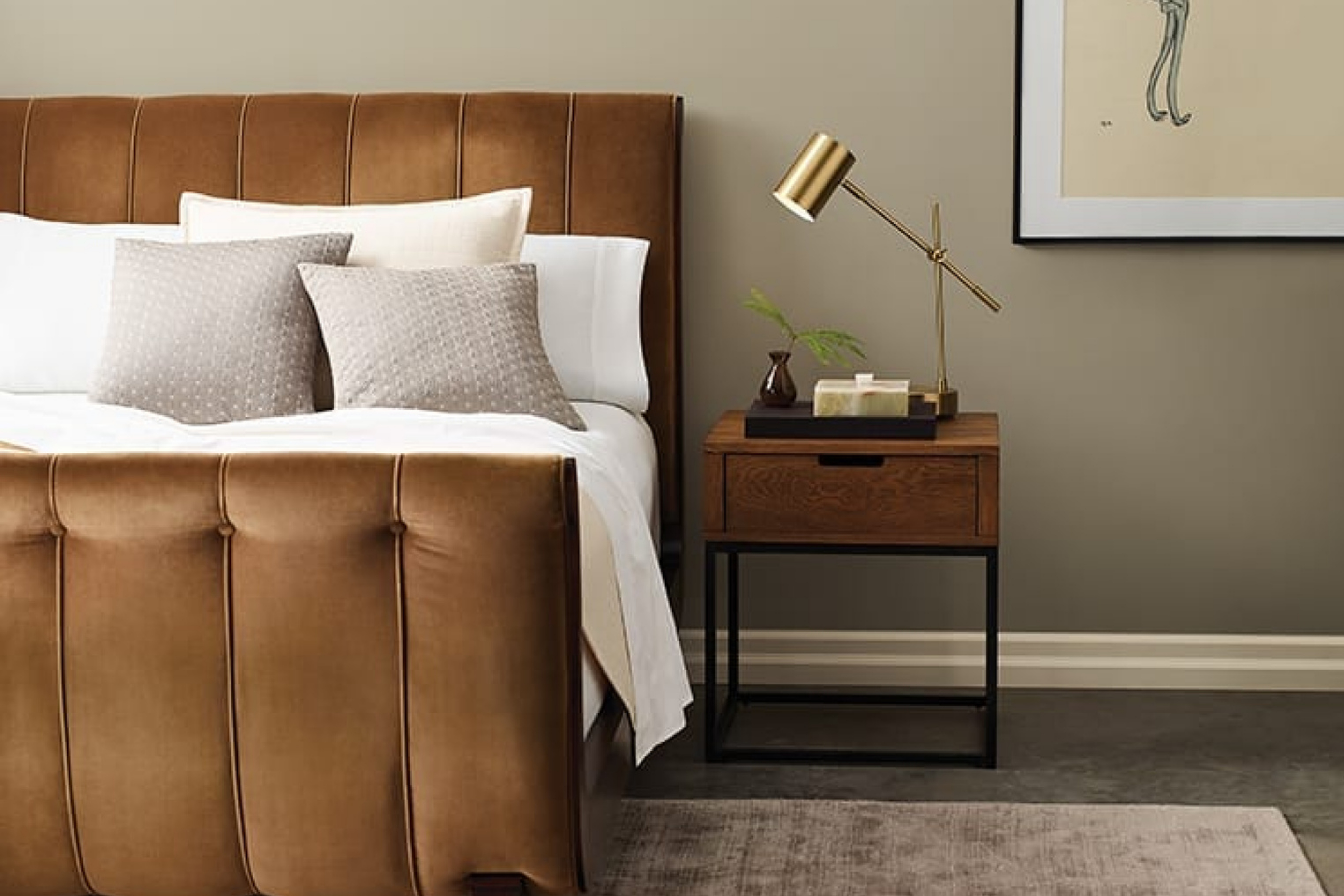 What Color Is SW 9513 Sleepy Owlet?
SW 9513 Sleepy Owlet is reminiscent of a soft evening sky with hints of duskiness. It portrays a gentle balance between muted green and gray, making it incredibly versatile. It has a subtle grace that can transcend various interior styles – from minimalist to rustic and even traditional. Pairing Sleepy Owlet with natural materials like wood and stone amplifies its organic undertone.
Textures like soft cotton or rich velvet bring out the plush essence of this color, making rooms feel warm and inviting.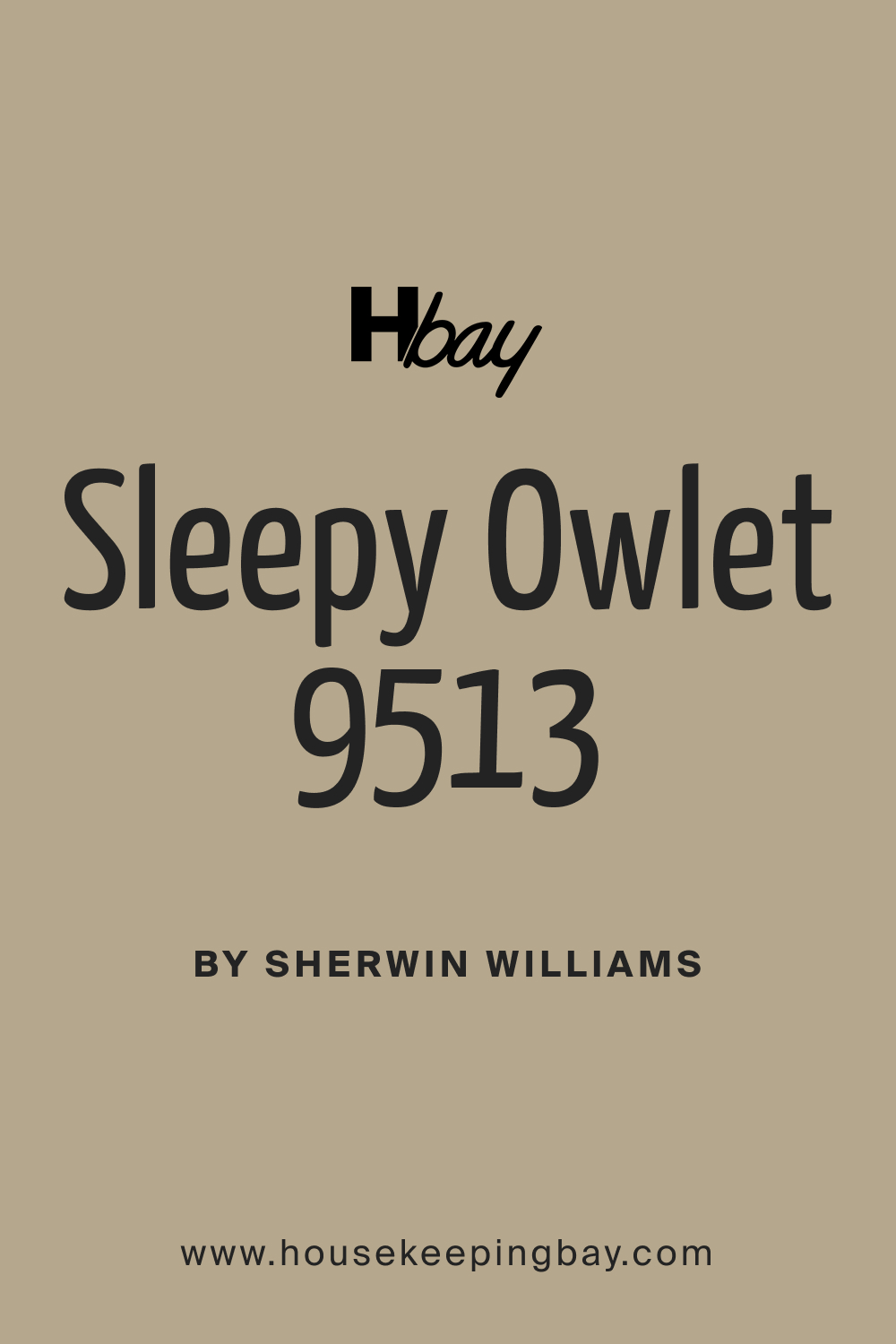 Is It a Warm Or Cool Color?
Although on the fence, SW 9513 Sleepy Owlet leans more toward the cool spectrum. Its gray undertones give it a tranquil coolness, but it's not stark or cold. This balancing act allows Sleepy Owlet to bring warmth and coziness to homes while maintaining a sophisticated modern edge.
Undertones of SW 9513 Sleepy Owlet
Every color has hidden shades, and Sleepy Owlet is no exception. It carries undertones of moss and fog, making it a complex hue. Undertones can make a color shift based on lighting and surroundings. For Sleepy Owlet, its undertones make it a chameleon on interior walls, changing from a soothing greenish tint in daylight to a more muted gray as the day progresses.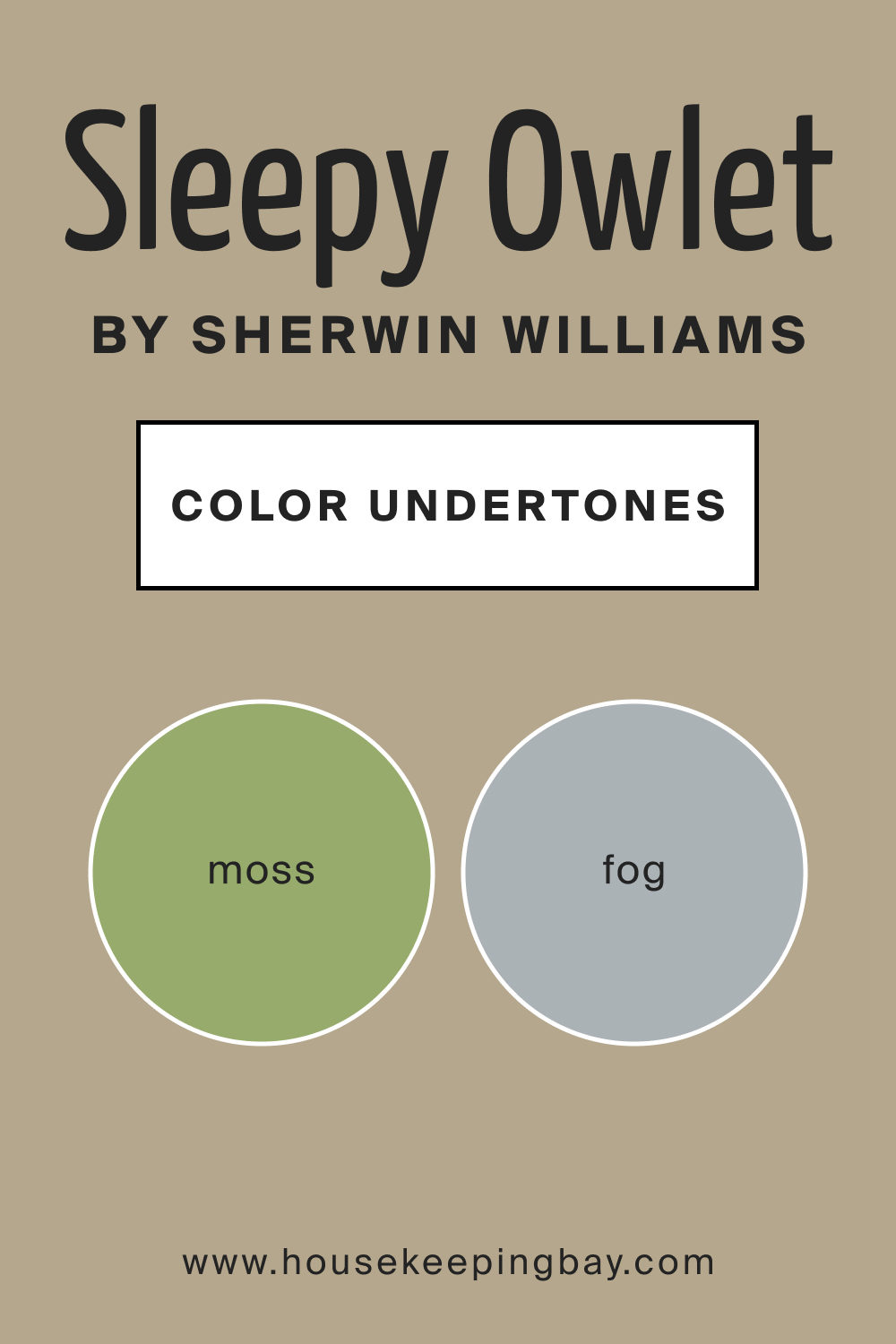 Coordinating Colors of SW 9513 Sleepy Owlet
Coordinating colors are hues that harmonize with the primary color, enhancing its beauty and cohesion in design. For SW Sleepy Owlet, a perfect trio would be:
SW 6070 Heron Plume, a soft off-white
SW 6242 Bracing Blue, a deep atmospheric blue
SW 9169 Chatura Gray, a rich, grounding shade.
To complement, consider SW 6225 Sleepy Blue, a gentle sky blue; SW 6230 Rainstorm, a robust navy; and SW 7029 Agreeable Gray, a versatile neutral.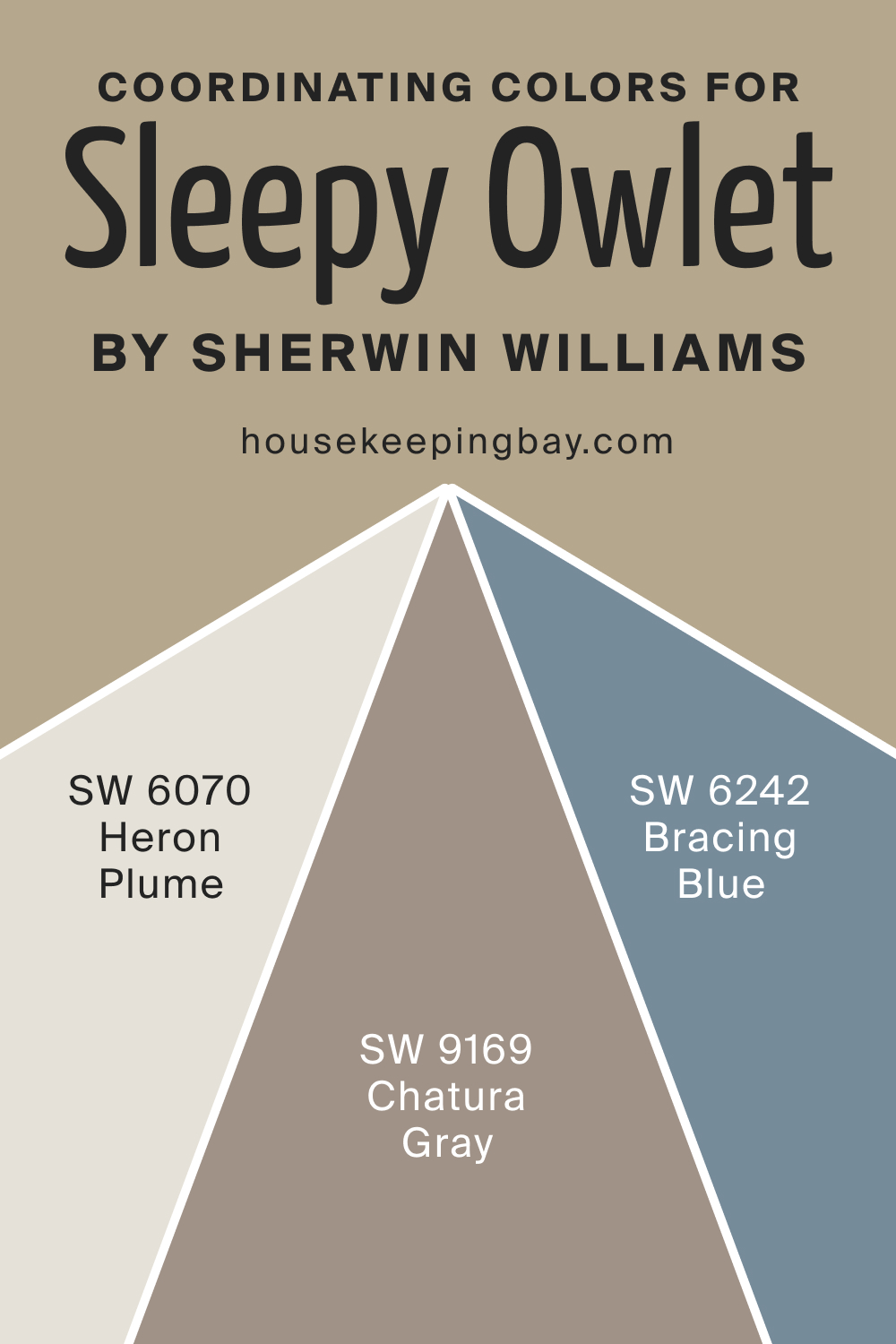 How Does Lighting Affect SW 9513 Sleepy Owlet?
Lighting, both artificial and natural, plays a pivotal role in how we perceive color. In the presence of artificial light, Sleepy Owlet might appear more grayish, adopting a calm, neutral demeanor. Natural light, depending on its source, can shift this paint in fascinating ways. In north-faced rooms, it may appear slightly cooler and more muted, while south-facing rooms bring out its warm undertones
. East-facing rooms cast a fresh morning light, highlighting the greenish tint, whereas west-faced rooms at sunset add depth and richness.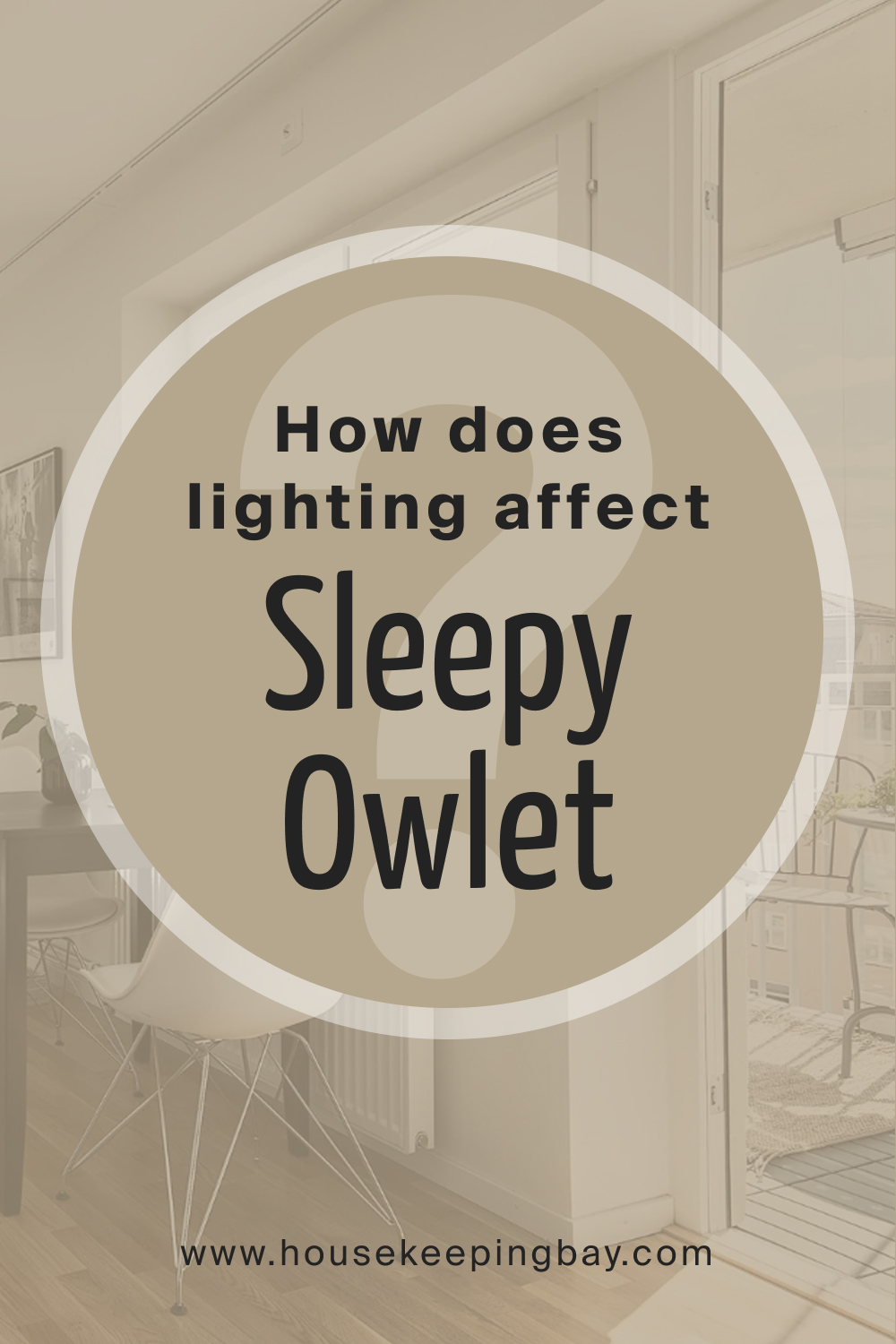 LRV of SW 9513 Sleepy Owlet
Light Reflectance Value, or LRV, measures the percentage of light a paint color reflects. With an LRV of 39, Sleepy Owlet sits in the mid-range, making it neither too bright nor too dark. This balance means walls painted in this color absorb a moderate amount of light, making rooms feel cozy without being cave-like.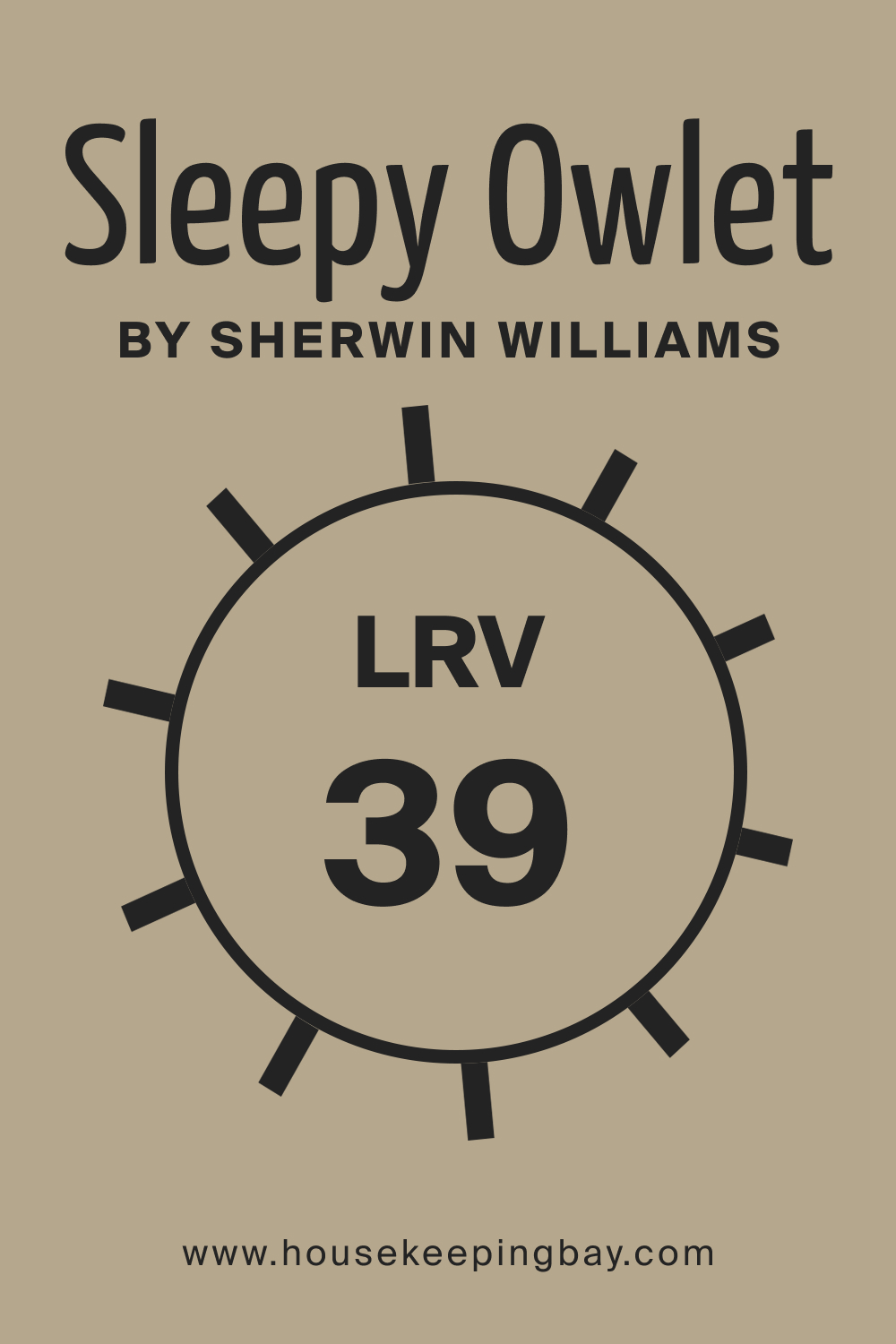 What is LRV? Read It Before You Choose Your Ideal Paint Color
Trim Colors of SW 9513 Sleepy Owlet
Trim colors are pivotal in framing spaces and adding contrast. For Sleepy Owlet, shades of white from Sherwin-Williams, like SW 7005 Pure White, SW 7012 Creamy, and SW 7008 Alabaster, work wonders. These trims, with their varying undertones, can accentuate the room's ambiance, from bright and airy to warm and snug.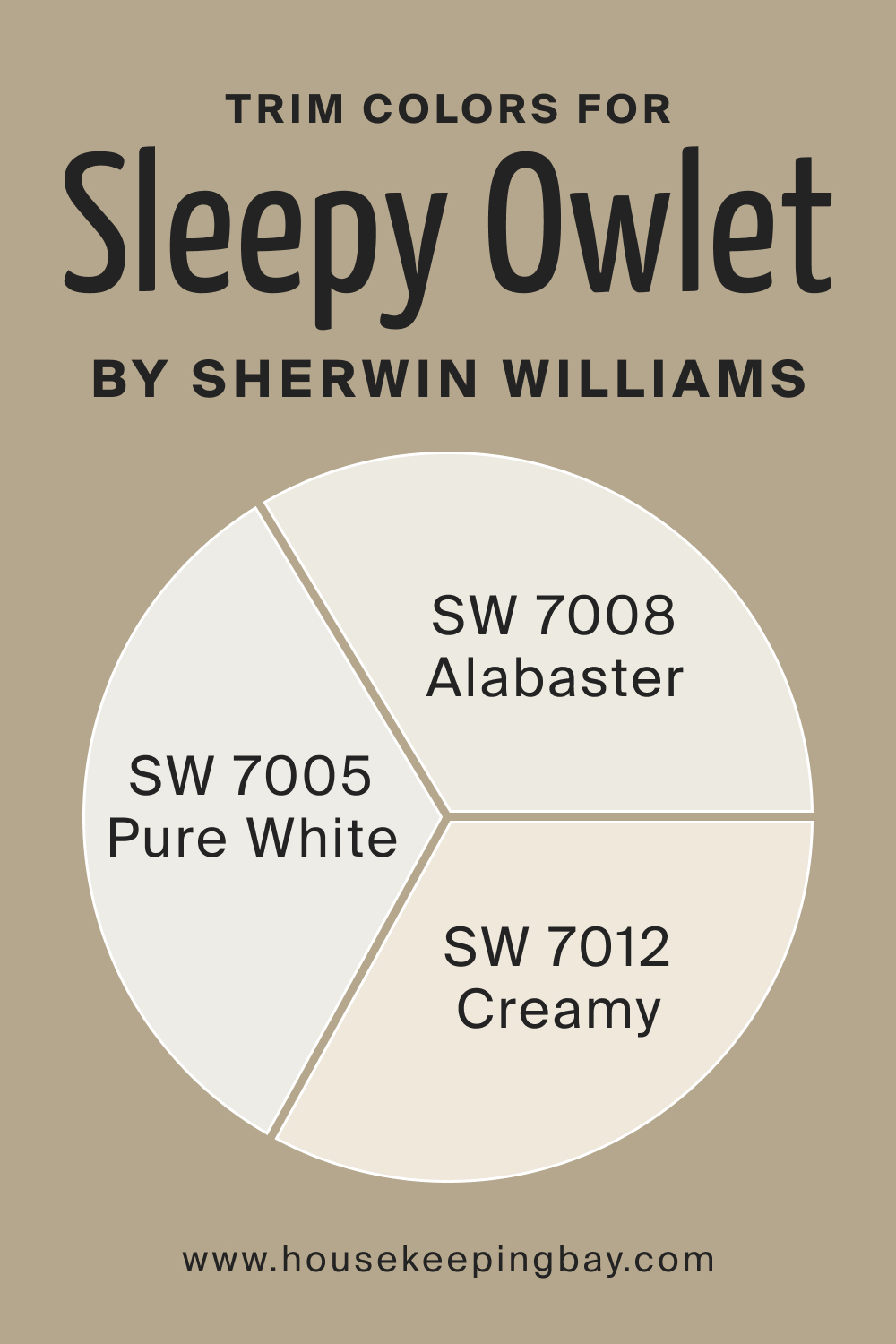 Colors Similar to SW 9513 Sleepy Owlet
Knowing similar colors allows for flexibility in design choices. Among those resembling Sleepy Owlet are SW 7534 Outerbanks, a sandy gray; SW 7546 Prairie Grass, which resonates with muted earth; and SW 7548 Portico, exuding a warm neutral vibe. Additionally, SW 6073 Perfect Greige strikes a balance between gray and beige, SW 7037 Balanced Beige exudes warmth, and SW 7031 Mega Greige goes deeper into the beige realm.
Colors That Go With SW 9513 Sleepy Owlet
Harmonizing colors enhances aesthetics. With SW Sleepy Owlet, consider colors like these:
SW 7012 Creamy bring lightness;
SW 6524 Commodore adds a touch of luxury;
SW 7687 August Moon offers warmth;
SW 7048 Urbane Bronze provides depth.
Additionally, consider SW 7026 Griffin for sophistication, SW 7036 Accessible Beige for neutrality, and SW 7019 Gauntlet Gray for contrast.
Understanding SW 9513 Sleepy Owlet and its complements empowers you to curate spaces that resonate with emotion, function, and style. Happy painting!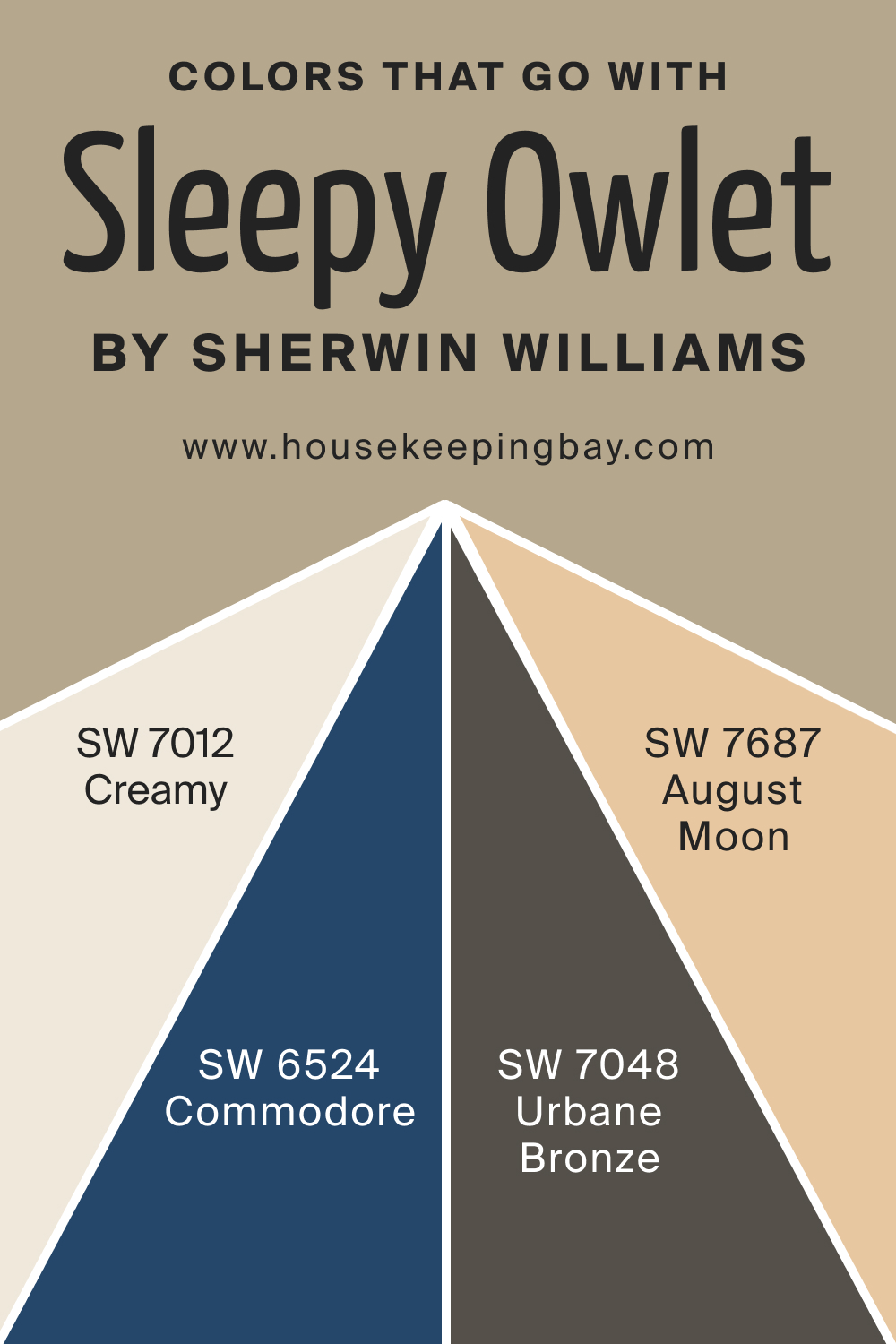 How to Use SW 9513 Sleepy Owlet In Your Home?
SW 9513 Sleepy Owlet, with its soothing blend of muted green and gray, is versatile for various rooms in a home. Ideal for bedrooms, it offers a tranquil retreat. In living rooms, it complements modern to rustic styles, creating a cohesive atmosphere. Bathrooms benefit from its serene vibes, and even in kitchens, it stands out as a subtle backdrop or on cabinetry.
Sleepy Owlet also adds curb appeal as exterior paint. Its adaptability makes it apt for minimalist, coastal, farmhouse, and even Scandinavian design aesthetics.
How to Use SW 9513 Sleepy Owlet in the Bedroom?
The soft undertones of Sleepy Owlet evoke calmness, making it a perfect choice for bedrooms. Pair it with white or light-toned furniture to create a serene oasis. Accent with soft textiles, plush cushions, and delicate lighting for a dreamy ambiance. Its neutral nature allows for vibrant or muted decor.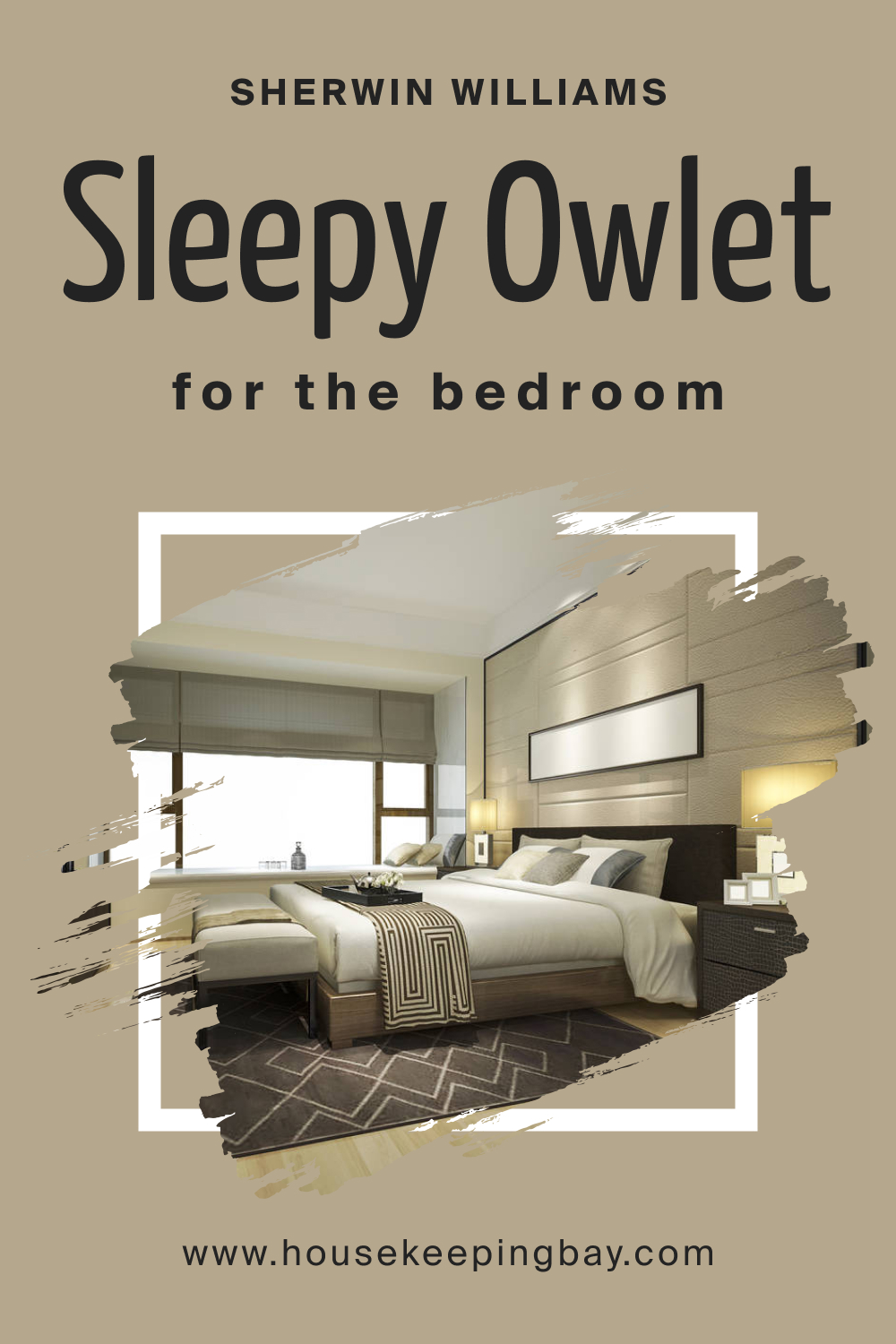 How to Use SW 9513 Sleepy Owlet in the Bathroom?
In bathrooms, Sleepy Owlet promotes relaxation and tranquility. Paired with white or marble fixtures, it imparts a spa-like feel. Use brushed nickel or matte black hardware to complement its cool undertones. Wooden accents or green plants will enhance its organic appeal, making every bath a refreshing retreat.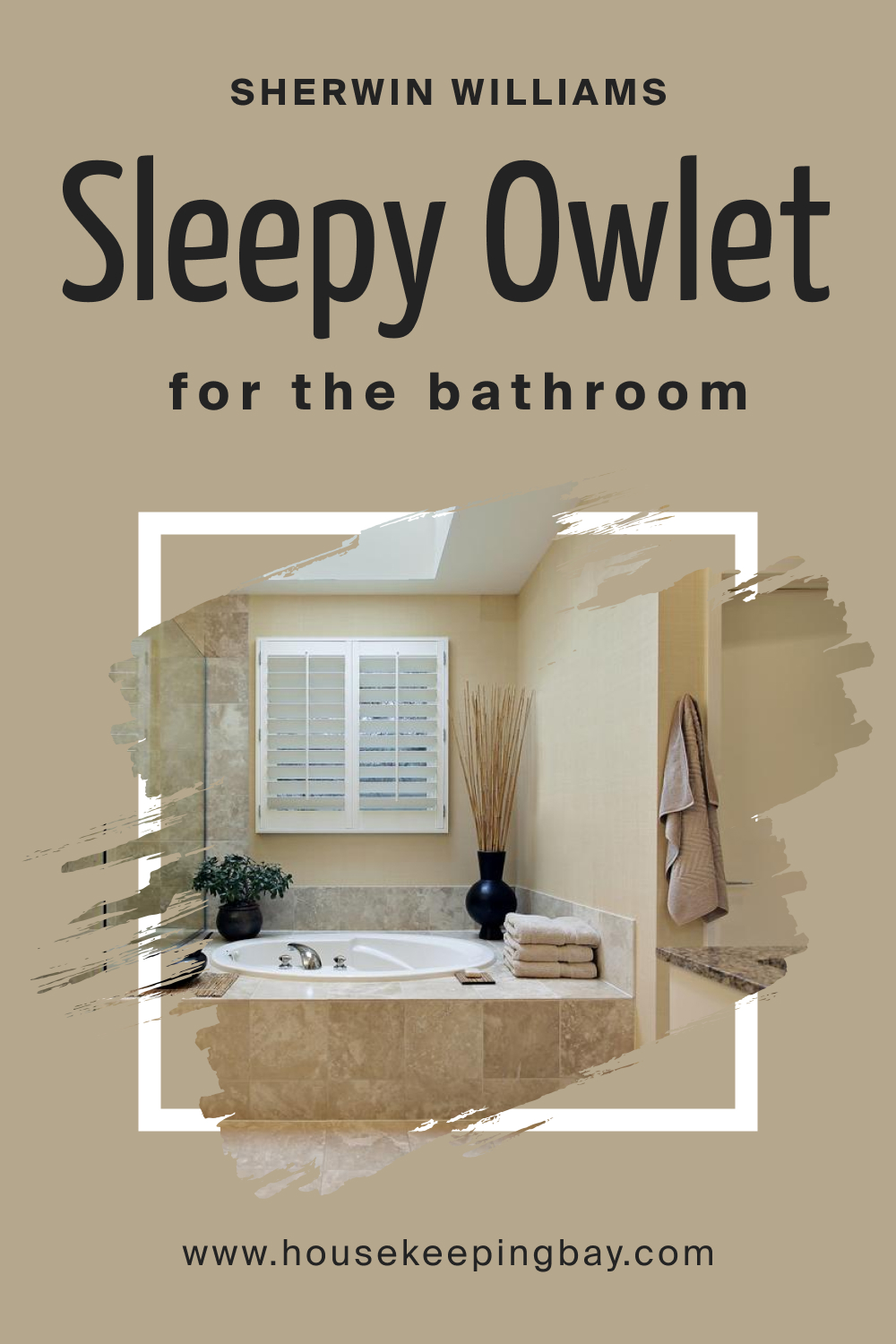 How to Use SW 9513 Sleepy Owlet in the Living Room?
For living rooms, Sleepy Owlet acts as a canvas, allowing decor elements to shine. Whether you're leaning towards a modern sofa or a rustic coffee table, this shade accommodates diverse tastes. Blend with earthy tones, or introduce pops of color through art and cushions. Its versatile nature molds to your design narrative.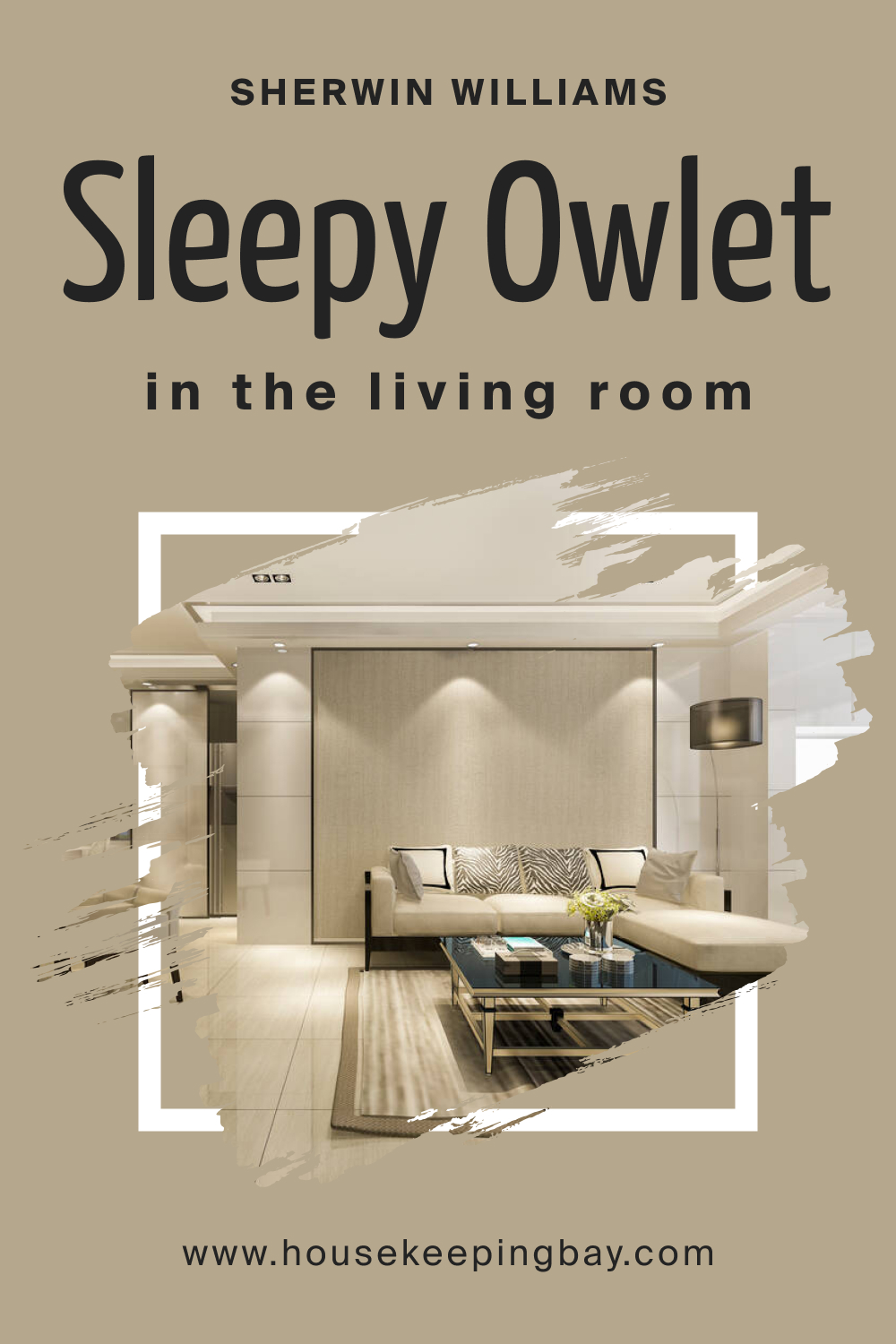 How to Use SW 9513 Sleepy Owlet for an Exterior?
Exterior-wise, Sleepy Owlet adds sophistication to your home's facade. It looks exquisite on clapboard siding or stucco, complemented by white trims and dark-colored front doors. This shade adapts beautifully across architectural styles and landscapes, ensuring timeless curb appeal.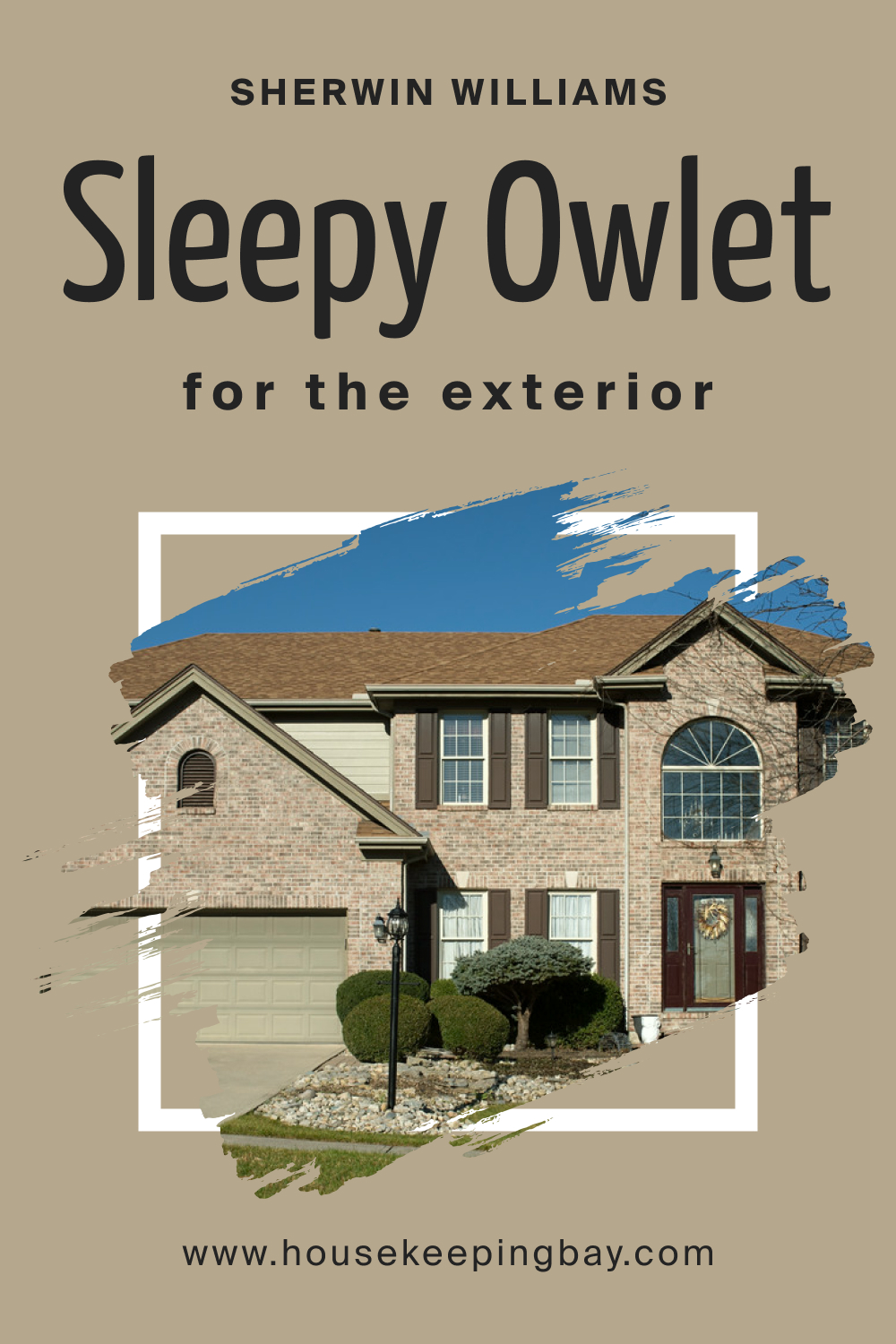 How to Use SW 9513 Sleepy Owlet in the Kitchen?
Kitchens drenched in Sleepy Owlet exude warmth and sophistication. Use it on walls to create a calm backdrop against which stainless steel appliances or wooden countertops can stand out. It seamlessly fits a variety of kitchen aesthetics, from modern to country style.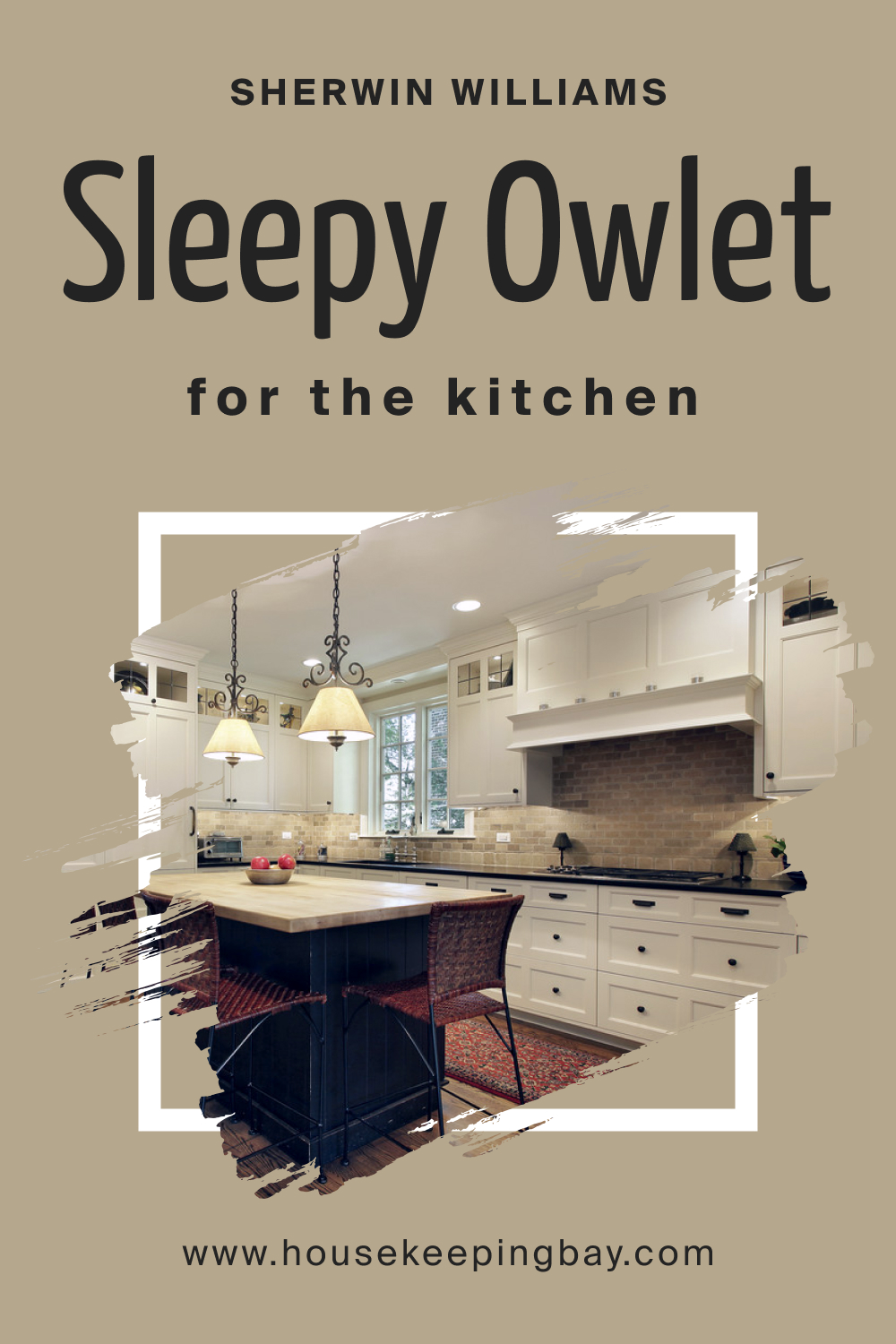 How to Use SW 9513 Sleepy Owlet for the Kitchen Cabinets?
For a touch of elegance, coat your kitchen cabinets in Sleepy Owlet. It beautifully contrasts with marble or granite countertops and pairs well with brass or chrome hardware. The cabinets become the centerpiece, adding depth without overwhelming the space. It's a timeless choice for both large and small kitchens.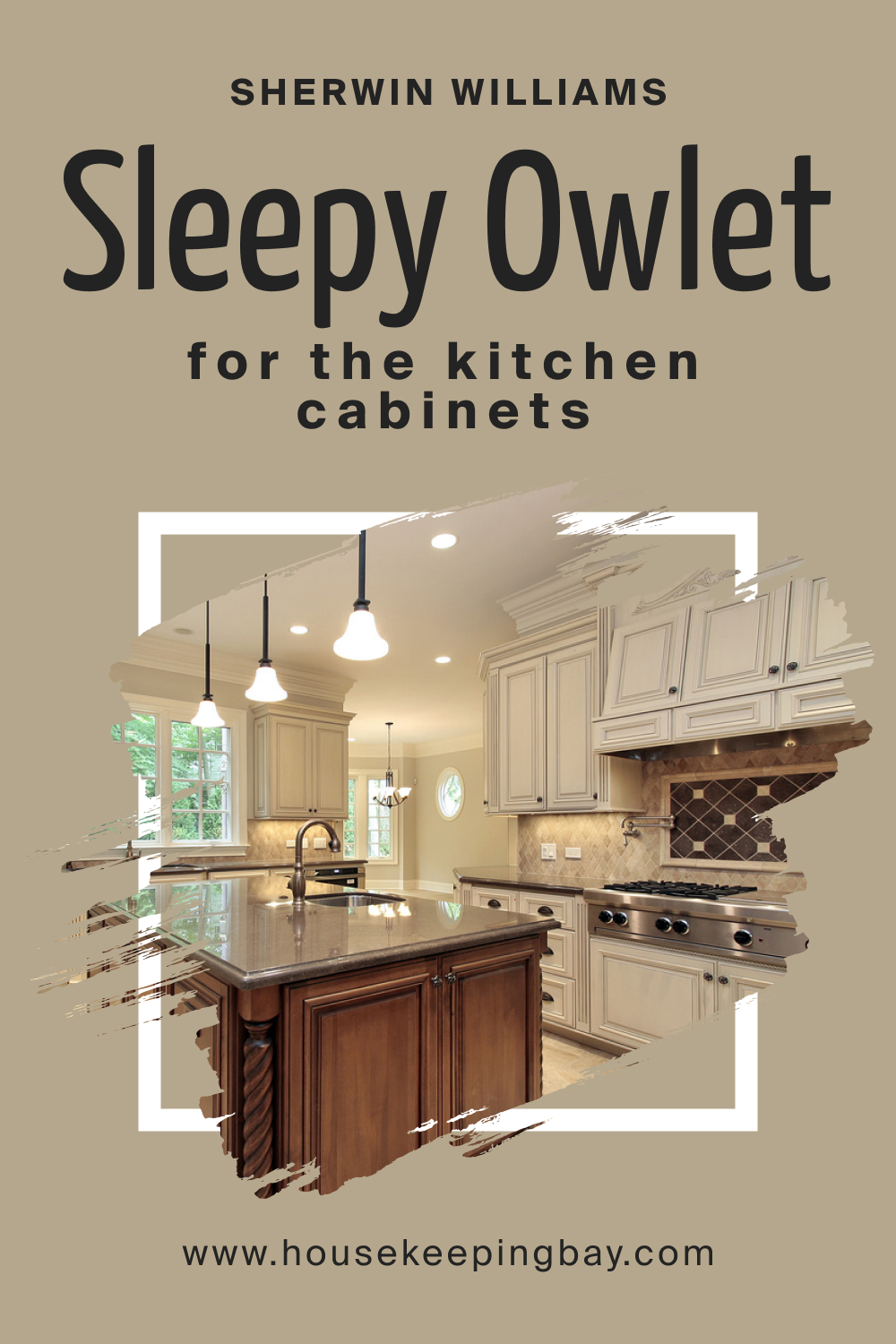 Comparing SW 9513 Sleepy Owlet With Other Colors
Comparing colors is crucial in interior design, primarily because the human eye perceives colors differently based on their surroundings. Different colors bring varied energies, moods, and visual appeal to a space. When we juxtapose colors, we can gauge how they harmonize or contrast, helping homeowners and designers make informed decisions.
Especially with nuanced shades like SW 9513 Sleepy Owlet, comparisons offer a clearer understanding of its adaptability and distinctness.
SW 9513 Sleepy Owlet vs. SW 9503 Cheviot
While SW Sleepy Owlet emanates a dusky green-gray ambiance, Cheviot leans more towards a calming blue-gray. In spaces where Owlet might feel organic and grounding, Cheviot brings an airiness reminiscent of coastal mornings, offering a cooler contrast.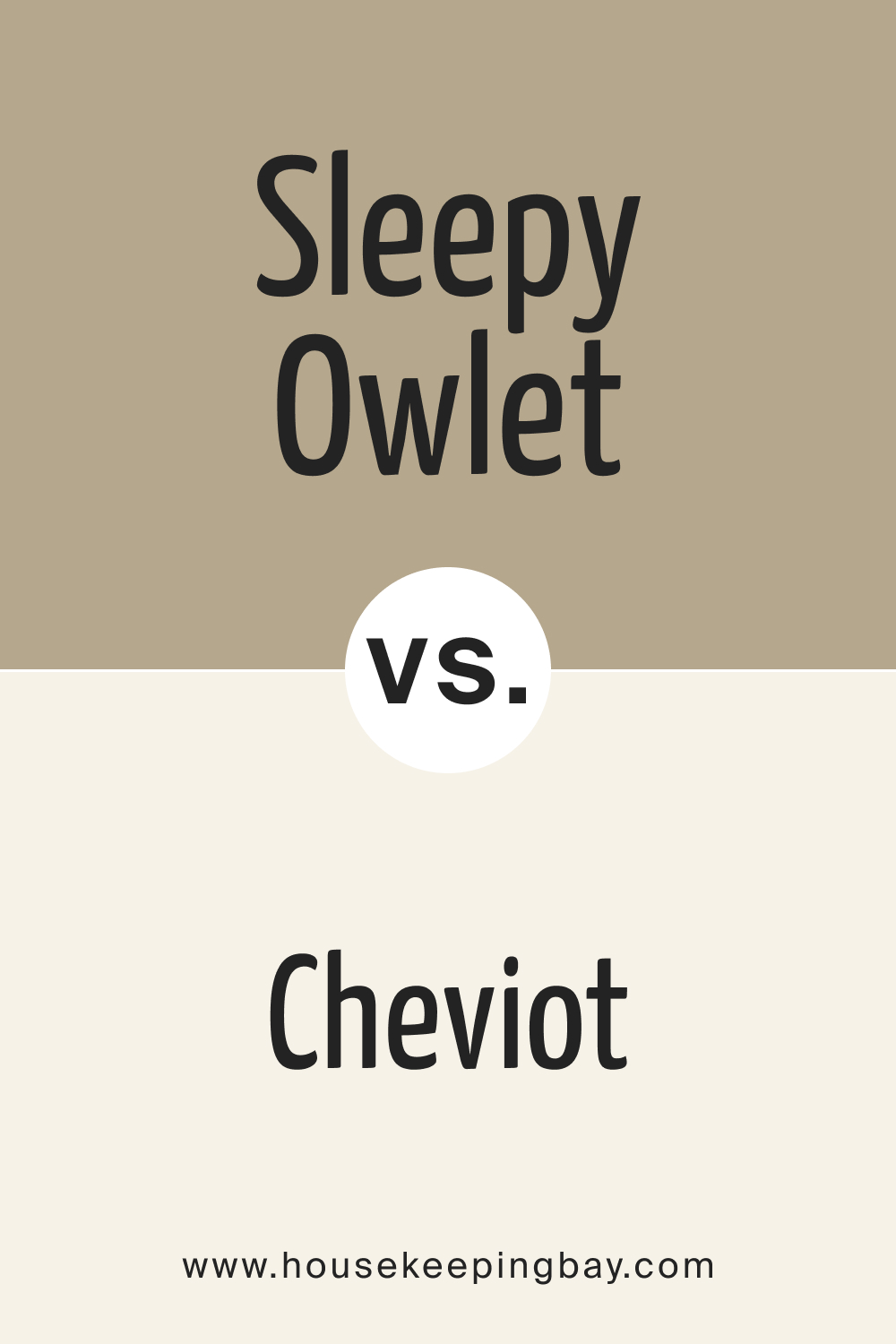 SW 9513 Sleepy Owlet vs. SW 9512 Threaded Loom
SW Threaded Loom, in comparison, is lighter and carries more beige undertones. While Sleepy Owlet evokes feelings of tranquil forests, Threaded Loom feels like sunlit linen, making spaces feel brighter and more spacious.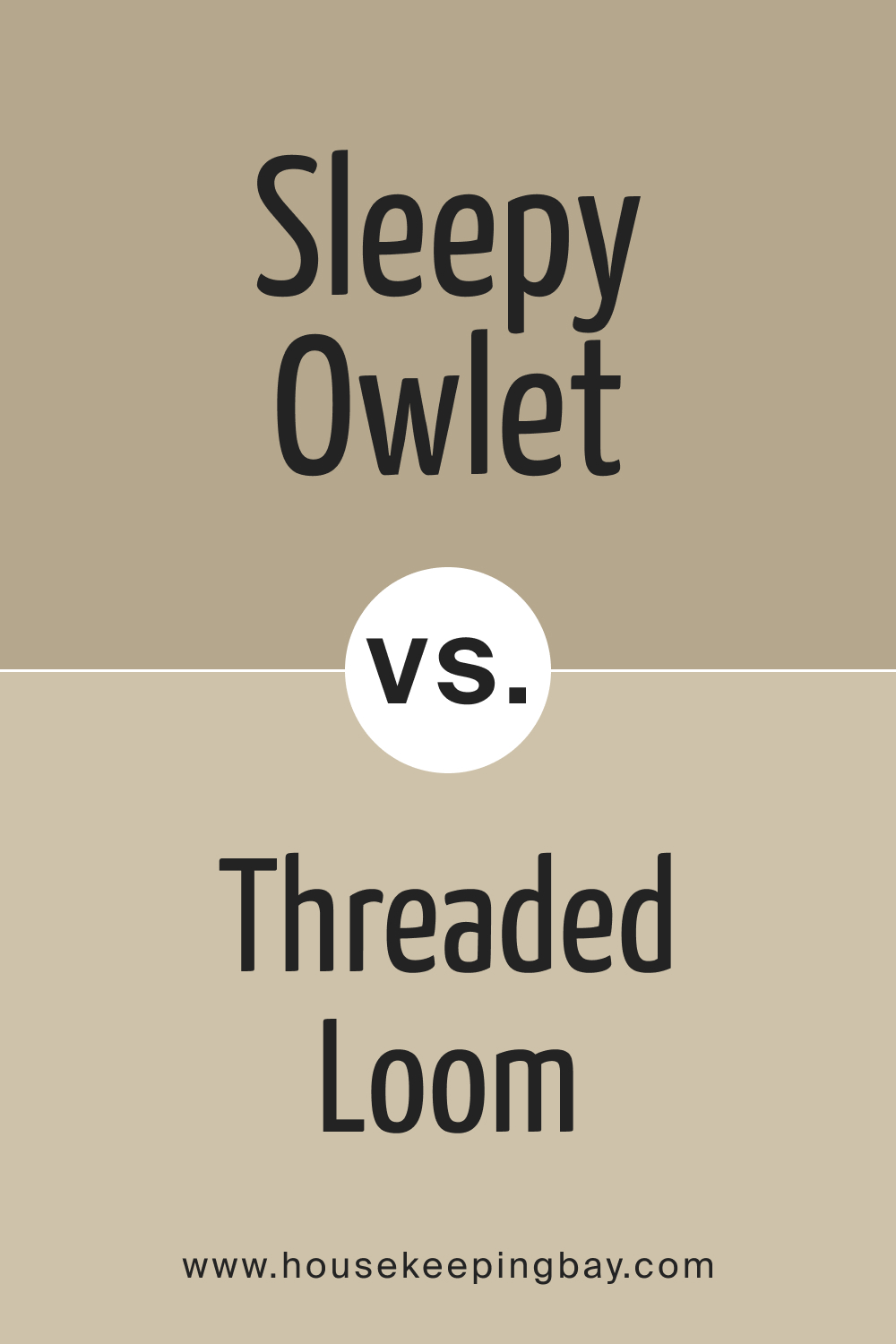 SW 9513 Sleepy Owlet vs. SW 9511 Warm Oats
SW Warm Oats, as the name suggests, has warmer undertones, leaning towards a comforting beige. Against Sleepy Owlet's cooler profile, Warm Oats feels more like a cozy blanket, infusing rooms with a sun-kissed glow.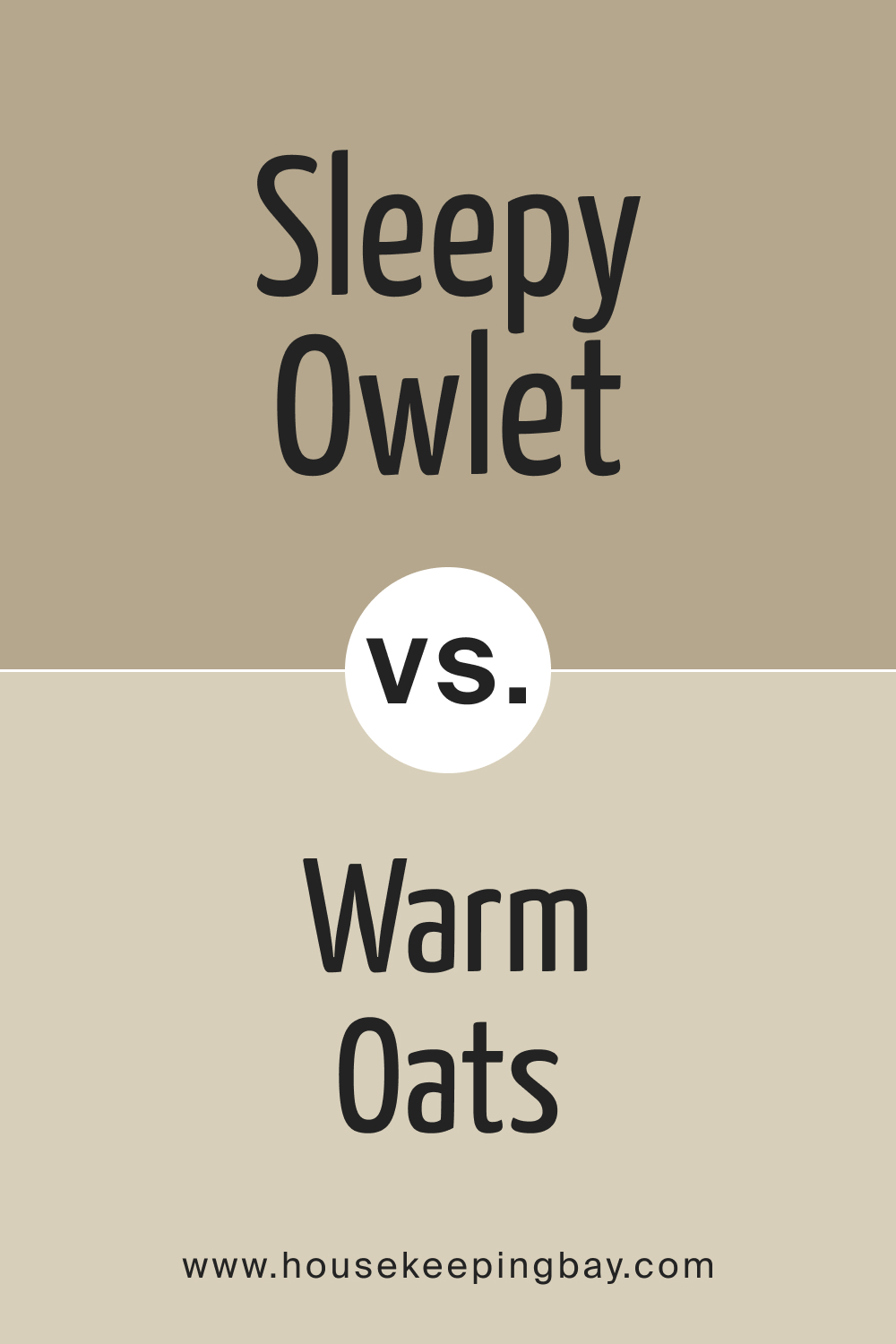 SW 9513 Sleepy Owlet vs. SW 9606 Slumber Sloth
SW Slumber Sloth is a more muted and neutral color with a distinct earthiness. While Sleepy Owlet has subtle hints of green, Slumber Sloth remains steadfast in its beige-gray spectrum, offering a down-to-earth feel.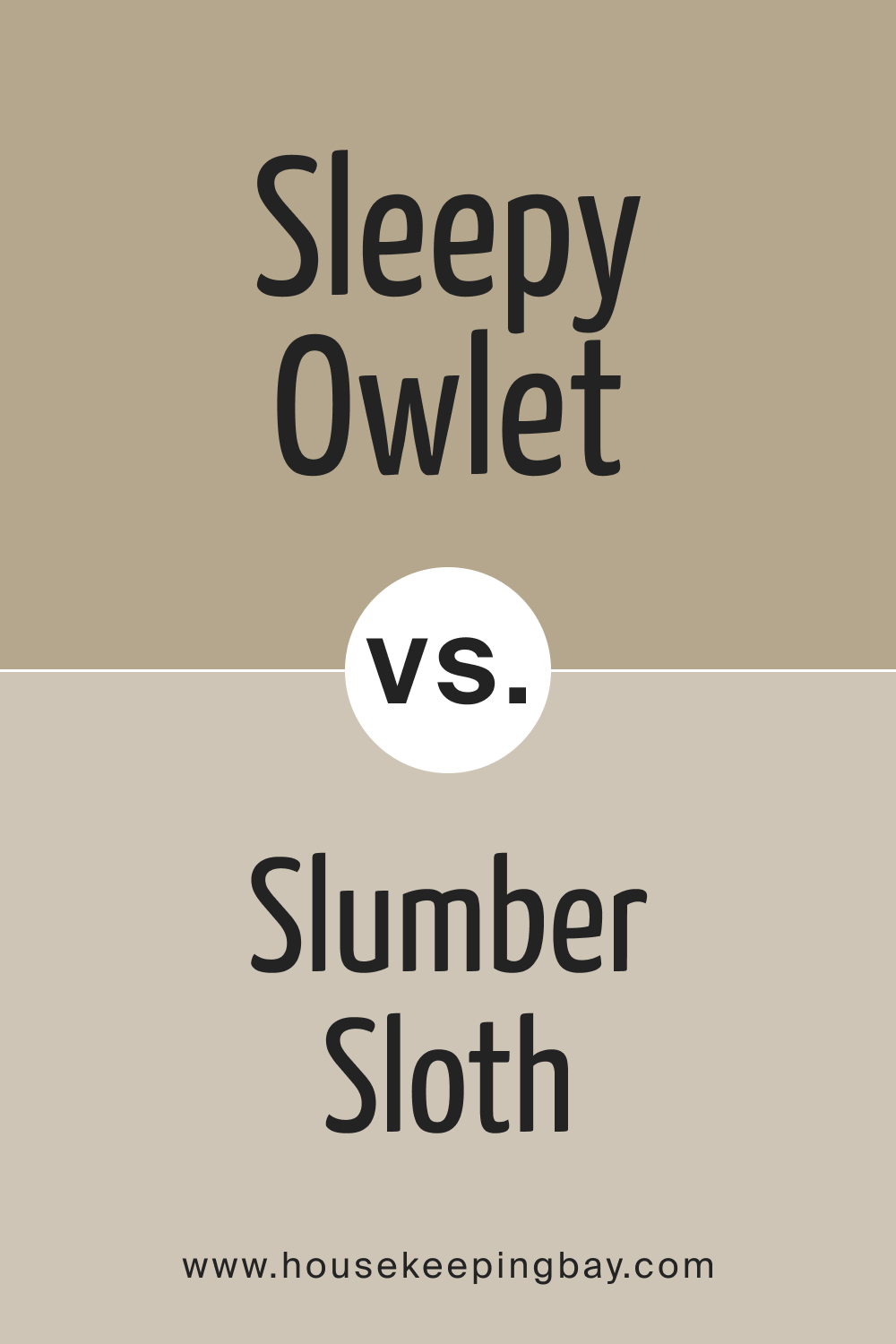 SW 9513 Sleepy Owlet vs. SW 7042 Shoji White
SW Shoji White is a soft, off-white hue with a touch of warmth. Next to Sleepy Owlet, it appears brighter, making it an ideal complementary shade for trims or ceilings, highlighting Owlet's depth and character.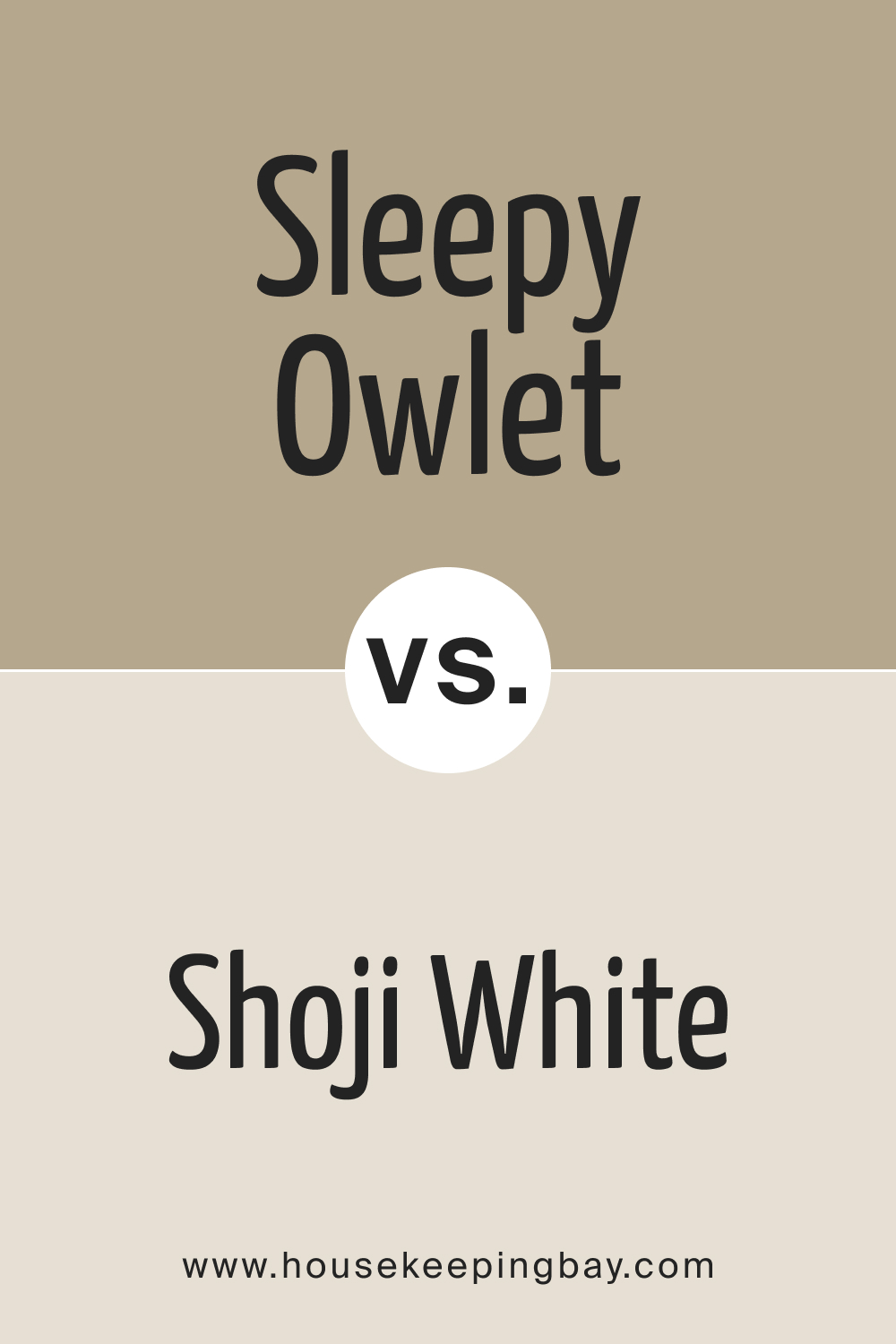 SW 9513 Sleepy Owlet vs. SW 9618 Woodbridge
SW Woodbridge has a rich, taupe-like feel, adding sophistication to the interiors. When compared, Sleepy Owlet feels lighter and more versatile, while Woodbridge adds drama and depth, making spaces feel enveloped.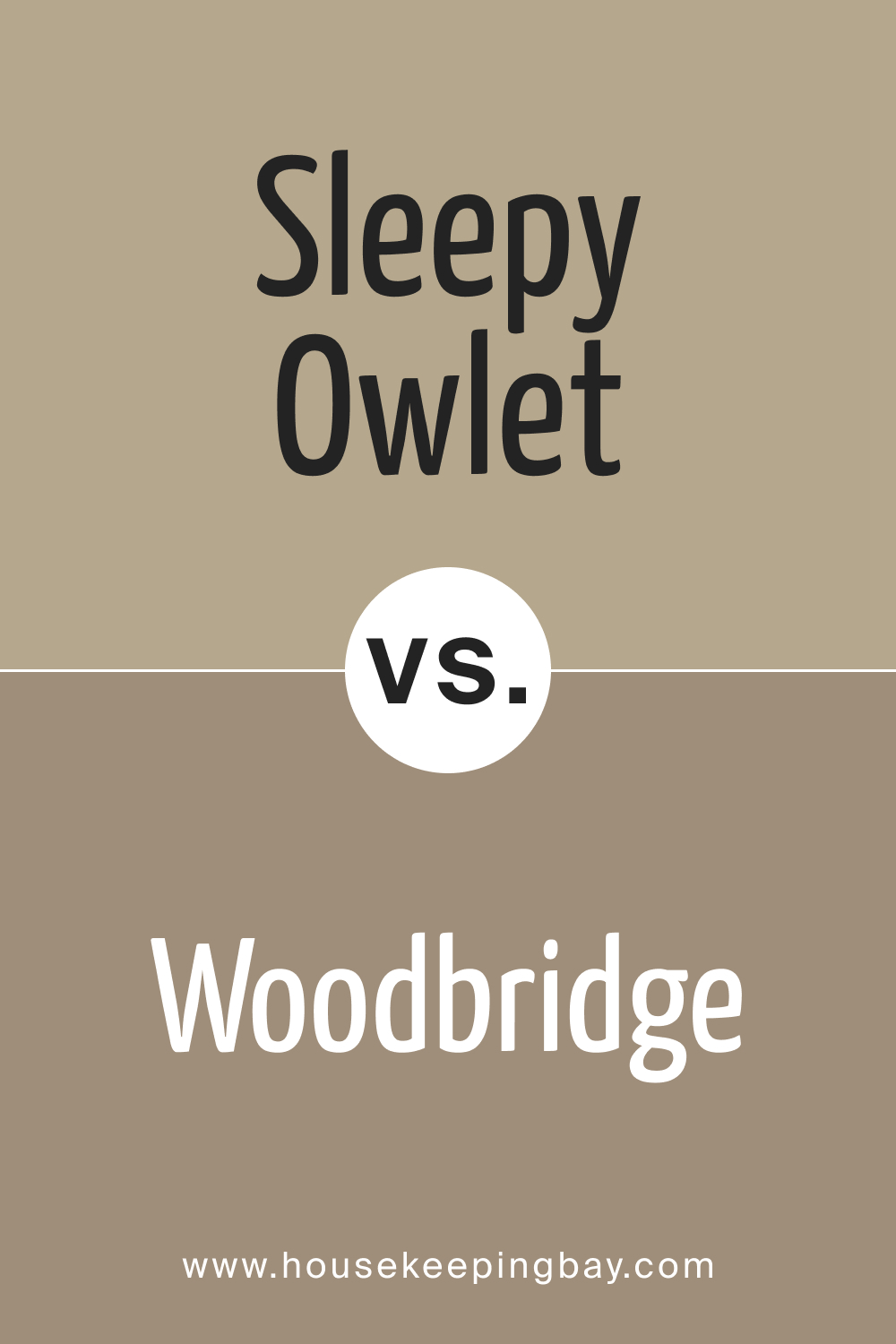 Conclusion
Color comparisons, like those with SW 9513 Sleepy Owlet, are more than just side-by-side swatches. They're about understanding the soul of a color, its relationships, and its moods.
As seen, Sleepy Owlet, with its distinct yet adaptable character, beautifully interacts with a range of hues, solidifying its place in the versatile palette of interior design.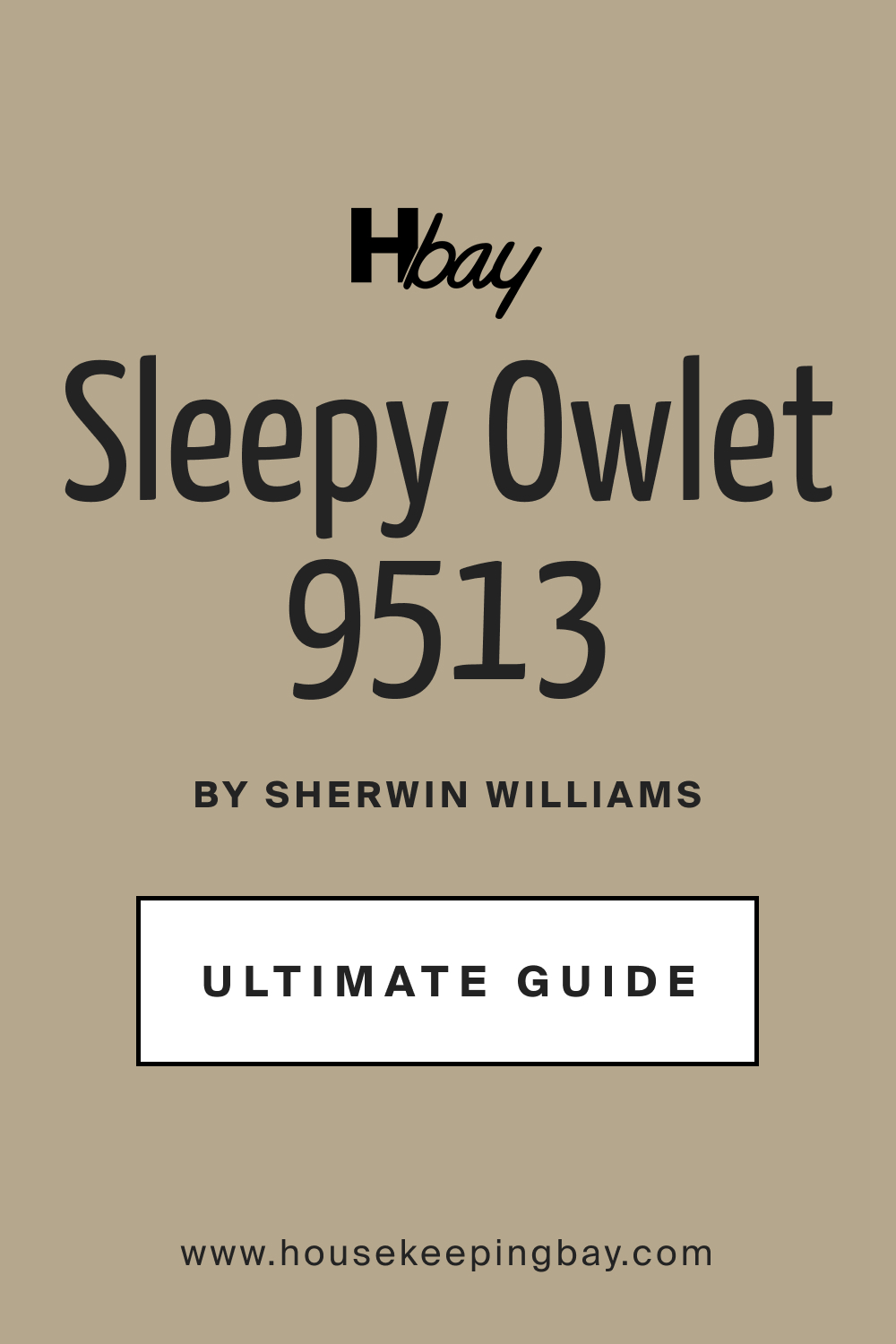 Frequently Asked Questions
⭐What kind of undertones does SW 9513 Sleepy Owlet have?
Sleepy Owlet exhibits subtle green-gray undertones, lending the color a tranquil and organic aura.
⭐In what kind of rooms does Sleepy Owlet work best?
Sleepy Owlet's versatility makes it ideal for bedrooms, living rooms, bathrooms, and kitchens, offering a serene ambiance to various spaces.
⭐How does lighting affect the appearance of Sleepy Owlet?
Like most paint colors, Sleepy Owlet can appear different under varied lighting. In natural light, its green undertones may become more prominent, while artificial lighting can highlight its grayish notes.
⭐Which trim colors pair well with Sleepy Owlet?
Sleepy Owlet pairs beautifully with shades of white, especially off-whites or muted whites, for a harmonious contrast.
⭐Is SW 9513 Sleepy Owlet a warm or cool color?
Sleepy Owlet leans towards the cool spectrum due to its green-gray undertones, although its muted nature allows it to blend comfortably with both warm and cool decor elements.