Sherwin-Williams paints are known for their vast array of hues and shades, and among them is the versatile SW 9512 Threaded Loom.
This article dives deep into understanding this color, its undertones, and how it plays with light and other shades.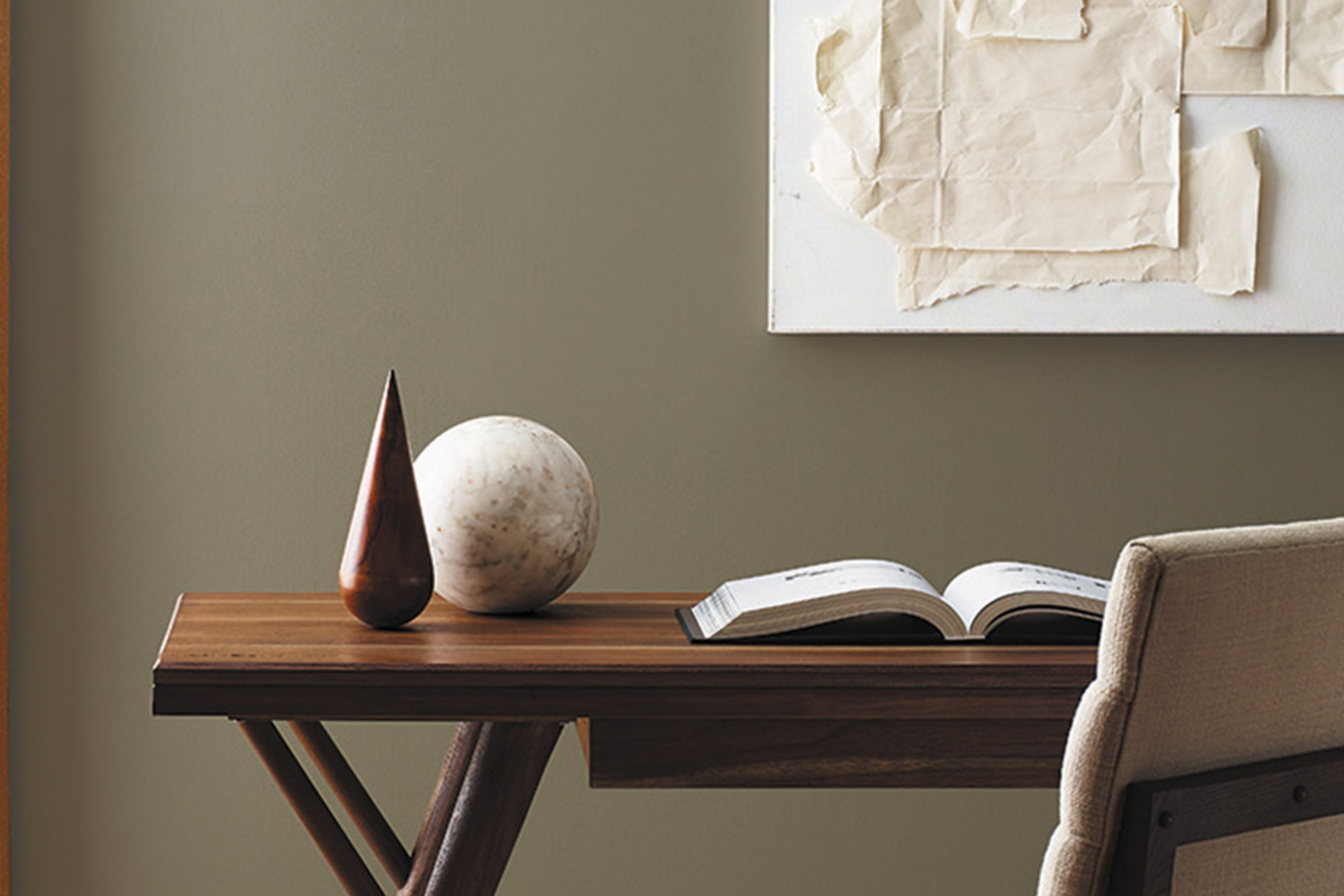 What Color Is SW 9512 Threaded Loom?
SW 9512 Threaded Loom exudes a calming sense of elegance, embodying a muted shade of beige with a hint of grey. This color exhibits an understated beauty and is reminiscent of a cozy woolen blanket. Such a hue provides a neutral base for a variety of interior styles, particularly minimalistic, contemporary, and rustic.
Its subdued tones complement natural materials like wood, stone, and various textiles, creating a harmonious and cohesive design theme.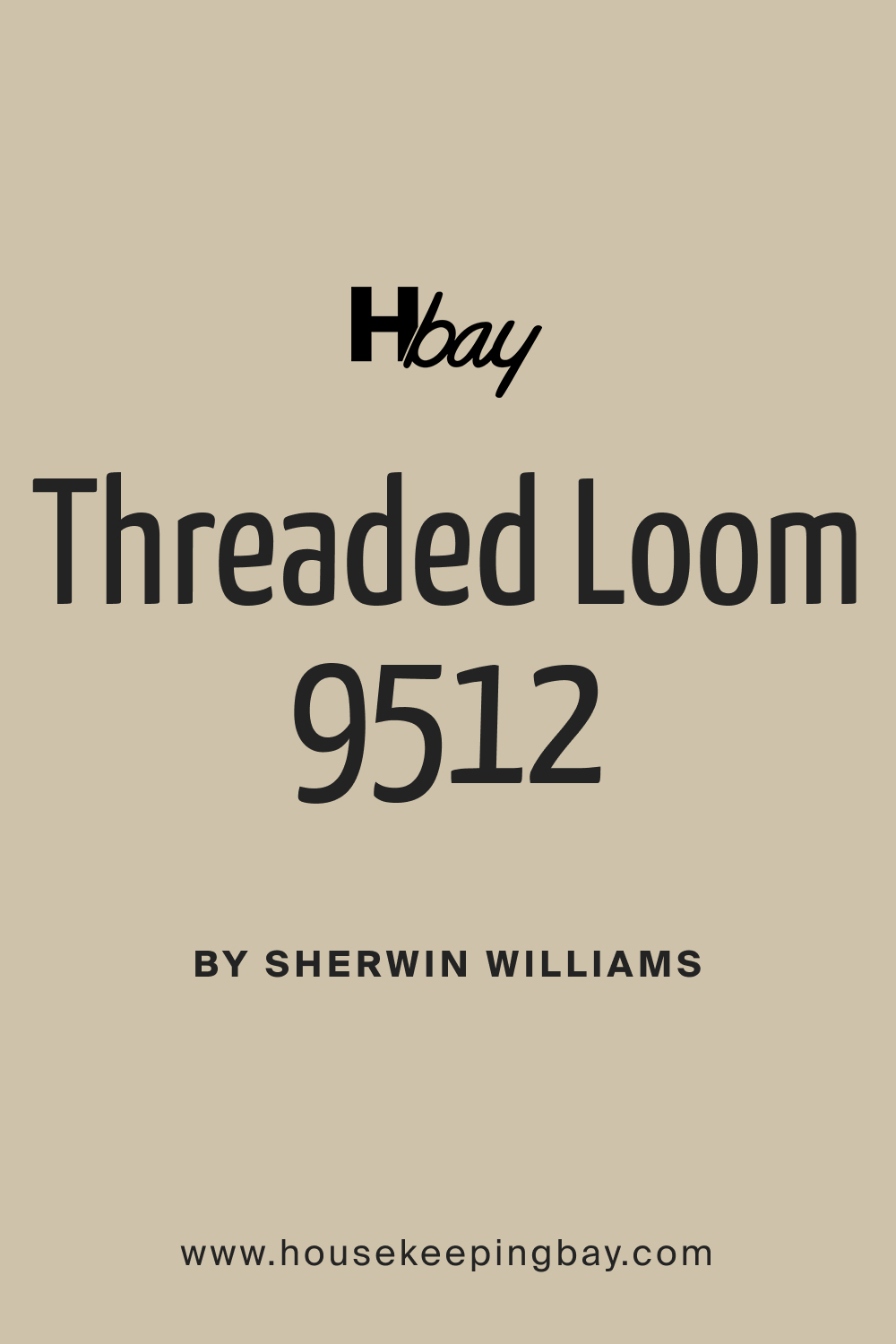 Is It a Warm Or Cool Color?
SW 9512 Threaded Loom leans towards the warmer side of the color spectrum, but its subtle grey hints give it a cooler undertone, making it a balanced neutral. Its warm characteristics evoke a sense of comfort and intimacy, making it an excellent choice for living rooms, bedrooms, and even dining areas.
The color radiates a feeling of tranquility, making spaces feel more welcoming.
Undertones of SW 9512 Threaded Loom
All colors come with their undertones which can influence how we perceive them. The undertones in Threaded Loom comprise of soft grey and muted tan, offering it a balanced neutrality. On interior walls, these undertones might become more prominent, especially under different lighting conditions, creating depth and dimension in spaces.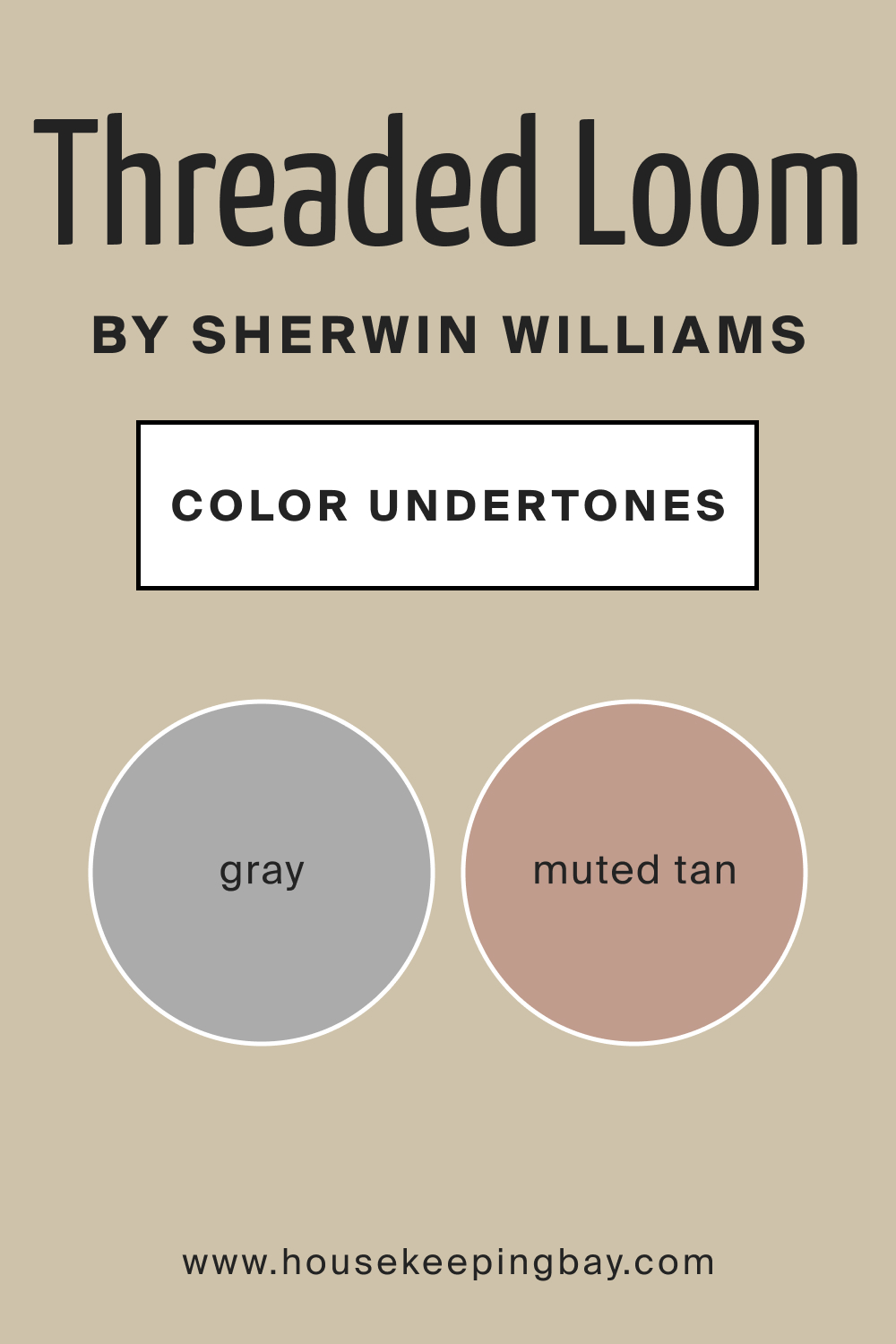 Coordinating Colors of SW 9512 Threaded Loom
Coordinating colors can be thought of as those hues that work in harmony with a primary color, enhancing its appeal. For SW 9512 Threaded Loom, shades of muted blues, soft greens, and deeper tans serve as its companions. Some examples include a soft oceanic blue that brings out the cool undertone of Threaded Loom, a subdued forest green that highlights its warmth, and a deep tan that accentuates its beige aspect. For example, you might want to try such colors as:
SW 6083 Sabel
SW 0032 Needlepoint Navy
SW 7672 Knitting Needles
SW 9513 Sleepy Owlet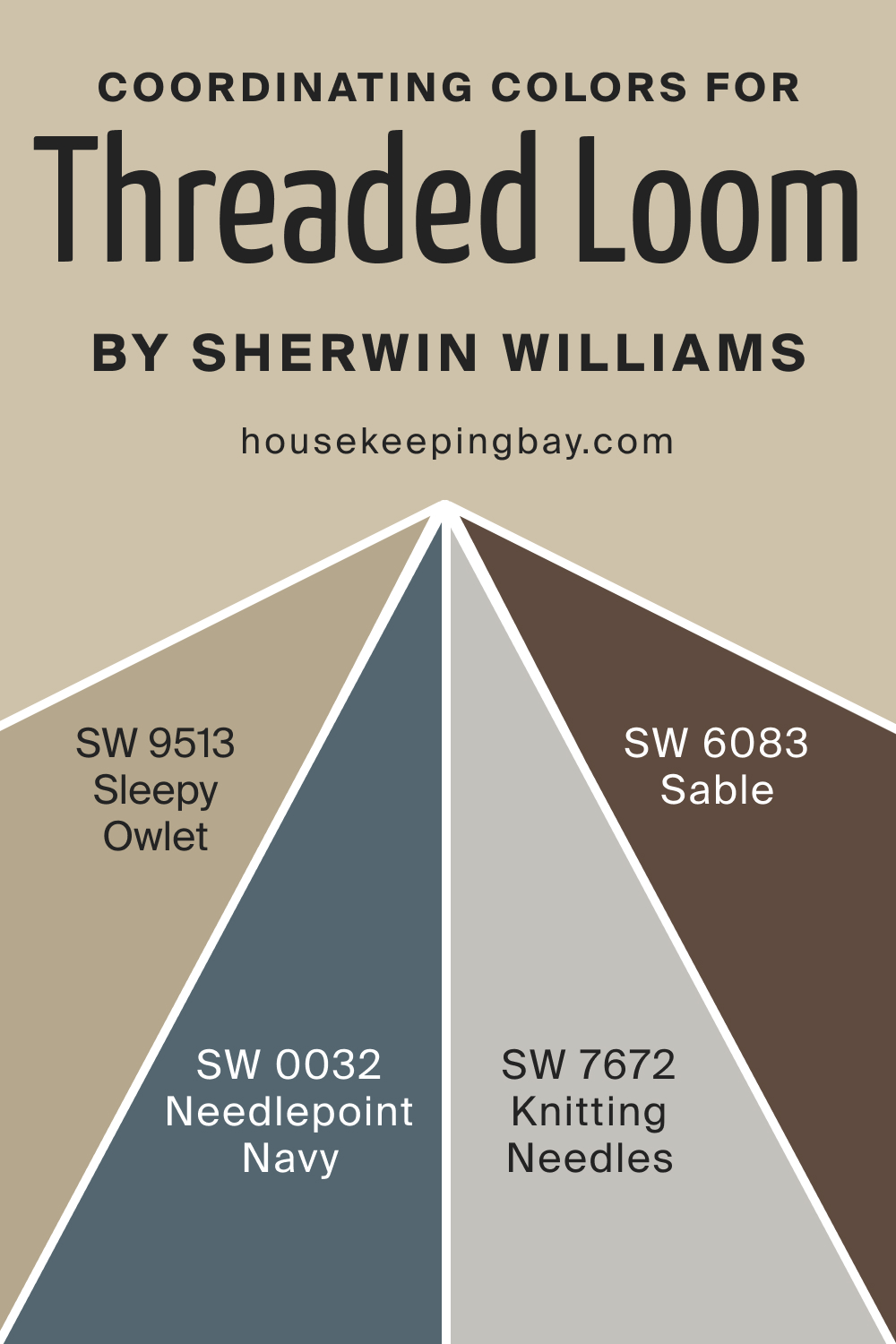 How Does Lighting Affect SW 9512 Threaded Loom?
Lighting plays a crucial role in how colors are perceived. Under artificial light, especially warm-toned bulbs, Threaded Loom may appear more beige, exuding warmth. Conversely, under cooler artificial light, its grey undertones may stand out. Natural sunlight, depending on its direction, can have varied effects.
In north-faced rooms, the color might look cooler and slightly muted. South-faced rooms, bathed in warm sunlight, can make Threaded Loom seem warmer and more vibrant.
East-facing rooms offer a soft, warm morning light making it appear beige, while west-facing rooms with evening sun might highlight its grey undertones.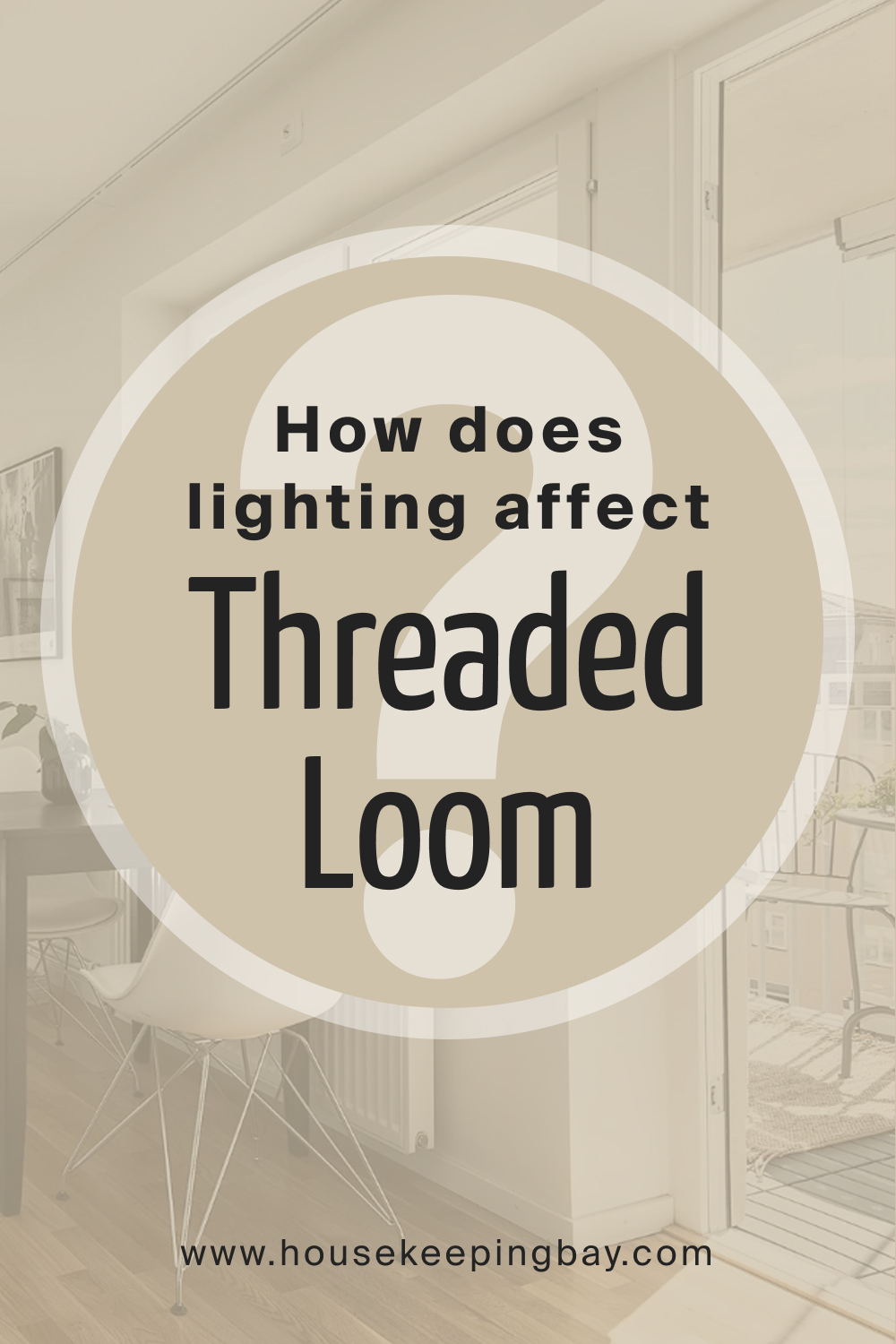 LRV of SW 9512 Threaded Loom
LRV, or Light Reflectance Value, represents the amount of light a color reflects. With an LRV of 54, Threaded Loom is in the mid-range, which means it can both absorb and reflect a fair amount of light.
This particular LRV value allows the color to remain consistent in varied lighting and makes it a versatile choice for multiple spaces without being too overpowering.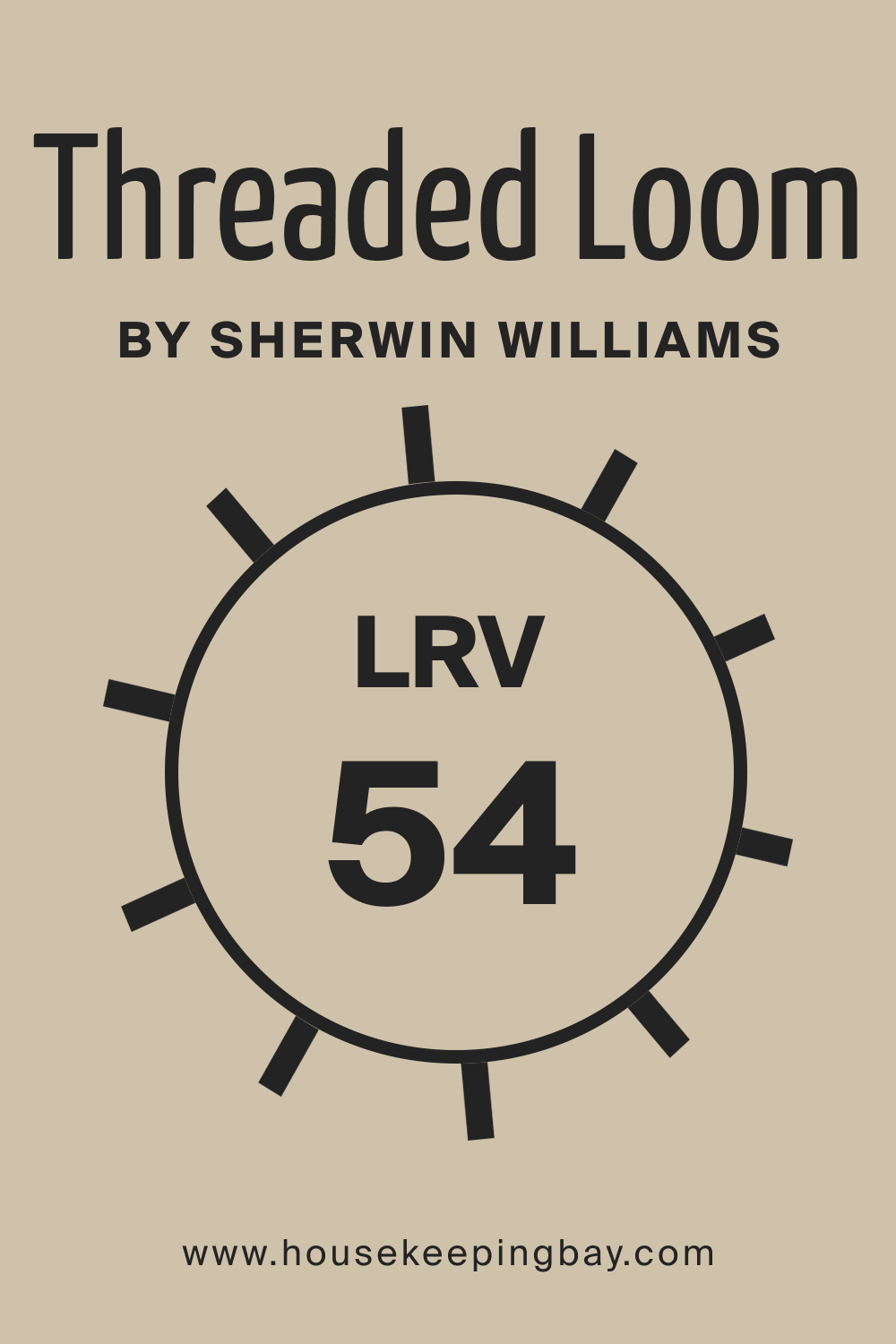 What is LRV? Read it Before You Choose Your Ideal Paint Color
Trim Colors of SW 9512 Threaded Loom
Trim colors serve as the frame of a room, accentuating its overall design. For SW 9512 Threaded Loom, shades of white by Sherwin-Williams, such as SW 7006 Pure White and SW 7008 Alabaster, can add a crisp edge, enhancing its subtle tones.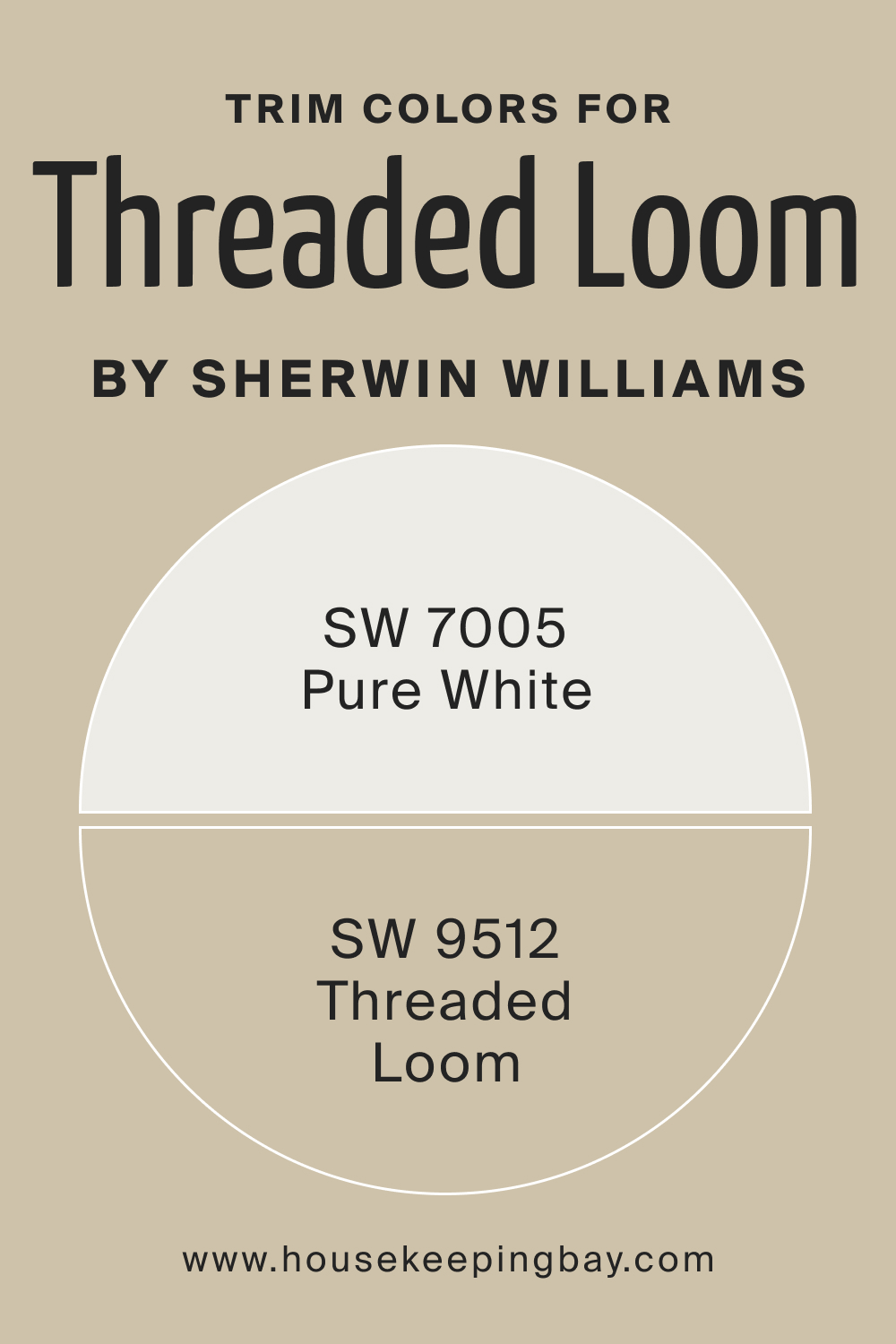 Colors Similar to SW 9512 Threaded Loom
Knowing similar colors can help in making informed design choices. Instead of SW 9512 Threaded Loom, consider the following alternative hues:
SW 7542 Naturel offers a creamy beige touch.
SW 7529 Sand Beach is reminiscent of a warm day by the shore.
SW 6149 Relaxed Khaki is a muted greenish-tan, all offering a neutral base with their unique twists.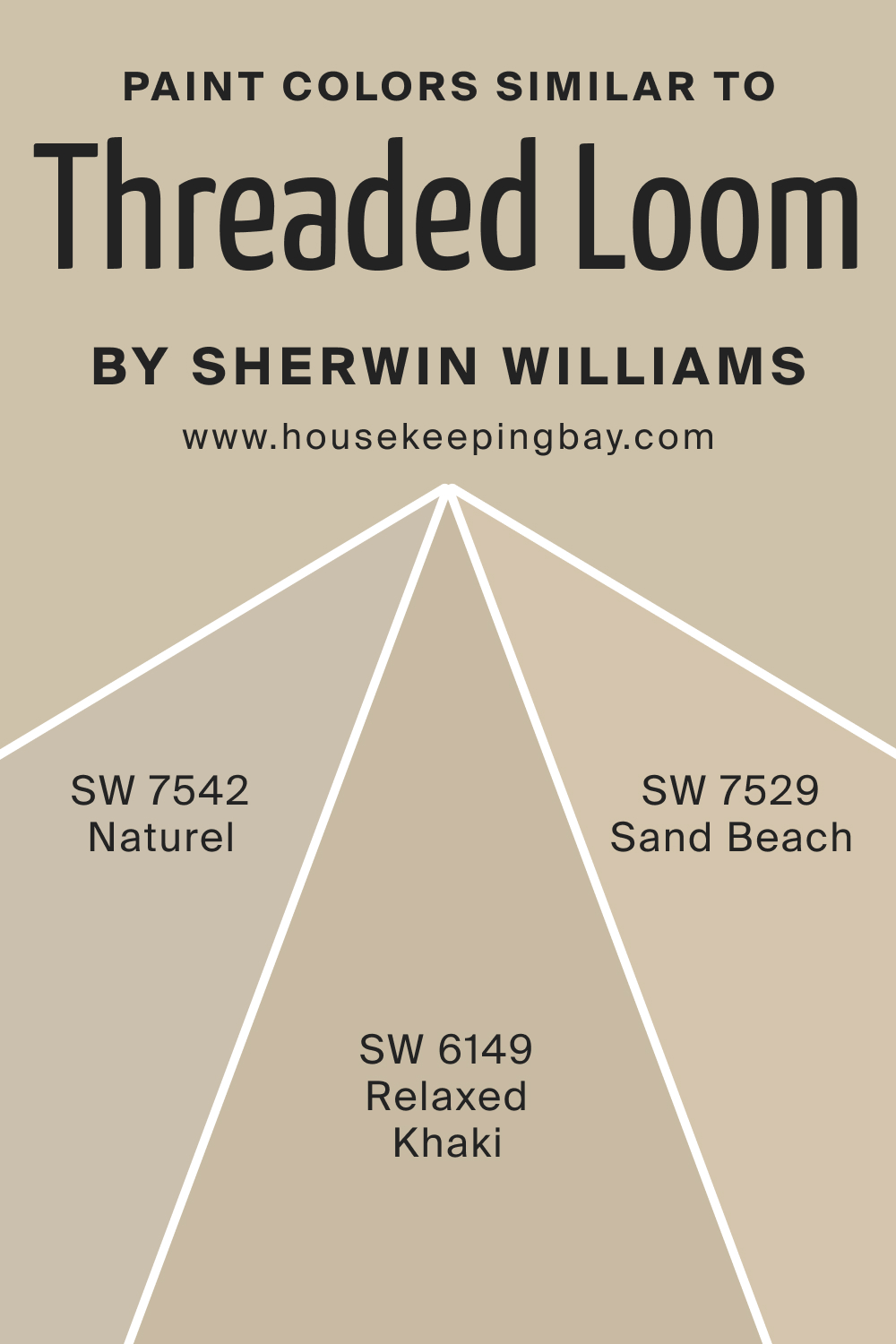 Colors That Go With SW 9512 Threaded Loom
Properly selected colors create a harmonious ambiance. To enhance the beauty of SW Threaded Loom, we recommend you opt for these colors:
SW 6395 Alchemy offers a muted gold touch,
SW 6535 Solitude is a peaceful blue
SW 9600 Armory is a sophisticated navy
SW 6117 Smoky Topaz gives an earthy feel.
Additionally, shades like SW 6052 Sand Dollar, SW 7035 Aesthetic White, and SW 7020 Black Fox can complement and contrast with Threaded Loom, offering a well-rounded palette for interior design.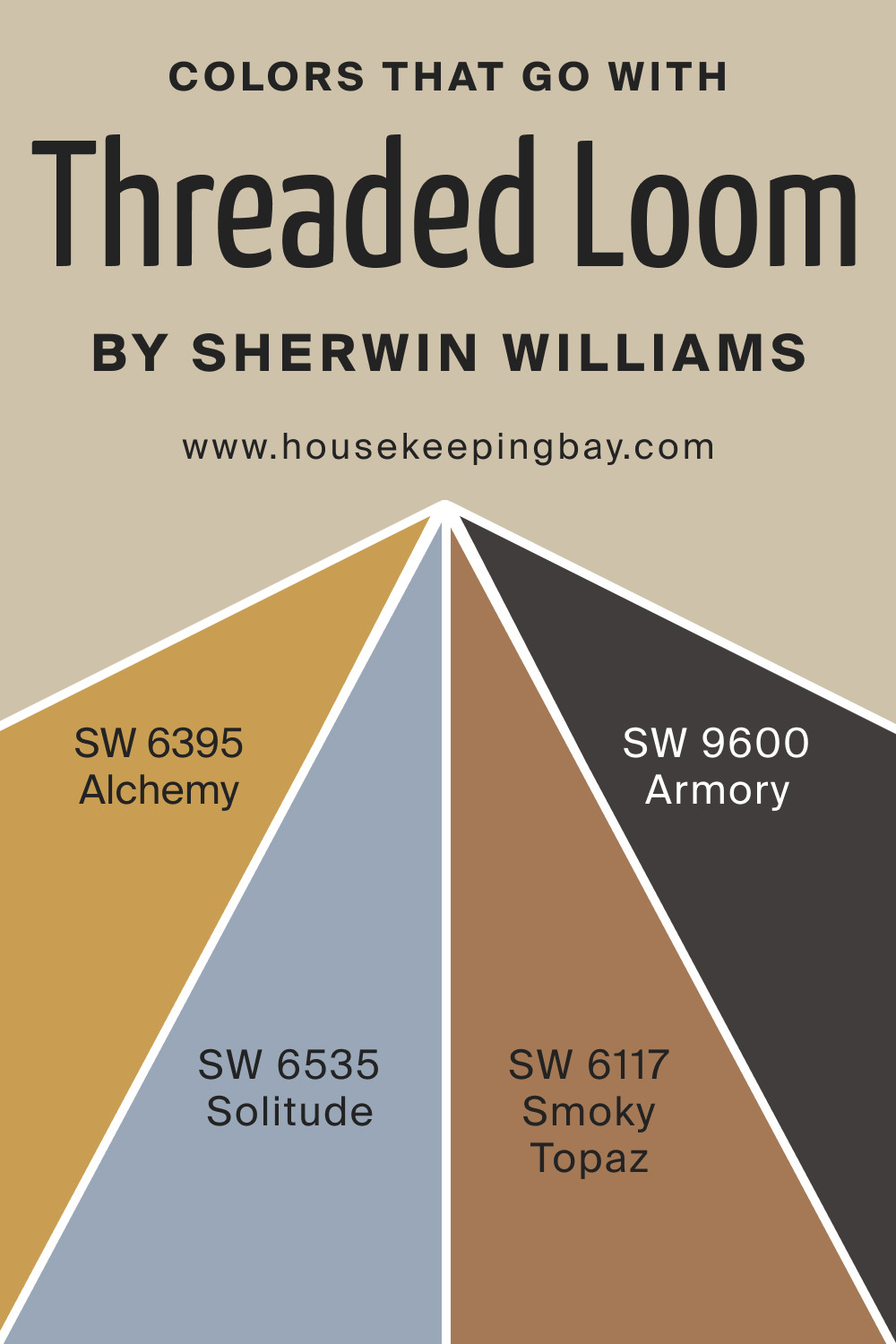 How to Use SW 9512 Threaded Loom In Your Home?
SW 9512 Threaded Loom offers a versatile hue suitable for various rooms, from bedrooms to living areas, bathrooms, and even exteriors. Its neutral undertones make it an apt choice for modern, contemporary, coastal, and even rustic design styles.
Its flexibility allows homeowners to use it as a base, introducing splashes of bolder colors or textures to build upon its foundational warmth.
How to Use SW 9512 Threaded Loom in the Bedroom?
In bedrooms, Threaded Loom fosters tranquility and restfulness. Paired with soft linens, muted blues or greens, and wooden furniture, it can create a serene sanctuary that induces restful sleep and relaxation. It's ideal for walls or accent features, establishing a comforting ambiance that is quintessential for bedrooms.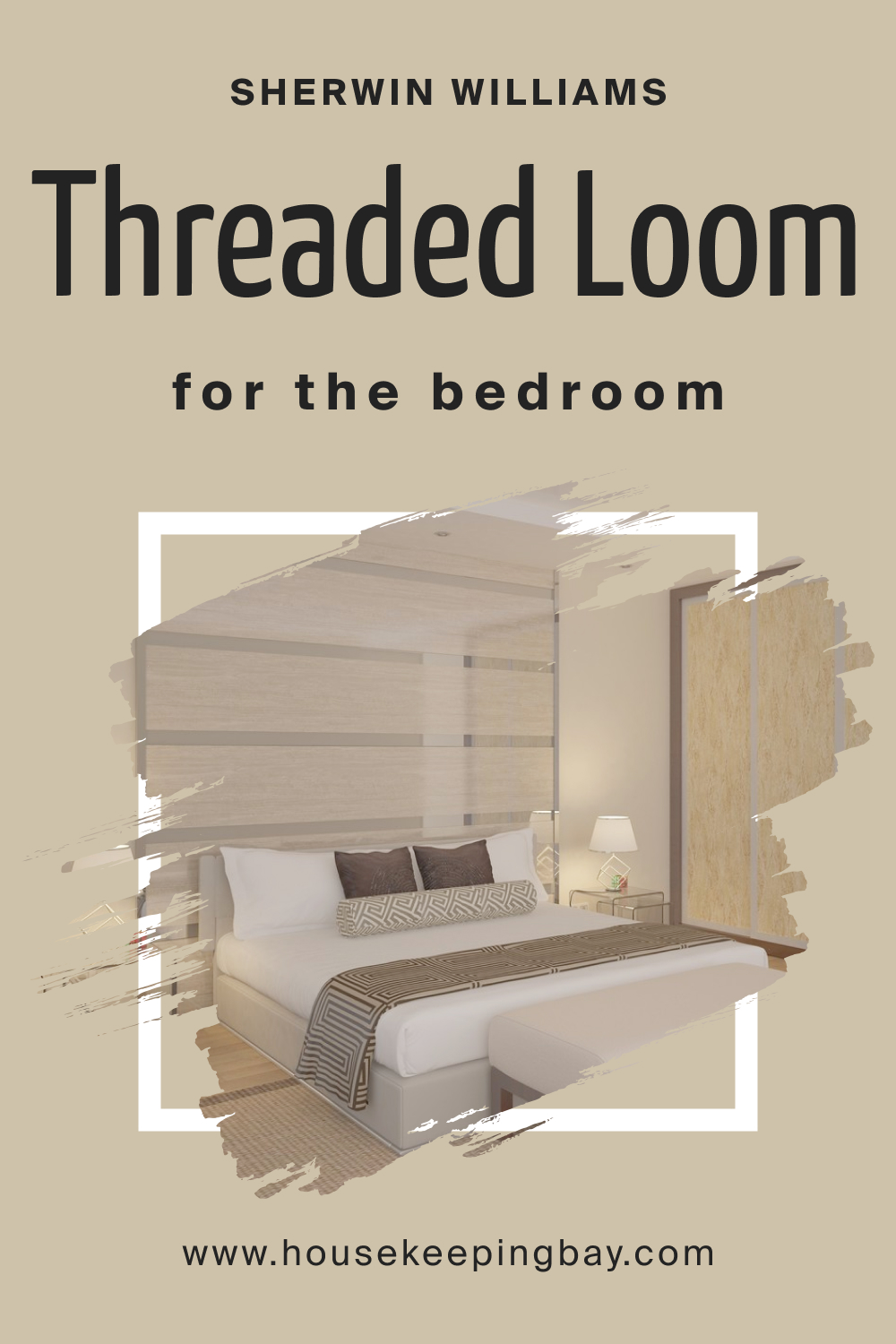 How to Use SW 9512 Threaded Loom in the Bathroom?
For bathrooms, Threaded Loom can set a spa-like ambiance. Paired with white tiles, natural stone, and brushed metal fixtures, it can evoke a sense of cleanliness and rejuvenation. It's an excellent backdrop for plants, creating a fresh, vibrant setting optimal for self-pampering sessions.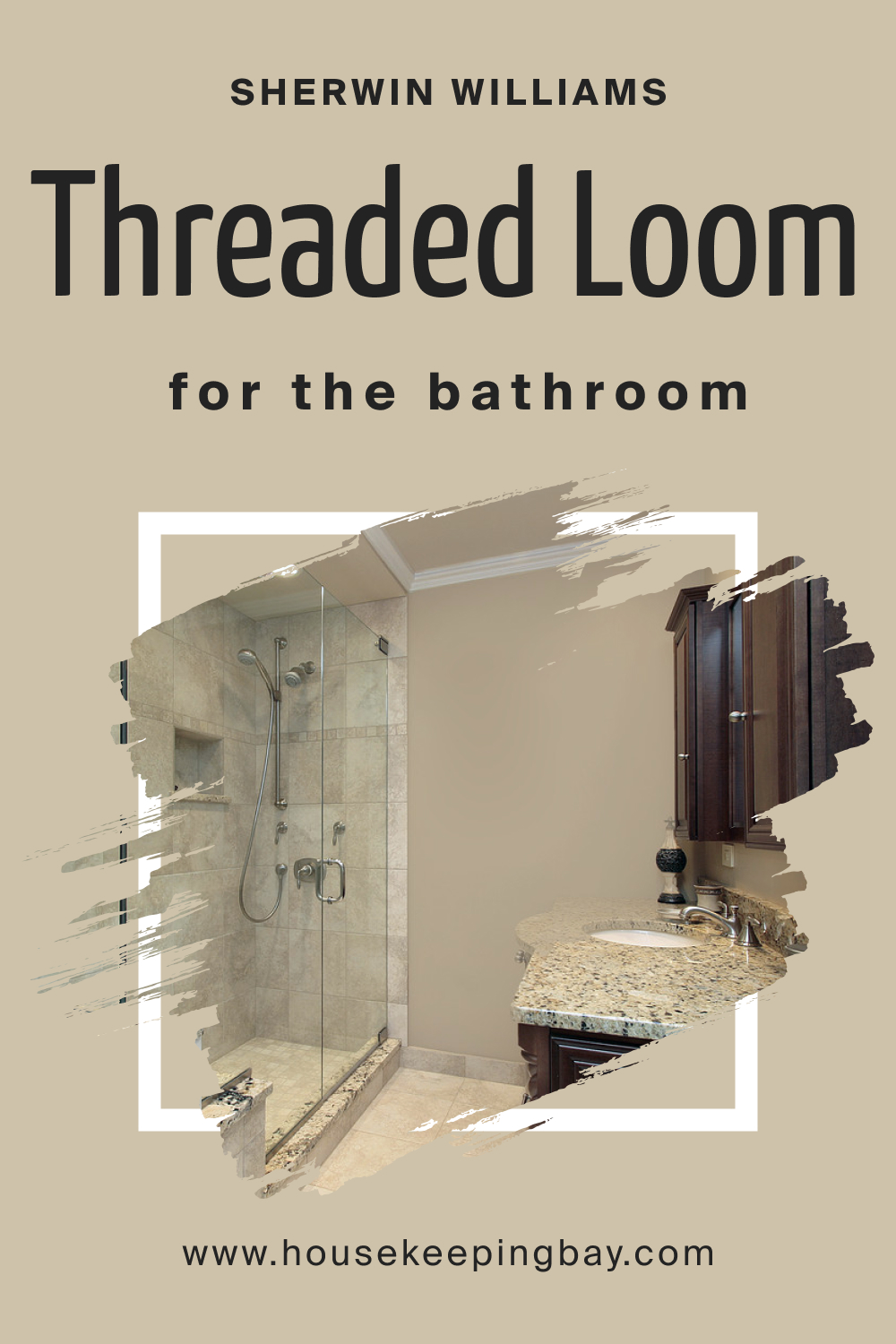 How to Use SW 9512 Threaded Loom in the Living Room?
In the living room, Threaded Loom acts as a neutral canvas that can be adorned with colorful artwork, statement furniture, or eclectic décor. This shade offers warmth, making spaces feel inviting, and is great with both modern minimalist furniture and vintage pieces, embodying a cozy yet refined vibe.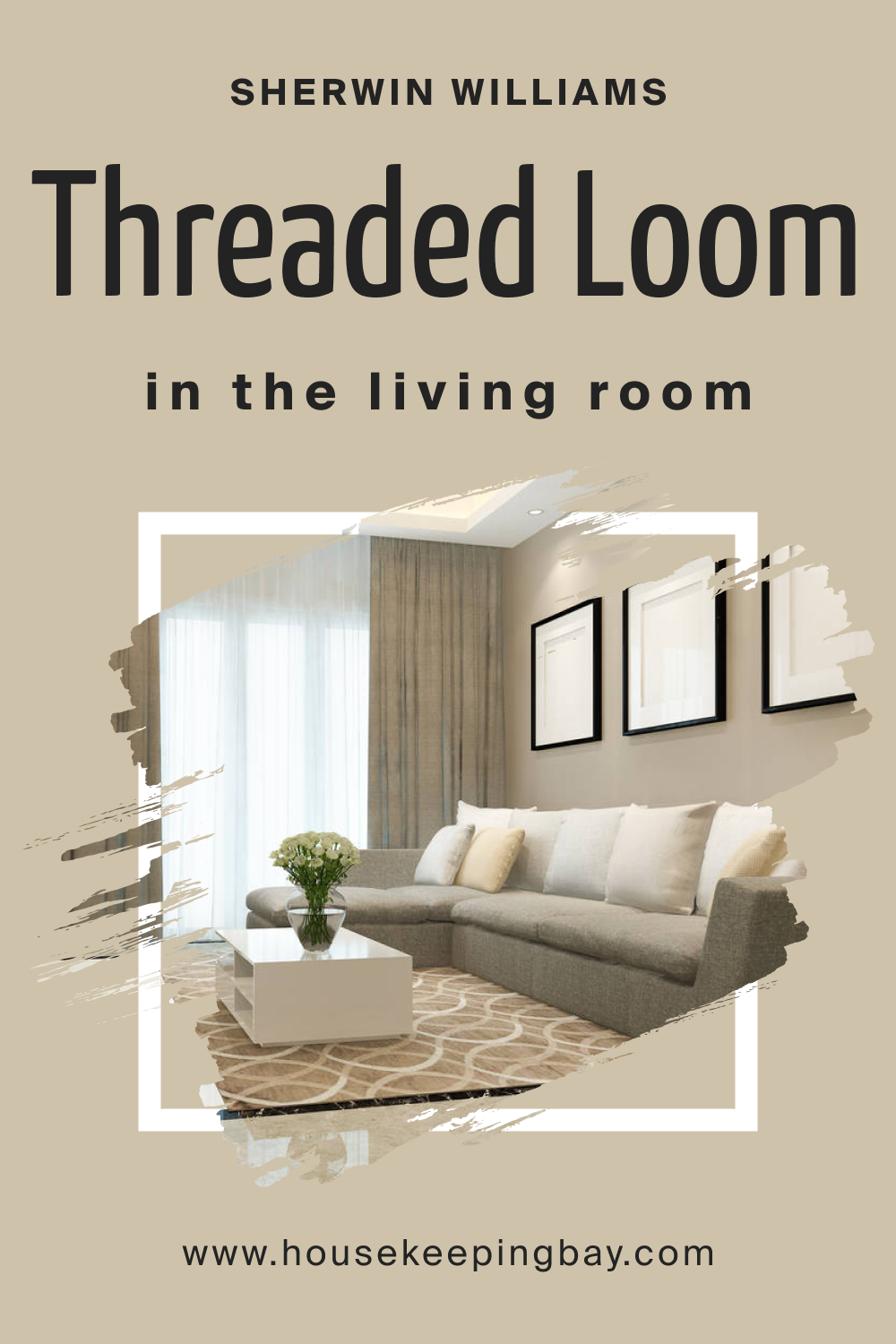 How to Use SW 9512 Threaded Loom for an Exterior?
For home exteriors, Threaded Loom can emanate a timeless appeal. Paired with crisp white trims, natural stone paths, and green landscaping, it can craft a modern yet classic look. Its neutral tone can match a variety of roofing colors, making it a versatile choice.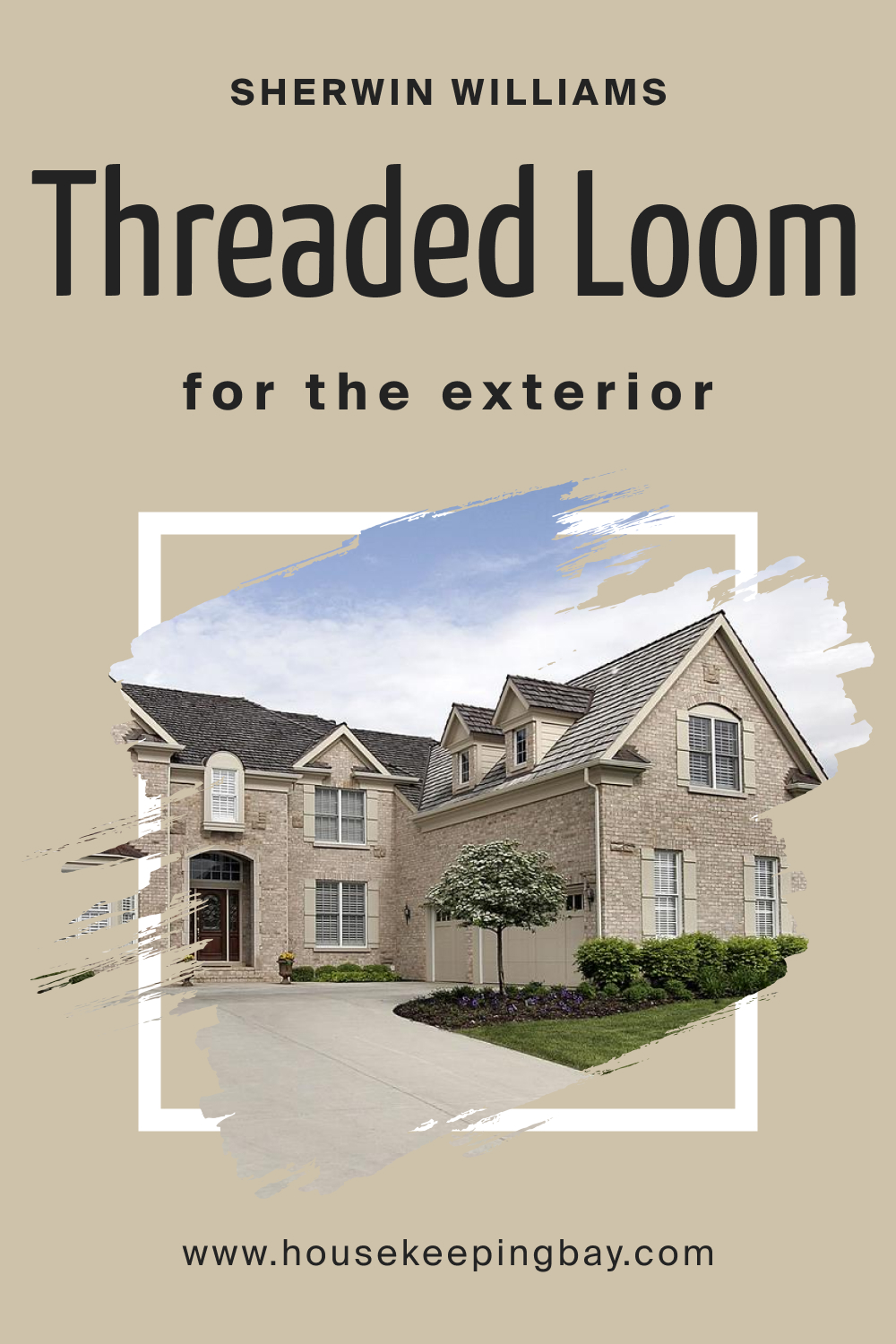 How to Use SW 9512 Threaded Loom in the Kitchen?
In the kitchen, Threaded Loom can complement wooden countertops, stainless steel appliances, and white tiles. It's a hue that promotes warmth and can make kitchens feel homely and inviting – a central gathering spot for family and friends.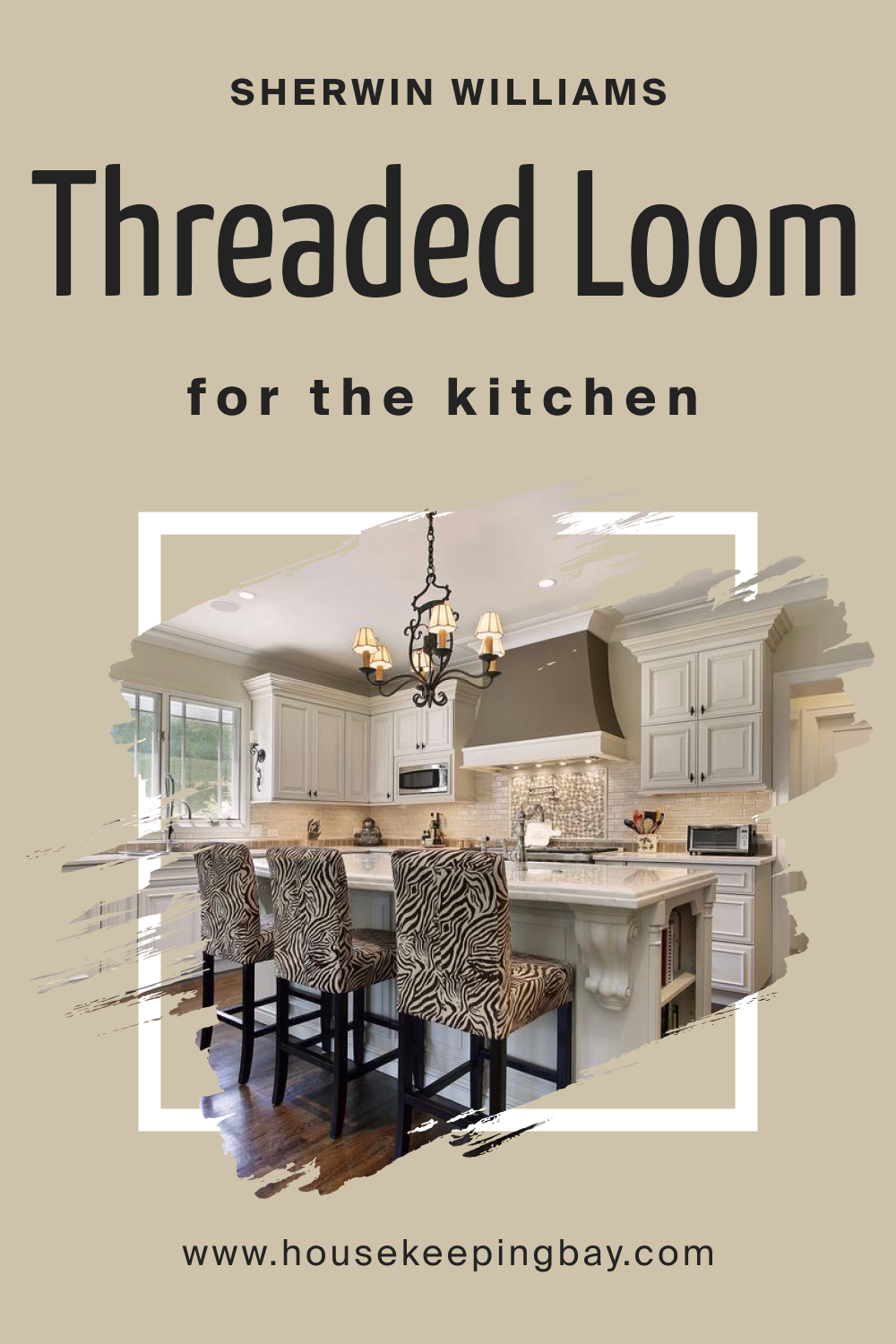 How to Use SW 9512 Threaded Loom for the Kitchen Cabinets?
For kitchen cabinets, Threaded Loom can exude sophistication. Paired with brushed gold or silver handles, it can create a chic, modern look. The color's neutrality allows for bold countertop choices, be it jet black granite or marbled white quartz, offering a balanced visual.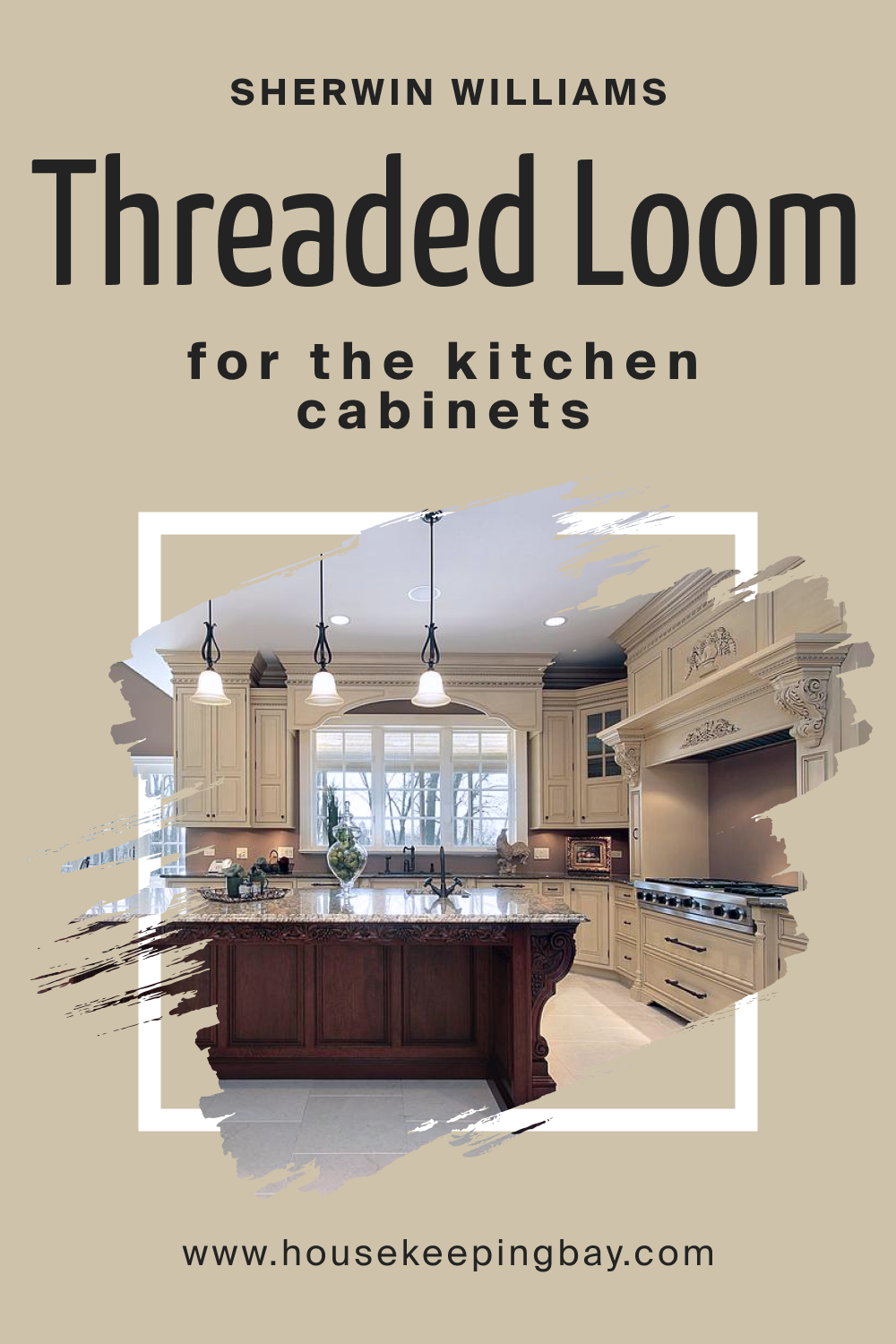 Comparing SW 9512 Threaded Loom With Other Colors
Comparing colors provides clarity on undertones, depth, and compatibility with other shades. It enables homeowners to create cohesive interiors. Each color has its uniqueness, and comparing helps in making informed choices, ensuring design fluidity and ambiance harmony.
SW 9512 Threaded Loom vs. SW 9083 Dusted Truffle
SW Dusted Truffle leans more towards a rich brown with a rosy undertone, whereas Threaded Loom is muted and beige. Threaded Loom offers a softer look, while Dusted Truffle feels bolder and more decadent.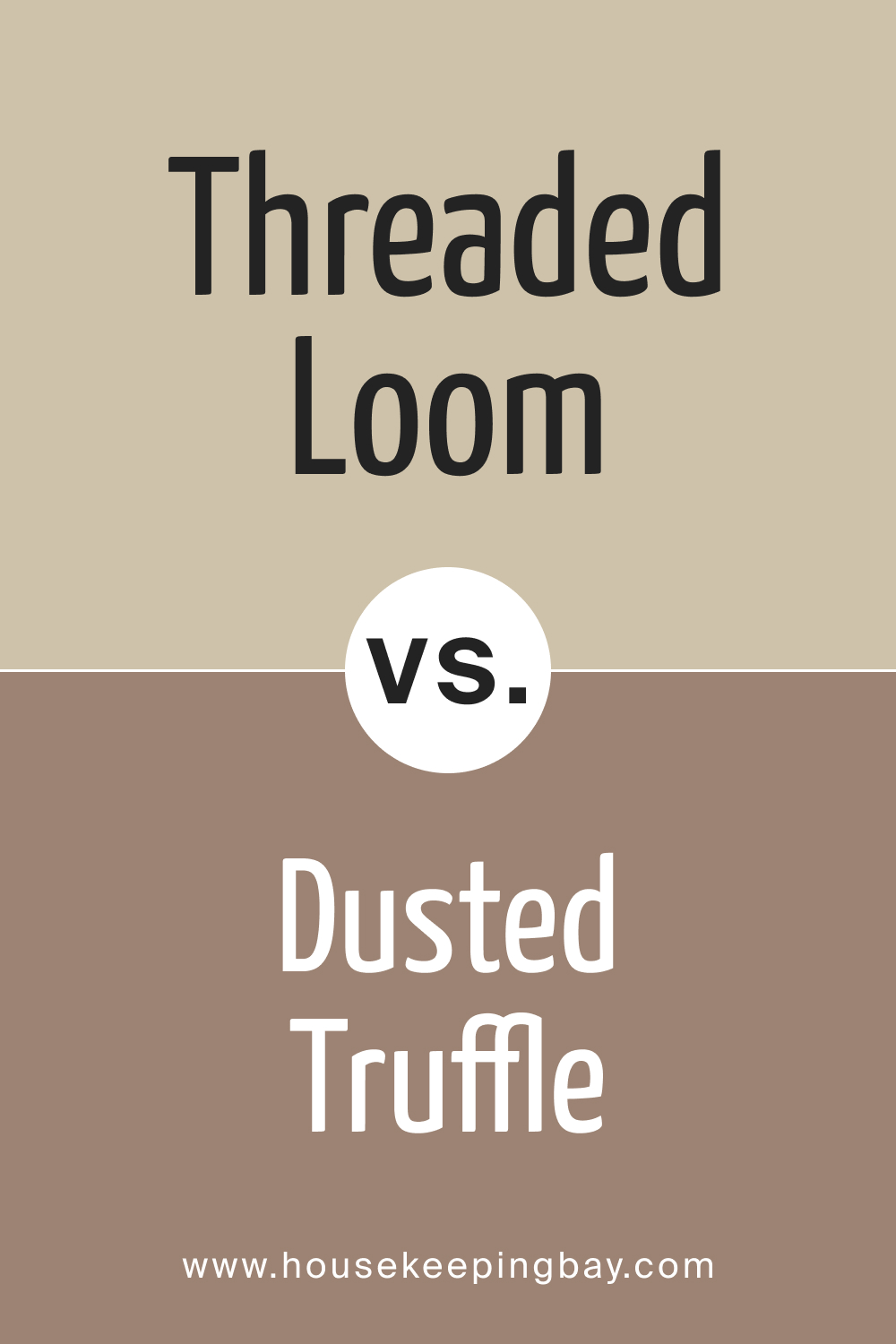 SW 9512 Threaded Loom vs. SW 9506 Warm Winter
SW Warm Winter exudes a chilly gray undertone, contrasting with Threaded Loom's warmth. The latter feels more inviting, while Warm Winter feels cooler and more contemporary.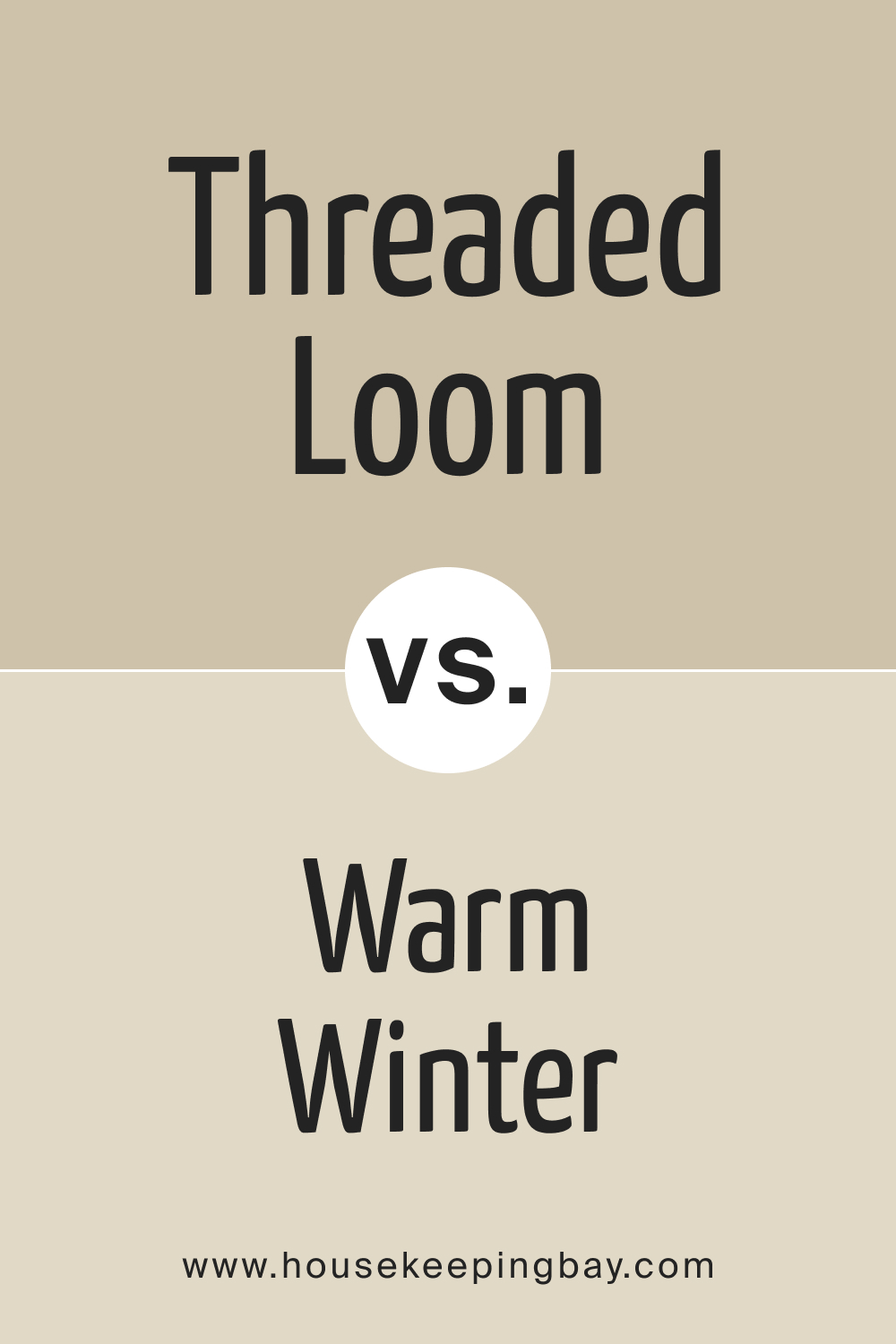 SW 9512 Threaded Loom vs. SW 9511 Warm Oats
SW Warm Oats shares a similar beige base but has a toastier undertone. It feels sunnier compared to the balanced neutrality of Threaded Loom.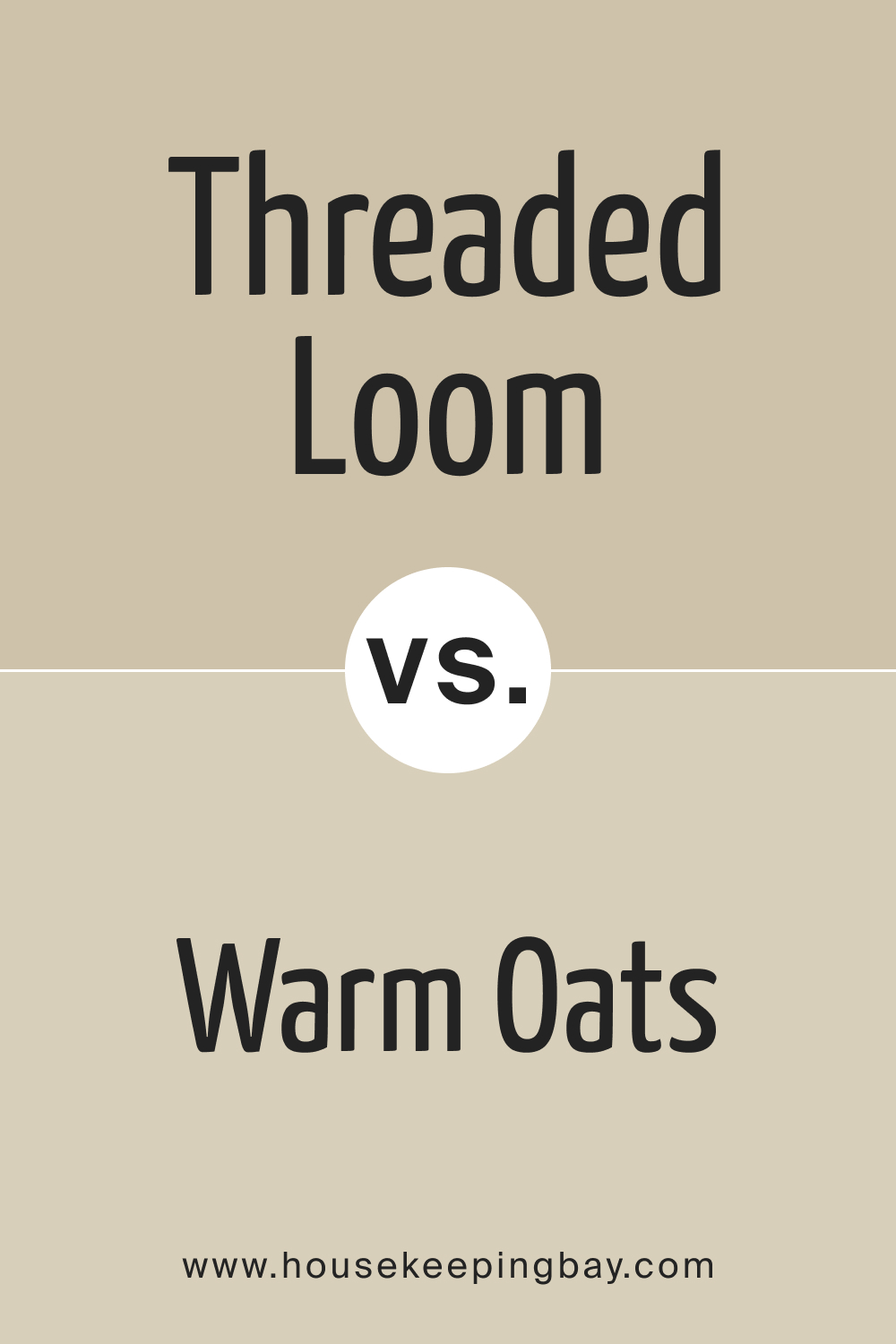 SW 9512 Threaded Loom vs. SW 6121 Whole Wheat
SW Whole Wheat feels deeper and earthier, reminiscent of golden fields. In contrast, Threaded Loom is softer and lighter, perfect for those aiming for subtlety.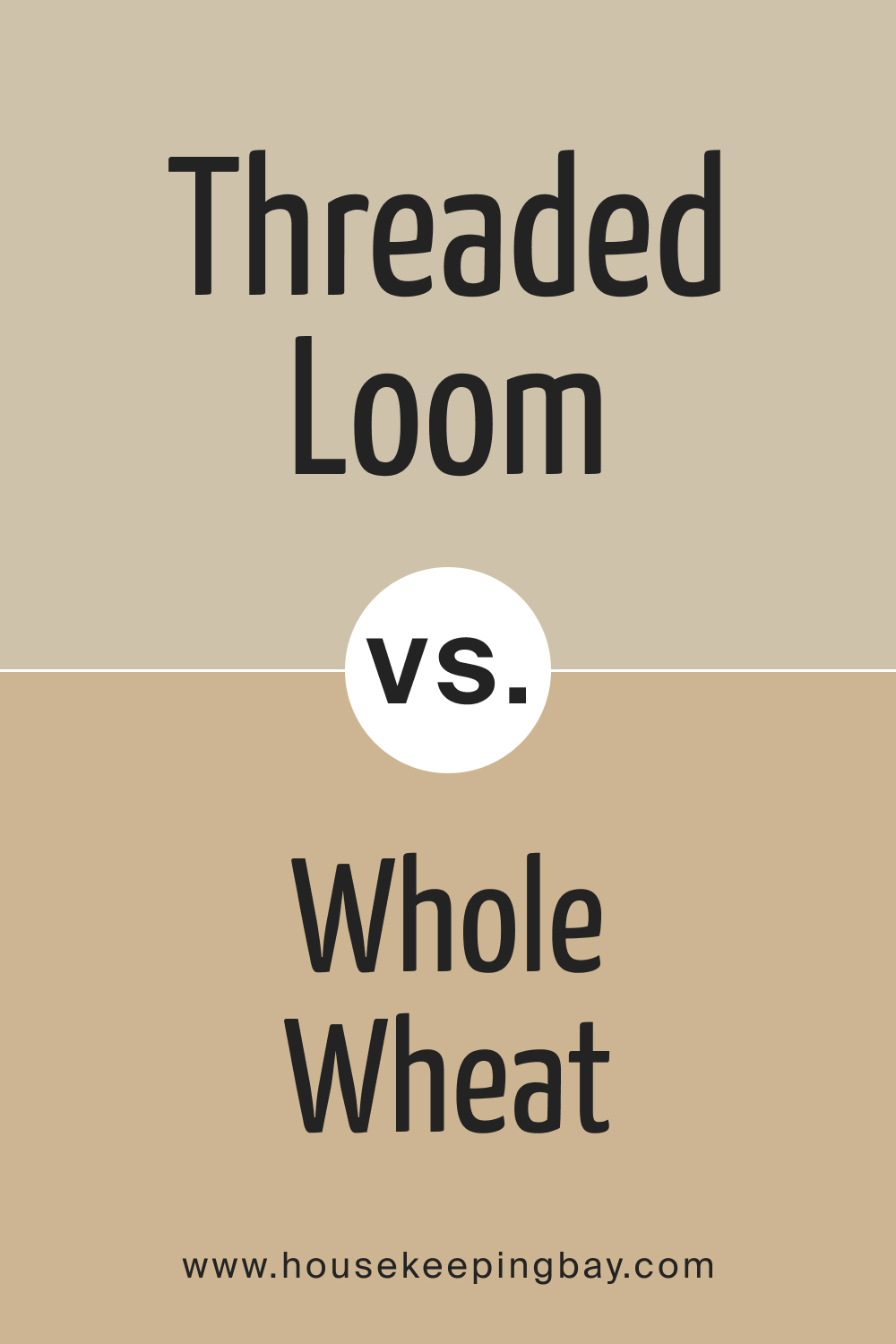 SW 9512 Threaded Loom vs. SW 7122 Lemon Drop
SW Lemon Drop is a brighter yellow, offering a sunny vibe, contrasting Threaded Loom's muted elegance. The latter works as a neutral base, while Lemon Drop acts as a statement.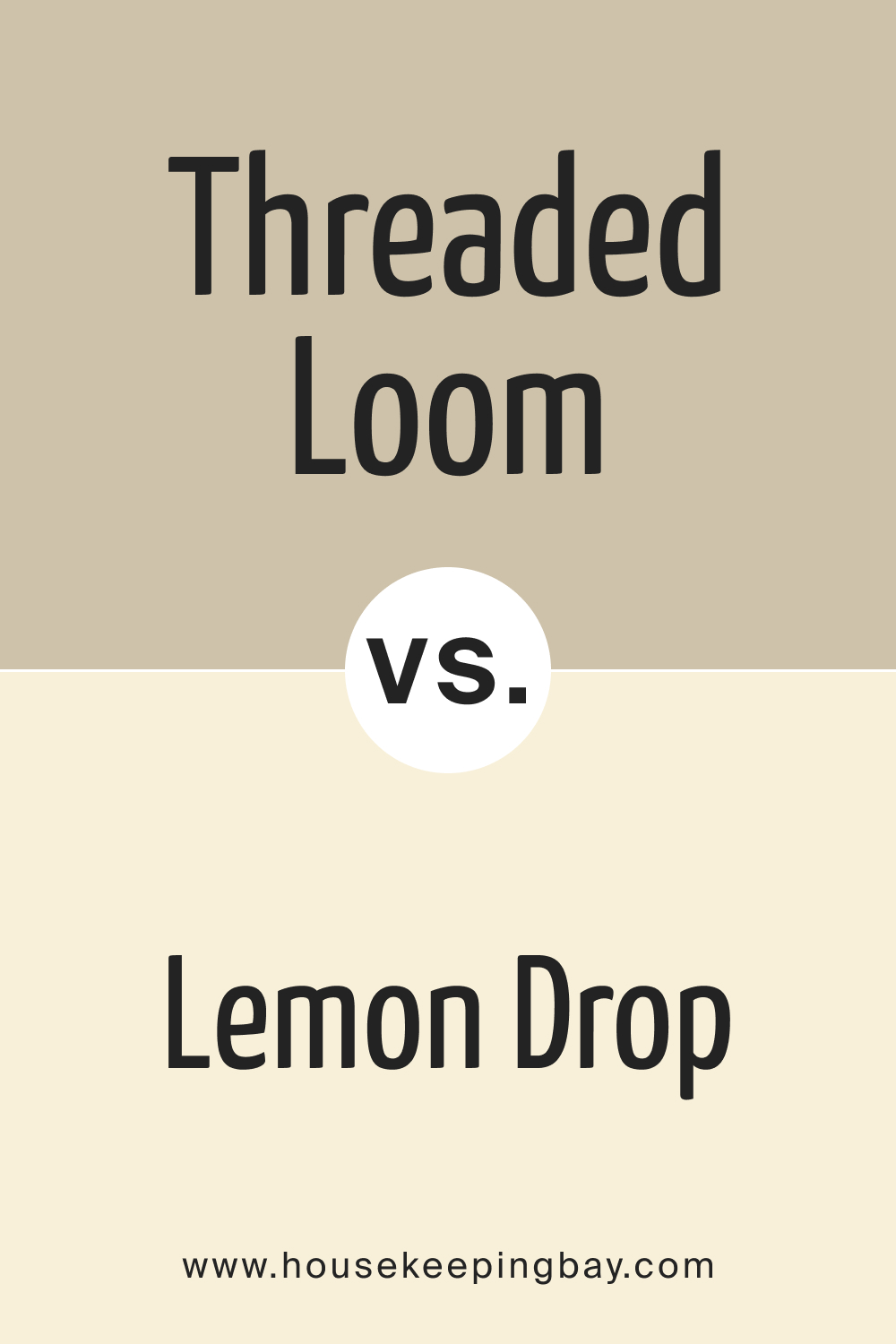 SW 9512 Threaded Loom vs. SW 9507 Cream and Sugar
SW Cream and Sugar feels like a milky white with beige hints. It's softer and lighter than Threaded Loom, which offers more depth and warmth.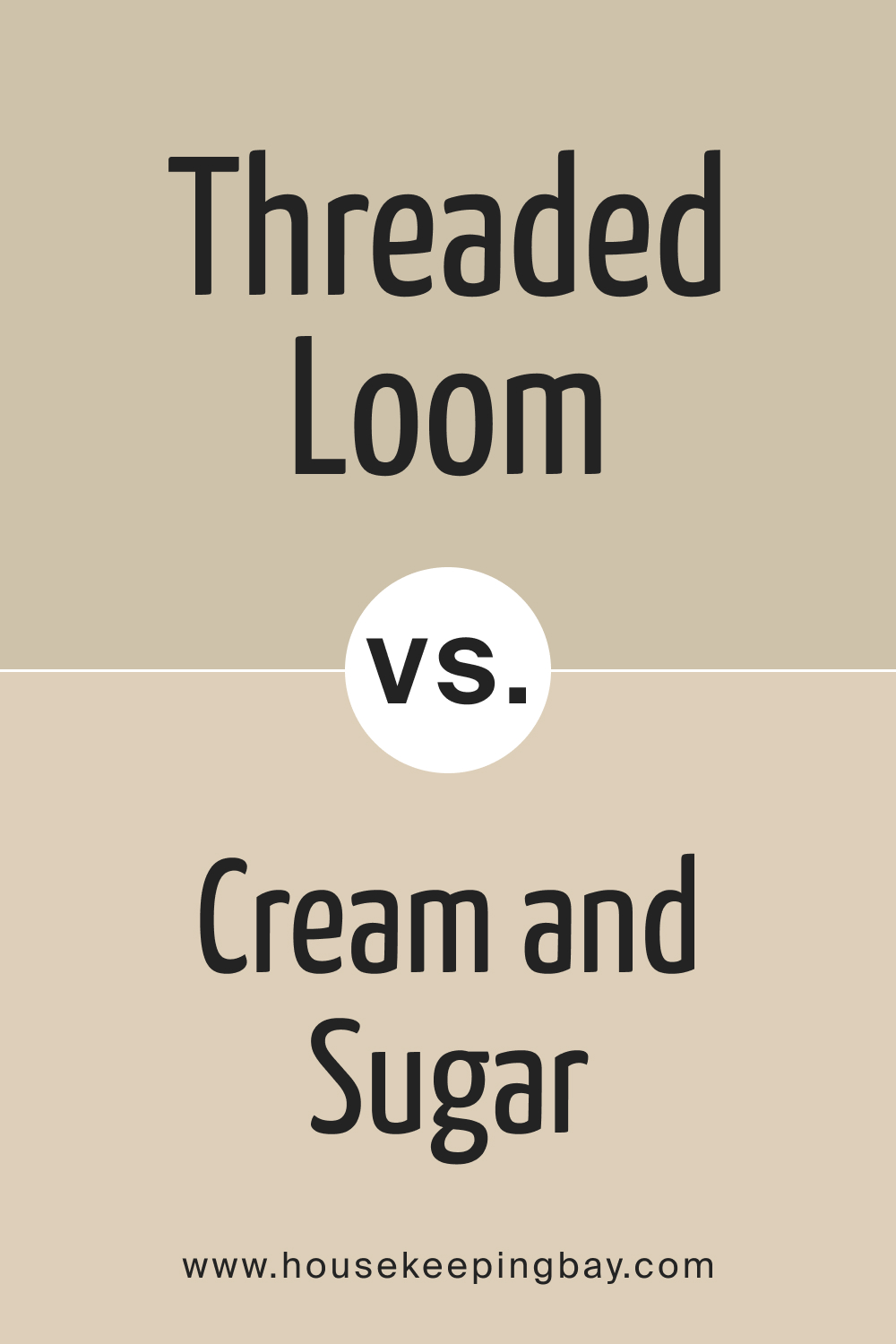 Conclusion
SW 9512 Threaded Loom's versatility makes it an ideal choice for various spaces and styles. Its muted warmth and understated elegance can cater to diverse design aspirations.
By comparing it with other shades, one can appreciate its uniqueness and its potential to shape interiors that resonate with comfort and class.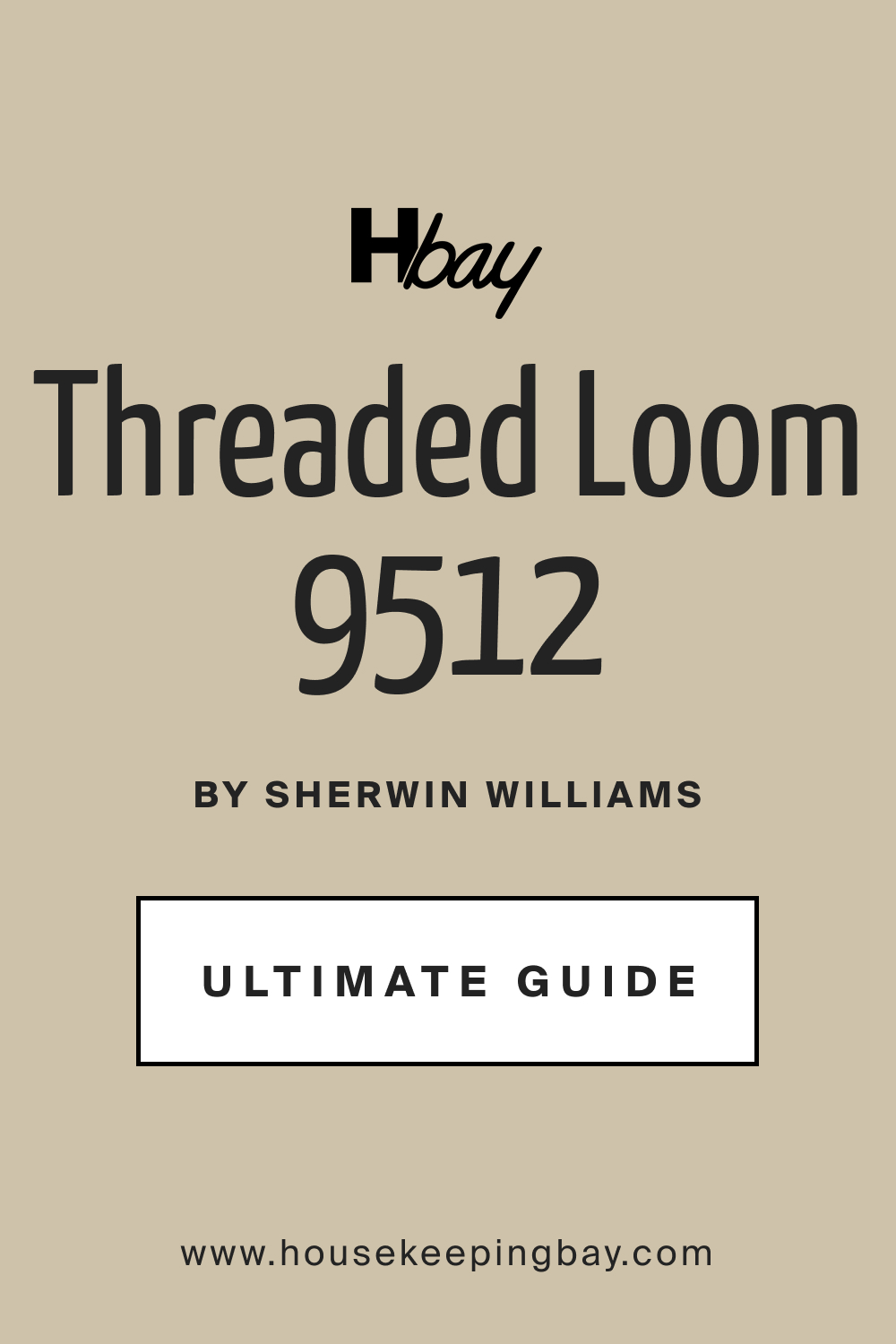 Frequently Asked Questions
⭐What kind of undertones does SW 9512 Threaded Loom have?
SW 9512 Threaded Loom has soft grey and muted tan undertones, striking a balance between warmth and coolness.
⭐Is SW 9512 Threaded Loom suitable for exterior use?
Yes, SW 9512 Threaded Loom is versatile and can be used both for interior and exterior applications, creating a timeless appeal for home exteriors.
⭐Which rooms are ideal for painting with SW 9512 Threaded Loom?
SW 9512 Threaded Loom is a flexible color ideal for bedrooms, living rooms, bathrooms, and kitchens due to its calming and neutral tone.
⭐How does SW 9512 Threaded Loom appear under different lighting conditions?
Lighting can emphasize its grey undertones or its warmth. Under warm artificial lights, it might lean more beige, while cool lights or north-facing natural light can bring out its grey tones.
⭐What are the best trim colors to pair with SW 9512 Threaded Loom?
Crisp shades of white, such as Pure White, Alabaster, and Whisper White by Sherwin-Williams, complement SW 9512 Threaded Loom, enhancing its subtle tones.