When choosing what paint color to use in your home interiors, most of us choose more neutral and universal colors, for instance, greiges, light beige hues, or other similar ones.
They are easier to integrate into almost any interior design and color scheme, so people usually have no complications with that.
However, if you are more into deep and less subtle colors, you might be interested in using such paint as Rainstorm by Sherwin Williams. But in this case, you need to learn more about it and its specifics in order to be able to make full use of it.
In this article, we will explain what type of color it is, what undertones it has, and how to use that when planning the look of your interiors. In addition, you are going to learn where in your home this color will work better.
Moreover, from this article, you are going to find out more about this paint's light reflectance value and what it means when using this color on your walls. Finally, we will provide you with a list of colors that can be used instead of the SW Rainstorm.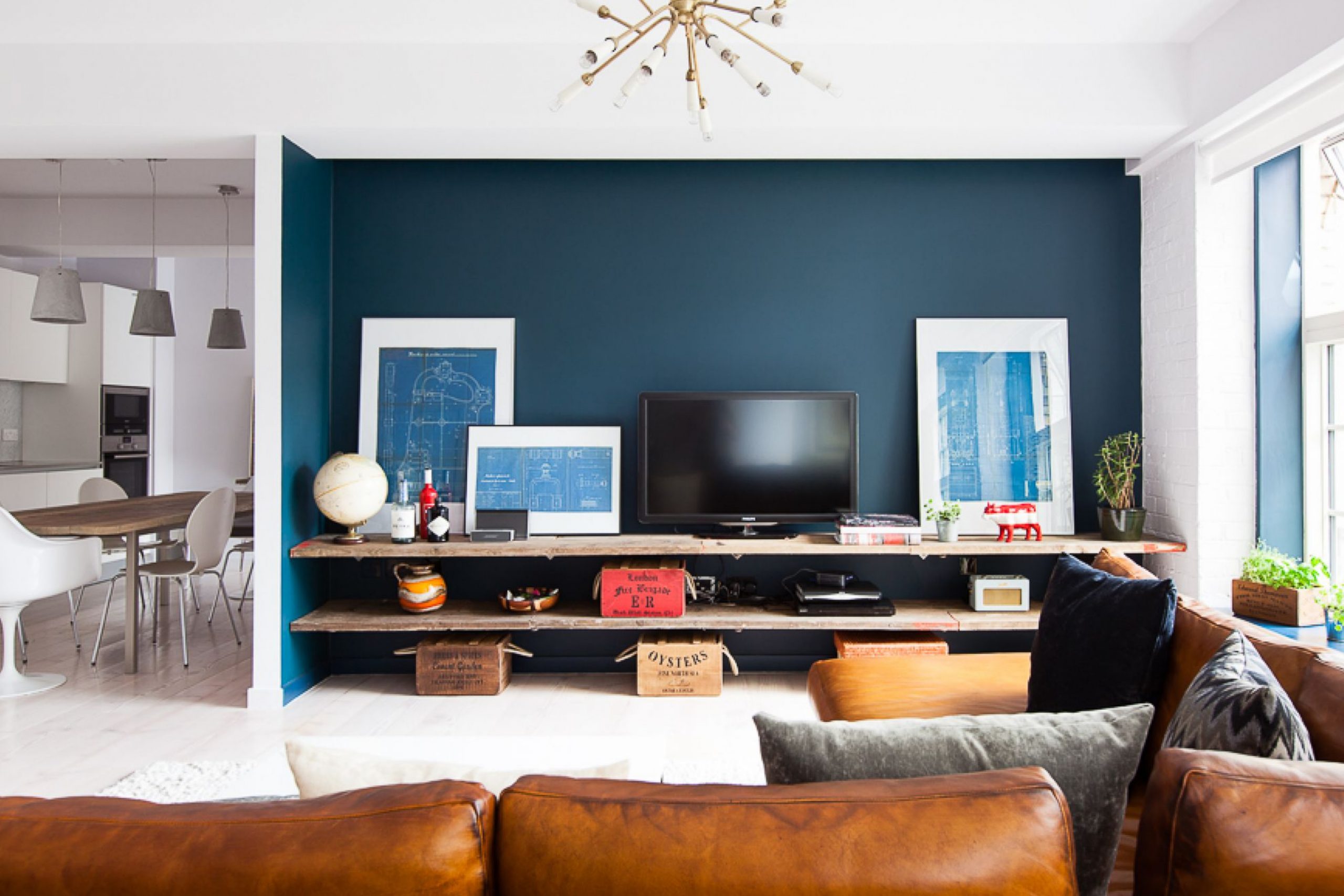 What Type Of Color Is Sherwin Williams SW-6230 Rainstorm?
Sherwin Williams has plenty of beautiful interior paint colors, and Rainstorm is one of them. Sherwin Williams Rainstorm color is a wonderful and deep blue color, but it is not like navy blue, for example.
The Rainstorm color has a slight hint of warm hue in it, which is why the overall impression of the paint leans more to the warm side of the scale rather than to its cool-toned end.
Even though some of you might think that such a color would be hard to use in a home interior, Rainstorm is pretty versatile! It can be used in different interior styles and with various color schemes.
Moreover, this soft and deep blue paint color is great for both indoor and outdoor applications.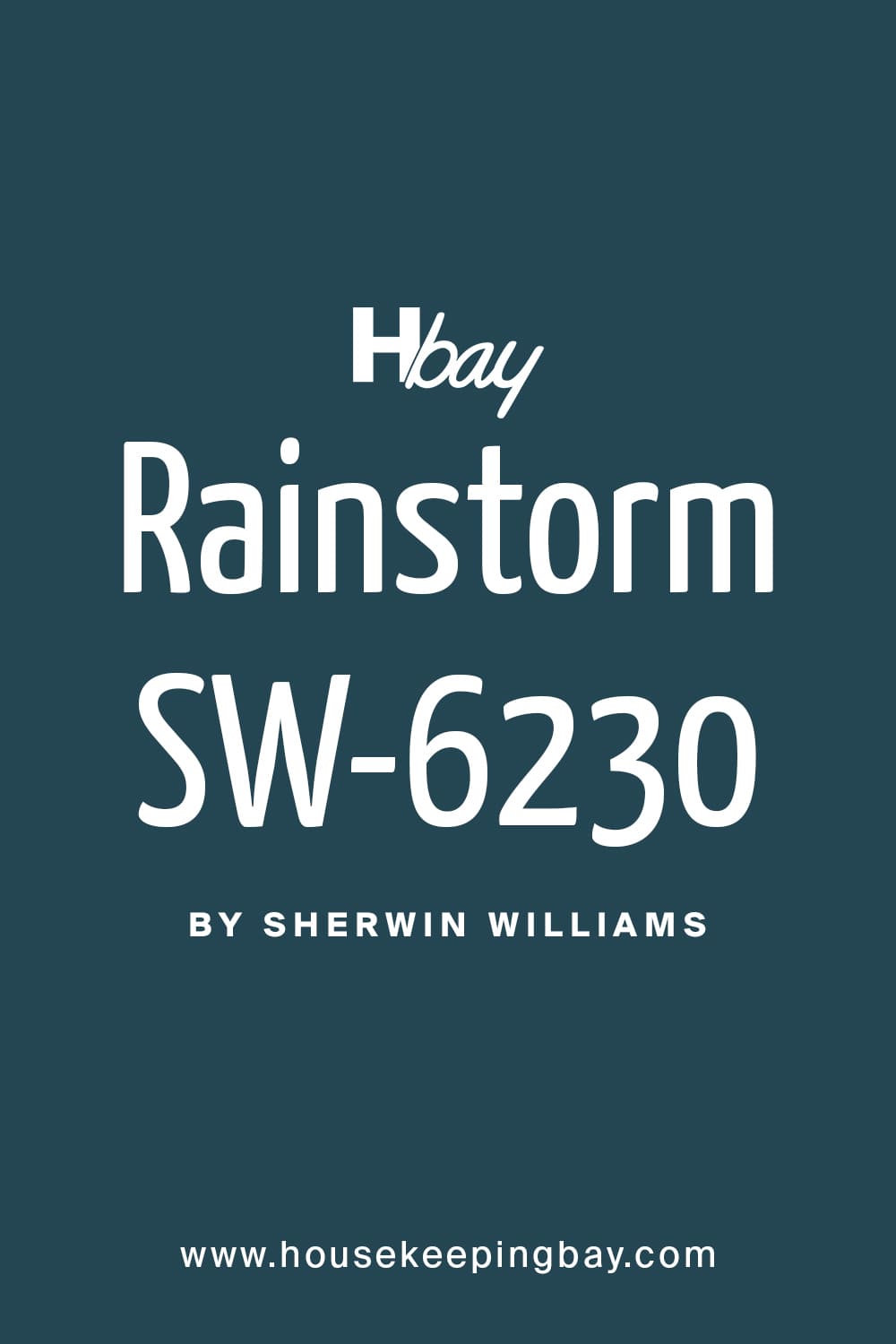 Undertones of Rainstorm SW-6230
Unless you have a sharp eye for the color shades and hues, you will hardly notice that SW Rainstorm has green undertones. However, this is true.
At the first sight, this marvelous soft blue looks simply like an ordinary shade of blue, deep enough, however, without that cold impression that this "watery" color usually expresses.
But if you take a closer look – and in certain types of lighting – this deep and soft blue reveals greenish undertones, and sometimes, they show up quite significantly! Consider this when choosing this color for your home.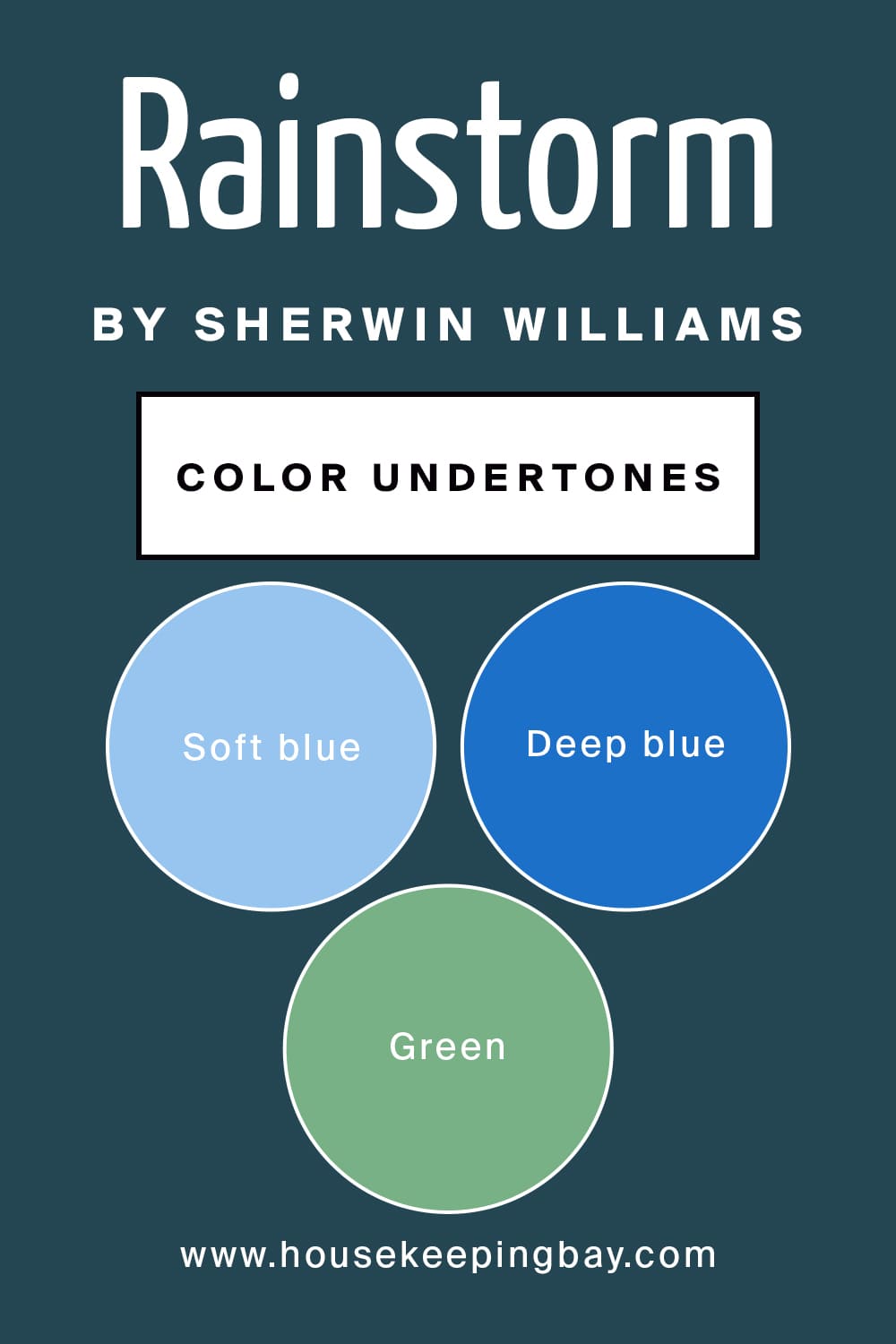 Coordinating Colors of Rainstorm SW-6230
Choosing the correct coordinating colors is a must if you want your interior to look harmonious and balanced in terms of color.
If you decide to use SW Rainstorm on your walls, and you are looking for the colors to pair it with, we would recommend you take the following options into consideration:
SW-7666 Fleur De Sel
SW-9035 Frosted Emerald
SW-6224 Mountain Air
Each of them will create a balanced and harmonious color combination with this gorgeous peacock blue-green hue!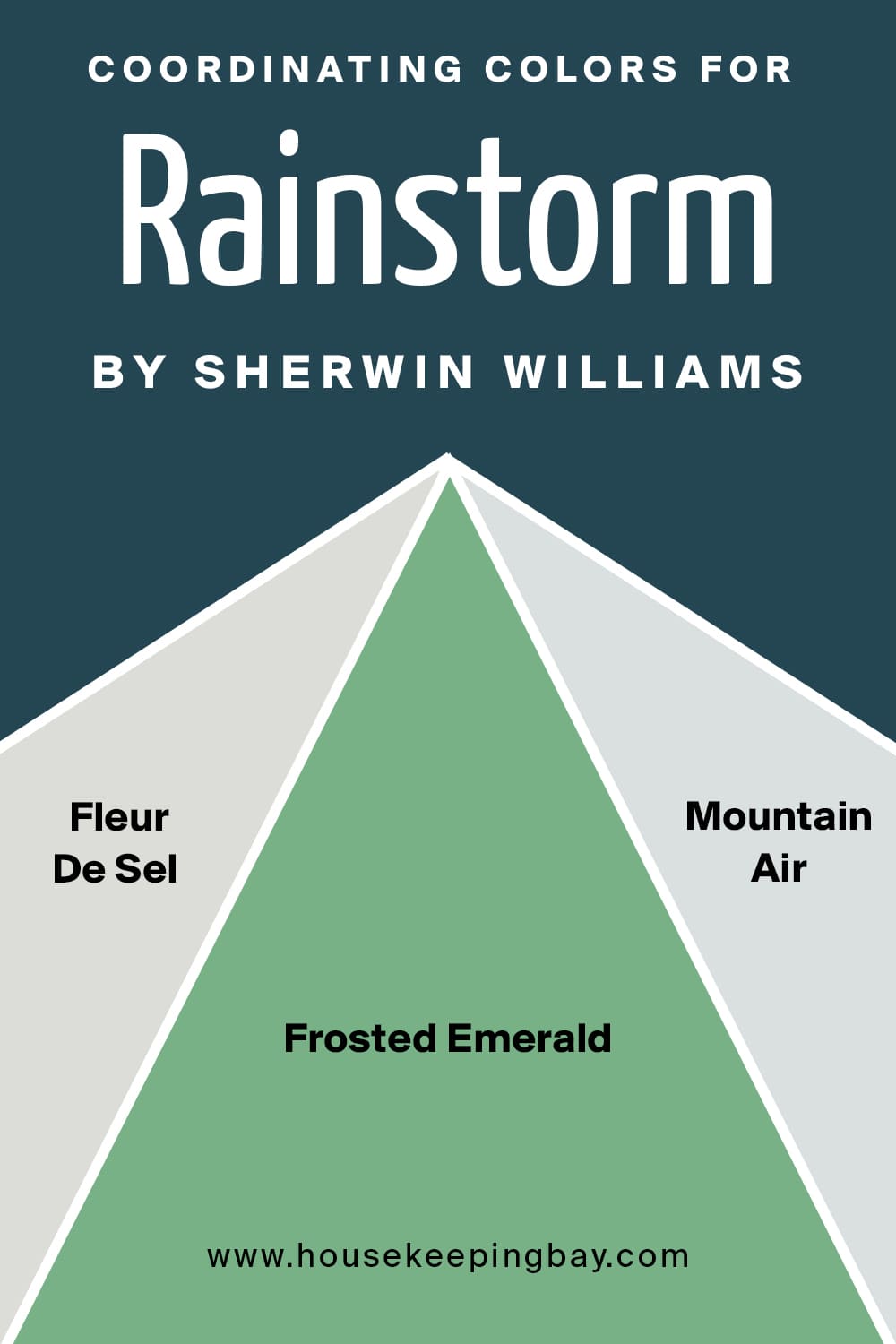 LRV of Rainstorm SW-6230
The light reflectance value that is also known as LRV shows how much light the paint color is able to reflect. Respectively, if the LRV is low, the paint is considered to be rather dark, and vice versa.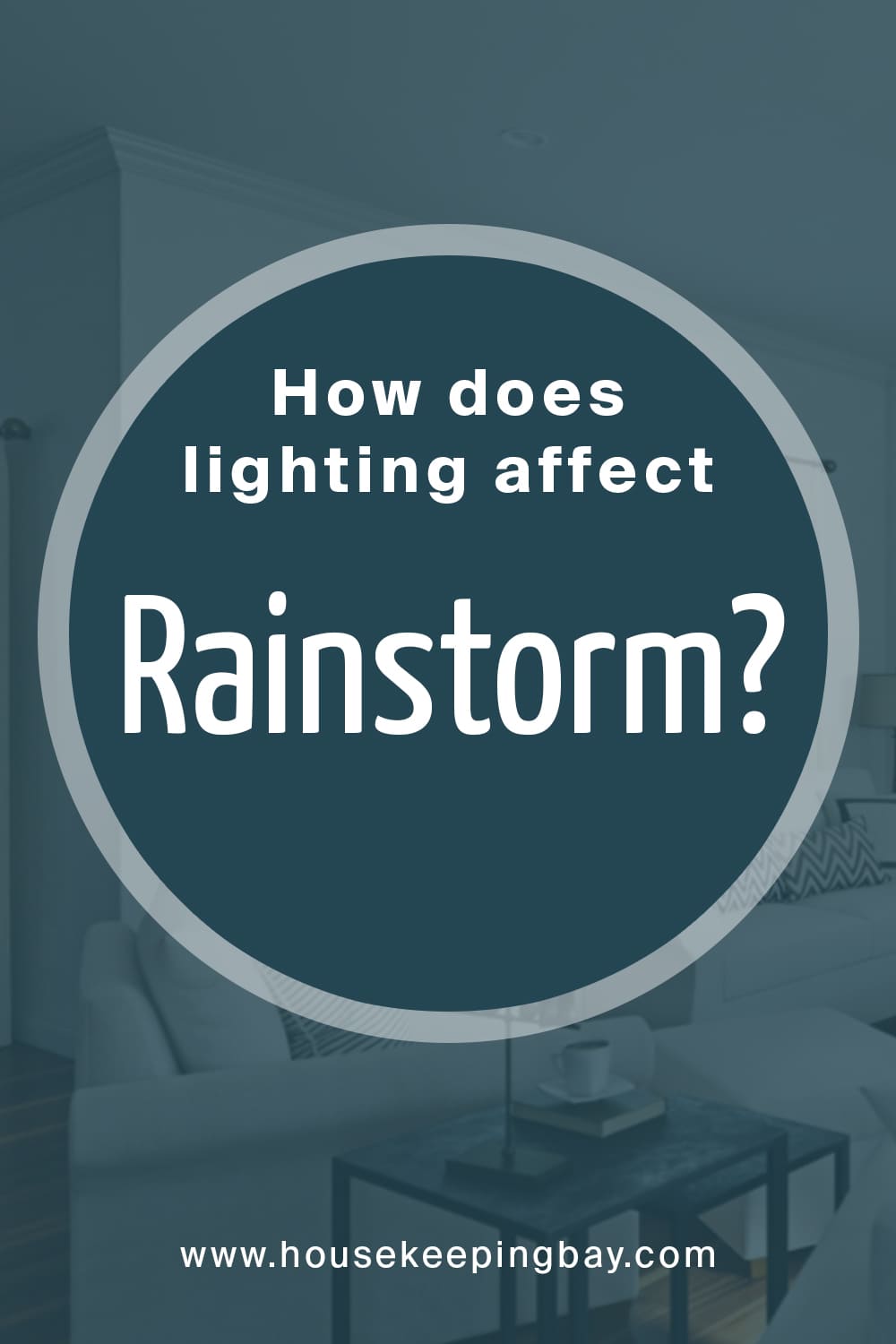 As for the SW Rainstorm paint color, its LRV is 5.8 which puts this color at the dark colors end of the color scale.
Naturally, when applied to the walls, it will not be able to reflect much light, so we would not recommend you use this paint in small spaces or in rooms that are poorly lit.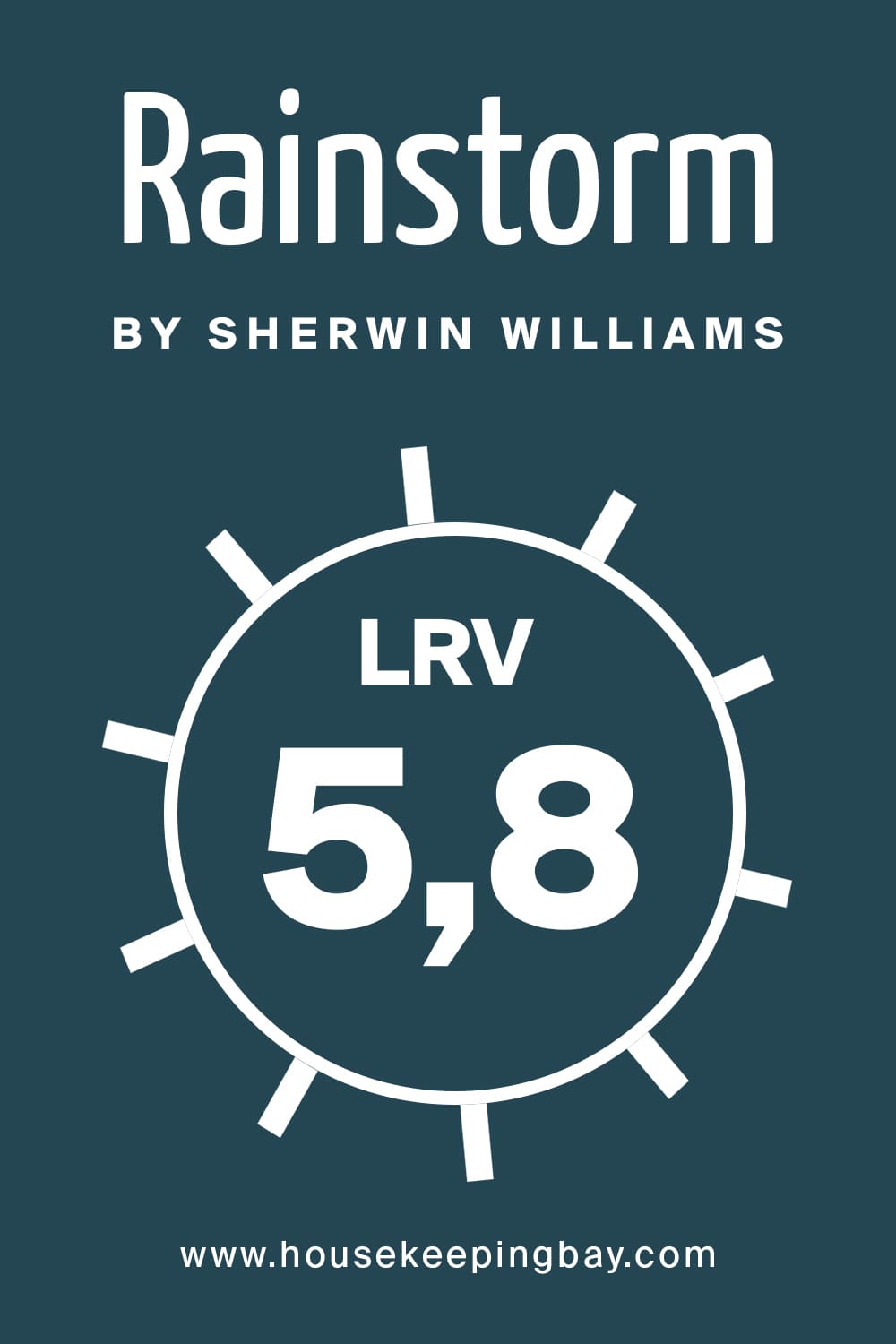 The Best Trim Color To Use With SW Rainstorm
There is a rule of thumb: if you are not sure what trim color to choose to match with your paint, stick to white. With SW Rainstorm, it works the same way. Only, unlike quite many other colors, this one welcomes both cool whites and warm whites equally well.
So if your room, for example, is in a cool-toned color palette, using one of the cool whites as a trim color will be fine. But if you stick to warmer color schemes, off whites will also be a good idea!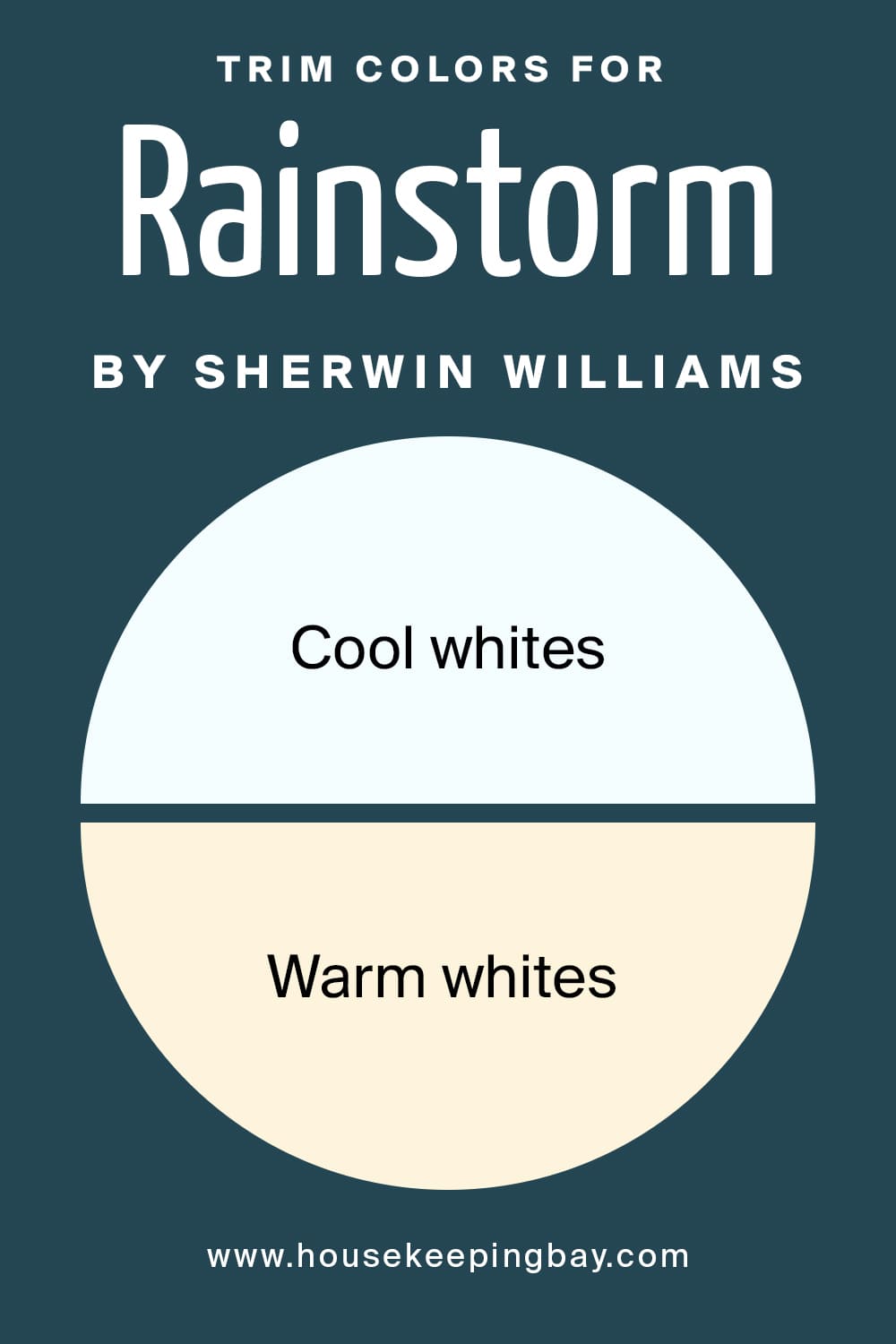 Paint Colors Similar to SW Rainstorm
It may happen that you can't use exactly the SW Rainstorm in your home for a certain reason. No matter why it is so, you need to know what other colors exist that can work as substitutes for this soft and deep blue successfully.
Of course, we find it necessary to remind you that you will not be able to find an ideal 100 percent match!
Nevertheless, we can suggest you a list of alternative paint colors that are the most similar to the Rainstorm color:
SW-9142 Moscow Midnight
SW-7620 Seaworthy
SW-2939 Blue Hill
SW-9185 Marea Baja
SW-6510 Loyal Blue
SW-9177 Salty Dog
SW-6237 Dark Night
Lost of them are within the same color range and diapason as Rainstorm color, but certain paints from this list might be a bit darker or quite lighter than it. Consider these nuances when making a choice.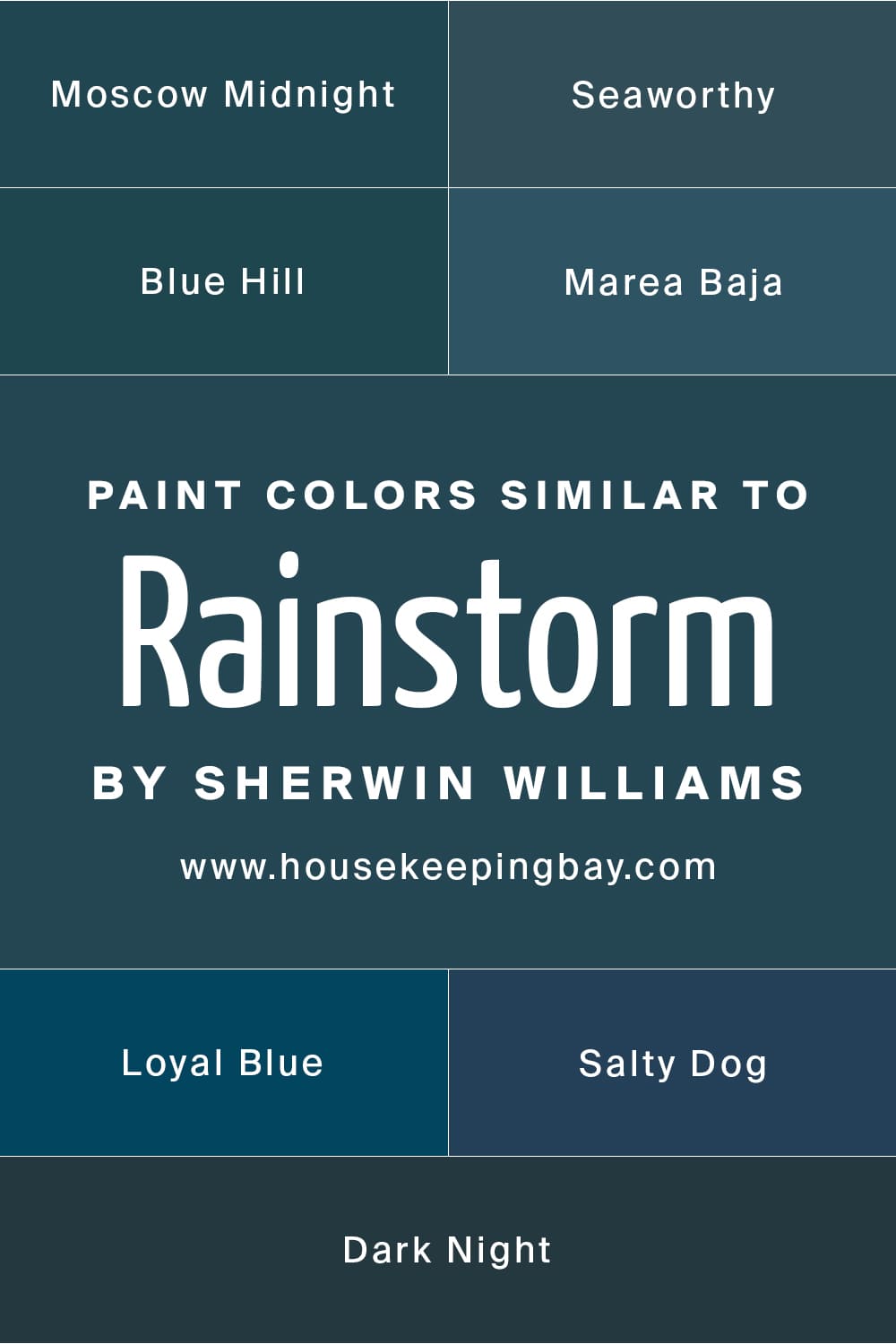 Where This Color Can Be Used In Your Home?
You might think that SW Rainstorm paint color is pretty hard to incorporate into your interior, but in fact, this paint color is surprisingly versatile! It can be used in almost any room and on nearly any surface.
This paint is even used as exterior paint to apply on houses' facades!
Below, we are going to tell you more about how this gorgeous blue-green paint will work in different areas of your home.
SW Rainstorm In a Living Room
This color is the one that can give your living room a very traditional and we would even say classic vibe. Especially if you combine it with whites, wood, and gold.
However, in this case, we would also suggest you make use of some patterned decor elements like curtains or cushions to make the entire space look more vivid and vibrant.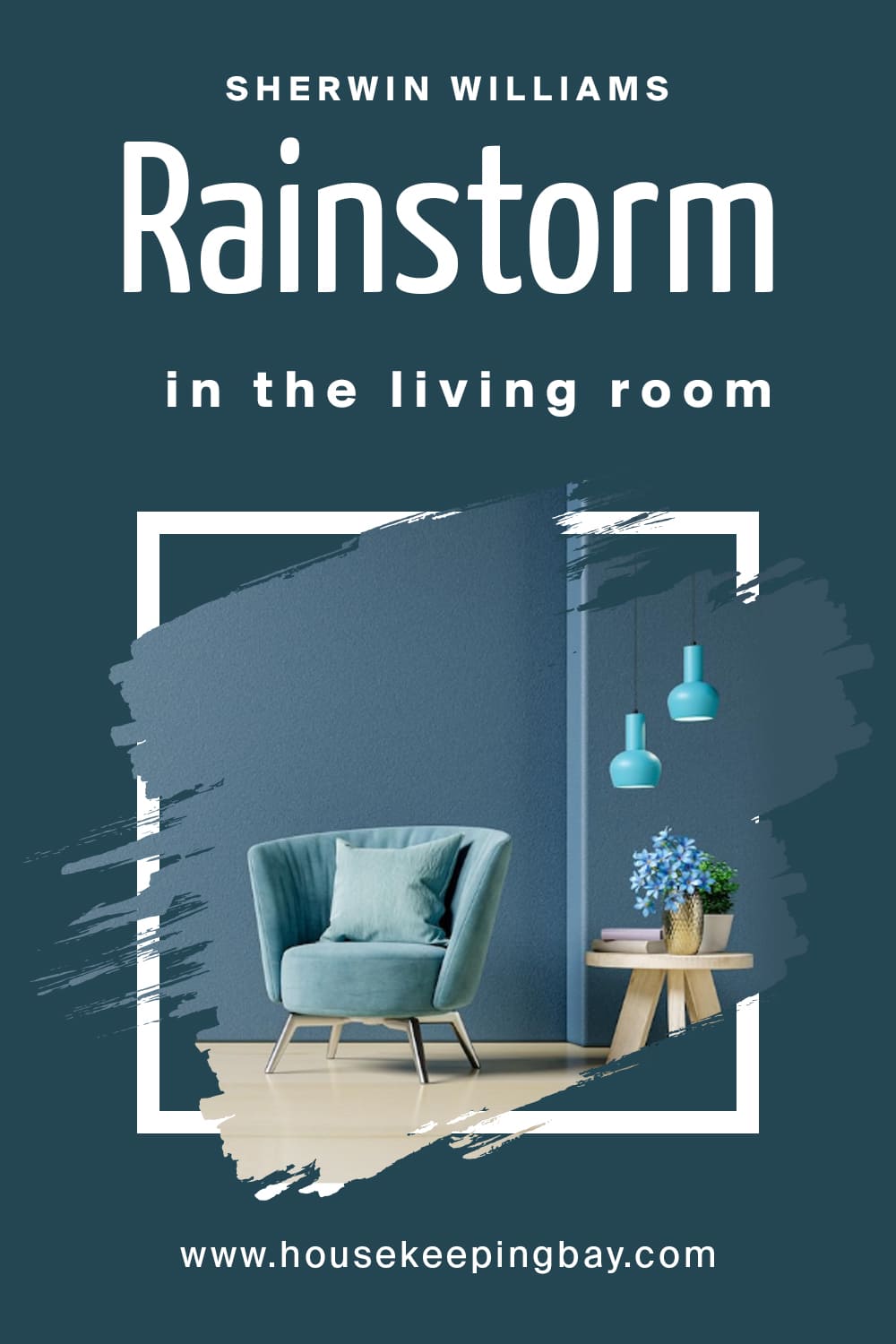 SW Rainstorm In a Bedroom
Such a deep and dark color might not be the number one choice for a bedroom, but if you consider the lighting there and if you combine this color with the correct decor elements, it will show the best of it!
So if your bedroom has plenty of warm lighting during the day, and if the entire color palette in it is pretty warm right now, Rainstorm color will reveal its warm and soft blue side just perfectly!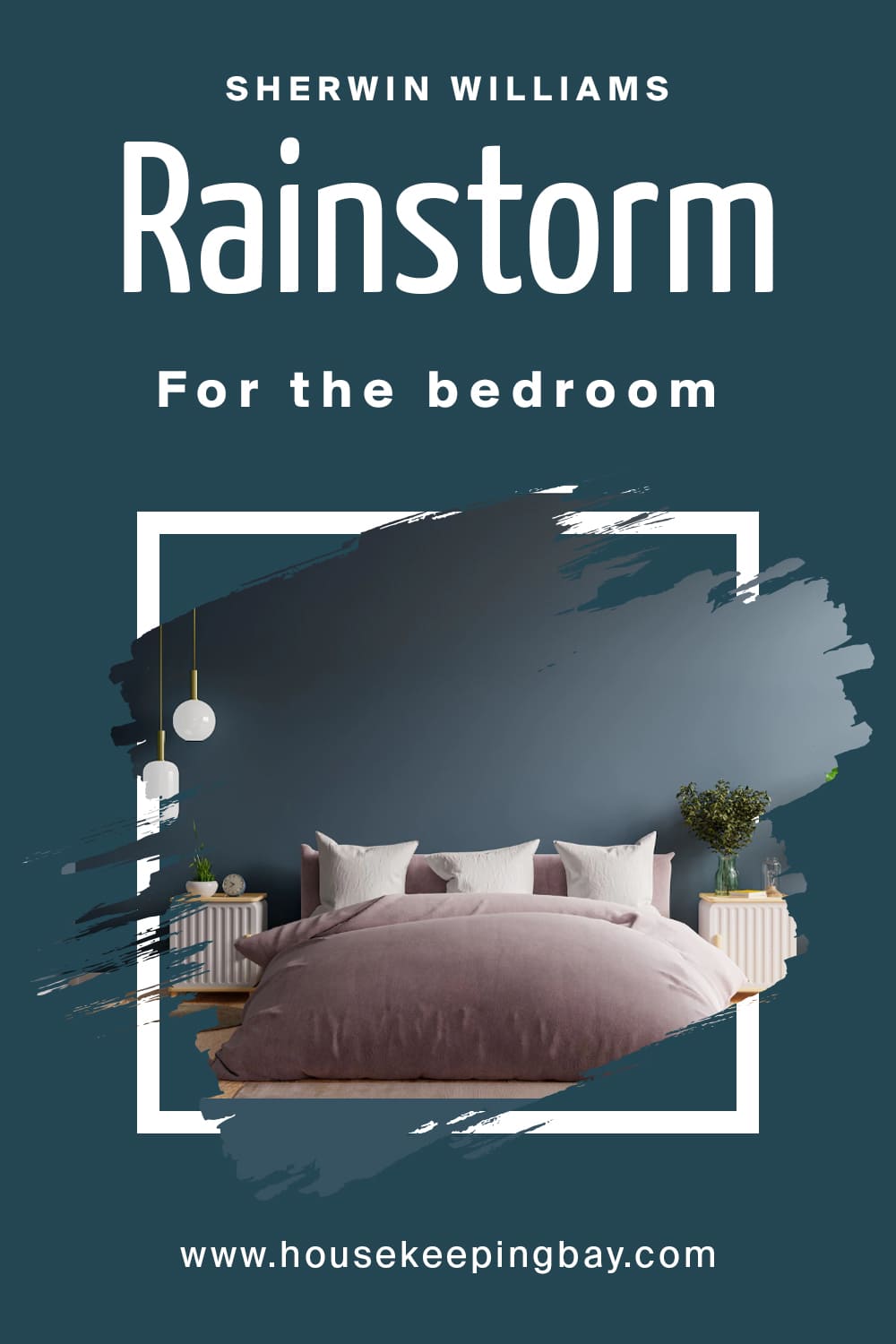 SW Rainstorm In a Kitchen And On Kitchen Cabinets
In case you decide to paint your kitchen wall or the walls with this color, we would recommend you take a few nuances into consideration. First of all, make sure that the space is not too small! Otherwise, the color will make it look even smaller.
Second, your kitchen should have enough light to make this awesome blue reveal its best sides. No matter whether the lighting is warm or cool, the space must be properly lit.
Finally, you need to decide whether you want your entire kitchen painted with Rainstorm, or you only want an accent wall, for example.
Or, maybe, only the cabinets or the backsplash?
This color is great for kitchens, especially when paired with whites and brass kitchen hardware.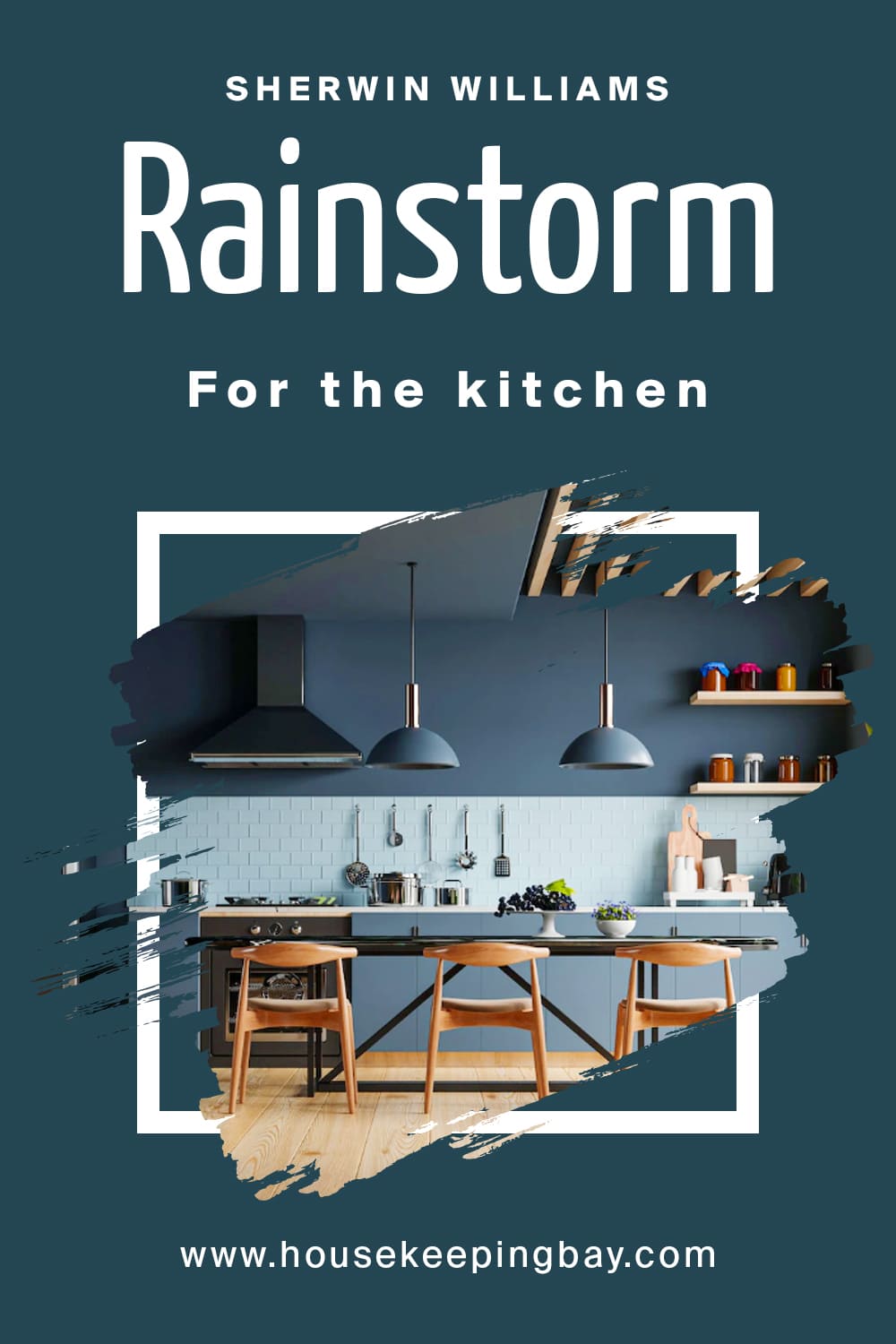 Rainstorm SW-6230 in Exterior 
Finally, you will probably be happy to know that this paint will also work great on your exterior walls! If you own a house and you want to repaint its facade into something darker, consider this option.
We only warn you that lighting will matter greatly. If you live in an area with a lot of warm daylight and many sunny days, SW Rainstorm will reveal more of its greenish undertones (sometimes this color may even seem green!).
But in a dim and dusk light, it will look blue with way cooler undertones.
With all these life hacks and tips in mind, you will be able to make use of this gorgeous paint and turn your home into a stylish and at the same time cozy masterpiece!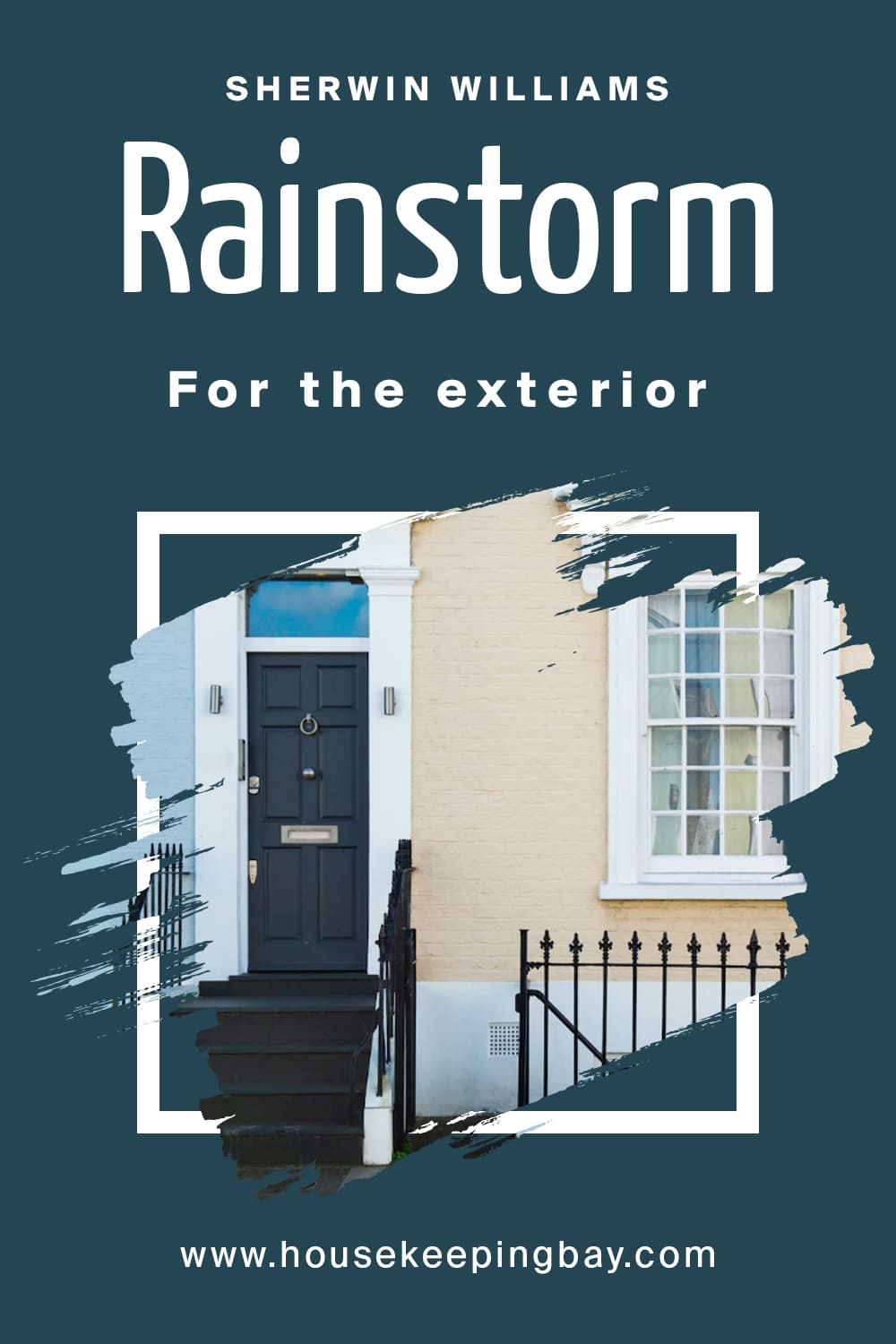 Paint Colors That SW Rainstorm Goes With
No matter what paint color you choose to apply in your home, paying attention to what colors it will go with will help you to create a harmonious atmosphere and make the entire space look pleasing to your eyes.
As for the SW Rainstorm, it can be paired with quite many colors! And below, you can check out which ones exactly will work better than others with it:
SW-6237 Dark Night
SW-6223 Still Water
SW-6216 Jasper
SW-6227 Meditative
SW-6228 Refuge
SW-6229 Tempe Star
SW-6027 Cordovan
SW-6409 Edgy Gold
SW-6122 Camelback
SW-6125 Craft Paper
Also, we are going to compare this paint color to the two most similar paints to see whether there is any visible difference between them.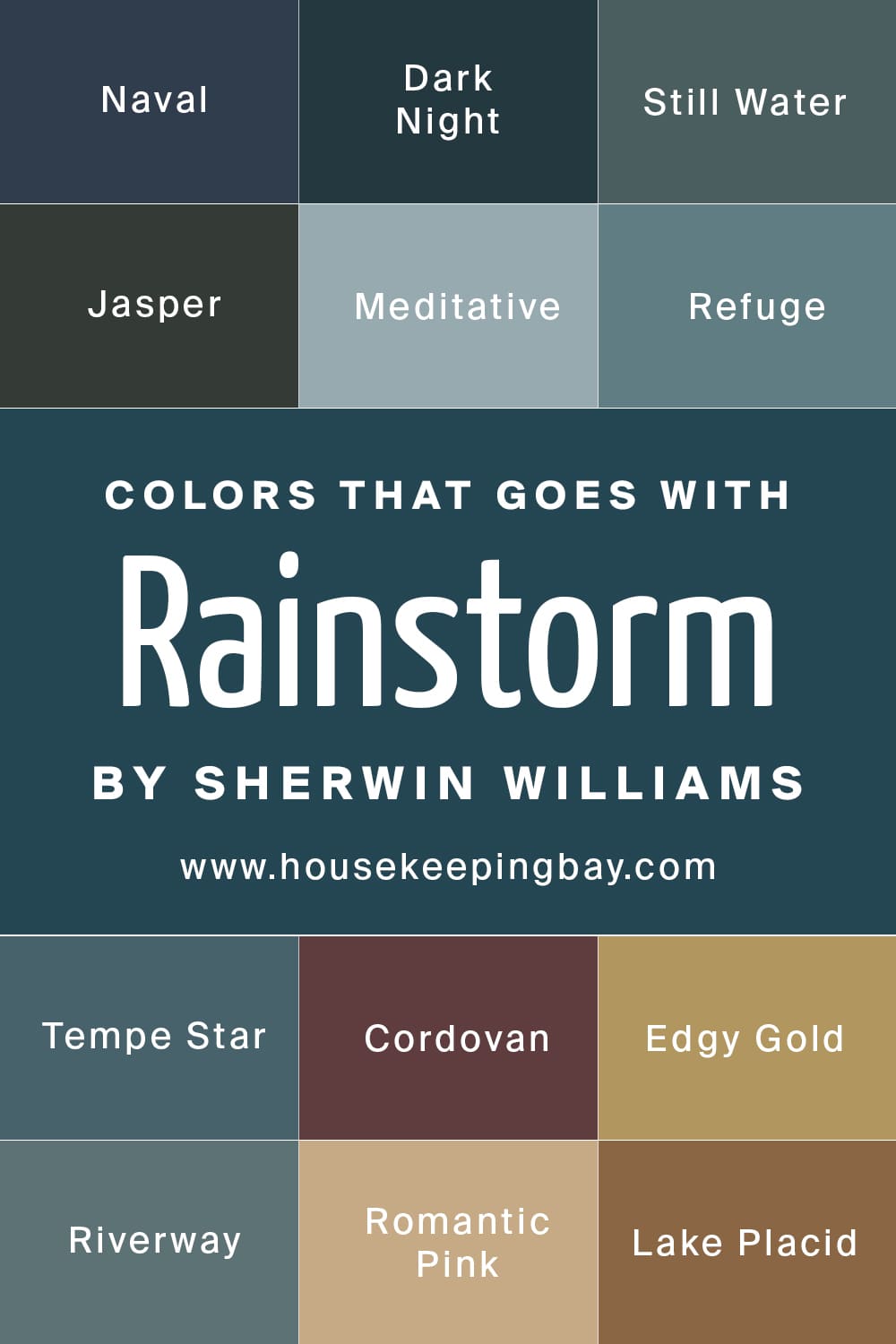 Rainstorm vs Seaworthy
Seaworthy looks almost the same as Rainstorm. The only distinction that can be noticed is that Seaworthy has more prominent green undertones.
But in terms of warmth, these colors are almost equal. So even though they can't be used alone in the same room, one can successfully be shifted for another.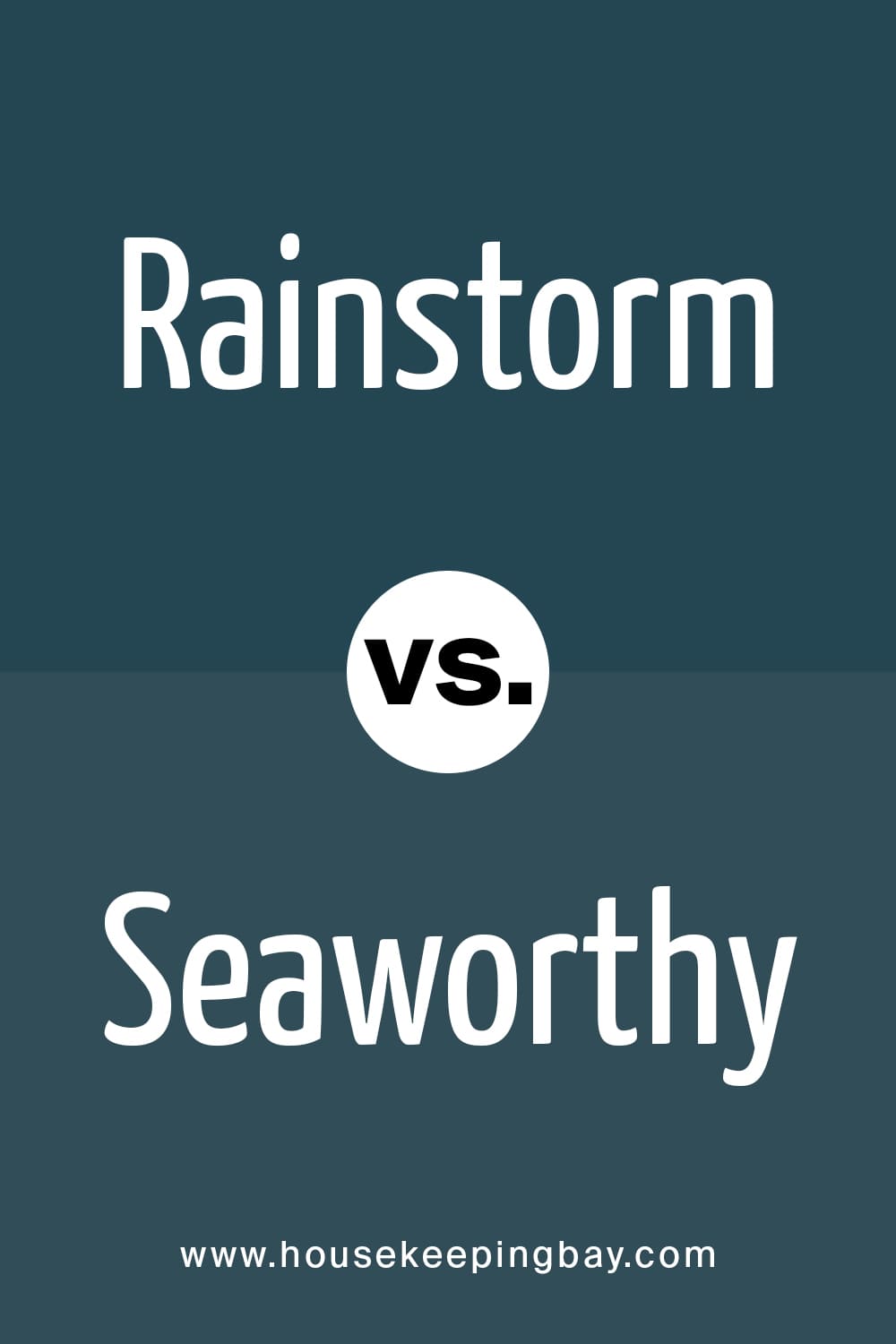 Rainstorm vs Moscow Midnight
These two look like twin brothers! Moscow Midnight is an absolutely gorgeous peacock blue paint color with slightly greenish notes in it.
It is also warm-toned, just like Rainstorm, this is why they can be successfully used interchangeably.
Well, like this, you are now informed about all the specifics and nuances that go with such a wonderful and gorgeous blue paint color as SW Rainstorm.
Unlike quite many blues, this deep and warm color can successfully match quite many interior designs and fit in many color schemes which makes it a versatile option for those who are tired of all subtle and neutral interiors and yearn for more color!
In addition, this paint color can be used both indoors and outdoors.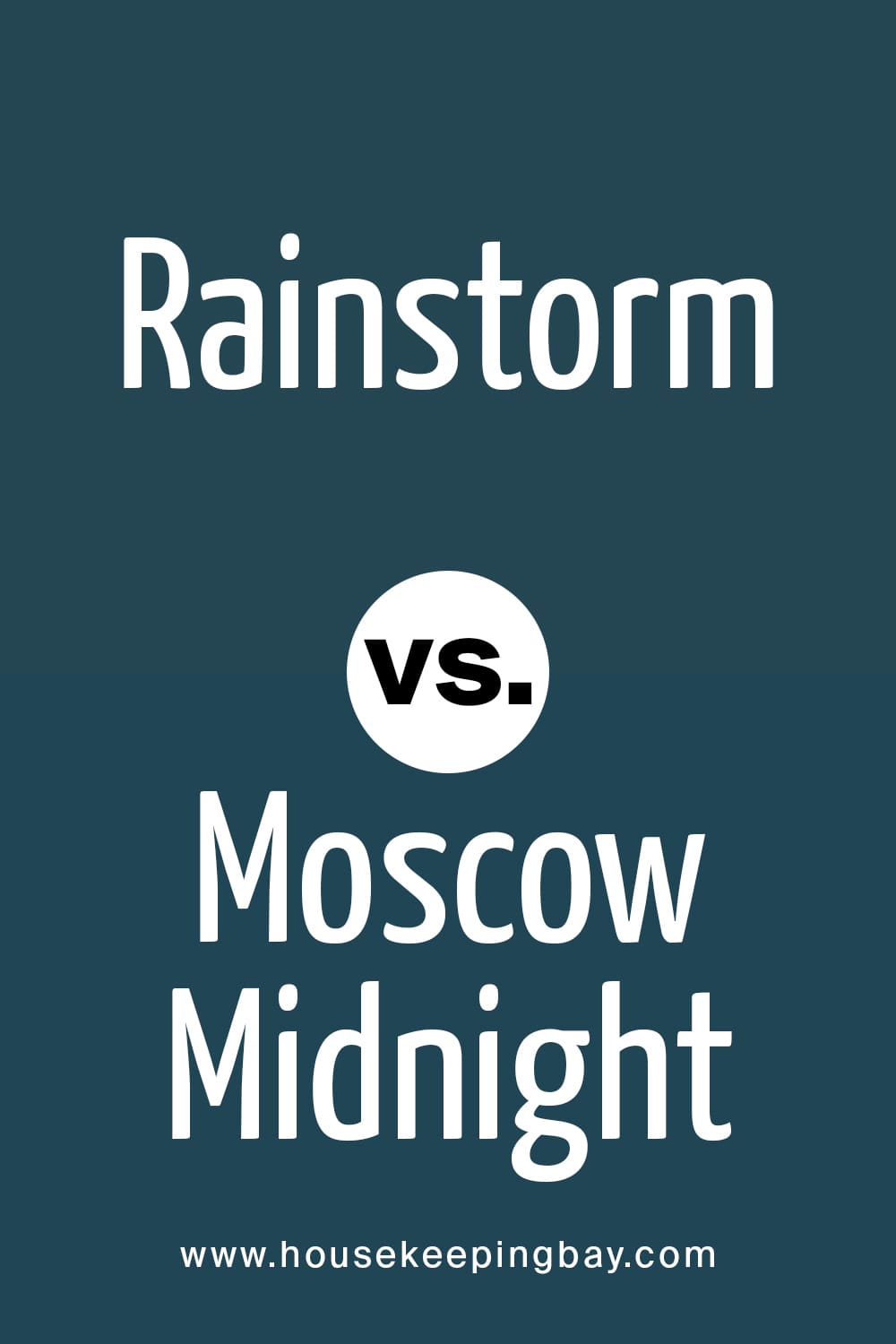 It allows you to find way more areas and options for its use in your home. Make sure that you take our recommendations into consideration, and this blue will turn your home into a very attractive, stylish, and yet cozy place.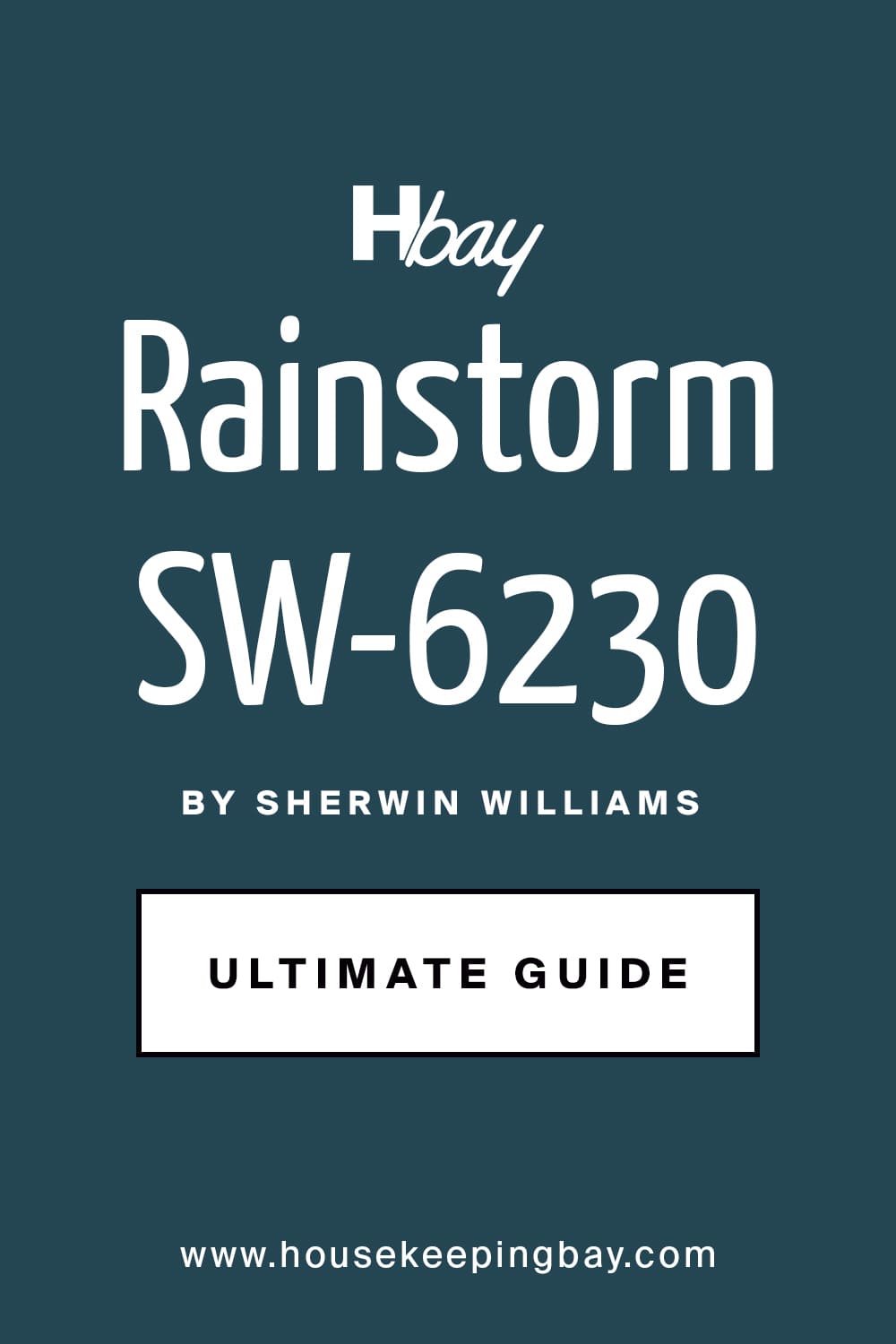 Frequently Asked Questions
⭐Is SW Rainstorm a green color?
No, it's blue but with green undertones. But in certain types of light, it can indeed look more greenish.
⭐Can Rainstorm paint be used with very light beiges?
Yes, but not with all of them. Before combining these two, you'd better use paint samples to compare and see which pair of colors you like more.
⭐Is it ok to combine Rainstorm color with pink?
No, pink won't be a good match. Off-whites and browns would be much better.