The world of colors is vast, eclectic, and a little daunting. It's not just about red, blue, or yellow anymore – there are countless shades, tones, and tints to choose from. A standout shade in the rich palette offered by Sherwin-Williams is SW 7575 Chopsticks.
This color has a profound depth that transcends the conventional bounds of what a color can be. This article aims to explore this unique color, its characteristics, compatible colors, and suitable applications.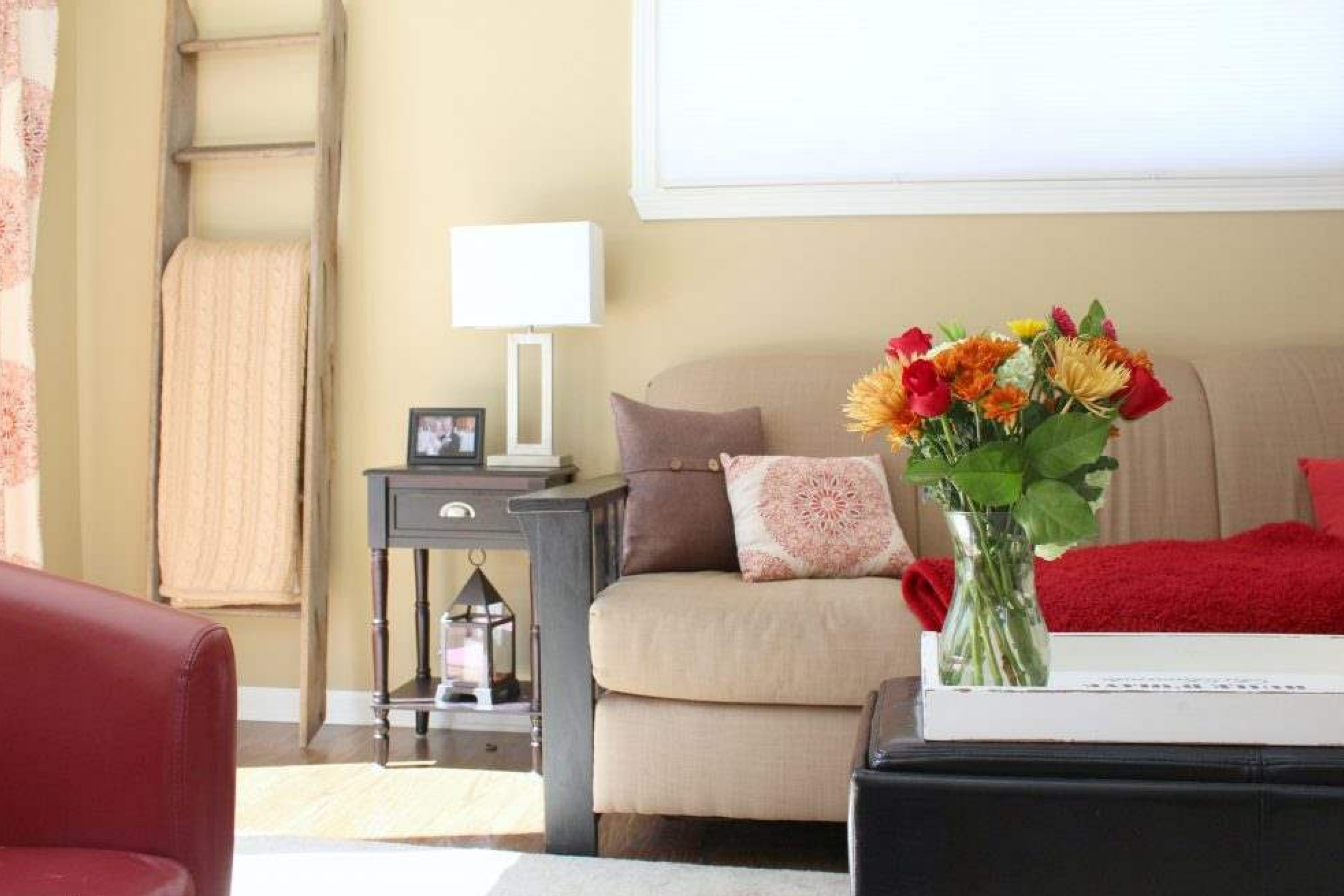 What Kind of Color Is SW 7575 Chopsticks?
Technically, SW 7575 Chopsticks is considered white. But in fact, it reads a neutral shade with a sophisticated blend of beige and gray. This tender and soft color evokes the image of delicate, naturally-colored wooden chopsticks – hence the name. The color is elegant, understated, and incredibly versatile, making it a popular choice among homeowners and interior designers.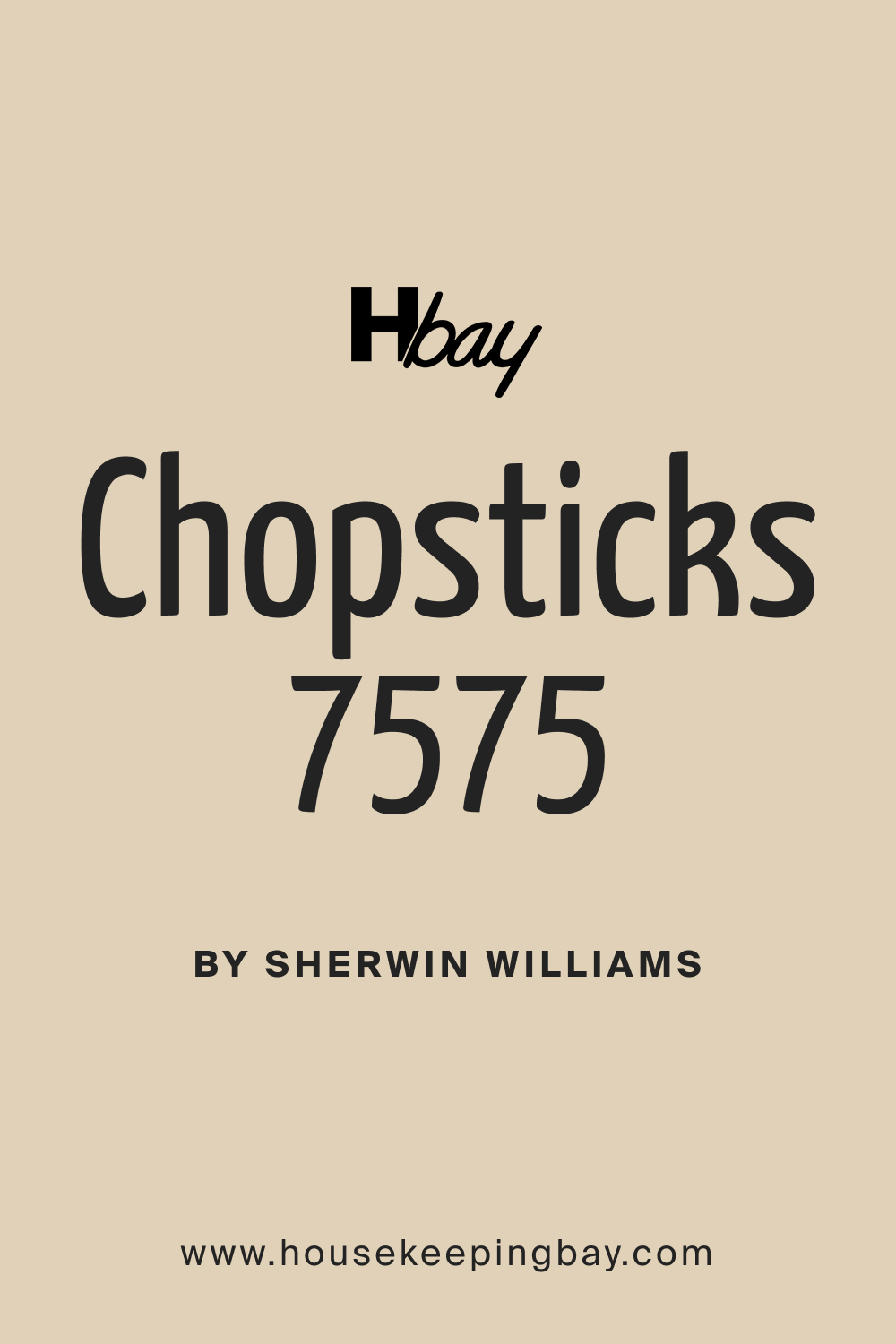 Is It a Warm Or Cool Color SW 7575 Chopsticks?
The SW 7575 Chopsticks paint color falls under the warm category. Its inviting hue has a welcoming effect, which makes spaces appear cozy and intimate. However, it carries a level of coolness that tempers its warmth, creating a balanced atmosphere that can match any style.
What Undertones Does SW 7575 Chopsticks Have?
The undertones of color are subtle hues underneath its surface that can alter its overall appearance. SW 7575 Chopsticks carries a series of undertones:
Beige: This underlying tone adds a soft warmth to the color, preventing it from becoming overly cool.
Gray: The gray undertone of SW 7575 Chopsticks lends a coolness that counterbalances its beige undertones, adding depth and sophistication.
Taupe: A slightly deeper and darker hint of taupe makes this color a bit more grounded and earthy.
Due to such complex undertones, this color might be a bit challenging to use. This is why read on to learn how to make it work in your space!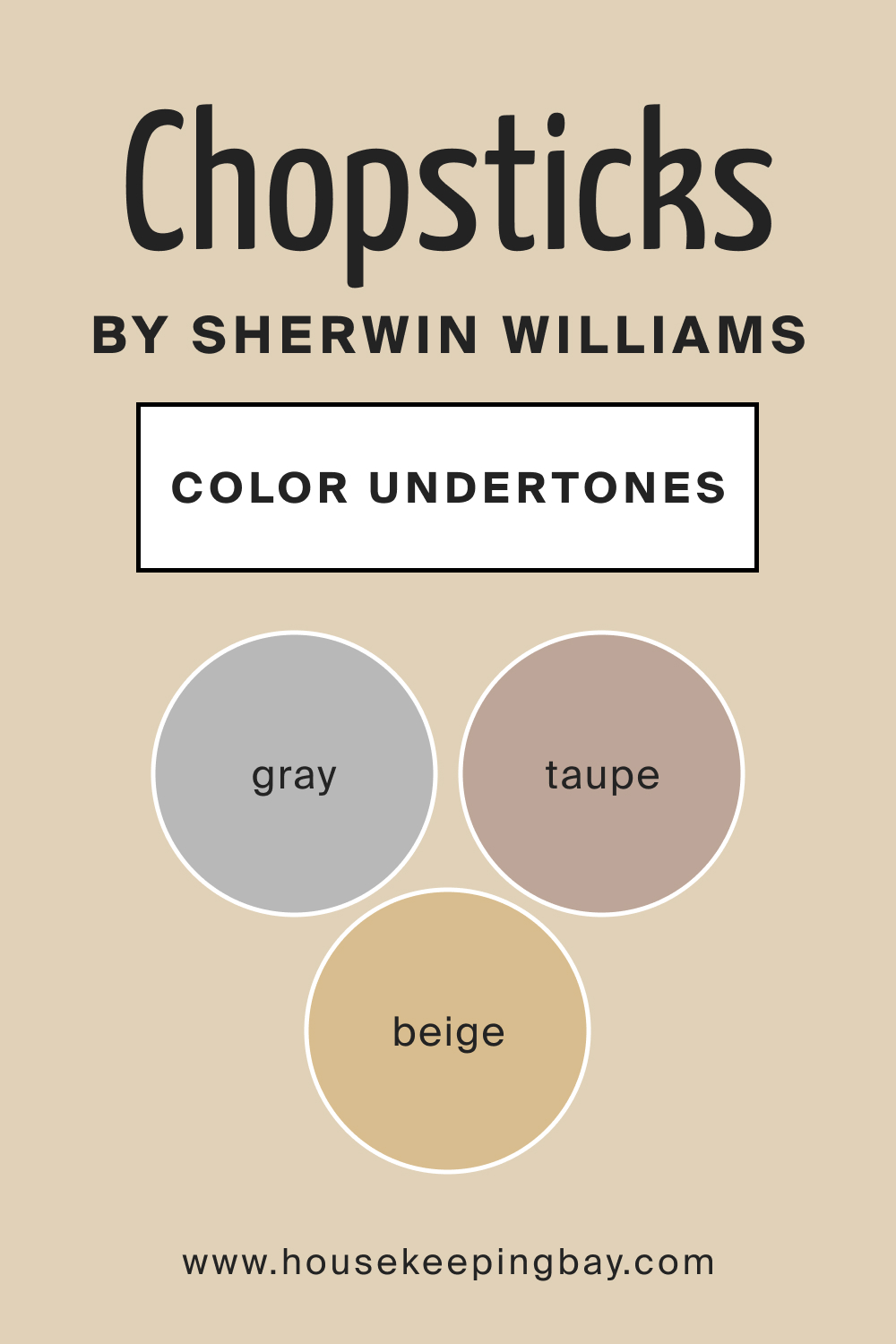 Coordinating Colors of SW 7575 Chopsticks
Selecting coordinating colors can be fun. But people often find it challenging to choose the correct coordinating color/colors for the hue they use on the walls. It mostly happens due to the lack of color theory knowledge.
Luckily, finding the right colors to pair with SW 7575 Chopsticks isn't a difficult task, thanks to its flexible nature! Here are coordinating colors that work particularly well with it: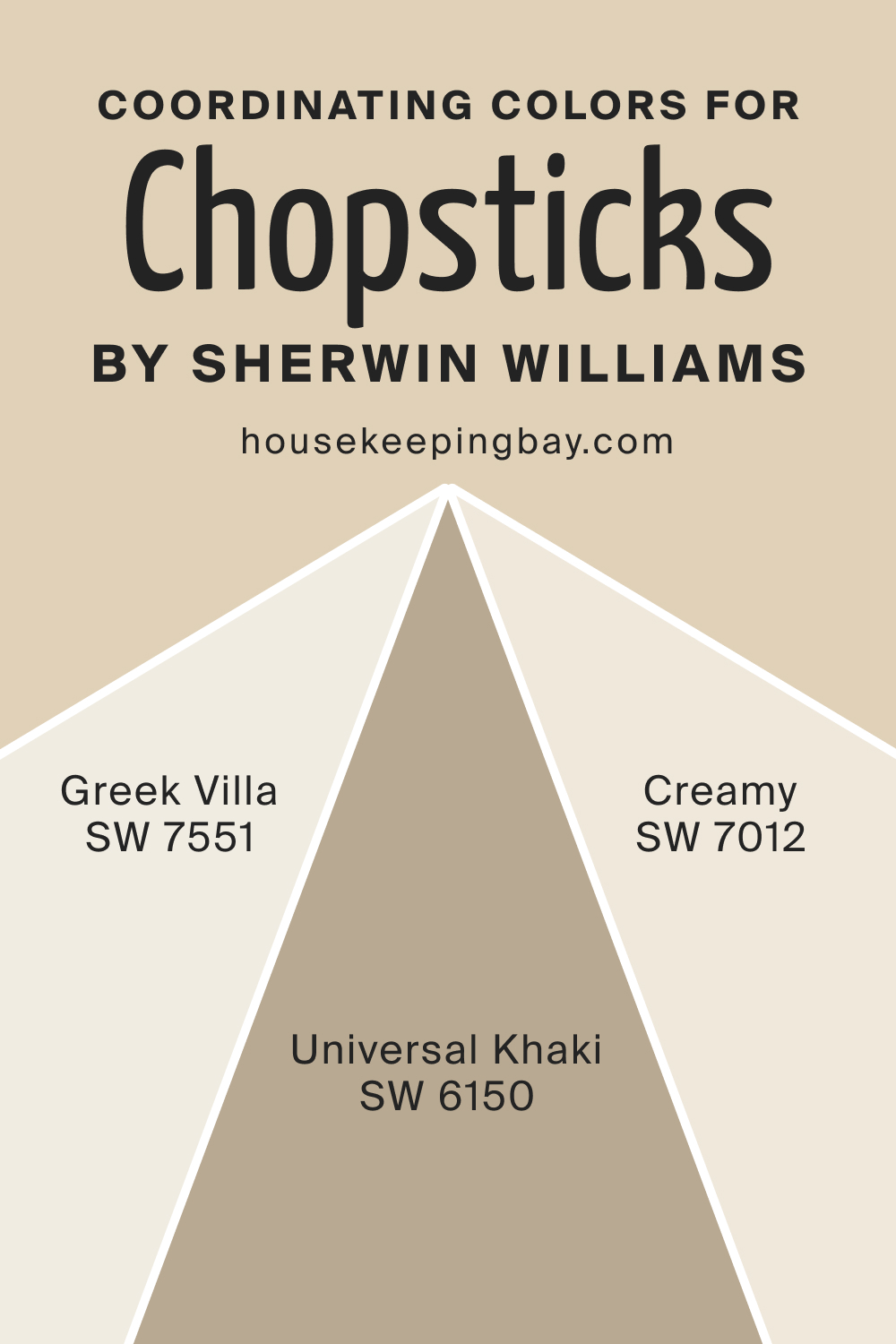 How Does Lighting Affect SW 7575 Chopsticks Paint Color?
Lighting significantly influences how a color looks. For SW 7575 Chopsticks, natural daylight brings out its beige undertones, making it look warmer. Meanwhile, artificial light can make it appear more grayish, emphasizing its cool undertones.
The type and intensity of artificial light can also change its appearance – warmer light tends to highlight its beige undertones, while cooler light brings out the grays.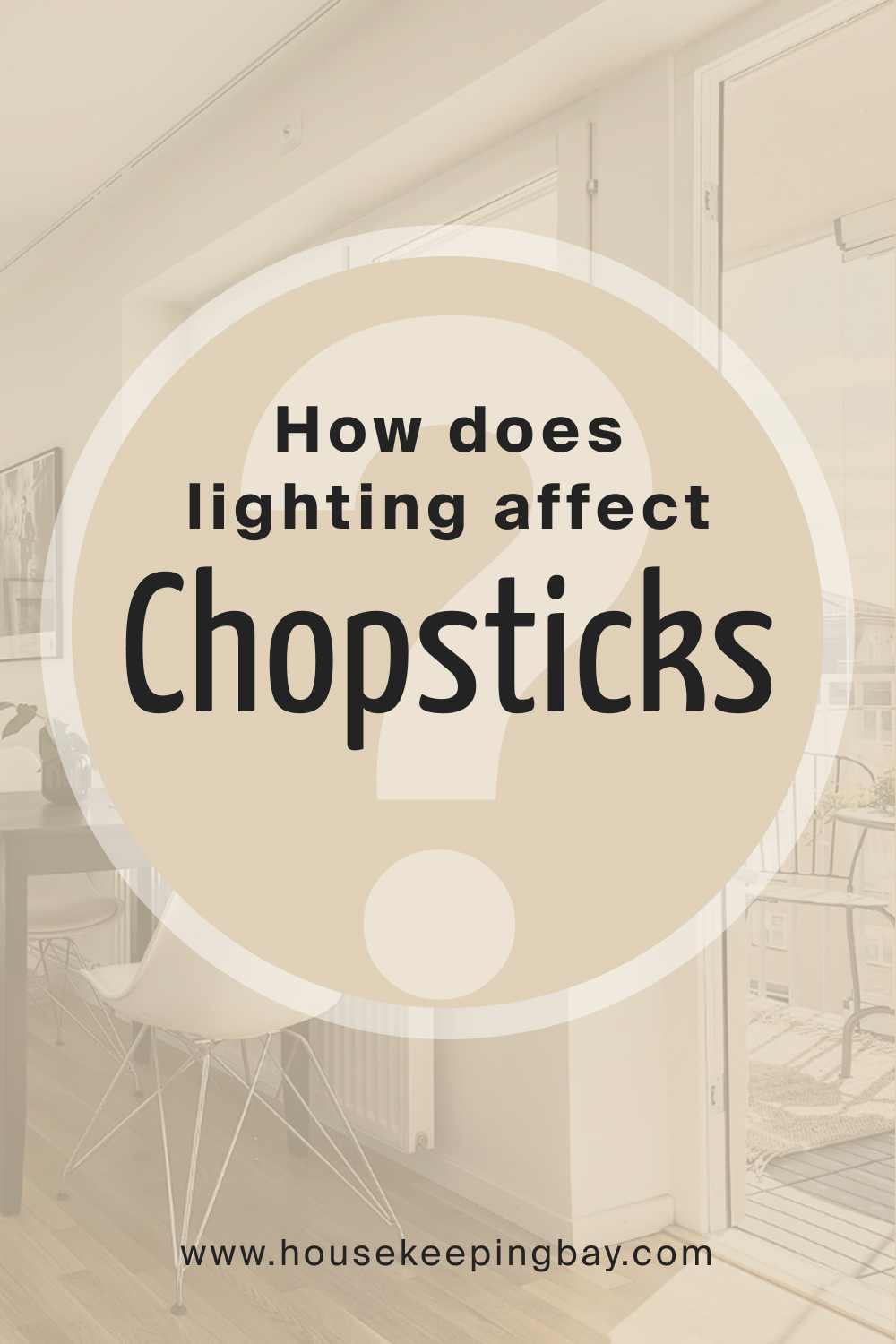 LRV of SW 7575 Chopsticks Paint Color
The Light Reflectance Value (LRV) is a measure of how much light a color reflects and how light or dark it appears. SW 7575 Chopsticks has an LRV of 65, indicating it is a mid-tone color. It can reflect a moderate amount of light, making it versatile for different lighting conditions and spaces.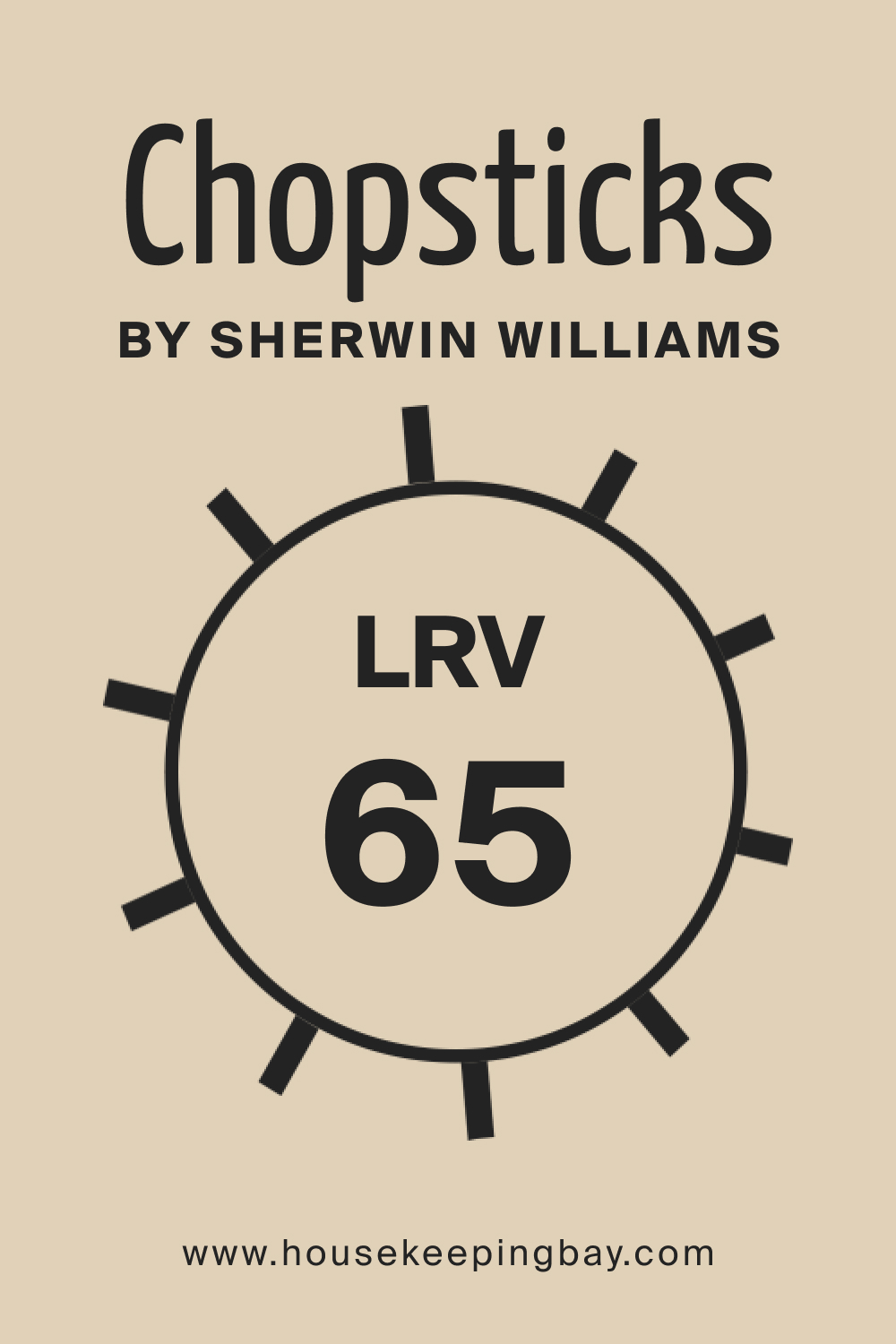 What is LRV? Read It Before You Choose Your Ideal Paint Color
Trim Colors of SW 7575 Chopsticks
To create a visually appealing design, consider the following trim colors for SW 7575 Chopsticks:
SW 7008 Alabaster: This off-white color creates a soft contrast, adding a crispness to the Chopsticks wall color.
SW 6258 Tricorn Black: A bold and dramatic option that provides a striking contrast against Chopsticks.
SW 7043 Worldly Gray: This lighter gray shade complements Chopsticks beautifully, creating a cohesive and harmonious look.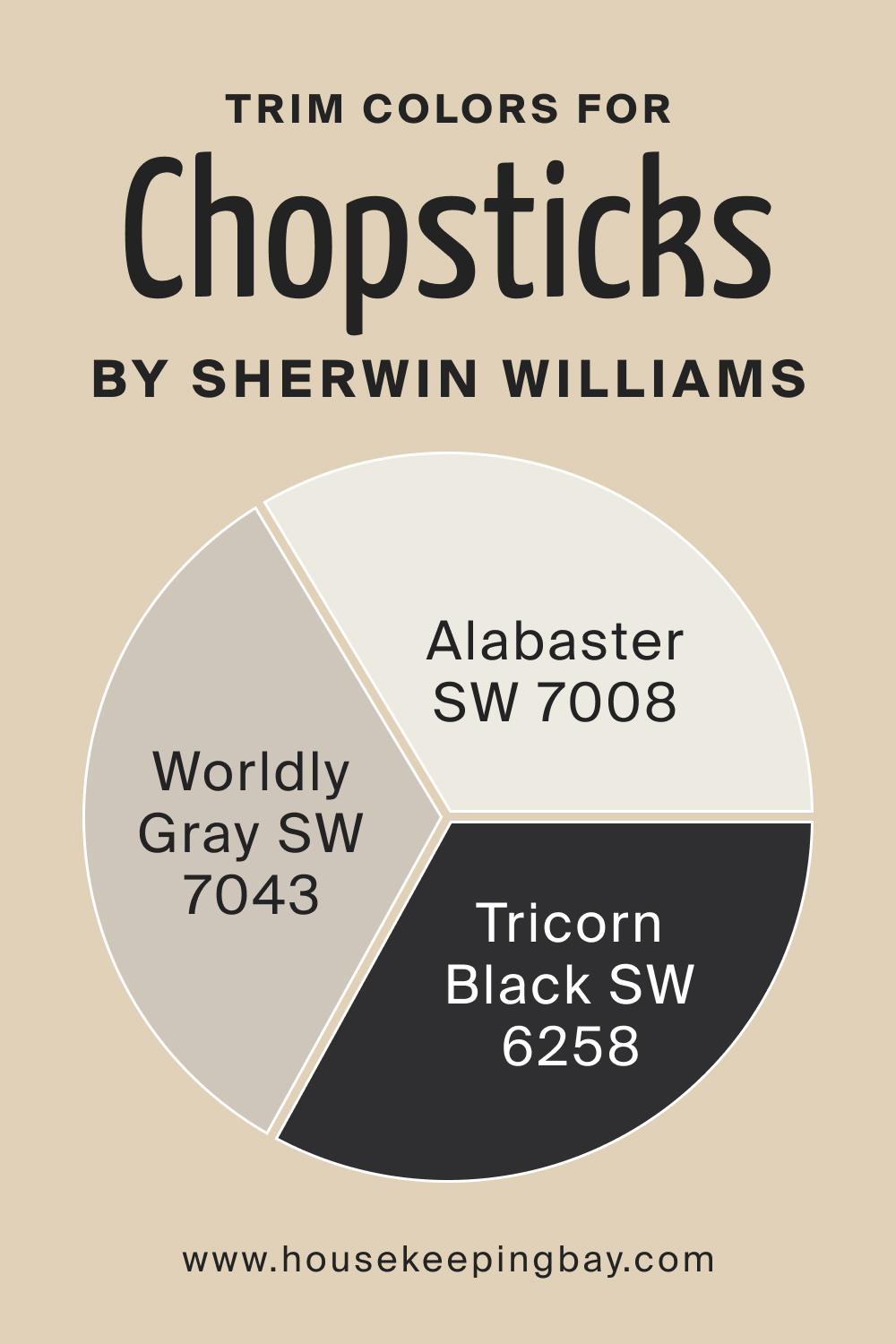 Colors Similar to SW 7575 Chopsticks
If you enjoy the understated elegance of SW Chopsticks but want to explore other options, consider the following colors:
BM Manchester Tan HC-81
SW 9109 Natural Linen
SW 7568 Neutral Ground
SW 7531 Canvas Tan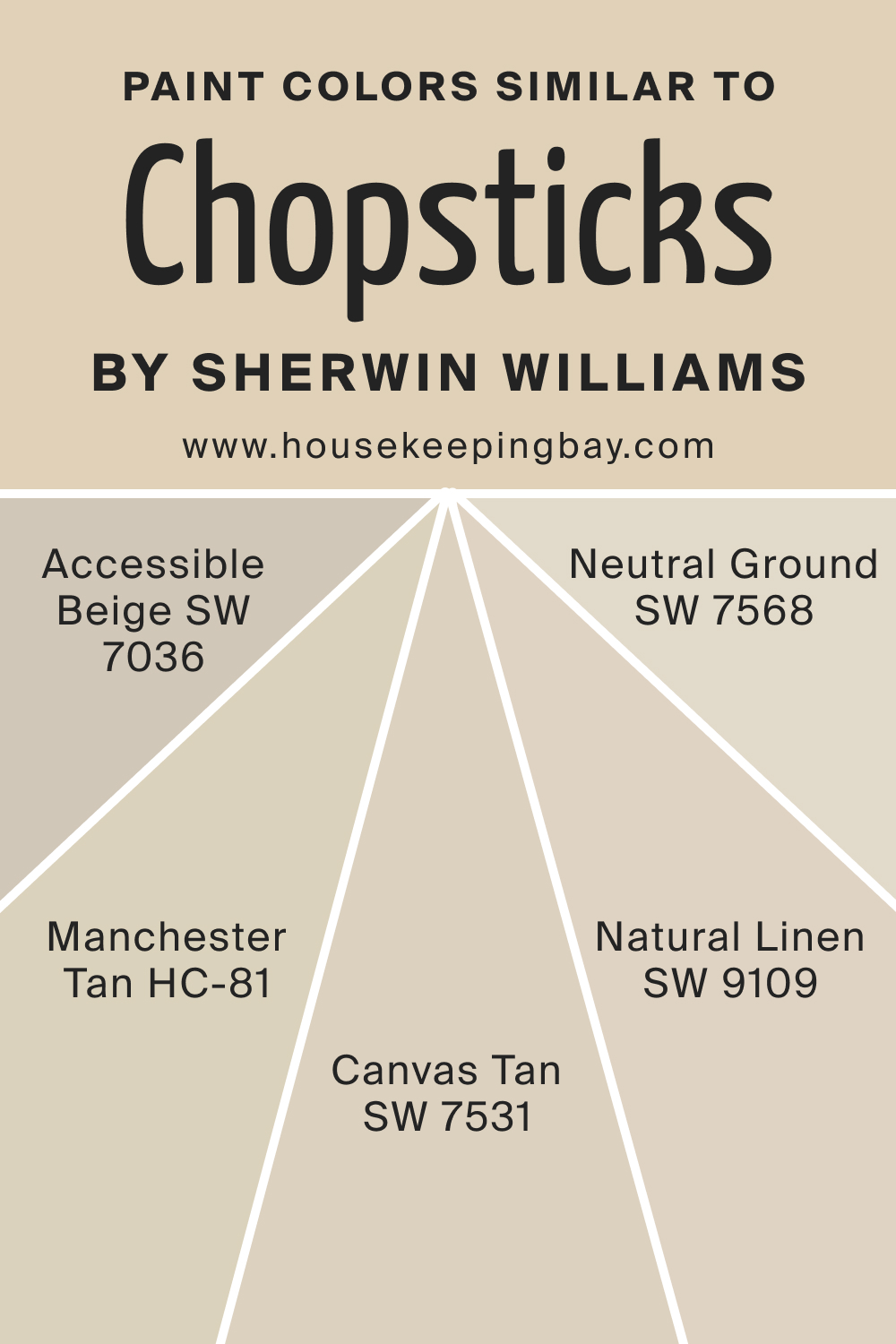 Colors That Go With SW 7575 Chopsticks
These six colors harmonize beautifully with SW 7575 Chopsticks:
SW 6991 Black Magic: A bold black that provides a striking contrast, perfect for accents and features.
SW 6039 Poised Taupe: A warm taupe that complements the earthy undertones in Chopsticks.
SW 7621 Silvermist: A cool silvery green that brings out the cool undertones of Chopsticks.
SW 6204 Sea Salt: This light greenish-blue offers a refreshing, breezy contrast to the earthy Chopsticks.
SW 9083 Chocolate Powder: A rich brown that enhances the warm and cozy feel of Chopsticks.
SW 6050 Abalone Shell: This gentle peach color adds a bit of soft, warm color, complementing the warm undertones of Chopsticks.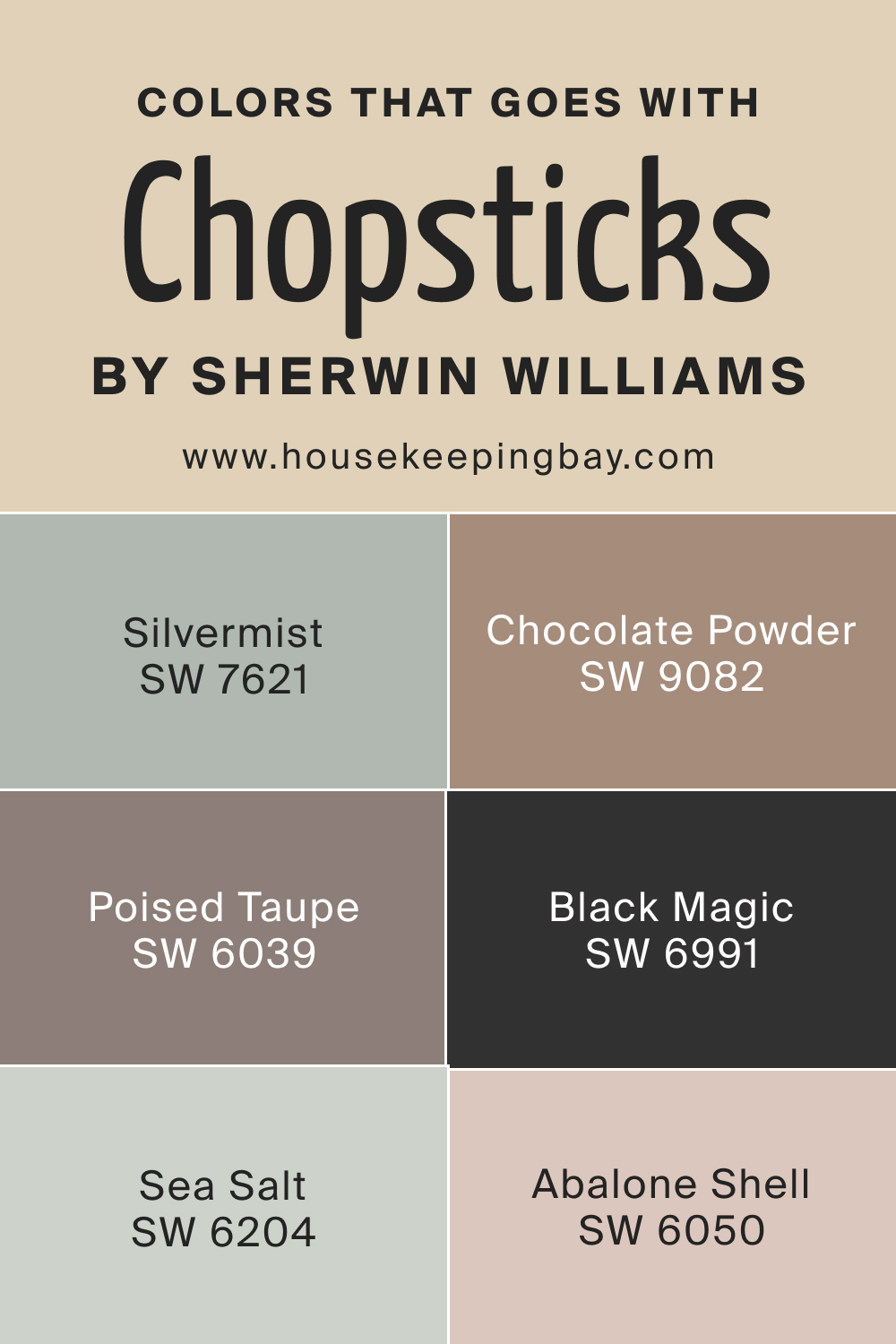 How to Use SW 7575 Chopsticks In Your Home?
Despite its warmth, this color is pretty versatile! Below, you can read in detail how it works in different rooms.
SW 7575 Chopsticks In the Bedroom
SW 7575 Chopsticks is a fantastic choice for the bedroom. Its warm yet neutral hue creates a calming, serene atmosphere that is perfect for a restful night's sleep. Pair it with soft whites for a timeless look or add a pop of color with bold accent pillows and accessories.
On the other hand, you can use SW Chopsticks to create a sophisticated and modern bedroom. Pair it with darker furniture and metallic accents. Add a plush area rug and luxurious bedding to complete the look.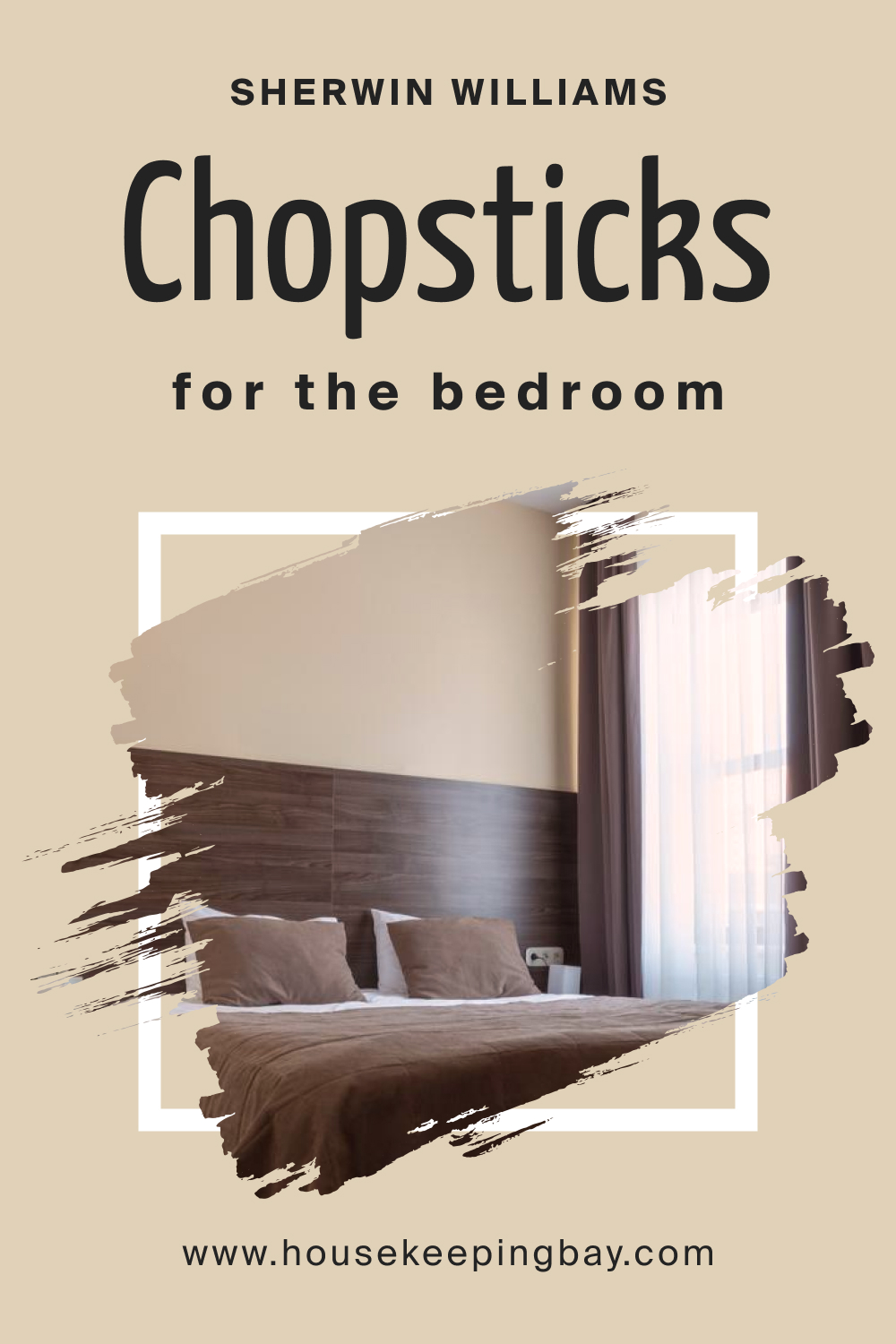 SW 7575 Chopsticks In the Bathroom
In the bathroom, SW 7575 Chopsticks creates a spa-like ambiance. The color works wonderfully with white fixtures, creating a clean, fresh look. You could also introduce natural elements like plants and wooden accents to emphasize its earthy undertones.
Alternatively, for a more luxurious feel, pair SW Chopsticks with marble countertops and gold or brass fixtures. The rich, warm hue of Chopsticks will complement these elements beautifully, creating a bathroom that exudes elegance and sophistication.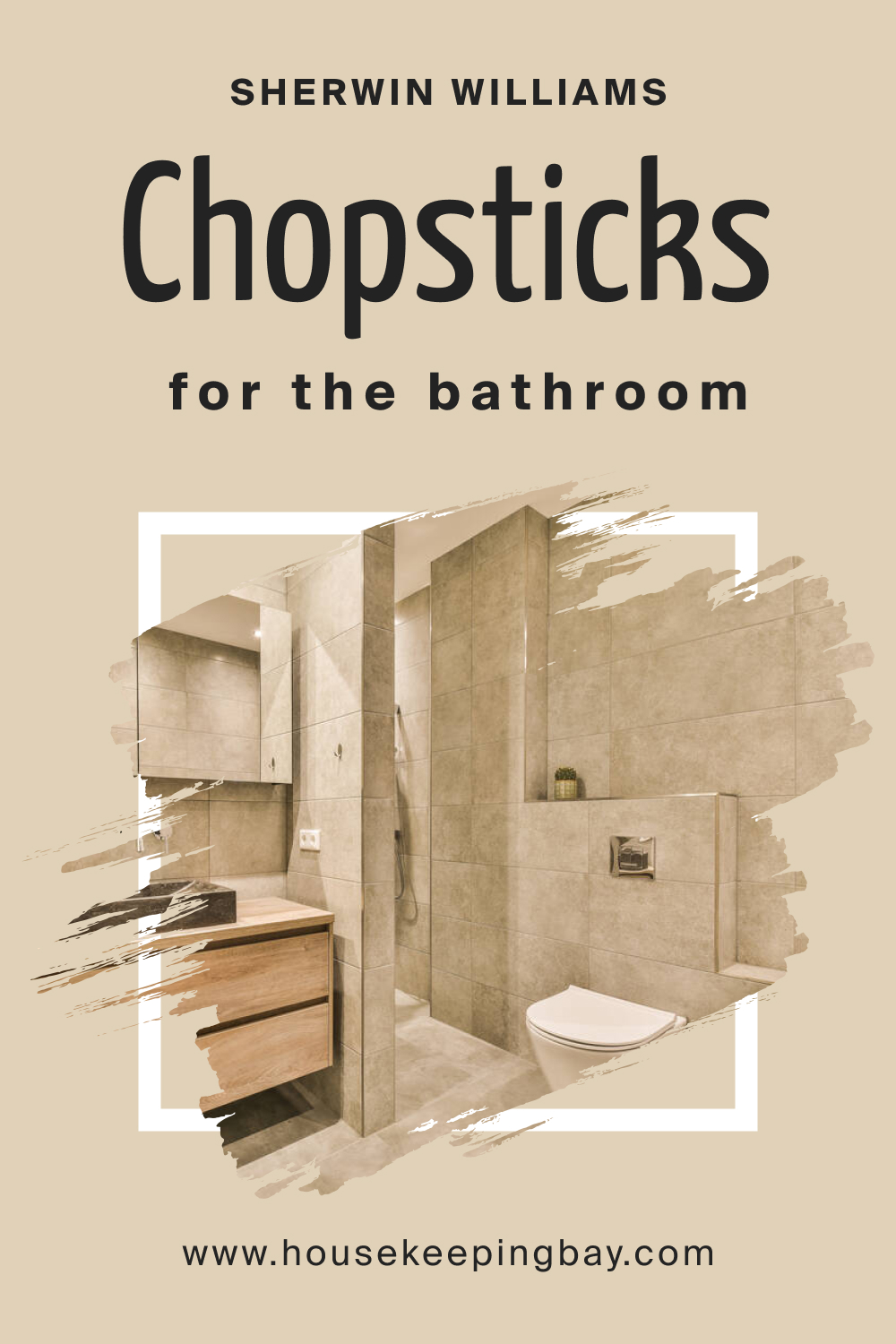 SW 7575 Chopsticks In the Living Room
In the living room, SW 7575 Chopsticks provides a versatile backdrop that can adapt to various design styles. For a cozy, casual look, pair it with earthy and neutral-toned furniture and accessories. Introduce texture through a shaggy rug, knitted throws, and linen cushions.
For a more modern look, contrast SW Chopsticks with darker tones like charcoal or black. Add sleek furniture, metallic accents, and geometric patterns to complete the look.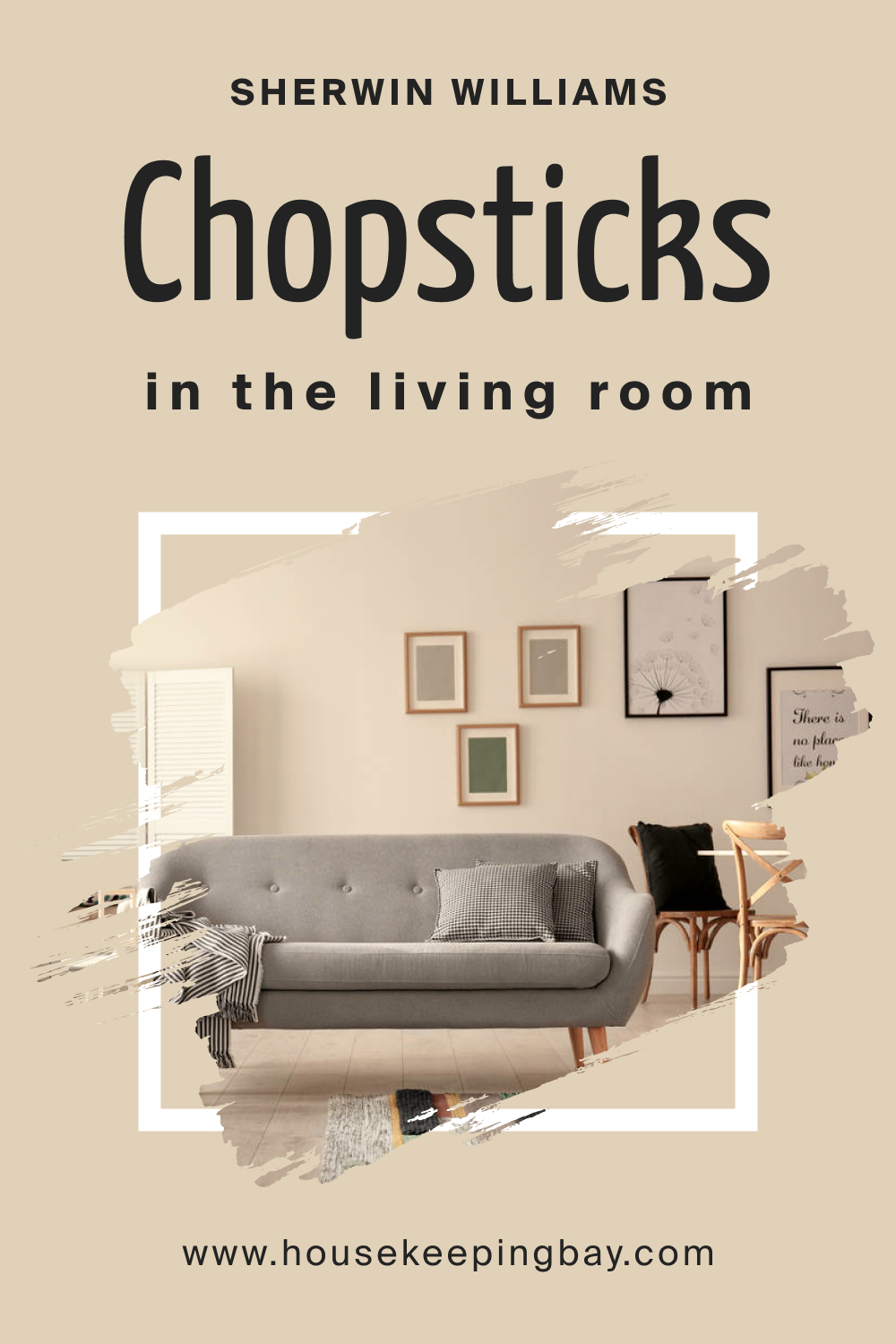 SW 7575 Chopsticks For an Exterior
SW 7575 Chopsticks is an excellent choice for exterior walls as well. It's an unassuming color that blends well with natural surroundings. Pair it with white trims for a classic look, or opt for darker trims for a more modern appeal. The warm hue also complements brick, stone, and wood beautifully, making it versatile for different exterior materials.
On the other hand, for a bolder exterior look, try pairing SW Chopsticks with more contrasting colors like deep blues or greens. This color combination will create an attractive, eye-catching facade.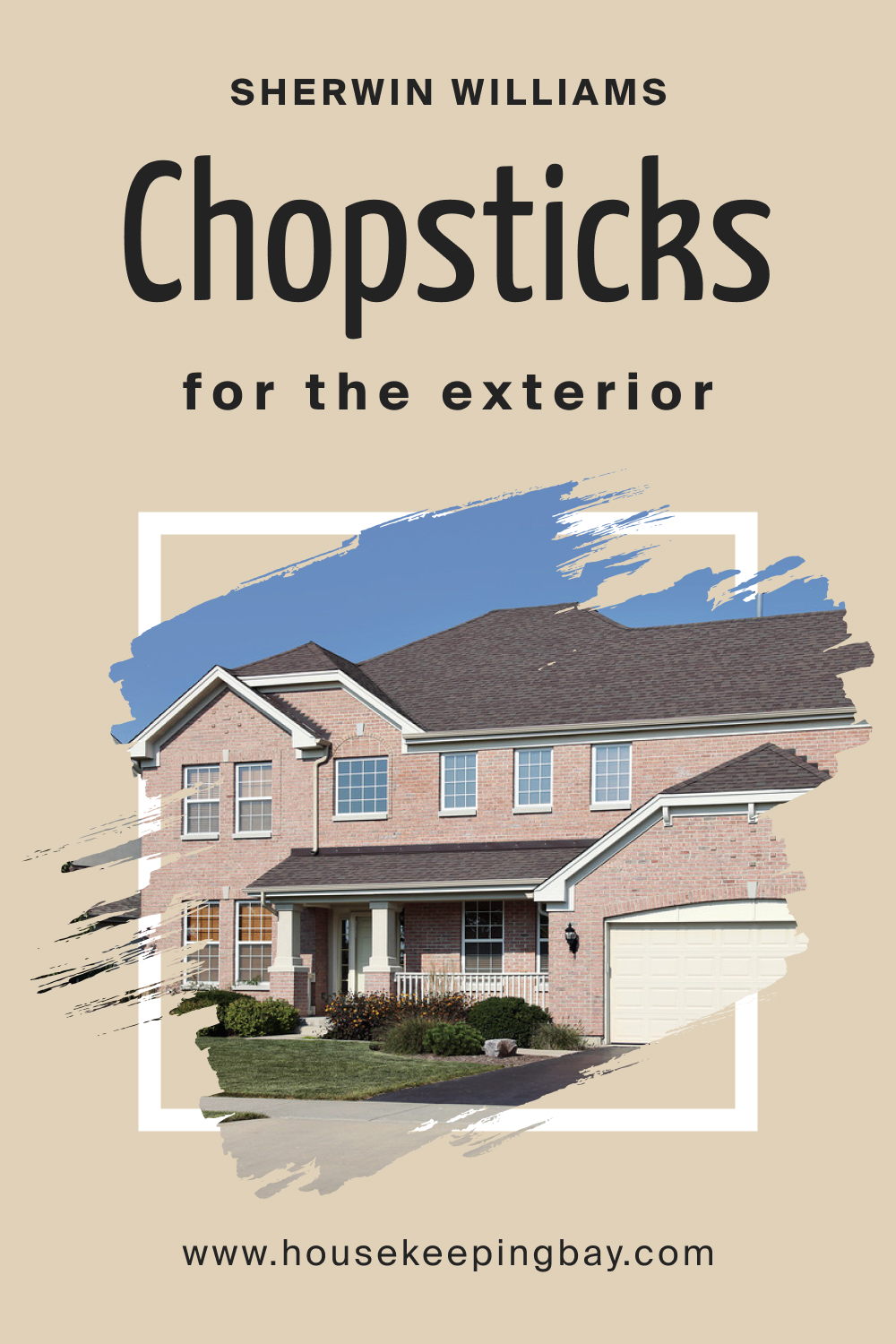 Comparing This Color With Other Paint Colors
The following comparison of SW Chopsticks and a few other colors will help you better see the unique features of each hue and understand how distinct LRVs and undertones work, making colors read differently.
SW 7575 Chopsticks vs  SW 7048 Urbane Bronze
SW 7048 Urbane Bronze is a much darker and cooler color compared to Chopsticks. While Chopsticks has a soft, warm appeal, Urbane Bronze offers a deep, rich presence. SW Chopsticks works well in creating light, airy spaces, while Urbane Bronze is perfect for dramatic, intimate settings.
In terms of undertones, Urbane Bronze carries a hint of green, contrasting the beige and gray undertones of Chopsticks. Despite their differences, both colors work well together, with Chopsticks providing a lighter contrast to Urbane Bronze.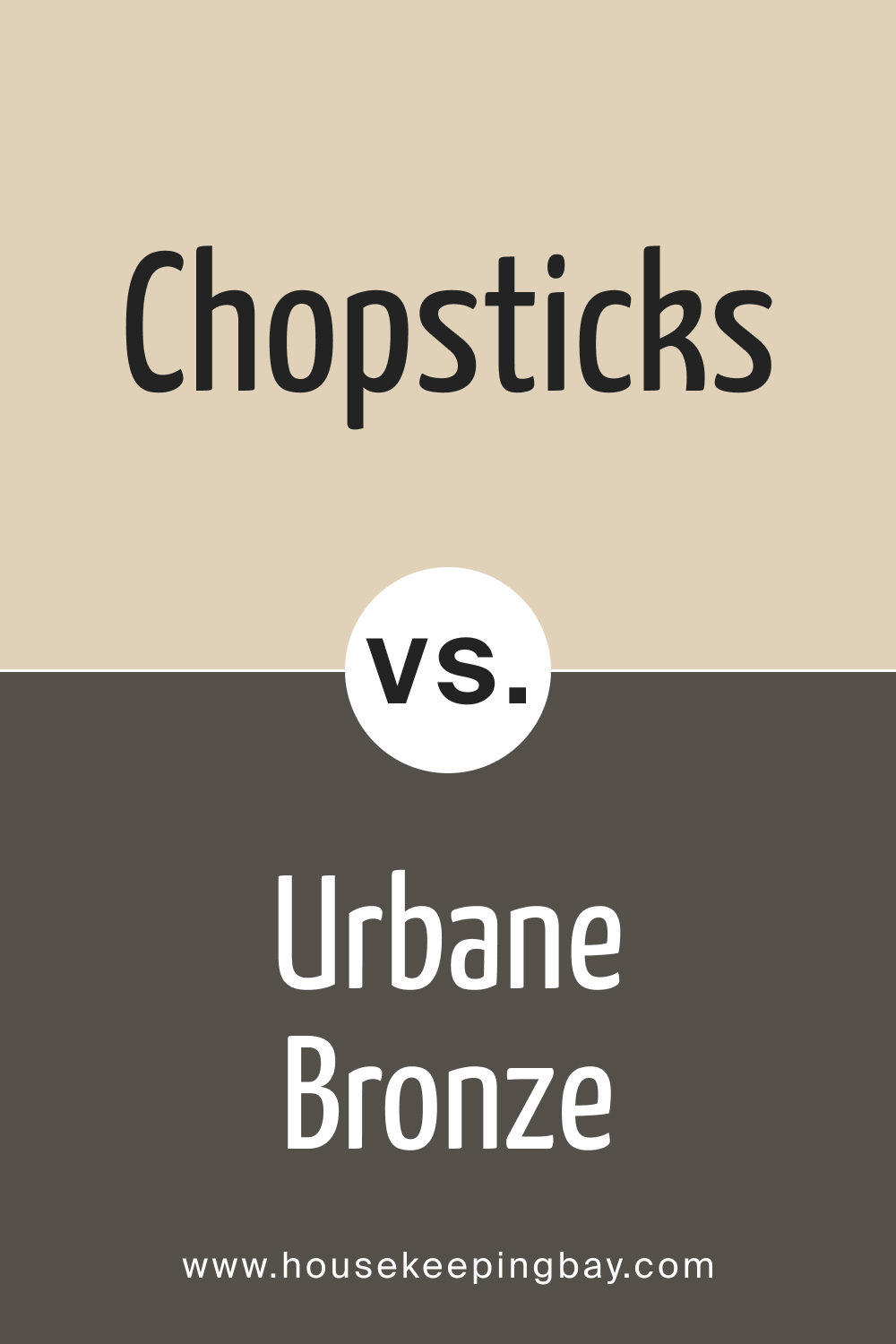 SW 7575 Chopsticks vs BM HC-83 Grant Beige
HC-83 Grant Beige by Benjamin Moore is a warm, rich beige color, slightly darker than Chopsticks. It carries a more pronounced brown undertone compared to the balanced beige-gray of Chopsticks. Grant Beige gives a slightly warmer feel, while Chopsticks leans towards a more neutral palette.
Both colors have a similar cozy appeal, but Grant Beige is better suited for those seeking a warmer, more earthy hue, while Chopsticks is perfect for those looking for a balanced, understated elegance.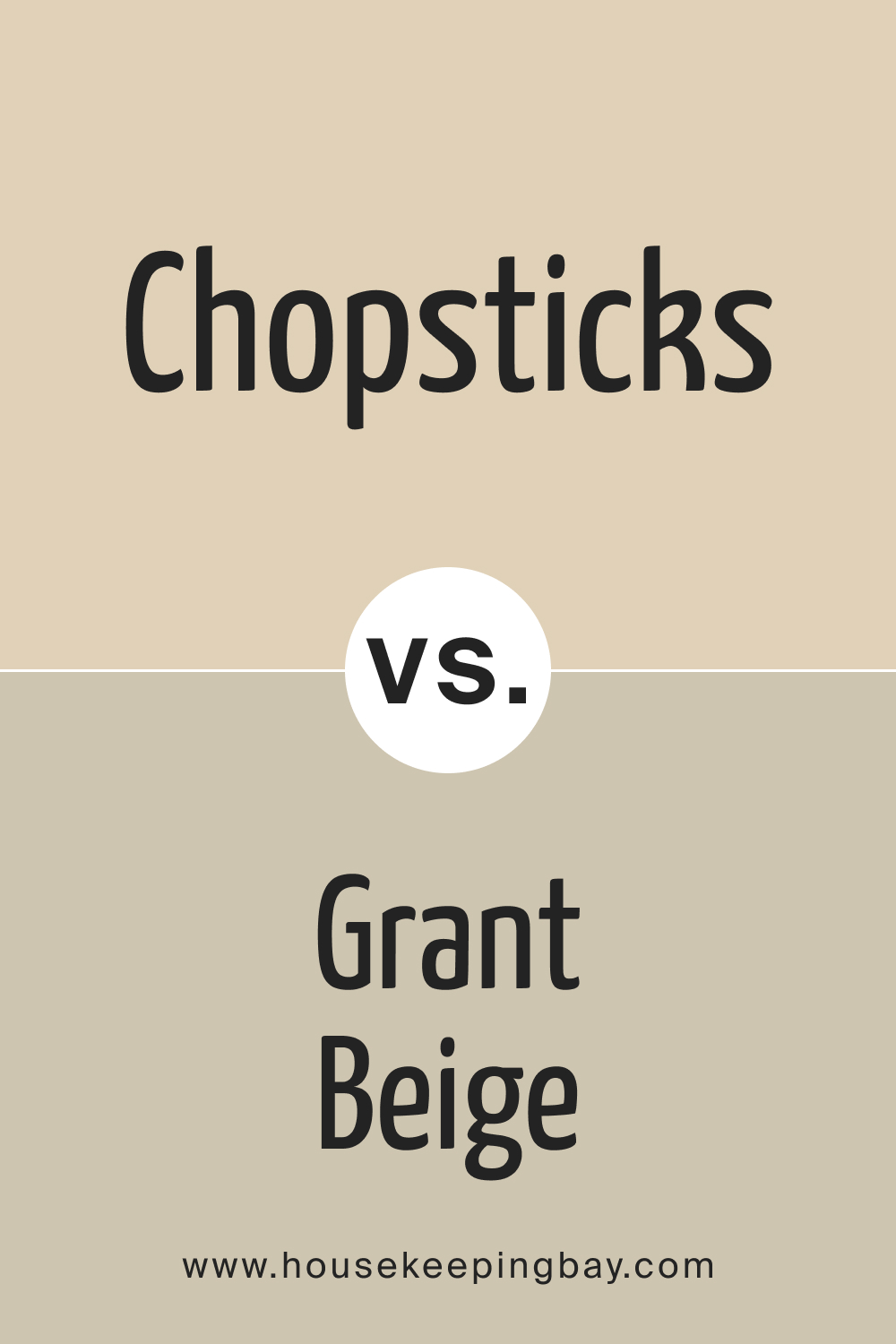 Conclusion
SW 7575 Chopsticks is a versatile, timeless color that carries a unique balance of warmth and coolness. Its earthy undertones, compatibility with a wide range of colors, and adaptability to different spaces make it a popular choice among homeowners and interior designers.
Whether you are creating a tranquil bedroom, a luxurious bathroom, a cozy living room, or an inviting exterior, SW 7575 Chopsticks offers endless possibilities. Despite being a neutral shade, it carries an understated elegance that can enhance any space.
Choosing a paint color is an integral part of home decor. And while SW 7575 Chopsticks is a fantastic choice, remember to consider other elements, such as lighting, furniture, and accessories, to create a cohesive and visually appealing space. With careful planning and a little creativity, you can transform your home into a place that reflects your style and personality.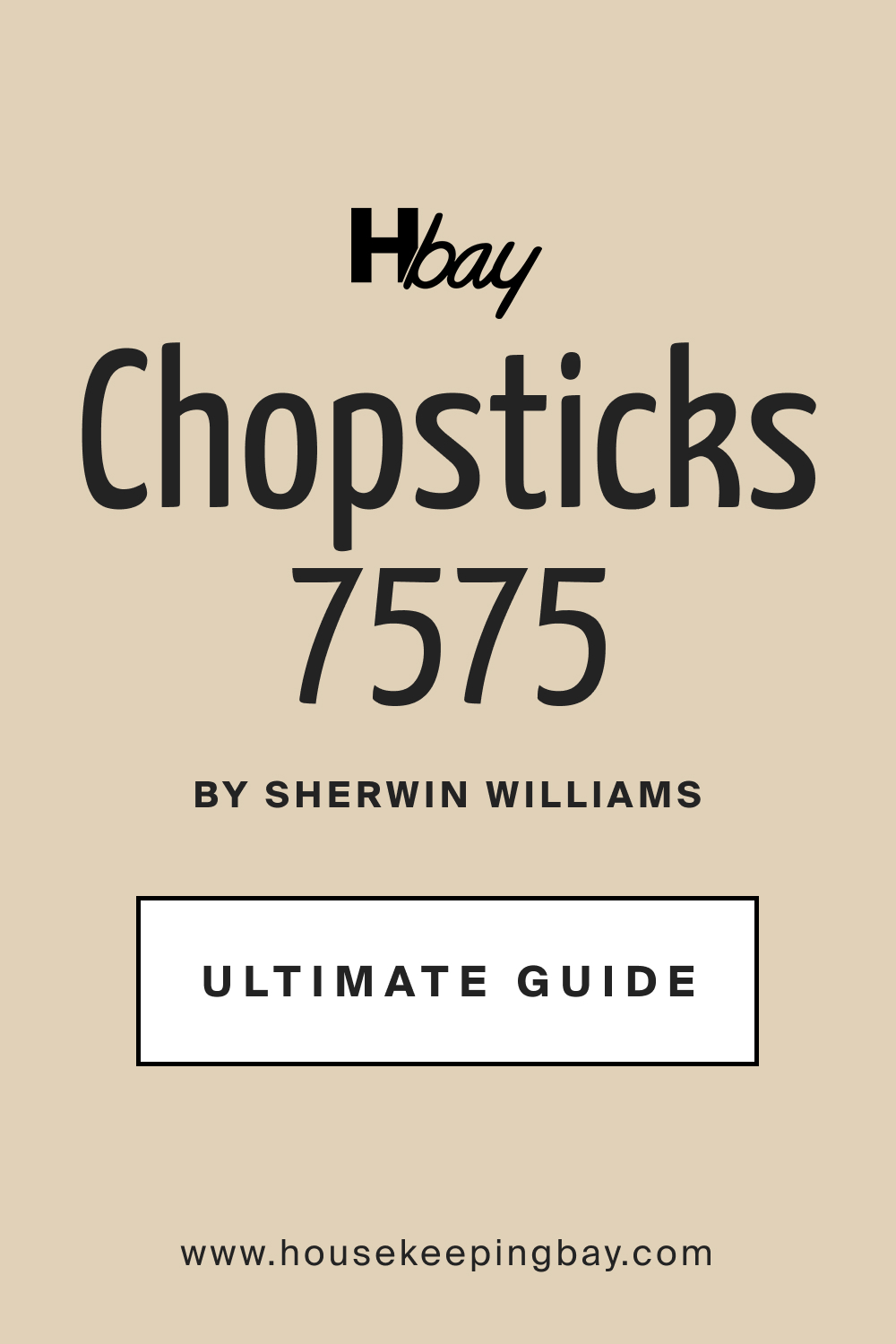 Frequently Asked Questions
⭐What type of undertones does SW 7575 Chopsticks have?
SW 7575 Chopsticks has subtle undertones of beige, gray, and taupe, giving it a balanced, neutral appeal.
⭐How does lighting affect the appearance of SW 7575 Chopsticks?
In natural daylight, SW 7575 Chopsticks appears warmer, highlighting its beige undertones. Artificial light can emphasize its gray undertones, making it look slightly cooler. The color's appearance can also change depending on the type and intensity of artificial light.
⭐Which colors coordinate well with SW 7575 Chopsticks?
SW 7575 Chopsticks is versatile and can pair well with many colors. Notable examples include SW 7072 Online, SW 6108 Latte, SW 6693 Lilly, SW 6212 Quietude, SW 7015 Repose Gray, and SW 7568 Neutral Ground.
⭐Is SW 7575 Chopsticks suitable for both interior and exterior use?
Yes, SW 7575 Chopsticks is suitable for both interior and exterior use. Its balanced tone allows it to fit seamlessly into various settings and styles.
⭐How does SW 7575 Chopsticks compare to similar colors like SW 7037 Balanced Beige or Behr's N190-4 Smokey Taupe?
While SW 7575 Chopsticks, SW 7037 Balanced Beige, and Behr's N190-4 Smokey Taupe are all neutral shades, they each have distinct characteristics. Chopsticks has a balanced beige-gray hue, while Balanced Beige leans more towards warm beige, and Smokey Taupe is a cooler taupe color. Your choice between these colors would depend on whether you prefer a balanced neutral, a warmer beige, or a cooler taupe.