When we decide to refresh our home interior and get ready for the upcoming paintwork, it is important to choose the color we want to apply correctly.
It is not enough to just make sure that it will match the rest of the colors we have in our home. You need to be aware of certain color nuances in order to pick the right shade.
In this article, we will describe and discuss one of the most beautiful green colors of the Benjamin Moore brand – Hunter Green paint color. You will find out what kind of color it is and what undertones it has.
Also, we will tell you more about its light reflectance value and the way this color reacts to lighting. Finally, we will provide you with coordinating colors and trim colors so that you know how to create the most harmonious color palette in your home.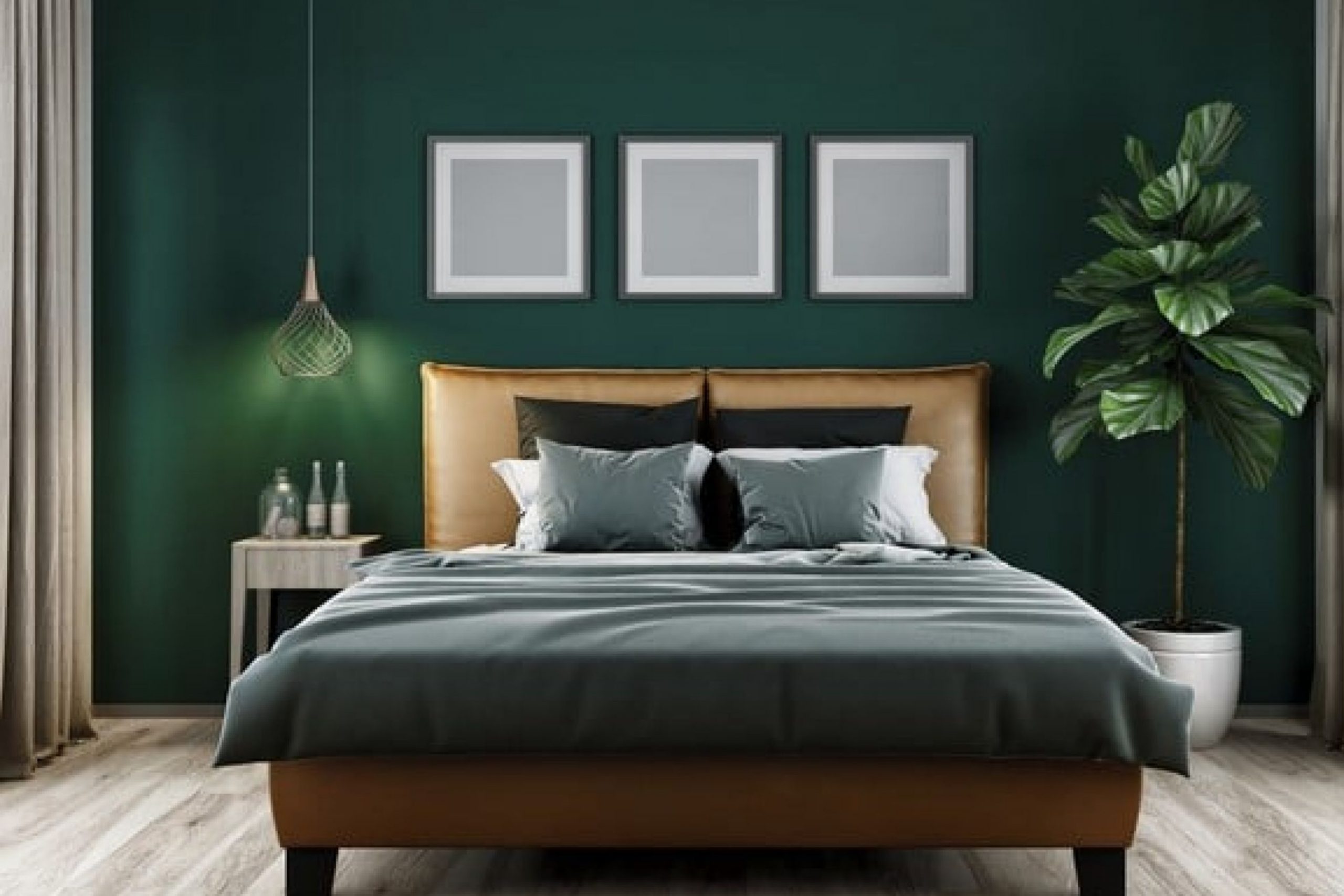 What Kind Of Color Is Hunter Green 2041-10?
If you are fond of colors that are natural, you will definitely enjoy the absolutely awesome green color called Hunter Green by Benjamin Moore brand.
As Encycolorpedia says, this bold and saturated green reminds you of green tree leaves and fresh grass, giving that feeling of freshness and calmness that we experience when being in the forest.
This classic green is very versatile despite the fact that you might think the opposite about it. This color can bring warmth and depth to a wide variety of interior spaces and exterior facades, doors, and even shutters.
If you use it in your kitchen, this rich shade of green could be used on cabinetry and successfully paired with a light-hue countertop surface. It would also look nice with creamy white backsplash tiles, and black, gold, or brass metallic accents, such as handlers, hangers, etc.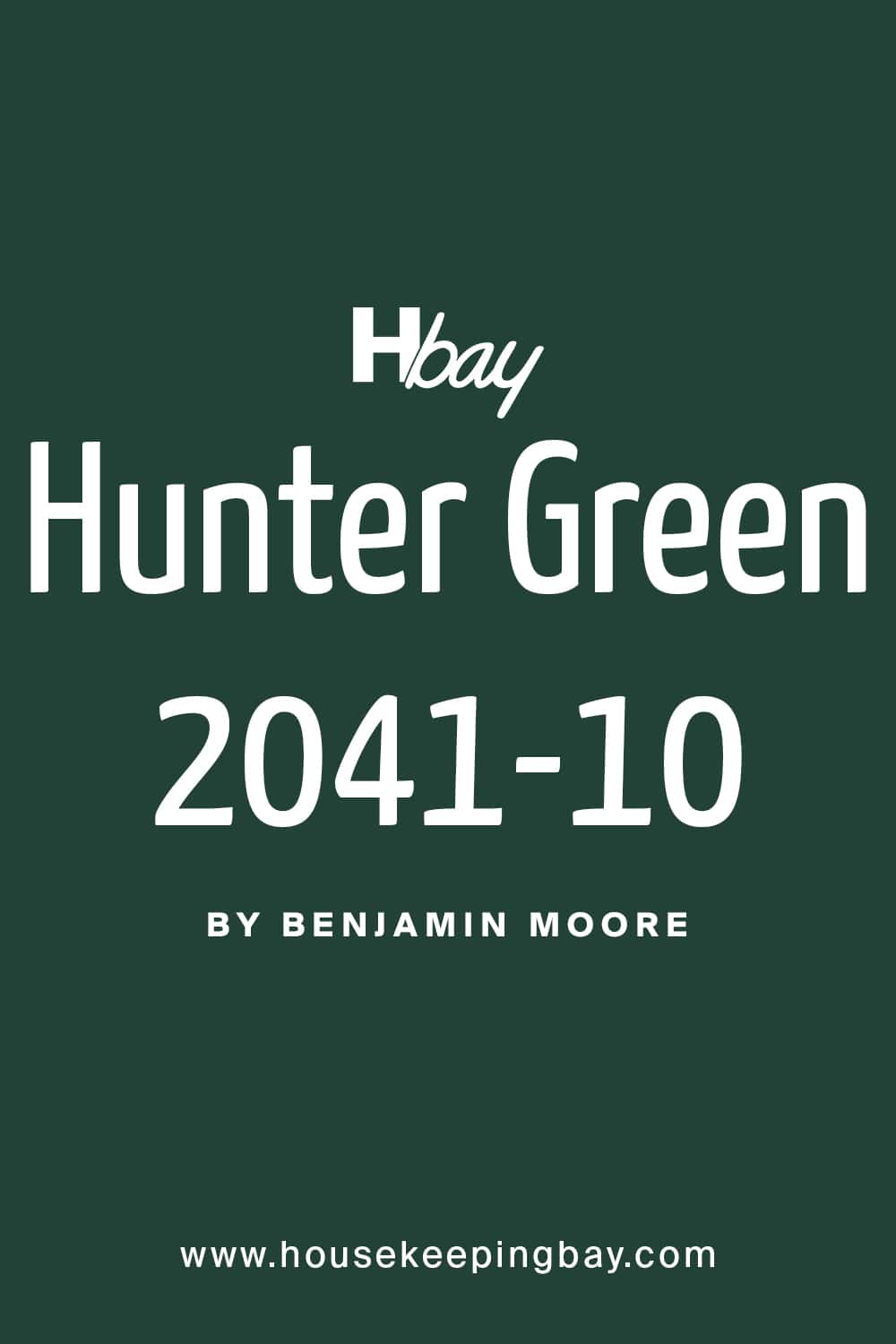 Its Undertones of Hunter Green 2041-10
Even though this paint color seems very bold and simple, you should still learn more about its undertones. See, undertones tend to "hide" unless they get the right lighting.
In this case, some very unexpected shades may come out, turning the initial color into something completely different!
As for the BM Hunter Green, this rich green has greenish undertones, however, don't think this color is so simple! In different lighting, it can appear more or less rich and saturated, sometimes turning almost pale green!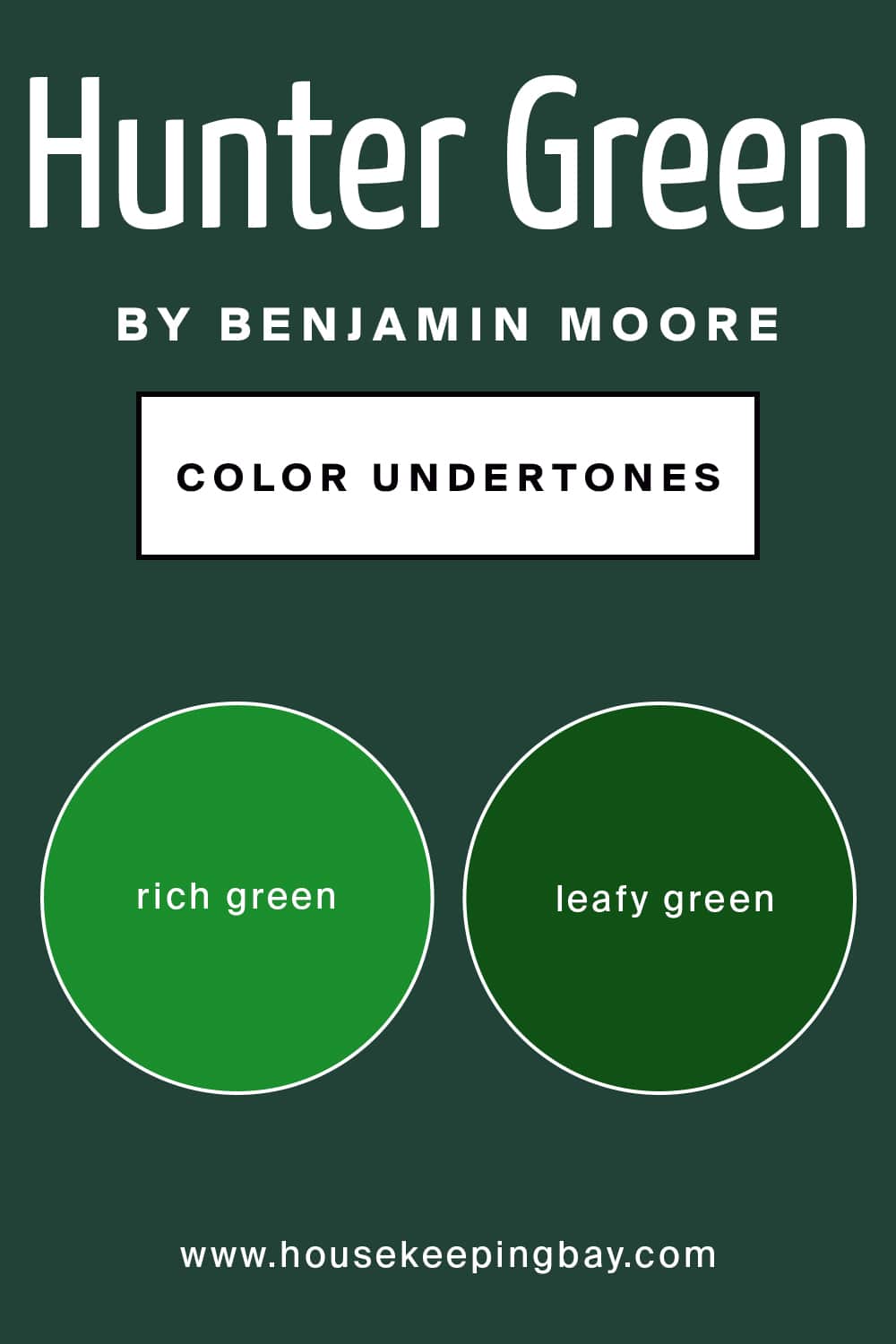 How Hunter Green 2041-10Color Reacts to Light?
The way the paint color reacts to light can help you understand what rooms it is best to be used in. When speaking of the way certain paint colors react to lighting, we need to consider what is called a light reflectance value, or LRV.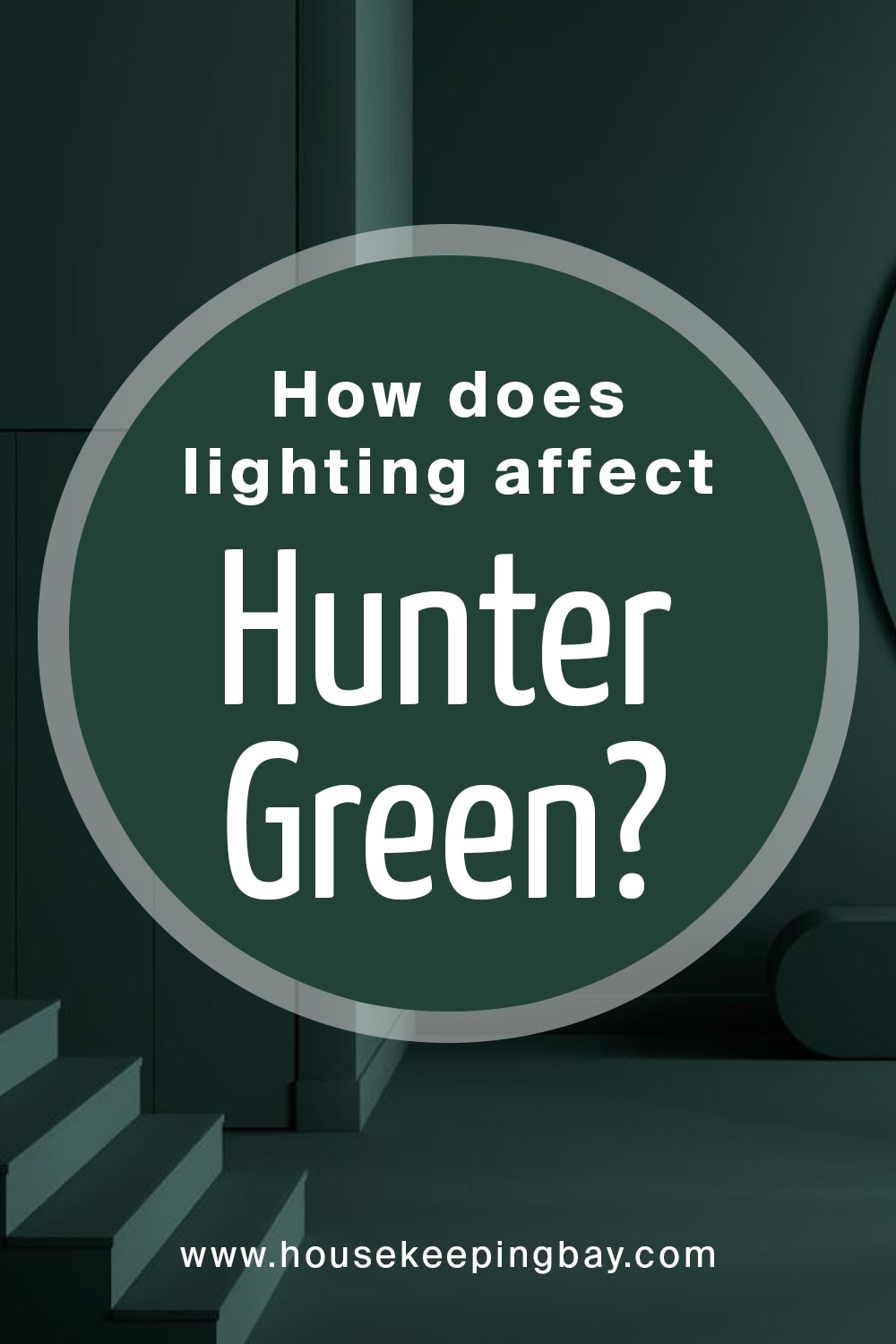 This is the ability of the color to reflect light which affects the final shade we see on the walls.
The LRV of BM Hunter Green is 4.31 which makes it a deep and rich, rather dark green color. But even though this color is dark enough, in cooler light, it may seem paler than in a room with warm daylight, for example.
This is the very basic description of the color, of course, but even with this little information, you will be able to better understand what you should expect from this awesome and rich leafy green.
What Is the Best Trim Color For Hunter Green 2041-10?
As you probably know, white is typically the optimal color used for the trims in home interior design. Depending on the major color, you might also want to use either cooler tones of white, or stick to the off-whites instead.
With the dark and rich green, such as Benjamin Moore Hunter Green, white is also the optimal trim color. When paired with whites, this bold green will give the space a very crisp and bold look.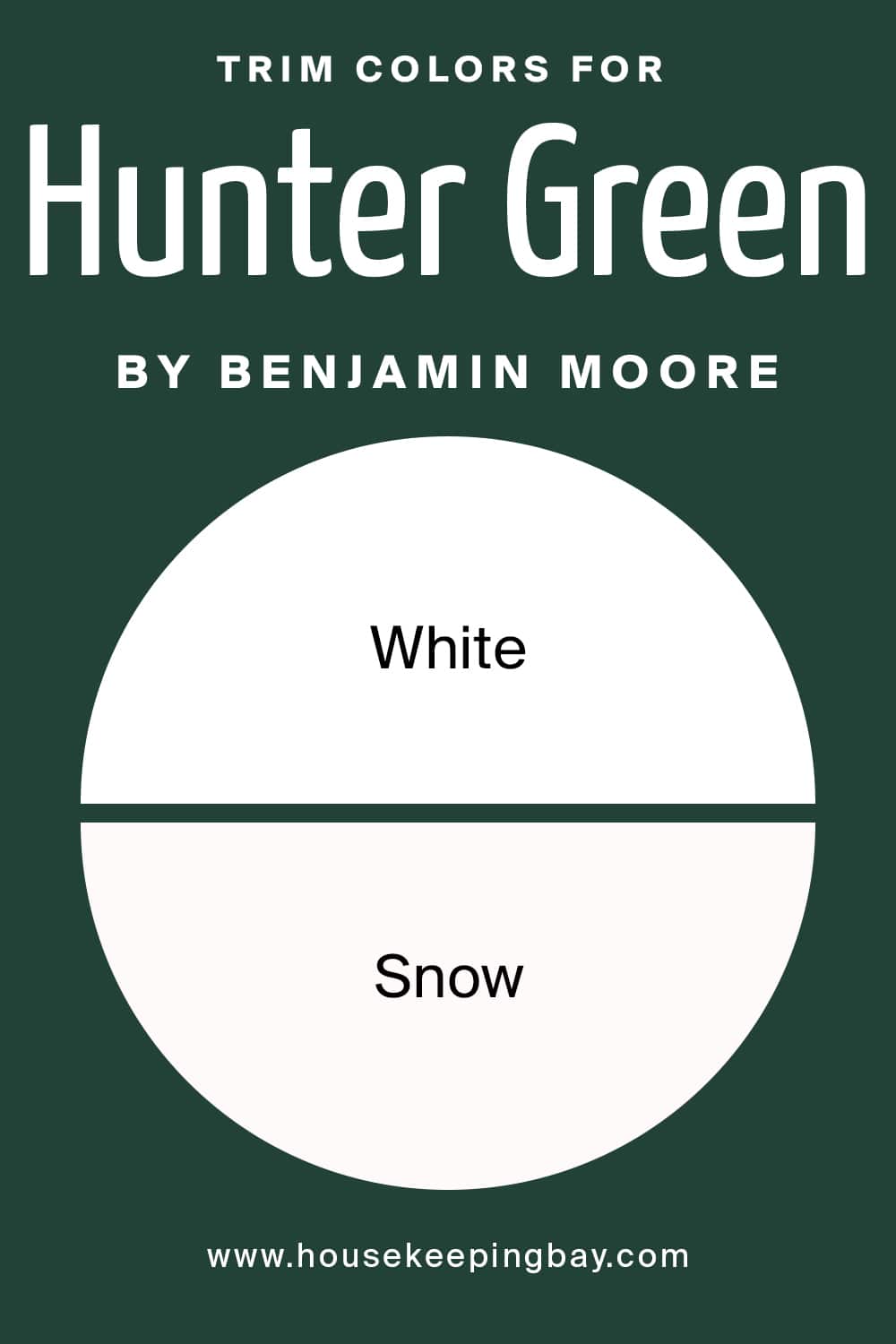 Coordinating Colors of Hunter Green 2041-10
If you want the overall color palette in a room to look well balanced and harmonious in terms of color shades, undertones, warmth, etc, consider that it makes sense to pay attention to the so-called coordinating colors of the major paint color you use.
For Benjamin Moore Hunter Green paint, you will want to use one of the following (or several) colors that are considered coordinating:
Benjamin Moore Wildwood Crest 1538
Benjamin Moore Going to the Chapel 1527
Benjamin Moore Cape Blue 1642
Benjamin Moore French Canvas 1514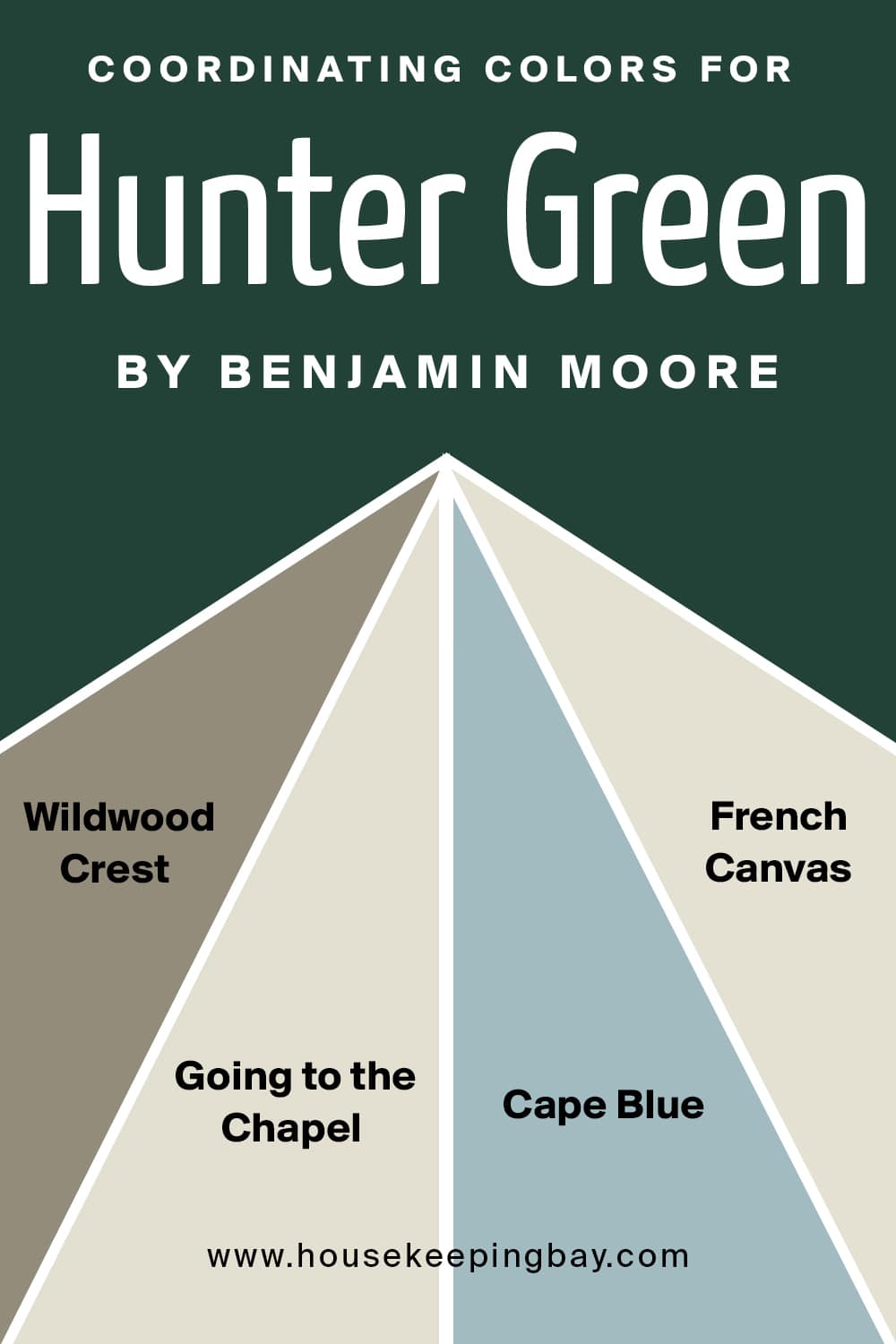 Paint Colors Similar to Hunter Green
Of course, when you choose the paint color to use in your home, you consider using this particular shade.
However, anything might happen, and you might want to consider using other, similar colors instead.
If you are looking for the color or colors of interior paint that can be successfully used instead of the BM Hunter Green, there are a few of them we can suggest to you. Each of these colors looks almost like Hunter Green, with just some minor distinctions (for example, some of them might be a bit darker or lighter, with cooler or warmer undertones).
BM Bavarian Forest 2054-10
BM Forest Green 2047-10
BM Yukon Green 2051-10
BM Ocean Tropic 2052-10
Since these colors are slightly varied, you will be able to choose the one that fits your interior best of all quite easily.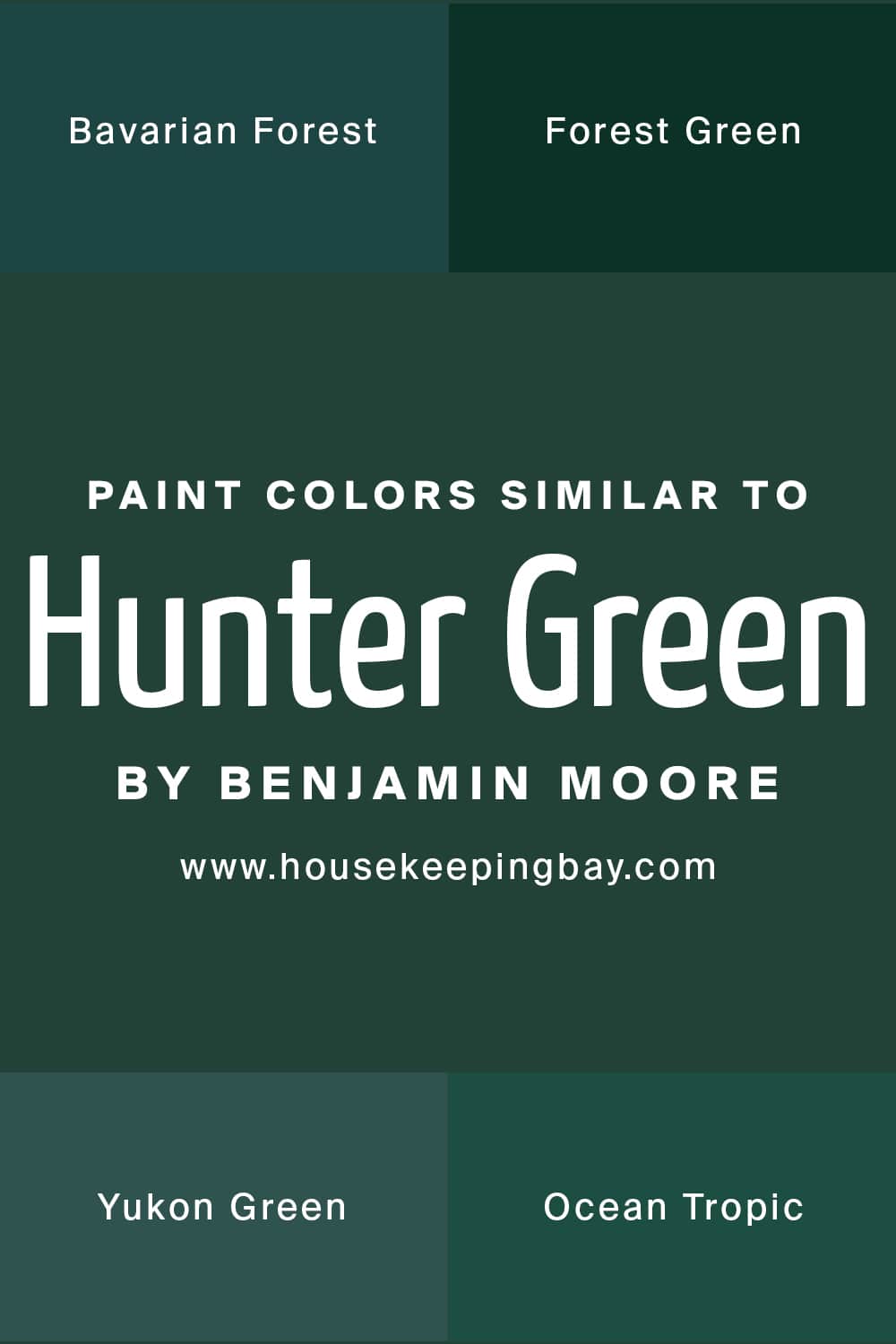 Colors That Hunter Green Goes With
Sometimes you may find it difficult to find the most suitable paint colors to pair them with such a bold and rich color as BM Hunter Green.
However, thanks to this color being rather versatile, you can combine it successfully with several light neutrals if you want to create a more balanced color palette in your home.
So if you are not happy about the idea of turning your interiors into the all-green "jungles", we recommend you take the following colors into consideration:
BM Simply White OC-117
BM Old Prairie 2143-50
BM Cloud White OC-130
BM Grant Beige HC-83
Some of them are lighter, and others are a bit darker, so you will easily find a matching pair for both Hunter Green and other colors in the room.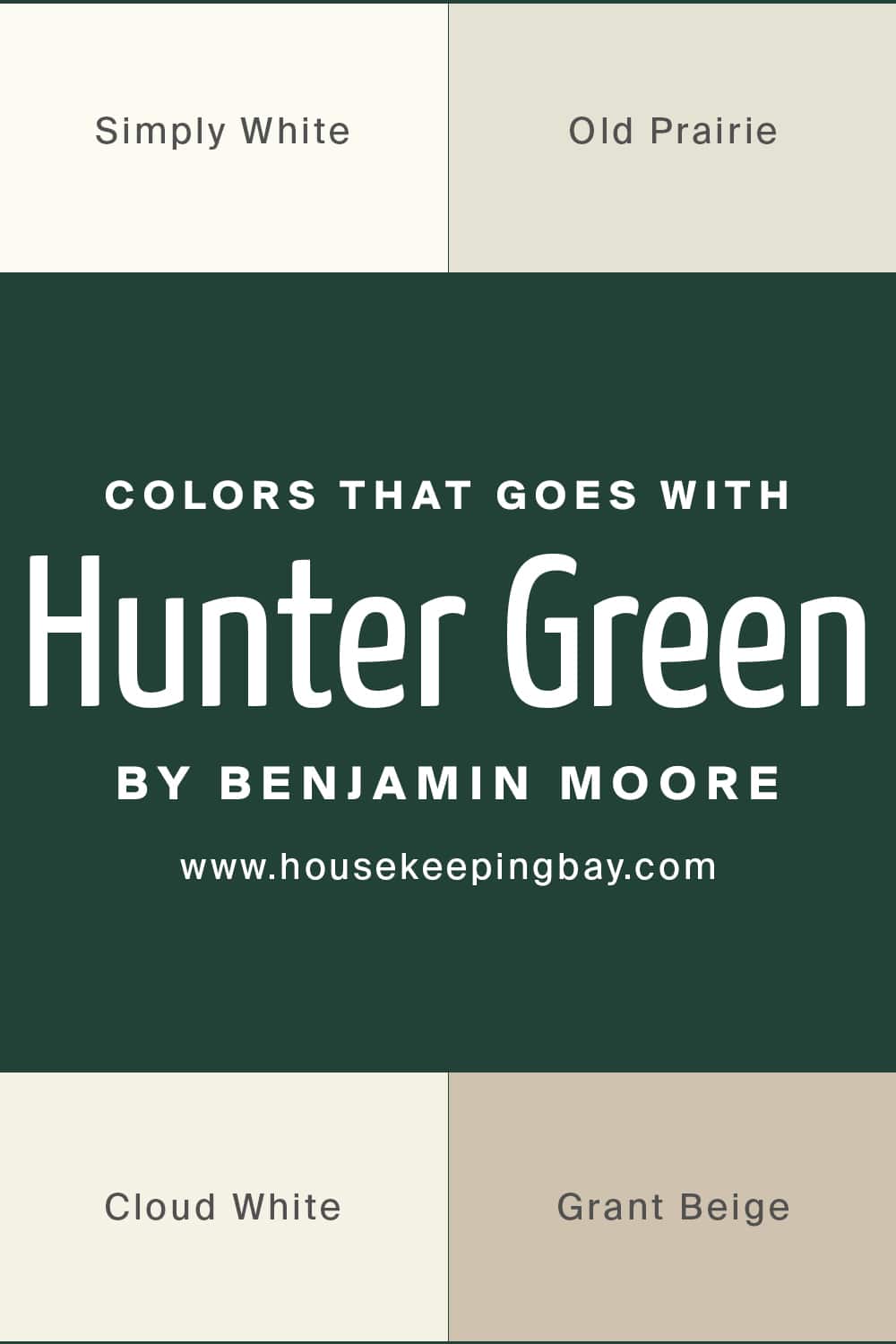 Rooms of Hunter Green Is Best to Use In
A great thing about this shade of rich green is that it is surprisingly versatile! You might think that it is hard to find a suitable space in your home to use it in, but this is not like that.
Benjamin Moore Hunter Green can be successfully used in almost any room no matter the overall style of your home. You only need to pay attention to the lighting there in order to tell in advance how this green will show itself on the walls.
Hunter Green Color in the Living Room
This beautiful dark green color suits living rooms just perfectly. For example, you can paint this green on your walls entirely, or use it as an accent wall color, and pair it with white trim and doors or cabinets for creating a bold, crisp look.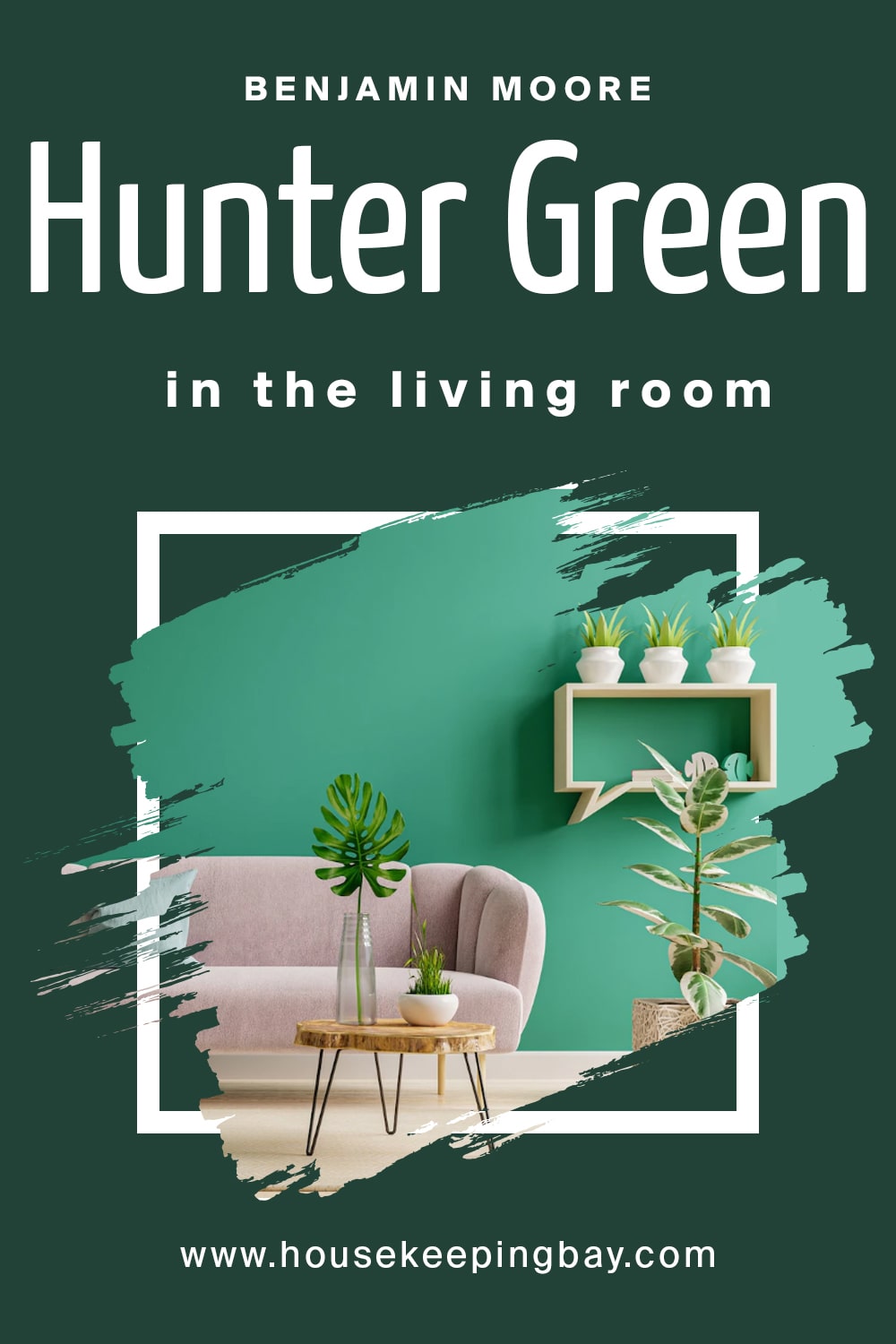 Hunter Green Color in the Bedroom
Painting your bedroom walls green might seem weird, but if you are looking for a way to create a calming and tranquil atmosphere there, you should definitely consider using BM Hunter Green!
This rich and saturated green is well balanced without being too cold or too warm, so it will suit the room with any type of lighting. Only, if your bedroom has more cool light during the day, you should perhaps consider adding warm bulbs and warm-colored items there.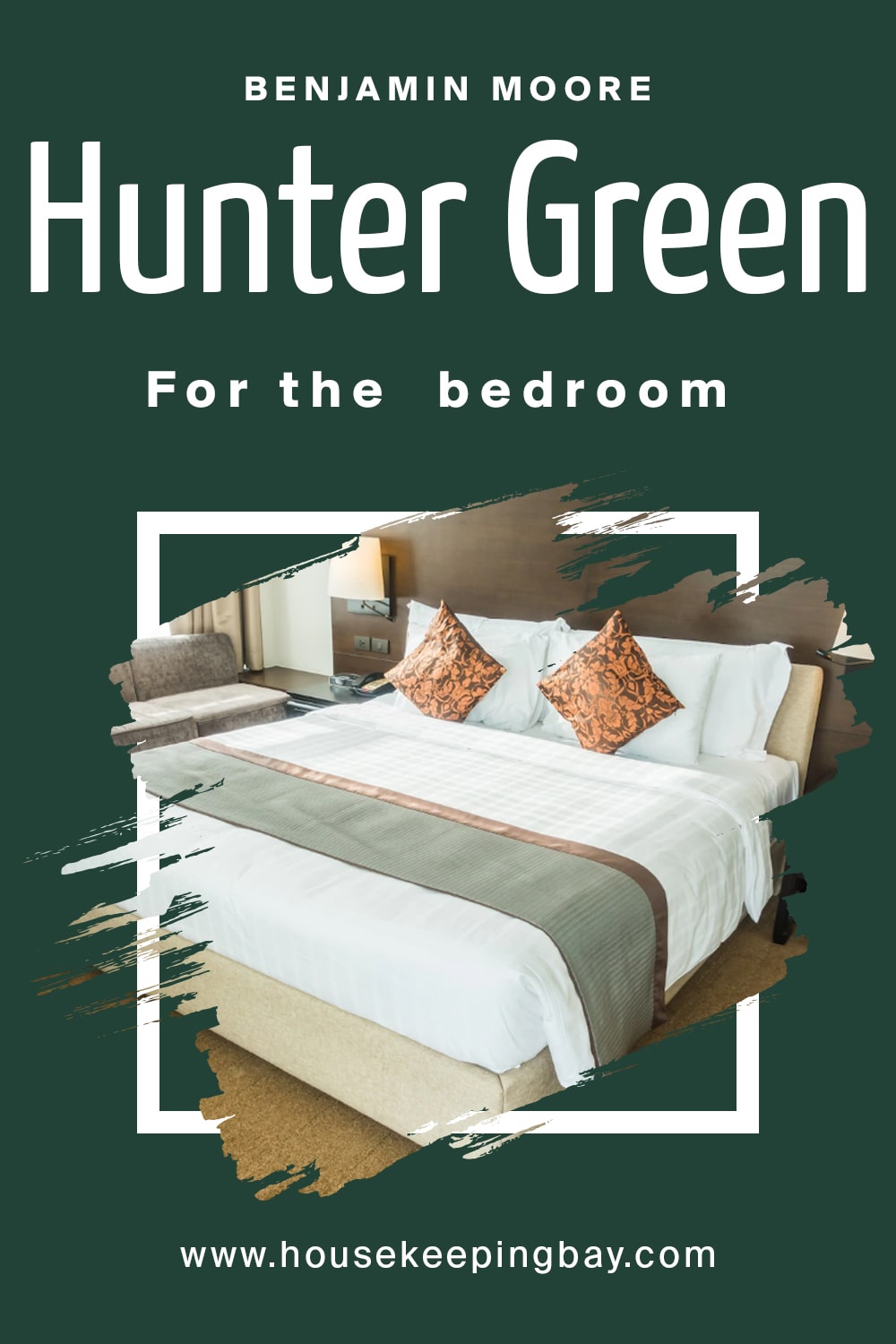 Hunter Green Color in the Kitchen
Green kitchen? Why not?! Benjamin Moore Hunter Green might not be suitable as a whole-space wall color, but for the accent wall or cabinetry, it will fit perfectly. Moreover, it pairs well with whites and also with brassy and golden elements.
A perfect combination for such a space as our kitchens!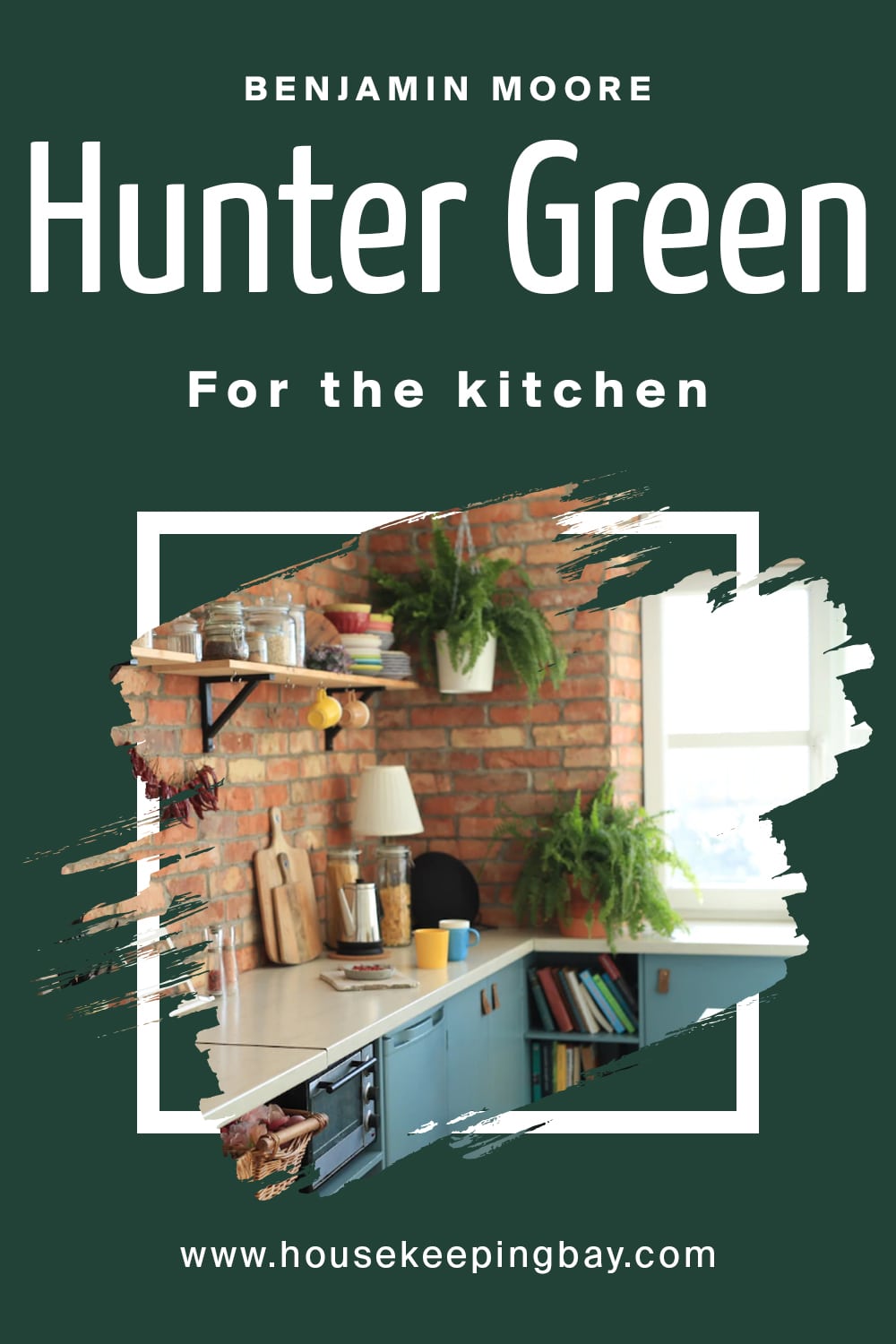 Hunter Green Color in the Bathroom
Not everyone finds green a good color choice for bathrooms.
But if you have an opposite opinion, feel free to use this saturated green on your bathroom walls.
At least, even if your bathroom is way too small to "host" this color, you can apply it on drawers to create brighter color accents.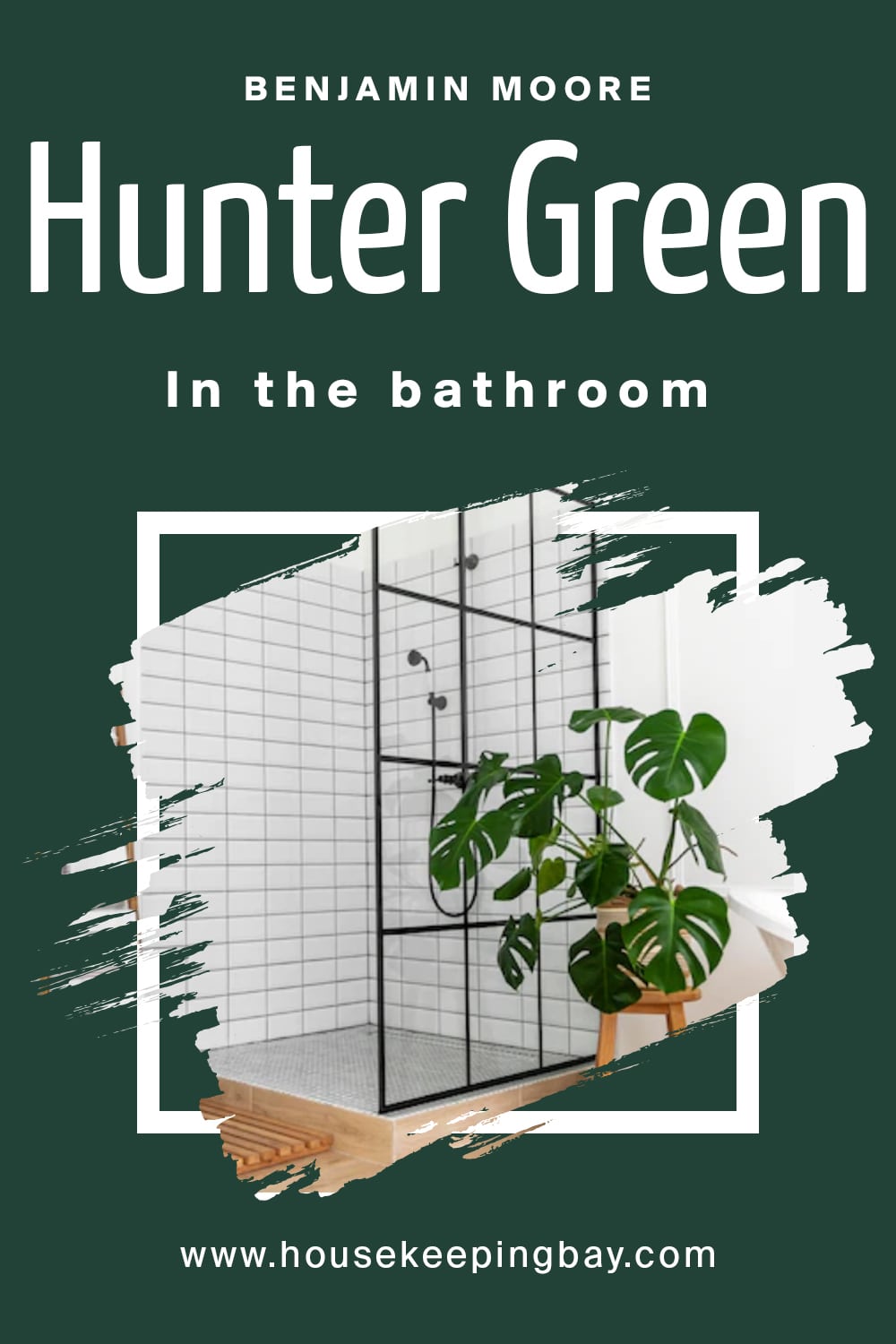 Hunter Green Color in the Exterior
As an exterior paint, BM Hunter Green is one of the most suitable options.
It pairs well with whites, so you will have no problems with finding a good trim color.
Also, green pairs great with red, so feel free to paint your front door bright or muted red in order to create a visual accent.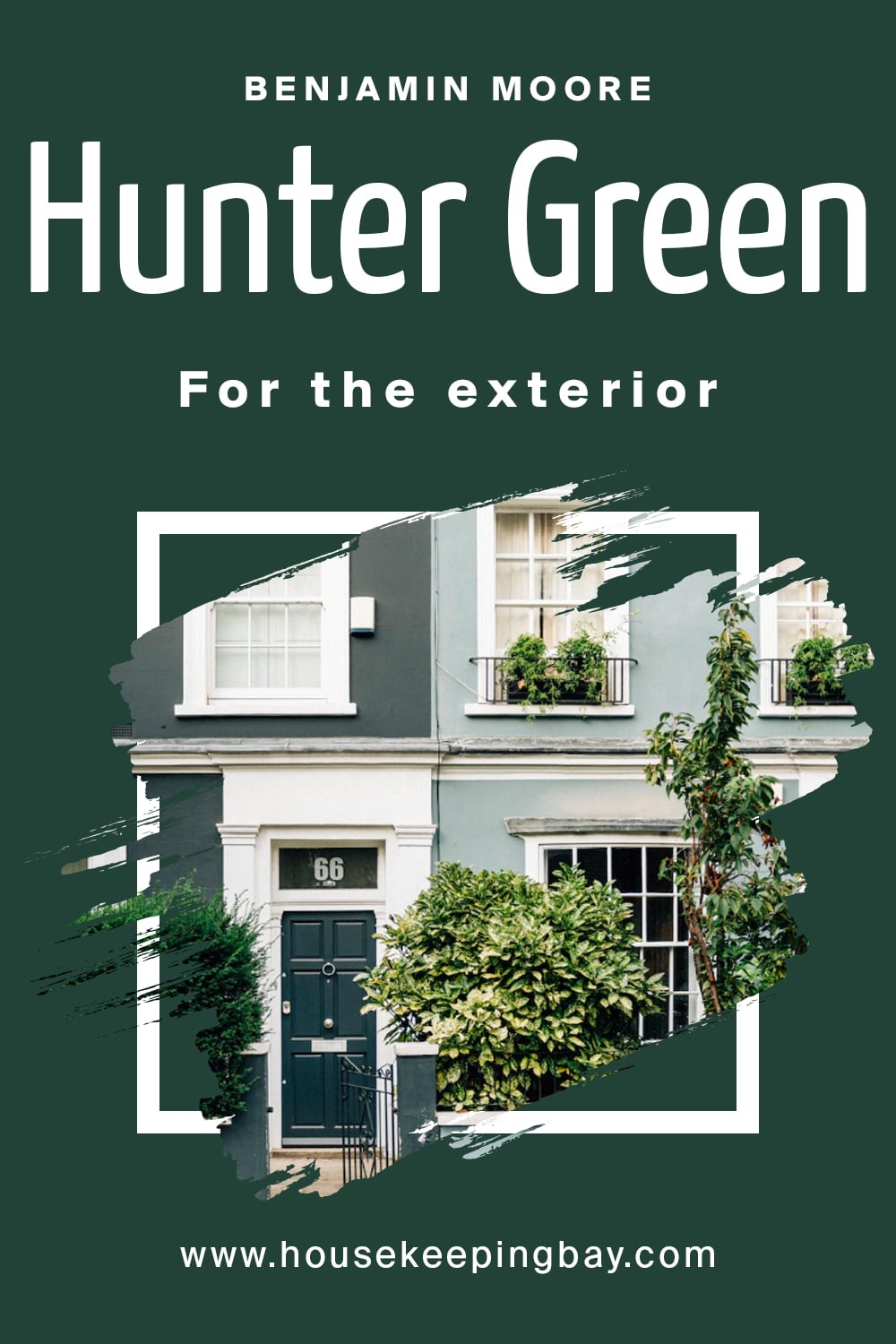 Hunter Green Color Comparison
Even within one brand, there are plenty of shades of one color. Of course, when you need to pick the right shade of green, for example, you may find it very difficult and frustrating to look through all those color samples!
This is why we recommend you check out the comparative description of BM Hunter Green and a few other greens of different brands. Like that, it will be easier for you to make the right choice.
Hunter Green vs. Emerald Green
Emerald Green is way lighter than Hunter Green. It is more bright with leafy-green undertones whilst Hunter Green is very dark and "muddy" in comparison to it.
These two are on the different ends of the color scale, but they can still be used together if combined with a light color, such as white.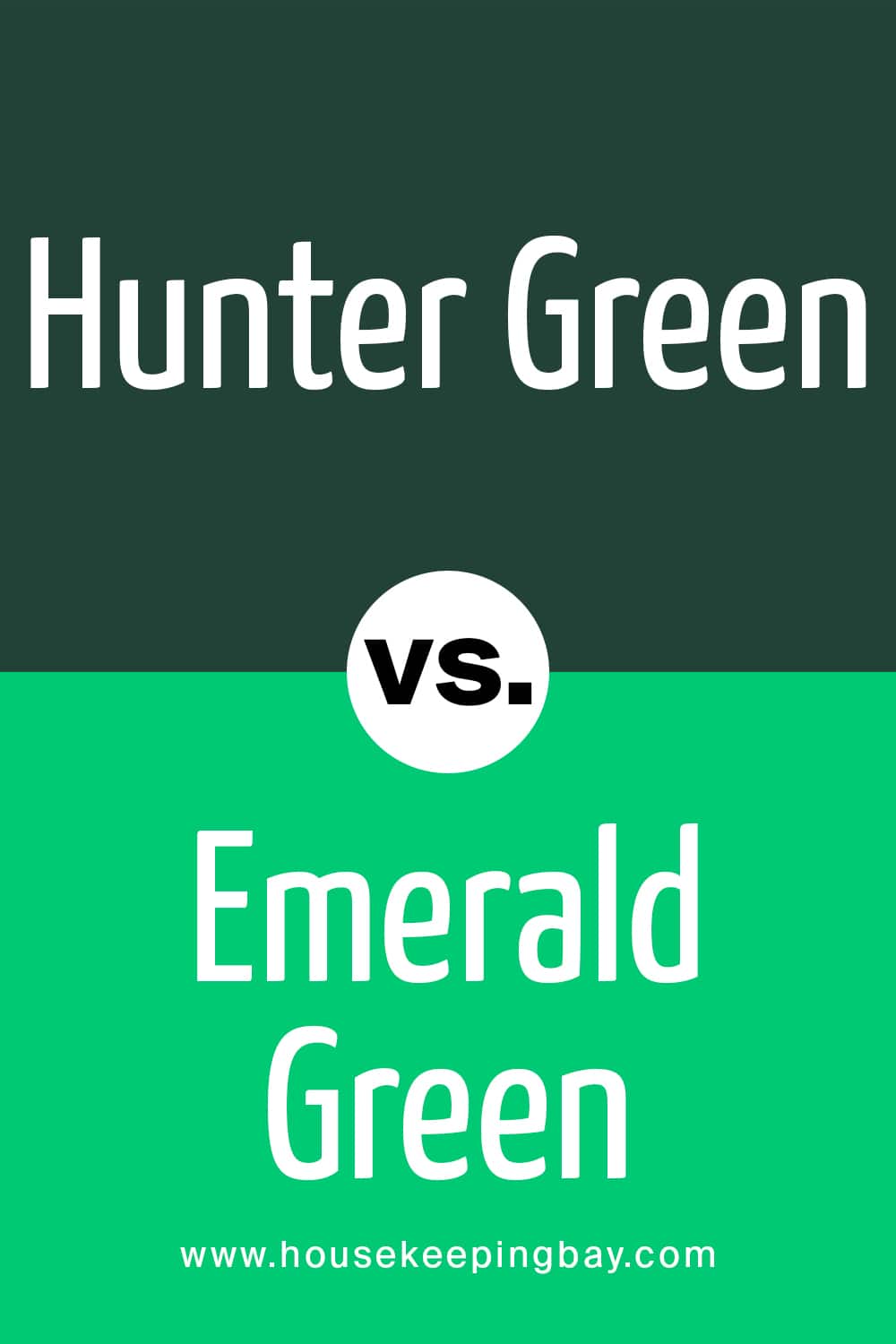 Hunter Green vs. Forest Green
Forest Green is also rather dark, but still not as much as Hunter Green. Forest Green is somewhat lighter, being a more warm-toned color.
Unlike it, Hunter Green has cooler shades of green in it. And since these two colors are pretty close to each other on the color scale, we would not recommend you pair them.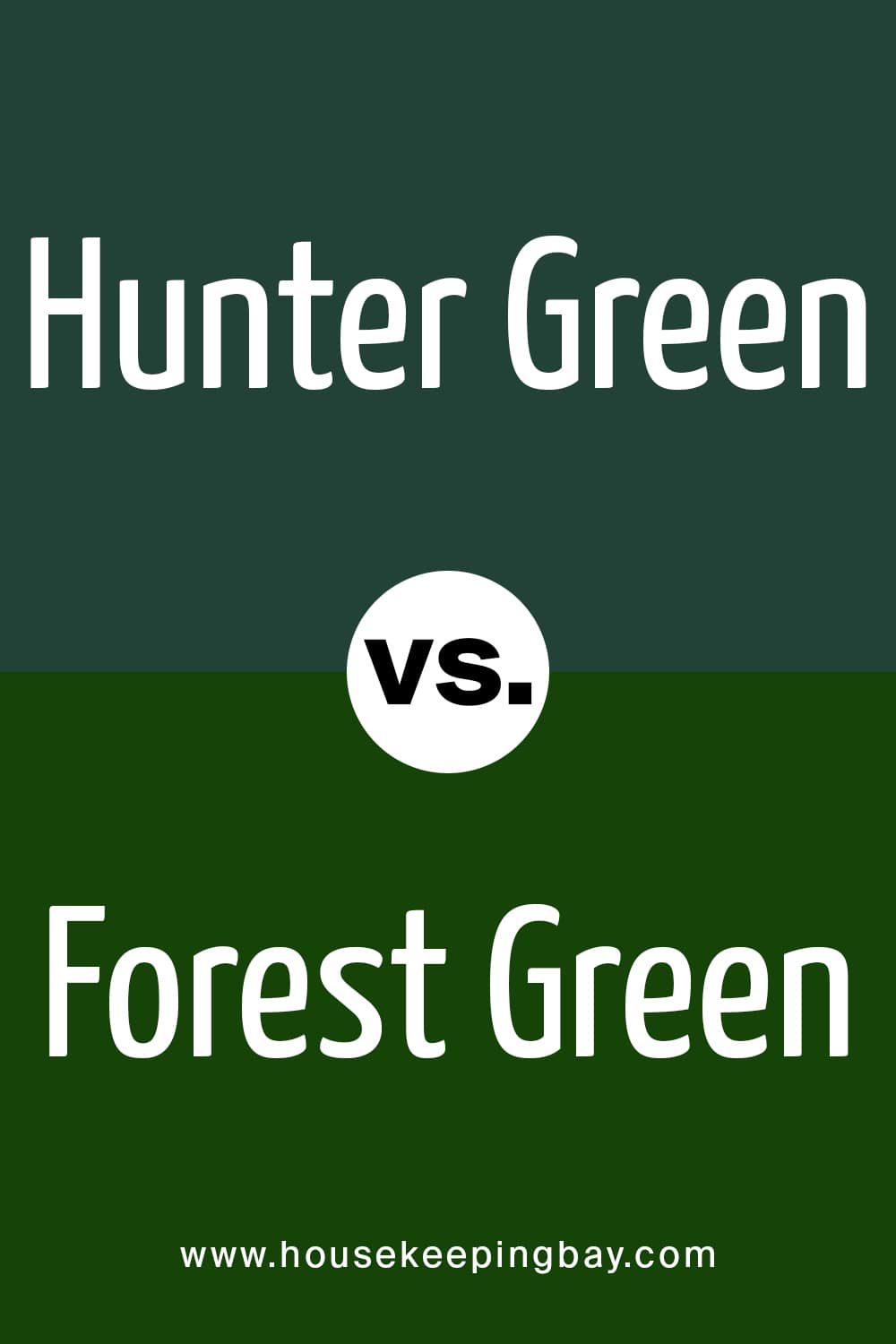 Hunter Green vs Dark Green
Dark Green is a bit darker than Hunter Green, so we would not recommend you use these two colors in the same room since you won't be able to see the difference, and the space will look way too dark.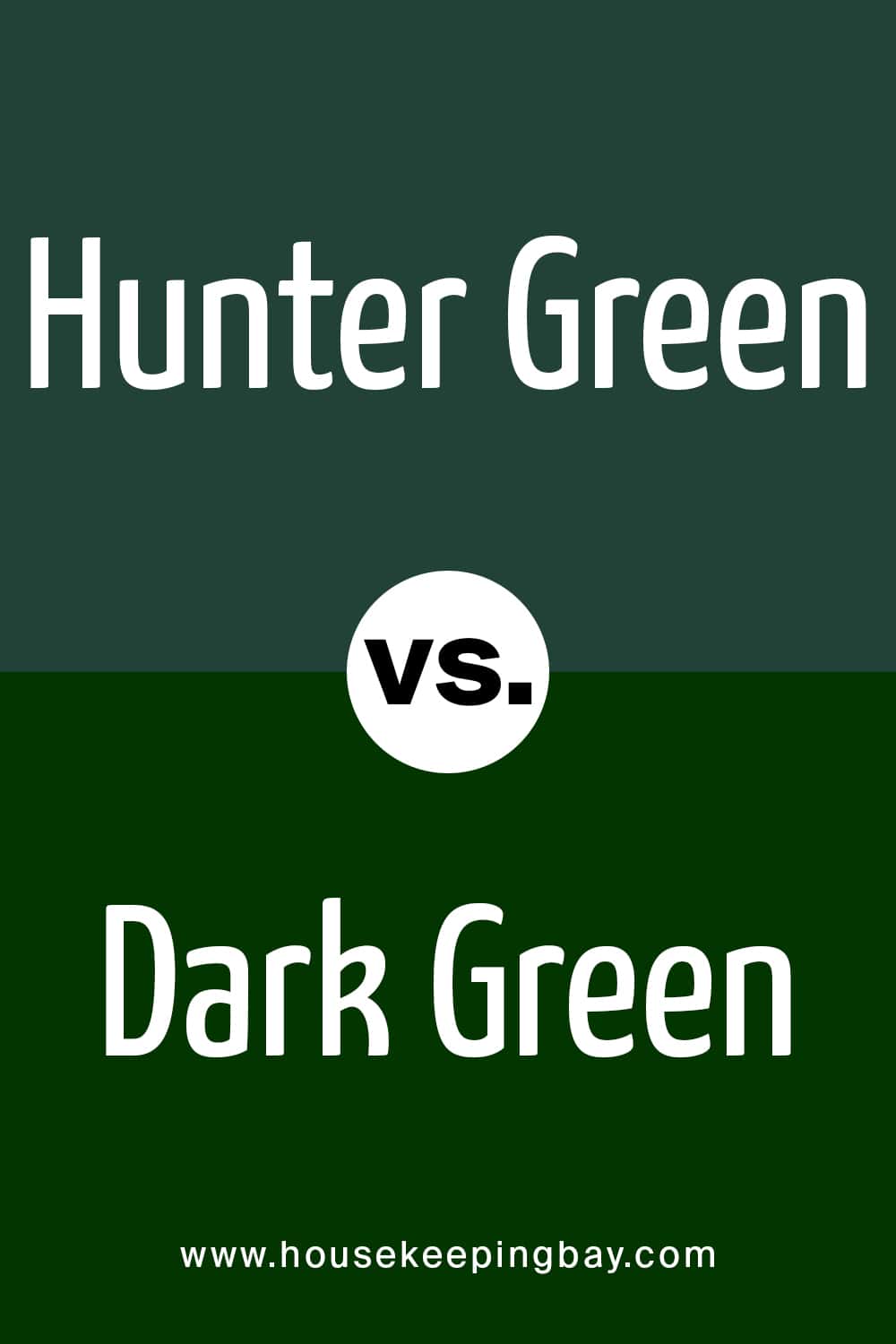 Hunter Green vs Olive Green
Olive Green is way lighter than Hunter Green. It is also rather muted, with subtle green-gray undertones. In addition, it looks warmer than Hunter Green. The two colors might not create a harmonious combination, but when used apart, they can work well.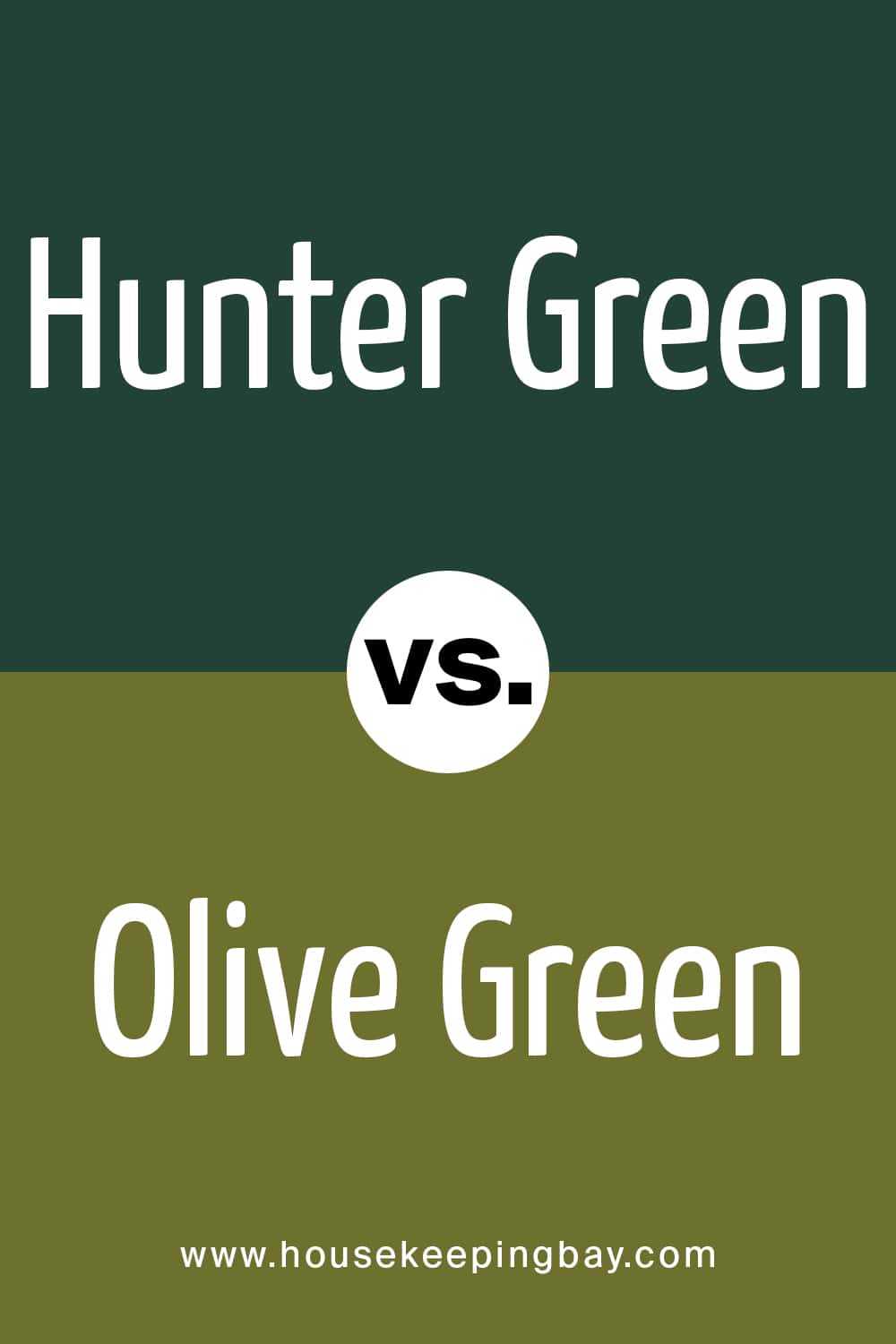 With this full and complete guide, you will better understand what color Hunter Green is and where in your home it will work best of all.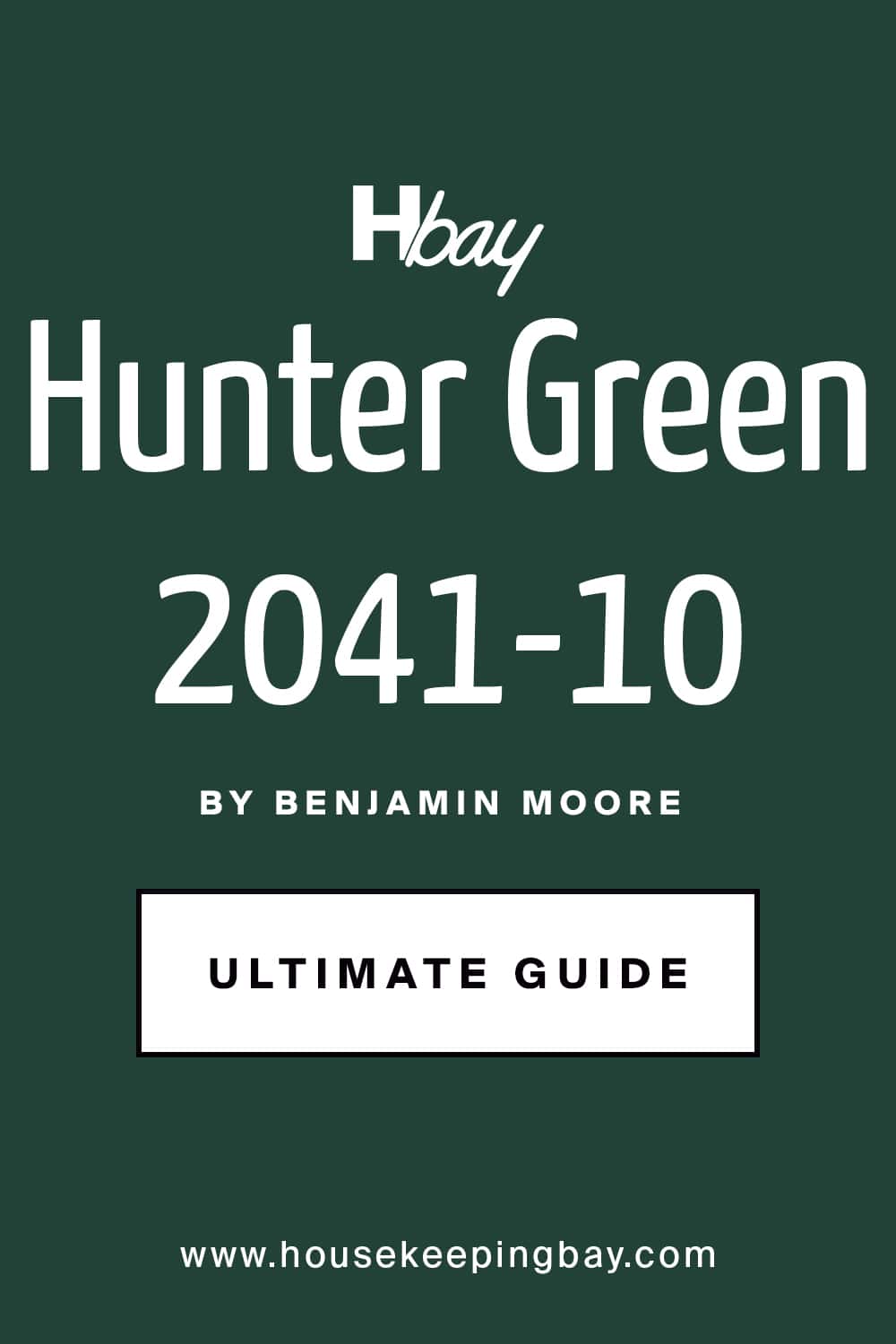 Frequently Asked Questions
⭐Will dark green pair with off-whites?
Yes, dark green colors combine great with warm and off-whites used as a trim color, for example. Just make sure the green is also warm toned.
⭐Will Hunter Green make a room smaller?
It can do it, if the room is initially very small and if it has little lighting, for instance. So consider this before you start painting.