Colors are more than just mere visual stimuli; they tell a story, set a mood, and shape the ambiance of a space. Sherwin-Williams' SW 9600 Armory is no exception. Diving deep into this shade, we uncover its undertones, the best styles it complements, and the transformative impact of lighting.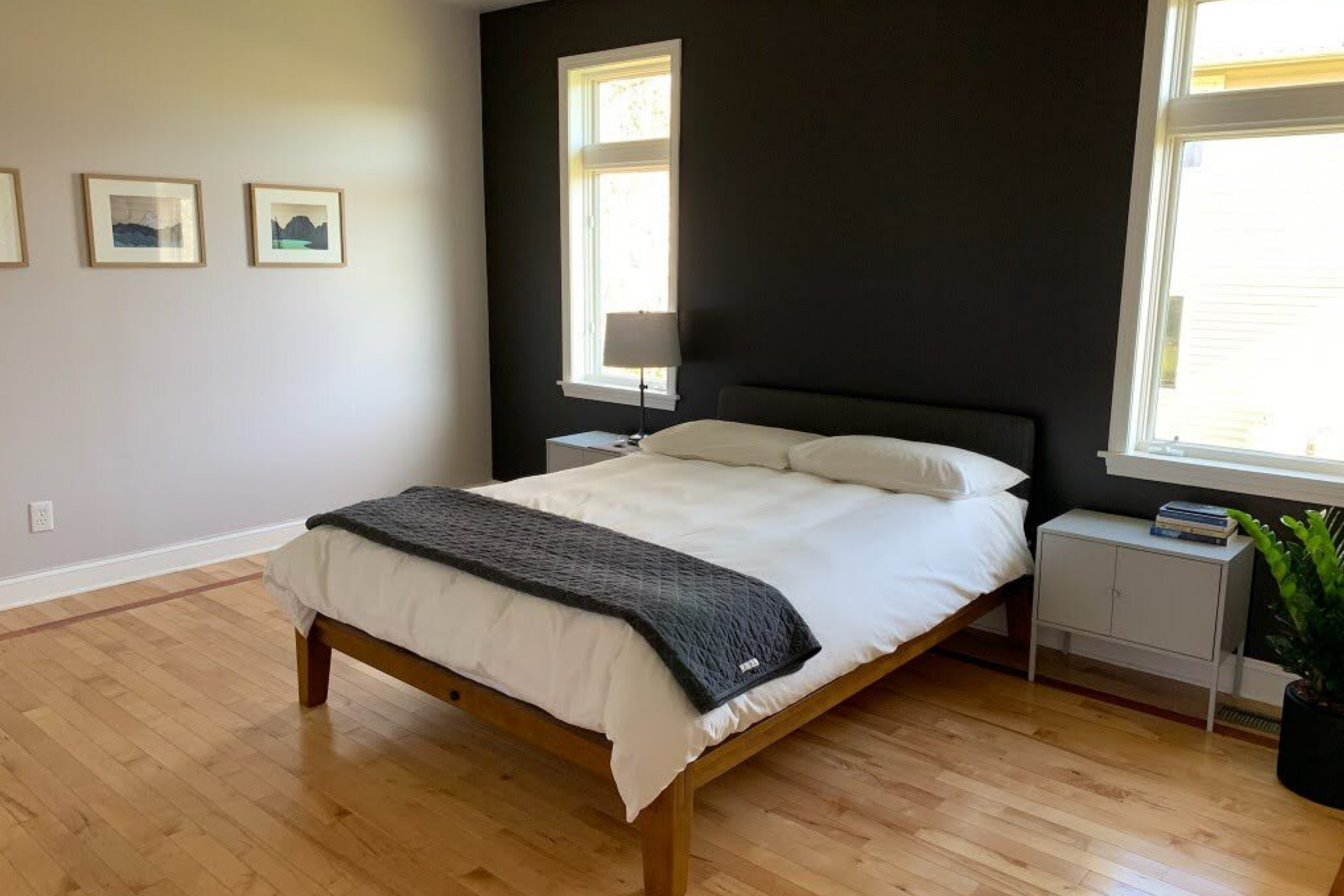 What Color Is SW 9600 Armory?
SW 9600 Armory strikes the perfect balance between a deep, grounding gray and a touch of misty blue. With its subtle yet distinct character, it exudes a sense of serenity and sophistication. This hue thrives best in modern minimalist, industrial, and contemporary interiors.
Its muted nature pairs beautifully with natural materials like wood and stone, while its richness complements metallic textures, providing a poised and polished look.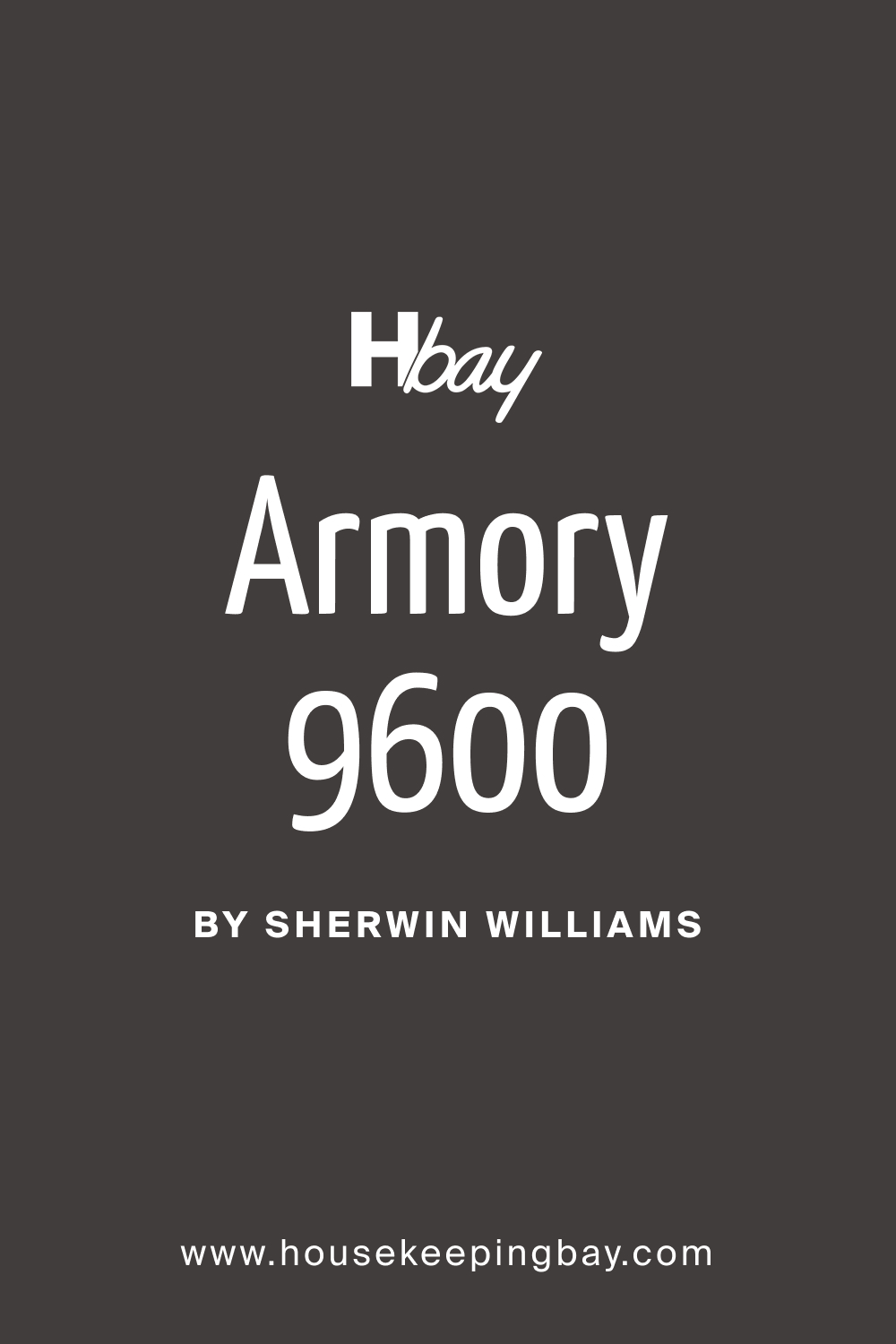 Is It a Warm Or Cool Color?
SW 9600 Armory leans towards the cooler end of the spectrum. The gentle blue undertones give it a fresh, crisp feel, making spaces appear more expansive and airy. Its cool nature allows it to serve as a calming backdrop in homes, creating a tranquil retreat.
Undertones of SW 9600 Armory
The power of undertones can't be overstated; they subtly shape how we perceive the main color. SW 9600 Armory has cool undertones with hints of blue and slate. On interior walls, these undertones can become more pronounced based on the lighting, making the color appear slightly more blue or gray.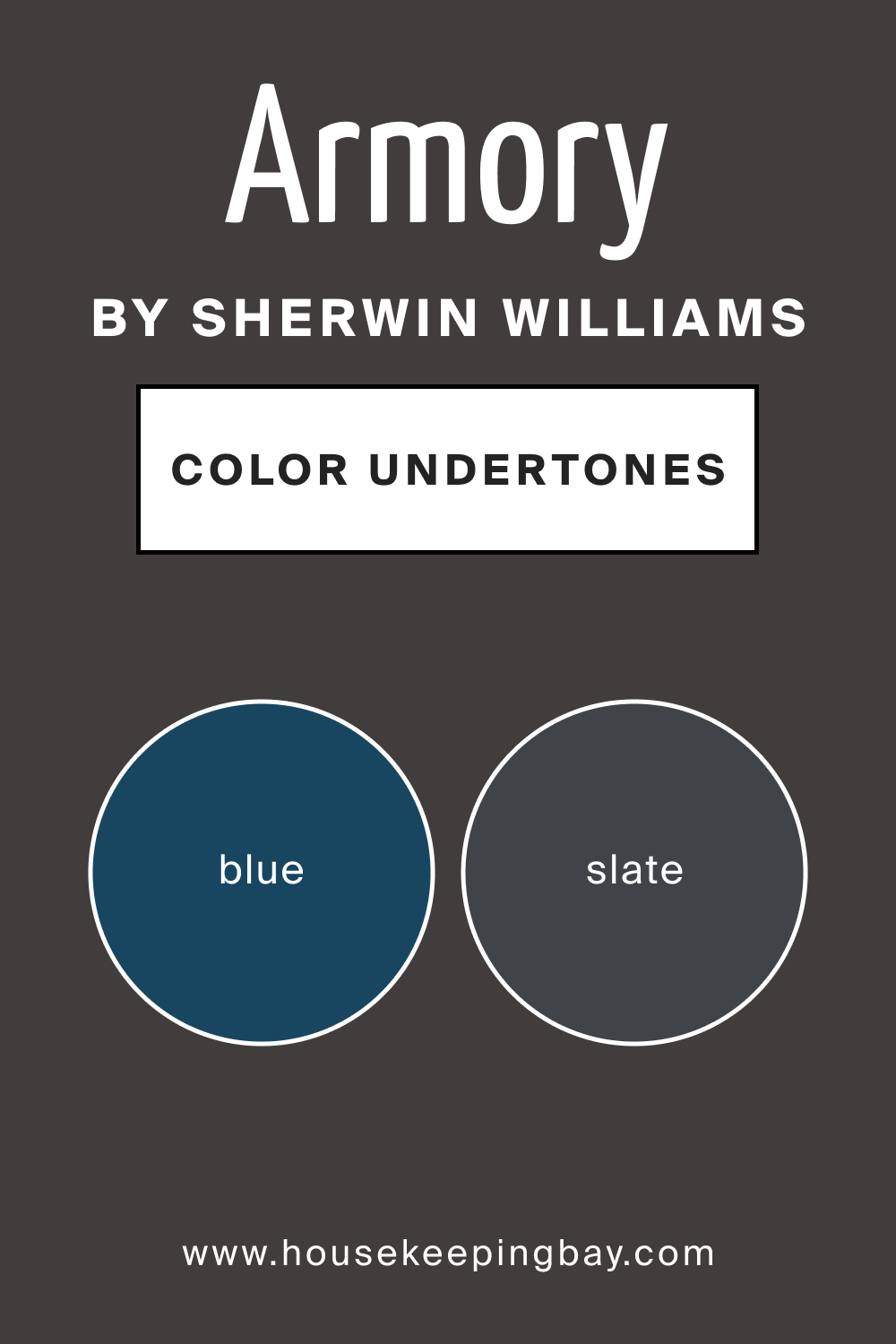 Coordinating Colors of SW 9600 Armory
Coordinating colors create harmony and cohesion in design. For SW 9600 Armory, we have:
SW 6035 Gauzy White: A delicate, airy white.
SW 6039 Poised Taupe: A balanced blend of brown and gray.
SW 6028 Cultured Pearl: A sophisticated, creamy off-white.
Additionally, colors like SW 6066 Sand Trap, SW 6002 Essential Gray, and SW 6008 Individual White are great complements.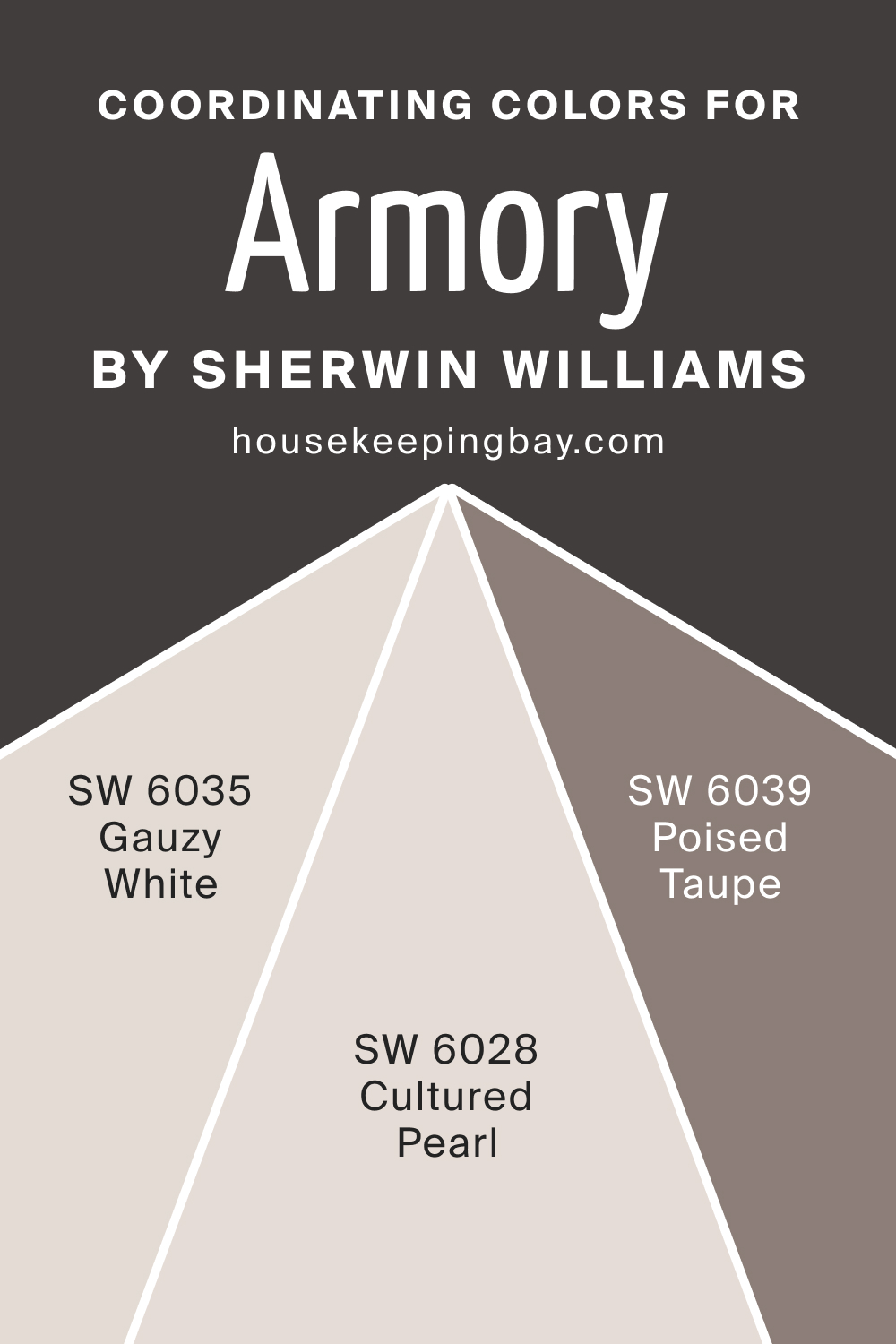 How Does Lighting Affect SW 9600 Armory?
Lighting is the magic wand that can transform a color. SW 9600 Armory, in natural light, might showcase more of its blue undertones. Artificial light, especially warmer bulbs, might pull its grayer side. In north-facing rooms, it may appear cooler and more muted.
South-facing rooms drench it in a warm light, emphasizing its richness. East-facing rooms during the mornings might make it appear cooler, while in west-facing rooms during the evening, it might feel warmer and deeper.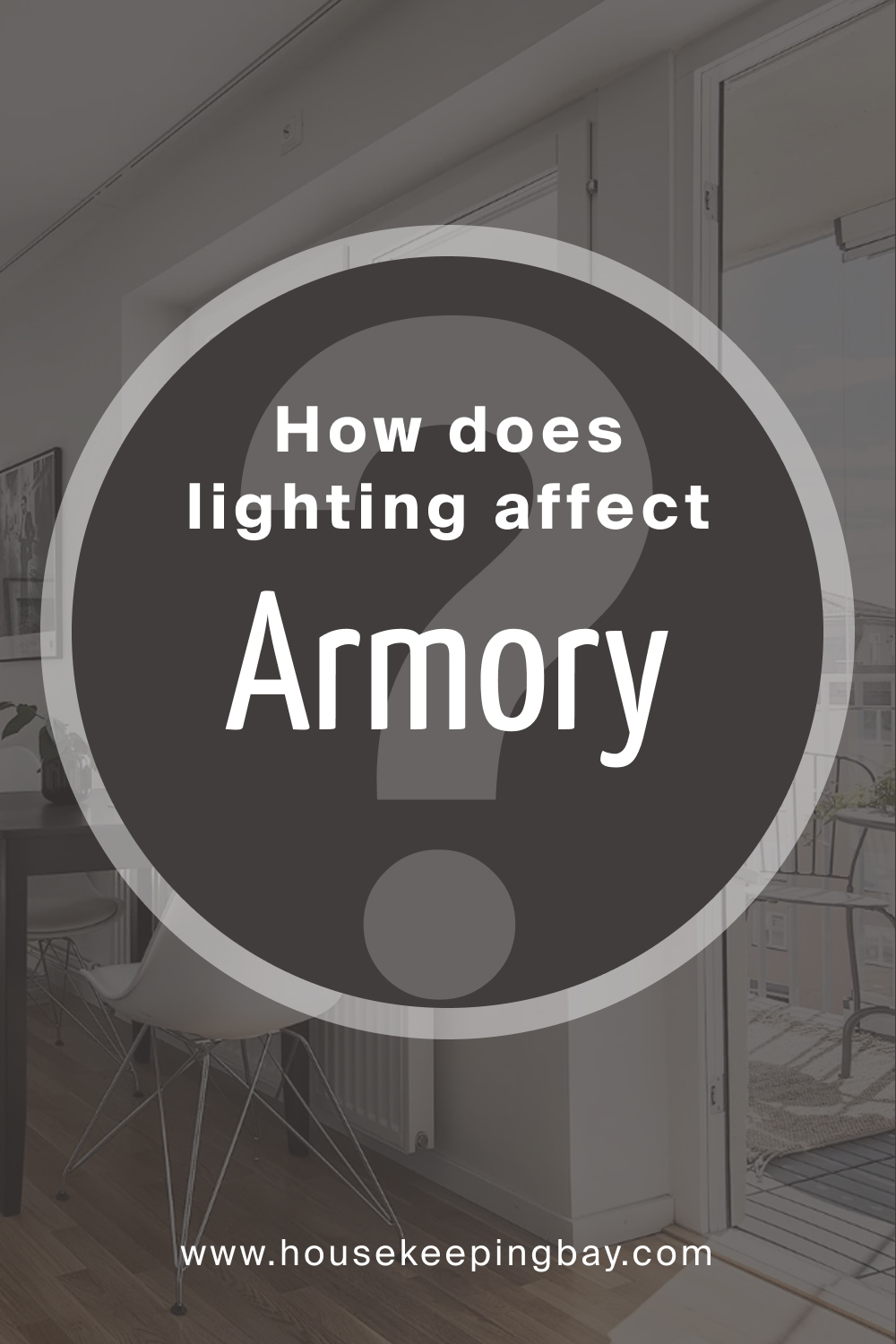 LRV of SW 9600 Armory
Light Reflectance Value (LRV) indicates how much light a color reflects. With an LRV of 5, SW 9600 Armory is on the darker side. This means it absorbs more light, making spaces feel cozier. However, it also means rooms might need additional lighting to prevent them from feeling too enclosed.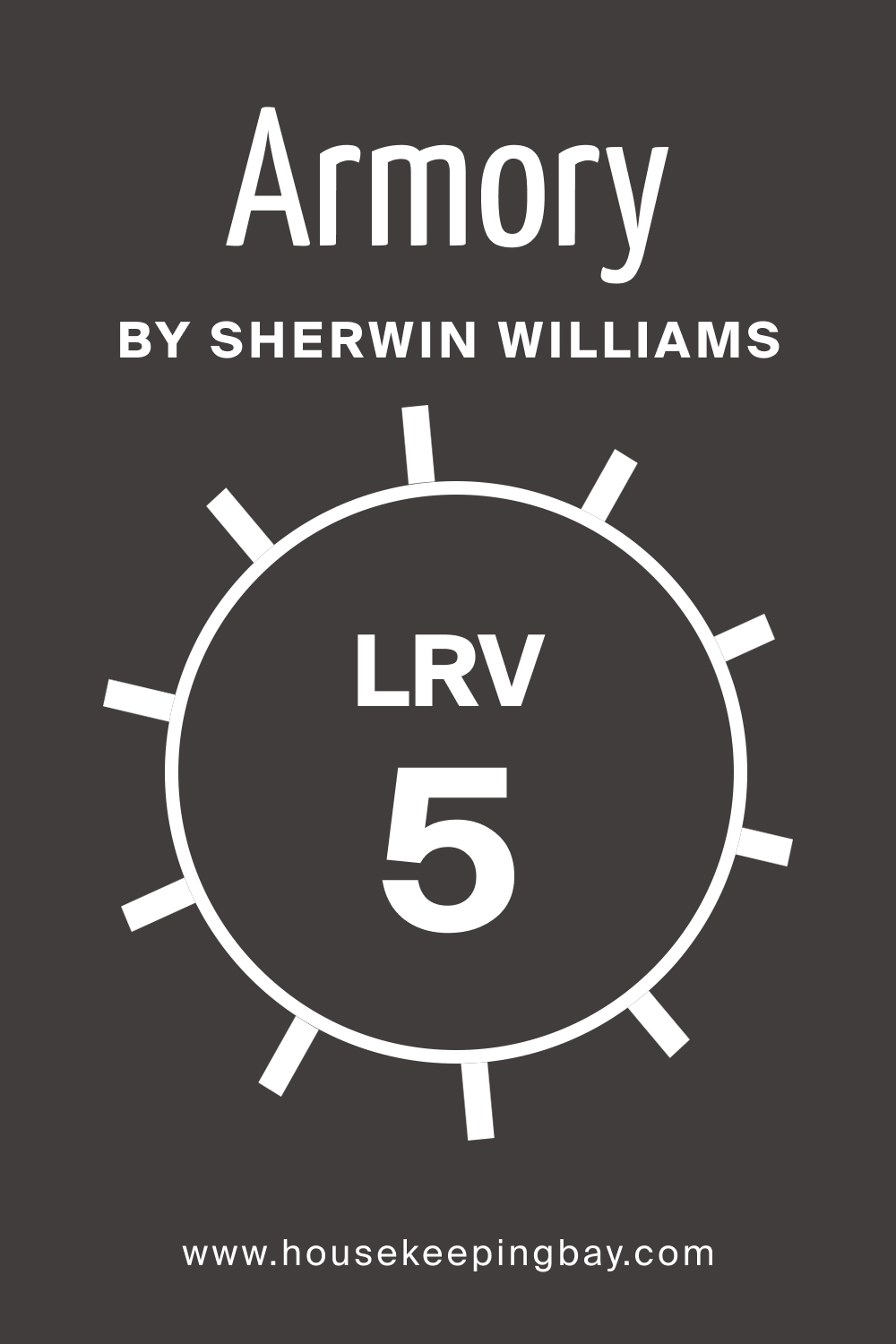 What is LRV? Read it Before You Choose Your Ideal Paint Color
Trim Colors of SW 9600 Armory
Trim colors frame and accentuate. For SW 9600 Armory, opting for shades of white like SW 7005 Pure White, SW 7004 Snowbound, or SW 7012 Creamy can provide a crisp contrast, making the wall color pop.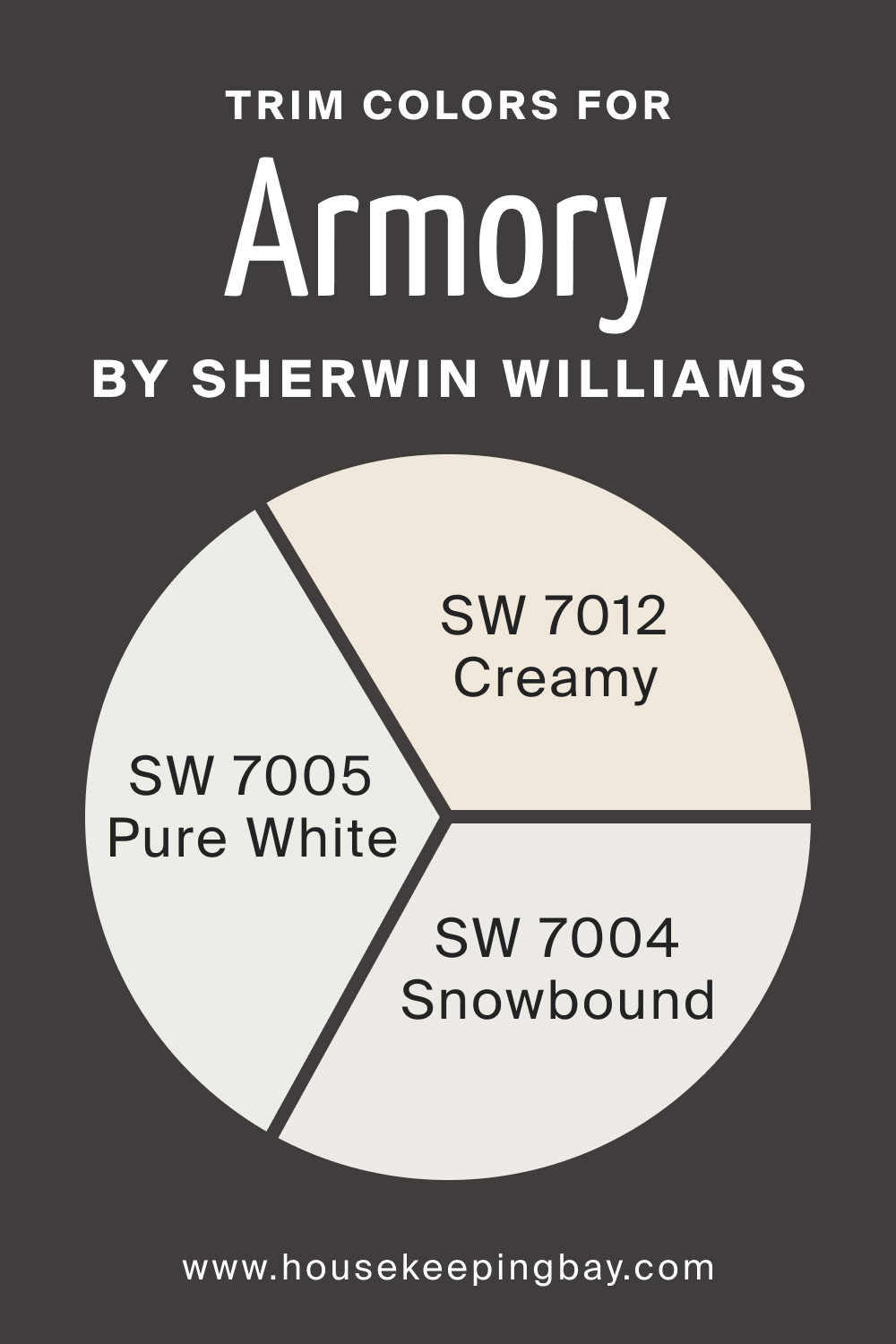 Colors Similar to SW 9600 Armory
Knowing similar colors expands design options. To create a good-looking palette in your home, opt for the following colors to use instead of SW Armory on the walls: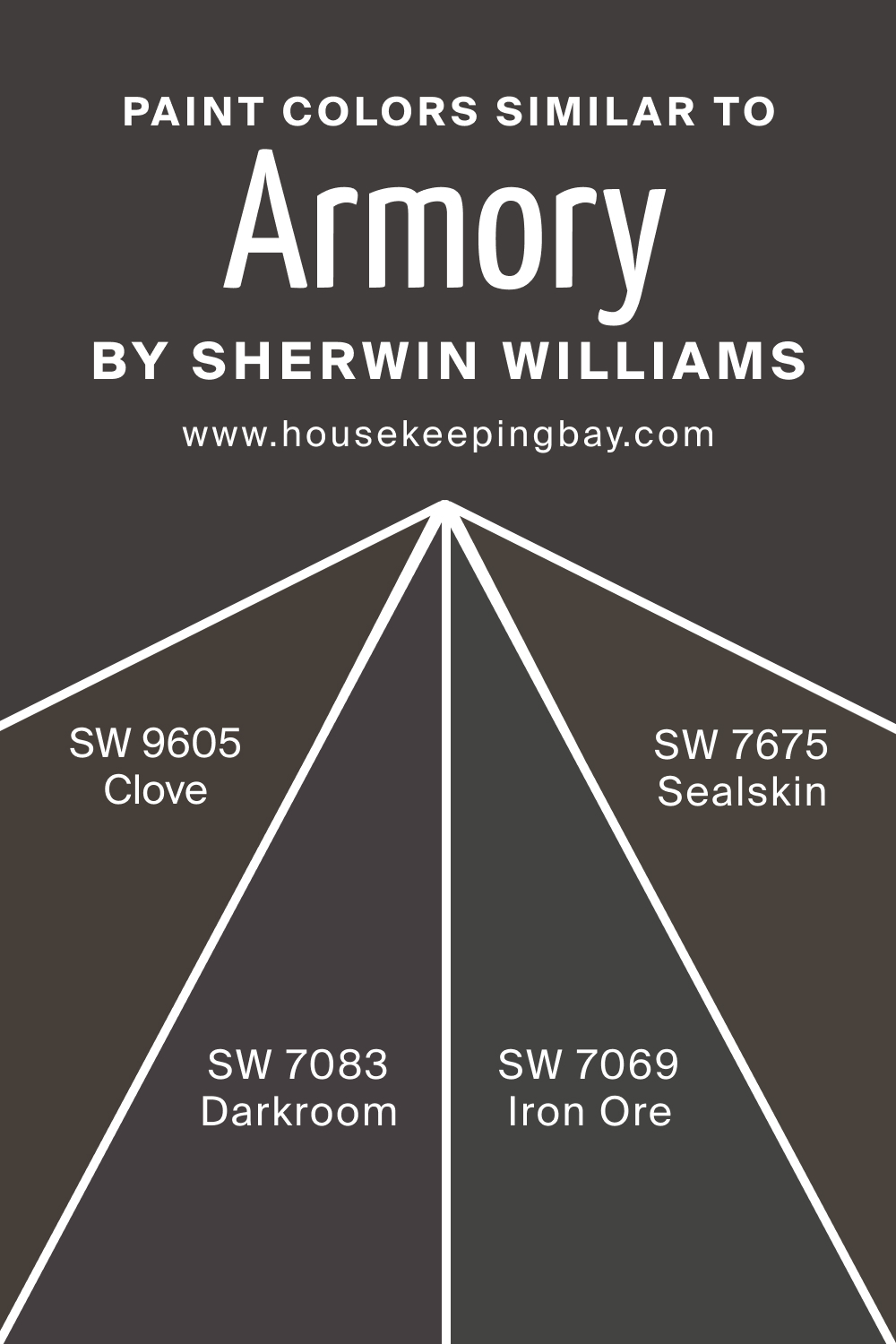 Colors That Go With SW 9600 Armory
Harmonious color schemes elevate aesthetics. Colors that pair well with SW 9600 Armory include:
SW 7008 Alabaster: A pure, pristine white.
SW 6267 Sensitive Tint: A soft lavender.
SW 9154 Perle Noir: A deep, enchanting black.
SW 6935 Alchemy: A vibrant gold.
SW 9083 Dusted Truffle: A muted pink-brown.
SW 6117 Smoky Topaz: A warm, nutty beige.
Additional suggestions include SW 6043 Unfussy Beige, SW 6049 Gorgeous White, and SW 6038 Truly Taupe. Each color offers its unique flavor to design pallets, enhancing the versatility of SW 9600 Armory.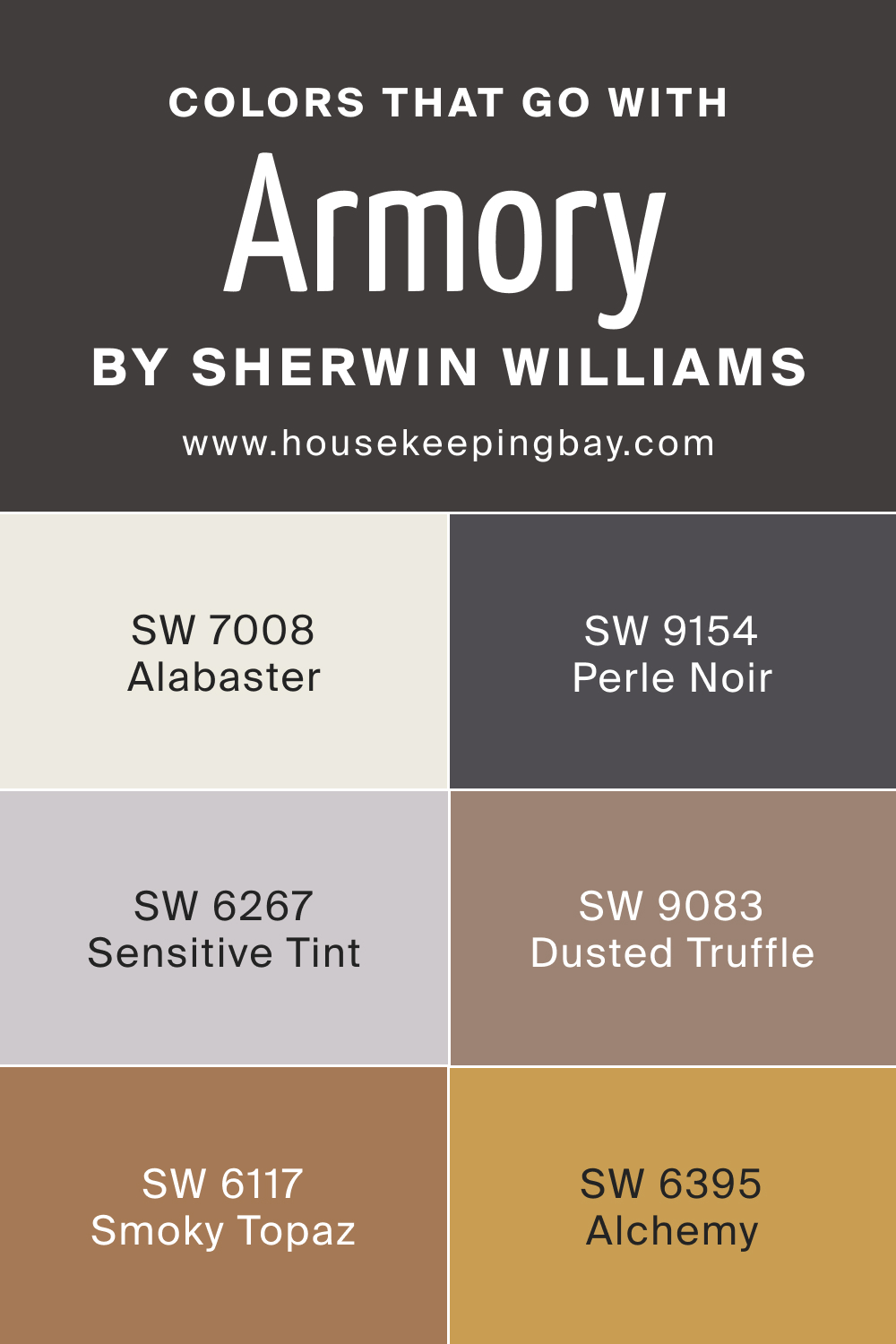 How to Use SW 9600 Armory In Your Home?
SW 9600 Armory is an adaptable shade suitable for various rooms, from intimate spaces like bedrooms to social zones like living rooms. Its muted tones complement minimalist, modern, industrial, and Scandinavian designs. Its grounding nature also makes it apt for traditional and rustic styles.
The versatility of Armory means it can be a backdrop for vibrant accents in eclectic designs or play a starring role in a monochrome theme.
How to Use SW 9600 Armory in the Bedroom?
For bedrooms, SW 9600 Armory serves as a serene sanctuary. The shade evokes tranquility and restfulness, perfect for unwinding. Pair with soft, neutral linens, metallic accents, and natural wooden furniture. Using white or cream for trim and ceiling will add depth, making the bedroom feel cozy yet spacious.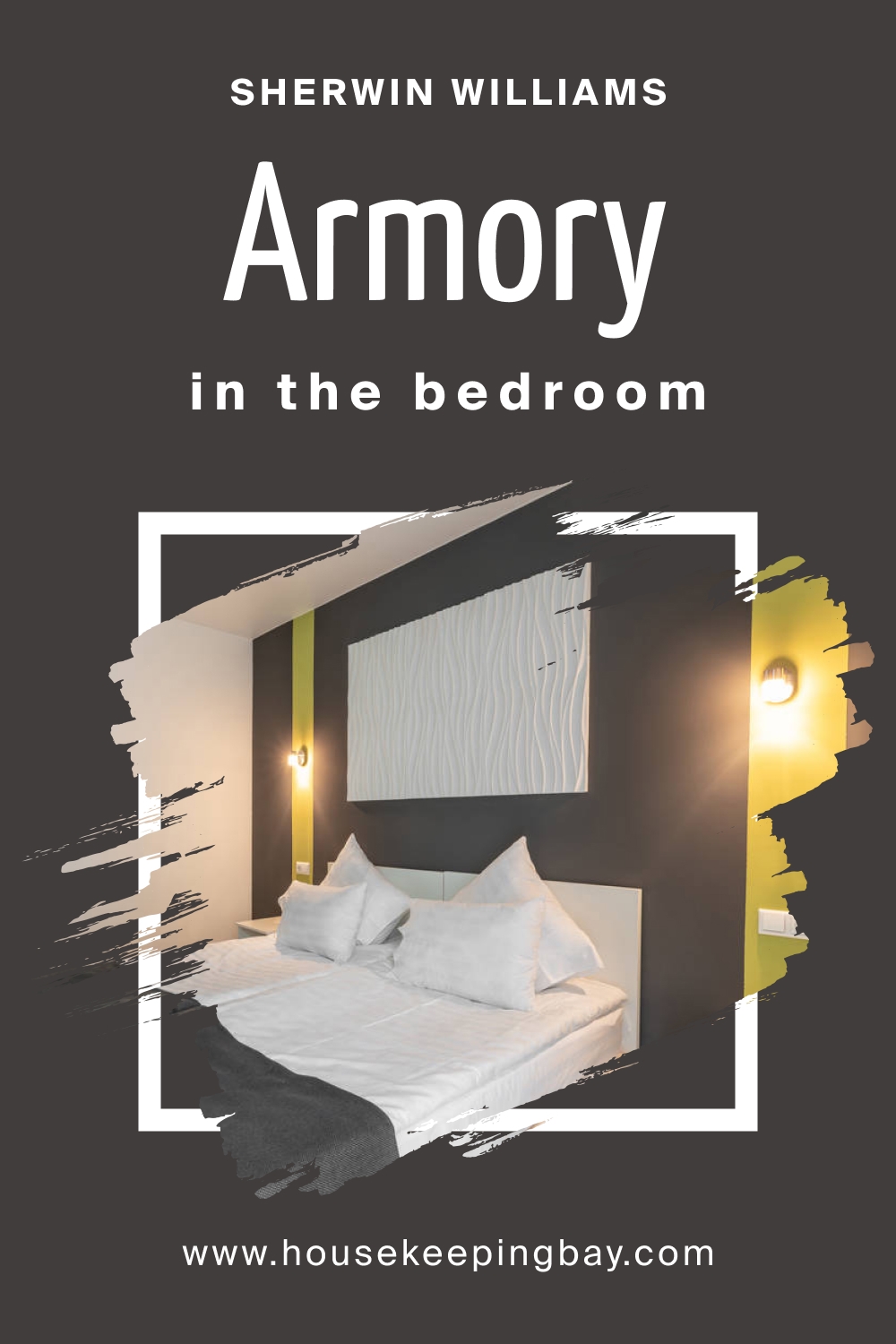 How to Use SW 9600 Armory in the Bathroom?
In bathrooms, Armory brings a spa-like vibe. This shade complements marble, white tiles, and chrome fixtures, providing a balance between contemporary chic and calming retreat. Use it for walls and accent it with white or pastel towels for a refreshing feel. Plants like ferns or eucalyptus can enhance its natural appeal.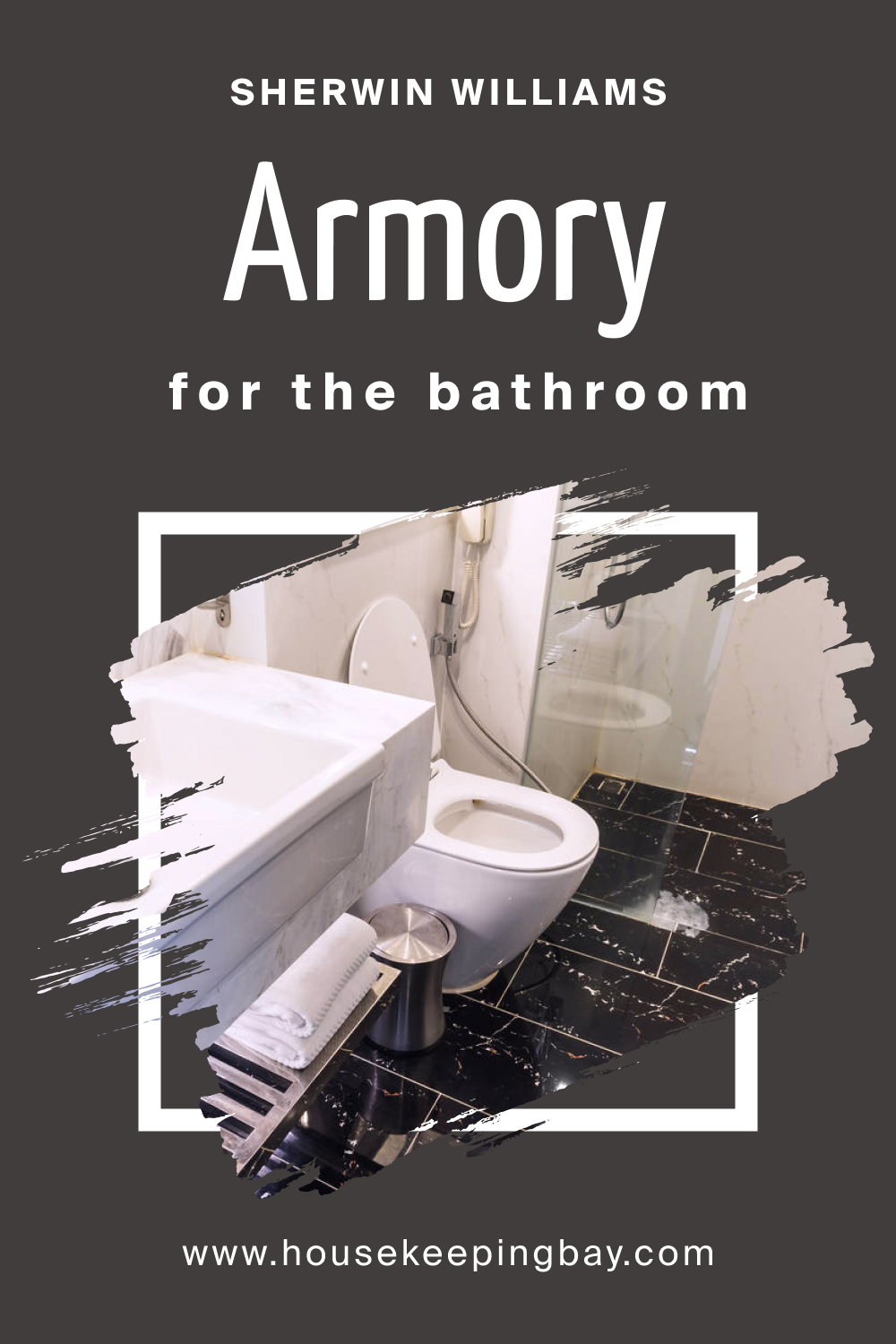 How to Use SW 9600 Armory in the Living Room?
Armory's depth enriches living rooms, making them inviting. Whether on a feature wall or throughout the space, it plays well with soft textiles, leather couches, and glass tables. Accent with art pieces or metallic décor. Lighting plays a role, too; soft, warm lights can intensify its coziness, making evenings feel snug.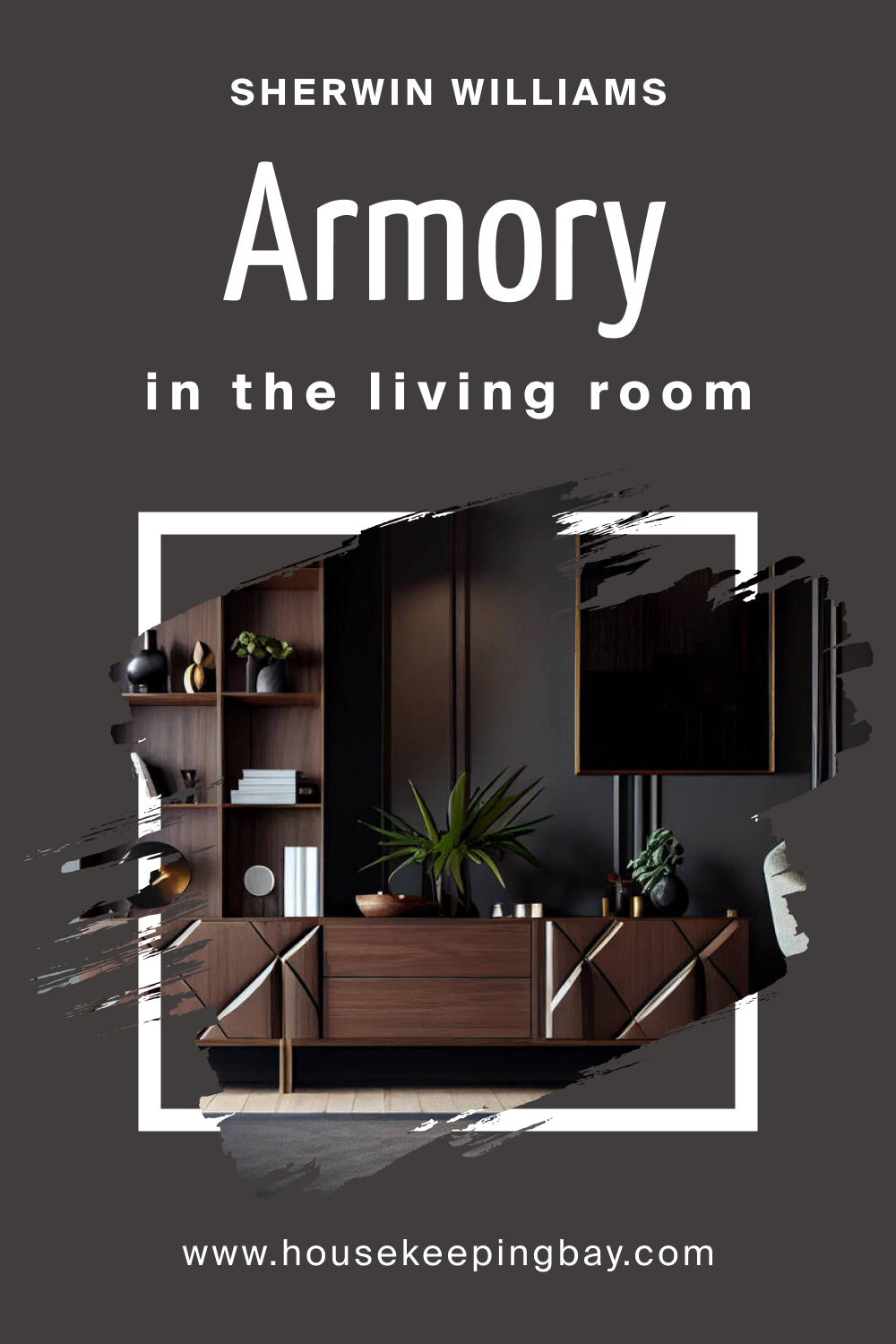 How to Use SW 9600 Armory for an Exterior?
As an exterior shade, SW 9600 Armory emanates sophistication. It's especially striking for modern homes with clean lines. Pair with white or light gray trims for a crisp contrast. Landscaping with greenery or flowering plants can break its intensity, creating an elegant yet welcoming facade.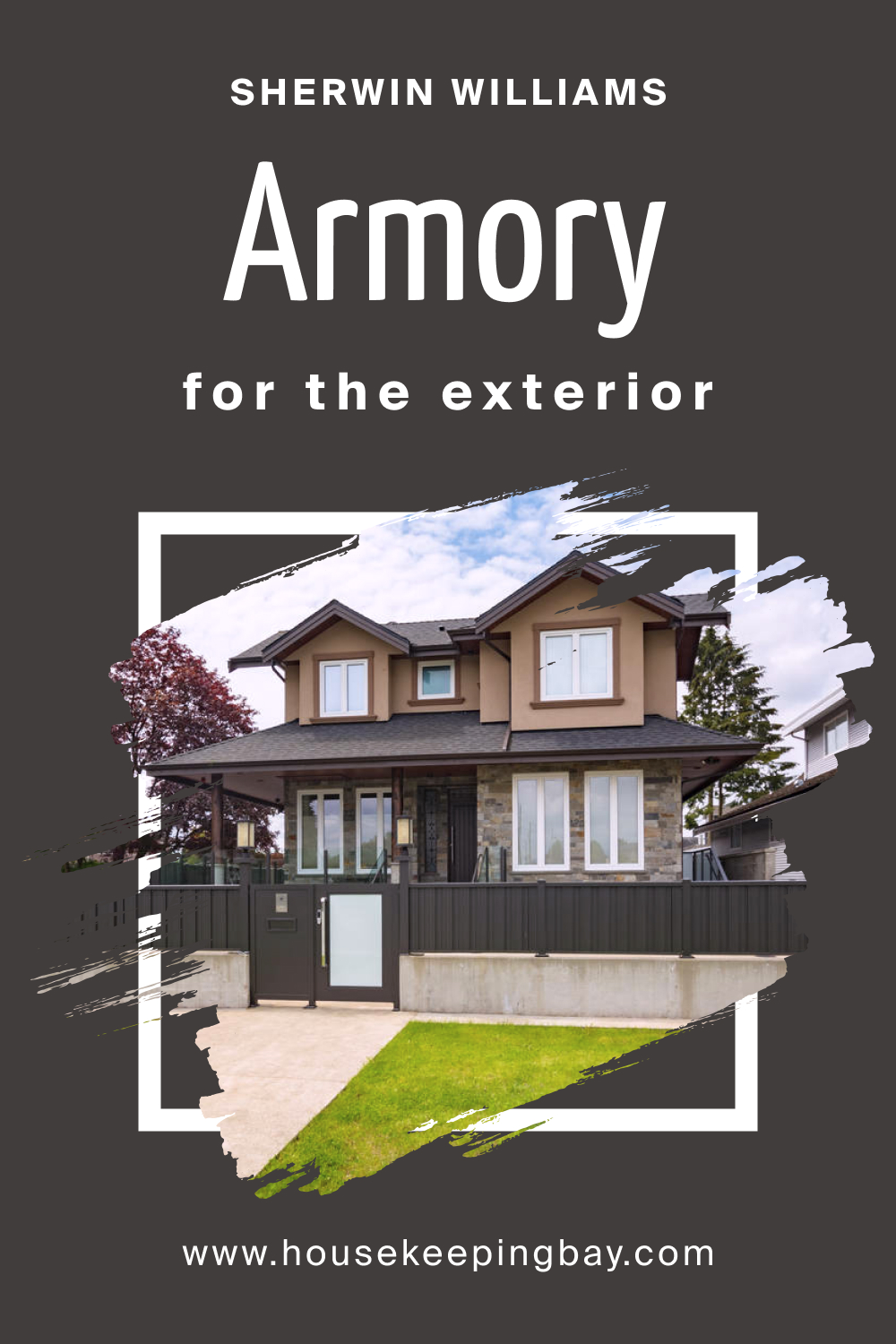 How to Use SW 9600 Armory in the Kitchen?
Kitchens in Armory strike a balance between style and warmth. It's an exquisite backdrop for stainless steel appliances and marble or granite countertops. Combine with open wooden shelves or white tiles for a touch of brightness. Bronze or gold fixtures can add a dash of opulence.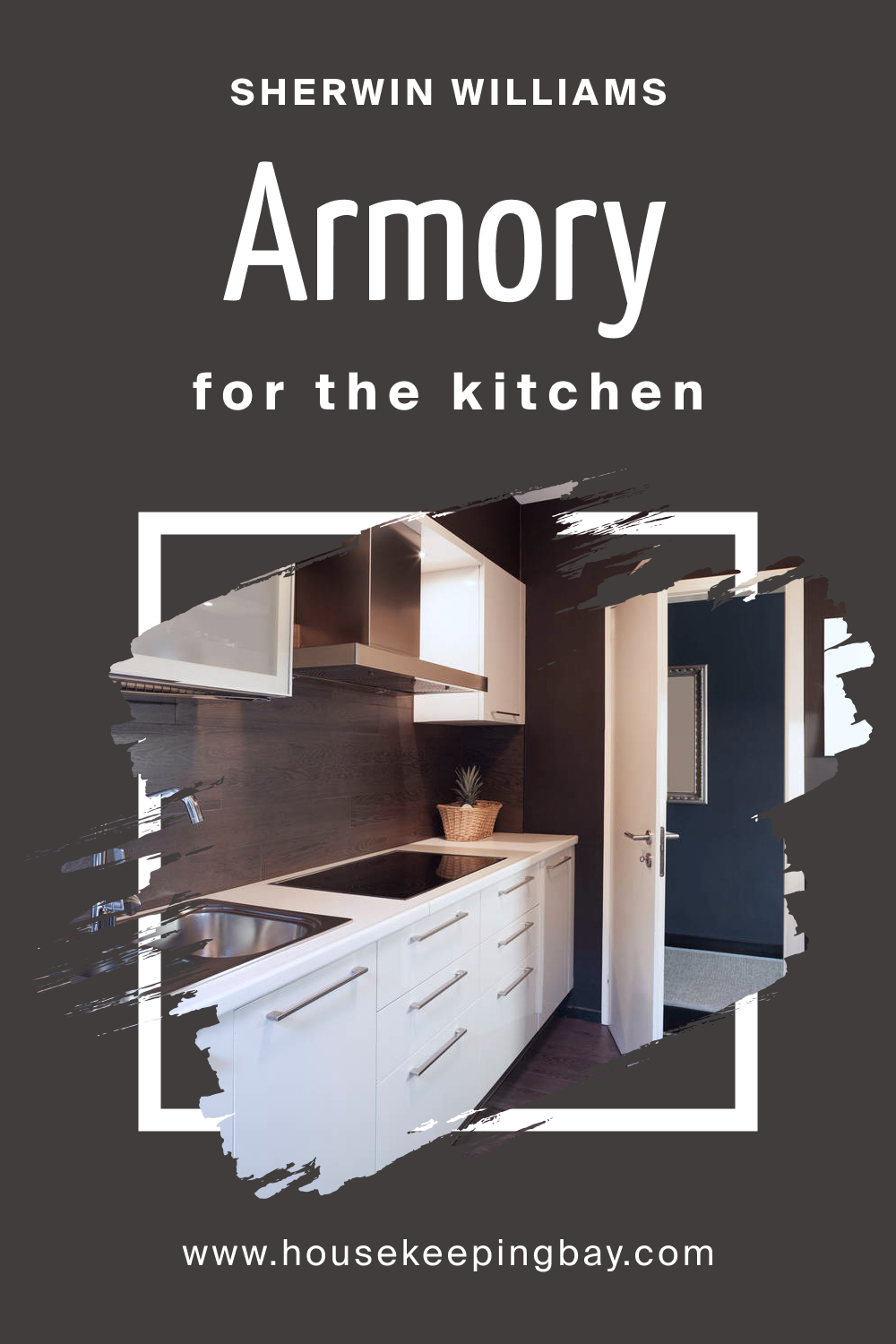 How to Use SW 9600 Armory for the Kitchen Cabinets?
For kitchen cabinets, Armory offers a chic alternative to traditional whites or woods. It provides depth without overpowering. Gold or silver handles pop against this shade, and when paired with a lighter countertop or backsplash, the cabinets become a striking feature. The depth of Armory on cabinets juxtaposed against lighter walls gives a layered, modern look to kitchens.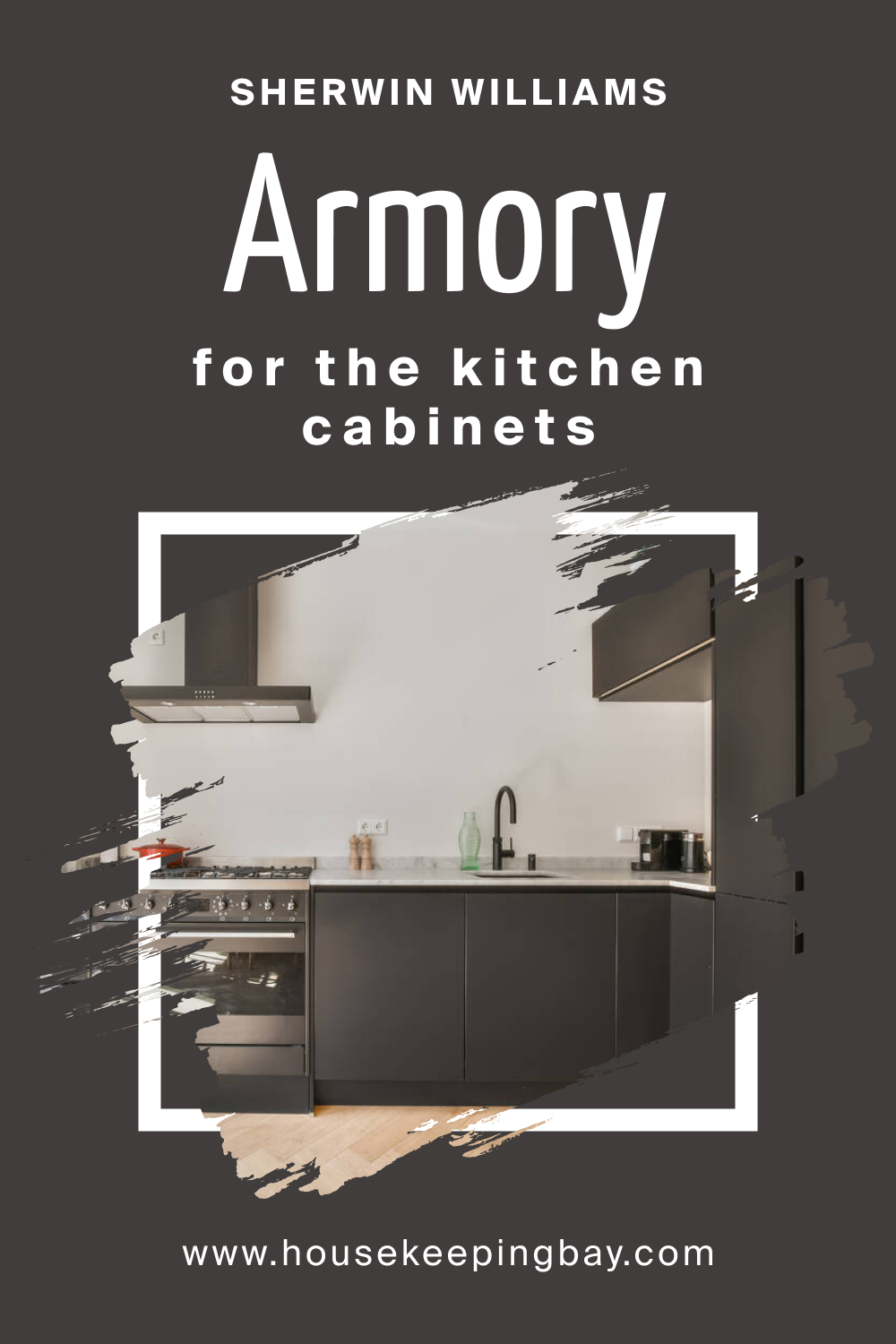 Comparing SW 9600 Armory With Other Colors
Understanding and comparing various shades is pivotal in interior design. Not only does it help in pinpointing the exact mood or emotion a homeowner seeks, but it also aids in creating cohesive and harmonious palettes. Often, subtle nuances between similar shades can drastically alter the ambiance of a space.
Hence, juxtaposing SW 9600 Armory with other colors will provide clarity on its unique character and how it can complement or contrast within designs.
SW 9600 Armory vs. SW 7674 Peppercorn
While both colors possess a depth that grounds spaces, Peppercorn leans more towards a smoky, darker hue, hinting at charcoal undertones. In contrast, Armory's blend of gray and misty blue offers a cooler, slightly lighter appearance. Armory feels fresh and calming, while Peppercorn offers a moodier, more dramatic aura.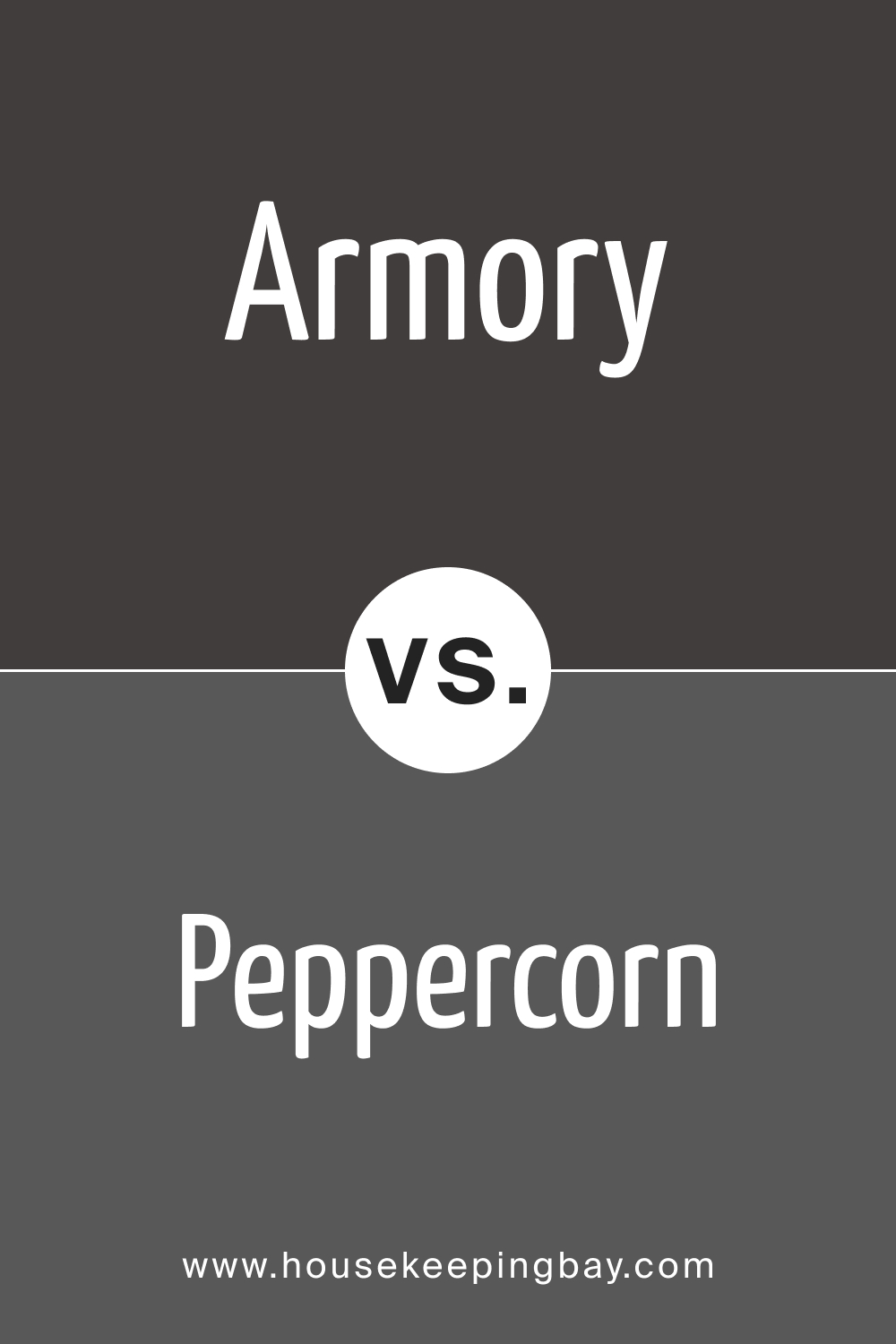 SW 9600 Armory vs. SW 7069 Iron Ore
SW Iron Ore is a versatile deep gray with a balanced character. Next to Armory, Iron Ore feels more neutral, lacking the subtle blue undertones that give Armory its distinct flair. Where Iron Ore provides a classic, timeless touch, Armory introduces a contemporary freshness ideal for modern interiors.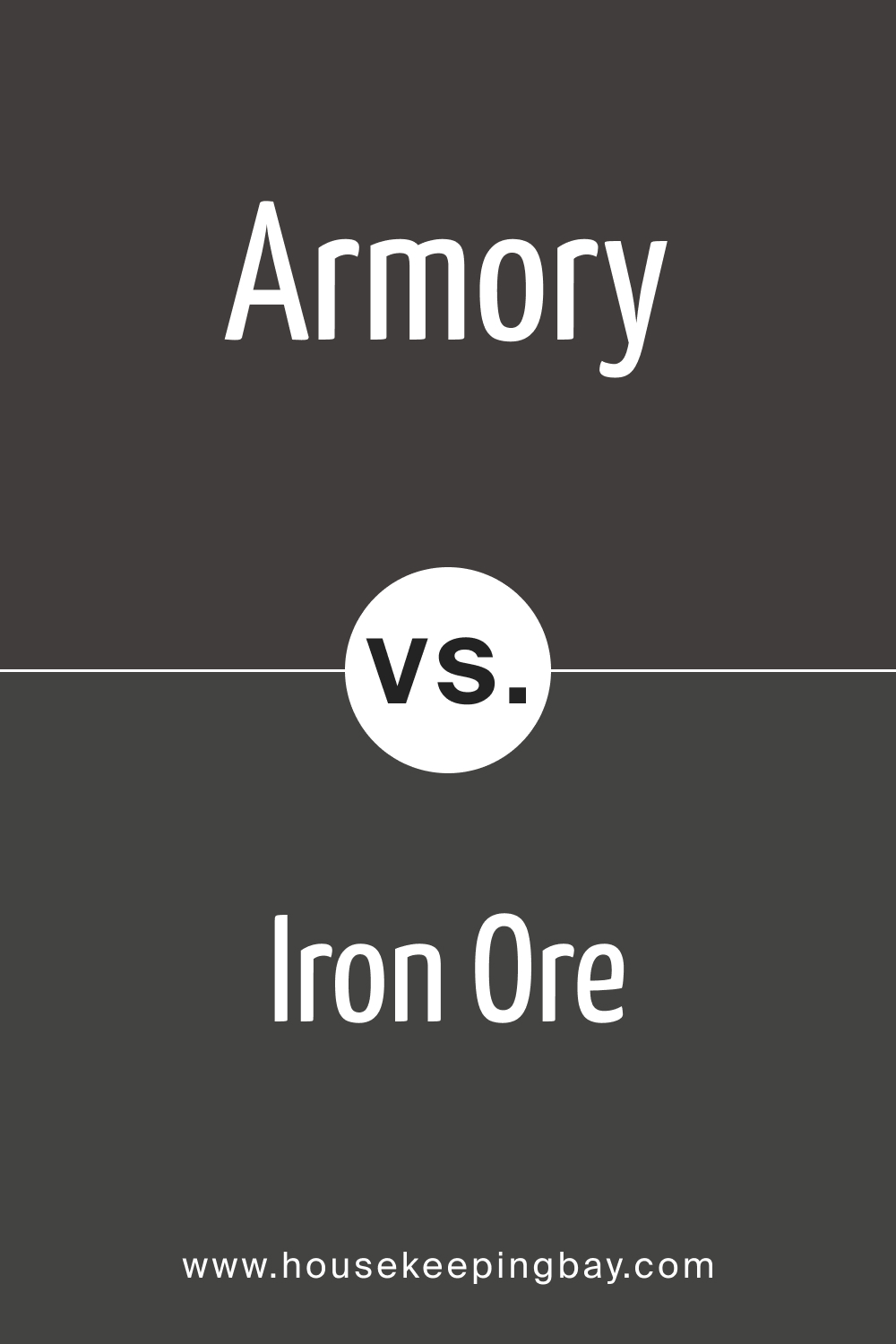 SW 9600 Armory vs. SW 6223 Still Water
SW Still Water, as its name suggests, is reminiscent of calm water bodies with evident blue undertones. When compared to Armory, it feels brighter and more distinctly blue. Armory, being deeper and grayer, offers more versatility for varied interiors, while Still Water predominantly brings a coastal, airy feel.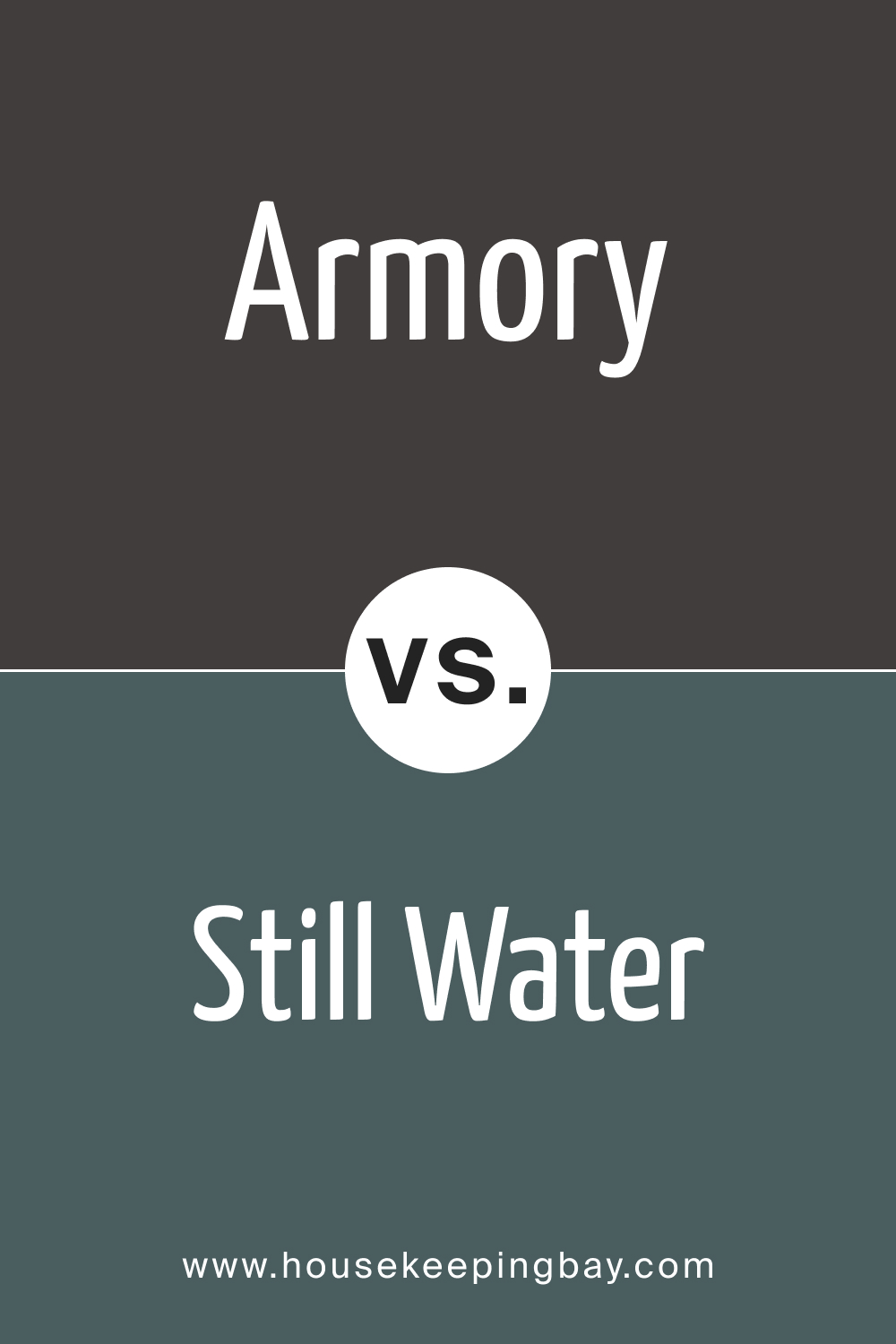 SW 9600 Armory vs. SW 7019 Gauntlet Gray
SW Gauntlet Gray is a warm gray that leans closer to taupe, exuding a cozy vibe. In contrast, Armory, with its cool undertones, offers a crisp and sophisticated appearance. While both are adaptable, Gauntlet Gray is cozier, making it suitable for intimate spaces, whereas Armory's freshness fits larger, open areas.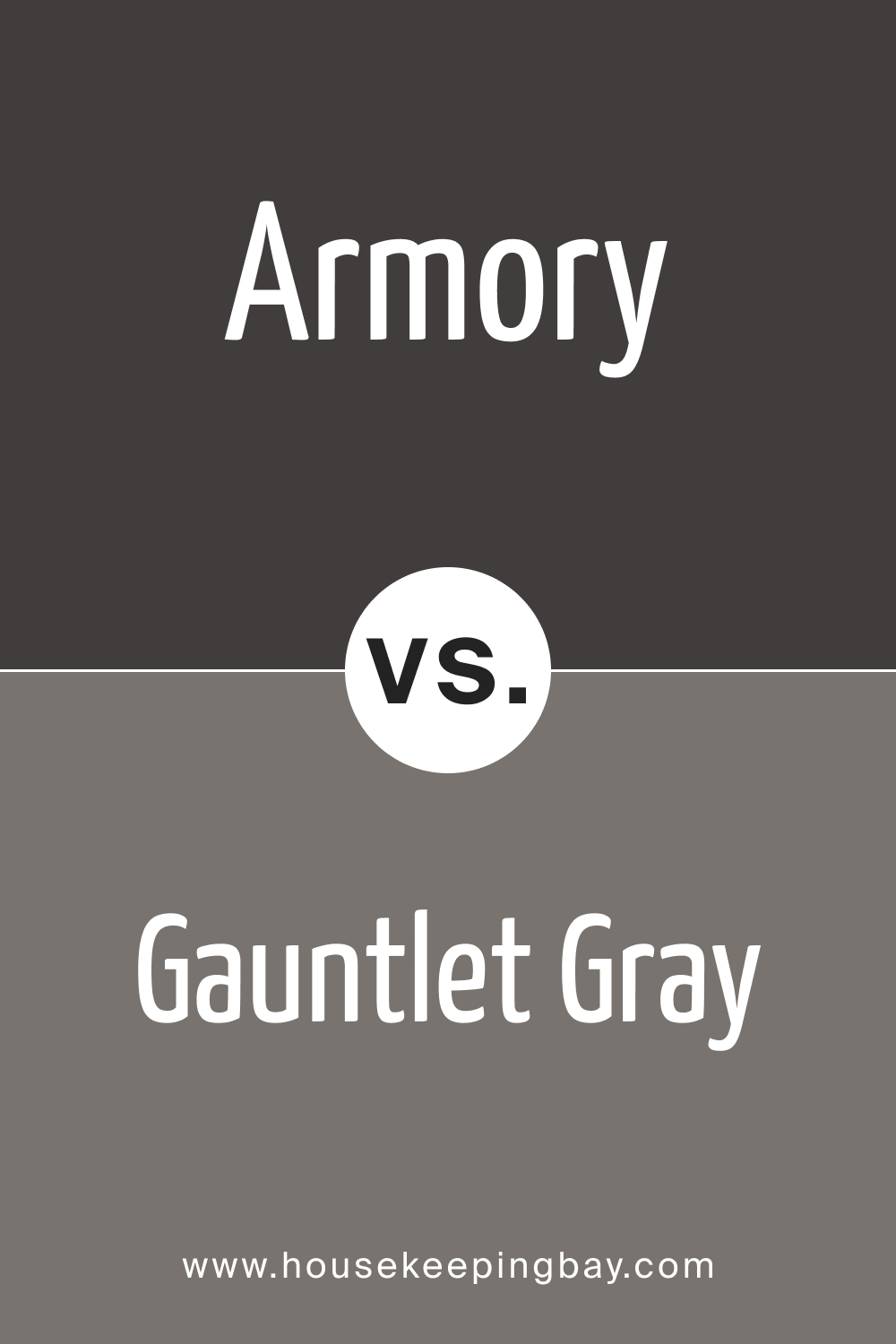 SW 9600 Armory vs. SW 7018 Dovetail
SW Dovetail is a beautiful medium-gray with slightly warm undertones. Next to Armory, Dovetail feels warmer and less moody. Dovetail is more neutral and versatile, fitting into various design styles effortlessly, while Armory brings in a specific cool depth, making a strong design statement.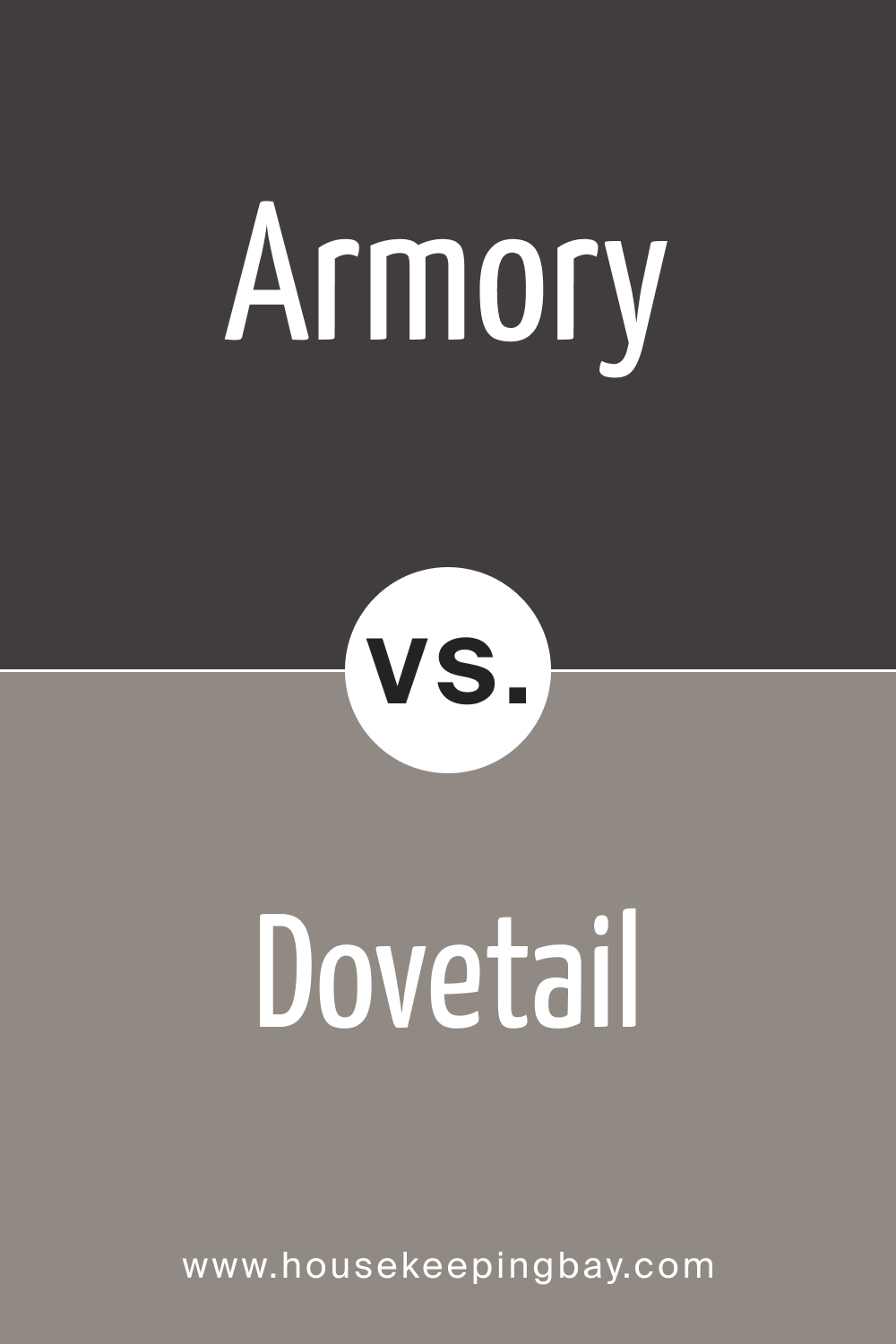 SW 9600 Armory vs. SW 9605 Clove
SW Clove is an earthy hue that hints at brown undertones. In comparison, Armory feels cooler and more contemporary. While Clove offers a rustic, grounding essence, perfect for traditional interiors, Armory's muted elegance leans towards modern aesthetics.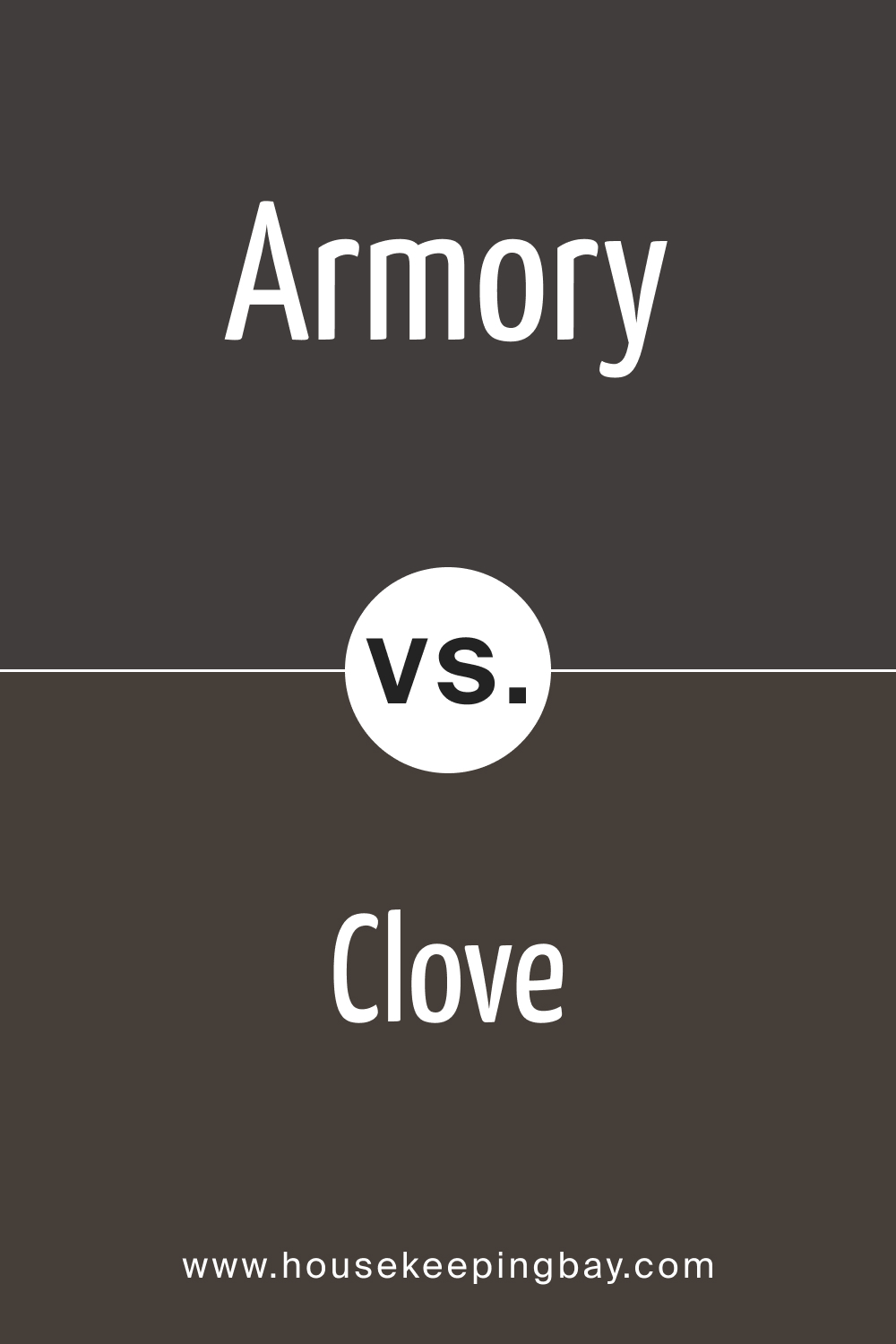 Conclusion
Colors, though appearing visually similar, can possess varying undertones and depths, influencing ambiance profoundly.
SW 9600 Armory, with its distinct character, juxtaposes differently with each hue, making it vital for designers and homeowners to compare and contrast before finalizing. Such comparisons help in curating spaces that resonate with one's desired aesthetic and emotion.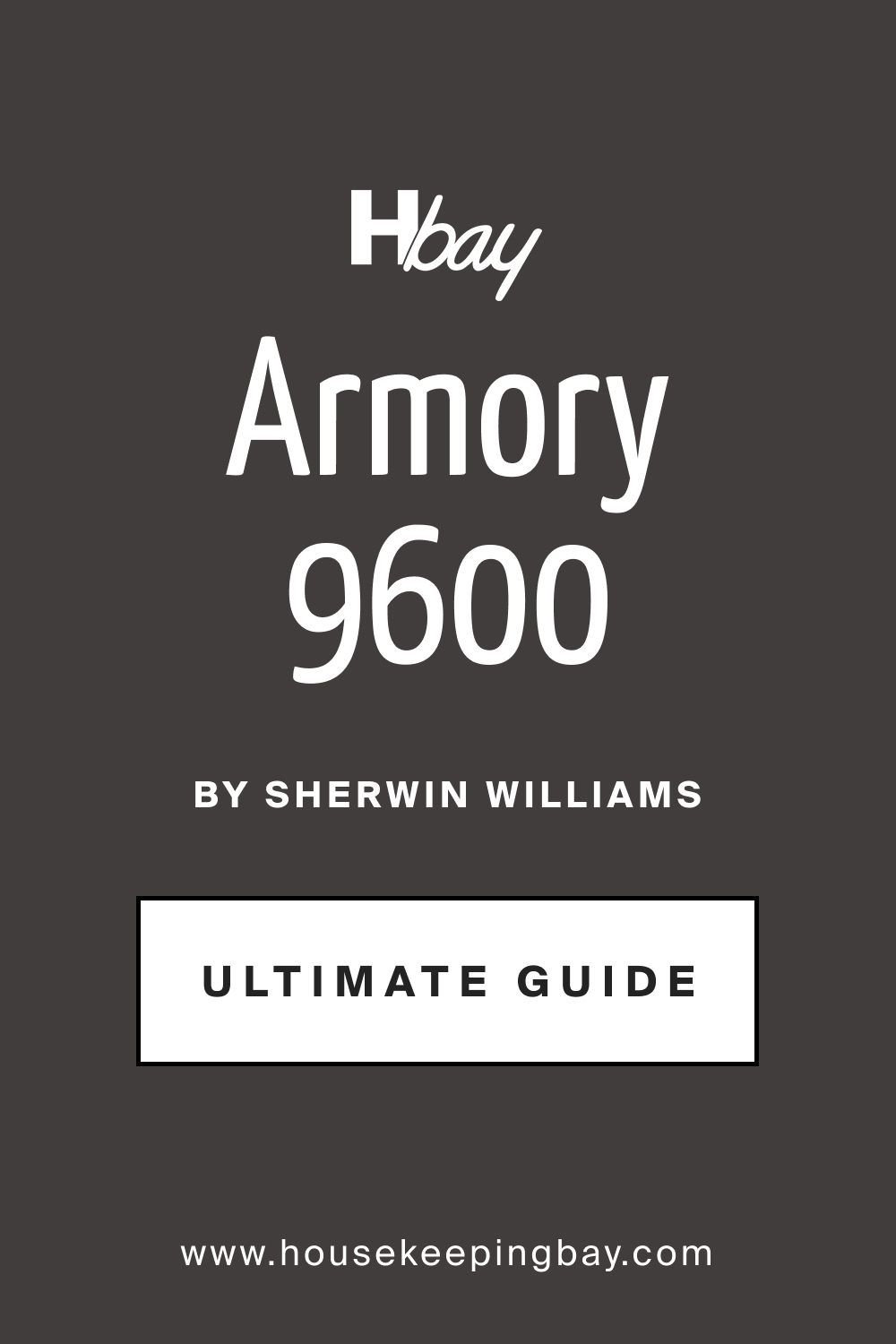 Frequently Asked Questions
⭐What kind of finish does SW 9600 Armory have?
SW 9600 Armory is available in a variety of finishes, including flat, eggshell, satin, and gloss. It's crucial to pick the finish that best suits the intended use and desired appearance for your space.
⭐How many coats of SW 9600 Armory will I need for full coverage?
Typically, two coats of SW 9600 Armory are recommended for optimal coverage and color depth. However, this can vary based on the color of the previous paint, the texture of the surface, and the quality of the application tools.
⭐Is SW 9600 Armory suitable for exterior use?
Yes, SW 9600 Armory is formulated for both interior and exterior applications. When using it outside, ensure that the surface is properly prepped and primed for long-lasting results.
⭐How do I best maintain walls painted with SW 9600 Armory?
Walls painted with SW 9600 Armory can be cleaned using a soft cloth or sponge and a mild, soapy water solution. Avoid using harsh chemicals or abrasive materials to maintain the paint's integrity and appearance.
⭐Does SW 9600 Armory require a primer before application?
While SW 9600 Armory offers excellent coverage, using a primer is recommended for untreated, porous, or stained surfaces. A primer ensures uniformity and maximizes adhesion for a durable finish.