White might seem to be an easy color that you can incorporate into any interior and pair with any colors with no issues or trouble. However, there are whites that require a sharp eye and a good sense of color if you want to make use of them in your home!
Today, we will talk about one of such tricky and mischievous white paint colors by Sherwin-Williams. The color is called White Sand, and we suggest you read this article very carefully if you want to tame it!
We will explain what undertones and LRV it has and how it works in different spaces. This will help you to use it correctly.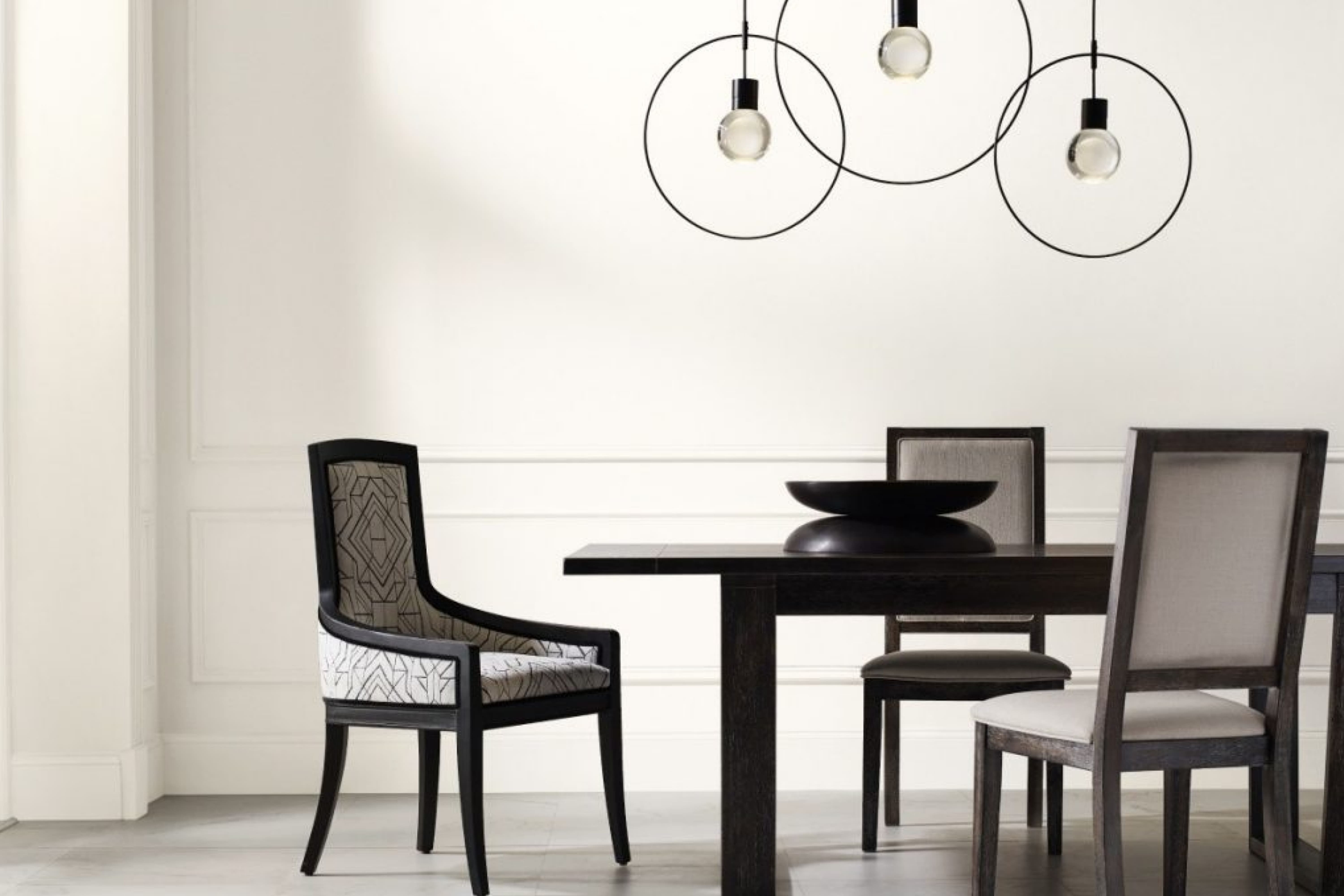 What Kind of Color Is SW 9582 White Sand?
SW White Sand is a white color, but like all whites, it comes with certain unique features. This particular color reads muted on the walls but might have a delicate wink of warmth hiding in it.
However, you should not expect a yellowish or creamy hue from it at all! It will emit more like a warmer grayish hue.
As Encycolorpedia says, this color is best for wall and trim applications, but only if the wall and trim are painted the same color as each other. You can also use it on your interior walls, partnered with a true white trim color.
However, we insist on sampling SW White Sand very meticulously prior to applying it to the wall! This way, you will ensure the color reads exactly as you need.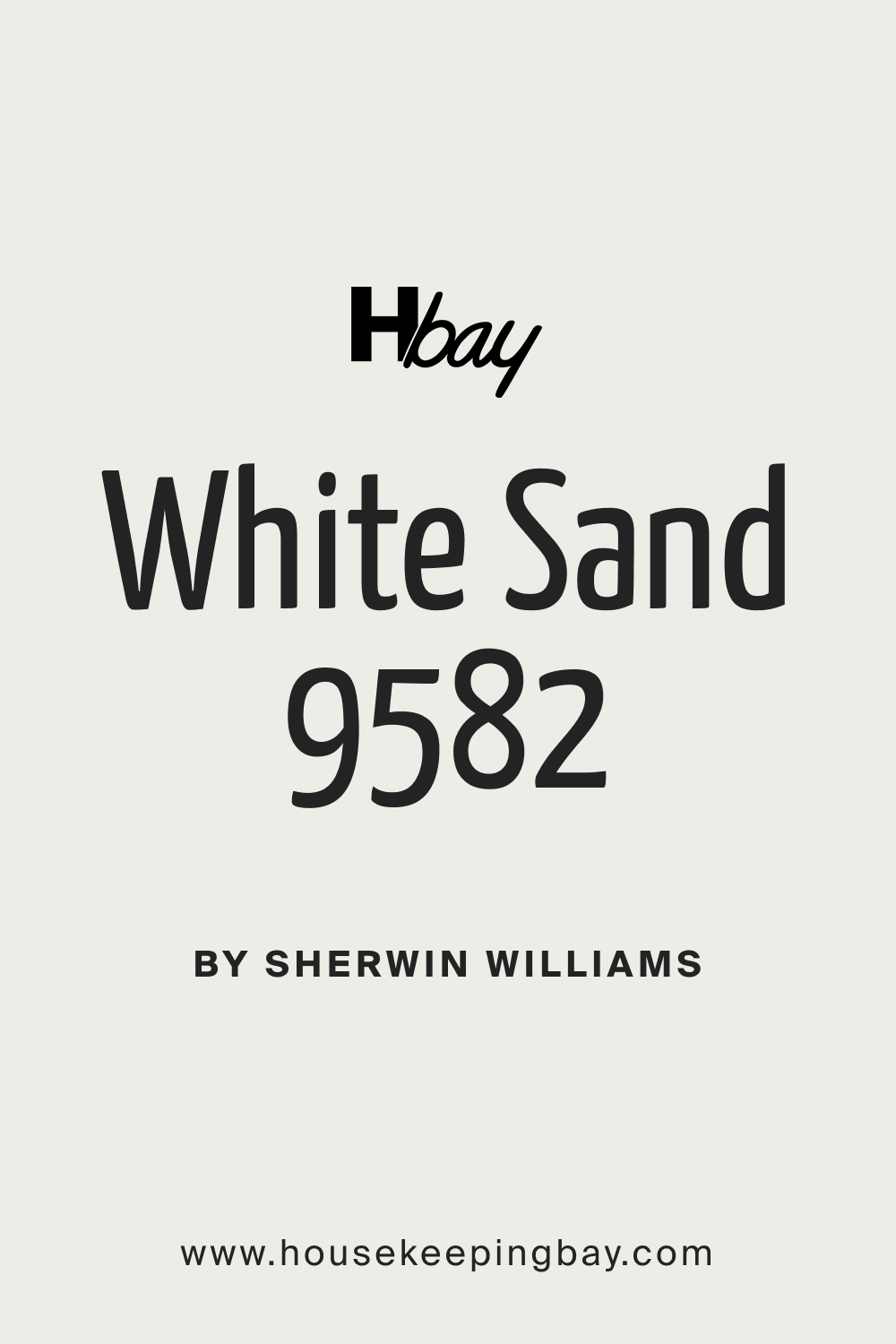 What Undertones Does SW 9582 White Sand Color Have?
Like any other color, SW White sand has undertones, but in this case, the color comes with no committed cool undertone. This white color by Sherwin-Williams reads muted, thanks to gray undertones it has. This delicate and subtle gray hue allows SW White Sand to not read crisp or cold in space.
Also, the grayish base it has allows SW White Sand to look less cool-toned on the walls. In fact, it might seem just slightly warm, but this is a delicate warmth with no yellow or creamy hue in it.
When using this white color, remember that lack of committed undertone is a good thing, of course, but with such a high LRV (which you will learn about very soon), this white paint color is the most reflective!
It means SW White Sand will easily pick up colors from their environment. This is why you must always sample this white paint color in your rooms to see how it reacts to other colors used there.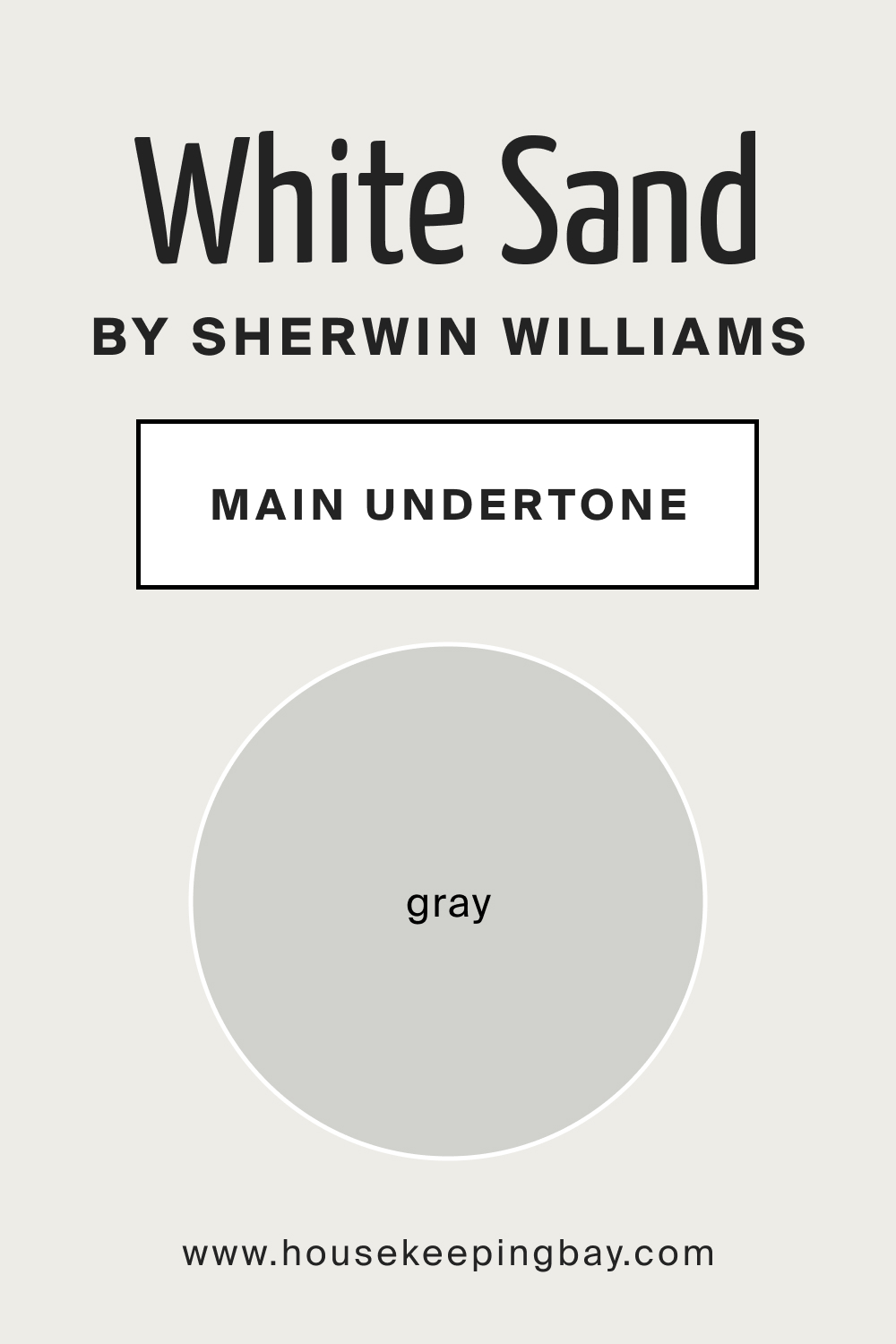 What Is the LRV of SW White Sand Paint Color?
The LRV of SW White Sand is 84. This is a rather high LRV value, which makes this color a soft white, but not a bright or true white at the same time. Just to remind you, LRV stands for the light reflectance value. This measurement shows how much light colors can reflect from the surface.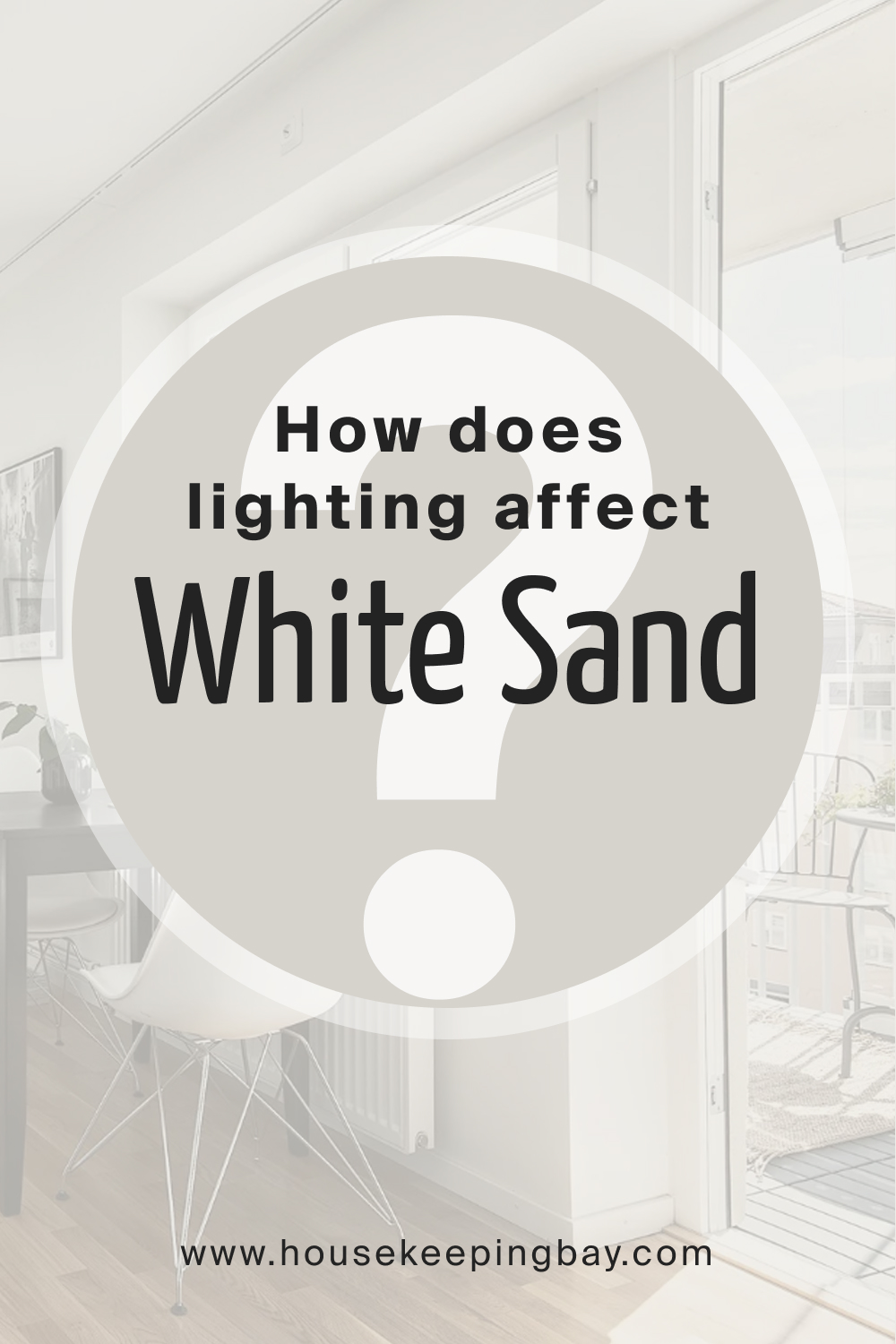 The LRV scale ranges from zero to 100, where zero is black, and 100 is white. Apparently, the higher the LRV value, the lighter (and more reflective) the color, and vice versa.
As you might guess, lighter paint colors with higher LRV values will work exceptionally well in spaces where you need to create an airy and spacious feel.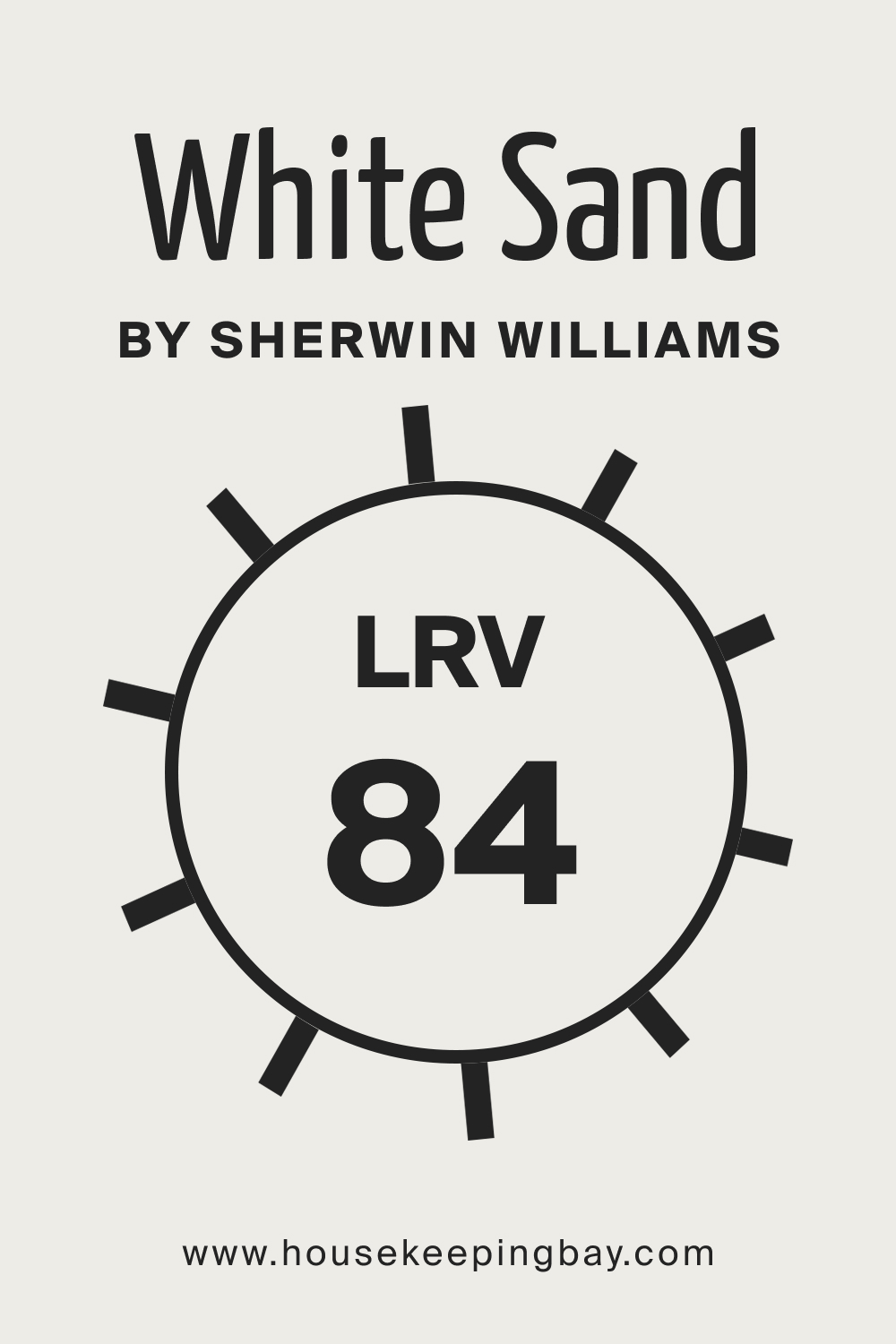 What is LRV? Read It Before You Choose Your Ideal Paint Color
Coordinating Colors For SW White Sand
To coordinate such a tricky color, you must be a professional interior designer and have a sharp eye for colors and their shades. Or you might want to use our help and opt for one of the following coordinating colors that will work with SW White Sand:
SW White Gallery
SW Realist Beige
SW Honeycomb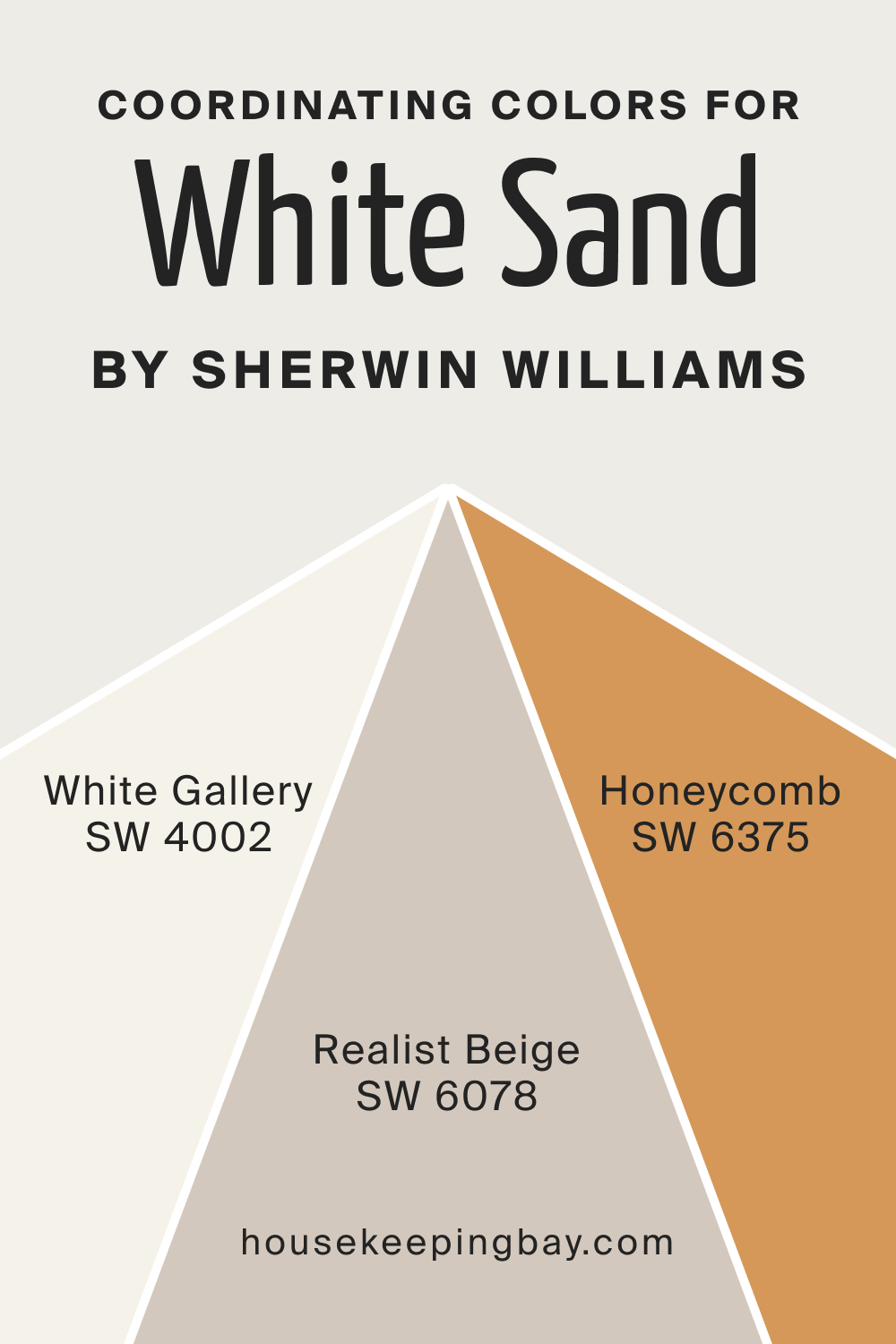 What Is the Best Trim Color to Use With SW 9582 White Sand Paint Color?
There are white colors that work great both on the walls and trim at the same time. This means you can use the same paint color all over the room. SW White Sand is one of them.
Since this white is pretty challenging to pair with other colors, and especially tricky to match with the correct white trim color, your win-win option is to use it on both the trim and the walls.
Should you want a more contrasting look, we recommend you ask a professional designer for help picking the right white color for the trim!
Colors That Go With SW 9582 White Sand
SW White Sand is a challenge for homeowners since it's not an easy task to select colors that will work well with it! Although SW White Sand is a white color, it is rather picky when it comes to finding the proper palette for it to include. This is why keep a few tips in mind to use it correctly:
This color doesn't love being paired with fresh cool colors since they are too clean for its muted appearance.
In most cases, SW White Sand works well with earth-toned blue or violet.
Try not to pair it with green colors or colors that have noticeable green undertones.
SW White Sand works best with cool-toned grays.
There are no warm colors that SW White Sand works with.
For instance, you might want to pair it with the following colors in your home:
SW Poolhouse
SW Violet Vignette
SW Touch of Sand
SW Studio Clay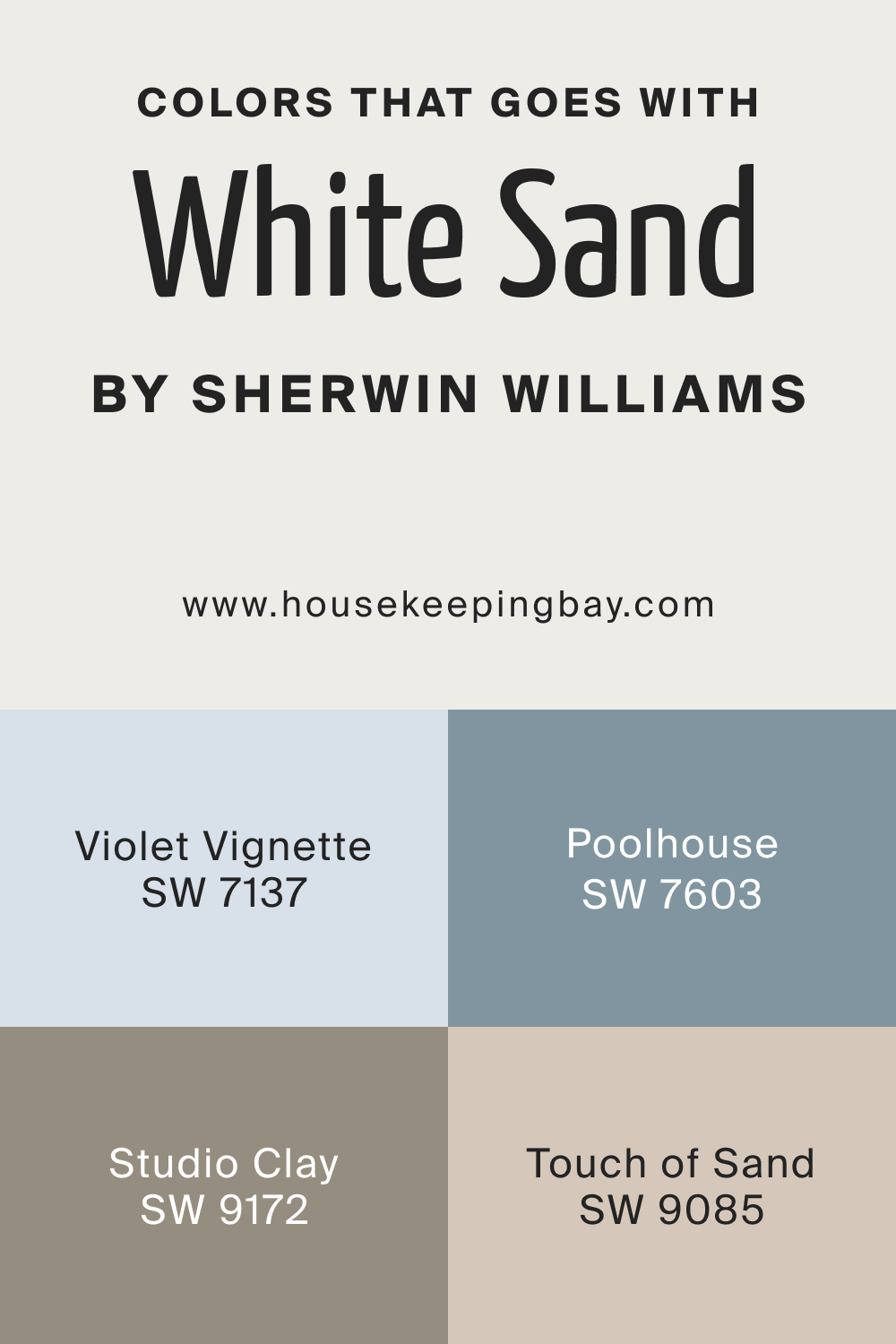 SW White Sand Similar Colors
Since SW White Sand is a tough guy in the world of paints, we assume you would have issues with picking the best similar colors to use instead of it. This is why we have selected a few color options that can work perfectly well as this color's substitutes:
SW Gypsum
SW White Sail
SW Natural White
Behr Pale Bud
BM Harwood Putty
PPG Commercial White
Valspar Blanched Pine
Of course, note that all of these alternative colors have their specific nuances and features, like different undertones and LRVs, which is why you won't find an ideal 100% match here that would read exactly the same as SW White Sand.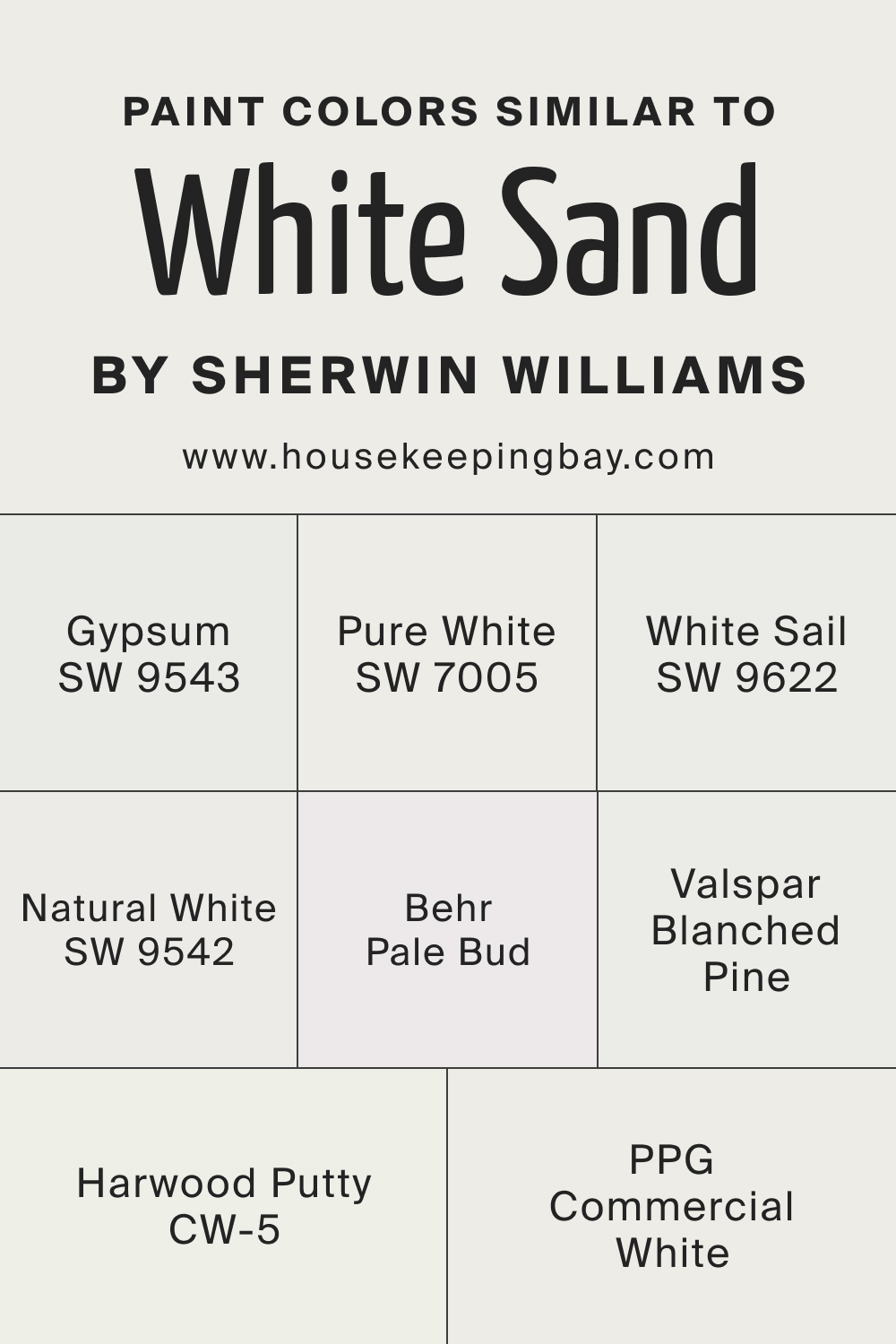 Comparing SW 9582 White Sand With Other Colors
To help you better see the difference between this white color and other whites, we recommend you read this comparative description of their unique features. By comparing their undertones and LRVs, you will be able to distinguish their characteristics much easier and more quicker.
White Sand vs White Dove
Compared to SW White Sand, SW White Dove reads slightly warmer, showing a more noticeable beige-like hue. SW White Sand, in its turn, looks slightly grayer, although looking the same soft, with no crispness or cool tones in it.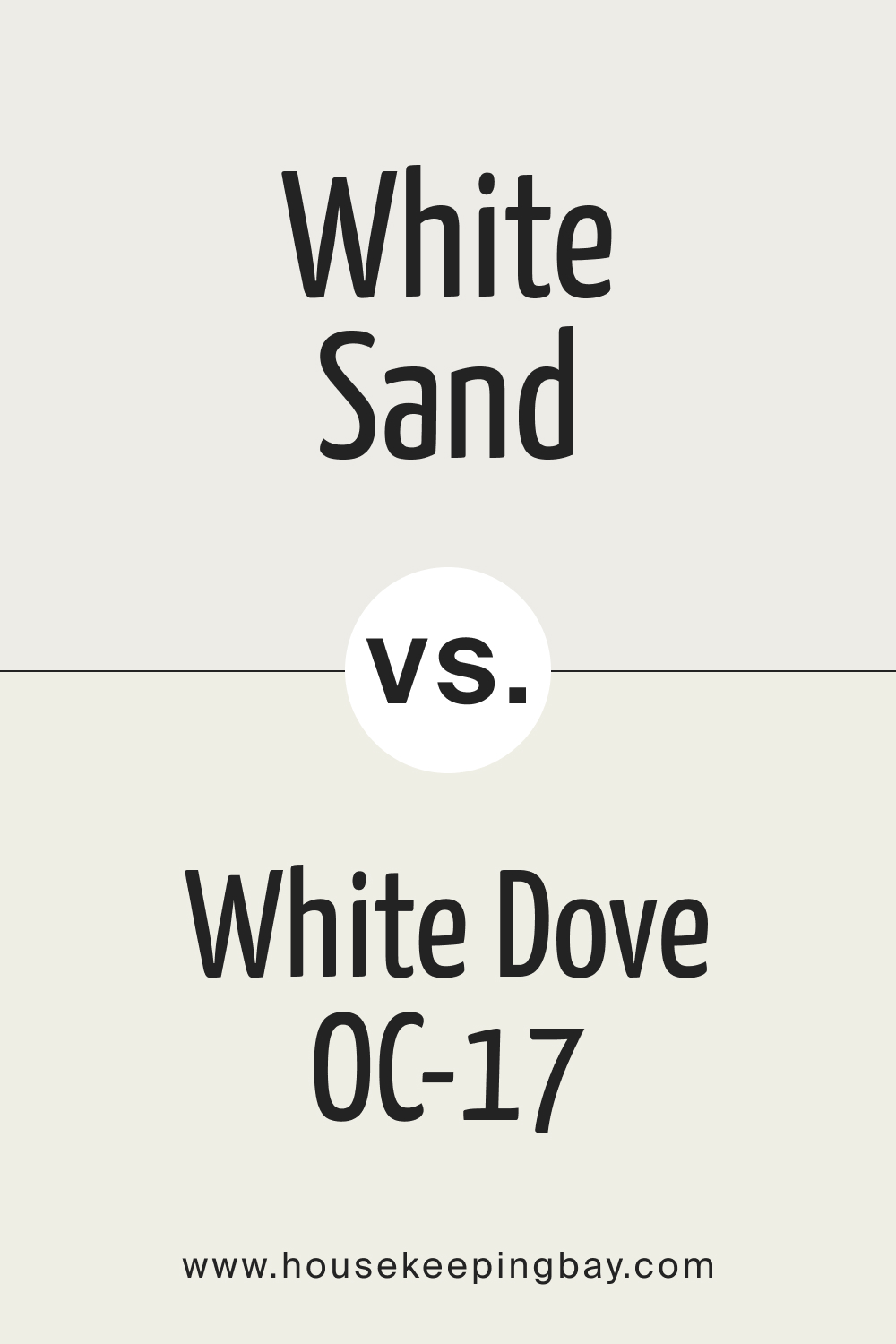 White Sand vs Swiss Coffee
BM Swiss Coffee looks a bit warmer, revealing a very slight and barely noticed pinkish undertone if you place it side by side with SW White Sand. Its counterpart, on the contrary, looks grayer.
Also, an LRV of BM Swiss Coffee is 81, which is only three pointes less than the LRV of SW White Sand (which is 84). As a result, both colors look very similar in terms of their reflectivity and lightness.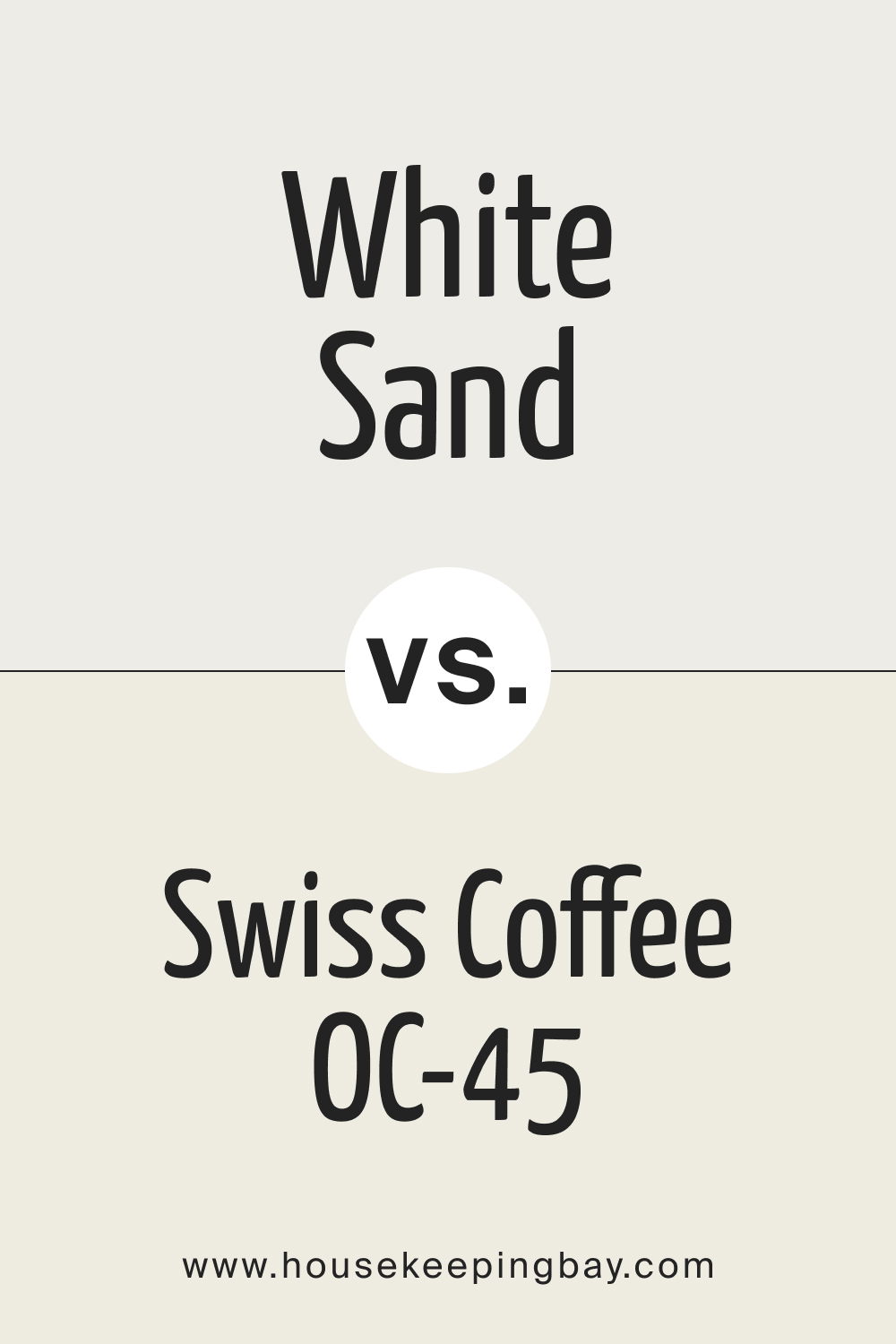 White Sand vs Natural Linen
BM Natural Linen looks much warmer than SW White Sand. Also, BM Natural Linen reveals very prominent beige-like undertones that give this color its sandy and warm appearance. However, these two create quite a nice contrasting pair of colors!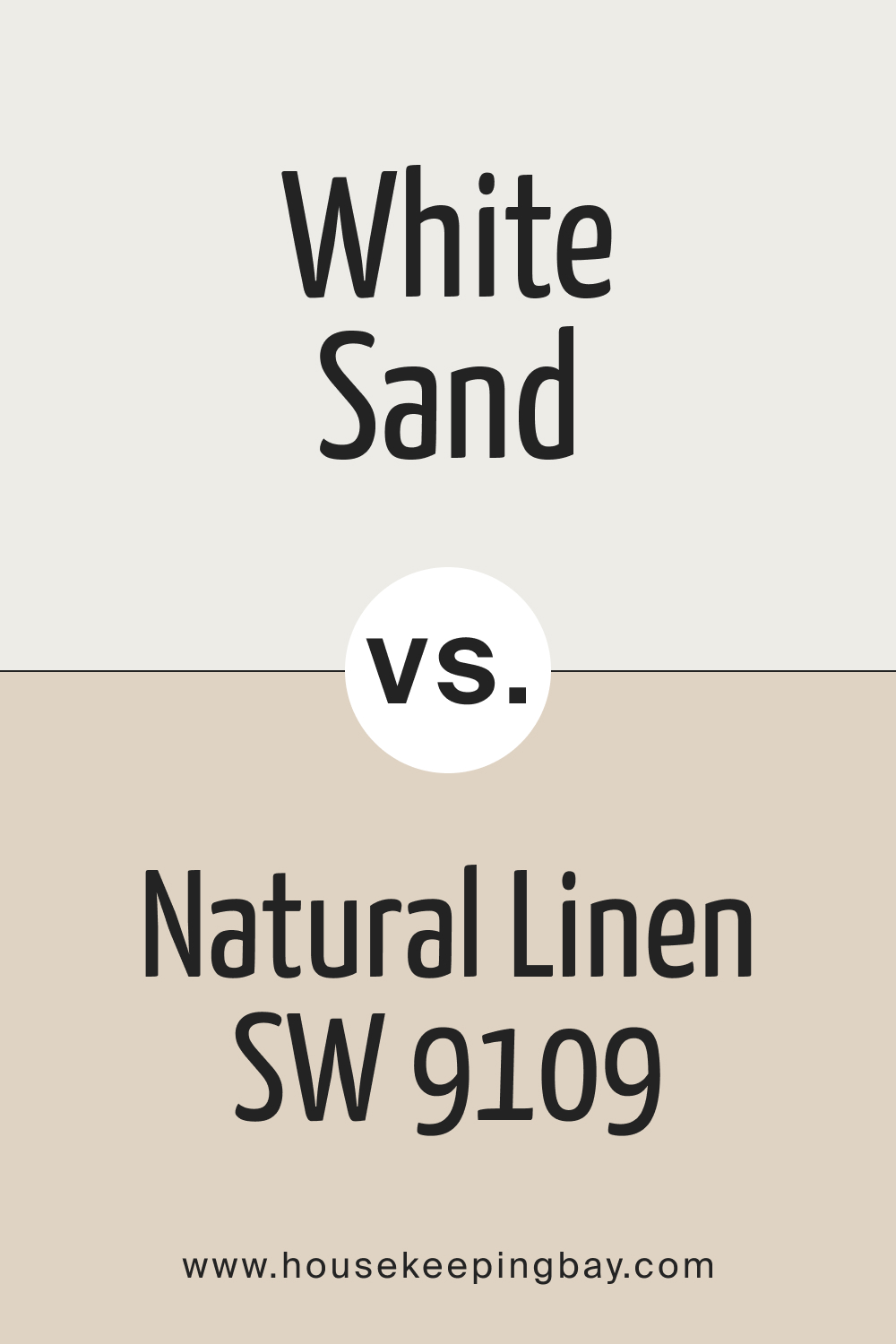 White Sand vs Pale Oak
BM Pale Oak is a light greige with warm, yellow undertones and an LRV of nearly 70. As a result, this color reads darker than SW White Sand, whose LRV is 84. Also, SW White Sand looks whiter compared to BM Pale Oak which may seem much grayer.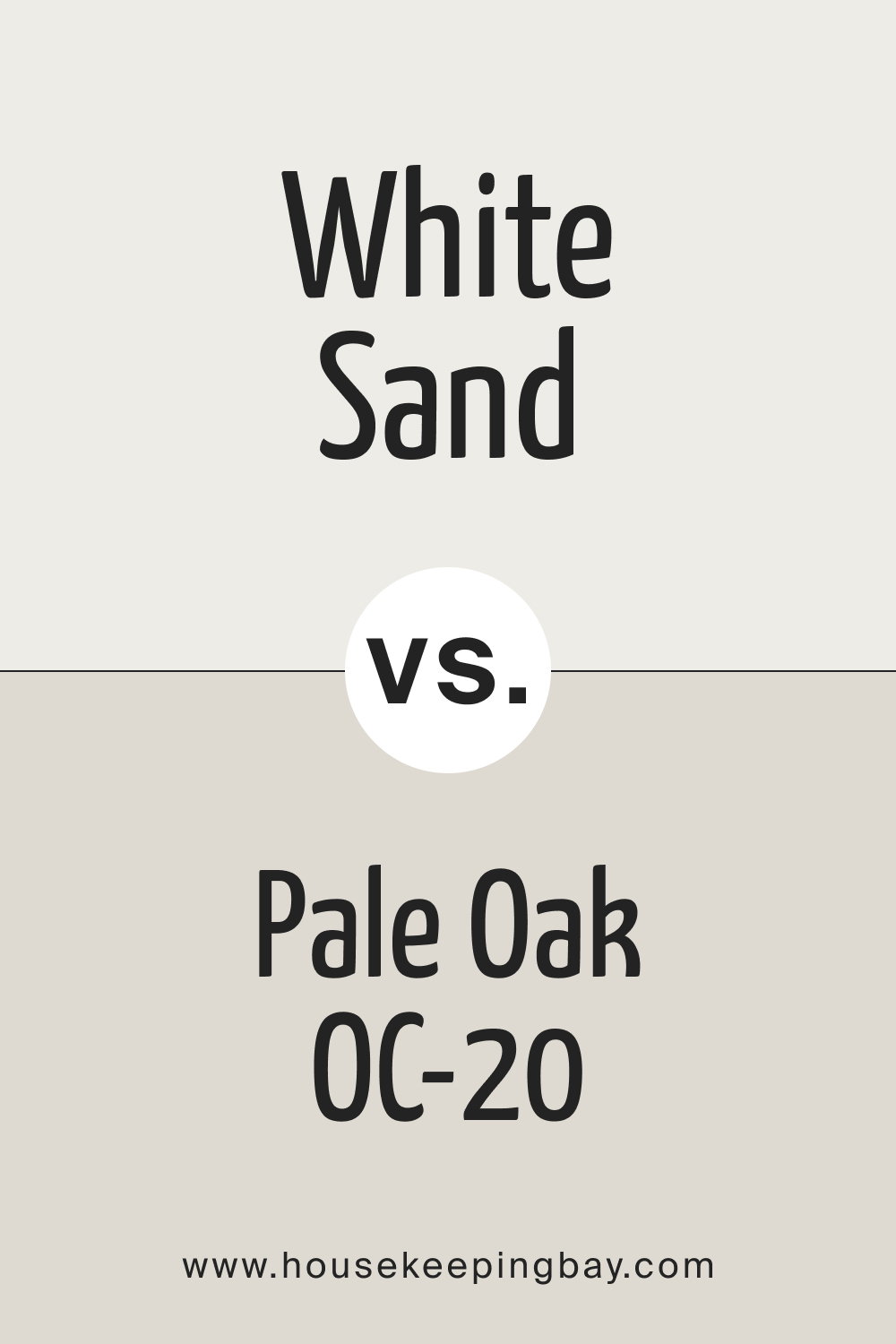 White Sand vs Ballet White
BM Ballet White has yellow and gray undertones. In addition, it also has a little bit of gray to it. However, compared to SW White Sand, it looks much closer to beige than gray. Besides, the yellowish hue of BM Ballet White is very noticeable when you place this color side by side with SW White Sand.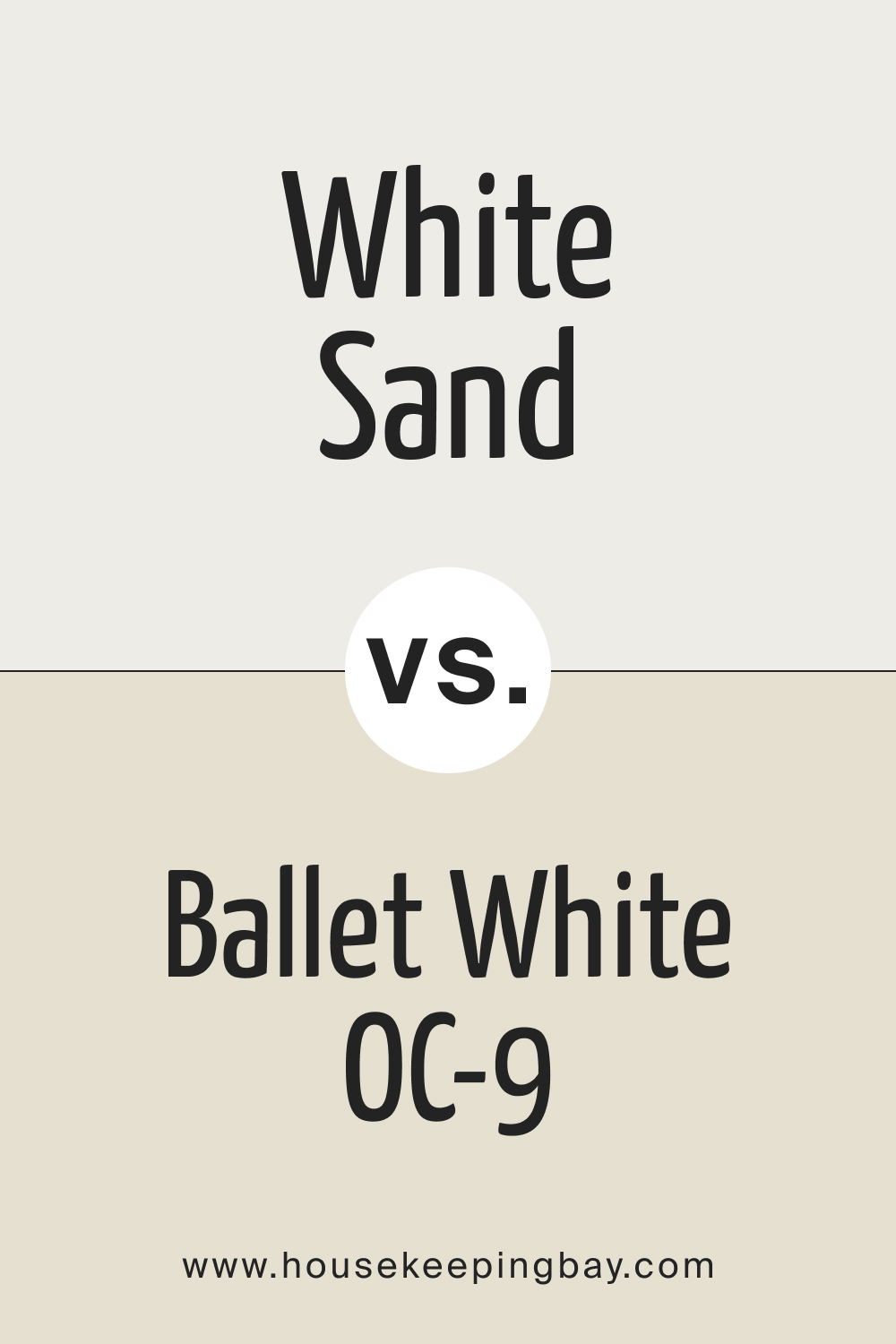 White Sand vs Greek Villa
SW Greek Villa has mild yellowish-beige undertones and an LRV of 84. In terms of light reflectivity, these colors are the same, but undertones make them distinct. SW Greek Villa reads yellower, with a slight beige hue. SW White Sand looks white with a very delicate grayish hue.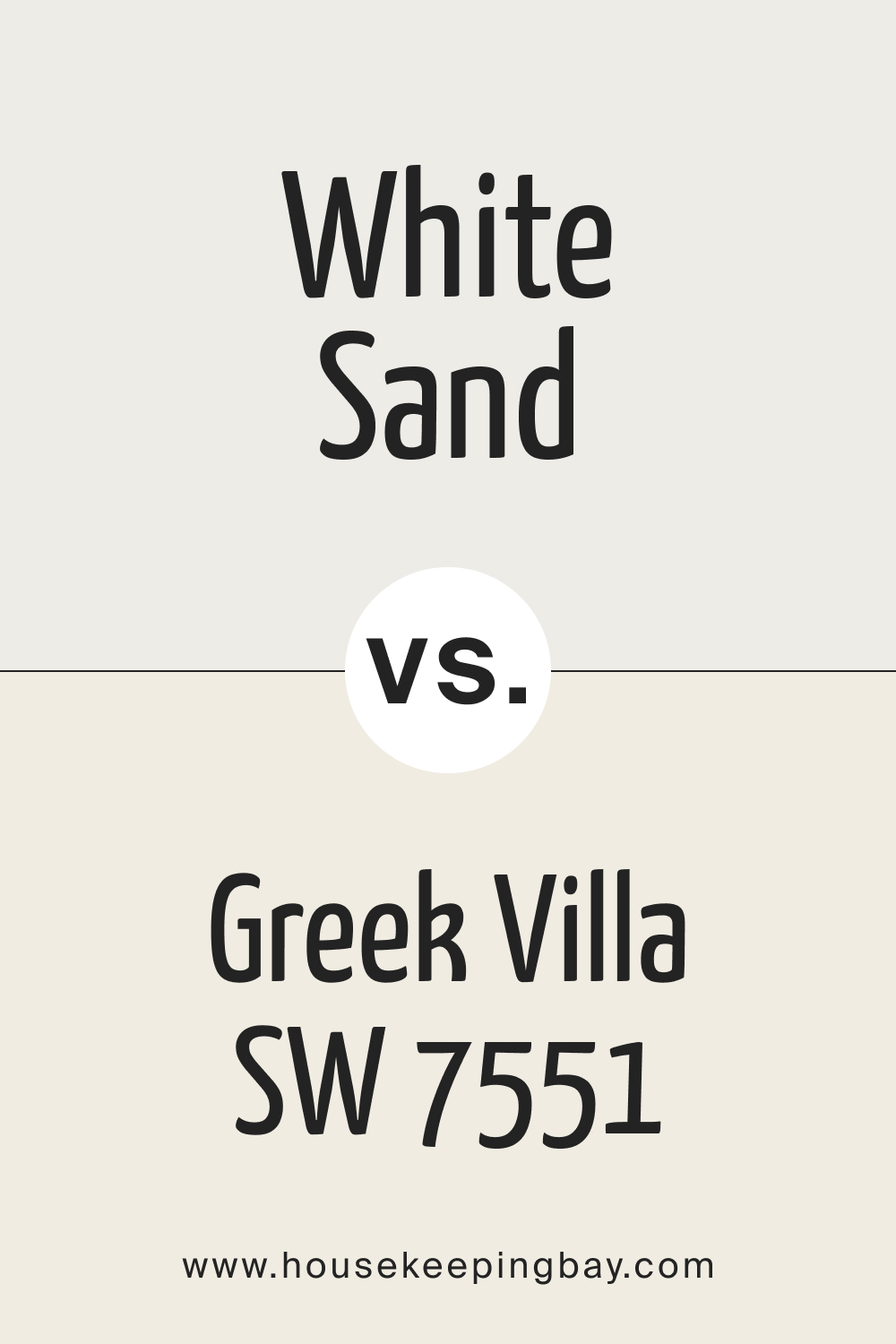 Where to Use SW 9582 White Sand In Your Home
Despite being rather challenging and tricky, the SW White Sand color is pretty versatile. You can use this white in many spaces of your home successfully as long as you sample it beforehand. Below, we describe how exactly this white with gray undertones may read in different rooms to help you imagine how it works.
White Sand SW 9582 in the Living Room
This color is a good choice for the living room since it makes the space look airy and fresh, yet it doesn't give that unwelcoming and cold vibe that most cool-toned whites have.
Thanks to the high LRV, you can use SW White Sand if your living room is not very large or lacks natural light. This color will help it seem bigger and brighter.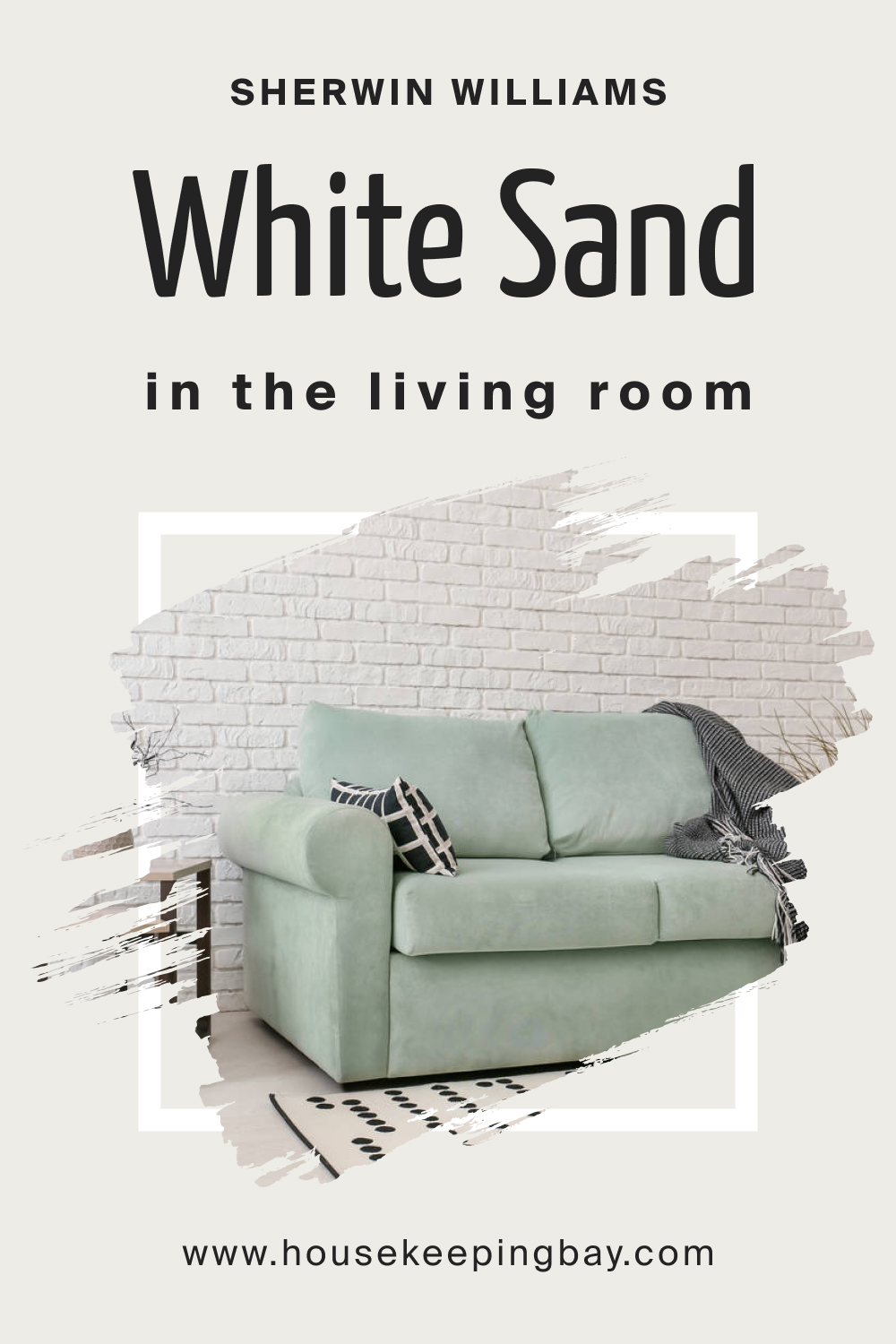 White Sand SW 9582  in a Bedroom
This white might seem to be a bit too cool-toned for bedrooms, but if you pair it with warm-toned beiges/greiges and wooden items, you will make the space feel and look more welcoming and definitely read cozier!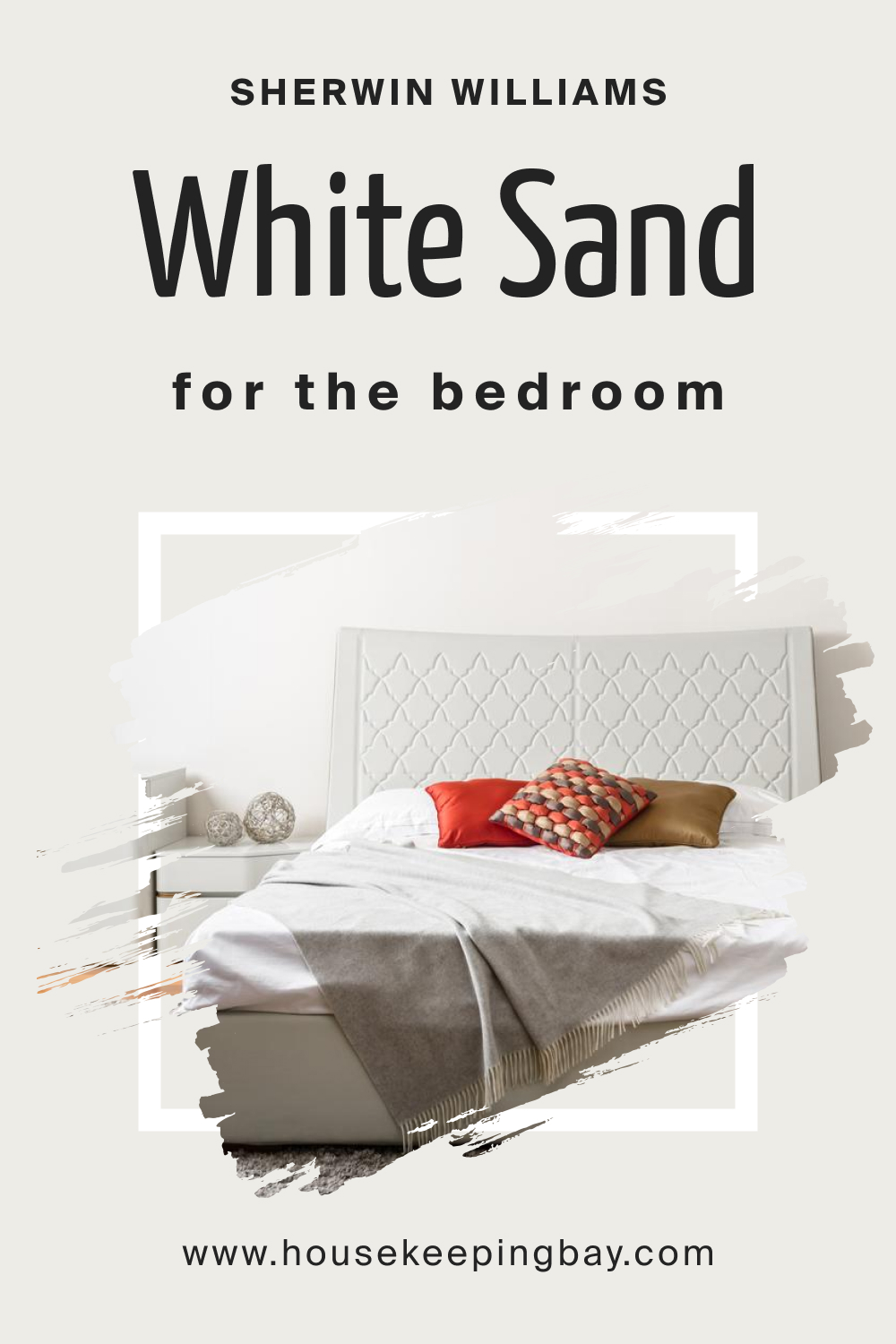 White Sand SW 9582  for the Bathroom
In your bathroom, you can paint all the walls with SW White Sand. Since the color is very reflective, it is unlikely to make the space feel enclosed even if there is no window in your bathroom. But even with enough natural light, this white color will make the space feel airy and large, adding a refreshing vibe.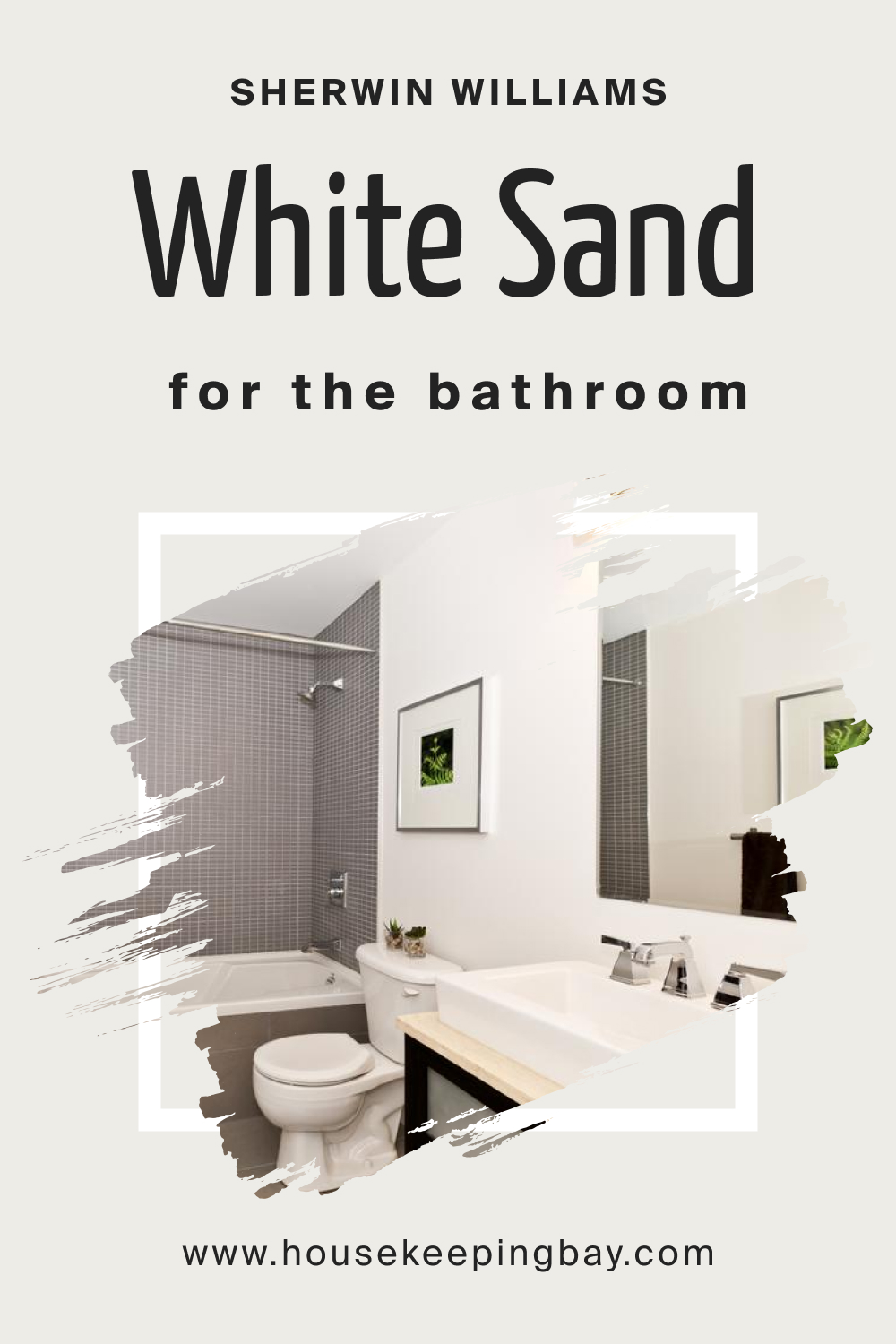 White Sand SW 9582  and Kitchen
Speaking of kitchens, we recommend you use this white on the walls and pair it with one of the colors it goes with. It will help you make the space look more vivid and avoid that pale feeling white rooms often have. In particular, consider using blacks or blues along with SW White Sand. Cool-toned gray colors might also look nice with this white.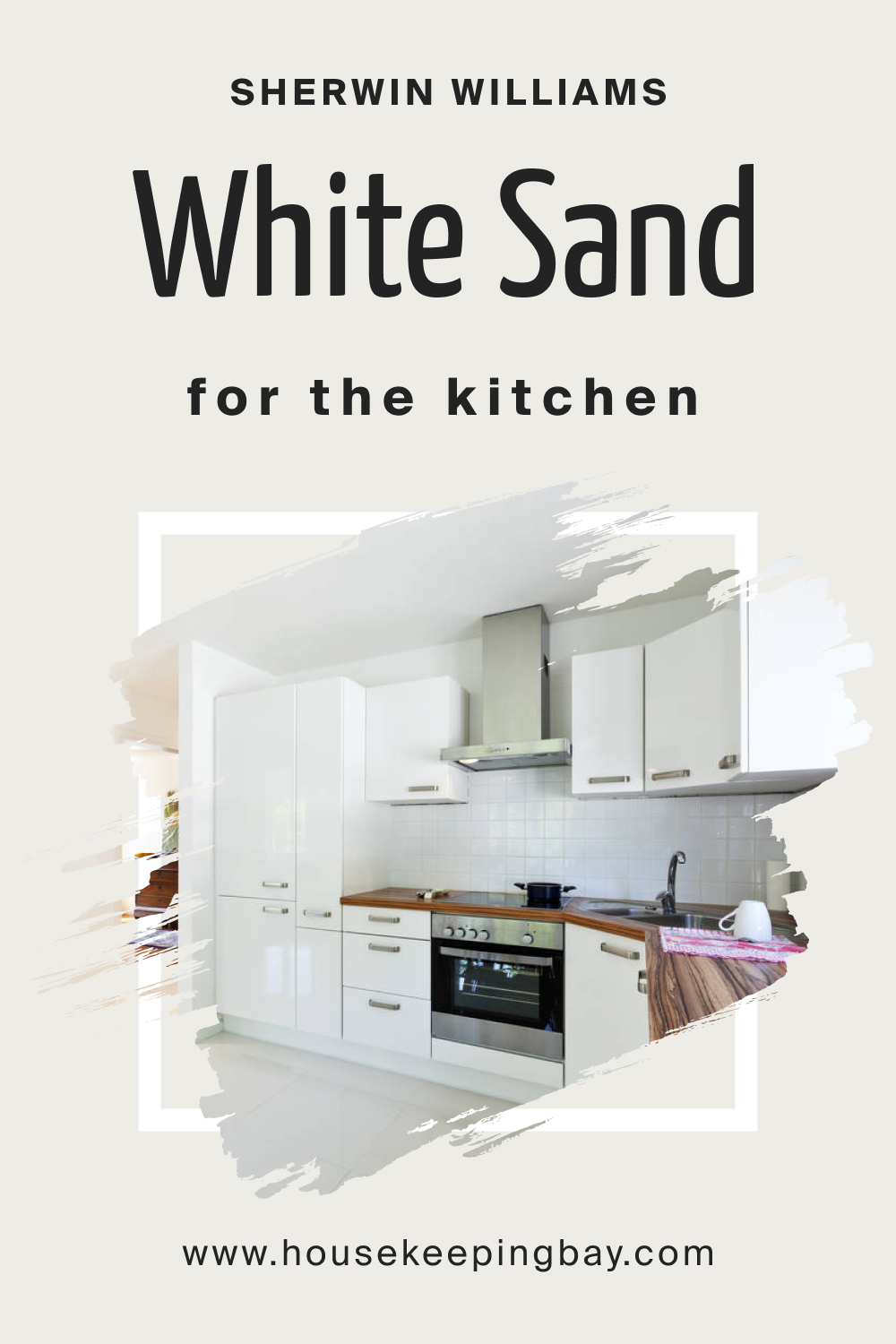 White Sand SW 9582  for the Use Exterior
Basically, SW White Sand can be used on exterior walls. However, you must consider the lighting conditions in your area! In broad daylight, this white color may read a bit brighter, whilst on a cloudy day, it is likely to reveal its gray undertone more.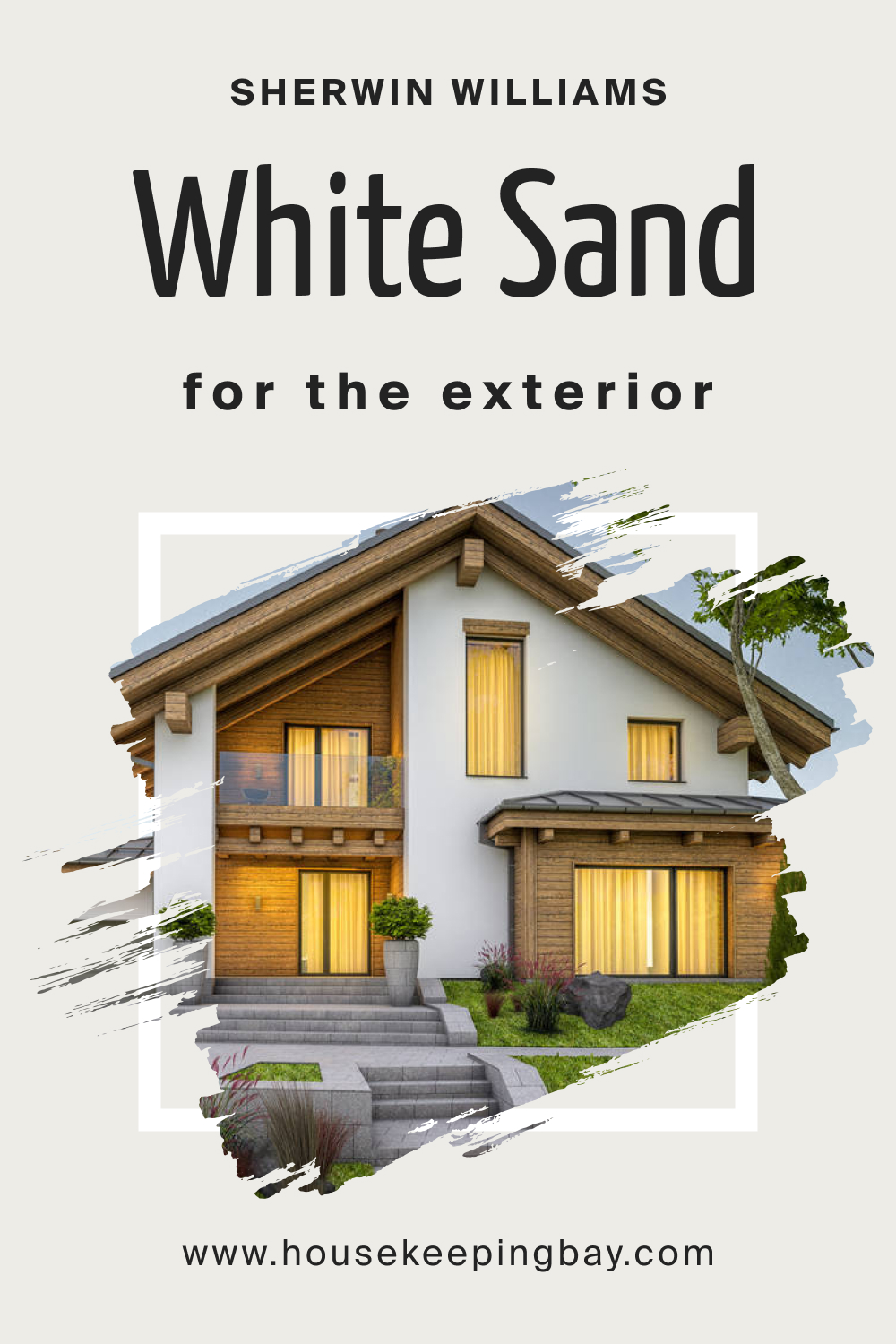 Well, now you know more about this beautiful and versatile yet pretty tricky and challenging white color! SW White Sand is a tough guy because of its undertones, but at the same time, it can look awesome in your home if you use it correctly.
Luckily, with this guide, you will better understand how and where to use it in your home to get the desired effect.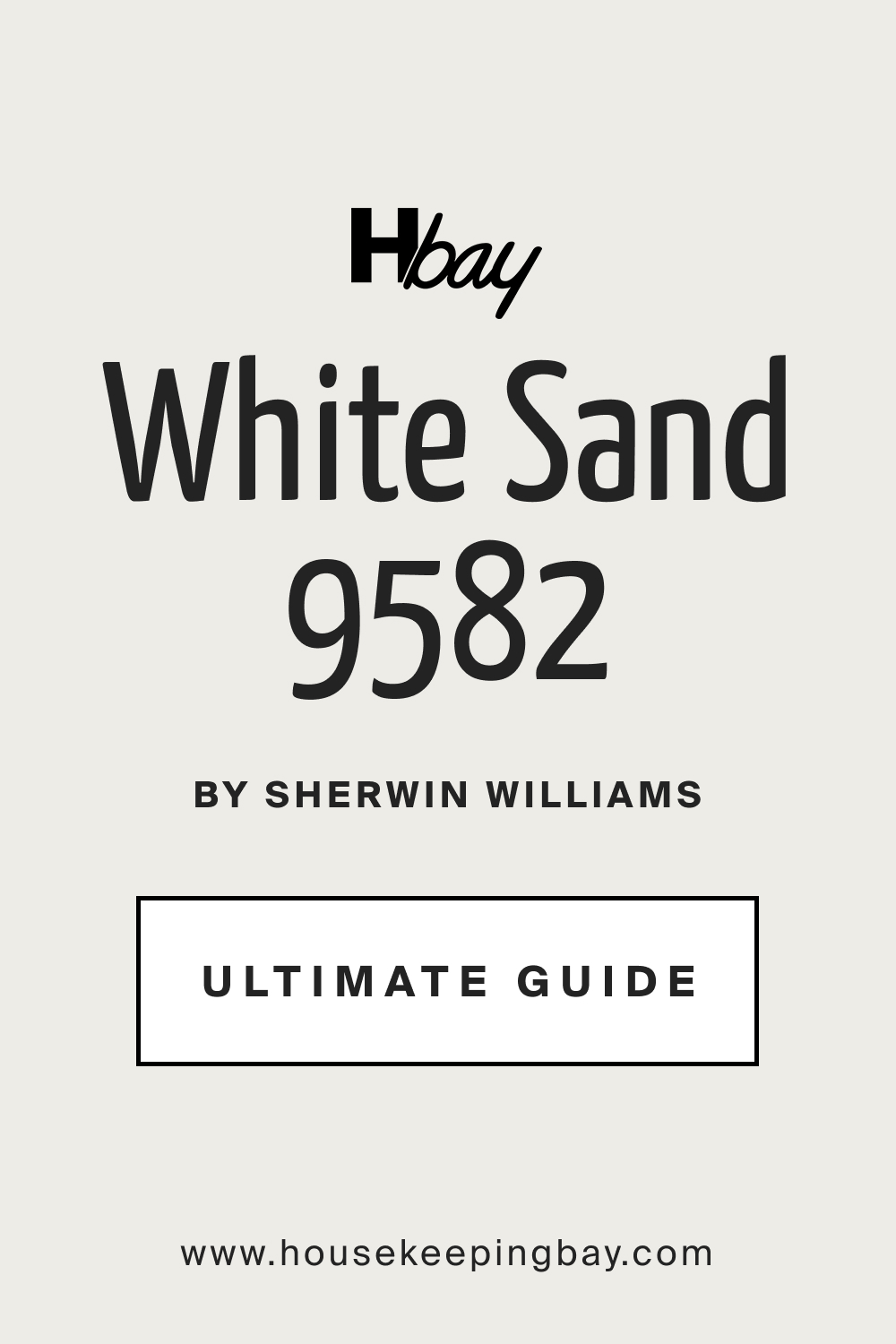 Frequently Asked Questions
⭐Is SW White Sand a popular color?
Not quite. This white is rather challenging to use, that's why it's not commonly used in people's homes.
⭐Does SW White Sand work with wooden surfaces?
Yes, it works with wood pretty well, no matter how light/dark the color of the wood is!
⭐Will SW White Sand pair with the blue tile?
It might pair nicely with it if the color of the tile matches this white.