Painting the walls of a space can be transformative, bringing new energy and aesthetic appeal. Among the myriad of colors to choose from, SW 9506 Warm Winter is emerging as a popular pick, and for good reasons.
Delving deep into its specifics can help homeowners and designers make informed choices.
What Color Is SW 9506 Warm Winter?
SW 9506 Warm Winter is a sophisticated, muted hue, resonating with the gentle serenity of a winter morning. The color has the unique ability to bring warmth and coziness to a space without overwhelming it.
Perfectly apt for modern, minimalist, and even rustic interiors, it complements materials like light-toned wood, marble, and soft textiles. Its versatile nature ensures a harmonious blend with multiple styles, enhancing a room's overall appeal.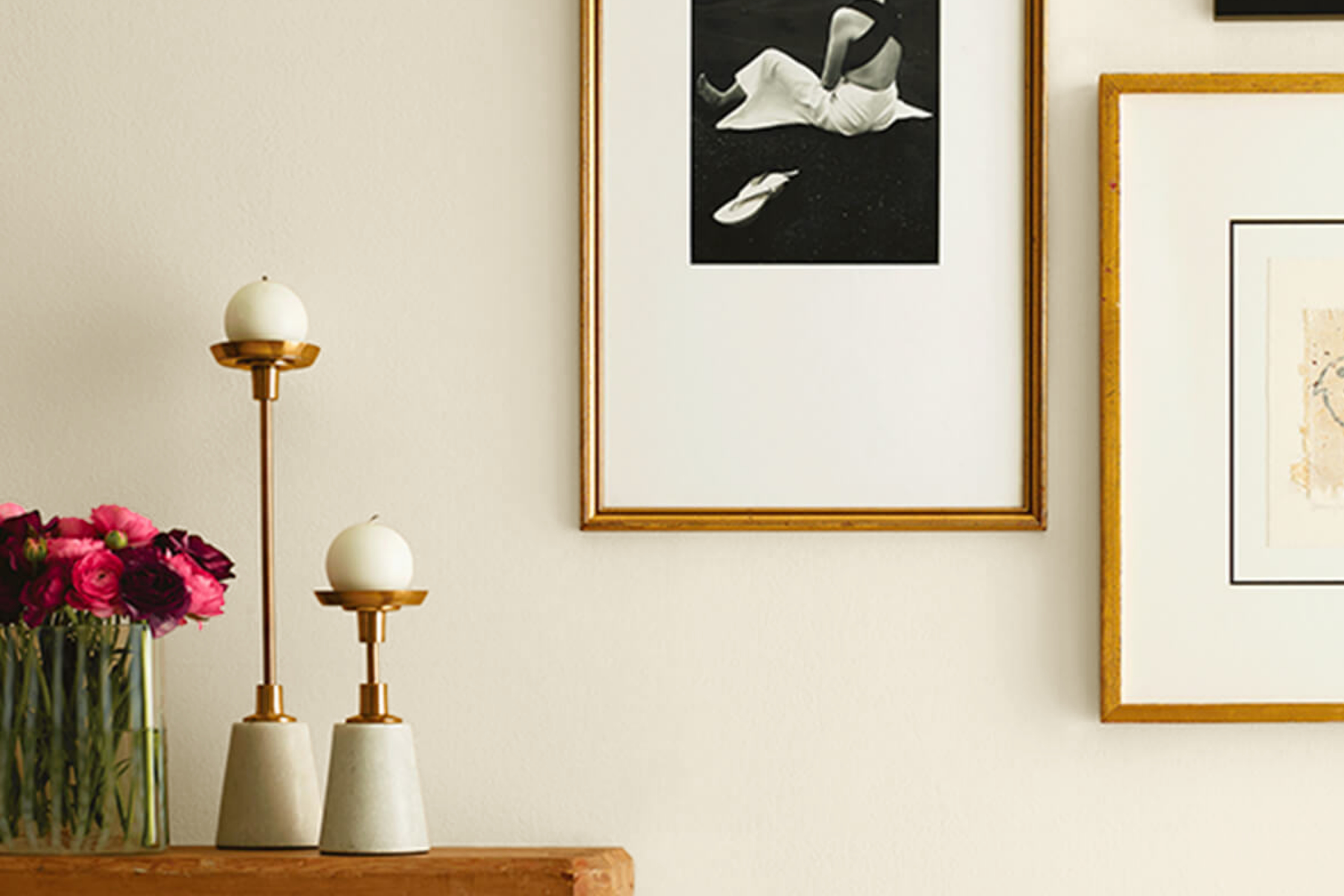 Is It a Warm Or Cool Color?
SW 9506 Warm Winter leans towards the warmer side of the spectrum. This warmth imparts a cozy, inviting ambiance, making spaces feel more intimate and welcoming. Especially in homes, the warmth of this color provides comfort, which is essential for spaces meant for relaxation and bonding.
Undertones of SW 9506 Warm Winter
Undertones play a significant role in how colors are perceived. SW Warm Winter boasts undertones that lean towards taupe and beige. These undertones, while subtle, add depth to the hue.
Depending on the surrounding colors and lighting, these undertones can either be more pronounced or fade into the background, adding versatility to the paint color.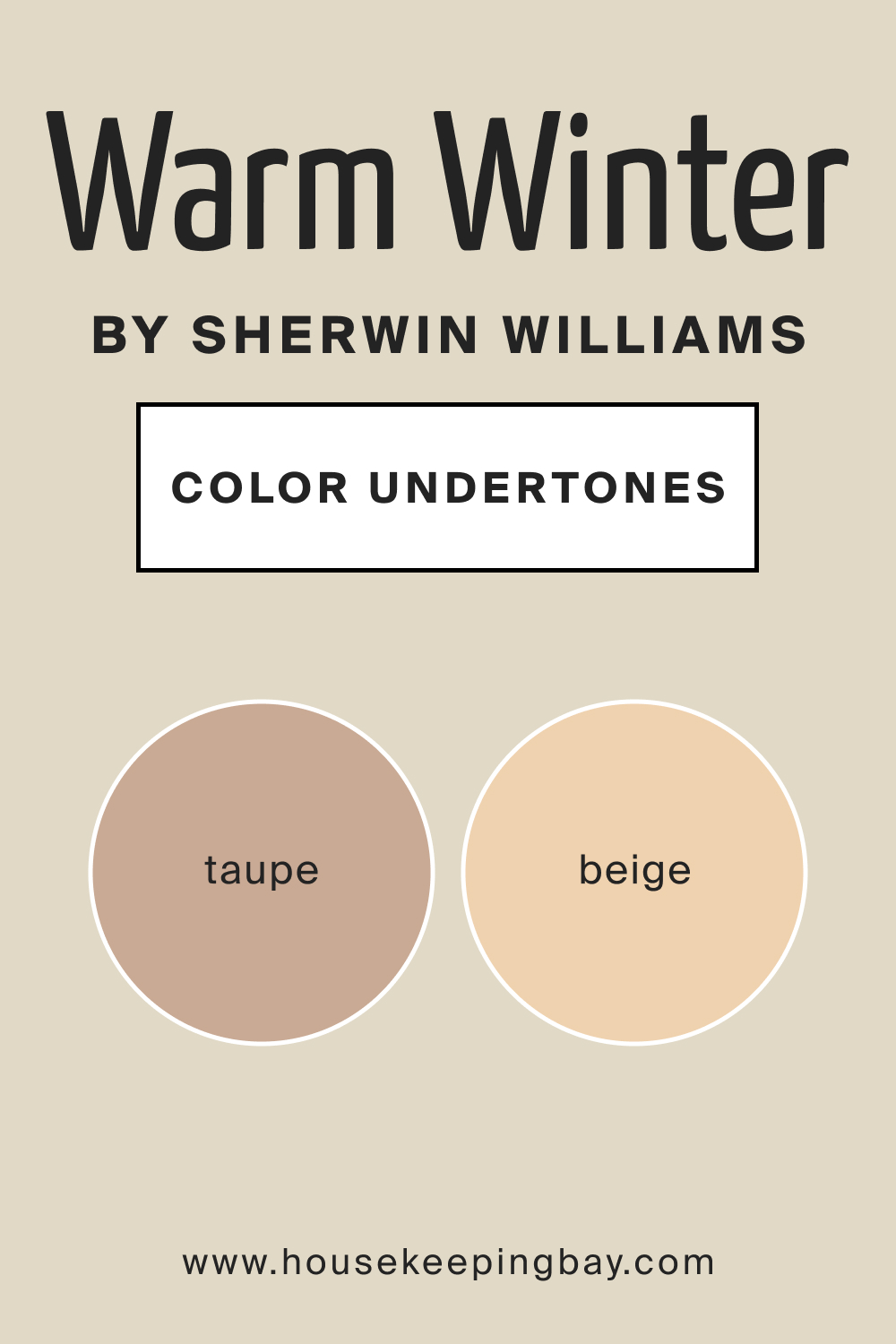 Coordinating Colors of SW 9506 Warm Winter
Coordinating colors are those that effortlessly complement the main hue, enhancing its beauty and the space's aesthetics. For SW 9506 Warm Winter, use the following:
SW Nettle: A fresh green with earthy undertones, it brings out the warmth of Warm Winter.
SW Nocturne: A deep, moody blue, offering a stark contrast and richness to Warm Winter.
SW Steamed Chai: A light beige with hints of pink, it subtly complements the warm undertones of Warm Winter.
Additionally, consider these colors:
SW Moss: A muted green with gray undertones reminiscent of moss-covered stones.
SW Dusky Dawn: A soft pinkish-gray, adding romantic vibes.
SW Whispering Pine: A calm gray with blue undertones, grounding the ambiance.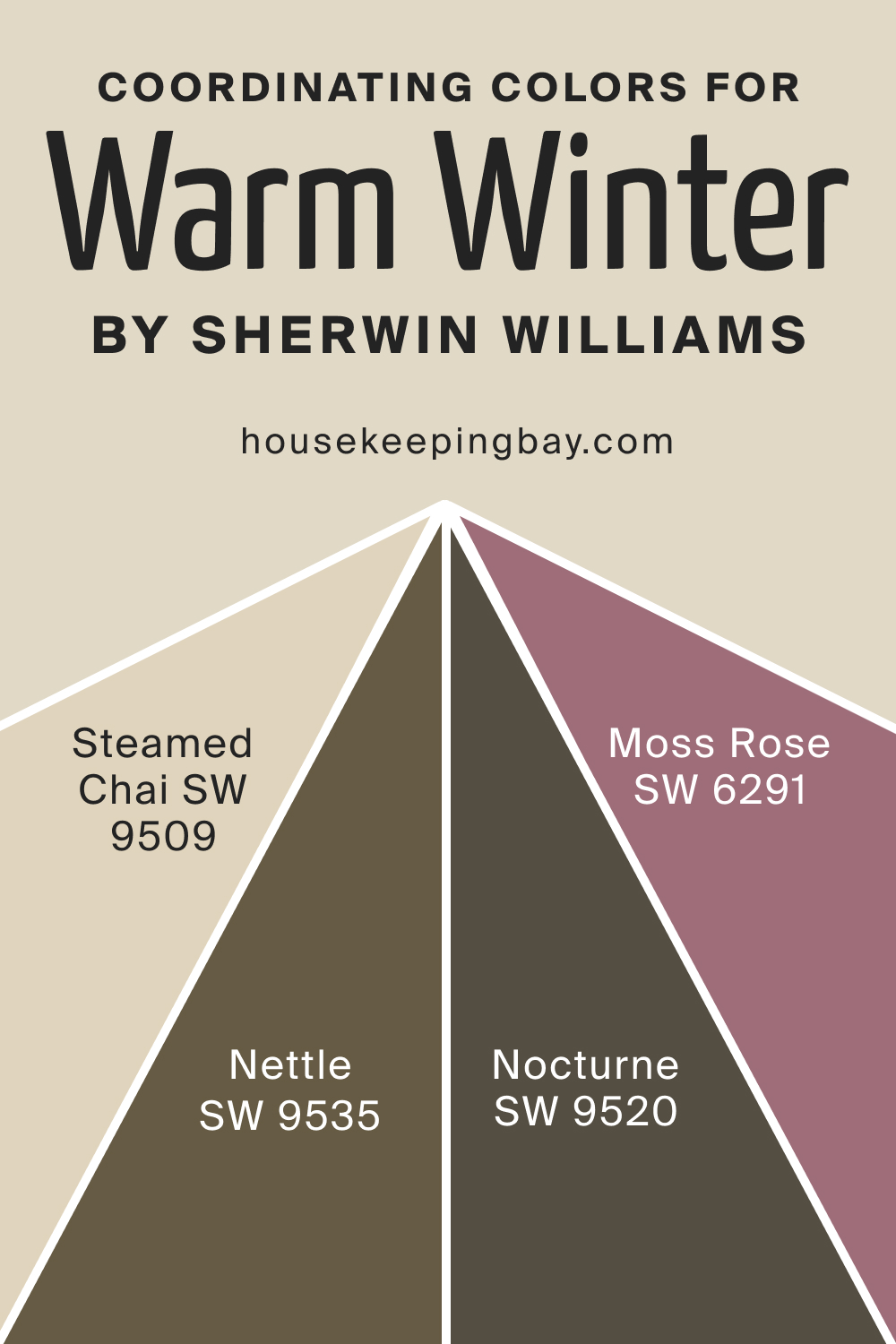 How Does Lighting Affect SW 9506 Warm Winter?
Lighting plays a crucial role in color perception. Under artificial lighting, SW Warm Winter may seem more beige, with its taupe undertones becoming pronounced. Natural sunlight, on the other hand, brightens it, emphasizing its warm and cozy appeal.
In north-faced rooms, where light is cooler and more muted, the color can appear slightly grayer. South-faced rooms, flooded with warm sunlight, enhance its warmth. East-facing rooms during morning hours will make it glow softly, while in west-facing rooms, it'll embrace a cozy warmth during sunset.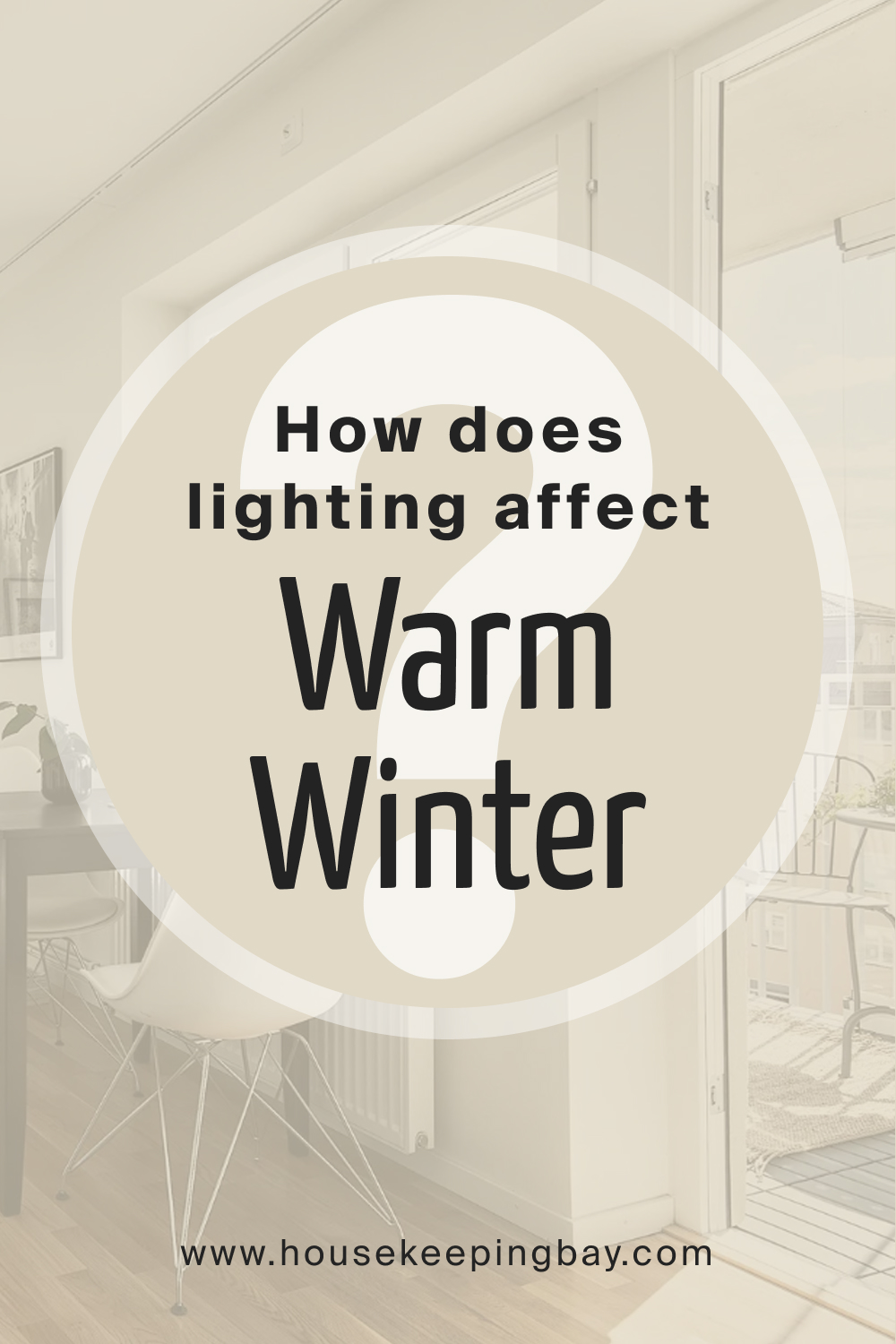 LRV of SW 9506 Warm Winter
Light Reflectance Value (LRV) gauges how much light a color reflects. With an LRV of 70, Warm Winter is relatively light-reflecting, making spaces feel airy and spacious. Its high LRV ensures the color doesn't darken rooms but adds warmth without the weight.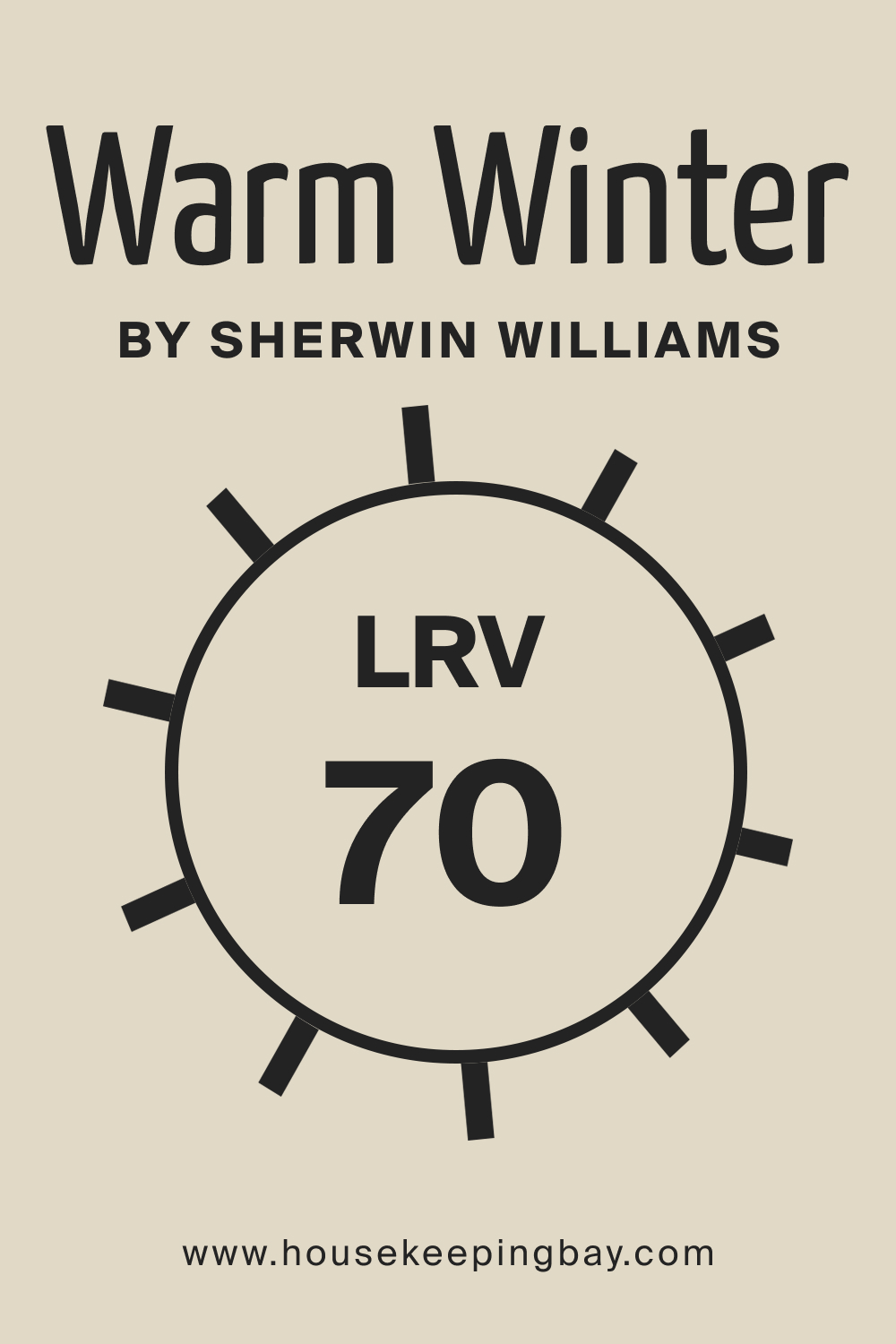 What is LRV? Read It Before You Choose Your Ideal Paint Color
Trim Colors of SW 9506 Warm Winter
Trim colors accentuate and frame painted walls. For SW Warm Winter, white shades work wonders:
SW Pure White: A clean and bright white, adding freshness.
SW Alabaster: A warm, creamy white complementing the warmth of SW Warm Winter.
SW Snowbound: A cool, crisp white, offering a crisp contrast.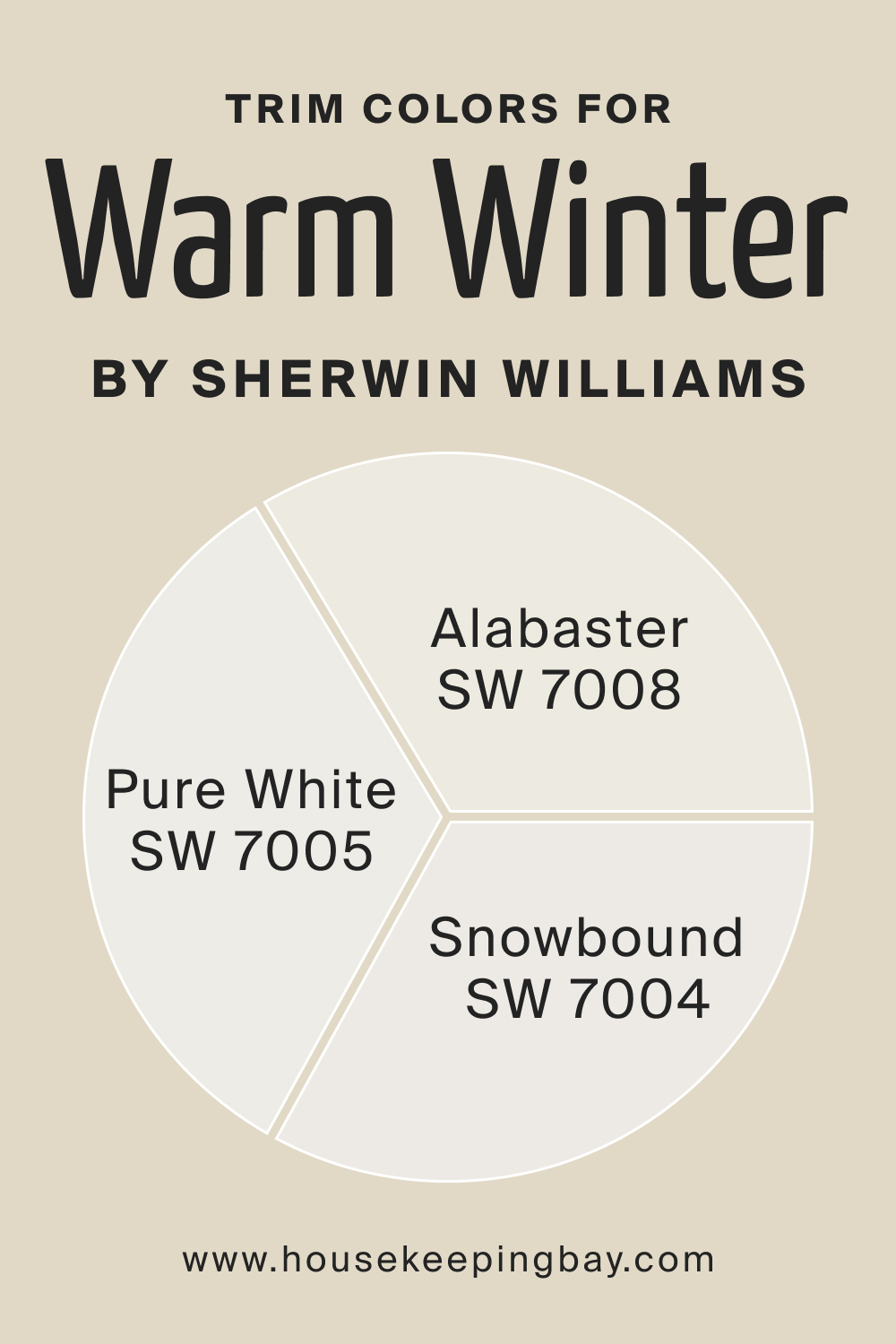 Colors Similar to SW 9506 Warm Winter
Understanding similar colors aids in finalizing the right hue. For SW Warm Winter, we recommend the following options:
SW Polar Bear: Slightly cooler than Warm Winter, it's reminiscent of snowy landscapes.
SW Aged White: A warmer, antique shade adding character.
SW Neutral Ground: A balanced beige, neither too warm nor too cool.
Note that each color on this list has a unique LRV and undertones. However, they will still look almost exactly the same as SW Warm Winter!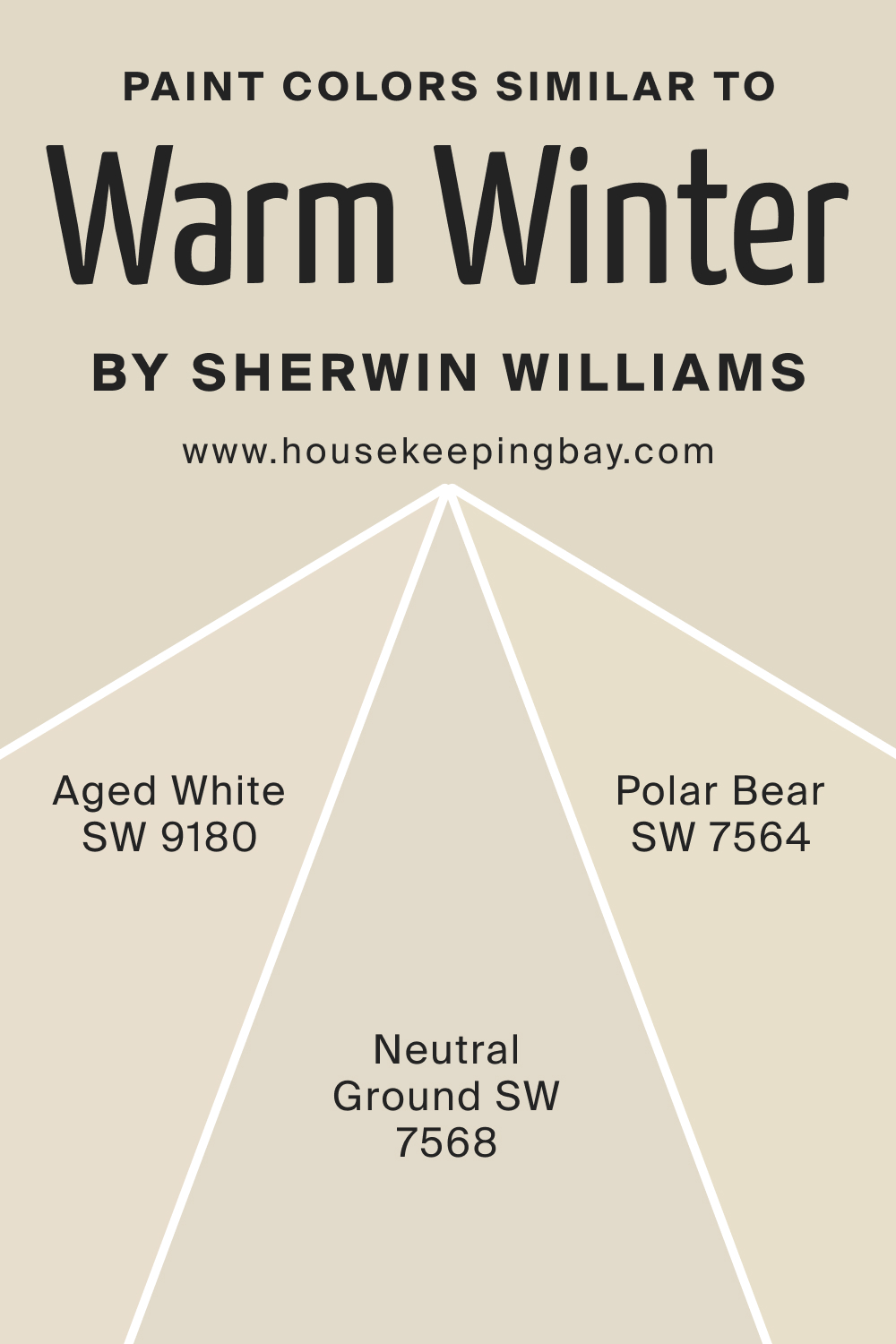 Colors That Go With SW 9506 Warm Winter
Pairing the right colors enhances a room's appeal. With SW Warm Winter as your primary wall color, consider the following hues to make the palette more varied:
SW Downy: Soft pastel blue, adding a fresh contrast.
SW Hot Cocoa: Rich brown, emphasizing warmth.
SW Fired Brick: Deep red, adding drama.
SW Felted Wool: Cozy gray with warm undertones.
SW Marshmallow: Pure, soft white for balance.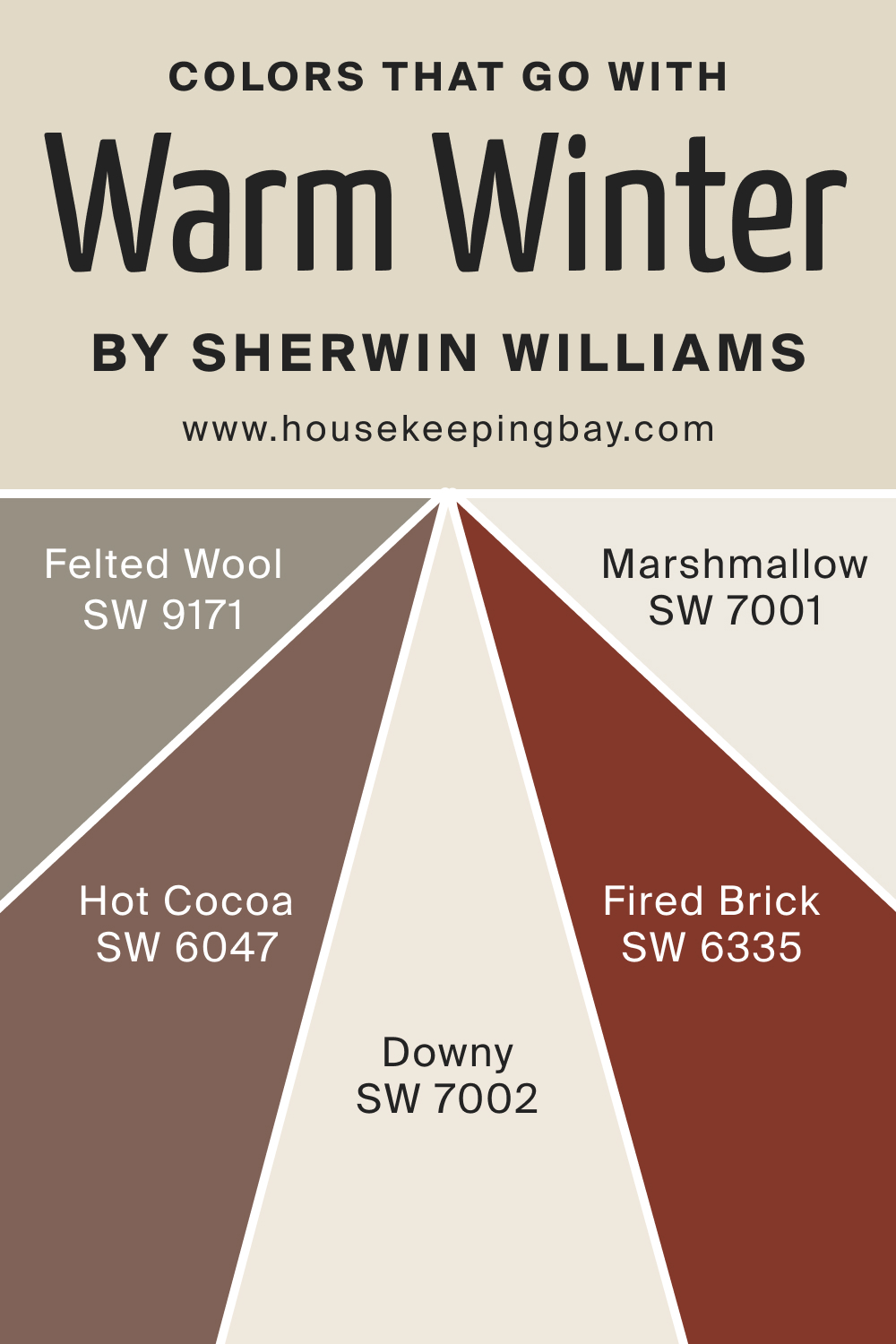 How to Use SW 9506 Warm Winter In Your Home?
SW 9506 Warm Winter is a versatile hue that can be applied in various rooms, from bedrooms to bathrooms. Its warm undertones make it apt for cozy settings, while the muted shade lends itself to modern and minimalist designs.
This color is especially suited for Scandinavian, transitional, and modern farmhouse styles. Whether it's the main color or an accent wall, Warm Winter can add a touch of elegance to any room.
How to Use SW 9506 Warm Winter in the Bedroom?
The bedroom, a sanctuary for relaxation, can greatly benefit from Warm Winter's calming presence. The hue can transform the space into a cozy haven, especially when paired with soft textiles like velvets and linens. Its warmth creates an inviting atmosphere, while its neutrality offers a peaceful backdrop, promoting restful sleep.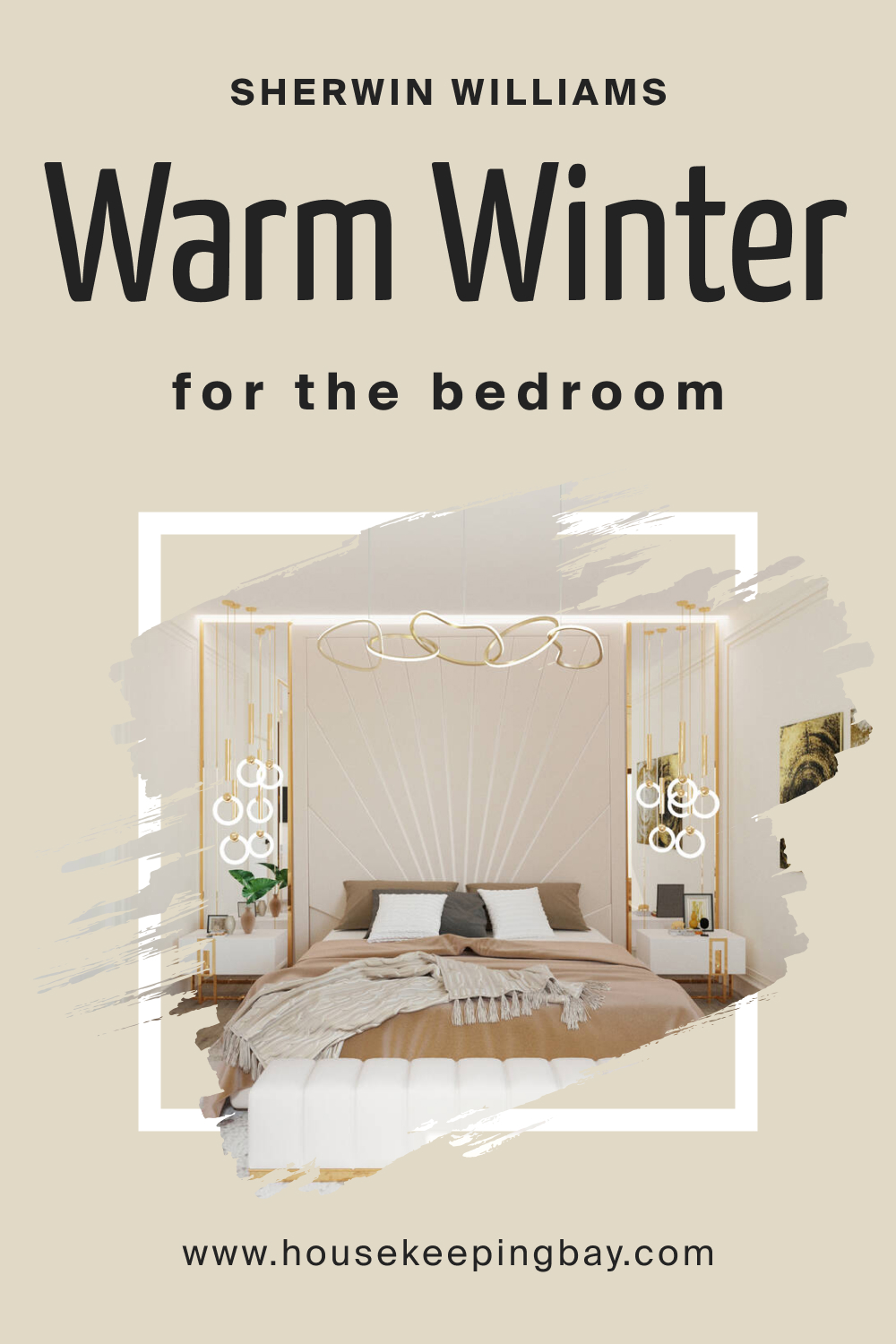 How to Use SW 9506 Warm Winter in the Bathroom?
In the bathroom, SW Warm Winter can evoke a spa-like ambiance. Its neutral warmth complements natural materials like stone, wood, and marble. Paired with brushed gold or chrome fixtures, it brings in a touch of luxury. This color can make morning routines feel more serene and evening baths more restful.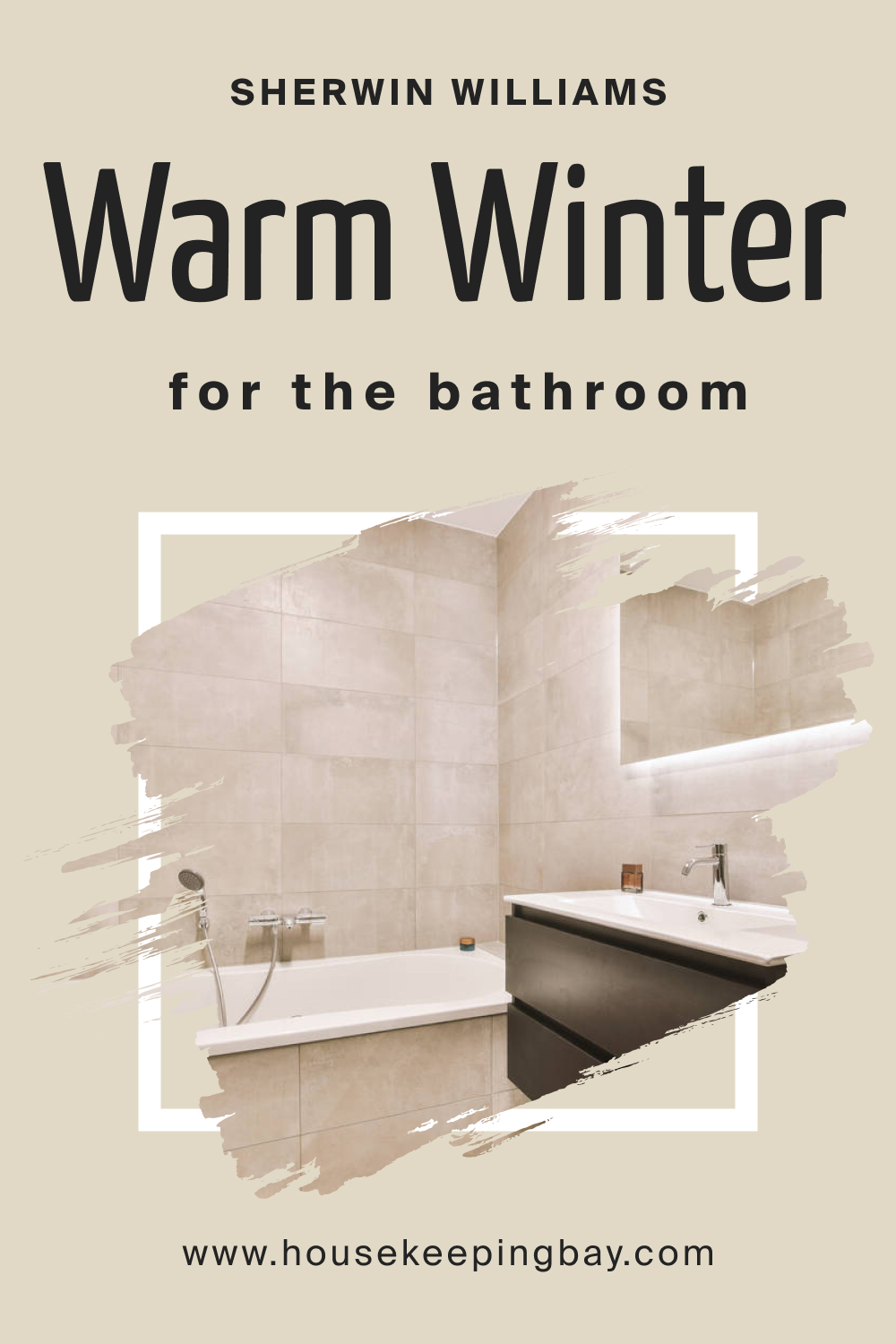 How to Use SW 9506 Warm Winter in the Living Room?
The living room, a hub for gatherings and relaxation, can be enhanced with the soothing embrace of SW Warm Winter. The color's muted warmth makes it a great backdrop for vibrant artwork, richly-colored furnishings, or even a statement fireplace. Combined with wooden elements and plush furnishings, it fosters an environment of coziness and conversation.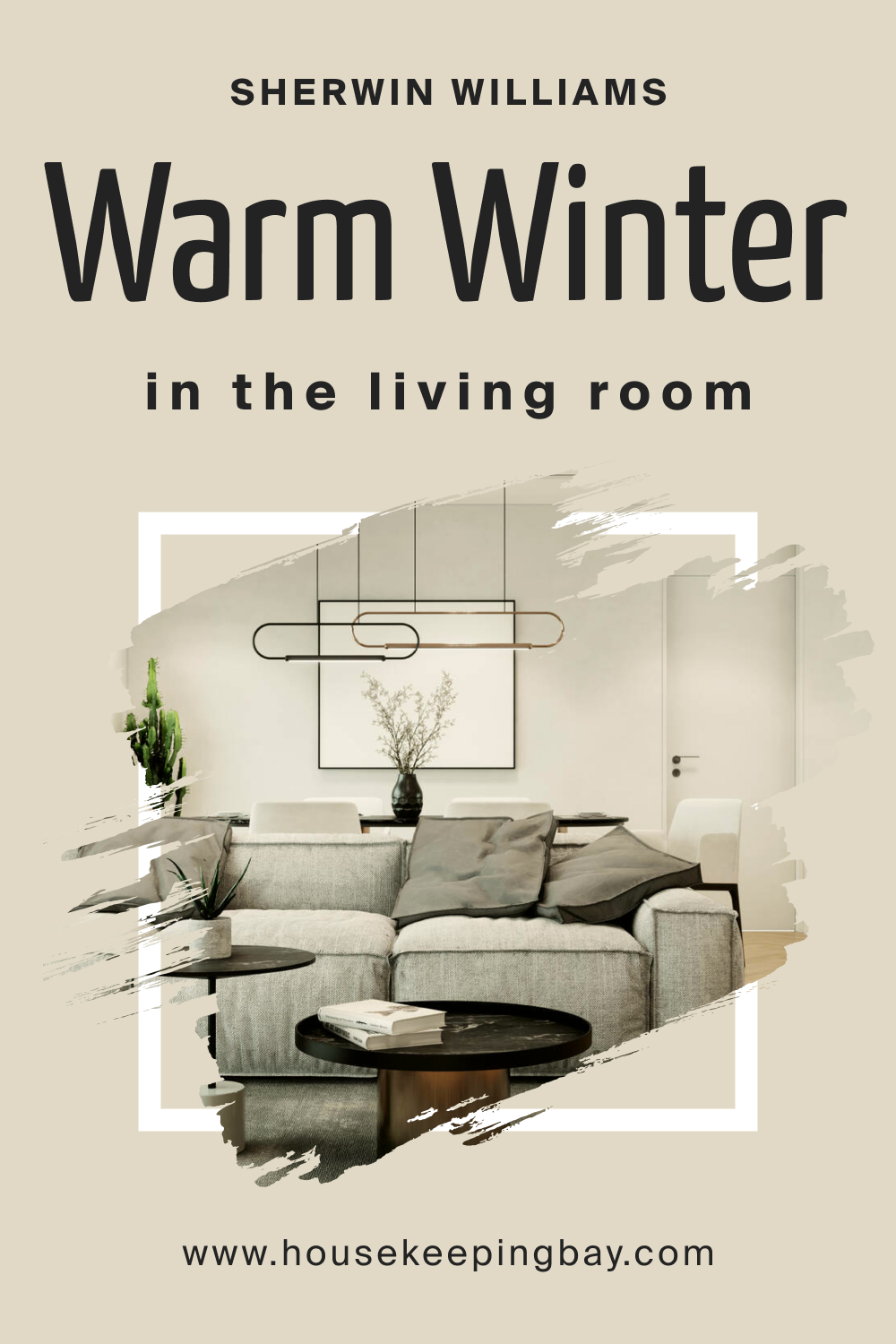 How to Use SW 9506 Warm Winter for an Exterior?
For home exteriors, SW Warm Winter acts as a sophisticated canvas. The hue seamlessly blends with natural surroundings and provides a neutral backdrop to green landscapes. Paired with crisp white trims or darker accents, it can make architectural features pop. It's an excellent choice for those desiring a timeless exterior look.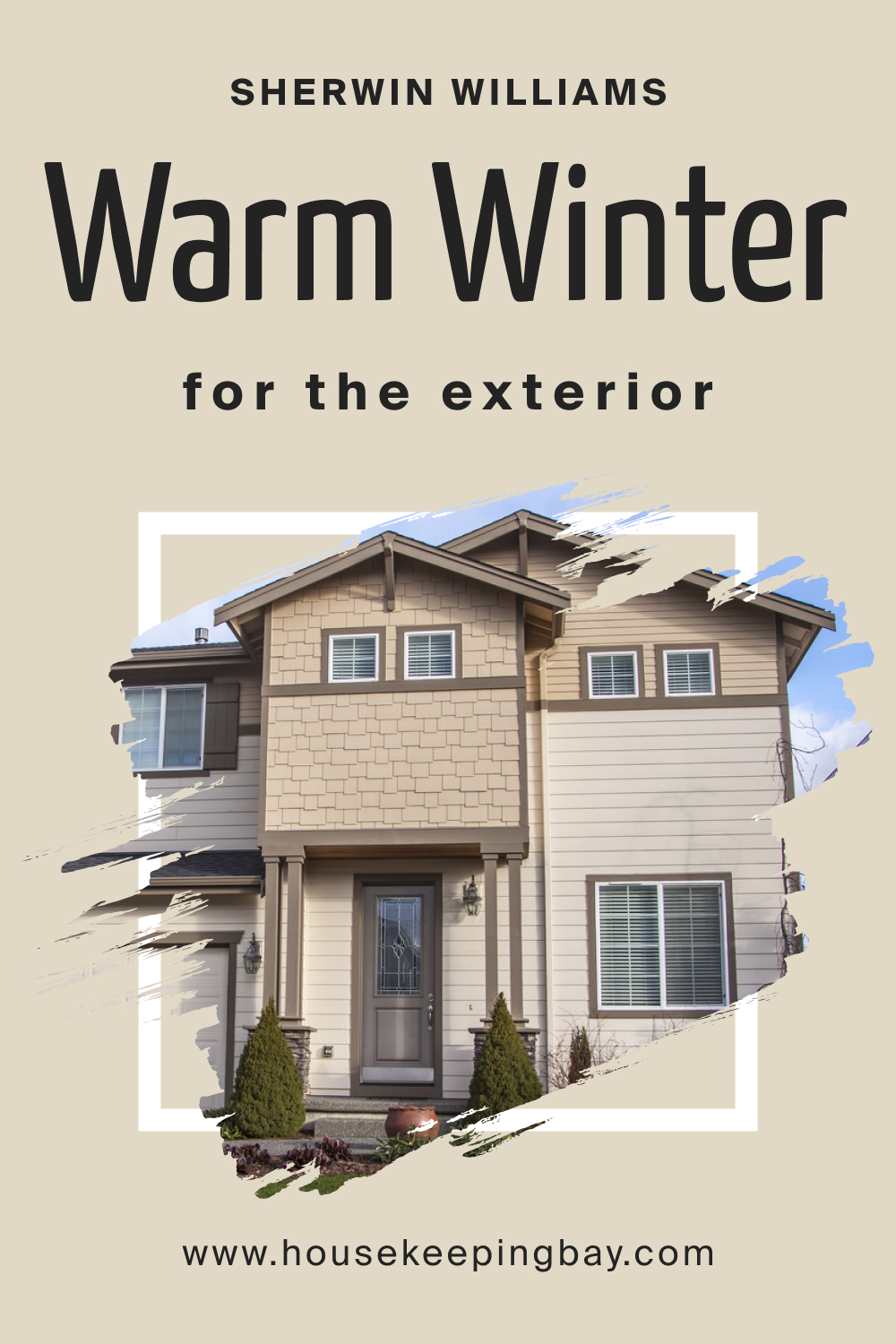 How to Use SW 9506 Warm Winter for the Kitchen?
Kitchens, often the heart of the home, can exude warmth and elegance with SW Warm Winter. Whether on the walls or as an accent, this color creates a pleasing contrast with stainless steel appliances. It works seamlessly with various countertop materials, from quartz to butcher block, ensuring a harmonious kitchen environment.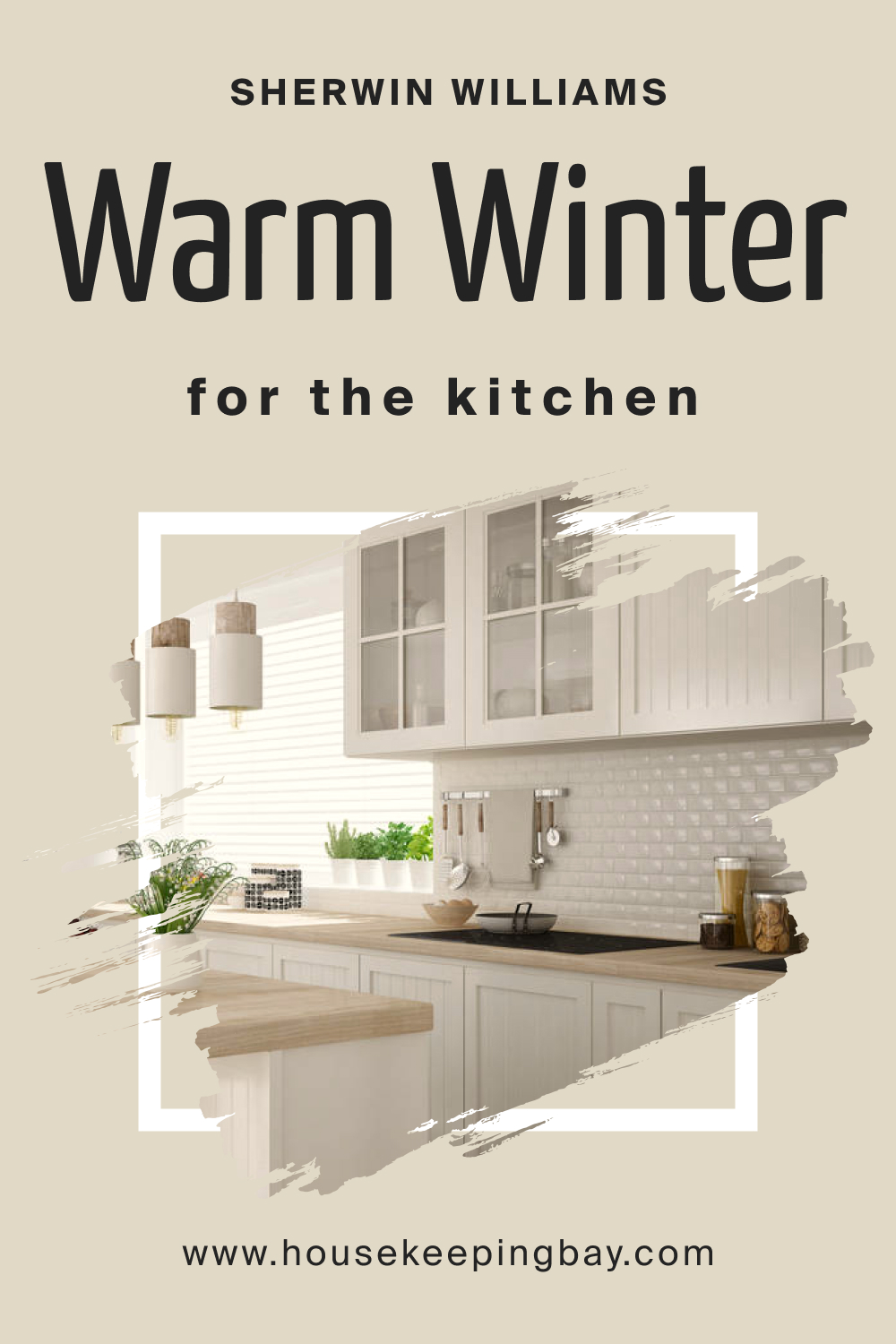 How to Use SW 9506 Warm Winter for the Kitchen Cabinets?
Using SW Warm Winter on kitchen cabinets can bring a contemporary yet timeless appeal. The shade adds depth without overwhelming the space. Paired with brushed brass or matte black hardware, the cabinets can become a focal point. Complementing the cabinetry with lighter walls or backsplashes can further enhance the kitchen's aesthetic appeal.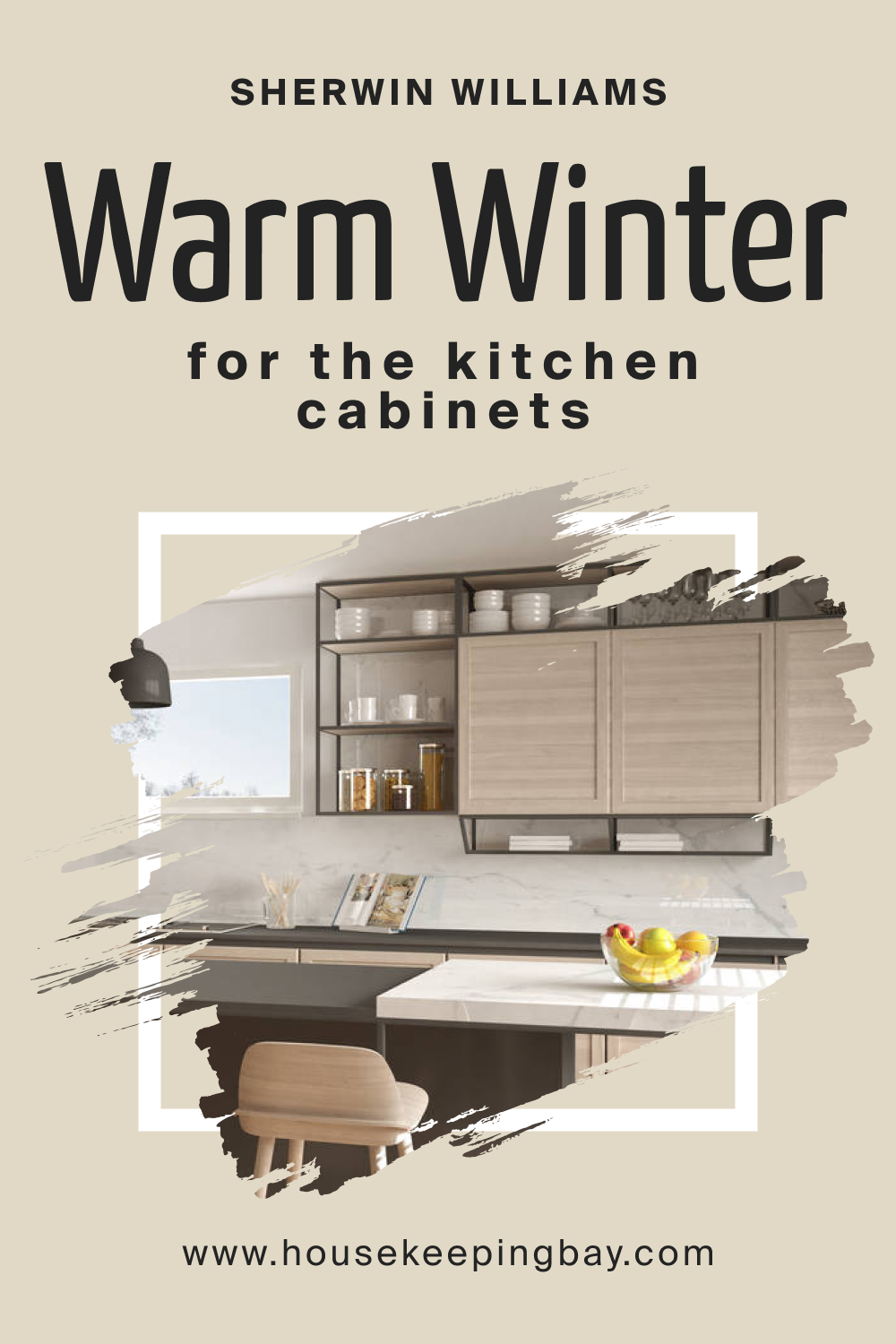 Comparing SW 9506 Warm Winter With Other Colors
It's crucial to compare paint colors because hues can profoundly influence the ambience of a space. Even subtle differences in shades can create contrasting moods, impact perceived room dimensions, or determine how furnishings and decorations harmonize within an environment.
When contemplating a color like SW 9506 Warm Winter, comparing it with other shades aids in making informed decisions, ensuring cohesive and aesthetically pleasing interiors.
SW 9506 Warm Winter vs. SW 9502 Arrowroot
While both these shades exude a warm charm, SW Arrowroot leans more towards beige with a slightly sandy undertone. In contrast, Warm Winter offers a more muted hue, introducing a serene ambiance. Arrowroot might be apt for spaces where a neutral but slightly warmer feel is desired, whereas Warm Winter adds a contemporary touch.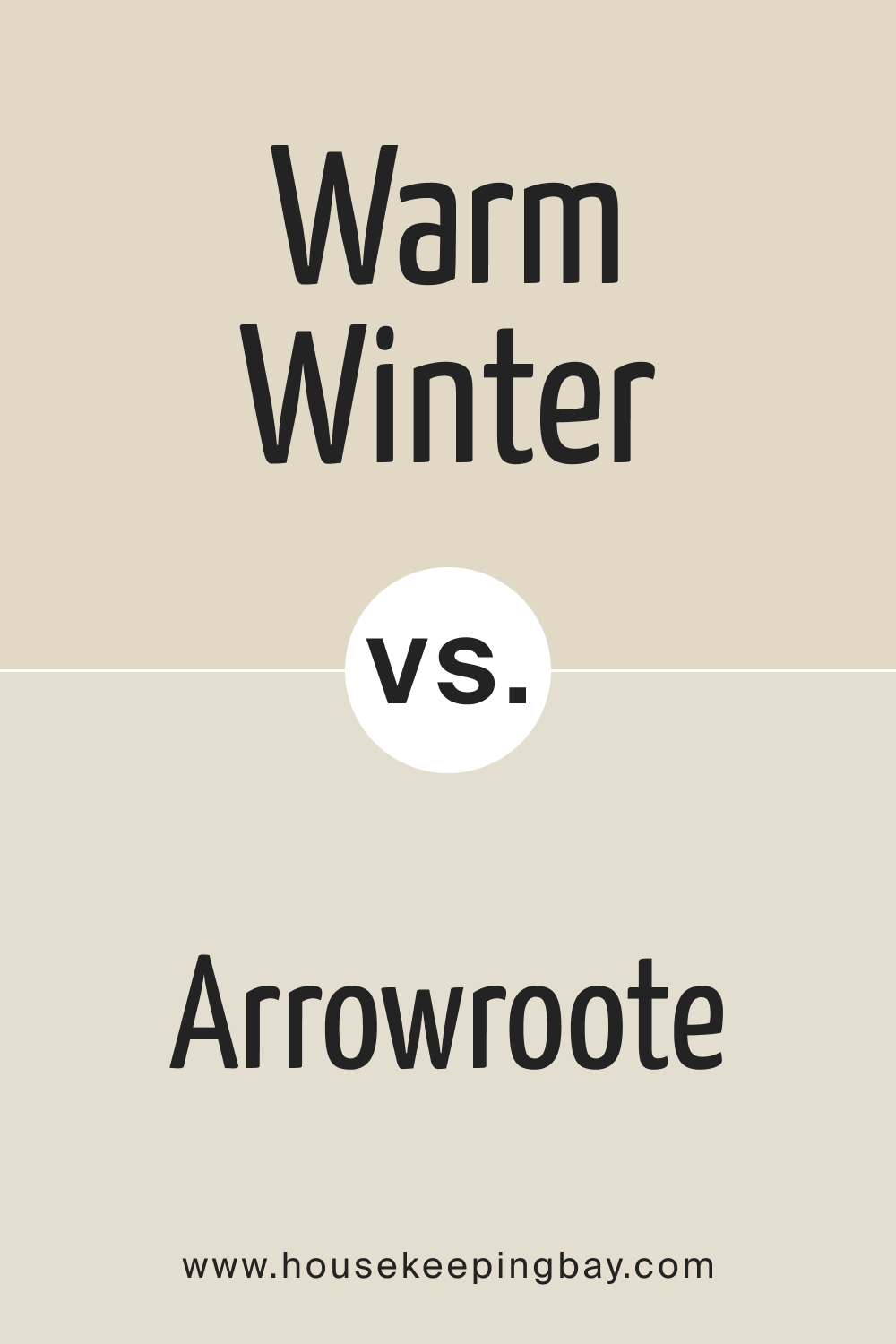 SW 9506 Warm Winter vs. SW 9109 Natural Linen
SW Natural Linen is a lighter, more neutral shade reminiscent of undyed linen fabric. Warm Winter, on the other hand, brings a bit more depth with its muted warmth. While both are great for creating cozy environments, Natural Linen might make spaces feel airier, and Warm Winter adds a touch of sophistication.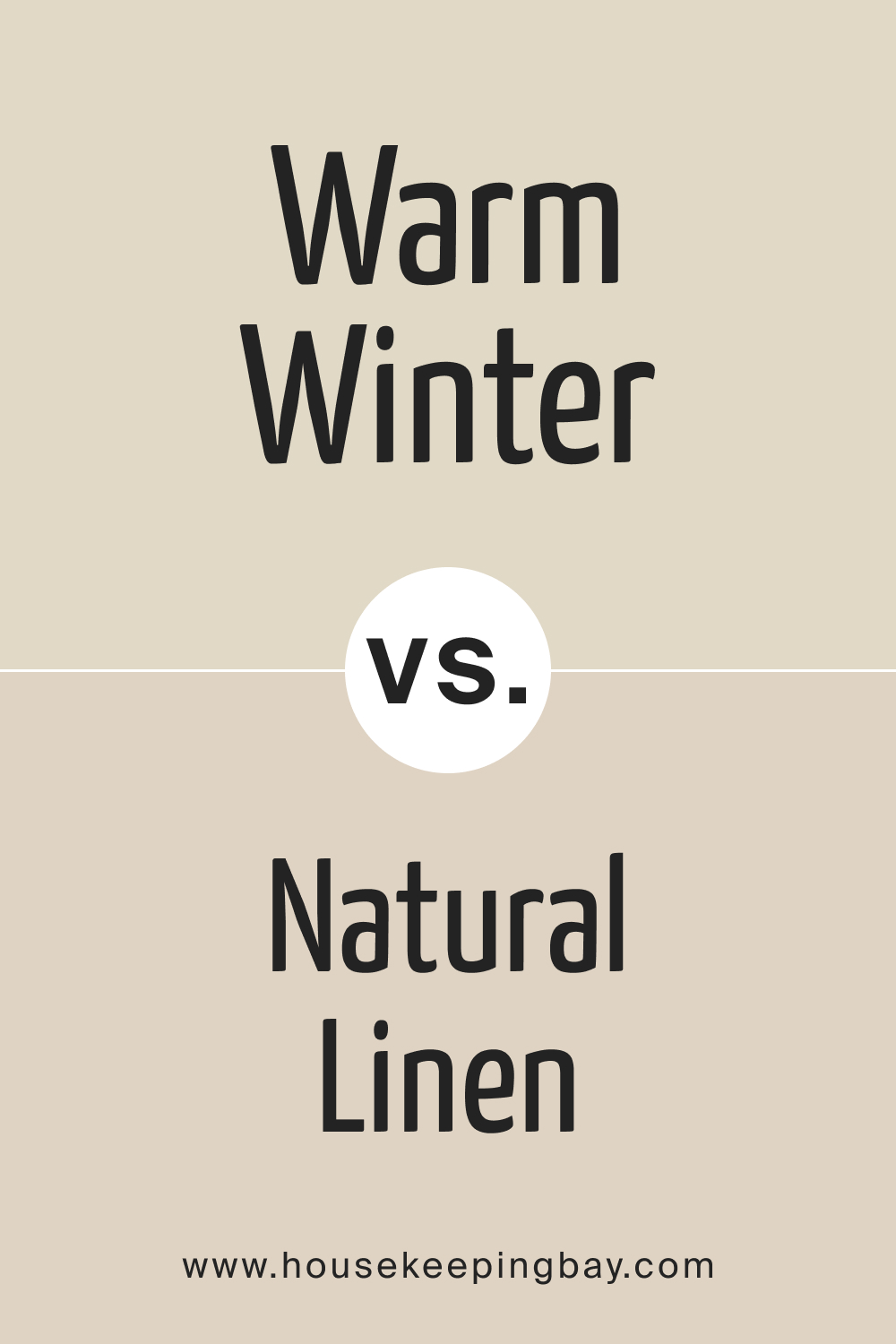 SW 9506 Warm Winter vs. SW 7738 Cargo Pants
SW Cargo Pants brings a subtle green undertone to the mix, resonating with earthy environments and natural materials. Warm Winter stays true to its name, providing a warm, neutral backdrop. When choosing between these two, consider whether you want a hint of nature (Cargo Pants) or a pure, cozy neutral (Warm Winter).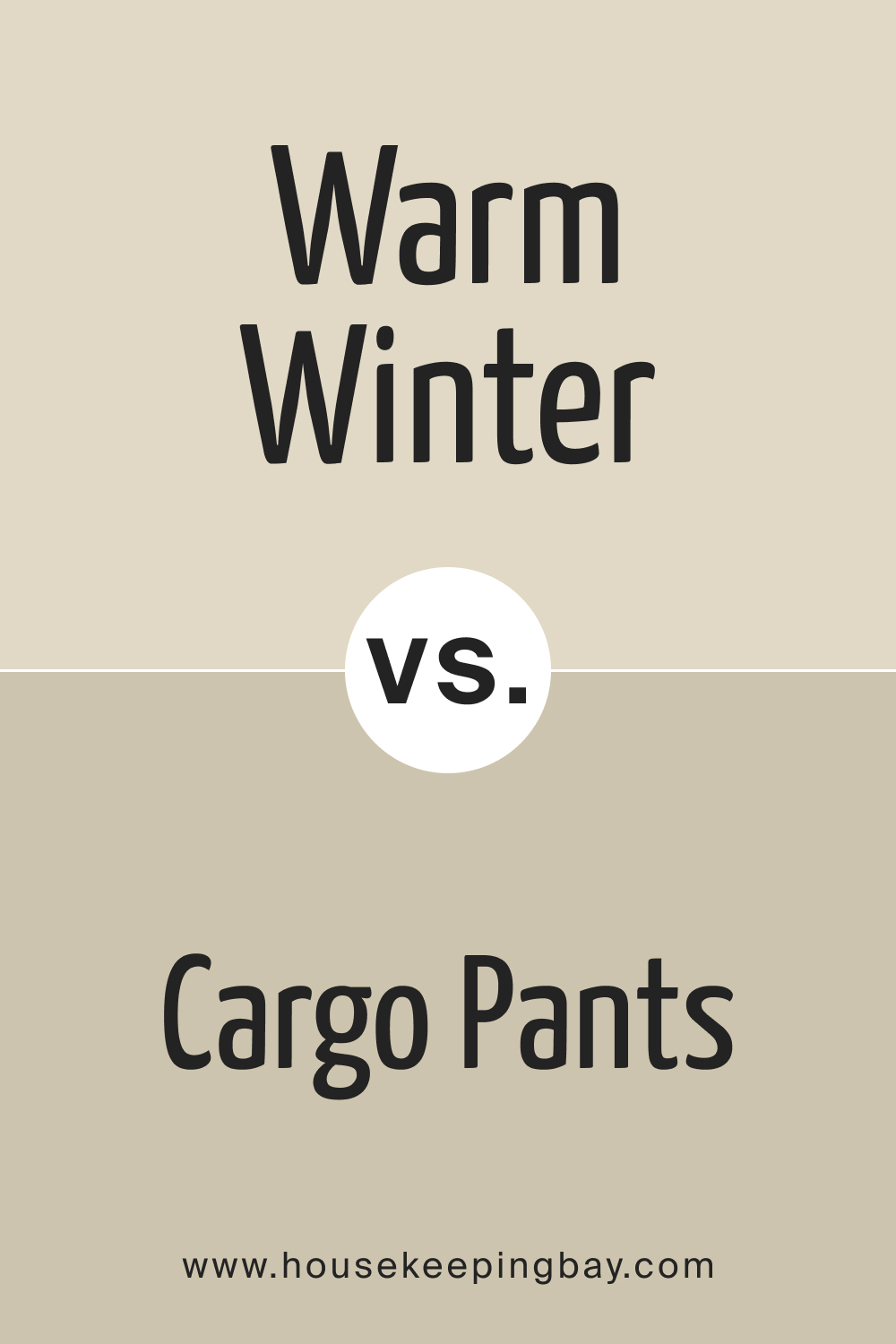 SW 9506 Warm Winter vs. SW 7628 Windfresh White
SW Windfresh White is a brighter hue with airy vibes. It's perfect for spaces you want to feel more expansive. Warm Winter, being a tad deeper, creates more intimate settings. If you're aiming for a modern, minimalist look, Windfresh White might be the go-to, while Warm Winter suits transitional or farmhouse styles.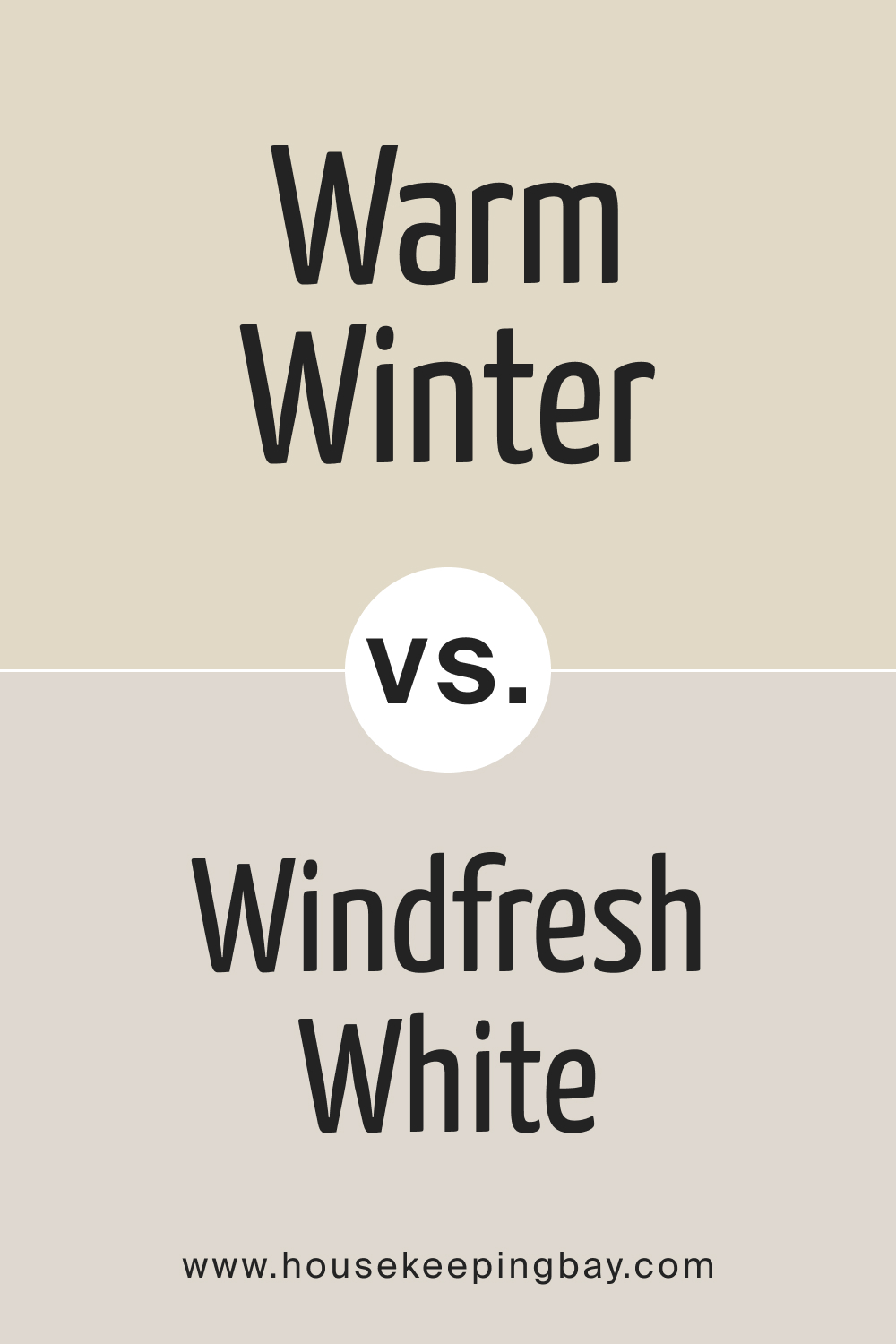 SW 9506 Warm Winter vs. SW 9628 Winter Walk
SW Winter Walk is cooler, reflecting a frosty winter morning. It's a shade that introduces calmness and can make spaces feel serene. Warm Winter, as its name suggests, leans warmer. The choice between the two boils down to whether you want a cool, tranquil ambiance or a warmer, cozier vibe.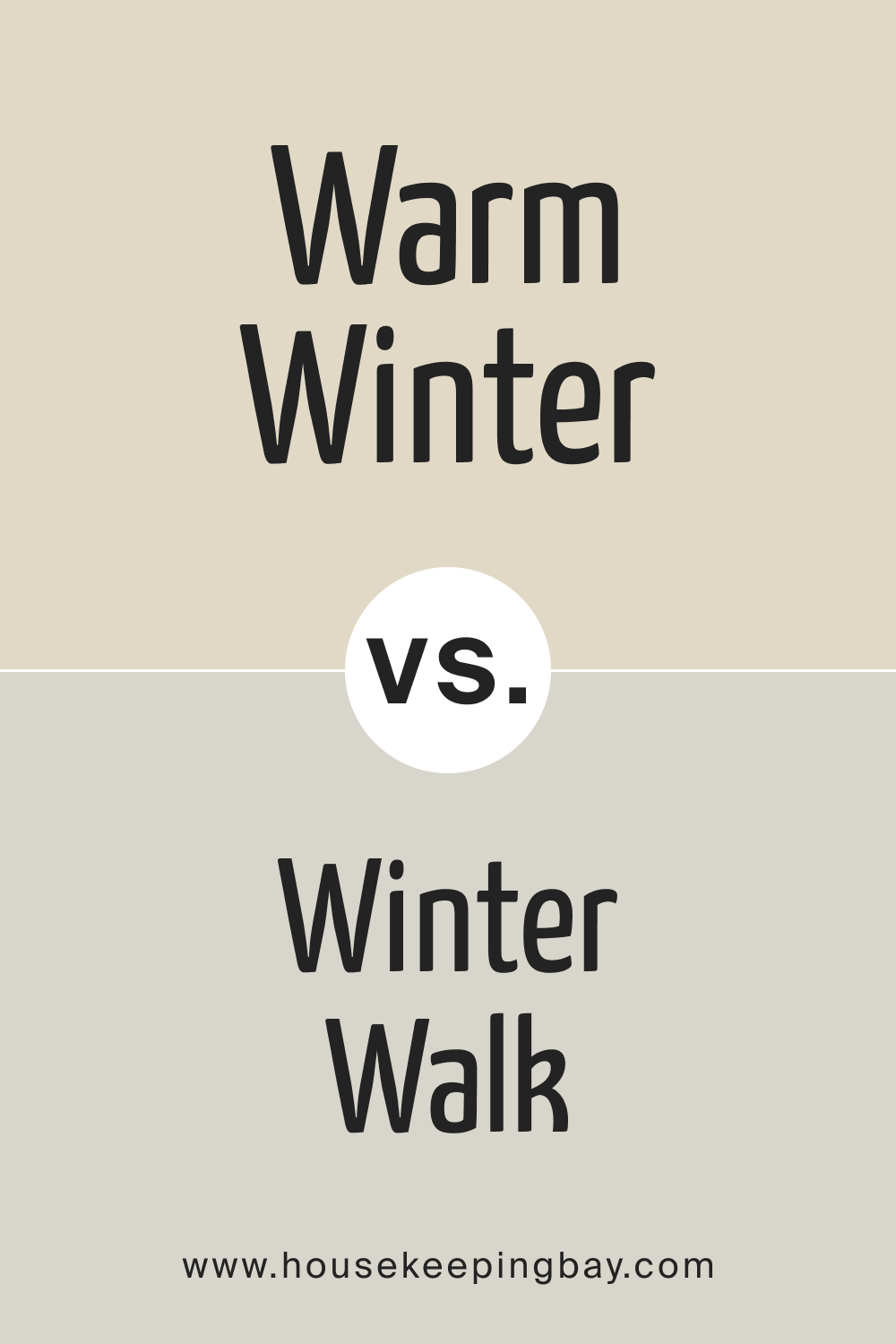 SW 9506 Warm Winter vs. SW 6196 Frosty White
SW Frosty White leans towards a very pale gray-white, providing a crisp backdrop. It's brilliant for a clean, contemporary feel. In contrast, Warm Winter introduces more warmth and depth, making spaces feel more enveloping and comfortable.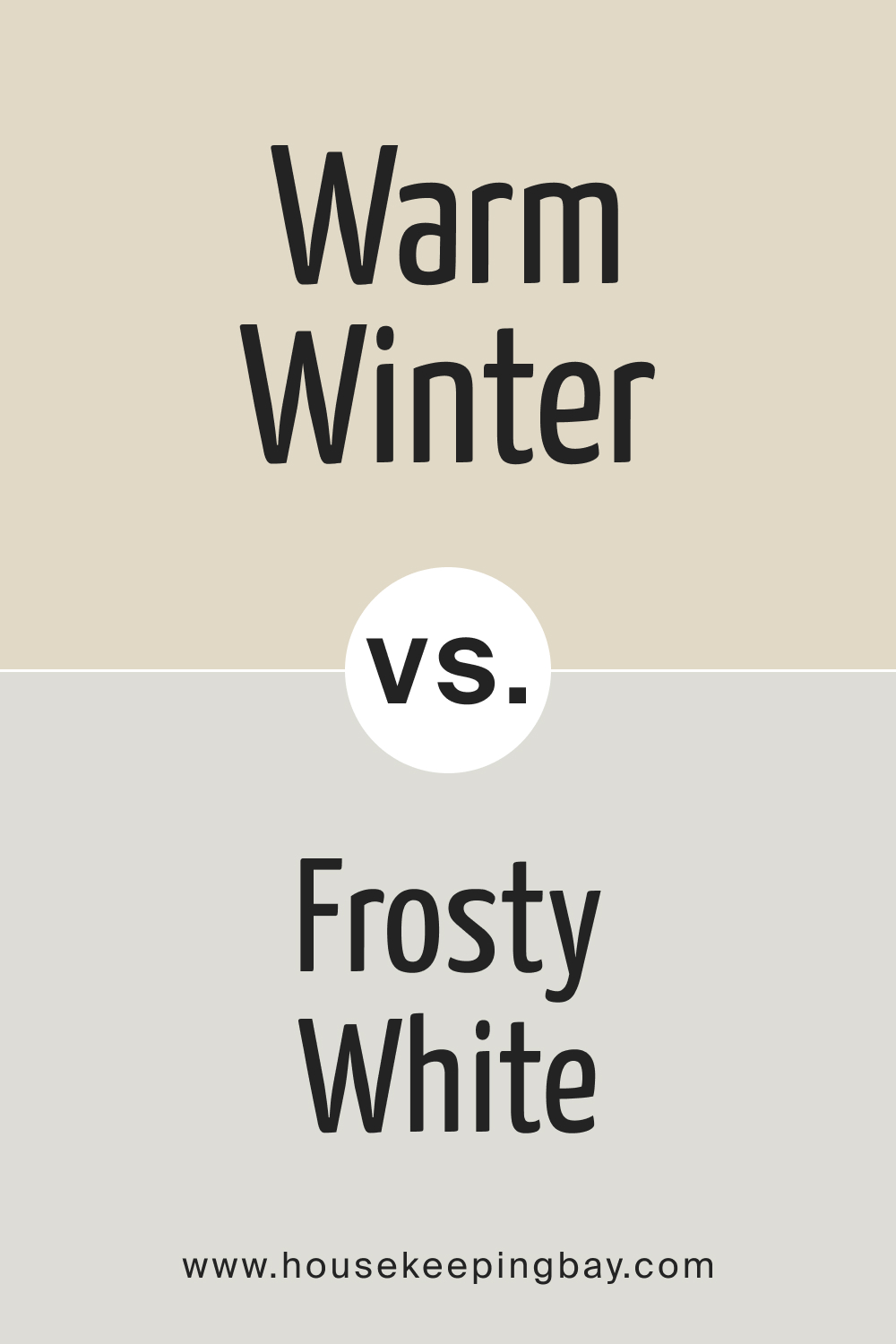 Conclusion
When choosing the right shade for a space, comparisons like these can be invaluable. Each hue, even if subtly different, carries its unique energy and impact. For a shade as versatile as SW 9506 Warm Winter, understanding its nuances in comparison to others ensures a home that resonates with the desired ambiance and style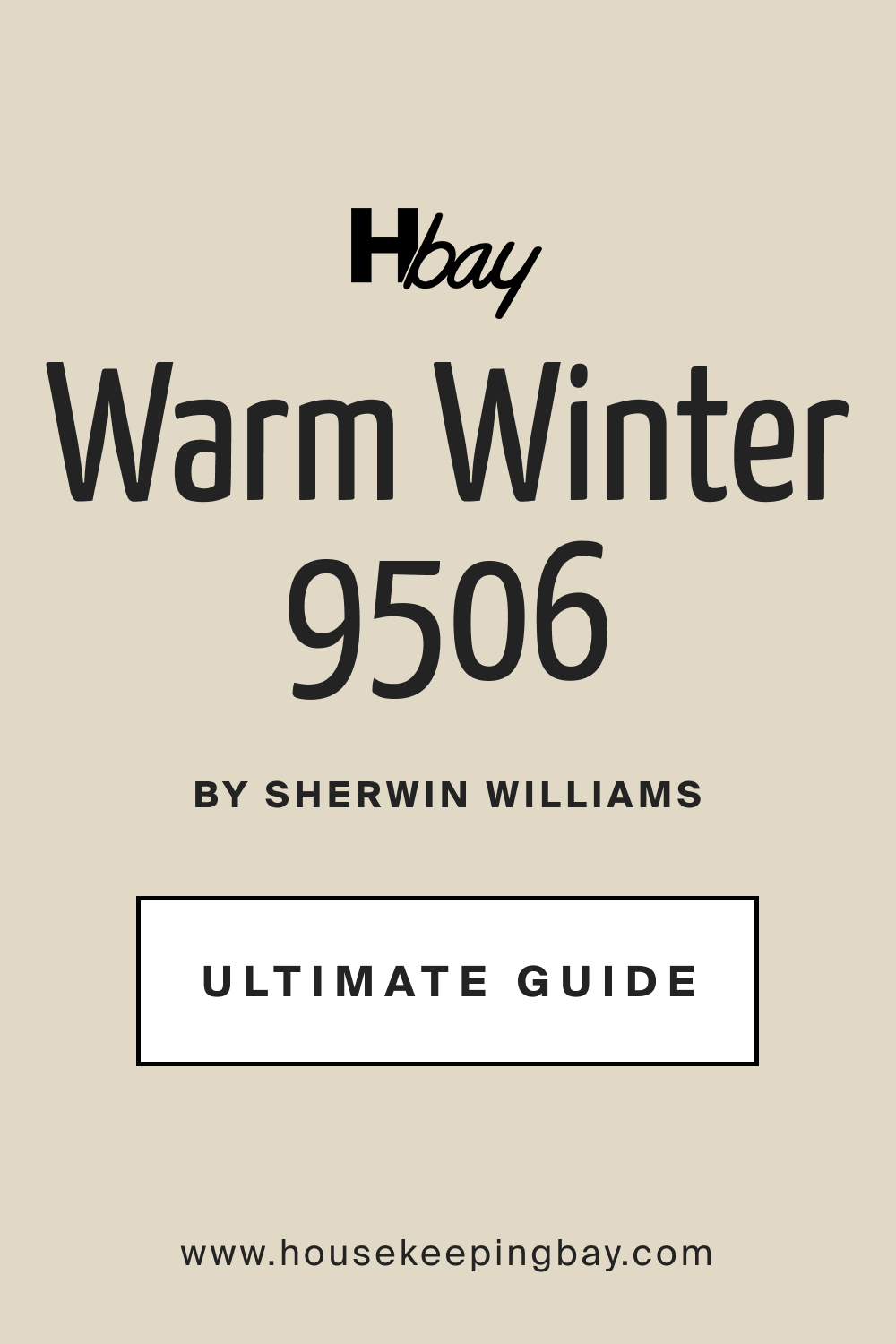 Frequently Asked Questions
⭐What kind of undertones does SW 9506 Warm Winter have?
SW 9506 Warm Winter has subtle warm undertones, offering a comforting and inviting feel, which makes it great for various settings in a home.
⭐Is SW 9506 Warm Winter suitable for small rooms?
Yes, SW 9506 Warm Winter is versatile enough to be used in both small and large spaces. Its neutral warmth can make small rooms feel cozy without being overwhelming.
⭐Can SW 9506 Warm Winter be used for exteriors?
Absolutely! Warm Winter's muted warmth is ideal for exteriors, blending seamlessly with natural surroundings and offering a timeless exterior look.
⭐How does SW 9506 Warm Winter compare to cooler paint shades?
Warm Winter, as the name suggests, leans towards the warmer spectrum. Compared to cooler shades, it provides an enveloping and cozy feel, making spaces feel more intimate and comfortable.
⭐What lighting conditions are ideal for SW 9506 Warm Winter?
SW 9506 Warm Winter works beautifully in both natural and artificial lighting. Depending on the orientation of the room, its appearance might slightly change, but it consistently offers a warm, elegant backdrop.