When people choose paint colors for their homes, they tend to stick to neutral and universal colors like whites, beiges/greiges, or neutrals. These colors are easier to use, and they are usually quite easy to pair with other colors in a room.
But today we would like to step aside from the colors you got used to and introduce a vivid and juicy Raspberry Blush paint color by the Benjamin Moore brand. You will learn what kind of color it is exactly, what undertones it has, and what colors should be used to coordinate it.
Also, we will tell you in what rooms this bright color will work best of all.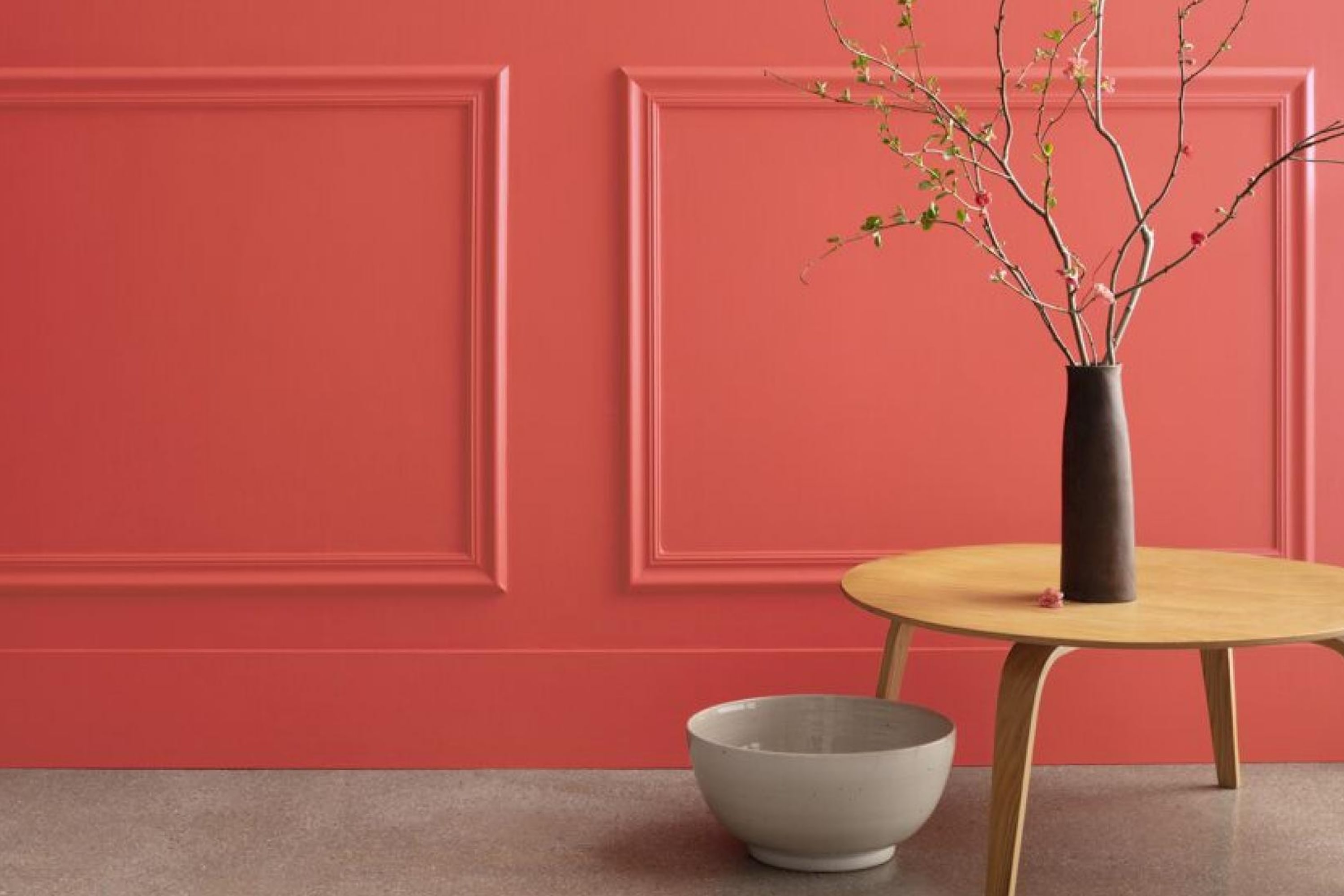 What Kind Of Color Is Raspberry Blush 2008-30 by Benjamin Moore?
Upon a very first look, you will see that Raspberry Blush is a joyful shade of radiant red and orange coral with a juicy splash of pink, as Encycolorpedia says. This color is bright and cheerful yet not too much. In fact, with this shade of red, the brand returned to the tradition of muted and bold colors in its palette.
The Raspberry Blush paint color reminds of a dusty rose shade a bit, possessing quite enough depth at the same time. You might think that such a vivid color will be hard to use in a room, but surprisingly, this particular one is rather versatile.
You can use it on an accent wall, on your trim, on your front door, and even on furniture pieces!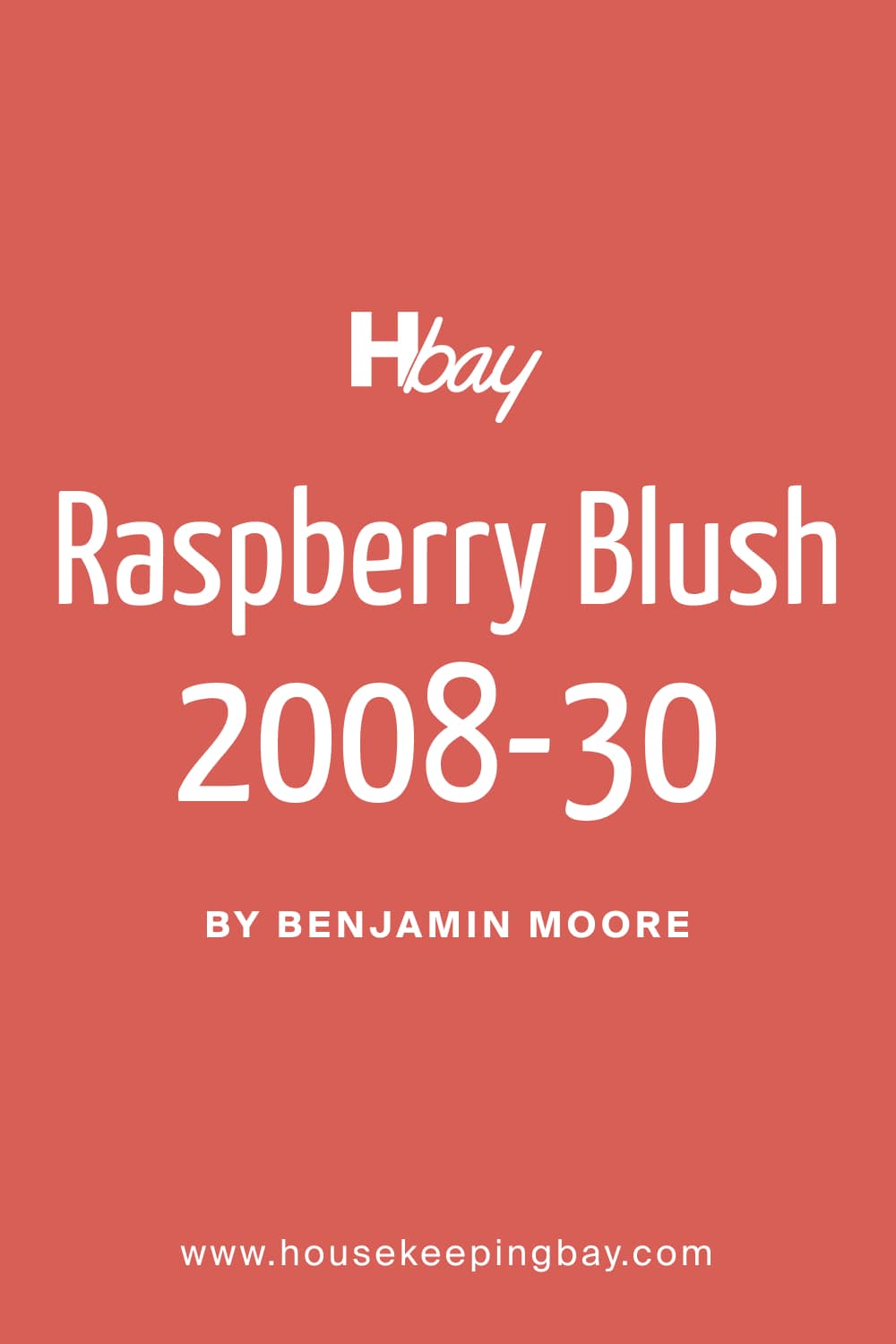 Undertones Of BM Raspberry Blush
As you can already see, this shade of red is rather complex in terms of undertones. In particular, it has coral, orange, and pink undertones. Although being quite different, they blend harmobiously resulting in a warm red.
And since not all paints may have one undertone, you should keep in mind that it's always better to check this information in advance. When you know what undertone/undertones exactly the color has, it will be easier for you to tell how it may read on your walls.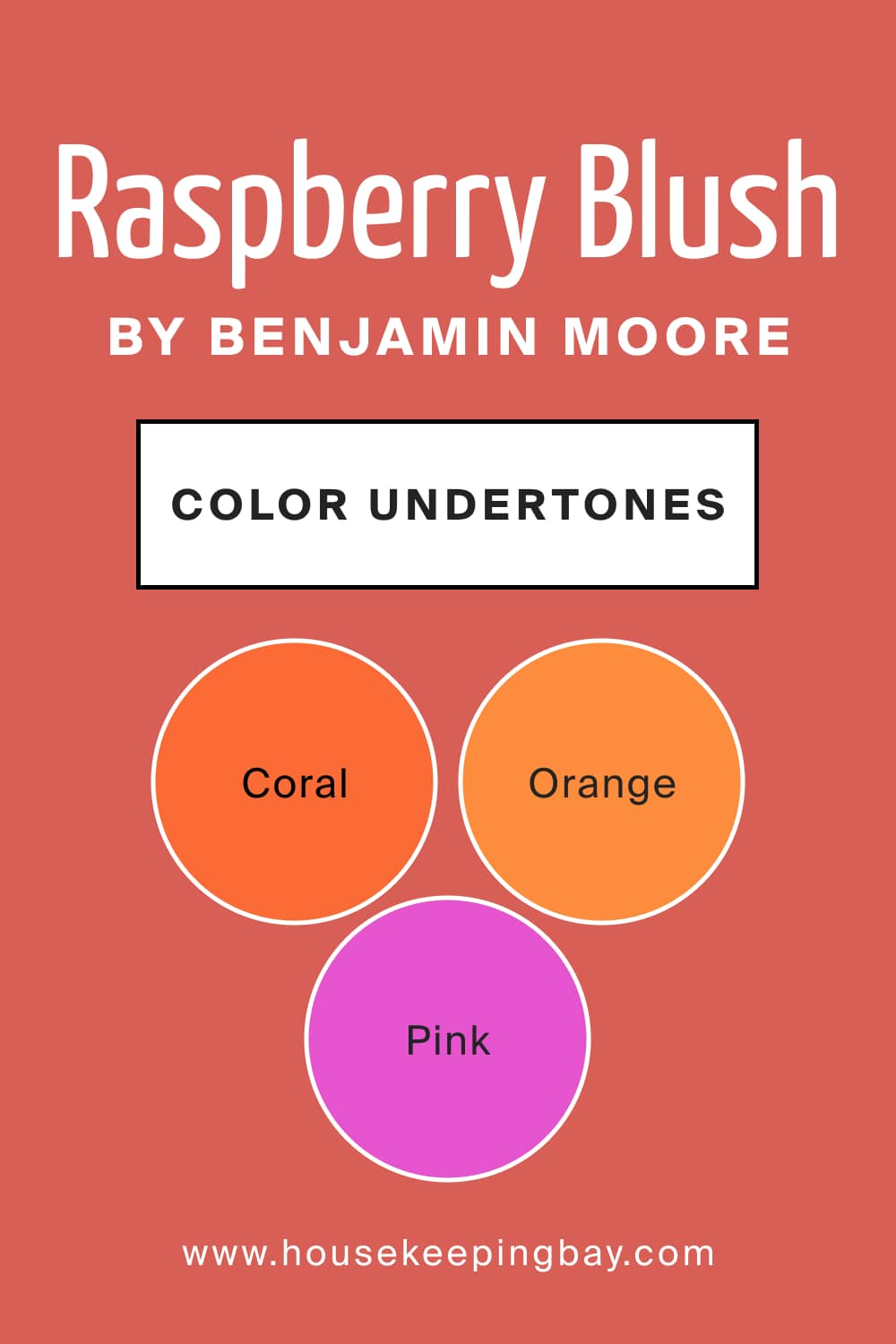 LRV Of BM Raspberry Blush 2008-30
What is LRV, you may ask? This abbreviation stands for the Light reflectance Value and shows how much light paint can reflect when it is applied to the wall. The LRV scale ranges from zero (which is the darkest black) to 100 (which stands for pure white).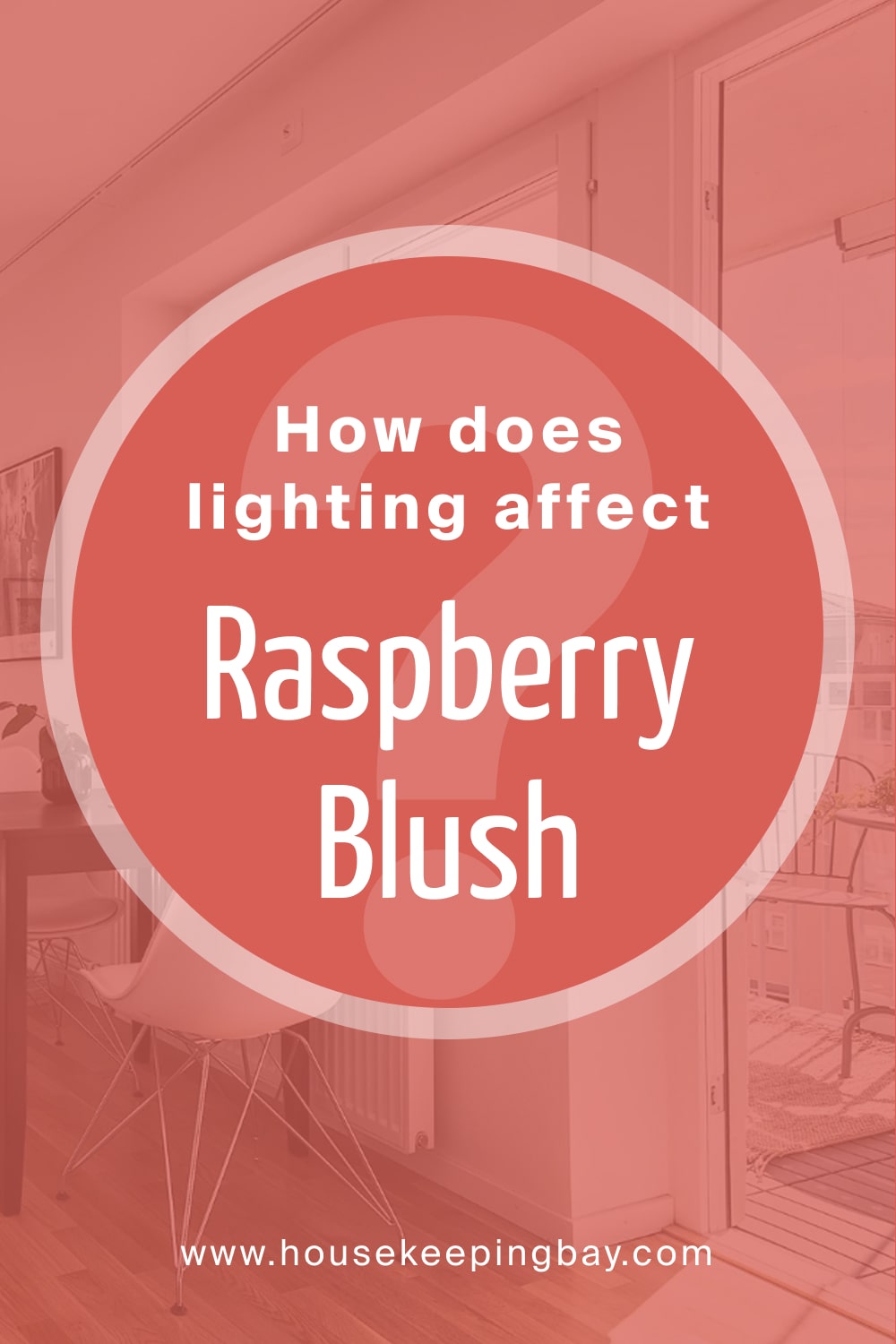 Speaking of BM Raspberry Blush paint color, it's LRV is 22 which means this shade of red is not very bright and thus, it will not reflect much light. Because of this feature, the Raspberry Blush color reads muted and rather soft on the walls although adding a colorful splash into the space.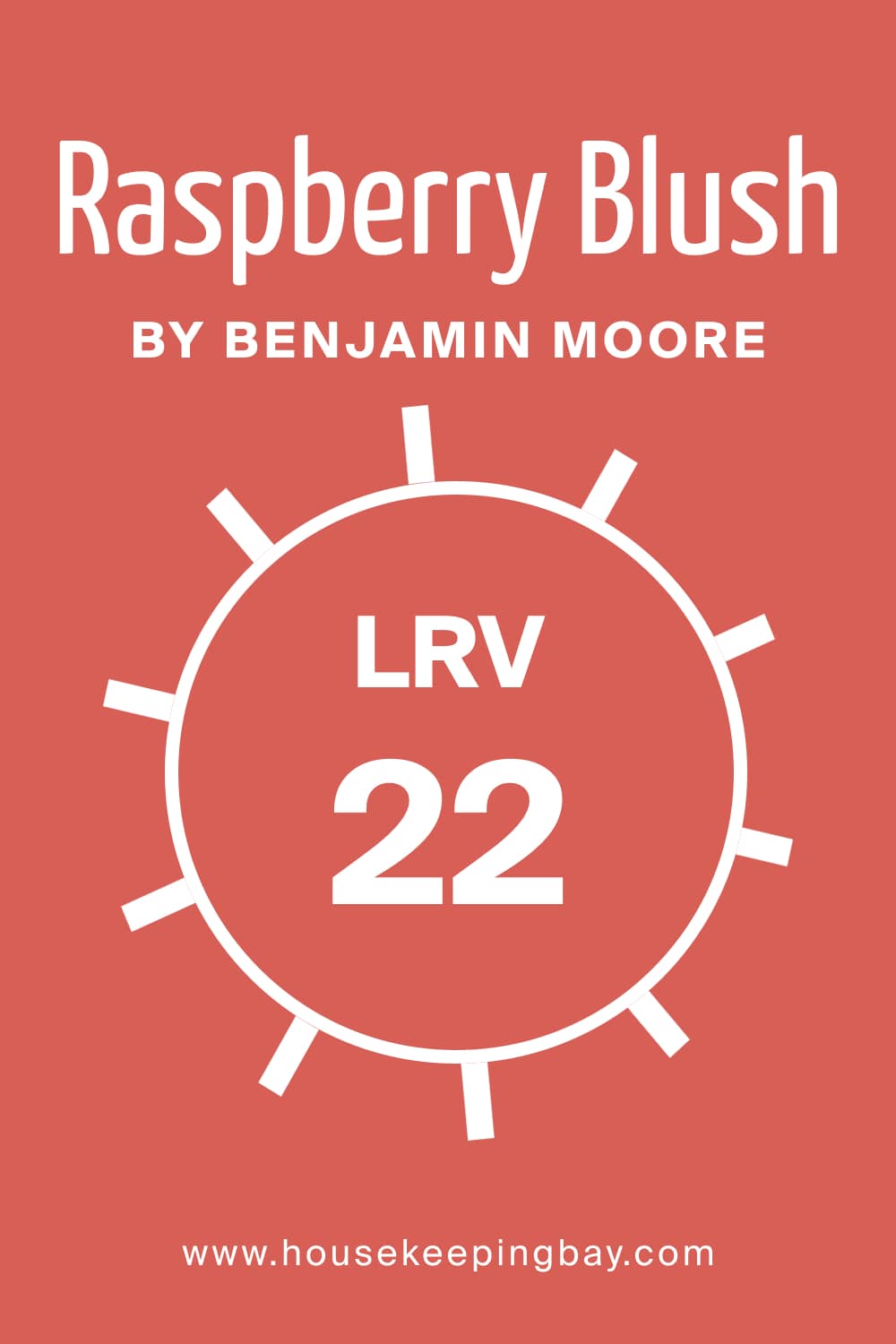 What is LRV? Read It Before You Choose Your Ideal Paint Color
Coordinating Colors of Raspberry Blush 2008-30
In order to be able to create a harmonious look in your home, it is essential to select colors that will coordinate with each other well. However, since we don't have a sharp eye for colors and their nuances like shades and tones, it will be most likely complicated for a homeowner to find proper colors to coordinate them with BM Raspberry Blush.
Nevertheless, being aware of coordinating colors is important since it helps you combine them in your home in a balanced way. So if you are not sure what shades you can coordinate BM Raspberry Blush with, here are a few options for you to take into consideration:
BM Conch Shell 052
BM Cinnamon (2174-20)
BM Wenge (AF-180)
BM Savannah Green (2150-30)
BM New Age (1444)
BM Starry Night Blue (2067-20)
BM North Sea Green (2053-30)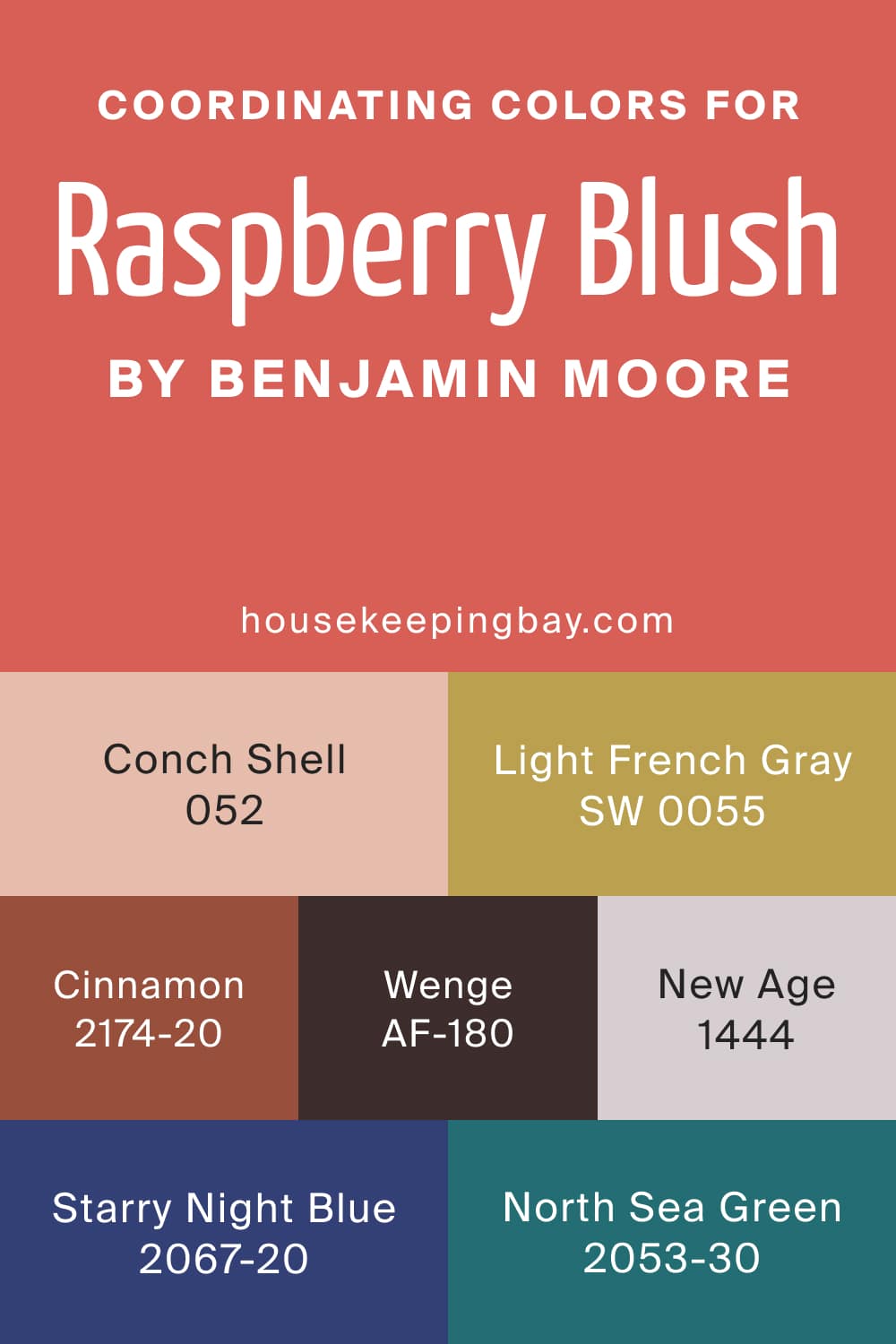 What Is the Best Trim Color For Raspberry Blush 2008-30?
Trim color is a color that is used for highlighting the color on the walls. People tend to think that trim color must always be contrasting with the wall color, but it's not like that. You can use complementary colors or similar colors to paint your trim as well. The color selection depends on the effect you want to get.
White is traditionally considered an ideal trim color since it is very universal and pairs nicely with the majority of other shades. In particular, it will work well with the Raspberry Blush by Benjamin Moore. For example, you can use
BM Atrium White
BM Muslin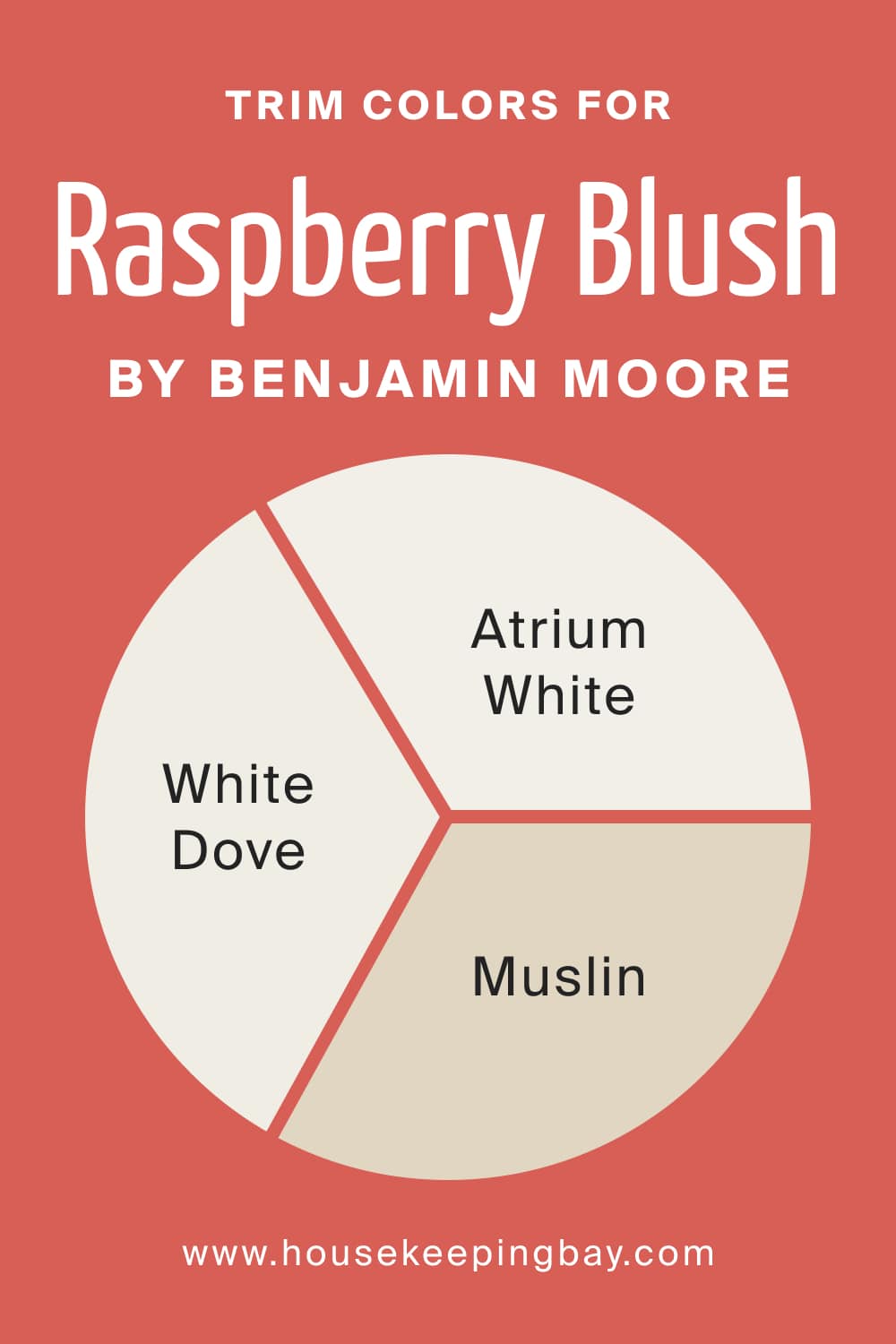 Paint Colors Similar to BM Raspberry Blush
Knowing what similar colors there are that can be used instead of the color you initially choose can be very handy. If you decide you need a darker or lighter shade for your home walls, you can opt for one of the substitute colors. If you realize that the existing color will not match the rest of the colors in a room, similar shades will become helpful for use instead of it.
For BM Raspberry Blush, there are a few similar colors that read more or less the same:
BM Habanero Pepper
BM Dark Salmon
BM Adobe Orange
BM Rose Quartz
Of course, you should note that there will be no ideal match! But at least, now you have four colors that will read similarly on your walls.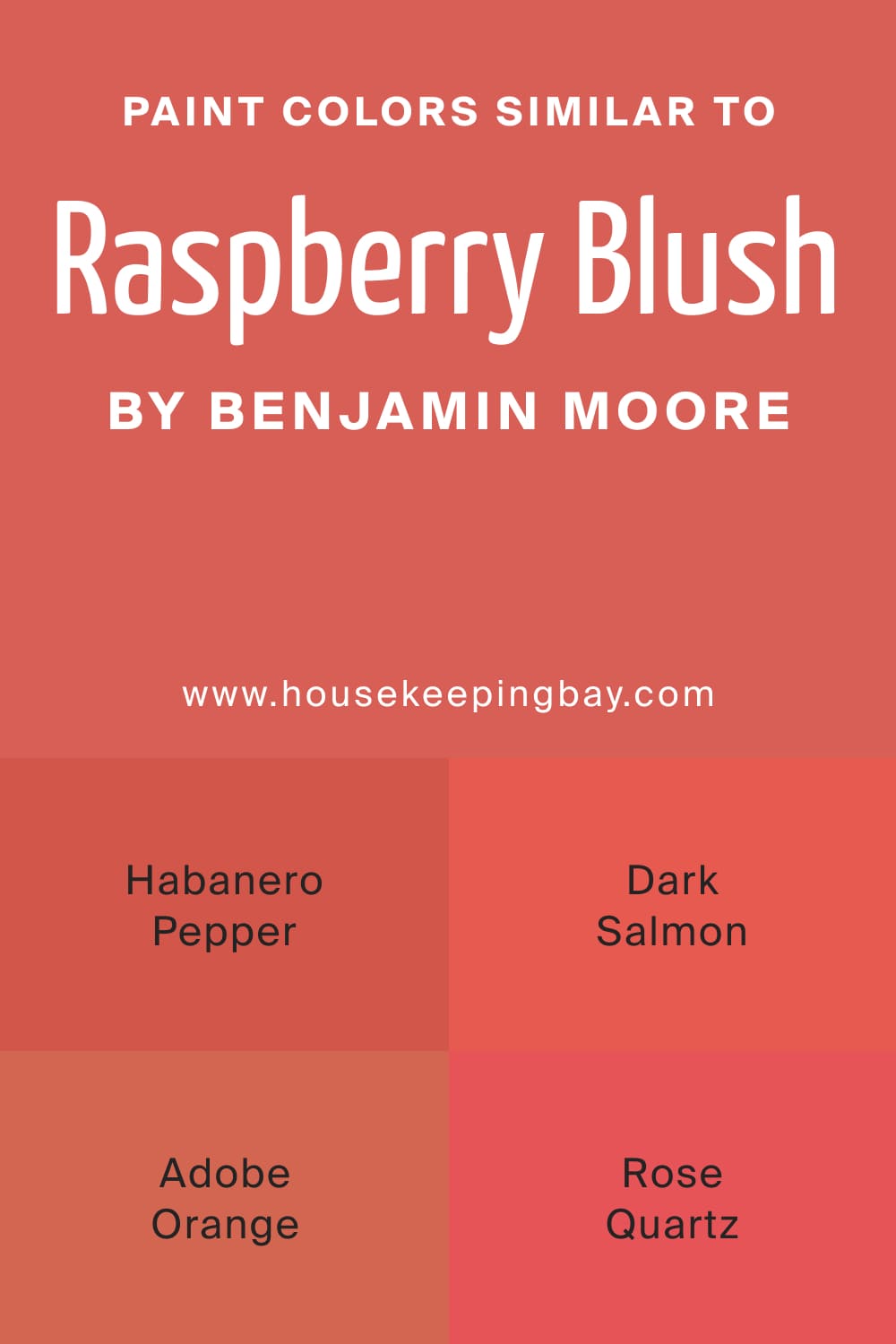 Colors That Go With Raspberry Blush 2008-30
When you choose the color that will be used on your interior walls, it is essential to select the matching colors carefully. If you fail with this task, you will end up with a space that reads way too unbalanced! However, choosing the colors that go well with the leading paint color is often difficult, especially for those who are not experienced in color theory.
For such complex red color as BM Raspberry Blush, we have a few color suggestions that will go really great with it!
BM Ecru
BM Alabaster
BM Sail Cloth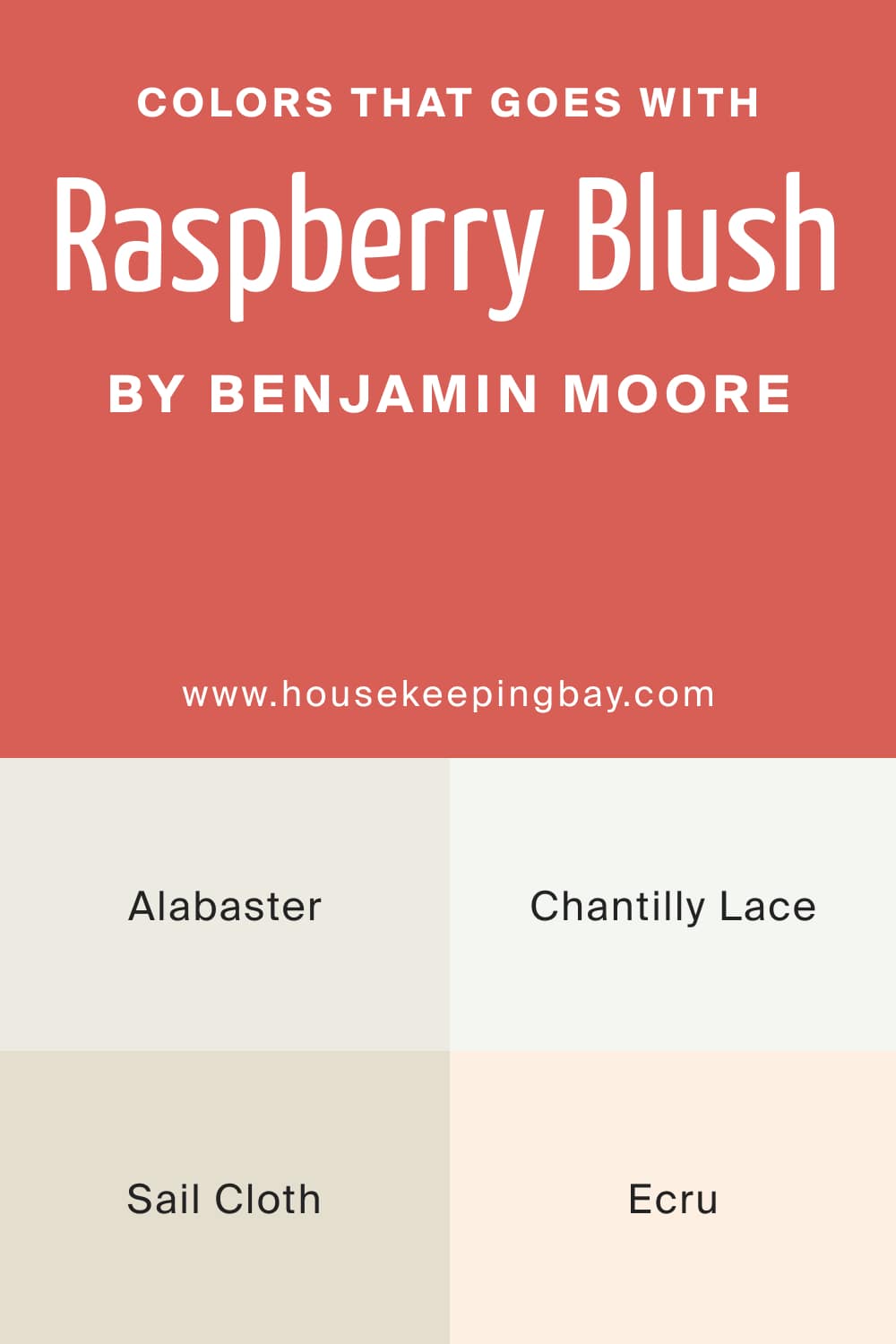 Where Raspberry Blush 2008-30 Can Be Used In Your Home?
You probably know that different colors may not work the same way in different rooms. Besides, there are paint colors that should not be used in certain rooms under any conditions due to the specifics of their undertones and LRV. At the same time, there are quite many paint colors that are considered versatile and can be used literally anywhere from closets and laundry rooms to even exterior walls!
Now you may think that it may be hard to find a proper palace for such vivid color as BM raspberry Blush to apply. But surprisingly, this muted and soft red is pretty versatile! Below you can check out in what rooms it can be used.
Raspberry Blush 2008-30 in the Living Room
This shade of red is perfect for a spacious living room with plenty of warm daylight! In such a room, this color will bloom like a flower in spring, showing all of its beauty! In warm natural light, this shade of red will read vivid and juicy, showing red undertones very prominently.
But in a room with a lack of light or with cold lighting, BM Raspberry Blush color will read pinkier and more muted. Some would even say that it looks dull.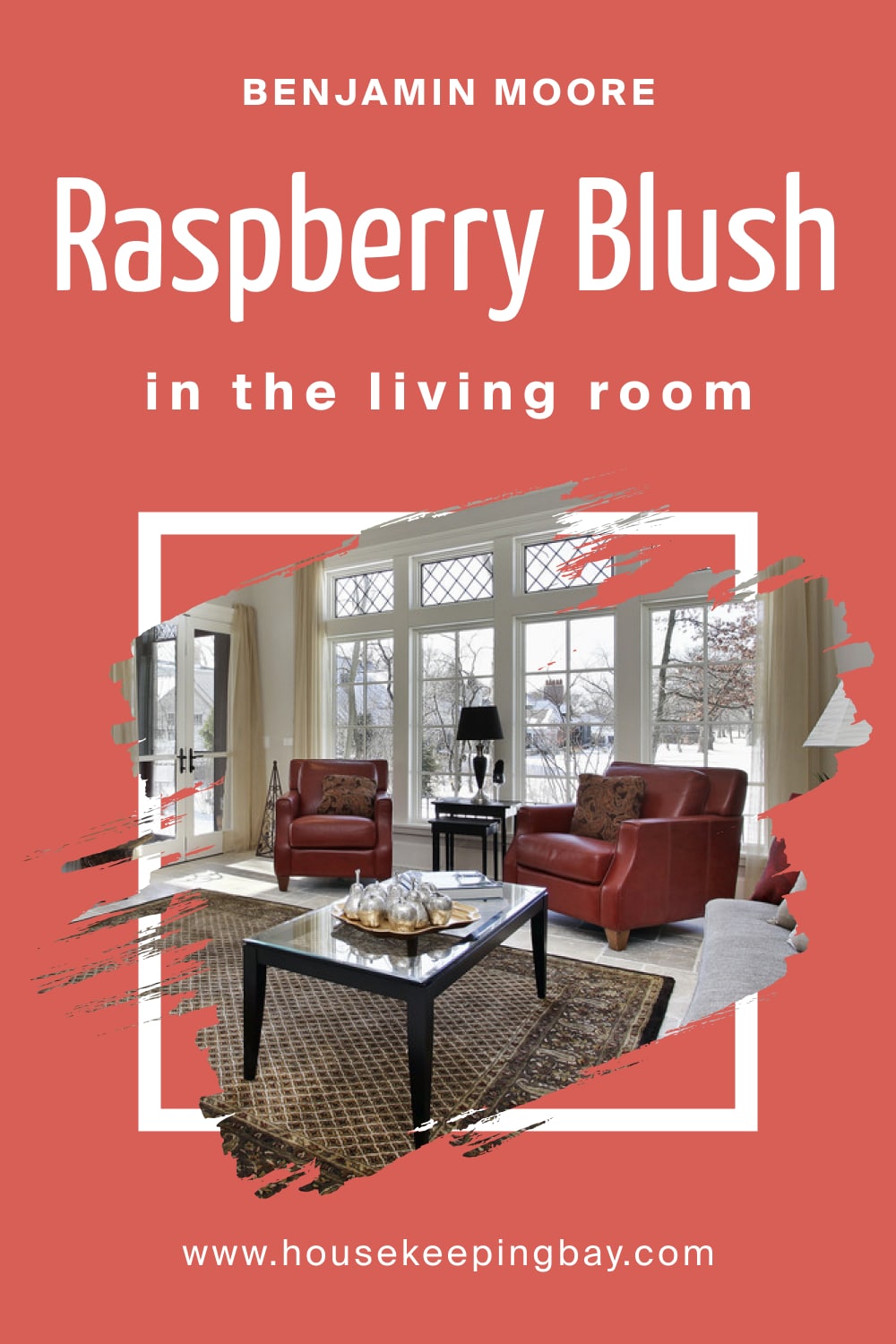 Raspberry Blush 2008-30 in a Bedroom
This color is an unusual yet very interesting color selection for your bedroom. Since it is muted and soft, it will work nicely in this room, giving it a somewhat calming and relaxed vibe, but not as relaxed as neutrals would give, of course. And if you want to mute it even more, use this red with softer and calmer shades of pink, white, beige, and neutrals. Make sure the colors you use are also warm-toned, otherwise, this red will read unbalanced!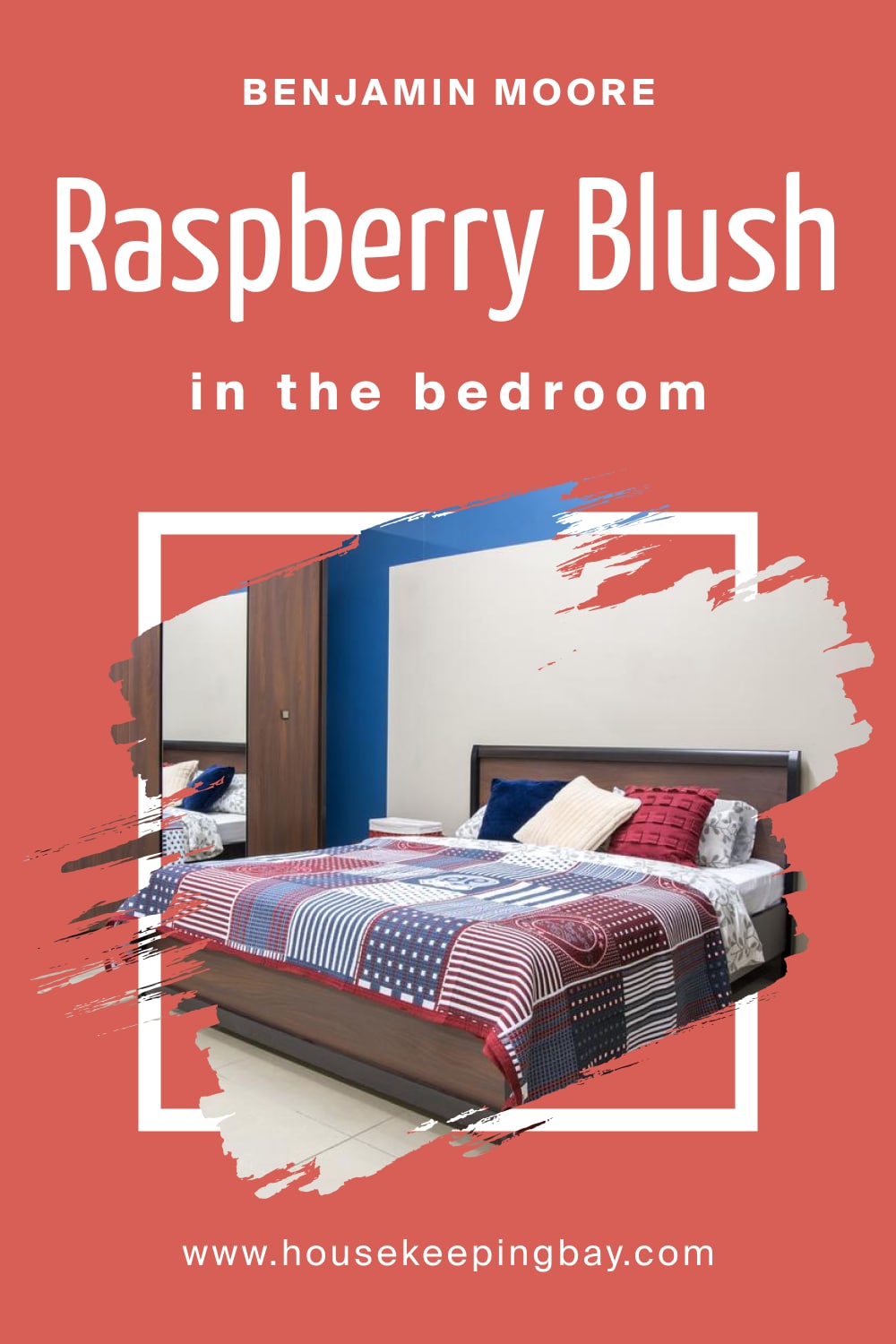 Raspberry Blush 2008-30 on the Kitchen And Kitchen Cabinets
If you don't mind playing with the color a bit, feel free to use this red in your kitchen too! If your kitchen is really large, you can use this color on the walls, but we would recommend applying it to your kitchen cabinets instead.
As an option, if you still want to have more of this coral red, paint an accent wall with it as well! It will read especially well if the rest of the room is painted warm white with balanced yellow tones.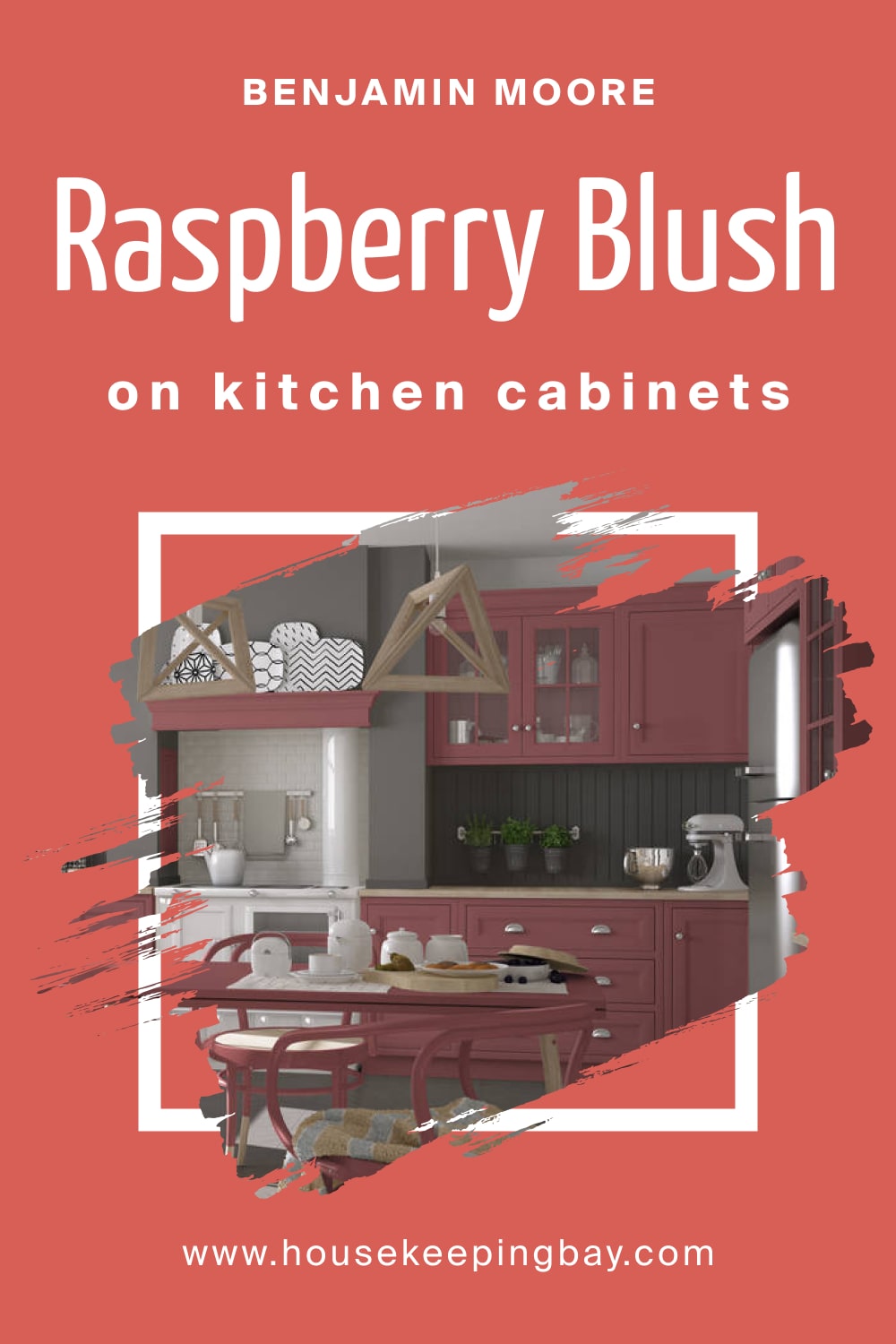 Raspberry Blush 2008-30 on Cabinets
This soft red is perfect for cabinets if the rest of the colors in a room allow using it. Be it your kitchen cabinets or your vanity, you can easily add a pop of vividness by using this juicy red!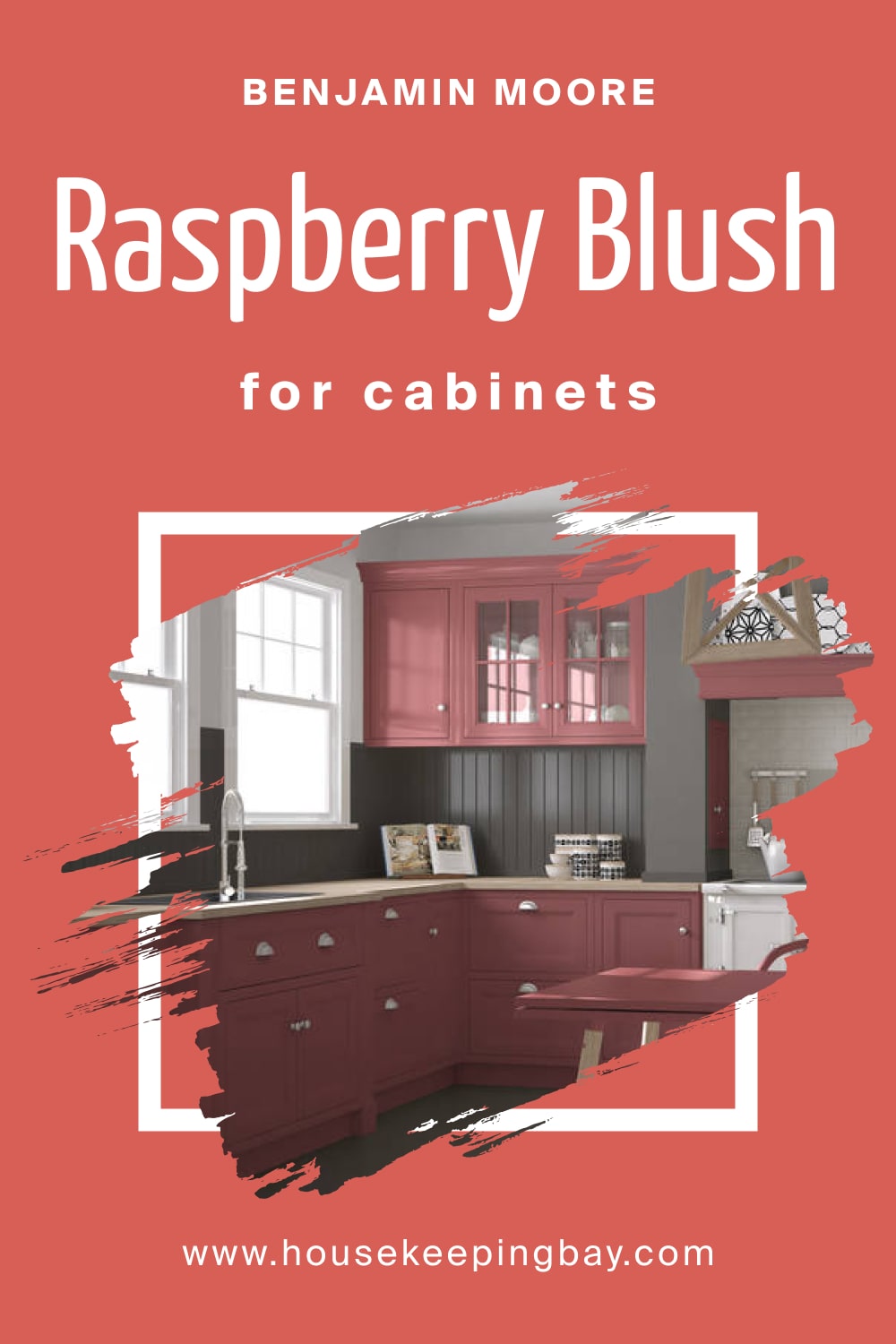 Raspberry Blush 2008-30 for the Exterior Use
What? Painting exterior walls red? Yes, that's right! This is going to be an absolutely unusual and unexpected color selection, but your home will surely stand out with it on its walls! This soft coral red with pink and orange undertones will look awesome with warm white window frames and porch railings, as well as the white front door. Just note that on cloudy days, it will read pinkier rather than red!
Now you know the basic information about the paint color called Raspberry Blush by the Benjamin Moore brand. Since now you are aware of its specifics and all the nuances that are important for the correct use of this shade of red, you will be able to incorporate it in your home with less effort.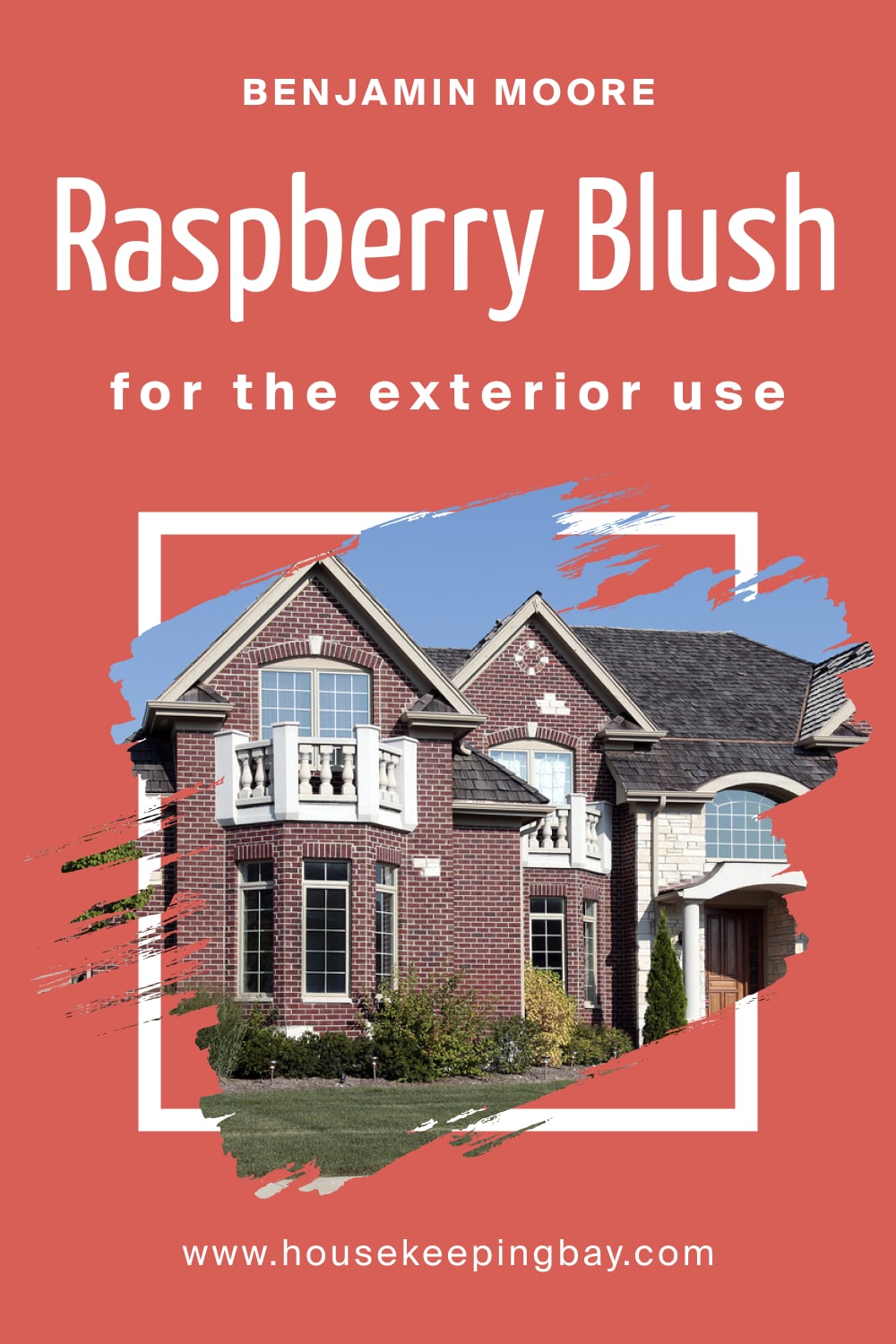 BM Raspberry Blush 2008-30 Color Comparison
There are so many paint colors out there that it is easy to get lost and feel puzzled, trying to figure out which one suits you better. So here is a helping hand for you: we have made a comparison of BM Raspberry Blush paint color with a few similar colors to see what makes them distinct.
Raspberry Blush vs Touch of Pink
Well, in this pair of colors, the difference is obvious: the Touch of Pink color is way lighter! In fact, it is a very delicate and light pink. The manufacturer describes it as a blush hue with a hint of peach. In comparison, BM Raspberry Blush is a way more pronounced red, juicy, vivid, and bold.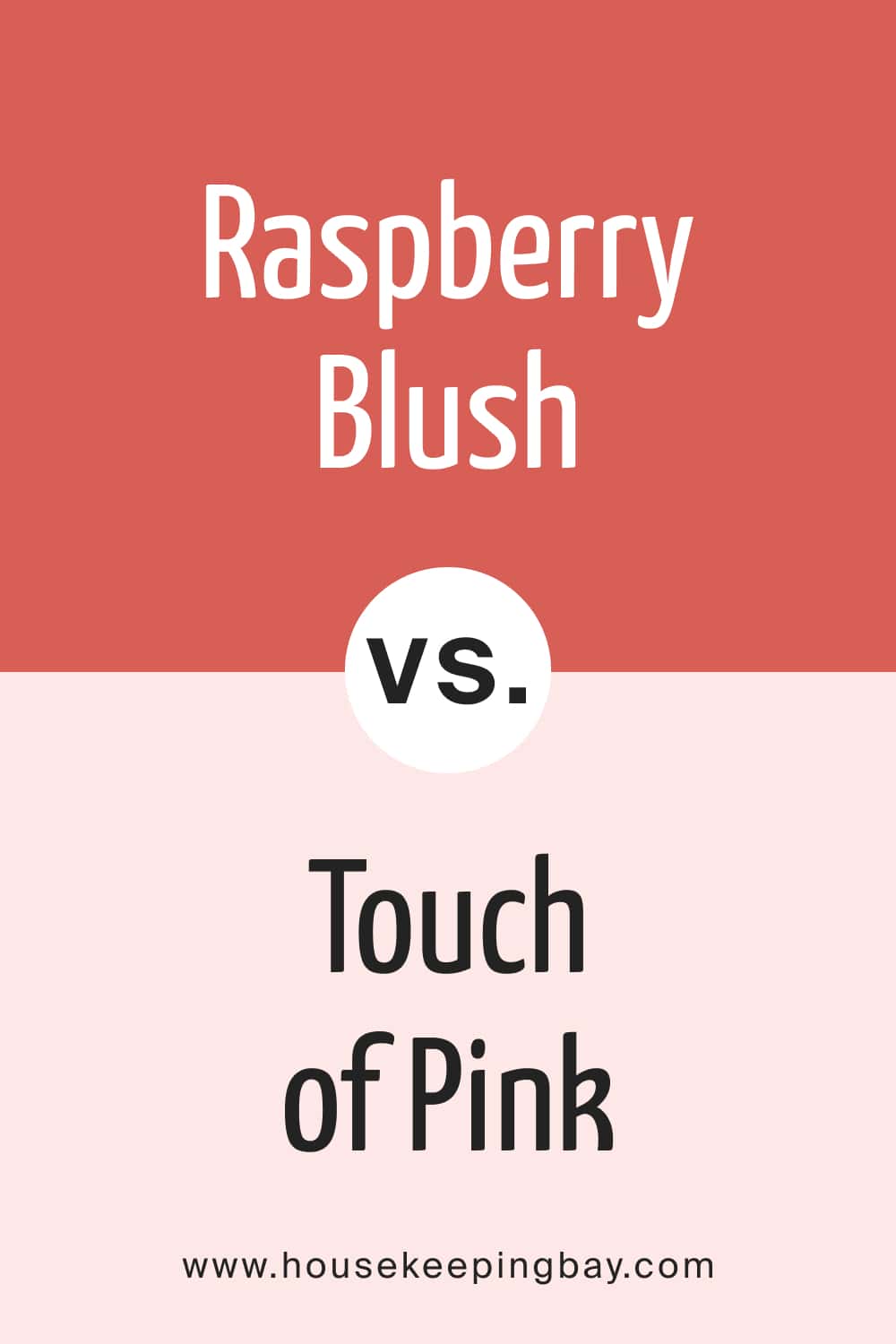 Raspberry Blush vs Little Piggy
BM Little Piggy is pink, very delicate, and rather light, but with a pronounced pinky blush. Its counterpart is bolder and deeper. The two can't be used in the same room, but they might coordinate with each other pretty well!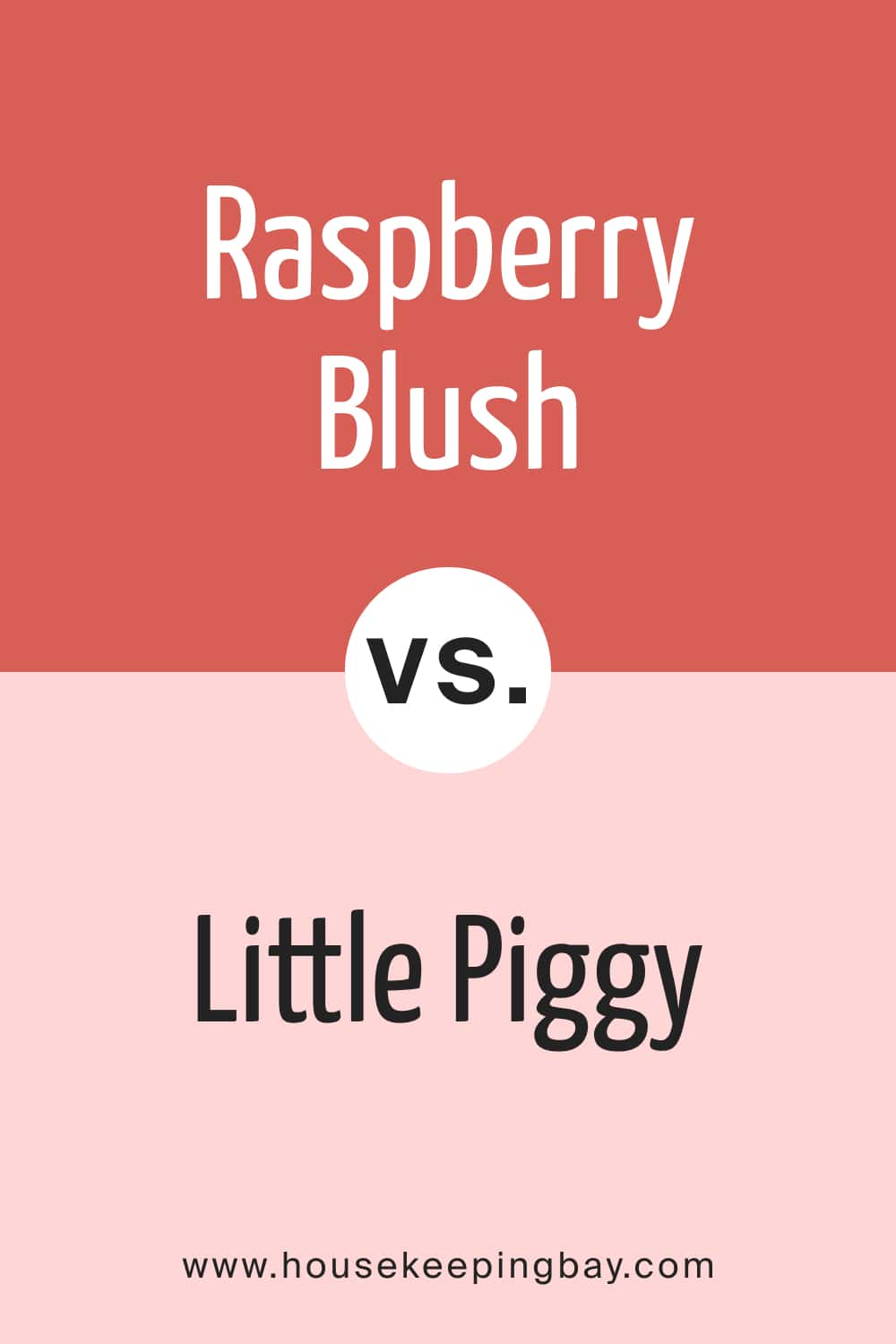 Raspberry Blush vs Delicate Rose
BM Delicate Rose is somewhat closer to BM Raspberry Blush because it's also muted and soft. But it's pink, not red. In fact, it is a soft and powdery shade of pink with peach undertones.
It will not work as a trim color, of course, but it will read nicely if used in smaller accents e.g. on pillowcases, cushions, curtains, etc.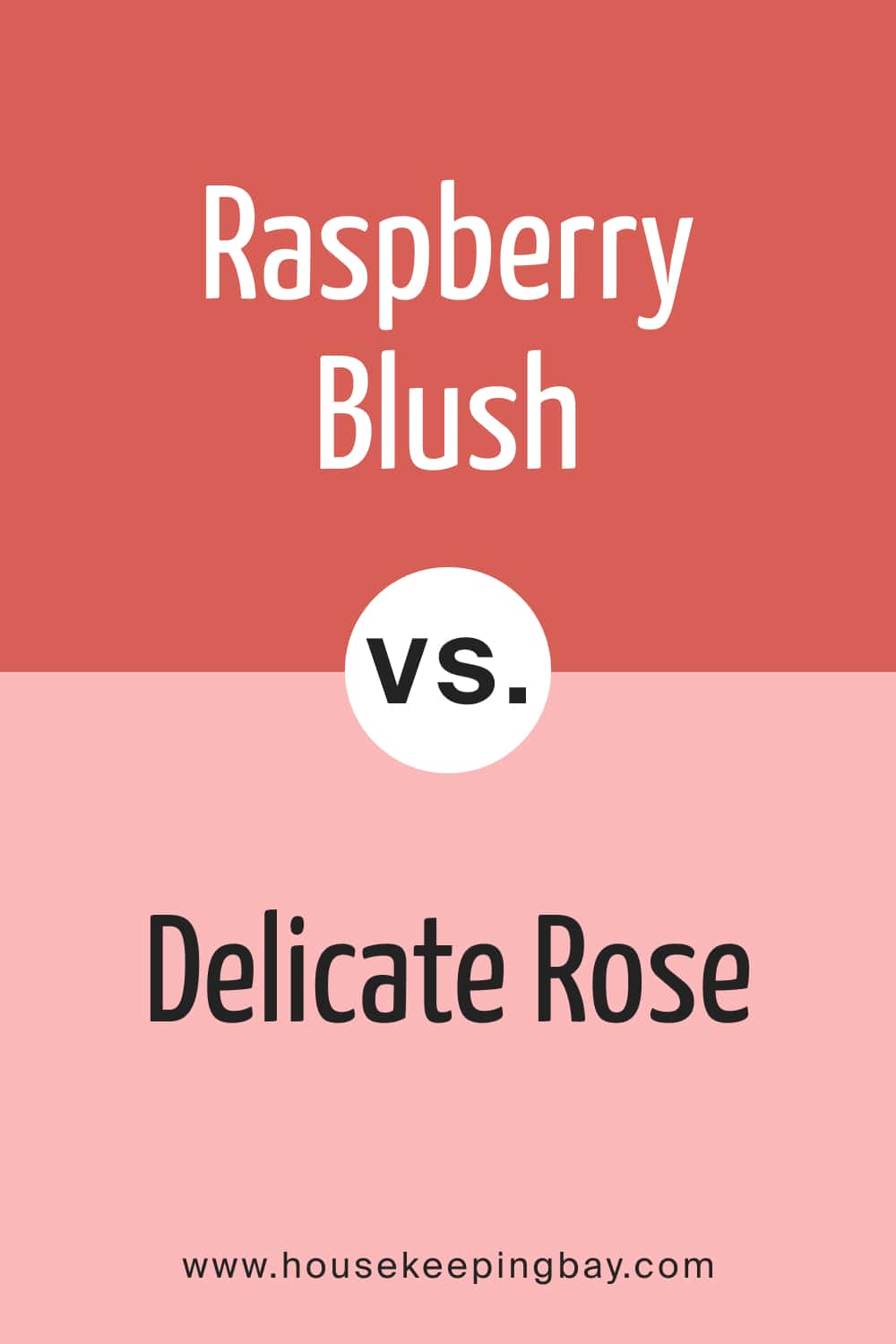 Raspberry Blush vs Hydrangea Flowers
BM Hydrangea Flowers is a coral hue, pleasantly soft and muted, with a slightly powdered tone, which makes it related to its bolder counterpart. The Hydrangea Flowers color has an LRV of 40 which makes it a lighter color since the LRV of BM Raspberry Blush is 22. Nevertheless, these colors work pretty well together.
Now you are fully aware of the paint color called Raspberry Blush by the Benjamin Moore brand. You know its LRV and undertones, which enables you to tell in advance how this soft and powder red may react to light.
Also, you learned how it will work in different rooms and on different surfaces when used with other colors. This will give you a complete understanding of the color and improve your skill at using it in your home.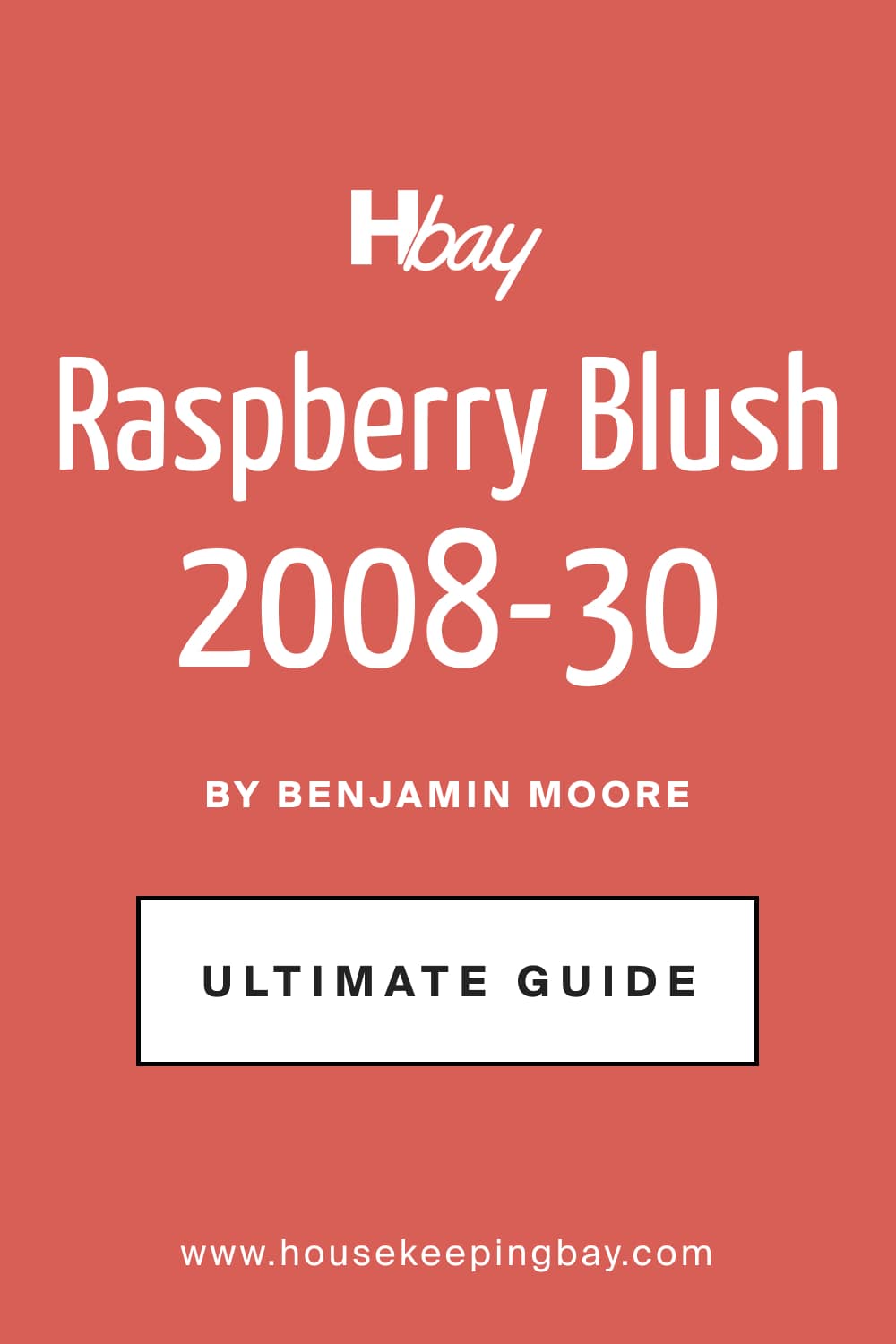 Frequently Asked Questions
⭐What color collection does BM Raspberry Blush belong to?
This color belongs to the BM Color Preview collection.
⭐What is the Benjamin Moore color of the year 2023?
Raspberry Blush is the Benjamin Moore's Color Of the Year in 2023.
⭐Is BM Raspberry Blush red or pink?
This color is red, rather bold and vivid, with orange and coral-pink undertones.