Colors hold profound significance in the realm of interior design, evoking emotions and setting the ambiance of spaces. One such hue, delicate yet significant, is Onyx White OC-74. As we journey through its varied facets, from undertones to lighting effects, we will discover the essence that sets this color apart in the design world.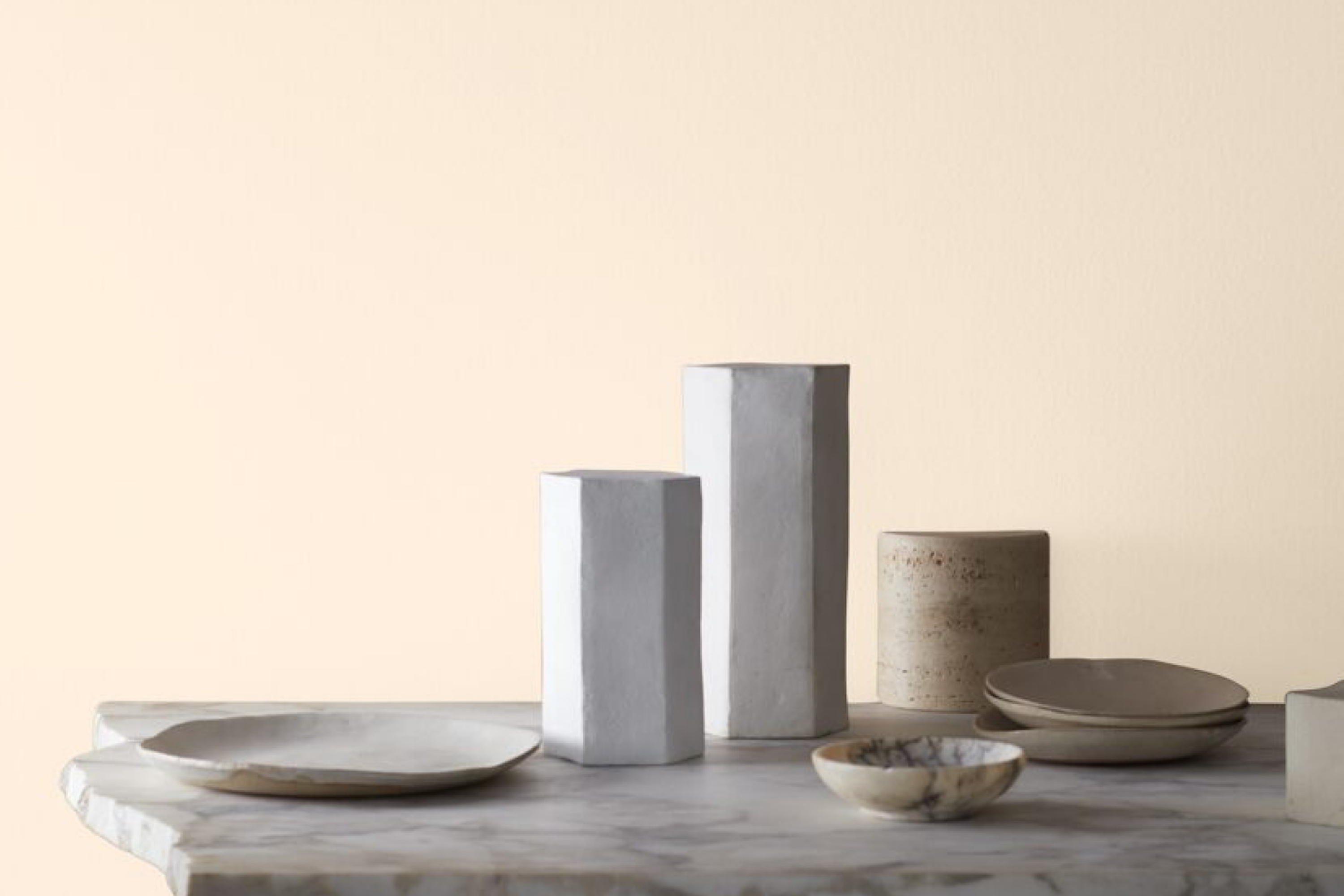 What Color Is Onyx White OC-74?
Onyx White OC-74 is a refined shade of white that exudes subtle elegance. While it remains rooted in the simplicity of white, it carries with it a whisper of warmth and grace. It seamlessly aligns with contemporary, minimalist, and even traditional interior styles.
Its universal appeal allows it to harmonize effortlessly with materials like marble, wood, and metallic finishes, lending itself to a broad spectrum of textures and surfaces.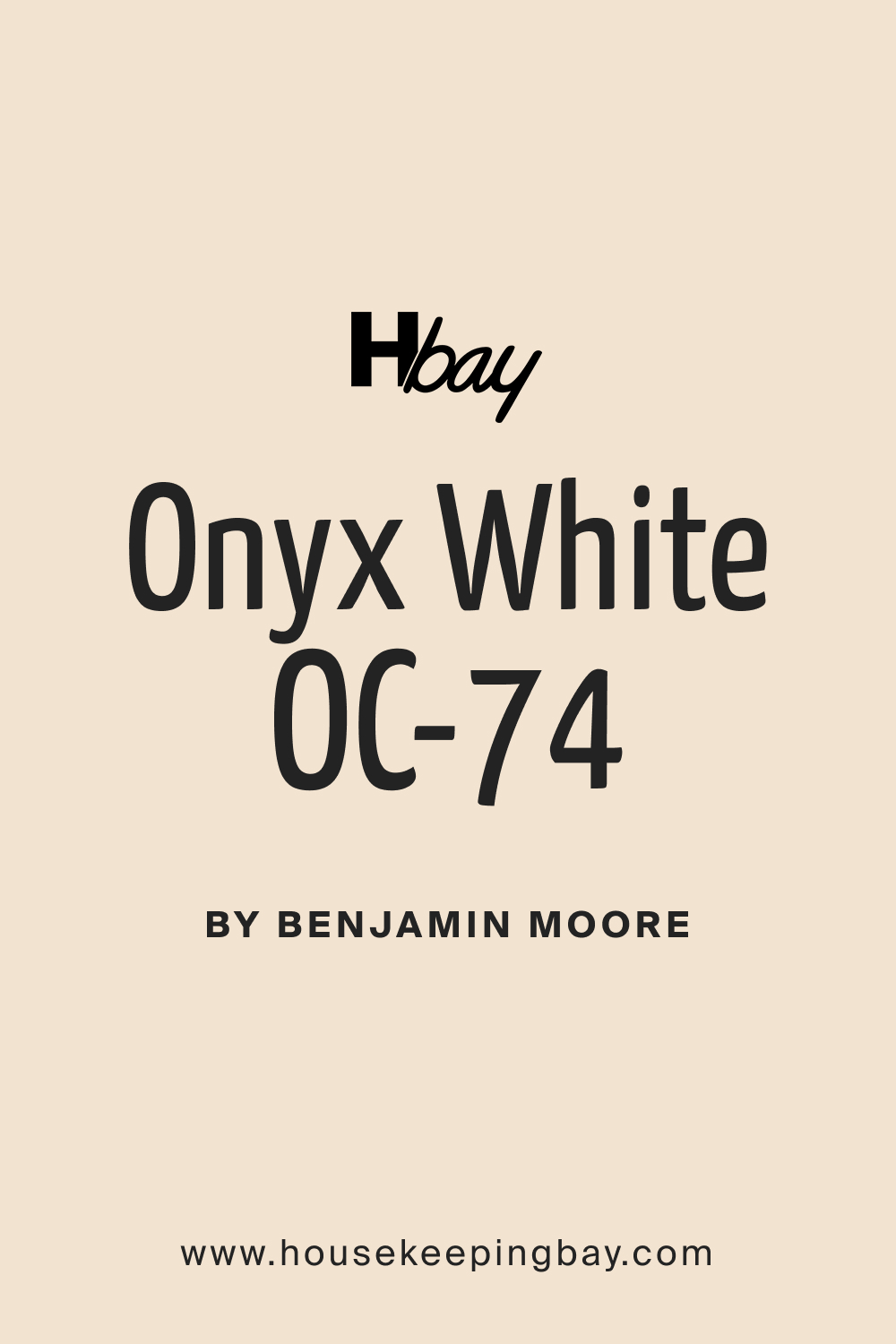 Is It a Warm Or Cool Color?
Onyx White OC-74 leans towards the warmer side of the spectrum. Its warmth imparts an inviting, cozy feel, making spaces feel more intimate and lived-in. Such an attribute allows it to be a favored choice in homes, especially in areas meant for relaxation or socializing.
Undertones of Onyx White OC-74
Every color resonates with undertones that subtly influence its overall appearance. Onyx White, though primarily a muted shade, has gentle beige undertones. These undertones infuse an understated richness to the color, making it appear warmer and more inviting.
The way undertones play with our perception can transform an ordinary space into a canvas of warmth and depth.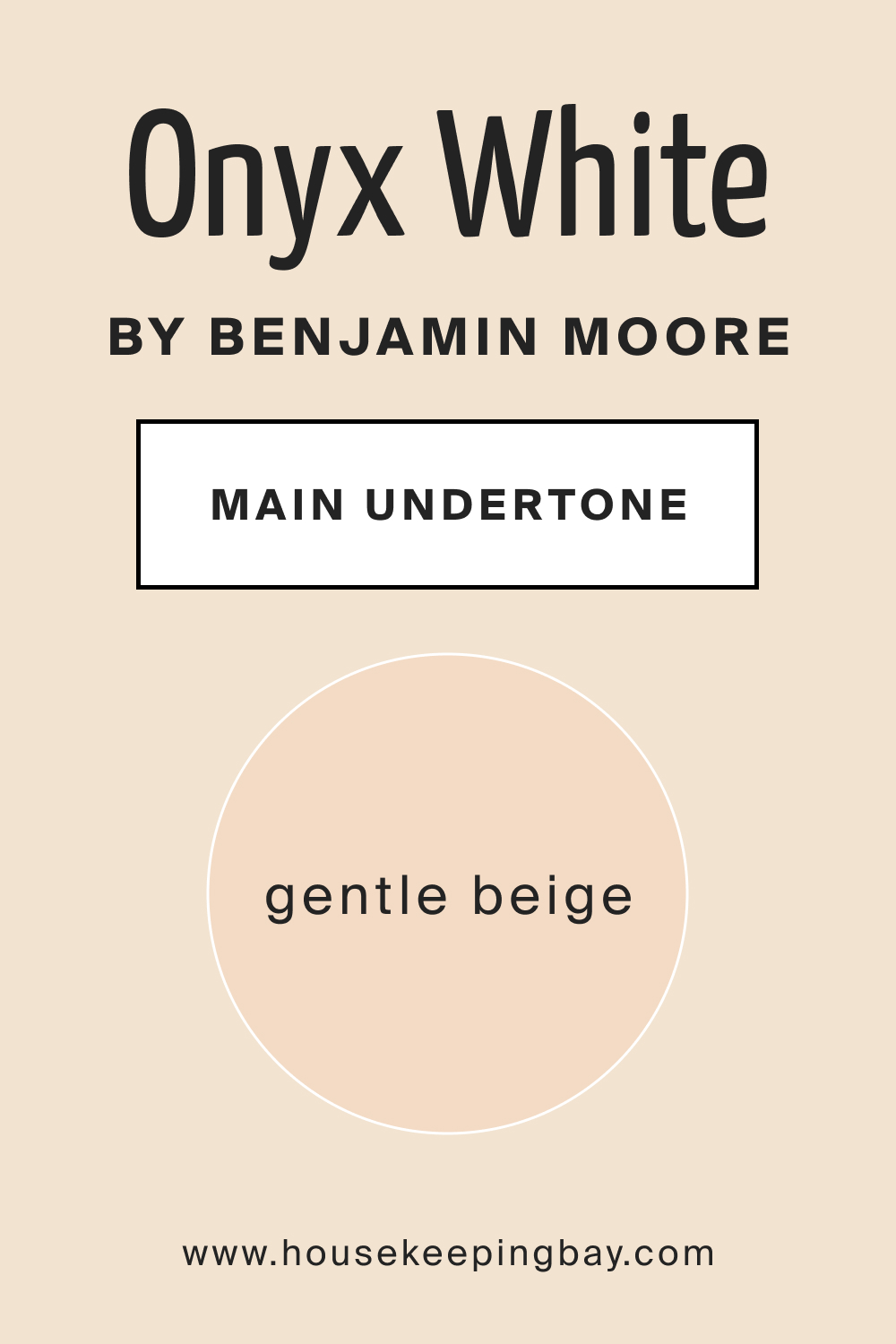 Coordinating Colors of Onyx White OC-74
Coordinating colors are hues that harmonize with the primary color, enhancing its essence and appeal. For Onyx White OC-74, we recommend the following color options:
Chantilly Lace OC-65: A pristine white, radiating purity.
Grey Owl 2137-60: A soft gray, offering a serene contrast.
Wind's Breath OC-24: A gentle beige harmonizing with the warmth.
Additionally, consider the following hues: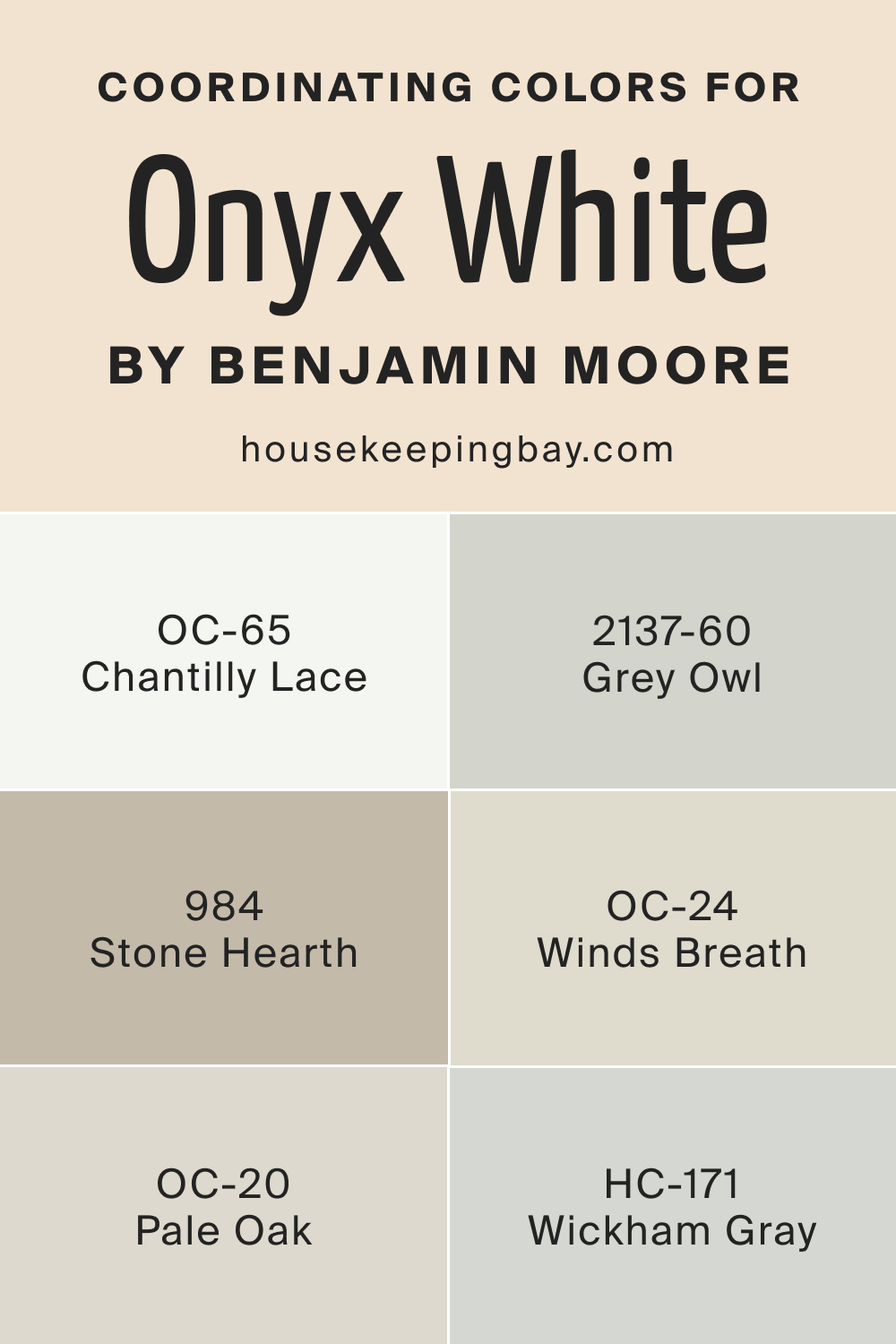 How Does Lighting Affect Onyx White OC-74?
Lighting dramatically alters the perception of colors. Natural sunlight makes Onyx White shimmer with vibrancy, while artificial lighting can emphasize its cozy undertones. In north-faced rooms, the color can appear slightly cooler, echoing a serene ambiance.
South-faced rooms bask it in warmth and brightness. East and west-facing rooms offer a dynamic play, with Onyx White reflecting the changing moods of the sun—cool and crisp in the morning and warm in the evening.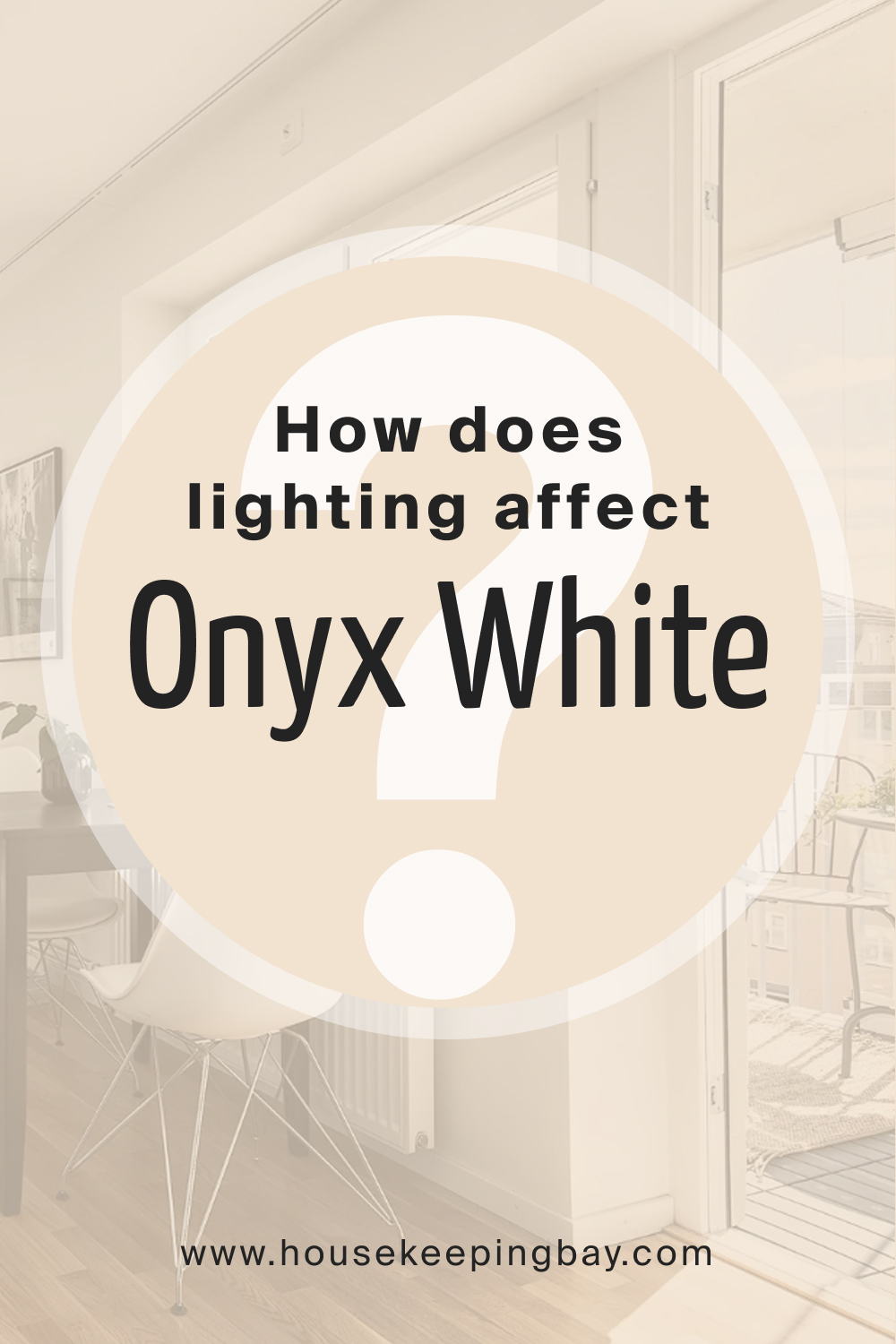 LRV of Onyx White OC-74
Light Reflectance Value (LRV) measures the amount of light a color reflects. At 76, Onyx White has a high LRV, implying that it reflects a considerable amount of light, making spaces appear brighter and more expansive.
Such an LRV offers versatility, allowing Onyx White to adapt across diverse spaces, from cozy nooks to expansive halls.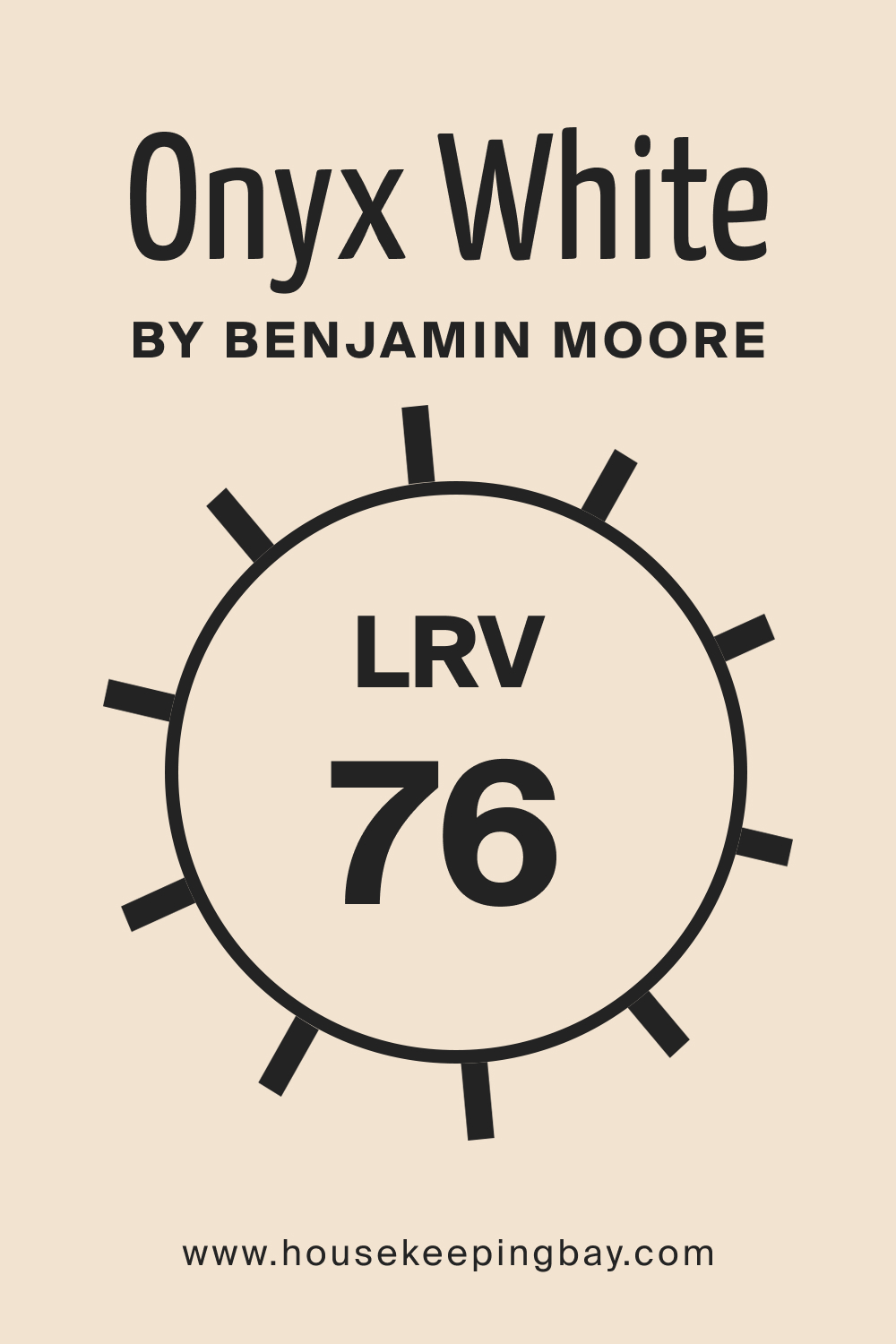 What is LRV? Read It Before You Choose Your Ideal Paint Color
Trim Colors of Onyx White OC-74
Trim colors are colors that define and accentuate the architectural details of a space. Complementing Onyx White OC-74 with the right trim colors is essential for any room of your home. For the best results, we would suggest you consider the following options:
Simply White OC-117: A clean, bright white.
Chantilly Lace OC-65: A muted, sophisticated white
White Dove OC-17: A soft, dreamy white.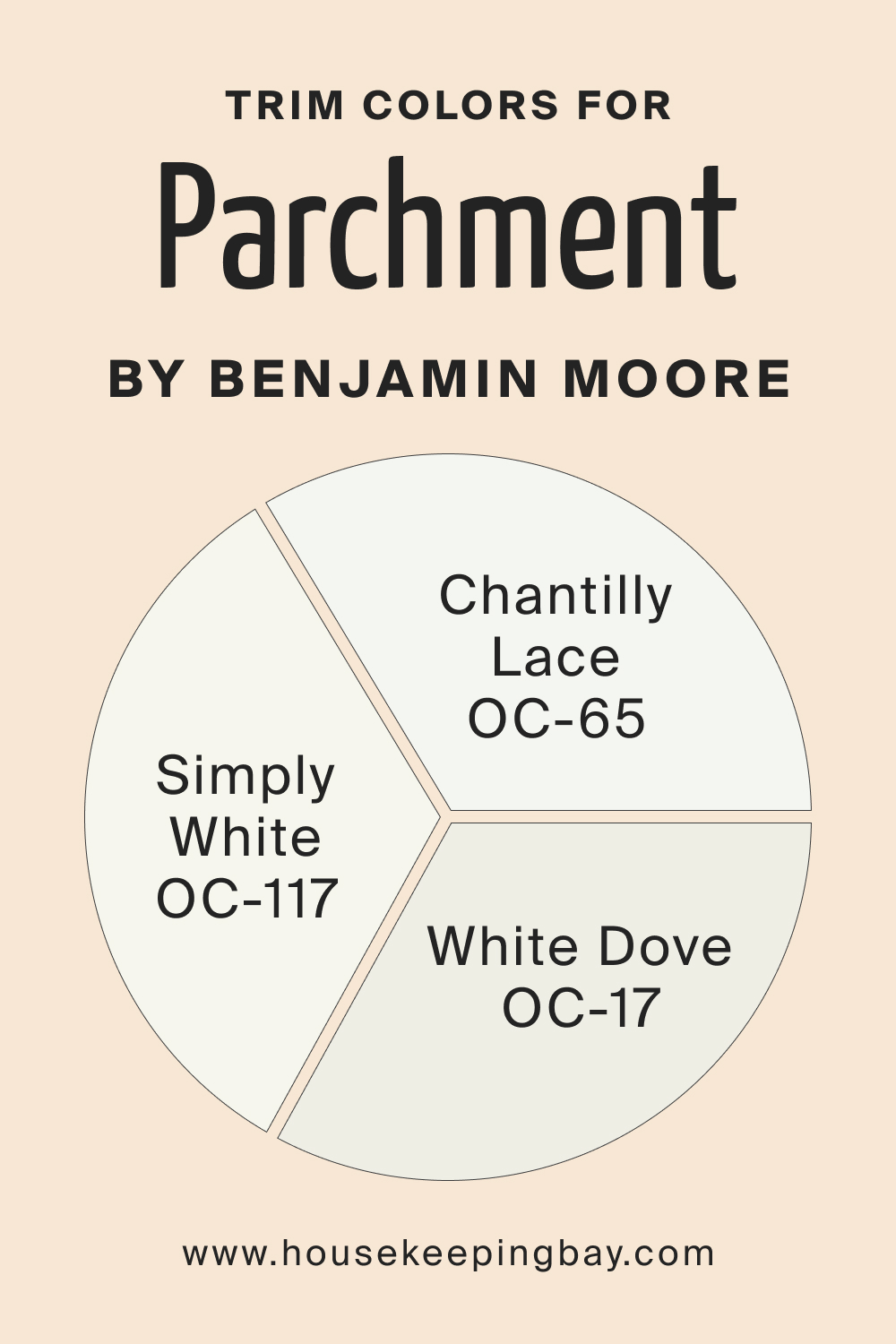 Colors Similar to Onyx White OC-74
Identifying colors that mirror a particular hue aids in color comparison and the best color choice for your home. If you have Onyx White on interior walls, alongside BM Gentle Repose 1149, consider one of these colors that may work nearly the same well:
Moonlight White OC-125: A luminous, gentle white.
Swiss Coffee OC-45: A creamy, timeless white.
However, note that each of these hues has its unique LRV value and undertone! This is why these alternative colors may still vary a bit.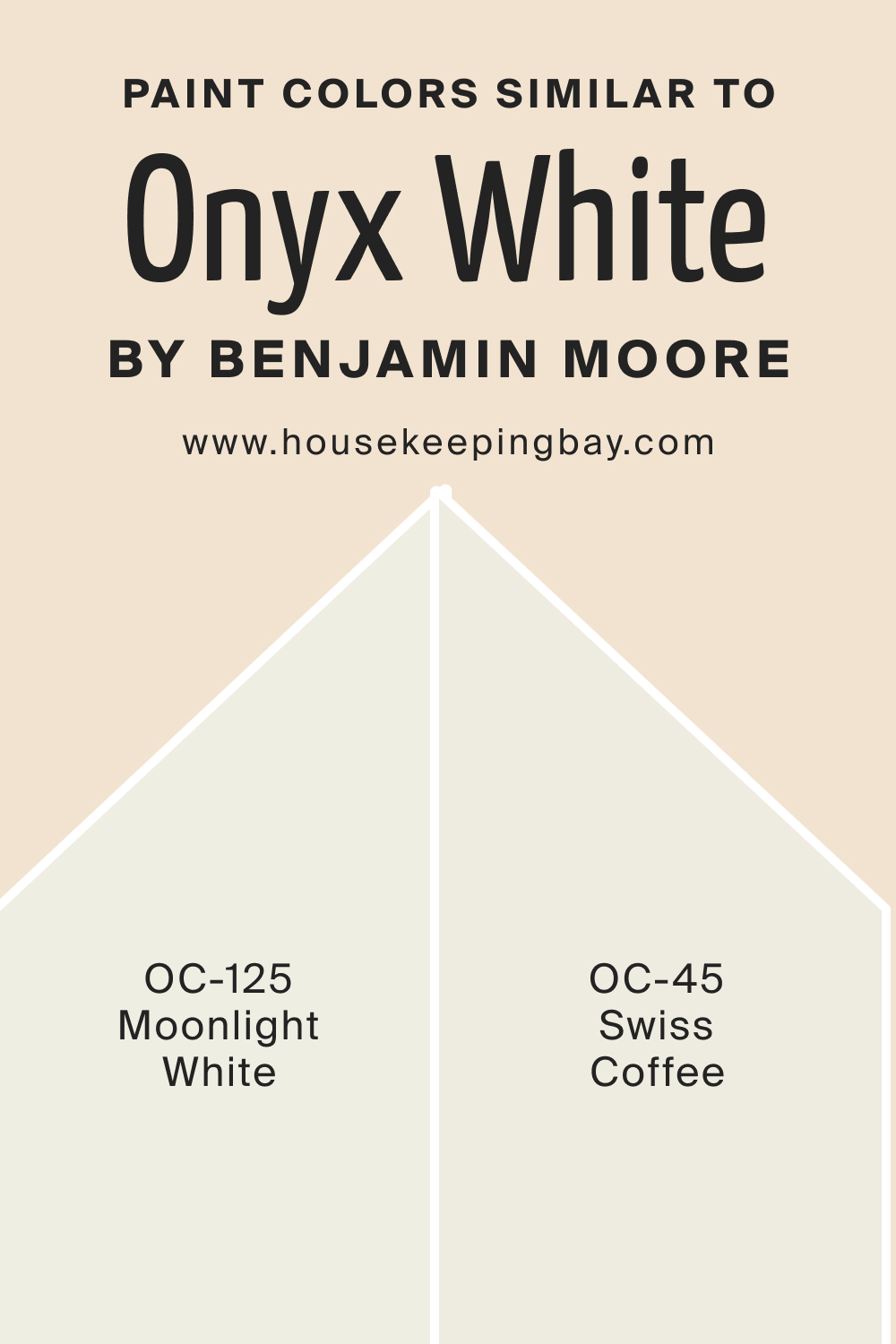 Colors That Go With Onyx White OC-74
Ensuring colors coexist harmoniously is pivotal in design. Speaking of Onyx White OC-74, it will work well with the following colors:
HC-49 Mayflower Red (a deep, passionate red),
HC-47 Brookline Beige (a reliable, neutral beige),
OC-89 Butter Pecan (a creamy, delightful shade).
But also, you might want to consider these alternatives:
Balboa Mist OC-27: A soft, romantic gray.
Wrought Iron 2124-10: A deep, grounding gray.
French Press AF-170: An earthy, rich brown.
In sum, Onyx White OC-74, with its myriad facets, stands as a testament to the power of color in shaping spaces, feelings, and memories.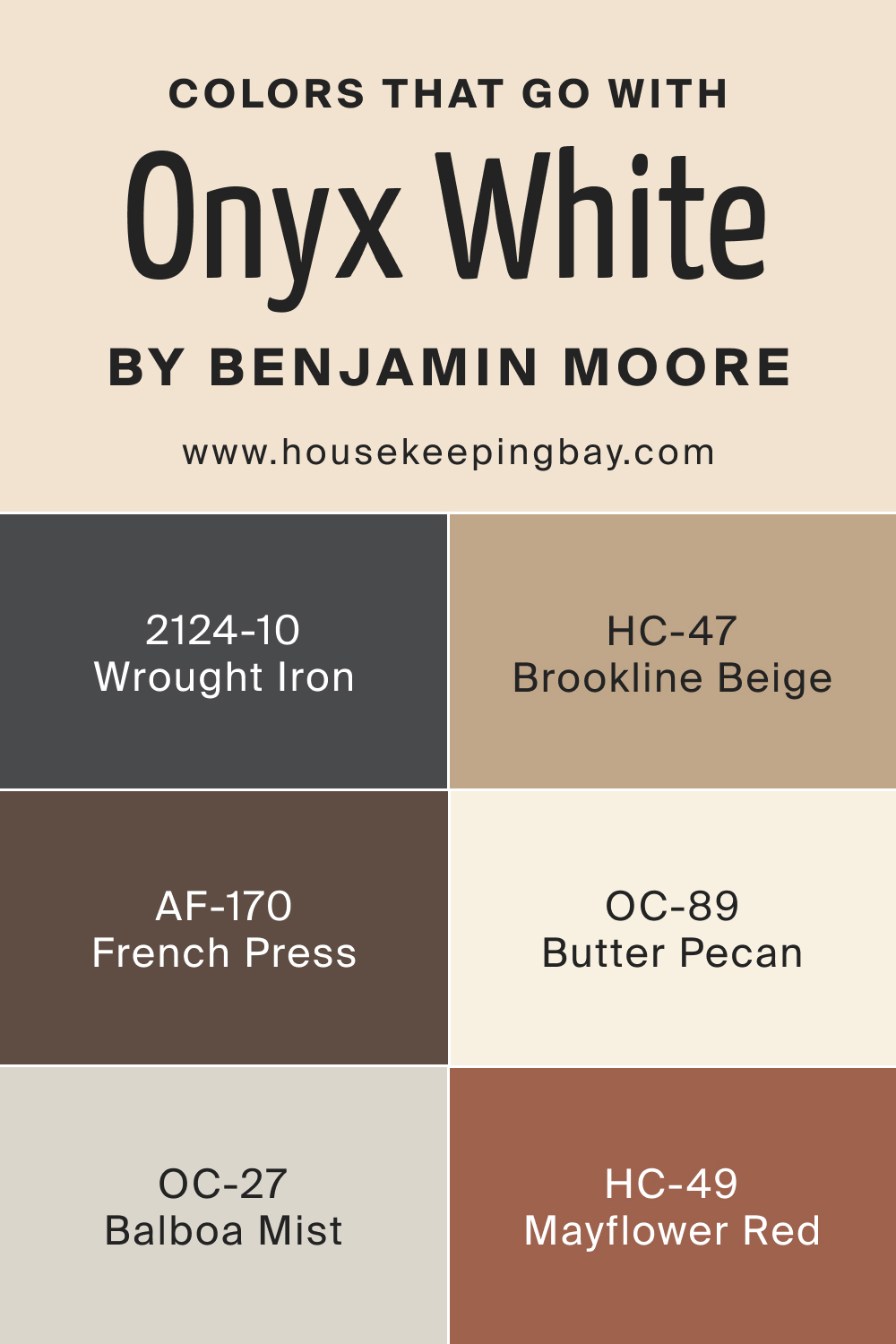 How to Use Onyx White OC-74 In Your Home?
Onyx White OC-74 is a versatile hue, suitable for diverse rooms, from cozy bedrooms to grand living areas. Its neutral warmth makes it a fitting choice for contemporary, minimalist, Scandinavian, and traditional interiors. Whether it's a modern loft or a country cottage, this shade gracefully complements various styles, giving a clean, expansive feel to spaces.
How to Use Onyx White OC-74 in the Bedroom?
The bedroom, a haven of relaxation, deserves a shade that epitomizes calm. Onyx White's subtle undertones infuse serenity, making it ideal for bedroom walls. Pair it with soft textiles and muted accent colors to create a dreamy sanctuary, emphasizing comfort and restful sleep.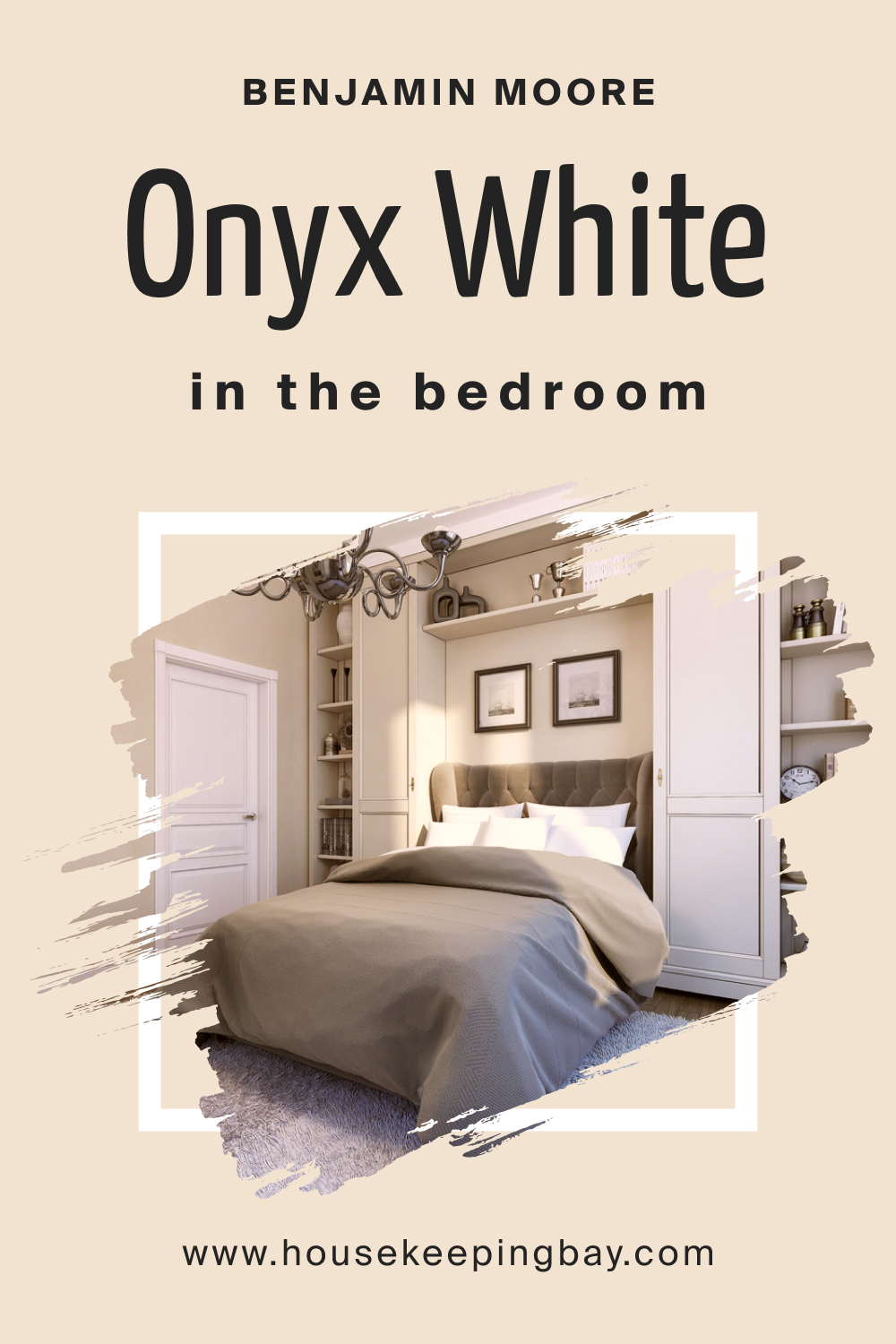 How to Use Onyx White OC-74 in the Bathroom?
In bathrooms, Onyx White can magnify space, providing a spa-like ambiance. Its warm undertones resonate well with marble counters, wooden vanities, and metallic fixtures. Consider using it on walls, accentuated by soft, pastel towels and bath mats, for a cohesive, refreshing look.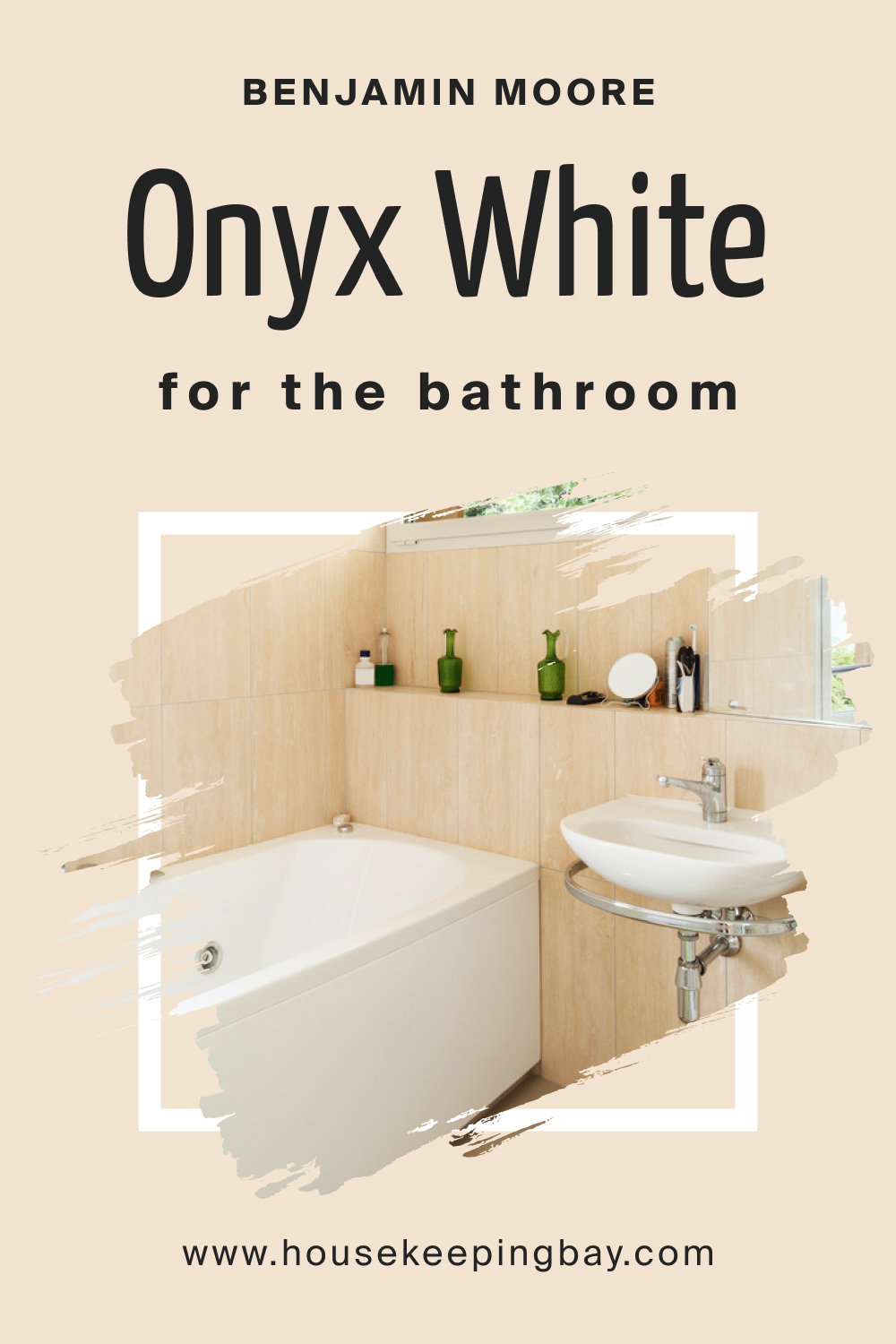 How to Use Onyx White OC-74 in the Living Room?
For living rooms—a place of gatherings and memories—Onyx White provides an impeccable backdrop. It enhances the brightness of the space while allowing furniture and art pieces to take center stage. Complement with rich textures and varied materials for a sophisticated, inviting ambiance.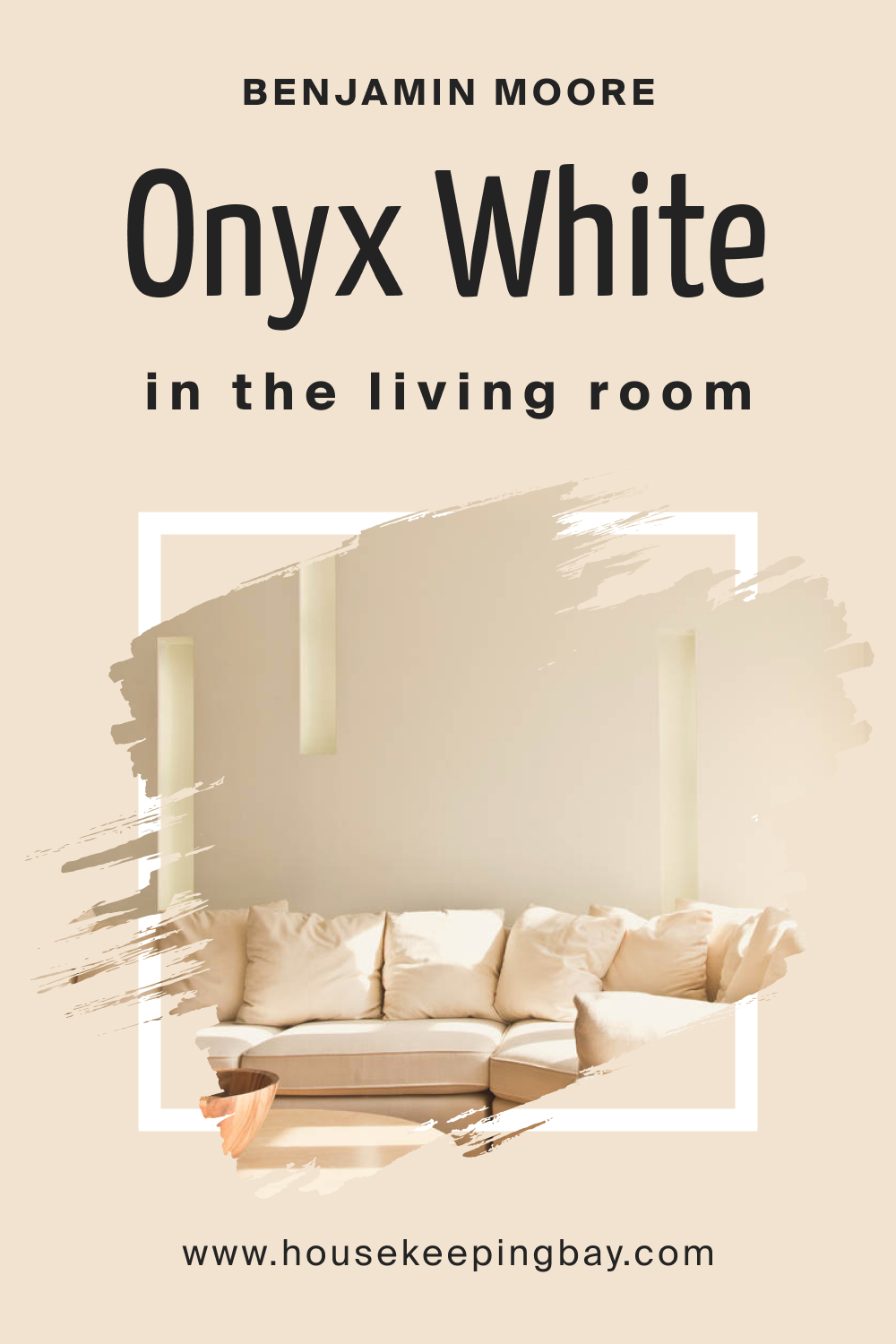 How to Use Onyx White OC-74 for an Exterior
Onyx White's high LRV makes it a great choice for exteriors, reflecting sunlight and preventing overheating. It provides homes with a timeless appeal, be it modern architectural designs or classic facades. Combine with dark trims or natural wood finishes for a balanced, eye-catching exterior.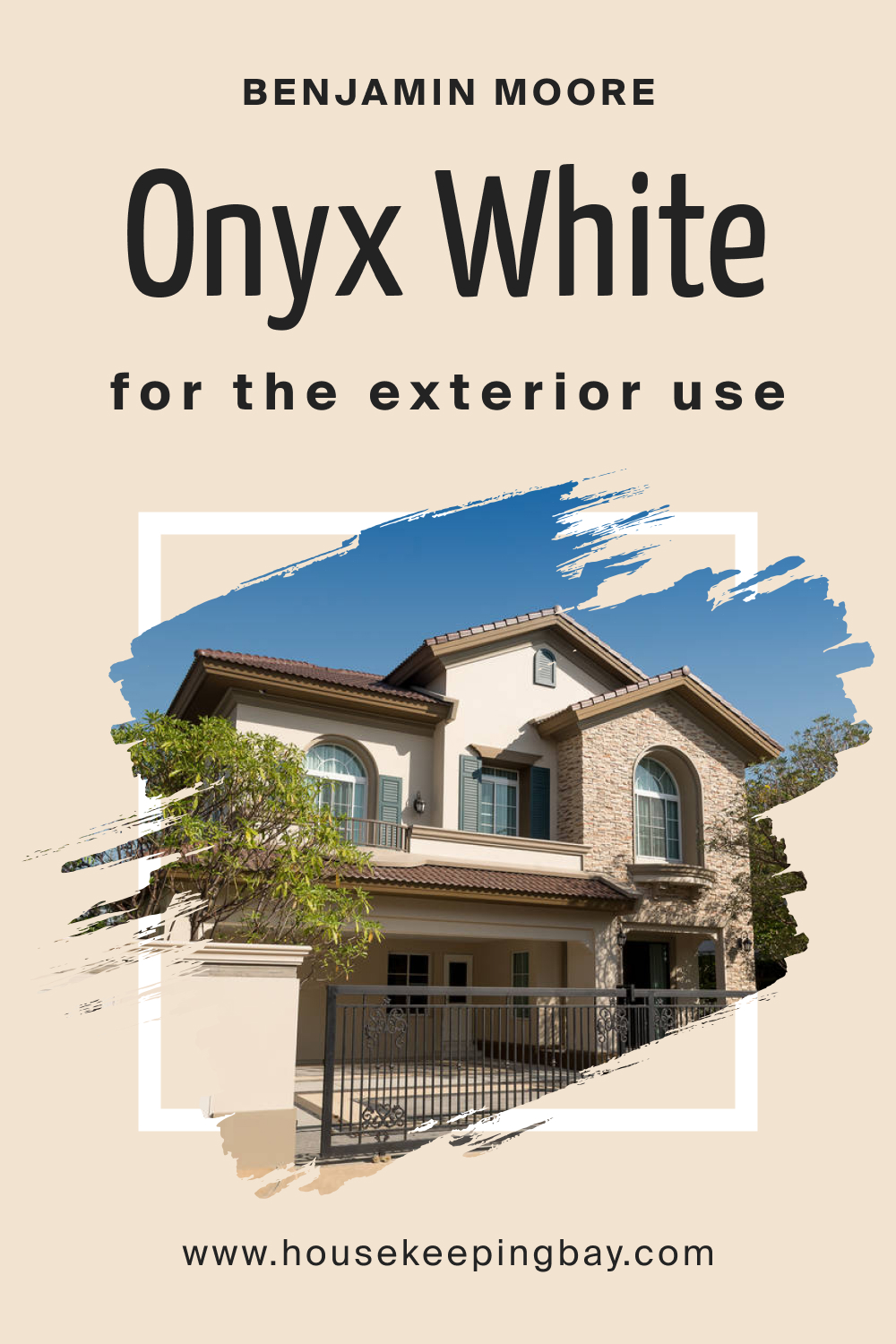 How to Use Onyx White OC-74 in the Kitchen?
Kitchens, the heart of homes, can thrive with Onyx White. Its warm undertones complement wooden countertops, stainless steel appliances, and colorful backsplashes. By painting walls or even the ceiling with this shade, you can achieve an airy, spacious kitchen vibe, perfect for family meals and culinary adventures.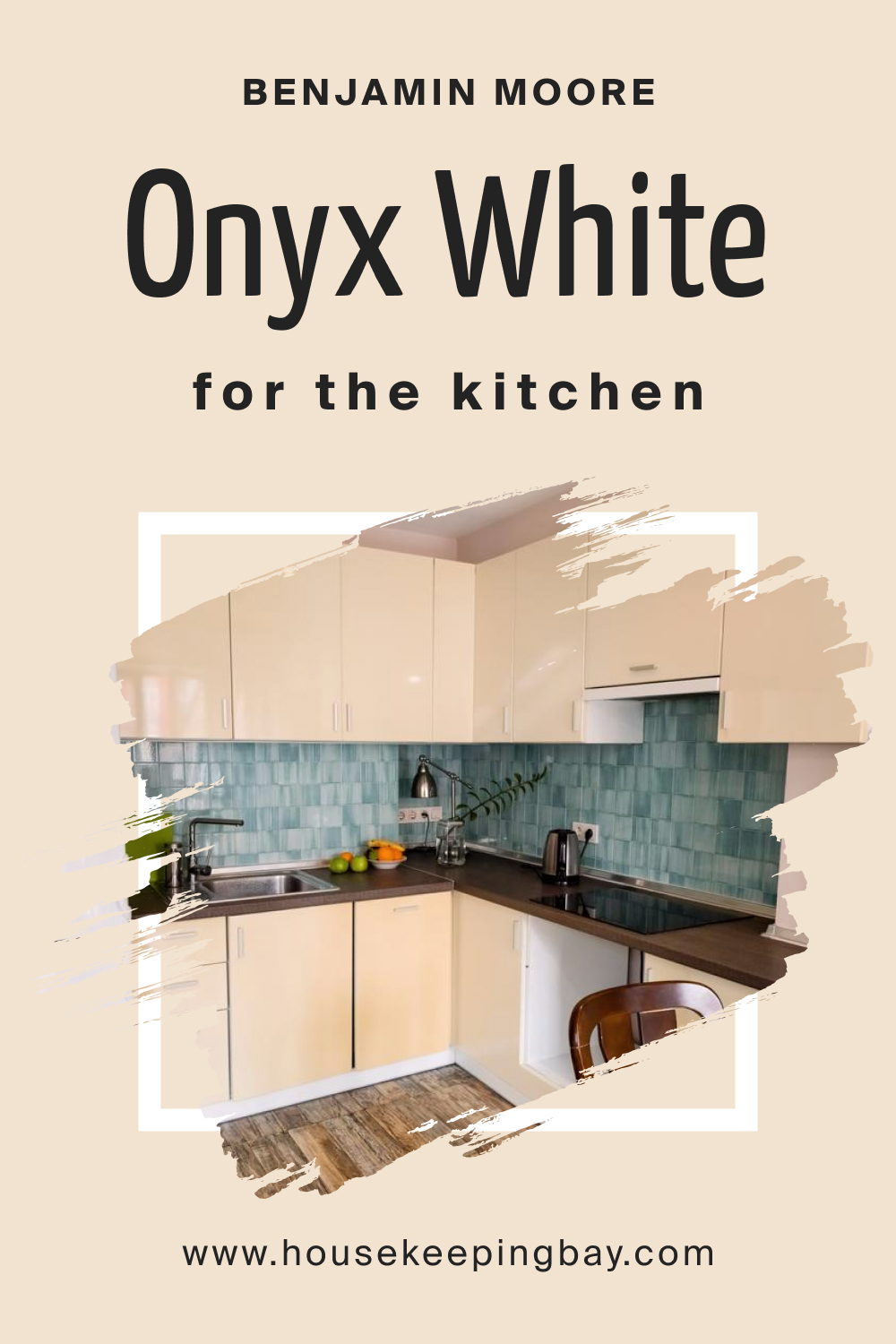 Comparing Onyx White OC-74 With Other Colors
Comparing colors is crucial, especially in the world of design and aesthetics. While color might seem perfect in isolation, juxtaposing it with others reveals its true character, undertones, and adaptability. This comparative approach provides clarity on how a particular hue will interact within a palette, ensuring harmonious design decisions.
Furthermore, when it comes to nuanced shades like whites, subtle differences can dramatically alter the mood of a space. Here, we dive deep into Onyx White OC-74's relations with other noteworthy shades.
Onyx White OC-74 vs. OC-69 White Opulence
OC-69 White Opulence is brighter and more pristine, evoking an aura of pure clarity. In contrast, Onyx White carries a muted warmth. While White Opulence suits modern, minimalist spaces, Onyx White brings in coziness, ideal for traditional or relaxed settings.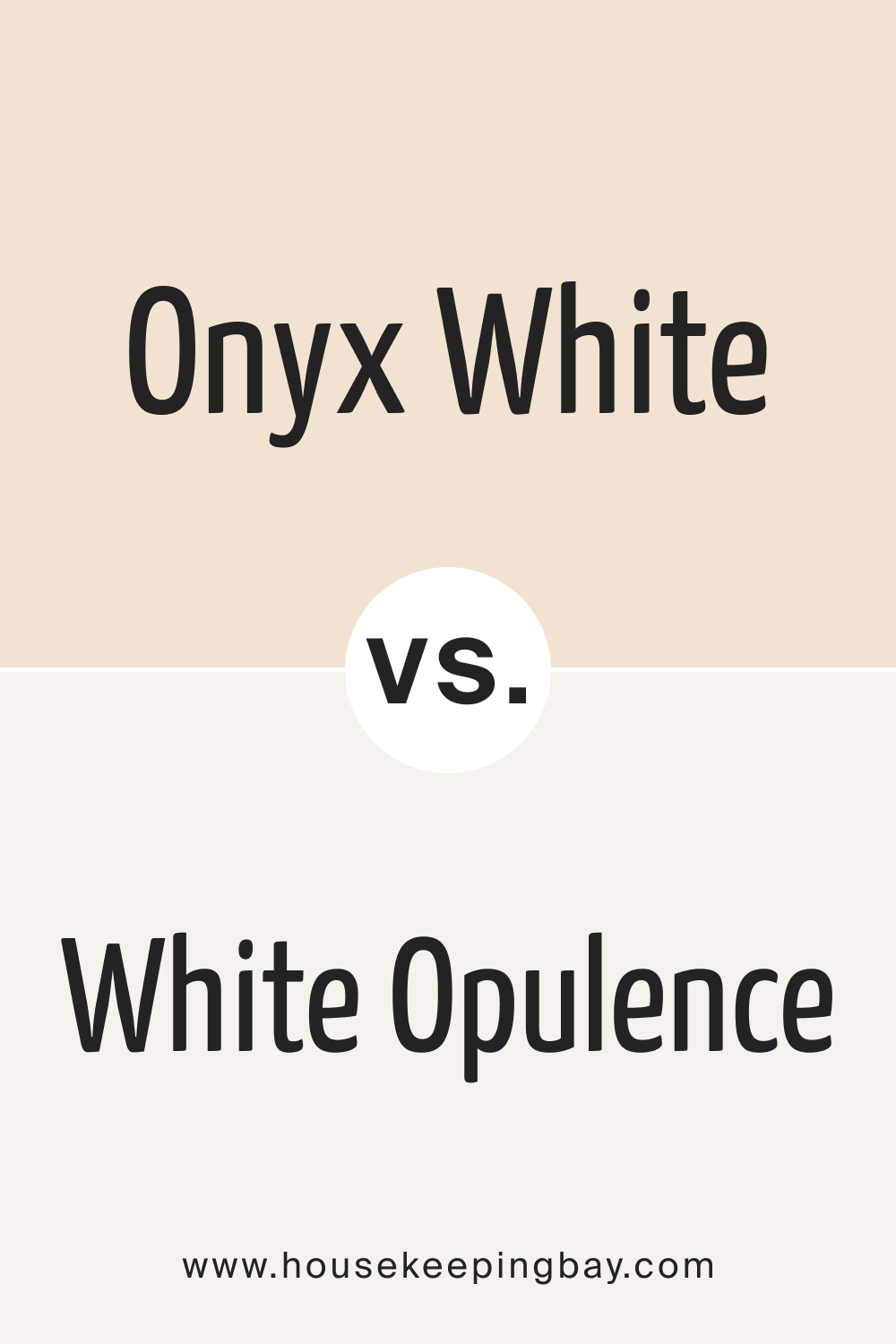 Onyx White OC-74 vs. OC-72 Pink Damask
OC-72 Pink Damask has a delicate blush undertone, imbuing spaces with a romantic touch. Onyx White, though warm, lacks this pinkish hue, offering a neutral canvas. The choice between them boils down to the desired ambiance: soft romance or versatile neutrality.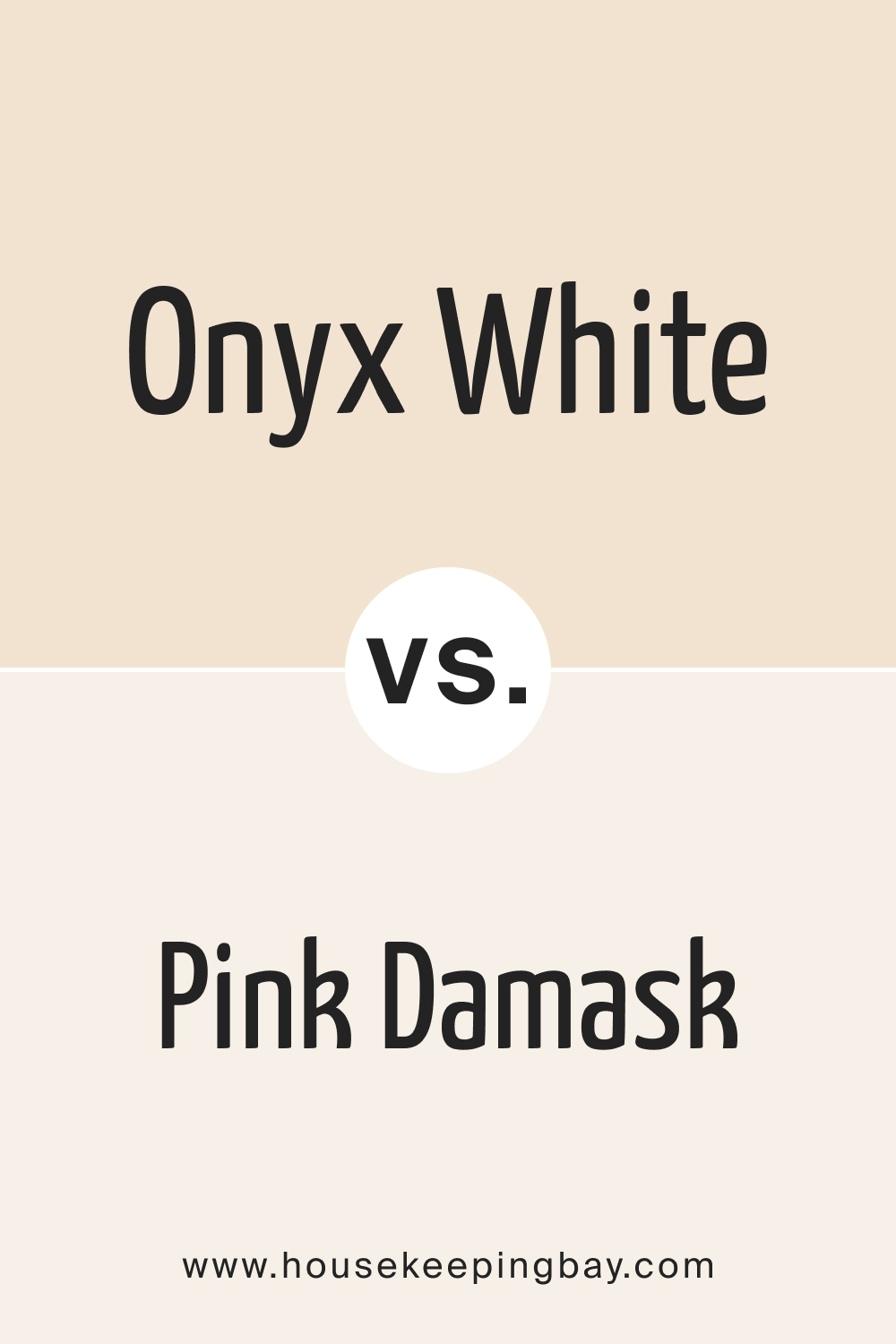 Onyx White OC-74 vs. OC-82 Pompeii
OC-82 Pompeii is more grounded, drawing inspiration from earthy tones. Next to the cleaner Onyx White, it feels richer. For spaces that desire a touch of nature or rustic charm, Pompeii shines, while Onyx White excels in brightness and expansiveness.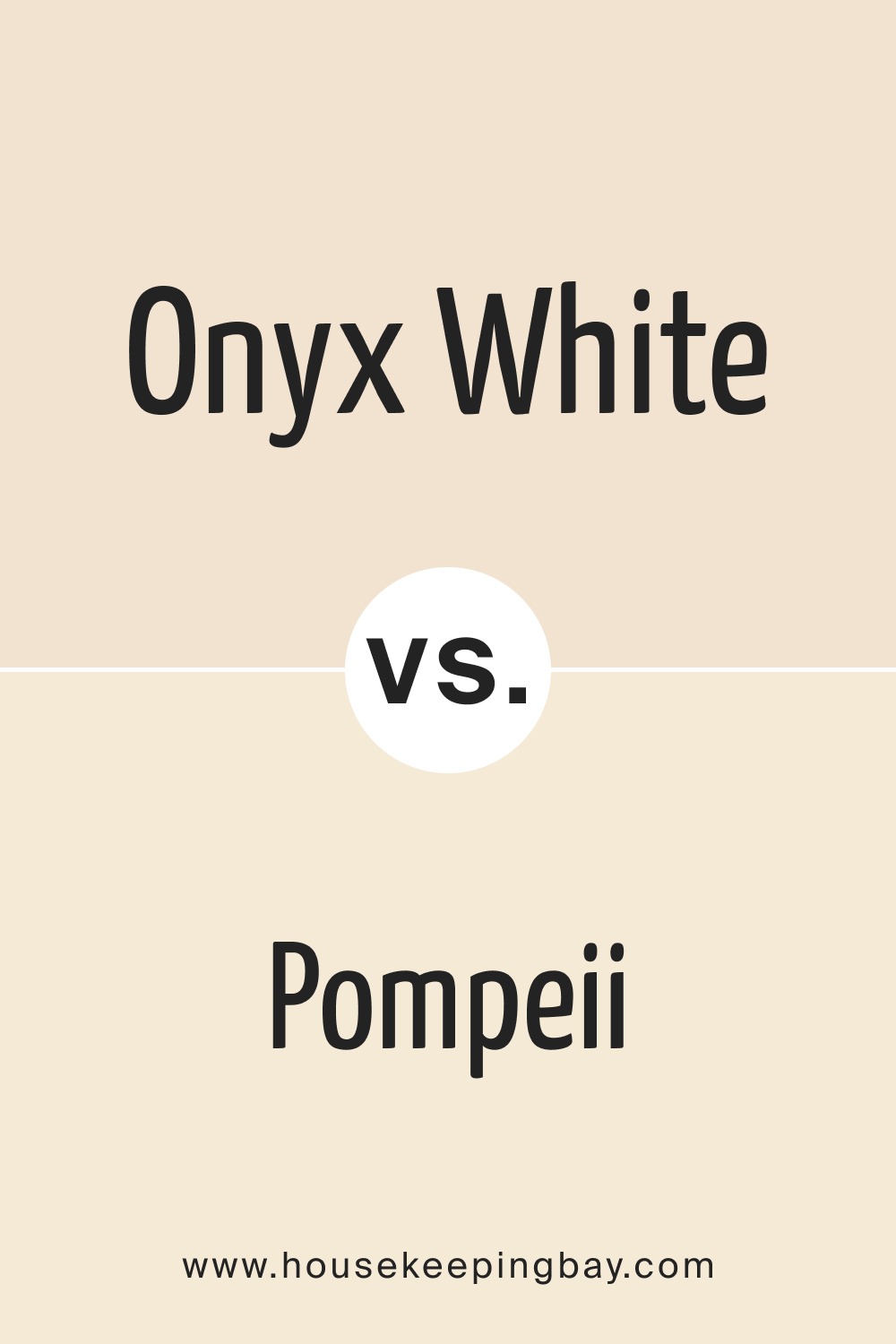 Onyx White OC-74 vs. OC-85 Mayonnaise
OC-85 Mayonnaise presents a creamier disposition, reminiscent of the condiment it's named after. While both shades are warm, Mayonnaise feels denser. It's best for settings seeking depth, whereas Onyx White provides an airy feel.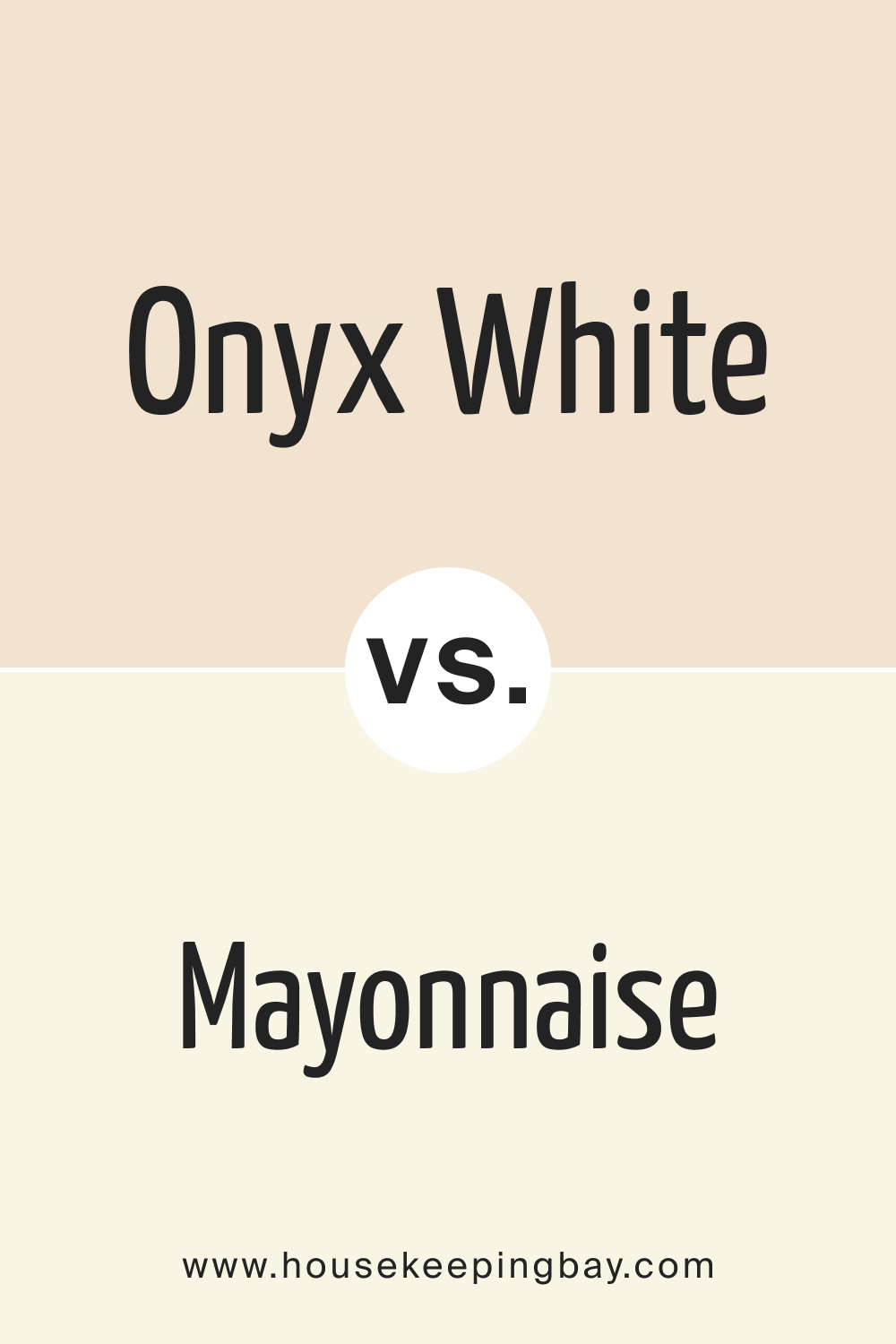 Onyx White OC-74 vs. OC-38 Acadia White
OC-38 Acadia White is closer to Onyx White but is a tad cooler. It's almost like a crisp morning compared to Onyx White's afternoon warmth. For interiors that need a neutral white without warmth, the Acadia White color is an apt choice.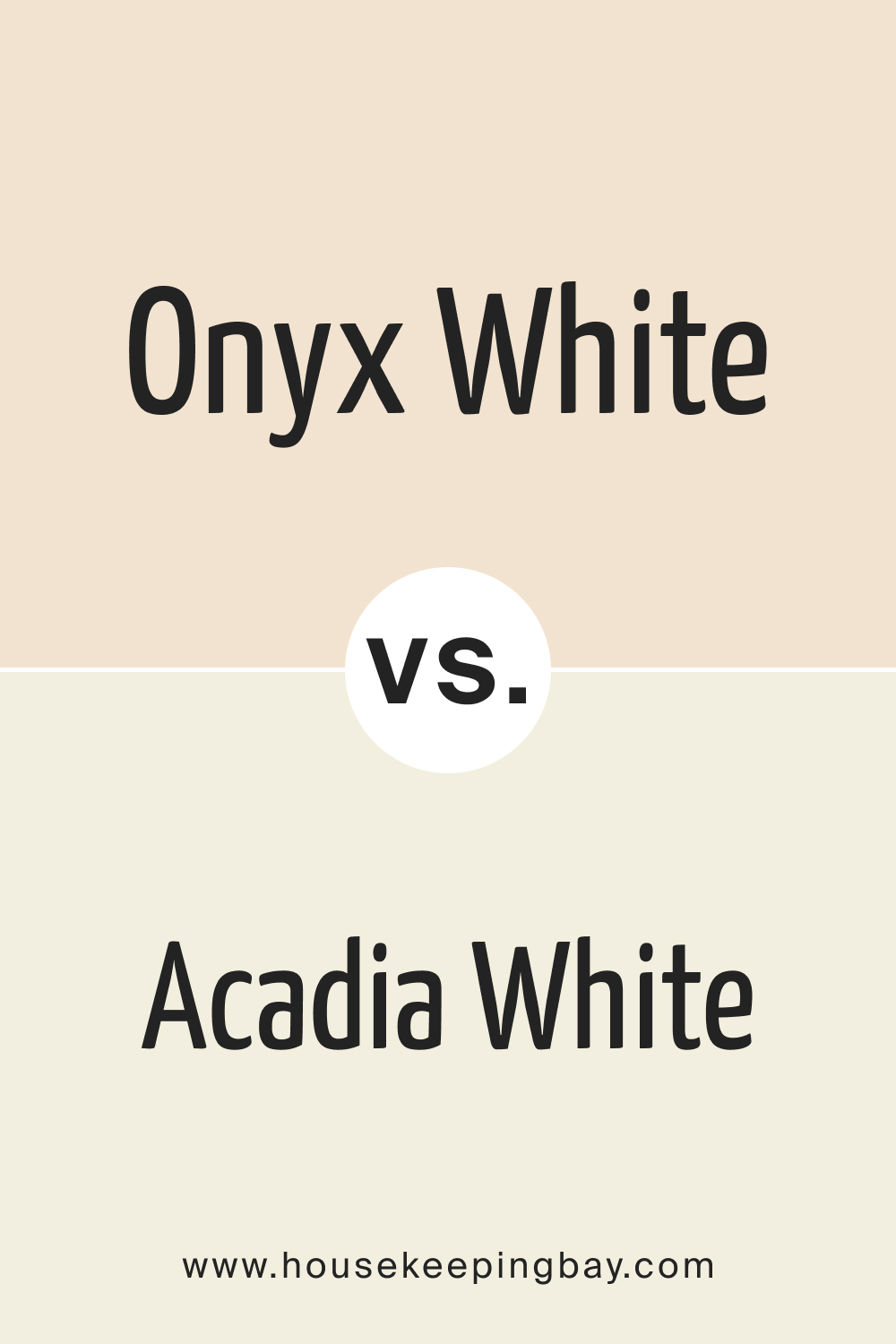 Onyx White OC-74 vs. OC-83 Antique White
OC-83 Antique White offers a touch of age and elegance, as the name suggests. This hue has seen time and tells a story, making it ideal for vintage or classic interiors. Onyx White, in comparison, is contemporary and fresh, fitting a broader range of designs.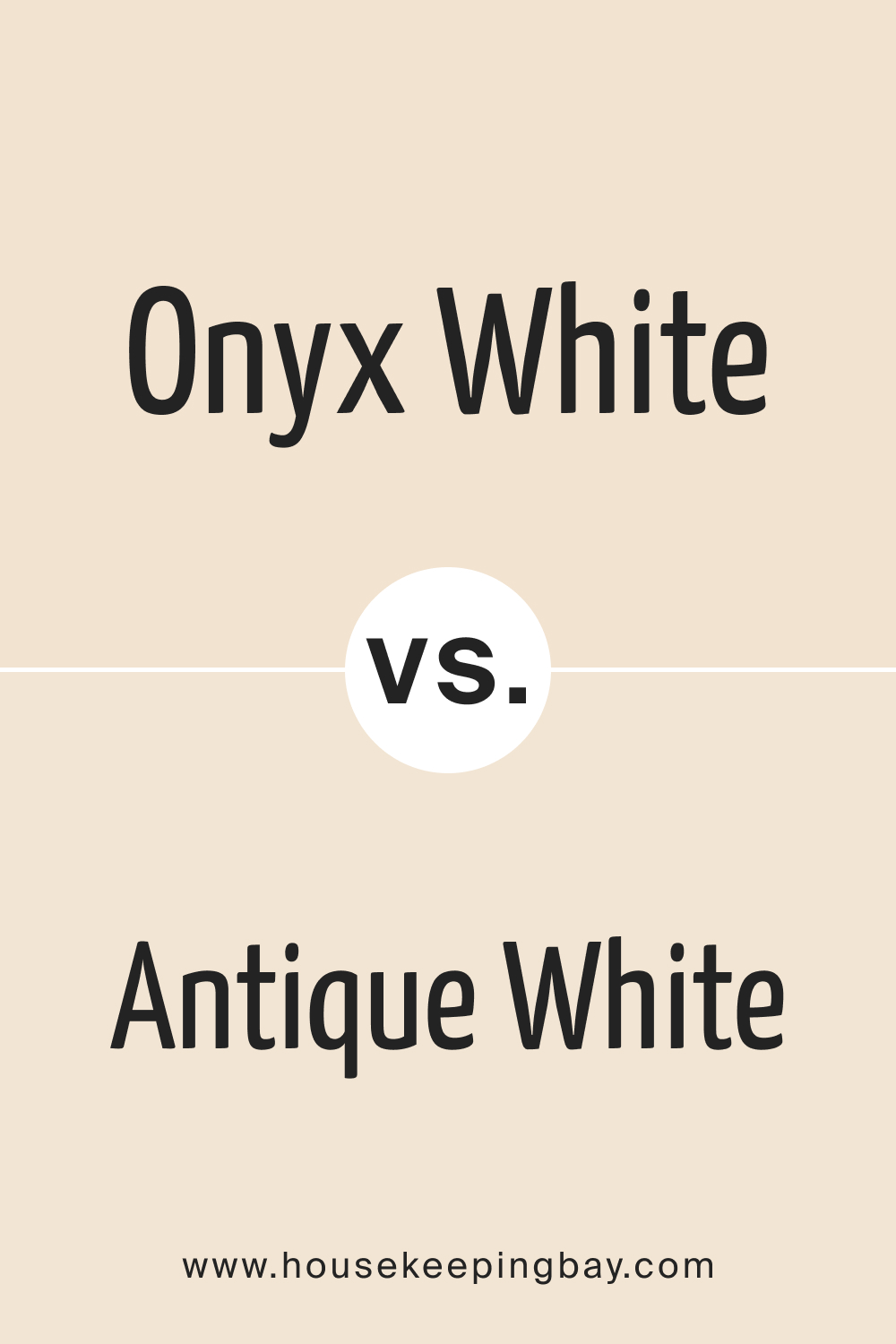 Conclusion
Colors, like words in a sentence, gain meaning in relation to others. By comparing Onyx White OC-74 with various shades, we discern its unique strengths and potential partnerships, enabling informed and inspired design choices.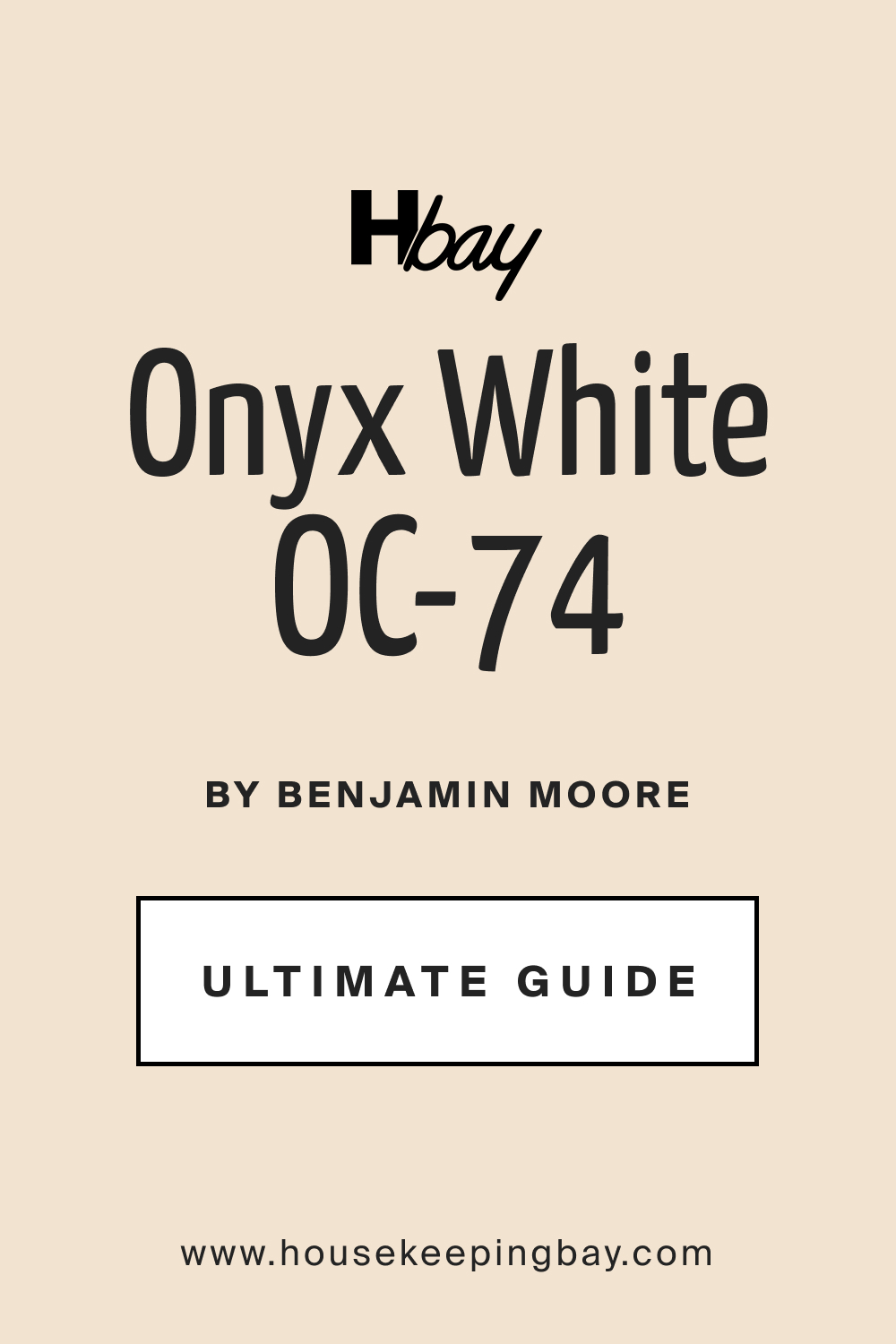 Frequently Asked Questions
⭐What kind of undertones does Onyx White OC-74 have?
Onyx White OC-74 boasts subtle warm undertones, offering a cozy and inviting ambiance to spaces while maintaining neutrality.
⭐Is Onyx White OC-74 suitable for exteriors?
Absolutely! With a high LRV, Onyx White OC-74 reflects sunlight effectively, making it an excellent choice for exteriors, preventing overheating and providing a timeless appeal.
⭐How does Onyx White OC-74 compare to other white shades?
Onyx White OC-74 has its distinct warm undertones, setting it apart from cooler or more neutral whites. It offers a balance between brightness and warmth, perfect for various design aesthetics.
⭐Can I use Onyx White OC-74 for my kitchen cabinets?
Yes, Onyx White OC-74 is an elegant choice for kitchen cabinets. Its warm undertones complement a variety of countertop and backsplash choices, elevating the kitchen's overall look.
⭐How does lighting affect the appearance of Onyx White OC-74?
Lighting can influence the perception of Onyx White, emphasizing its warm undertones. In natural light, it appears bright and airy, while artificial light can highlight its warmth. The paint's appearance may also vary based on the room's orientation (north, south, east, or west-facing).