The color of our walls is more than just a hue; it's a reflection of our style, mood, and inspirations. Among the myriad shades available, Pink Damask OC-72 has emerged as a top contender for those who value sophistication coupled with warmth.
Let's delve into the world of this evocative color.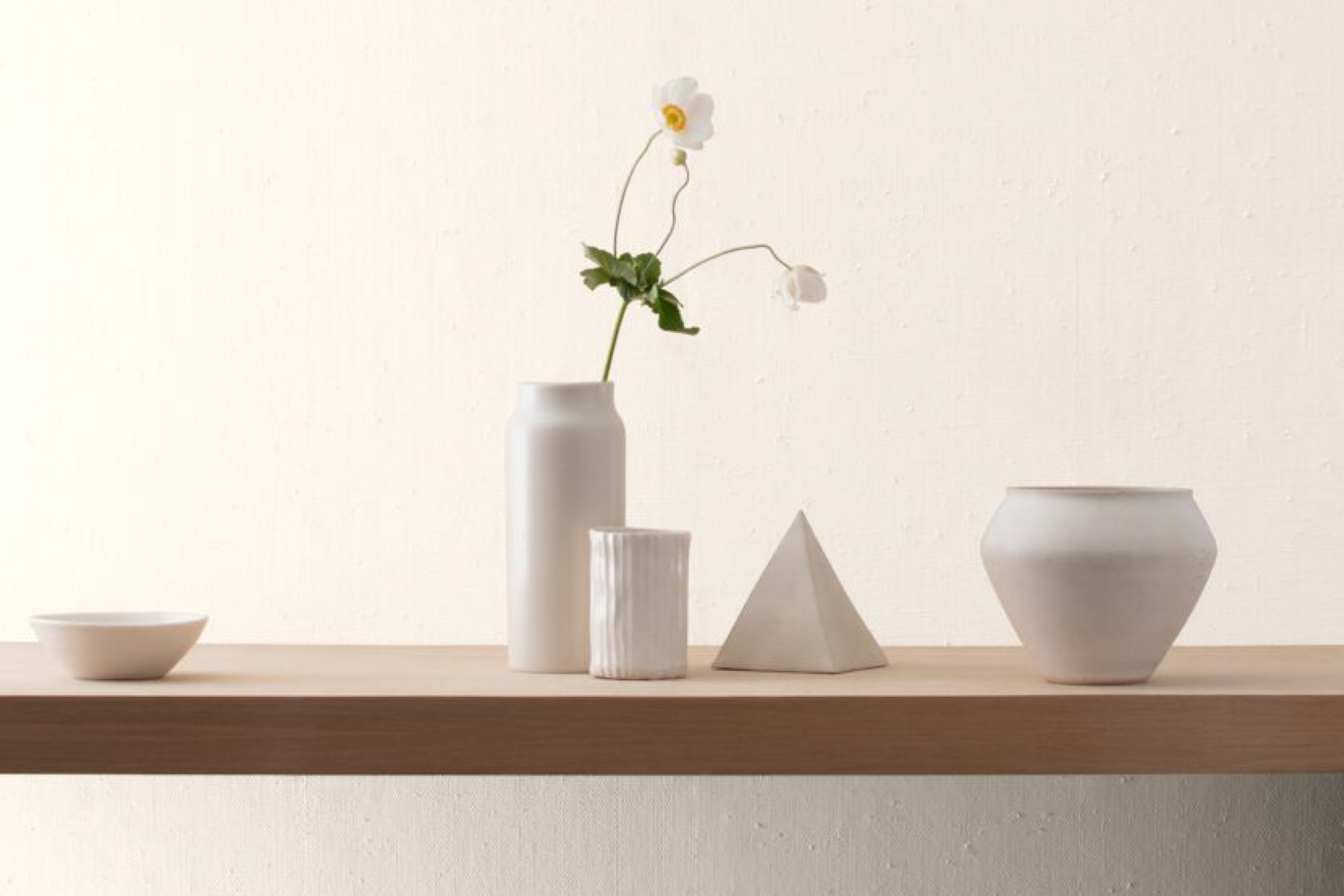 What Color Is Pink Damask OC-72?
With the gentle embrace of dawn or the soft blush of cherry blossoms, Pink Damask OC-72 evokes a sense of serenity. This hue is a delicate balance between pink and beige, offering the brightness of the former and the grounded warmth of the latter. Perfectly aligning with modern, Scandinavian, and shabby chic interiors, it enhances spaces with an air of refined elegance.
Its muted quality pairs seamlessly with natural materials like linen, untreated wood, and even textured wallpapers, invoking a sense of tranquility.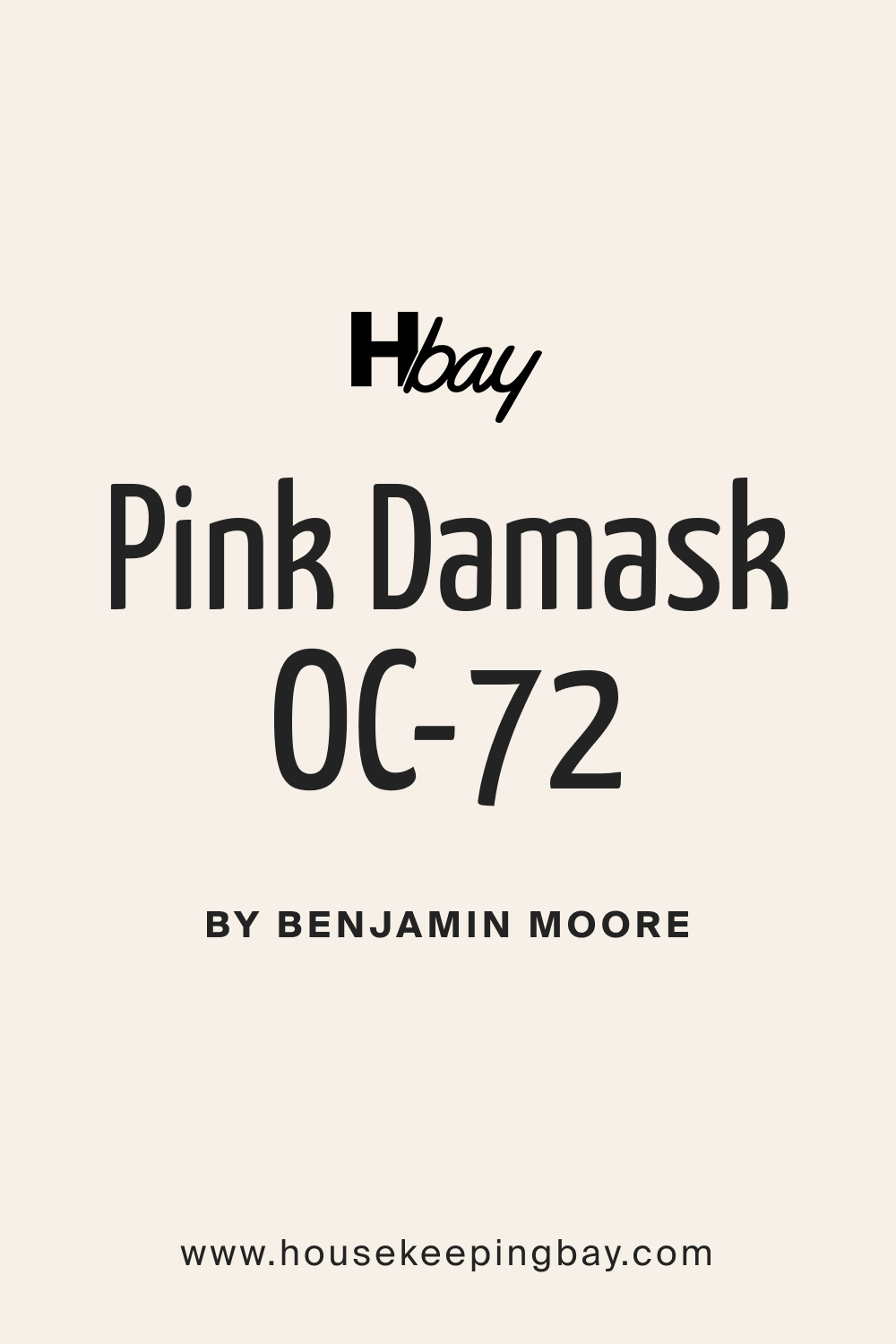 Is It a Warm Or Cool Color?
Pink Damask OC-72 is undeniably warm. Its soft pinkish-beige undertone radiates a cozy and inviting aura. In homes, this warmth often translates to rooms that evoke feelings of comfort and calm, making spaces appear more intimate and welcoming.
The warmth of Pink Damask OC-72 can infuse even the most starkly designed rooms with a touch of homeliness.
Undertones of Pink Damask OC-72
Like all colors, Pink Damask has undertones that greatly influence its overall appearance. It boasts a beige undertone, which lends it its characteristic warmth. This subtle hint of beige ensures that while the color is primarily pink, it never feels overwhelmingly so.
Undertones dictate the mood of the room and influence how the color integrates with other elements of the décor, making them integral in interior design choices.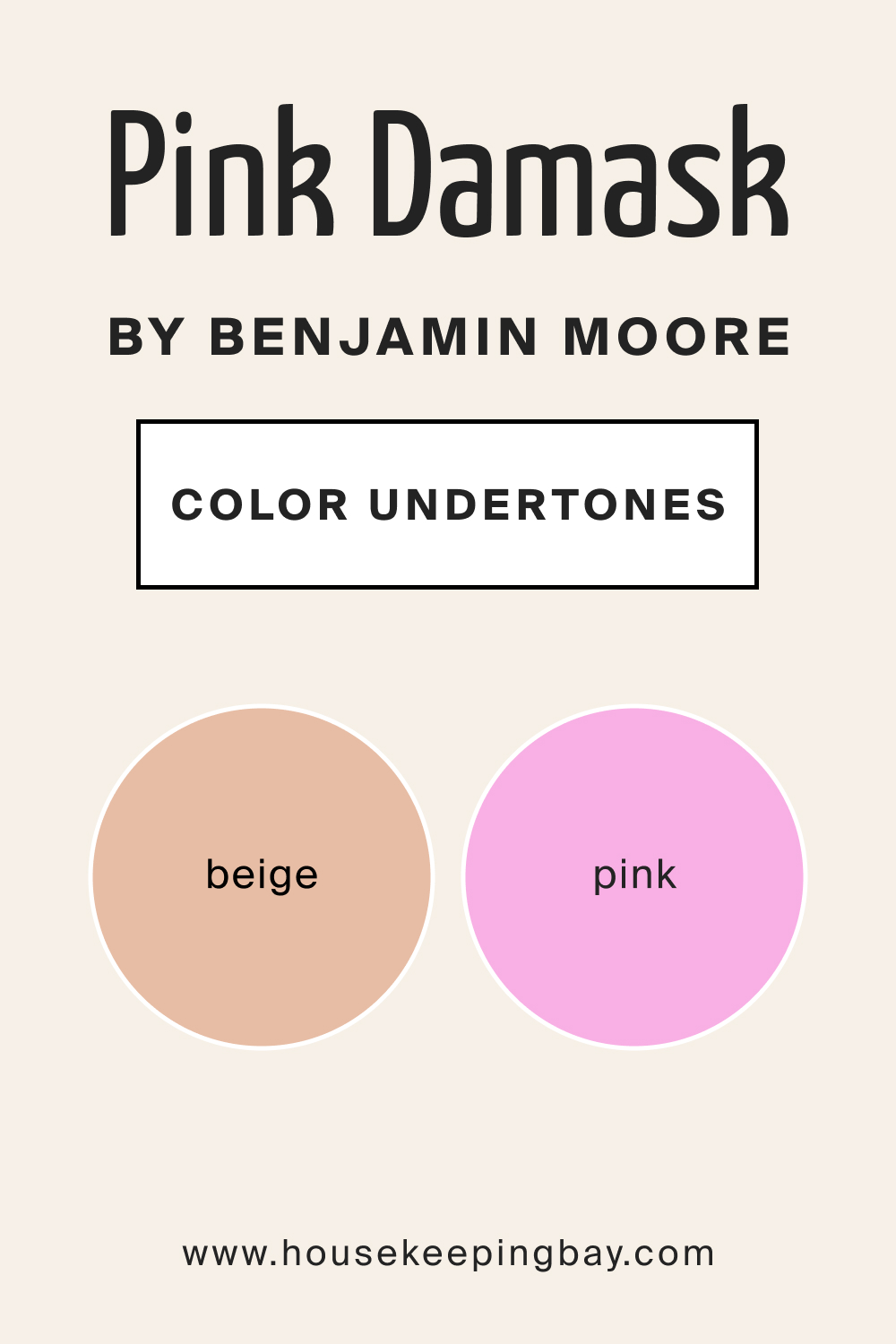 Coordinating Colors of Pink Damask OC-72
In the world of design, coordinating colors elevate a primary shade, ensuring aesthetic cohesion. To coordinate OC-72 Pink Damask by Benjamin Moore, consider these colors:
HC-63 Monticello Rose: An enchanting deep rose that exudes vintage charm.
OC-117 Simply White: Bright and pure, it offers the perfect contrasting backdrop.
HC-84 Elmira White: A refined beige with whispers of gray, adding sophistication.
Additional complements:
OC-23 Classic Gray: A soft, muted gray, understated, and elegant.
OC-26 Silver Satin: A gentle silvery hue, lustrous and modern.
OC-11 Clay Beige: A warm beige, earthy and inviting.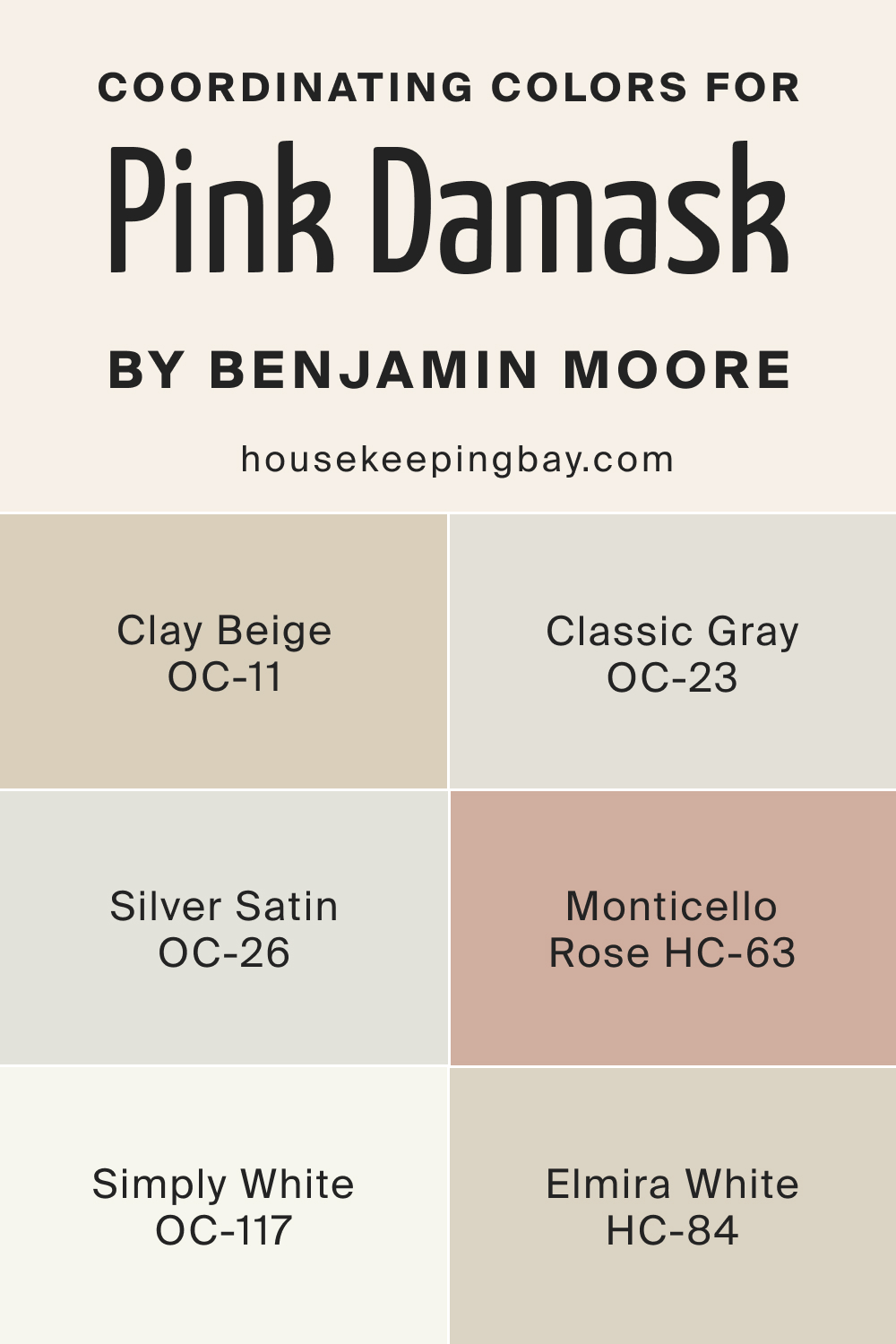 How Does Lighting Affect Pink Damask OC-72?
Lighting profoundly shapes our perception of colors. Under artificial lighting, Pink Damask often appears more neutral, with its beige undertones shining through. Conversely, natural light can accentuate its delicate pink essence.
The direction a room faces also plays a part: north-facing rooms, with their cooler light, might pull out the color's more muted aspects. South-facing rooms, basking in warm light, will emphasize its rosiness.
The soft morning glow in east-facing rooms can make Pink Damask look fresh and invigorating, whereas the evening light in west-facing rooms can deepen its warmth, making it appear richer.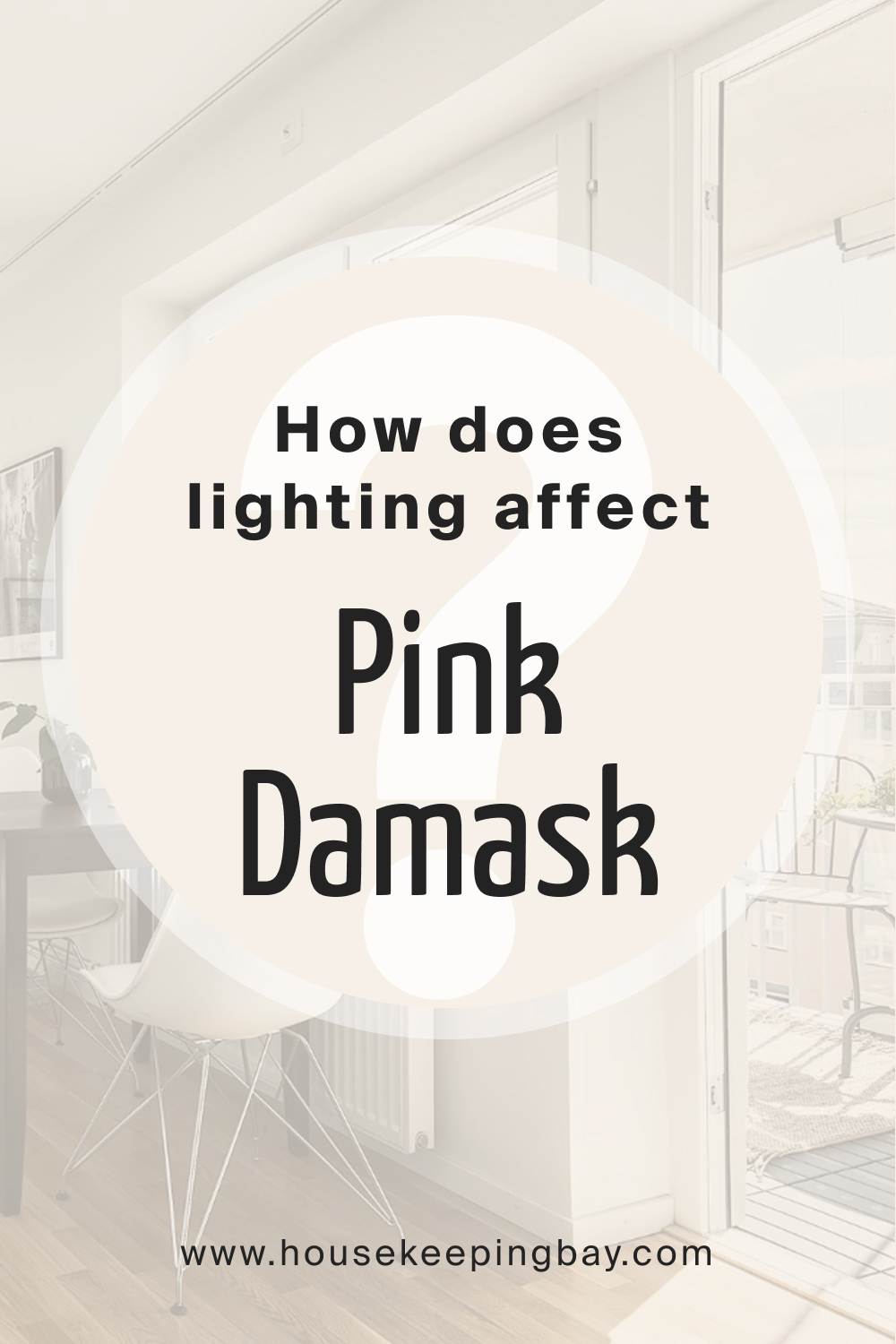 LRV of Pink Damask OC-72
The Light Reflectance Value (LRV) denotes how much light a color reflects. With an LRV of 85, Pink Damask is a star performer, reflecting a significant amount of light. High LRV colors can amplify the brightness of a room, making spaces feel more open and expansive.
For Pink Damask, this implies that while it adds warmth, it won't make rooms feel smaller but rather will add to their spaciousness.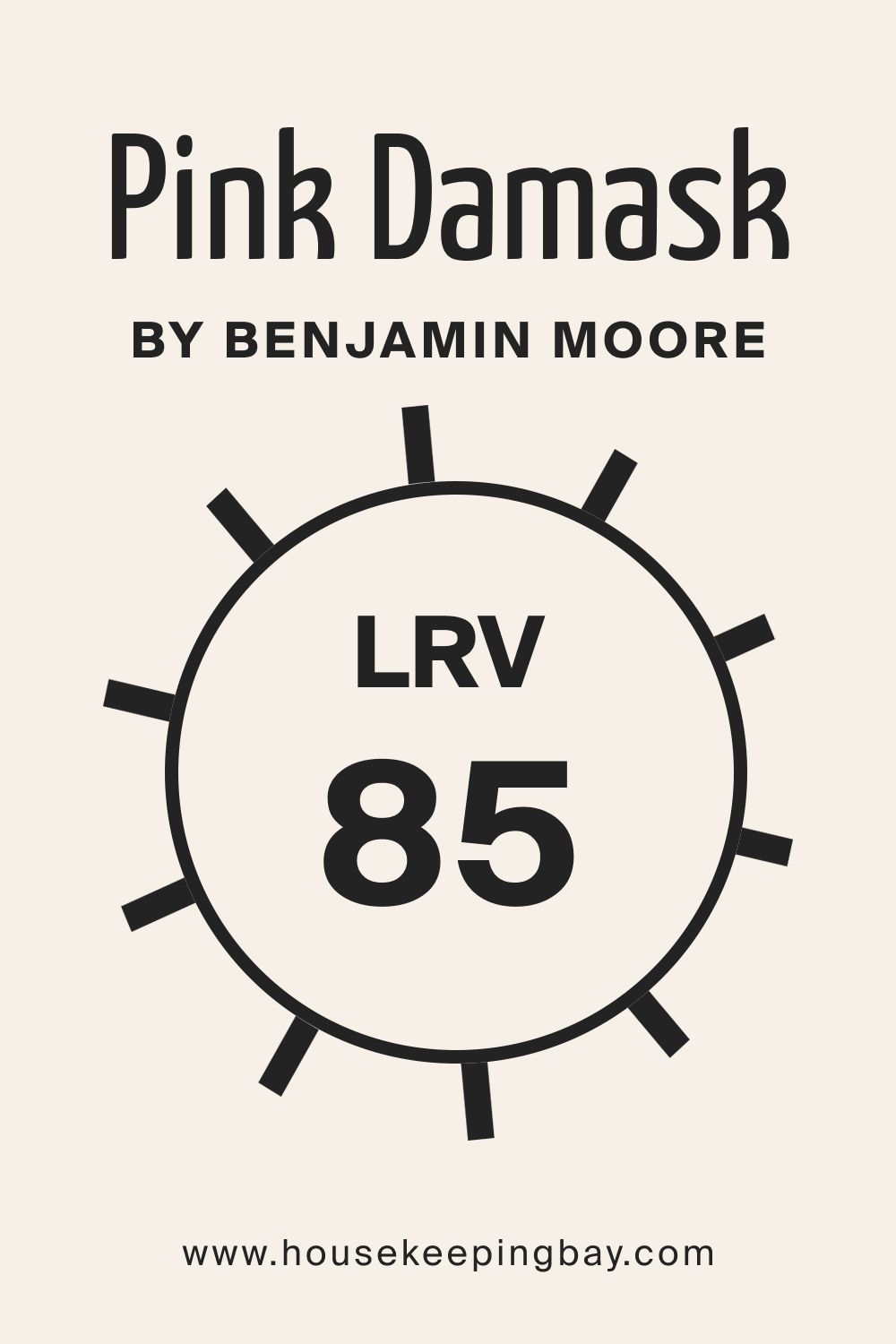 What is LRV? Read It Before You Choose Your Ideal Paint Color
Trim Colors of Pink Damask OC-72
Trim colors are like the frame for a painting. They complement and accentuate the main wall color. For Pink Damask, soft shades of white, particularly "Chantilly Lace," "White Dove," and "Super White," can make its warmth pop while maintaining an airy feel in the room.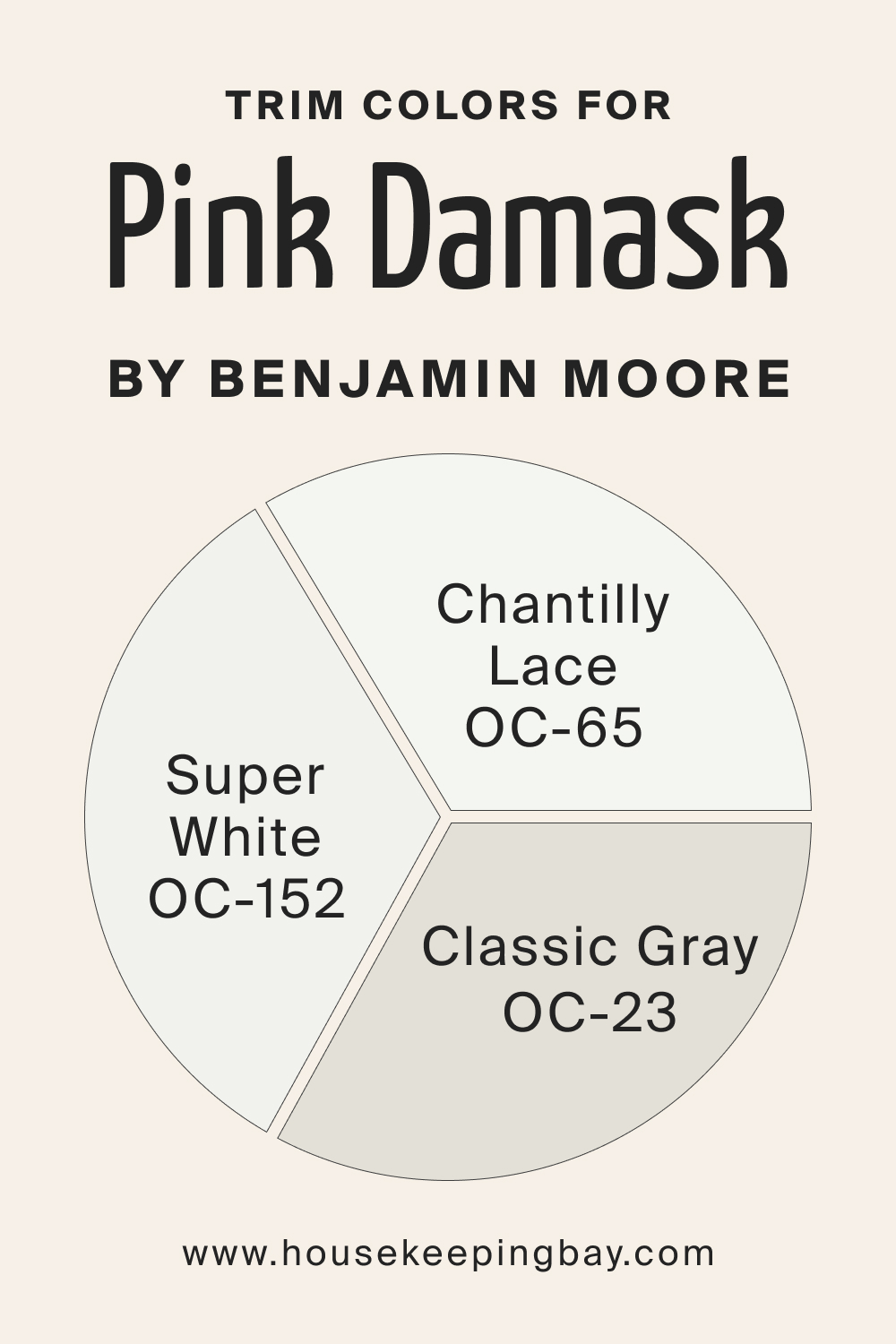 Colors Similar to Pink Damask OC-72
Understanding similar shades can help in fine-tuning preferences. For OC-72 Pink Damask, use one of the following alternatives:
AF-10 Gardenia: A lush off-white with a creamy consistency.
SW 9505 Frost Bite: A cool, subdued pink that's effortlessly chic.
Behr Devonshire PWN-35: A soft beige kissed by pink.
PPG0998-1 Cotton Tail: A pristine white with a hint of warmth.
Each of these colors, while echoing Pink Damask's essence, has its unique flavor, offering varied design options.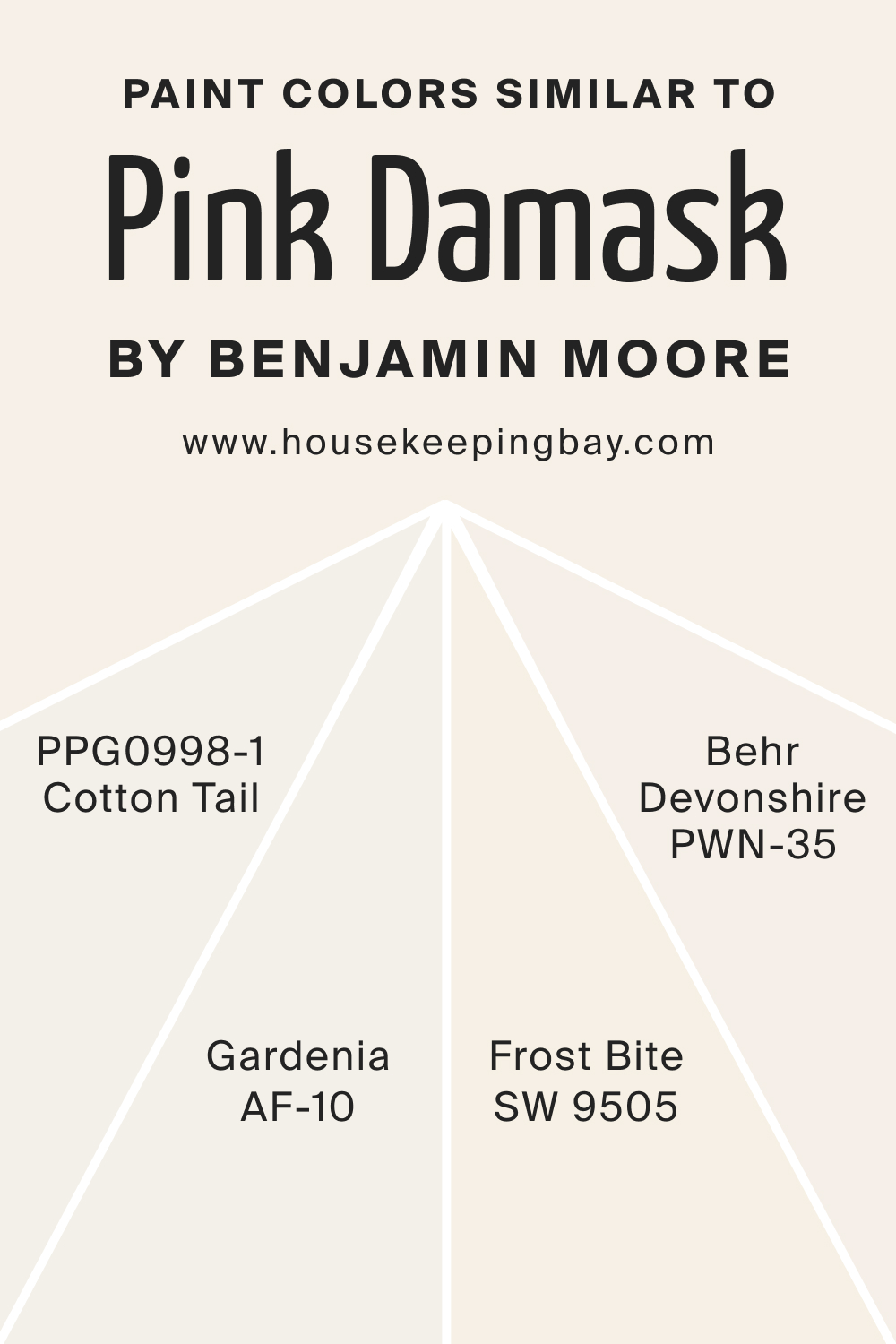 Colors That Go With Pink Damask OC-72
Harmonious color combinations are central to aesthetic appeal. Colors that beautifully complement Pink Damask OC-72 are:
BM Antique Jade 463: A muted, earthy green.
BM Blue Danube 2062-30: An alluring deep blue, rich and immersive.
BM Patriotic White 2135-70: A timeless off-white, versatile in its appeal.
OC-46 Halo: A classic, subdued gray that's evergreen.
The merging of these colors with Pink Damask OC-72 can lead to interiors that are both vibrant and harmonious.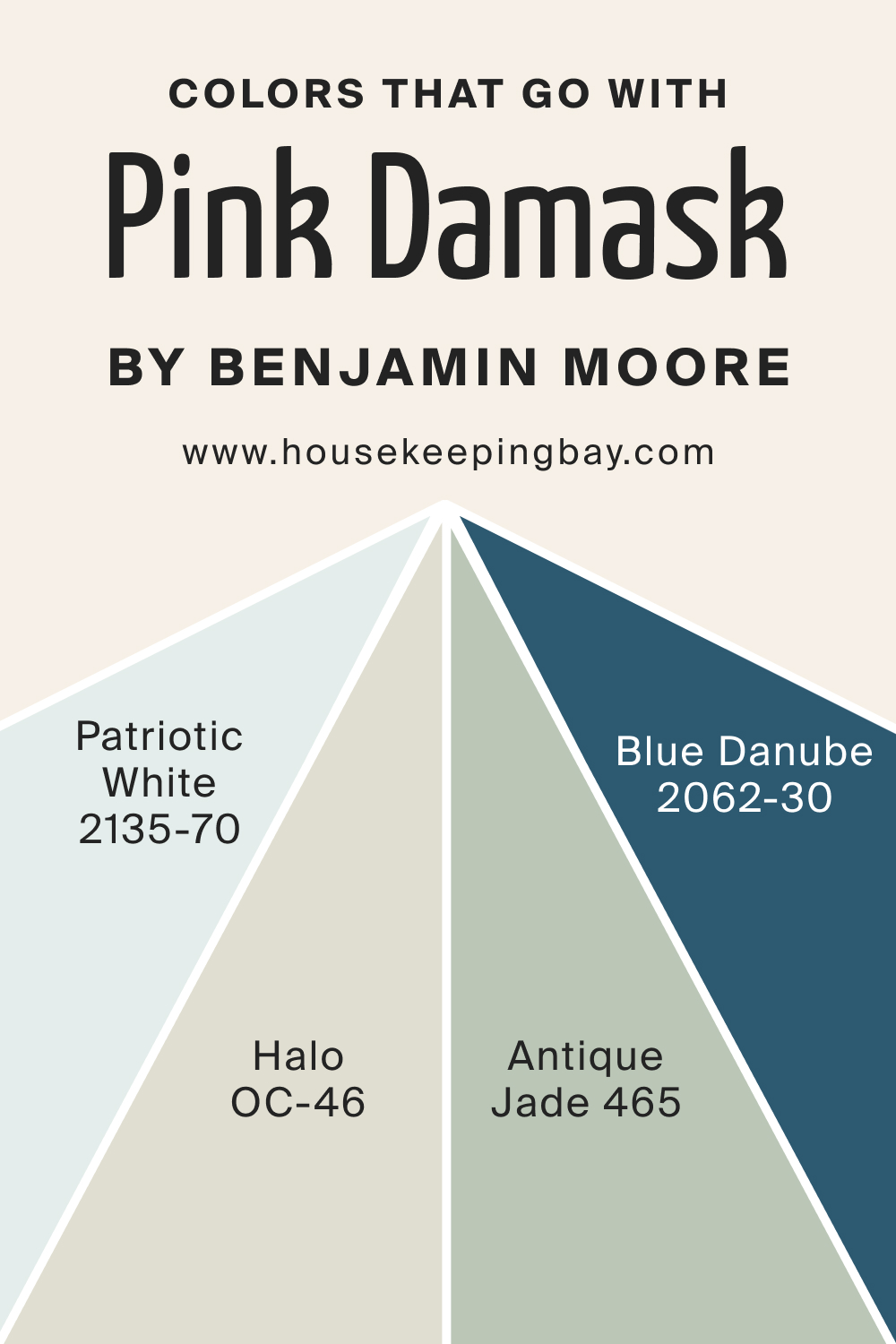 How to Use Pink Damask OC-72 In Your Home?
Pink Damask OC-72 is a versatile shade that can uplift various rooms in your home. This muted pink-beige hue works splendidly in bedrooms, living rooms, bathrooms, and even kitchens. It fits seamlessly into modern, Scandinavian, traditional, and shabby chic interiors, offering a blend of warmth and elegance.
How to Use Pink Damask OC-72 in the Bedroom?
The bedroom is a personal sanctuary, and Pink Damask infuses it with warmth and serenity. Paired with soft, plush fabrics and light wooden furniture, it provides a calming backdrop. Accents in gold or brass can accentuate its elegance, making the space feel inviting and restful.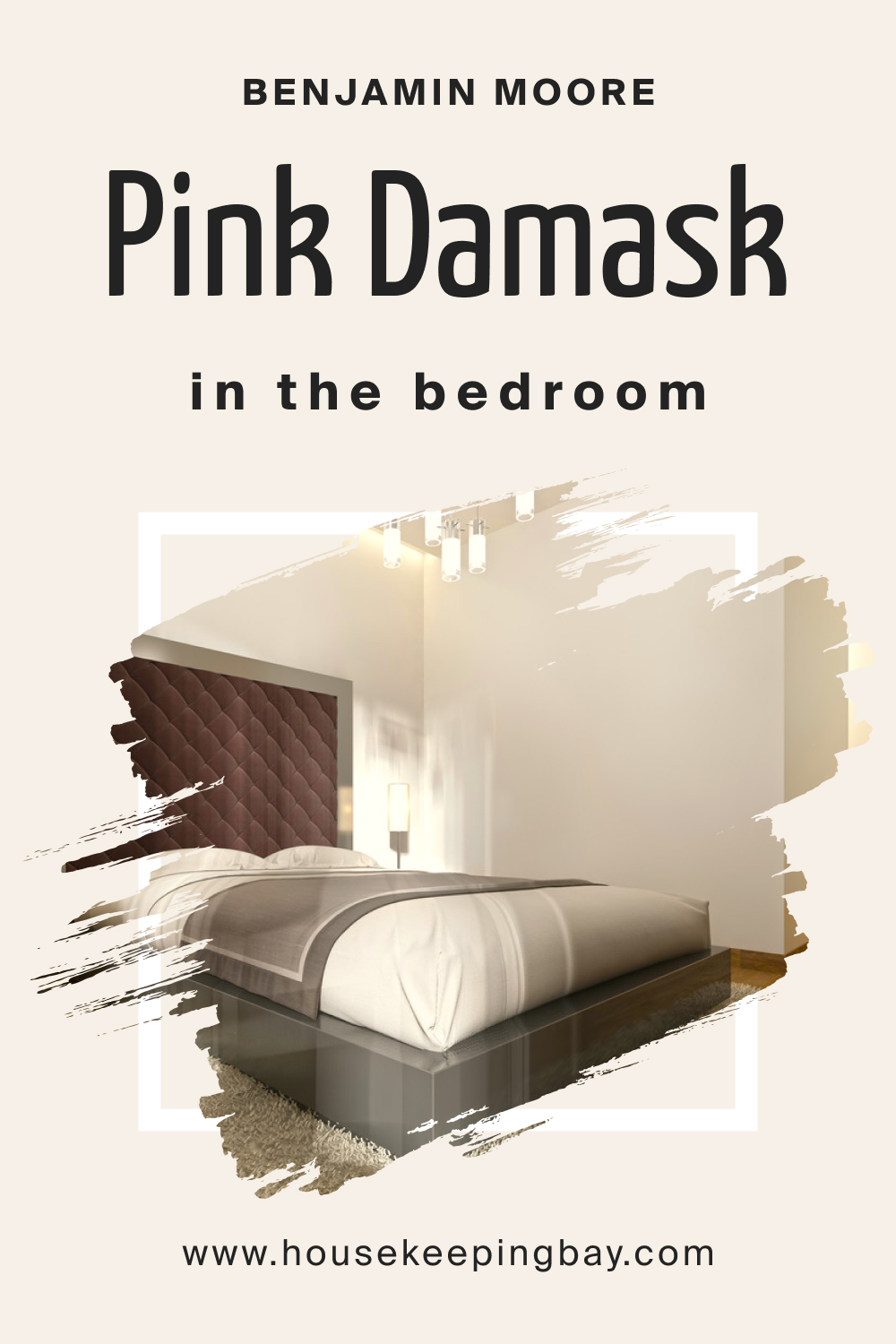 How to Use Pink Damask OC-72 in the Bathroom?
Pink Damask transforms bathrooms into spa-like havens. With white fixtures, it conveys a clean, fresh ambiance. Paired with marble or warm-toned tiles, it creates a luxurious space, while plants and woven baskets enhance its natural charm.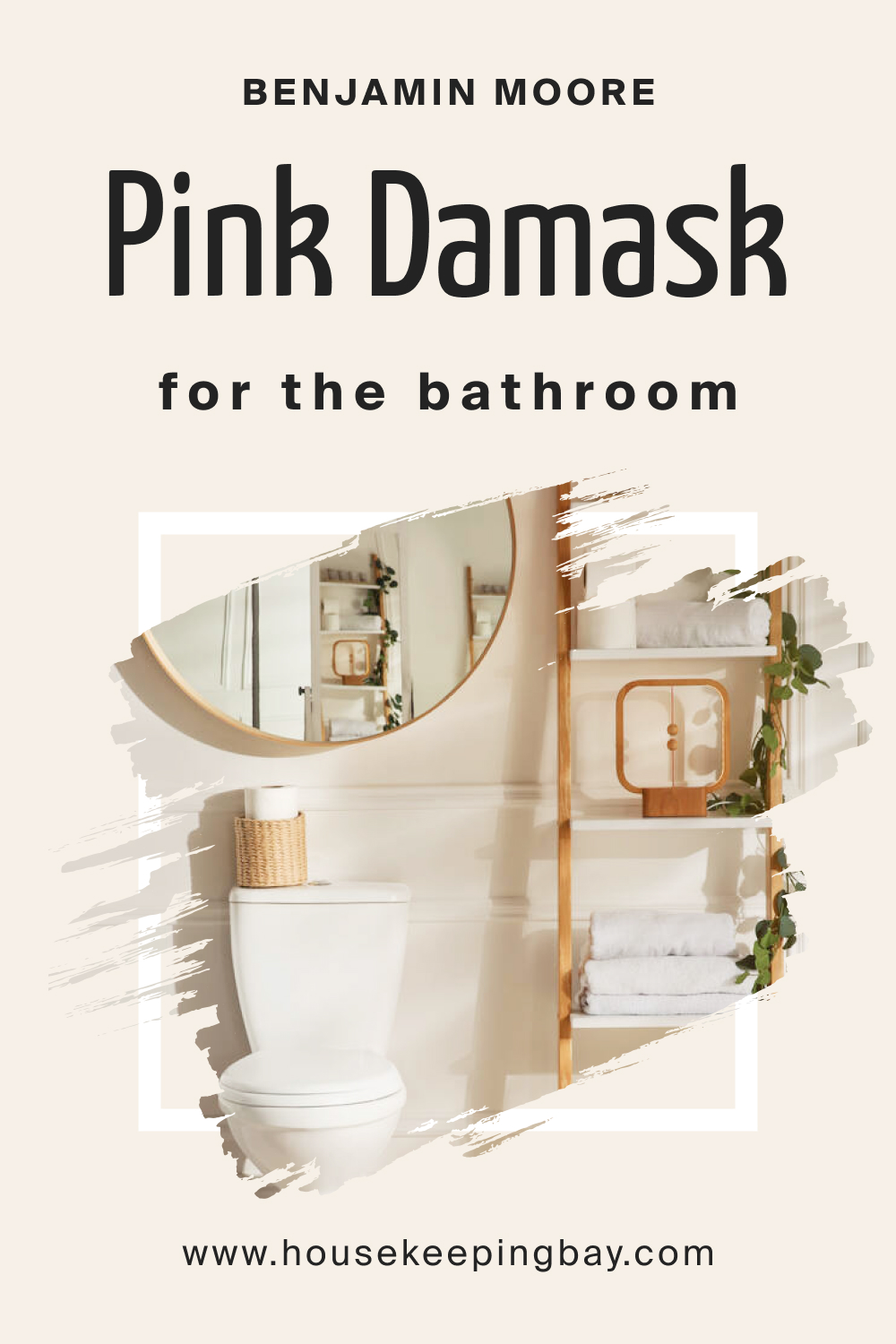 How to Use Pink Damask OC-72 in the Living Room?
In living rooms, Pink Damask promotes conversations and relaxation. Teamed with soft grays or deep blues, it becomes a backdrop for modern art pieces or vintage collectibles. Velvet cushions and metallic accents can further elevate the space.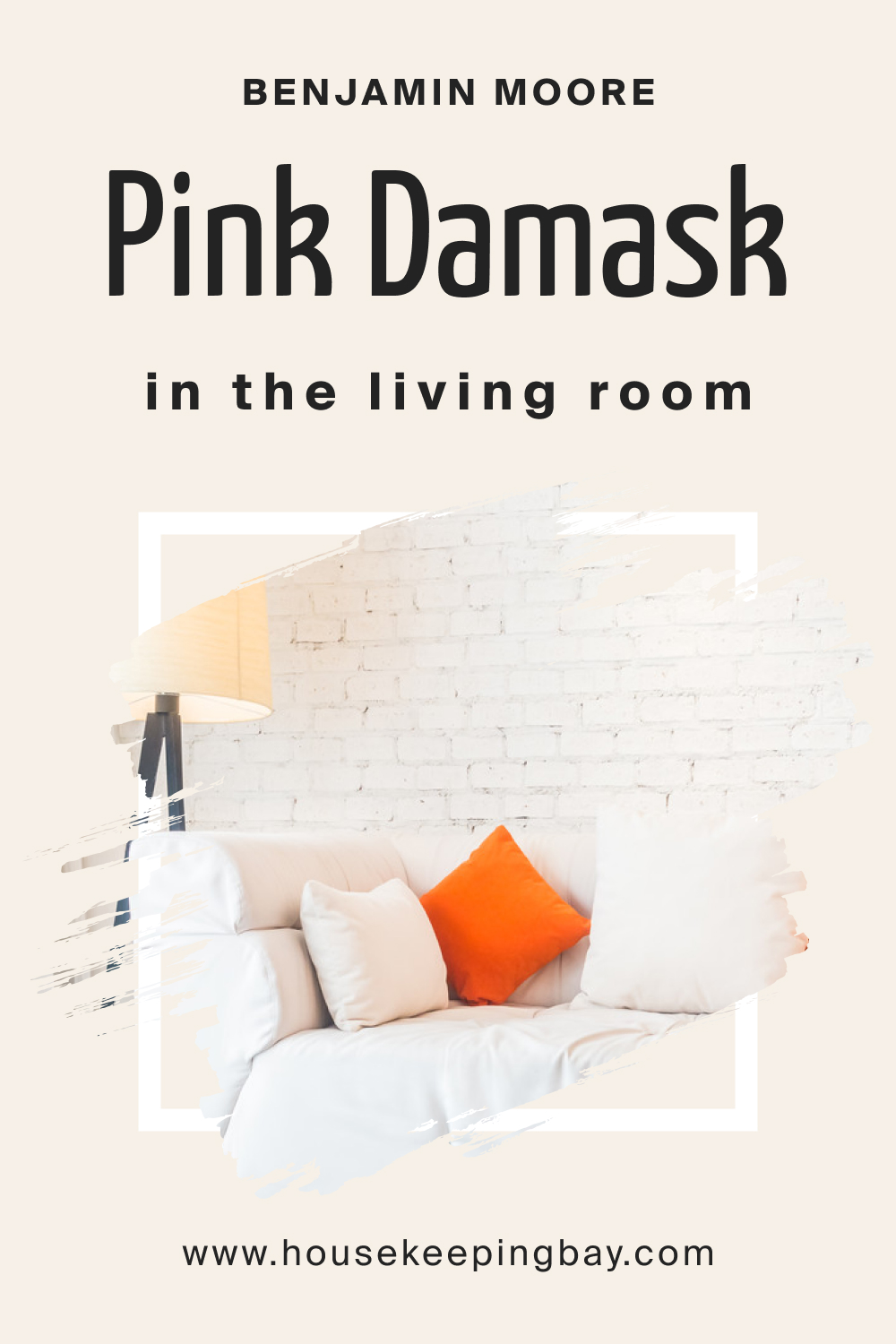 How to Use Pink Damask OC-72 for an Exterior?
Used outside, Pink Damask provides a chic, contemporary look. It can refresh facades, complementing brick or stone elements, while darker trims can frame the color and add depth. The hue also matches well with lush green landscaping.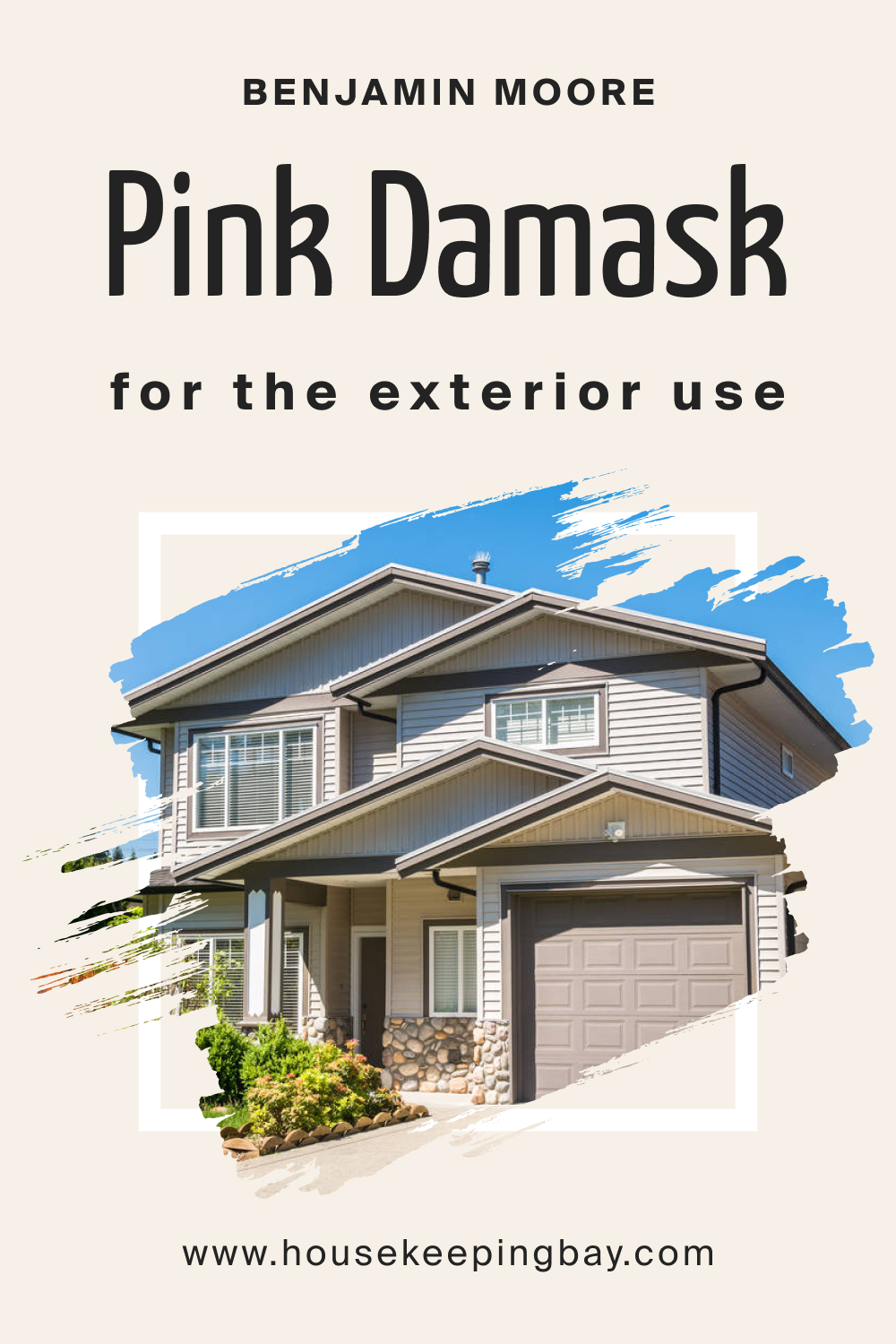 How to Use Pink Damask OC-72 in the Kitchen?
Kitchens bathed in Pink Damask exude warmth and hospitality. The color balances stainless steel appliances and complements wooden countertops. Paired with open shelving and earthenware, it evokes a farmhouse charm.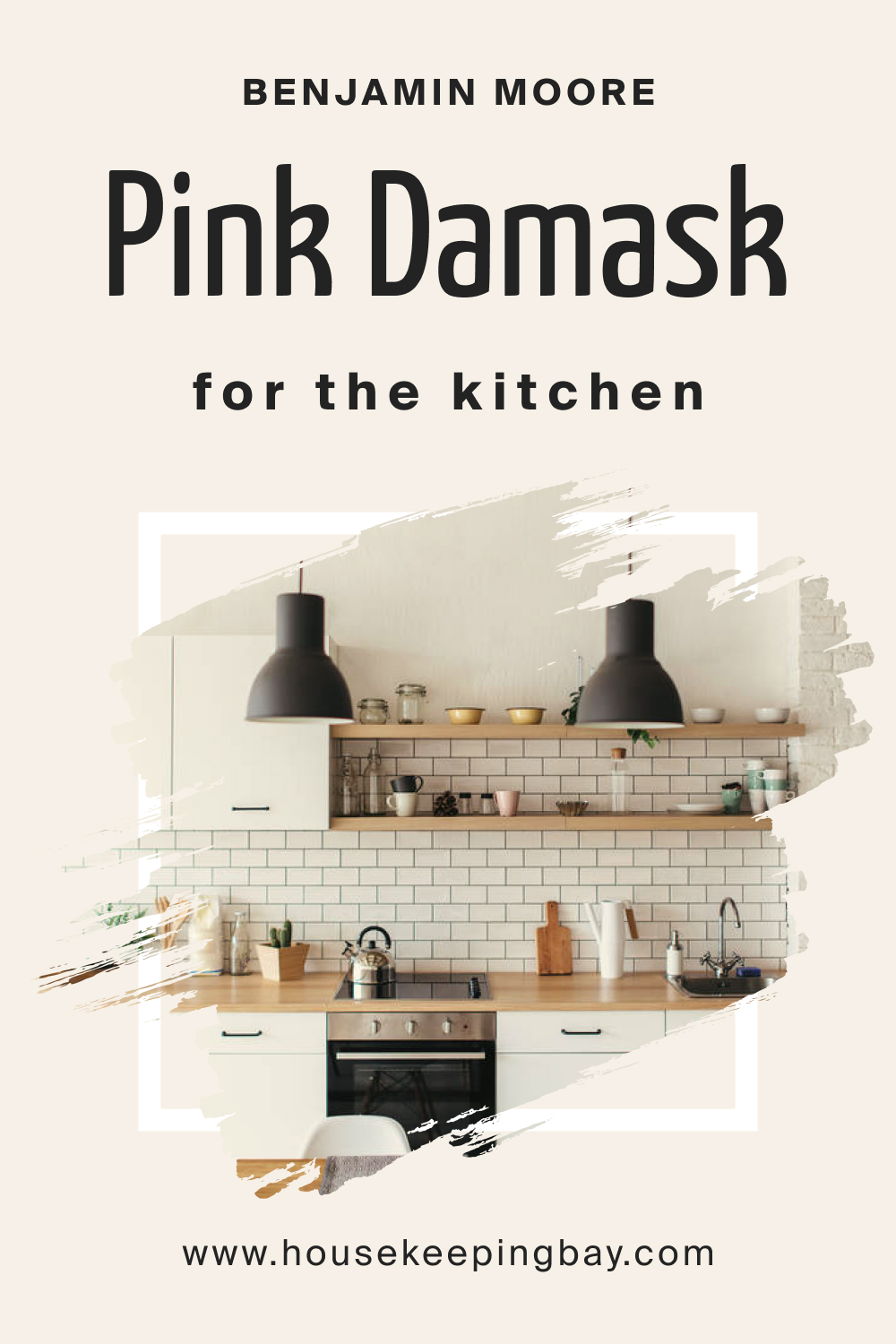 Comparing Pink Damask OC-72 With Other Colors
Comparing colors aids in discerning nuances and making informed design choices. By juxtaposing Pink Damask OC-72 with other shades, one can gauge its warmth, depth, and mood, ensuring it aligns with desired aesthetics.
Pink Damask OC-72 vs. BM Soft Sand 2106-60
While both shades resonate with warmth, Soft Sand leans more into beige, offering a grounded feel. In contrast, Pink Damask has a rosier touch, adding a gentle vibrancy.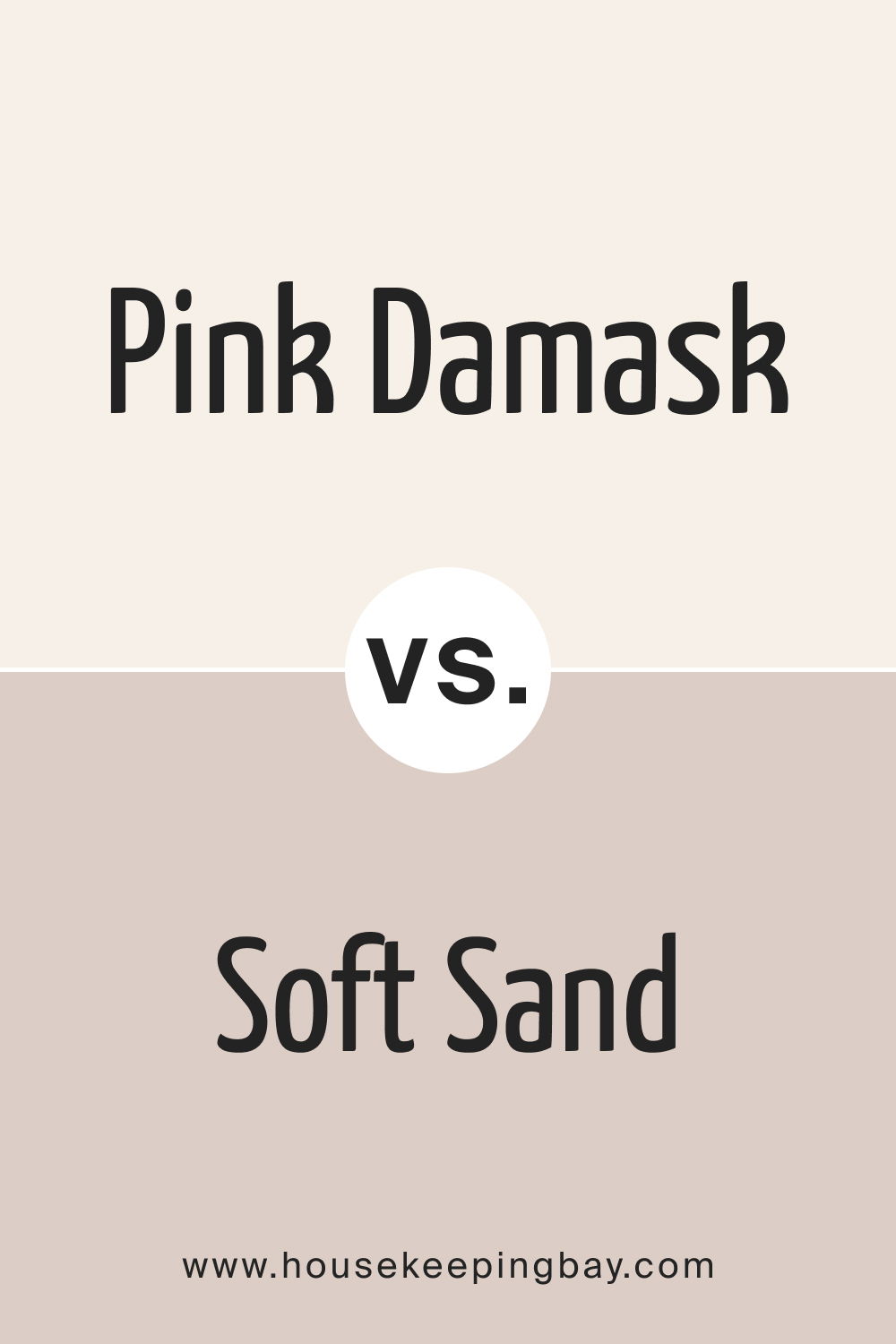 Pink Damask OC-72 vs. BM Portland Gray 2109-60
Portland Gray offers a muted, cooler shade. While both colors share subtlety, Pink Damask exudes a warmer, cozier aura, making spaces feel more intimate.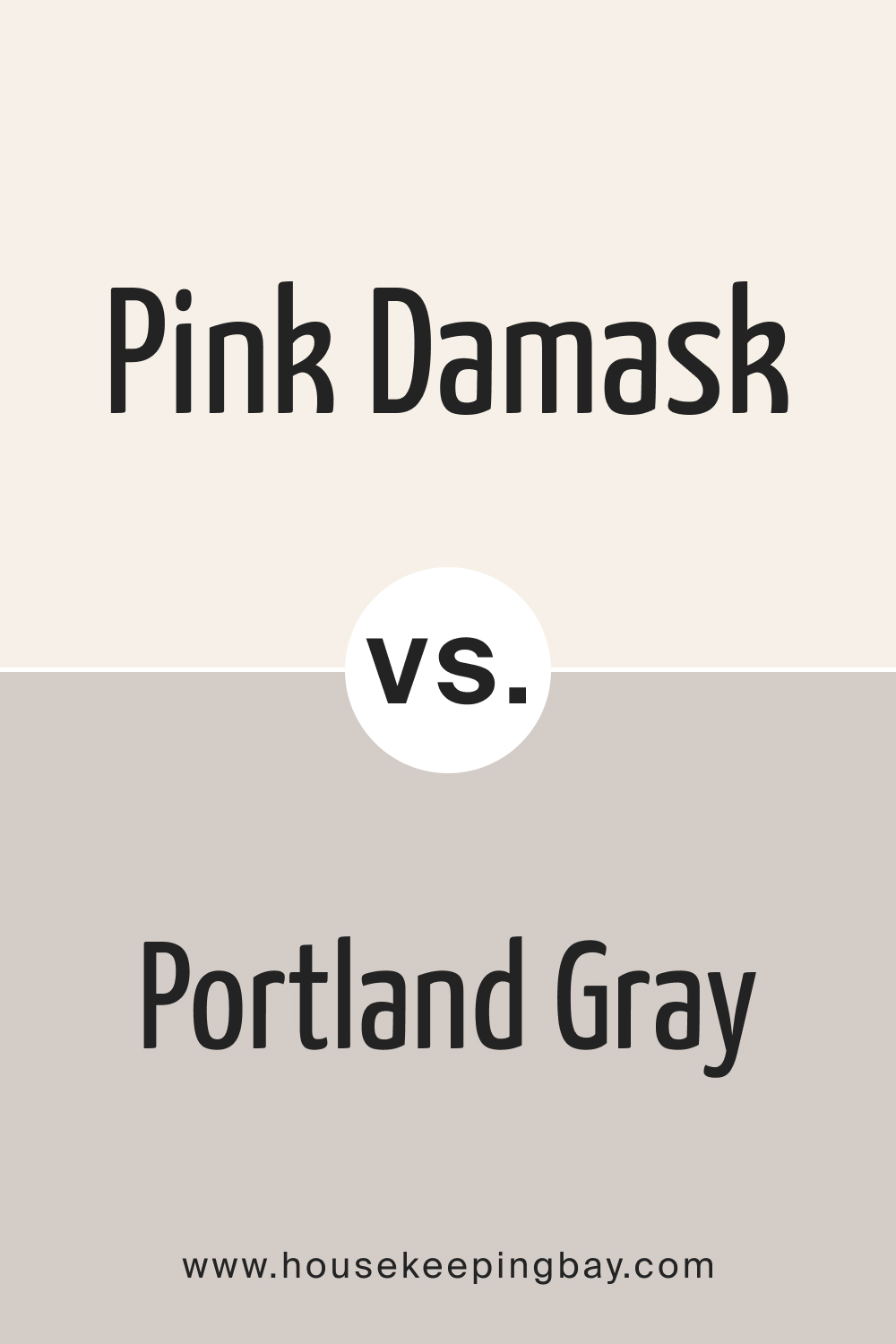 Pink Damask OC-72 vs. BM Silver Fox 2108-50
BM Silver Fox is deeper, with cool gray undertones. It's sophisticated and urban, whereas Pink Damask leans more towards a pastoral warmth.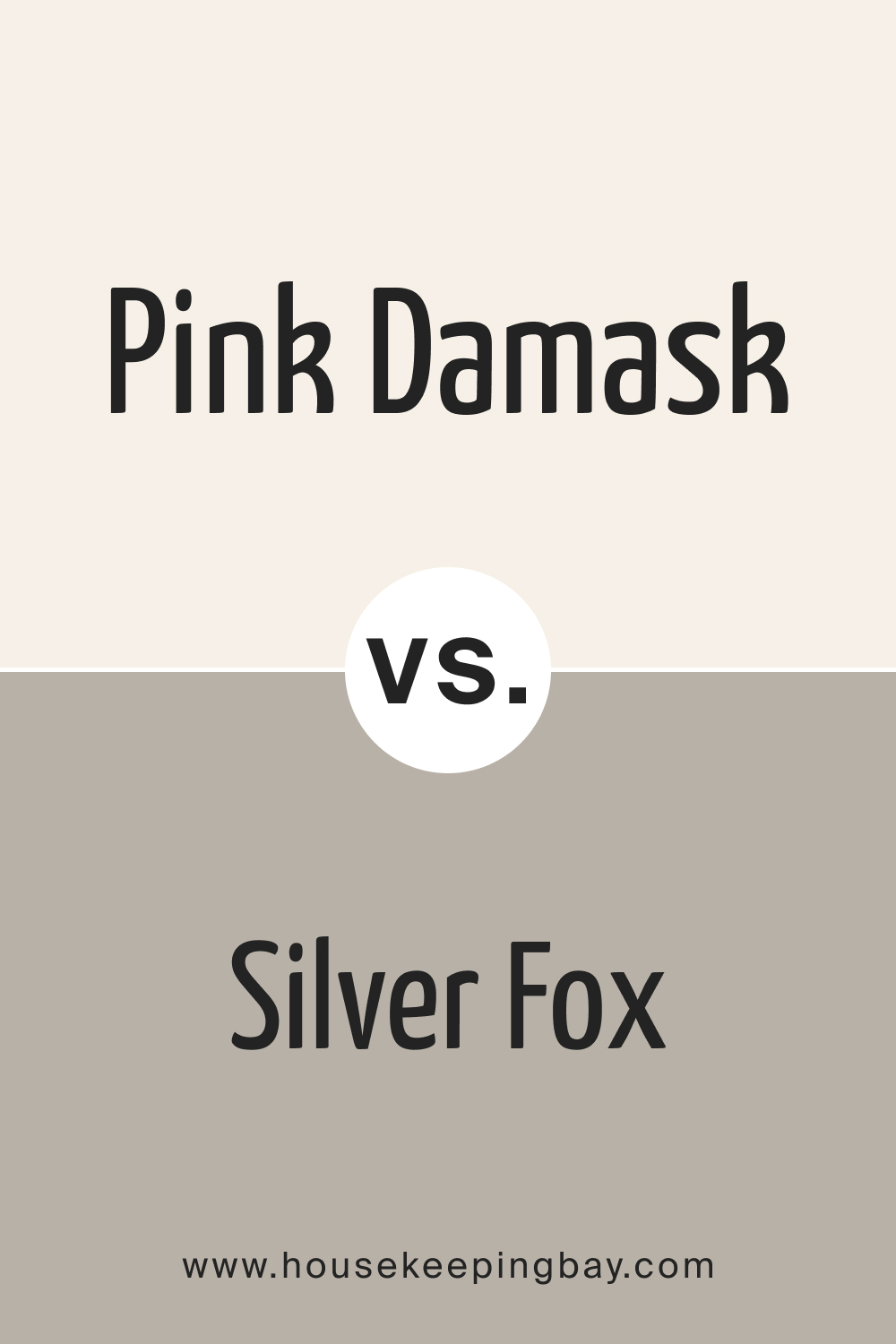 Pink Damask OC-72 vs. AF-250 Head Over Heels
BM Head Over Heels brings a brighter pink forward, oozing playfulness. In comparison, Pink Damask is more muted, balancing both beige and pink tones.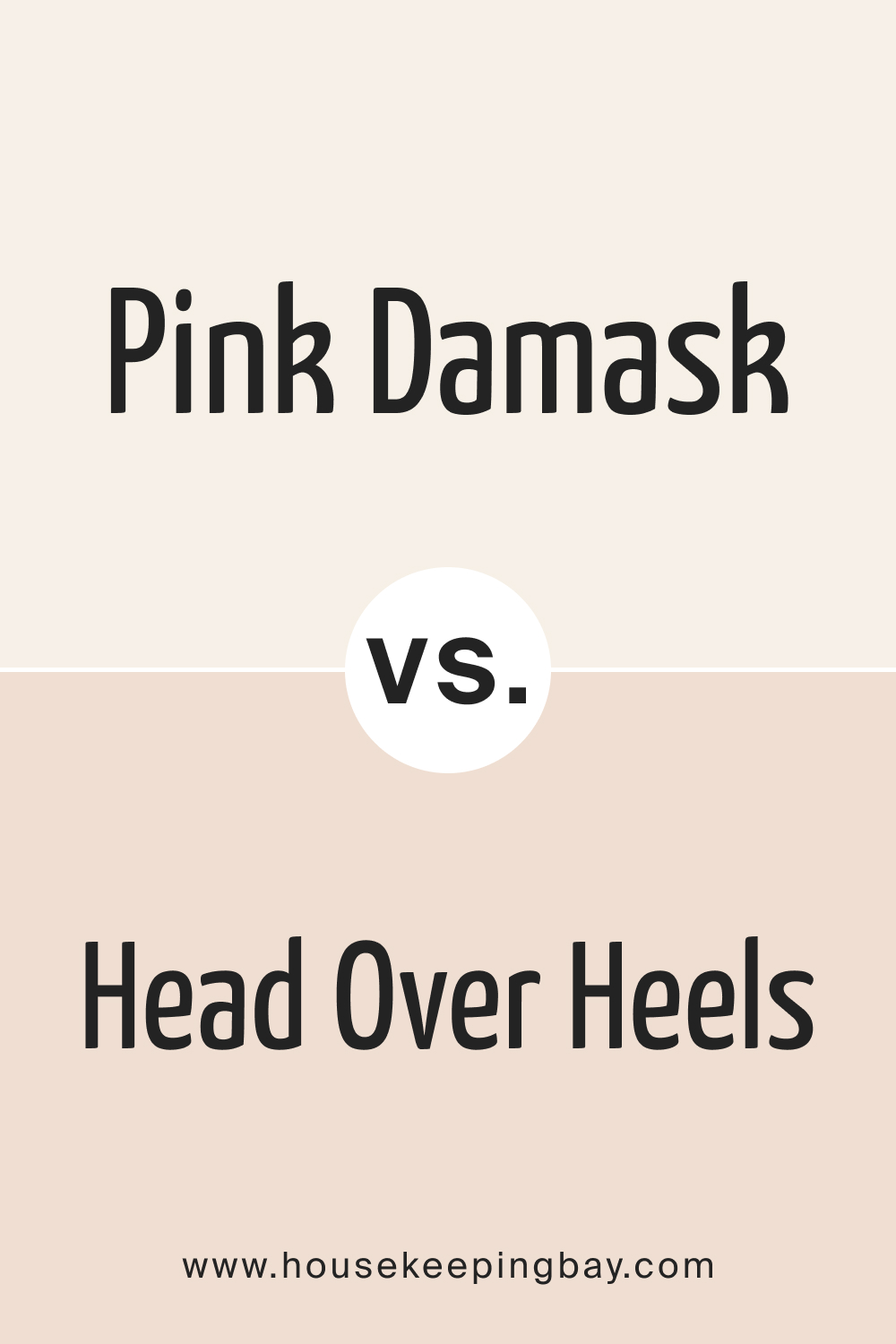 Pink Damask OC-72 vs. BM First Light 2102-70
BM First Light is an airy, pastel pink. While it offers freshness, Pink Damask adds a touch of sophistication with its beige nuances.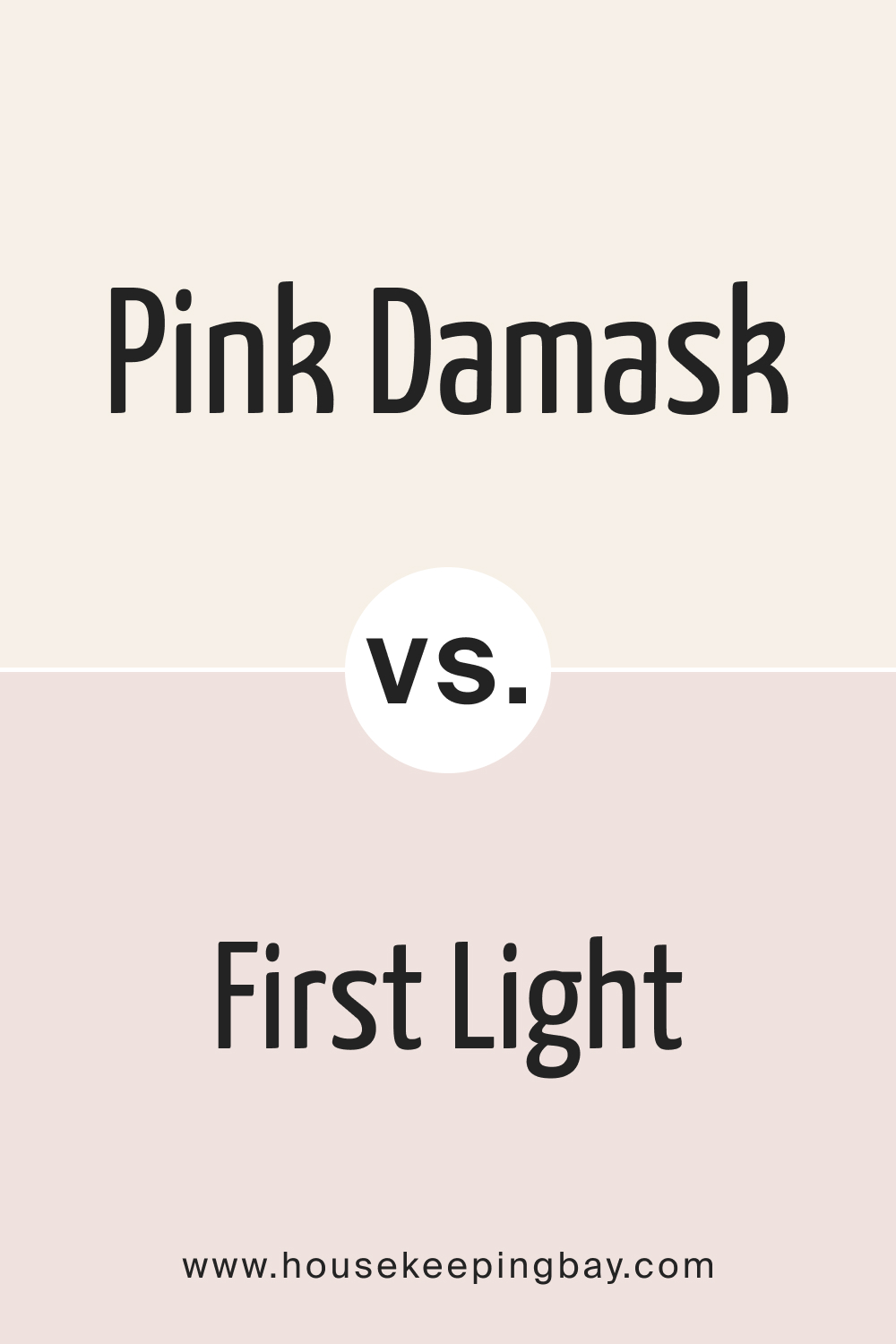 Pink Damask OC-72 vs. BM Pink Bliss 2093-70
BM Pink Bliss is more vibrant and youthful. Pink Damask, with its beige undertones, feels more mature and versatile.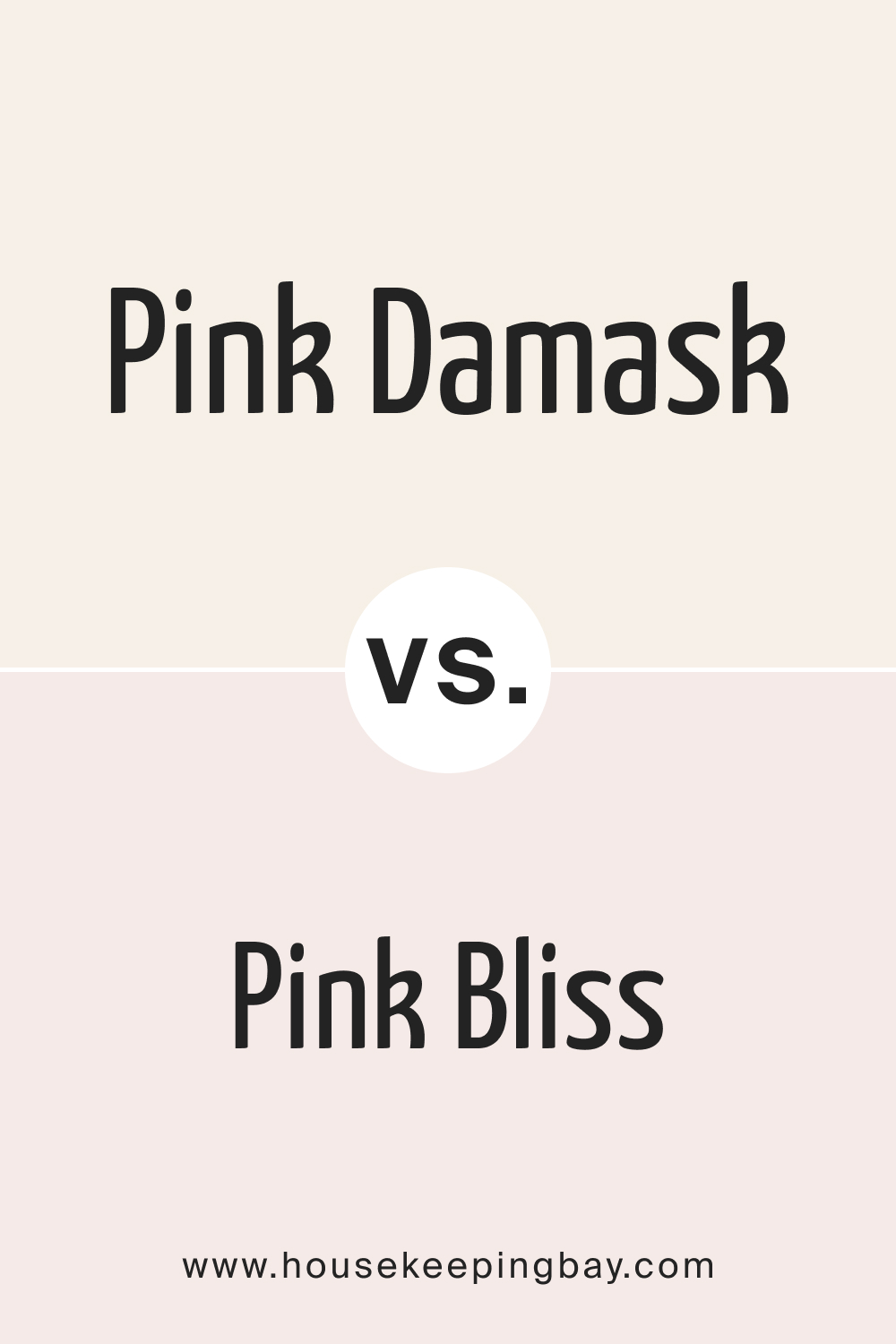 Conclusion
The allure of Pink Damask OC-72 lies in its ability to blend serenity with warmth, making it a perfect choice for diverse spaces. Its comparisons with other colors showcase its uniqueness, affirming its place in contemporary design.
Whether inside or out, Pink Damask brings sophistication, charm, and a touch of modernity to homes.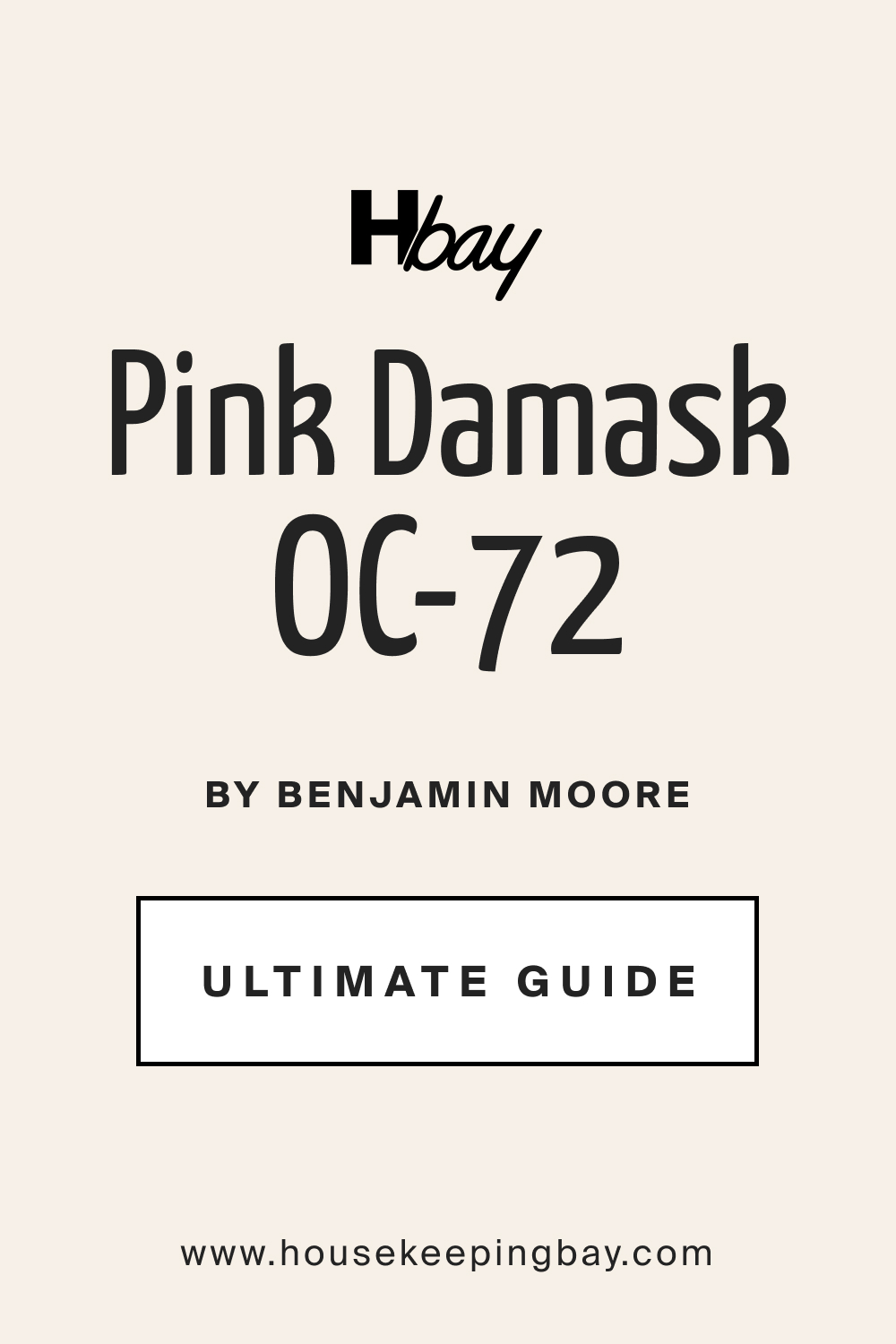 Frequently Asked Questions
⭐What type of rooms is Pink Damask OC-72 best suited for?
Pink Damask OC-72 is incredibly versatile and works well in bedrooms, living rooms, kitchens, and bathrooms. Its muted elegance makes it suitable for both private and shared spaces in the home.
⭐Is Pink Damask OC-72 a warm or cool hue?
Pink Damask OC-72 leans towards being a warm hue, owing to its gentle pink-beige undertones. It exudes a cozy feel, making rooms appear inviting.
⭐What are the best trim colors to pair with Pink Damask OC-72?
Soft shades of white, especially from the same brand, complement Pink Damask OC-72 beautifully. Some top choices include Simply White, Elmira White, and Decorator's White.
⭐How does Pink Damask OC-72 appear under different lighting?
The appearance of Pink Damask OC-72 can slightly change depending on the lighting. Under natural light, its pink undertones might be more prominent, while artificial light may enhance its beige elements. The color's vibrancy is also affected by the direction of the room's windows.
⭐Are there similar colors to Pink Damask OC-72?
Yes, there are other colors that resemble Pink Damask OC-72. Some examples are AF-10 Gardenia, SW 9505 Frost Bite, and Behr Devonshire PWN-35.