Colors in the realm of interior design speak volumes about space, mood, and functionality. In particular, Gardenia AF-10 has emerged as a color that not only beautifies walls but also brings in versatility. This article illuminates the attributes, undertones, and compatibility of Gardenia AF-10, offering a comprehensive look at this hue.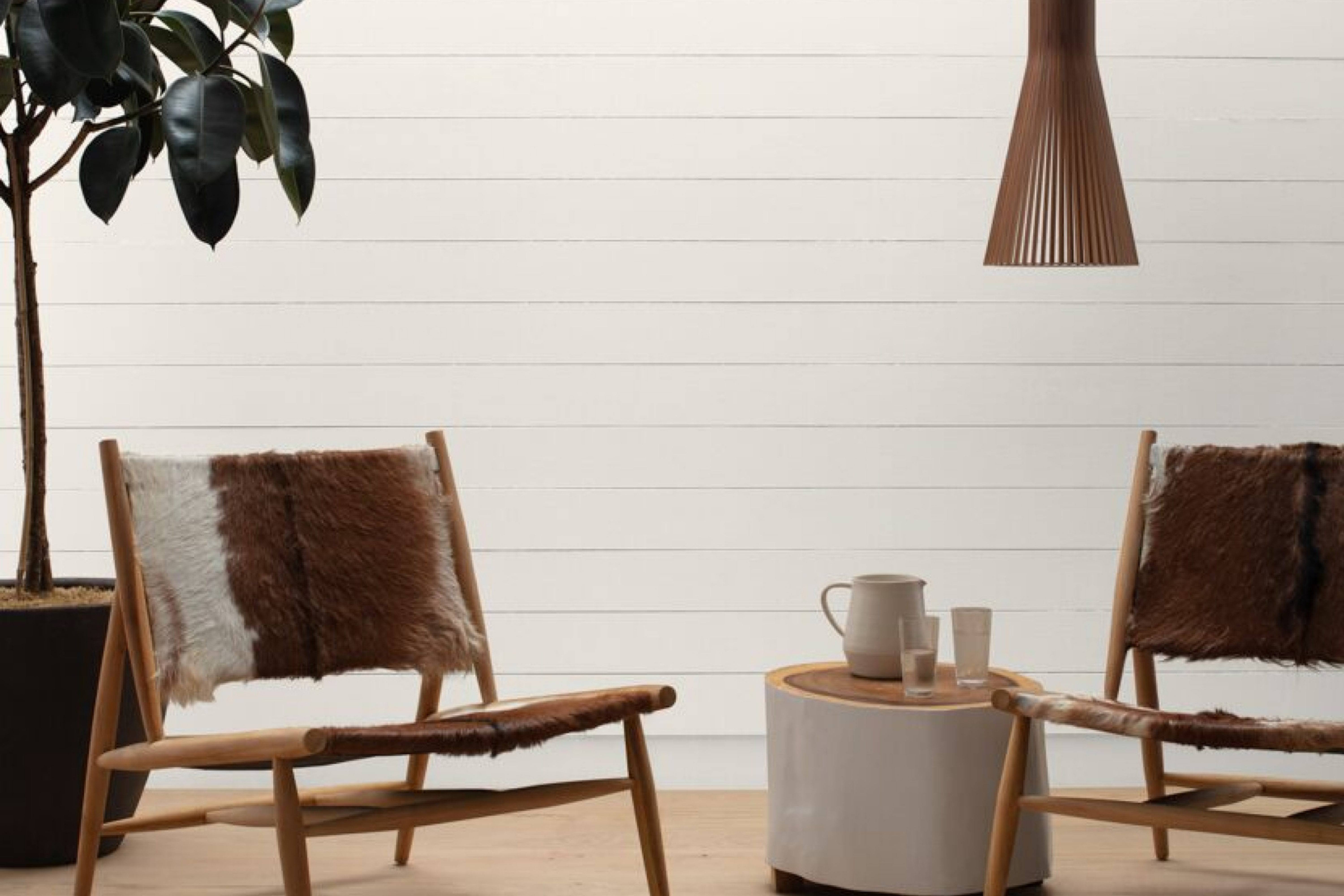 What Color Is Gardenia AF-10?
Enveloped in a gentle charm, Gardenia AF-10 takes on a soft, delicate neutral hue reminiscent of the petals of its namesake flower. Being a subdued shade, it effortlessly integrates into various interior styles, especially in modern, minimalist, Scandinavian, and traditional designs.
Whether paired with rugged wood or smooth satin, its elegance remains undiminished, harmonizing beautifully with an array of materials and textures.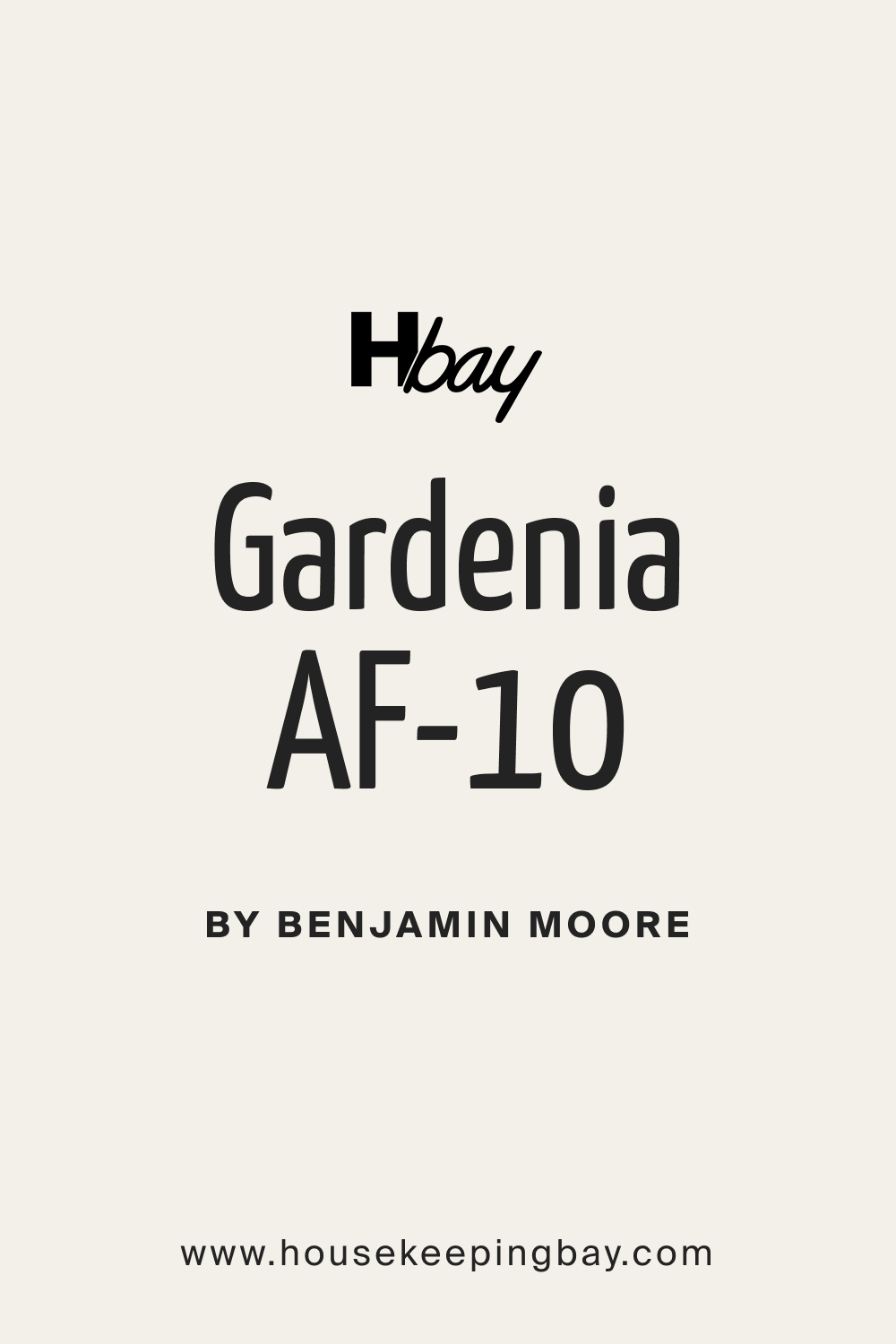 Is It a Warm Or Cool Color?
Gardenia AF-10 occupies a space that is somewhere between warm and cool. It has an undertone that gently leans towards the warmer spectrum but remains neutral enough to be considered versatile.
In home settings, this slightly warm leaning allows it to emit a comforting ambiance while still retaining a fresh edge, making spaces feel both cozy and invigorating.
Undertones of Gardenia AF-10
Peeling back its layers, Gardenia AF-10 reveals subtle undertones that are a mix of beige and off-white. Undertones play a pivotal role in the perception of colors. They can subtly influence how the primary color is viewed, especially in varying lights. In the case of Gardenia AF-10, its understated undertones add depth and character to the shade.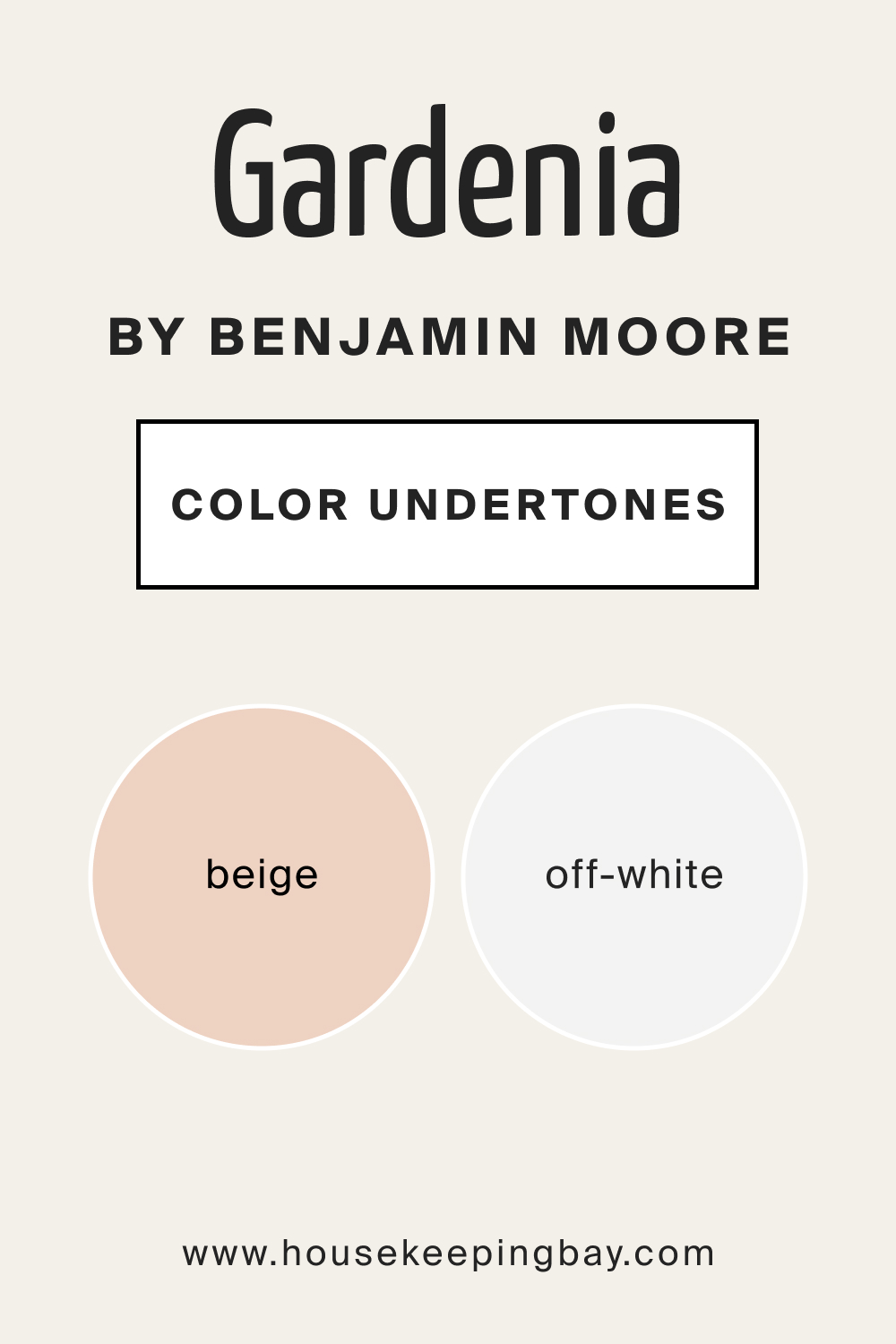 Coordinating Colors of Gardenia AF-10
Coordinating colors are those that sit harmoniously alongside a primary color, enhancing its aesthetic appeal. For Gardenia AF-10, the compatible shades include:
AF-655 Solhouette: A profound, mysterious black.
AF-675 Fusion: A muted blend of gray and beige.
BM Winterwood 1486: A soft, comforting green.
Additional coordinating colors include:
BM Whispering Wind 1511: A pale, airy blue.
BM Shadow Gray 2125-40: A deep, grounding gray.
AF-630 Templeton Gray: A harmonious, balanced gray.
How Does Lighting Affect Gardenia AF-10?
Lighting is the unsung hero of color perception. In artificial light, Gardenia AF-10 can appear slightly warmer, giving rooms a cozy feel. Under natural light, its nuances come alive, with its undertones more pronounced. In north-faced rooms, it takes on a cooler demeanor, while south-faced rooms accentuate its warmth.
East-facing rooms in the morning light add a delicate brightness, and in west-facing rooms, it mellows down during sunset, exuding a serene aura.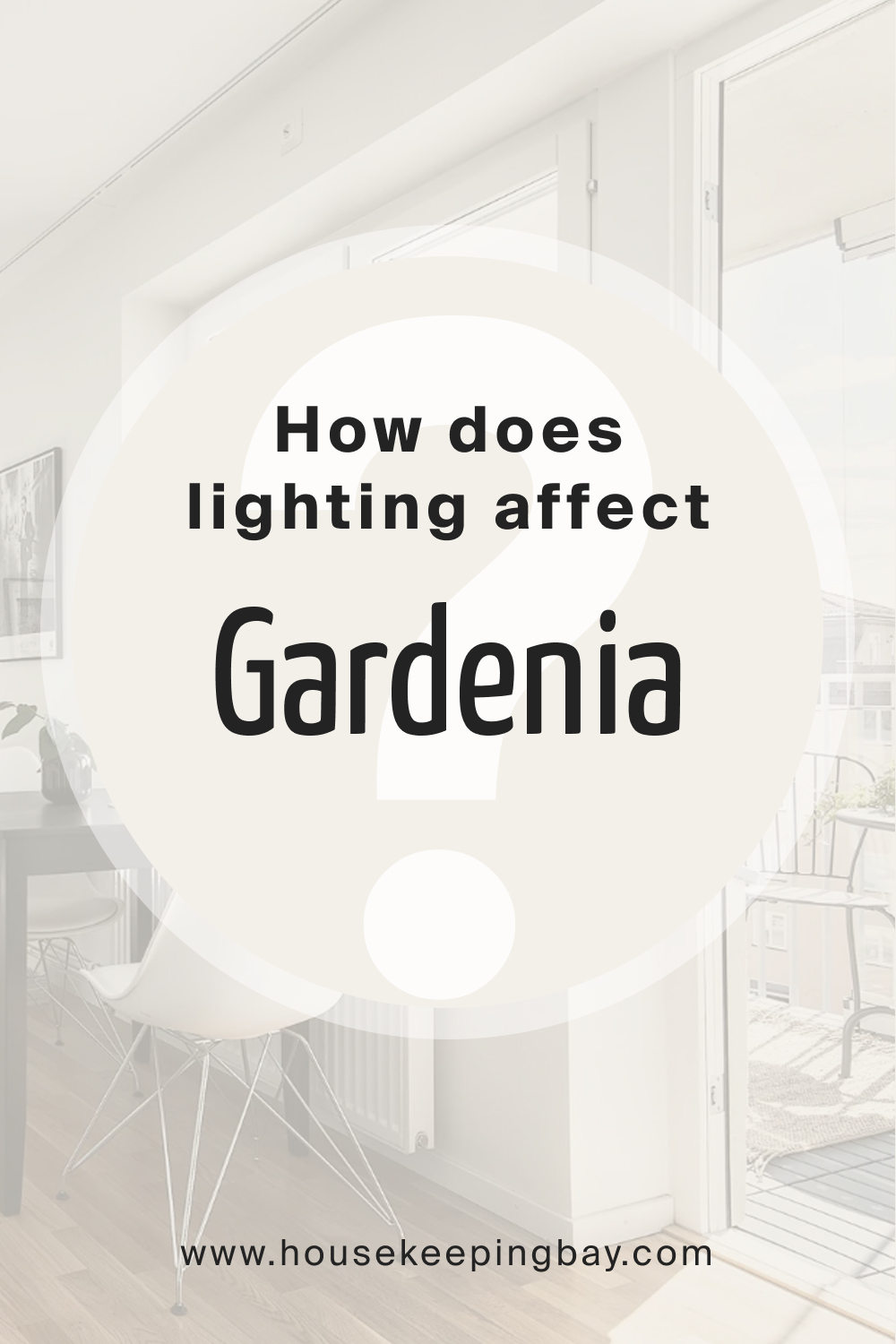 LRV of Gardenia AF-10
Light Reflectance Value (LRV) measures the amount of light a color reflects. An LRV of 85 indicates that Gardenia AF-10 reflects a significant portion of light, making spaces appear more spacious and airy.
For this shade, the high LRV means that it can effectively brighten up spaces, proving ideal for smaller rooms or areas with limited natural light.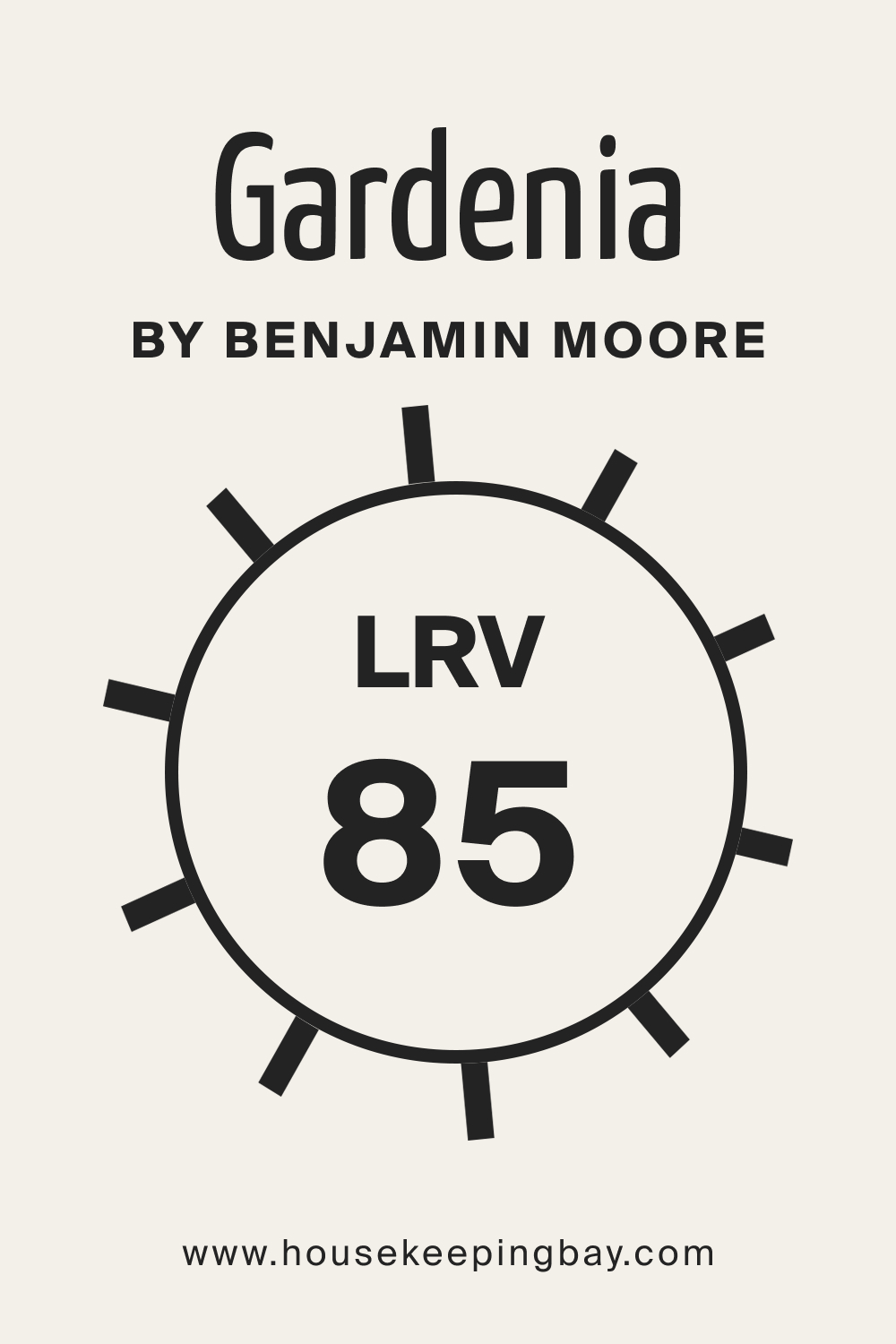 What is LRV? Detailed Guide
Trim Colors of Gardenia AF-10
Trim colors accentuate the main wall color. For Gardenia AF-10, shades of white from the same brand offer a crisp delineation. Consider:
Pure White: A stark, clean contrast.
White Dove: Soft with a hint of warmth.
Simply White: Bright yet balanced.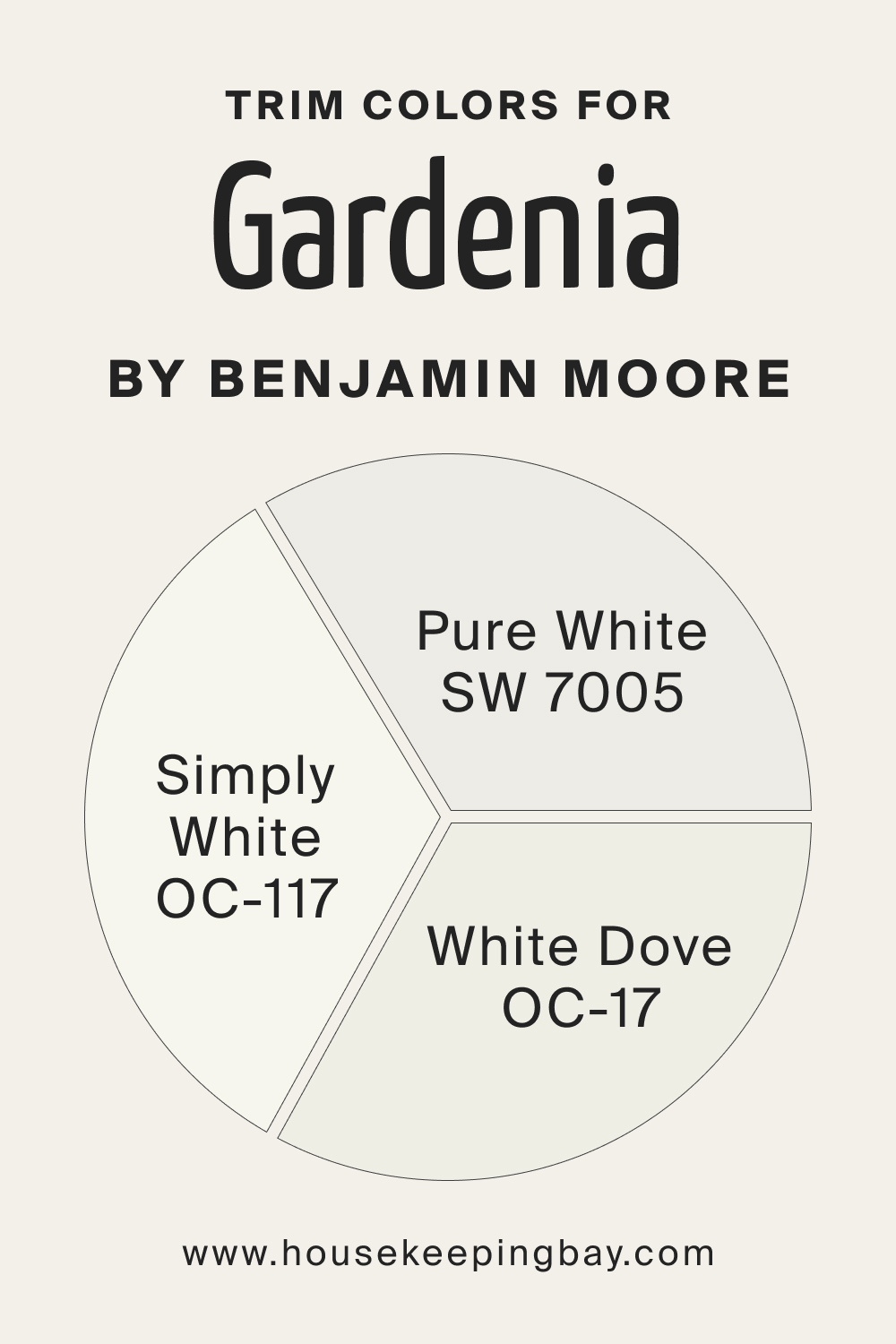 Colors Similar to Gardenia AF-10
Recognizing similar colors assists in finding the perfect fit. Resembling Gardenia AF-10 are:
BM Alabaster 876: Creamy and versatile.
BM White Opulence 879: A sparkling white with subtle undertones.
BM Sand Dollar 877: Beige with a touch of grace.
BM Pink Damask 890: A gentle rose-infused white.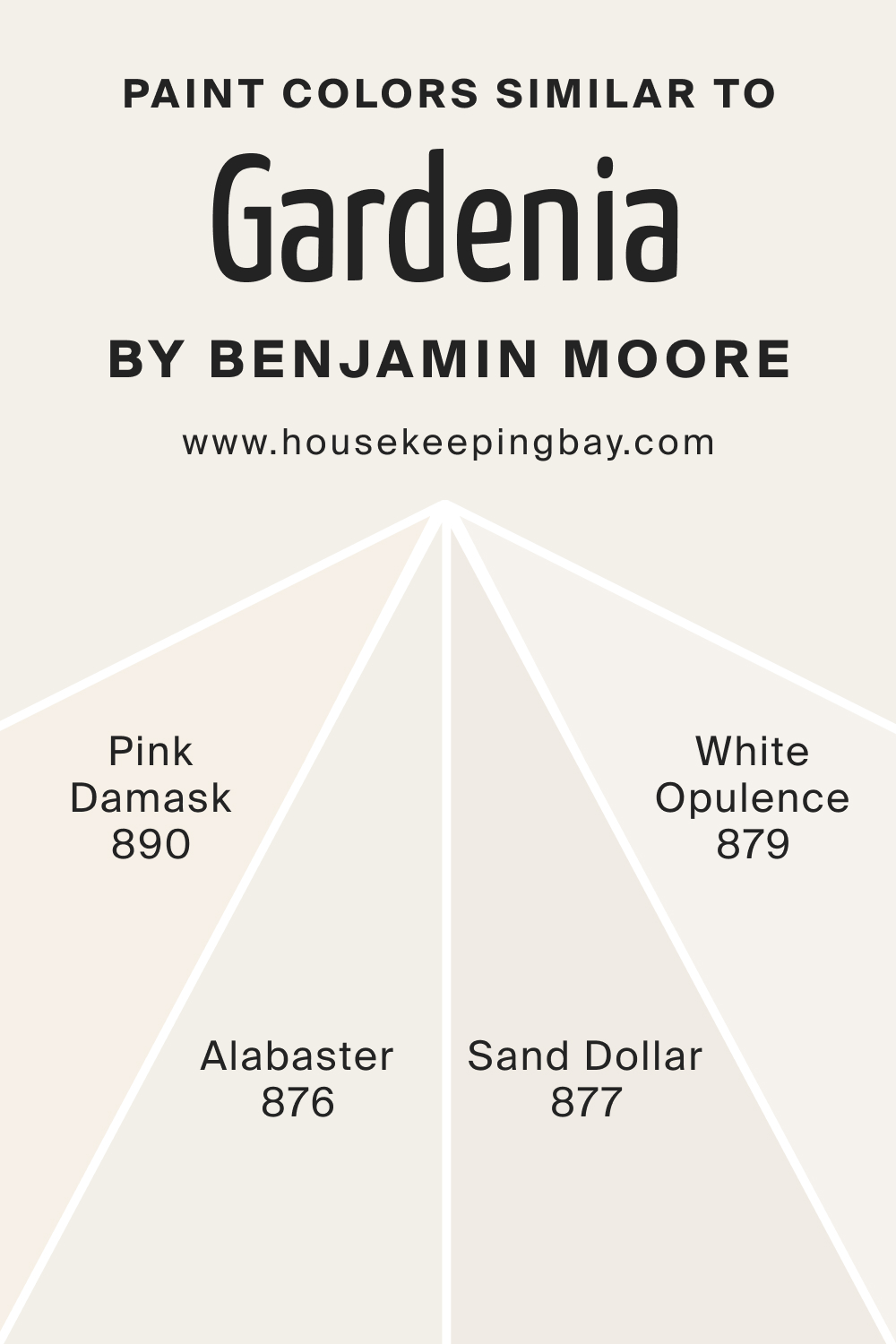 Colors That Go With Gardenia AF-10
Creating a cohesive palette enhances room aesthetics. Colors that pair well with Gardenia AF-10 include:
BM Mellow Pink 2094-70: A soft, pastel pink.
BM Oxford Gray 2128-40: Deep, moody blue-gray.
BM Garden Oasis 699: Lush, botanical green.
BM Desert Beach 1104: Earthy, warm beige.
BM Deep Mulberry 2069-10: Intense, regal purple.
AF-715 Dolphin: Subdued, elegant gray.
BM Cement Gray 2112-60: Neutral, timeless gray.
BM Gentleman's Gray 2062-20: Navy with depth.
Together, they create a symphony of colors, amplifying the allure of any space.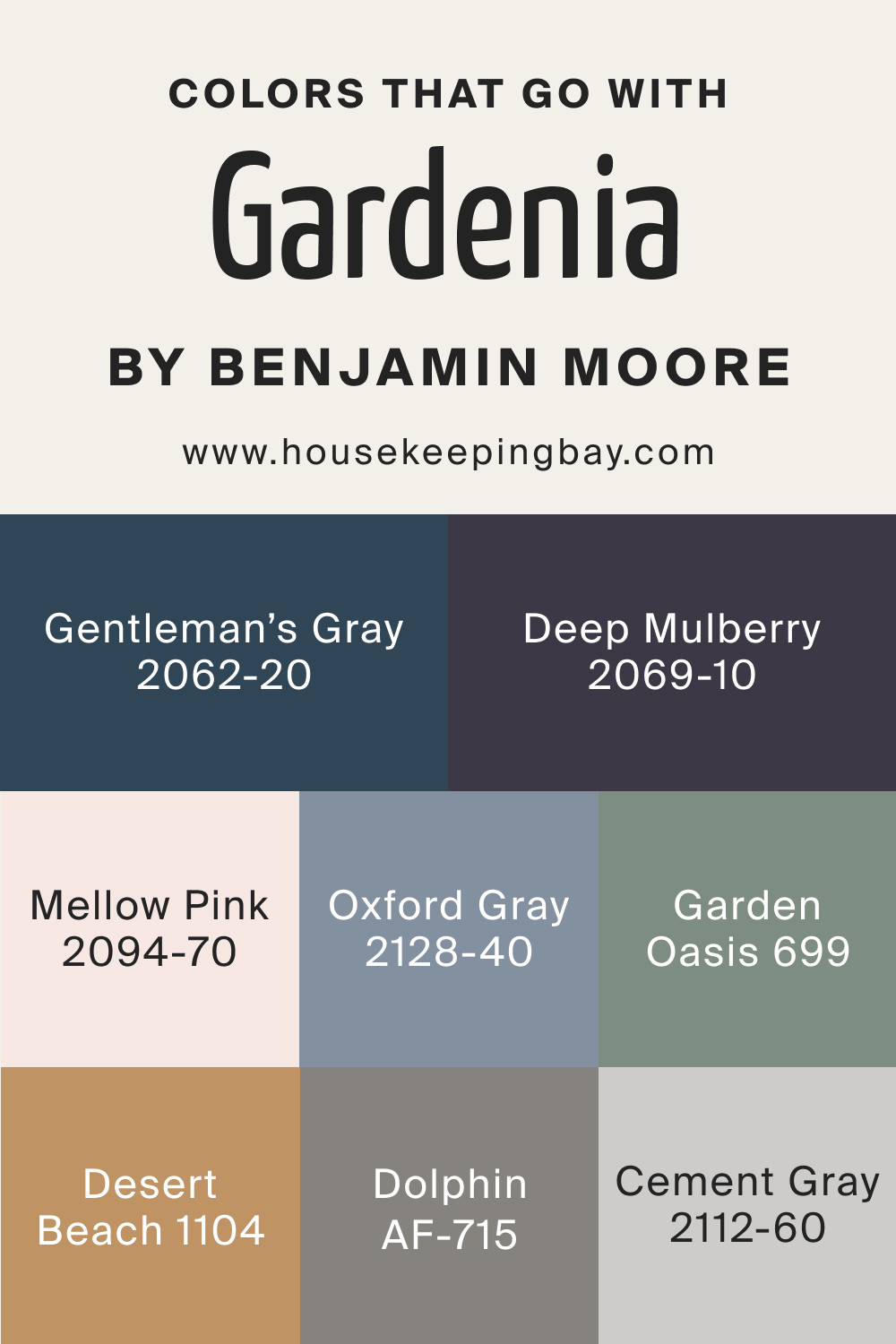 How to Use Gardenia AF-10 In Your Home?
Gardenia AF-10 exudes a neutral charm that gracefully complements various spaces. Its subtle hue makes it ideal for rooms seeking a soothing ambiance, such as bedrooms and living rooms.
This color fits seamlessly into diverse interior styles, from contemporary minimalism to rustic chic, Scandinavian simplicity, and classic elegance. It pairs wonderfully with both vibrant hues and muted tones, allowing flexibility in design choices.
How to Use Gardenia AF-10 in the Bedroom?
In bedrooms, Gardenia AF-10 acts as a serene backdrop, promoting restful sleep. Its tranquil presence sets a calming mood, making it perfect for walls, ceilings, or even as an accent. Complement it with soft pastel bedding and natural wood furniture for a harmonious look.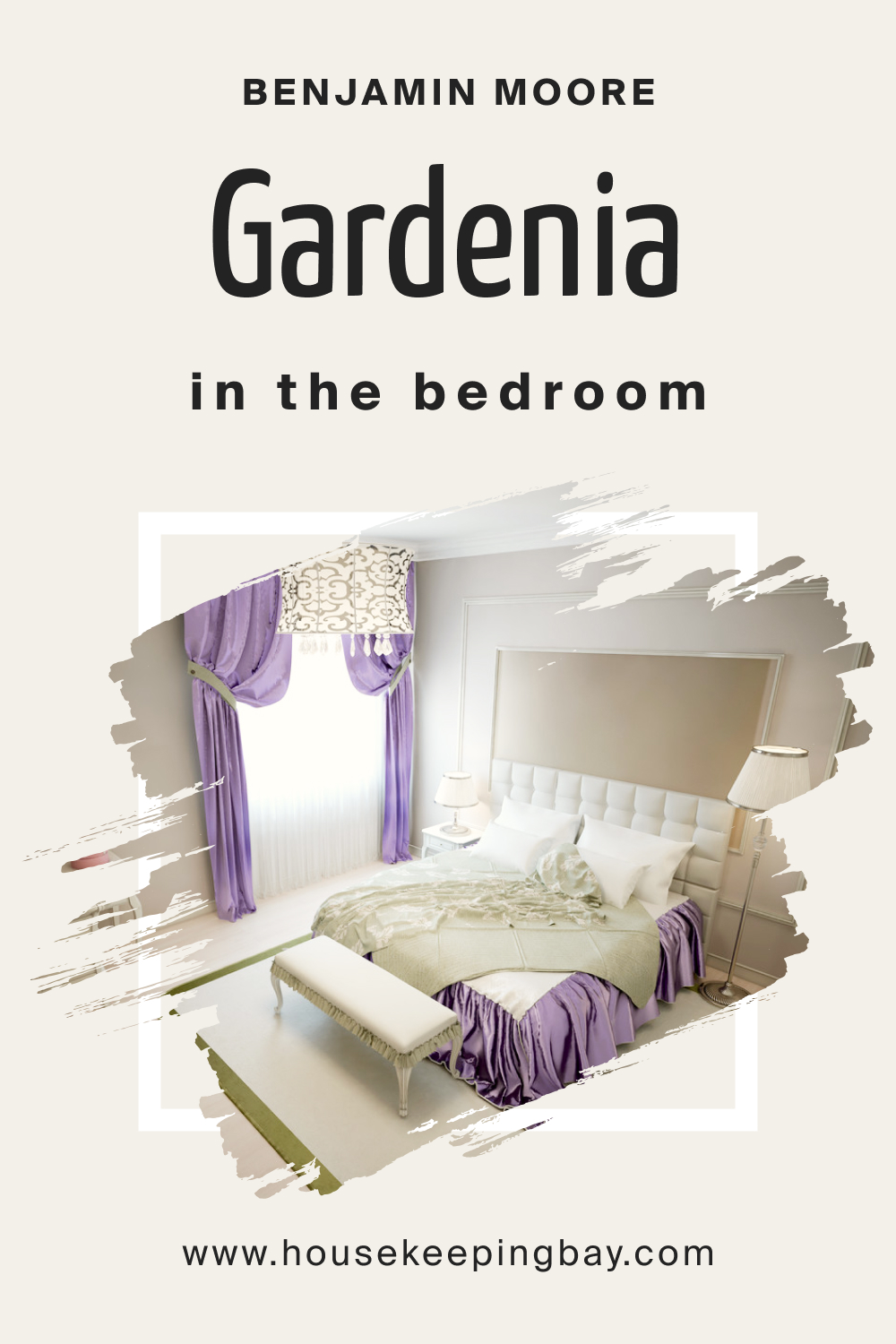 How to Use Gardenia AF-10 in the Bathroom?
For bathrooms, Gardenia AF-10 provides a spa-like elegance. Its muted tone offers a refreshing contrast against chrome fittings or marble countertops. The color enhances the bathroom's ambiance, making it appear spacious and serene.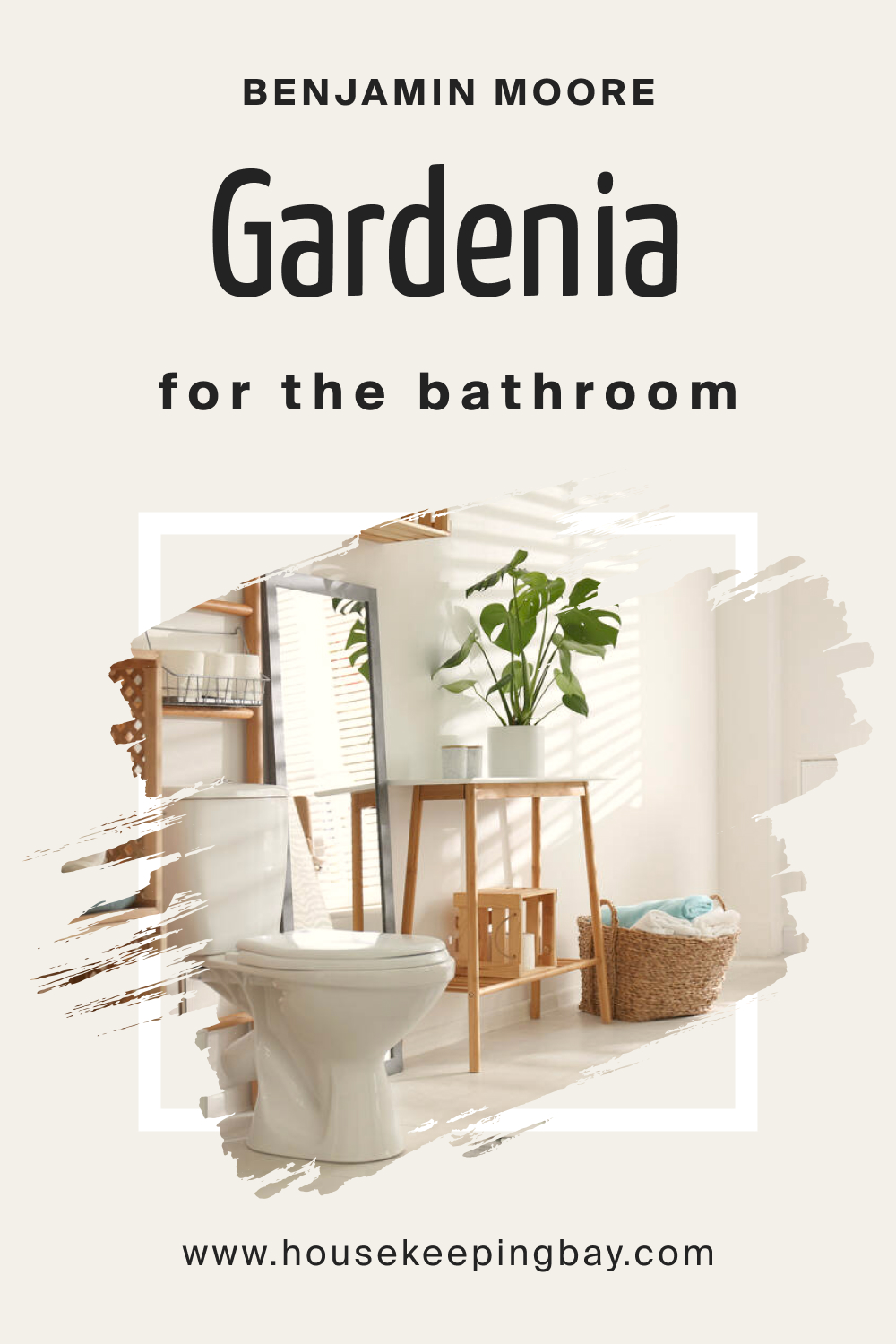 How to Use Gardenia AF-10 in the Living Room?
In the living room, Gardenia AF-10 creates a soothing environment, perfect for relaxation and conversation. It's versatile enough to be the main shade or play a complementary role alongside bolder colors. Pair it with plush textiles, metallic accents, and wood finishes for a balanced aesthetic.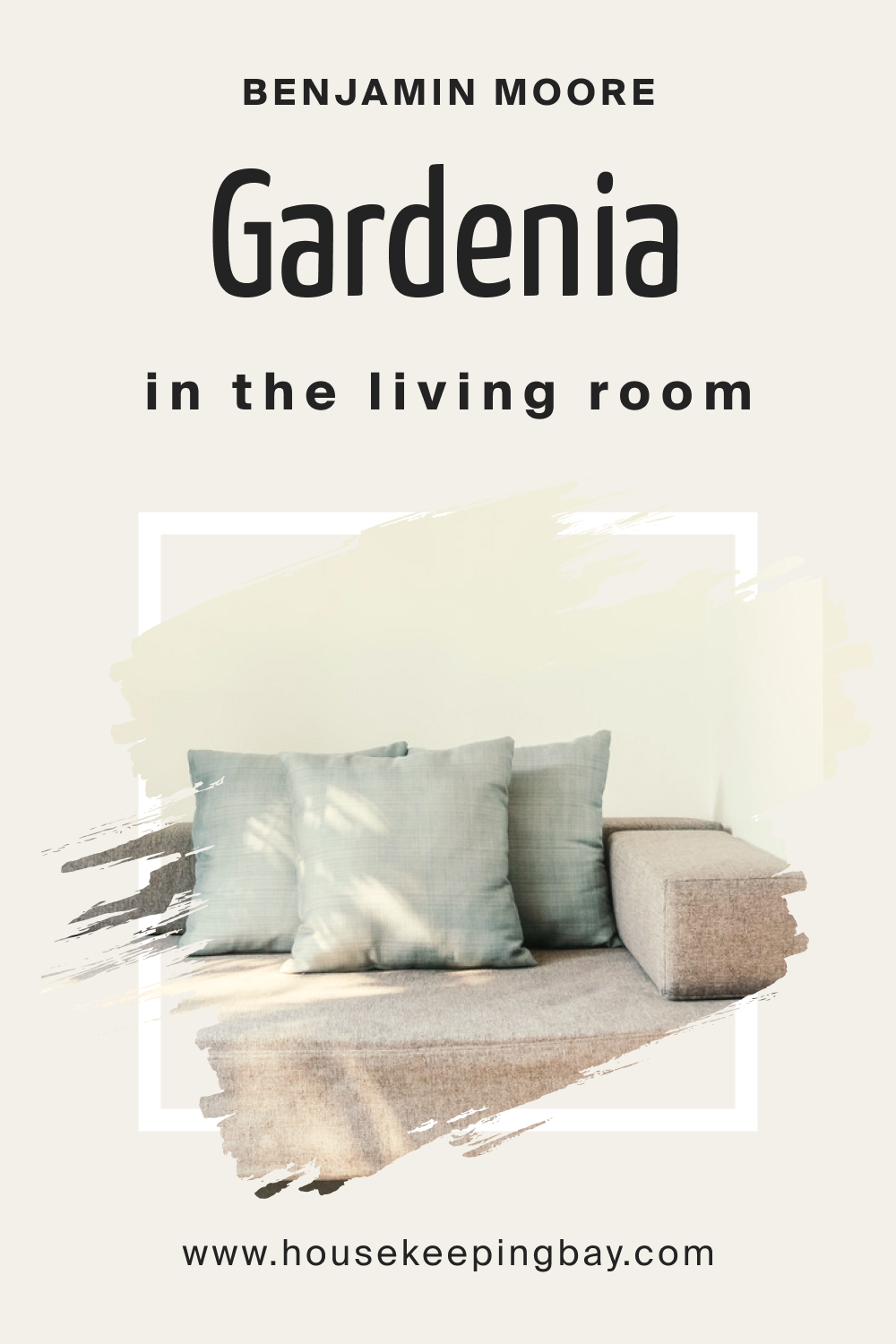 How to Use Gardenia AF-10 for an Exterior?
Externally, Gardenia AF-10 imparts a sophisticated touch. It reflects sunlight beautifully, rendering a warm and inviting facade. Whether on the main exterior walls, trims, or shutters, this color offers a timeless appeal that complements natural landscaping.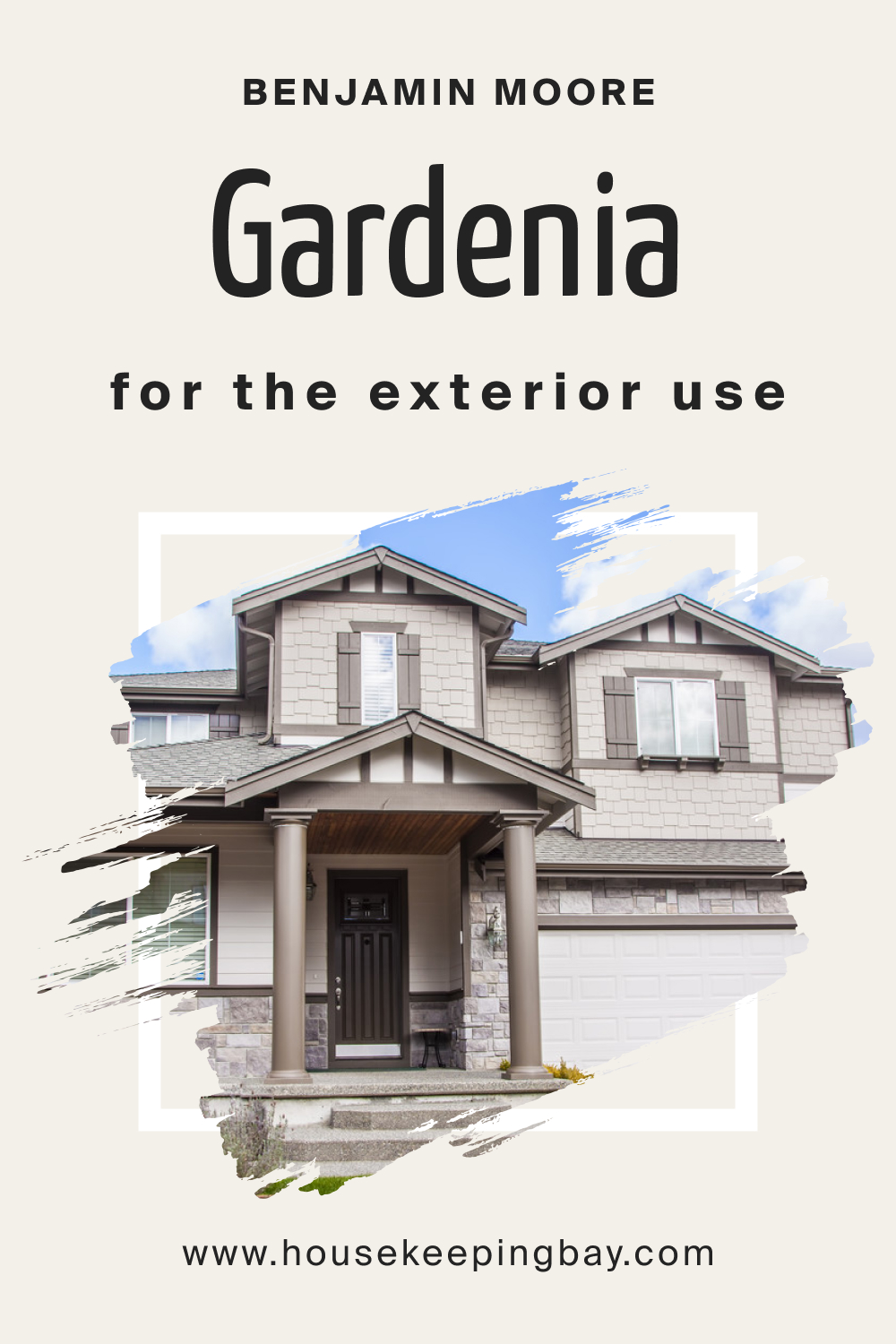 How to Use Gardenia AF-10 in the Kitchen?
In the kitchen, Gardenia AF-10 stands out as a neutral canvas. It complements stainless steel appliances, wooden countertops, and colorful backsplashes. The color radiates a clean ambiance, ensuring the kitchen remains a vibrant space of culinary creativity.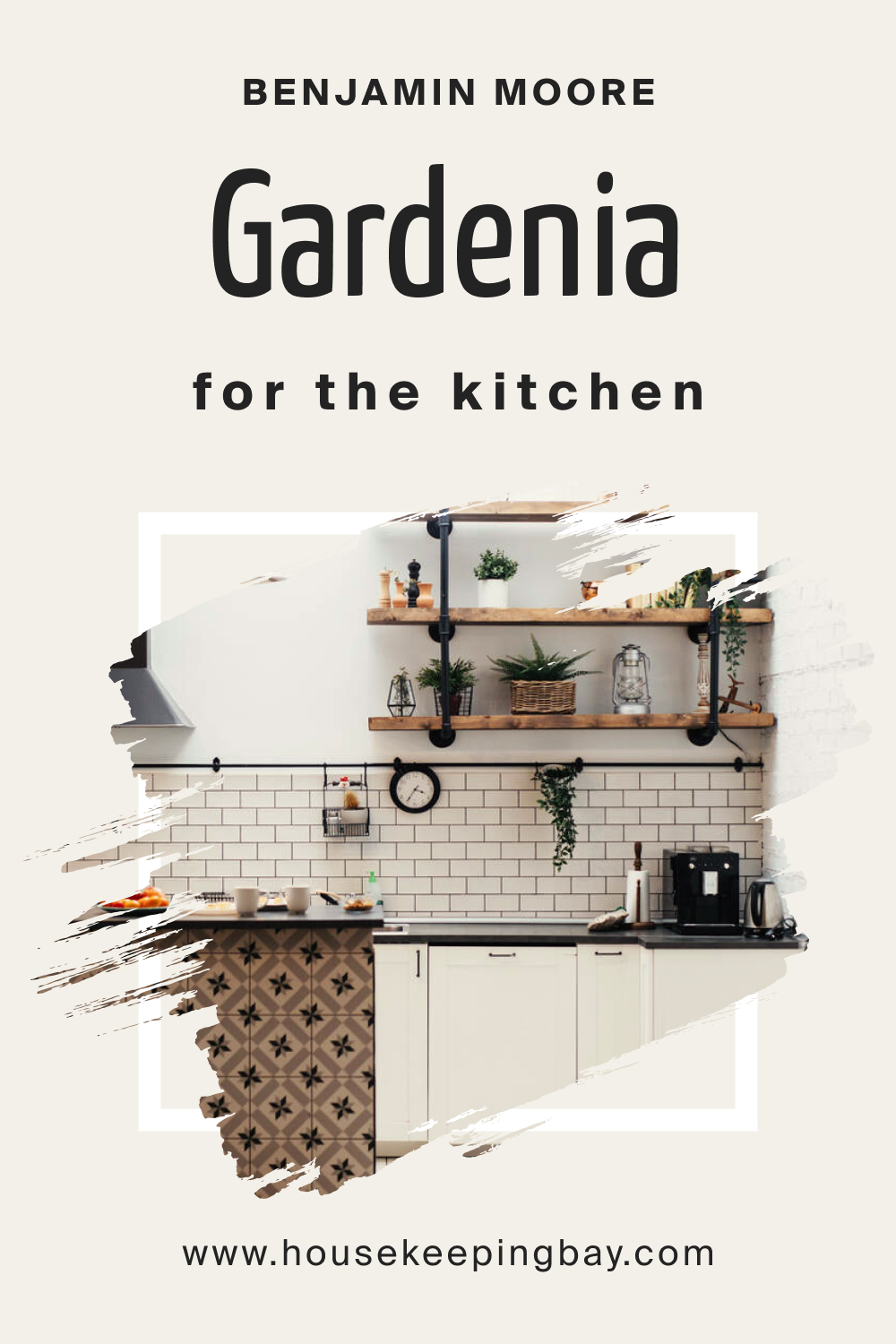 Comparing Gardenia AF-10 With Other Colors
Comparing paint colors like Gardenia AF-10 with others is essential to truly understand their distinct undertones, depth, and how they can transform within varied lighting and settings. Every shade evokes different emotions and atmospheres, affecting the aesthetics and mood of spaces.
Comparisons offer insights into the versatility, coordination possibilities, and nuances between similar-seeming shades, assisting homeowners and designers in making informed decisions.
Gardenia AF-10 vs. BM Natural Wicker 960
While both exude a neutral charm, Natural Wicker leans towards a richer beige undertone. Gardenia AF-10 is lighter and offers a fresher ambiance, whereas Natural Wicker brings a warmer earthiness to spaces.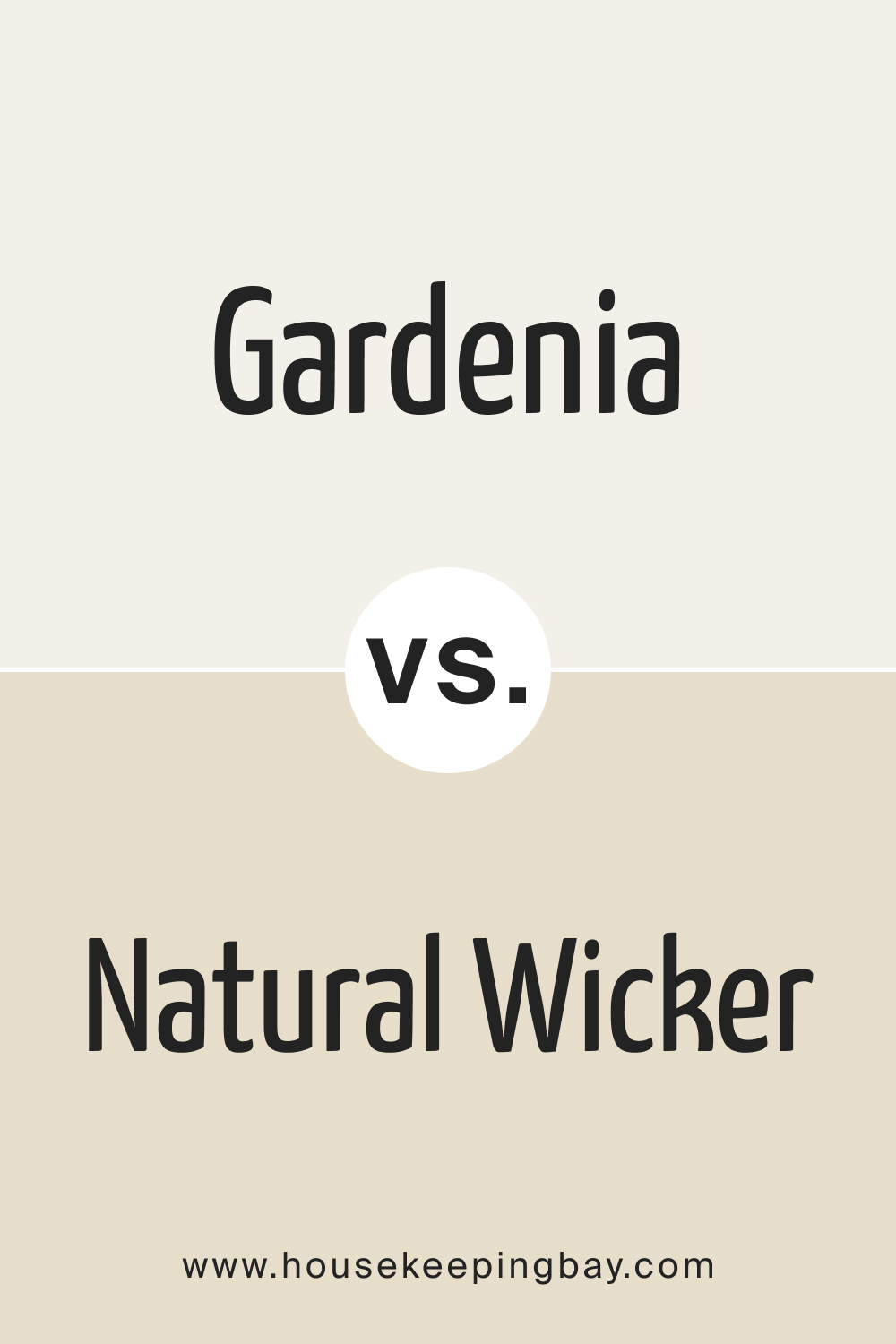 Gardenia AF-10 vs. BM White Sand 964
BM White Sand veers towards a creamy off-white palette. In contrast, Gardenia AF-10, with its gentle beige undertones, strikes a balance between warmth and brightness, making spaces feel both cozy and luminous.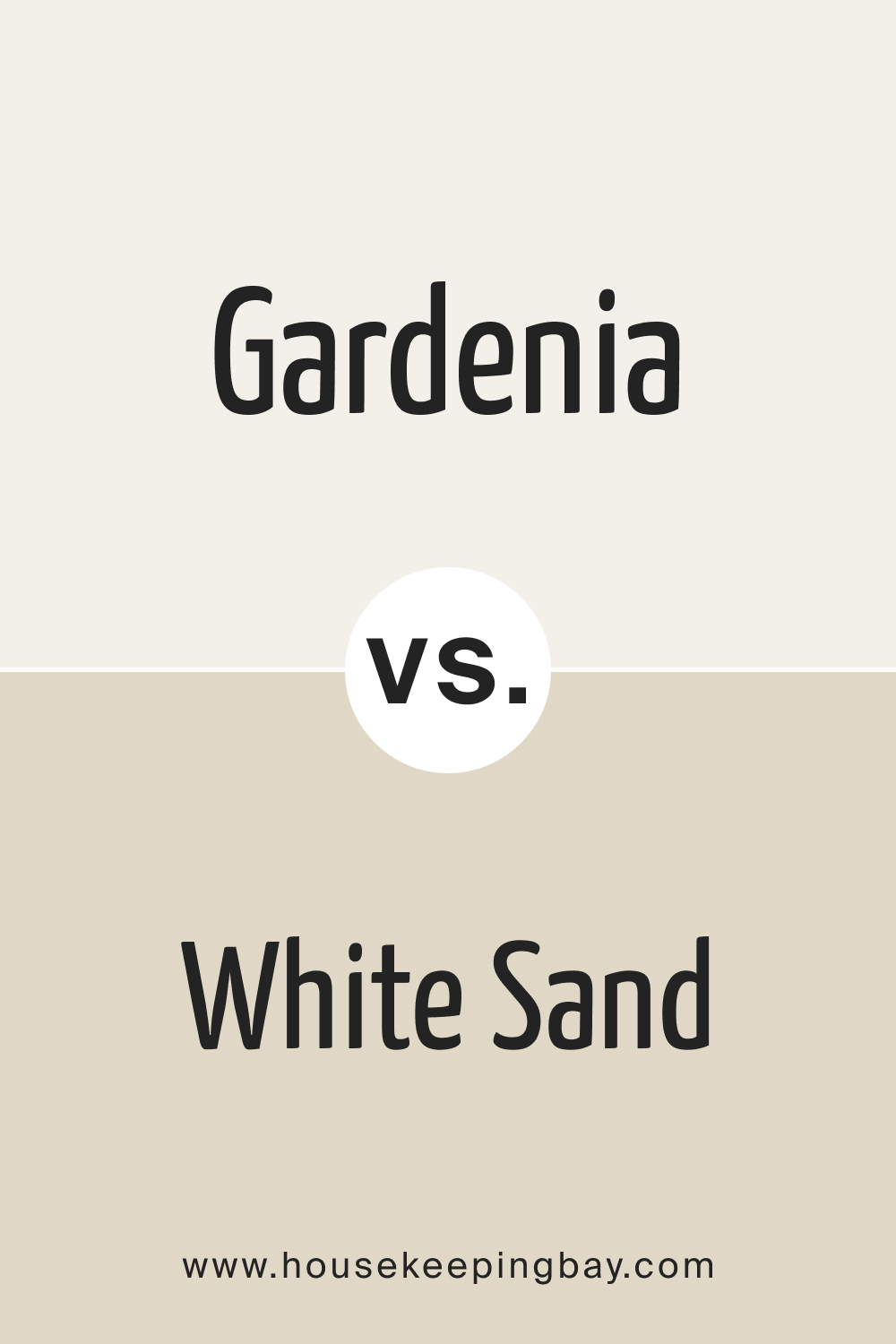 Gardenia AF-10 vs. HC-80 Bleeker Beige
BM Bleeker Beige showcases a pronounced beige depth. In comparison, Gardenia AF-10 provides a more subtle and airy elegance, making it versatile for diverse interior styles.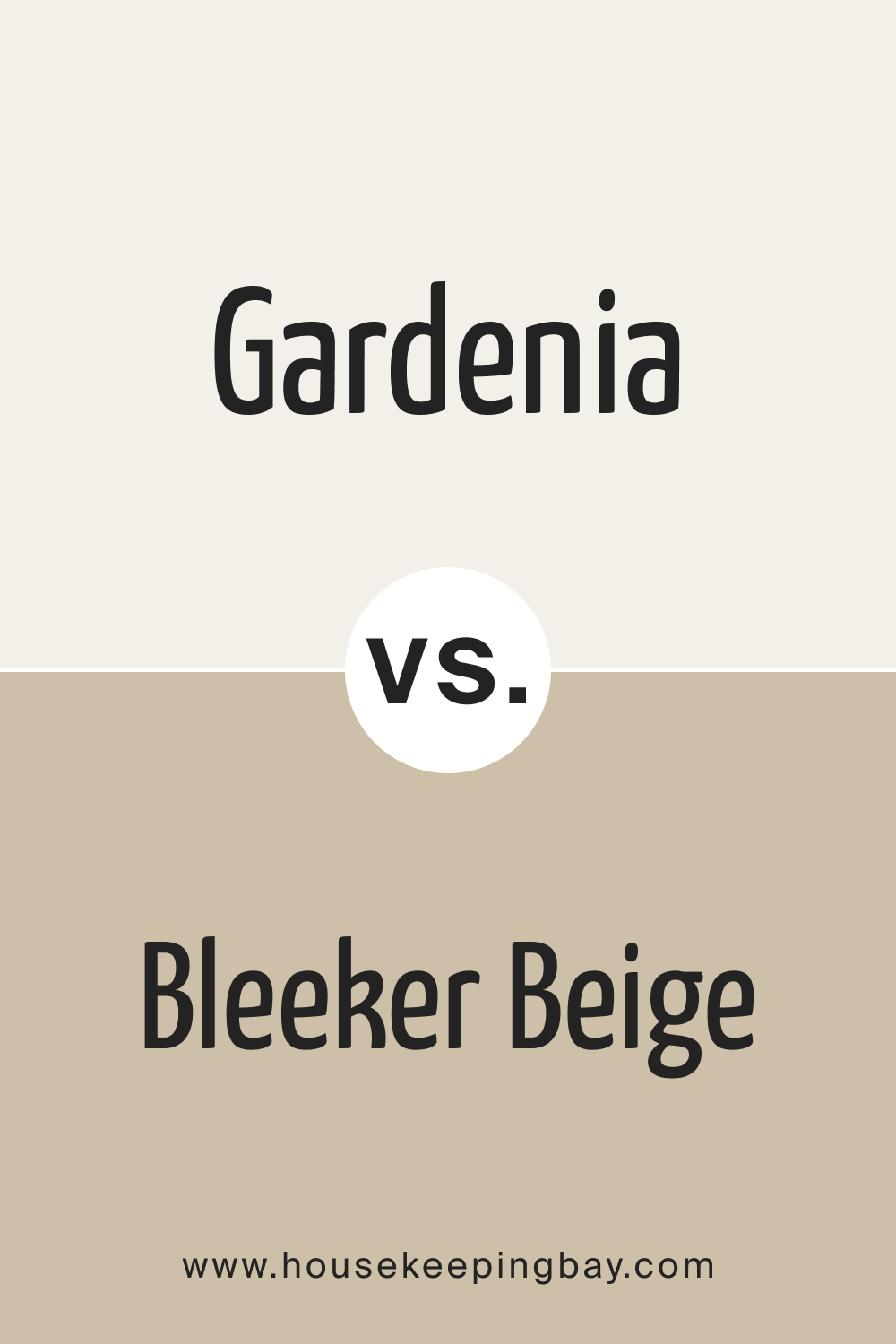 Gardenia AF-10 vs. HC-91 Danville Tan
BM Danville Tan exudes a deep, traditional beige hue. Meanwhile, Gardenia AF-10 carries a contemporary touch with its understated warmth, making it apt for modern interior settings.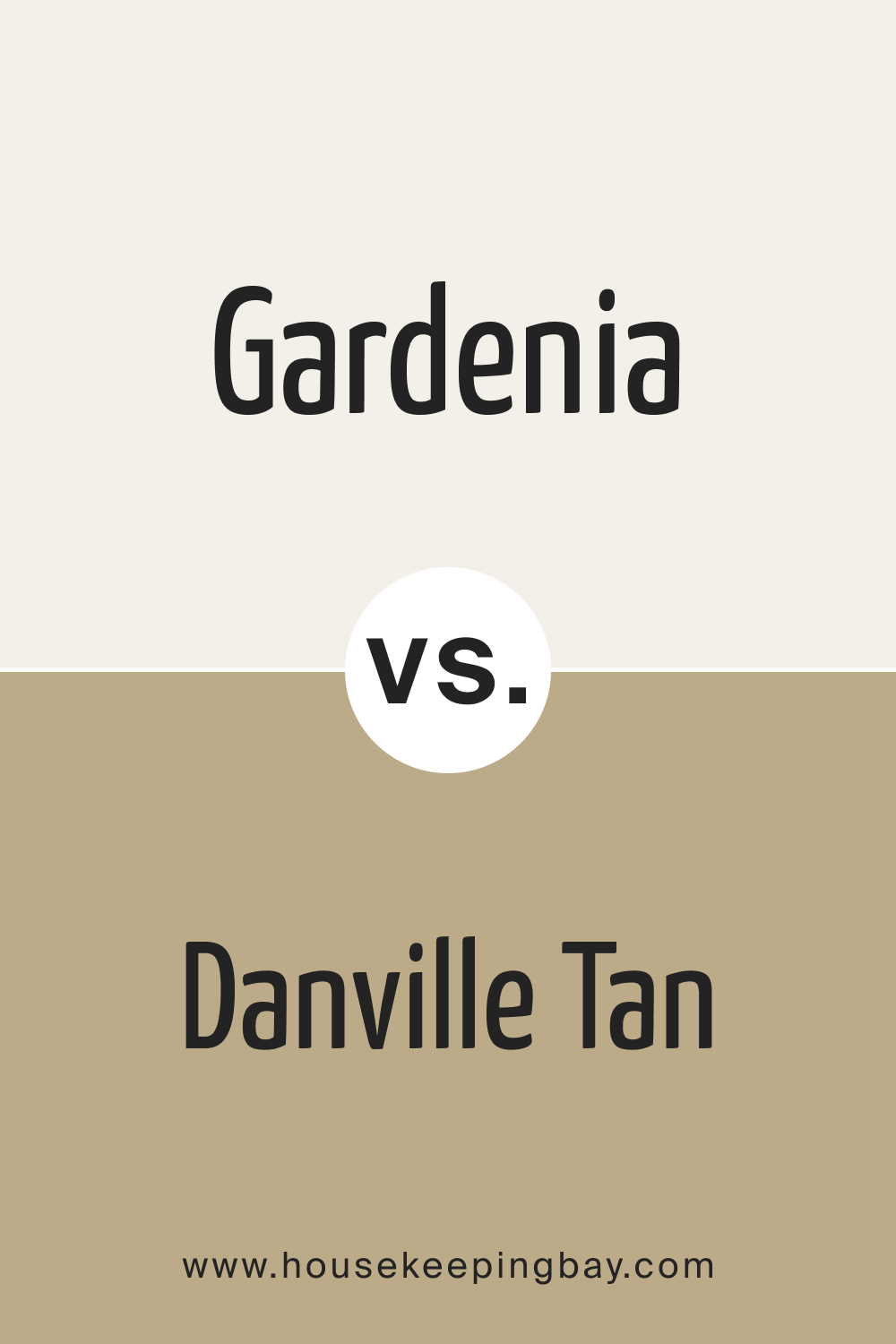 Gardenia AF-10 vs. BM Winter White 2140-70
BM Winter White portrays a pristine cool-toned aura. Conversely, Gardenia AF-10 balances warm undertones, offering a cozy warmth that isn't overpowering.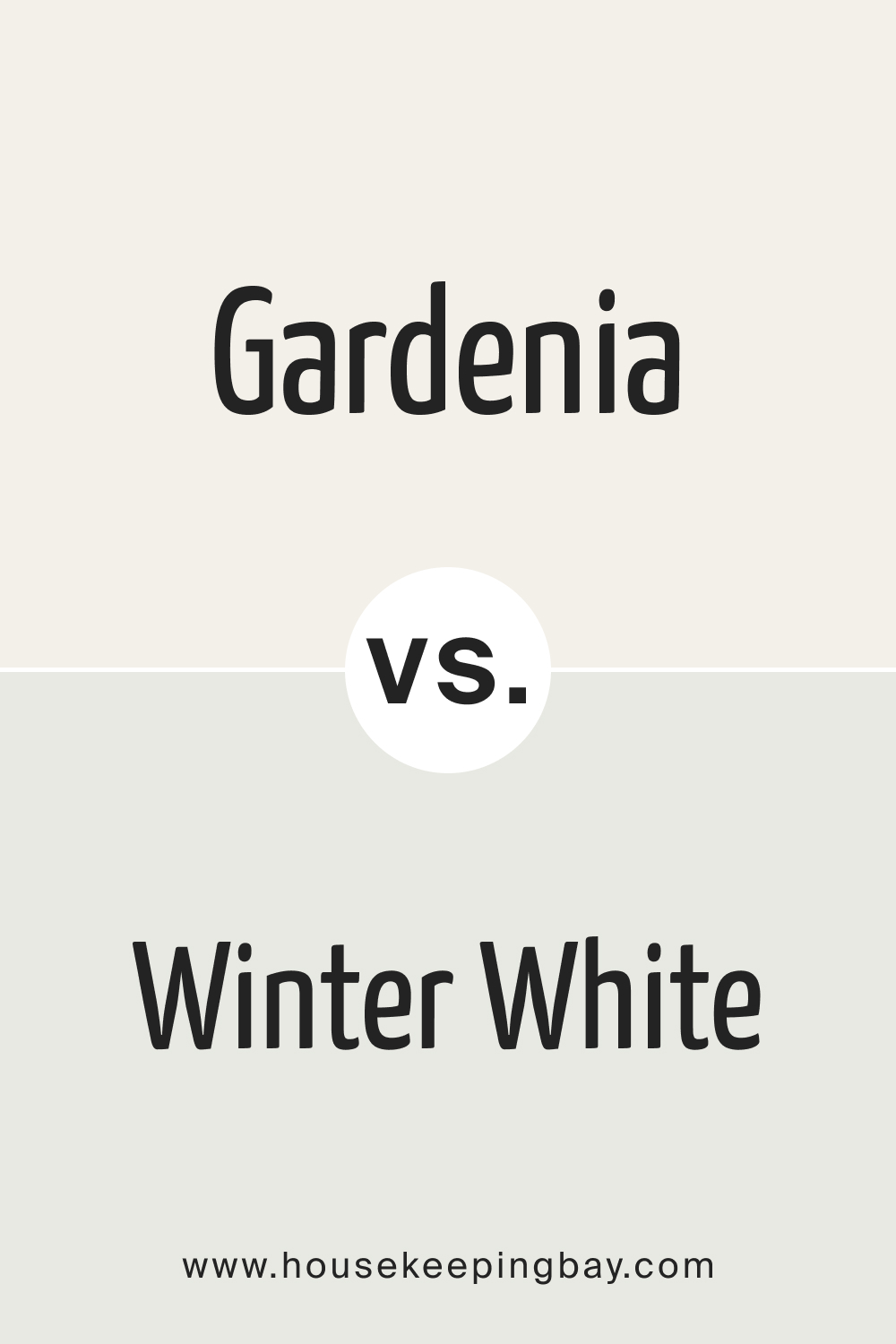 Gardenia AF-10 vs. BM White Mountains 906
BM White Mountains leans towards cooler undertones, radiating an open and airy ambiance. Gardenia AF-10, slightly warmer, evokes a snug and inviting atmosphere.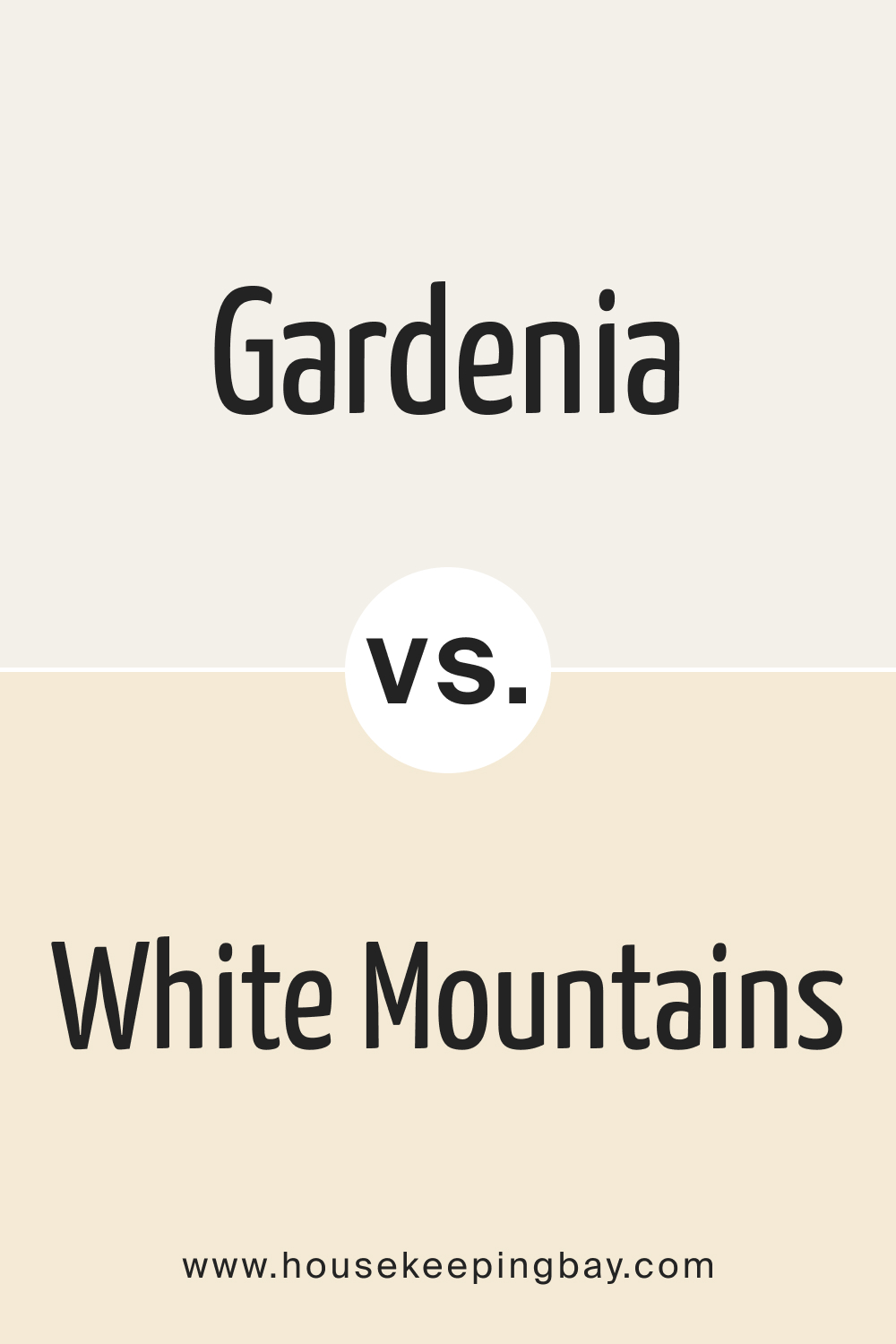 Conclusion
Comparative analysis emphasizes the uniqueness of Gardenia AF-10, accentuating its versatility and charm. It stands out with its subtle elegance, fitting seamlessly into varied decor styles and spaces.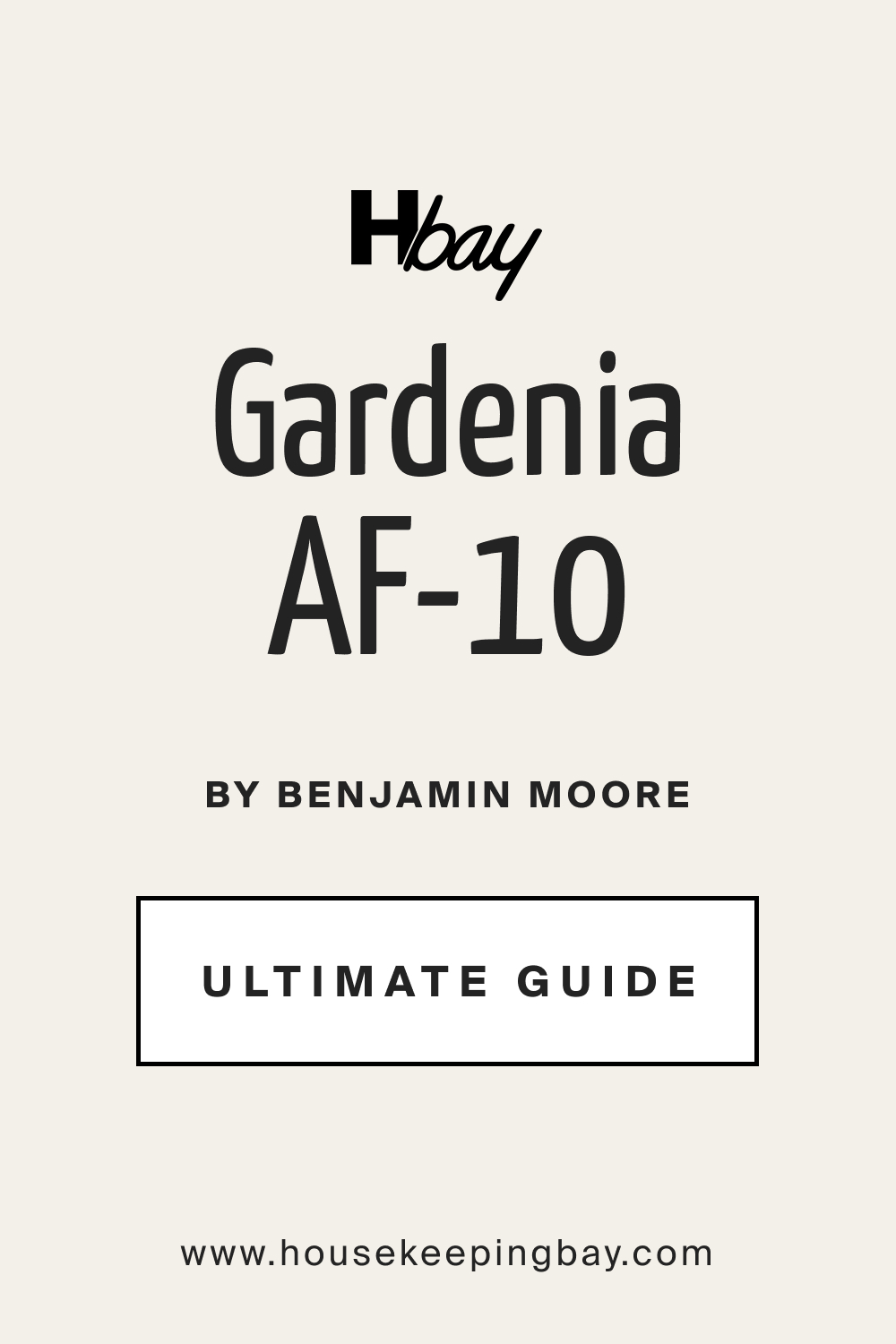 Frequently Asked Questions
⭐Is Gardenia AF-10 more beige or white?
Gardenia AF-10 is a neutral hue with subtle beige undertones, making it warmer than stark white.
⭐How does Gardenia AF-10 compare to regular white shades?
Unlike pure whites, Gardenia AF-10 has a hint of beige, lending warmth and a sophisticated touch to interiors.
⭐Can Gardenia AF-10 be used in both modern and traditional settings?
Yes, its neutral charm and subtle undertones make it adaptable to both contemporary and classic designs.
⭐How does lighting affect the appearance of Gardenia AF-10?
Lighting can either enhance its warmth or bring out its brightness. In natural light, it feels fresh, while artificial light makes it cozier.
⭐What colors pair well with Gardenia AF-10 for trims and accents?
Lighter shades of white or contrasting deep tones, like navy or charcoal, accentuate Gardenia AF-10's beauty.