Colors have the power to transform a room, influence moods, and create diverse ambiance. As we explore the depths of White Opulence OC-69, we aim to uncover its beauty, characteristics, and how it interacts with spaces and other colors.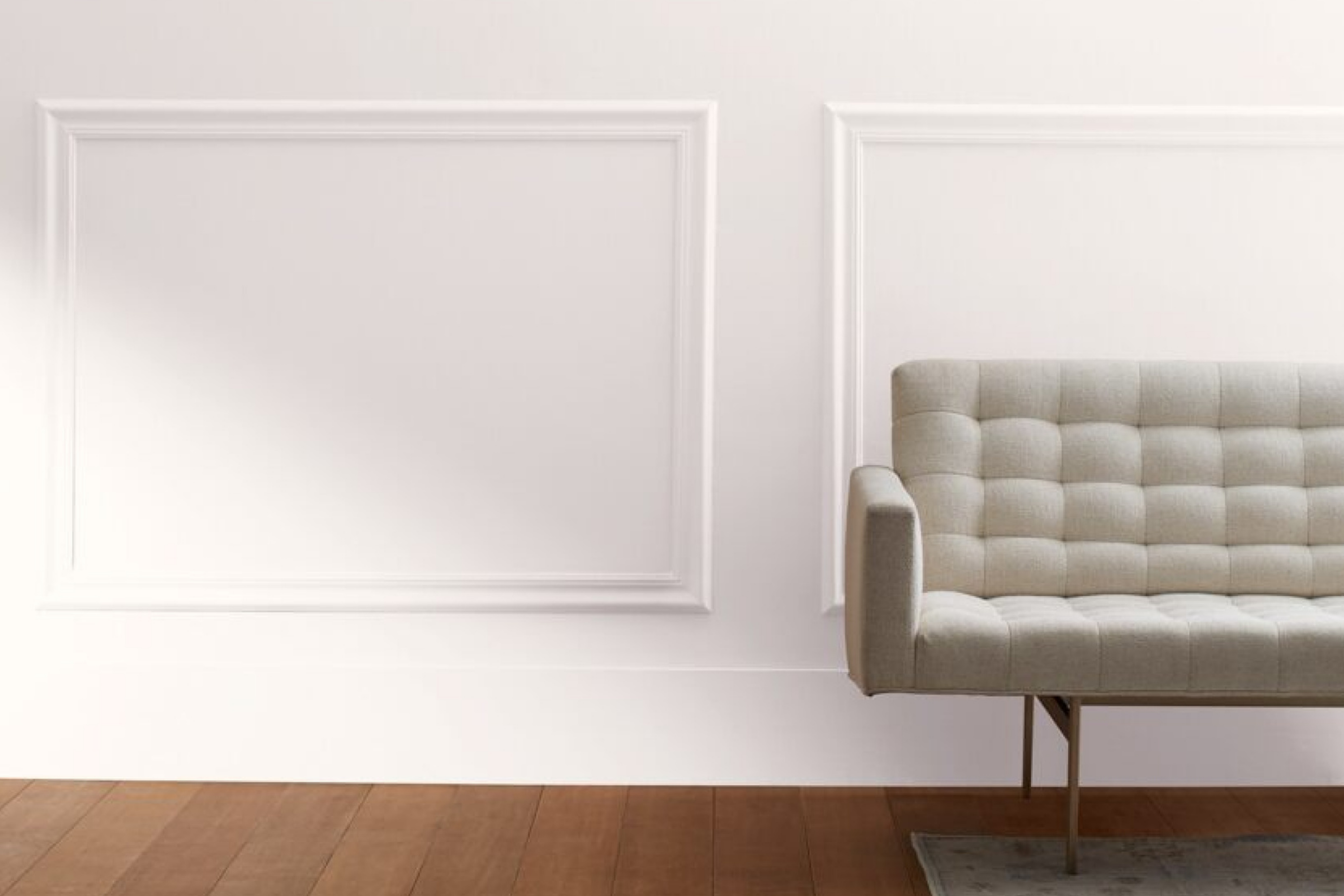 What Color Is White Opulence OC-69?
White Opulence OC-69, as the name suggests, resonates with luxury. It's a pristine, delicate shade of white that embodies purity and serenity. This color stands out in minimalistic and modern interior designs where simplicity is key.
Additionally, its adaptability means it complements materials like marble, wood, and brushed metal. Textures such as soft linens, coarse burlaps, and smooth ceramics are amplified when paired with this shade, as it provides a subtle backdrop for them to shine.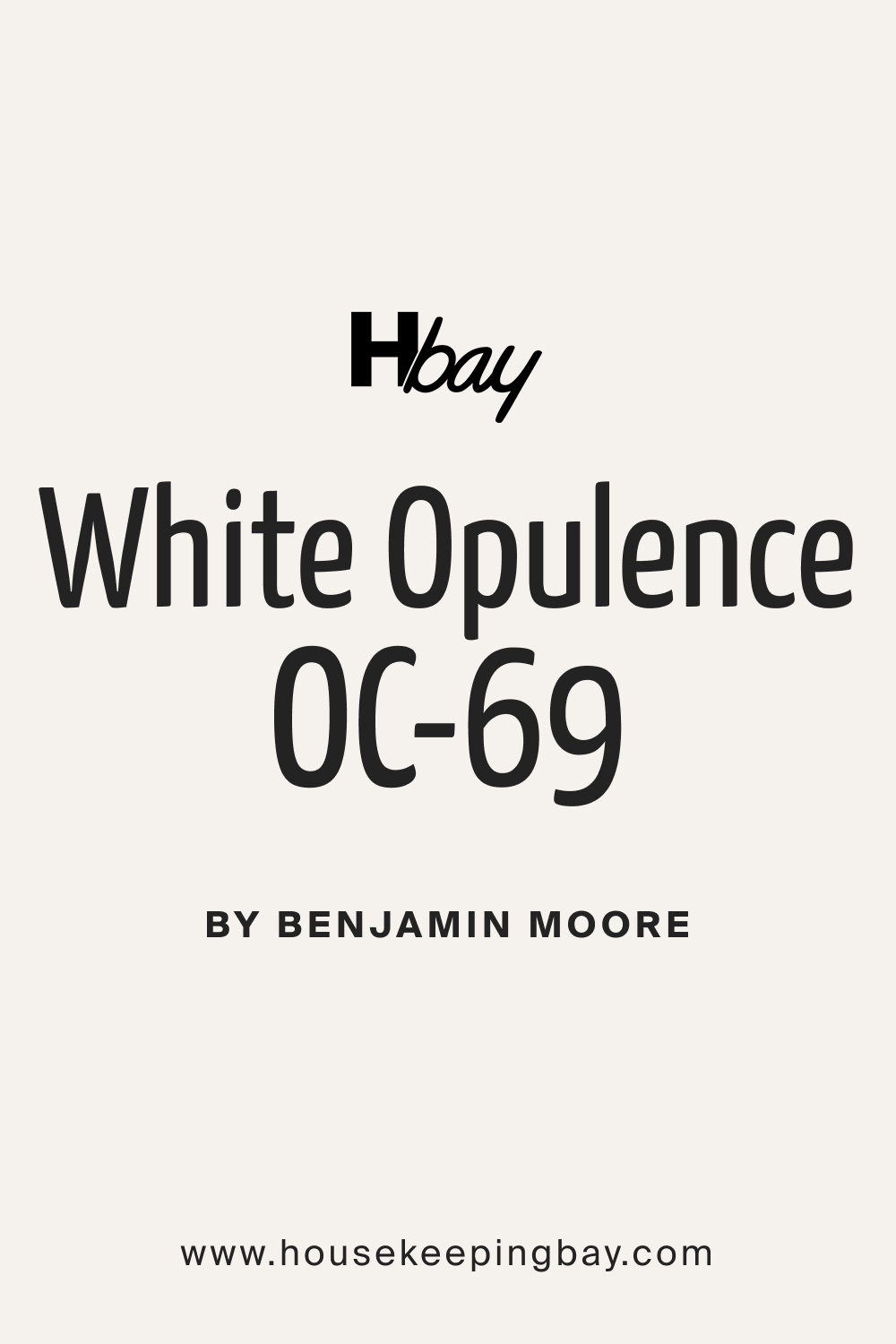 Is It a Warm Or Cool Color?
White Opulence OC-69 leans slightly towards the cooler side, lending an airy and spacious feel to any room. Its cool undertones can provide a refreshing and calm environment, especially useful in homes where relaxation is a priority.
When combined with warmer shades, White Opulence can balance out a room's temperature, making it neither too warm nor too chilly.
Undertones of White Opulence OC-69
Every color possesses undertones that subtly influence its overall appearance. White Opulence OC-69 carries faint blue and gray undertones, which enhance its cool essence. These undertones are key in determining how the color interacts with its surroundings and can sometimes make it appear warmer or cooler depending on adjacent colors.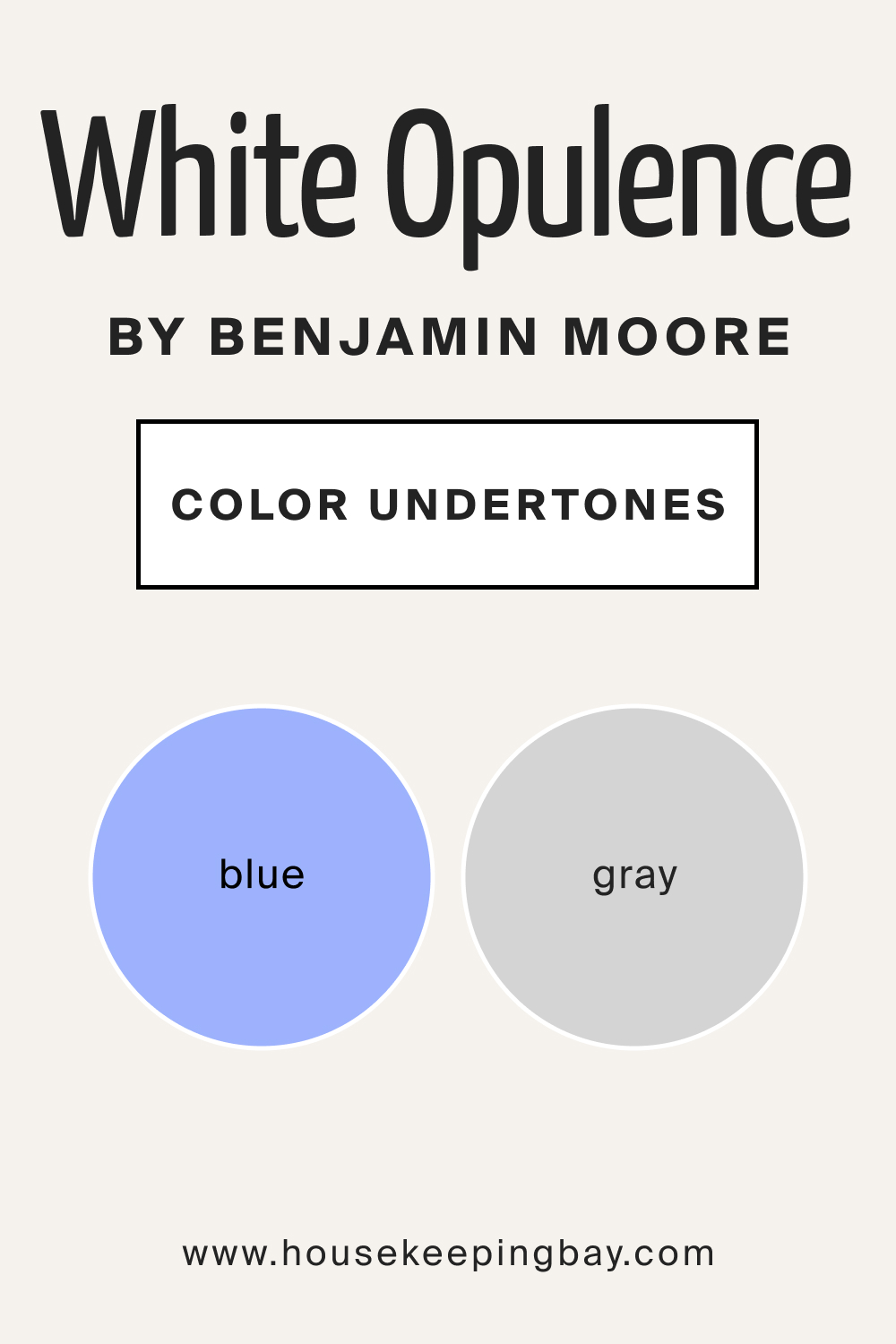 Coordinating Colors of White Opulence OC-69
Coordinating colors are shades that harmoniously blend with a primary color. For BM White Opulence, coordinating colors include:
BM Driftwood 2107-40 (a muted earthy brown)
BM Sand Dollar OC-71 (a delicate beige with soft undertones)
AF-265 Charmeuse (a rich, creamy hue).
Furthermore, colors like BM Pale Oak OC-20, BM Feather Gray 2127-60, and BM Paper White OC-55 can also complement White Opulence impeccably.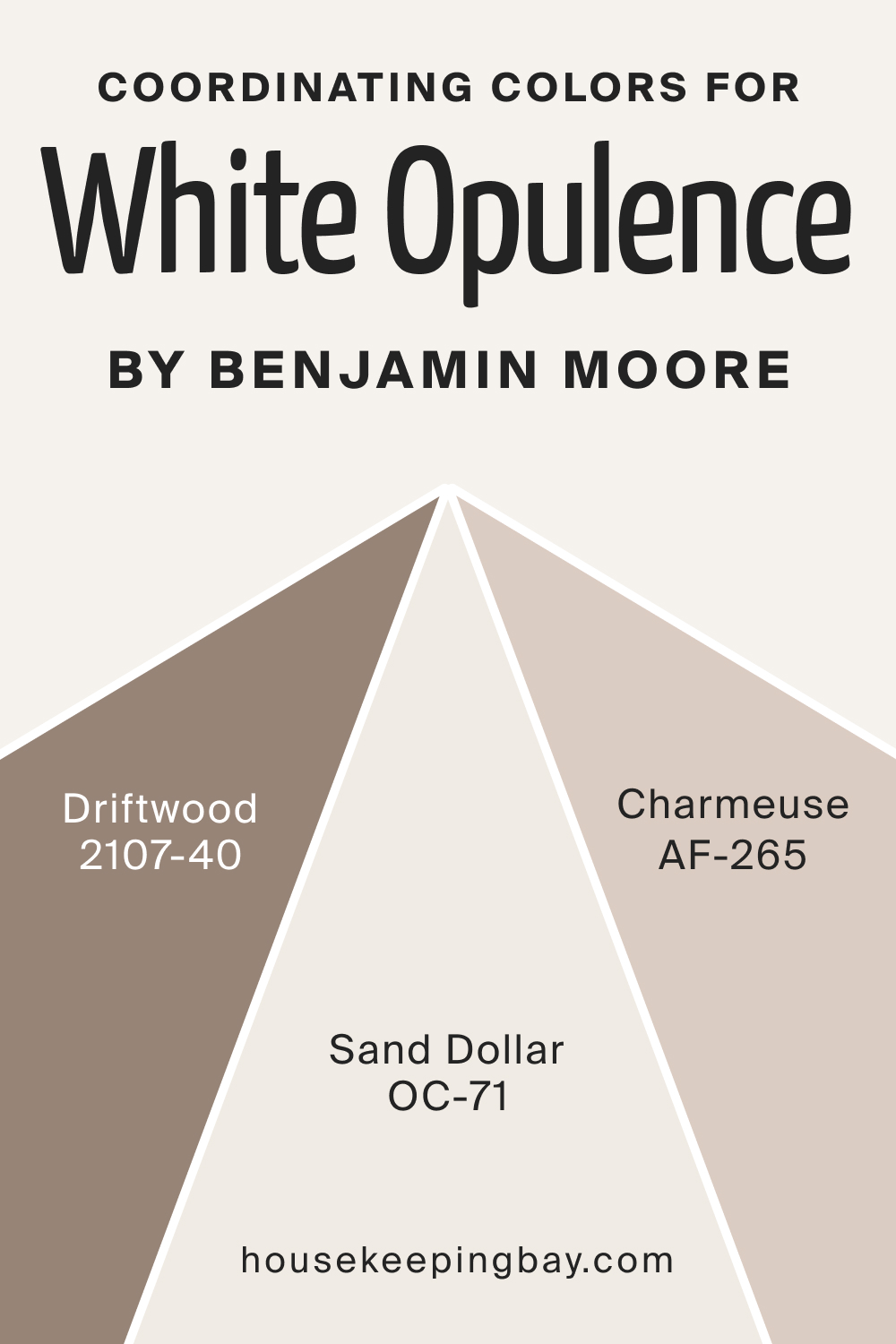 How Does Lighting Affect White Opulence OC-69?
Lighting dramatically influences how we perceive colors. In artificial light, White Opulence may appear more uniform and consistent. In contrast, natural light, depending on its source, can enhance its undertones. For instance, in north-facing rooms where light is cooler, White Opulence may look slightly more blueish.
In contrast, south-facing rooms with warmer sunlight might make it appear a tad warmer. East-facing rooms in the morning sun will enhance its freshness while west-facing rooms during the evening can make it feel cozier.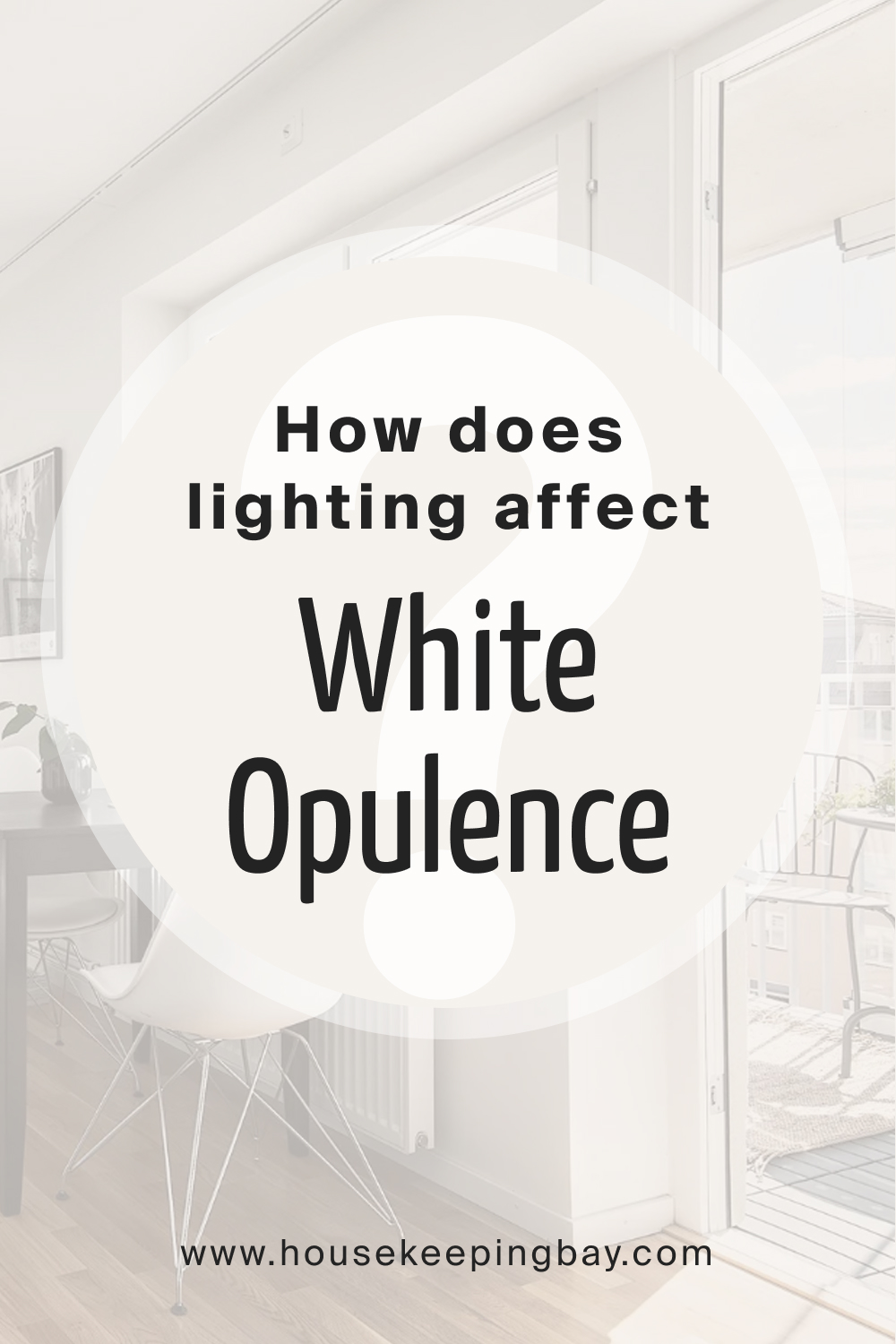 LRV of White Opulence OC-69
Light Reflectance Value (LRV) measures the amount of light a color reflects. With an LRV of 87, White Opulence is quite reflective, making spaces feel larger and more open. Such a high LRV means the color will be inherently luminous, especially in well-lit spaces, enhancing its ethereal quality.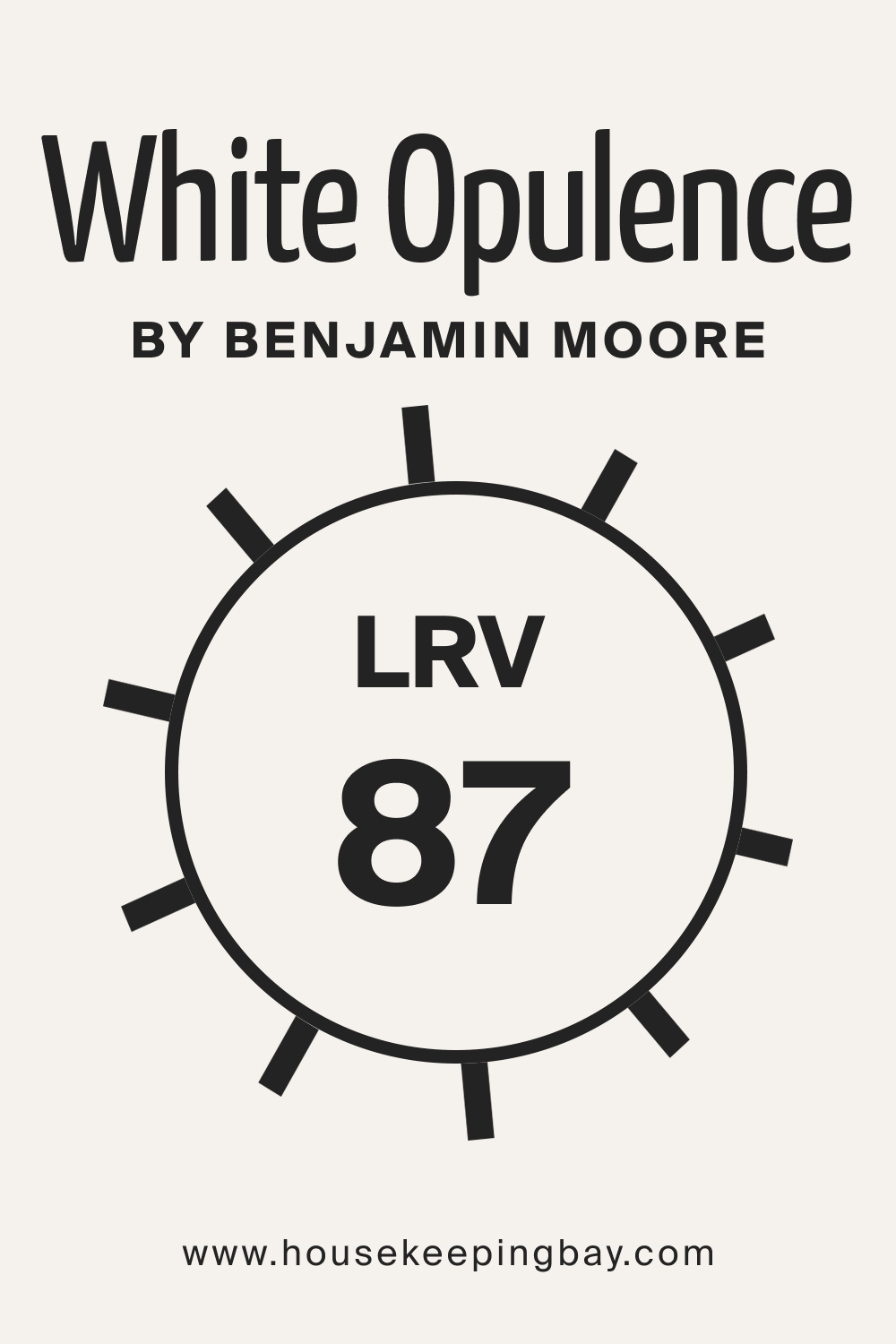 What is LRV? Detailed Guide
Trim Colors of White Opulence OC-69
Trim colors accentuate architectural details. For White Opulence, considering shades of white from the same brand can give a layered, rich look. BM Simply White OC-117, BM Chantilly Lace OC-65, and BM Decorator's White OC-149 can be splendid trim choices, adding depth and contrast without overpowering the primary shade.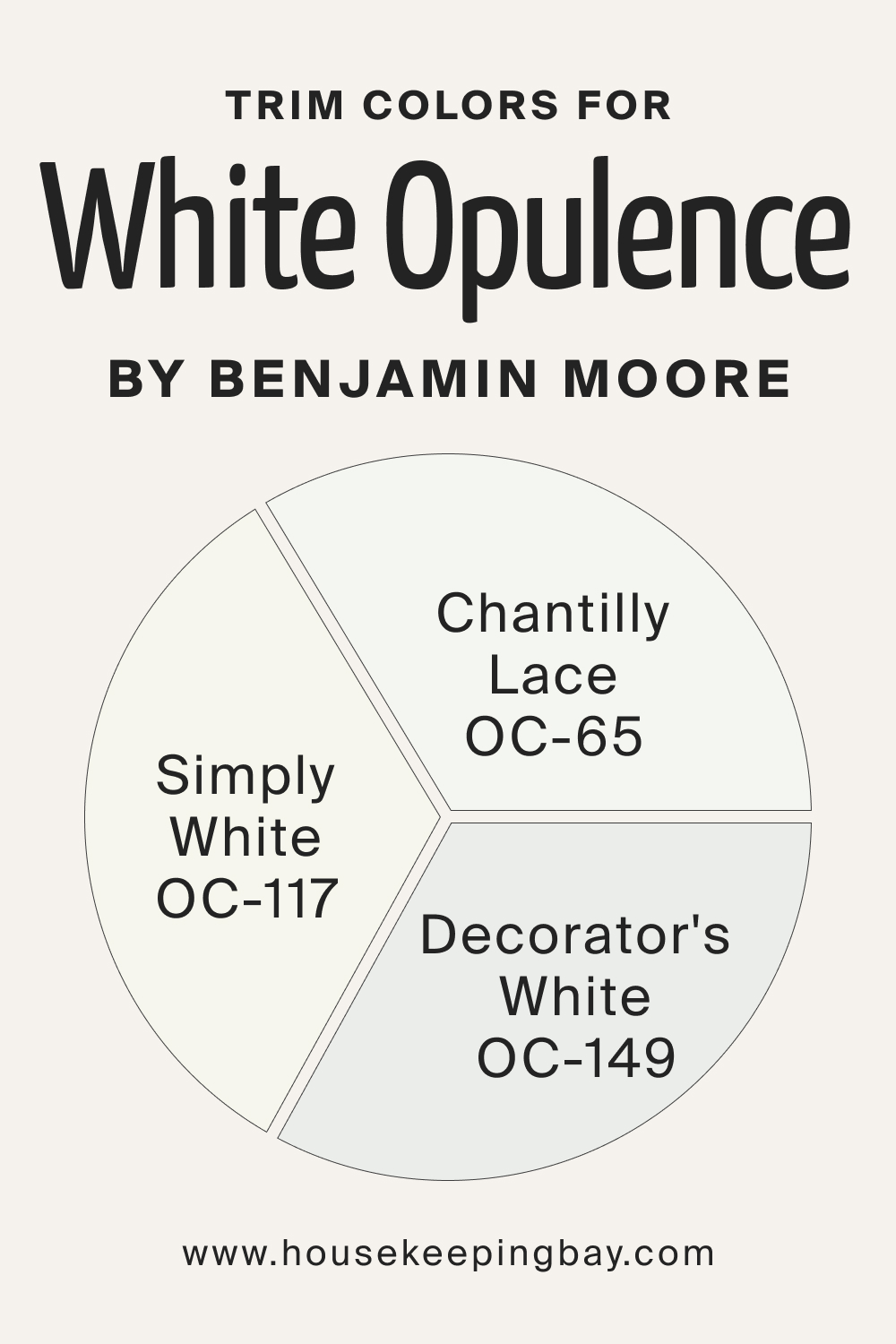 Colors Similar to White Opulence OC-69
Identifying similar colors aids in achieving design continuity. For BM White Opulence, check out these options:
BM Alabaster 876 (a warm, creamy white)
BM White Heron OC-57 (soft and neutral)
BM Cotton Balls OC-122 (a touch more yellow).
Each offers a slight variation but retains the same calming essence.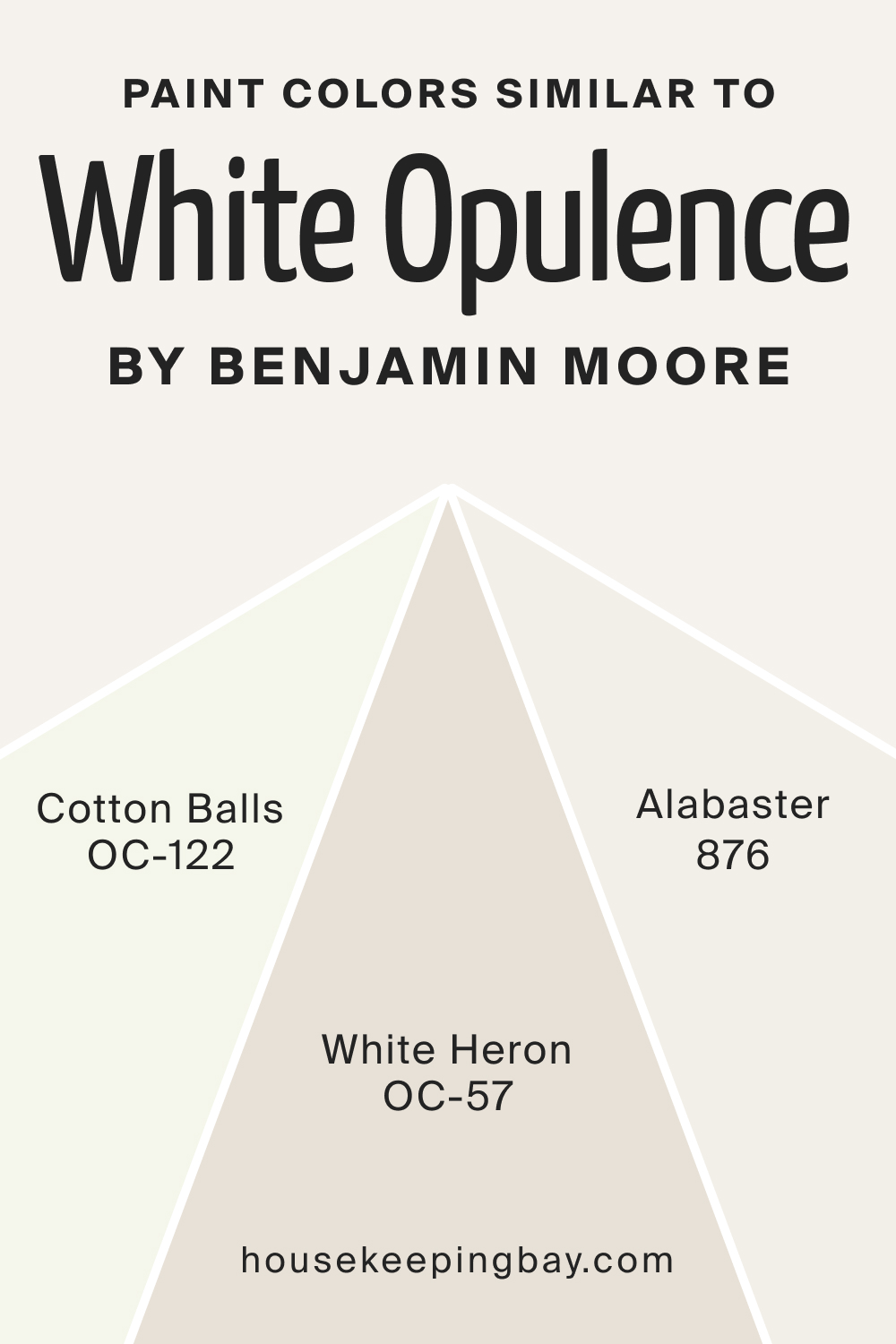 Colors That Go With White Opulence OC-69
To achieve design harmony, integrating complementary colors is vital. We recommend these colors to use with BM White Opulence:
OC-47 Ashwood presents a muted beige-grey
BM Wales Gray 1585 offers a sophisticated blue-gray hue
BM Terra Cotta Tile 2090-30 embodies a rich, earthy red
BM Incense Stick 2115-20 is a deep, spicy brown
HC-20 Woodstock Tan provides a harmonious beige warmth.
Each of these colors, when paired with White Opulence, can create a cohesive, balanced palette.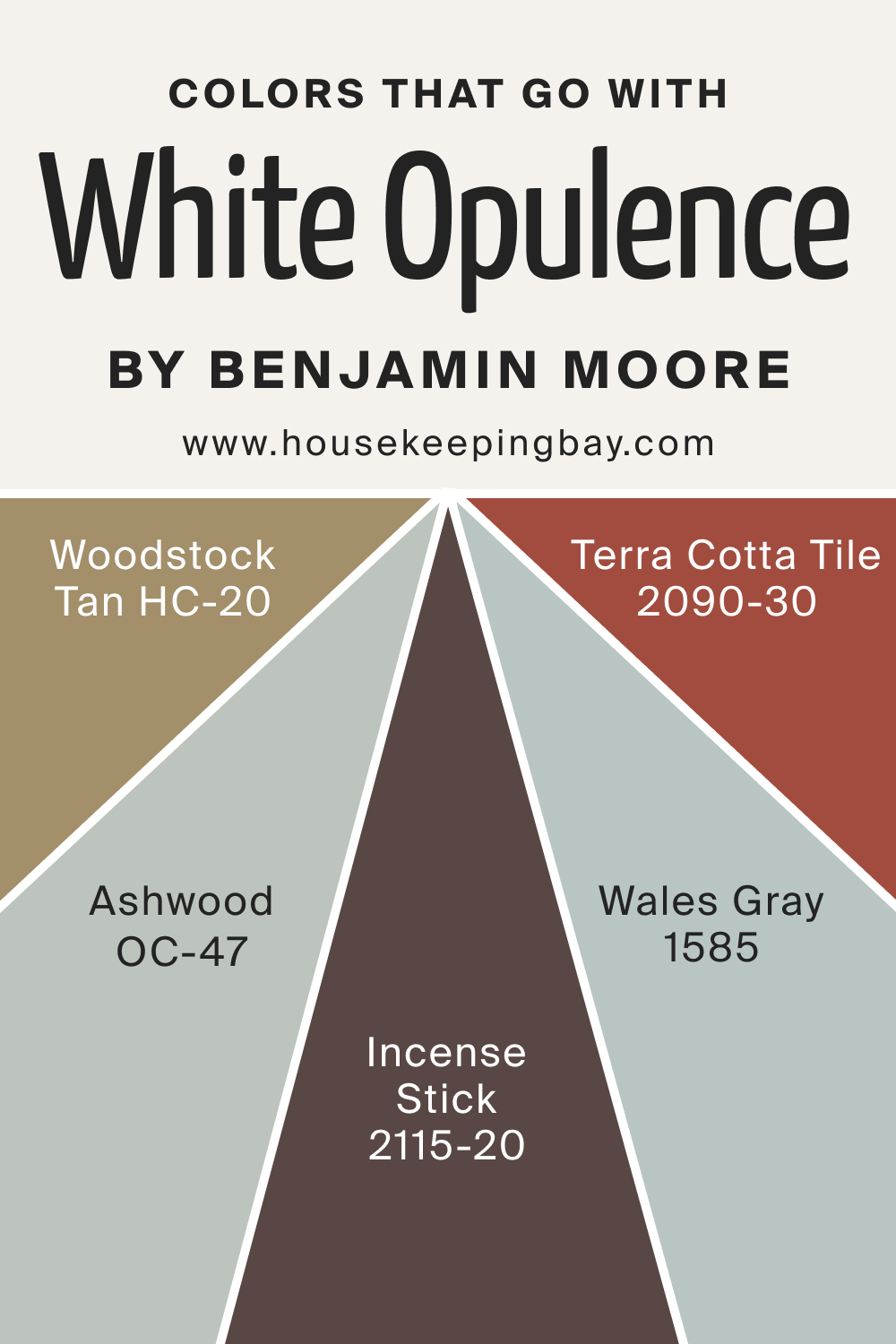 How to Use White Opulence OC-69 In Your Home?
White Opulence OC-69 is incredibly versatile. It's an excellent choice for creating a serene atmosphere in bedrooms or lending an open, airy feel to living rooms and kitchens. This shade is apt for minimalist, Scandinavian, coastal, or modern farmhouse designs.
Its adaptability means it can be used almost anywhere, including hallways, bathrooms, or exteriors, providing a clean, crisp backdrop.
How to Use White Opulence OC-69 in the Bedroom?
In bedrooms, White Opulence can create a tranquil retreat. Paired with soft textiles and muted furnishings, it offers an oasis of calm. Its cool undertones support rest and relaxation, making it perfect for a place of rest.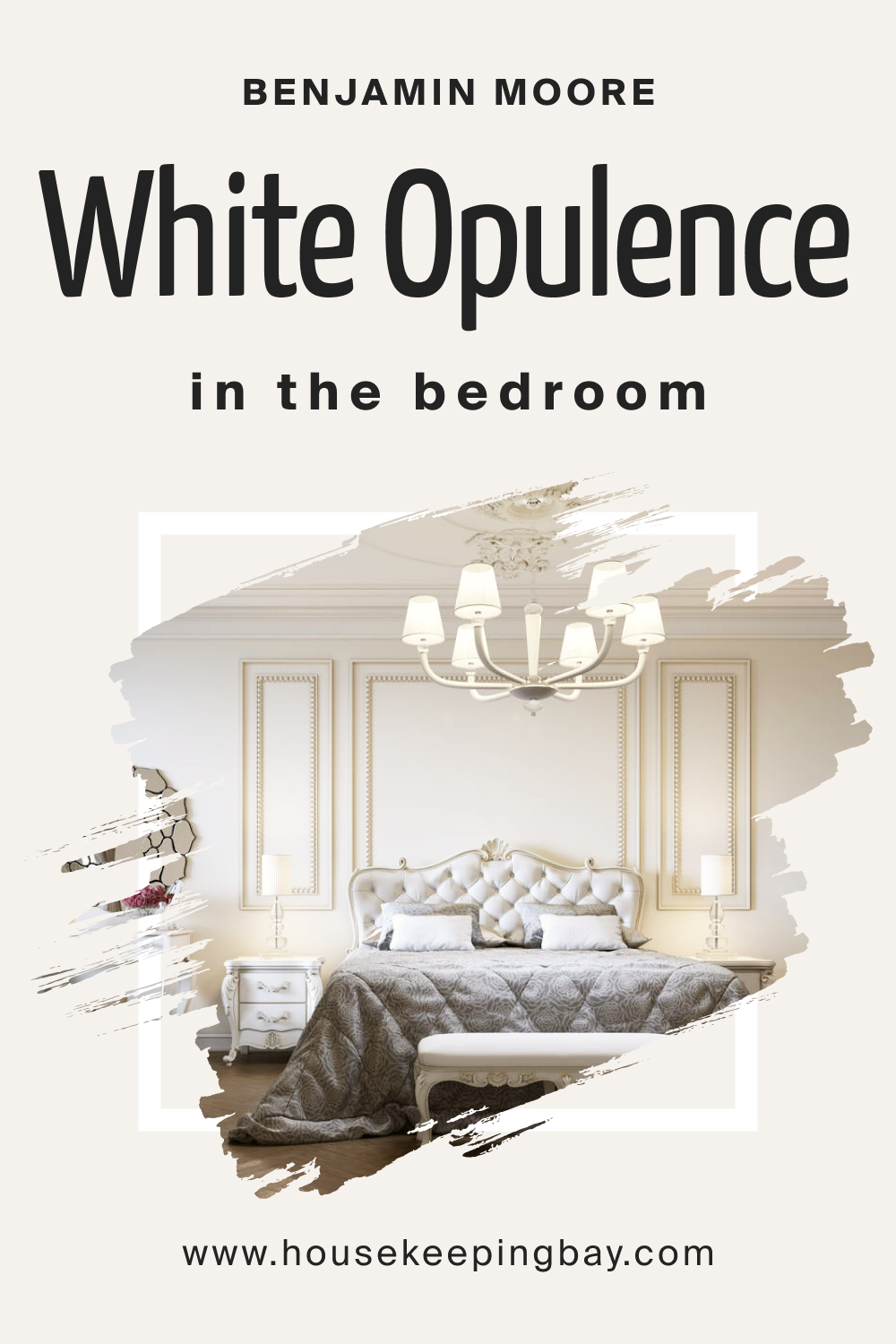 How to Use White Opulence OC-69 in the Bathroom?
In bathrooms, White Opulence amplifies natural light, giving a spa-like quality. Paired with marbled surfaces or minimalist fixtures, it elevates the bathroom into a sanctuary of cleanliness and peace.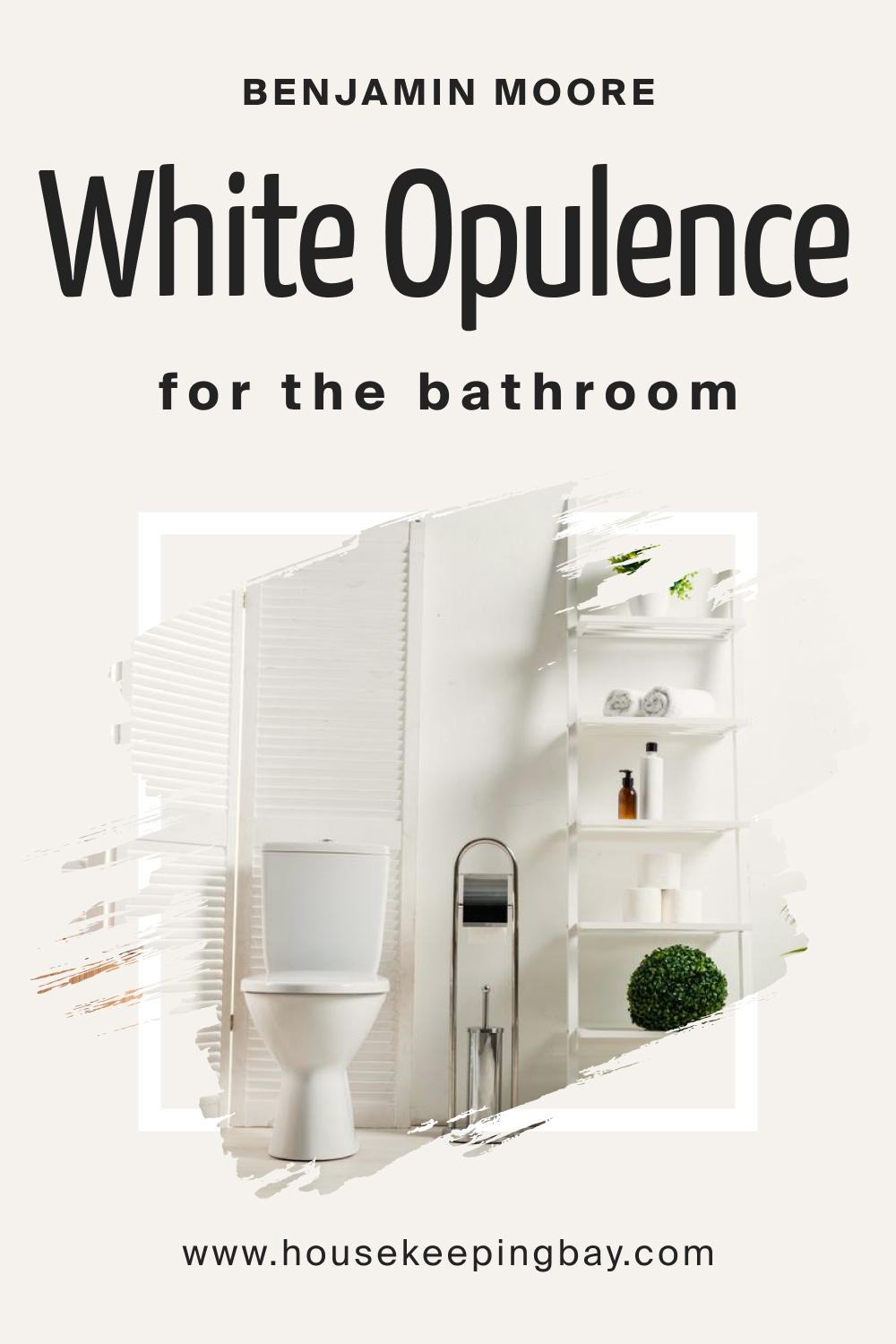 How to Use White Opulence OC-69 in the Living Room?
For living rooms, White Opulence provides a neutral canvas. It enhances colorful artwork, patterned rugs, and vibrant furnishings. In minimalist settings, it helps maintain a sense of spaciousness and tranquility.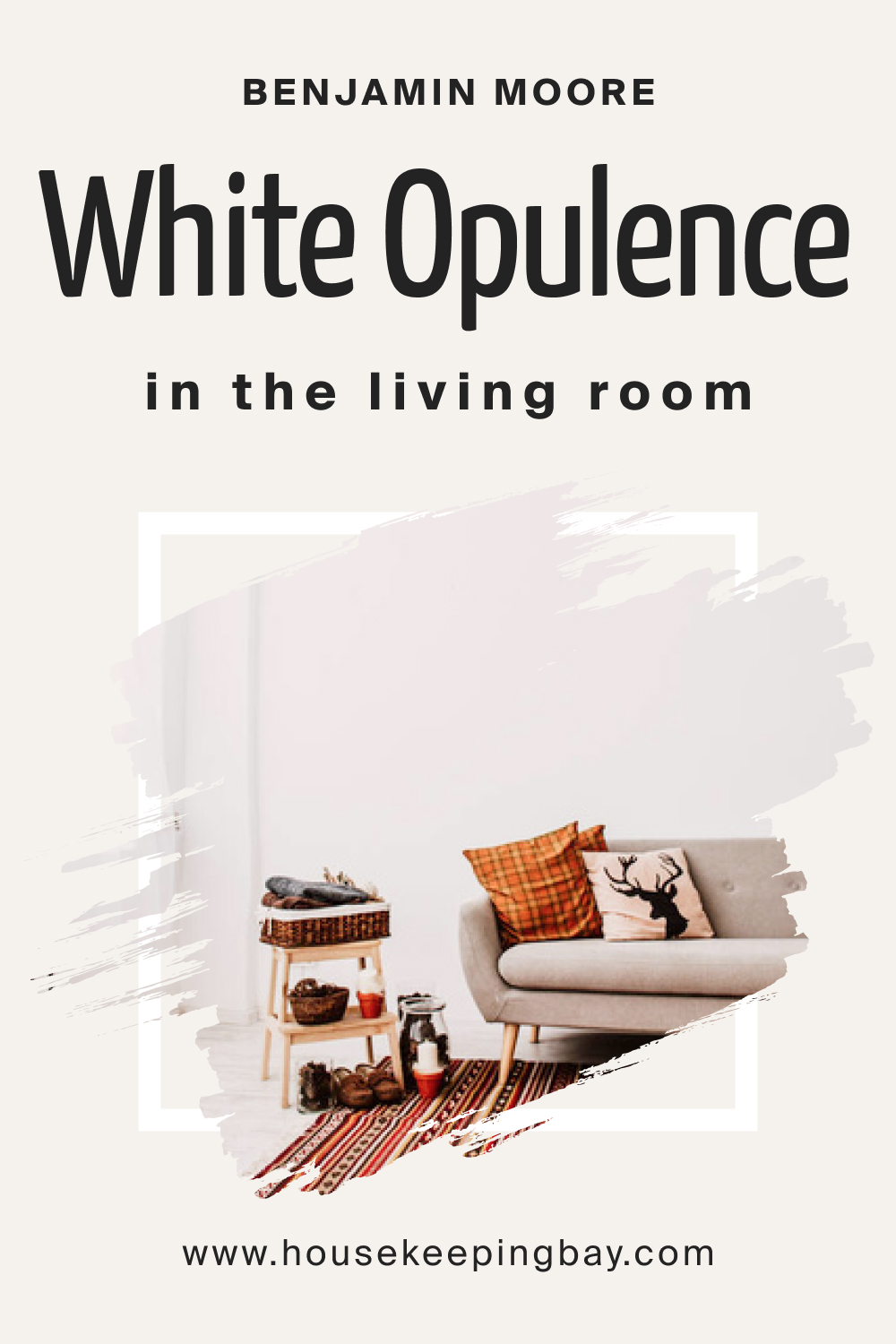 How to Use White Opulence OC-69 for an Exterior?
Exteriors painted with White Opulence exude timeless elegance. It reflects sunlight beautifully, making homes appear larger and grander. Perfect for modern homes or traditional facades, this color offers a chic curb appeal.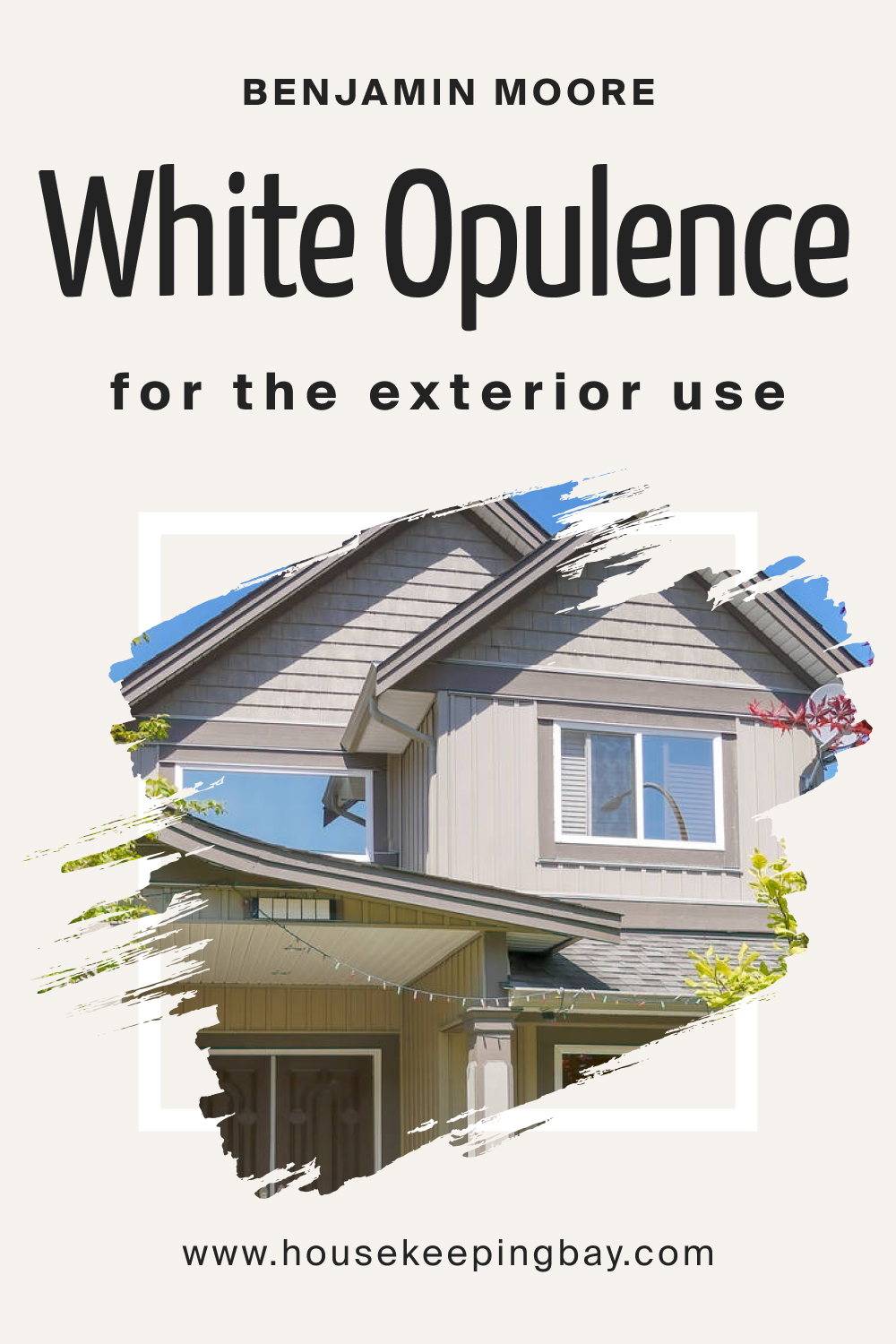 How to Use White Opulence OC-69 in the Kitchen?
Kitchens benefit from the expansive feel White Opulence provides. It's brilliant for creating a clean, hygienic ambiance, enhancing both natural and artificial lighting, thus making culinary tasks easier.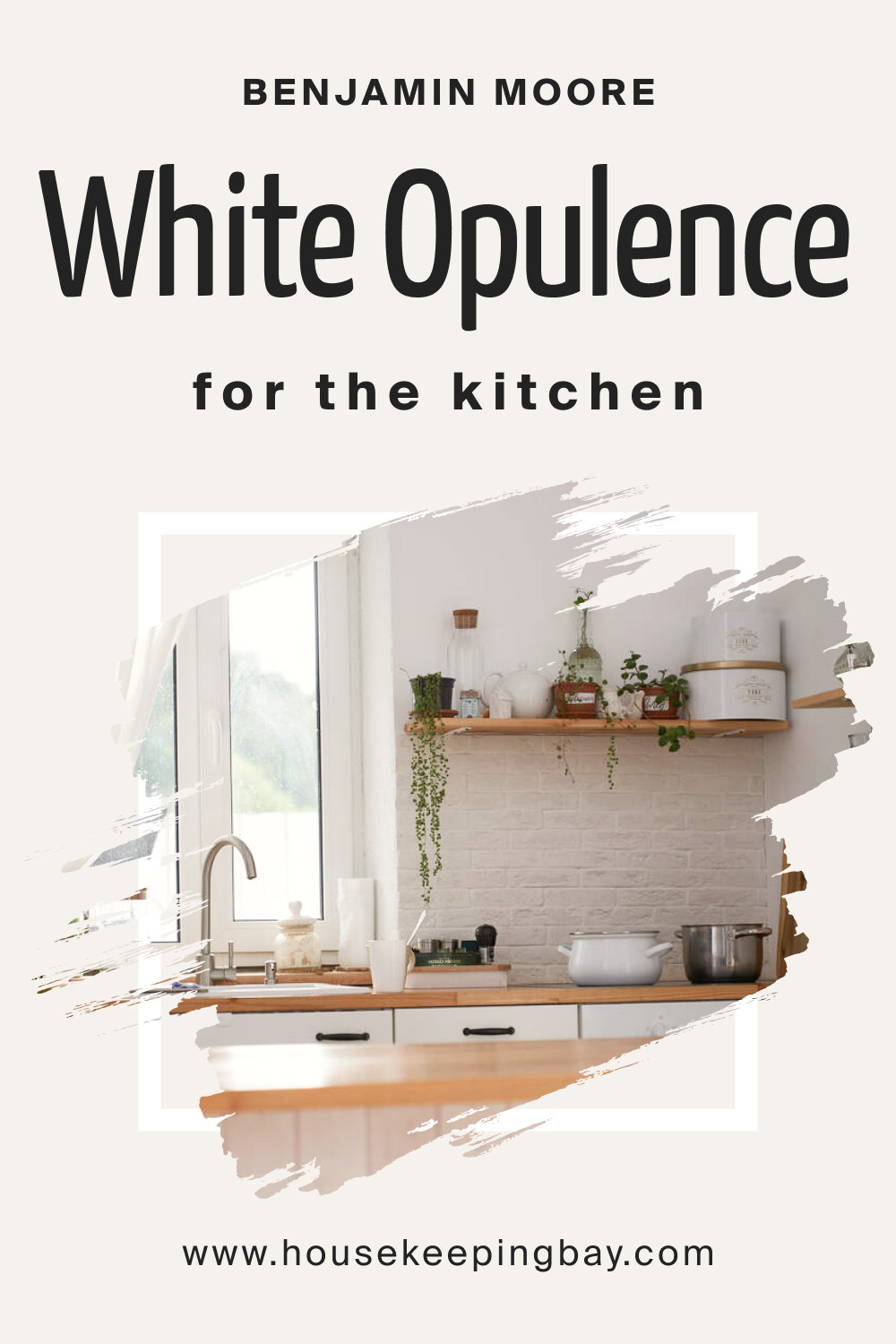 Comparing White Opulence OC-69 With Other Colors
Comparing colors provides a deeper understanding of undertones, versatility, and the mood they create. Placing White Opulence OC-69 alongside other shades can help decipher its unique attributes and how it might change in varying lights or settings.
White Opulence OC-69 vs. BM Ice Mist 2123-70
While both are white, BM Ice Mist has a faint blue undertone. In contrast, White Opulence has a more neutral base, making it adaptable, while Ice Mist might seem cooler in certain lights.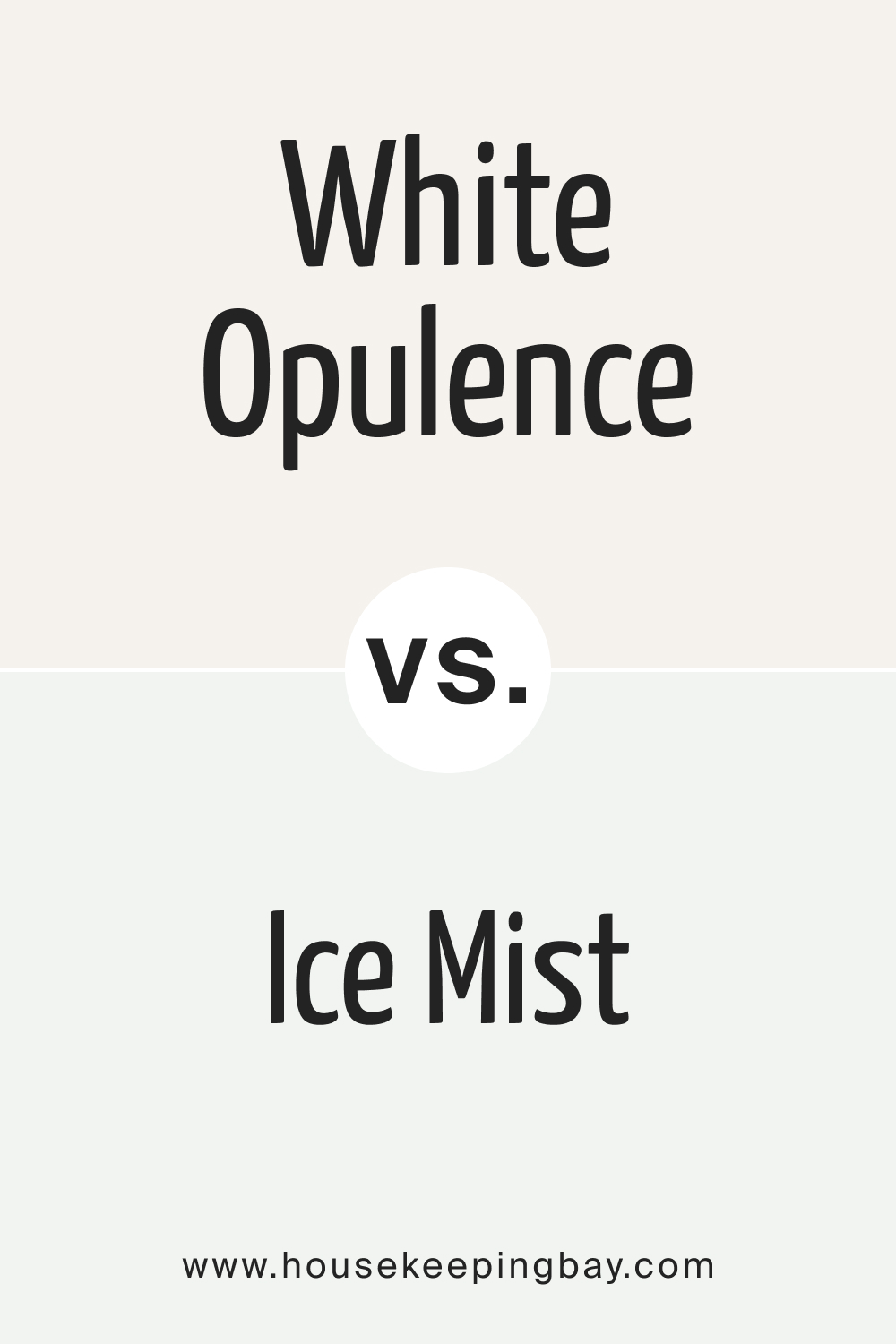 White Opulence OC-69 vs. BM Super White OC-152
BM Super White is brighter and crisper, almost resembling freshly fallen snow. White Opulence, on the other hand, carries a more subdued, calming aura.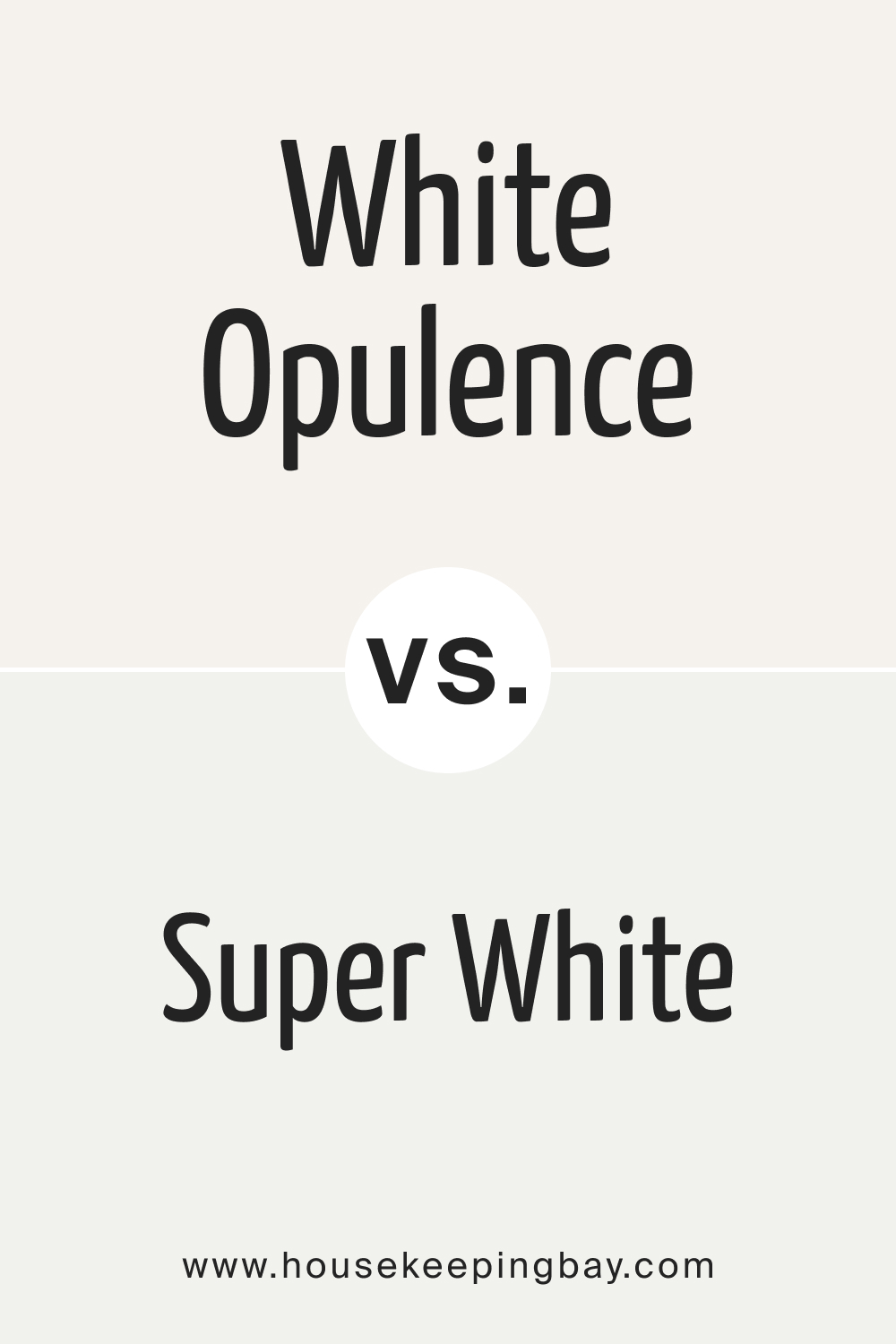 White Opulence OC-69 vs. BM Winter Snow OC-63
BM Winter Snow leans toward a warmer spectrum. Against White Opulence, it might appear slightly creamier, bestowing a cozier feel.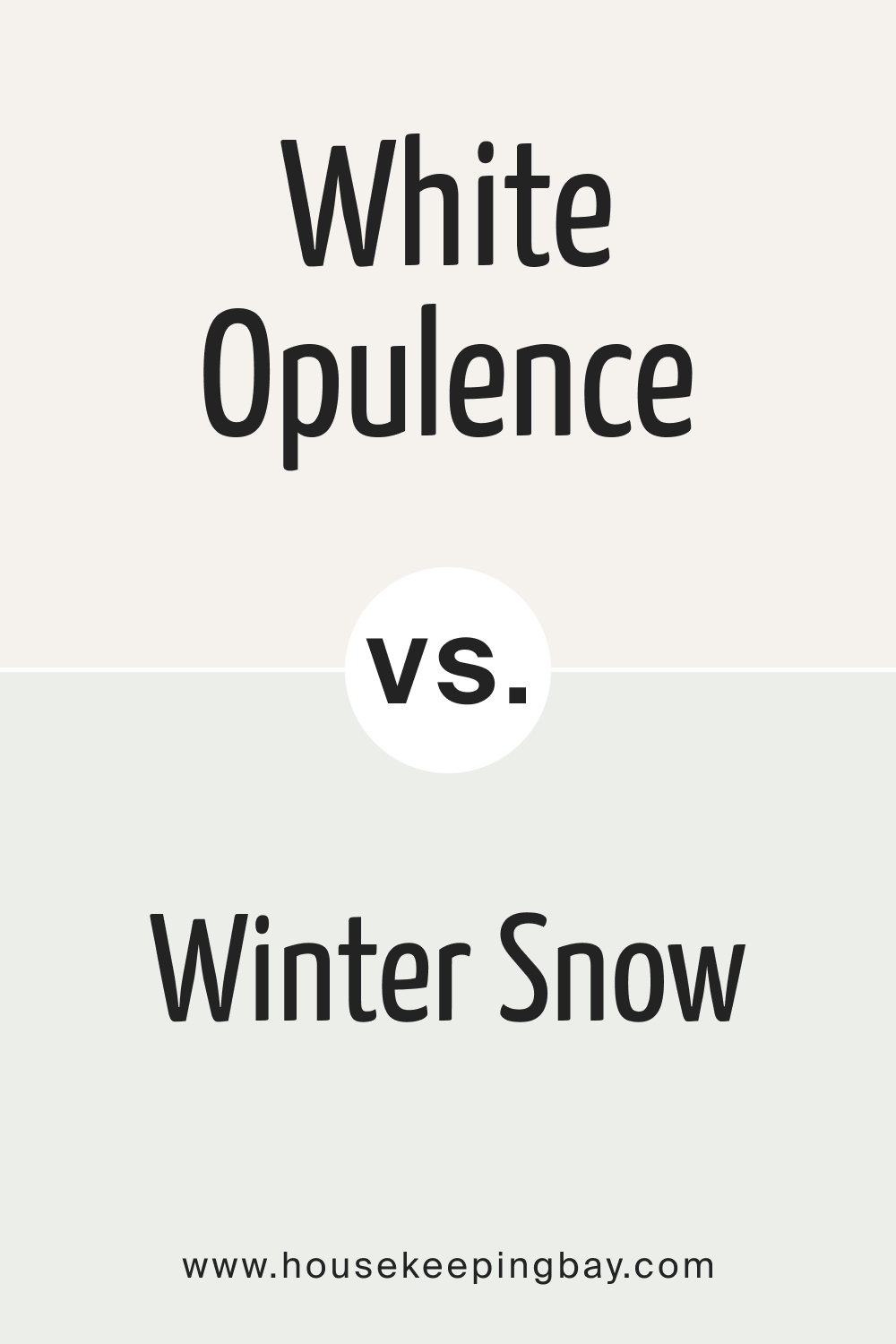 White Opulence OC-69 vs. BM Atrium White OC-145
BM Atrium White has subtle pink undertones. This gives it a warmer, welcoming character in comparison to the cool tranquility of White Opulence.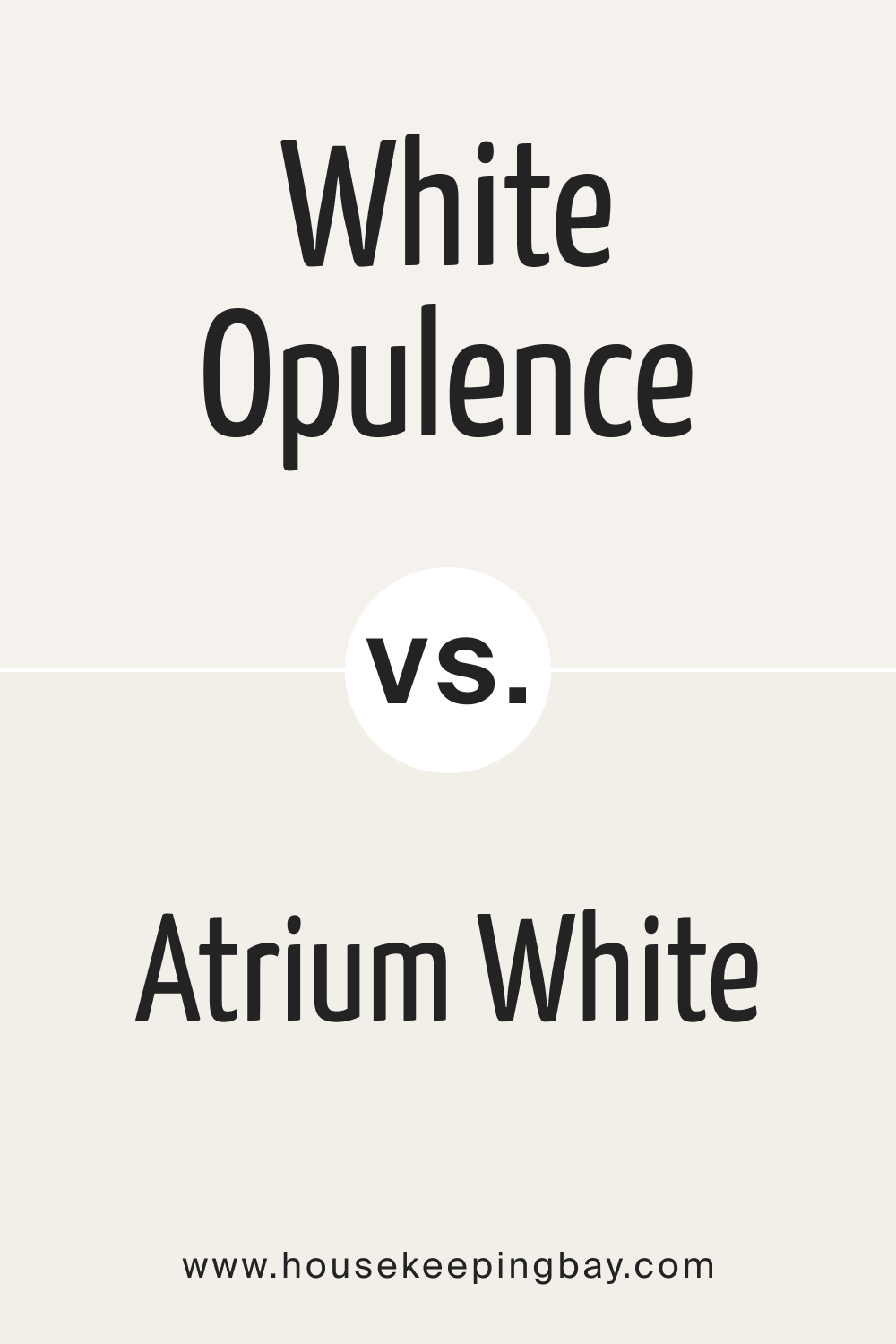 White Opulence OC-69 vs. BM Swiss Coffee OC-45
BM Swiss Coffee is a creamy off-white. Beside White Opulence, it exudes a rustic, cozy charm reminiscent of traditional homes.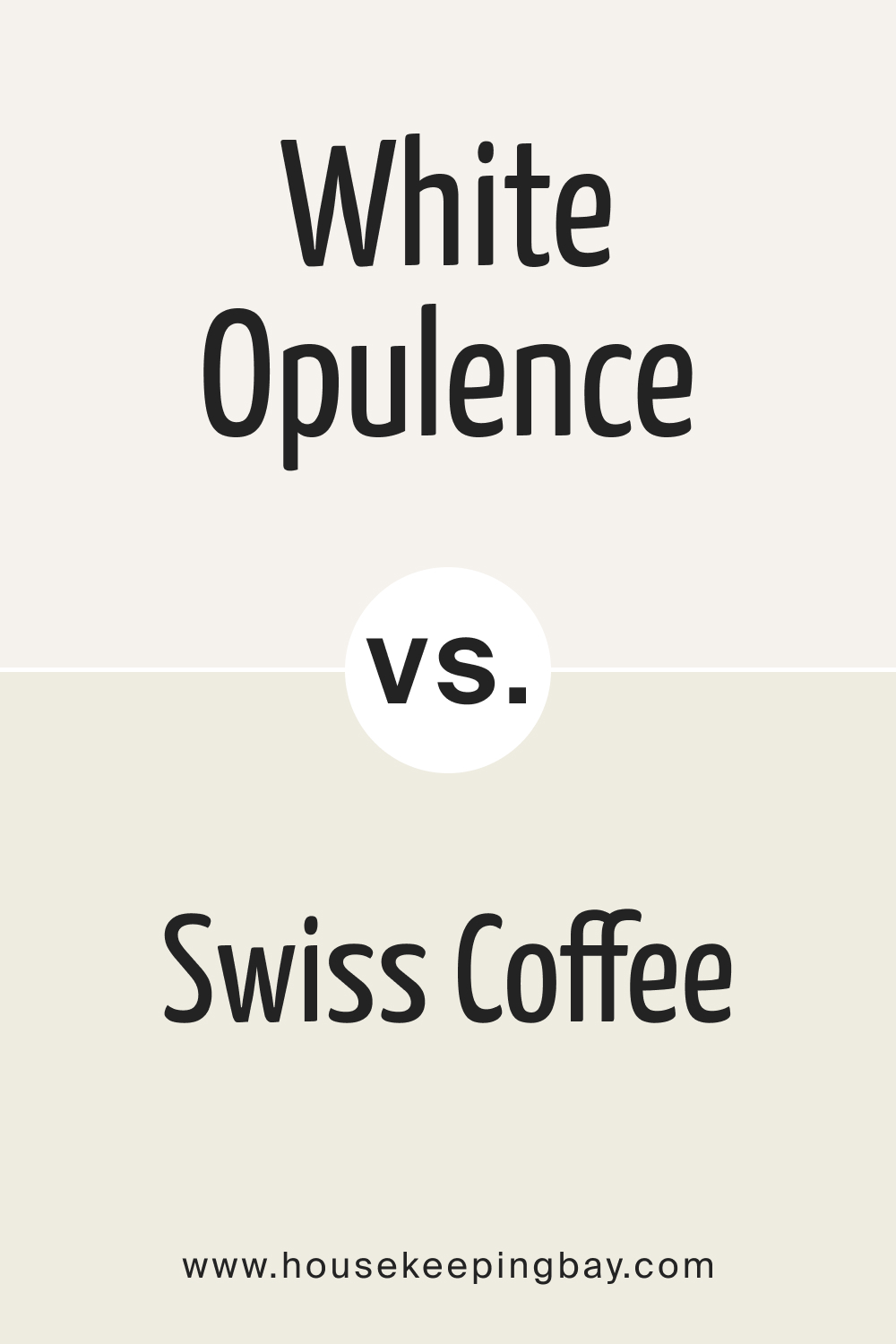 White Opulence OC-69 vs. BM China White OC-141
BM China White is a muted white with gray undertones. It offers a starker contrast to White Opulence's pristine purity, adding a touch of sophistication.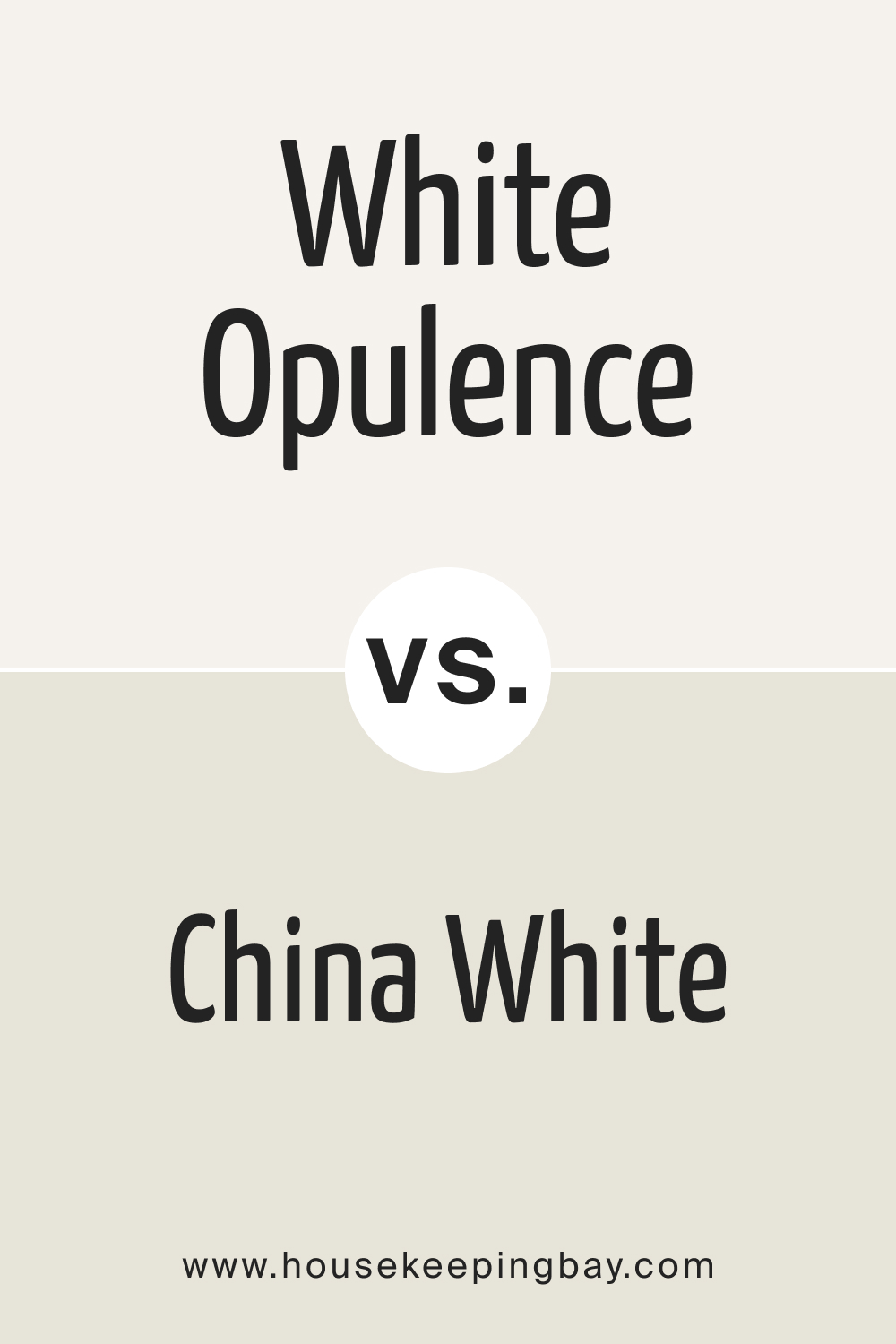 Conclusion
White Opulence OC-69 is more than just a shade of white. Its adaptability, serene undertones, and ability to amplify spaces make it a top choice for various settings. Whether you're aiming for a minimalist design or a blend of contemporary and traditional, this color provides the perfect canvas.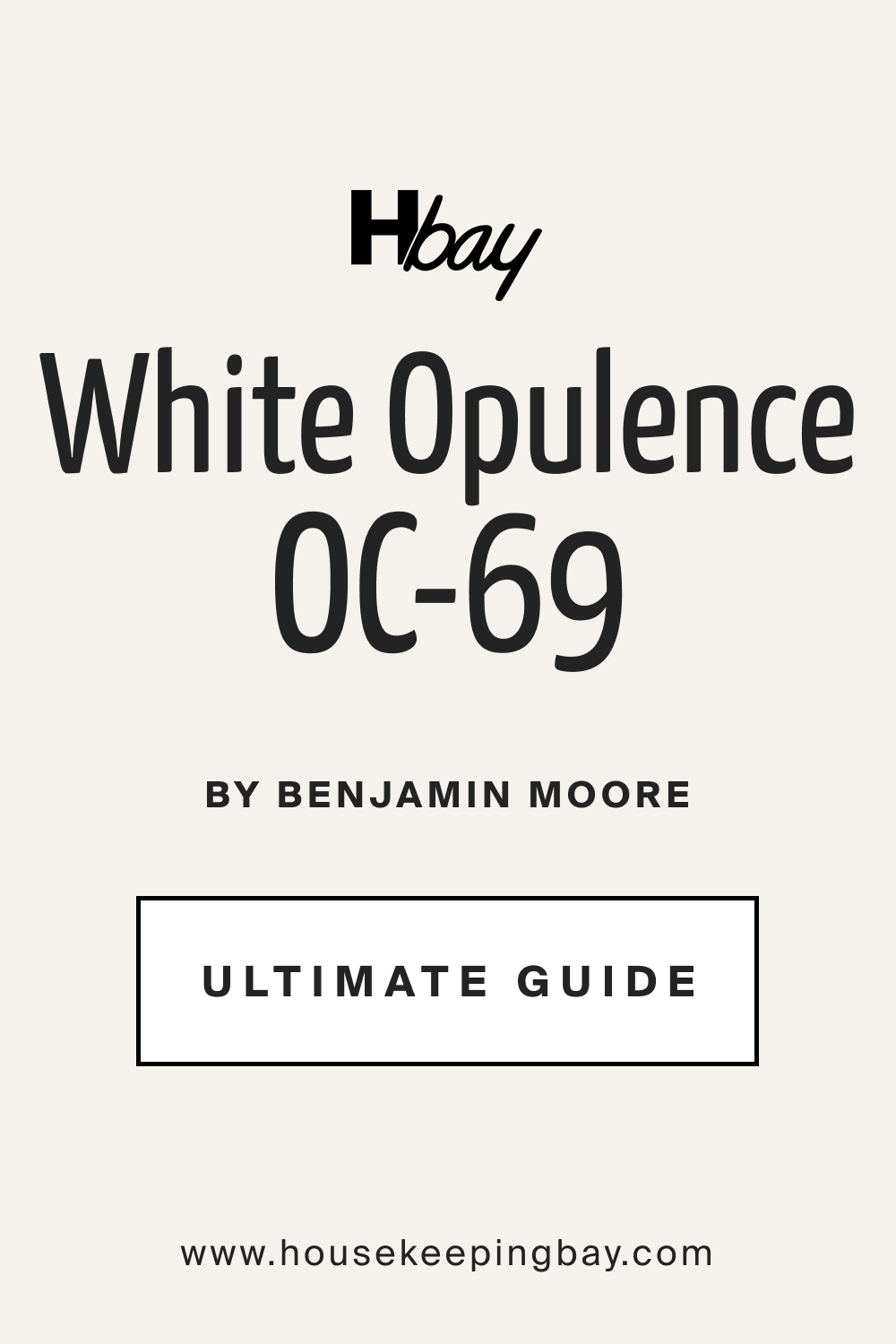 Frequently Asked Questions
⭐What undertones does White Opulence OC-69 have?
White Opulence OC-69 has subtle cool undertones, leaning slightly towards blue and gray. This gives it a refreshing, airy feel, perfect for creating a serene environment.
⭐Is White Opulence OC-69 suitable for exteriors?
Absolutely! White Opulence OC-69 can be used for both interiors and exteriors. Its high Light Reflectance Value (LRV) makes it ideal for exteriors as it reflects sunlight beautifully, offering a chic curb appeal.
⭐How does White Opulence OC-69 compare to other whites in the same brand range?
White Opulence OC-69 stands out with its neutral base and cool undertones. While many whites may lean towards warmer or creamier hues, White Opulence offers a clean and pristine quality.
⭐Can White Opulence OC-69 be used in rooms with low light?
Yes, its high LRV means it can help brighten up spaces with limited natural light, making rooms appear more open and spacious.
⭐What design styles best fit with White Opulence OC-69?
White Opulence OC-69 is incredibly versatile. It's an excellent match for minimalist, Scandinavian, coastal, modern farmhouse, and even contemporary designs.