Choosing the right color for your interiors can be challenging. But with the right understanding of its undertones, matching colors, and how it behaves under different lighting, it becomes a fulfilling experience. Here, we delve deep into SW 9580 Cracked Pepper by Sherwin-Williams, helping you understand its essence and how to use it flawlessly in your space.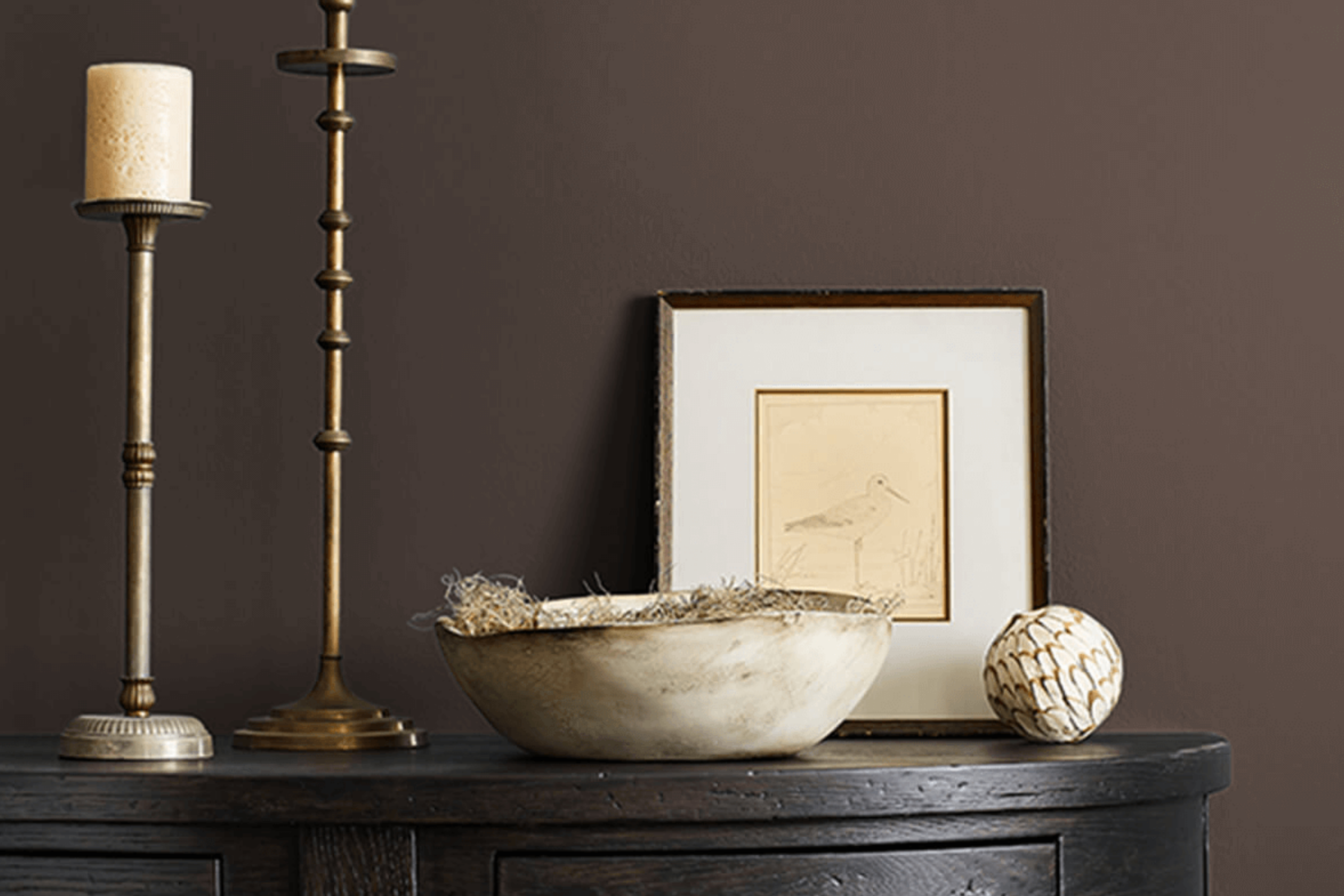 What Color Is SW 9580 Cracked Pepper?
SW Cracked Pepper, a profound and sophisticated shade, can be described as rich, deep charcoal or graphite. It's a neutral hue with an air of elegance, making it versatile for various interior styles, from modern minimalist to classic and luxurious.
This color stands out in materials like velvet, leather, or metallic finishes, adding depth and dimension. It works splendidly with sleek, modern furnishings as well as rustic wood textures, making it a versatile choice.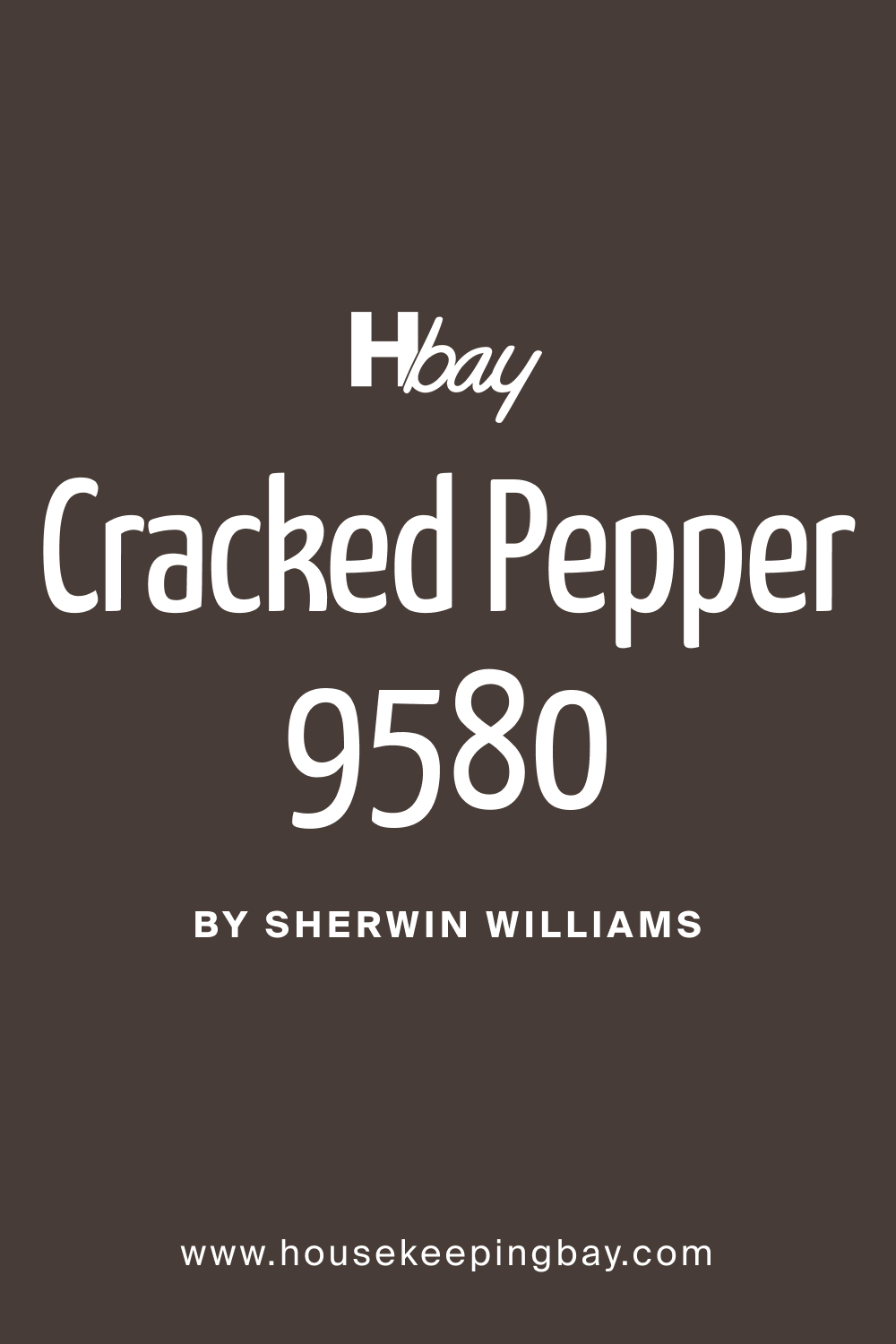 Is It a Warm Or Cool Color?
SW 9580 Cracked Pepper leans more towards a cool spectrum. Cool colors tend to evoke a sense of calmness and sophistication. This characteristic makes Cracked Pepper an excellent choice for homes seeking a serene yet modern ambiance. Its cool undertone can be especially beneficial in rooms that receive abundant natural warmth, providing a balancing effect.
Undertones of SW 9580 Cracked Pepper
Every color has undertones. They are subtle hues that influence how we perceive the primary color. Cracked Pepper, despite being a deep shade, possesses a blue undertone. This undertone makes it less stark than a true black.
When painted on interior walls, its undertones can become more apparent, especially under specific lighting. These undertones help Cracked Pepper blend seamlessly with other colors in a space.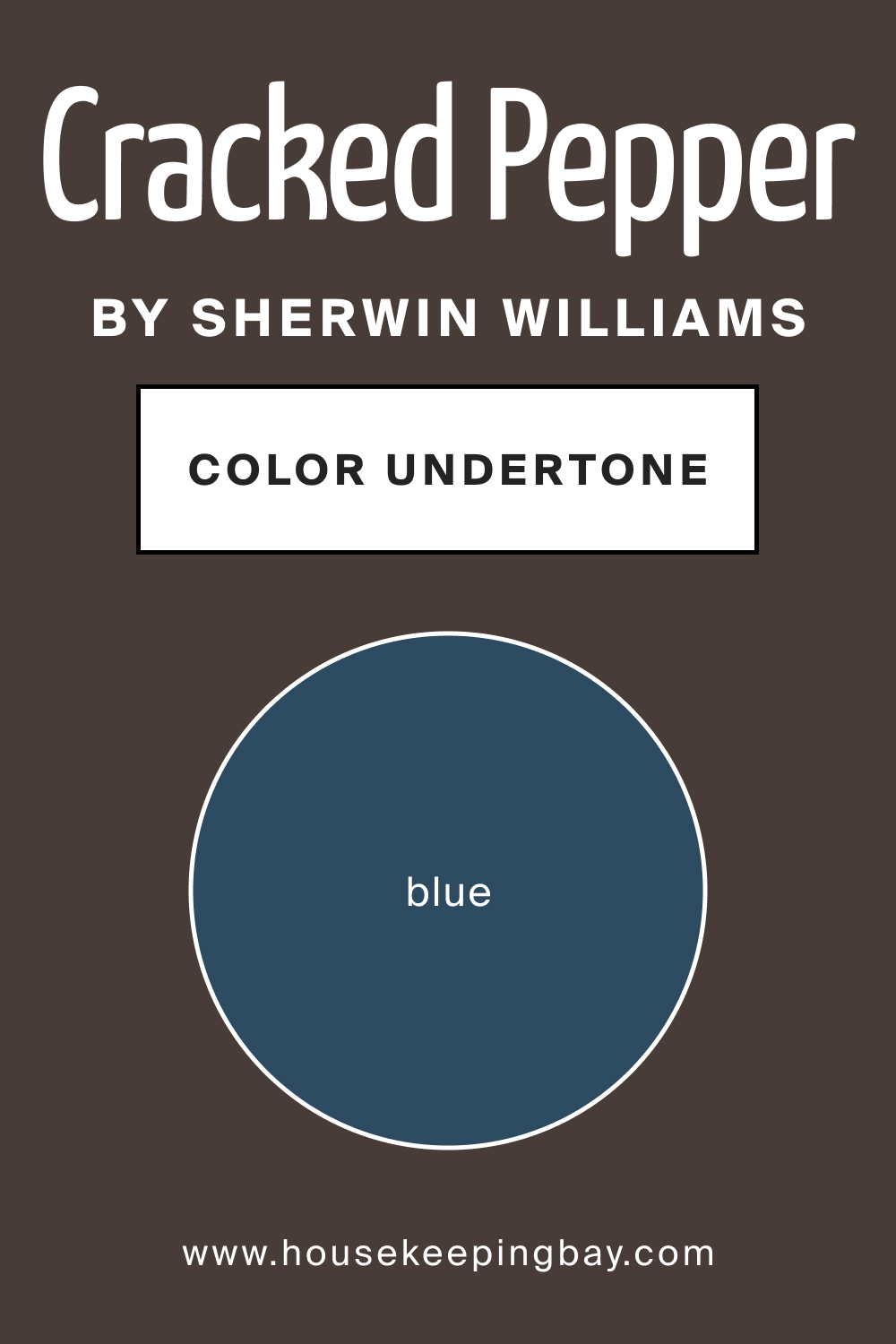 Coordinating Colors of SW 9580 Cracked Pepper
Coordinating colors harmonize with the primary color, ensuring aesthetic cohesion. For SW Cracked Pepper, suitable coordinating colors include:
SW 7664 Steely Gray: A muted, mid-tone gray with balanced undertones.
SW 6073 Perfect Greige: A harmonious blend of gray and beige, bringing warmth and neutrality.
SW 6140 Moderate White: A soft, creamy off-white, providing a gentle contrast.
Other coordinating shades include SW 7043 Worldly Gray, SW 7036 Accessible Beige, and SW 7030 Anew Gray.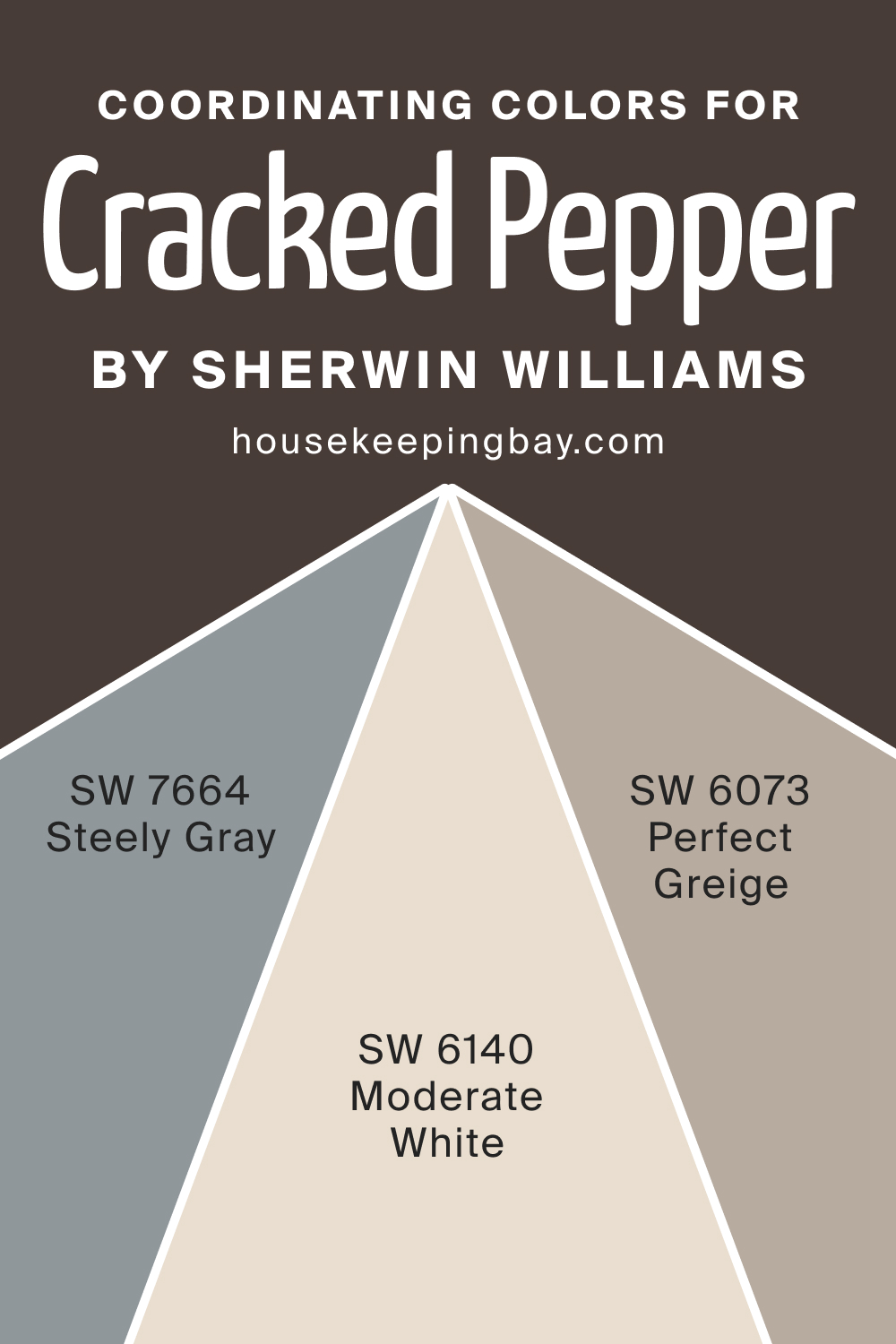 How Does Lighting Affect SW 9580 Cracked Pepper?
Lighting dramatically influences how we perceive colors. Under artificial light, Cracked Pepper can appear more profound and more defined. In contrast, natural light can highlight its cool, blue undertones. In north-faced rooms, which receive cooler, muted light, it can seem even more blue-toned.
South-faced rooms, with warm and abundant light, can make it appear slightly lighter. East and west-facing rooms will offer a blend of these effects, depending on the time of day.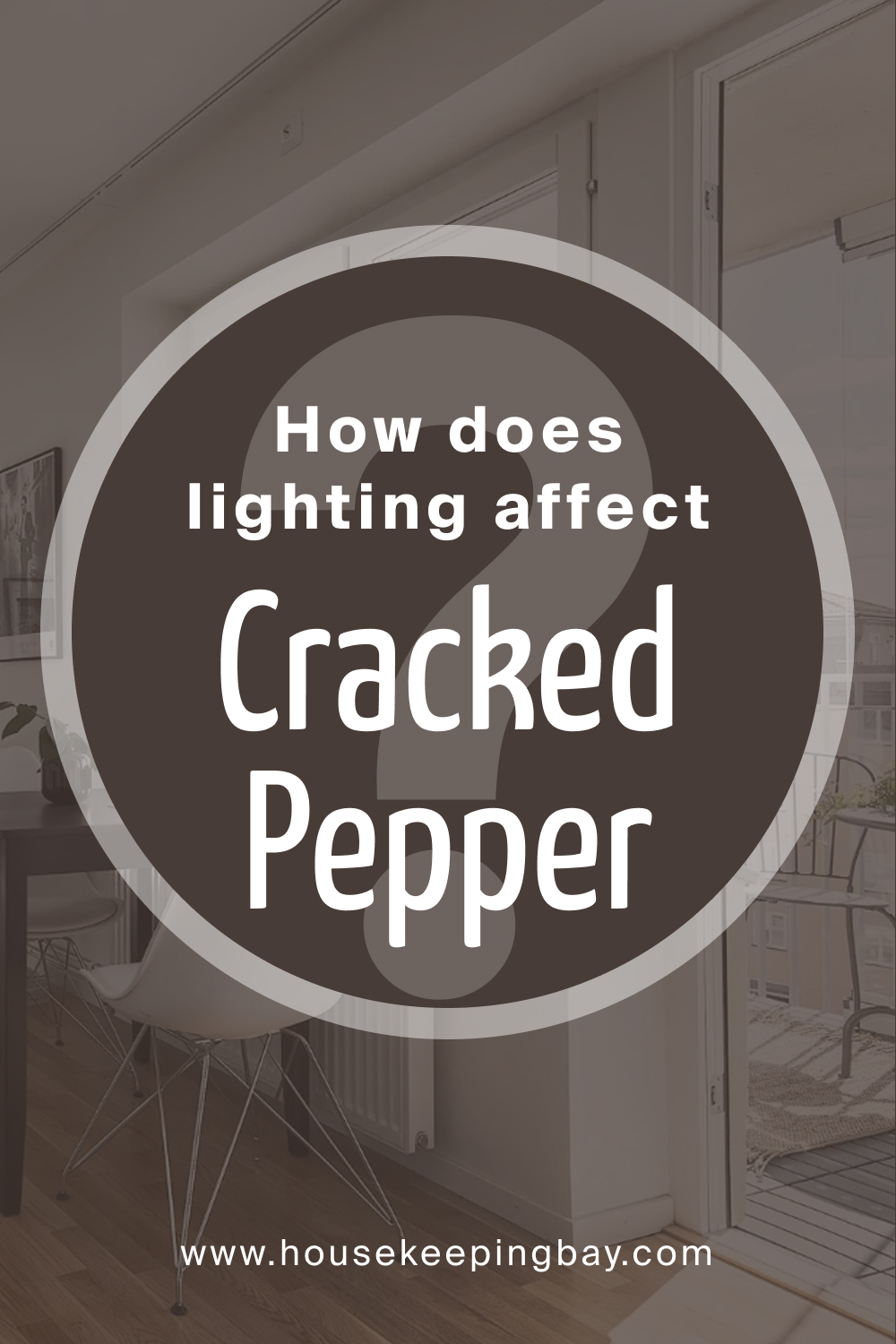 LRV of SW 9580 Cracked Pepper
LRV, or Light Reflectance Value, measures how much light a color reflects. Cracked Pepper has an LRV of 5, meaning it's on the darker side of the spectrum. This LRV can make spaces feel cozier and more intimate but can also make small spaces feel more confined. It's essential to balance it with lighter tones or ample lighting.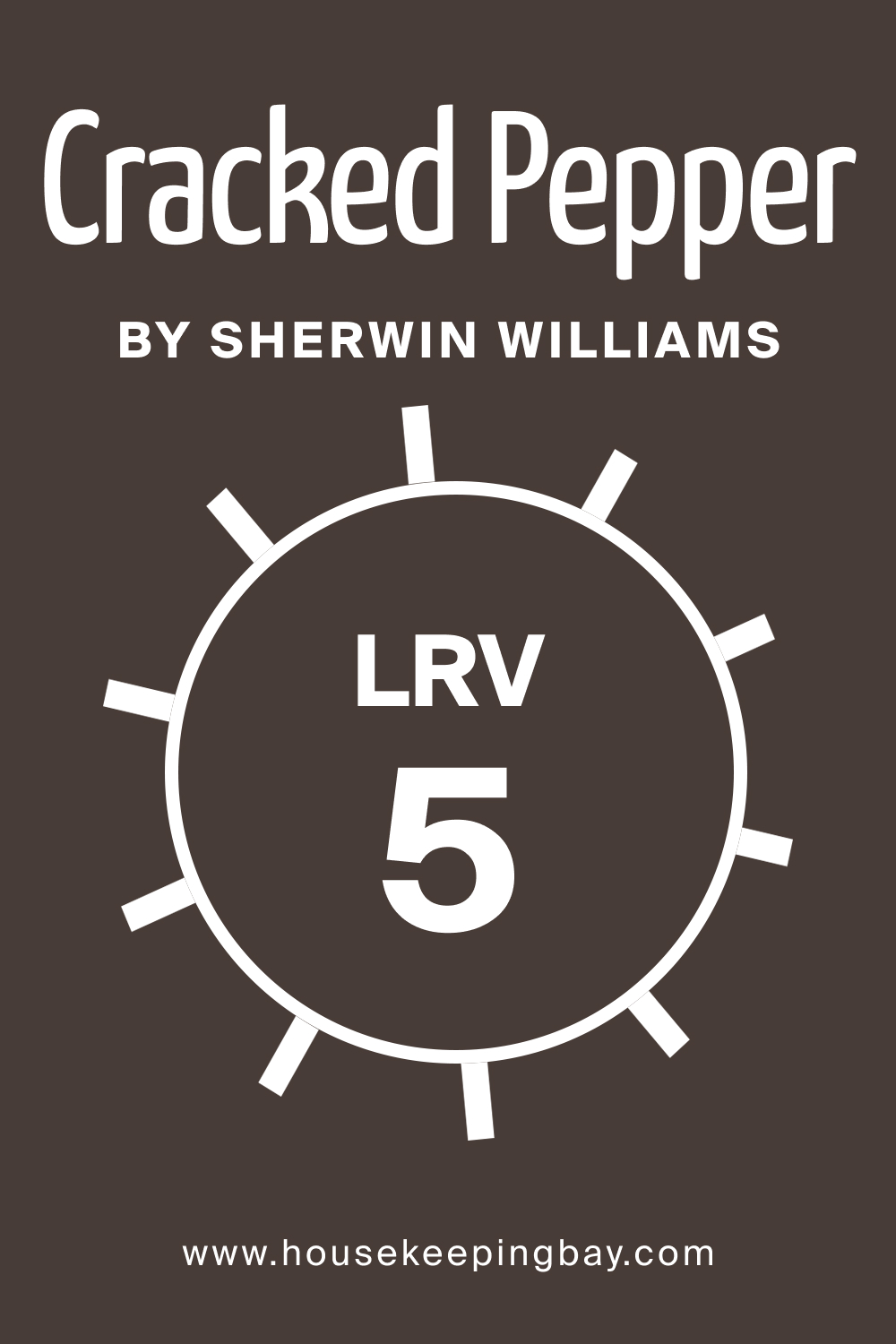 What is LRV? Read it Before You Choose Your Ideal Paint Color
Trim Colors of SW 9580 Cracked Pepper
Trim colors define and accentuate spaces. For Cracked Pepper, light shades of white like SW 7005 Pure White, SW 7012 Creamy, and SW 7008 Alabaster can offer a crisp contrast, elevating the room's sophistication.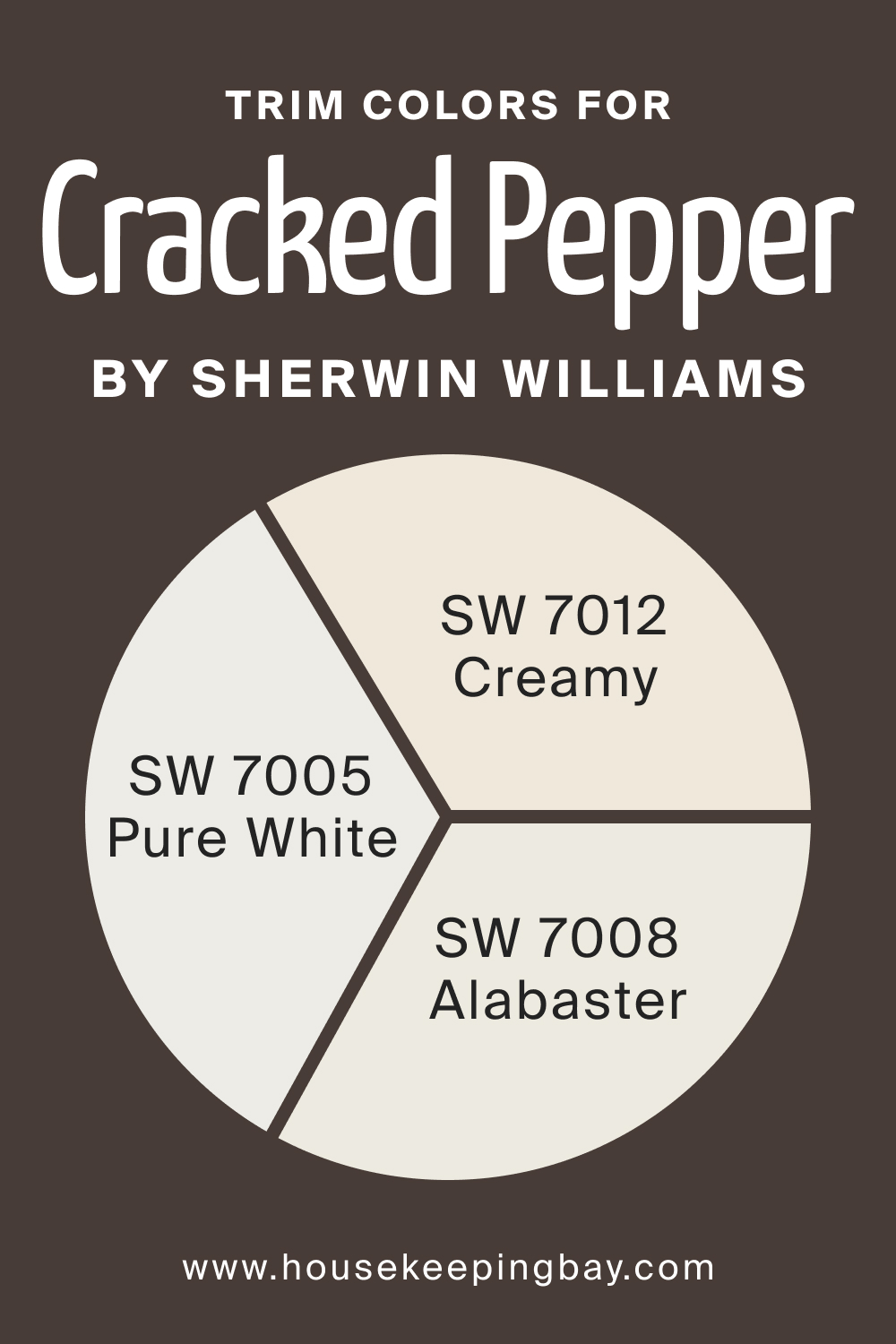 Colors Similar to SW 9580 Cracked Pepper
Recognizing similar colors can help in choosing the perfect shade. Colors akin to SW Cracked Pepper include:
SW 9605 Clove: A dark, spicy brown with hints of warmth.
SW 9183 Dark Clove: Deeper and richer than Clove, with an earthy undertone.
SW 2735 Rockweed: A deep green-black reminiscent of seaweed.
SW 6006 Black Bean: A soft black with brown undertones.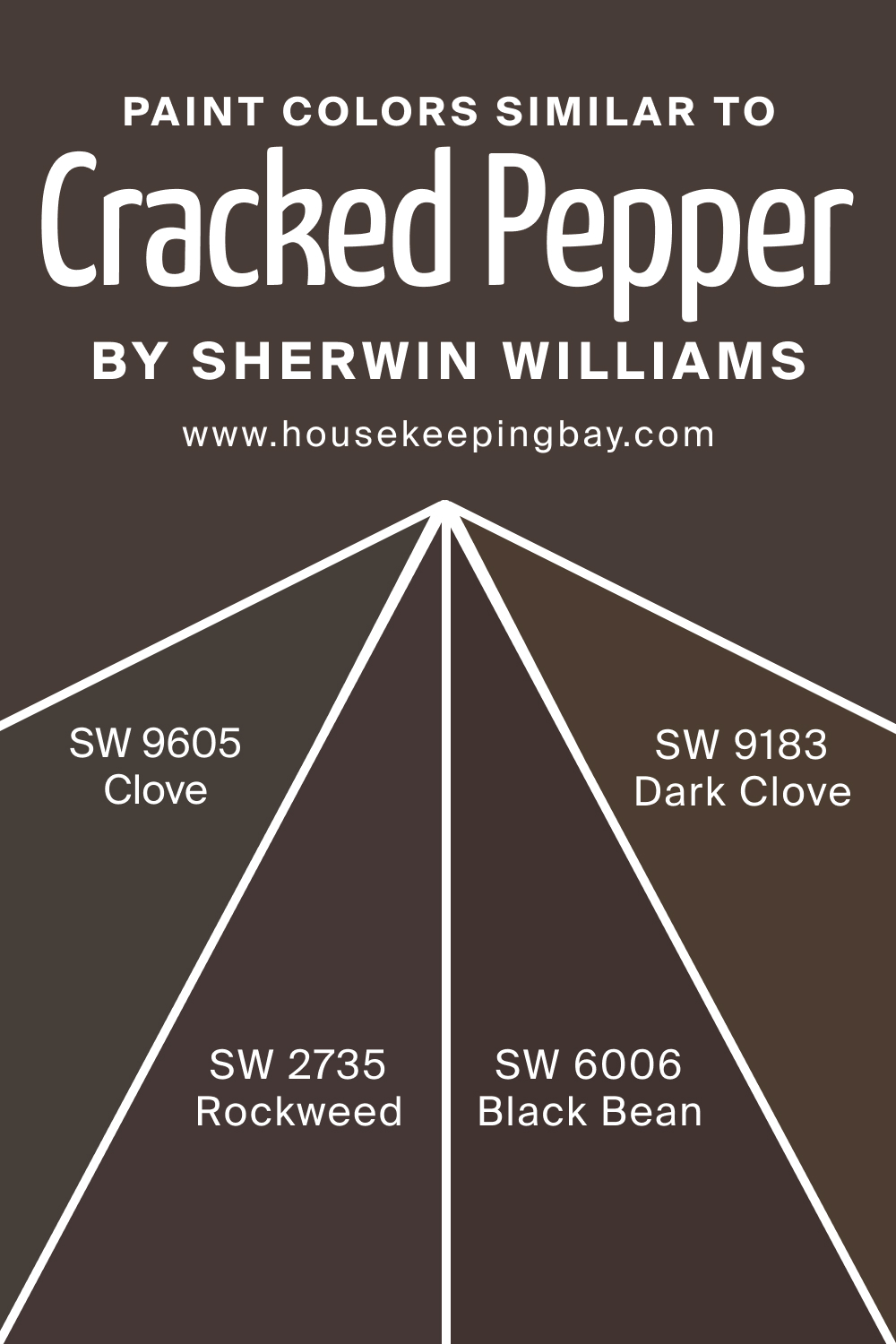 Colors That Go With SW 9580 Cracked Pepper
Harmonizing colors enhances aesthetics. Colors complementing SW Cracked Pepper are:
SW 2820 Downing Earth: A rustic terracotta.
SW 6466 Grandview: A muted teal.
SW 6580 Cerise: A bright cherry red.
SW 6886 Invigorate: A lively orange.
SW 9589 Limewash: A pale lime green.
SW 7102 White Flour: A pristine white.
SW 7739 Herbal Wash: A muted olive.
SW 9103 Farro: A soft beige.
SW 6663 Saffron Thread: A bright saffron yellow.
Additional complementing shades include SW 6637 Organza, SW 6586 Heartfelt, and SW 6045 Emerging Taupe.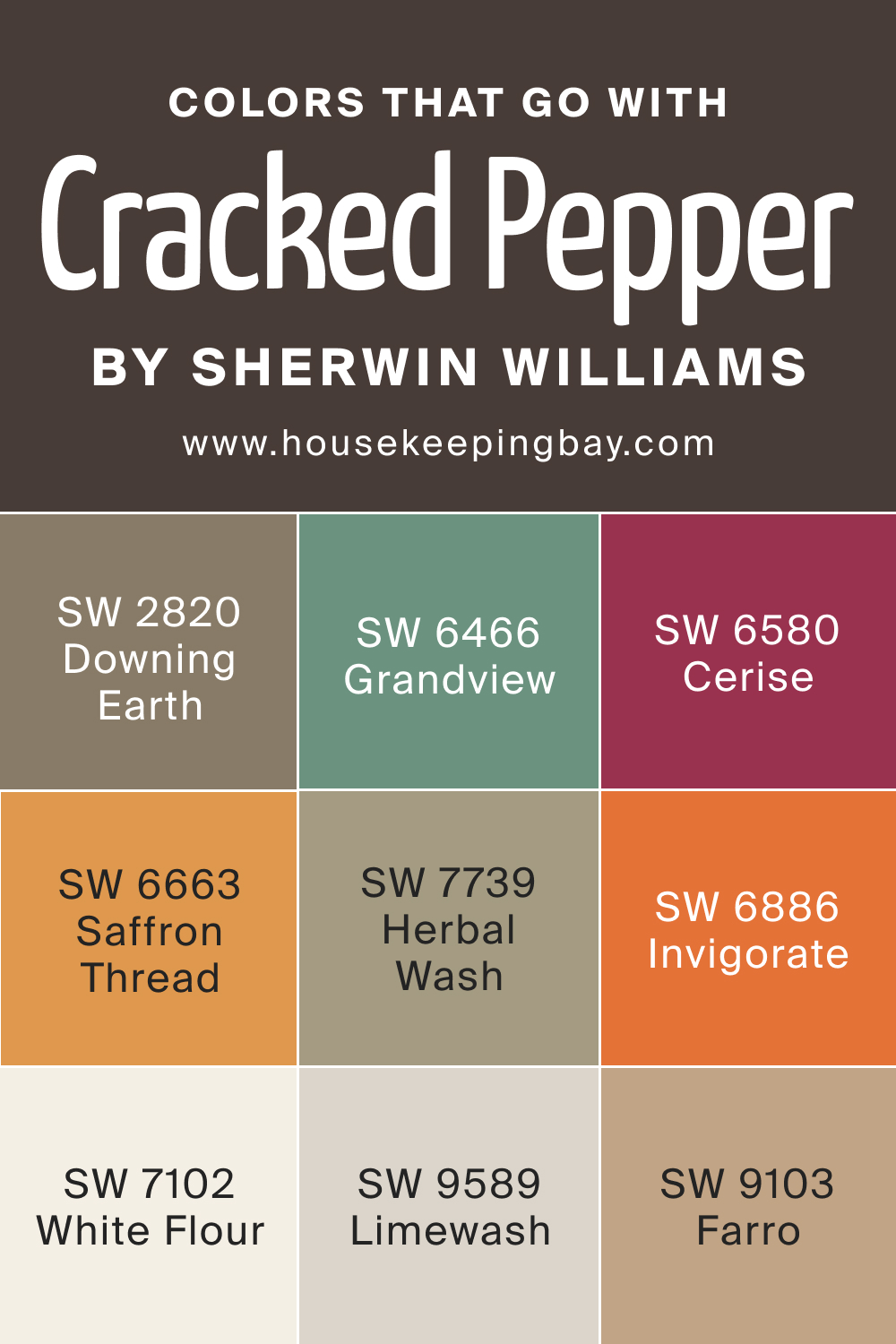 How to Use SW 9580 Cracked Pepper In Your Home?
SW 9580 Cracked Pepper's versatility allows its use in various rooms—from bedrooms to living spaces. This profound shade fits seamlessly into contemporary, industrial, and even traditional interior design styles. Its sophisticated tone is ideal for formal dining rooms, lending a touch of elegance.
In study areas or home offices, it encourages focus and depth. Furthermore, its universal appeal bridges styles from Scandinavian minimalism to rustic farmhouse charm.
How to Use SW 9580 Cracked Pepper in the Bedroom?
SW Cracked Pepper can transform bedrooms into intimate sanctuaries. When paired with lighter linens and drapes, it creates a cozy contrast. Use it as an accent wall behind a bed to anchor the room. Enhance the space by pairing it with metallic accents like gold or copper, which illuminate and provide warmth against its deep hue.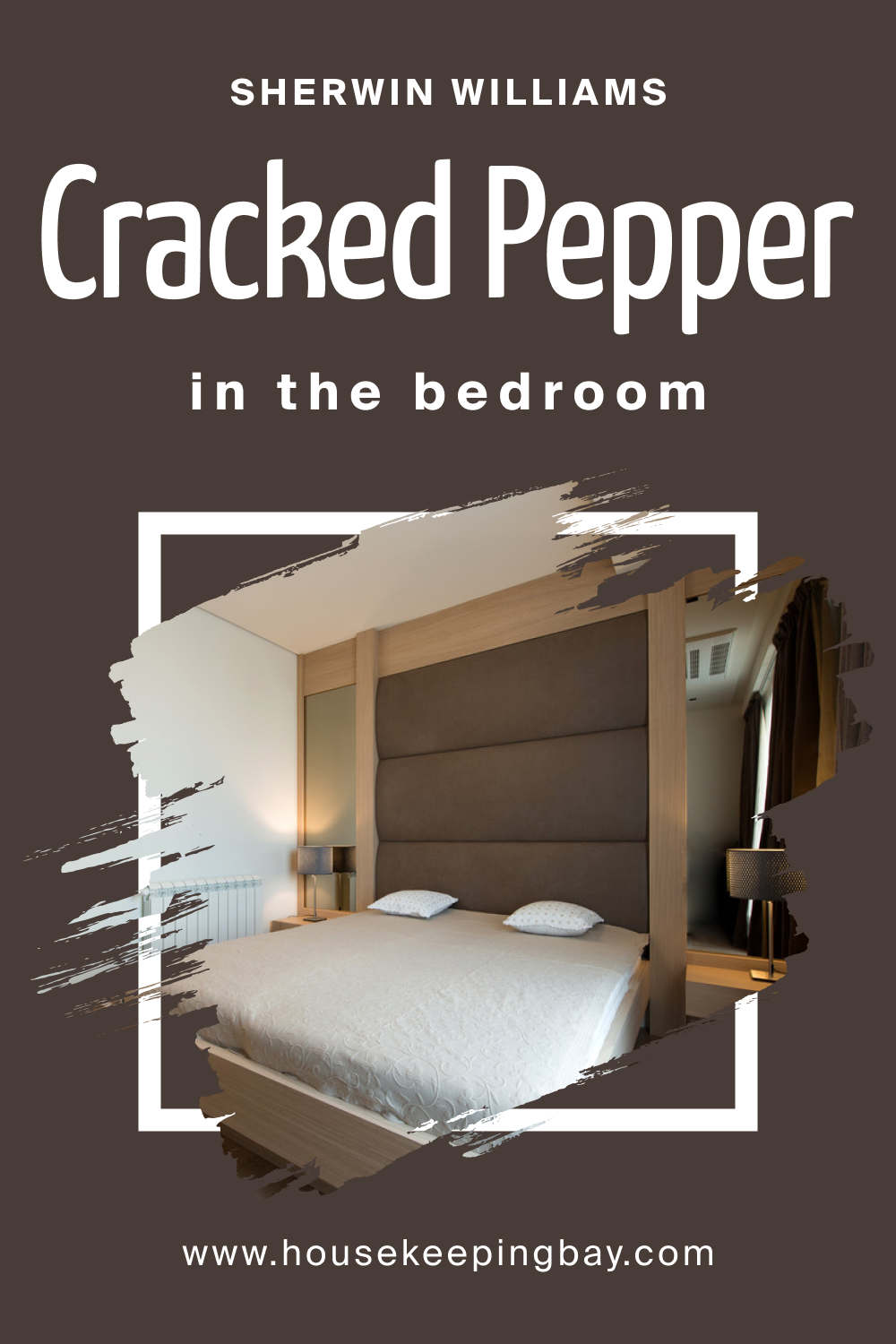 How to Use SW 9580 Cracked Pepper in the Bathroom?
In bathrooms, Cracked Pepper offers a spa-like ambiance. Its cool undertones evoke serenity and calm, essential for a relaxing bath. Pair it with marble countertops or white tiles for a clean, refreshing look. Brushed silver or chrome fixtures will amplify the contemporary vibe, turning your bathroom into a modern retreat.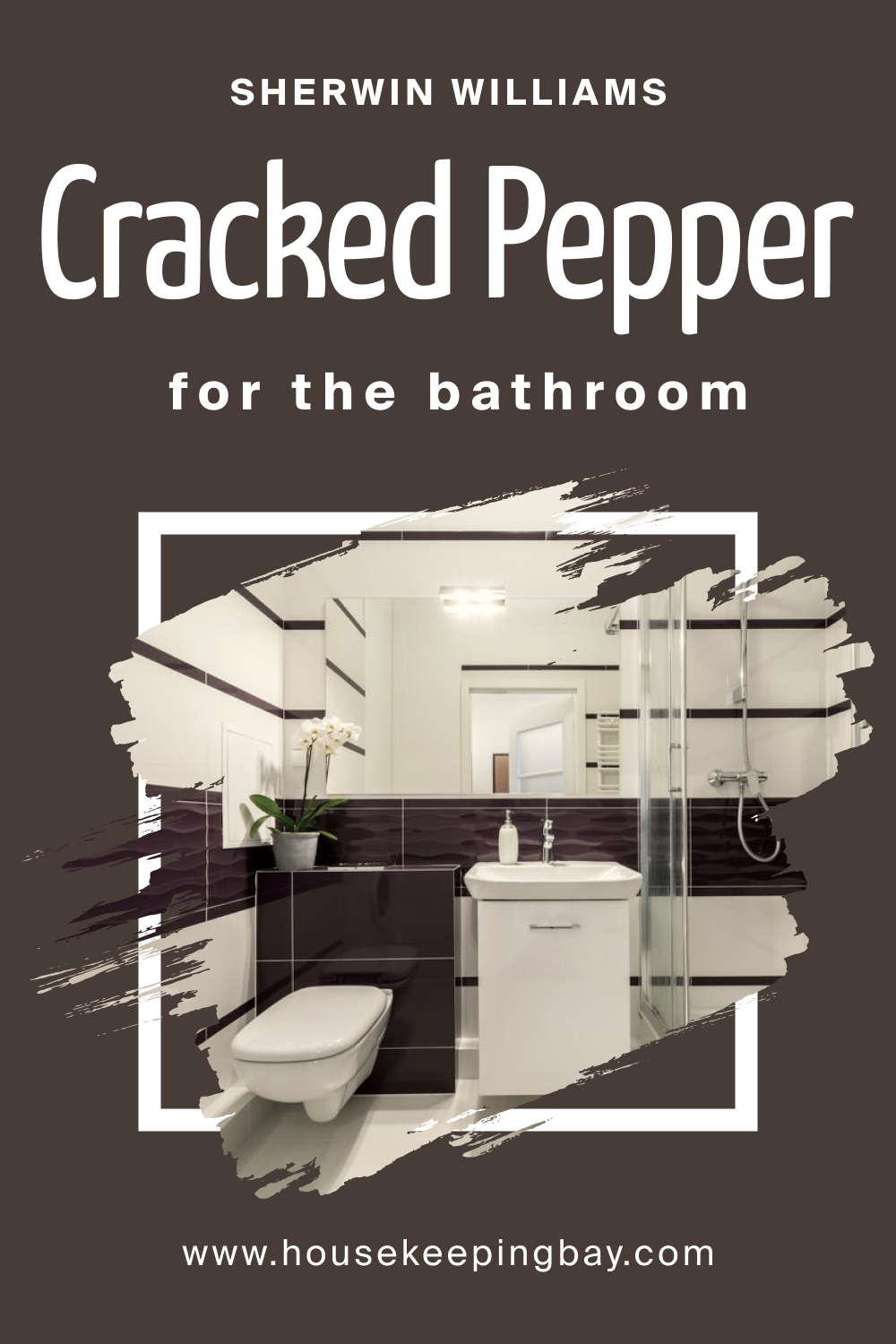 How to Use SW 9580 Cracked Pepper in the Living Room?
In living rooms, Cracked Pepper can either be an all-encompassing shade or an accent. For spacious rooms, it adds depth and drama. When used on a feature wall, it highlights architectural details. Pair it with neutral-colored furniture and pops of jewel-toned decor to create a vibrant yet balanced space.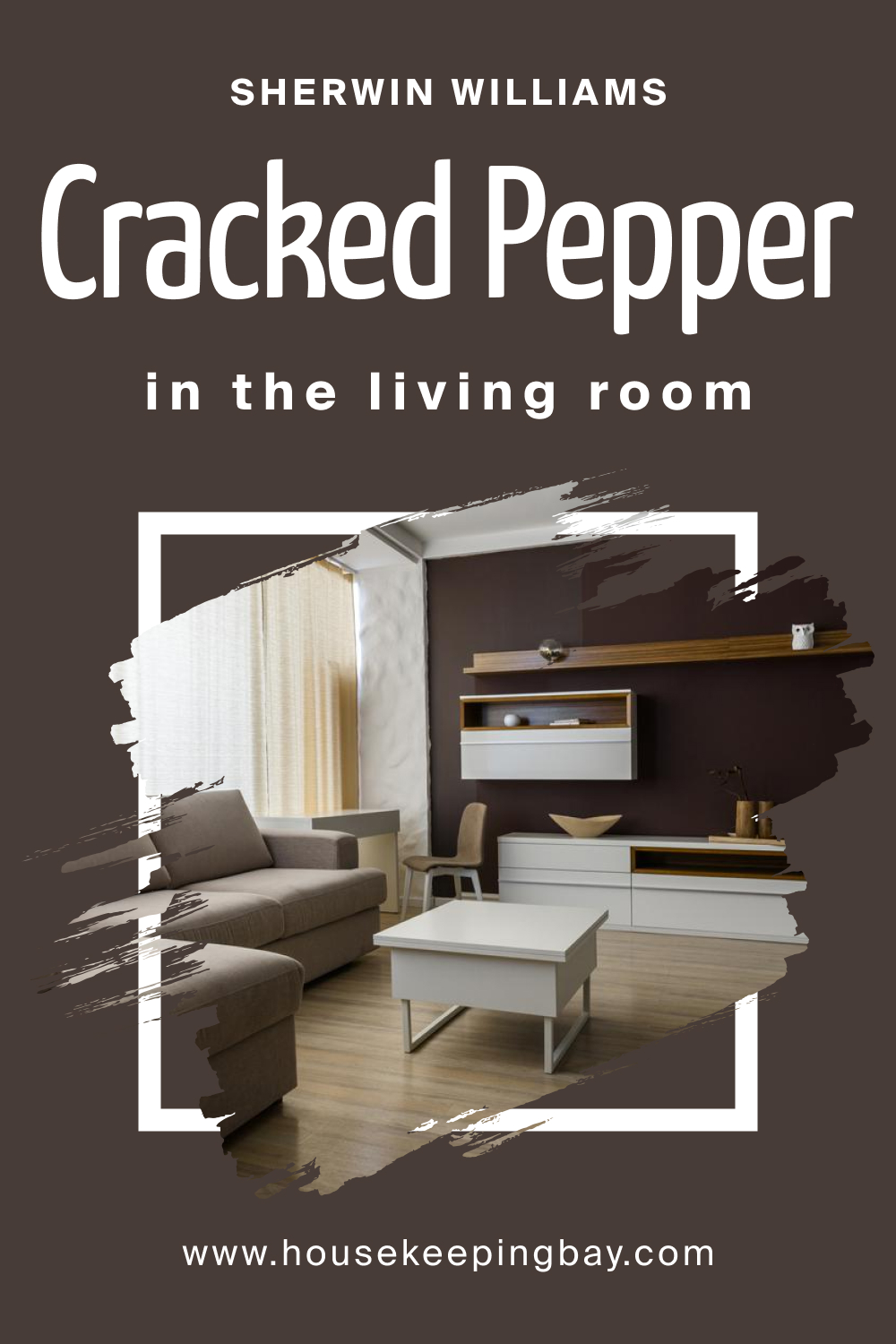 How to Use SW 9580 Cracked Pepper for an Exterior?
SW Cracked Pepper as an exterior color is striking. It gives homes a modern edge, standing out amidst traditional facades. This shade is perfect for homes with contemporary designs but can also offer a fresh take on colonial or craftsman styles. Combine with white trims or wooden accents to create a timeless look.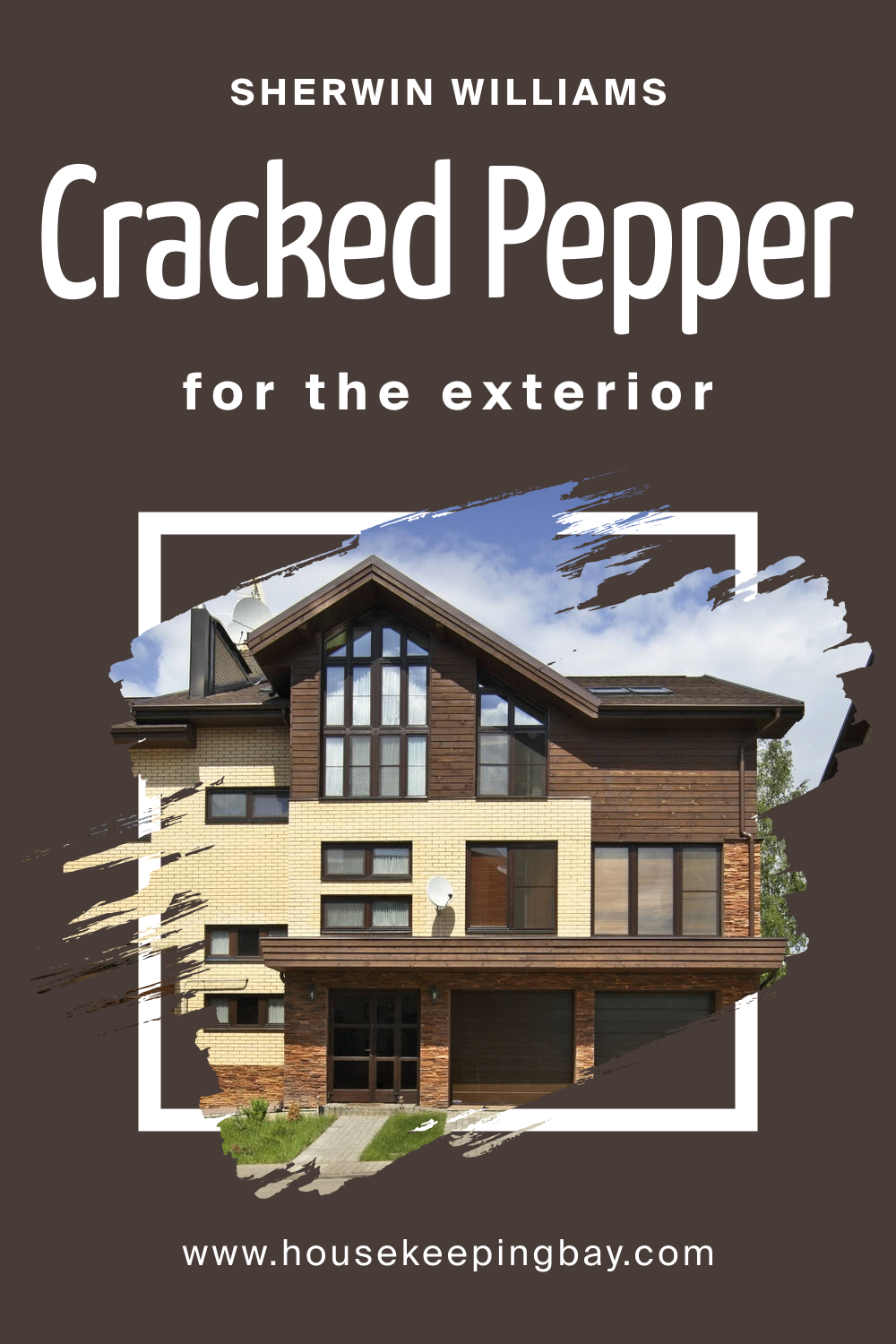 How to Use SW 9580 Cracked Pepper in the Kitchen?
Kitchens adorned with Cracked Pepper emanate sophistication. This hue, when used on walls, contrasts beautifully with stainless steel appliances. For an open-concept space, it can delineate the kitchen area. Incorporate wooden elements or terracotta pots to introduce warmth and a homely touch.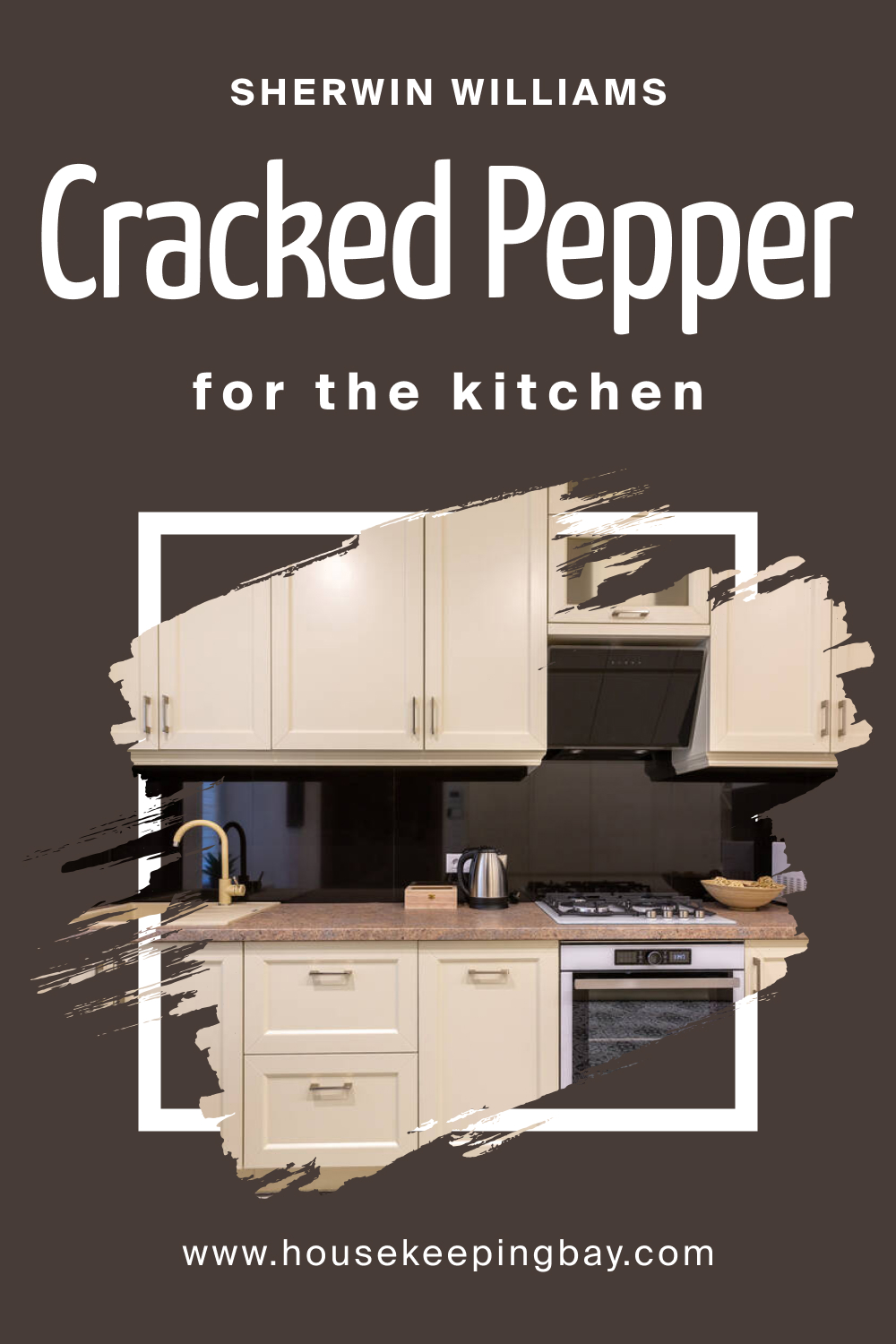 How to Use SW 9580 Cracked Pepper for the Kitchen Cabinets?
For a bold kitchen transformation, paint cabinets in Cracked Pepper. This not only modernizes the space but also creates a striking contrast with light countertops, be it white marble or quartz. To complete the look, opt for matte gold or brass hardware. The result is a blend of contemporary charm with a dash of luxury.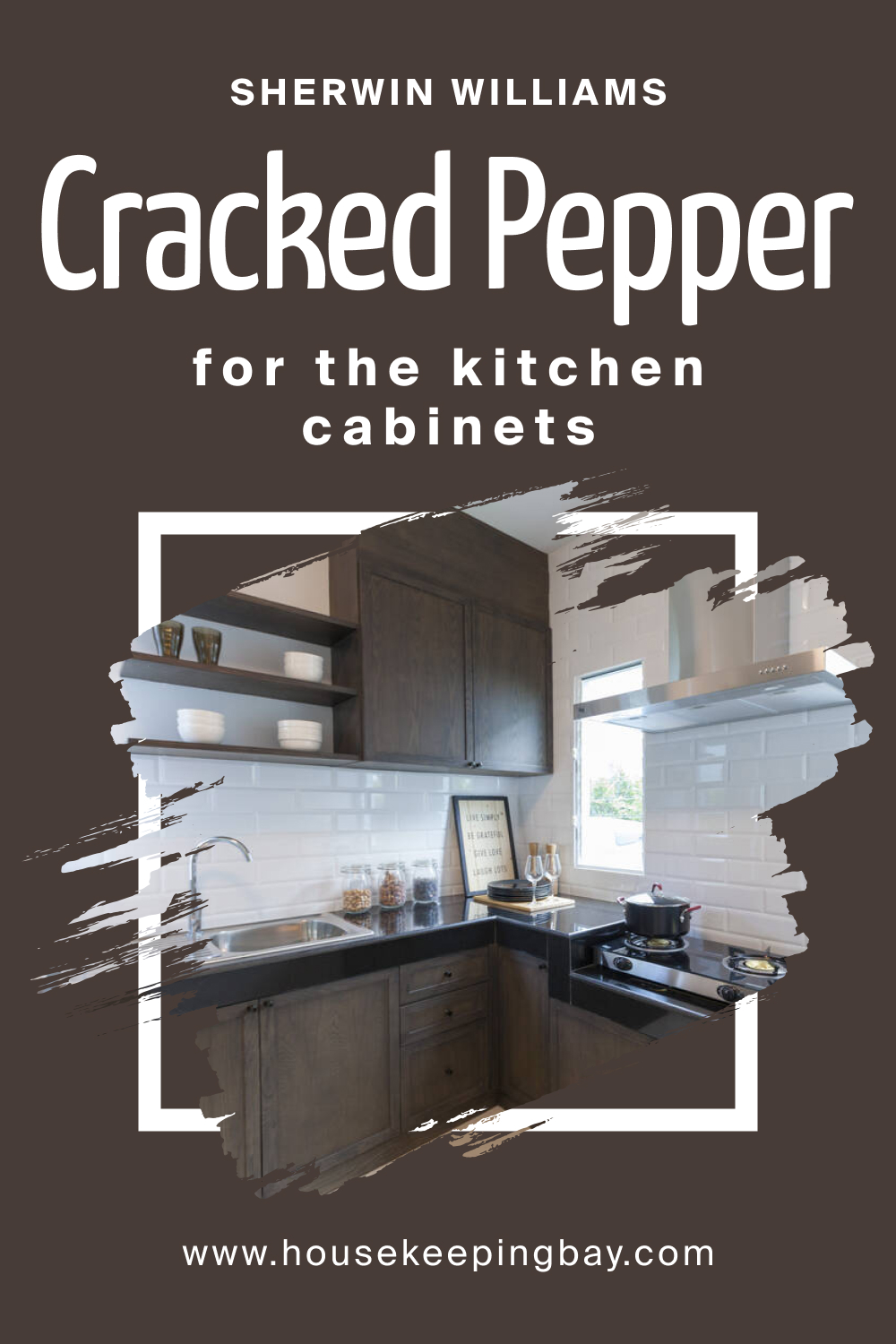 Comparing SW 9580 Cracked Pepper With Other Colors
In the realm of interior design and painting, comparing colors is paramount. Colors influence moods, spatial perceptions, and the overall ambiance of a room. A slight shift in undertones can lead to a dramatic change in the final appearance.
Understanding differences helps homeowners make informed decisions and achieve desired aesthetics. Let's compare Cracked Pepper with six other hues to discern their uniqueness.
SW 9580 Cracked Pepper vs. SW 7674 Peppercorn
SW Peppercorn is a shade lighter than Cracked Pepper, with subtle warmth to its undertones. While both exude sophistication, Peppercorn might seem less imposing, making it a go-to for those who desire depth without going too dark. Cracked Pepper, with its profound hue, adds more drama and intensity.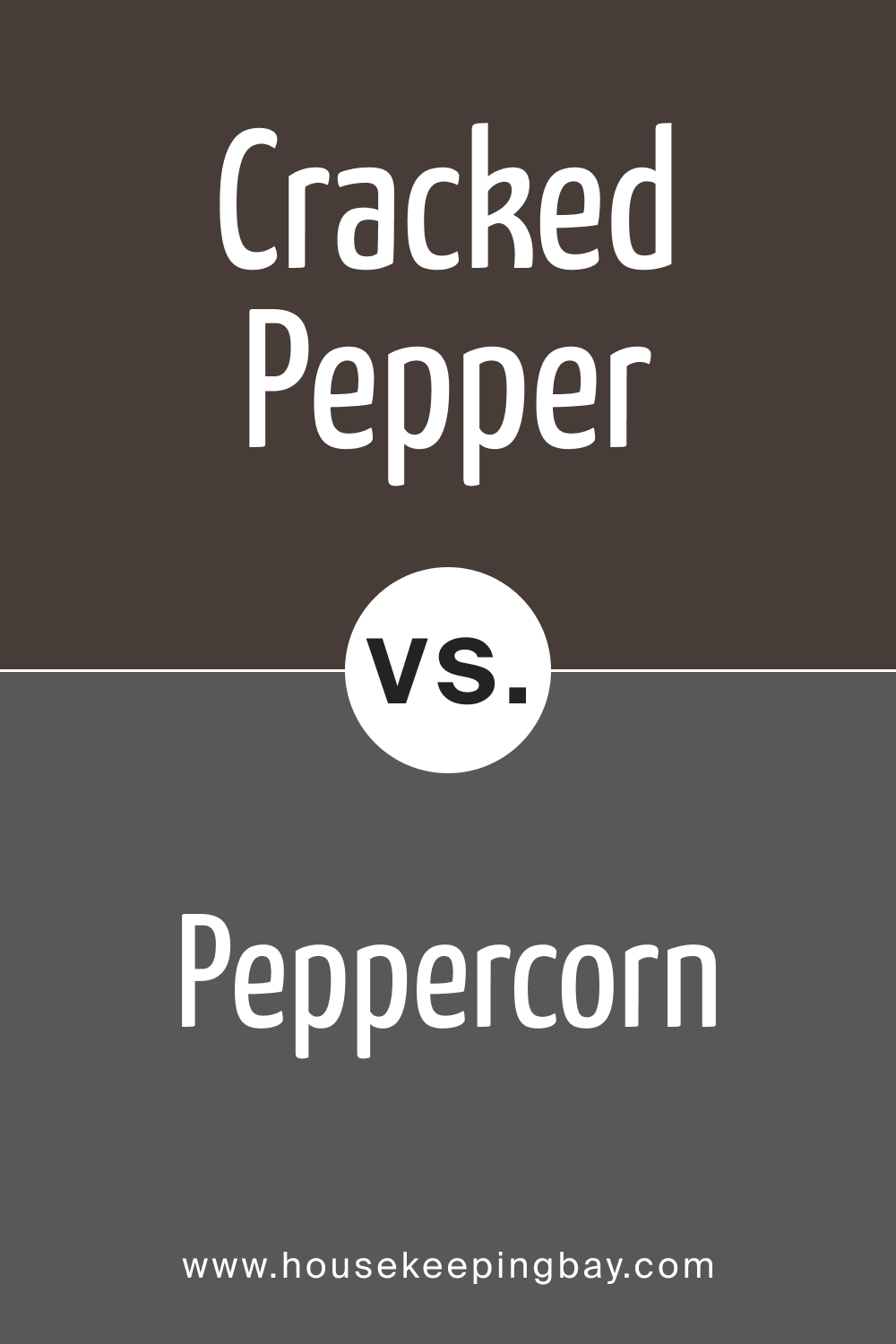 SW 9580 Cracked Pepper vs. SW 7069 Iron Ore
SW Iron Ore, reminiscent of a dark slate, has a balanced undertone, neither too warm nor too cool. In contrast, Cracked Pepper leans cooler. Iron Ore is adaptable and subtle, blending with various styles, whereas Cracked Pepper makes a bolder statement.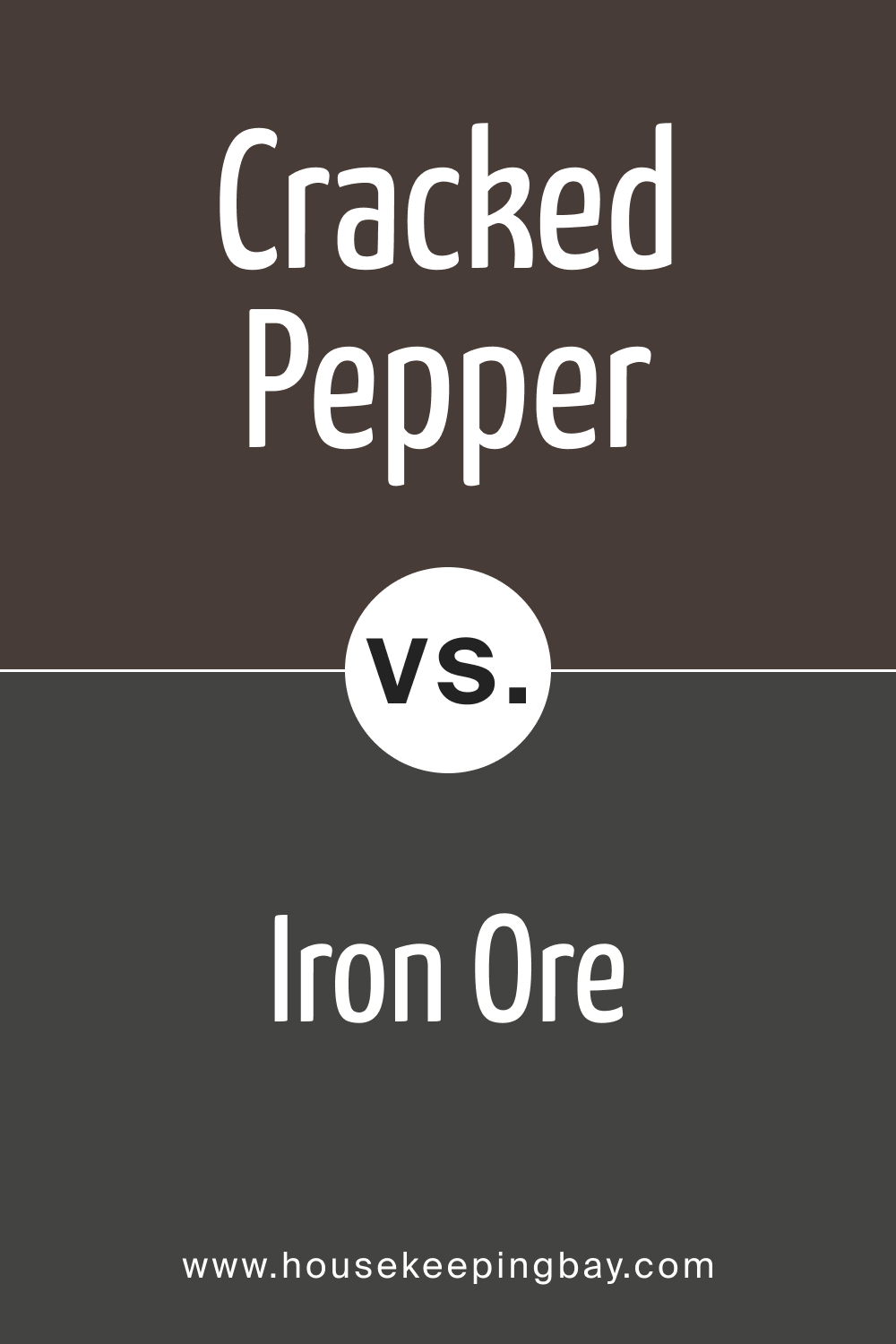 SW 9580 Cracked Pepper vs. SW 9170 Acier
SW Acier presents itself as gray with a touch of warmth. Compared to SW Cracked Pepper, it appears lighter and less intense. Cracked Pepper can make spaces seem cozier due to its depth, while Acier provides depth without overt darkness.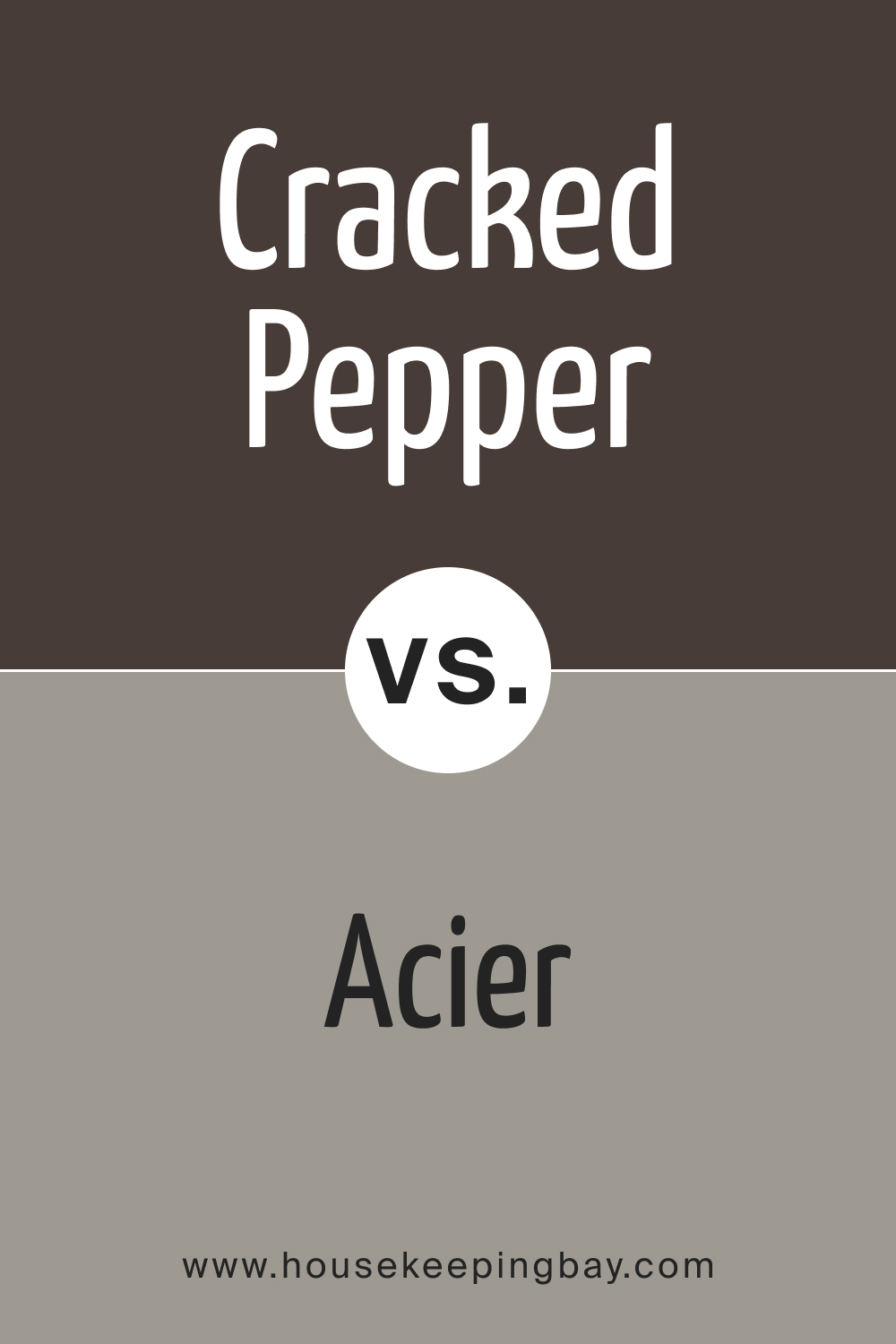 SW 9580 Cracked Pepper vs. SW 7019 Gauntlet Gray
SW Gauntlet Gray is a medium-dark gray with a noticeable warmth. When juxtaposed with Cracked Pepper, it comes off as softer and more inviting. Cracked Pepper is for those who seek a deep, enveloping hue, while Gauntlet Gray offers neutrality without being too overpowering.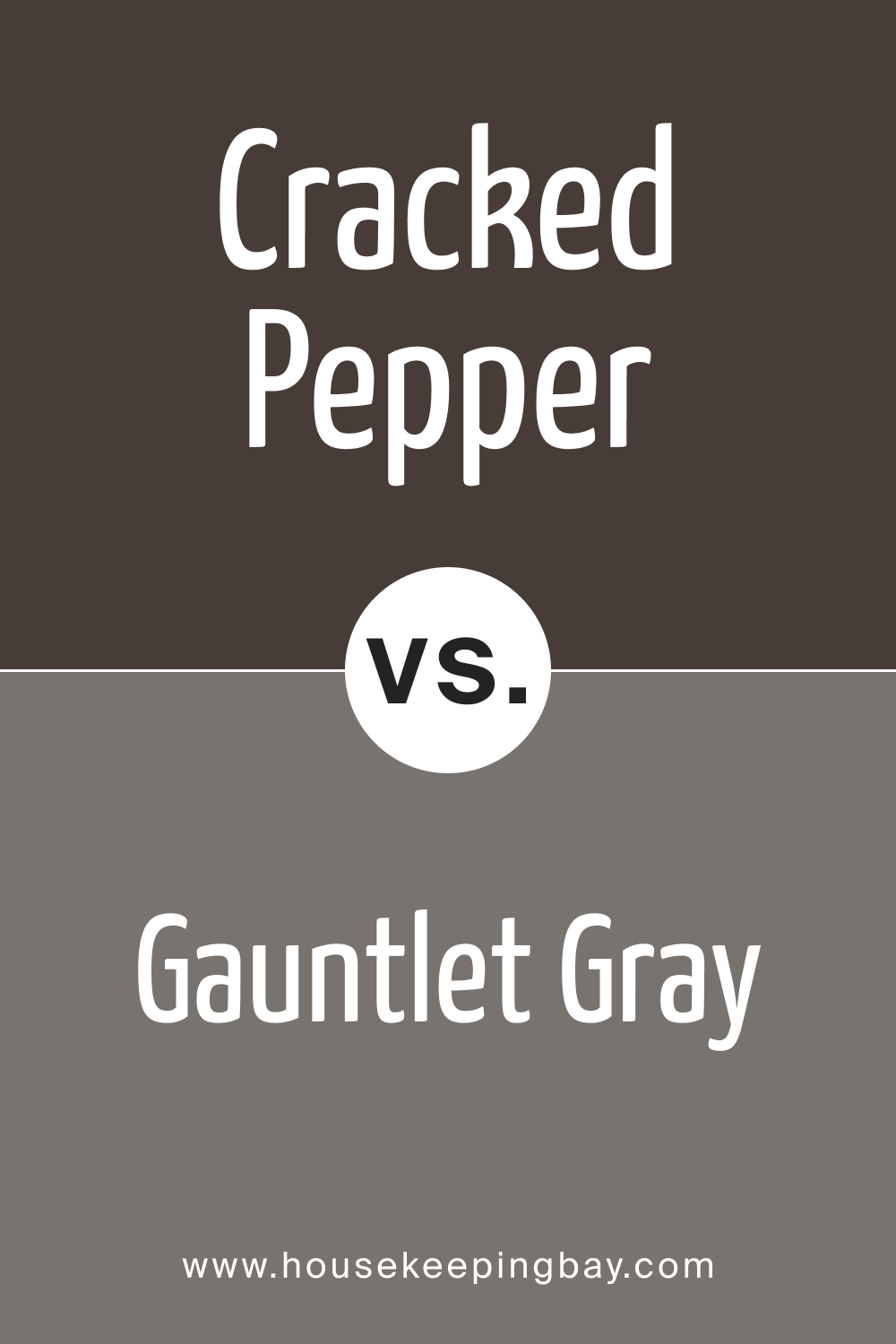 SW 9580 Cracked Pepper vs. SW 7675 Sealskin
SW Sealskin, a deep brown with earthy undertones, brings warmth and coziness. It stands as a stark contrast to Cracked Pepper's cool, blue-leaning tones. While both are dark shades, Sealskin can evoke feelings of nature and comfort, while Cracked Pepper leans more modern and sleek.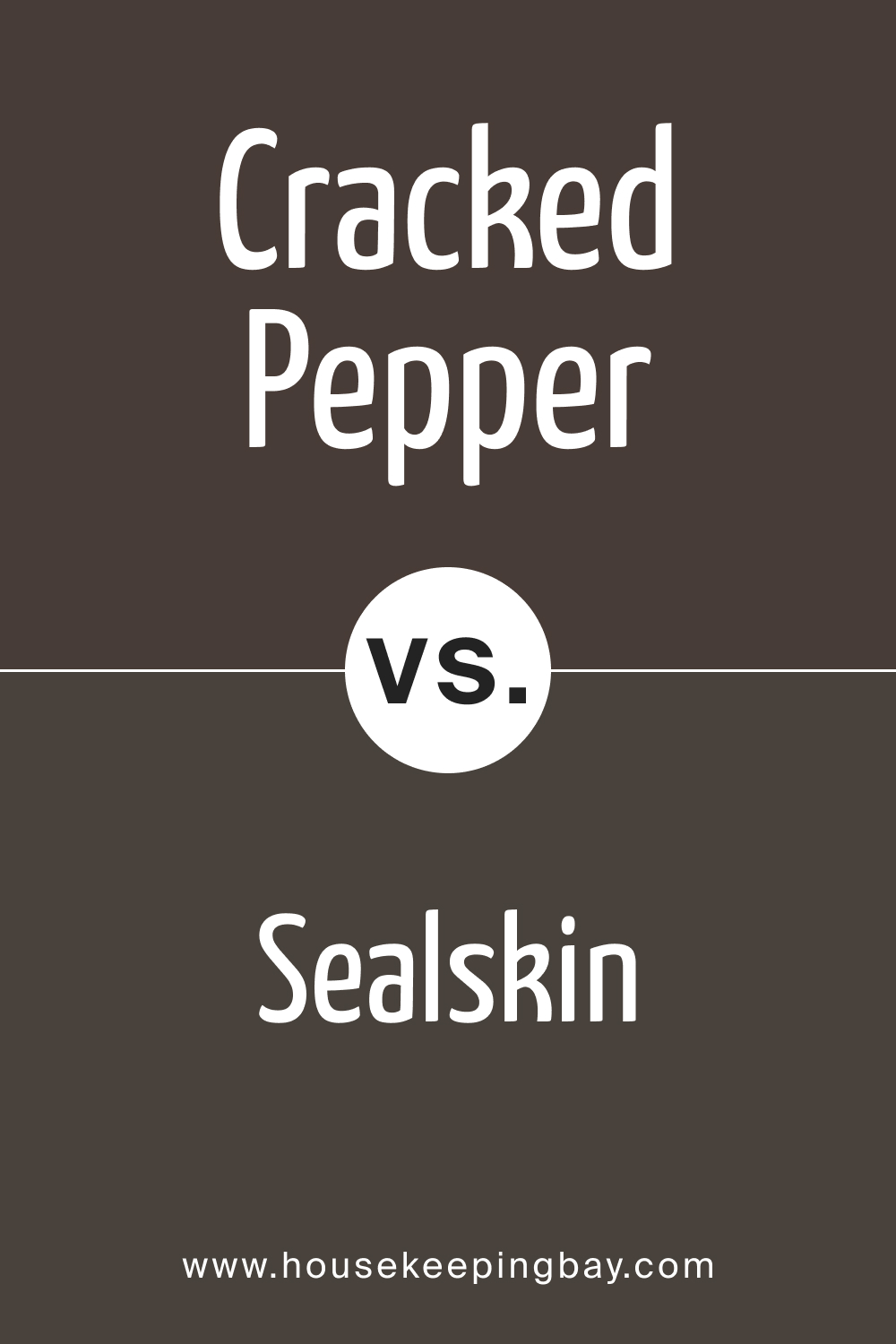 SW 9580 Cracked Pepper vs. SW 7020 Black Fox
SW Black Fox offers a rich blend of black and brown, exuding elegance. Against Cracked Pepper, its warm undertones become evident. Both shades are for those who love depth and luxury. However, Black Fox lends a rustic charm, while Cracked Pepper leans towards urban sophistication.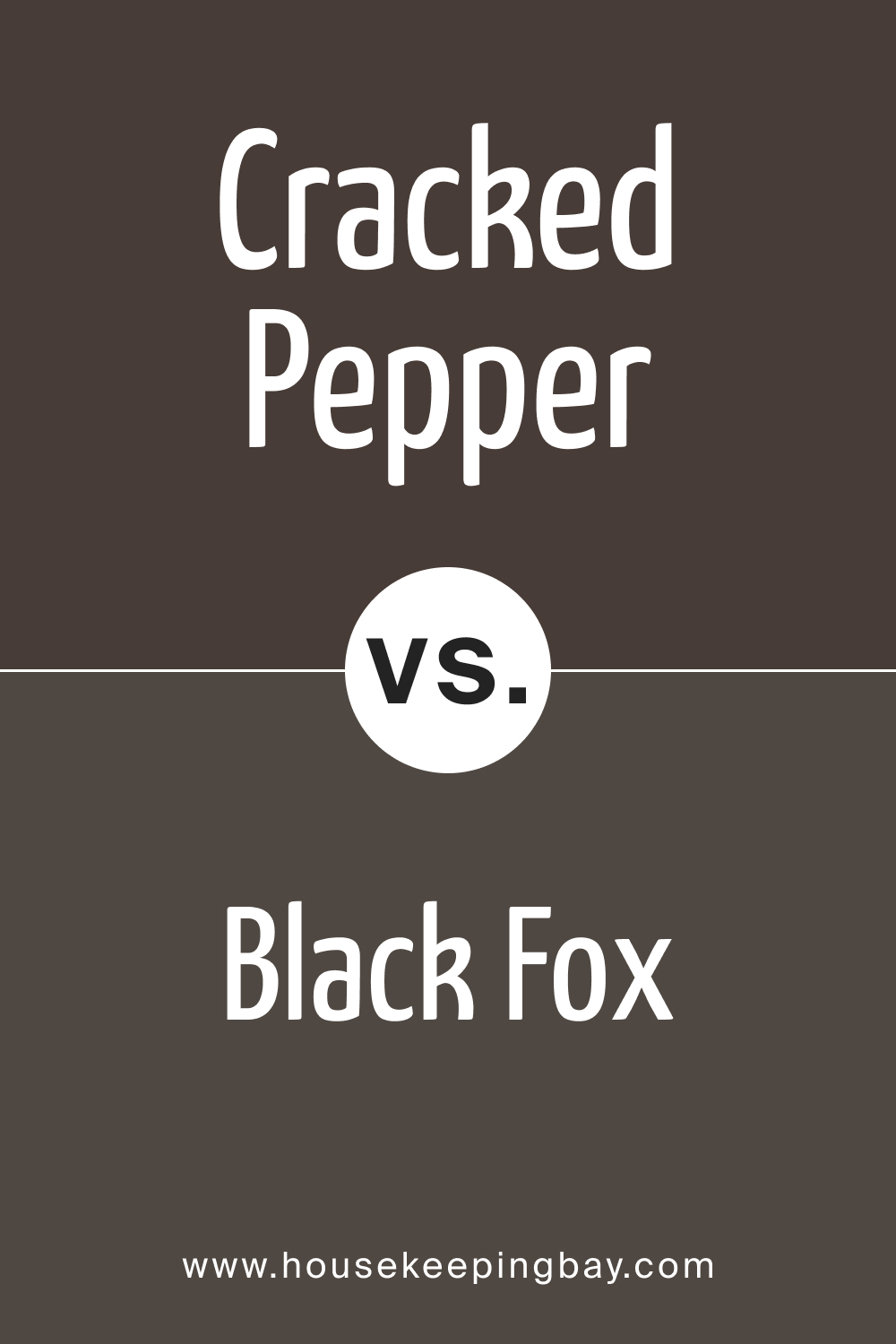 Conclusion
Each shade, while seemingly similar, offers distinct nuances that can significantly influence the mood and style of a space. Fro
m the cool tones of Cracked Pepper to the warm earthiness of Black Fox, the right shade can either energize a space or turn it into a tranquil retreat.
When choosing colors, it's essential to dive into their subtleties, ensuring that the chosen hue resonates with the intended vibe and purpose of the room.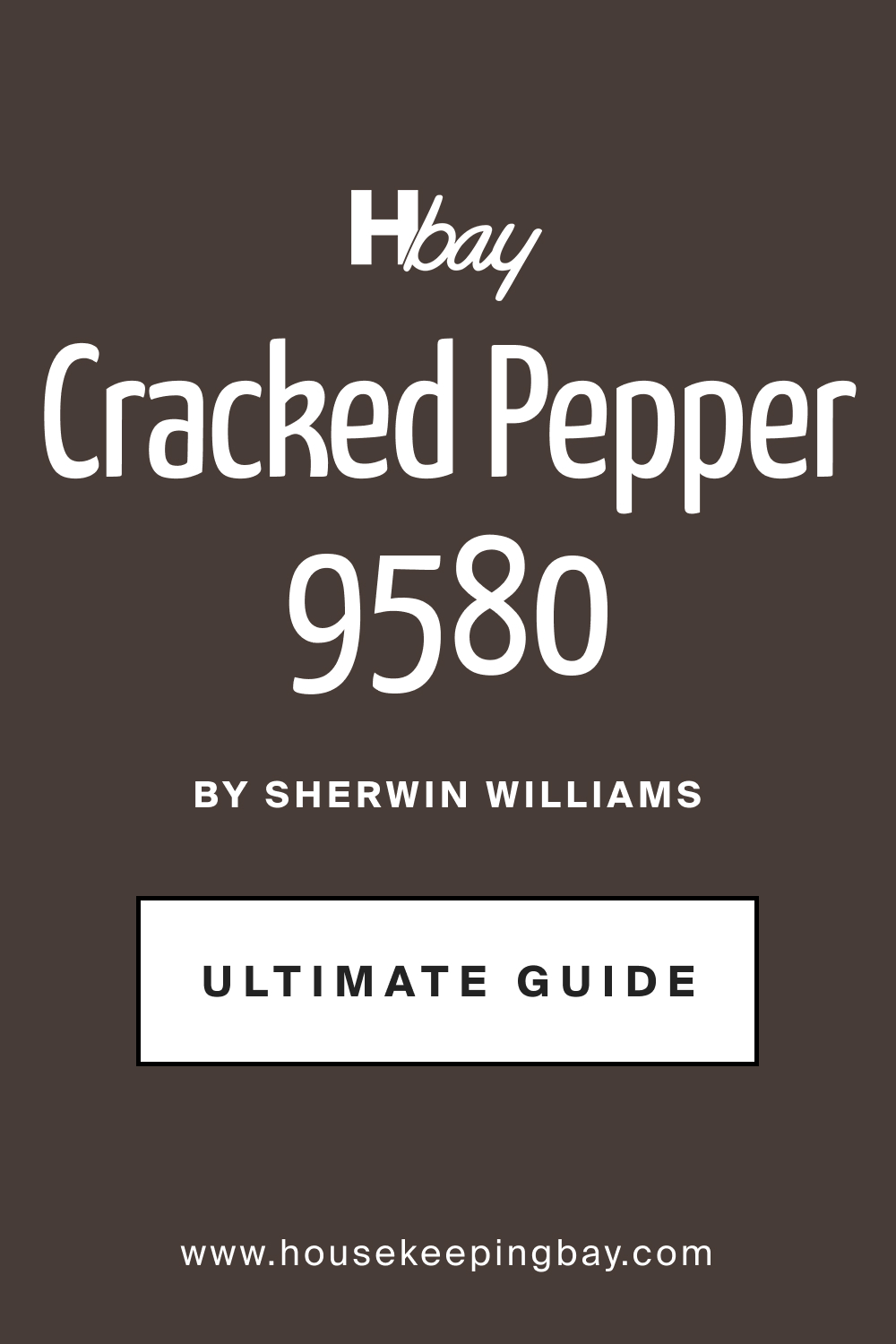 Frequently Asked Questions
⭐What kind of undertones does SW 9580 Cracked Pepper have?
Cracked Pepper has cool undertones with a hint of blue, giving it a sophisticated and modern look. It's a deep shade that can serve as a neutral backdrop or be the focal point in a room.
⭐Is SW 9580 Cracked Pepper suitable for small rooms?
While Cracked Pepper is a darker shade, it can be used in small rooms to create an intimate, cozy feel. However, it's essential to balance it with lighter furnishings or decor to prevent the room from feeling too enclosed.
⭐Does SW 9580 Cracked Pepper work well with white trims?
Absolutely! White trims, especially those with crisp undertones, provide a beautiful contrast against the depth of Cracked Pepper, highlighting architectural details and making them pop.
⭐How does lighting affect the appearance of SW 9580 Cracked Pepper?
Lighting can impact how Cracked Pepper is perceived. In natural light, its cool undertones are more pronounced. In artificial lighting, depending on the type, it may appear either slightly warmer or maintain its cool presence.
⭐Can I use SW 9580 Cracked Pepper for exteriors?
Yes, Cracked Pepper can be used for exteriors. Its deep hue provides a contemporary edge, making homes stand out. It's especially striking when contrasted with lighter or wooden accents.