Color psychology and interior design go hand in hand, influencing the mood and ambiance of any space. Amongst the vast array of paint colors, Bare OC-98 from Benjamin Moore has increasingly found its way into contemporary homes.
This article will delve into this hue, its undertones, coordinating colors, and the myriad ways it interacts with lighting and surroundings.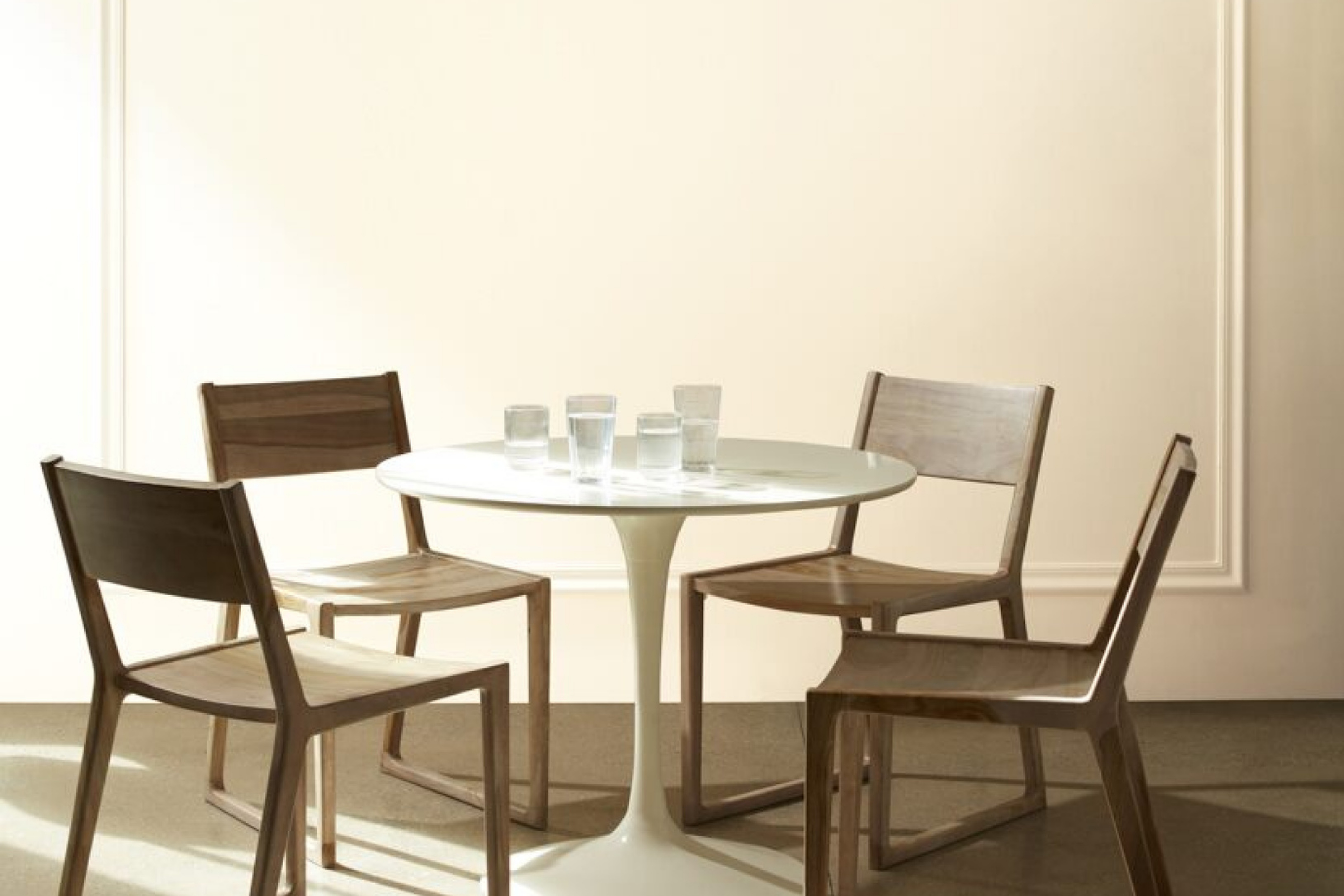 What Color Is Bare OC-98?
Bare OC-98 is a nuanced neutral color, a subtle off-white with a soft touch of beige. This delicate blend makes it incredibly versatile in interior design. It can effortlessly fit into a minimalist, Scandinavian, modern farmhouse, or coastal design aesthetics.
The muted nature of Bare OC-98 lends itself well to pairing with natural materials like wood, stone, or linen, accentuating their textures and patterns.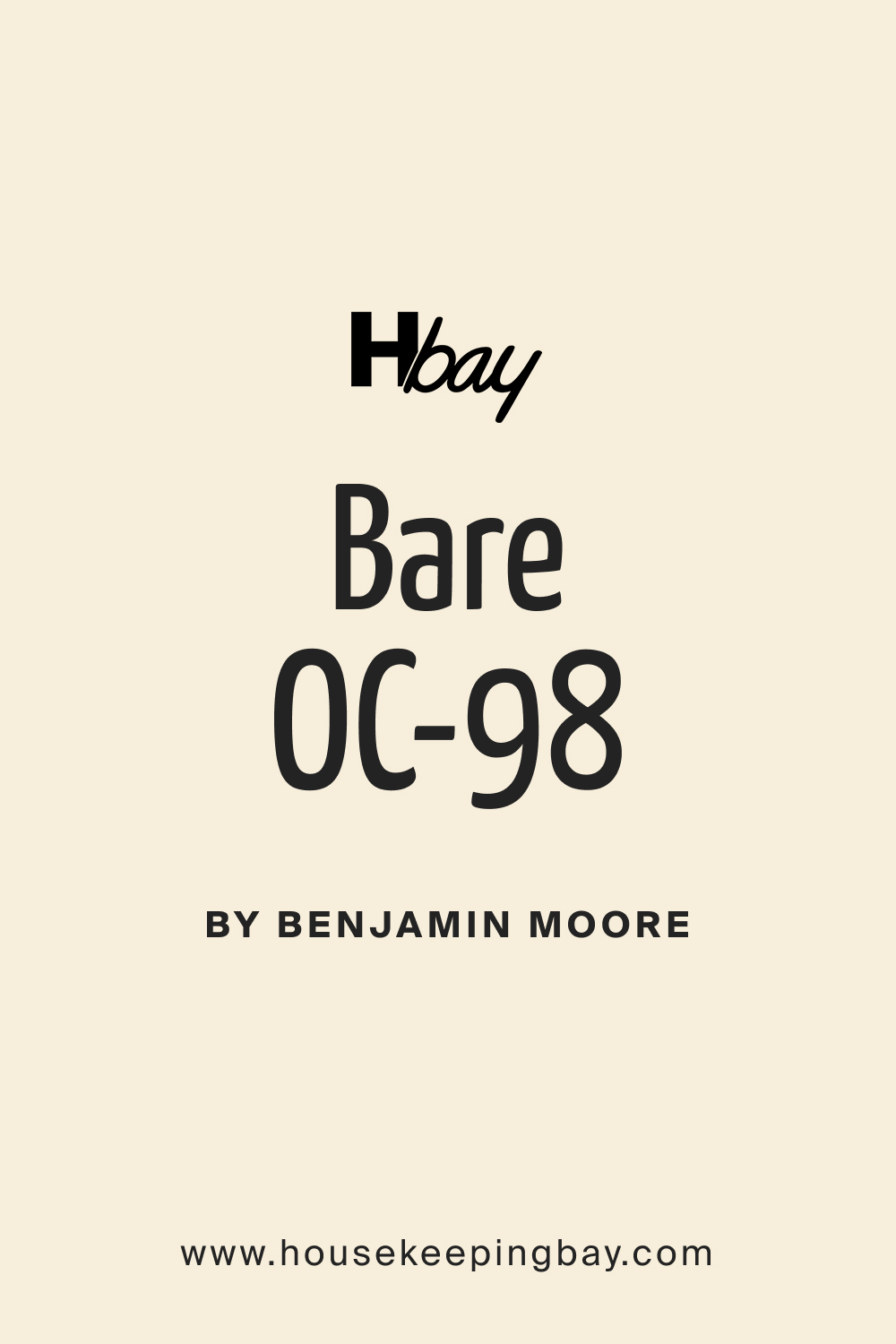 Is It a Warm Or Cool Color?
Despite its neutral appearance, Bare OC-98 leans towards the warm spectrum. Its faint beige undertones emit a cozy ambiance, which makes spaces feel inviting and snug. In homes, warm colors tend to create a sense of comfort and relaxation, and Bare OC-98 is no exception. It has the unique ability to make rooms feel both spacious and intimate.
Undertones of Bare OC-98
Every paint color often has undertones—subtle hues that emerge under certain lighting or when placed against other colors. Bare OC-98, with its warm undertone, emits a faint beige or soft taupe hint. These undertones influence the perceived color, and in the case of Bare OC-98, they bestow a comforting warmth to the space.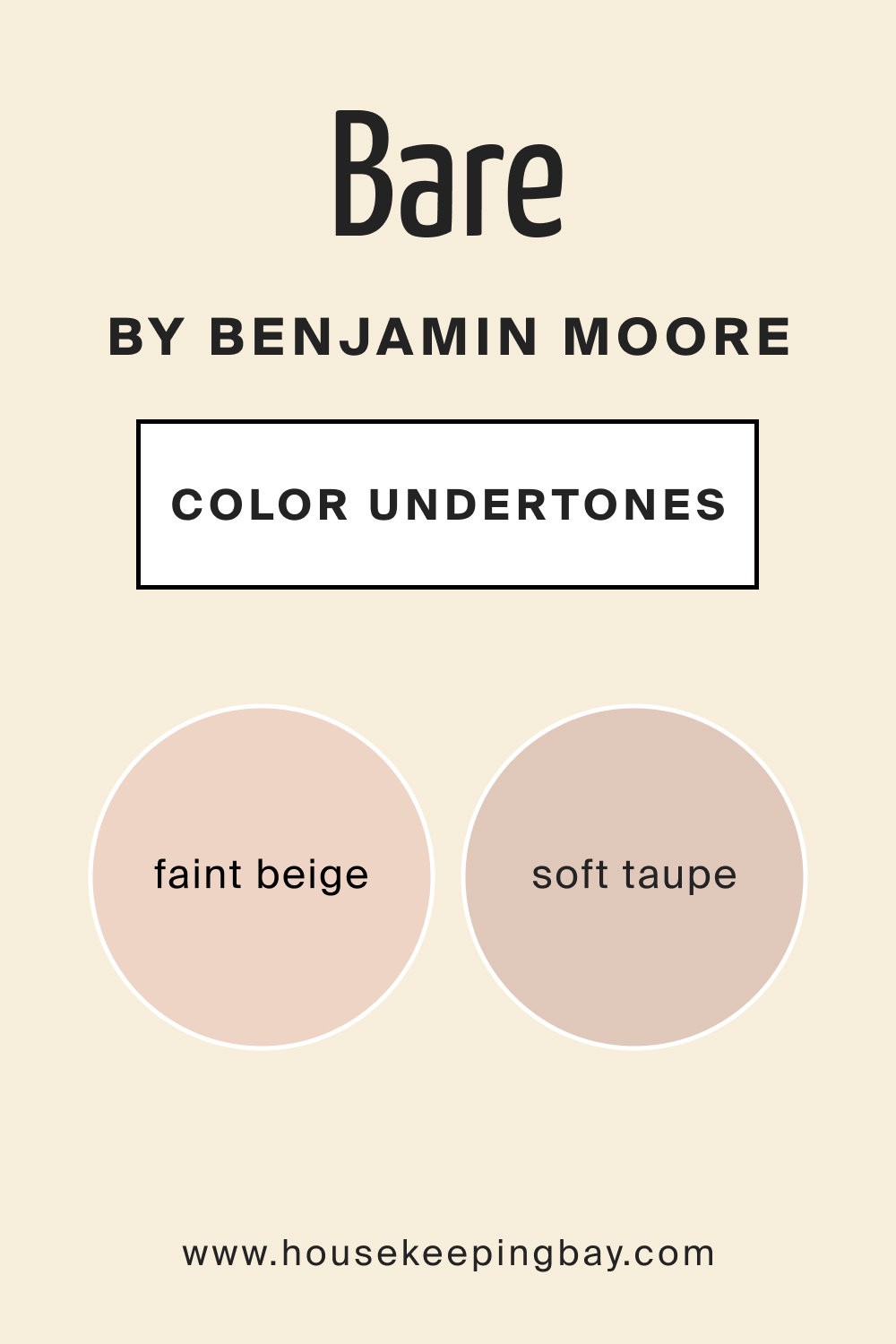 Coordinating Colors of Bare OC-98
Coordinating colors enhance the primary color's attributes and establish a balanced visual rhythm in space. For Bare OC-98, its coordinating colors from Benjamin Moore include:
Three more colors to consider are:
Balboa Mist OC-27: A delicate gray with lavender undertones.
Stonington Gray HC-170: A neutral gray without strong undertones.
Pale Oak OC-20: A sophisticated off-white with beige hues.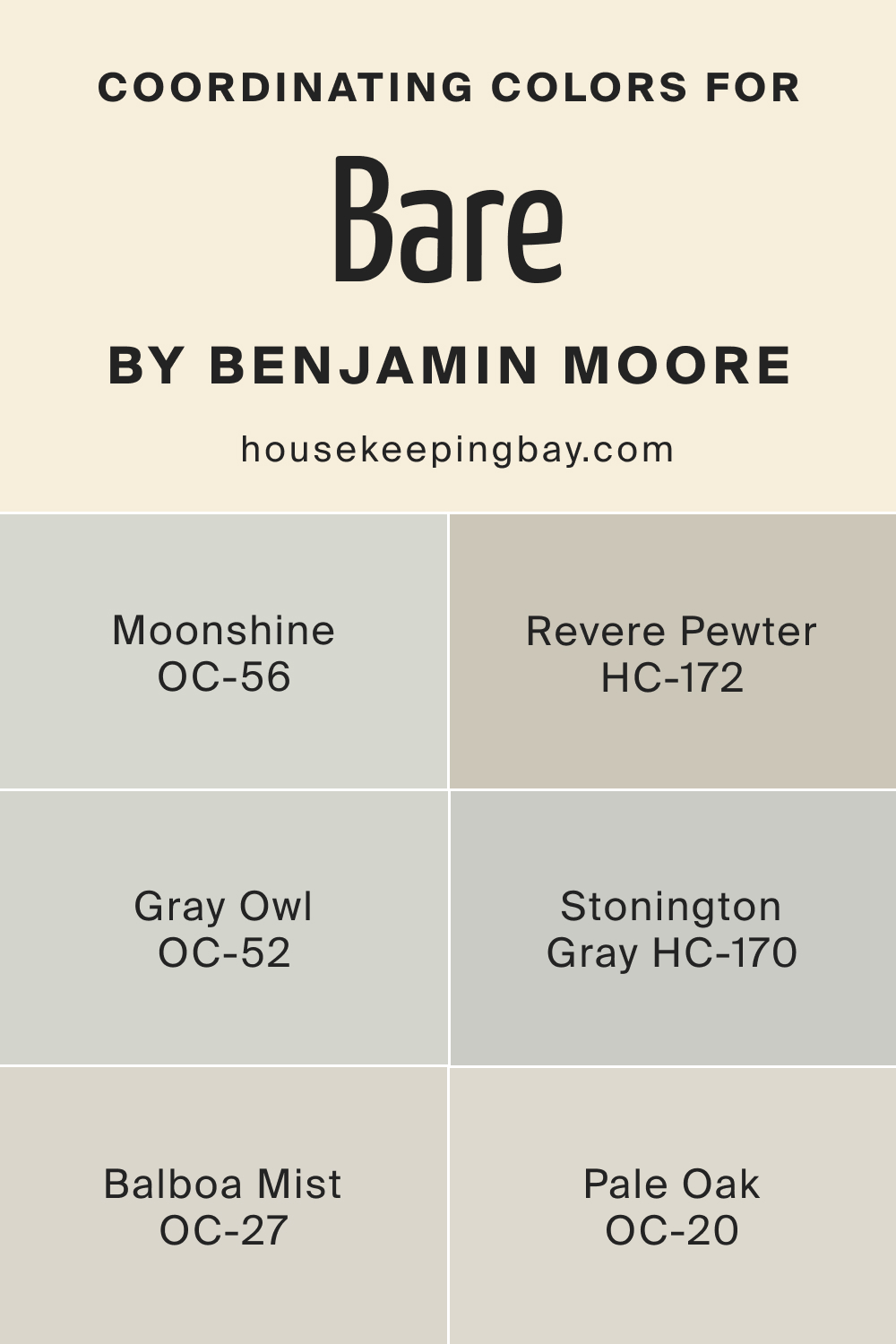 How Does Lighting Affect Bare OC-98?
Lighting plays a pivotal role in how we perceive colors. Under artificial lighting, Bare OC-98 tends to appear slightly more beige, emphasizing its warm undertones. In contrast, under natural light, it often appears brighter and more neutral. In north-faced rooms, which receive cooler and bluer light, Bare OC-98 can seem slightly grayer.
South-facing rooms bask it in a warmer, golden light, emphasizing its beige undertone. In east-facing rooms, it shines with a soft warmth during mornings and leans neutral as the day progresses. West-facing rooms present it in warm light, especially during sunsets.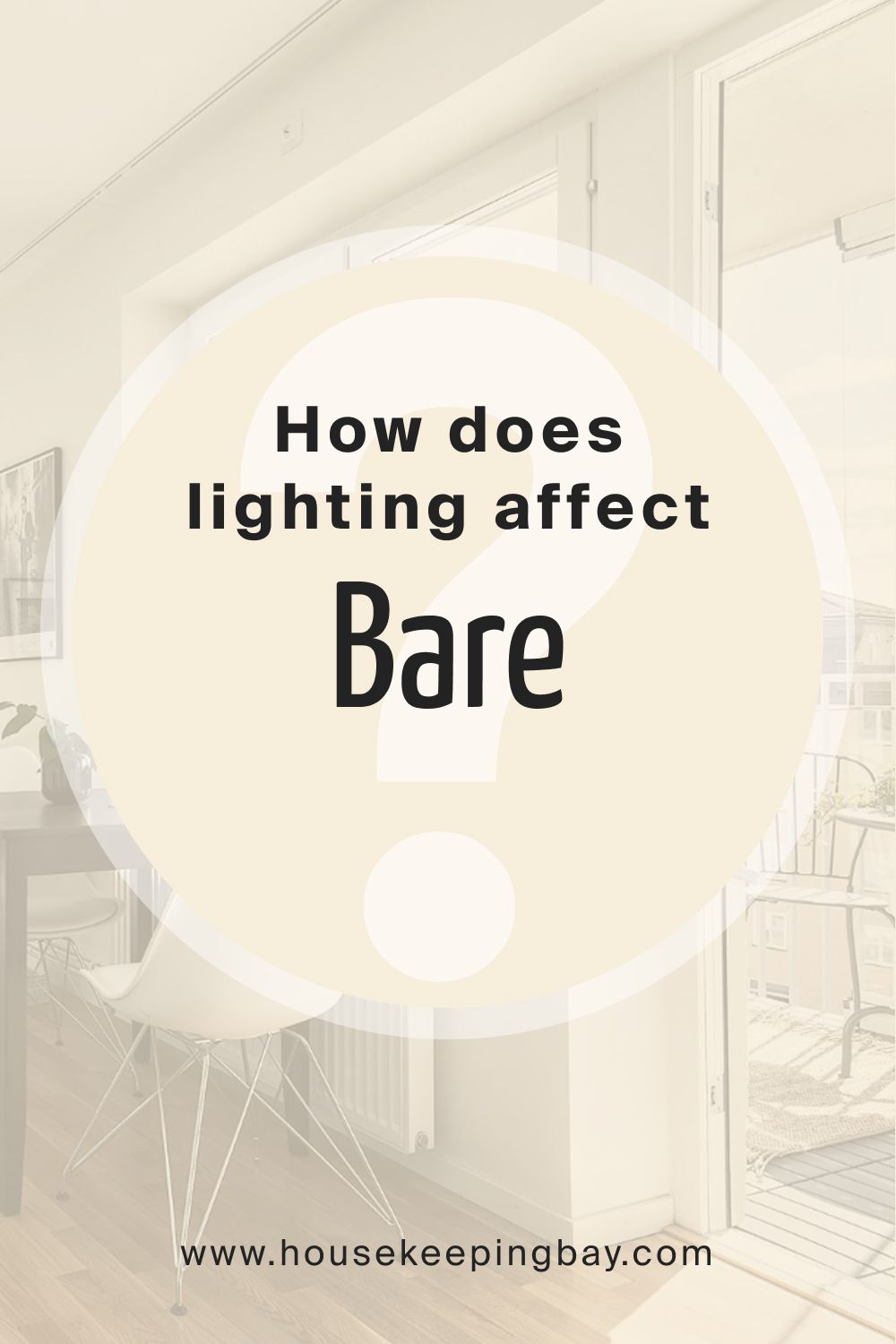 LRV of Bare OC-98
LRV, or Light Reflectance Value, measures the amount of light a paint color reflects. With an LRV of 83, Bare OC-98 reflects a significant amount of light. Higher LRV colors like this tend to make rooms feel more open and airy. Given its LRV, Bare OC-98 is optimal for smaller rooms or spaces with limited natural light.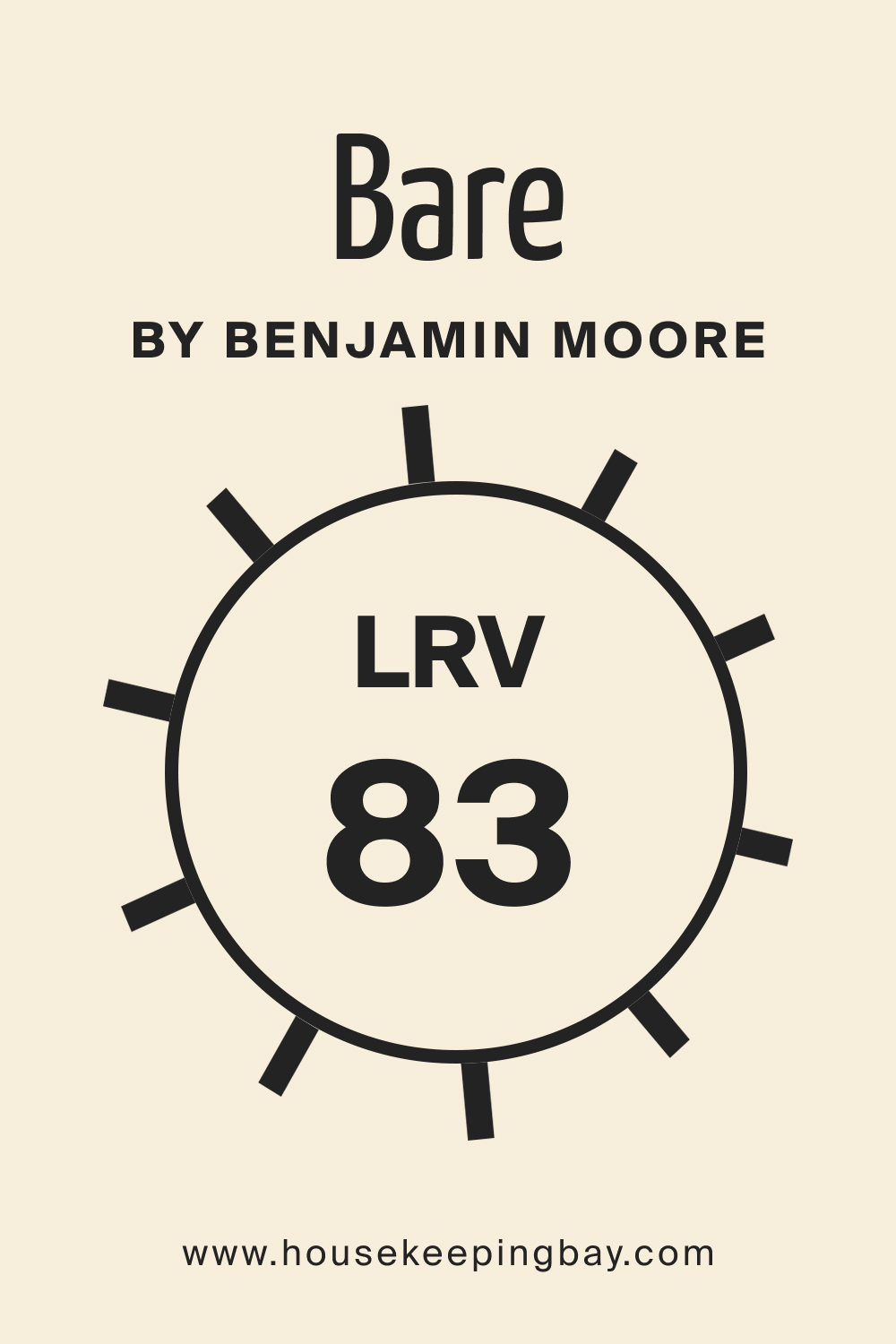 What is LRV? Read It Before You Choose Your Ideal Paint Color
Trim Colors of Bare OC-98
Trim colors, usually applied to moldings, window frames, and doors, frame a room's color palette. For Bare OC-98, whites like:
from Benjamin Moore would create a harmonious transition. These shades of white provide a crisp, clean boundary that enhances Bare OC-98's inherent warmth.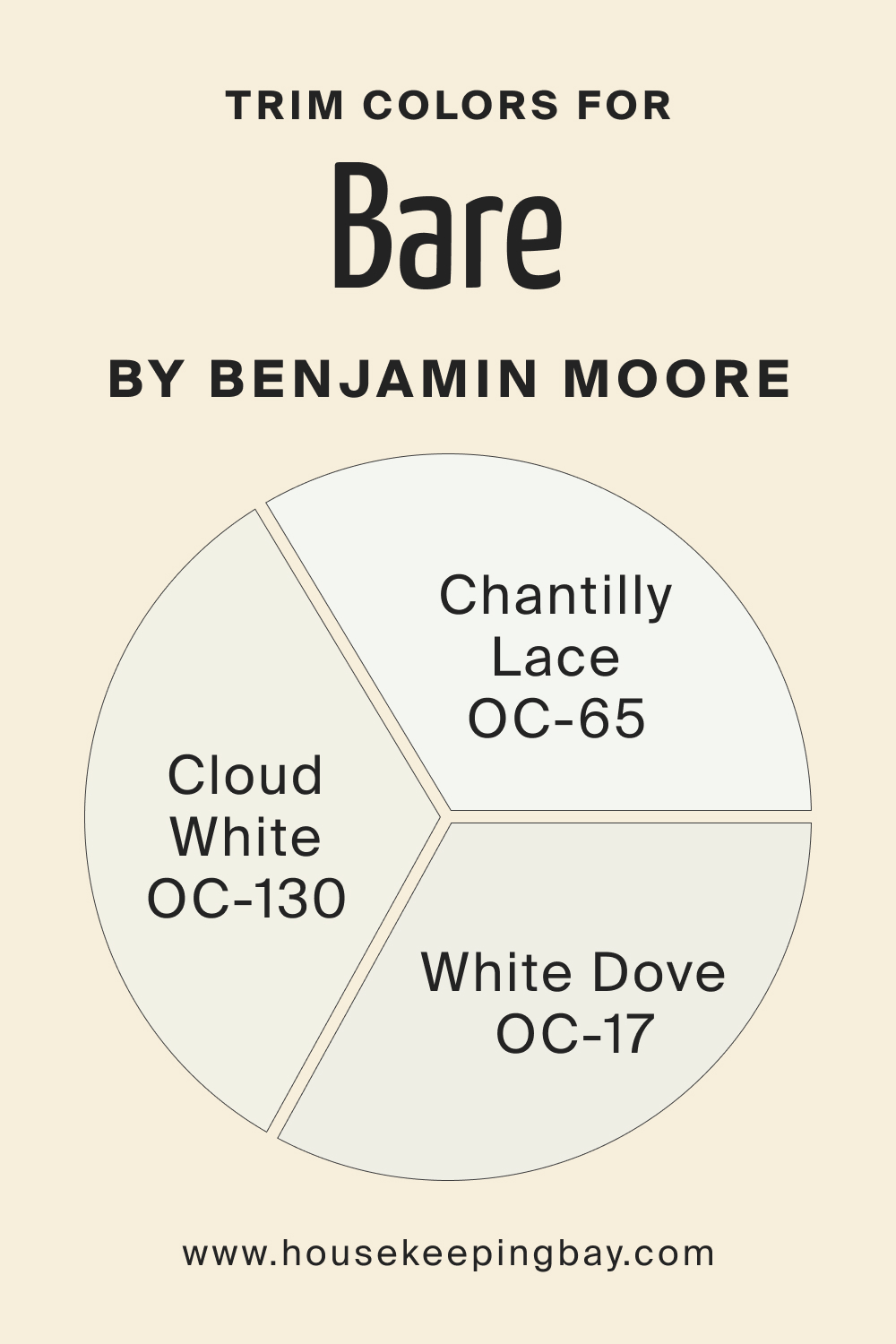 Colors Similar to Bare OC-98
Knowing similar colors allows homeowners to compare and contrast, ensuring they pick the hue that perfectly matches their vision. Bare OC-98 is reminiscent of the following hues:
BM Cancun Sand 2016-70, a soft beige with peachy undertones.
White Sand OC-10, which is a warm off-white with an olive undertone.
Muslin OC-12, which offers a muted blend of beige and gray.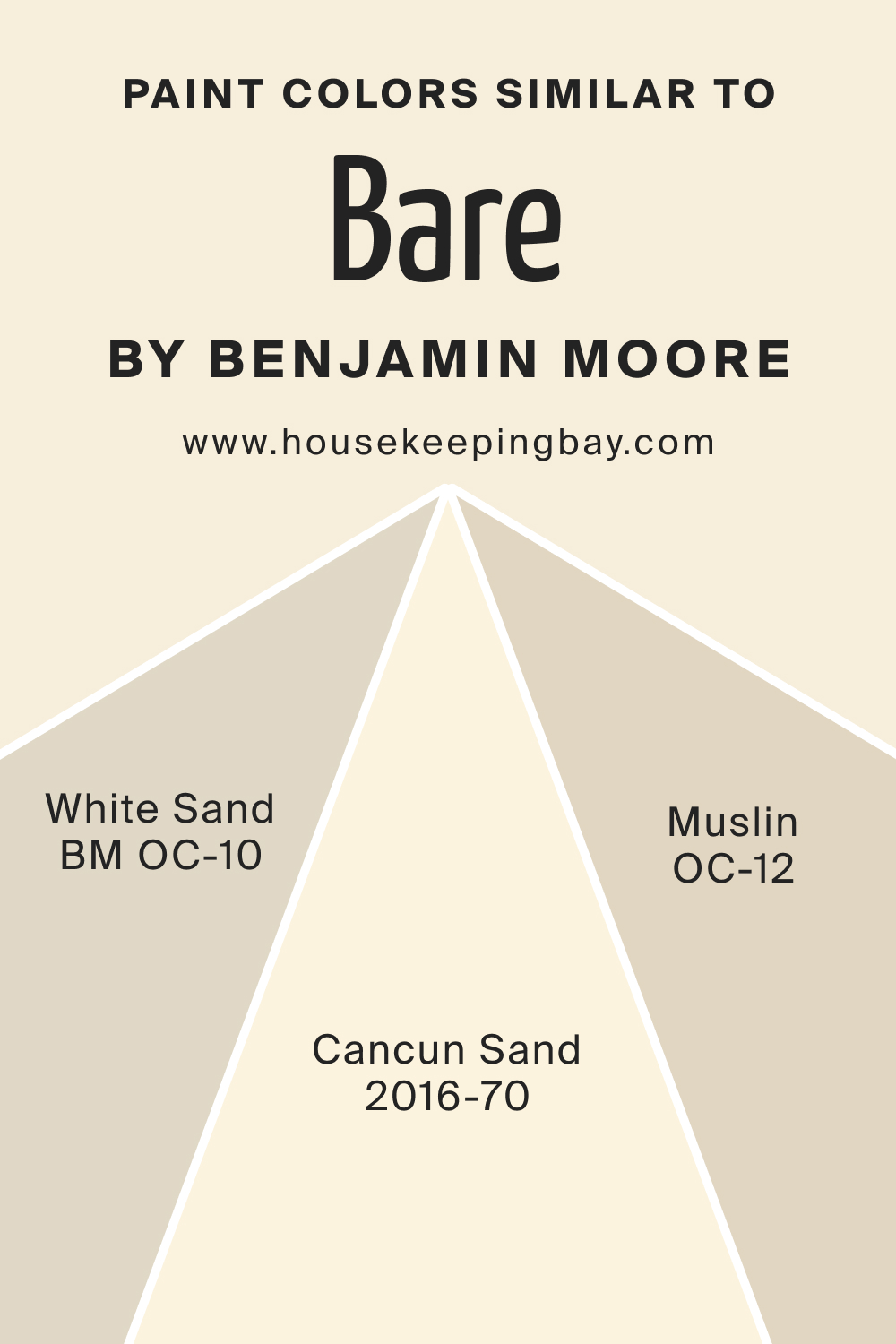 Colors That Go With Bare OC-98
Pairing complementary colors can amplify an interior's aesthetics. Bare OC-98 pairs wonderfully with:
BM Rose Bisque 2102-50: A muted pinkish beige.
OC-143 Bone White: A warm, creamy off-white.
CC-98 Prairie Lily: A soft coral hue.
Other colors to consider are:
Winds Breath OC-24: A beige with gray undertones.
Collingwood OC-28: A gray with purple hints.
Beach Glass 1564: A serene mix of blue and green.
Pairing the right colors enhances the aesthetic appeal and creates a harmonious, cozy, and inviting environment. With its versatility, Bare OC-98 from Benjamin Moore offers endless possibilities for turning a house into a home.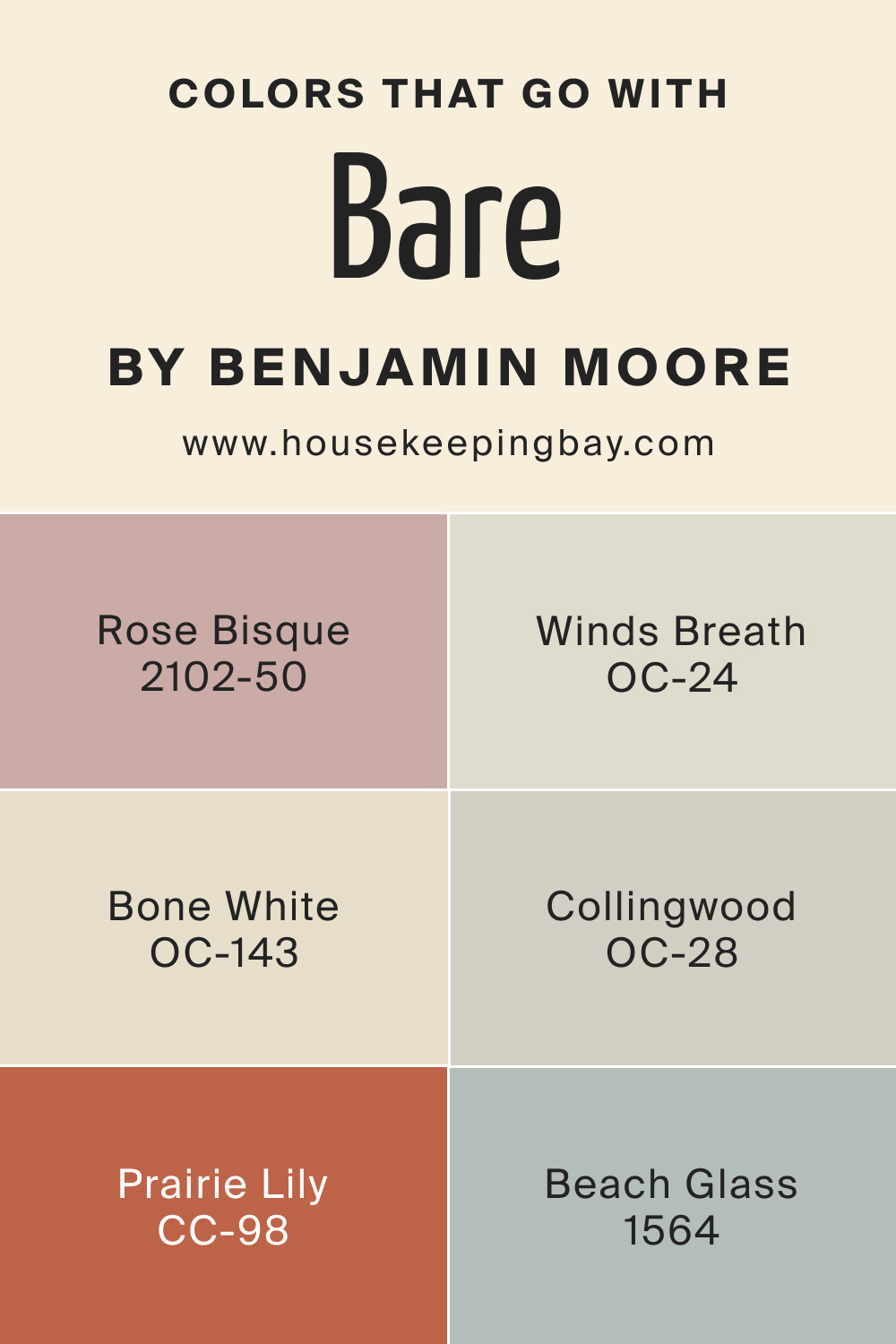 How to Use Bare OC-98 In Your Home?
Bare OC-98 from Benjamin Moore is a subtle, neutral shade that offers versatility in home decor. Its understated elegance can breathe life into bedrooms, imparting a serene ambiance, and its warm undertones fit well in cozy living rooms.
Bathrooms benefit from its clean and airy feel, while in kitchens, it creates a welcoming backdrop for culinary activities. Bare OC-98's adaptability complements a range of design styles, from minimalist and Scandinavian to modern farmhouse and coastal. The color's timeless nature also makes it a top choice for exteriors, providing a chic yet classic appearance.
How to Use Bare OC-98 in the Bedroom?
Bare OC-98 exudes tranquility, making it an excellent choice for bedrooms. Its soft beige undertones provide a calming backdrop conducive to rest and relaxation. Paired with earthy textiles, wooden furniture, and soft lighting, this hue encapsulates a dreamy sanctuary, making it perfect for both contemporary and traditional bedroom designs.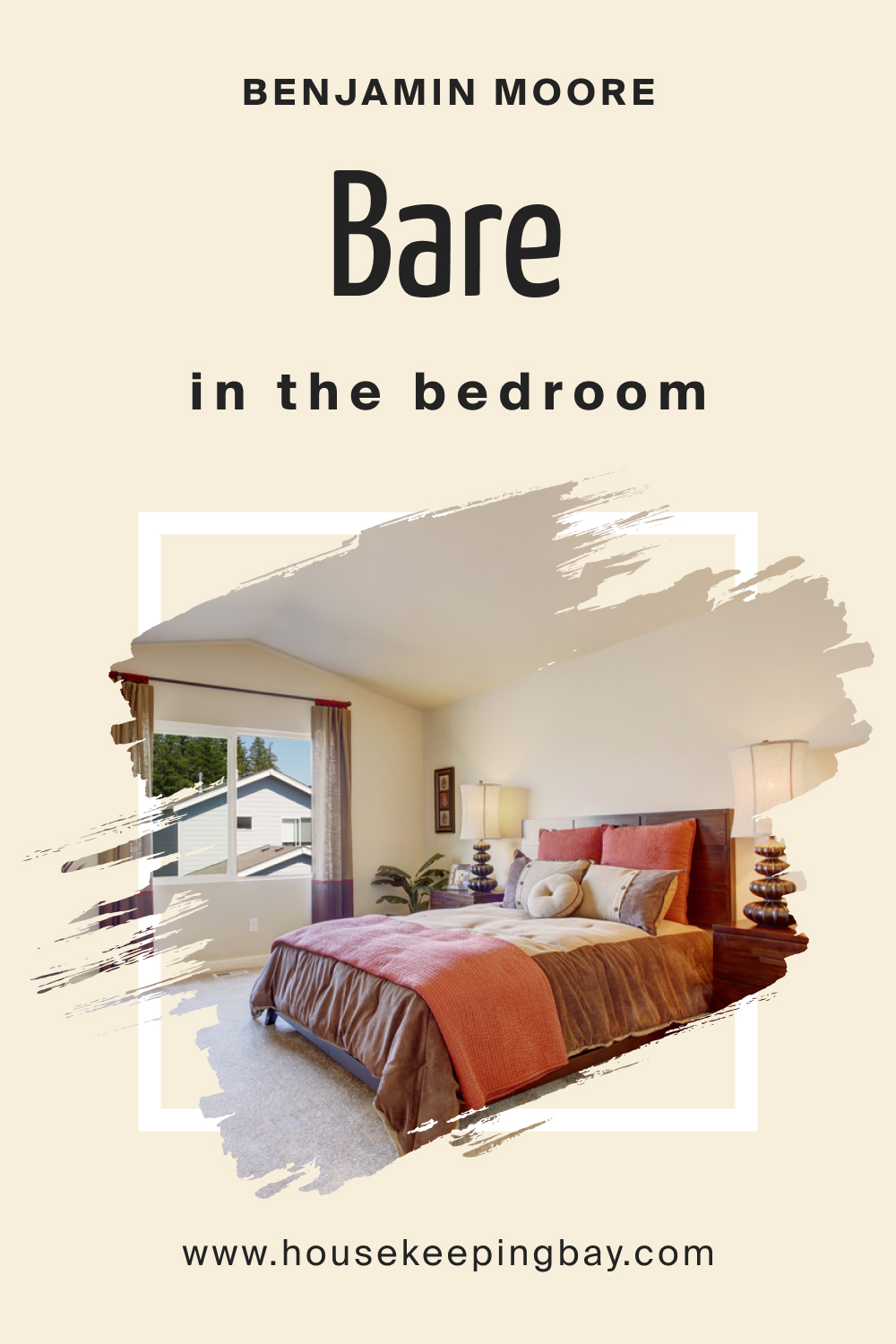 How to Use Bare OC-98 in the Bathroom?
In bathrooms, Bare OC-98 can transform the space into a spa-like retreat. Its neutral palette complements marbles, ceramics, and metallic fixtures. The color also amplifies natural light, making bathrooms feel spacious and refreshing. Paired with soft towels and minimalist accessories, it sets a rejuvenating tone.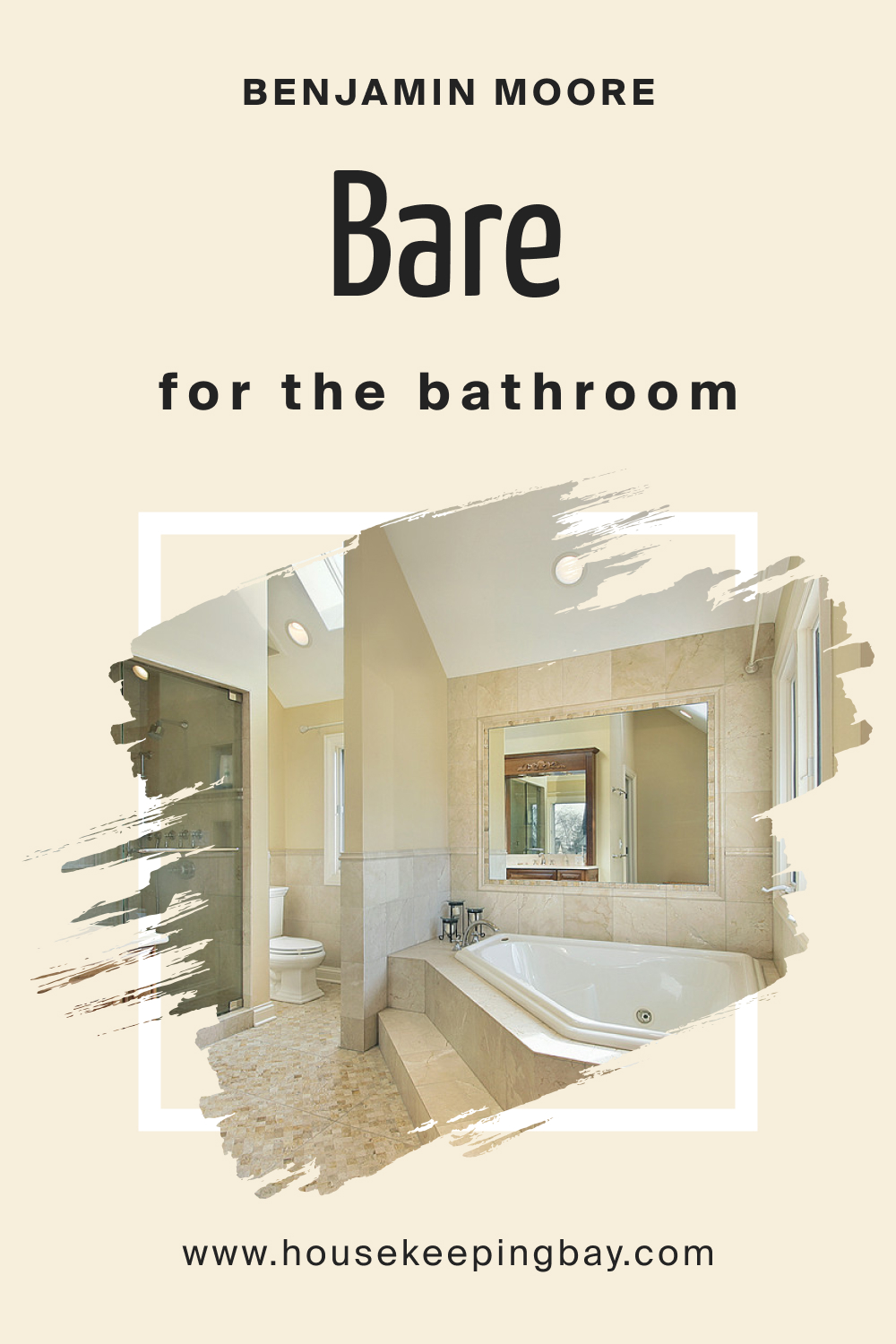 How to Use Bare OC-98 in the Living Room?
Bare OC-98 serves as a warm and inviting backdrop in living rooms. It seamlessly blends with varied textures like leather, wood, or velvet and can accentuate decorative pieces. Whether aiming for a chic, modern design or a cozy, traditional setting, this color provides a harmonious canvas to layer different design elements.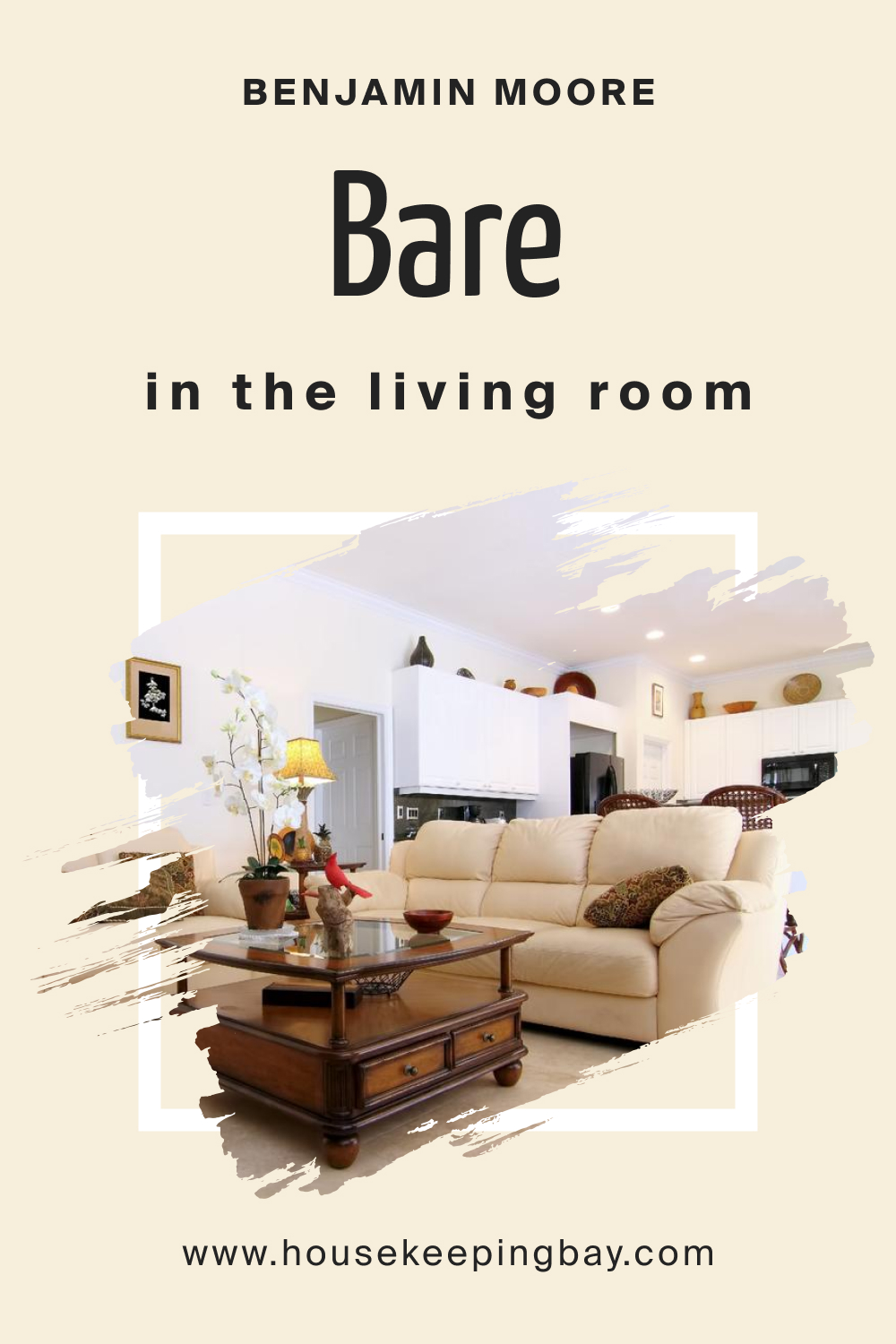 How to Use Bare OC-98 for an Exterior?
For exteriors, Bare OC-98 offers timeless appeal. It stands gracefully against natural landscapes and is resilient to changing light conditions, maintaining its elegant demeanor from dawn to dusk. When paired with contrasting trim colors or natural stone pathways, it gives homes a distinguished yet welcoming appearance.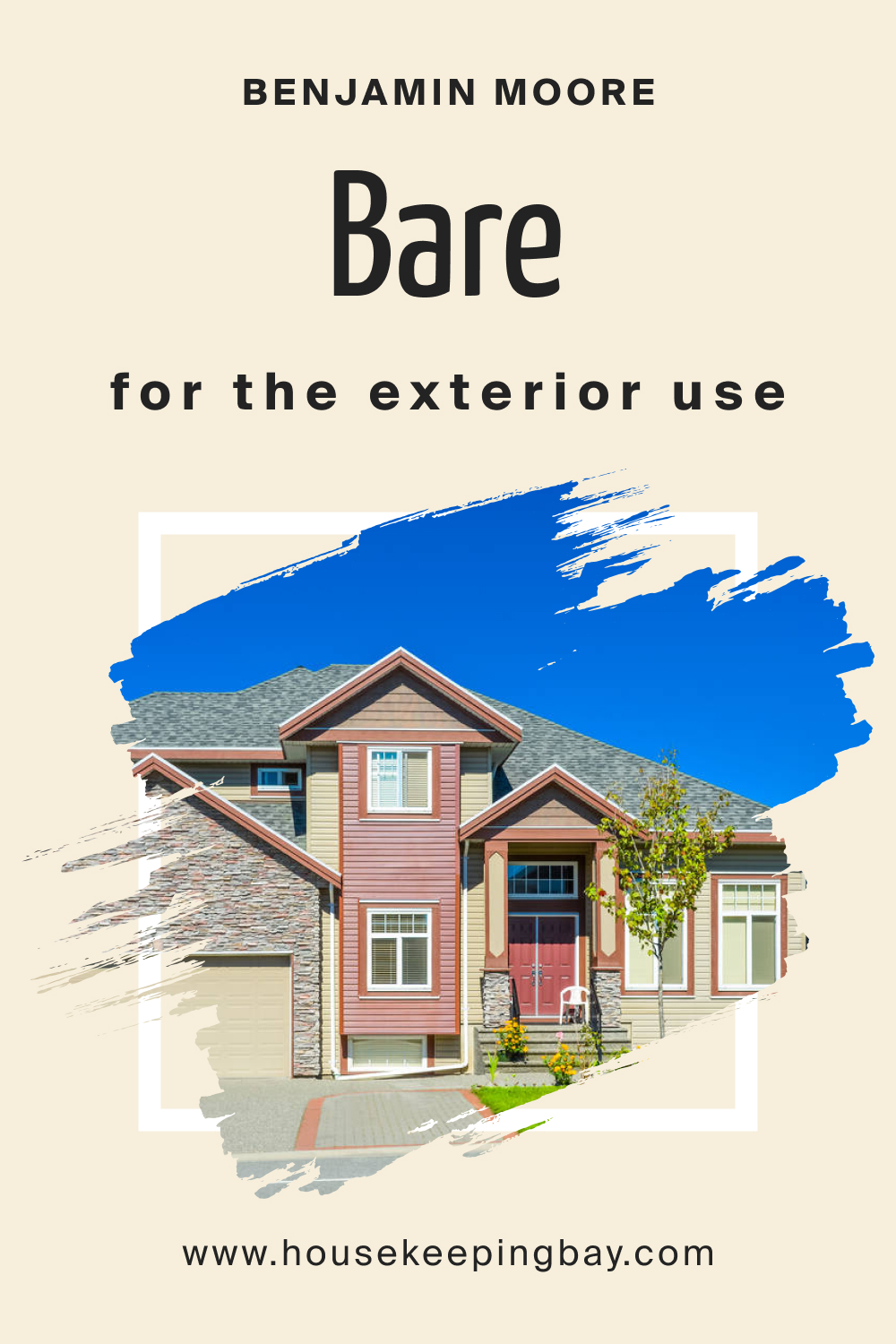 How to Use Bare OC-98 in the Kitchen?
Kitchens adorned with Bare OC-98 radiate warmth and hospitality. The color works beautifully with stainless steel appliances, wooden countertops, or patterned backsplashes. It provides a neutral base that can be livened up with vibrant kitchenware or subdued for a more minimalist approach.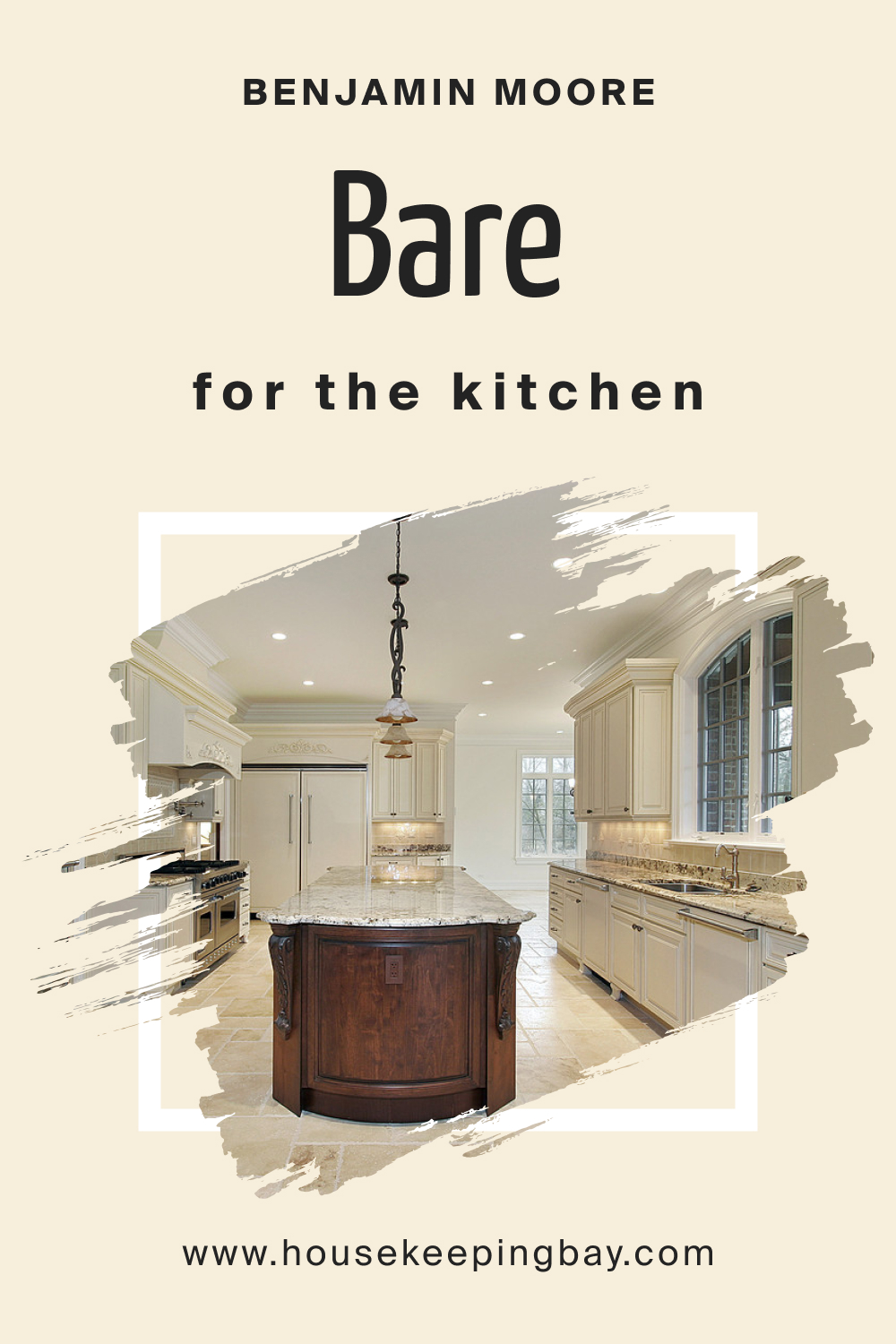 Comparing Bare OC-98 With Other Colors
Comparing different colors is crucial when determining the right hue for a space. Side-by-side comparisons allow us to discern subtle differences in undertones, brightness, and mood.
While all colors may appear as simple "whites" or "neutrals," each has its unique personality that can dramatically affect the atmosphere of a room. By contrasting colors, homeowners can ensure their chosen hue aligns with their design vision, material choices, and desired ambiance.
Bare OC-98 vs. BM Classic Gray 1548
While Bare OC-98 radiates a soft beige undertone, BM Classic Gray 1548 leans towards a pale gray. Classic Gray is cooler and offers a contemporary, neutral canvas, whereas Bare OC-98 imparts a warmer, more traditional feel. Both are versatile, but their differing undertones cater to distinct design aesthetics.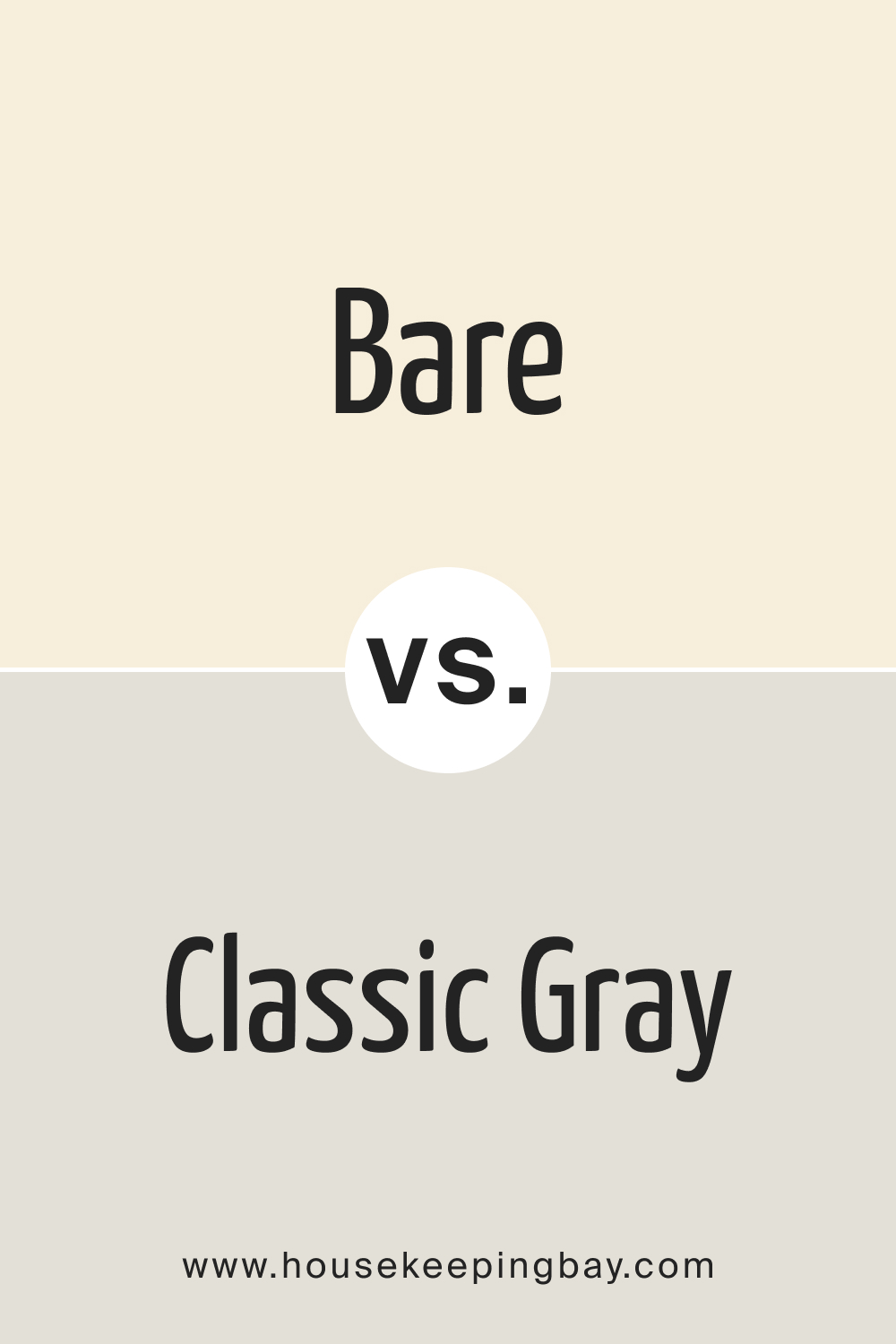 Bare OC-98 vs. OC-117 Simply White
OC-117 Simply White is a crisp, bright white that truly lives up to its name. Compared to Bare OC-98, which has more visible warm undertones, Simply White offers a more straightforward, clean look, making spaces feel open and airy. Bare OC-98, with its beige hints, is more subdued and cozy.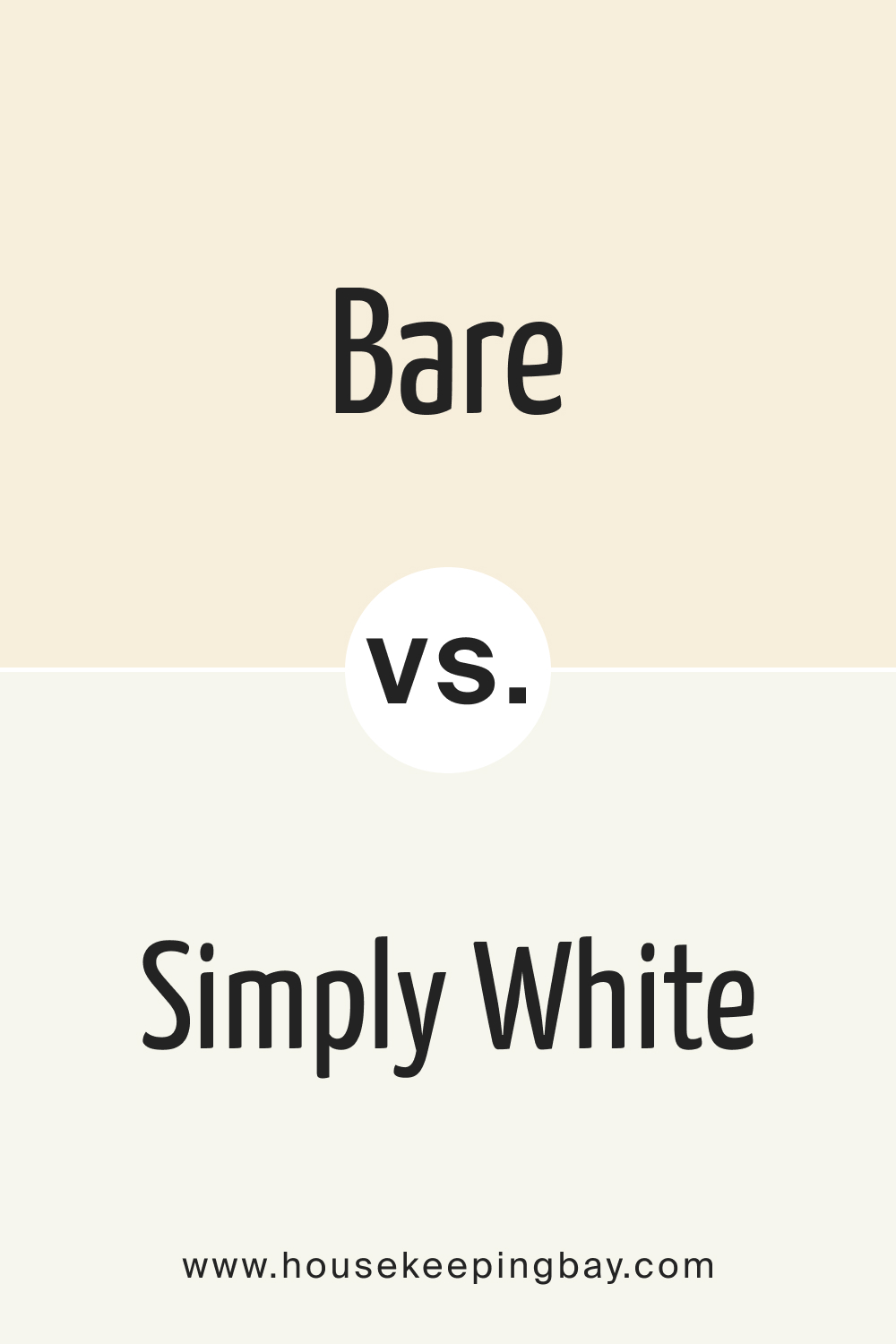 Bare OC-98 vs. OC-97 Cream Froth
OC-97 Cream Froth introduces a hint of soft creaminess. While both colors exude warmth, Cream Froth feels slightly richer due to its milky undertone. Bare OC-98 is more neutral in comparison, suitable for those looking for a hint of beige without overt creaminess.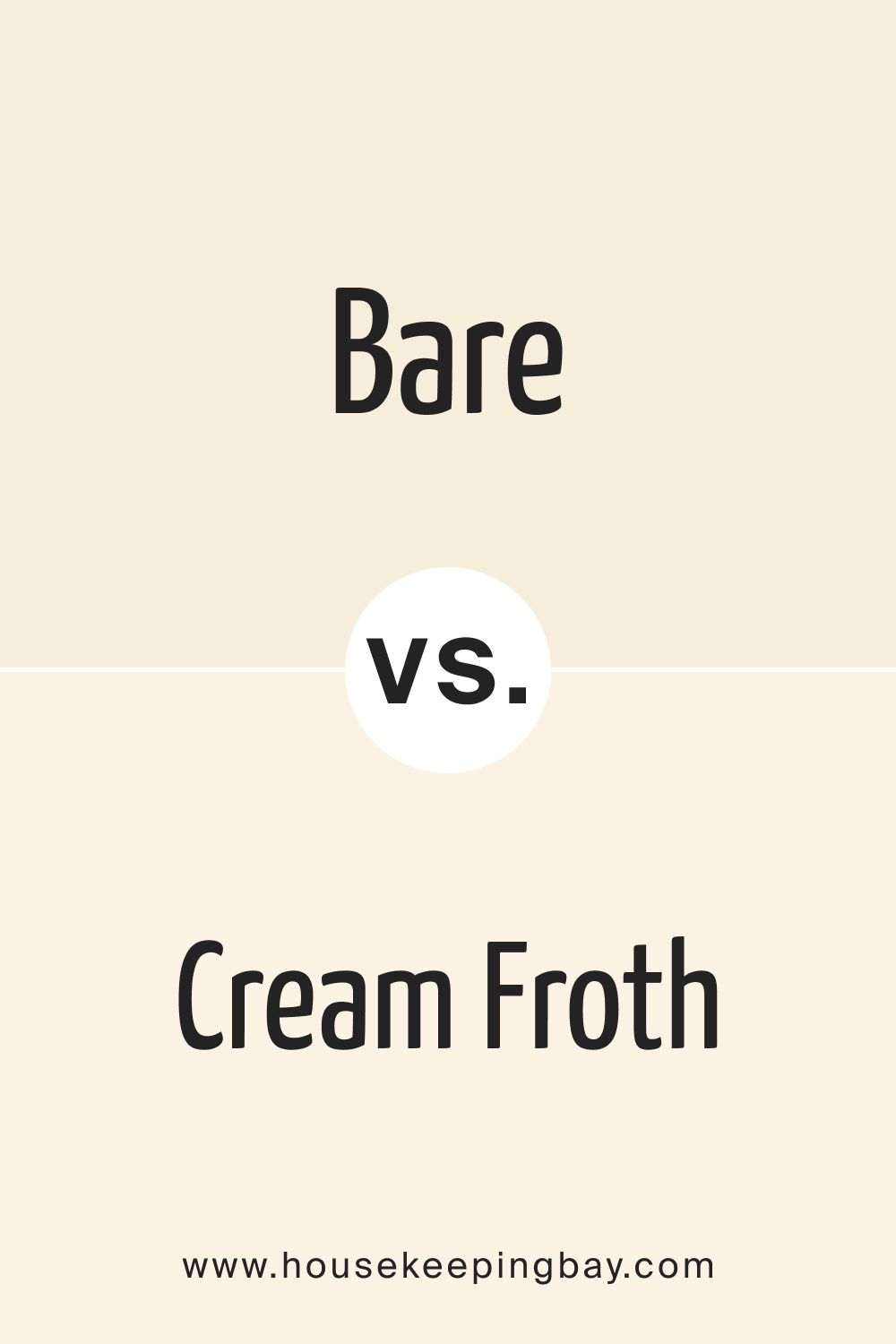 Bare OC-98 vs. OC-2 Pale Almond
OC-2 Pale Almond leans into a delicate almond shade with soft brown undertones. In contrast, Bare OC-98 is closer to a true neutral. While both are warm, Pale Almond feels earthier and can make a space feel more rustic, whereas Bare OC-98 offers modern elegance.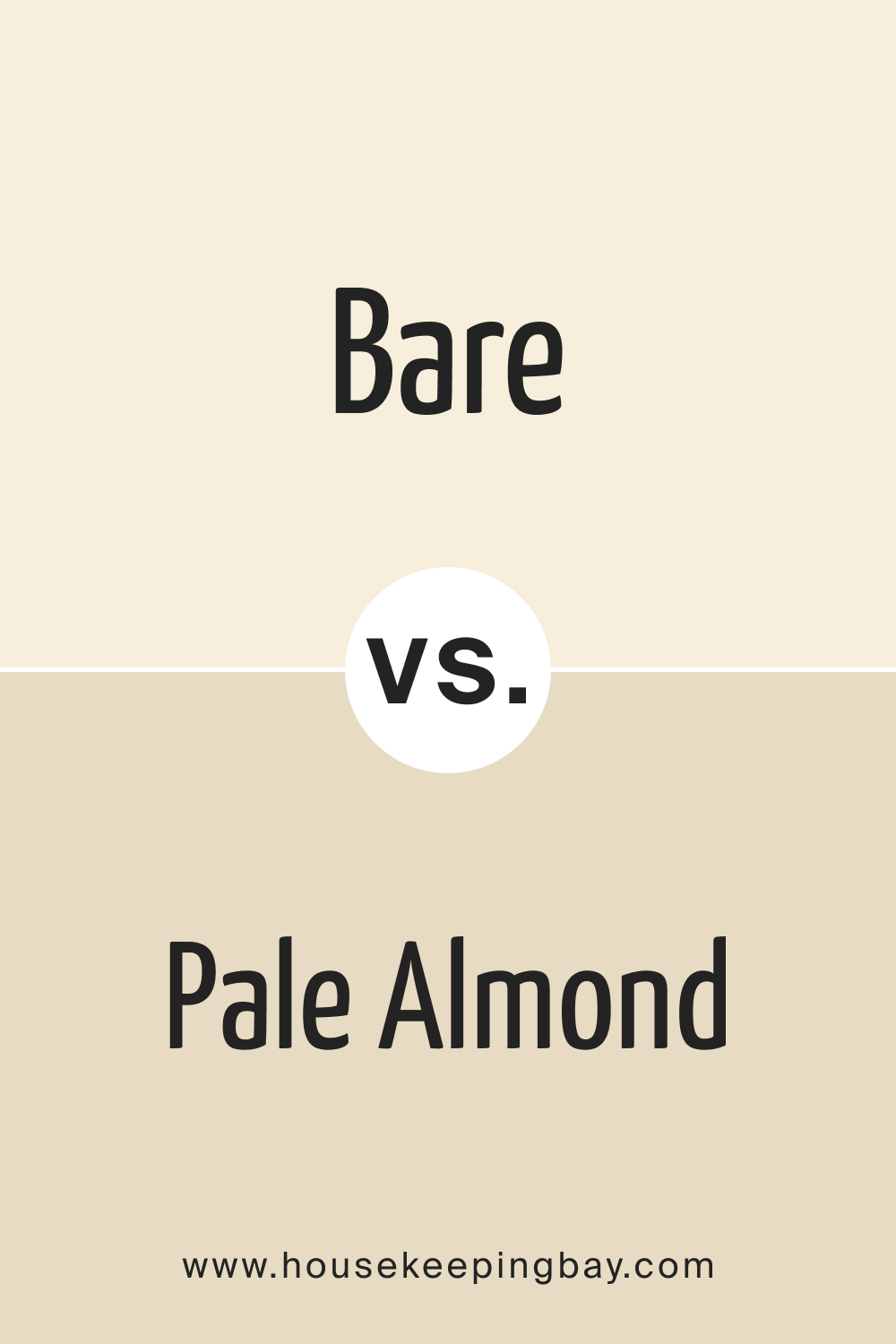 Bare OC-98 vs. BM Royal Silk 939
BM Royal Silk presents a gentle touch of lavender, introducing a hint of coolness amidst its warmth. Bare OC-98, being more neutral, doesn't possess the same subtle purple undertones. While both are soft and muted, Royal Silk can evoke a slightly romantic feel in spaces.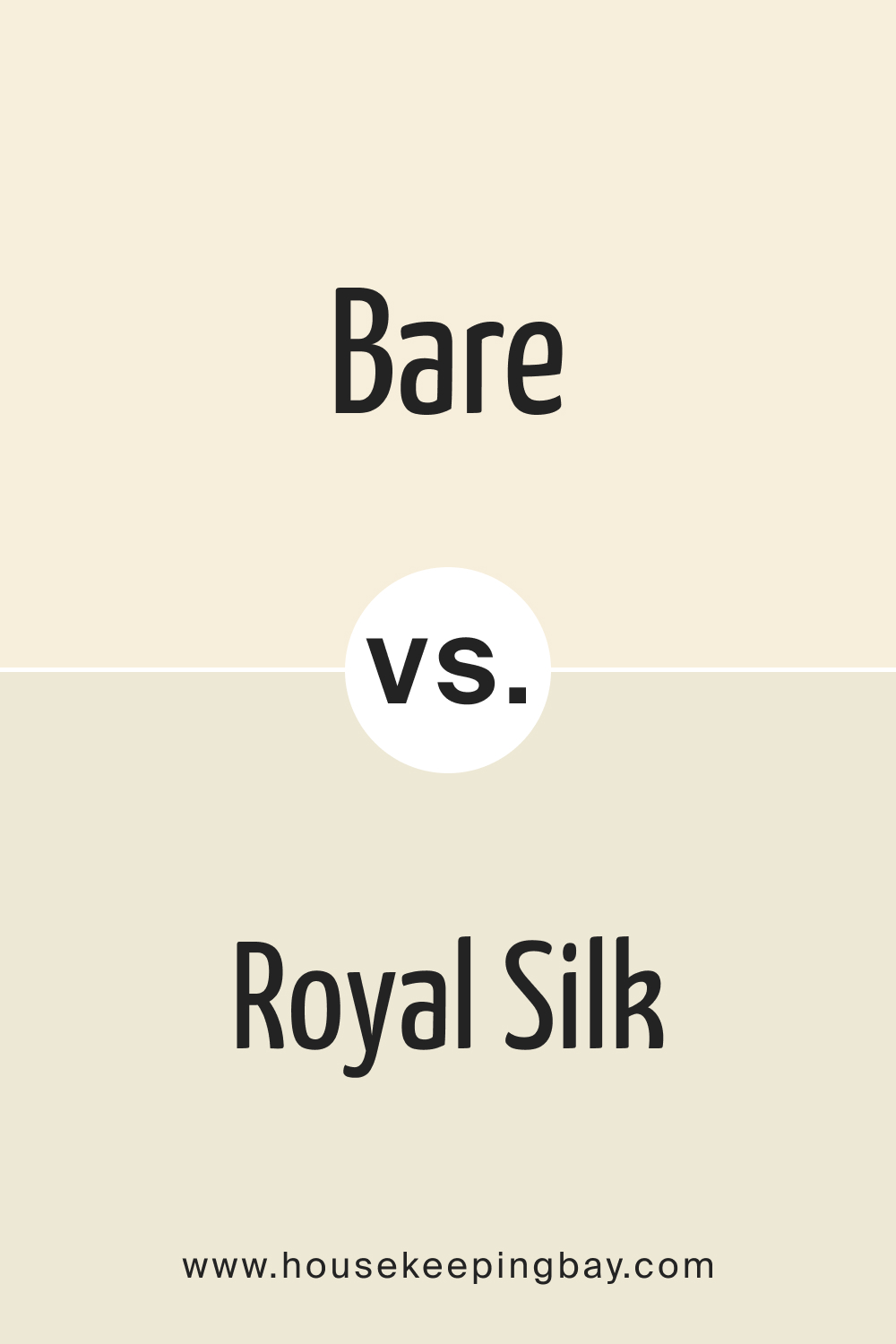 Bare OC-98 vs. OC-95 Navajo White
OC-95 Navajo White is a classic creamy shade with a touch of yellow. It's a timeless color that can introduce a rustic, vintage charm. Compared to Bare OC-98, Navajo White is bolder and warmer, perfect for those looking to infuse a touch of nostalgia into their spaces.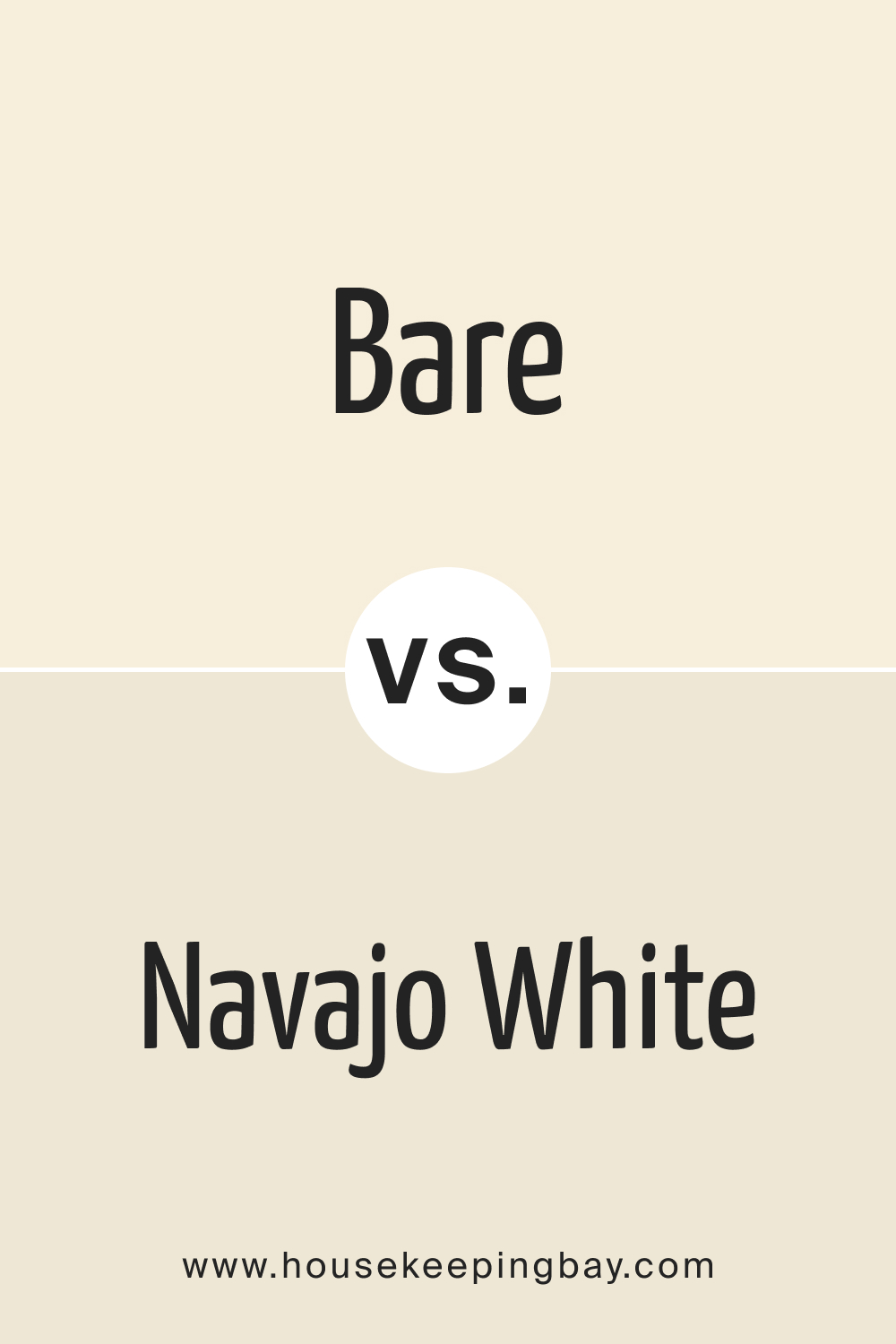 Conclusion
Bare OC-98, like all colors, exists in a spectrum of neutrals, each carrying its character. By contrasting it with other hues, we can appreciate its unique qualities and determine its perfect application in our homes. Whether you're drawn to its warm undertones or its versatility, there's no doubt that Bare OC-98 is a color that can transform any space.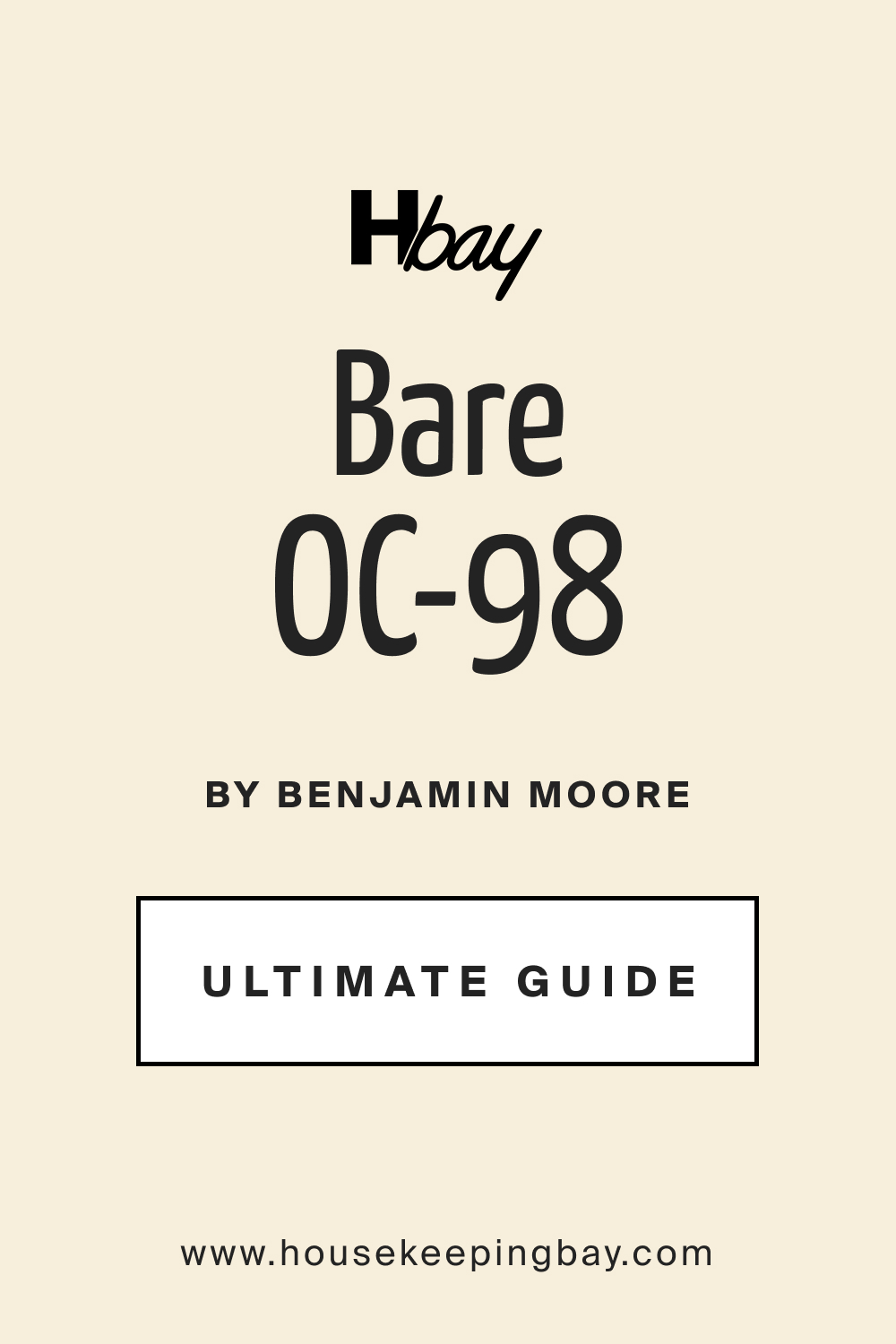 Frequently Asked Questions
⭐What kind of undertones does Bare OC-98 have?
Bare OC-98 boasts soft beige undertones, providing warmth without becoming too dominant.
⭐How does Bare OC-98 compare to other neutral shades from Benjamin Moore?
While Bare OC-98 is a versatile neutral, it leans more towards soft beige undertones, distinguishing it from cooler or creamier shades in Benjamin Moore's lineup.
⭐In what type of lighting does Bare OC-98 look best?
Bare OC-98 shines in both natural and artificial light, though its beige undertones may be slightly more pronounced in spaces with abundant natural sunlight.
⭐Is Bare OC-98 suitable for exteriors?
Absolutely! Its timeless appeal makes it a great choice for exteriors, complementing a wide range of architectural styles.
⭐Can I use Bare OC-98 in high-humidity areas like bathrooms?
Yes, but ensure you opt for the appropriate finish, such as semi-gloss or satin, to protect against moisture and humidity.