Colors have a powerful way of invoking feelings, memories, and atmospheres. The palette you choose for your home can dictate the mood and energy of the space. Among the myriad shades available, SW 6076 Turkish Coffee stands out as a versatile and engaging choice.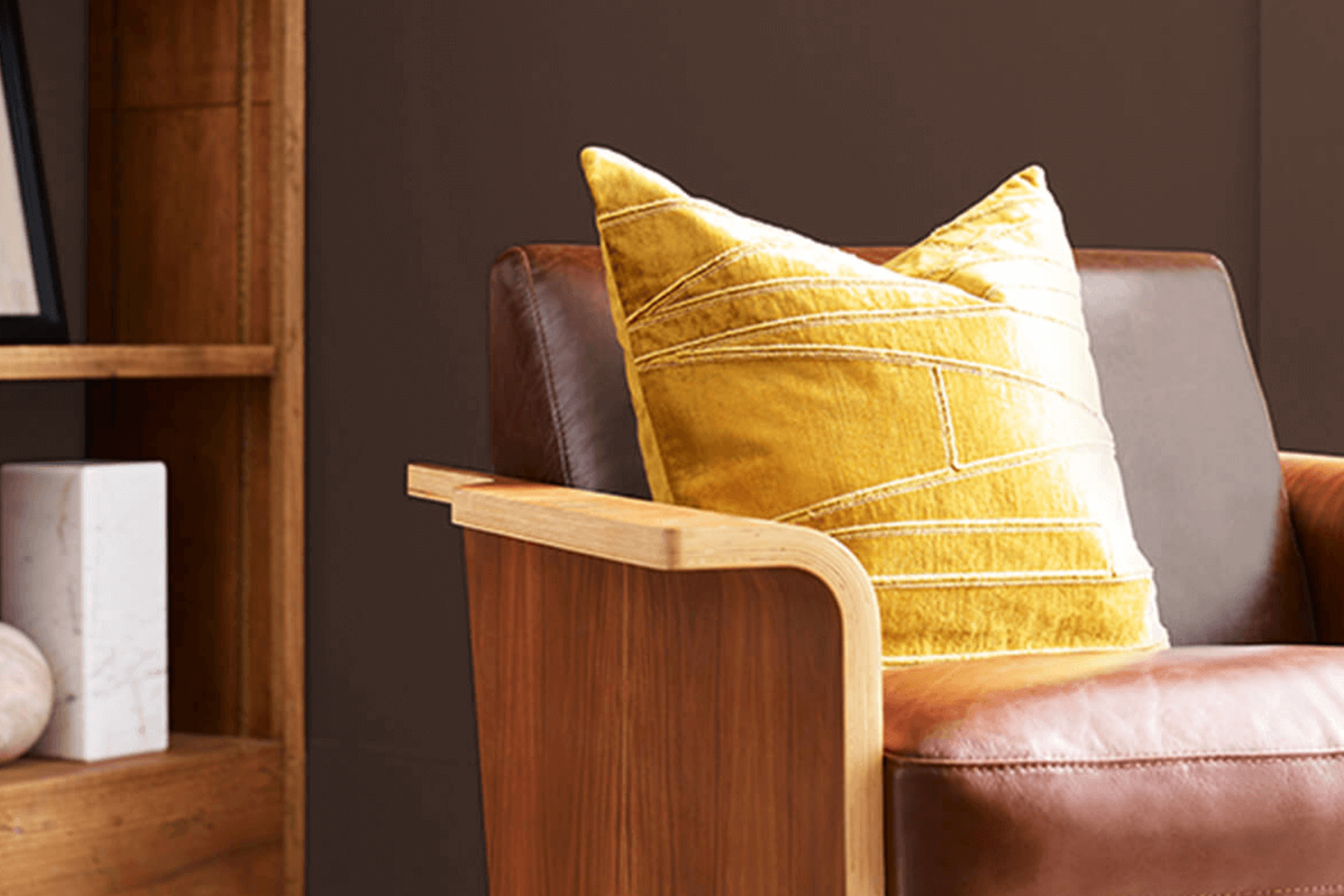 What Color Is SW 6076 Turkish Coffee?
SW 6076 Turkish Coffee is a deep, rich hue reminiscent of freshly brewed, traditional Turkish coffee. It possesses an earthy sophistication with a warm and cozy undertone that makes it a timeless color choice.
Ideal for interiors aiming for a traditional, rustic, or even modern minimalist look, Turkish Coffee pairs well with natural materials like wood and leather. Its depth makes it perfect alongside textured fabrics such as velvet, tweed, or even linen for a juxtaposition of smooth and rugged.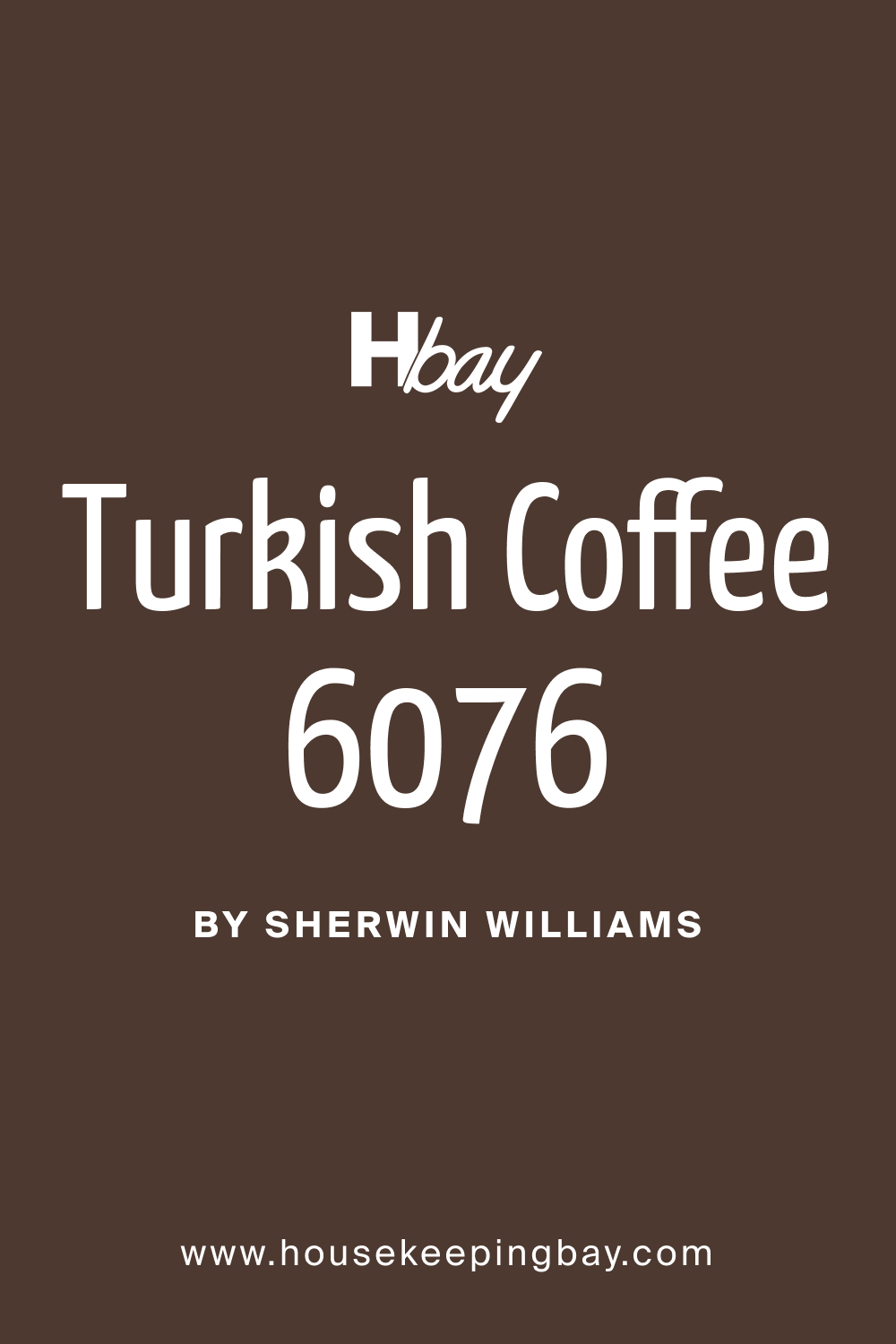 Is It a Warm Or Cool Color?
SW 6076 Turkish Coffee leans toward the warmer end of the spectrum. Its warmth brings a cozy, enveloping sensation to spaces, making rooms feel more intimate and inviting. The warm undertone allows Turkish Coffee to work harmoniously in homes, exuding a comforting and grounding atmosphere.
Undertones of SW 6076 Turkish Coffee
Every color has undertones that influence its primary appearance. SW 6076 Turkish Coffee boasts subtle yellow undertones, which add to its warmth. Undertones can be the defining factor in how a color is perceived. The yellow undertones of Turkish Coffee give it a sunny depth, ensuring that despite its darkness, it never feels oppressive. On interior walls, these undertones help create a room that's vibrant yet comforting.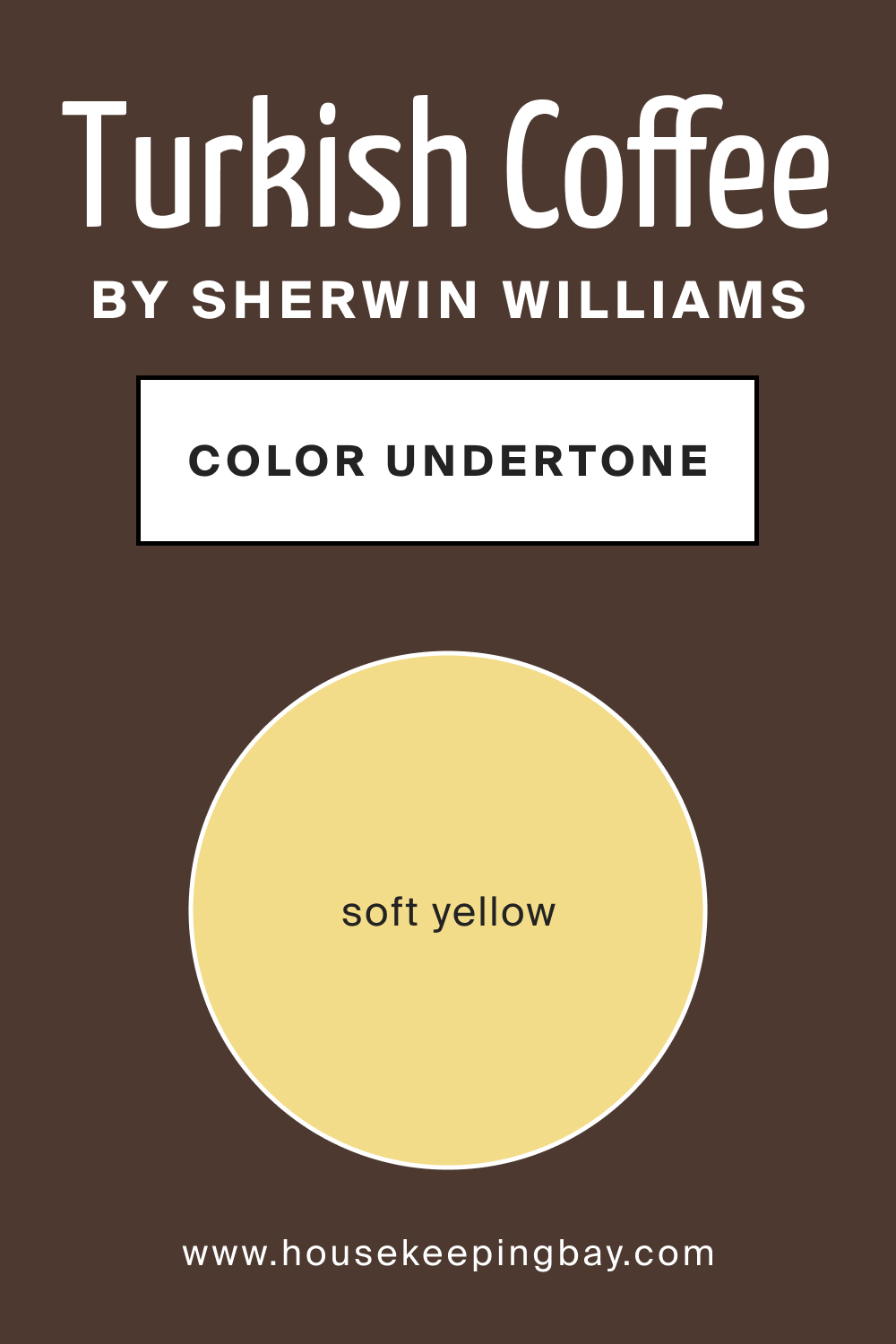 Coordinating Colors of SW 6076 Turkish Coffee
Coordinating colors are those that complement and harmonize with a primary color. For Turkish Coffee, coordinating hues include:
SW 6070 Heron Plume: A subtle off-white, airy and light.
SW 7571 Casa Blanca: A warm and creamy neutral.
SW 6074 Spalding Gray: A sophisticated, muted gray.
SW 6073 Perfect Greige: A harmonious blend of beige and gray.
Additionally, consider SW 7038 Tony Taupe, SW 6045 Emerging Taupe, and SW 6044 Doeskin, as they echo the muted, earthy tones present in Turkish Coffee.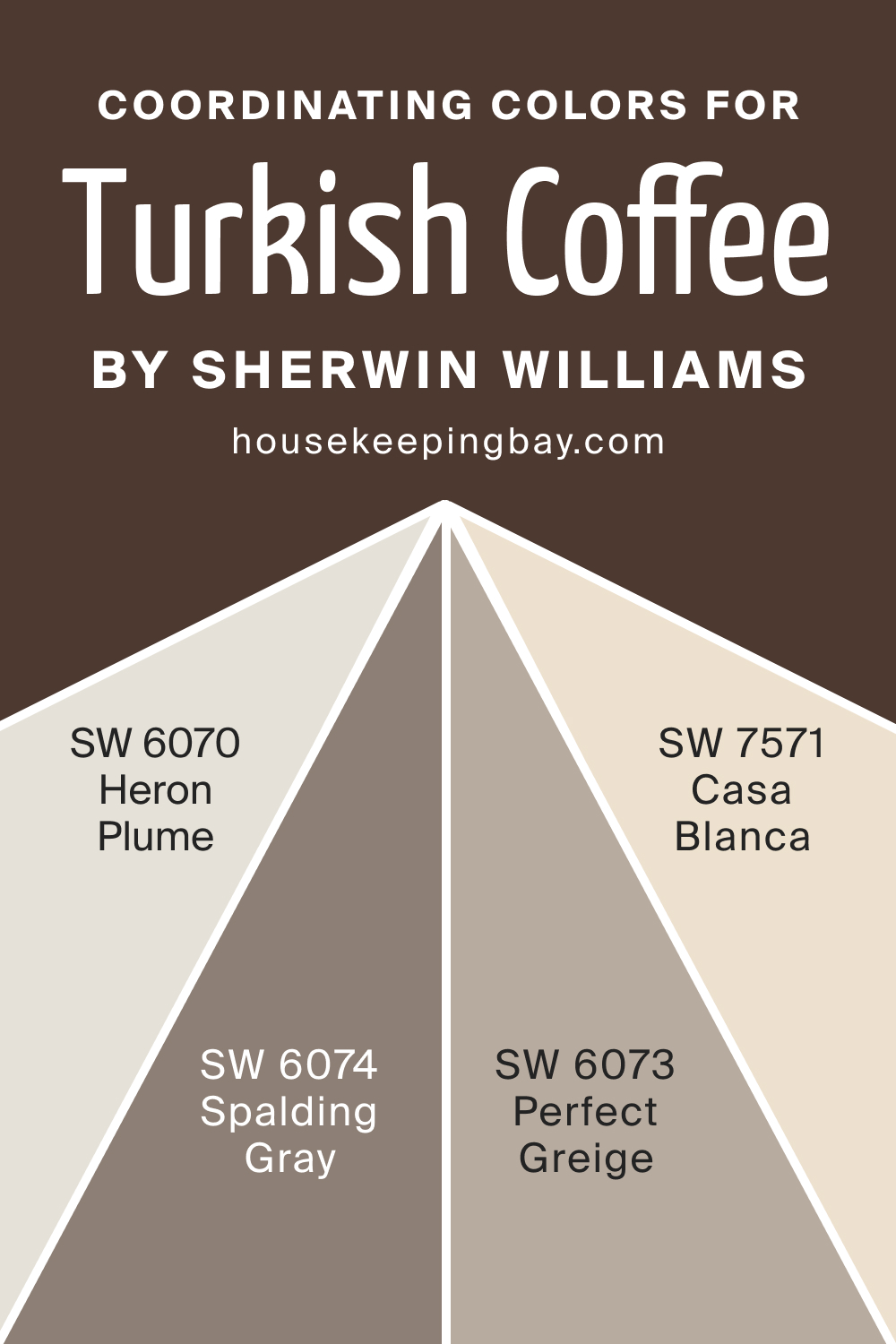 How Does Lighting Affect SW 6076 Turkish Coffee?
Lighting has a transformative impact on colors. Under artificial light, Turkish Coffee assumes a deeper, more intimate guise, making it ideal for evening settings. In natural light, its warm undertones become more pronounced. Furthermore, in north-facing rooms, it appears slightly cooler due to the indirect sunlight. In south-facing rooms, the hue becomes warmer, highlighting its yellow undertones.
East-facing rooms give it a soft glow in the morning, while in west-facing rooms, it deepens during sunset, adding character to the space.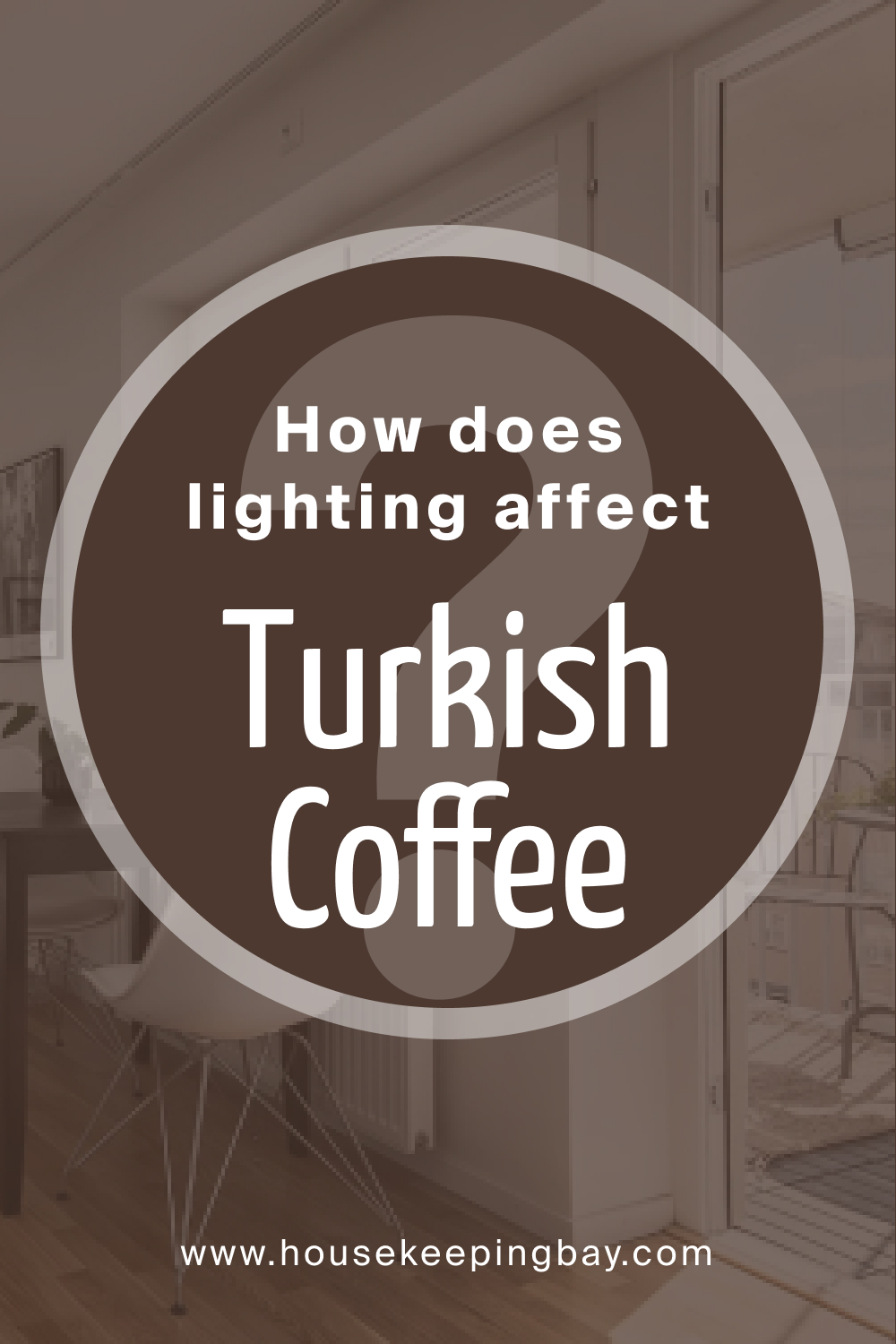 LRV of SW 6076 Turkish Coffee
Light Reflectance Value (LRV) measures how much light a paint color reflects. With an LRV of 4.9, Turkish Coffee is on the darker end of the spectrum. This means it absorbs more light, making spaces feel cozier and more intimate. Its low LRV makes it a bold choice for feature walls or statement spaces, creating depth and richness.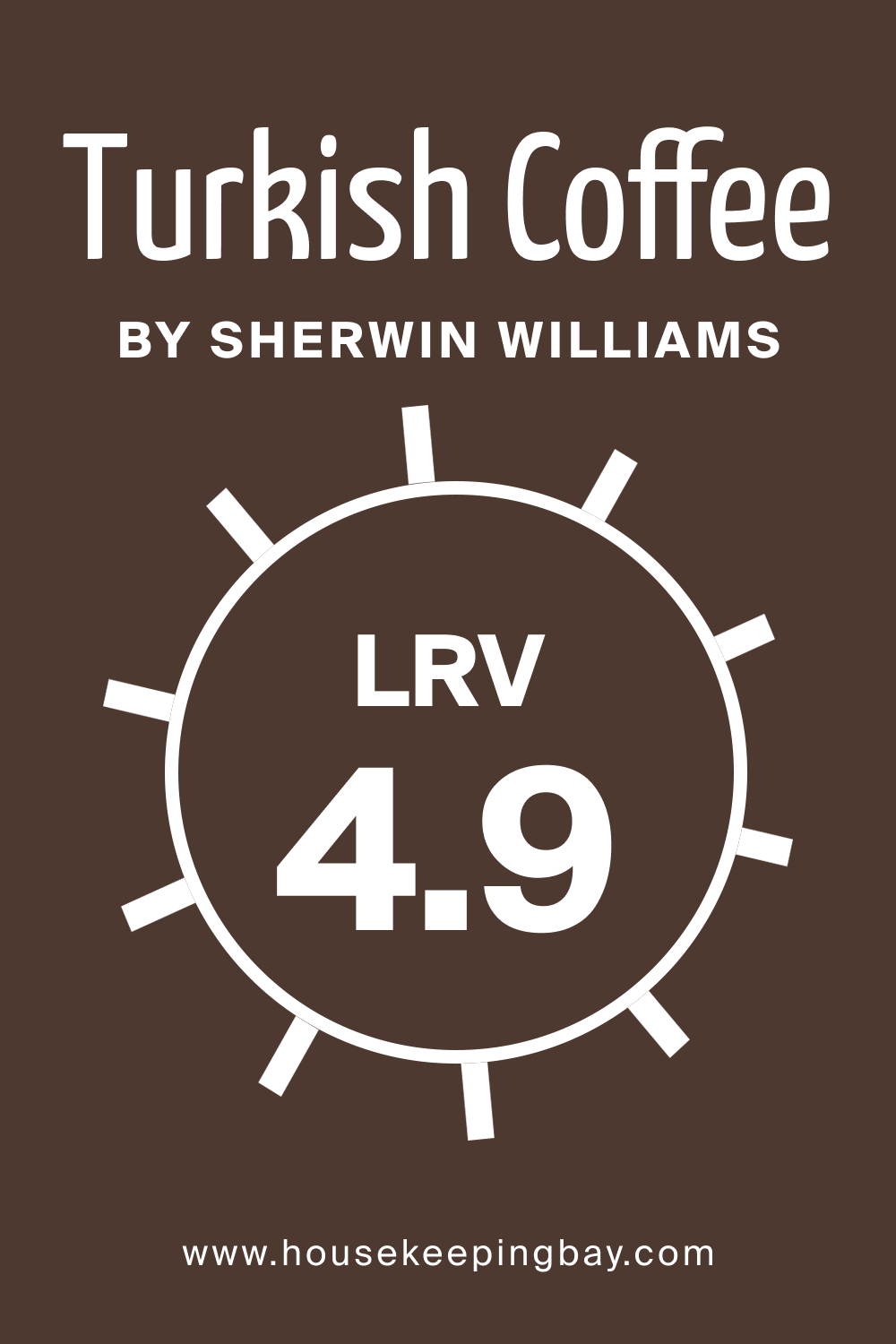 What is LRV? Read It Before You Choose Your Ideal Paint Color
Trim Colors of SW 6076 Turkish Coffee
Trim colors accentuate the main wall color. With Turkish Coffee, consider shades of white from Sherwin-Williams like these:
These trims will provide a crisp contrast, making Turkish Coffee stand out even more.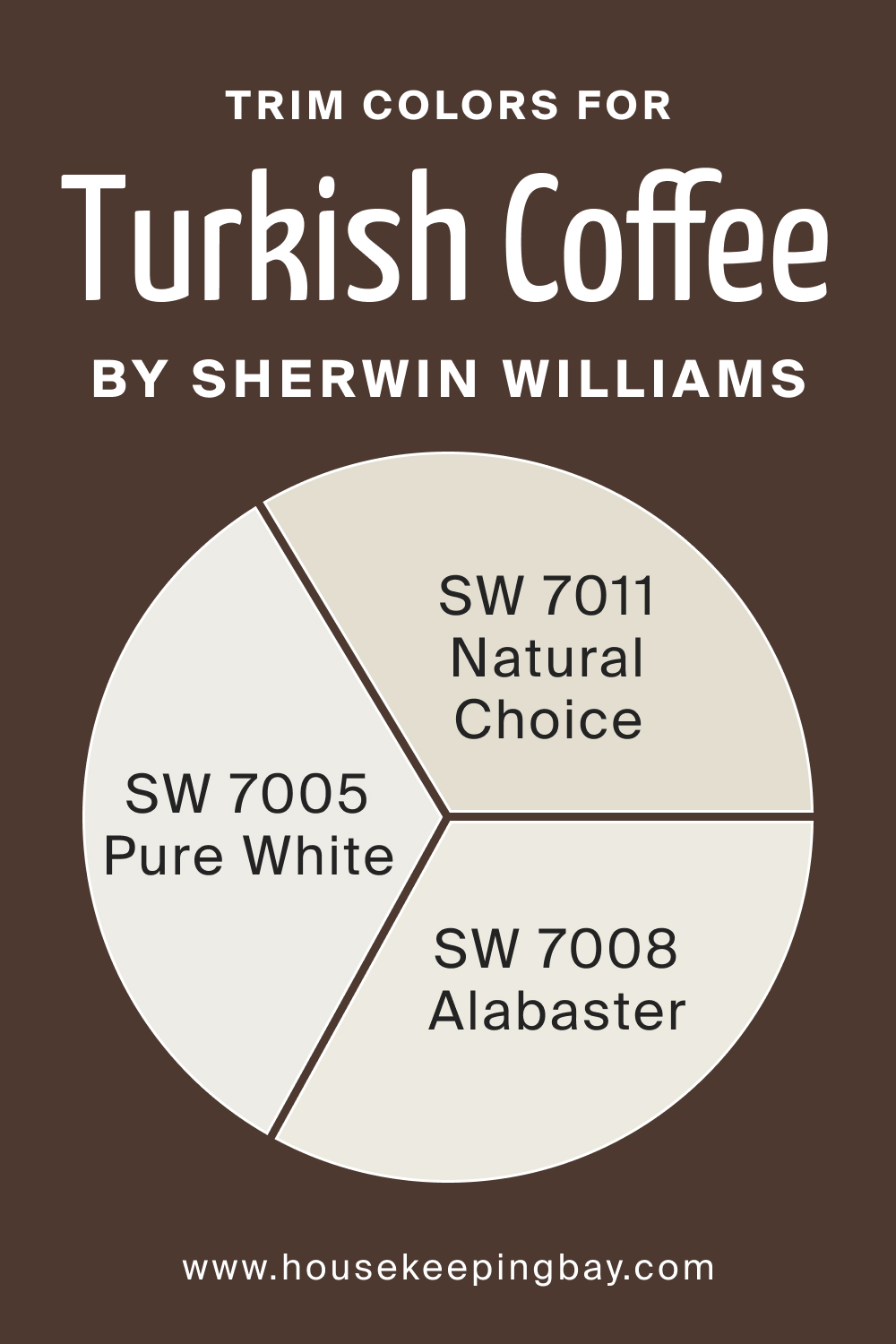 Colors Similar to SW 6076 Turkish Coffee
Knowing similar shades is crucial to ensure the right choice. Instead of SW Turkish Coffee, you might want to consider one of the following hues that read very similar:
SW 9183 Dark Clove has a dusky allure
SW 6041 Otter presents a more muted, understated charm
They are so alike that you won't even notice the difference!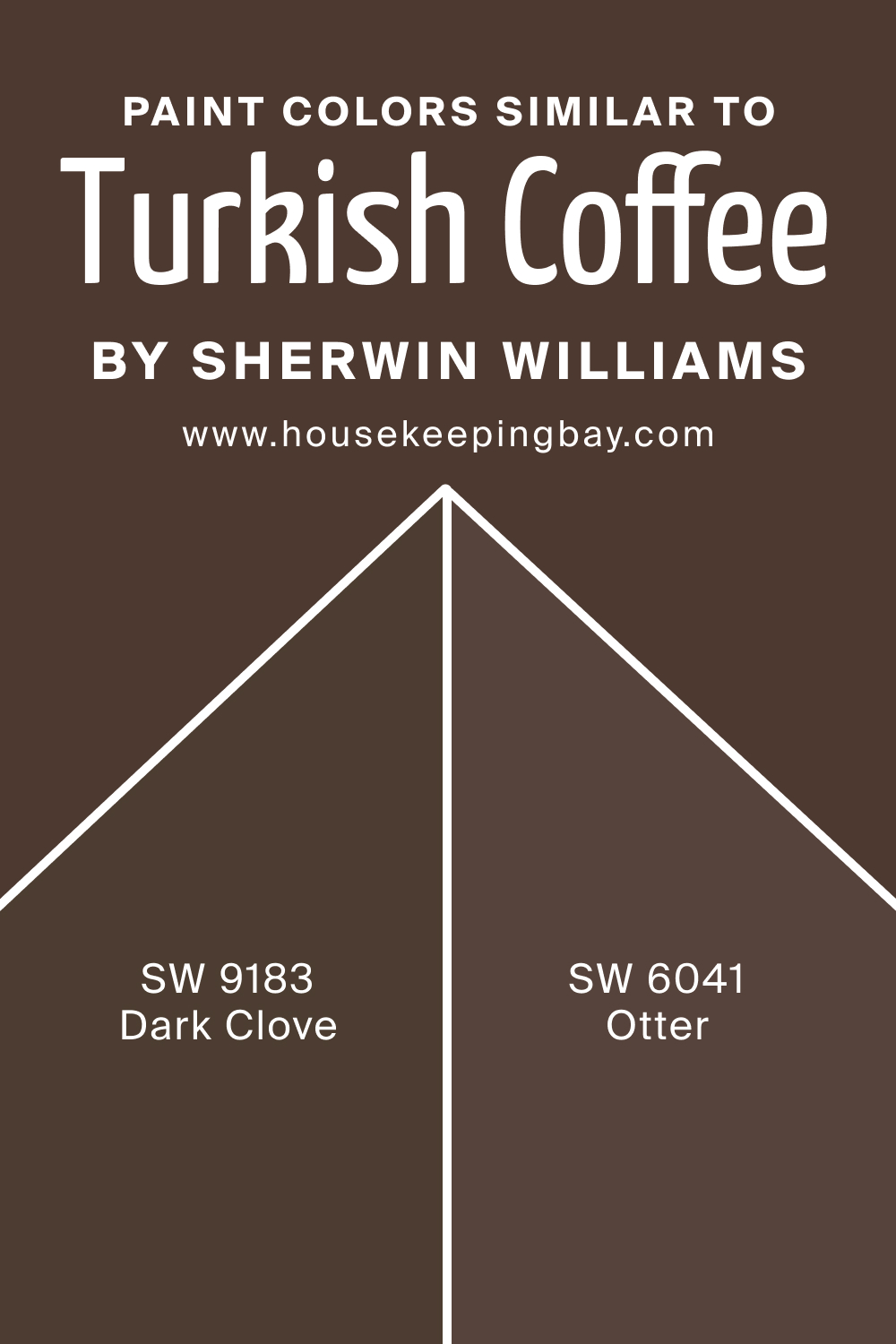 Colors That Go With SW 6076 Turkish Coffee
Pairing colors effectively creates visual harmony. Alongside SW Turkish Coffee, consider the following paint colors:
SW 6385 Dover White: A light, warm off-white.
SW 2921 Carmel: Earthy and inviting.
SW 6390 Bosc Pear: A gentle green with earthy undertones.
SW 7517 China Doll: A soft, muted pink.
Additional colors that sync well include SW 7013 Ivory Lace, SW 6119 Antique White, and SW 7512 Pavilion Beige.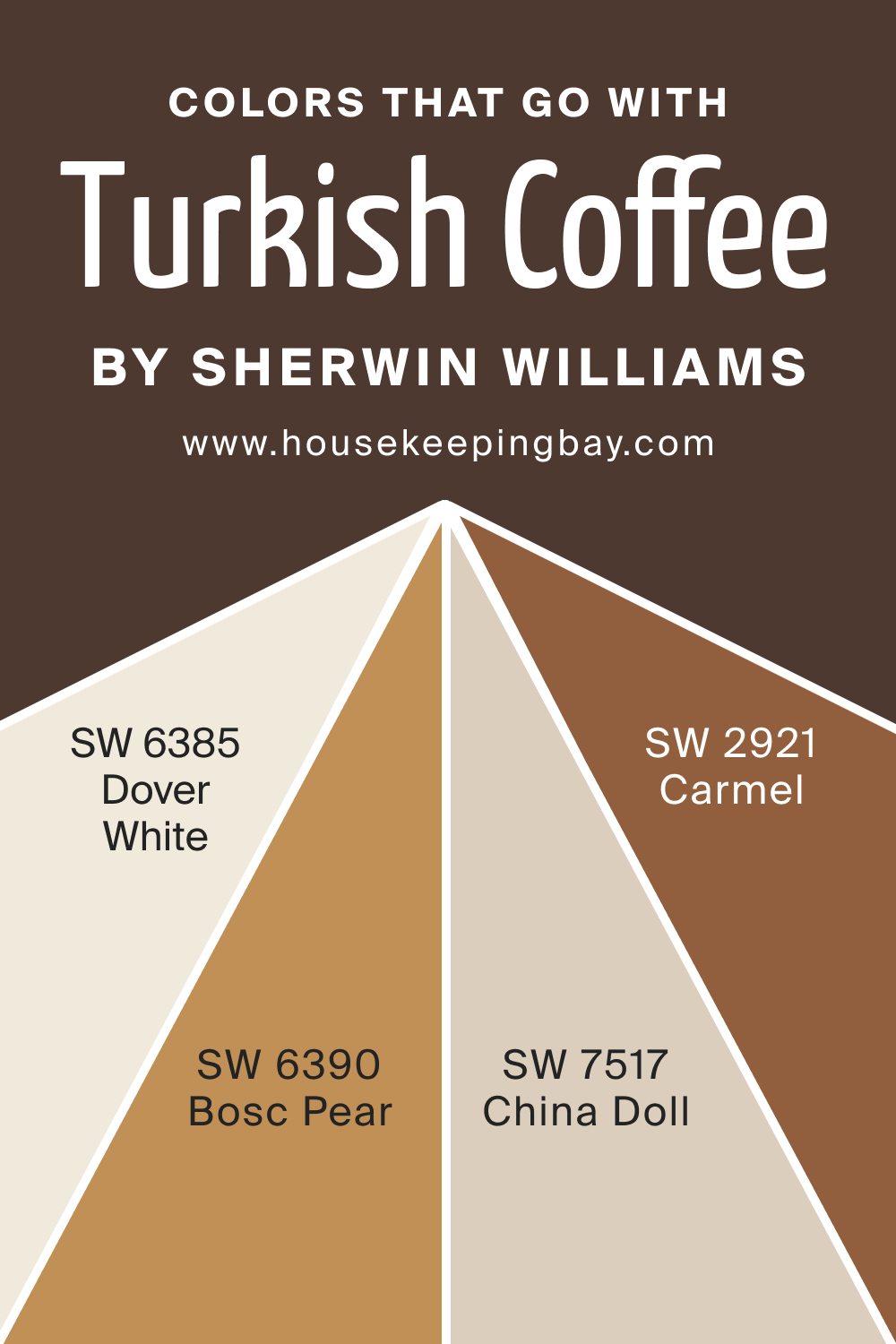 How to Use SW 6076 Turkish Coffee In Your Home
SW 6076 Turkish Coffee is a versatile hue fitting for various rooms. Its deep richness complements studies and libraries, exuding sophistication. In bedrooms, it creates a cocooning atmosphere, promoting relaxation. Bathrooms dressed in this shade feel lavish, almost spa-like. Living rooms gain a grounded and intimate feel, while kitchens become more inviting and cozy.
On exteriors, it brings a classic touch. Style-wise, Turkish Coffee blends seamlessly with rustic, traditional, minimalist, and even industrial settings, lending its warm depth wherever applied.
How to Use SW 6076 Turkish Coffee in the Bedroom?
For bedrooms seeking a restful, intimate ambiance, Turkish Coffee is a superb choice. Use it on a feature wall behind the bed, juxtaposed against lighter linens and furnishings, to create a cozy, enveloping sensation. Complemented by warm lighting and soft textures, it becomes a sanctuary of relaxation.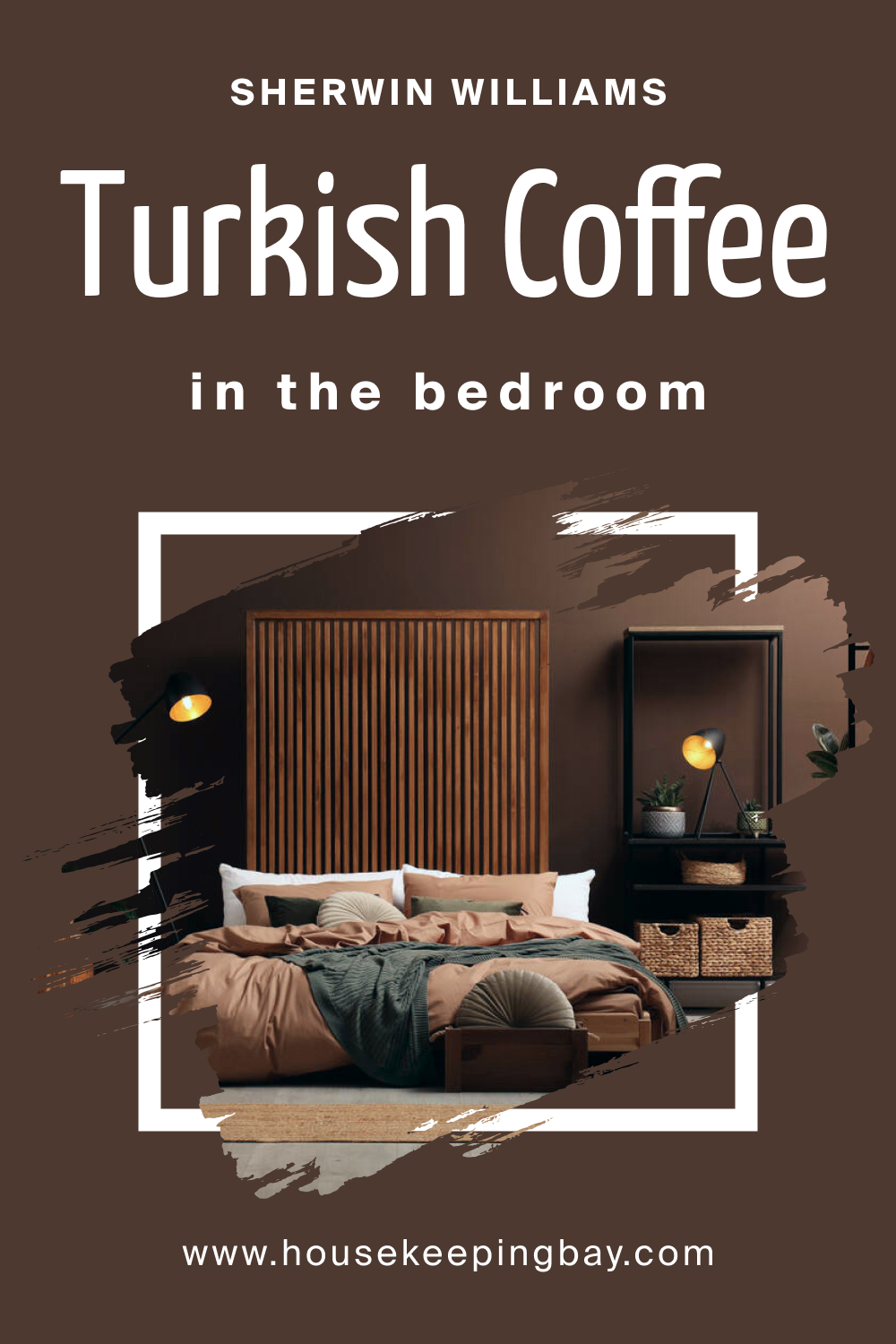 How to Use SW 6076 Turkish Coffee in the Bathroom?
In bathrooms, Turkish Coffee infuses a sense of luxury. When paired with brass or gold fixtures and soft beige tiles, it feels both modern and timeless. Consider using it on cabinetry or an accent wall for a lavish, spa-like retreat that elevates daily routines.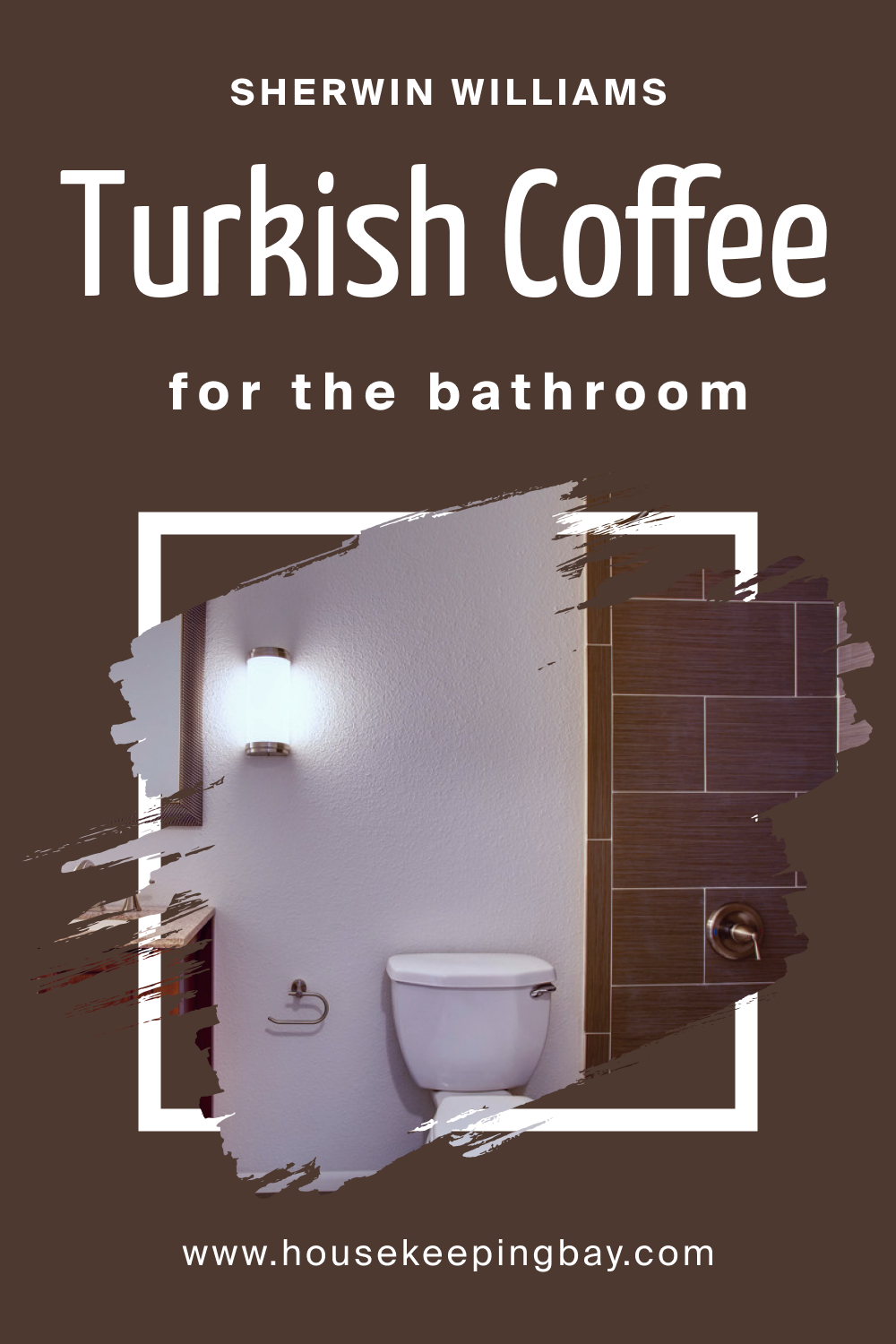 How to Use SW 6076 Turkish Coffee in the Living Room?
Turkish Coffee in the living room sets a tone of sophistication and warmth. Applied on all walls, it crafts an intimate, welcoming space. Combine with neutral-toned furnishings, pops of gold, and a blend of textures to balance its depth and ensure a harmonious environment ideal for gatherings.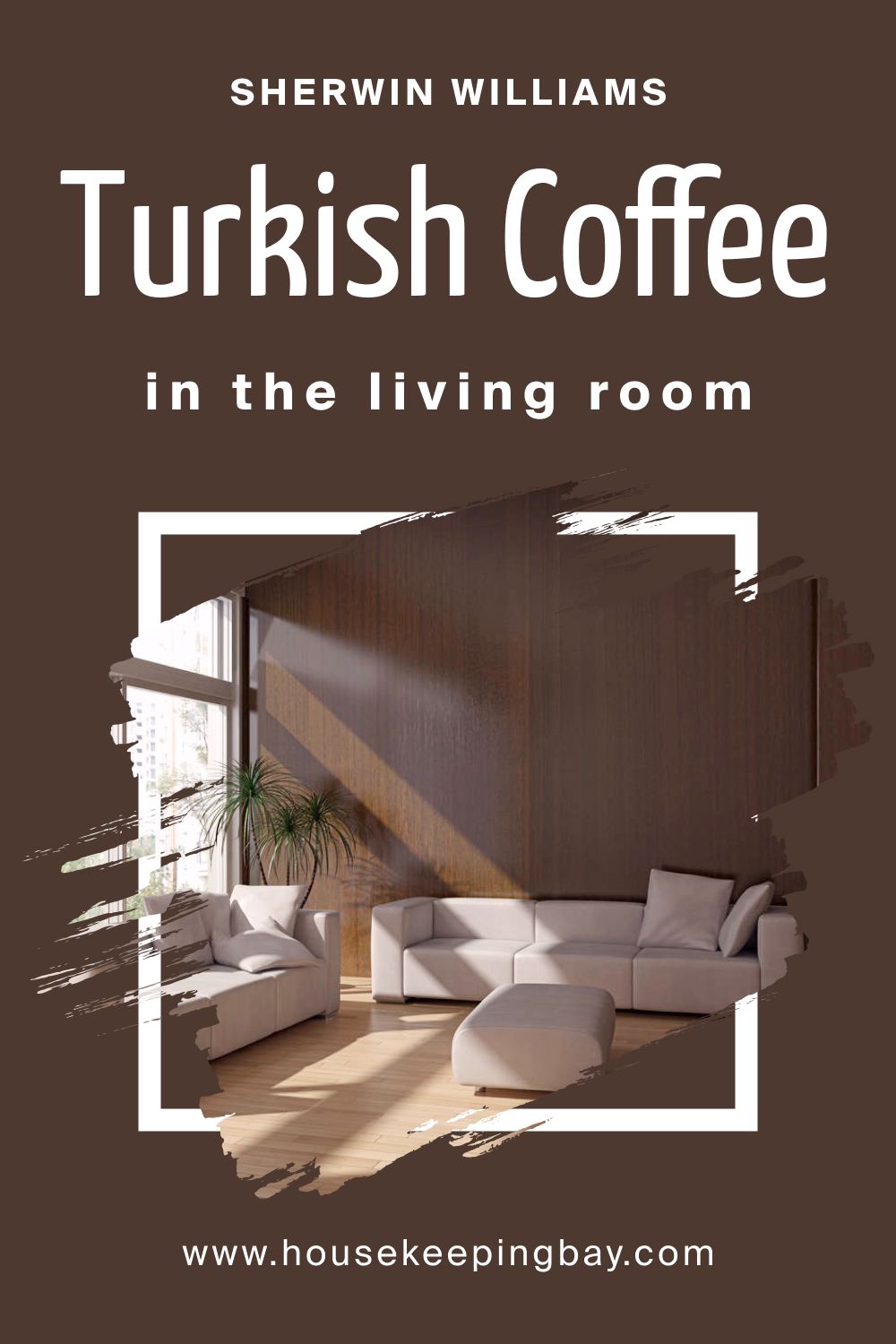 How to Use SW 6076 Turkish Coffee for an Exterior?
On exteriors, SW Turkish Coffee stands as a timeless, stately choice. It's perfect for front doors, shutters, or trims, contrasting beautifully against lighter house colors. Its depth enhances architectural details, ensuring homes exude curb appeal and a lasting first impression.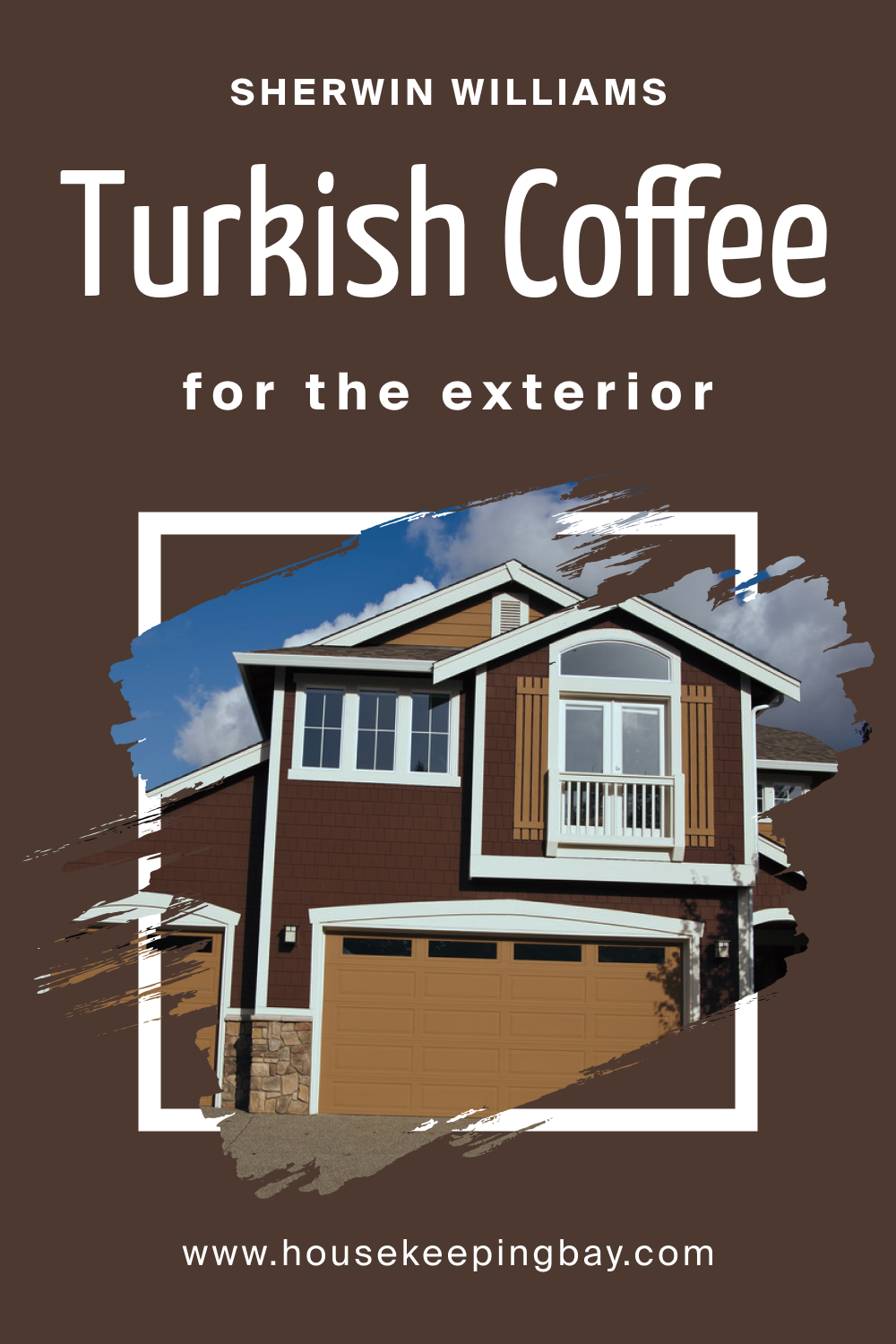 How to Use SW 6076 Turkish Coffee in the Kitchen?
For kitchens, Turkish Coffee brings warmth and elegance. Consider it for a feature wall or a kitchen island base. When contrasted with lighter countertops or backsplashes, it creates a focal point, making the kitchen feel more inviting and cozy, encouraging culinary adventures and gatherings.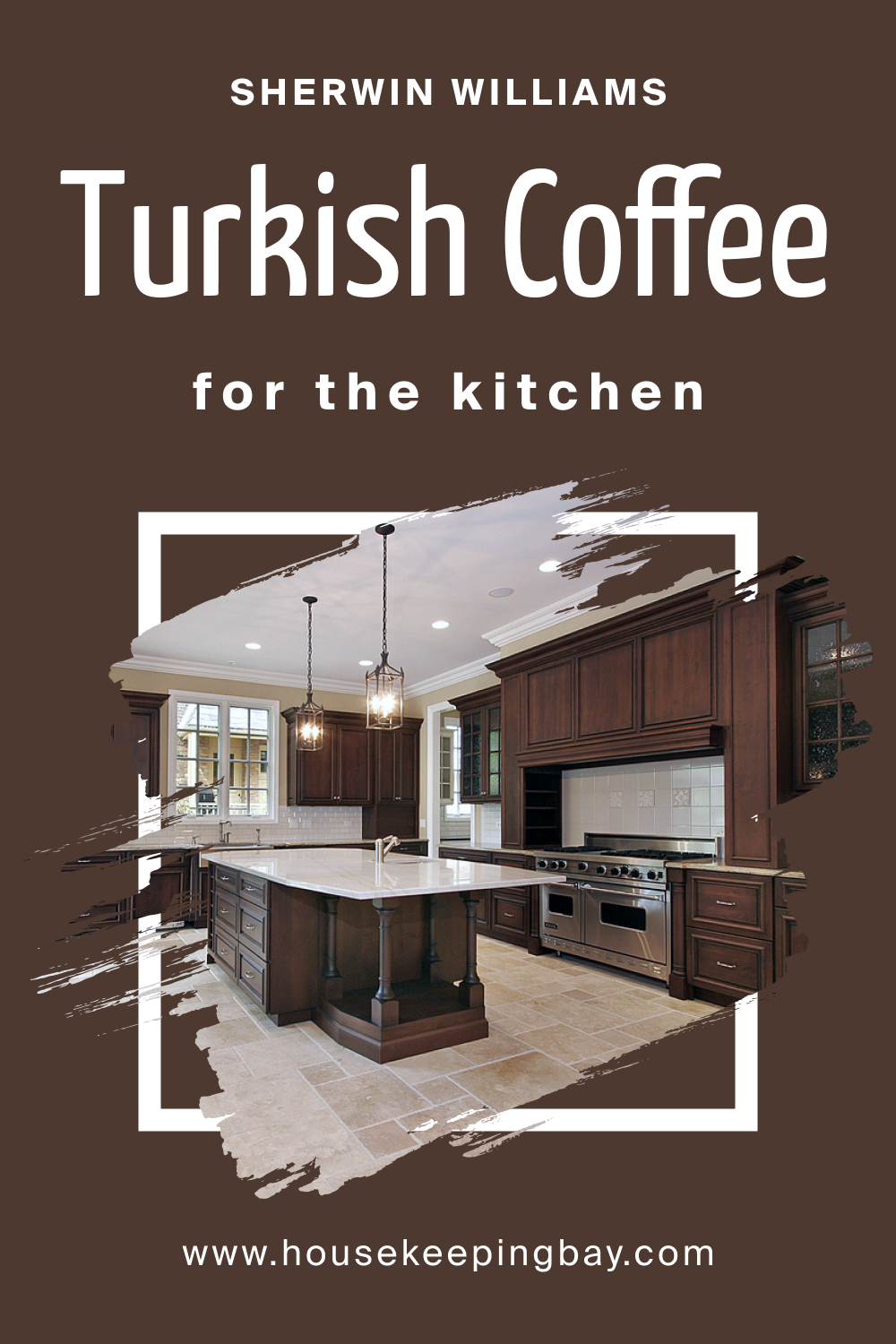 How to Use SW 6076 Turkish Coffee for the Kitchen Cabinets?
Kitchen cabinets in Turkish Coffee transform kitchens into sophisticated culinary spaces. Paired with brushed gold or brass handles, it's the epitome of elegance. Ensure countertops and backsplashes are in lighter hues, like creamy whites or soft beiges, to provide the perfect contrast, making the cabinetry pop and the room feel perfectly balanced.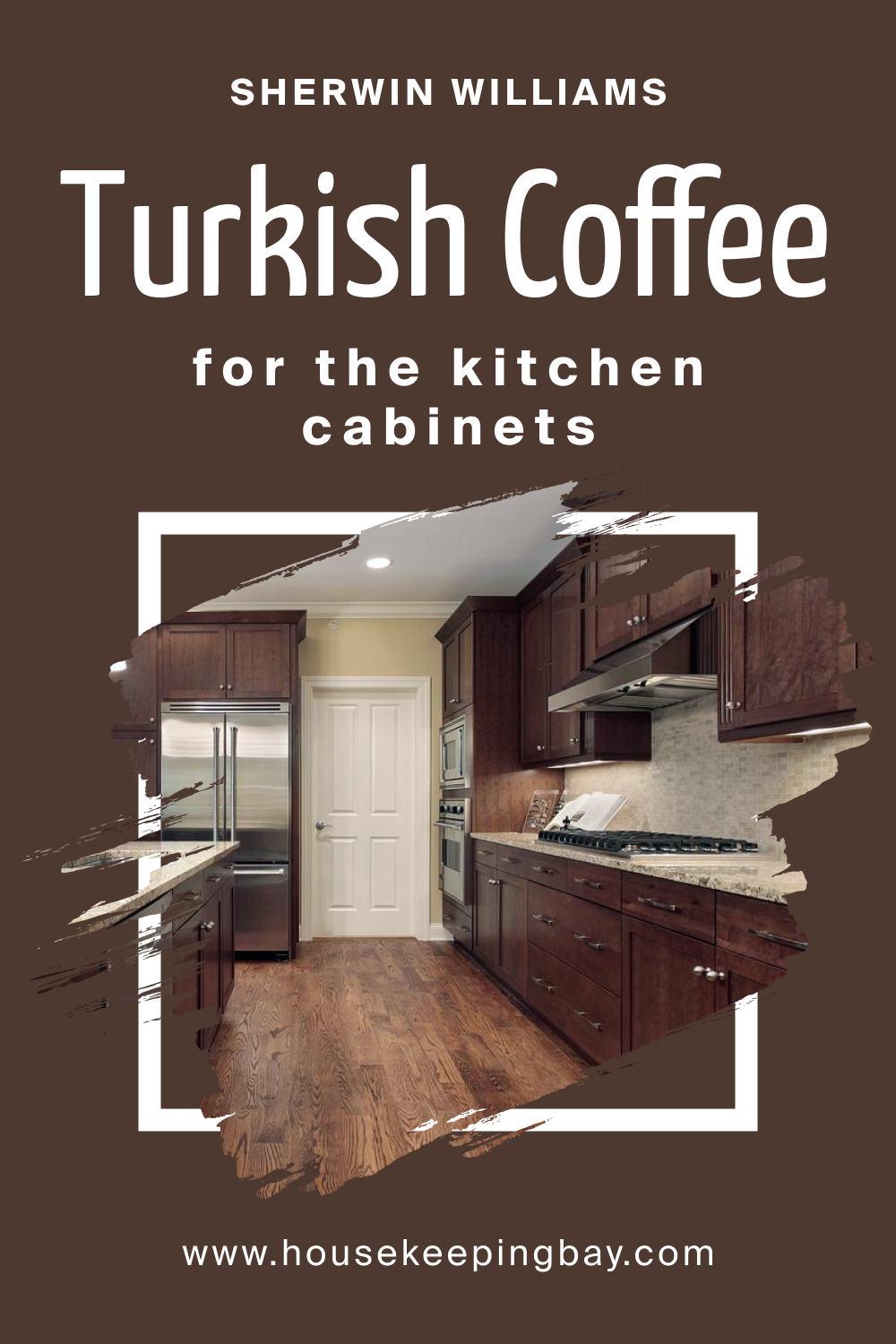 Comparing SW 6076 Turkish Coffee With Other Colors
Comparing colors is pivotal in interior design. The way one shade interacts with another determines the ambiance, depth, and overall aesthetic of a space. Through comparison, we can visualize how colors influence each other, how they modify spaces, and how they invoke different feelings. By contrasting SW 6076 Turkish Coffee with other hues, we gain insights into its versatility and best applications.
SW 6076 Turkish Coffee vs. SW 6069 French Roast
Both deep, rich hues, Turkish Coffee and French Roast share an earthy sophistication. However, French Roast leans more towards a pure, dark chocolate hue, exuding a slightly cooler, more neutral tone. Turkish Coffee, with its subtle warmth, feels more inviting, while French Roast is bolder and more assertive.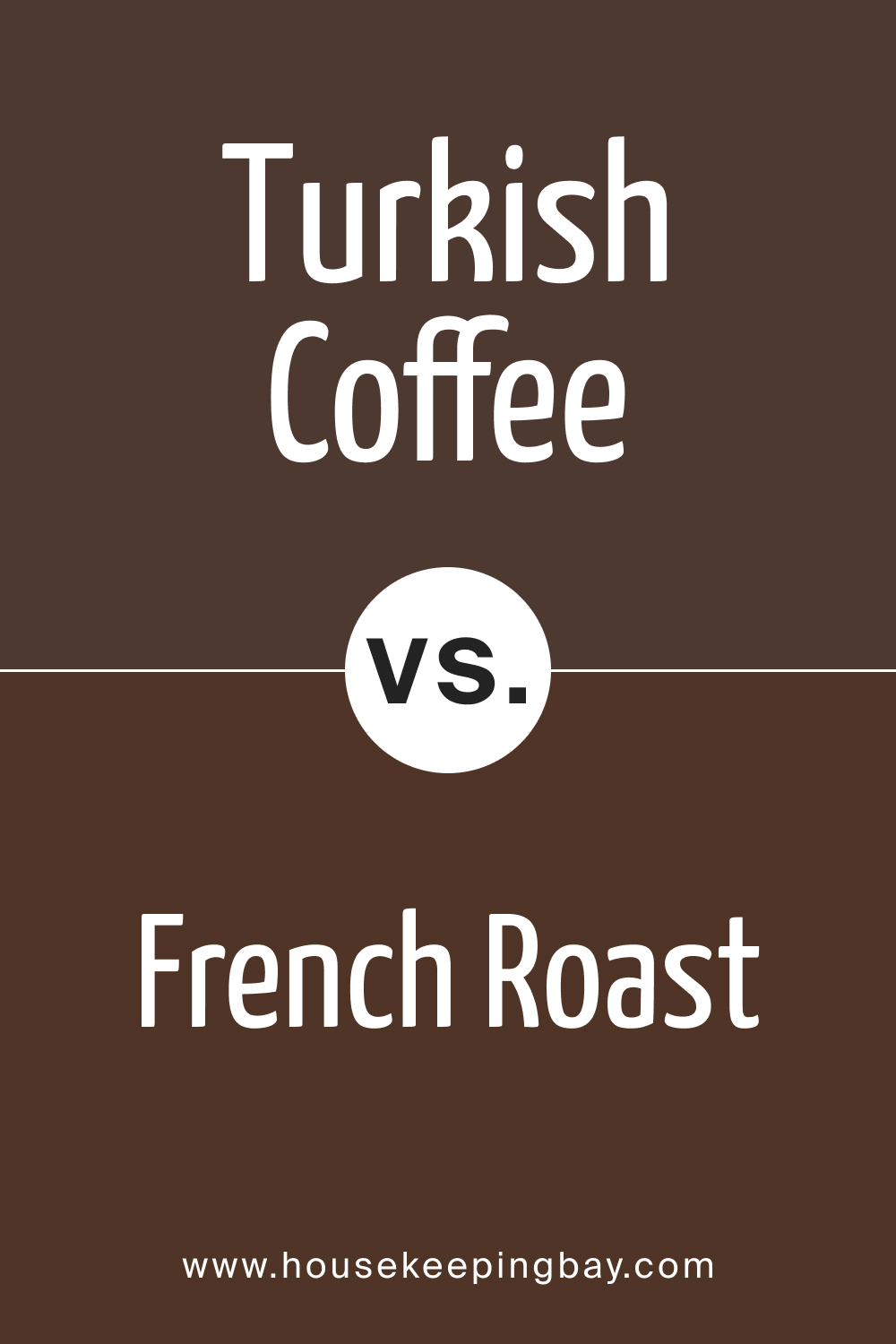 SW 6076 Turkish Coffee vs. SW 2838 Polished Mahogany
While SW Turkish Coffee brings to mind the comforting warmth of a steaming beverage, Polished Mahogany invokes the elegance of finely crafted wood. Polished Mahogany has reddish undertones, making it warmer and more luxurious, whereas Turkish Coffee is more grounded and neutral.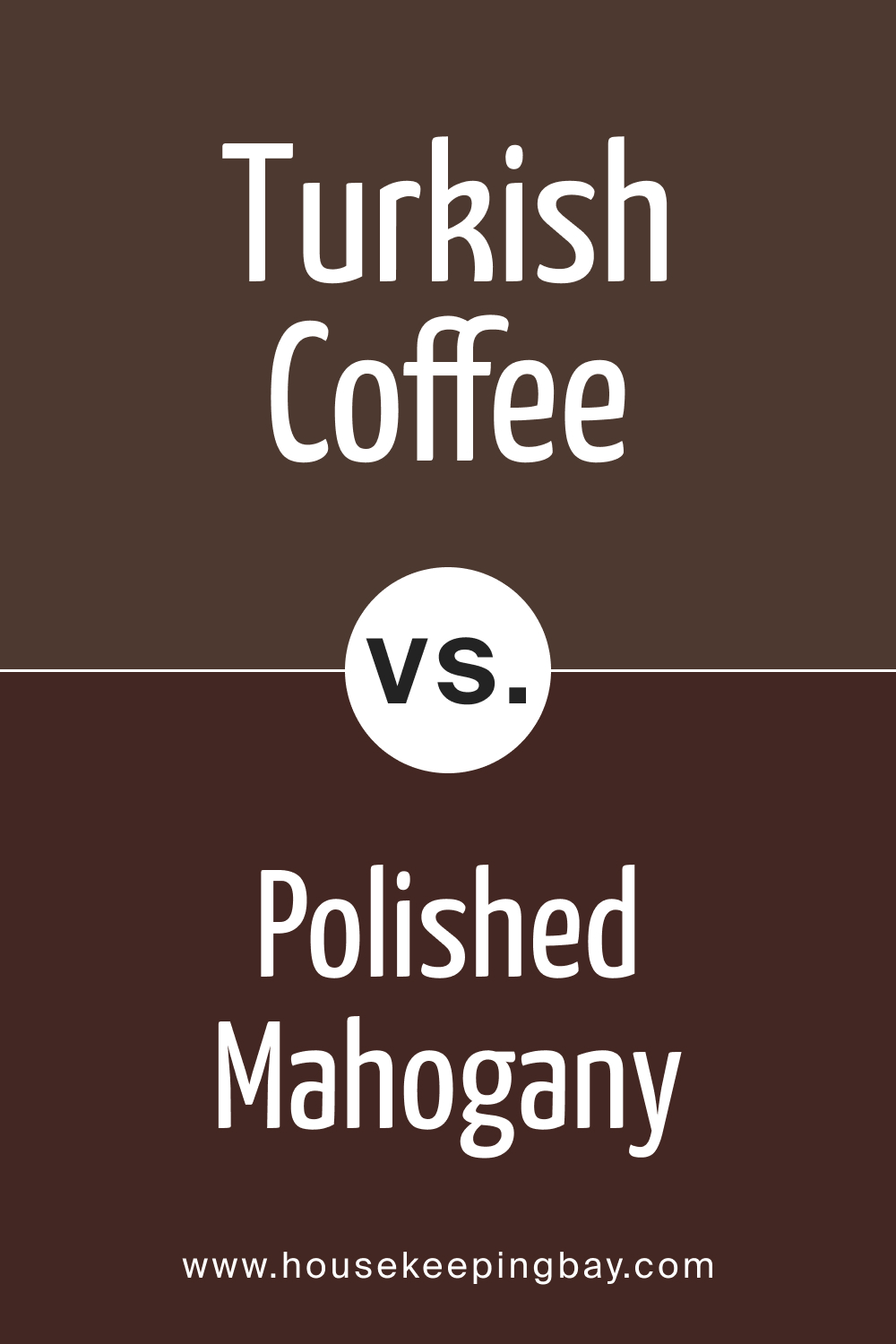 SW 6076 Turkish Coffee vs. SW 6062 Rugged Brown
SW Rugged Brown, as its name suggests, has a rustic, rough-around-the-edges appeal. Turkish Coffee, being deeper and richer, offers more sophistication. Rugged Brown, with its slightly lighter tone, lends spaces an aged, worn-in charm compared to the contemporary aura of Turkish Coffee.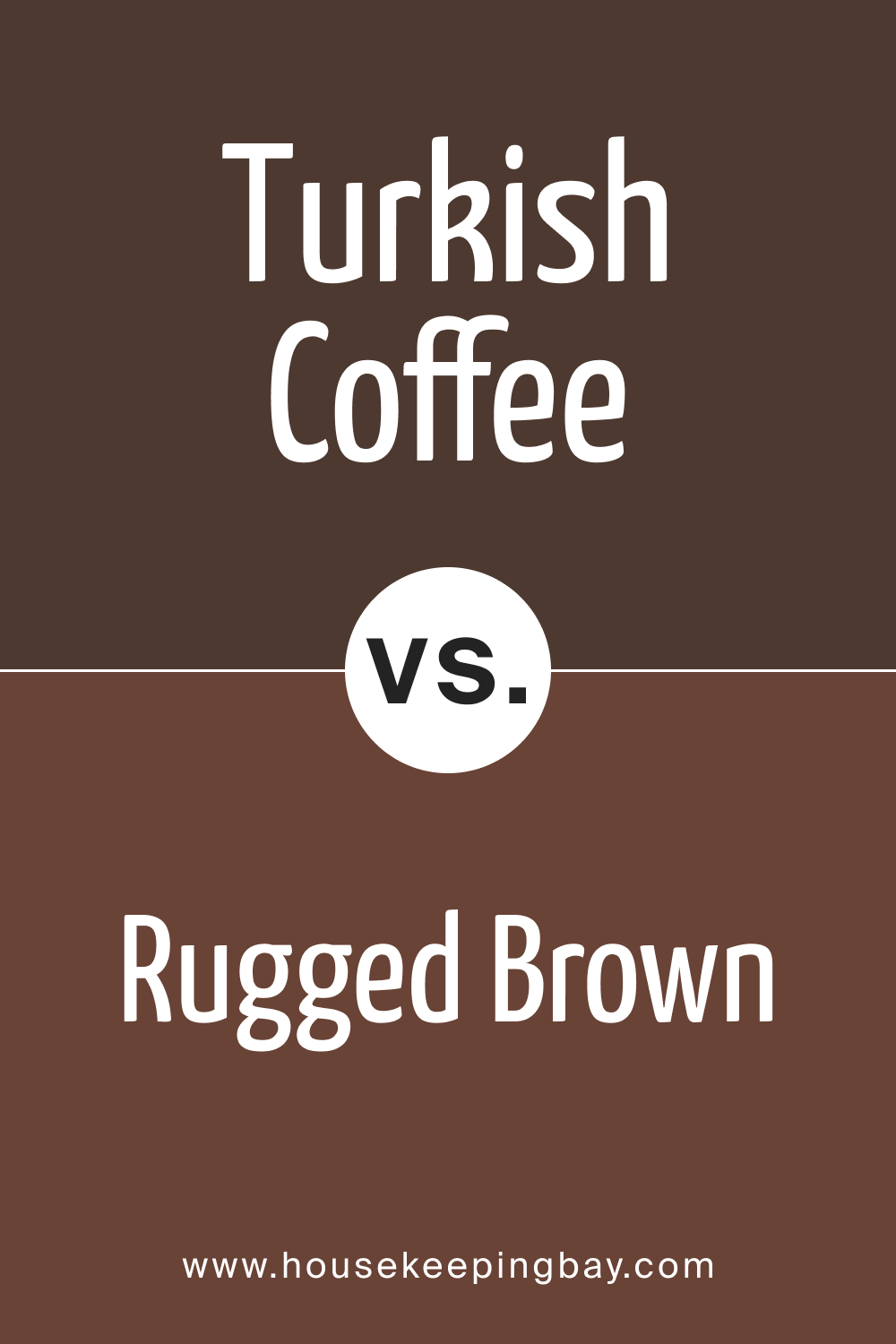 SW 6076 Turkish Coffee vs. SW 9183 Dark Clove
SW Dark Clove is dusky with purple undertones. It feels mysterious and exotic compared to the more straightforward warmth of Turkish Coffee. While both shades are deep, Dark Clove can make a room feel cooler and more enigmatic, whereas Turkish Coffee is inviting.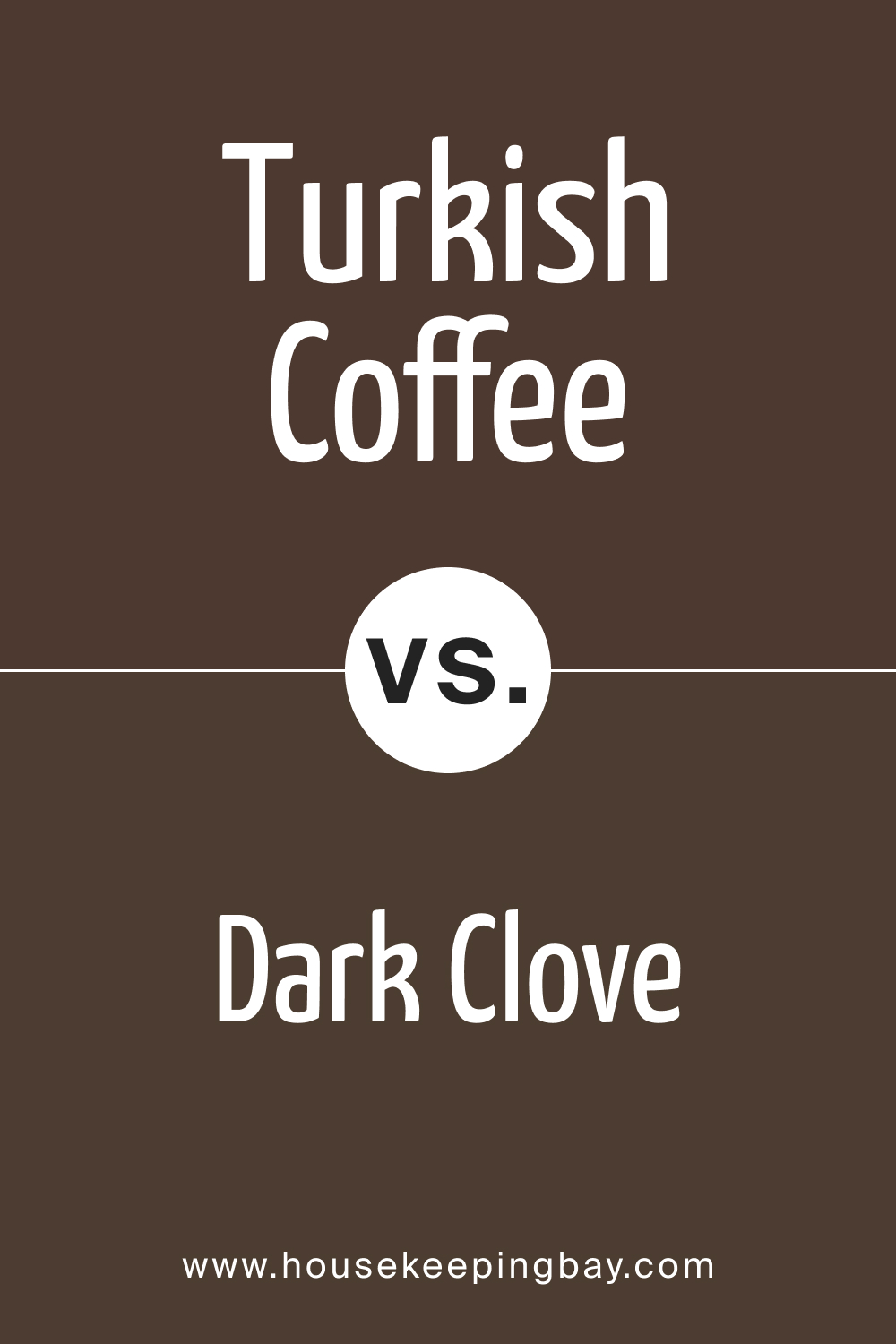 SW 6076 Turkish Coffee vs. SW 7034 Status Bronze
SW Status Bronze has a metallic sheen, leaning towards a blend of brown with a touch of golden undertone. This imparts a modern, chic feel. Turkish Coffee, being matte and solid, feels more traditional. Both are sophisticated, but Status Bronze has a contemporary shimmer.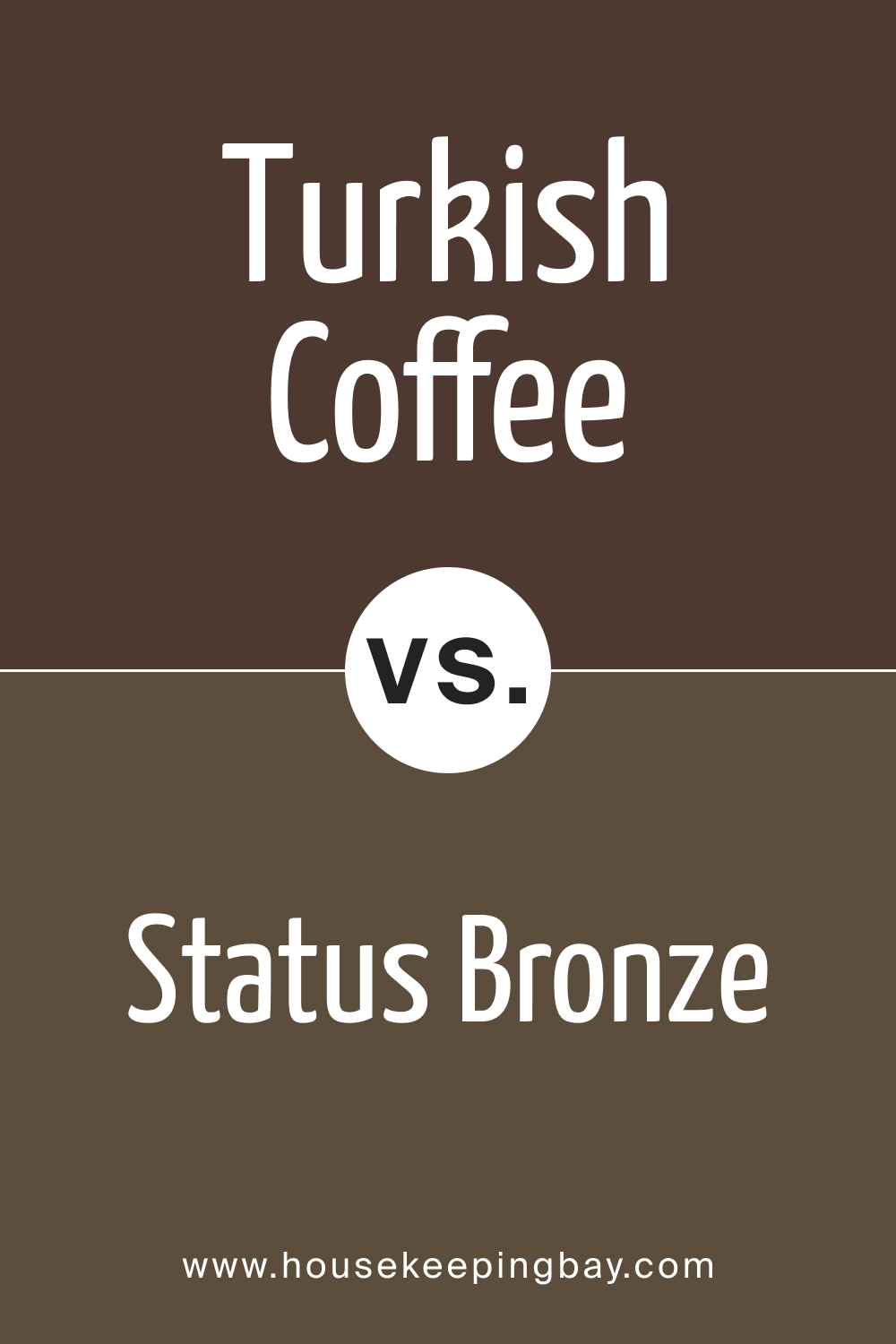 SW 6076 Turkish Coffee vs. SW 9604 Tea Leaf
SW Tea Leaf is a deep green-brown, invoking images of aged tea leaves. It offers an organic, botanical touch, unlike the more neutral Turkish Coffee. Spaces with Tea Leaf will have a nature-inspired vibe, whereas Turkish Coffee keeps things simple and warm.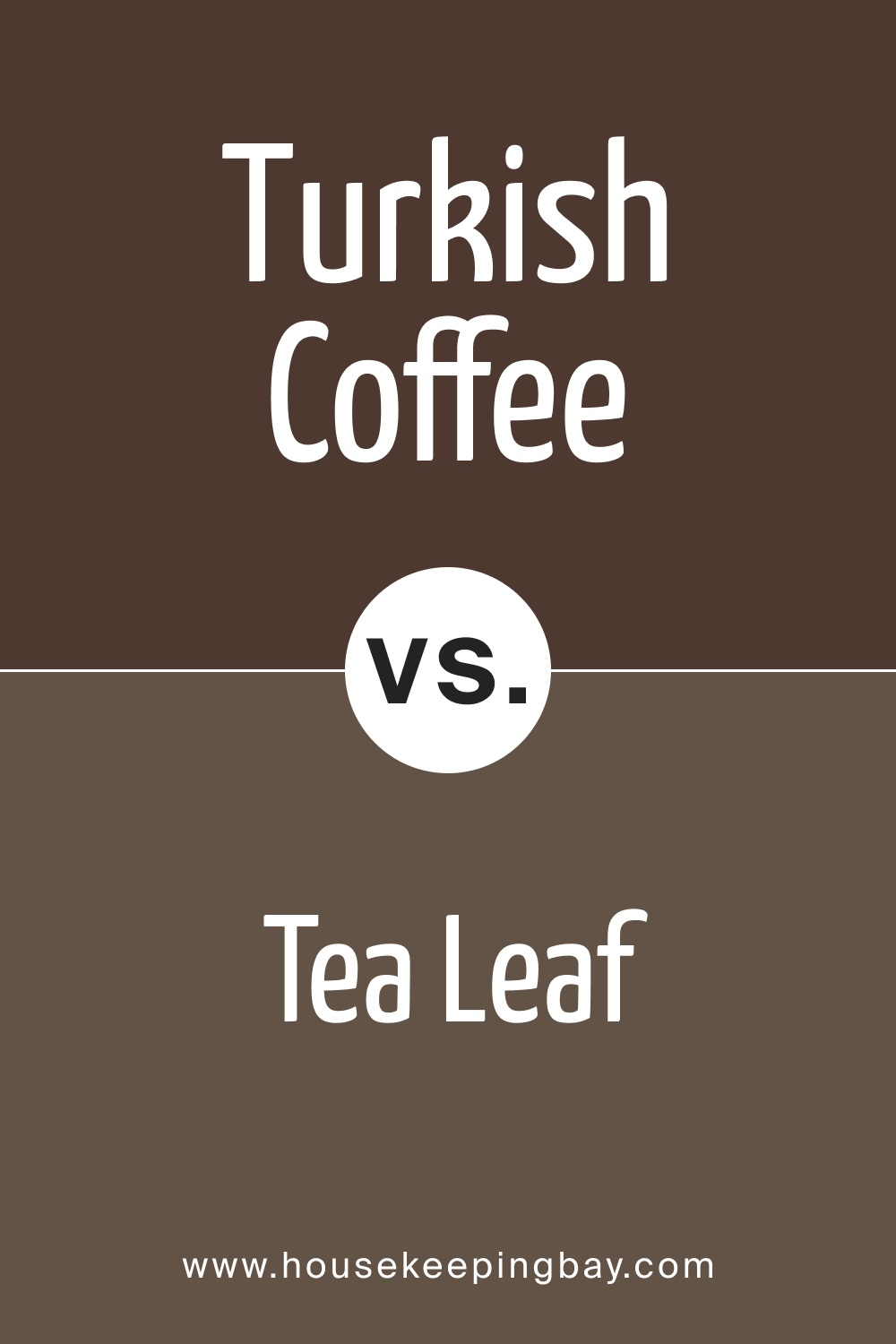 Conclusion
SW 6076 Turkish Coffee is a versatile, warm hue that can be juxtaposed against a myriad of colors to create different moods and atmospheres. Through comparison, its adaptability and unique charm become evident, solidifying its position as a preferred choice for those seeking depth and warmth in their spaces.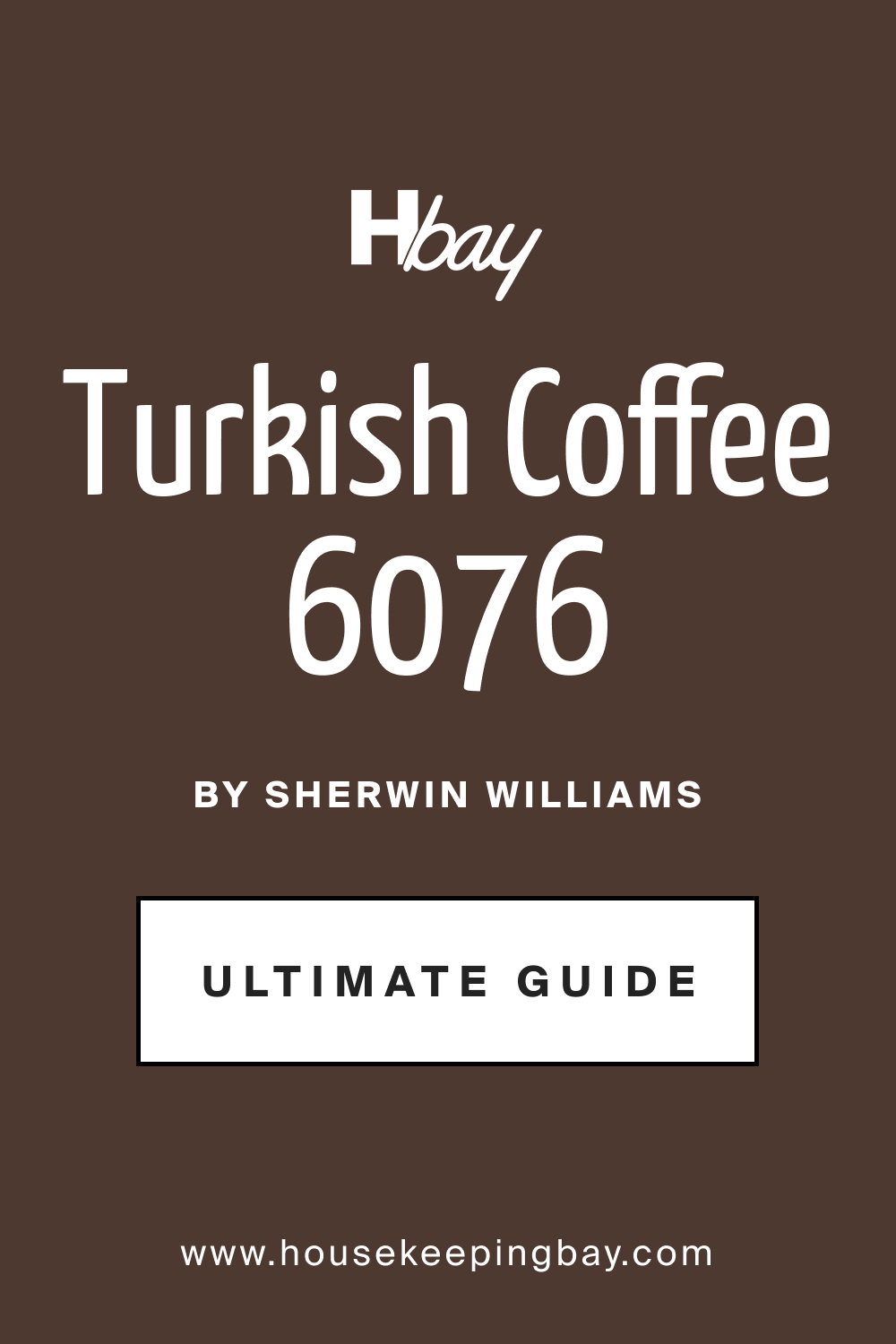 Frequently Asked Questions
⭐What kind of finish is best for SW 6076 Turkish Coffee?
While the choice of finish depends on personal preference and the room's function, a matte or eggshell finish can enhance the depth and warmth of SW 6076 Turkish Coffee, especially in living spaces. For high-traffic areas or rooms exposed to moisture, like kitchens and bathrooms, consider a satin or semi-gloss finish.
⭐Is SW 6076 Turkish Coffee suitable for exterior use?
Yes, SW 6076 Turkish Coffee is versatile and can be used for both interior and exterior applications. Its rich hue can elevate the exterior look, giving it a timeless appeal.
⭐How does SW 6076 Turkish Coffee look in natural lighting versus artificial lighting?
In natural lighting, Turkish Coffee showcases its warm undertones more prominently, making spaces feel cozy and inviting. Under artificial lighting, especially warmer bulbs, it becomes even richer and deeper.
⭐What colors pair well with SW 6076 Turkish Coffee?
SW 6076 Turkish Coffee pairs beautifully with neutrals like SW 6070 Heron Plume and SW 7571 Casa Blanca. It also complements grays like SW 6073 Perfect Greige and SW 6074 Spalding Gray, among others.
⭐Is SW 6076 Turkish Coffee a cool or warm hue?
SW 6076 Turkish Coffee is a warm hue, which makes spaces feel cozy, inviting, and grounded.