If you decide to repaint your kitchen walls or cabinets, you need to consider how the color you choose for that purpose will look and work with the color of your kitchen countertops.
And if your countertops are made of brown granite, you might find yourself in front of quite a difficult dilemma: what paint color to choose to match it perfectly with the brown countertops in your kitchen?
Brown may seem to be a simple color to use but it is in fact pretty tricky!
You can't match it with all the colors so easily, which is why you should know what paints will be better than others for your home painting project.
Luckily, this article was created exactly for this purpose! You will learn the answer to the main questions of yours: "what colors go with brown granite countertops?".
But also, we are going to tell you how to choose the most suitable paint color for your kitchen walls to match it with your brown countertops, as well as how to choose a proper backsplash.
Finally, we will help you to define what colors of finishes will go better than others with your brown granite kitchen countertops.
Believe us, folks, after you read this article (if you do it attentively, of course!), your kitchen will turn into an absolutely harmonious and balanced space in terms of colors that you used in it!
And you will not have to do much to achieve that result!
What Paint Colors Go With Brown Granite Countertops
When you need to match your kitchen brown granite countertops and paint colors that will be used on the walls or kitchen cabinets, you might feel rather puzzled.
Brown can hardly be called the color that is super easy to match with other shades and colors of the palette, which means that, unless you are super skilled and experienced in picking paint colors, finding a solution will be quite complicated for you.
Here is a hint for you, however: as a rule of thumb, if you are working with brown granite countertops, it is a good idea to stick with something neutral or softer in hue for your walls and/or kitchen cabinets.
Below, we will tell you more about the paint color that will look well on your kitchen walls, as well as cabinet colors that you can match with brown granite successfully.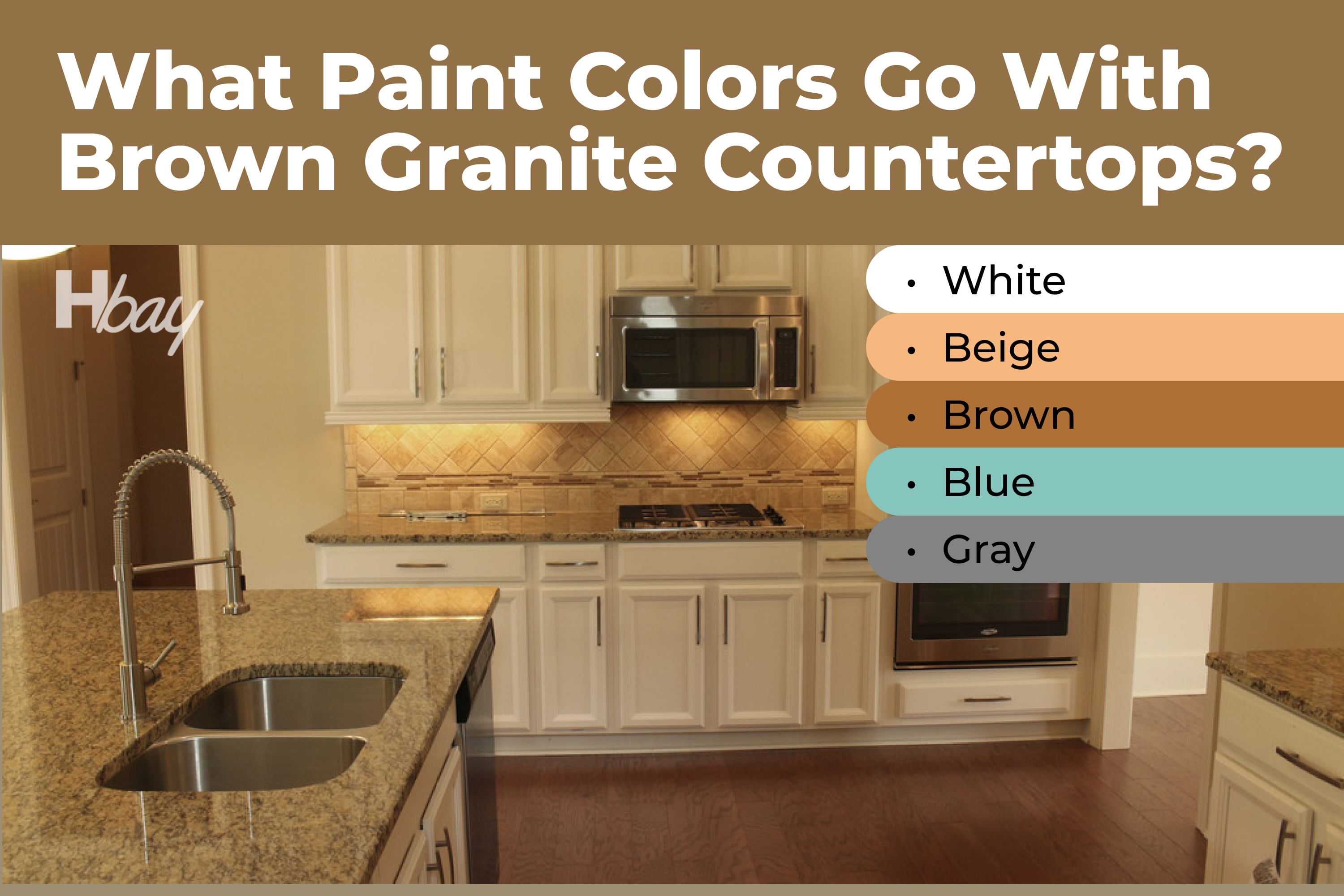 But in the majority of cases, brown granite countertops in your kitchen will look harmonious with such colors as:
white
beige
brown
blue
gray
But let us dig deeper and see in detail how this or that color will work on your kitchen walls if you have countertops made of brown granite.
Beige Paint Color
This is the most organic choice, in fact, since beige can actually be considered a very light shade of brown. This is why we would suggest you use it as an optional wall color if you have brown granite countertops.
And if you make sure that the two colors tend to have warmer undertones, this is an easy way to keep your kitchen cohesive without having to do much.
Of course, when using beige, you might also want to try going a shade lighter or a shade darker depending on the design of your space and the shade of brown your countertops have.
But be sure you pair the correct and matching shades since their combination can either brighten things up or make your kitchen feel more intimate.
Brown Walls And Brown Counters? Why Not!
Yes, you got it right! Another color suggestion for you to use if you have brown granite countertops in your kitchen is…brown paint color!
However, you might be surprised to learn that a brown wall color idea is in fact a great go-to option for brown granite countertops!
Although this isn't super exciting, if you choose a shade of brown in order to use in one space, it can turn out very nice without looking too matchy.
White Paint Color For Your Kitchen Walls
Simple white wall color is a great and universal idea for your brown granite countertops in the kitchen.
Again, this isn't breathtaking, but the neutral white walls will allow your counters and other finishes to shine, and that is always nice, right?
In addition, to give your kitchen a somewhat cozier feeling, you could also try going a bit warmer with the shade of white you choose to apply on the walls.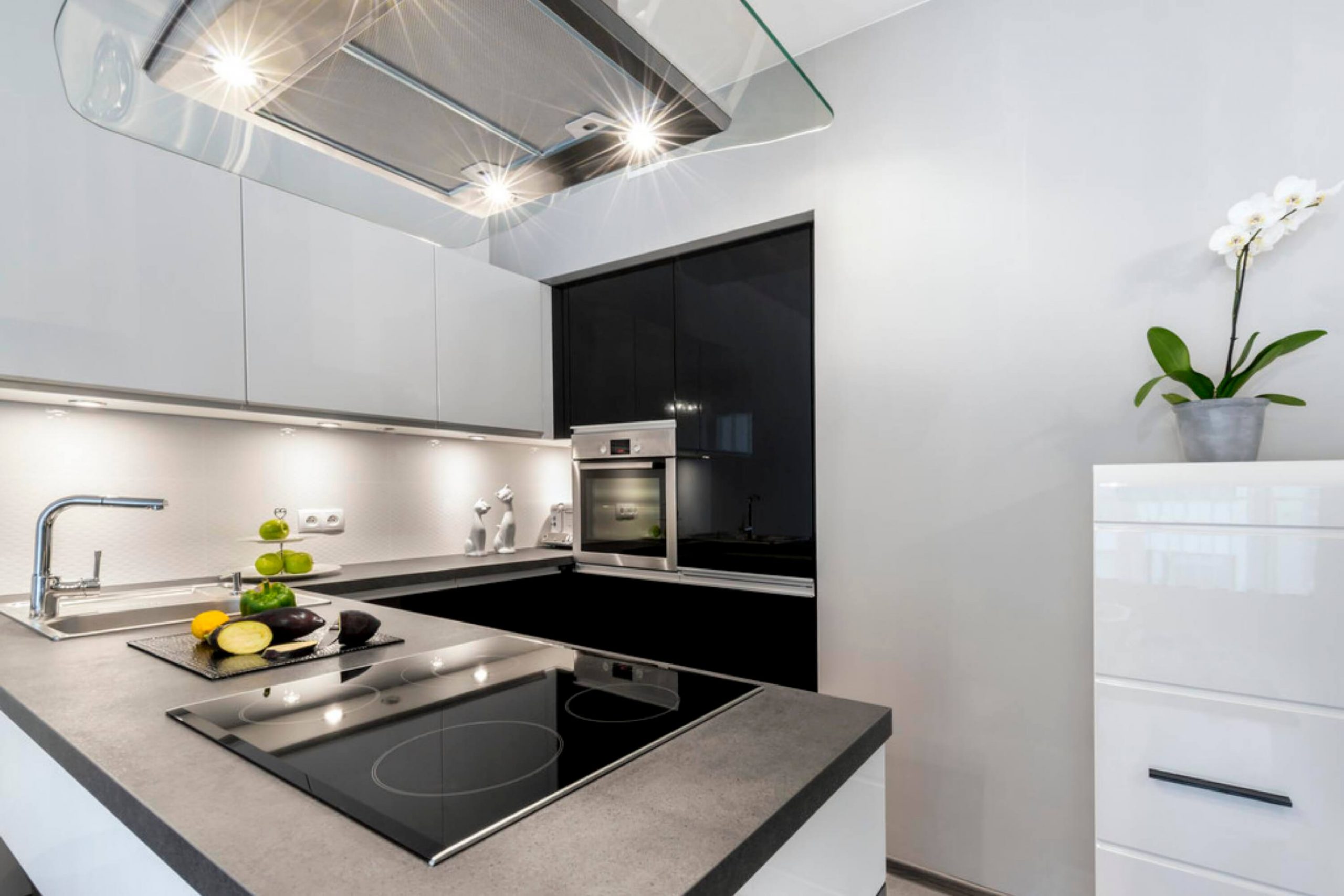 Related: Sherwin Williams White Paint Colors | Detailed Guide
Blue Paint Color On Your Kitchen Walls
Quite an unexpected solution to some of you for sure! However, another good idea for brown granite countertops in the kitchen is trying a softer blue wall color.
Like we have already said earlier, using either one of the neutral colors or a light hue on the kitchen walls will work pretty well with brown granite.
This is why, if you feel like having some fun with your wall color and go beyond the traditional color schemes, you can do that by opting for a blue color.
Of course, if you have brown granite countertops in your kitchen (no matter the shade), you hardly want to go too wild with the wall color as it could result in exactly the opposite of what you are expecting.
This is why we suggest you keep in mind the simple rule of thumb: the softer, the better!
Related: Does Brown And Blue Match?
Gray Color
Gray is another wall color option that pairs well with brown granite countertops.
Although gray and brown usually can't be called the colors that share a similar aesthetic, if you have one of the cooler undertones in the granite, it will allow the entire space to mix the two quite harmoniously without having things feel out of place.
The kitchen cabinets of lighter shades and mixed stone backsplash also work as a nice transition from the brown granite counters to the gray walls, so you may want to try a similar design in your home.
So, these are the most suitable and best working paint colors to use on your kitchen walls or cabinets in case you have countertops made of brown granite stone. Since the range of options is pretty varied, you can easily pick up the color you like.
Besides, who said you can't play with different shades of it?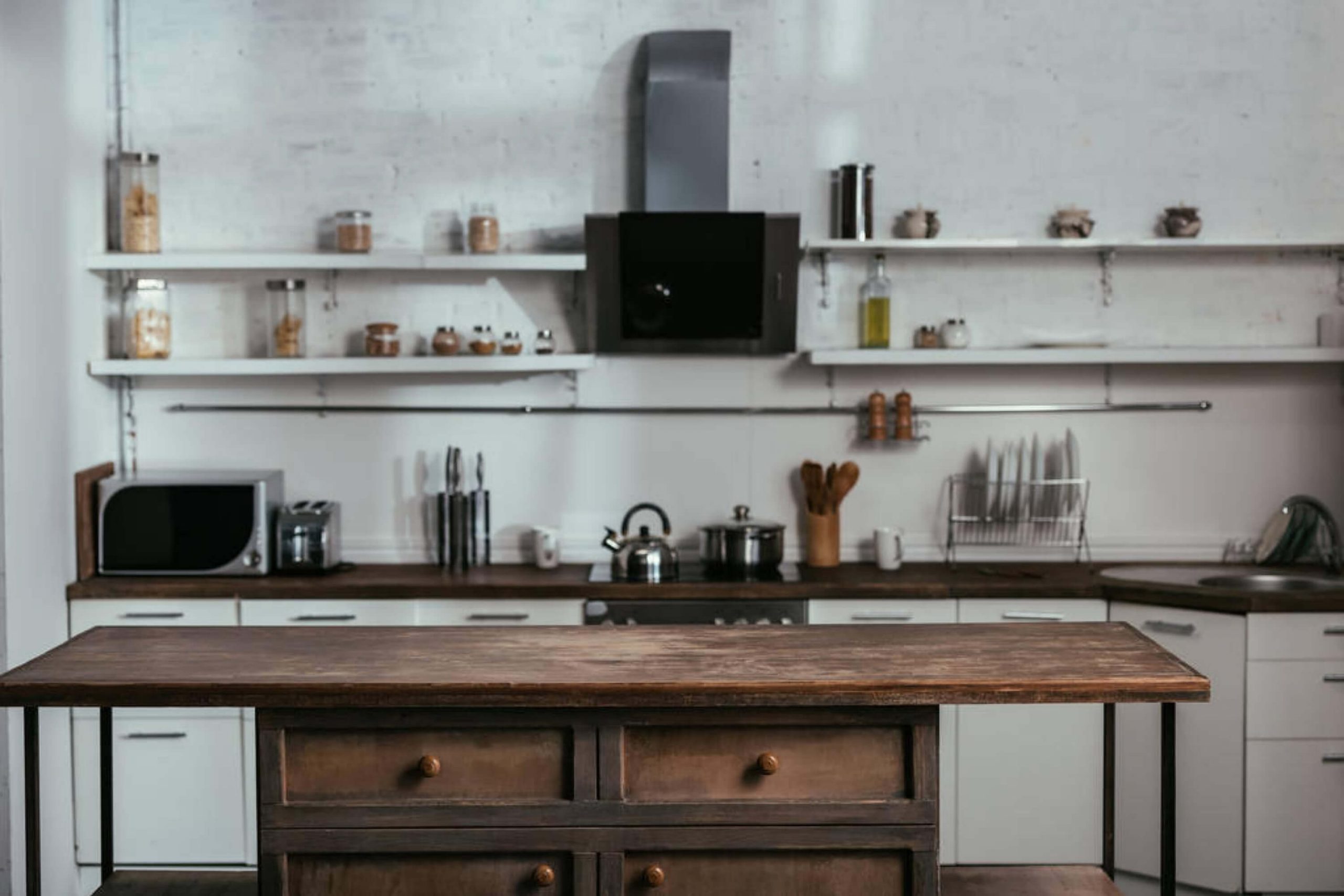 Related: What Color Paint Goes With a Gray Roof?
How to Choose the Right Wall Color For Brown Granite Countertops?
To be able to choose the most suitable and well-matching shades of paint to use on your kitchen walls, you should consider a few factors and nuances.
First of all, when trying to pick up the most suitable wall paint color for your kitchen to match it with the brown counters, you want to find a wall color that shares a similar undertone to your granite countertops.
Whether they have a warmer tone or feel a bit cooler, this can influence how you choose the shade of paint to apply to your kitchen walls.
You can also stick with a lighter, more neutral color for the walls in a room with brown granite, which will allow them to be the focal point of the space.
This applies to both the bathroom and kitchen, so try to keep an eye on undertones regardless of where you're designing.
BEST WALL PAINT COLORS to Pair with Wood Trim, Flooring, Cabinets and Furniture | Julie Khuu
How Do You Choose a Backsplash With Brown Granite Countertops?
Choosing a backsplash for your kitchen is often the same difficult challenge for the majority of homeowners as picking the right paint color for the walls to pair it with the brown granite!
In general, you want to find a backsplash that works as a transitional zone between your counters and walls.
Of course, that doesn't necessarily mean your backsplash needs to feature the same colors as your walls and countertops, but it should be complementary to a certain point.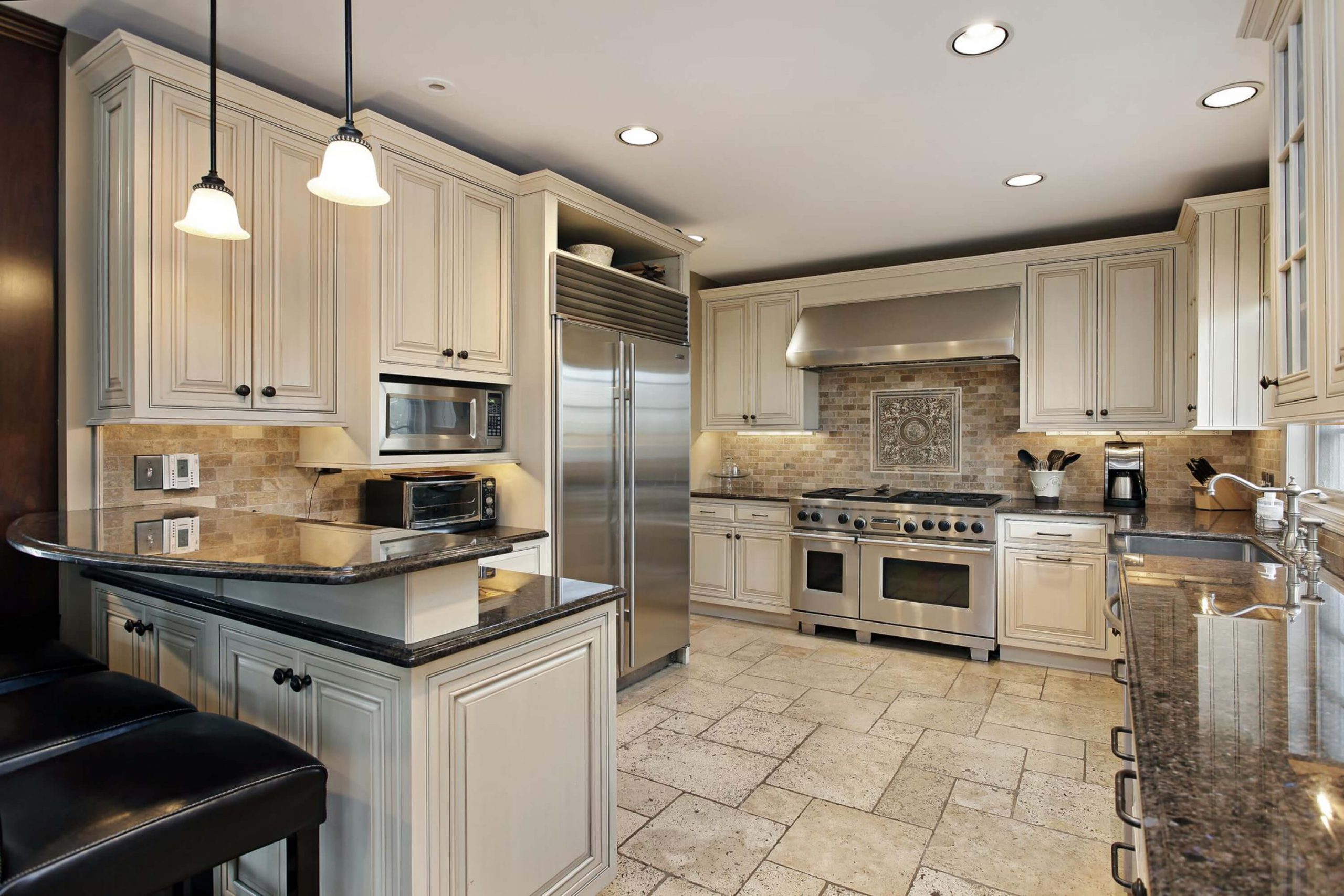 Should Backsplash Be Lighter Or Darker Than Countertops?
This is the question that people often ask when the time comes to define what paint color to use on their kitchen backsplash so that it looks harmonious and organic with the walls and the counters.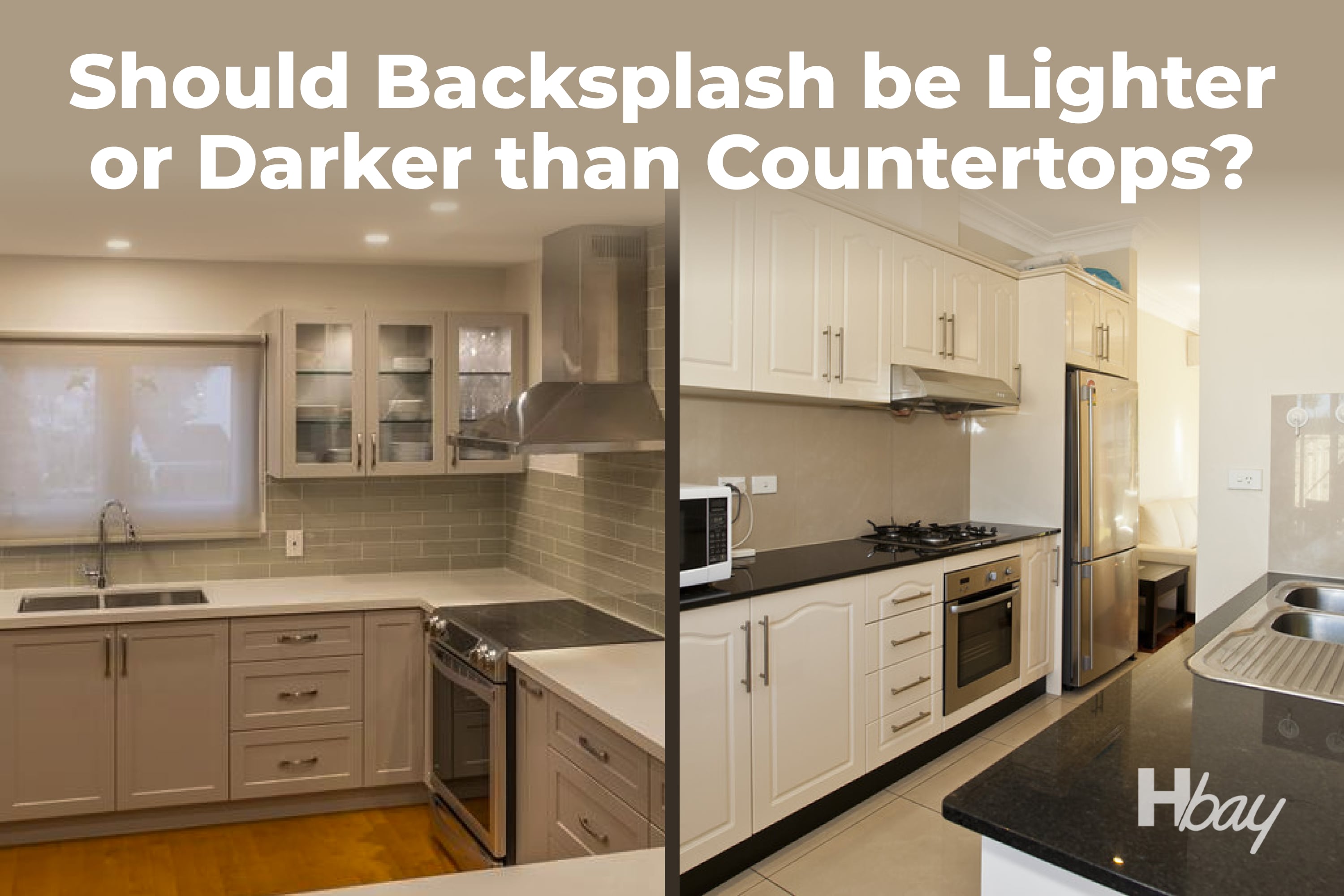 What we want you to keep in mind regarding this issue is that, although there is not a set rule for this, we would still recommend you using lighter shades of paint for your backsplash if your countertops or cabinets are dark, or vice versa.
Usually, you want to try and create some sort of contrast between the two areas in a kitchen, so going a shade lighter or a shade darker can make quite a significant difference!
What we want to say is that, when choosing a plain or neutral-colored backsplash, you can be sure that it will fit into any kitchen design, so if you want something easy, we recommend keeping it as simple as possible.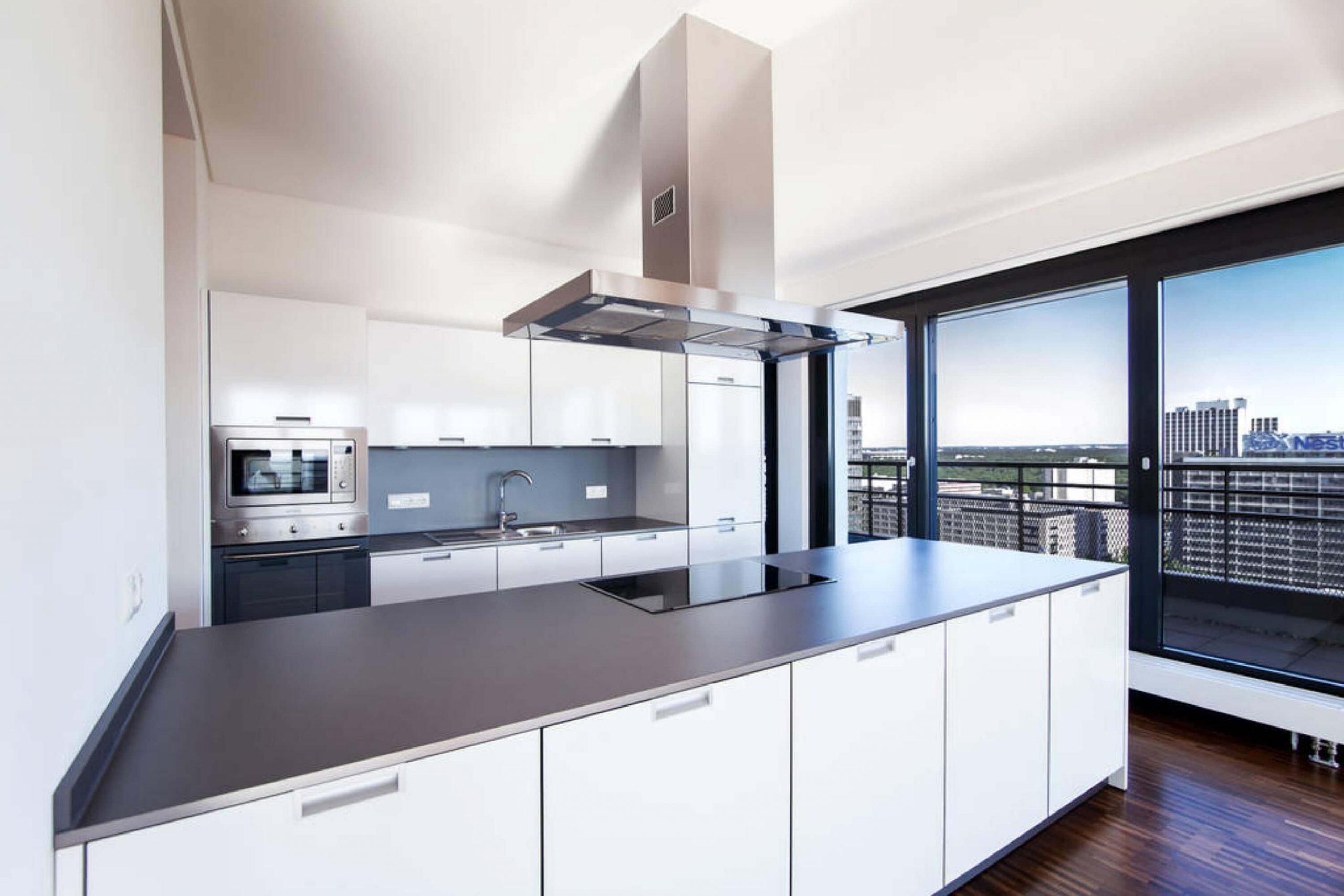 What Color Finishes Go With Brown Granite Countertops?
The color of your finish is another point of concern for those who decide to repaint their kitchen walls or cabinets while having brown granite counters there.
What you should keep in mind in this case is that you want to try using warmer finishes to match them well with your brown granite counters.
Most times, brushed nickel, bronze, and copper will look the best with your granite, although stainless steel might also work.
It would also be better if you manage to find finishes that blend into your kitchen and bathroom harmoniously rather than stand out, so we would say you should try to keep things neutral.
So just as an example for you, if your cabinets in the kitchen need a pop of color, you can definitely experiment creatively and have fun with its hardware's finish, so this comes down to your space!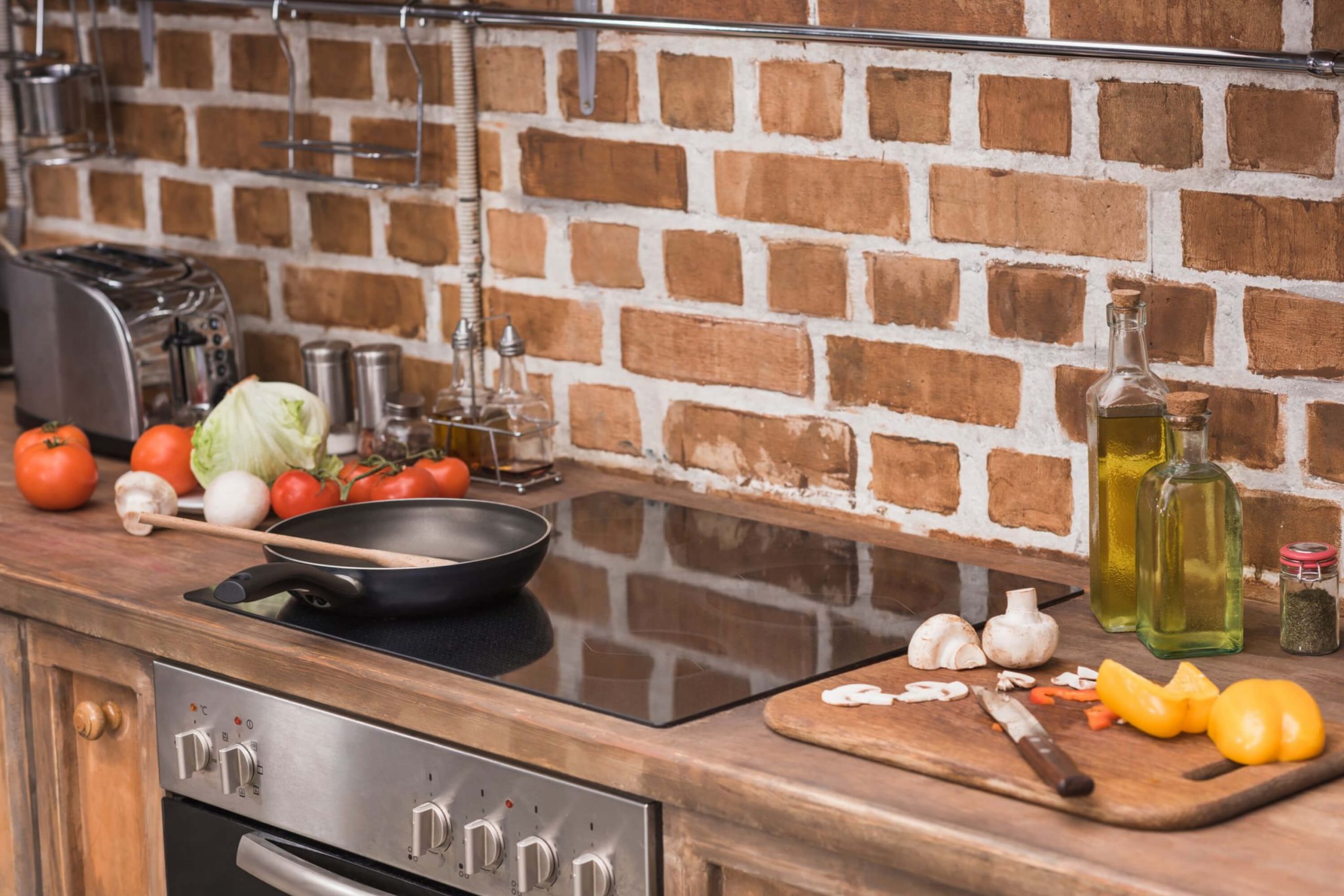 What Paint Color to Choose For the Kitchen Cabinets to Match With Brown Counters?
When it comes to cabinets, try to choose the paint colors that are either lighter than your countertops or a bit darker.
Like with the color of backsplash, it is more stylish to have your cabinets contrast the countertops in a space rather than match them totally, so that is the nuance we recommend you to consider.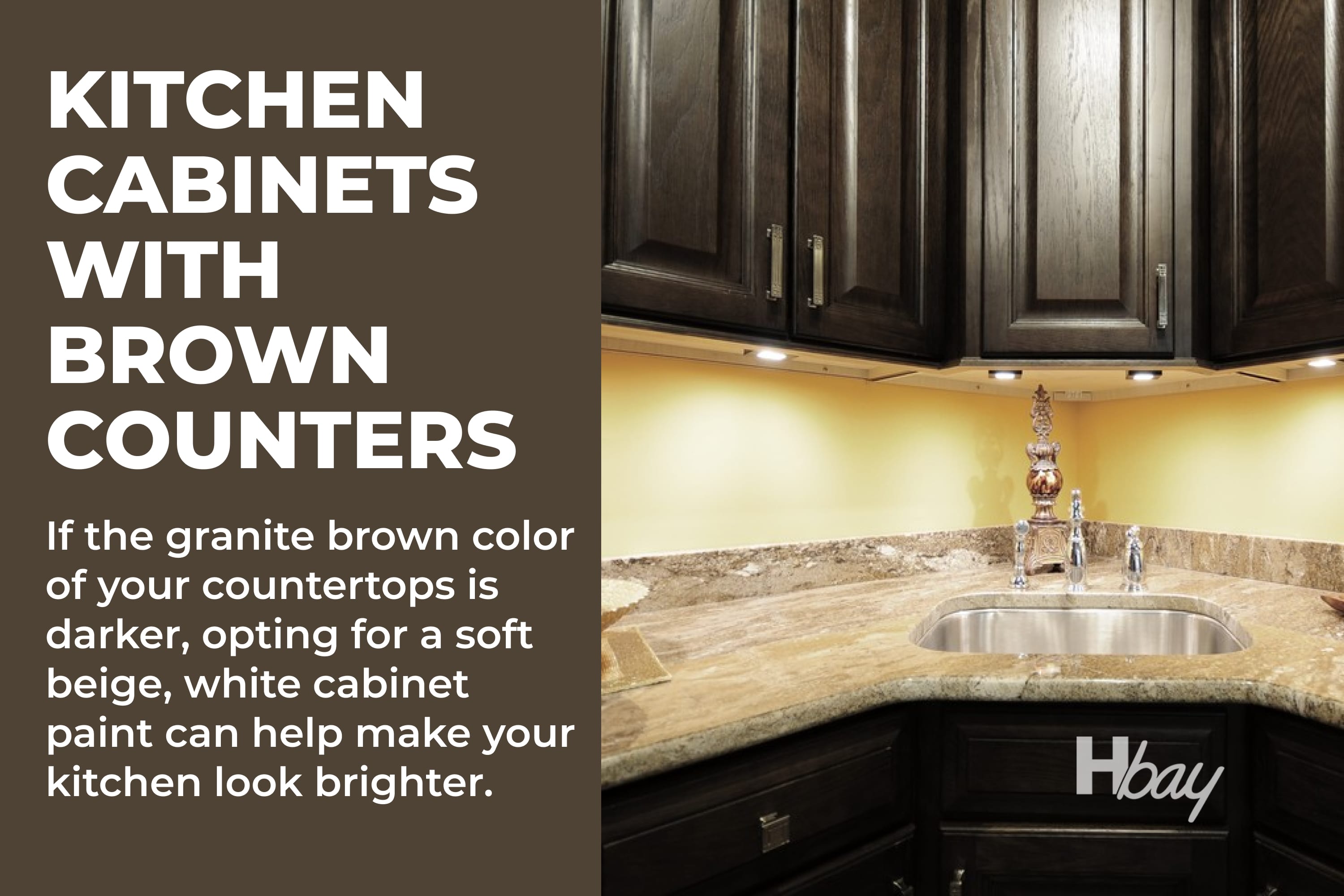 Just as an example: if your countertops' granite brown is on the darker side, choosing a soft beige, white, or even gray paint color for cabinets might help to make your kitchen feel brighter and more up to date.
On the other hand, if you have super light brown granite counters, using deeper, richer cabinetry is the way to go.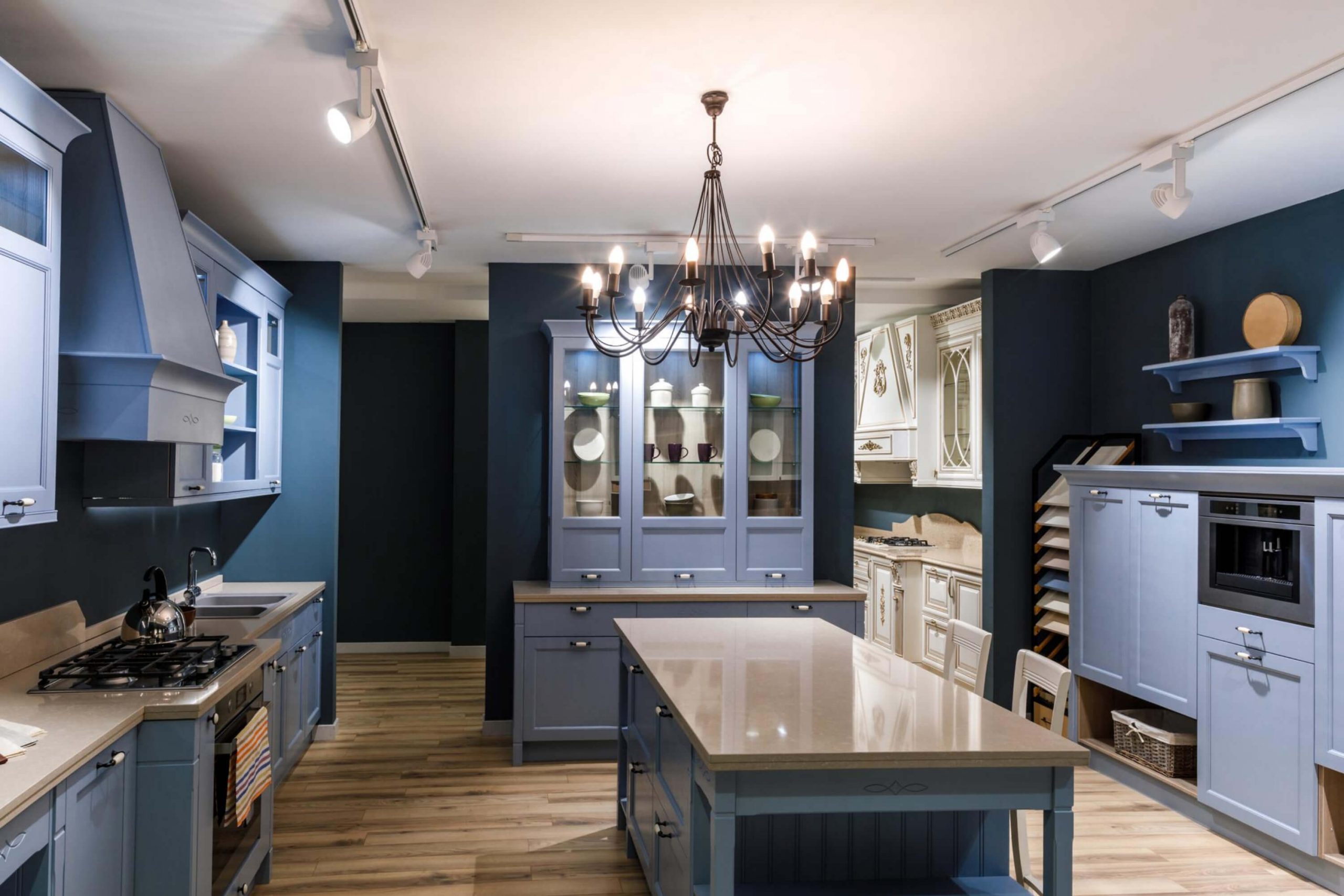 Will White Cabinets Be a Good Choice?
Definitely! Brown granite countertops will go with white cabinets just fine.
Like we have just mentioned above, when you have your cabinets and countertops contrast, it is a great way to design your kitchen space!
So you should definitely consider pairing bright white cabinetry with brown granite countertops!
It is going to turn out nicely, we promise! Also, white cabinetry tends to have a very modern and clean look, which may help to make your granite feel more up to date.
What's the best kitchen countertop?
Won't My Kitchen Look Old-Fashioned With Brown Granite Counters?
Well, some of you might be a bit worried that your kitchen would look too out of date and even old-fashioned with those brown granite counters.
Brown granite, although beautiful, isn't usually the first choice in modern designs, that's true.
However, there are ways to make brown granite feel more trendy, and one of those ways is to pair it with lighter cabinets and backsplashes. By the way, using white or gray wall paint will also work great!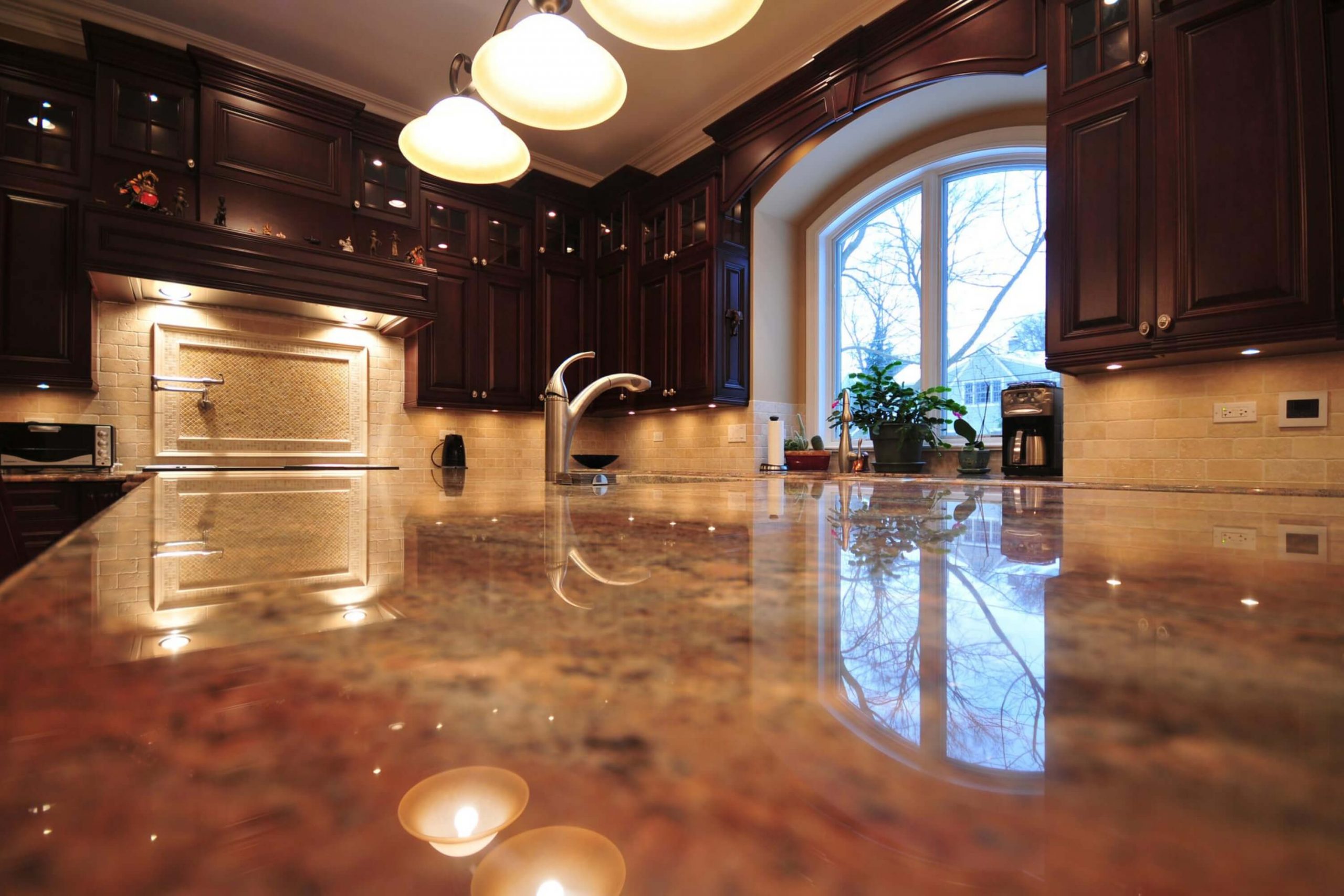 So, this is all that we wanted to share with you today on the subject of paint colors that are suitable and well matching to pair them with the brown granite counters in your kitchen.
With all the information we provided you with today, you will be able to easily choose the most harmonious color combination for the space and make your kitchen look both cozy, functional, and modern.
Frequently Asked Questions
⭐Will brown granite counters look good with brass hardware?
Yes, they will look great. Brass and brownstone will pair exceptionally well since both have that earthy and warm hue. You can also use other brass items in your kitchen to pair them with brownstone counters.
⭐If I use golden elements in my kitchen (e.g. hangers, handlers, etc.), will they pair well with the brown stone counters?
Yes, gold pairs pretty well with brown color. You can also use brass items or hardware, or use brass pieces instead of golden ones.
⭐Is it a good idea to paint my kitchen island black if its top is brown granite?
It might be. Depends on the overall color scheme of your kitchen. But in general, black color pairs pretty well with brown stone.