Blue is often underestimated as an interior and exterior color. People think that it is too tricky to use due to the belief that blue can only be paired with a short range of colors to read nicely. However, we are going to break this tendency today!
In this article, you will find the trendiest 2023 color palettes containing only blue colors! We will tell you what blue colors will work great for your bathroom, living room, cabinets, and exterior walls this year!
With this guide, you will not only see that blue is a magnificent color to use in your home, but it is also easy to incorporate in quite many interiors and home designs.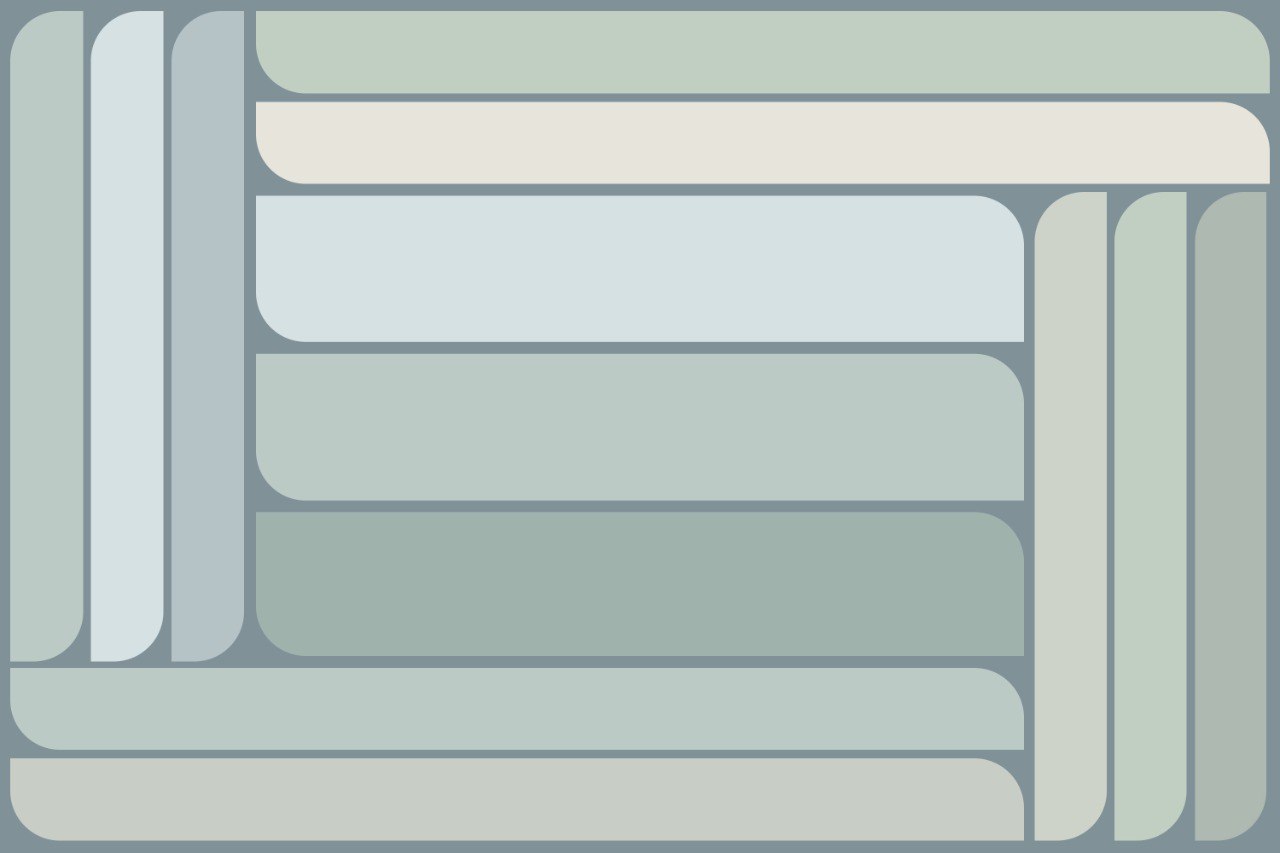 Blue Color Palette For the Bathroom
The bathroom is the ideal place to use almost all possible shades of blue. However, lighter shades of blue, as well as muted blues, will be more suitable for this room in your house or apartment. However, if you want to use blue correctly in your bathroom, you should take a few tips into account.
30 Best Modern Blue Bathroom Design
First, consider the size of your bathroom. If it's small, painting all the walls blue might make the room look smaller than it is! Also, lighting matters a lot. If your bathroom has plenty of daylight, it's ok to use darker shades of blue in it.
But if your bathroom lacks proper light, try to avoid darker blues and opt for lighter shades instead. Below, you can check out several blue color palettes that will be trendy for bathrooms in 2023.
Light Blue Color Palette For the Bathroom
Lighter shades of blue are easier to use since they can be easily incorporated into any room, no matter its size and lighting. The following lighter blues will give your bathroom a clean and refreshing vibe without making the room feel too cold or sterile.
Healing Aloe 1562
Beach Glass 1564
Woodlawn Blue HC-147
Gray Cashmere 2138-60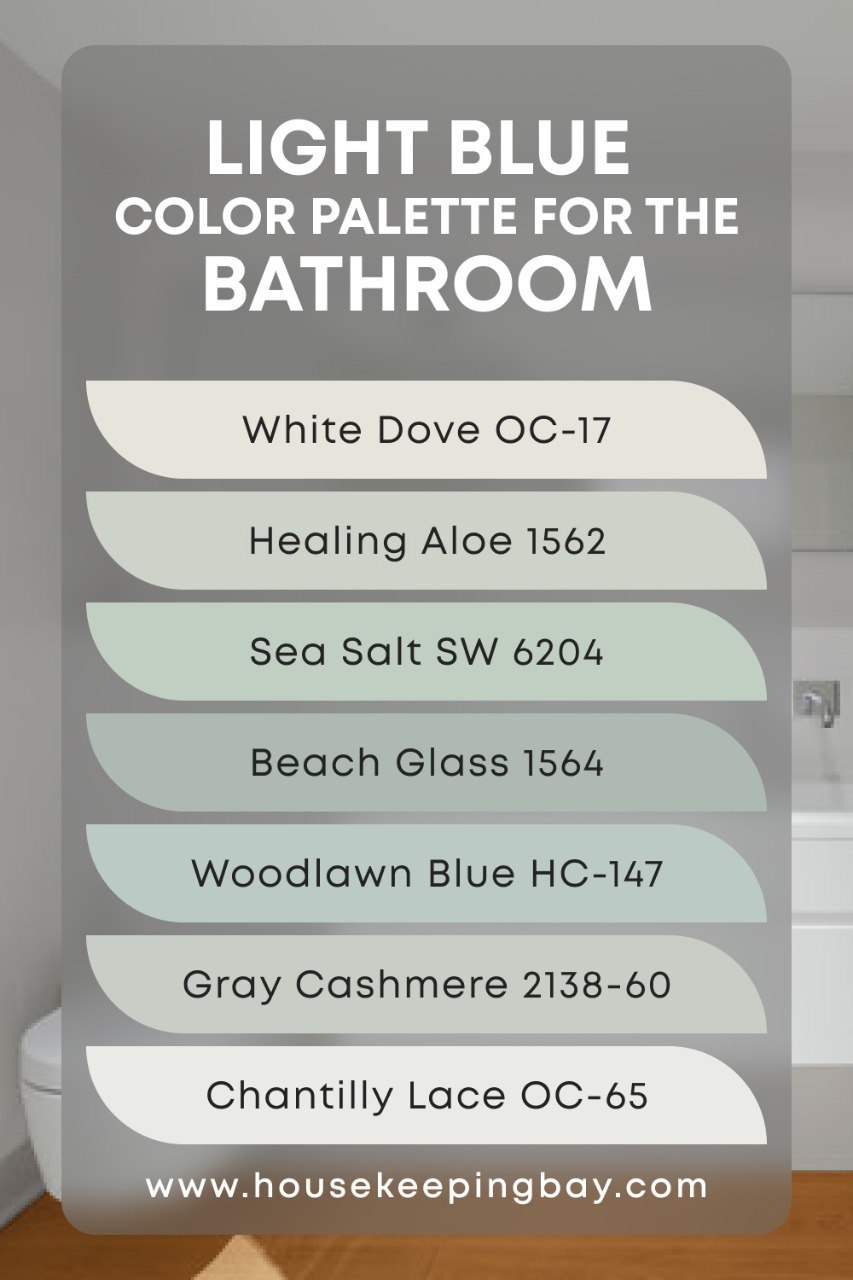 Darker Blue Color Palette For the Bathroom
If you have a large bathroom that is well-lit, you can try playing with darker shades of blue. Of course, it might not be a good idea to paint all your bathroom walls a deep blue. However, your bathroom will only win if you use a darker shade of blue on your vanity sink or shelves, for example. For example, you can use one of these colors:
Stunning 826 BM
Wrought Iron 2124-10
Blue Note 2129-30
Van Deusen Blue HC-156
Dark Pewter 2122-10
By the way, if you don't find it possible to use darker shades of blue to paint your bathroom, it can even work if you add items of this color (e.g., bathroom rags or towels).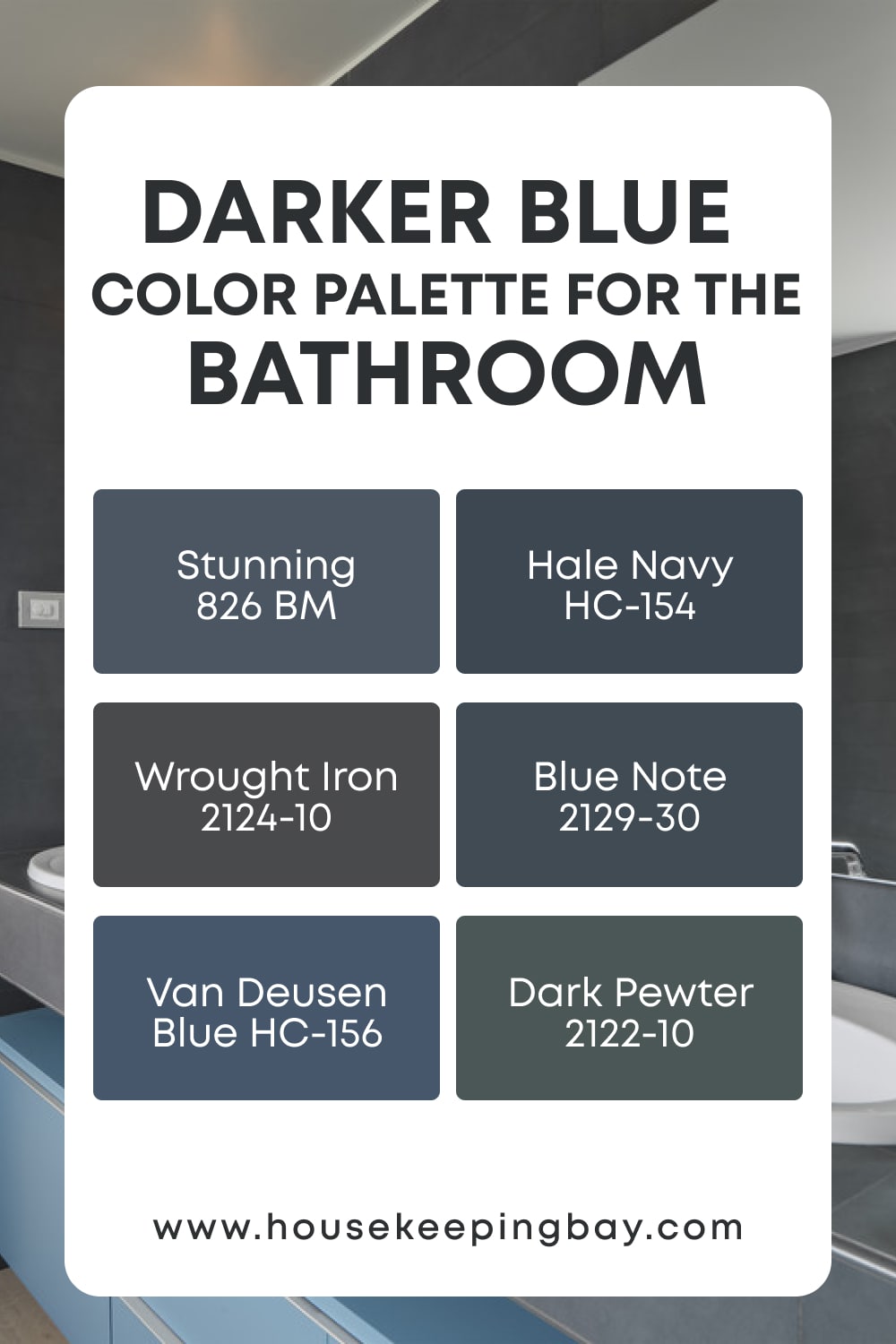 Blue Color Palette in the Living Room
Making an interior color palette for living rooms that would contain blue colors may seem to be a challenging task. As we have already said, blue is often considered a tricky and hard-to-use color, especially for such a space as a living room where we are used to more versatile colors like greiges/whites/neutrals.
However, we want to suggest you a couple of meticulously selected color palettes with different shades of blue, lighter and darker, that you can easily use in your living room. For sure, in case of a darker blue palette, your living room should also have other, lighter colors like whites to prevent the space from reading too gloomy!
Light Blue Color Palette in the Living Room
If you want your living room to have a color palette with some light blue, you might find the following colors suitable for this purpose:
Palest Pistachio 2122-60
Lily White 2128-70
Constellation AF-540
Wythe Blue HC-143
Robin's Nest 618
Water Drops 659
The palette contains colors with blue undertones, as well as those that have prominent greenish undertones. As a result, you can pick the shade that suits your living room's overall color scheme better.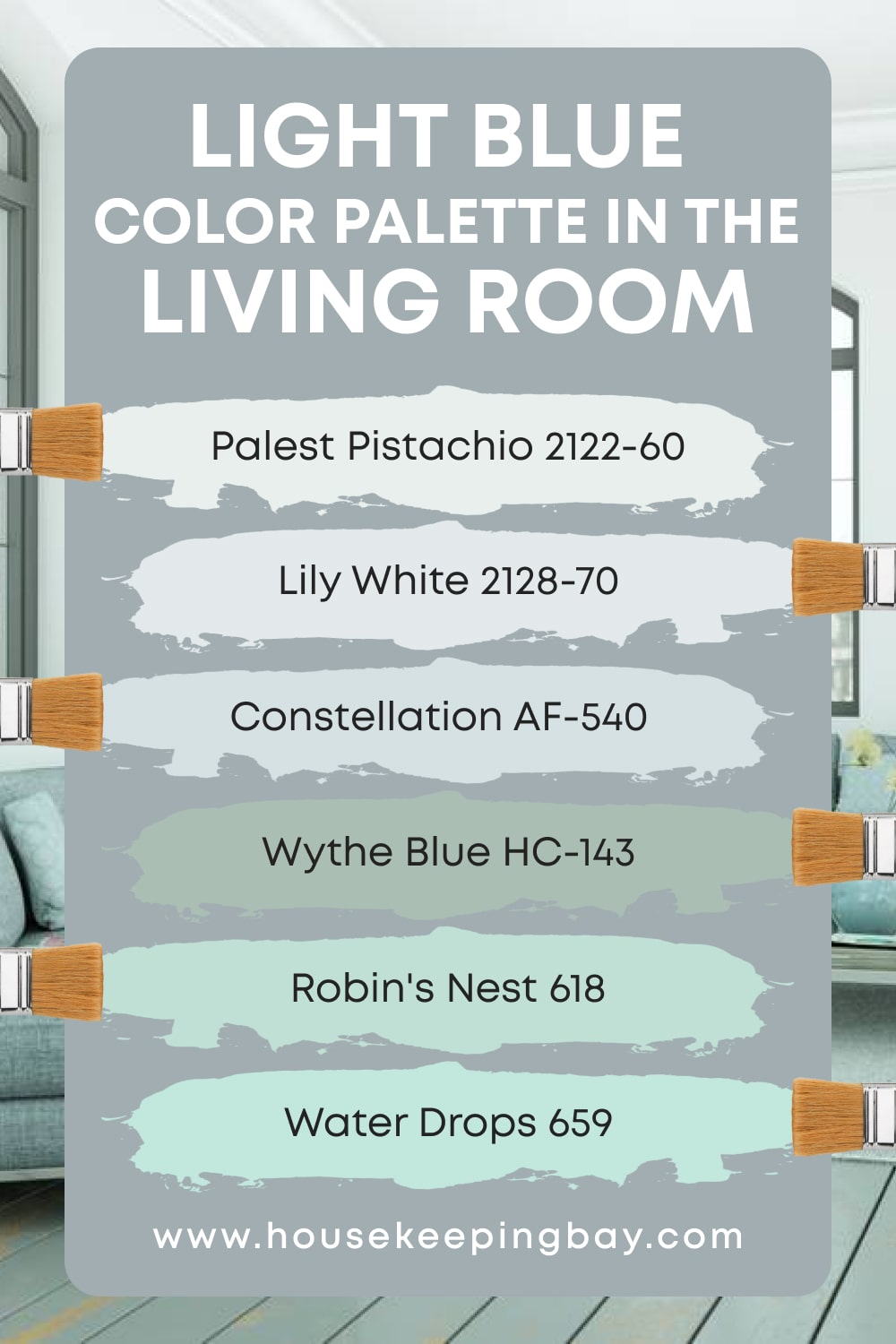 Darker Blue Color Palette in the Living Room
If you want to have a modern blue color palette in your living room, you should pay closer attention to these beautiful shades of blue:
Sleepy Blue SW 6225
Waterloo SW 9141
Ellie Gray SW 7650
Moody Blue SW 6221
Tempe Star SW 6229
Although the palette is considered dark, you can find less dark and deeper shades of this color here. For example, SW Waterloo and SW Tempe Star are quite dark (although pretty muted at the same time). But SW Sleepy Blue is a relatively light blue color. This means you can combine these colors so that you get an ideal color combination for your space.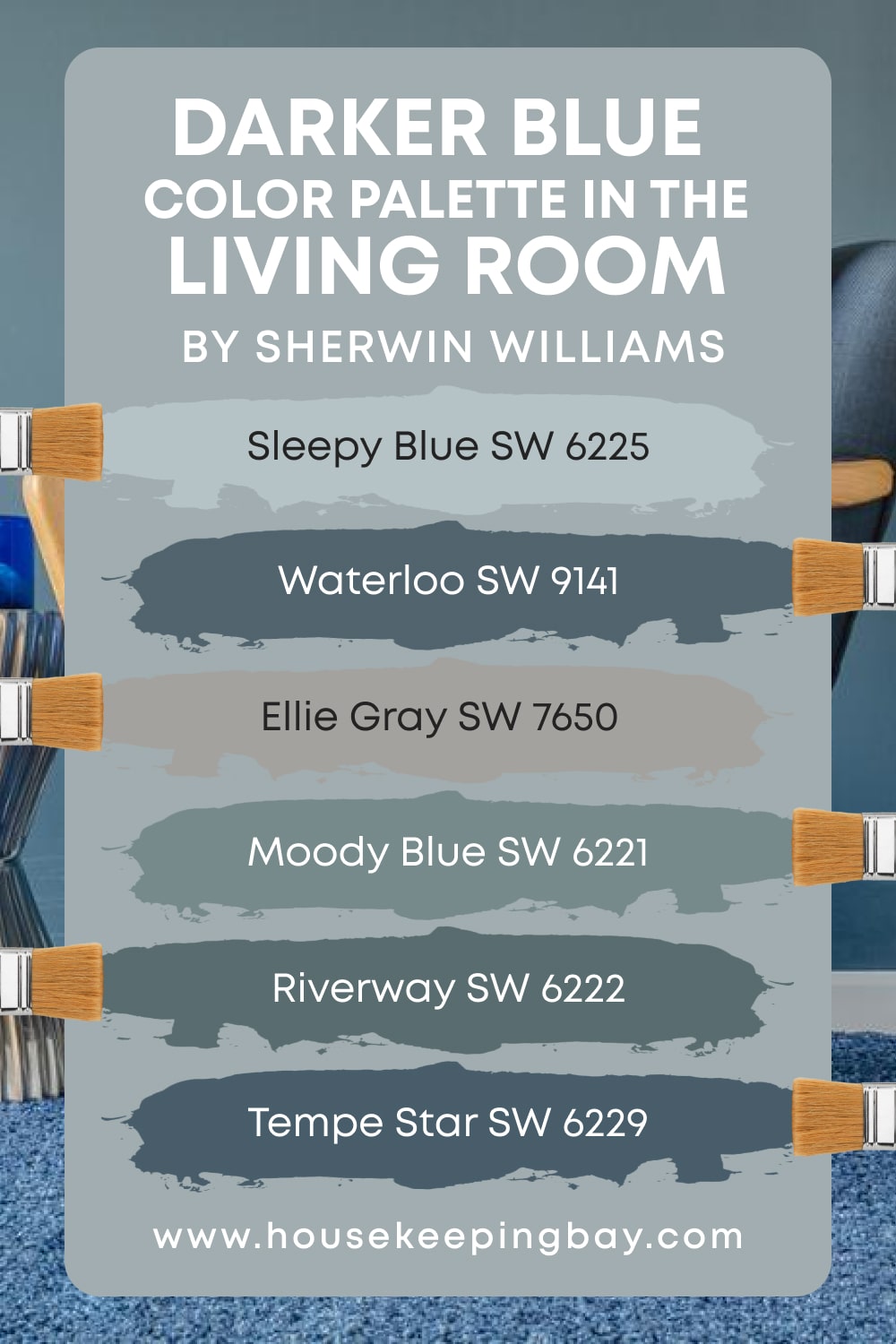 Blue Color Palette for the Kitchen and Kitchen Cabinets
We typically don't use blue that much in our kitchens. This color is strongly associated with water, which is why you can mostly find it in bathrooms instead. In the kitchen, blue can only be used as a color for a backsplash or a color of tiles.
The Best Blue Kitchen Cabinet Paint Colors (33 Gorgeous Shades in Real Homes!)
However, your kitchen can win by using blue on other surfaces too! Why not paint your kitchen cabinets blue, for example? Or try this color on an accent wall? Below, you can find several good color suggestions!
Light Blue Color Palette for the Kitchen and Kitchen Cabinets
If you are not ready for dramatic color experiments and changes, you may want to start with lighter shades of blue in your kitchen. On this list, there are somewhat brighter colors, as well as more muted ones. This way, you can choose the shade that fits your kitchen's color scheme best of all.
Windy Blue SW 6240
Rain SW 6219
Atmospheric SW 6505
Light Blue 2066-70
Poolhouse SW 7603
Stardew SW 9138
For example, if you want something more muted, try SW Poolhouse or SW Windy Blue. But if you prefer brighter colors, you will definitely enjoy SW Light Blue!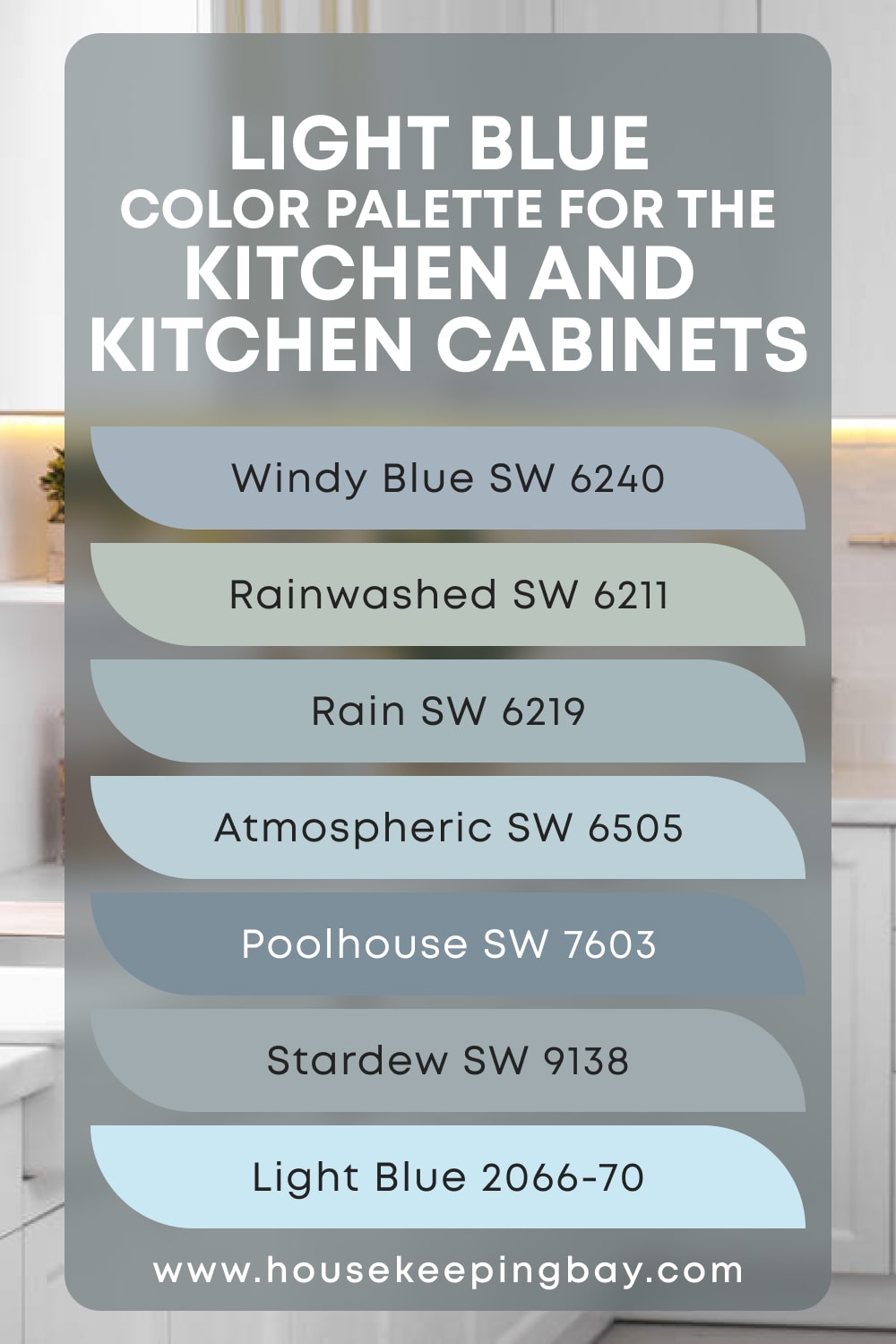 Darker Blue Color Palette for the Kitchen and Kitchen Cabinets
It may seem that darker blues are not suitable for kitchens, but in some cases, this shade of blue color can make your kitchen look more unique. However, you should use it moderately! For example, use darker blues to add color accents, e.g., on cabinets of your backsplash. Painting an accent wall in dark blue might also be a great idea! Just ensure the size and lighting of your kitchen allow that.
The following darker shades of blue can successfully highlight the space of your kitchen:
Hale Navy HC-154
Smoke Gray 2120-40
Van Deusen Blue HC-156
Waterloo SW 9141
Indigo Batik SW 7602
Gale Force SW 7605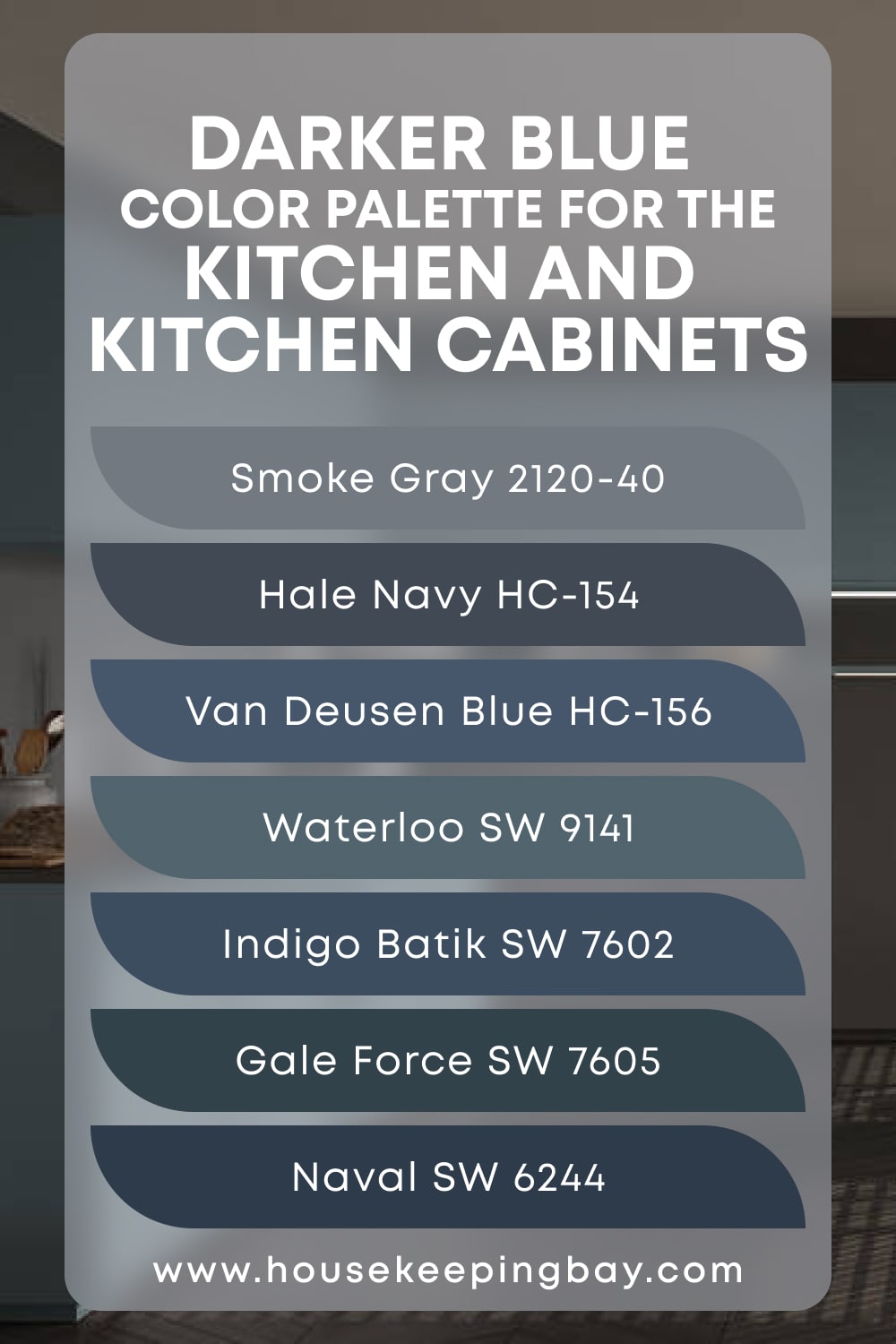 Blue Color Palette for the Exterior Use
We mostly see blue as an exterior color when it comes to seaside cabins and houses. Also, this color is often used in a Coastal home style, even if the house is located far from the sea or ocean. However, we would like to suggest you several shades of blue that can work on many exterior walls, no matter your house's location.
Light Blue Color Palette for the Exterior Use
For those who don't like dark colors, this light blue color exterior palette will become an actual salvation! Some colors have pronounced blue undertones whilst others read grayer. There is also a couple of lighter colors (Gray Owl 2137-60 and White Ice 2139-70) that don't read blue but can be used to highlight it.
Wedgewood Gray HC-146
Brewster Gray HC-162
Gray Owl 2137-60
White Ice 2139-70
Boothbay Gray HC-165
Solitude AF-545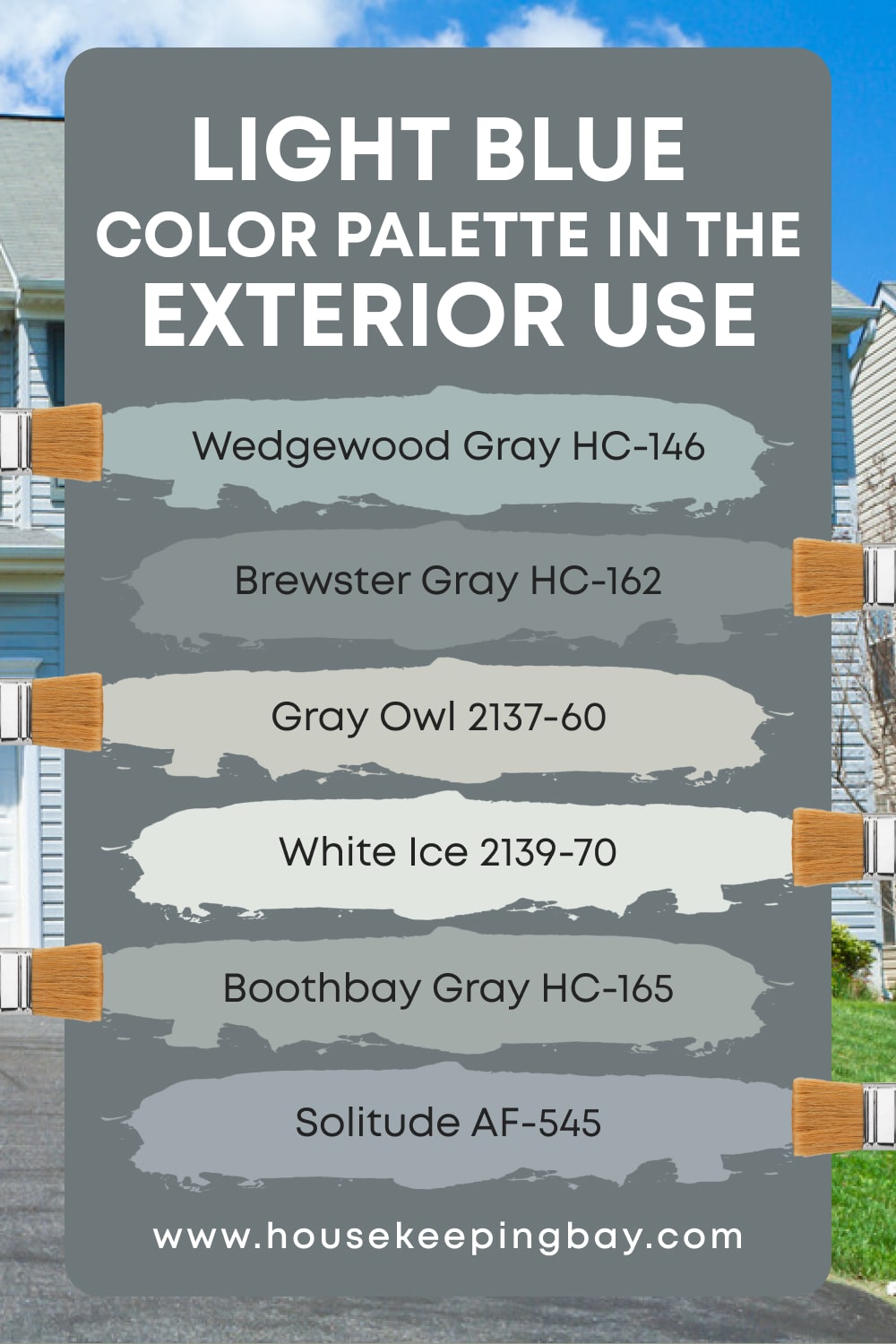 Darker Blue Color Palette for the Exterior Use
As an exterior color, blue is mostly used on house walls. However, this color will also work great on the front door or window frames/shutters if the wall color is different than blue.
The following darker shades of blue will look gorgeous on your home's exterior walls, especially if you pair any of these colors with white to enhance its depth.
Outerspace SW 6251
Hale Navy HC-154
Van Courtland Blue HC-145
New York State Of Mind 805
Hague Blue No.30
Little Falls 1621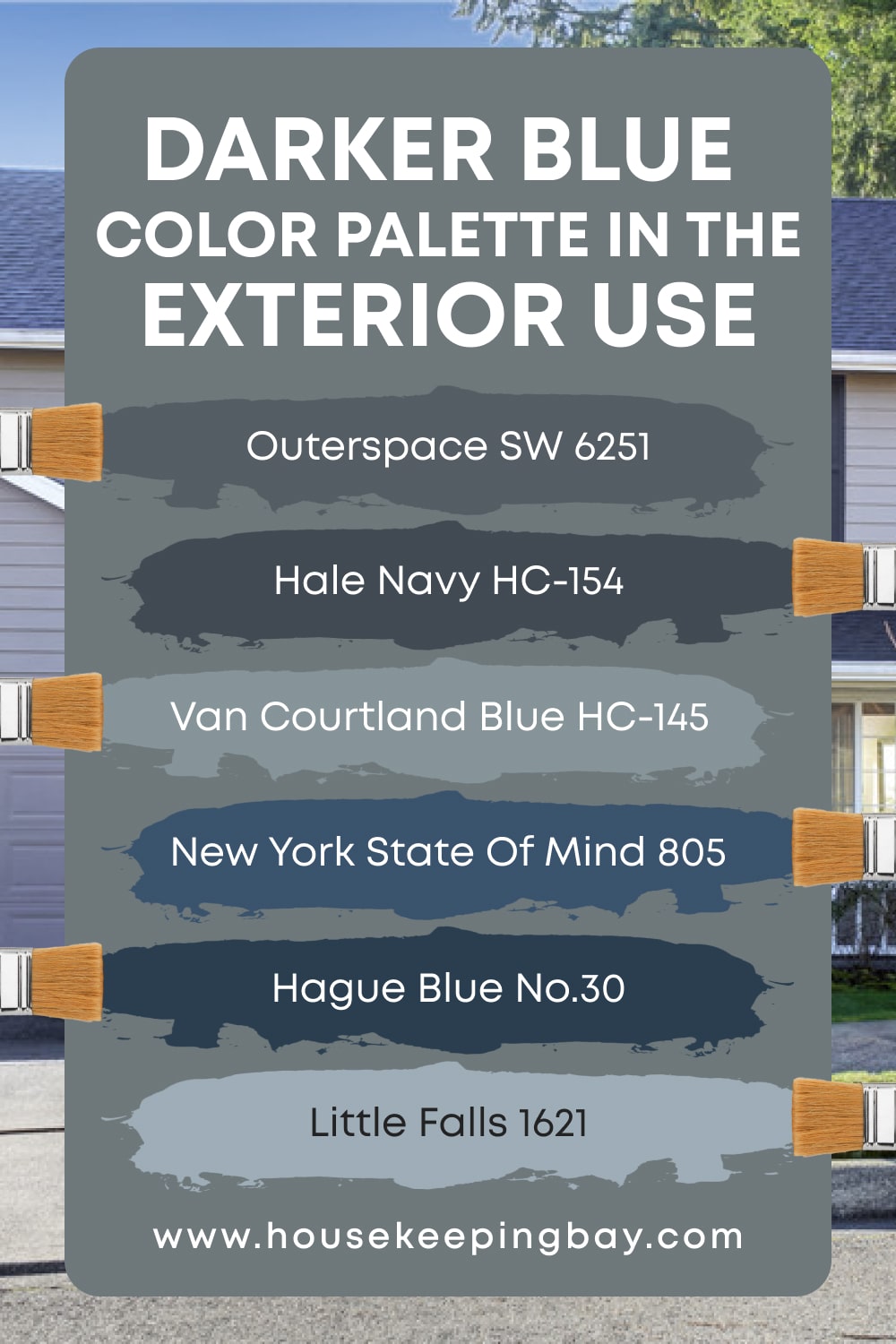 Blue Color Palette on the Walls
People mostly try to avoid using blue paint on their interior walls. That's because blue requires some skill to use correctly and make it work in a room the way you want. However, if you know what shades of blue will work better than others on the walls, it will make it easier for you to incorporate this color into your interior.
Blue can make a room read sophisticated and noble, adding that style and chic to the space. Besides, some darker blues pair really nicely with golden colors, which can help you make the space look luxurious! Below, we have prepared several dark and light blues for you to check out.
Light Blue Color Palette on the Walls
With a lighter blue on the walls, your room can read calmer and more balanced. The trick is to use the right shade. Otherwise, you can make the space read too cool-toned. But with the following lighter blues, this will hardly ever happen!
Bird's Egg 2051-60
Clear Skies 2054-70
Gossamer Blue 2123-40
Blue Lace 1625
North Star SW 6246
Upward SW 6239
All of these colors are perfectly balanced in tone. Also, they are muted and quite subtle. As a result, any of them will make your room read tranquil and, at the same time, pleasantly refreshing.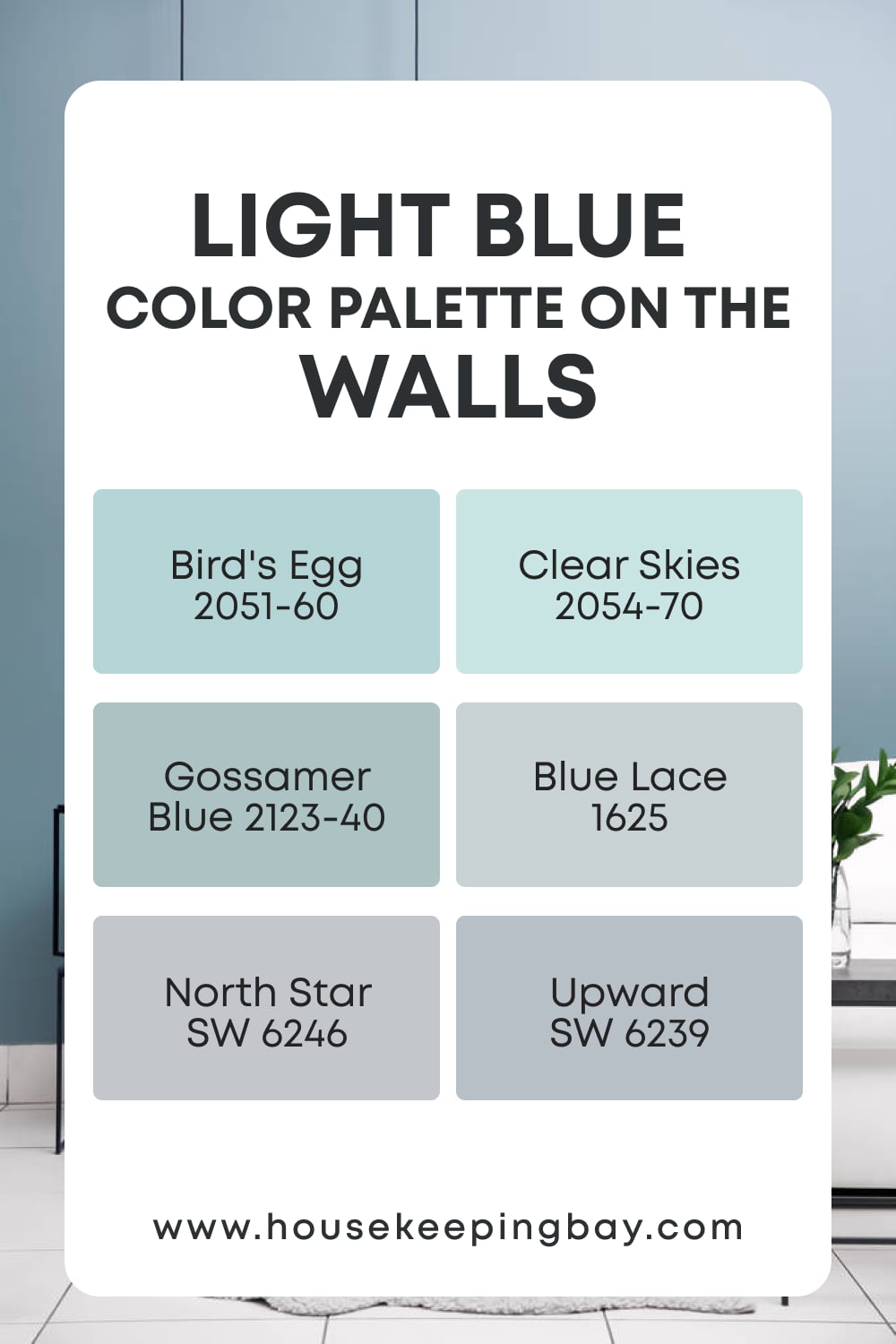 Darker Blue Color Palette on the Walls
If a room allows, you can try using a darker shade of blue on the walls. Note that this is only possible if the room is spacious enough and has plenty of light (preferably natural). Otherwise, it will only look smaller and read darker with a dark blue color on the walls!
But if the size and lighting of your room are suitable, you may try one of the following darker blues on its walls:
Hale Navy HC-154
Eclipse 2132-40
Deep Royal 2061-10
Van Deusen Blue HC-156
Naval SW 6244
Van Courtland Blue HC-145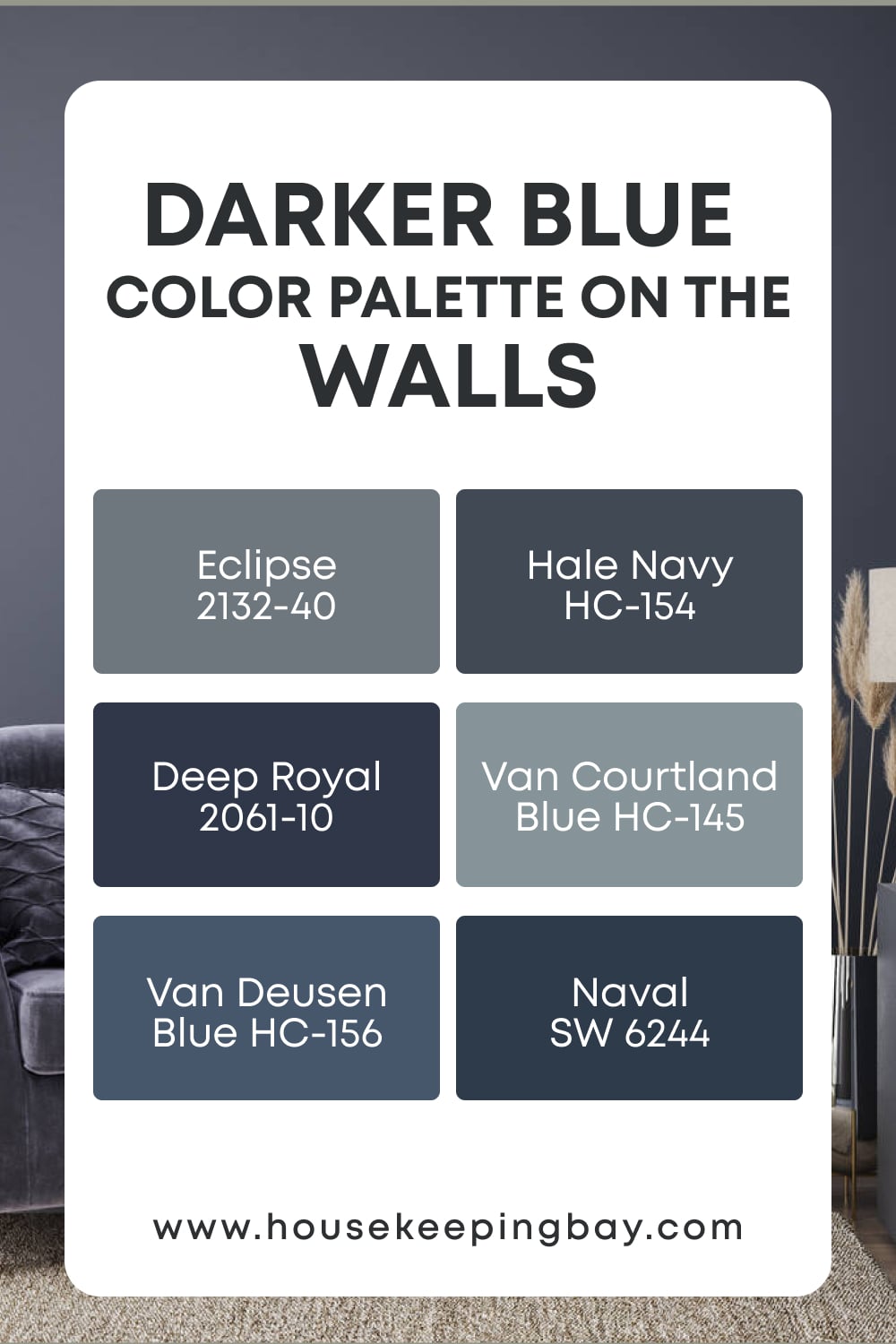 With such a wide selection of different shades of blue, you can now see how varied and versatile this color can be. The range of its shades is fantastic, which allows you to play with the color and use it in different spaces of your home, from bathrooms to kitchens!
Anyway, with the help of this guide, you will be able to choose the shade/shades of blue that will fit your interior perfectly. Besides, now you also know what shades of blue will work on exterior walls!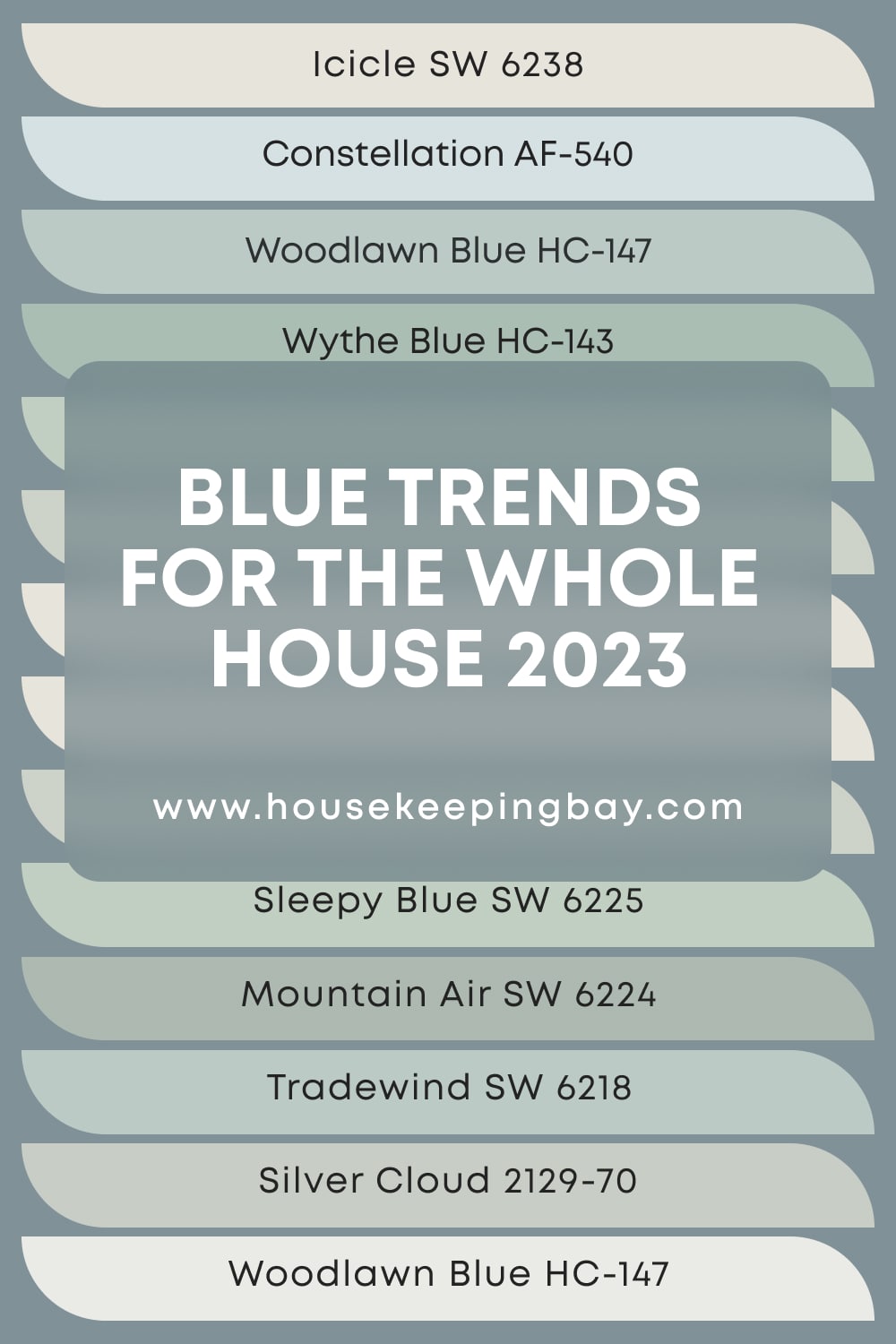 Frequently Asked Questions
⭐Can I use blue in a room with hardwood floors?
Lighter blues might work well, but darker shades of blue will make the room look even darker than it is.
⭐What colors does blue work best with?
Blue will work best with whites and yellows.
⭐Is blue a cold color?
Blue can be both warm-toned and cool-toned.