Every color tells a story, and every hue affects our emotions and decisions differently. The world of interior design recognizes the power of colors and utilizes it to evoke certain moods and aesthetics. Today, we delve into the narrative of SW 9538 Tangled Twine by Sherwin-Williams and uncover its potential.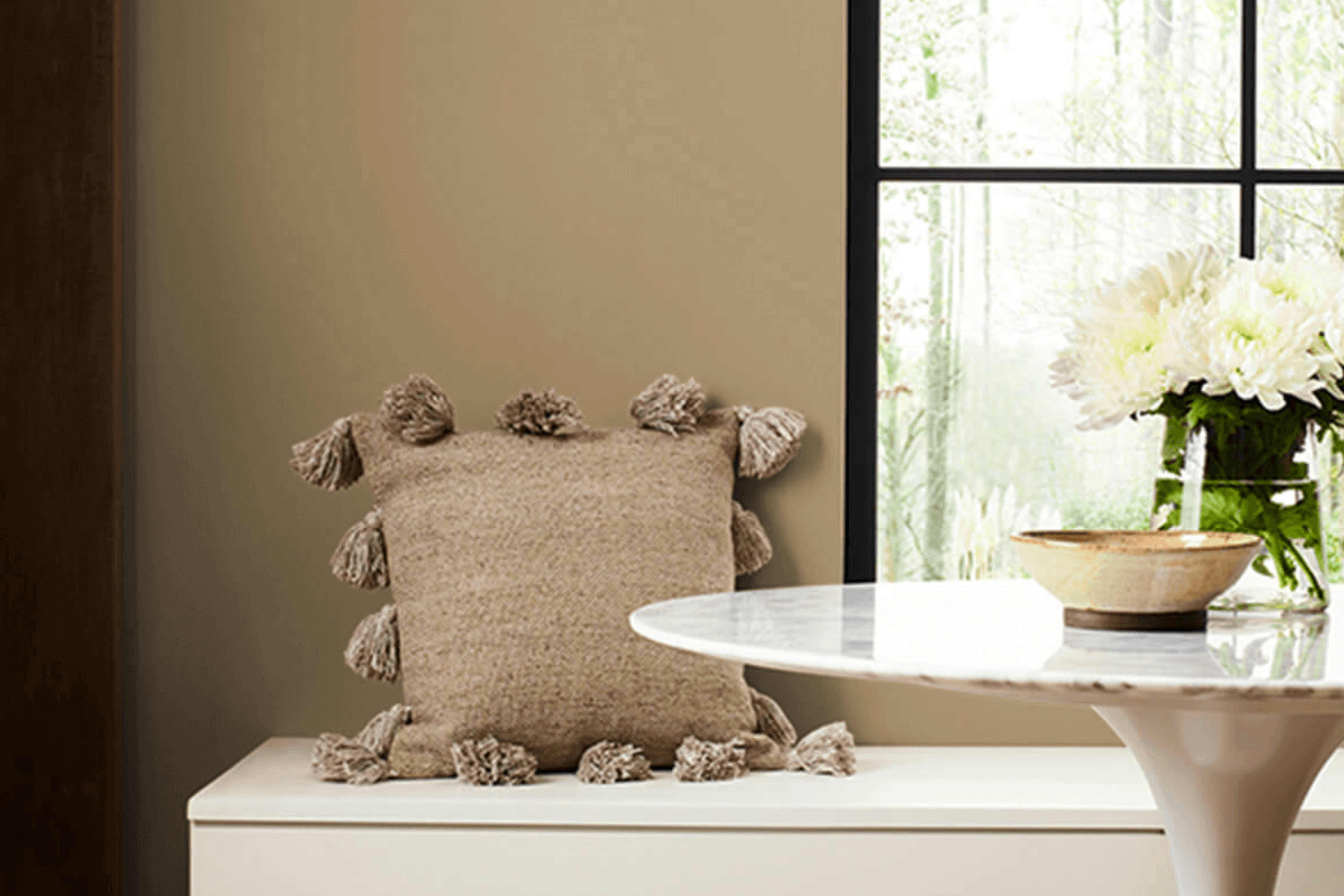 What Color Is SW 9538 Tangled Twine?
SW 9538 Tangled Twine exudes a warm, earthy aura that seamlessly brings together hints of taupe and brown. It resonates with the comforting feeling of nature and evokes images of intertwined ropes and sun-dried hay.
This hue finds a cozy fit within the rustic-style, farmhouse-style, and even some modern interior styles. Given its earthy richness, it pairs wonderfully with natural textures like wood, linen, and stone.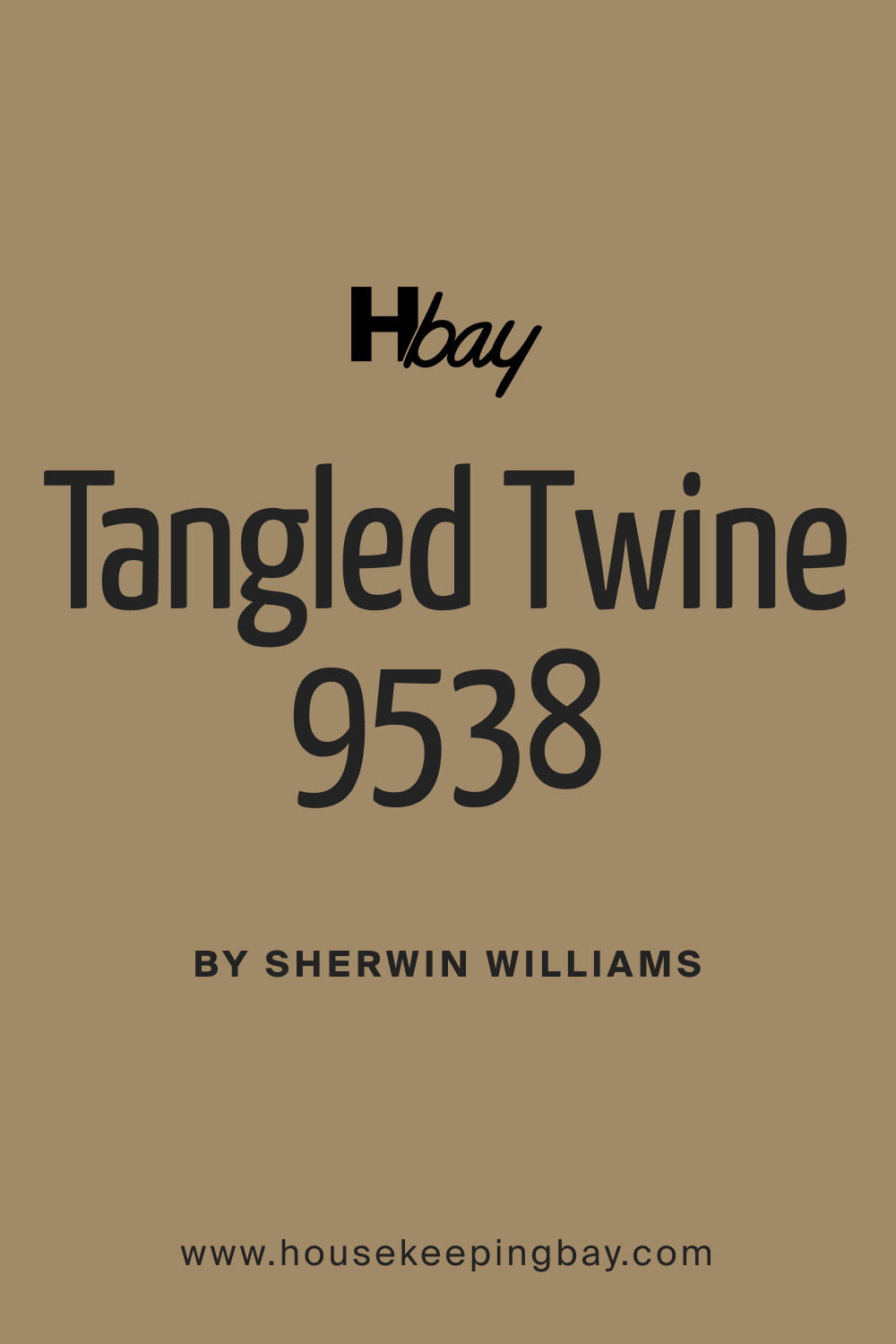 Is It a Warm Or Cool Color?
Tangled Twine leans towards the warm end of the spectrum. Its cozy undertones are reminiscent of sunsets or warm sand. Warm colors, by nature, are inviting, fostering a sense of intimacy and warmth. When used in homes, they can make large spaces feel cozier and more intimate.
Undertones of SW 9538 Tangled Twine
Undertones subtly influence how we perceive primary colors. SW Tangled Twine is graced with undertones of muted beige, giving it a comforting, grounded presence. On interior walls, these undertones play with lighting, sometimes emphasizing the brownish aspect more, depending on the lighting conditions and adjacent decor.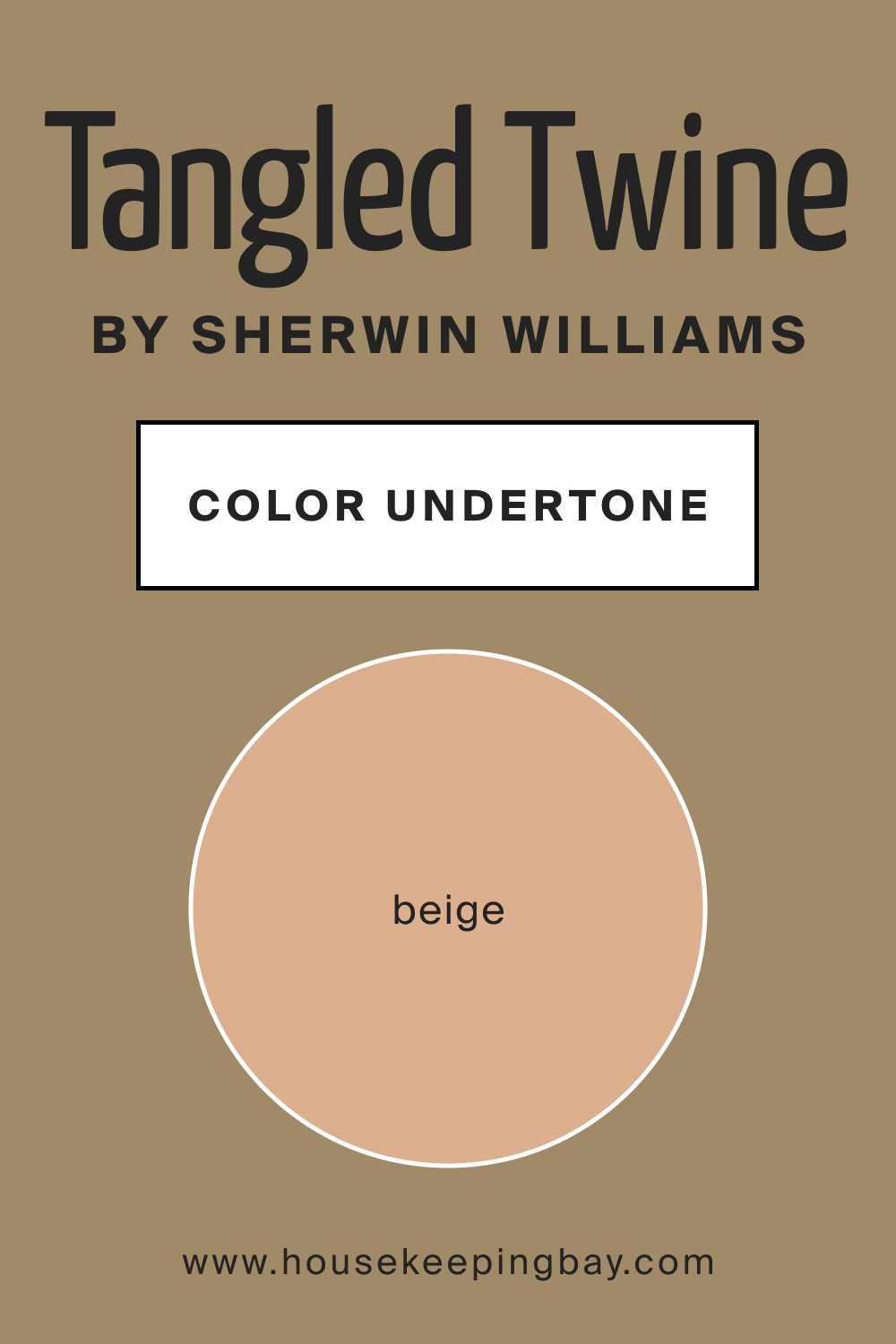 Coordinating Colors of SW 9538 Tangled Twine
Coordinating colors harmoniously align with the primary hue, enhancing its appeal. SW Tangled Twine boasts coordinating colors like muted olive, soft beige, and deep taupe. Each shade accentuates Tangled Twine's warmth and earthiness, ensuring cohesive and balanced interiors. For instance, you may want to try the following color options:
SW 0042 Ruskin Room Green
SW 2840 Hammered Silver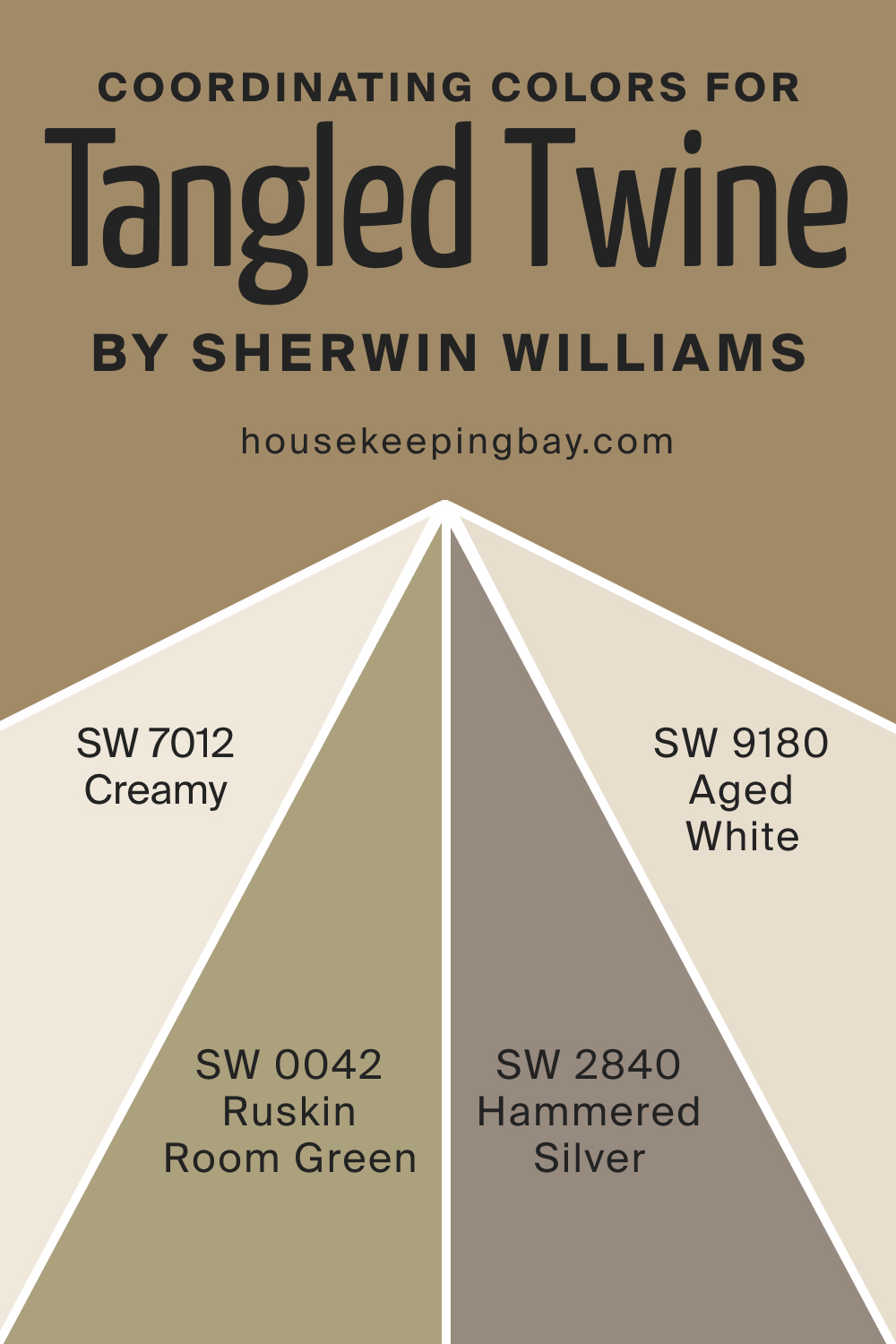 How Does Lighting Affect SW 9538 Tangled Twine?
Lighting is pivotal. In artificial light, Tangled Twine seems richer, exuding an almost velvety charm. Natural light, however, brings out its vivacity.
In north-faced rooms, it may appear slightly cooler and muted due to indirect sunlight, whereas south-faced rooms highlight its warmth. In east-facing rooms, morning sunlight complements its earthy tones, and in west-facing rooms, evening light can add a golden hue, making the color richer.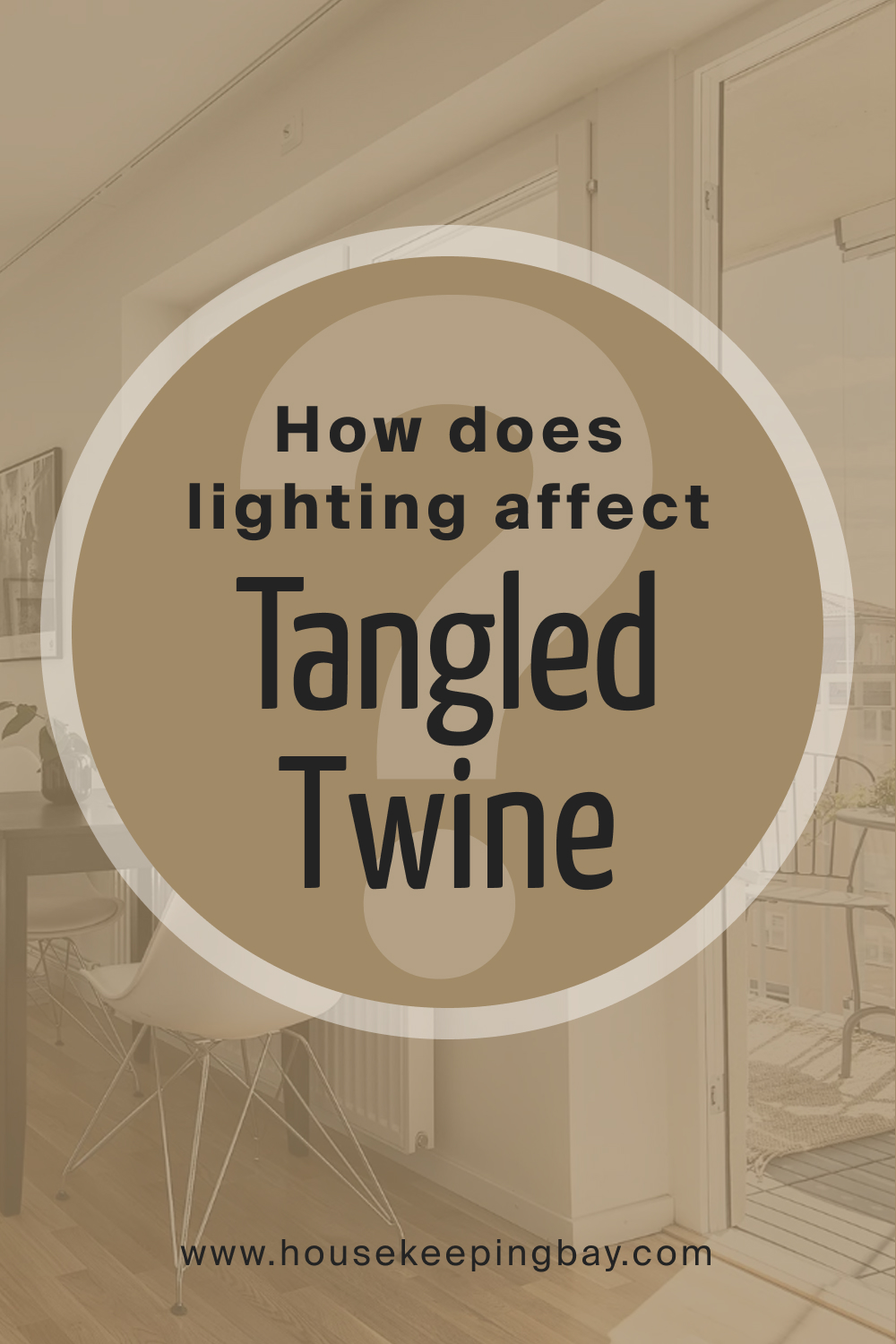 LRV of SW 9538 Tangled Twine
Light Reflectance Value (LRV) gauges how much light a color reflects. An LRV of 27 means Tangled Twine is more on the absorptive side, making spaces feel more intimate and cozy. Such colors can make vast spaces feel more contained, ensuring a snug ambiance.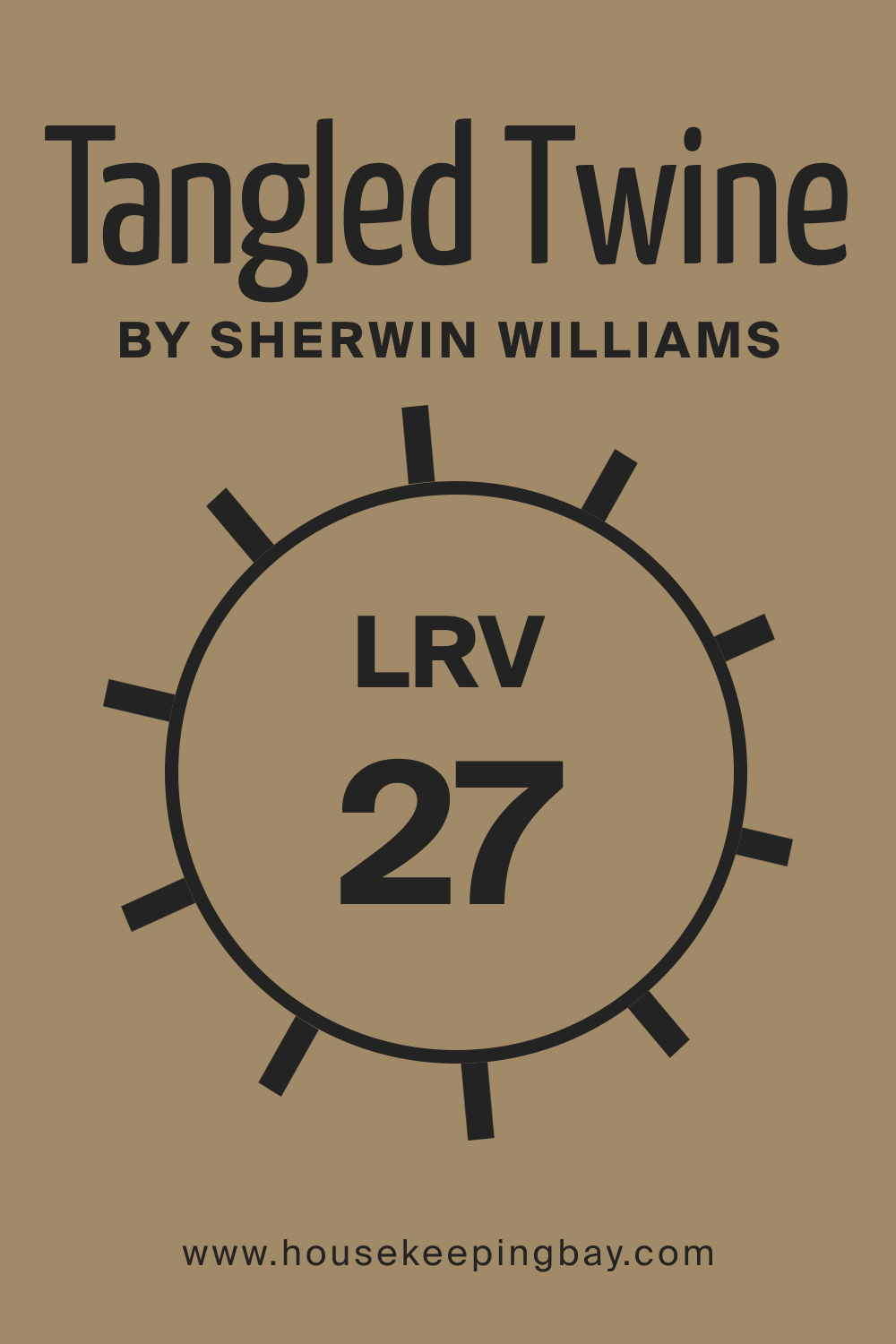 What is LRV? Read It Before You Choose Your Ideal Paint Color
Trim Colors of SW 9538 Tangled Twine
Trim colors accentuate wall colors, giving depth to spaces. For SW Tangled Twine, consider crisp shades like these:
SW 9154 White Snow to bring a fresh contrast
SW 7014 Eider White offers a softer, muted contrast.
Pairing these trims with SW Tangled Twine allows it to pop while maintaining a harmonious palette.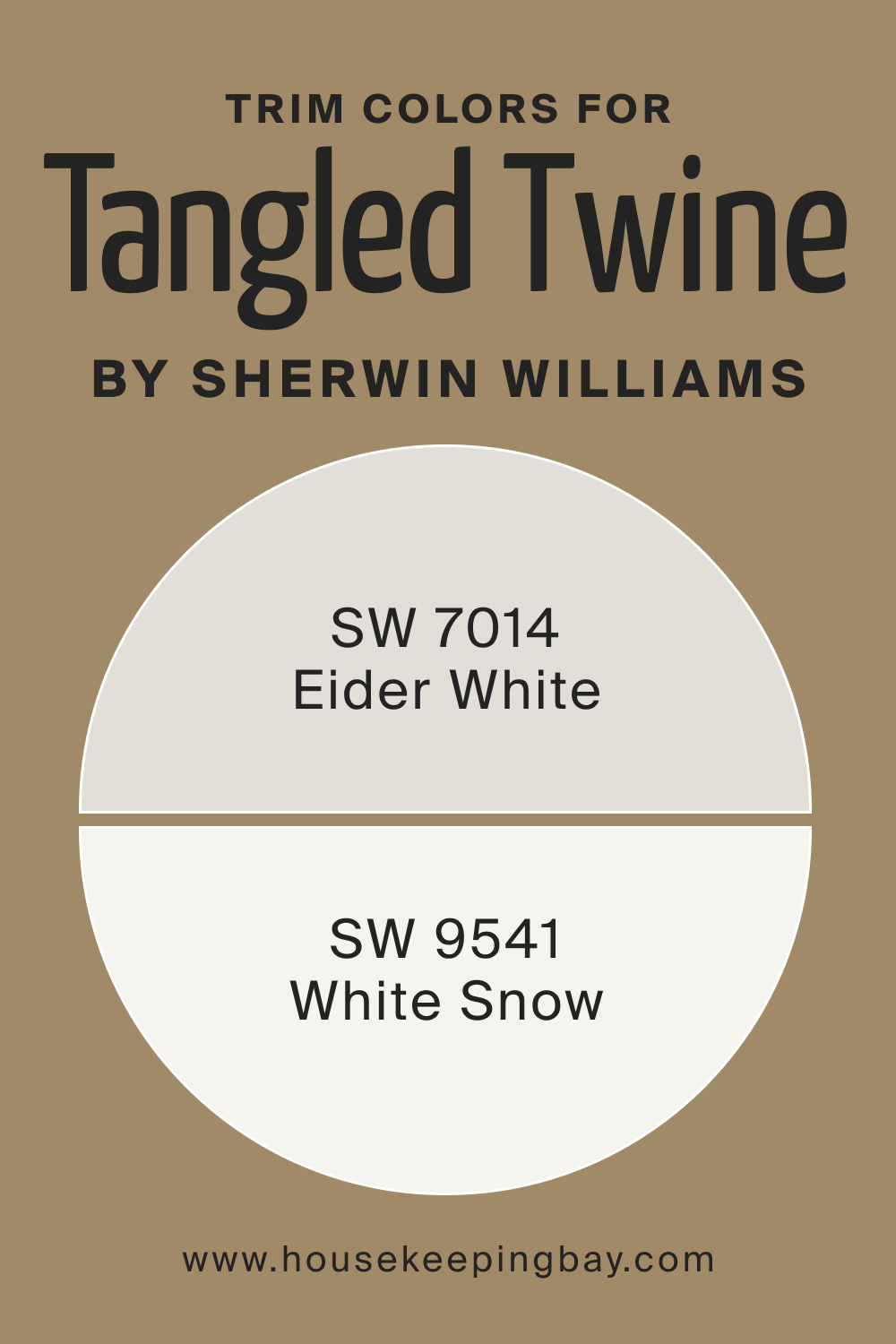 Colors Similar to SW 9538 Tangled Twine
Recognizing similar colors is essential for comparisons and choices. Here are several color alternatives that can be used instead of SW Tangled Twine:
SW 9113 Mudslide is like wet clay
SW 9533 Rattan Palm has a hint of a greenish undertone
SW 9123 Barro Verde is like aged pottery
Each color is subtly different yet reminiscent of SW Tangled Twine's essence.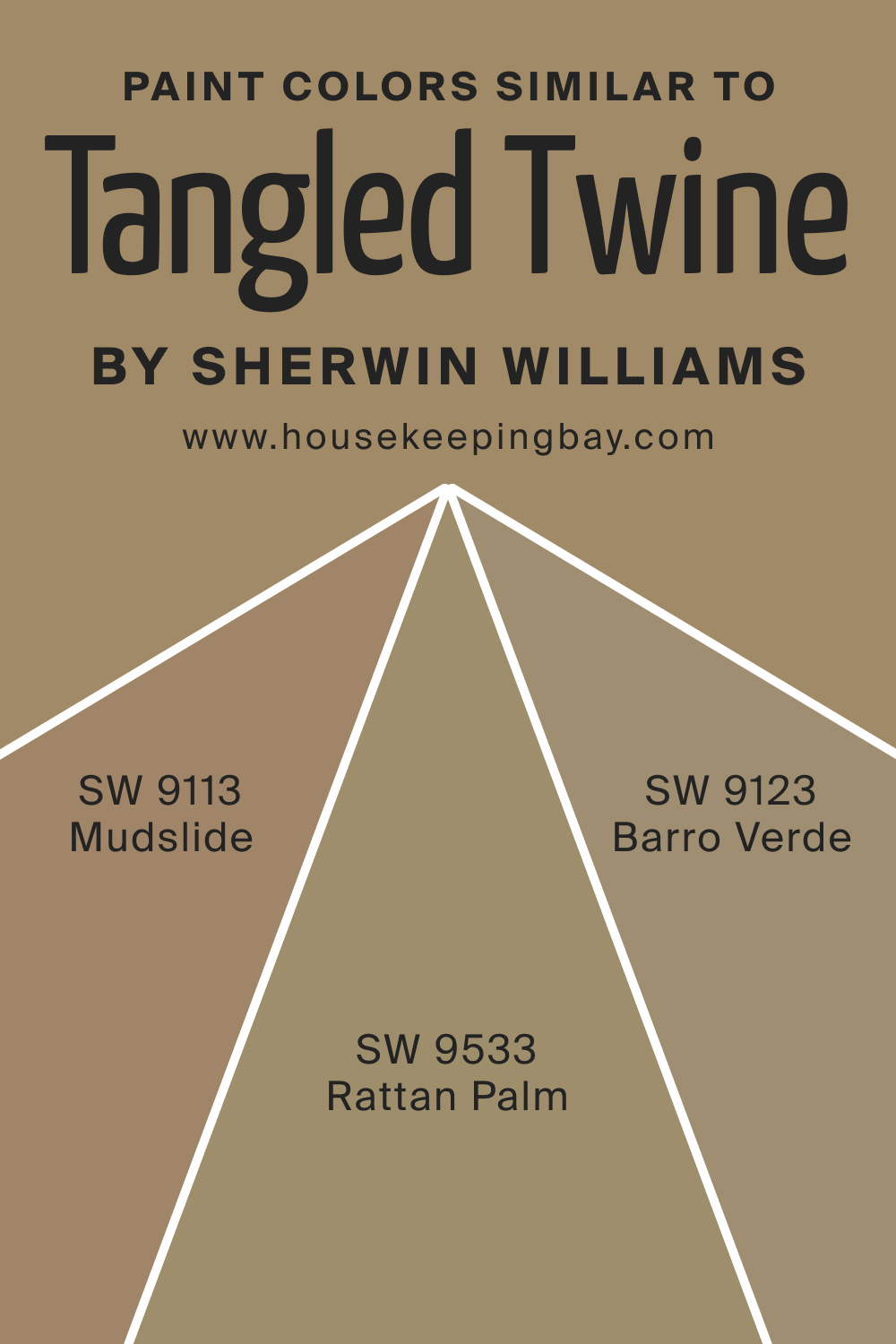 Colors That Go With SW 9538 Tangled Twine
Harmonizing colors elevate aesthetics. With SW Tangled Twine, we recommend you pair the following shades:
SW 9577 Soft Suede
SW 6095 Toasty
SW 6188 Shade-Grown
SW 9126 Honed Soapstone
All of them work wonders. Integrating colors like SW 9120 Chestnut Bark, SW 9543 Caramelized, and SW 9549 Relaxed Khaki further expands its versatility, each bringing its unique narrative to the mix.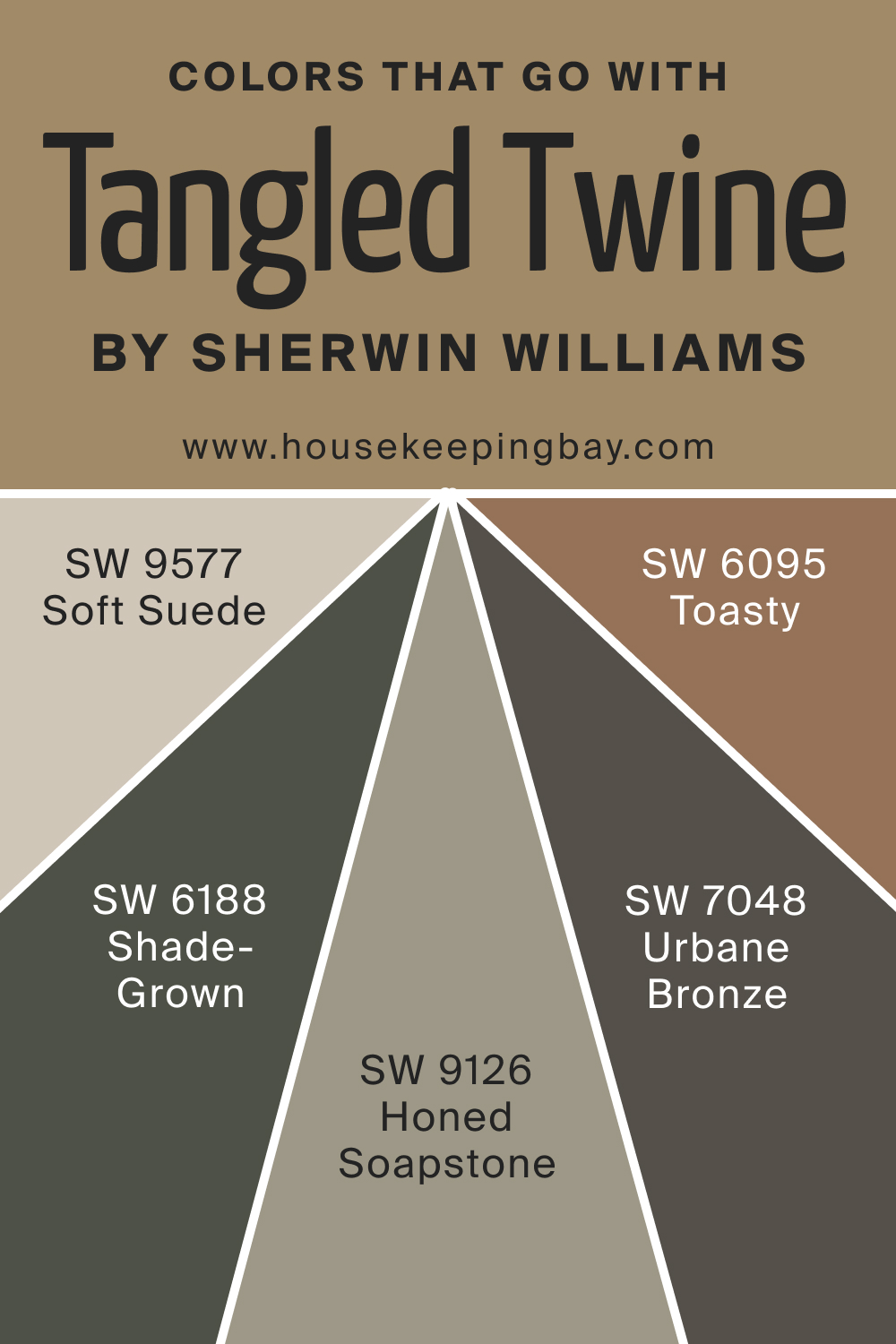 How to Use SW 9538 Tangled Twine In Your Home?
SW 9538 Tangled Twine's earthy tones make it versatile for various rooms and styles. This hue suits living areas, bedrooms, and even exteriors. Given its warmth, it's ideal for creating cozy spaces in larger rooms. Its neutral base ensures compatibility with styles ranging from rustic and farmhouse to modern minimalist.
Pair it with wooden furniture for a nature-inspired look or sleek metals for a contemporary touch.
How to Use SW 9538 Tangled Twine in the Bedroom?
In the bedroom, Tangled Twine can evoke a serene, calming atmosphere. Its subtle warmth can be the perfect backdrop for wooden bedframes, beige linens, or even vibrant accents like teal or coral pillows. Opt for soft lighting to heighten its coziness, ensuring a tranquil retreat for relaxation.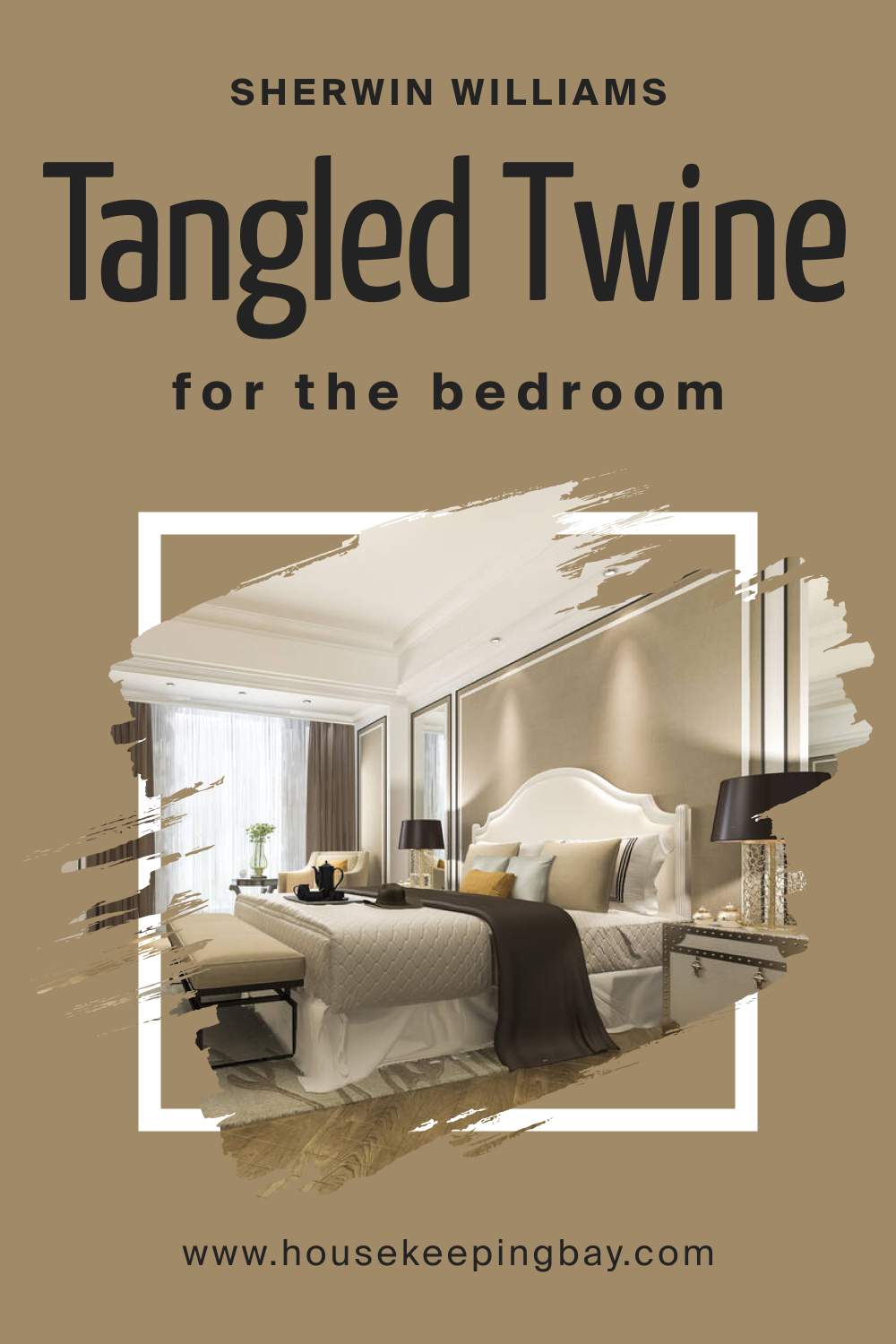 How to Use SW 9538 Tangled Twine in the Bathroom?
In bathrooms, Tangled Twine introduces an organic touch. Pair it with natural stone tiles or light wooden finishes for a spa-like ambiance. Chrome fixtures or brass accents can break the monotony, making the space feel more luxurious and modern.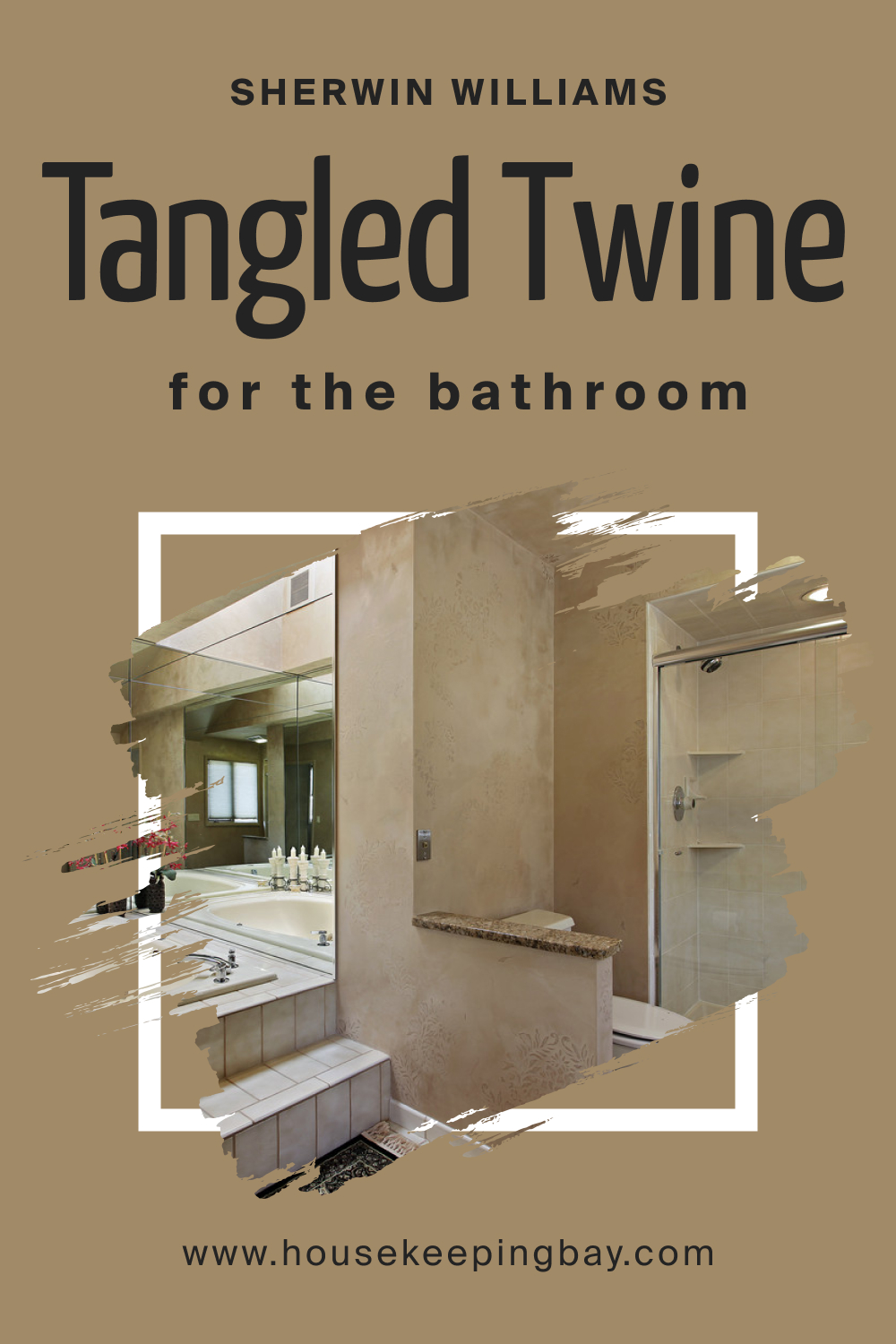 How to Use SW 9538 Tangled Twine in the Living Room?
For the living room, Tangled Twine offers a neutral canvas. It seamlessly harmonizes with wood coffee tables, beige sofas, and green indoor plants. Consider contrasting it with brighter accent colors on cushions or artwork, crafting a dynamic yet grounded space perfect for gatherings.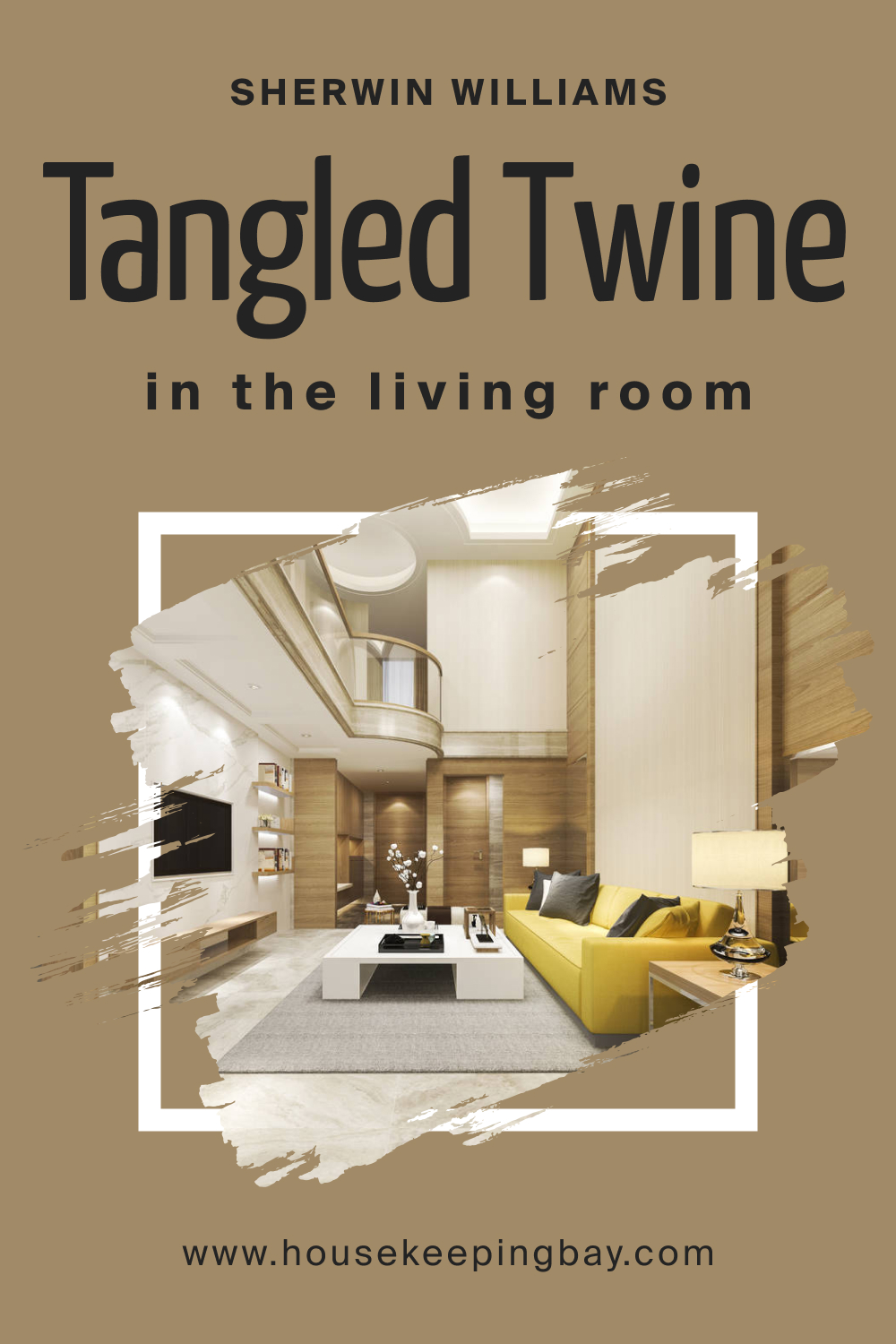 How to Use SW 9538 Tangled Twine for an Exterior?
SW Tangled Twine's robustness makes it suitable for exteriors. It reflects a home rooted in nature. White trims or dark-toned doors can add contrast. Incorporate green landscaping or terracotta pots, letting the hue blend effortlessly with its surroundings, presenting a timeless facade.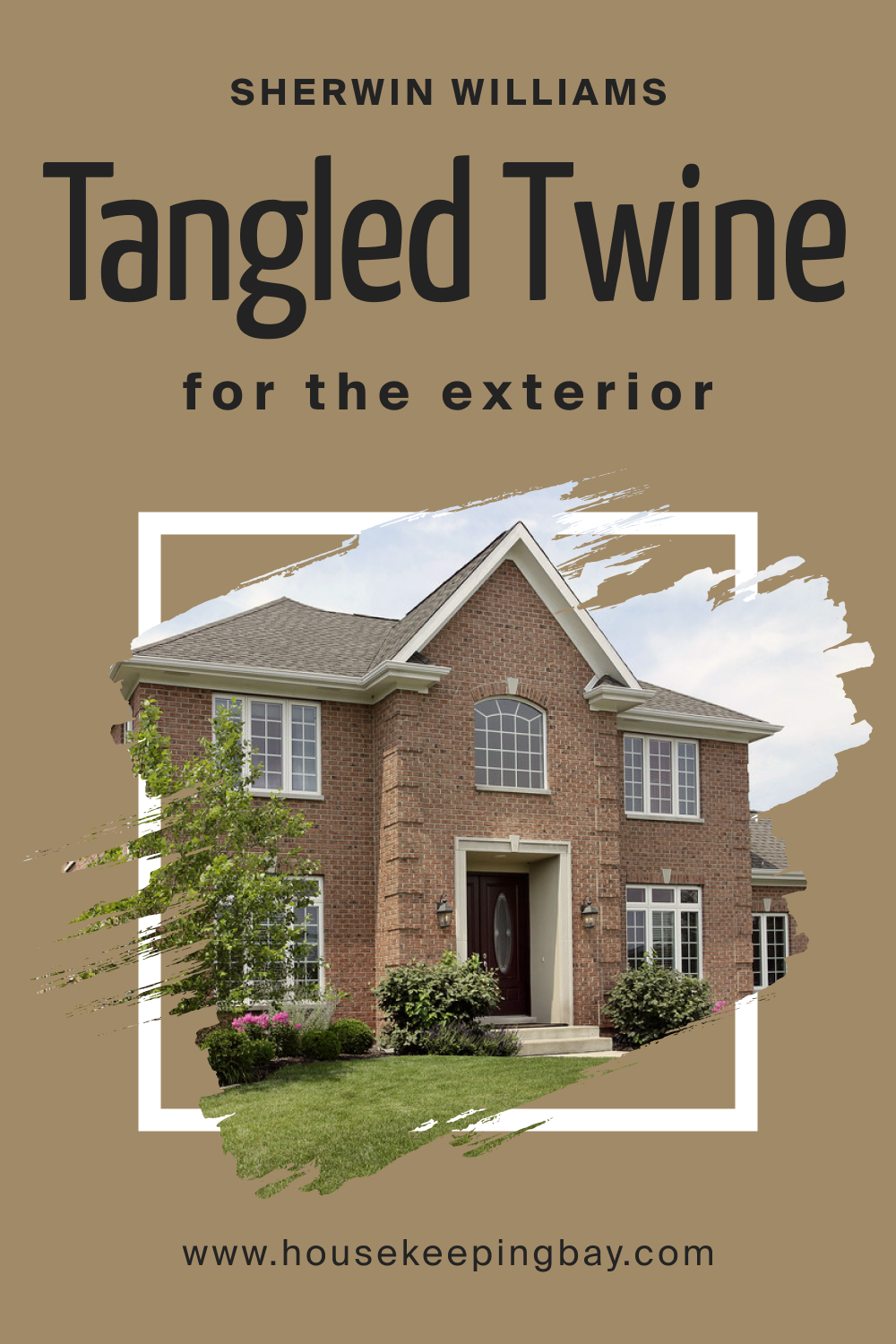 How to Use SW 9538 Tangled Twine in the Kitchen?
In kitchens, Tangled Twine feels right at home. It provides a warm background against which white countertops or stainless steel appliances can pop. The color can make a kitchen feel more inviting, especially when paired with open wooden shelves laden with spice jars or ceramic dishes.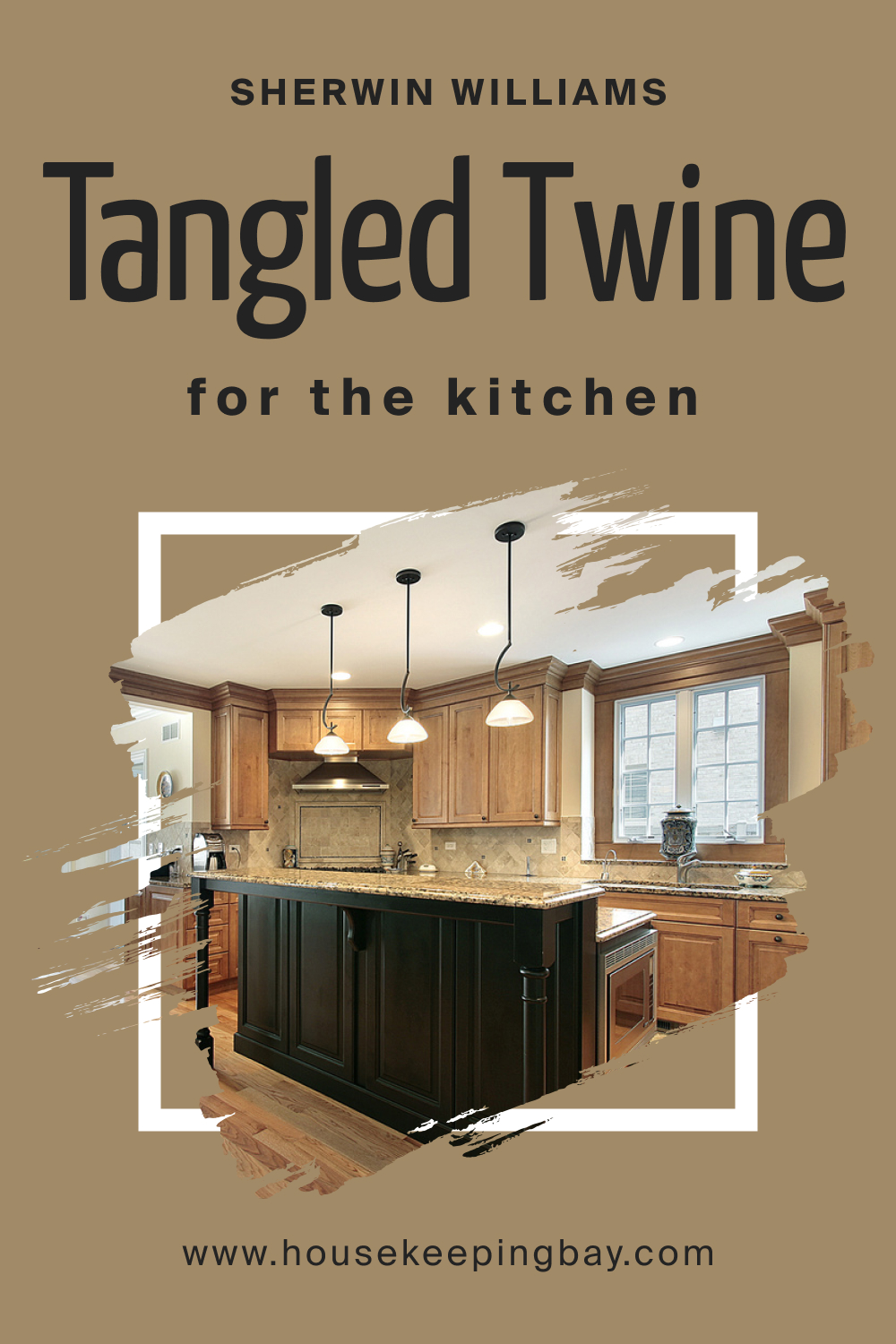 How to Use SW 9538 Tangled Twine for the Kitchen Cabinets?
For kitchen cabinets, Tangled Twine delivers a rich base. This modern alternative to standard whites or grays can be offset with brass or chrome handles. The result is cabinetry that exudes warmth yet remains functional, creating a heartwarming ambiance in the most communal room of a home.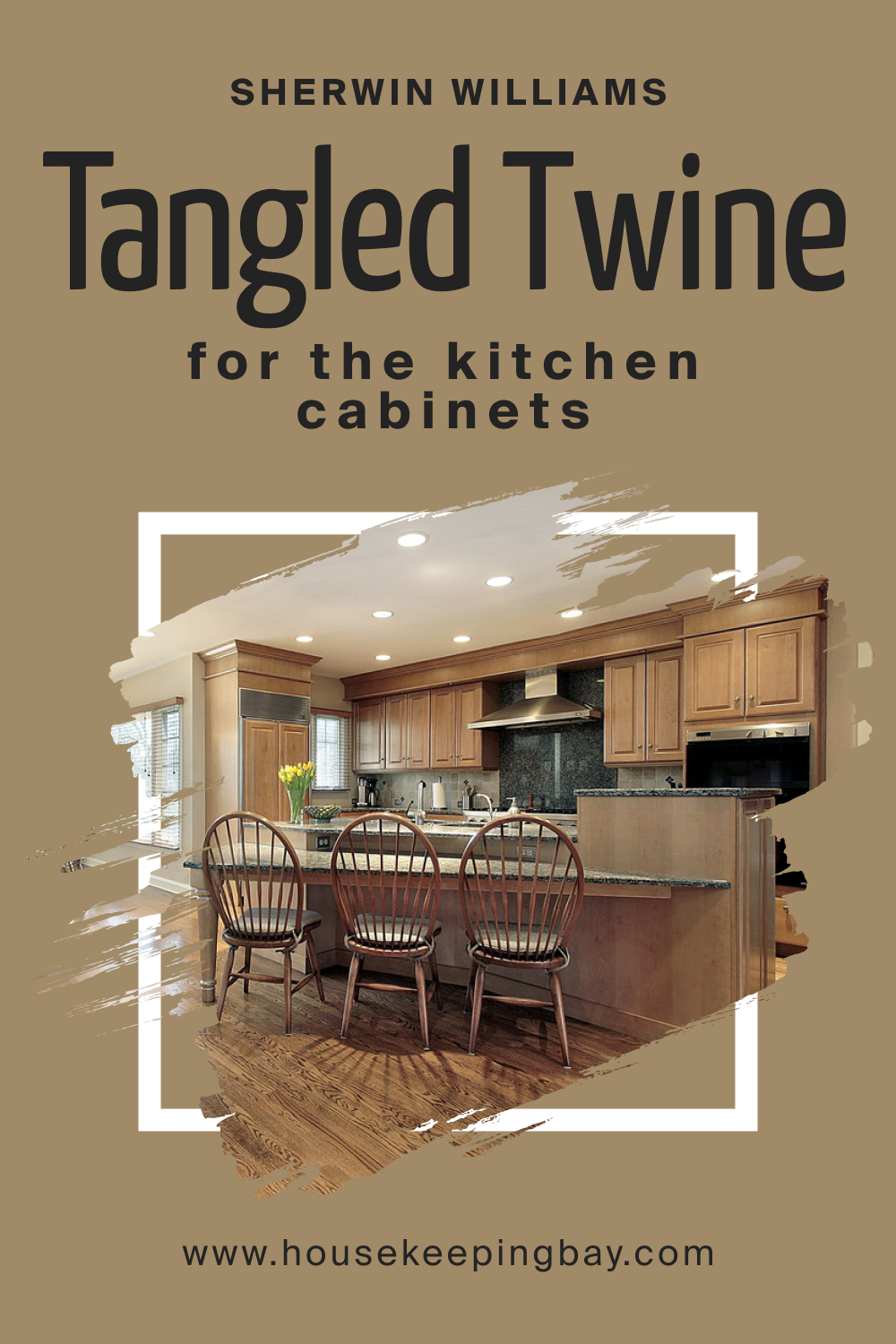 Comparing SW 9538 Tangled Twine With Other Colors
Comparing different colors is pivotal in interior design and architecture. It allows individuals to discern undertones, understand depth, and visualize the mood they wish to achieve.
Comparative analysis can also help in making informed decisions, ensuring that selected hues harmoniously coexist in a given space. Moreover, subtle nuances between similar colors can drastically affect the overall ambiance.
SW 9538 Tangled Twine vs. SW 9534 River Reed
While both hues resonate with natural elements, SW River Reed leans more towards a greenish undertone. Tangled Twine, with its taupe-brown warmth, is like sun-dried earth, whereas River Reed evokes images of green marshes. Their natural essence ensures compatibility, but their moods diverge one grounding and one invigorating.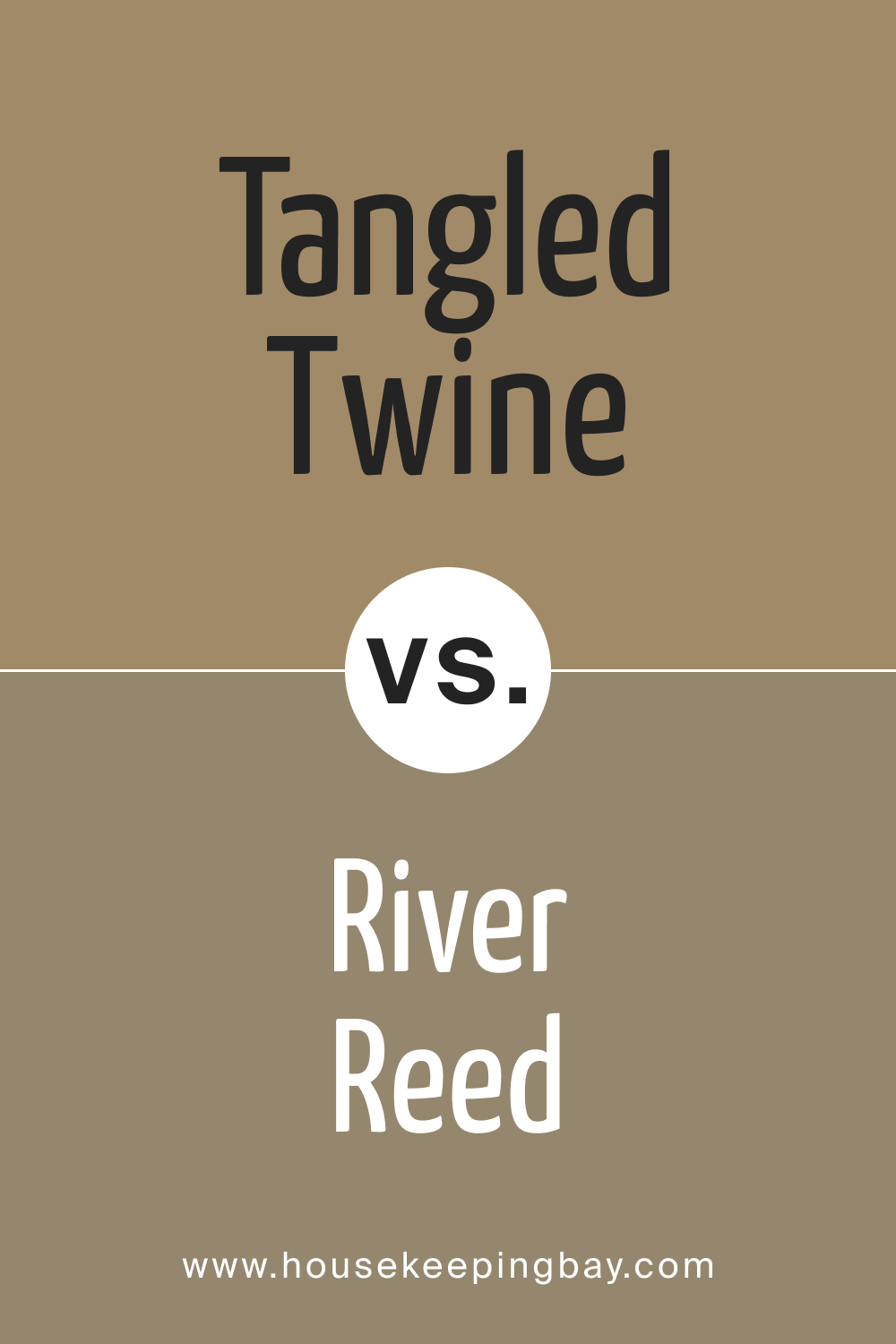 SW 9538 Tangled Twine vs. SW 9539 Shaker Peg
SW Shaker Peg is lighter, reminiscent of faded wood, offering a vintage appeal. In contrast, Tangled Twine, with its rich depth, anchors spaces. While Shaker Peg brightens areas with its subdued nature, Tangled Twine envelops them in coziness.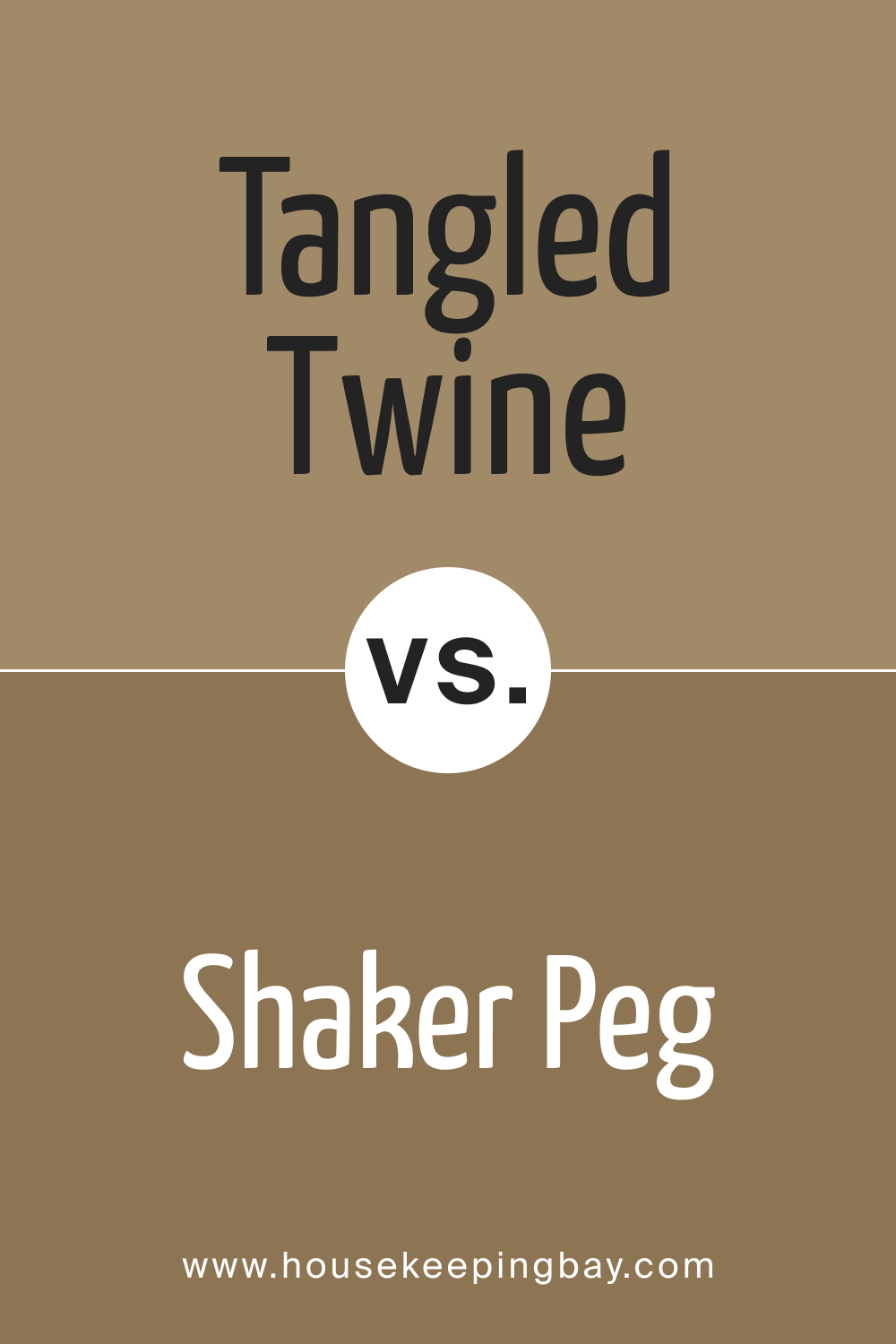 SW 9538 Tangled Twine vs. SW 9540 Timber Beam
SW Timber Beam, as the name suggests, captures the essence of fresh-cut timber. It's deeper and woodier compared to Tangled Twine's earthiness. While both bring warmth, Timber Beam has a more rustic feel, making it apt for log cabins or wooden accents.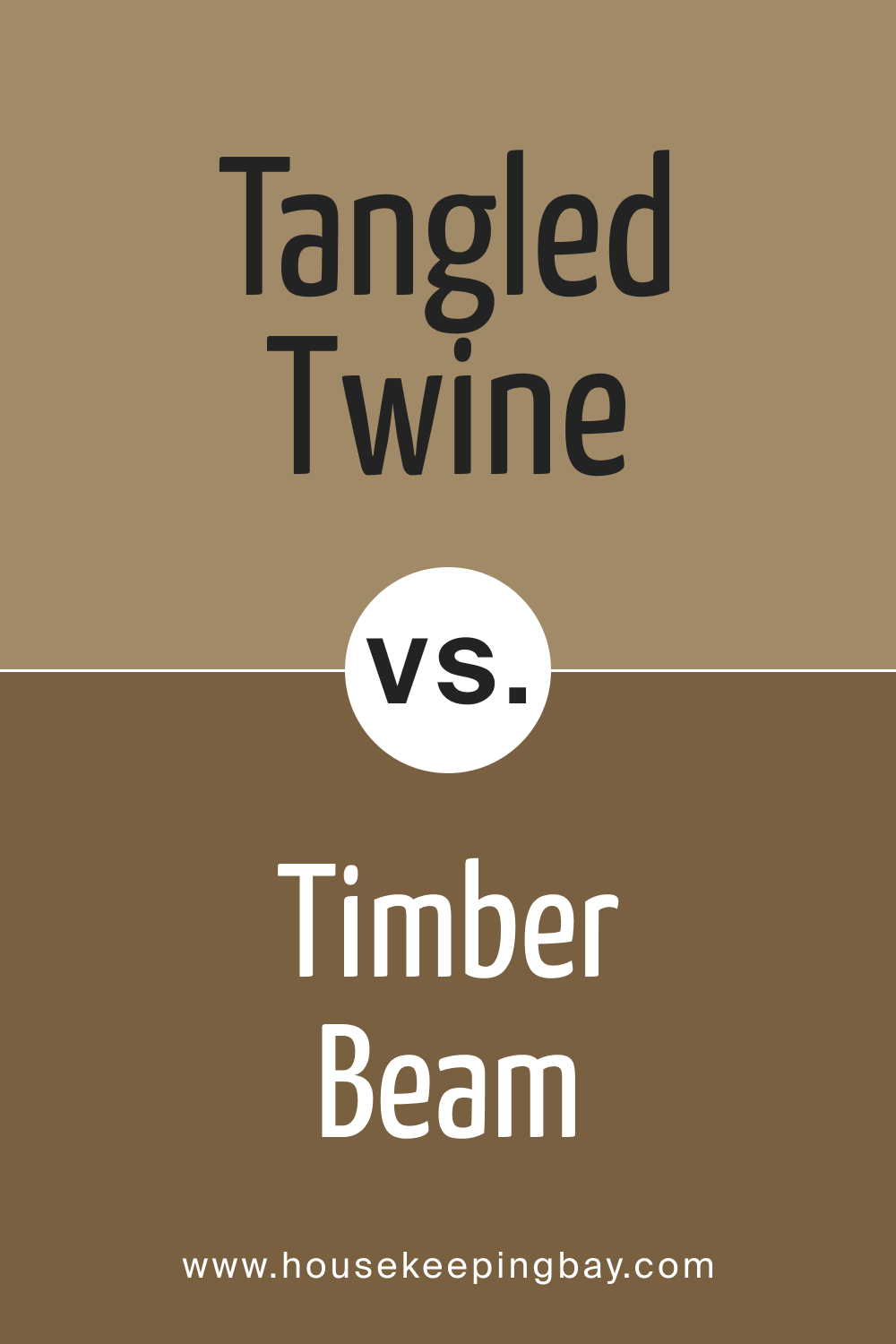 SW 9538 Tangled Twine vs. SW 9537 Sugared Almond
SW Sugared Almond portrays a sweeter, almost pastel hue. Compared to Tangled Twine's mature warmth, Sugared Almond brings a youthful exuberance to spaces. It's softer and more playful, perfect for rooms needing a touch of delicacy.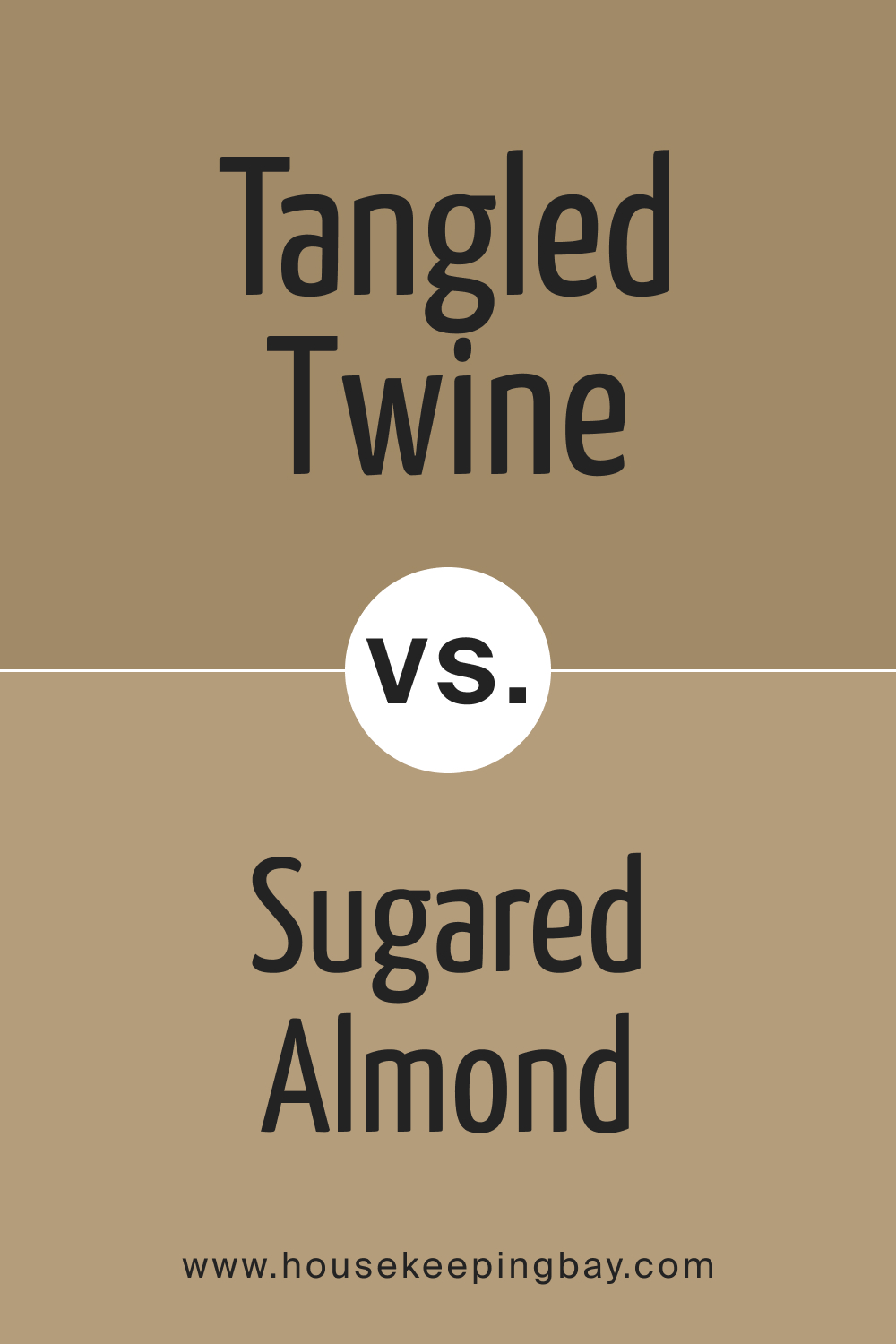 SW 9538 Tangled Twine vs. SW 9536 Lamb's Wool
SW Lamb's Wool, with its pale yellow undertones, is like a sunlit afternoon. Tangled Twine, however, is deeper and more introspective. Where Lamb's Wool brightens and energizes, Tangled Twine comforts and grounds.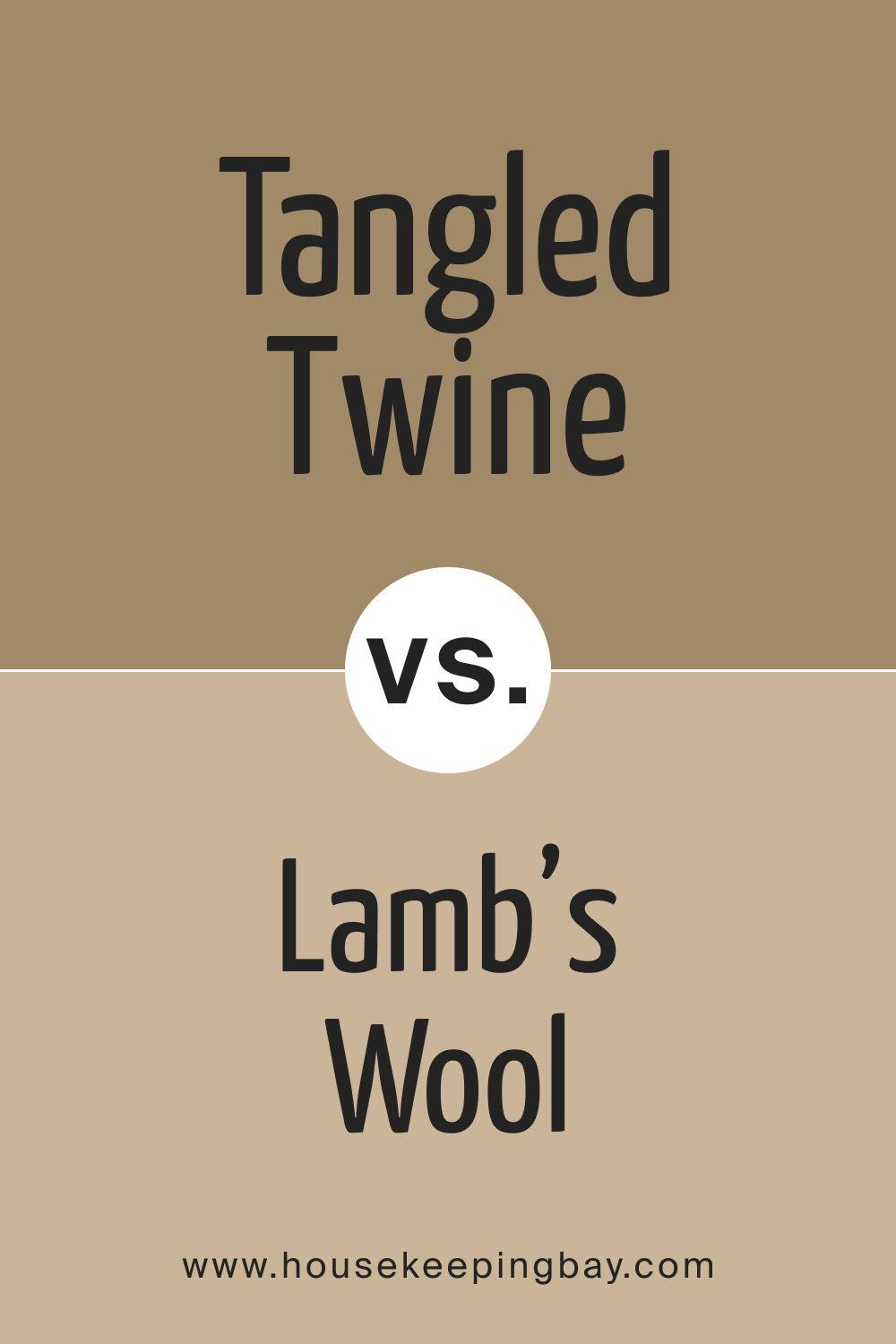 SW 9538 Tangled Twine vs. SW 6156 Ramie
SW Ramie provides a beige backdrop, subtle and versatile. It's lighter than Tangled Twine, leaning towards classic neutrals. While both can be foundational in design, Ramie offers more adaptability, fitting a broader range of accents.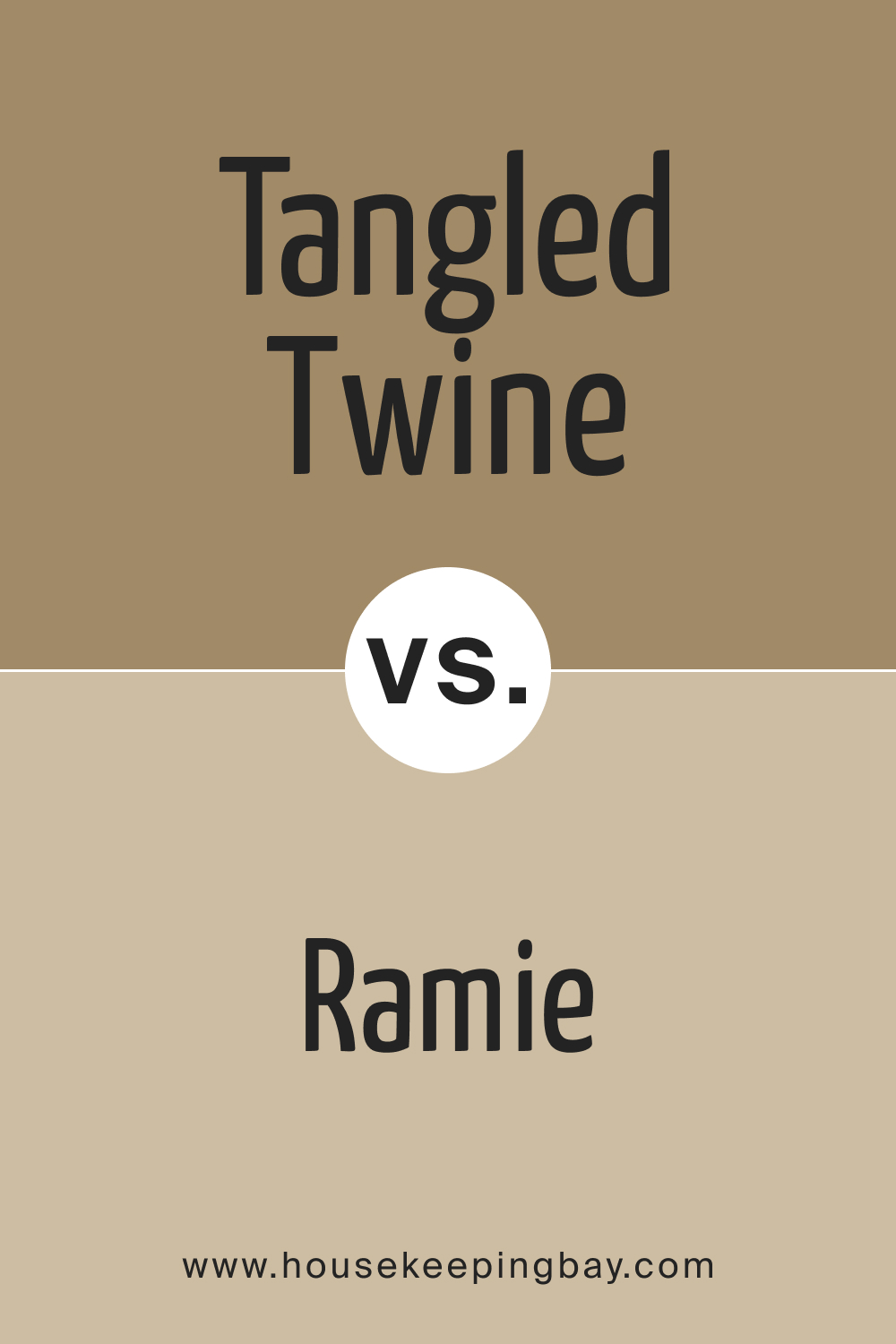 Conclusion
While SW 9538 Tangled Twine is a profound and grounding hue, its interaction and comparison with other colors further underline its uniqueness. It's these very comparisons that enable designers to craft interiors that not only speak but also resonate with emotions.
Each color, with its narrative, either complements or contrasts, paving the way for endless design possibilities.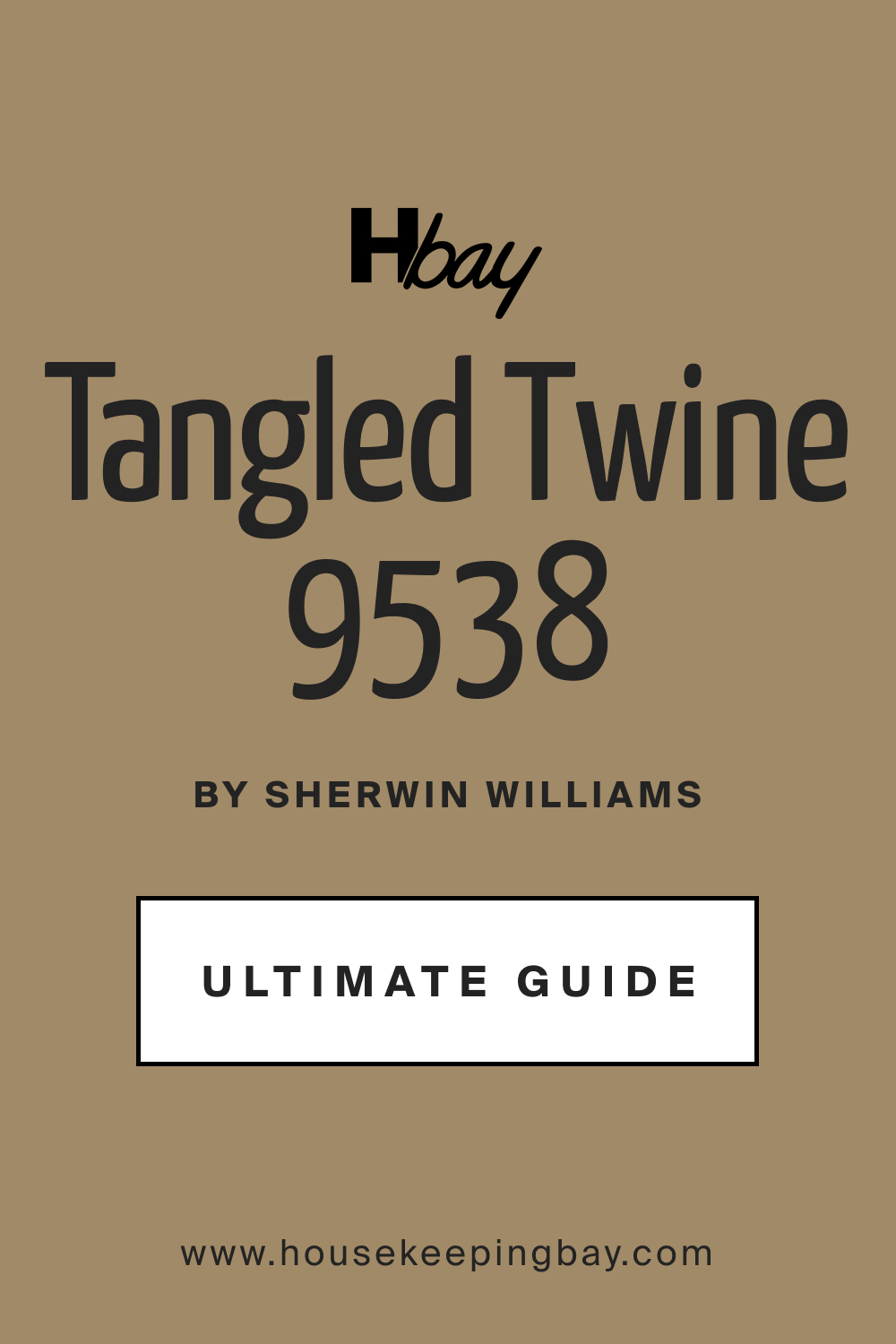 Frequently Asked Questions
⭐What type of finish would work best for SW 9538 Tangled Twine?
A matte or eggshell finish works beautifully with Tangled Twine, emphasizing its warm undertones and giving walls a sophisticated look. For areas with more traffic or potential for marks, like kitchens, a satin or semi-gloss finish could be more appropriate.
⭐Does SW 9538 Tangled Twine lean more towards brown or gray?
Tangled Twine has earthy undertones, making it lean more towards a taupe-brown. It captures the essence of sun-dried earth, giving spaces a grounded and warm feel.
⭐How does SW 9538 Tangled Twine look in low-light areas?
Given its warm undertones, Tangled Twine can provide a cozy, enveloping feel in low-light areas, making spaces feel intimate and snug.
⭐Can I use SW 9538 Tangled Twine for exteriors?
Absolutely! Tangled Twine's robustness and natural hue make it suitable for exteriors, especially when looking to create a timeless, nature-inspired facade.
⭐Which trim colors pair best with SW 9538 Tangled Twine?
Lighter shades like SW 9154 White Snow or SW 7014 Eider White offer a beautiful contrast and make the Tangled Twine pop, creating a balanced and cohesive look.