The nuances and subtleties of colors have a profound influence on our homes, eliciting various feelings, perceptions, and moods. Among the countless shades available, SW 2855 Sycamore Tan stands out for its depth and versatility. This article offers an in-depth exploration of Sycamore Tan, allowing homeowners to appreciate its attributes and potential applications fully.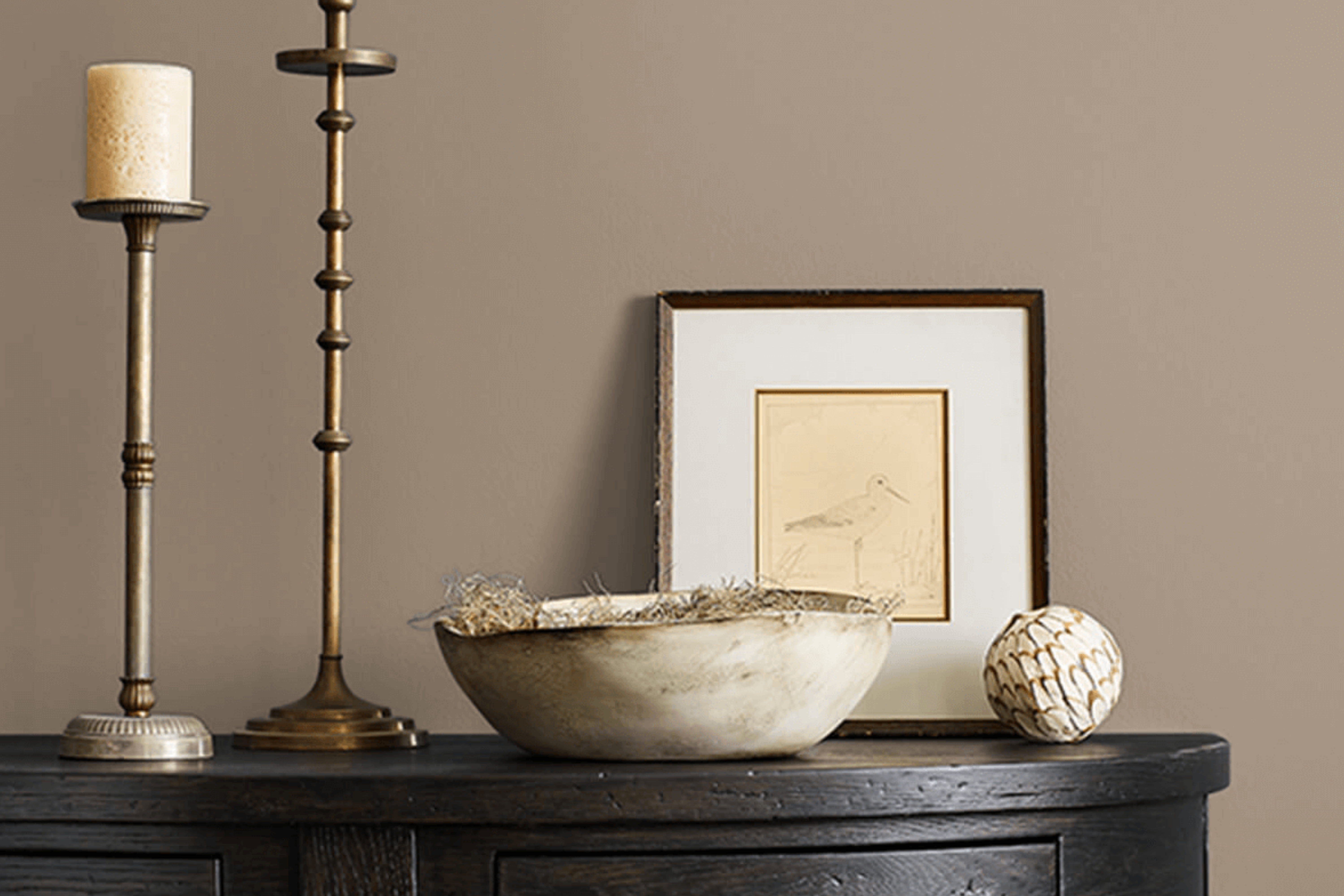 What Color Is SW 2855 Sycamore Tan?
SW 2855 Sycamore Tan is a rich, earthy shade reminiscent of sun-dried clay and autumn leaves. It emanates a timeless appeal and a sense of groundedness. The color complements rustic and traditional interior styles with its natural feel.
Sycamore Tan pairs harmoniously with materials such as raw wood, terracotta, and woven textiles, inviting an essence of nature into any living space.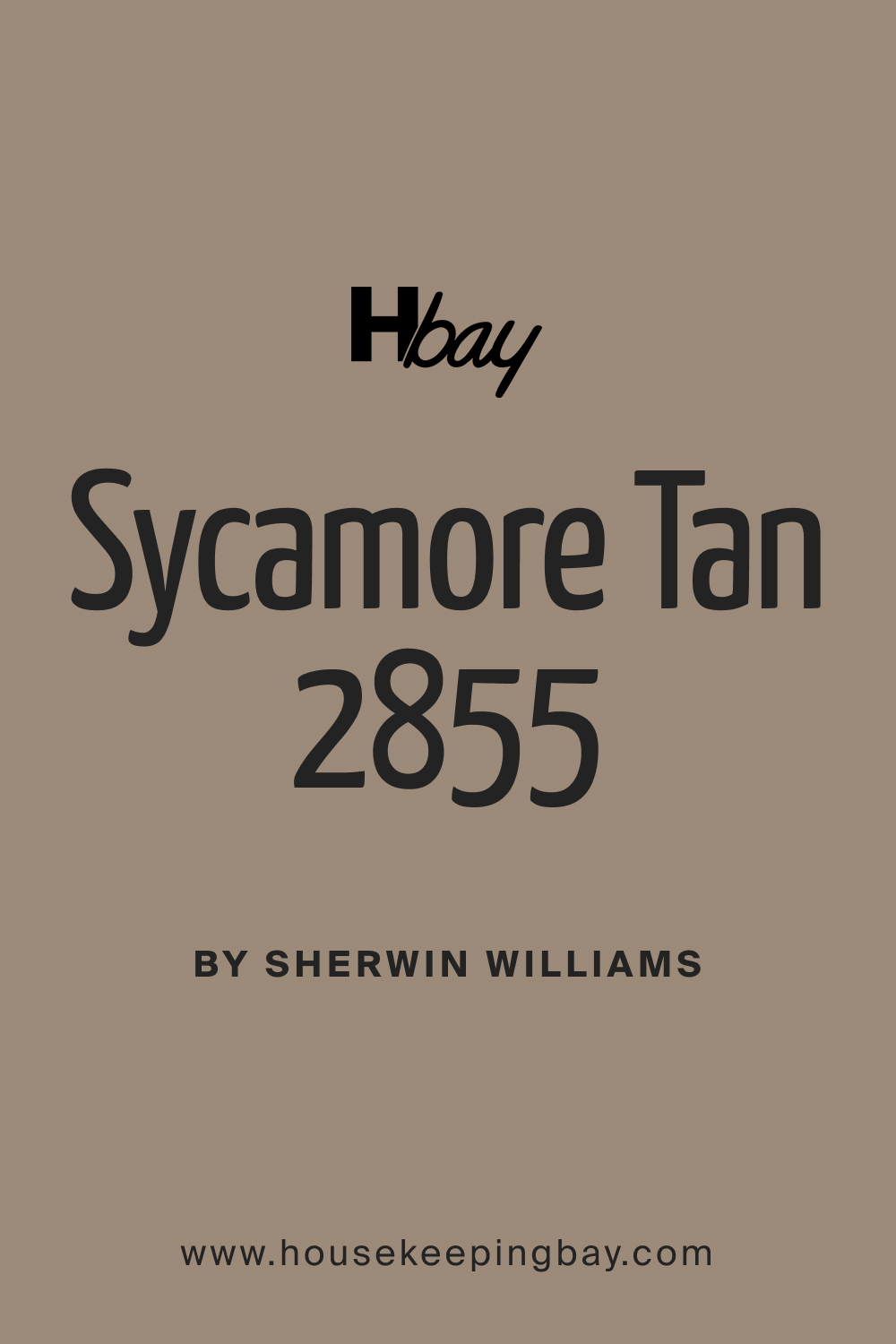 toc]
Is It a Warm Or Cool Color?
SW Sycamore Tan leans toward the warm spectrum. Warm colors, by nature, evoke feelings of comfort, warmth, and coziness. This inherent warmth makes Sycamore Tan an excellent choice for homes looking to cultivate an inviting and cozy atmosphere.
Undertones of SW 2855 Sycamore Tan
Every color has undertones, the subtle colors that underlie the primary shade. Sycamore Tan has gentle undertones of reddish-brown, adding depth and richness to its primary hue. On interior walls, these undertones become more pronounced, making the color appear vibrant and alive, especially when juxtaposed with contrasting colors.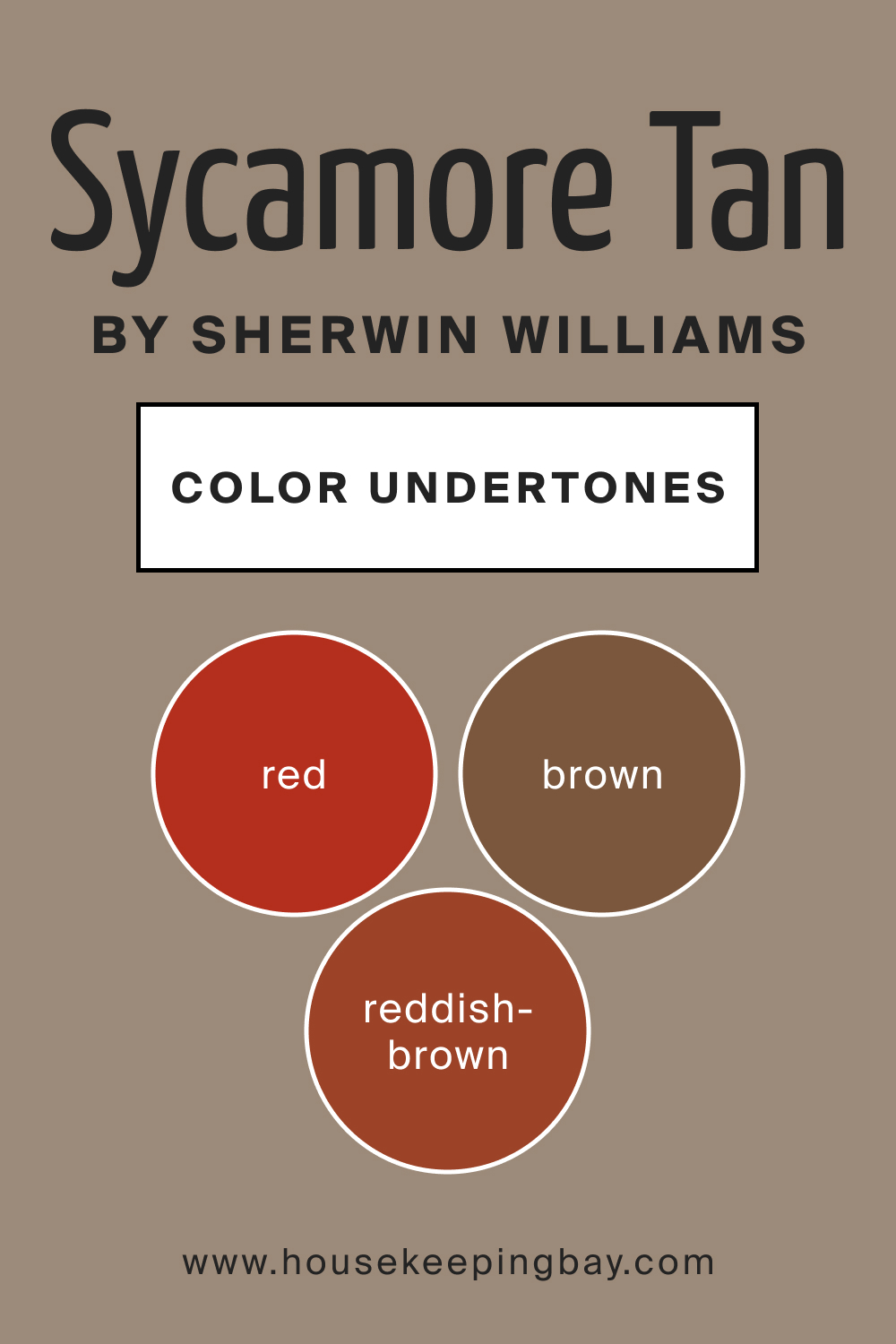 Coordinating Colors of SW 2855 Sycamore Tan
Coordinating colors provide harmony and balance to a primary shade. For Sycamore Tan, SW 7555 Patience offers a muted beige background, while SW 7710 Brandywine brings a deep, reddish accent. Additionally, consider SW 7649 Silverplate, SW 7652 Mineral Deposit, and SW 7701 Cavern Clay for their subtle charm. These shades ensure a cohesive and harmonized aesthetic in any living space.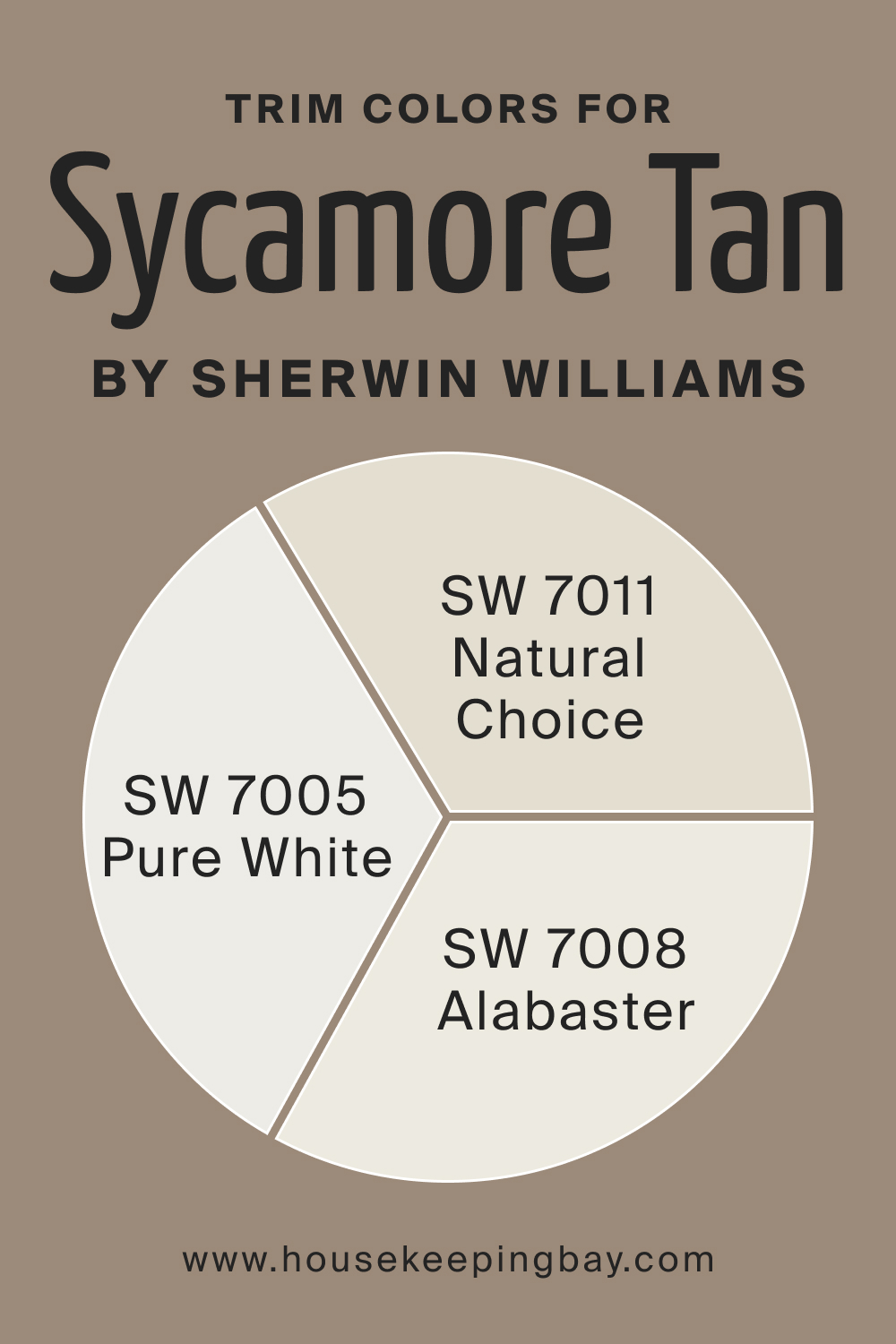 How Does Lighting Affect SW 2855 Sycamore Tan?
Lighting plays a pivotal role in color perception. In natural light, Sycamore Tan radiates a vibrant, earthy glow. Under artificial light, it takes on a more subdued, muted hue. In north-facing rooms, which typically receive cooler light, Sycamore Tan may seem slightly more muted.
Conversely, in south-facing rooms that enjoy warmer light, it appears more radiant. East and west-facing rooms, receiving both morning and evening light, will see Sycamore Tan shift throughout the day from cooler to warmer tones, respectively.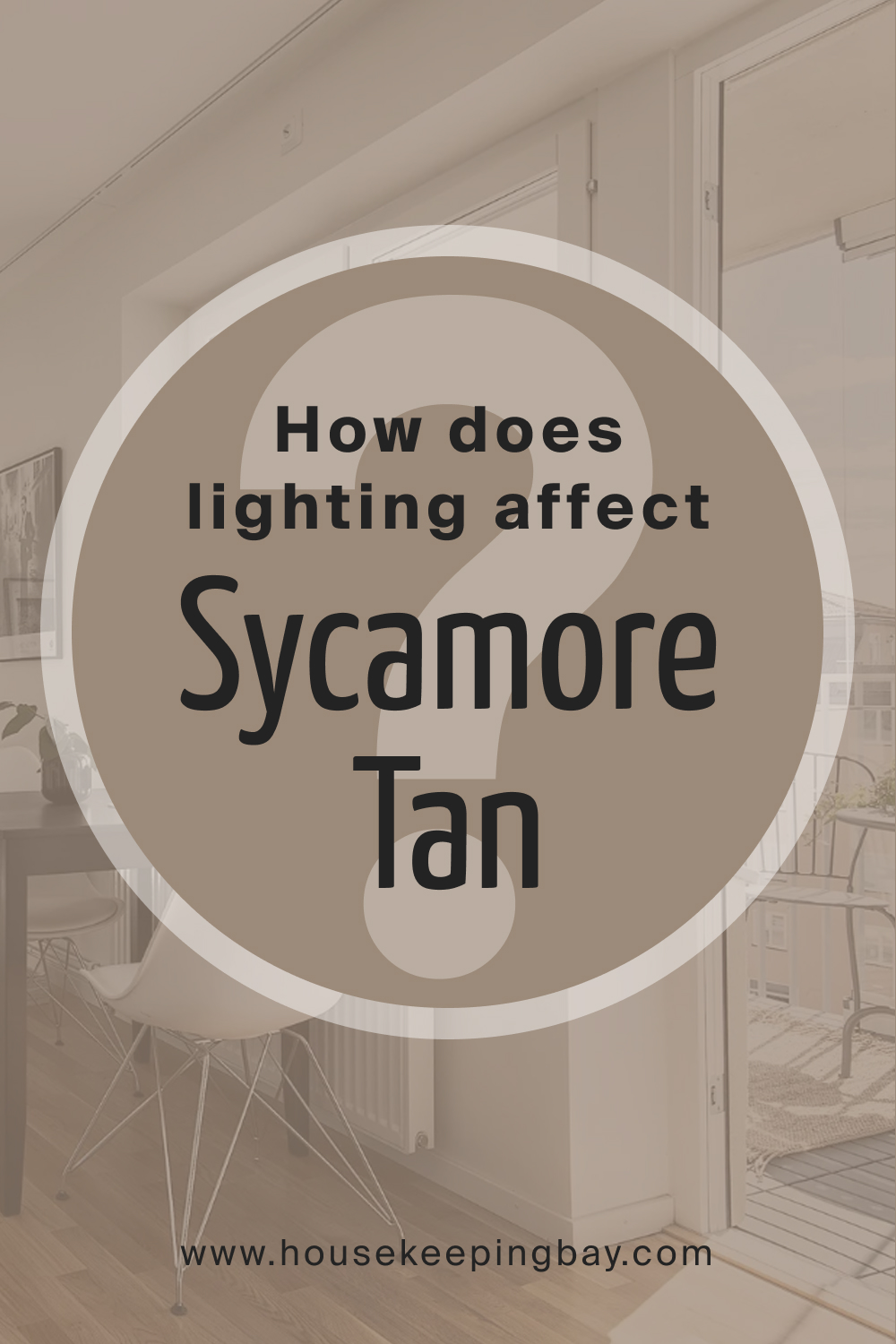 LRV of SW 2855 Sycamore Tan
Light Reflectance Value (LRV) gauges how much light a color reflects. An LRV of 27, as seen in Sycamore Tan, means it's a moderately dark hue. Darker colors can make rooms seem cozier and more intimate, but they may also feel more confined. Given Sycamore Tan's LRV, it's best suited for larger spaces or rooms with ample natural light.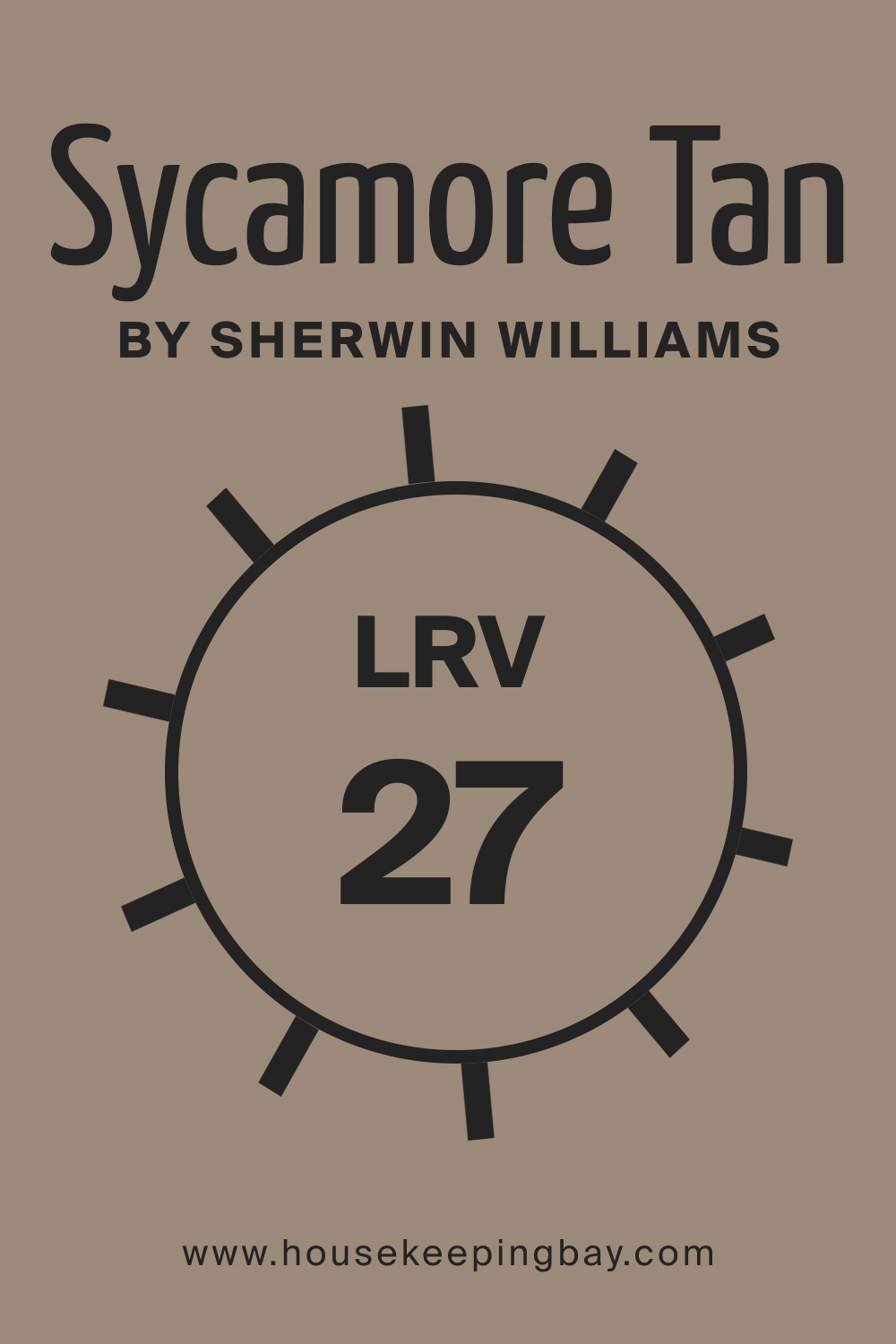 What is LRV? Read It Before You Choose Your Ideal Paint Color
Trim Colors of SW 2855 Sycamore Tan
Trim colors frame and accentuate main wall colors. When dealing with a robust shade like Sycamore Tan, lighter trim shades, particularly whites, provide balance. Consider the following options:
All of them will ensure a harmonious contrast.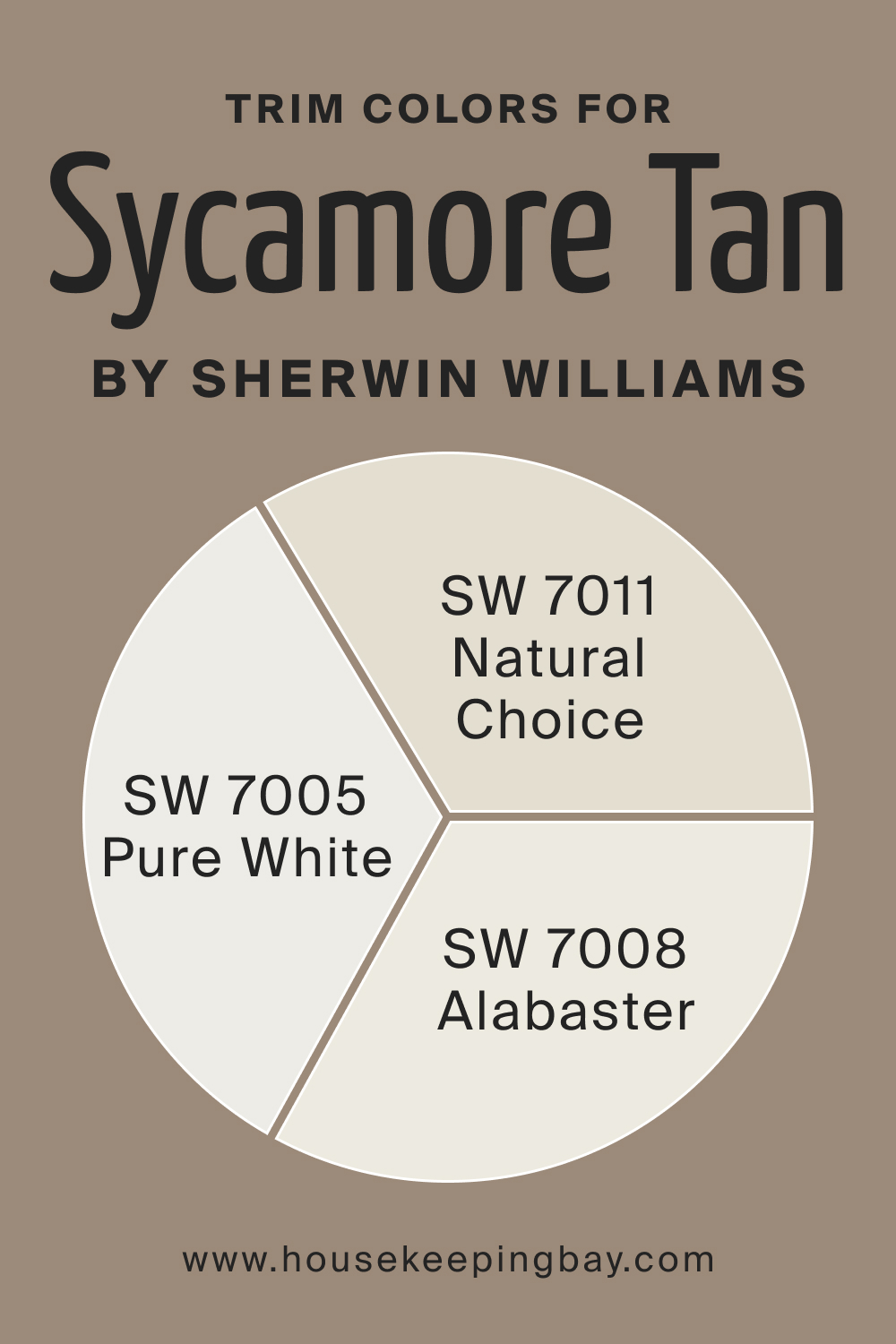 Colors Similar to SW 2855 Sycamore Tan
Recognizing similar shades enhances design flexibility. For SW Sycamore Tan, you can opt for one of the following alternatives:
SW 7508 Tavern Taupe offers an elegant beige undertone
SW 9084 Cocoa Whip exudes a creamy richness
SW 7502 Dry Dock leans more toward a sunbaked feel
SW 0024 Curio Gray introduces a gentle gray undertone
SW 9618 Woodbridge presents a more woody hue.
These colors allow for adaptability and creativity in design.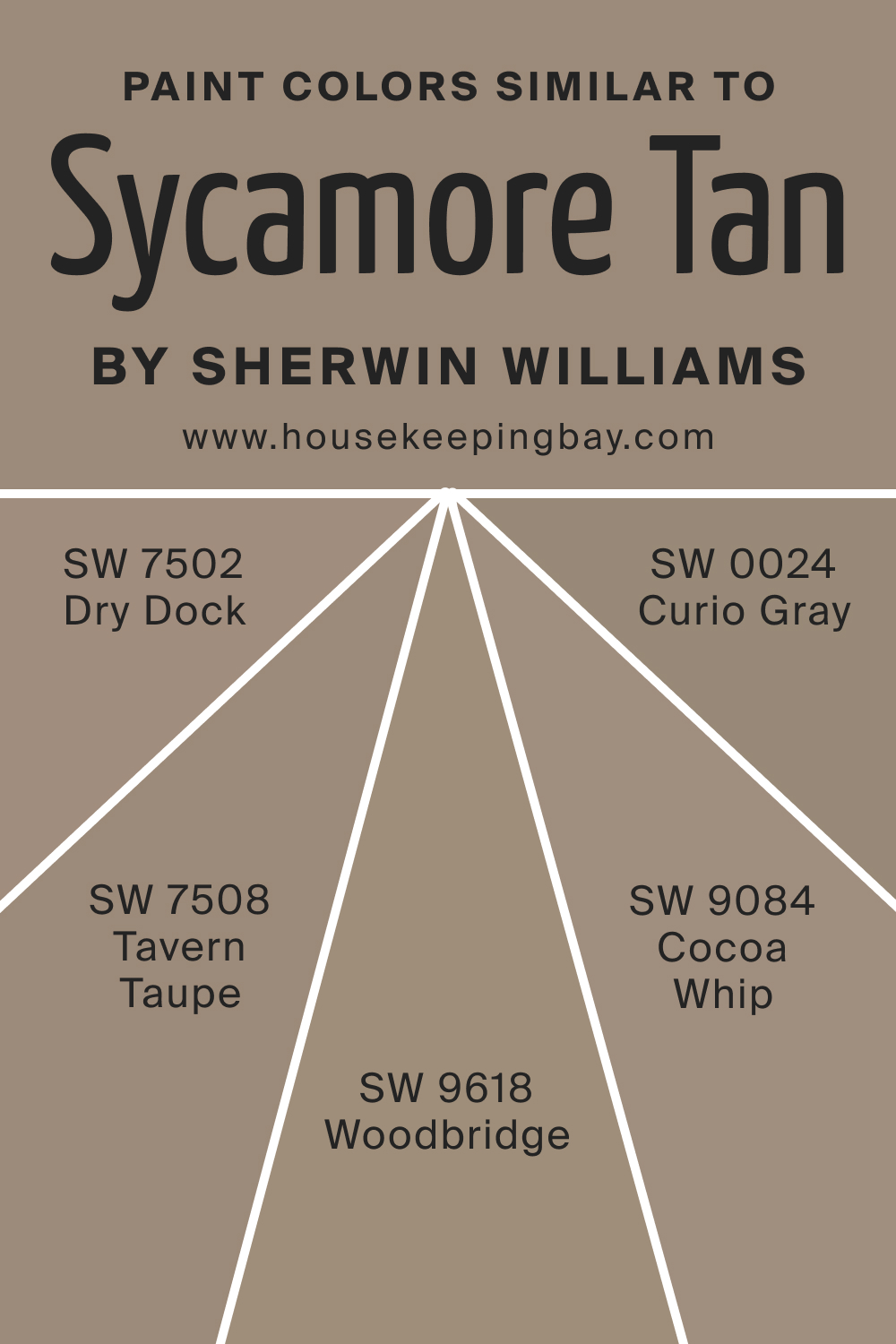 Colors That Go With SW 2855 Sycamore Tan
Creating a cohesive palette is vital for interior harmony. To match SW Sycamore Tan, we recommend you the following colors:
SW 7024 Functional Gray brings a modern flair
SW 7013 Ivory Lace lightens with grace
SW 7061 Night Owl offers a muted counterpart
SW 6258 Tricorn Black provides a dramatic contrast
SW 6248 Jubilee resonates a soft, steely vibe.
Enhance this palette with SW 6256 Serious Gray, SW 7017 Dorian Gray, and SW 7009 Pearly White for a well-rounded ambiance.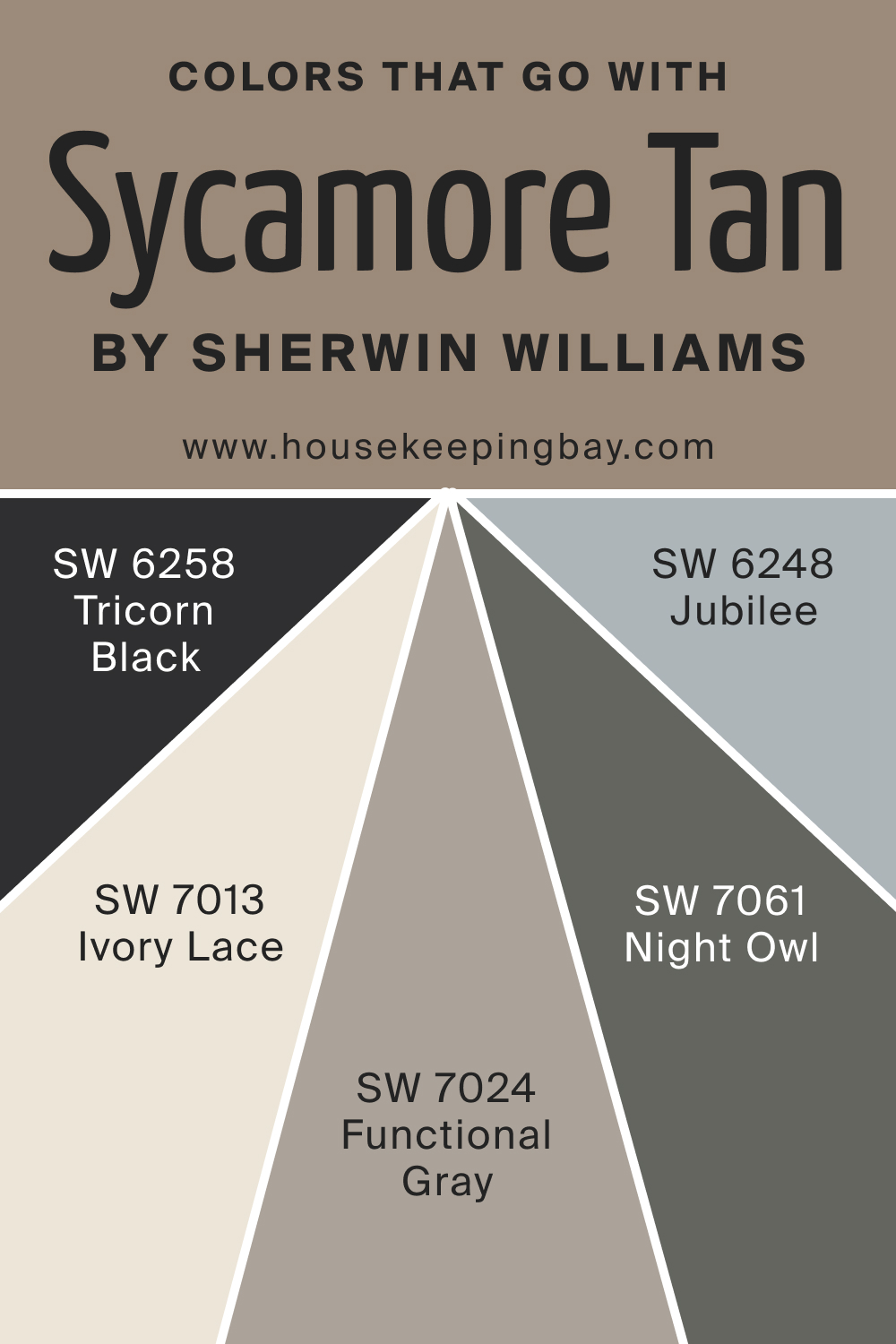 How to Use SW 2855 Sycamore Tan In Your Home?
SW 2855 Sycamore Tan is an adaptable shade, ideal for almost any room—from the quiet tranquility of bedrooms to the lively energy of living rooms. Its earthy undertone makes it perfect for rustic, farmhouse, and even contemporary styles. Complementing materials like wood, stone, and metal, it's a match for spaces where you aim to evoke warmth and comfort.
How to Use SW 2855 Sycamore Tan in the Bedroom?
In bedrooms, Sycamore Tan creates a serene ambiance, reflecting the tranquility of nature. Pair it with soft linens, white trim, and natural wood furniture to create a restful haven. The color's warm undertones help to instill a cozy, peaceful environment, encouraging relaxation and restful sleep.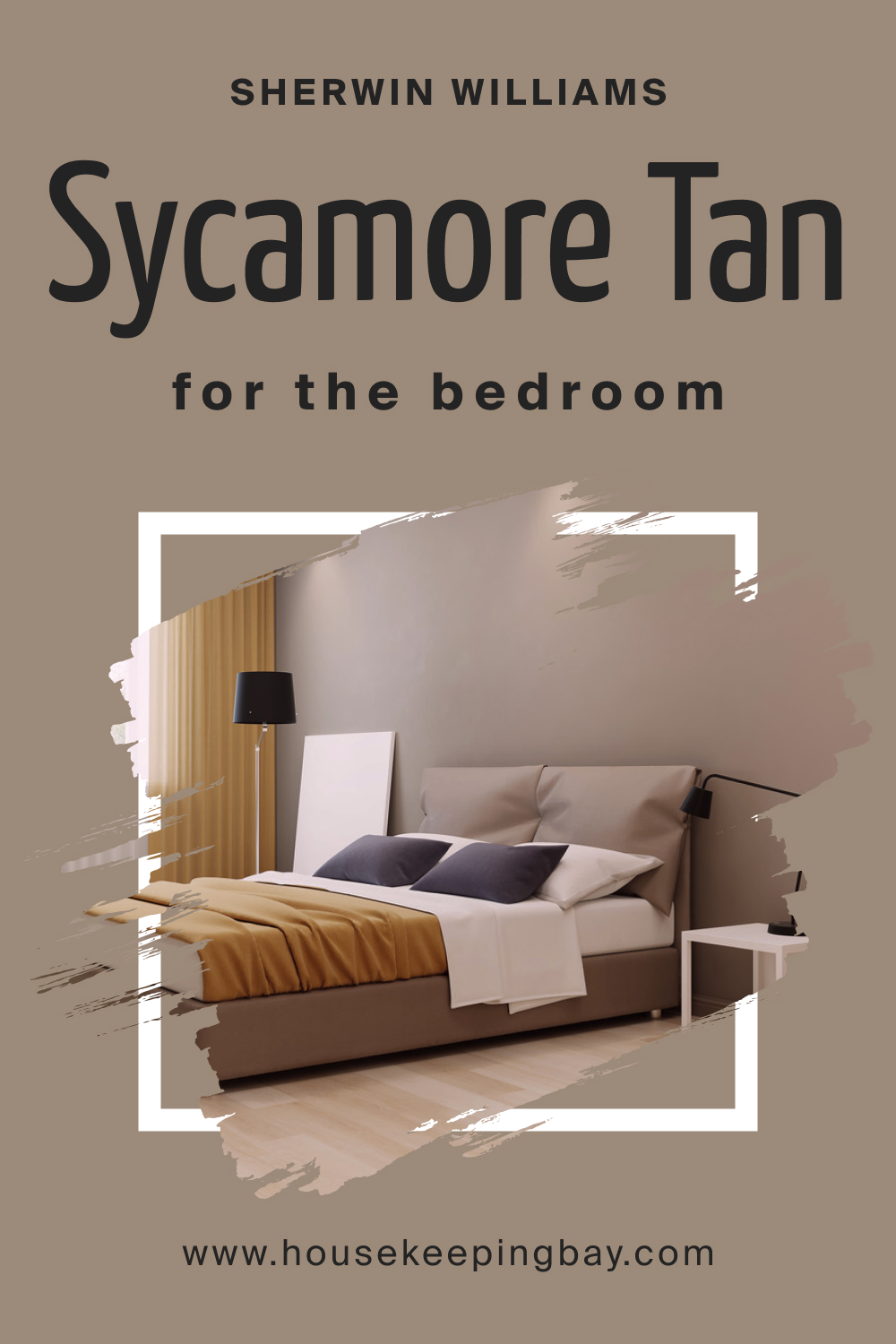 How to Use SW 2855 Sycamore Tan in the Bathroom?
SW Sycamore Tan in the bathroom feels both earthy and luxurious. Complement it with terracotta tiles or stone counters. Gold or brass fittings, alongside natural fiber bath mats and wooden accents, will enhance the spa-like feel, turning a simple bathroom into a retreat.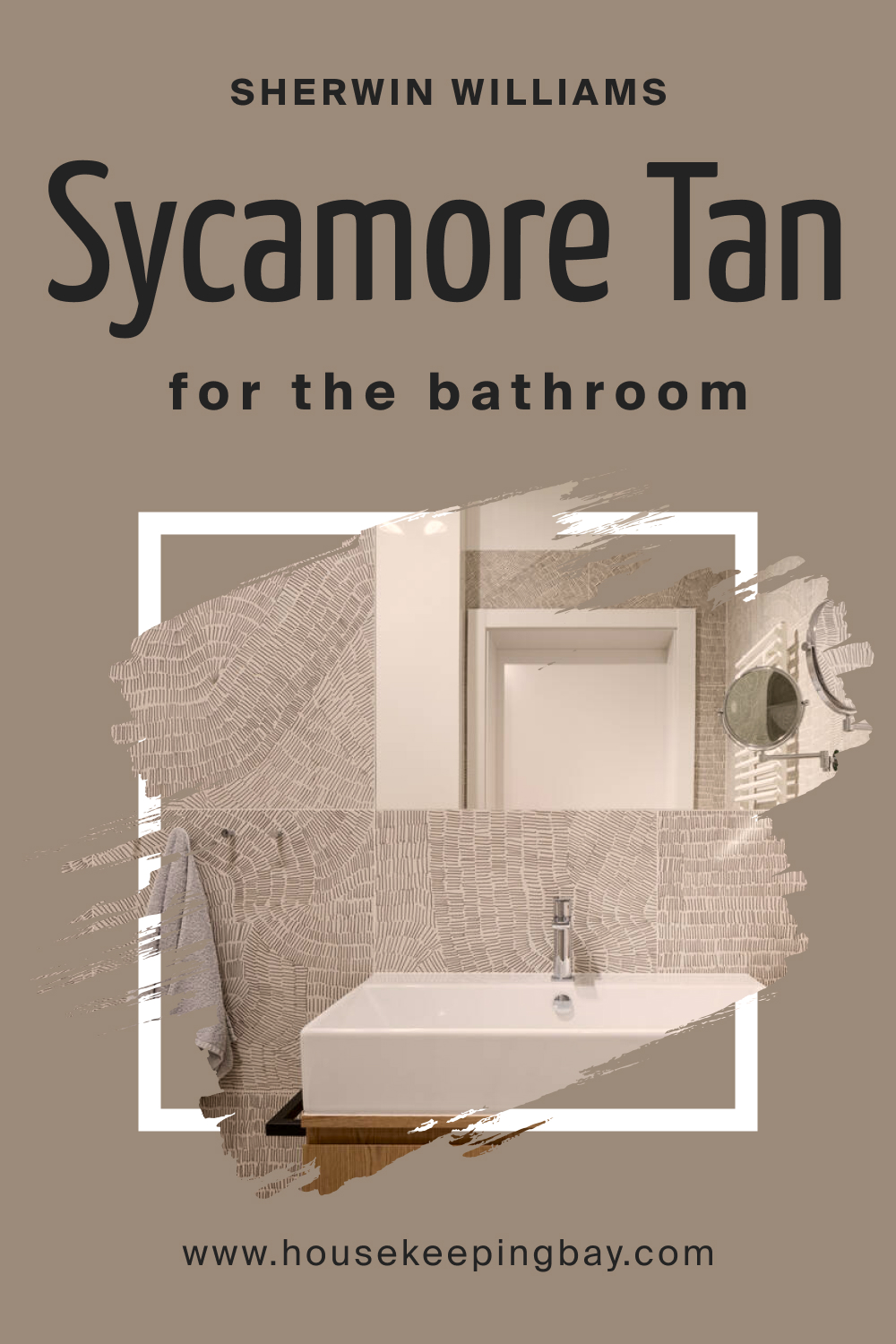 How to Use SW 2855 Sycamore Tan in the Living Room?
This shade infuses living spaces with a grounded, sophisticated aura. Marry it with deep blues or rich greens for a vibrant, nature-inspired palette. Leather furniture, woven rugs, and plants will elevate the room, making it a gathering space that's both stylish and comfortable.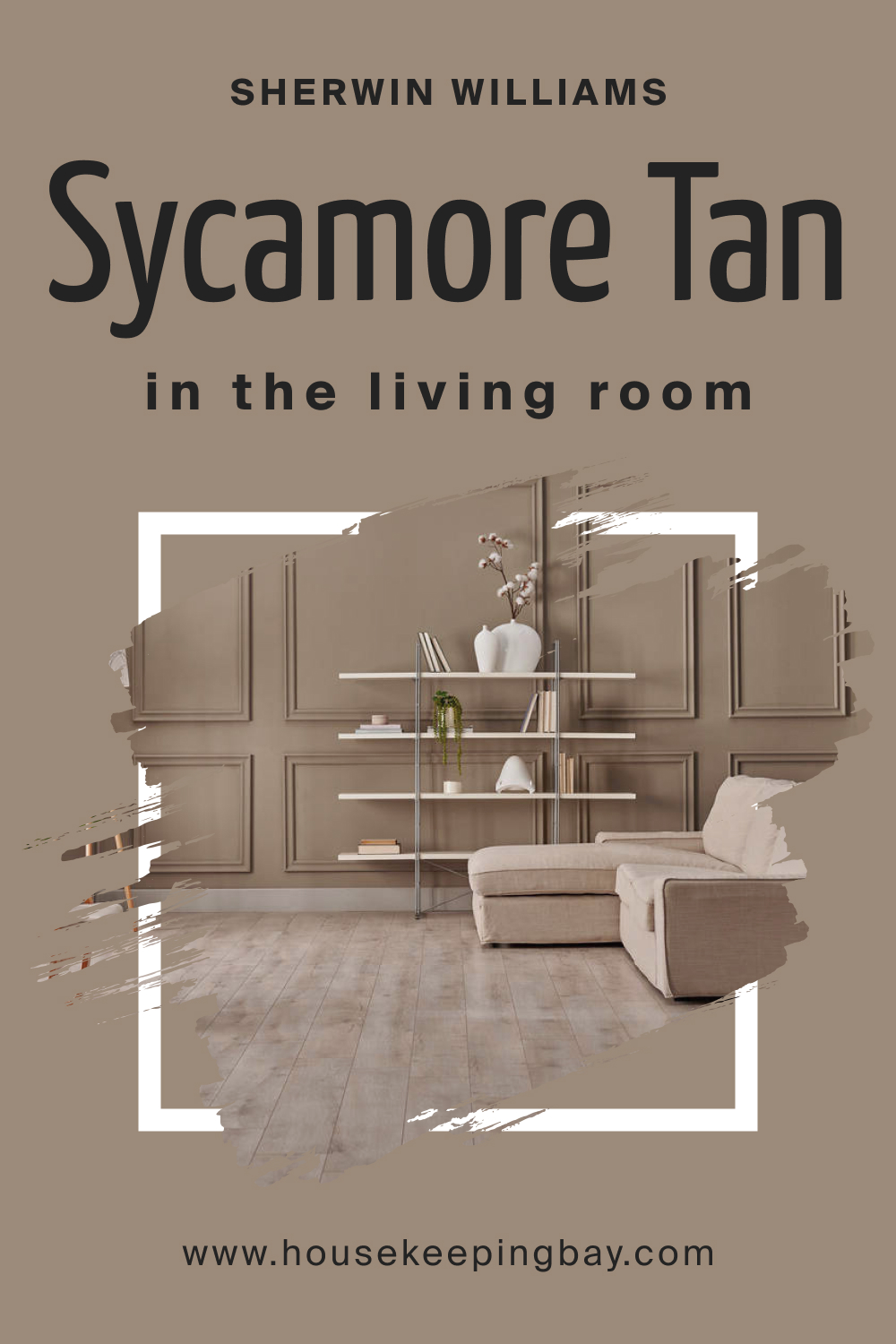 How to Use SW 2855 Sycamore Tan for an Exterior?
Exterior walls painted with Sycamore Tan evoke a timeless appeal. It blends seamlessly with natural landscapes, making it perfect for homes nestled in nature. Pair with dark shutters or trim for contrast, and consider stone pathways or wooden accents to complete the inviting facade.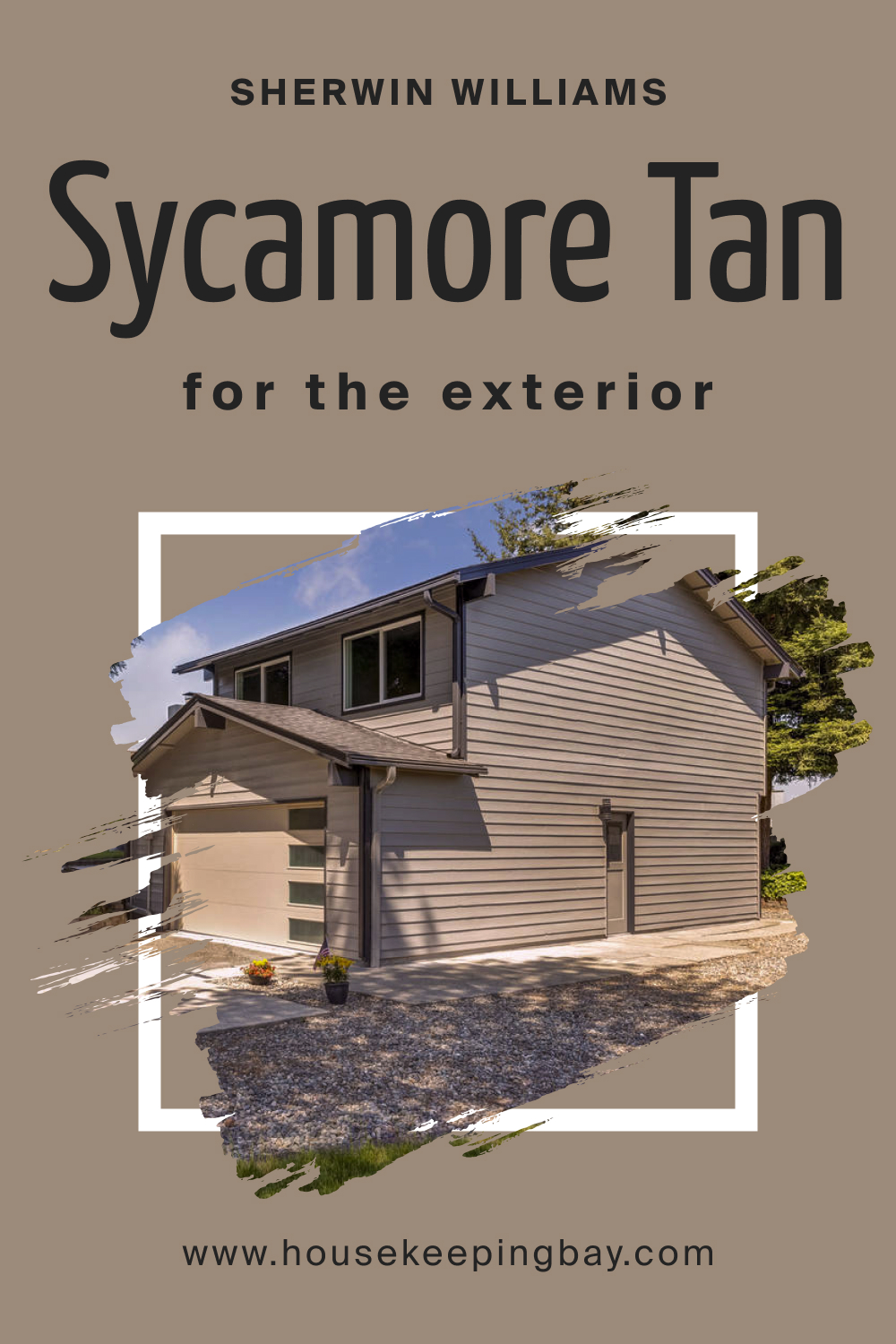 How to Use SW 2855 Sycamore Tan in the Kitchen?
The kitchen, often the heart of the home, shines with Sycamore Tan. The color's warmth pairs brilliantly with wooden countertops, stainless steel appliances, and terracotta pots. Imagine a space where family gatherings feel rustic yet chic, with the hue complementing both everyday meals and festive occasions.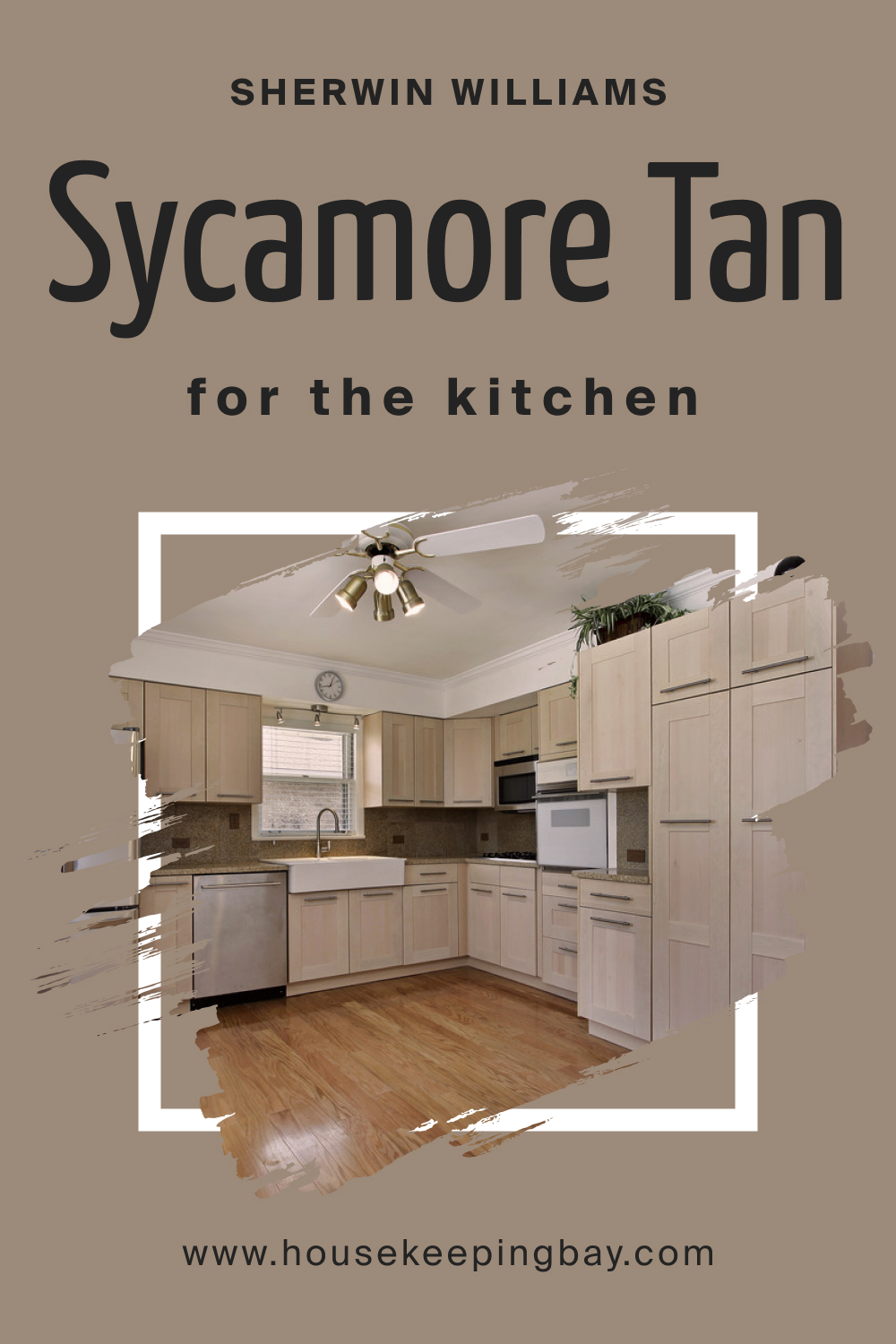 How to Use SW 2855 Sycamore Tan for the Kitchen Cabinets?
Painting kitchen cabinets with Sycamore Tan offers an immediate uplift. It brings an organic touch to the space, straying from the common whites or grays. Combine with gold or bronze handles for an added touch of elegance. Marble or wooden countertops will resonate with this shade, completing a balanced, stylish kitchen design.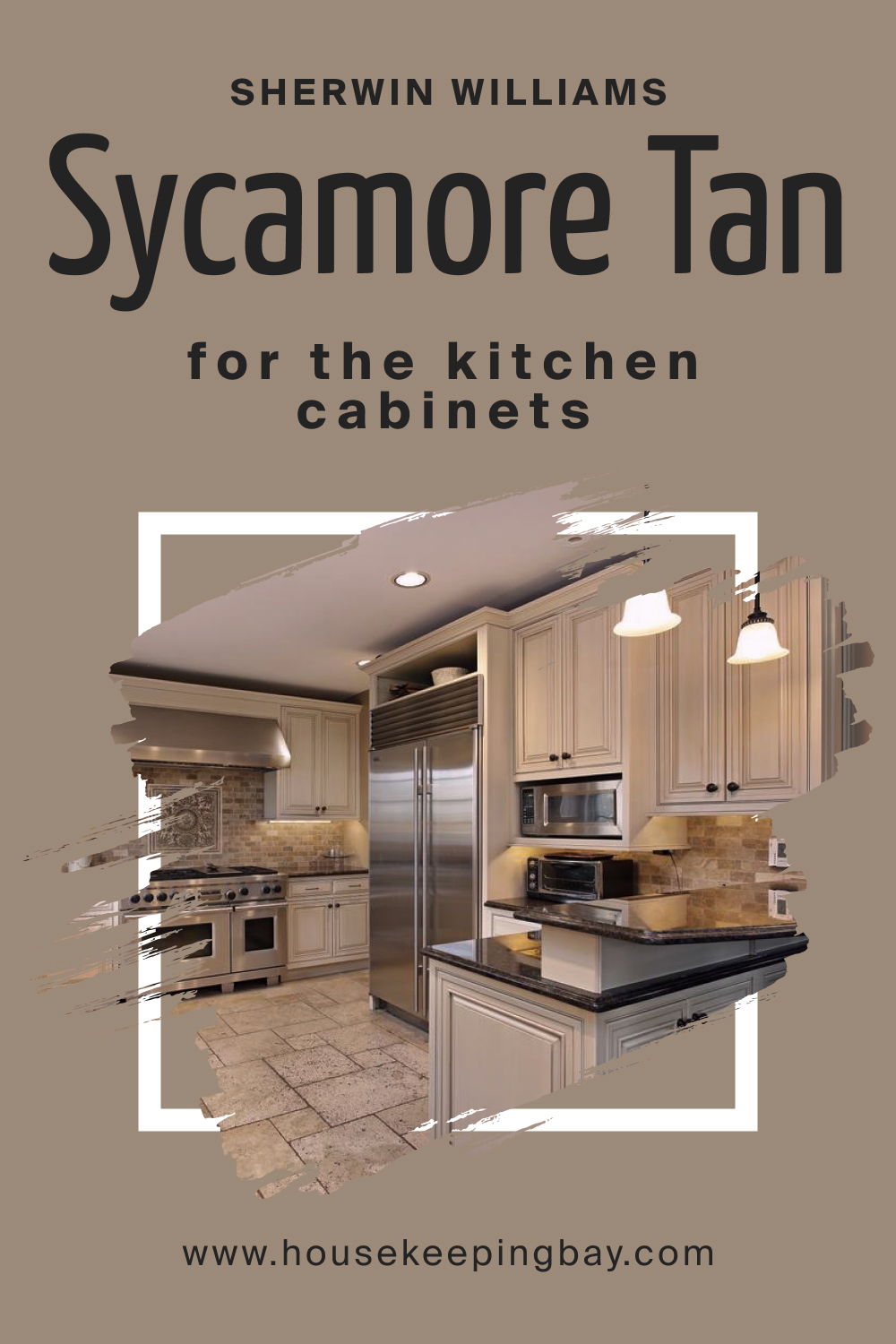 Comparing SW 2855 Sycamore Tan With Other Colors
Colors have a profound impact on spaces, affecting both aesthetics and mood. Comparing colors helps identify their distinct characteristics, aiding in informed decisions on which shade is best suited for specific applications. It also allows homeowners and designers to craft complementary color palettes, elevating design aesthetics.
In light of this, let's compare SW 2855 Sycamore Tan with six other Sherwin-Williams shades.
SW 2855 Sycamore Tan vs. SW 6104 Kaffee
SW Kaffee has a robust coffee-inspired depth, adding a touch of sophistication. While Sycamore Tan has earthy warmth, Kaffee introduces a slightly darker and richer presence. Sycamore Tan might illuminate a room, while Kaffee offers more depth and intimacy.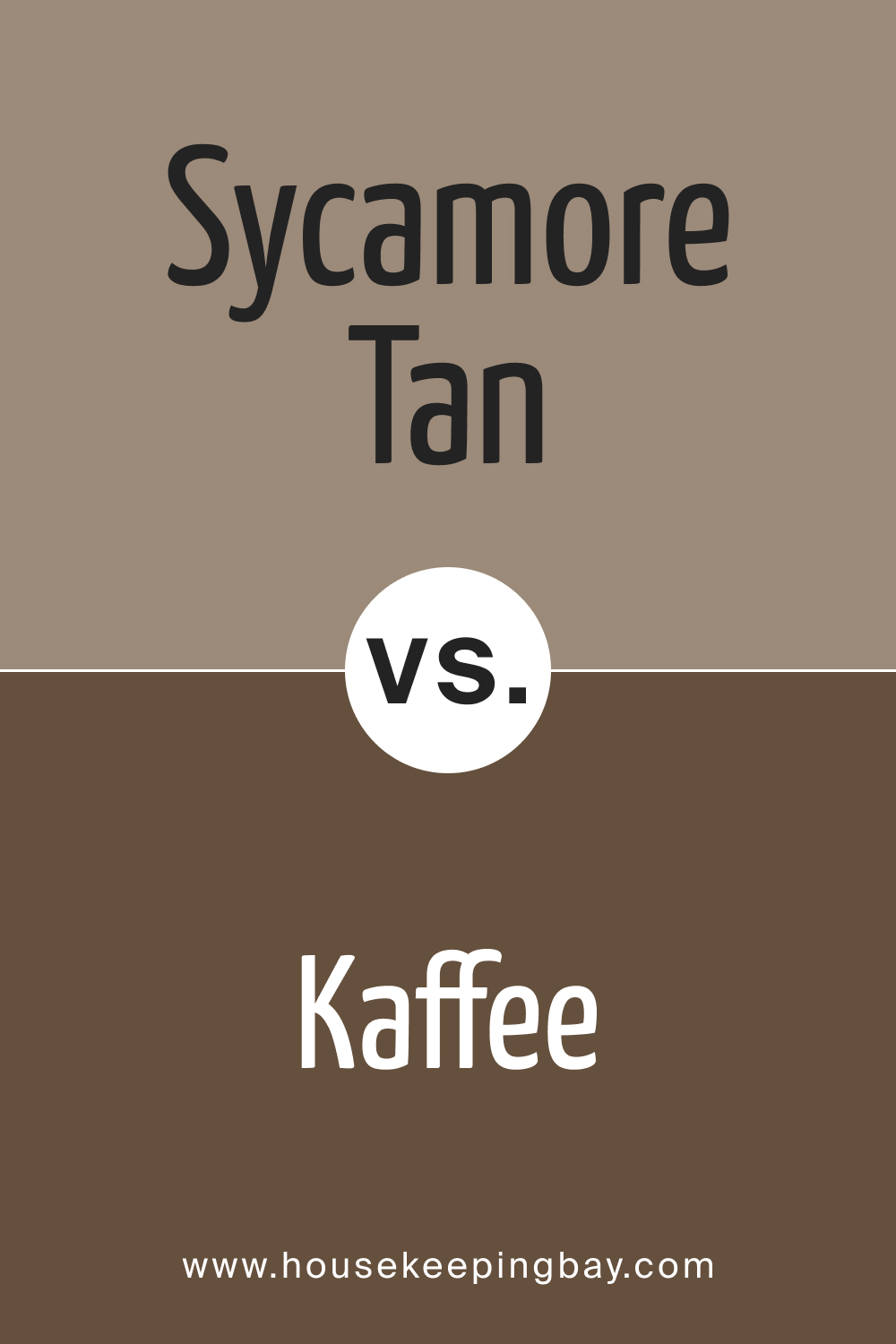 SW 2855 Sycamore Tan vs. SW 2838 Polished Mahogany
SW Polished Mahogany embodies the elegance of the deep woods, radiating luxury. It's richer and more saturated compared to the muted Sycamore Tan, which has a subtler, grounded appeal. In design, where Polished Mahogany speaks opulence, Sycamore Tan whispers comfort.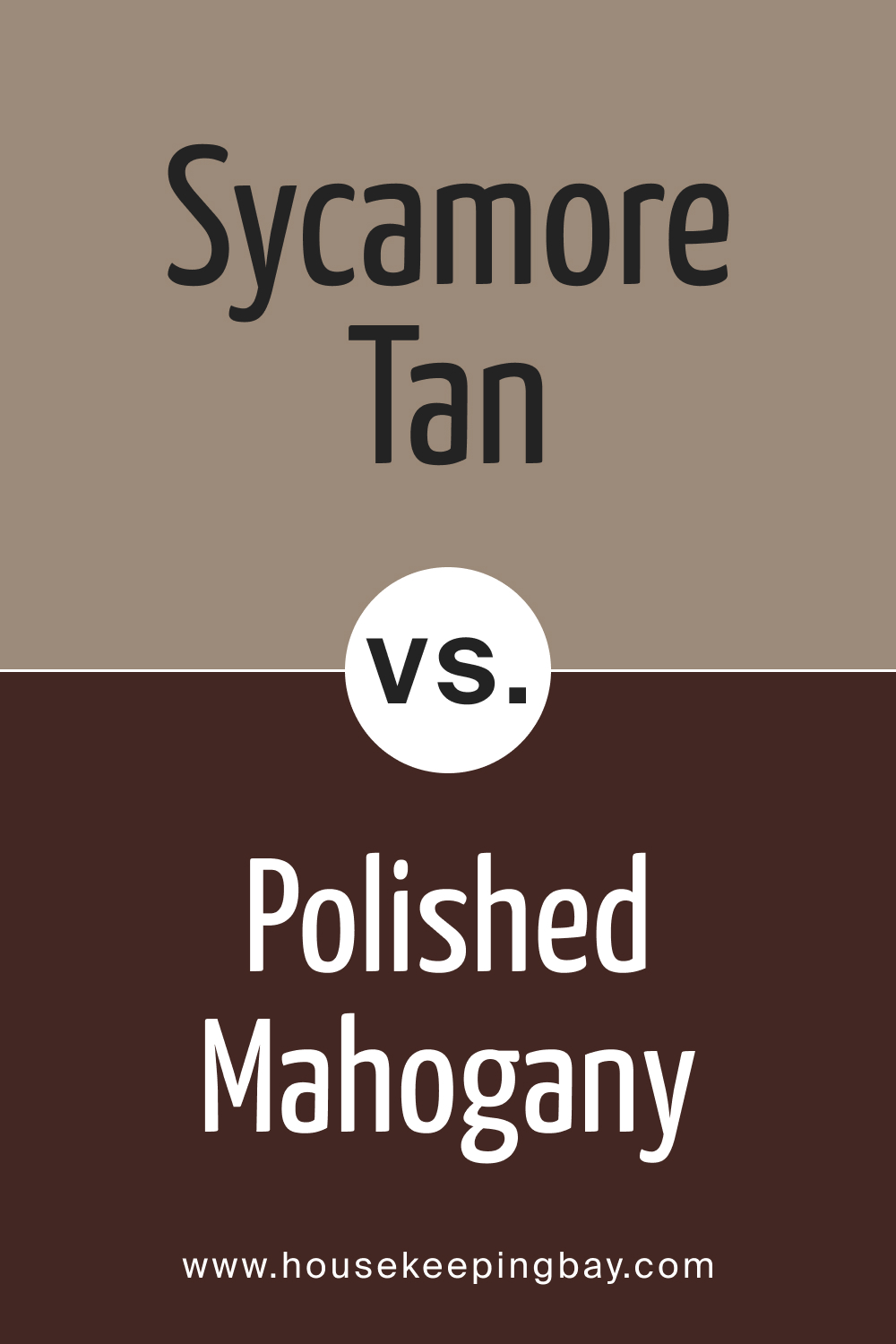 SW 2855 Sycamore Tan vs. SW 7573 Eaglet Beige
SW Eaglet Beige is lighter, leaning more towards traditional beige nuances. It provides an open, airy feel compared to the comforting embrace of Sycamore Tan. In spaces where you'd want a neutral canvas, Eaglet Beige shines, while Sycamore Tan brings character.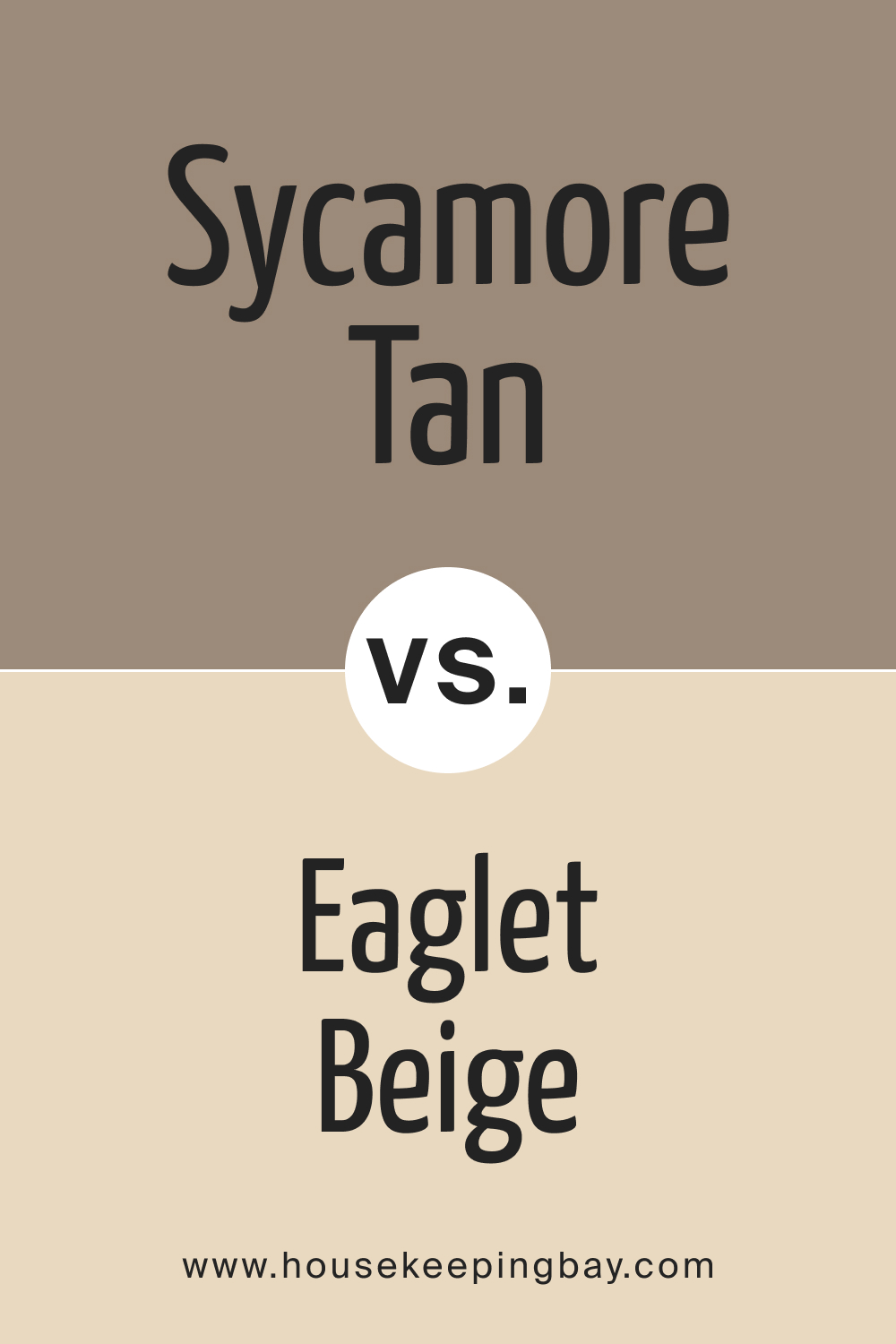 SW 2855 Sycamore Tan vs. SW 6090 Java
SW Java leans toward the essence of roasted coffee beans. Darker than Sycamore Tan, Java can make spaces feel cozier and more defined. Sycamore Tan, meanwhile, offers flexibility in blending with other hues due to its moderate tone.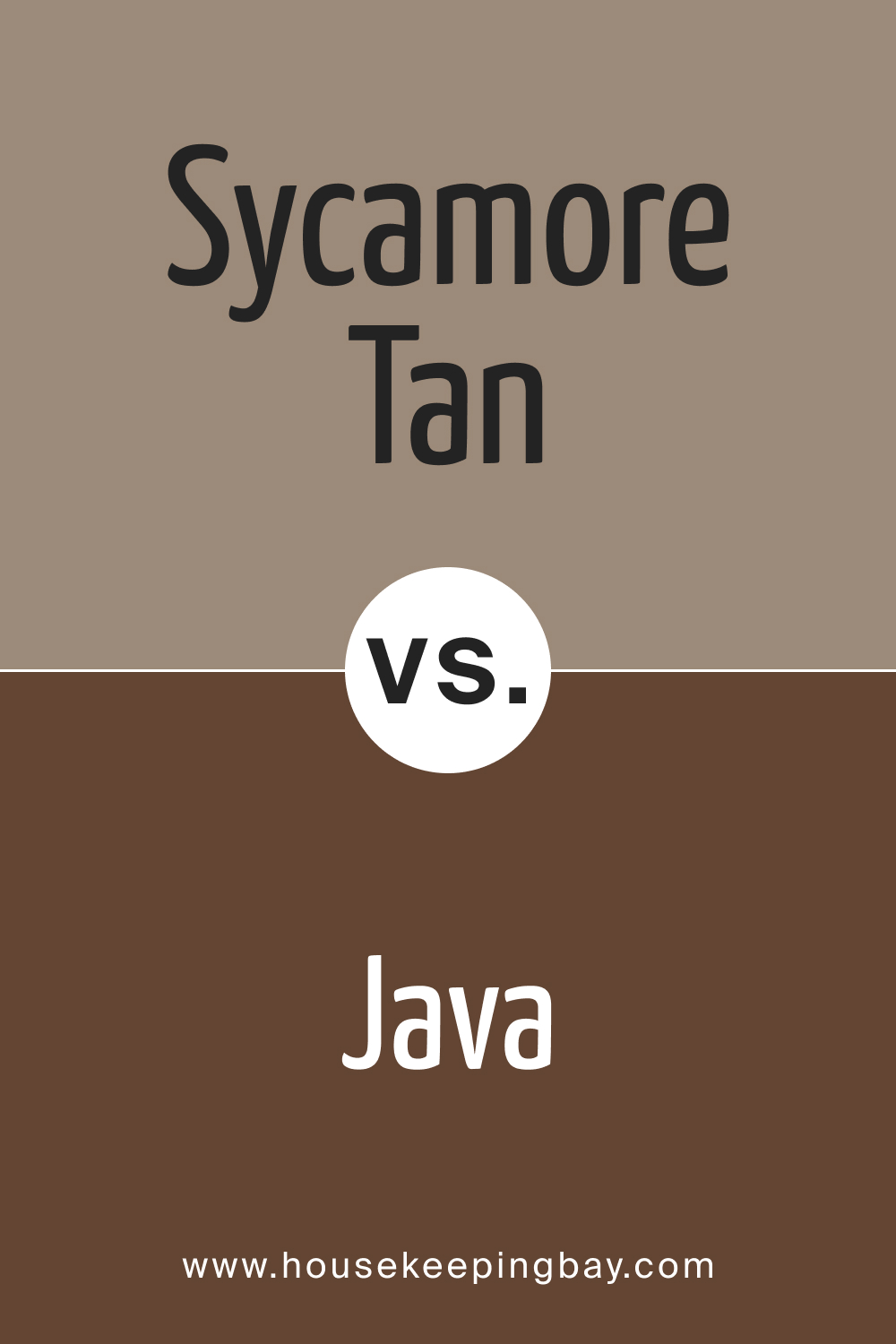 SW 2855 Sycamore Tan vs. SW 6095 Toasty
SW Toasty, as the name suggests, is a warm, comforting hue but is lighter and less saturated than Sycamore Tan. It gives a room a gentle warmth, while Sycamore Tan adds more depth and dimension.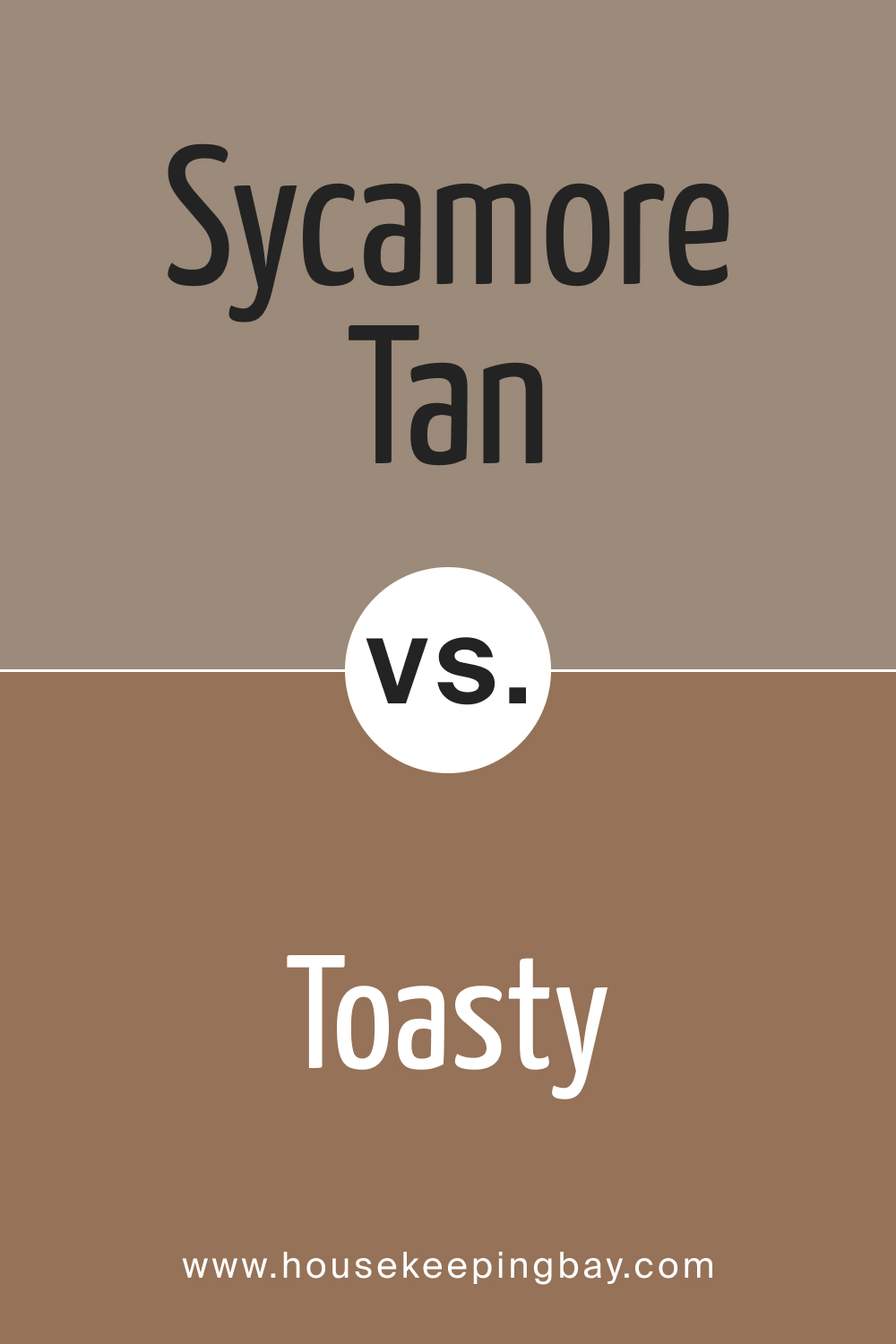 SW 2855 Sycamore Tan vs. SW 6040 Less Brown
SW Less Brown has an apt name; it's a milder take on traditional browns. Offering a near-neutral background, it contrasts with Sycamore Tan's distinct presence. Where Sycamore Tan might dominate, Less Brown subtly supports.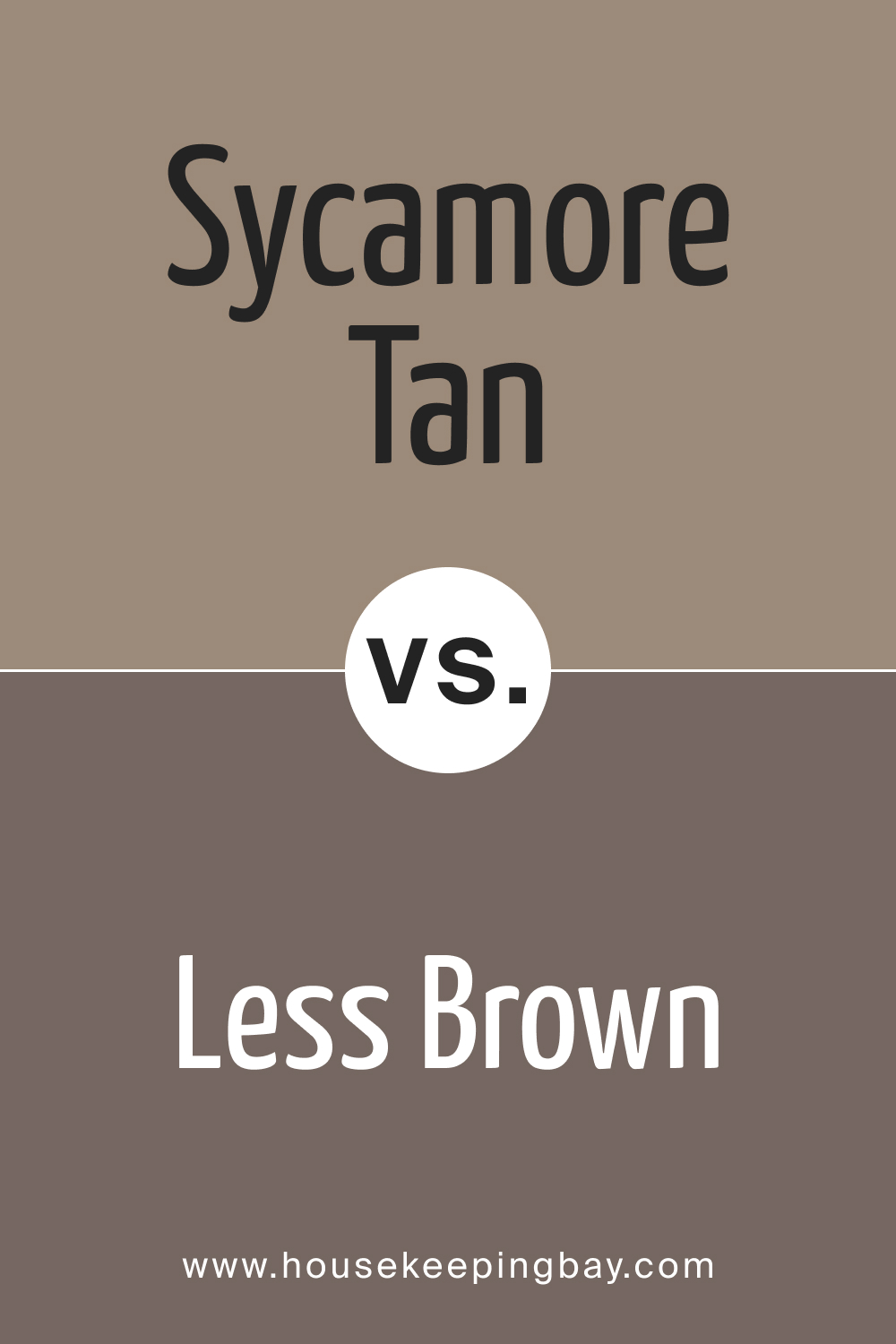 Conclusion
In the vast spectrum of color, SW 2855 Sycamore Tan stands out for its warmth, versatility, and earthy charm. Through comparisons with other hues, it becomes evident that this shade offers a unique balance of depth and subtlety. Its ability to both anchor a room and serve as a harmonizing element makes it a valuable choice for homeowners and designers alike.
Whether aiming for a comforting atmosphere or seeking a backdrop that seamlessly integrates with various design elements, Sycamore Tan proves to be a timeless and adaptable choice.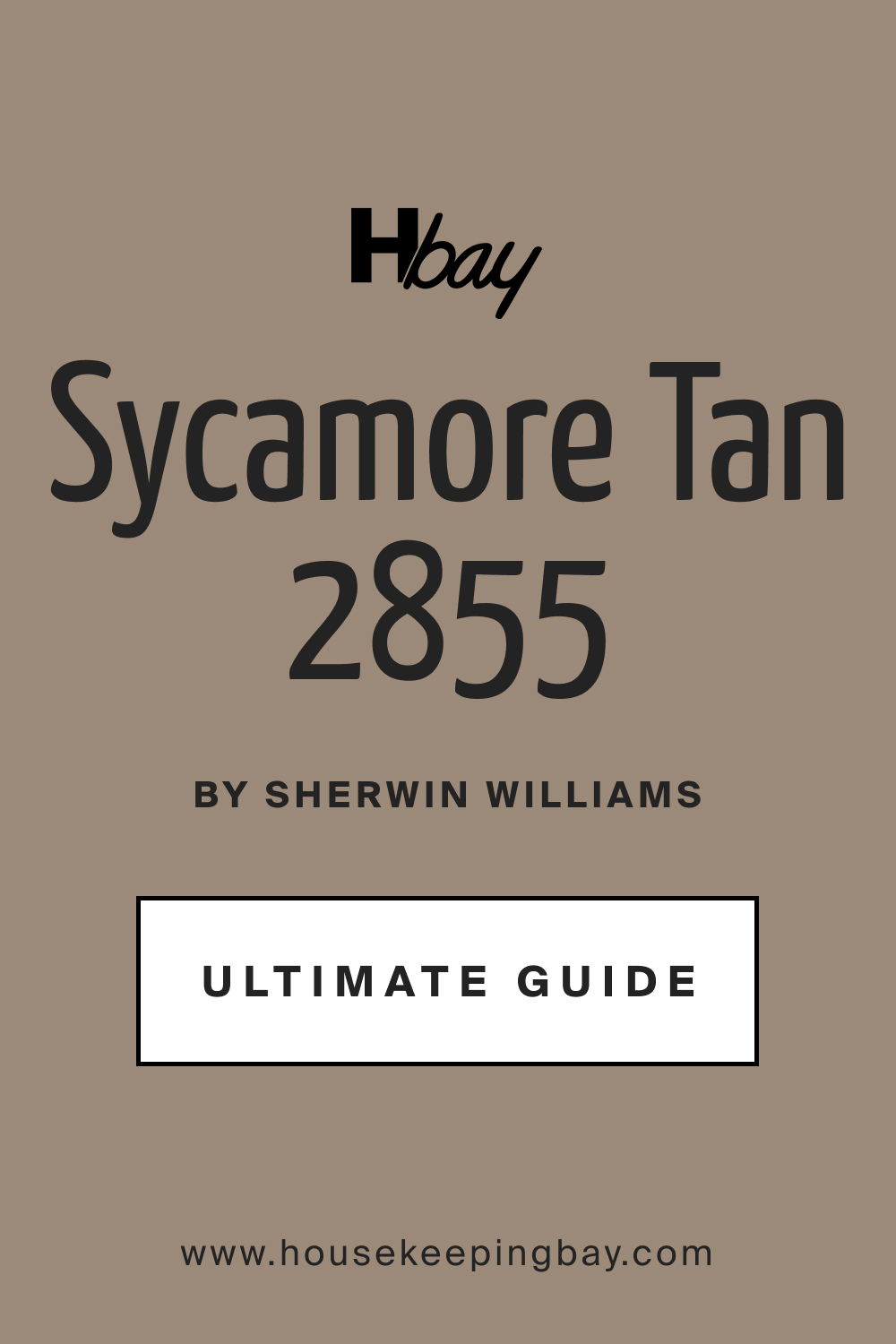 Frequently Asked Questions
⭐What kind of ambiance does SW 2855 Sycamore Tan create in a room?
SW 2855 Sycamore Tan imparts an earthy and warm ambiance, evoking feelings of comfort and serenity. It's reminiscent of cozy autumn days, making spaces feel welcoming and grounded.
⭐Which rooms are best suited for painting with Sycamore Tan?
This versatile shade can be used in any room, from living areas and bedrooms to kitchens and bathrooms. Its neutral, warm undertone makes it adaptable to various spaces and design aesthetics.
⭐Does SW 2855 Sycamore Tan pair well with cool-toned colors?
Absolutely! While Sycamore Tan has a warm undertone, its balanced hue allows it to harmonize beautifully with both warm and cool color palettes.
⭐Is SW 2855 Sycamore Tan suitable for exteriors?
Yes, Sycamore Tan is an excellent choice for home exteriors. Its earthy tone complements natural landscapes and can provide a timeless and inviting appeal to your home's facade.
⭐How does SW 2855 Sycamore Tan appear under different lighting conditions?
Lighting can alter the appearance of paint colors. Under natural light, Sycamore Tan appears true to its warm, earthy character. In artificial lighting, especially cooler LED lights, its undertones may become more pronounced.