SW 6169 Sedate Gray is a versatile color that has become increasingly popular in interior design. Known for its adaptability, it can create both subtle and bold impacts, depending on its surroundings.
This article will delve into the specifics of Sedate Gray, exploring its undertones, coordinating colors, the effect of lighting, and more.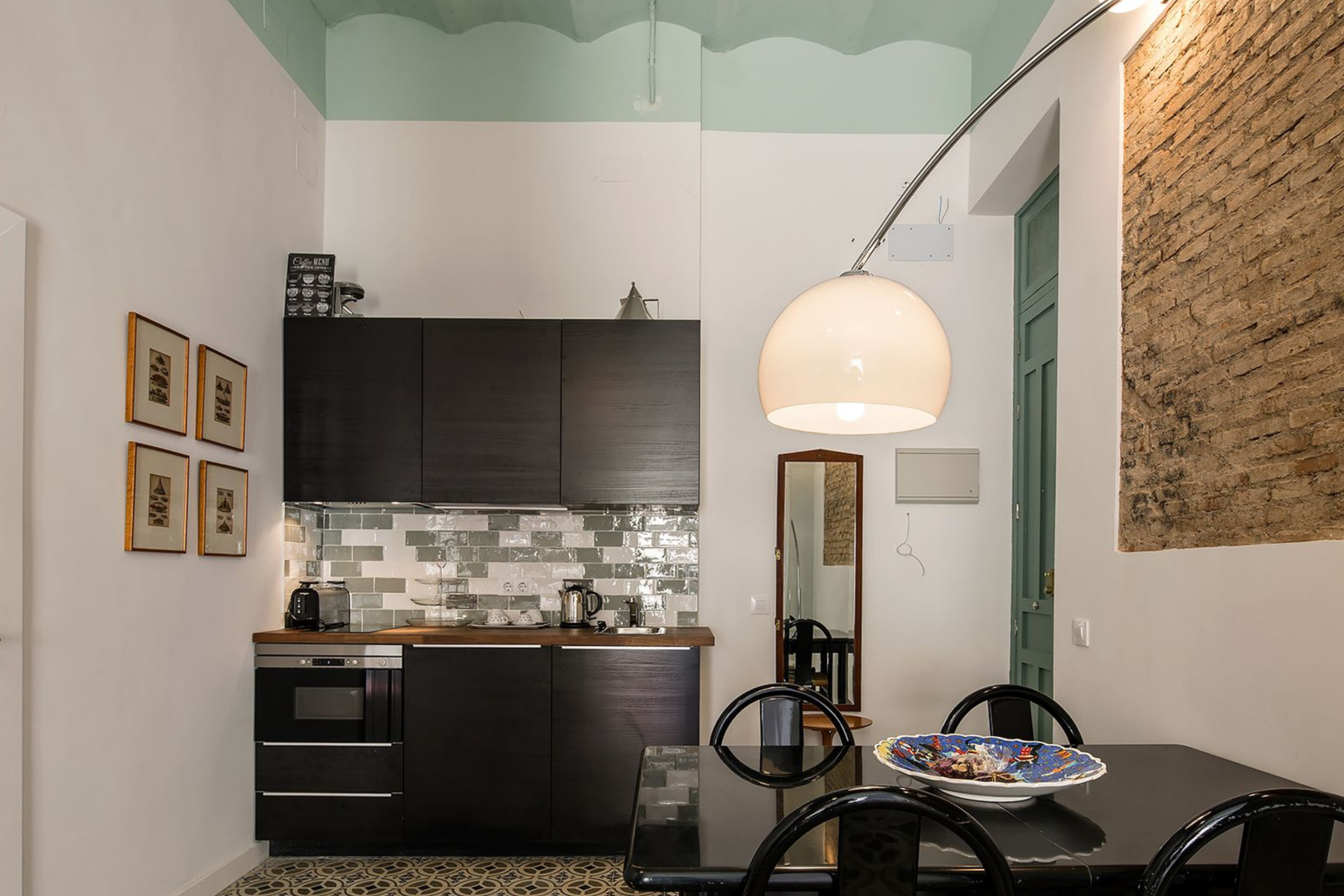 What Color Is SW 6169 Sedate Gray?
SW Sedate Gray is a soft and sophisticated gray color with a muted elegance. It is a timeless shade that resonates with serenity and simplicity. In terms of interior styles, it pairs well with modern, minimalist, rustic, and even traditional decor.
Its gentle presence complements a variety of materials such as wood, metal, stone, and fabric textures like linen or silk.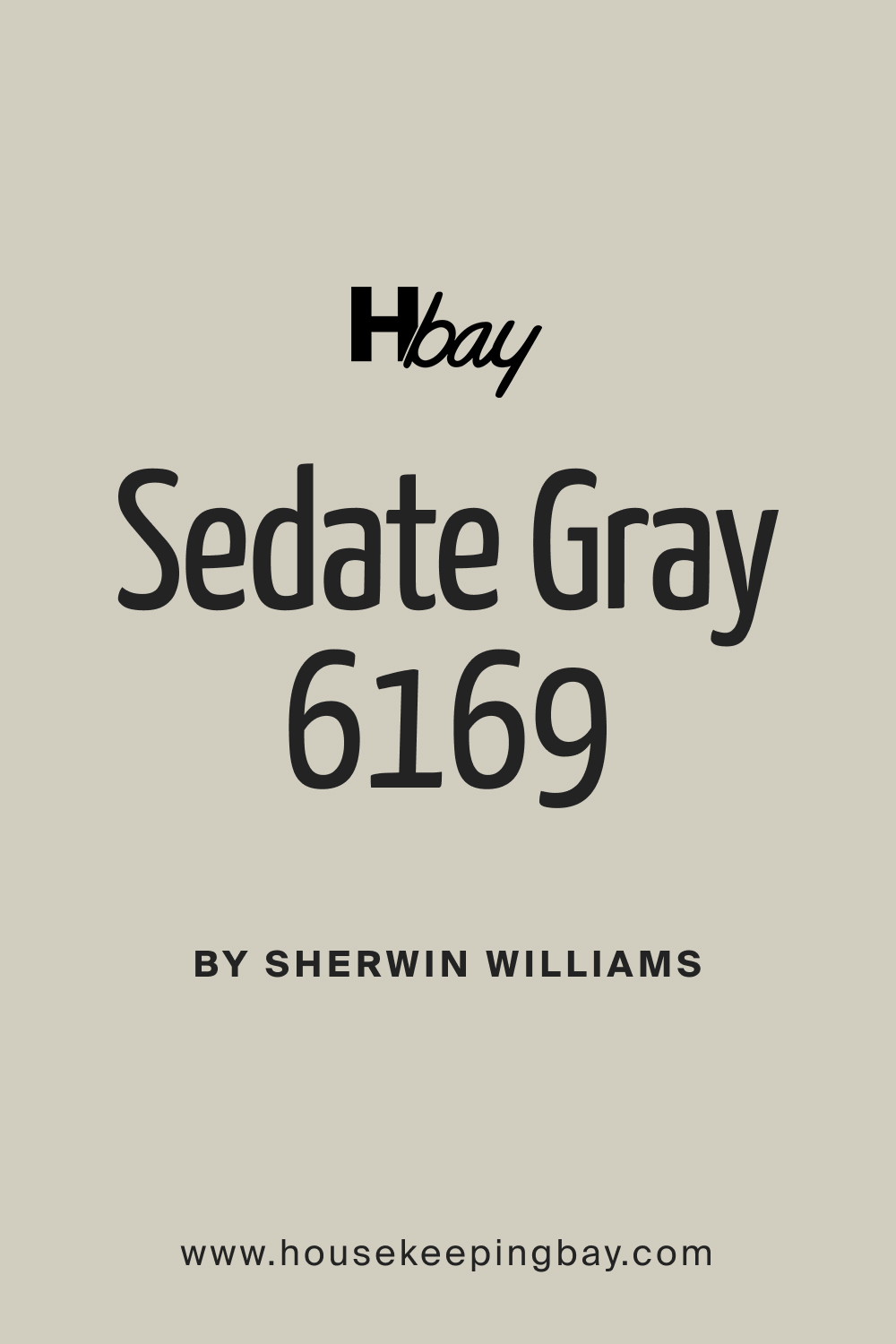 Is It a Warm Or Cool Color?
SW 6169 Sedate Gray leans towards a cool color but has a delicate warmth that adds to its adaptability. Its cool demeanor creates a calming effect in homes, providing a neutral backdrop that can either soothe or invigorate a space, depending on the accompanying decor.
Undertones of SW 6169 Sedate Gray
The undertones of color can subtly alter its appearance. SW Sedate Gray has soft green undertones, giving it a fresh, tranquil quality. These undertones can add depth and character and, depending on surrounding colors, can either amplify or soften its visual impact.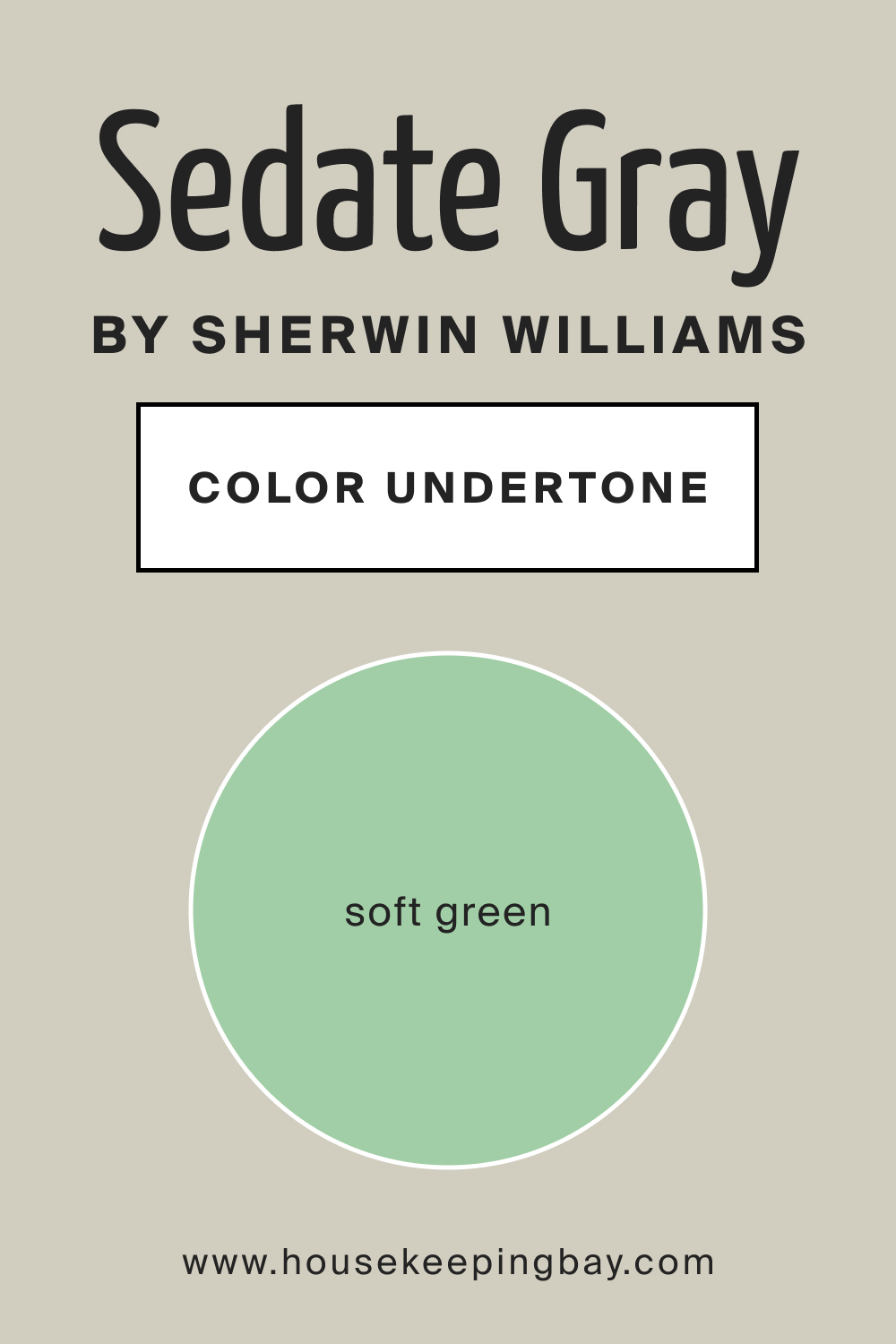 Coordinating Colors of SW 6169 Sedate Gray
Coordinating colors are hues that harmonize with the main color, enhancing its beauty. For SW Sedate Gray, some of the coordinating colors include:
SW 6168 Moderne White: A clean, airy white that opens up spaces.
SW 9141 Waterloo: A vibrant blue with a dash of tranquility.
SW 9131 Cornwall Slate: A deep and dramatic gray-blue shade.
Additional Sherwin-Williams Colors:
SW 7005 Pure White: A bright and fresh white.
SW 6210 Window Pane: A gentle aqua that adds freshness.
SW 7514 Foothills: A robust brown that adds warmth.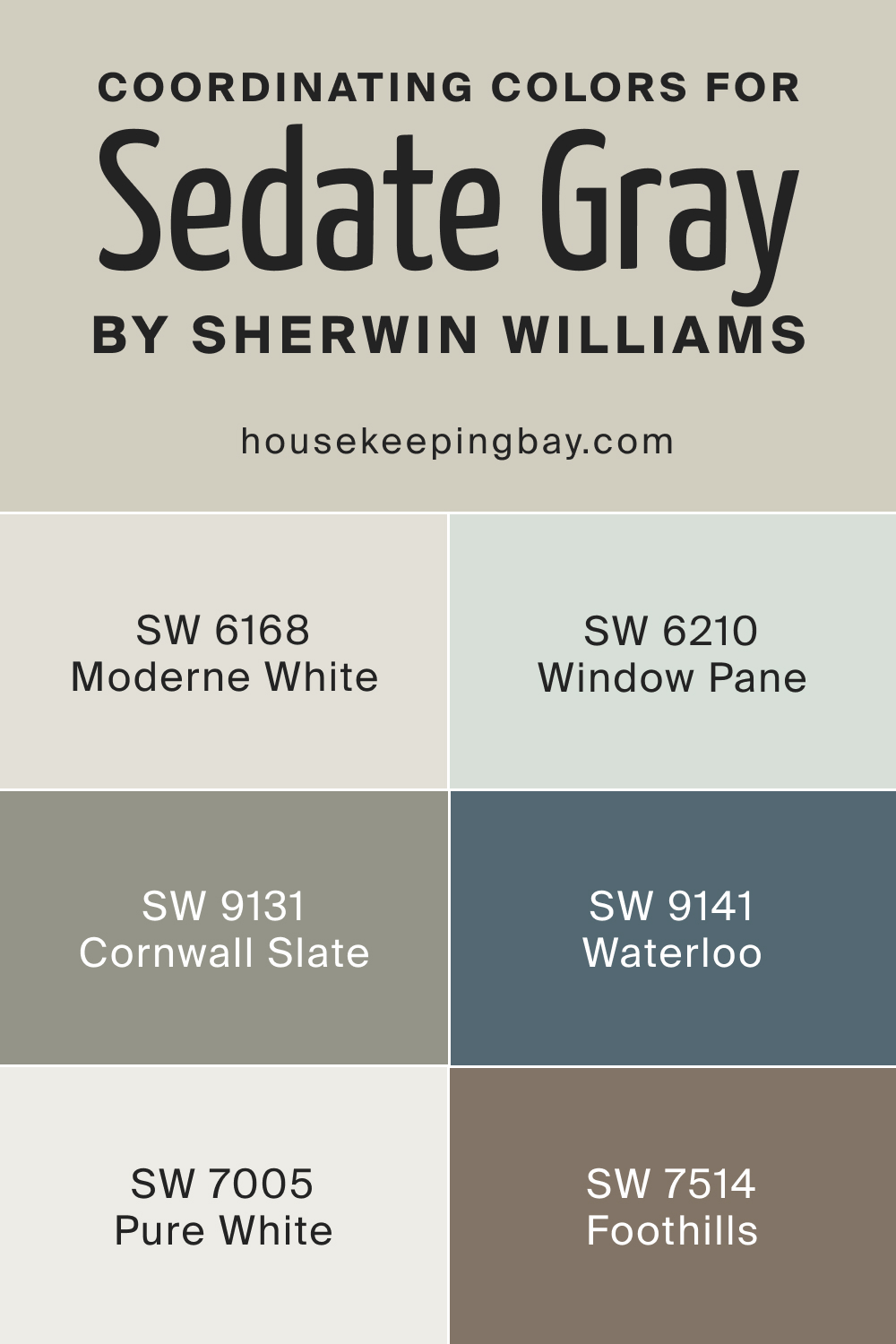 How Does Lighting Affect SW 6169 Sedate Gray?
Lighting can dramatically affect how Sedate Gray appears in space. Under artificial light, the color may seem more subdued, while natural light enhances its green undertones.
In north-faced rooms, it appears cooler, whereas, in south-faced rooms, it takes on a slightly warmer tone. East and west-facing rooms can bring out varied characteristics of Sedate Gray depending on the time of day.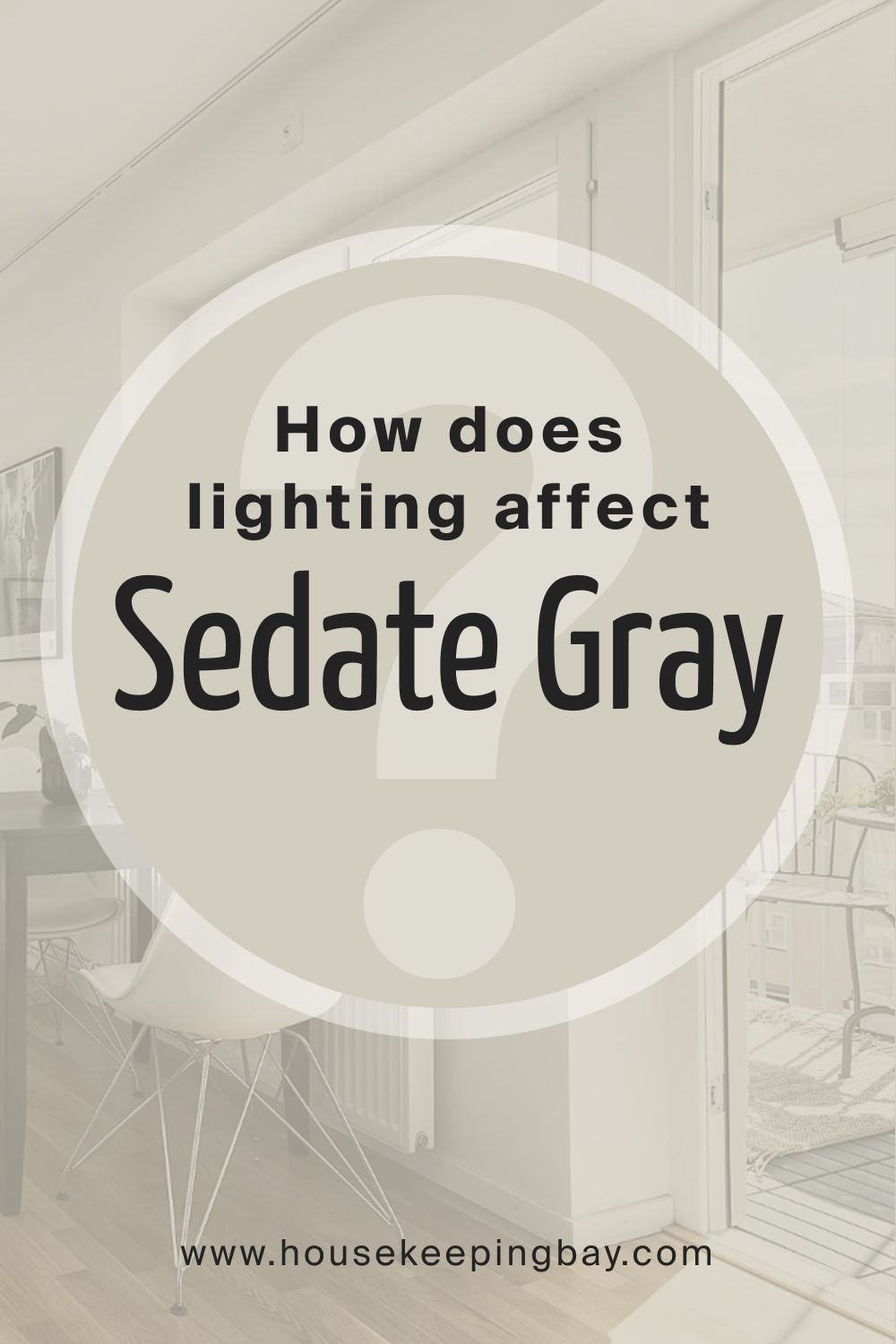 LRV of SW 6169 Sedate Gray
LRV, or Light Reflectance Value, is a measure of how much light a color reflects. With an LRV of 61, Sedate Gray falls into a balanced category, reflecting a significant amount of light without being overly bright. This moderate reflectance makes it an adaptable shade, providing enough brightness to open up a space but still maintaining a sense of coziness.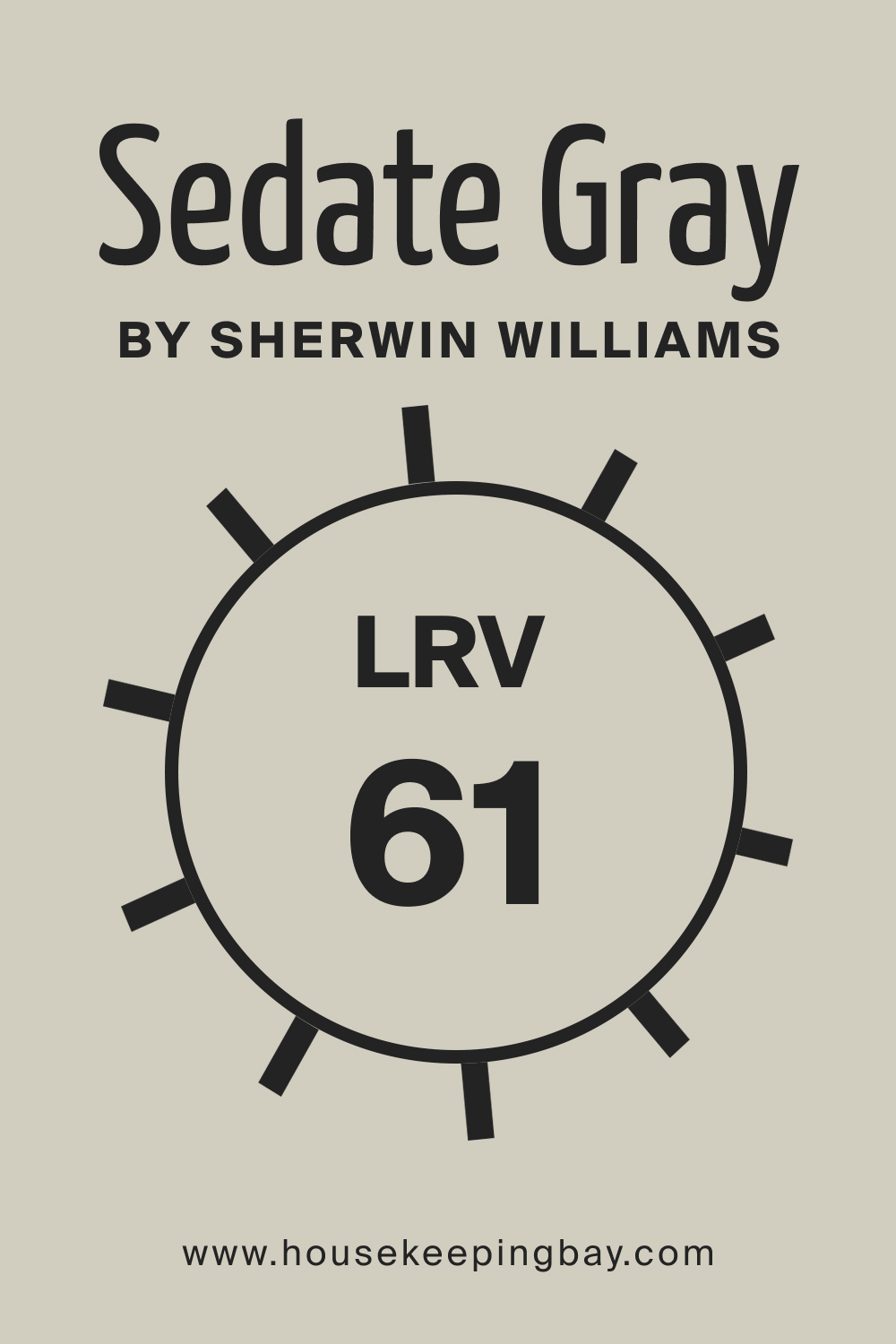 What is LRV? Read it Before You Choose Your Ideal Paint Color
Trim Colors of SW 6169 Sedate Gray
Trim colors are typically used for doors, window sills, and other architectural details. For Sedate Gray, shades of white like SW 7005 Pure White, SW 7006 Extra White, and SW 7010 White Duck provide a crisp and clean contrast, elevating the aesthetic of the room.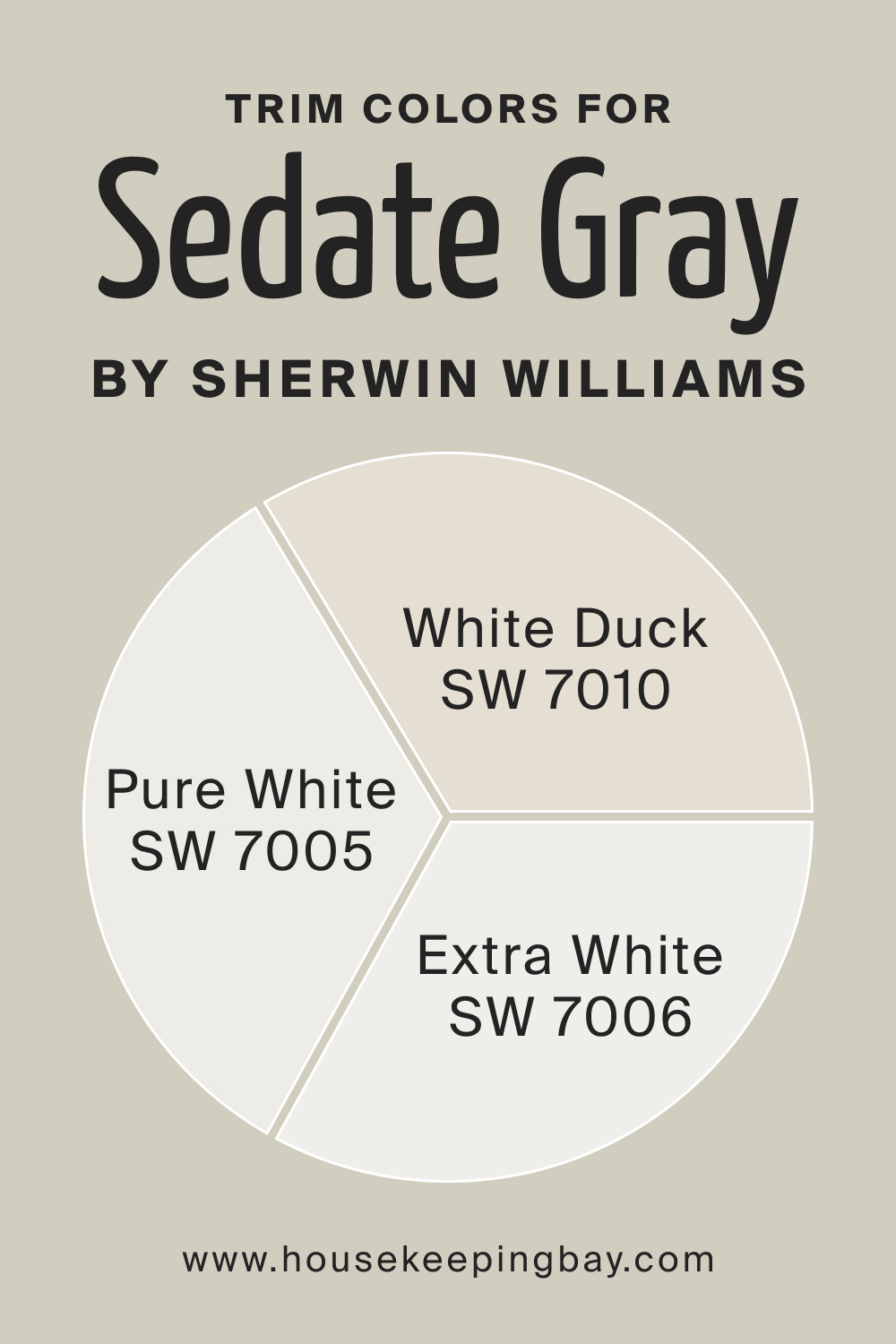 Colors Similar to SW 6169 Sedate Gray
Knowing similar colors provides flexibility in design. Similar colors to SW Sedate Gray include:
SW 7050 Useful Gray: A pragmatic gray that adapts well.
SW 9516 Accolade: A mild gray with welcoming warmth.
SW 9521 Simple Stone: A sturdy gray with a touch of elegance.
SW 9616 Dumpling: A beige-gray that exudes comfort.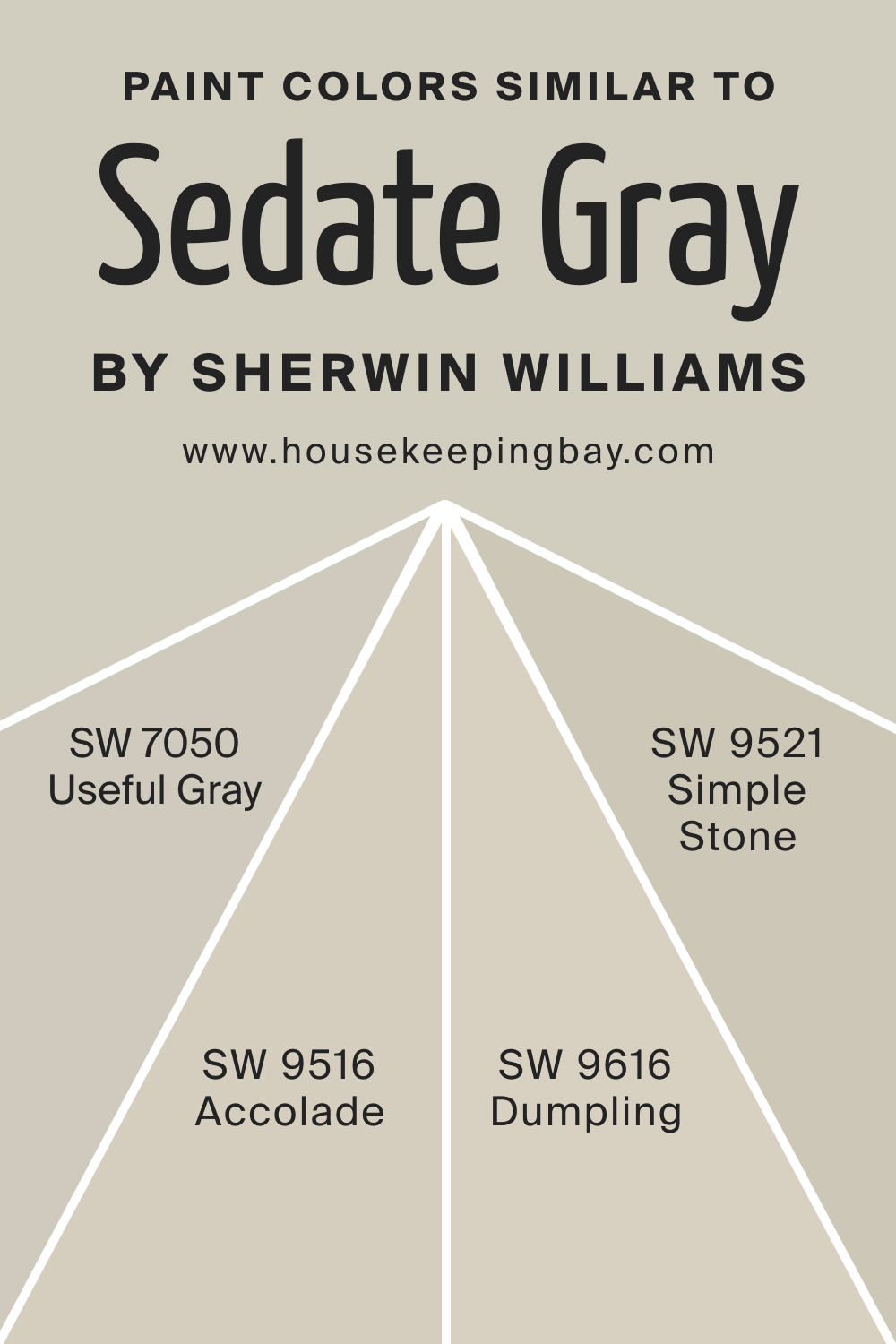 Colors That Go With SW 6169 Sedate Gray
Using colors that complement each other creates harmony within a space. Along with SW Sedate Gray, consider these shades:
SW 7059 Unusual Gray: A unique gray with subtle charm.
SW 6172 Hardware: A strong, hardware-inspired gray.
SW 6255 Morning Fog: A refreshing light gray.
Additional Colors:
SW 7669 Summit Gray: A towering, assertive gray.
SW 6183 Conservative Gray: A steady and traditional gray.
SW 6225 Sleepy Blue: A calming blue that pairs well with Sedate Gray.
In conclusion, SW 6169 Sedate Gray is a versatile and engaging color that can act as a neutral backdrop or stand out as a statement piece. Its adaptability, coordinating colors, and compatibility with various lighting conditions make it an appealing choice for various interior styles.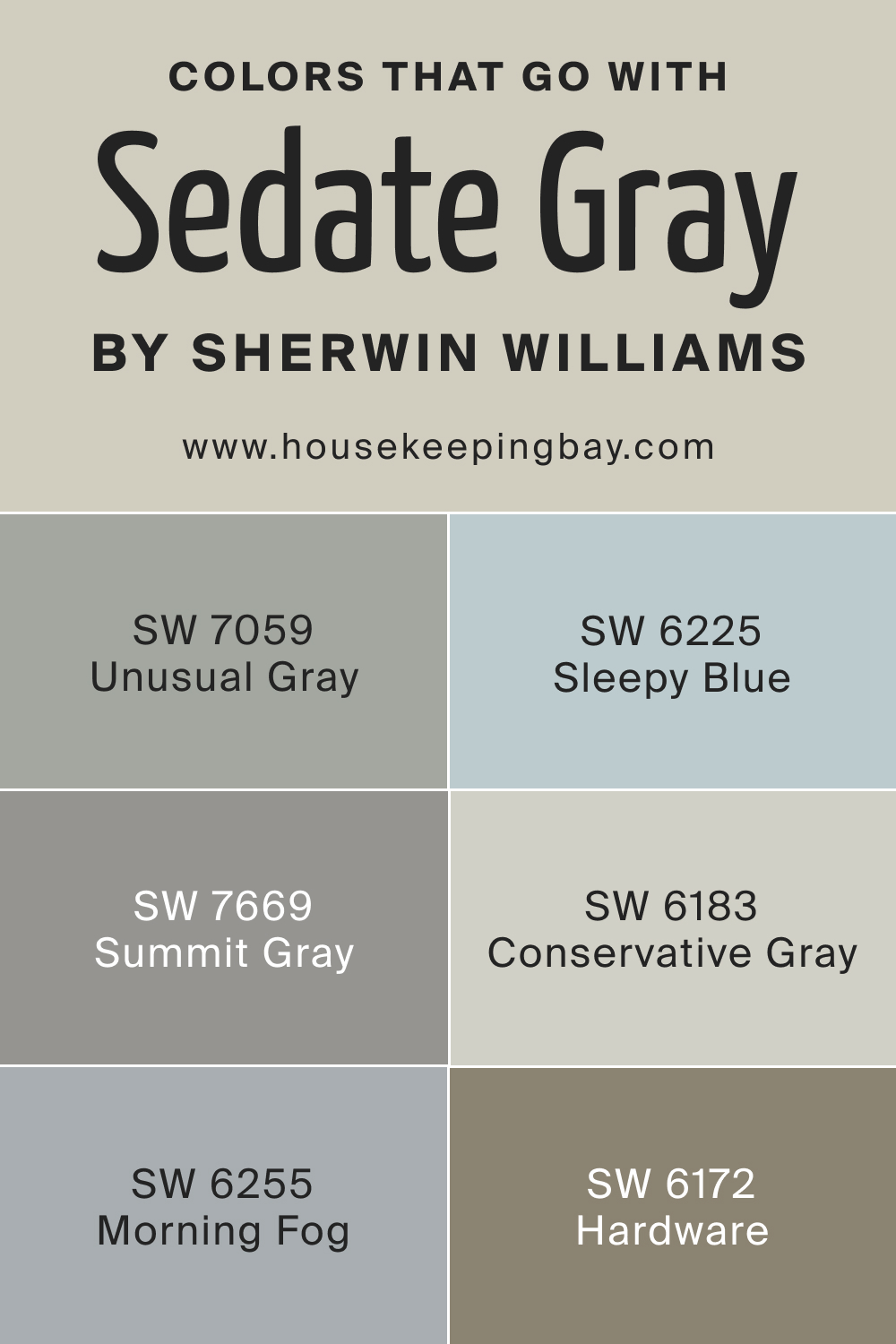 How to Use SW 6169 Sedate Gray In Your Home?
Sedate Gray is a versatile color that can be used in almost any room of the house. Its soothing tones are suitable for both spacious and intimate areas, fitting effortlessly with modern, rustic, minimalist, and even classical interiors. From bedrooms to kitchens, living rooms to bathrooms, Sedate Gray's adaptable nature offers endless design possibilities.
How to Use SW 6169 Sedate Gray in the Bedroom?
In the bedroom, Sedate Gray fosters a serene atmosphere. Its subtle green undertones promote relaxation and complement various textures and accessories. Paired with soft lighting and neutral furnishings, it can create a tranquil retreat for rest and rejuvenation.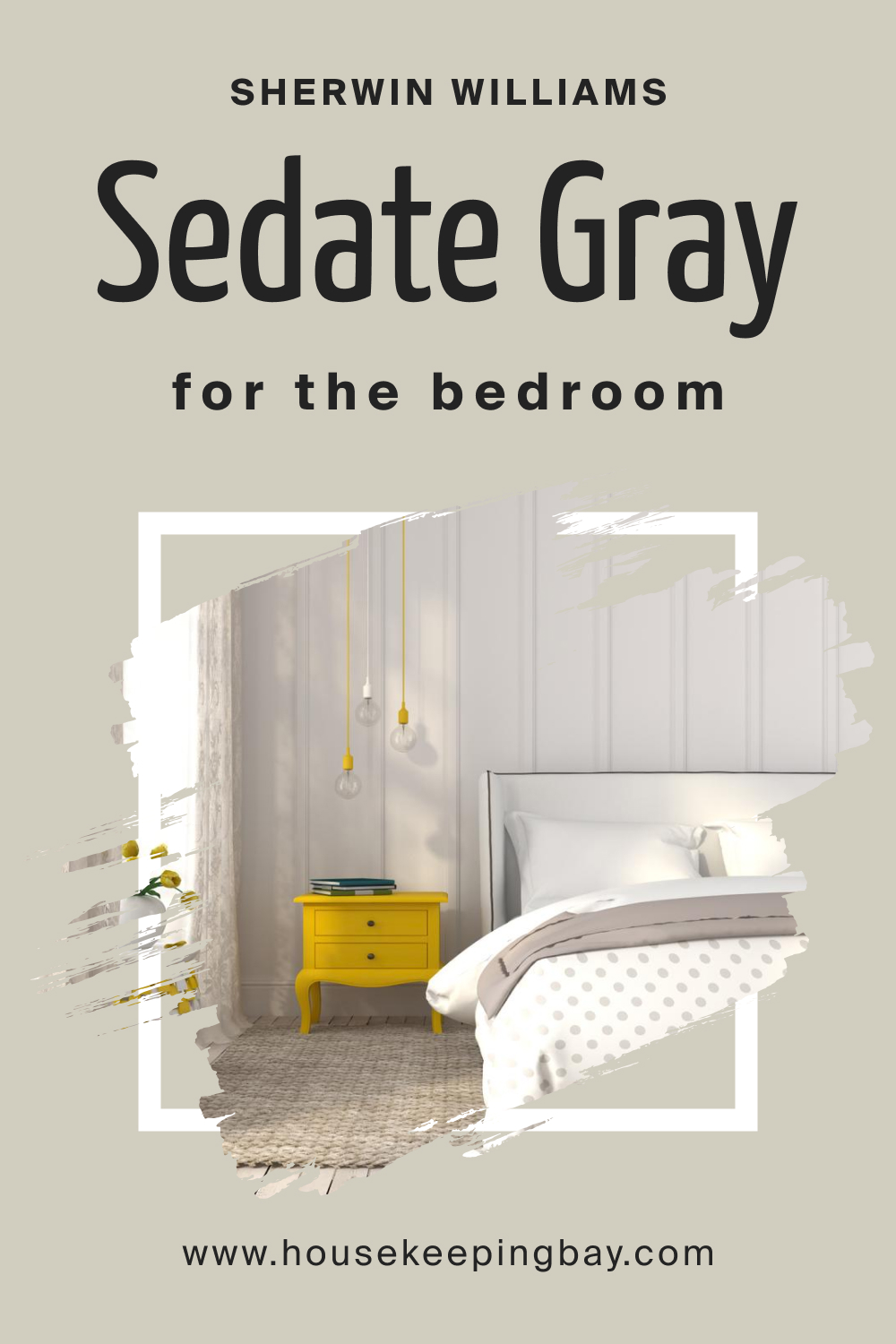 How to Use SW 6169 Sedate Gray in the Bathroom?
For the bathroom, Sedate Gray offers a spa-like ambiance. Its fresh and clean appearance enhances natural materials like stone and wood, creating a calming environment. When combined with white accents and natural light, it gives the bathroom a refreshing and contemporary look.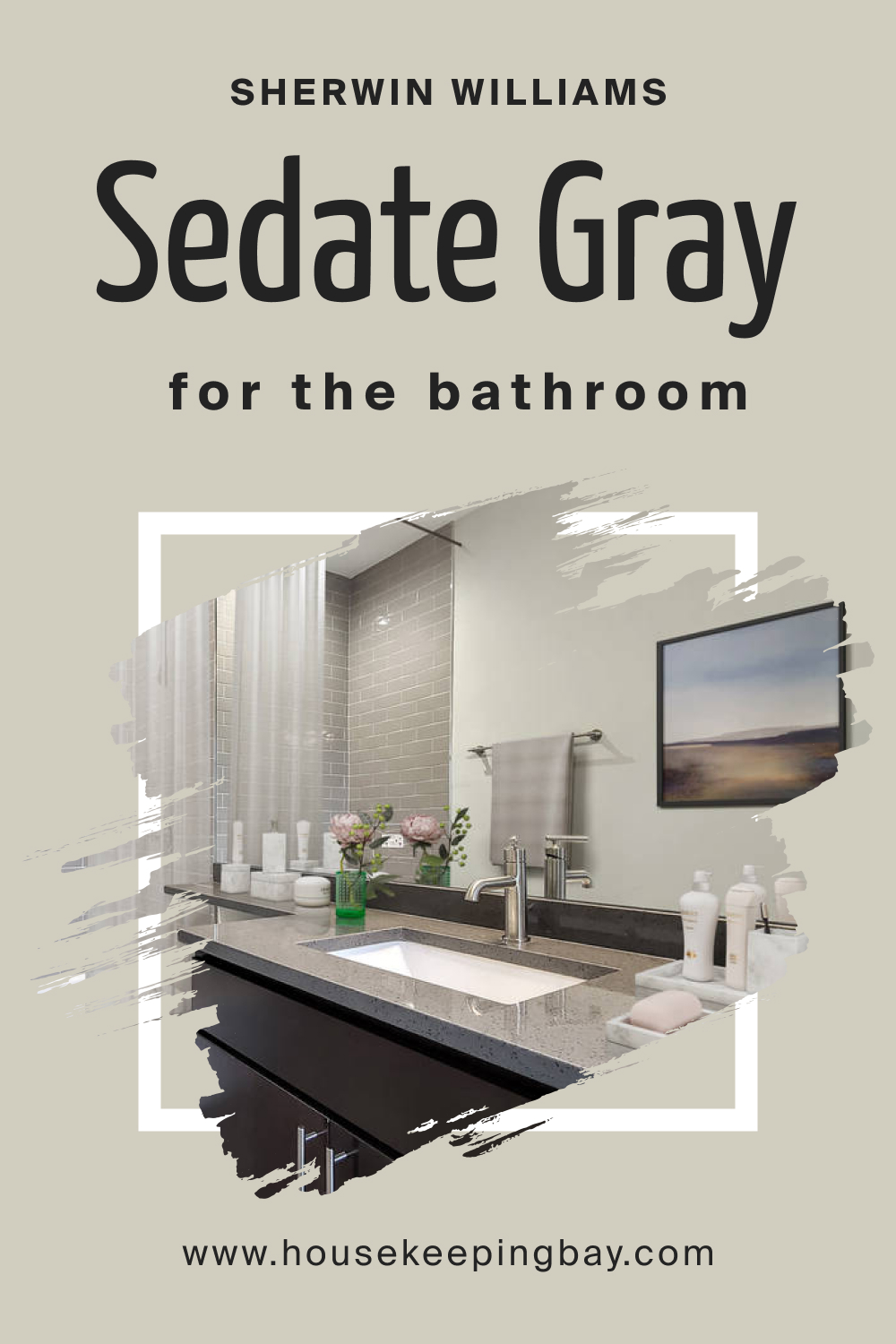 How to Use SW 6169 Sedate Gray in the Living Room?
In the living room, Sedate Gray acts as an elegant backdrop for social gatherings and relaxation. Its adaptability allows it to blend with various color schemes and styles, whether you aim for a modern minimalist aesthetic or a more traditional feel. Adding vibrant accent colors or keeping it monochrome, Sedate Gray always impresses.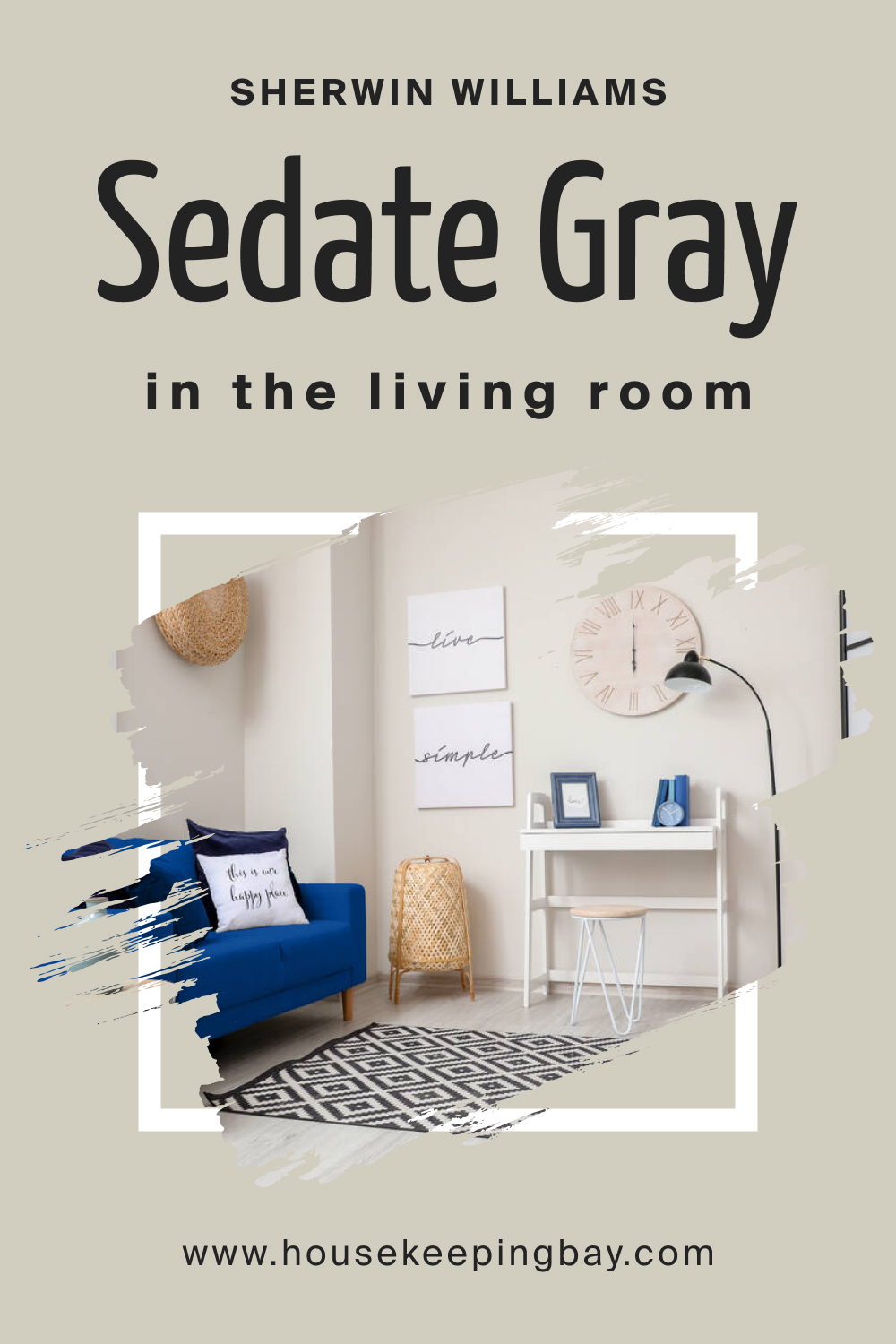 How to Use SW 6169 Sedate Gray for an Exterior?
SW Sedate Gray is not limited to interiors; it can enhance the exterior of a home too. Its muted elegance adds a touch of sophistication to façades, blending well with natural landscapes and different architectural styles. Pair it with dark trim colors for a striking contrast or softer tones for a harmonious look.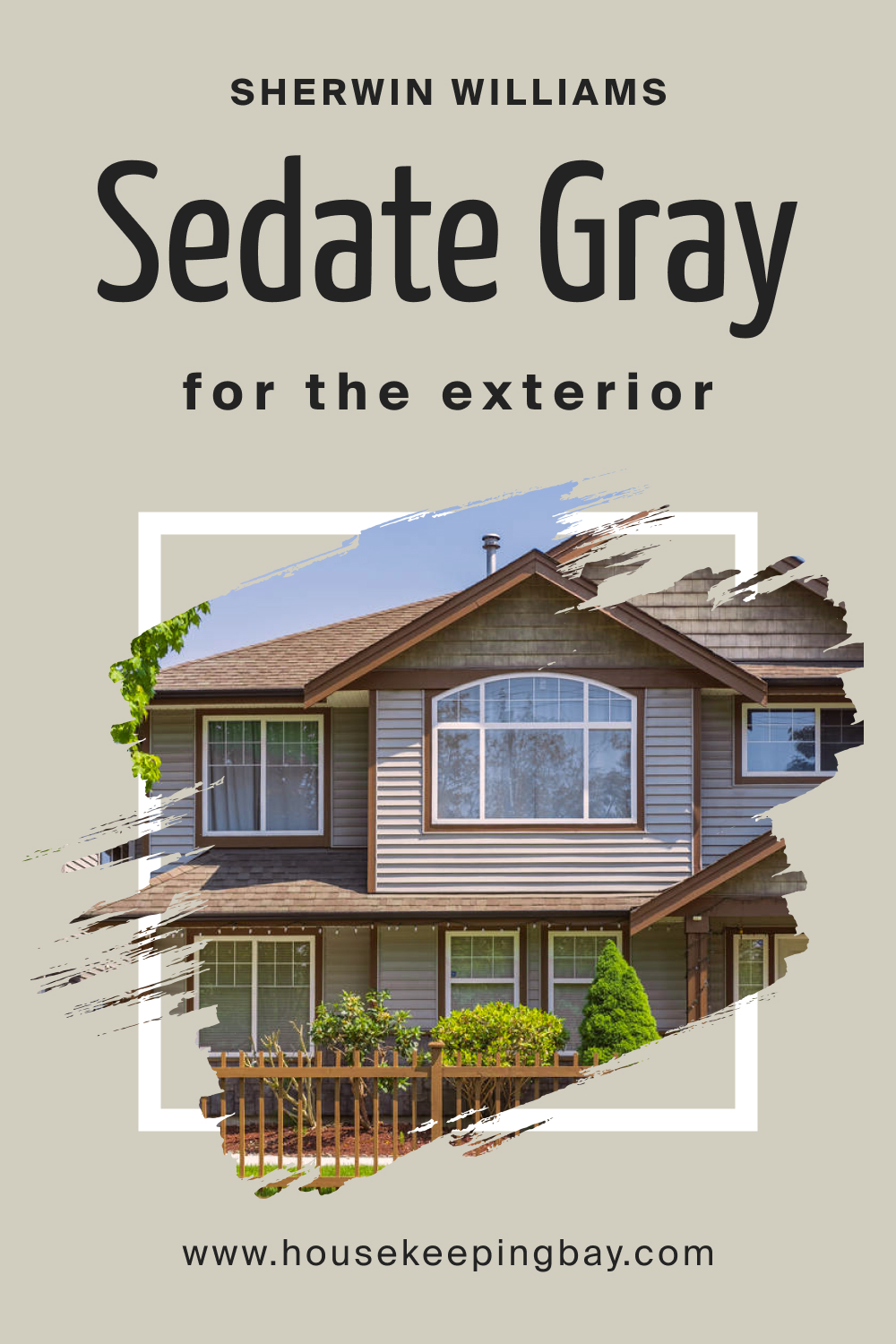 How to Use SW 6169 Sedate Gray in the Kitchen?
In the kitchen, SW Sedate Gray can create a space that's both functional and beautiful. Its neutral shade supports various design approaches, from modern to farmhouse styles. With the right accessories, lighting, and complementary colors, Sedate Gray can make the kitchen a welcoming place to cook and dine.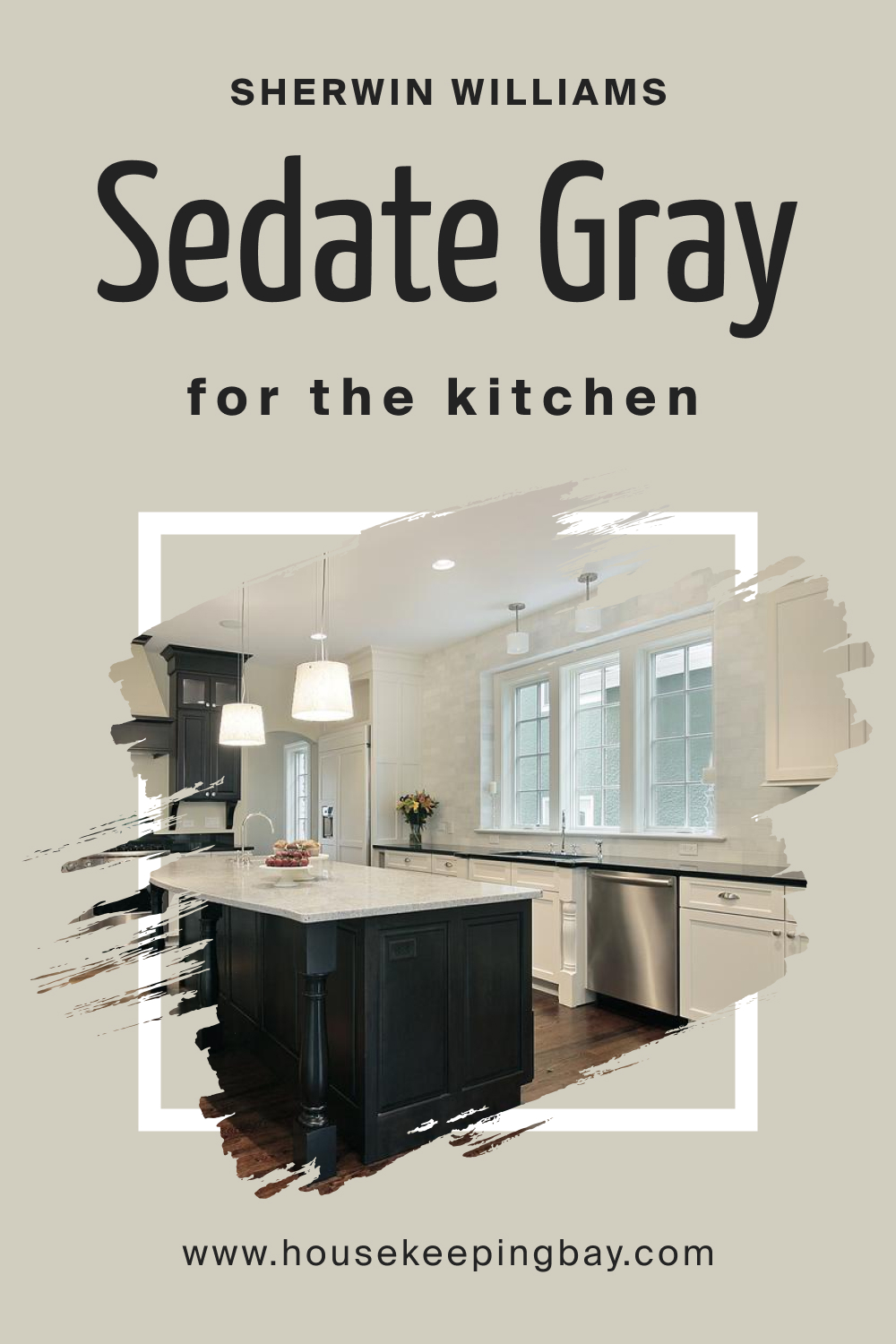 How to Use SW 6169 Sedate Gray for the Kitchen Cabinets?
Utilizing SW Sedate Gray for kitchen cabinets can transform an ordinary kitchen into an extraordinary one. The color provides a sophisticated and timeless appearance, working well with both dark countertops and light, airy environments. Whether aiming for a sleek, modern look or a warm, rustic appeal, Sedate Gray cabinets offer endless design possibilities.
In all, SW 6169 Sedate Gray offers a multitude of applications throughout the home, blending effortlessly with different styles and functions. Its universal appeal and versatile nature make it a wise choice for those looking to create spaces that are both stylish and comforting.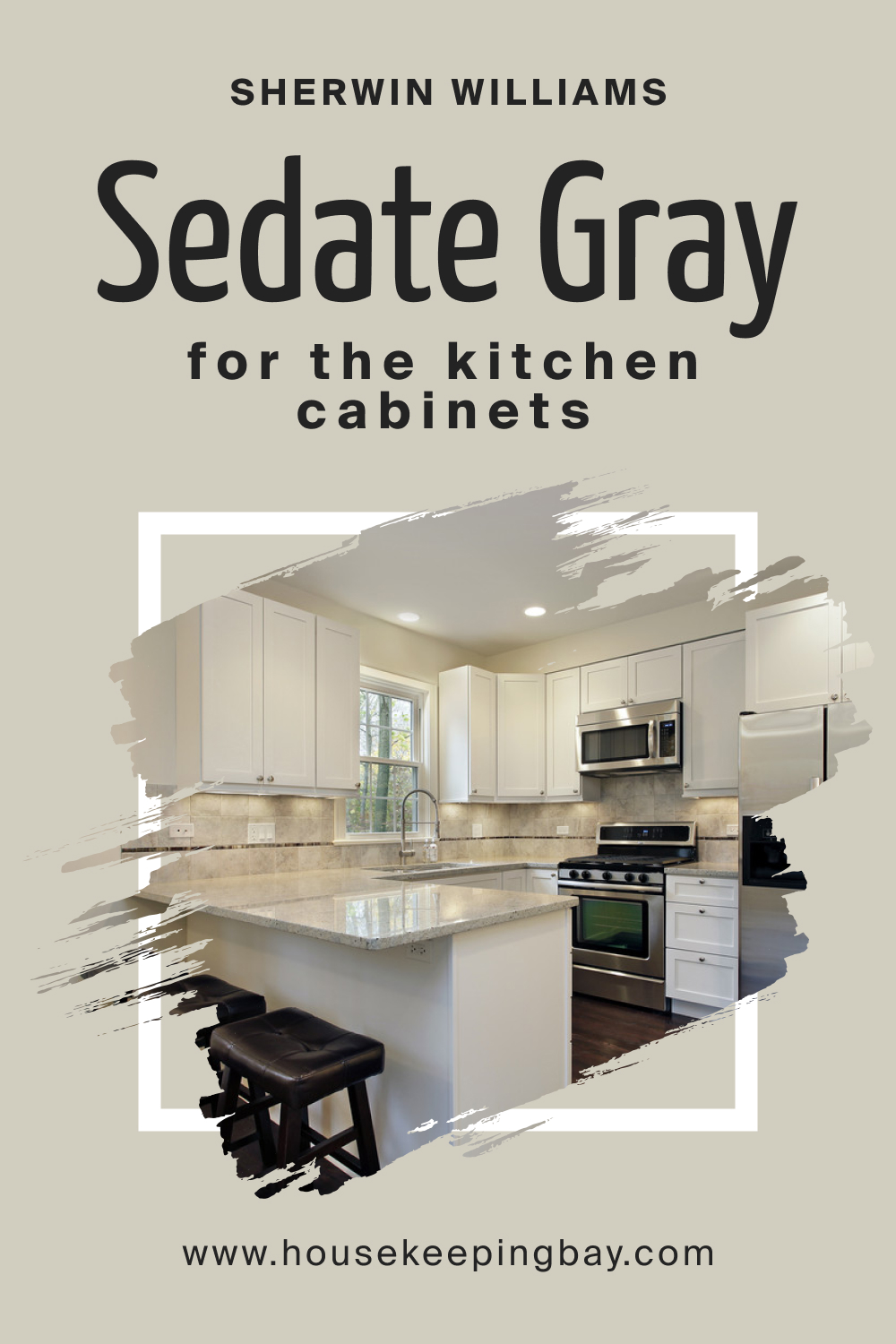 Comparing SW 6169 Sedate Gray With Other Colors
Comparing different colors is vital in interior design as it helps to understand how colors interact, complement, or contrast with each other. By comparing SW 6169 Sedate Gray with other colors, you can identify its unique characteristics and how it fits into a particular color scheme.
It allows for a more precise selection of hues, ensuring that the color choices align with the desired aesthetic and mood of the space.
SW 6169 Sedate Gray vs. SW 7638 Jogging Path
SW Sedate Gray offers a cool, serene presence with its soft green undertones, whereas Jogging Path has a warmer, beige undertone. While Sedate Gray provides a calm and tranquil feel, Jogging Path brings in an earthy, natural touch, ideal for creating a cozy atmosphere.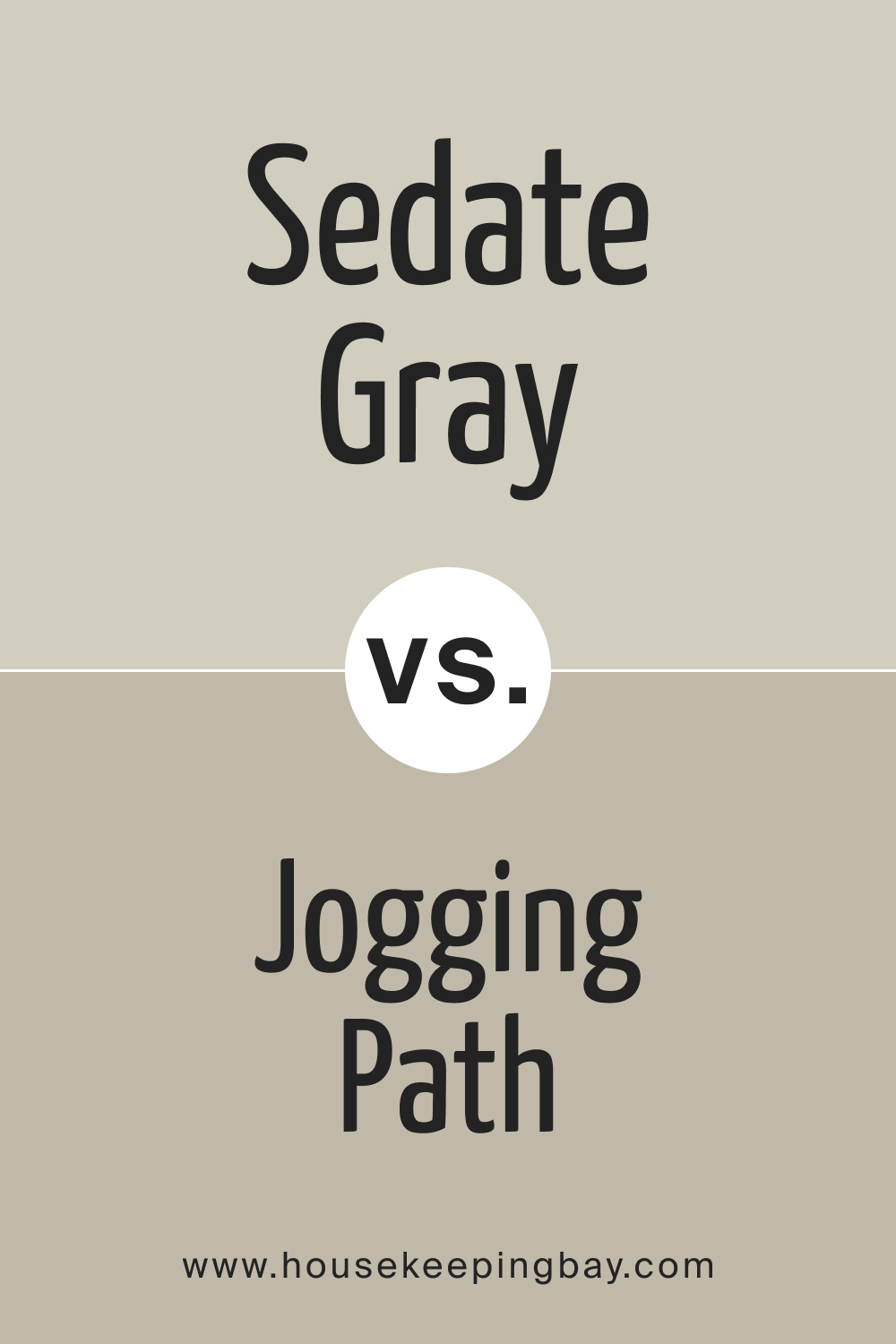 SW 6169 Sedate Gray vs. SW 6185 Escape Gray
SW Escape Gray leans more towards a neutral, balanced gray with a versatile appeal. Sedate Gray's soft green undertones set it apart, adding a fresh dimension. While both colors are adaptable, Sedate Gray tends to offer a more calming ambiance, and Escape Gray serves as a neutral canvas.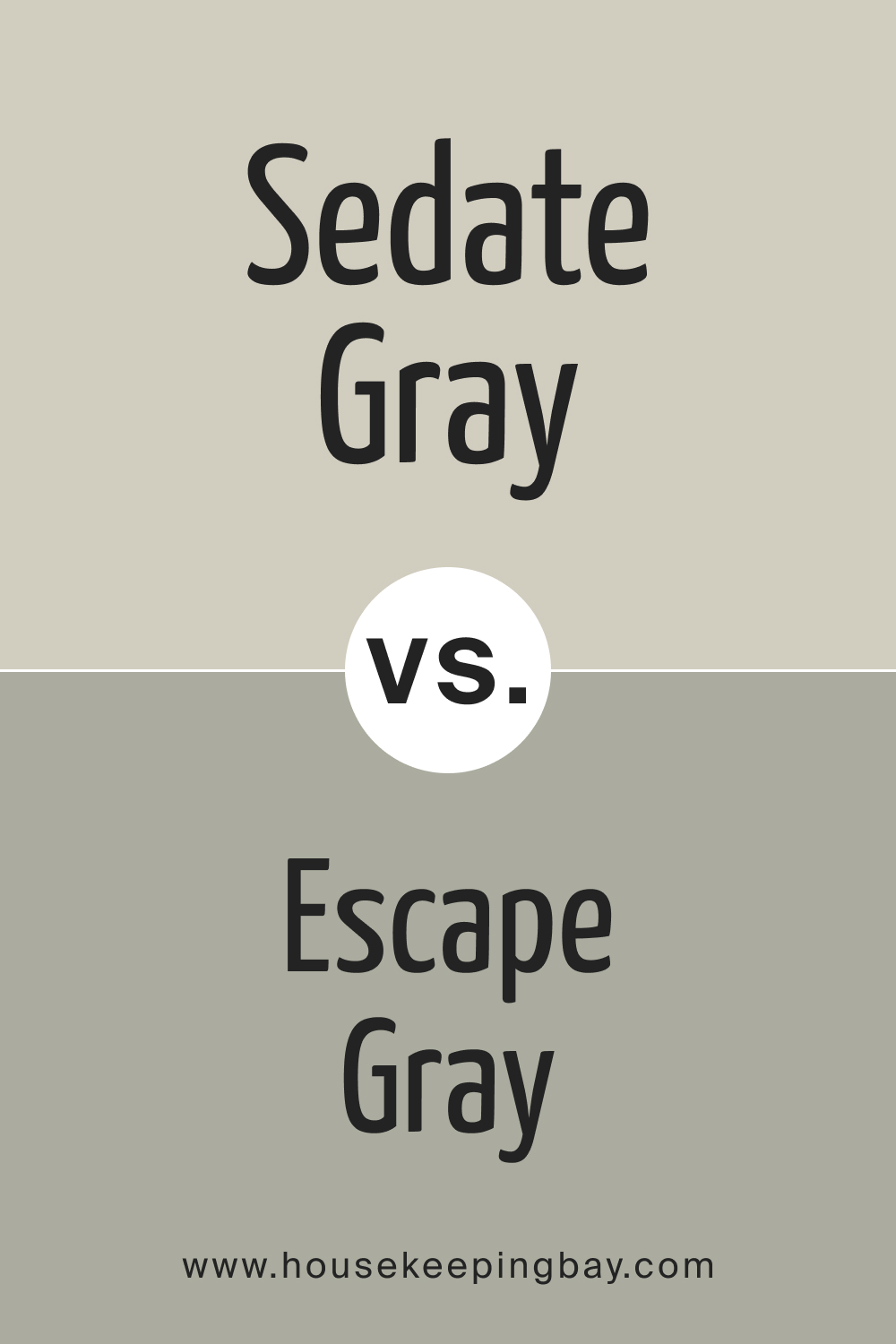 SW 6169 Sedate Gray vs. SW 0055 Light French Gray
SW Light French Gray is a softer, lighter shade with bluish undertones. It imparts a delicate elegance, while Sedate Gray provides a touch of complexity with its green undertones. Light French Gray can be used for a minimalist, airy feel, whereas Sedate Gray adds depth and character.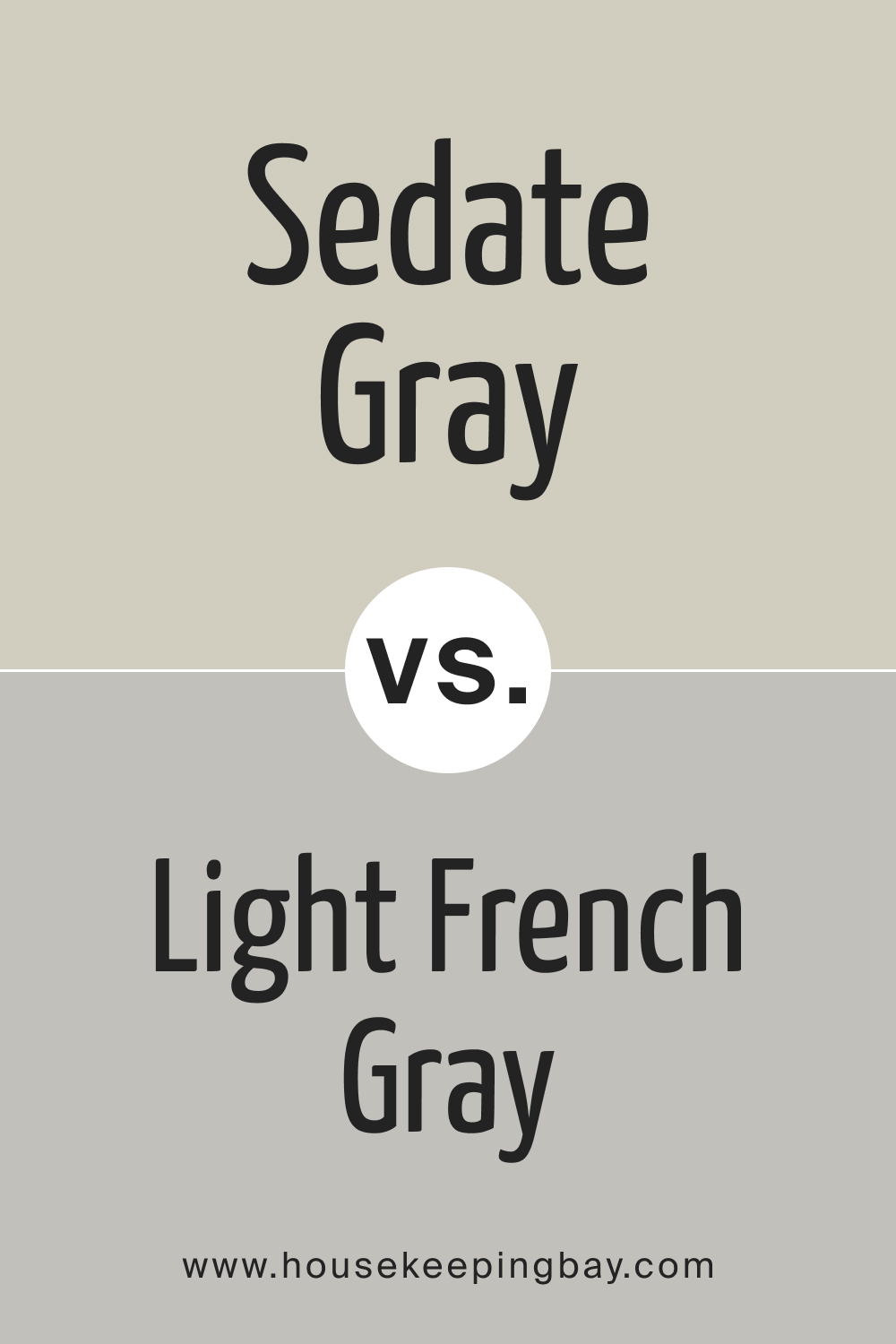 SW 6169 Sedate Gray vs. SW 6171 Chatroom
SW Chatroom has a taupe-like quality, blending gray and brown. This contrast to Sedate Gray's cool green undertones makes it warmer and more inviting. While Sedate Gray promotes tranquility, Chatroom adds a touch of richness and sophistication.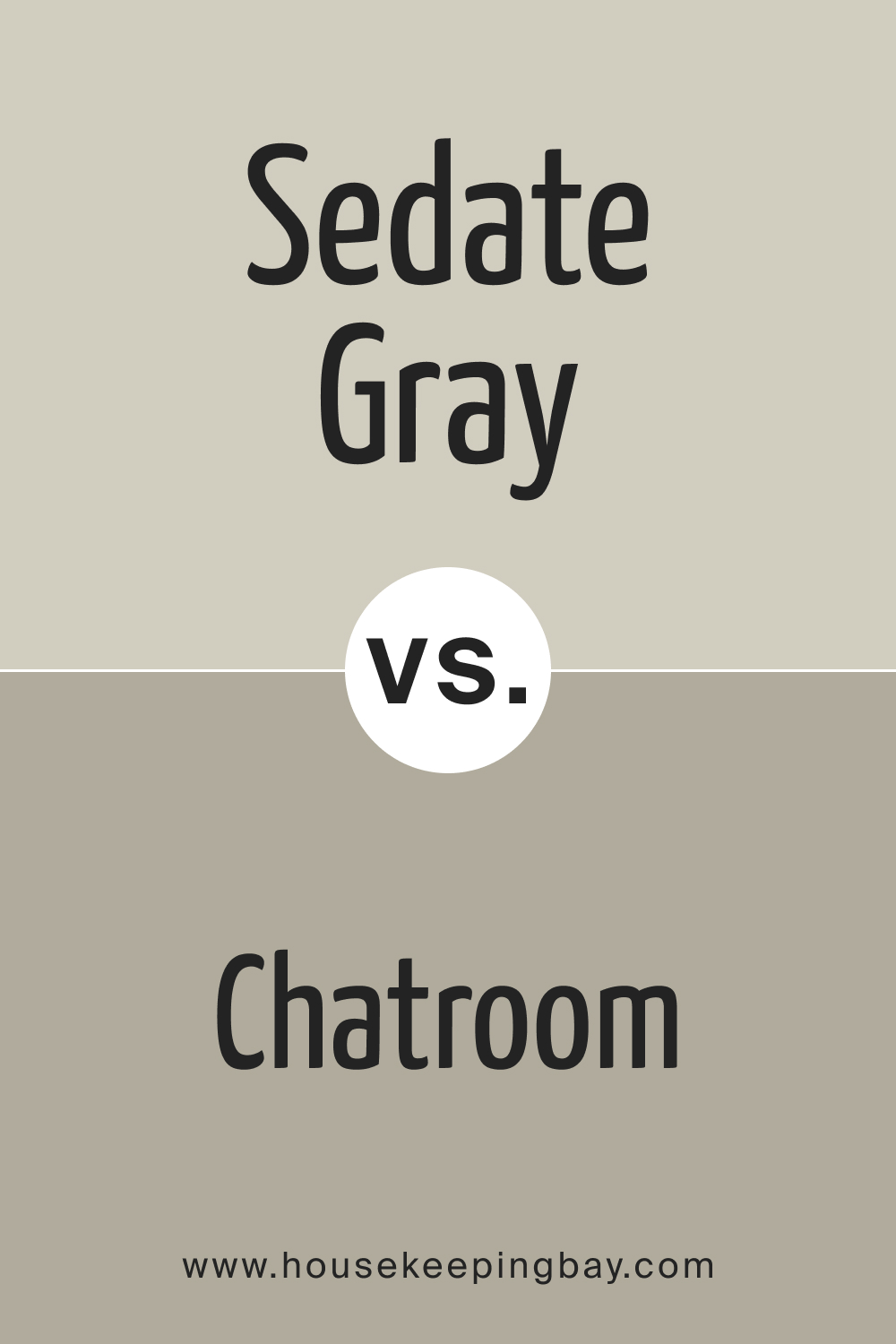 SW 6169 Sedate Gray vs. SW 6162 Ancient Marble
SW Ancient Marble has a similar green undertone as Sedate Gray but with a lighter, more ethereal quality. Its delicate shade brings a touch of nature indoors, while Sedate Gray's deeper tone offers a more grounded feel. Both colors create a refreshing environment, but their intensity differs.
SW 6169 Sedate Gray vs. SW 6252 Ice Cube
SW Ice Cube is a cooler gray with bluish undertones, providing a crisp and clean appearance. In contrast, Sedate Gray's green undertones make it feel warmer and more organic. While Ice Cube can be used for a sleek, modern look, Sedate Gray offers a more comforting and welcoming presence.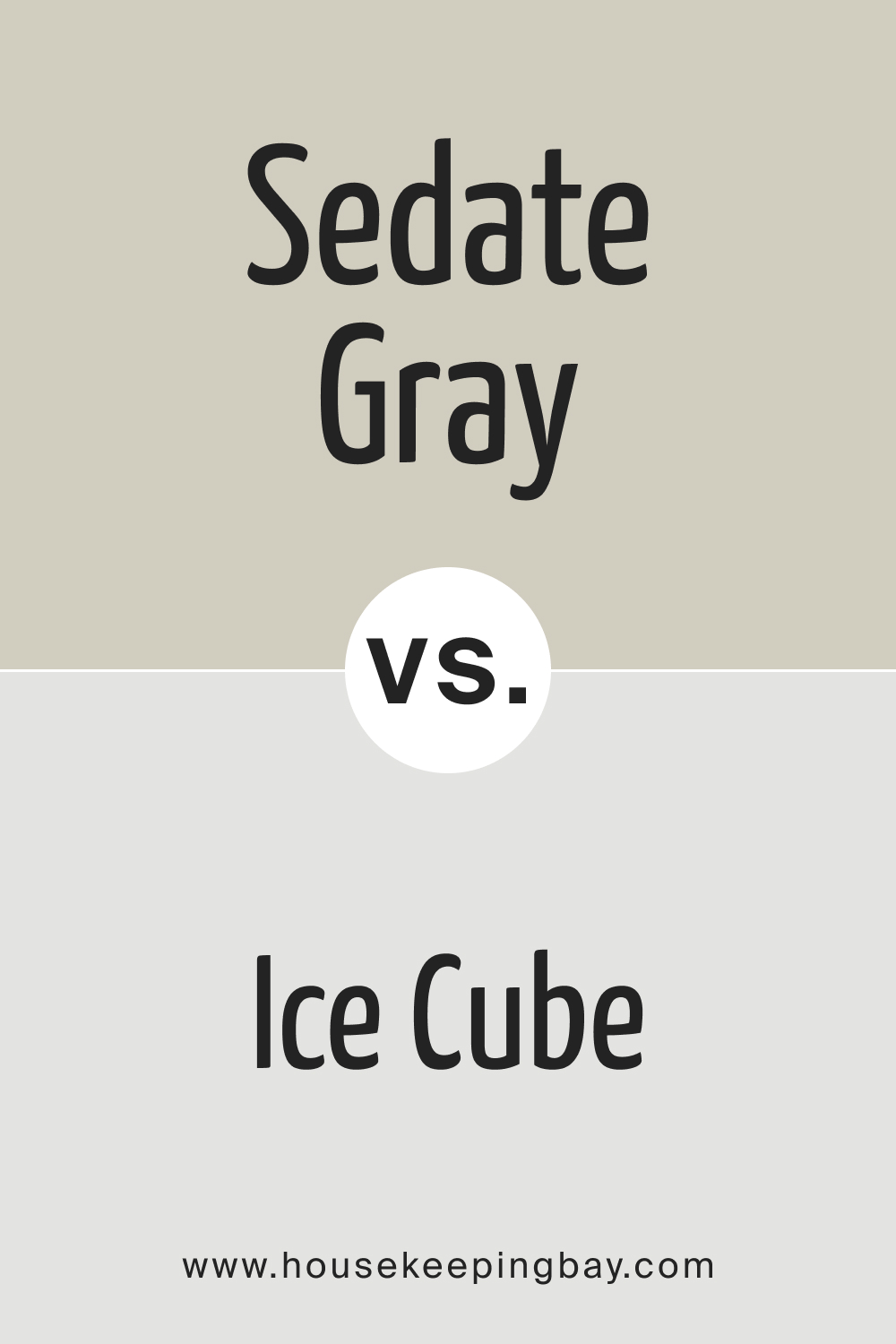 Conclusion
SW 6169 Sedate Gray is a multifaceted color that can be both soothing and invigorating, depending on its surroundings. Its comparison with different shades reveals its distinctive qualities, offering insights into how it can be employed in various interior styles.
Understanding these nuances helps in achieving a harmonious design, where each color serves a purpose, enhancing the overall aesthetic appeal. Whether used as a statement color or a subtle background shade, Sedate Gray's adaptability makes it a valuable addition to any color palette.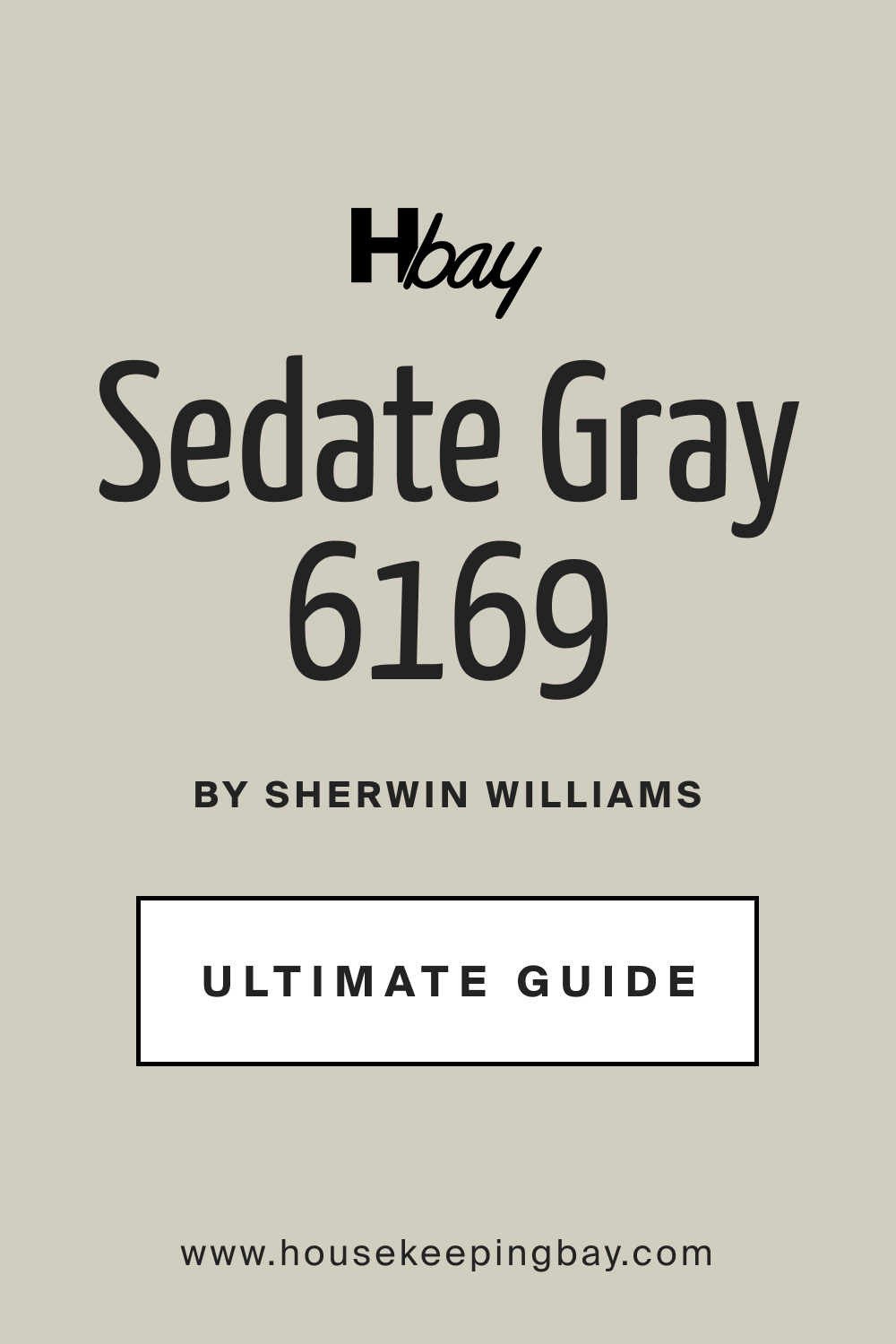 Frequently Asked Questions
⭐What undertones does SW 6169 Sedate Gray have?
Sedate Gray has soft green undertones that give it a calm and soothing appearance. These undertones allow the color to blend seamlessly with natural elements, making it versatile in various interior styles.
⭐Can SW 6169 Sedate Gray be used for exteriors?
Yes, SW 6169 Sedate Gray can be used for both interior and exterior applications. Its muted elegance and adaptability make it suitable for various architectural styles, adding sophistication to façades.
⭐What coordinating colors work well with Sedate Gray?
SW 6169 Sedate Gray coordinates well with colors like SW 6168 Moderne White, SW 9141 Waterloo, and SW 9131 Cornwall Slate. It also pairs nicely with other Sherwin-Williams shades, offering a harmonious color scheme.
⭐How does lighting affect SW 6169 Sedate Gray?
Lighting plays a significant role in how Sedate Gray appears. Natural light enhances its fresh qualities, while artificial light can change its appearance slightly. The color may look different in rooms facing different directions, offering various visual effects.
⭐Is SW 6169 Sedate Gray a warm or cool color?
SW 6169 Sedate Gray is considered a neutral gray with soft green undertones, giving it a cool yet inviting appearance. It's versatile and can work in both warm and cool color schemes.