SW 6406 Ionic Ivory is a color that stands out among the shades provided by Sherwin-Williams. Its unique blend and ability to complement various interiors make it a preferred choice among designers and homeowners alike.
This article explores the color in detail, examining its warmth or coolness, undertones, coordinating colors, lighting effects, and more.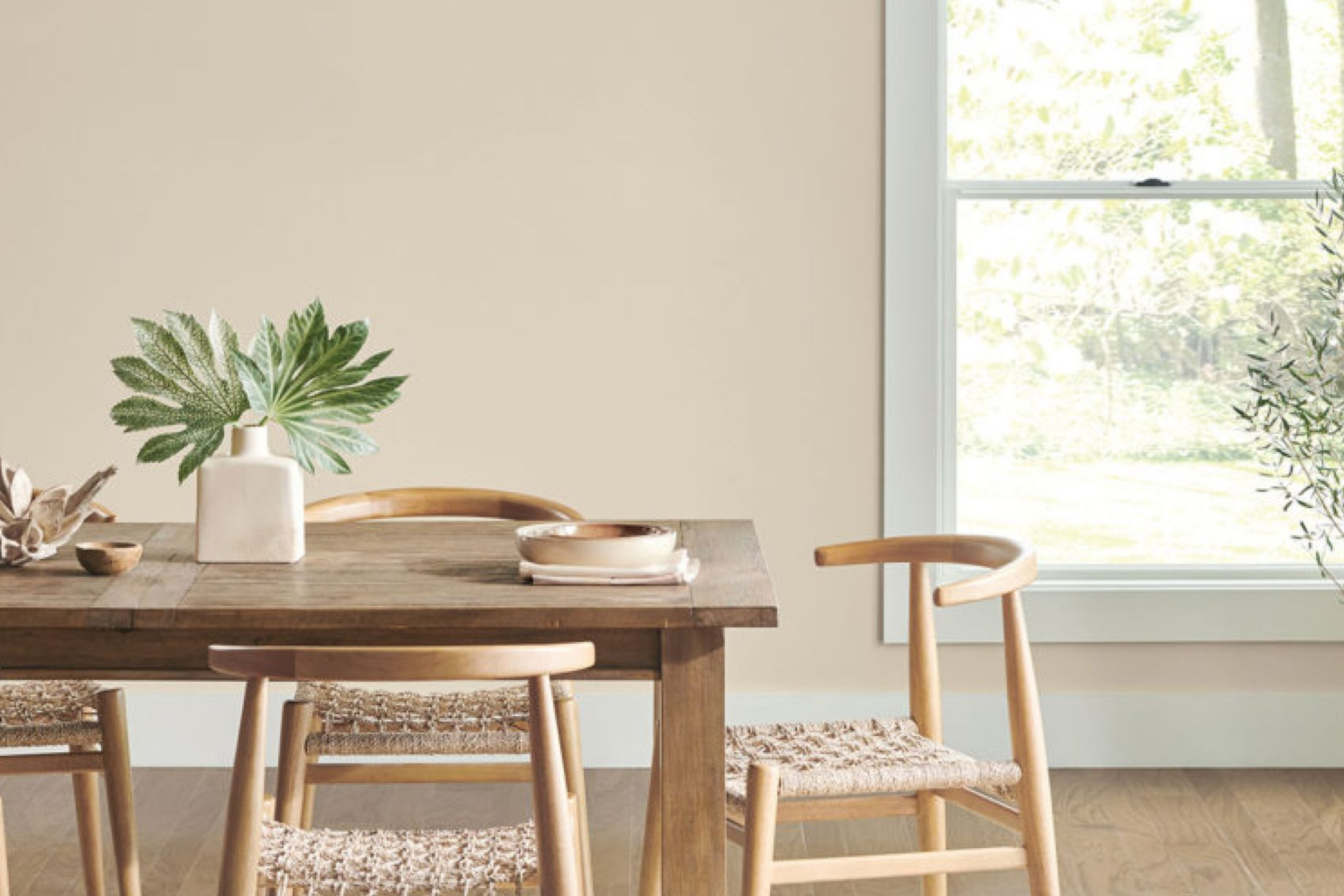 What Color Is SW 6406 Ionic Ivory?
SW 6406 Ionic Ivory is a soft and neutral color with a hint of beige and warmth. This graceful color brings a sense of sophistication and serenity to the interiors. Perfect for transitional and contemporary styles, it pairs beautifully with natural wood, metallic finishes, and various fabric textures.
Its versatility makes it suitable for living rooms, bedrooms, and even commercial spaces.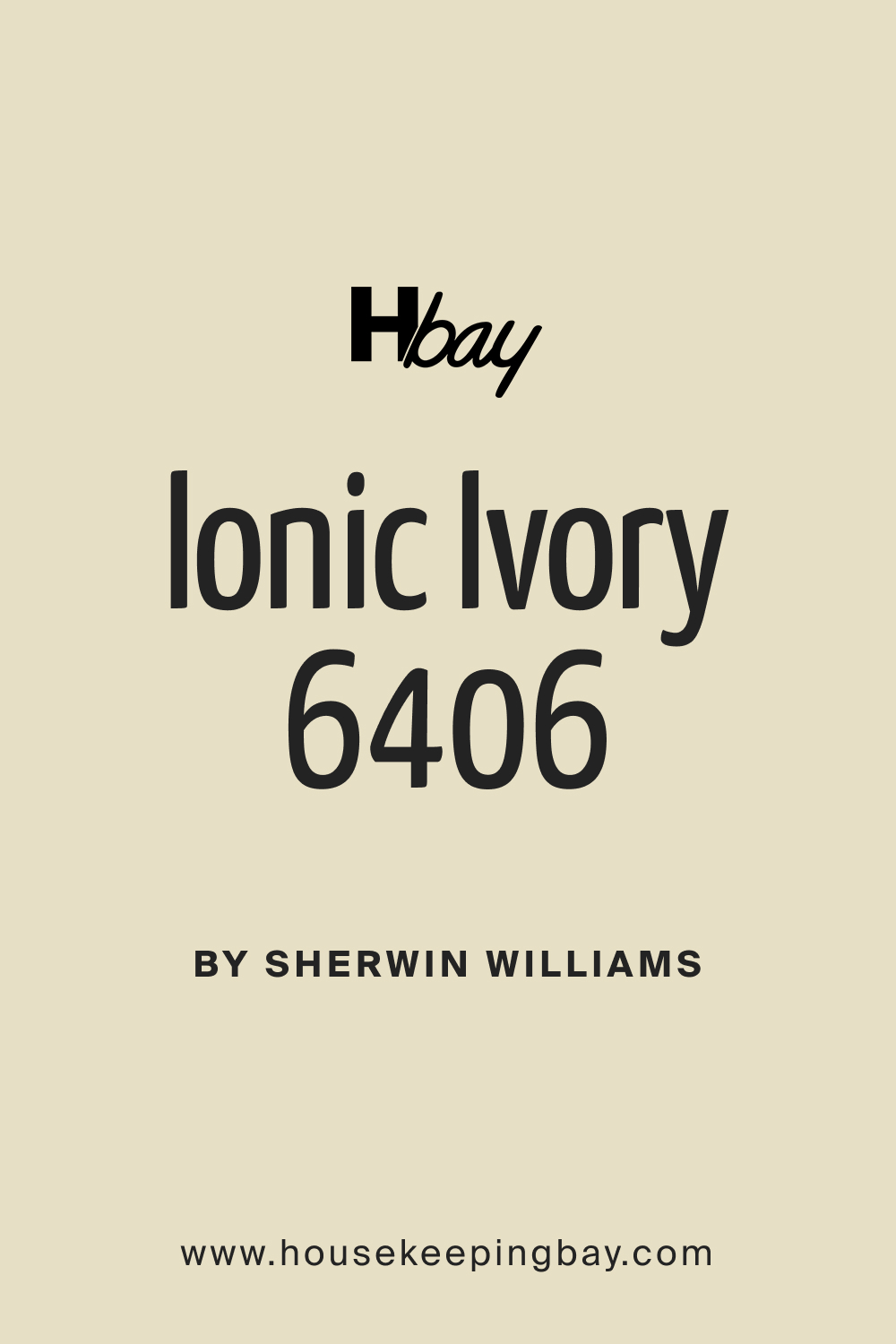 Is It a Warm or Cool Color?
SW 6406 Ionic Ivory leans towards being a warm color. The subtle warmth brings a cozy and inviting feel to homes, promoting relaxation and comfort. Its warm nature makes it work wonderfully in spaces where an inviting atmosphere is desired, such as family rooms or dining areas.
Undertones of SW 6406 Ionic Ivory
The undertones of Ionic Ivory are slightly yellow and beige, providing a soft richness to the color. These undertones contribute to the perception of warmth and can help create a welcoming ambiance. Understanding these undertones is essential in achieving the right balance and harmony within interior spaces.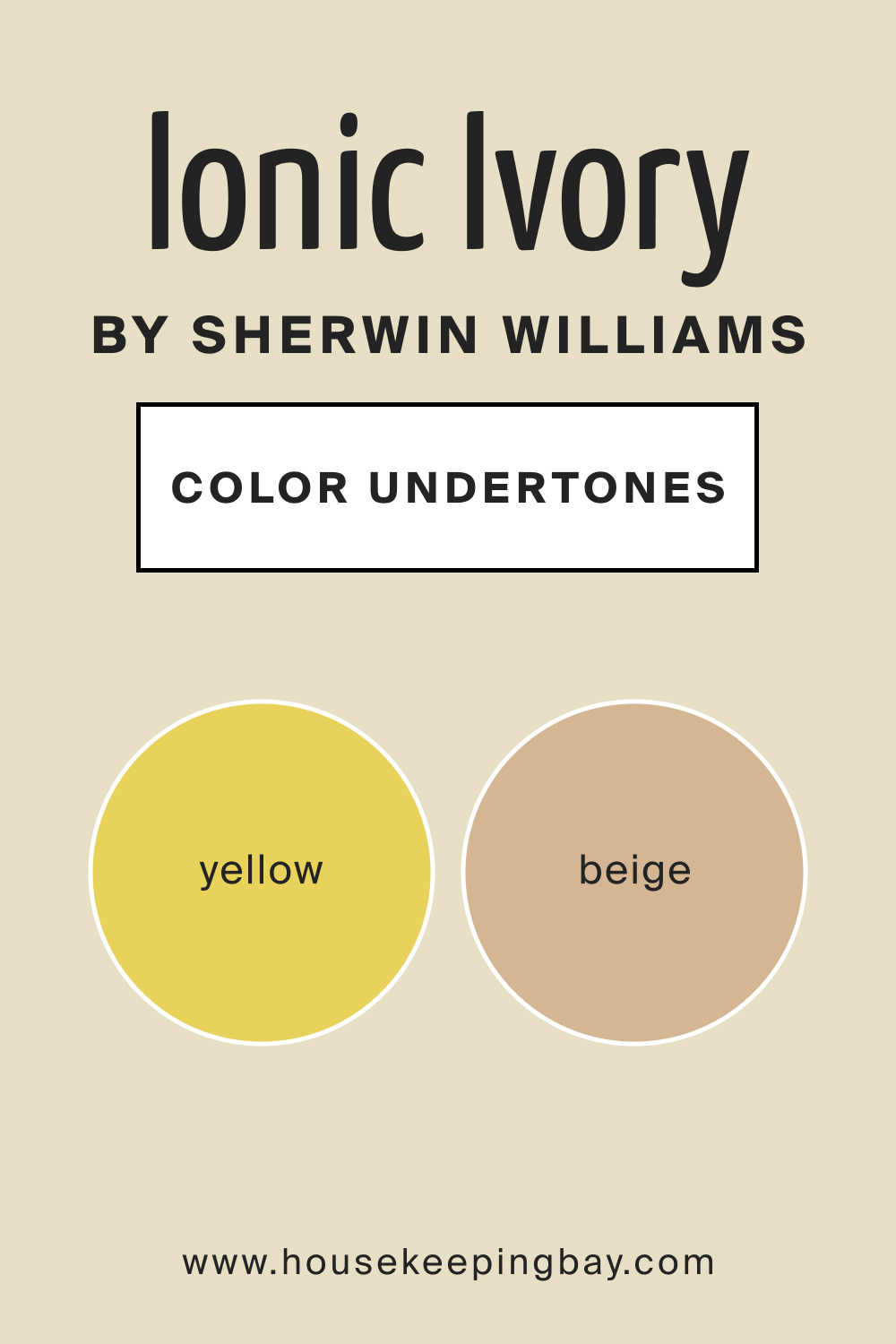 Coordinating Colors of SW 6406 Ionic Ivory
Coordinating colors help in establishing a color palette that works well together. For SW 6406 Ionic Ivory, some coordinating colors include:
SW 7005 Pure White: A clean and neutral white that provides crispness.
SW 6408 Wheat Grass: A gentle green with earthy tones, promoting freshness.
SW 7705 Wheat Penny: A rich, warm brown adding depth and character.
Other coordinating colors from Sherwin-Williams include:
SW 6142 Macadamia: A soft beige with a hint of nutty warmth.
SW 6211 Rainwashed: A refreshing bluish-green that offers a touch of tranquility.
SW 6099 Sand Dollar: A delicate sandy color that adds a beachy feel.
Three additional colors similar to the above:
SW 6126 Navajo White
SW 6098 Pacer White
SW 6046 Swing Brown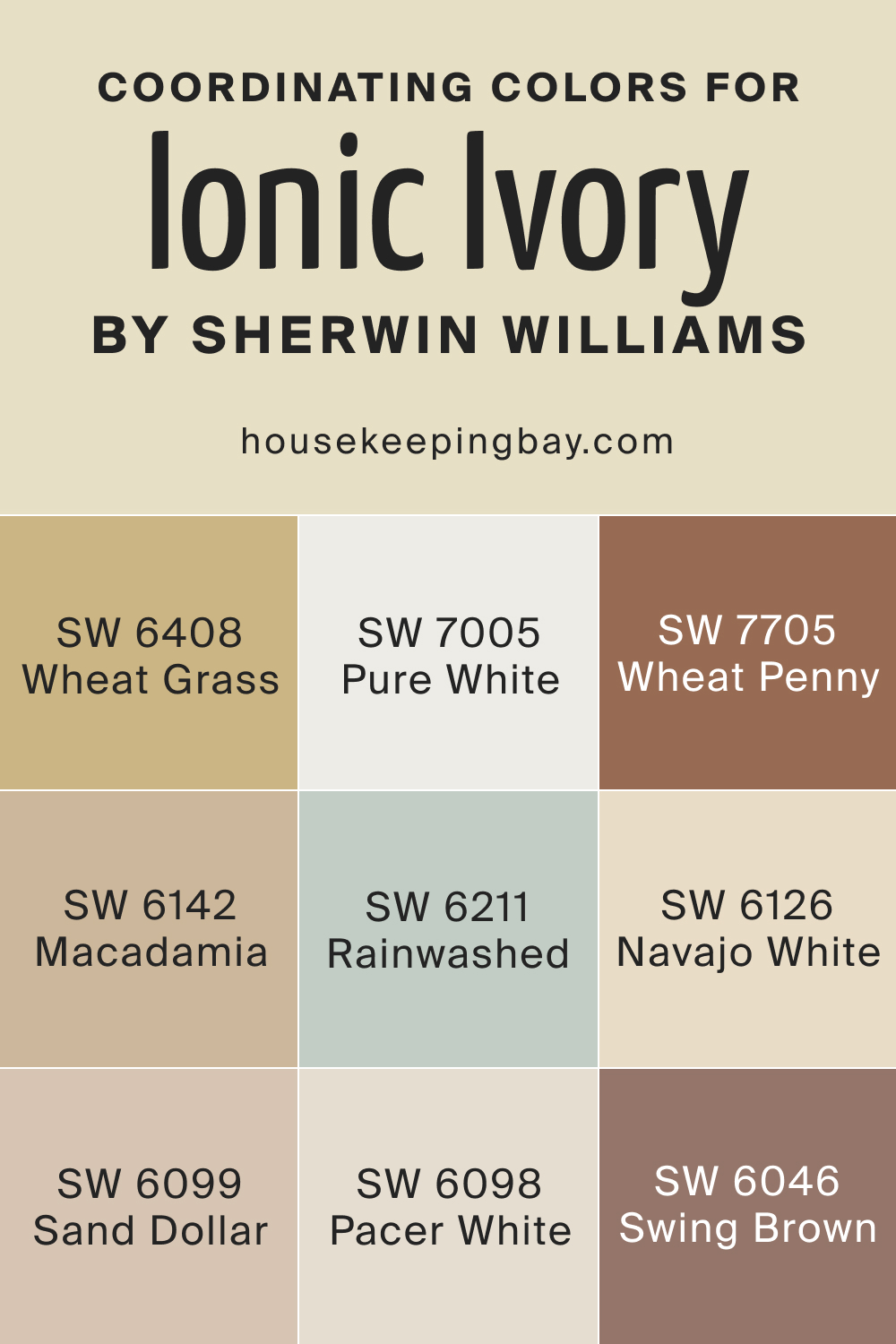 How Does Lighting Affect SW 6406 Ionic Ivory?
Lighting can drastically affect how SW 6406 Ionic Ivory appears. In natural light, the color tends to look more open and soft, embracing its warm undertones. Artificial light may emphasize the beige notes, giving it a slightly more saturated appearance.
North-faced rooms may make the color appear cooler, while south-faced rooms can highlight its warmth. In east-faced rooms, morning light will enhance its softness, and in west-faced rooms, the evening light will deepen the color's richness. Understanding these variations is key to achieving the desired look and feel.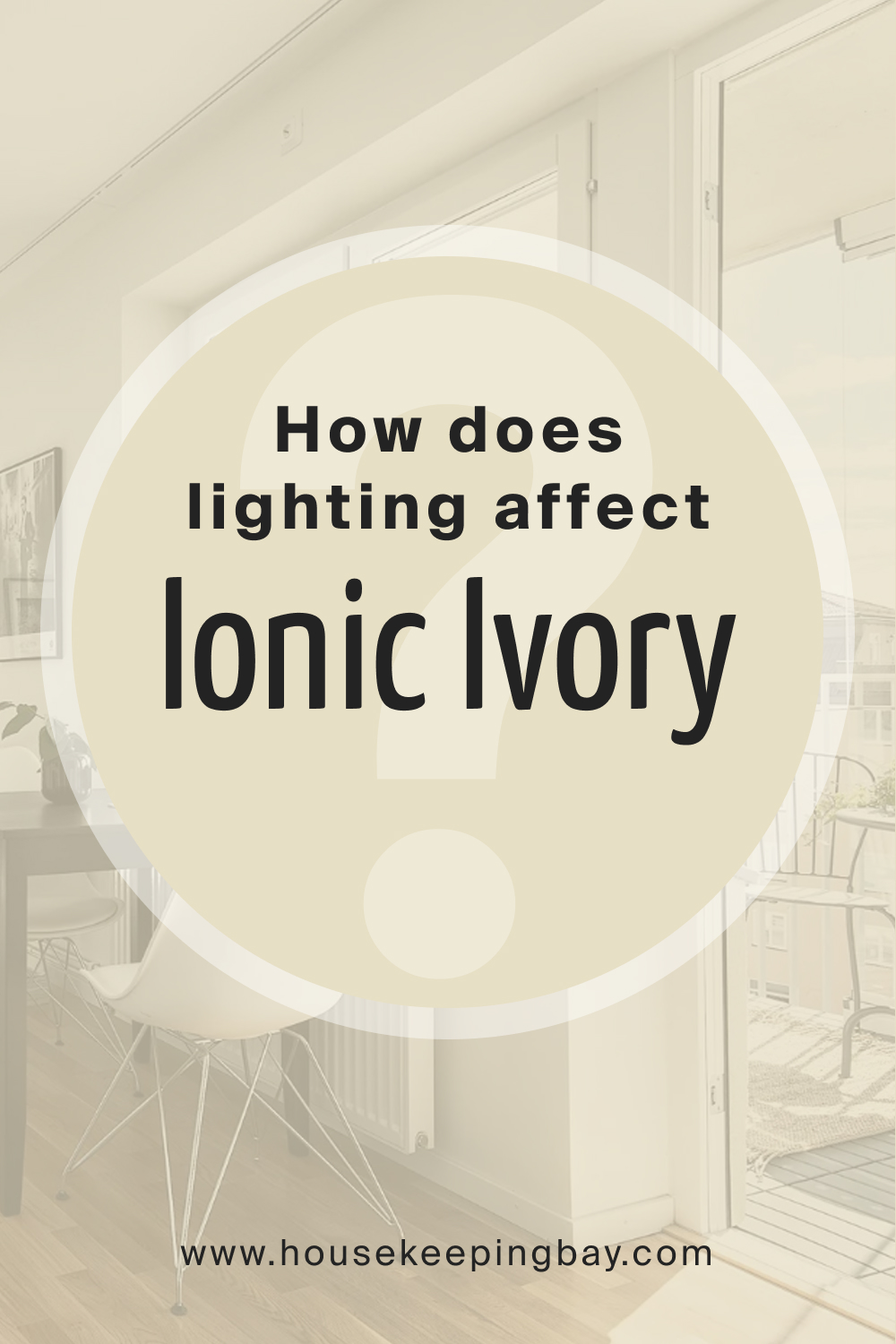 LRV of SW 6406 Ionic Ivory
LRV, or Light Reflectance Value, measures how much light a color reflects. With an LRV of 74, SW 6406 Ionic Ivory falls into a higher range, reflecting a good amount of light. It can make a space feel brighter and more spacious.
The high LRV value ensures that the color remains light and airy, making it suitable for small rooms or spaces needing a fresh appeal.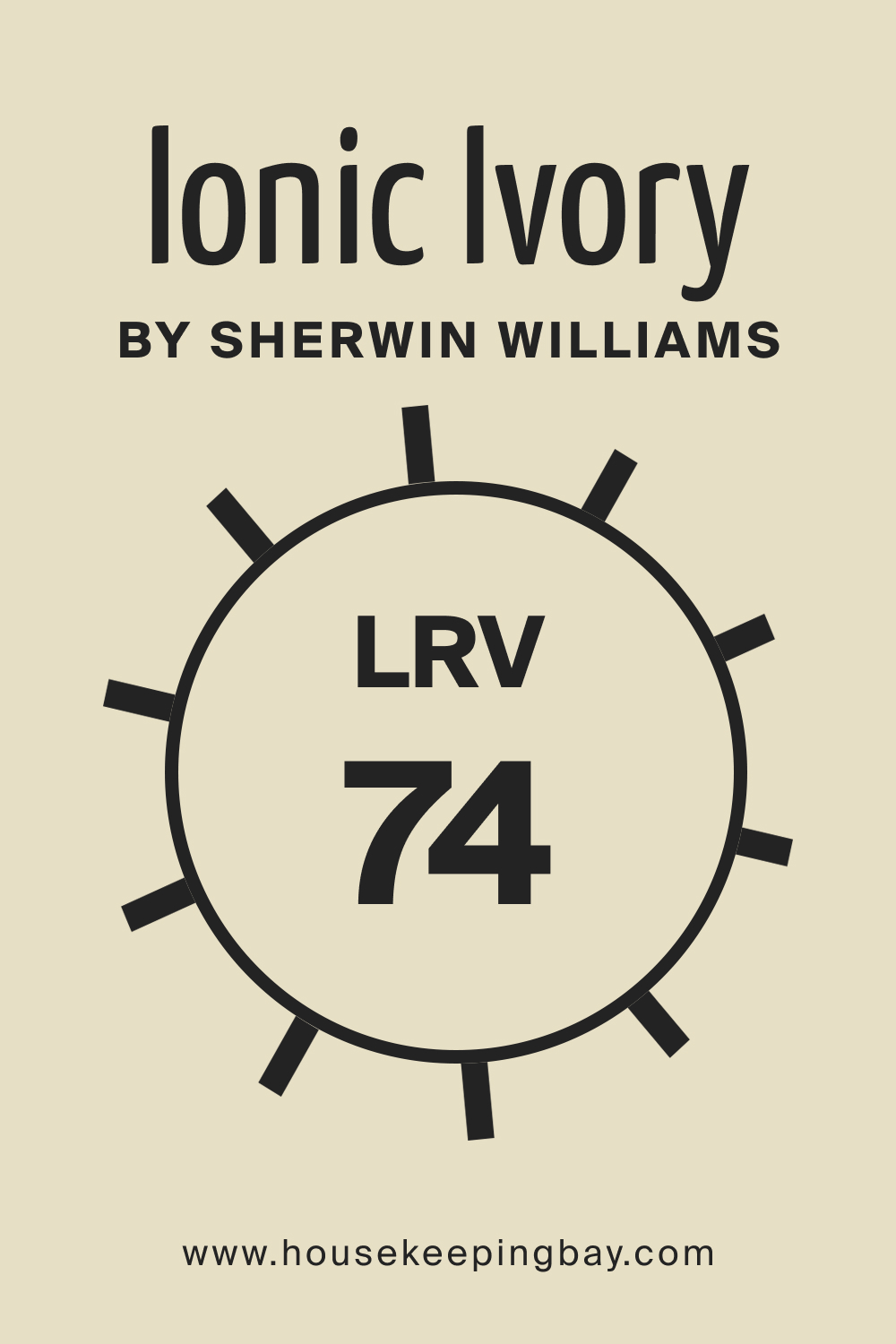 What is LRV? Read it Before You Choose Your Ideal Paint Color
Trim Colors of SW 6406 Ionic Ivory
Trim colors frame and enhance wall colors. For SW 6406 Ionic Ivory, shades of white from Sherwin-Williams, like SW 7005 Pure White, SW 7011 Natural Choice, and SW 7012 Creamy provide an elegant contrast. Choosing the right trim color complements the main wall color, adding definition and sophistication to the room.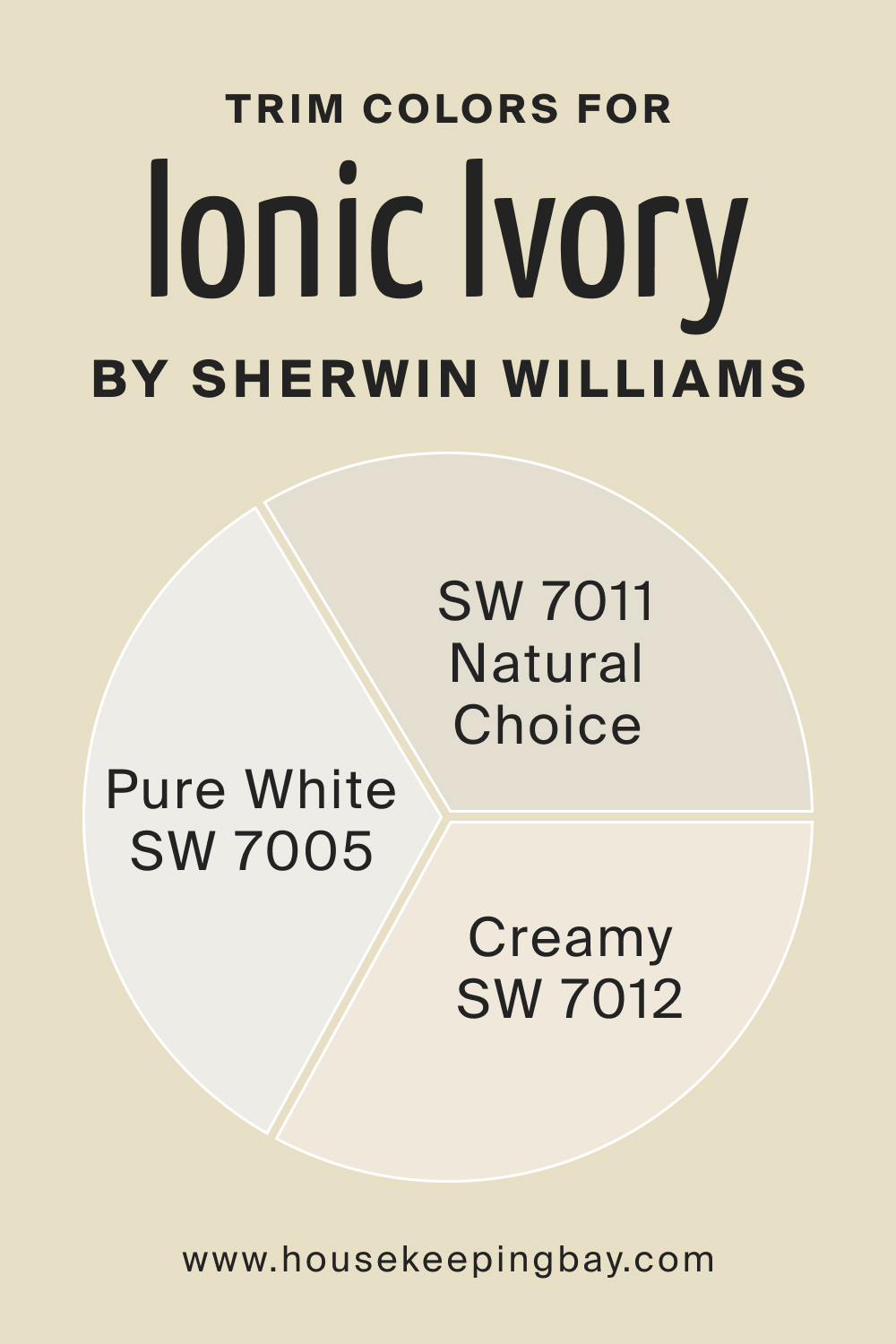 Colors Similar to SW 6406 Ionic Ivory
Knowing similar colors is important for alternatives and subtle variations. Some similar shades that can work instead of SW Ionic Ivory are:
SW 6399 Chamomile: A gentle beige with a calming effect.
SW 6413 Restoration Ivory: A slightly richer tone, with a restorative feel.
SW 7564 Polar Bear: A bright and lively off-white.
SW 6392 Vital Yellow: A soft yellow that energizes without overwhelming.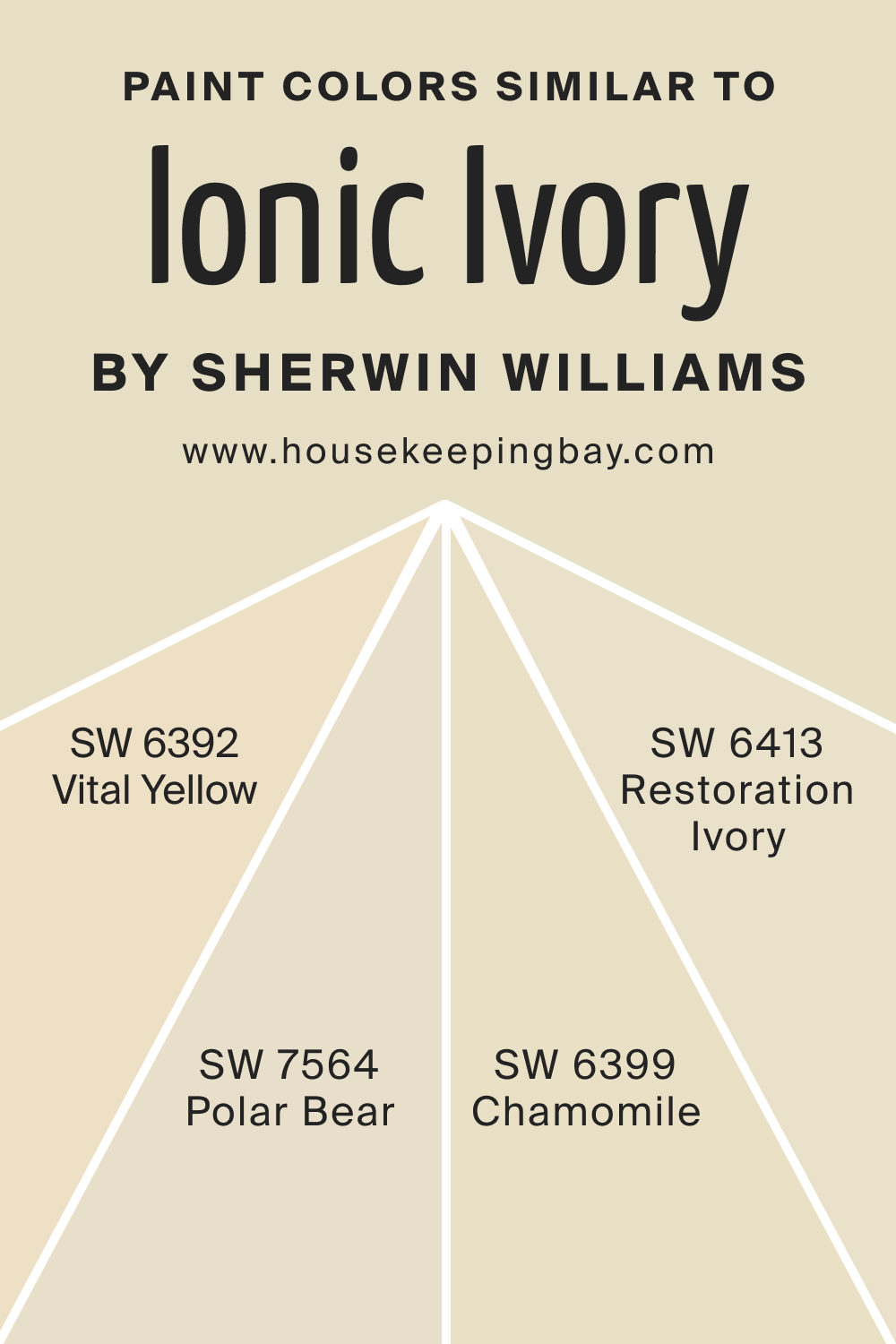 Colors That Go With SW 6406 Ionic Ivory
Selecting colors that look good together ensures a harmonious design. Colors that go well with SW Ionic Ivory include:
SW 7630 Raisin: A deep and intense brownish-red.
SW 9143 Cadet: A muted blue with a sophisticated edge.
SW 7622 Homburg Gray: A timeless and versatile gray.
SW 0023 Pewter Tankard: A rich, deep gray with warm undertones.
SW 2839 Roycroft Copper Red: A lively and robust red.
SW 2838 Polished Mahogany: A dark and luxurious brown.
SW 6390 Bosc Pear: A refreshing and ripe green.
Three more complementing colors include:
SW 6128 Blonde: A light and uplifting golden beige.
SW 6054 Canyon Clay: A warm and earthy terracotta.
SW 6076 Turkish Coffee: A deep and rich brown with a hint of sophistication.
Together, these colors offer a broad palette that works harmoniously with SW 6406 Ionic Ivory, providing endless possibilities for interior design and styling.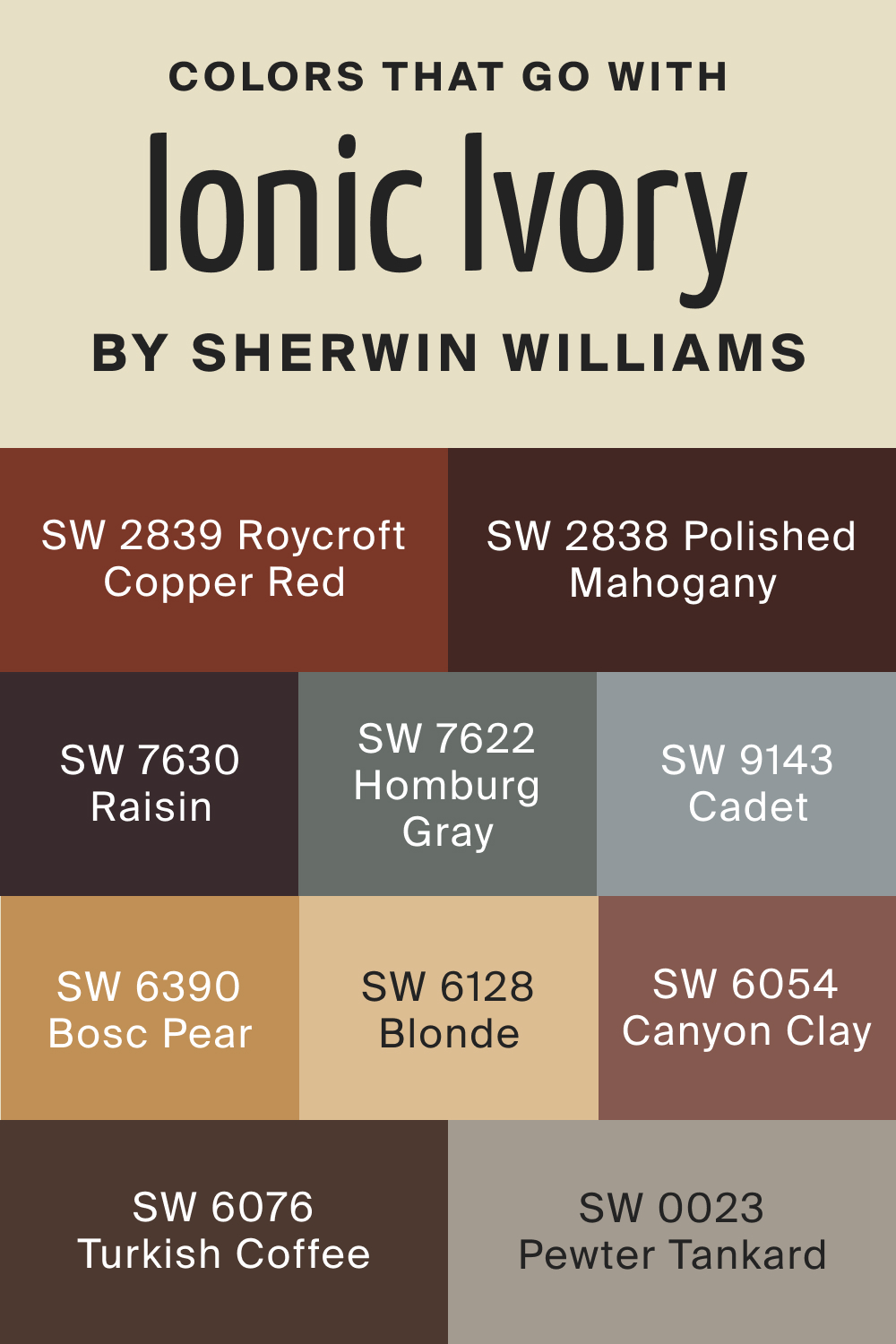 How to Use SW 6406 Ionic Ivory In Your Home?
SW 6406 Ionic Ivory's versatile nature makes it suitable for various rooms and design styles. Its gentle warmth fits into both traditional and contemporary interiors and can be used in living rooms for a relaxed ambiance, bedrooms for tranquility, or kitchens for a clean look. The color's sophistication aligns with minimalist styles, while its coziness complements rustic and farmhouse designs.
How to Use SW 6406 Ionic Ivory in the Bedroom?
In the bedroom, SW 6406 Ionic Ivory creates a peaceful and calming atmosphere. Its warm undertones encourage relaxation and rest, making it an excellent choice for main walls or accent features. Paired with soft textiles and natural wood, it enhances the room's comfort, promoting a serene retreat.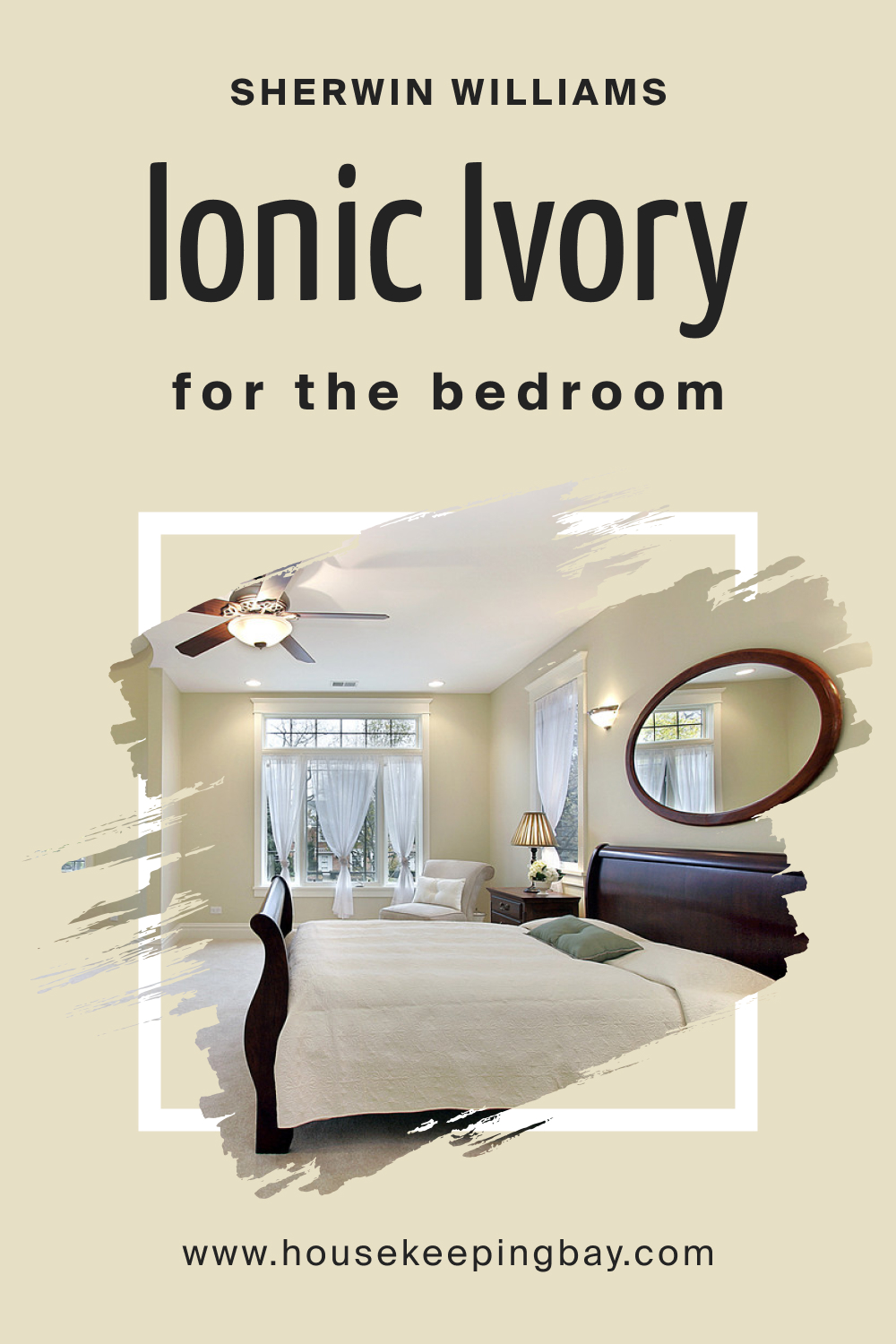 How to Use SW 6406 Ionic Ivory in the Bathroom?
SW Ionic Ivory in the bathroom adds a touch of elegance and cleanliness. Its light reflection value brightens up smaller spaces, and its neutral tone complements various finishes like chrome or brushed nickel. For a spa-like feel, pair it with soft towels and subtle decor.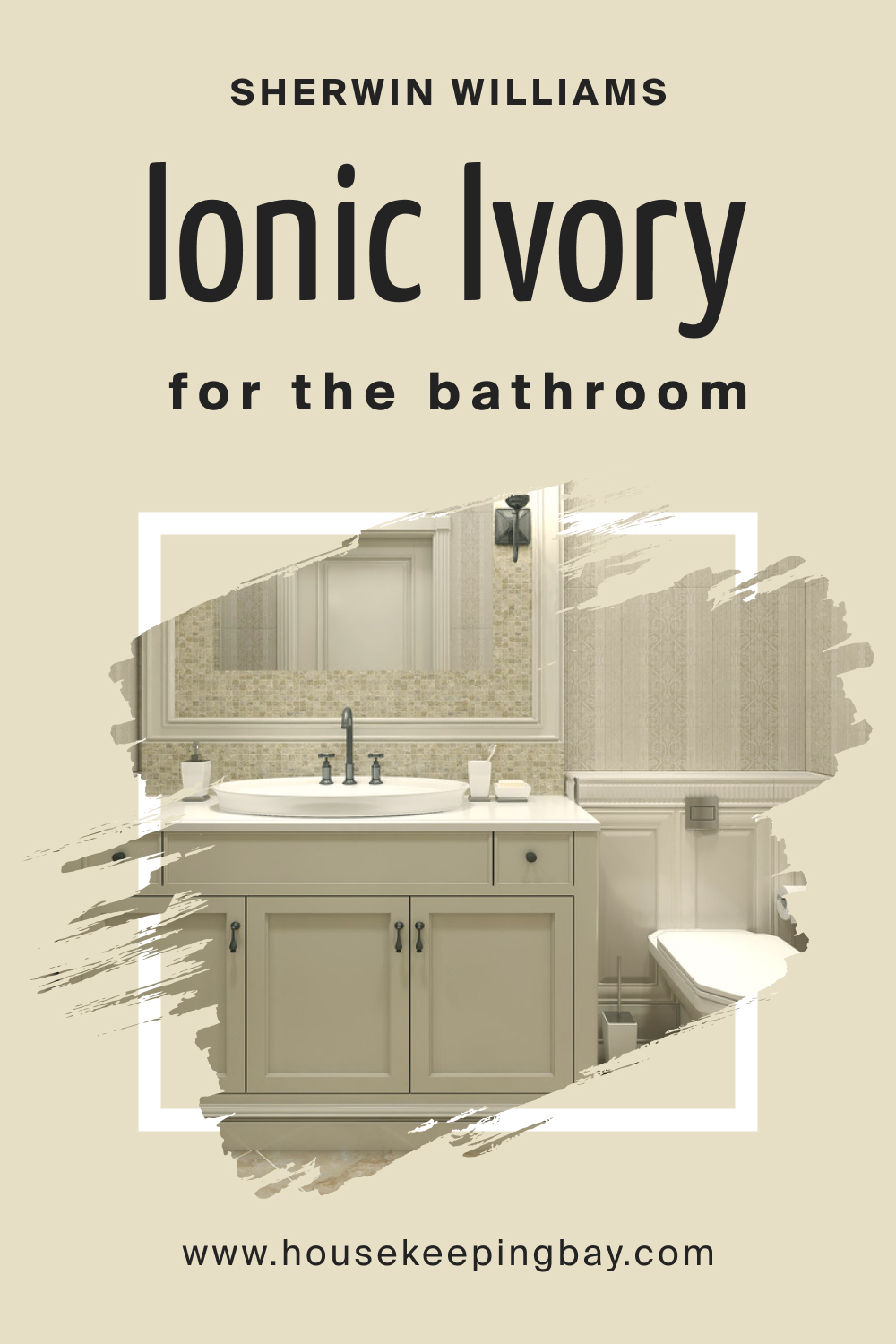 How to Use SW 6406 Ionic Ivory in the Living Room?
In the living room, SW 6406 Ionic Ivory invites warmth and conversation. It's a great backdrop for colorful artwork or can be used on accent walls to highlight architectural features. The color's adaptability allows it to blend with various furniture styles, enhancing the room's overall aesthetic.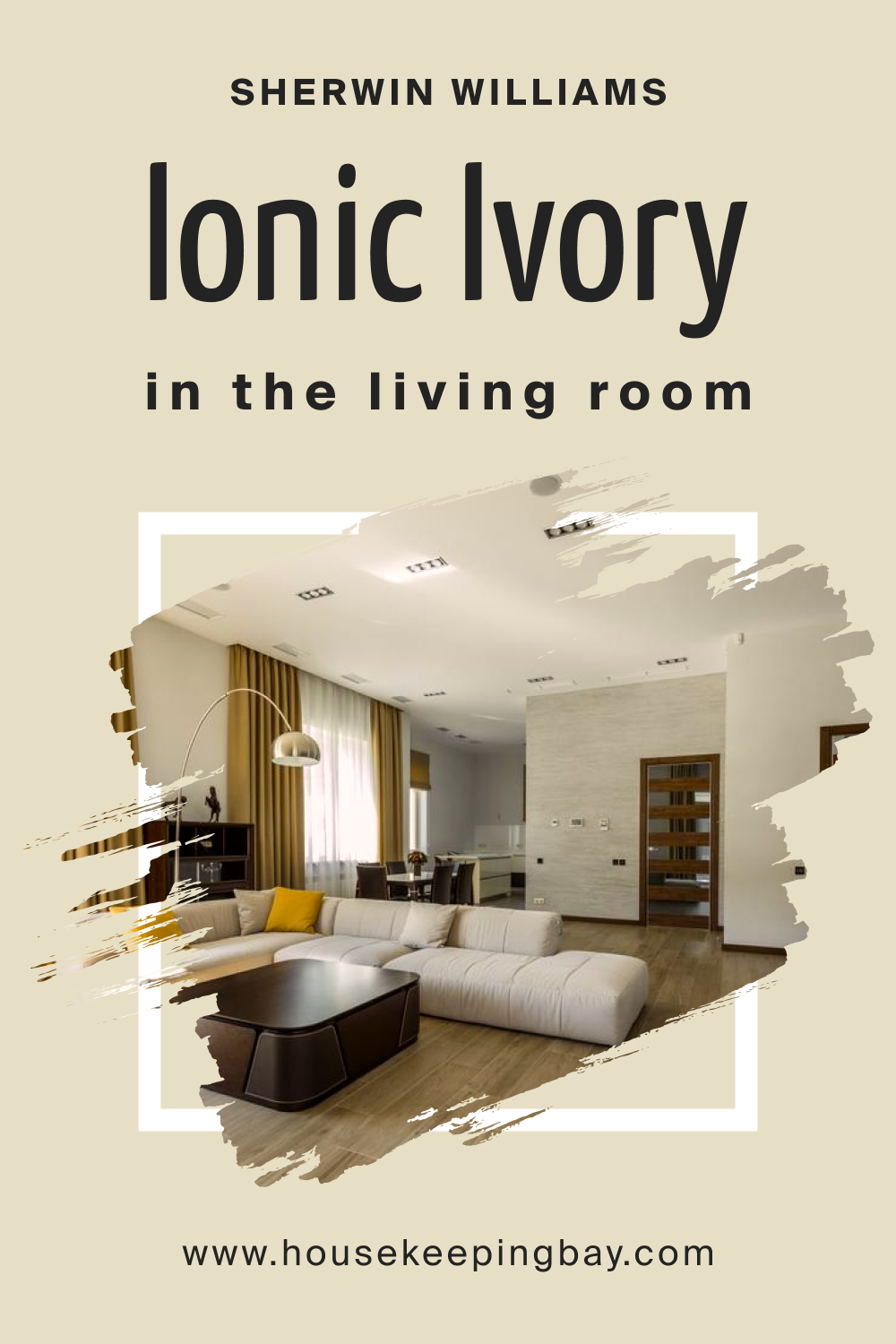 How to Use SW 6406 Ionic Ivory for an Exterior?
For an exterior application, SW 6406 Ionic Ivory offers a welcoming and timeless appeal. It's suitable for different architectural styles, from modern homes to traditional cottages. Combined with contrasting trim colors and natural stone, it brings out a polished and inviting exterior presence.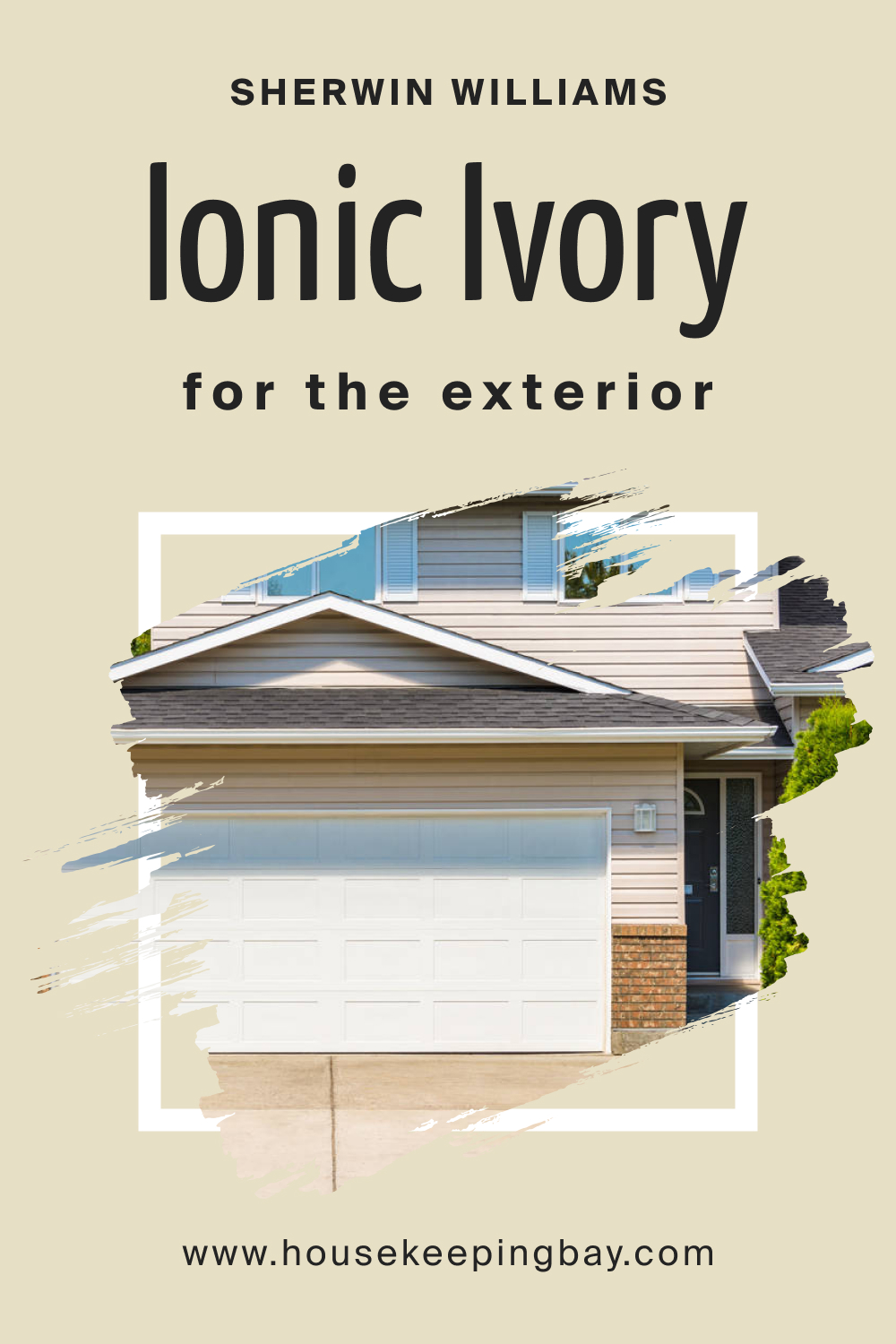 How to Use SW 6406 Ionic Ivory in the Kitchen
The kitchen, often referred to as the heart of the home, can shine with SW 6406 Ionic Ivory. It brings in a clean and fresh vibe, balancing both modern appliances and traditional wooden elements. The color's warmth creates a welcoming environment for family gatherings and culinary creativity.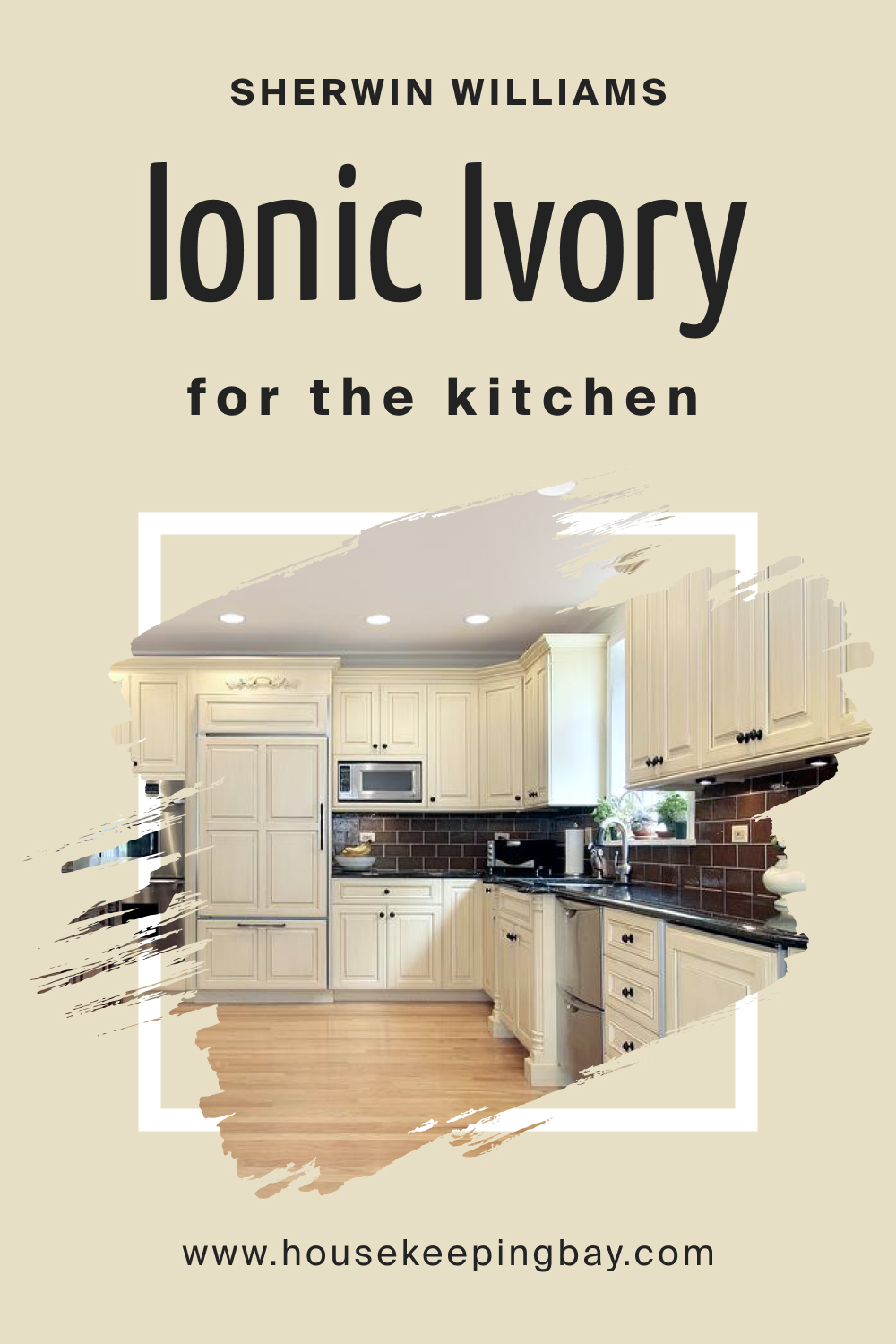 How to Use SW 6406 Ionic Ivory for the Kitchen Cabinets?
When used on kitchen cabinets, SW 6406 Ionic Ivory provides a neutral yet striking appearance. Its soft color elevates the space without overpowering it, allowing for flexibility in countertop and backsplash choices. It's an excellent option for those looking to refresh their kitchen with a color that is both trendy and timeless.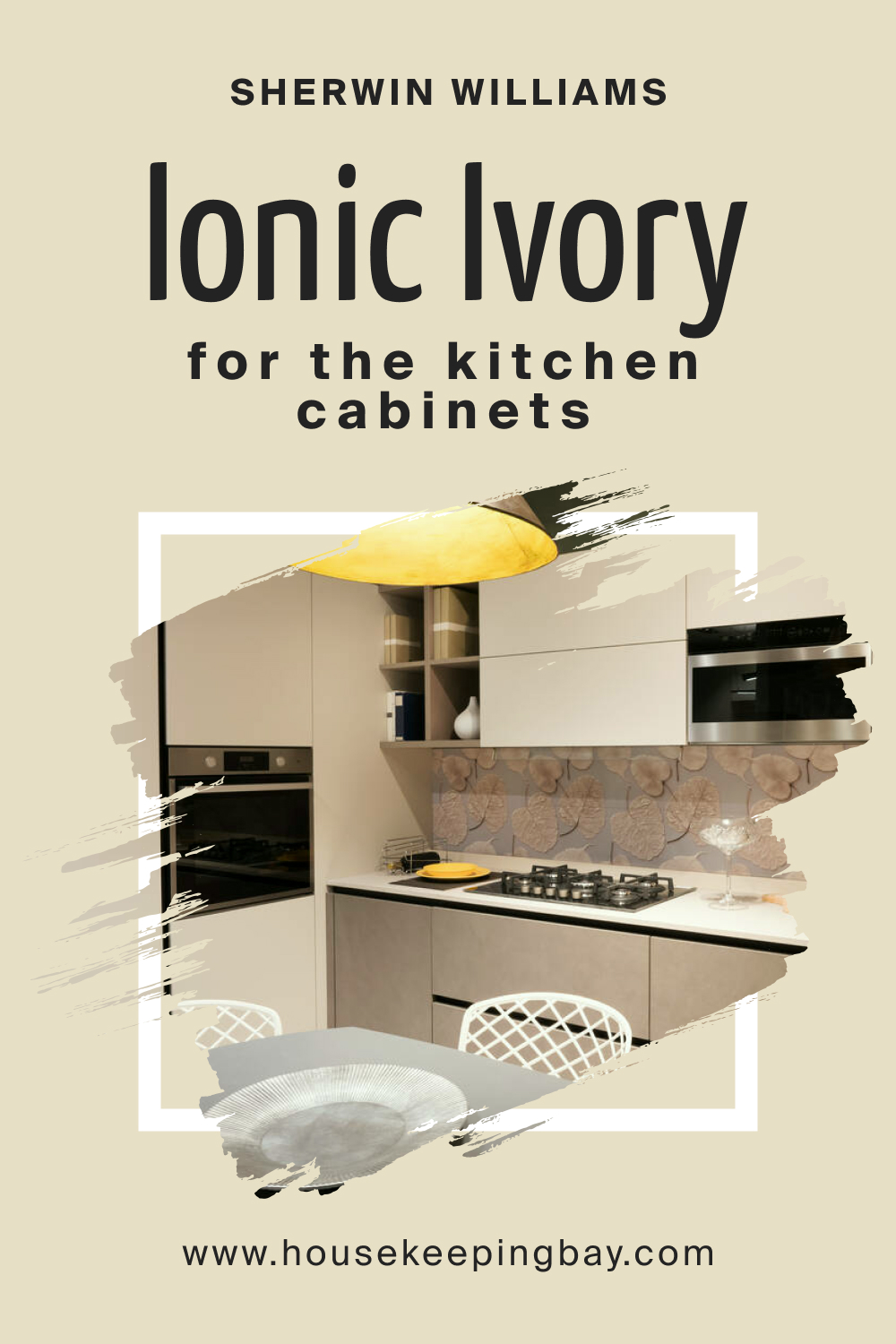 Comparing SW 6406 Ionic Ivory With Other Colors
Comparing different colors is essential in interior design as it helps to understand how one shade relates to another, especially when creating a cohesive color scheme.
By evaluating SW 6406 Ionic Ivory against other colors, homeowners and designers can determine how it will fit within a desired aesthetic, whether it will stand out as an accent or blend seamlessly with other hues. Here's a comparison with six different colors:
SW 6406 Ionic Ivory vs. SW 0002 Chelsea Mauve
While Ionic Ivory offers a soft and neutral warmth, Chelsea Mauve brings in a muted and romantic touch of pink. Ionic Ivory's versatility allows it to pair with various textures and styles, whereas Chelsea Mauve tends to lean towards a more feminine and gentle ambiance. Both provide a calmness but offer different emotional undertones.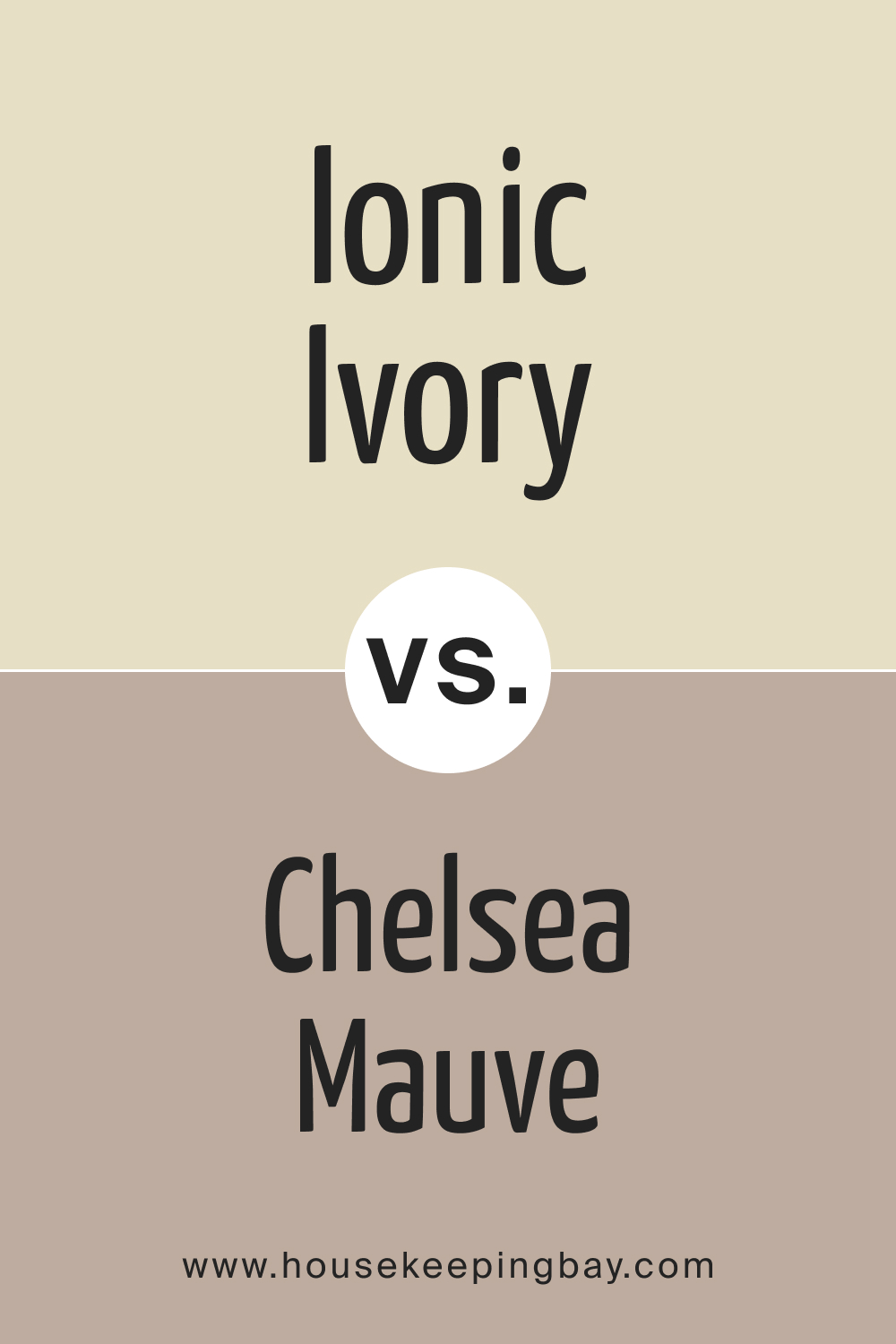 SW 6406 Ionic Ivory vs. SW 7562 Roman Column
SW Ionic Ivory and Roman Column are both neutral colors, but while Ionic Ivory has a softer beige tone, Roman Column presents a more classical and refined off-white shade. Ionic Ivory's warmth contrasts with Roman Column's formality, making the former more inviting and the latter more structured.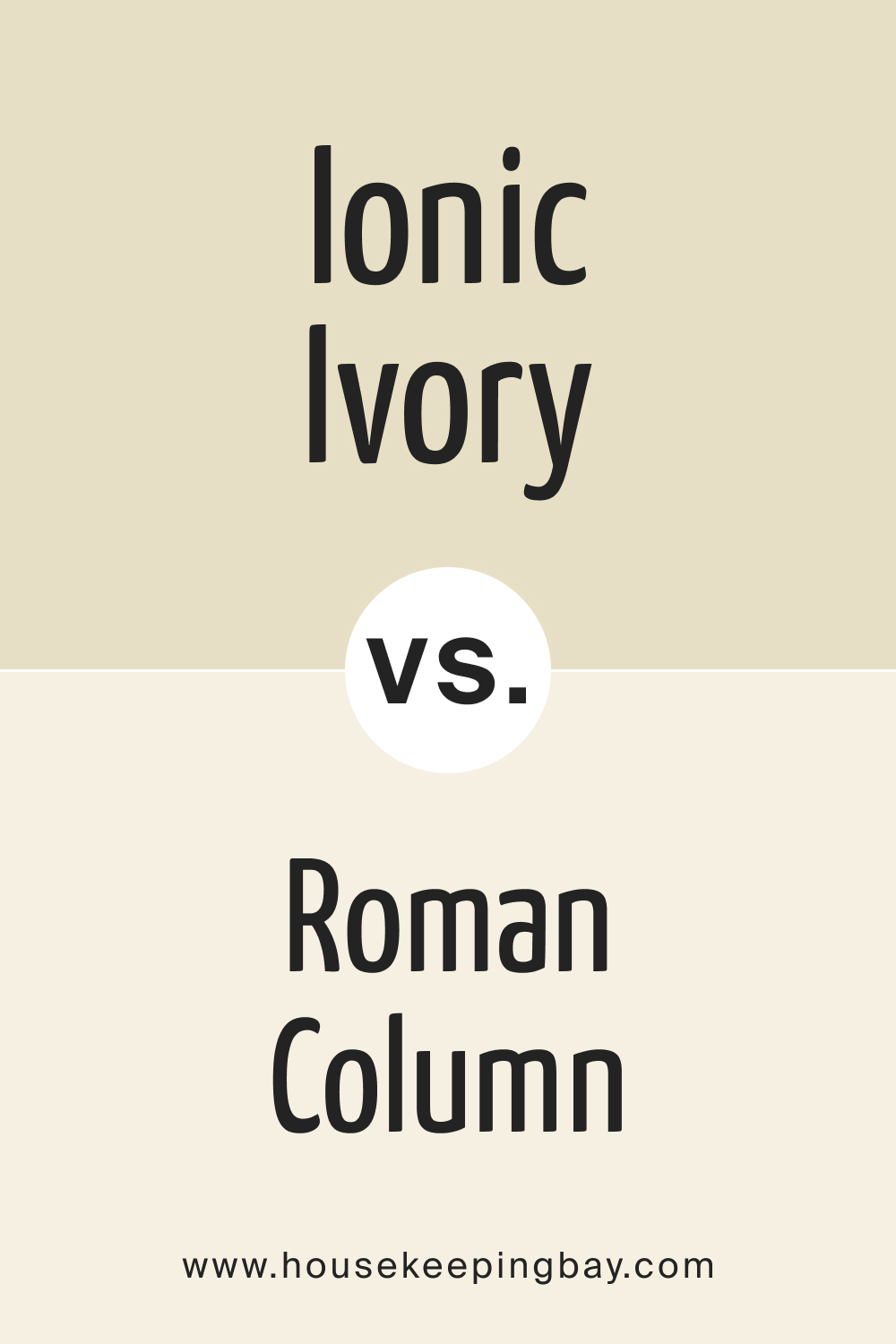 SW 6406 Ionic Ivory vs. SW 6407 Ancestral Gold
SW Ancestral Gold, unlike Ionic Ivory, has a prominent golden undertone that adds richness and luxury. Ionic Ivory's subtle warmth provides a soothing feel, whereas Ancestral Gold creates a sense of opulence and tradition. The two colors can complement each other but evoke different atmospheres.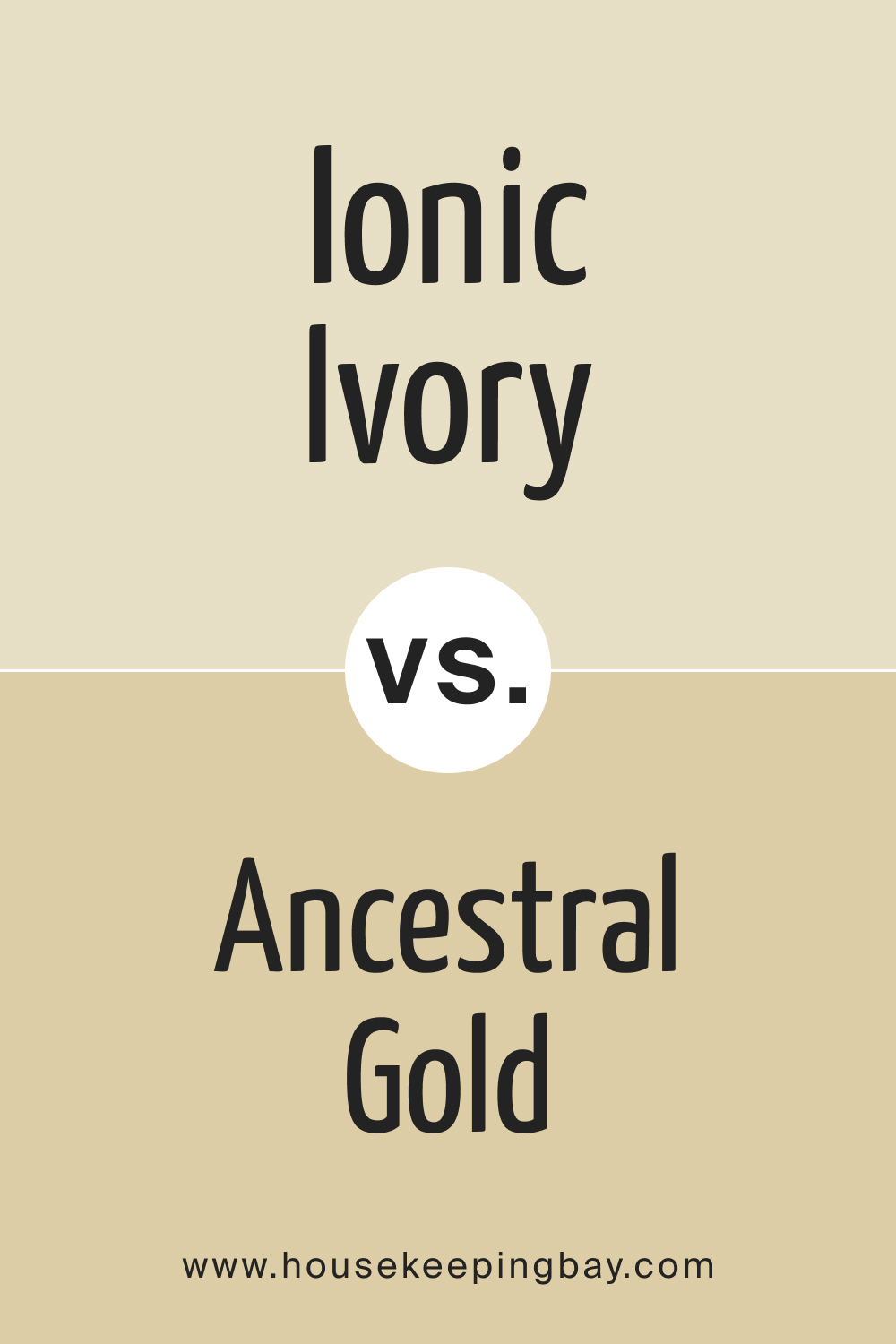 SW 6406 Ionic Ivory vs. SW 6118 Leather Bound
SW Leather Bound brings in a deeper, earthy tone compared to Ionic Ivory. While Ionic Ivory is light and airy, Leather Bound offers a more grounded and robust feel. The depth of Leather Bound can make a space feel cozier, while Ionic Ivory adds brightness and spaciousness.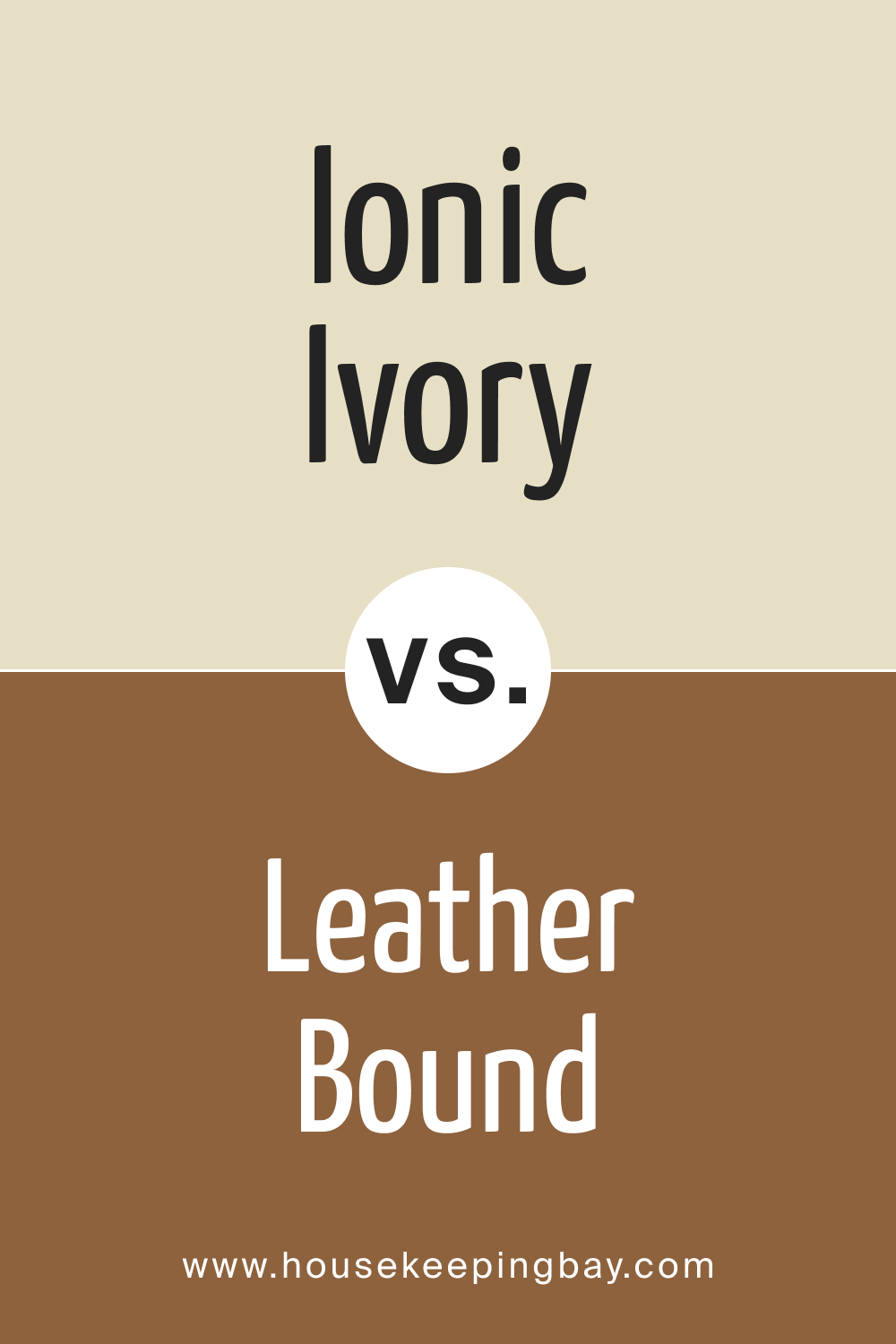 SW 6406 Ionic Ivory vs. SW 6665 Gardenia
SW Gardenia, a delicate white with floral notes, contrasts with Ionic Ivory's warmer and beige-infused hue. Gardenia imparts a pristine and pure quality, while Ionic Ivory brings in a touch of warmth and comfort. These two shades offer distinct choices depending on the desired feel and design.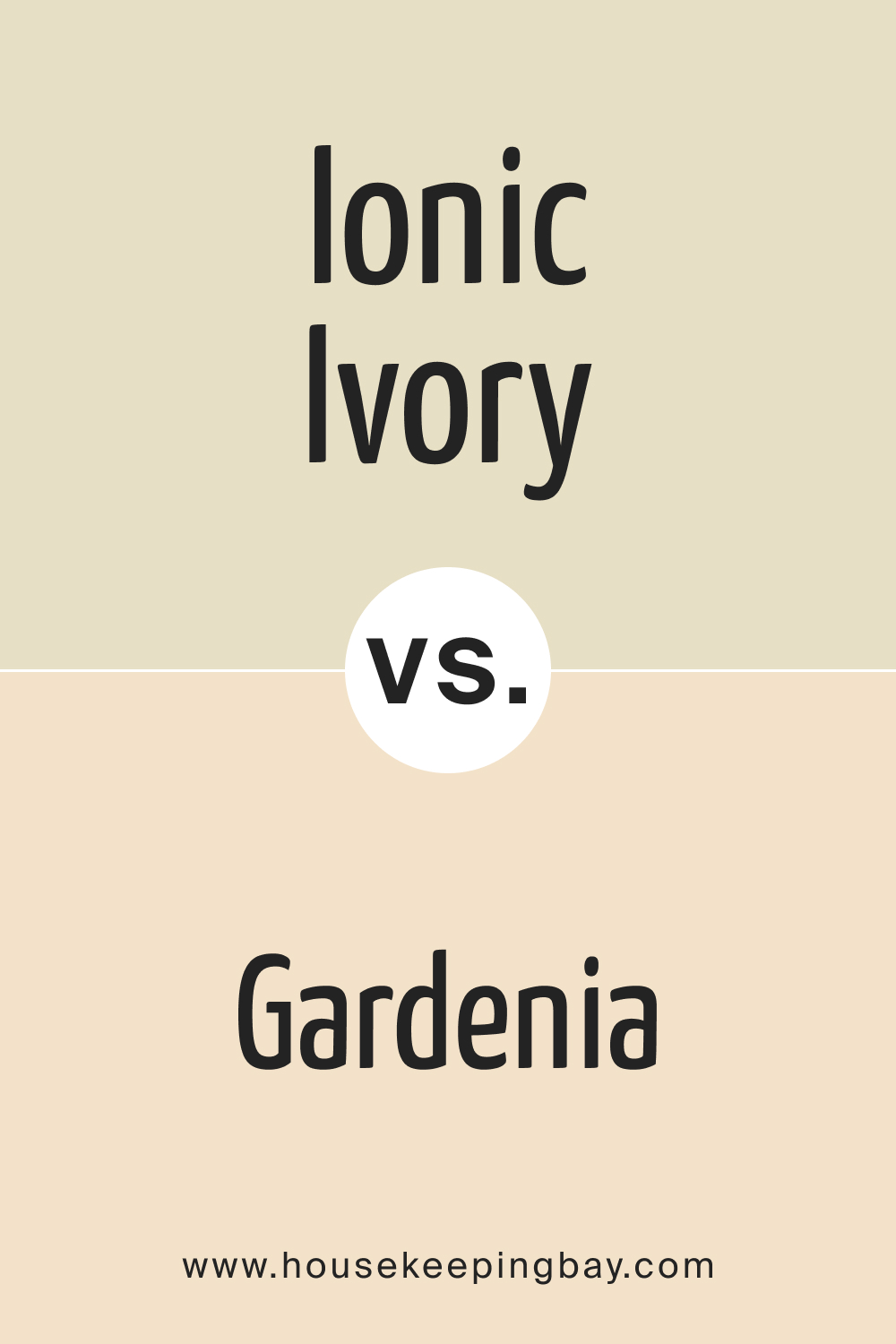 SW 6406 Ionic Ivory vs. SW 6135 Ecru
SW Ecru and Ionic Ivory are quite similar in their soft neutrality. However, Ecru leans slightly more towards a grey undertone, while Ionic Ivory embraces a gentle warmth. Both are versatile and timeless but offer subtle differences that can affect the overall mood of a room.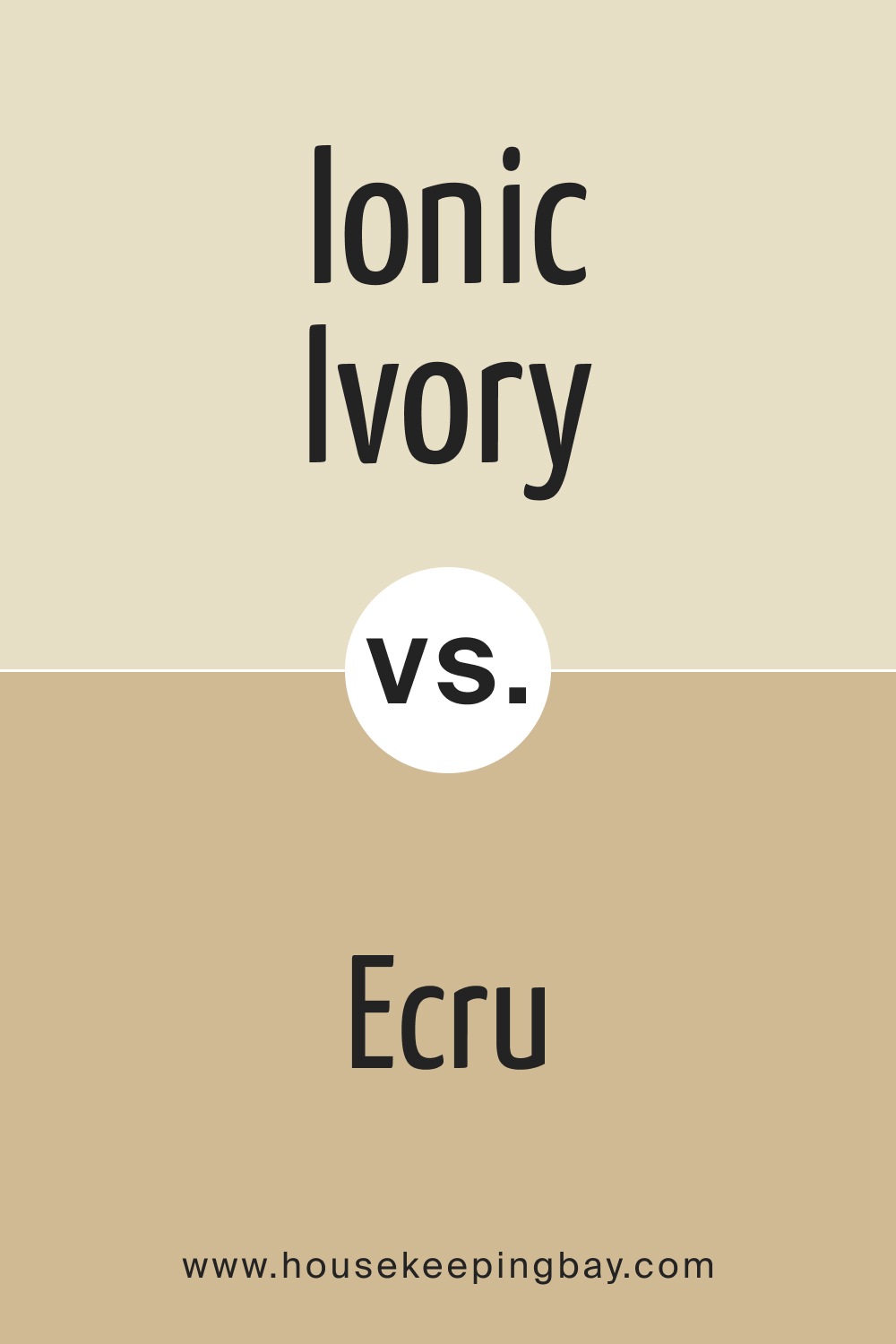 Conclusion
SW 6406 Ionic Ivory is a remarkable color with broad applicability across various rooms and design styles. Its comparison with other shades illustrates its unique characteristics and versatility.
Whether used as a main color or an accent, Ionic Ivory's soft warmth and neutral undertones provide a foundation for endless design possibilities. It's a color that can adapt and enhance, making it a valuable choice for homeowners and designers alike.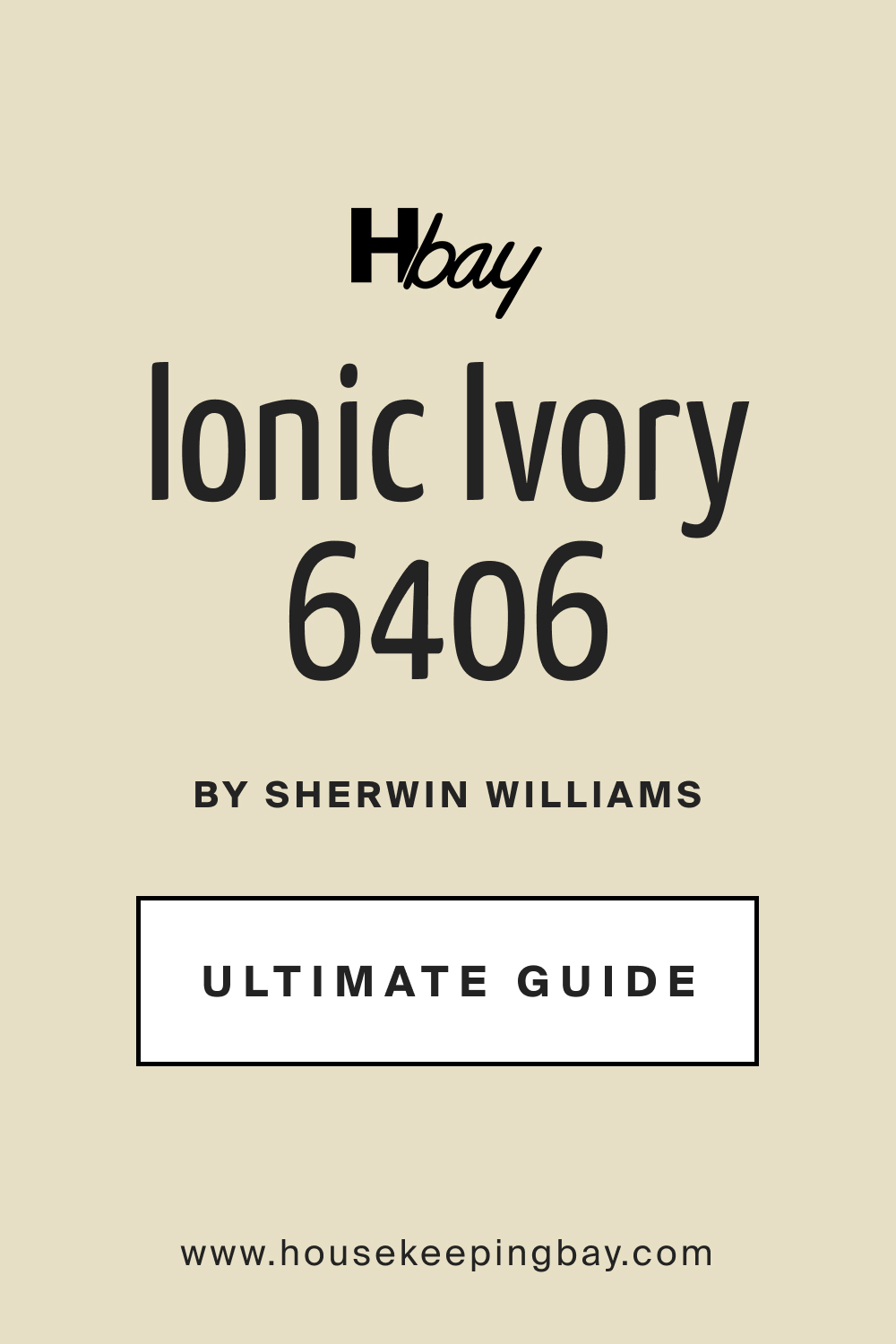 Frequently Asked Questions
⭐What kind of rooms is SW 6406 Ionic Ivory suitable for?
SW 6406 Ionic Ivory is a versatile color suitable for various rooms, including bedrooms, living rooms, kitchens, and bathrooms. Its neutral and warm tones make it a great fit for many interior design styles.
⭐Does SW 6406 Ionic Ivory have any specific undertones?
Yes, SW 6406 Ionic Ivory has subtle warm undertones that can create a comforting and inviting environment. It pairs well with both cool and warm colors, providing a balanced look.
⭐What are some good coordinating colors for SW 6406 Ionic Ivory?
SW 6406 Ionic Ivory can be coordinated with colors like SW 7005 Pure White, SW 6408 Wheat Grass, SW 7705 Wheat Penny, among others. These shades complement Ionic Ivory and help create harmonious color schemes.
⭐How does lighting affect the appearance of SW 6406 Ionic Ivory?
Lighting can significantly affect the way SW 6406 Ionic Ivory appears. In natural light, it may look softer and warmer, while artificial light can alter its hue. The direction of the room also influences how this color will appear.
⭐Can SW 6406 Ionic Ivory be used for exteriors?
Yes, SW 6406 Ionic Ivory can be used for exterior applications. Its timeless appeal and versatile nature make it suitable for various architectural styles, offering a polished and inviting presence.