Colors play a pivotal role in setting the mood and aesthetic of any space. They can evoke emotions, add character, and define the style of interiors. Sherwin-Williams, a reputed brand in the world of paint, offers a wide array of hues. One such color that has grabbed attention is SW 9643 Eventide. Let's delve deeper into its characteristics and compatibility.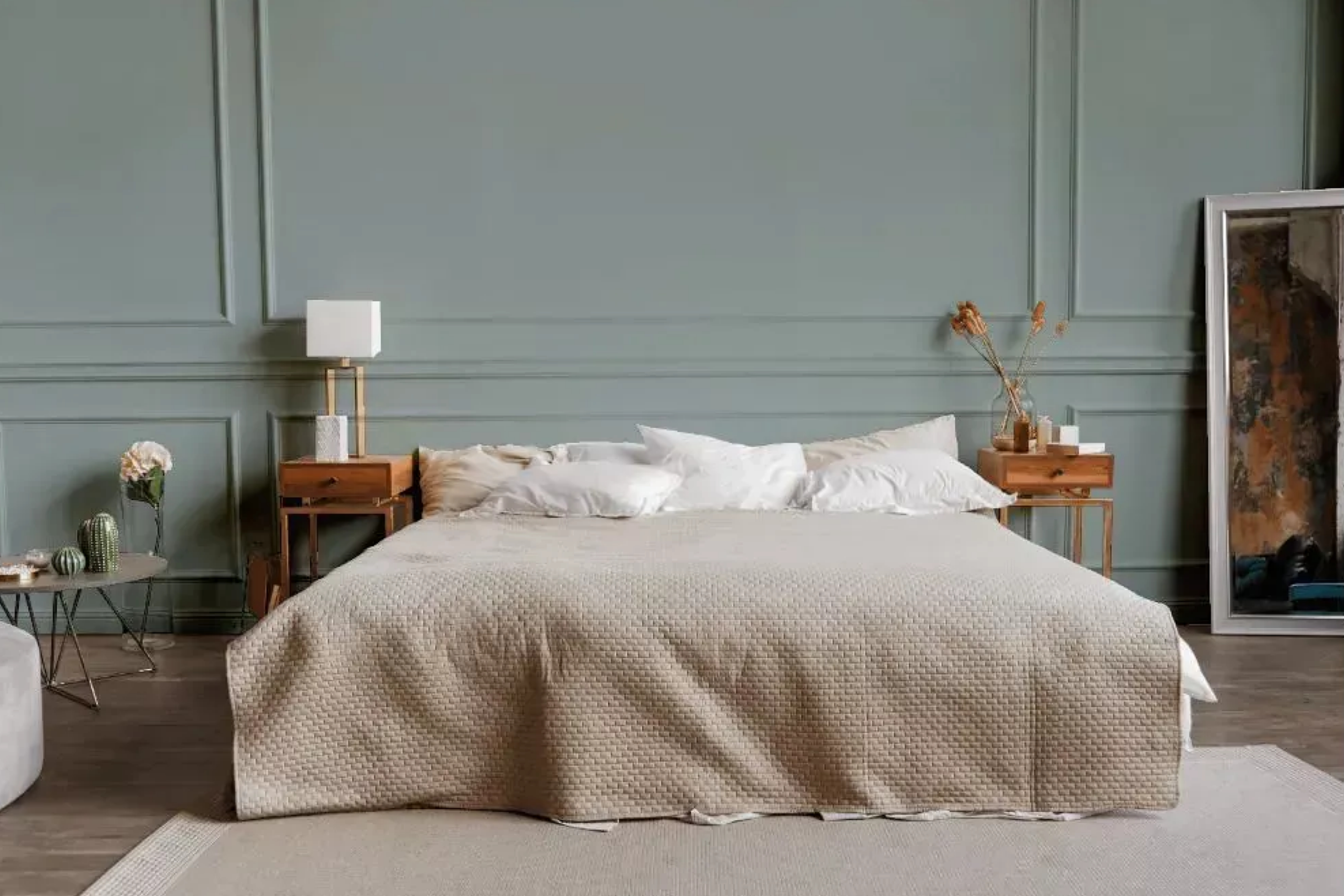 What Color Is SW 9643 Eventide?
SW 9643 Eventide is a sophisticated hue that lies somewhere between muted blue and soft gray. Its calming effect brings to mind a tranquil evening sky just before the dark. This versatile shade works beautifully in contemporary, coastal, and minimalist interior styles. When paired with materials like light woods, marble, or velvet, the elegance of Eventide truly shines.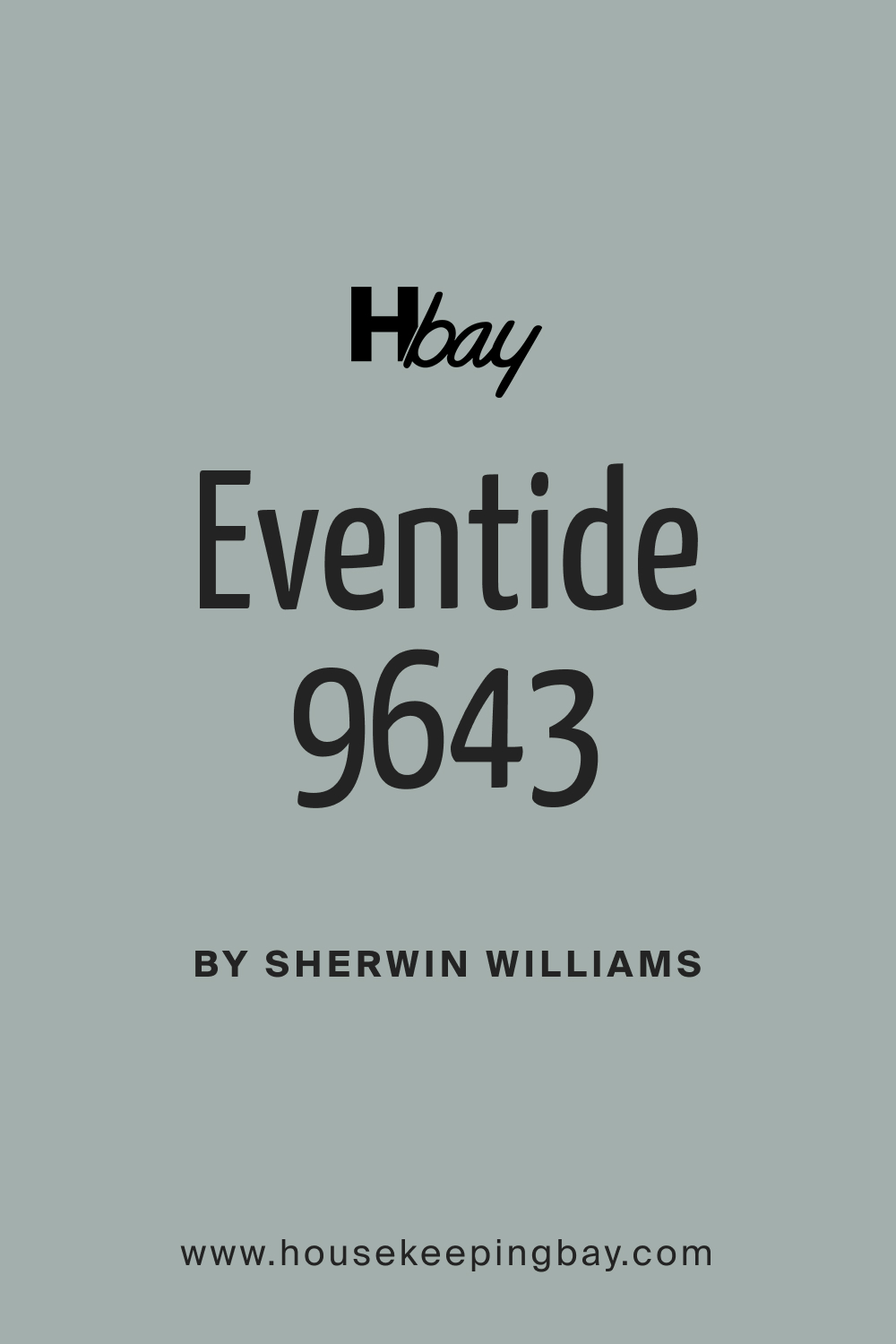 Is It a Warm Or Cool Color?
SW 9643 Eventide leans towards the cool spectrum. The coolness in its tones makes spaces feel serene and spacious. When used in homes, this cooling effect can create a refreshing and calming ambiance, which is particularly beneficial in warmer climates or bustling urban settings.
Undertones of SW 9643 Eventide
Undertones subtly influence the main shade and can vary based on lighting or adjacent colors. Eventide carries subtle undertones of lavender and gray. This unique combination can make walls seem more dynamic, shifting subtly based on surrounding elements. For instance, against a dark floor, the lavender might become more pronounced, while gray undertones might be more evident against white trims.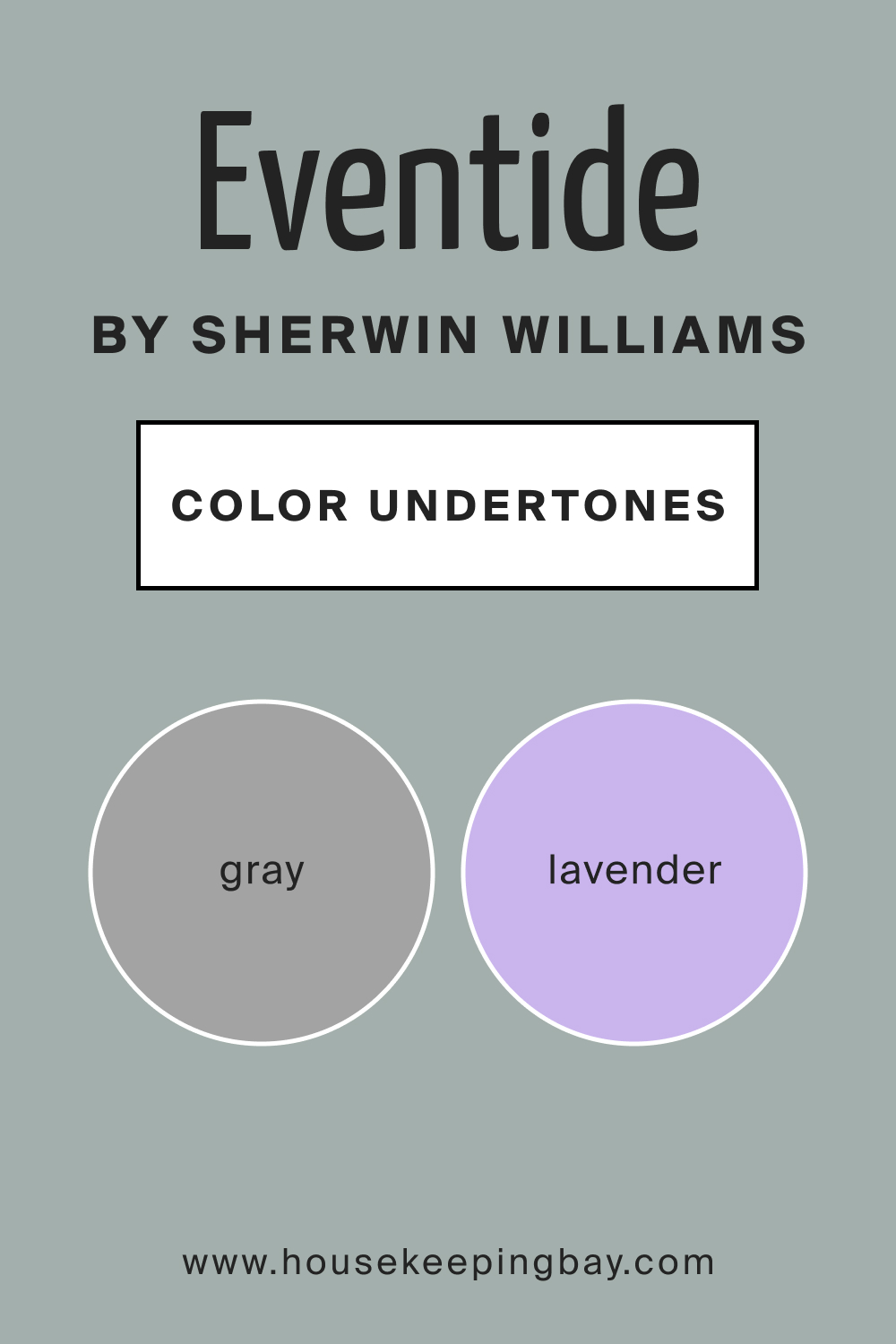 Coordinating Colors of SW 9643 Eventide
Coordinating colors are those that harmonize well with a primary color. For SW Eventide, think of muted greens, soft lavenders, and neutral beiges. Some coordinating shades include:
SW 6179 Artichoke – A muted green with hints of olive.
SW 6002 Essential Gray – A pale purple with grayish undertones.
SW 7036 Accessible Beige – A neutral beige with warm undertones.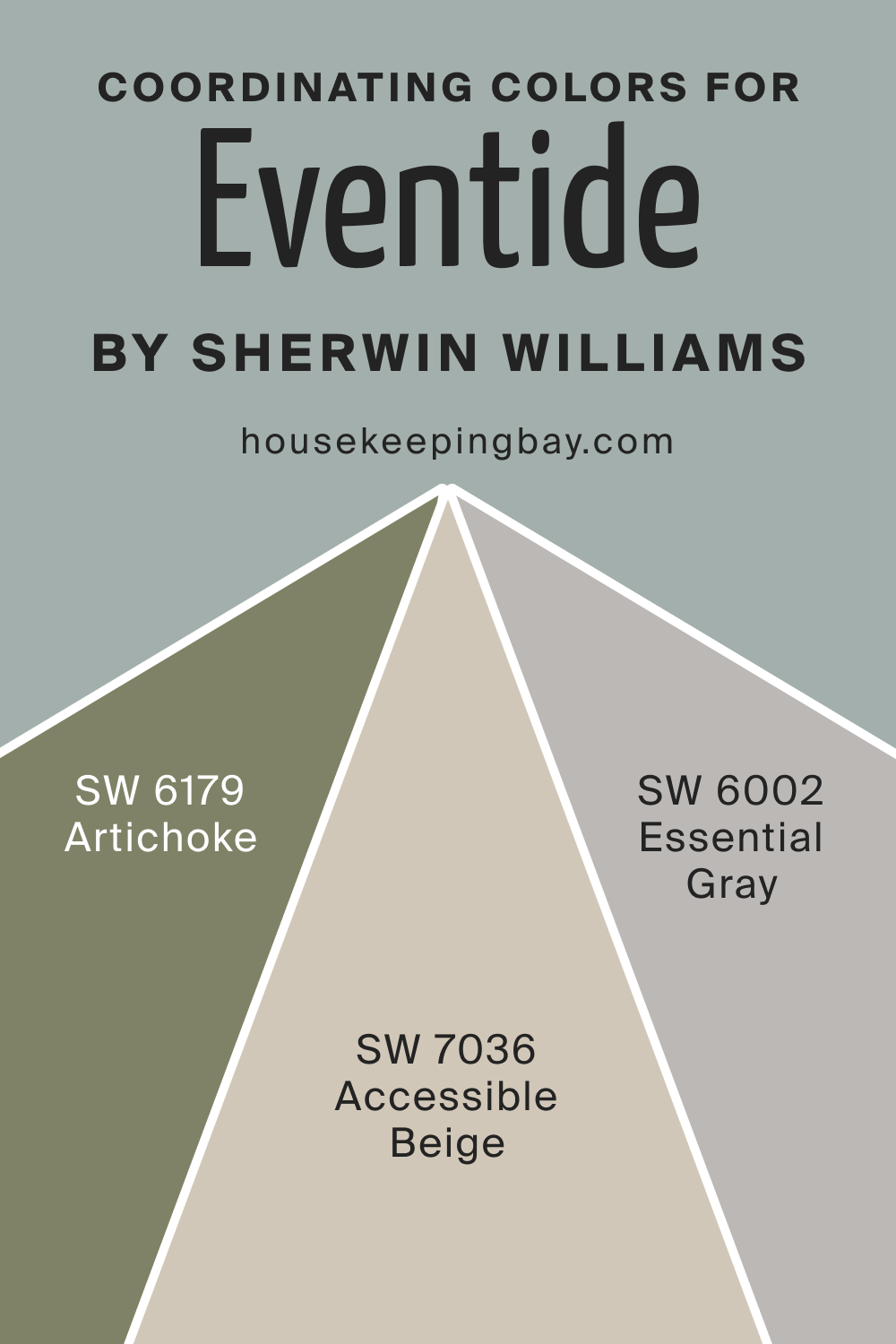 How Does Lighting Affect SW 9643 Eventide?
Lighting can transform the appearance of any color. In natural light, Eventide reveals its true blue-gray hue with a touch of lavender. Under artificial light, especially warm bulbs, its gray undertones become prominent. In north-facing rooms, it can appear cooler and more muted, while south-facing rooms amplify its blue quality.
East-facing rooms might bring out its lavender undertones during morning light, and west-facing rooms will cast a warmer glow during sunset, emphasizing its gray undertones.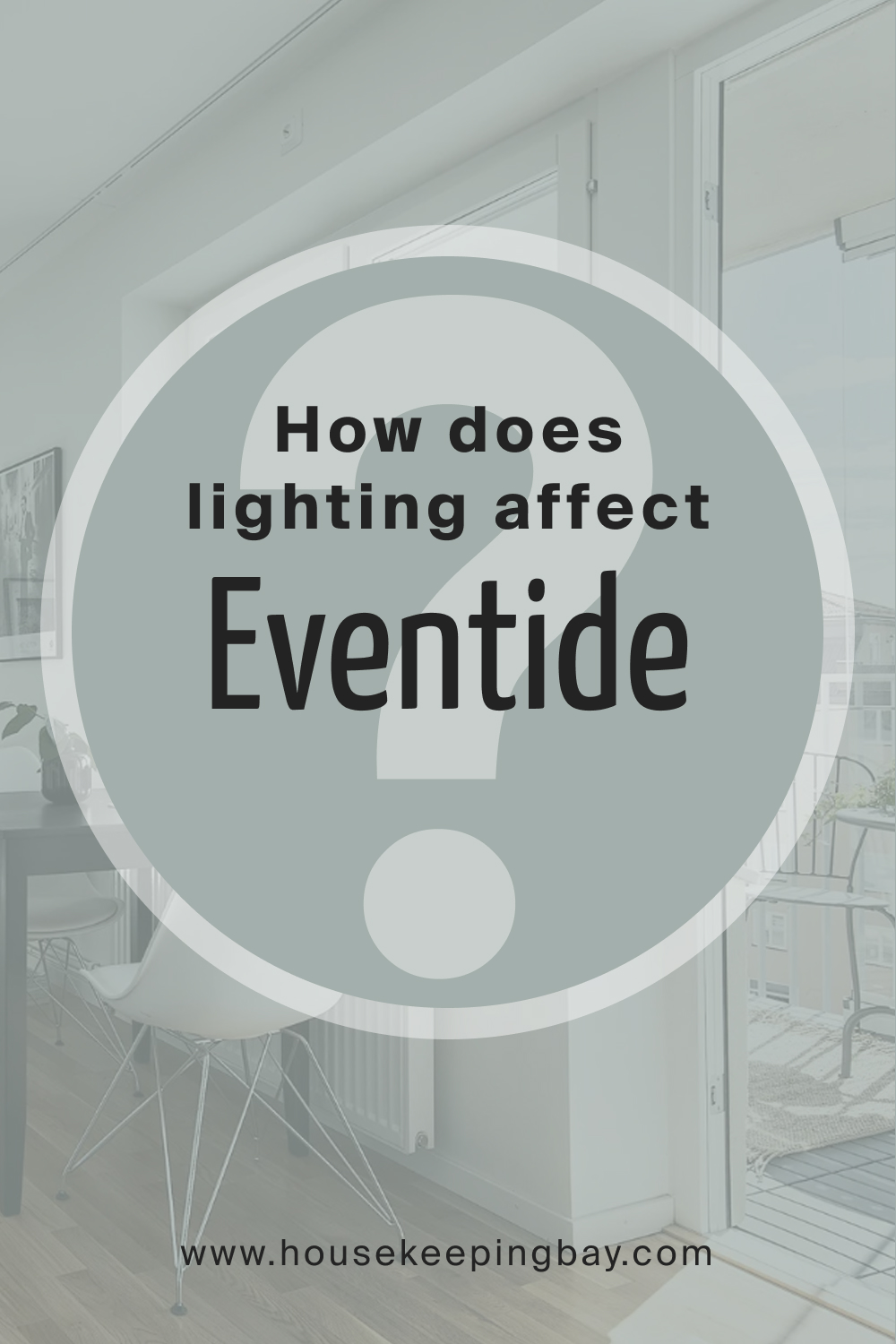 LRV of SW 9643 Eventide
Light Reflectance Value (LRV) measures the percentage of light a color reflects. With an LRV of 41, Eventide is a mid-tone shade. Colors with this LRV neither absorb too much light nor reflect excessively, making them versatile. For Eventide, this means the ability to maintain its integrity across diverse settings, neither appearing too dark nor too washed out.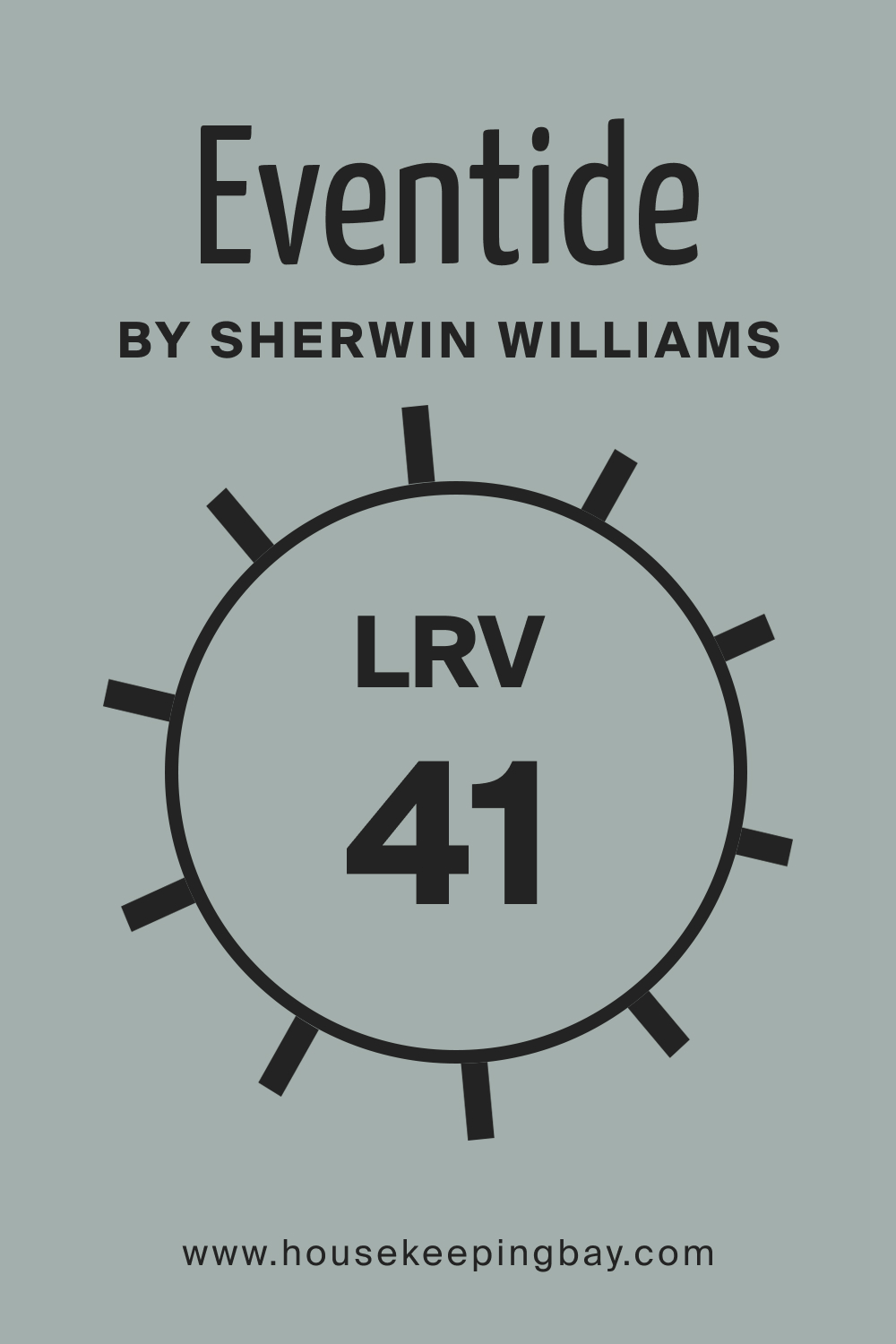 What is LRV? Read It Before You Choose Your Ideal Paint Color
Trim Colors of SW 9643 Eventide
Trim colors accentuate wall colors. For SW Eventide, lighter shades of white work wonders. In particular, we can recommend the following options: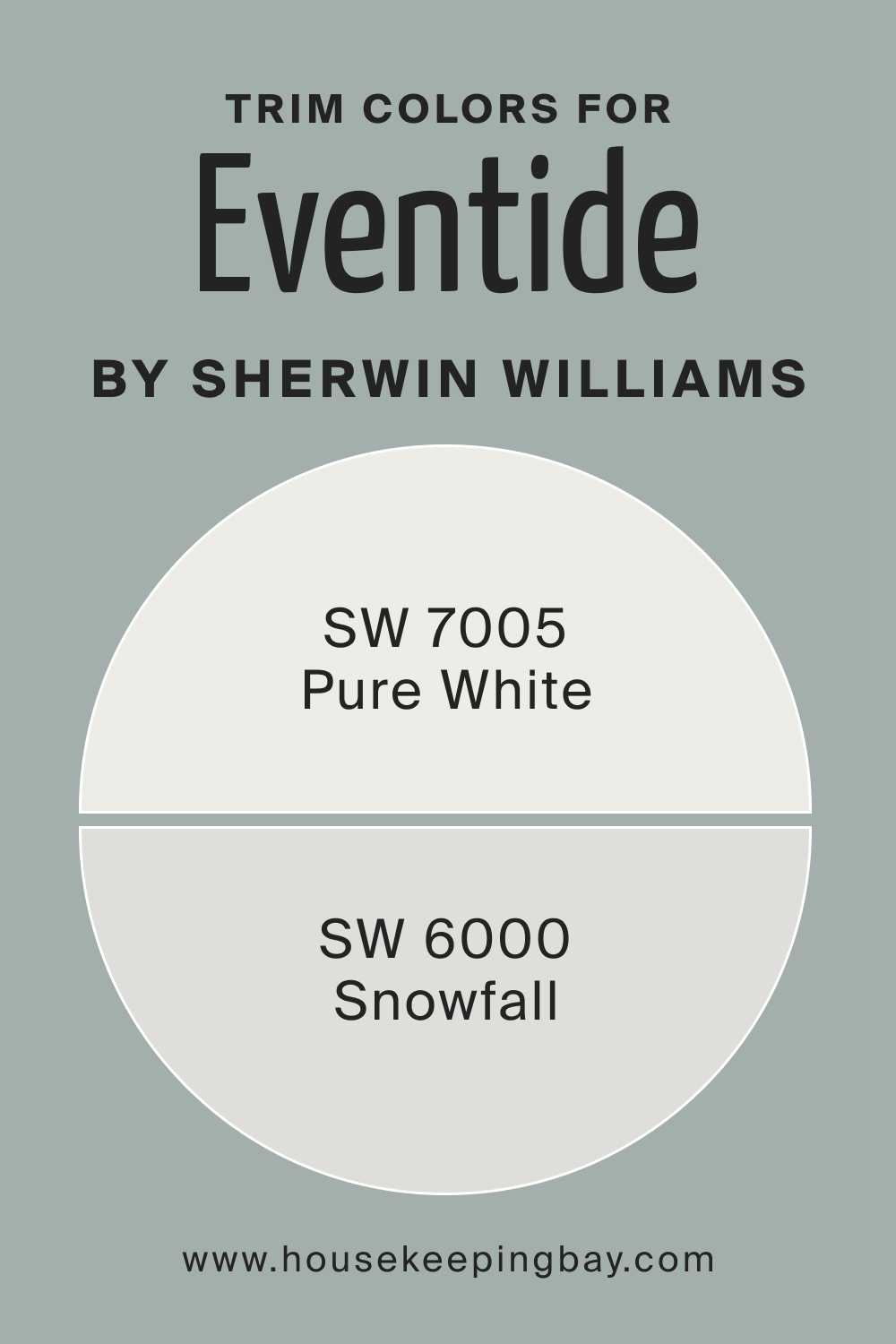 Colors Similar to SW 9643 Eventide
Recognizing similar shades helps in making informed choices. If you want to use SW Eventide as your interior wall color, you may want to try out one of these alternative hues:
SW 7616 Breezy is a light, airy blue
SW 0031 Dutch Tile Blue resembles a more traditional blue
SW 7652 Mineral Deposit offers a deeper hue with pronounced gray undertones.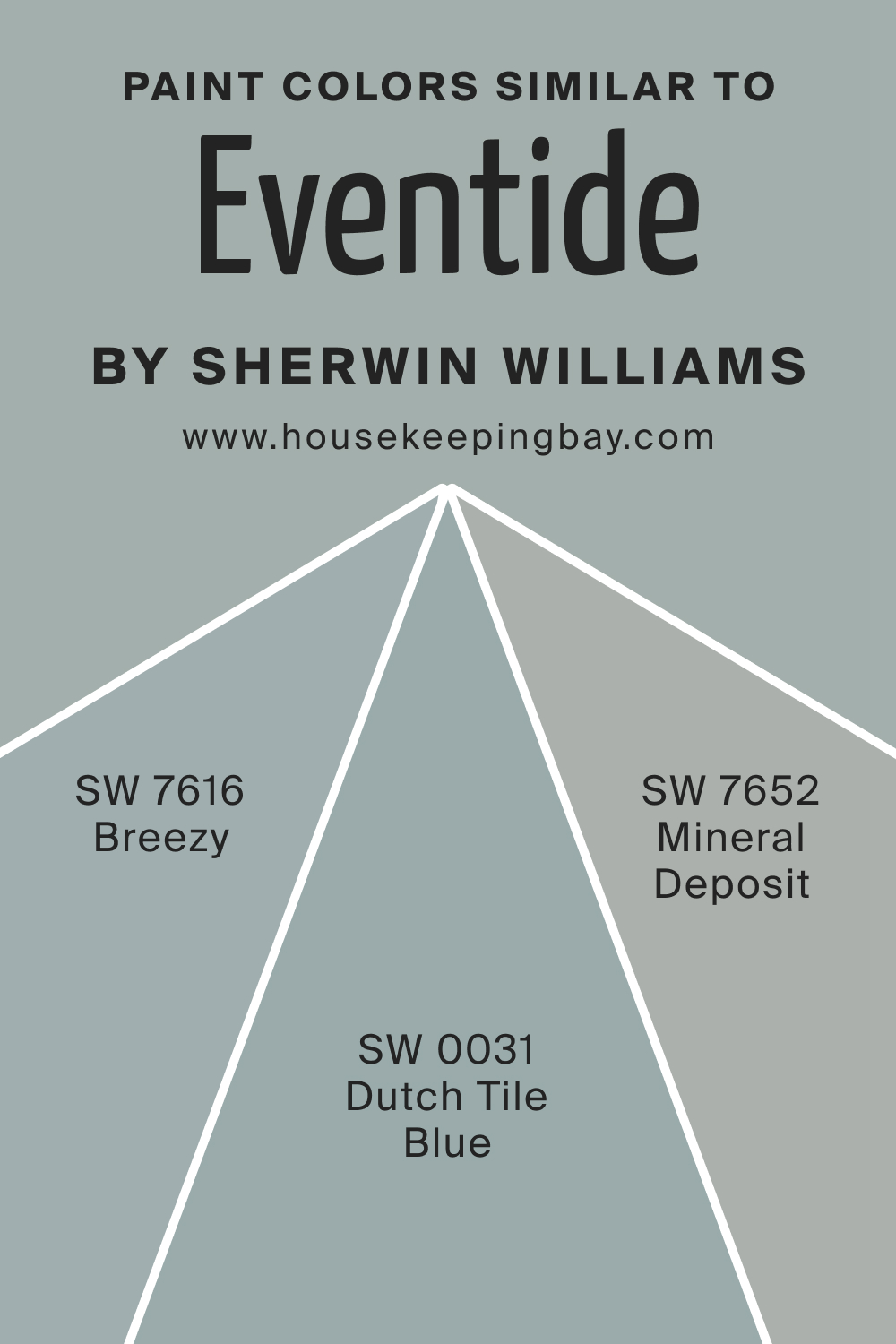 Colors That Go With SW 9643 Eventide
Balanced color palettes enhance aesthetic appeal. Along with SW Eventide, we recommend using the following colors for the best effect in your living space:
SW 6378 Crisp Linen to add warmth
SW 9130 Evergreen Fog to introduce a hint of muted green
SW 9642 Silver Tipped Sage for a harmonious green-gray hue
SW 6037 Temperate Taupe to provide some depth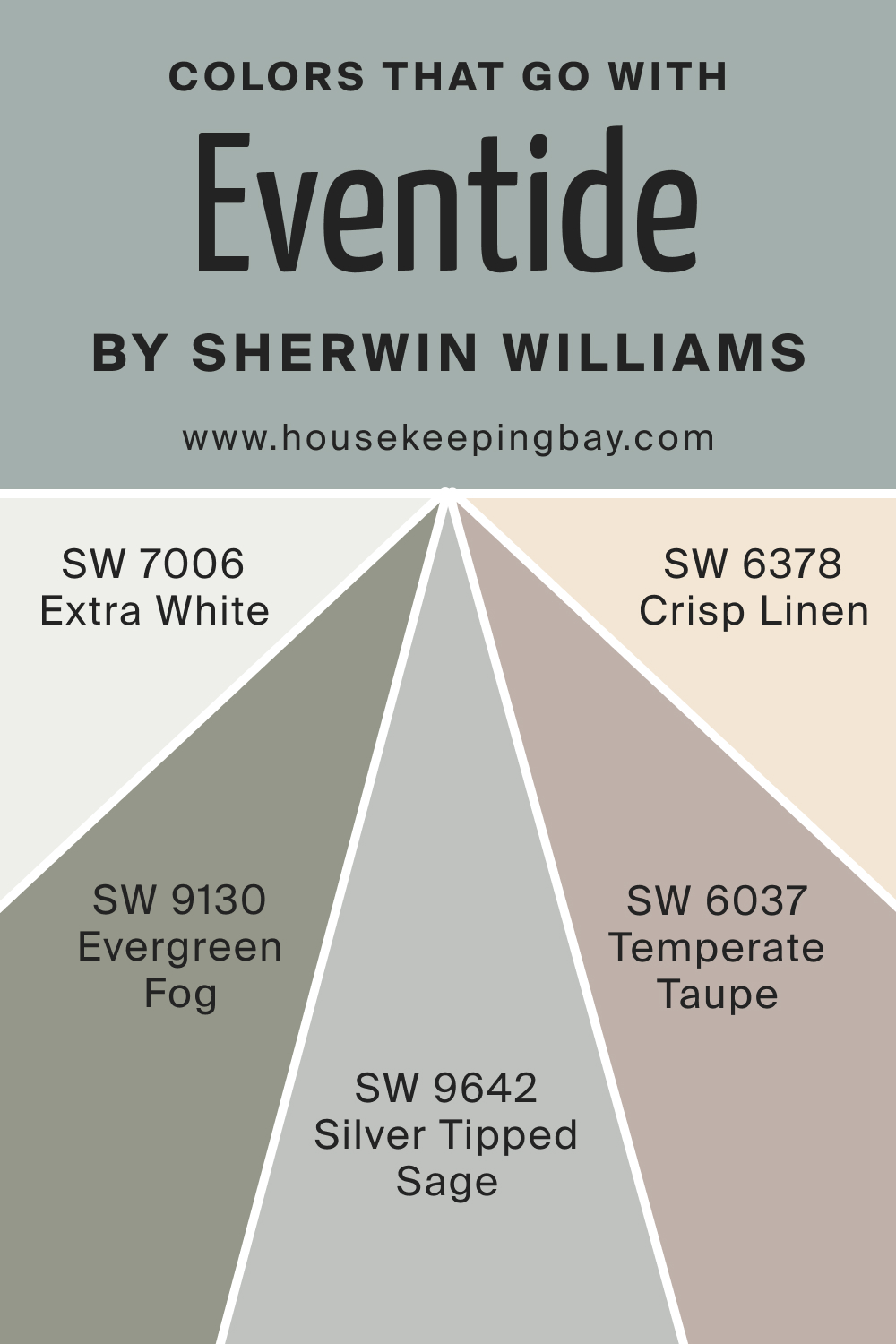 How to Use SW 9643 Eventide In Your Home?
SW 9643 Eventide's calming blue-gray hue makes it suitable for various rooms – from bedrooms to living areas. It shines in spaces seeking tranquility, making it perfect for bedrooms, bathrooms, and reading nooks. Given its versatility, Eventide complements various interior styles, including coastal, Scandinavian, contemporary, and even industrial, when paired with the right accents.
How to Use SW 9643 Eventide in the Bedroom?
A bedroom is a sanctuary, and Eventide creates a serene ambiance ideal for relaxation. Its cool undertones evoke feelings of peace, making it perfect for the main walls. Paired with white or beige linens and natural wooden furniture, it provides a refreshing retreat for restful nights.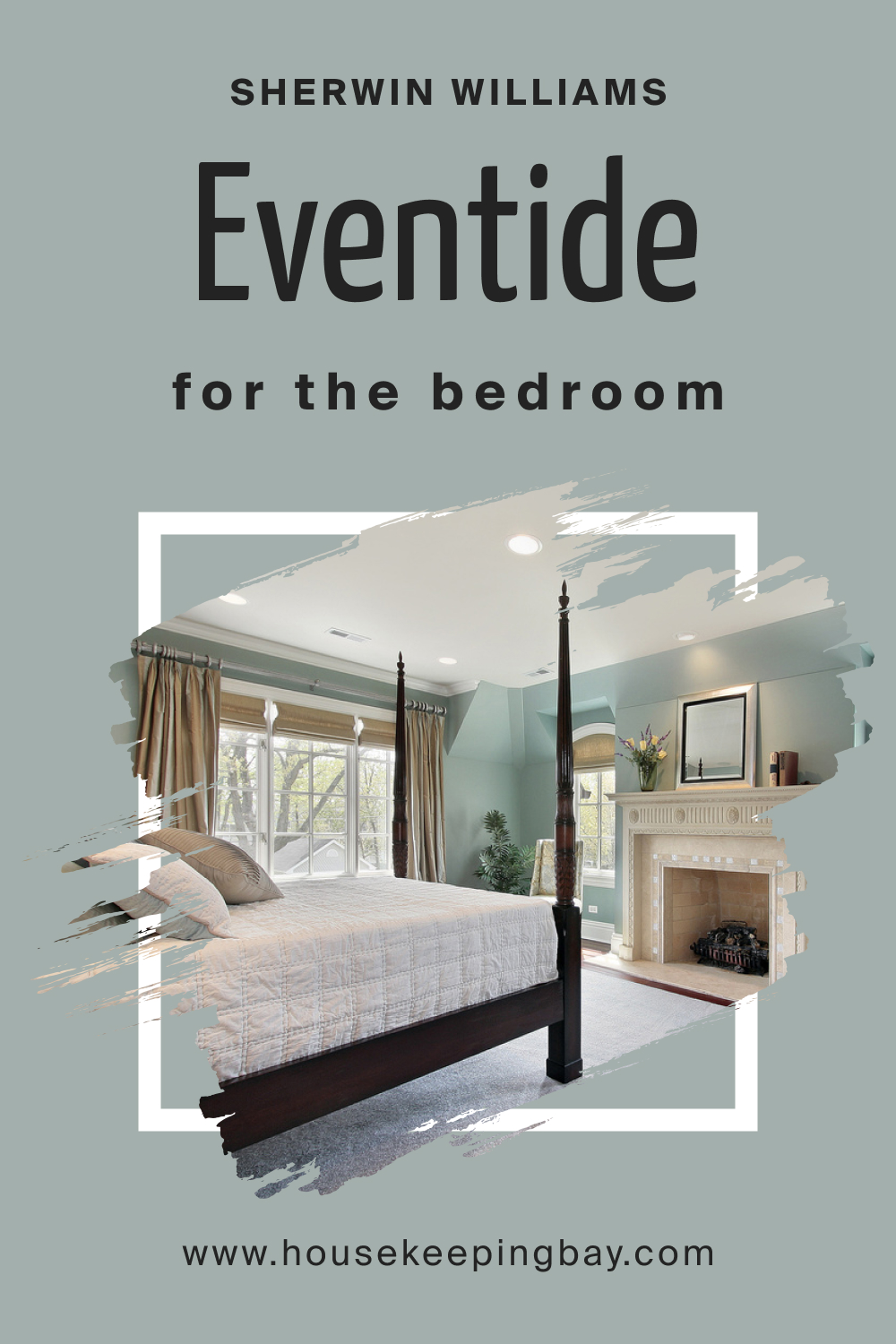 How to Use SW 9643 Eventide in the Bathroom?
Bathrooms benefit from Eventide's spa-like aura. This hue, combined with marble countertops, chrome fixtures, and soft white towels, transforms an ordinary bathroom into an elegant spa retreat, making every bath feel like a luxurious indulgence.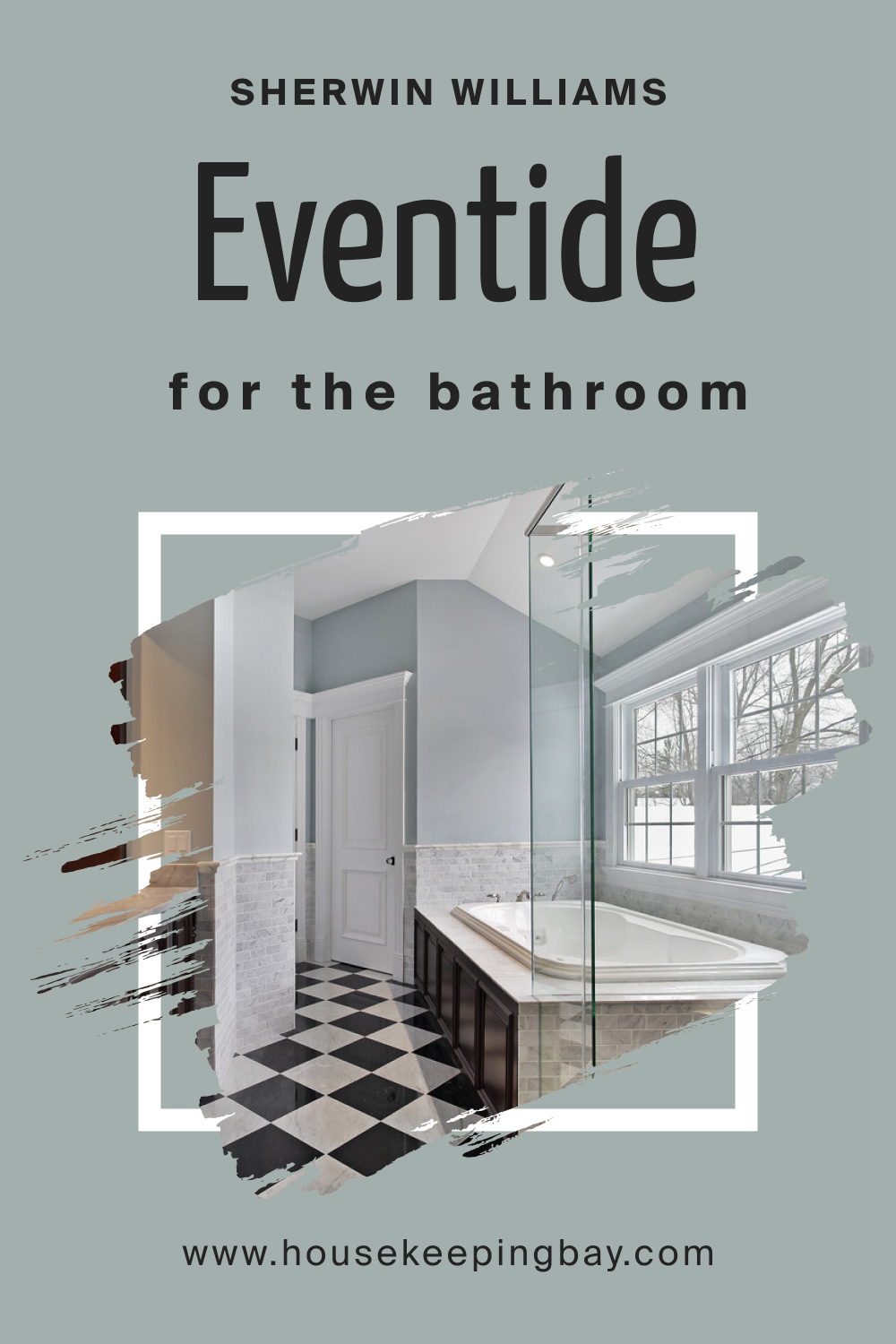 How to Use SW 9643 Eventide in the Living Room?
In living spaces, Eventide brings sophistication. Use it as a primary wall color or in contrast with a feature wall. Silver or gold accents, plush gray sofas, and muted green or lavender cushions will complement its tones, setting a cozy and chic environment.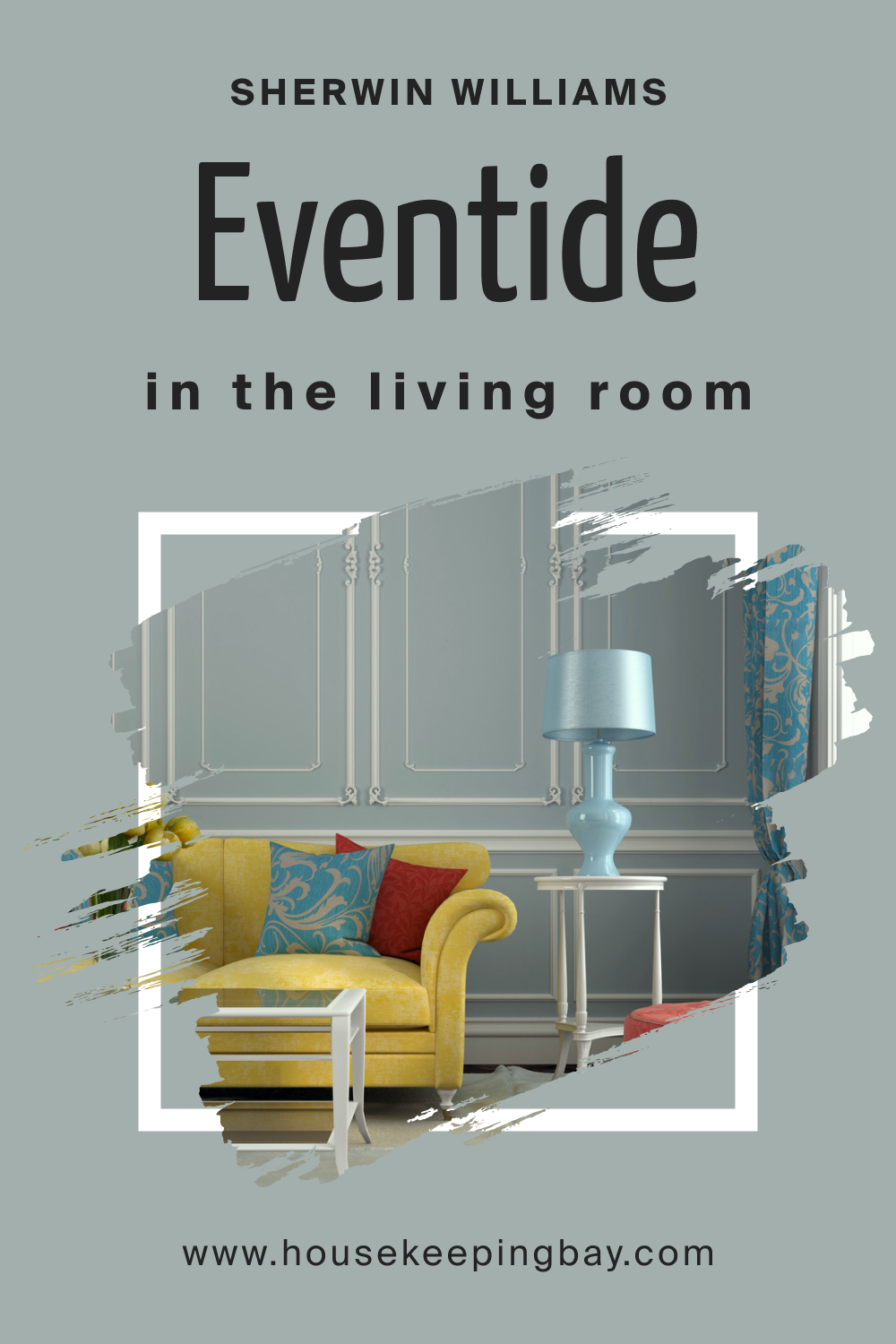 How to Use SW 9643 Eventide for an Exterior?
For exteriors, Eventide can be a bold yet tasteful choice. It resonates with the evening sky, offering an inviting facade. Pair it with crisp white trims or muted greens for landscaping to create a modern home that stands out subtly.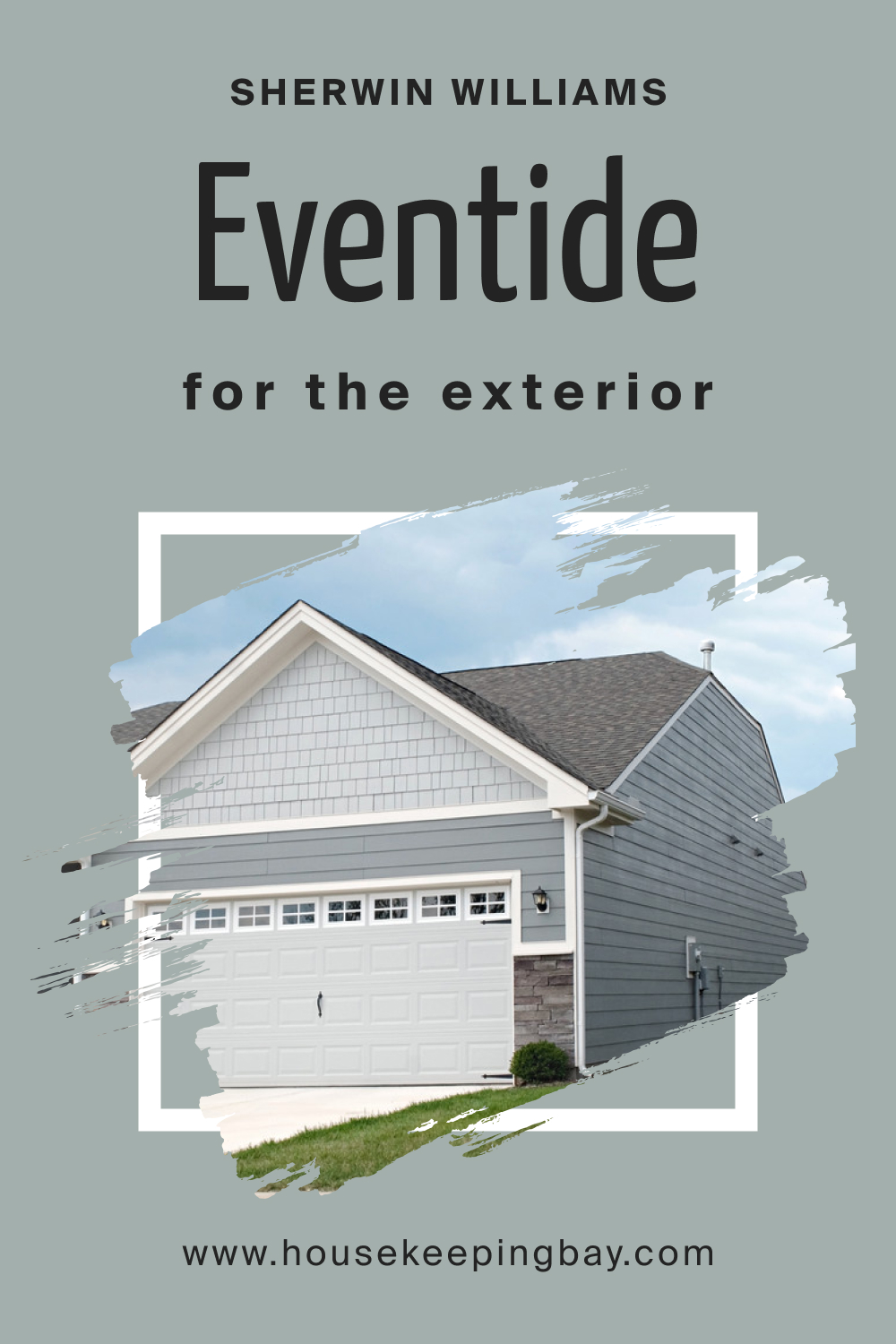 How to Use SW 9643 Eventide in the Kitchen?
Eventide in the kitchen sets a refined backdrop. Its cool undertones provide a refreshing ambiance, perfect for mornings. Matched with stainless steel appliances, white countertops, and a mix of wood textures, it strikes the right balance between chic and functional.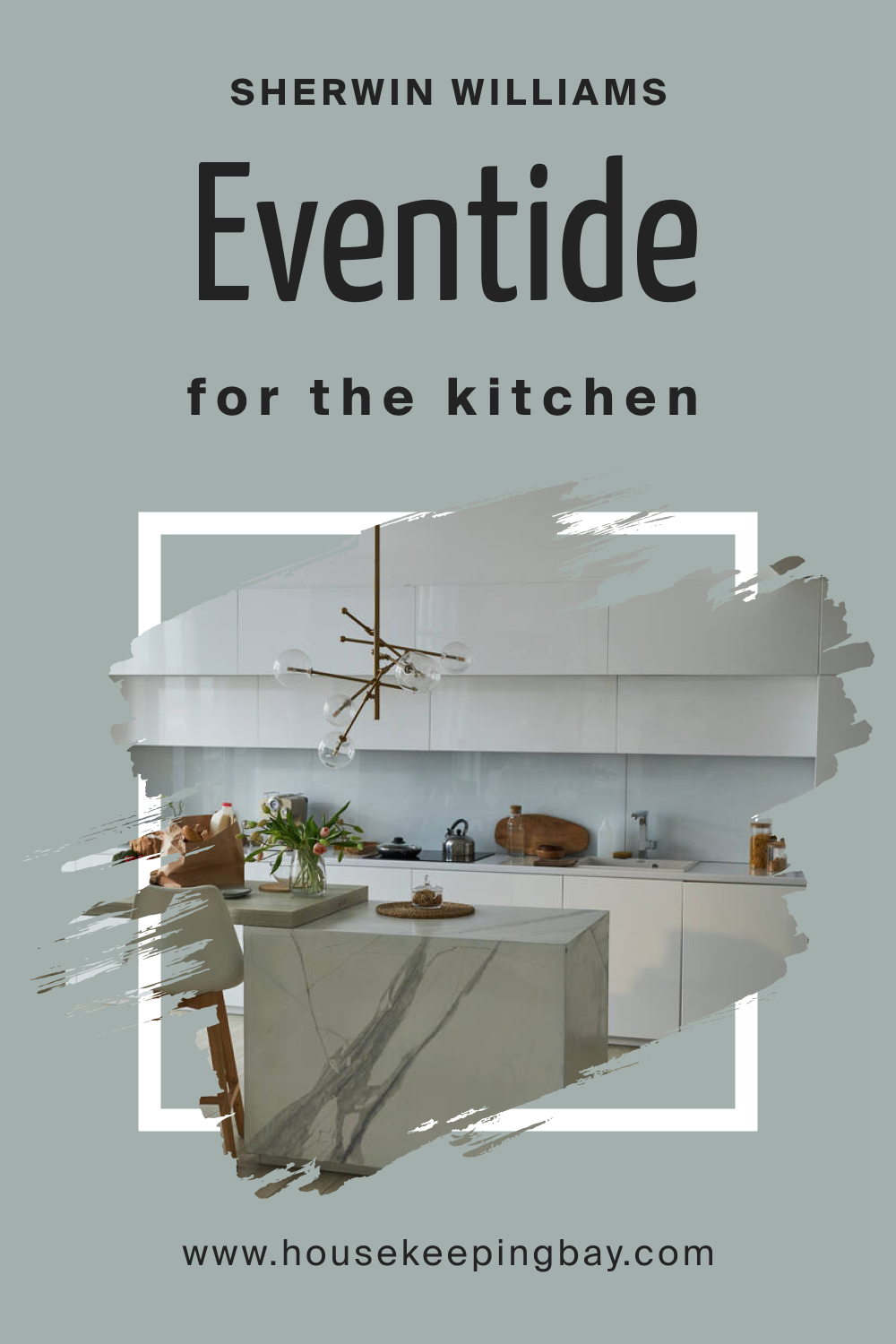 How to Use SW 9643 Eventide for the Kitchen Cabinets?
Using Eventide on kitchen cabinets creates a contemporary flair. The blue-gray cabinets paired with light marble or wooden countertops present a harmonious contrast. Brass or chrome handles add a touch of luxury, making the kitchen not just a place for cooking but a design statement.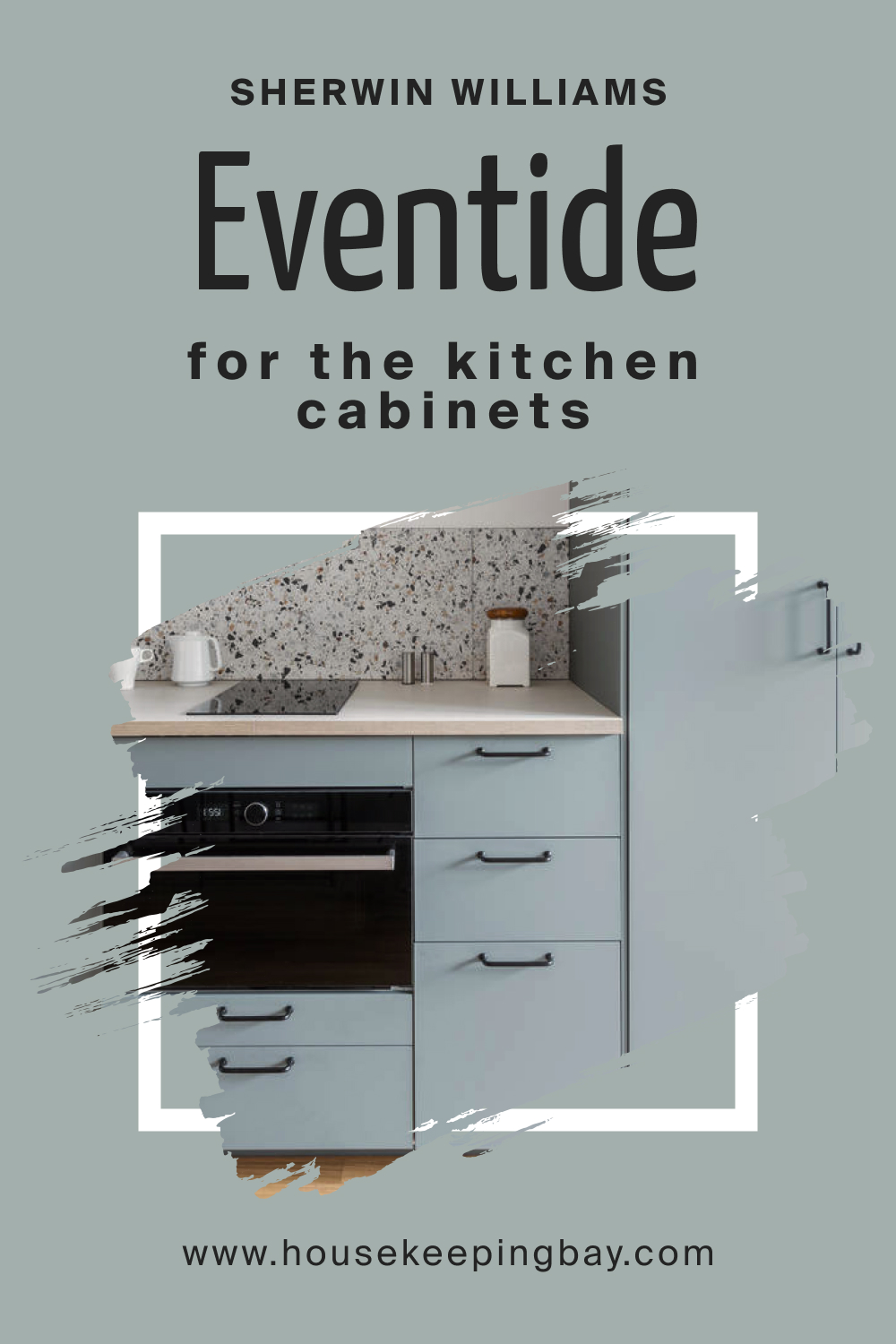 Comparing SW 9643 Eventide With Other Colors
When choosing colors, especially for spaces like homes or offices, it's pivotal to compare hues. By contrasting colors, we understand their undertones, vibrancy, and how they might interplay with each other in a particular space. Comparing enables informed decisions, ensuring that the chosen shade complements the intended aesthetic and mood.
SW 9643 Eventide vs. SW 9651 Sea Spray
Eventide's tranquil blue-gray contrasts with Sea Spray's breezy and airy vibe. While Eventide feels like a calm evening, Sea Spray is reminiscent of a refreshing morning by the ocean. In a coastal-themed space, Eventide anchors the setting, while Sea Spray introduces a refreshing lift.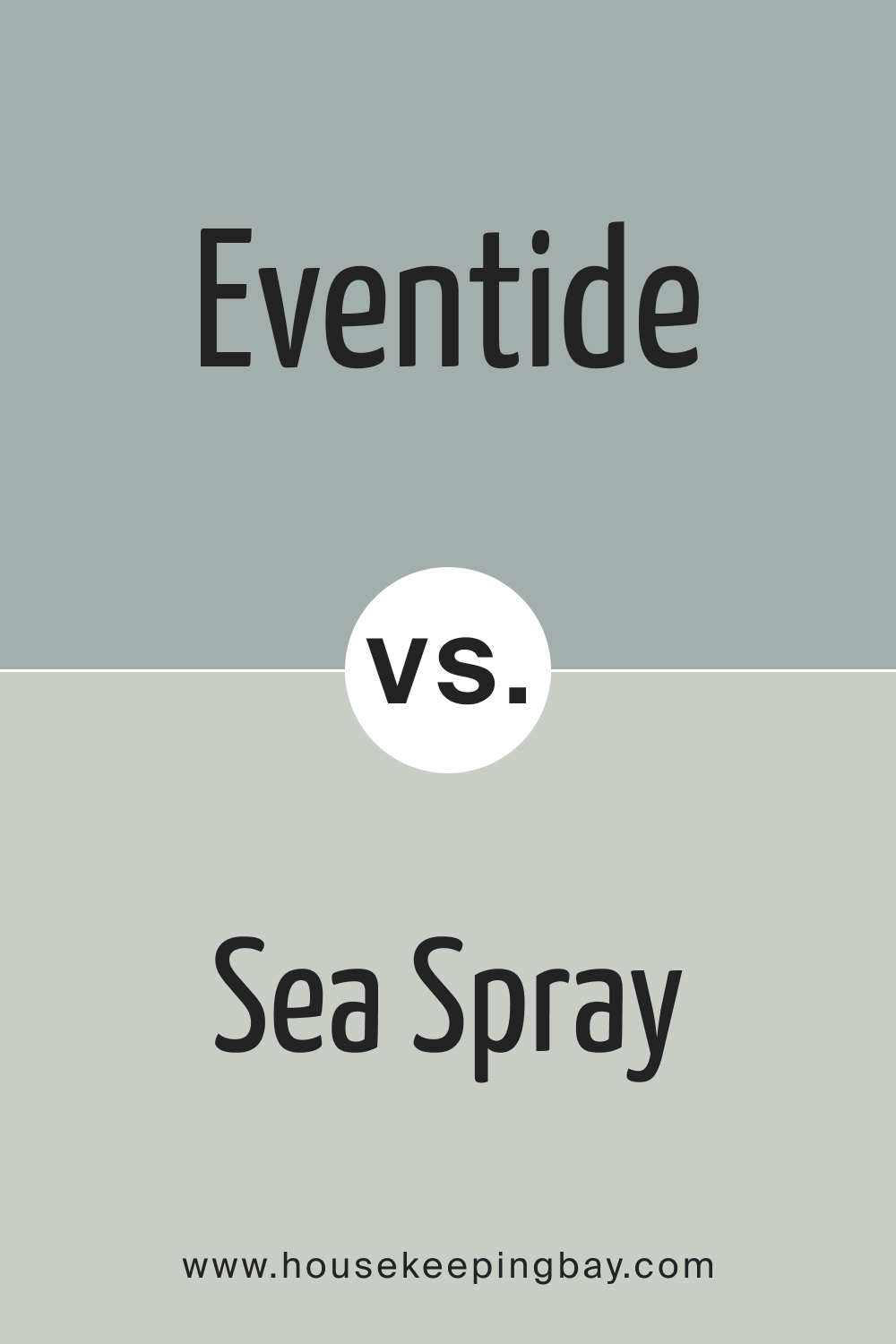 SW 9643 Eventide vs. SW 9621 Clean Slate
Clean Slate, true to its name, is a pure, foundational gray. Next to Eventide, Clean Slate feels more grounded and neutral. Eventide's slight blue undertone introduces more character and mood, while Clean Slate stays versatile and universal.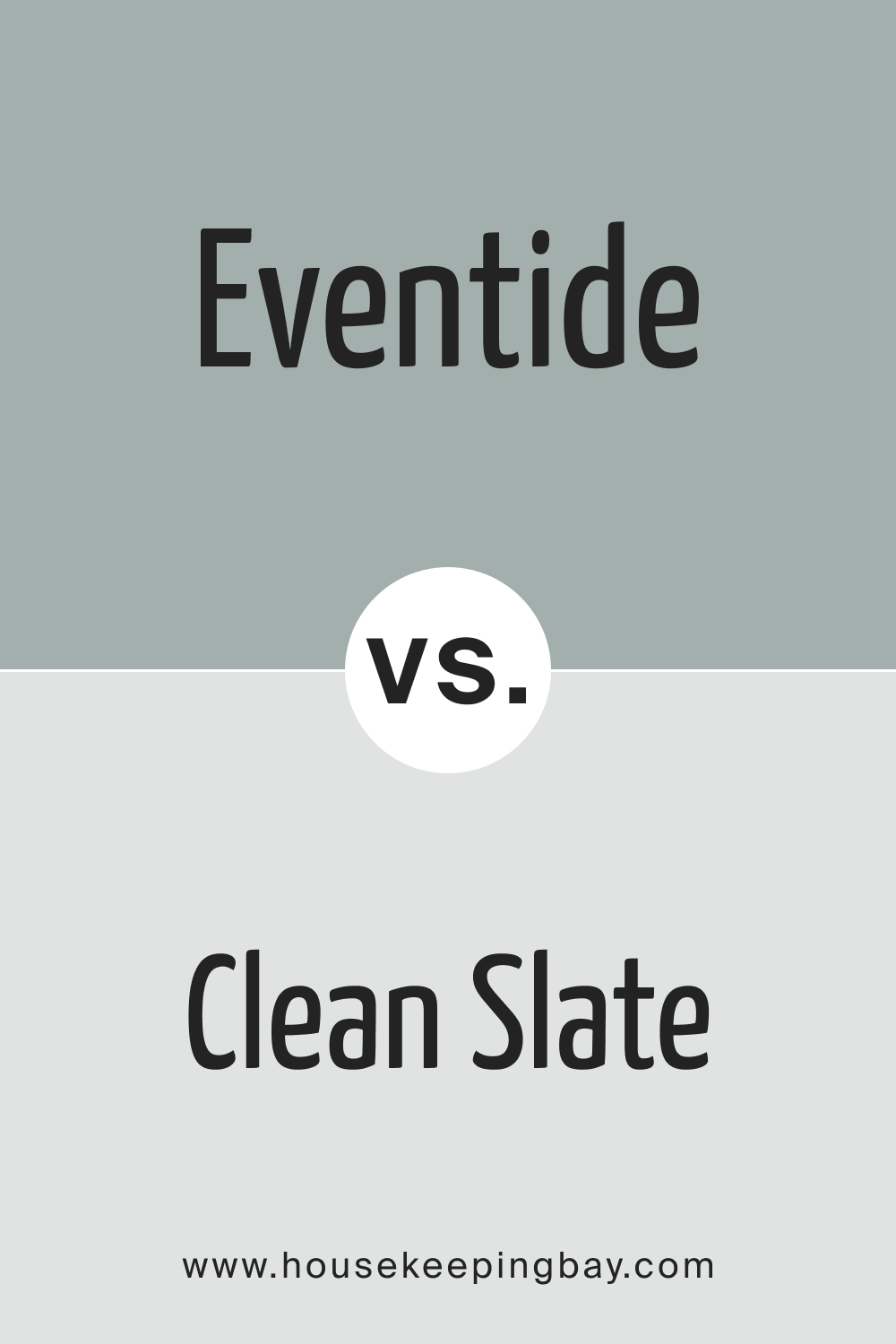 SW 9643 Eventide vs. SW 9657 Piedmont
Piedmont exudes an earthy, warmer gray compared to the cooler blue-gray of Eventide. Eventide brings in a serene atmosphere, while Piedmont adds warmth and coziness, making it ideal for spaces where you wish to evoke a sense of comfort.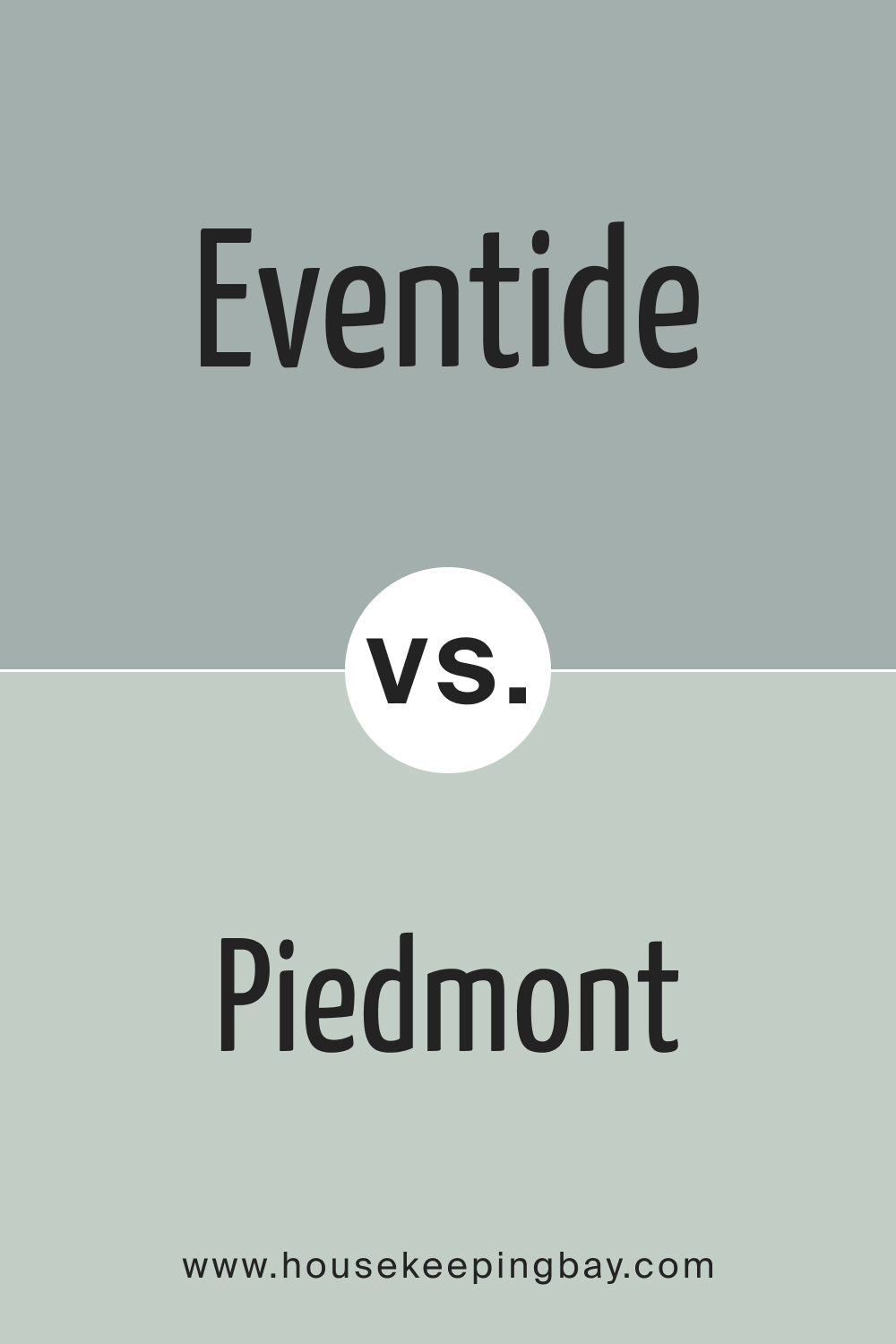 SW 9643 Eventide vs. SW 9635 Stargazer
Stargazer is reminiscent of a night sky, deeper and more mysterious than Eventide. While both possess calming qualities, Stargazer is bolder and moodier, suitable for dramatic spaces or accent walls, contrasting Eventide's soft elegance.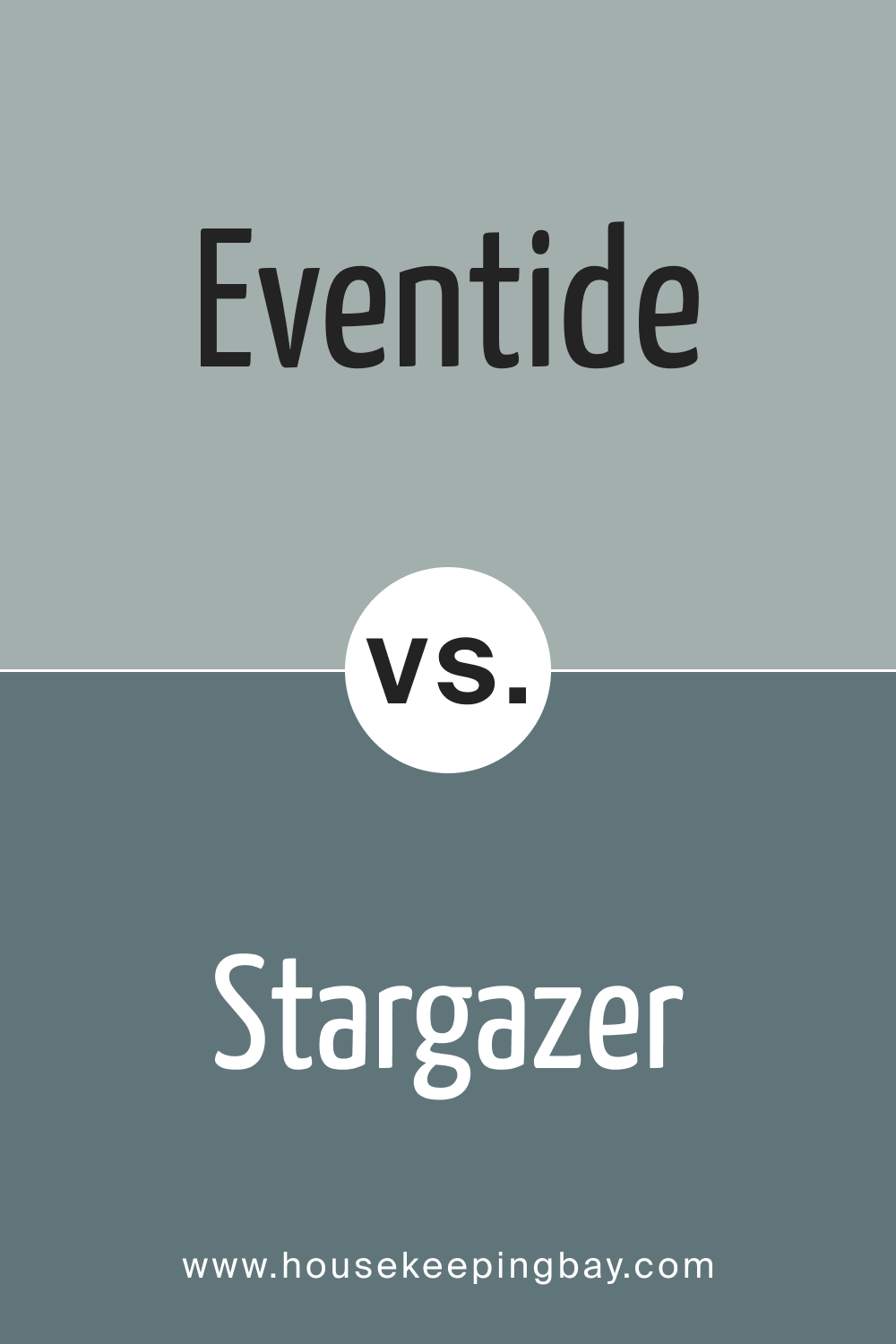 SW 9643 Eventide vs. SW 9132 Acacia Haze
Acacia Haze is a muted green shade, introducing a touch of nature. When juxtaposed with Eventide, it creates a harmonious blend of sky and foliage. While Eventide soothes, Acacia Haze revitalizes, presenting a perfect interplay for a nature-inspired space.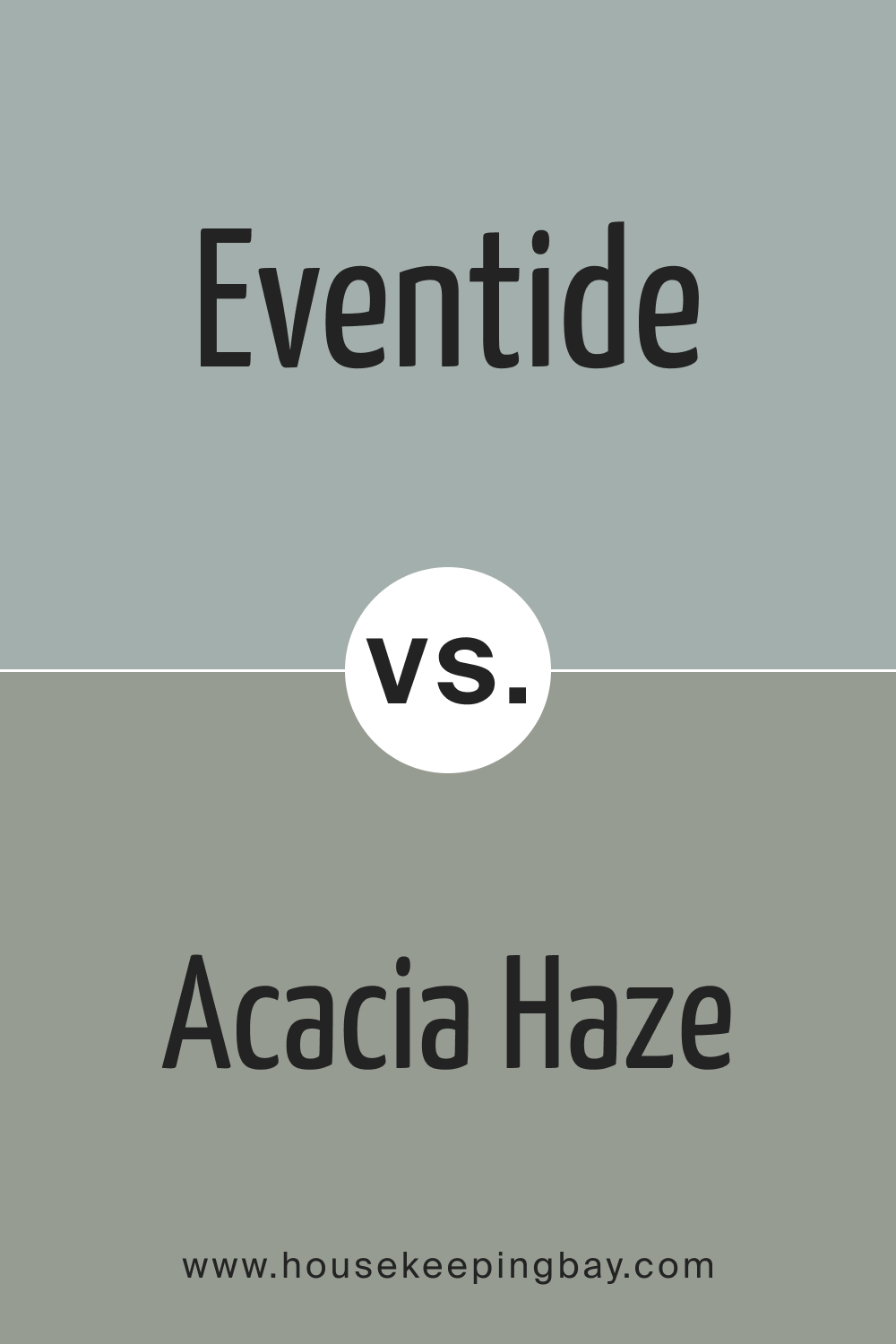 SW 9643 Eventide vs. SW 9133 Jasper Stone
Jasper Stone has earthy, brownish undertones, providing a grounded feel. Against Eventide, it acts as a robust base, drawing from nature's rocks and terrains. Eventide's coolness, alongside SW Jasper Stone's warmth, creates a balanced and rich palette.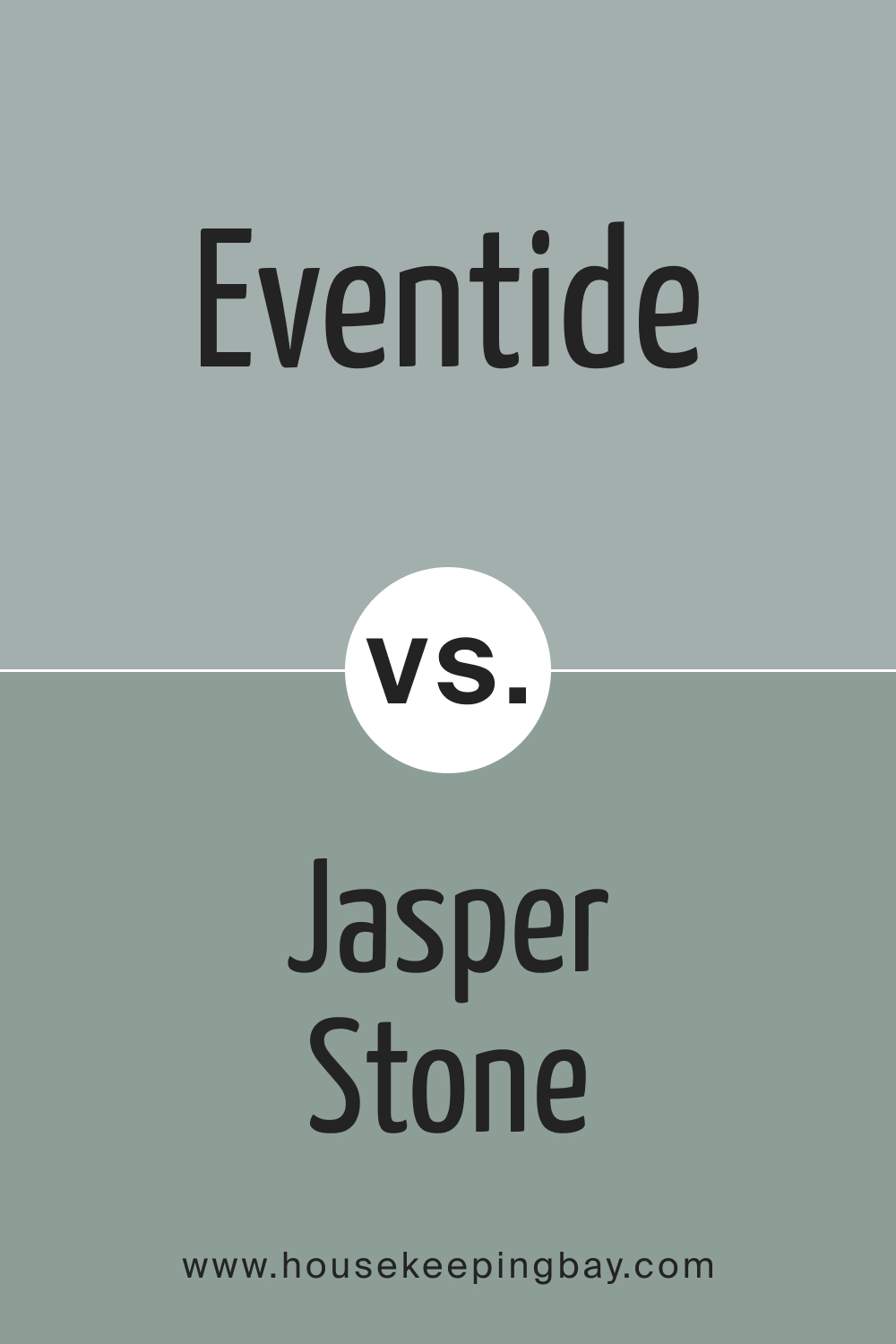 Conclusion
Colors, in their unique ways, evoke emotions and set the ambiance. Understanding and comparing shades like Eventide with others allows for a symphony of colors that not only visually appeal but also emotionally resonate. The art lies in choosing the right shades that coalesce seamlessly, enhancing the beauty of spaces.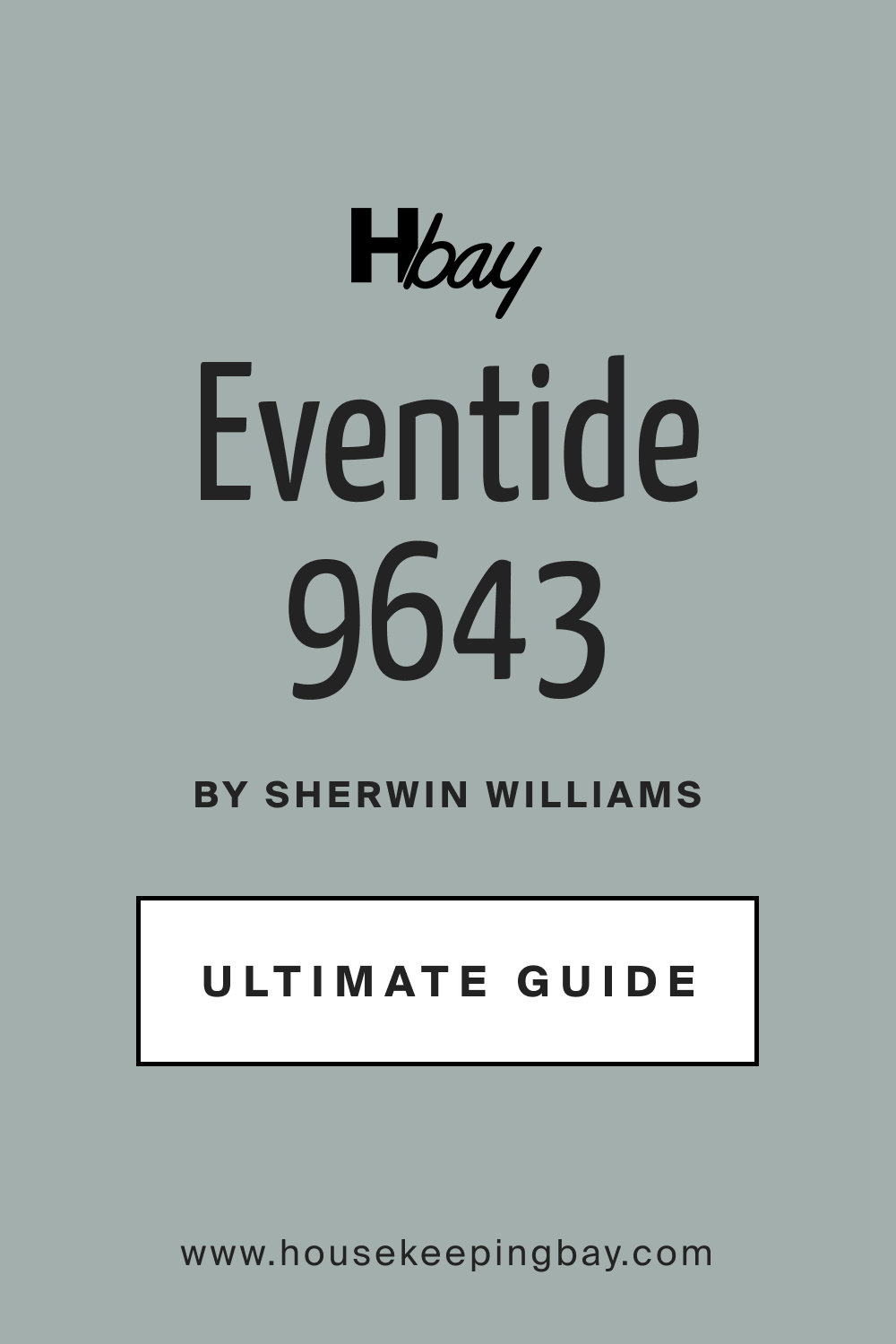 Frequently Asked Questions
⭐What kind of undertones does SW 9643 Eventide have?
SW 9643 Eventide has subtle undertones of lavender and gray, providing the paint with its unique blue-gray hue that's both refreshing and soothing.
⭐Is SW 9643 Eventide considered a warm or cool color?
Eventide leans towards the cool spectrum, making spaces feel serene and expansive.
⭐Which rooms are most suitable for painting with SW 9643 Eventide?
Given its calming nature, Eventide works beautifully in bedrooms, bathrooms, and reading nooks. However, its versatility also makes it a great choice for living areas and exteriors.
⭐What trim colors pair well with SW 9643 Eventide?
Lighter shades of white, like Pure White, Whisper White, or Snowfall from Sherwin-Williams, complement Eventide perfectly, enhancing its calming effect.
⭐How does lighting impact the appearance of SW 9643 Eventide?
Eventide can vary in appearance based on lighting. In natural light, its blue-gray hue with a touch of lavender becomes evident. Under artificial lighting, especially warm bulbs, its gray undertones might be more pronounced.