Color paints a story, sets moods, creates ambiance, and influences designs. Among the vast palette of colors, some manage to remain timeless, consistently finding their way into modern homes. Colonial Cream OC-77 by Benjamin Moore is one such hue.
Dive into the complexities and applications of this enchanting shade in the ensuing sections.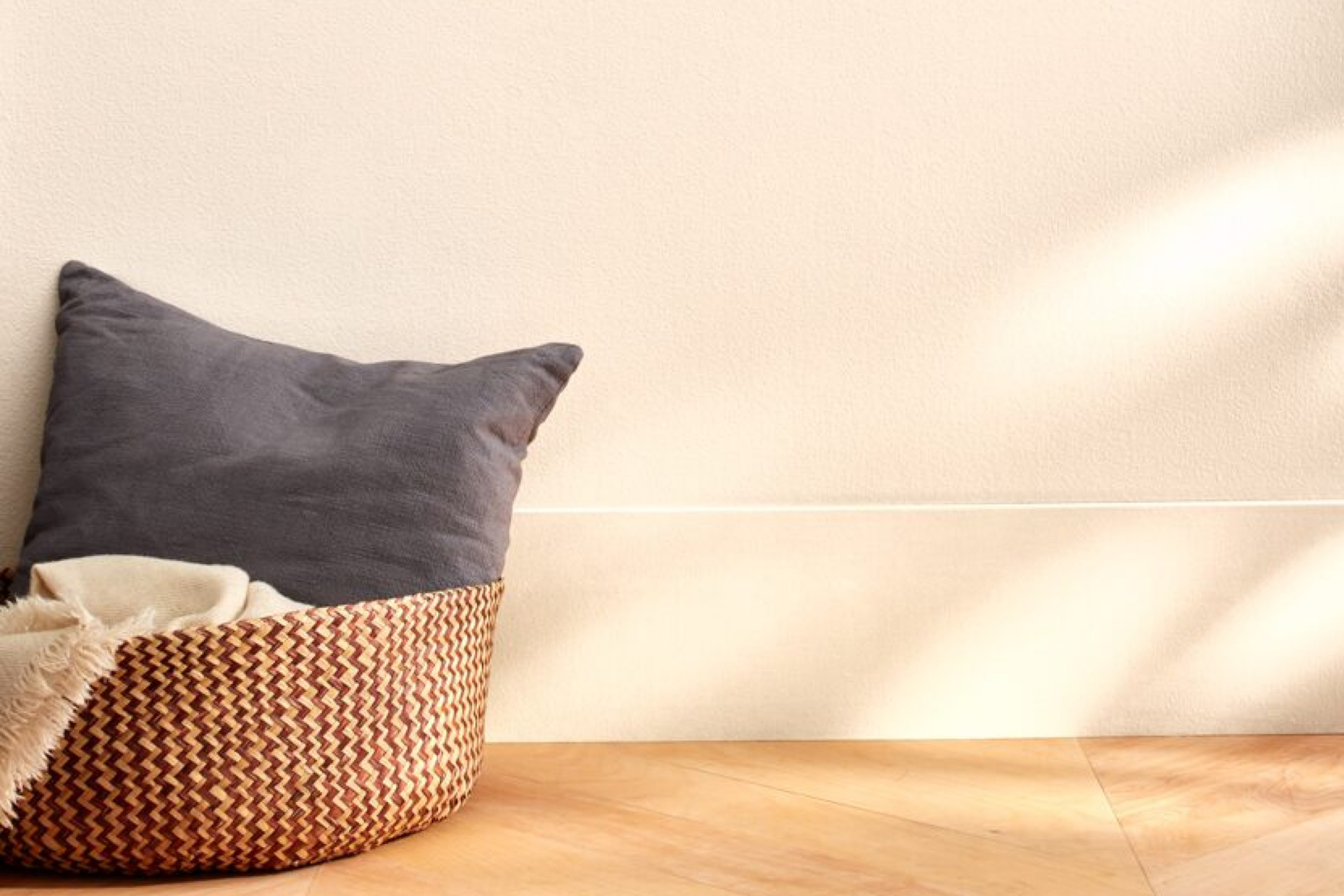 What Color Is Colonial Cream OC-77?
Colonial Cream is a gentle, muted beige with soft undertones reminiscent of vintage colonial interiors. Its soothing presence exudes a calm, peaceful vibe, making it a versatile pick for various interior styles, from traditional and classic to modern minimalistic.
Perfectly paired with rustic wooden textures, linens, and soft pastels, this color brings out the best in the boho-chic, farmhouse, and even Scandinavian styles.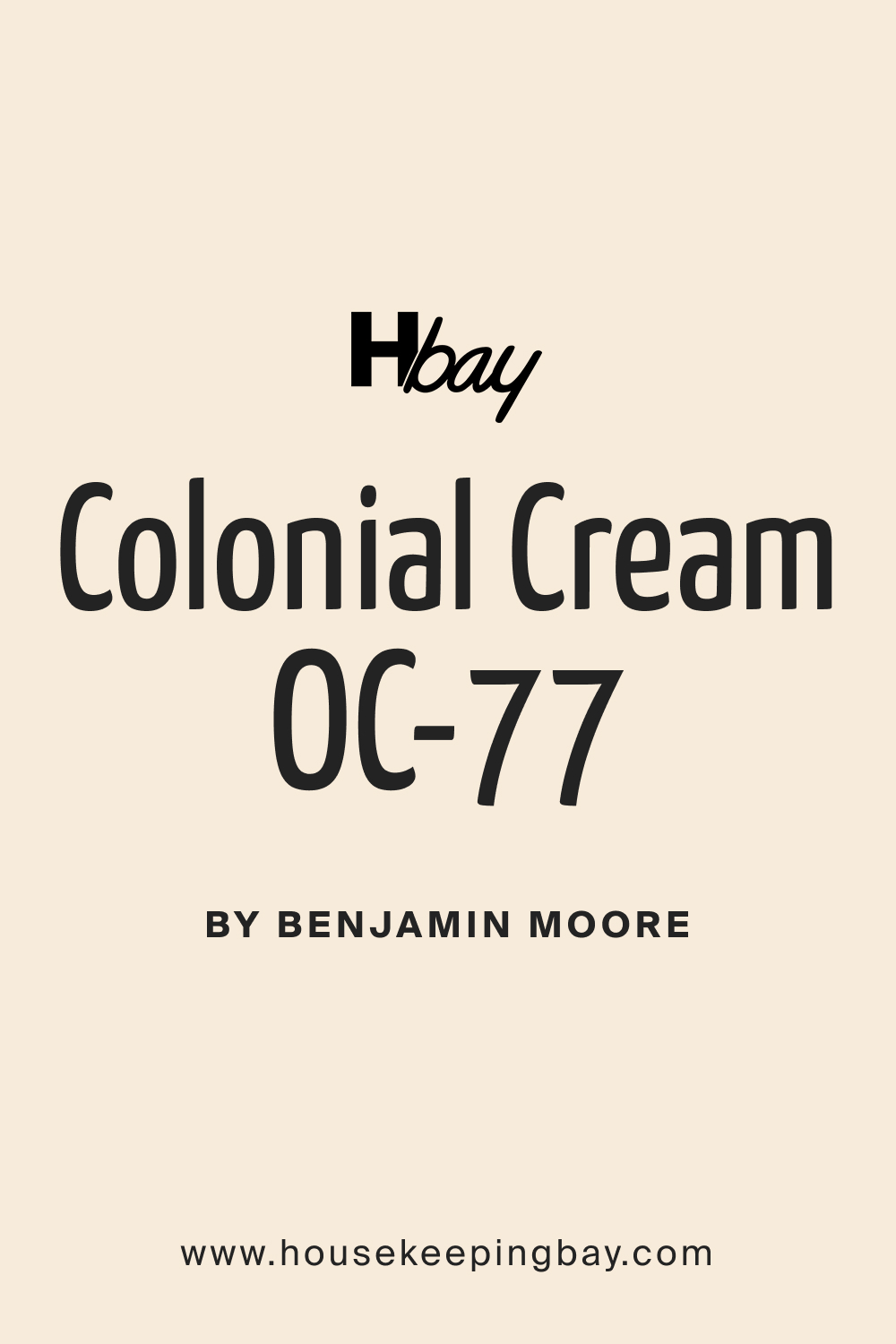 Is It a Warm Or Cool Color?
Colonial Cream leans towards the warmer side of the spectrum. Its comforting warmth makes spaces feel cozy and inviting, resonating with a welcoming aura. When applied, homes infused with this shade often feel more intimate and grounded, creating an ambiance that encourages relaxation and connection.
Undertones of Colonial Cream OC-77
Delving deeper, Colonial Cream reveals subtle undertones of yellow and peach. These undertones play a crucial role in the color's perception, adding depth and richness.
Depending on surrounding colors and lighting, these undertones can either be more prominent or subdued, thus affecting its overall appearance and blending with other shades.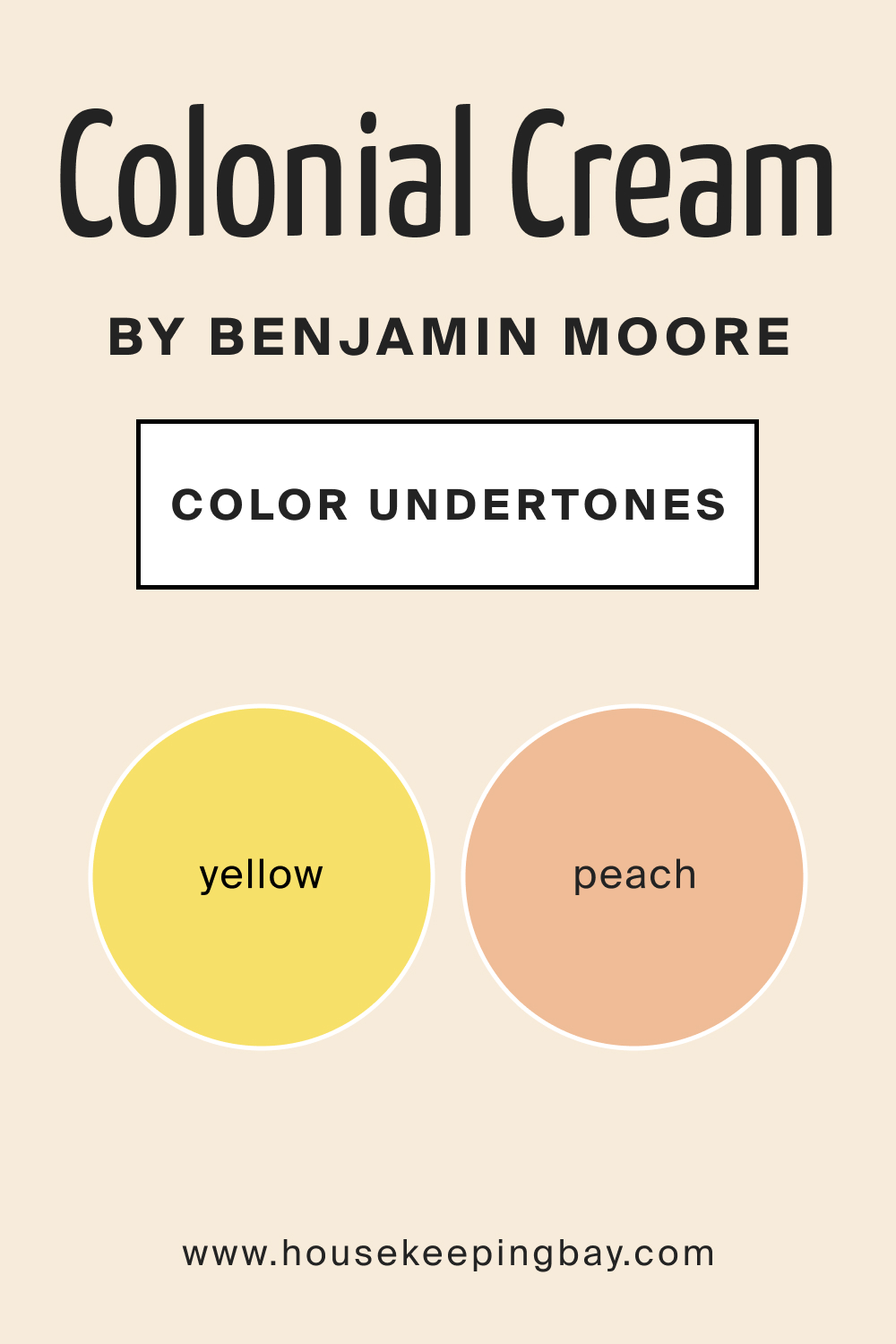 Coordinating Colors of Colonial Cream OC-77
Coordinating colors create harmony and enhance the main color's appeal. For Colonial Cream OC-77, Benjamin Moore offers:
Soft Sand 2106-60: A muted, sandy beige.
Beach Glass 1564: A serene blue-green.
Baked Pretzel 1126: A rustic, golden hue.
These colors, when juxtaposed against Colonial Cream, amplify its beauty, giving depth and character to spaces.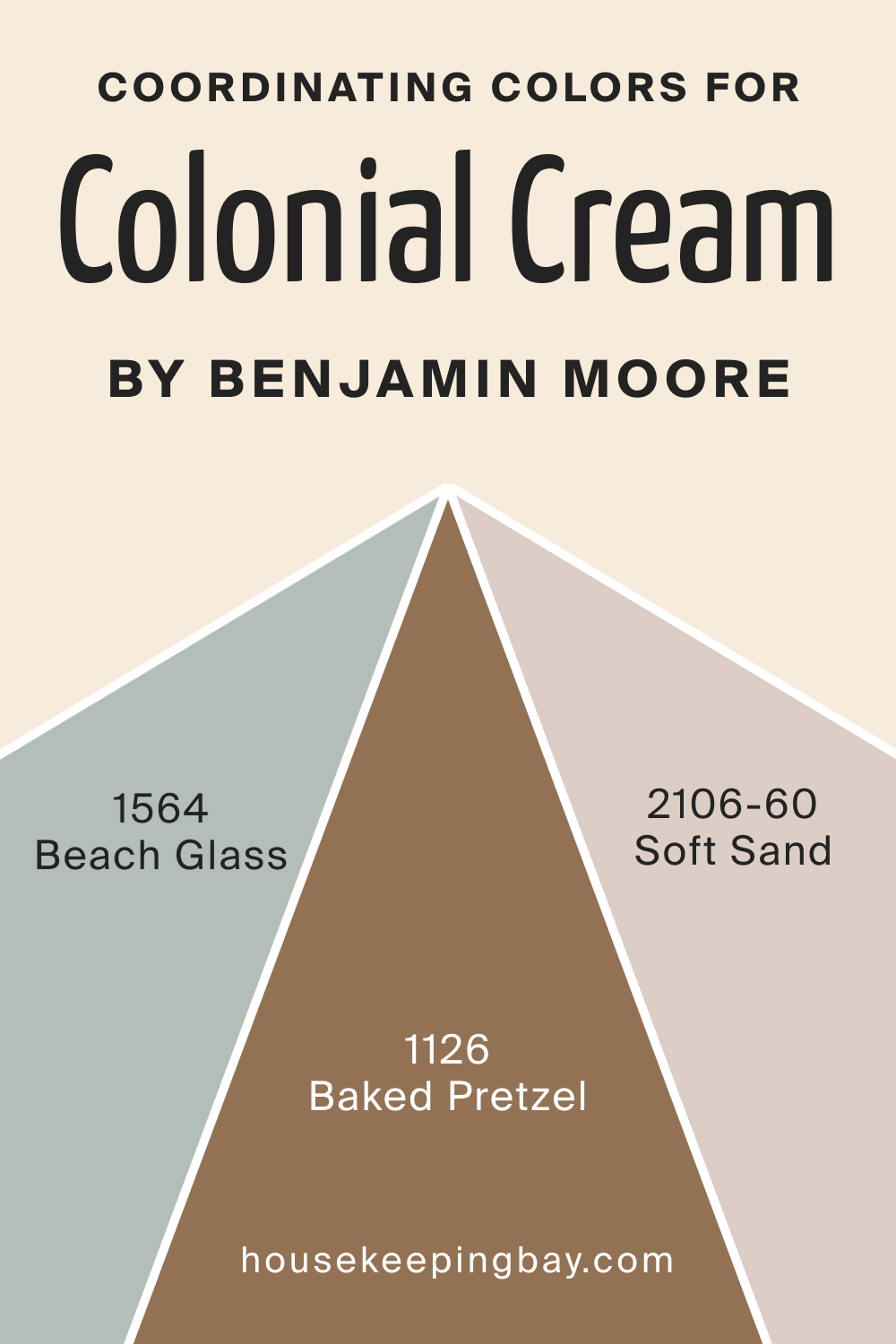 How Does Lighting Affect Colonial Cream OC-77?
Lighting is pivotal in color perception. In natural light, Colonial Cream exhibits a more vibrant persona, with its undertones coming to the forefront. Artificial lights, especially warmer ones, intensify its beige attributes.
Rooms with north-facing windows may render this color slightly cooler, while south-facing ones enhance its warmth. East-facing spaces in the morning imbue a gentle glow, whereas west-facing rooms at dusk deepen its richness.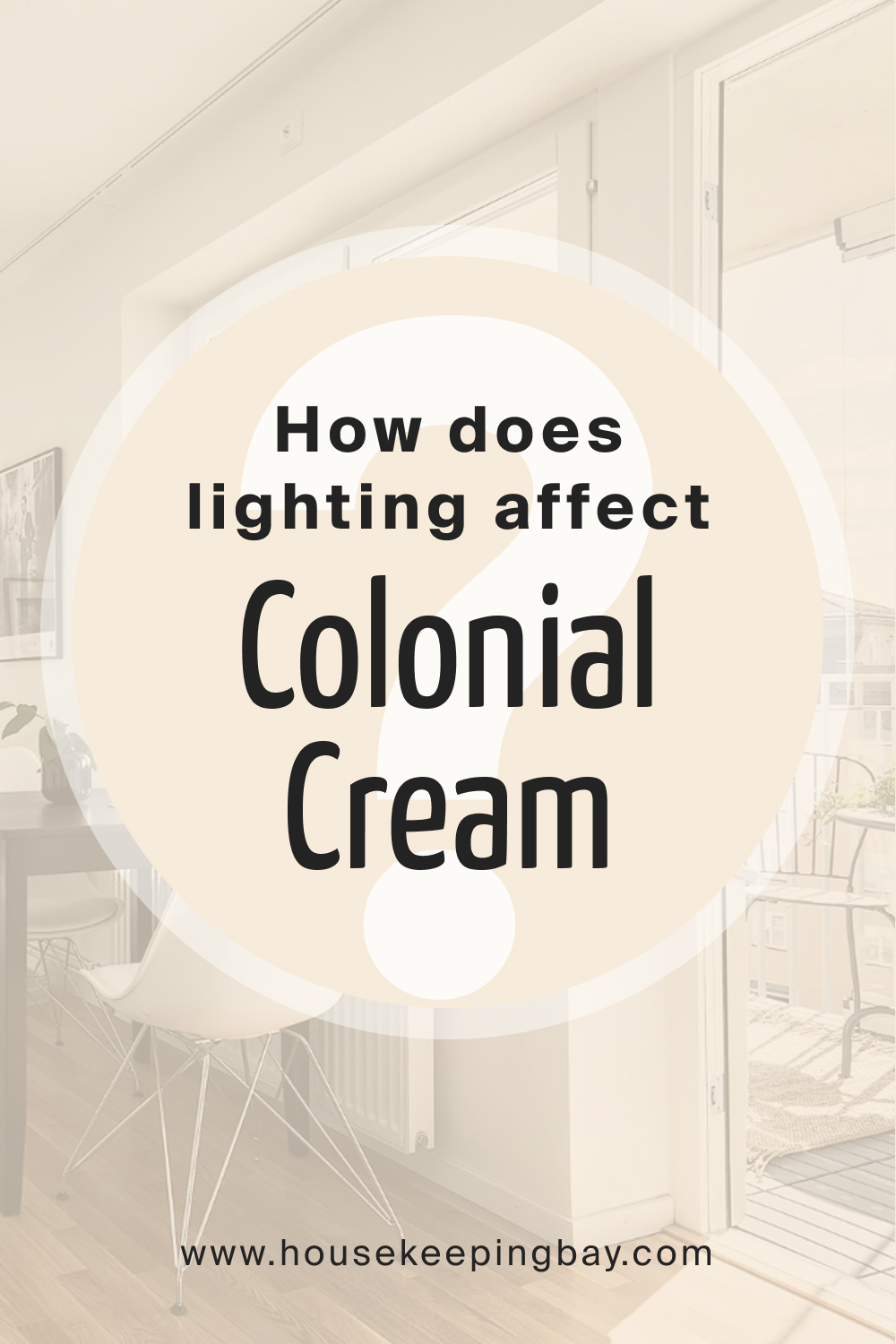 LRV of Opal OC-73
Light Reflectance Value (LRV) gauges the amount of light a color reflects. With an LRV of 91, Opal OC-73 is a luminous shade, reflecting a significant amount of light. Such a high LRV means spaces appear brighter and more open.
Colonial Cream, with its inherent warmth, combined with a high LRV, offers a balanced blend of coziness and brightness.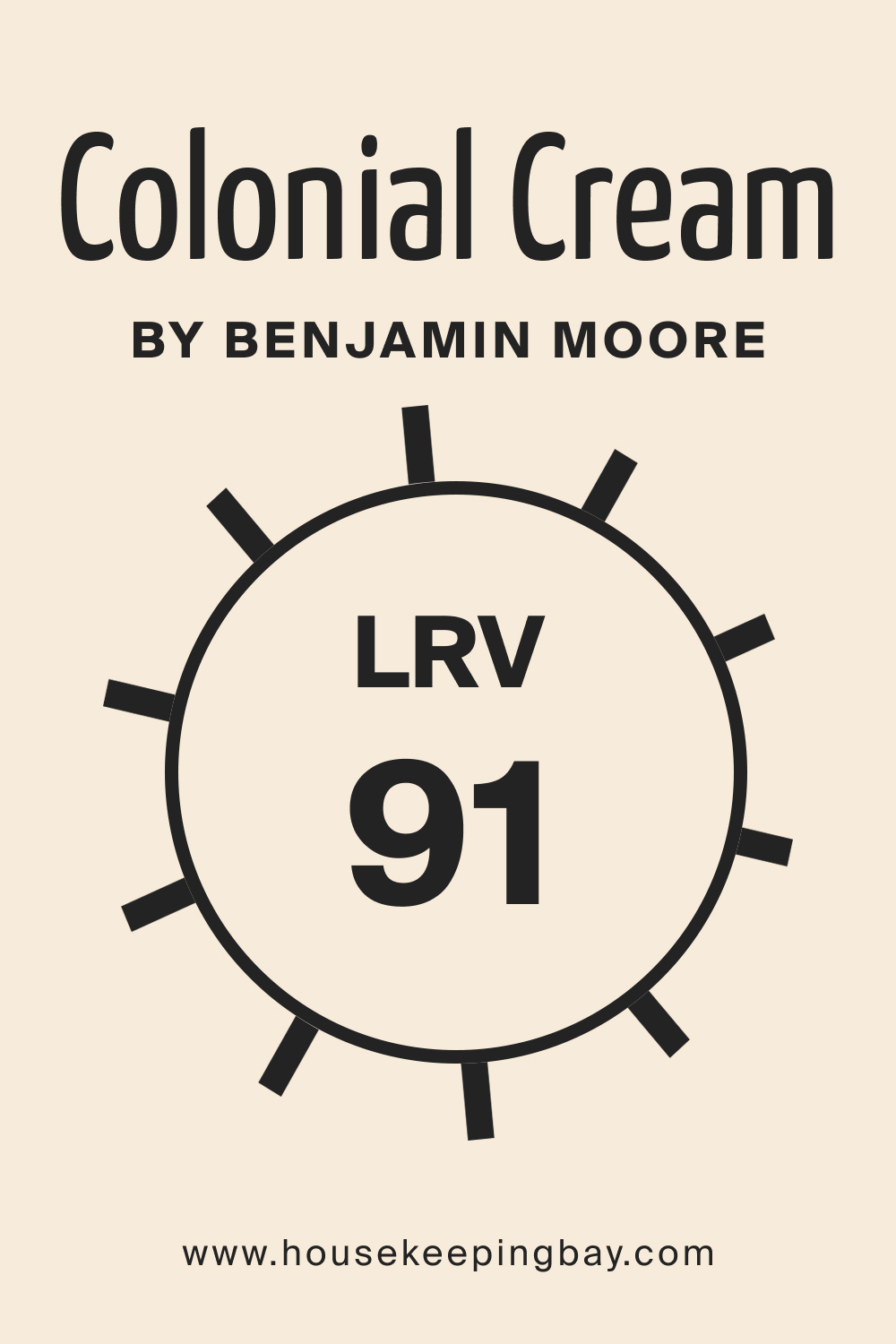 What is LRV? Read It Before You Choose Your Ideal Paint Color
Trim Colors of Colonial Cream OC-77
Trim colors define boundaries, accentuate the design, and complement the main wall color. For BM Colonial Cream, use these colors on your trim:
These shades of white enhance Colonial Cream's depth, creating a cohesive design flow.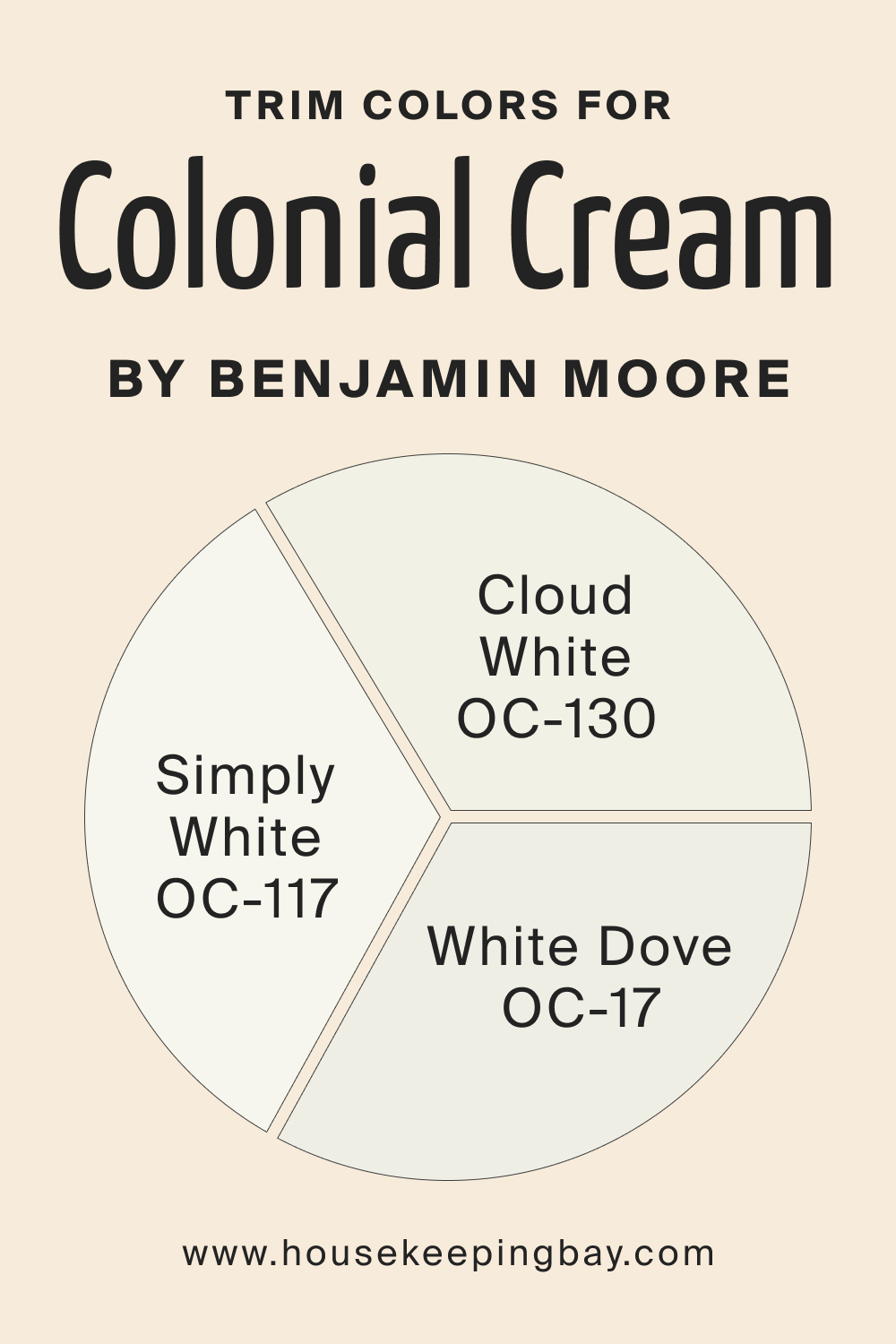 Colors Similar to Colonial Cream OC-77
Knowing analogous colors aids in exploring alternatives. Some near matches to Colonial Cream include:
Gentle Cream OC-96
Timid White OC-39
Each presents a unique blend of beige and undertones, catering to varied aesthetic tastes.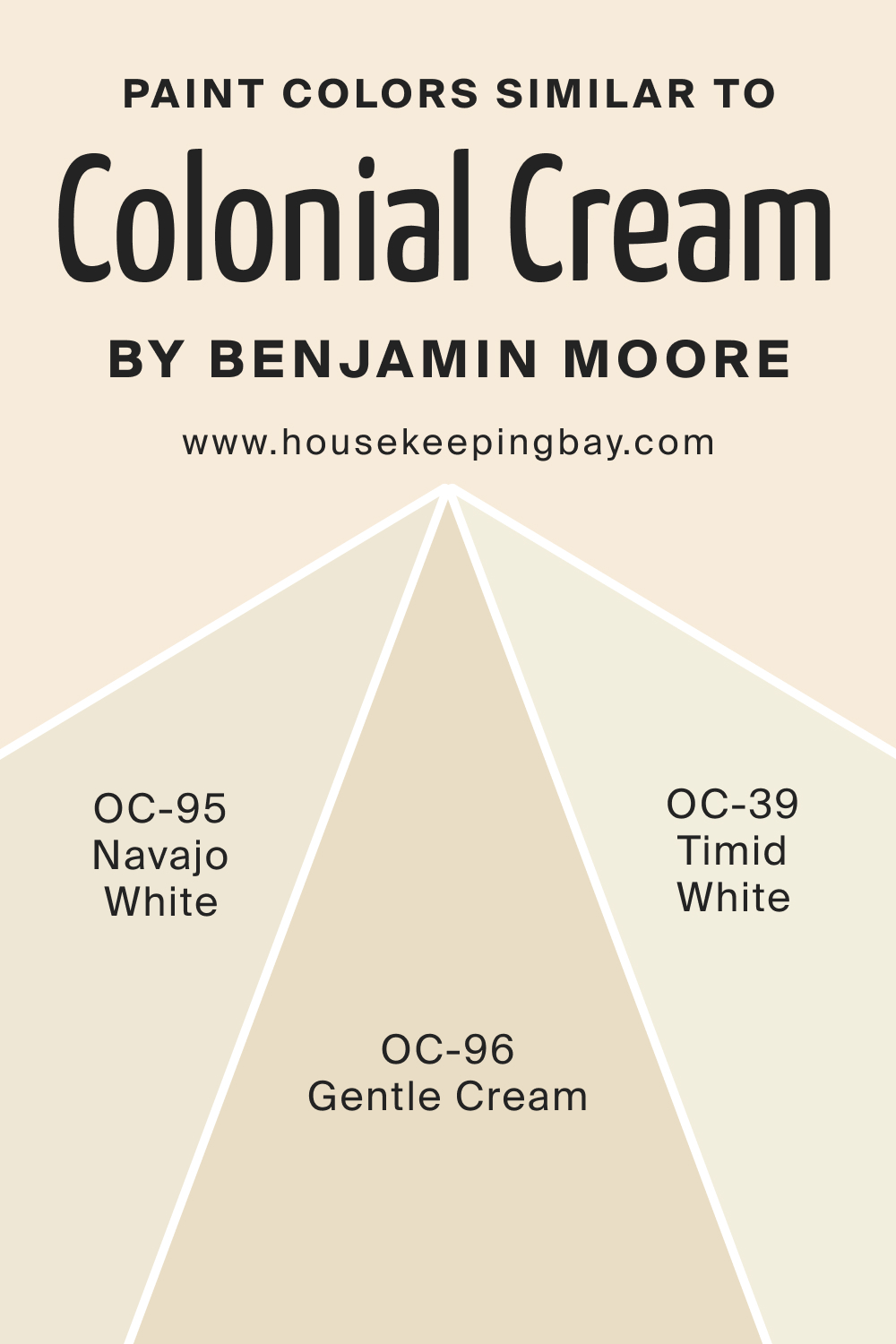 Colors That Go With Colonial Cream OC-77
Complementing colors amplify the ambiance. For a harmonious palette in your home, try these colors along with BM Colonial Cream:
Simply White (2143-70) to add purity
Maidenhair Fern (500) to introduce organic vibrancy
Fox Hedge Tan (1167) to deepen the palette, creating a balanced design story.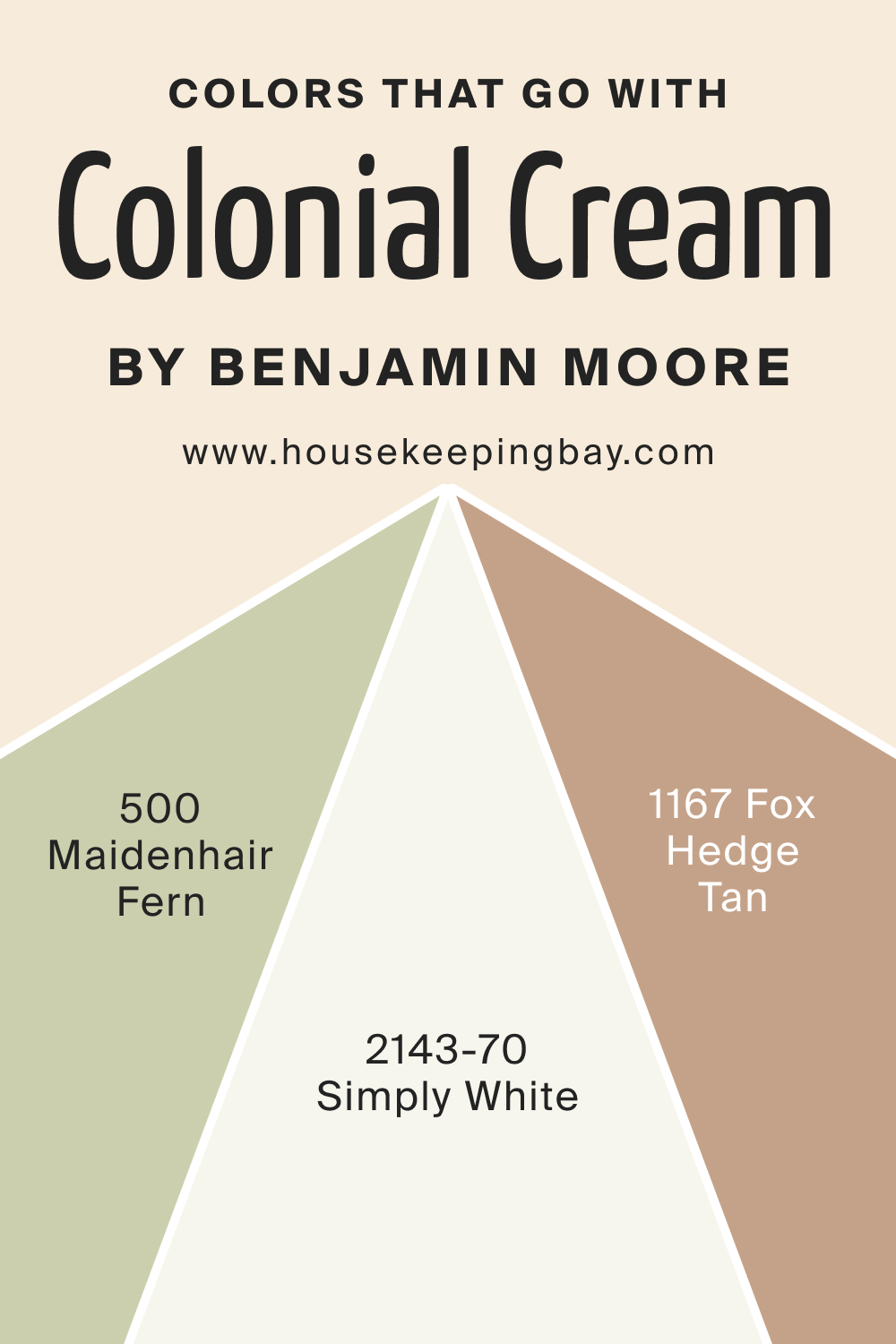 How to Use Colonial Cream OC-77 In Your Home?
Colonial Cream OC-77 is a versatile hue that seamlessly adapts to various rooms and design styles. Its soothing undertones make it apt for bedrooms, creating a tranquil environment. In living spaces, it curates a welcoming, warm aura perfect for relaxation and conversation.
Its muted elegance enhances bathrooms and kitchens, giving them a timeless appeal. Exterior applications result in a classic, understated façade.
From farmhouse chic, boho comfort to contemporary sleekness, Colonial Cream merges effortlessly, underlining various interior design themes with sophistication.
How to Use Colonial Cream OC-77 in the Bedroom?
Colonial Cream OC-77 in the bedroom evokes tranquility and relaxation. Its warm undertones promote rest, making it ideal for wall paint or as an accent. Paired with pastel bedding, wooden furnishings, and soft lighting, it sets a calming tone, aiding in a peaceful night's rest and a rejuvenating morning.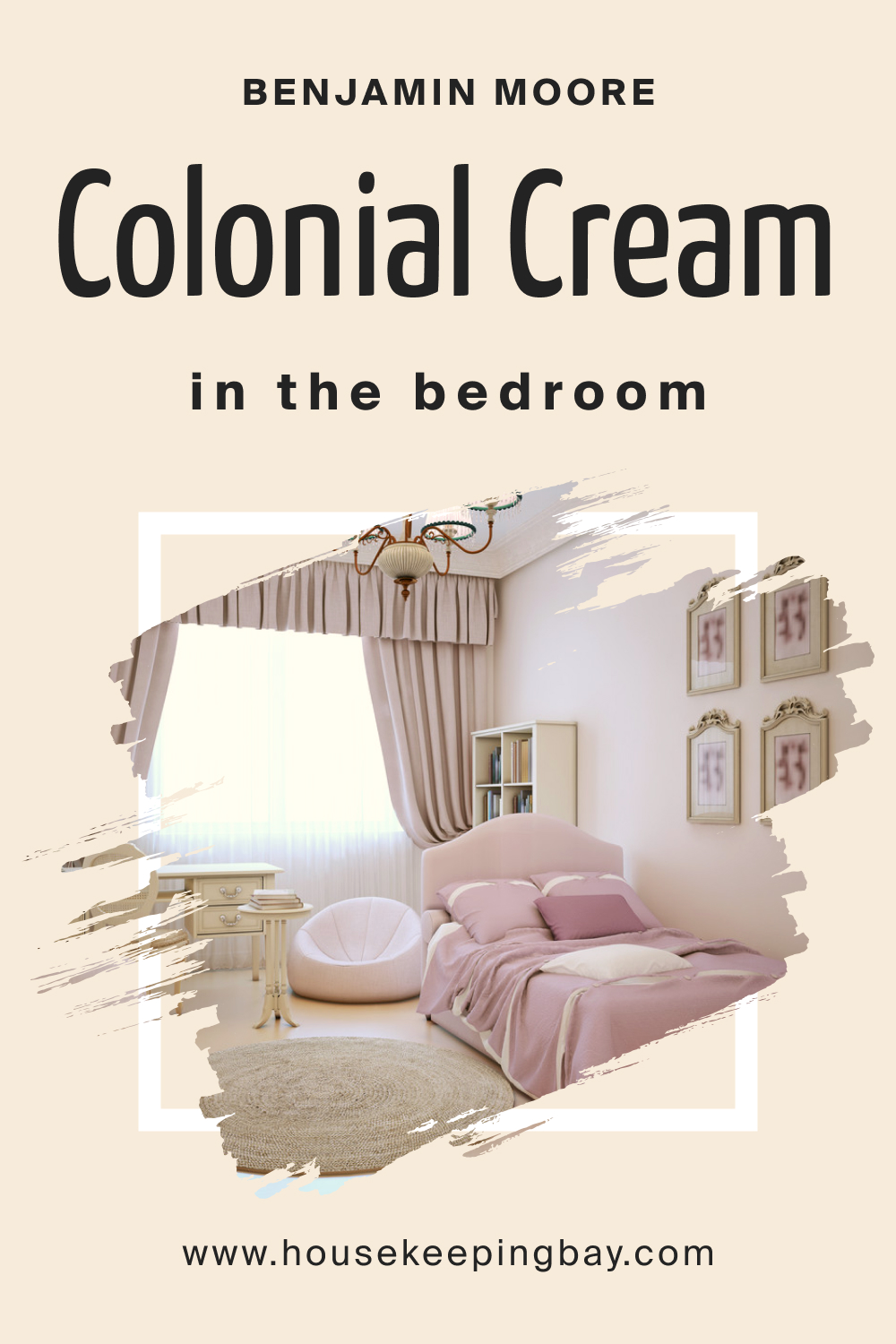 How to Use Colonial Cream OC-77 in the Bathroom?
For bathrooms, Colonial Cream adds a touch of luxurious serenity. When paired with marble countertops, white fixtures, and gold or bronze accents, it exudes a spa-like ambiance. This shade amplifies natural light, ensuring the bathroom feels airy, fresh, and spacious, perfect for unwinding after long days.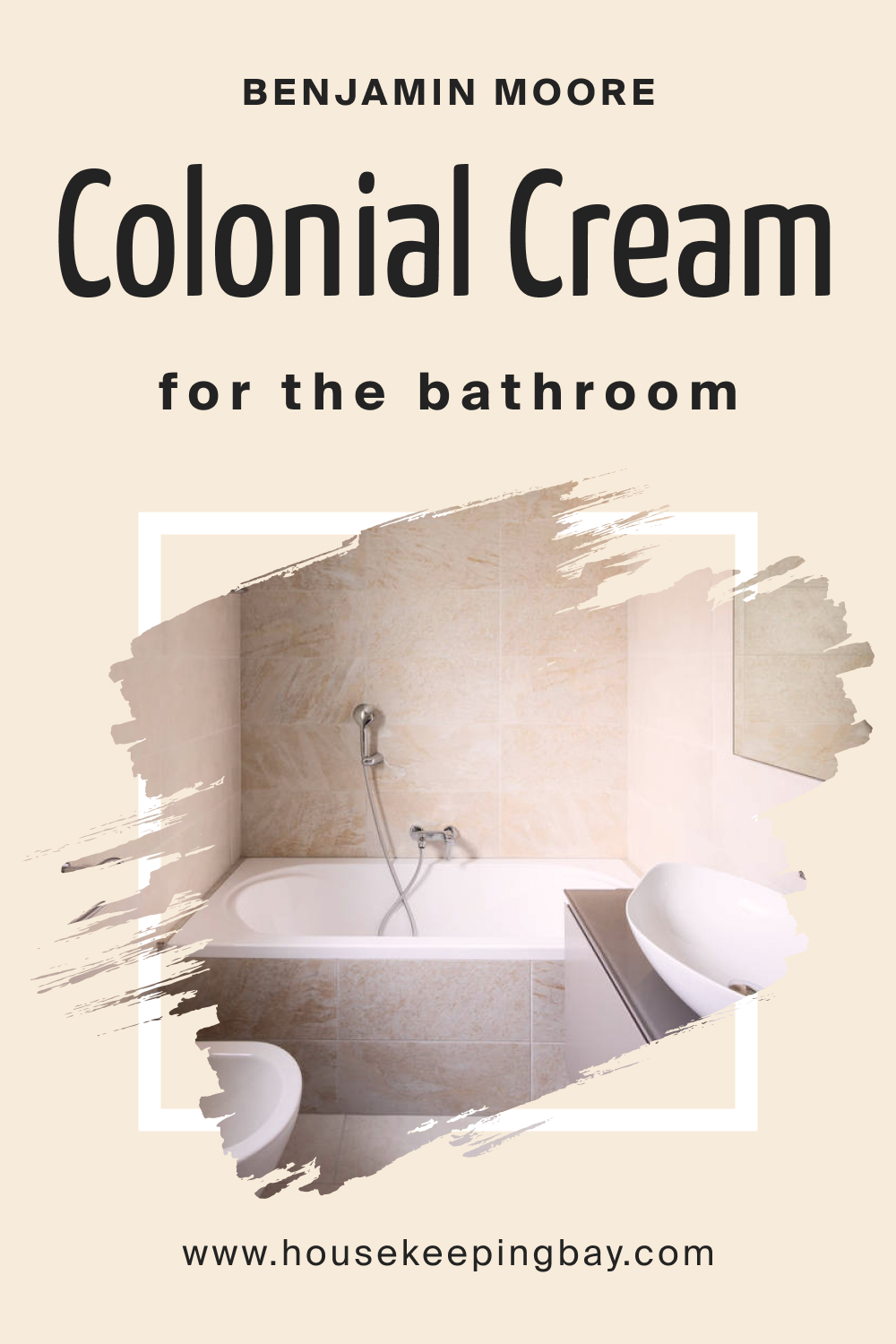 How to Use Colonial Cream OC-77 in the Living Room?
In living rooms, Colonial Cream bridges comfort and elegance. Its warm undertones create an inviting atmosphere, enhancing social interactions. Paired with earth-toned furnishings, plush throws, and indoor plants, it fosters an ambiance where stories are shared, and memories are created.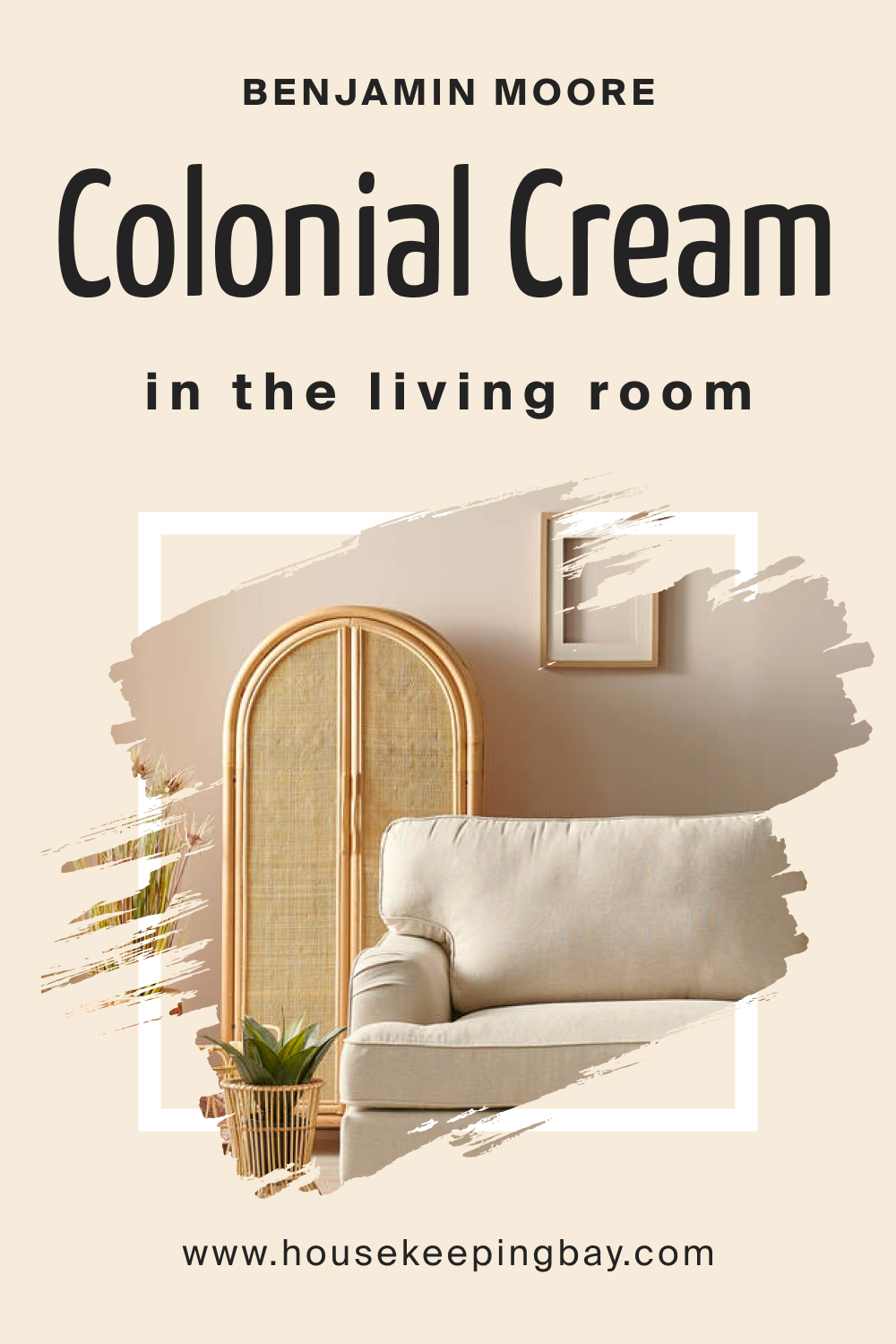 How to Use Colonial Cream OC-77 for an Exterior?
BM Colonial Cream on exteriors is reminiscent of colonial-era charm. It imparts a timeless appeal, especially when combined with white trims or stone accents. This shade holds well against varying weather conditions, offering a consistent, warm allure throughout seasons, making homes stand out with understated grandeur.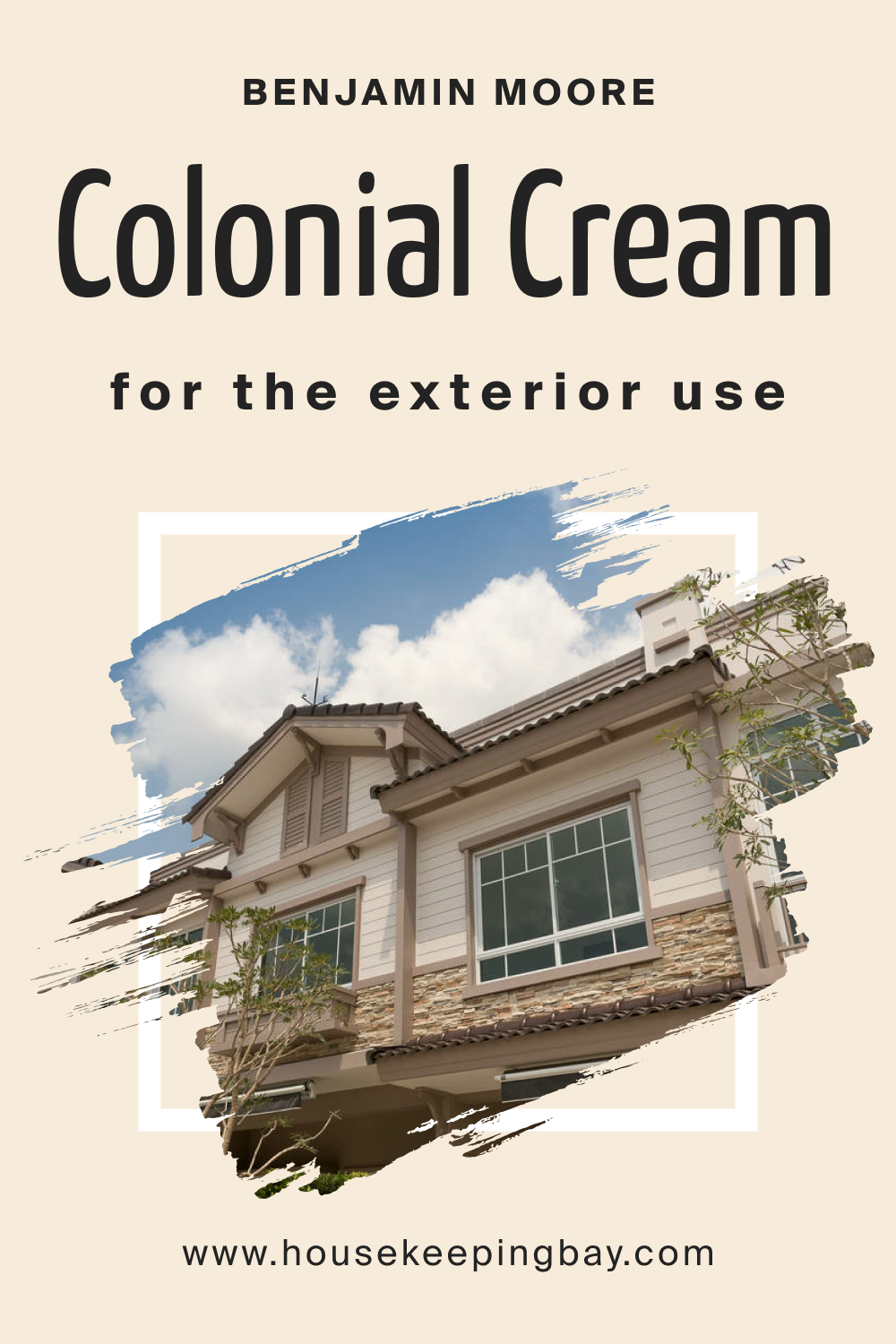 How to Use Colonial Cream OC-77 in the Kitchen?
The kitchen, often a home's heart, shines with Colonial Cream. Its warmth complements wooden countertops, tiled backsplashes, and stainless steel appliances. Whether aiming for a rustic farmhouse vibe or a sleek modern look, this shade augments the kitchen's charm, making every culinary adventure a visual delight.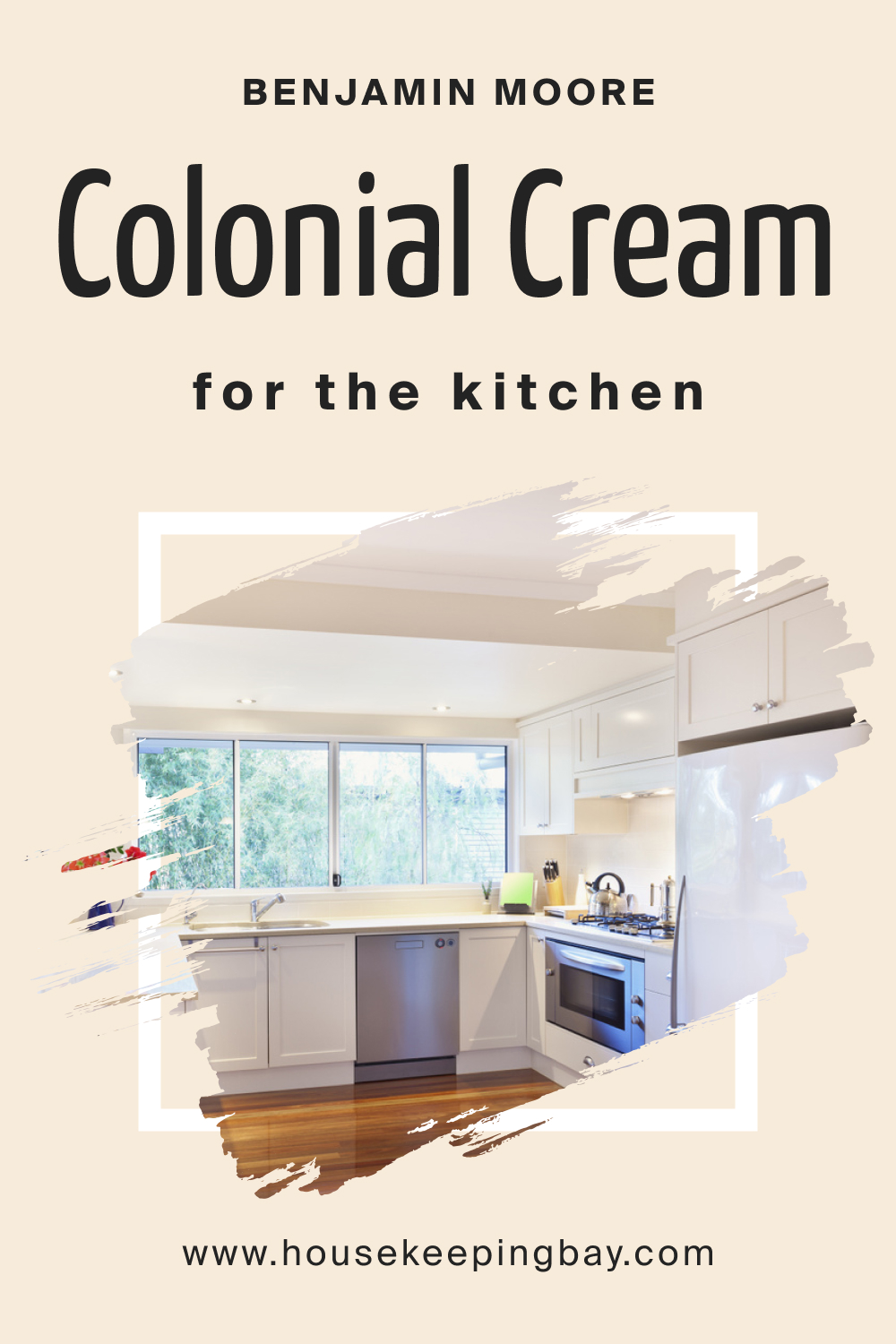 Comparing Colonial Cream OC-77 With Other Colors
Choosing the right paint color for interiors is a careful balancing act. Comparing different colors helps in understanding their undertones, warmth, or coolness and how they might shift in various lightings. A close comparison can also reveal subtle nuances that might be missed at first glance.
Especially with neutral colors, slight variations can make a significant difference in setting the room's ambiance. Furthermore, it assists in coordinating complementary colors for trims, furniture, and decorations.
Colonial Cream OC-77 vs. OC-96 Gentle Cream
Gentle Cream has a slightly lighter and brighter aura compared to Colonial Cream. While both exude warmth, Gentle Cream leans a bit more towards a pure cream backdrop with yellow undertones, whereas Colonial Cream offers a more muted beige ambiance.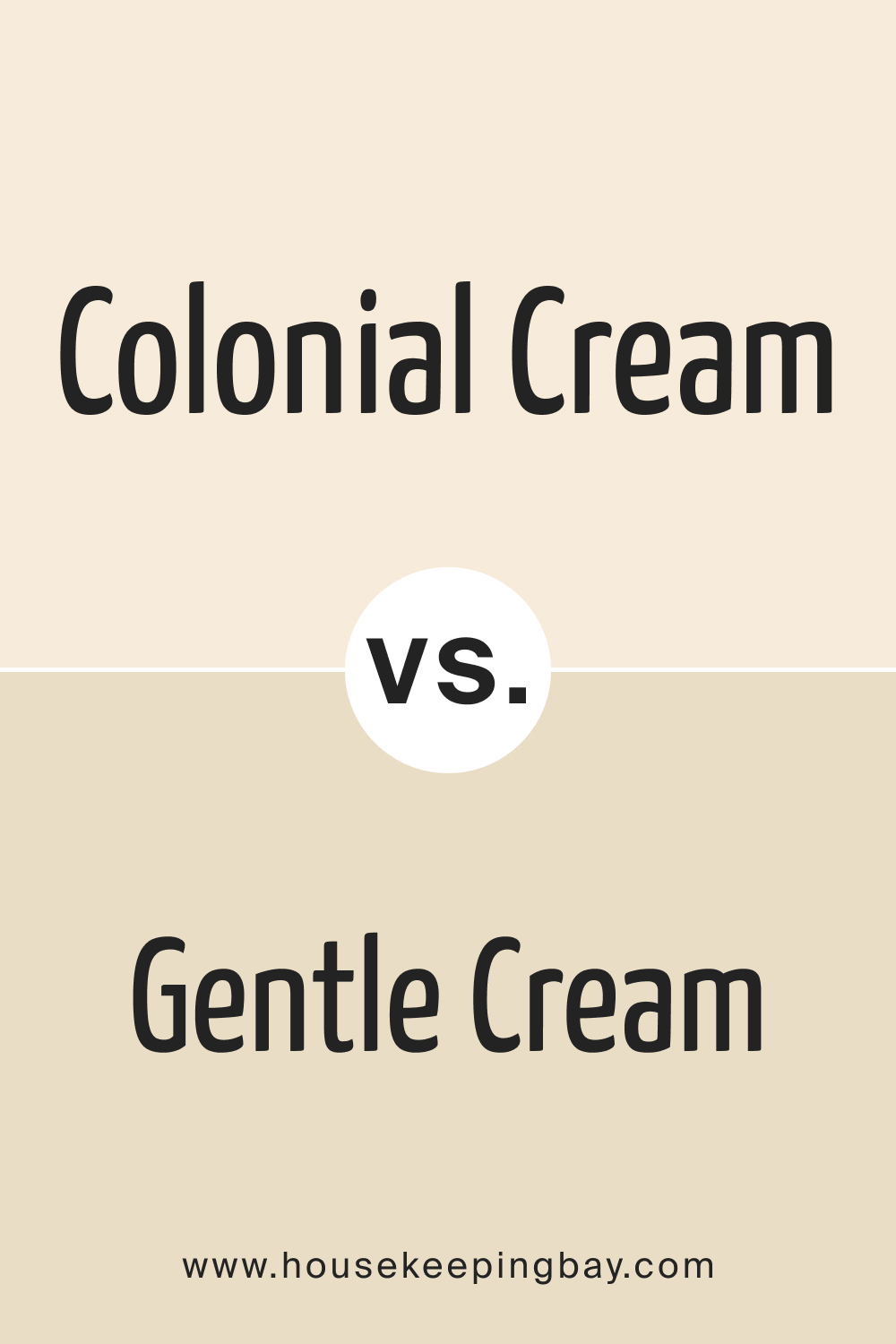 Colonial Cream OC-77 vs. OC-95 Navajo White
Navajo White veers more towards a traditional cream palette with a hint of peach, offering a richer beige spectrum. In contrast, Colonial Cream feels softer, more neutral with its beige predominance.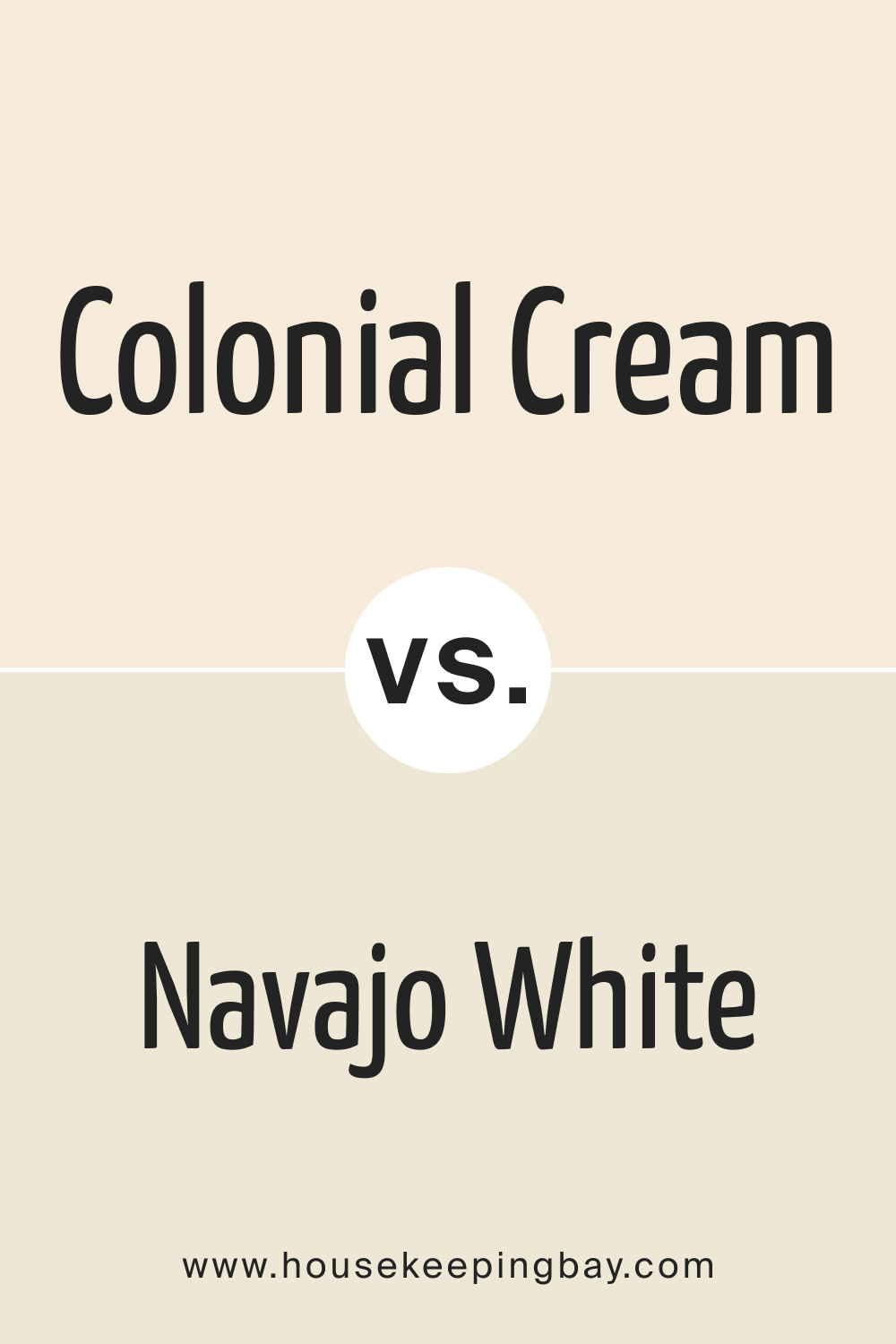 Colonial Cream OC-77 vs. OC-39 Timid White
Timid White presents itself as a softer shade, almost touching the realm of pastels. It carries gentle undertones of yellow, making it feel slightly cooler than the warm embrace of Colonial Cream.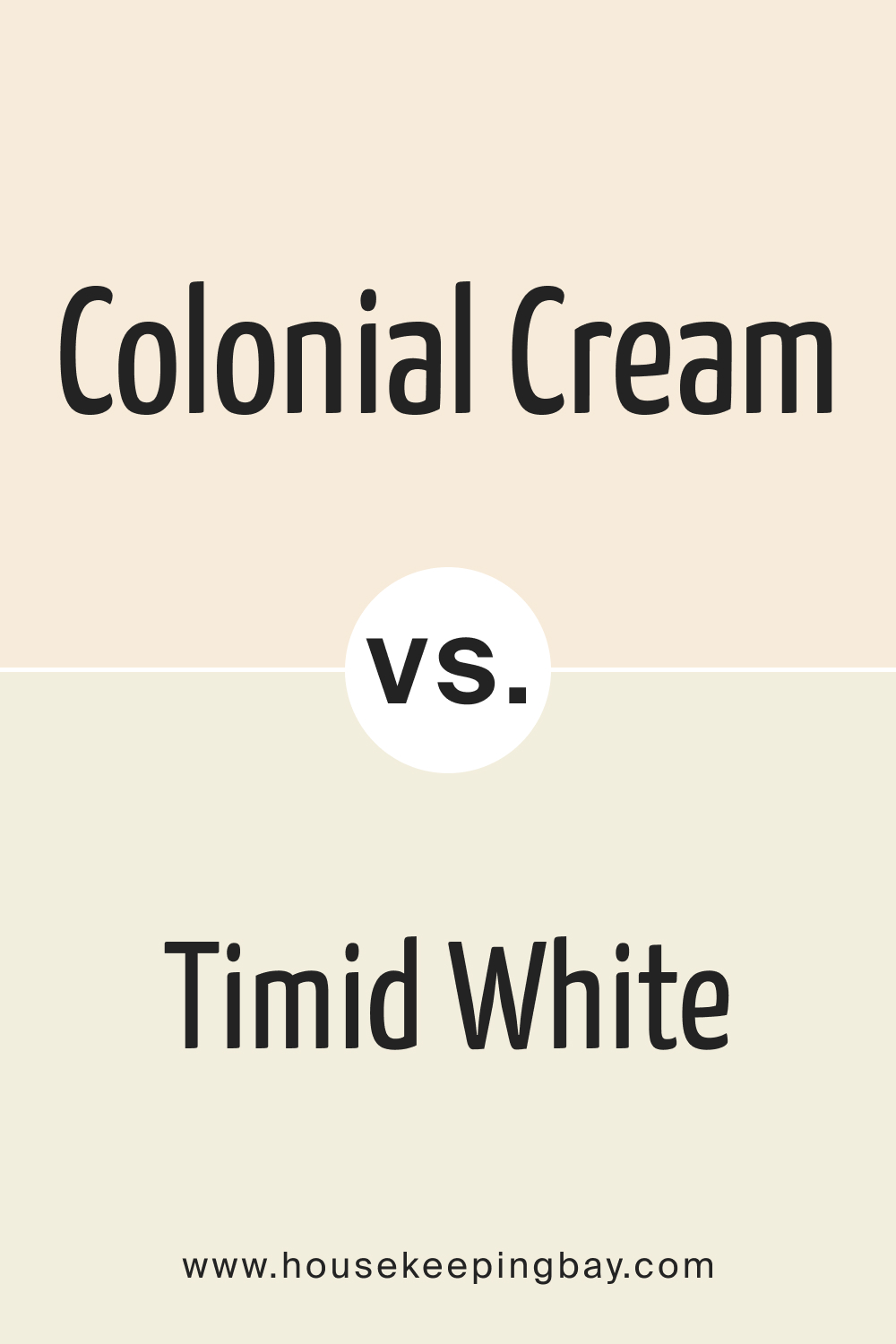 Colonial Cream OC-77 vs. HC-6 Windham Cream
Windham Cream introduces a buttery richness. This shade is deeper and offers a touch of earthy yellow, making spaces feel cozy and encapsulated, whereas Colonial Cream provides a more balanced, neutral backdrop.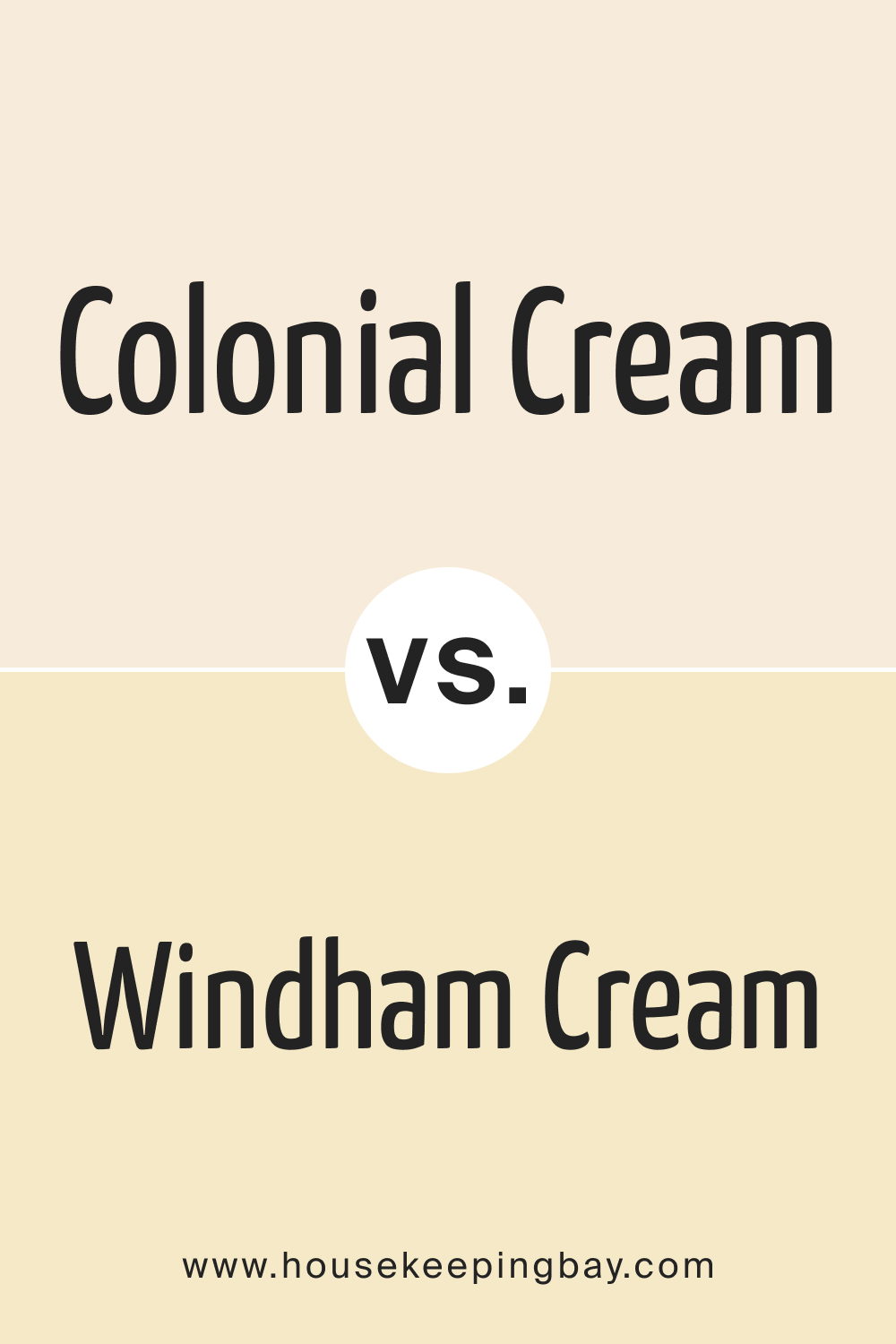 Colonial Cream OC-77 vs. BM Rich Cream 2153-60
BM Rich Cream lives up to its name, delivering an intense creaminess. It's a deeper, more luxurious shade compared to the mellow, restrained character of Colonial Cream.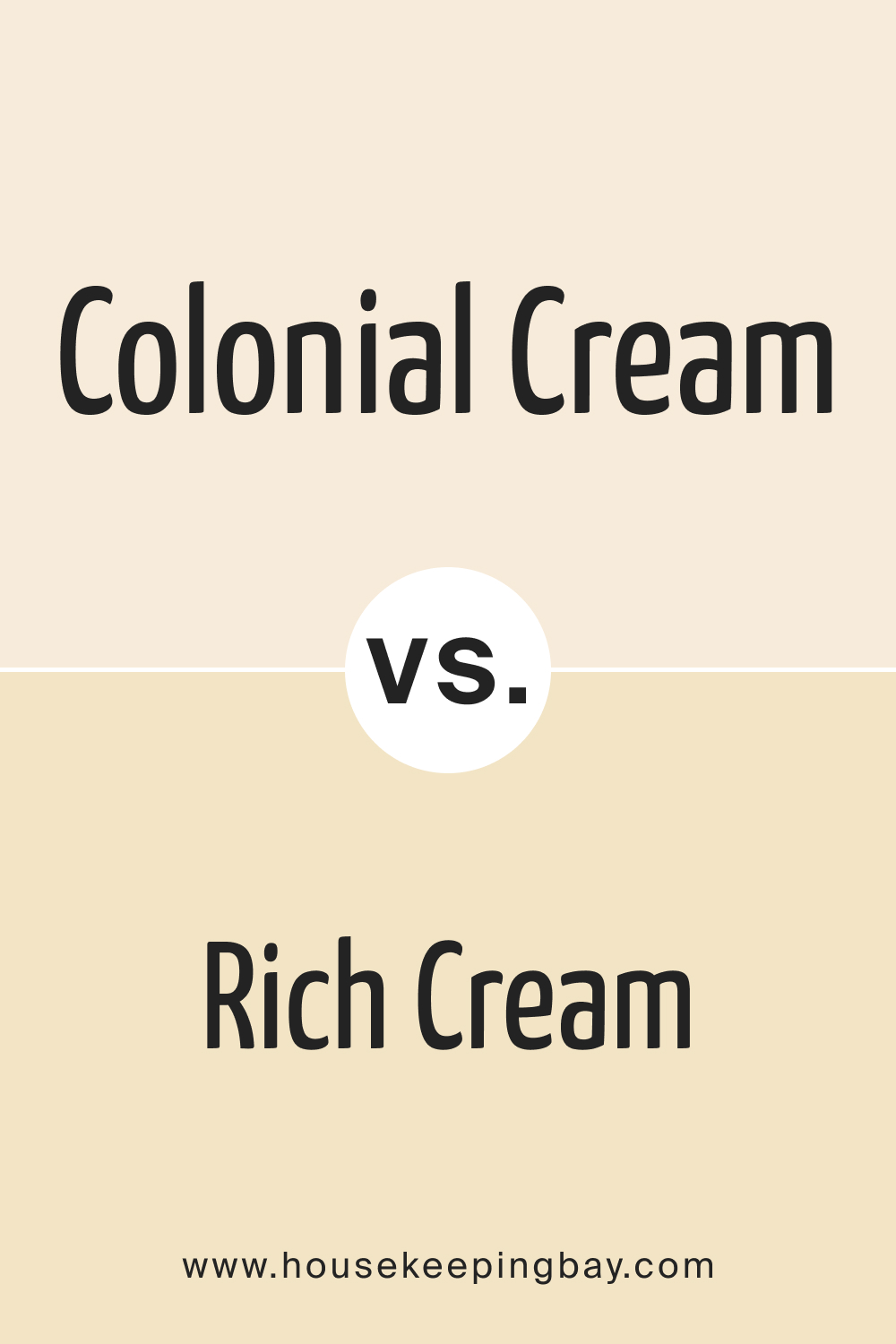 Colonial Cream OC-77 vs. OC-88 Indian White
Indian White is an intriguing blend of beige with slight pink undertones. This addition of pink gives it a unique warmth, setting it apart from the beige-yellow warmth that Colonial Cream exudes.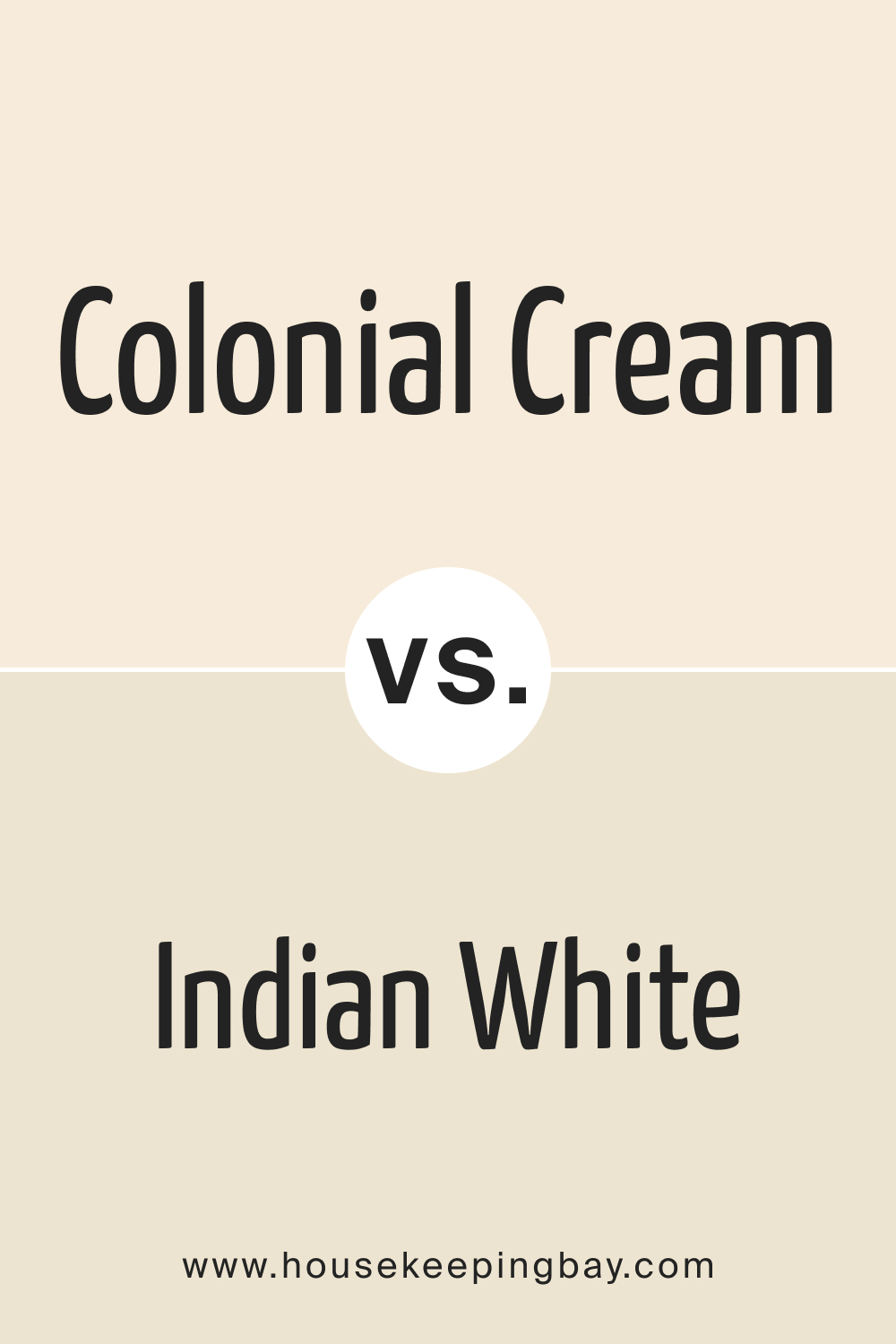 Conclusion
While Colonial Cream OC-77 stands distinct with its muted beige charm, comparing it with other colors reveals the vast spectrum of creams and beiges available. Such comparisons help homeowners and designers make informed decisions, ensuring spaces are imbued with the desired mood and aesthetic.
Each shade, while seemingly similar, has its story, and understanding these narratives helps in painting interiors that reflect personal tales and tastes.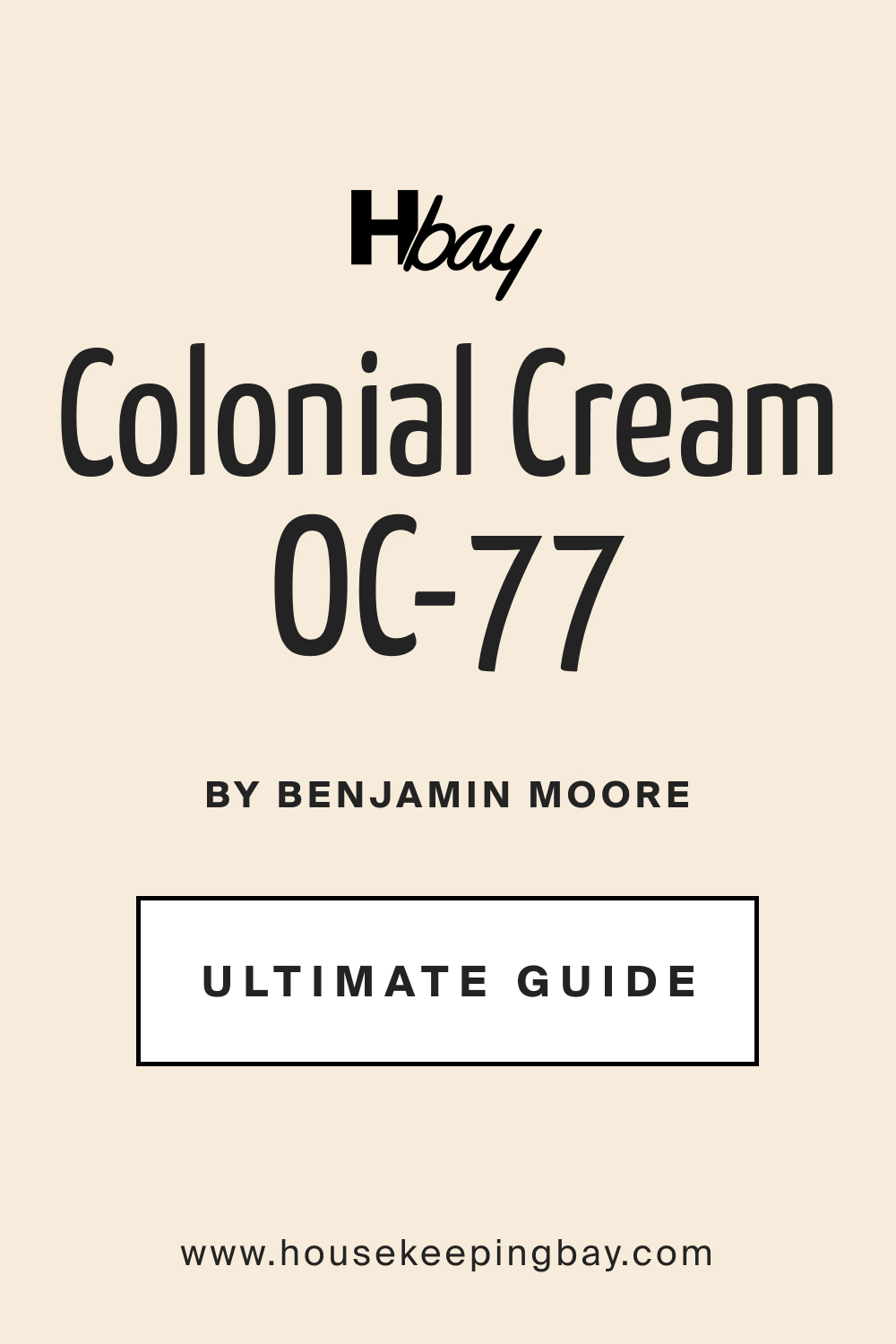 Frequently Asked Questions
⭐What is the LRV of Colonial Cream OC-77?
The Light Reflectance Value (LRV) of Colonial Cream OC-77 is 77, which indicates it's a fairly light shade that will reflect a significant amount of light in a room.
⭐Is Colonial Cream OC-77 a warm or cool color?
Colonial Cream OC-77 leans towards being a warm color, with its beige undertones, making it perfect for creating a cozy ambiance in any space.
⭐What coordinating colors go best with Colonial Cream OC-77?
A few coordinating colors that pair well with Colonial Cream are Simply White (2143-70), Maidenhair Fern (500), and Fox Hedge Tan (1167) from the Benjamin Moore collection.
⭐Can Colonial Cream OC-77 be used for exteriors?
Yes, Colonial Cream OC-77 is versatile and can be applied both to interior walls and exteriors, lending a timeless appeal to any facade.
⭐What trim colors complement Colonial Cream OC-77?
Shades of white, especially from the Benjamin Moore collection, pair beautifully as trim colors with Colonial Cream OC-77, enhancing its elegance.