Color is an intrinsic part of our lives, with the potential to transform our living spaces and reflect our personal style. Among the plethora of hues available, SW 2841 Weathered Shingle by Sherwin-Williams holds a unique position. In this article, we'll delve into its various attributes and how it complements different design palettes.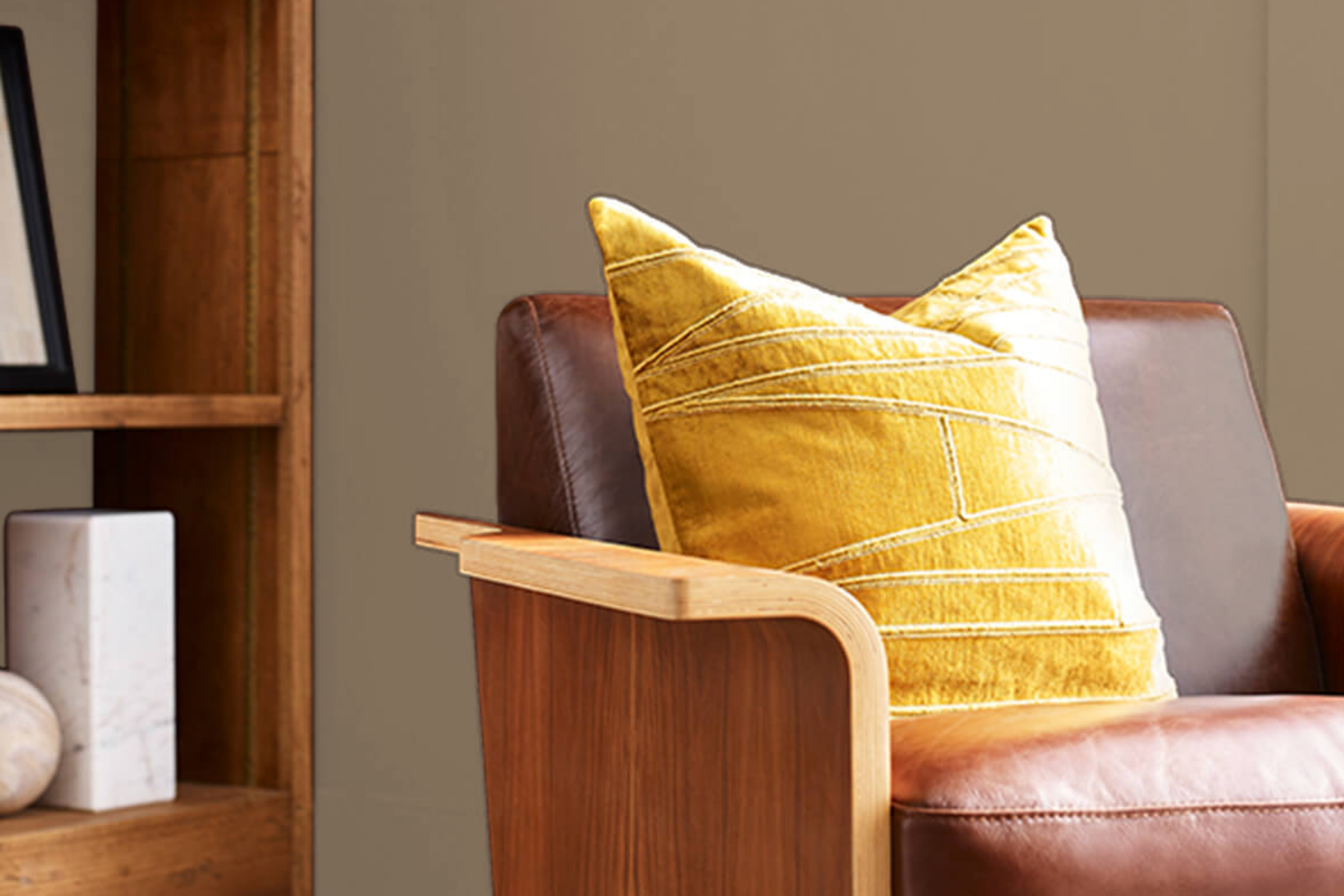 What Color Is SW 2841 Weathered Shingle?
SW 2841, known as Weathered Shingle, mimics the subdued, grayish hue of a wooden shingle aged by time and elements. This soft neutral holds a rustic charm and is versatile enough to complement a range of interior styles, especially those that lean towards coastal, farmhouse, or modern aesthetics.
It harmoniously pairs with raw materials like weathered wood, stone, and linen, enriching their textures and authenticity.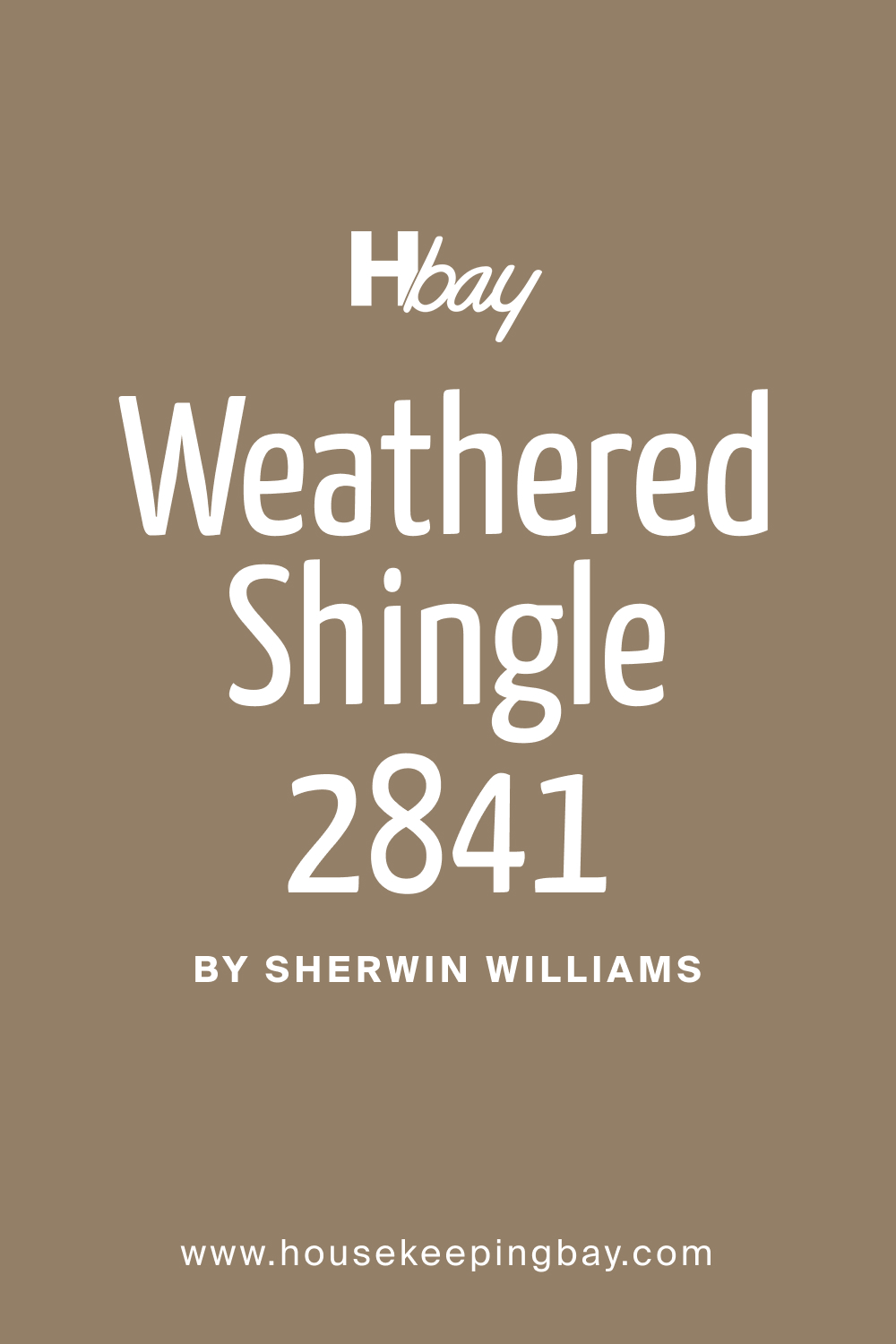 Is It a Warm Or Cool Color?
SW 2841 Weathered Shingle leans towards the cooler spectrum. Its muted, gray undertone evokes calmness and serenity. This cool attribute makes it a delightful choice for homes, especially in warmer climates, as it provides an illusion of spaciousness and a cool ambiance.
Undertones of SW 2841 Weathered Shingle
Undertones play a crucial role in perception. For SW 2841 Weathered Shingle, the subtle greenish-gray undertones enhance its adaptability. In varying light conditions, these undertones can become more pronounced, affecting how the color appears. On interior walls, such undertones create depth and dimension, allowing the paint to adapt and change throughout the day.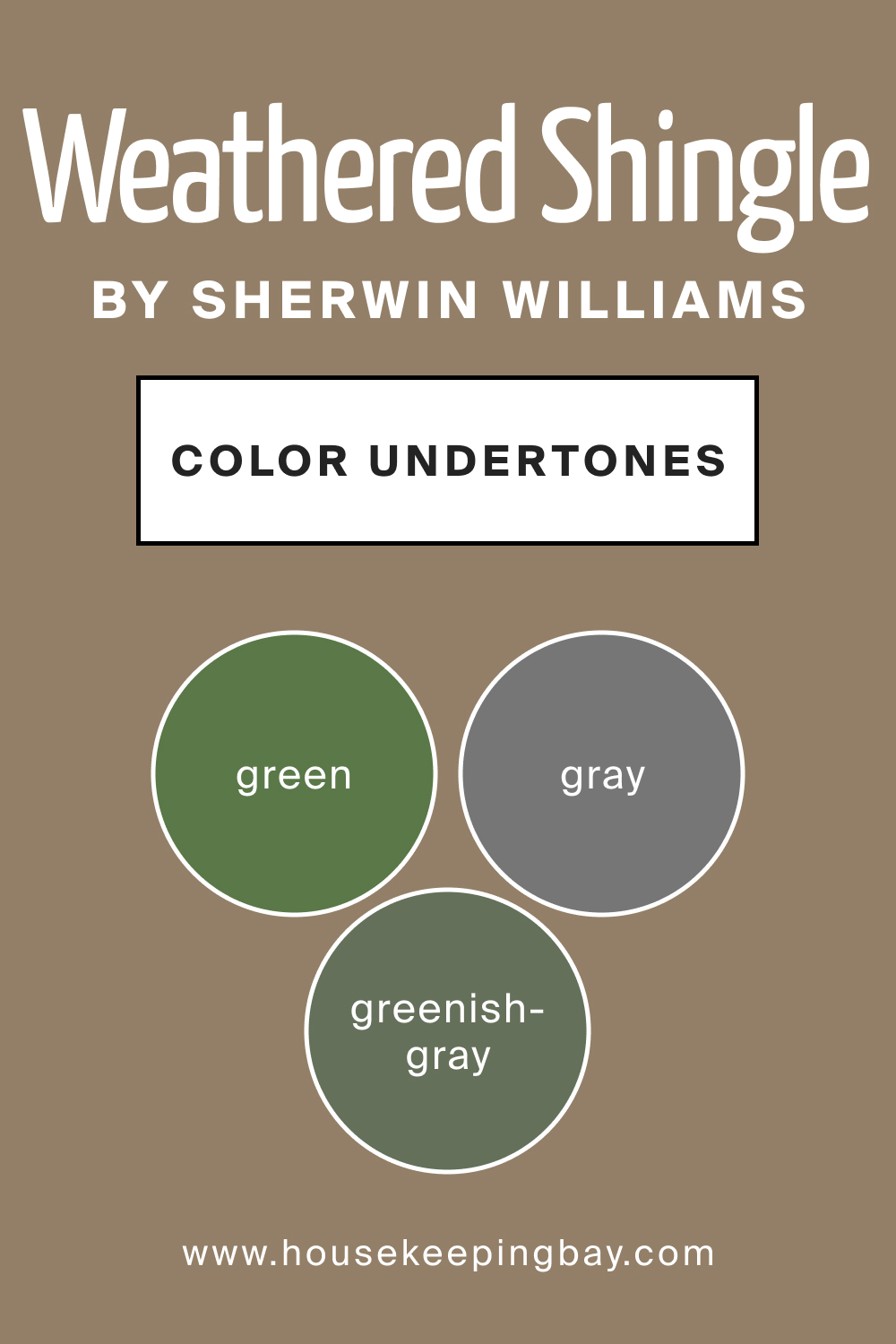 Coordinating Colors of SW 2841 Weathered Shingle
Coordinating colors help in establishing a cohesive palette. For Weathered Shingle, use colors like these:
Similarly, Sherwin-Williams offers SW 7029 Agreeable Gray, SW 7015 Repose Gray, and SW 7036 Accessible Beige that can also be coordinated with this hue.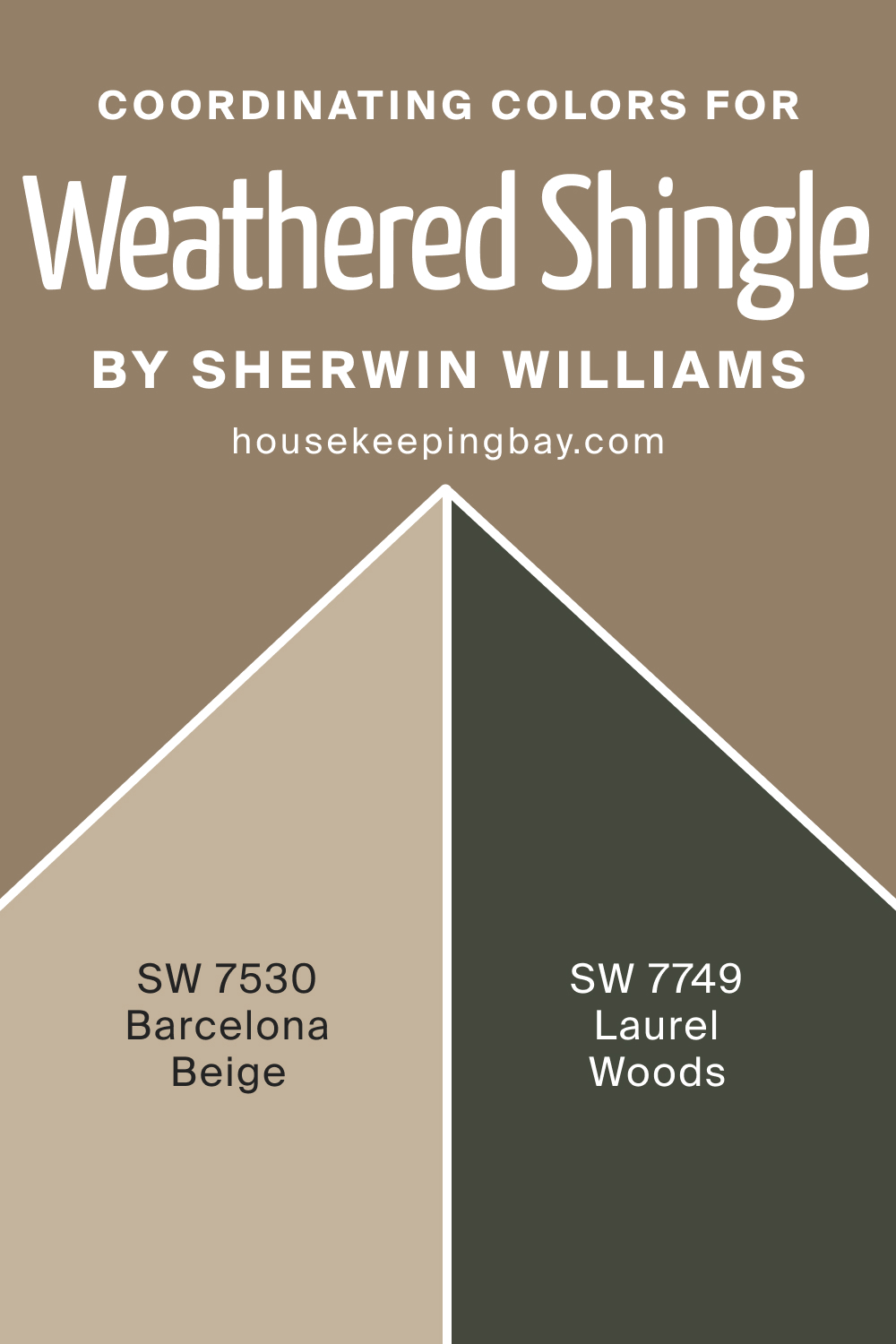 How Does Lighting Affect SW 2841 Weathered Shingle?
Lighting has a profound effect on colors. For Weathered Shingle, artificial light will often accentuate its greenish undertones, making it feel cozier. In contrast, natural light brings out its gray neutrality.
The direction of the room also plays a role: in north-facing rooms, it appears cooler and more muted; in south-facing rooms, it feels warmer; while east and west-facing rooms will show a mixture of these effects during the day.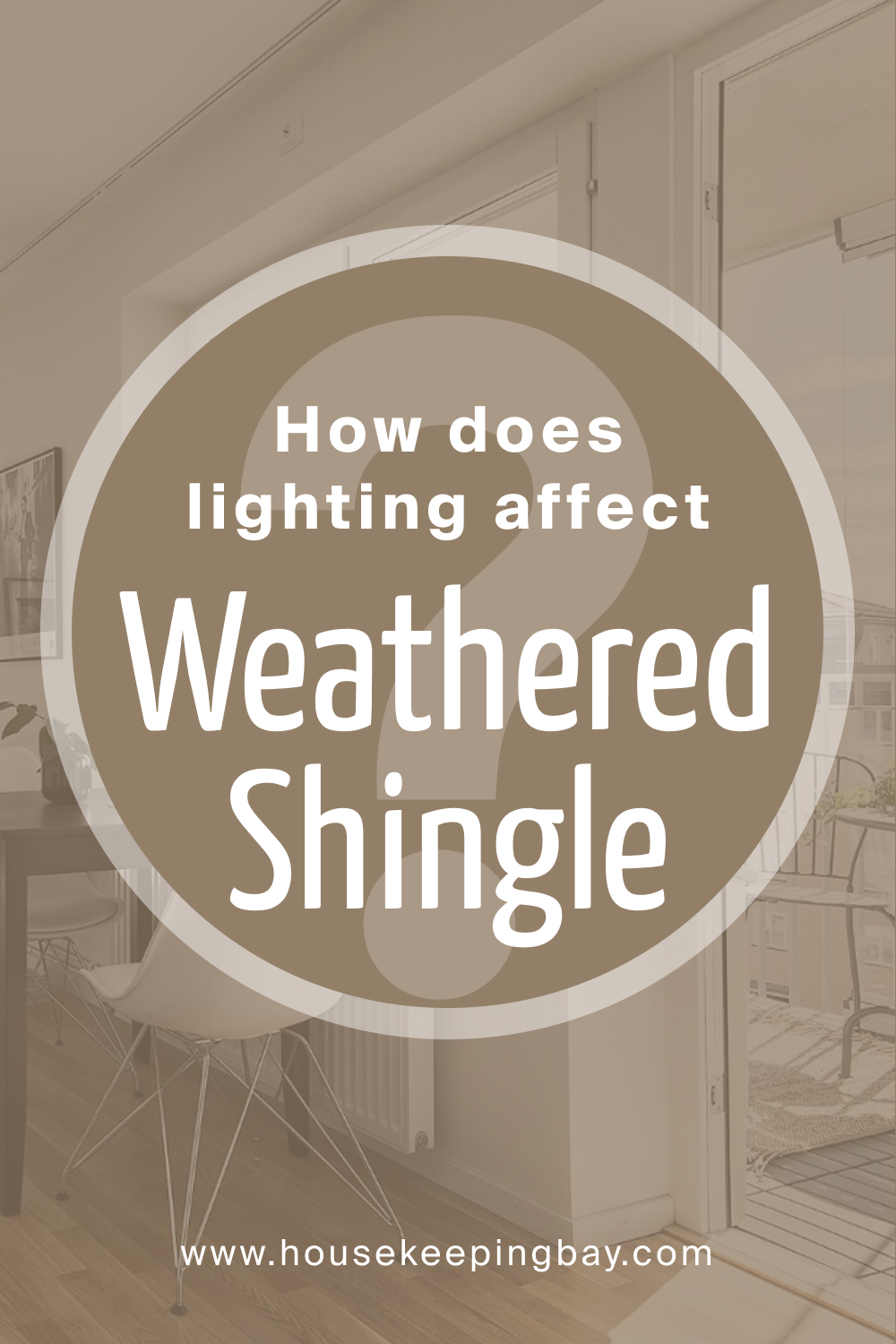 LRV of SW 2841 Weathered Shingle
LRV, or Light Reflectance Value, quantifies how much light a color reflects. With an LRV of 22, Weathered Shingle is on the darker end of the spectrum. This means it has the power to make spaces feel more intimate. However, this LRV also means that in smaller spaces, it can feel slightly oppressive if not balanced with lighter hues or adequate lighting.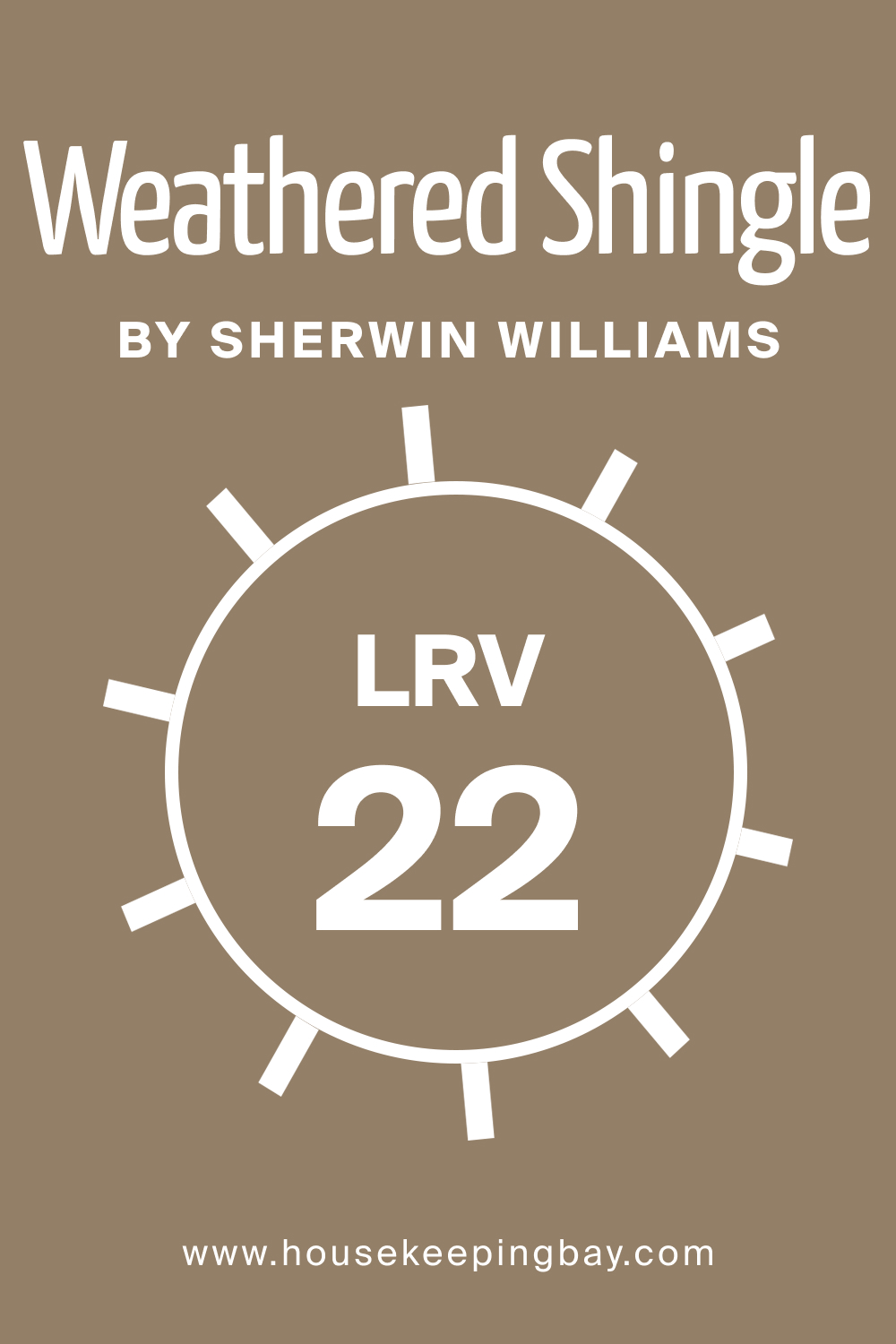 What is LRV? Read It Before You Choose Your Ideal Paint Color
Trim Colors of SW 2841 Weathered Shingle
Trim colors accentuate and frame a main color. For SW Weathered Shingle, shades of white like SW 7006 Extra White, SW 7004 Snowbound, and SW 7014 Eider White provide a crisp contrast, making the main color pop.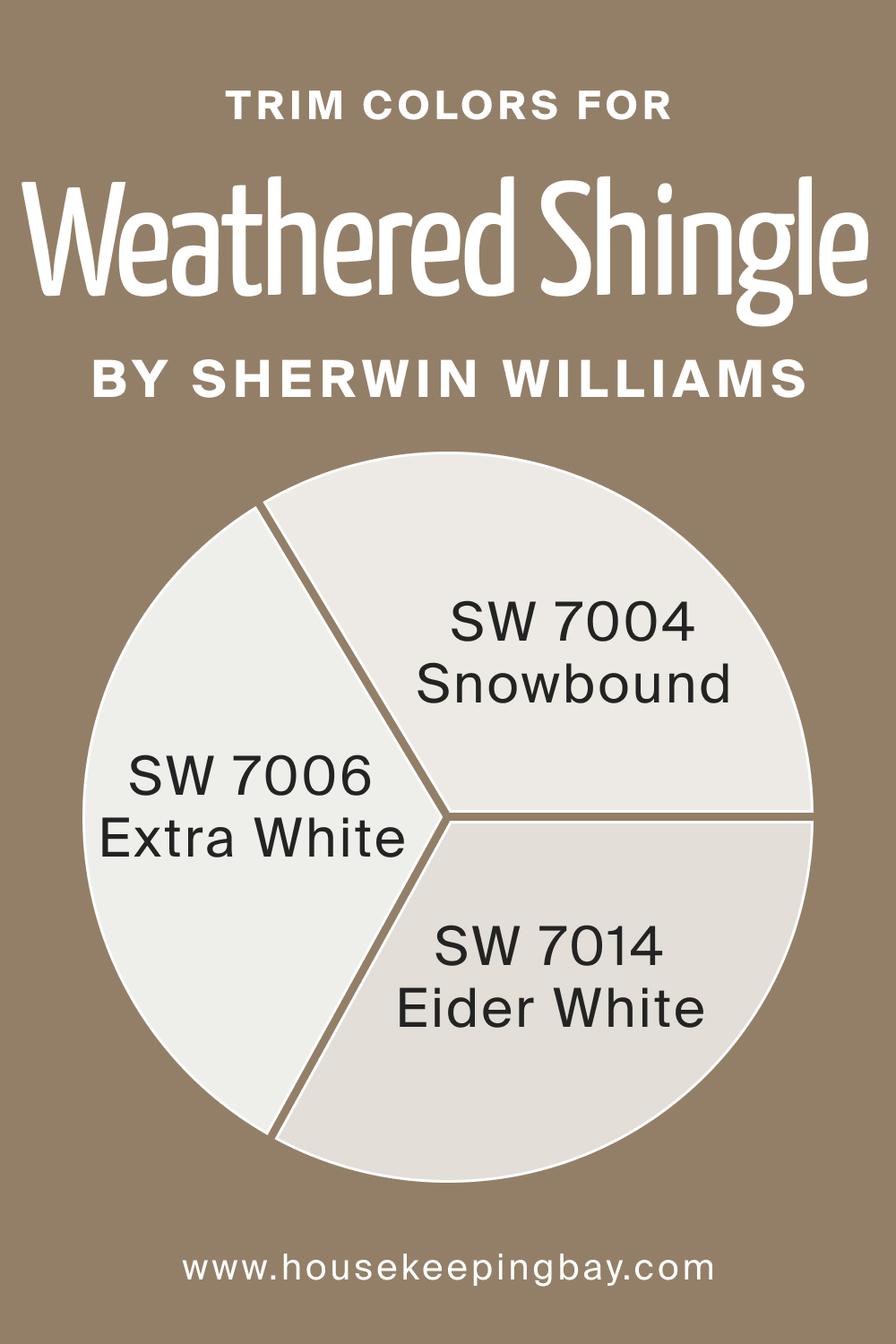 Colors Similar to SW 2841 Weathered Shingle
Recognizing similar colors aids in finding alternative shades. Among Sherwin-Williams paints, you can opt for the following colors to use instead of SW 2841 Weathered Shingle:
SW SW 7550 Resort Tan is a warmer neutral
SW 6144 Dapper Tan carries an earthy note
SW 6151 Quiver Tan has sandy undertones
SW 6102 Portabello has a mushroom tinge
SW 9089 Llama Wool leans towards a beige-gray.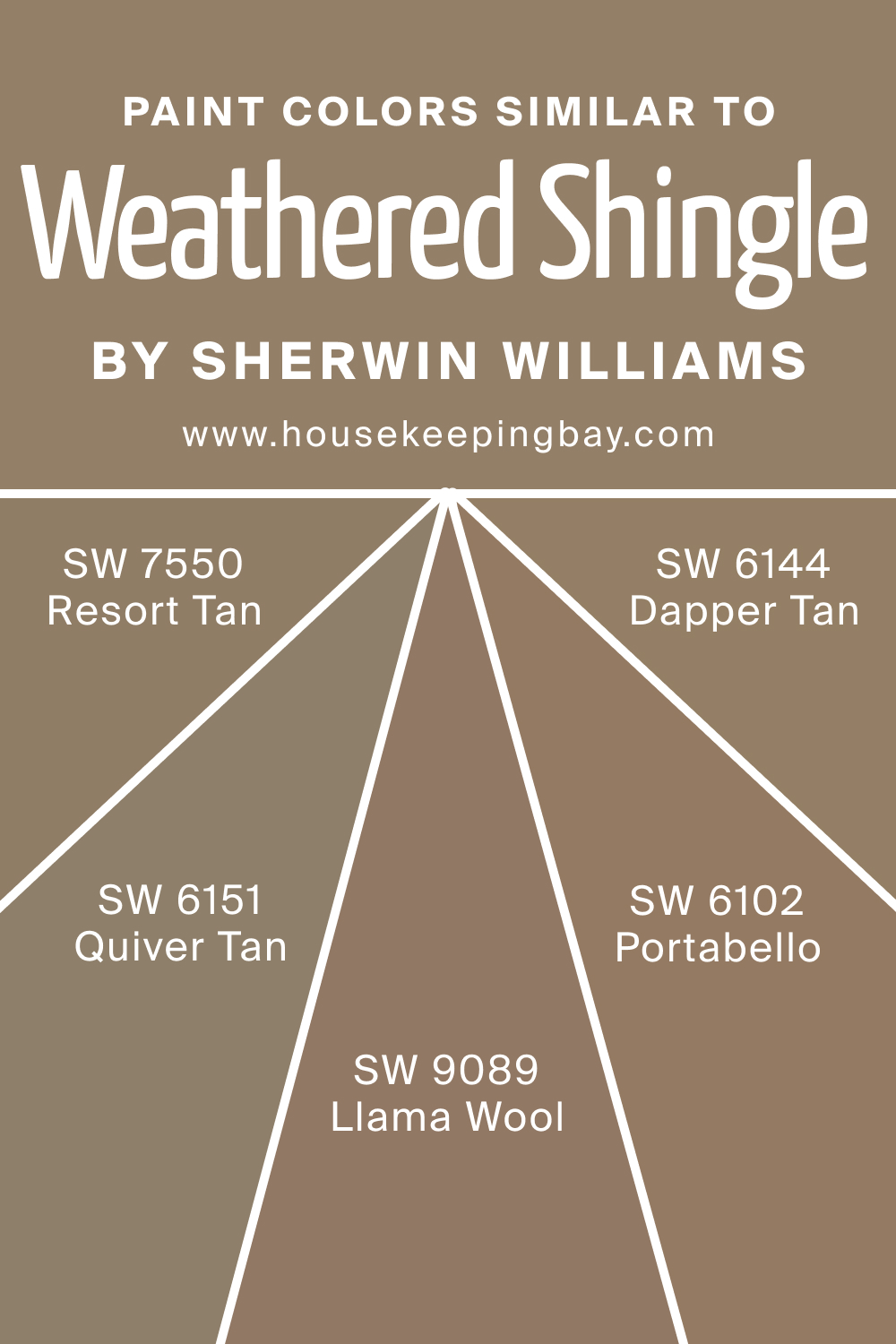 Colors That Go With SW 2841 Weathered Shingle
Harmonizing colors enhance the primary hue. We recommend you pair SW 2841 Weathered Shingle with the following colors:
SW 0054 Twilight Gray – a muted blue-gray
SW 0046 White Hyacinth – a soft off-white
SW 2839 Roycroft Copper Red – a deep rust red
SW 0041 Dard Hunter Green – a rich forest green
SW 7594 Carriage Door – a deep brownish-red.
Adding to the list, SW 7031 Mega Greige, SW 7007 Ceiling Bright White, and SW 7012 Creamy can also be considered.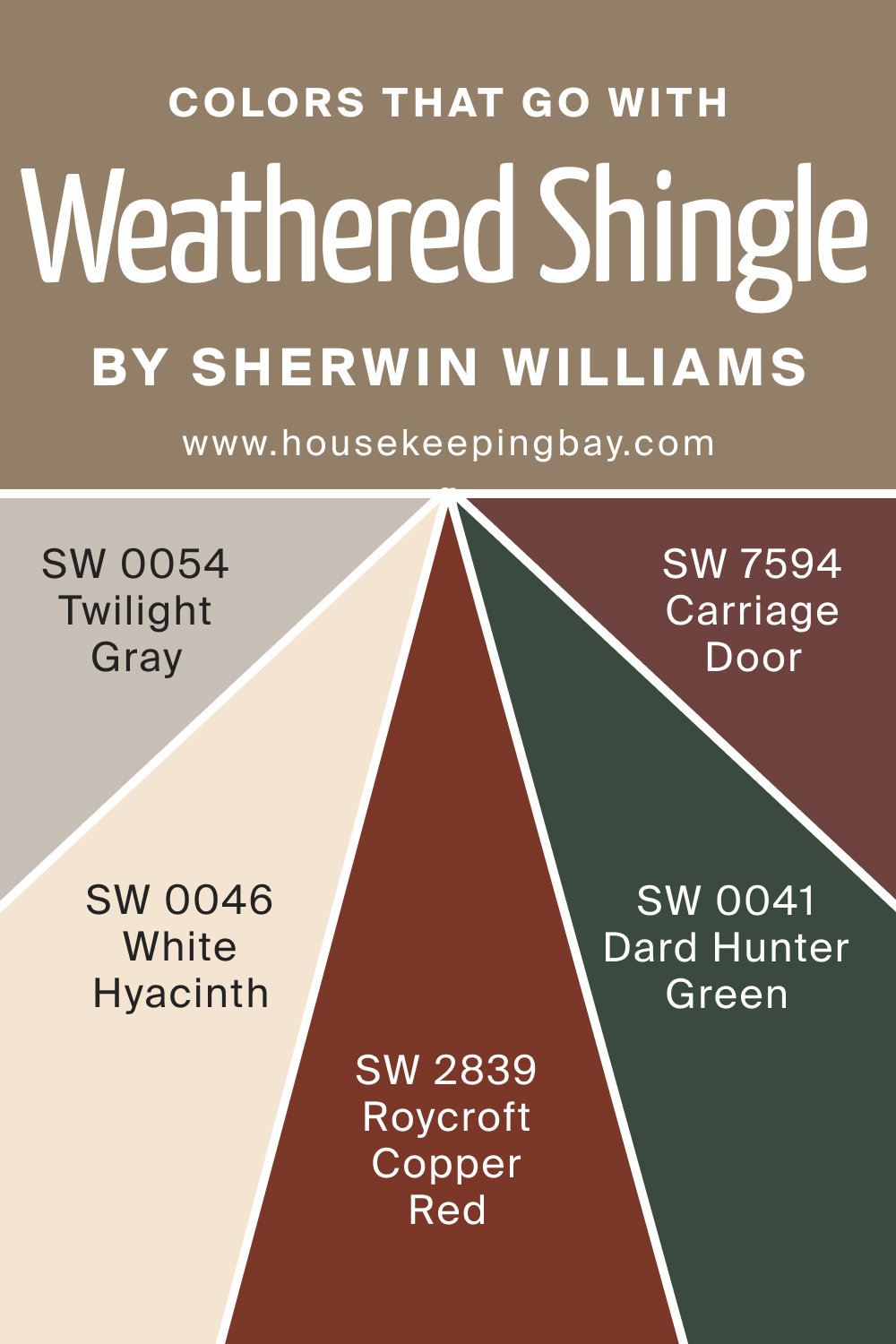 How to Use SW 2841 Weathered Shingle In Your Home?
SW 2841 Weathered Shingle is a versatile neutral, making it suitable for almost any room, be it a bedroom, living area, or even a kitchen. Its subdued tones can evoke tranquility in personal spaces or add sophistication to communal areas.
When it comes to design styles, its rustic undertones make it ideal for coastal, farmhouse, and Scandinavian themes. However, its neutrality also allows it to fit seamlessly into modern and contemporary settings.
How to Use SW 2841 Weathered Shingle in the Bedroom?
In bedrooms, SW 2841 brings a serene ambiance. Paired with soft, textured linens and rustic wooden furniture, it can create a restful retreat. Accentuating it with muted pastels or deep jewel tones on textiles can lend a touch of warmth, ensuring a cozy atmosphere for rest and relaxation.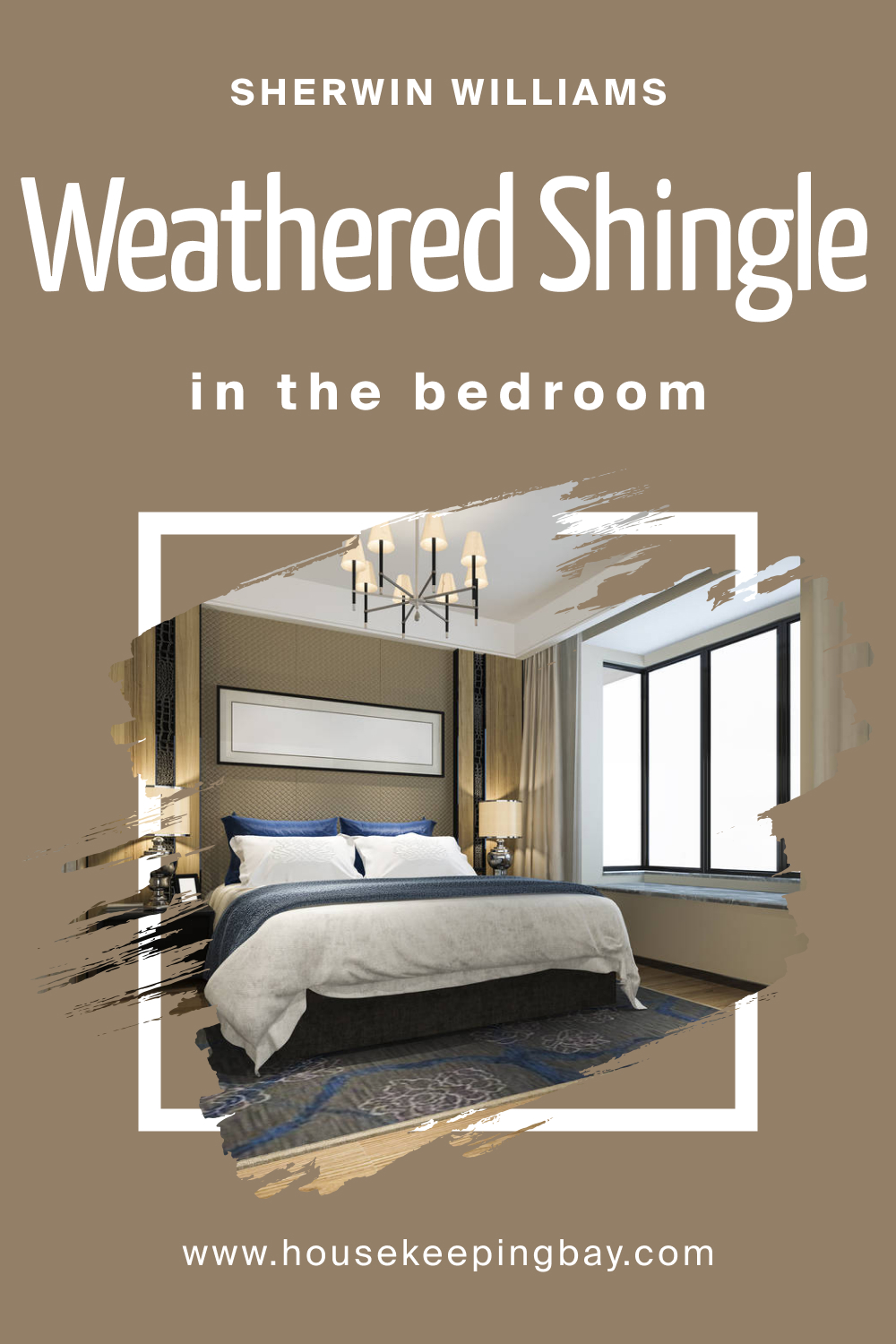 How to Use SW 2841 Weathered Shingle in the Bathroom?
For bathrooms, Weathered Shingle can provide a spa-like feel. Used on walls, it contrasts beautifully with white fixtures and light marble or tiles. Incorporate natural elements such as wooden bath mats or stone accessories, and you'll have a refreshing space that echoes nature's calm.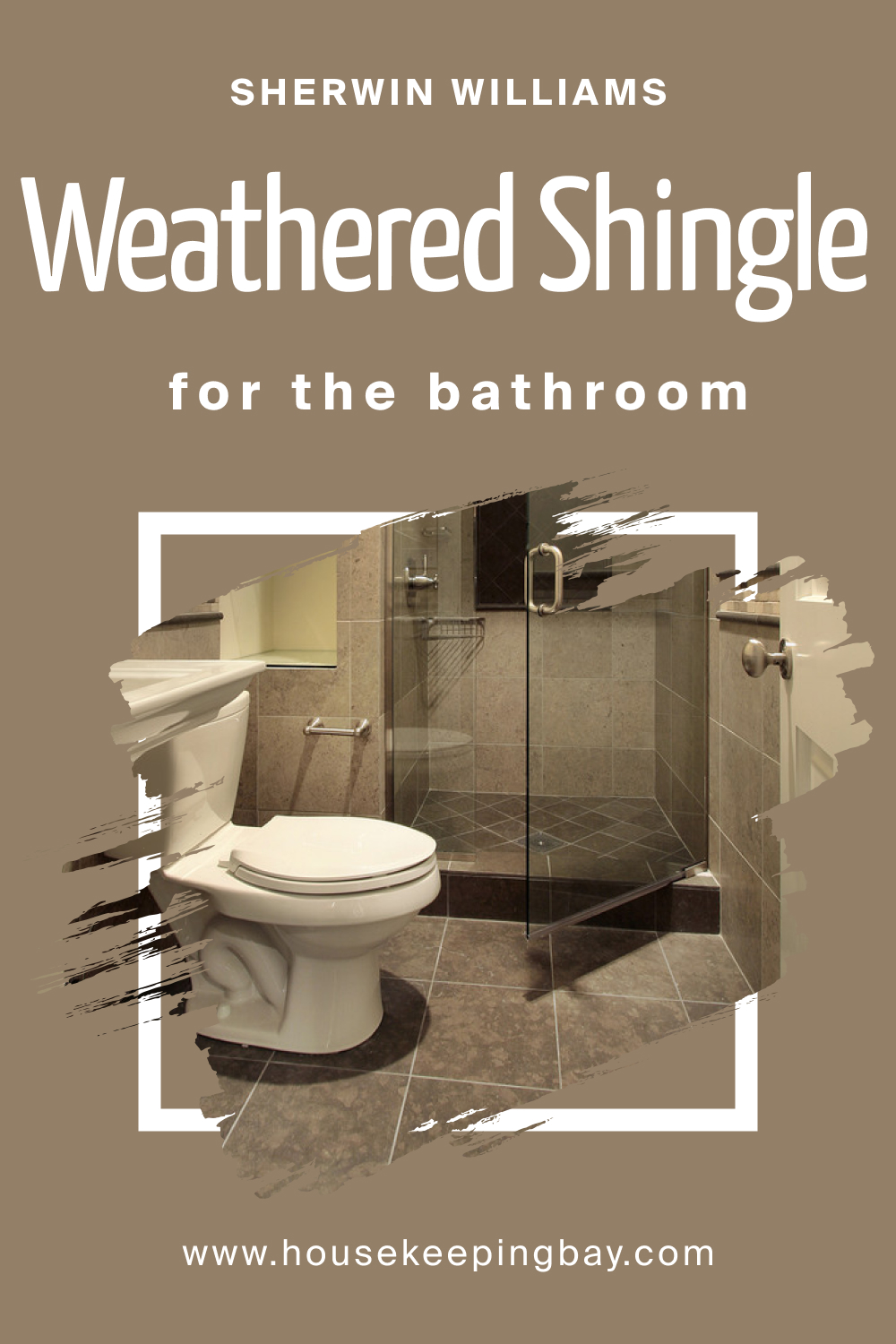 How to Use SW 2841 Weathered Shingle in the Living Room?
In the living room, SW 2841 serves as a backdrop for various design possibilities. Combine it with earthy colors, leather couches, and plants for a boho-chic look. Alternatively, gold or brass accents, plush velvet furniture, and abstract art can lend a luxe-modern appeal.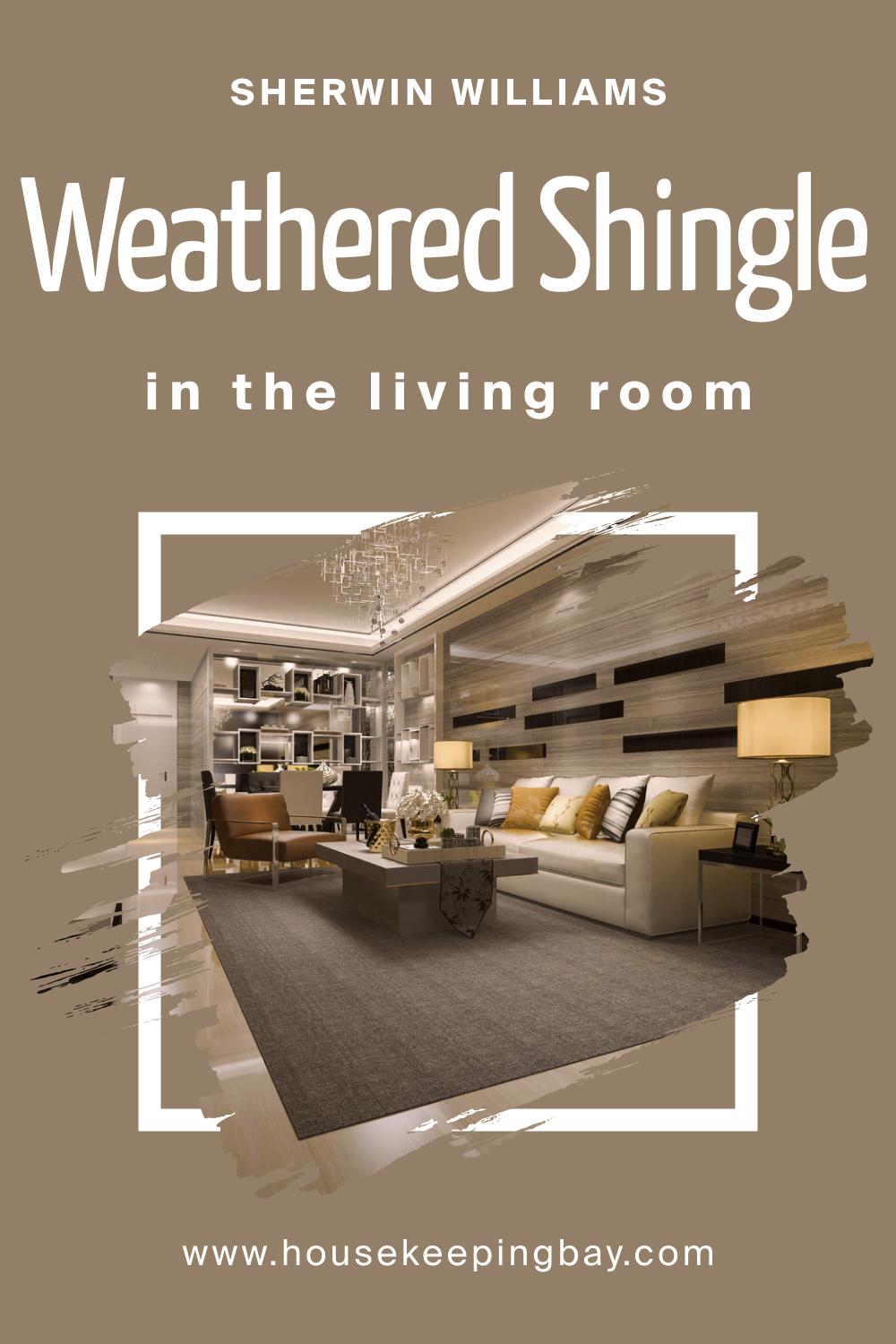 How to Use SW 2841 Weathered Shingle for an Exterior?
Exterior walls painted with Weathered Shingle exude timeless appeal. This hue complements natural stone paths, wooden accents, and lush green landscaping. To accentuate, use whites for trims and deep browns or blacks for doors, creating a harmonious and welcoming facade.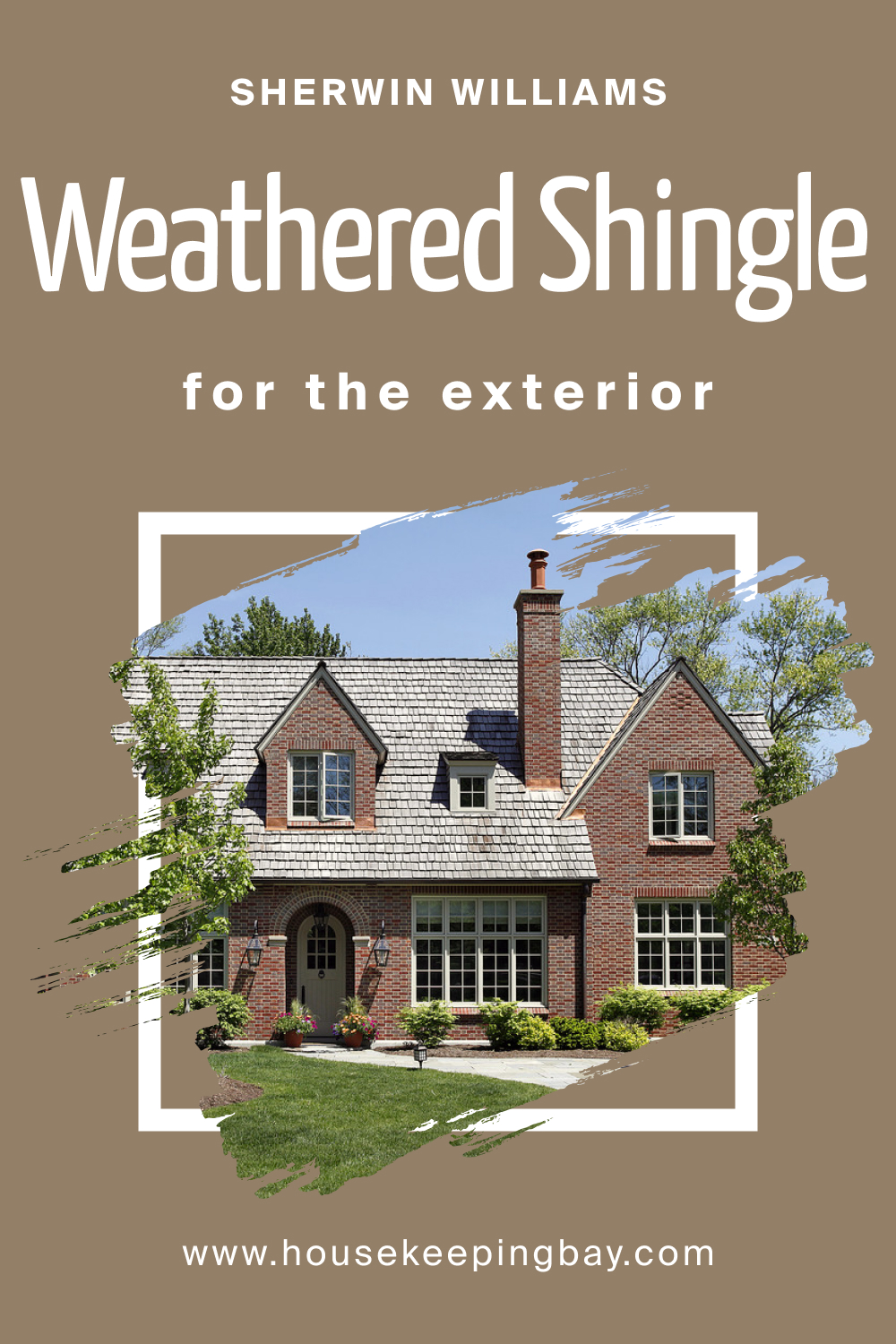 How to Use SW 2841 Weathered Shingle in the Kitchen?
Kitchens with SW 2841 feel both contemporary and classic. This color complements stainless steel appliances, wooden countertops, and white tiles, creating a balanced look. Accentuate with open shelving displaying earthenware or pots, and the result is a warm, inviting culinary space.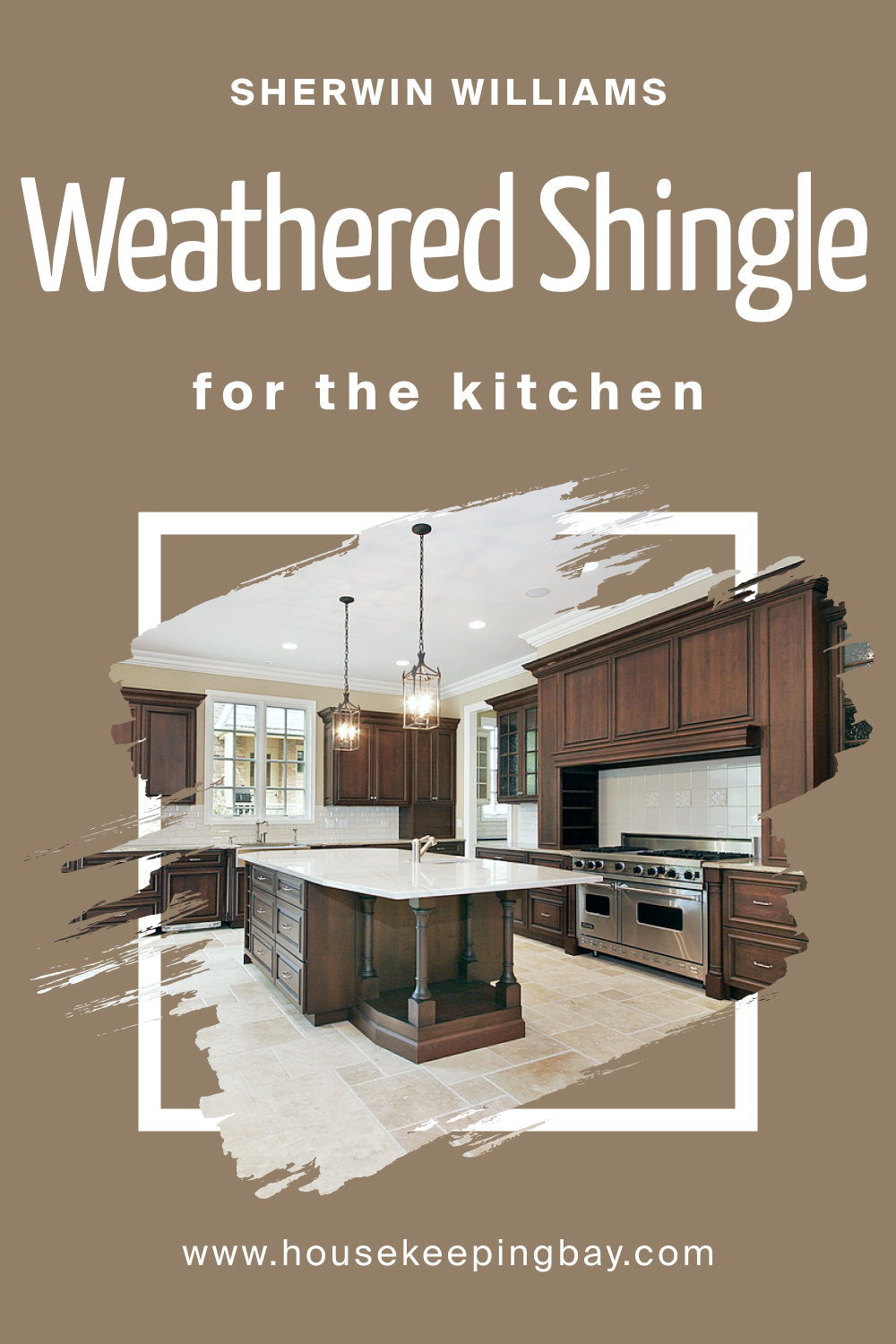 How to Use SW 2841 Weathered Shingle for the Kitchen Cabinets?
Using Weathered Shingle for kitchen cabinets imparts a refined touch. This shade works as a beautiful contrast to light marble or wooden countertops. Pair with vintage bronze or black hardware, and you achieve a look that's both trendy and timeless, making your cabinets the kitchen's focal point.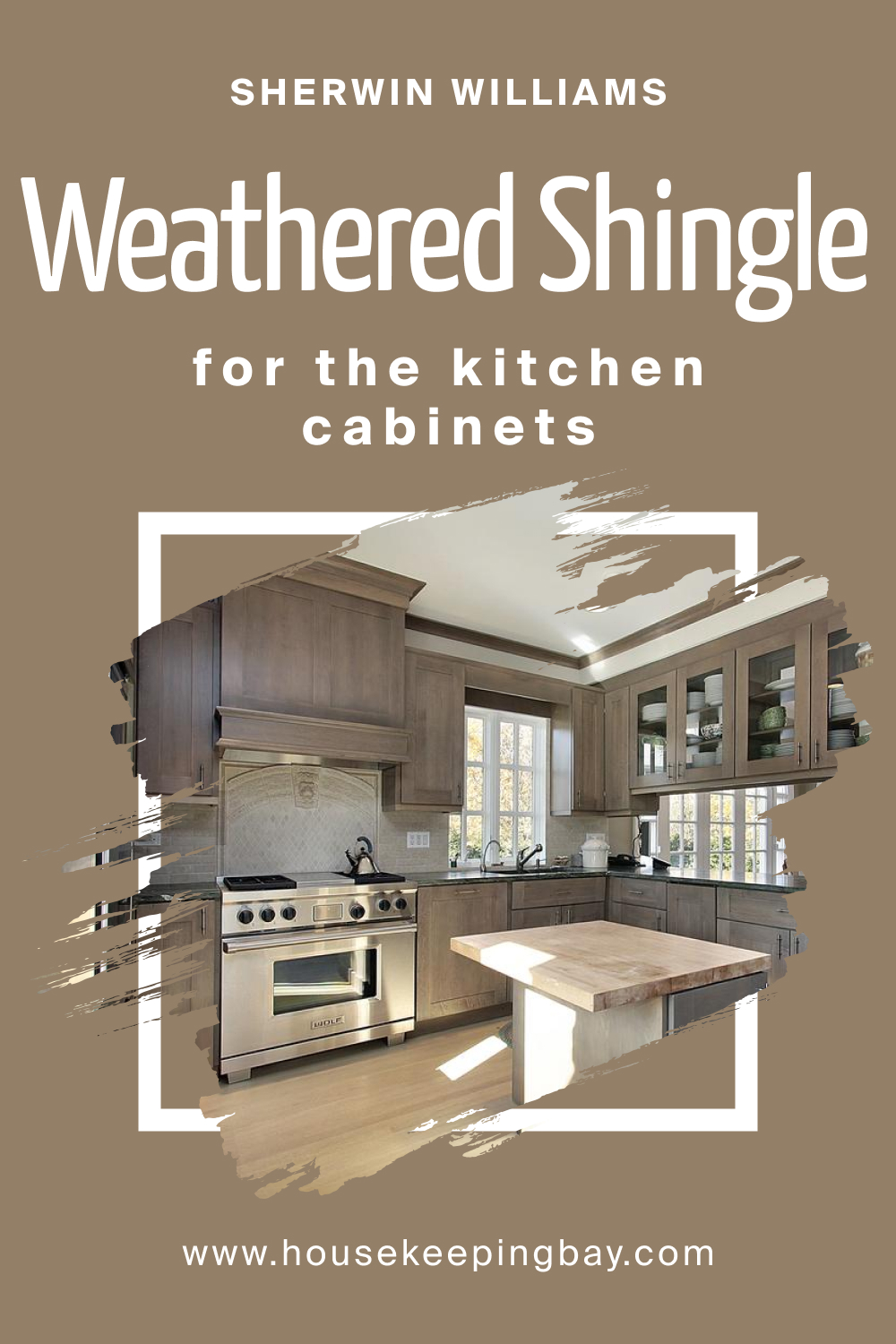 Comparing SW 2841 Weathered Shingle With Other Colors
Comparing different paint colors is imperative in interior design. By juxtaposing shades, homeowners and designers can better understand a color's undertone, versatility, and mood-setting abilities. Making informed decisions on color palettes results in harmonious spaces that resonate with the inhabitants' personalities and design preferences.
SW 2841 Weathered Shingle vs. SW 6090 Java
While Weathered Shingle offers a muted, tranquil ambiance reminiscent of aged wood, SW 6090 Java leans towards a deep, rich brown. Java exudes warmth and depth, often reminiscent of coffee beans or rich soil. In contrast, Weathered Shingle provides a neutral, balanced backdrop, whereas Java serves as a strong accent or statement color.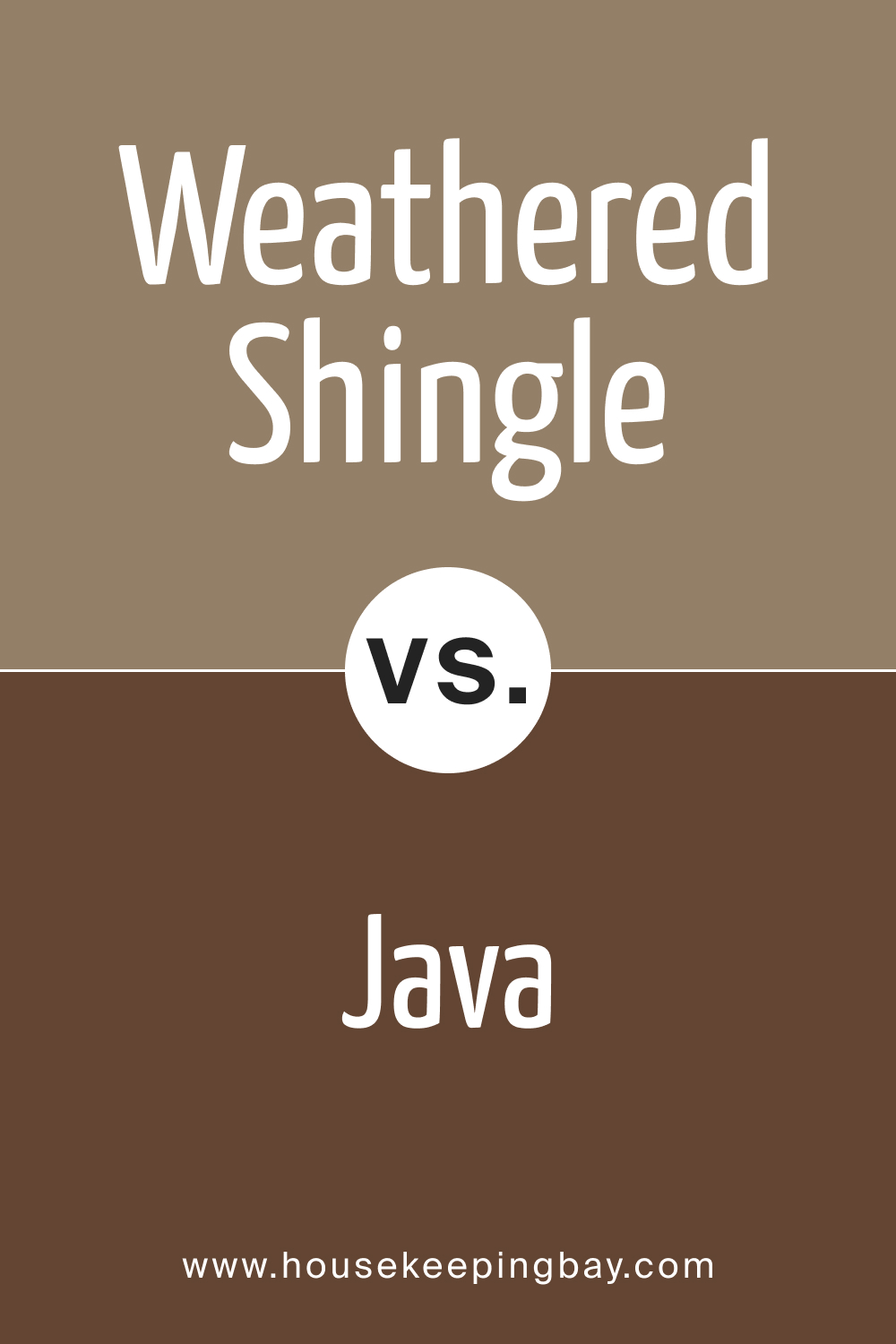 SW 2841 Weathered Shingle vs. SW 0038 Library Pewter
SW Library Pewter is a sophisticated shade, carrying metallic undertones akin to aged pewter artifacts. Weathered Shingle's subtler hue stands as a more neutral counterpart, while Library Pewter might come across as slightly cooler and more industrial.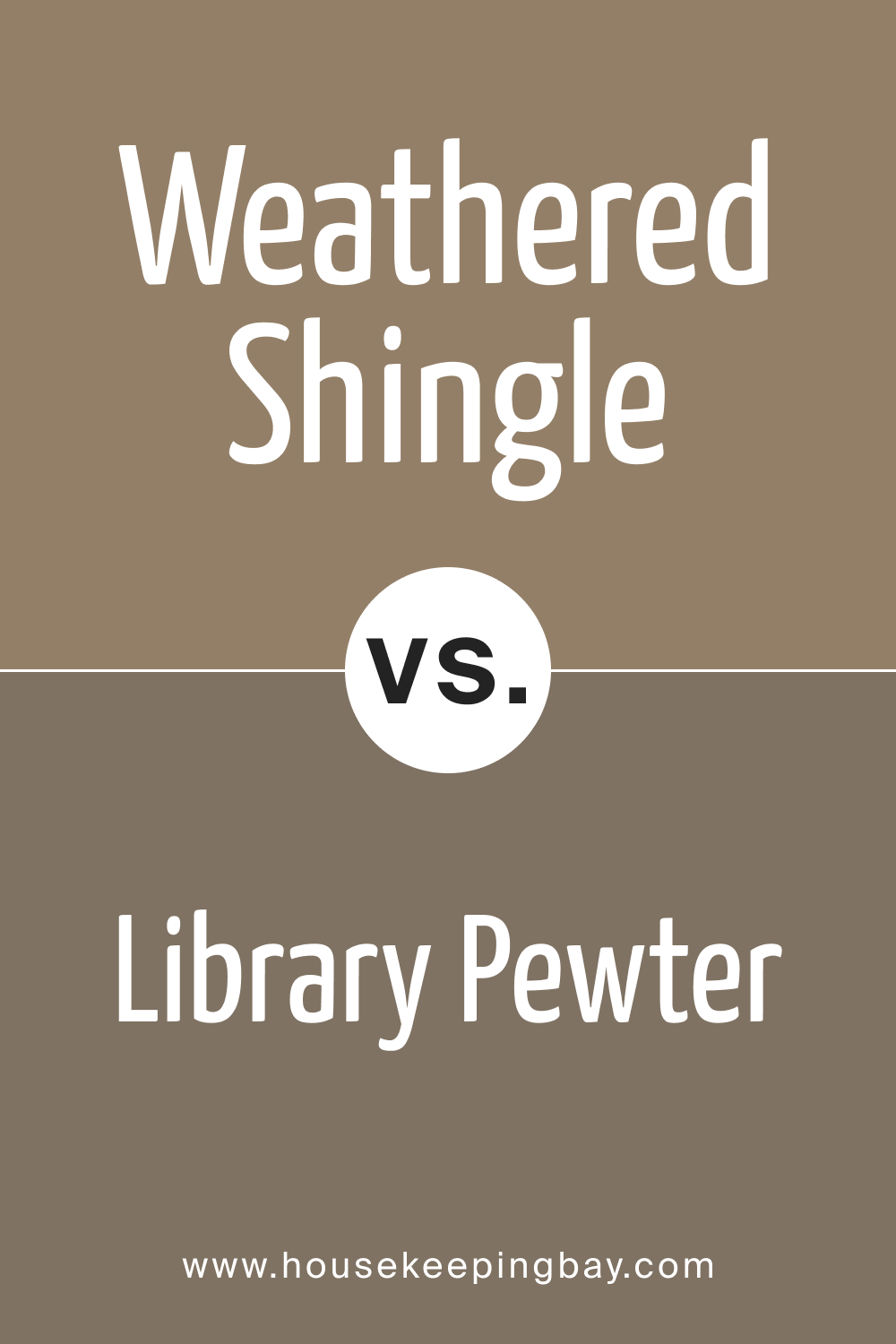 SW 2841 Weathered Shingle vs. SW 7519 Mexican Sand
SW 7519 Mexican Sand is a warm, earthy hue reminiscent of sandy beaches or terracotta. Next to Weathered Shingle, Mexican Sand feels warmer and sunnier. While Weathered Shingle introduces calm and subdued vibes, Mexican Sand invites a sun-kissed, natural warmth.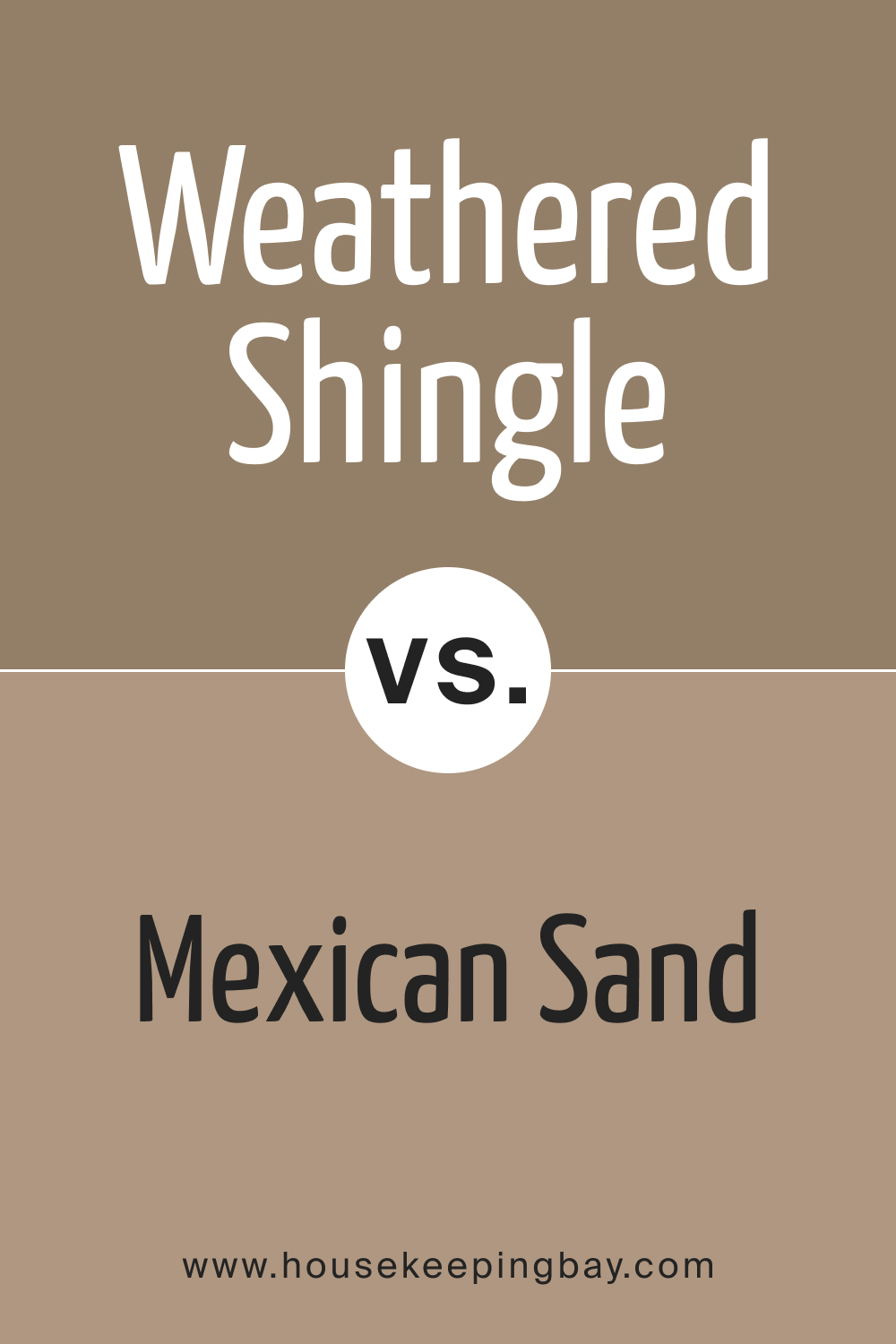 SW 2841 Weathered Shingle vs. SW 7724 Canoe
SW Canoe, a deep brown with a touch of red, evokes feelings of wooden oars and forest cabins. It has a rich warmth compared to the cool, neutral Weathered Shingle. While both have wood-inspired undertones, Canoe's depth makes it apt for cozy, intimate spaces.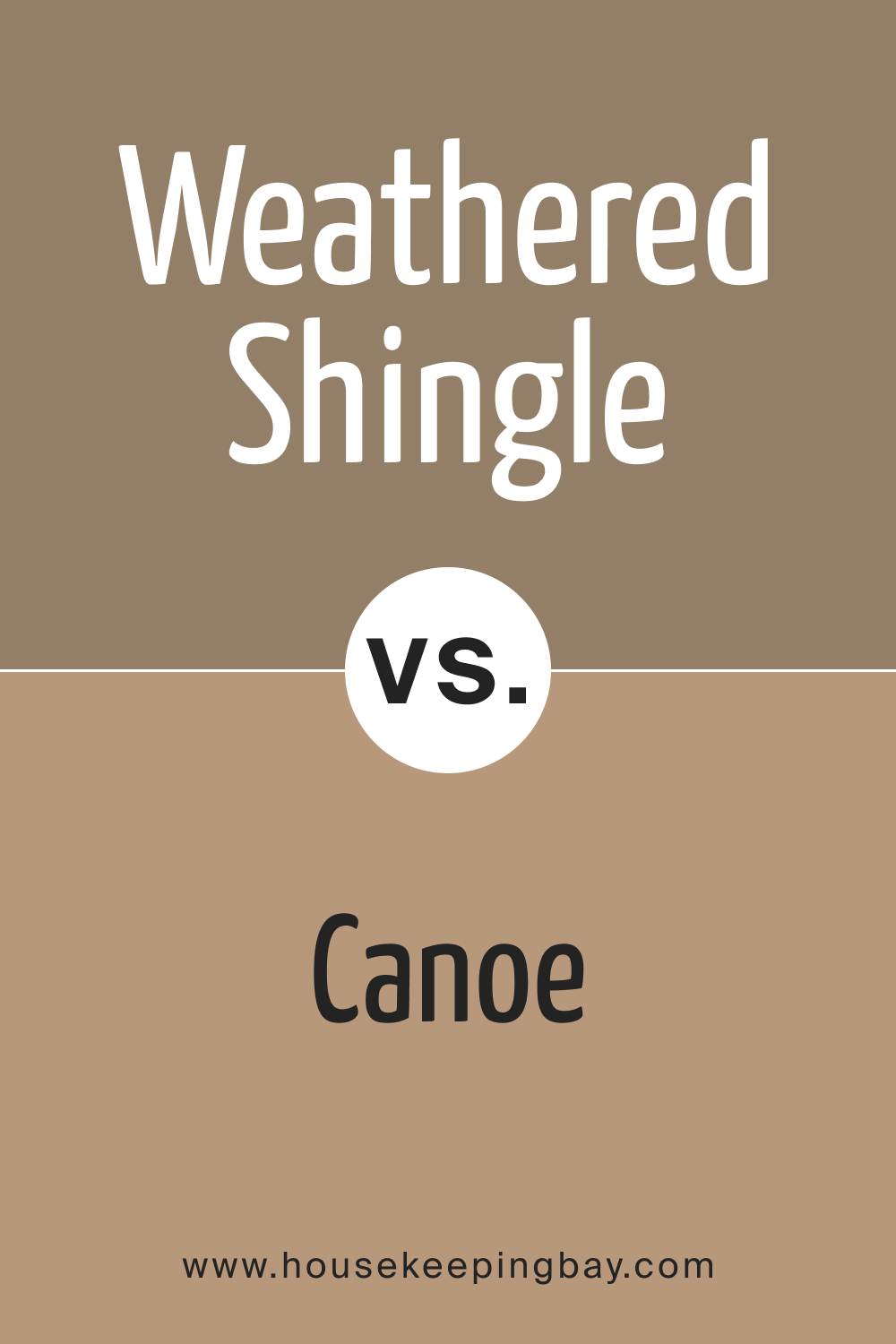 SW 2841 Weathered Shingle vs. SW 2806 Rookwood Brown
SW Rookwood Brown is a dense, earthy shade with deep, warm undertones. Placed next to Weathered Shingle, it feels significantly bolder and more grounded. Where Weathered Shingle offers adaptability, Rookwood Brown anchors a space with confidence.
SW 2841 Weathered Shingle vs. SW 6107 Nomadic Desert
SW Nomadic Desert is a light, warm beige, creating spaces that feel airy and expansive. It's almost the antithesis to the muted depth of Weathered Shingle, bringing brightness and a touch of desert warmth to interiors.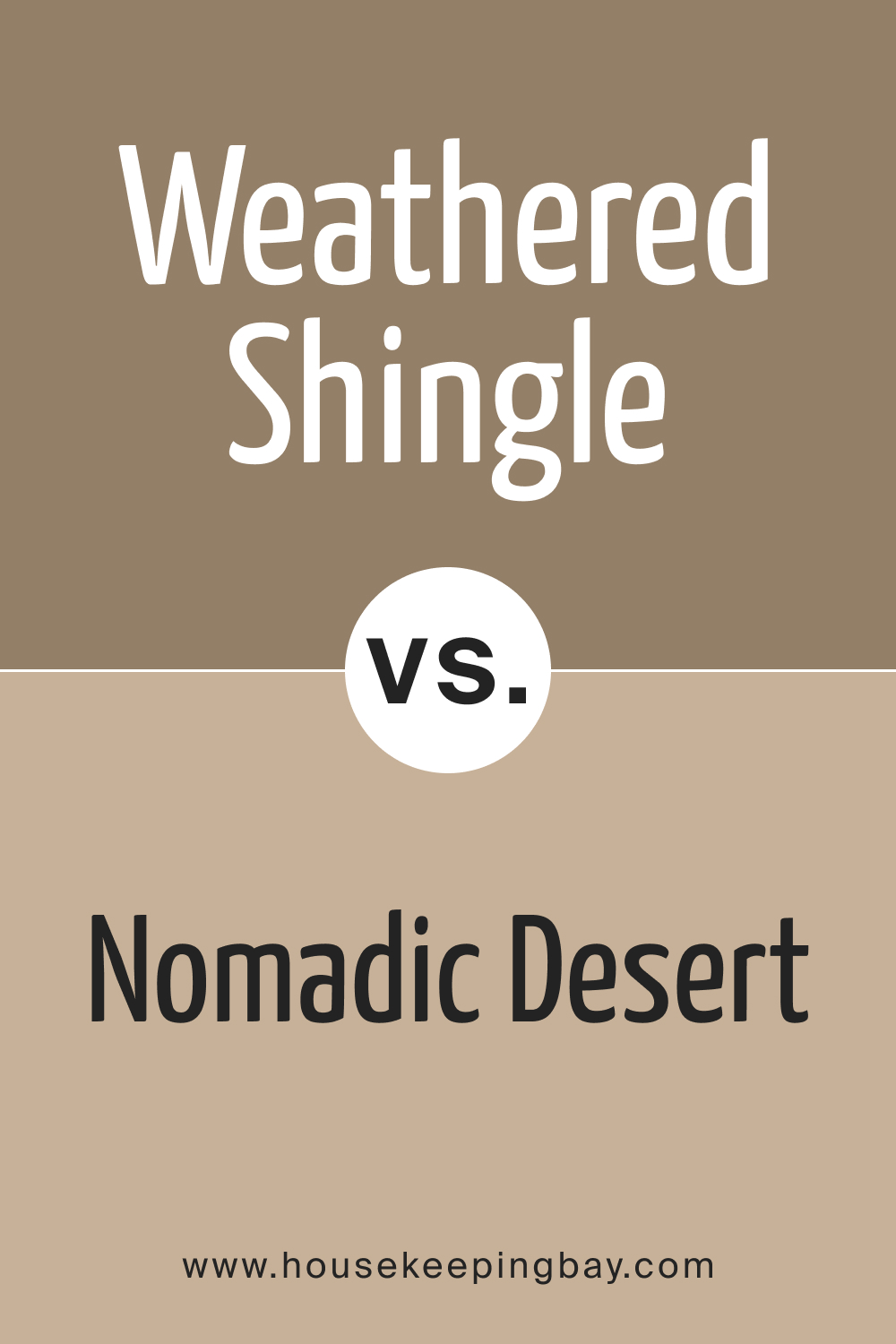 Conclusion
The diverse spectrum of colors available ensures that homeowners and designers have a plethora of choices. By comparing shades like Weathered Shingle with others, one can curate spaces that reflect desired moods and aesthetics. Whether it's the depth of Java or the warmth of Nomadic Desert, each color has its own story and potential, waiting to transform living spaces.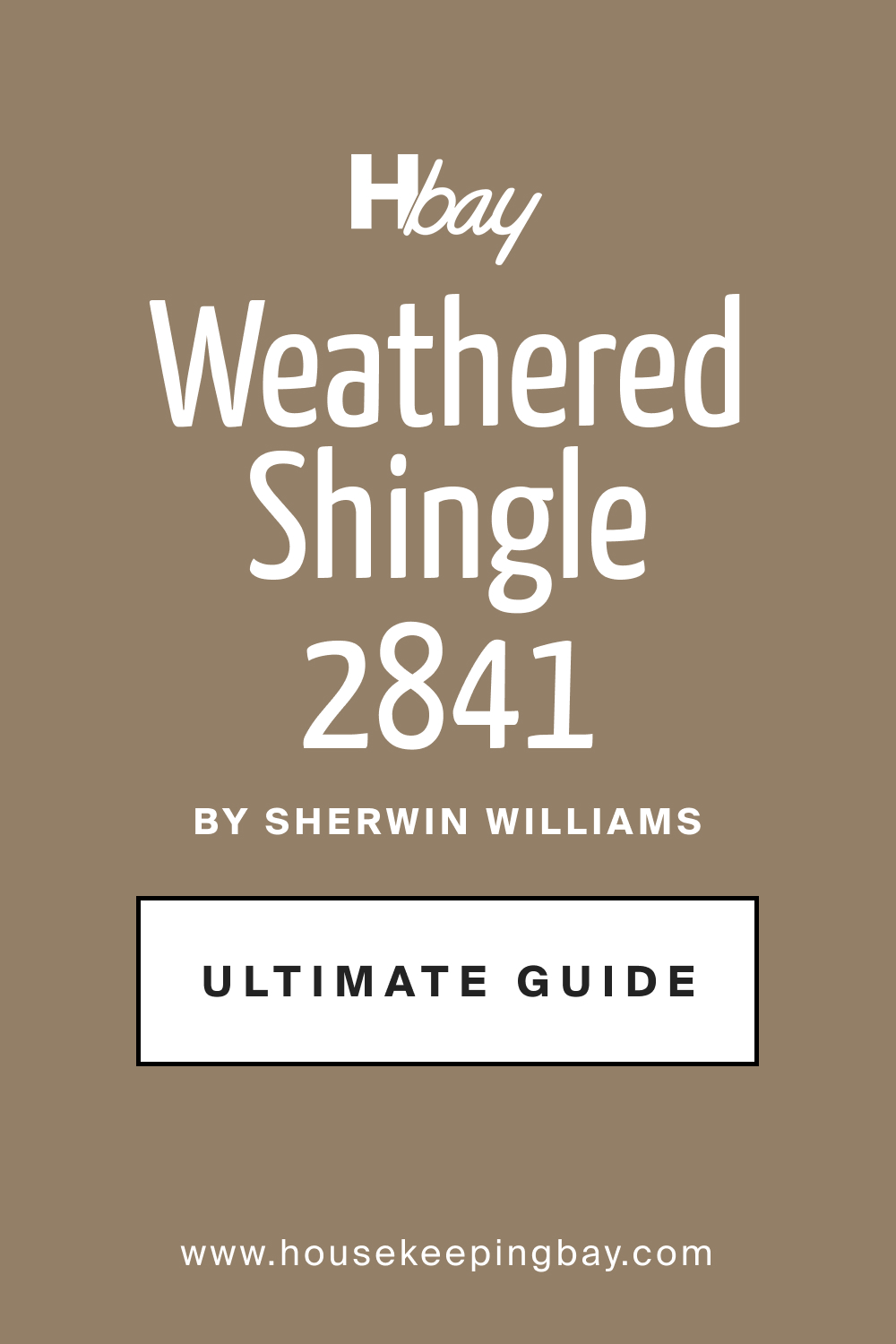 Frequently Asked Questions
⭐What is the undertone of SW 2841 Weathered Shingle?
Weathered Shingle carries a subtle grayish undertone, offering a neutral foundation that's both versatile and timeless.
⭐Is SW 2841 Weathered Shingle suitable for exteriors?
Yes, SW 2841 is a great choice for exteriors due to its neutral and adaptable hue, complementing a variety of architectural styles and landscapes.
⭐Which rooms work best with this color?
Given its neutral demeanor, Weathered Shingle works well in virtually any room, from bedrooms and living areas to kitchens and bathrooms.
⭐How does SW 2841 Weathered Shingle respond to different lighting conditions?
In natural light, the color appears slightly lighter, emphasizing its gray undertones. Artificial light might make it appear slightly warmer, but it generally maintains its neutral quality.
⭐What are the best trim colors to pair with Weathered Shingle?
Lighter shades of white or off-white, especially from the Sherwin-Williams palette, work beautifully with Weathered Shingle, providing a crisp and clean contrast.