Every shade of paint tells a story, and Benjamin Moore's Parchment OC-78 is no exception. A subtle and sophisticated hue, this shade has grown in popularity amongst homeowners and interior designers alike.
Delve deep into the nuances of this classic color, understanding its characteristics, undertones, coordinating colors, and the influence of light and trim.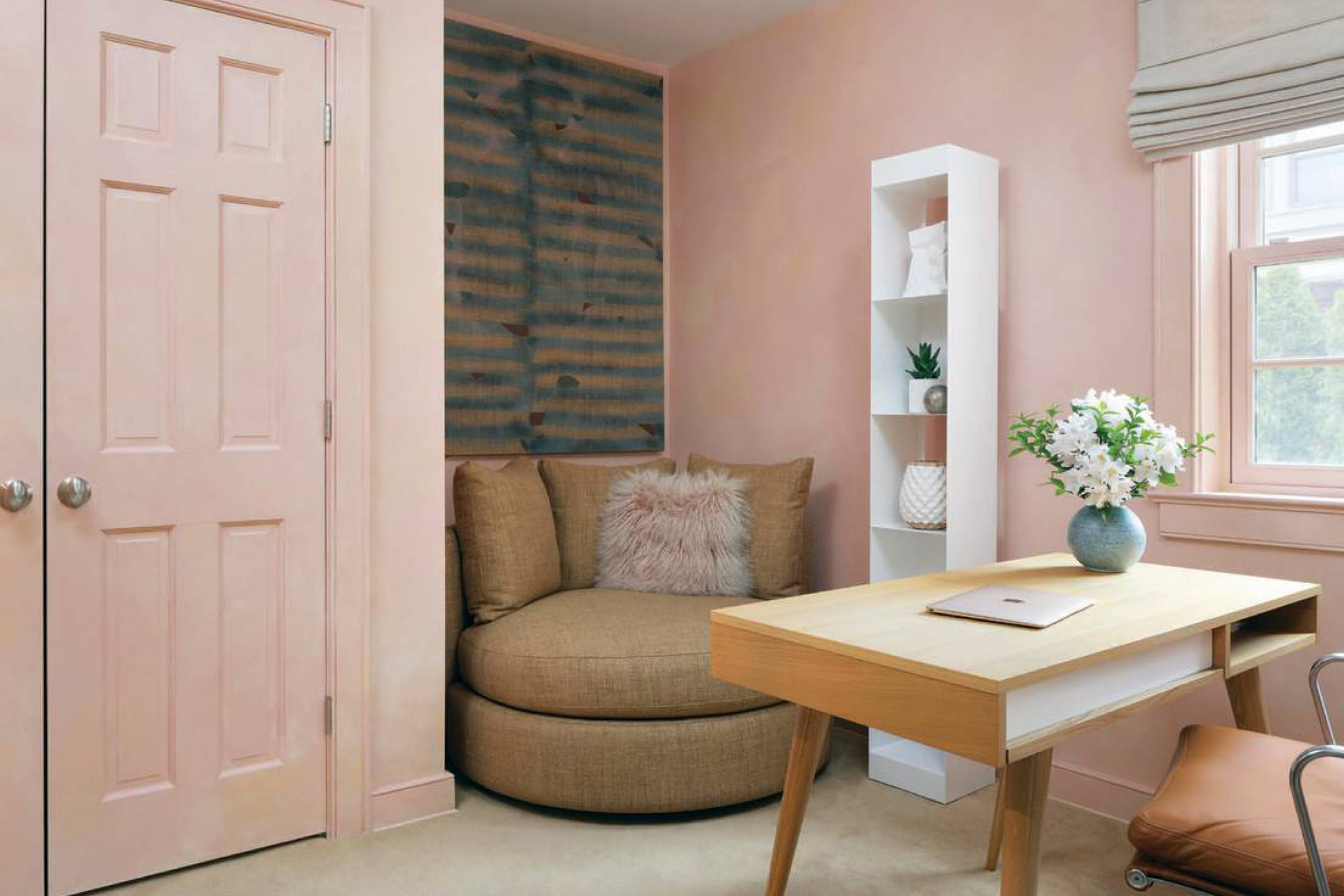 What Color Is Parchment OC-78?
Parchment OC-78 is a soft, muted beige with hints of off-white, evoking images of vintage books and time-worn scripts. Its versatility can bring warmth to a room and act as a backdrop for more vibrant colors.
Perfect for rustic, traditional, or even modern settings, Parchment OC-78 is a chameleon that pairs beautifully with woods, metals, and organic textures. Its neutral base makes it an elegant choice for various interior styles, from minimalist modern apartments to cozy country homes.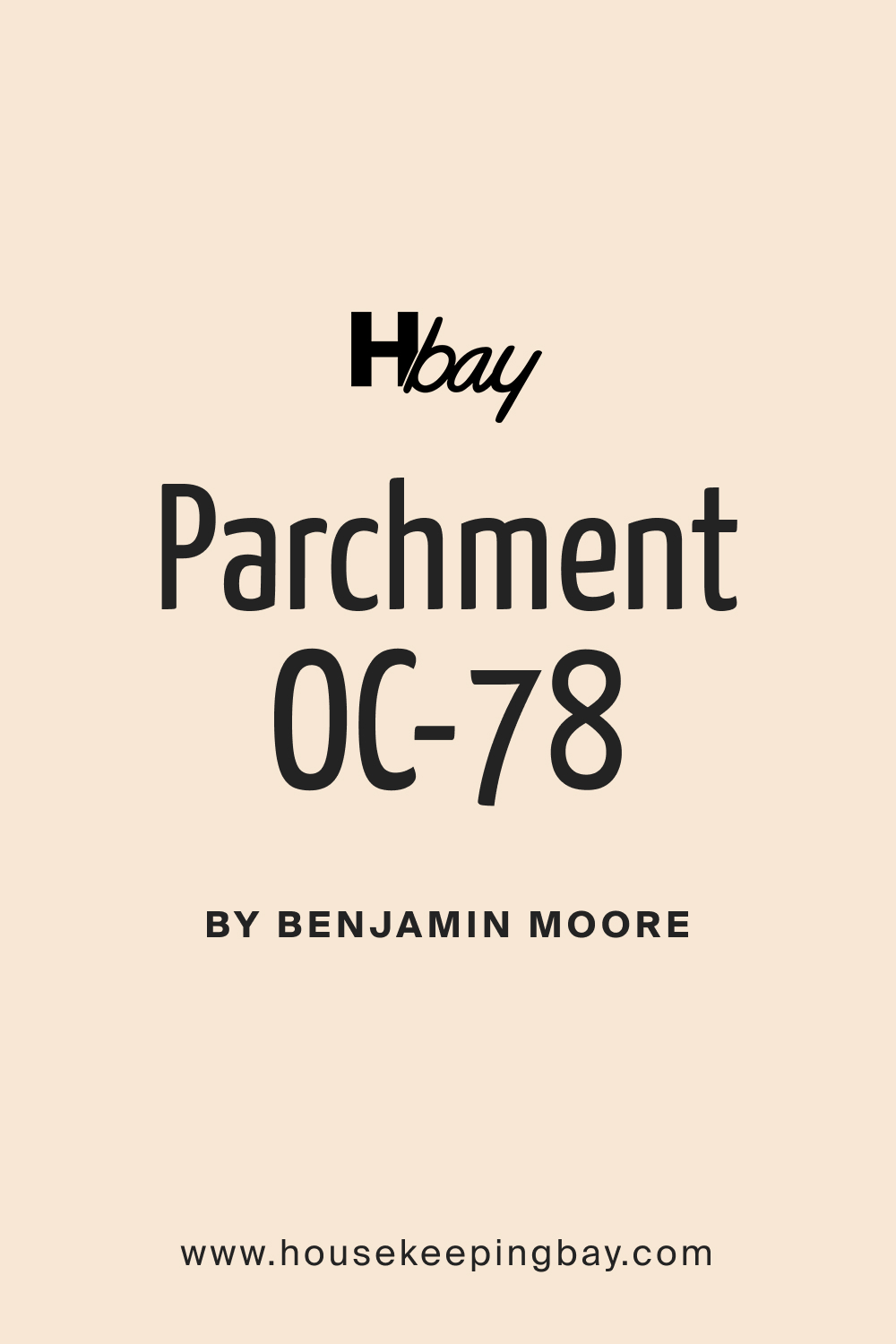 Is It a Warm Or Cool Color?
Parchment OC-78 leans towards the warmer side of the spectrum. Warm colors are known to make spaces feel intimate and cozy. This warm undertone means that Parchment OC-78 imparts a comforting ambiance, making rooms feel more inviting.
In homes, this hue can bring an inherent warmth, making it ideal for living rooms or bedrooms where a calming environment is desired.
Undertones of Parchment OC-78
Every color has undertones that can subtly shift its appearance. For Parchment OC-78, the undertones lean slightly towards a soft yellow. These undertones play a crucial role in how the color is perceived, potentially amplifying warmth in certain lighting conditions. Recognizing these undertones can help homeowners and designers make informed decisions about pairing and decorating.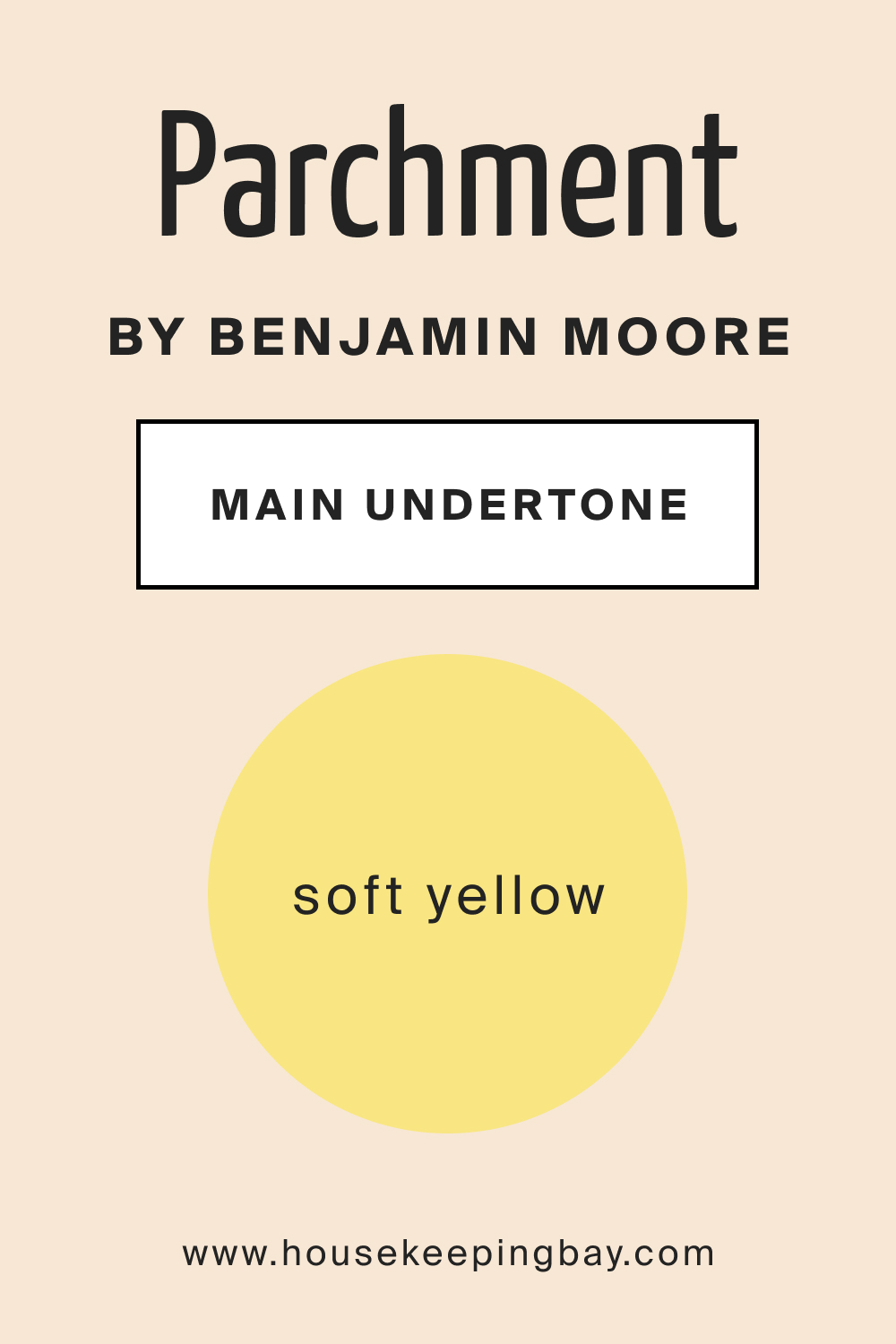 Coordinating Colors of Parchment OC-78
Coordinating colors work harmoniously with a primary color, enhancing its beauty. For Parchment OC-78, the following Benjamin Moore shades are stunning complements:
Edgecomb Gray HC-173: A subtle gray with earthy undertones.
Revere Pewter HC-172: A light gray with warm undertones, bridging the gap between gray and beige.
Winds Breath OC-24: A gentle beige with a touch of gray.
Additional colors that align beautifully include:
Classic Gray OC-23: A nearly neutral with gentle undertones.

Soft Sand 2106-60: A whisper of beige, tinged with a sandy warmth.

Balboa Mist OC-27: A refined gray with hints of beige.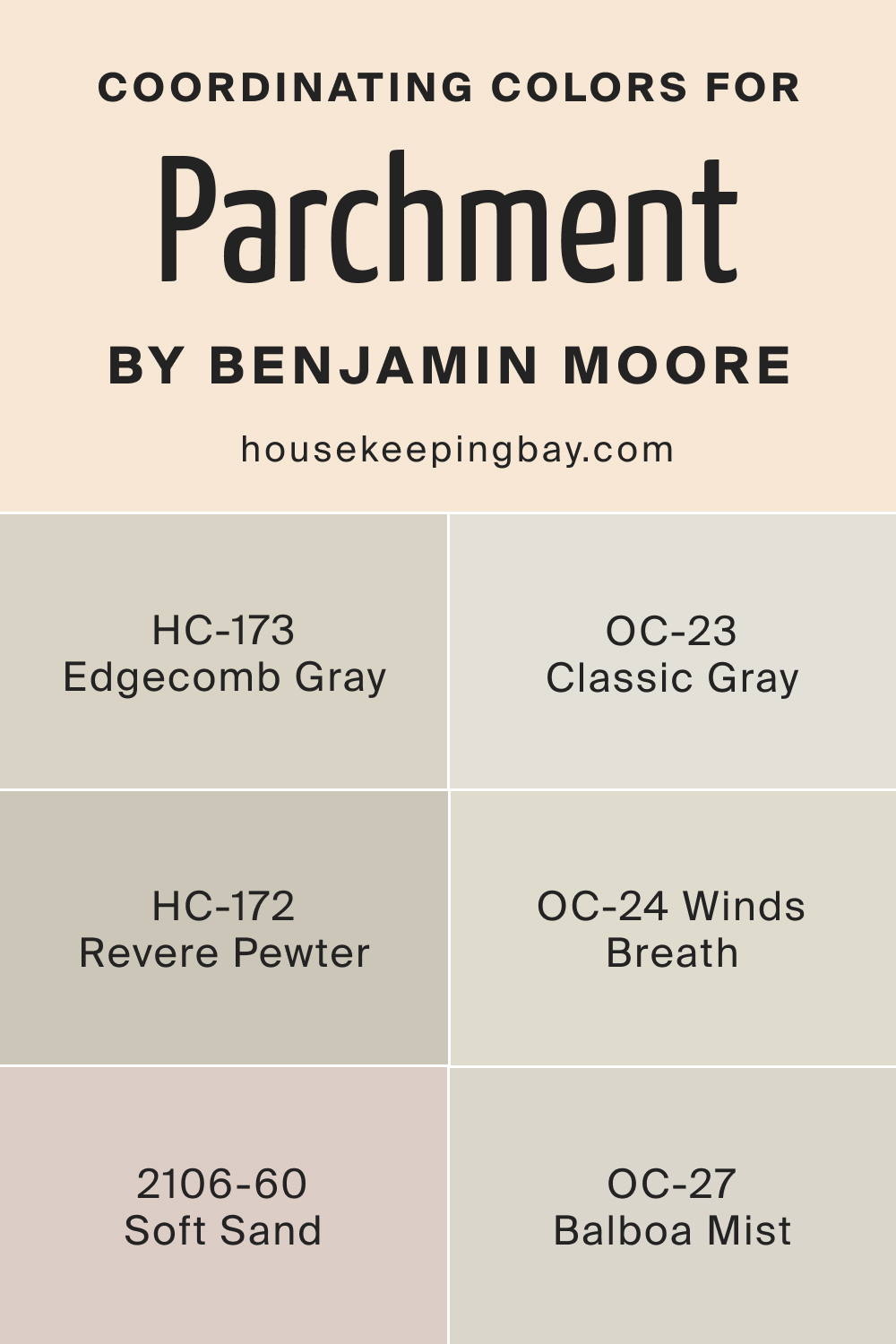 How Does Lighting Affect Parchment OC-78?
Lighting plays a pivotal role in how colors are perceived. Under artificial light, Parchment OC-78 tends to take on a richer, deeper hue, while natural light can highlight its creamy undertones. The direction of natural light also makes a difference:
North-facing rooms give Parchment OC-78 a slightly cooler appearance.
South-facing rooms amplify its warm undertones, making it appear cozier.
In east-facing rooms, morning light can make it feel fresh and airy.
West-facing rooms in the evening can highlight its depth and warmth.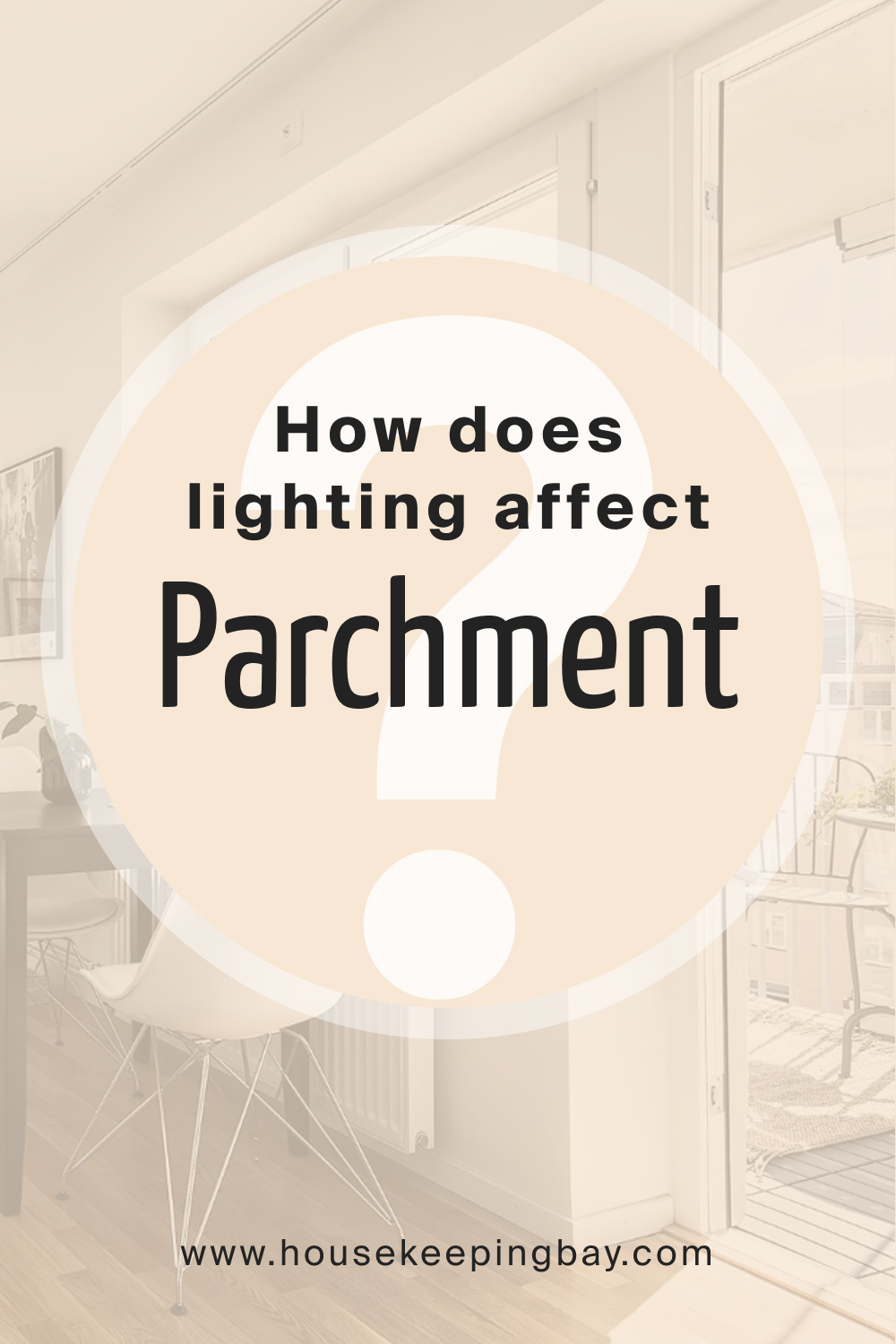 LRV of Parchment OC-78
Light Reflectance Value (LRV) measures the percentage of light a paint color reflects. With an LRV of 79, Parchment OC-78 is on the higher end, meaning it reflects a significant amount of light. High LRV colors can make spaces appear larger and more open.
In the case of Parchment OC-78, its high LRV ensures rooms feel airy and spacious, enhancing its versatility in different spaces, from compact apartments to sprawling homes.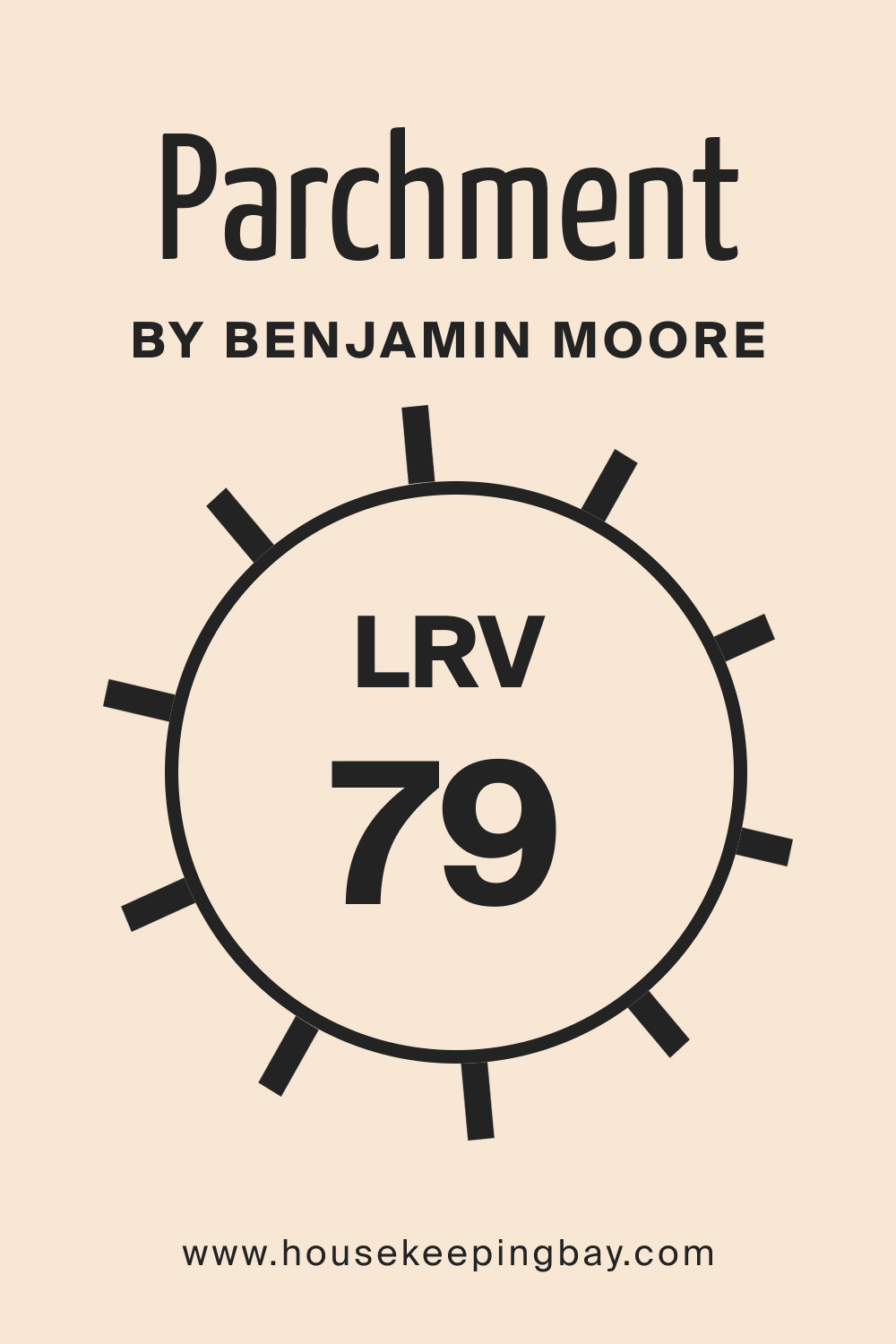 Trim Colors of Parchment OC-78
Trim colors play a pivotal role in framing a space, accentuating the primary wall color. For Parchment OC-78, shades of white from Benjamin Moore can elevate its elegance:
Simply White OC-117: A pure, radiant white.
White Dove OC-17: A soft white with a hint of gray.
Chantilly Lace OC-65: A bright, clean white.
Choosing the right trim color can elevate the aesthetics, creating a seamless transition between walls and architectural details, emphasizing the beauty of Parchment OC-78.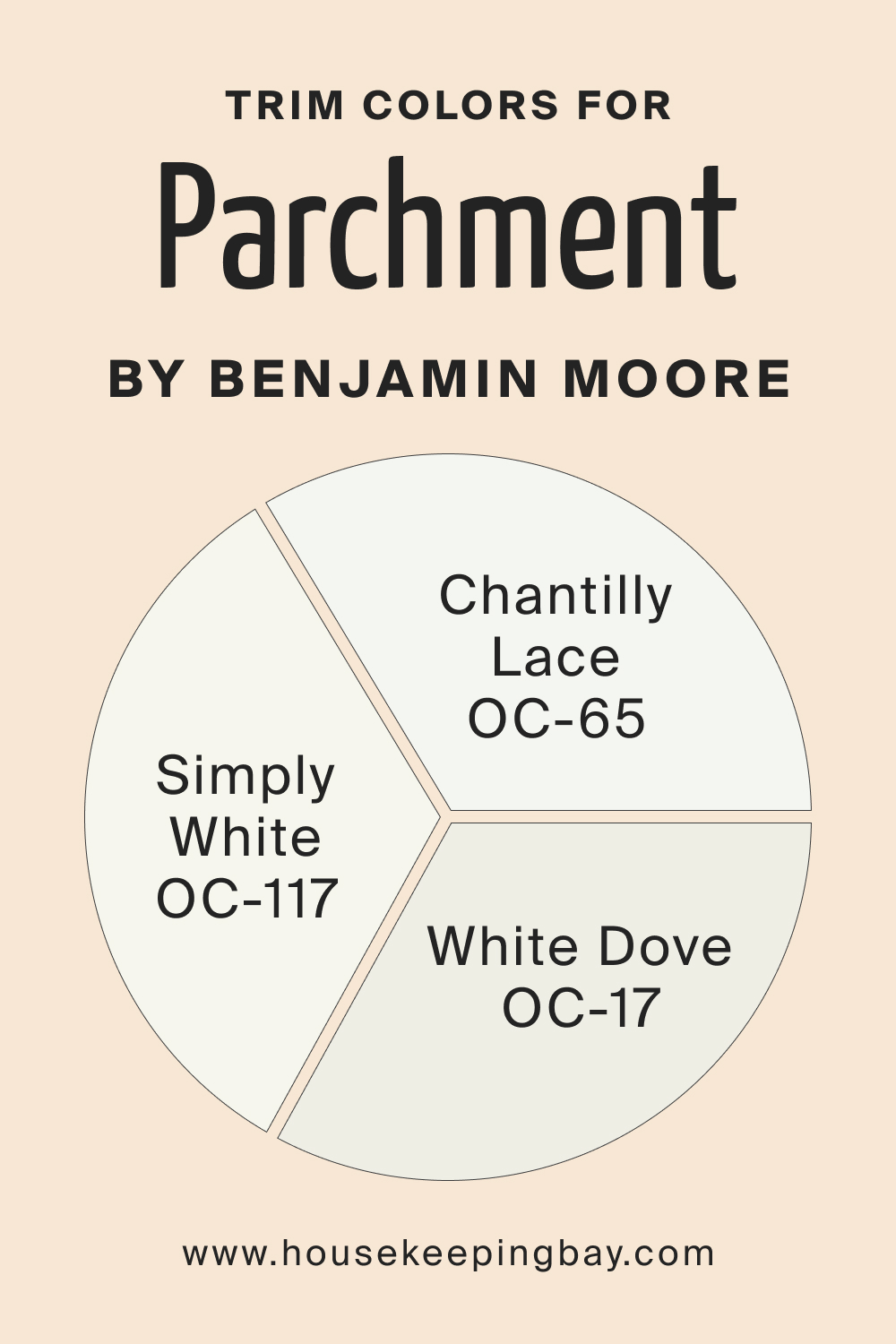 Colors Similar to Parchment OC-78
Recognizing colors similar to a desired shade helps in achieving a harmonized look, especially if one is looking to create a gradient effect or simply wants alternatives with slight variances in undertones. If you have Parchment OC-78 on your interior walls, you might want to consider one of the following colors to achieve a balanced palette in your home:
BM Arizona Peach 092: This hue, while hinting at the soft blush of a desert sunset, carries the same muted undertone as Parchment OC-78. It's a bit warmer, evoking images of a summer twilight.
Mystical Powers (901): this is another soft and delicate hue perfectly paralleling the quiet elegance of Parchment OC-78.
Amelia Blush (085) is another alternative color to use instead of Parchment OC-78 if you want to achieve the same effect.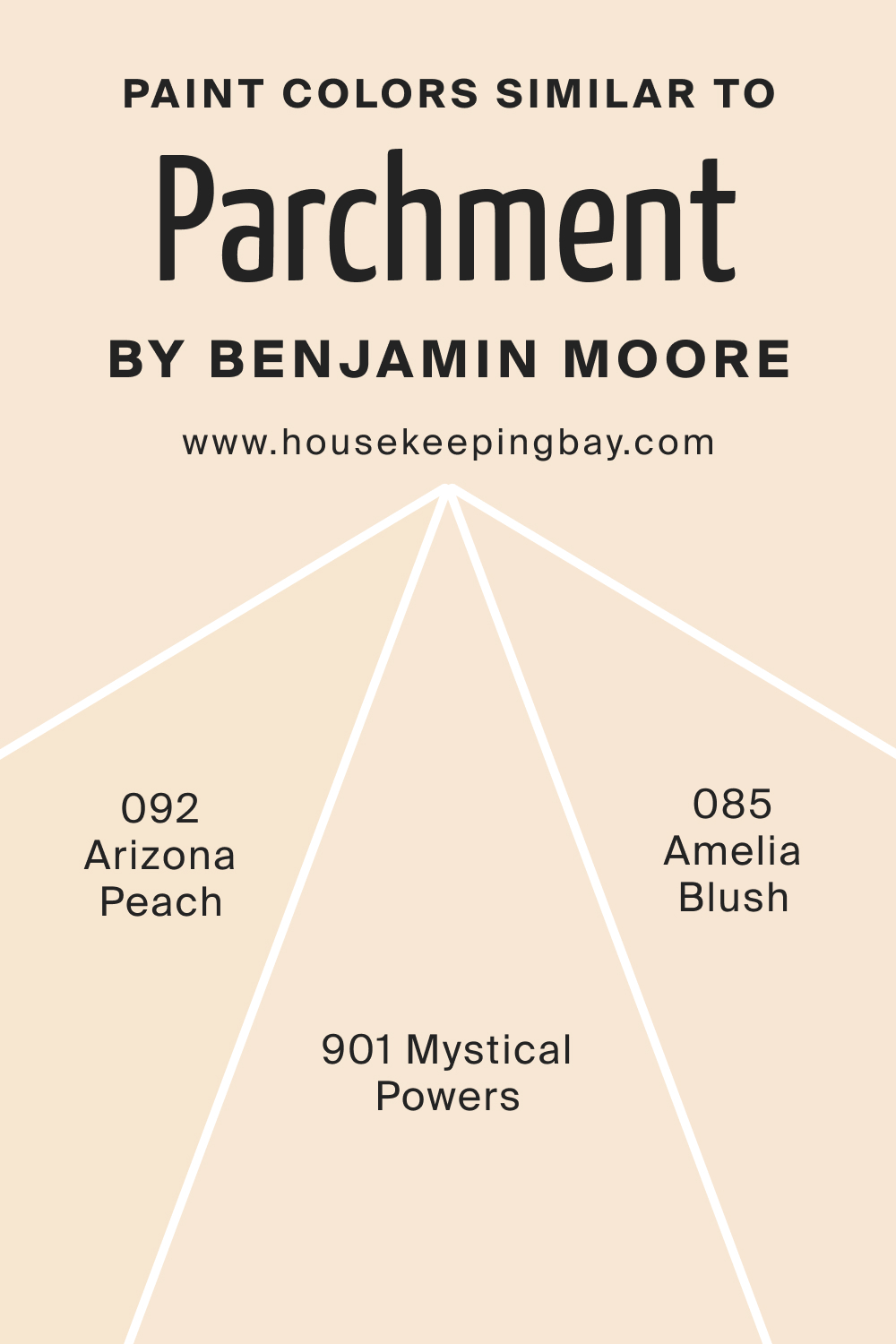 Colors That Go With Parchment OC-78
Selecting colors that work well within a room is vital to establish flow and connection, setting the stage for a cohesive interior. For Parchment OC-78, we recommend the following paint colors for the best result:
HC-97 Hancock Gray: A deep, true gray with earthy undertones.
AF-90 Harmony: A muted lavender-gray offering a delicate contrast.
OC-85 Mayonnaise: A creamy off-white, it's light and versatile.
AF-225 Firenze: A rich amber, adding a touch of antiquity.
BM Peach Parfait 2175-70: A soft peach, mirroring the lightness of Parchment.
OC-7 Creamy White: As the name suggests, it is a rich, creamy white that adds depth.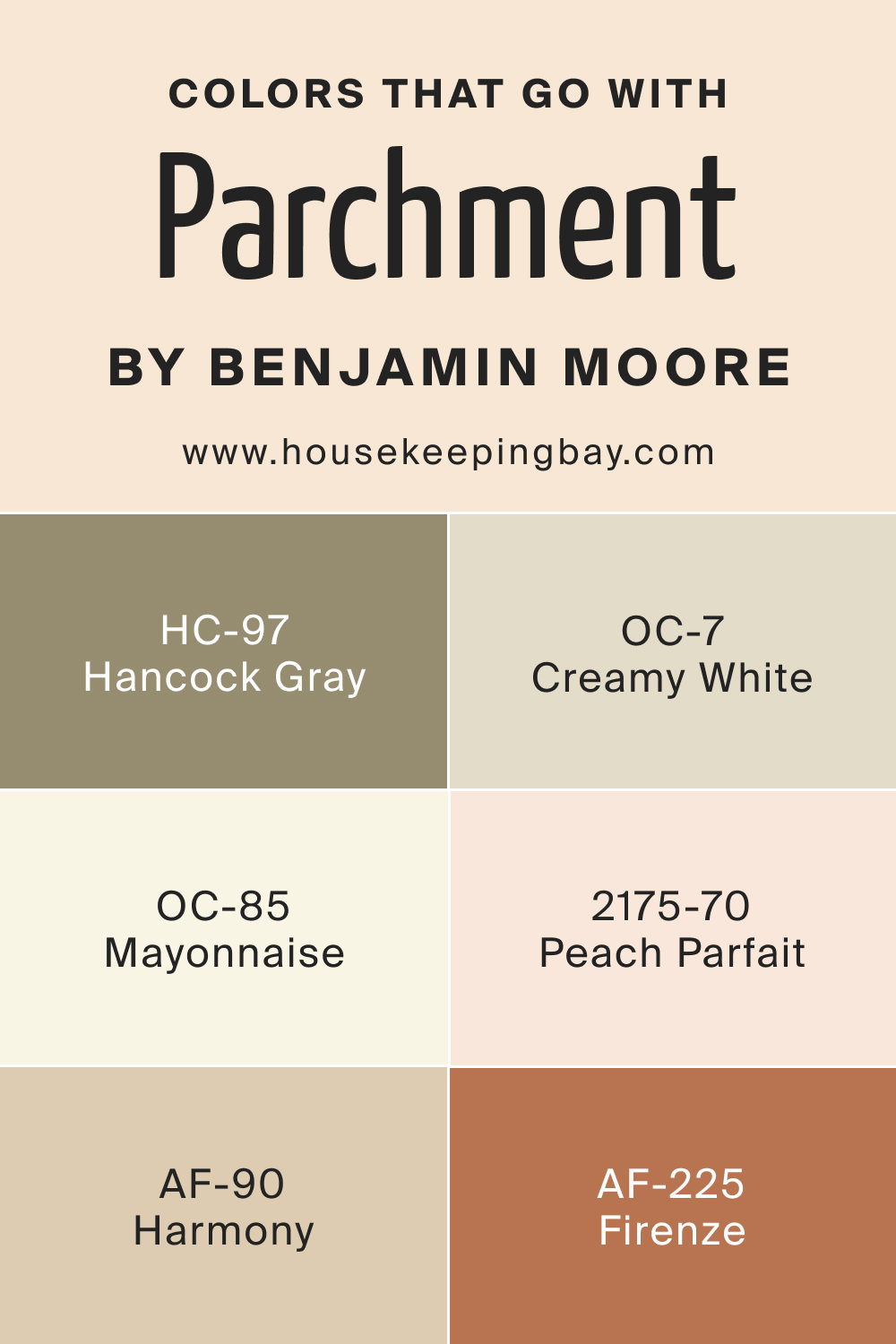 How to Use Parchment OC-78 In Your Home?
Parchment OC-78 is an adaptable shade, making it suitable for almost any room—be it a tranquil bedroom, a vibrant living room, or even a relaxing bathroom. This color perfectly complements both contemporary and classic interior designs, including farmhouse chic, minimalist modern, or traditional.
How to Use Parchment OC-78 in the Bedroom?
In the bedroom, Parchment OC-78 can be a serene backdrop. Its warm undertones encourage relaxation and rest, making it ideal for walls. Complement it with soft linens, wood furnishings, and accent pieces in coordinating colors to create a calming sanctuary.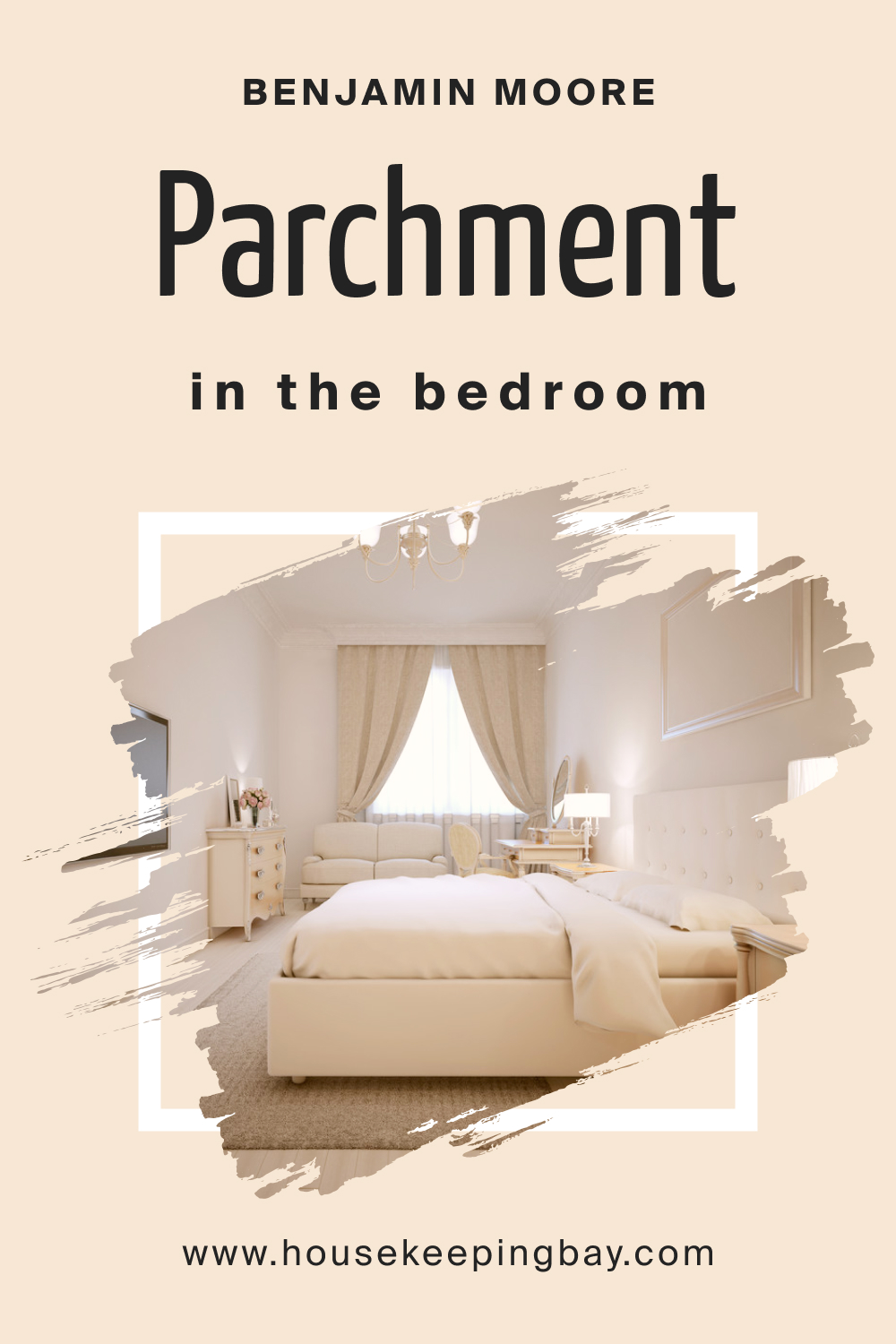 How to Use Parchment OC-78 in the Bathroom?
Parchment OC-78 can transform a bathroom into a spa-like retreat. Its neutral tone pairs beautifully with marble or tiled surfaces, bronze or chrome fixtures, and plush towels in coordinating shades.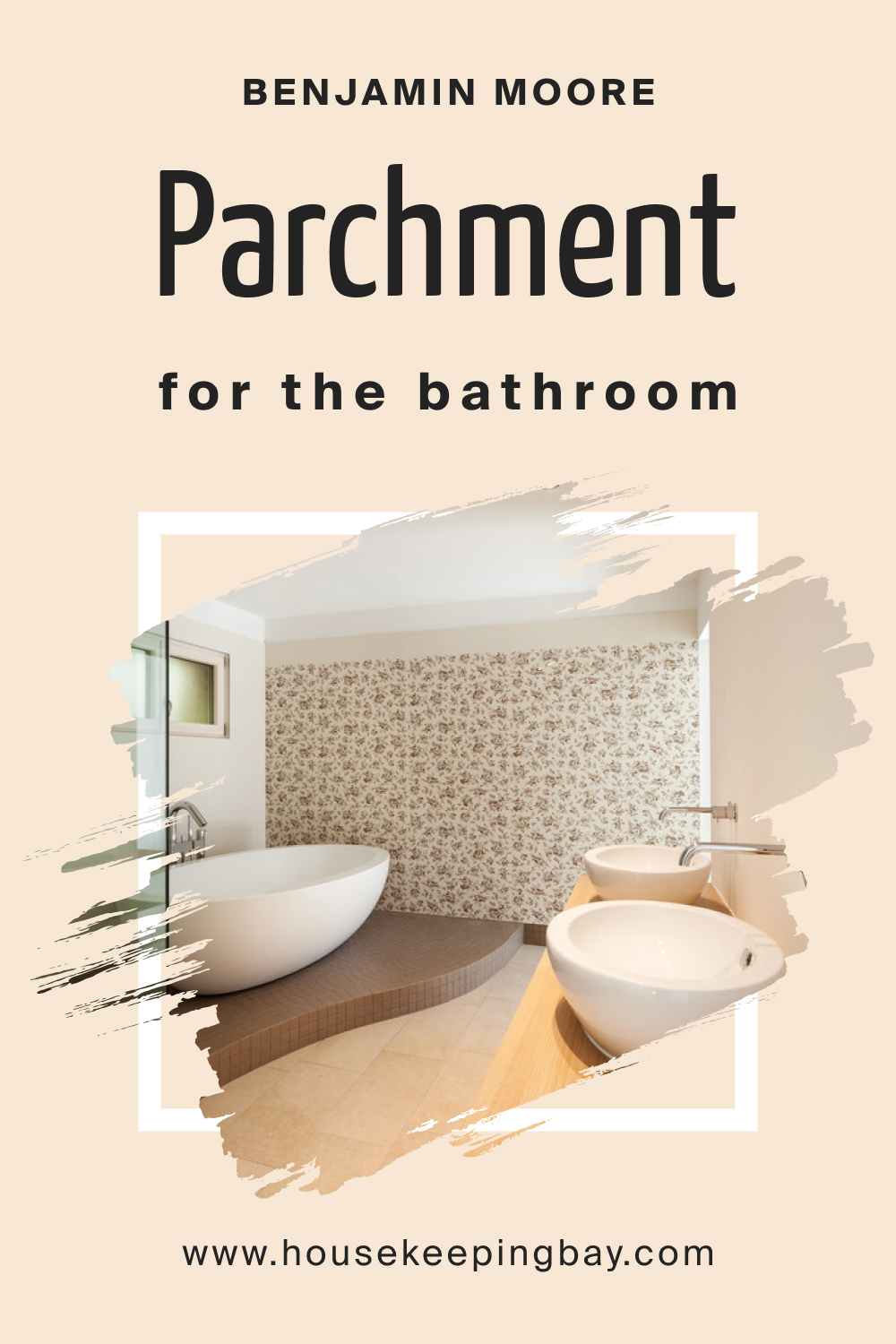 How to Use Parchment OC-78 in the Living Room?
In a living room, Parchment OC-78 offers a neutral canvas, allowing furniture and decor to shine. It radiates warmth, making the space feel inviting. Pair it with textured rugs, soft cushions, and decorative pieces in Hancock Gray or Harmony for a cohesive look.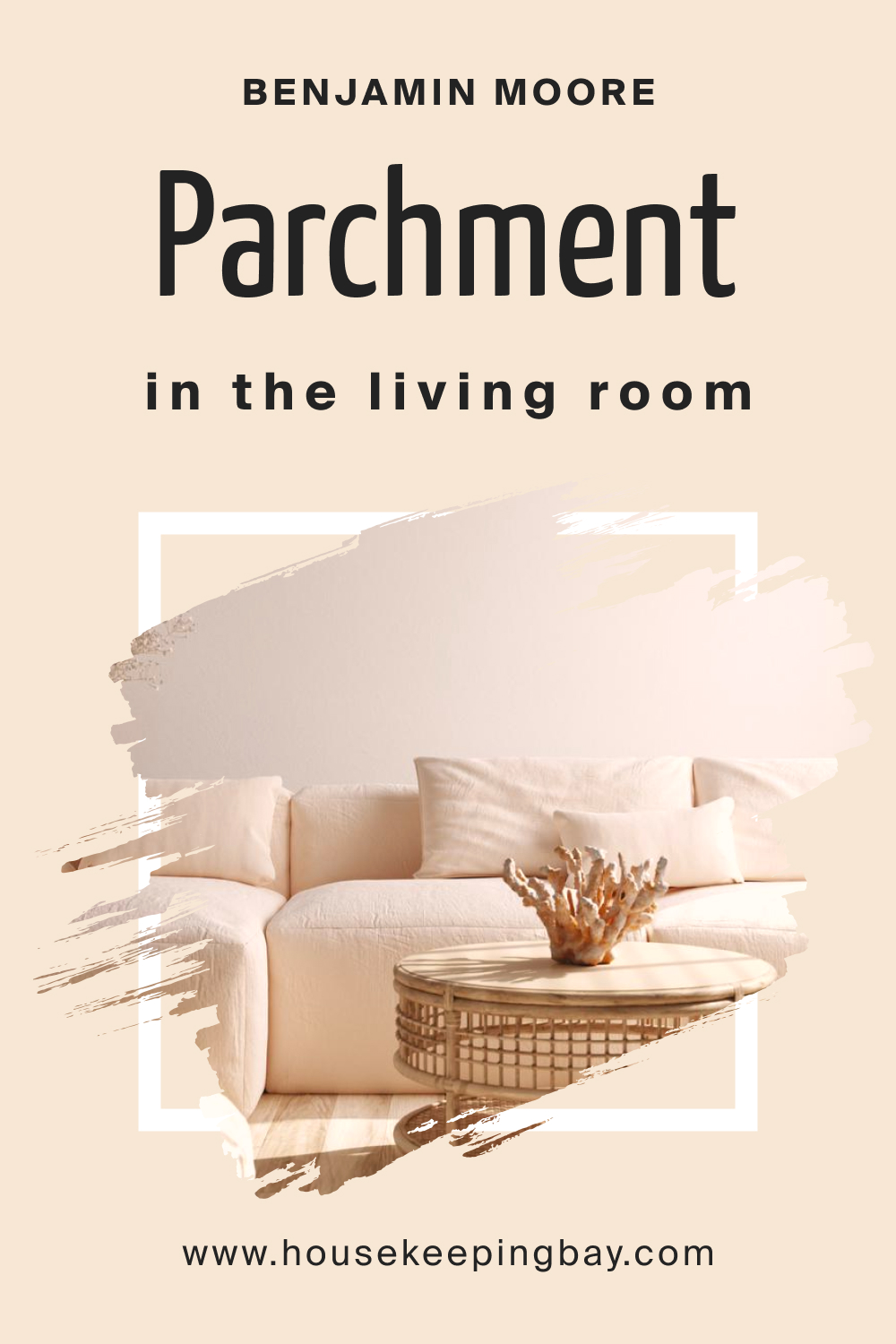 How to Use Parchment OC-78 for an Exterior?
For exteriors, Parchment OC-78 exudes timeless elegance. Whether on a country cottage or a modern home, its subtle hue complements natural surroundings. Pair with white trims and wooden or stone accents for a harmonious facade.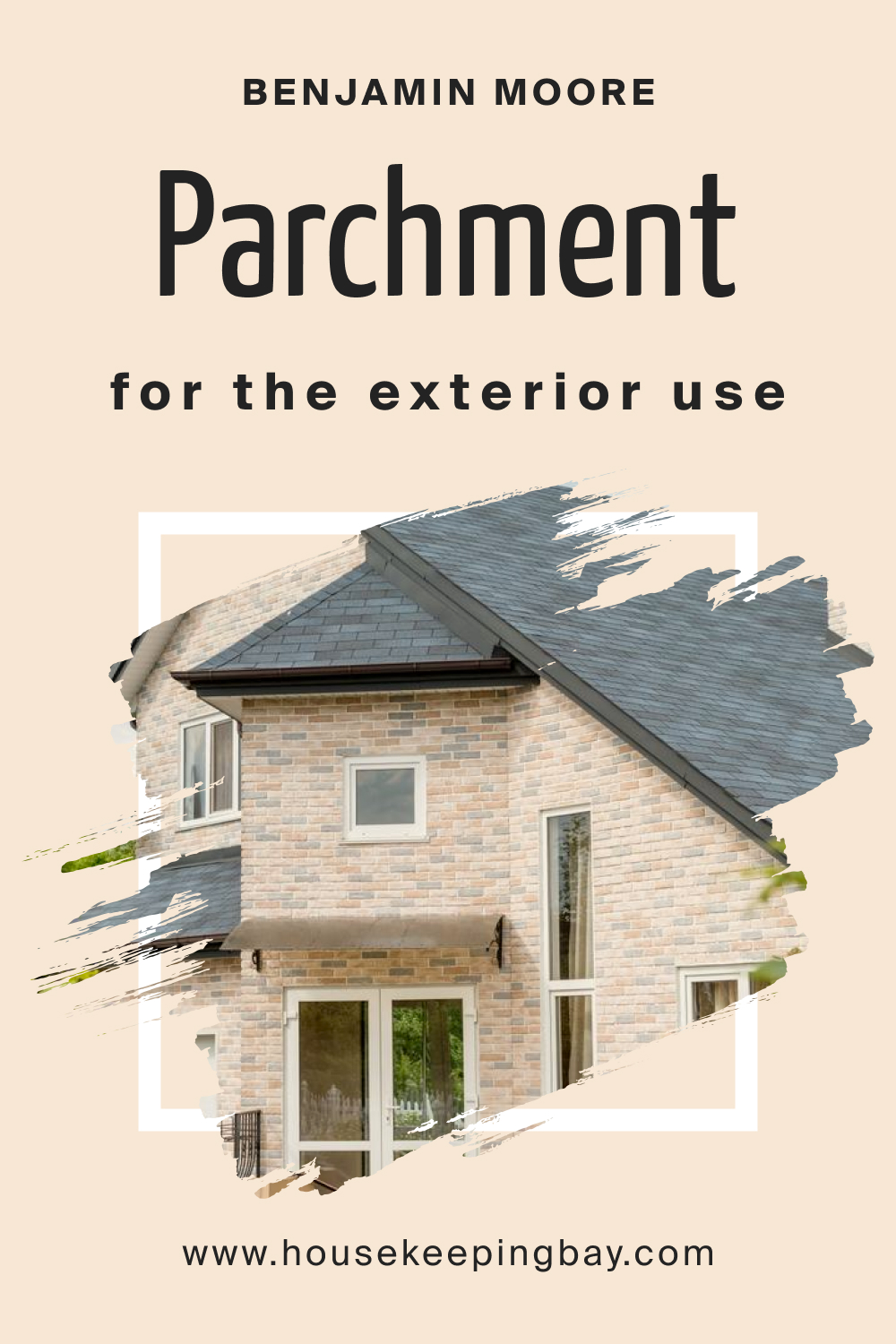 How to Use Parchment OC-78 in the Kitchen?
In the kitchen, Parchment OC-78 evokes a sense of cleanliness and warmth. It's ideal for walls, reflecting light and making space feel open. Accent with hardware in antique bronze or sleek chrome for a complete look.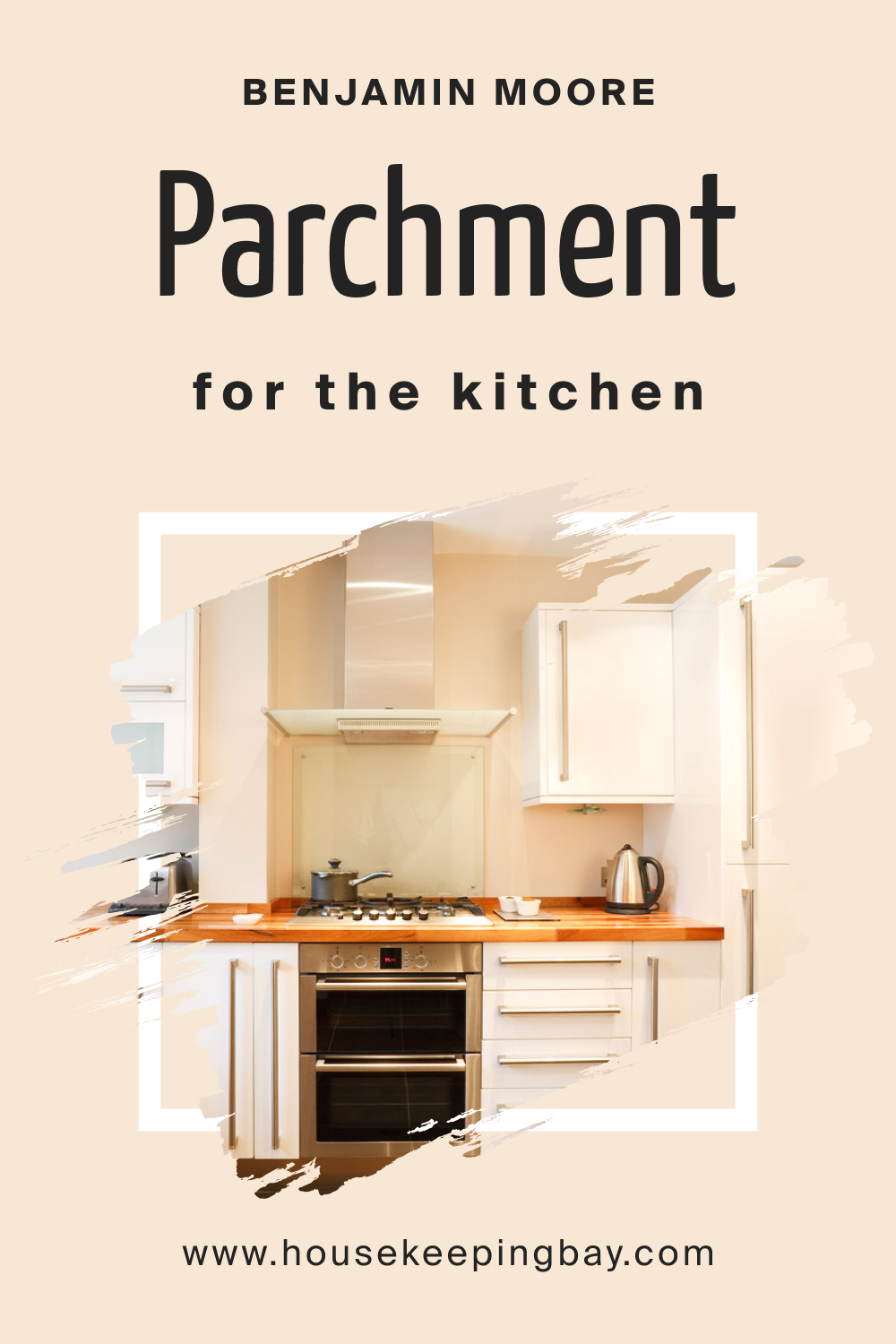 Comparing Parchment OC-78 With Other Colors
Comparing different colors is akin to appreciating the nuances of fine wine. The subtleties in undertones, depths, and moods they set can often be overlooked unless held against another shade.
When we compare colors, especially ones within the same family, we gain a deeper understanding of each shade's unique characteristics. This knowledge aids in making more informed decisions when designing interiors, allowing for the creation of spaces that truly resonate with the desired ambiance.
Parchment OC-78 vs. Antique White OC-83
OC-83 Antique White has a history-rich aura. While both shades resonate with a vintage charm, Antique White leans more toward a creamier consistency. Parchment, on the other hand, offers a more beige touch, subtly introducing warmth. When set side by side, Antique White feels richer, while Parchment feels airier.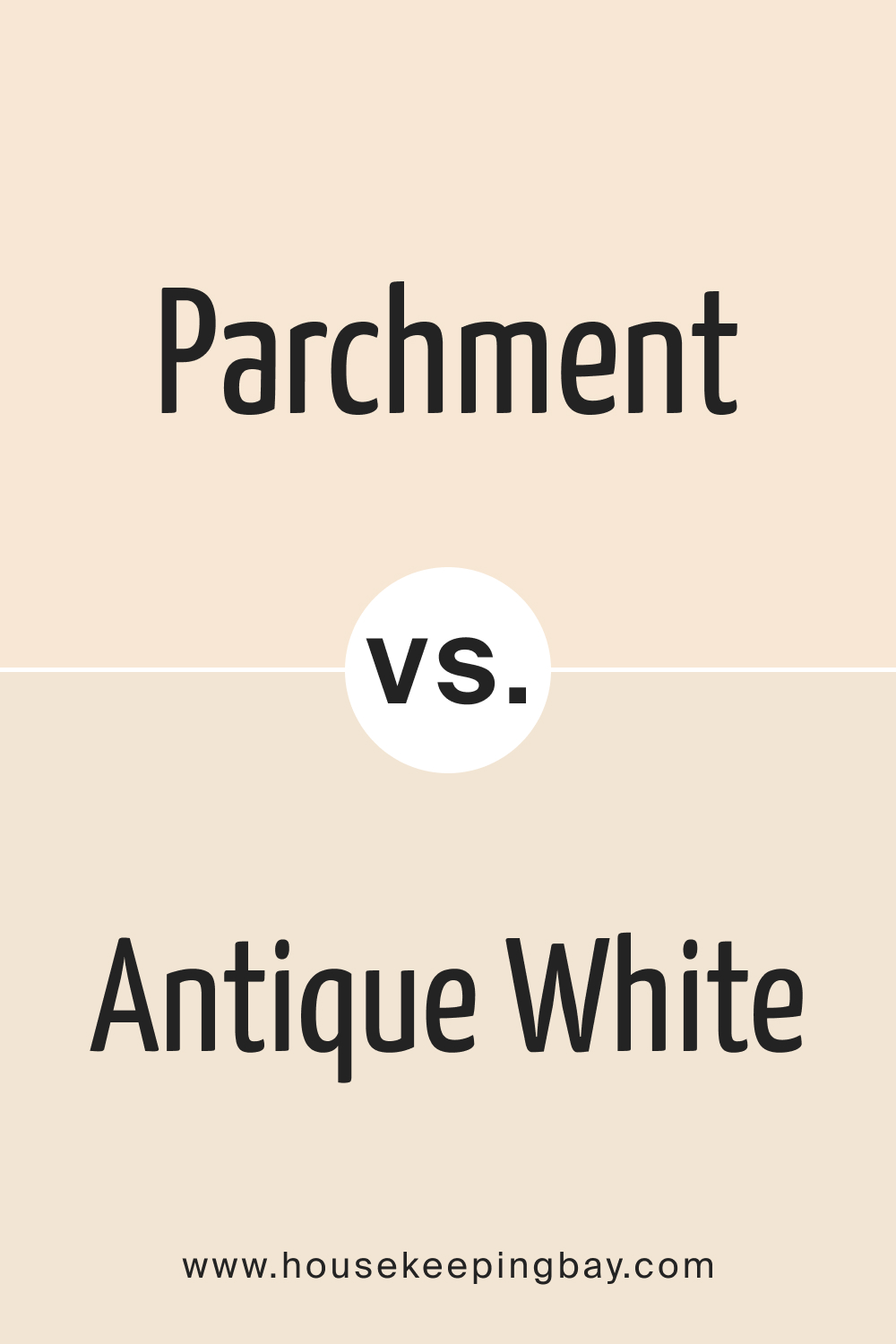 Parchment OC-78 vs. BM Evening White 907
Evening White 907, by contrast, seems like the softer end of twilight. It carries a more muted hue compared to Parchment OC-78. Evening White tends to blend seamlessly into the background, making spaces feel expansive, while Parchment stands out slightly more, offering a gentle focal point in interiors.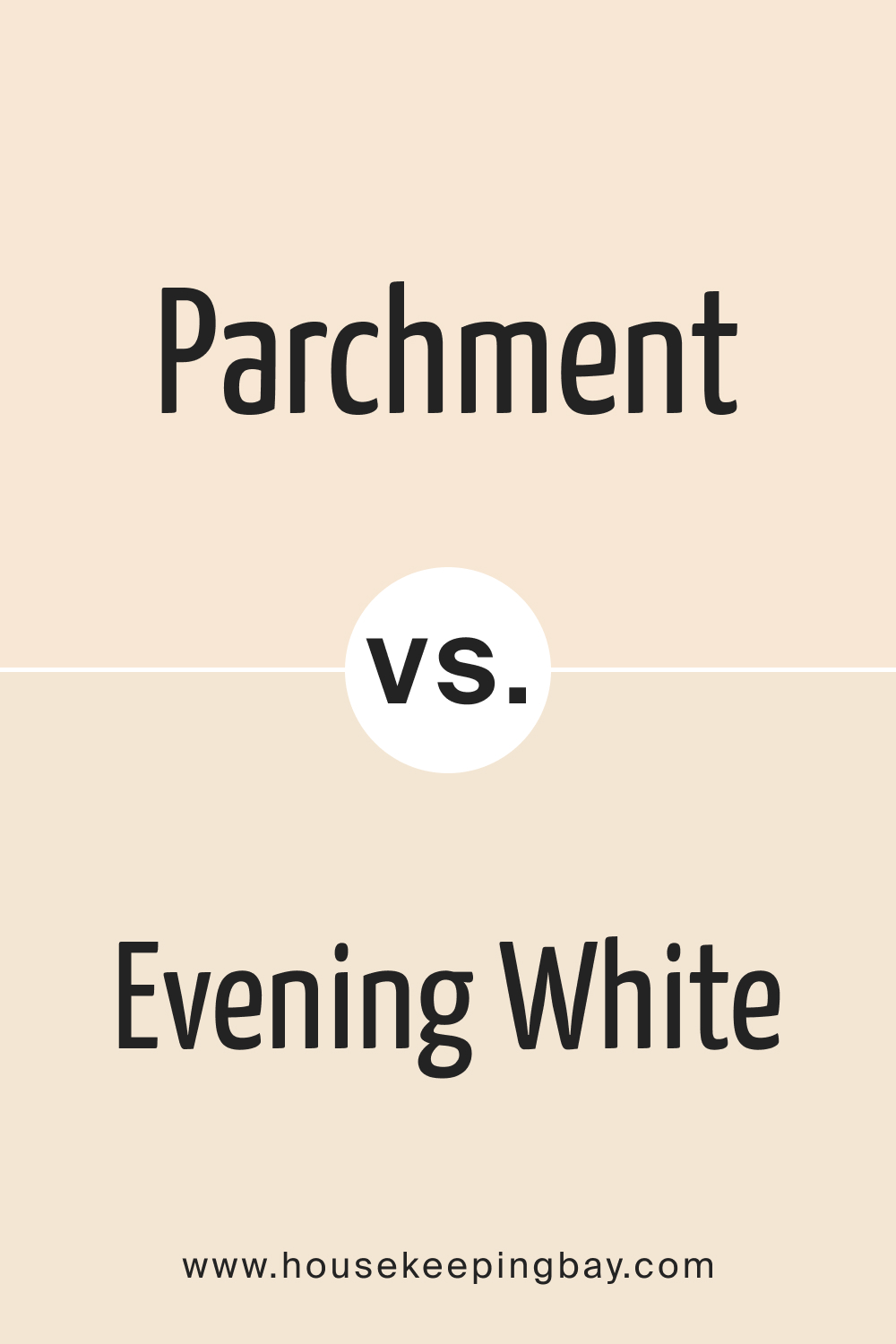 Parchment OC-78 vs. Old Country OC-76
OC-76 Old Country evokes a rustic allure. It's deeper and more pronounced than Parchment. While both are neutral, Old Country hints at more earthy undertones. Parchment, meanwhile, offers a more modern beige look, making it more versatile in contemporary settings.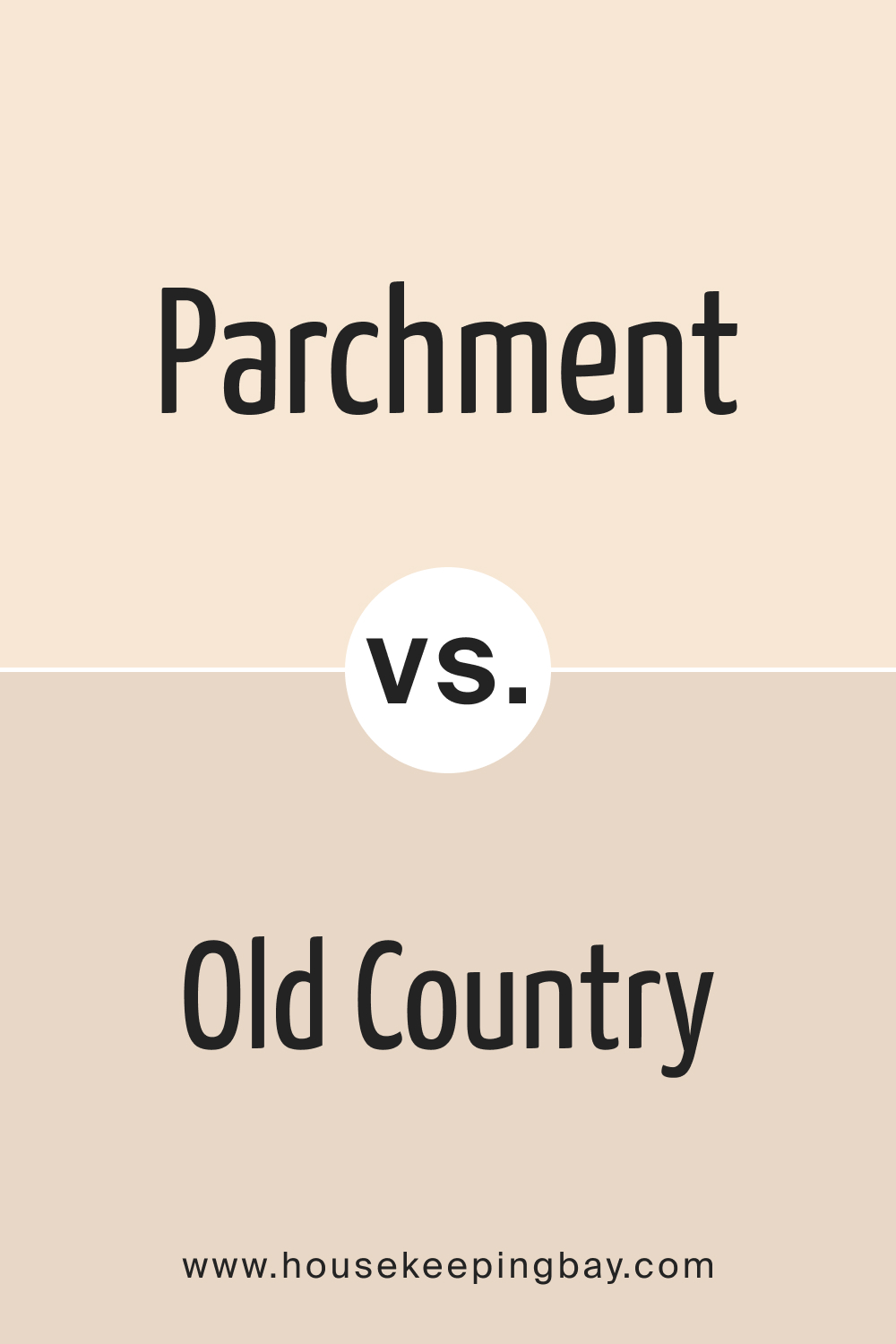 Parchment OC-78 vs. BM Linen White 912
BM Linen White 912 reminds one of crisp, sun-dried linens. It's a pure, almost translucent white with just a whisper of an undertone. In comparison, Parchment OC-78 appears warmer and more defined, emphasizing its beige lineage.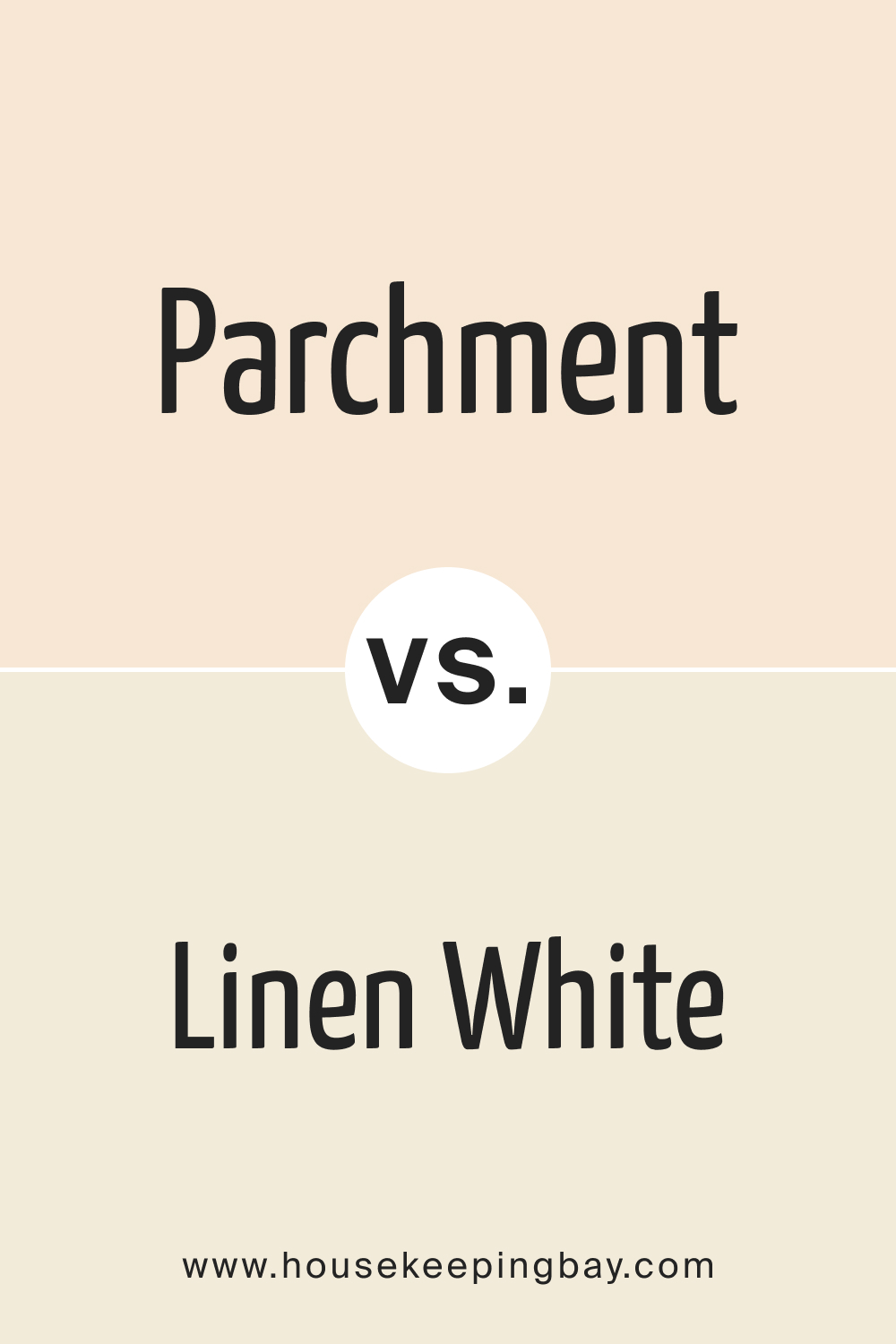 Parchment OC-78 vs. Navajo White OC-95
OC-95 Navajo White channels the spirit of southwestern tapestries. It's a bit richer, with hints of a sunbaked desert. Parchment, in contrast, feels cooler and less earthy, leaning towards modern aesthetics.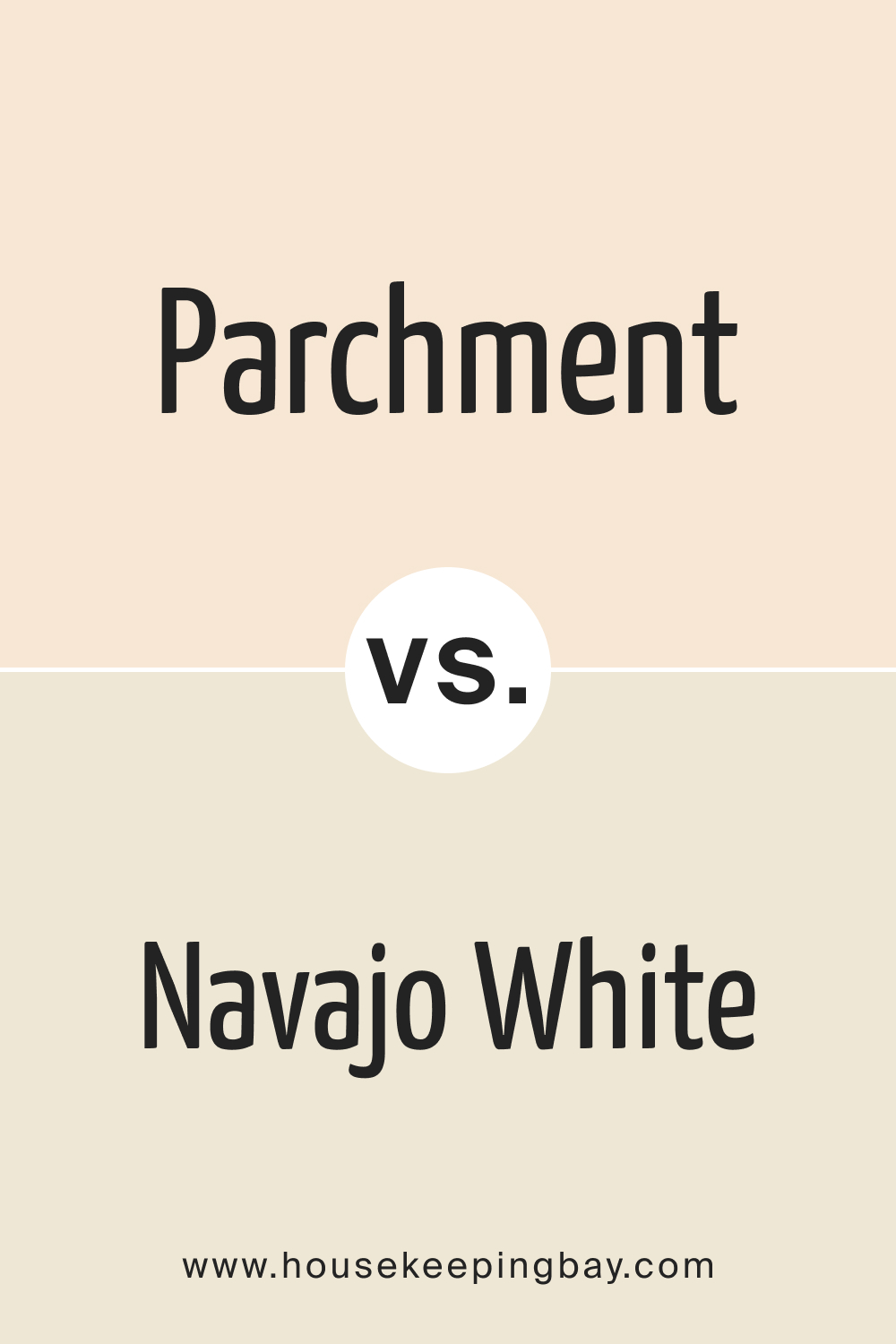 Parchment OC-78 vs. BM Whitetail 7013
BM Whitetail 7013 is as pristine as freshly fallen snow. It's brighter and lighter than Parchment OC-78. Against Whitetail, Parchment's beige warmth is accentuated, making it a preferred choice for those wanting to add subtle depth to their interiors.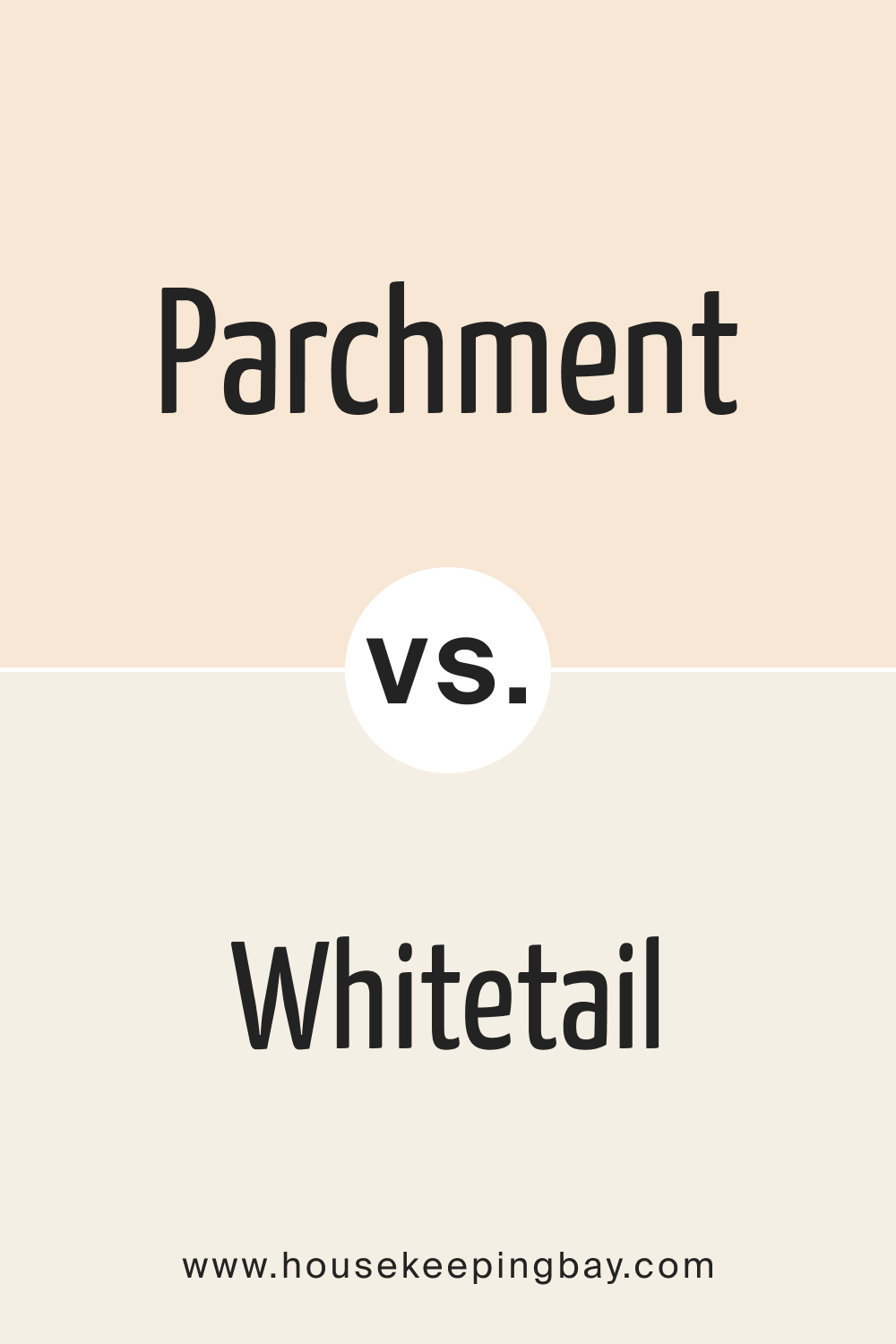 Conclusion
Parchment OC-78, like every color, sings its own unique song. By comparing it with other shades, its individual beauty, depth, and range are highlighted. This exercise isn't just about understanding Parchment better but also about appreciating the vast spectrum of colors Benjamin Moore offers, ensuring every space reflects its true potential.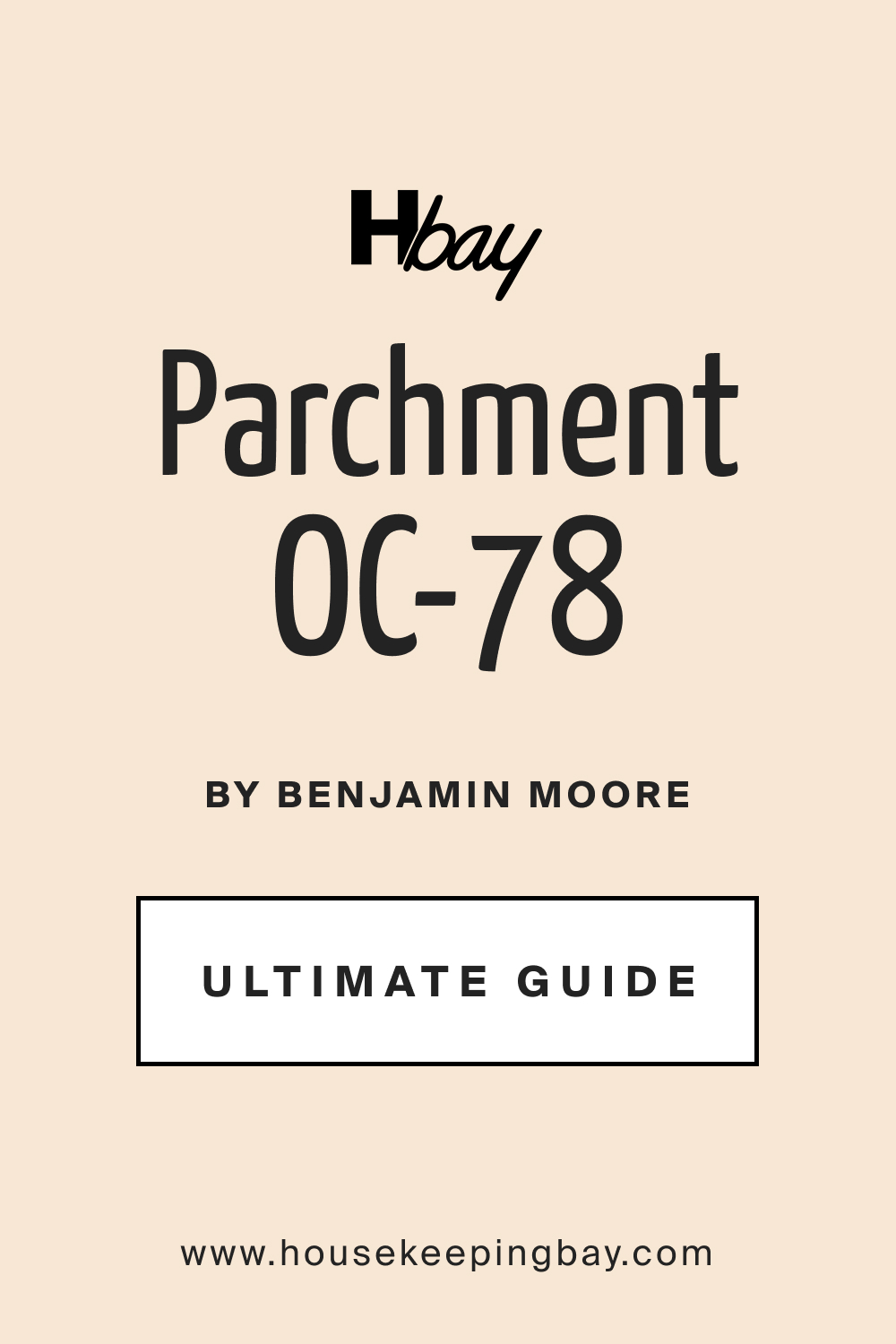 Frequently Asked Questions
⭐What type of finish does Parchment OC-78 come in?
Parchment OC-78 is available in a range of finishes, including matte, eggshell, semi-gloss, and high gloss. Make sure to specify your desired finish when ordering or purchasing.
⭐Is Parchment OC-78 suitable for exterior use?
Yes, Parchment OC-78 is formulated to be used both indoors and outdoors. Its durable quality ensures longevity even in varying weather conditions.
⭐How many coats of Parchment OC-78 are recommended for optimal coverage?
Typically, two coats of Parchment OC-78 will provide optimal coverage. However, the number of coats may vary based on the condition and color of the surface being painted over.
⭐Is this color safe for children's rooms and furniture?
Absolutely. Parchment OC-78 is formulated without harmful chemicals, making it safe for children's rooms and furniture.
⭐Can Parchment OC-78 be color-matched to other brands?
While Parchment OC-78 is a unique shade, most paint stores offer color-matching services that can closely replicate the color using other brands.