Color is a powerful tool that can greatly impact the look and feel of any space. The choice of paint color can make a room feel larger or smaller, warmer or cooler, and can evoke various emotions. In today's discourse, we will dive deep into one such color, the SW 9648 Frosted Fern by Sherwin-Williams, examining its characteristics and versatility.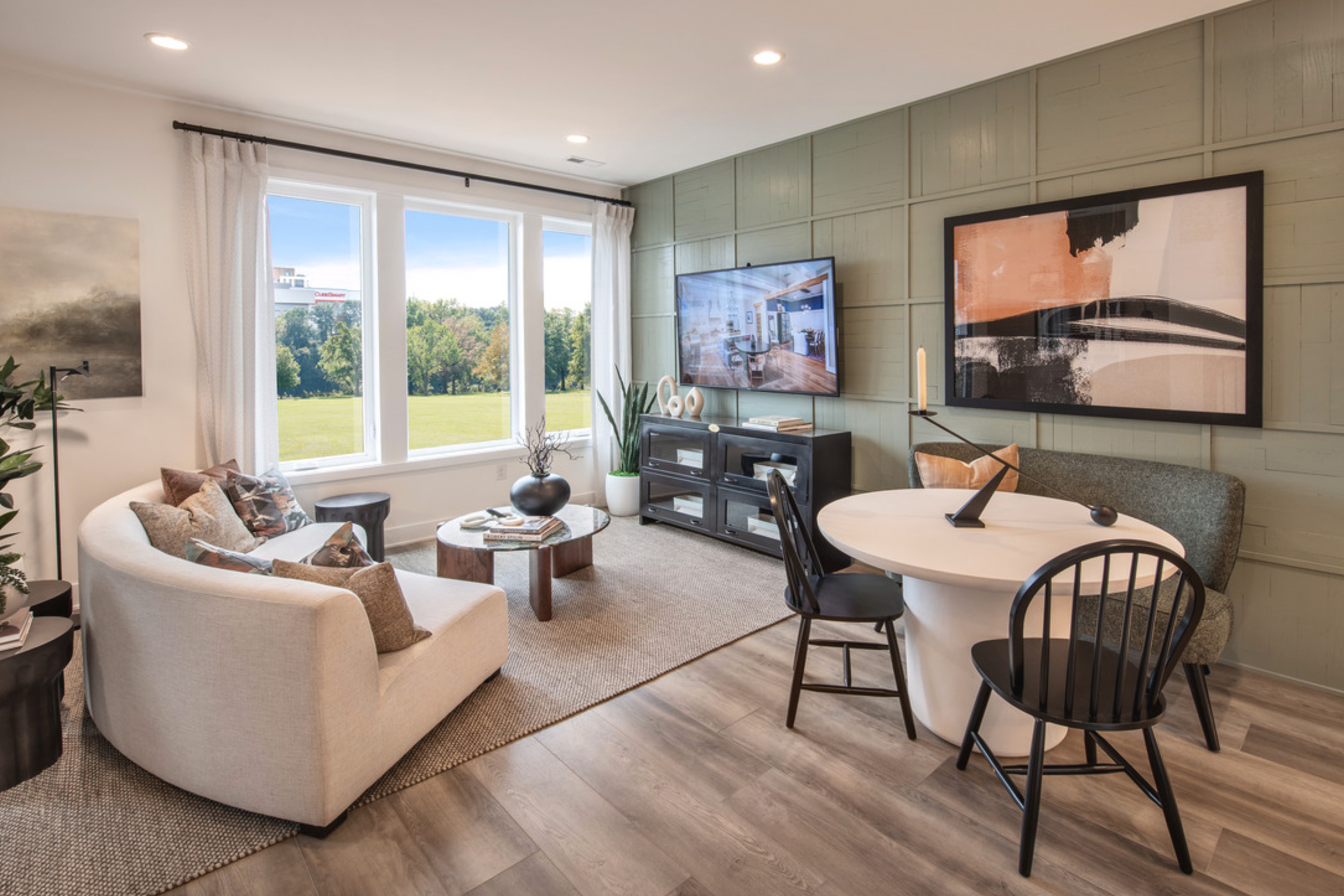 What Color Is SW 9648 Frosted Fern?
SW 9648 Frosted Fern can be visualized as a soft, muted shade reminiscent of early spring ferns in a forest. It carries the gentle vitality of green and the subdued quietness of foggy mornings. In interior design, this shade is versatile, fitting seamlessly into styles like Scandinavian, coastal, or even modern minimalist.
The muted, nature-inspired hue pairs exceptionally well with raw, organic materials such as wood, stone, and linen, accentuating their textures and bringing a natural aesthetic indoors.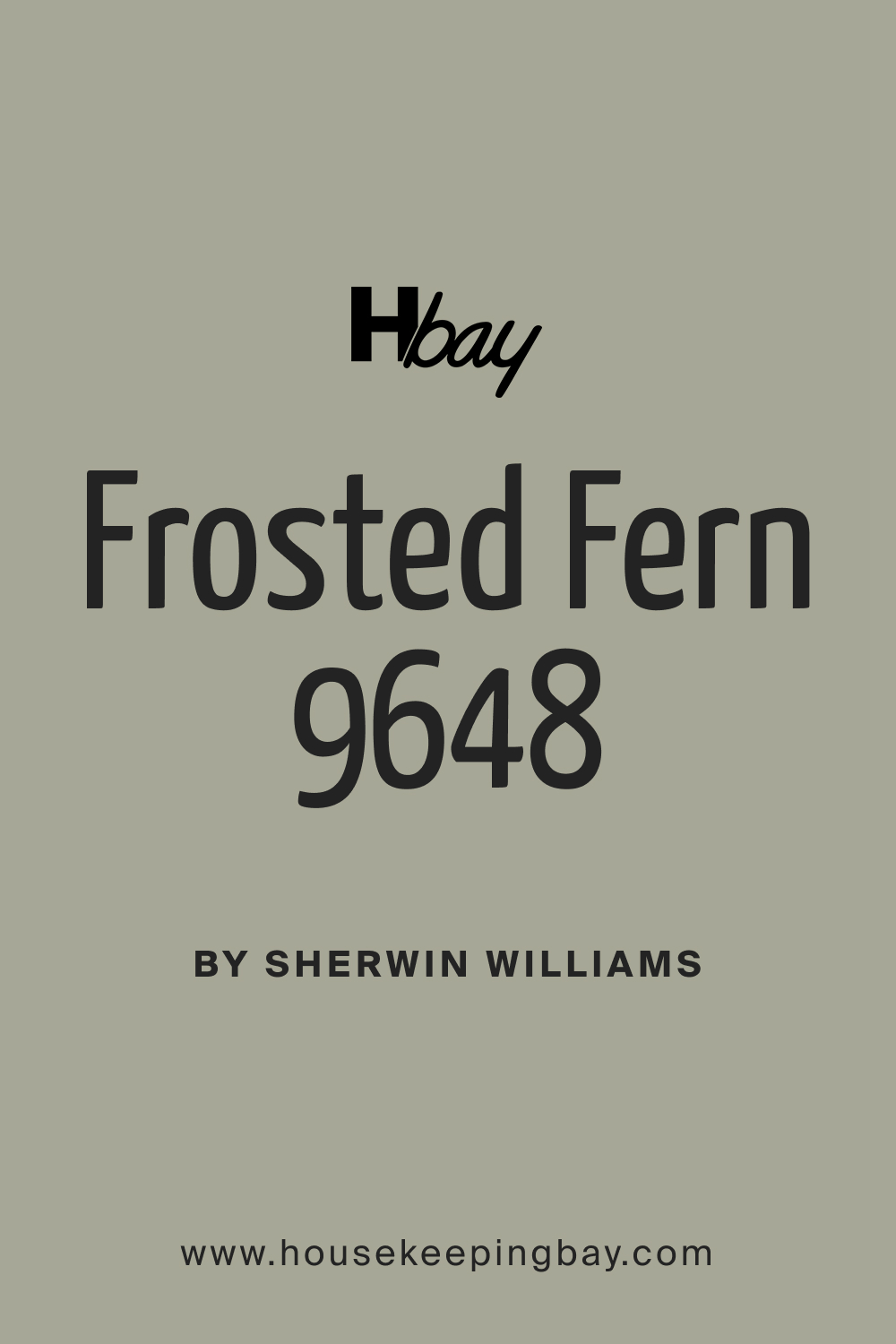 Is It a Warm Or Cool Color?
SW 9648 Frosted Fern leans towards the cooler side of the spectrum. Its soft green undertone carries the freshness and serenity associated with cool colors. In homes, cool colors like this can provide a sense of calm, making spaces feel more expansive and restful.
Undertones of SW 9648 Frosted Fern
Every color possesses undertones that can influence how it's perceived. Frosted Fern's primary undertone is a subtle gray, which imparts a serene, tranquil quality. When applied to interior walls, these undertones play with the room's lighting and other colors, sometimes appearing more green or more gray depending on the surroundings. It's this play of undertones that lends Frosted Fern its versatility.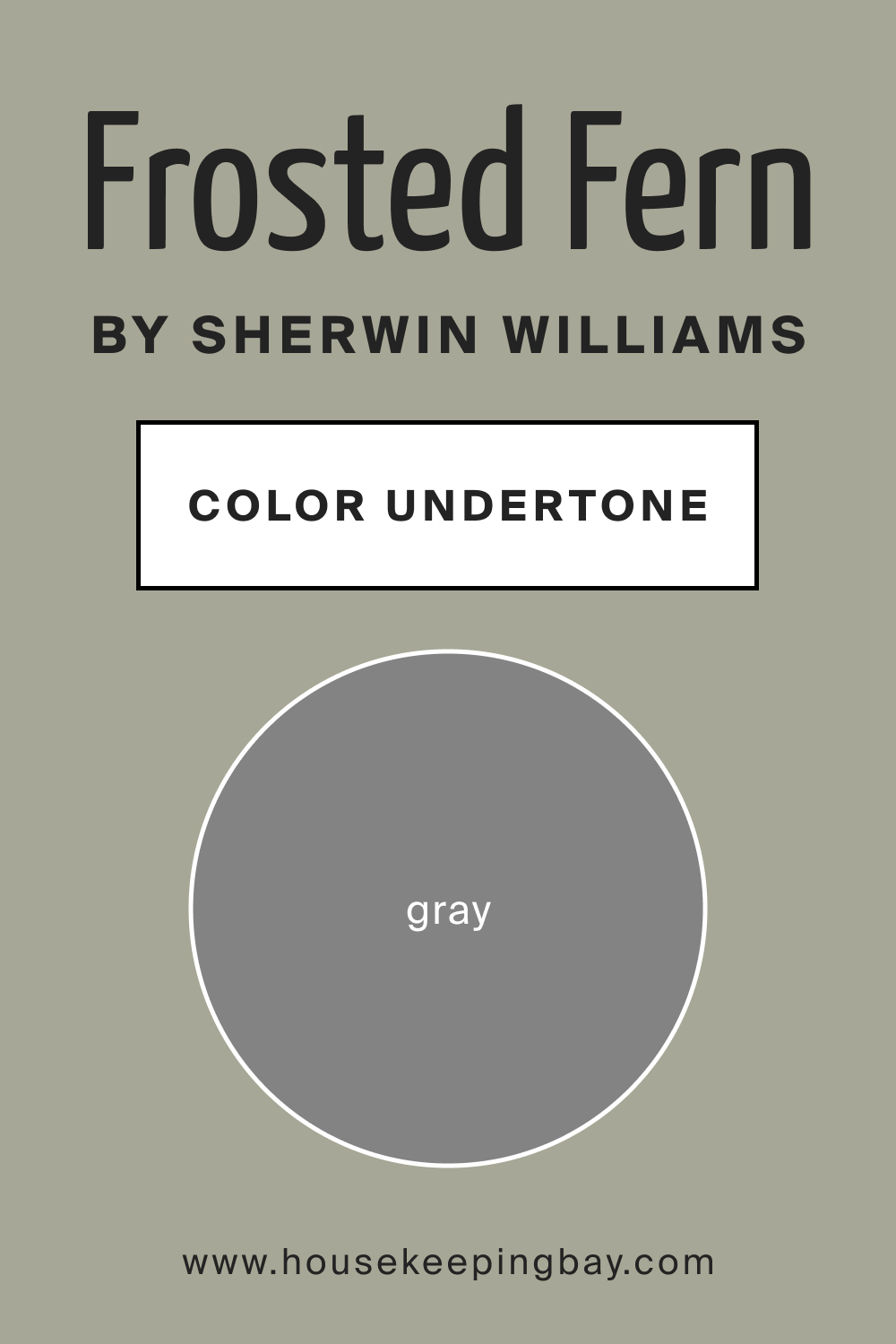 Coordinating Colors of SW 9648 Frosted Fern
Coordinating colors serve to complement or contrast a primary color. For SW Frosted Fern, potential coordinating colors include muted blues, gentle earth tones, and soft pinks. Each of these hues can either contrast the cool undertone of Frosted Fern or emphasize its organic nature. For example, consider the following color suggestions:
SW 9645 Big Dipper
SW 6118 Leather Bound
SW 6322 Intimate White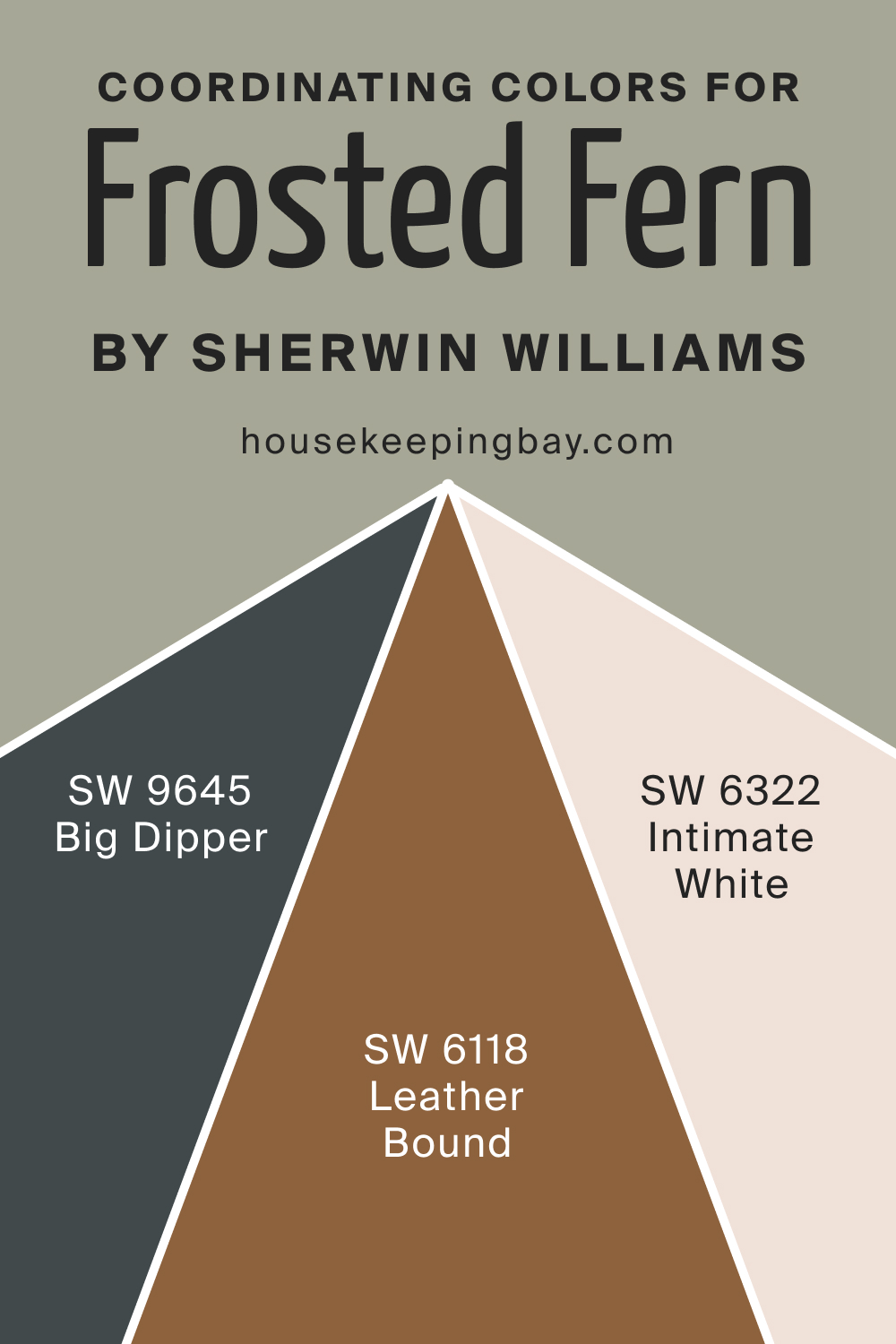 How Does Lighting Affect SW 9648 Frosted Fern?
Lighting, whether natural or artificial, can greatly affect how we perceive colors. Under artificial light, Frosted Fern might appear slightly warmer, with its gray undertones coming to the fore. In contrast, natural light, especially the golden hues of the morning or evening sun, can highlight its green essence.
In north-facing rooms, it may seem cooler, while in south-facing rooms, it can feel warmer and livelier. East-facing rooms cast a gentle morning light on the color, making it appear fresh, while west-facing rooms can give it a subdued, muted appearance as the day progresses.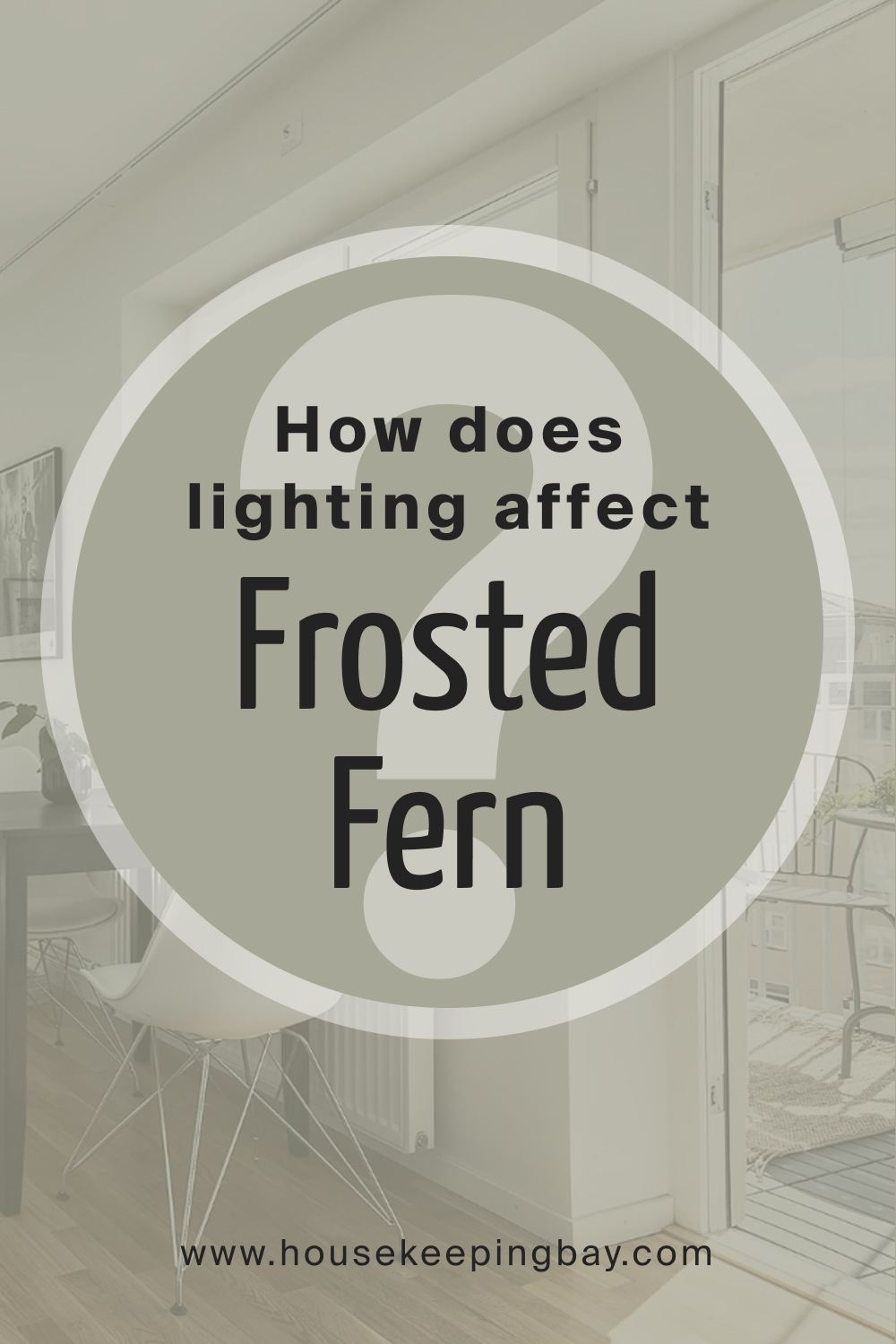 LRV of SW 9648 Frosted Fern
LRV, or Light Reflectance Value, measures the percentage of light a color reflects. With an LRV of 38, Frosted Fern sits in the mid-range. This means it's neither too dark nor too light, making it versatile for various spaces. A mid-range LRV ensures that the color doesn't overwhelm spaces or make them feel smaller.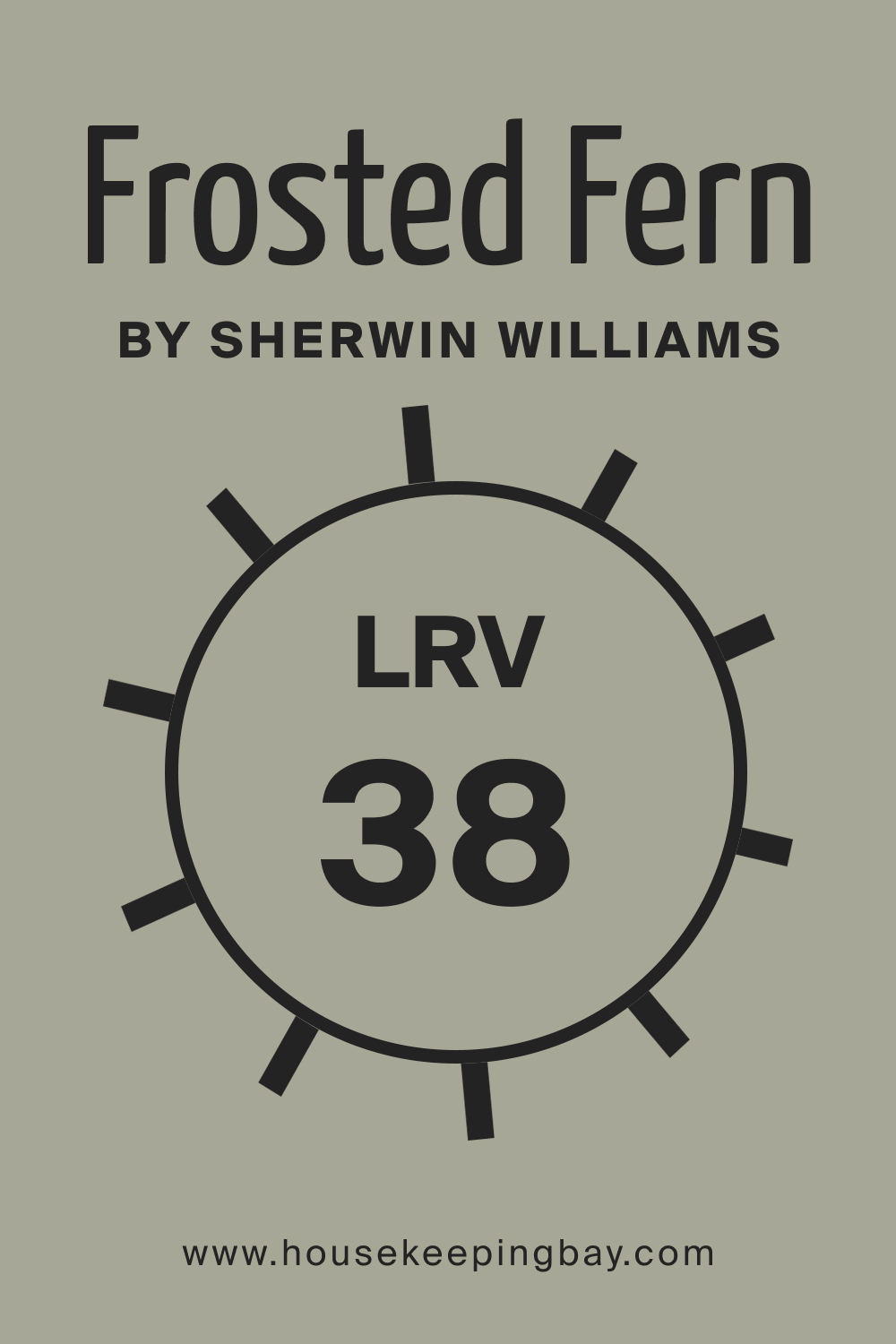 What is LRV? Read It Before You Choose Your Ideal Paint Color
Trim Colors of SW 9648 Frosted Fern
Trim colors serve to define and accentuate architectural details. With SW Frosted Fern, shades of white, especially from Sherwin-Williams, such as SW 7005 Pure White and SW 7008 Alabaster, provide a crisp contrast, framing the walls and making the color pop.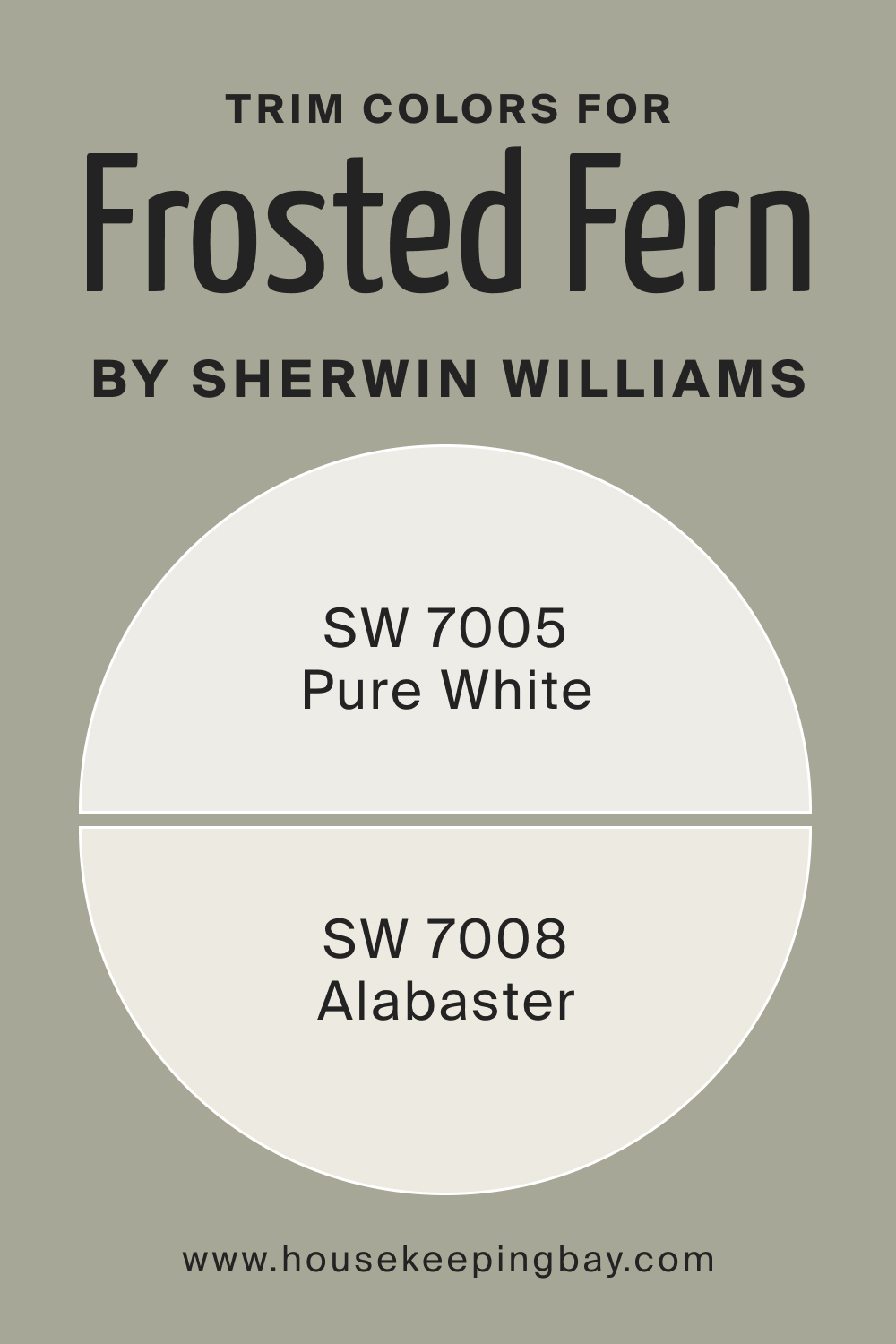 Colors Similar to SW 9648 Frosted Fern
Identifying colors akin to your primary choice aids in decision-making. Alternative to SW Frosted Fern, here are several paint colors from Sherwin-Williams that you might want to consider for your home:
SW 6199 Rare Gray is a subtle gray with hints of blue;
SW 7741 Willow Tree leans more towards olive;
SW 6185 Escape Gray carries a taupe undertone;
SW 6178 Clary Sage has an earthy touch.
All of them resonate with the muted elegance of SW Frosted Fern.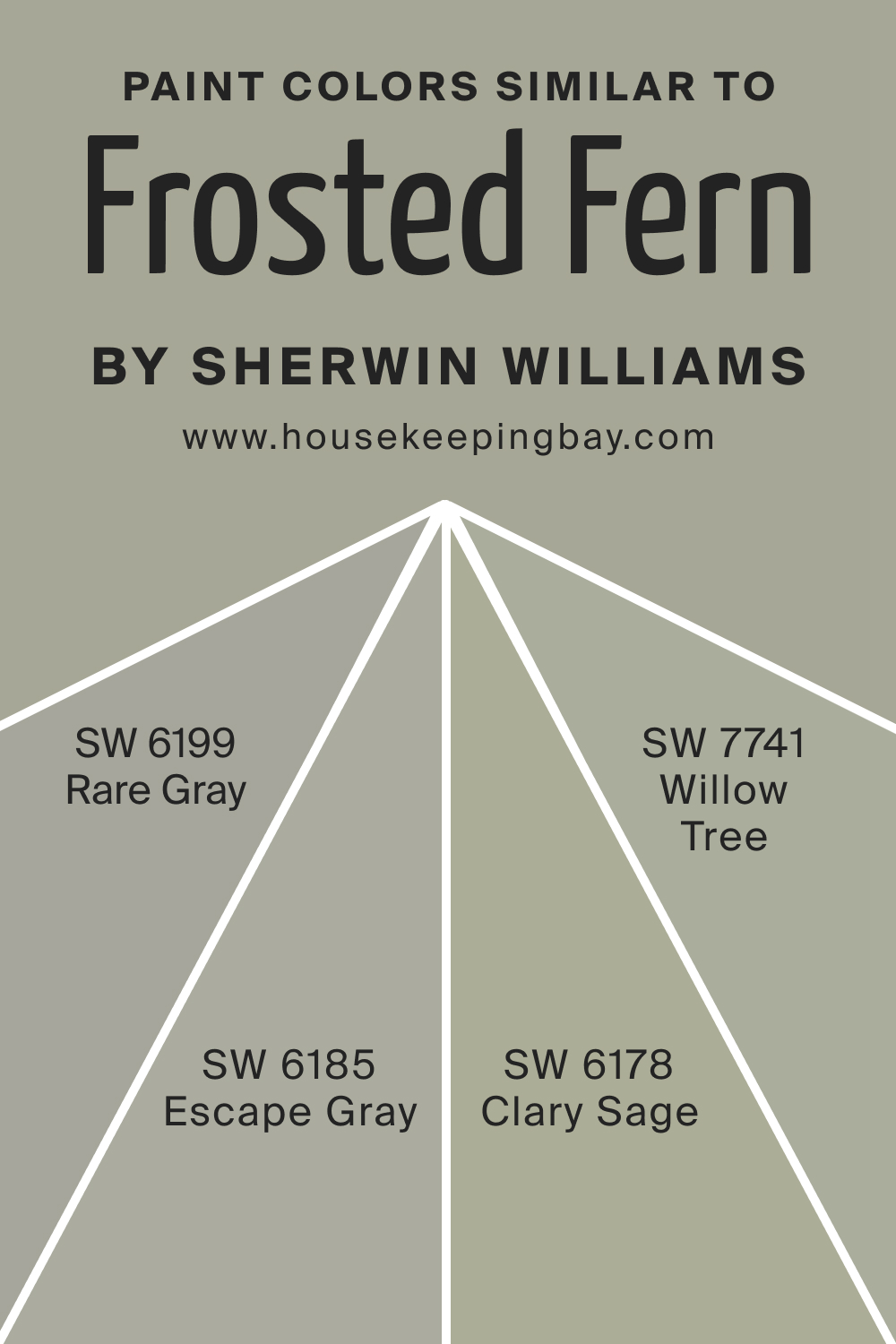 Colors That Go With SW 9648 Frosted Fern
Harmonizing colors creates a balanced and pleasing aesthetic. With SW Frosted Fern, consider pairing the following colors:
SW 9109 Natural Linen offers a neutral backdrop;
SW 9006 Rojo Dust brings in a touch of earthy red;
SW 2851 Sage Green Light complements with its light green shade;
SW 2803 Rookwood Terra Cotta adds depth with its rich tone.
Additional colors like SW 7011 Natural Choice, SW 7029 Agreeable Gray, and SW 7036 Accessible Beige can also seamlessly blend with Frosted Fern, each adding its unique touch.
In summary, SW 9648 Frosted Fern's adaptability makes it an excellent choice for various design aesthetics, ensuring spaces feel tranquil, organic, and harmonious.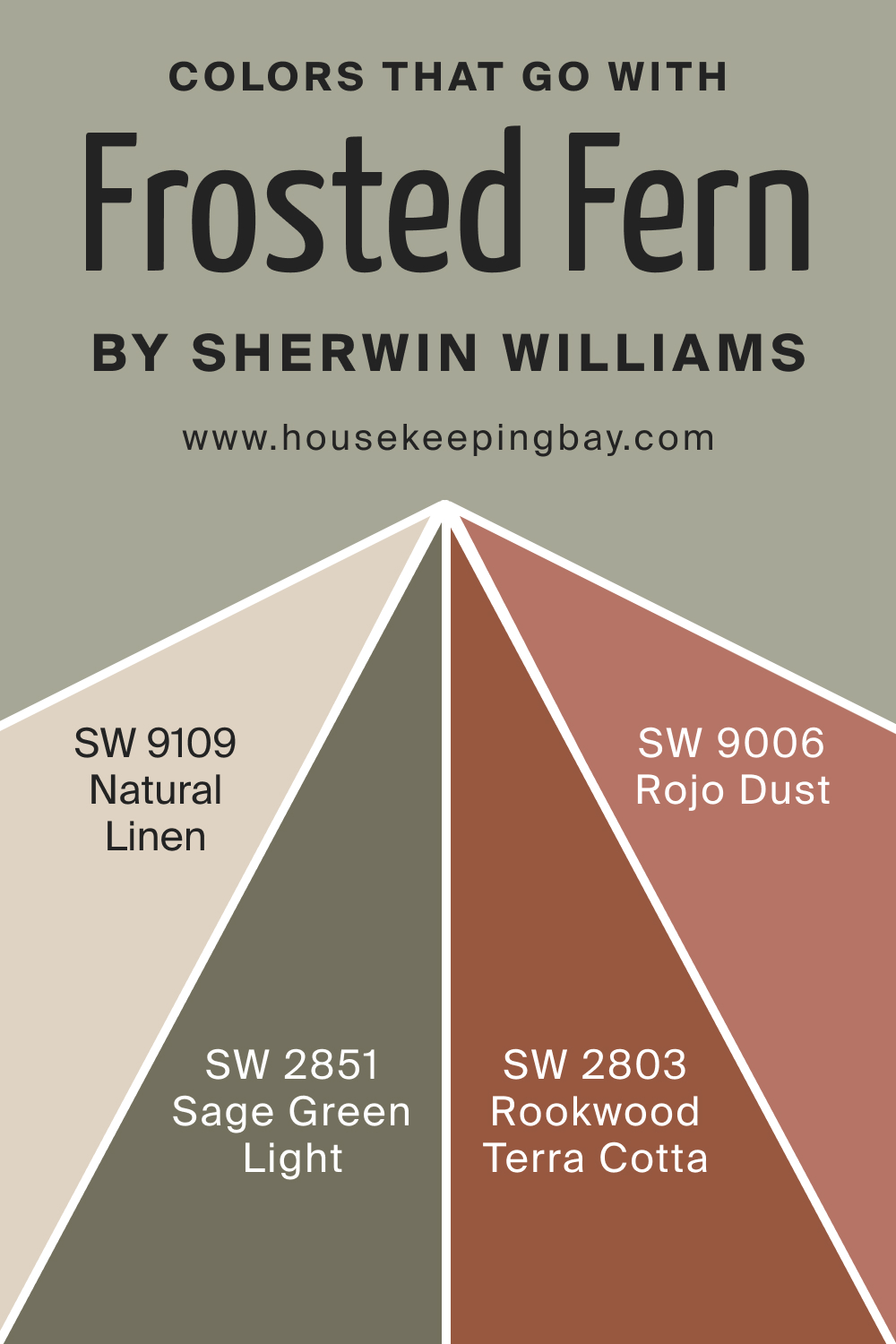 How to Use SW 9648 Frosted Fern In Your Home?
The muted elegance of SW 9648 Frosted Fern makes it a versatile choice for various rooms in your home. Its serene undertones are apt for bedrooms, offering restfulness, while in living areas, it can bring in a touch of nature's tranquility. Bathrooms adorned in this shade feel spa-like, and kitchens take on a fresh ambiance.
This color is also perfect for exteriors, providing a sophisticated yet organic feel. As for design styles, Frosted Fern blends seamlessly with Scandinavian aesthetics, coastal calmness, modern minimalism, and even farmhouse chic.
How to Use SW 9648 Frosted Fern in the Bedroom?
SW Frosted Fern in the bedroom creates an oasis of calm, resembling a quiet forest glade. Paired with soft linens, wooden accents, and ambient lighting, this hue sets a relaxing tone. For an enchanting look, consider adding decor elements in soft pinks or muted blues to contrast and highlight the serene green undertones.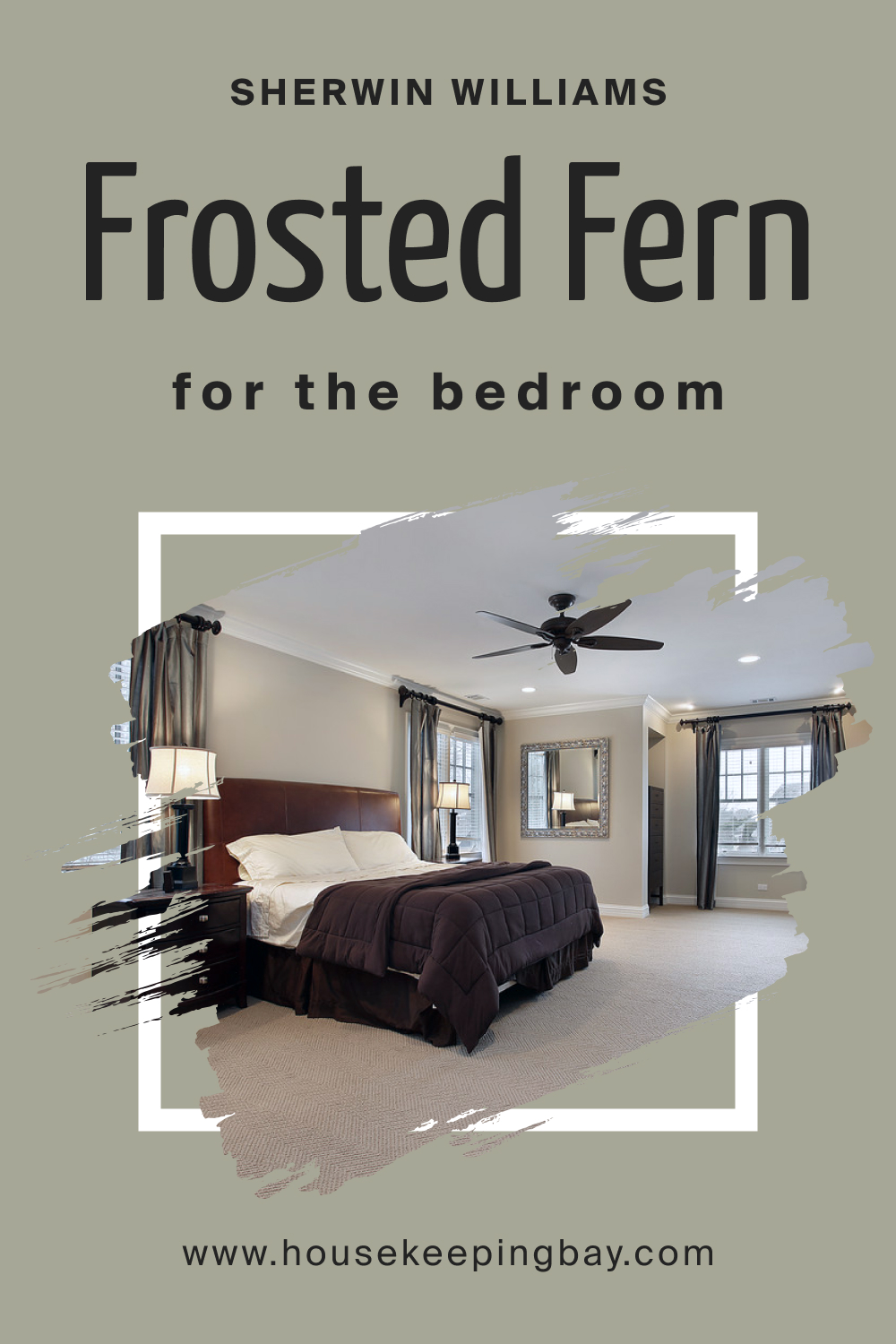 How to Use SW 9648 Frosted Fern in the Bathroom?
In bathrooms, Frosted Fern channels the freshness of dew-kissed mornings. When combined with white tiles, natural stone, and brushed metal fixtures, this shade evokes a spa-like ambiance. Add potted plants and bamboo accessories for a cohesive, nature-inspired retreat.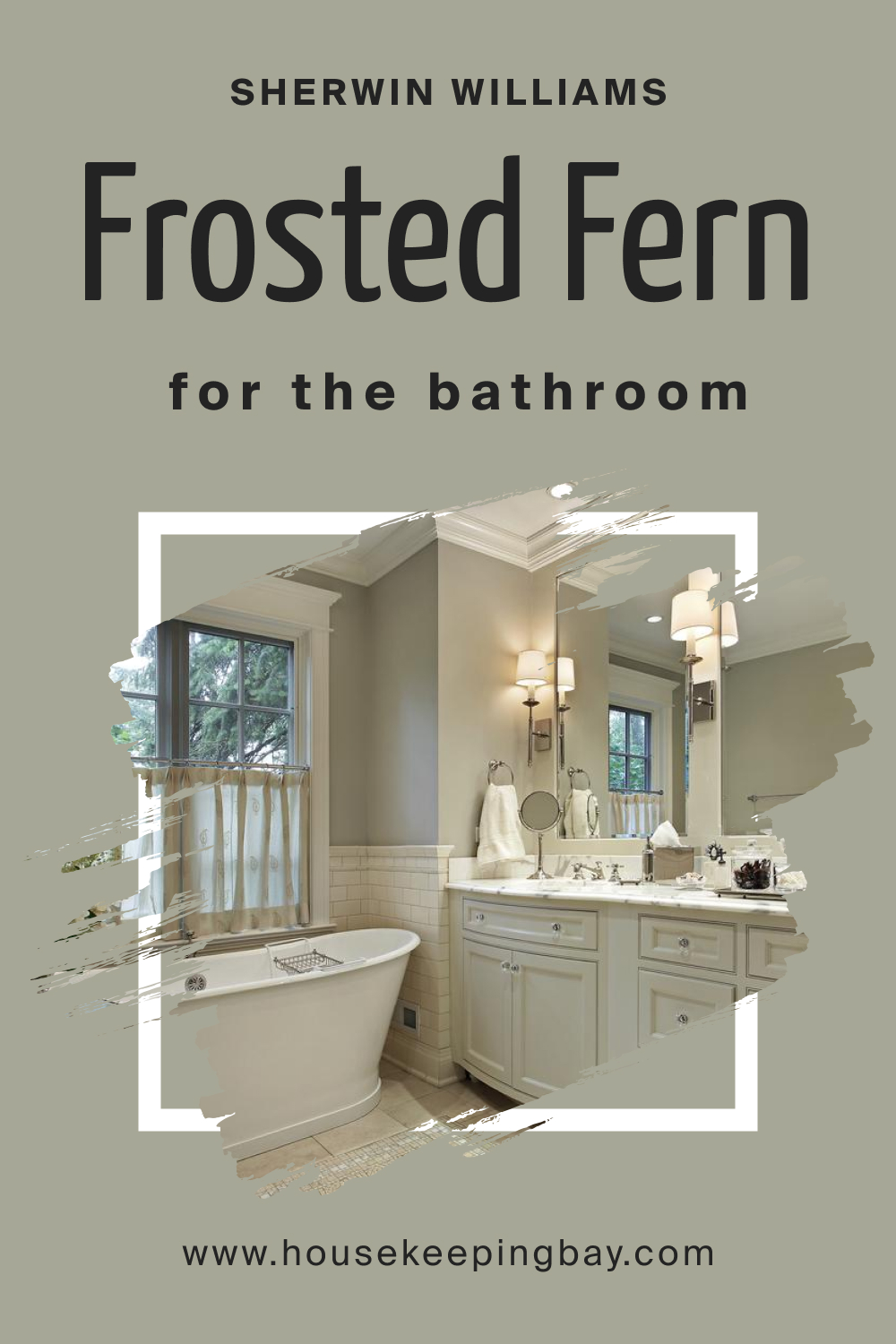 How to Use SW 9648 Frosted Fern in the Living Room?
SW Frosted Fern in the living room offers an ambiance of relaxed sophistication. Paired with neutral sofas, wooden coffee tables, and textured throws, it brings nature indoors. Wall art in earth tones or muted pastels can enhance its restful aesthetics, making your living space a tranquil sanctuary.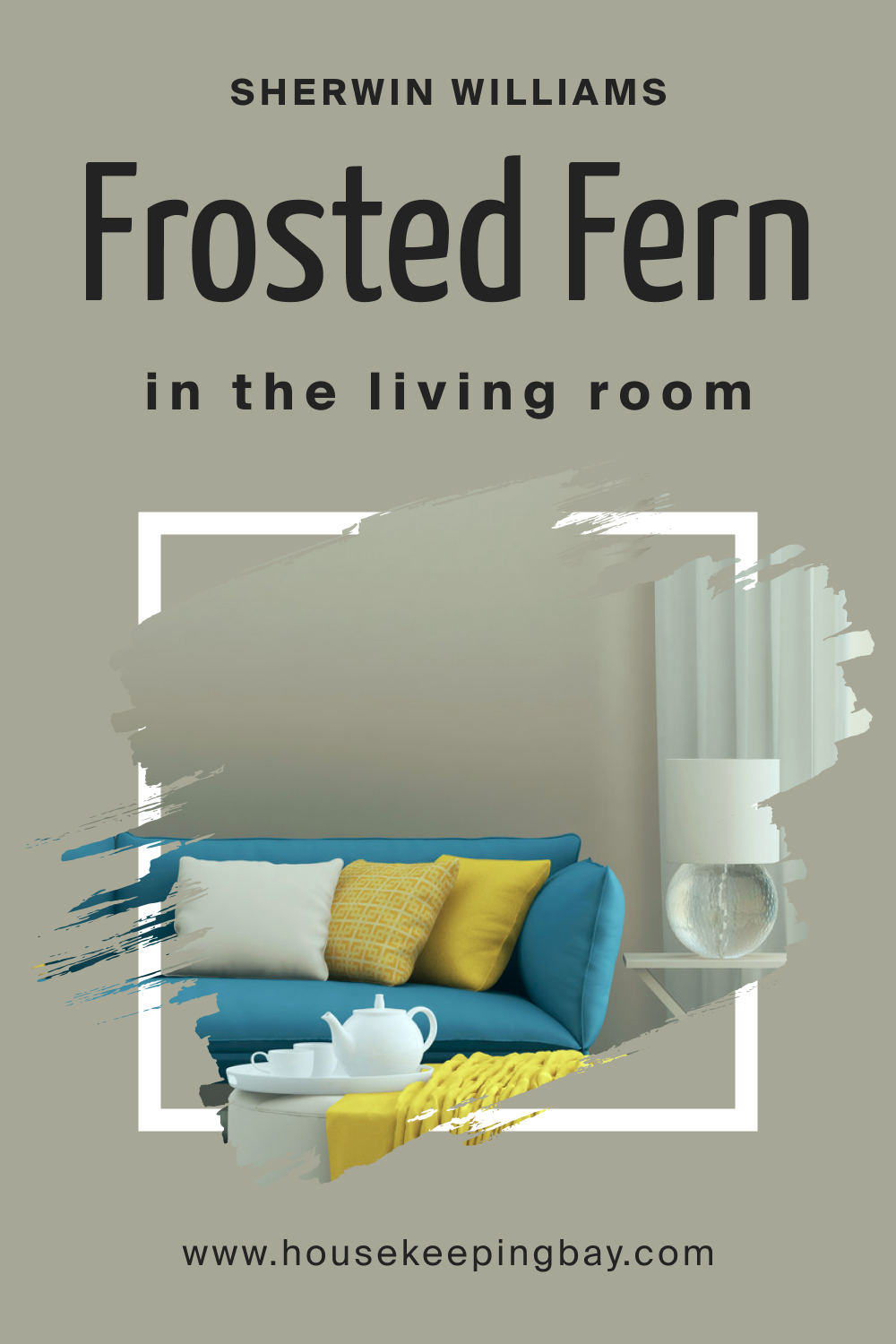 How to Use SW 9648 Frosted Fern for an Exterior?
For home exteriors, Frosted Fern lends a timeless appeal. Whether on siding or trims, its muted green melds beautifully with natural surroundings. Pair with deep-toned doors, stone pathways, and lush landscaping for a harmonious curb appeal reminiscent of cozy countryside cottages.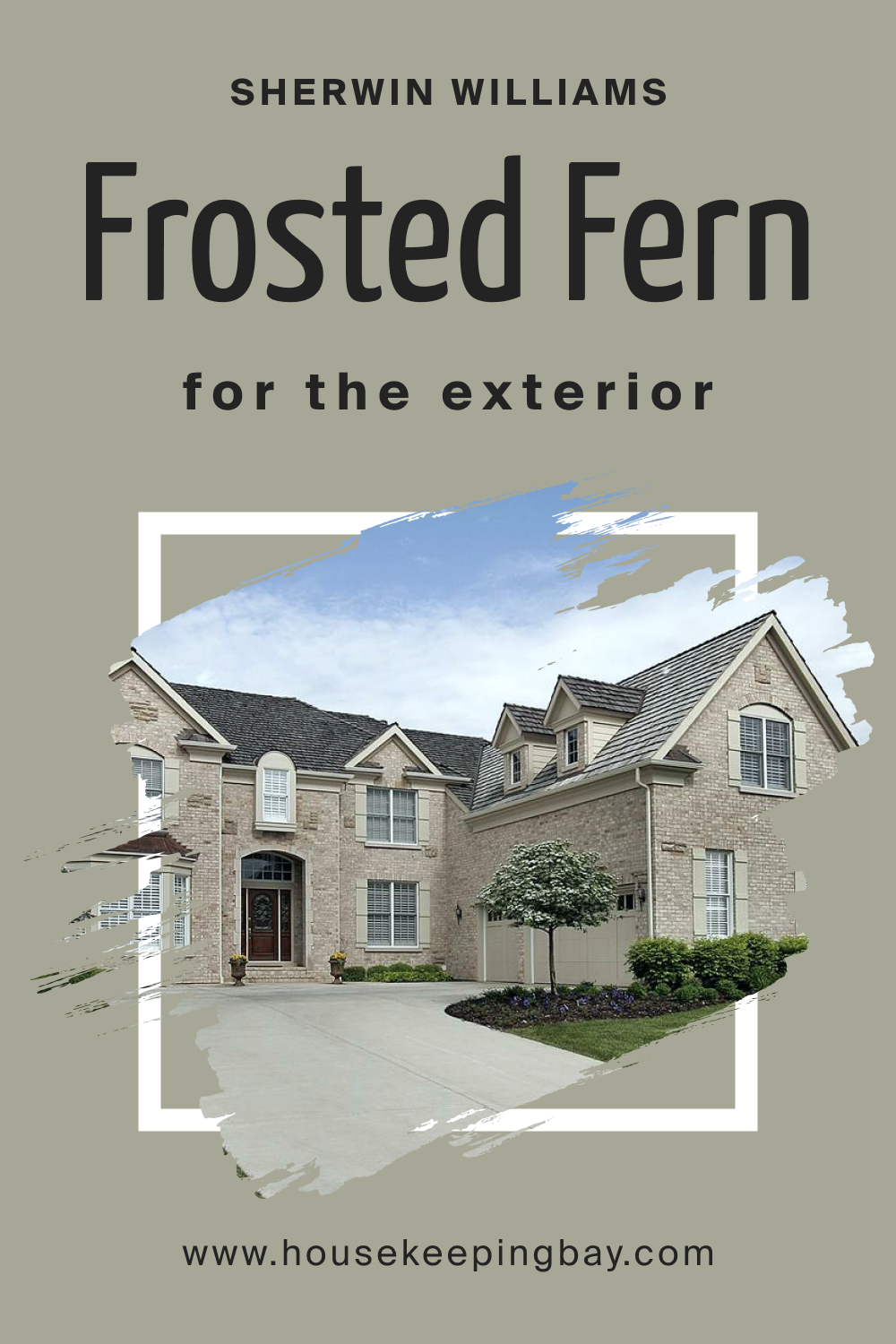 How to Use SW 9648 Frosted Fern in the Kitchen?
In kitchens, Frosted Fern introduces a refreshing vibe. Against white countertops and stainless steel appliances, it gives a fresh, clean look. Combined with wooden shelves and terracotta pots, this hue establishes a space where cooking becomes an invigorating affair amidst nature's hues.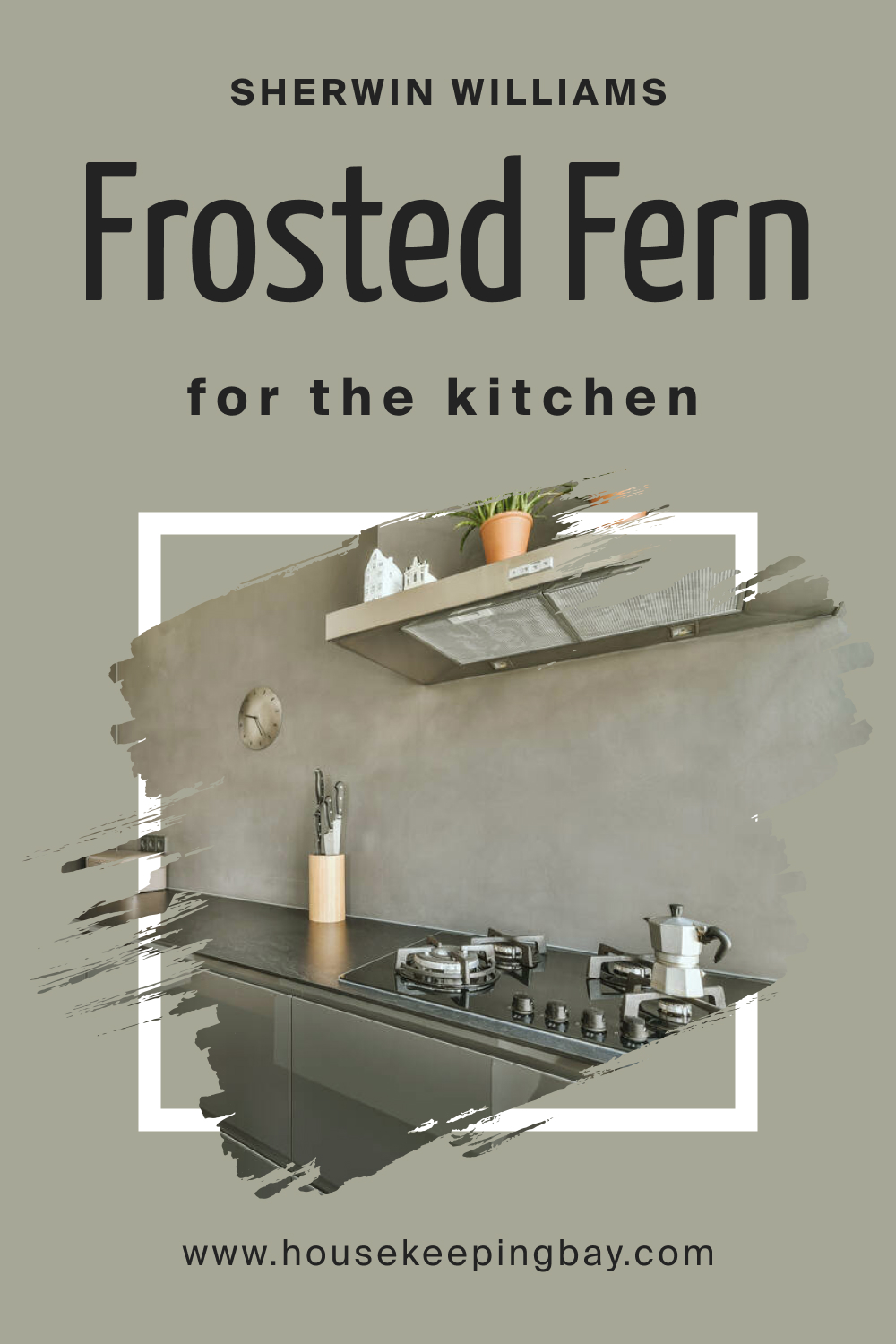 How to Use SW 9648 Frosted Fern for the Kitchen Cabinets?
Using Frosted Fern for kitchen cabinets transforms the culinary space into a contemporary woodland. The muted green cabinets paired with gold or brass handles offer a chic look. To complement, opt for light-colored countertops like white quartz or marble. Open shelving with plants or herbs alongside these cabinets can further amplify the organic and refreshing vibe.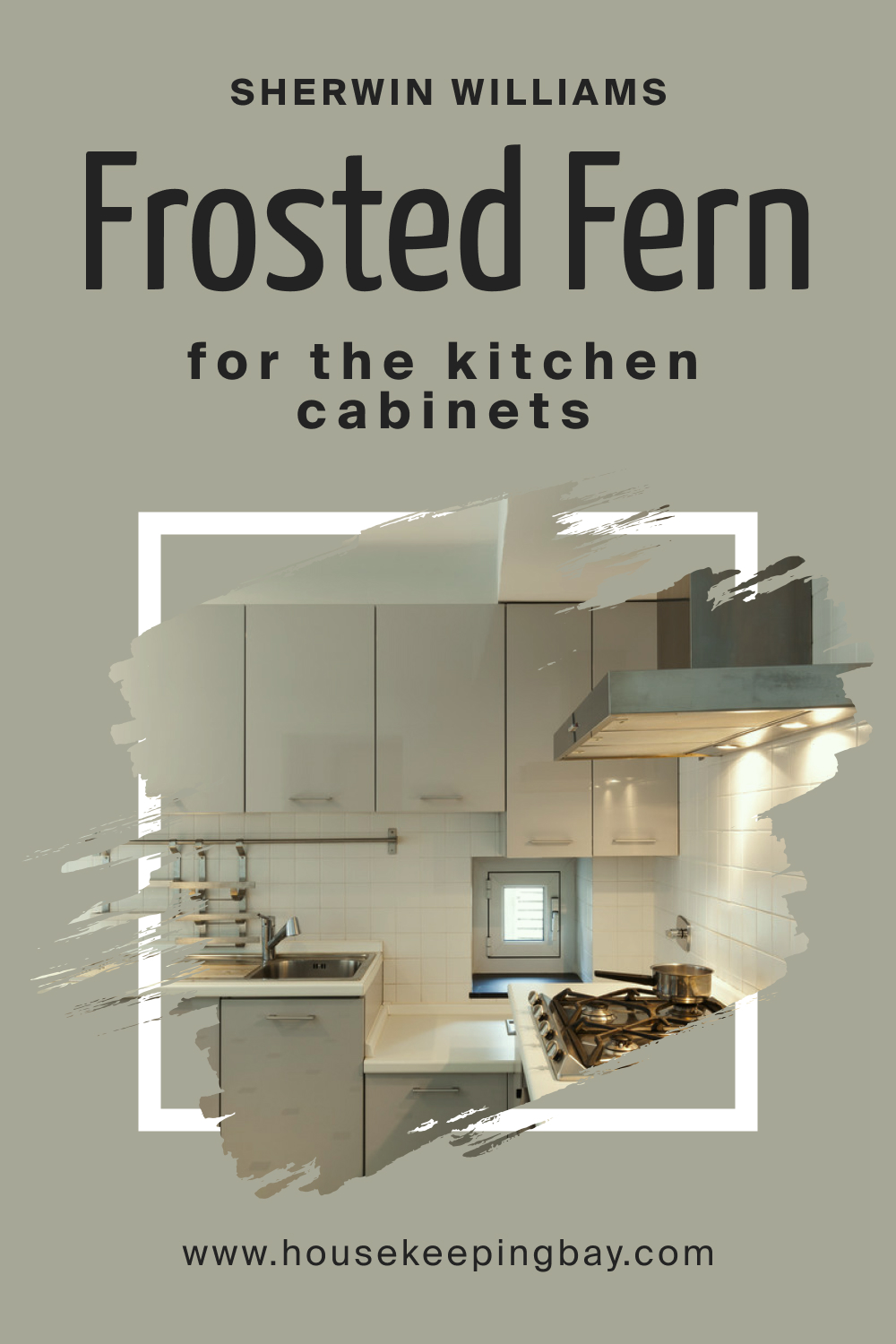 Comparing SW 9648 Frosted Fern With Other Colors
In the world of interior design and decor, understanding the nuances between colors is pivotal. Comparing shades allows us to discern the subtle undertones, warmth or coolness, and the overall mood they can instill in a space. It helps in making informed decisions for cohesive and harmonious interiors.
By juxtaposing SW 9648 Frosted Fern with other shades, we can better appreciate its unique characteristics and its potential interactions with neighboring hues.
SW 9648 Frosted Fern vs. SW 9650 Succulent
While Frosted Fern captures the serene essence of foggy forest mornings, Succulent leans towards a brighter, more vibrant green reminiscent of a thriving plant in summer. The latter brings a touch more vitality, while Frosted Fern offers subdued tranquility.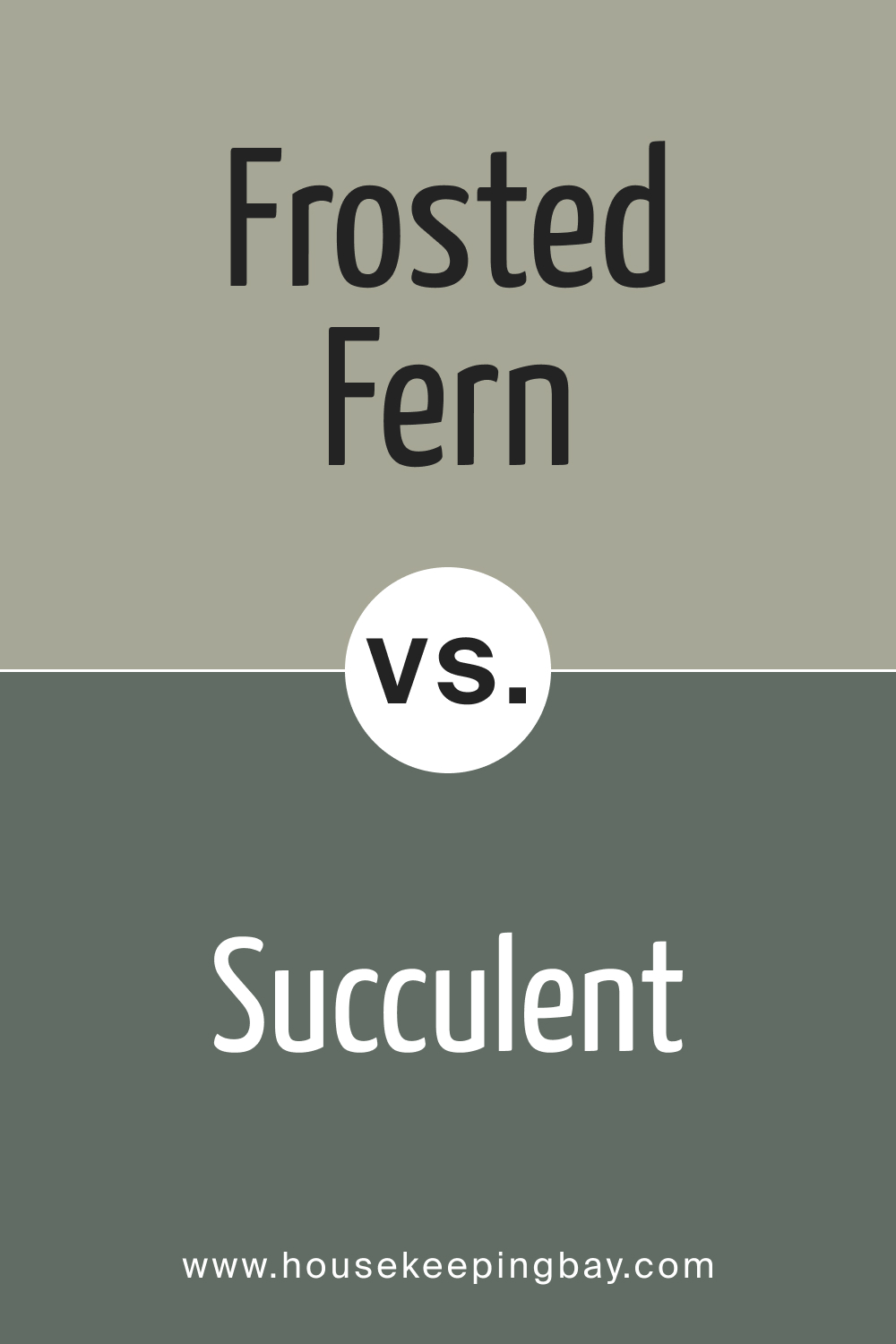 SW 9648 Frosted Fern vs. SW 9631 Mantra
SW Mantra sways towards the muted blue side of the spectrum, carrying an air of introspection and depth. In contrast, Frosted Fern, with its subtle green-gray undertone, presents a nature-infused calm. The choice between them hinges on whether one prefers a cooler, slightly moody shade or a more earthy, grounded hue.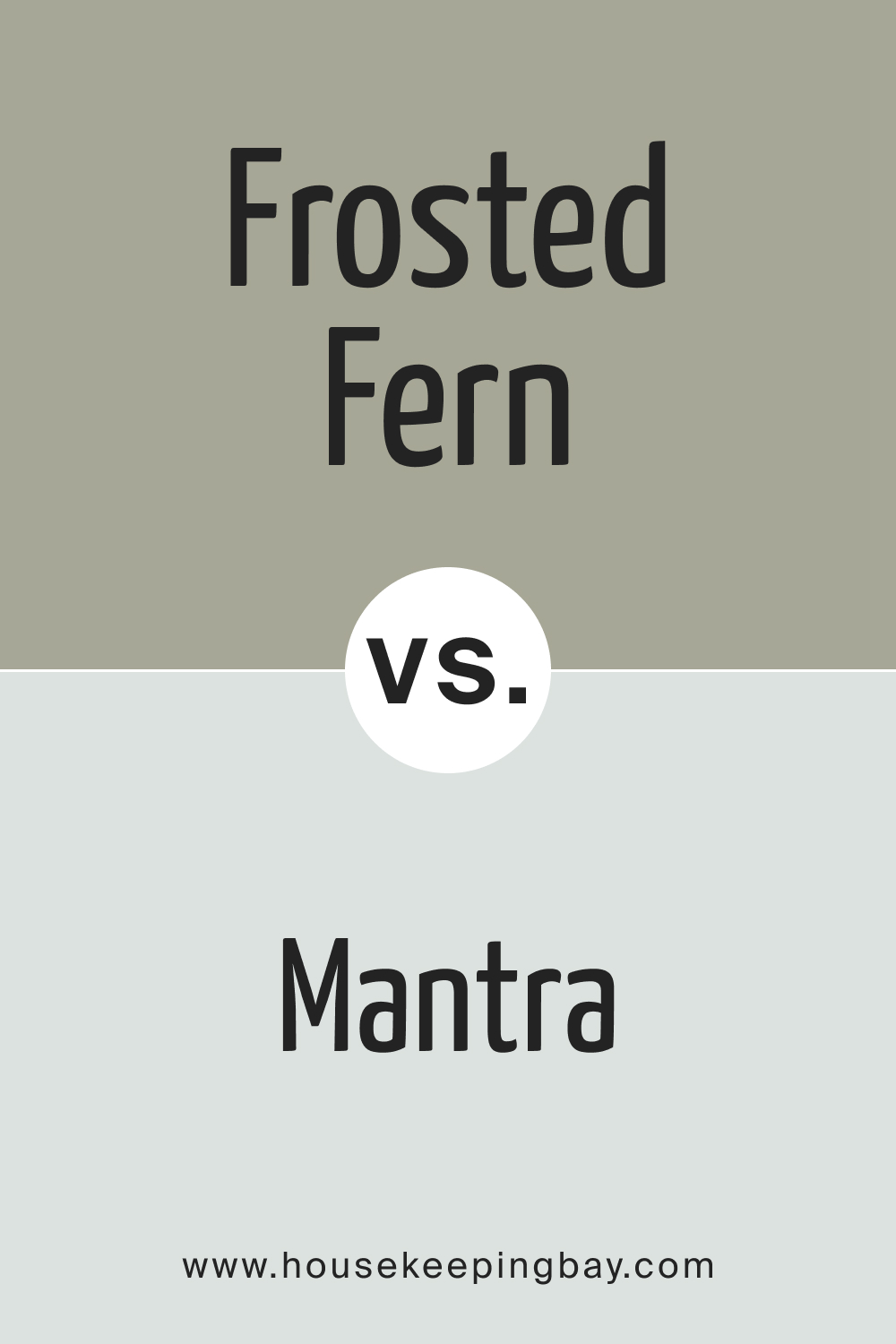 SW 9648 Frosted Fern vs. SW 9127 At Ease Soldier
SW At Ease Soldier is a more neutral, taupe-infused green. It's like a uniform, consistent in its muted elegance. Frosted Fern, in comparison, feels fresher, with a more pronounced connection to nature and open spaces.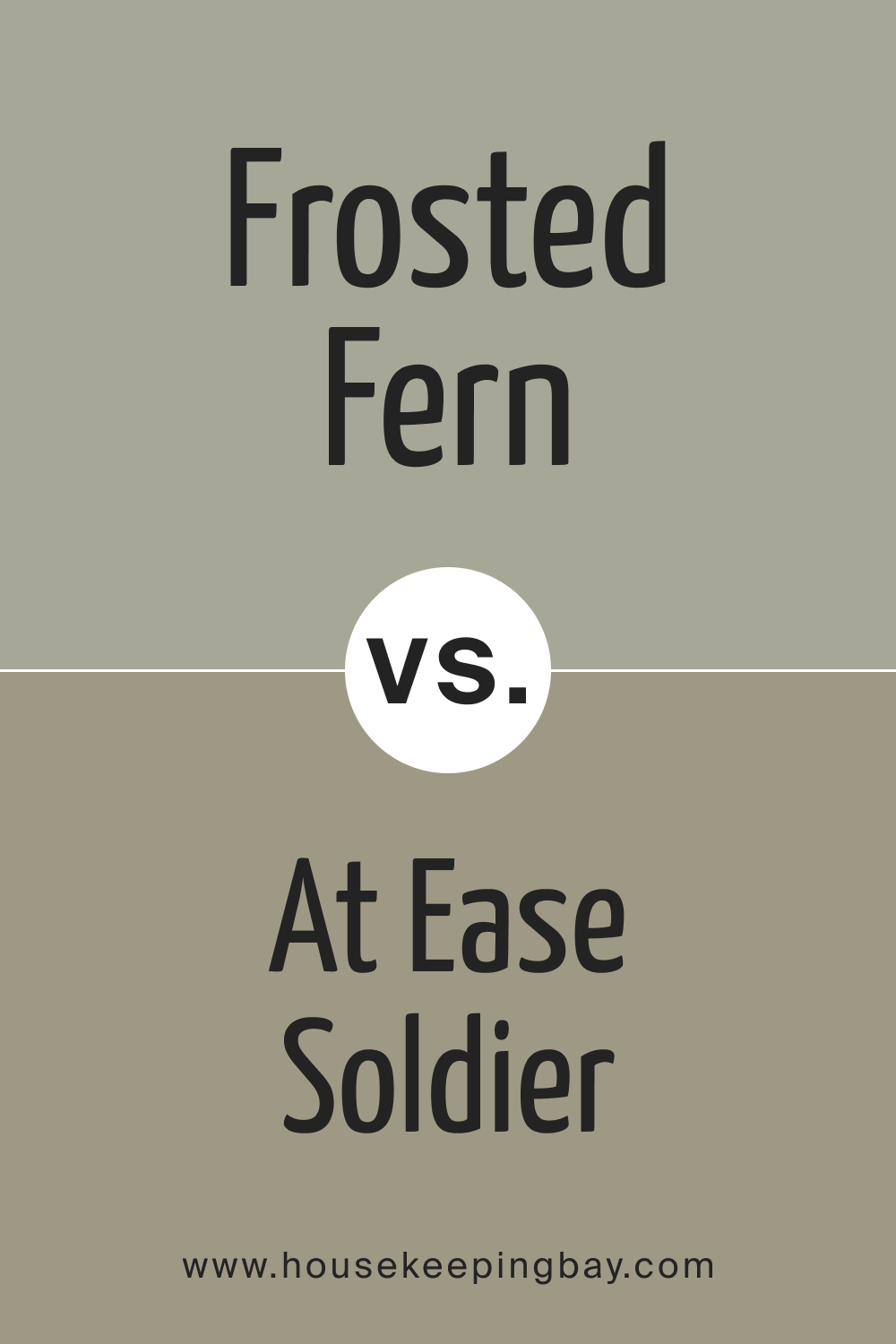 SW 9648 Frosted Fern vs. SW 6186 Dried Thyme
SW Dried Thyme resonates with the rustic hues of herbs as they age—a bit deeper and more rooted. Frosted Fern, meanwhile, is like the early spring counterpart, full of promise and new beginnings, a shade lighter and more uplifting.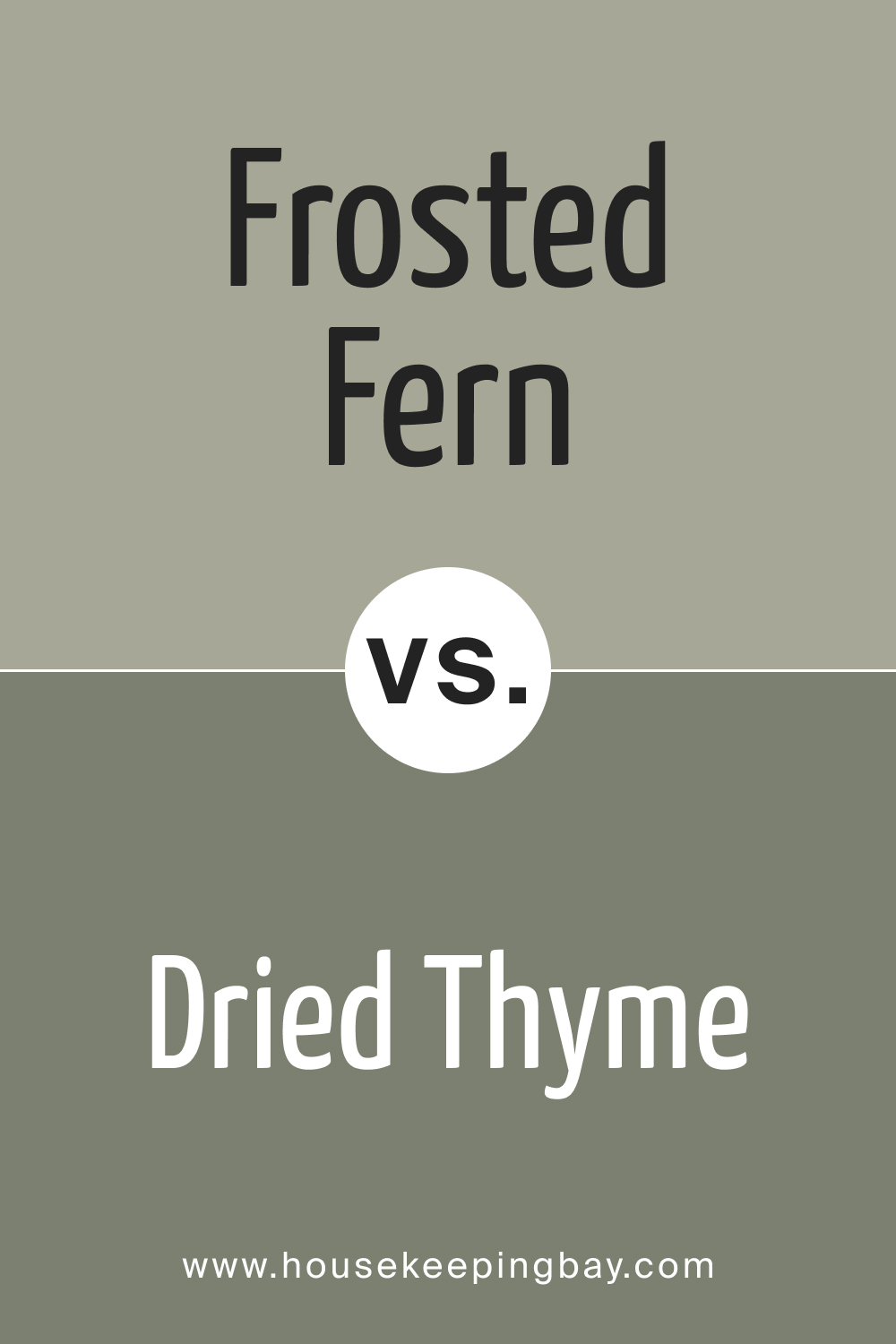 SW 9648 Frosted Fern vs. SW 9132 Acacia Haze
SW Acacia Haze sweeps in with a delicate blend of green and gray, mirroring the softness of desert plants. While both shades have gray undertones, Acacia Haze feels slightly warmer, whereas Frosted Fern retains its cool, misty ambiance.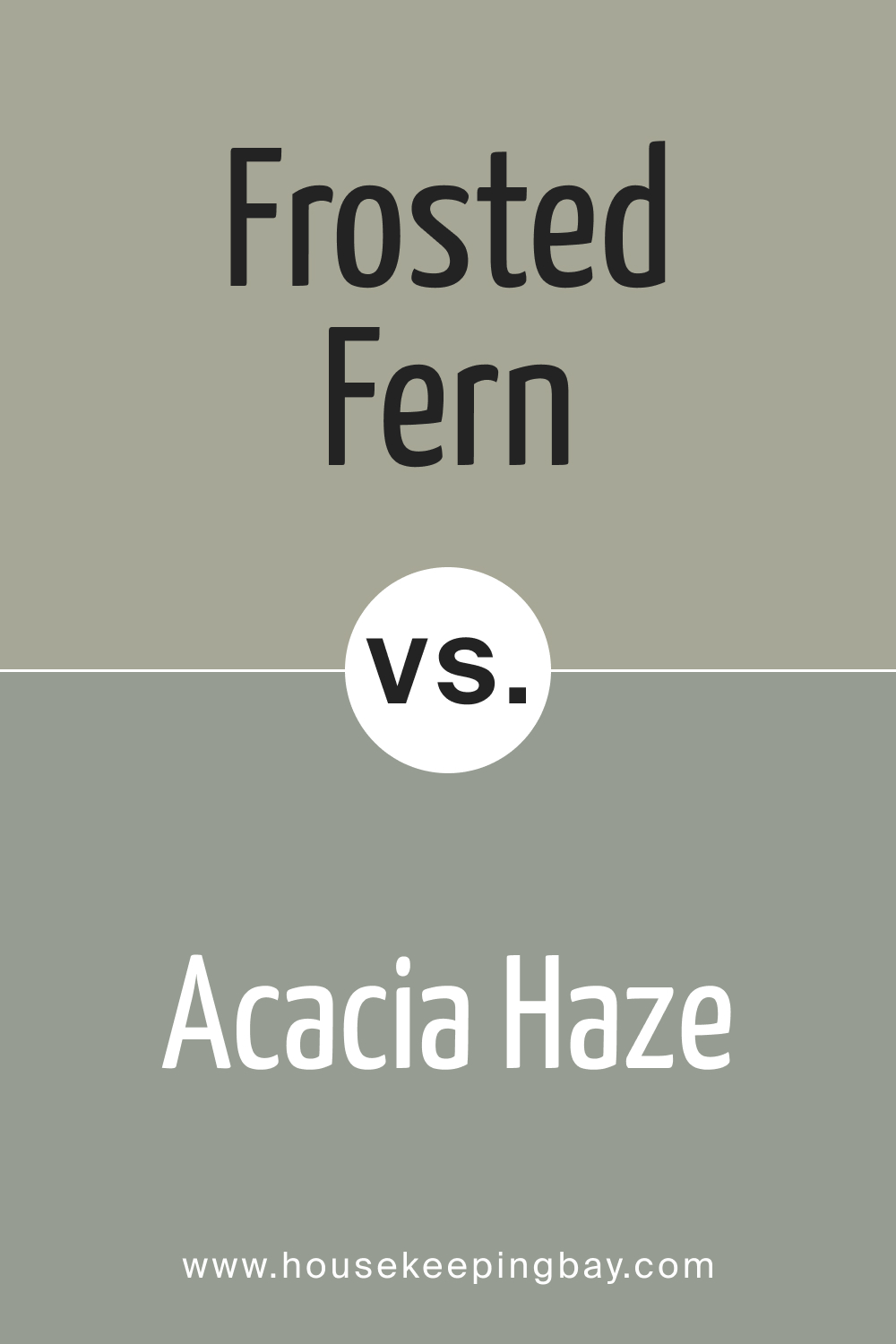 SW 9648 Frosted Fern vs. SW 6208 Pewter Green
SW Pewter Green, with its deep, rich undertones, is akin to aged metal—a mature, profound hue. Next to Pewter Green, Frosted Fern seems almost ethereal, bringing lightness and breezy touch to spaces.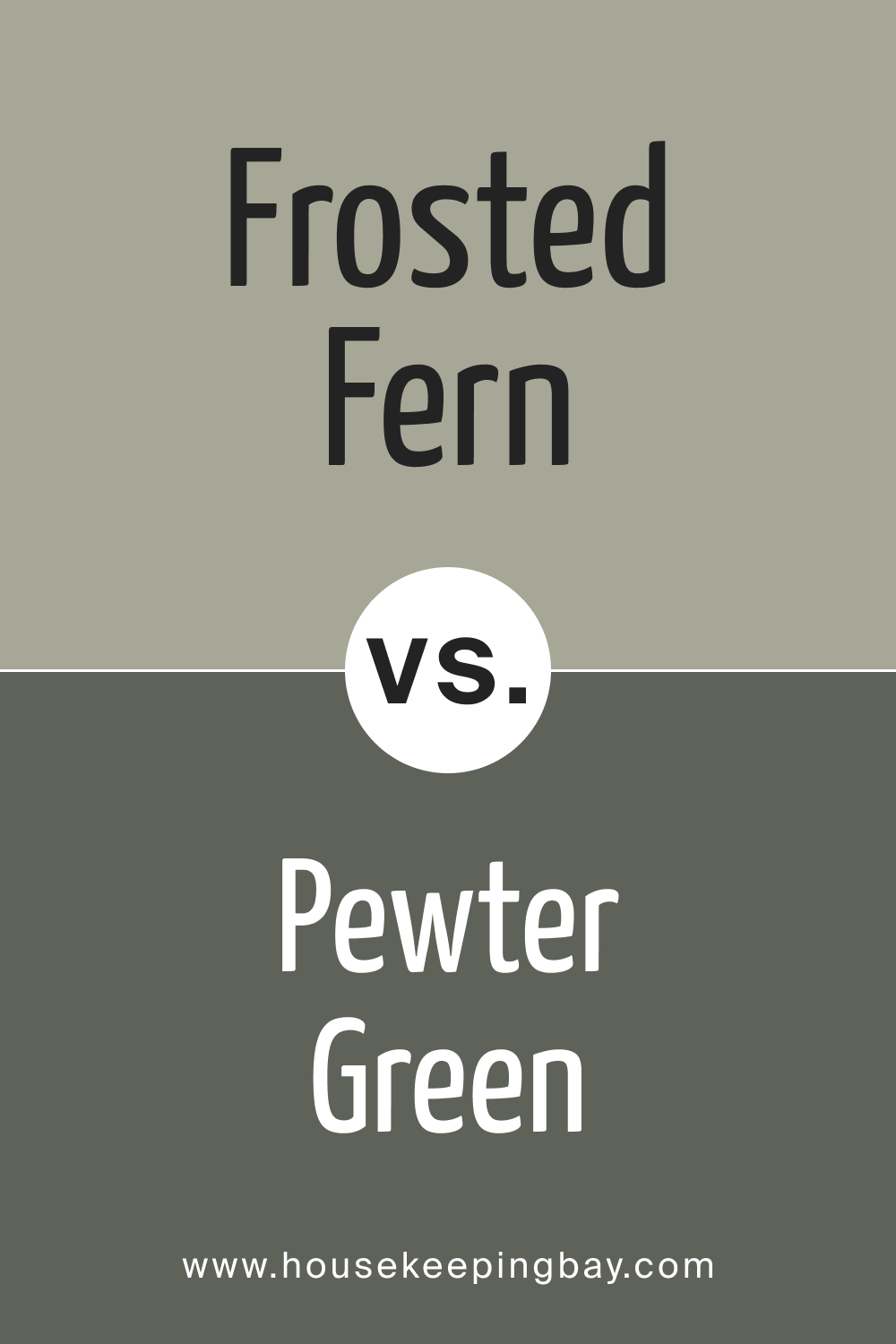 Conclusion
Each color carries its own narrative, and while all of them dance in the realm of greens and muted undertones, their individual stories vary. SW 9648 Frosted Fern, with its unique blend of serenity and nature, stands out as a versatile choice. But in its comparison with other hues, we understand its place in the vast palette and the myriad of possibilities it offers for transforming spaces.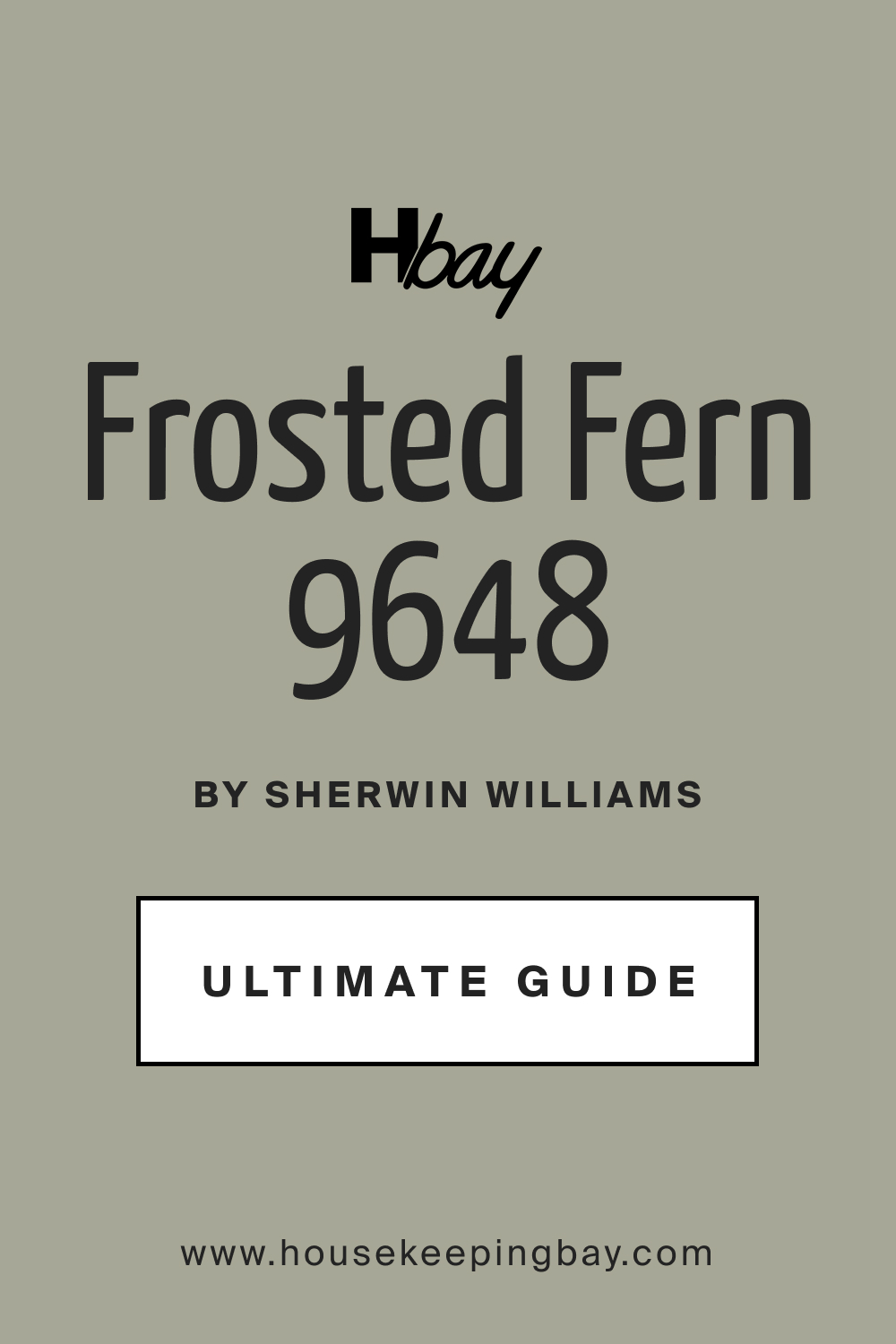 Frequently Asked Questions
⭐What kind of undertones does SW 9648 Frosted Fern have?
SW 9648 Frosted Fern has a subtle green-gray undertone, making it a neutral shade with a touch of nature.
⭐Is SW 9648 Frosted Fern more of a cool or warm color?
SW 9648 Frosted Fern leans more towards the cool spectrum, capturing the essence of misty, foggy mornings.
⭐How does SW 9648 Frosted Fern appear in different lighting?
The appearance of SW 9648 Frosted Fern can vary based on lighting. In natural light, its green undertones become more pronounced, whereas artificial light might emphasize its gray hues.
⭐What colors coordinate well with SW 9648 Frosted Fern?
This shade pairs beautifully with other muted tones, especially soft pinks, blues, or earthy neutrals, allowing for a harmonious look.
⭐Can SW 9648 Frosted Fern be used for exteriors?
Yes, Frosted Fern is versatile enough to be used on home exteriors, offering a sophisticated yet organic appeal.